A good backdrop can take a party to the next level. They are what instantly stands out in the party decor, and are often what people use for photo booths to create party memories. They also look amazing behind dessert tables or bar carts. I find that I can get the most creative with my party backdrops, and that's probably because there are so many easy and affordable materials you can use to make them! And I'm about to spill all my styling secrets with you, so that you can create your own amazing DIY Party Backdrops as well. Read on, friends!
P.S. You can find many of the materials I use for my backdrops in my Amazon Shop!
As a blogger, I sometimes receive compensation and/or products in exchange for my styling and crafting services. I also may earn a small commission from any sales that result from affiliate links on this page. As always, all project ideas and any opinions expressed here are my own.  For further information on our disclosure policy please check out our disclosure page. 
What to Use to Create Amazing DIY Party Backdrops
1. Tablecloths
One of the easiest and most cost-effective DIY backdrop ideas is using plastic tablecloths. You can find these in a wide variety of colors and styles, and for any occasion in most party supply stores or online. The large rectangular ones work best. Simply hang on your wall, add some themed embellishments like balloons, fringe, or props, and you have a great photo op spot or table backdrop! A star-spangled tablecloth was great for my Fourth of July Block Party, a spider web tablecloth provided the perfect base for my Spooky Spider Party, and a space-themed tablecloth took guests to a galaxy far, far away for my Star Wars Baby Shower.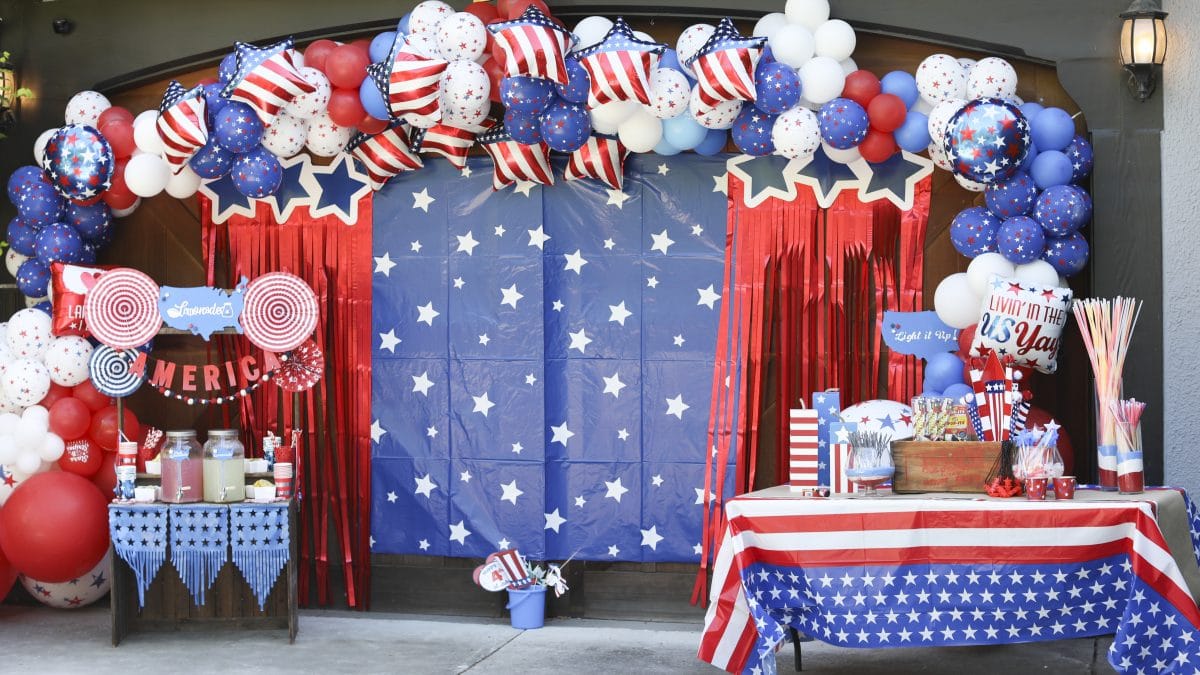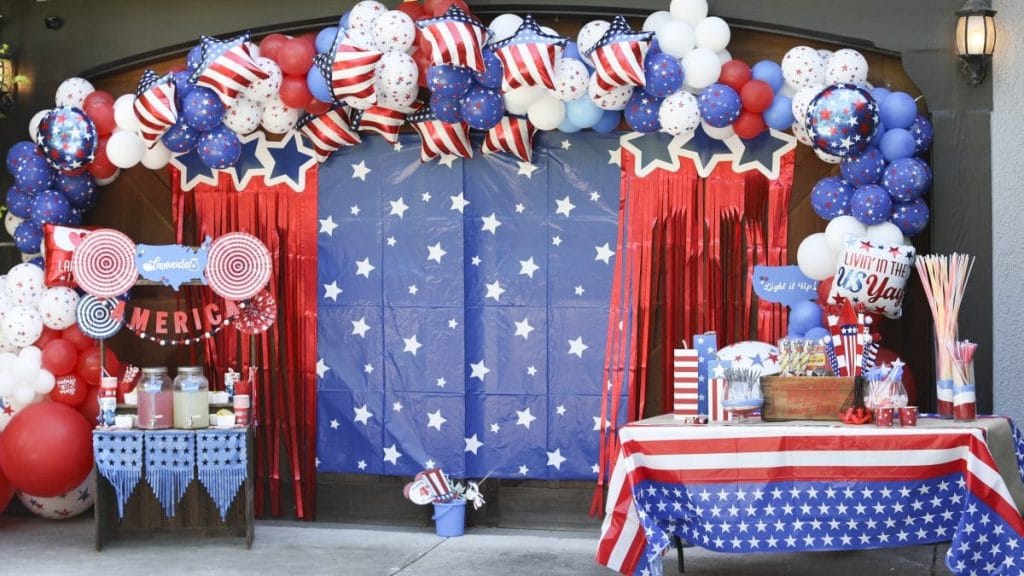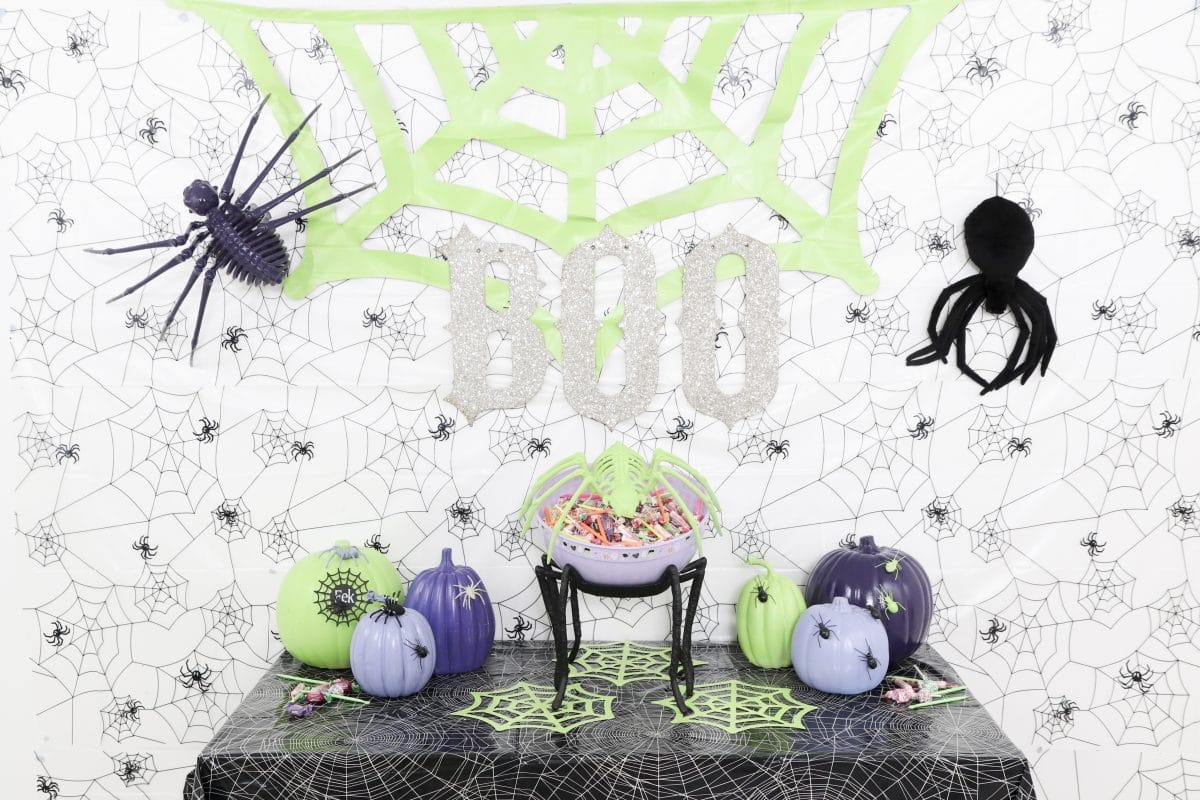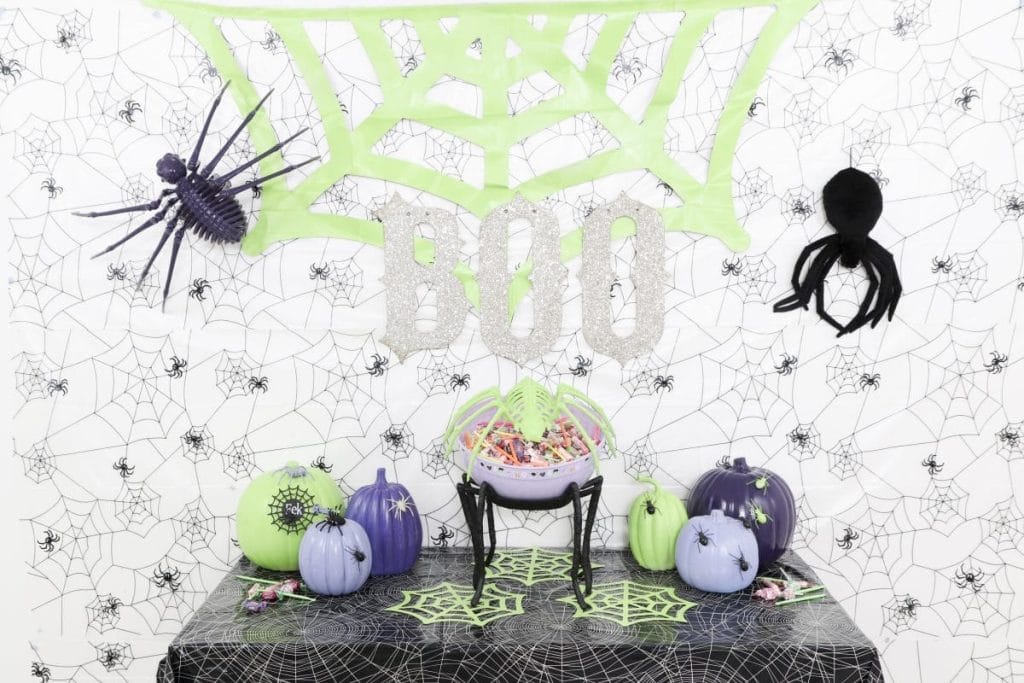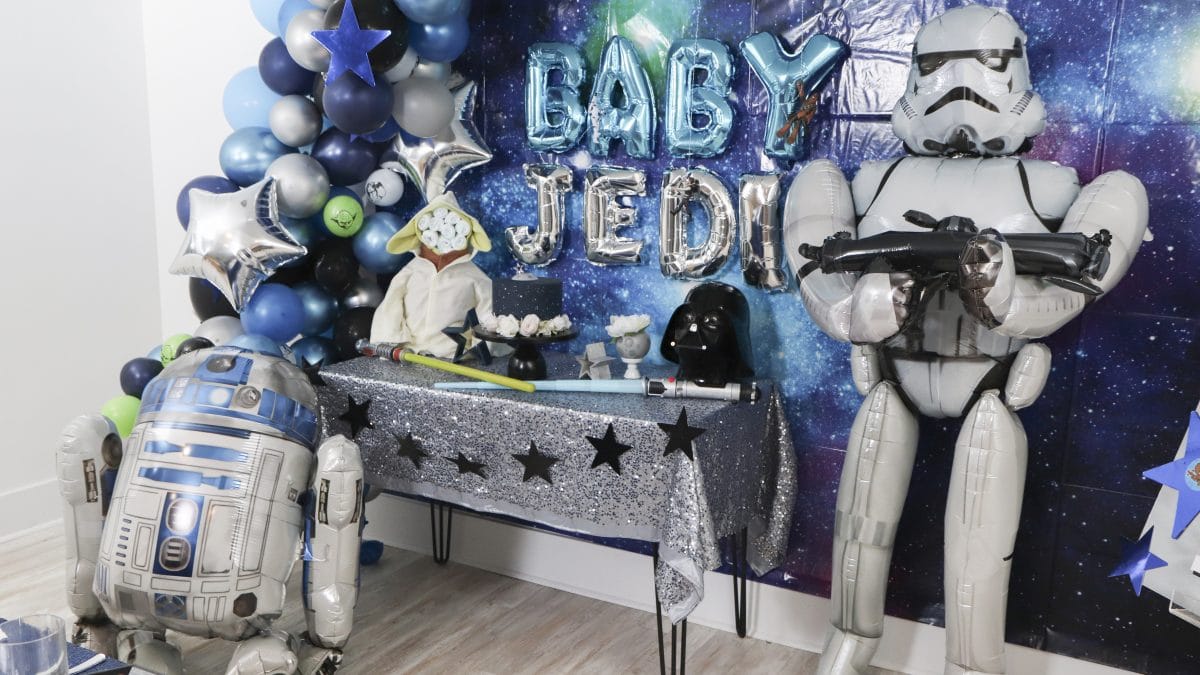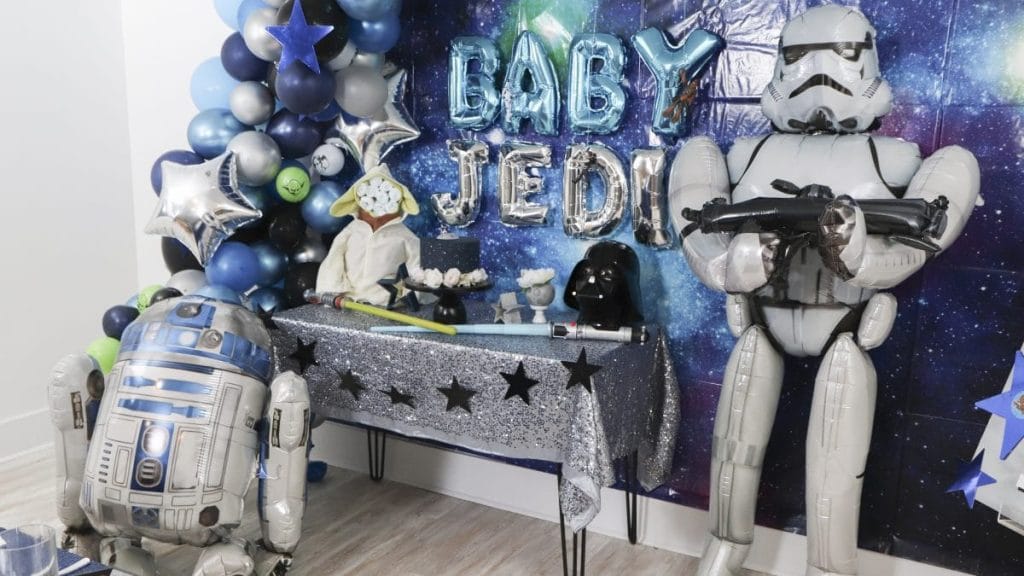 2. Fabric
If you can't find a table cloth you like, check out the fabric section of your local craft supply store. This material is great because it's easy to hang, and you can buy as many yards as you need to perfectly fit your backdrop space. I used wave fabric for my Pirate Party, plaid fabric for a Punk Glam NYE Party, and sheer fabric I decorated with faux florals for a Wildflower Shower. I also used a ruffled pink fabric shower curtain for my Paris Party!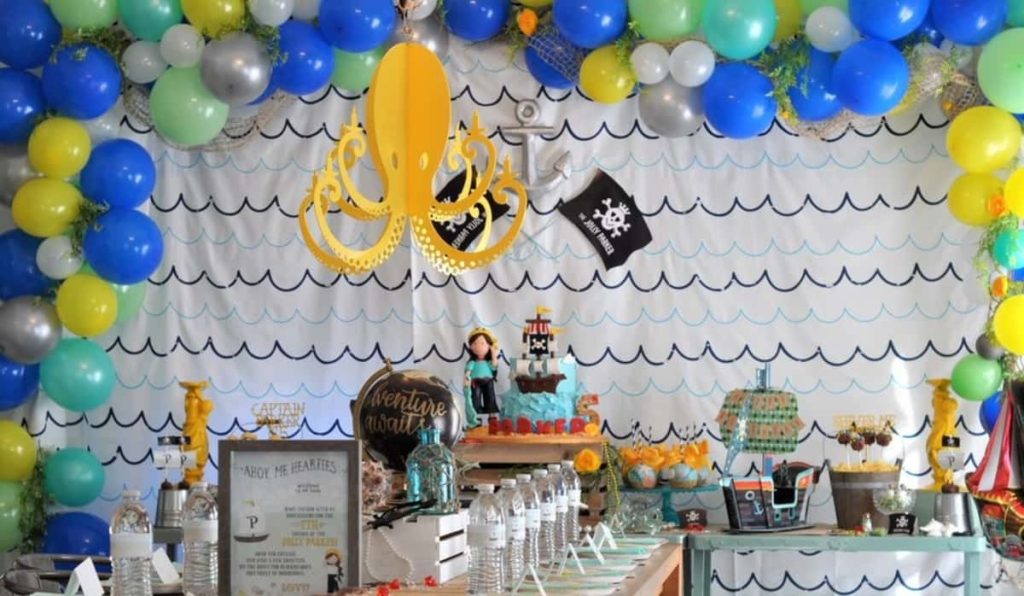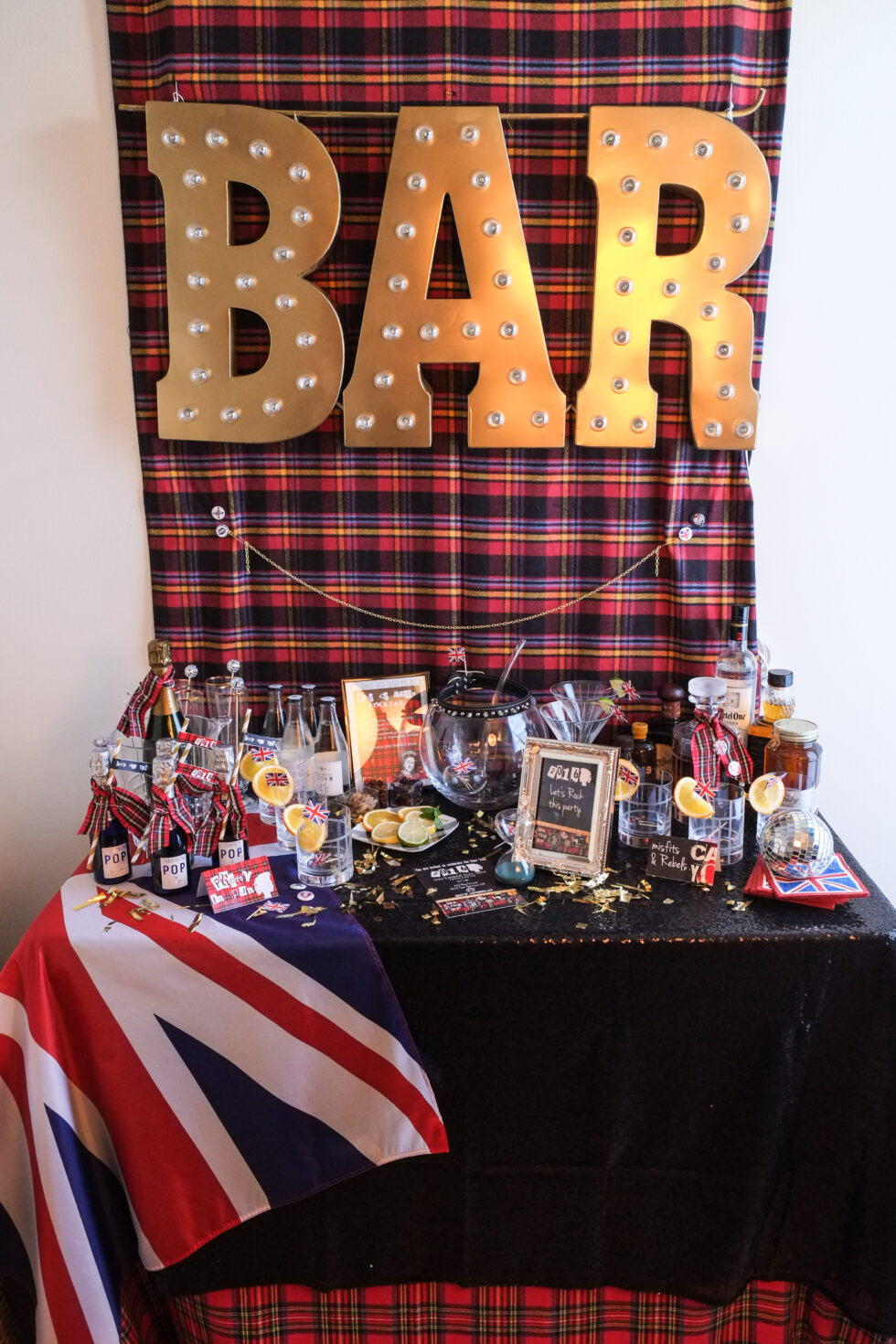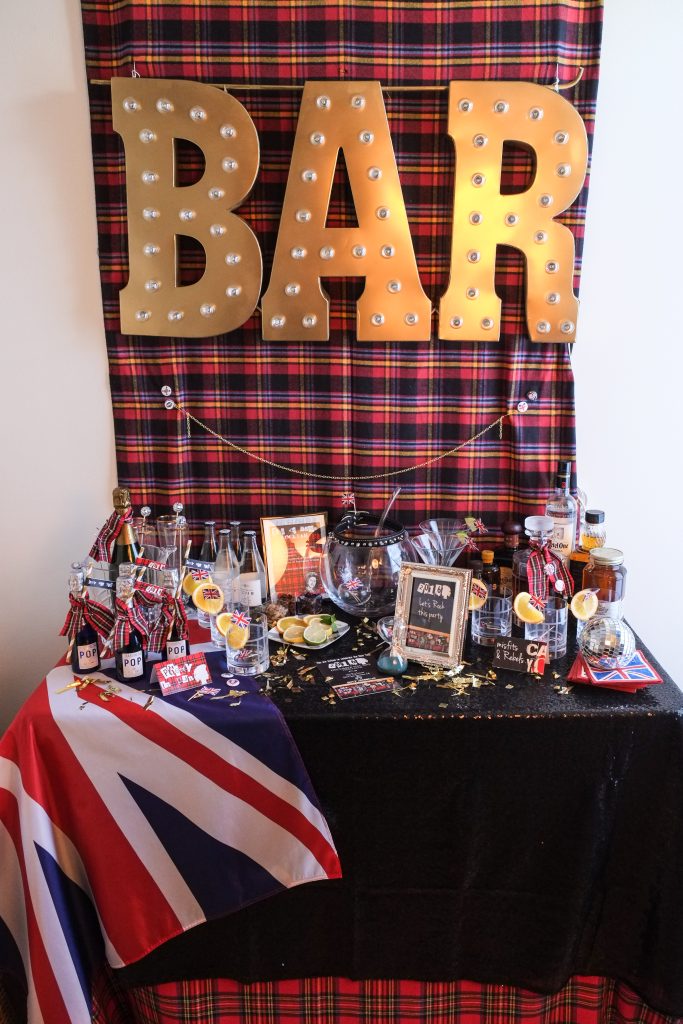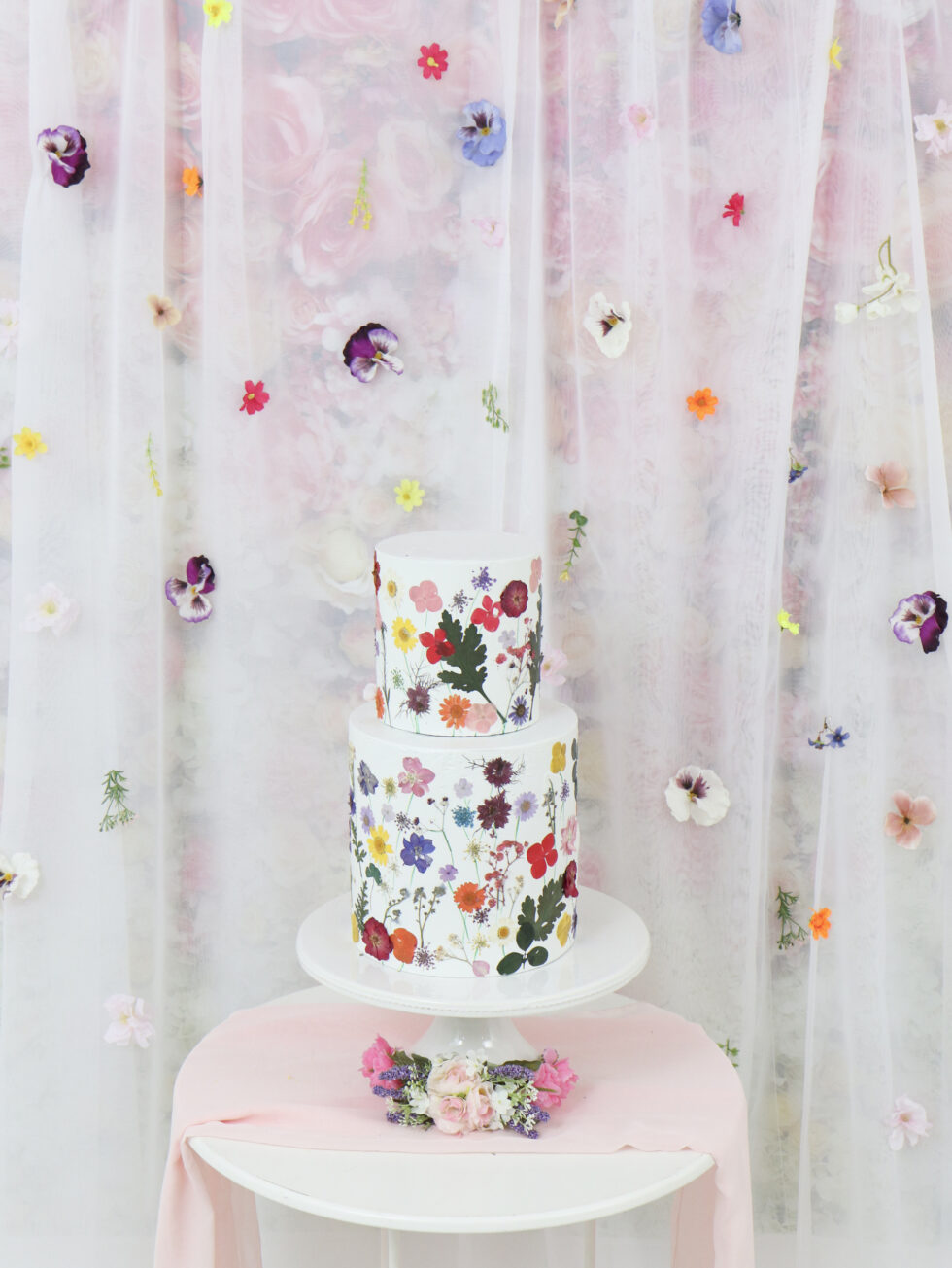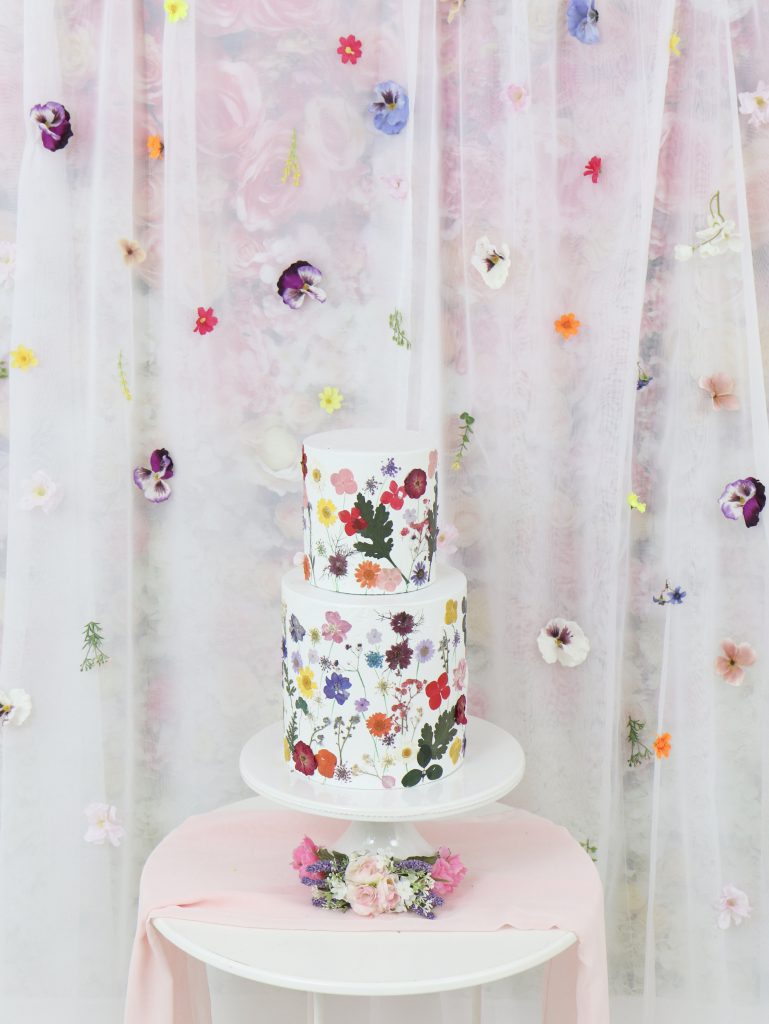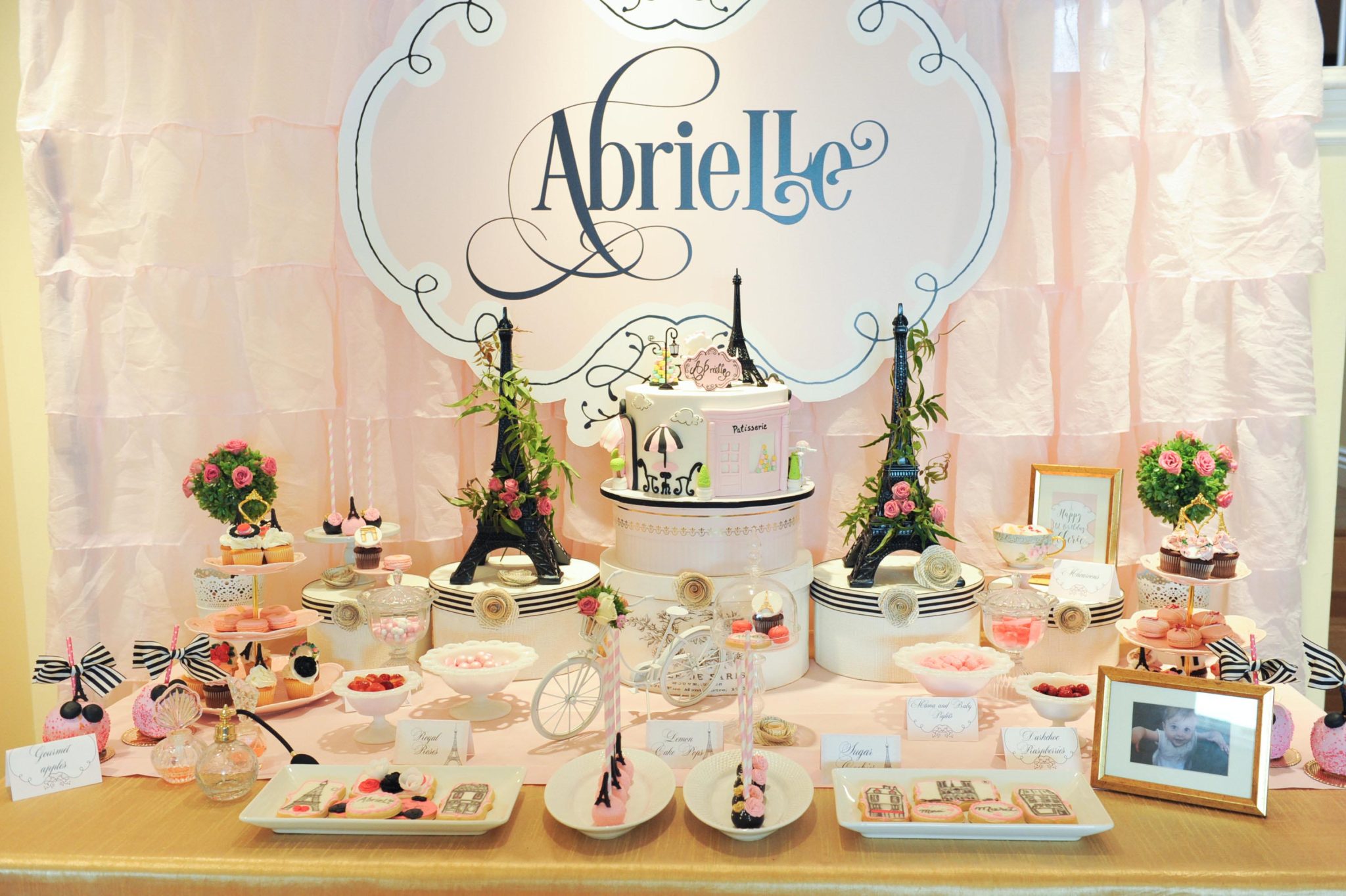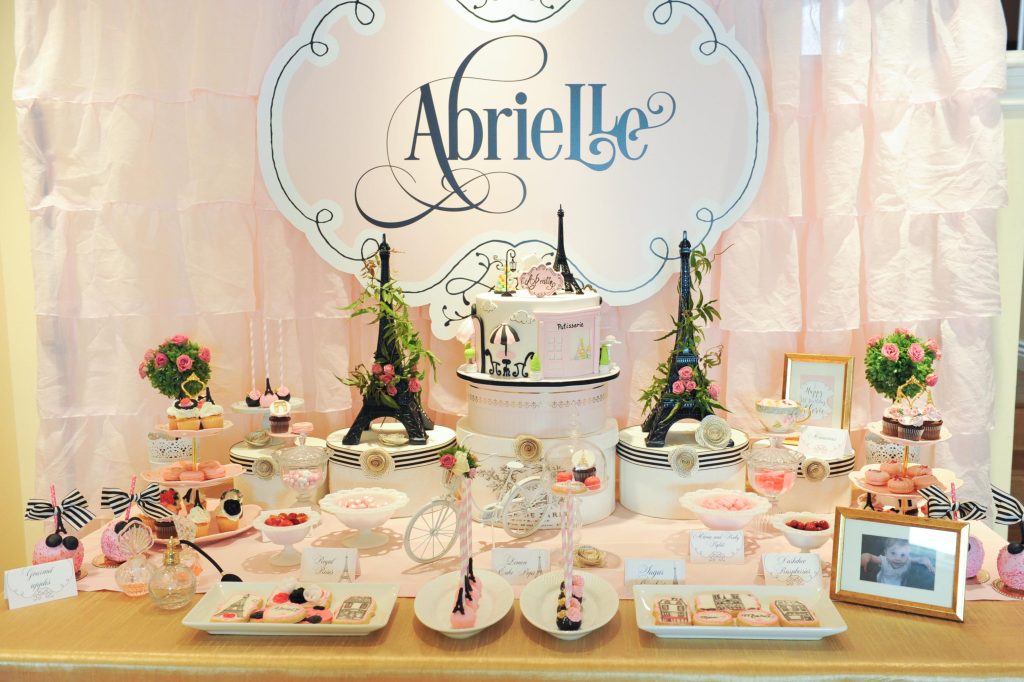 3. Wrapping Paper
Next time you happen upon a roll of wrapping paper that matches a party theme you have planned, grab it! You can use it not only for wrapping gifts, but for hanging on your wall as an easy DIY backdrop! I used a rainbow spotted wrapping paper I found for my Rainbow Thanksgiving Kid's Table.

4. Paper
Speaking of paper, even plain paper can make a great blank canvas for a backdrop. You can write on it, draw on it, or cut it up to create exactly what you're looking for. Bulletin board paper is really great for this, because it's large and sturdy. I used brown paper to create a hanging menu backdrop for my Pink Thanksgiving, doodled on white paper for my Artist's Bridal Shower, and cut up black and gray paper to create the Upside Down setting for my Stranger Things Party.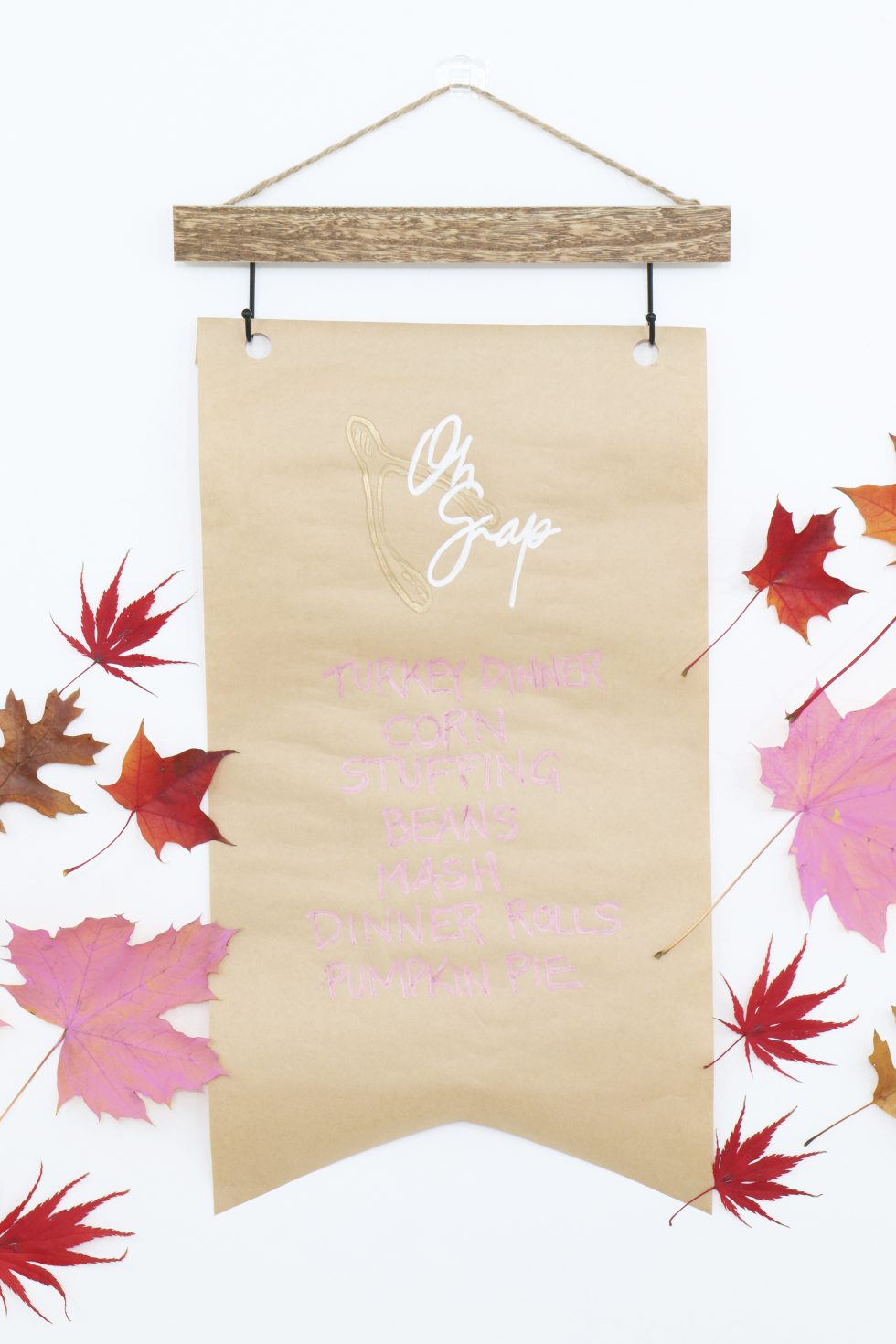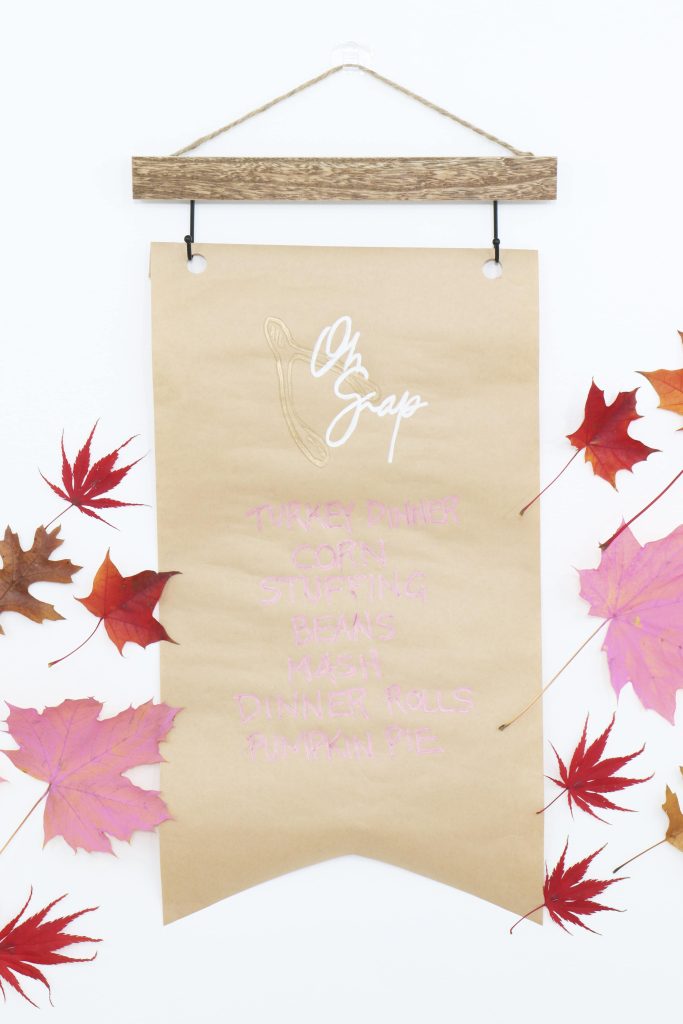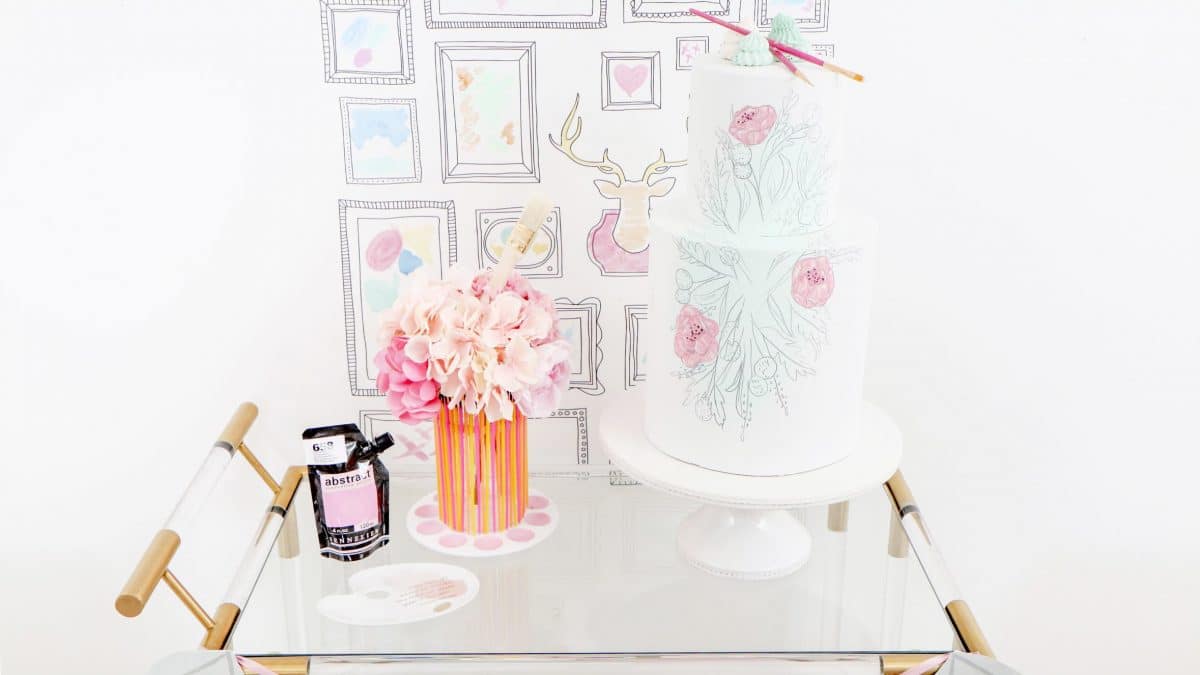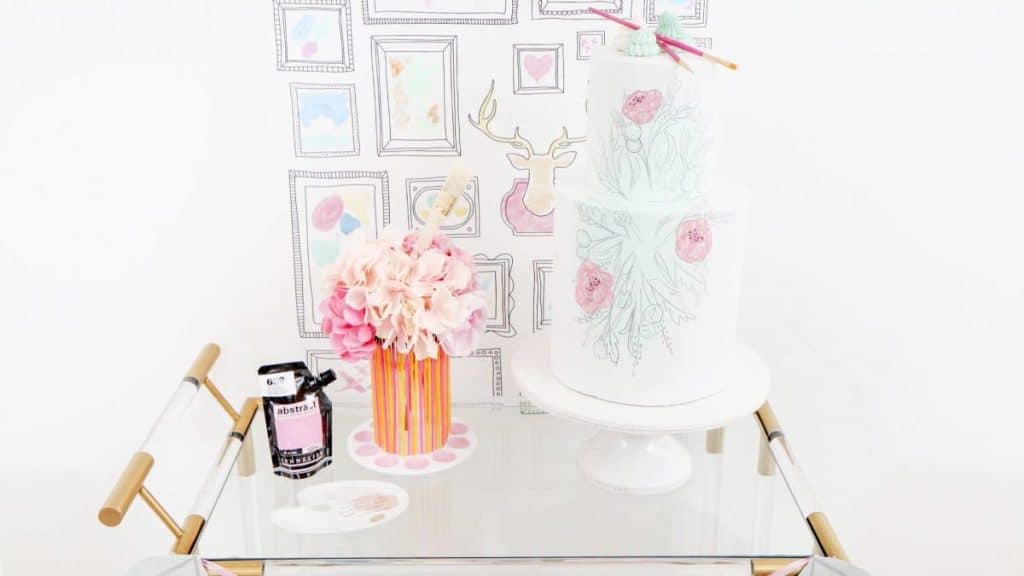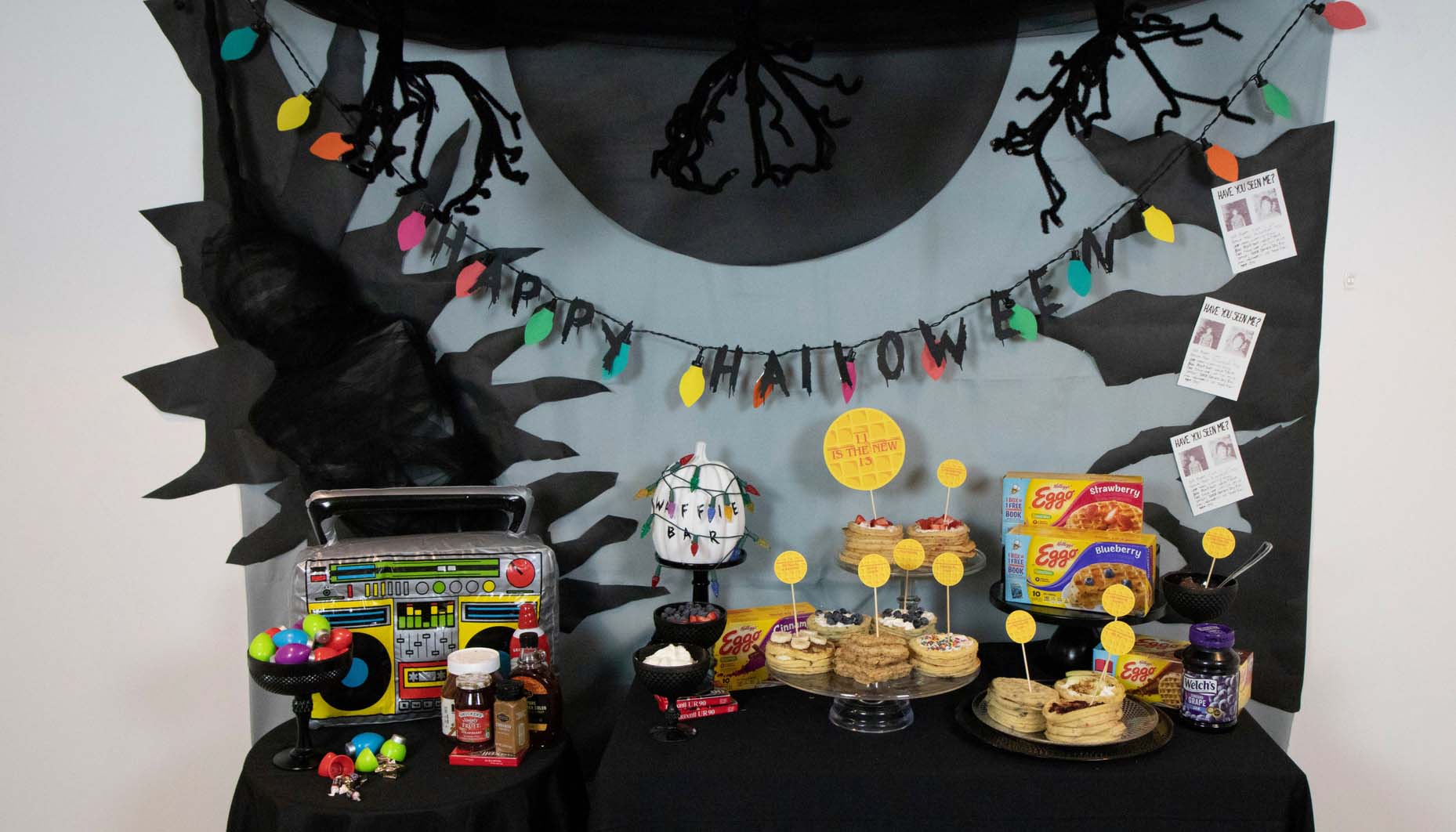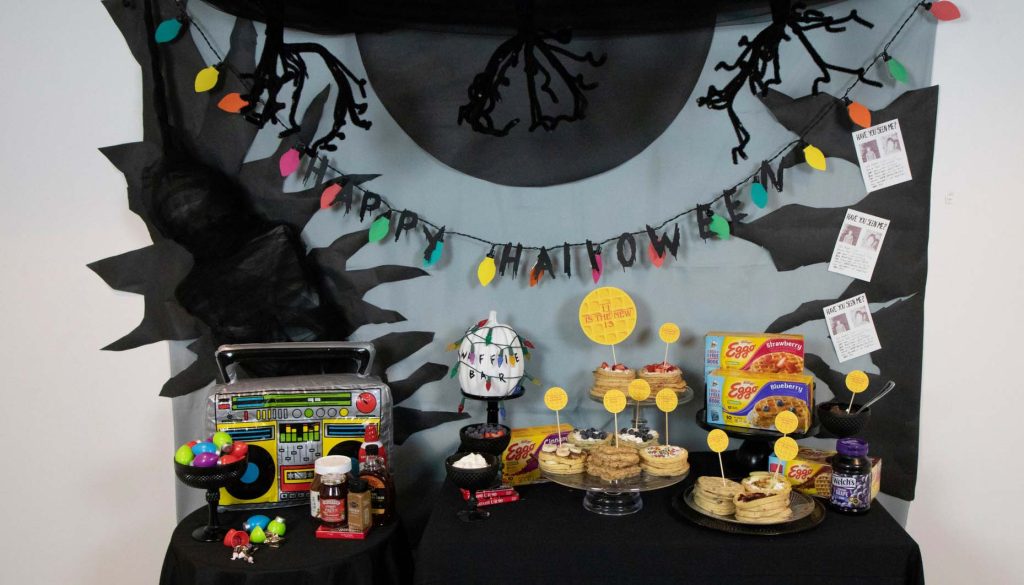 5. Chalkboard
Chalkboards make another awesome backdrop option that you can write or draw on. Plus, it looks pretty stylish and is endlessly reusable for any and every party. I used a chalkboard backdrop for my Contemporary Black and White Easter party.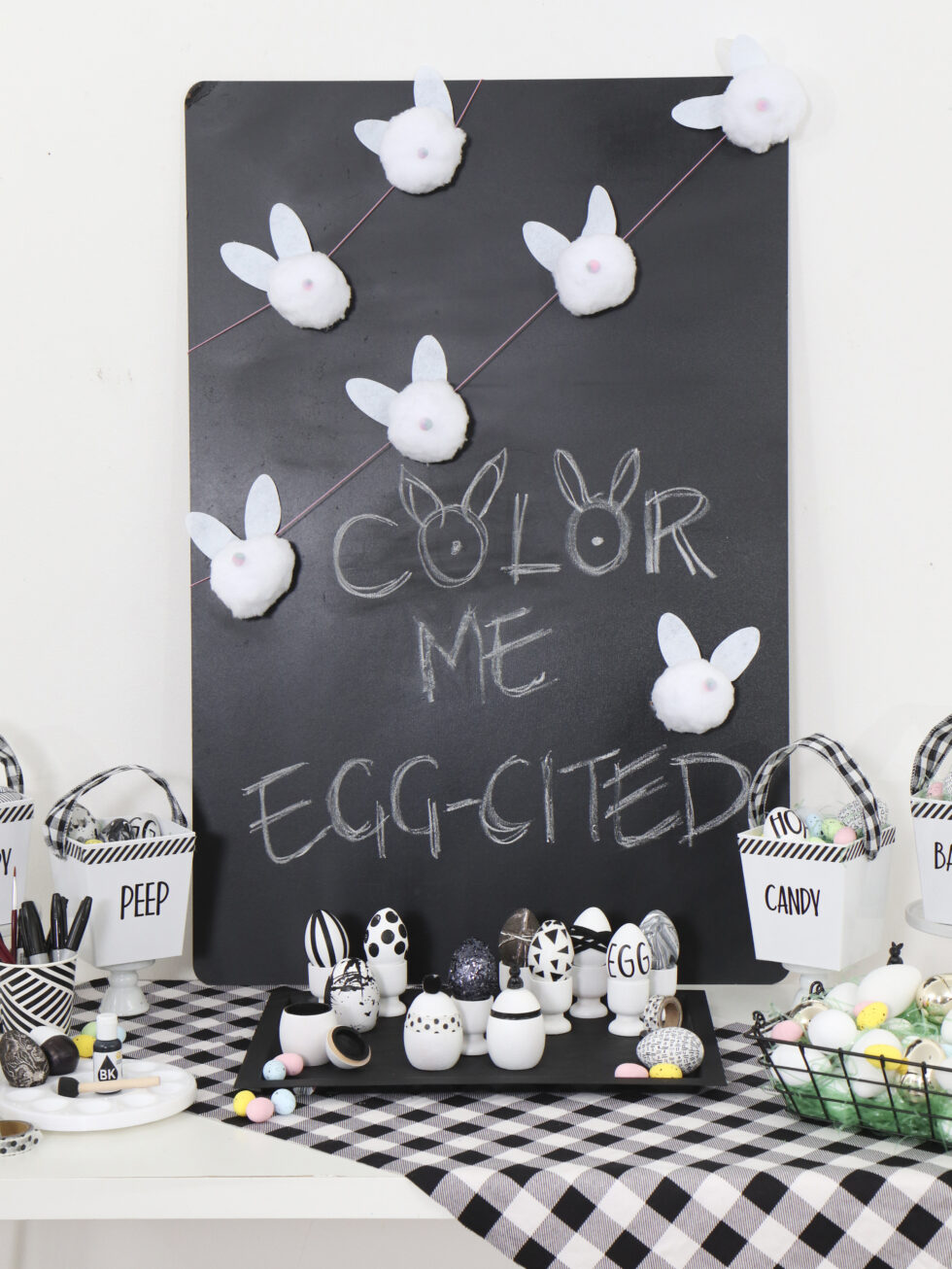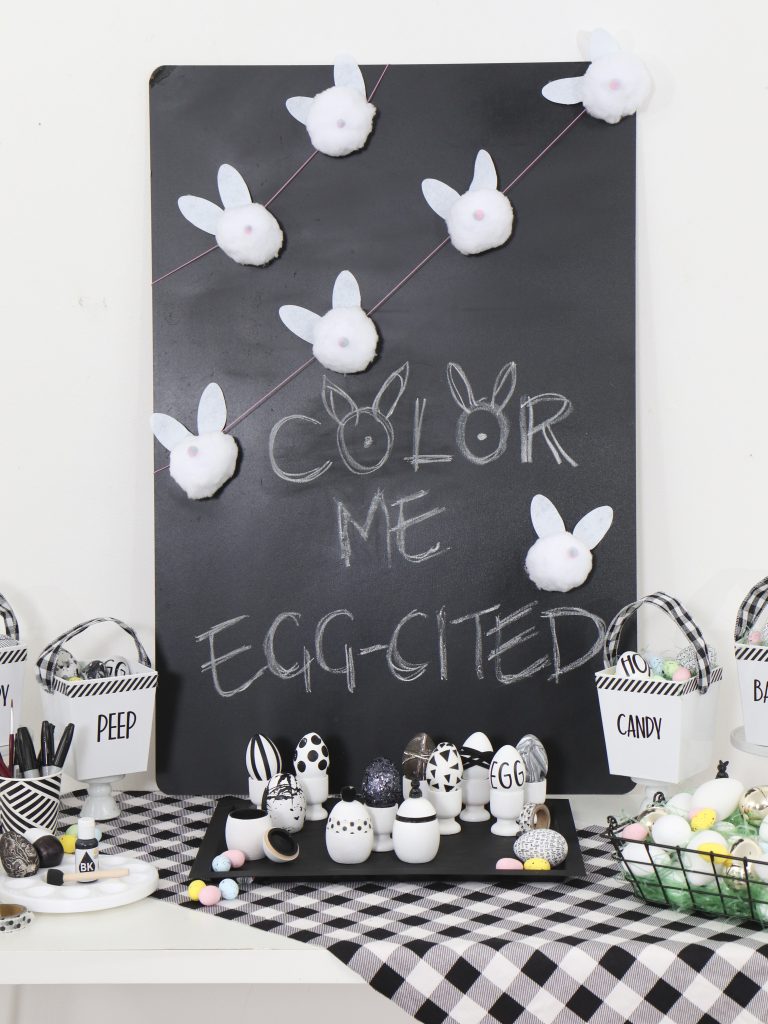 6. Wallpaper
For something a little more adhesive, you could try easily removable wallpaper. I love Spoonflower, because they have millions of designs. You are bound to find one that perfectly fits your party. For my Jekyll and Hyde Halloween Party, I used a gothic skull wallpaper. I used a section of birch tree wallpaper as a beautiful backdrop for my Fall Fox Party.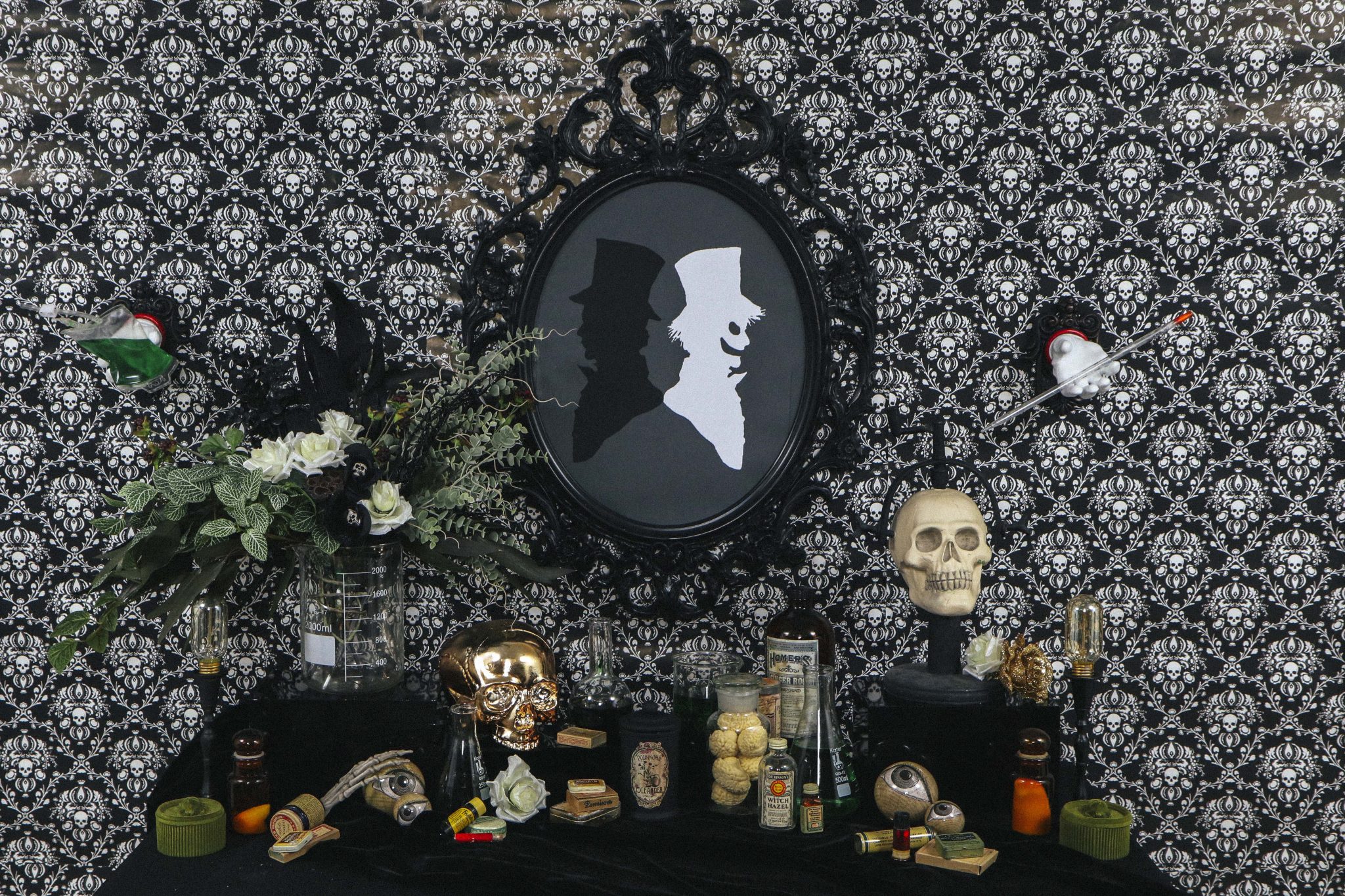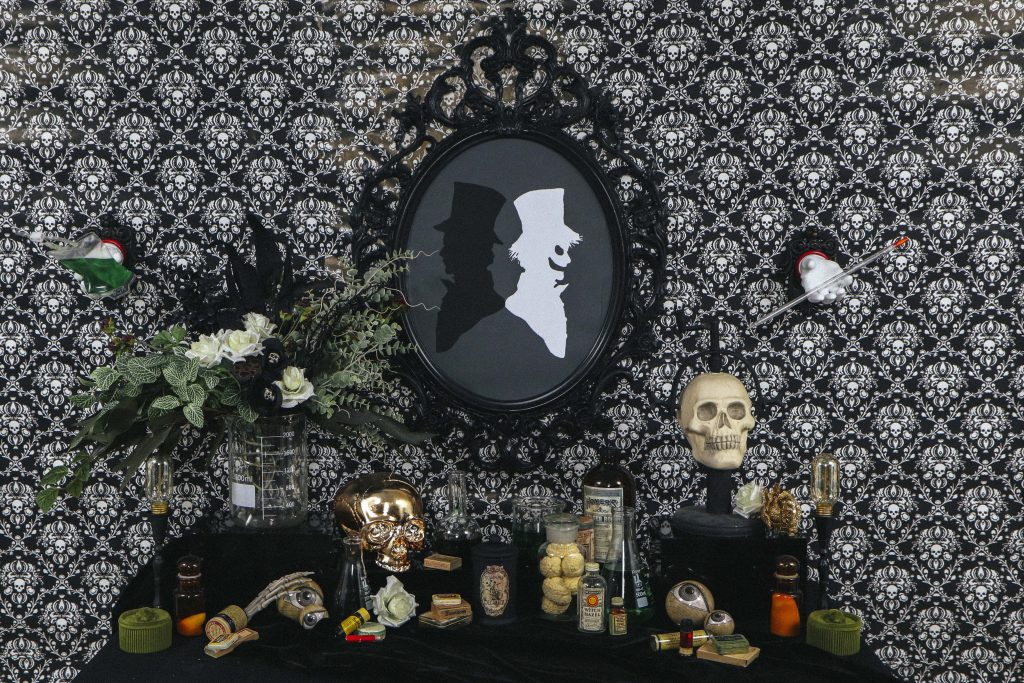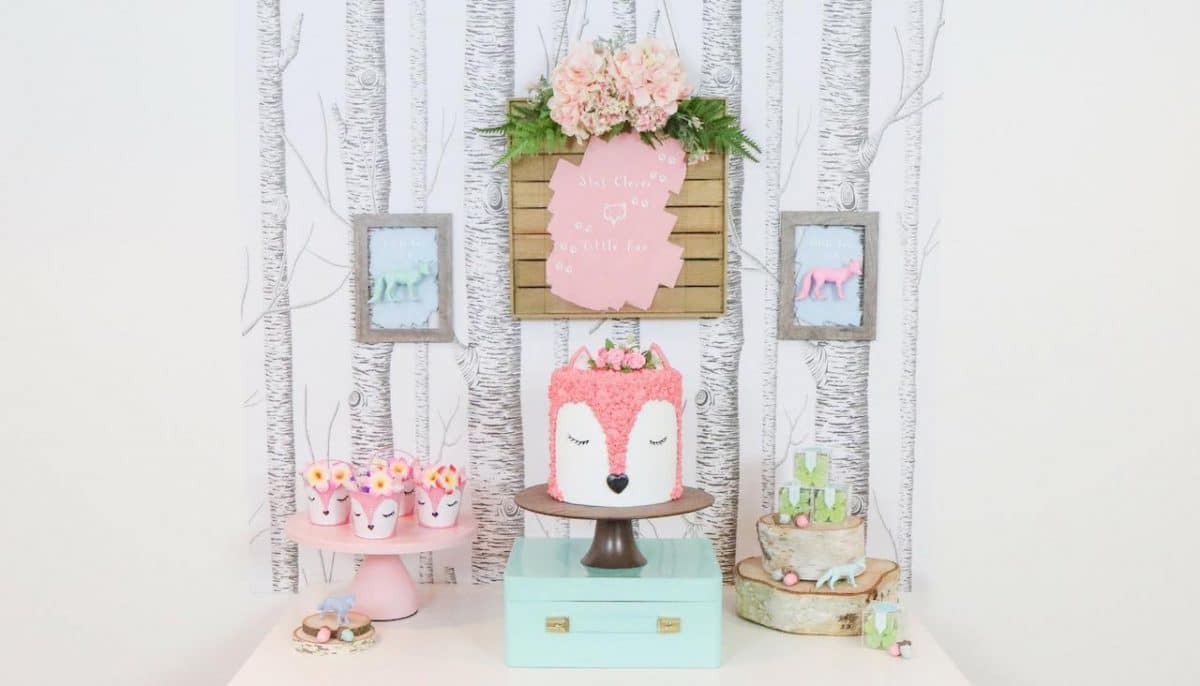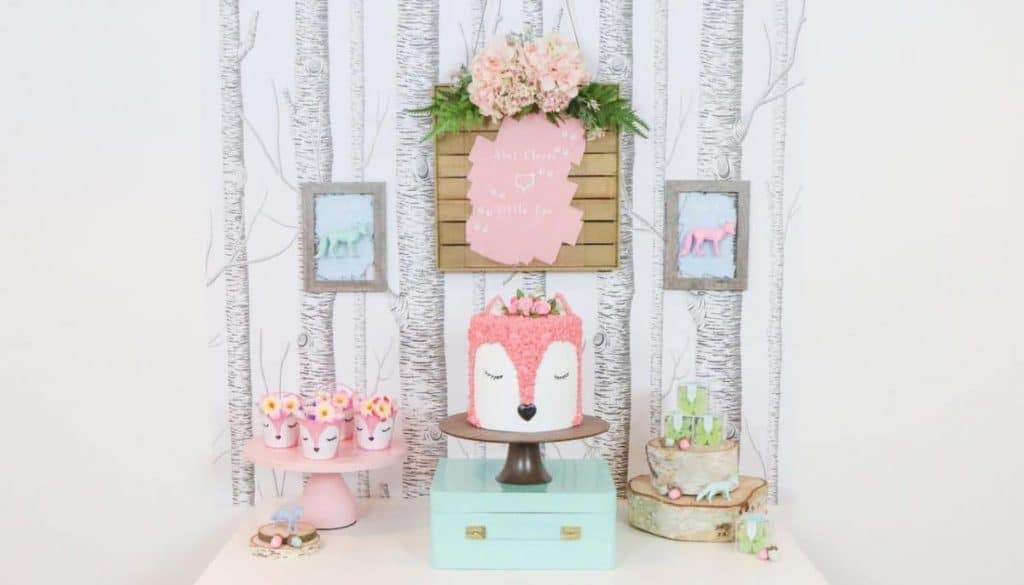 7. Vinyl Stickers
Another great removable adhesive option is vinyl stickers. They sell these in a variety of shapes, and they give you a bit more freedom with positioning and creating patterns for your backdrop. For my Country Music Wedding, I used vinyl stickers in music note shapes for my cake table backdrop.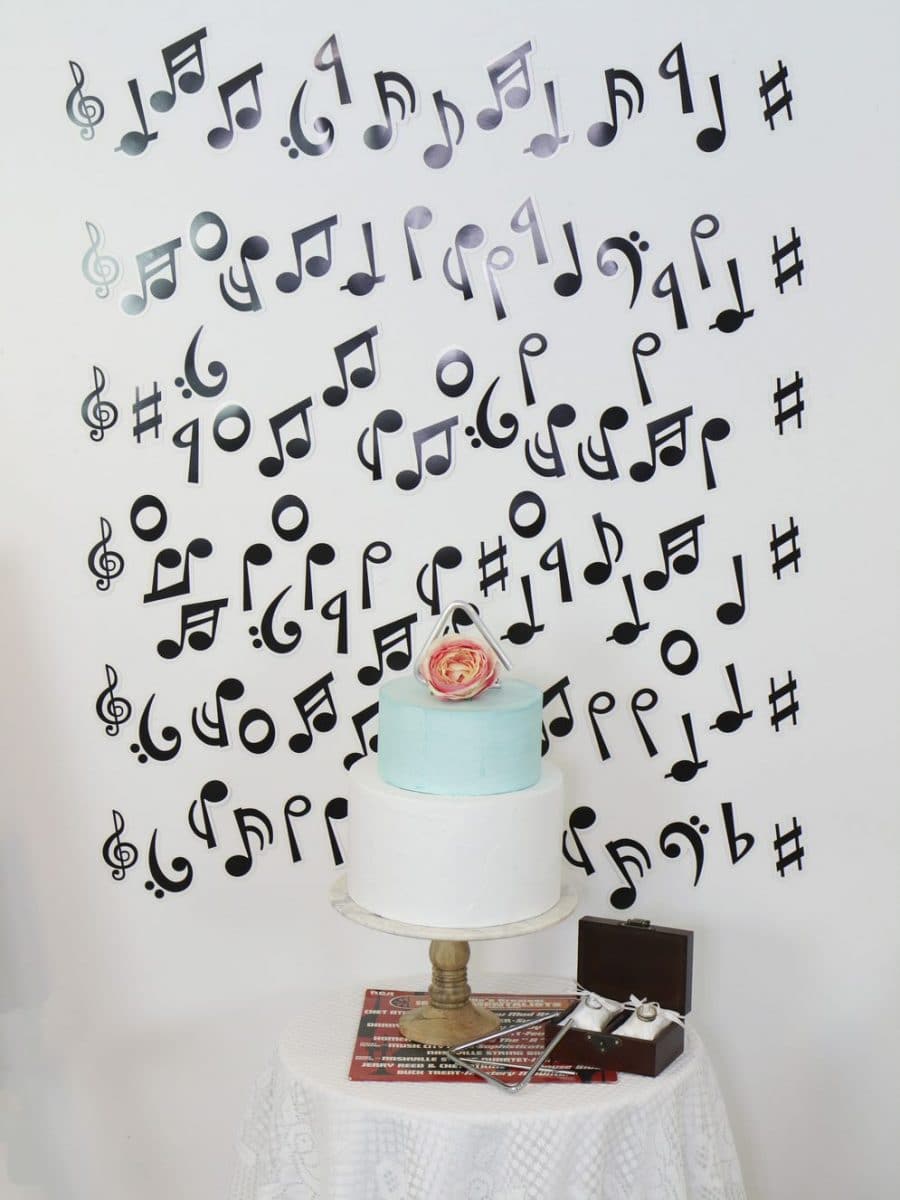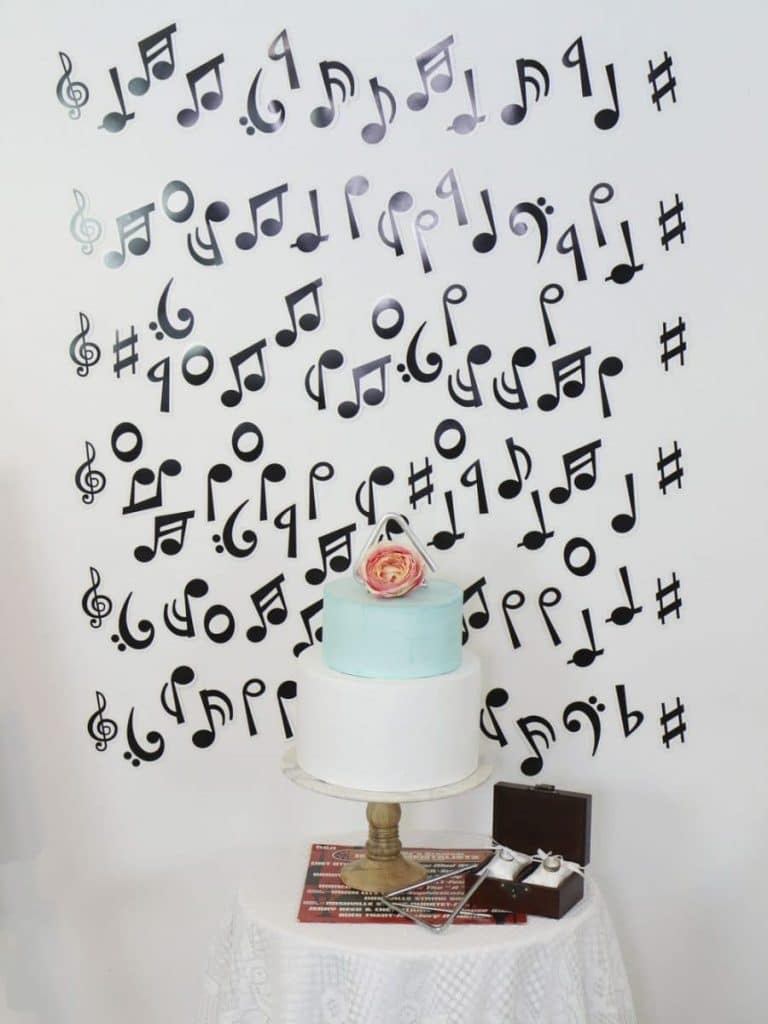 8. Masking Tape
For even more flexibility with an adhesive backdrop material, try masking tape! It is easily my favorite material to use for my DIY backdrops. It's affordable, comes in tons of colors, allows you to get really creative, and is easily removable. The possibilities are endless! Check out my round-up of 10 Easy DIY Masking Tape Backdrop Ideas from some of my past parties.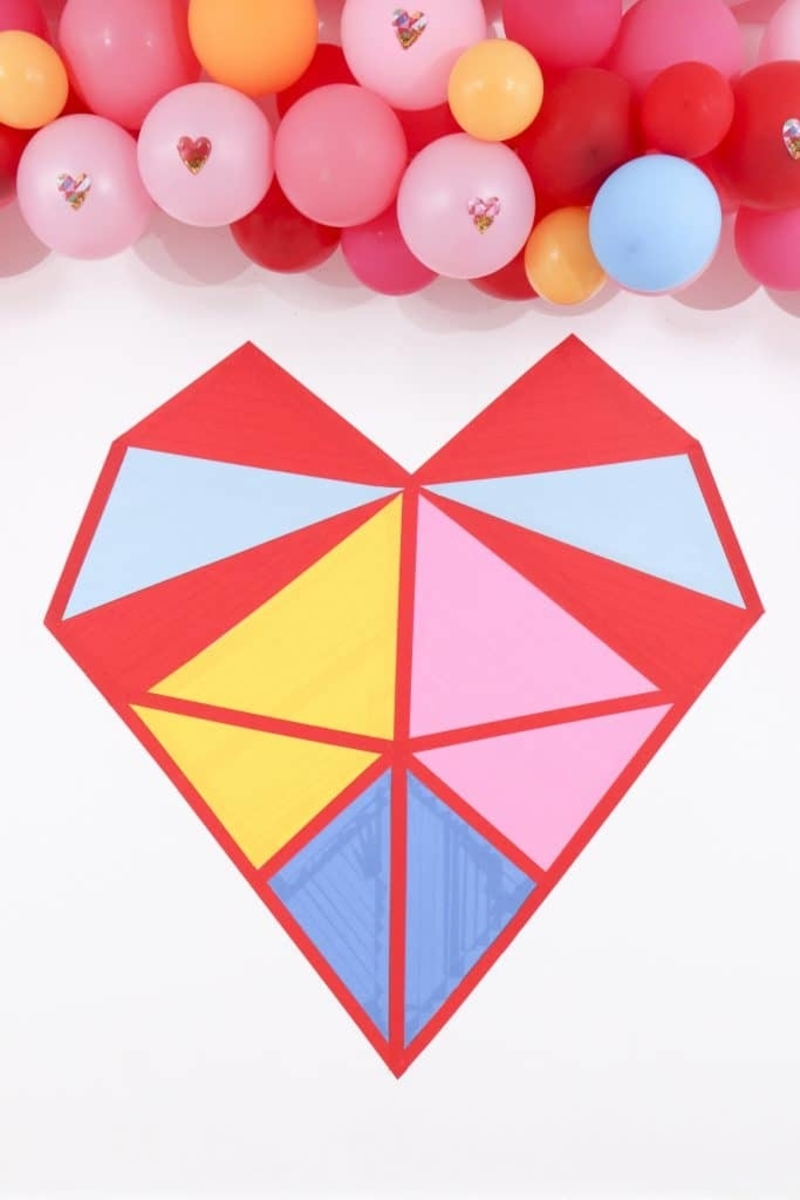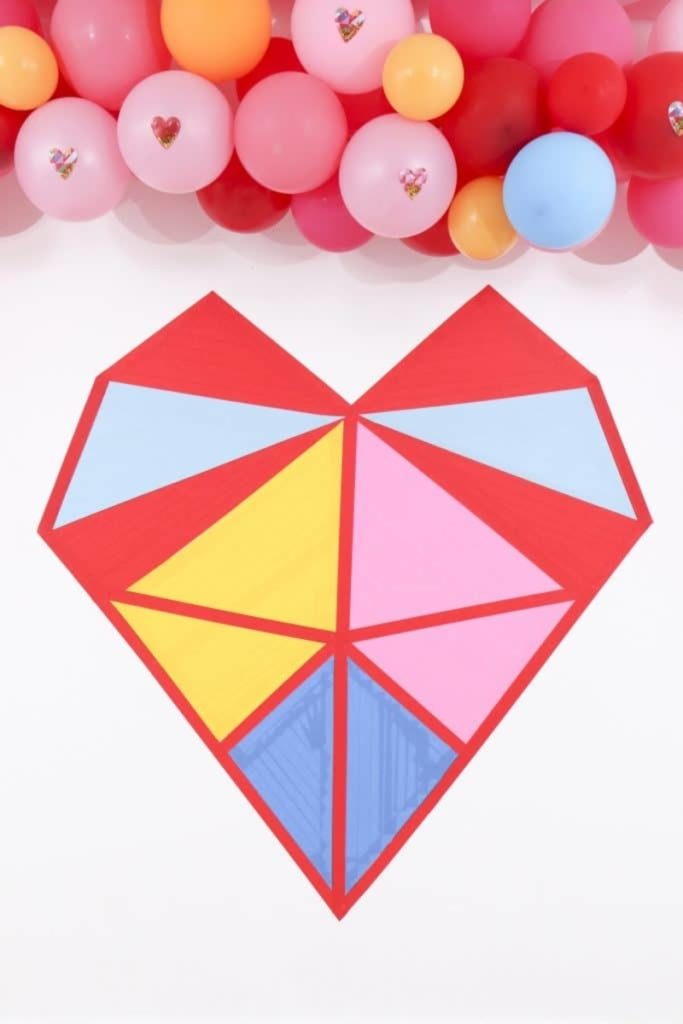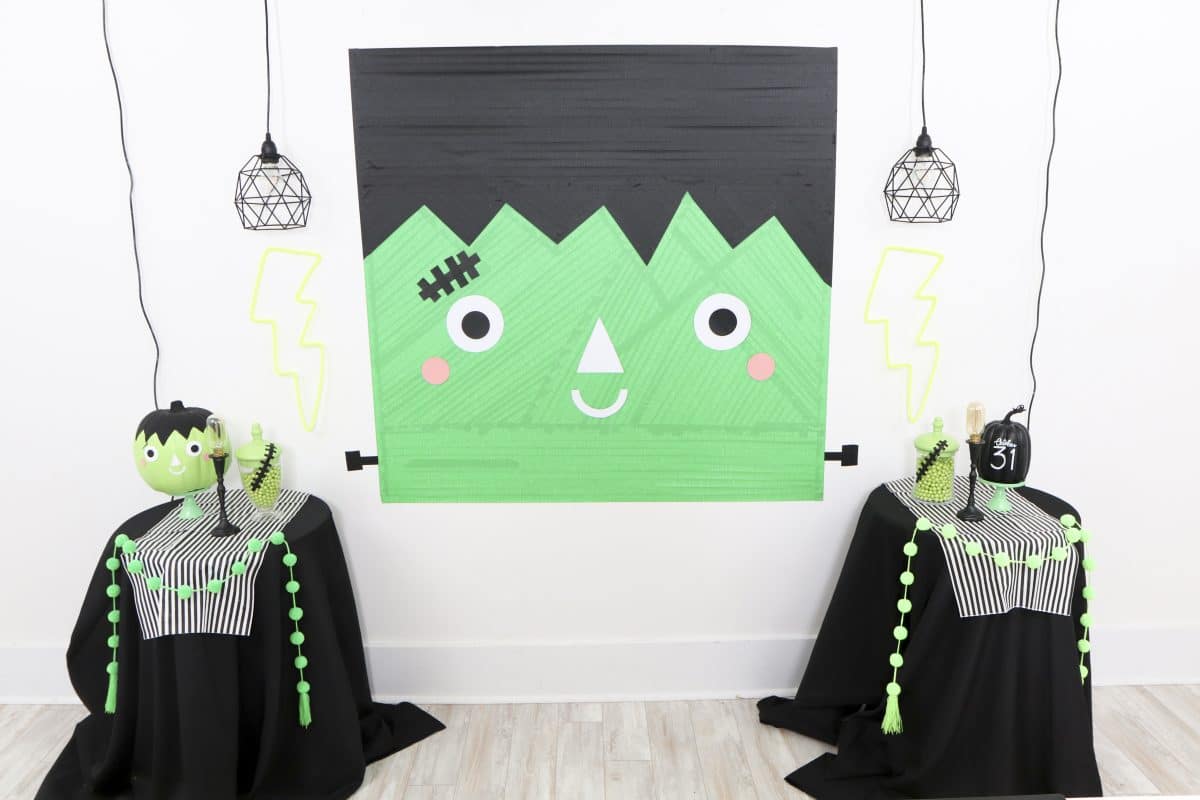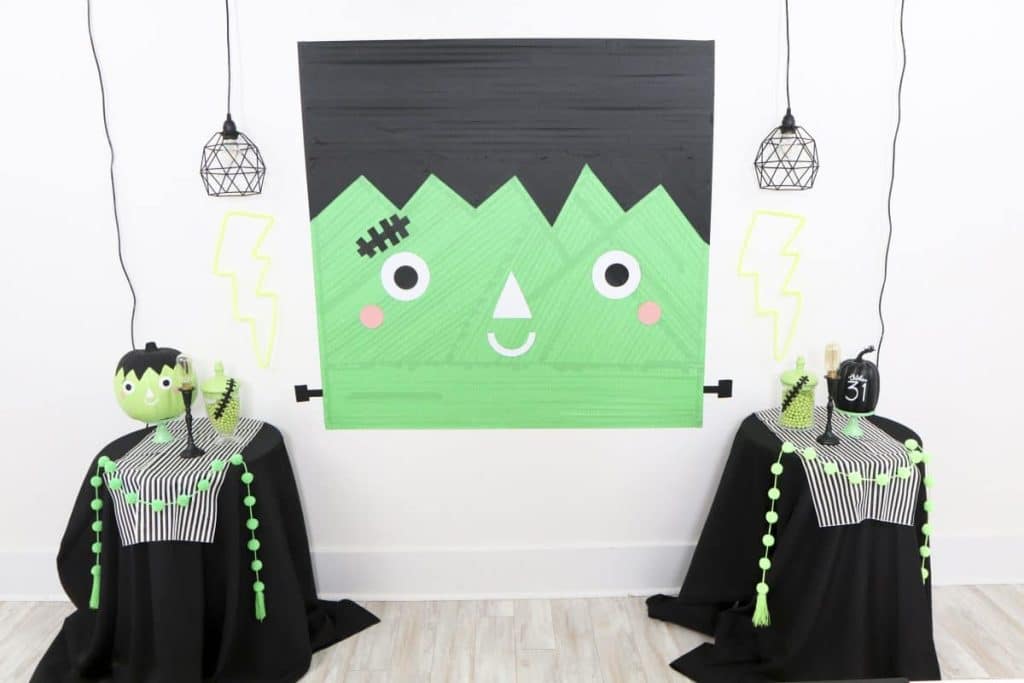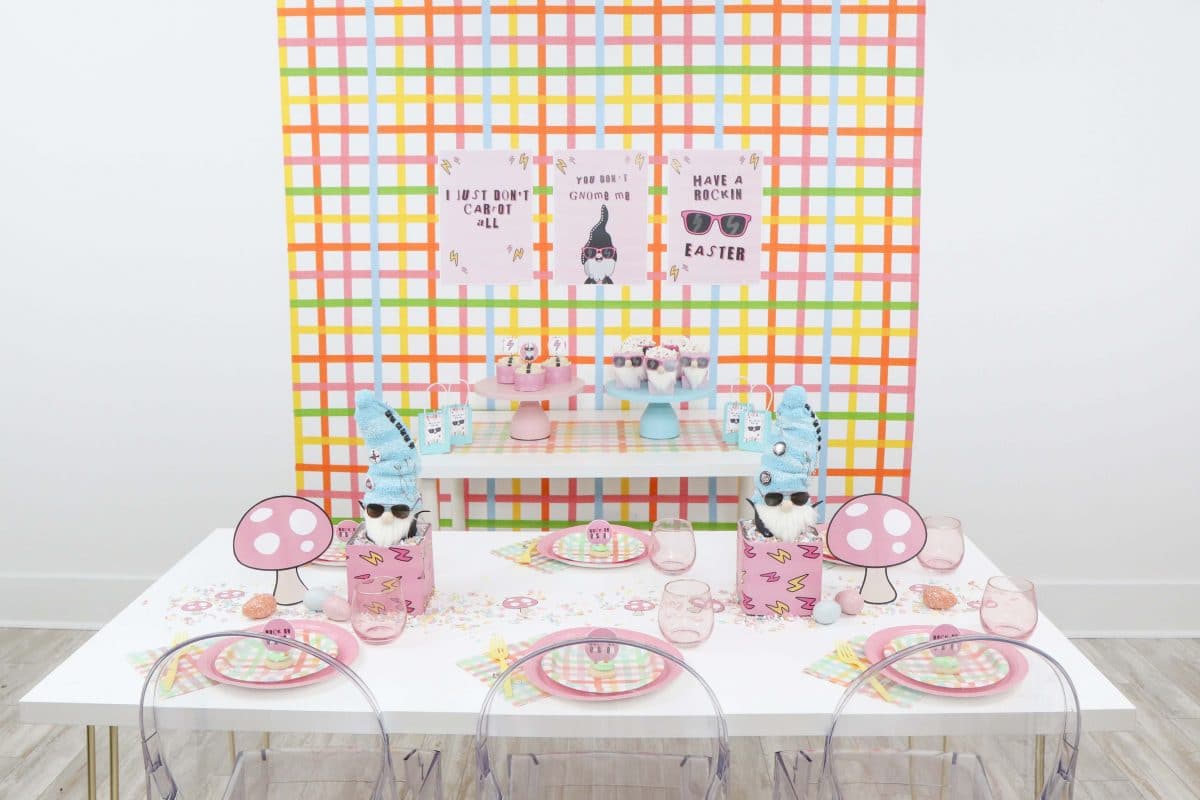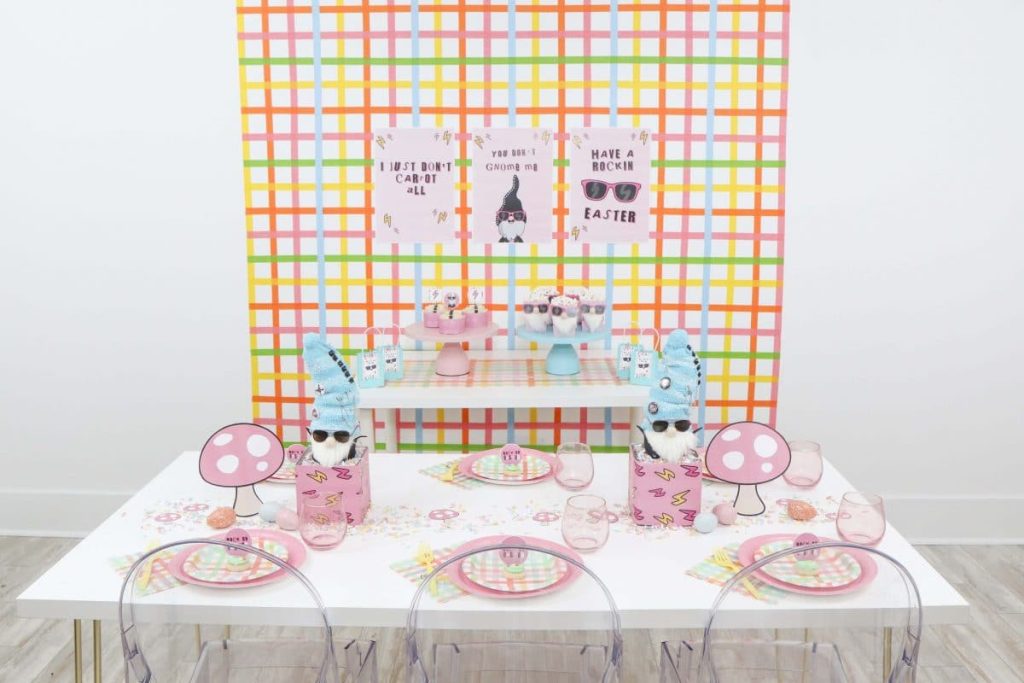 9. Pegboard
One of my favorite versatile DIY backdrop materials is pegboard. It's great for easily hanging items like florals, favors, or even desserts! The peg holes make it really easy to space items out evenly. Plus, you can easily paint the pegboard in any color that matches your party color scheme! I used it to hold flowers for a Galentine's Day Flower Arranging Party, to hold butterfly decor for a Vintage Butterfly Shower backdrop, for pirate loot favors at my Pirate Party, and for a Cosmic Donut Bar!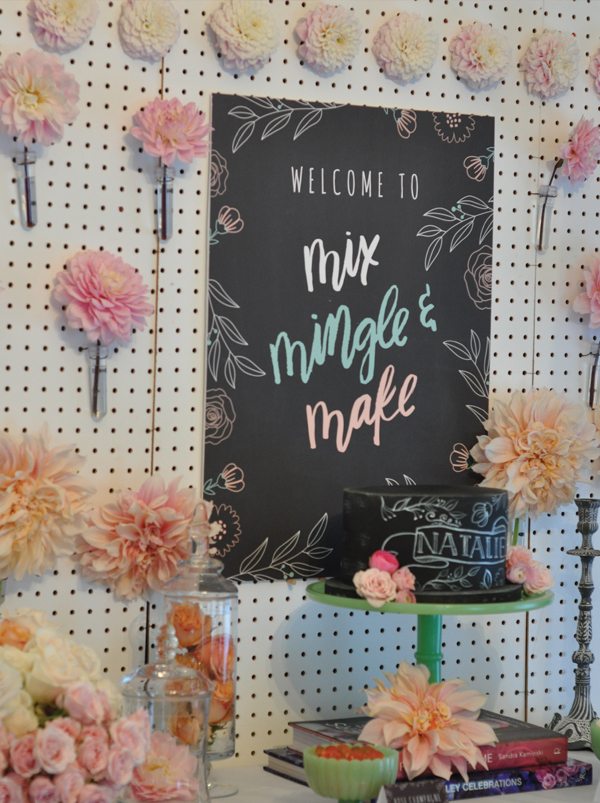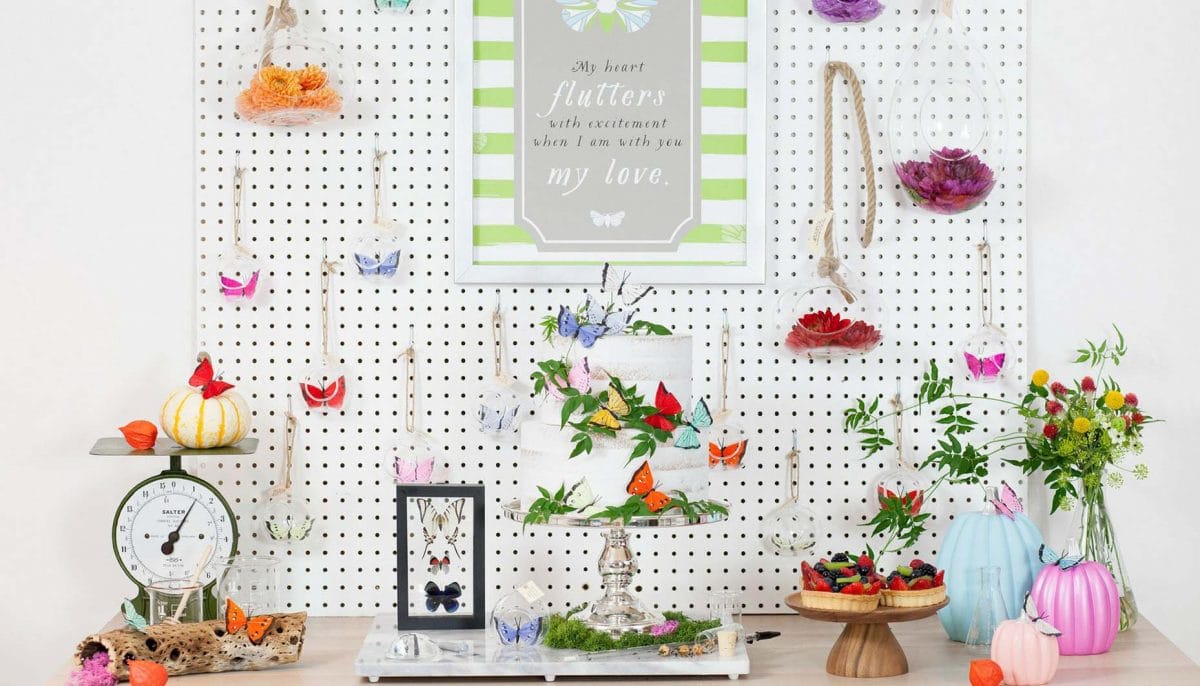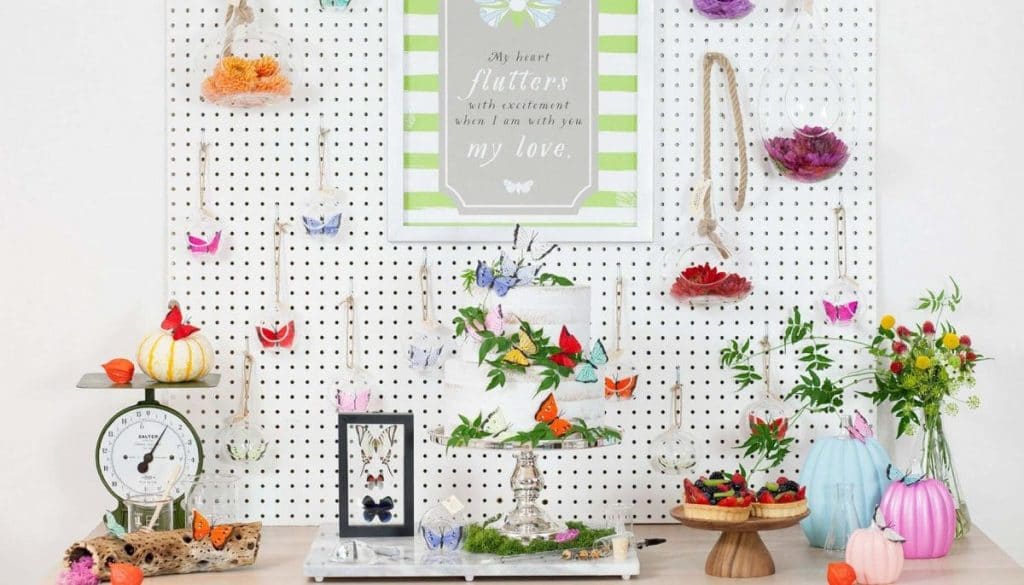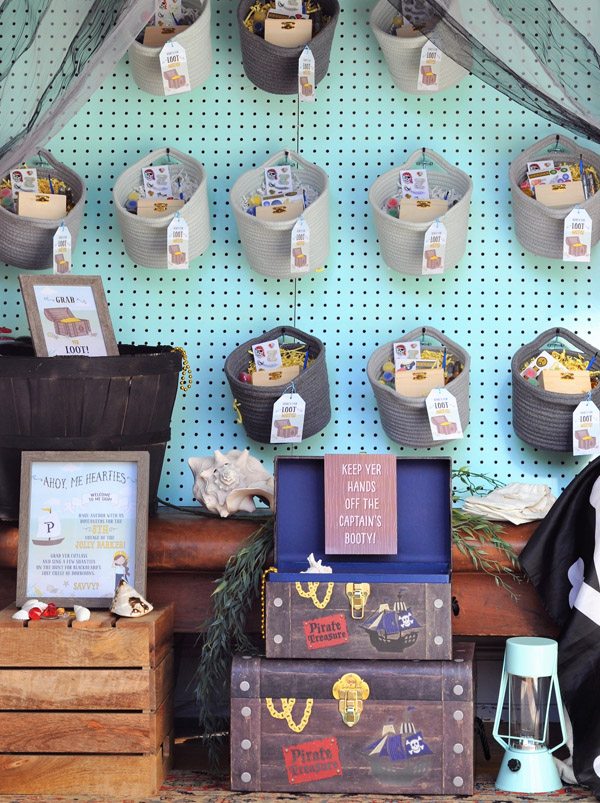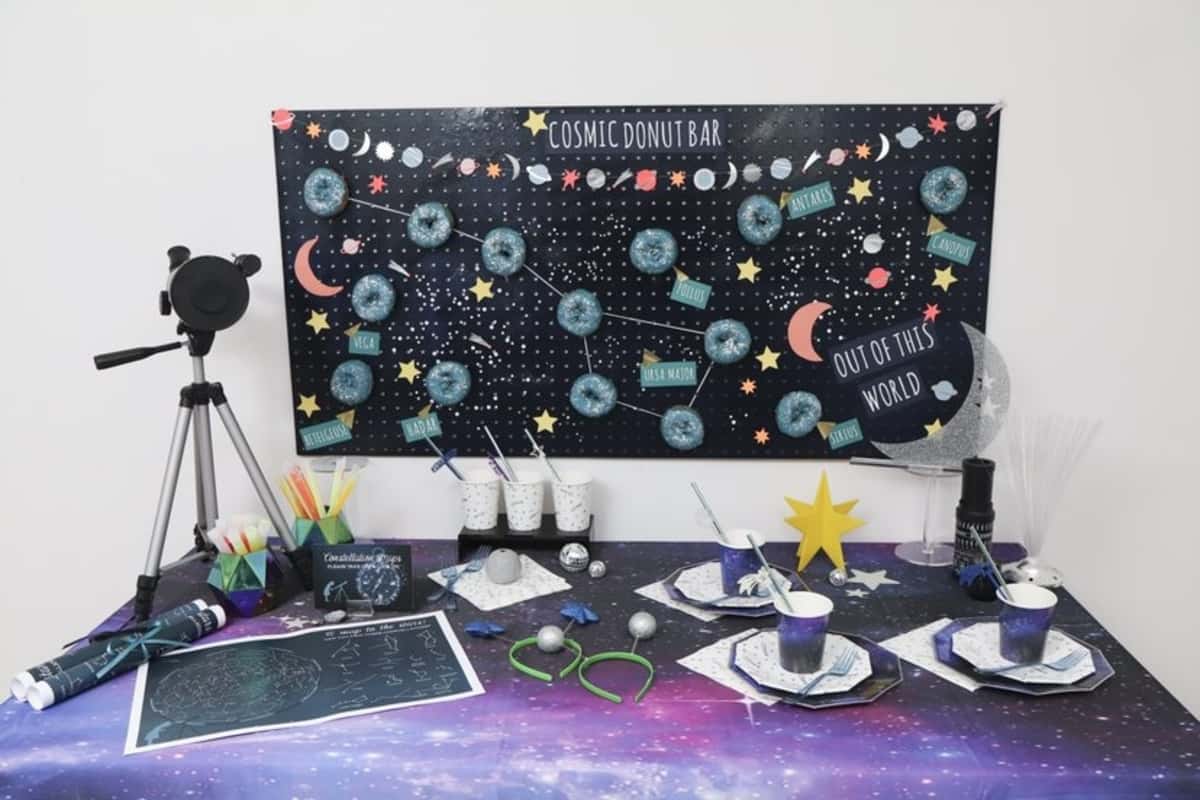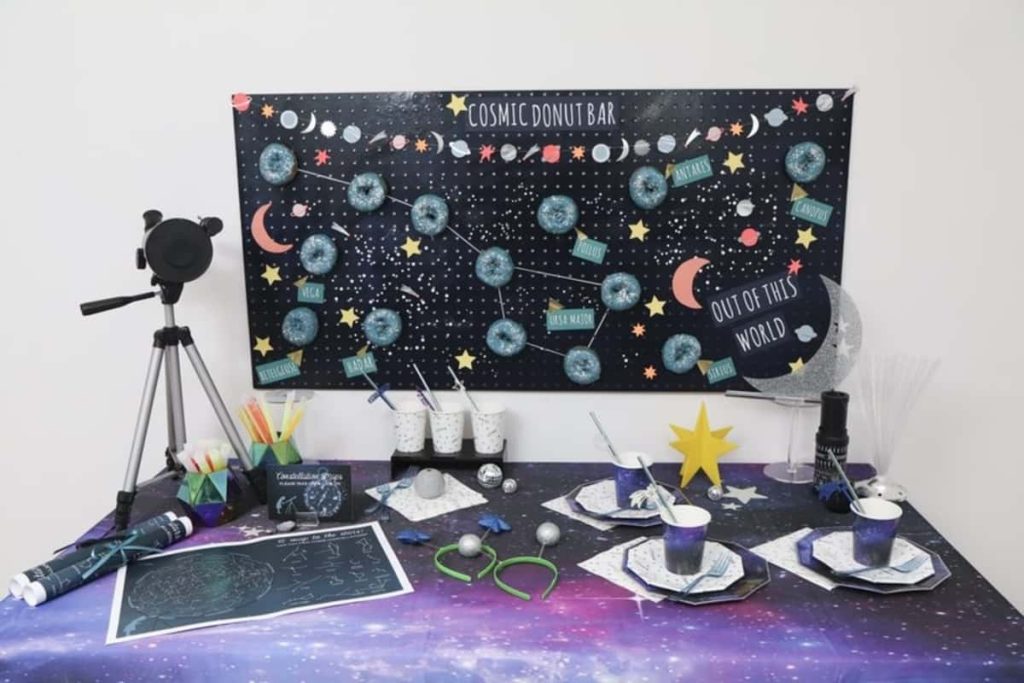 10. Gridwall Panels
Another option that makes spacing decor easier is metal gridwall paneling. These can also be painted in whatever colors you'd like, and can also be functional for hanging favors and other items. I painted mine purple for my Pastel Skull Halloween Party, yellow for a Tropical Fruit Shower, and red for a Patriotic Party merch stand backdrop.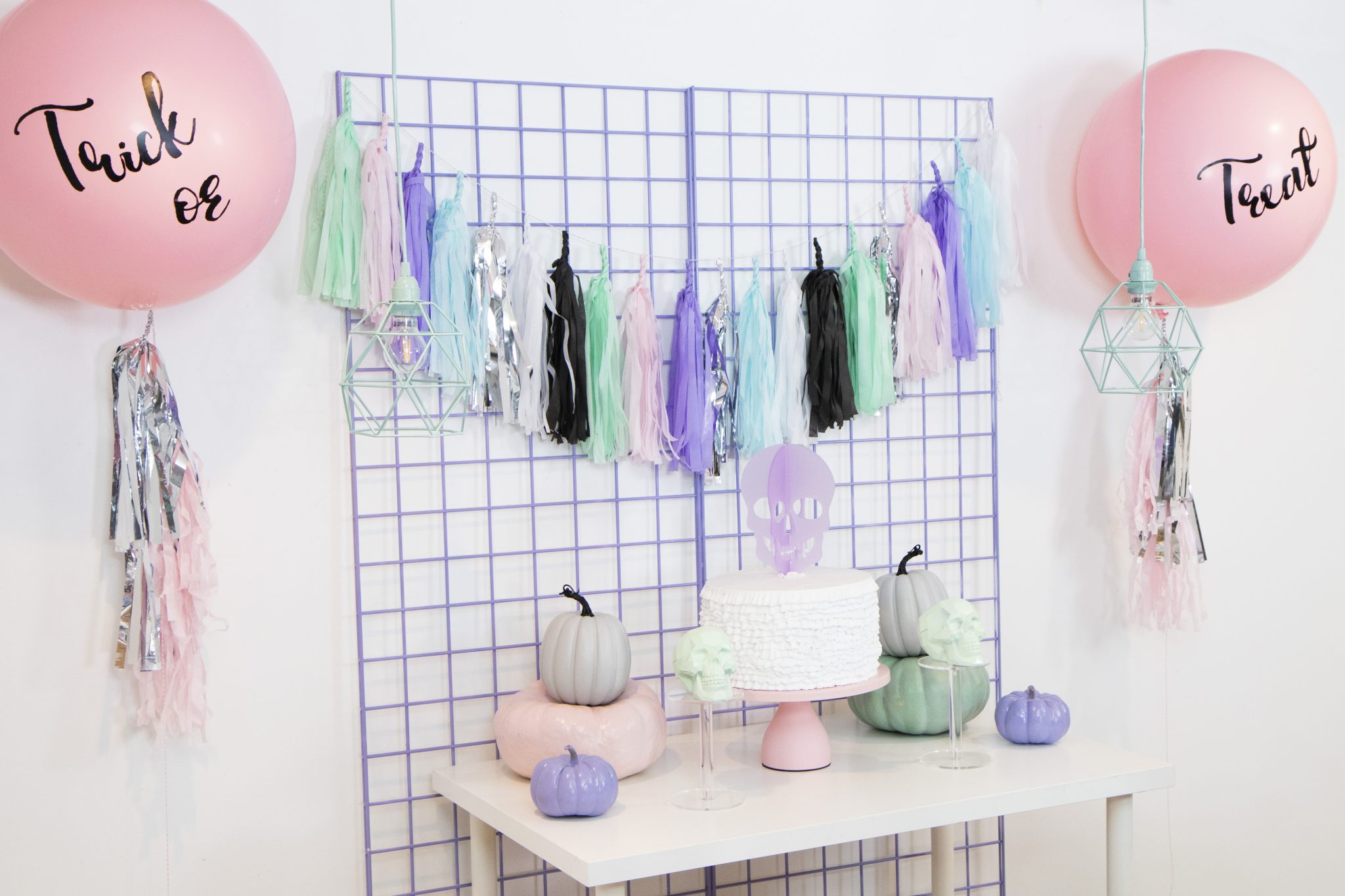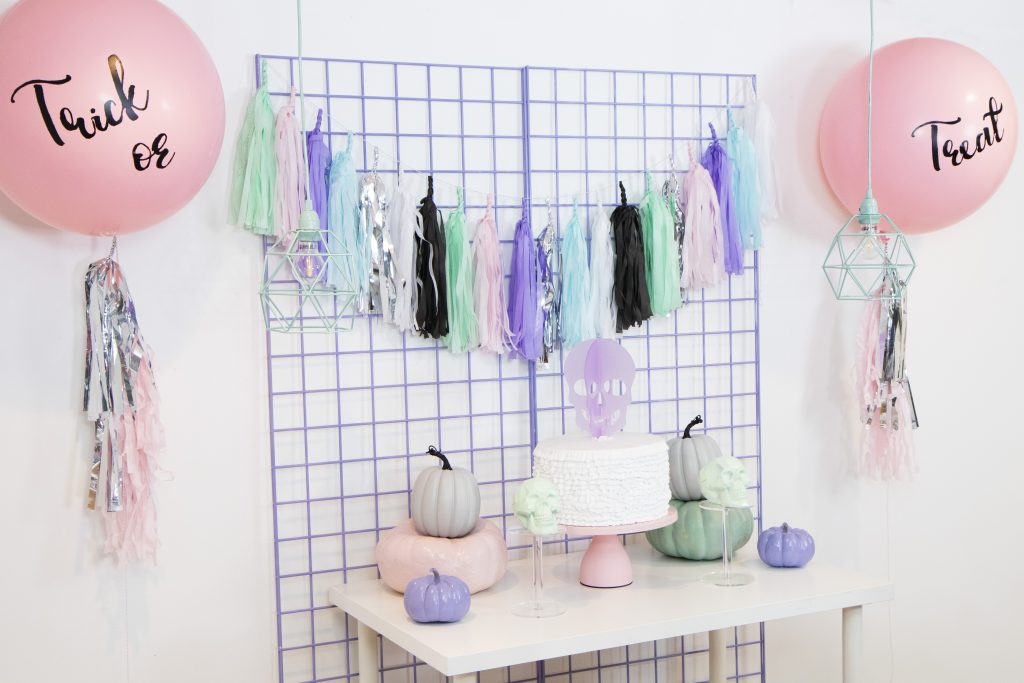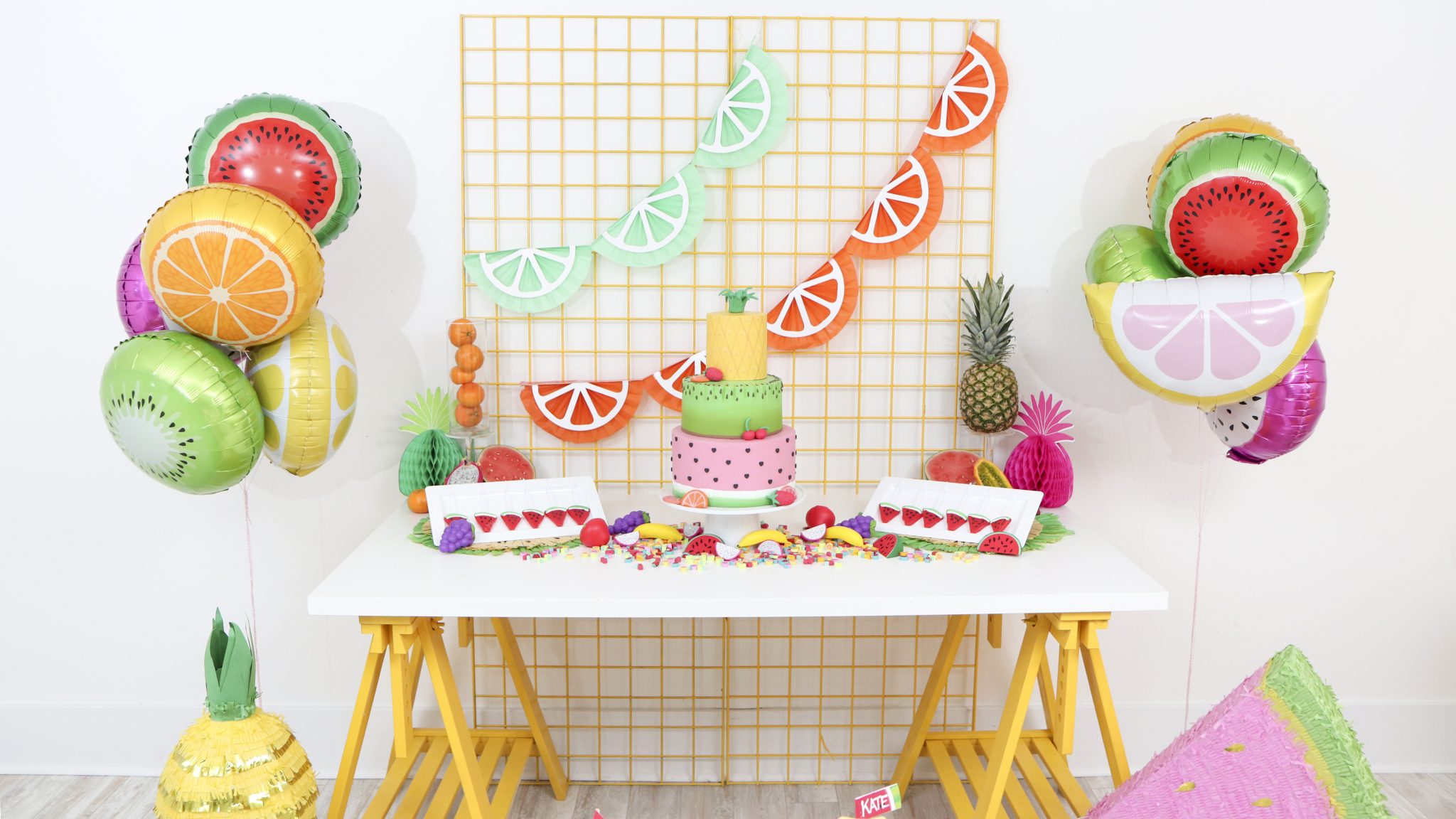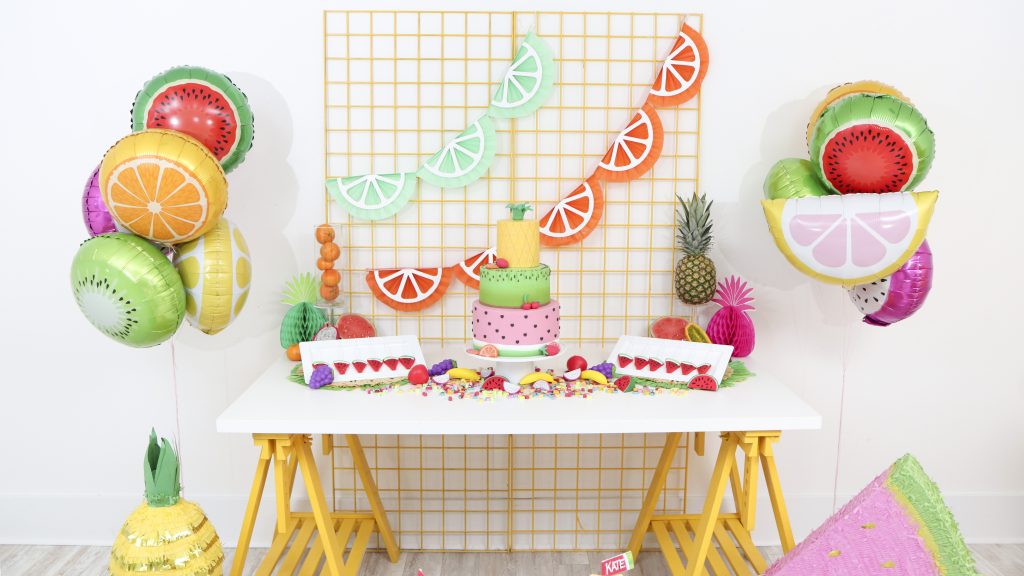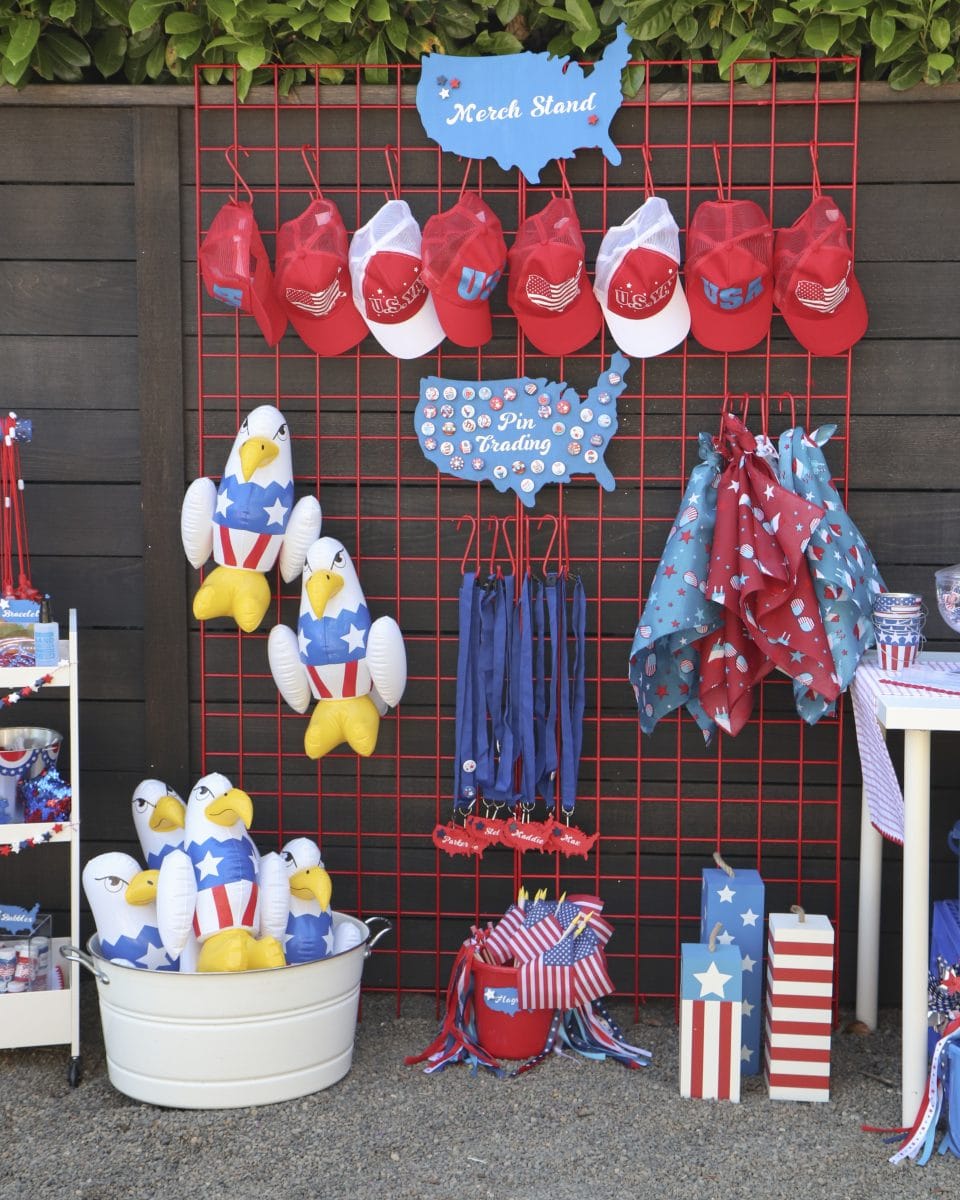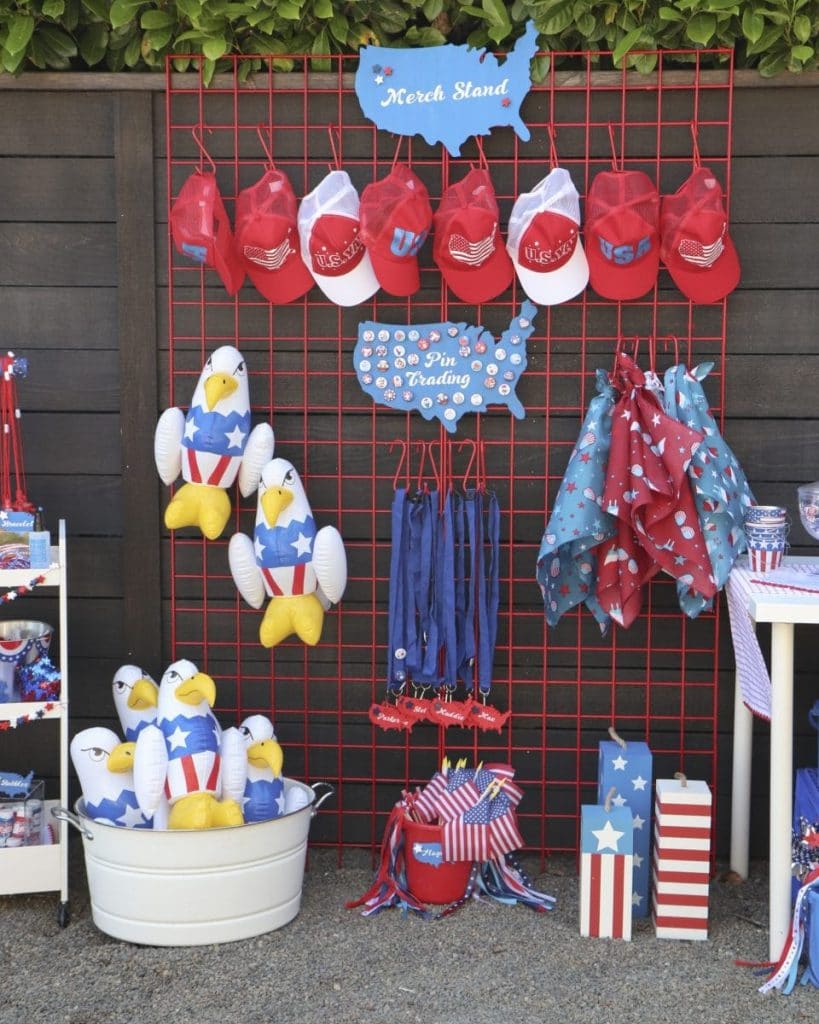 11. Wood
Wood makes a really awesome versatile DIY backdrop material that is also easily painted to match your party color scheme. You can use big sheets of plywood cut into shapes you like, like I did for my Fall Festival, recycled wood to create a wooden plank backdrop like I did for my Vineyard Garden Shower, or even small wooden craft shapes to create patterns like I did in my Mid-Century Mod Shower.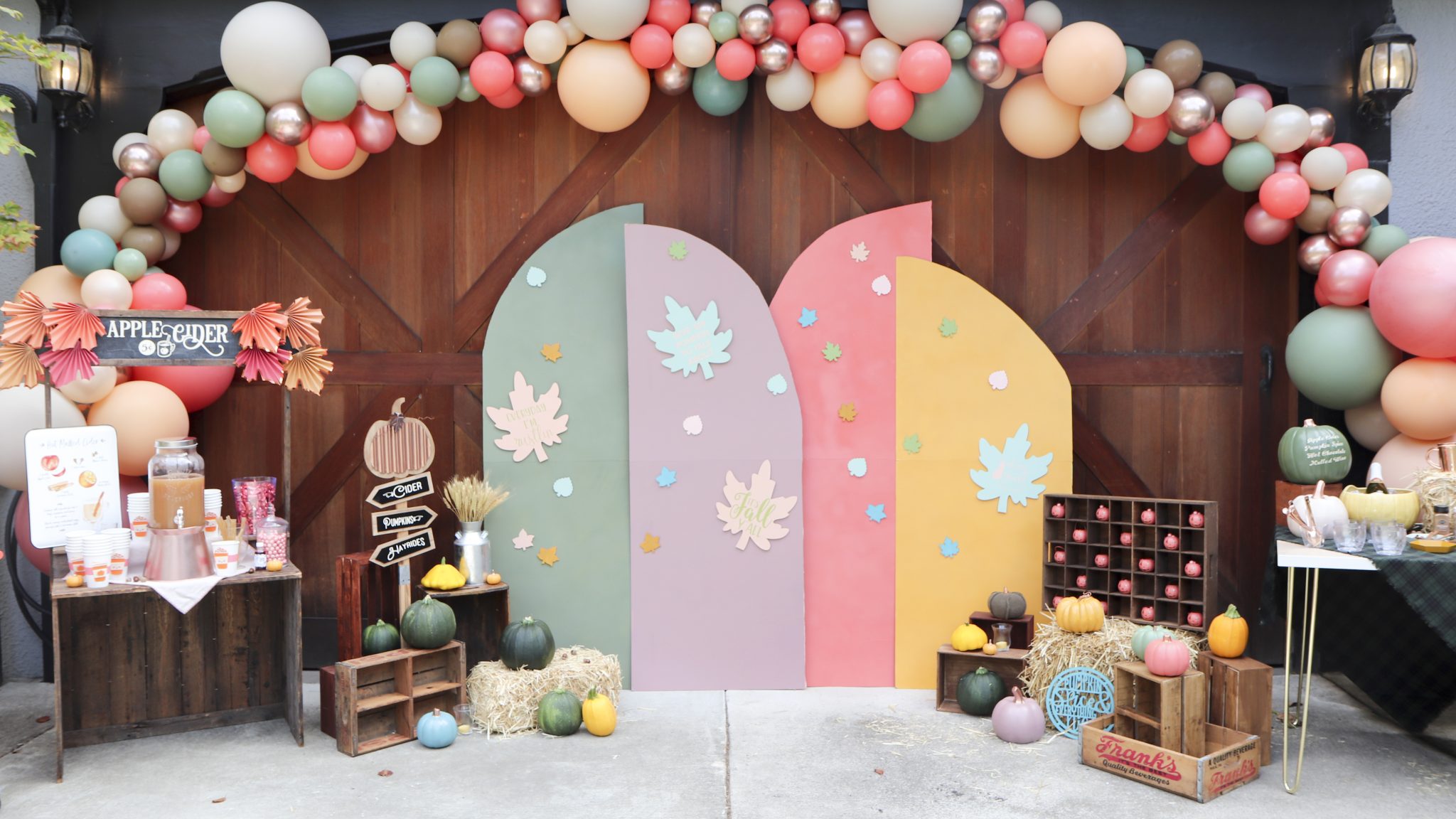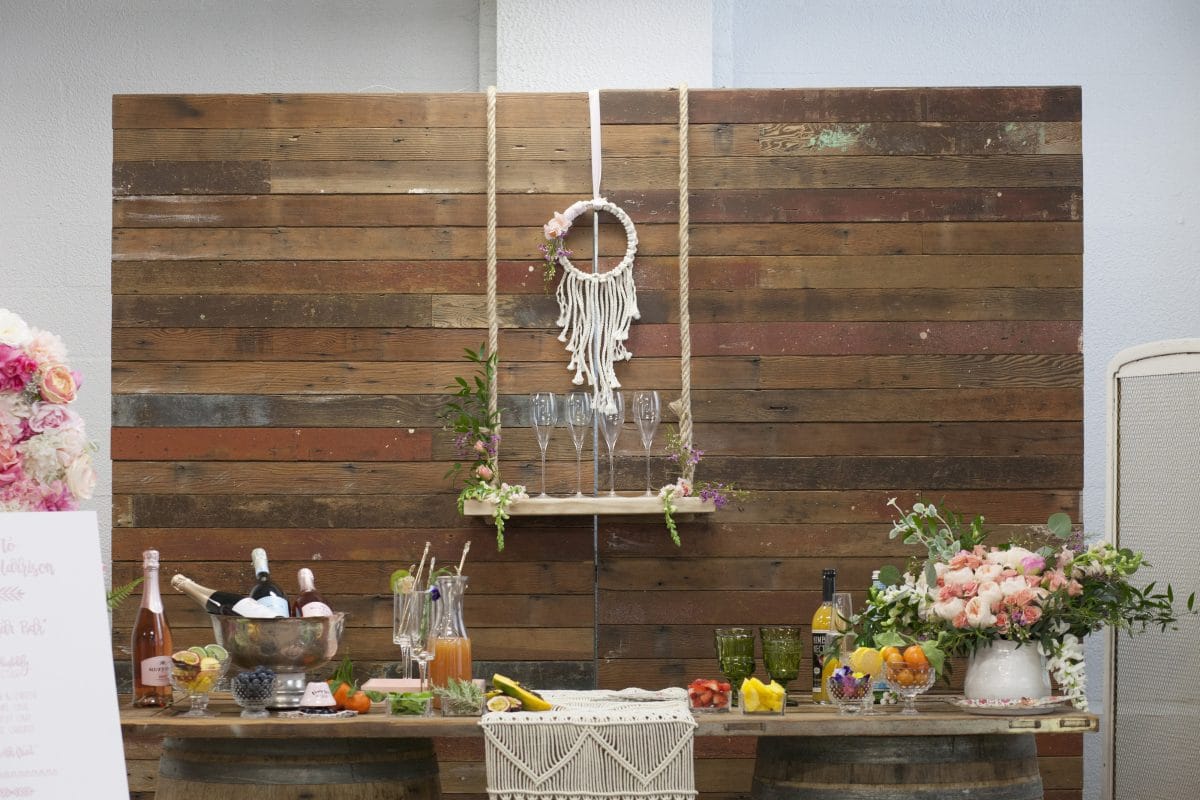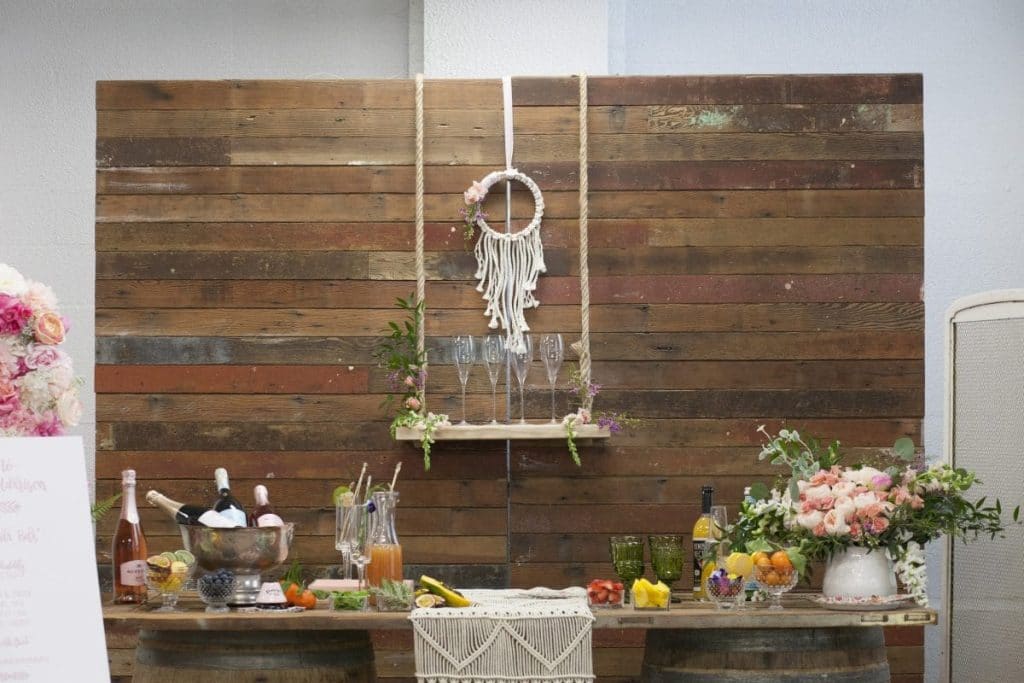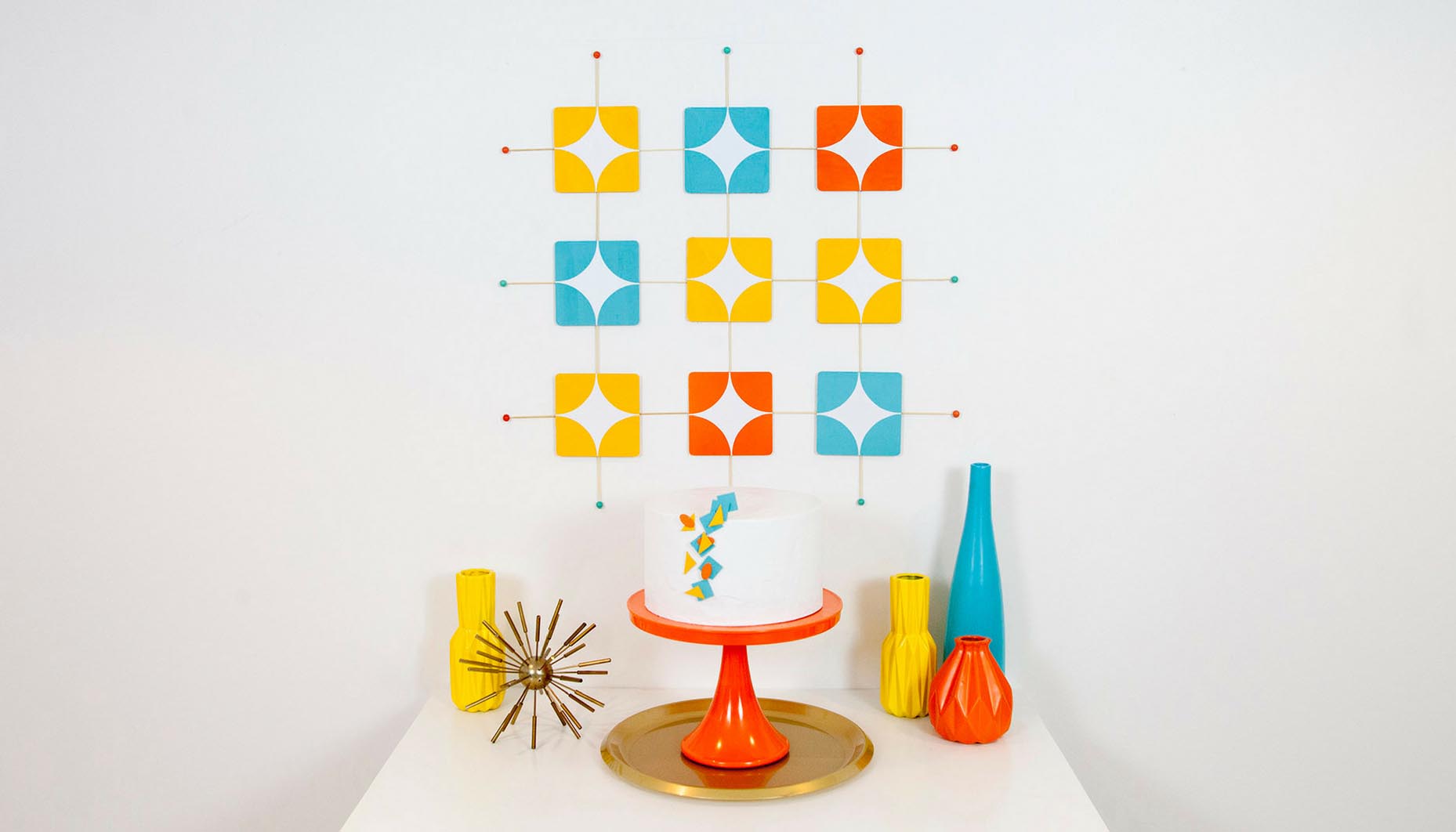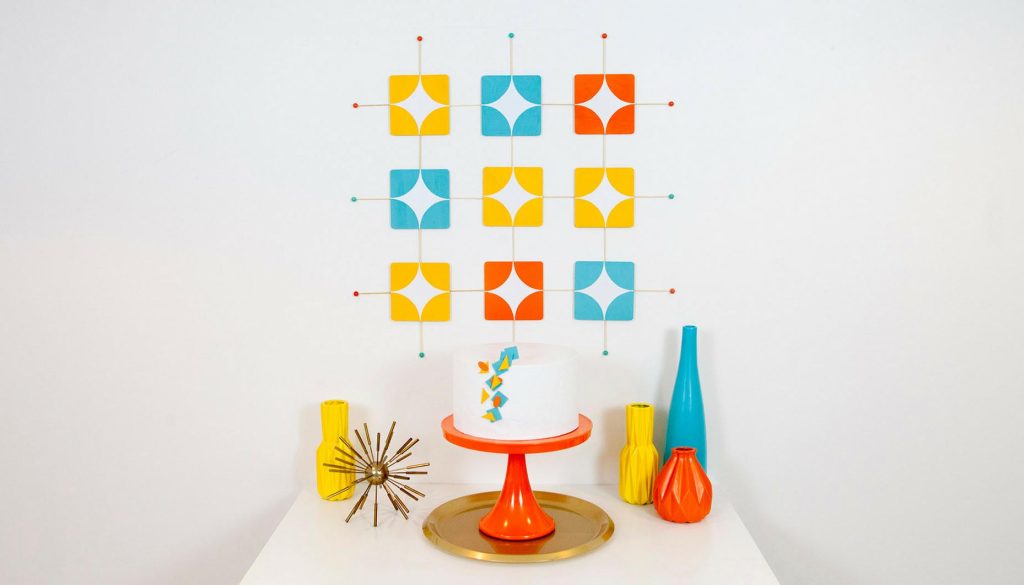 12. Fencing
While you're at the hardware store, perhaps grab some fencing for your next party backdrop. It provides great texture and covers large spaces quickly. I used bamboo fencing for my Panda-monium Party.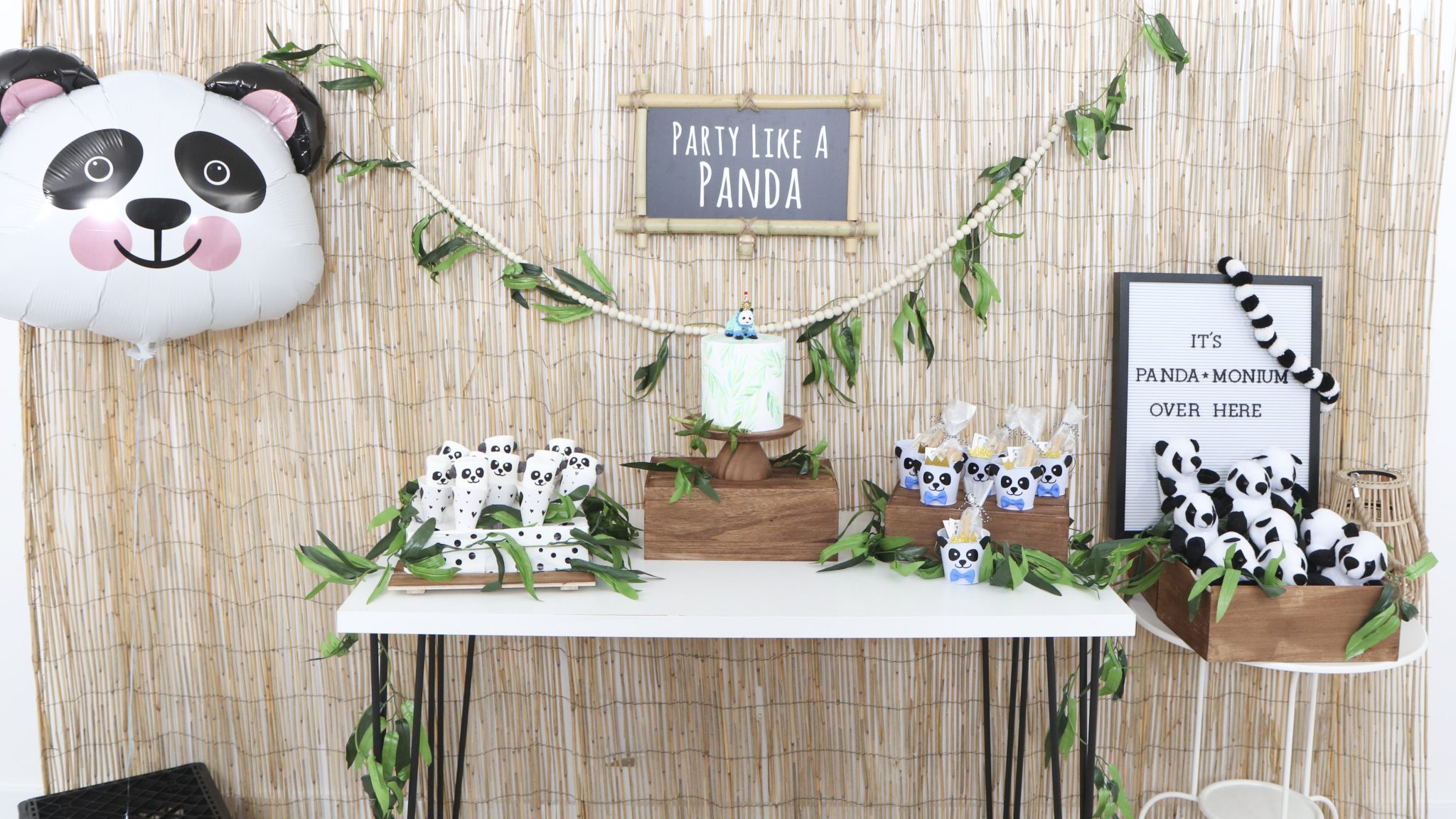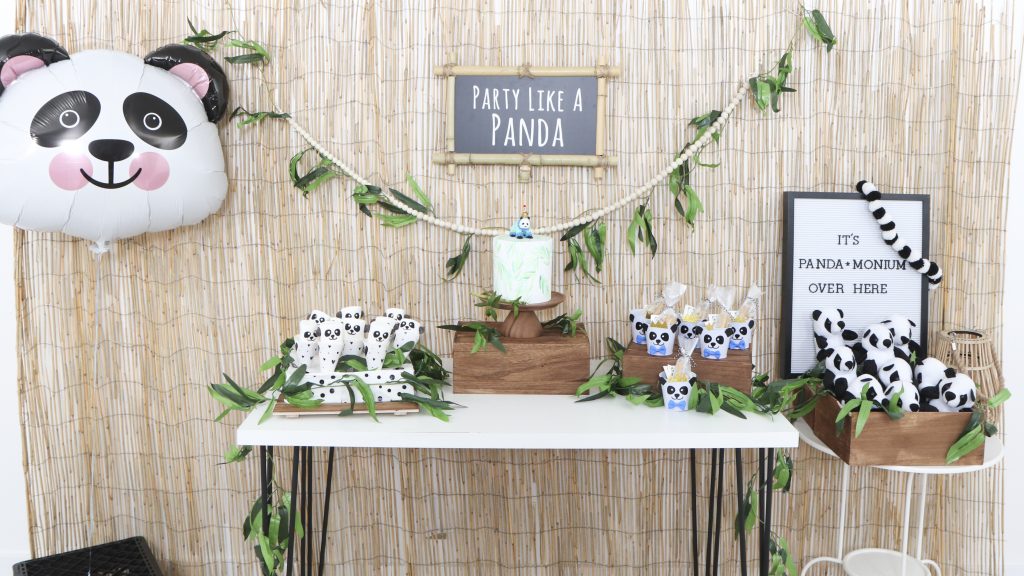 13. Netting
Depending on your theme, netting can make an easy and impactful backdrop. Camo netting was perfect for a NERF Themed party, and fish netting really set the scene for a Softly Shipwrecked Wedding.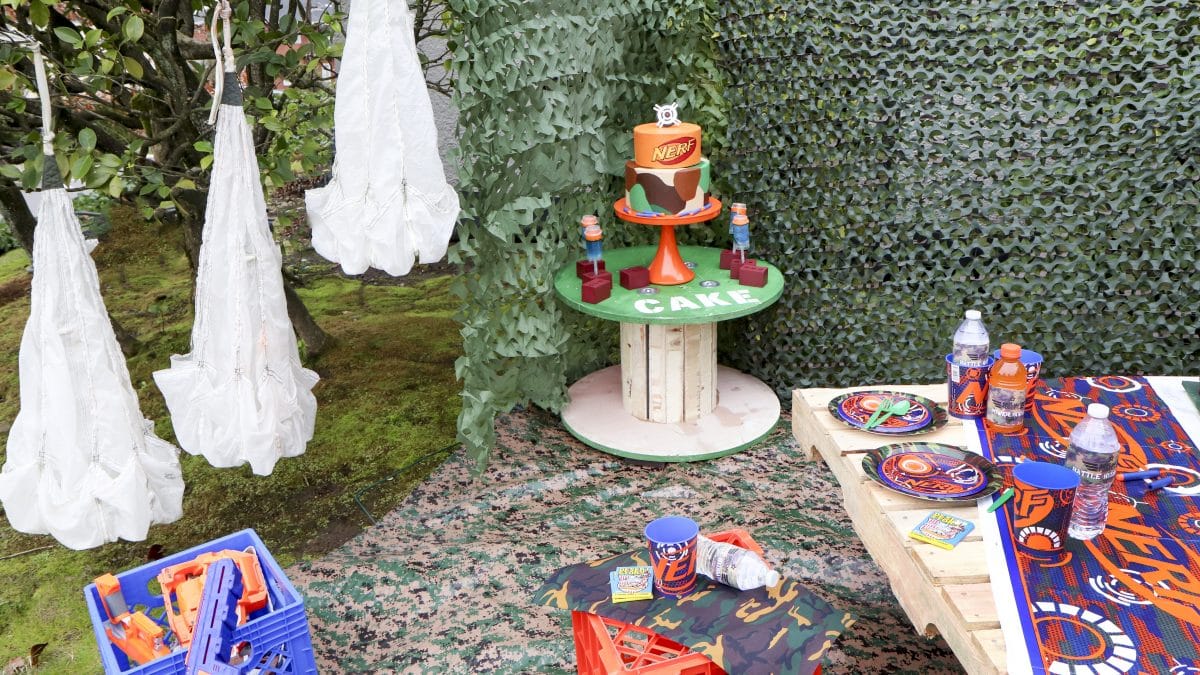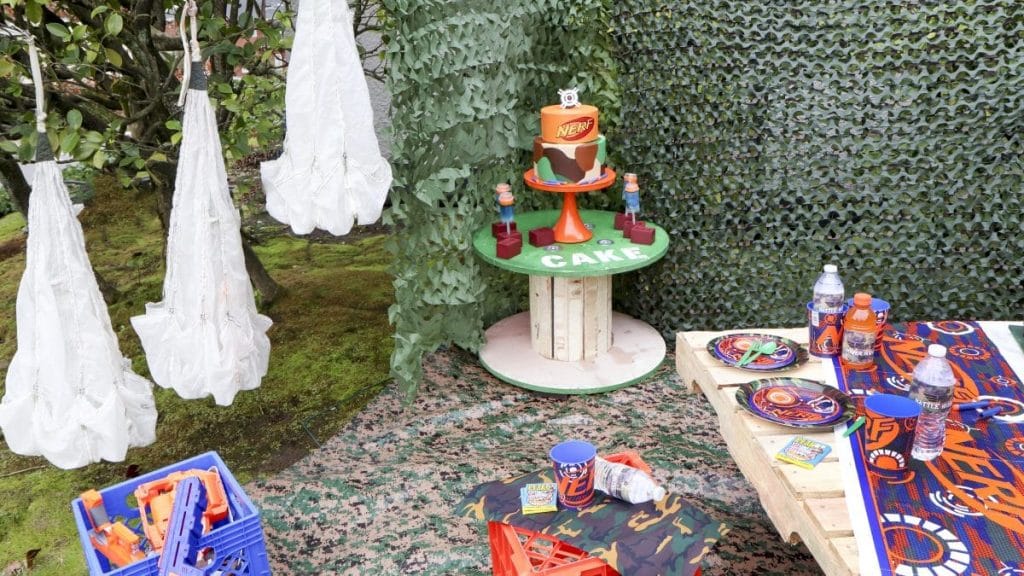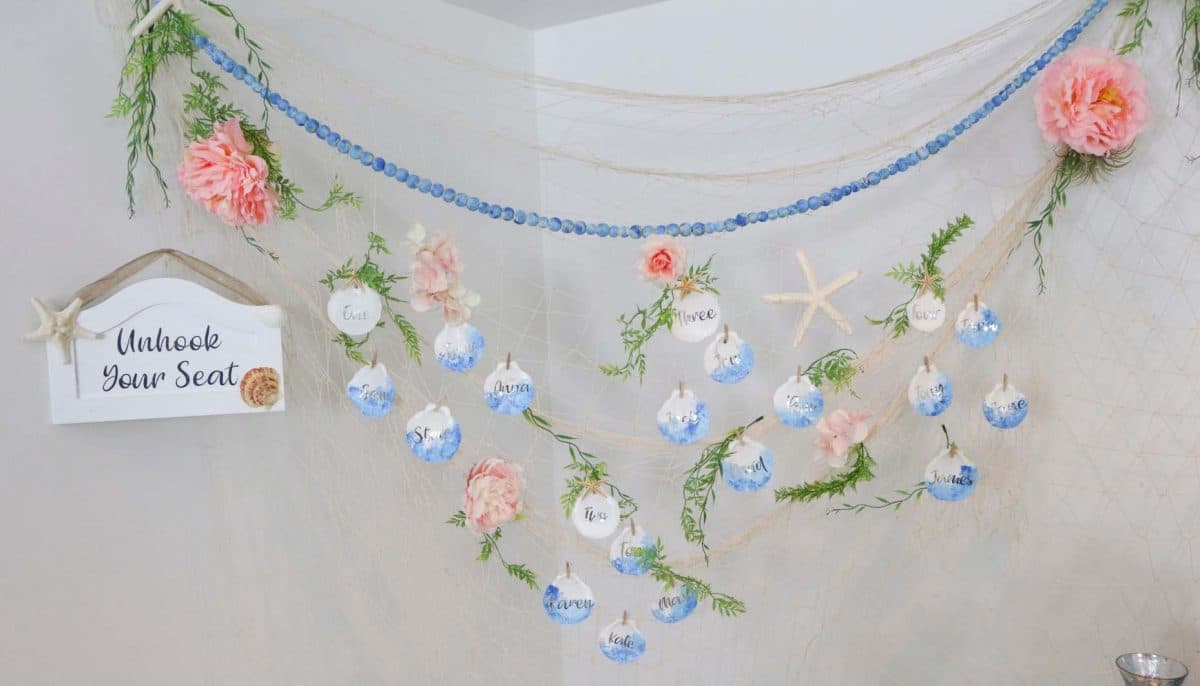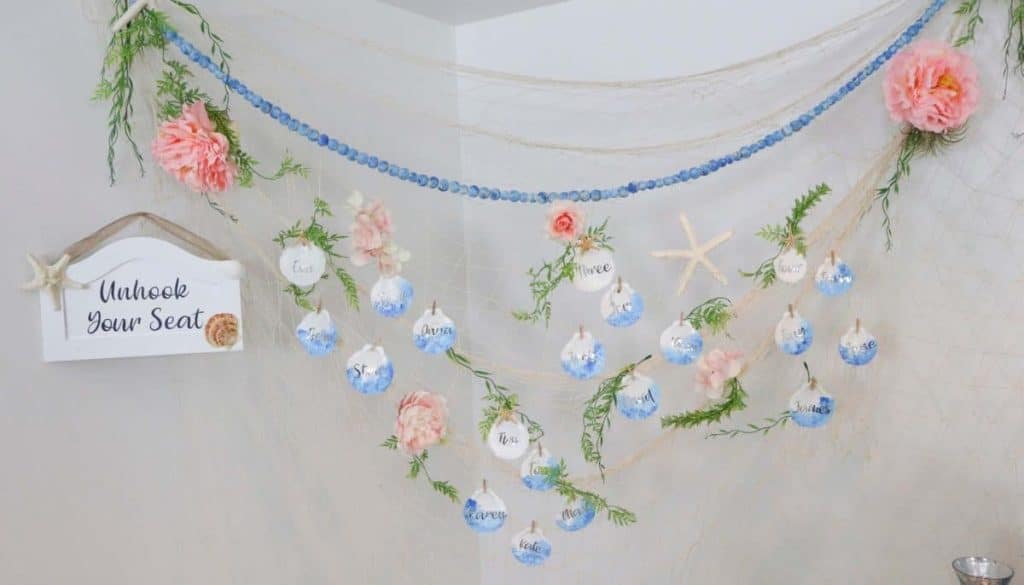 14. Fringe
Fringe is probably my second favorite DIY backdrop material. It's so affordable, comes in endless colors, and looks so great. You can use layered fringe garland like I did for my Sweet Slumber Party backdrop, or larger draped fringe like I used for my Haunted House Decorating Party. You can also create shapes out of fringe, like I did for Valentine's Day and Easter.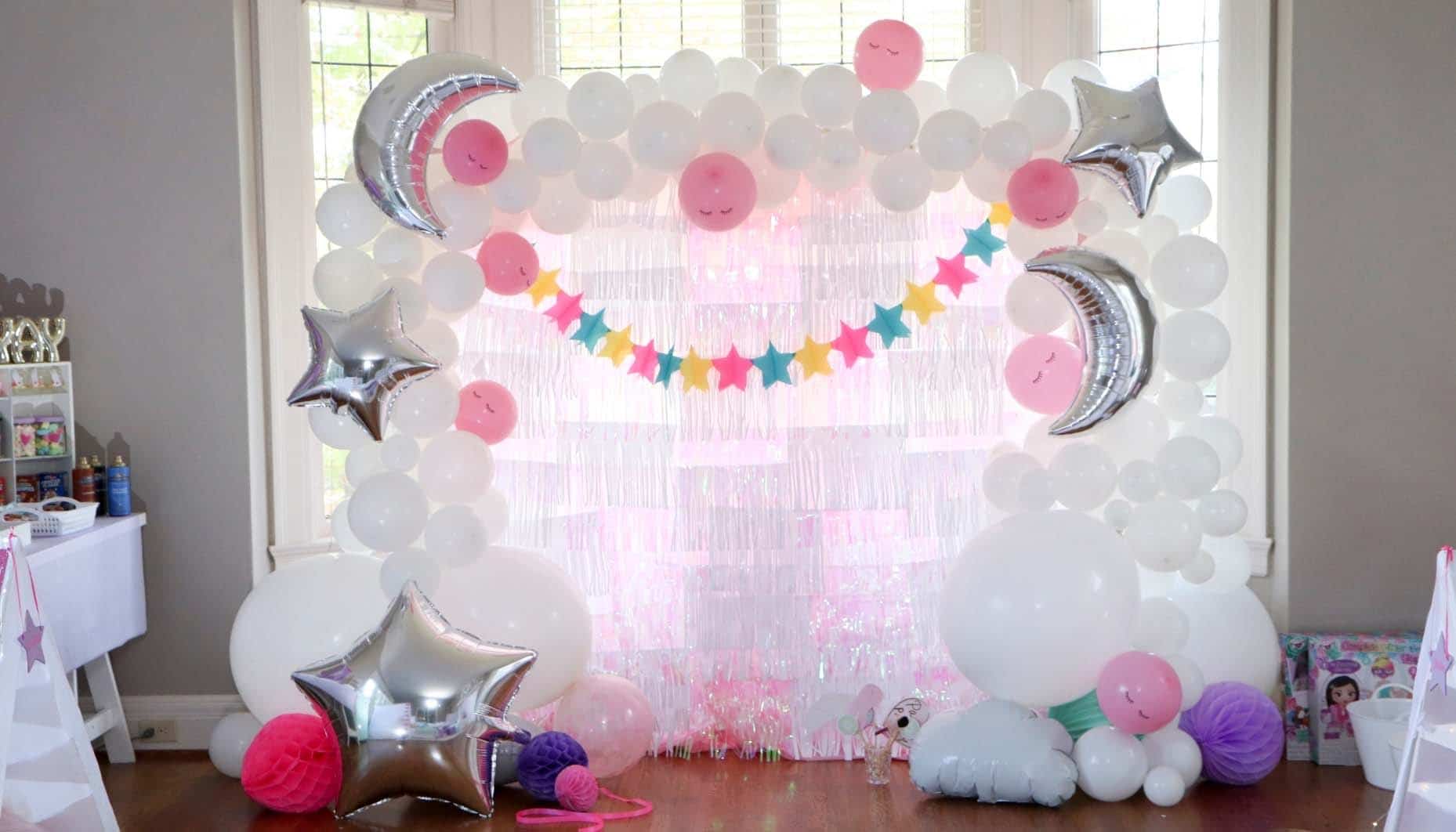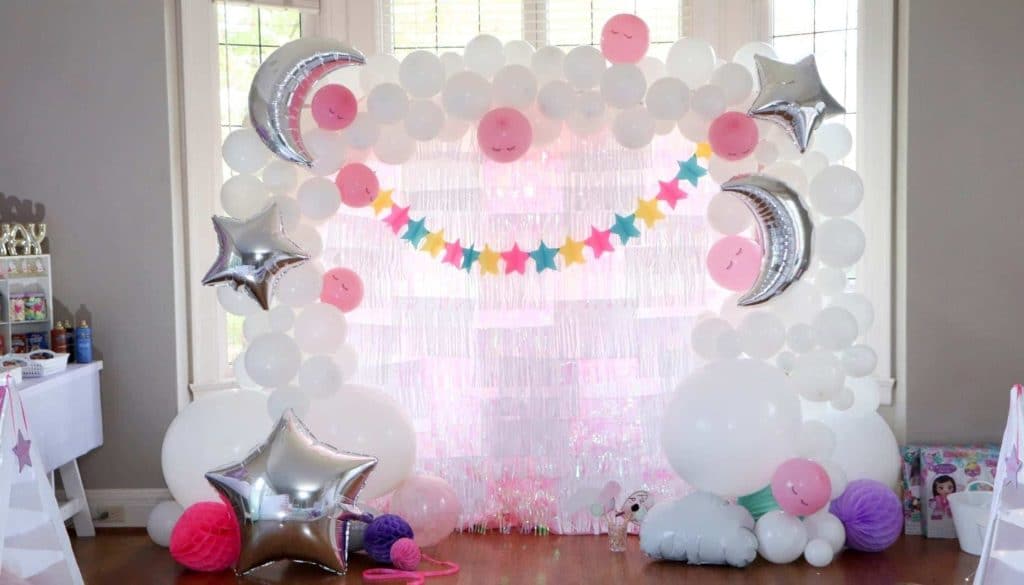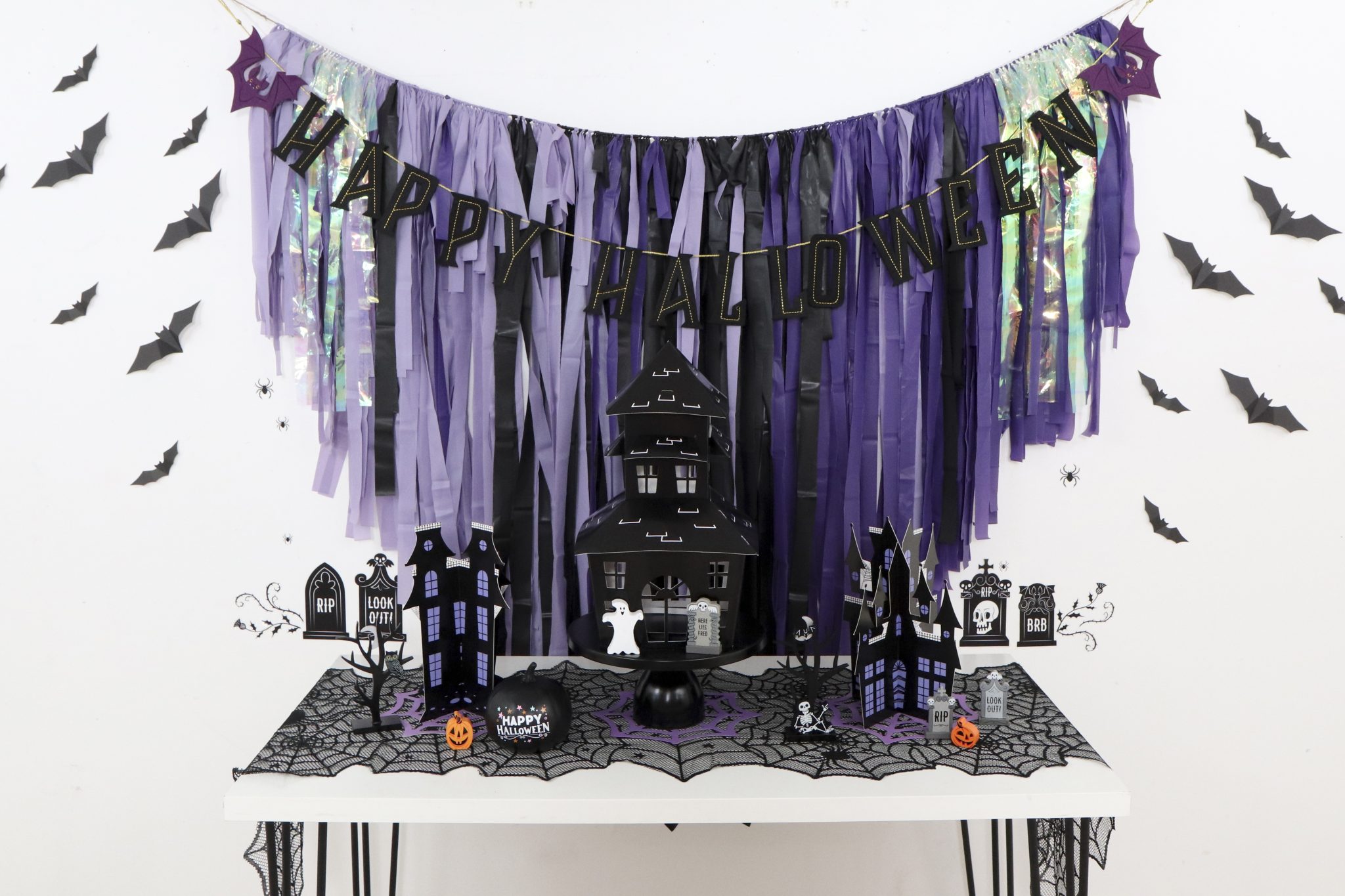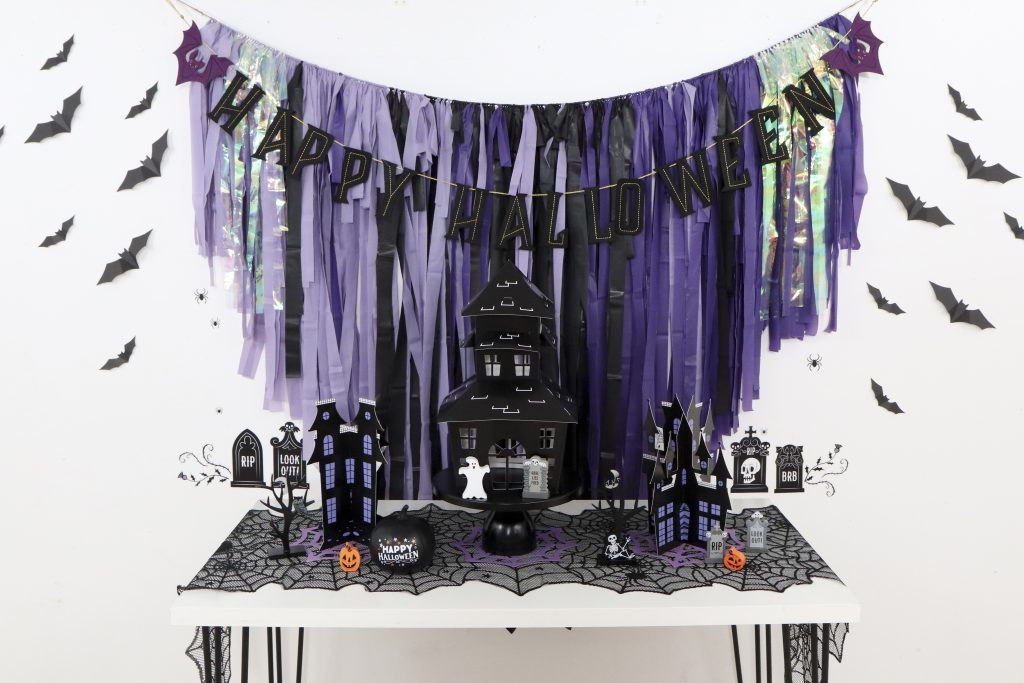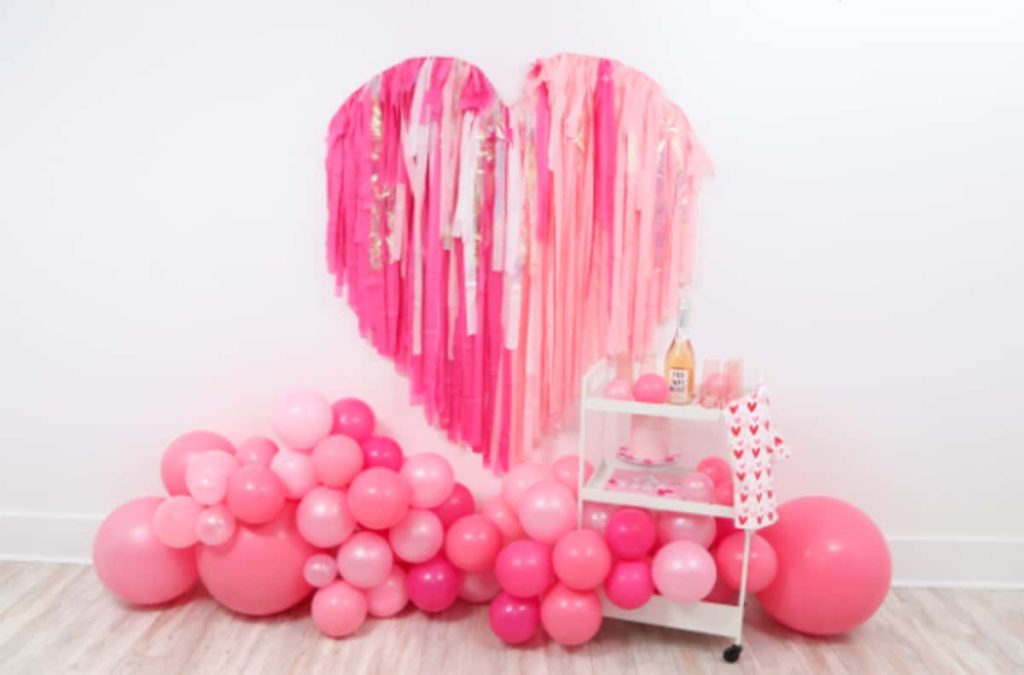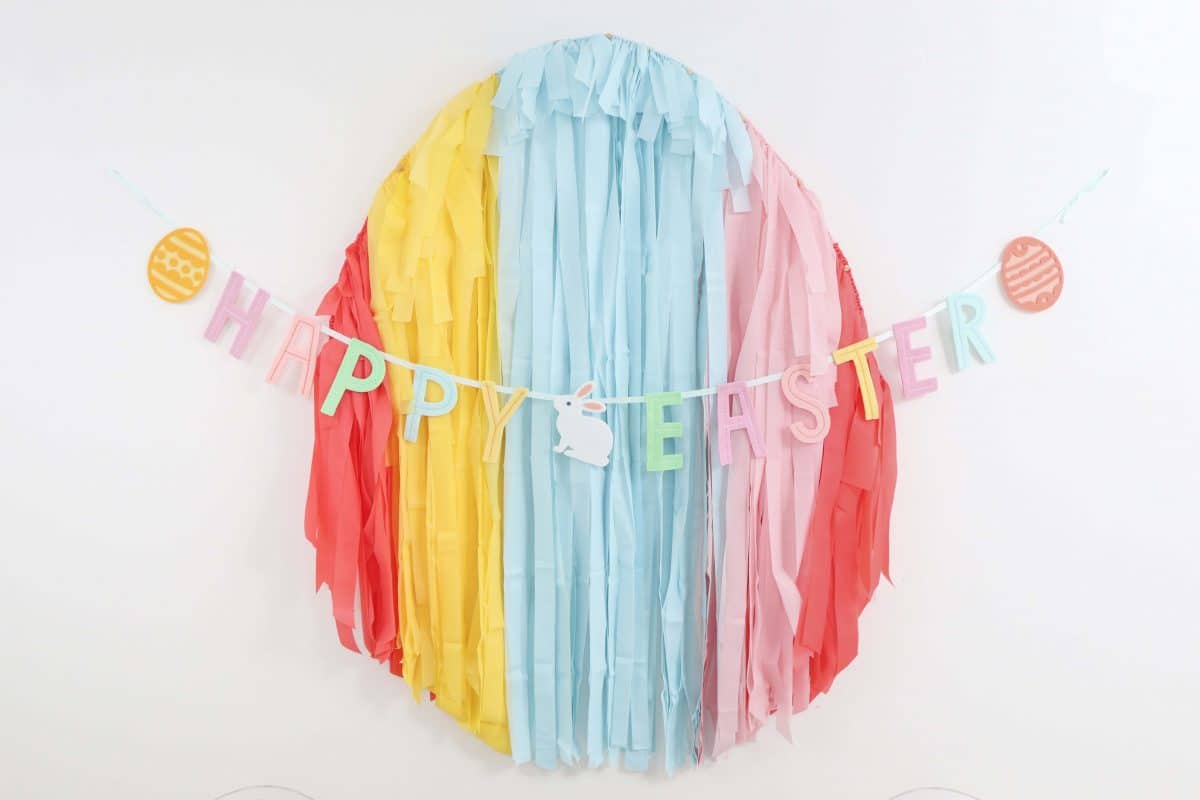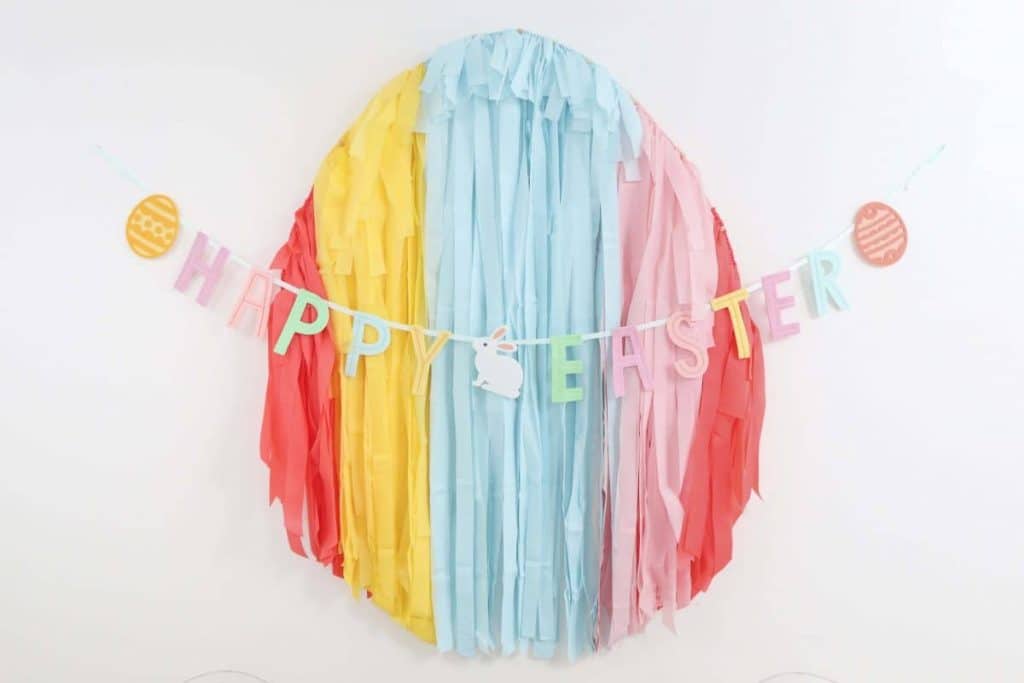 15. Balloons
Balloons have to be up there in my list of favorite DIY backdrop materials as well. We have all seen (and I definitely love using) balloon garlands as backdrops – but you definitely aren't limited to that when it comes to this material. I used shaped balloons for my Spring Dino Party and my Pink Shark Party (along with some extra balloons to look like bubbles). I used letter and number balloons as backdrops for my Punny Easter Parties and my Iridescent NYE Party. You can also use balloons to create shapes, like I did for my Ombre Heart Shower.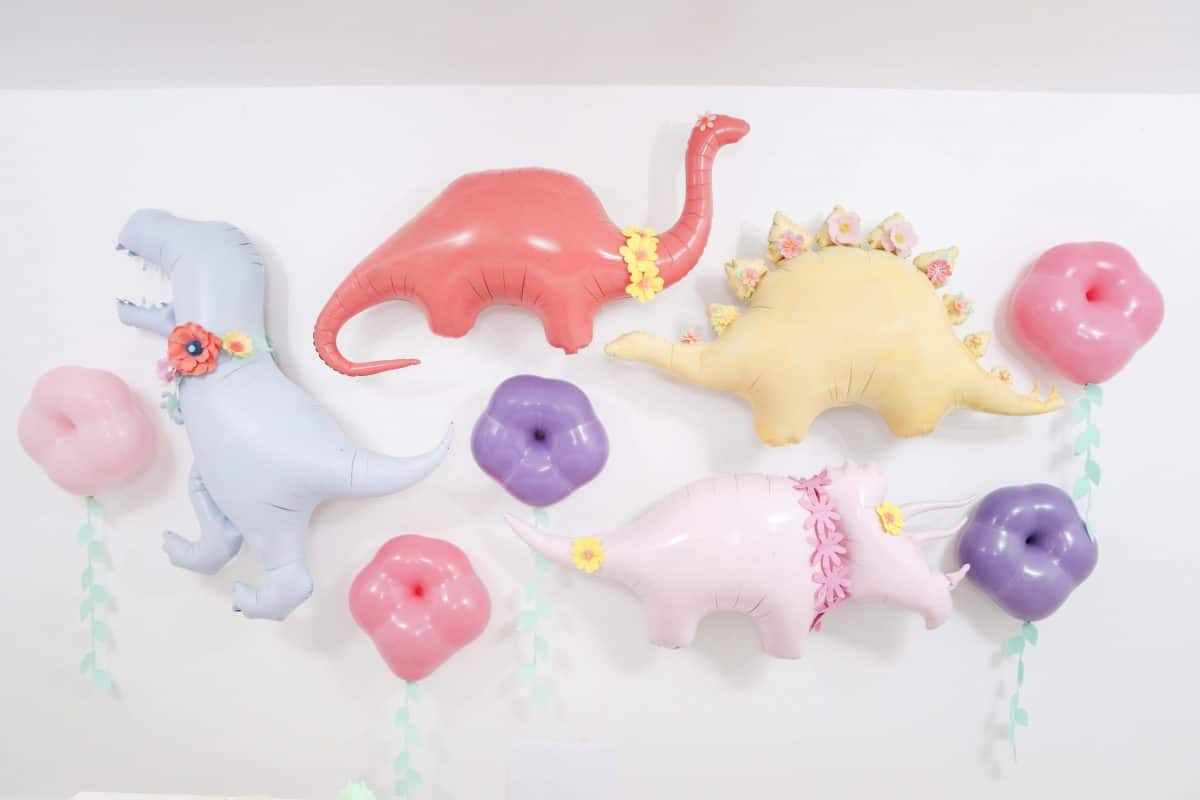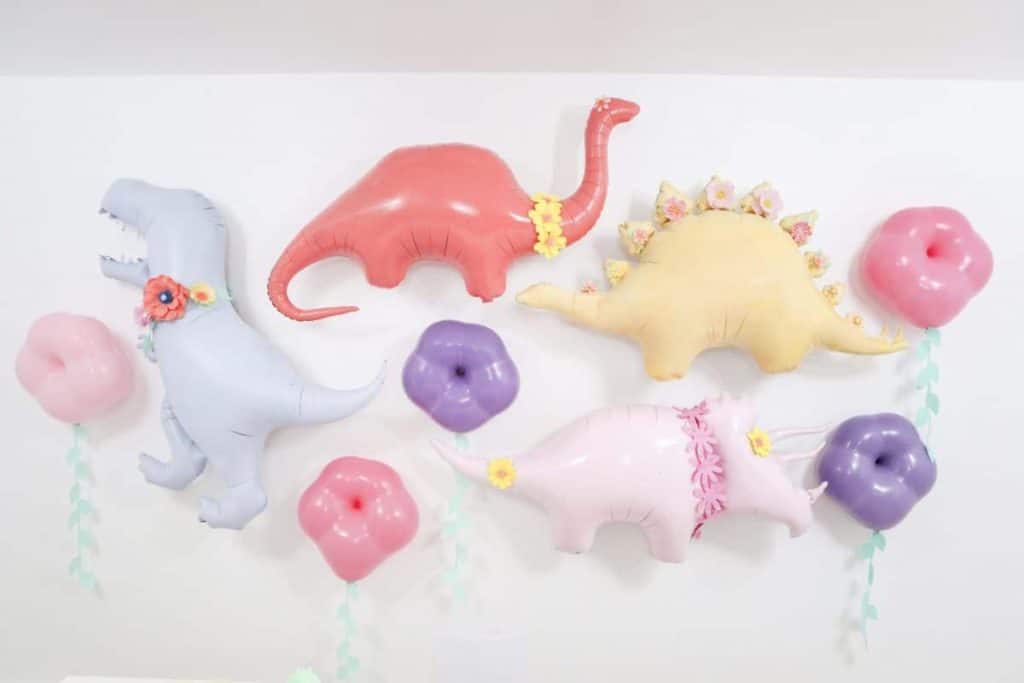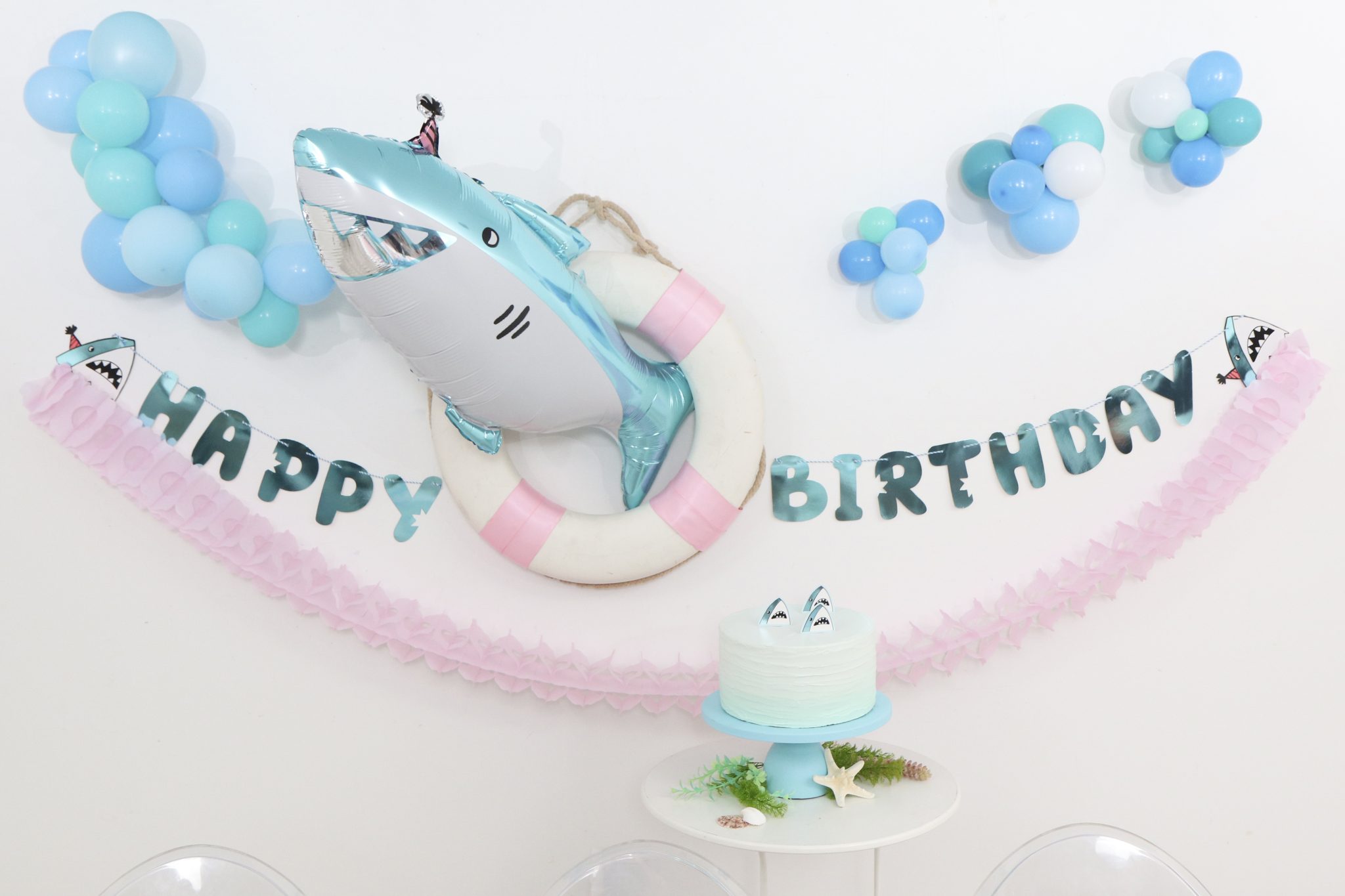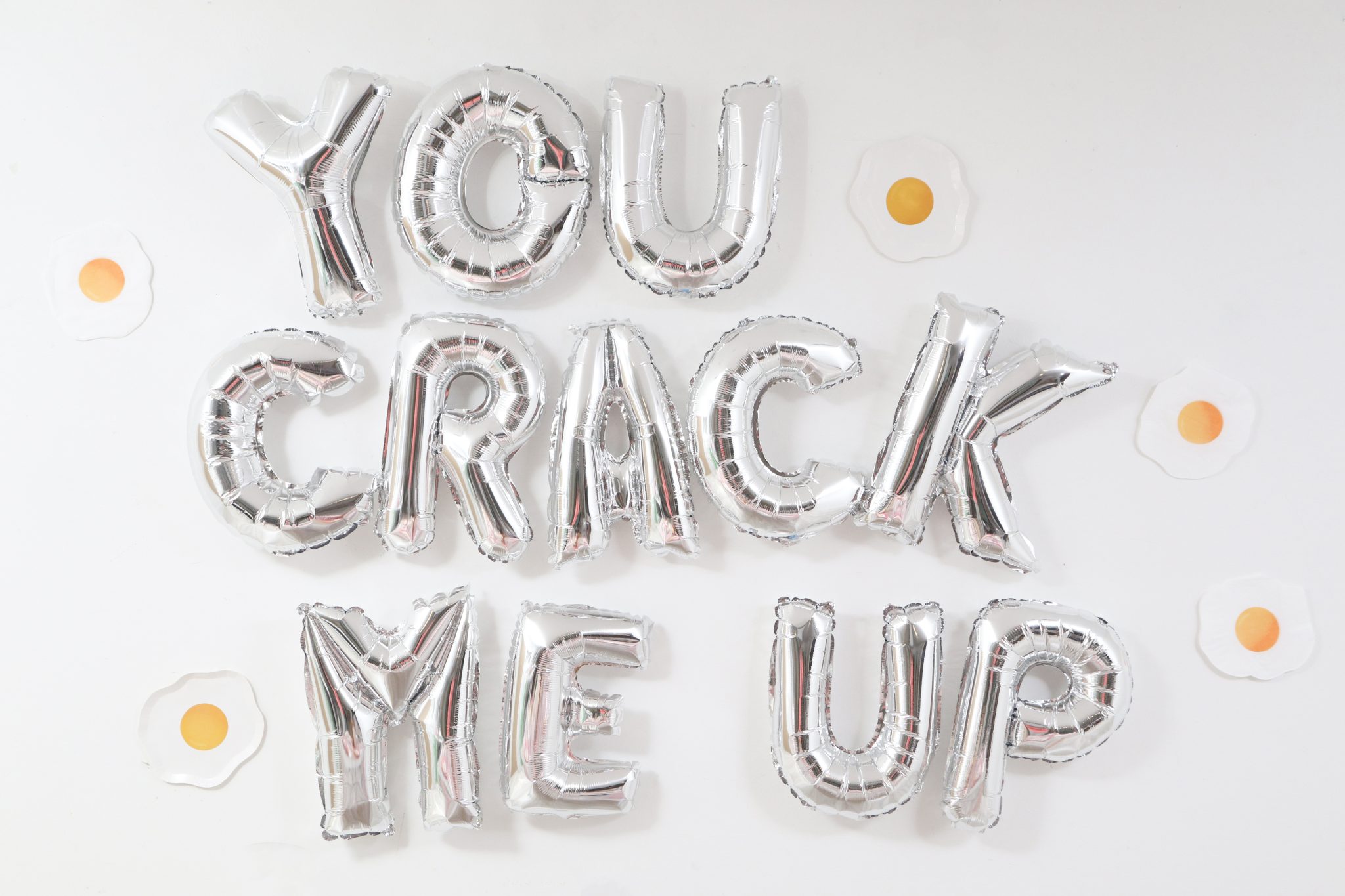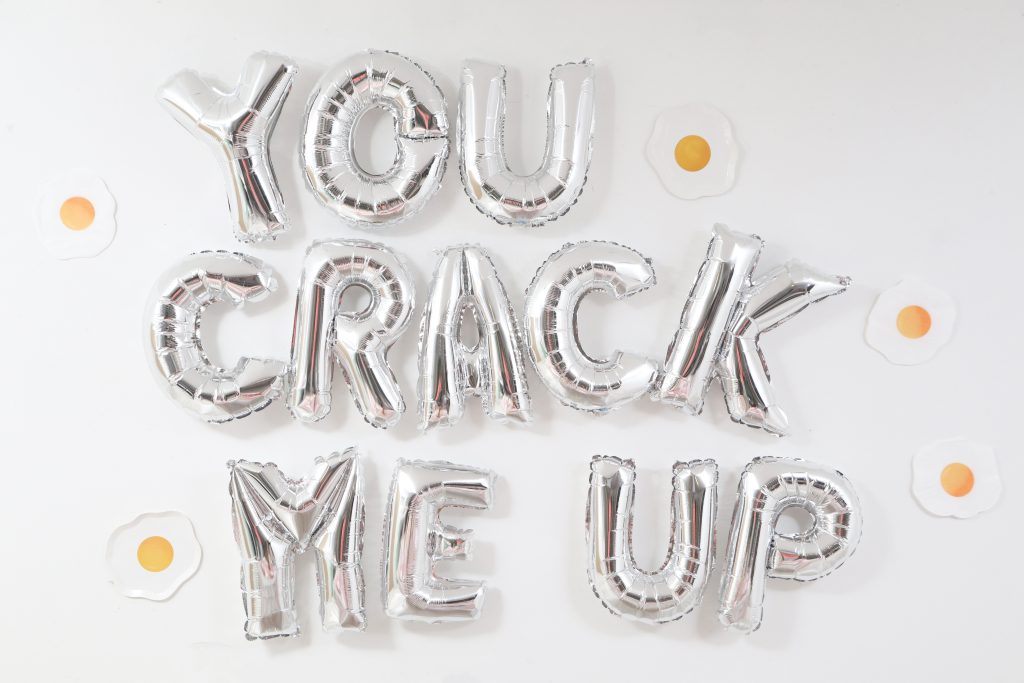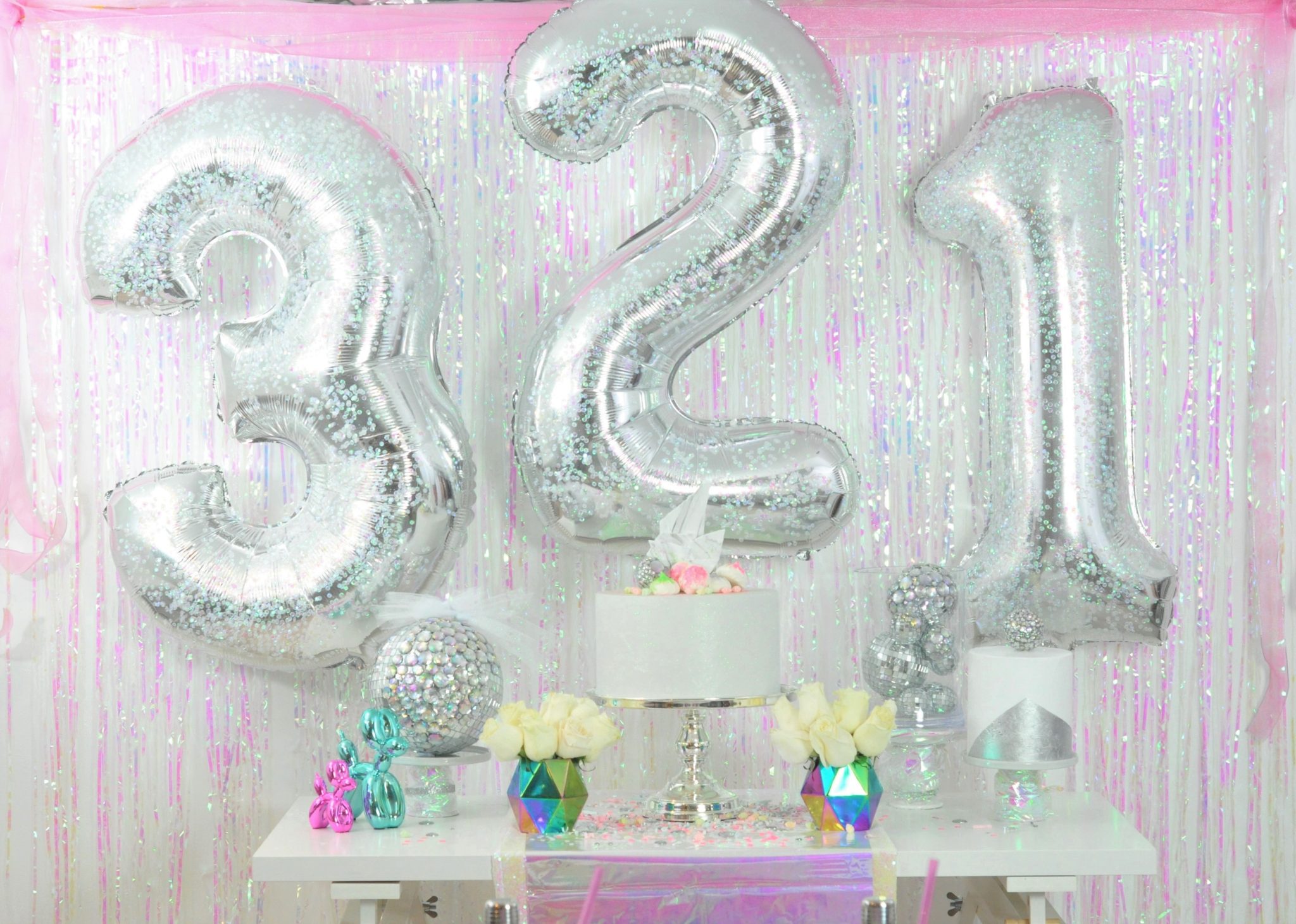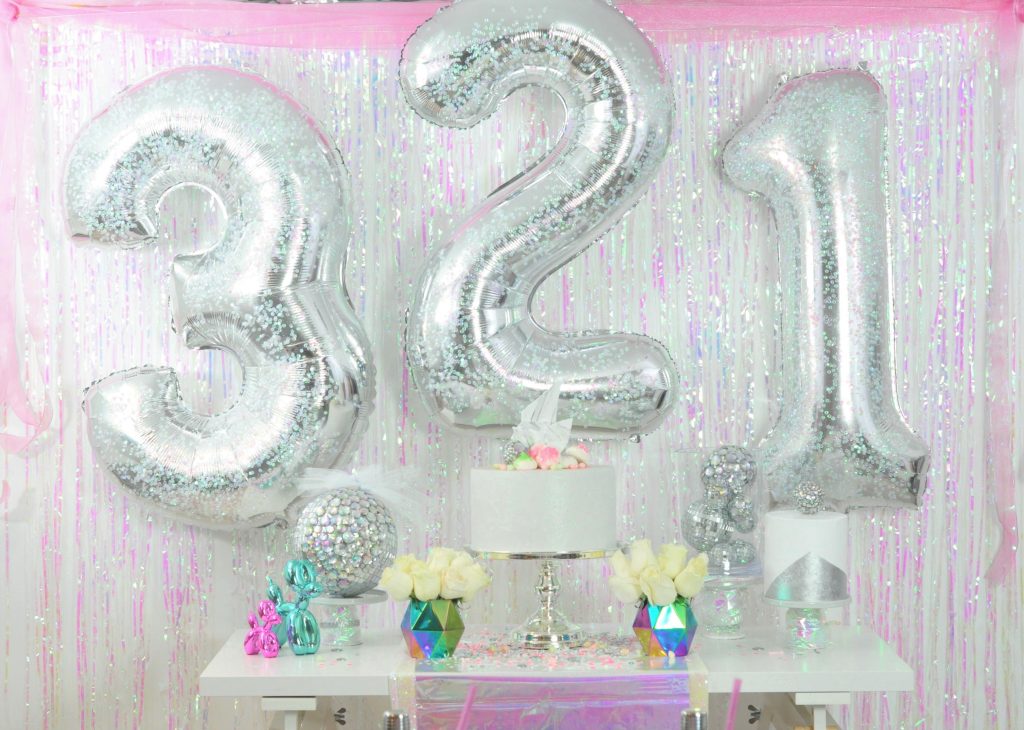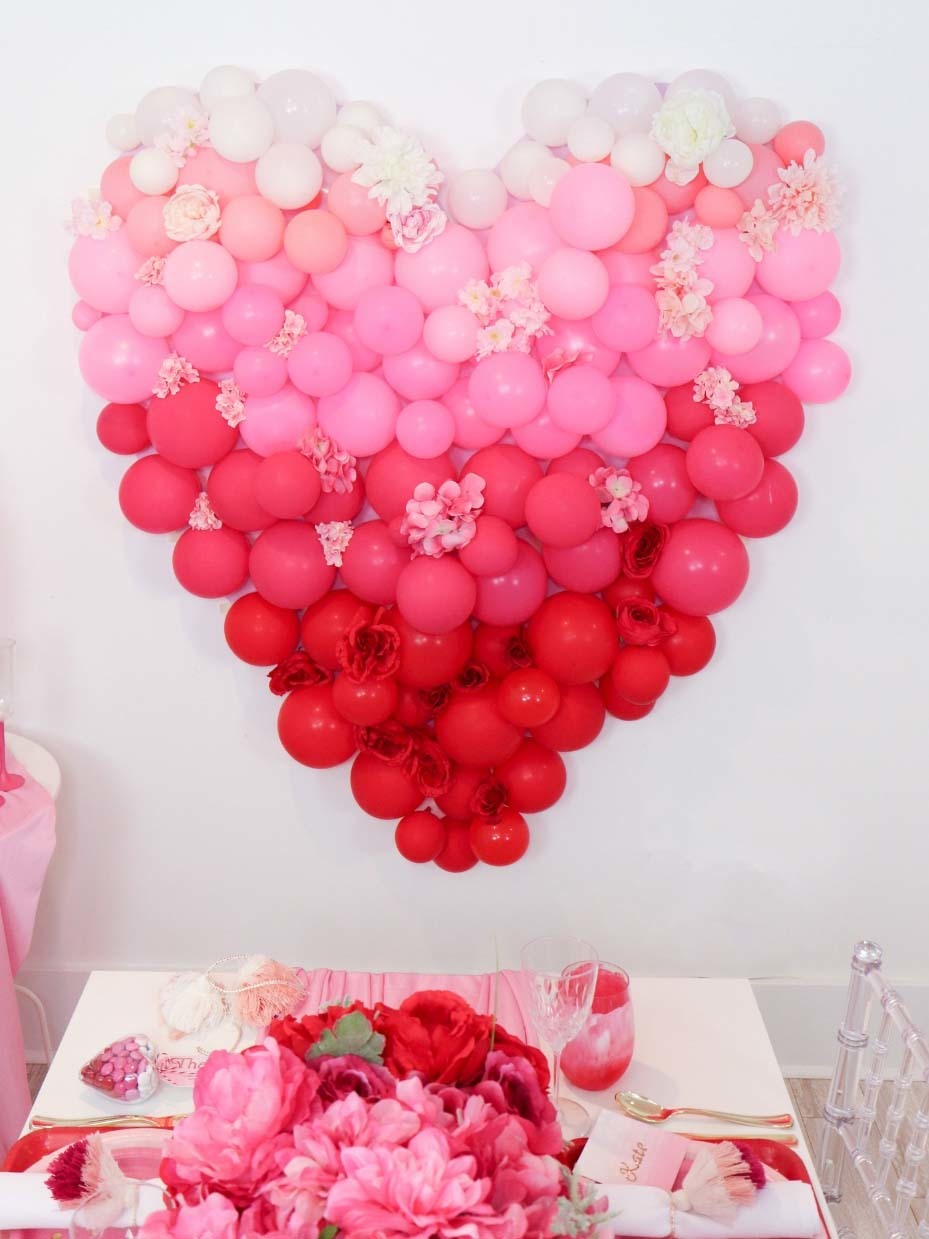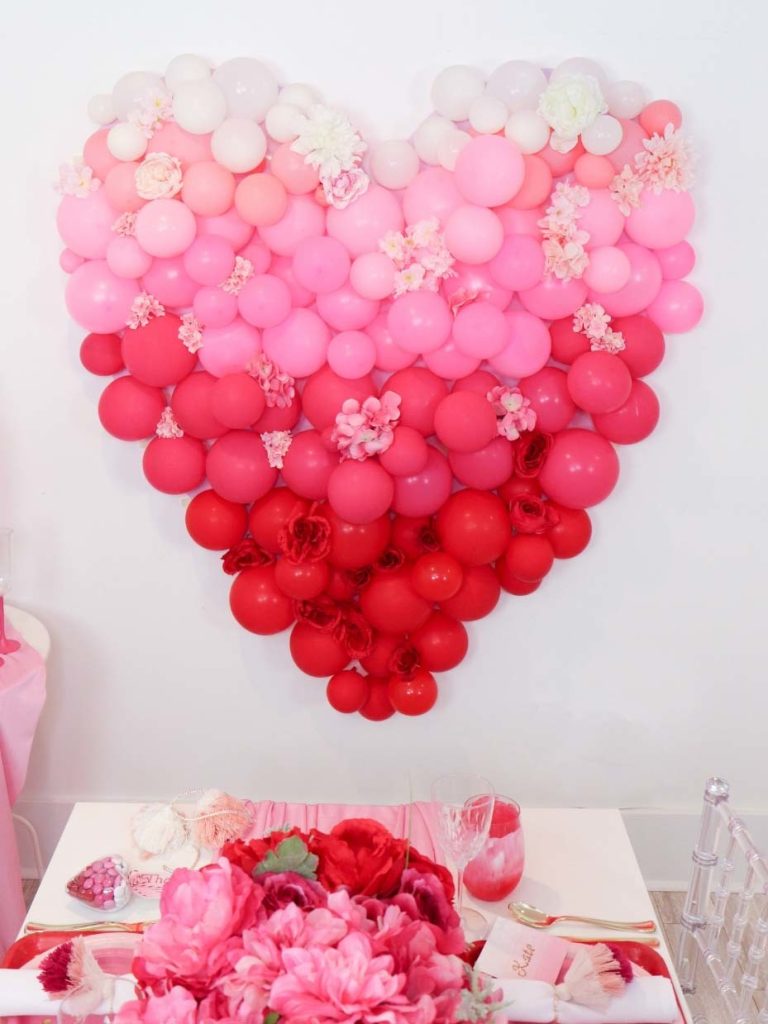 16. Plates
One of the more unique backdrops I ever created was for a March Madness Party. I used paper plates! These are a great option because they are easily found at party supply stores in a variety of colors, patterns, and themes, and usually come with a ton in a pack.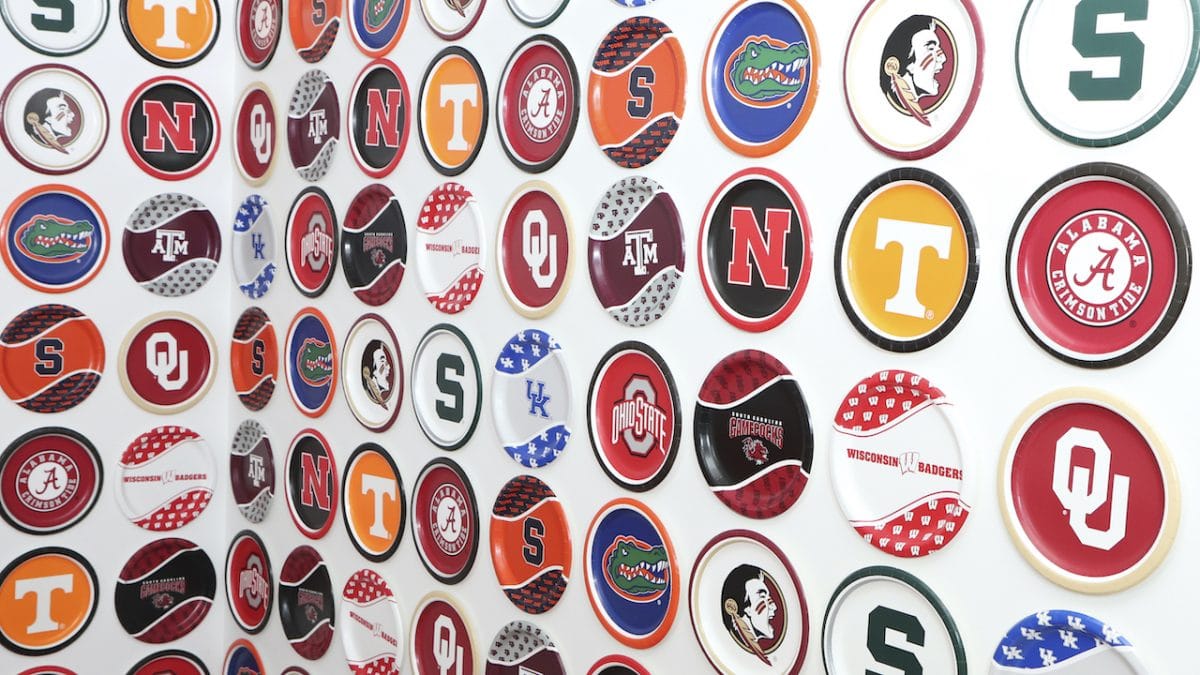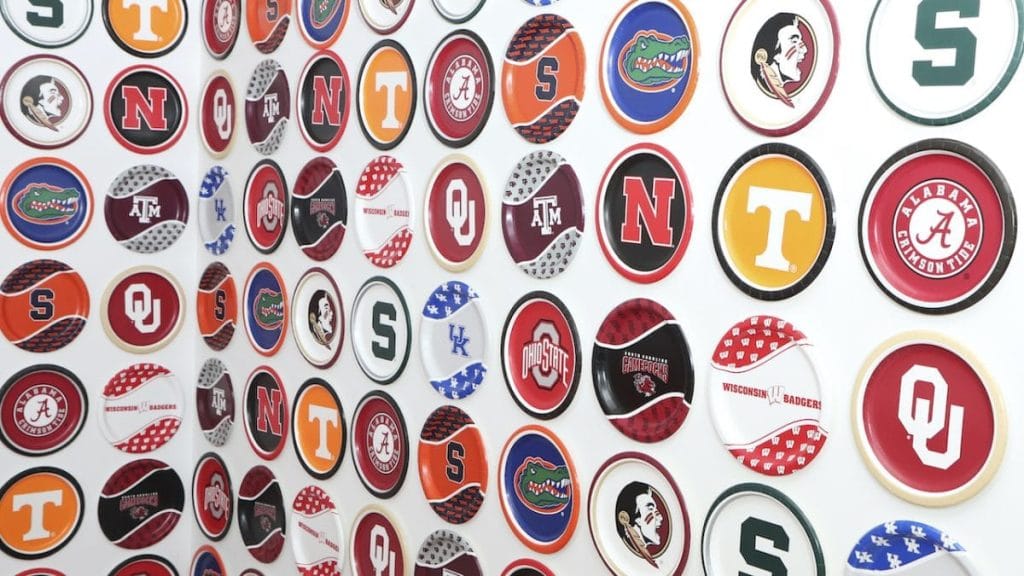 17. Streamers
While you're at the party supply store, think about adding some streamers to your cart. They are great for creating a quick and easy backdrop. You can simply hang strands of them next to each other, like I did for my L.O.L. Surprise Doll Party, or drape them on some hoops for a unique decorative look, like I did for my Fiesta Shower.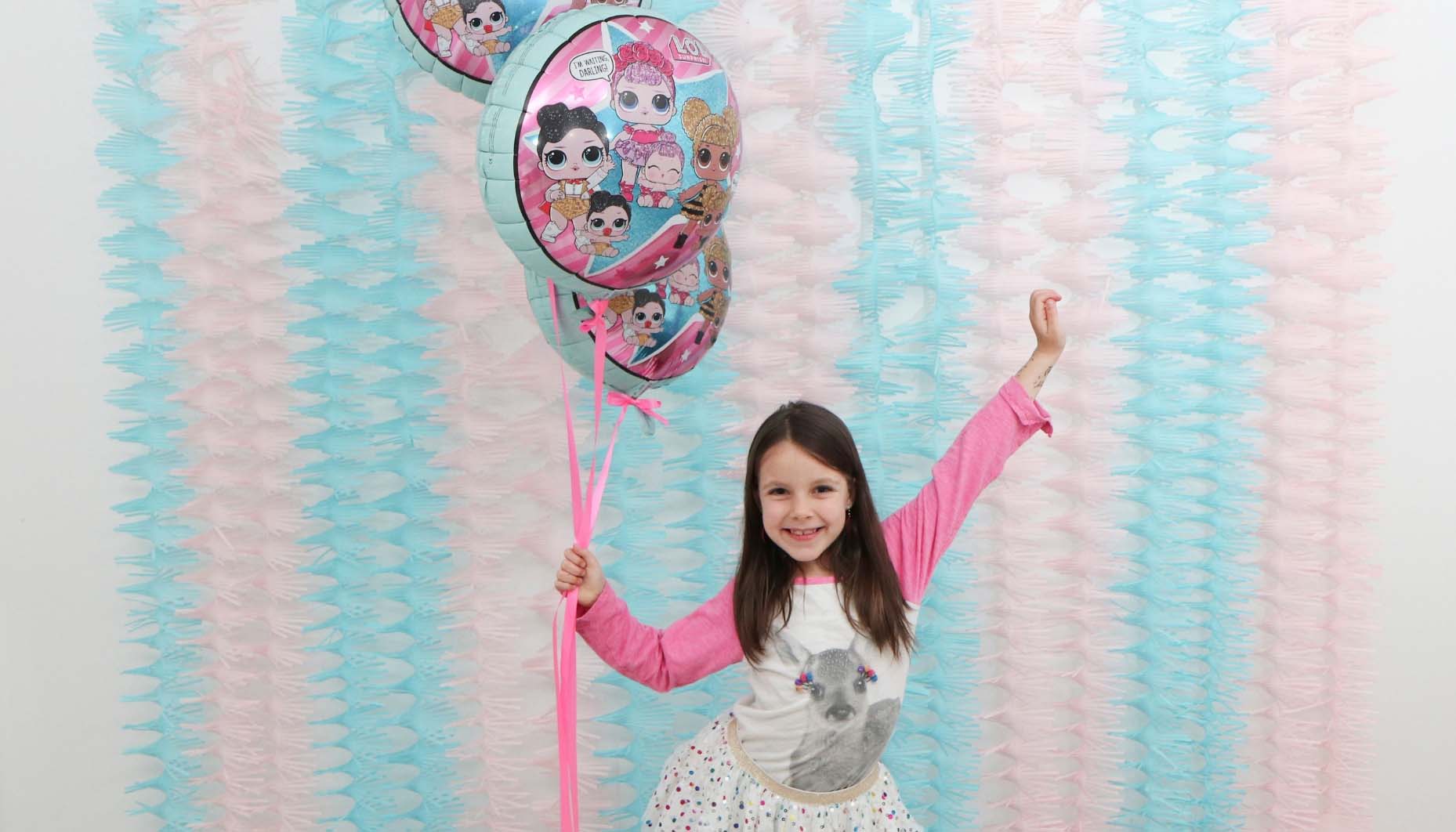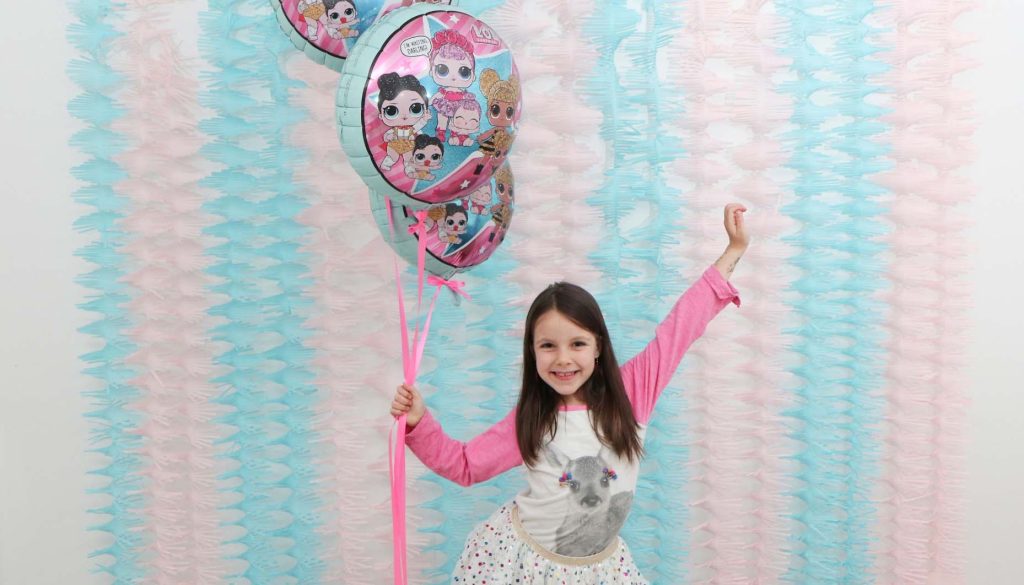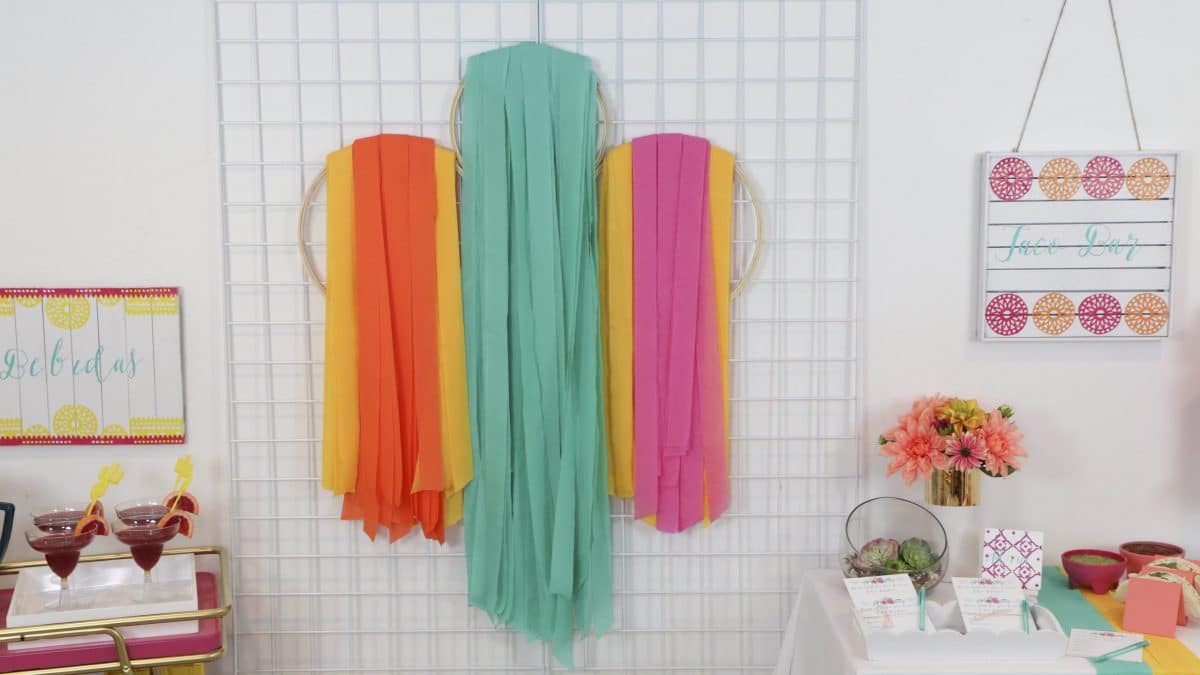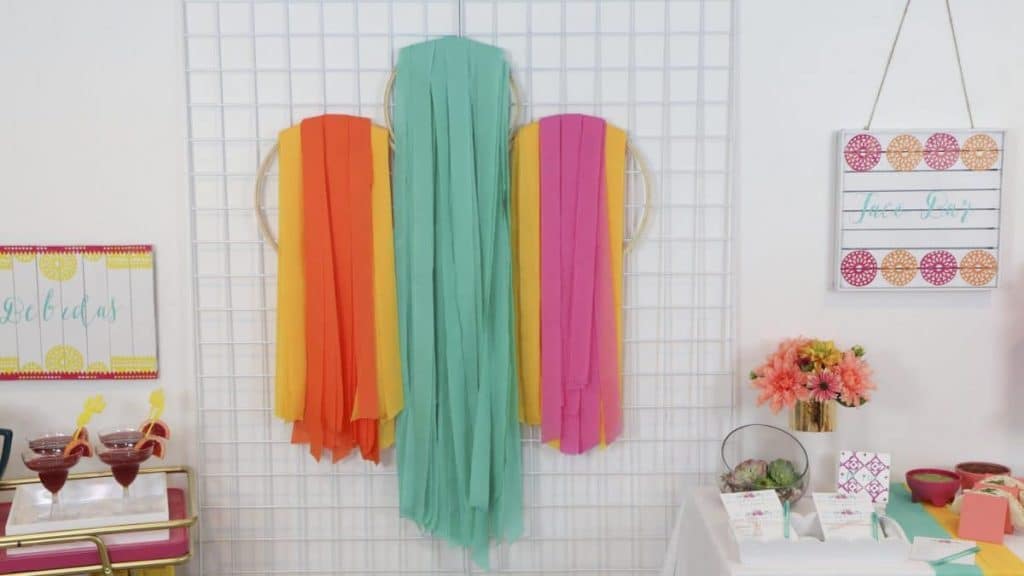 18. Paper Fans
Another great party supply store find for backdrops are paper fans. They also come in a ton of colors, patterns, and multiple sizes, and can create a gorgeous multi-dimensional party backdrop, especially when combined with garlands. I used pink and teal fans for my Magical Pastel Unicorn Party, and gold patterned fans for my Navy and Gold Holiday Dinner Party.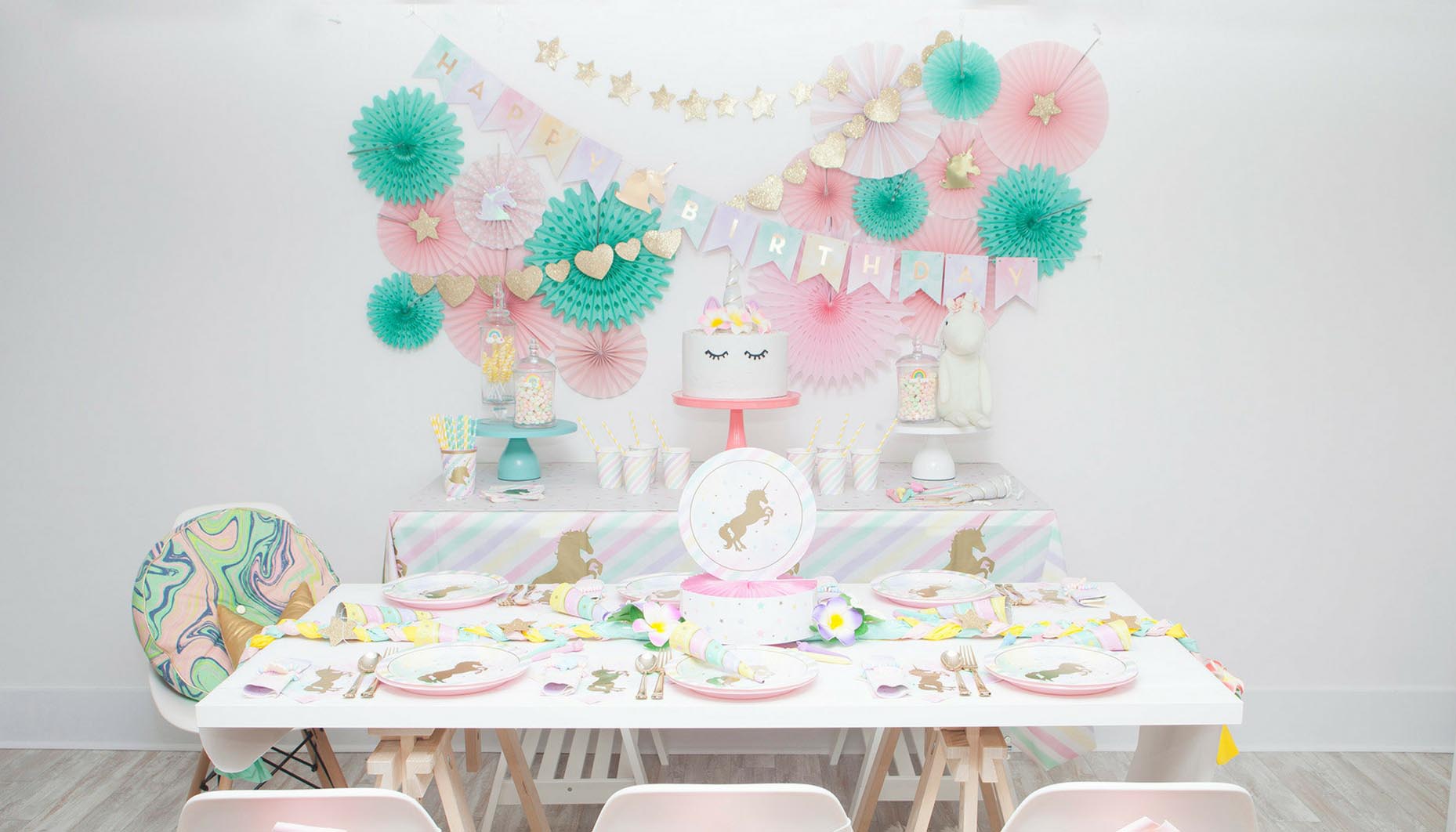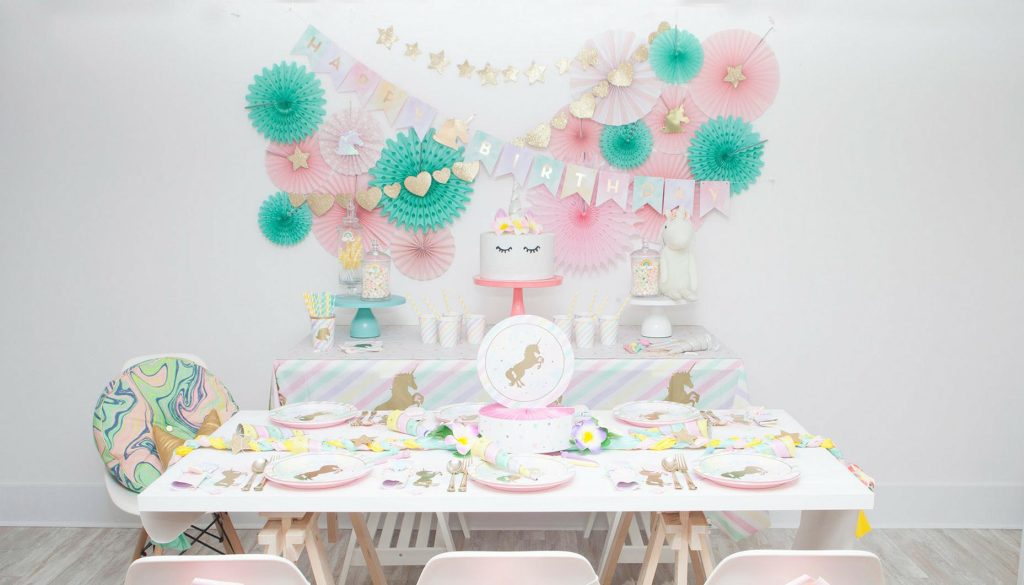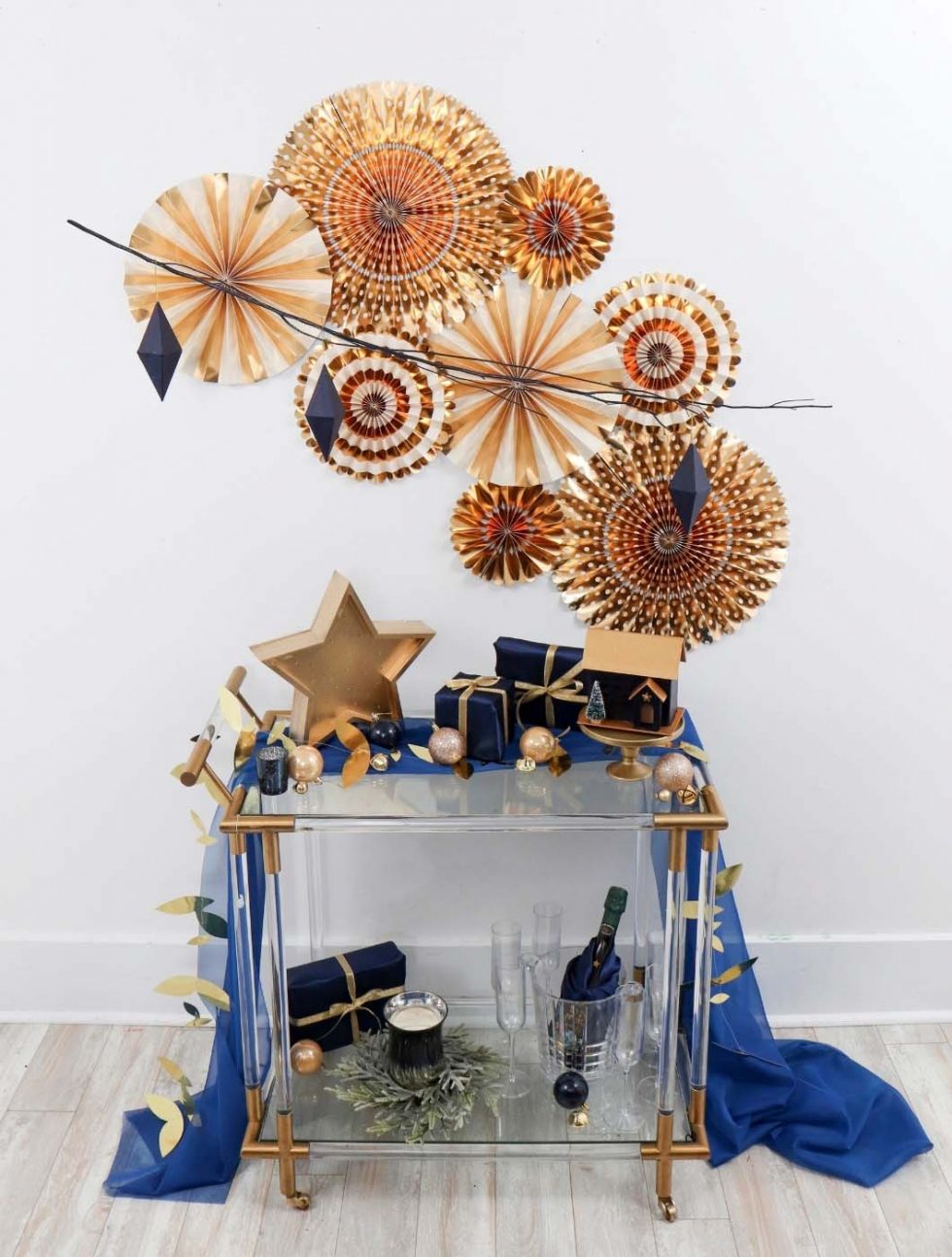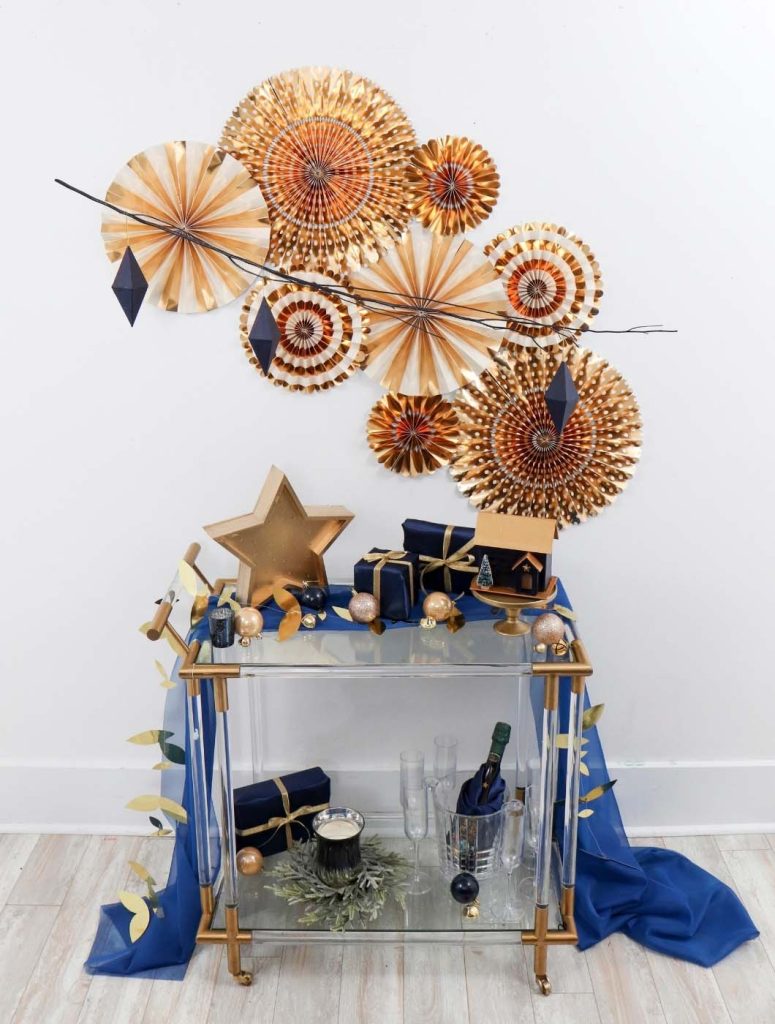 19. Tickets
Another extra creative DIY backdrop material is tickets! I used tickets in a variety of pastel colors for my County Fair Themed Party, but they'd also be great for a Carnival, Circus, or Movie themed party. You can get them in huge rolls that are really affordable.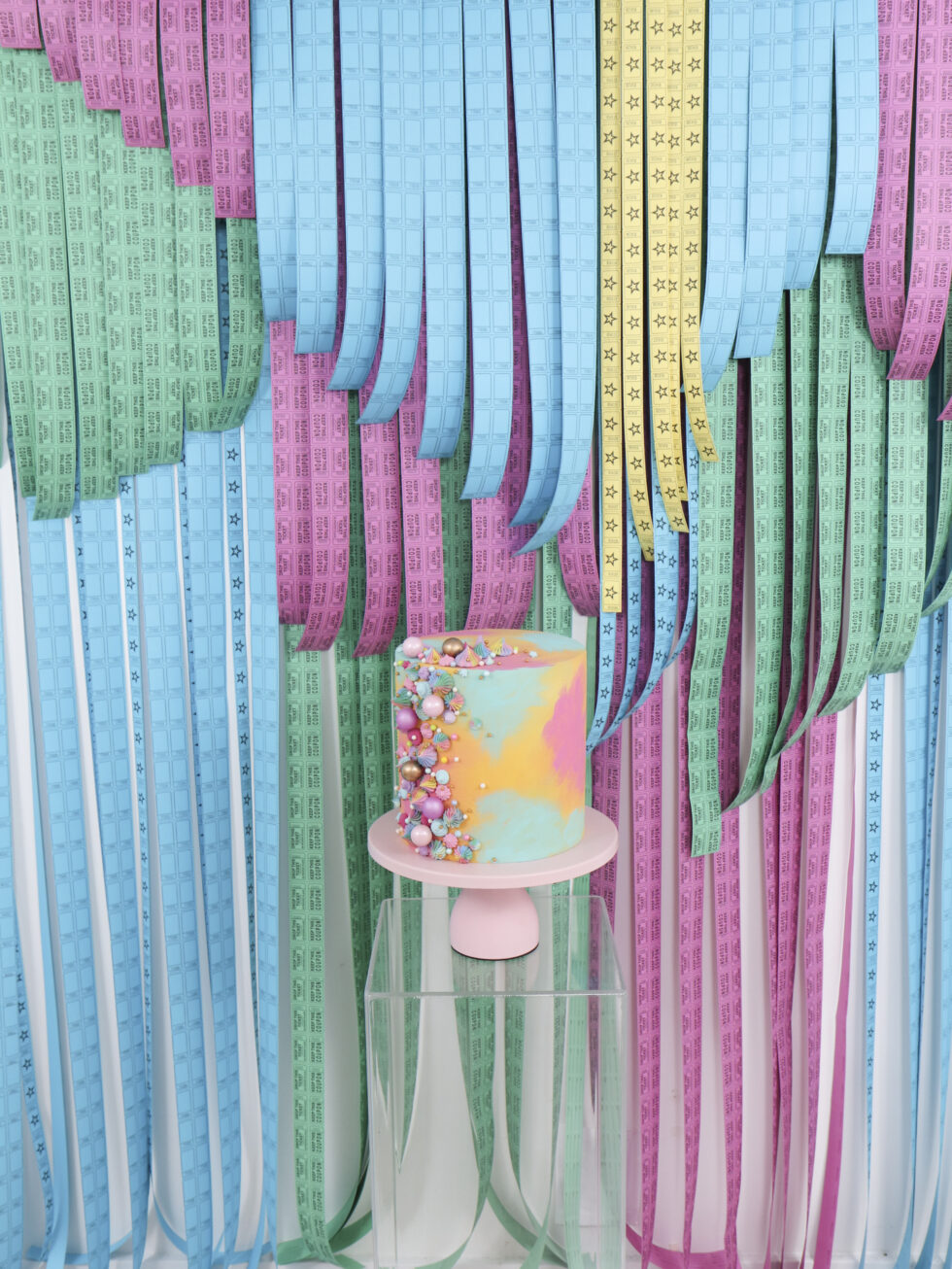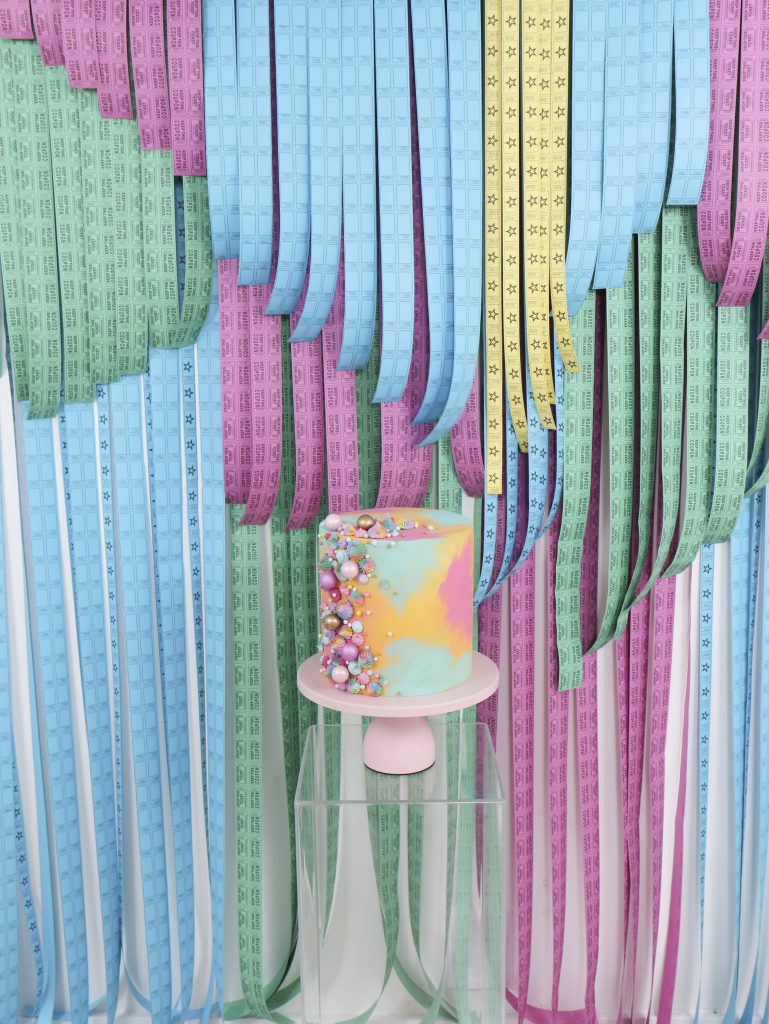 20. Feathers
For one of my other pastel parties, I actually layered paint-dipped feathers to create a party backdrop, and I loved the result! It gave the perfect soft and whimsical look to my Mixed Pastel Bridal Brunch cake table.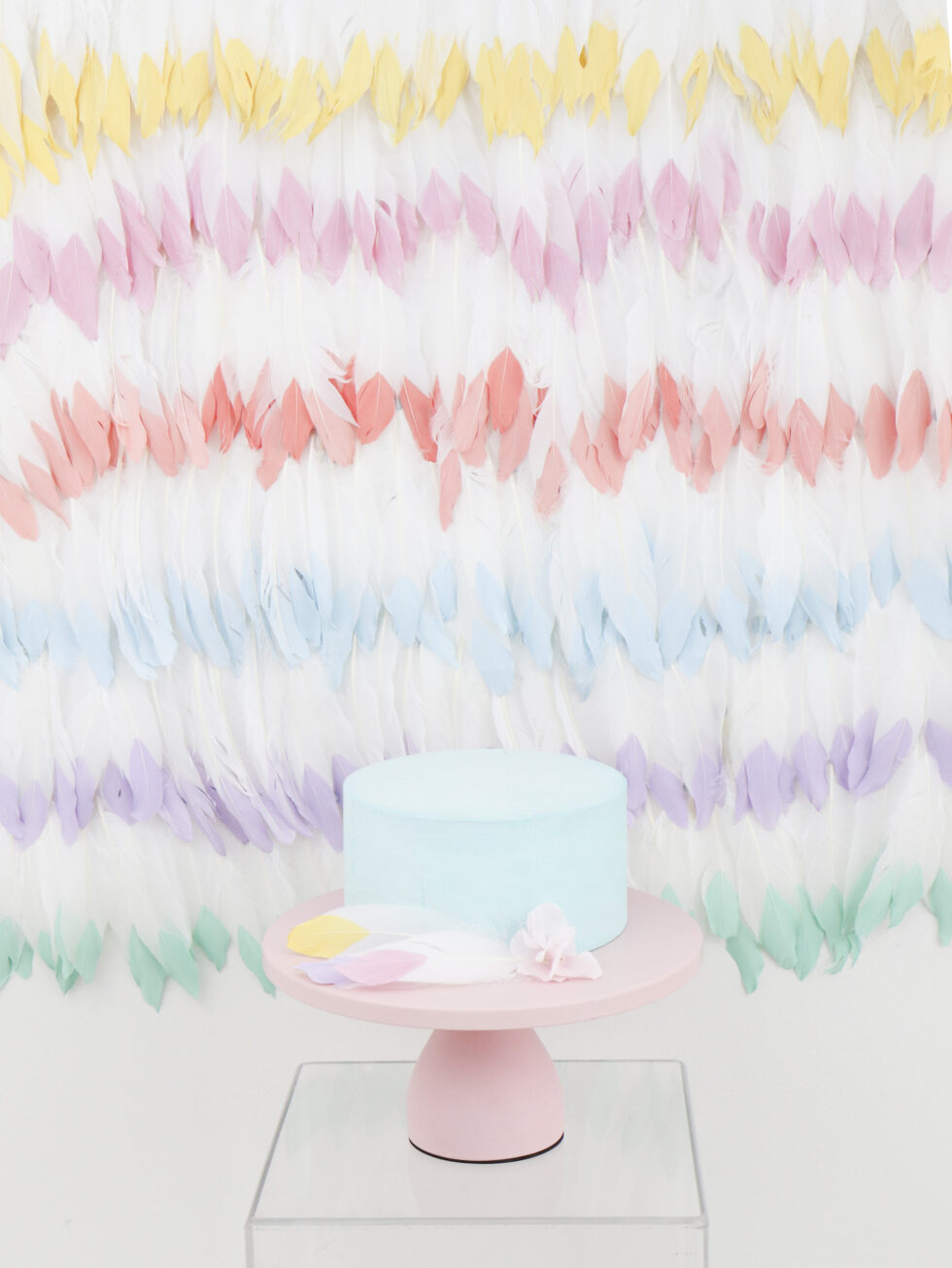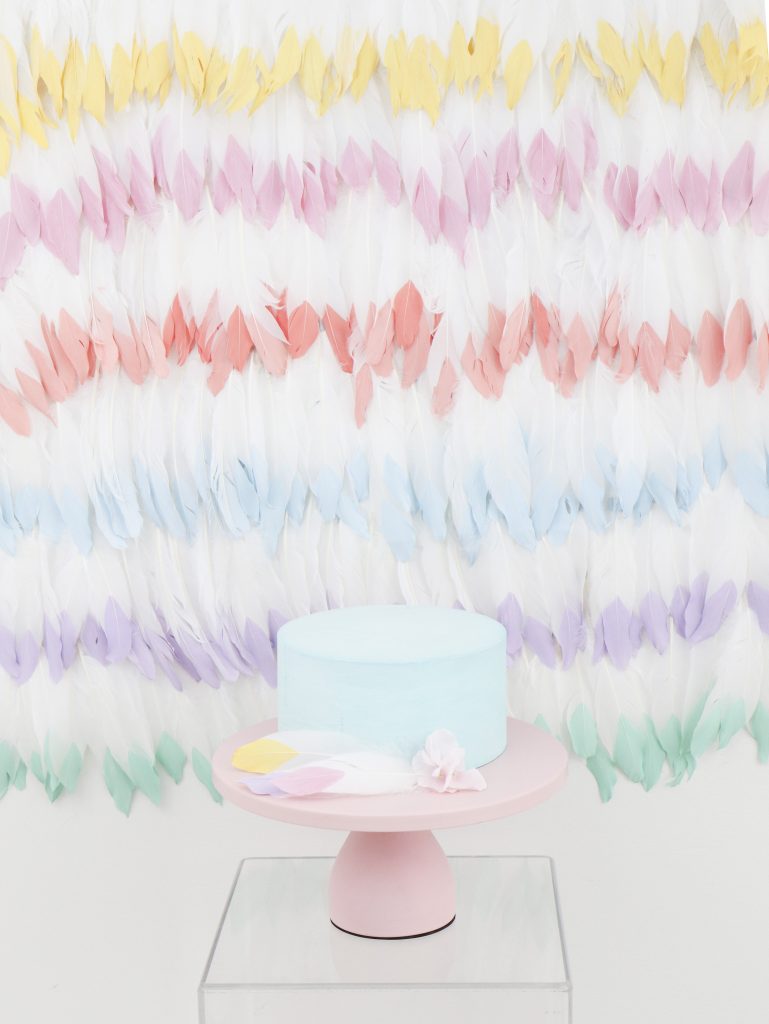 21. Macrame
Going for a boho look? Macrame makes a gorgeous backdrop and can be hung on a stand, over a window, or on a wall. I used it on a stand for my Elegant Navy and Purple Wedding, and on the wall behind my Boho Mimosa Bar.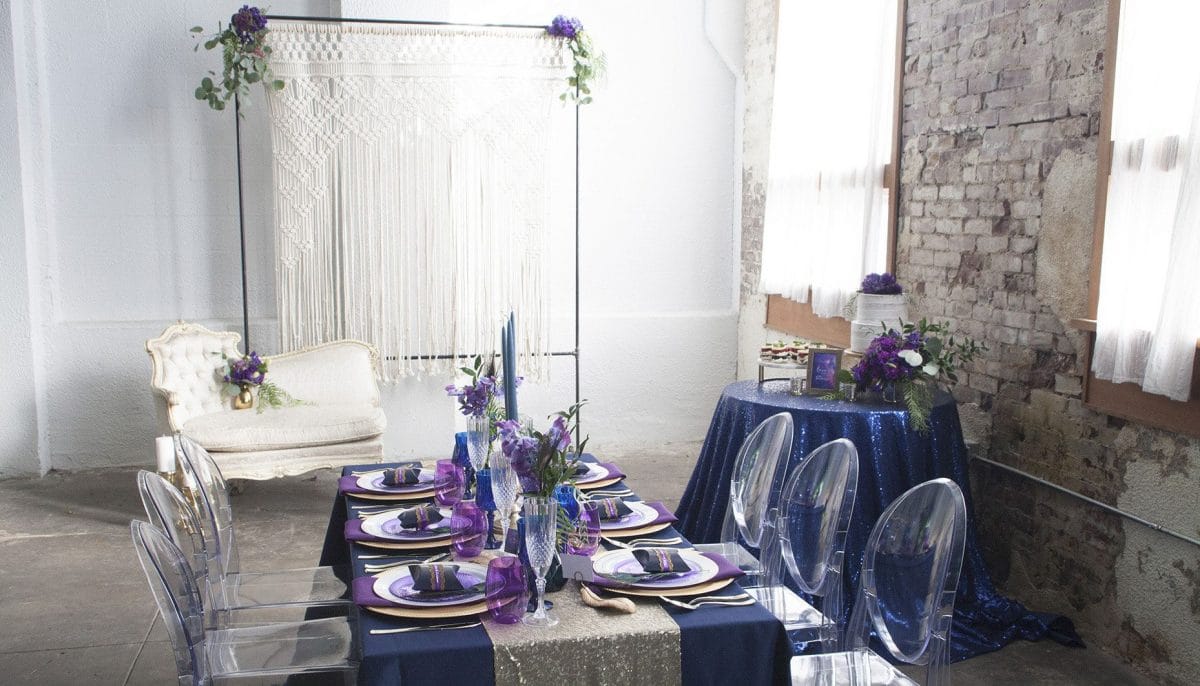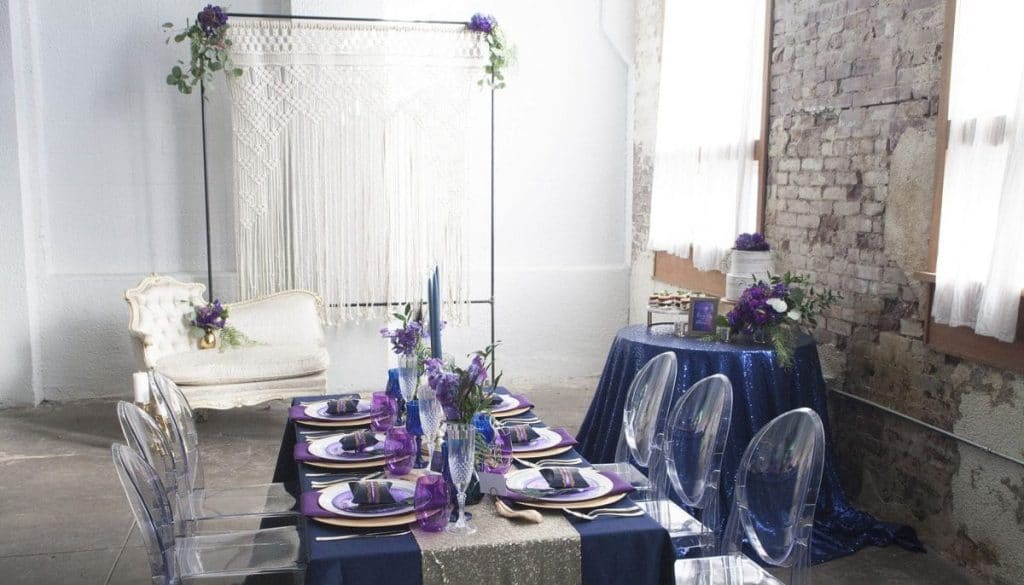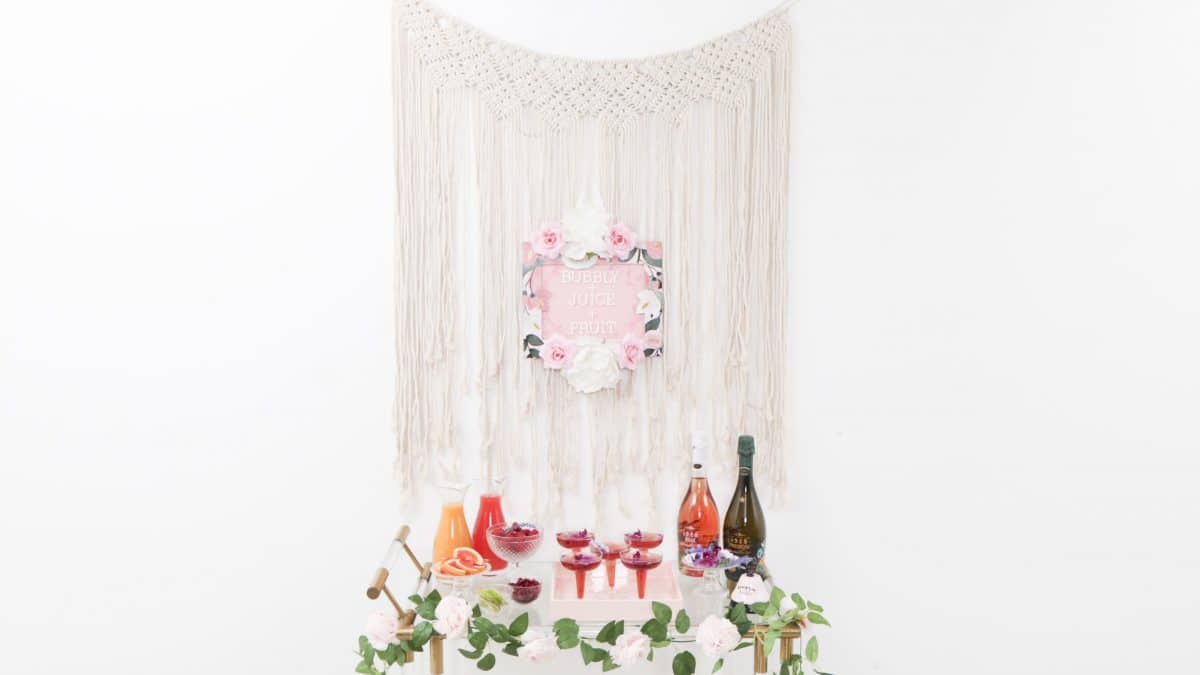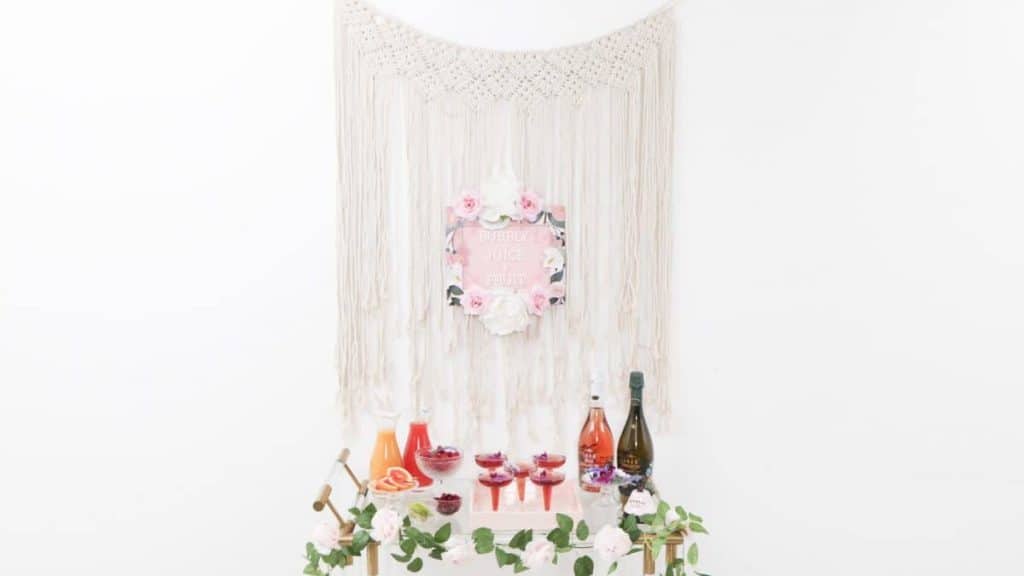 22. Greenery
For an organic feel, there's nothing better than greenery. I usually go with the faux type, because it's easier to manipulate and doesn't wilt! But you could definitely also use real greenery if you create it the day of the party. I created a solid greenery backdrop for a Minimalist Mimosa Bar, used all sorts of faux leaves and plants for my Dino-ween Party, and simple evergreen wreaths for a classy Black and Green Winter Wedding.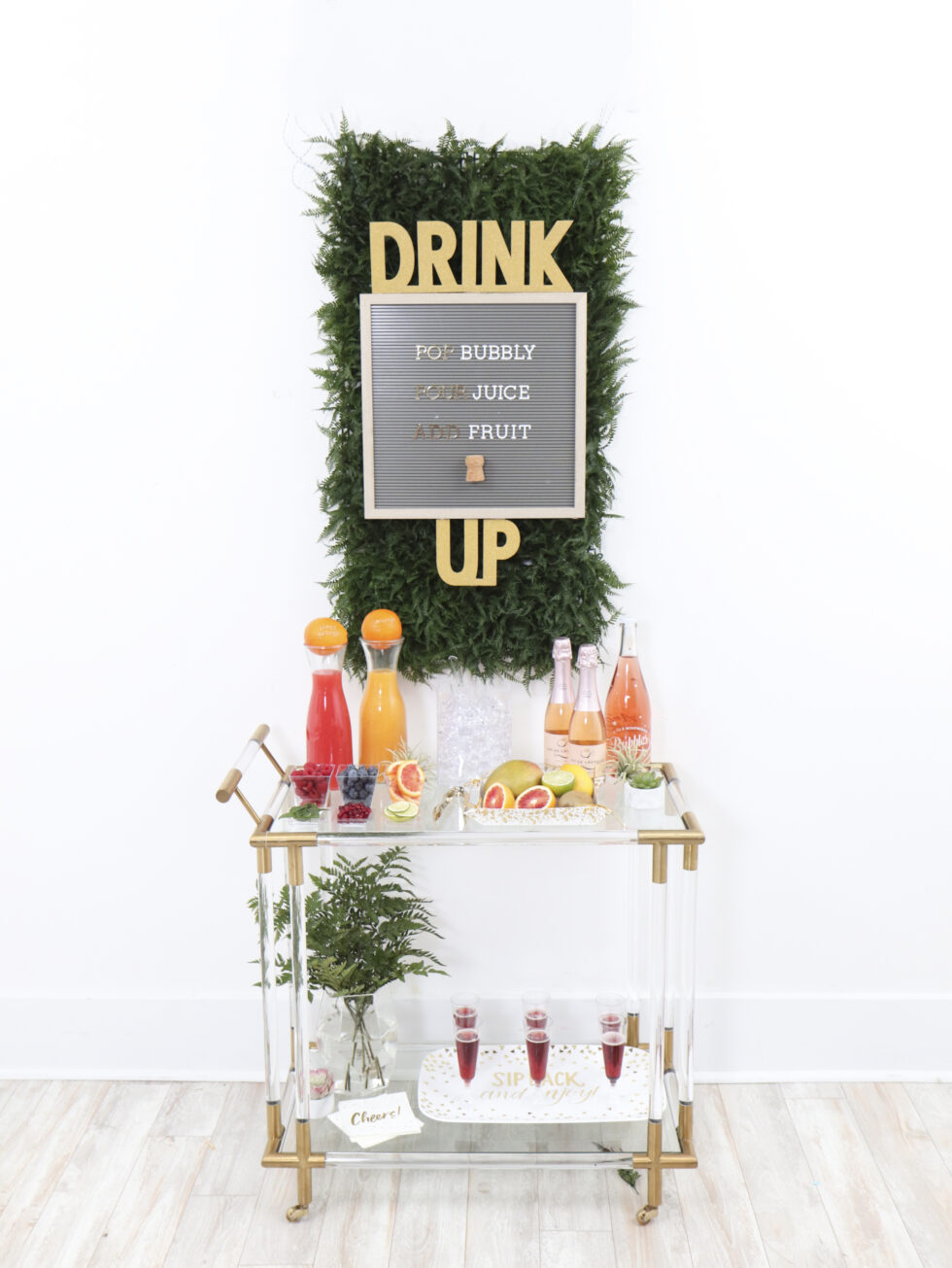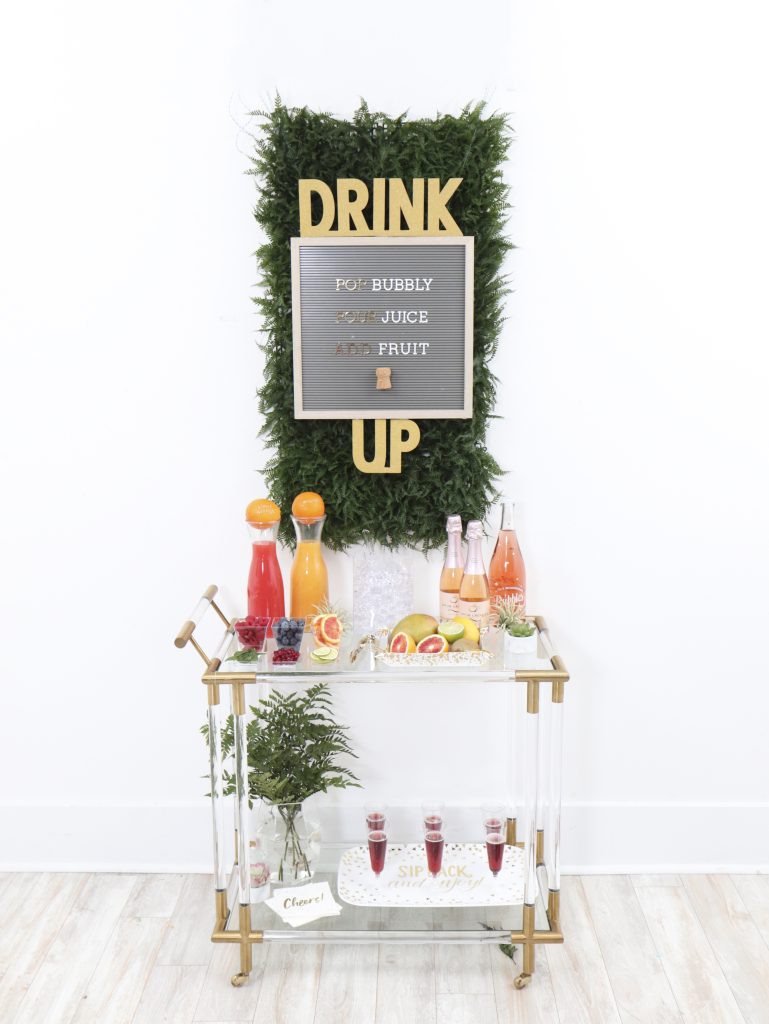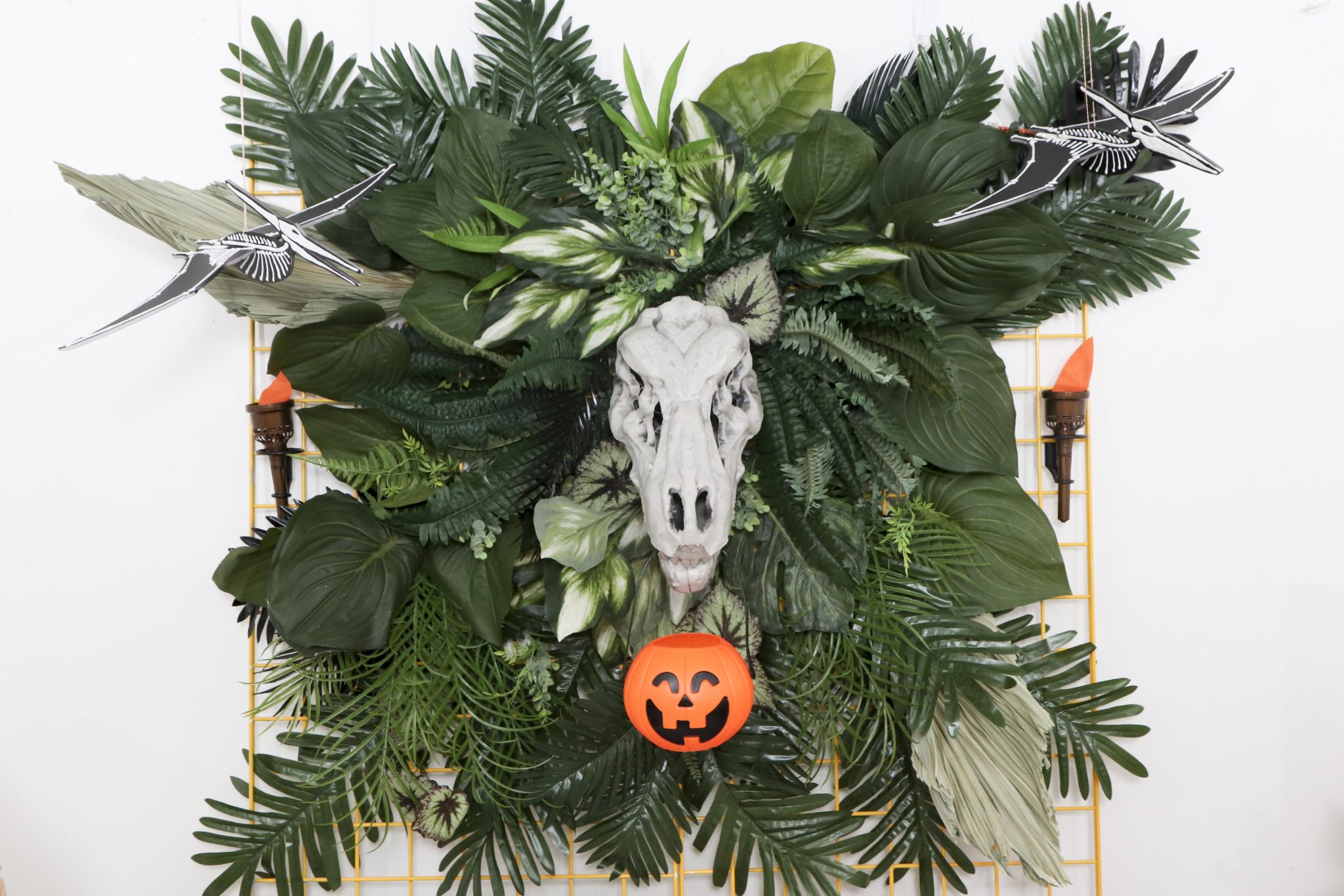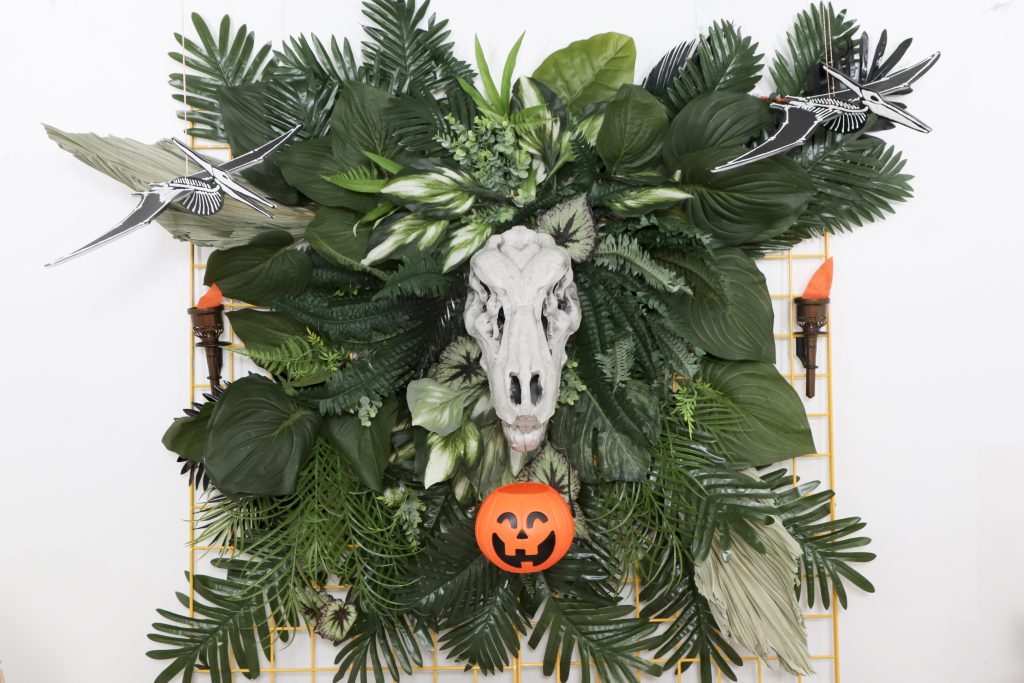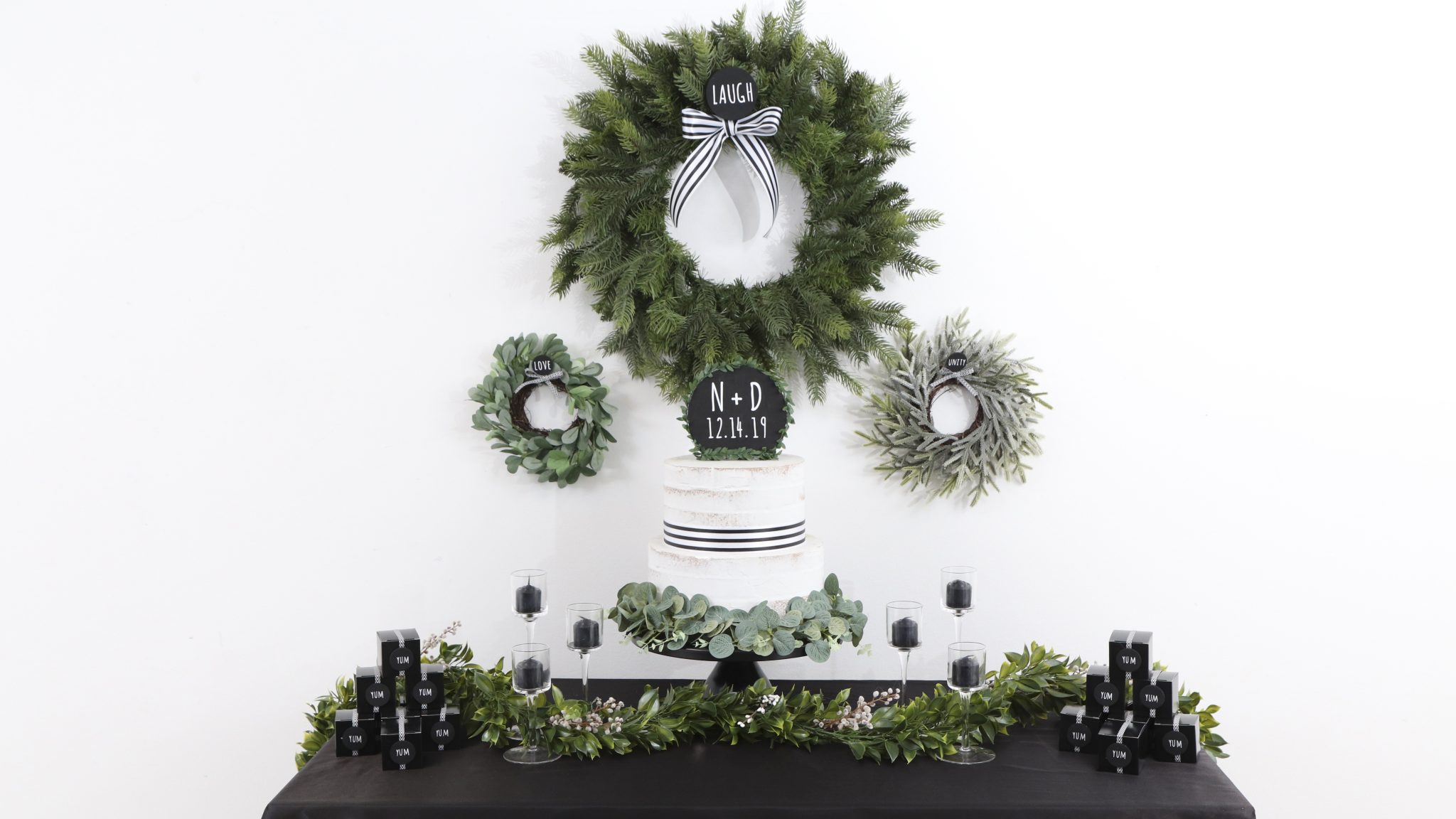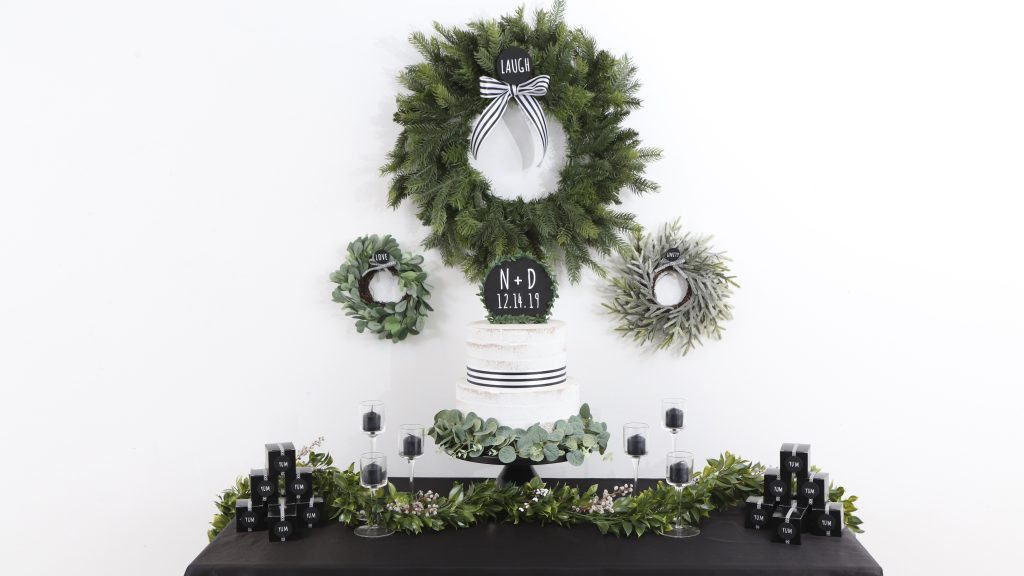 23. Cardboard Stands
My kids' favorite backdrops are made from giant life-size cardboard cutouts. They are so fun and brilliant for photo shoots. I used a huge chocolate bunny for my Chocolate Bunny Easter Party, a gorgeous horse cutout for my Horse Party, and  several jazz musician silhouettes for a Mardi Gras Charity Event.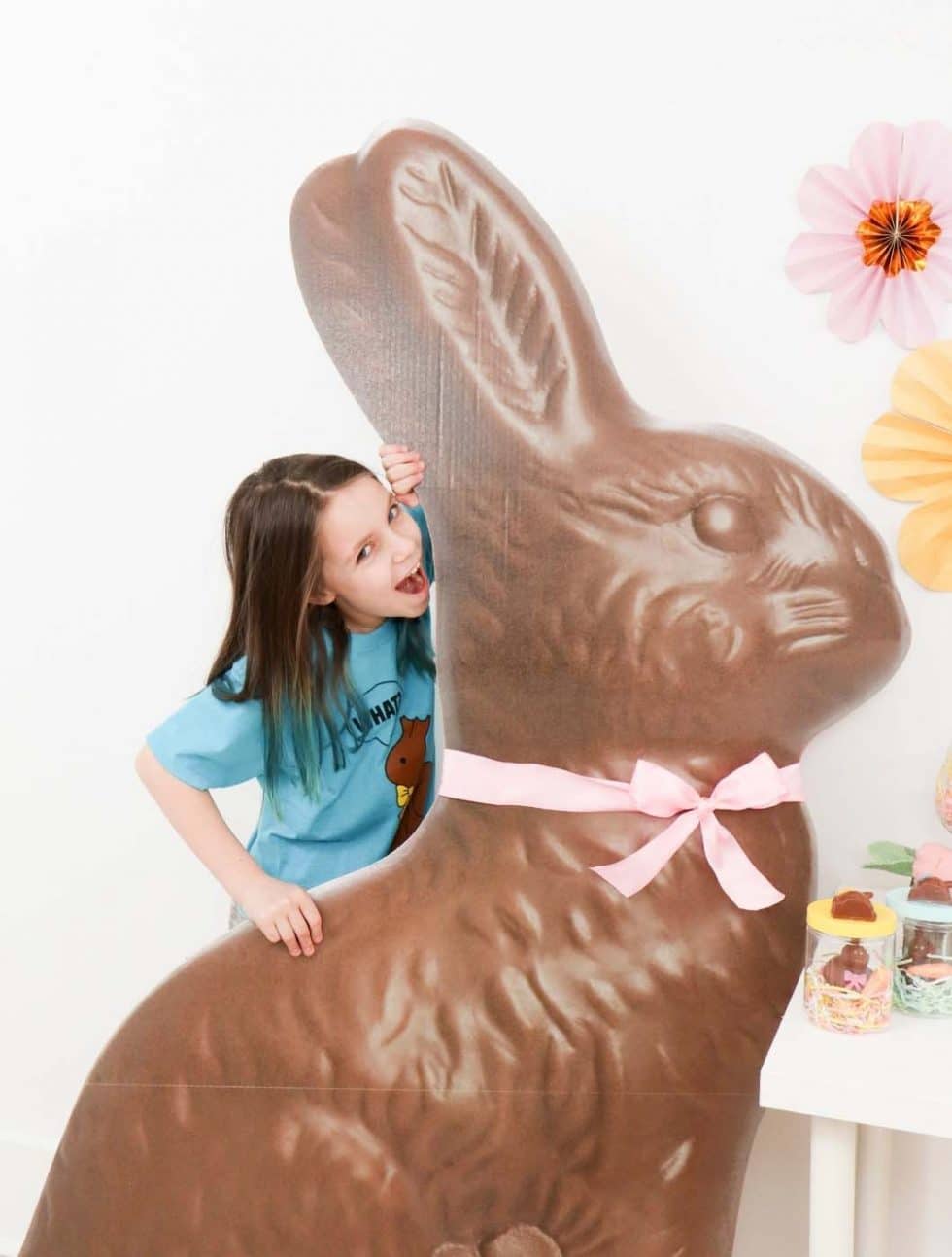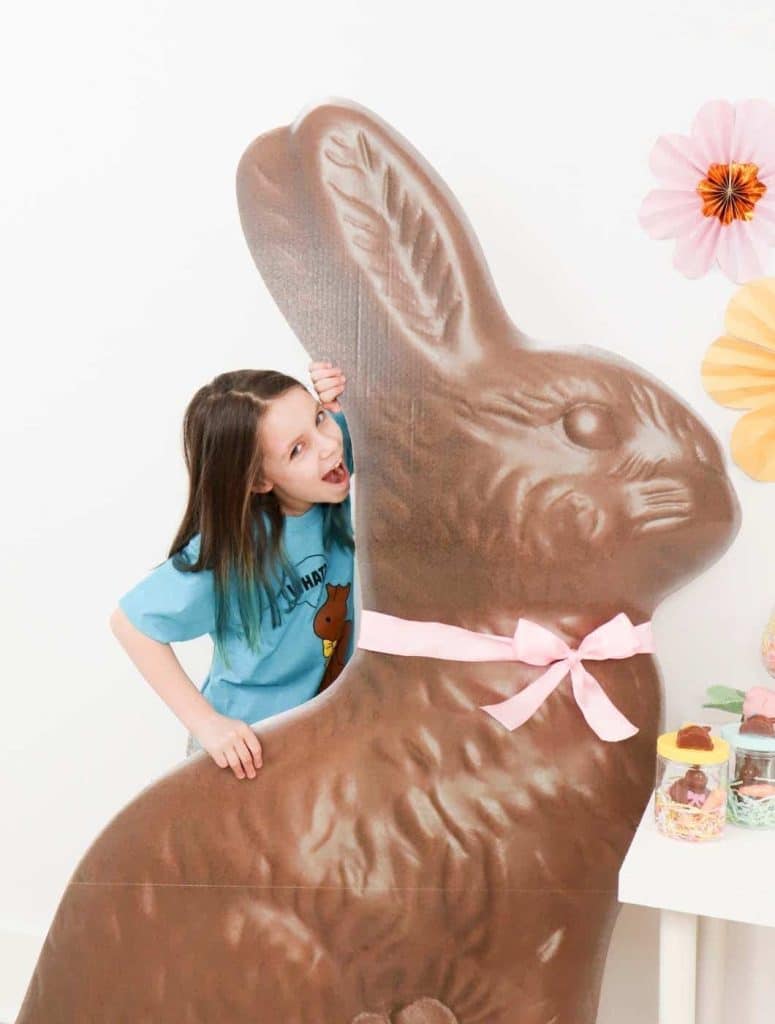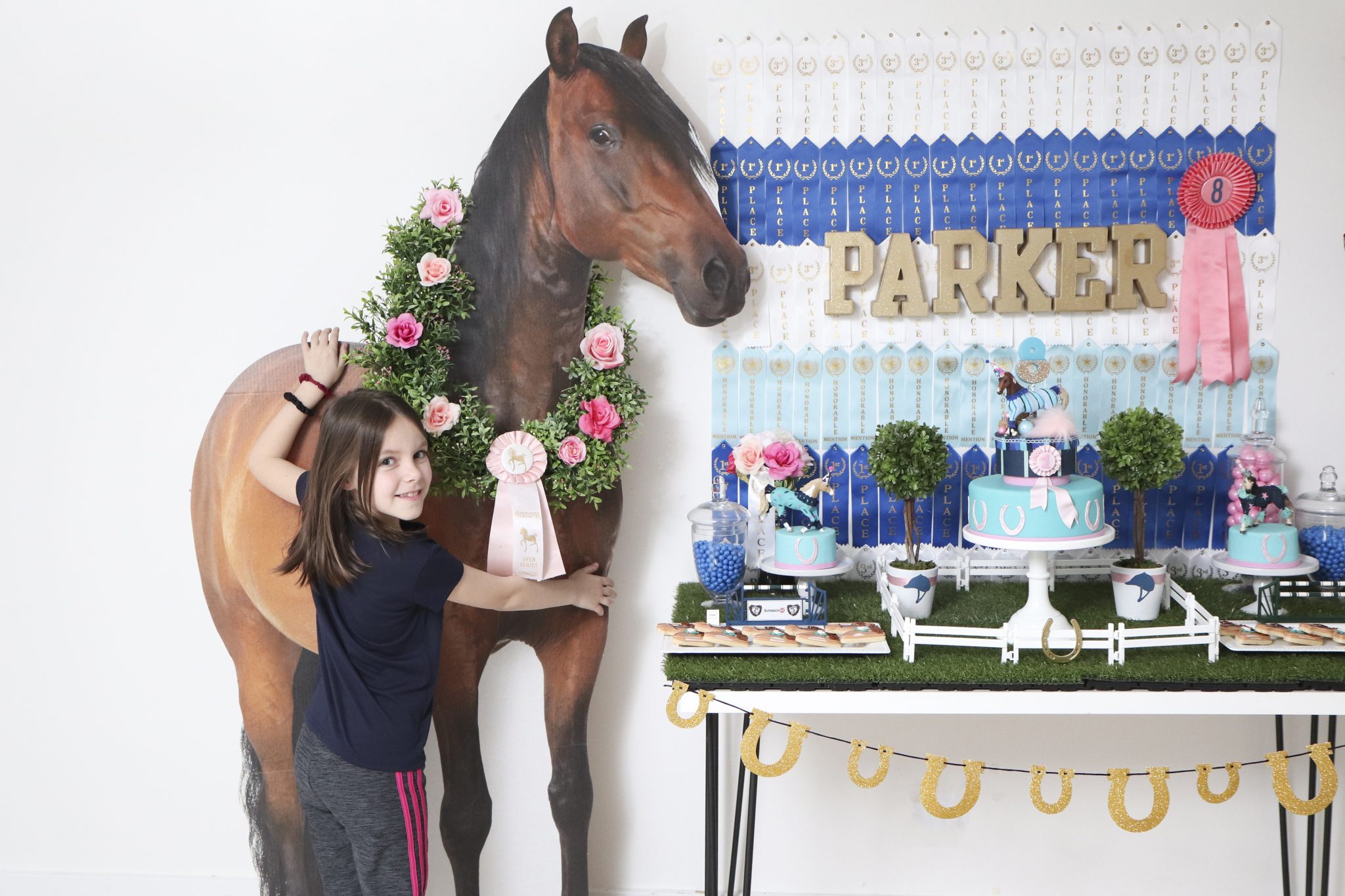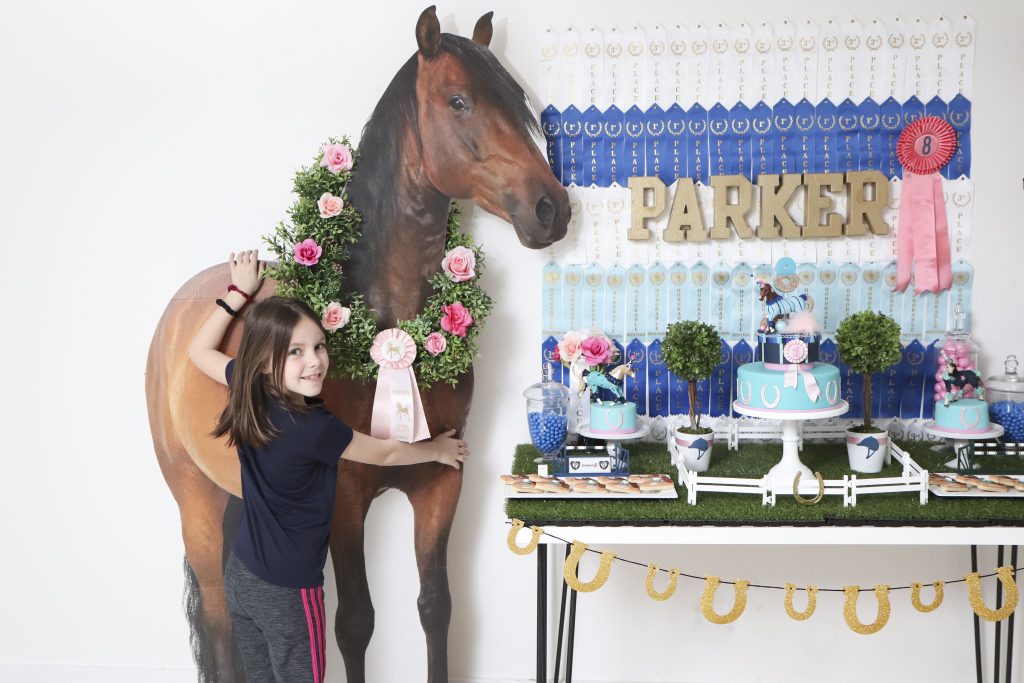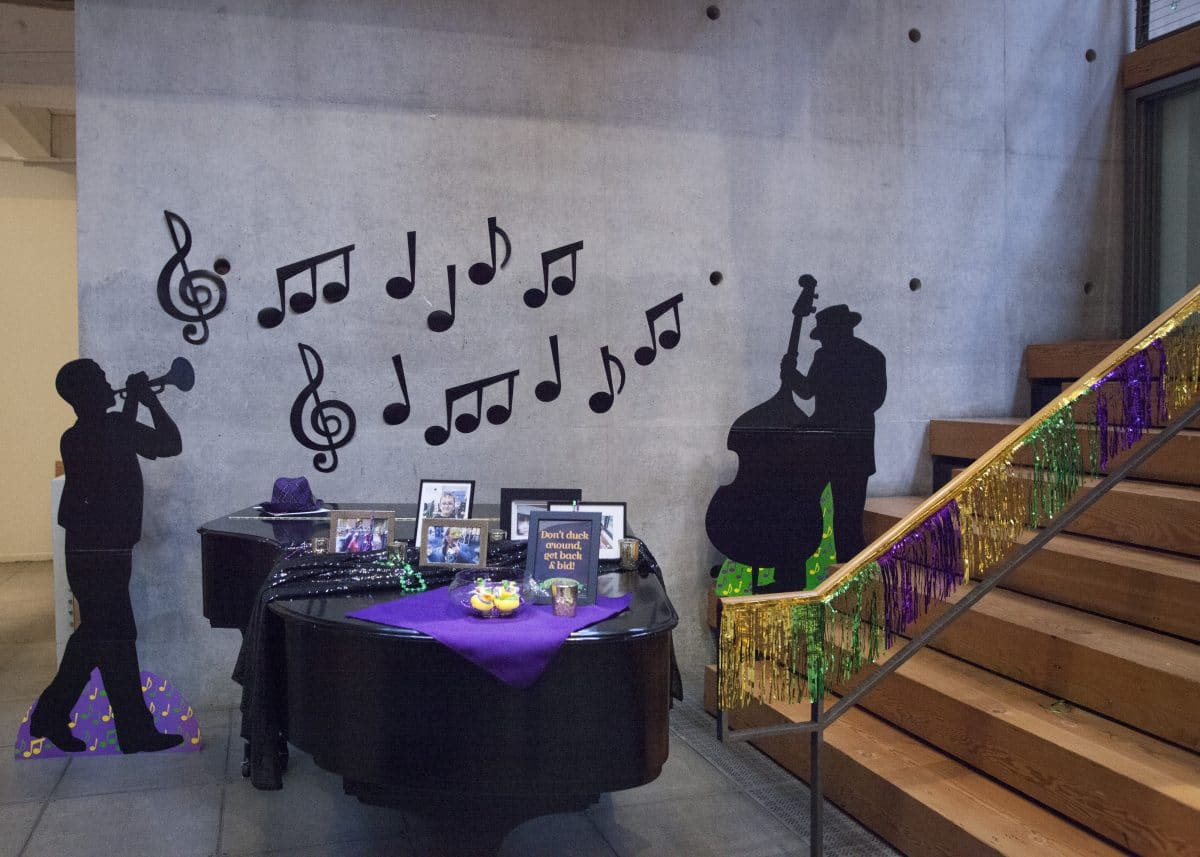 24. Art Prints/Posters
For the ultimate easy DIY backdrop, pick up or order some art prints or posters in your party's theme. They're an easy way to set the scene or provide a photo booth backdrop. I used posters from cities around the world for my Travel Themed Wedding, and geometric heart prints for my Watercolor Heart Shower.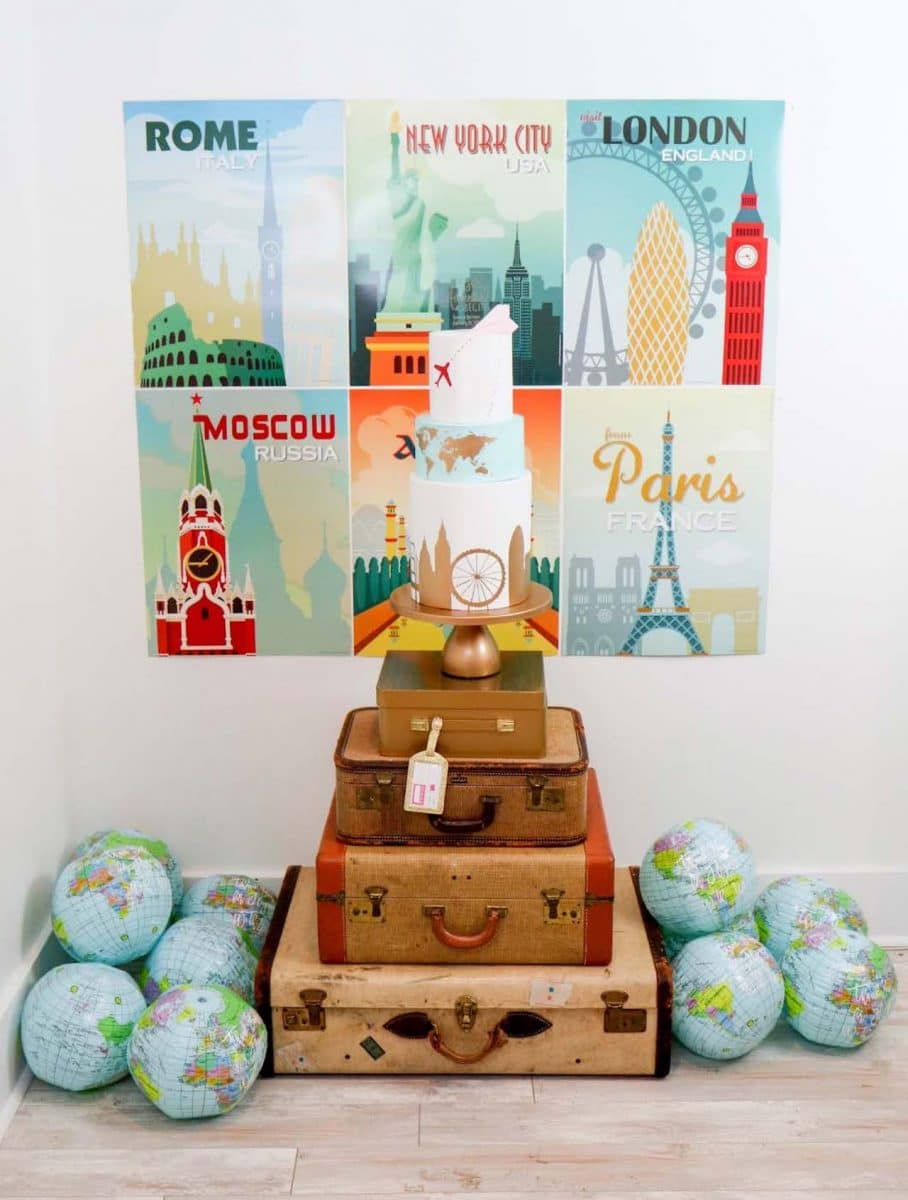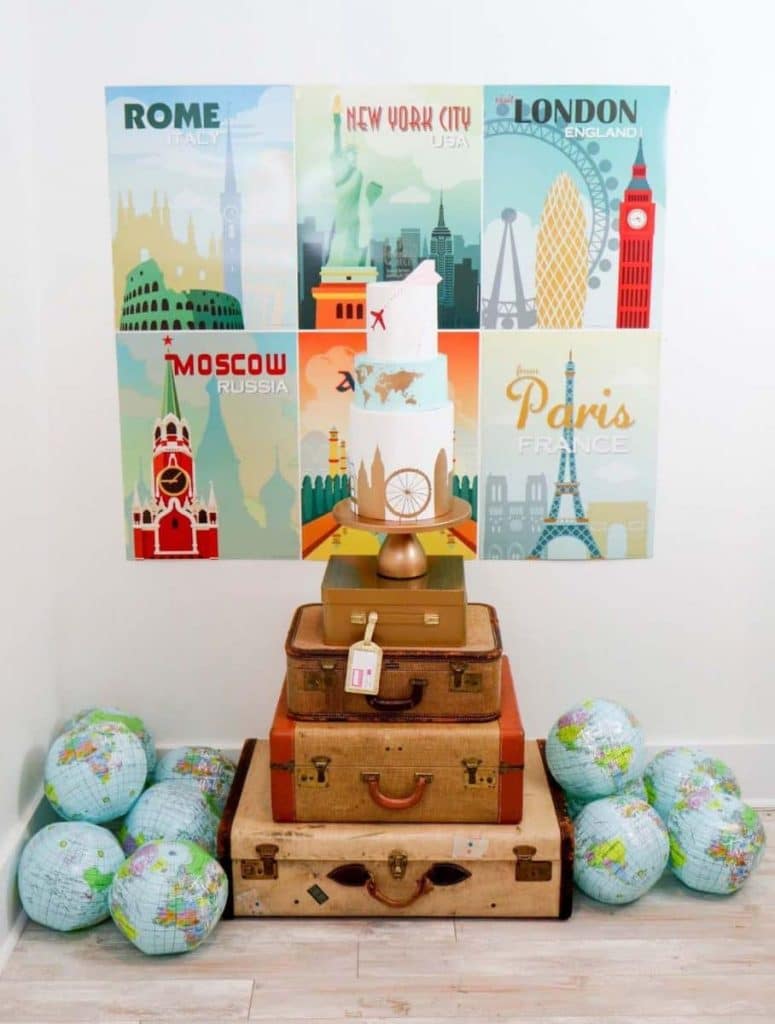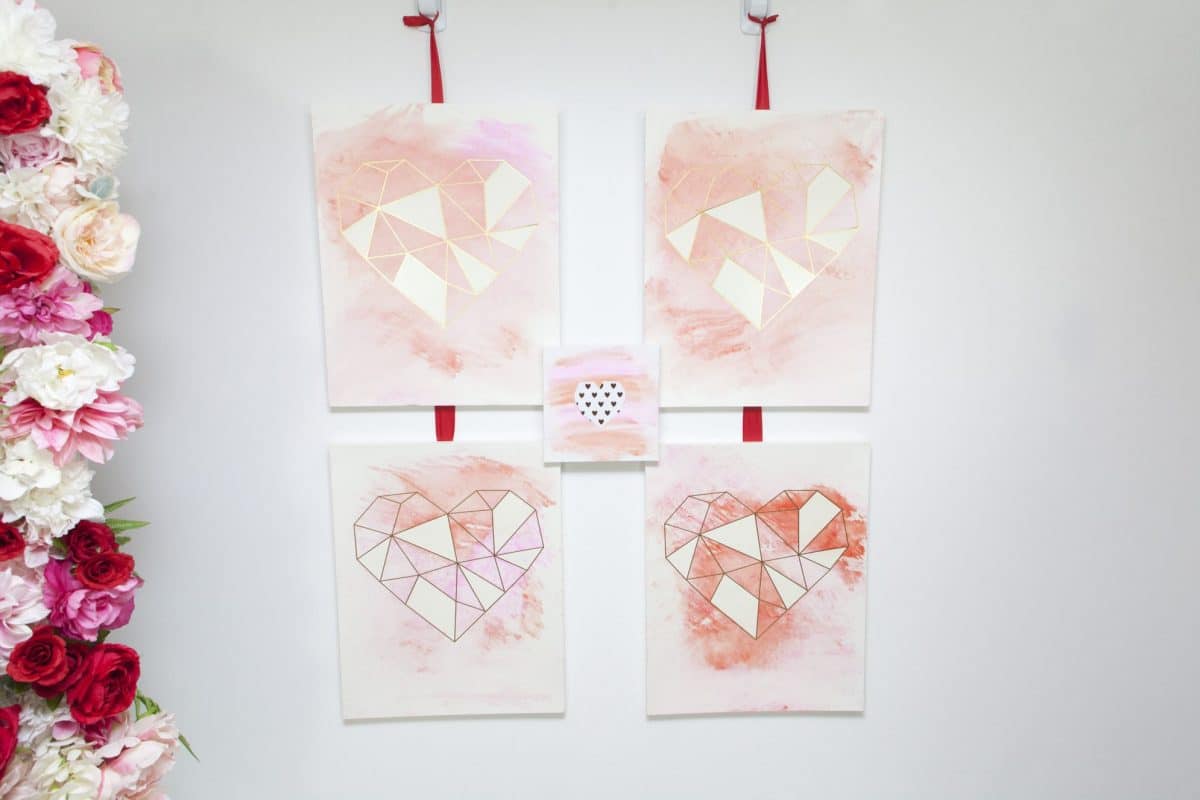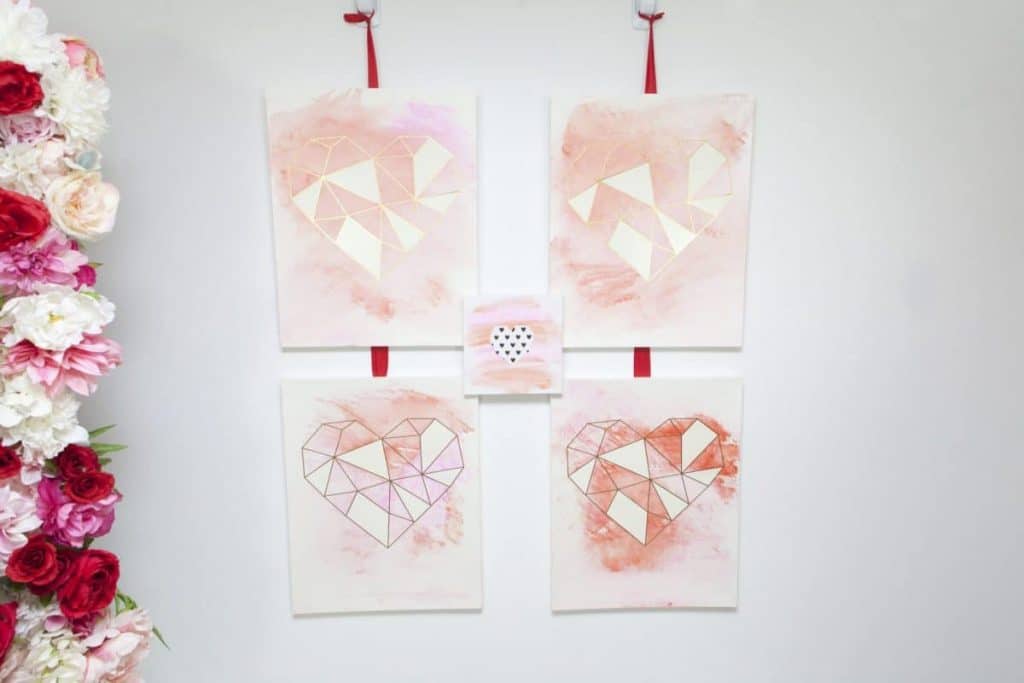 25. Frames
While you could frame the art prints or posters, I often like to frame objects for three-dimensional backdrops – like florals for my Botanical Bar Cart, or tiny hats for my Royal Tea Party. The frames can be painted, or even just cardboard cutouts – either way, they create contrast and look elegant.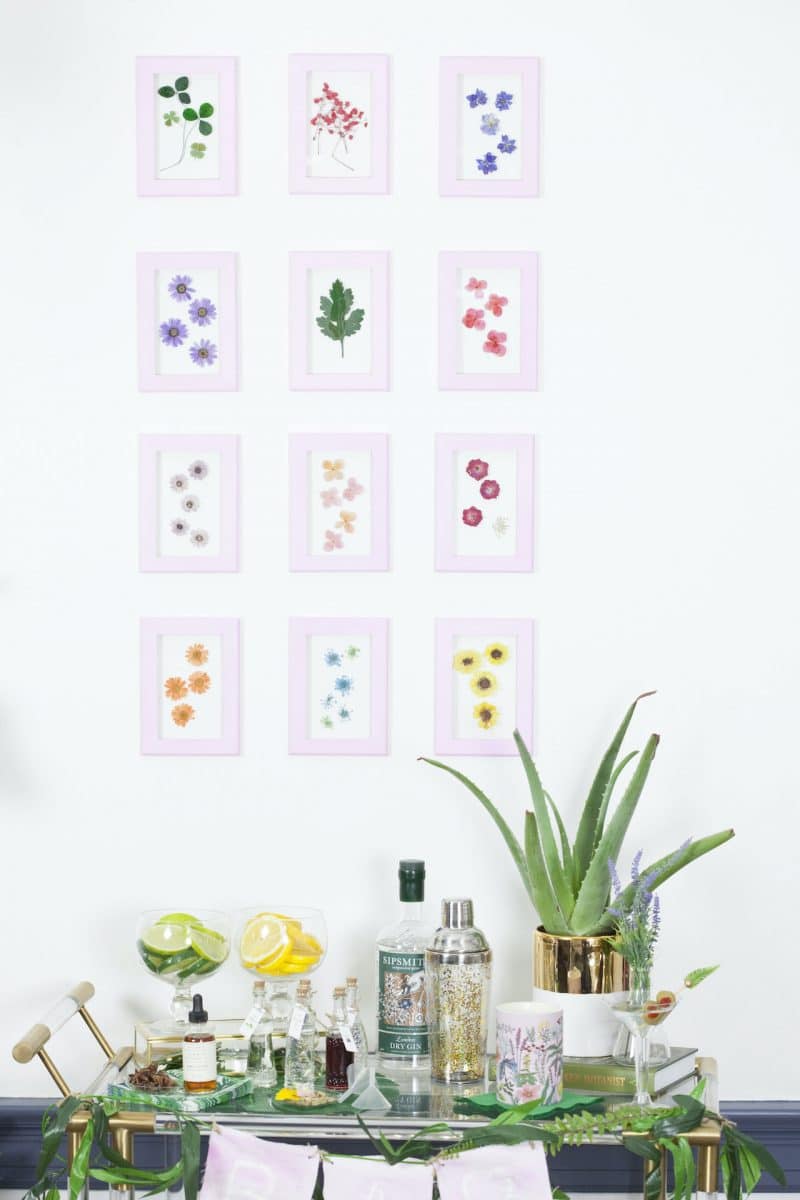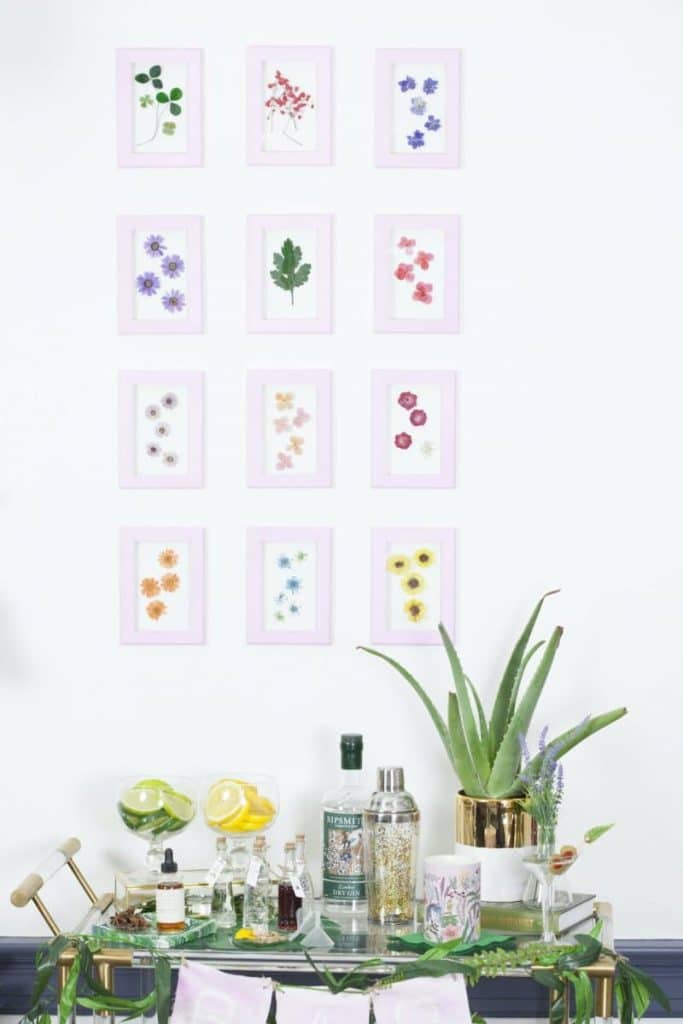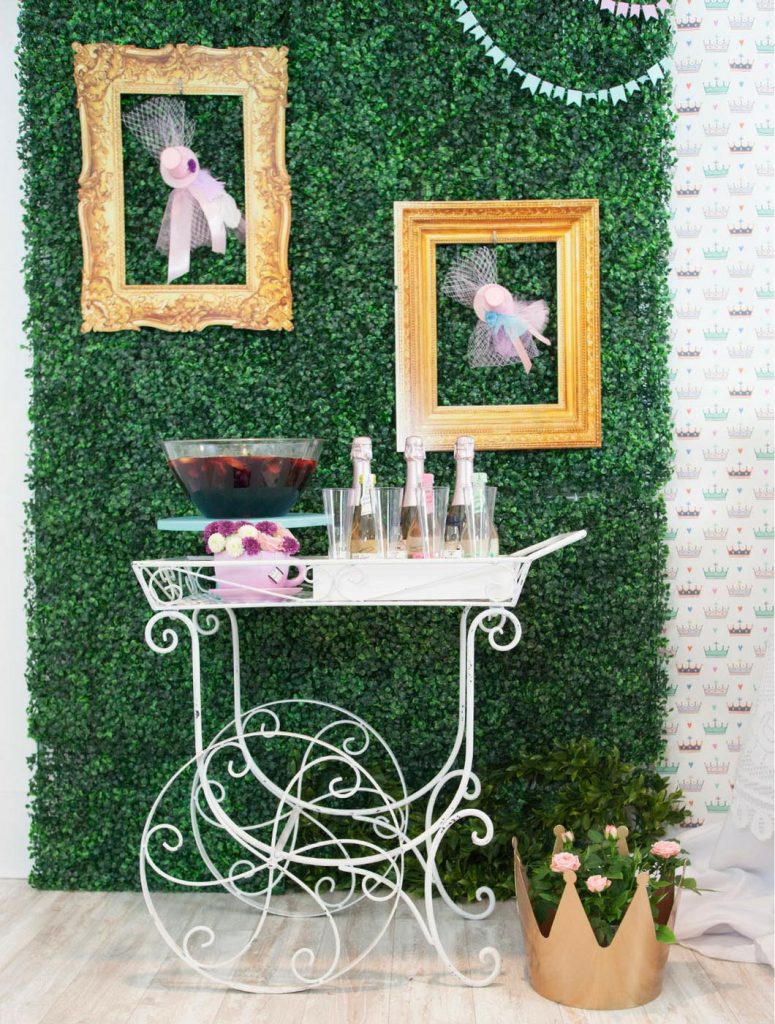 I hope this list has inspired you to get creative with your DIY Party Backdrops! There are so many fun and affordable materials you can use, and so many possibilities with each of those materials. Don't forget to check out my Amazon Shop for many of the materials I use!
Happy DIYing!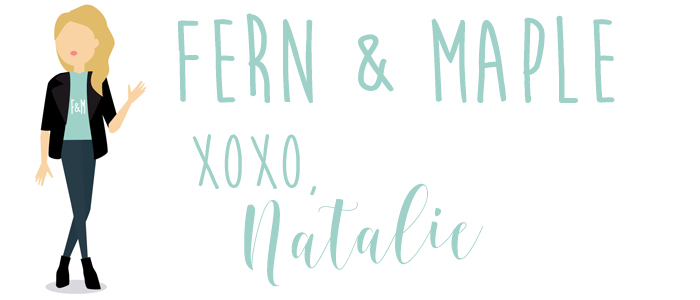 PIN FOR LATER: