There's something extra spooky about spiders. It might be the sticky webs they weave. Maybe it's their many legs. Most likely, though, it's the fangs. Whatever the reason, they make a great Halloween party theme! Read on to find out how I styled a purple and green Spooky Spider Halloween Party that is perfect for pre-trick-or-treating!
P.S. Don't forget to visit my Amazon shop  or my LTK post for an easily shoppable list of everything you need.

As a blogger, I sometimes receive compensation and/or products in exchange for my styling and crafting services. As always, all project ideas and any opinions expressed here are my own.  For further information on our disclosure policy please check out our disclosure page.
Backdrop
First, I hung a clear plastic spider web table cloth on the wall.  Then, I layered on a large spider web decoration that I cut in half and spray painted lime green. 
TIP: Tablecloths make great easy DIY backdrops! They are very affordable, come in tons of colors and patterns, and are easy to hang and remove with removable poster tack.  This is a great way to change up a plain white wall for Halloween.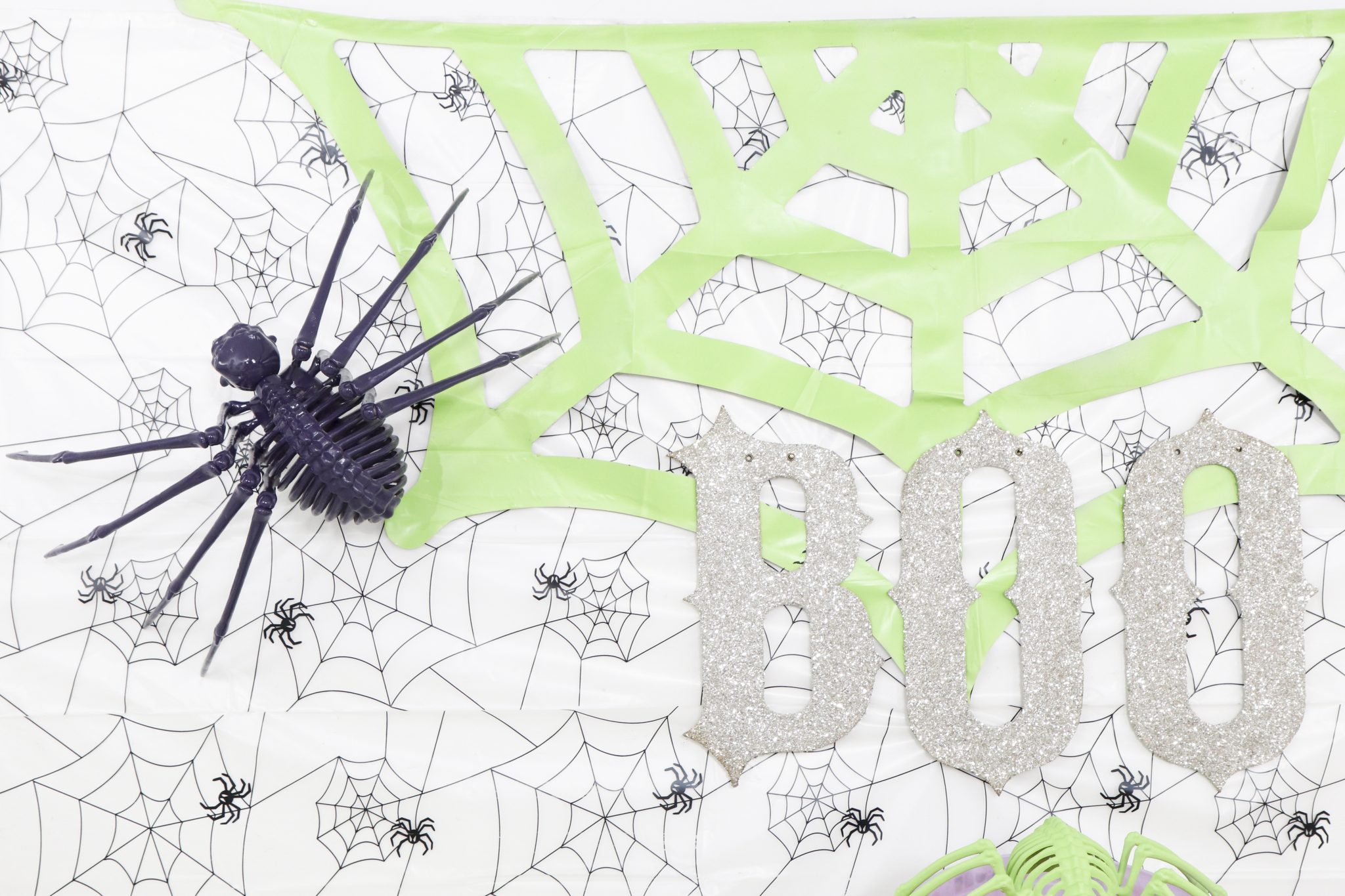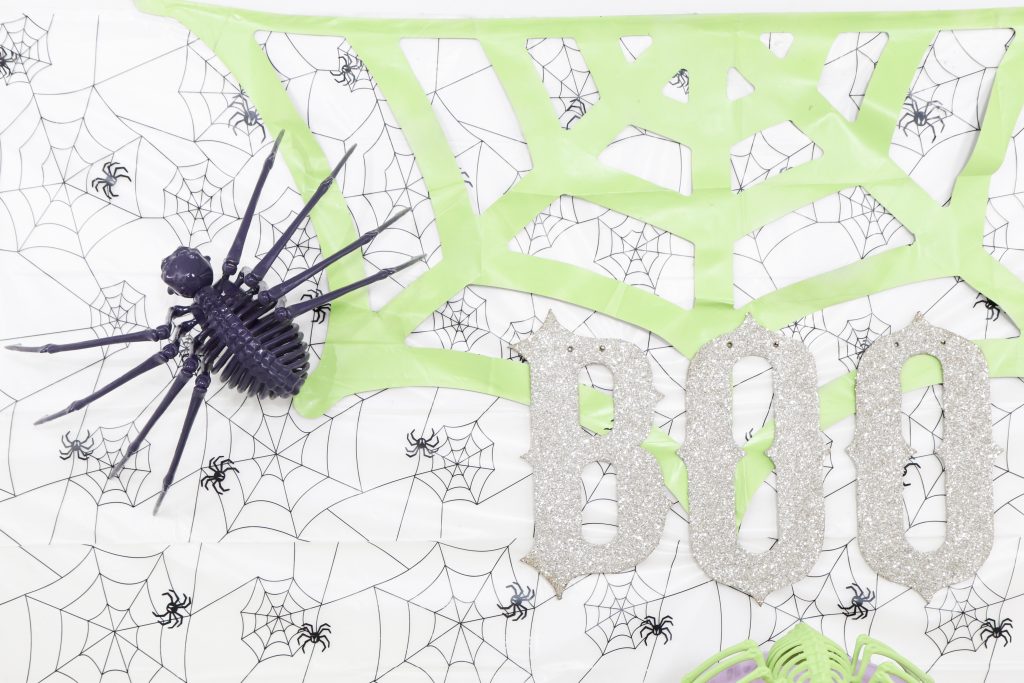 Right under that, I hung the word "Boo" in spooky sparkling silver letters.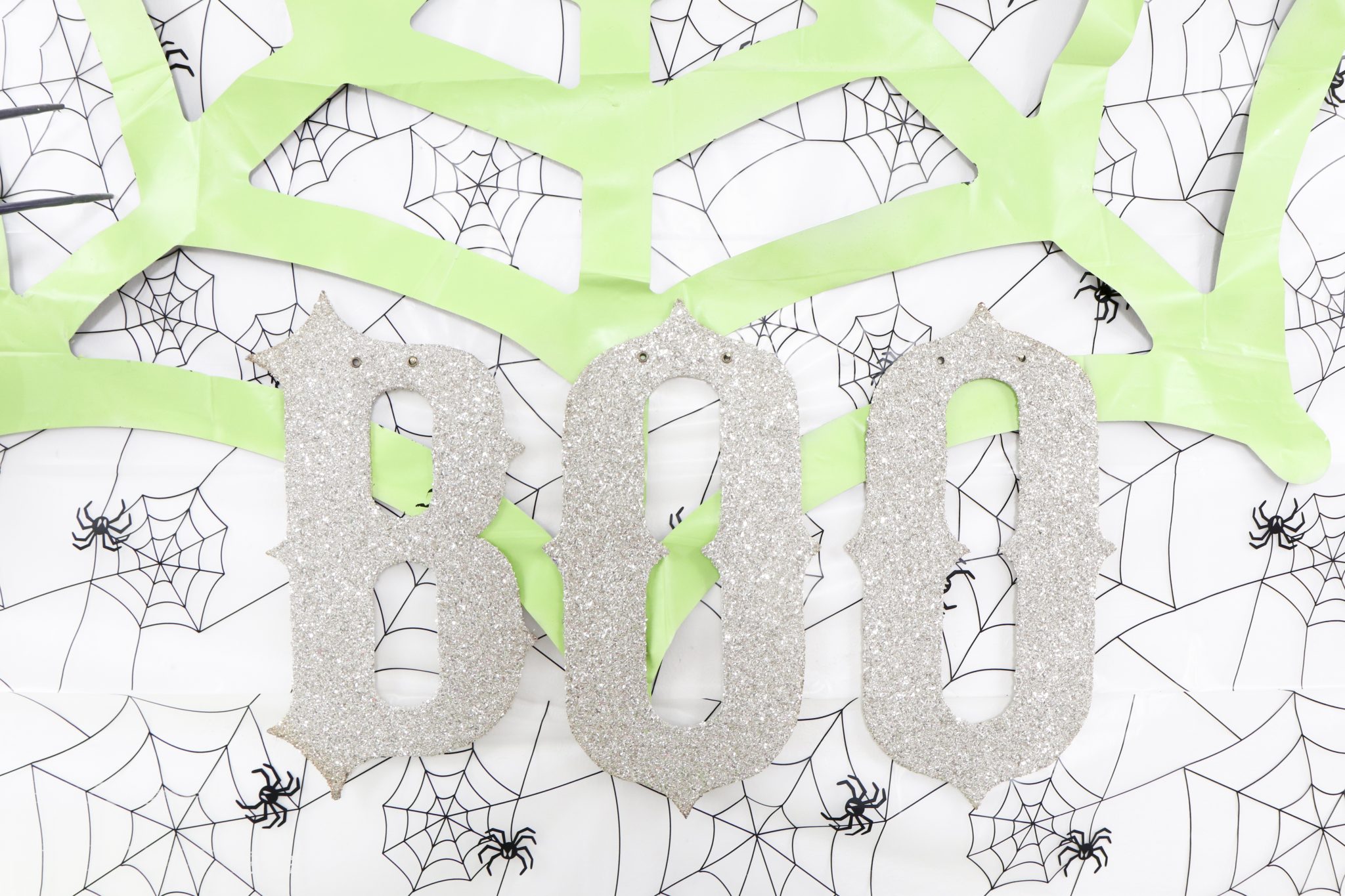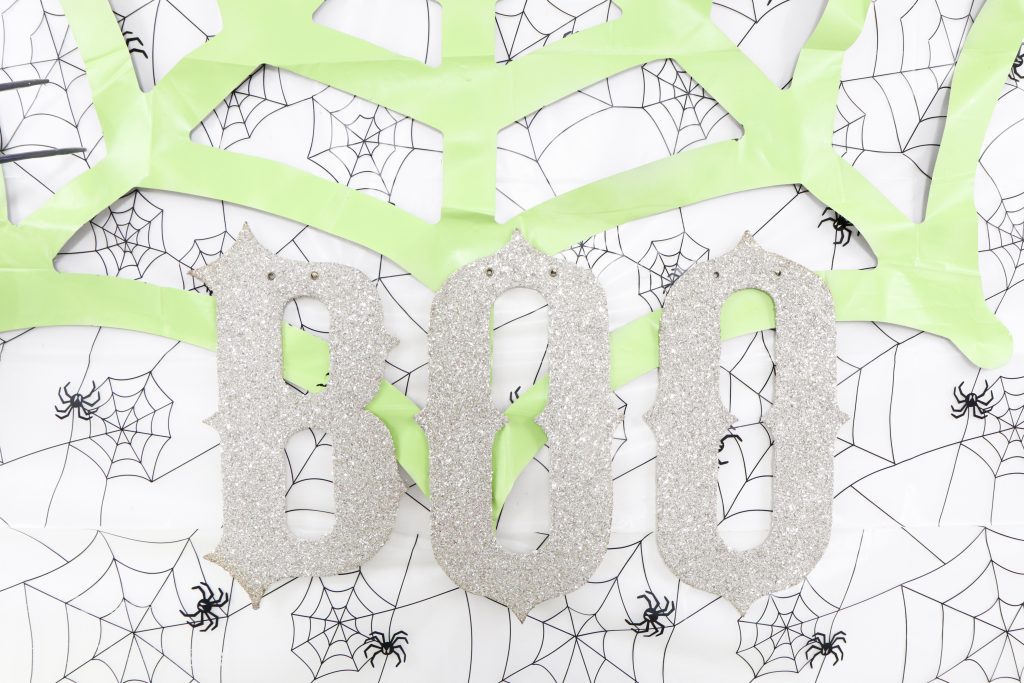 Finally, I added some giant spider decor to guard the web and complete my backdrop! Spray painting a spider skeleton purple and re purposing my daughters stuffed spider!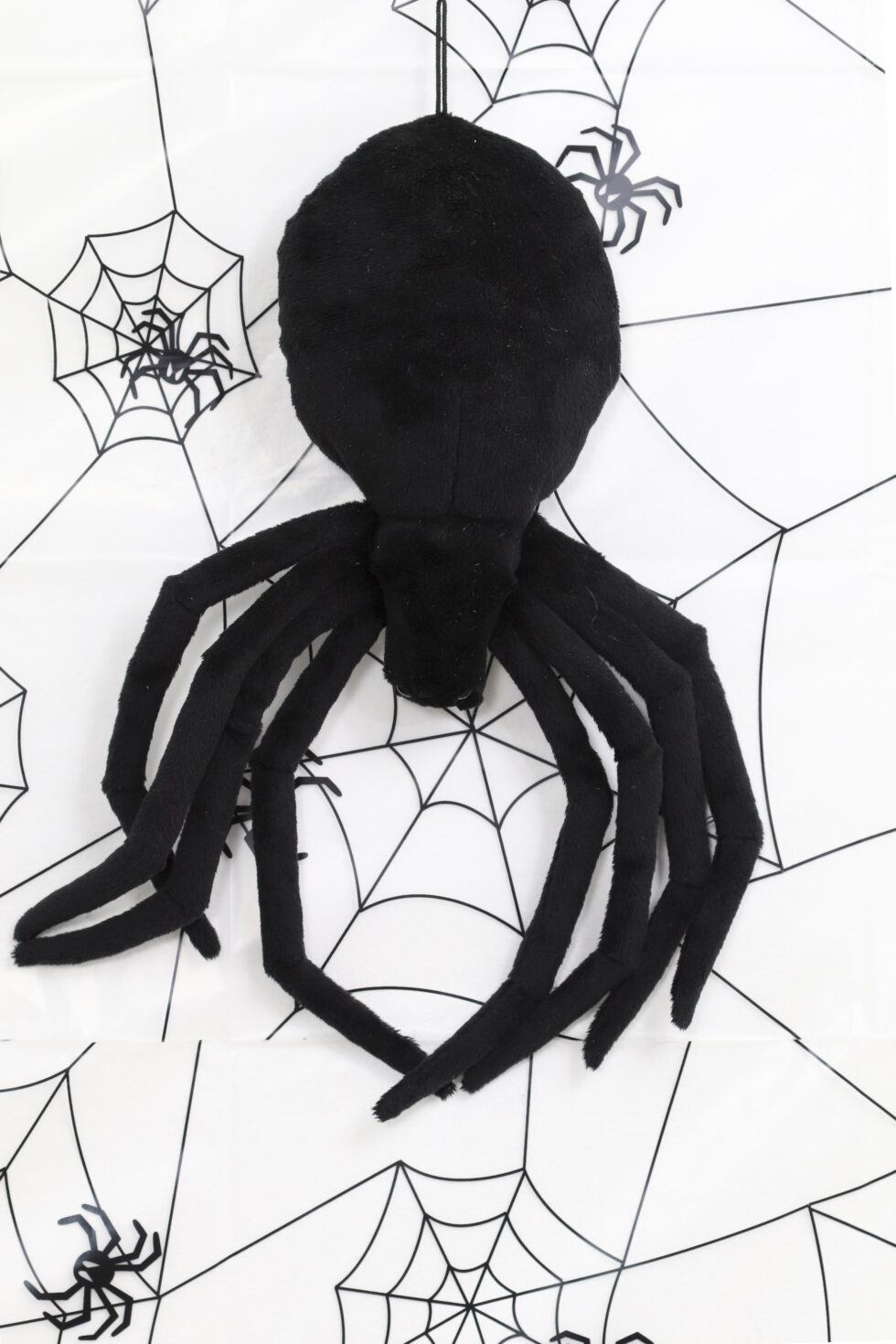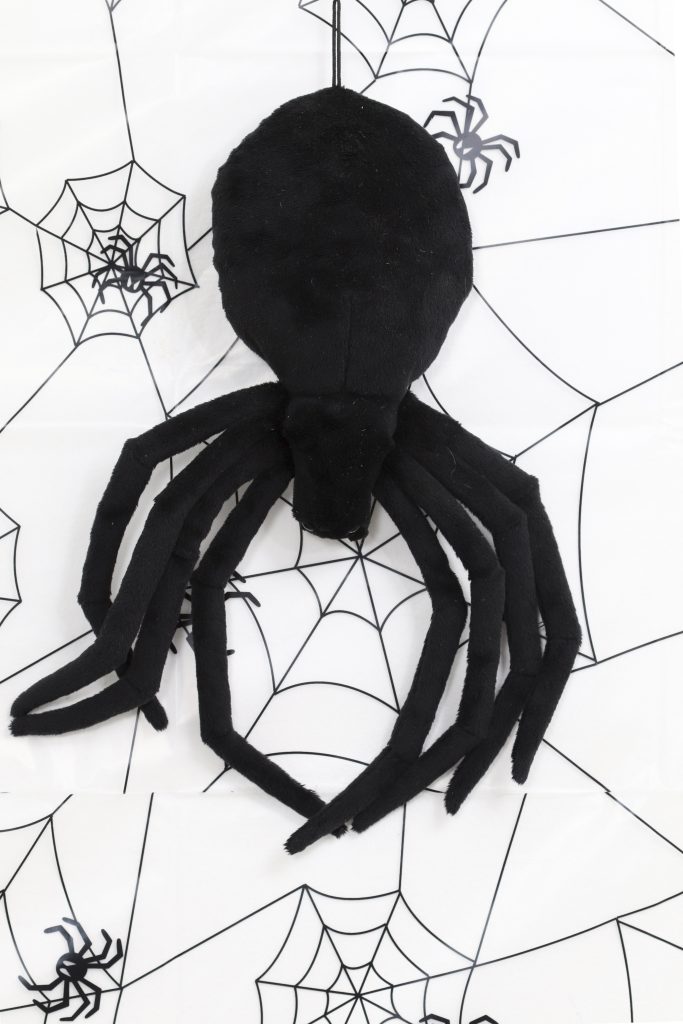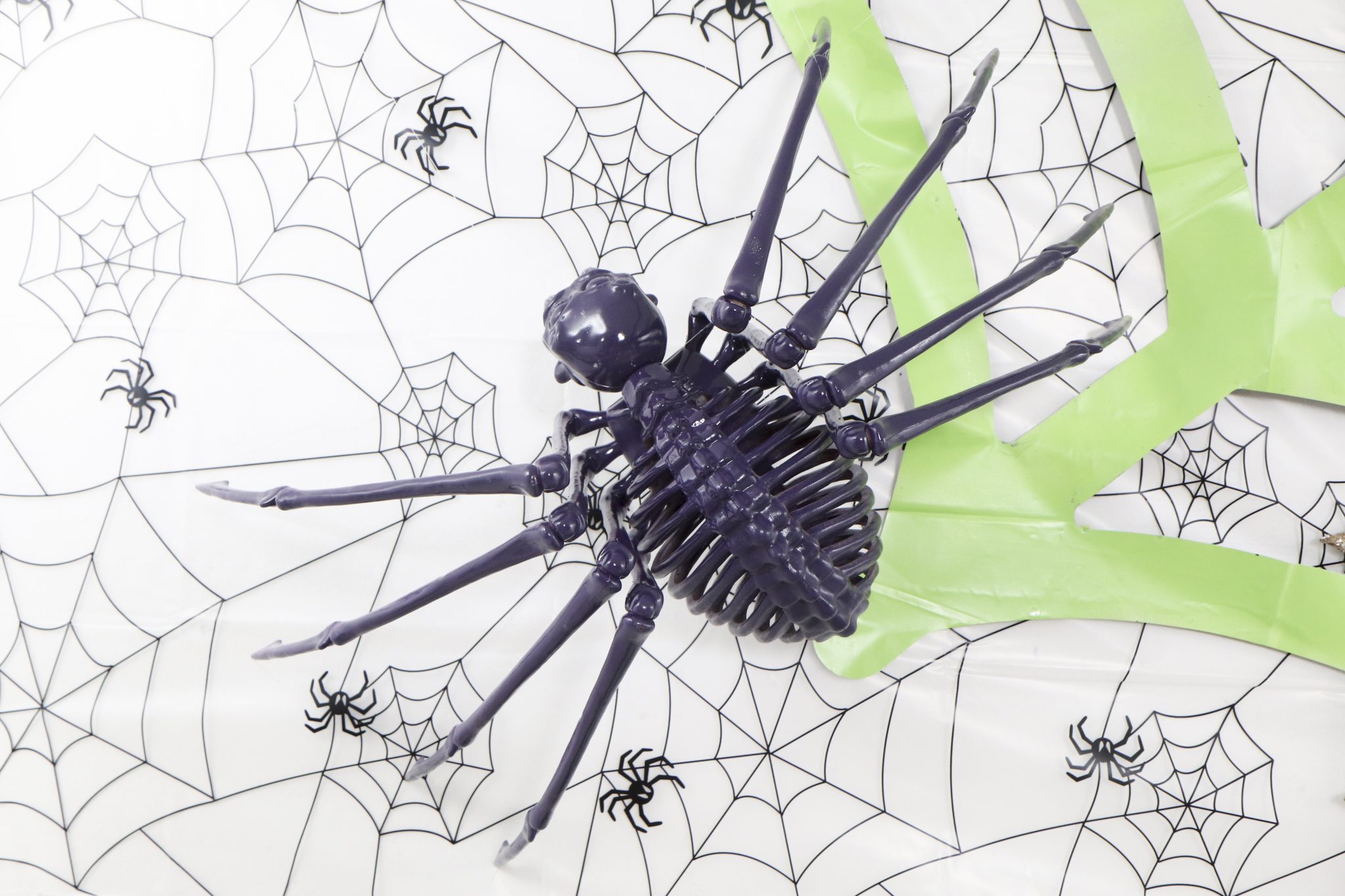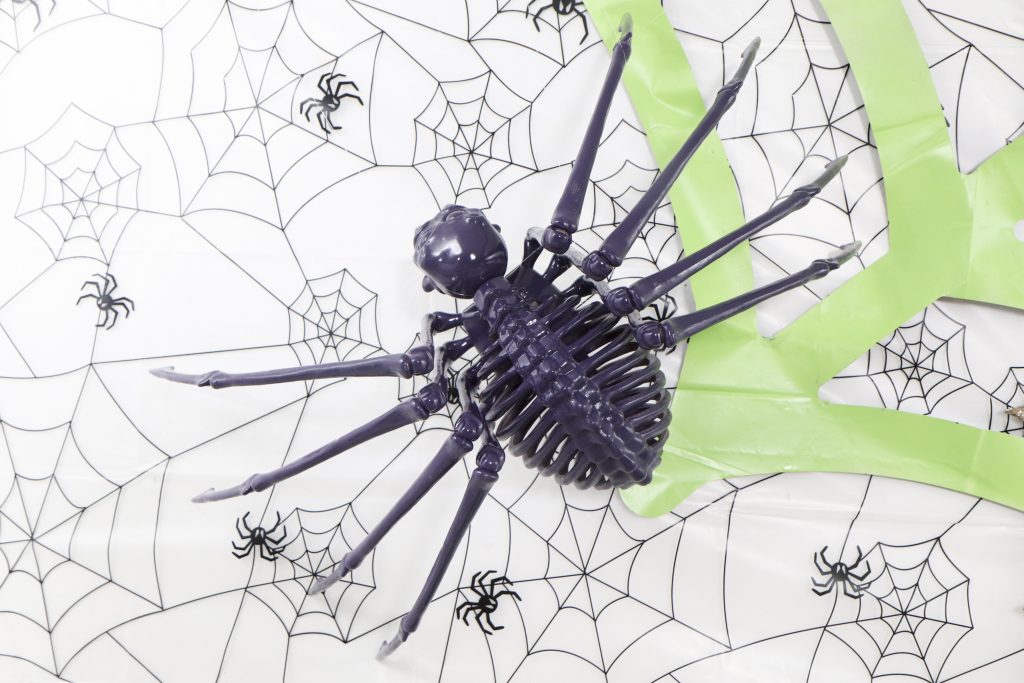 Trick-or-Treat Table
Next, I set up a trick-or-treat table underneath my backdrop. I used a black and white spider web tablecloth to cover the table with the image of silky spun webs. On each side of the table, I set out a variety of black and purple painted pumpkins. I covered these with all sorts of spiders, including black and green-painted  spider pumpkin push-ins, plastic spiders, and glow-in-the-dark spiders. 
The center of the table was for the treats! I laid out three spider web wall decorations that I had painted lime green under the feet of a creepy crawly spider leg bowl holder. I placed a large purple bowl of candy in the holder…but here's the trick! Whoever wants a treat has to brave reaching in under the watchful eyes of a giant spider skeleton guard!
TIP: Raising the candy bowl up on a stand of some sort and adding decor draws the eye to it and makes it feel more like a table centerpiece.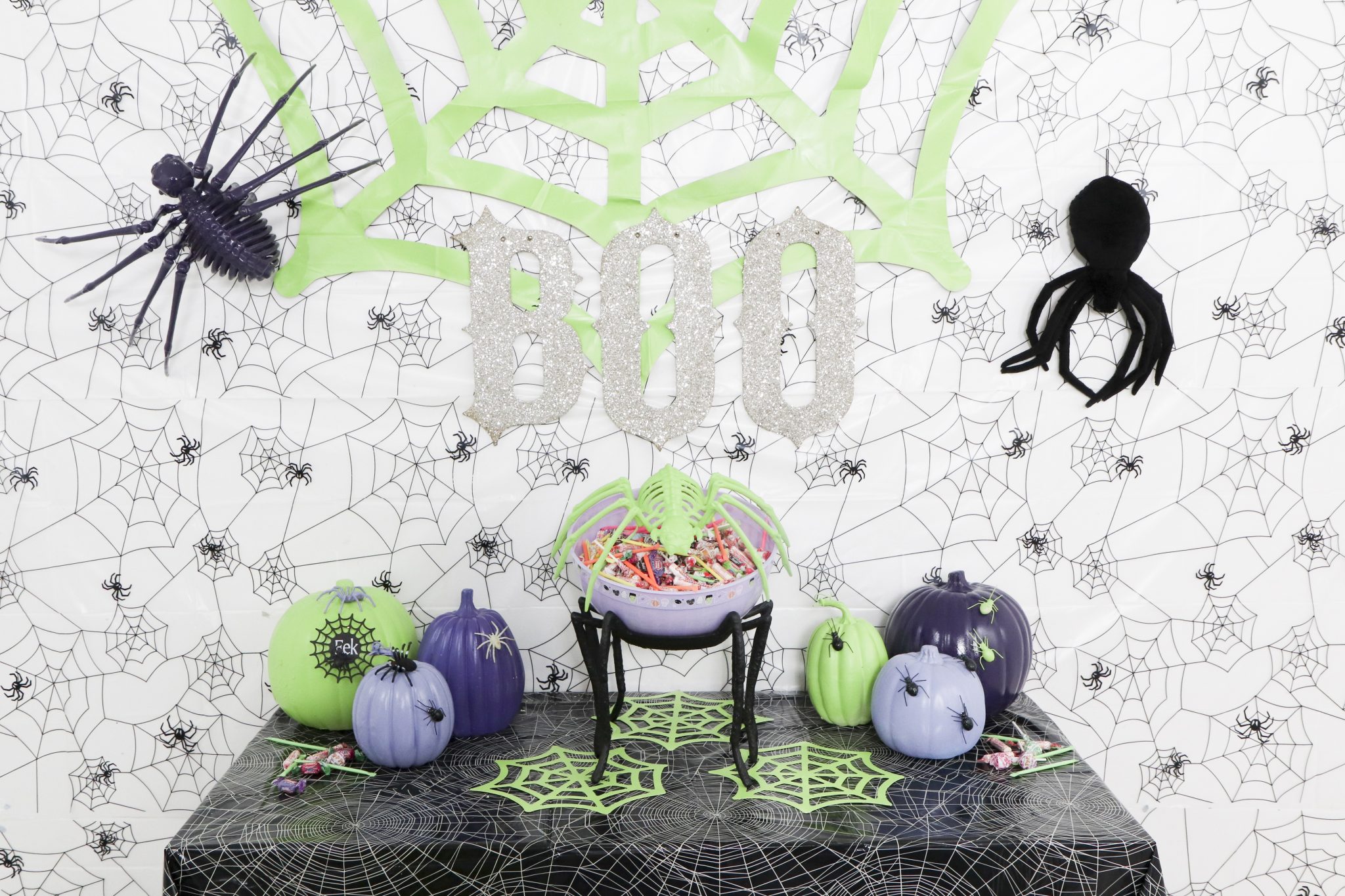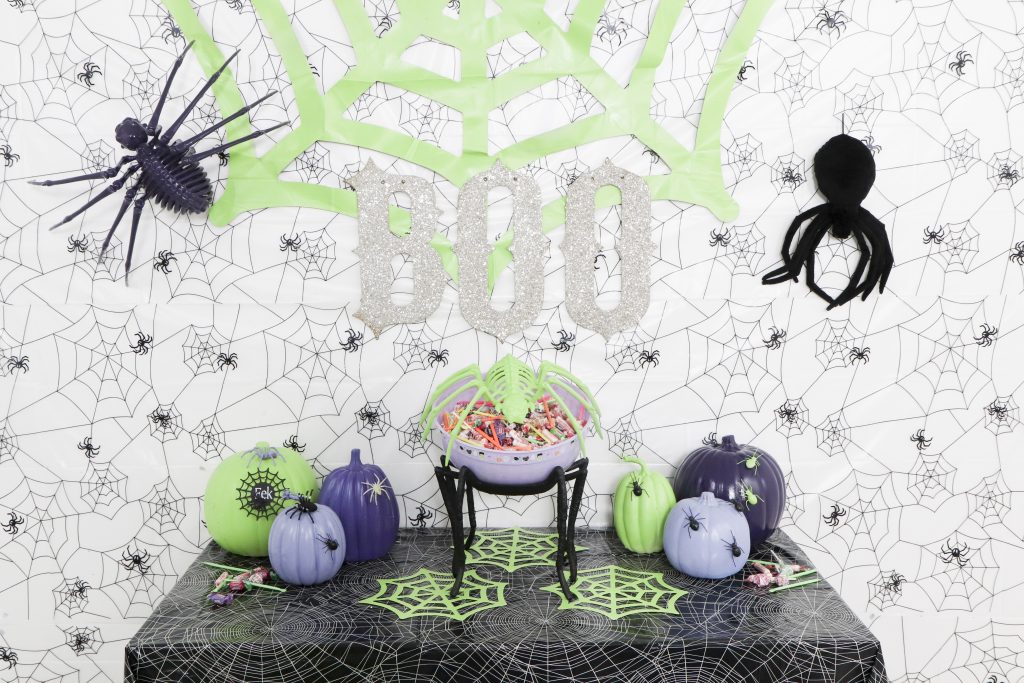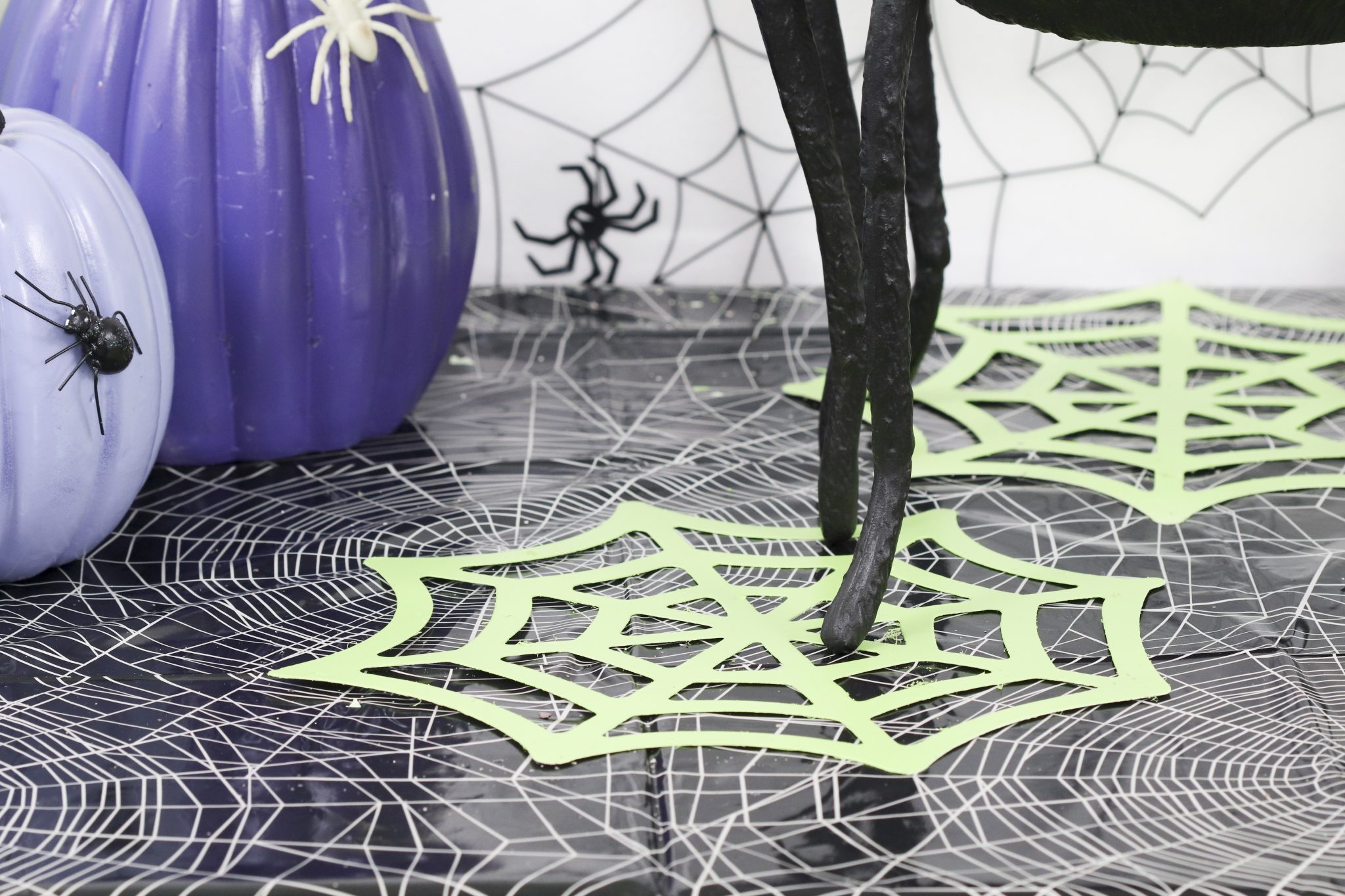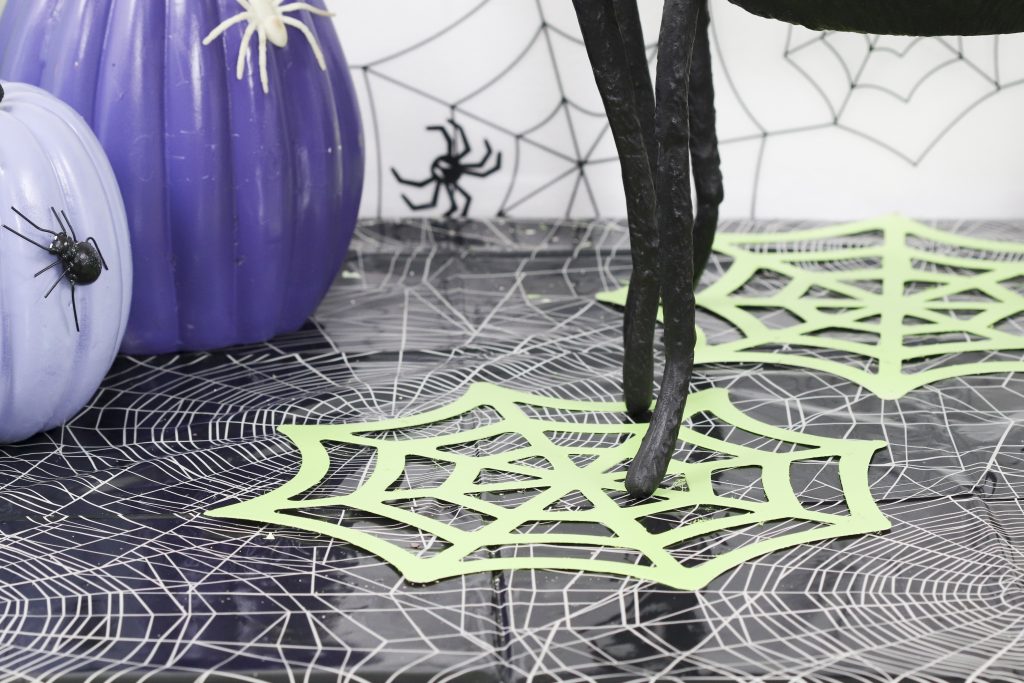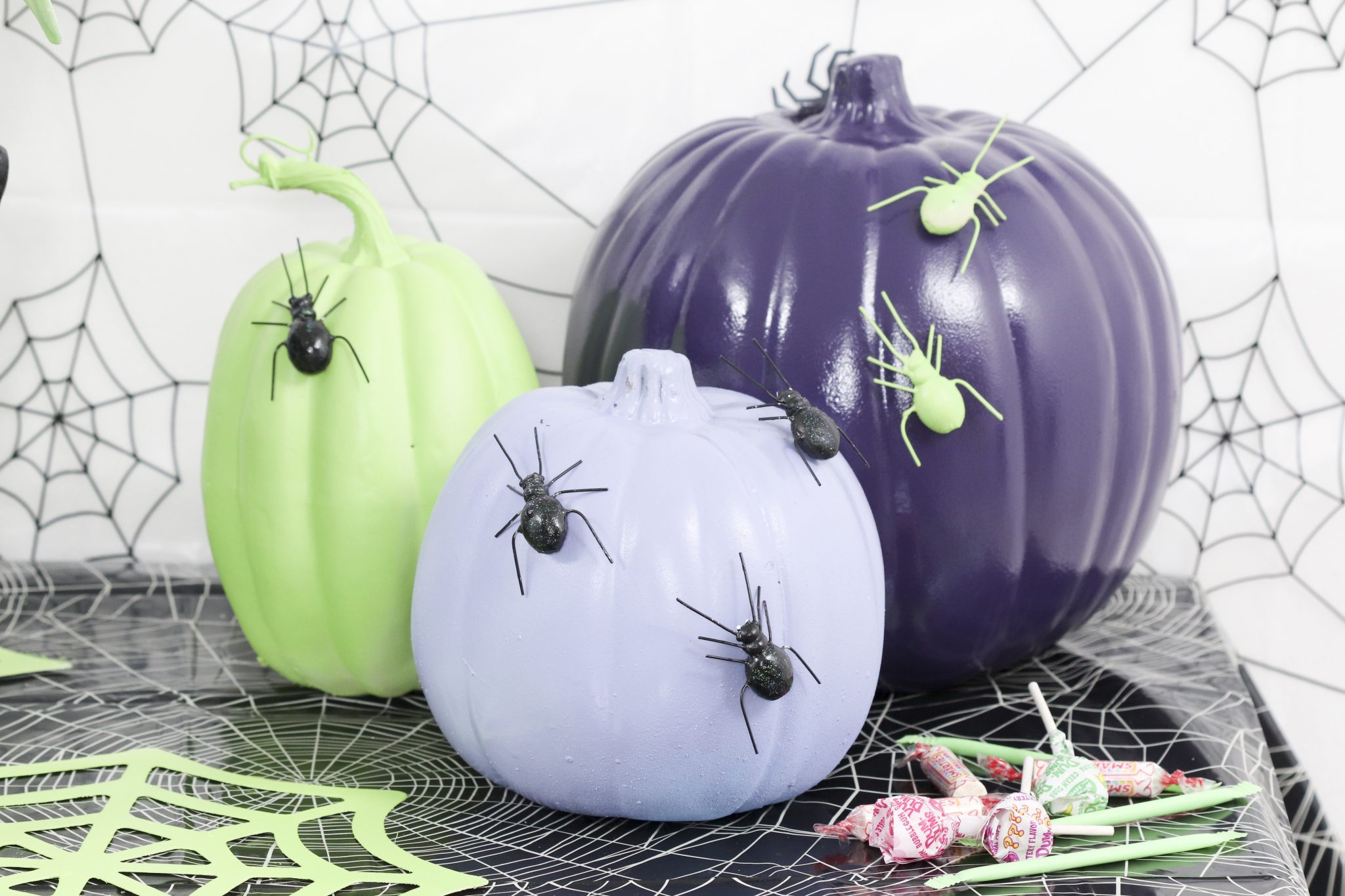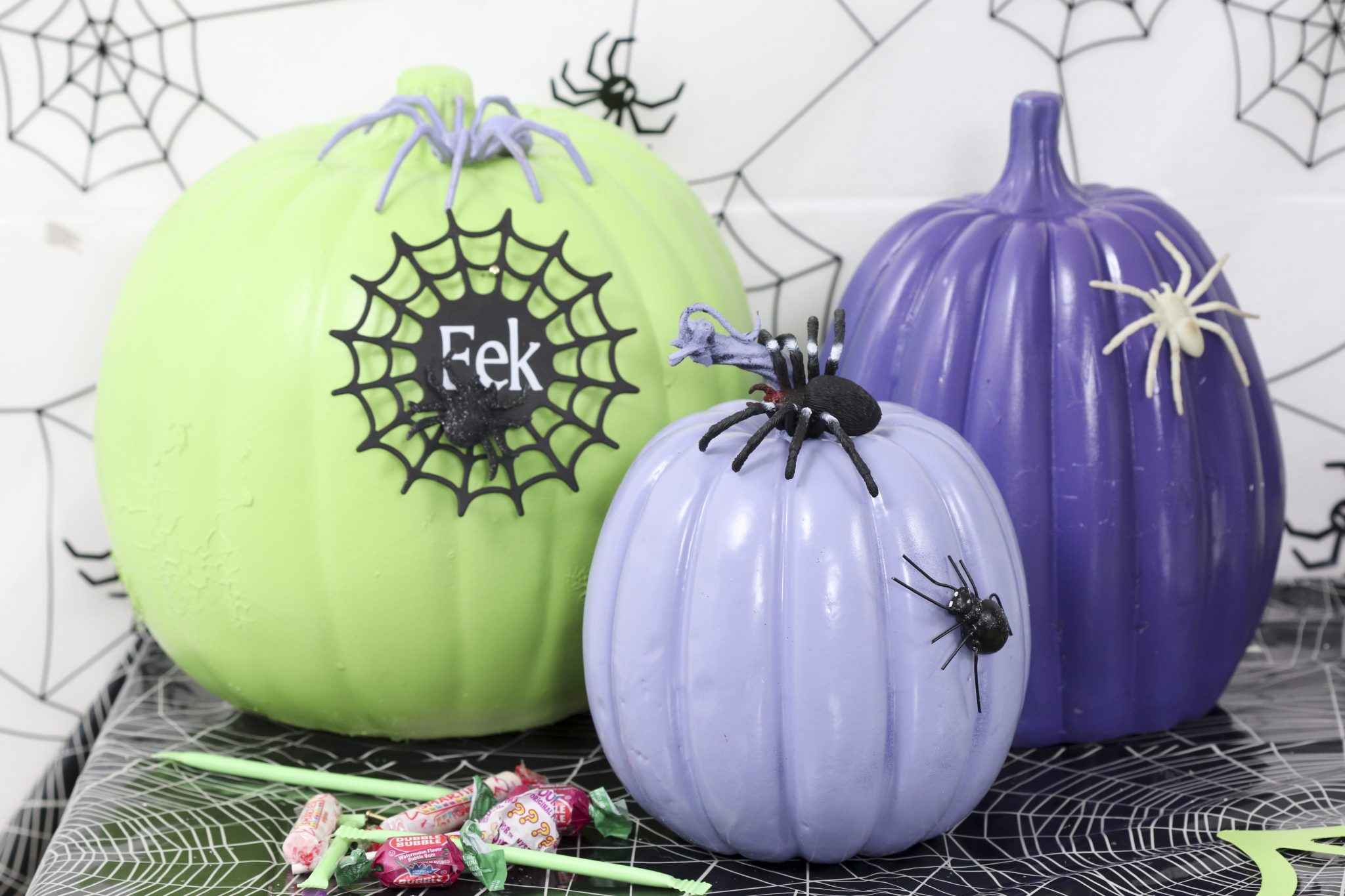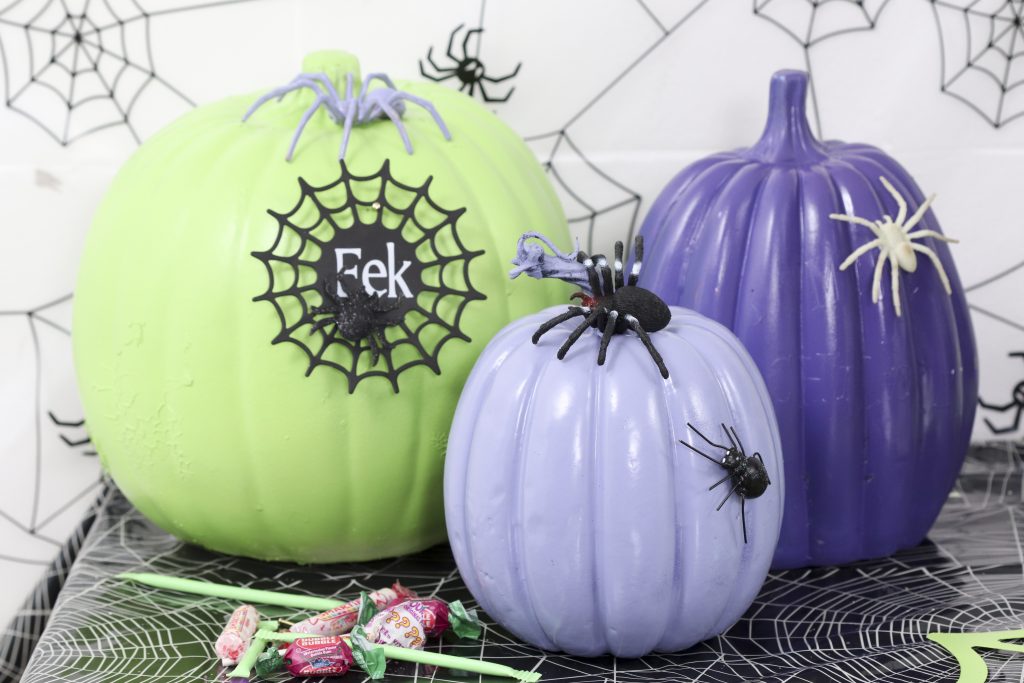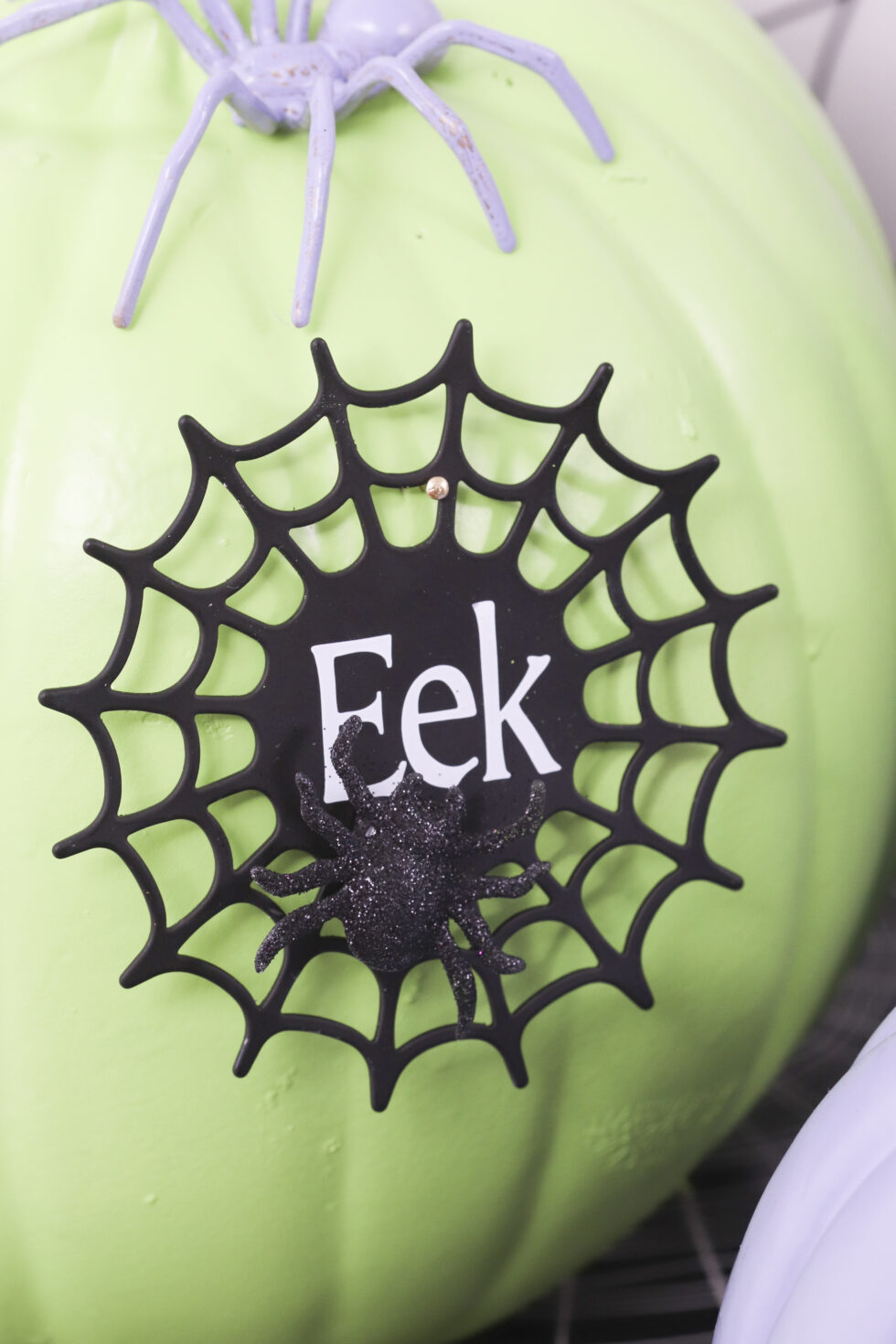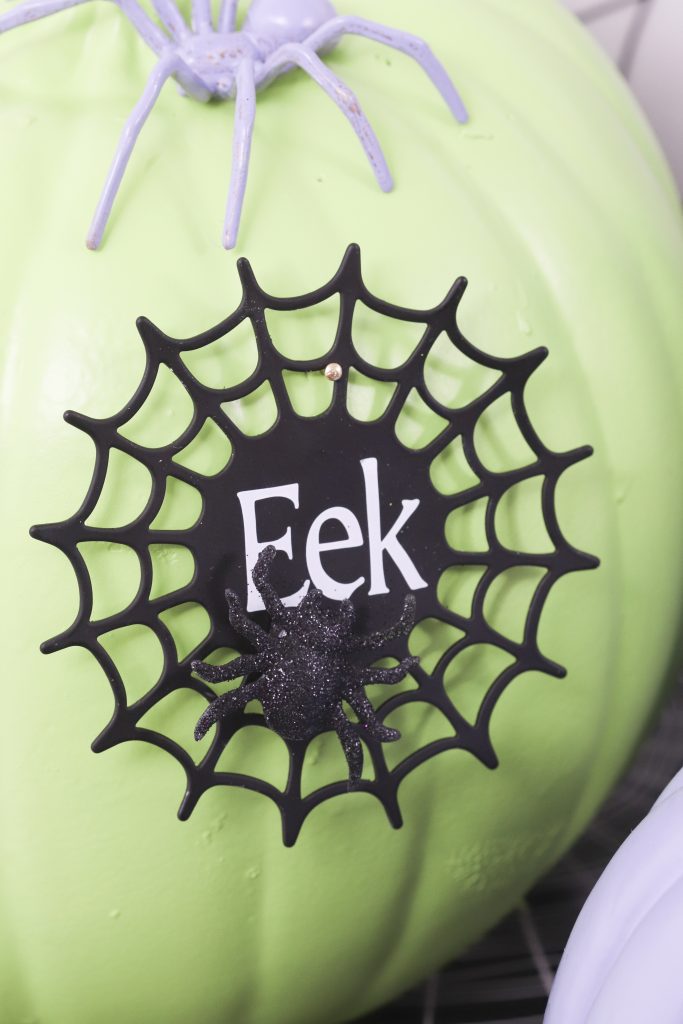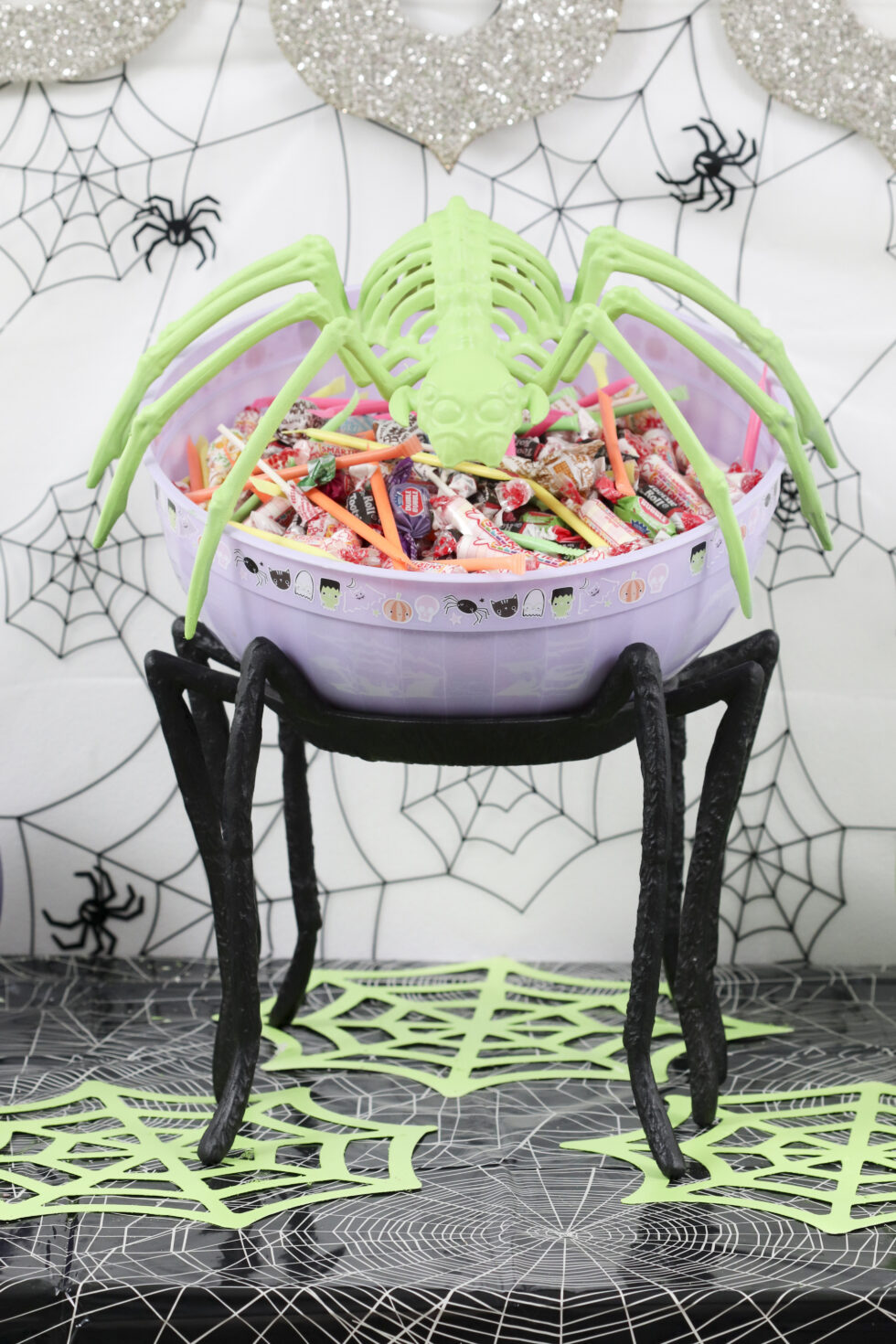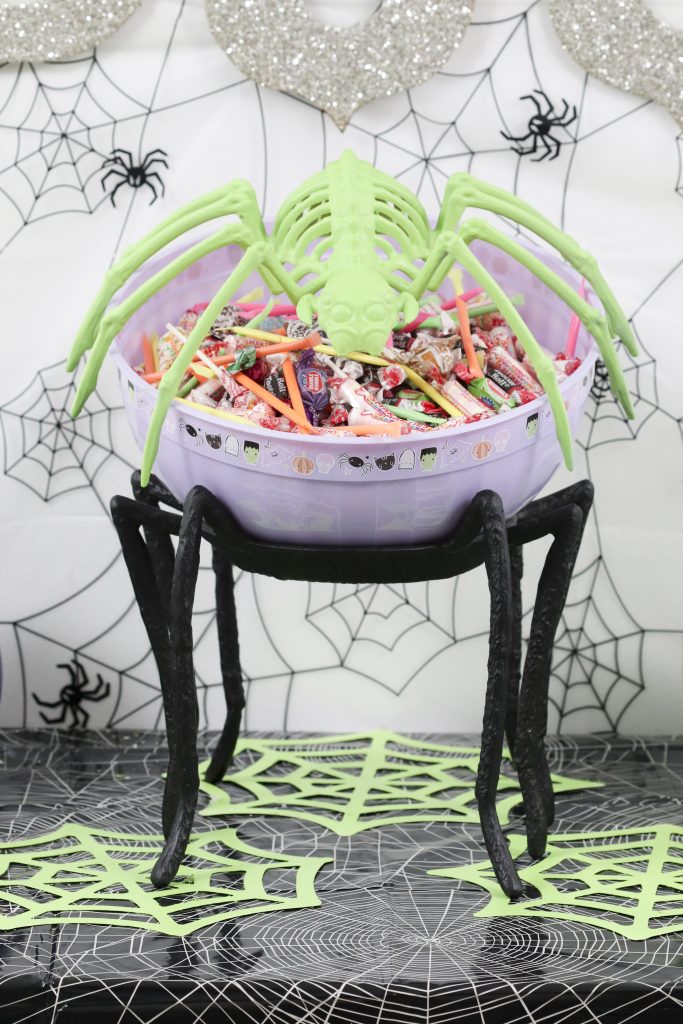 Table Settings
Once the trick-or-treat table was all set up, it was time to focus on my dining table settings! I kept it simple by starting with a plain white table. This gave me a crisp and clean backdrop for my centerpieces and place settings. On each end of the table, I placed a black die-cut spider web pail filled with lime green blooms (faux florals spray painted green! to get this shade I used a green apple shade). Of course, these had to have a few creepy crawlies on them too. I placed tiny black plastic spiders throughout in an unorganized way, to make it look like they were just crawling around the flowers.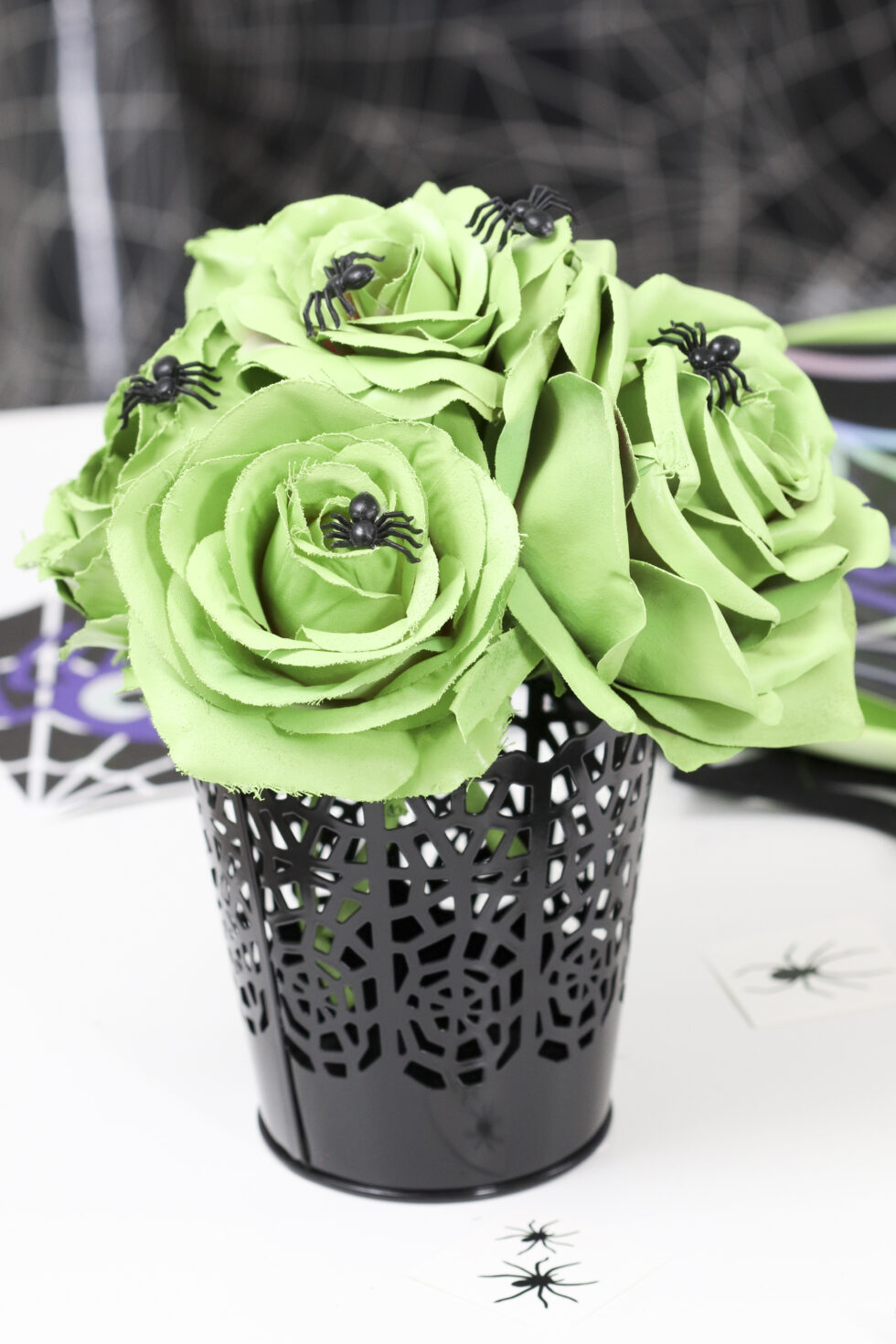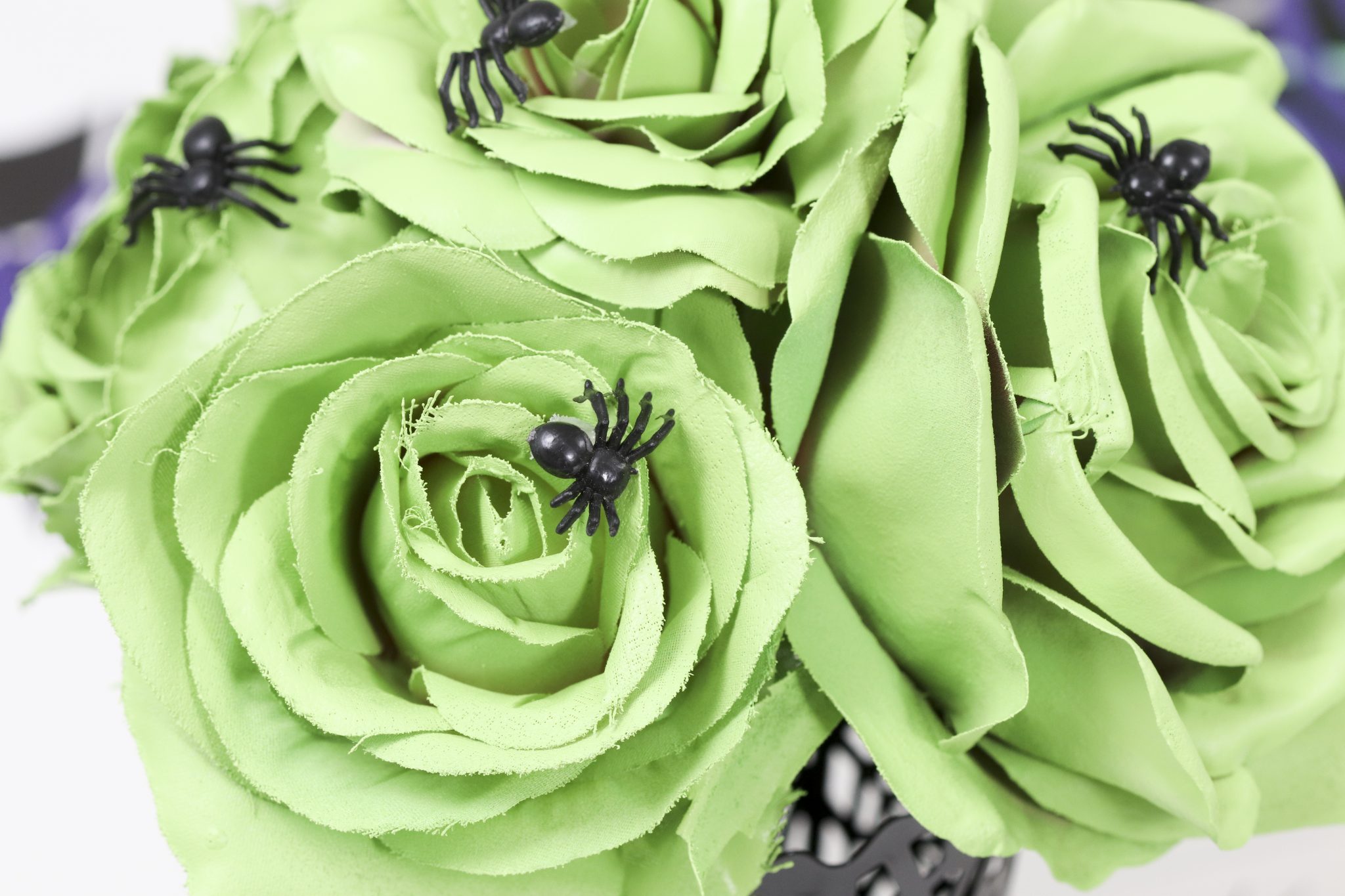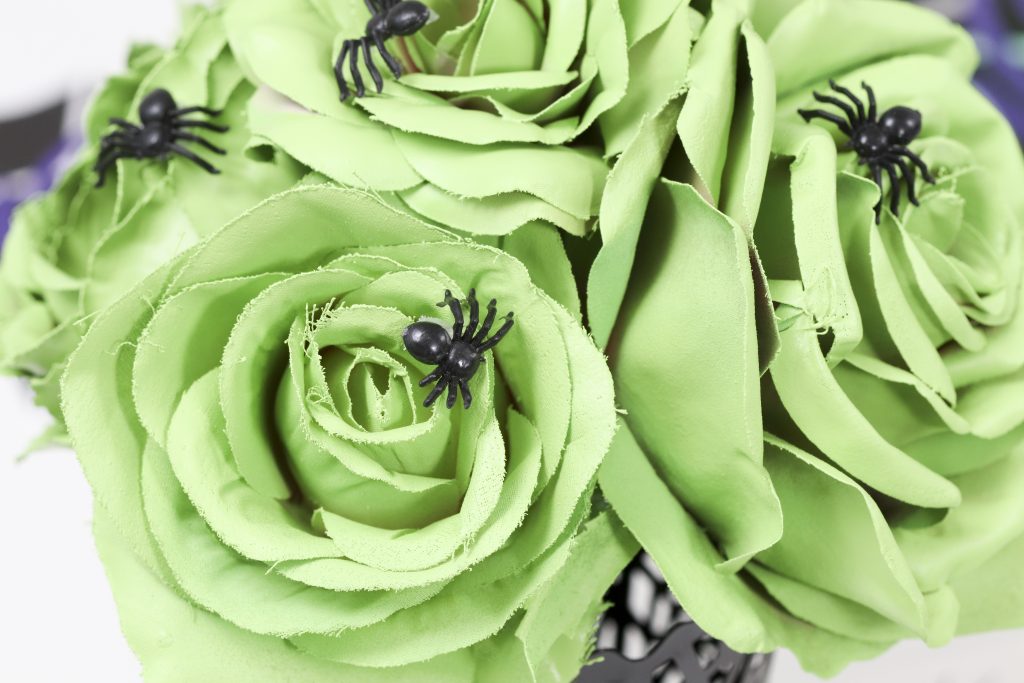 In the center of the table, I used spider web napkins with scalloped edges as place mats for two small lime green stands. These held up black pumpkin centerpieces that said "Boo" and "October 31st" (stands and pumpkins from Target!) to commemorate the spooky date! I placed contrasting lime green painted spiders on each of these. Then, I spread a few black spider tattoos around the table – decor that also serves as party favors for guests!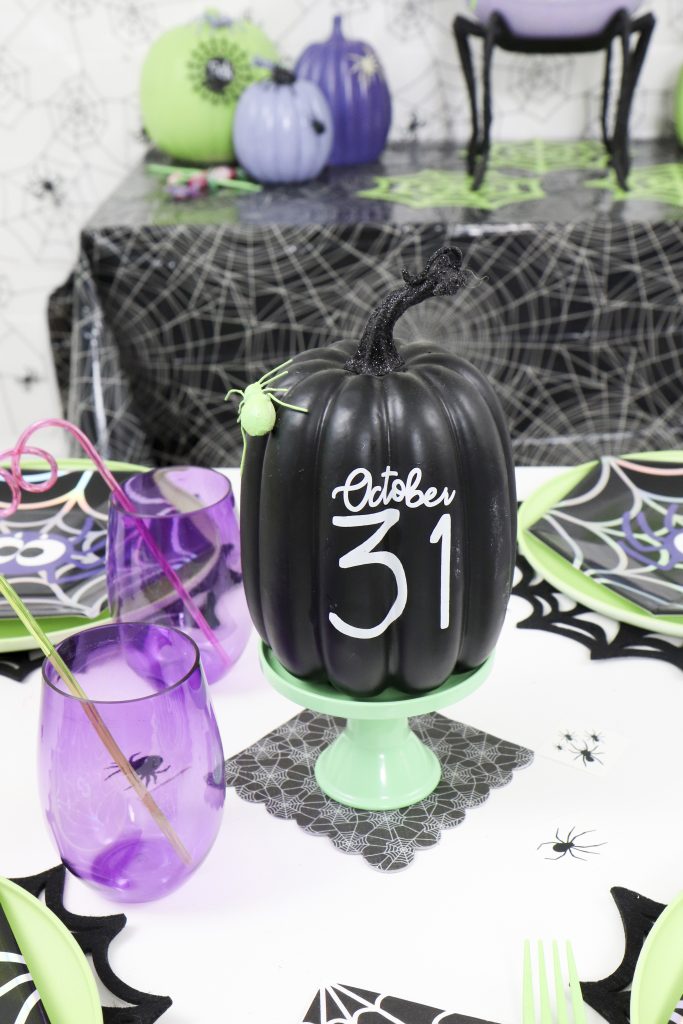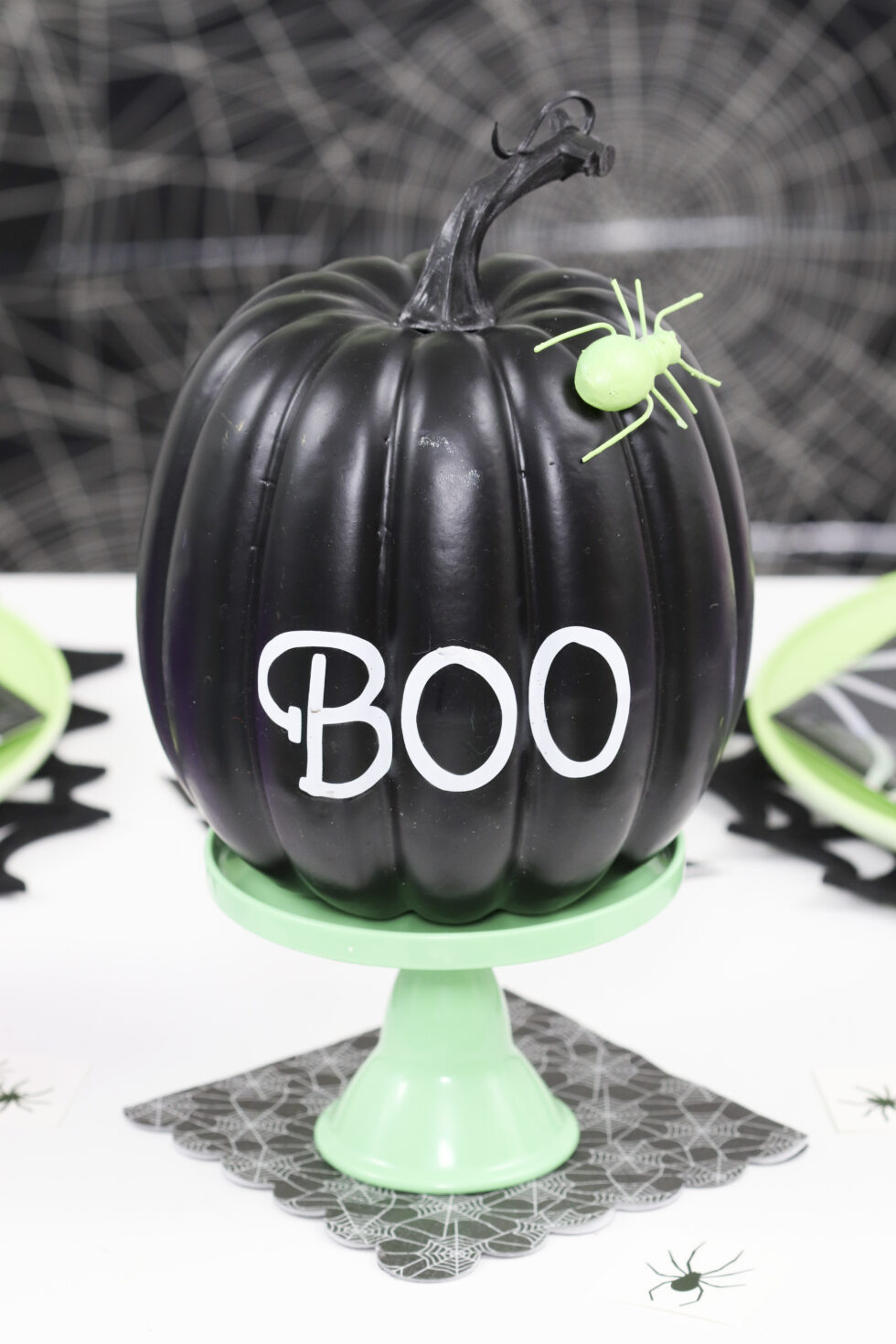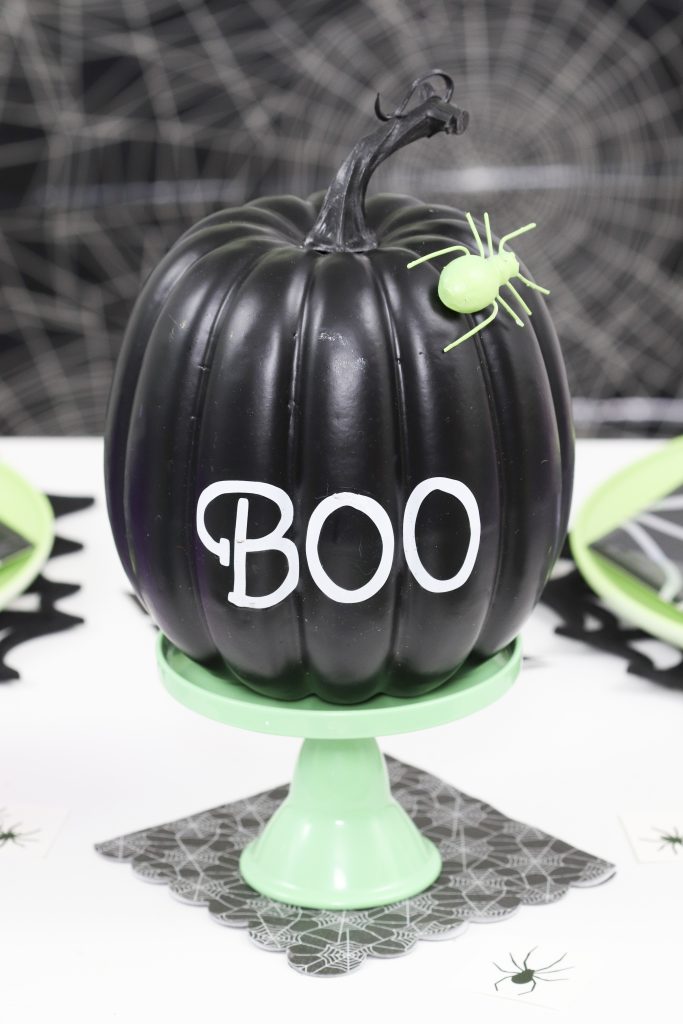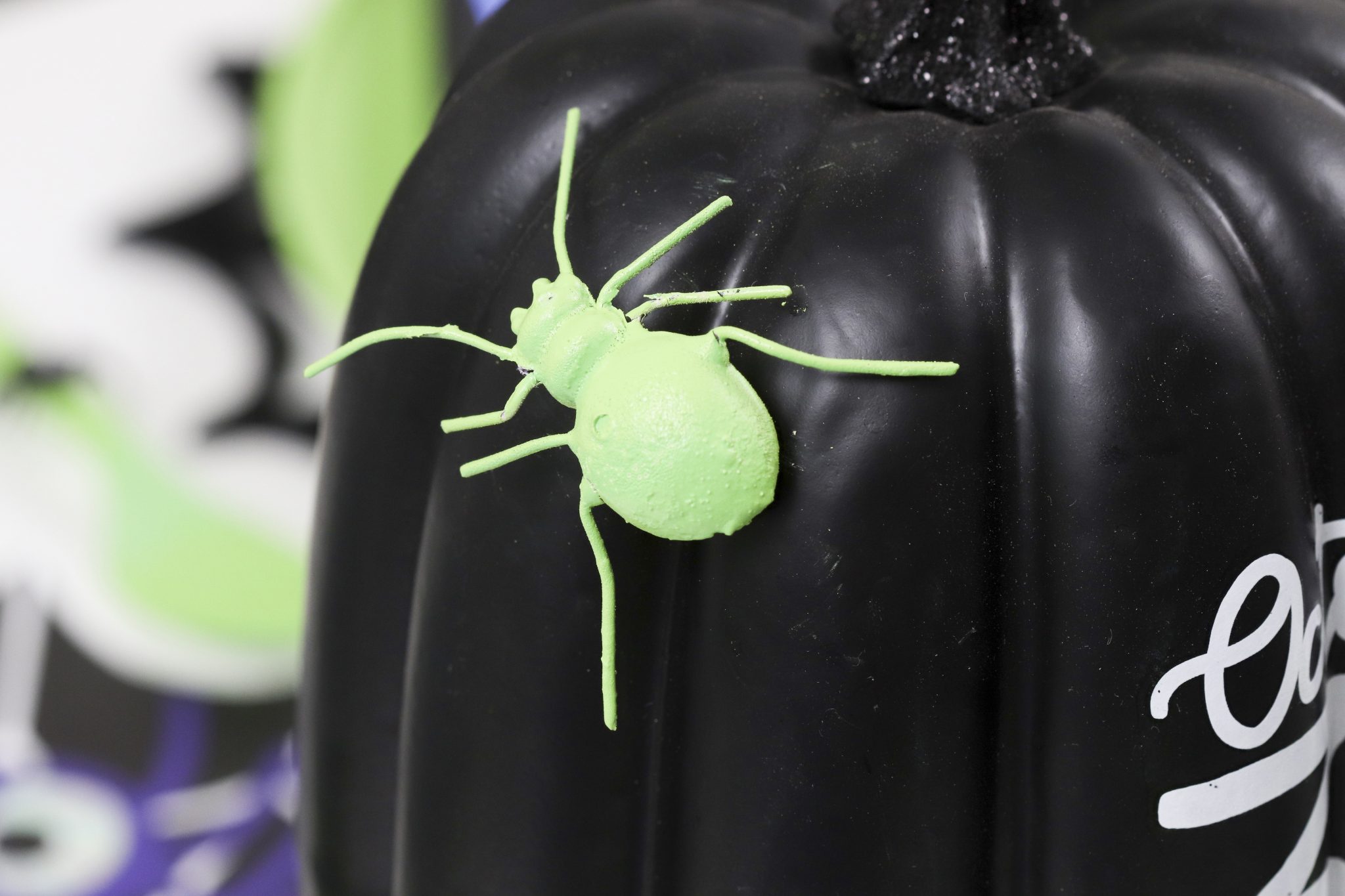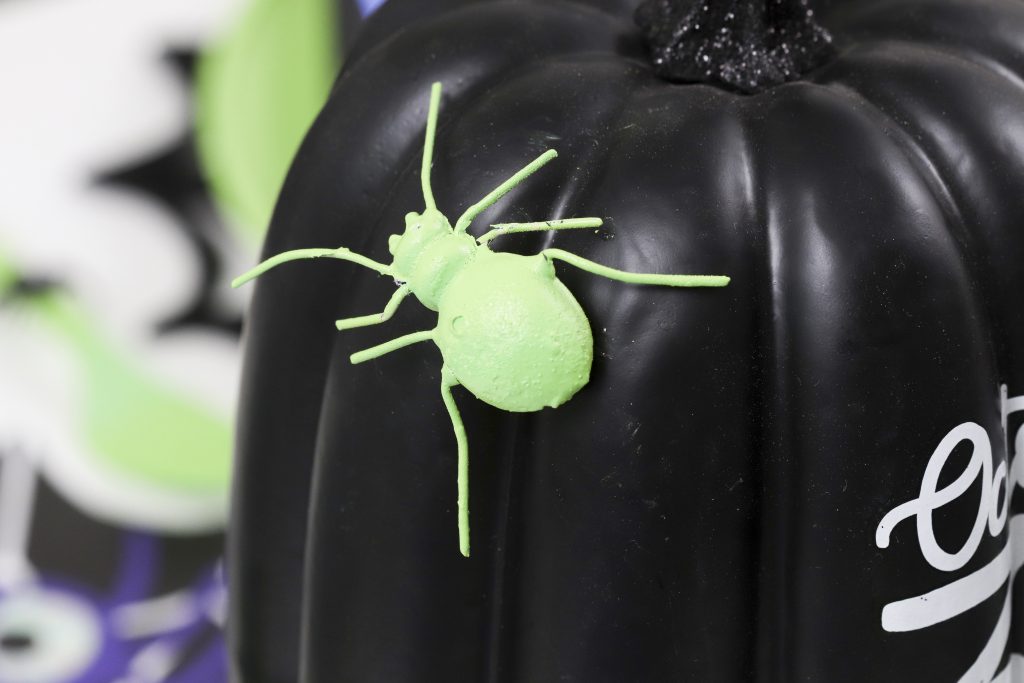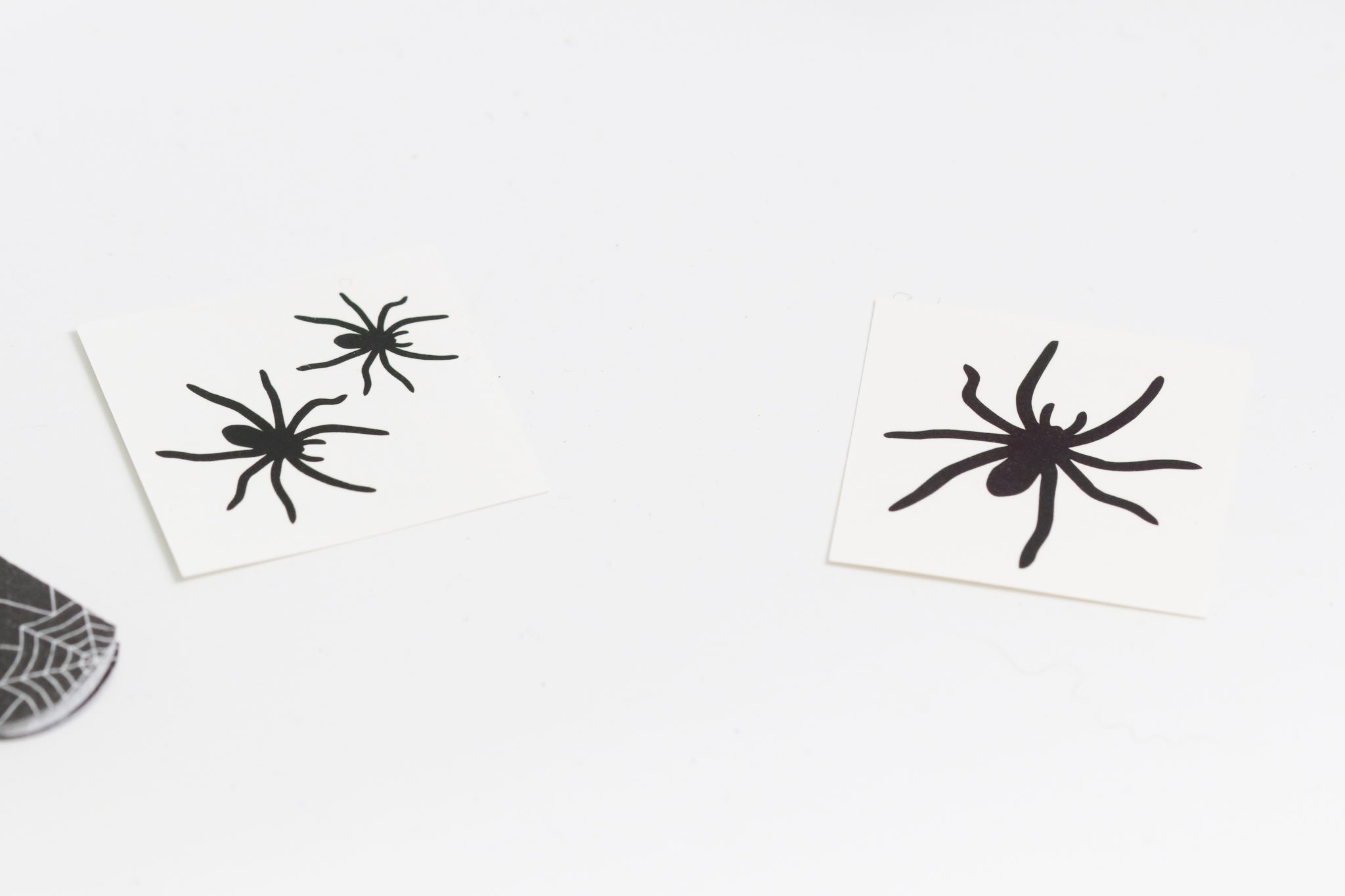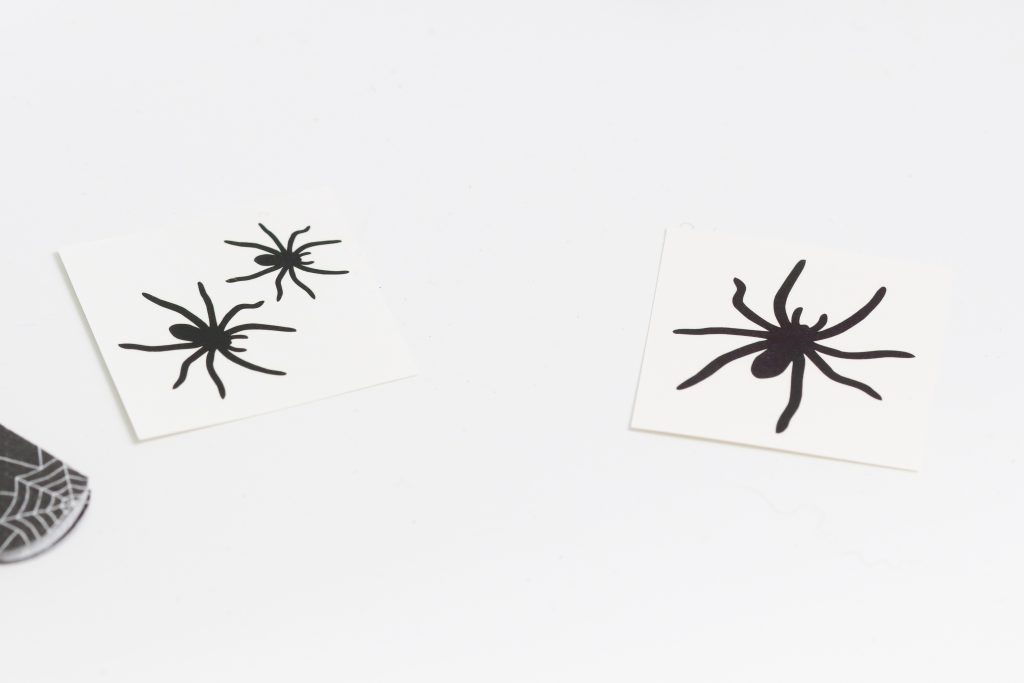 Place Settings
Under each place setting, I placed a black spider web placemat. On top of these, I used lime green chargers layered with adorable spider plates. I think these are going to be very popular this year, they are super cute and featured sweet and not-so-scary purple spiders on metallic silver webs! These hexagonal plates looked great on the round chargers that bring in more of the green to contrast with the purple. I placed a matching spider napkin (don't you love the web shape of these!) and a lime green plastic fork with a tiny plastic spider on it next to each setting. Dare you reach for your cutlery?! Finally, I set out purple plastic drinkware, each with a fun "boo" silly straw in it. I mean, FUN, right?!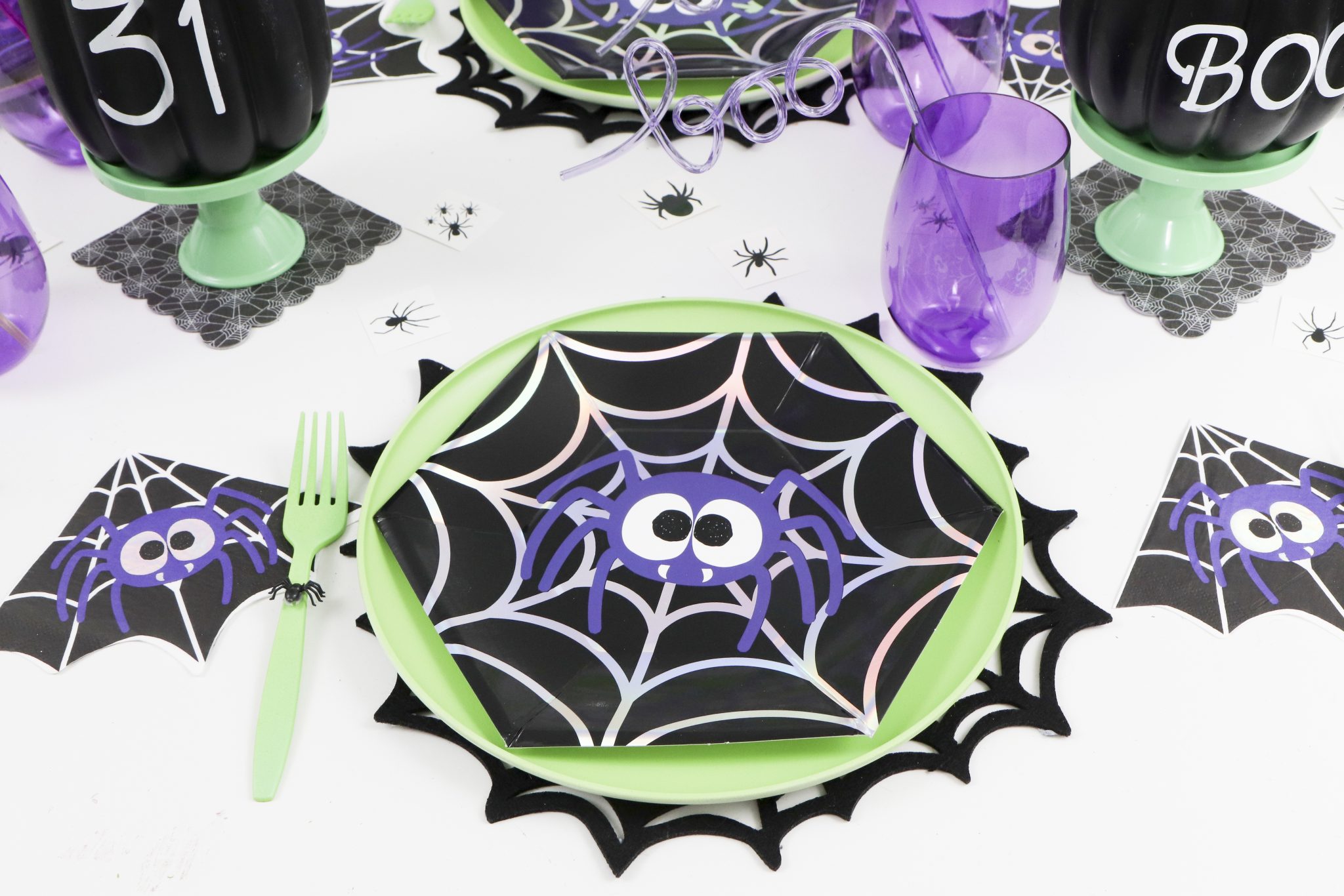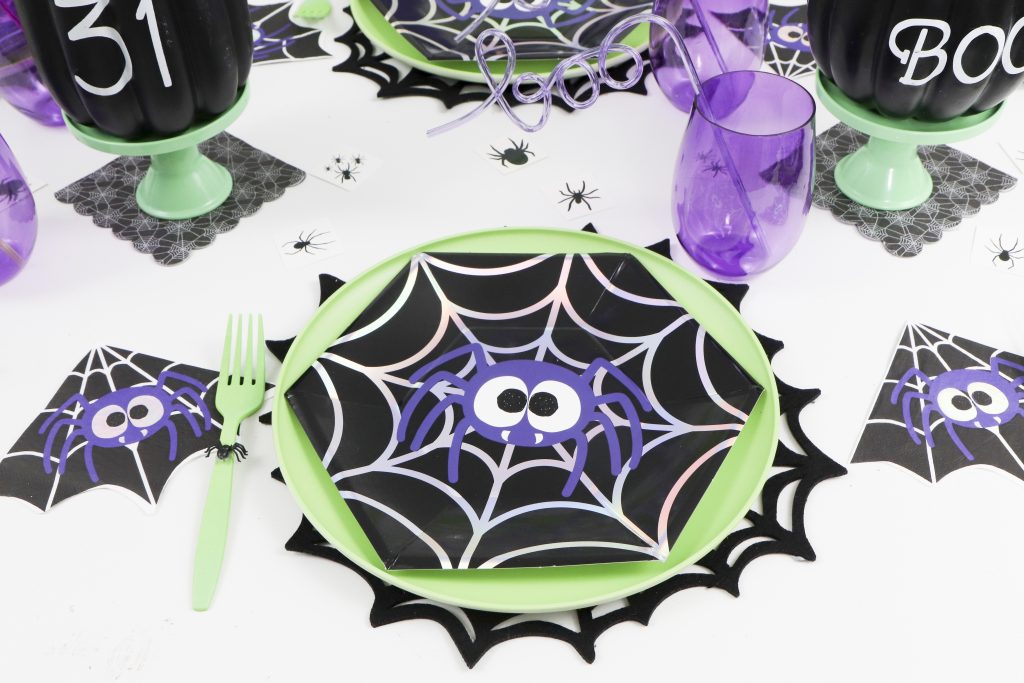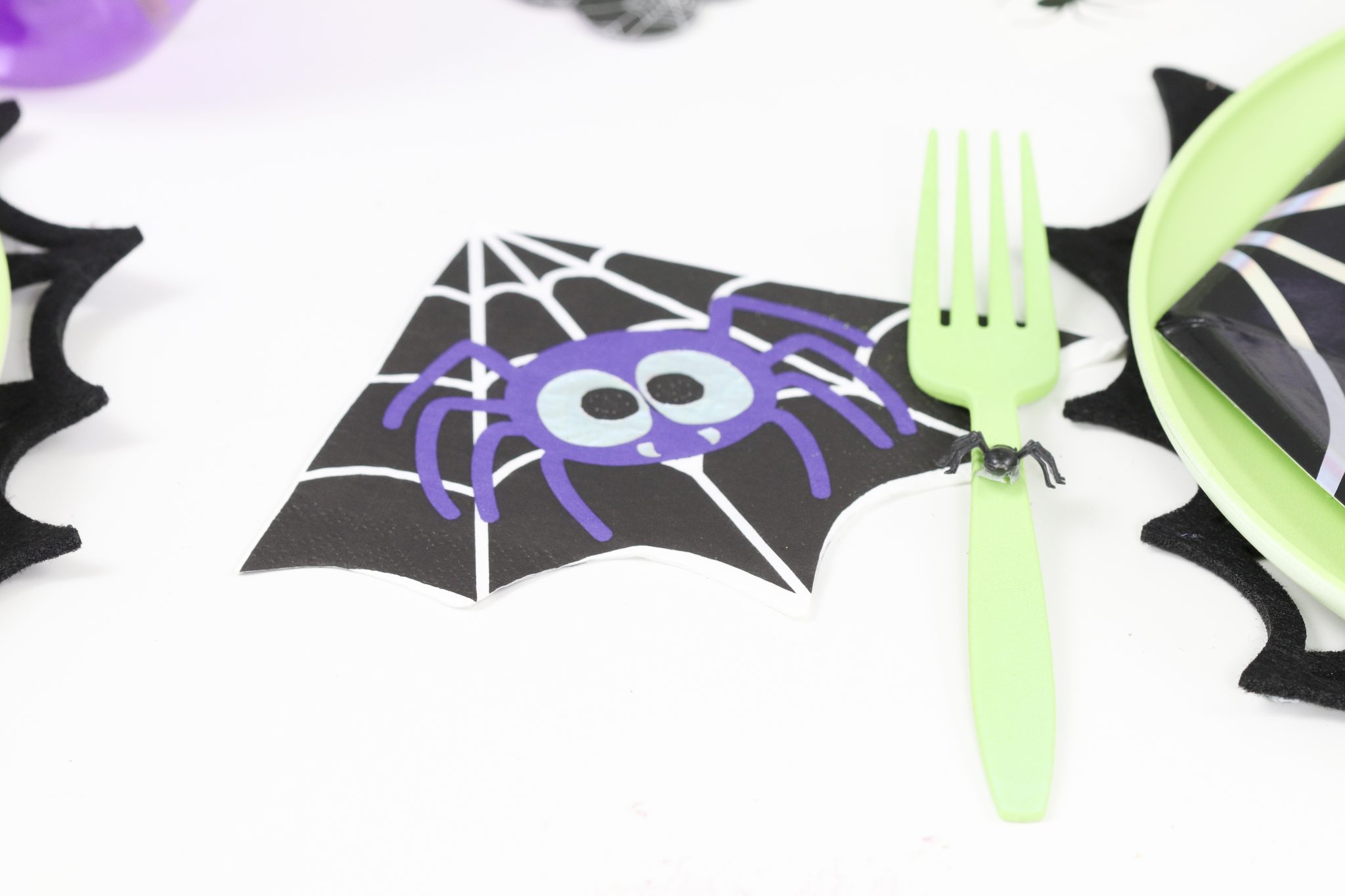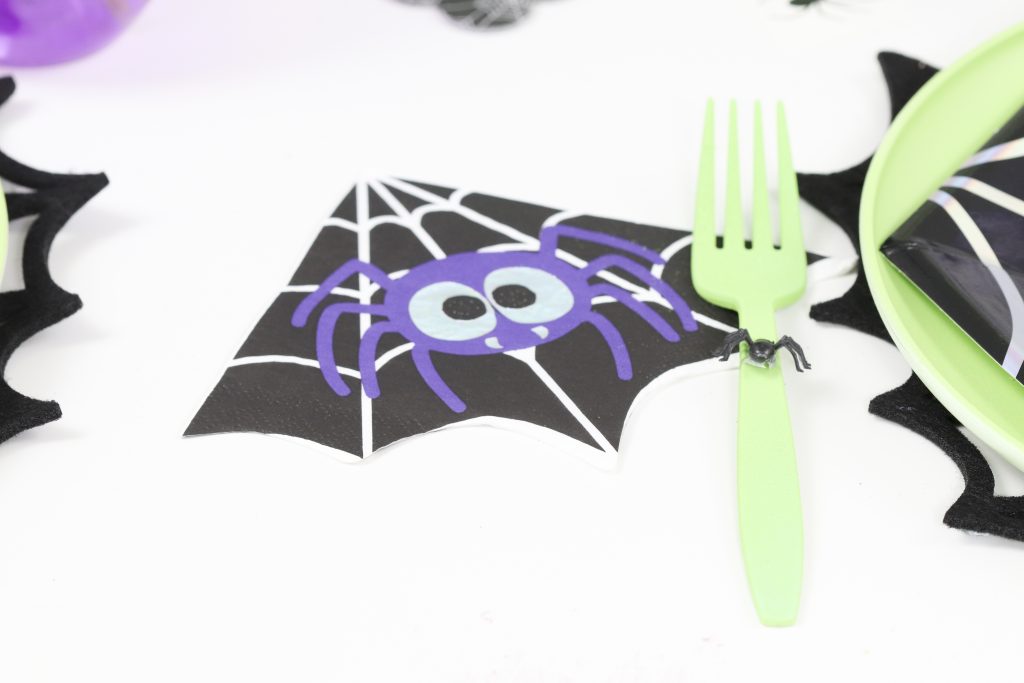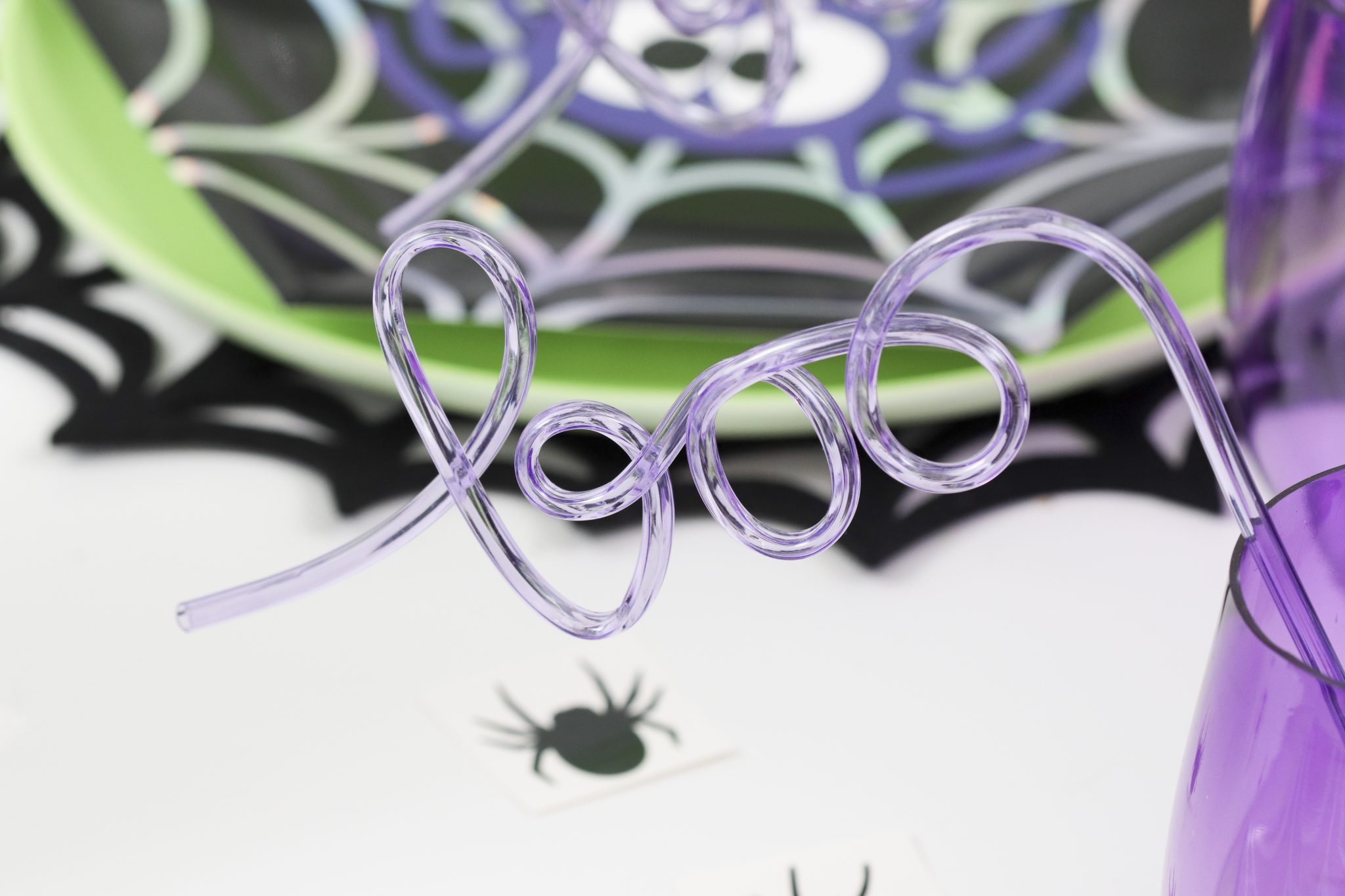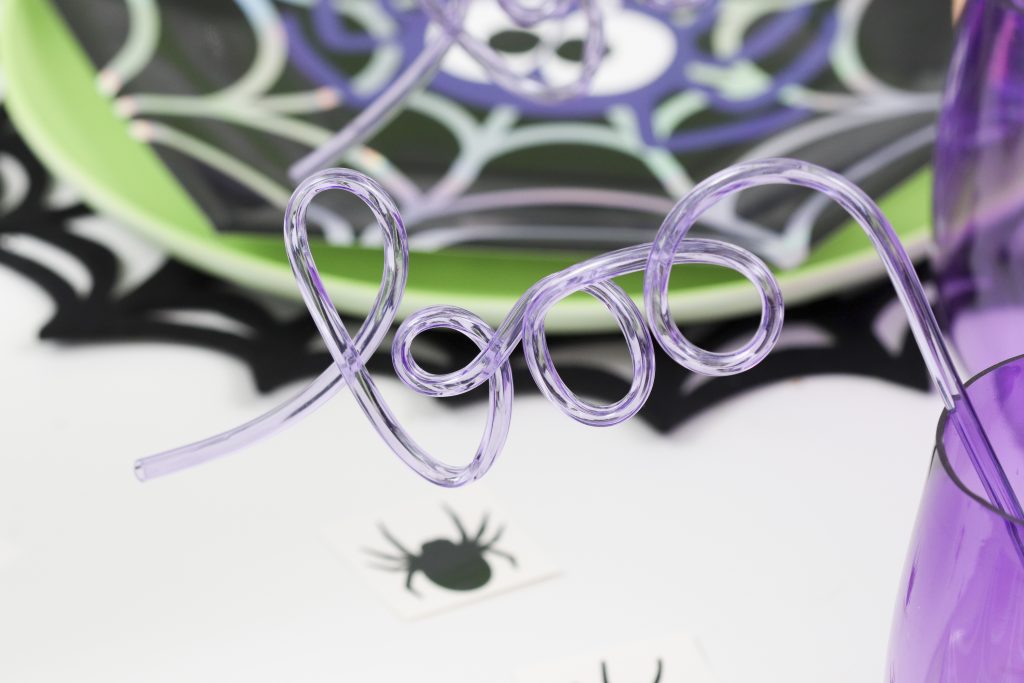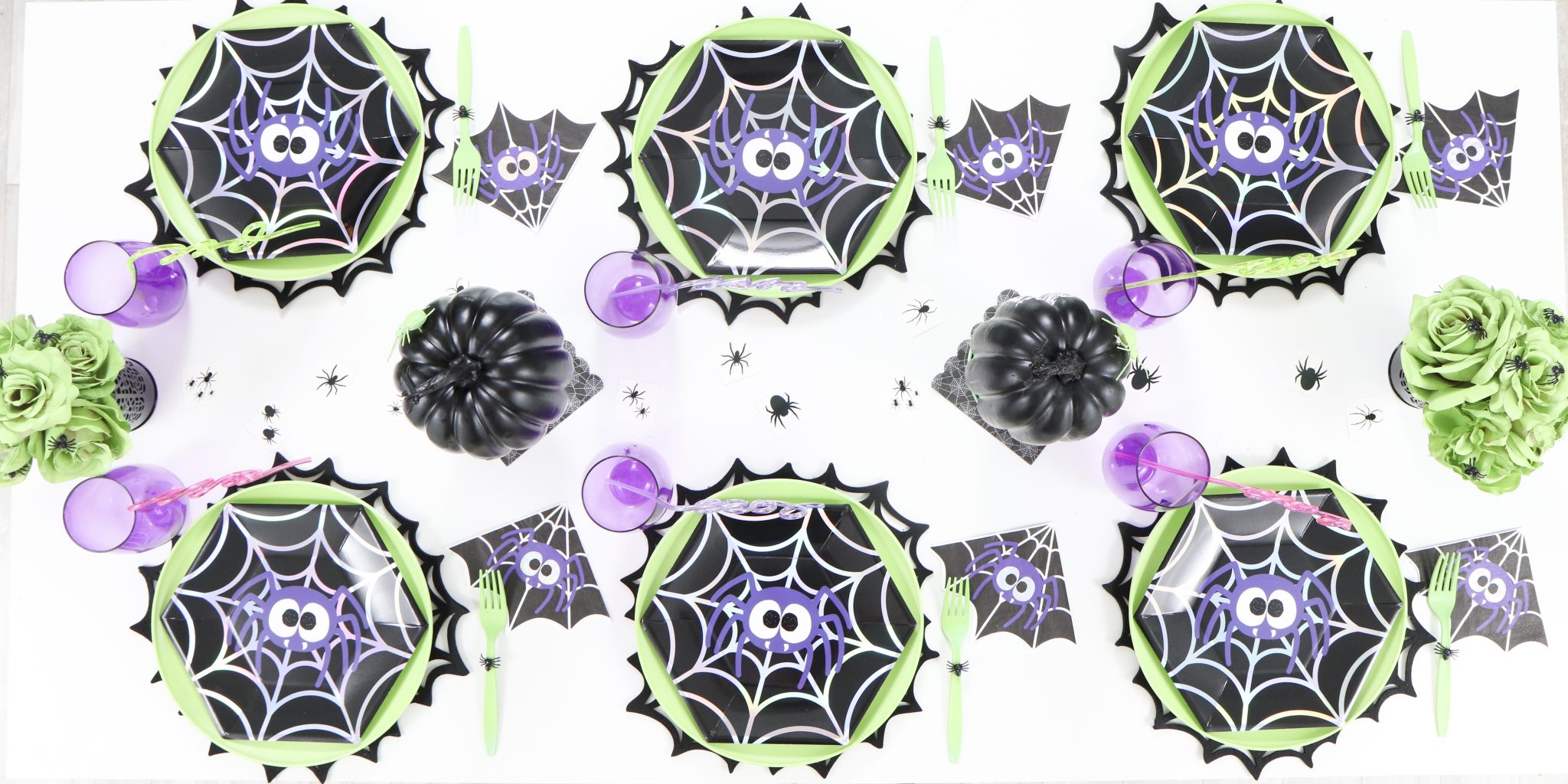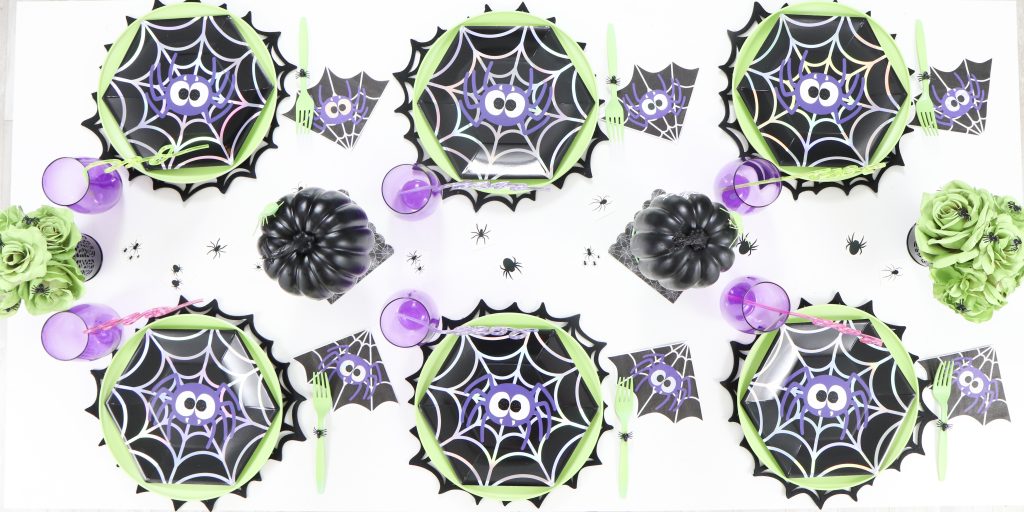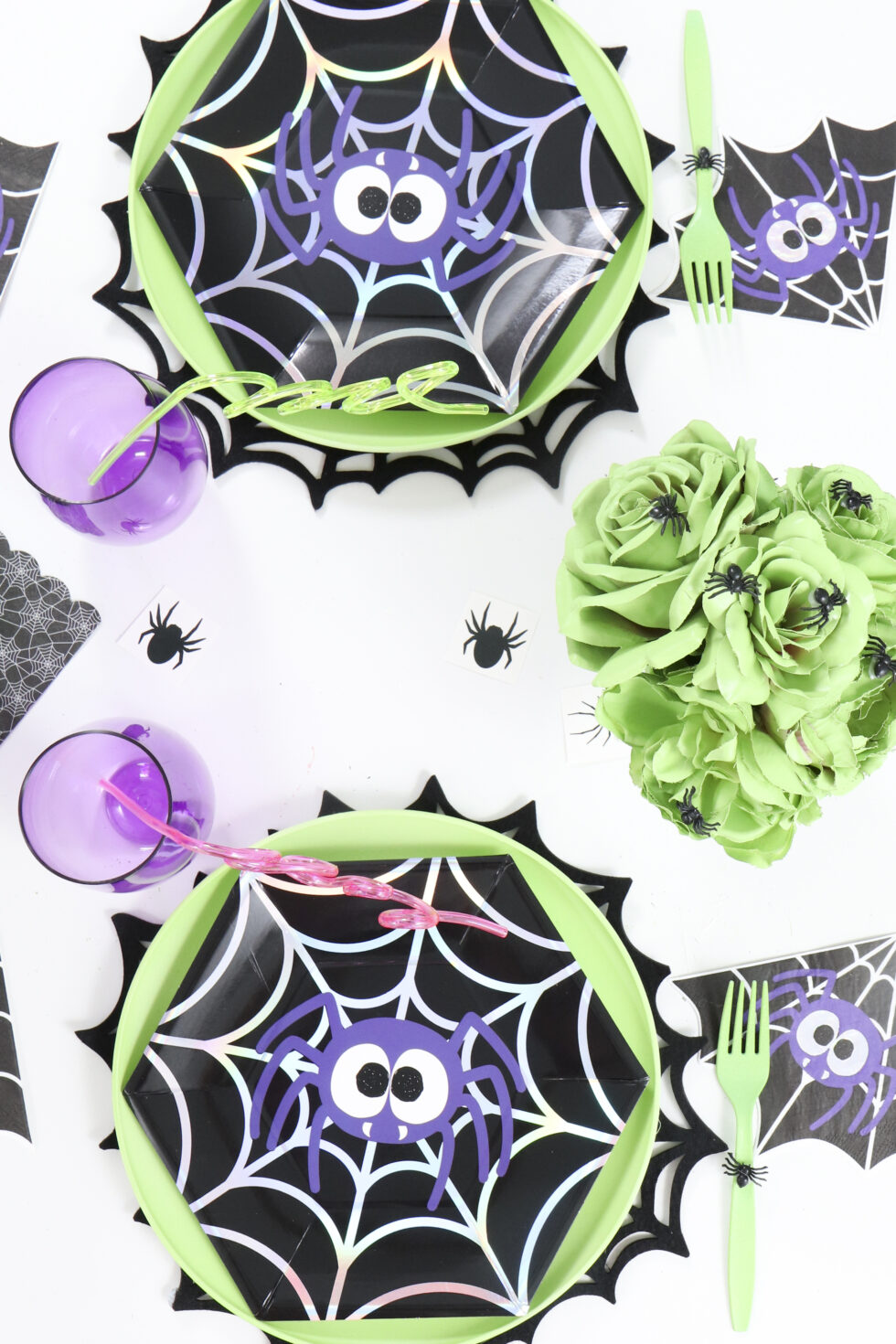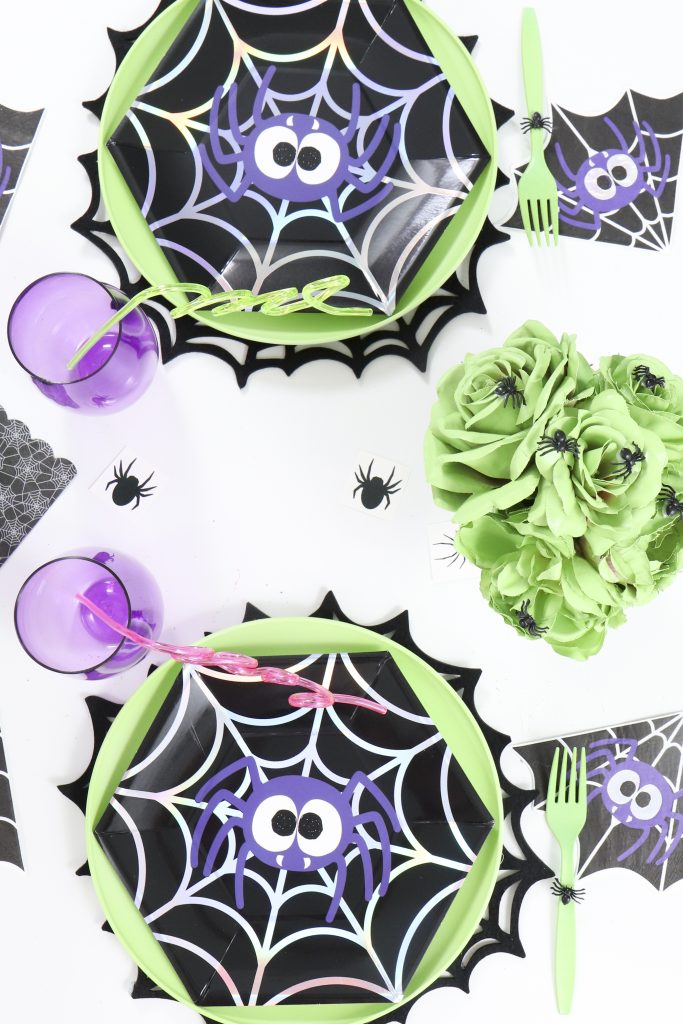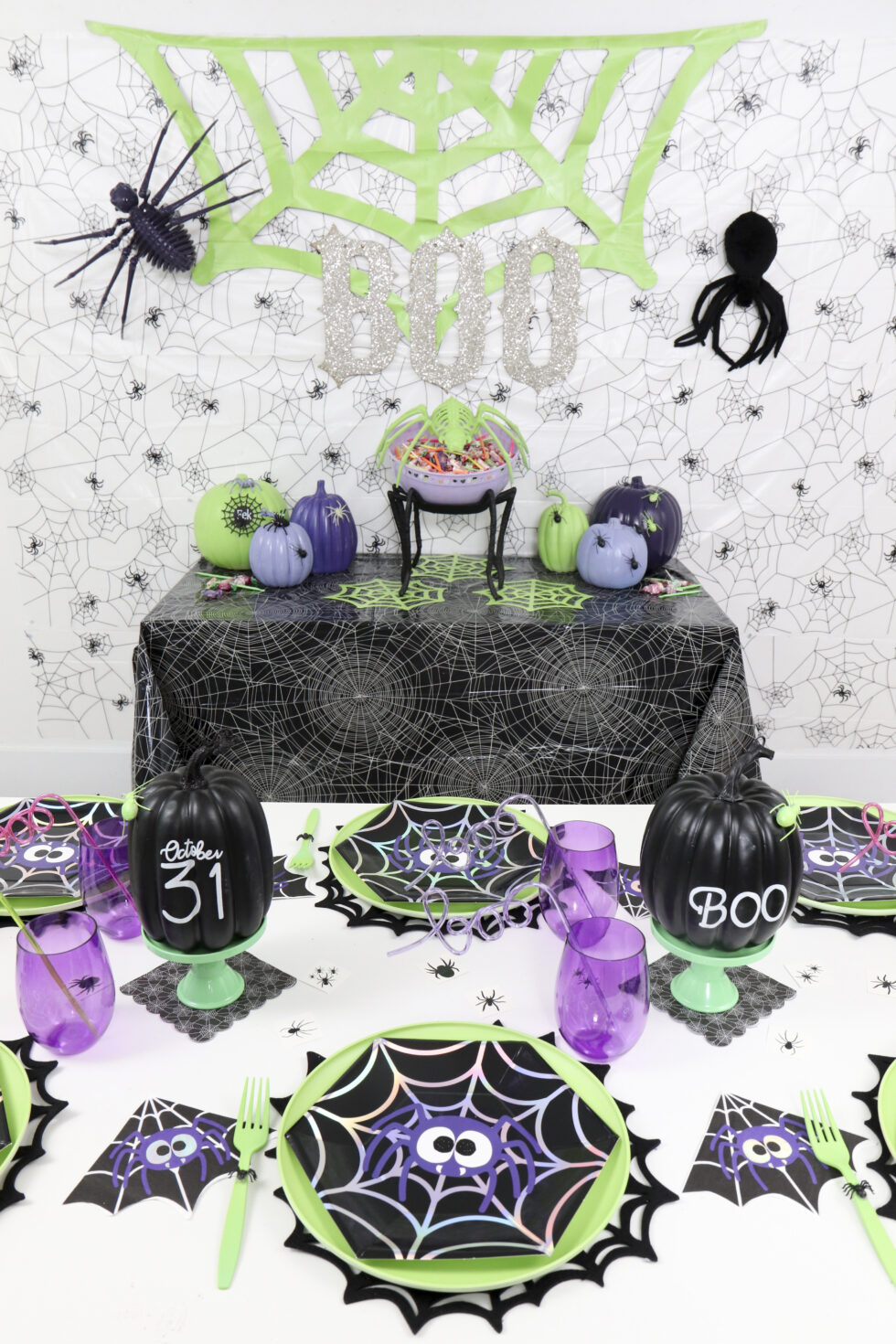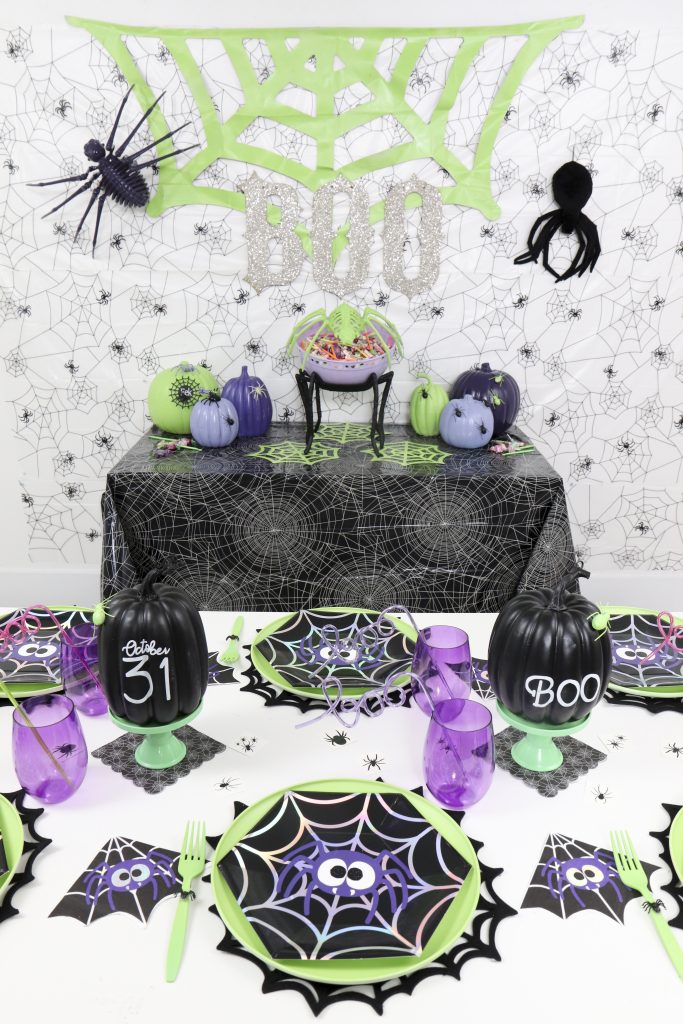 TIP: Hang a spider web tote bag on each chair. These are perfect party favors that can be used for trick-or-treating later!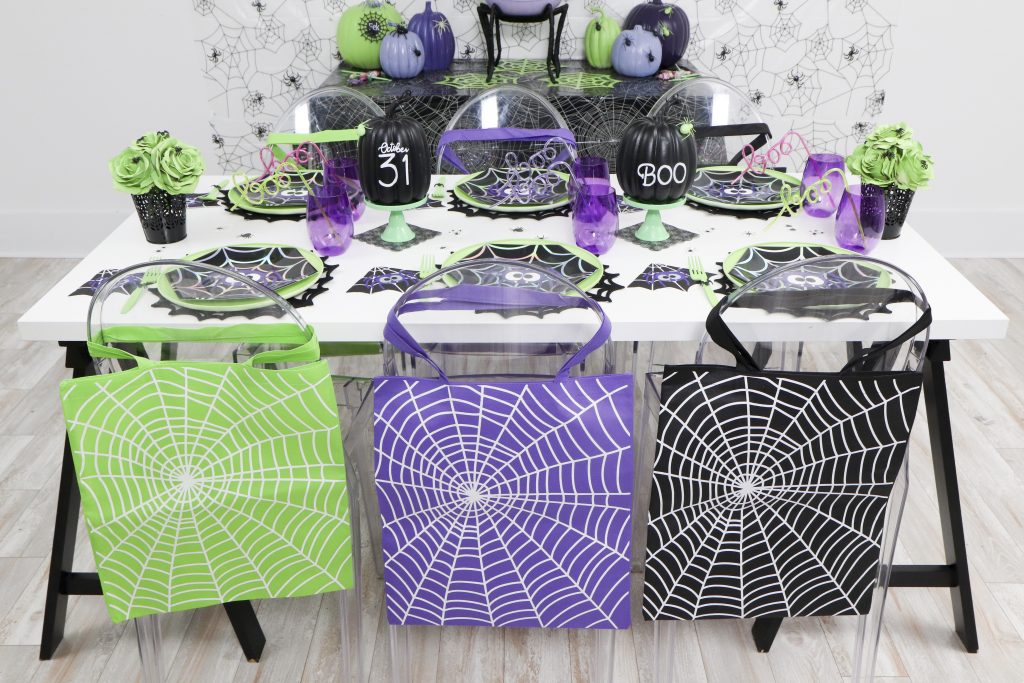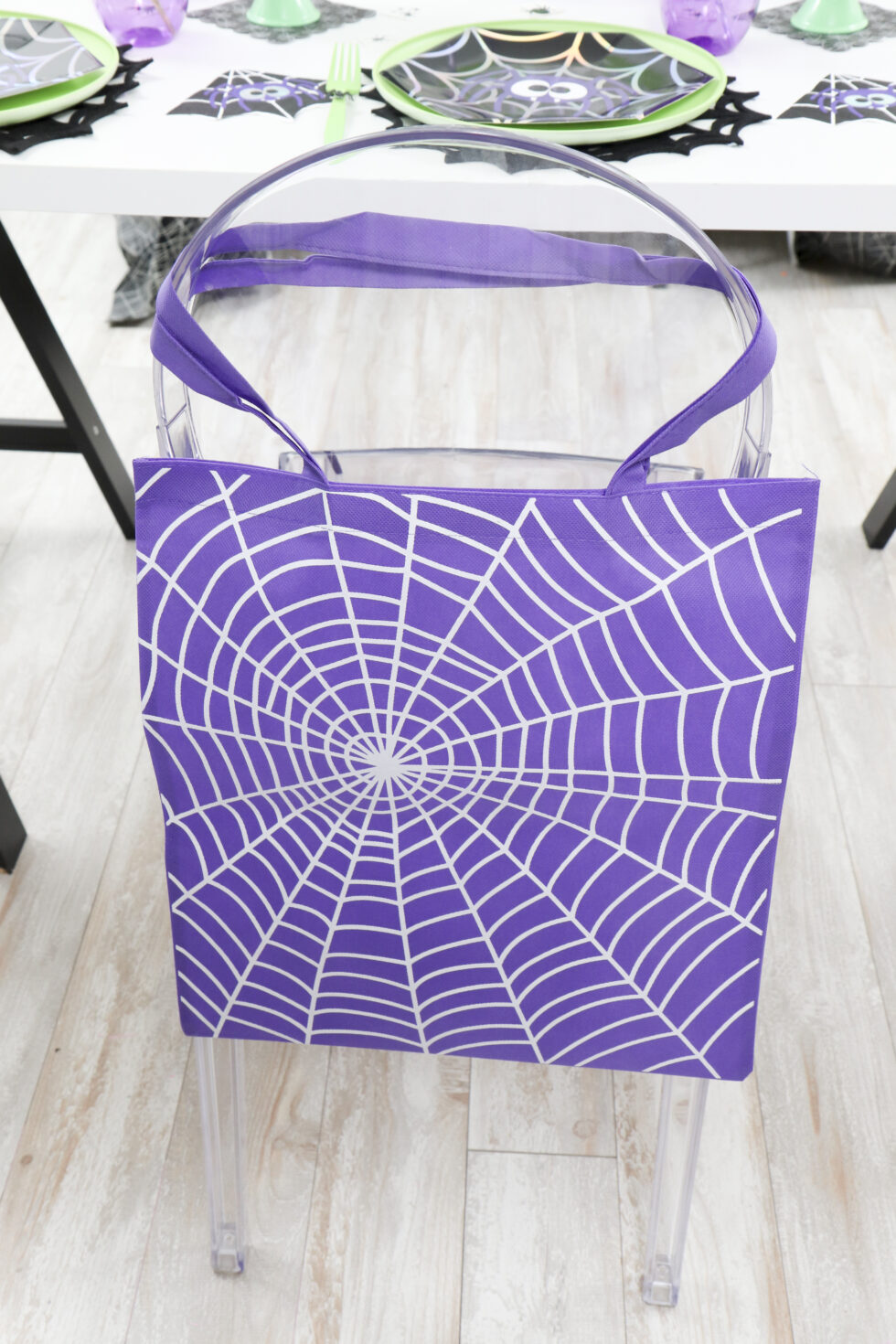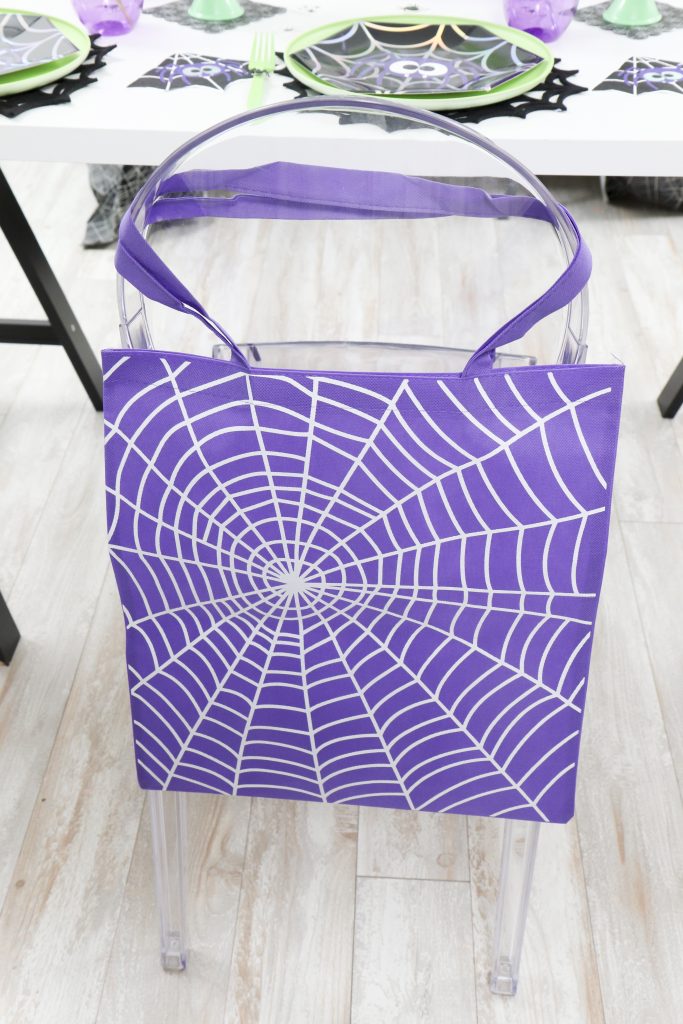 What do you think? Is this theme a web you could get caught up in? If you like this just-spooky-enough spider theme and want even more fun decor ideas, check out my good friend A Joyful Fete's spider party HERE. Funny story – I sent her a picture of what I was working on because I love bouncing ideas off her and we are always talking parties! Turns out we had totally picked the same plates and theme…great minds!!!  So I guarantee this is going to be THE theme this Halloween with the most adorable plates to set it off.
However, if you're arachnophobic and spiders aren't so much your thing, you can always check out some of my other Halloween party posts. There's plenty of ideas to keep you spooked and inspired and ready for Halloween!
Happy Partying!
Products Used for this Party:
You can also find many of these items in my Amazon shop.
Happy Partying!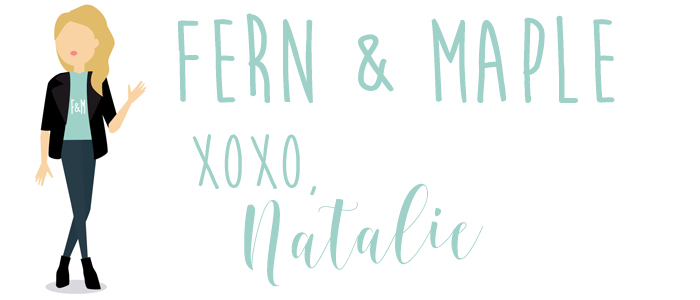 PIN FOR LATER: