I just love celebrating Halloween with my kids. As they get older, they can handle more of the gore and horror aspects of the holiday, but when they were younger I was constantly trying to think up new ways to decorate for it that were fun and spooky, but not-so-scary. I figure this is a common problem for parents, so I've rounded up 13 of my and my talented friends' best Halloween Party Ideas for Kids! These fun and entertaining parties are affordable with lots of DIY ideas, and great for pre-trick-or-treating (or perhaps to replace trick-or-treating this year for safety!). Read on to be inspired – and then check out my adult Halloween party post for more fun Halloween ideas!
This Traditional Halloween Party for Kids uses a basic orange and black color scheme with pops of purple. Pumpkins, ghosts, skeletons and haunted houses are all traditional halloween decor that is perfect for keeping things spooky! To keep things not-so-scary for kids of all ages, however, this party decor includes silly plants, goofy drinkware, and lots of treats! Get all of the details HERE.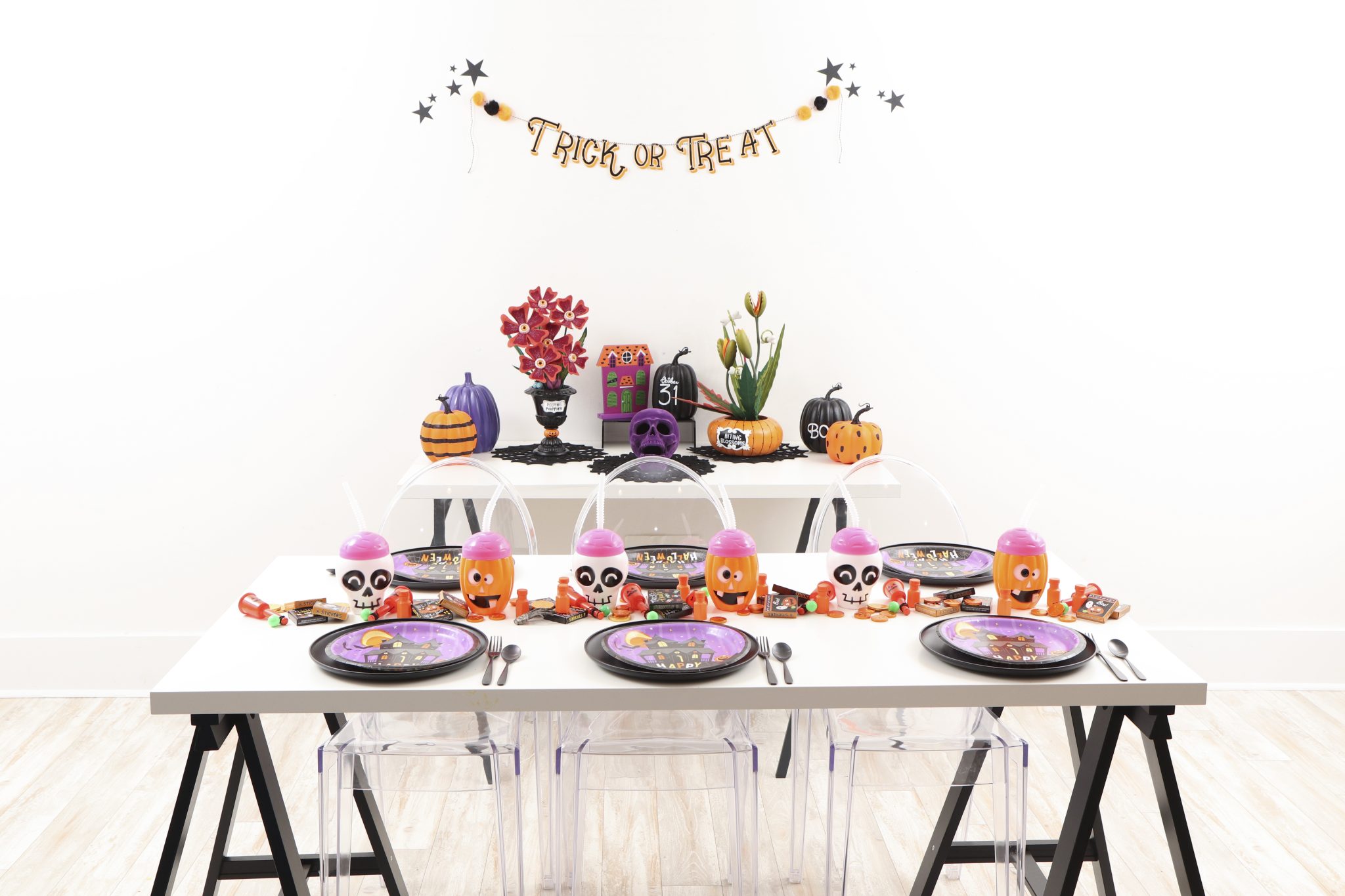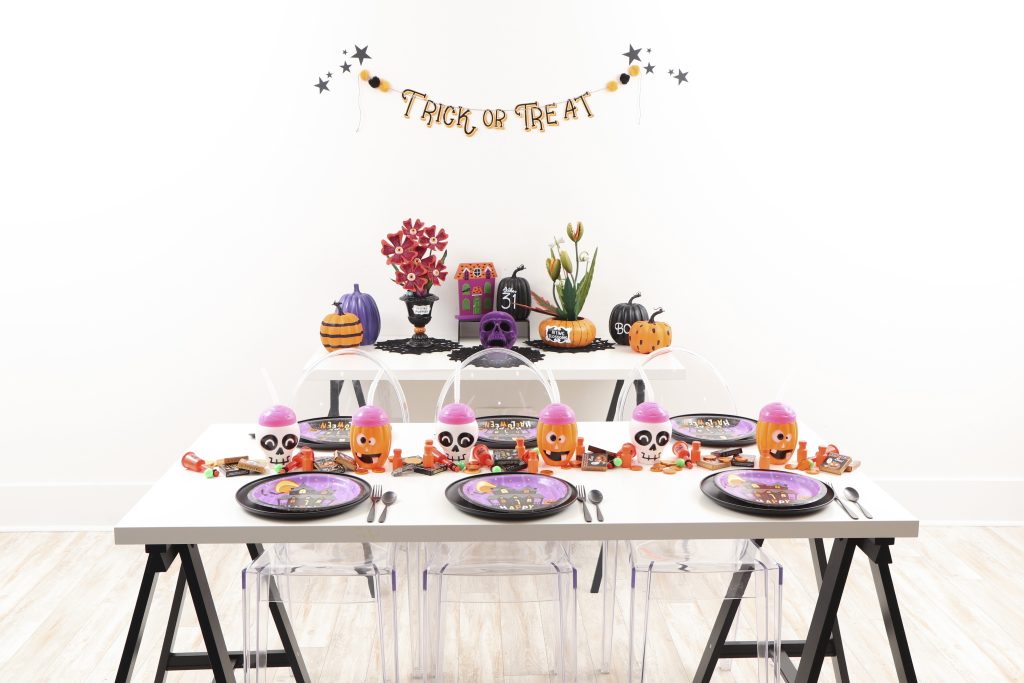 And, for more traditionally styled Halloween parties, check out this Vintage Halloween Party and this Rustic Halloween party, both by Jessica from Everyday Party!
At this Fortune Teller Themed Halloween Craft Party, kids can make their own DIY Crystal Ball and have fun finding out their fortunes! There are plenty of ideas here that can easily be tweaked based on the ages of the children attending. No matter what, it's guaranteed to be entertaining and fun! Find out how to set it all up HERE.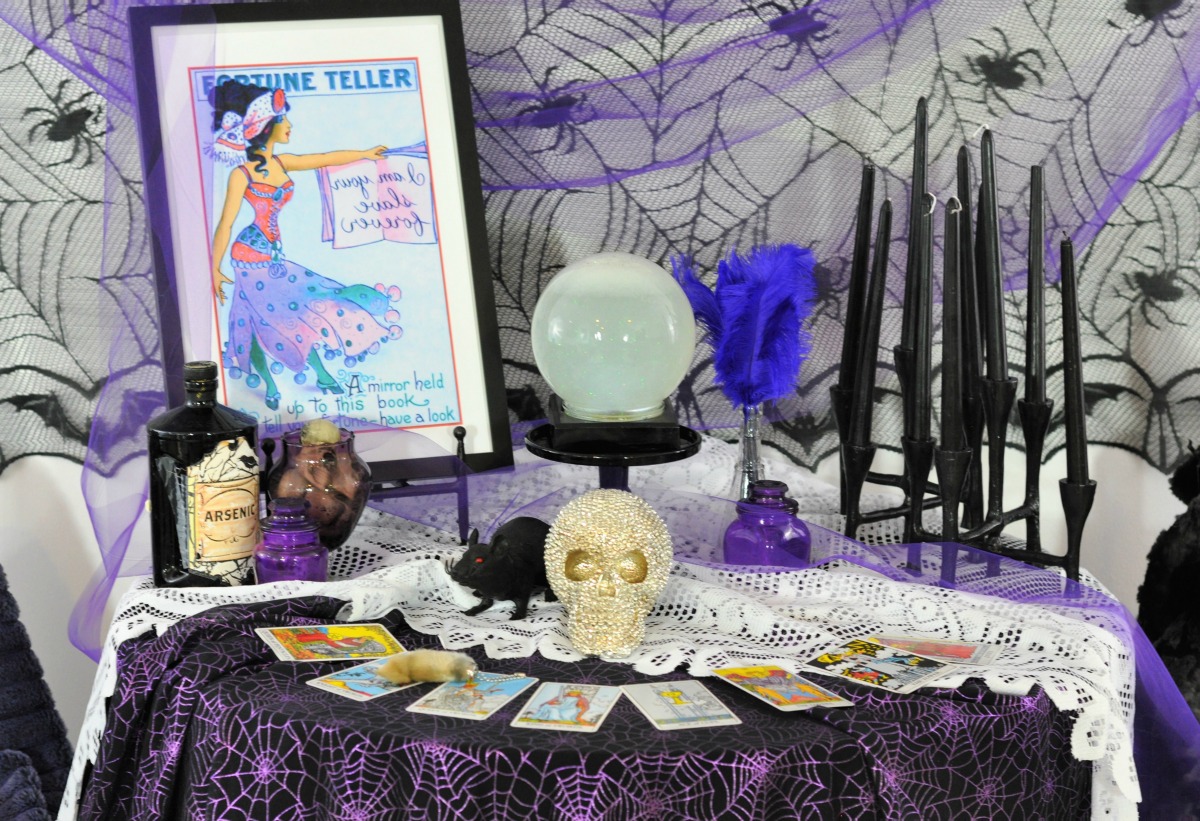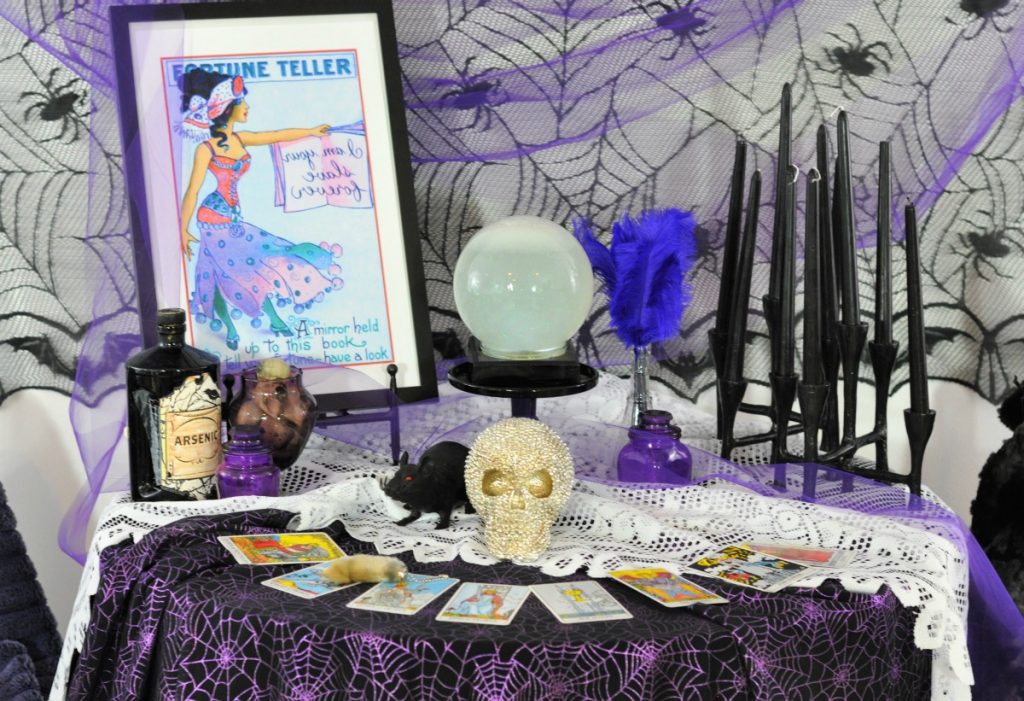 For all of those fans of the walking dead who need a slightly less scary version of an undead celebration, this Kids Halloween Zombie Party is perfect! Filled with brains, blood, and bites, but also tons of silliness to tame it all. Not to mention, plenty of easy DIY ideas including carnival-style games and a graveyard backdrop. Get all of the details HERE.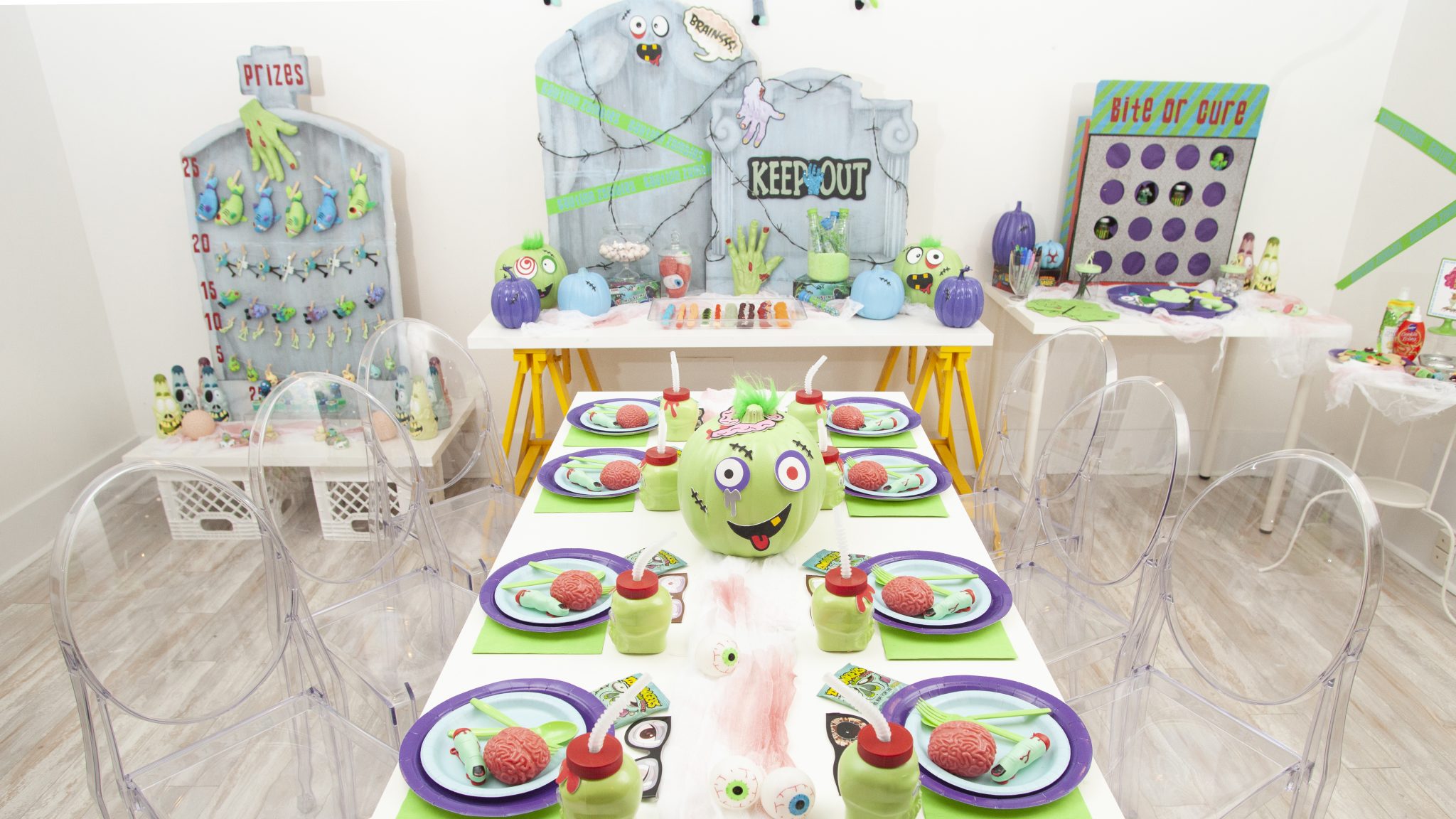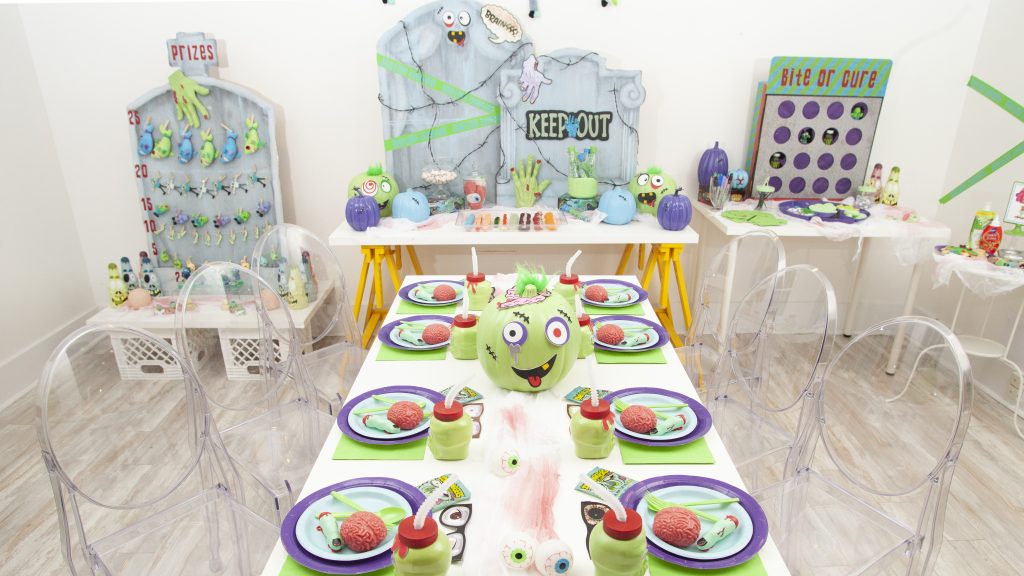 The movie Hocus Pocus will never stop being a Halloween classic. This Hocus Pocus Halloween Craft party is a perfect way to celebrate the start of the spooky season! Pop on the movie, and sit down to craft up a spell with some DIY Slime Potion! You'll find instructions for this, FREE printables, and lots of other Sanderson sisters-inspired party ideas HERE.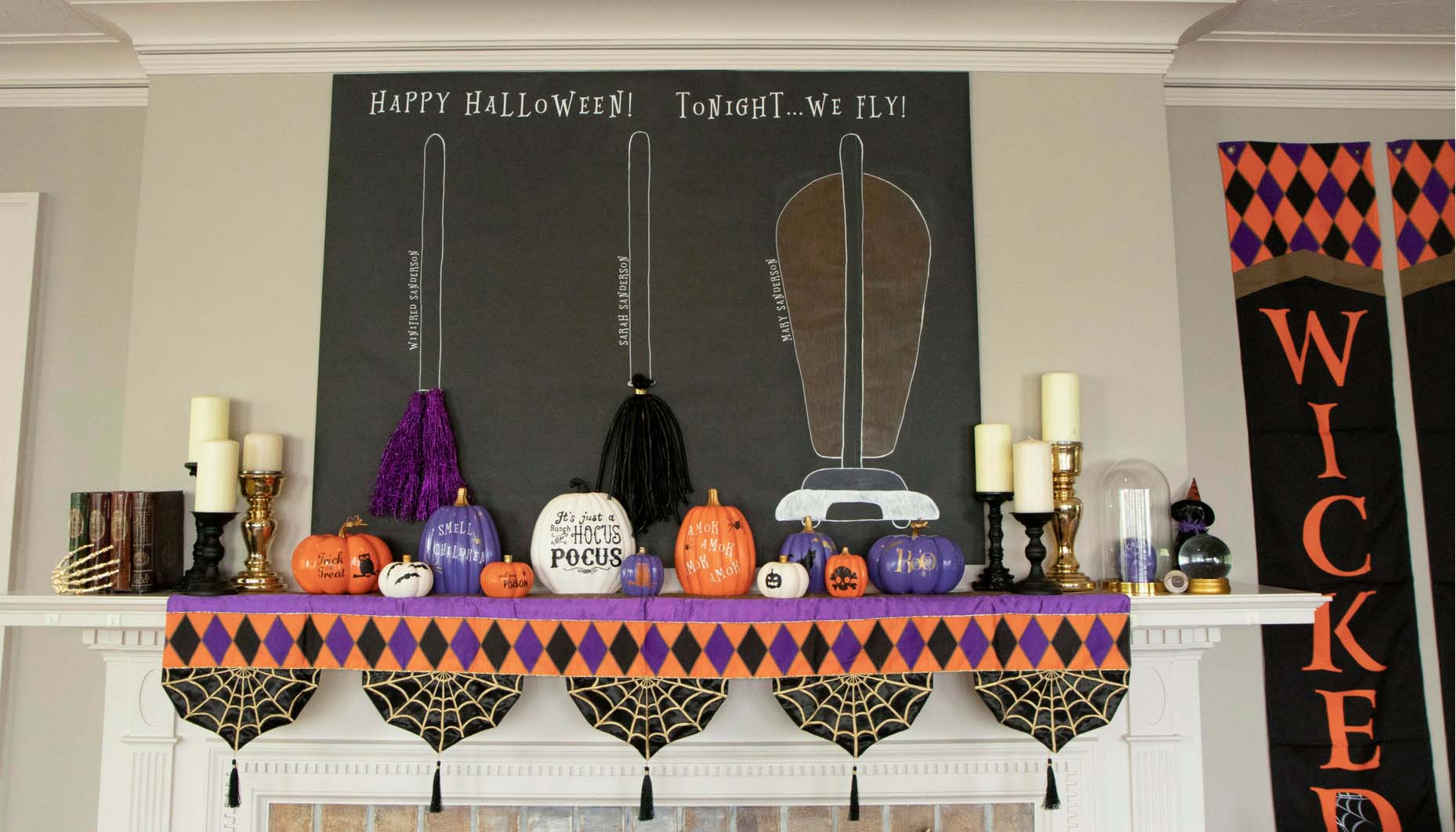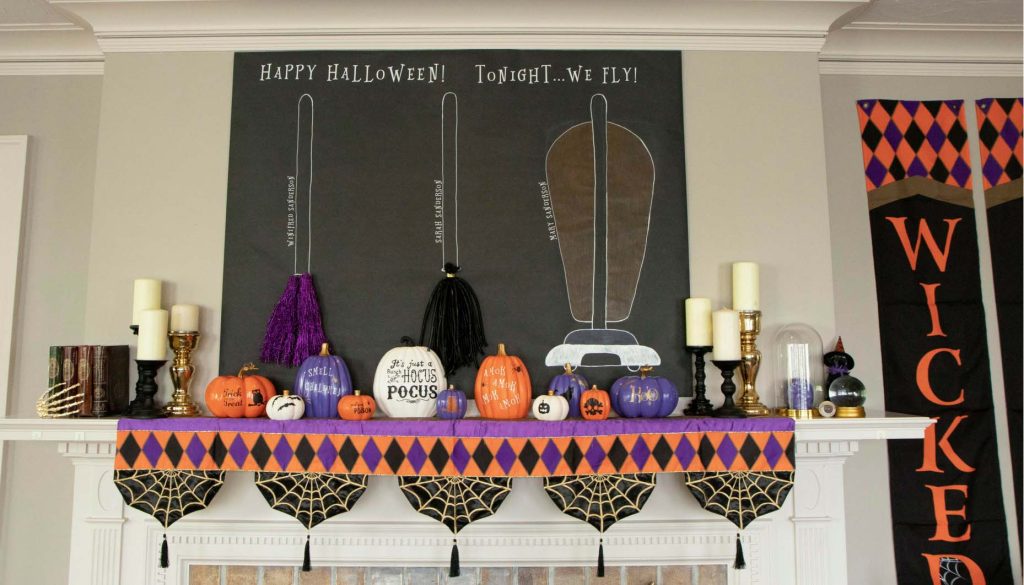 If creepy crawlies are more your kids style, this Spooky Spider Party is sure to delight! It's a great blend of creepy and silly fun, with a unique green and purple color scheme. Instructions for setting the table and creating the eye-catching backdrop and more can be found HERE.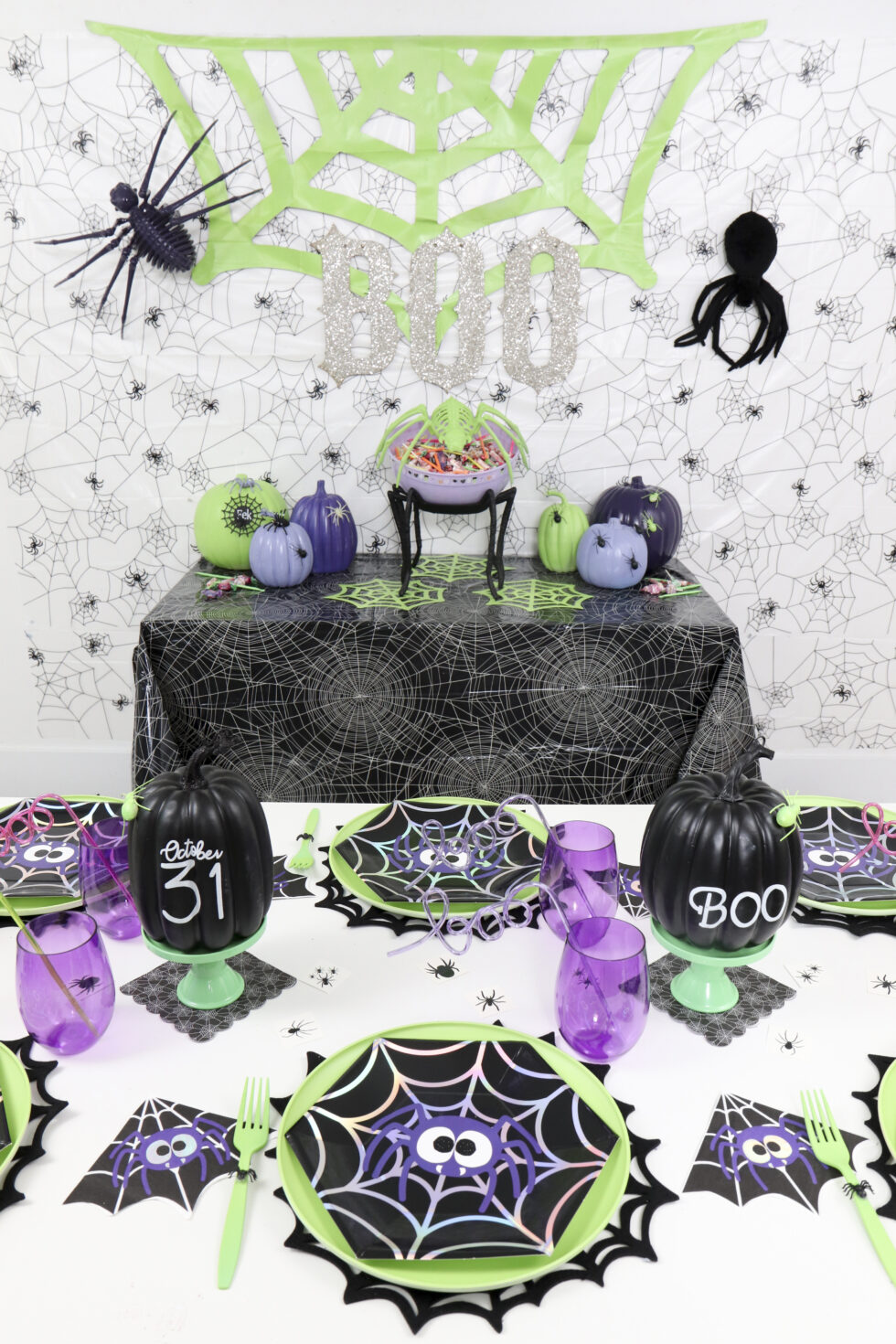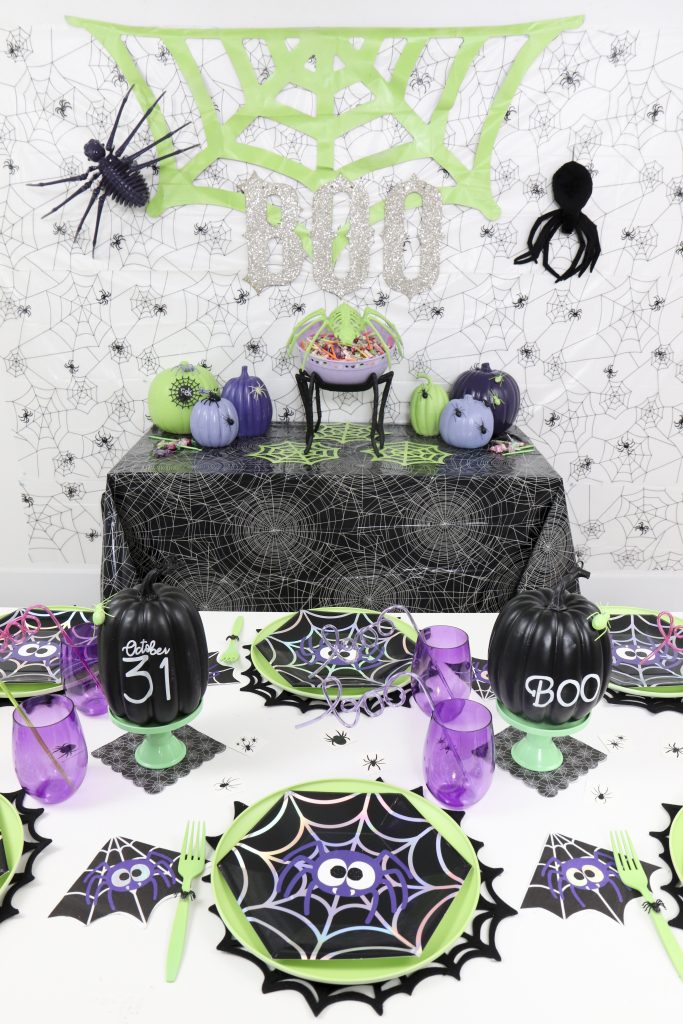 You can also find more spider inspiration in this Spider Web Party from Everyday Party!
This Dinosaur Themed Halloween Party might be one of my favorite combinations of themes ever. Definitely more fun than scary, no bones about it! Orange and black Halloween combined with lush green and earthy browns really make it feel like you've gone back in time for a prehistoric celebration. You can find all of the details for how to set it all up HERE, and get the instructions for easy DIY Dinoween Decor HERE.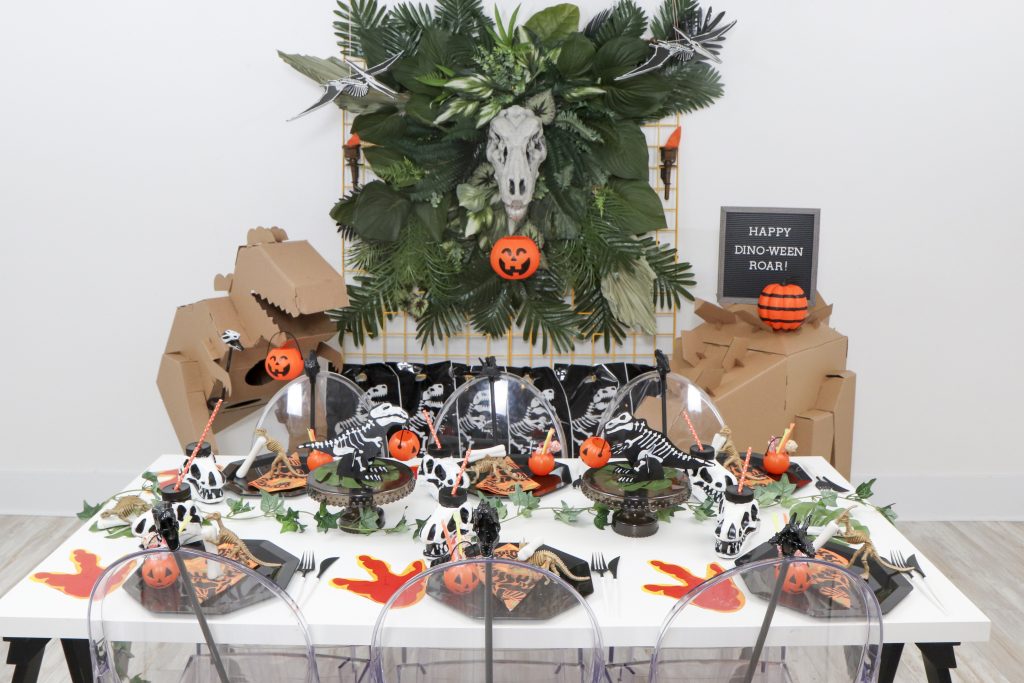 Who would think of using pastels for Halloween? This unique pastel purple and pink Little Ghost Halloween Party is a great idea for little ones who can't handle much in terms of scariness. The little ghosts at this party are the friendly type, for sure! Get all of the details HERE.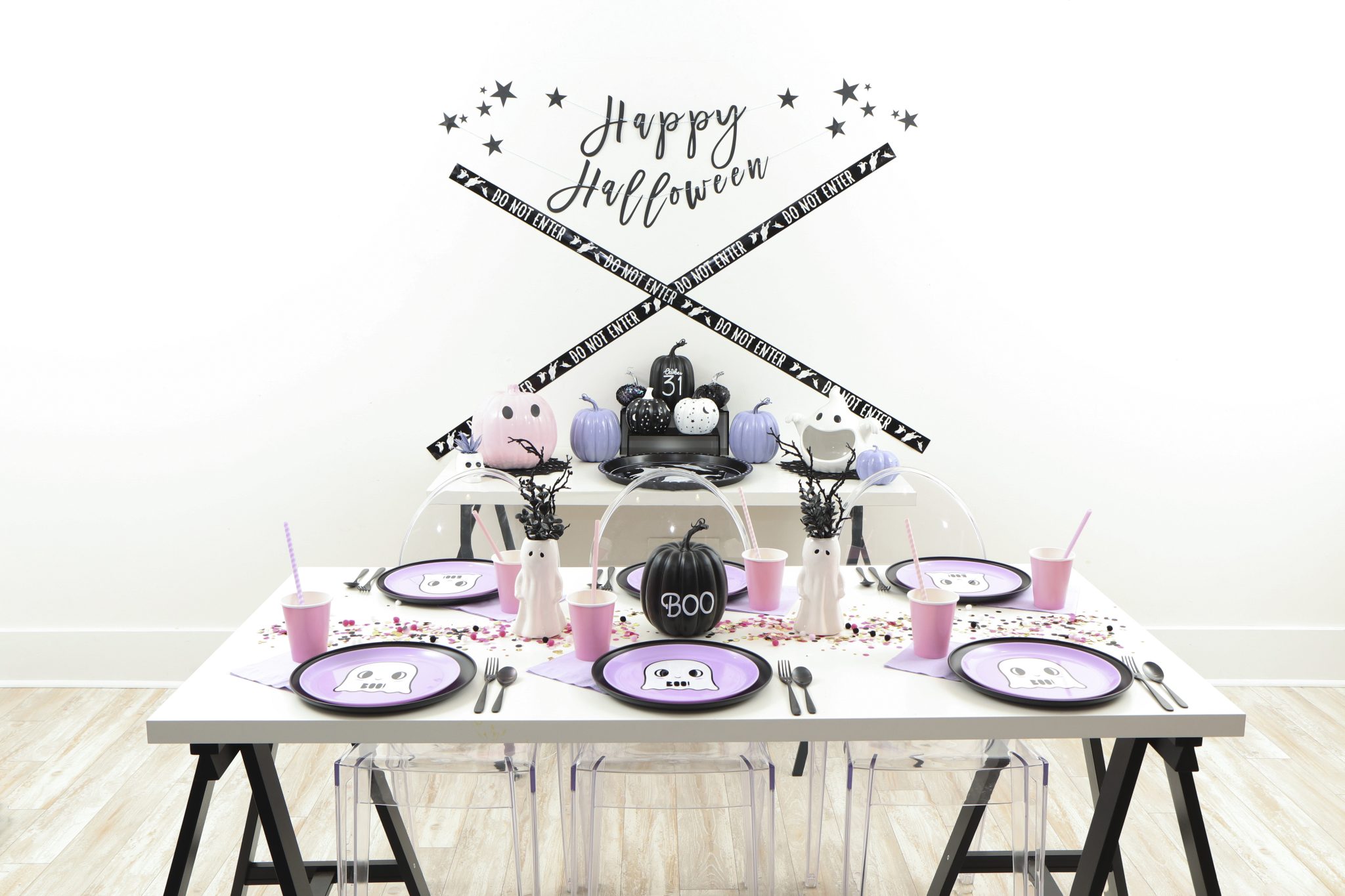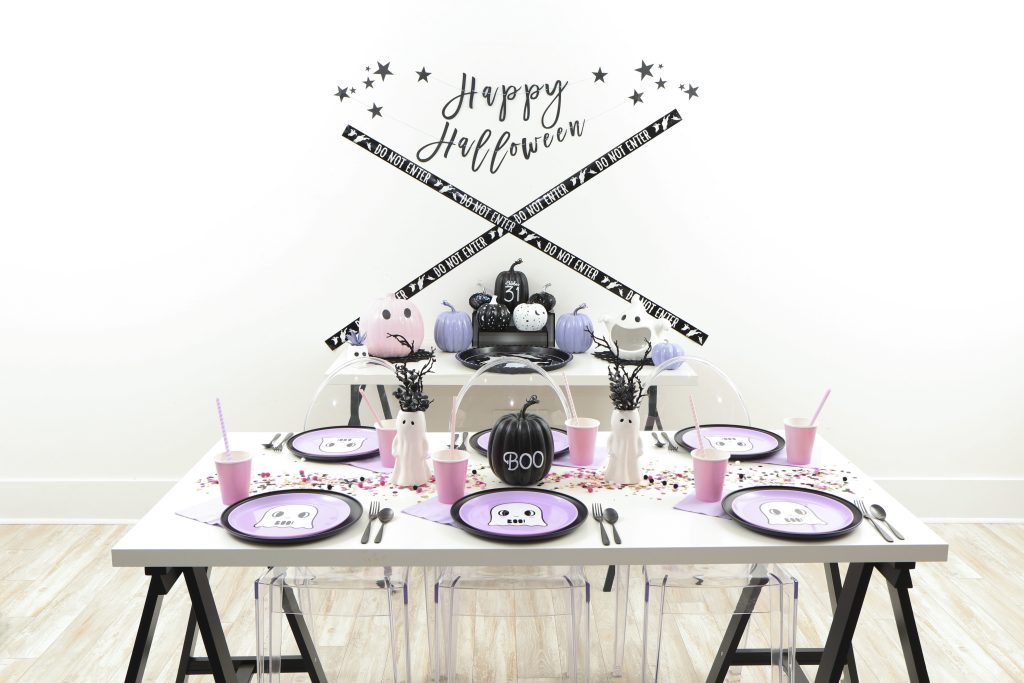 Any cat lovers out there? This Black Cat Halloween Party pays homage to the spookiest of felines. Kids can celebrate "Meow-ween" with cool cat decor in a black, orange, and teal color scheme. Get all of the details HERE.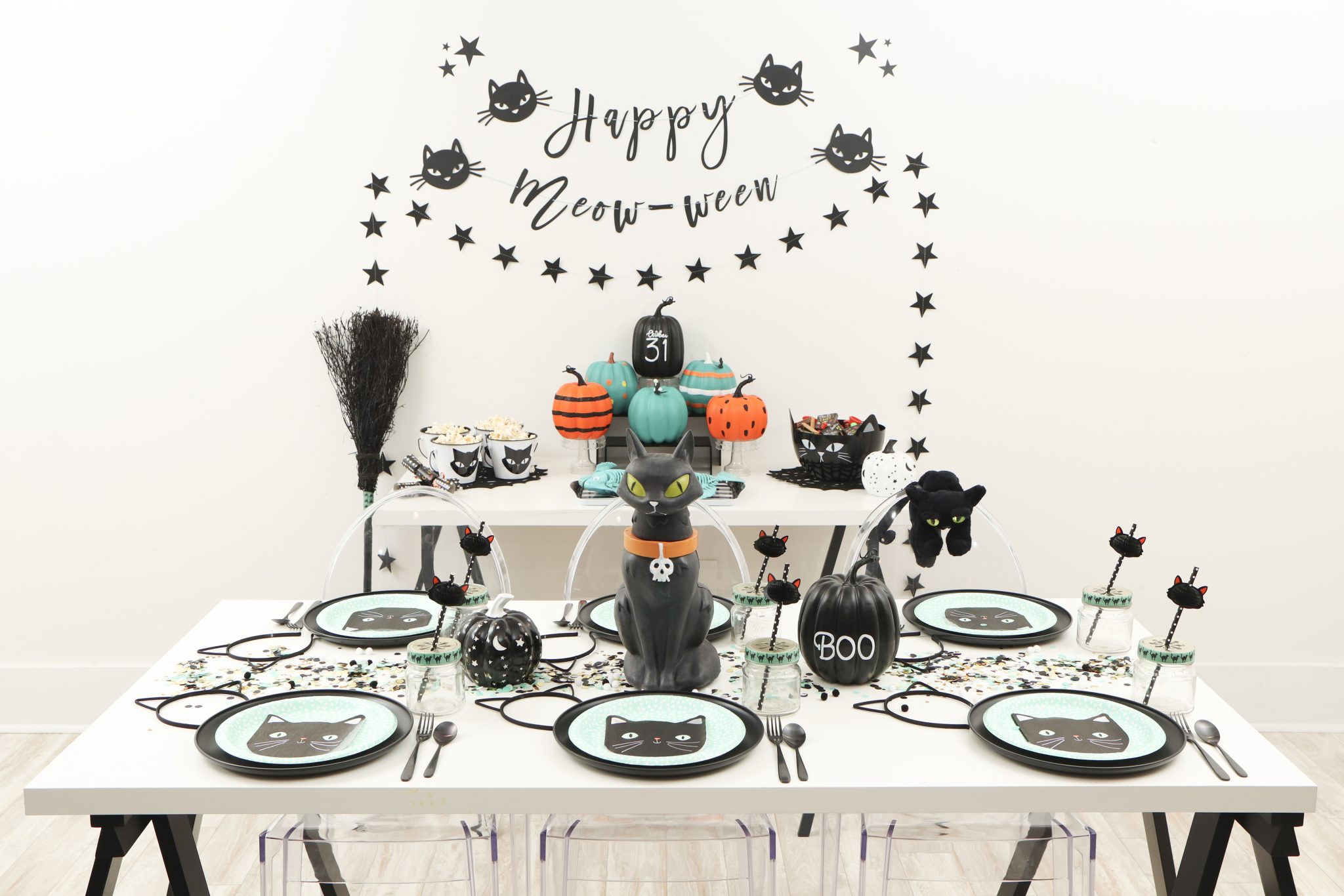 And, for even MORE purrfect Halloween party inspiration, check out this Black Cat Halloween Party from my friend Bri of Parties with a Cause! You can see more of her adorable party HERE.
Witch Themed
This more traditionally decorated Little Witches Soiree by Carolina from Mint Event Design has so many cute elements, with tons of adorable and ever-so-slightly-spooky decor. You do not want to miss all of the fun details in this one – get them all HERE.
And speaking of witches, this "Not Every Witch Lives in Salem" party from Mint Event Design is full of them! It also includes cauldrons, pointed hats, and black cats, of course – all in a chic teal and black color scheme. Check it all out HERE.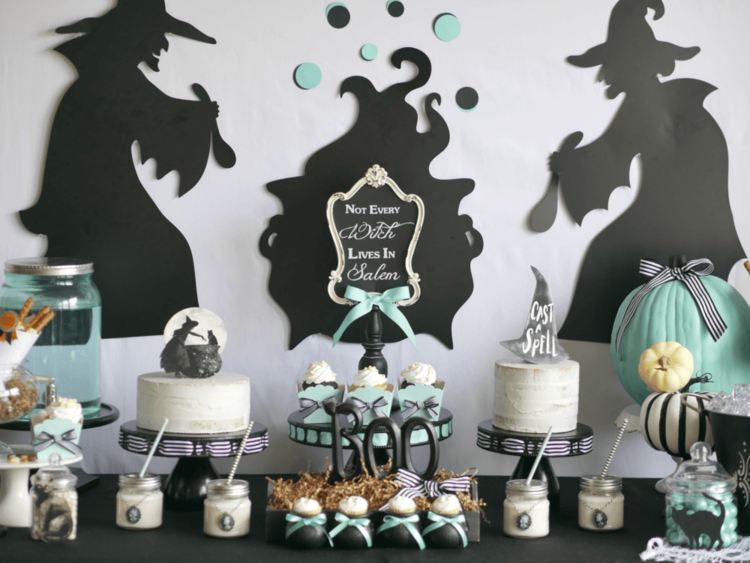 Finally, Jessica from Everyday Party created this cute Bewitching Halloween dinner party for her friends and their children. The orange and black witches hats throughout this party are the cutest! Get all of the info on them HERE.
For a similar theme that might include more genders than a traditional witch party, why not throw a Witches and Wizards party? This fun party was put together by Everyday Party and includes pointy hats of all magical types, and lots of spells, cauldrons, wands, and more! Get all of the magical details HERE.

This one from Bri at Parties with a Cause is a crazy fun and unique theme with just the right amount of creep factor. With tons of interactive science decor, activities, and treats, your little mad scientists will have a blast at this Mad Science Party from start to finish.
Got a sweet tooth? This Wickedly Sweet party from my friend Misha at A Lovely Design is full of sweetness, from sweetly smiling ghost decor and activities to all of the sugary treats on the dessert table! Get all of the details HERE.
Another fun option from A Lovely Design is this Skellycorn Halloween Soiree. With lots of magical iridescent decor, kids will feel transported to a mystical spooky land where mythical creatures roam. Find out how to recreate it all HERE.
What do you think? I'd love to hear your favorite theme in the comments below! And, if you're looking for more adult themed Halloween party ideas – don't forget to check out my post on 13 Halloween Party Ideas for Adults.
And for more Halloween inspiration, check out my other Halloween round-up posts:
P.S. For some general tips on how to keep Halloween parties kid-friendly, check out this post from my friend Jackie at Sprinkles and Confetti!
Happy Partying!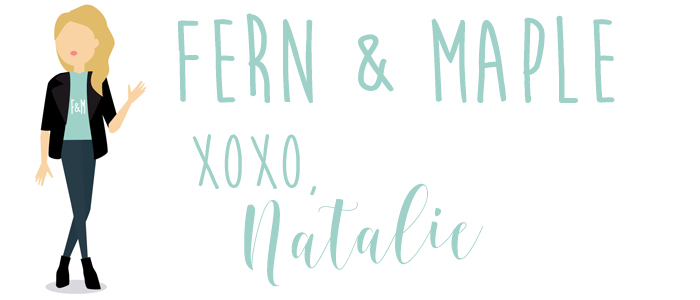 As a blogger, I sometimes receive compensation and/or products in exchange for my styling and crafting services. As always, all project ideas and any opinions expressed here are my own.  For further information on our disclosure policy please check out our disclosure page.
PIN FOR LATER: