Looking for a fun outdoor sleepover party theme for kids? This"Area 51 UFO Spotting" backyard camping kid's party is perfect for space lovers and alien enthusiasts! Full of DIY UFO crafts, delightful alien-themed dessert table, fun favors, and more, it's great for summer sleepovers or even as a unique Halloween party idea. Read on to see how I set up this Area 51 kid's backyard camping party!
P.S. You can find many of the items I used or similar in my Amazon Shop!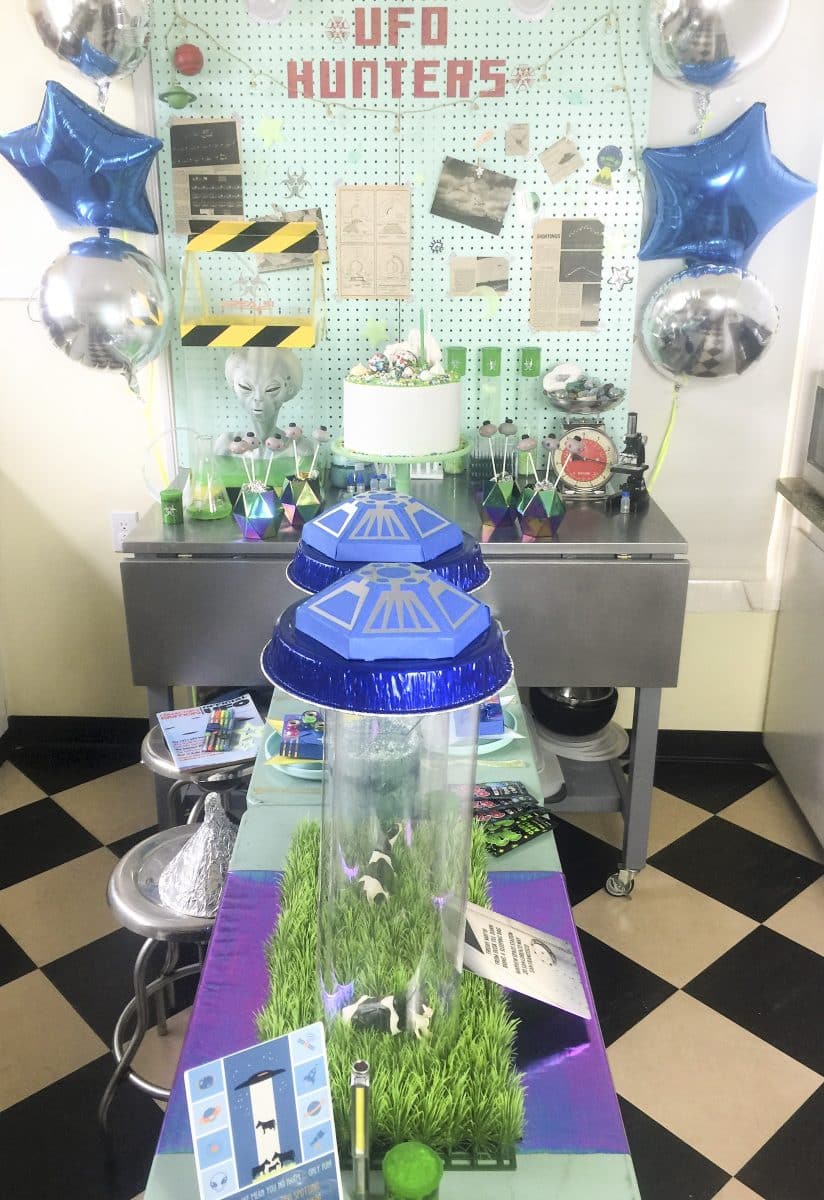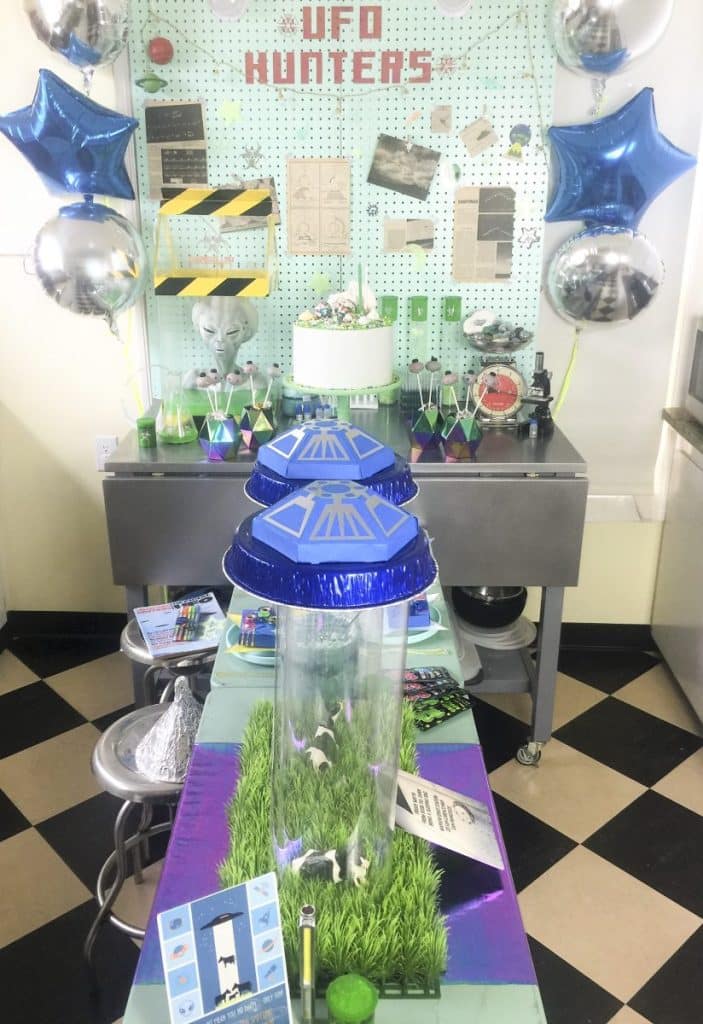 How to Set up an Alien-Themed Backyard Camping Party for Kids
As a blogger, I sometimes receive compensation and/or products in exchange for my styling and crafting services. I also may earn a small commission from any sales that result from affiliate links on this page. As always, all project ideas and any opinions expressed here are my own. For further information on our disclosure policy please check out our disclosure page.
The Party
For us, this kid's party was a farewell of sorts. My family and I were moving to Portland at the time, so this sleepover was the last one my son Harrison would have with his best friends. My focus was on creating memories and keepsakes. I started with a t-shirt for each of them, my merry band of UFO hunters!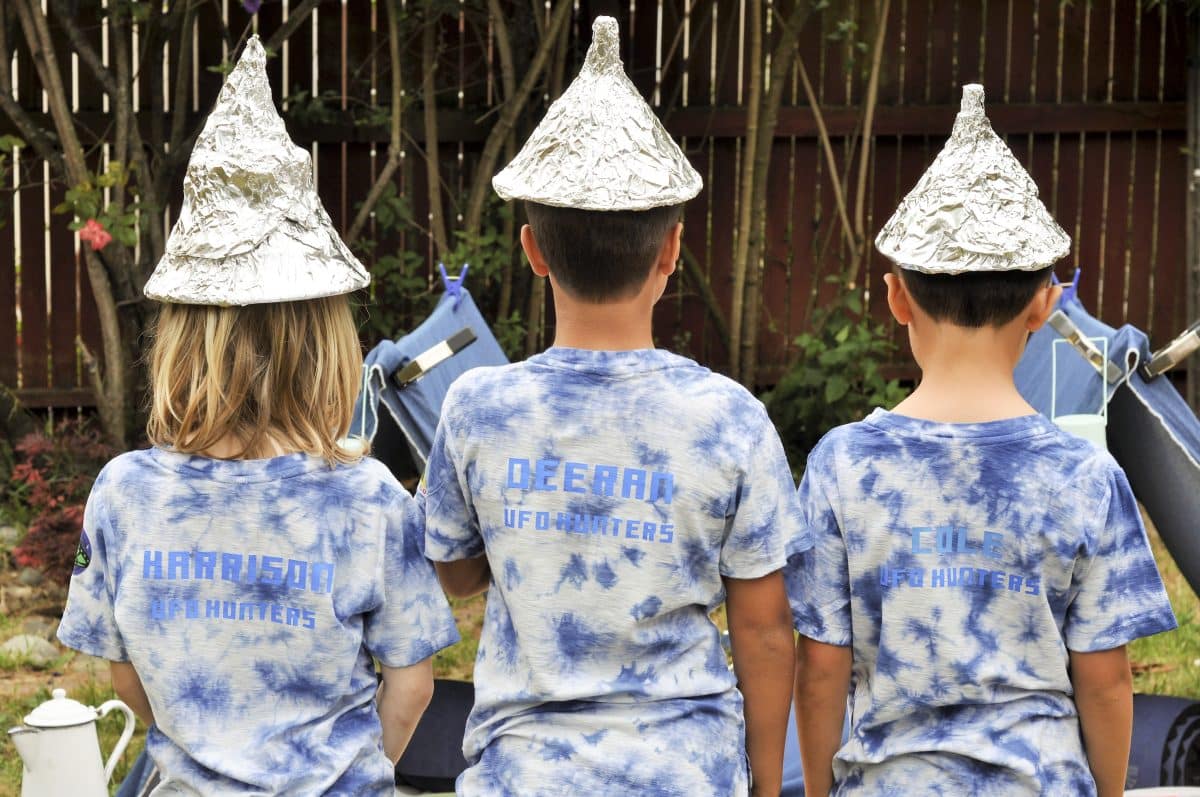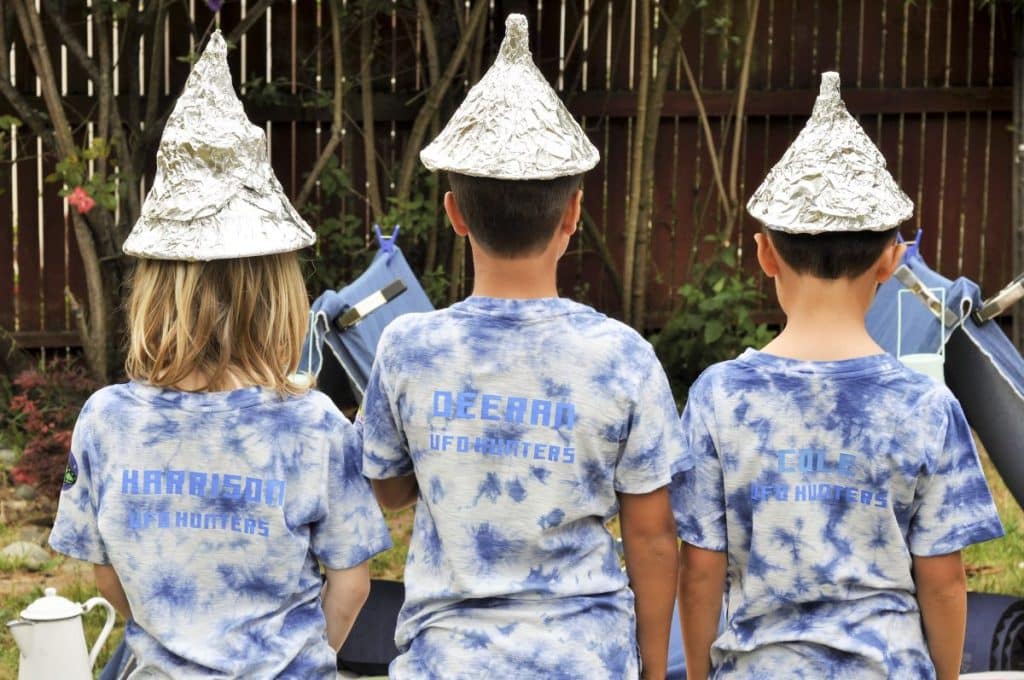 T-Shirts
I picked fun blue tie-dye shirts, as I thought they fit the retro Roswell feel. On the back of these, I used my Cricut and a blue iron-on vinyl to create each boy's name and "UFO Hunters". You can see how to create these personalized t-shirts HERE.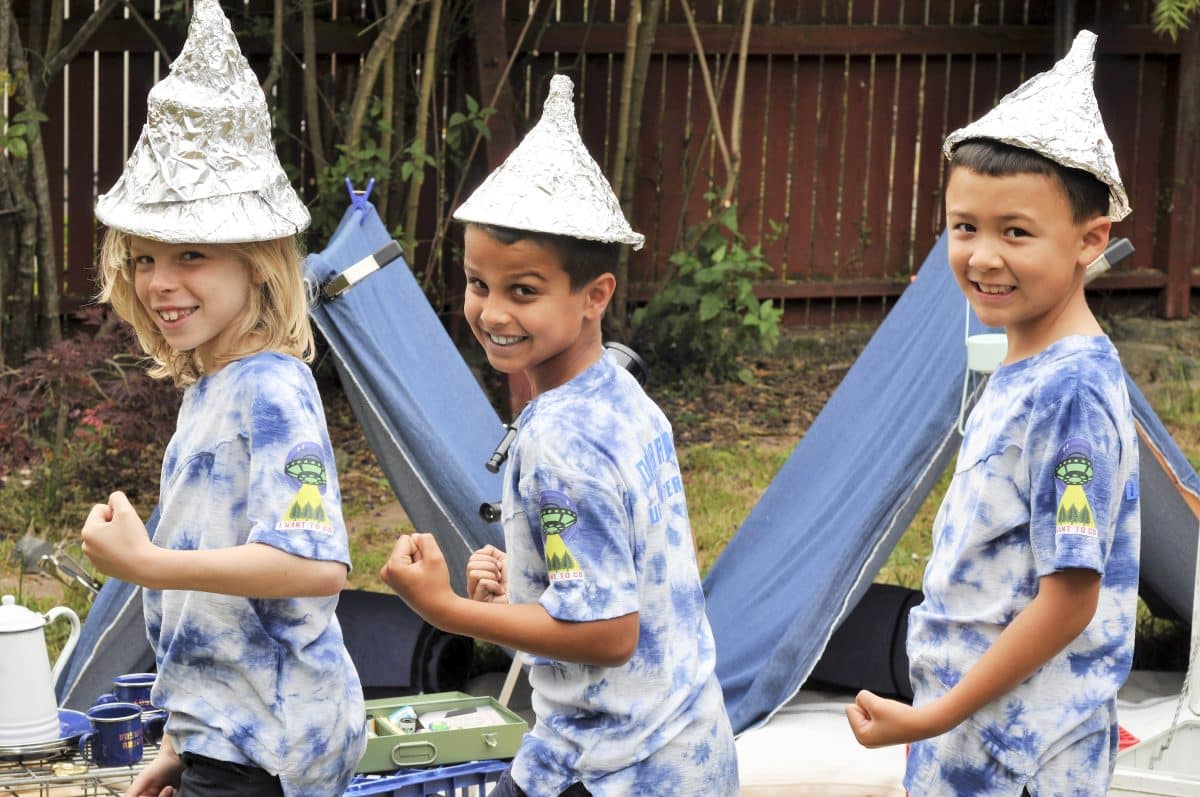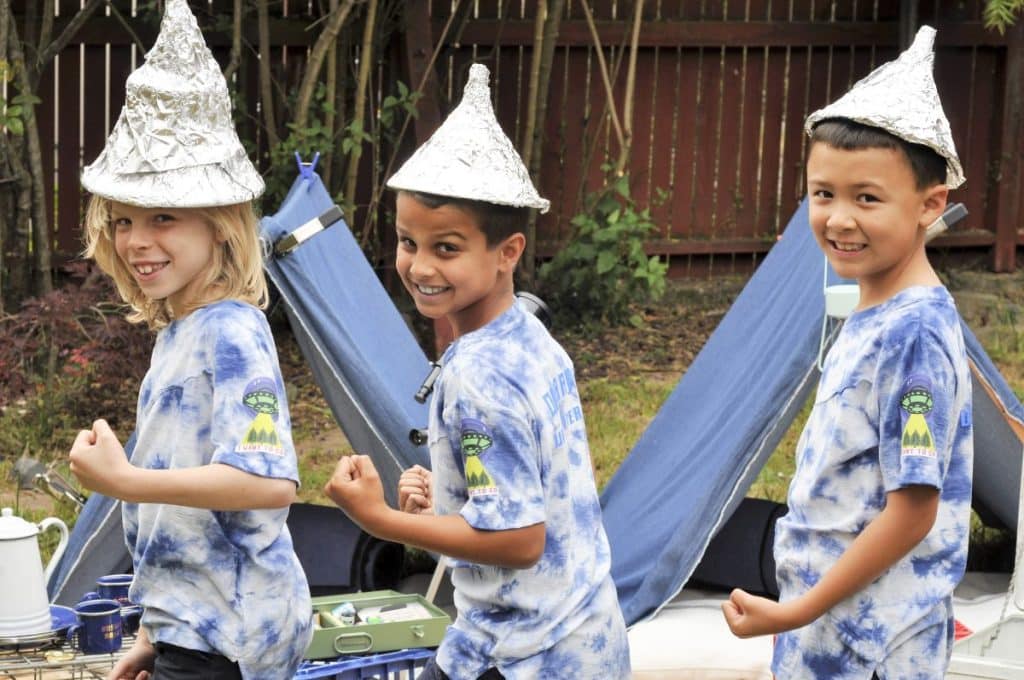 Badges
Next, I wanted to add"badges" to the shirts. Something like boy scout badges, but for UFO spotting. These were so much fun to create. I combined images like a UFO, pine trees, blue circles, and a yellow triangle to create a fun badge with the text"I want to go". I used printable fabric to give more of a badge feel, and then ironed them onto the sleeves of the t-shirt. If you want to make your own badges, get the details of how I created them HERE.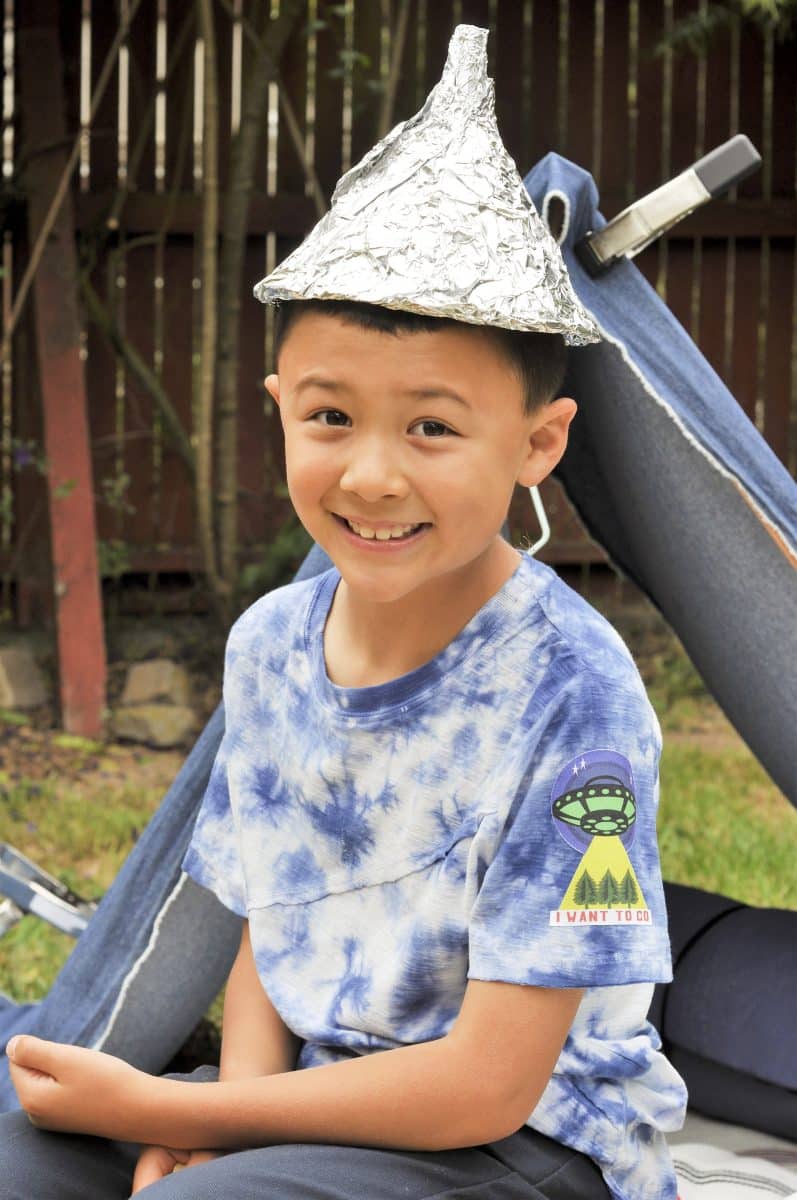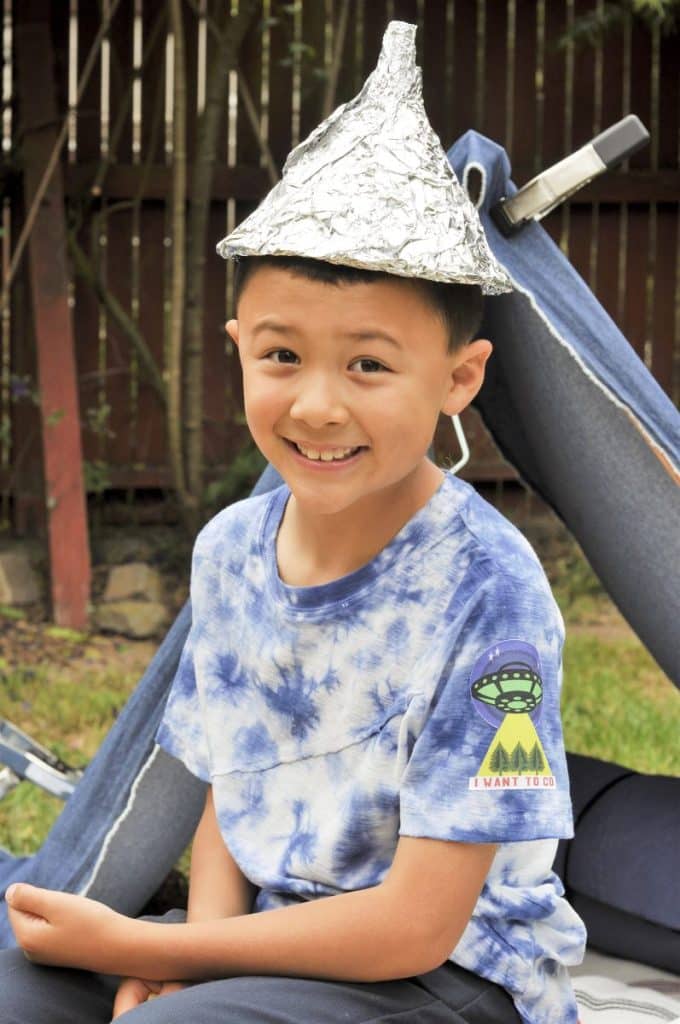 Backyard Camping Setup
Part of this kid's party was outside. The kids were going to hang out in the backyard and look for aliens through a telescope and binoculars. I cut and added a quick and easy "alien hunters" vinyl decal to the telescope using cool holographic vinyl that changes color depending on the angle you are looking at it from.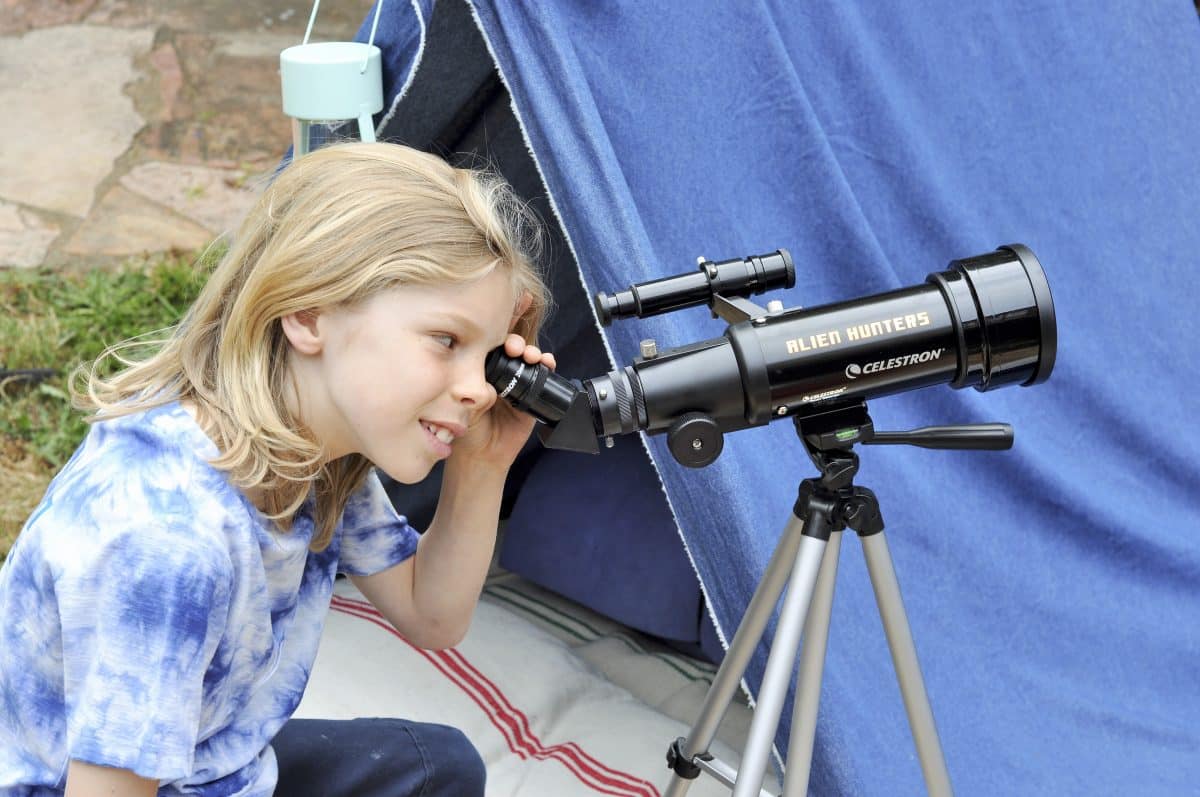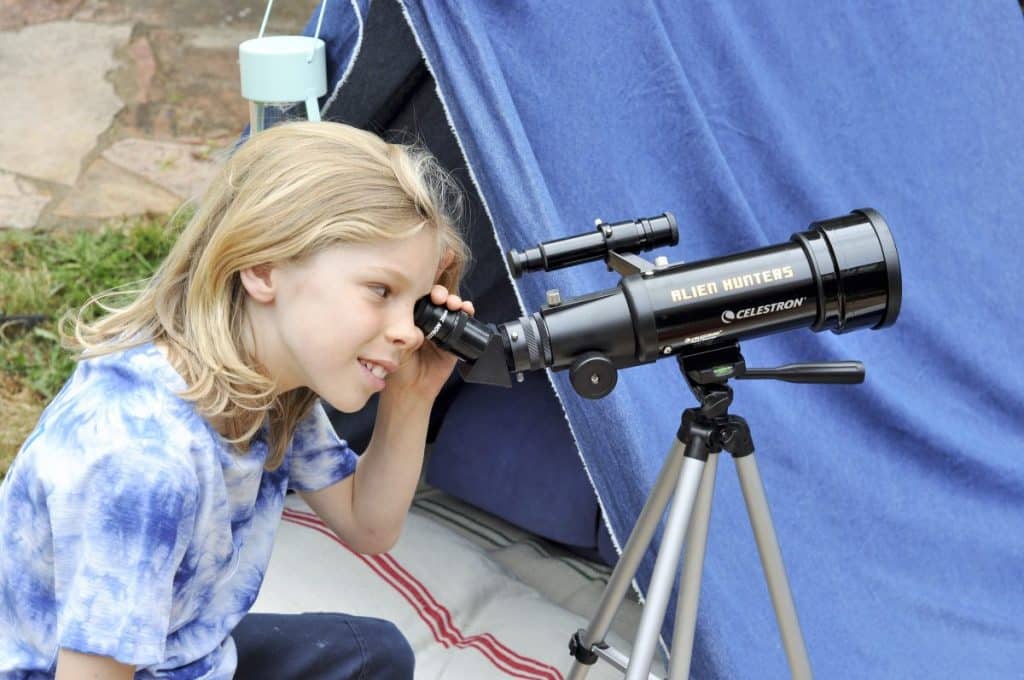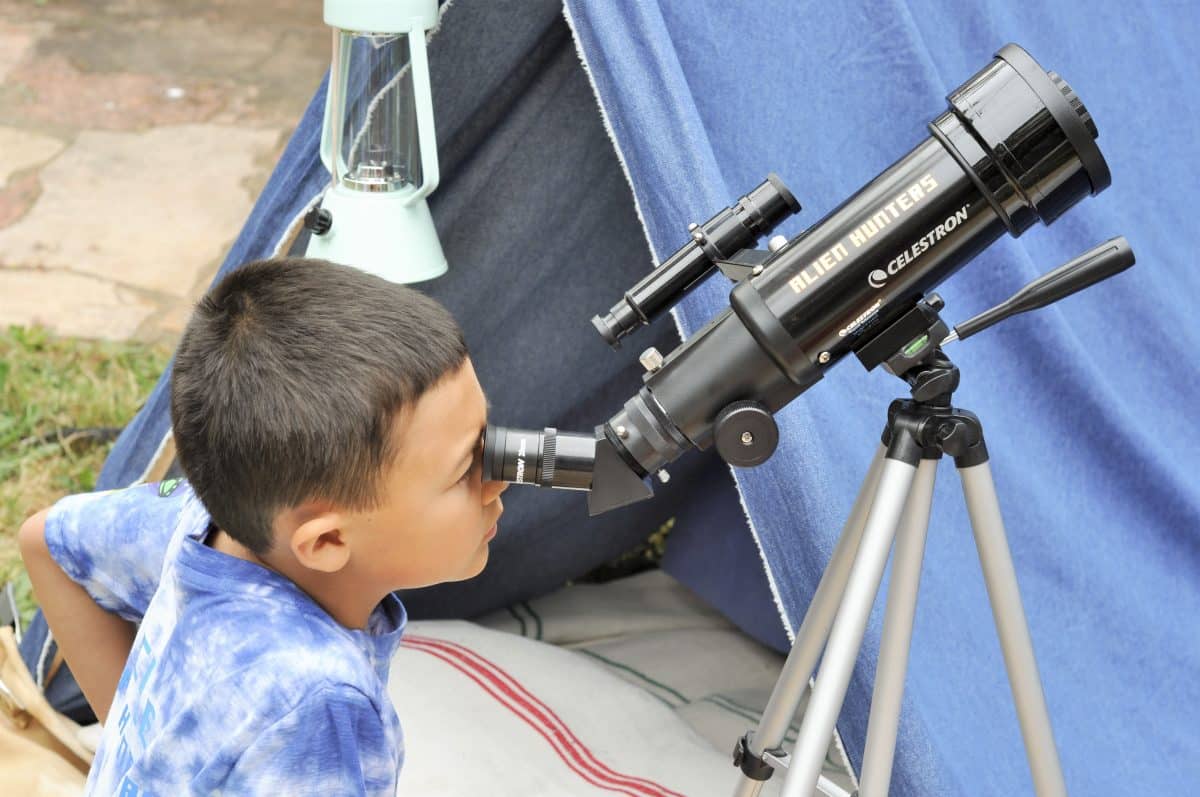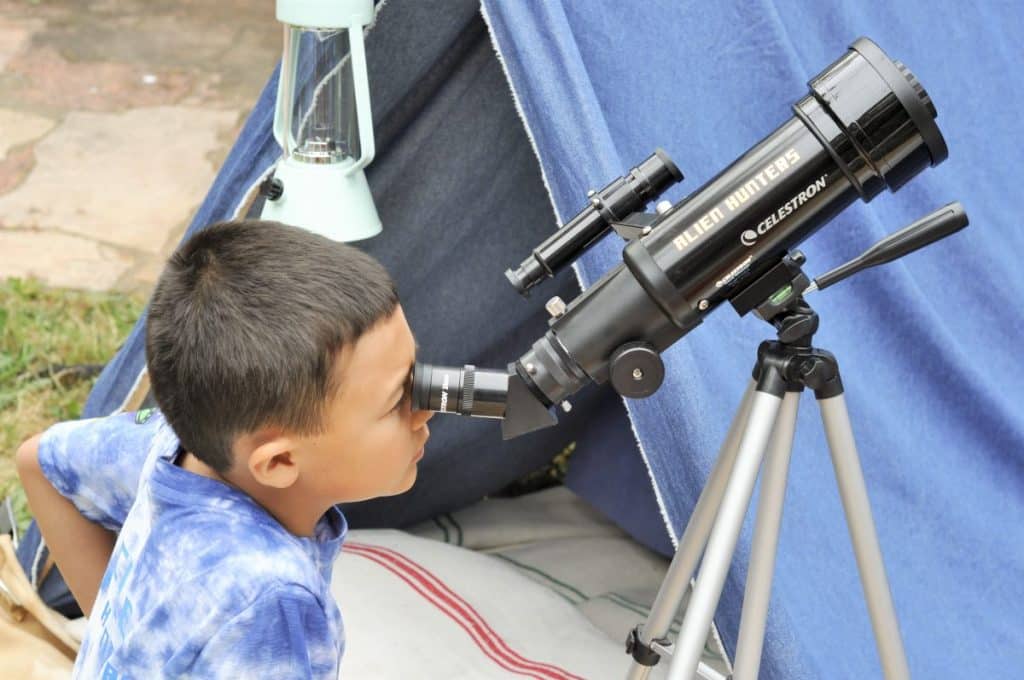 For sleeping, I kept this simple and easy with A-frame tents that my hubby created for me. I attached denim fabric onto the frames with car clamps to give it that make-shift feel. Then, I added vintage milk crates for sitting, lanterns, bed rolls, cushions made of old grain sacks, and a vintage wheelie mechanics tool trolley we have turned into a cooler.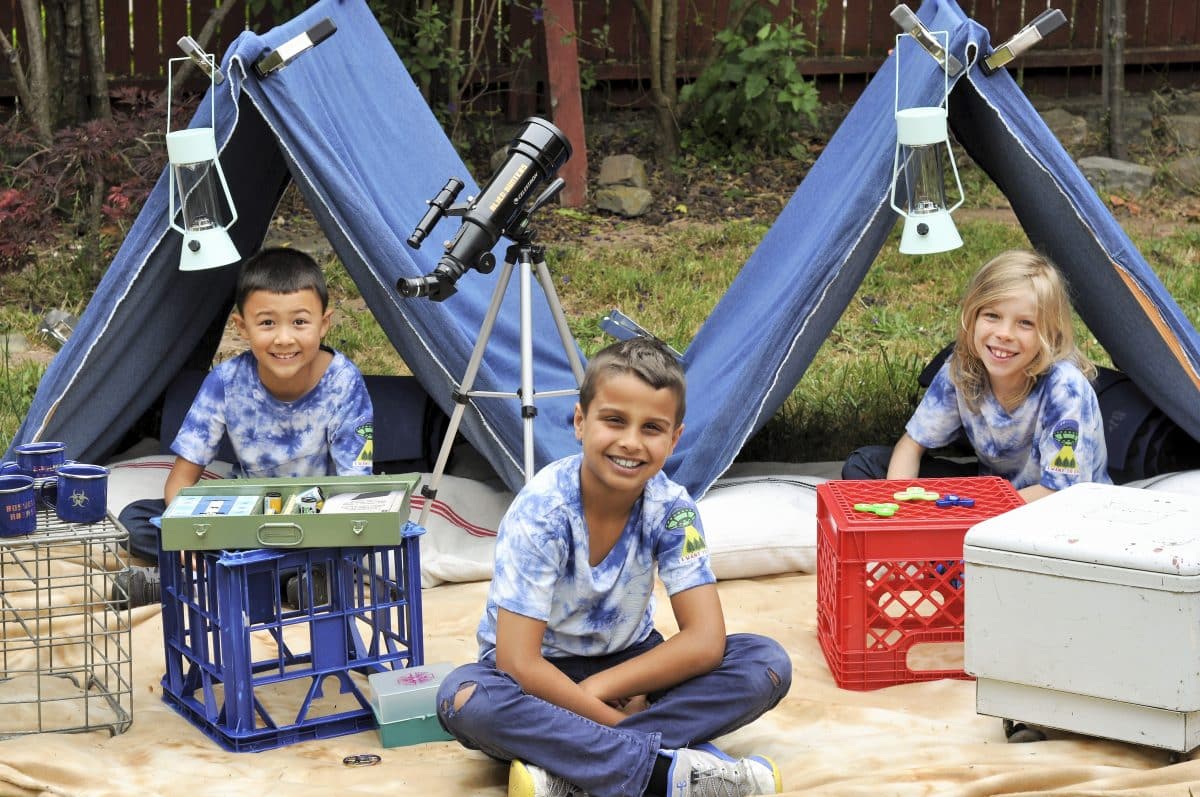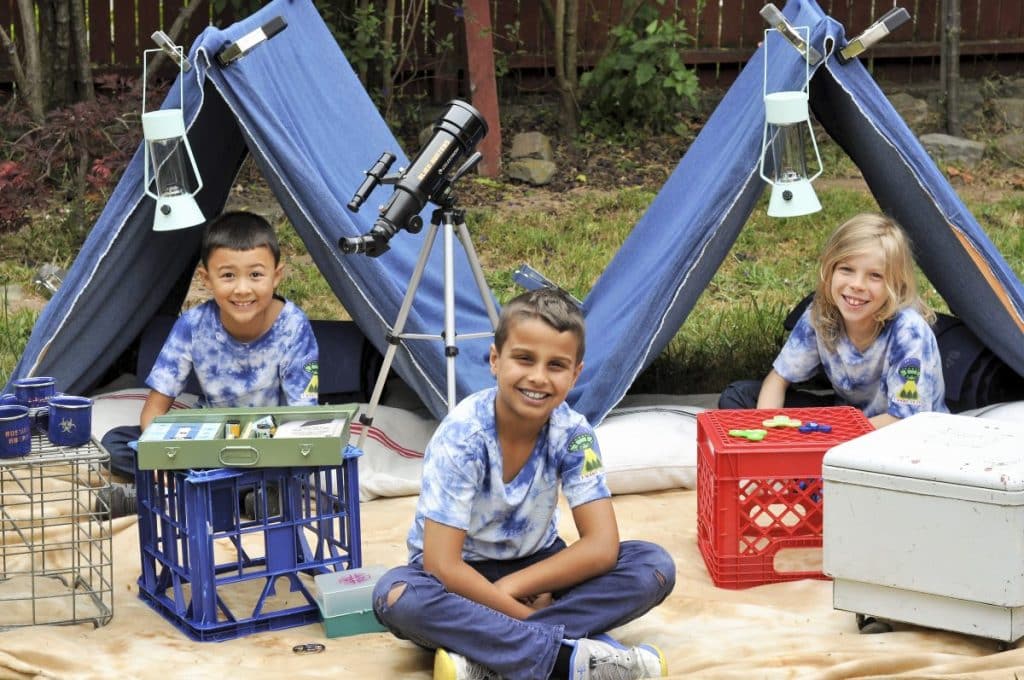 Lastly, I added a warm fleece fabric that looked just like the Nevada desert, and a set of decorated hot chocolate mugs – the final pieces to creating a prime camping spot, and they were ready to watch the stars, look for UFOs, and use their camping mugs for hot chocolate at bedtime!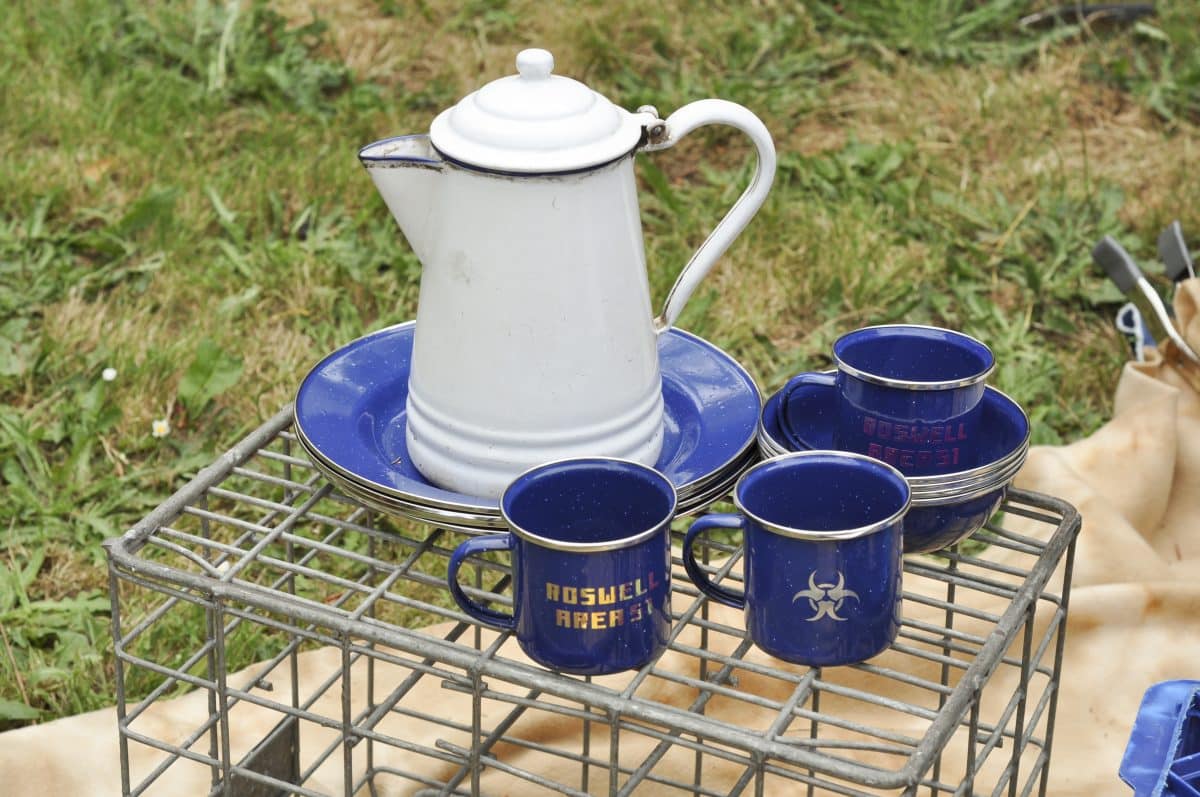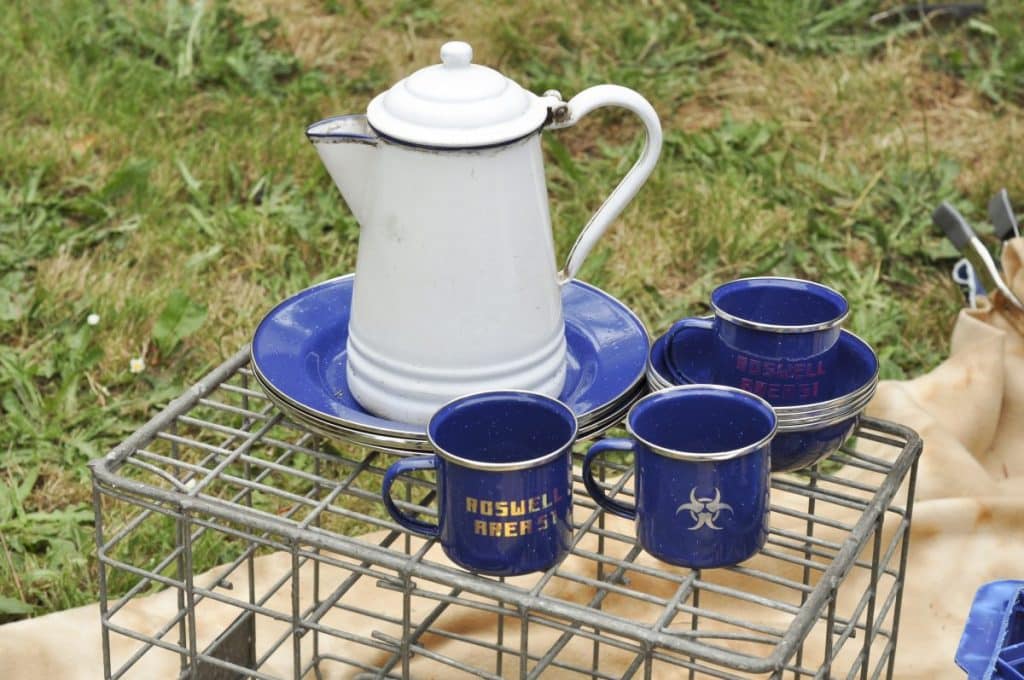 Backdrop
Then, I focused on the party backdrop for the indoor portion of the party. I envisioned something clinical but with an old-school road stop diner feel, full of alien and UFO "memorabilia". That's why I chose to set it up in my kitchen.
I used peg board as the backdrop. Next, I added small yellow café lights, newspaper clippings, fun decals like my fabric badge, and a holographic "UFO Hunters"and alien symbol banner I created with the Cricut.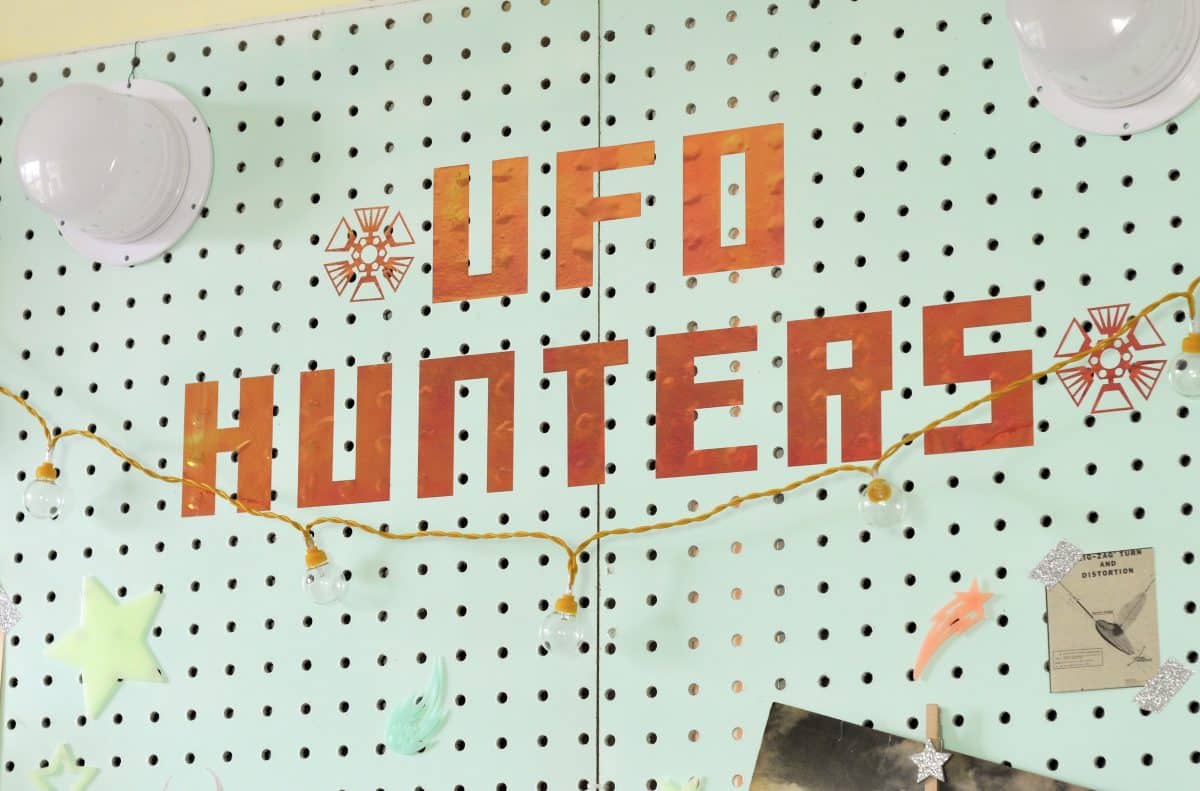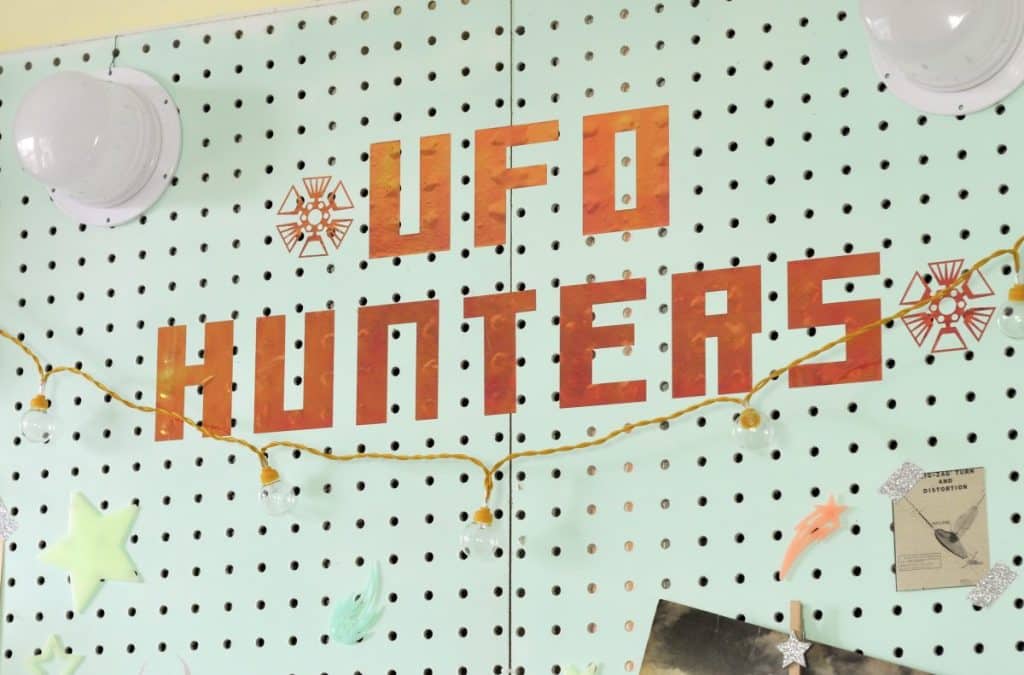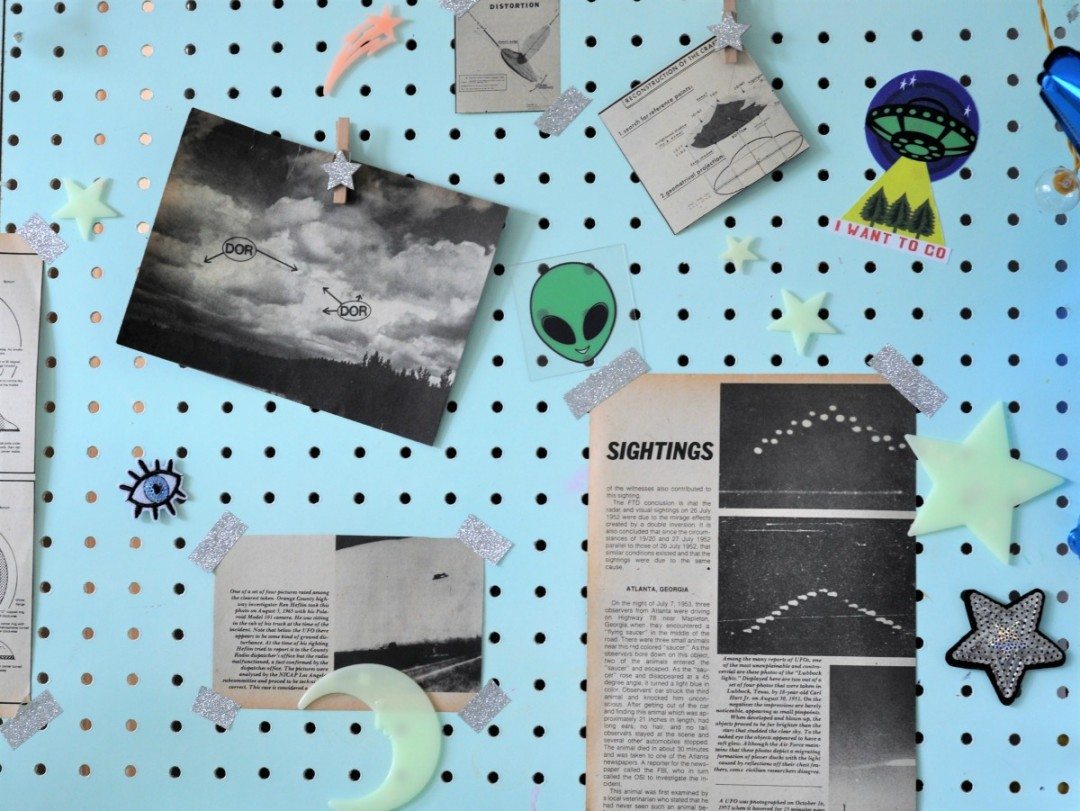 DIY Alien Prop
Underneath the backdrop, I set up our stainless steel island as the dessert table. Then, I added props to the dessert table. My favorite was is an alien head I found at Oriental Trading and put into a giant acrylic container with green slime! I added "Area 51" and bio-hazard symbols to it, as well as hazard tape to turn this into a fun alien specimen. Learn how to create vinyl decals for this party HERE.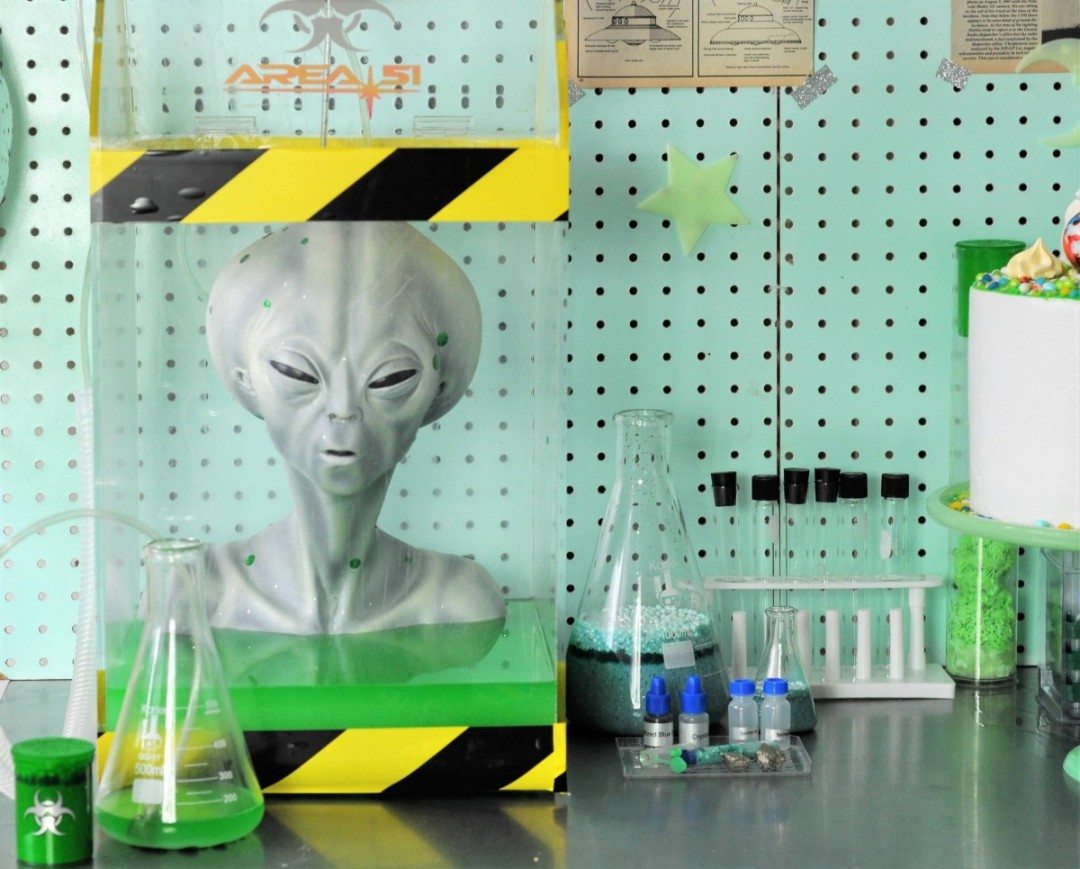 Dessert Table
Another favorite element from the party was this gorgeous faux cake from Confection Deception. Isn't it realistic? I love having a cake centerpiece, but we had a small party so UFO cake pops were enough for the kids. Still, it was fun being able to still have a cake centerpiece without eating it all myself later. I decorated the faux cake with jawbreakers of all shapes and sizes to tie into the "out of this world" galaxy space feel.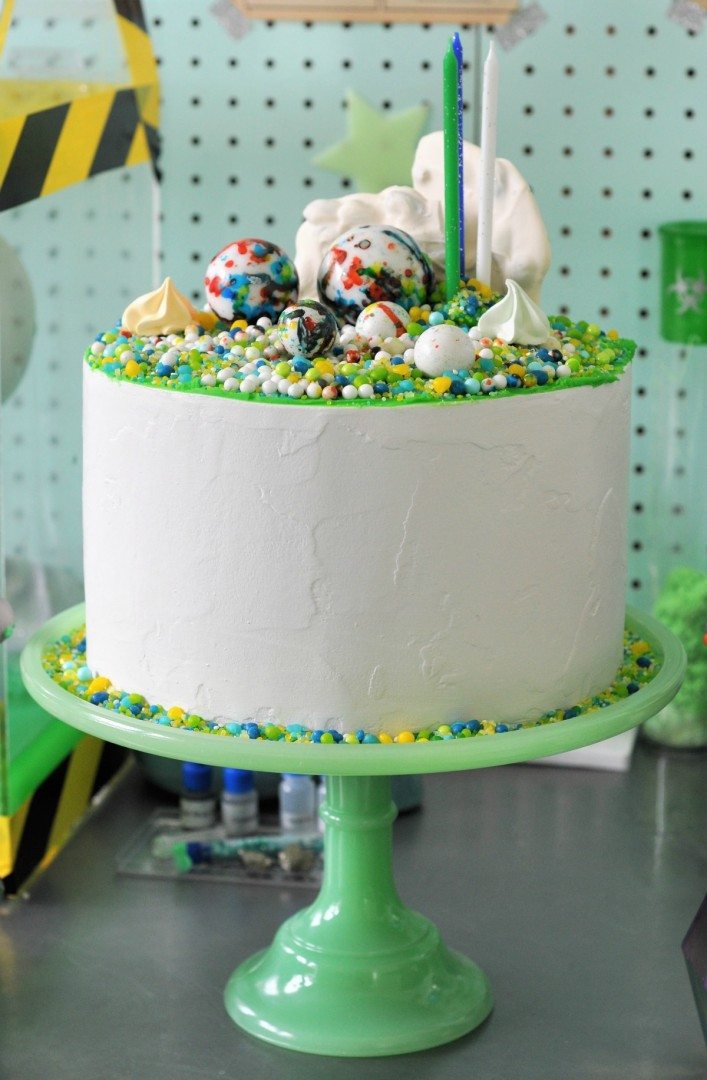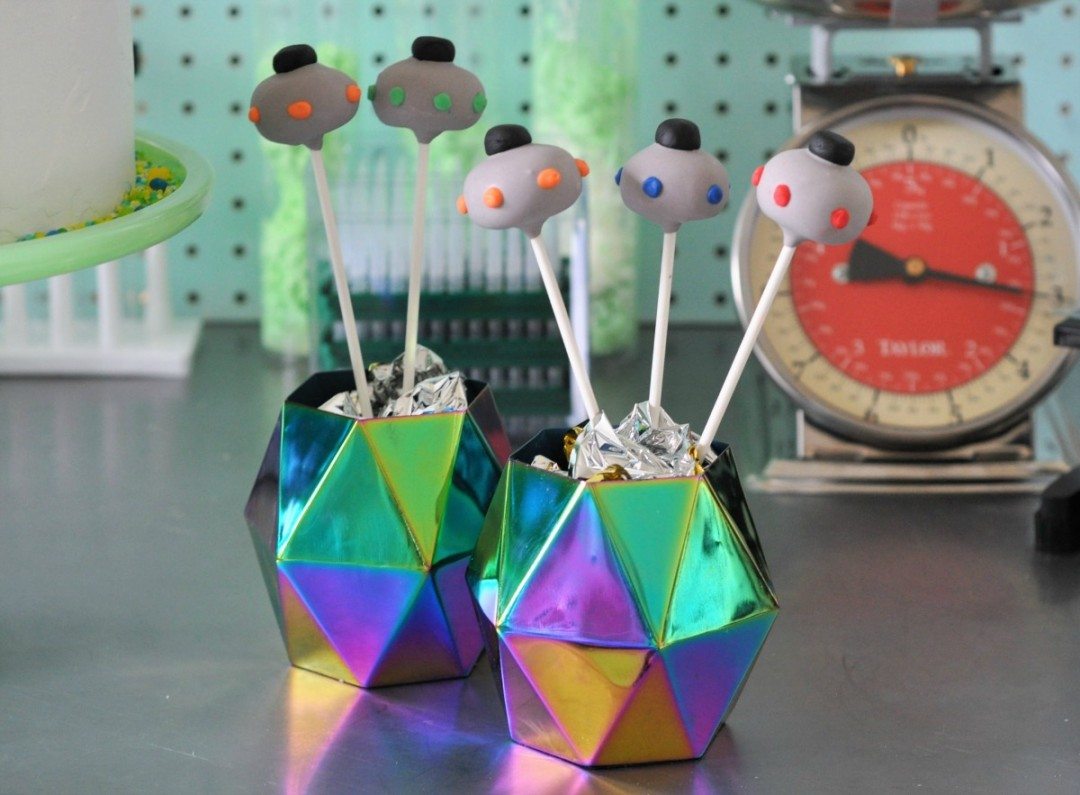 Then, I added fun specimen jars of slime and minerals that look like moon rocks or parts of UFOs. These types of props would also work for a science or space-themed kid's party, and I think aliens are a great unique Halloween party theme!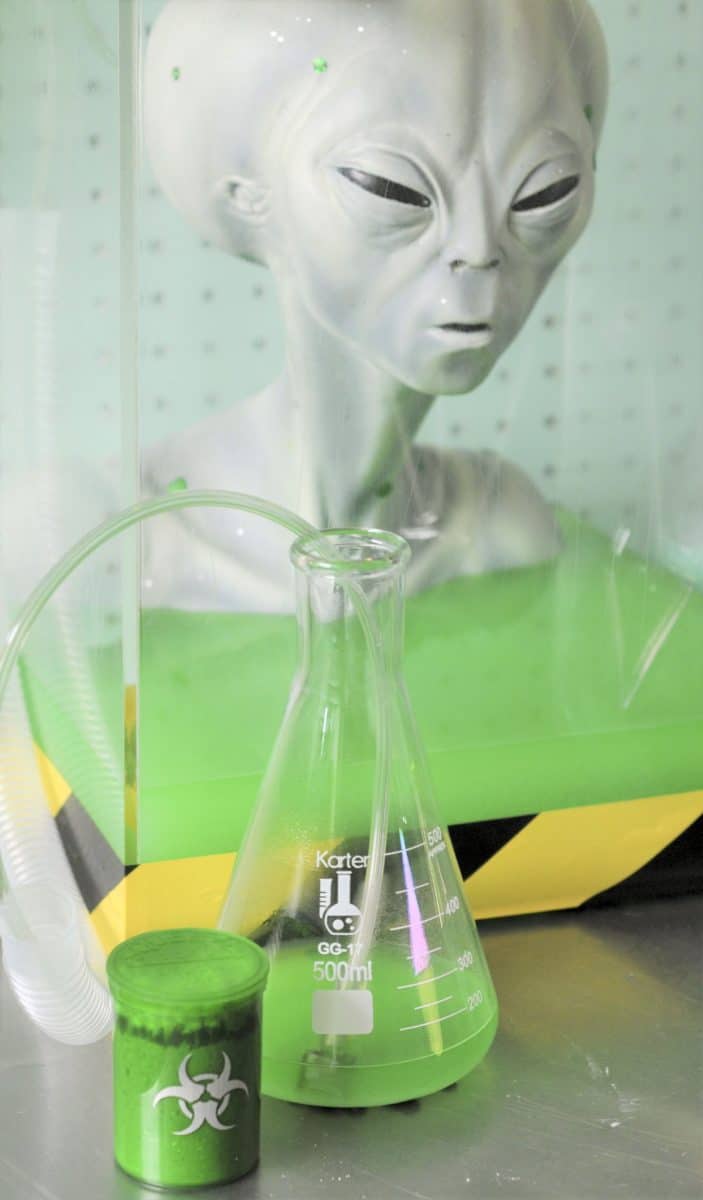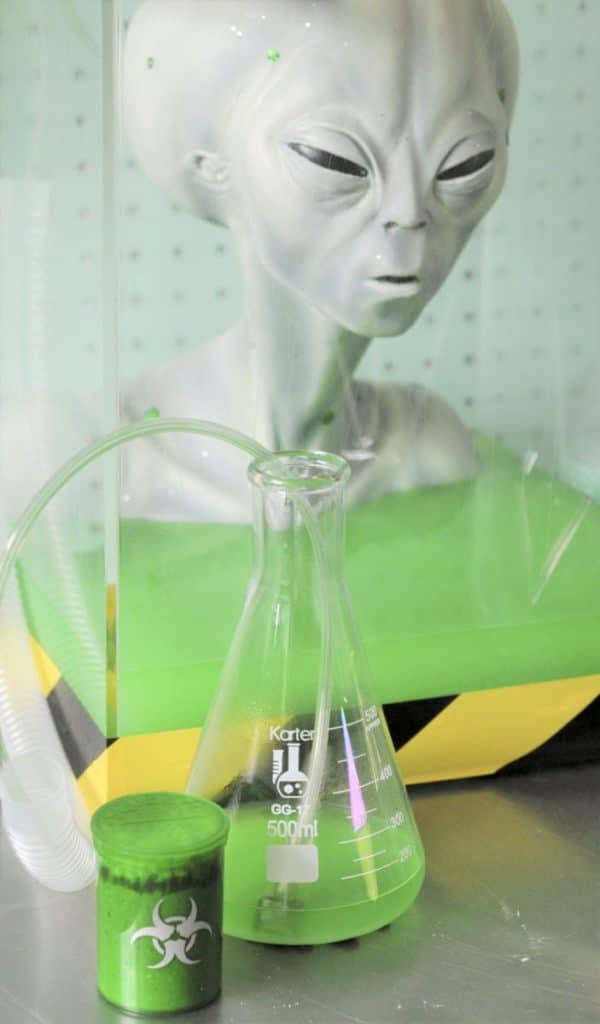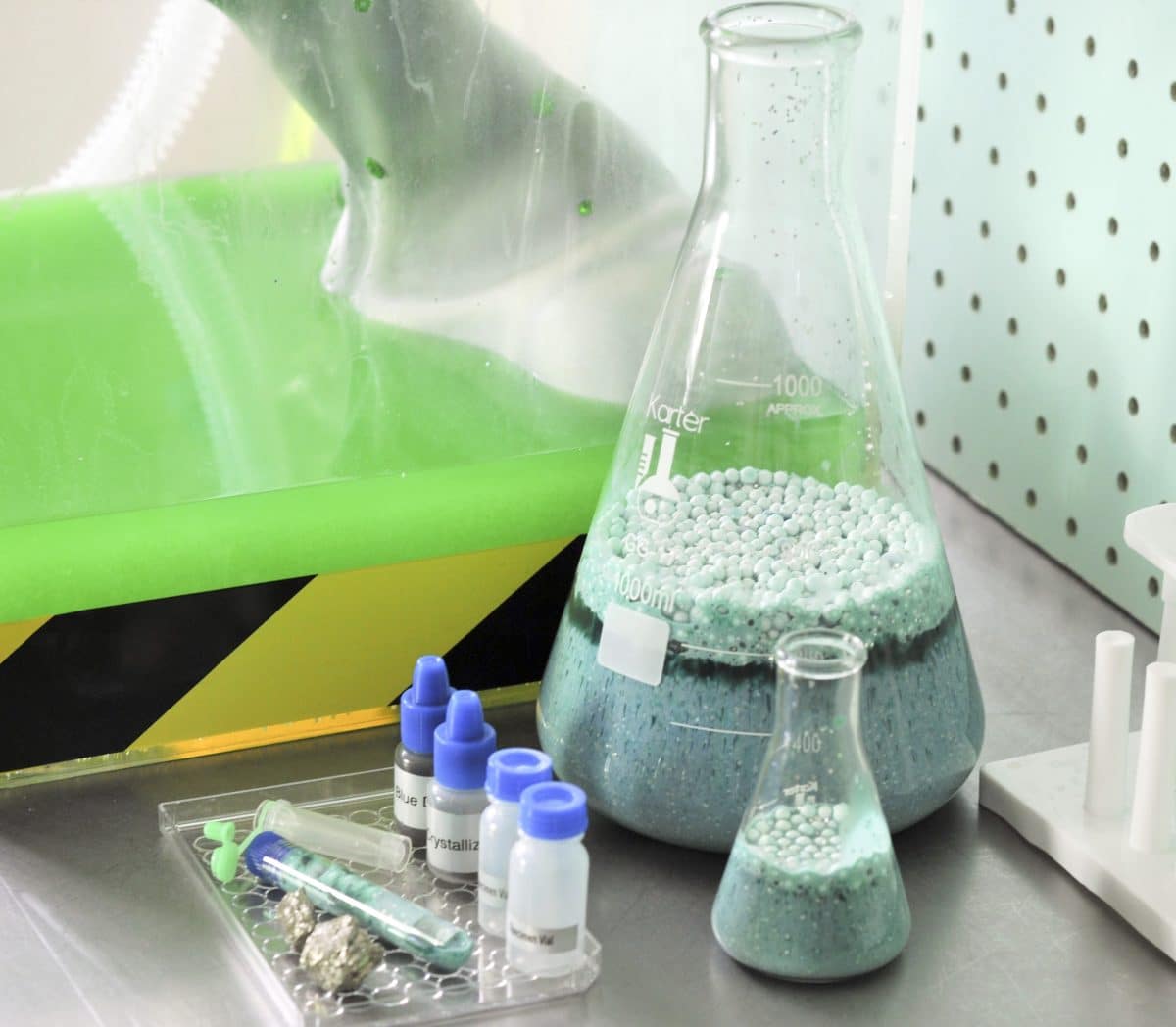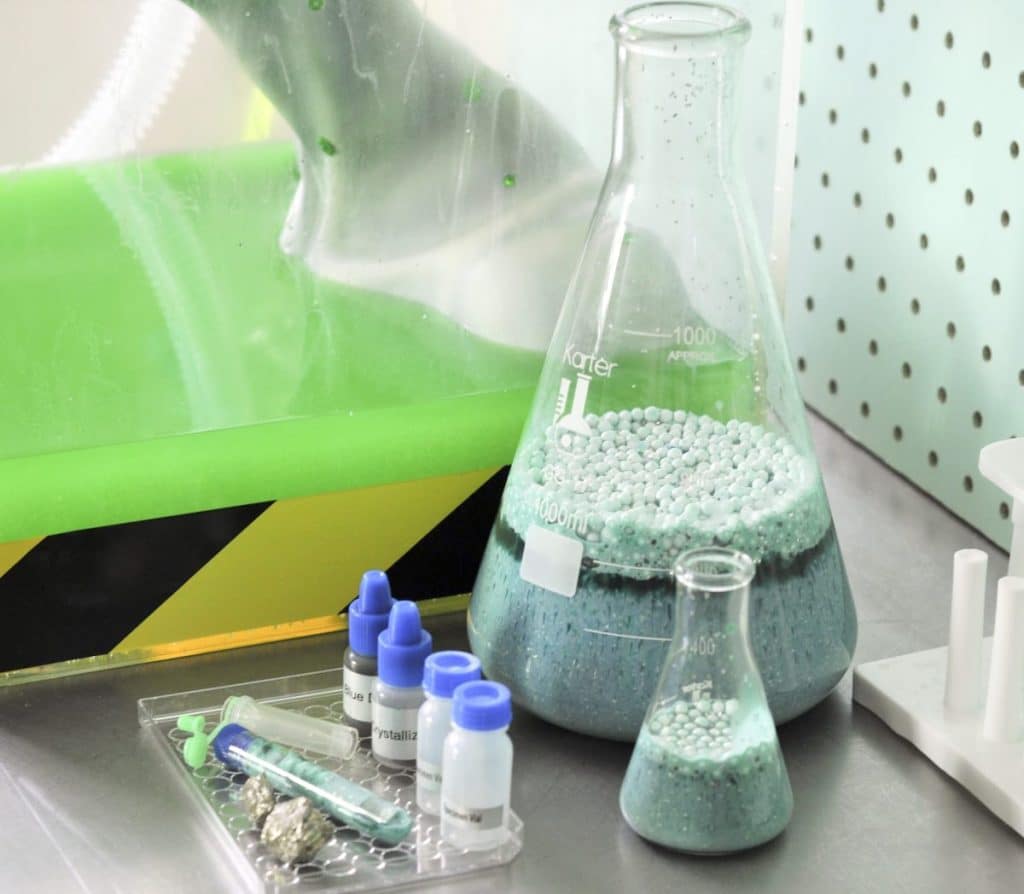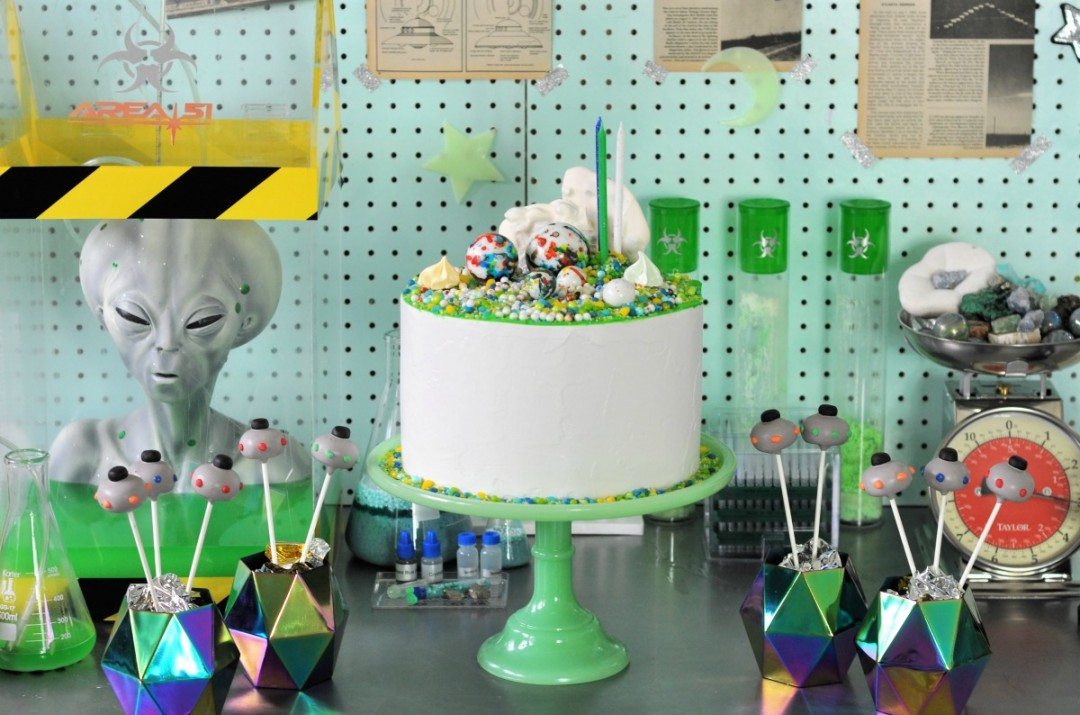 The Party Table
Of course, I needed to decorate the plates. I found fun, star-shaped plates that I put on top of a light blue plate and added the words "The truth is out there". Then, I added gold speckled cutlery and mini mason jar style drinking glasses.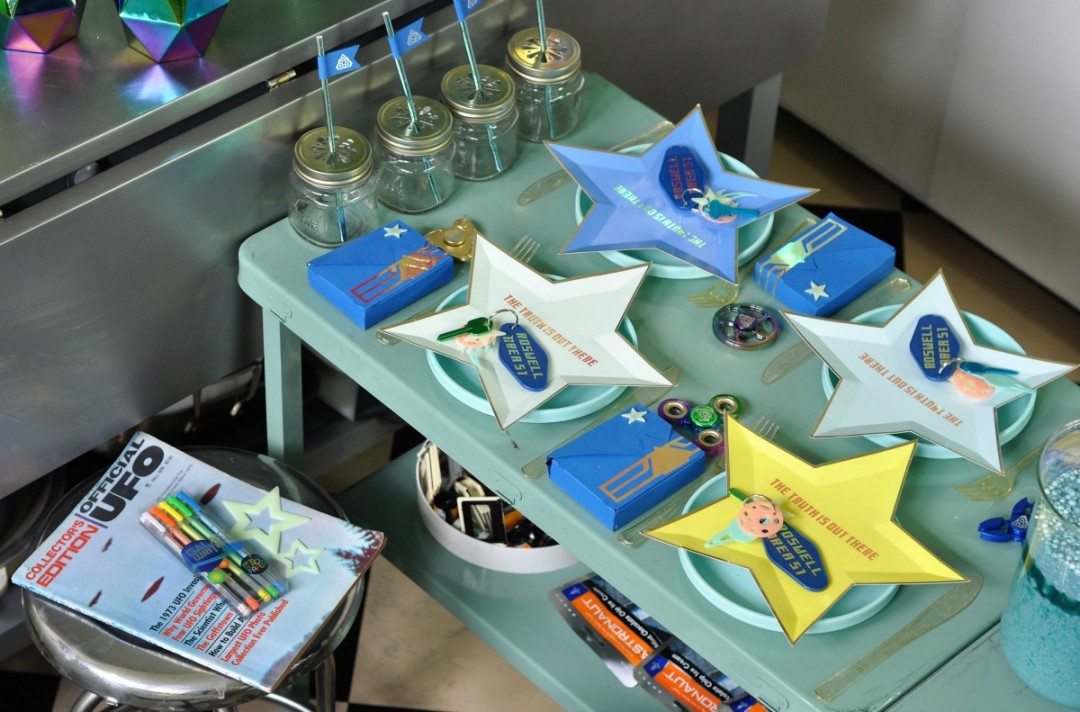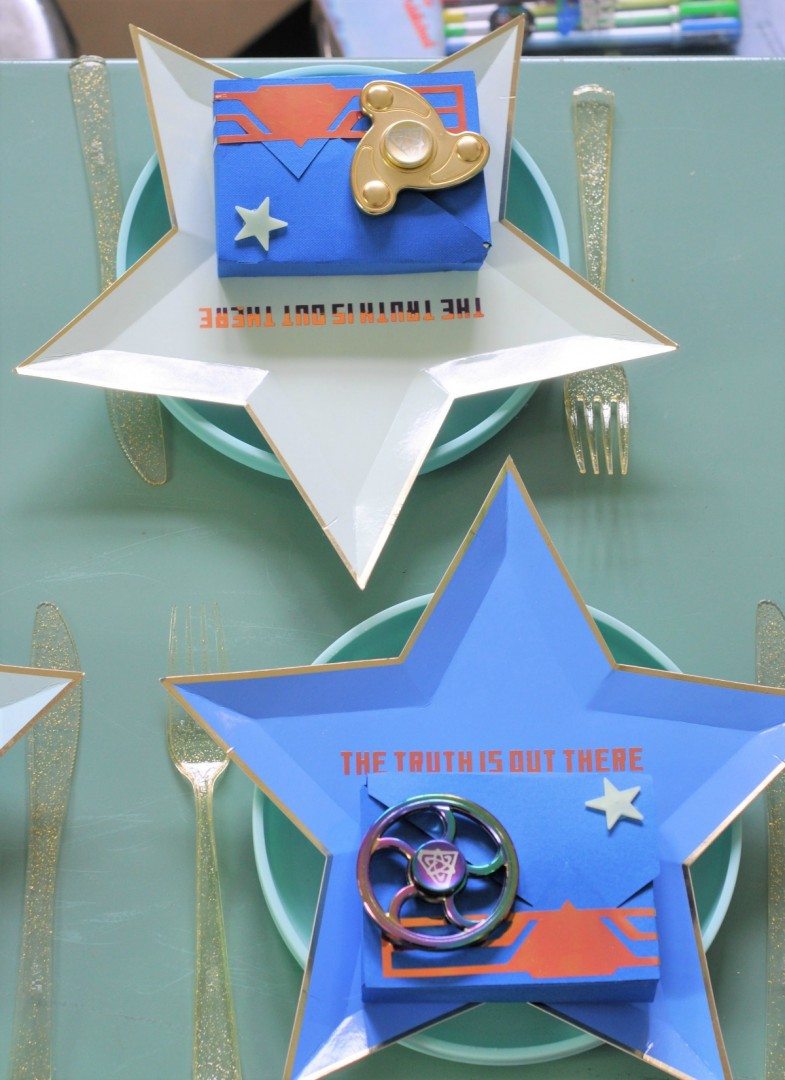 I created mini straw flags using card stock and foil symbols and put those onto fun holographic straws.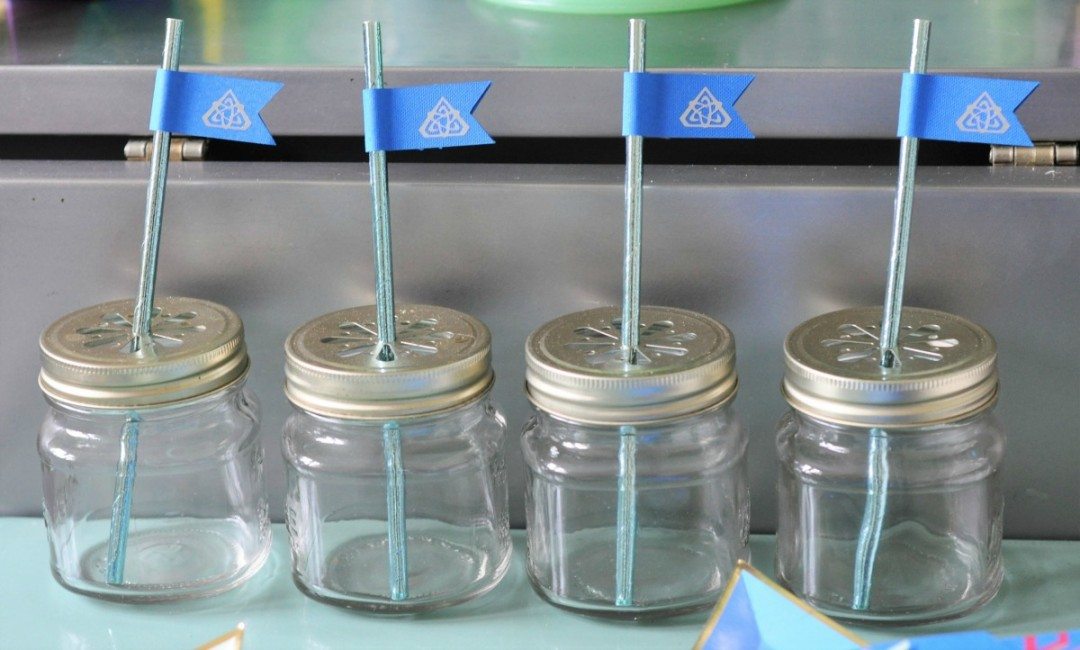 DIY UFO Centerpiece
I love having fun with kid's parties and incorporating a bit of my humor. For the kid's eating table, I added a fun DIY centerpiece of cows being beamed into flying UFOs! I put cow figurines into fake grass, inserted rolled-up tubes of thin clear acrylic film (the light beam) into the grass, and on top I added an upside-down foil pie plate with a UFO I created using cardstock and foil.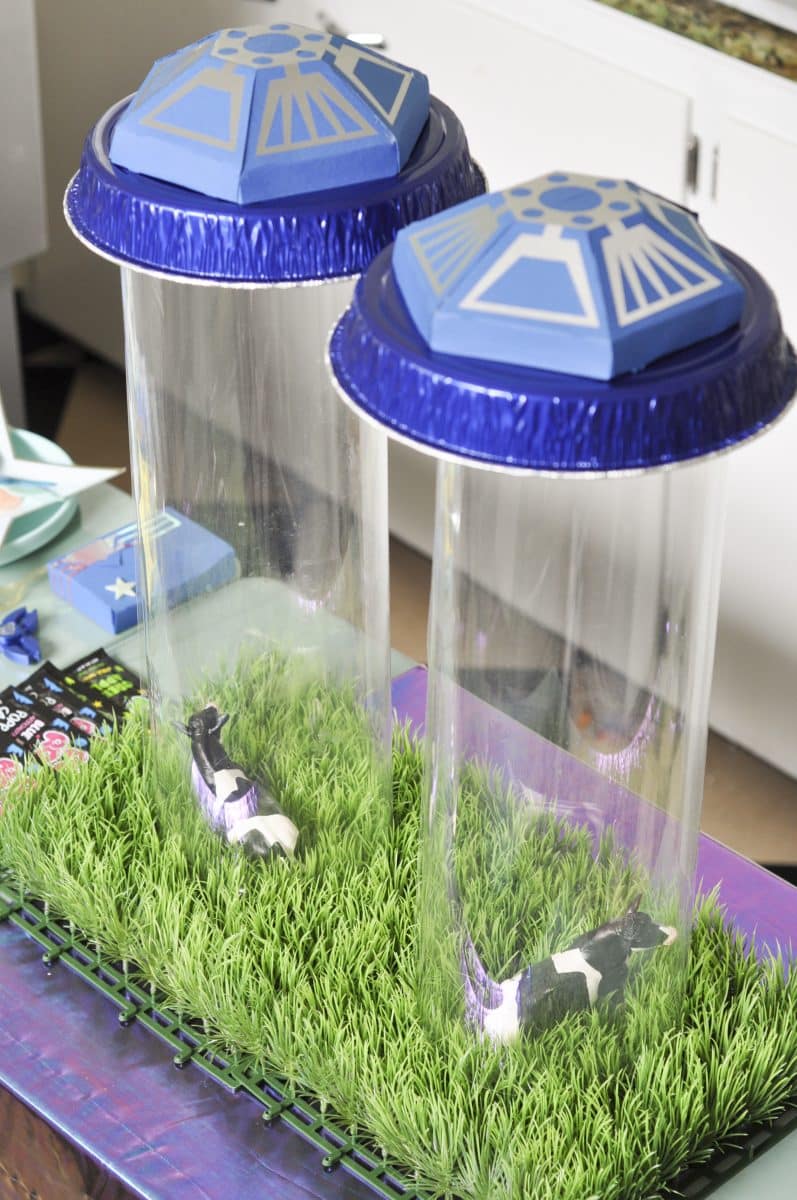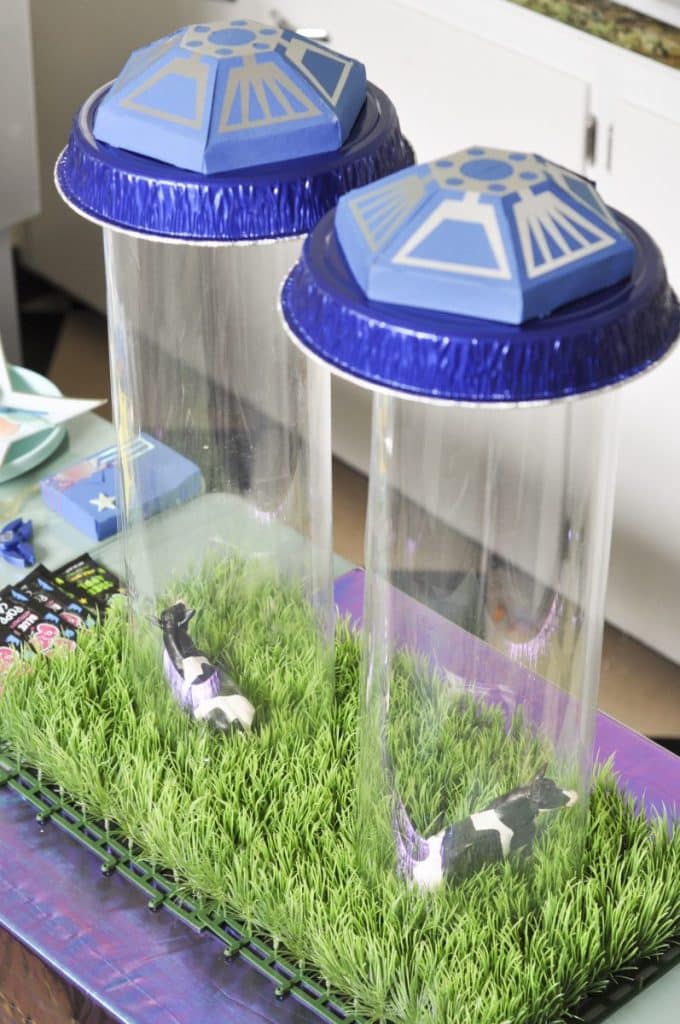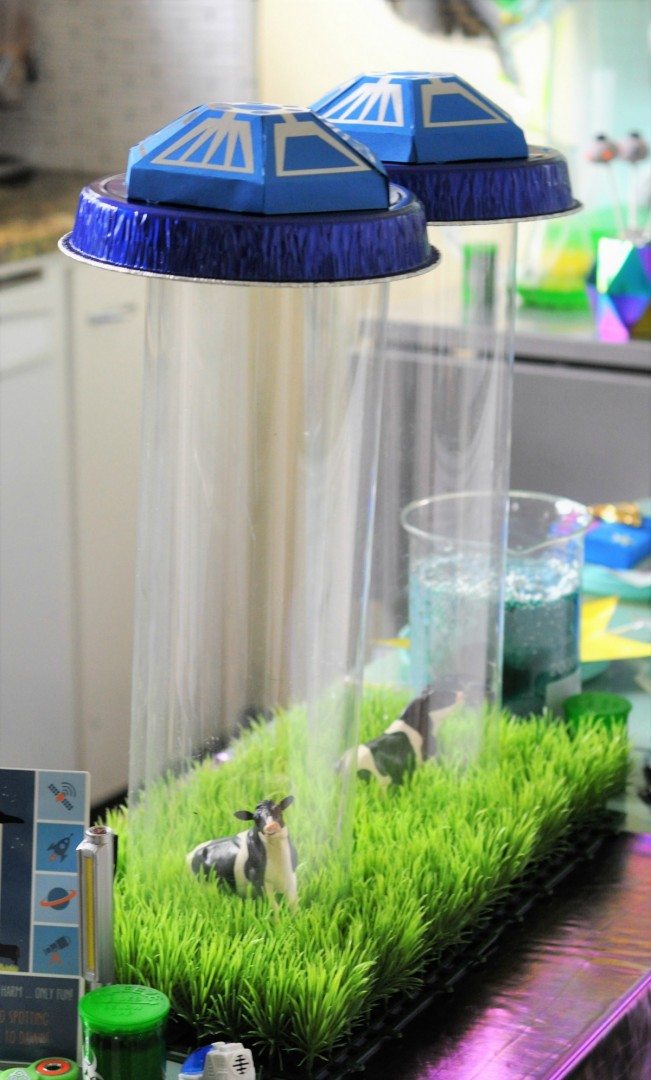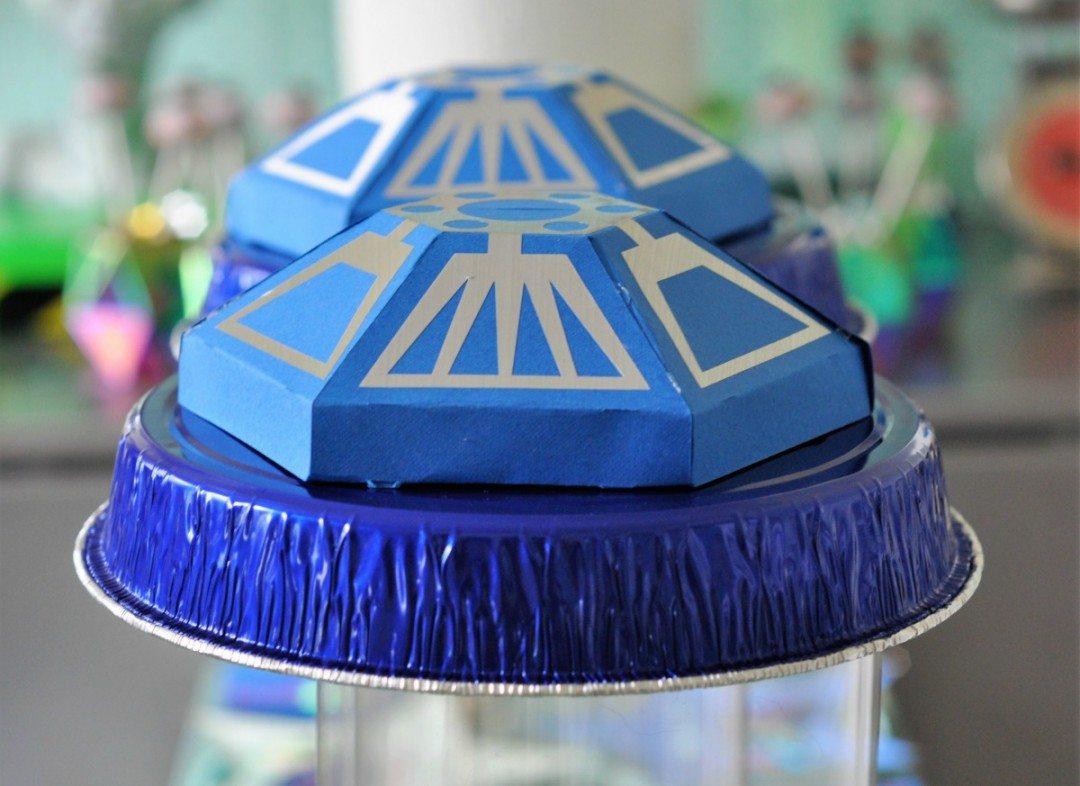 Other Details
I added retro metal stools for the kids to sit on at the table, and foil hats for each kid. Every kid's party needs a party hat right?! Lastly, I placed a fun retro UFO magazine and slime on the table.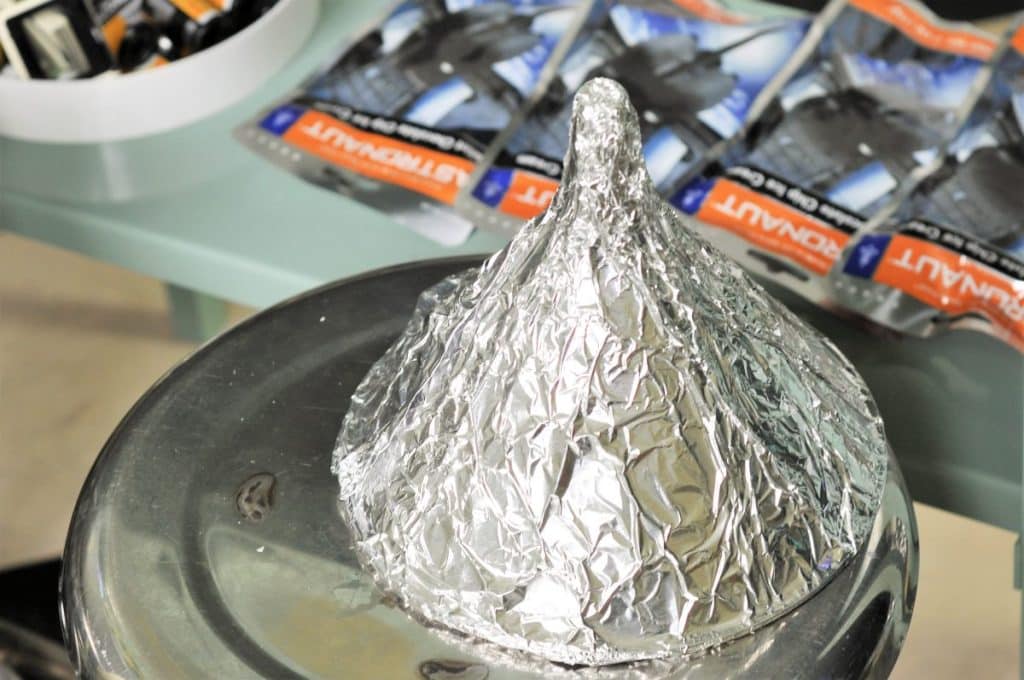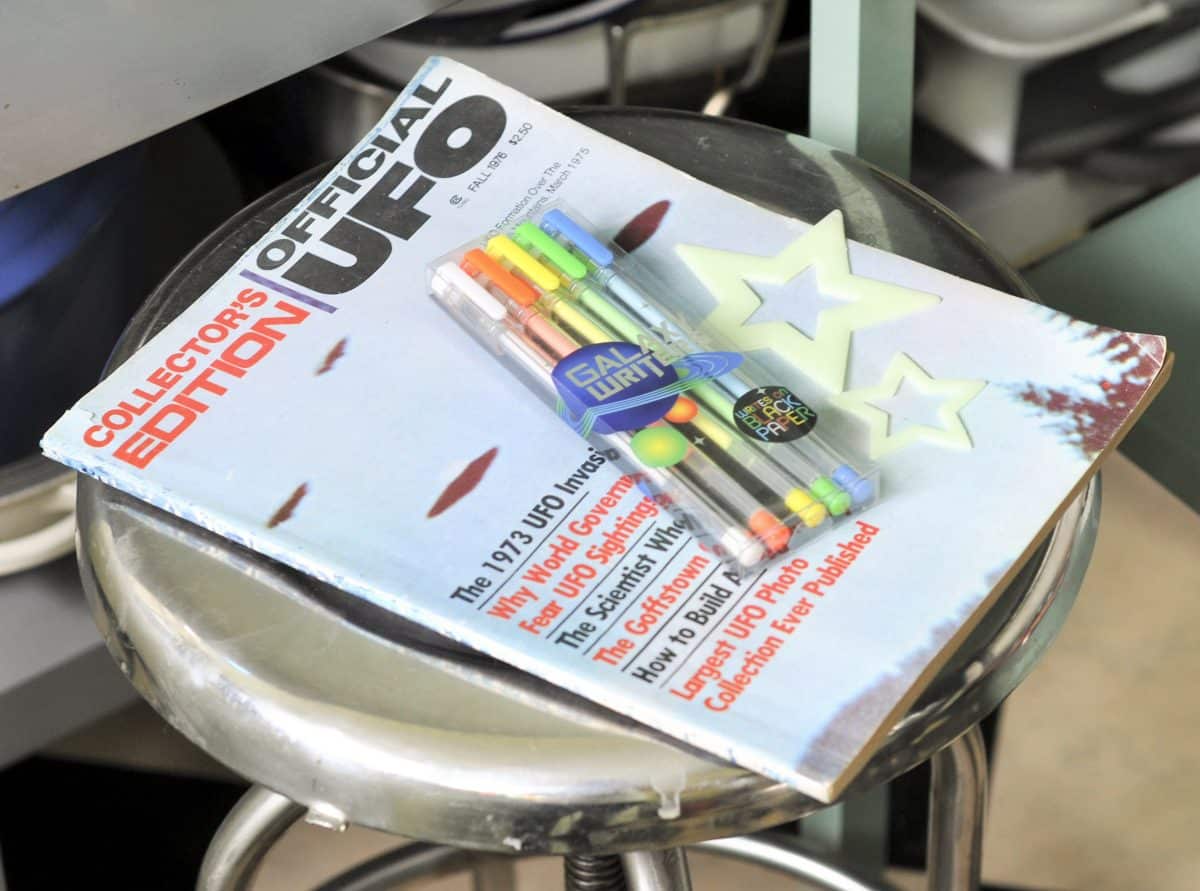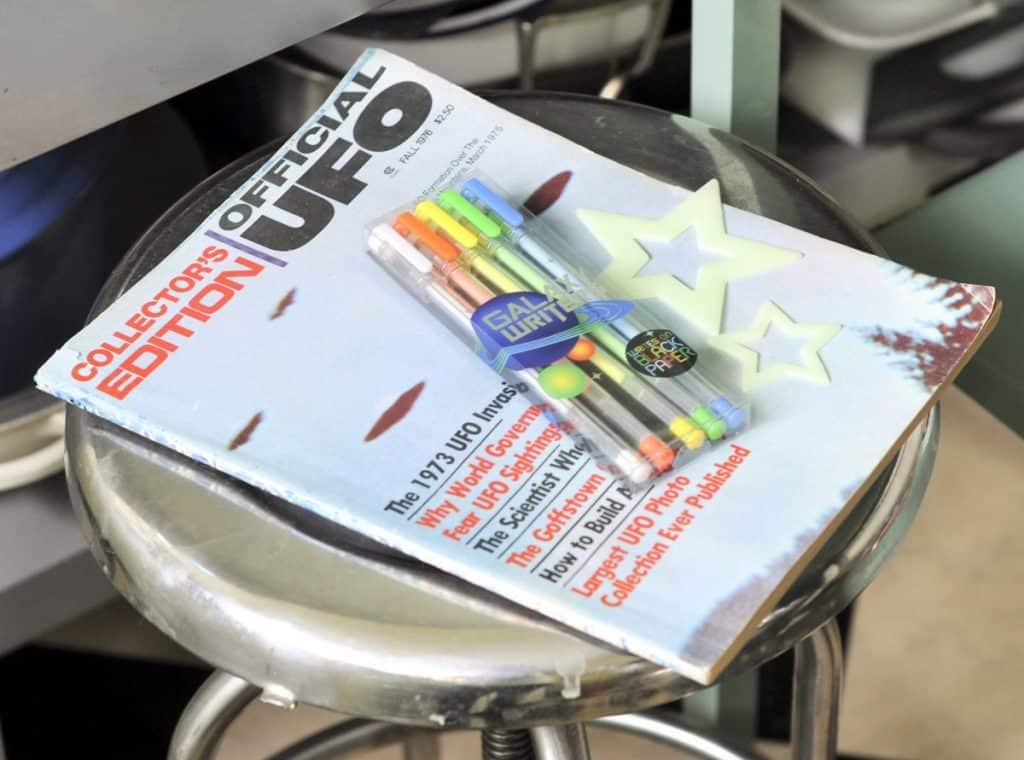 Area 51 Party Favors
Favors always make me happy! I love coming up with something fun and in-theme. For this party, I couldn't go past fidget spinners….a somewhat selfish move I have to admit, as they do keep kids entertained for hours. I couldn't resist letting them use these during the sleepover, tee hee! These were also personalized with the same foil symbols as I used on the straw flags.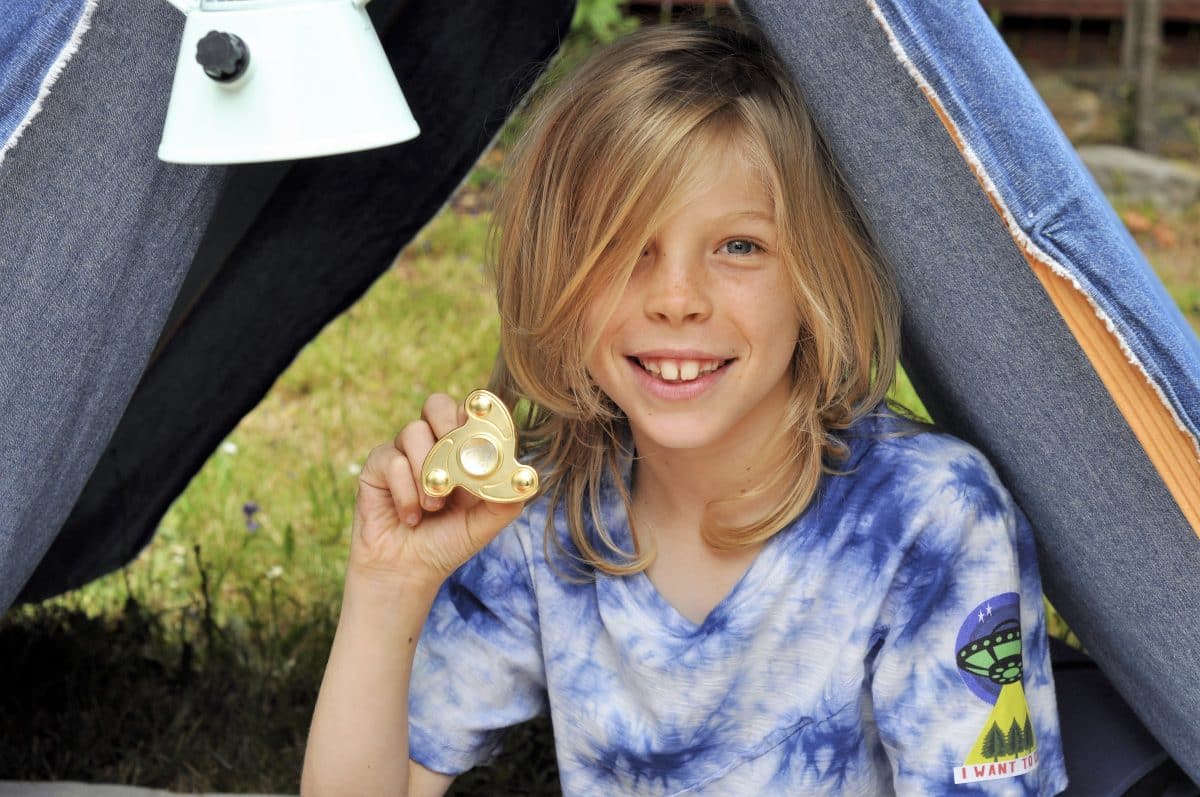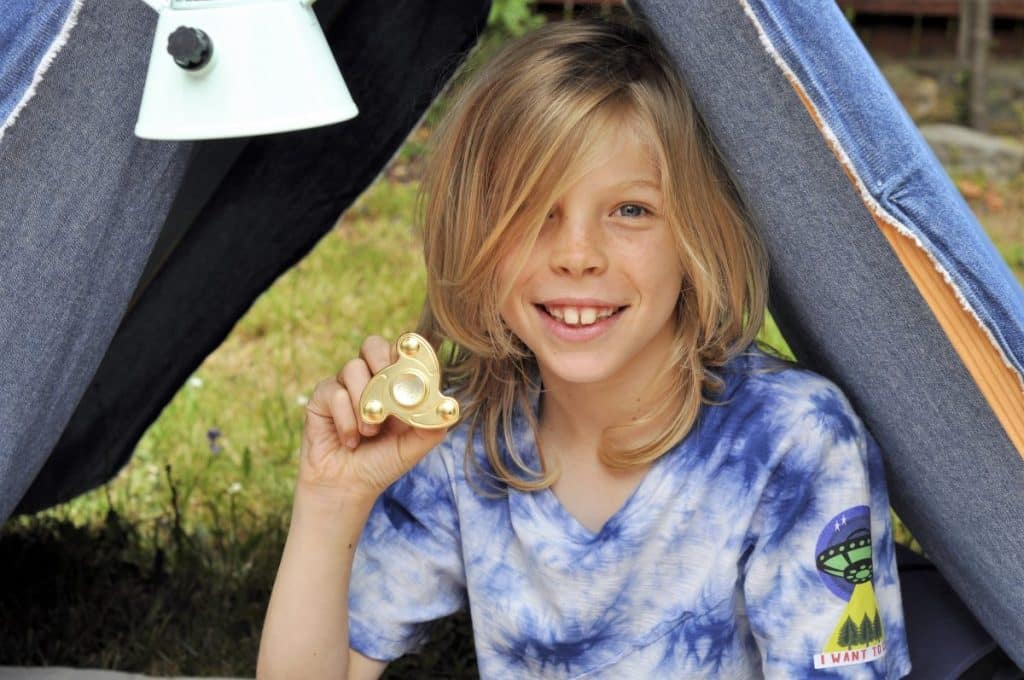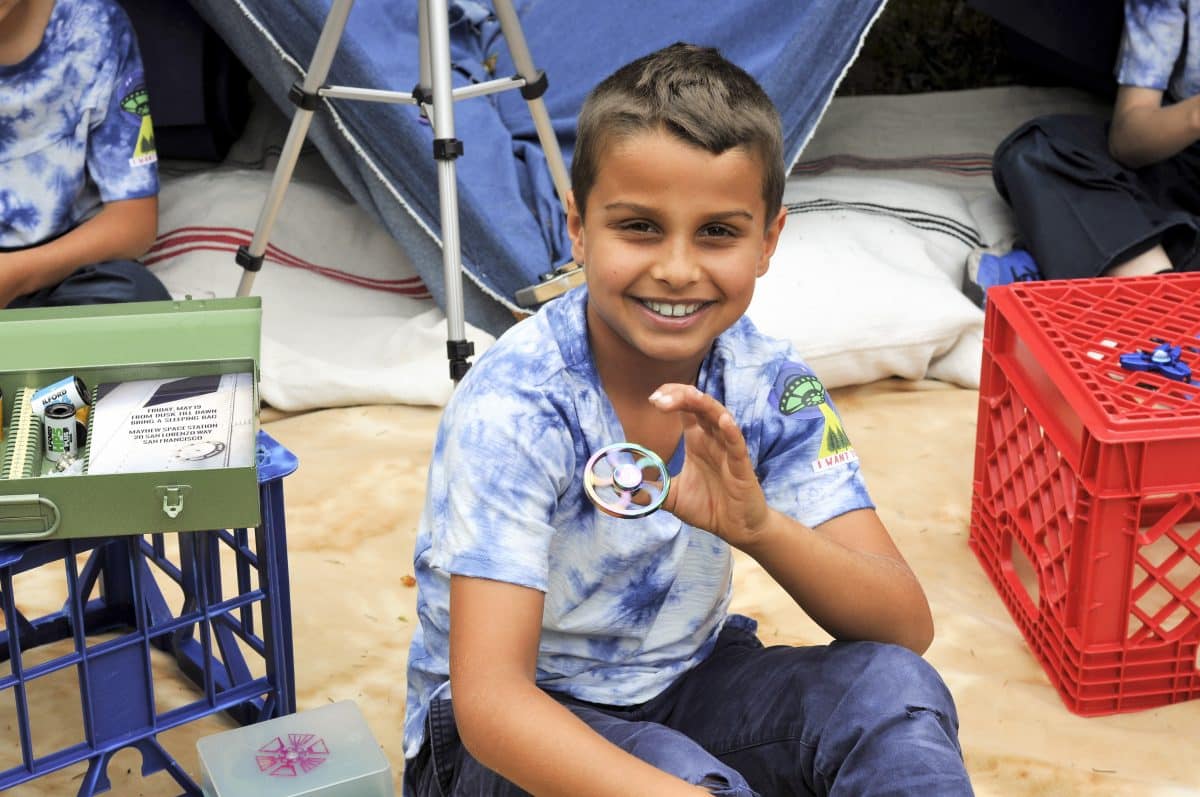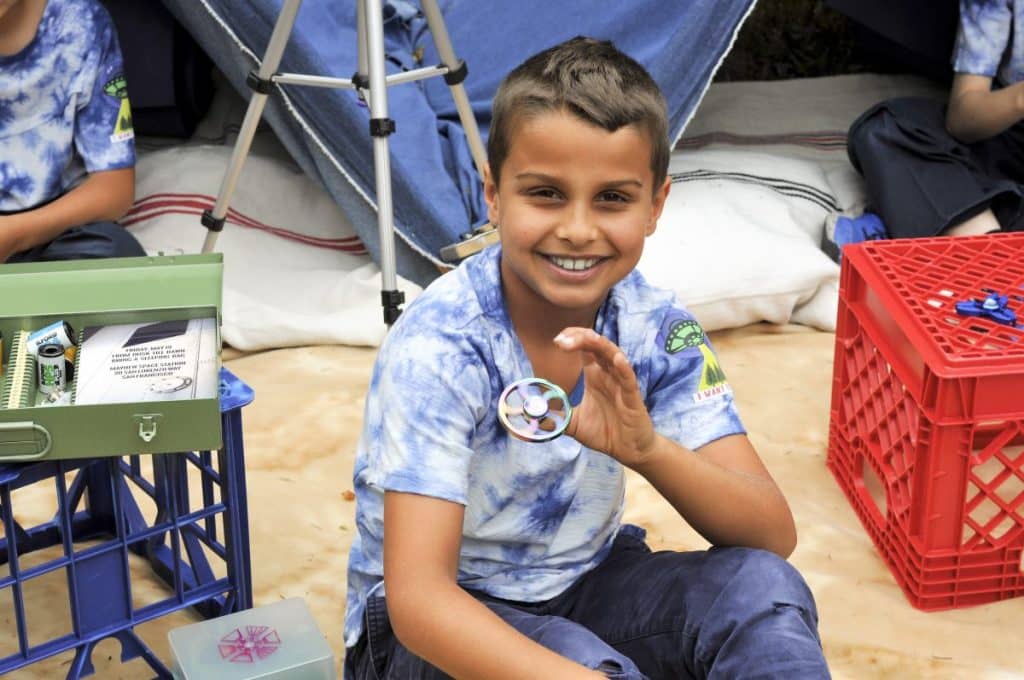 As I mentioned, this kid's party was a special one to create memories and say goodbye. So, I wanted to add something a little special as a take-home favor.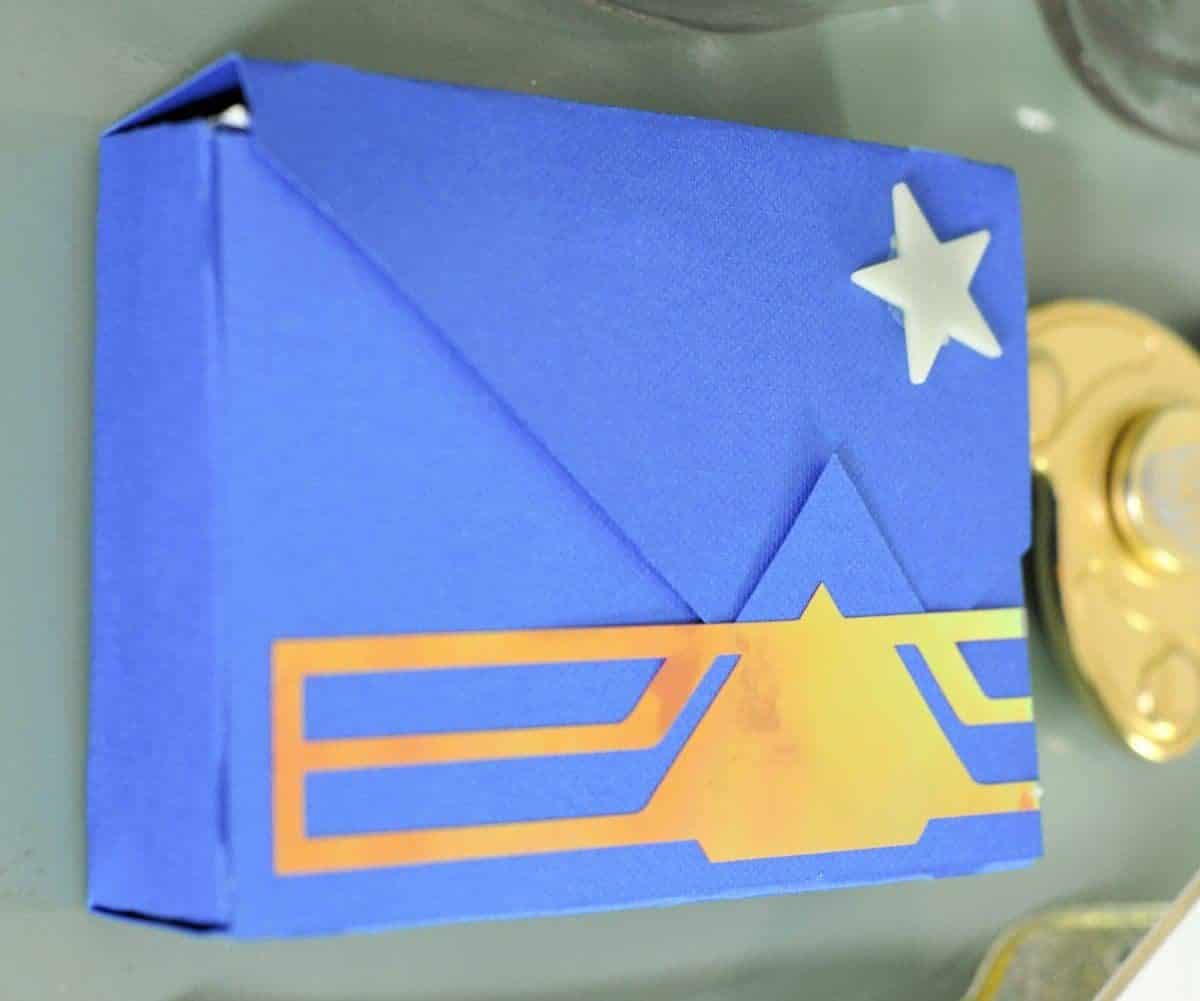 I created an alien-themed favor box using cardstock and holographic foil, and inside I put a retro motel key. I added the words"Area 51, Roswell" to the keychain. Then I put this on a ring along with glow-in-the-dark galaxy shapes.
This was a"key to our home"– Harrison and I wanted his special friends to know that they would always be welcome in our house. We hope that they visit us in Portland.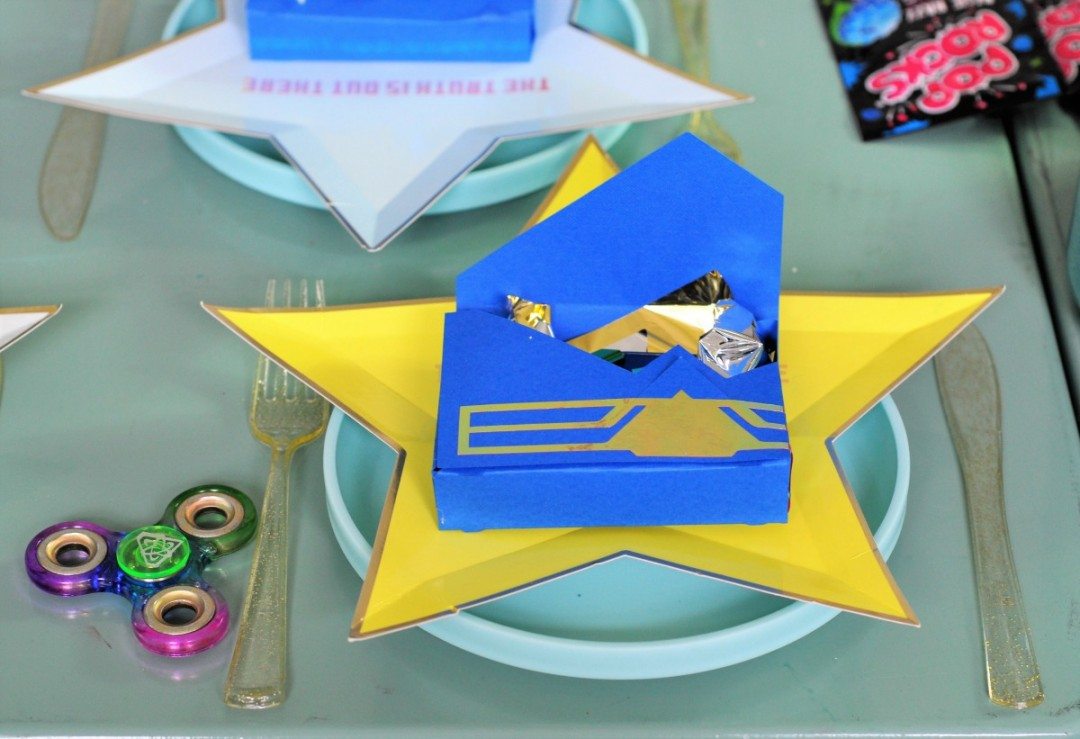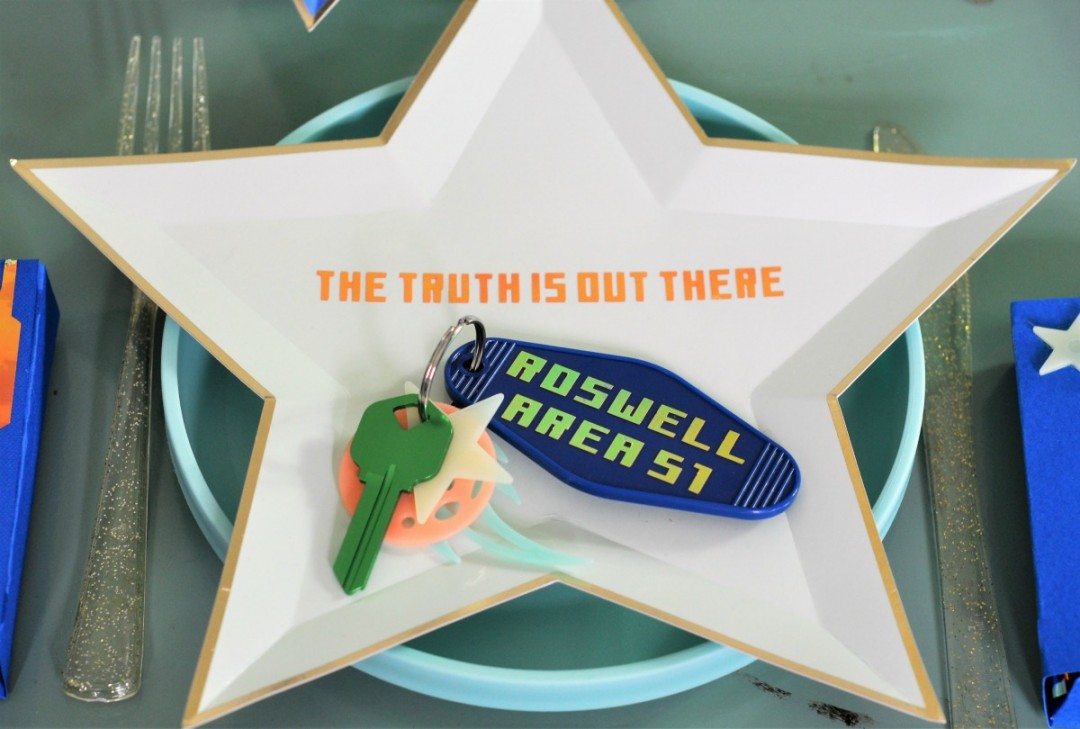 Breakfast
The next morning before Harrison's friends went home, I made them breakfast at the "Roswell Cafe".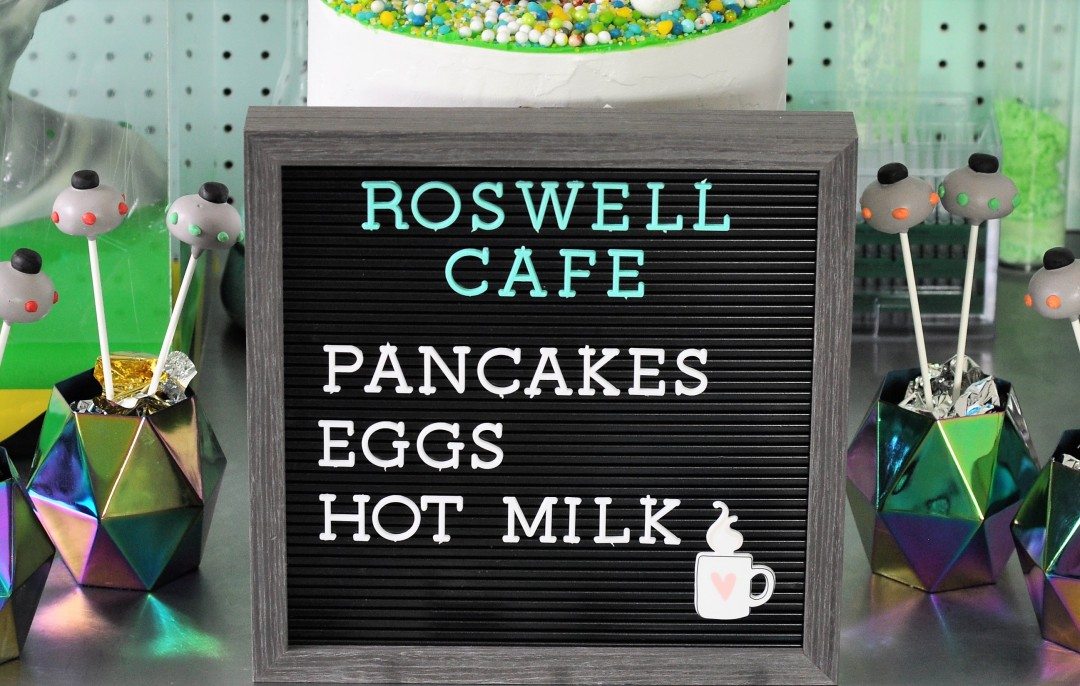 I hope you enjoyed my Area 51 UFO Spotting backyard camping kid's party! You can find an easy shopping list for this party in my Amazon Shop.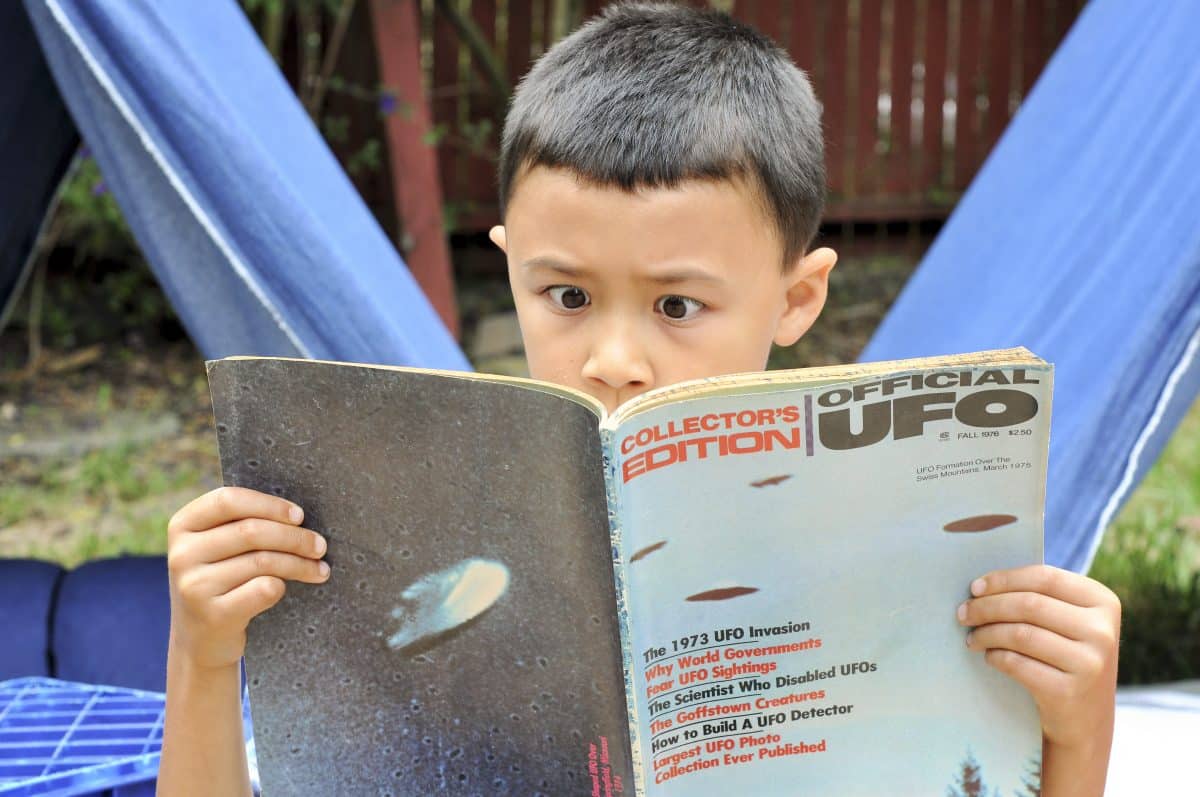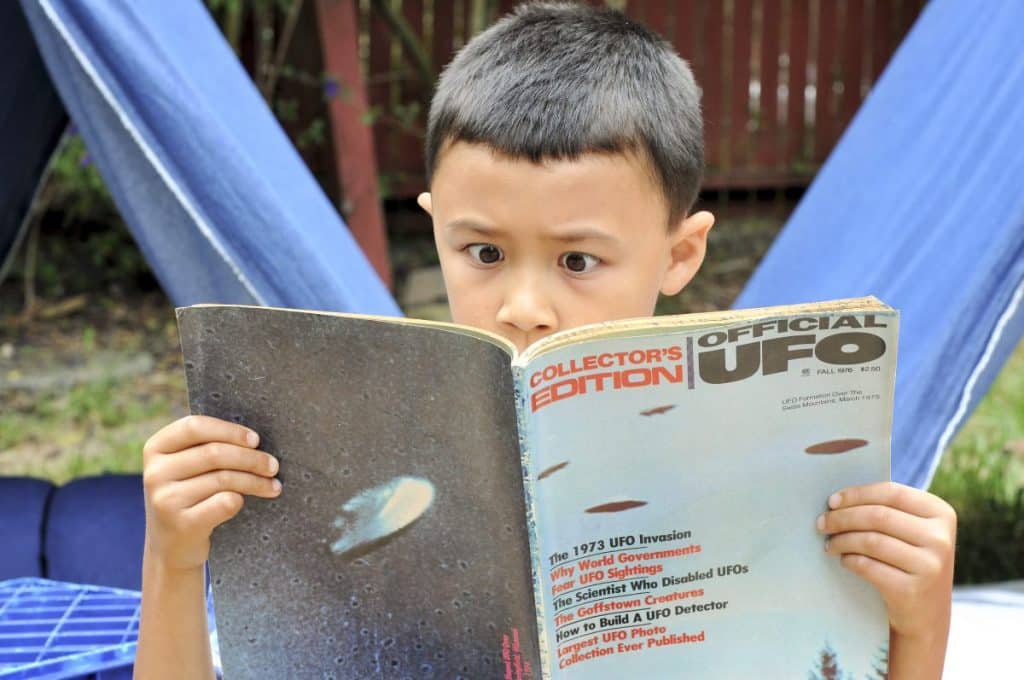 Don't forget to check out my other alien-themed party posts to get more details on the DIY crafts:
Happy Partying!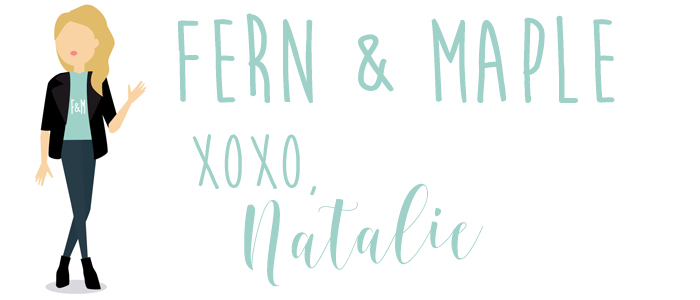 PIN FOR LATER: