There are just so many ways to celebrate the spookiest of holidays. You all know me, I love mixing things up with non-traditional themes, and Halloween is one of my favorite times to get creative! I've rounded up 13 of my favorite Halloween Party Ideas for Adults from my archives and from some of my talented friends, in the hopes that it will inspire you to get creative this year, too! From a backyard luau to a glamorous masquerade, glow in the dark to colorful and bright, theres something here for every personality. Read on for all of the ideas, and then check out my post on 13 Halloween Party Ideas for Kids to get some more less scary Halloween party inspiration!
This Mystical Misfortune Fortune Telling Dinner Party is so much fun. It features several ways for guests to get their fortunes told, and even includes some life-sized skeleton guests! If you're ready to mingle with the dead and find out your future – find all of the DIY details for creating this entertaining Halloween dinner party HERE.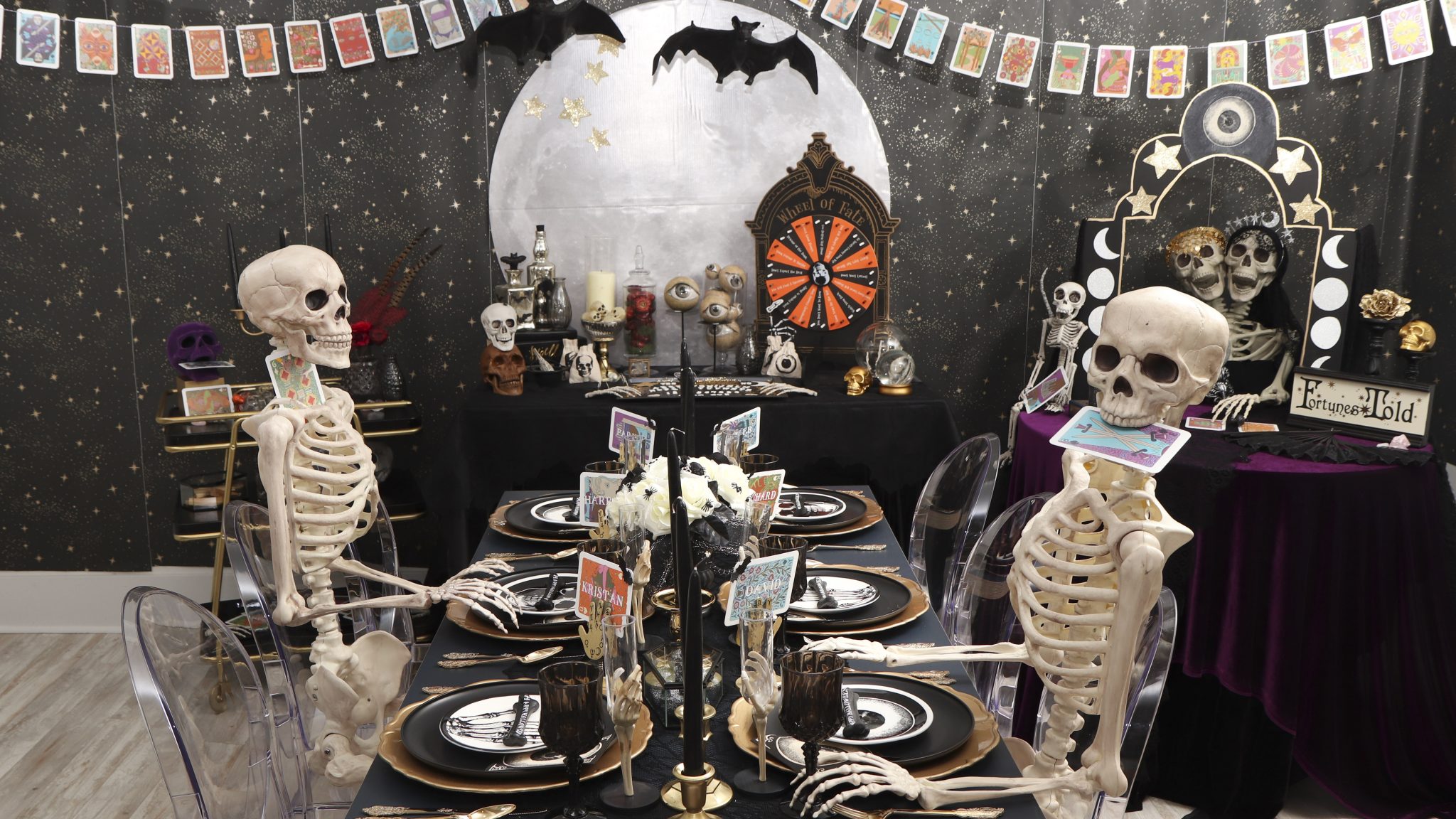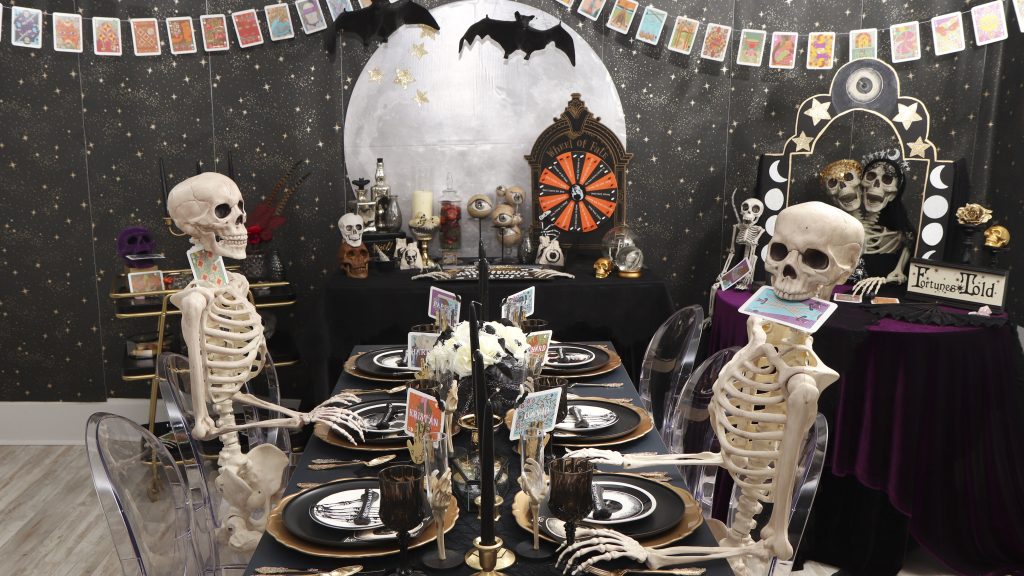 There's something magical about a Masquerade Themed Party. Elegant decor and getting to hide your identity for a while makes for a fabulously fun time! If glam is your game, get all of the instructions to decorate for this party HERE.  Masks seem appropriate this year, am I right?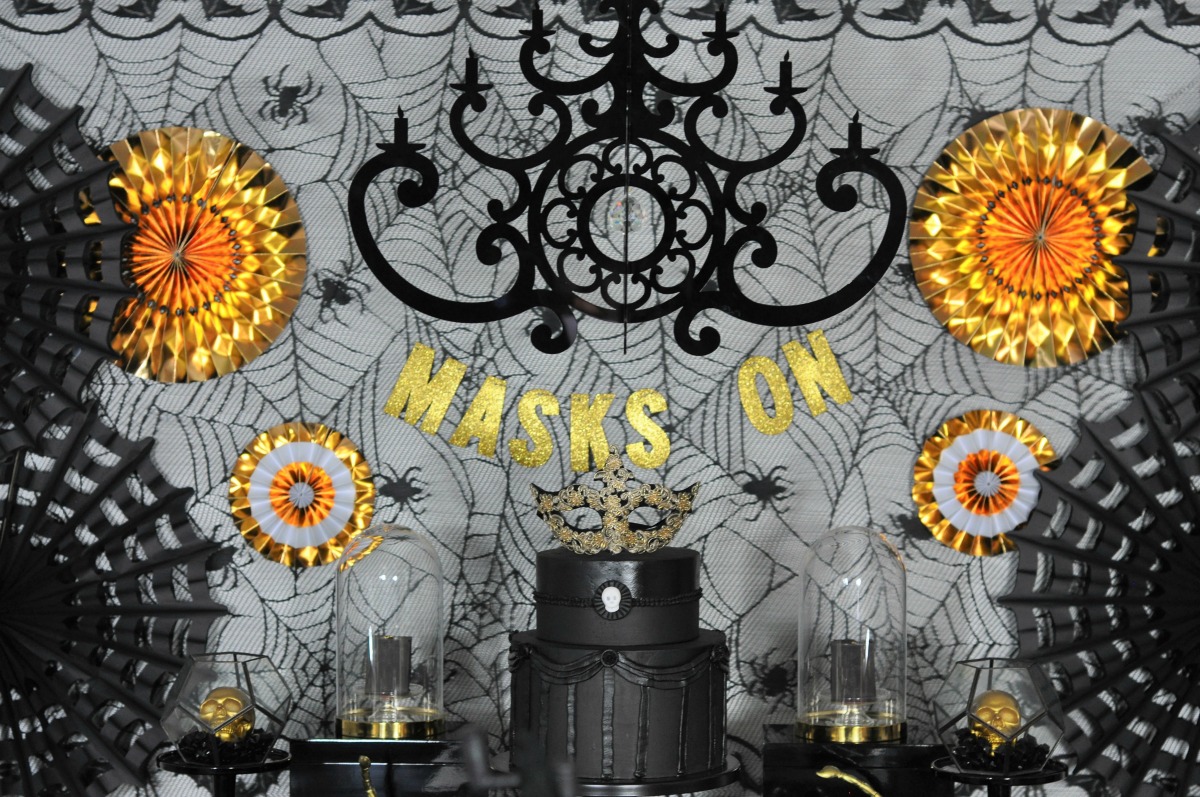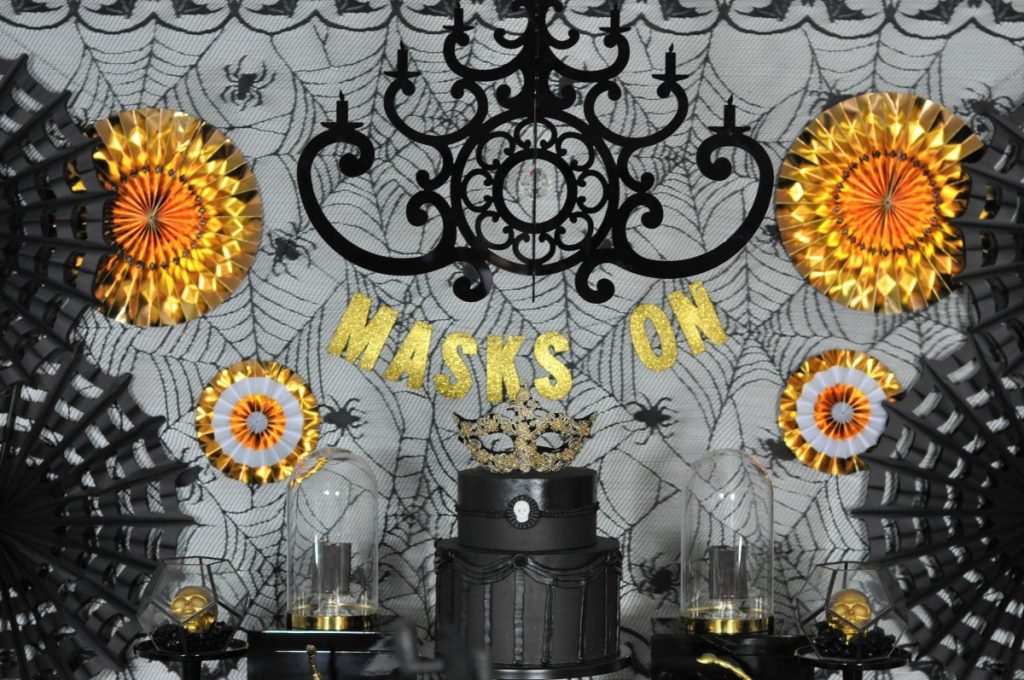 This year in particular, an outdoor celebration might be best. This Backyard Haunted Halloween Luau is a creepy twist on a Hawaiian luau theme that is fun for everyone and makes it easy to maintain some distance if needed! Featuring a Tiki Bar (with a life-sized skeleton bartender!) and DIY pineapple jack-o-lantern centerpieces, this unique theme is sure to make a spooky splash. Find out how to set it all up HERE.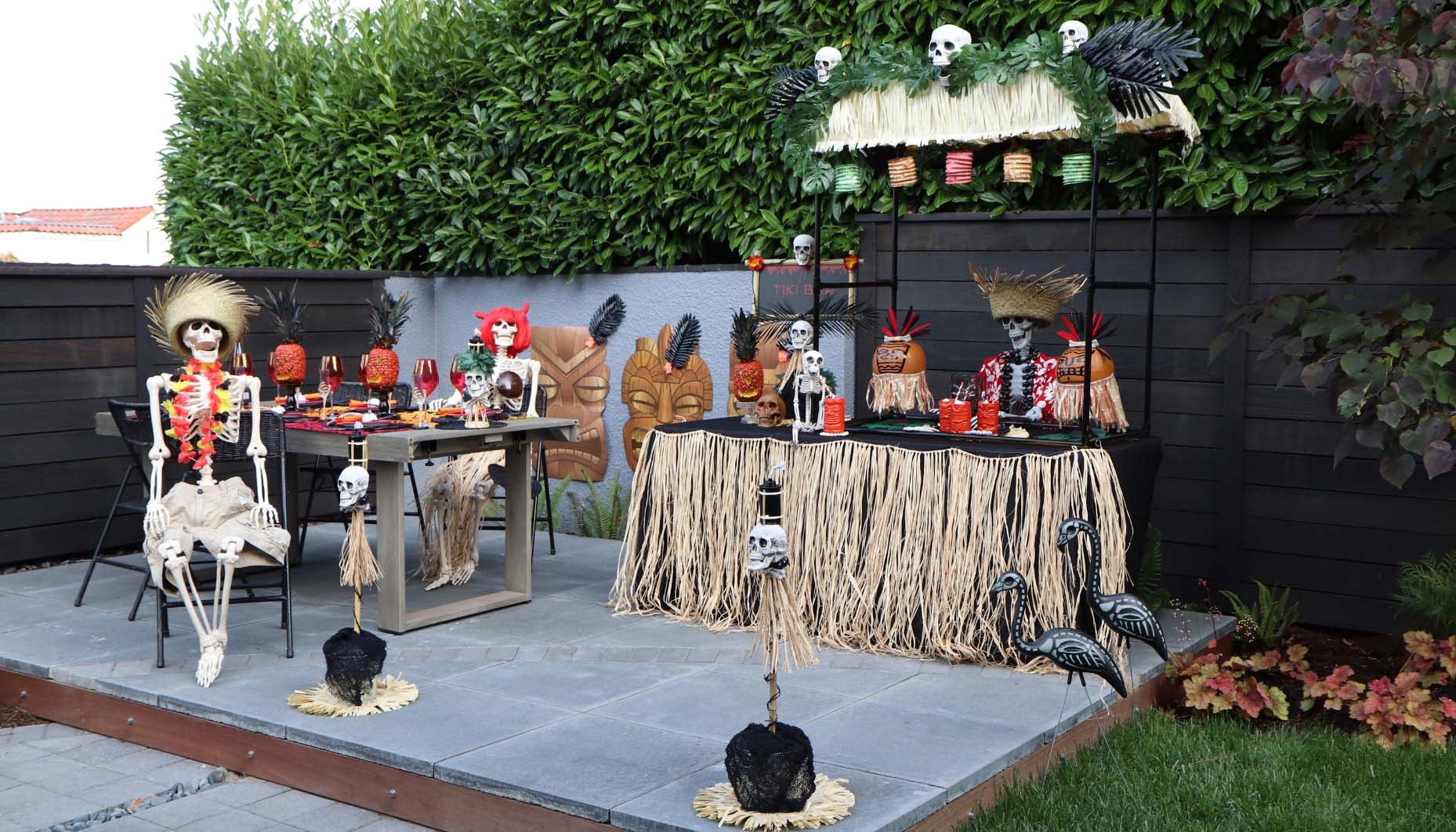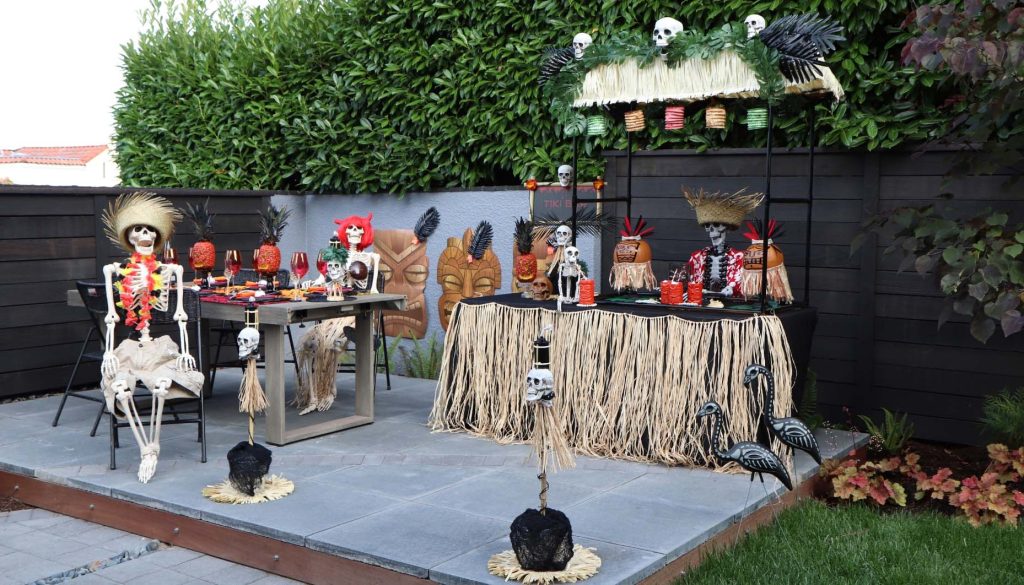 For those of us who like to embrace our wild and defiant side, what better time is there than Halloween? The ideas from this Glam Punk Inspired Halloween Bar Cart can easily be used as inspiration for an entire ghoulish graffiti glam party that your friends will love. Get all of the details for the affordable DIY decor HERE.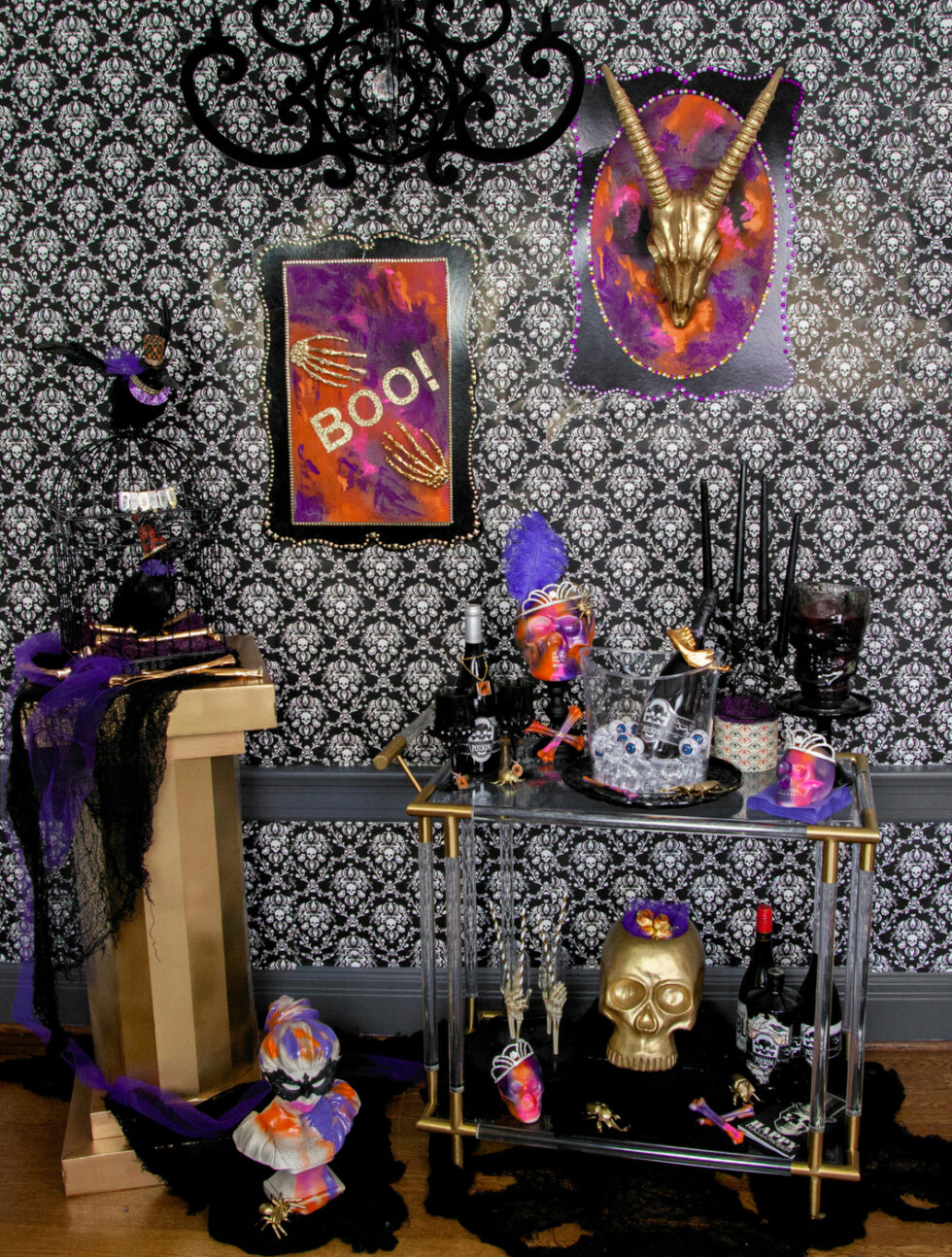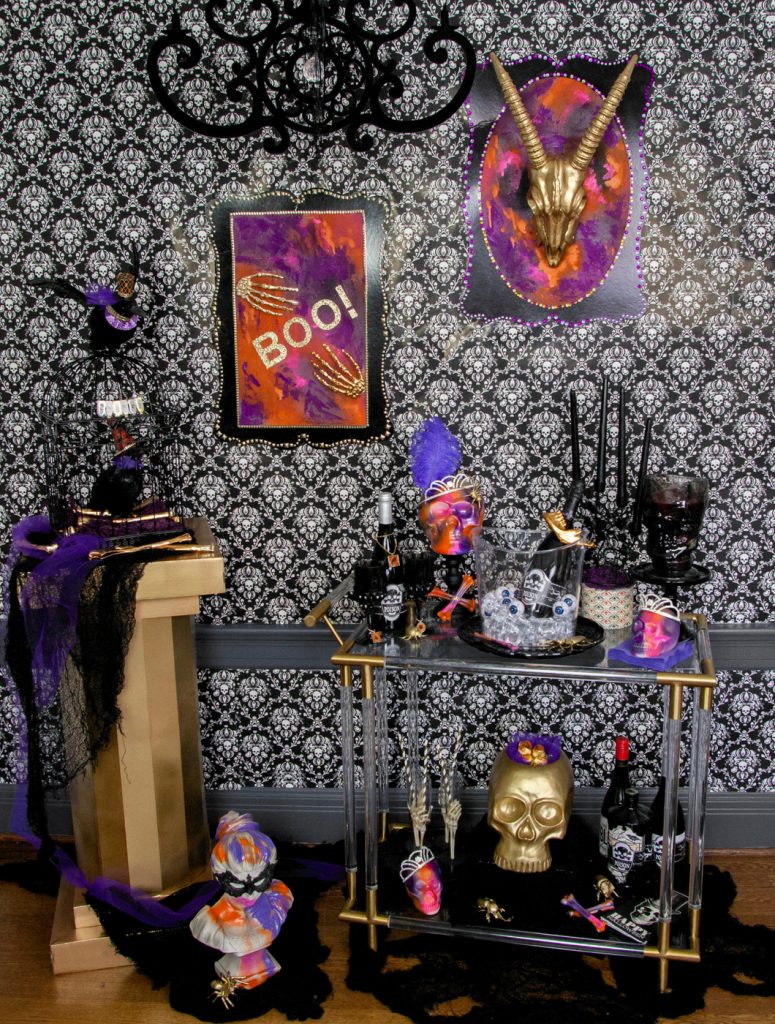 11 is the new 13! This Halloween Party from the Upside Down is inspired by the hit Netflix show "Stranger Things". While we all wait for Season 4 to eventually come out, we can rewatch the old seasons and celebrate Halloween, Stranger Style! Find out how to set up a DIY Waffle Bar, create an Upside Down backdrop, and more HERE.  This is also a great theme for tweens!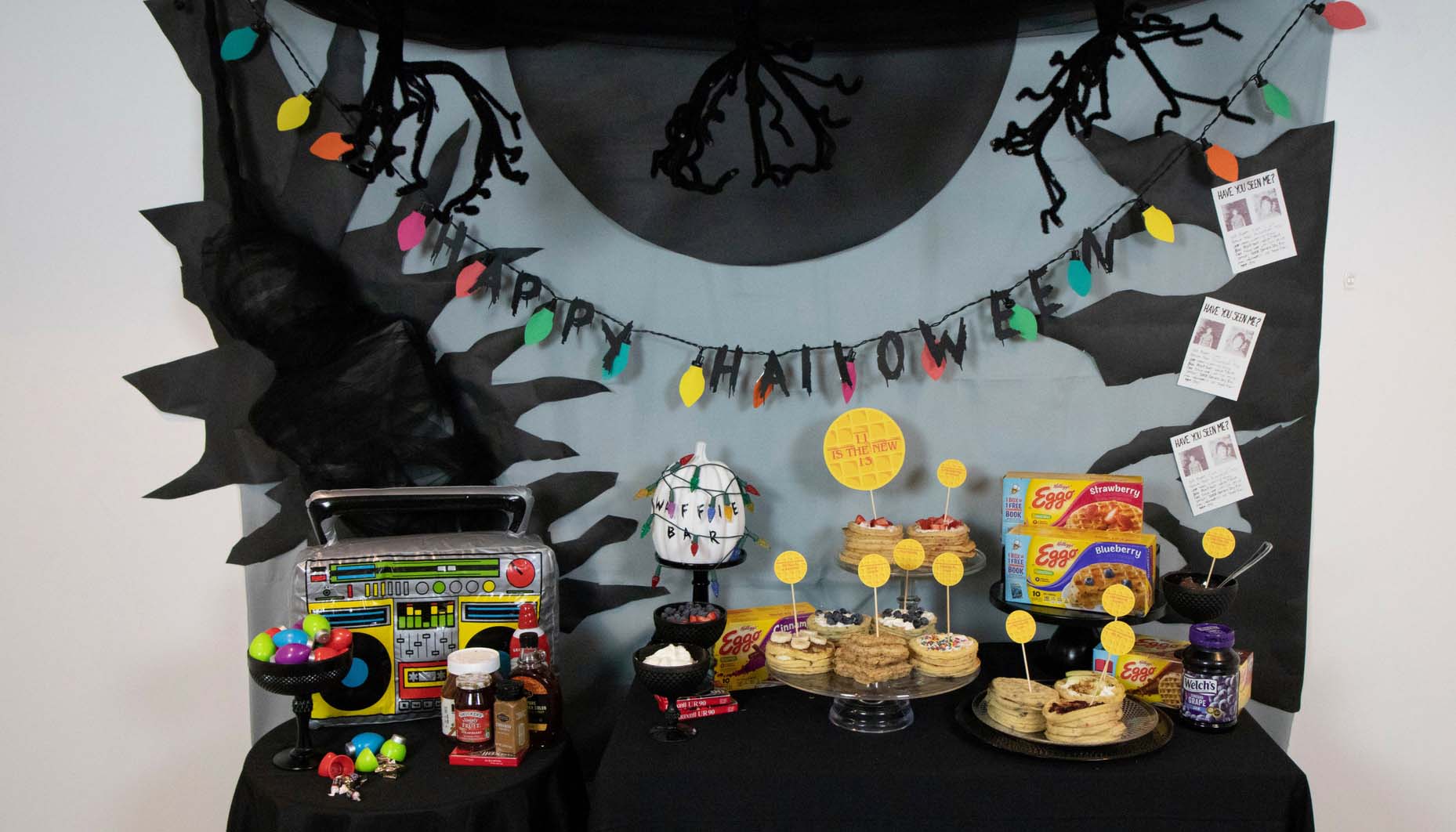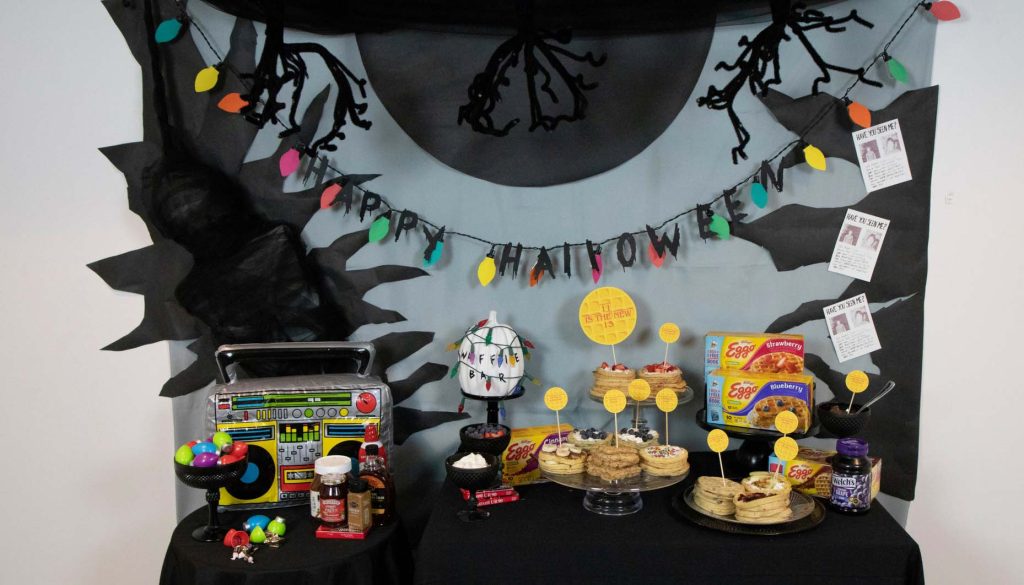 Traditional Spooky Halloween Party
For another dinner party idea, check out this Spooky Soiree Dinner Party by Tonya from Soiree Event Design,a Spooky Halloween Dinner Party from Jen T by Design, and a Spooky Party from Jessica at Everyday Party. These more traditional Halloween looks are perfect for the Halloween purists out there. With dark color schemes and fun details like black rock candy treats, magic potion goblets with bone drink stirrers, batty backdrops, and skulls galore, guests at these parties are sure to be some "happy haunters".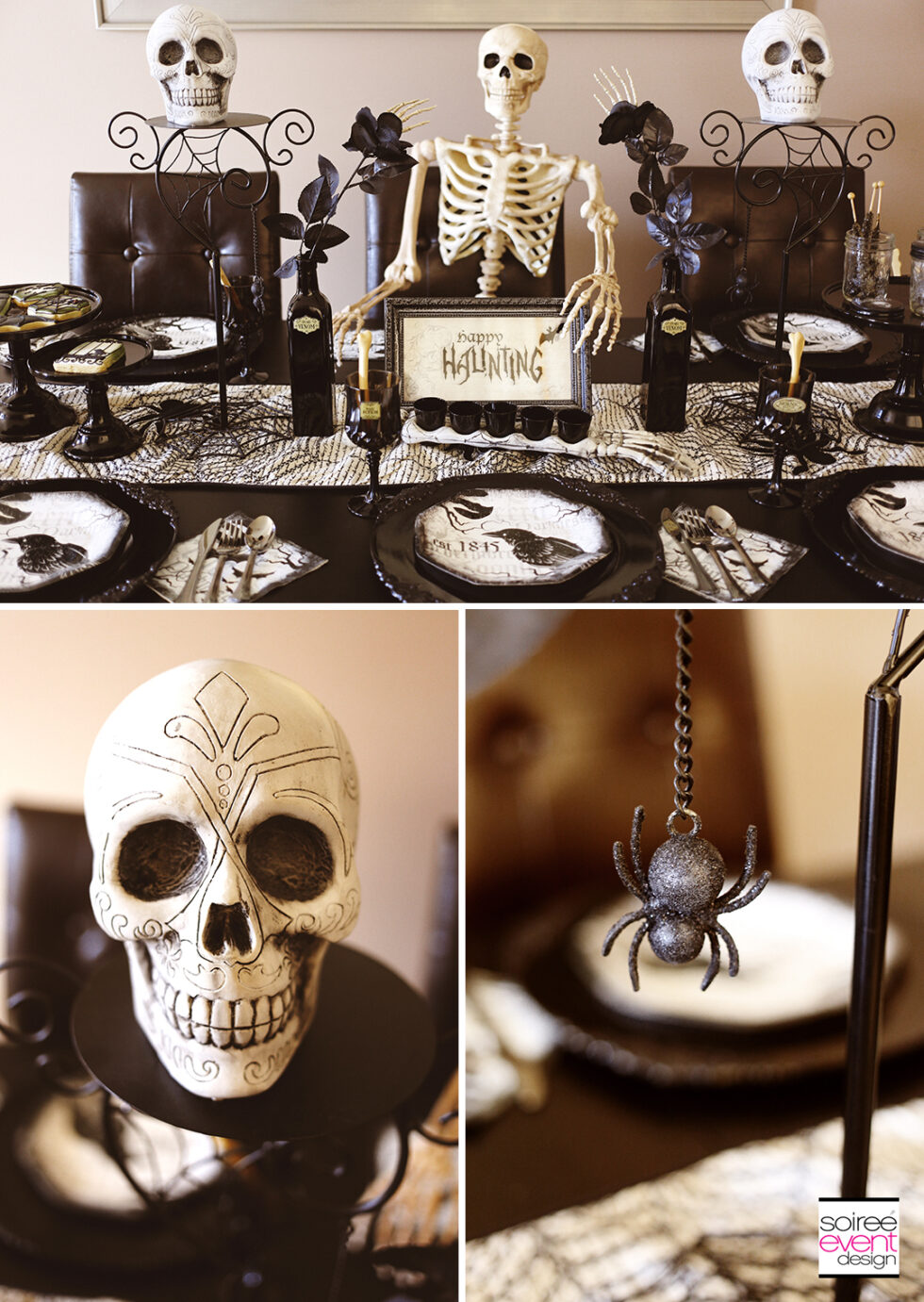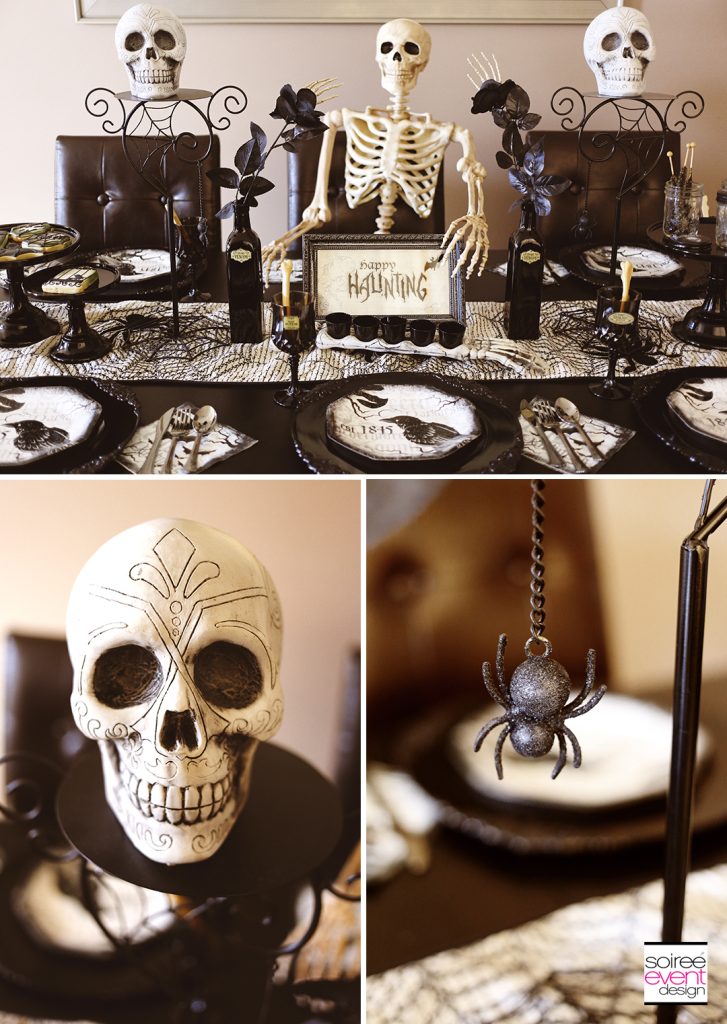 Wicked Day of the Dead Party
This Wicked Day of the Dead Party from Soiree Event Design features bright colors and touches of glamorous gold, inspired by the Mexican holiday honoring the dead. Beautiful florals and fun skeleton details abound in this party setup. Get more details HERE.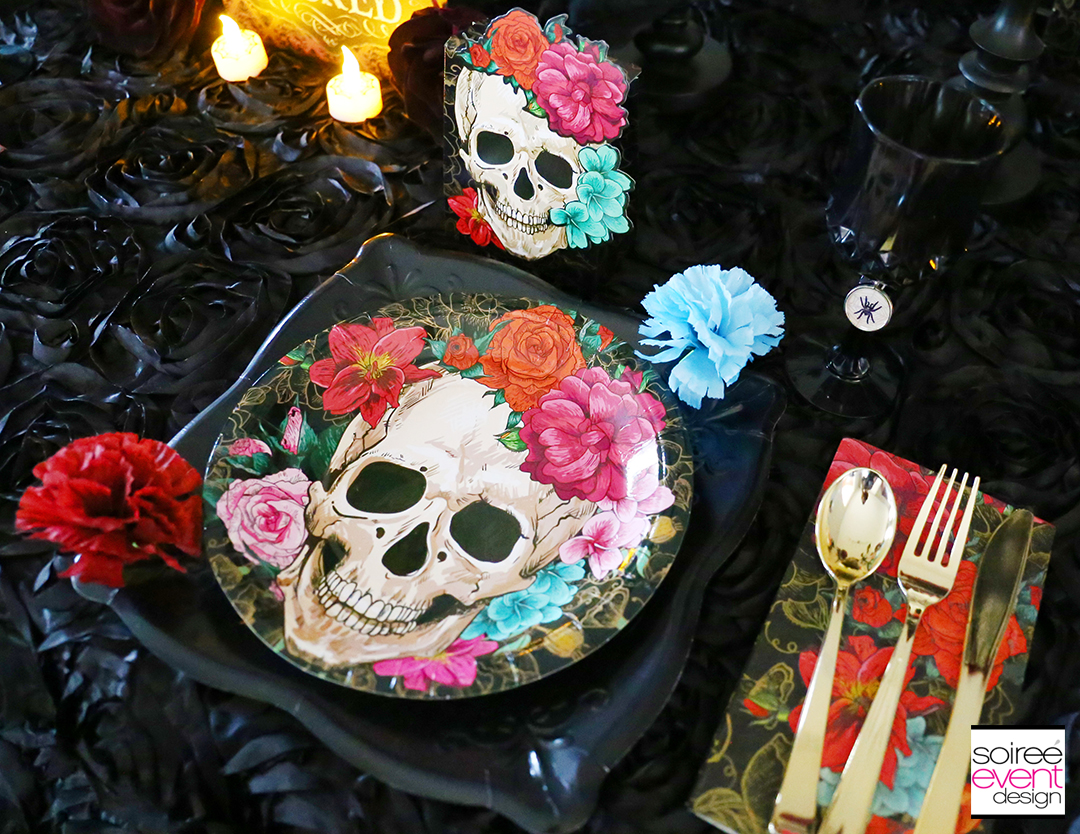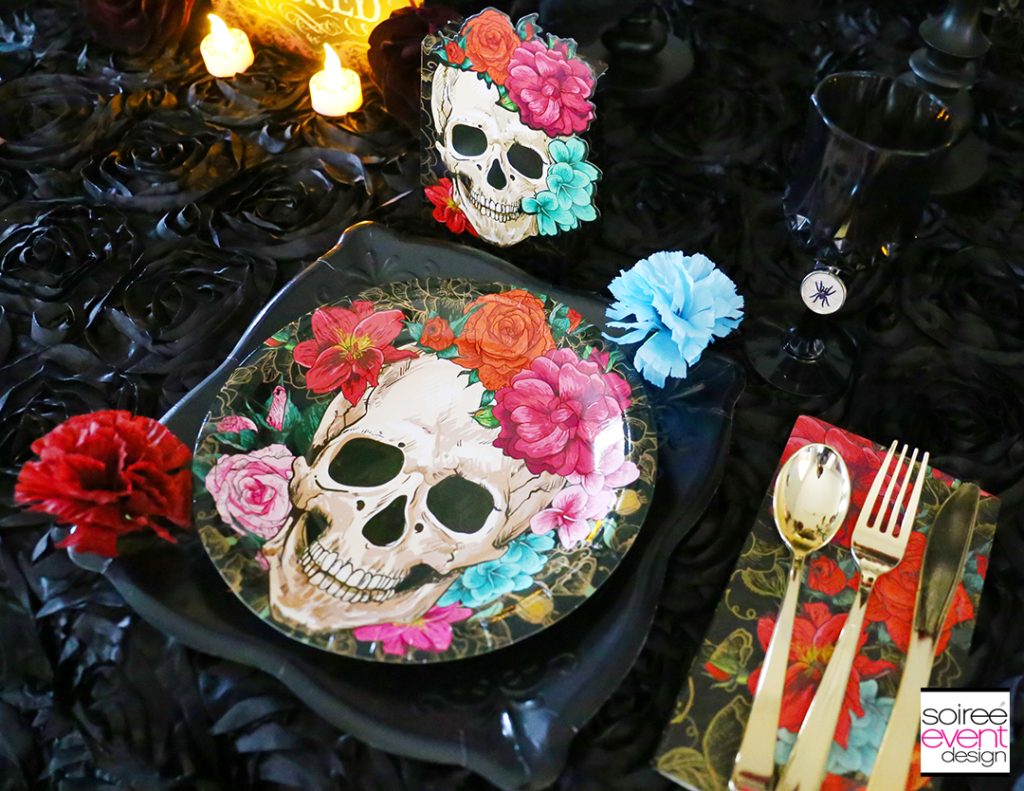 This Glow in the Dark Black Light Party by Nikki from Tikkido is great for those night owls who are ready to "Let the Ghoul Times Roll"! With an amazing Mardi Gras theme and tons of colorful details, this one is sure to be a blast whether the lights are on OR off! There's even glow in the dark pudding! Get all of the details HERE.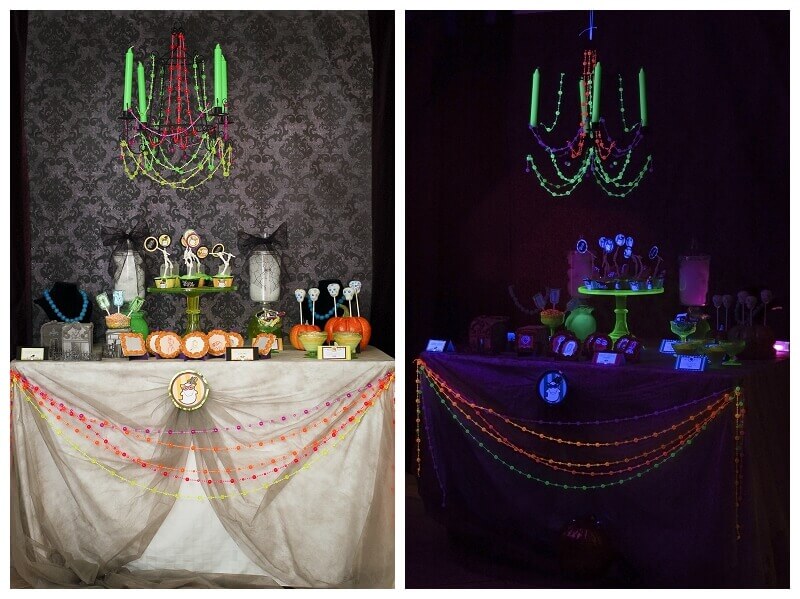 Black and Gold Vintage Gothic
For a classy Victorian look, get inspired by my friend Bri from Party With a Cause's Elegant Gothic Halloween Party tablescape Ideas. These table tips can easily be modified to turn the rest of your home into a black and gold gothic dream. Get all of the inspiration you need HERE.
And for more black and gold vintage decor ideas, check out Soiree Event Design's Black and Gold Halloween decor ideas post.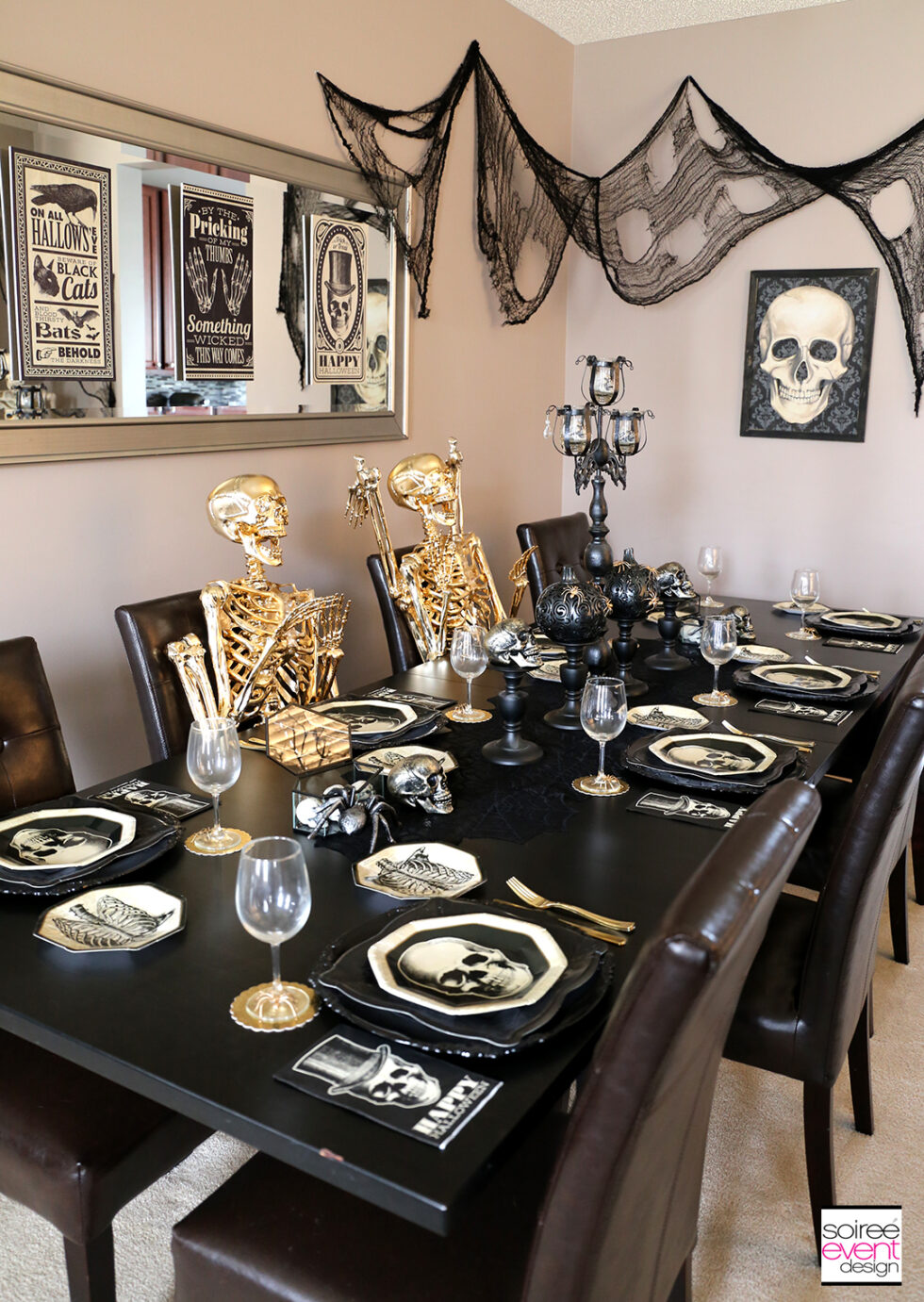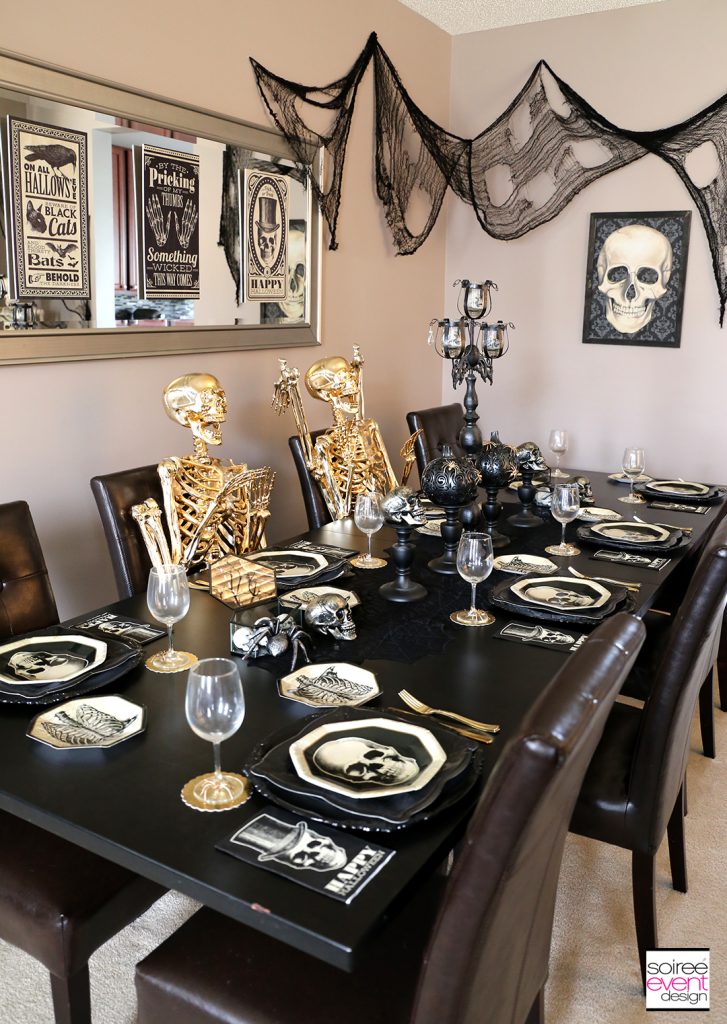 Witches Brew
Christie from Ritzy Parties came up with this cute Witches Brew Halloween Party idea that's fun, spooky, and somehow still sweet! It includes traditional orange and black decor but with pops of pretty florals. Bonus: a recipe for edible blood to dip your cocktail glasses in! Check it all out HERE.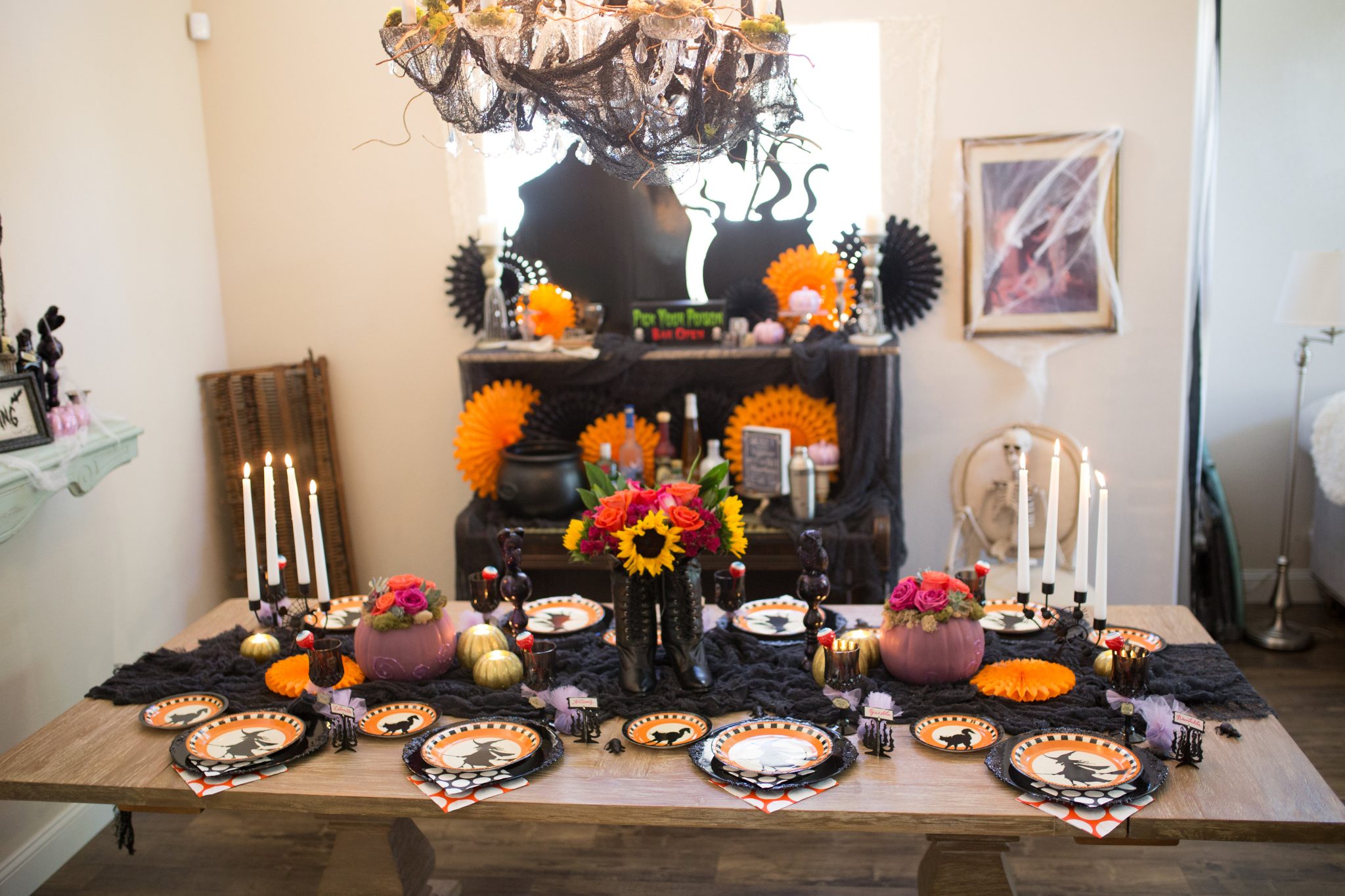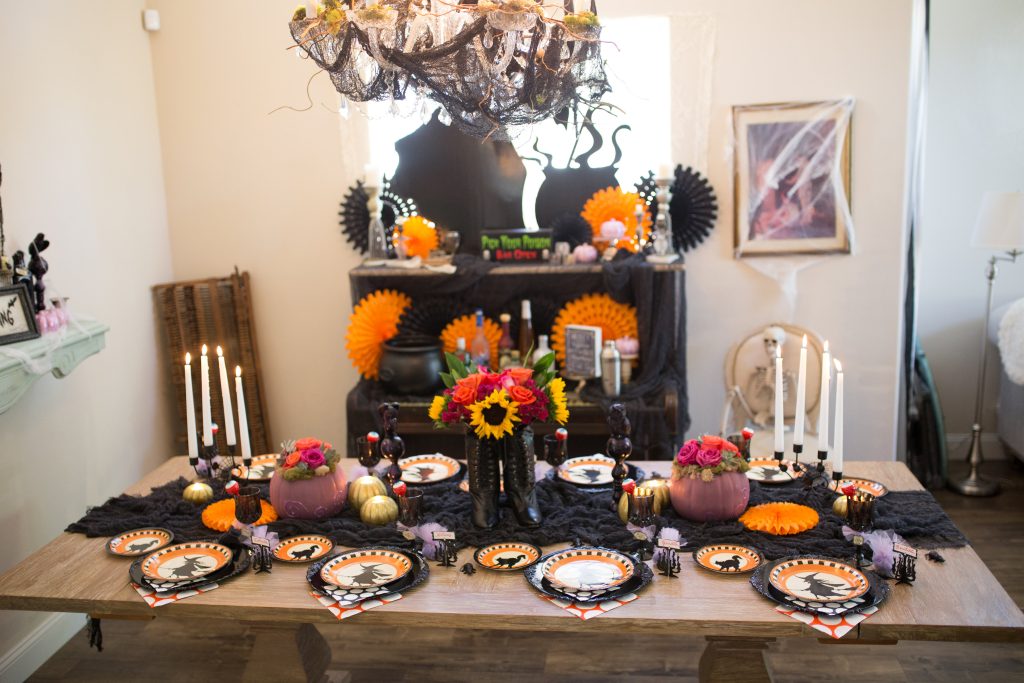 Ghoul's Night In
Looking for an awesome night in with the girls? This Ghoul's Night In Boos or Booze Party from Jen at Jen T By Design, and this Polka Dot Halloween from Everyday Party are loaded with fun for you and your "witches". With plenty of boozy "potions" to go around, it'll definitely be an evening to remember. Find out how to recreate them HERE and HERE.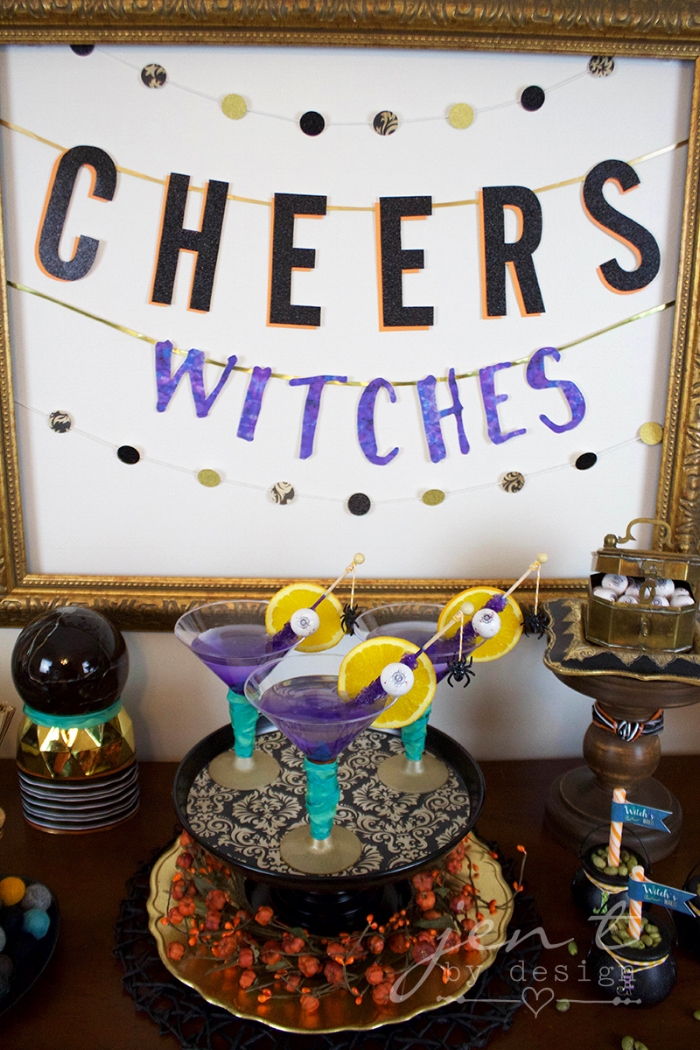 This beachy theme is such a fun and unique twist on a traditional skeleton Halloween party! Everyday Party's Pirate and Mermaid Skeleton Party has sun, sand, skeletons, and, of course, treasure! Get all of the details for this seaside party HERE.
Another unique theme is this Big Top of Terror Party by Everyday Party. Everyone's in for a treat when this spooky circus comes into town! The creepy clown decor will both amaze and terrify guests. Find out how to create it all HERE.
Do any of these themes satisfy your spooky side? Tell me which one you love most in the comments below! And don't forget to check out my post with 13 Halloween Party Ideas for Kids for some less scary ideas. And check out the rest of my Halloween round-up posts for tons more Halloween inspiration:
Happy Partying!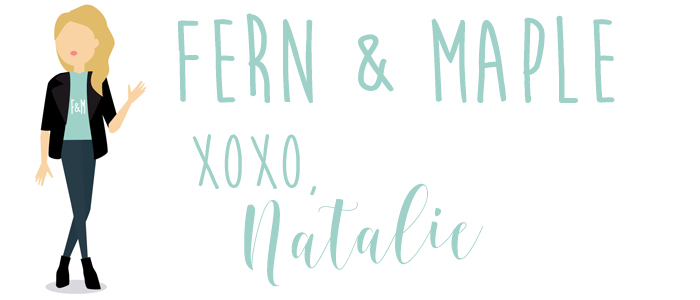 As a blogger, I sometimes receive compensation and/or products in exchange for my styling and crafting services. As always, all project ideas and any opinions expressed here are my own.  For further information on our disclosure policy please check out our disclosure page.
PIN FOR LATER: