Wrapping gifts for the holidays can sometimes feel like a bit of a hectic chore, but it doesn't have to be! Why not host a few friends, have them bring their gifts, and set up a Holiday Gift Wrapping Party? This task will be much more fun and entertaining with friends, and having all of the supplies ready to go makes everything much easier. Your friends will be so grateful, and everyone will leave with one major task checked off their Holiday To-Do List. Read on to see how I set mine up!
P.S. I linked to many of the supplies I used, but if you'd like an easy one-stop shop for many of them and some alternatives, be sure to visit my Amazon shop!
Holiday Gift Wrapping Party Ideas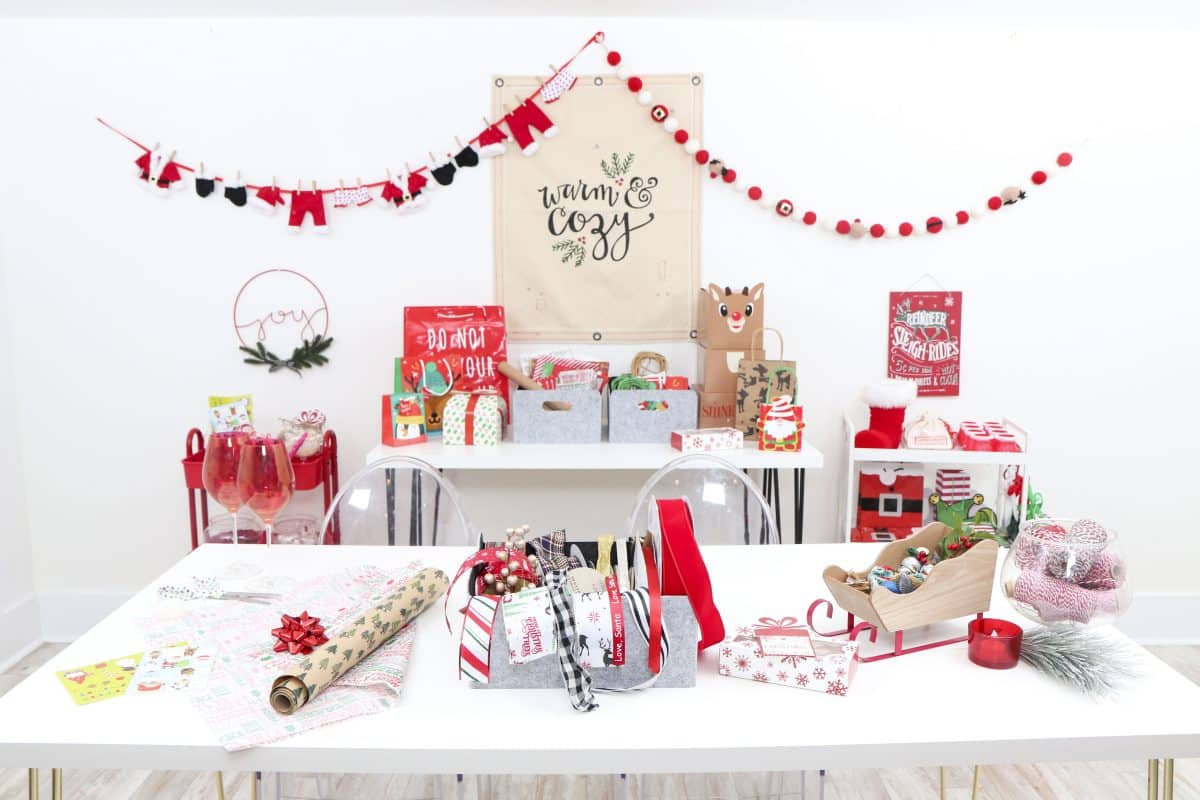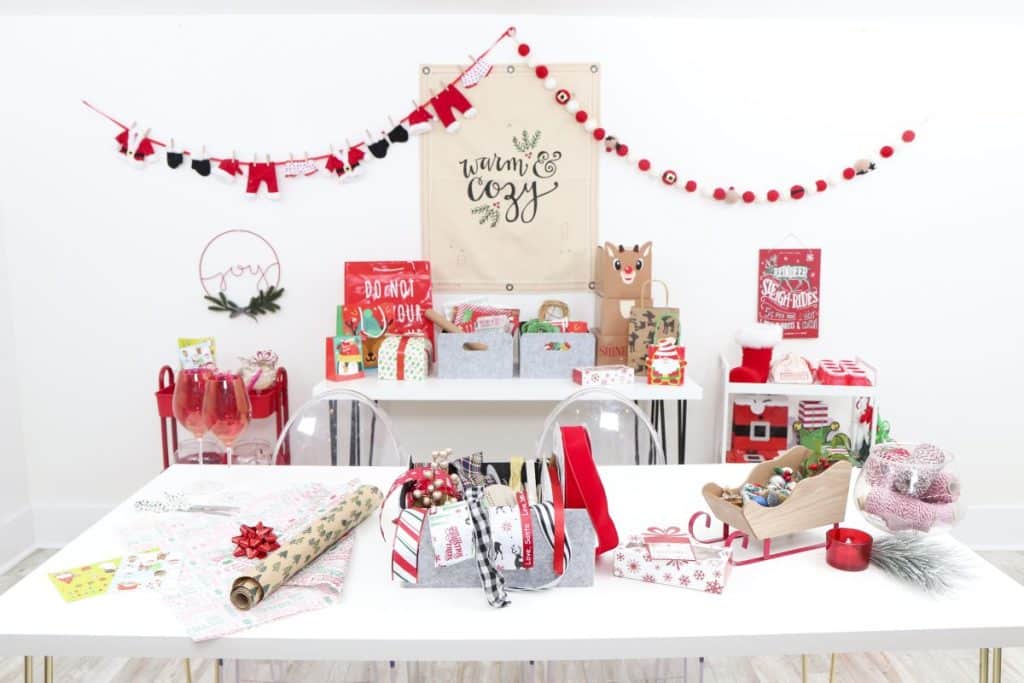 As a blogger, I sometimes receive compensation and/or products in exchange for my styling and crafting services. I also may earn a small commission from any sales that result from affiliate links on this page. As always, all project ideas and any opinions expressed here are my own. For further information on our disclosure policy please check out our disclosure page. 
Festive Backdrop
First, I hung a "Warm & Cozy" canvas wall hanging. Then, I added two red and white garlands – one Santa and Reindeer Felt Ball Garland, and one Santa's Laundry garland. Underneath the garlands, I hung "Joy" and vitange "Reindeer Sleigh Rides" décor.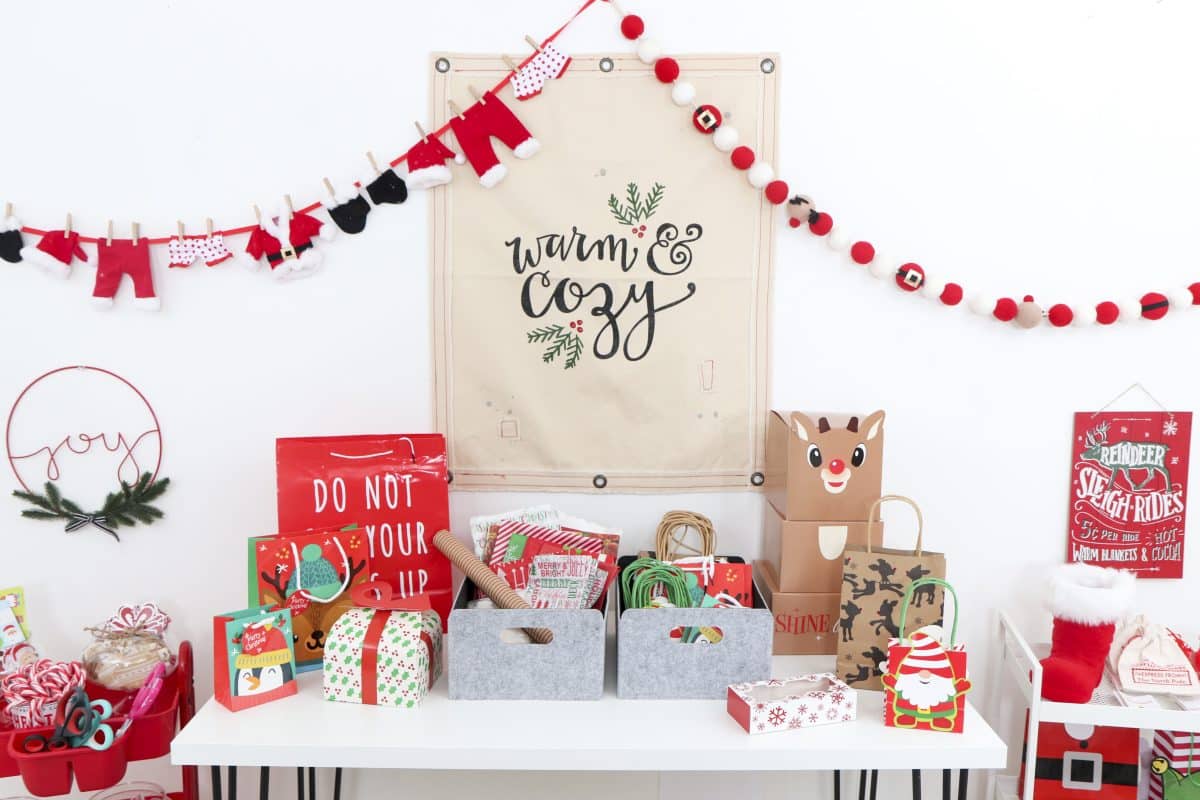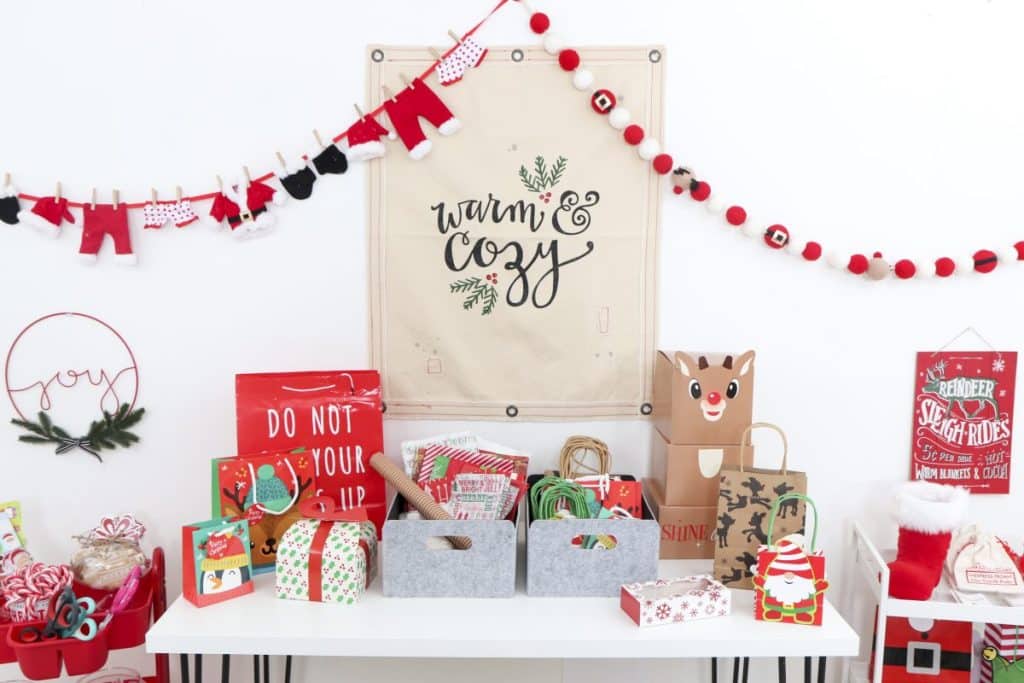 I just have to give you a couple closeups of the Santa's Laundry garland…how adorable is it?! Loving the teeny clothespins and polka dotted undies!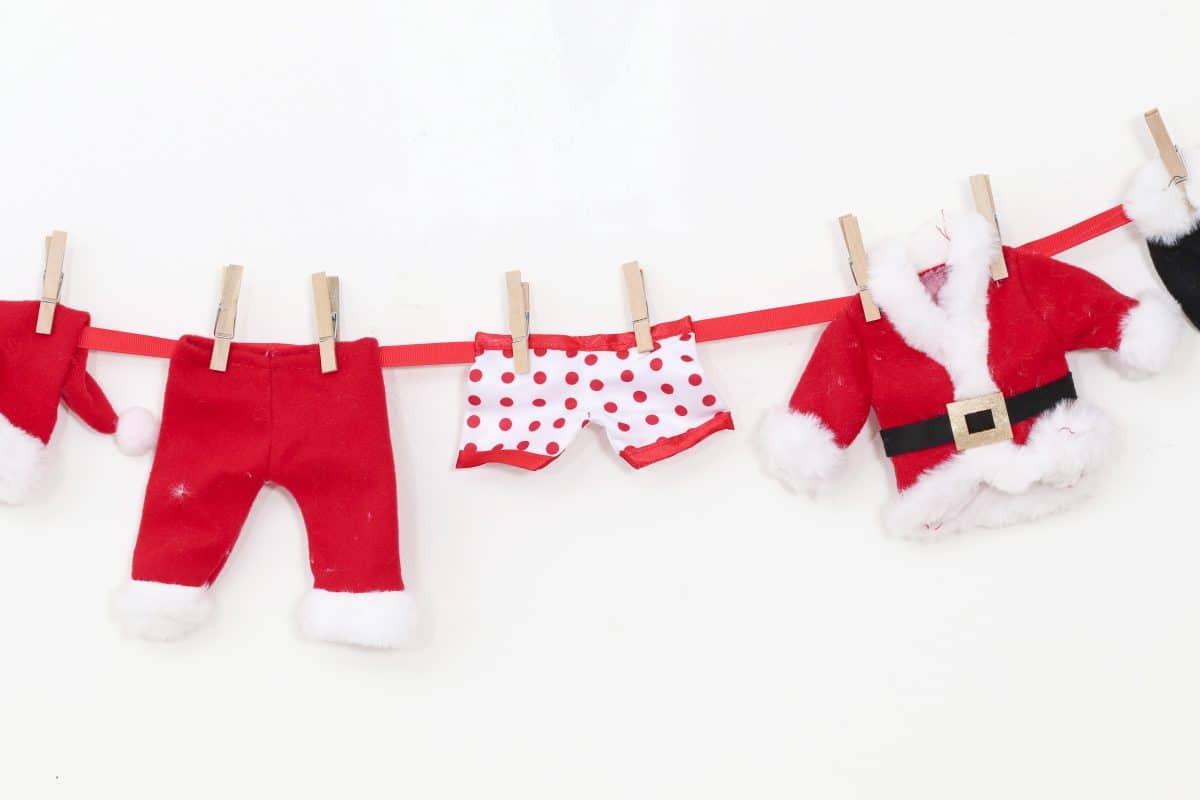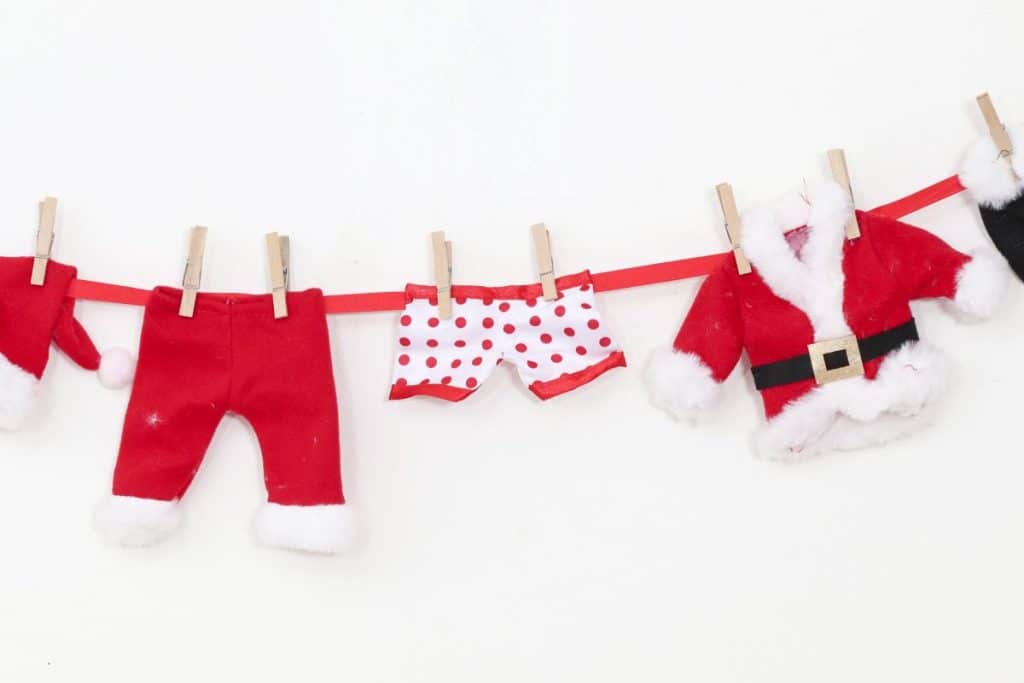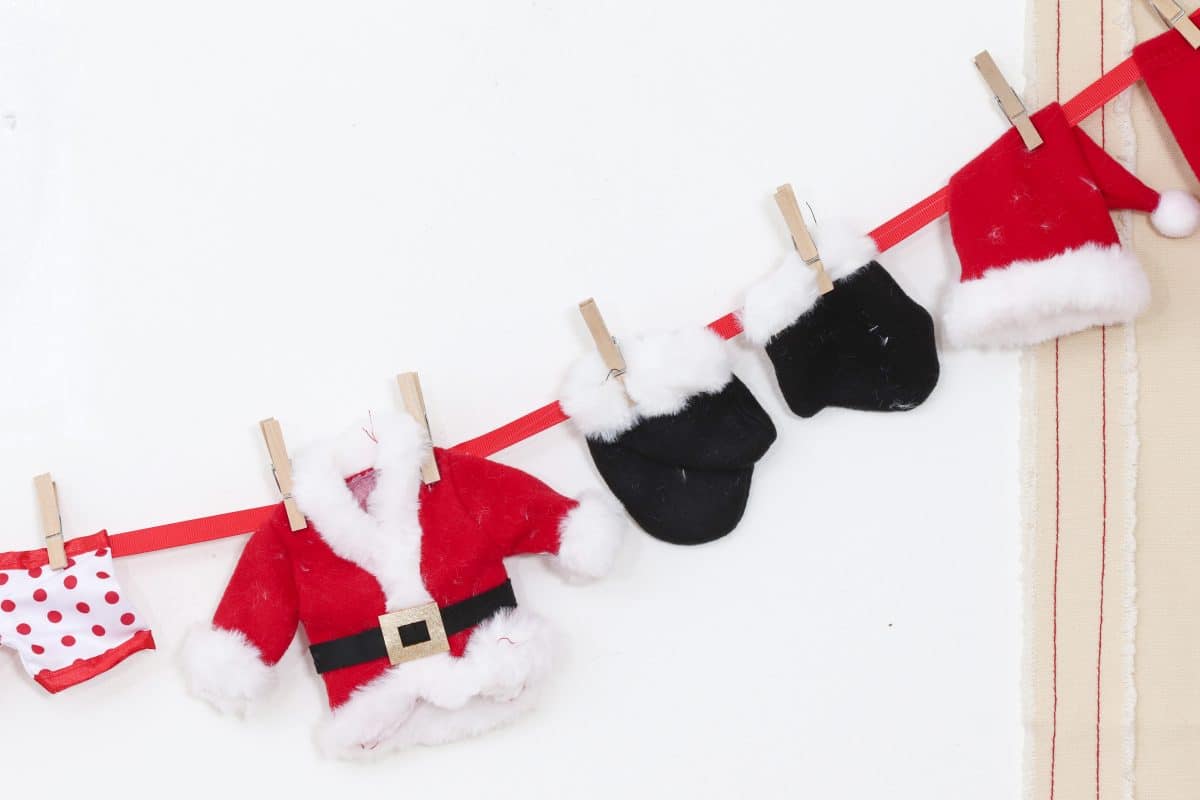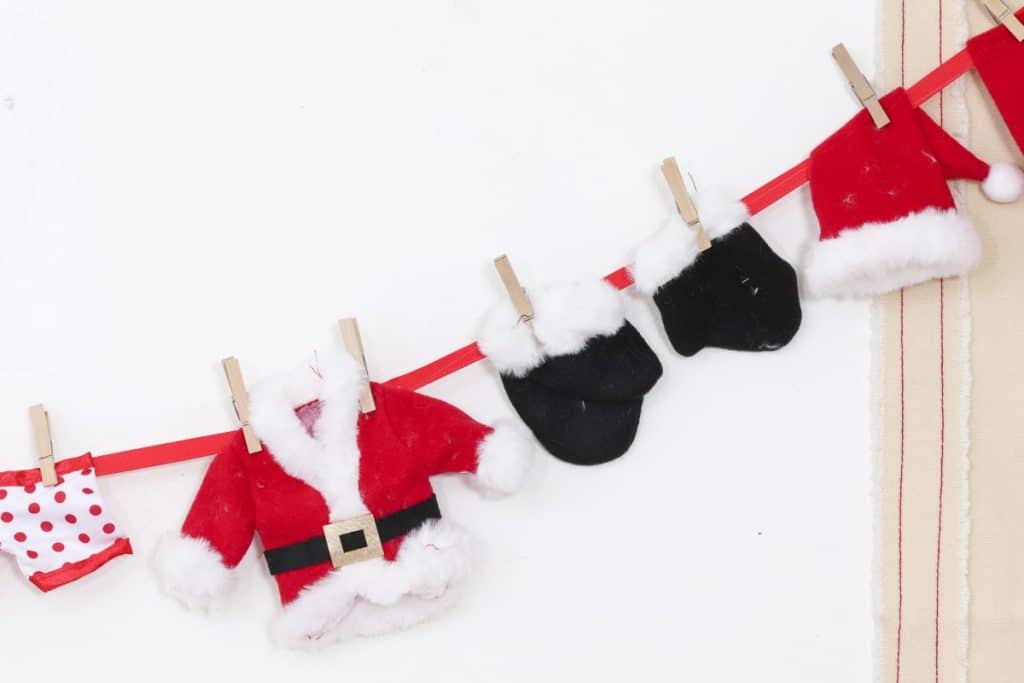 Gift Wrapping Supply Table
Underneath the backdrop of holiday signs and garlands, I set up a ton of gift wrapping supplies. That's what this party is all about, after all! I wanted to make sure I had a wide variety of gift bags and boxes for every type of gift. A good way to do this is to get some wrapping assortment kits.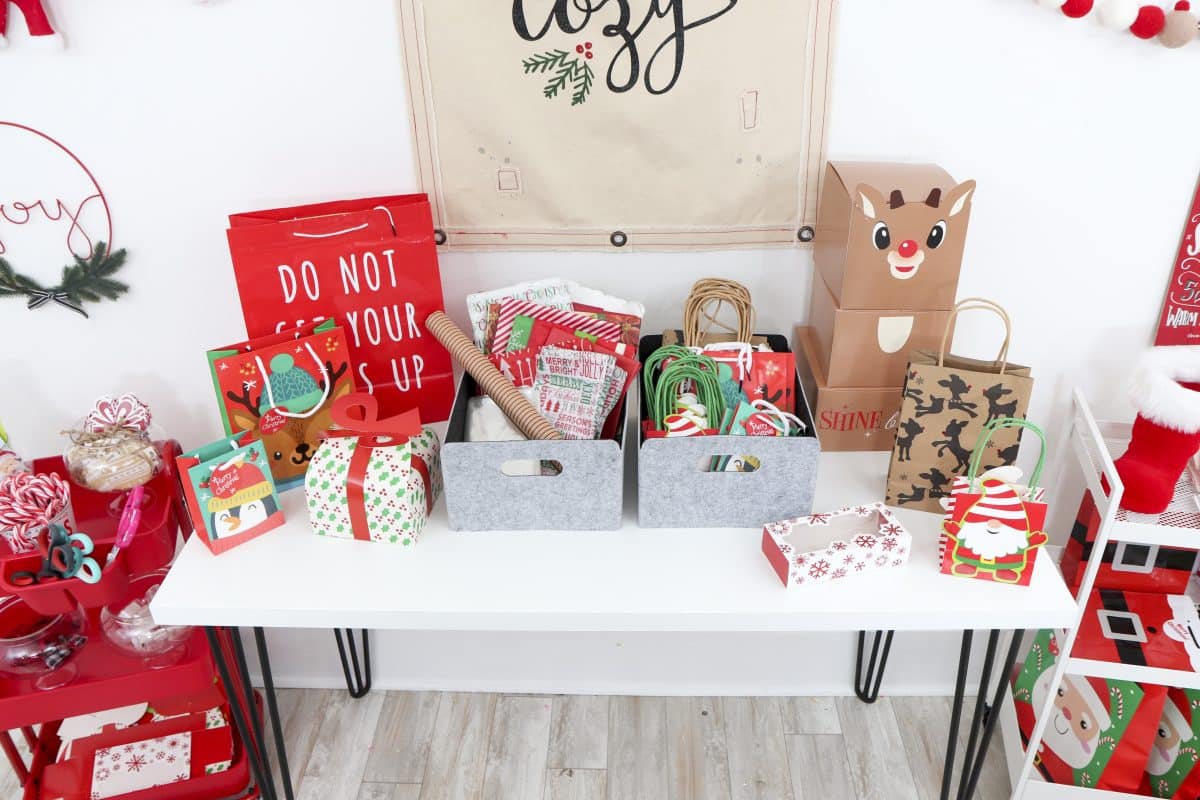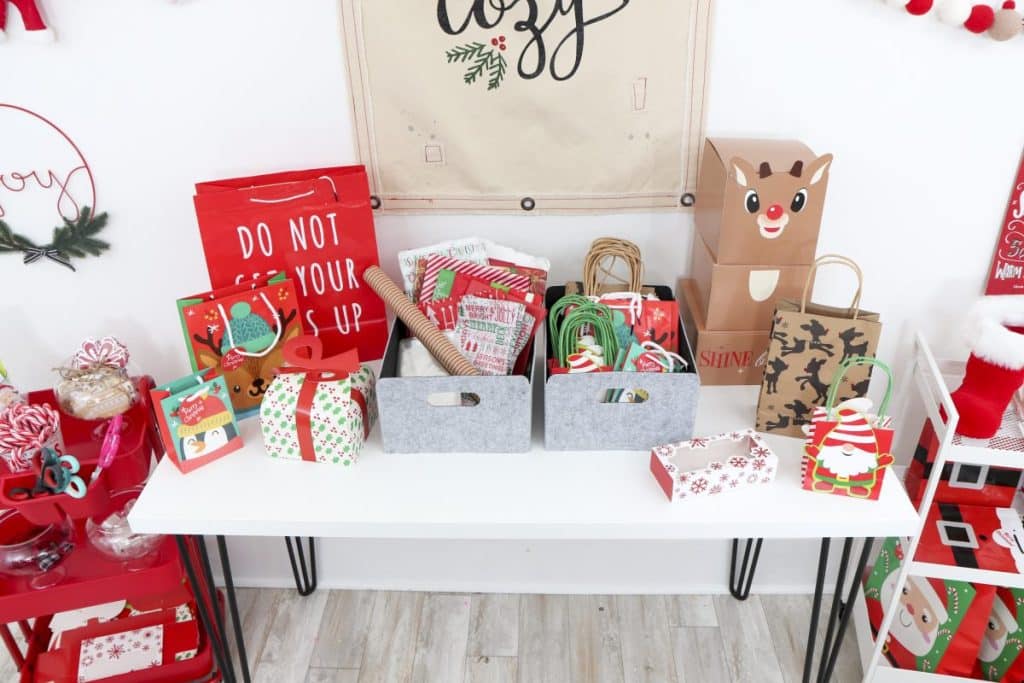 In the center of the table, I used felt storage baskets to hold several different colors and patterns of tissue paper, cellophane bags, and small gift bags. My favorites were these cute Christmas gnome bags that are perfect for small gifts or treats, but I also loved the classic look of these kraft paper Rudoph bags.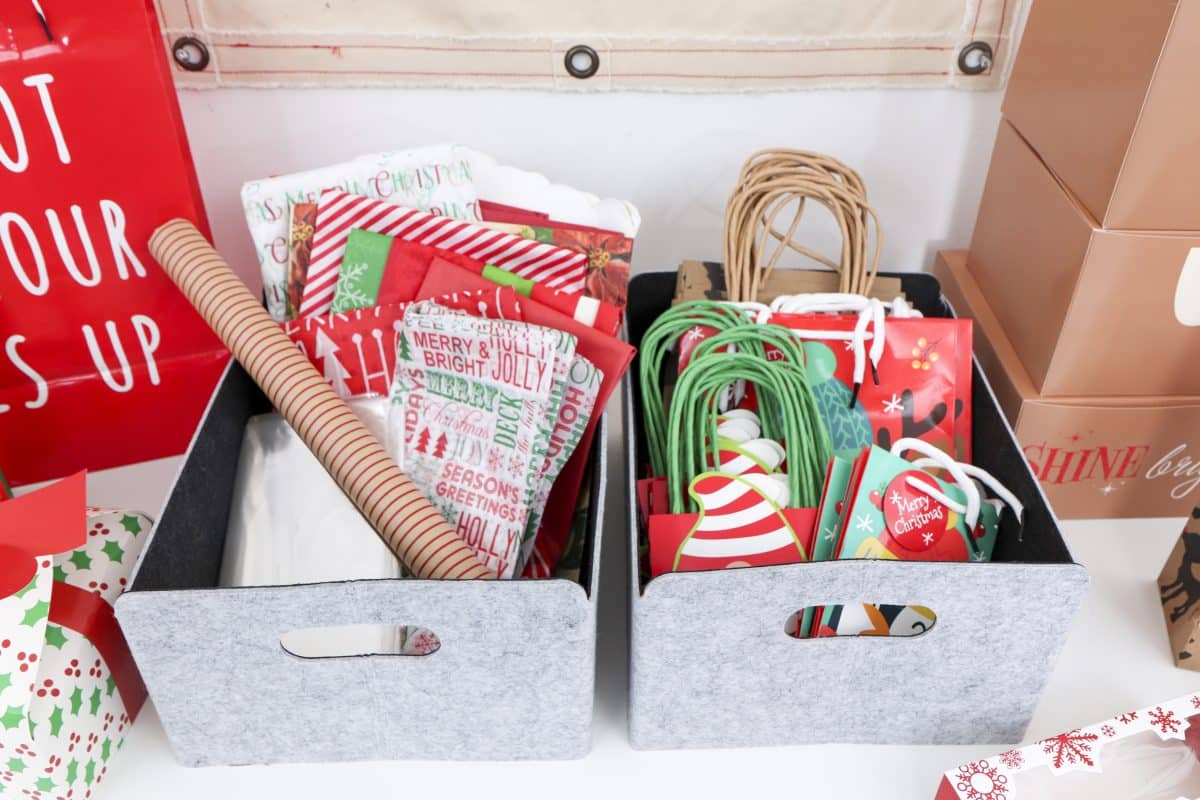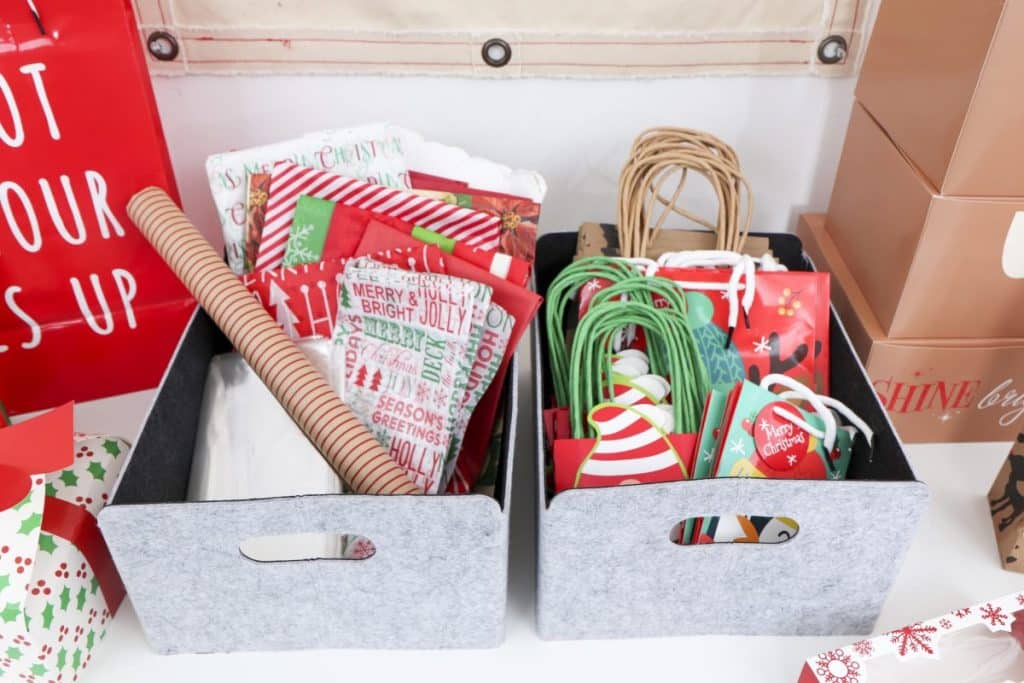 I love using Christmas wrapping supples as party décor, and the larger bags and a few assembled boxes full up the rest of the table space nicely. Talk about multifunctional supplies! The largest bag made me laugh – it says "Do not get your hopes up" – good to set expectations up front, right?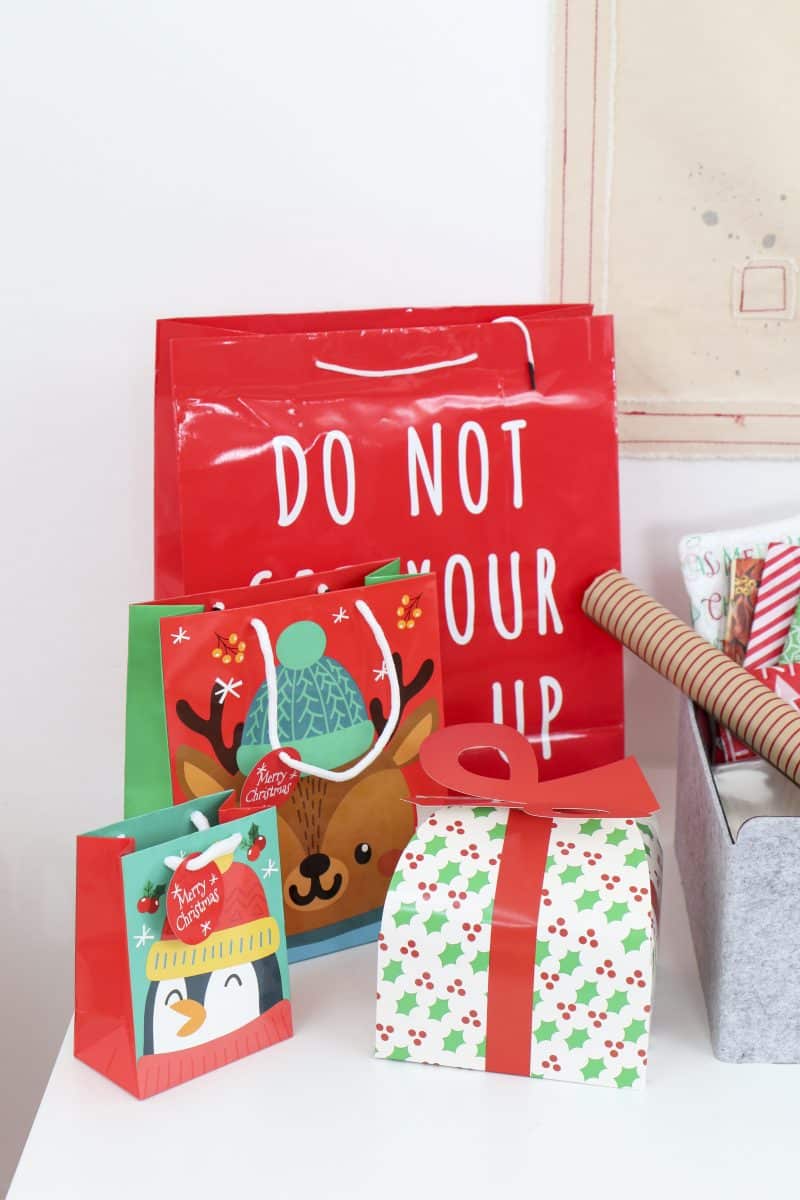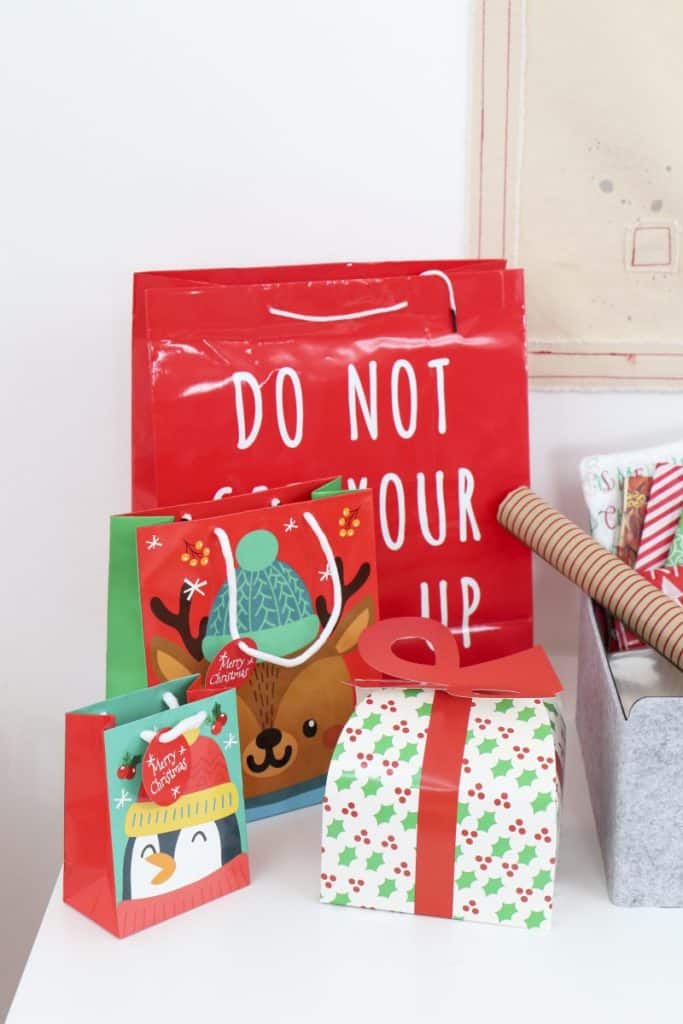 On the other side of the table, I added some stacking Rudolph gift boxes. This set is great if a gift has multiple parts to it. Can you picture how cute and fun this would look by the Christmas tree?!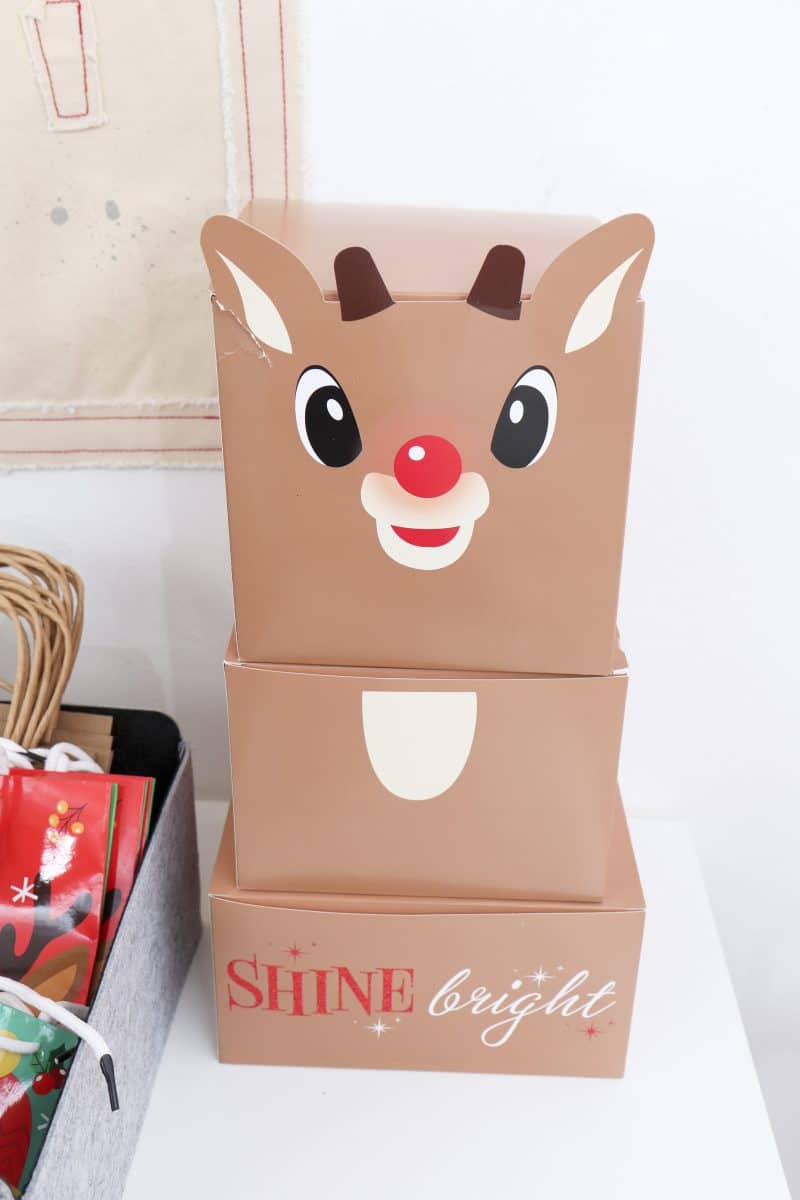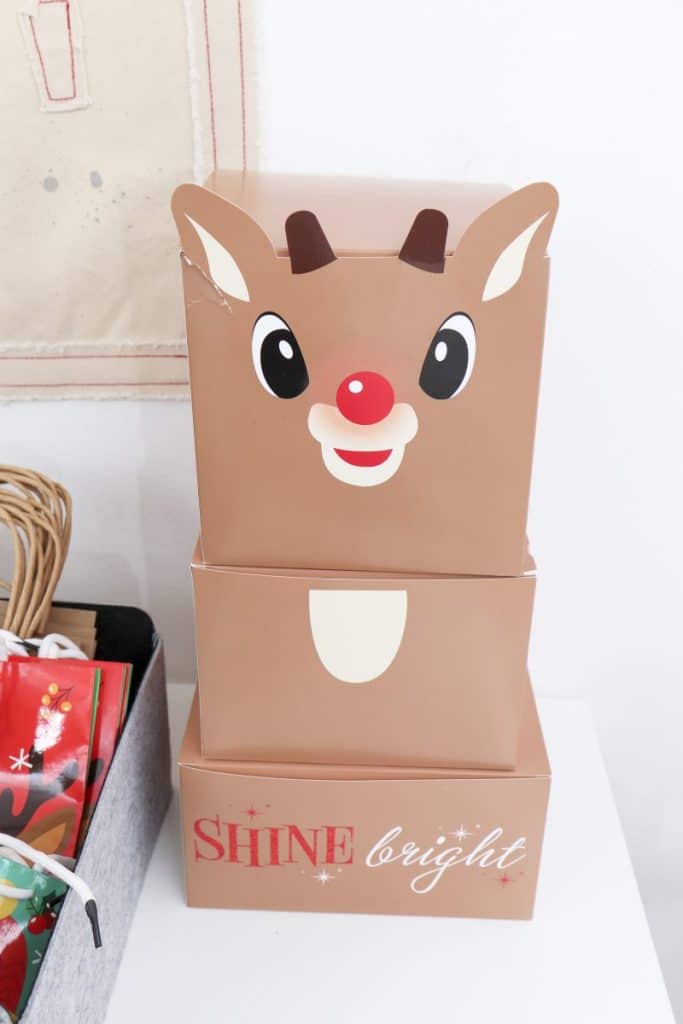 Mobile Supply Cart
Then, on one side of the table, I added a red rolling cart with more supplies that we'd be using for all of the gift wrapping. I love using rolling carts, because they are so easy to move closer to the wrapping table for easy and quick access! I added scissors, gift tags, gift card holders, adhesive labels, felt holiday shapes and stickers to the top shelf, along with a pail of peppermint candy canes that can be tied to gifts with ribbon or string.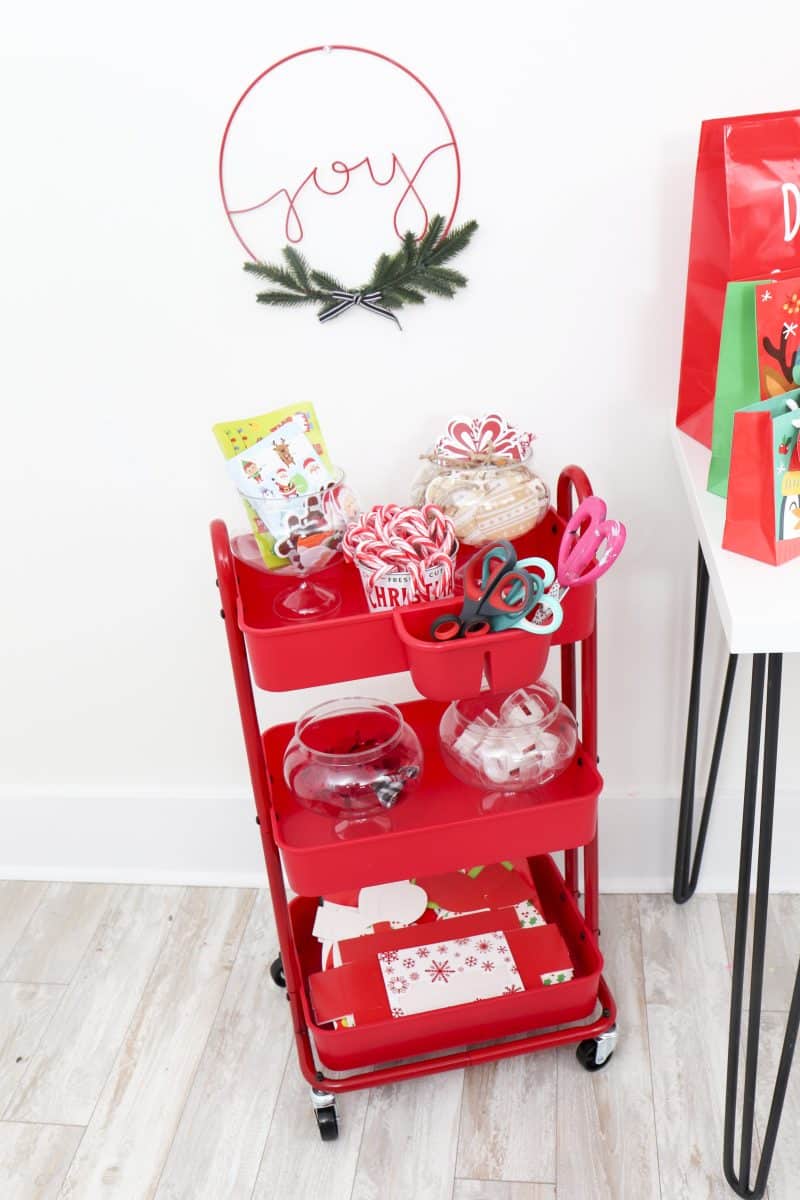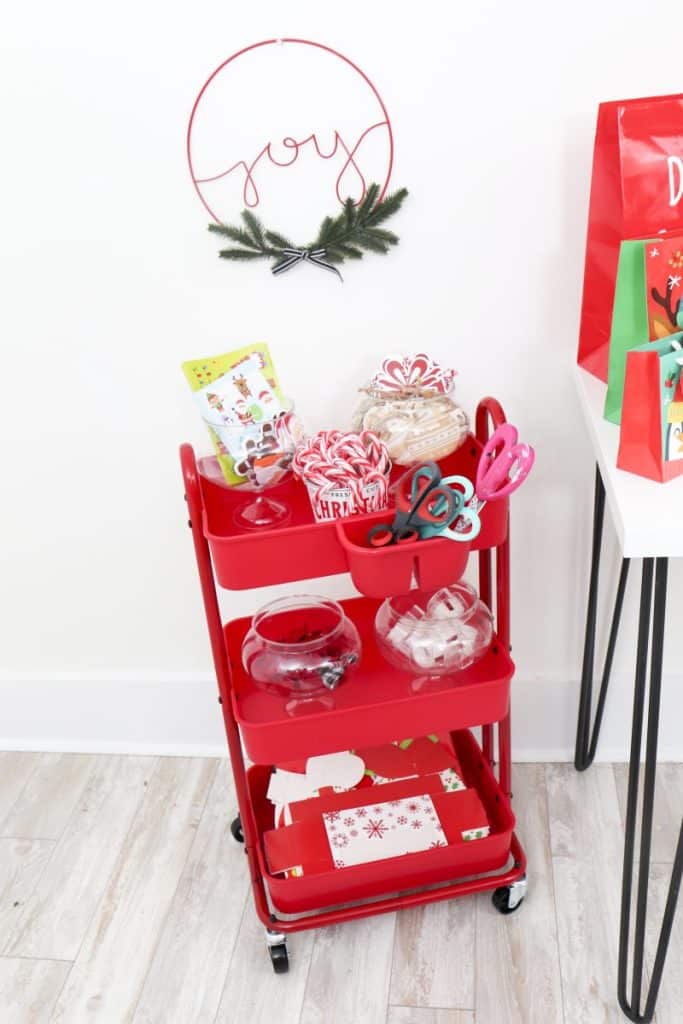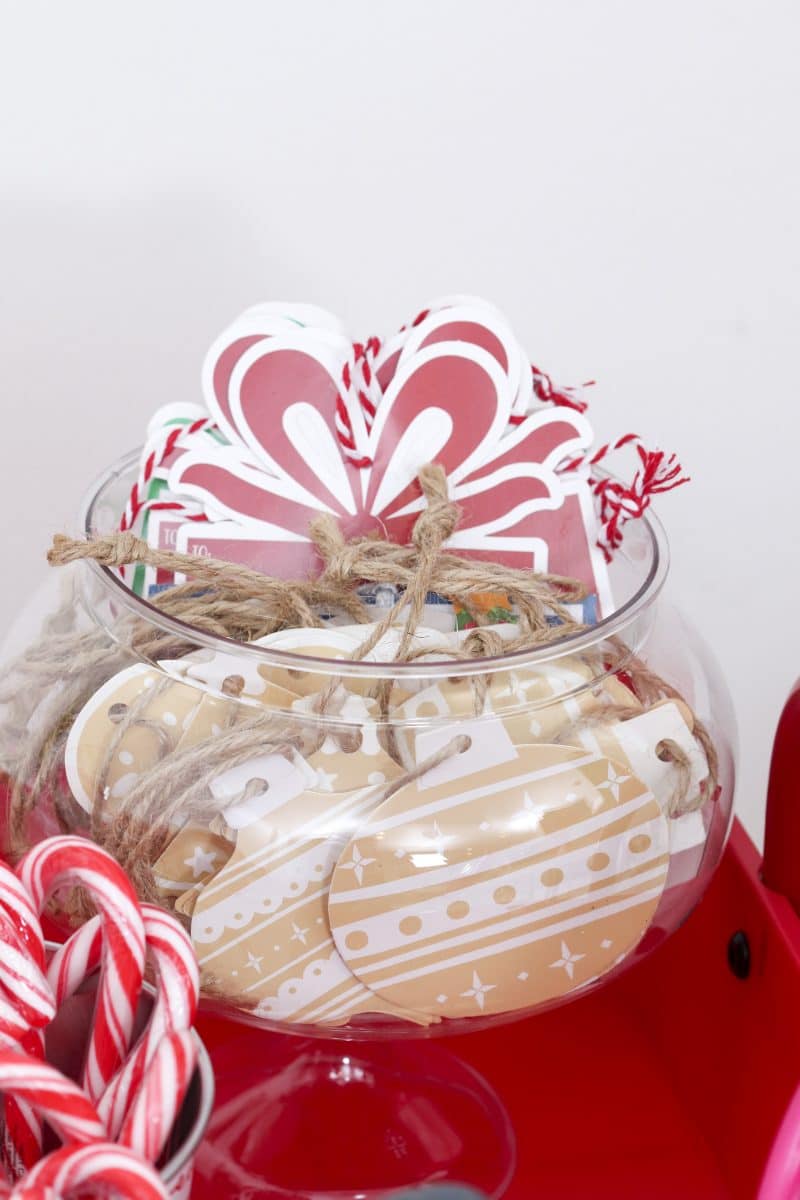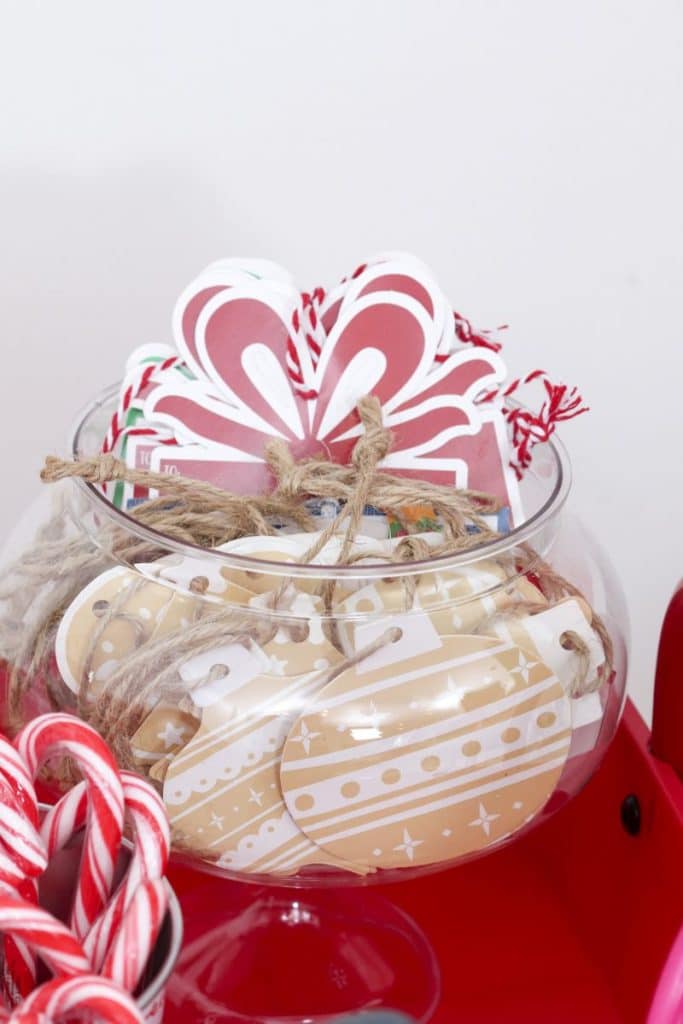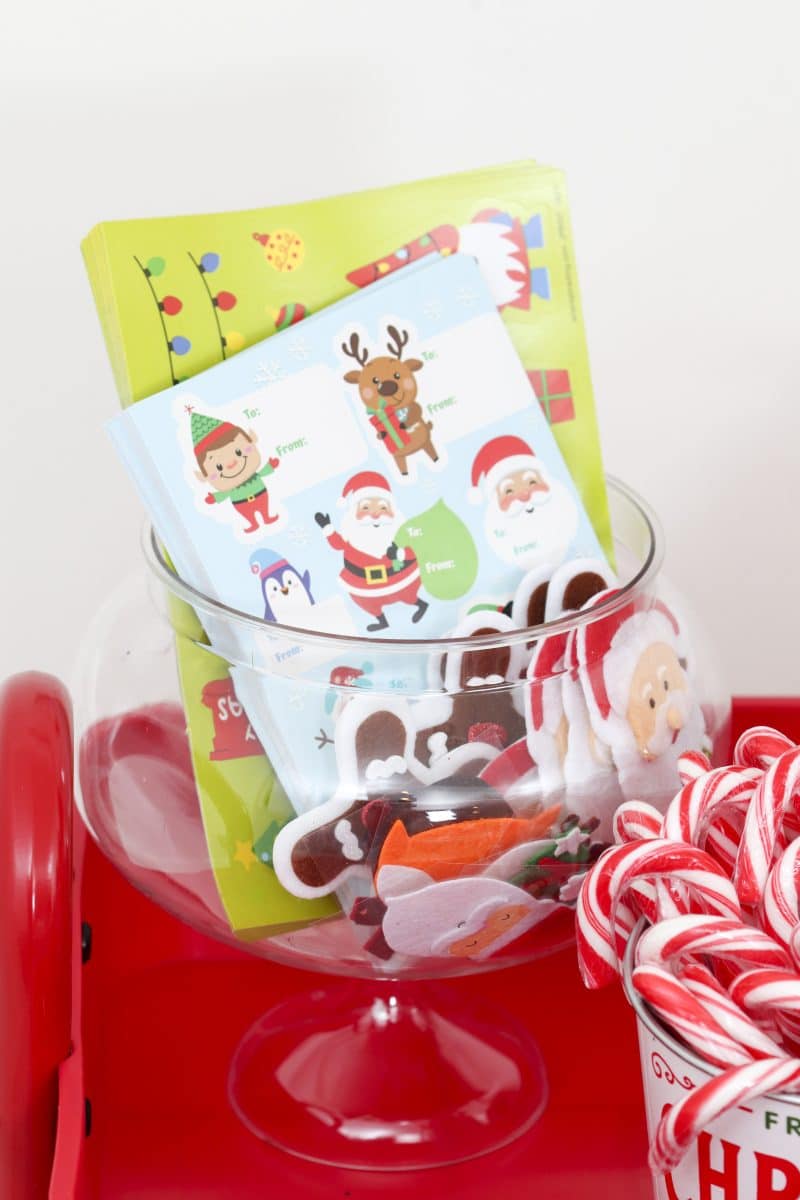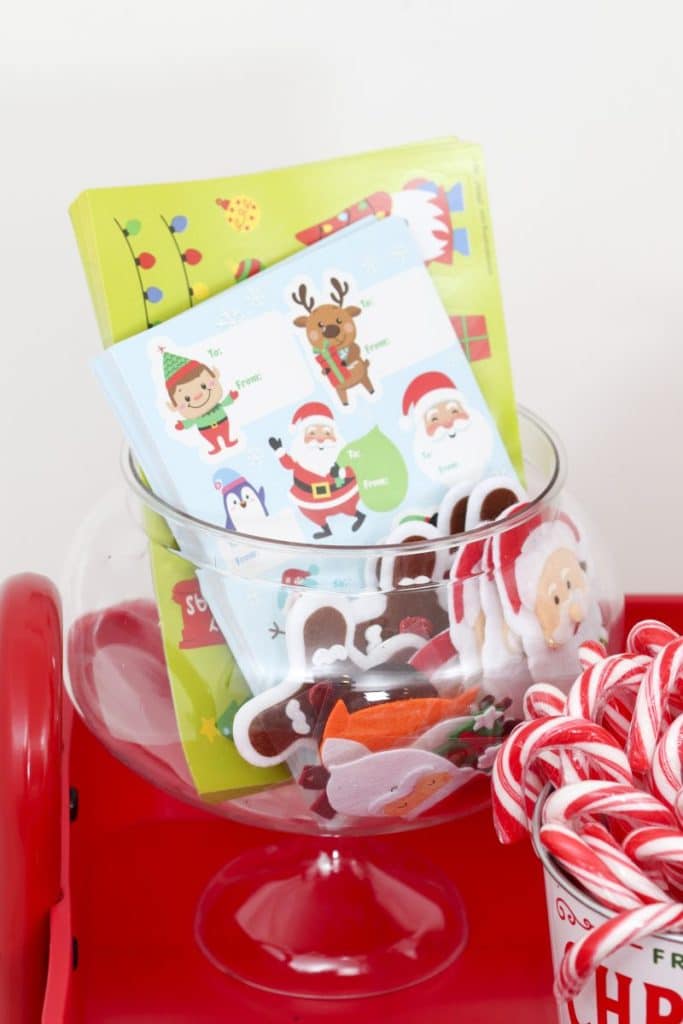 On the middle shelf of the rolling cart, I added more clear pedestal jars with Christmas bows and tape in them. You can never have too much tape, trust me on this one! You'll want multiple rolls so that no one has to wait on someone else to pass the tape.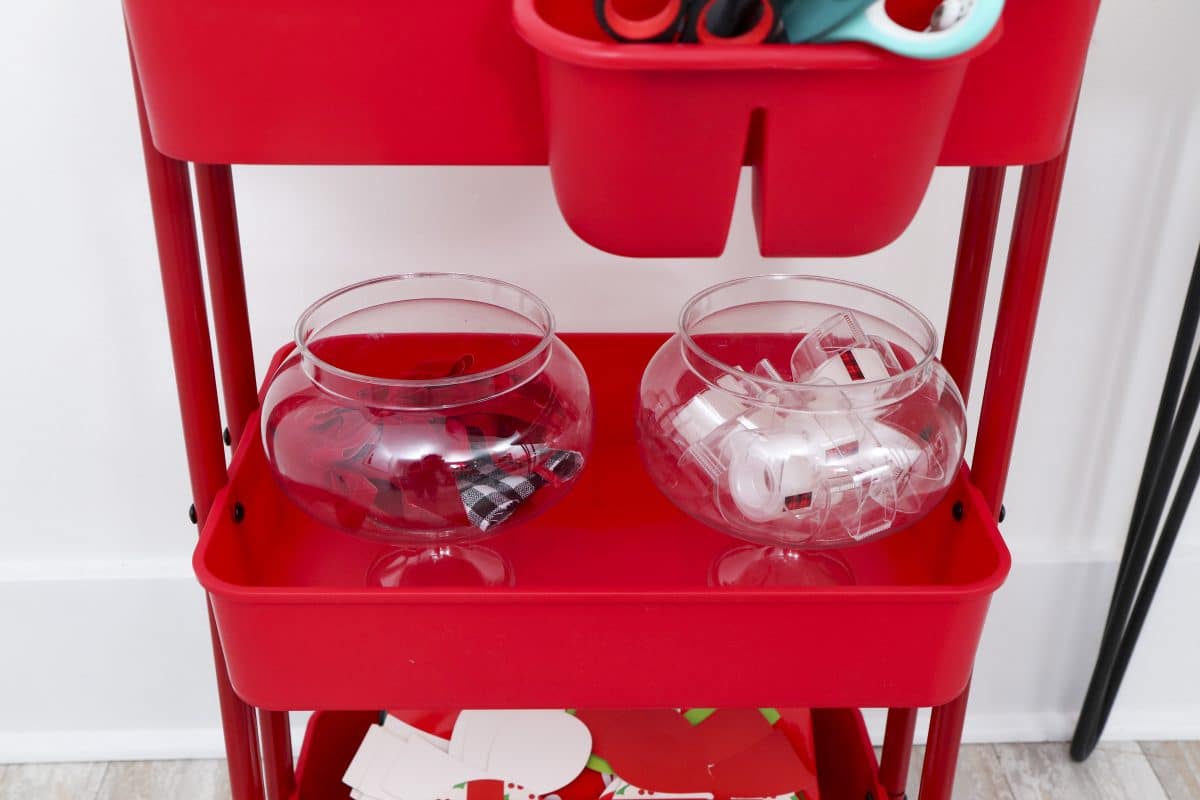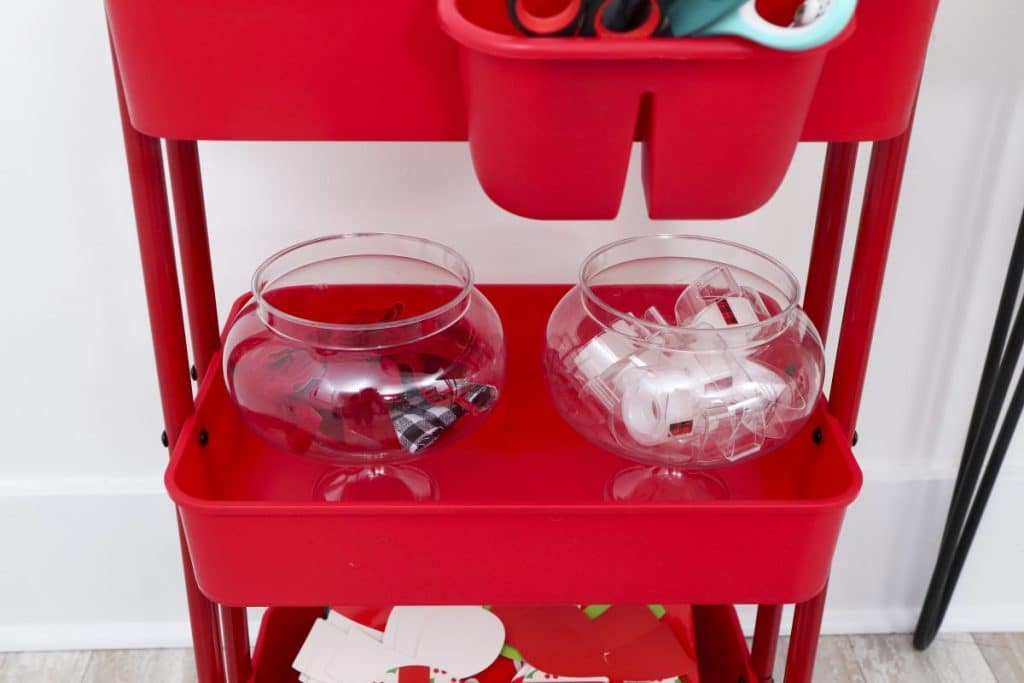 On the bottom shelf, I added more of the large bags and some snowflake cookie boxes.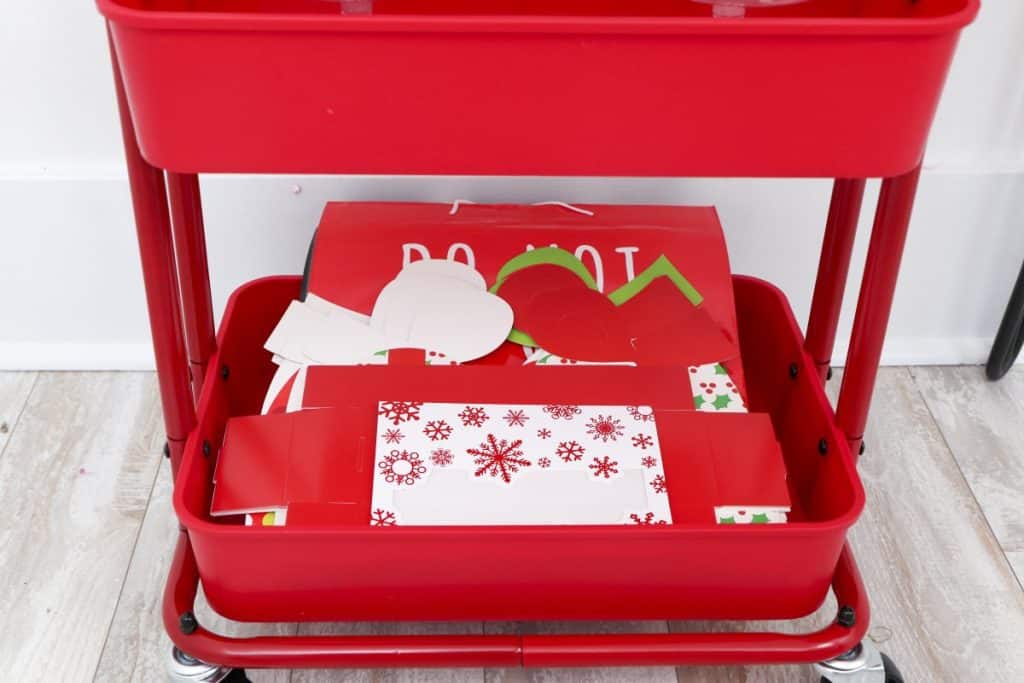 Santa Gift Wrapping Station
Next, on the other side of the table, I set up what I call the "Santa Wrapping Station" on a white rolling cart.  I wanted to make it easy for parents to designate and remember which gifts are from Santa, so all the supplies on this table are Santa, elf, or North Pole themed!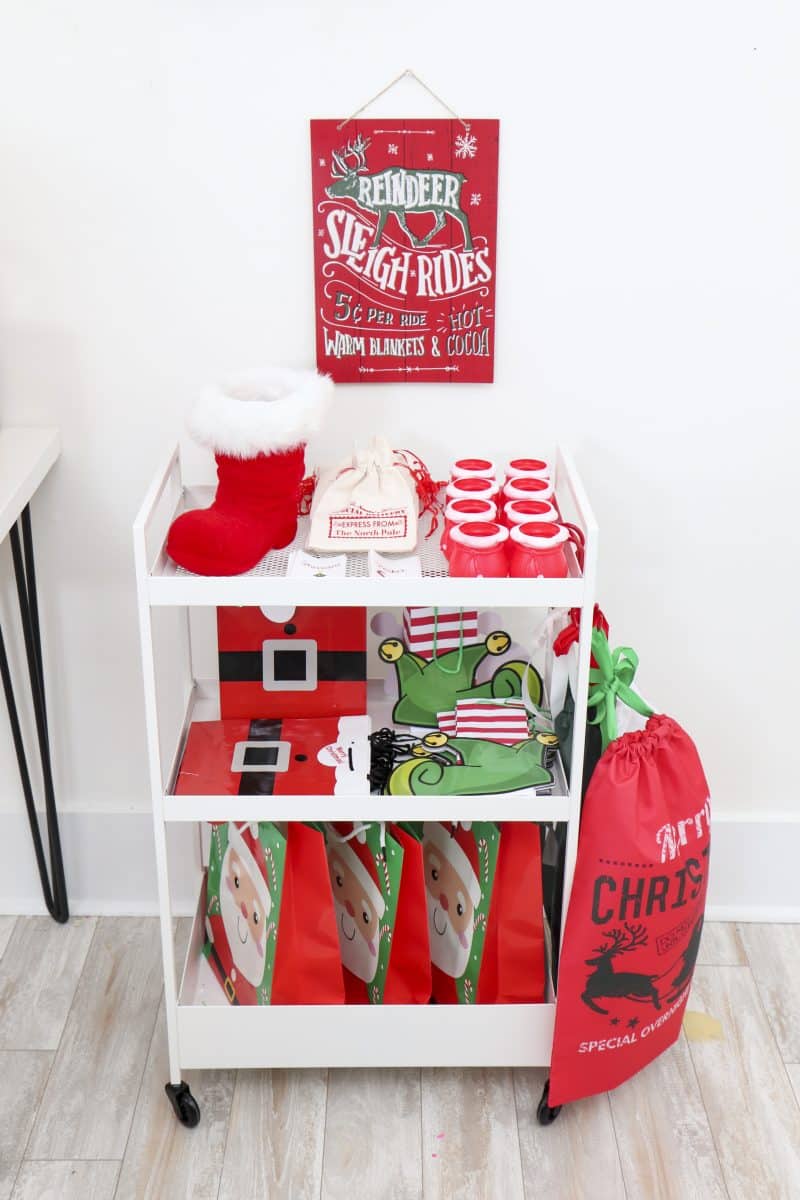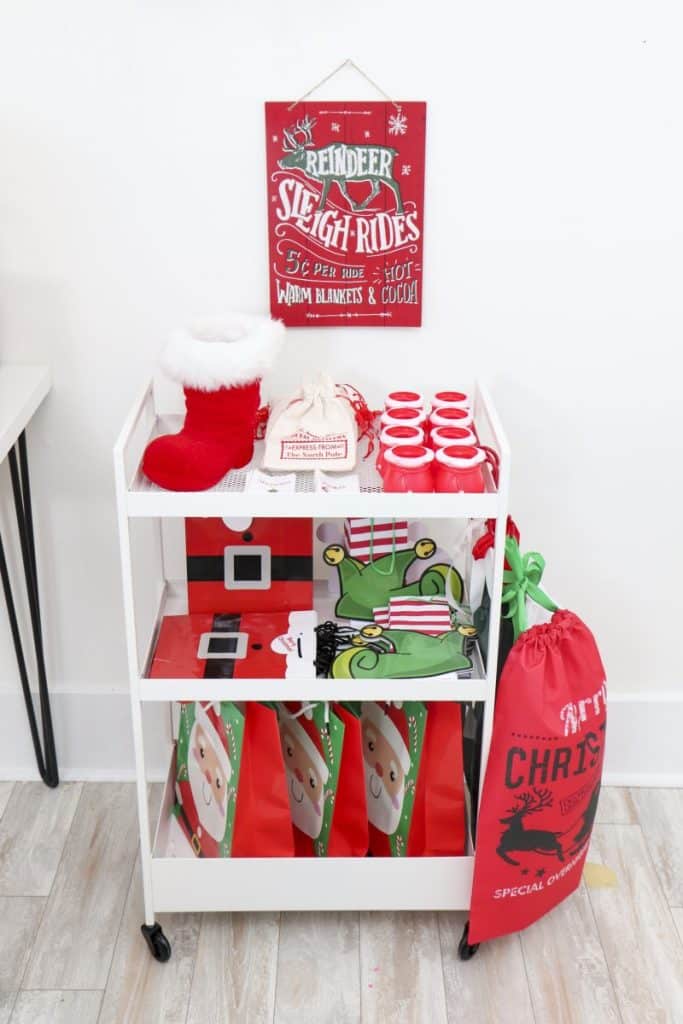 In this space, I also provided cute little favors for my guests. I set out sweet little santa bag treat containers for guests to fill with peppermint sticks. Whether they wanted to eat them while wrapping or wait until they got home was completely up to them!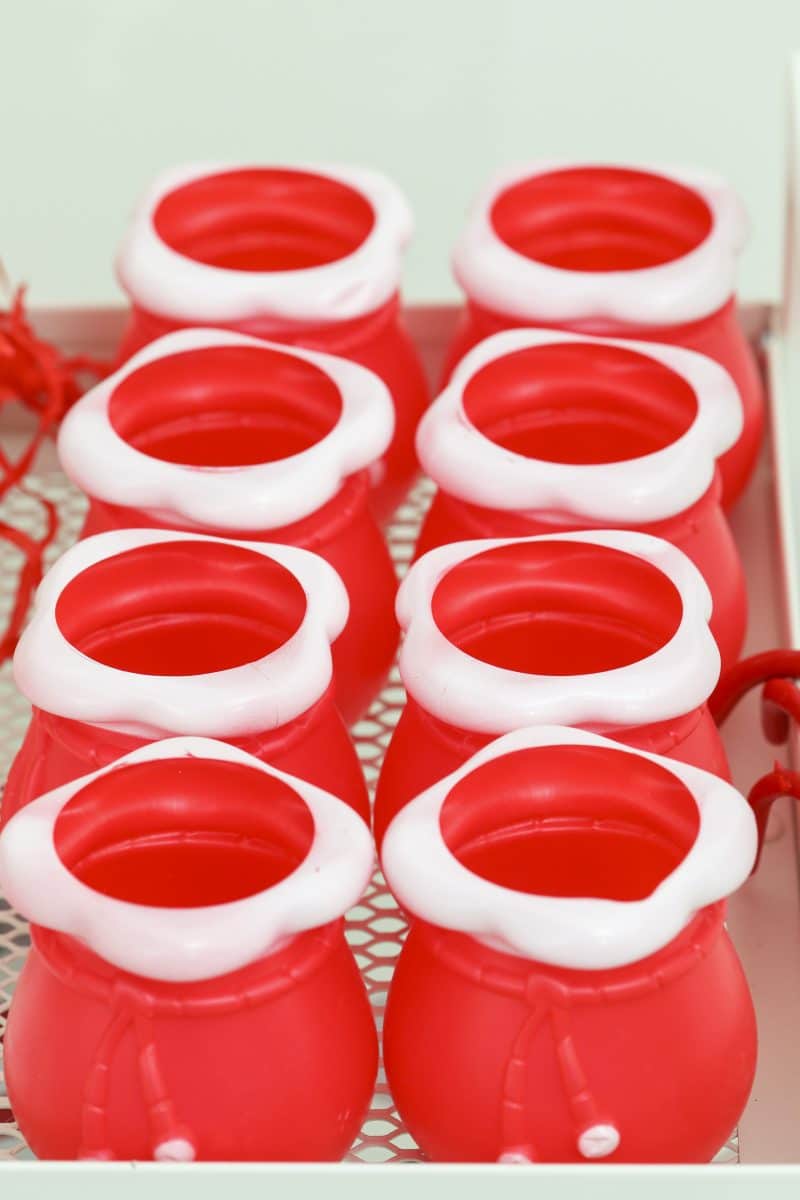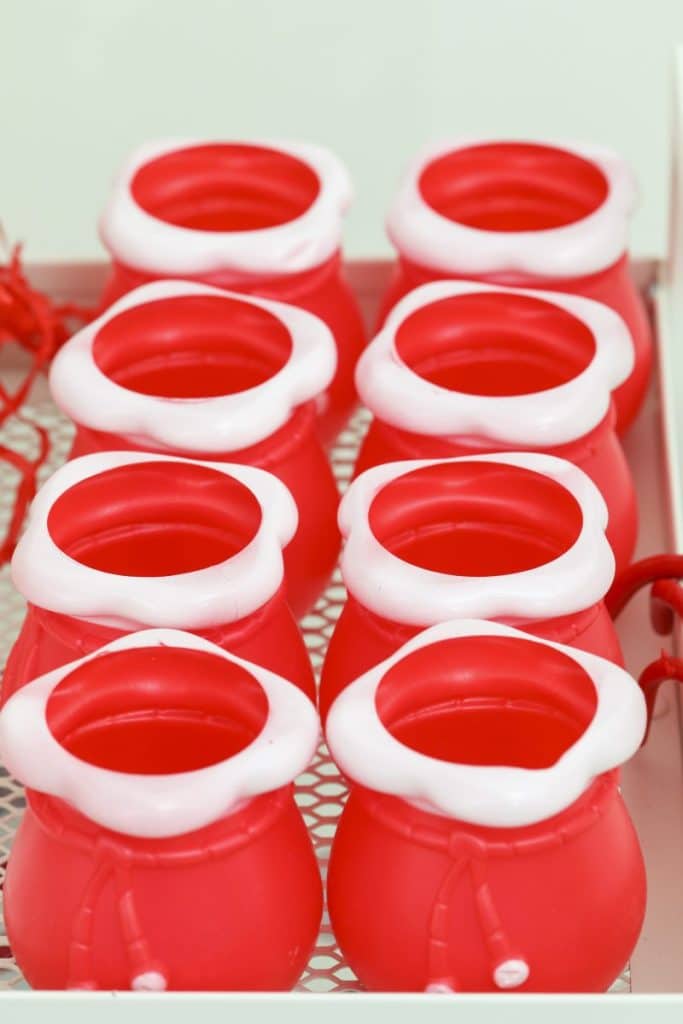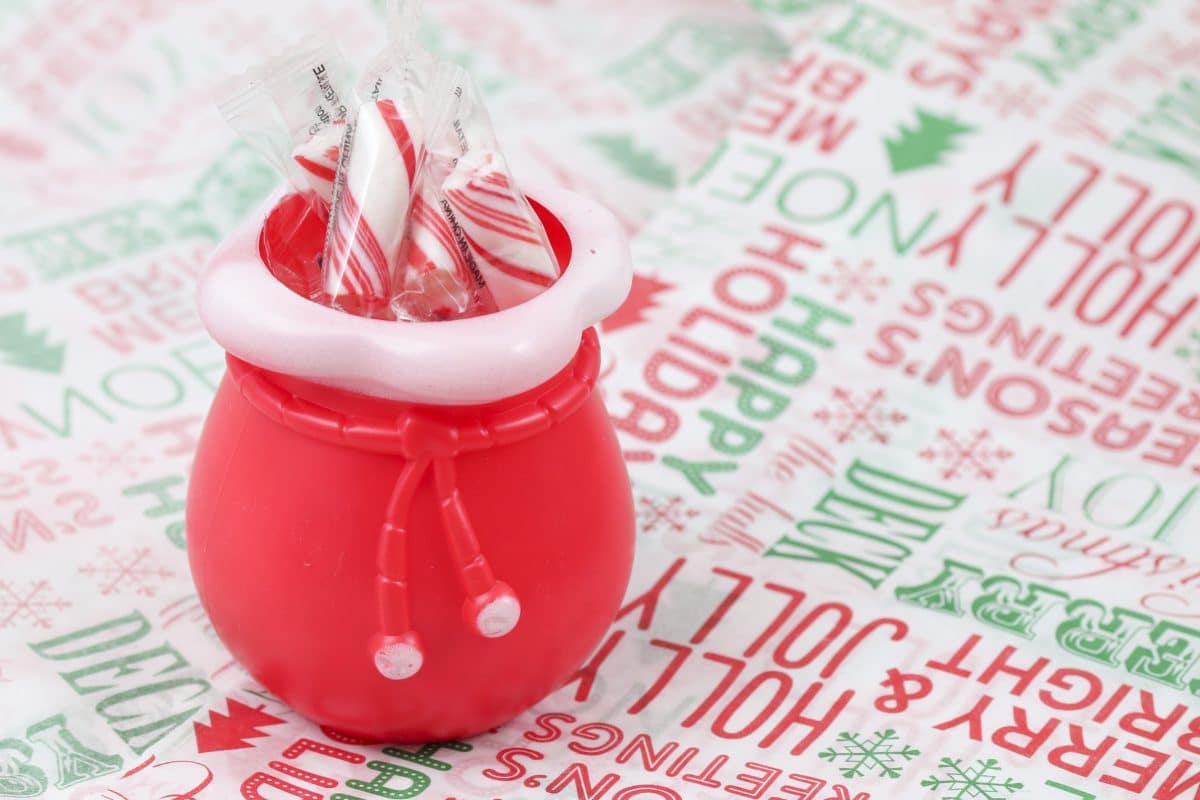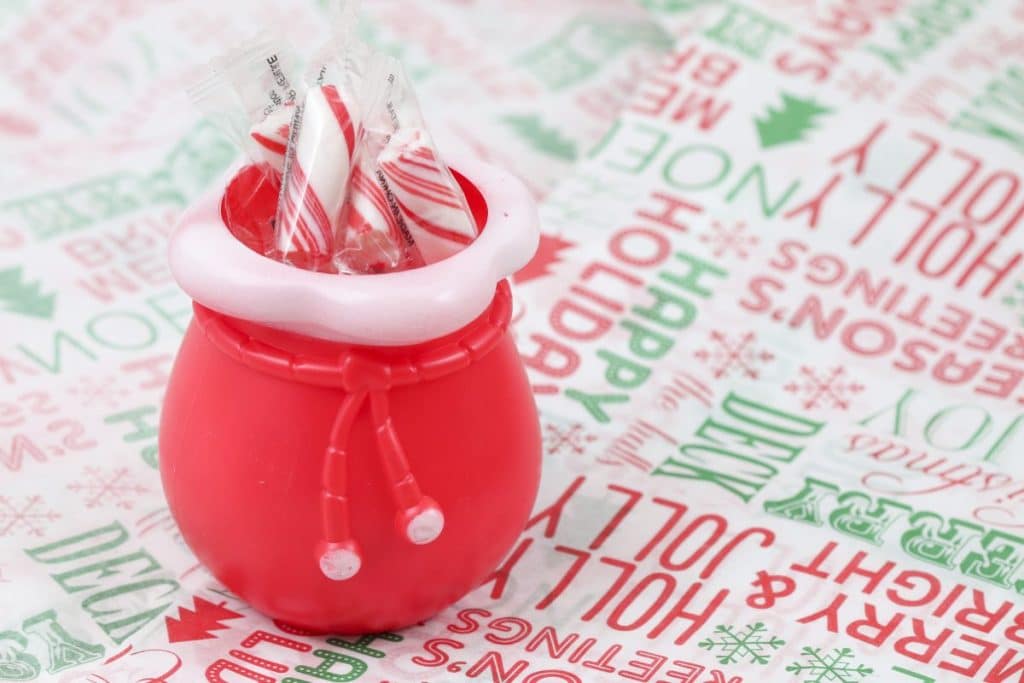 The top shelf also held personalized gift labels with the names of my kids and the kids of my party guests. No need to try to disguise your handwriting for Santa's gifts with these labels!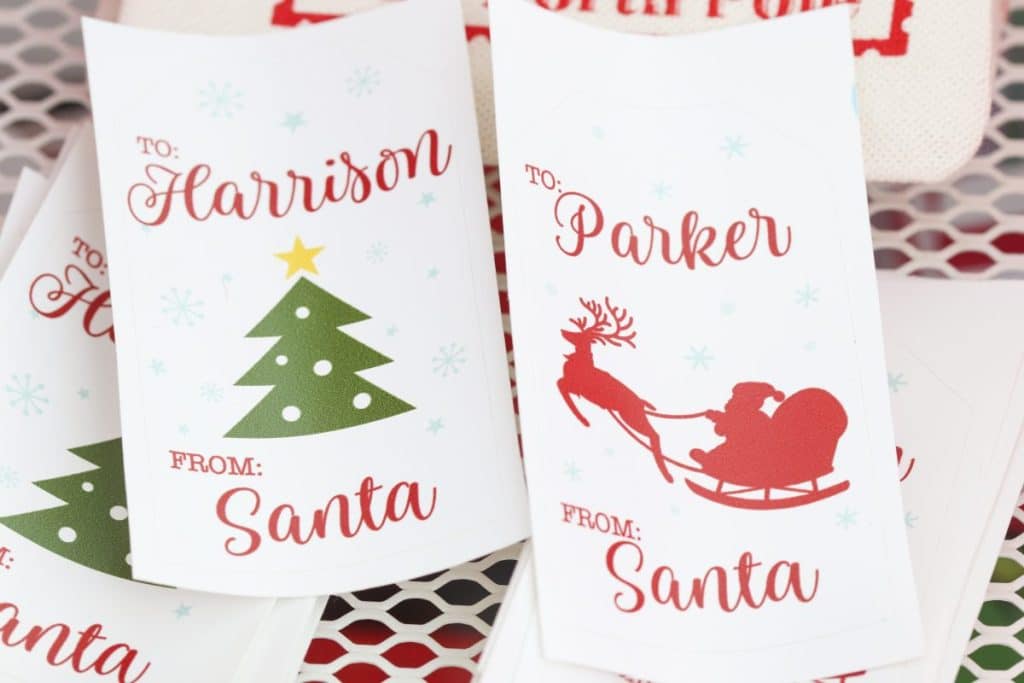 Behind the stack of labels, I added some cute vintage-looking mini treat bags that could also be used for favors, or to add a few treats to Santa's gifts. Special delivery, express from the North Pole!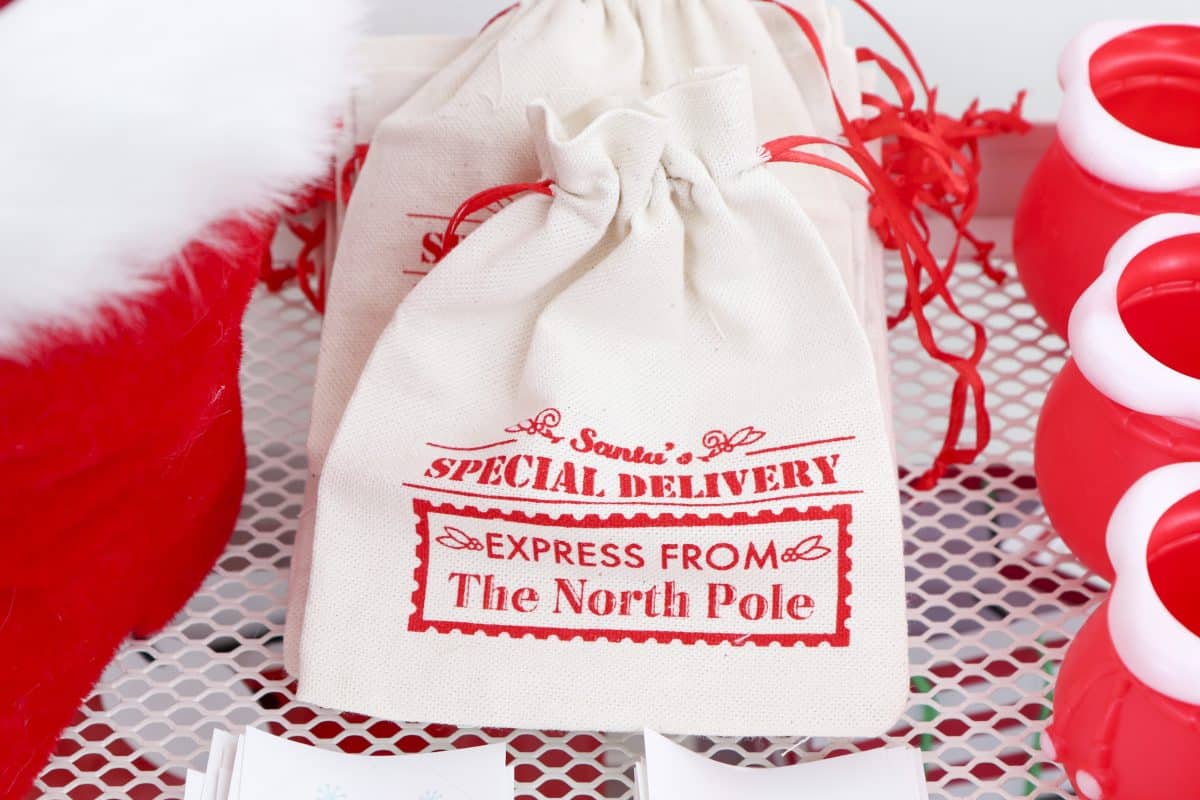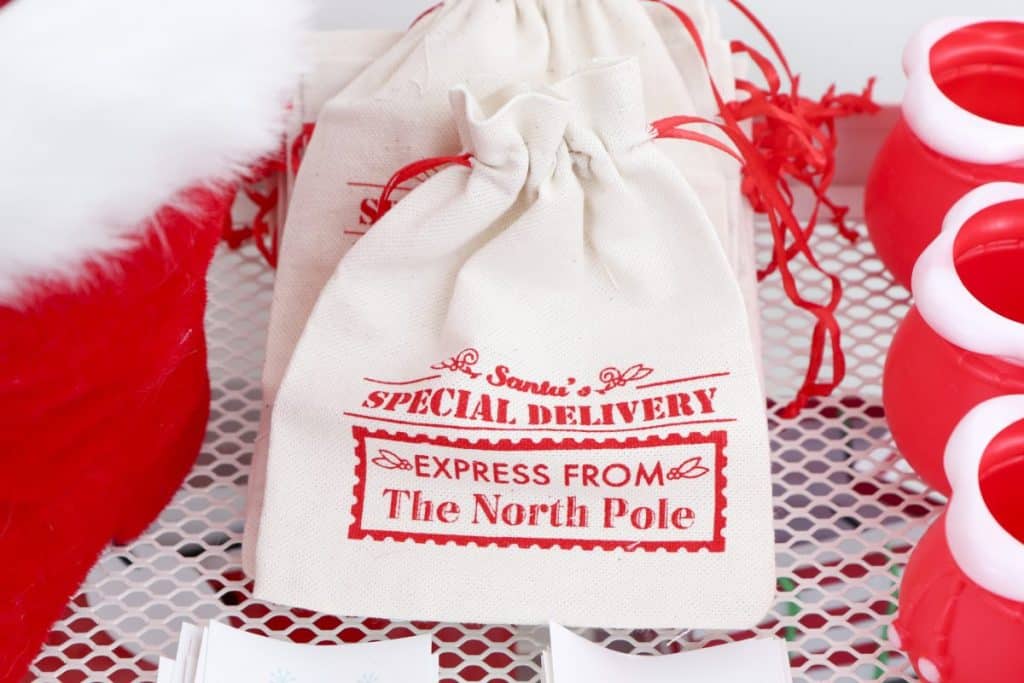 Then, on the middle shelf of this cart, I placed jolly Santa-suit gift bags and silly little elf-boot gift bags. Love the fact that the top of the gift bags look like red and white striped elf socks! I opened up one of each bag and had them propped in the back so it was easy for guests to see the size of the bags and whether they'd work well for their gifts.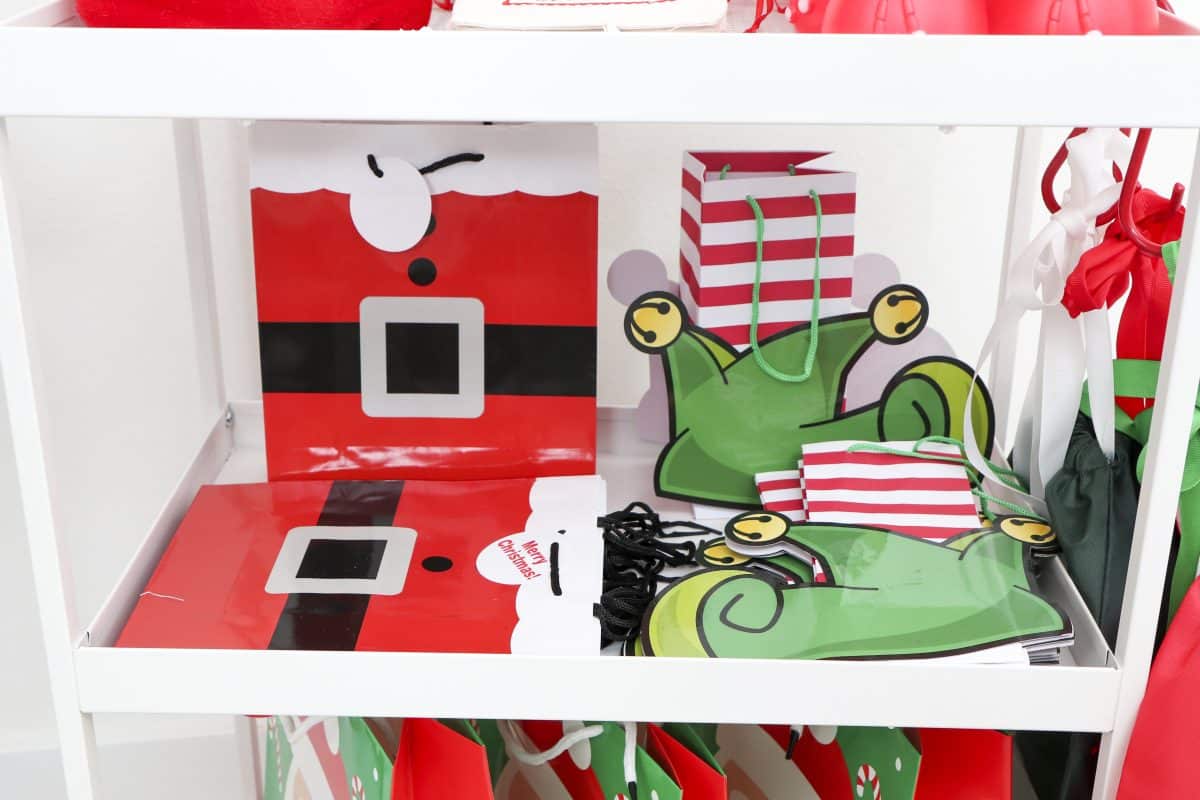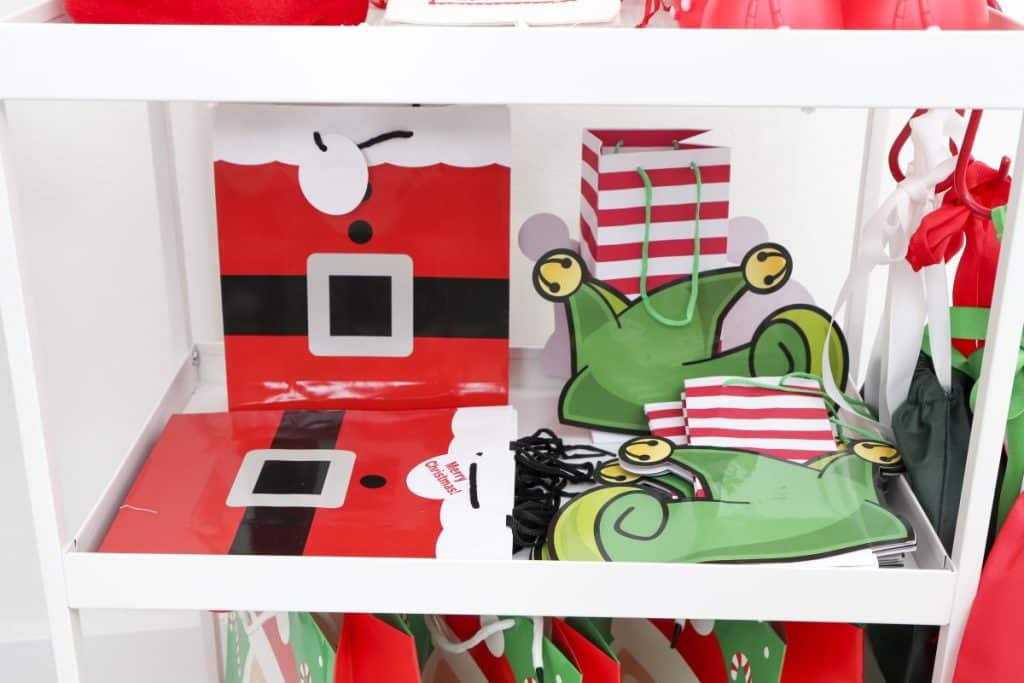 The bottom shelf held a few more larger Santa-themed bags for larger gifts.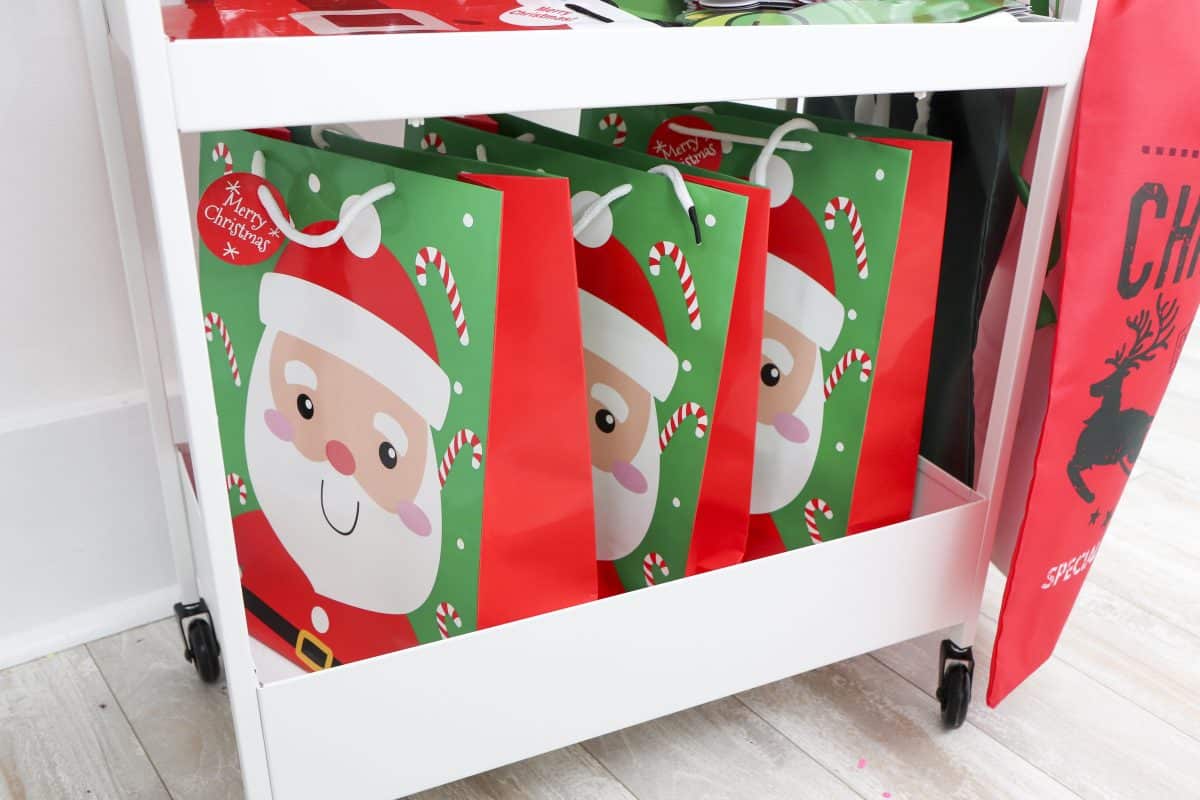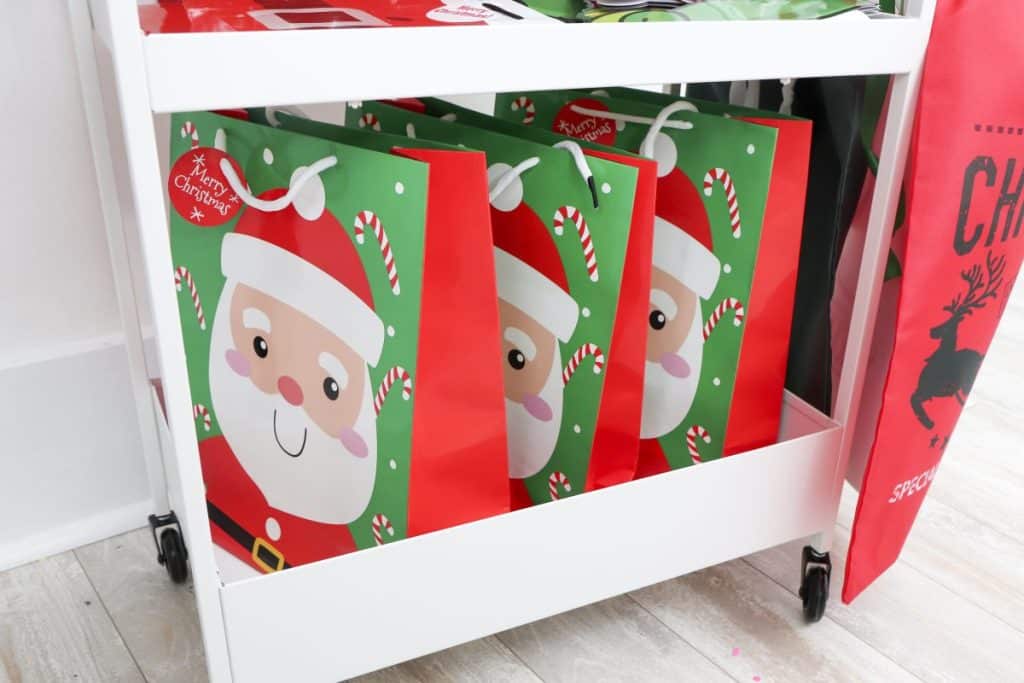 For extra large gifts, I provided a few large drawstring bags. These are great for awkwardly shaped gifts that don't fit well in gift bags or boxes as well.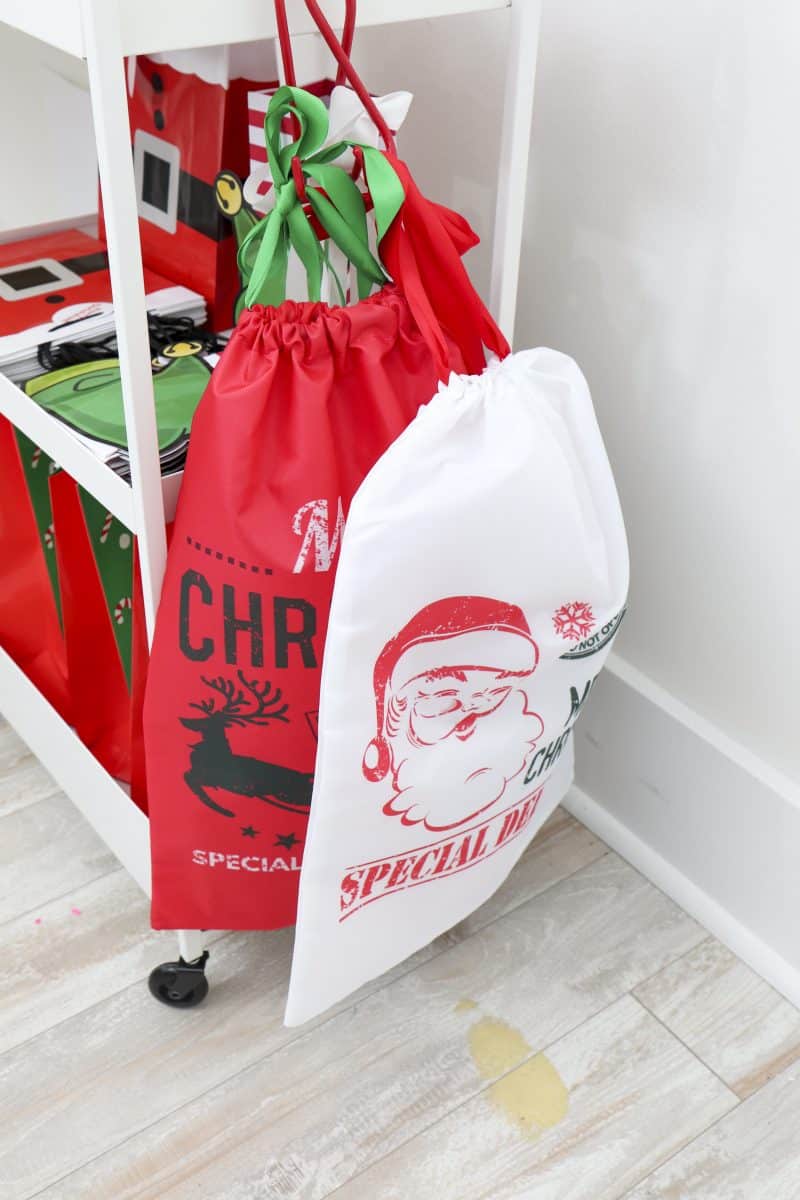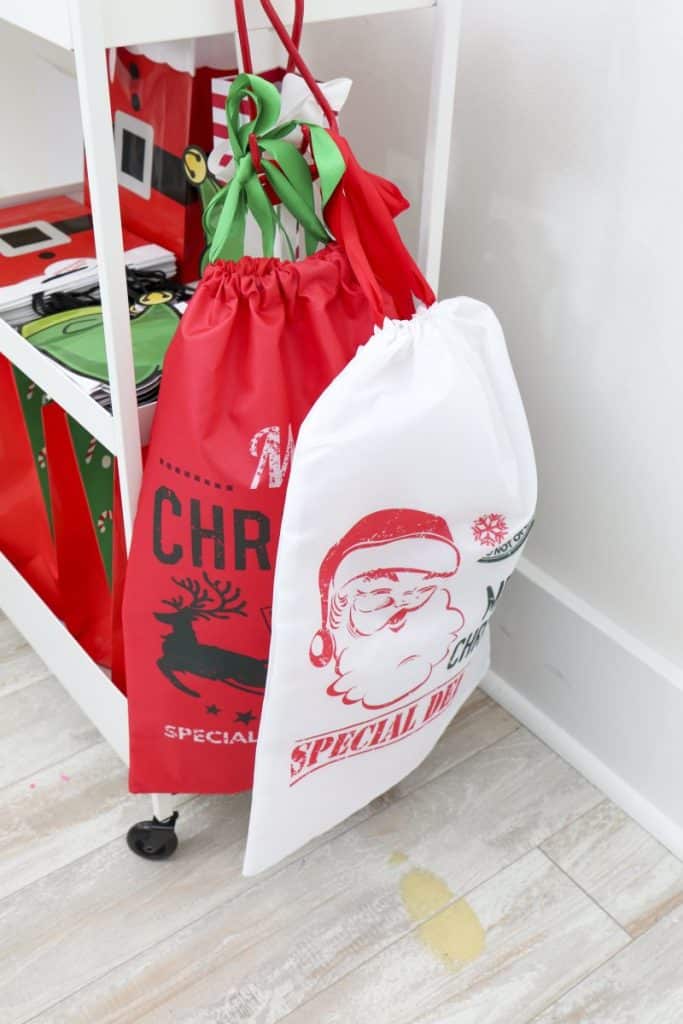 Christmas Gift Wrapping Table
Now that all the supplies are set up, you'll need to set up the actual wrapping station! This is best done with a large table, and you don't want to add too much extra to it, because your guests will need ample space to roll out wrapping paper and other supplies. If you have more than one table, even better.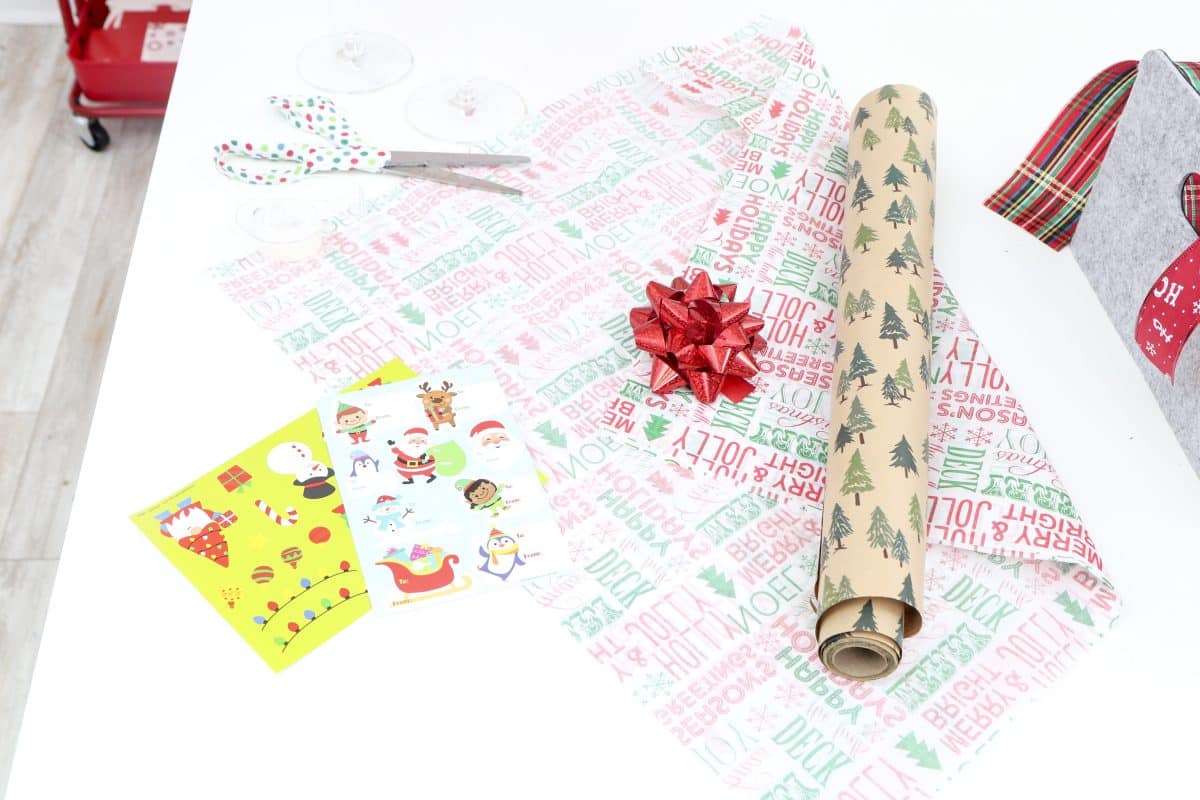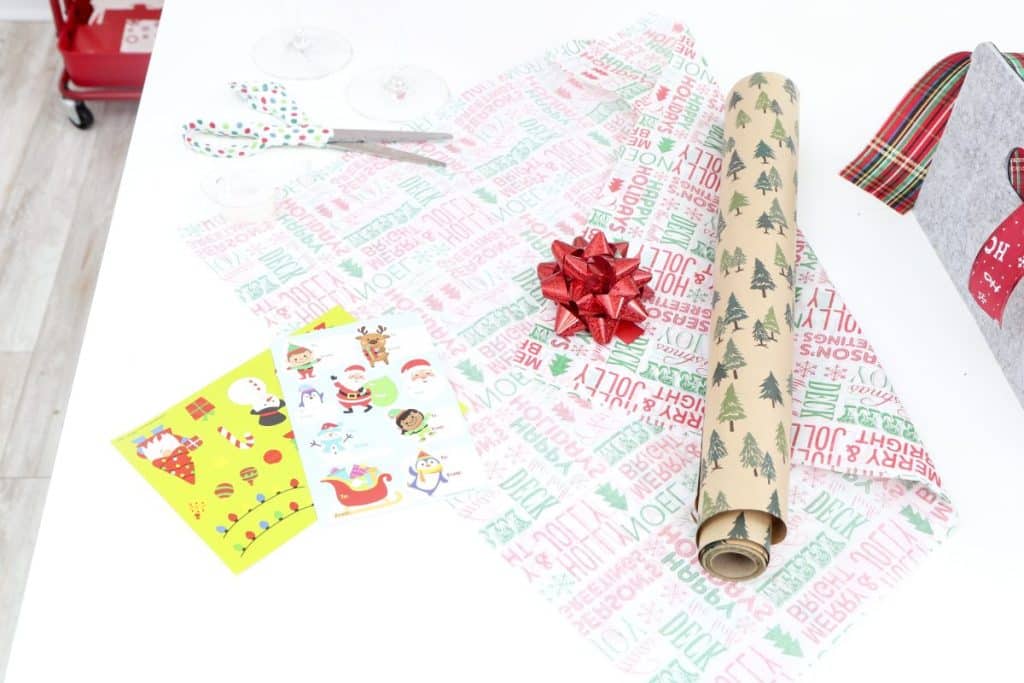 I did add a few supplies to the table that guests might need, but kept them in easily movable containers like a clear pedestal jar of festive baker's twine and a cute wooden sleigh full of small Christmas-themed bits and bobs that make great gift decorations.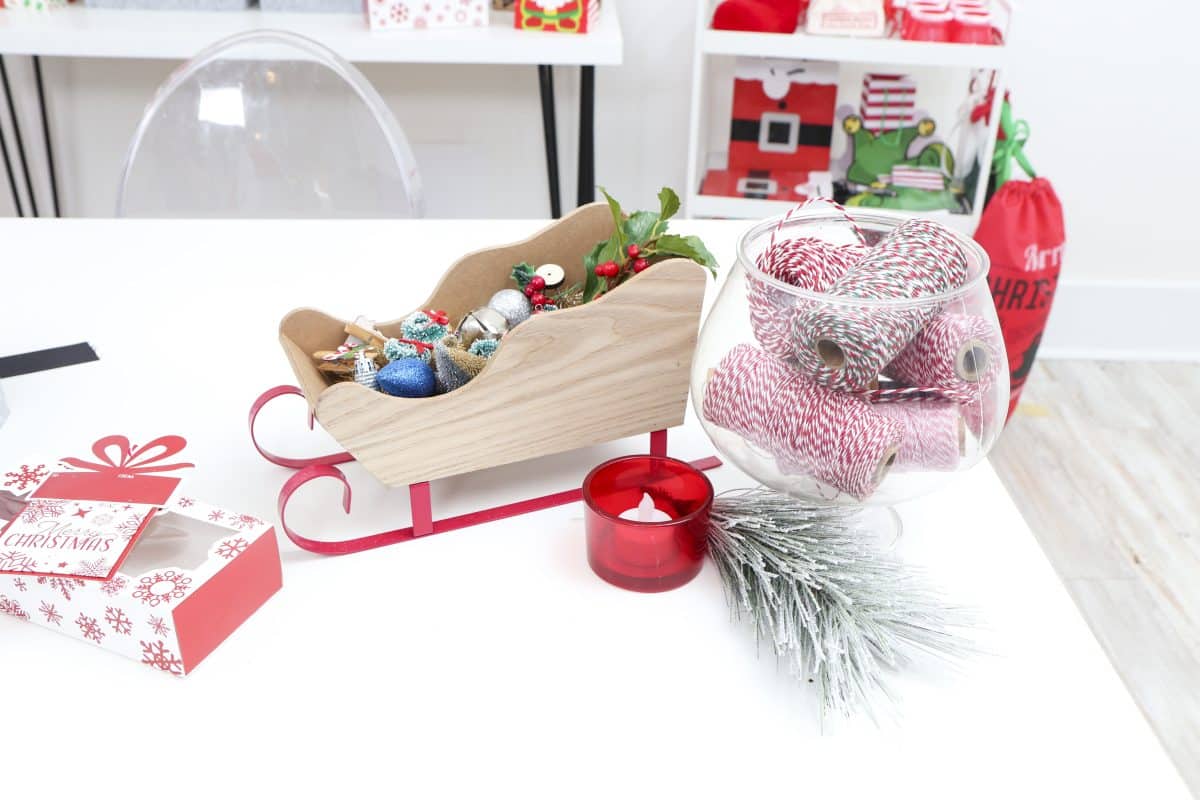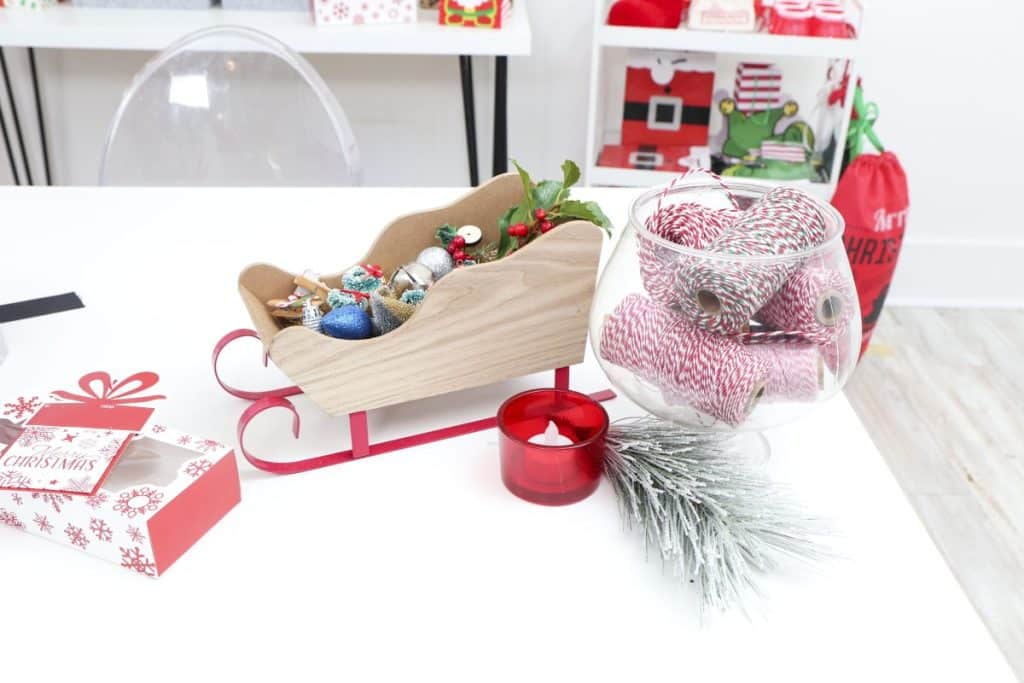 In the center of the table, I added another felt basket with a variety of holiday ribbons, since this is often one of the last things added to a wrapped gift. To make it easier on guests, I placed each roll on it's side and pulled a bit of each ribbon over the edge of the basket for easy access. Just pull the length you need, and cut! Easy peasy.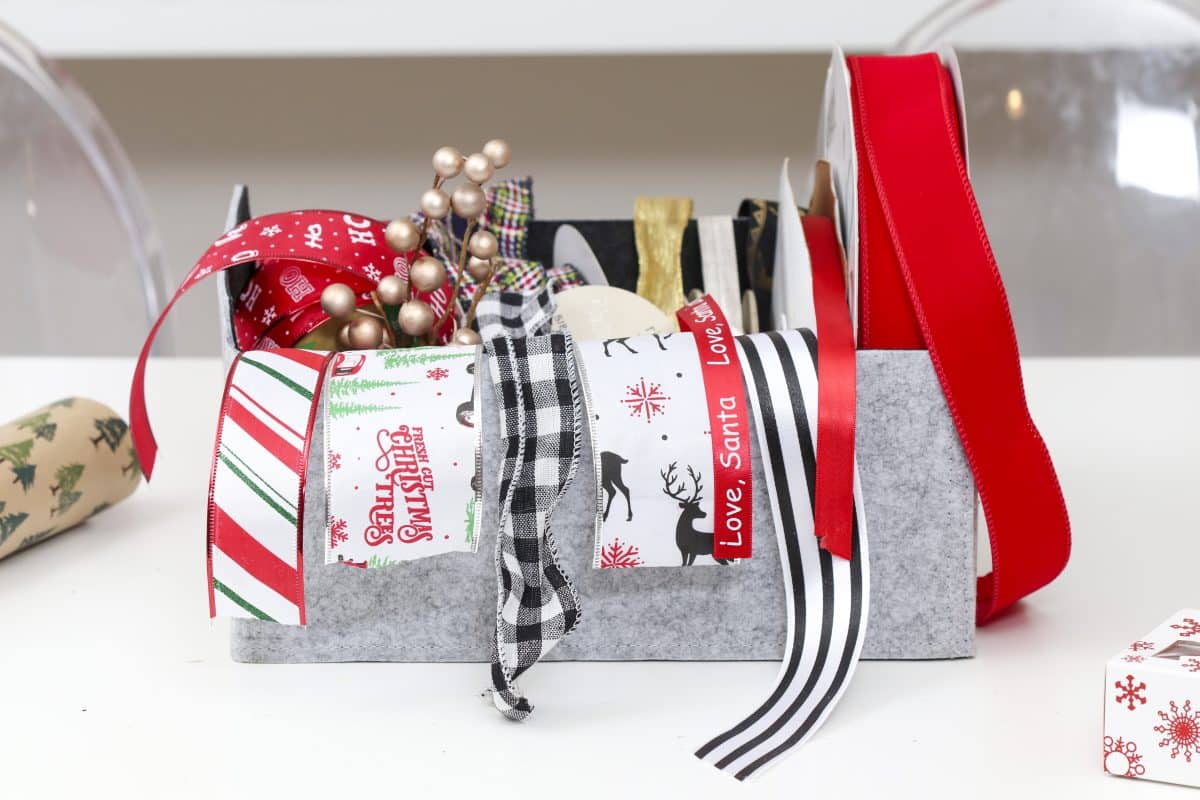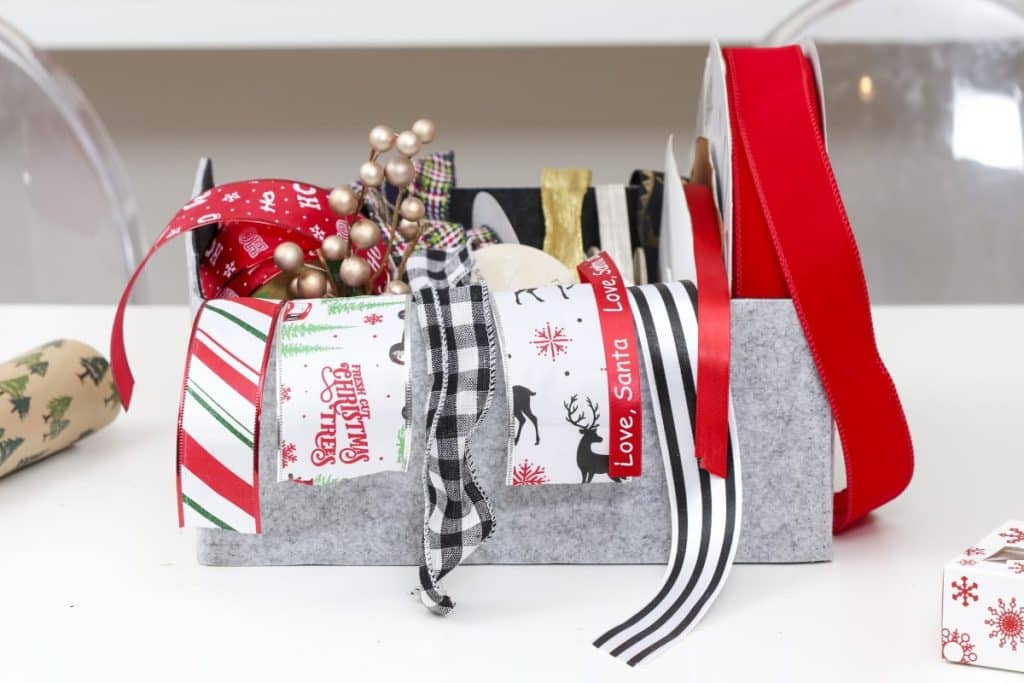 Finally, I added some red wine glasses to the table for making spirits bright with some drinks!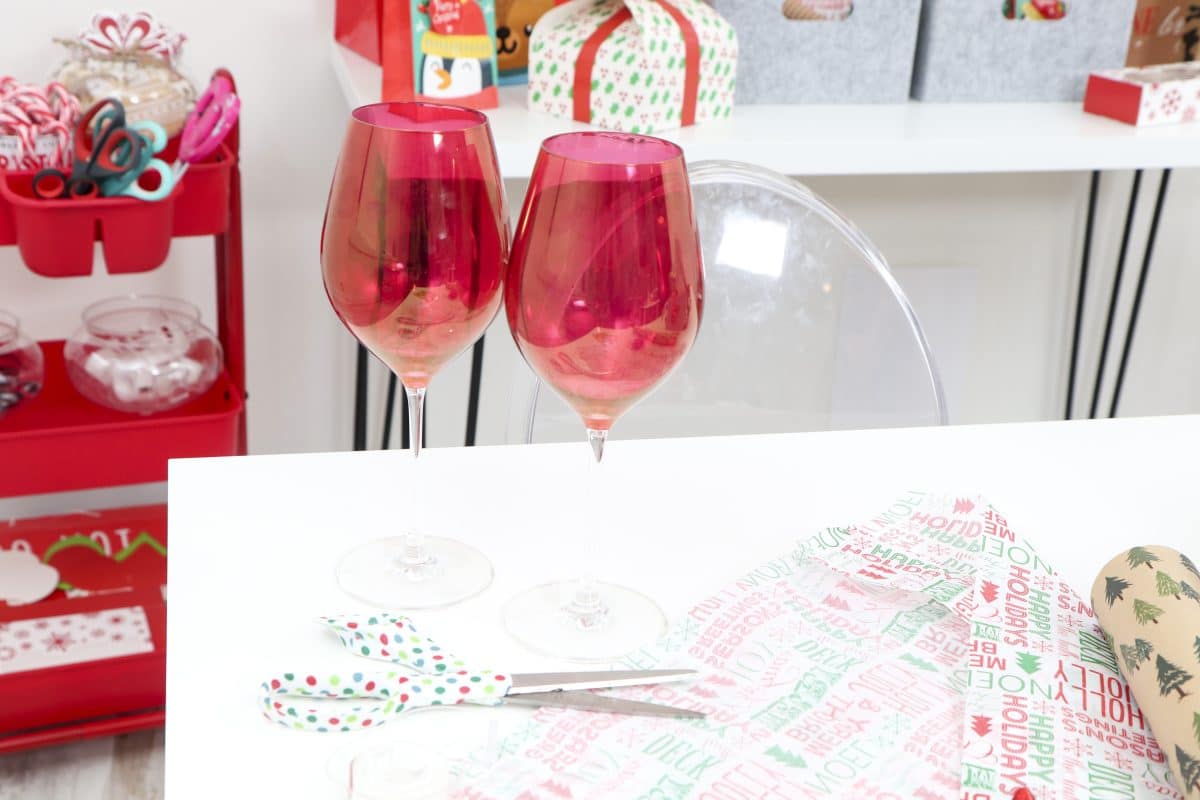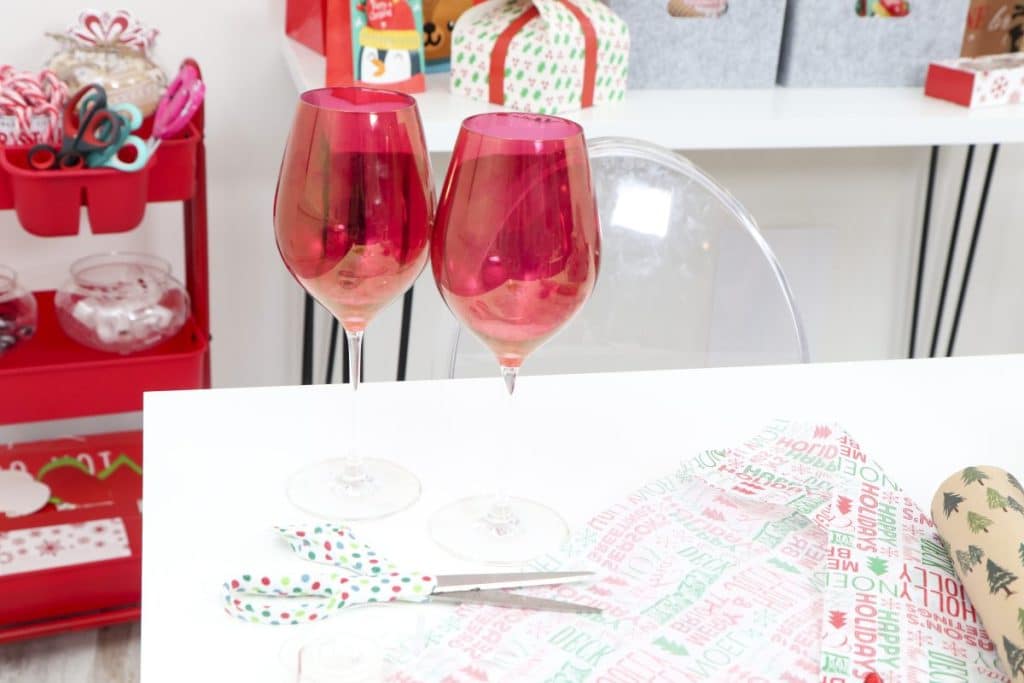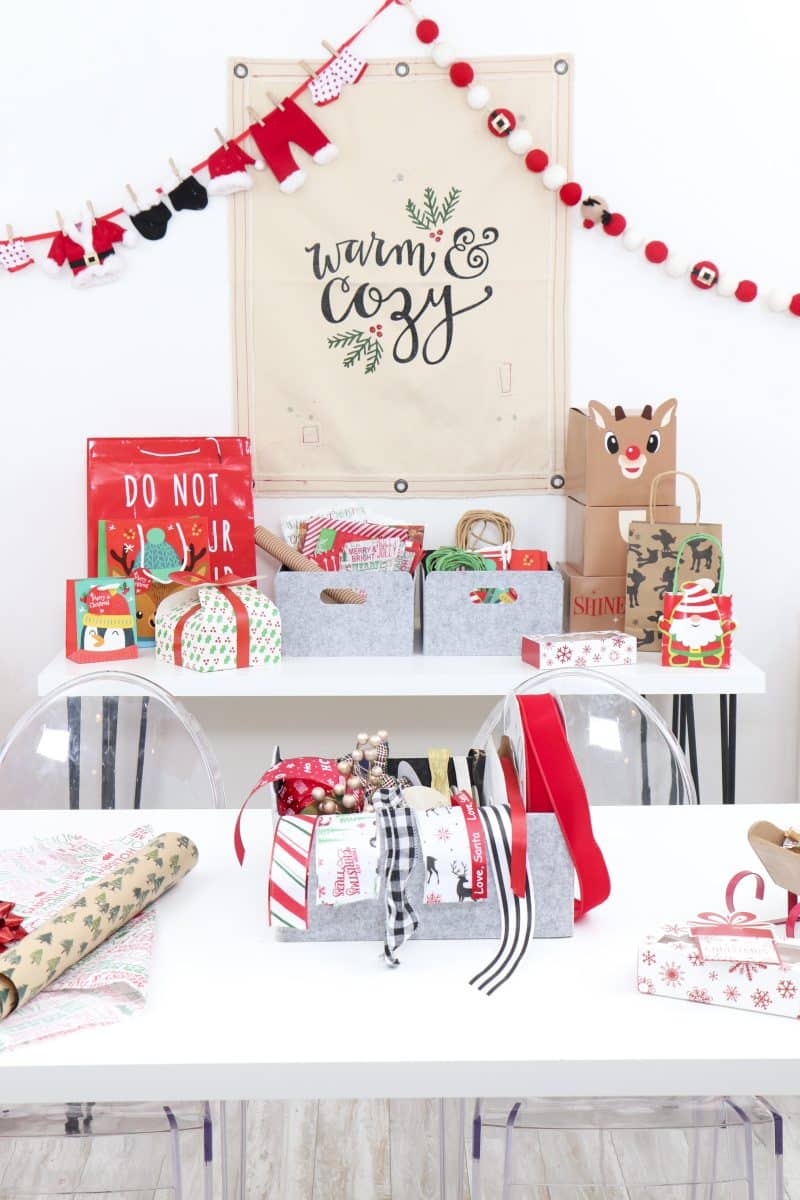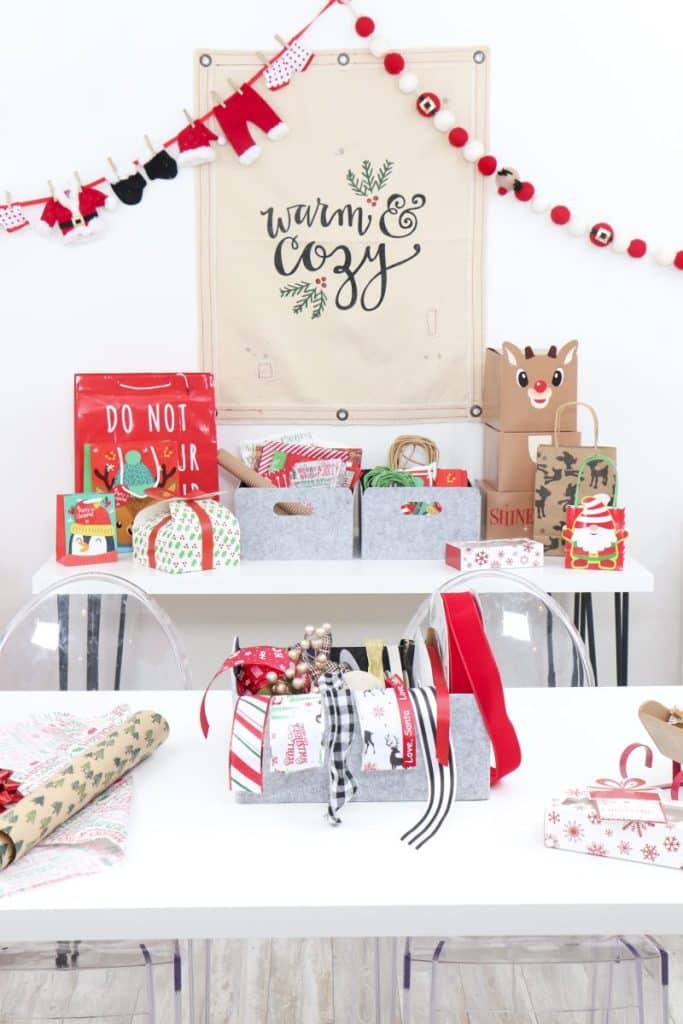 Don't forget to check out my Amazon shop for an easily shoppable list of many of the supplies I used, plus some fun alternatives!
For more Christmas party inspiration for both kids and adults, be sure to check out my post with 15 Magical Holiday Party Ideas for Kids, Teens, and Adults!
Happy Partying!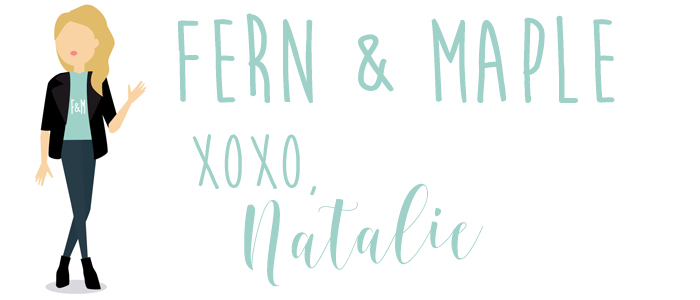 PIN FOR LATER: