If you're looking for a fun, festive way to get into the Christmas spirit this year, why not try hosting a Gingerbread Man Decorating Party for Kids? This is a great activity for all ages, and it's a lot of fun to see the creative ways different children decorate their gingerbread men. Here are some tips on how to throw the perfect gingerbread party for your little ones. I've linked to a lot of the products I used from Oriental Trading, but you can also check out my Amazon shop for similar or alternative supplies!
How to Set up the Cutest Gingerbread Man Decorating Party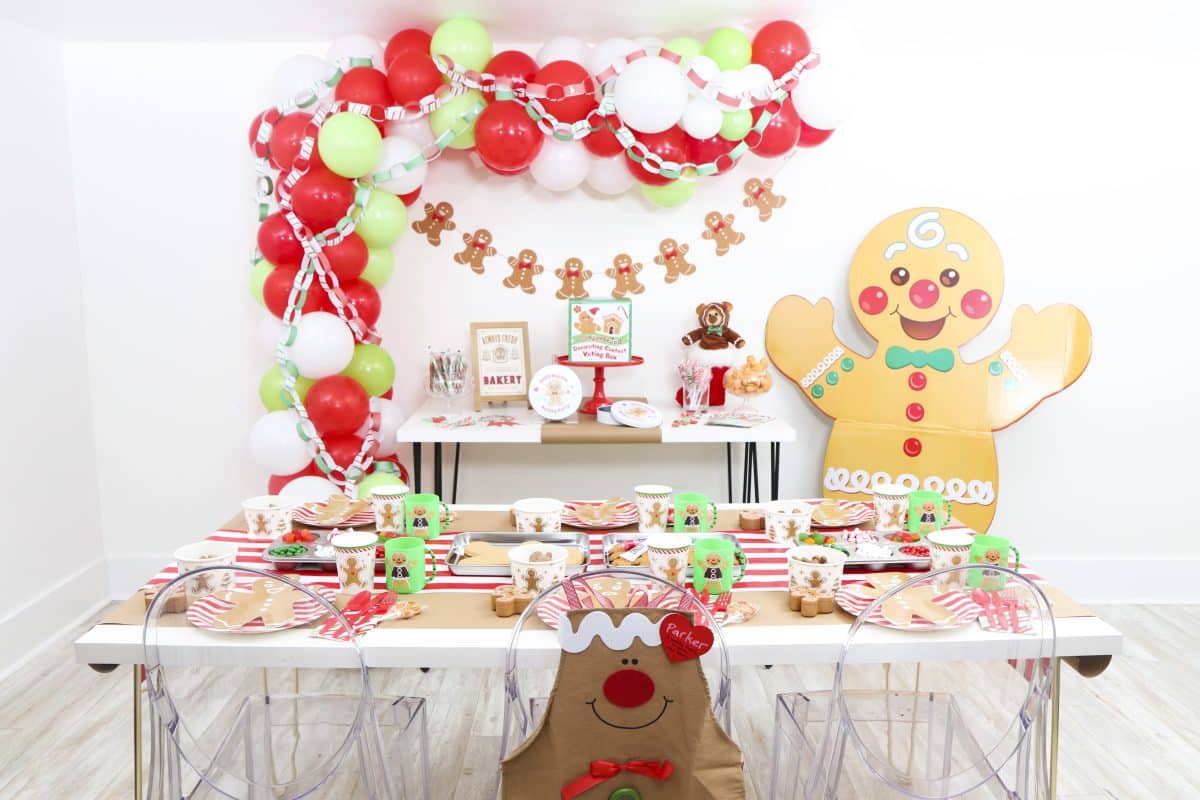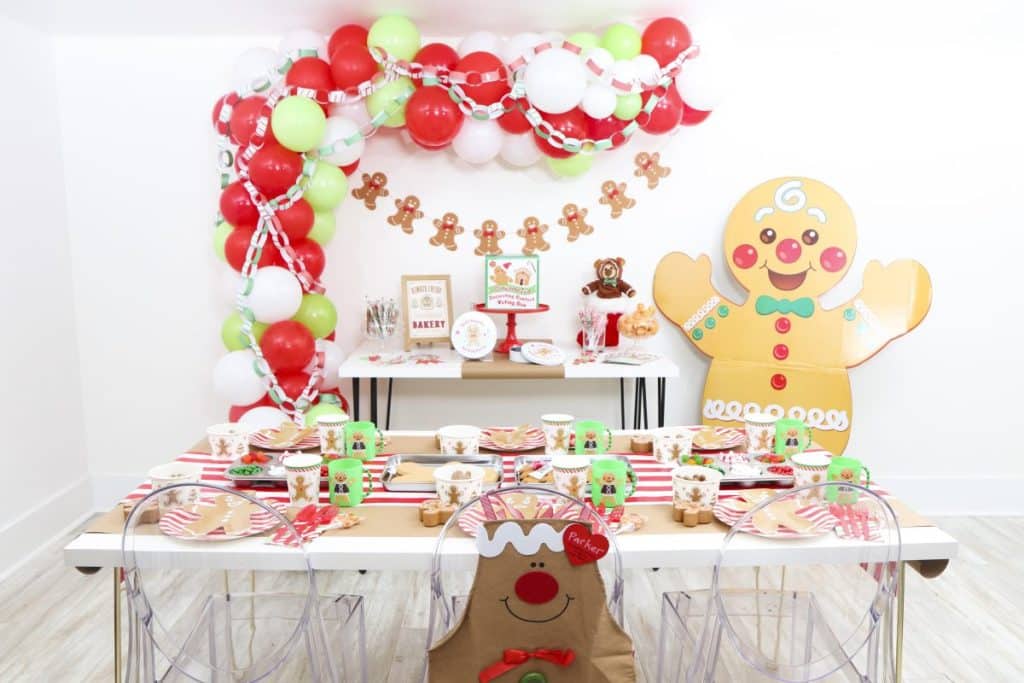 As a blogger, I sometimes receive compensation and/or products in exchange for my styling and crafting services. I also may earn a small commission from any sales that result from affiliate links on this page. As always, all project ideas and any opinions expressed here are my own. For further information on our disclosure policy please check out our disclosure page. 
Backdrop
First, set the scene with a festive backdrop. I used a red, green, and white balloon garland. To deck the halls a bit more, I wrapped old school red, green, and white paper chain garlands around the balloons. This doesn't have to be perfect and symmetrical – I like to keep things organic for a bit more flow.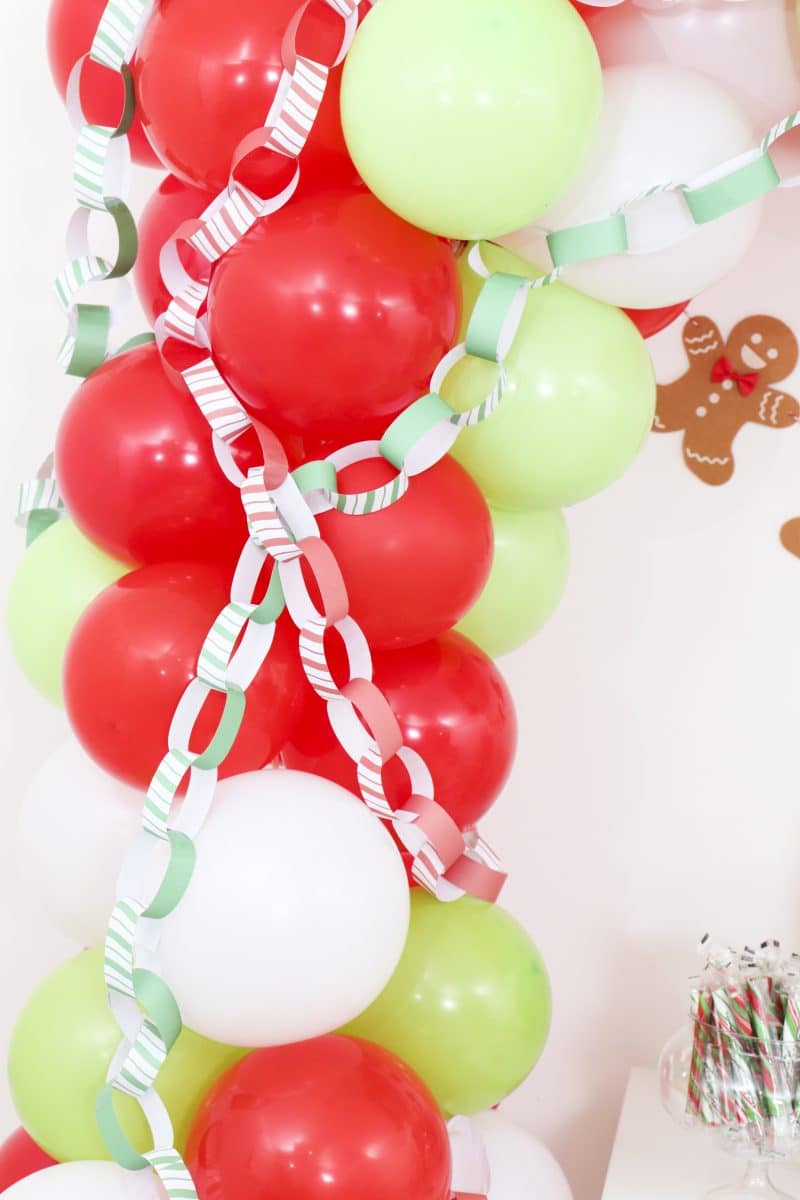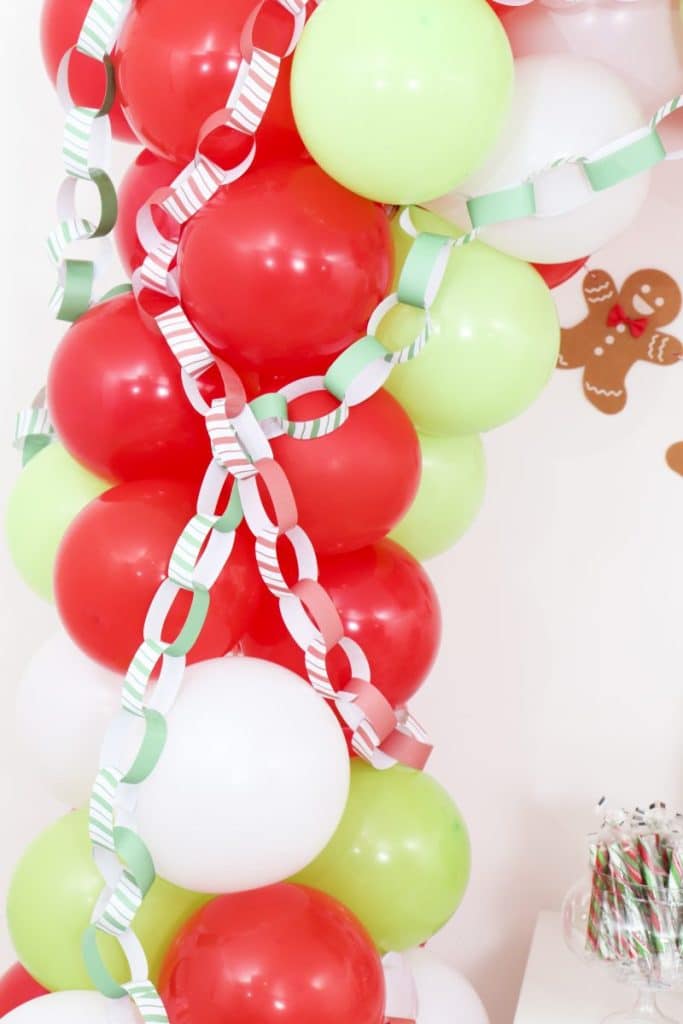 Underneath the balloon and paper chain garlands, I hung a smiling felt gingerbread man garland on the wall.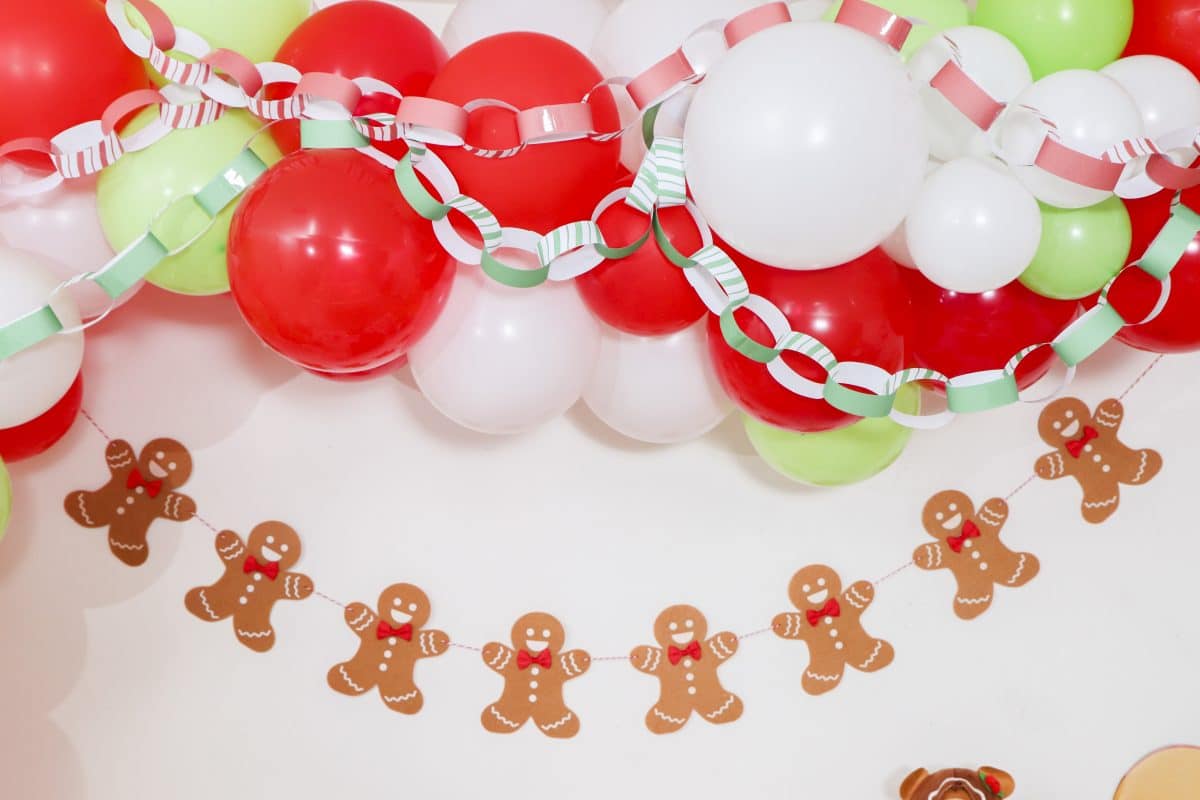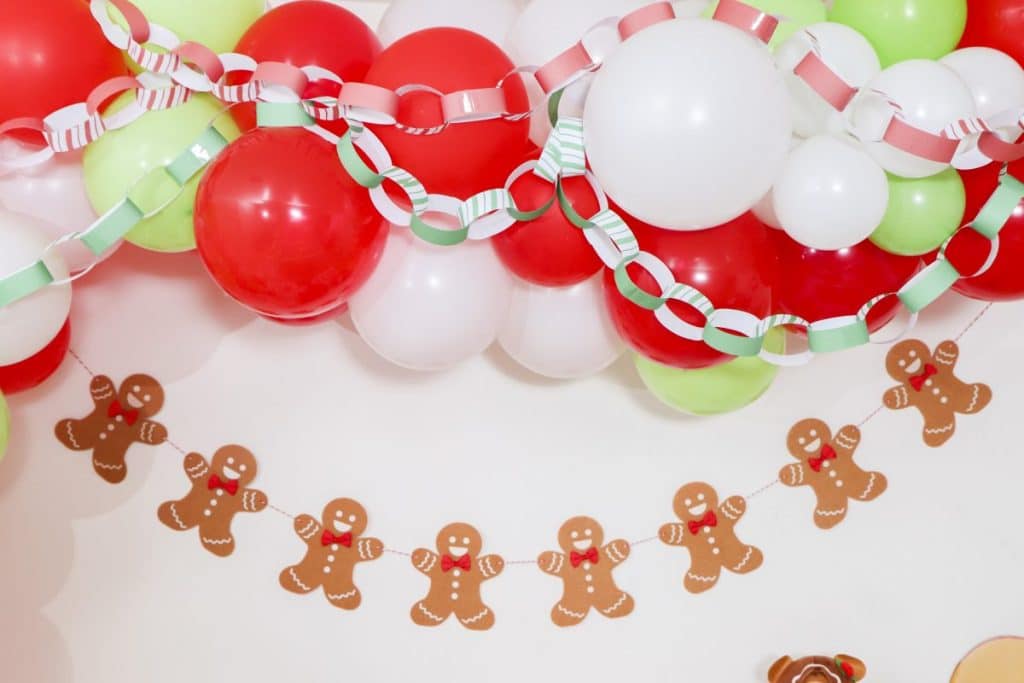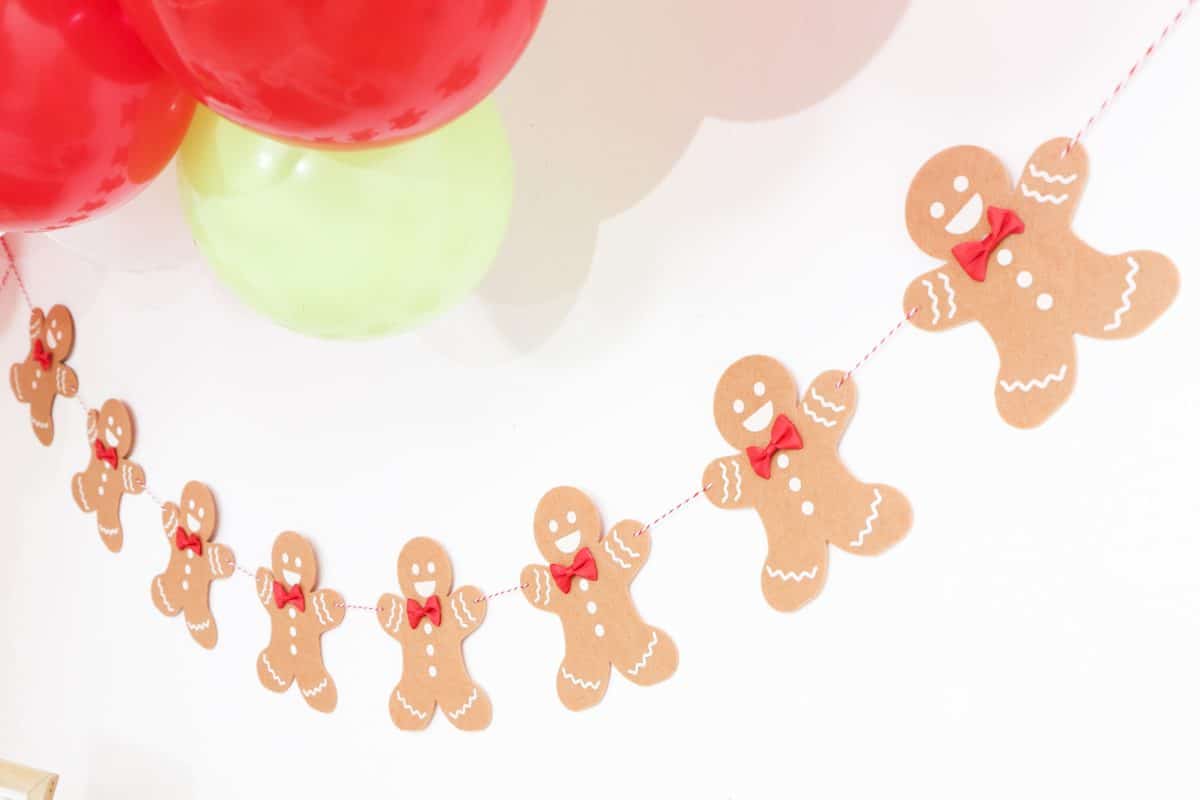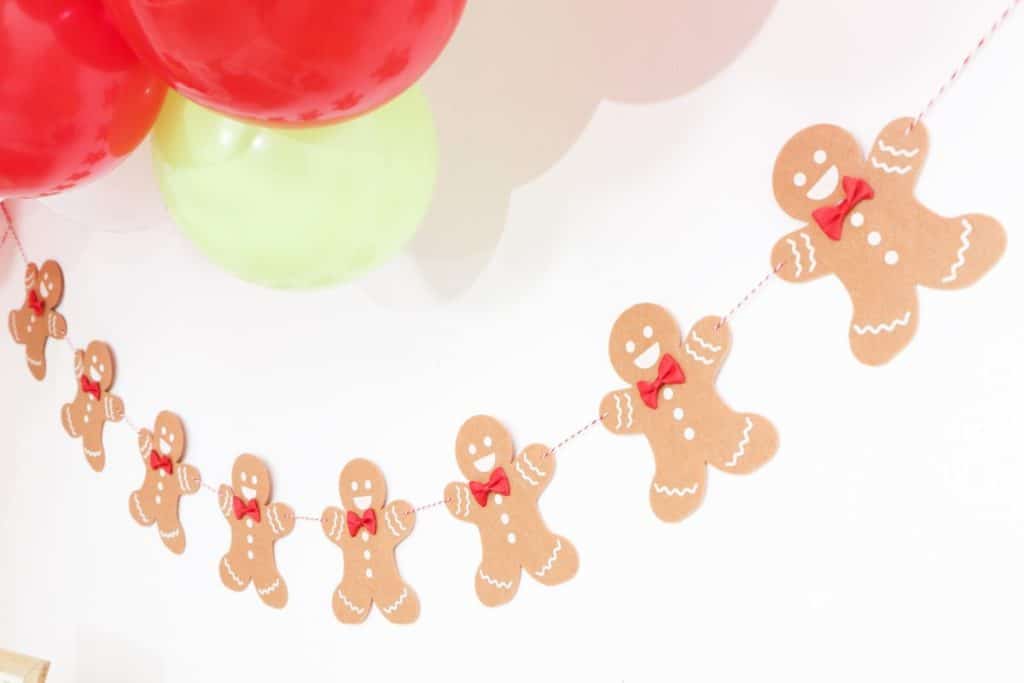 My favorite part of my backdrop doubled as a great photo prop as well – a GIANT 5ft tall gingerbread man cardboard cutout! Perfect for posing next to.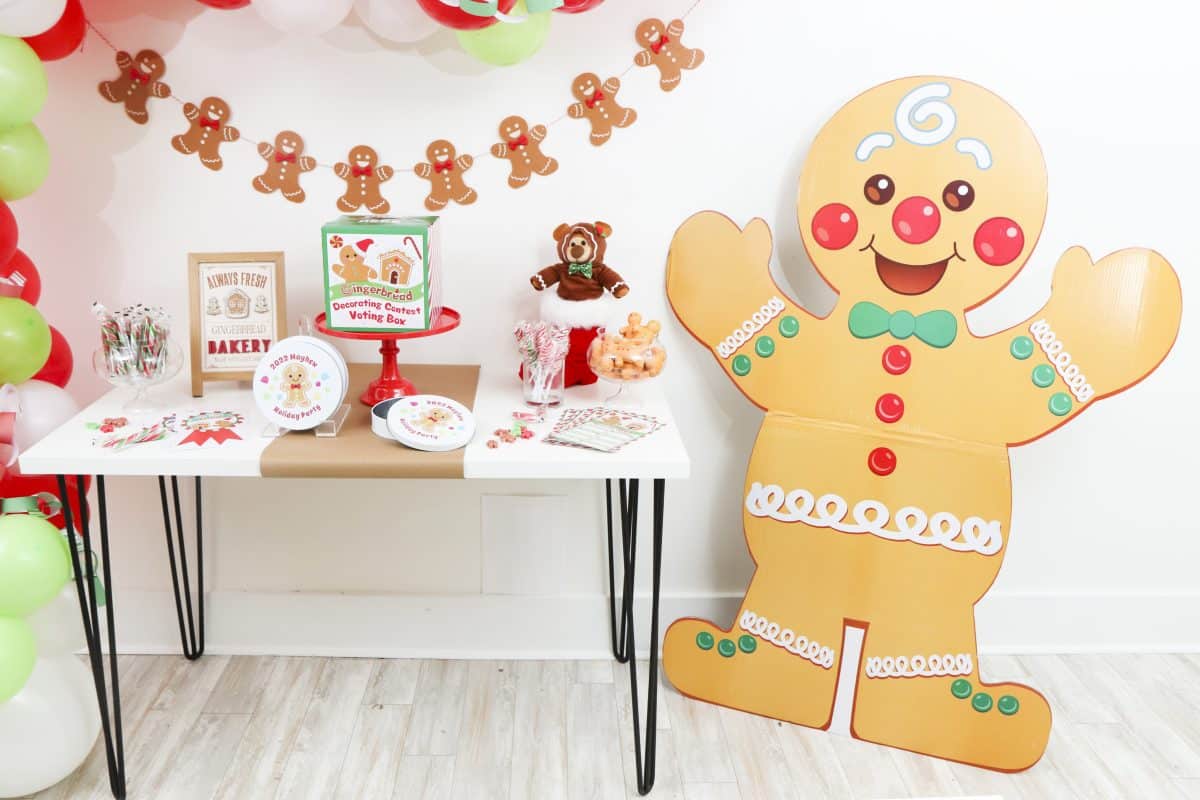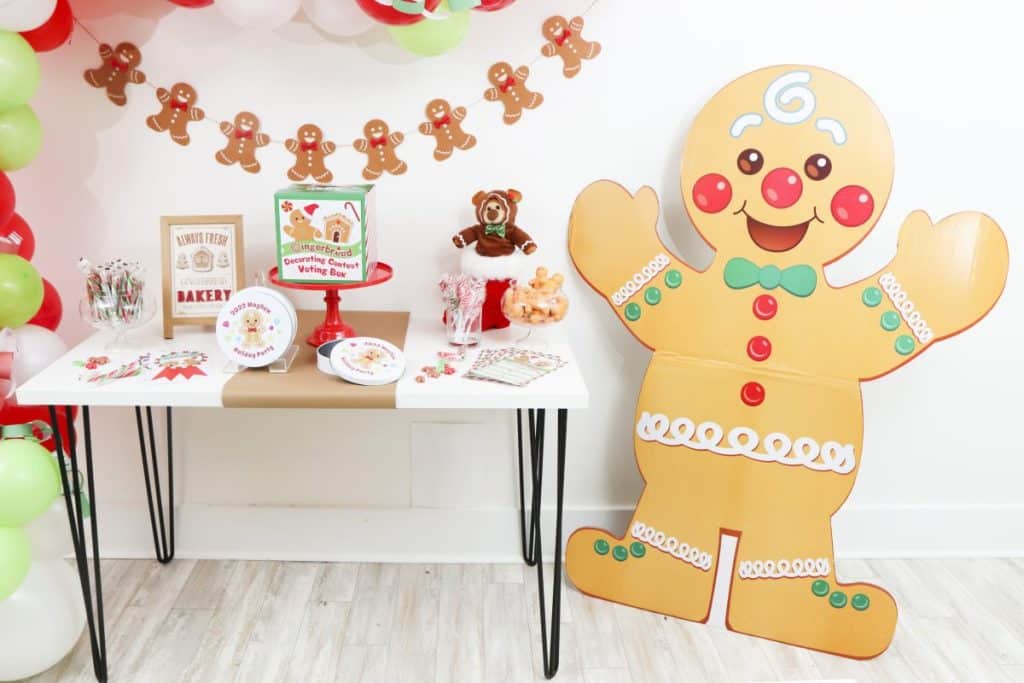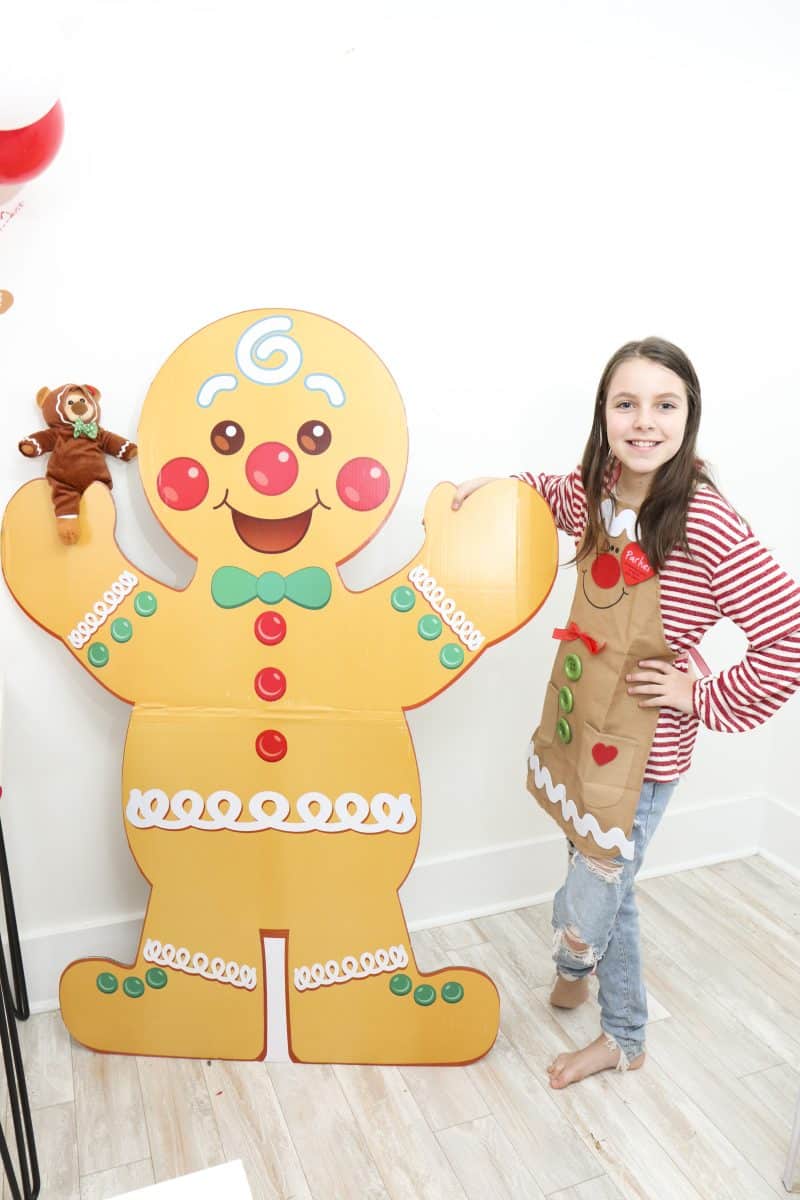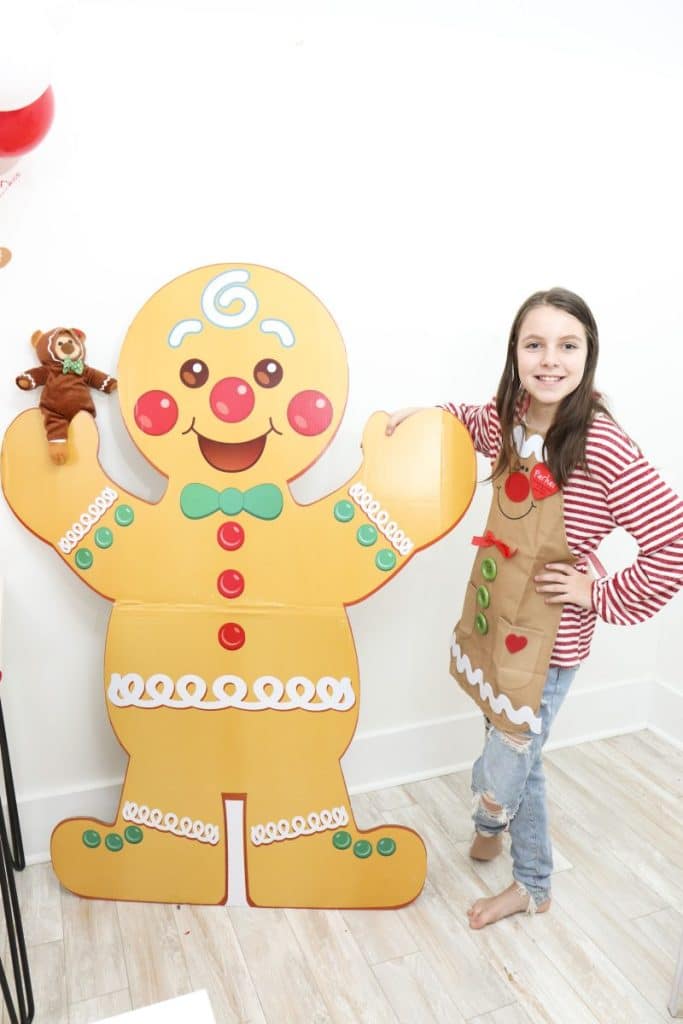 Voting Table & Favors
Next, I set up a voting table which also held some adorable gingerbread-themed take-home favors for guests.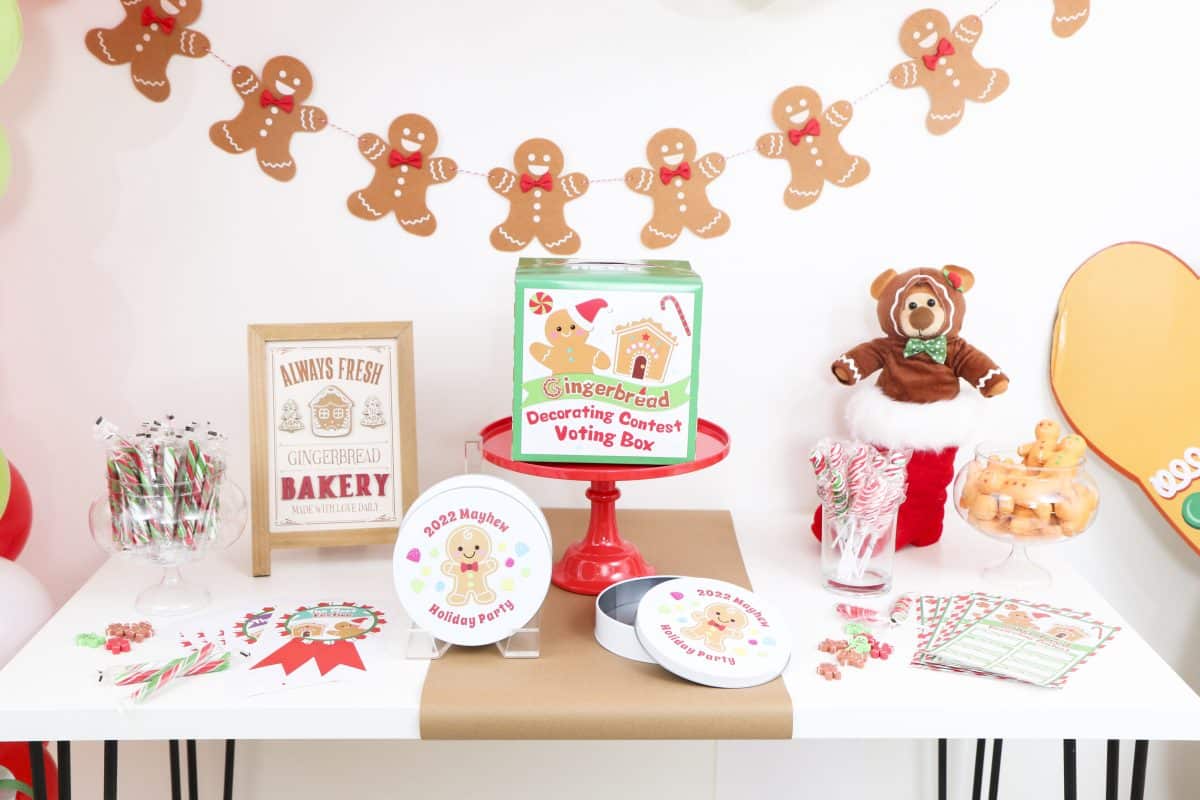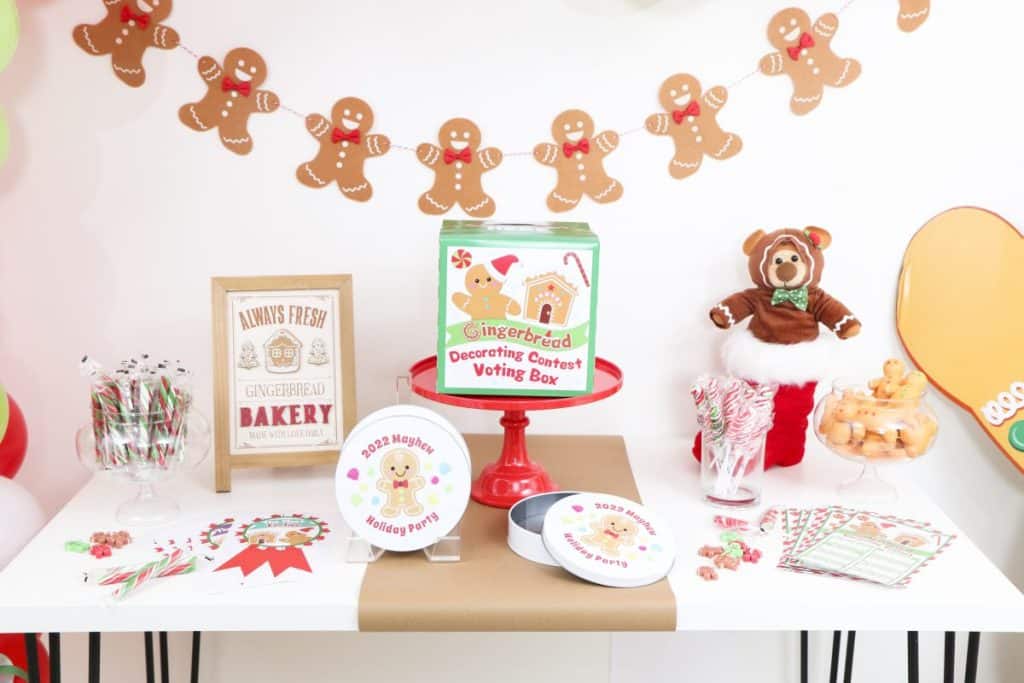 In the center of the table, I used brown paper to make table runner. I elevated a gingerbread contest voting box by placing it on a red cake stand. This is where guests can submit their choices for most creative, most colorful, funniest gingerbread men and more!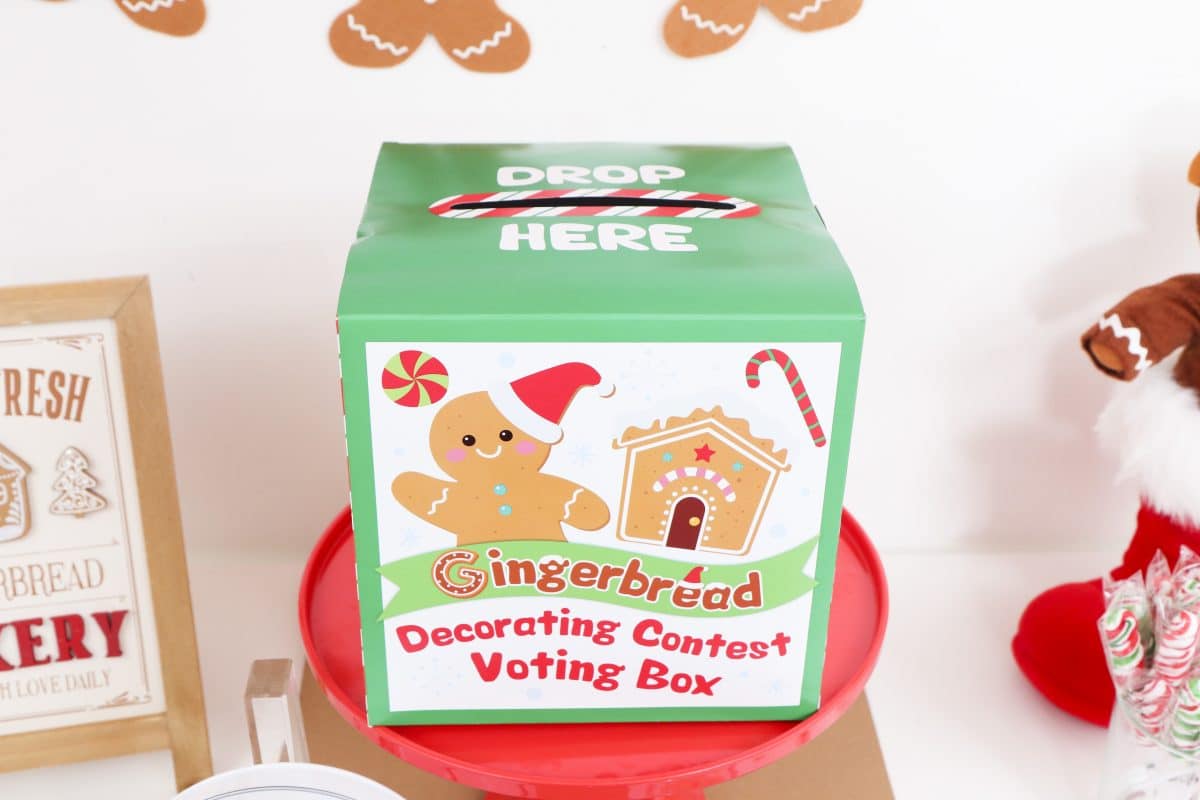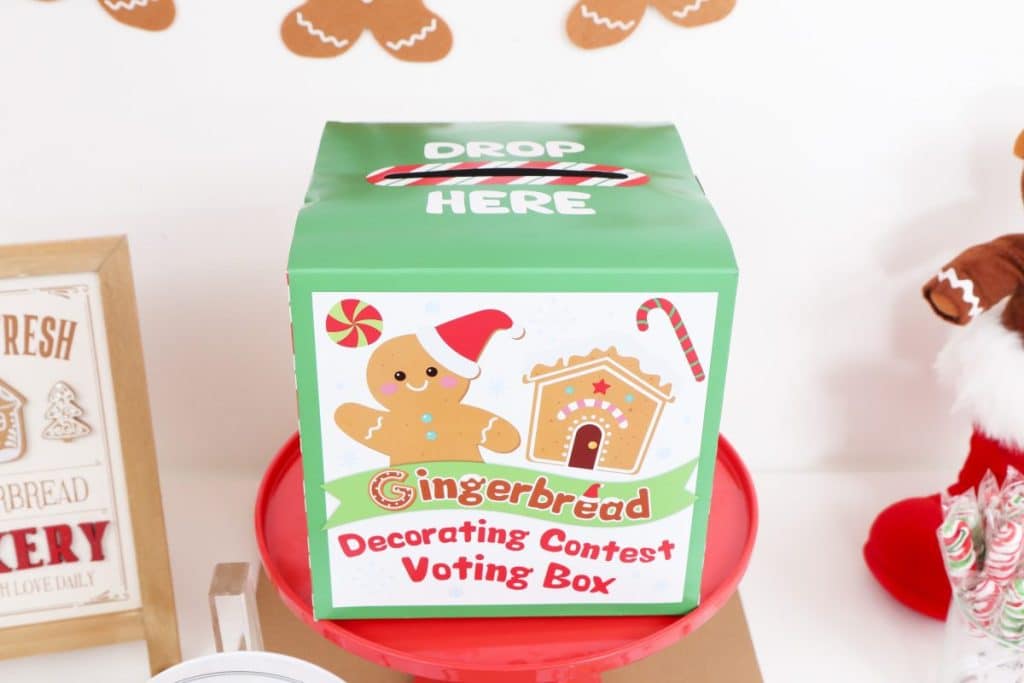 To complete the gingerbread decorating contest supplies, I set out voting cards for guests to grab when it's time for voting to commence, along with awards to hand out to the winners.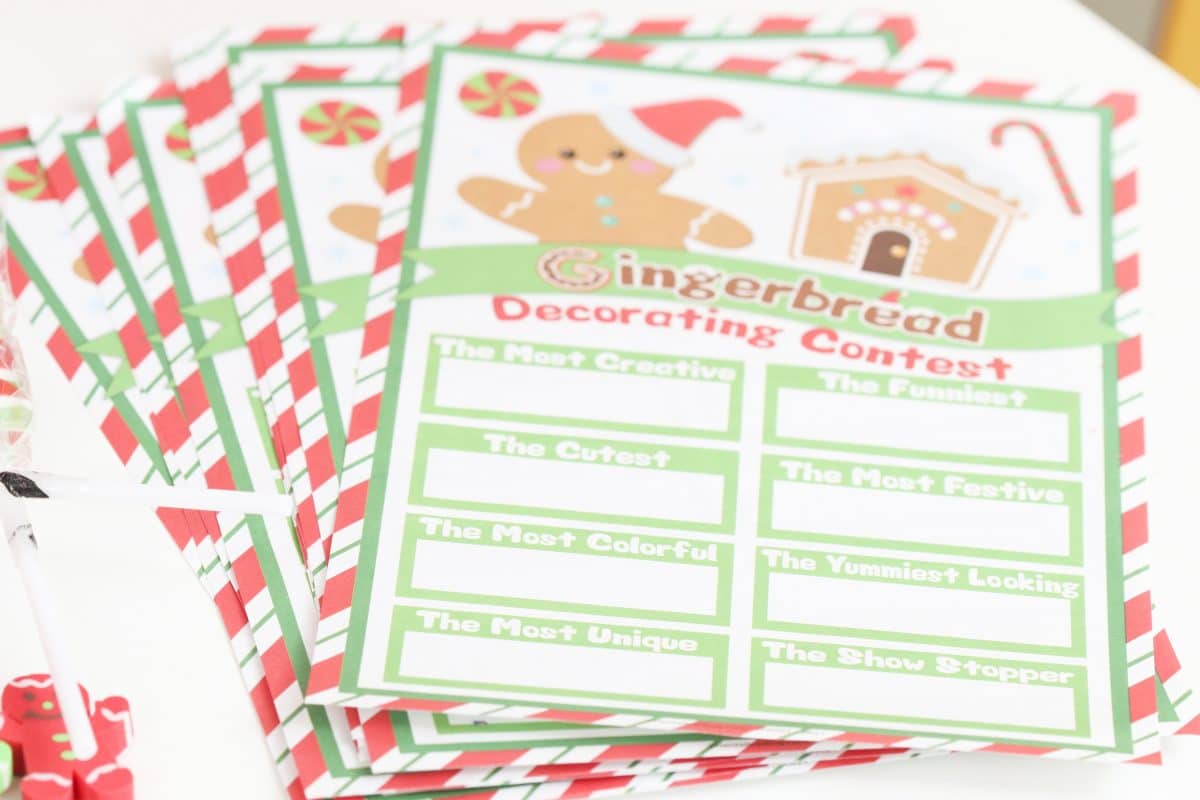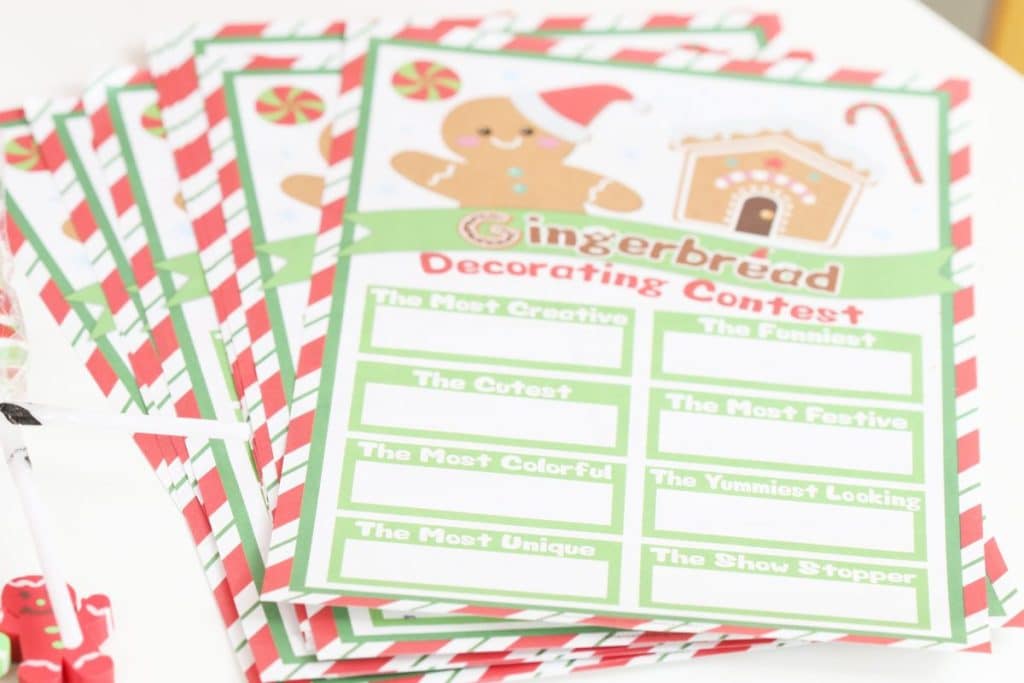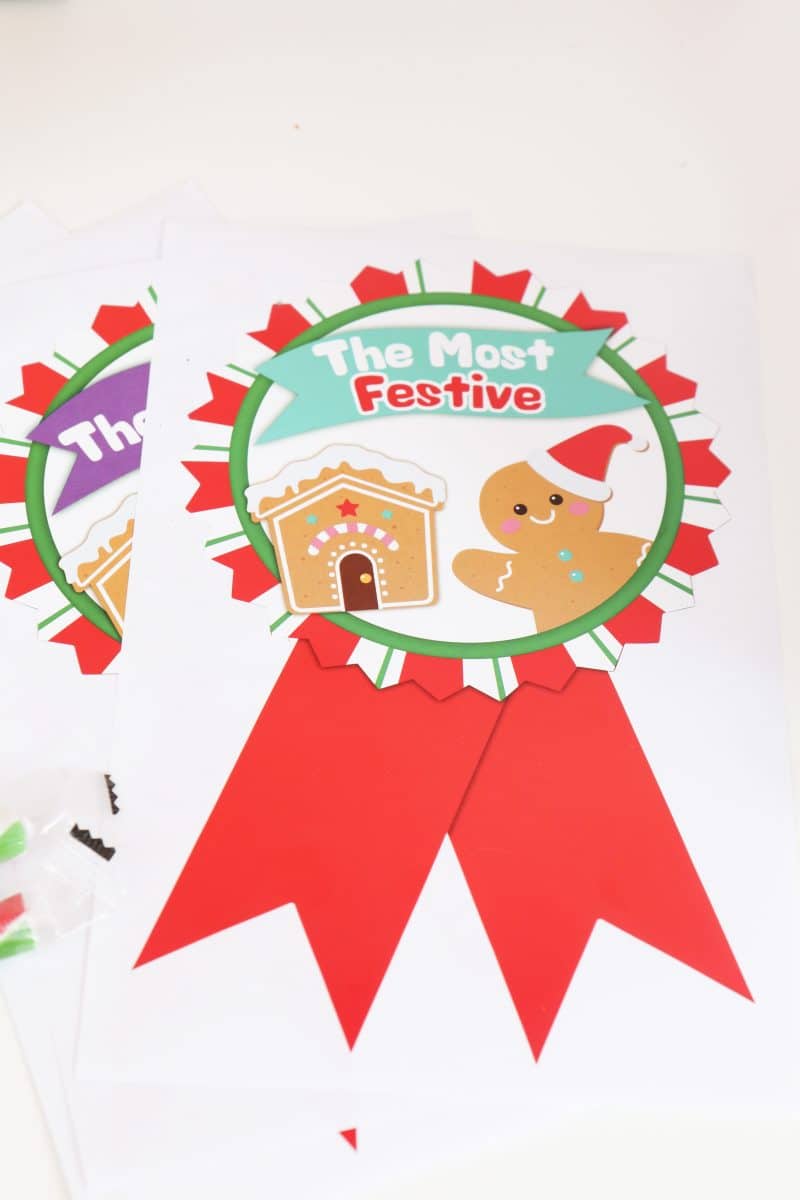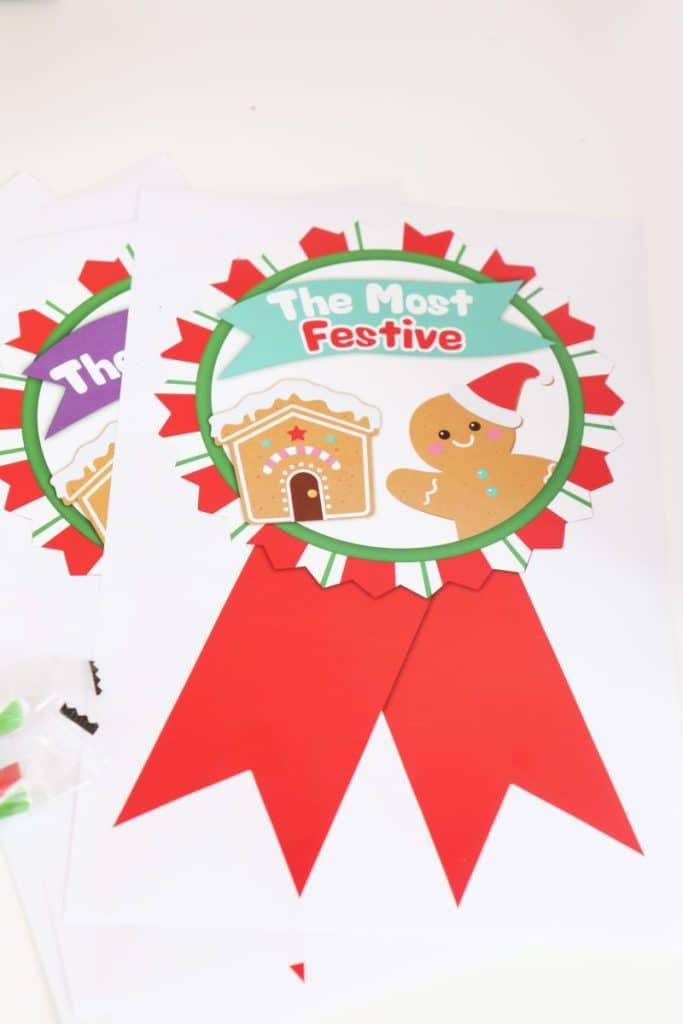 Along with the contest supplies on the table, I added some personalized gingerbread man favor tins. Guests can fill these with favors and candy and save the tin as a keepsake from the party!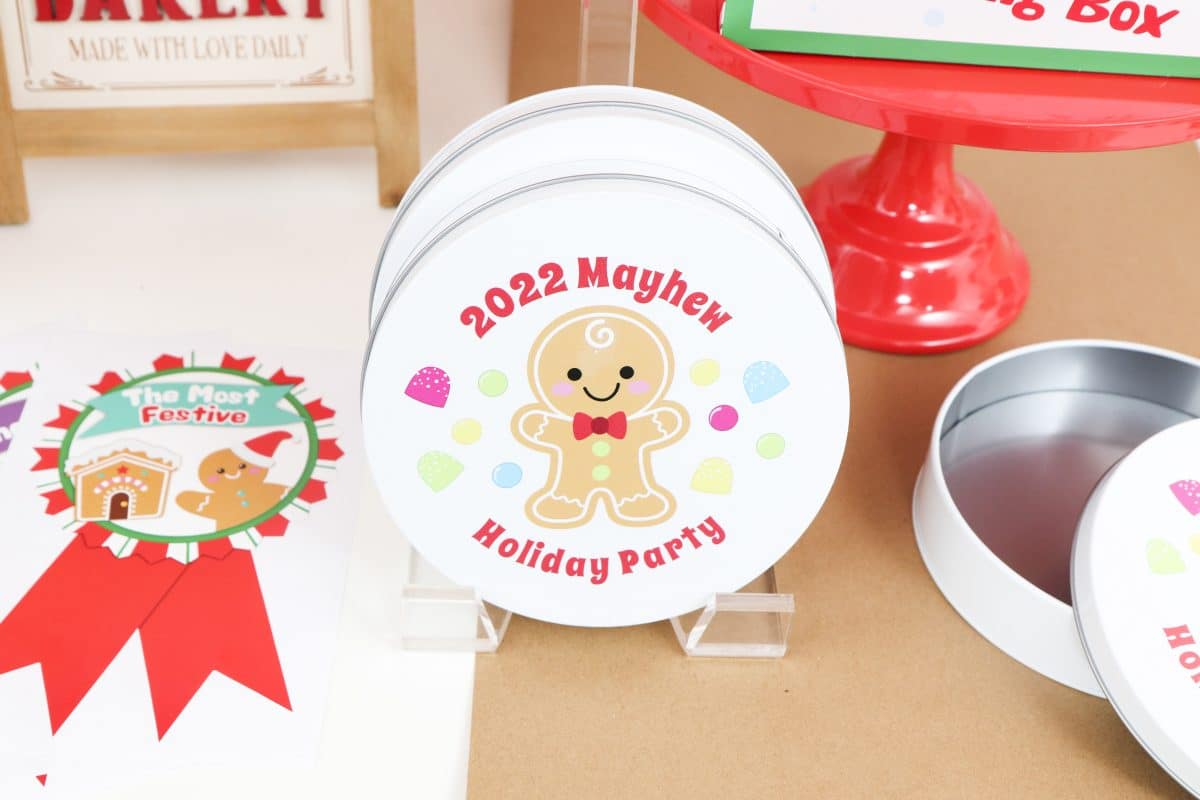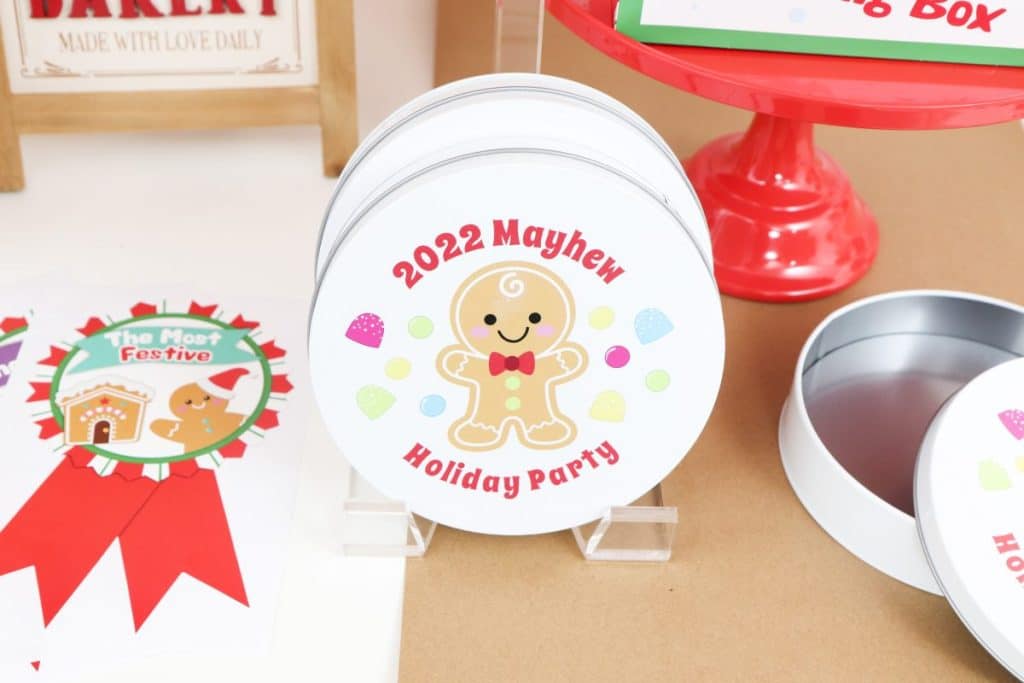 Gingerbread man erasers make fun favors, as well as easy decor to sprinkle on the table like festive themed confetti.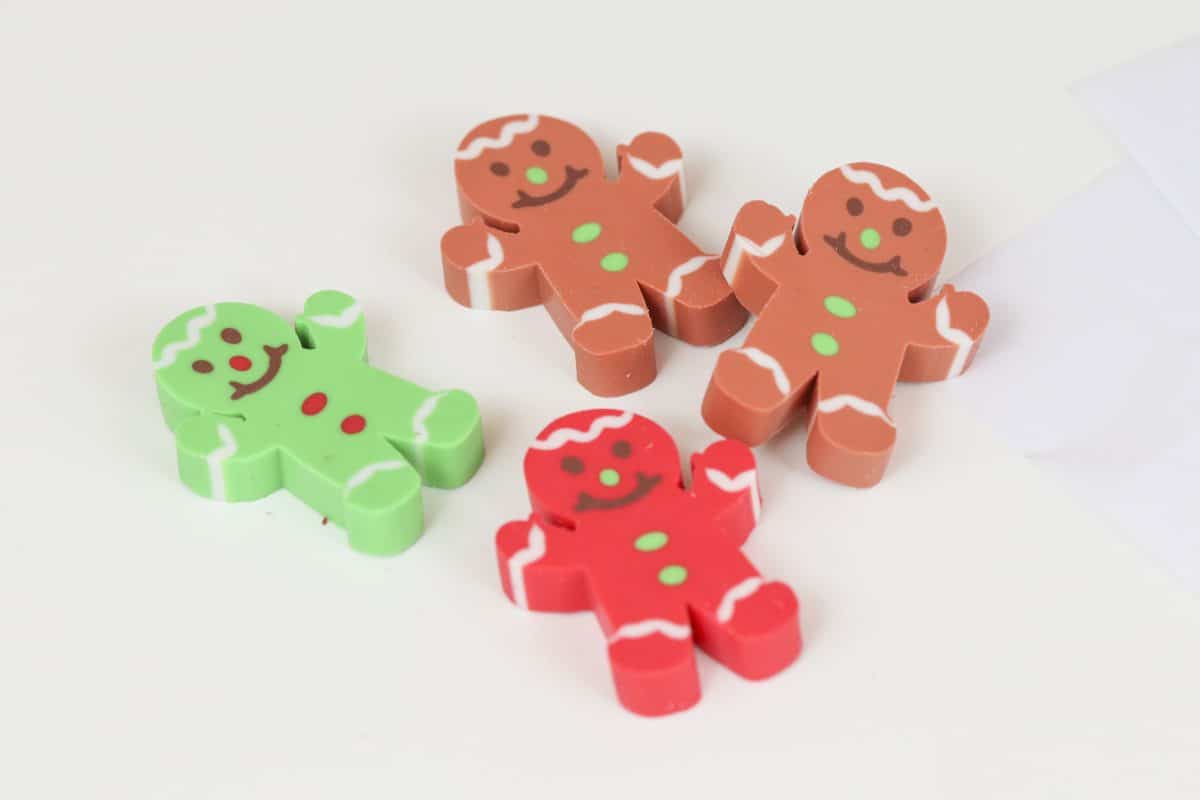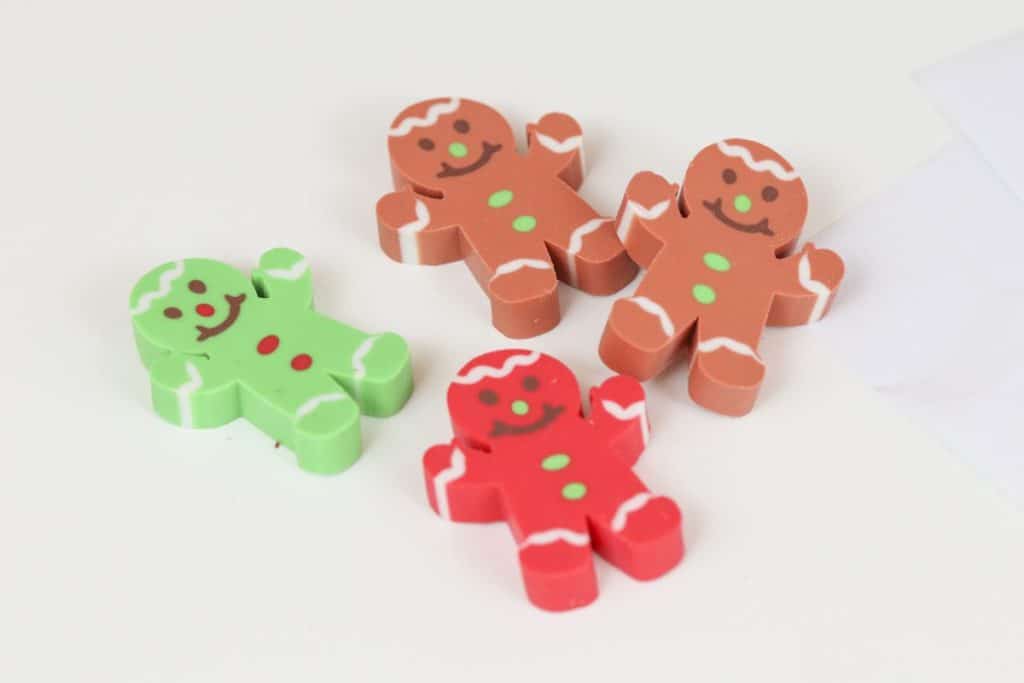 Red and green peppermint sticks and lollipops are a perfectly on-theme and tasty treat guests can enjoy during the party or take home for later.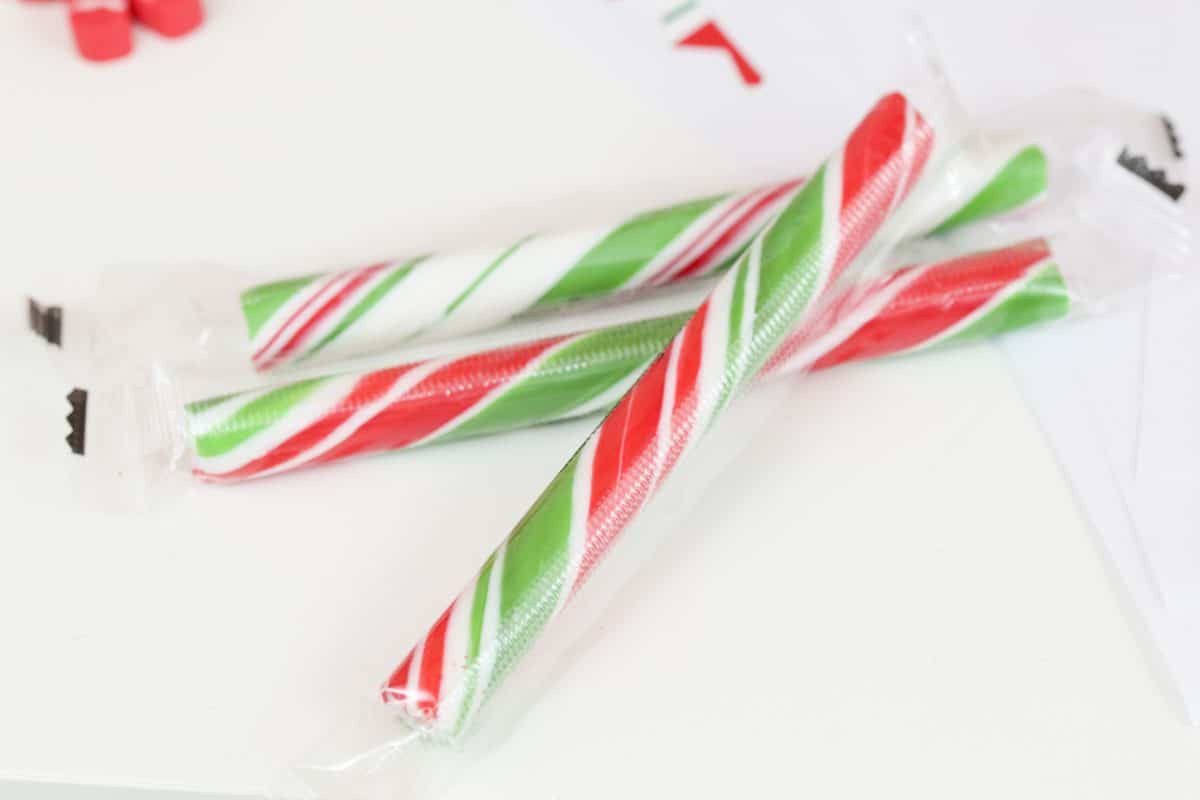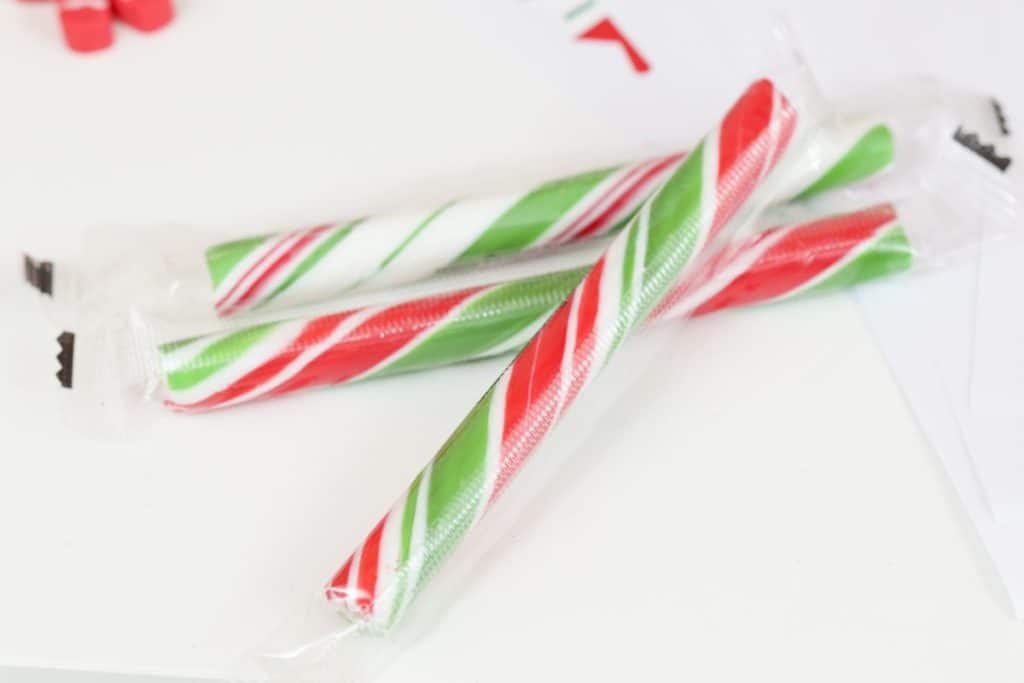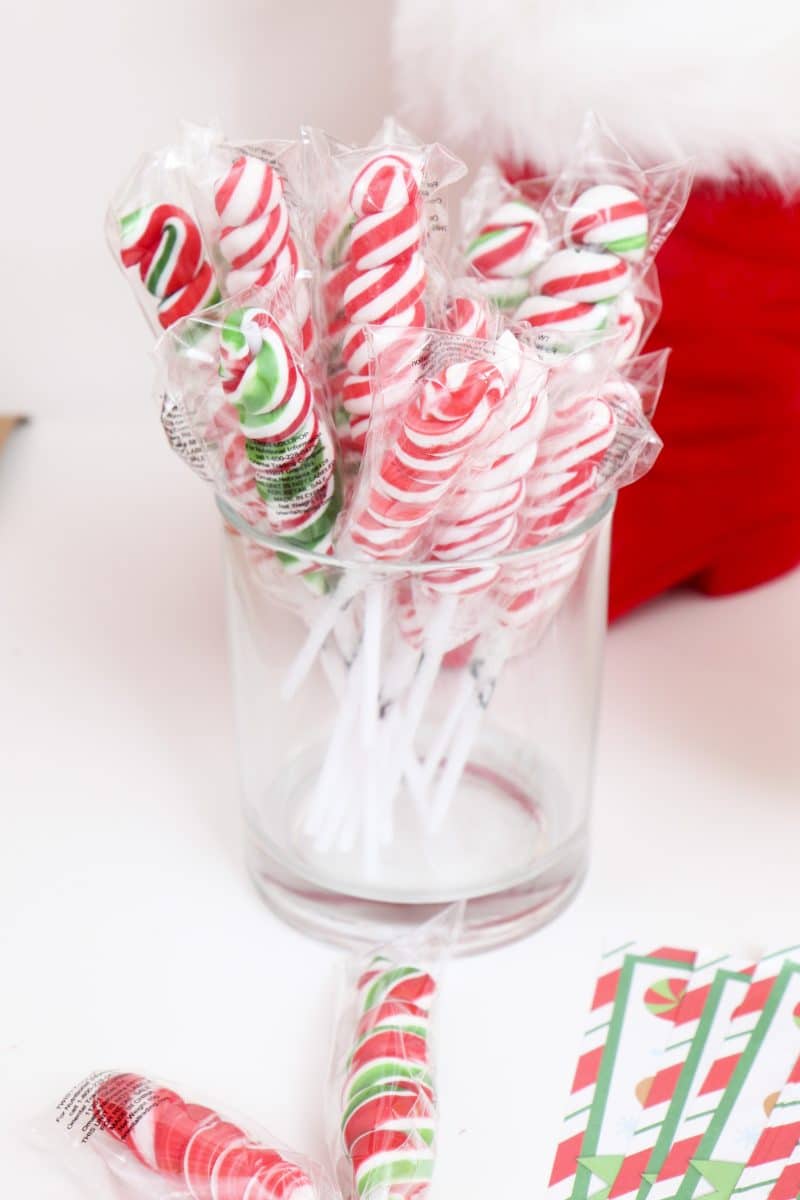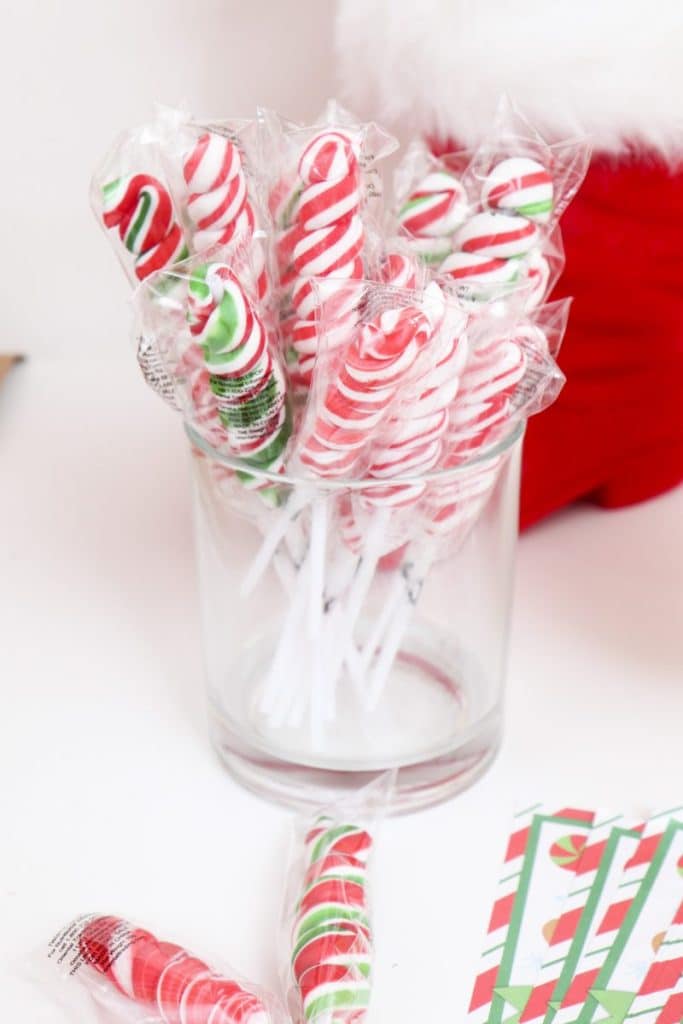 Everyone loves squishies – these gingerbread man ones will provide stress relief in case the competition gets a bit intense!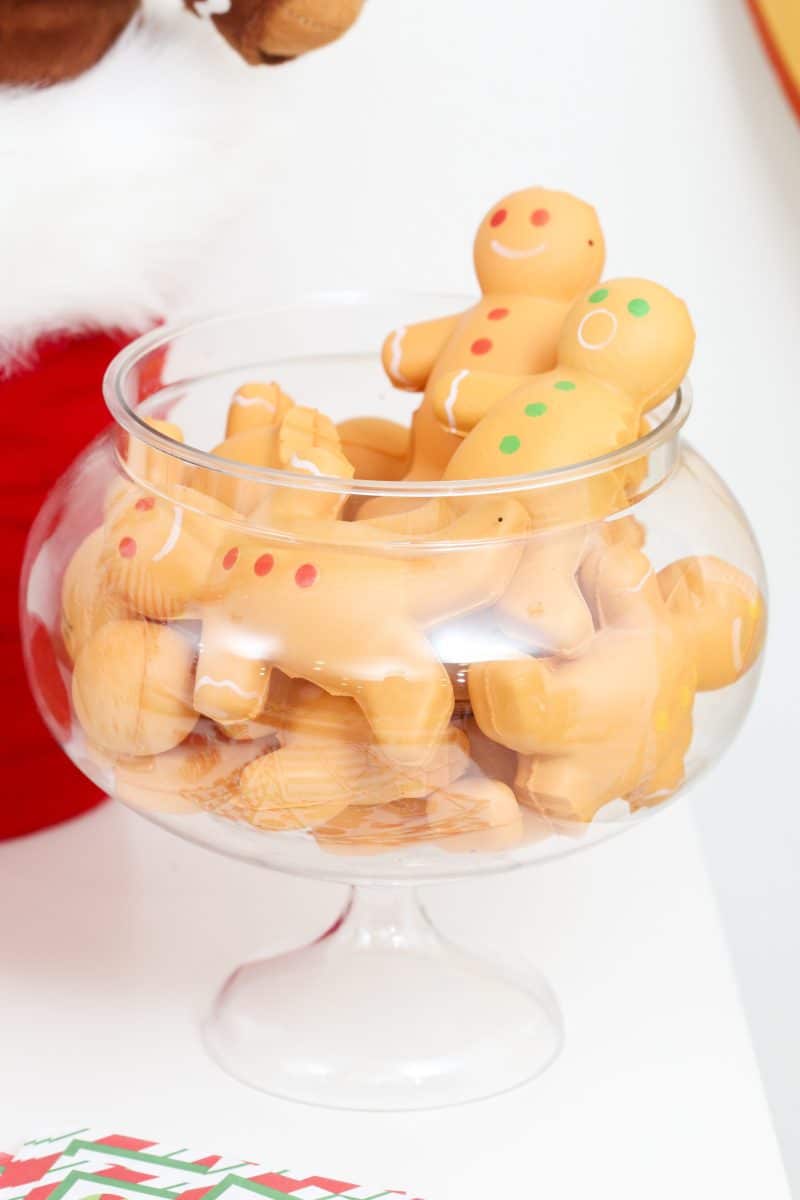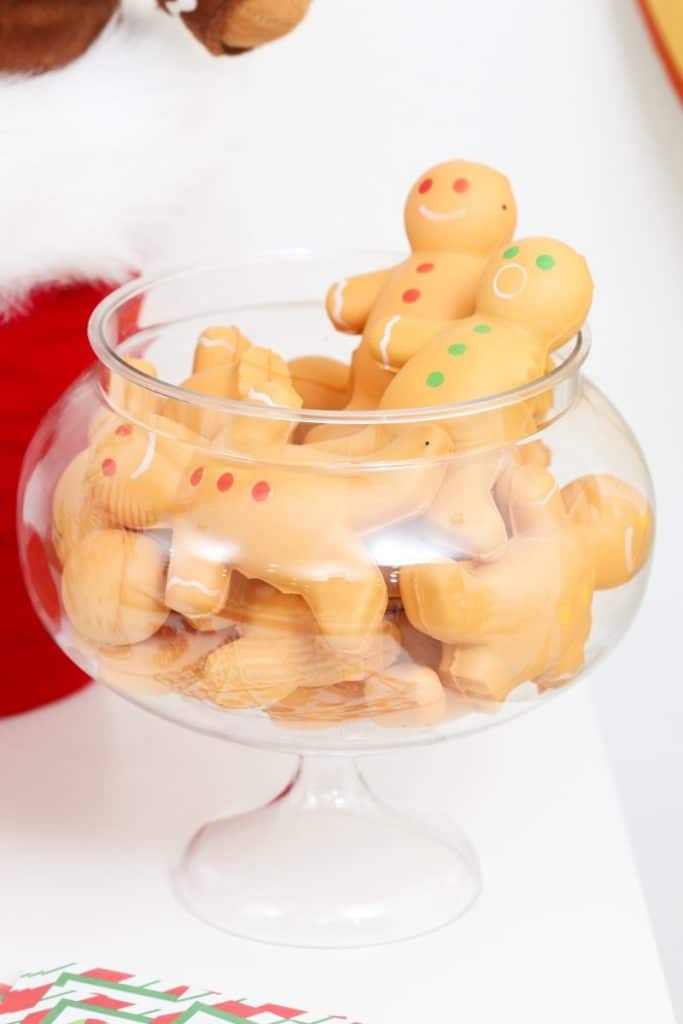 For additional gingerbread-themed decor, I added a cute and rustic gingerbread bakery sign, and an adorable teddy bear dressed in a gingerbread man costume, coming out of a Christmas stocking to watch over the table.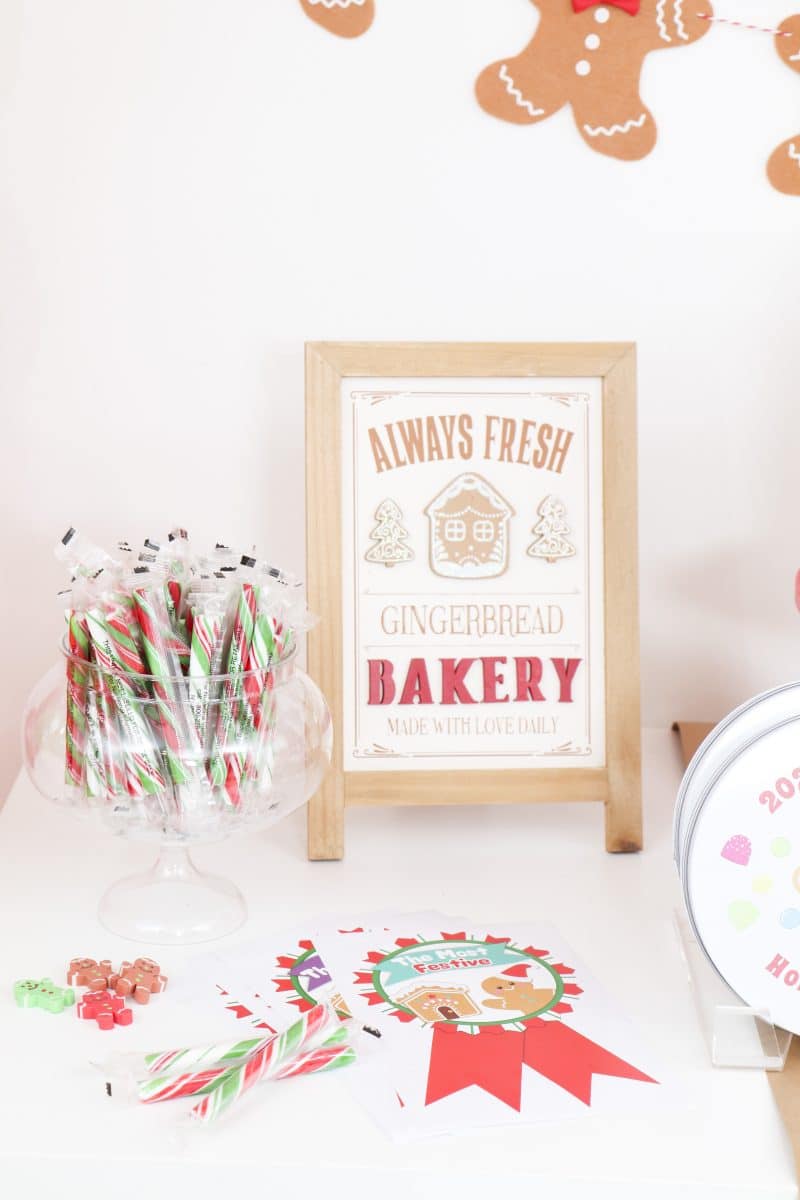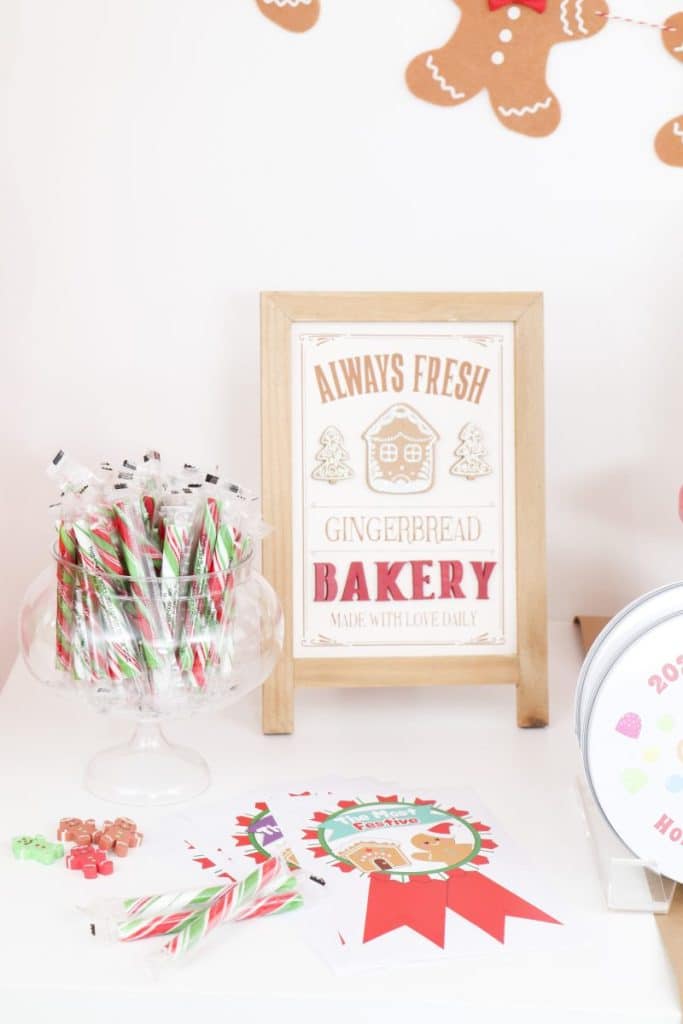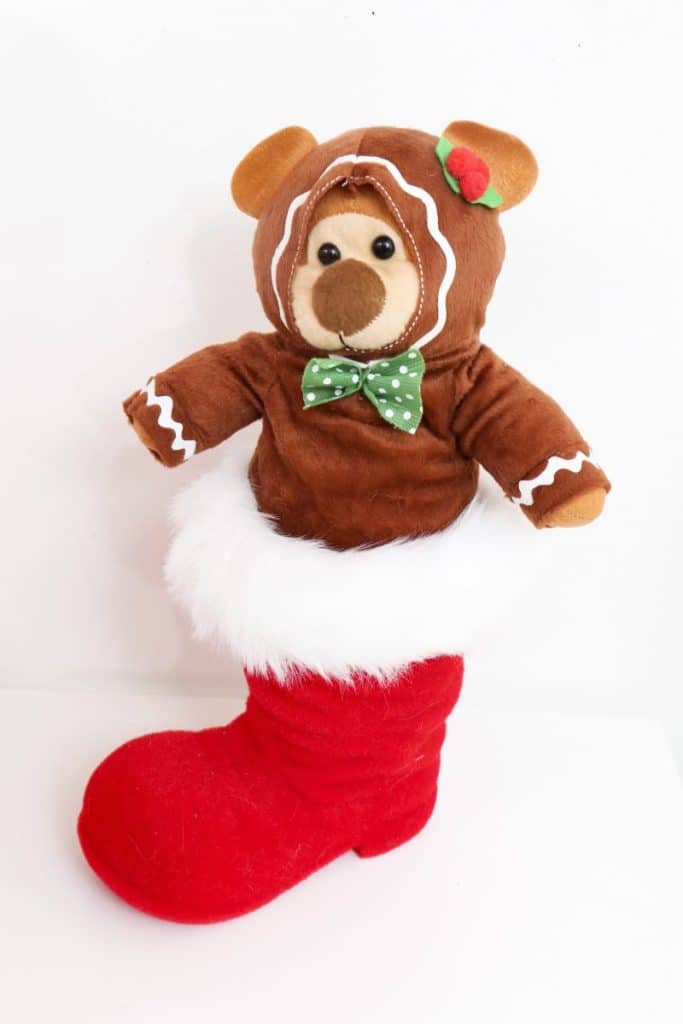 Decorating Table
Next, it was time to set up the place where all the action would happen! I covered the decorating table with a combination of brown kraft paper and red and white striped paper. These make it easy to keep your table clean, as you can just wrap it all up in the end and throw the mess away.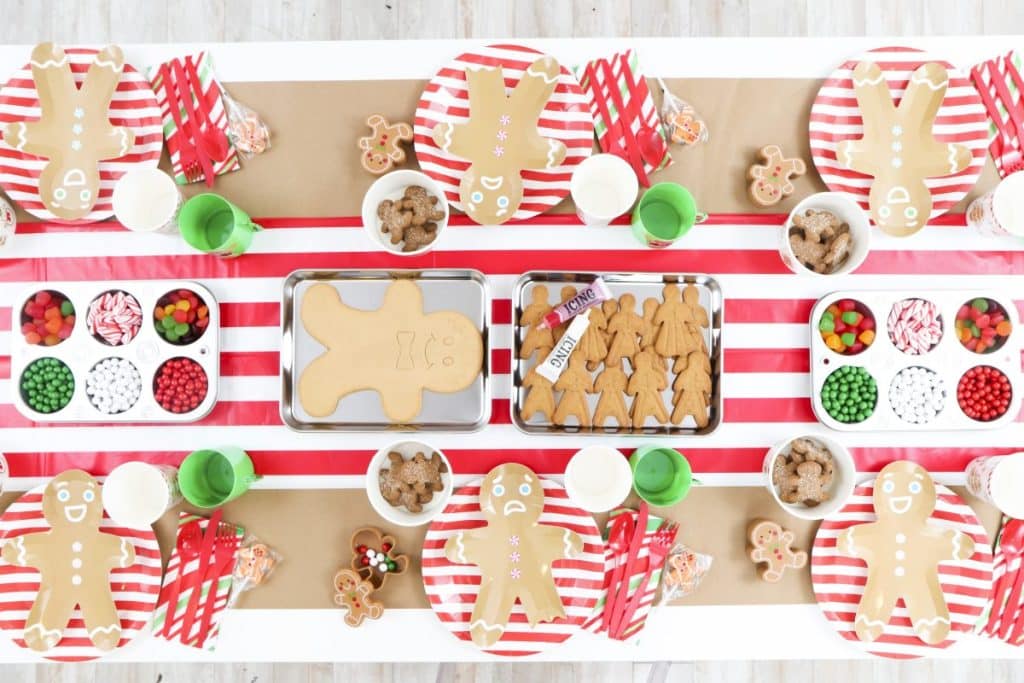 In the middle of the table, I added gingerbread men (and women!) to decorate, along with tons of icing and candies to decorate them with. Using a muffin tin makes it super easy to keep decorations organized and easy to access.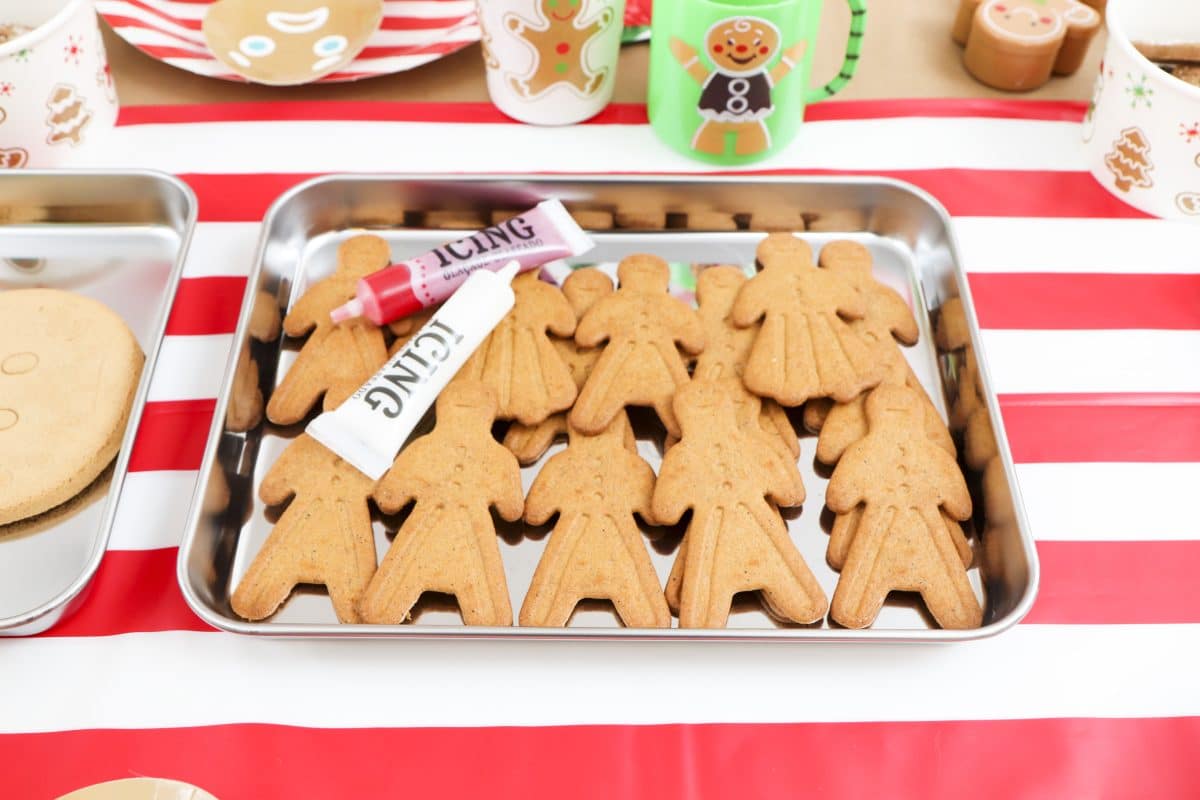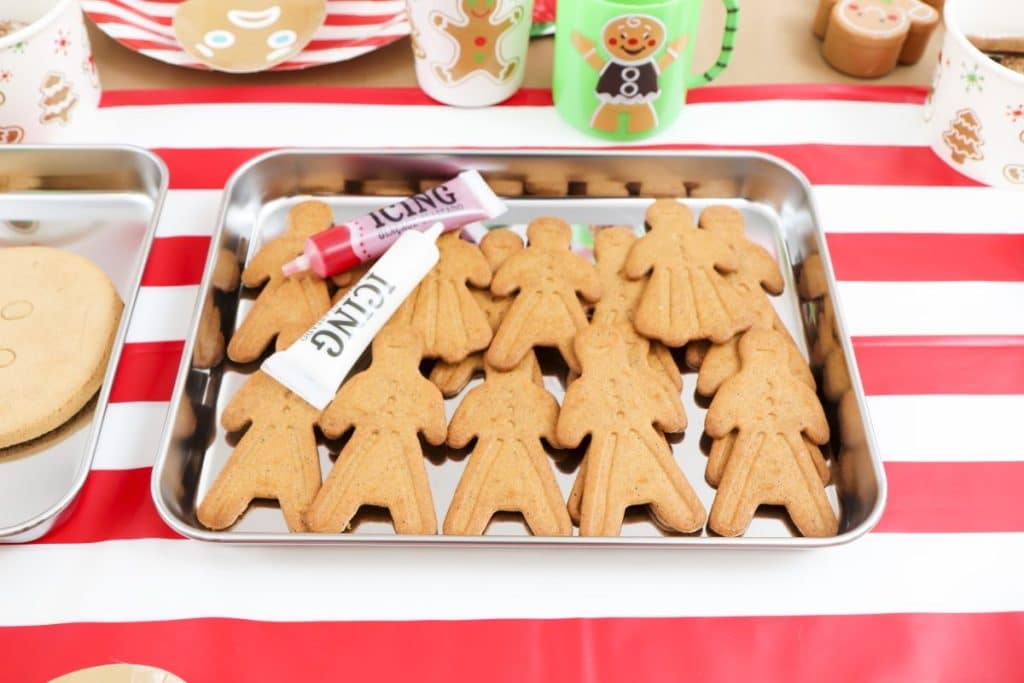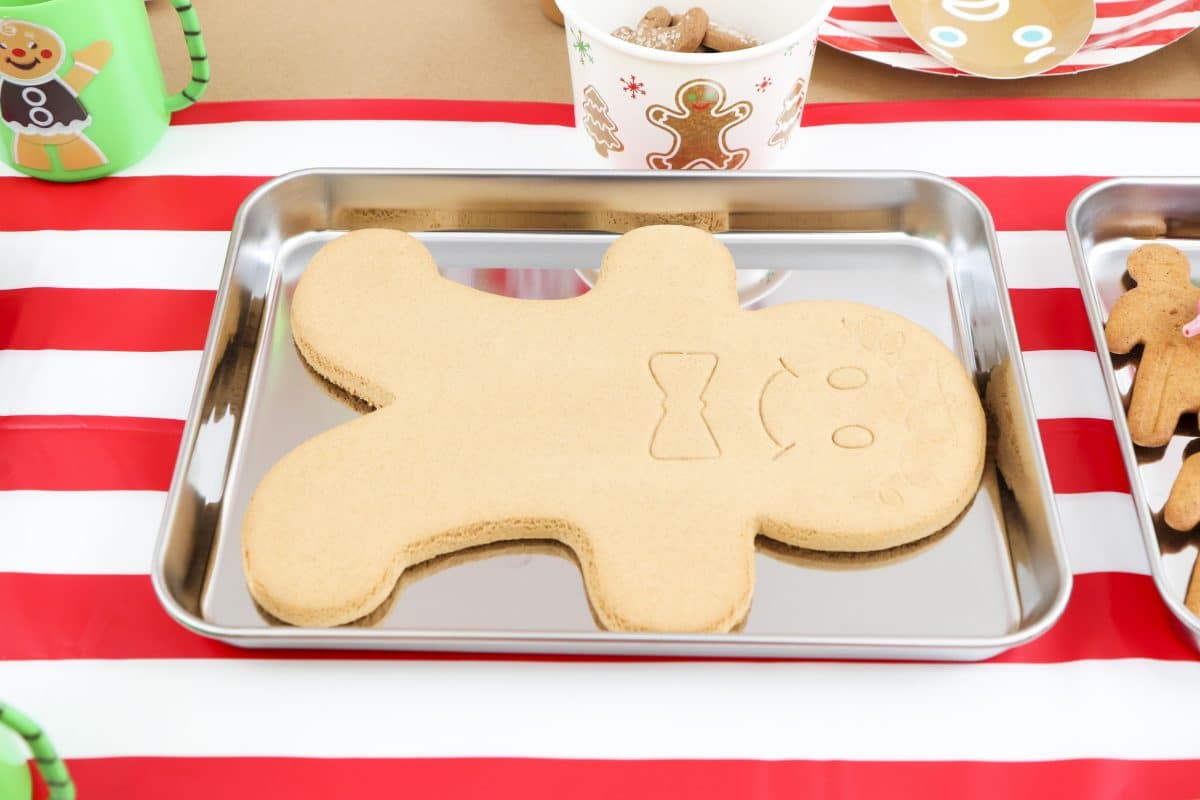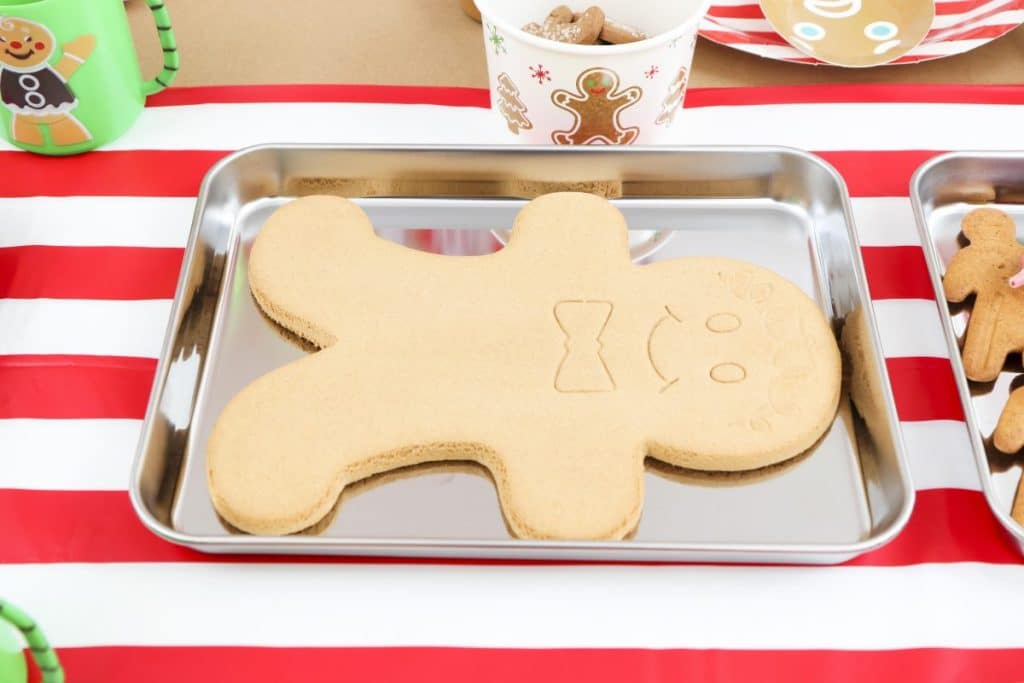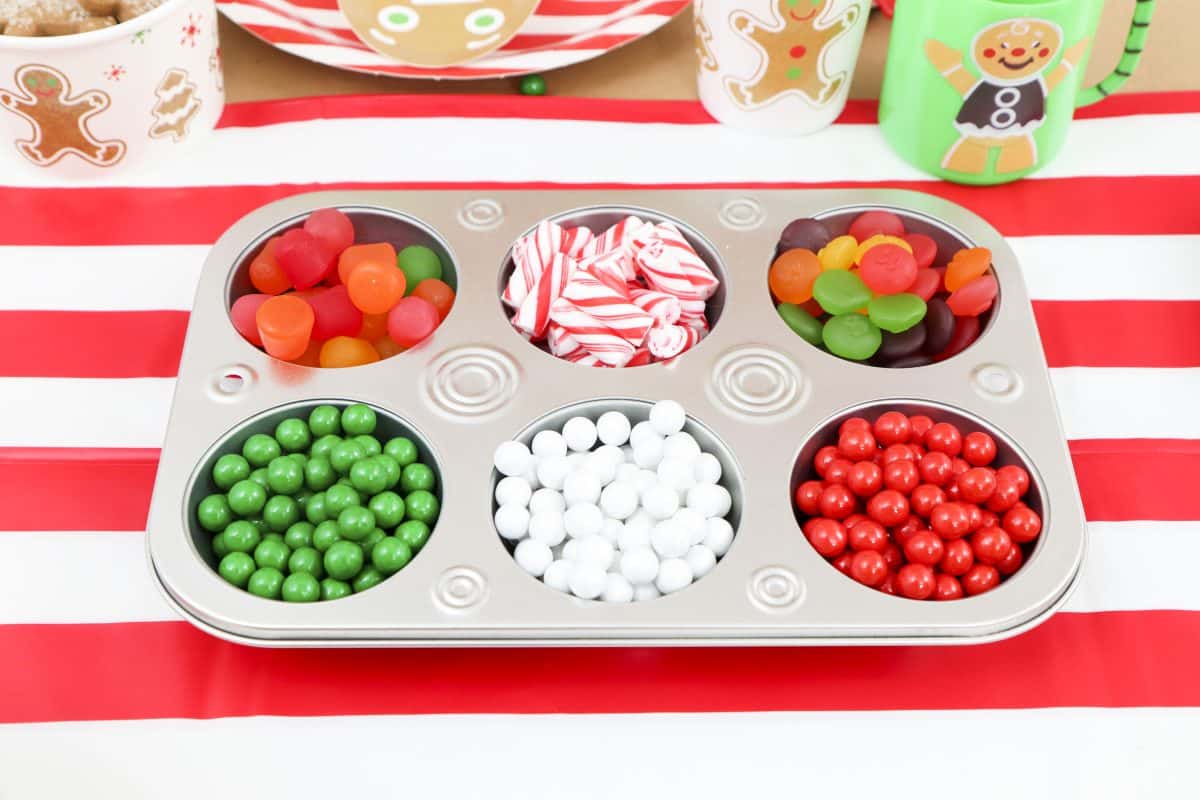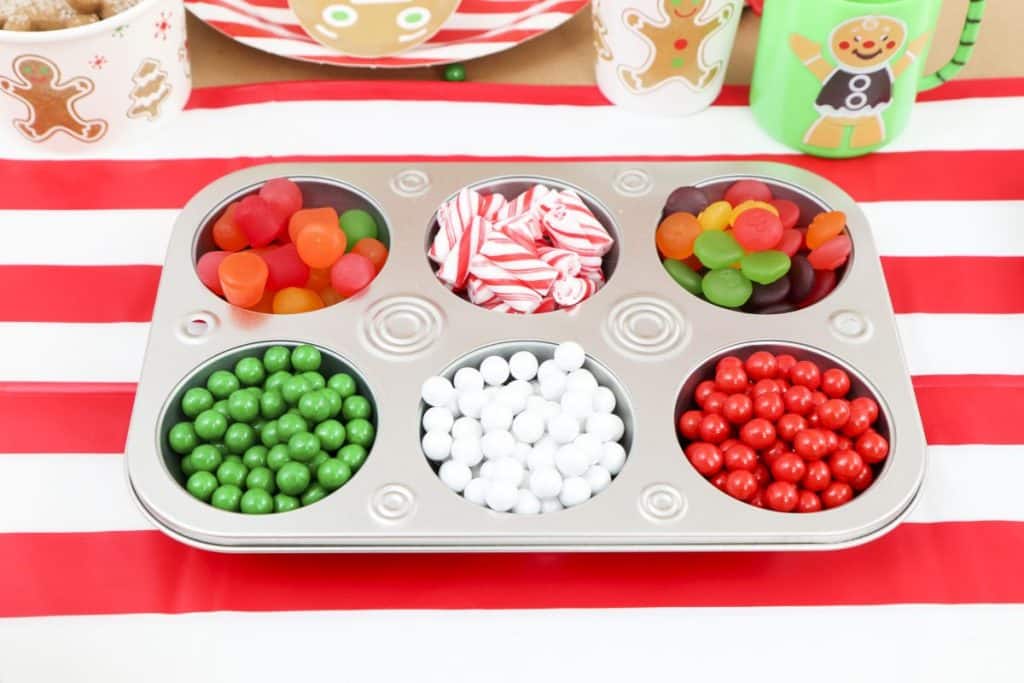 At each place setting, I set out a red and white peppermint-striped dinner plate, layered with an adorable and hilarious gingerbread man plate.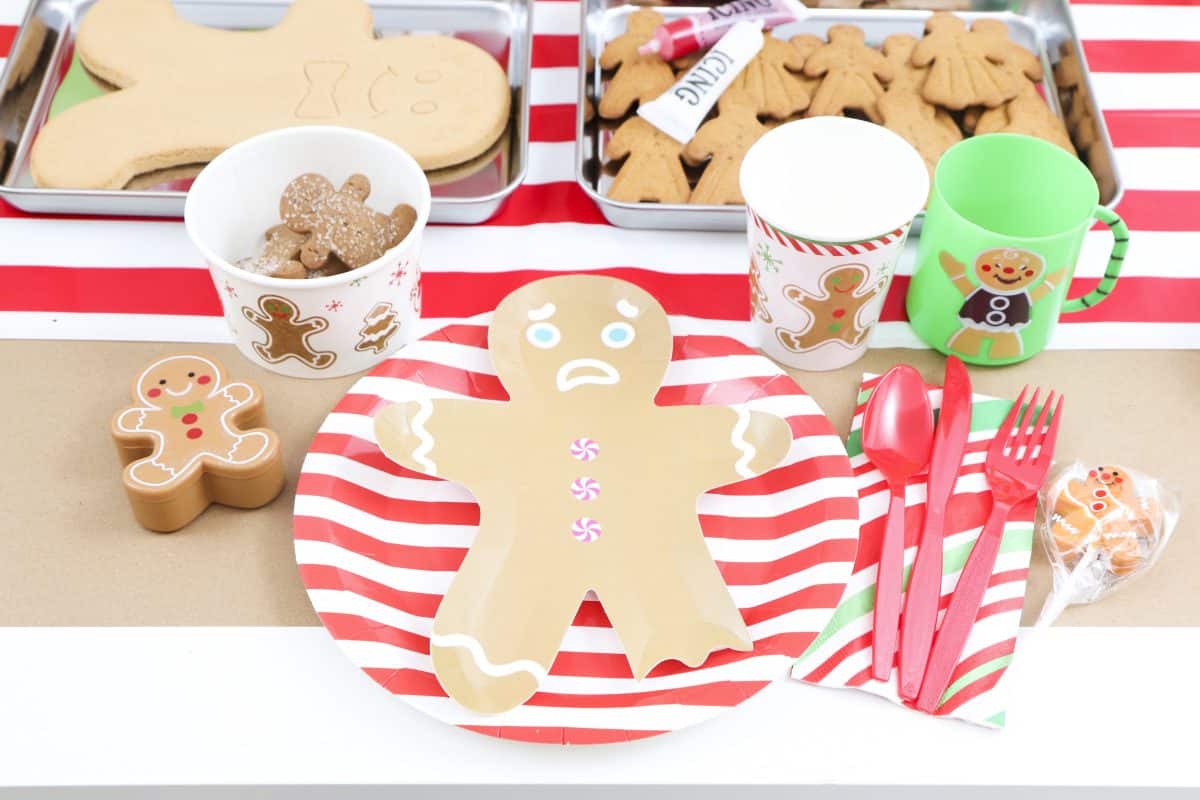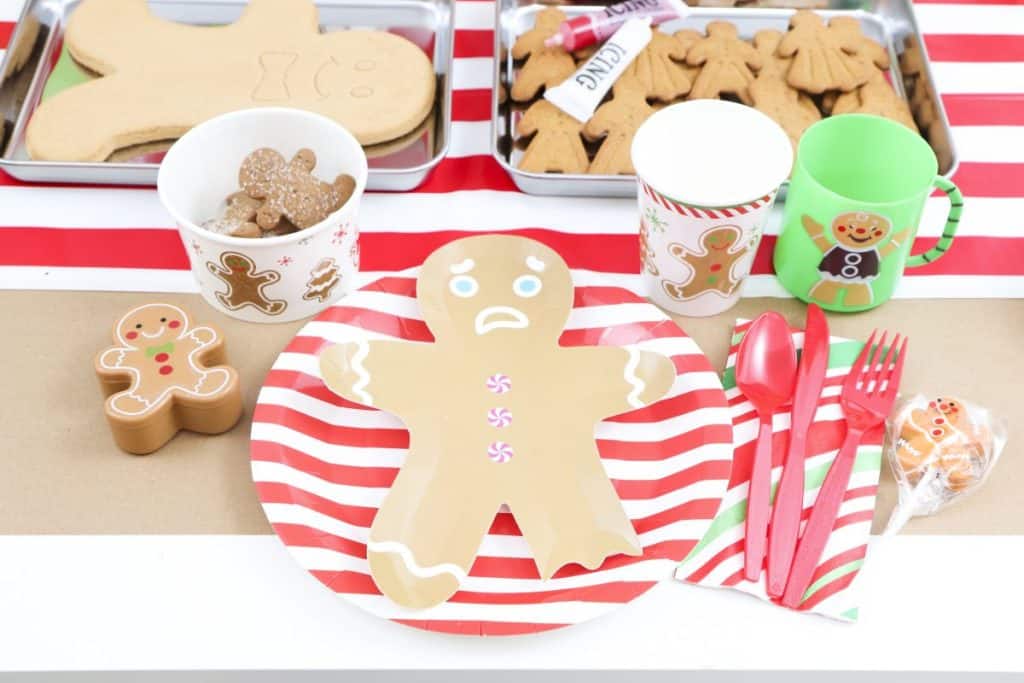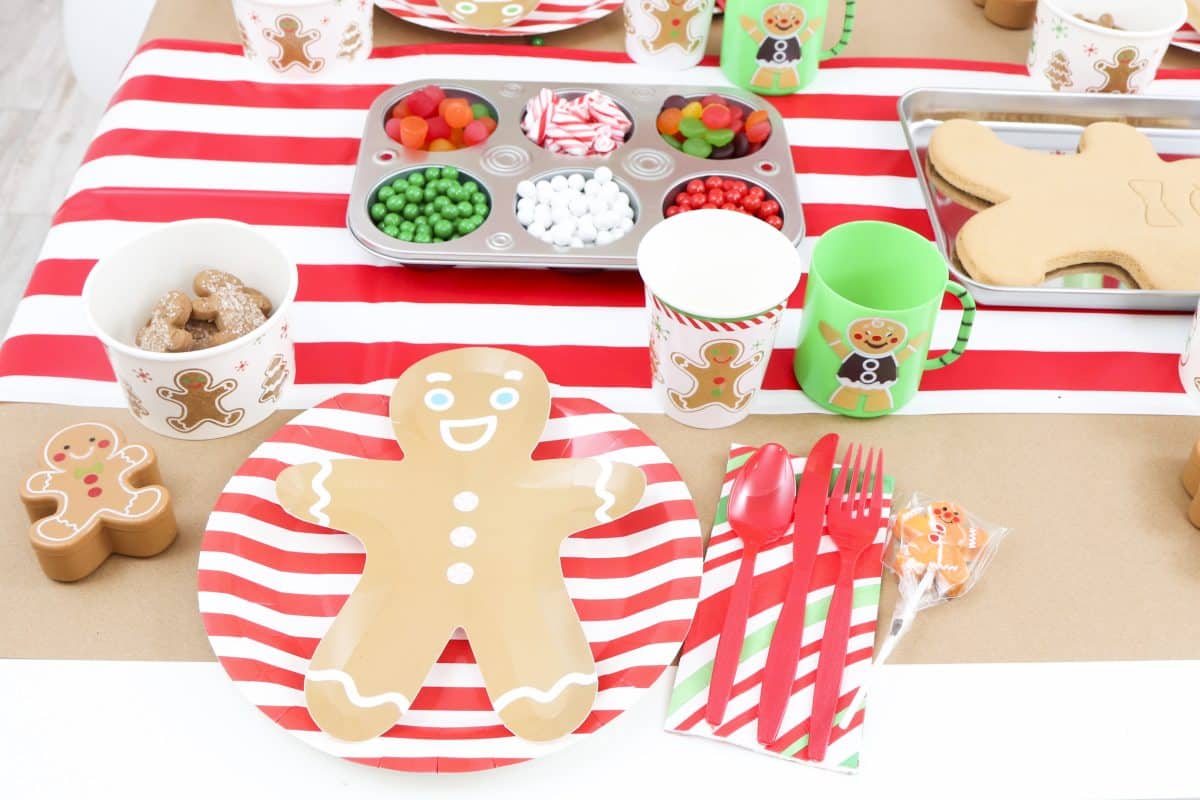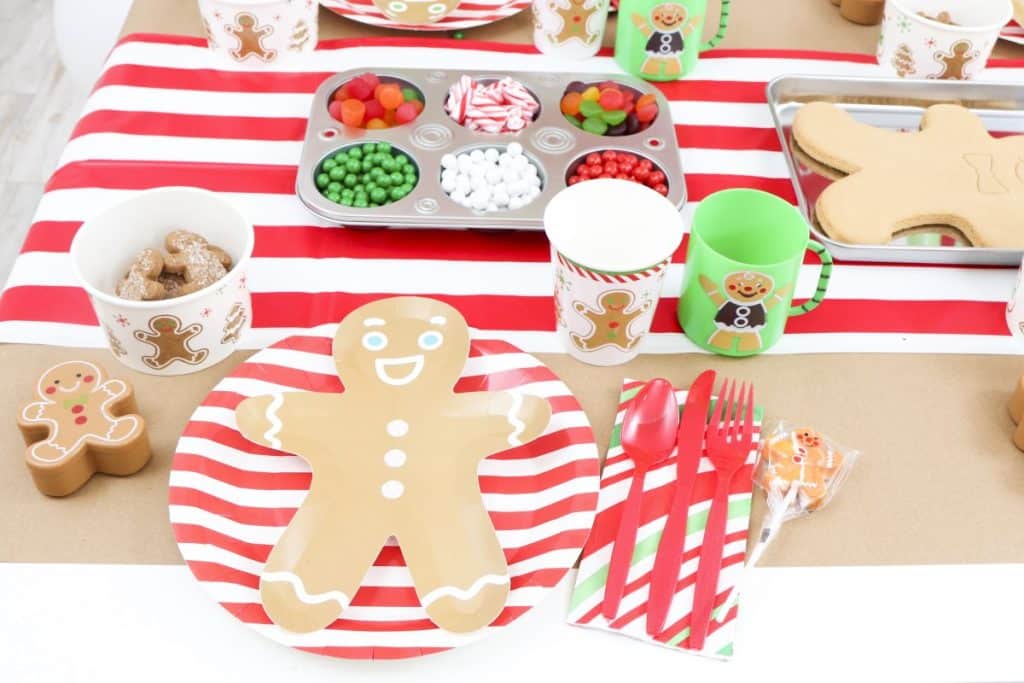 I also added red plastic cutlery, red and green stiped napkins, and gingerbread lollipop favors next to each plate.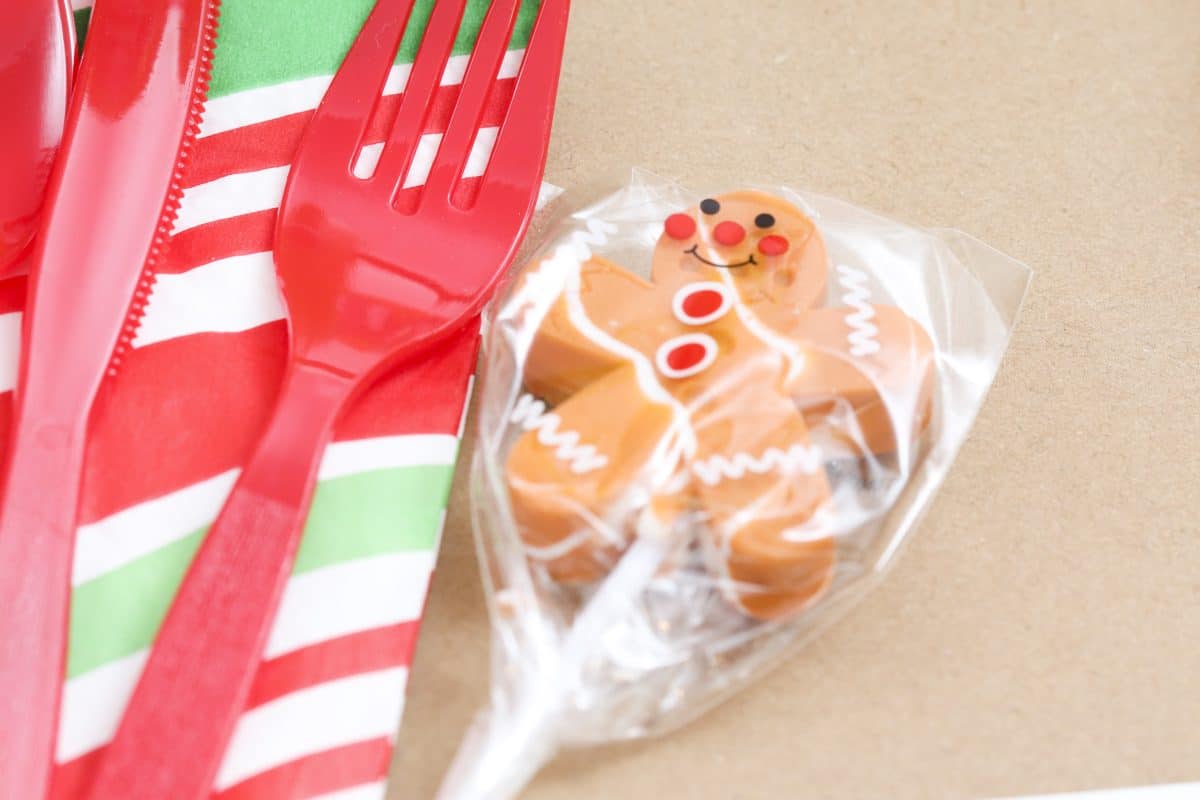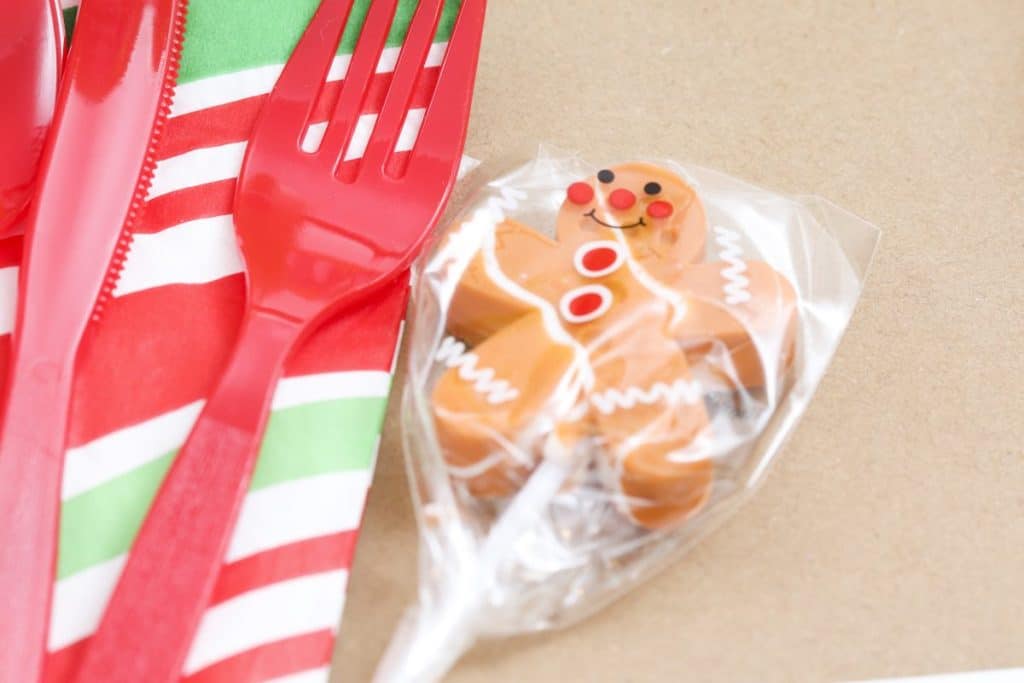 For drinks, I used gingerbread-themed paper cups, but also added gingerbread man mugs for cozy hot cocoa.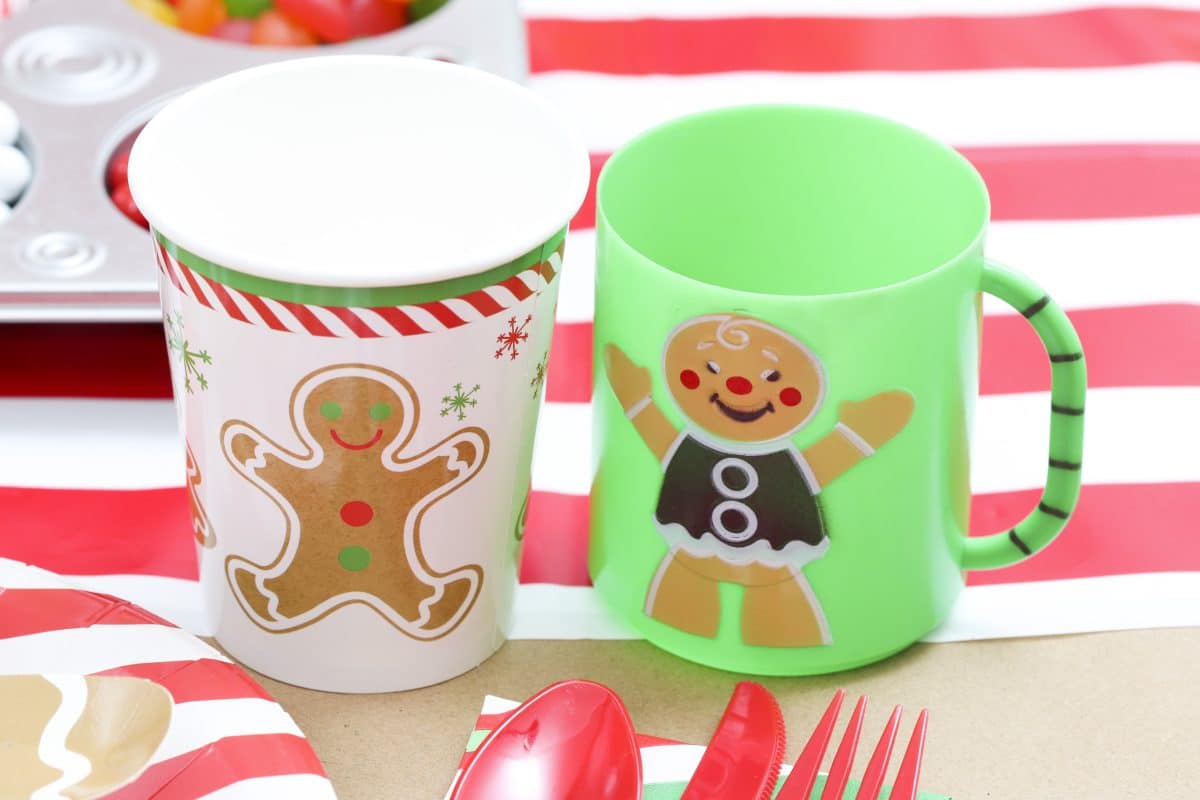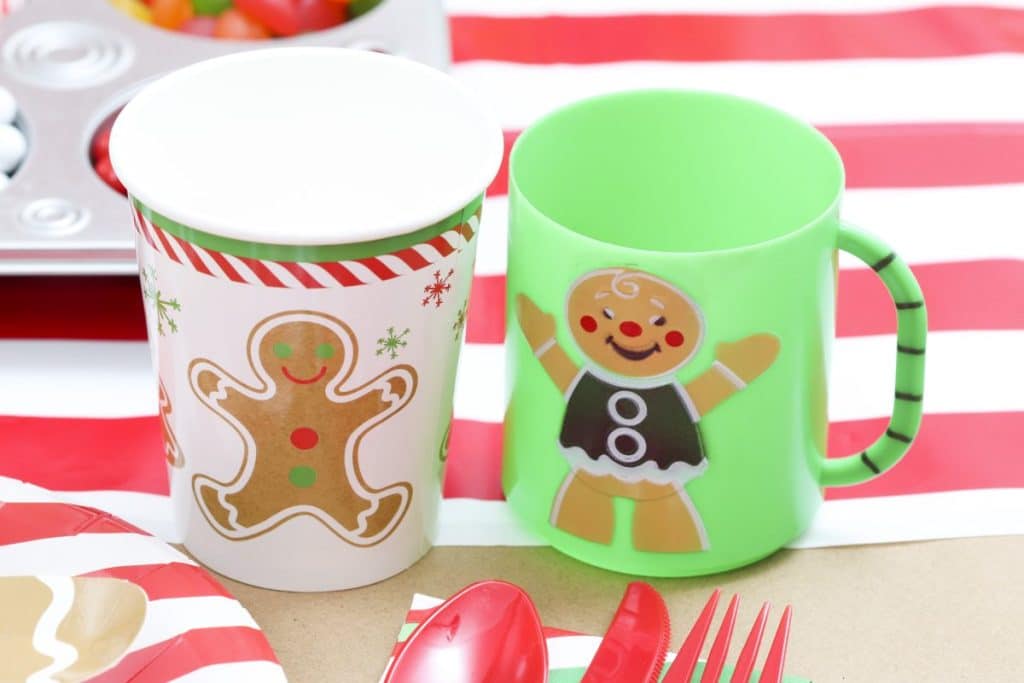 In order to prevent guests from eating their gingerbread creations too soon before the contest is over, I gave each guest a themed dessert cup filled with mini gingerbread cookies, and a small gingerbread man favor container of candies to munch on.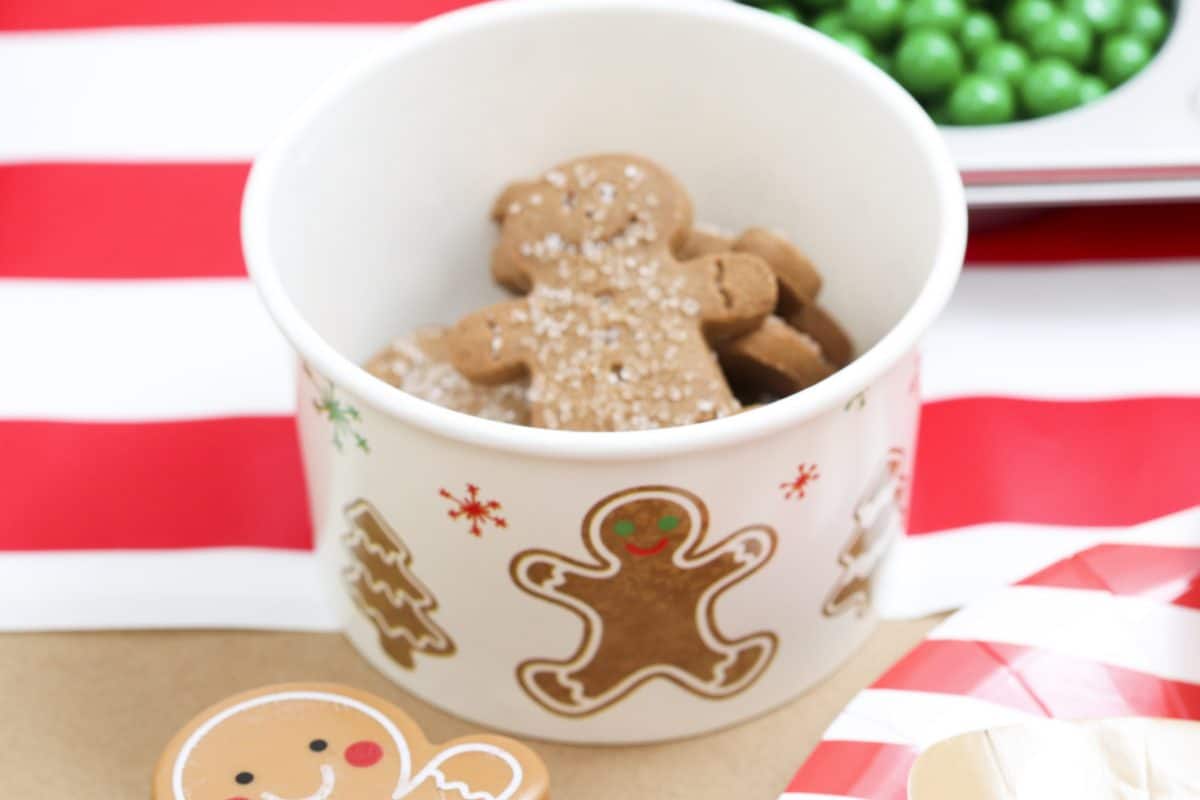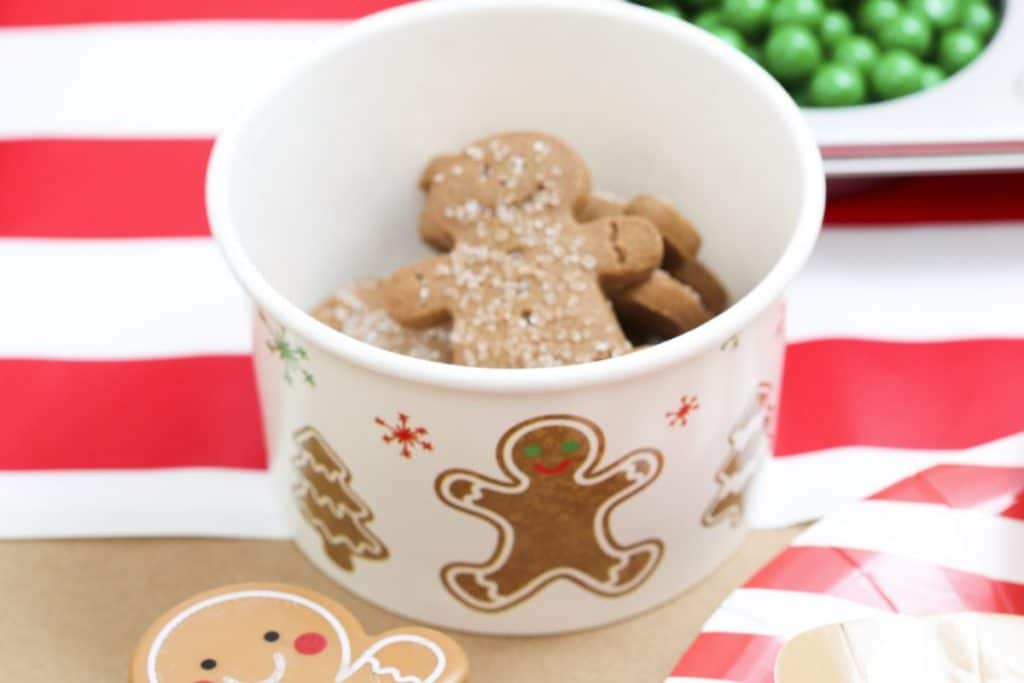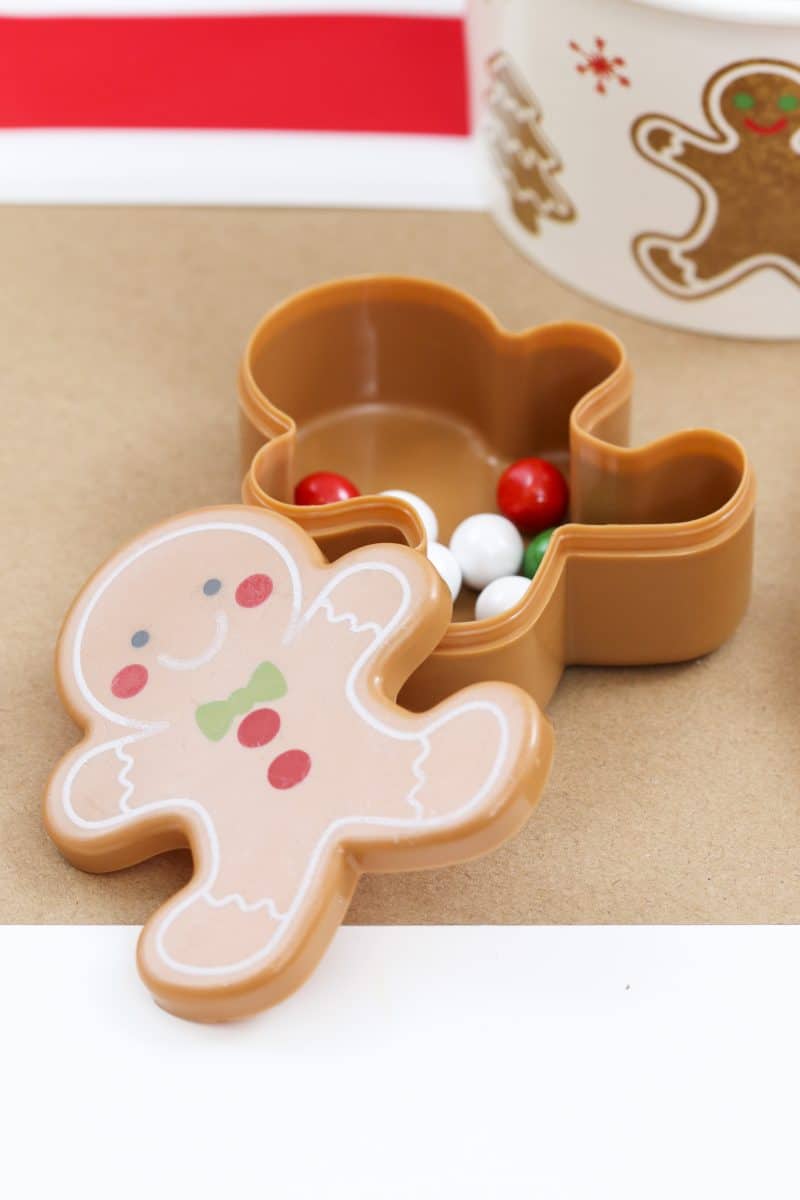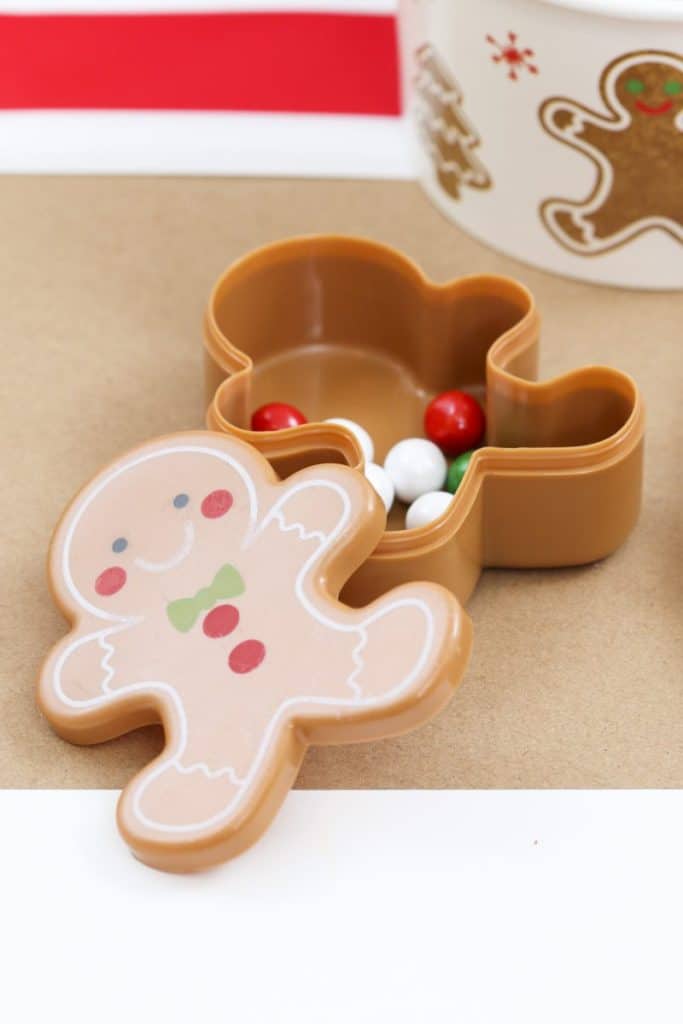 Finally, I hung a personalized gingerbread man apron on each chair. Not only are these an absolutely adorable keepsake from the party, but they do a great job at keeping kid's clothes clean during the gingerbread man decorating process.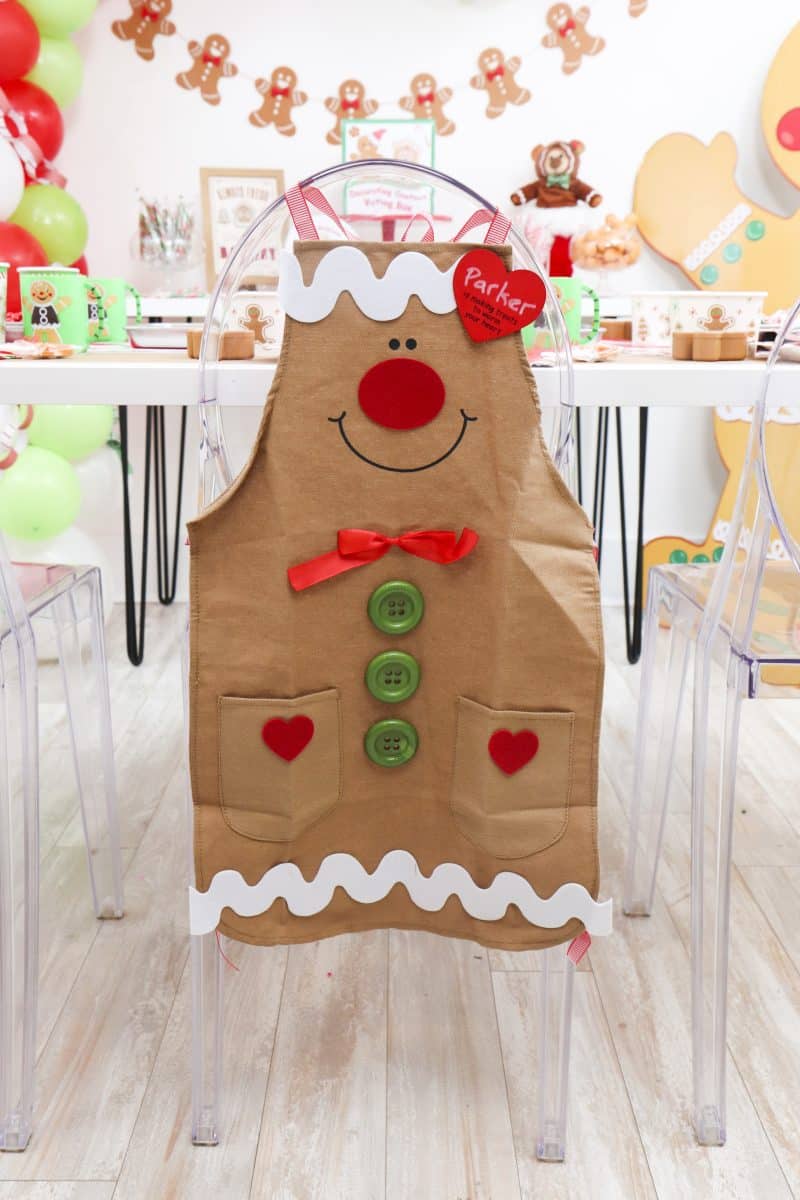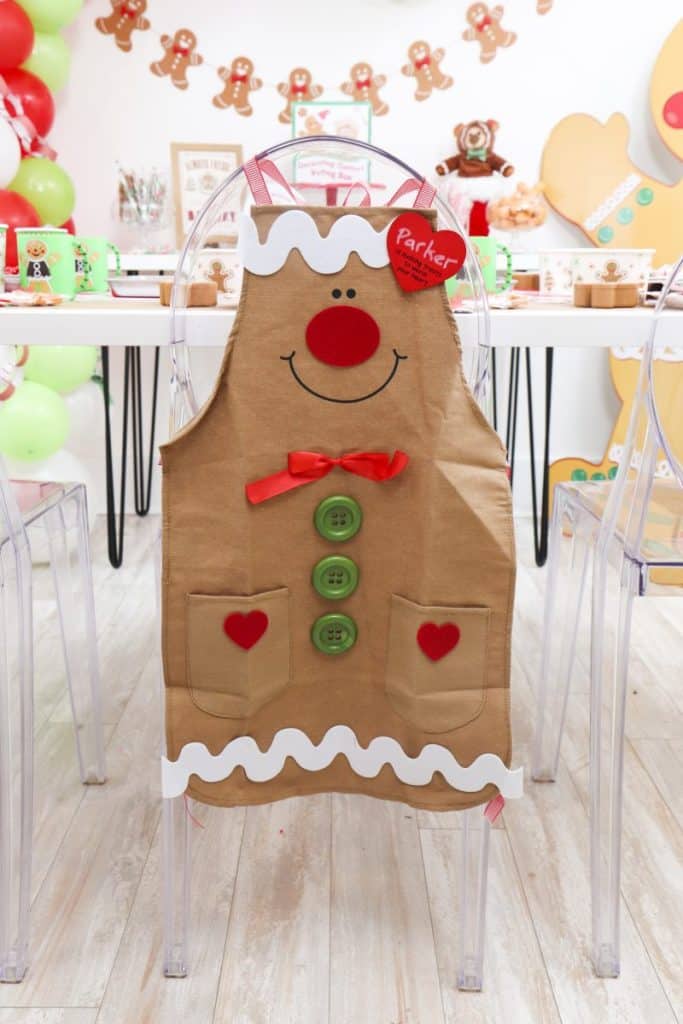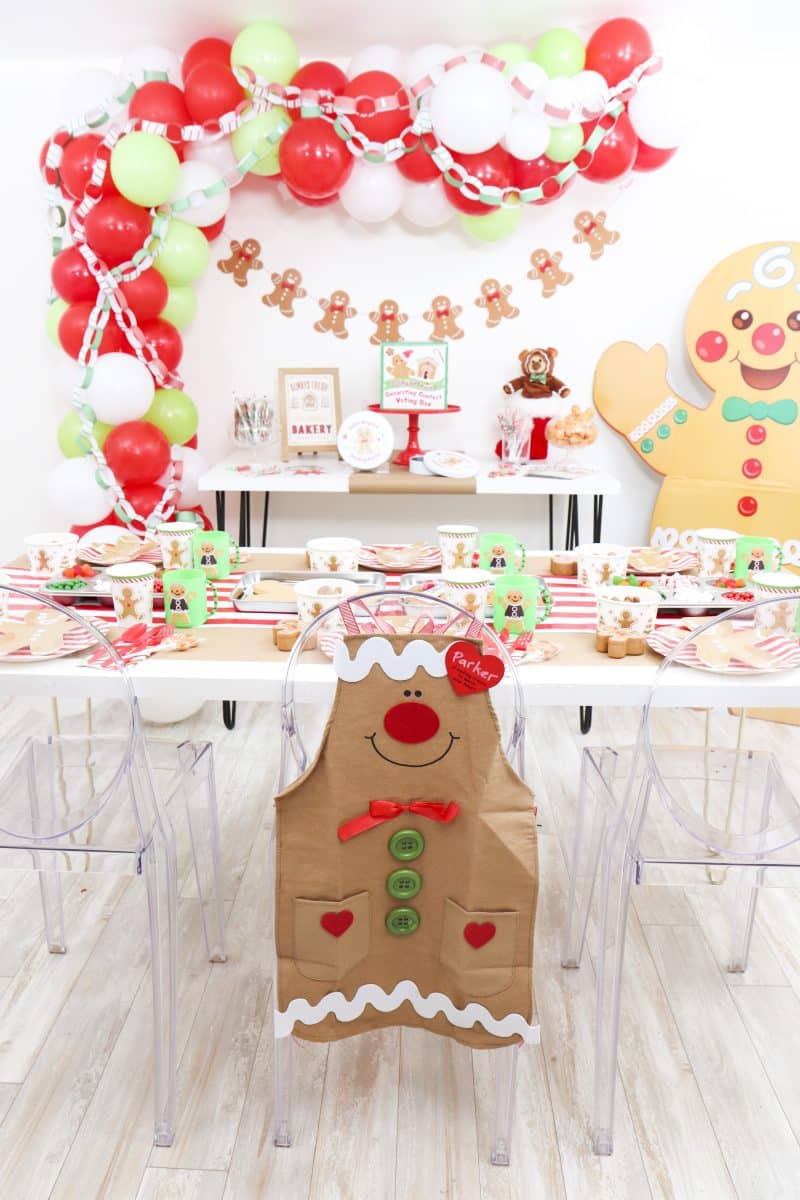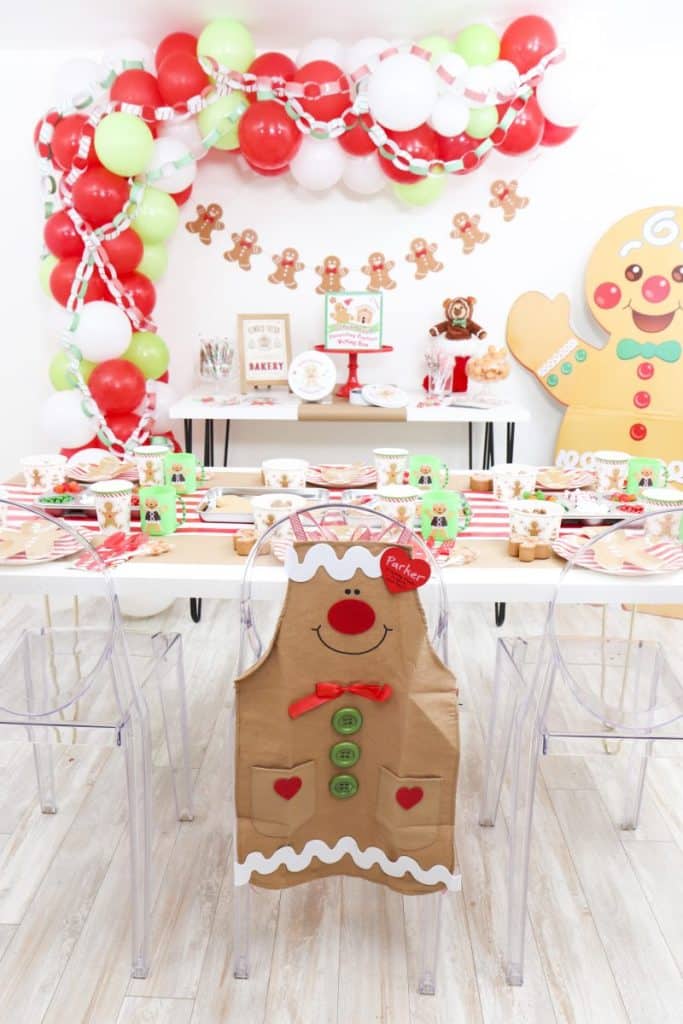 Gingerbread Man Decorating Competition
Then, it's time for the competition! Have each guest don their aprons and set a start time. Ready, set, go!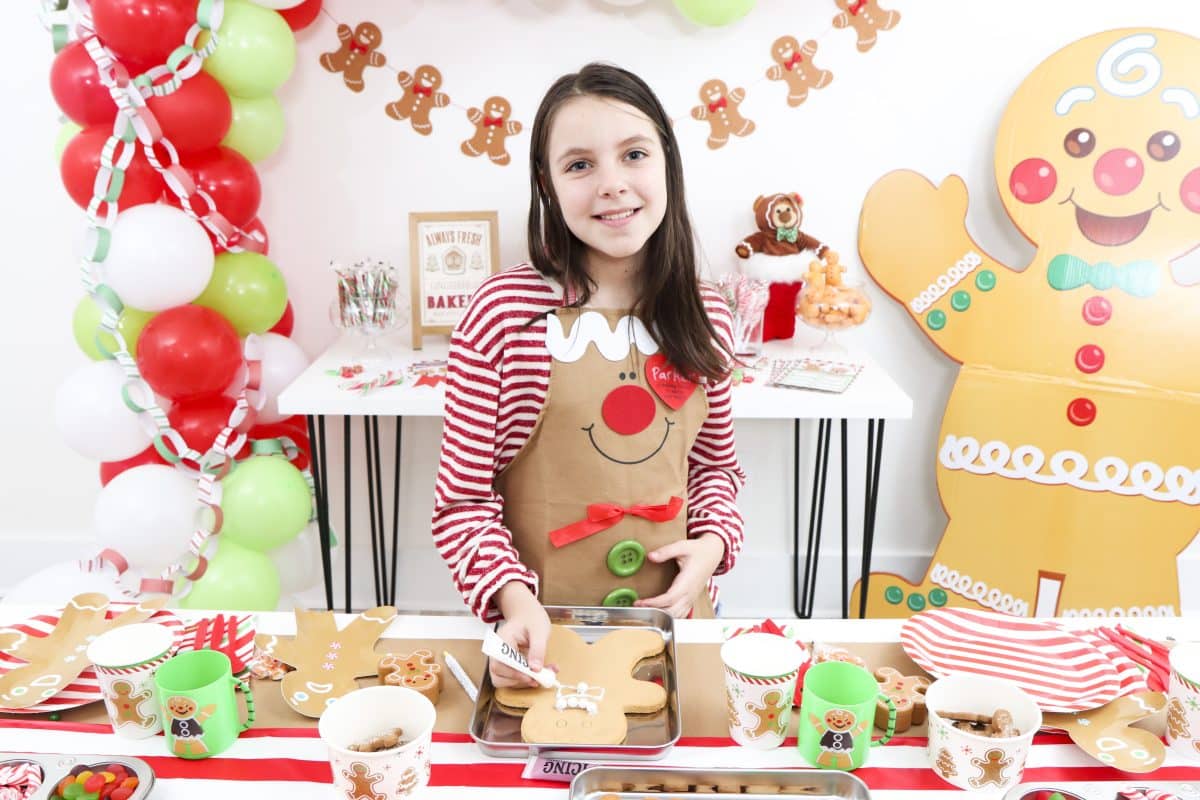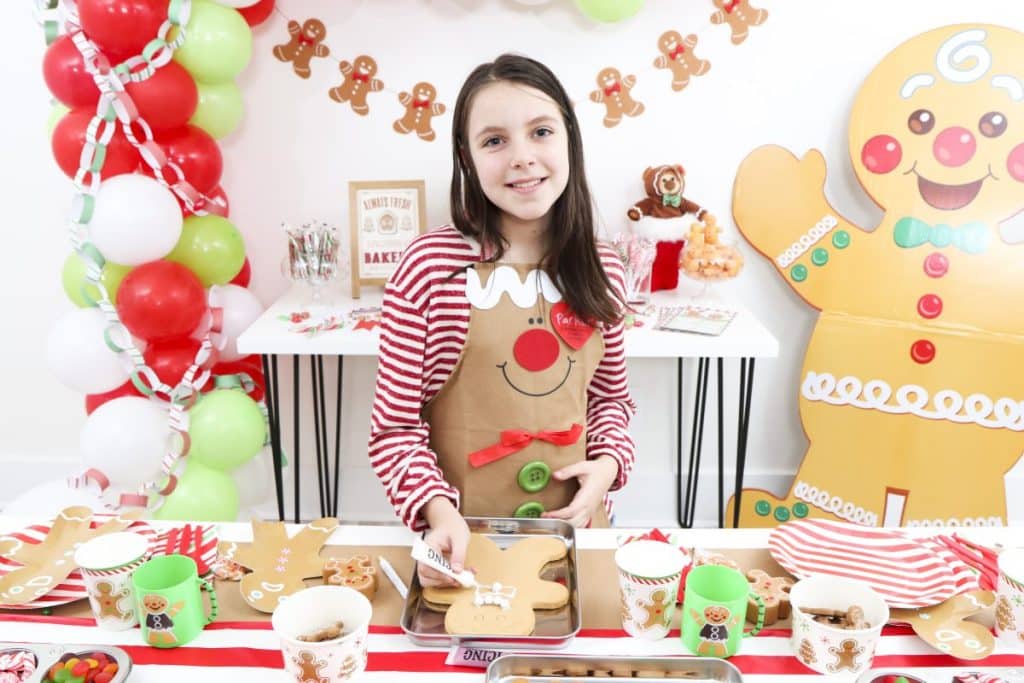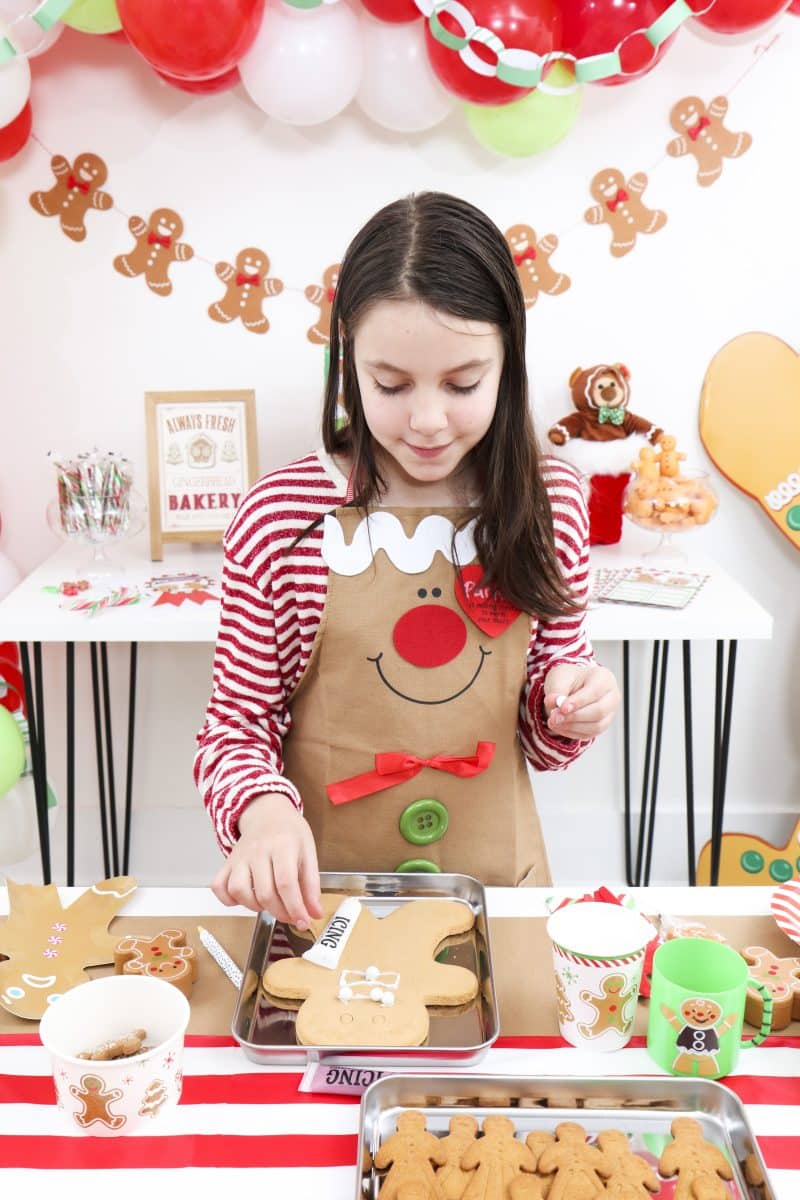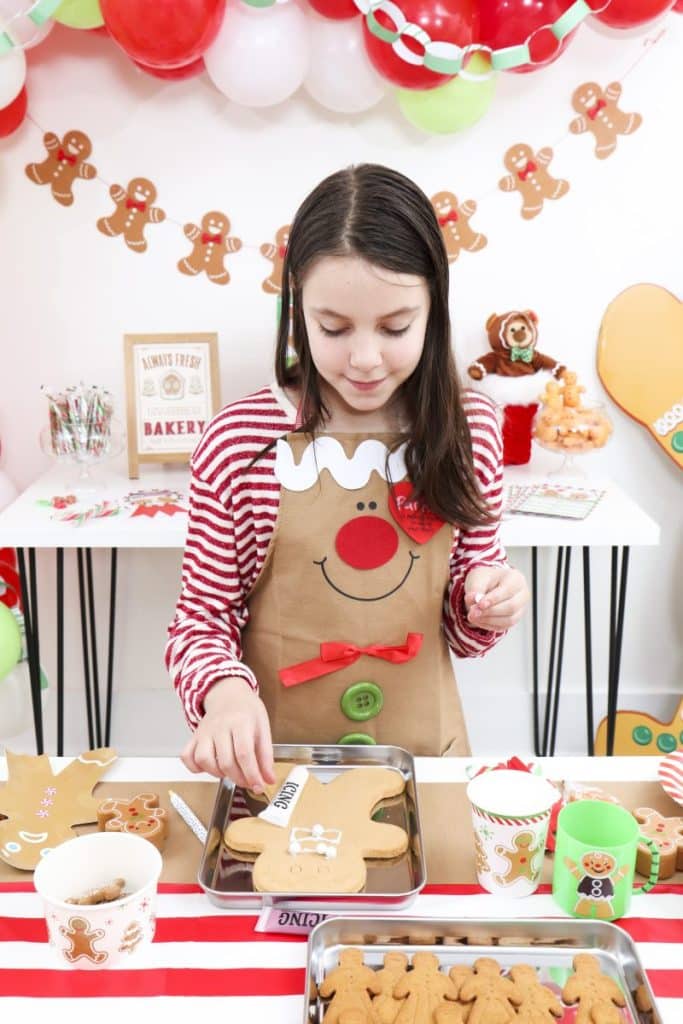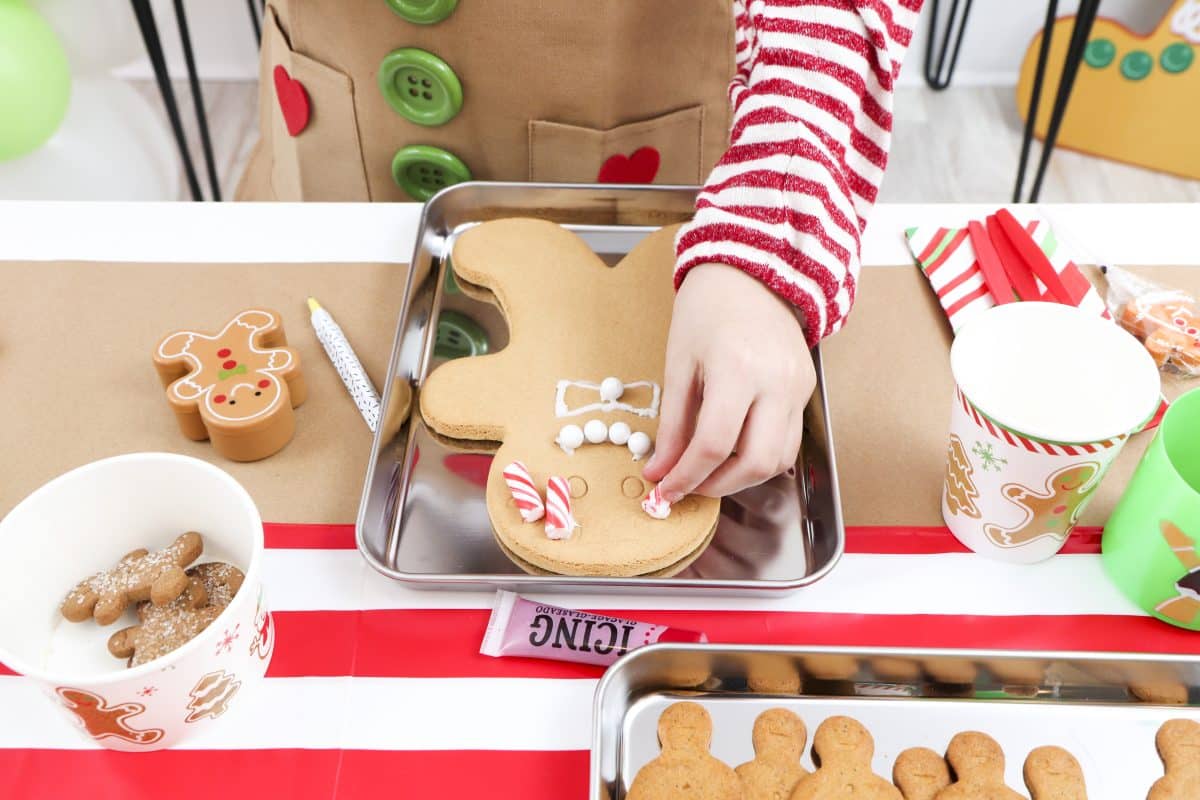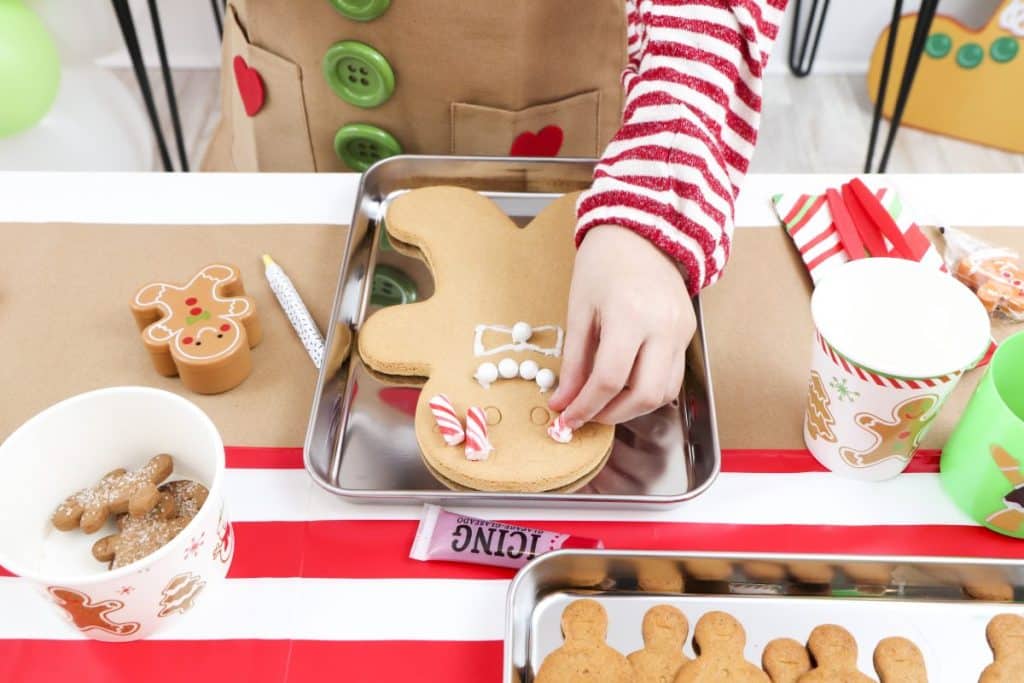 For younger kids, or if you want to avoid the mess, you can always get crafty and use a gingerbread decorating craft kit.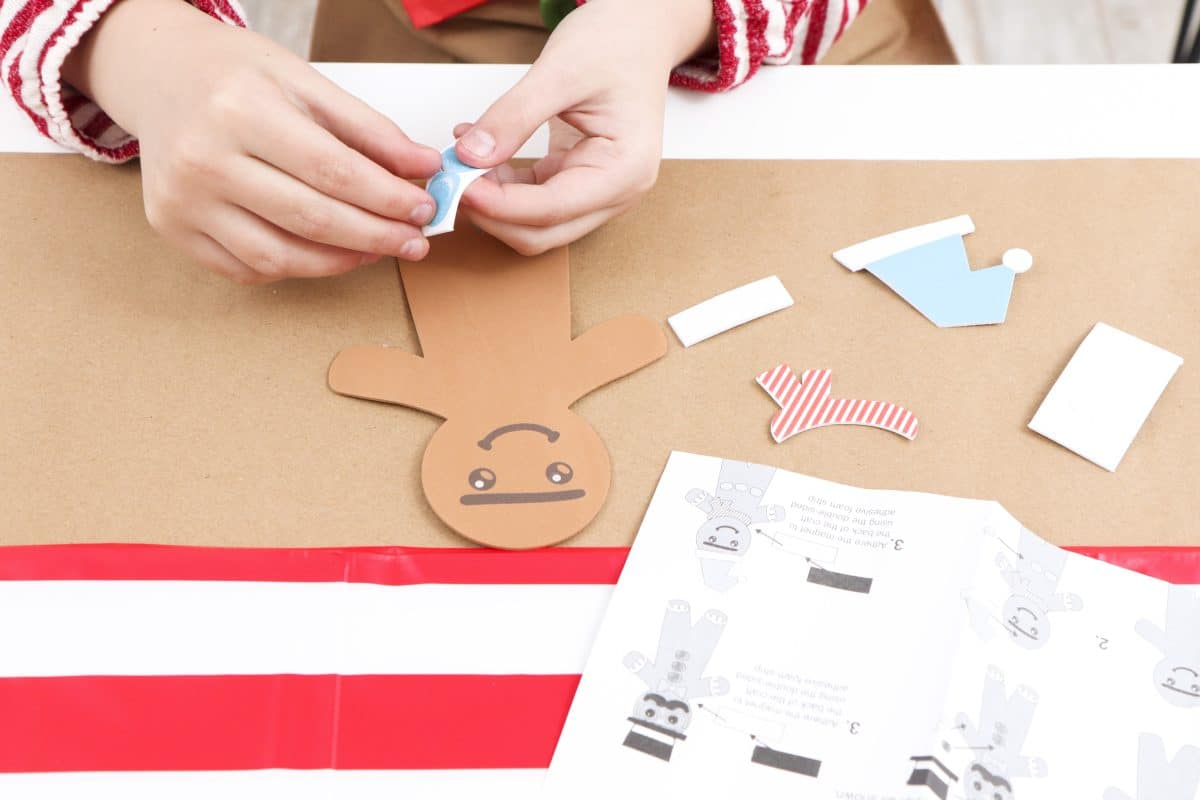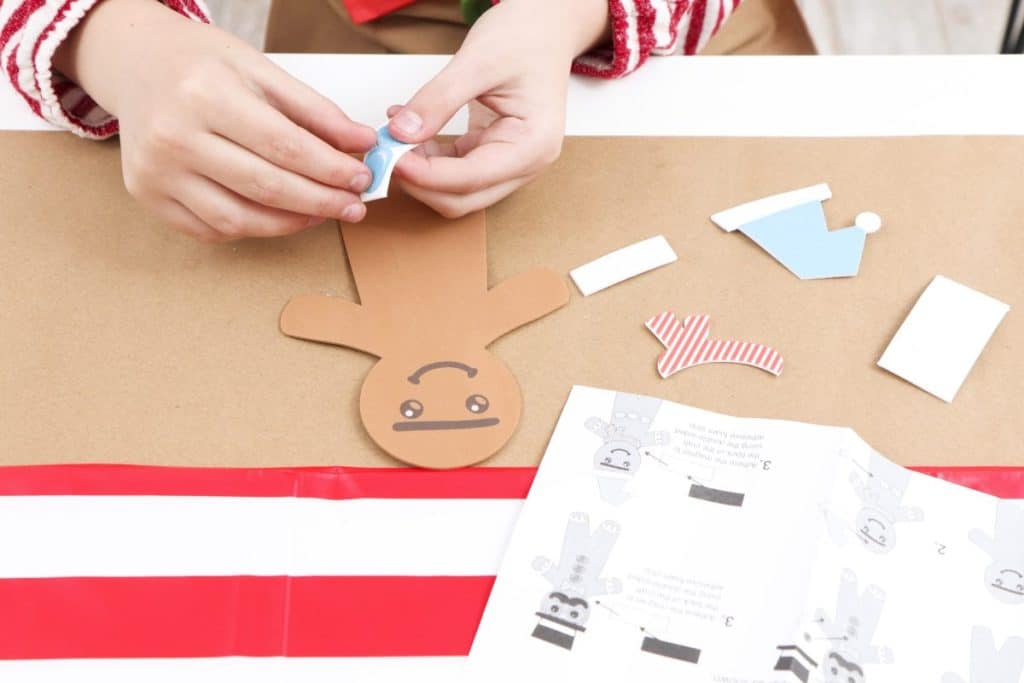 Once everyone is done, let everyone grab a voting card and fill out their choices. No voting for yourself!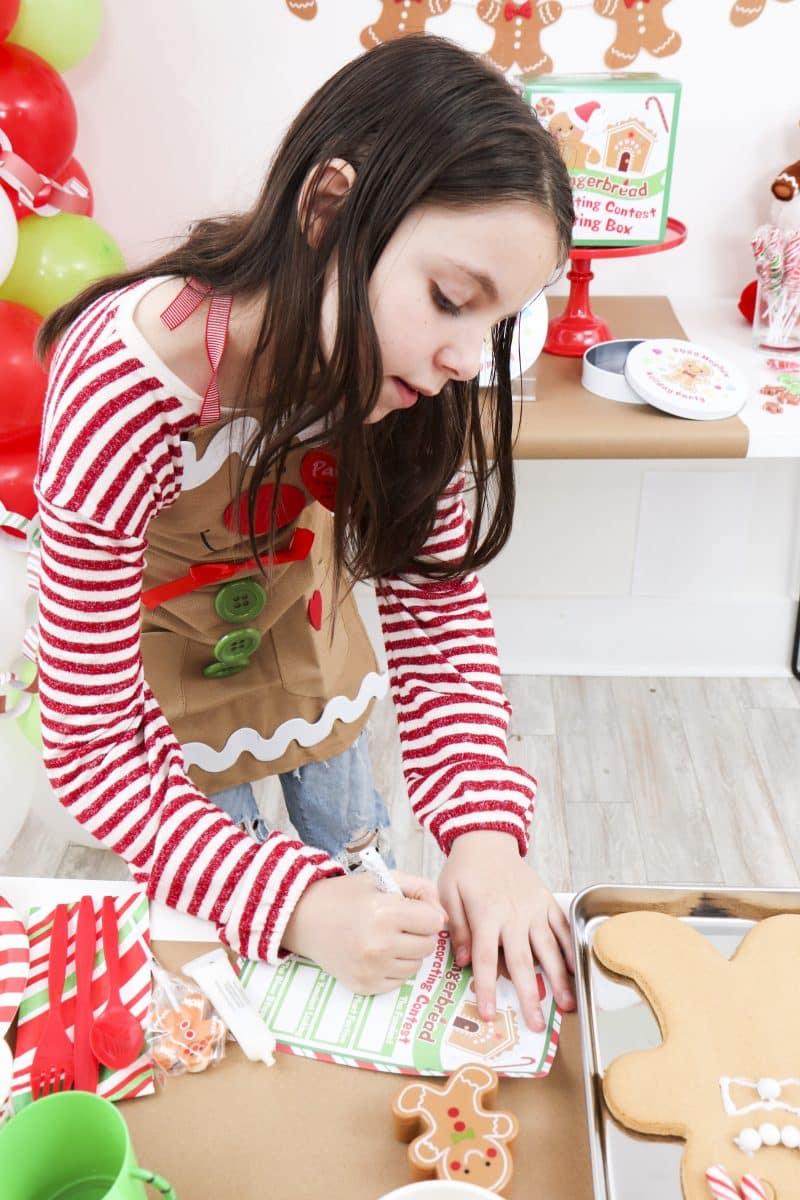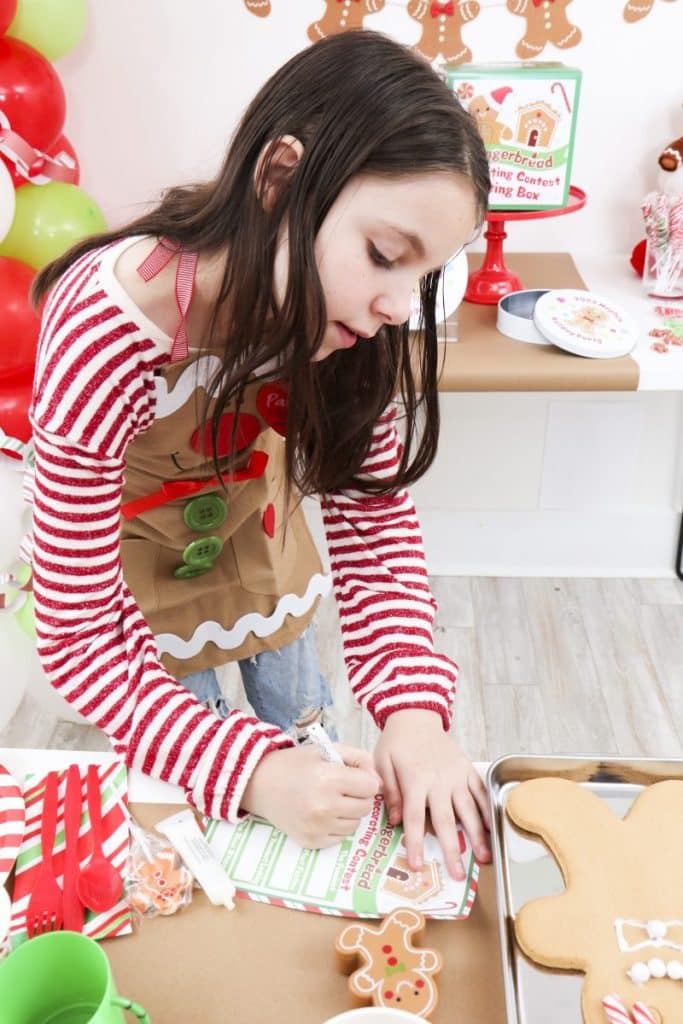 Next, have everyone put their votes inside the voting box. This helps to keep things anonymous. Have an adult tally up the results, and pass out awards!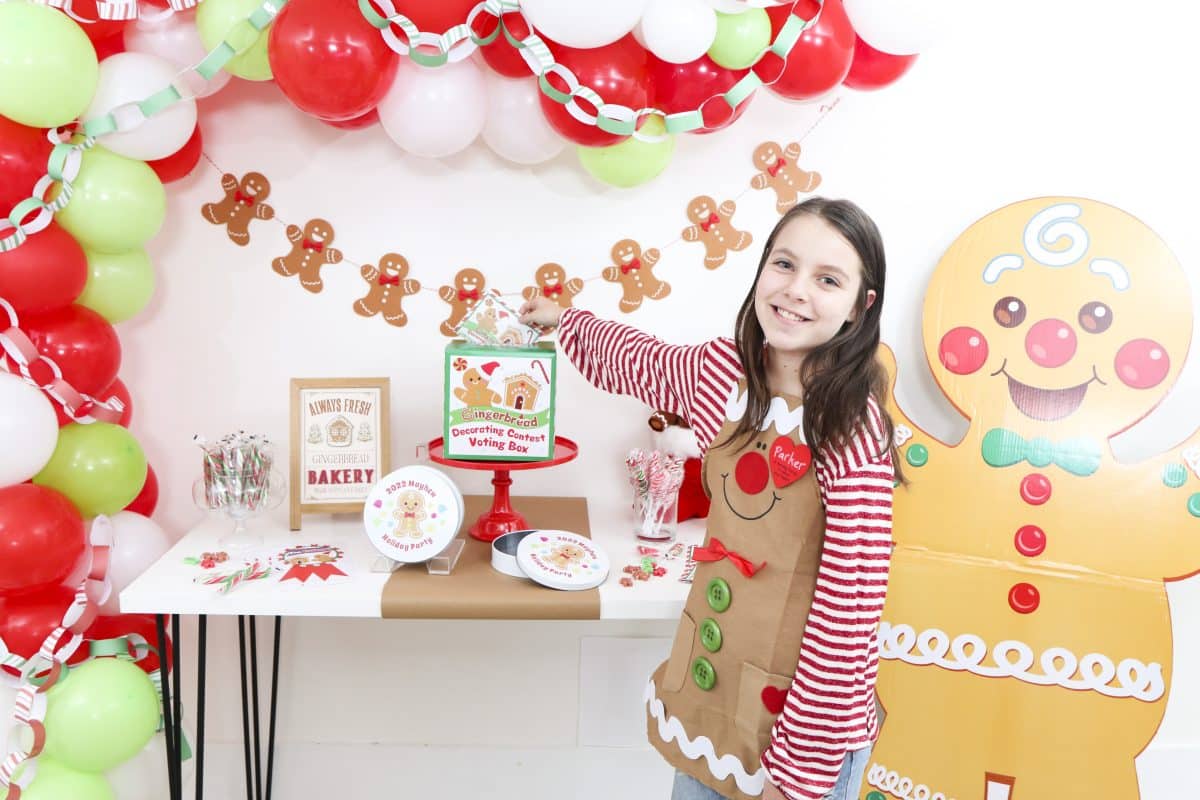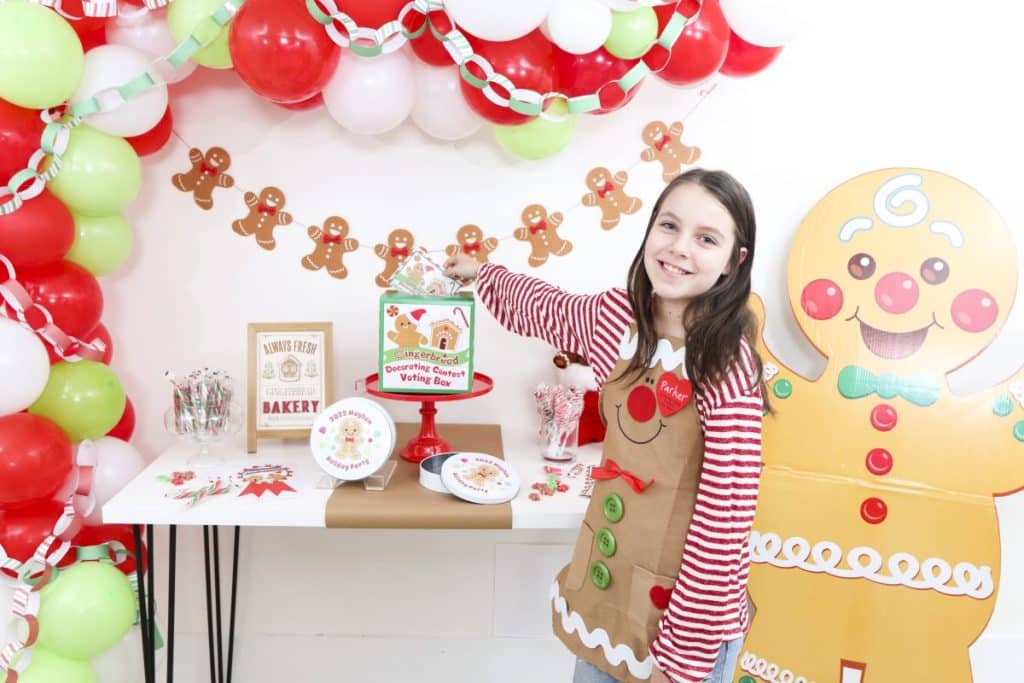 Don't forget to let everyone take a favor tin to fill with their favorite favors before they go!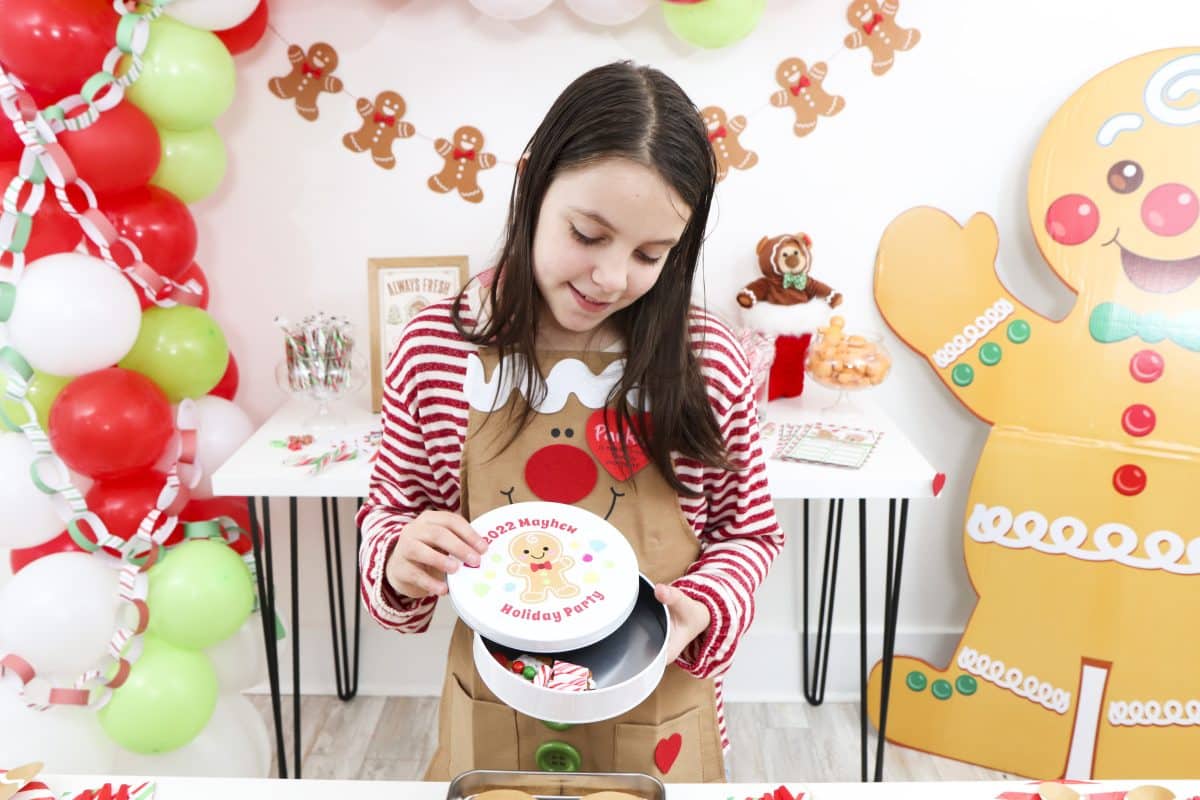 For more Christmas party inspiration for both kids and adults, be sure to check out my post with 15 Magical Holiday Party Ideas for Kids, Teens, and Adults!
Happy Partying!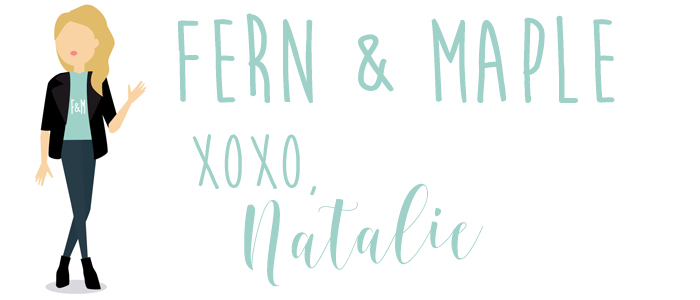 PIN FOR LATER: