It's that time of year again! That's right – it's time for our annual Halloween Gingerbread House Decorating Party. This year, I decided to go with a Spooky Groovy Halloween Gingerbread House Decorating Party that transported my little witches back in time. Picture lava lamps, disco balls, and tons of funky DIY decorations that had the kids tapping into their inner flower child. With peace, love, and a whole lot of decorating fun, let's get groovy! Read on to see how I set it all up (and then be sure to check out the Halloween Gingerbread House Decorating Parties from previous years at the end of this post!).
P.S. You can shop for many of the items I used to create this party HERE.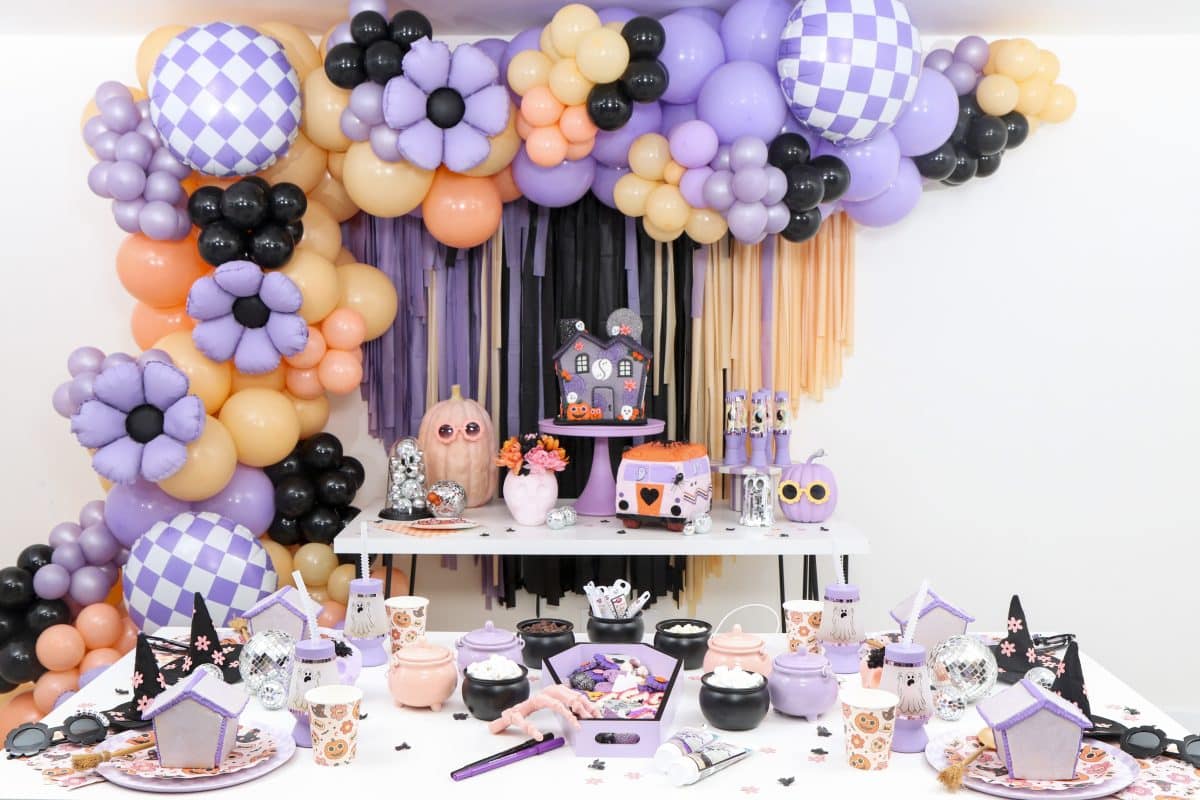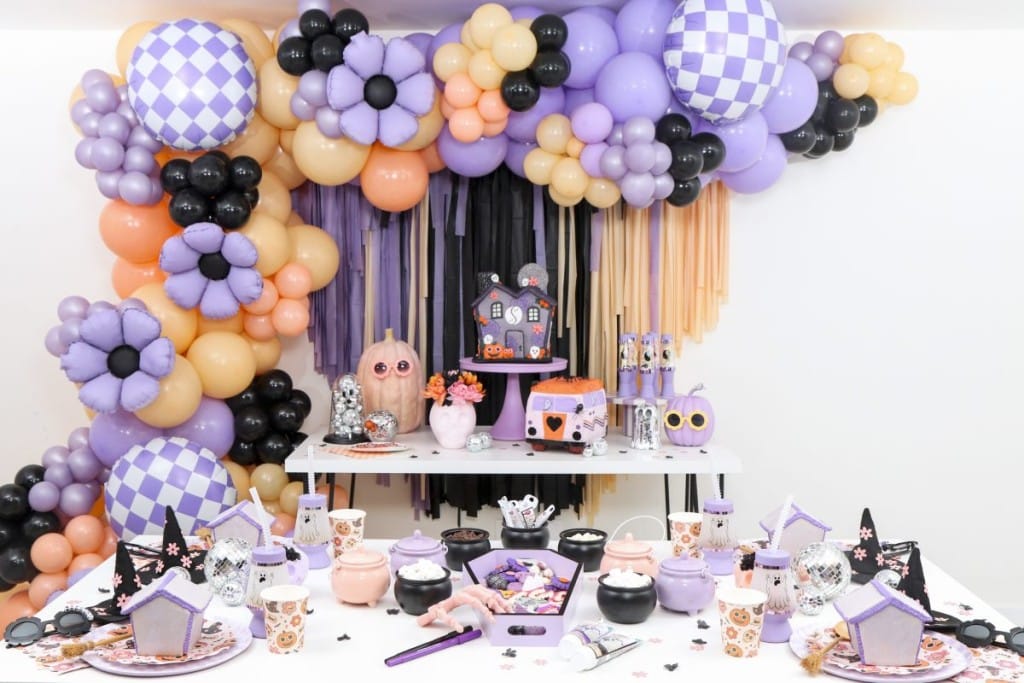 How to Set up a Spooky Groovy Halloween Gingerbread House Decorating Party
Balloon Backdrop
First, I set up a balloon backdrop with a mix of groovy colors, patterns, and shapes, and just a touch of spookiness as well. I bundled lavender, coral, peach, and black balloons into bunches and tied them together.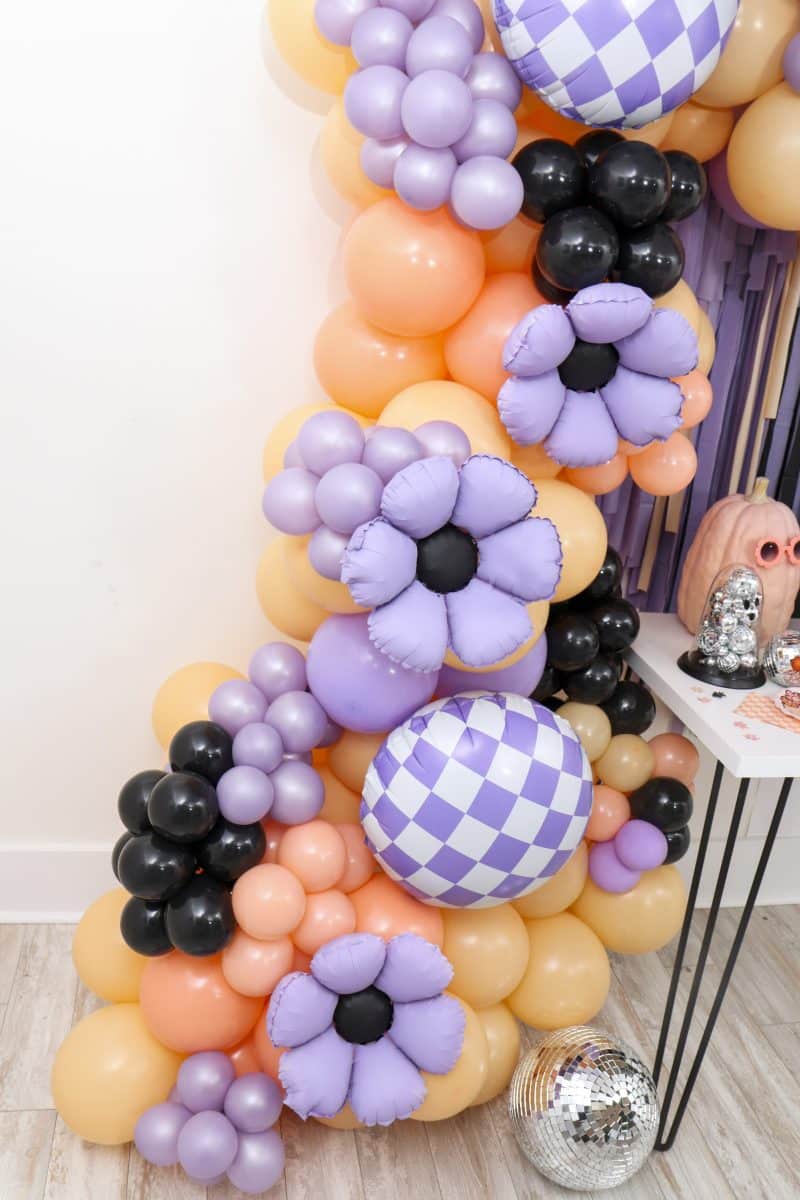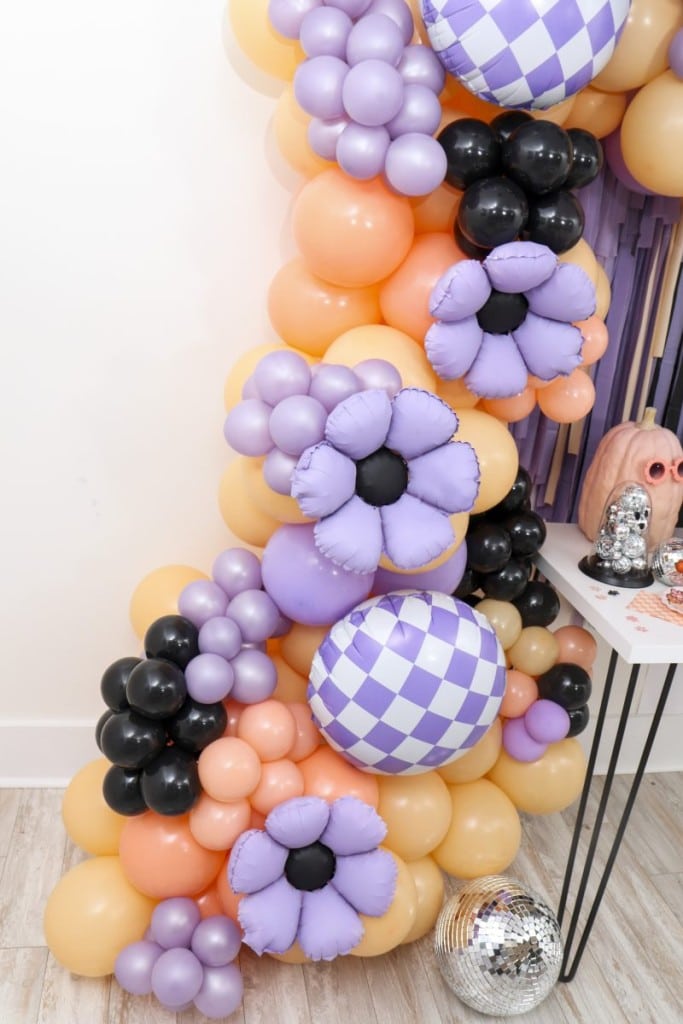 I also added lavender and white checkered balloons and flower balloons that I spray painted lavender and black.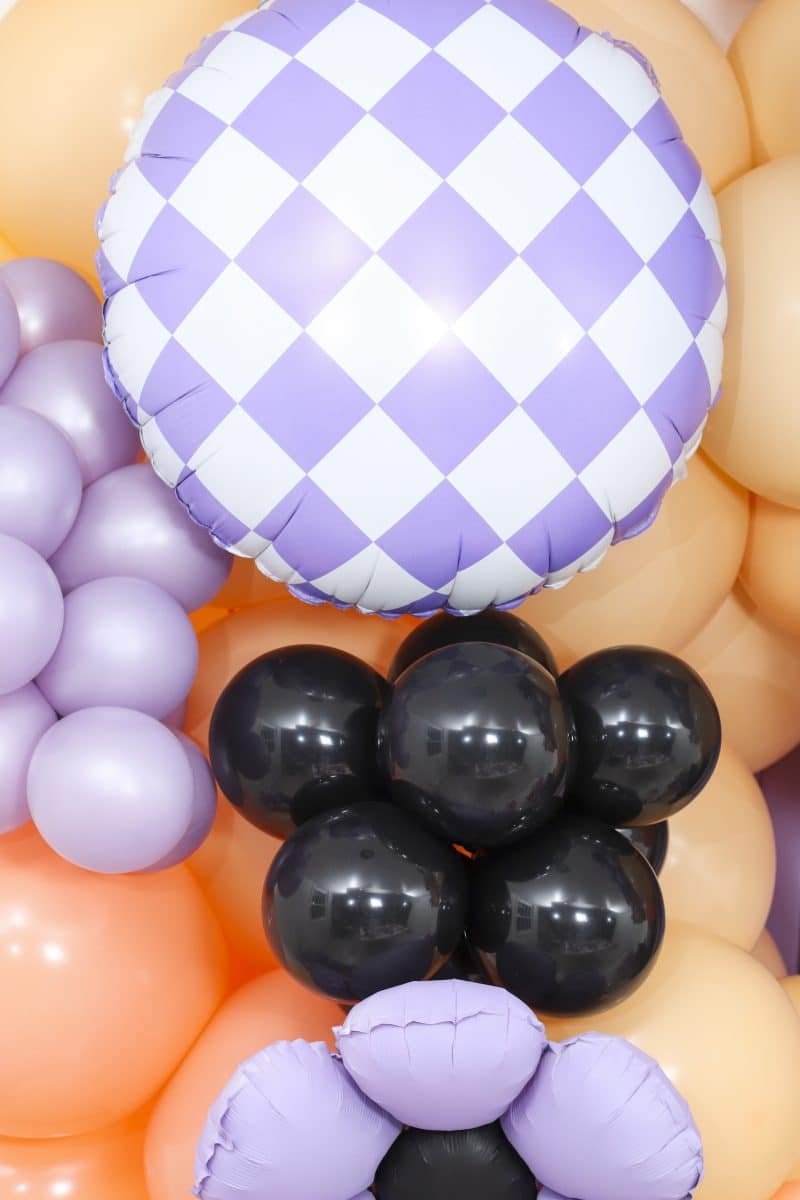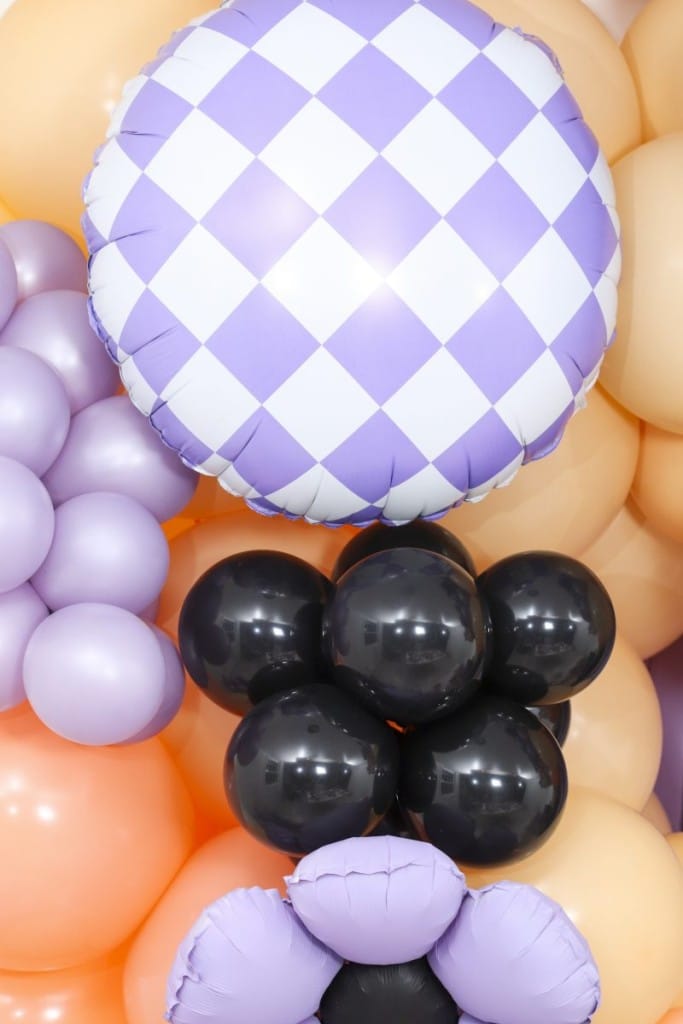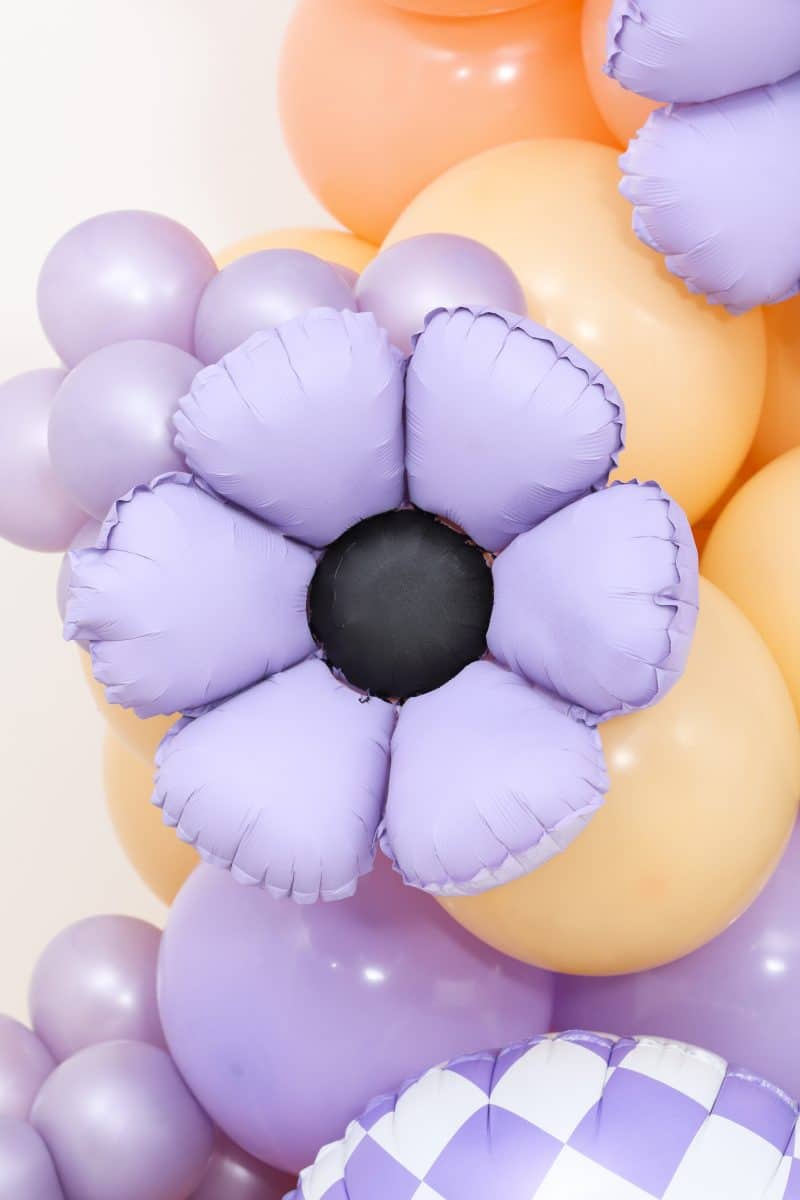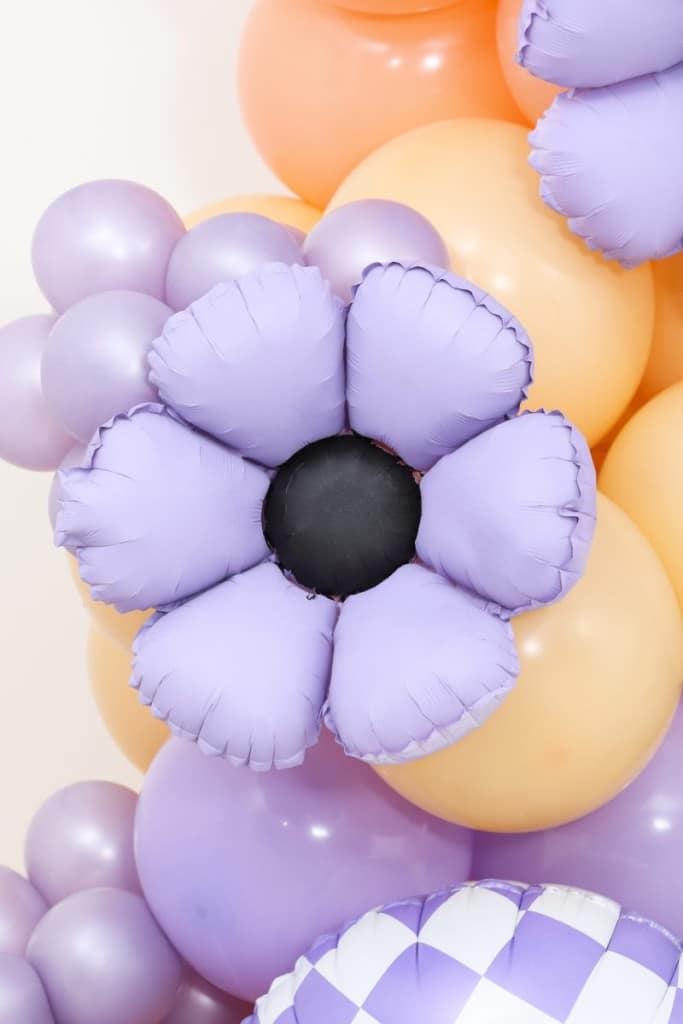 You can see how I created and attached the flower balloons in the video below.
View this post on Instagram
I set the finished balloon garland up surrounding a fringe backdrop in the same color scheme, behind a table of spooky groovy party decorations.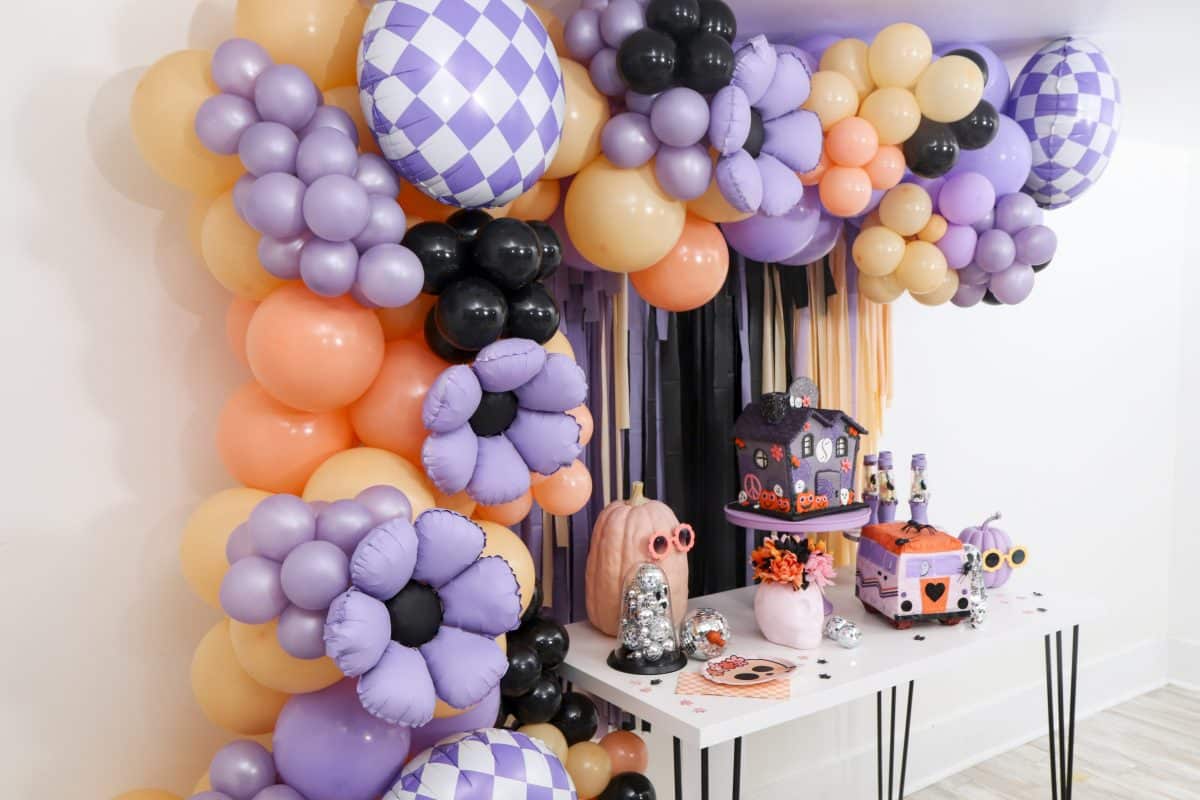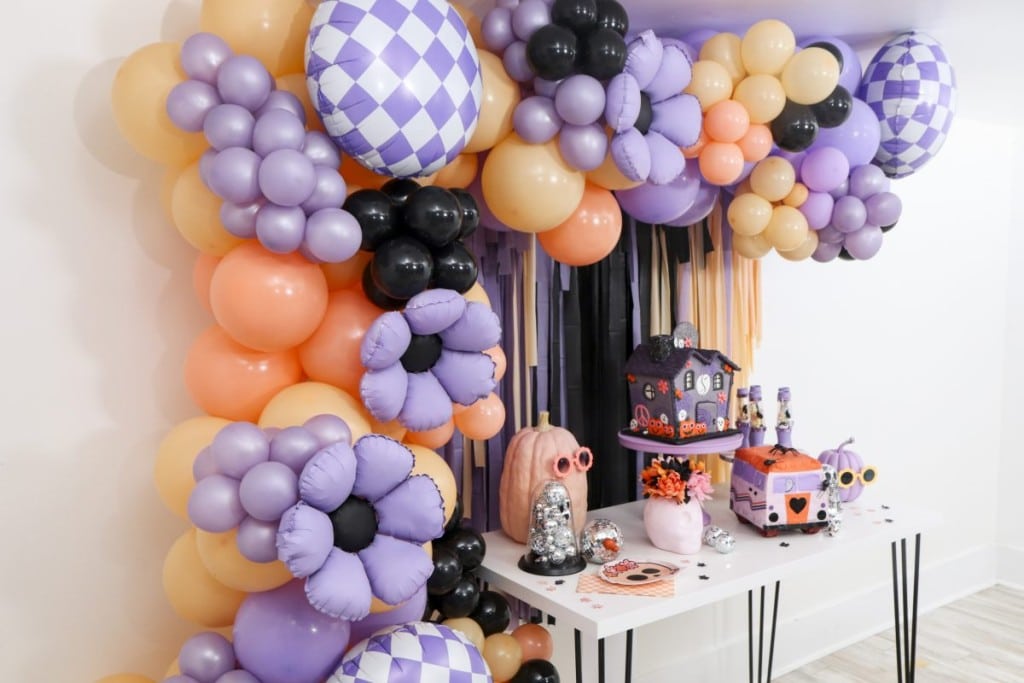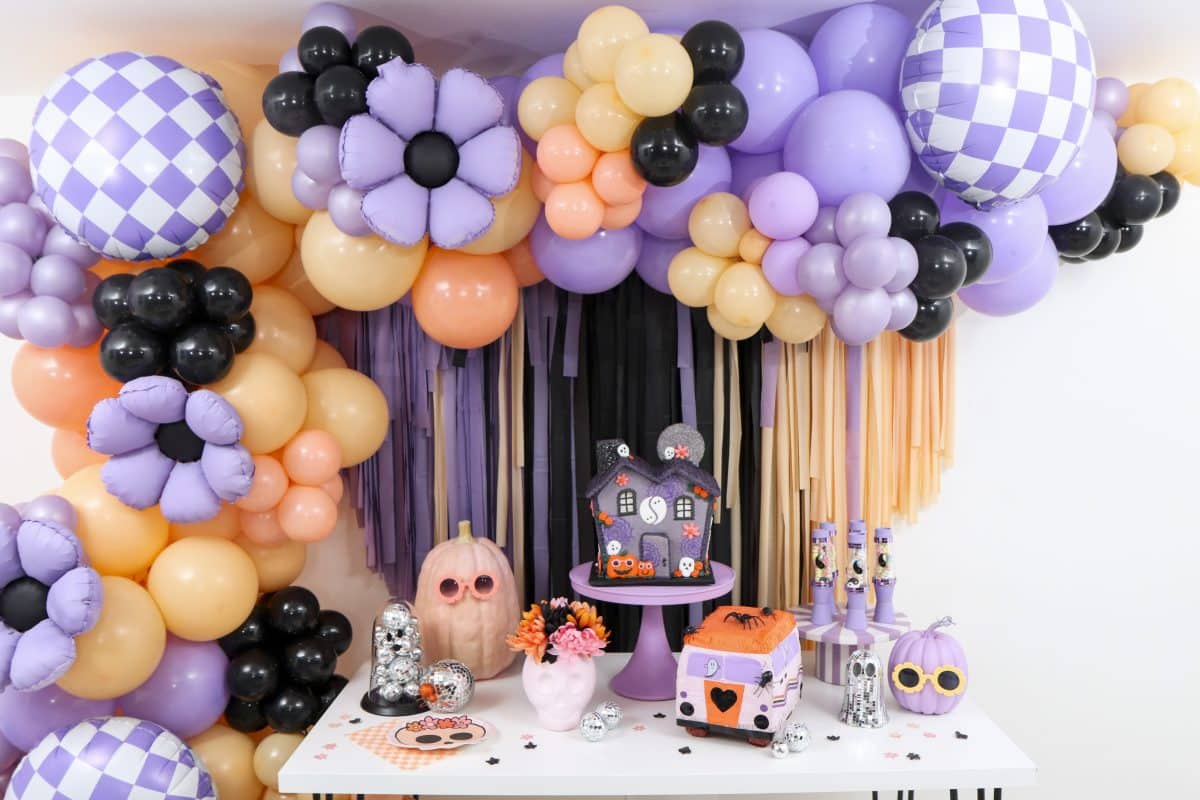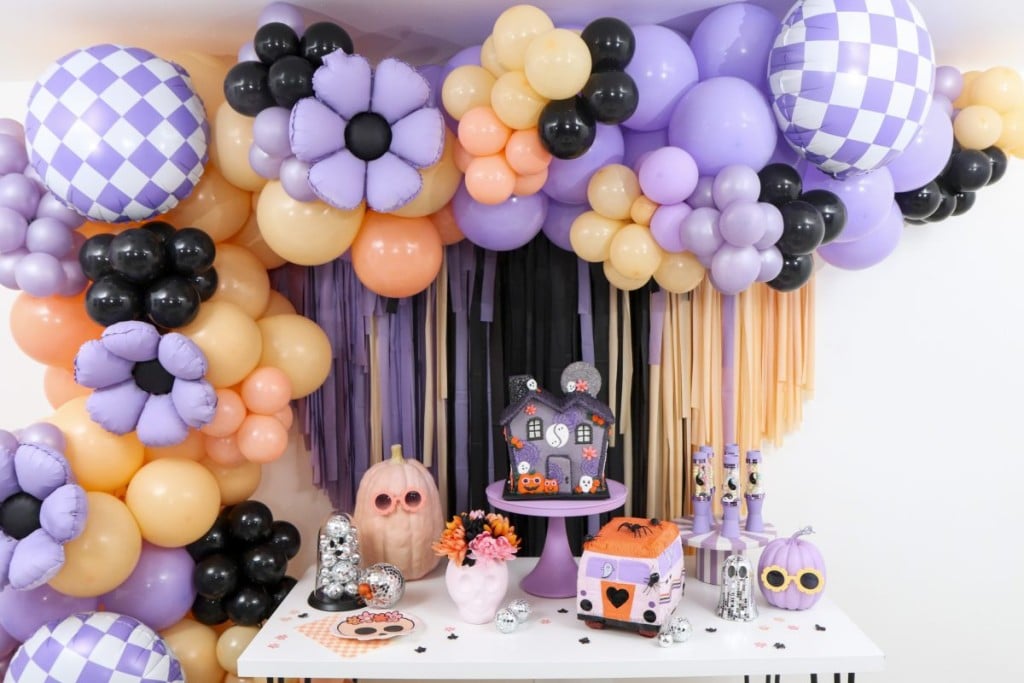 DIY Spooky Groovy Decorations
In the center of the table, I placed the amazing inspiration gingerbread house created by Adrienne of Trophy Baking (more on that later). Then, I sprinkled flower confetti on the table and set up a pink skull vase of faux florals and added the cutest VW van piñata for décor.


You can see how I modified the groovy piñata with spooky embellishments below.
View this post on Instagram
Lastly, I added themed decorations to either side of the gingerbread house, many of which were fun DIY projects.
On one side, behind a disco ghost and a flower child pumpkin, I set up a stand of DIY Lava Lamp candy favors on a striped stand.

You can see how I created the DIY Lava Lamp candy favors in the video below.
View this post on Instagram
On the other side, I set up some groovy skull plates, checkered napkins, a larger groovy pink pumpkin, a spider-adorned disco ball, and a DIY disco ball ghost cloche.

Check out how I created the DIY Disco Ghost Cloche décor in the video below.
View this post on Instagram
Spooky Groovy Gingerbread House Inspiration
Remember that fabulous inspirational gingerbread house I mentioned from Adrienne at Trophy Baking? I just have to show you the rest of it. Every year Adrienne creates these unique gingerbread houses that match my annual theme, and she always knocks them out of the park. This year was no exception!

Check out the other sides of this groovy haunted house. So cute!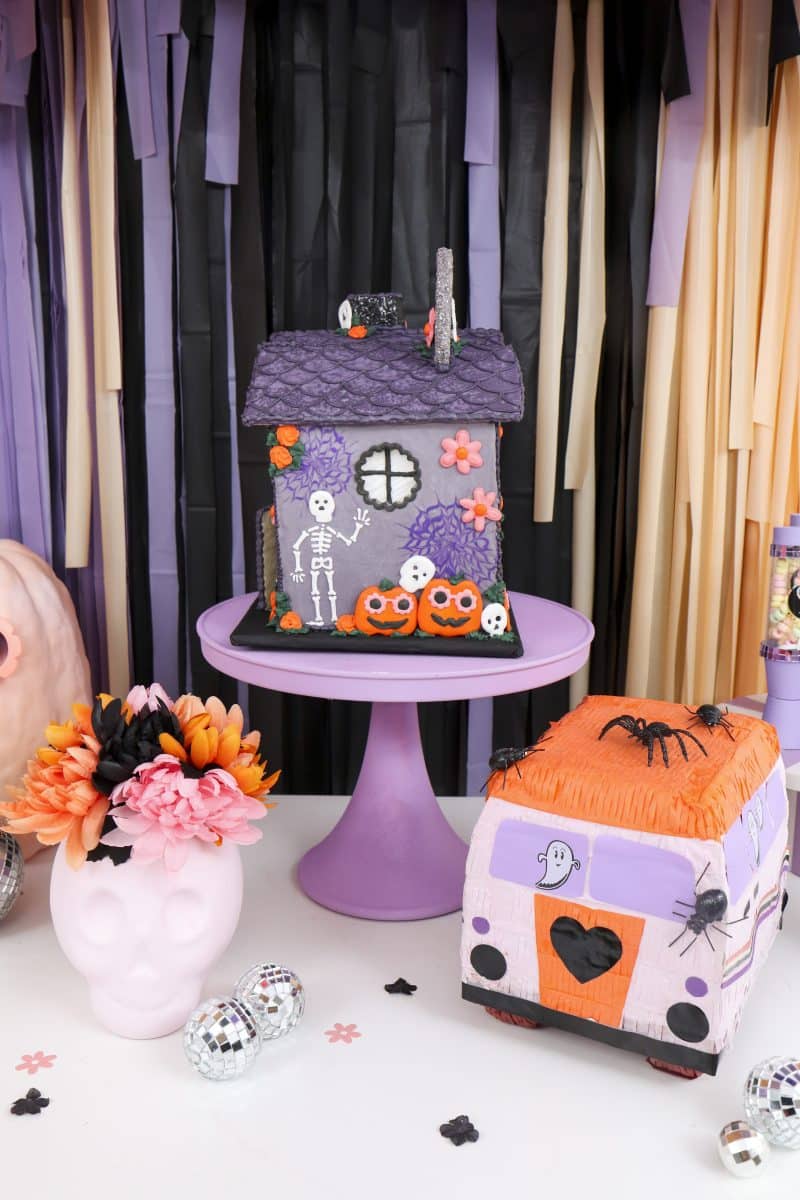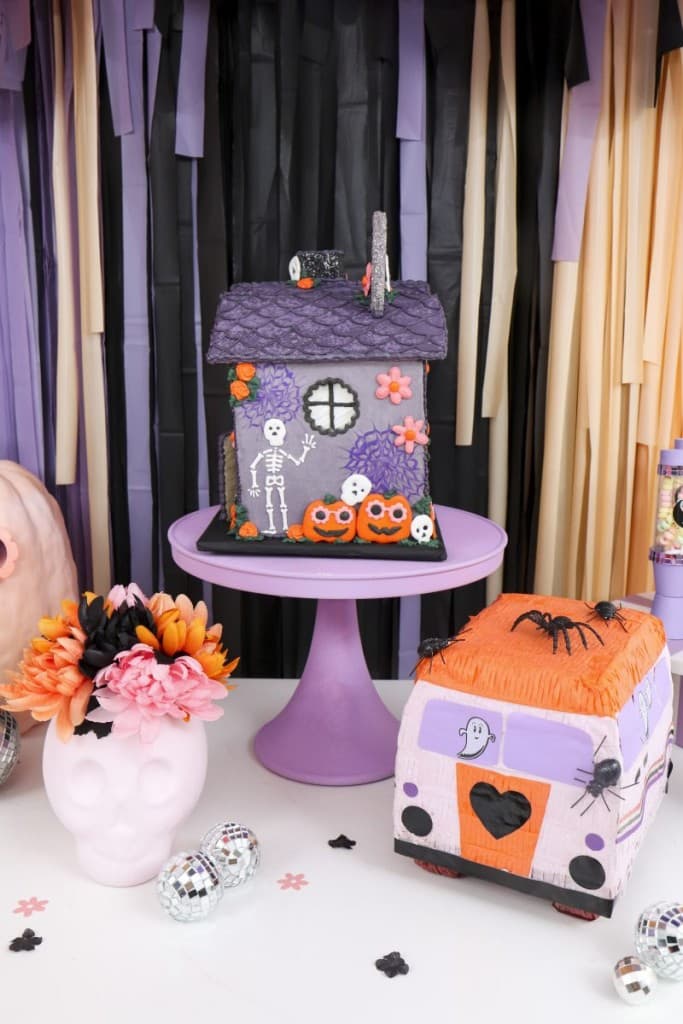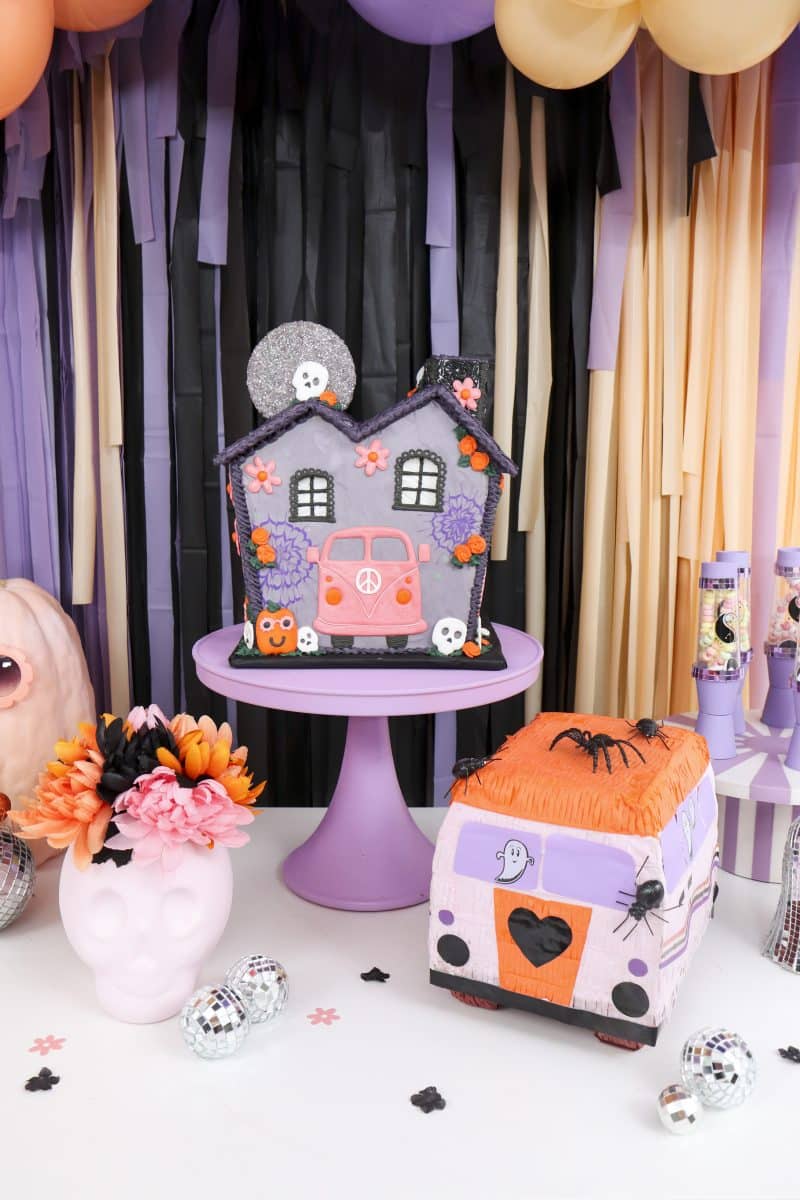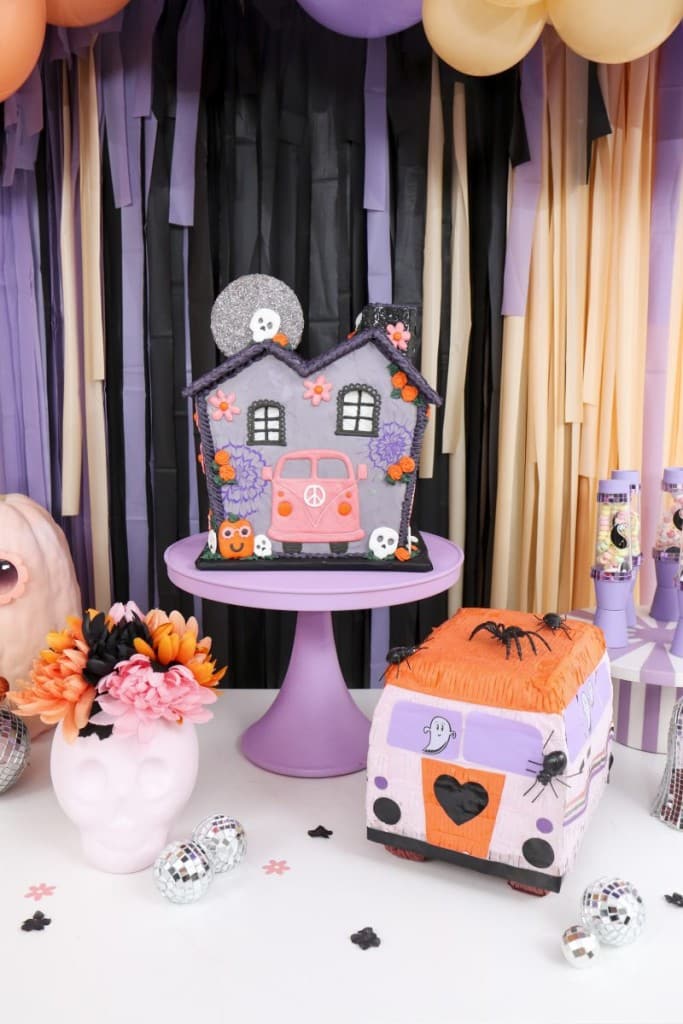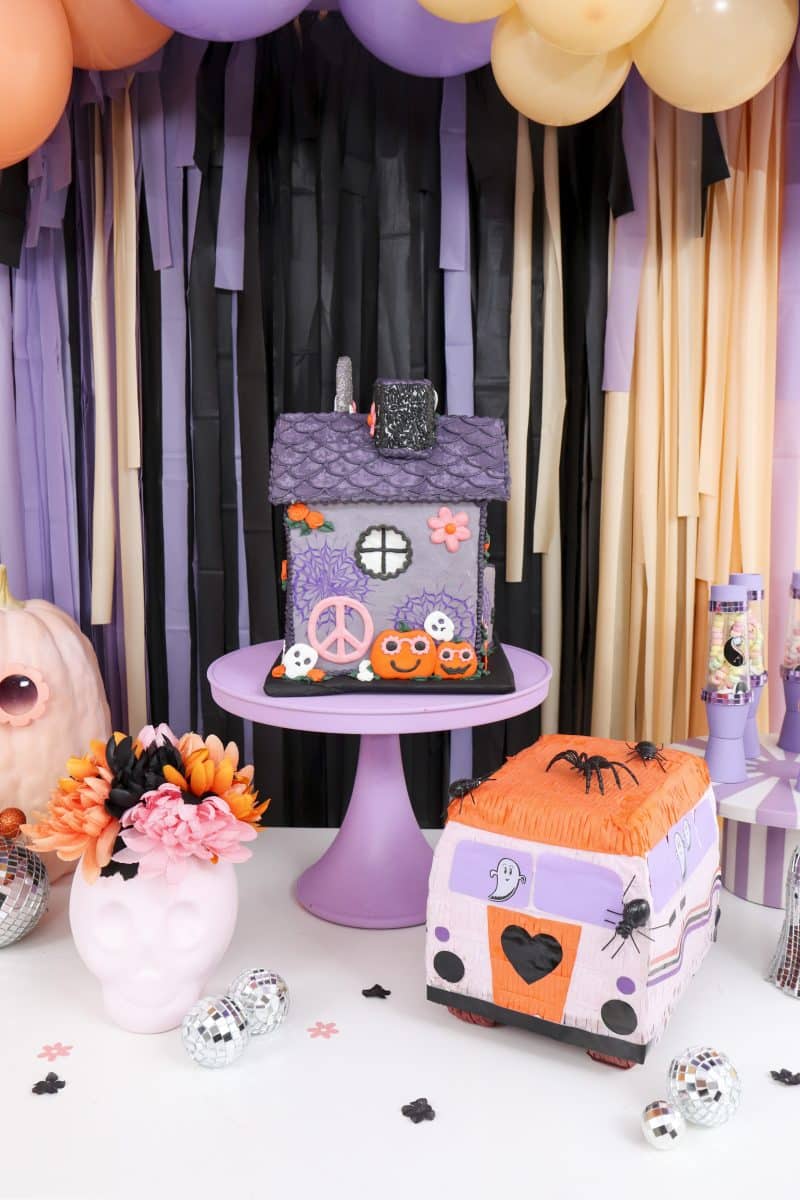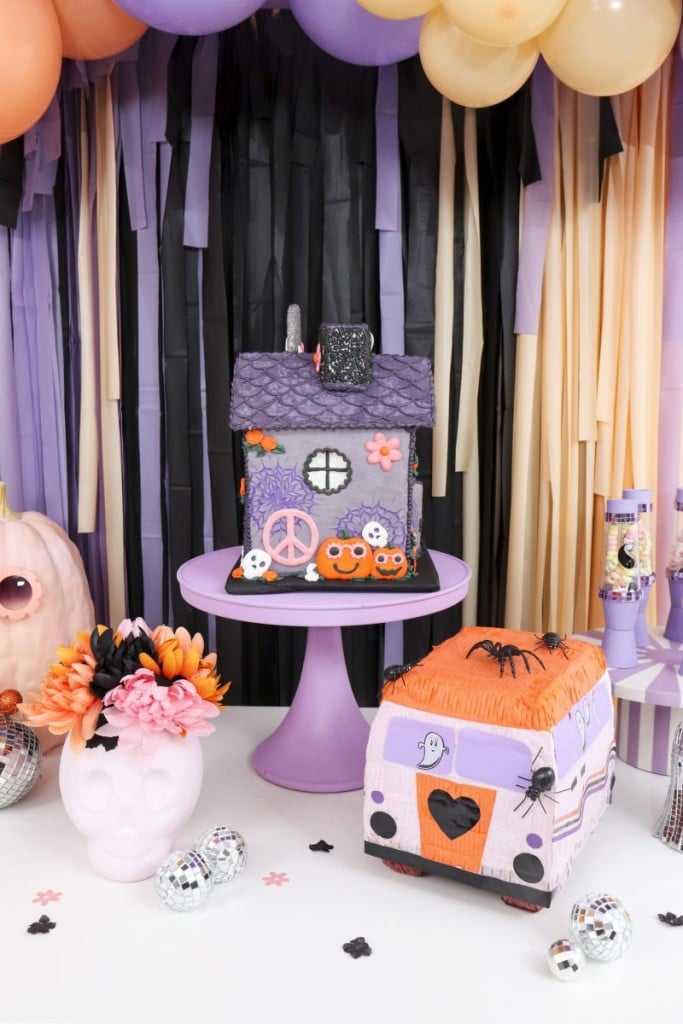 Table Setting
Next, it was time to set the table. I decorated the inside of the table with disco balls and pastel skull decorations that I adorned with spooky black florals.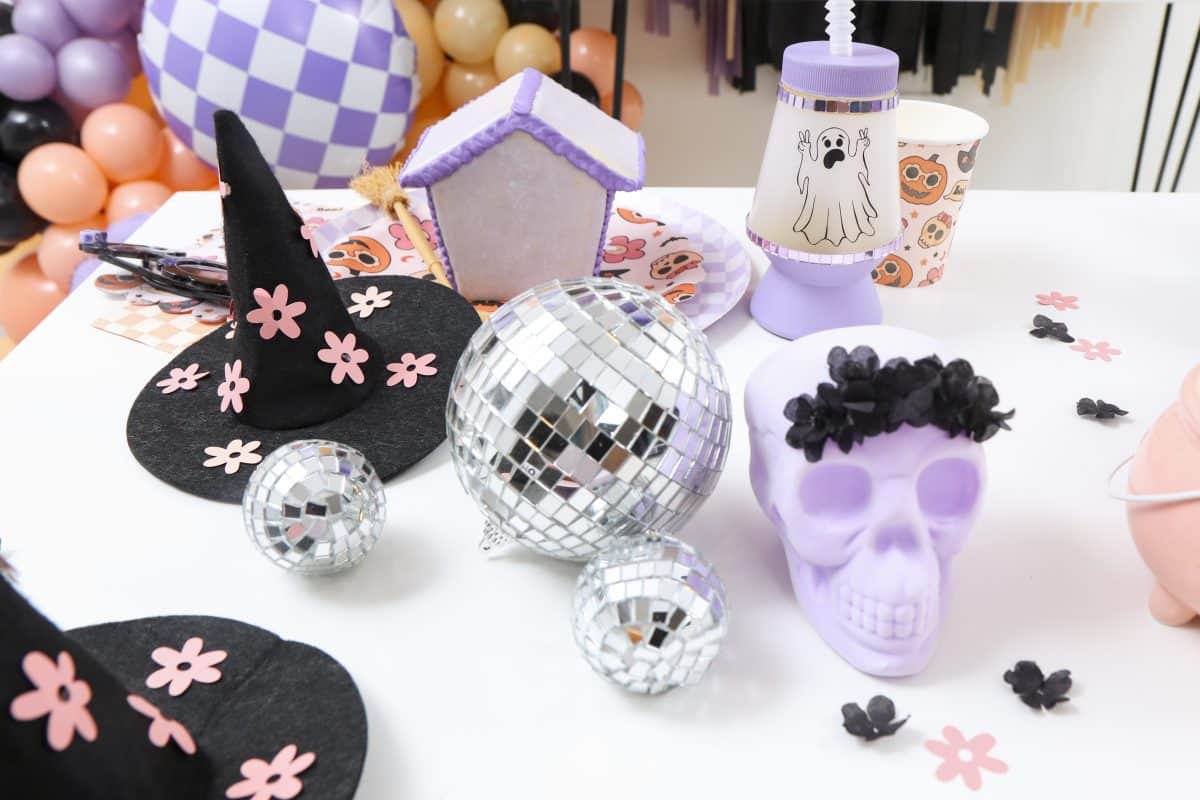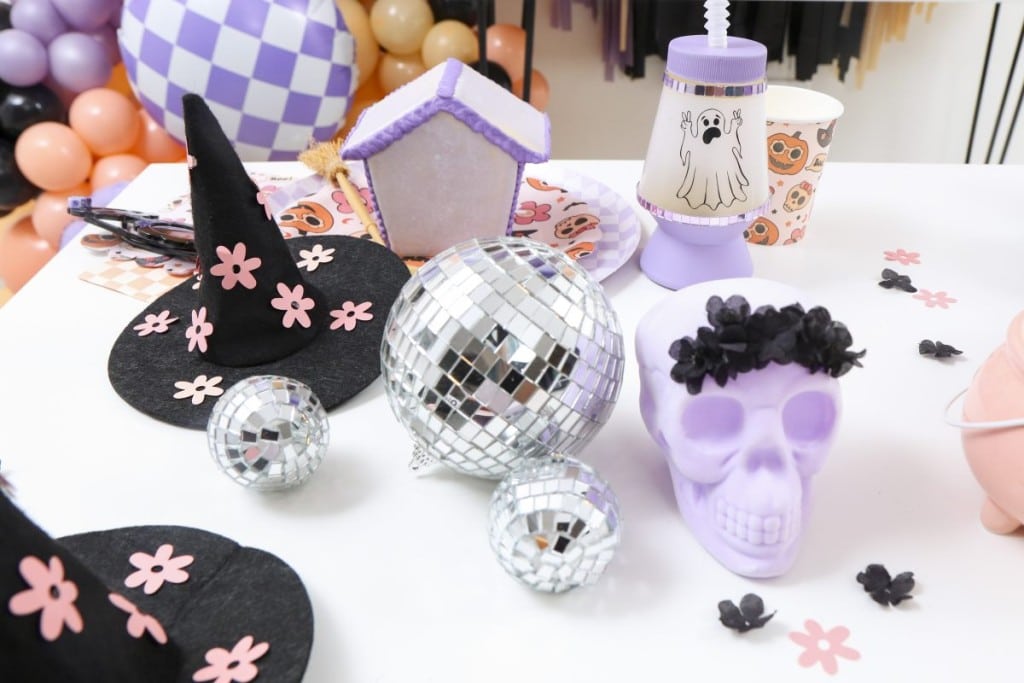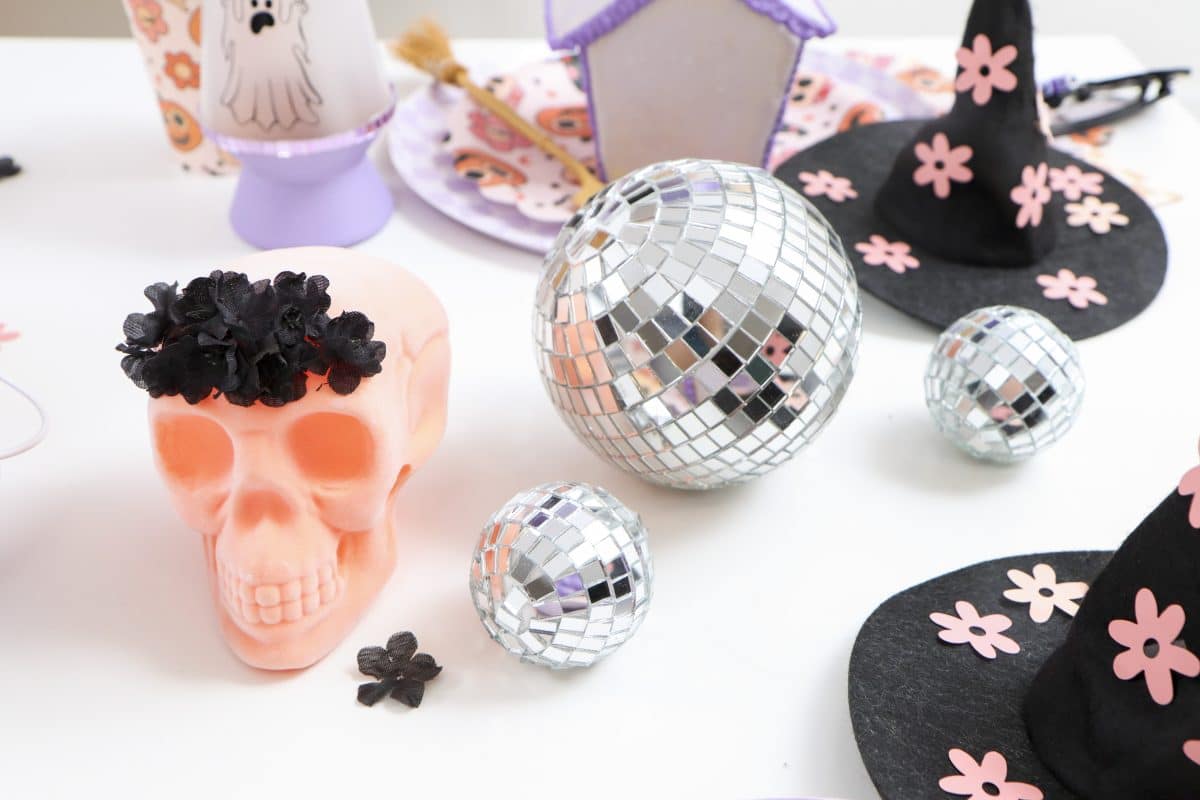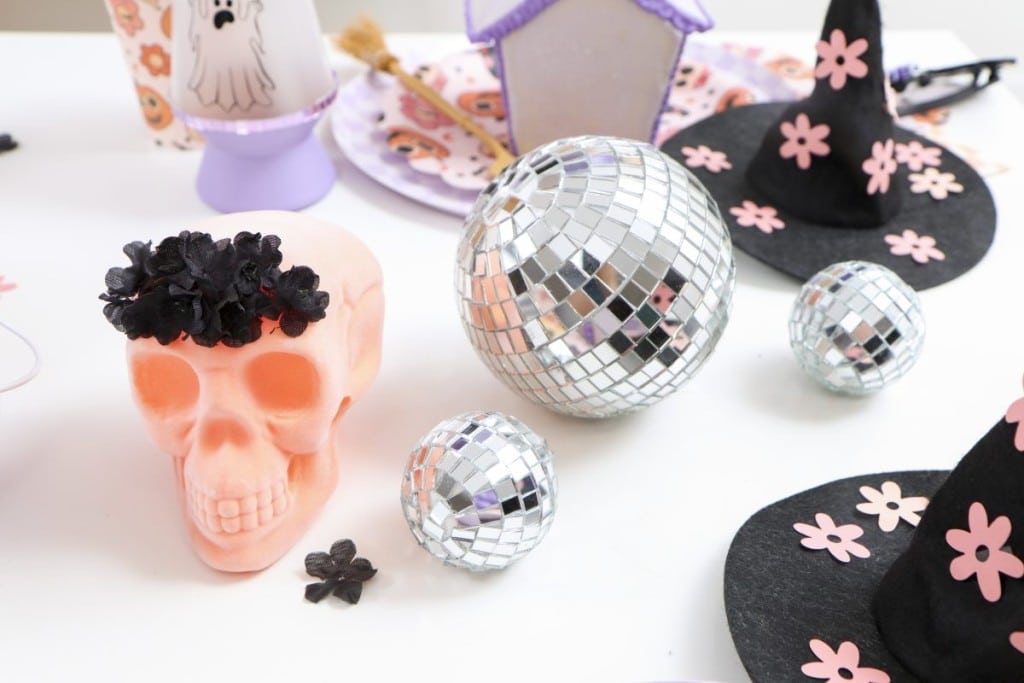 In the center of the table, I added everything the girls would need to decorate their own spooky groovy Halloween gingerbread houses. Icing, edible ink markers, cauldrons of candies, and a char-BOO-terie coffin tray full of edible decorations and various icing piping tips.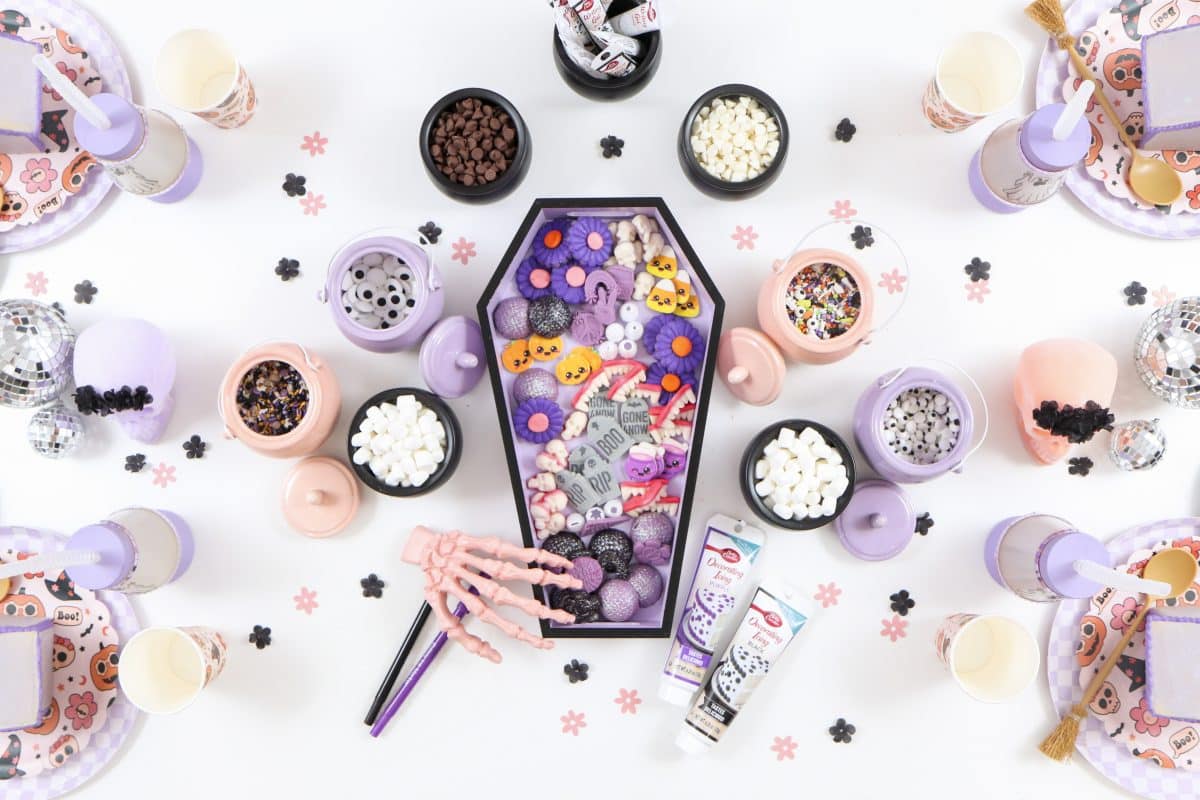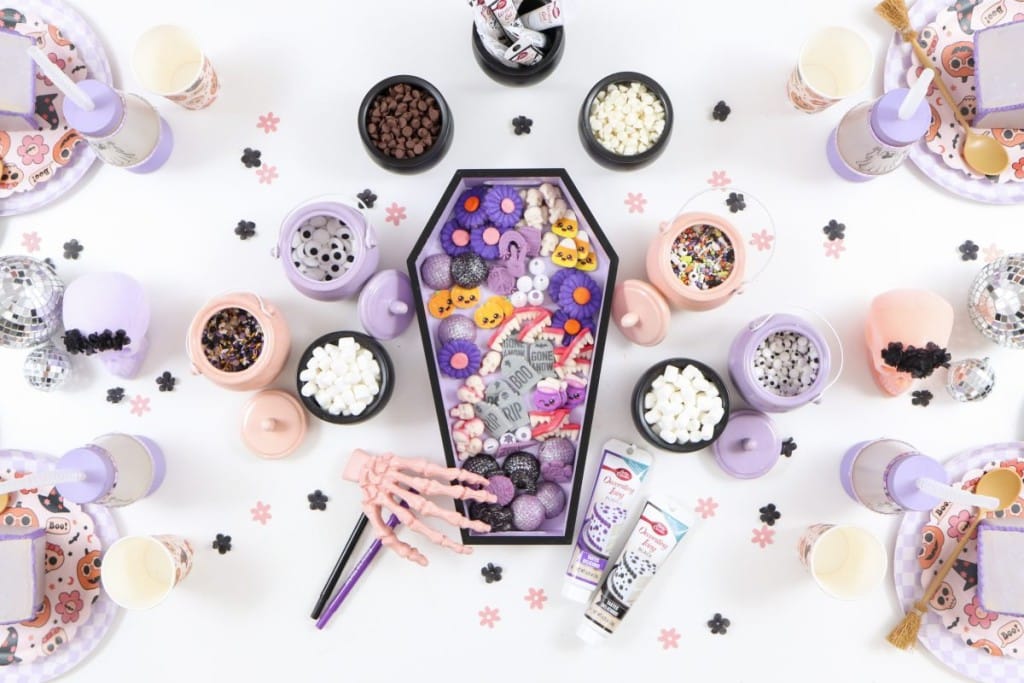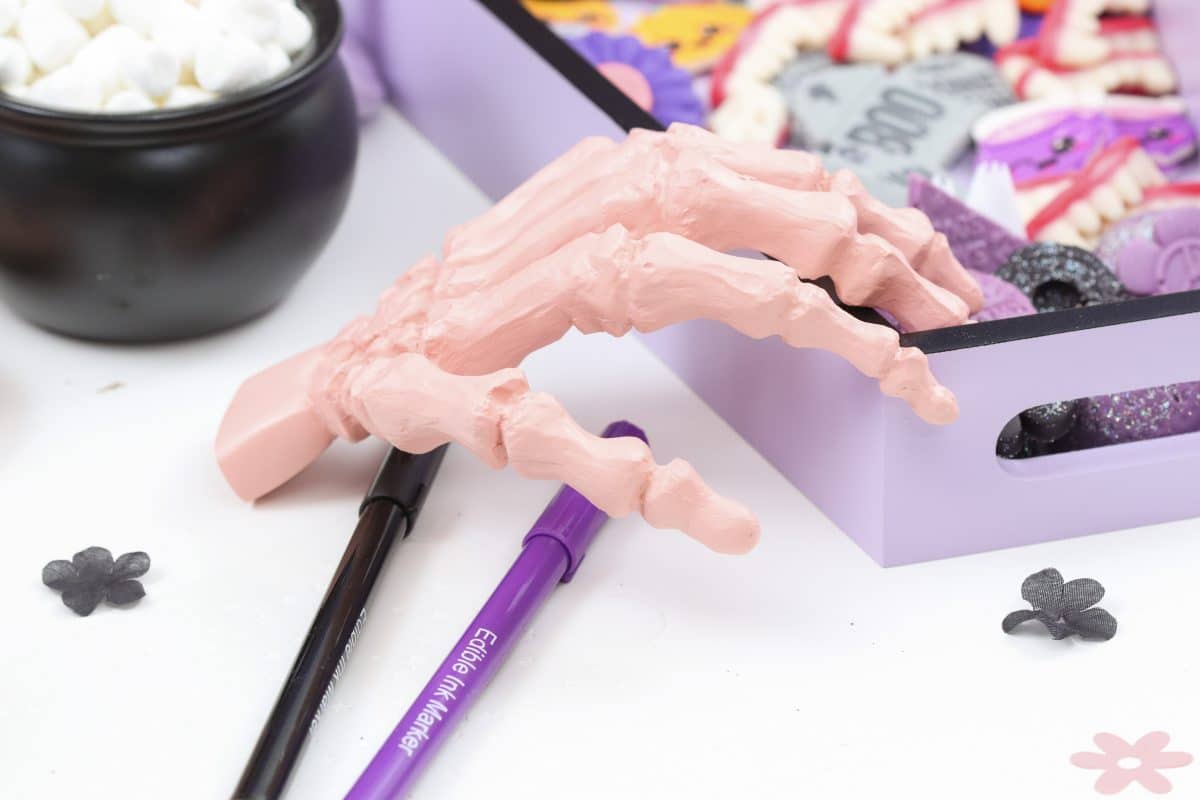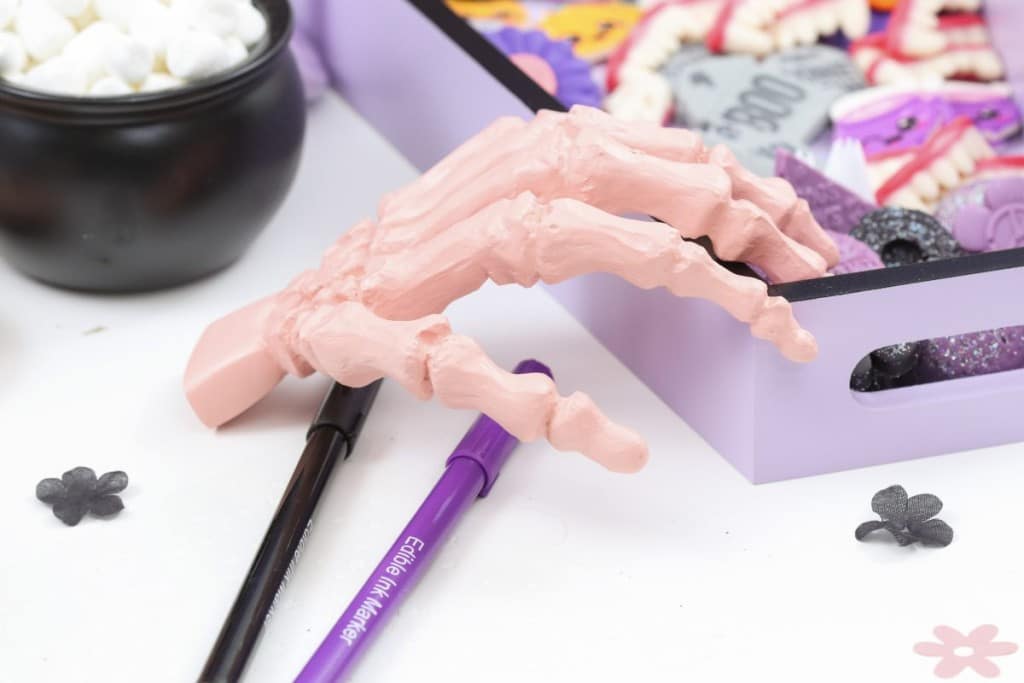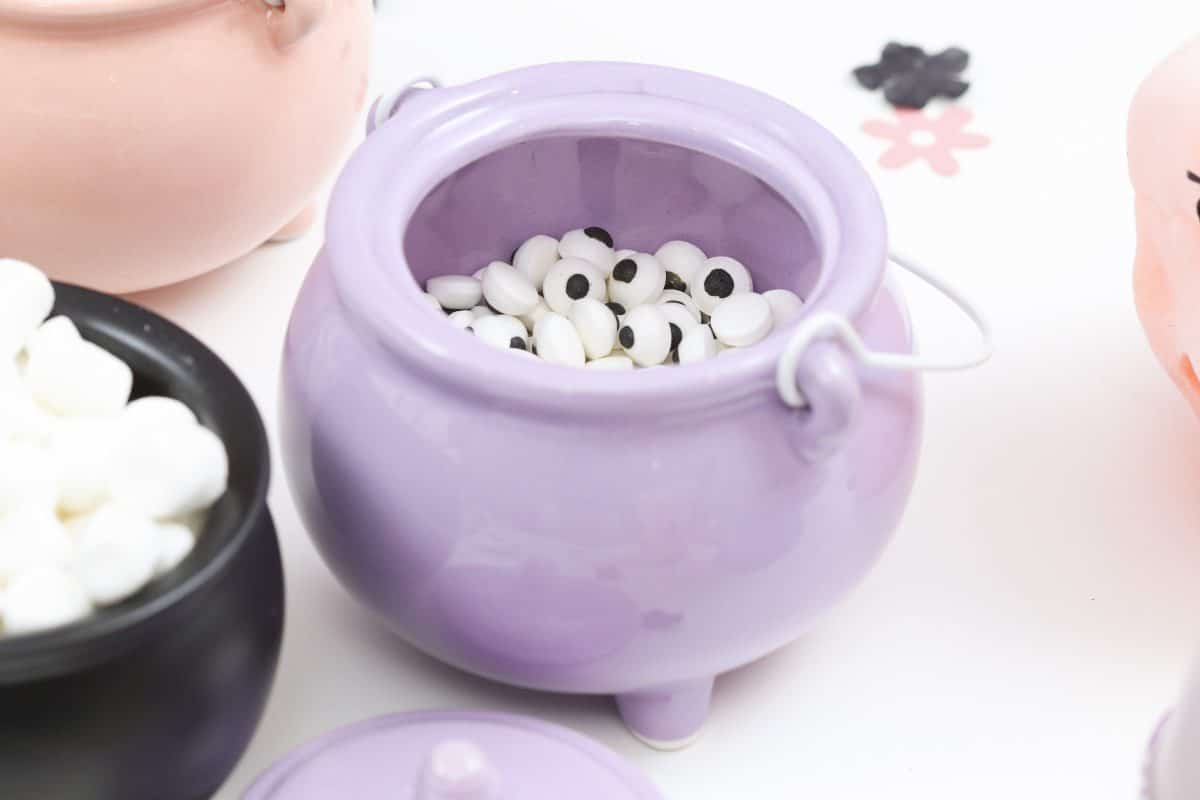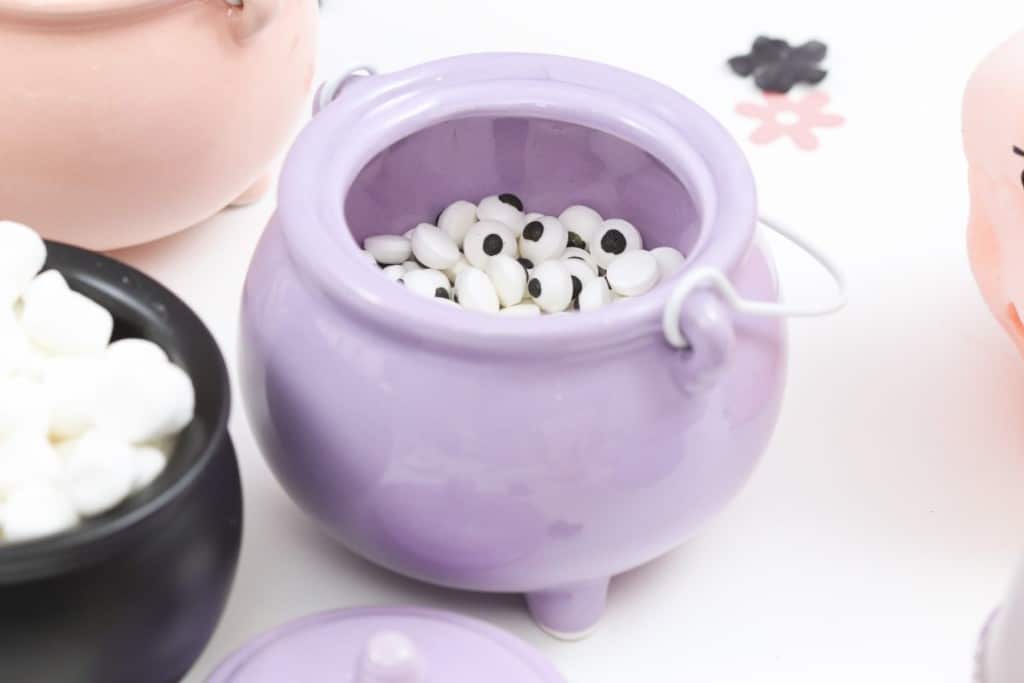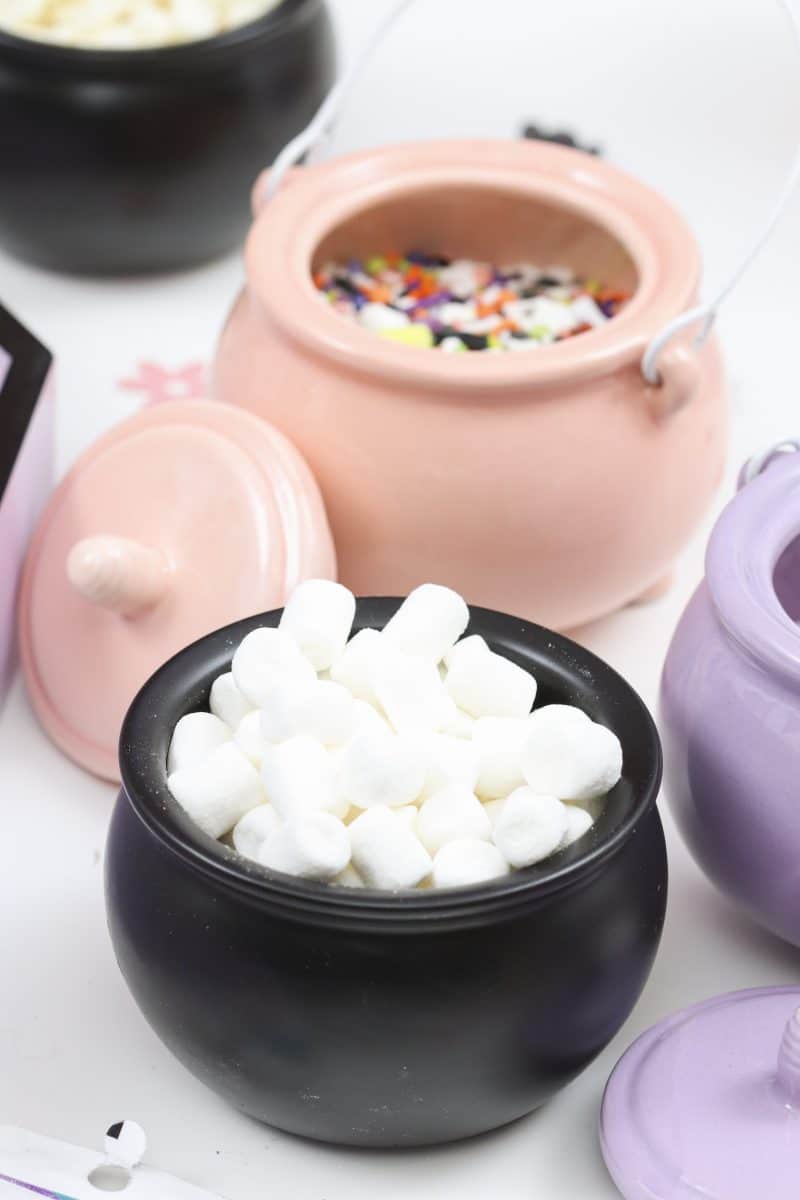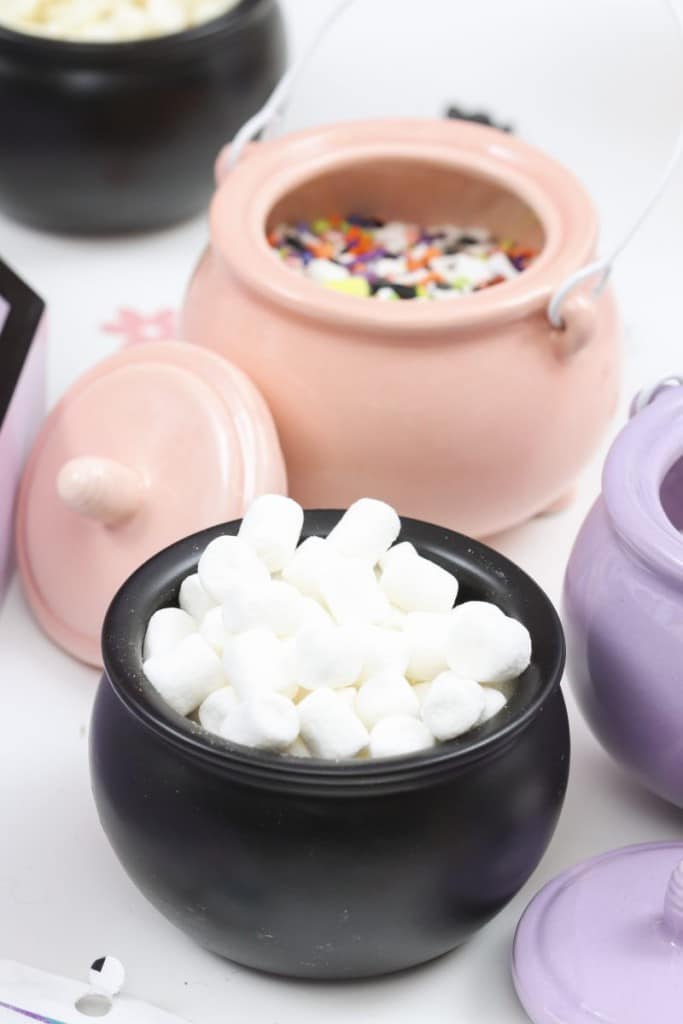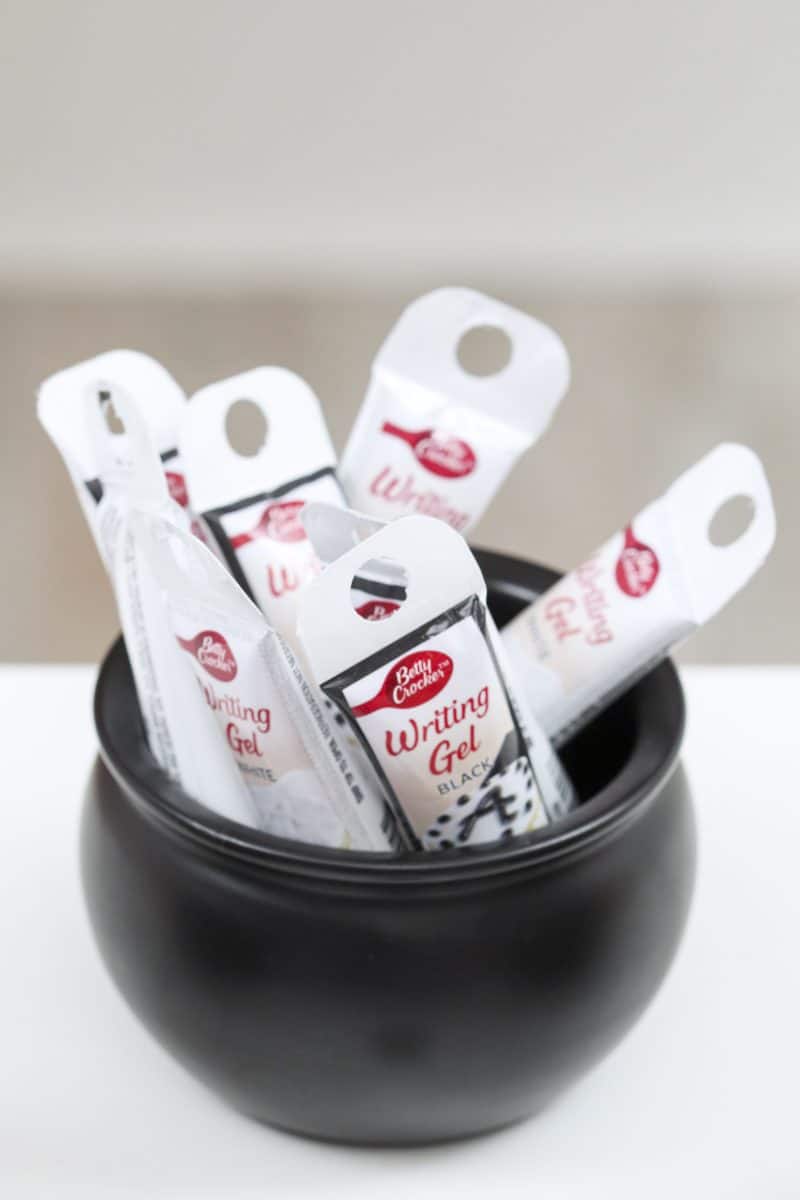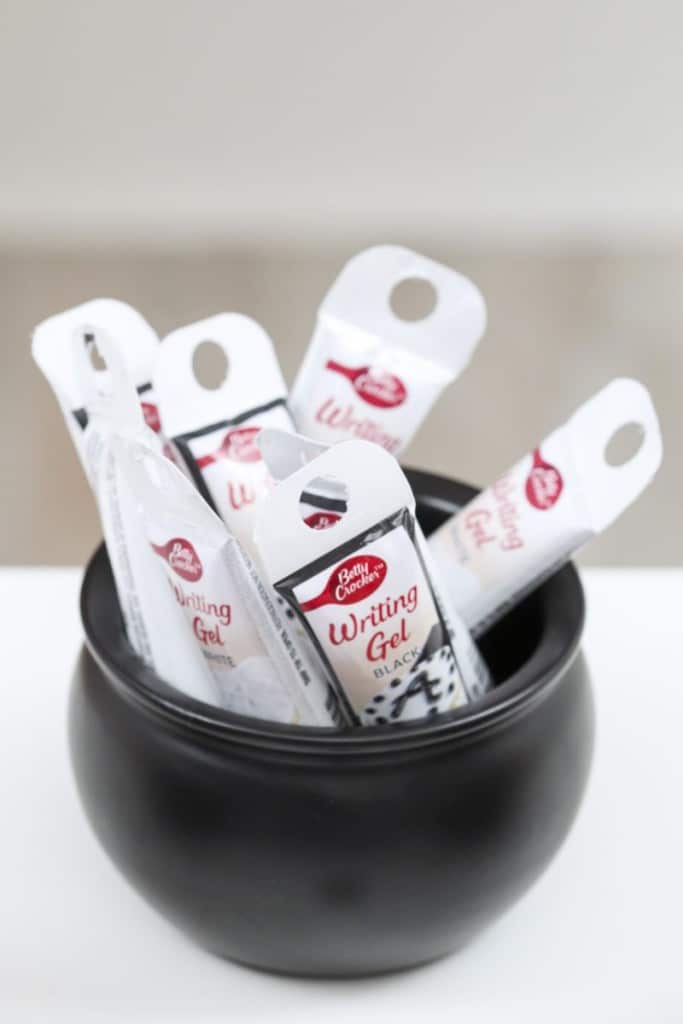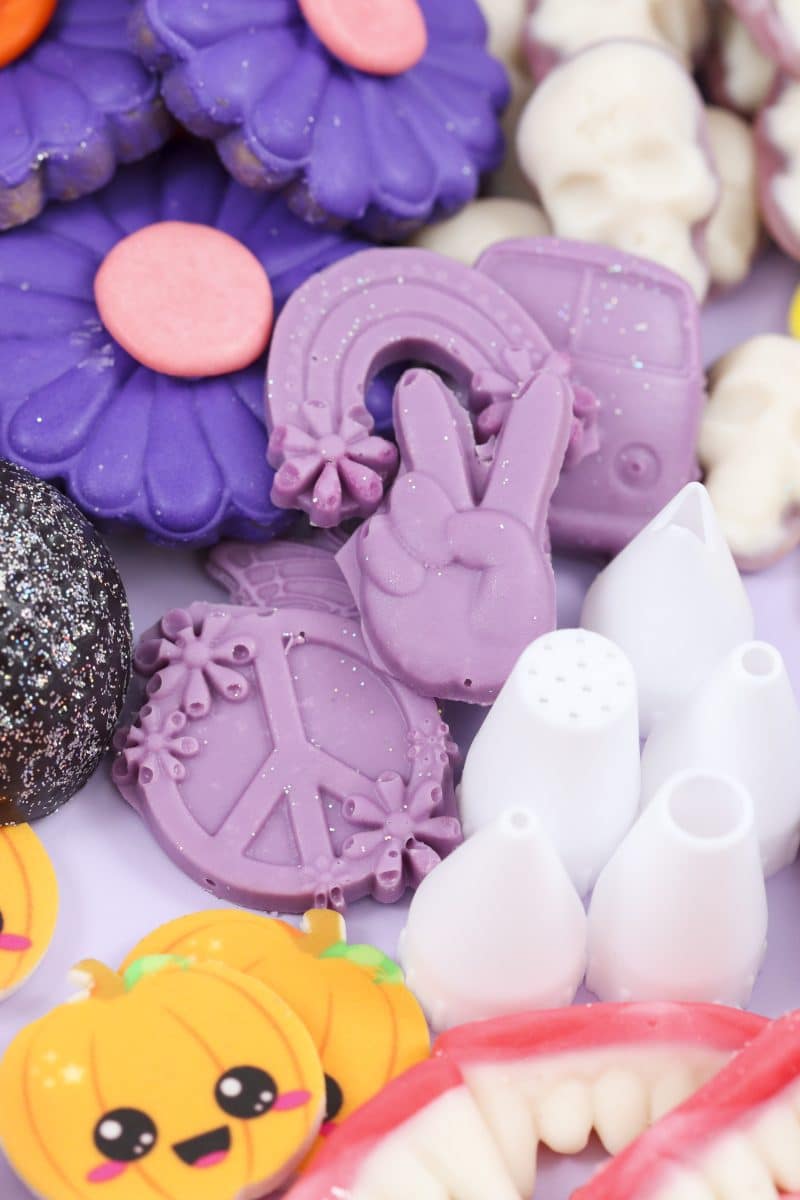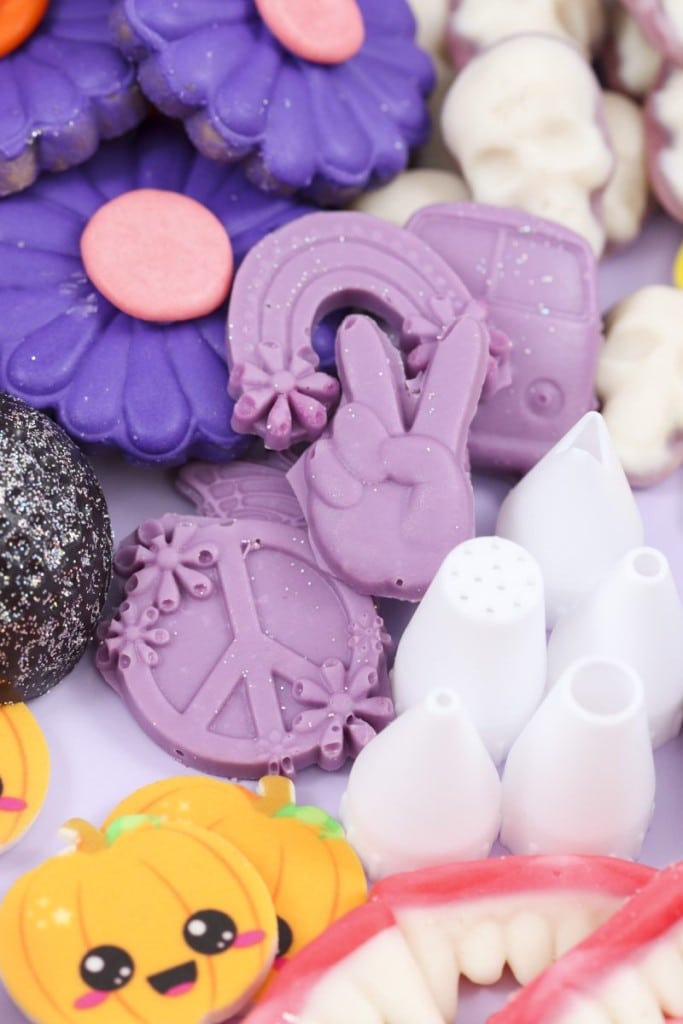 Place Settings
For each place setting, I used a purple and white checkered dinner plate, layered with a groovy Halloween dessert plate and an adorable witch-broom spoon.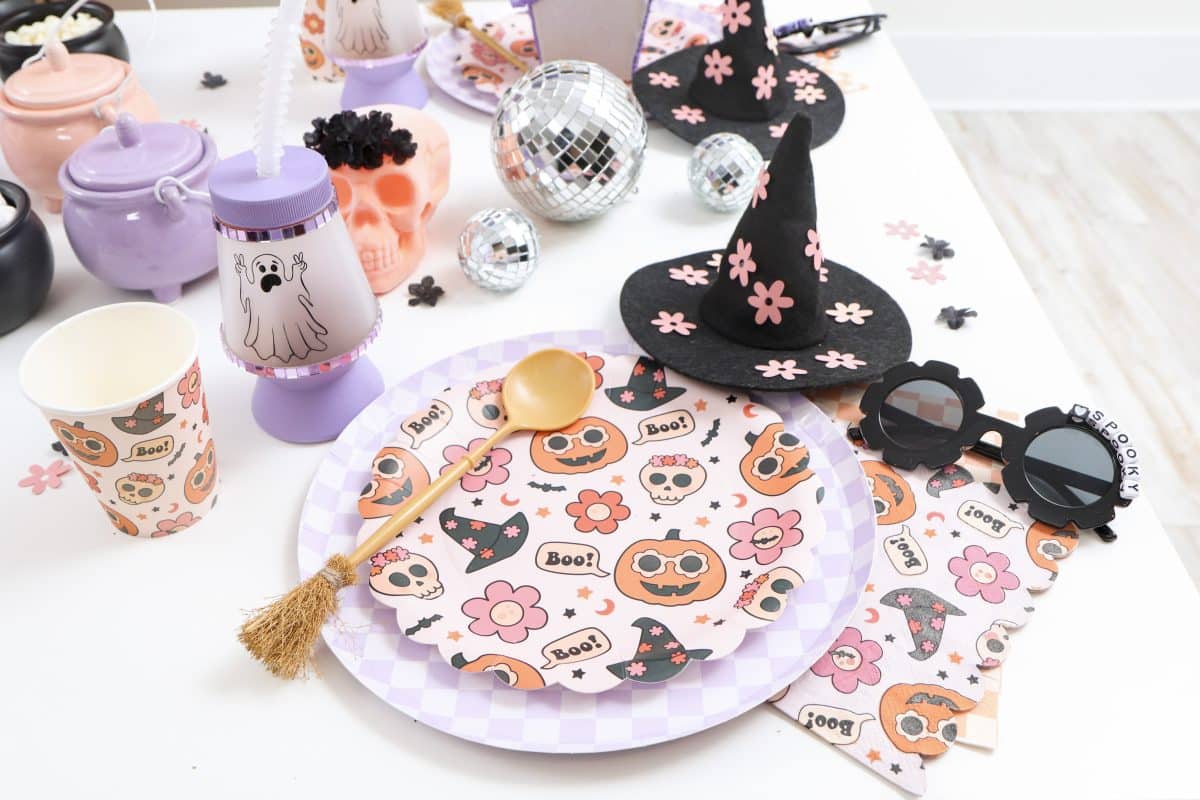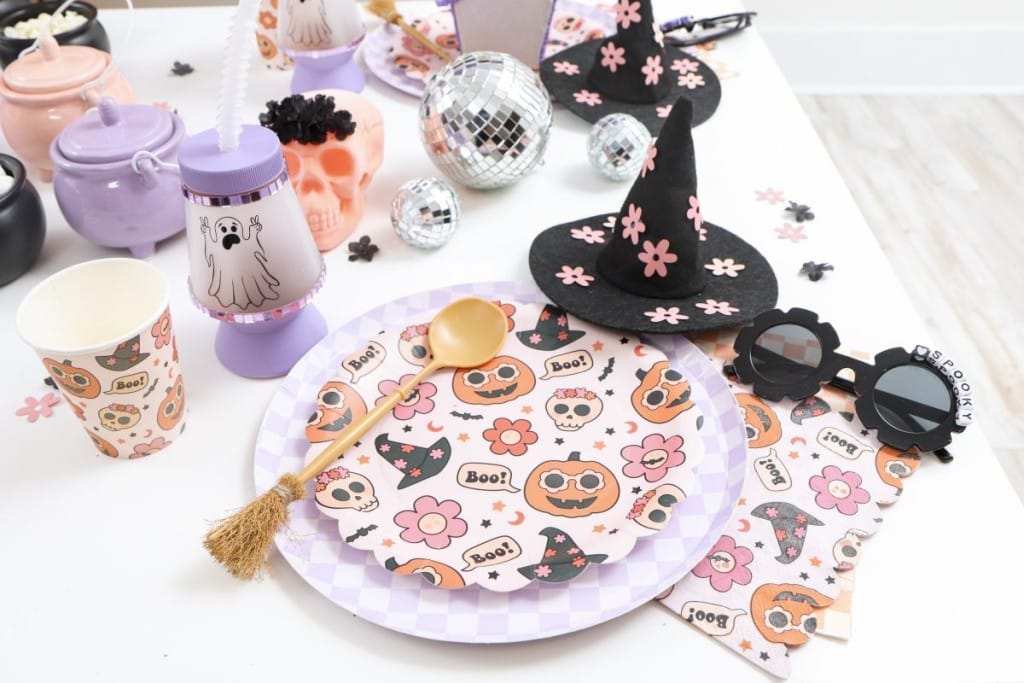 Each setting also included an embellished lava lamp ghost cup, and a groovy Halloween cup and napkin.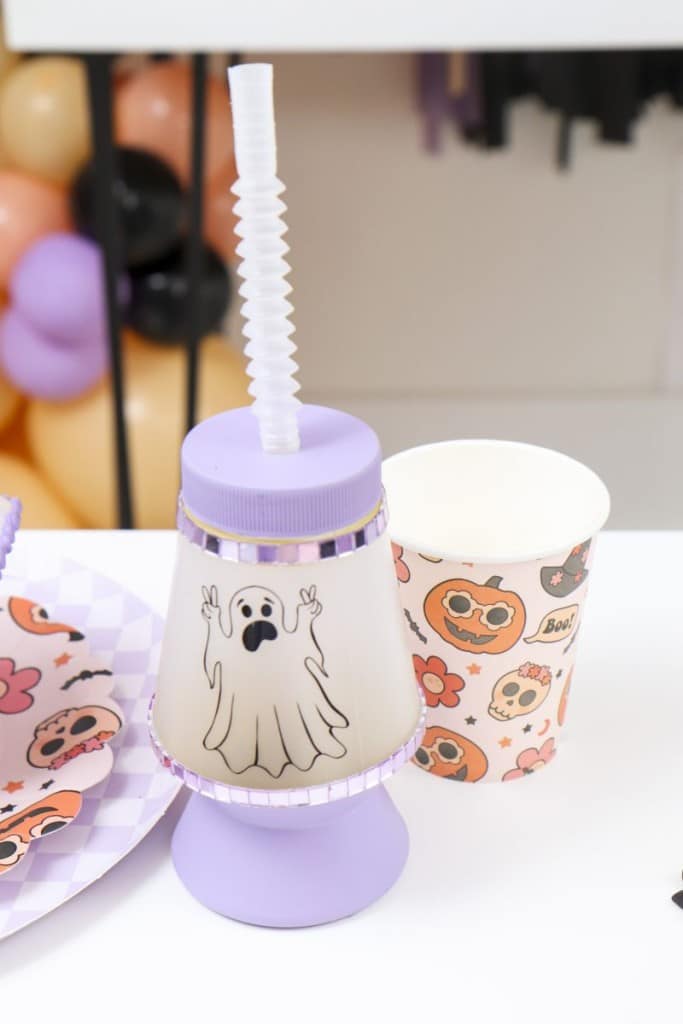 Finally, I added mini witch hats that I adorned with pink flower stickers, and flower power sunglasses with spooky beads attached.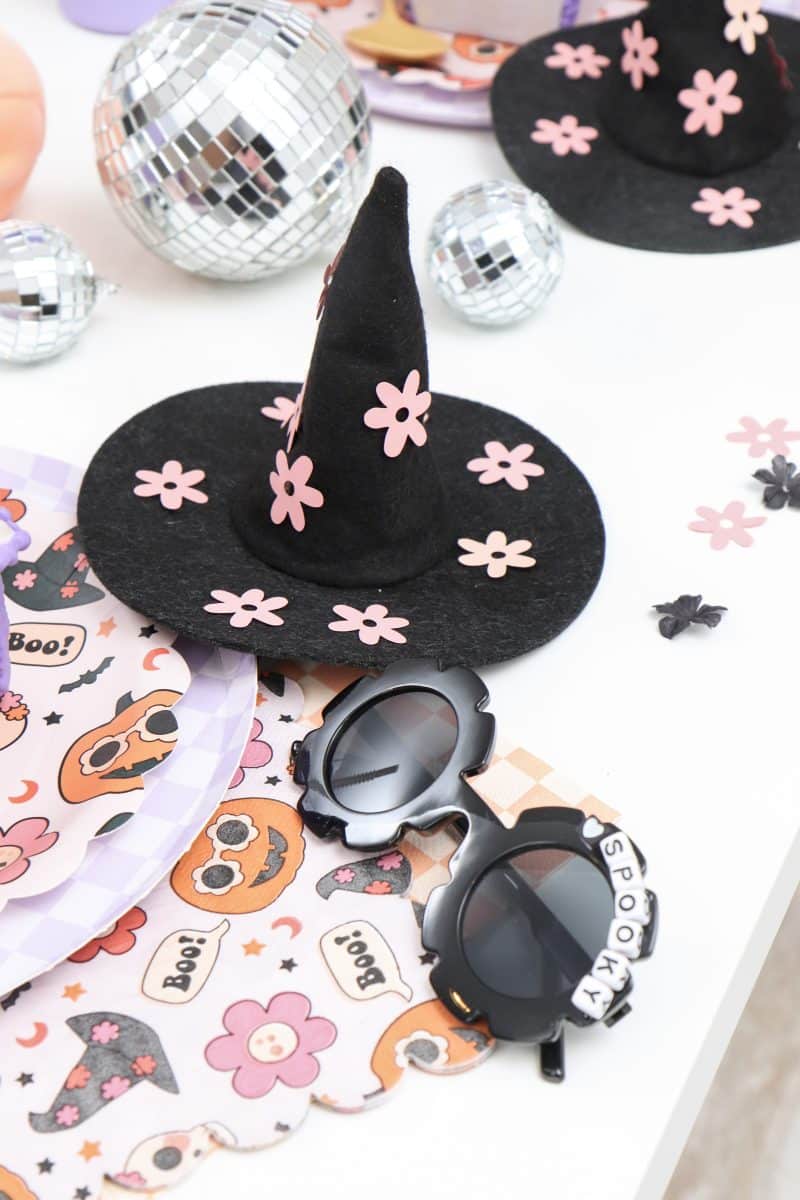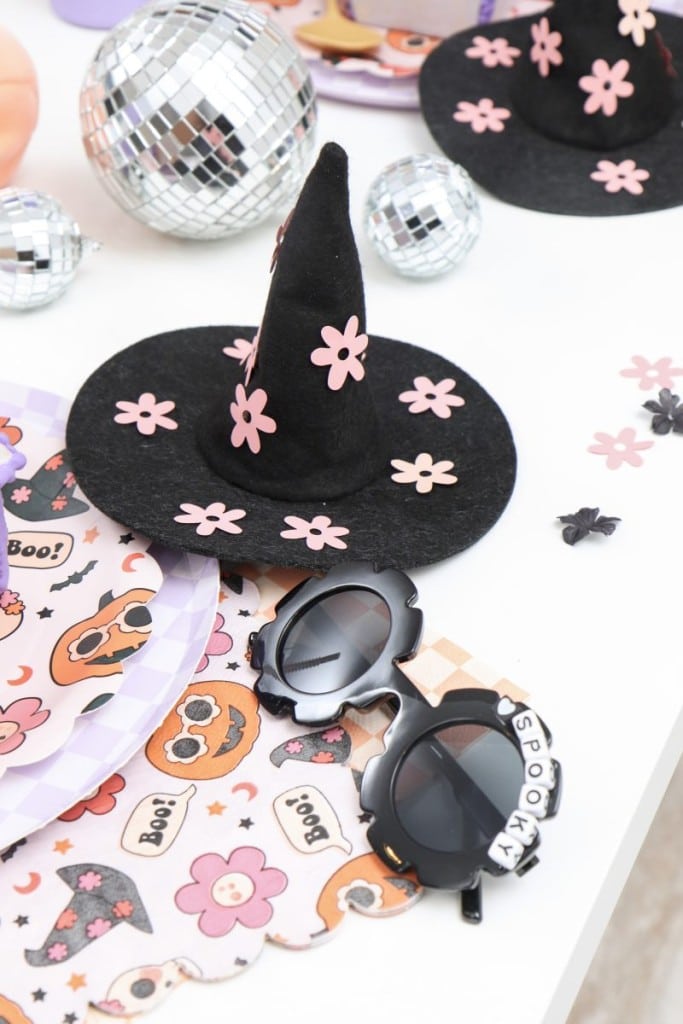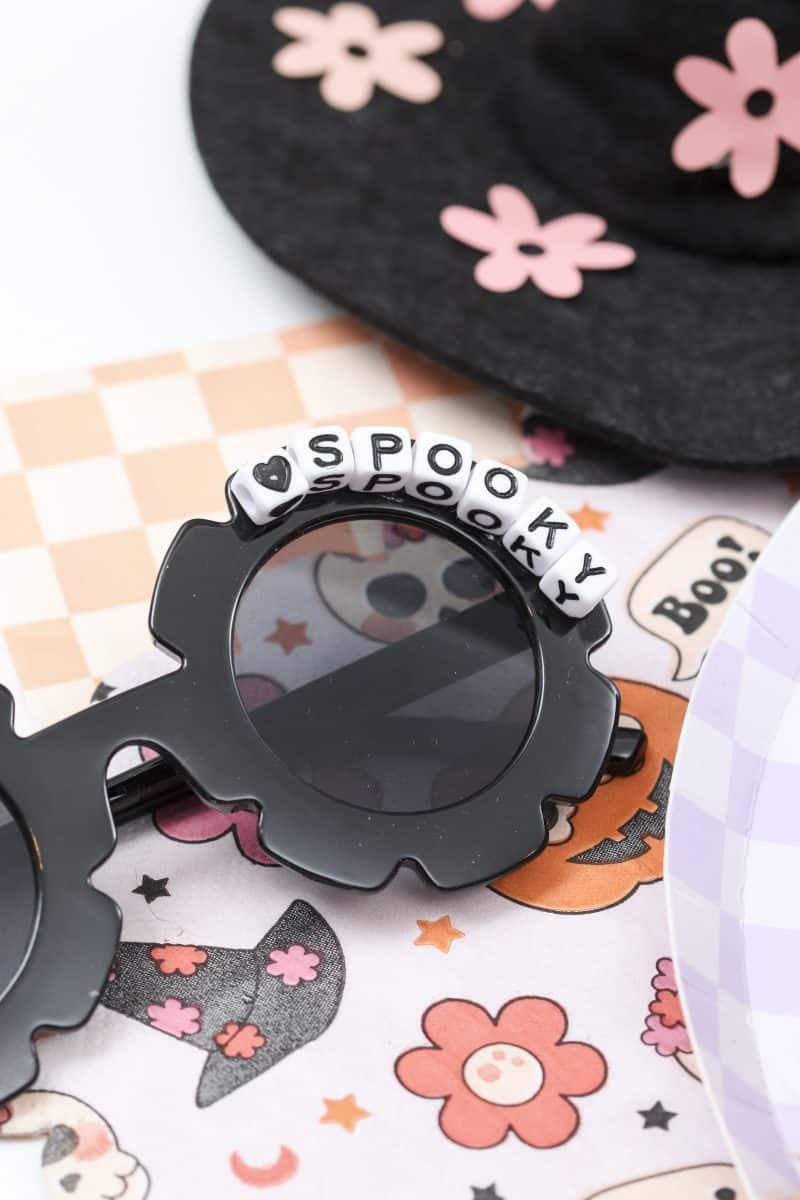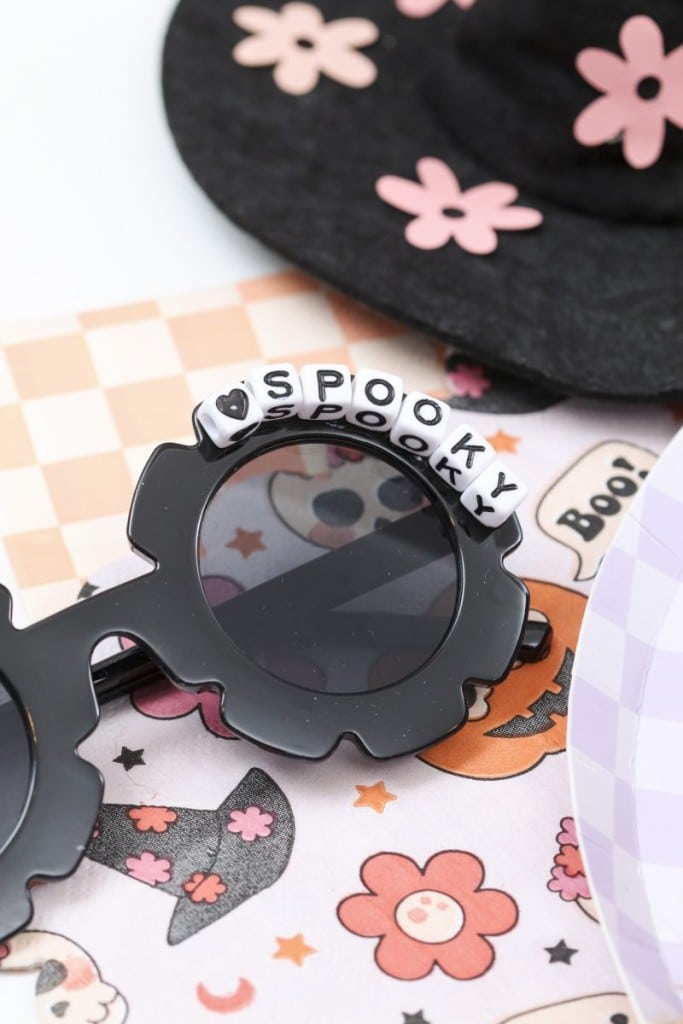 See how I added the beads to the glasses below.
View this post on Instagram
Once it was time to decorate, I brought out individual small blank gingerbread houses for each of the girls. Adrienne made these with light lavender gingerbread and lavender icing – perfect for our party.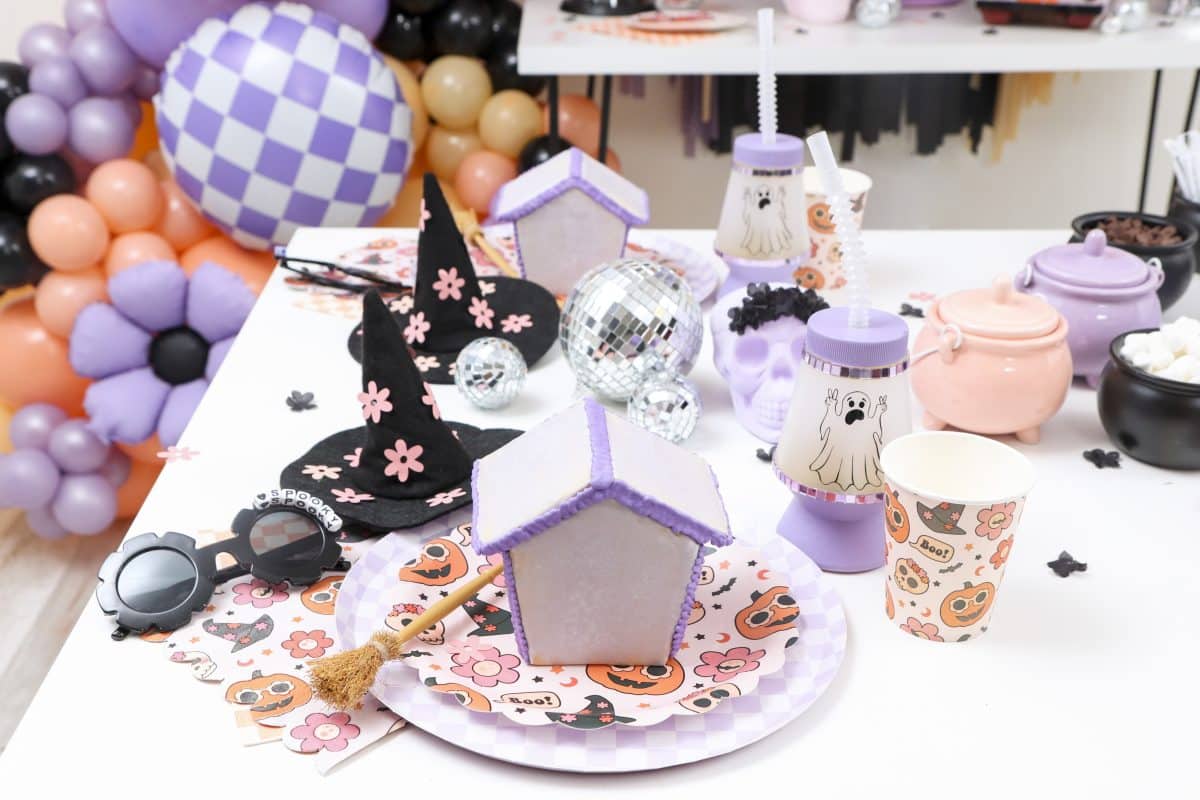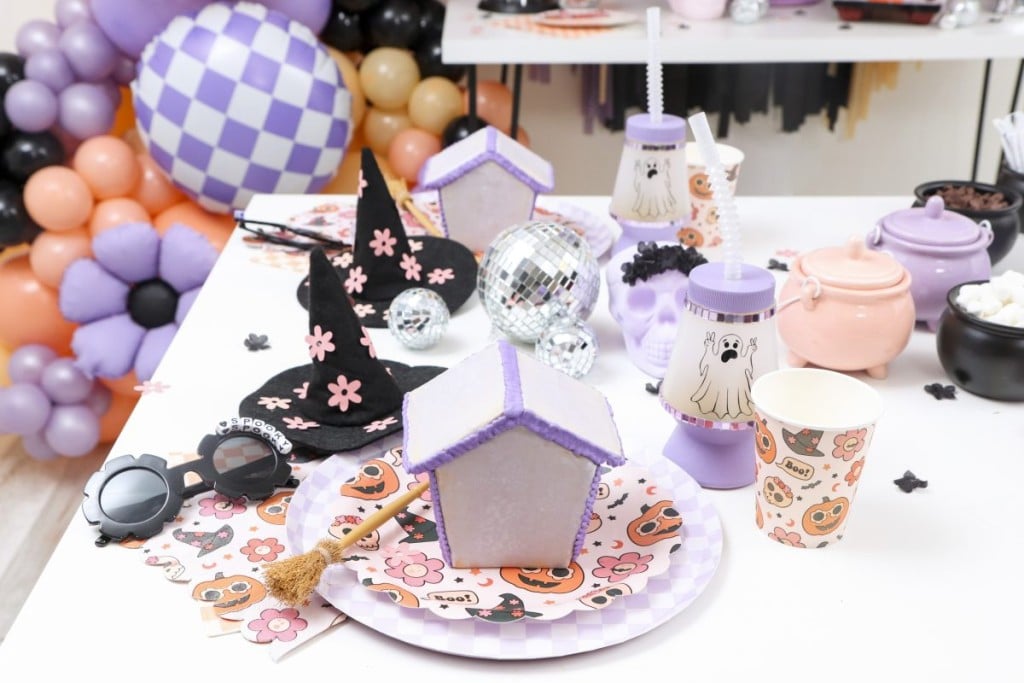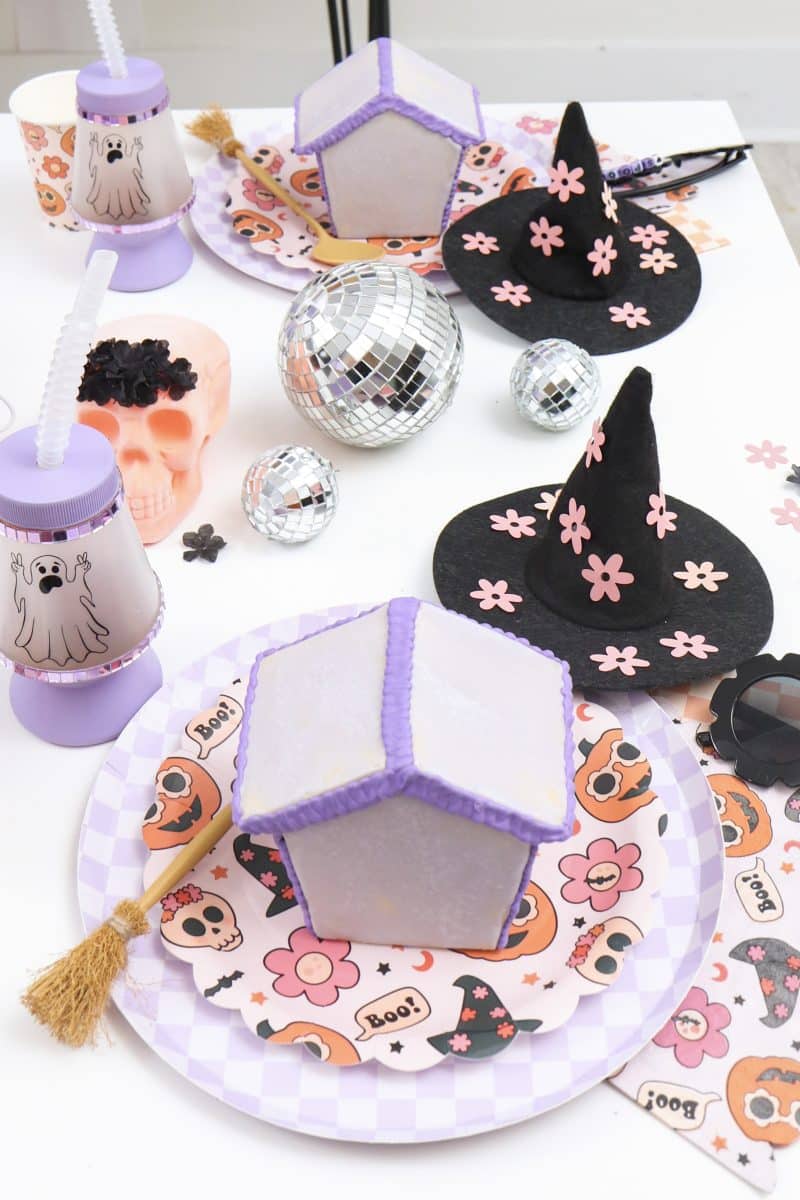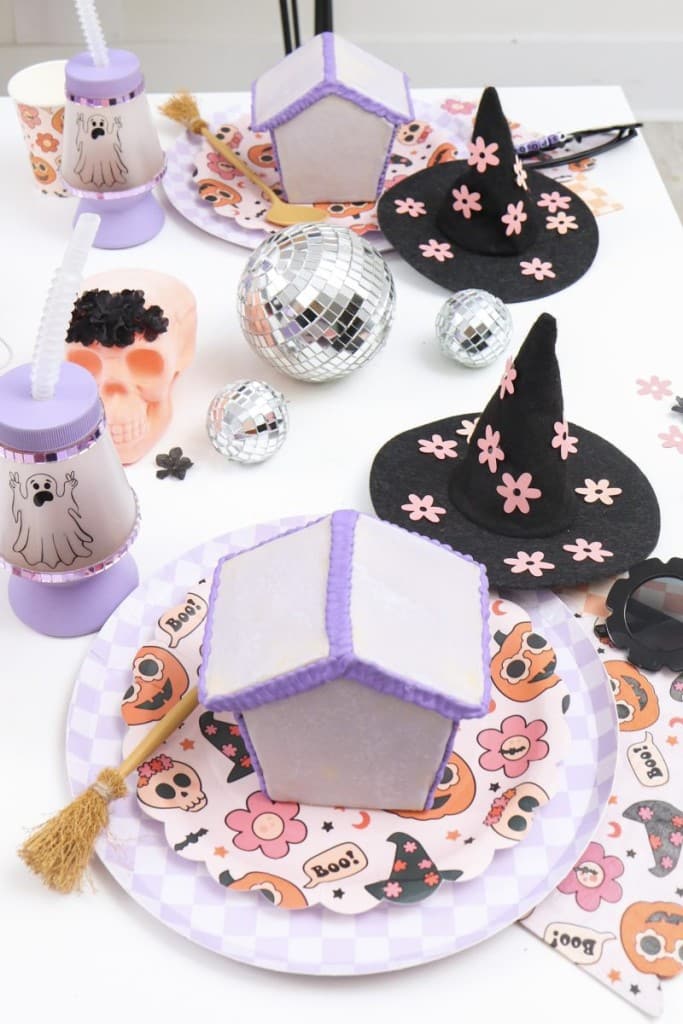 Watch how I set up my place settings below.
View this post on Instagram
Decorating
Then, the girls got to decorating! First, they checked out the big Spooky Groovy Gingerbread House for inspiration.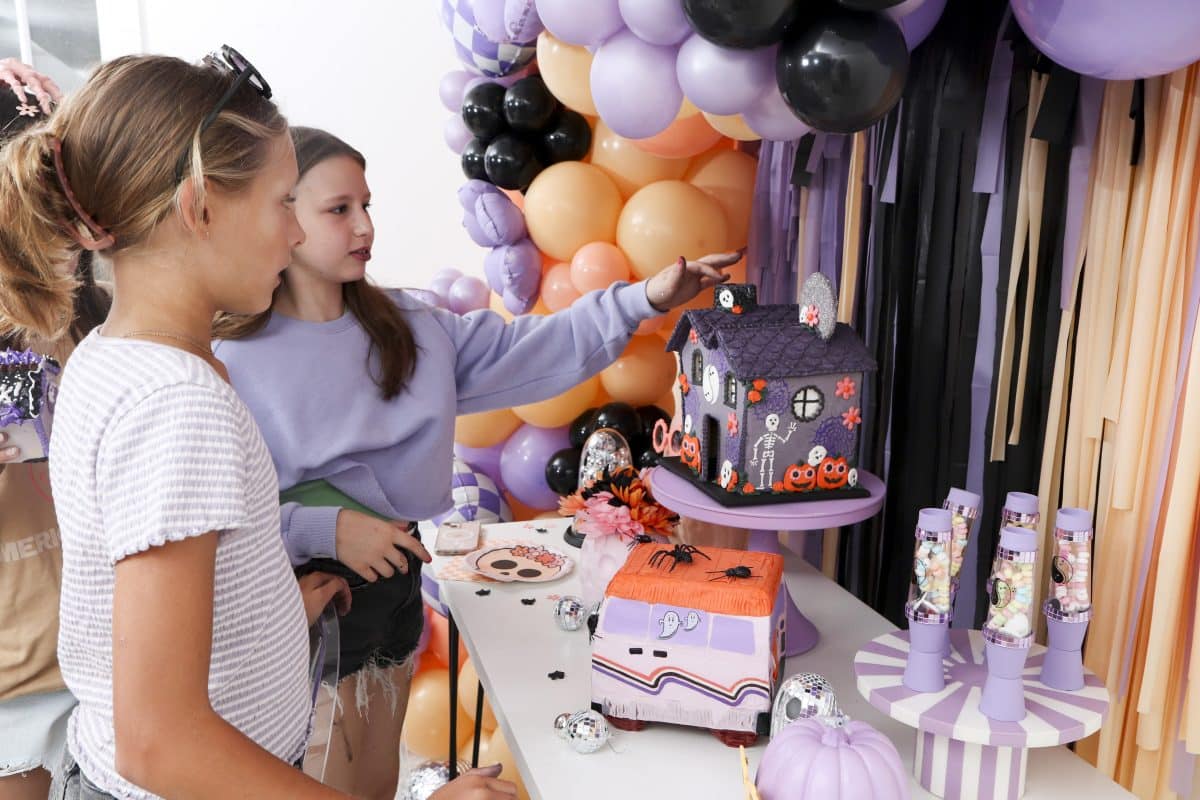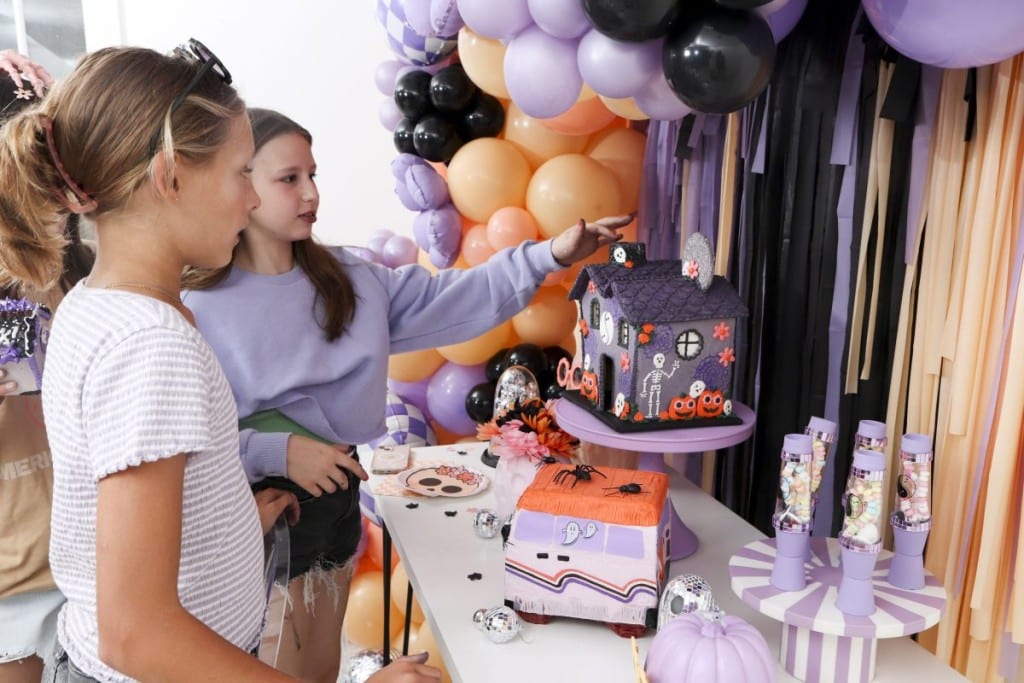 Then they used icing, candy, and edible decorations to decorate their own groovy houses.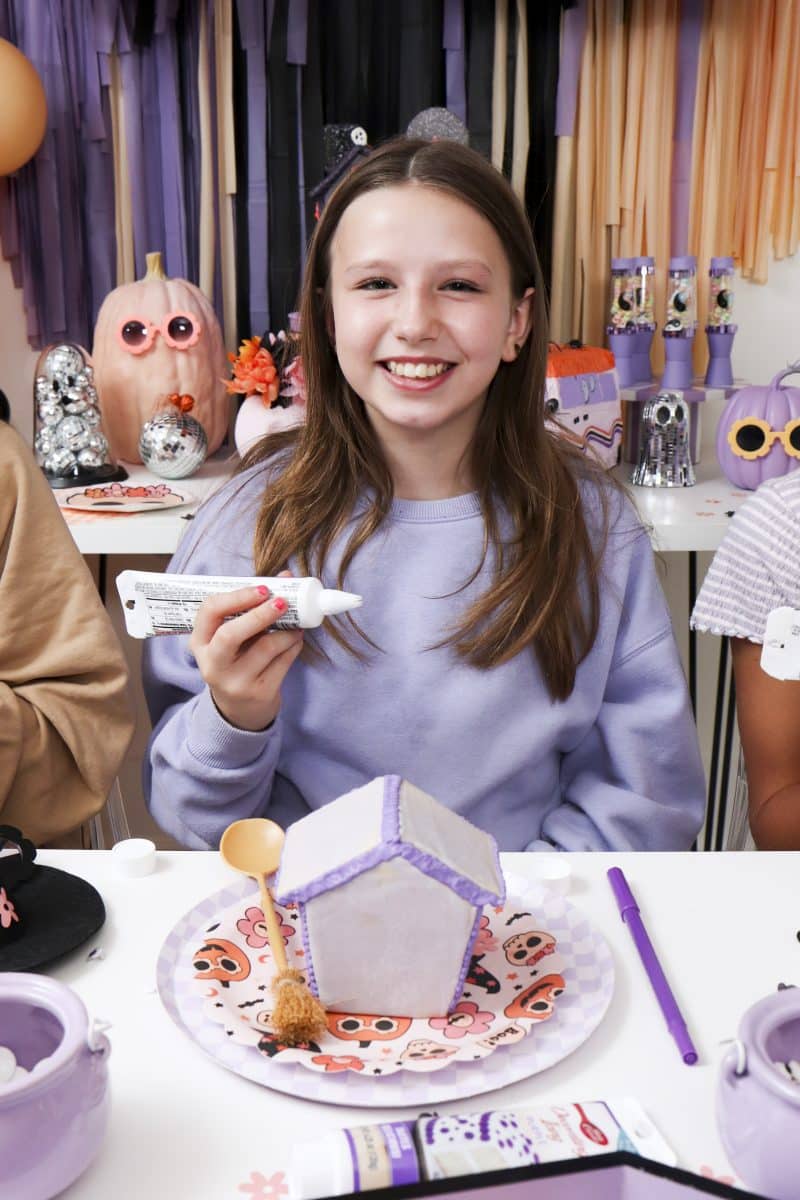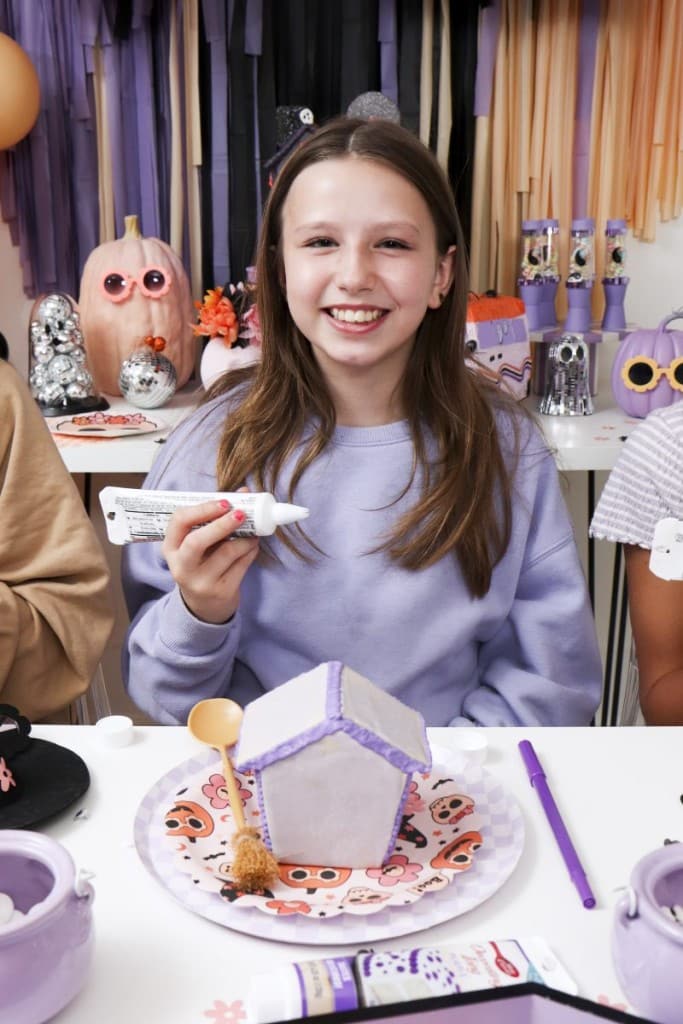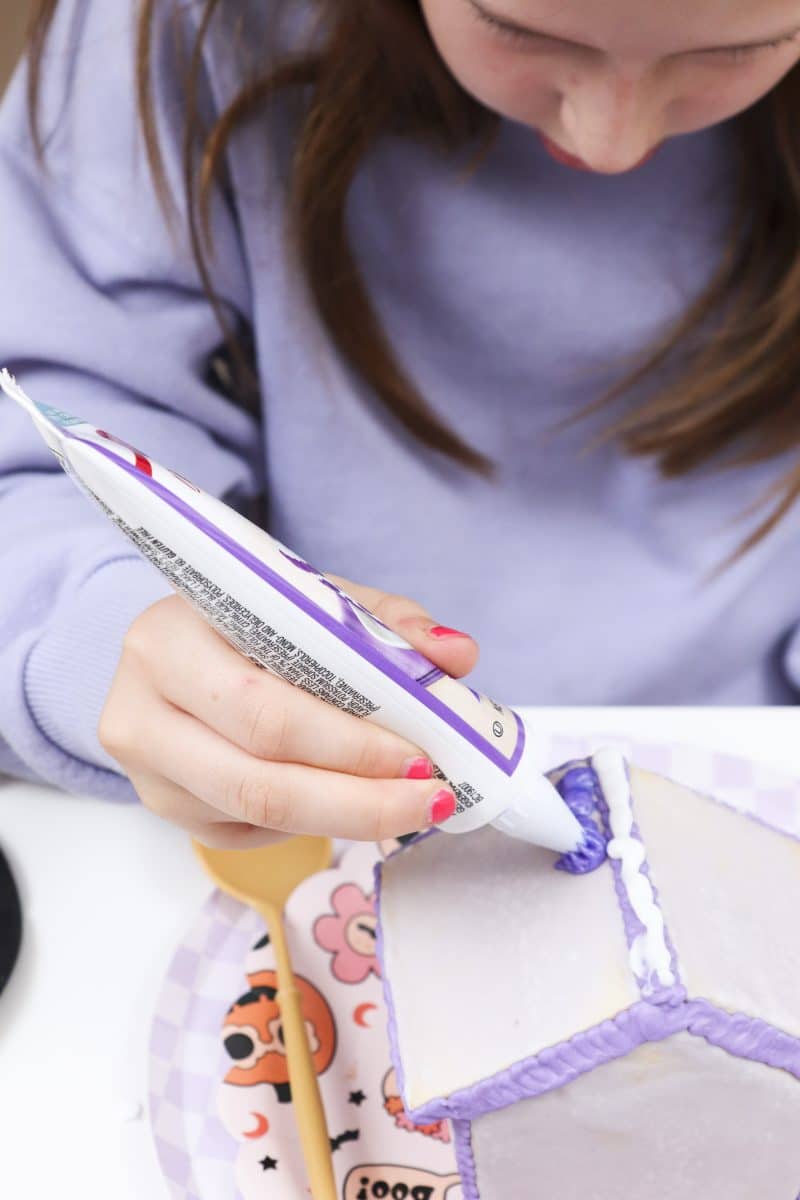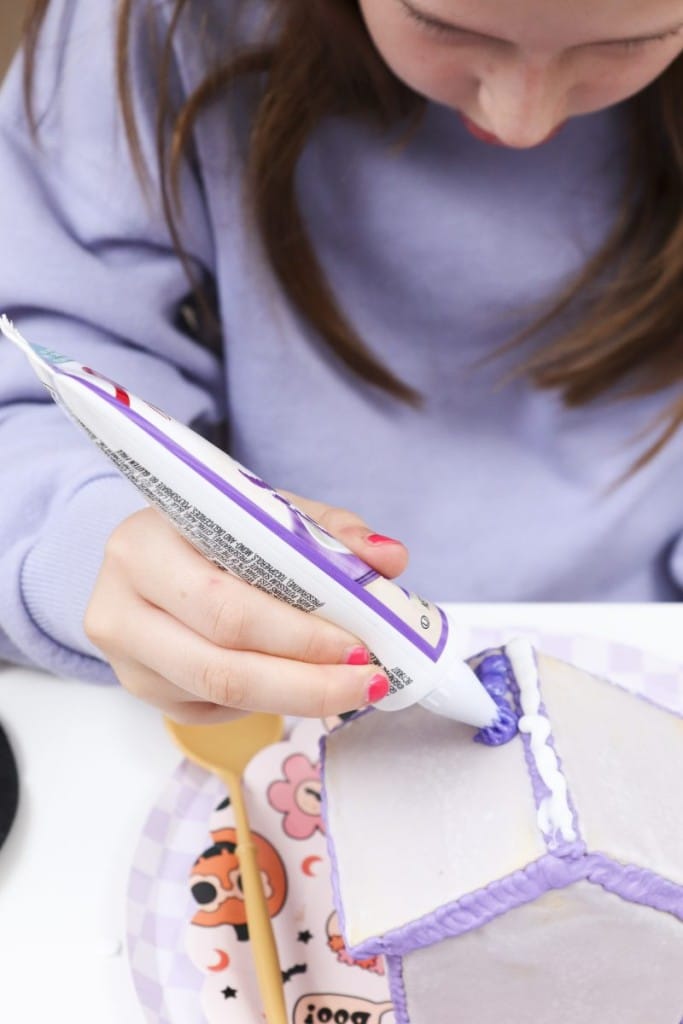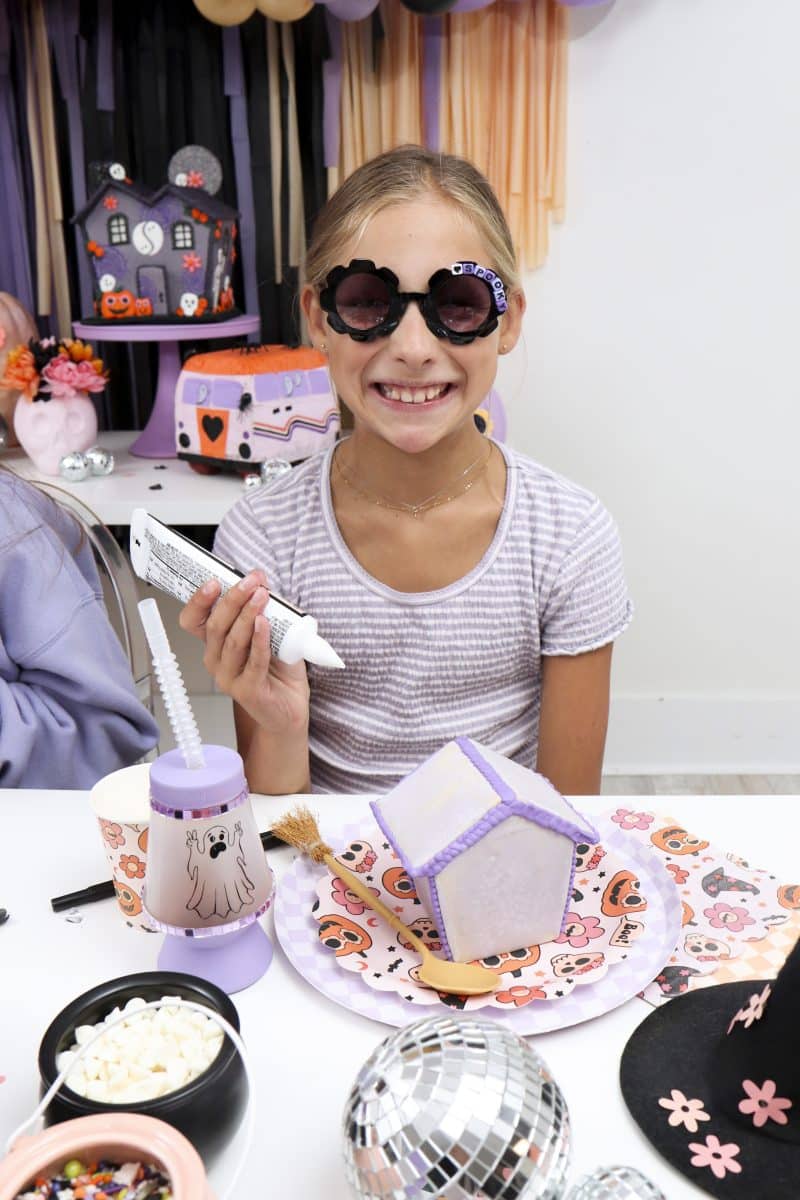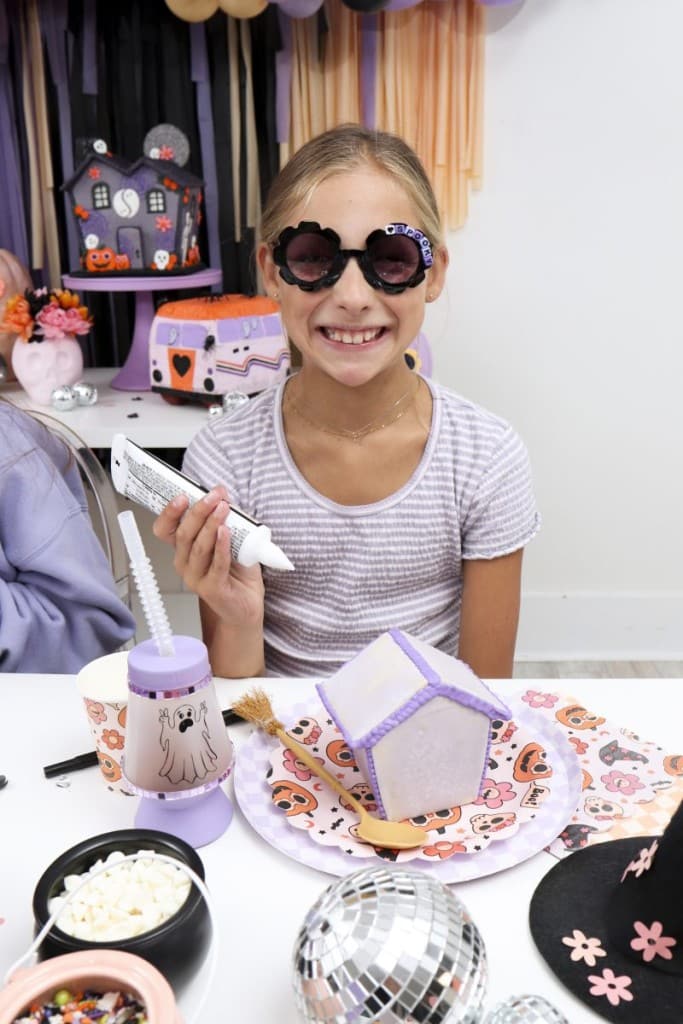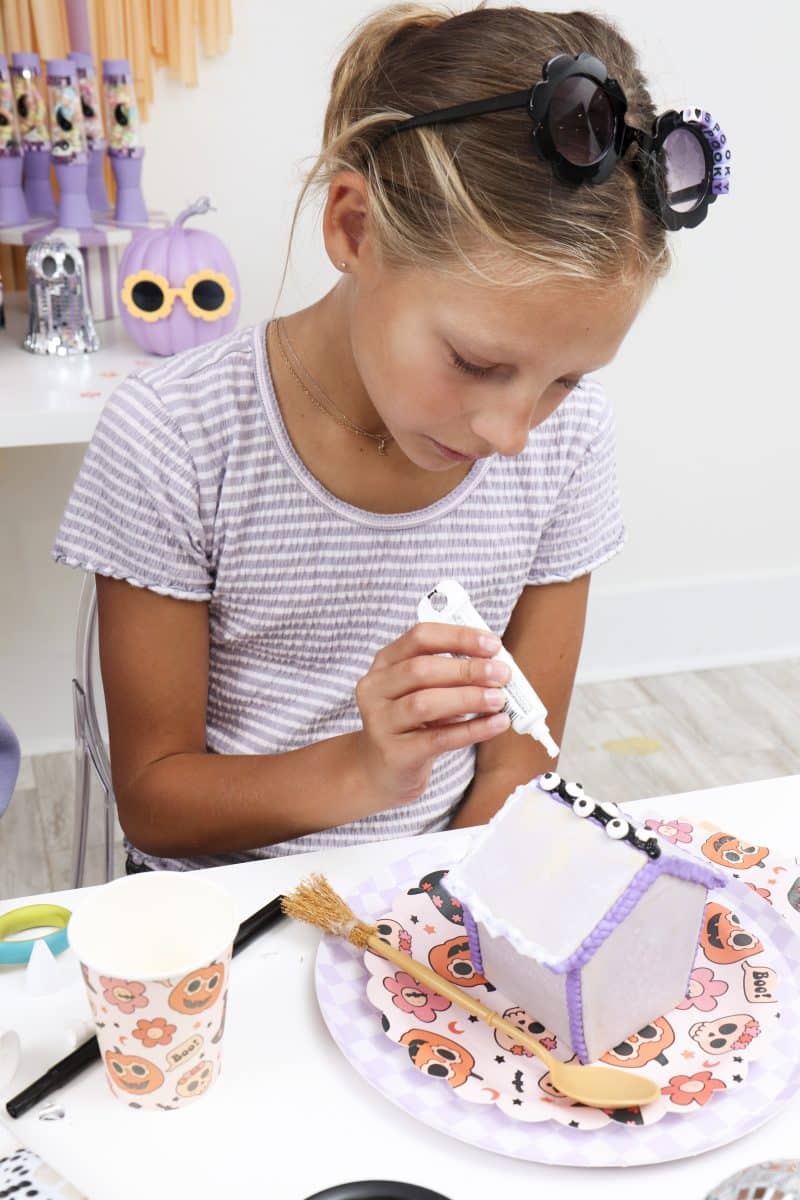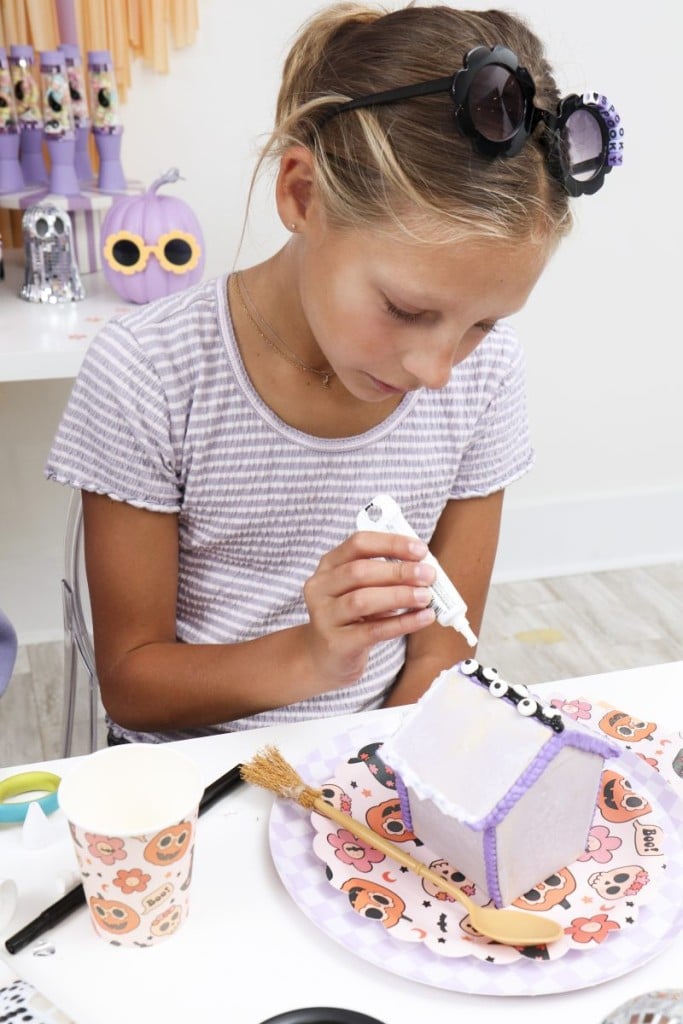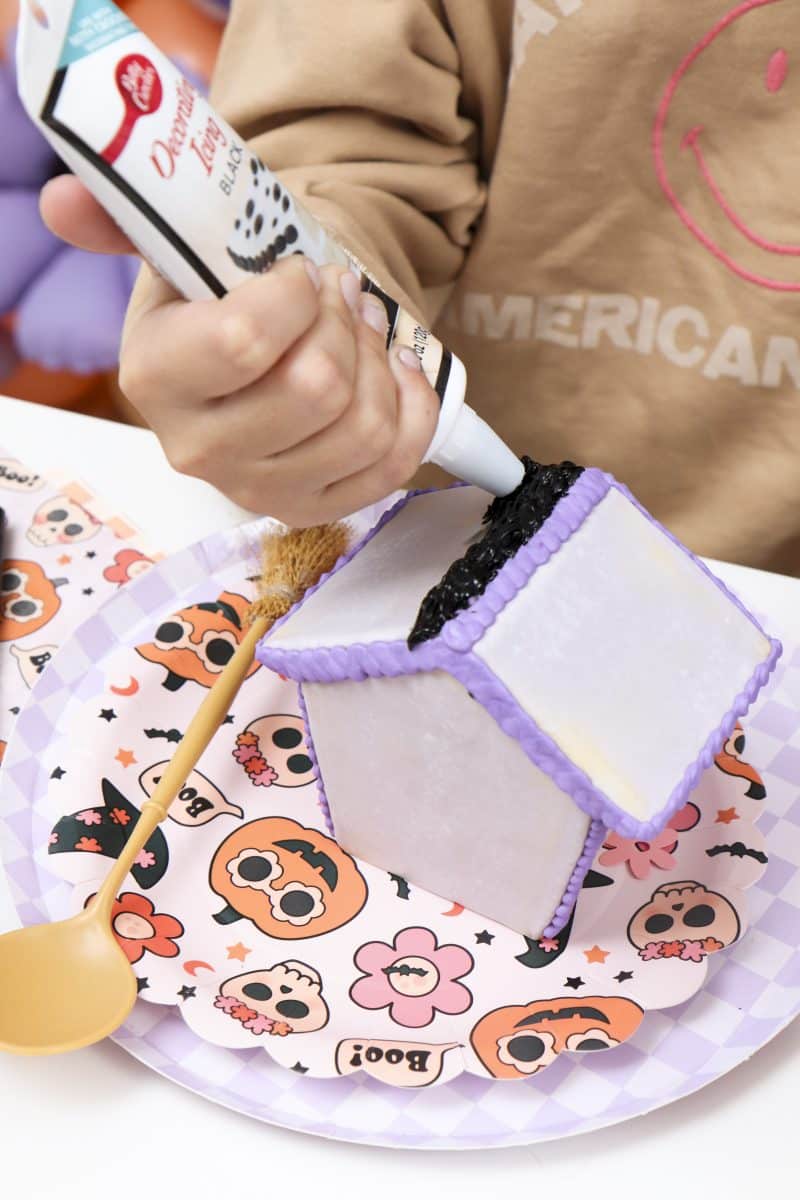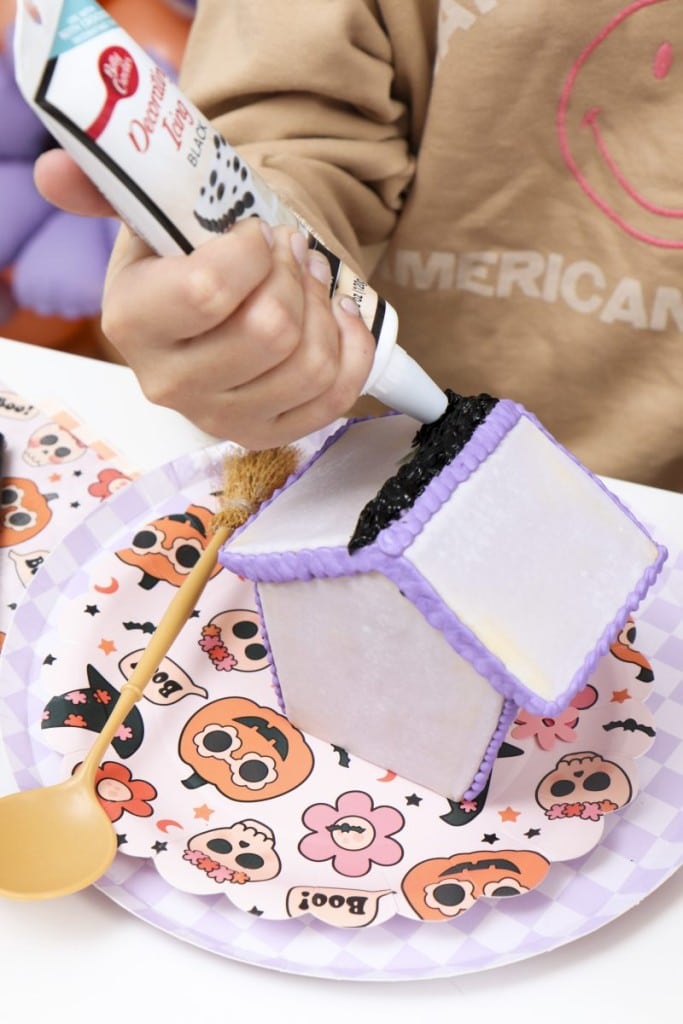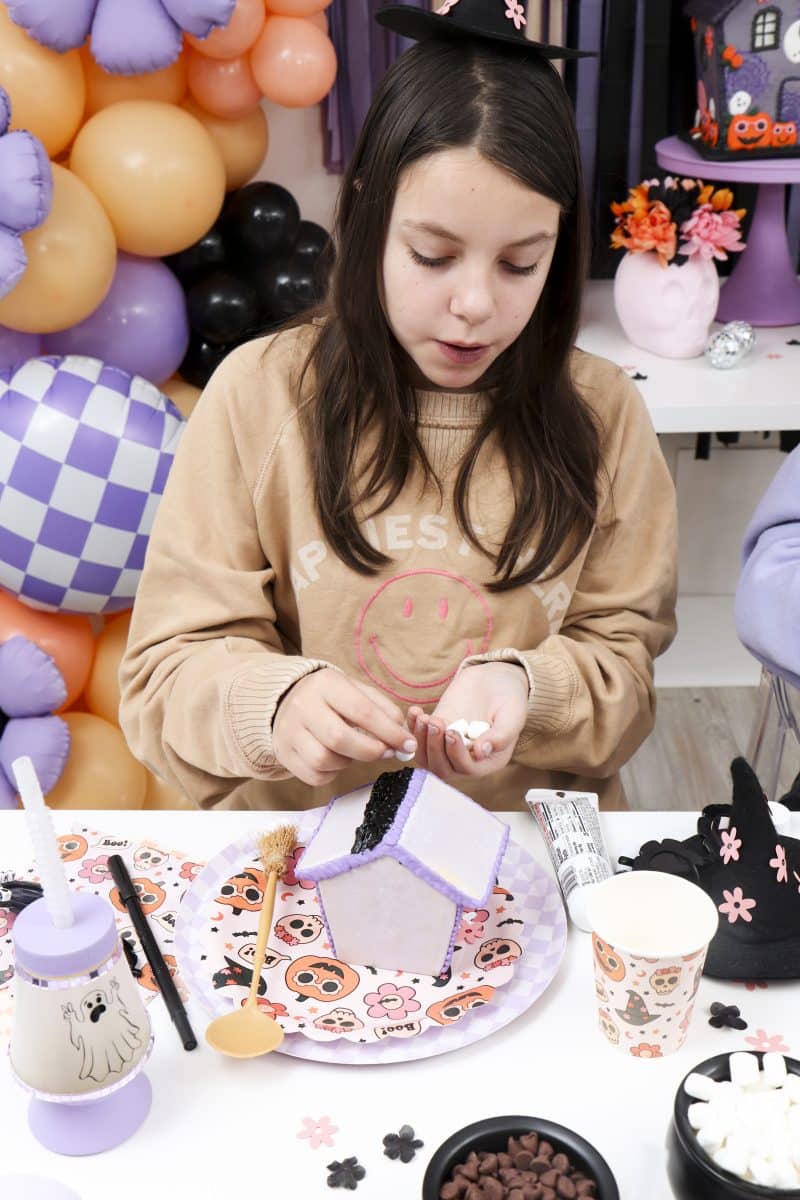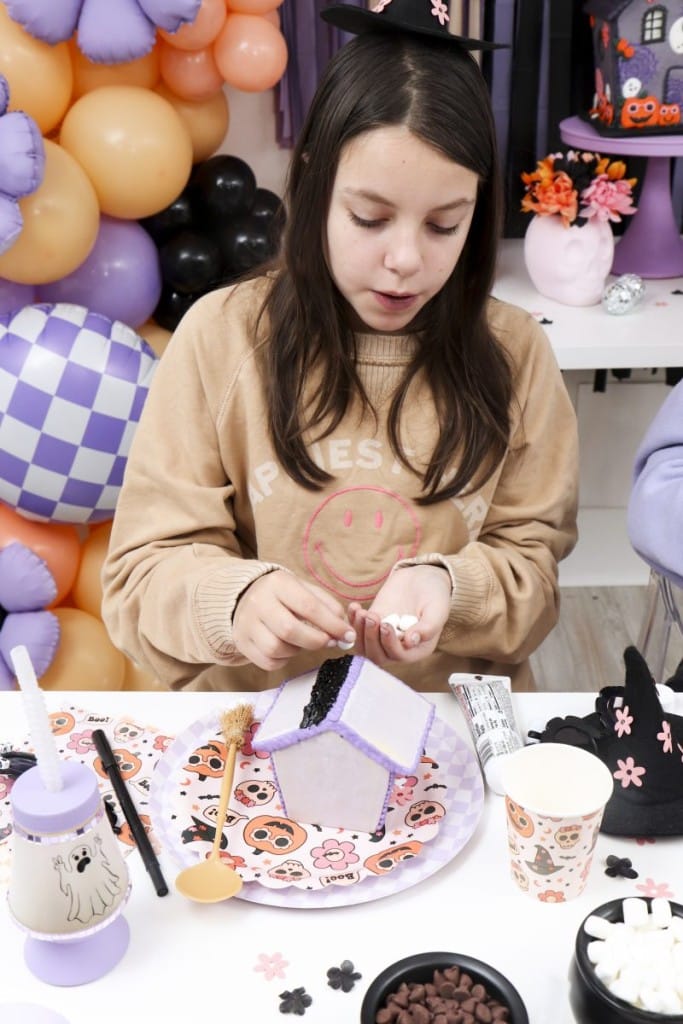 When they were all done, I had each of them pose with their finished creations. Totally spooktacular!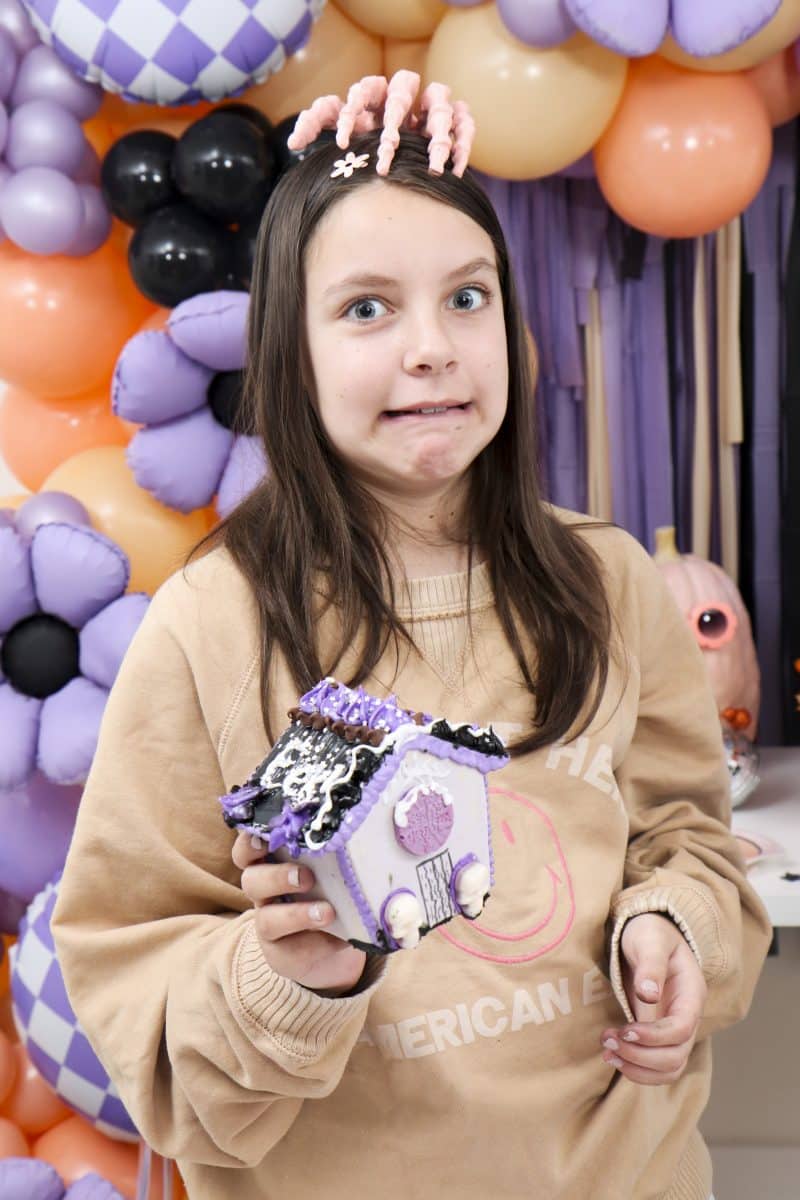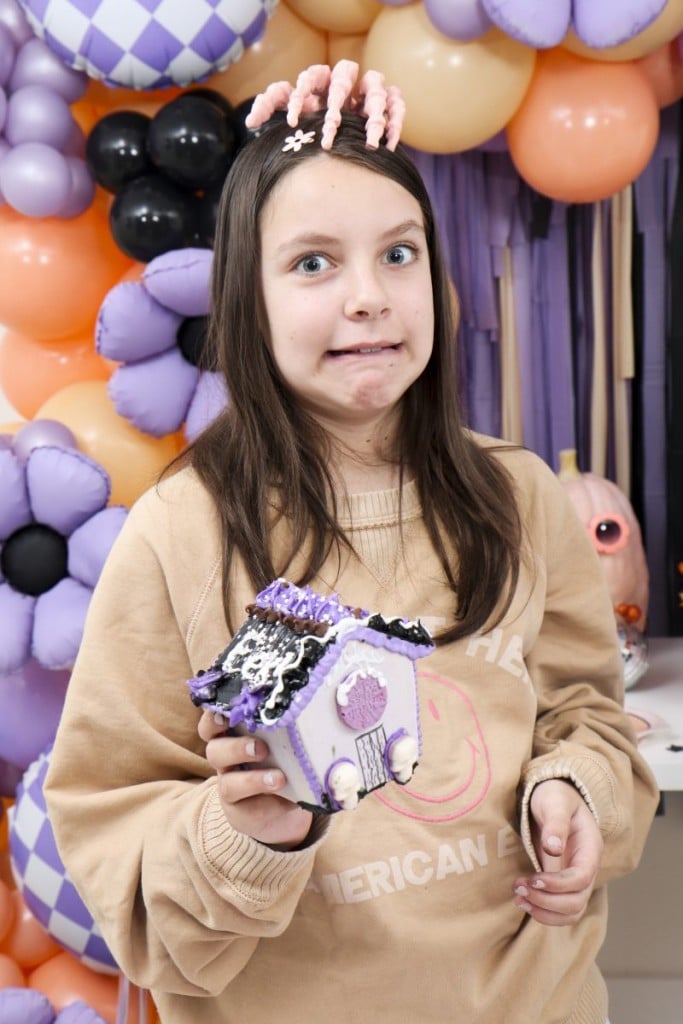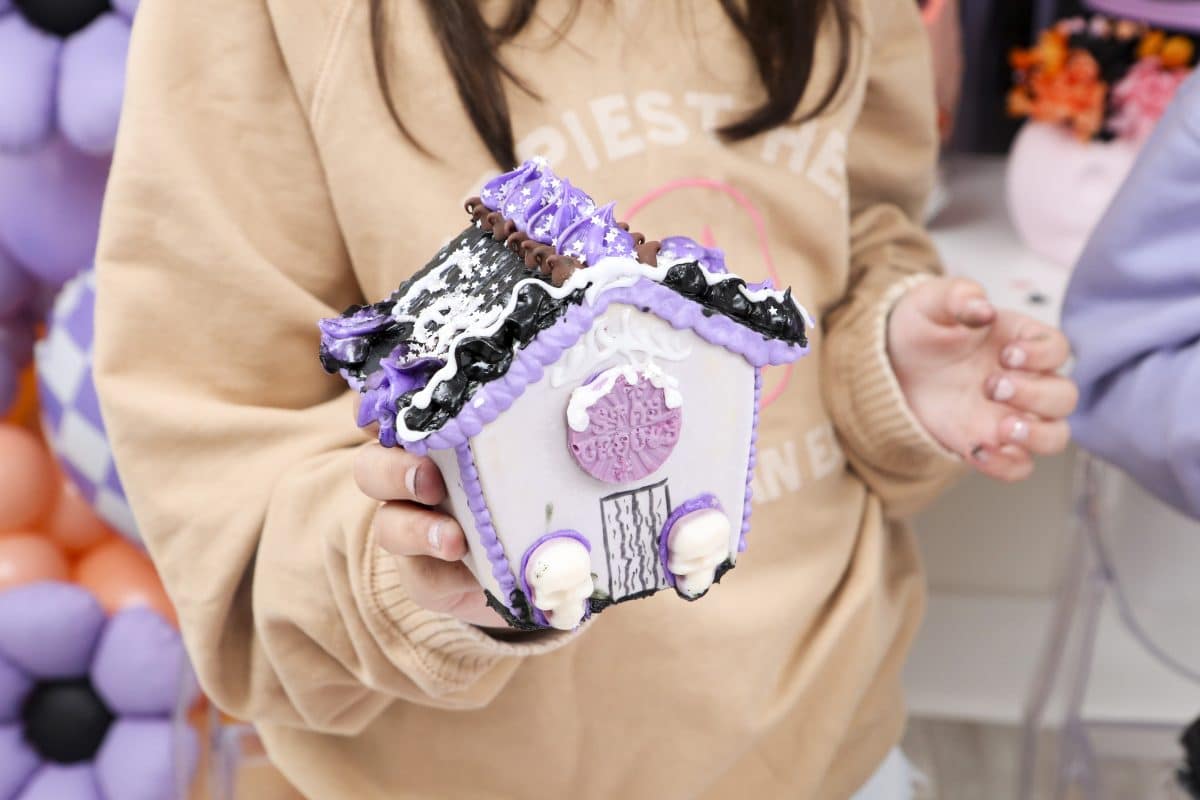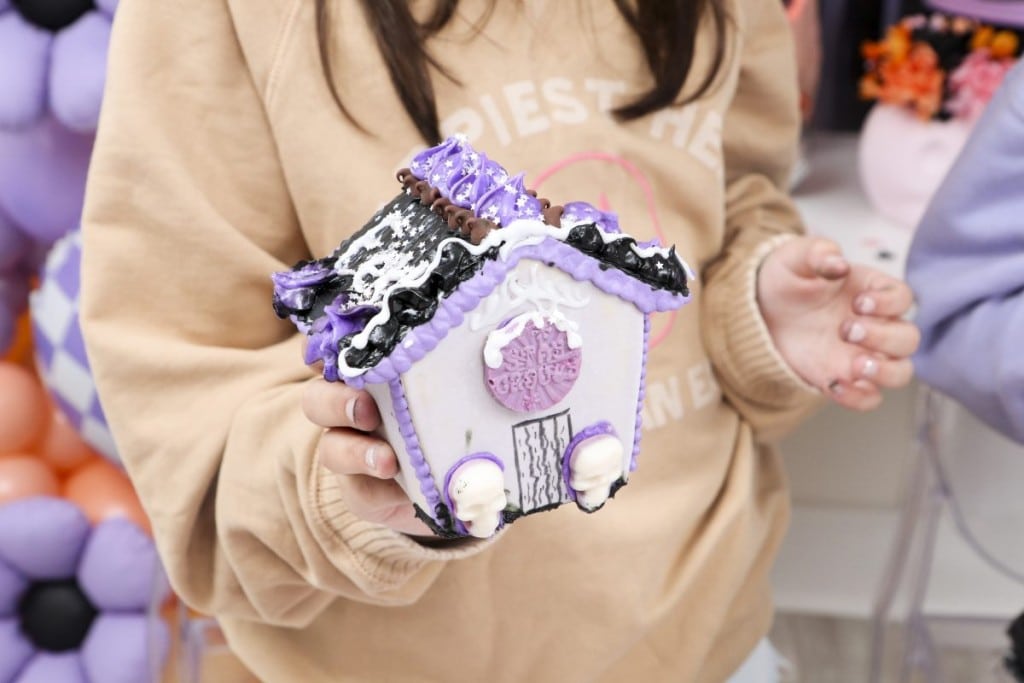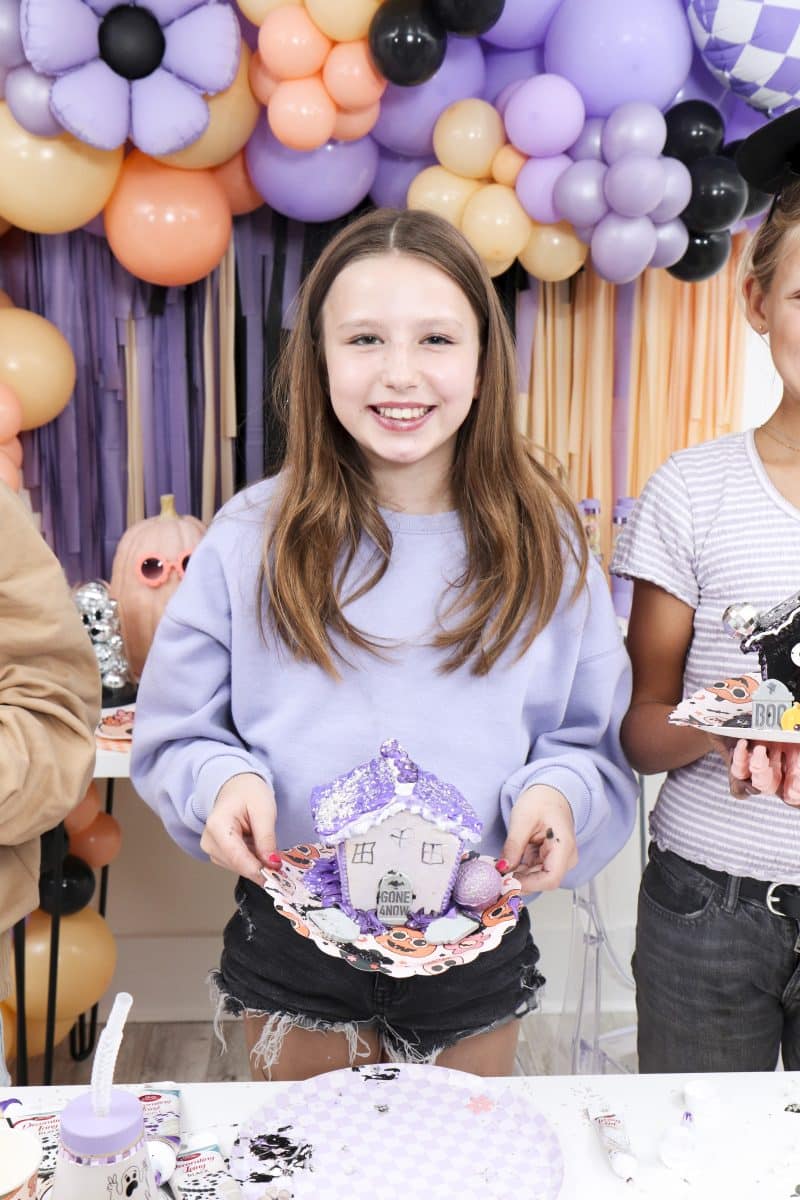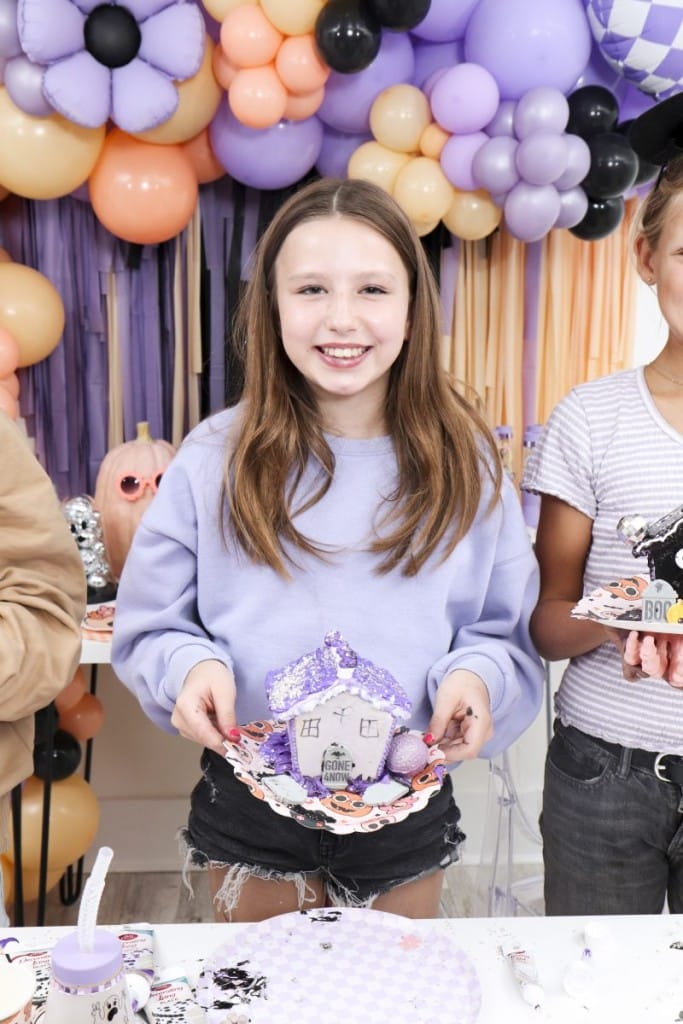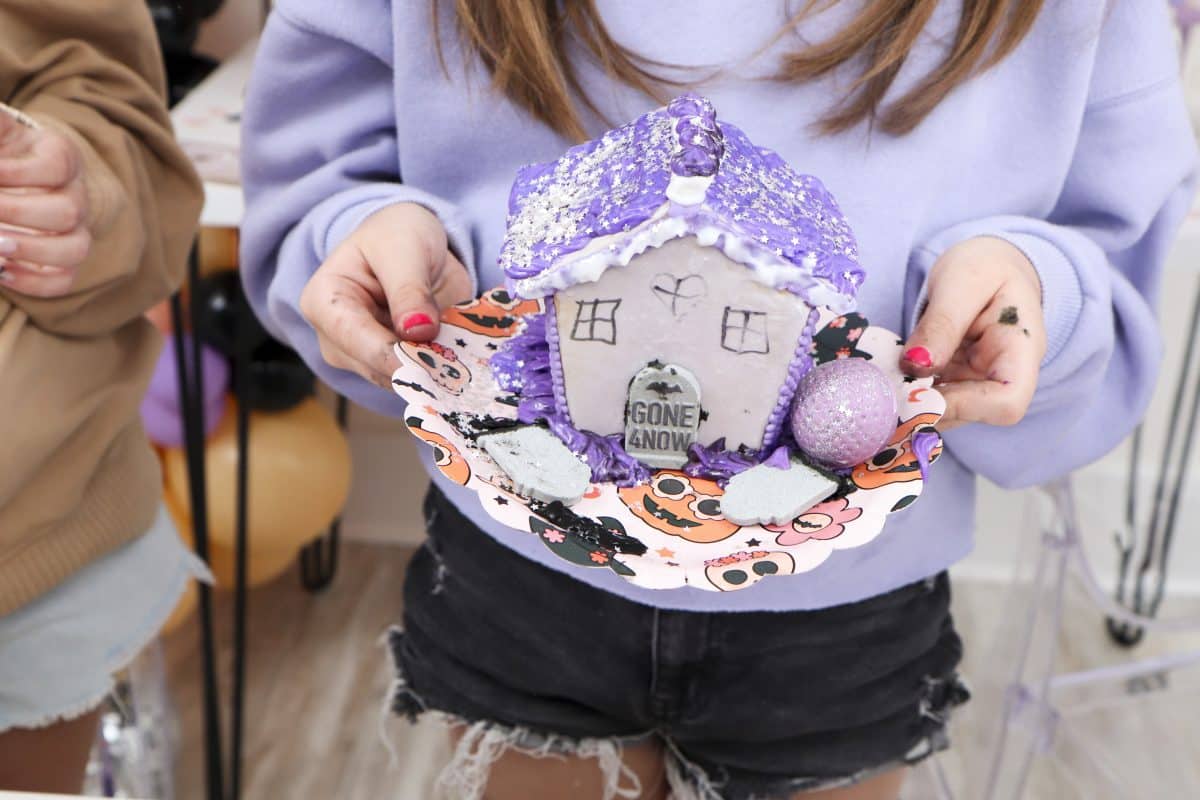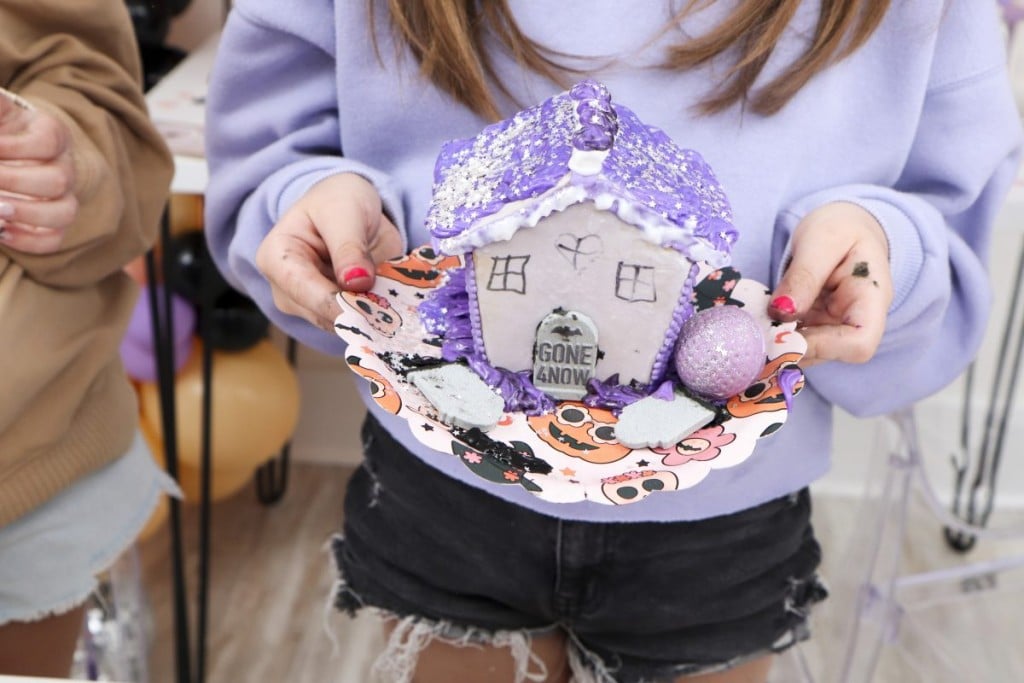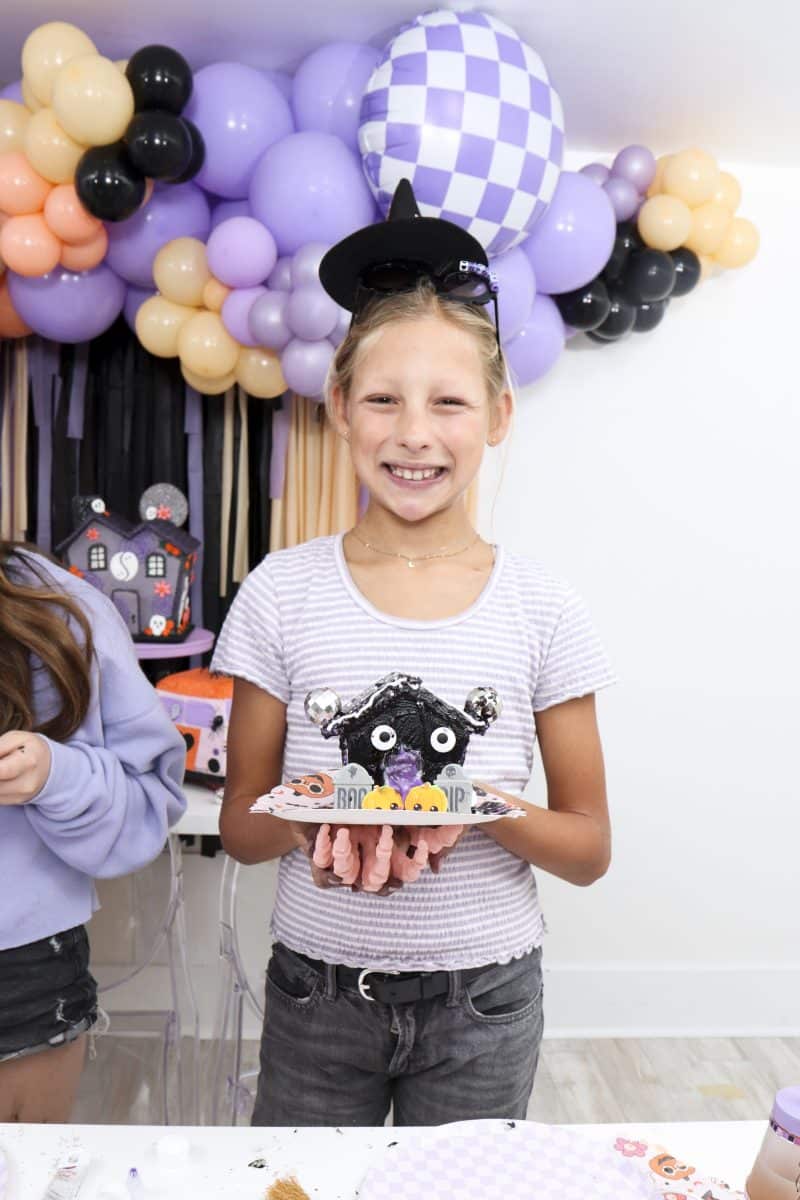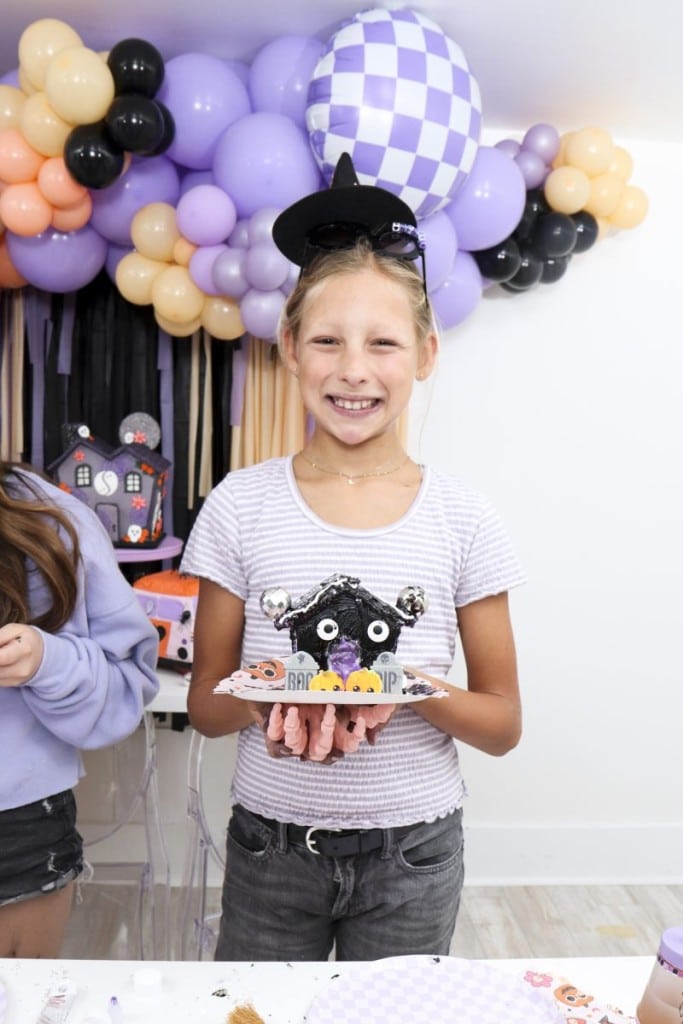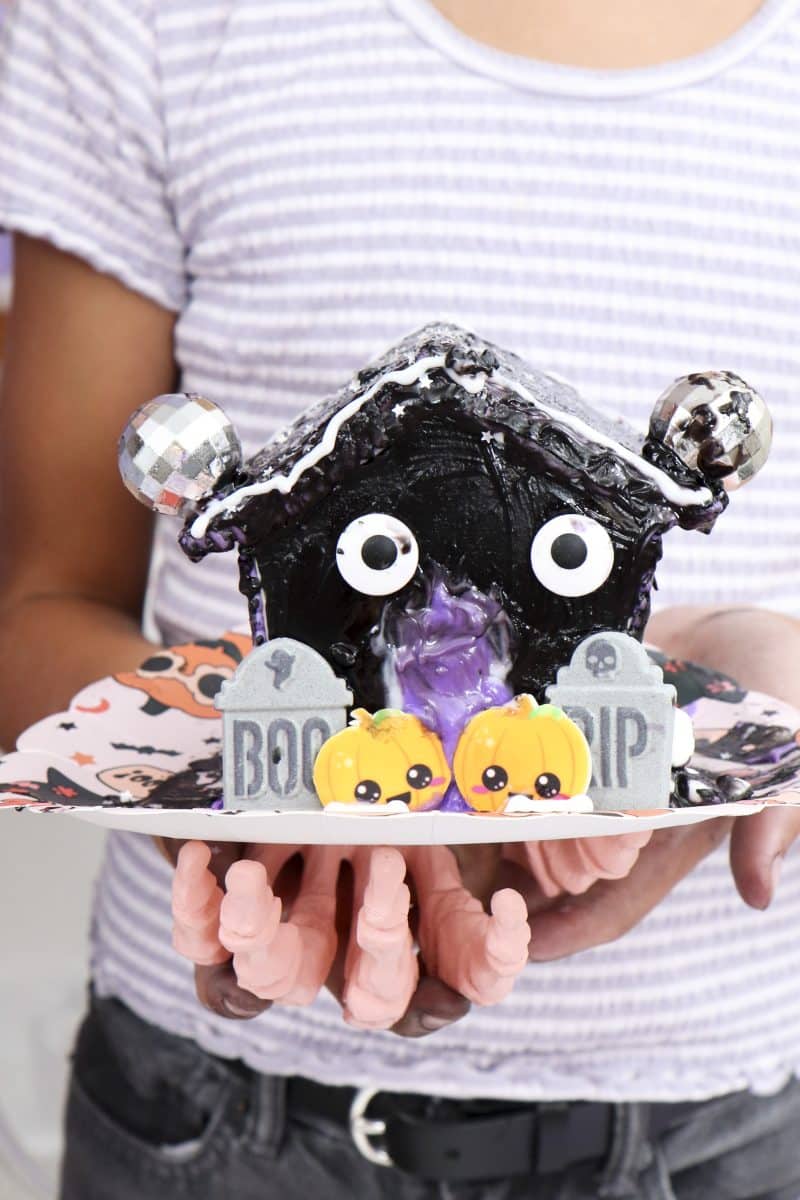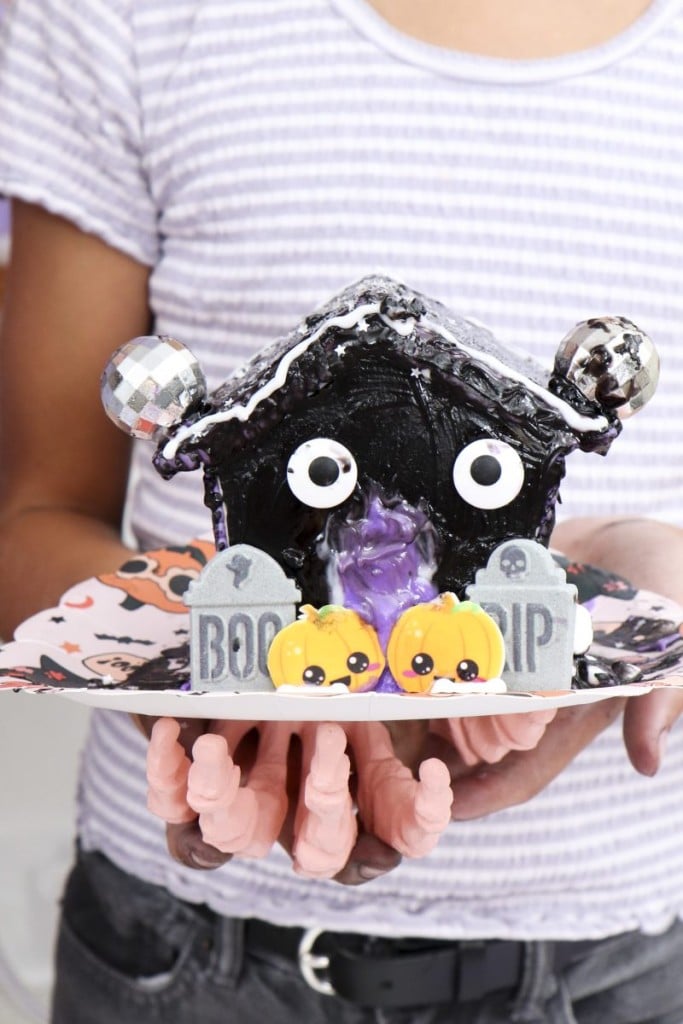 The girls had a blast again this year, and I'm already thinking of what theme to do next year…stay tuned!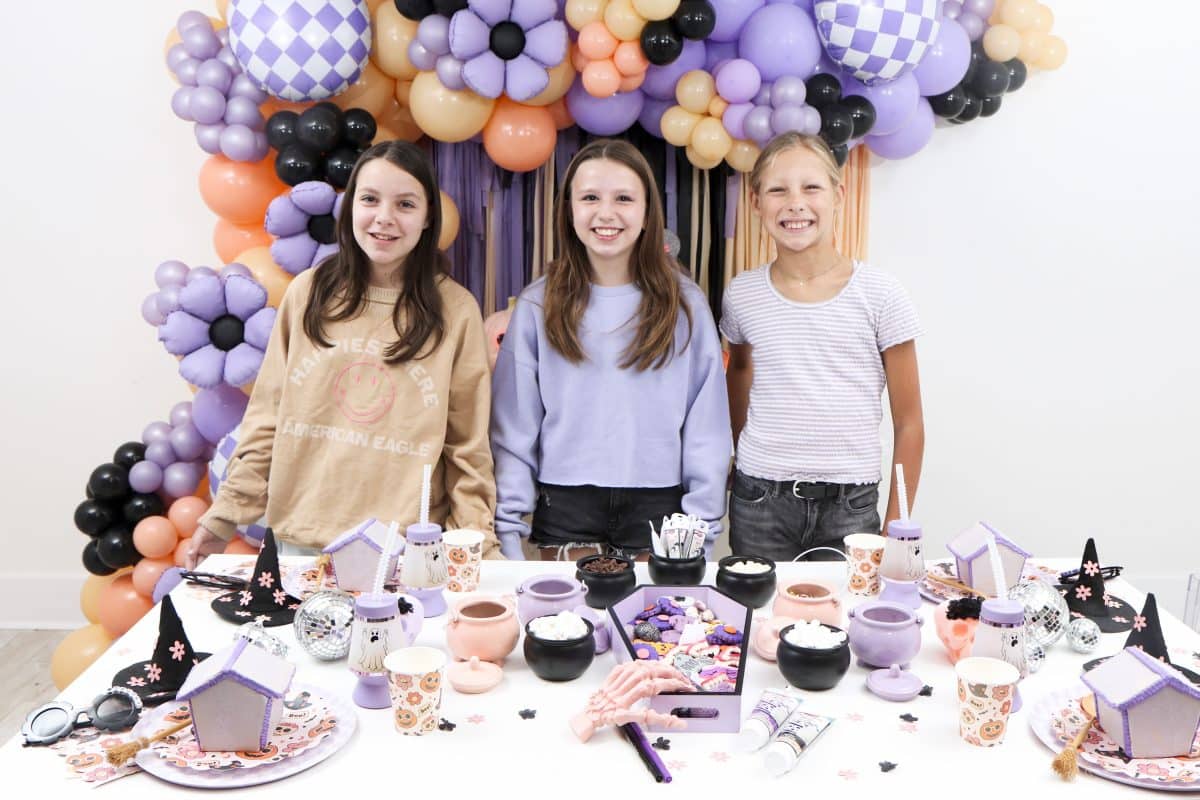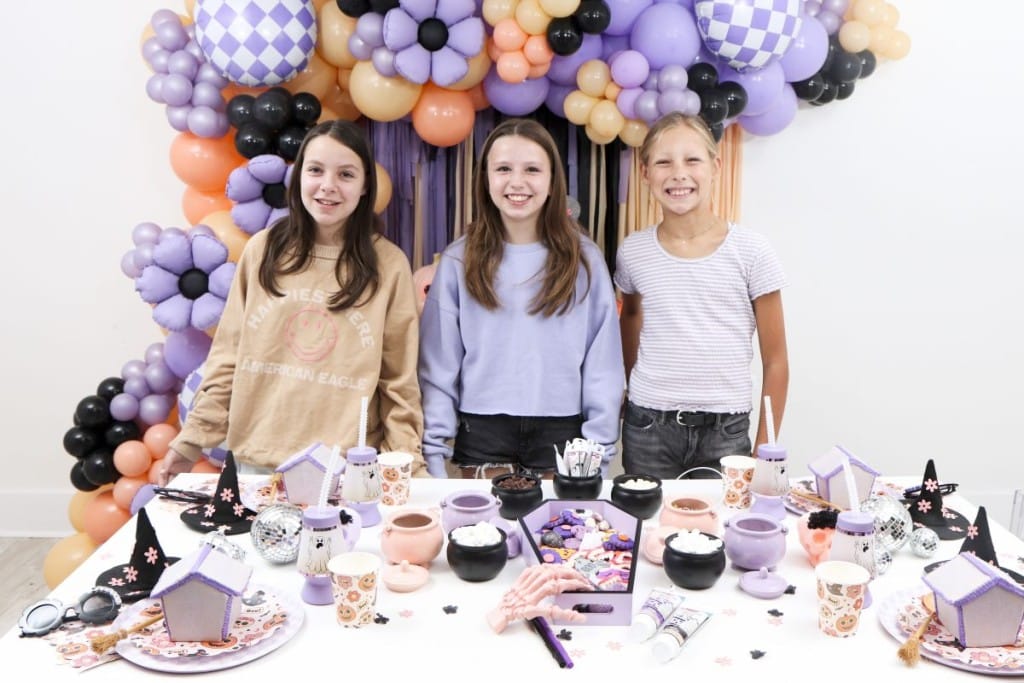 And don't forget to visit the other Halloween Gingerbread House Decorating parties I've styled over the years!
Happy Partying!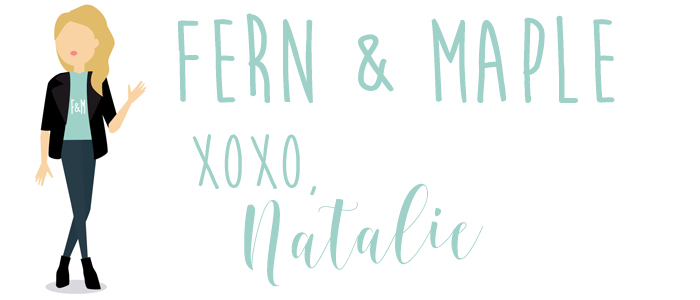 As a blogger, I sometimes receive compensation and/or products in exchange for my styling and crafting services. I also may earn a small commission from any sales that result from affiliate links on this page. As always, all project ideas and any opinions expressed here are my own. For further information on our disclosure policy please check out our disclosure page.
PIN FOR LATER: