Halloween enthusiasts everywhere will soon be gearing up to transform their homes into eerie and enchanting realms. While ghosts, pumpkins, and witches often take center stage, this year, why not give your Halloween décor a unique twist? Imagine a yard where the boundary between the living and the spectral is blurred, a place where pets of the afterlife roam, tombstones tell tales, and even the treats have a touch of the macabre. In this blog post, I'll guide you through the steps of creating a Pet Cemetary Halloween Yard that's sure to leave your neighbors and visitors howling with delight.
From front porch decorations that set the spine-chilling mood to the arrangement of ghostly graves and pet skeletons in your yard, I'm here to help you craft an unforgettable spectacle. And let's not forget the "Deathly Dog Treat" treat stand – a delightfully eerie touch that adds a hint of whimsy to the spooky scene! Read on to see how I set it all up.
How to Create a Spooky Pet Cemetary Halloween Yard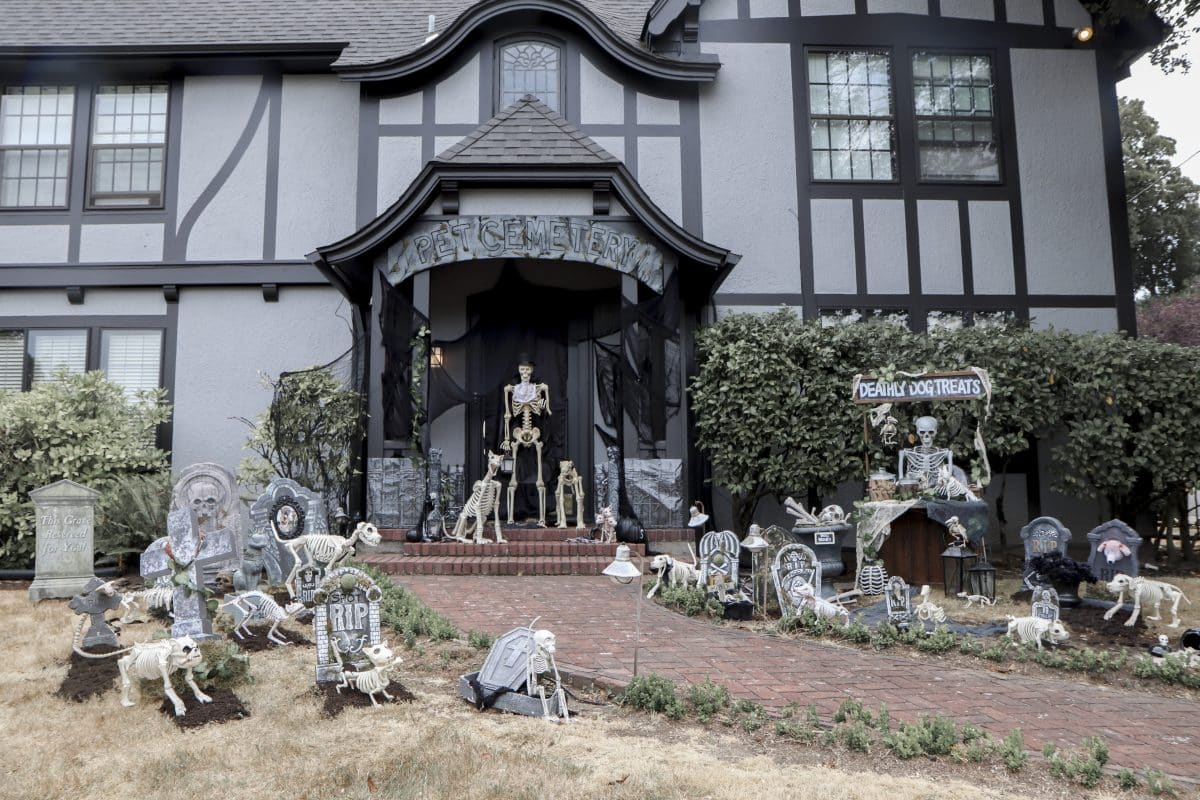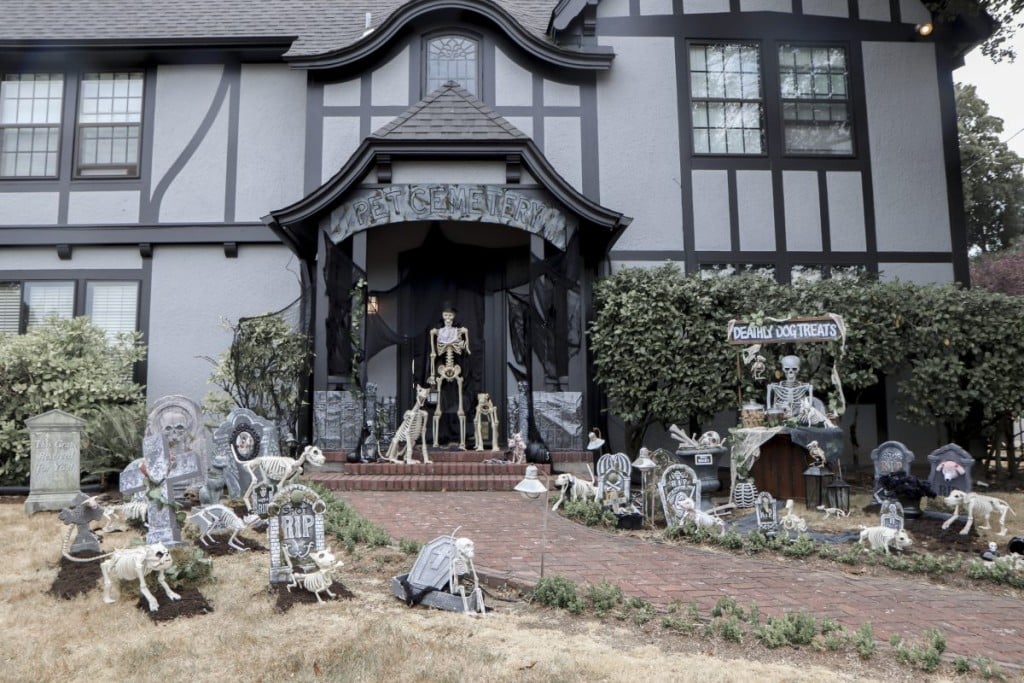 P.S. I got most of my supplies at Oriental Trading – be sure to check out their awesome Halloween collections!
Front Porch
The first thing I set up was the front porch area. This is where I had the spooky skeleton owner standing with a few of his beloved skeleton pets.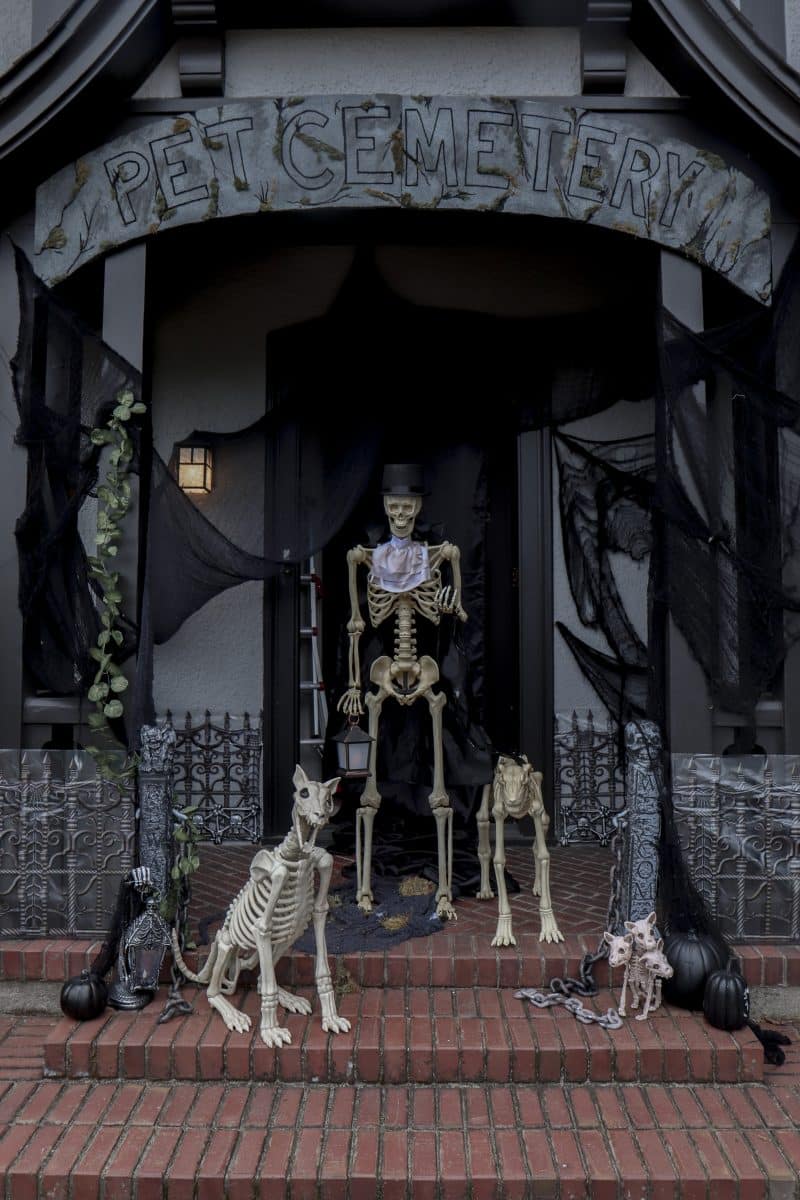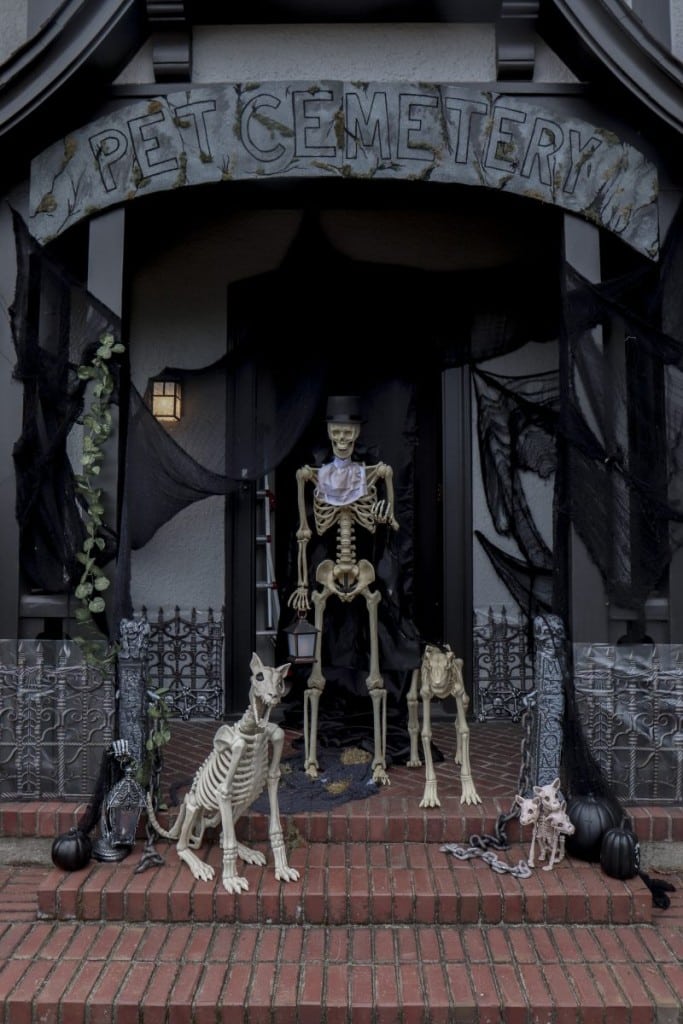 I started by covering the front door windows with black fabric and draping black creepy cloth from the ceiling and around the pillars in front of the house. This has the instant effect of making the home look…well, creepy…and a bit old and tattered. Not normally what you'd want for your house, but for Halloween? Perfect! I also added some faux creeping vines to it for more of a long-standing cemetery feel.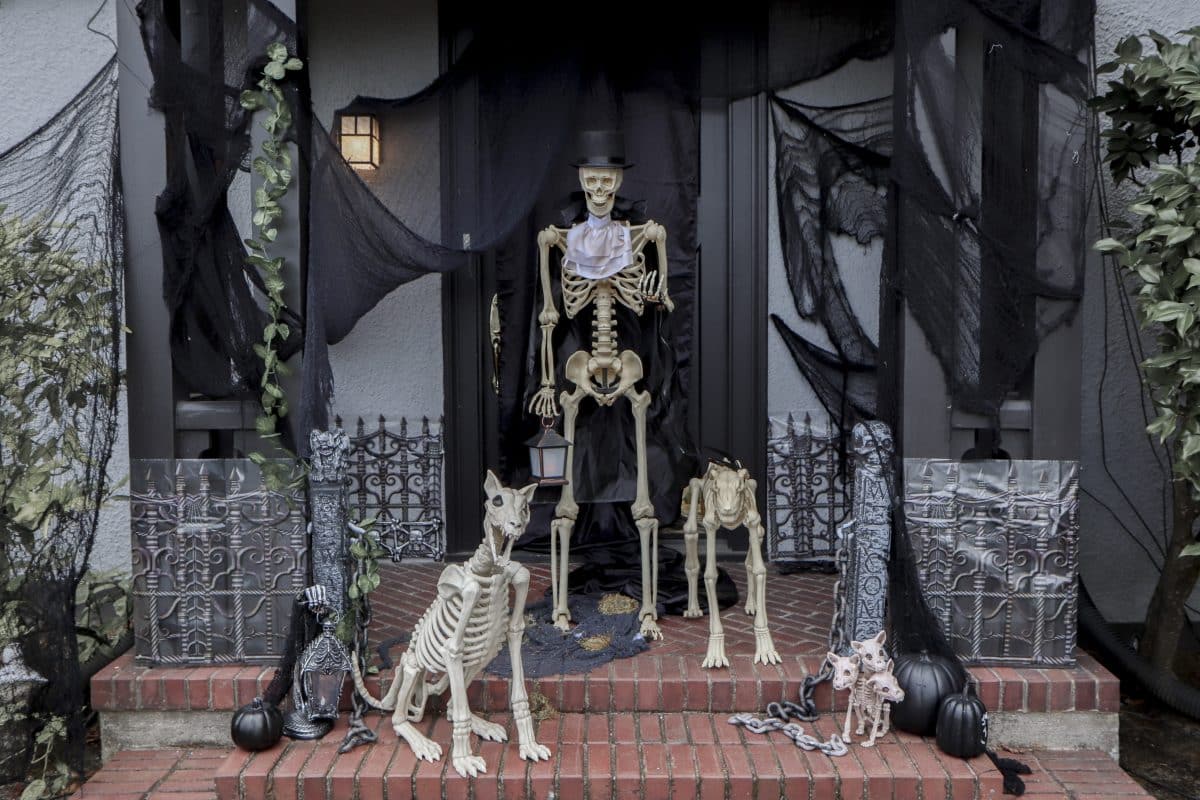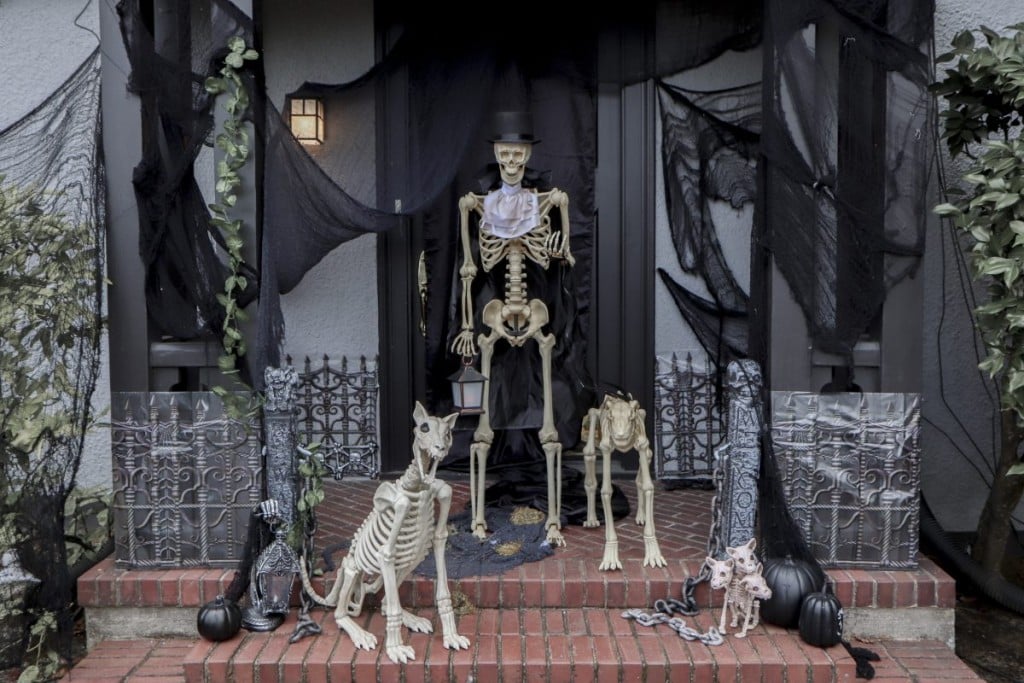 To make the porch feel more like the entrance to a cemetery mausoleum, I added plastic sheets that looked like old metal fencing to the porch pillars, along with two mini fence pillars with creepy gargoyles on them, warning guests to "BEWARE". These had broken chains hanging off of them, which really added to the "Enter if you DARE" vibes of his entrance. A matching skeleton lantern helped to add the perfect low-level lighting in the evenings.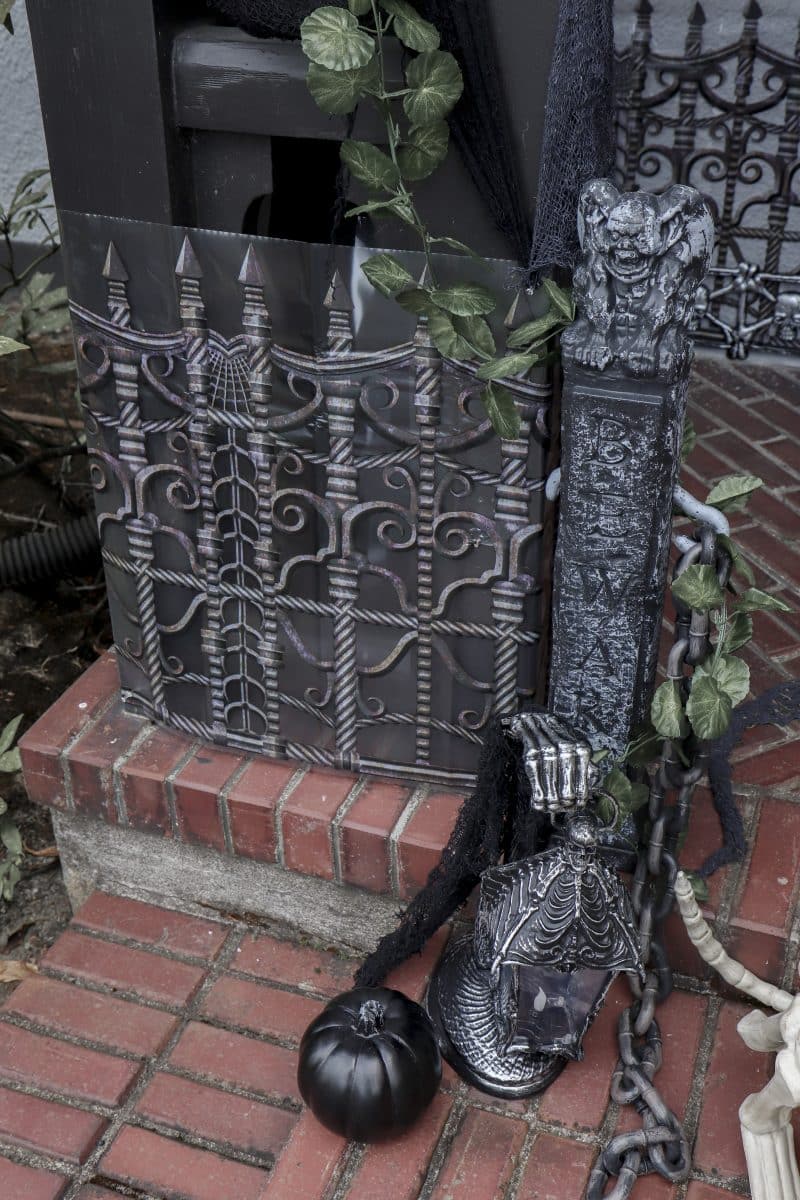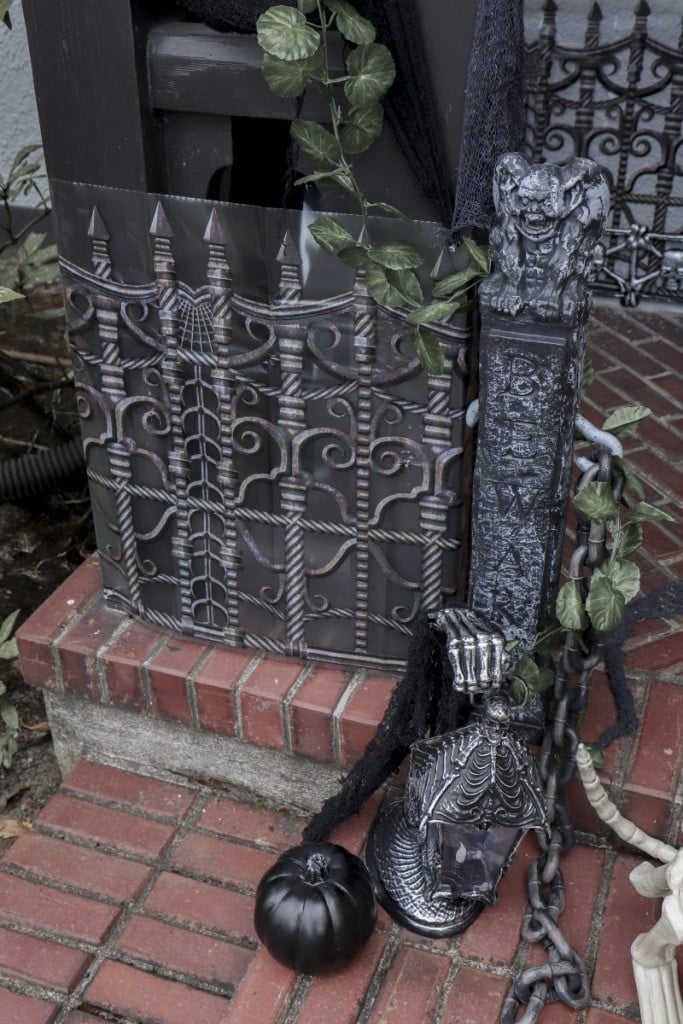 In the center of the porch, I laid out more creepy cloth, embellished with a bit of faux moss for a more realistic effect. On top of this, I placed a life-sized skeleton wearing a top hat, cape, and ruffled collar, and holding a lantern and a leash. The other end of the leash was tied to the collar of his #1 pet – a large dog skeleton!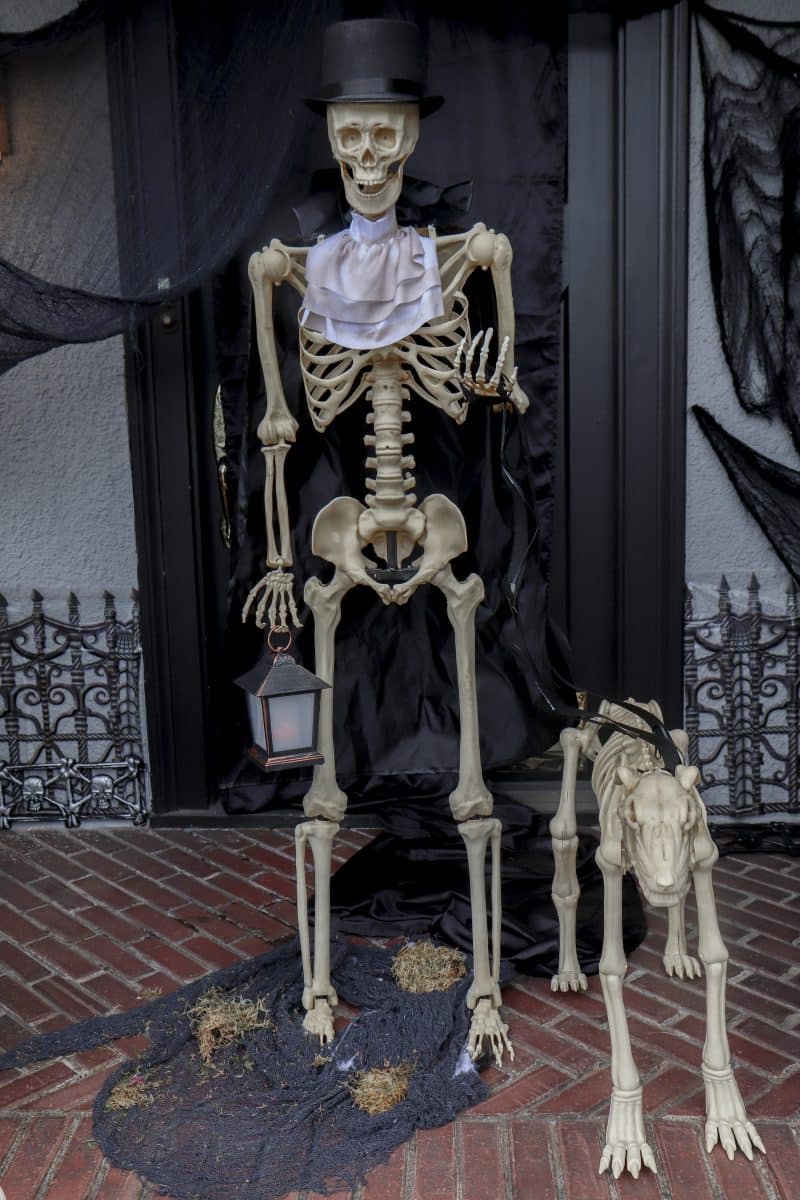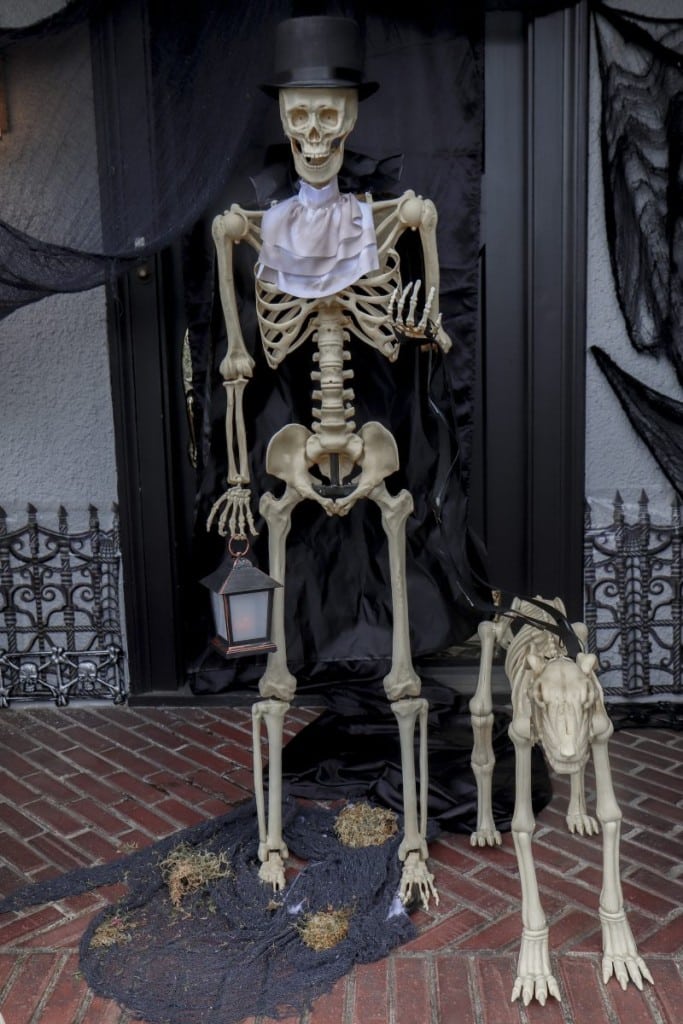 His #2 companion wasn't far – a smaller dog skeleton guarding the steps.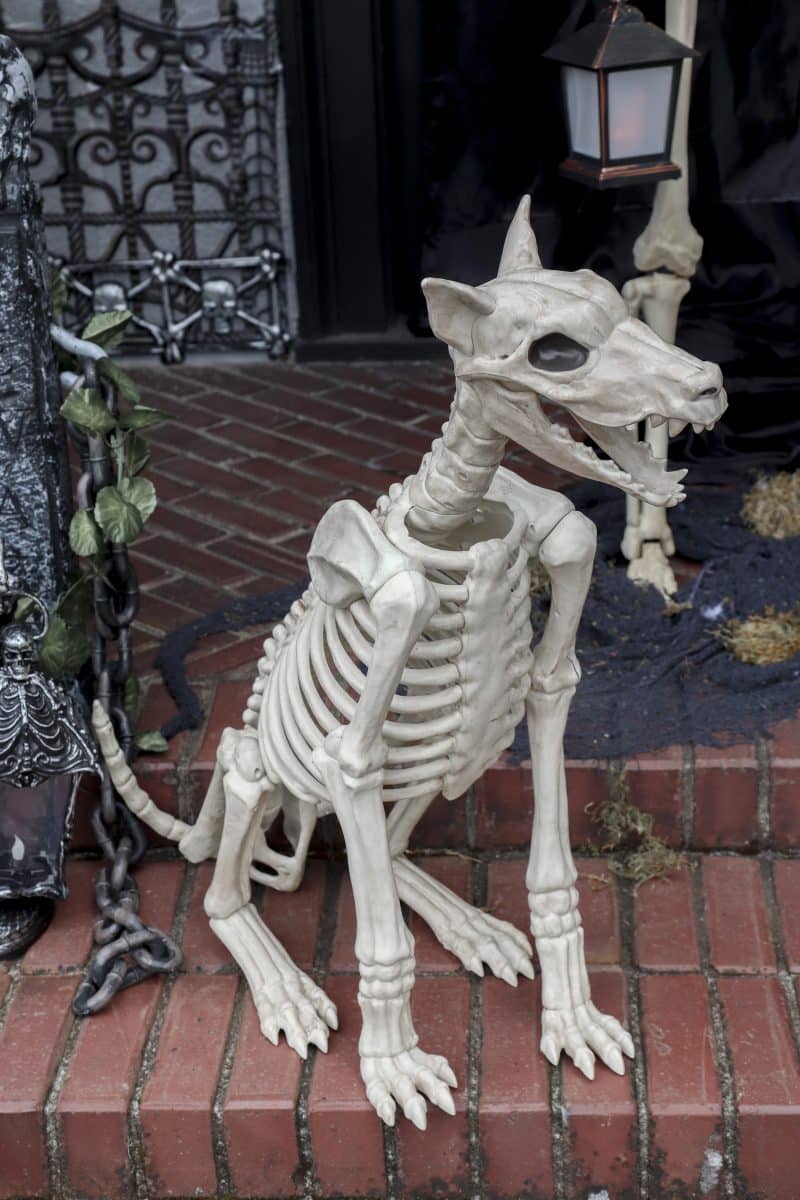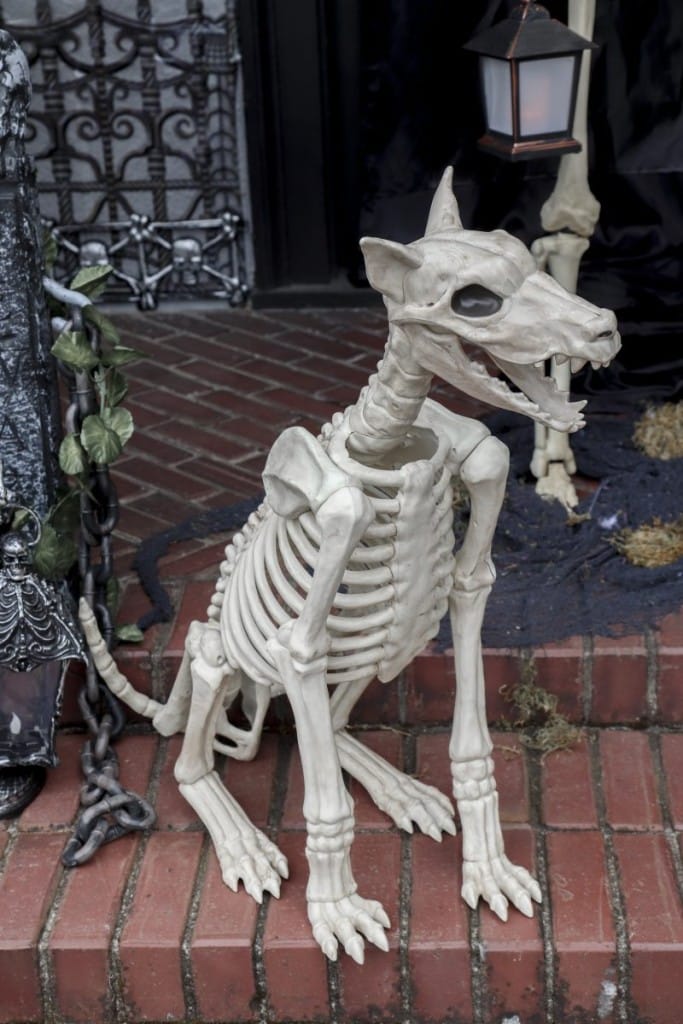 His #3? A three-headed chihuahua skeleton, of course!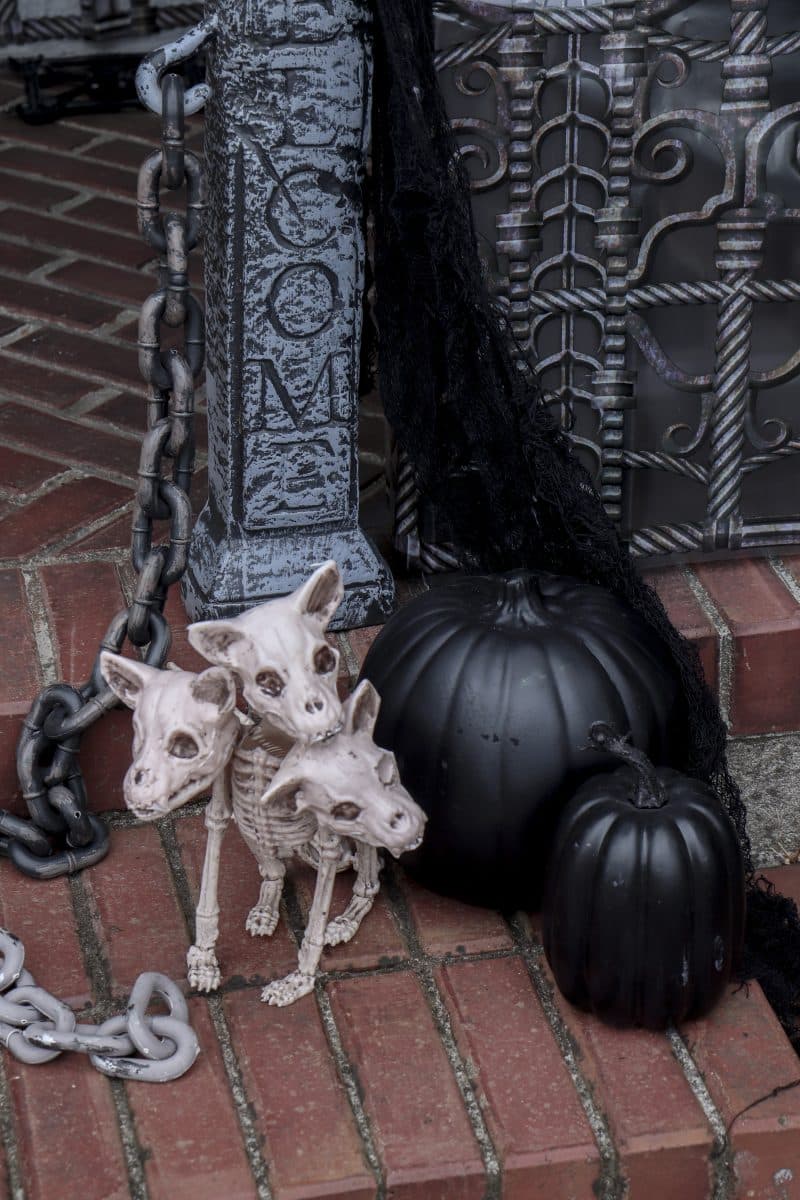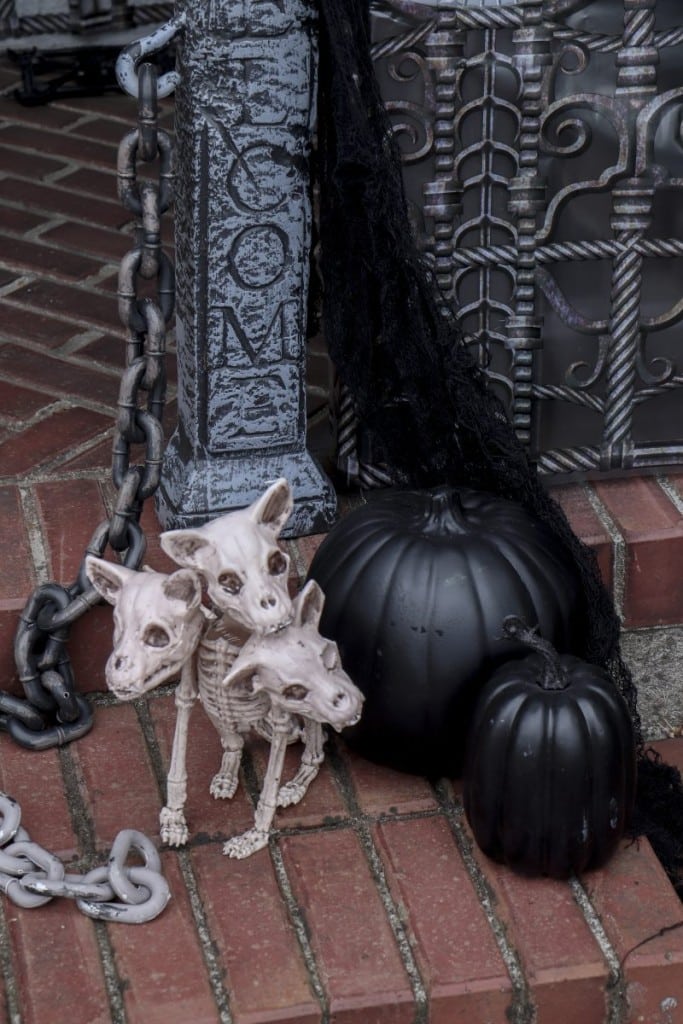 Above the door, I hung a "pet cemetery" sign I created with foam, paint, and faux moss.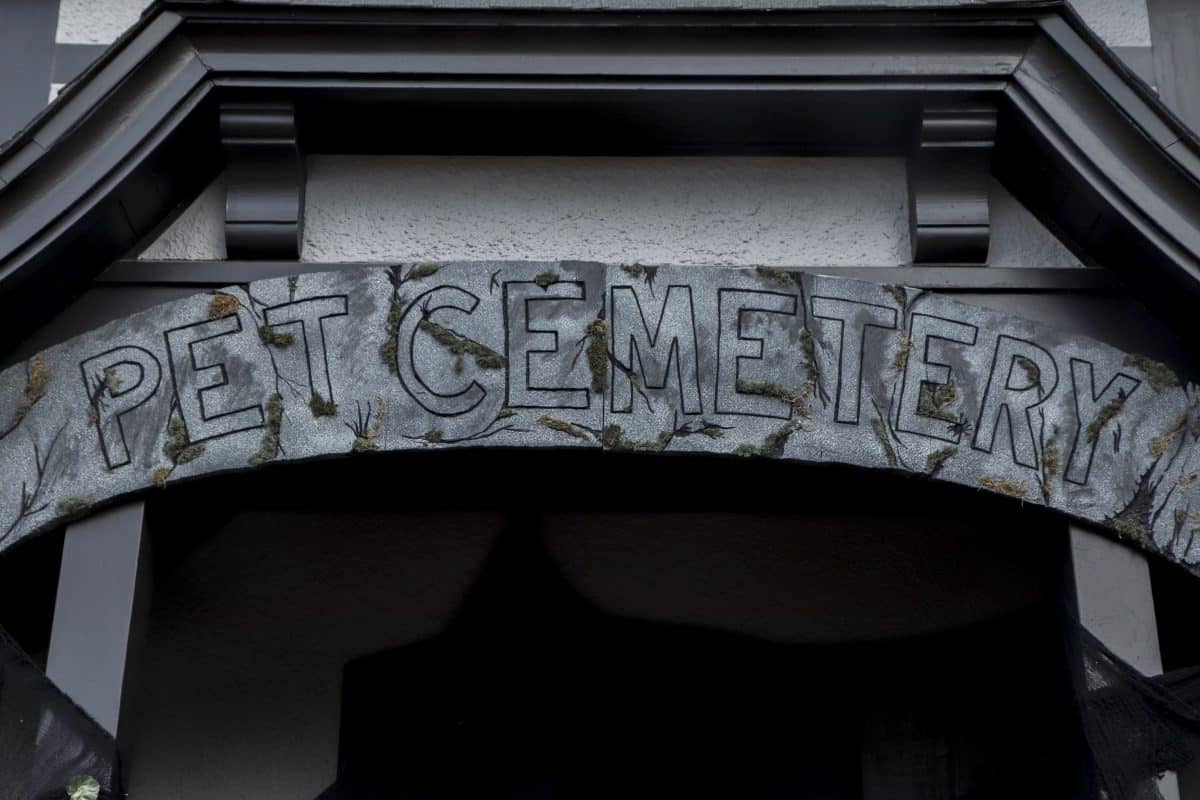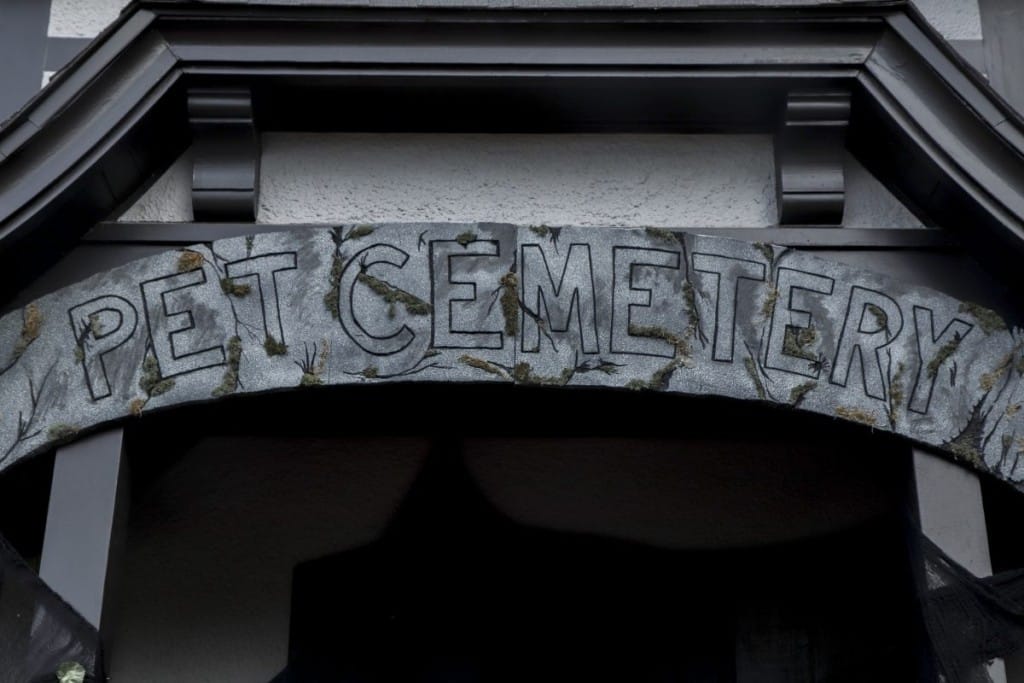 I used a knife, paint, and moss to create a cracked stone effect on the sign.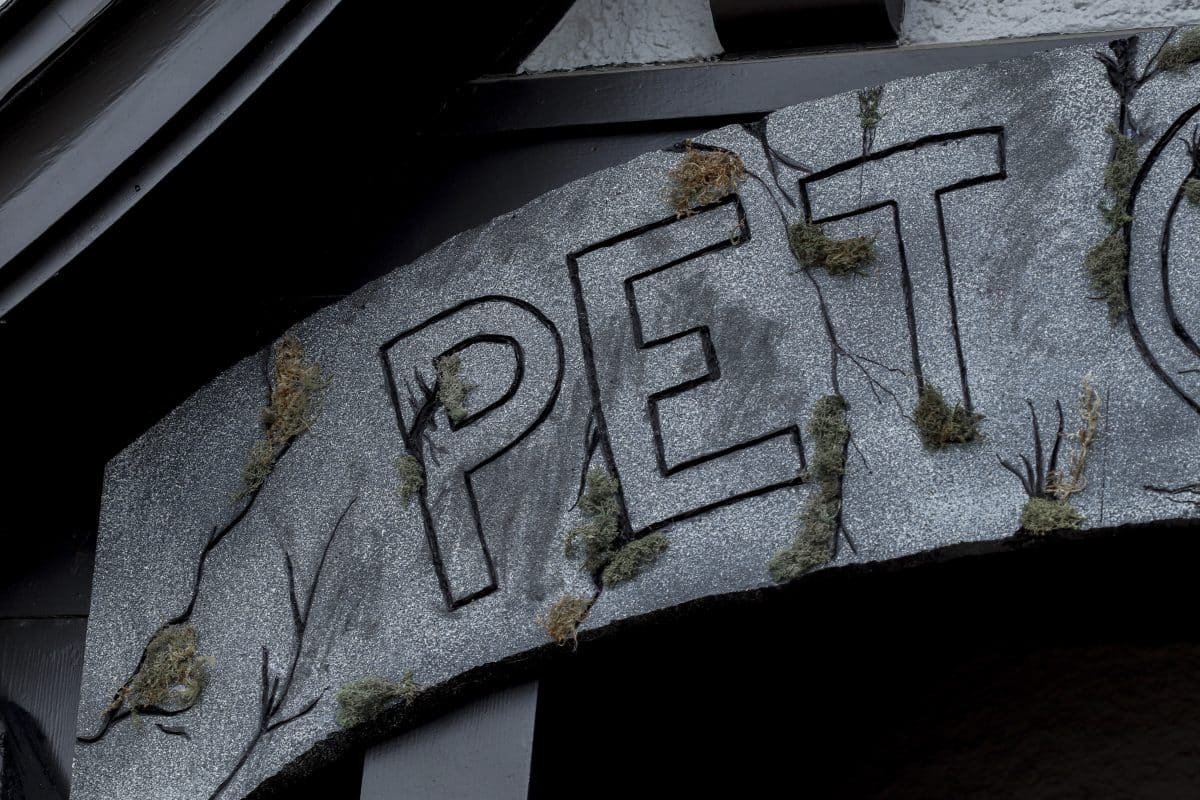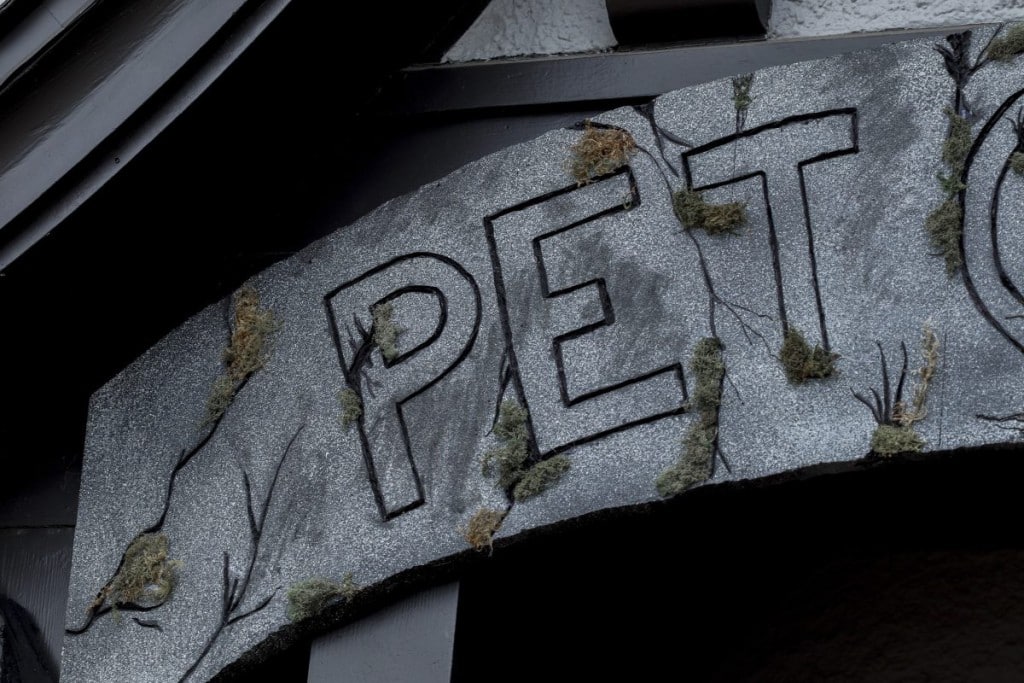 Graves & Skeletons
Next, I set up the main cemetery display with a rusty "cemetery" sign in the front yard.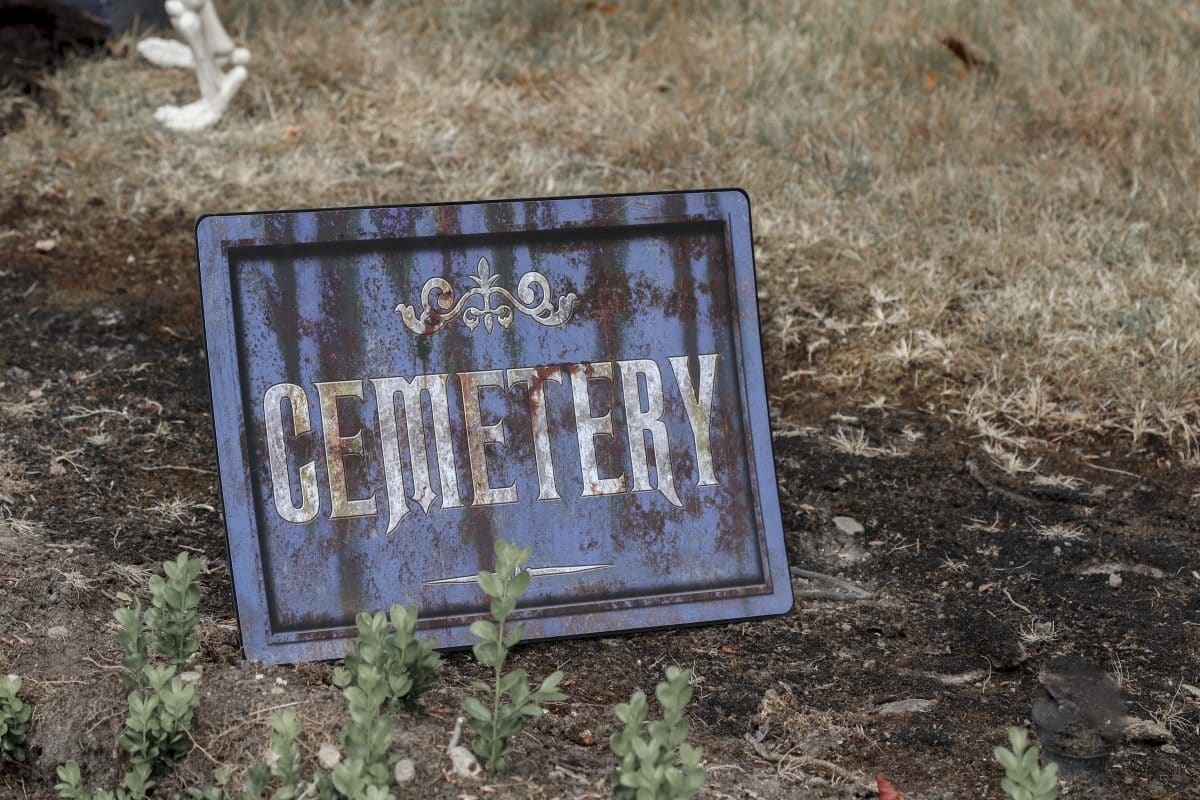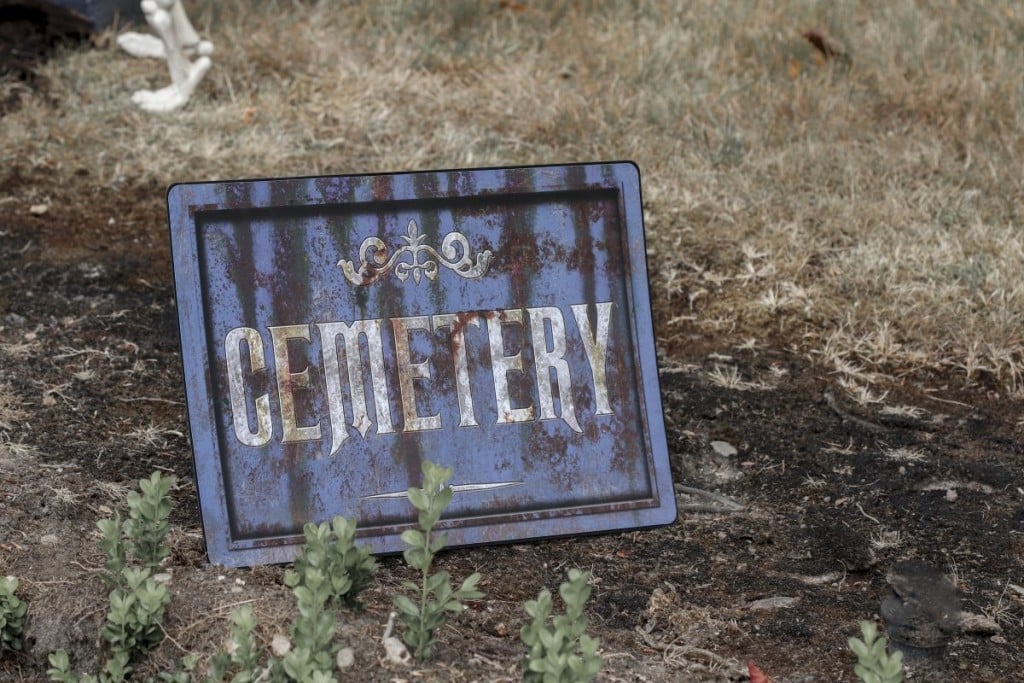 The rest of the space was full of all the pet graves! OTC has such a wide variety of animal skeletons available, and it made it so fun to create a variety of graves for them all.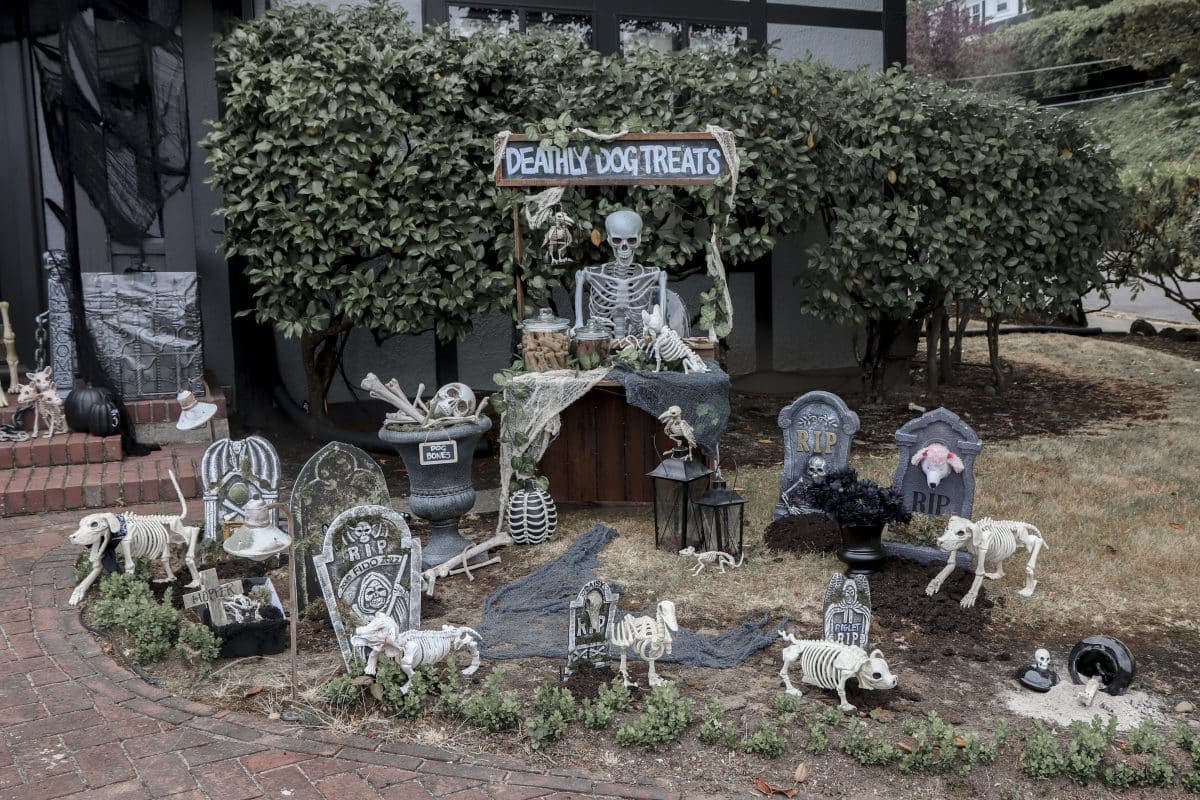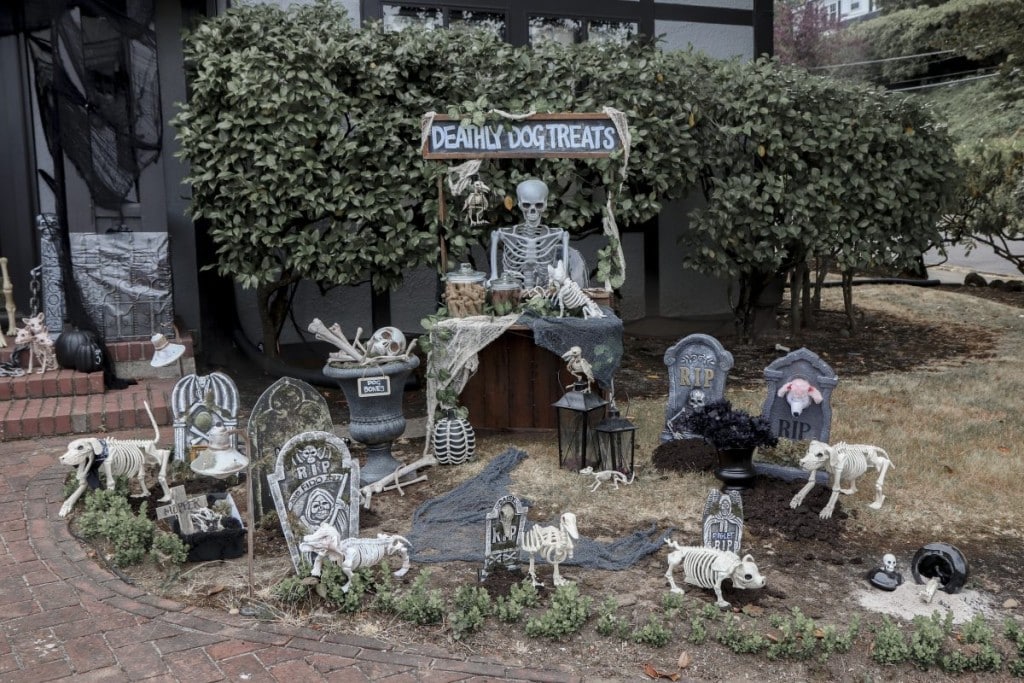 I didn't want to actually dig holes all over my yard for graves, but by spreading out some soil in rectangular shapes, I could create the look of grave sites in front of each gravestone.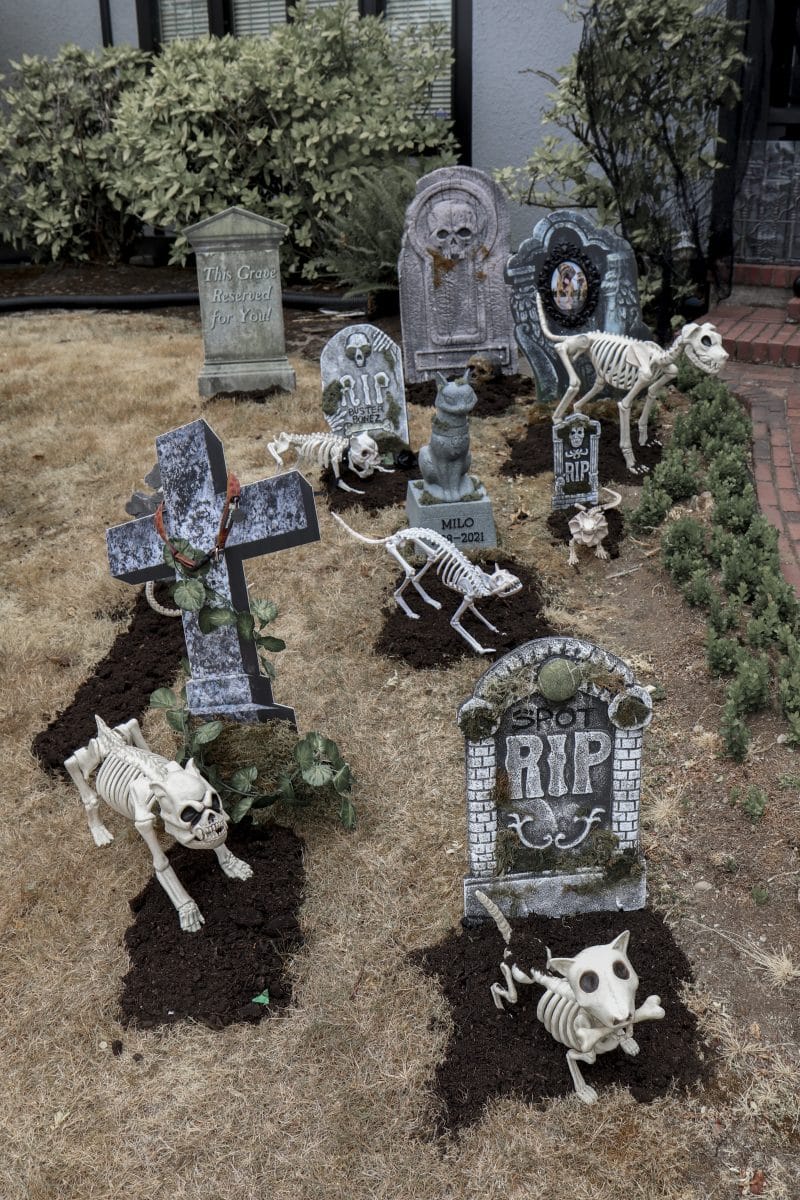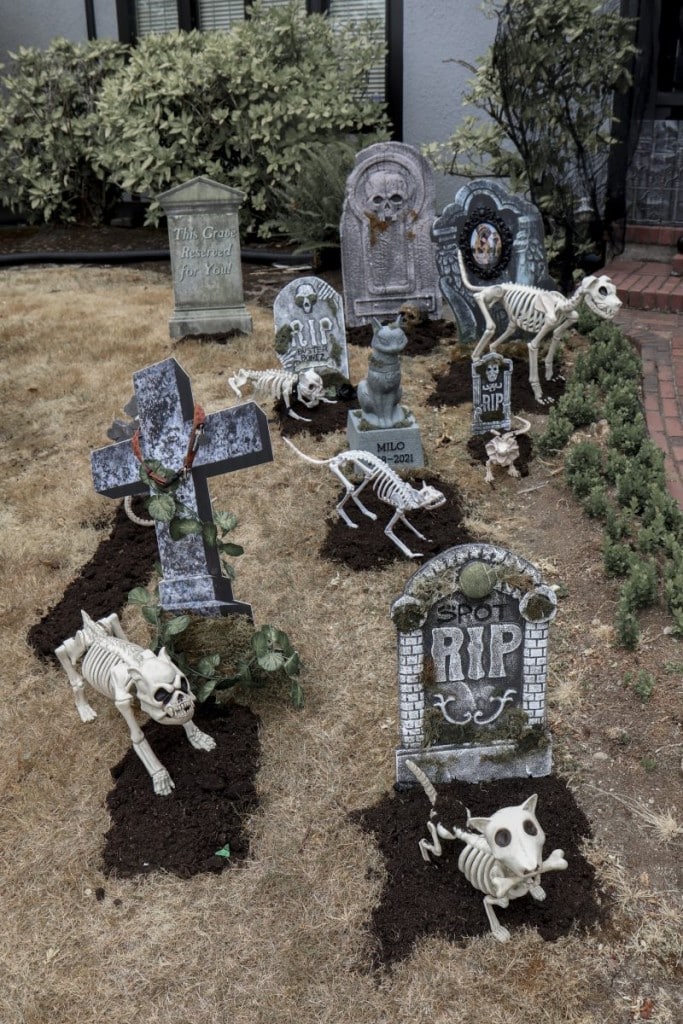 I purchased a variety of faux gravestones and personalized them for each pet using photos, painted names, and animal-themed headstone decorations. Then, I placed a skeleton pet on each gravesite. Adding some dirt over their paws and feet makes it look more like they've emerged from the graves!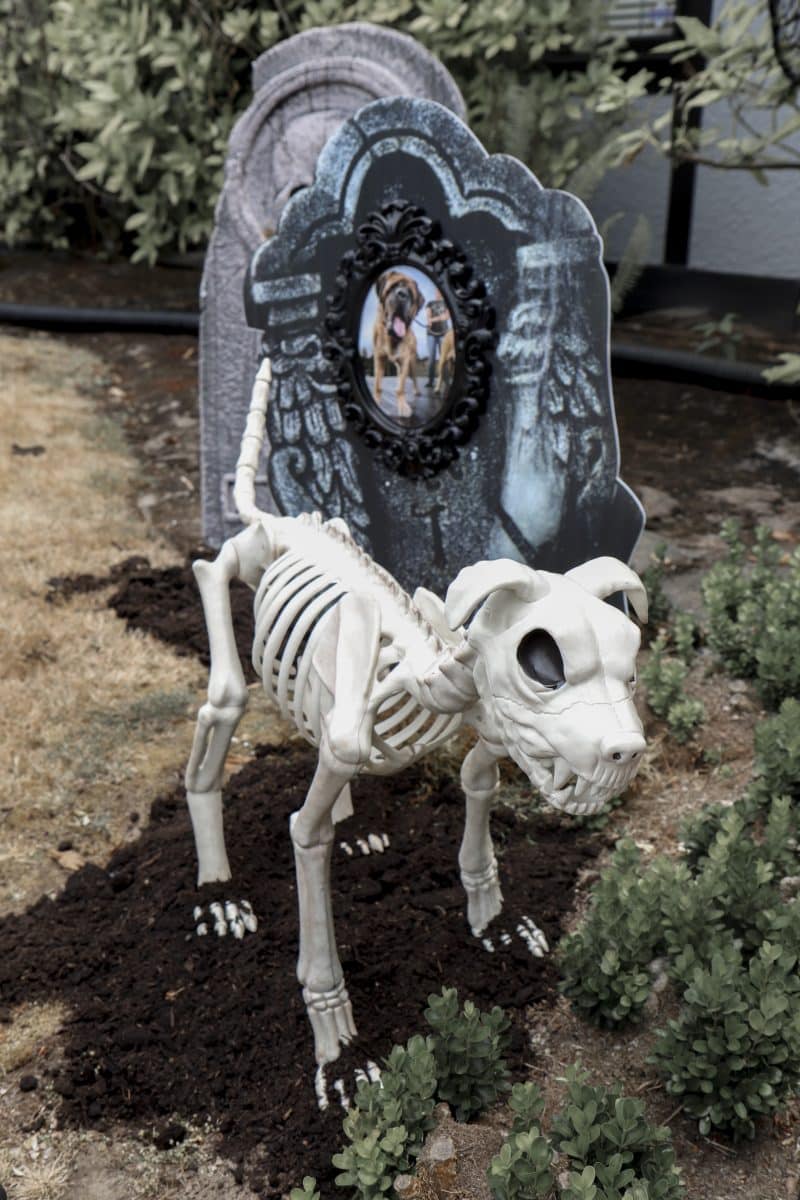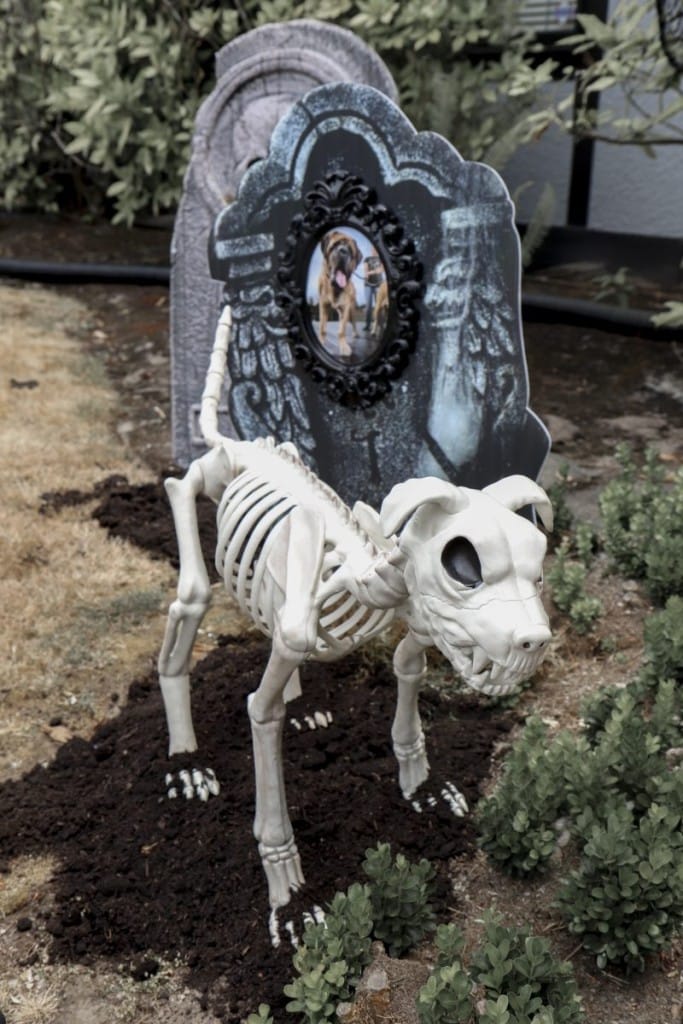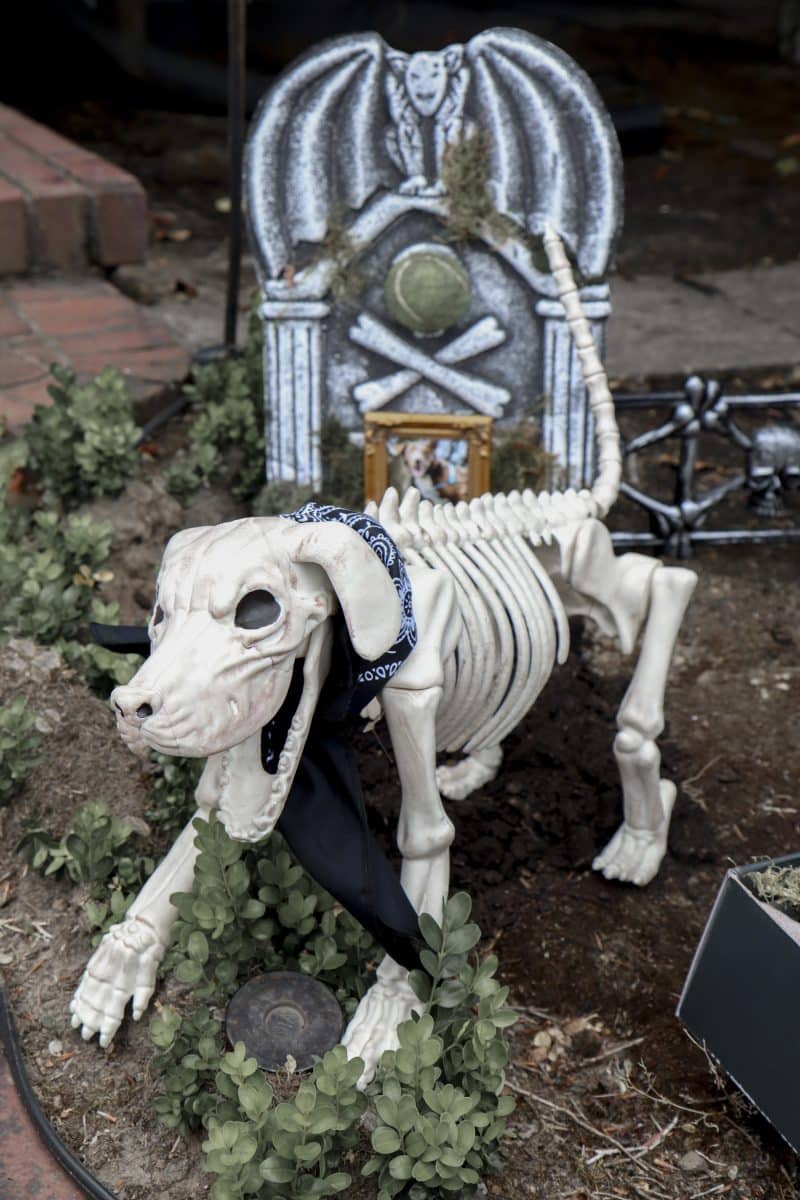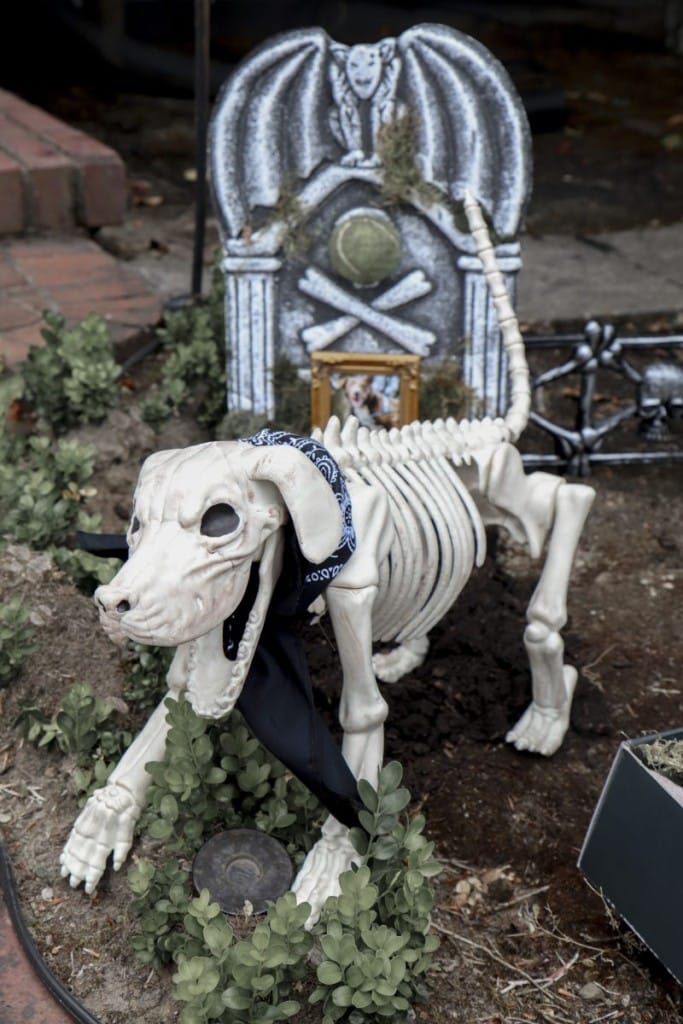 I also added some black florals to some of the sites, a dark twist on the florals often left in cemeteries.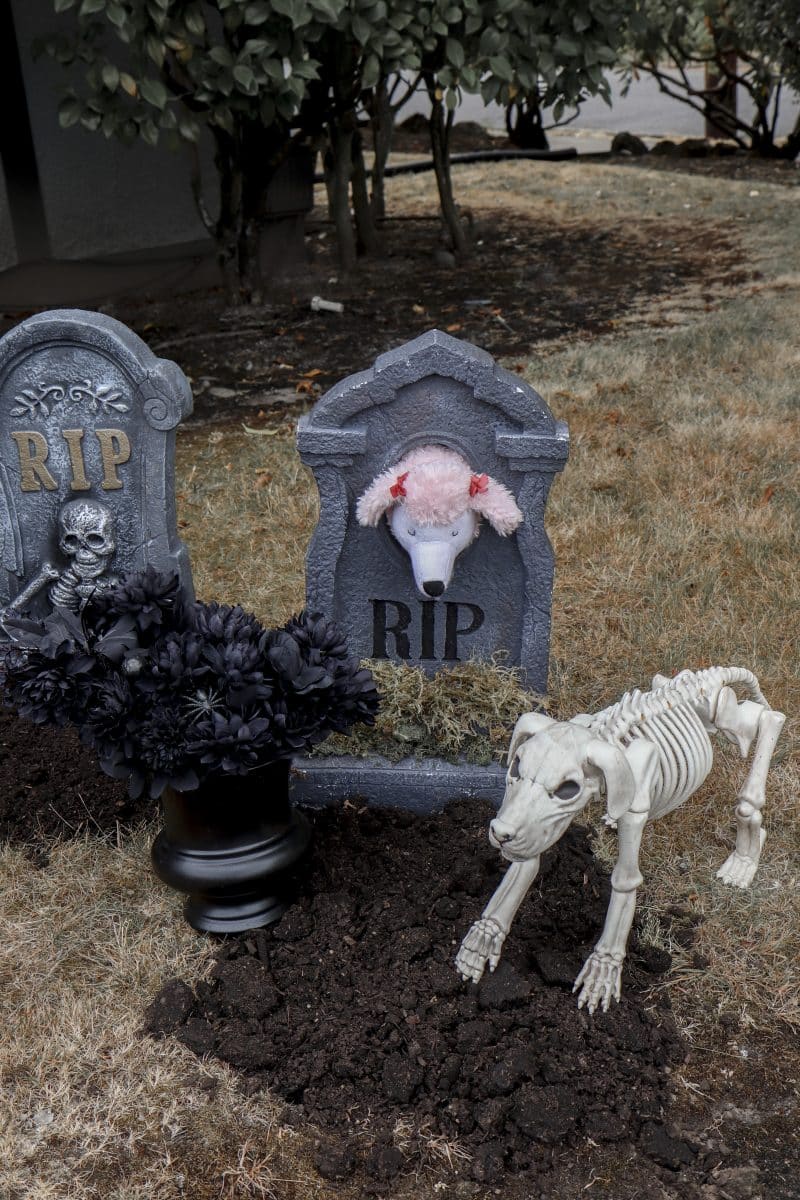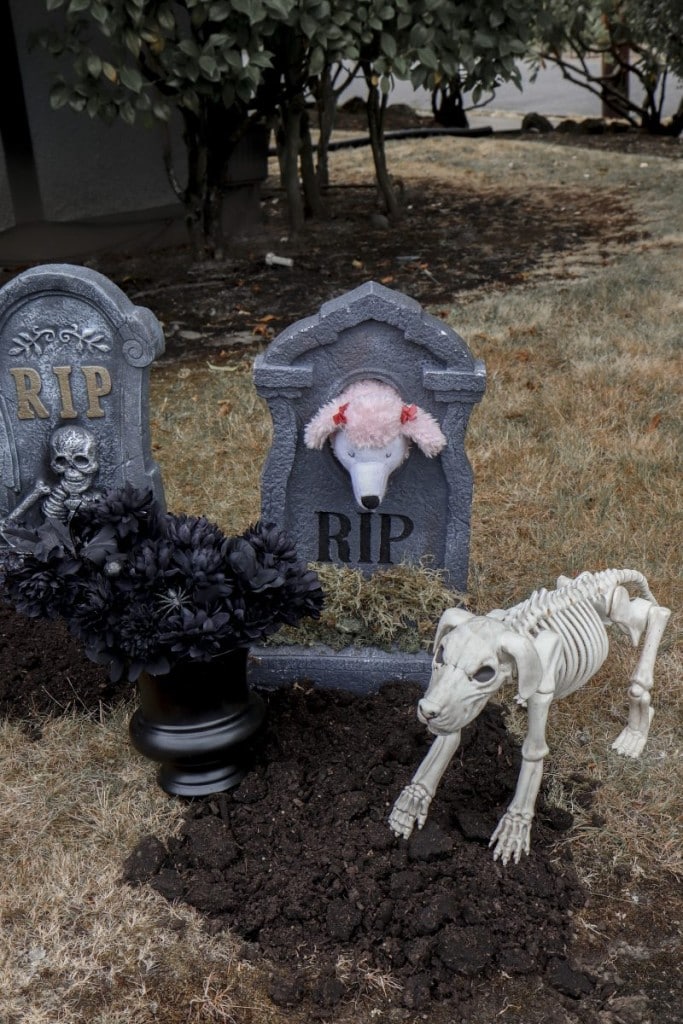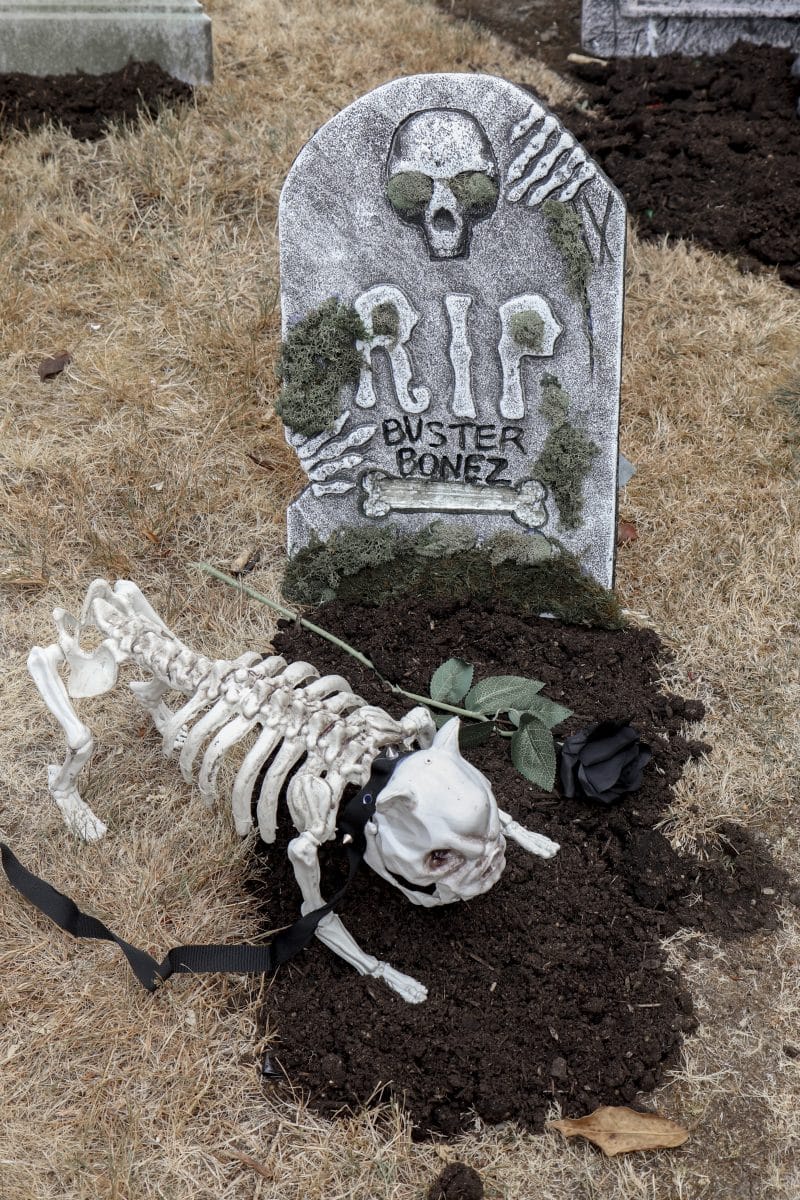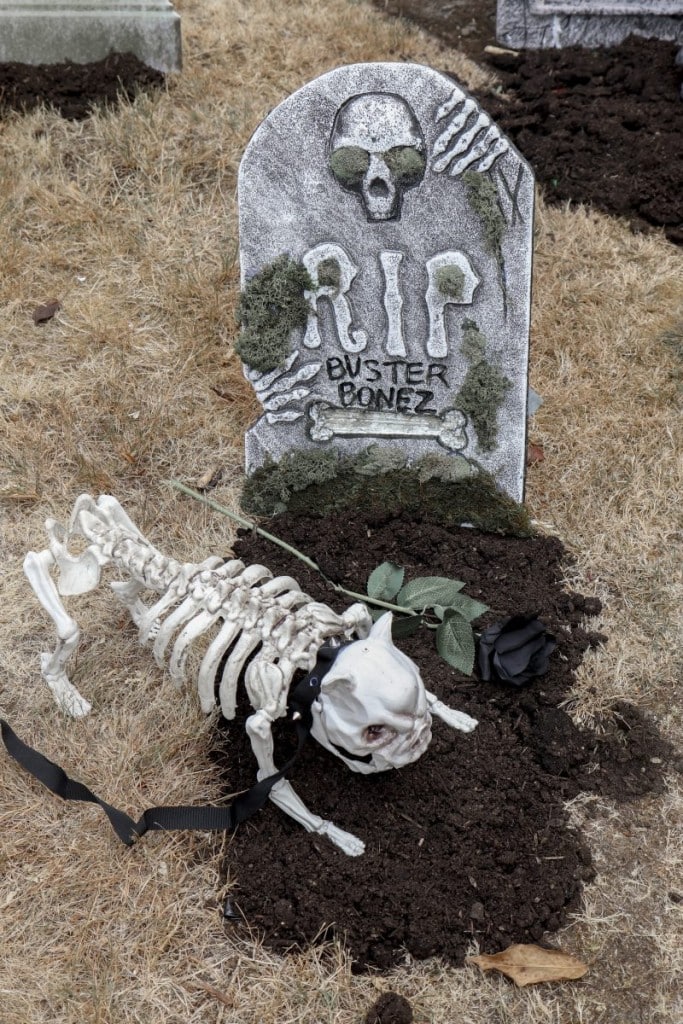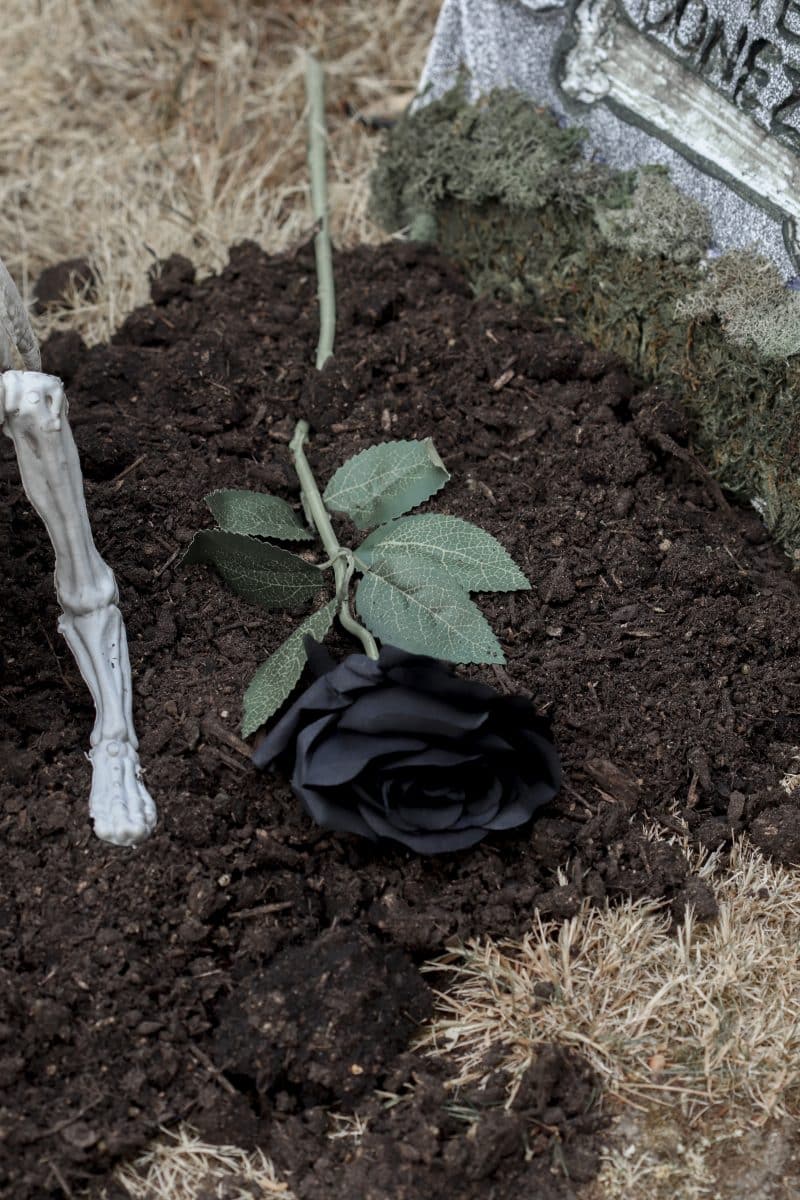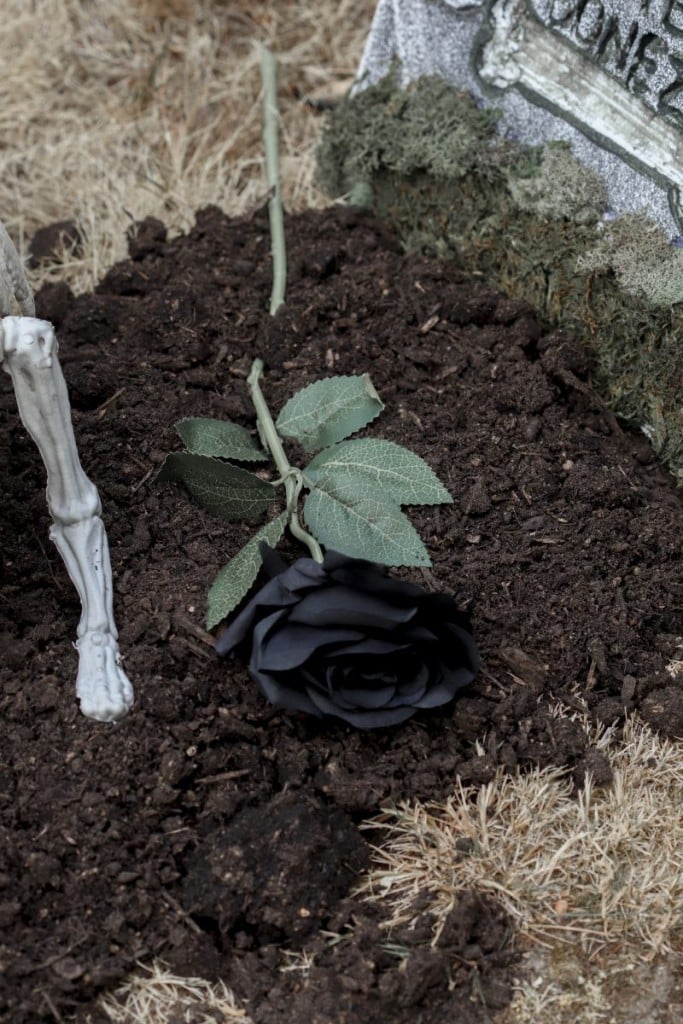 Adding moss to some of the headstones also helped everything look more realistic.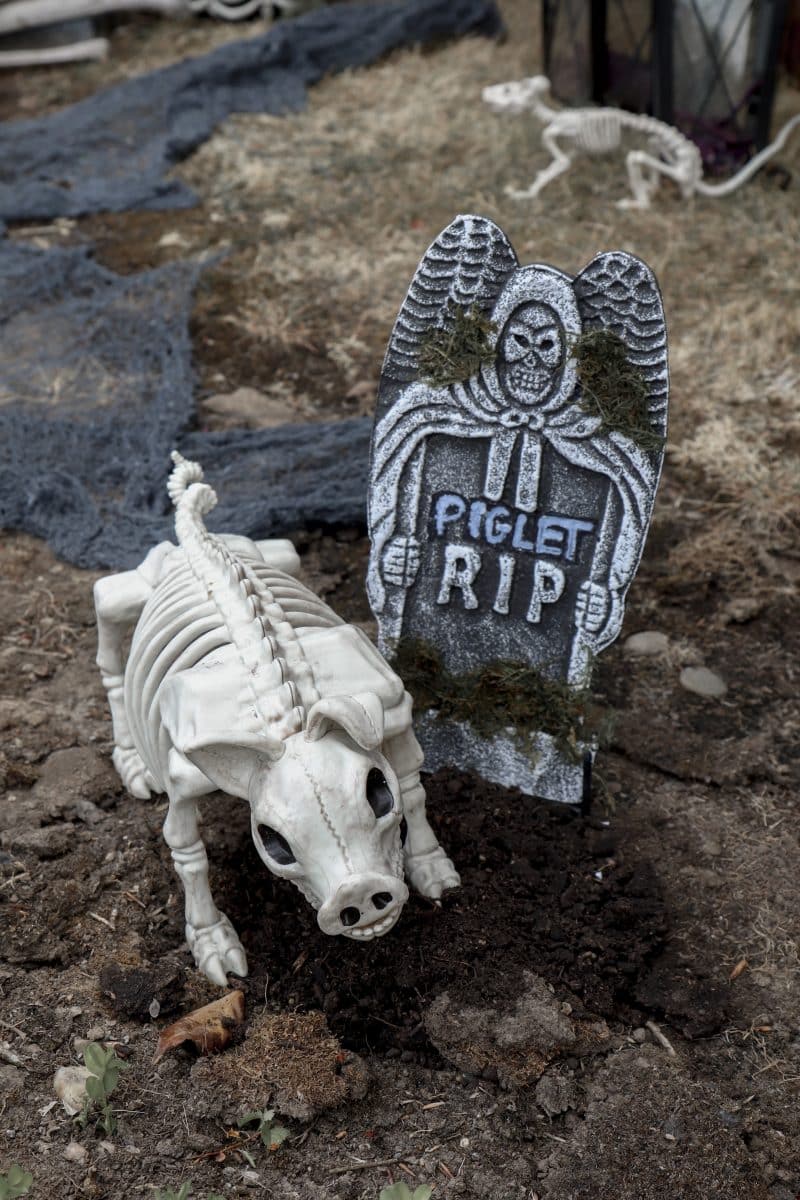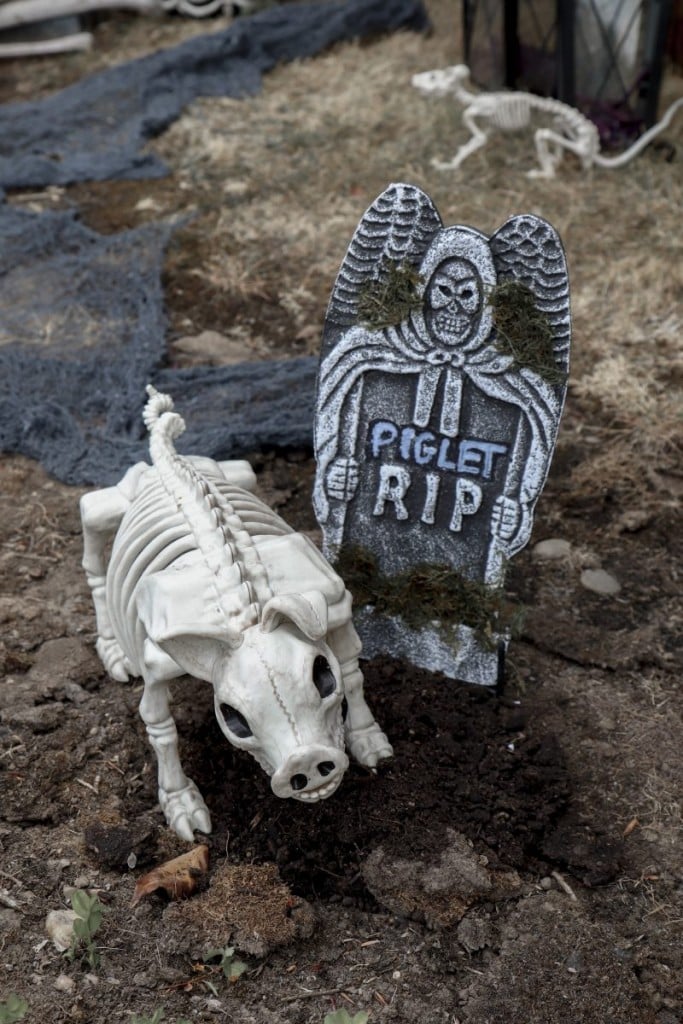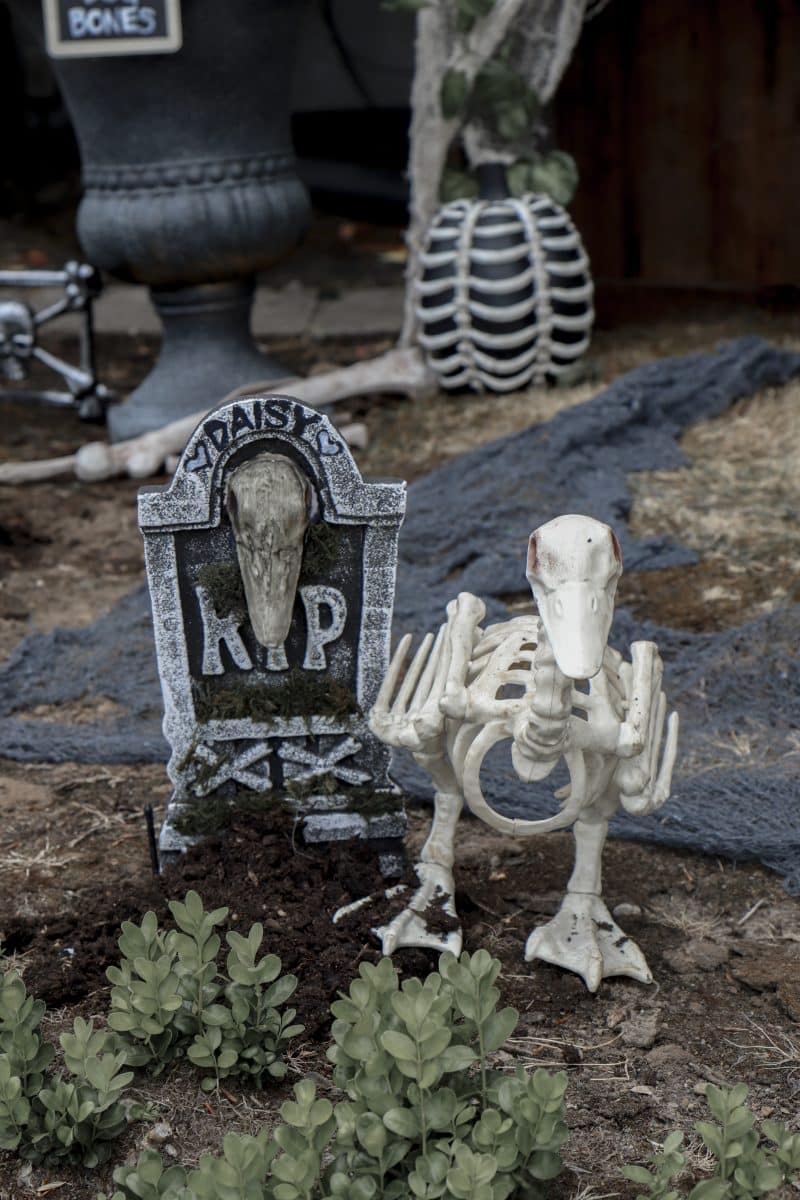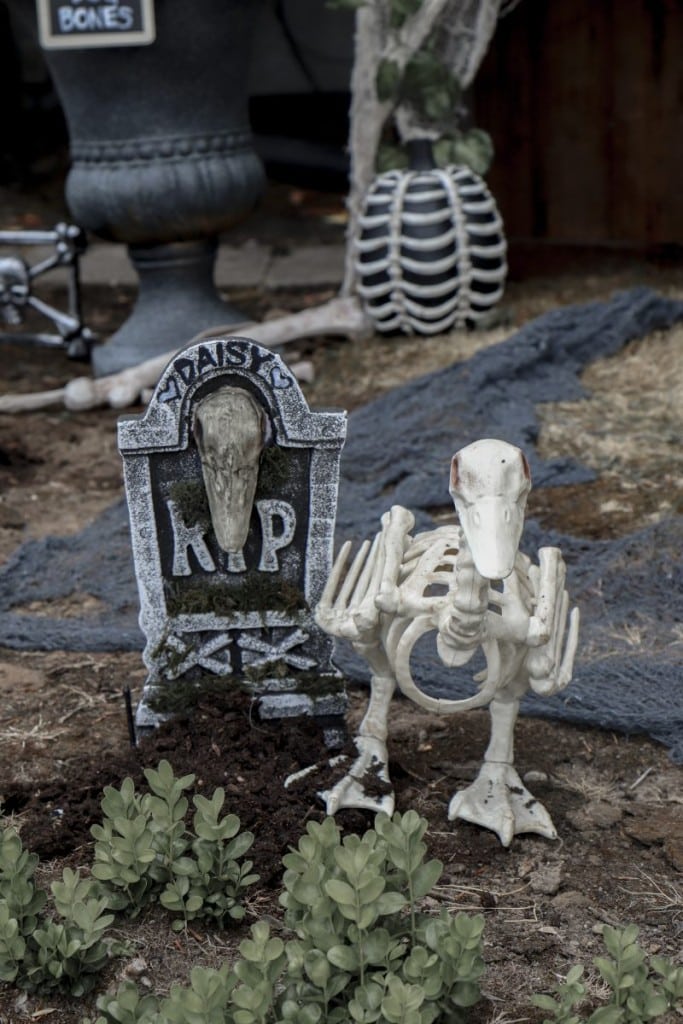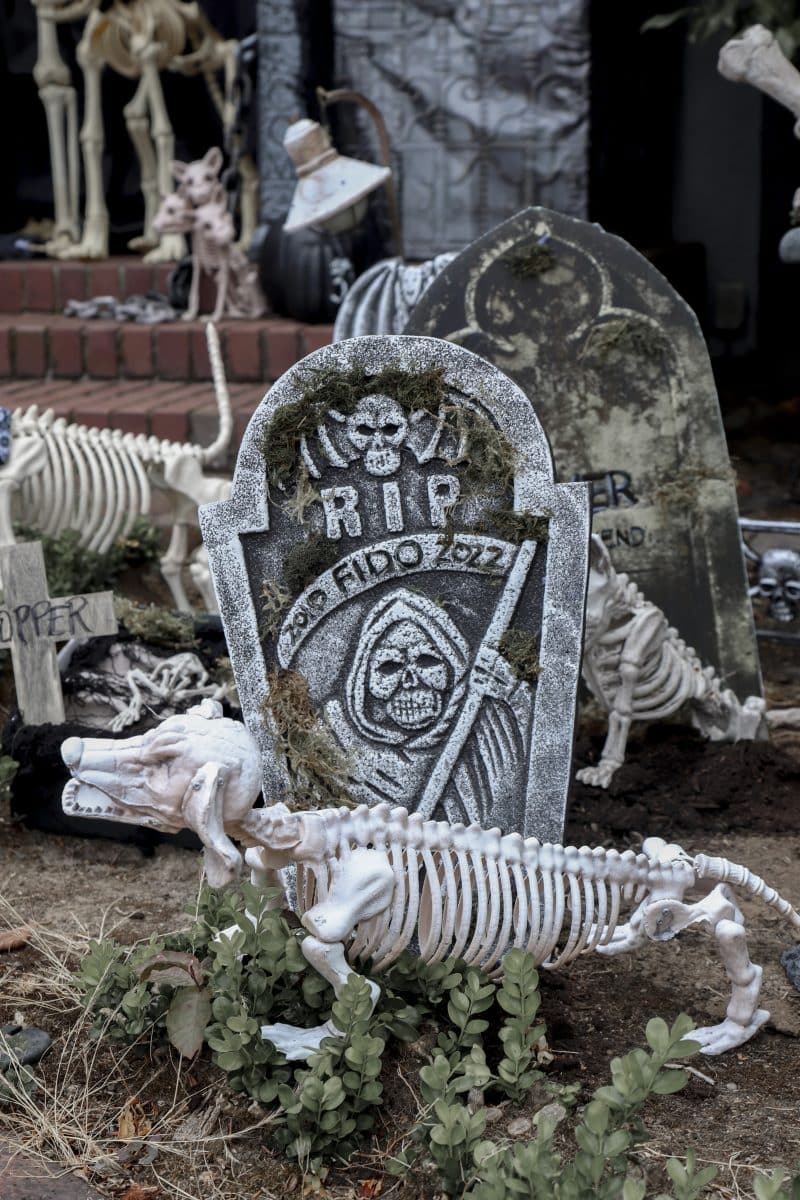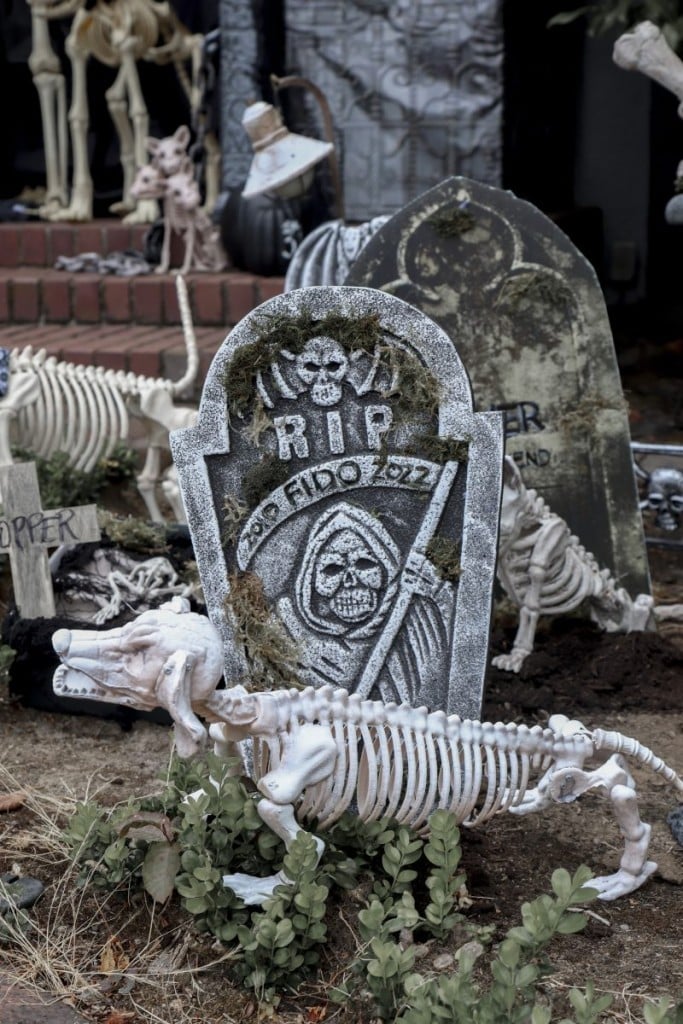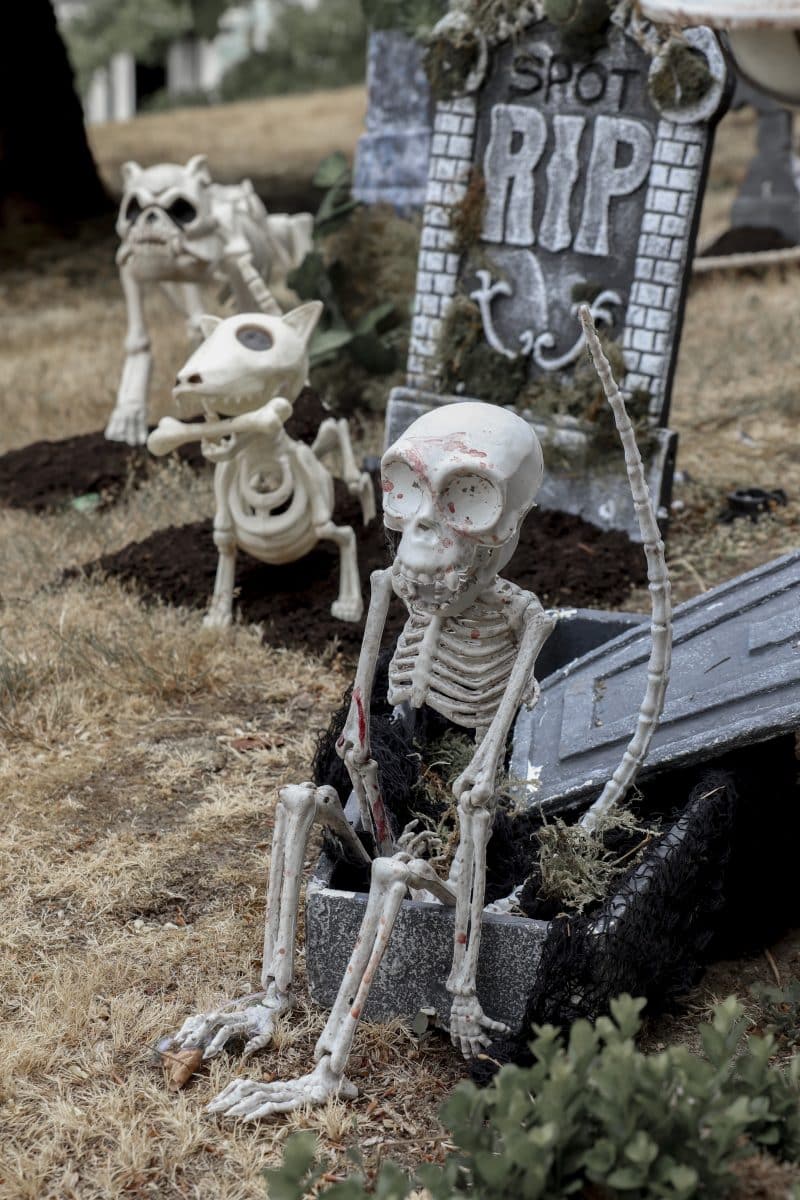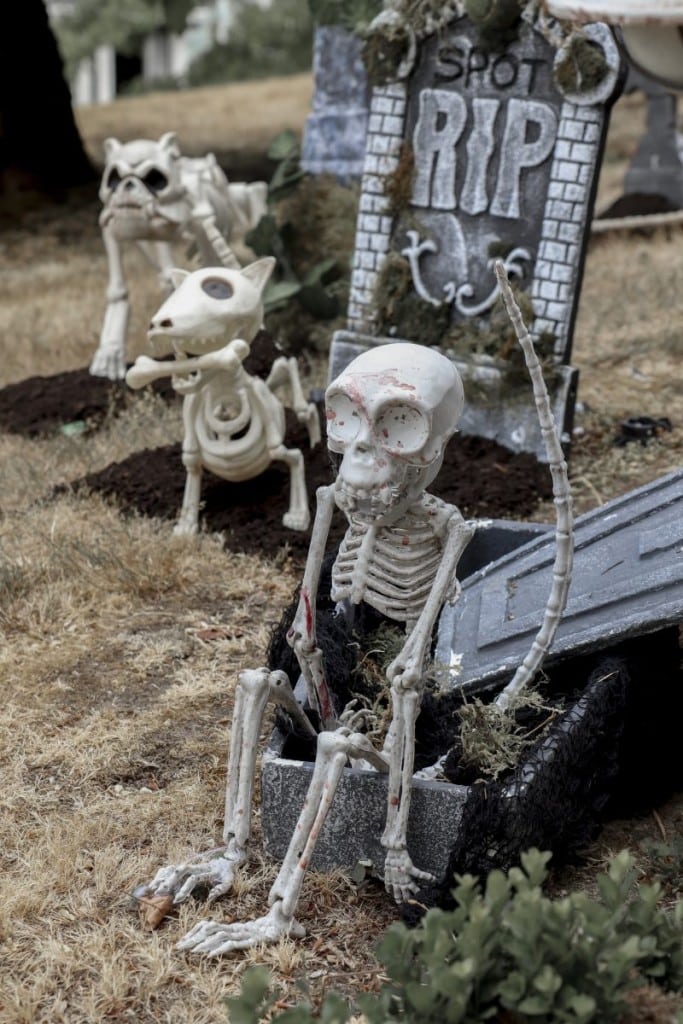 For the smaller frog skeleton, I created a cardboard box coffin for him to lay in.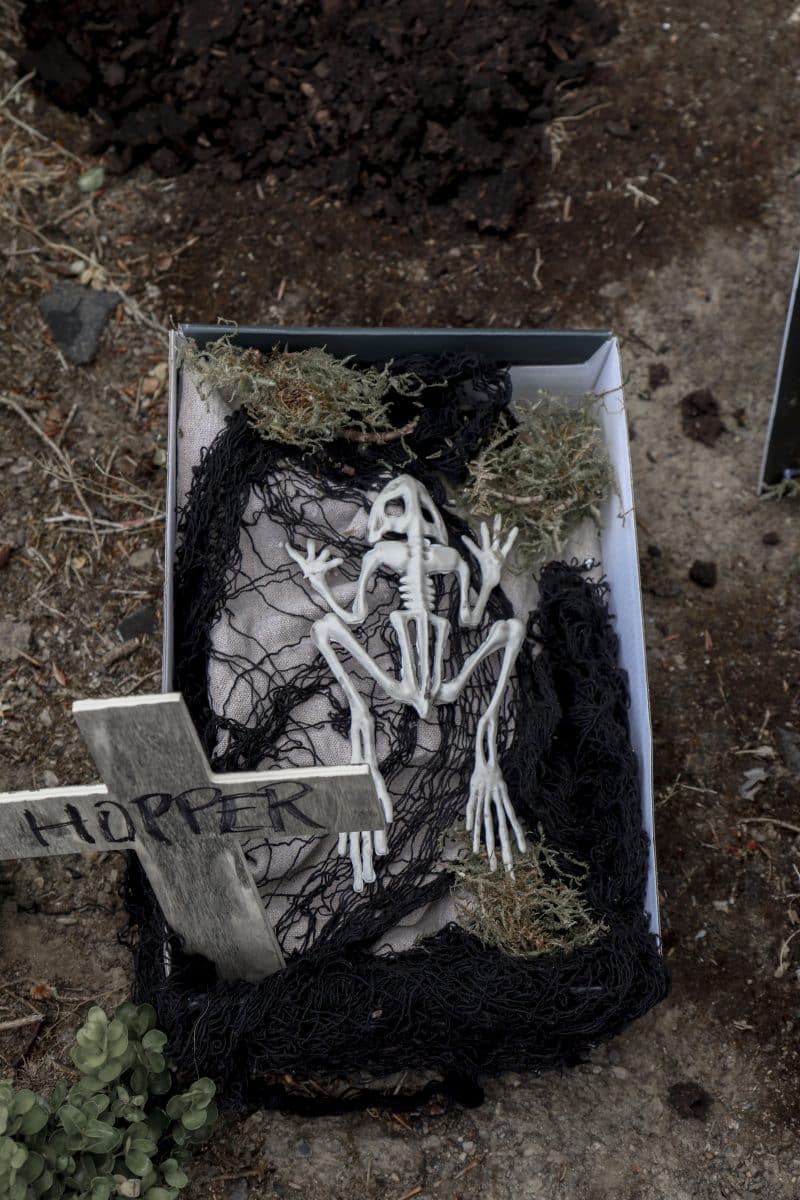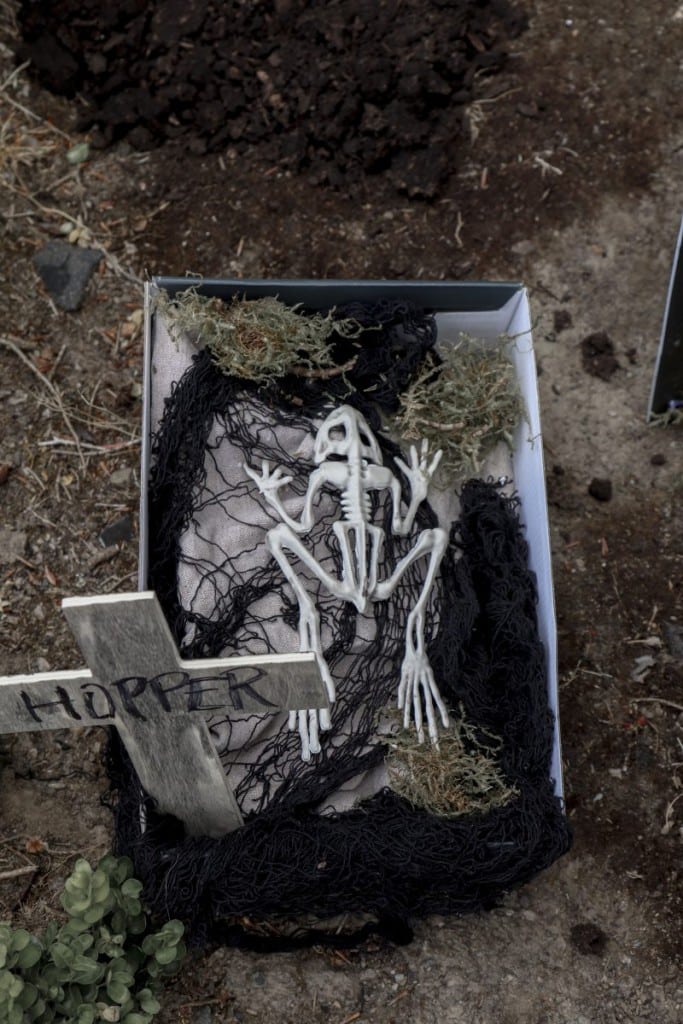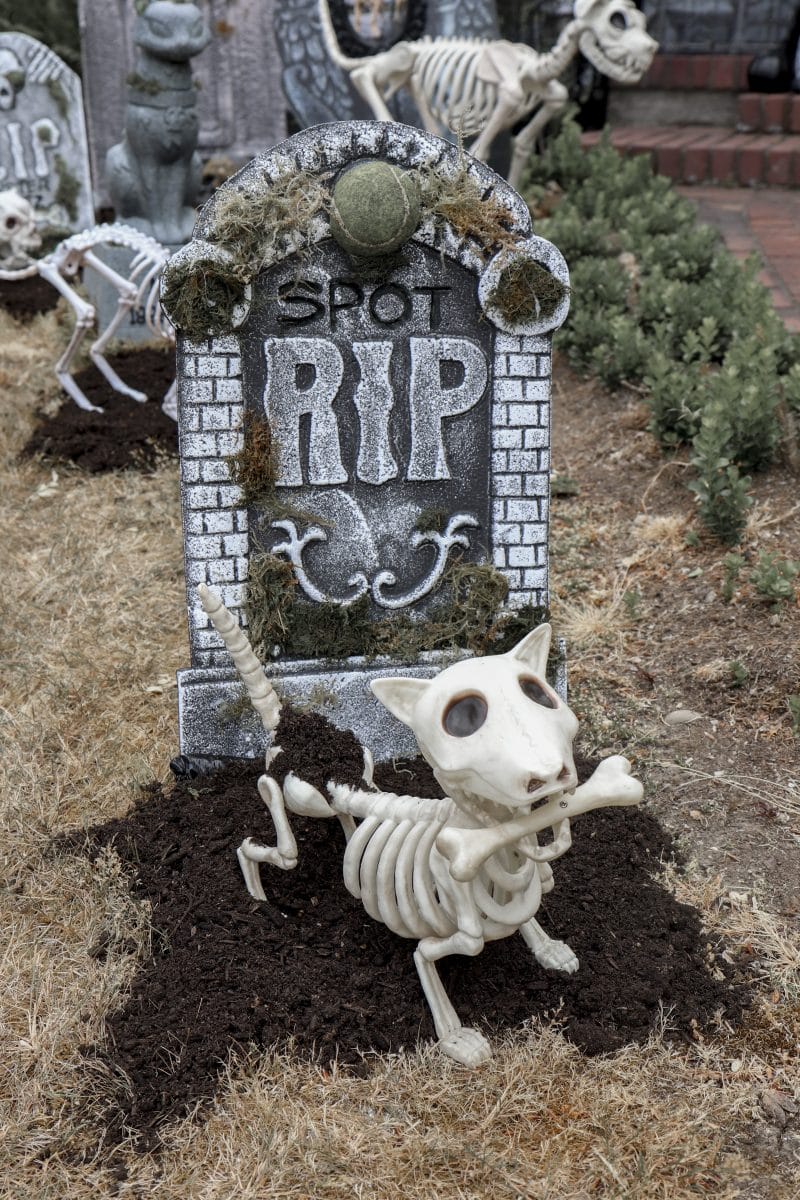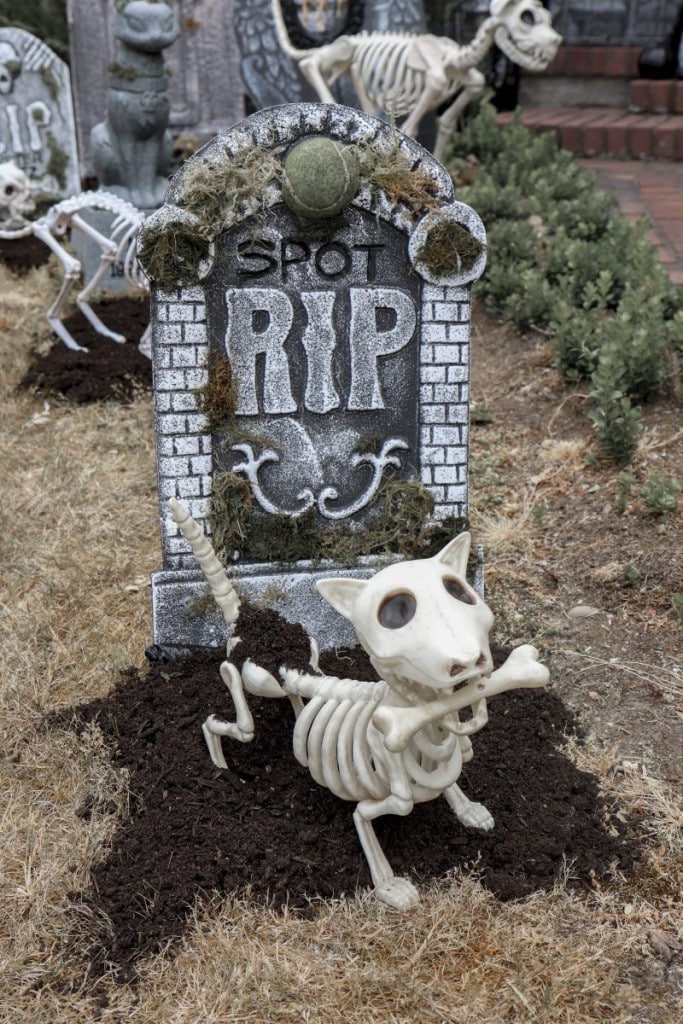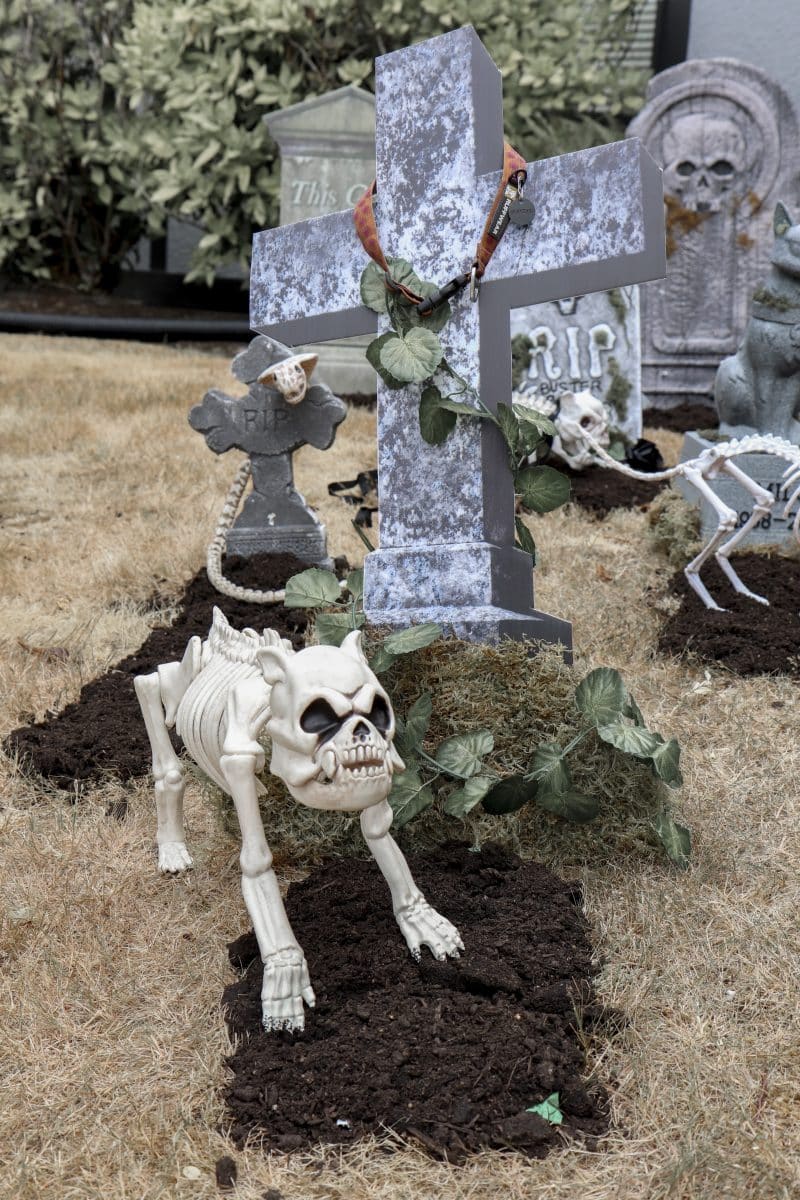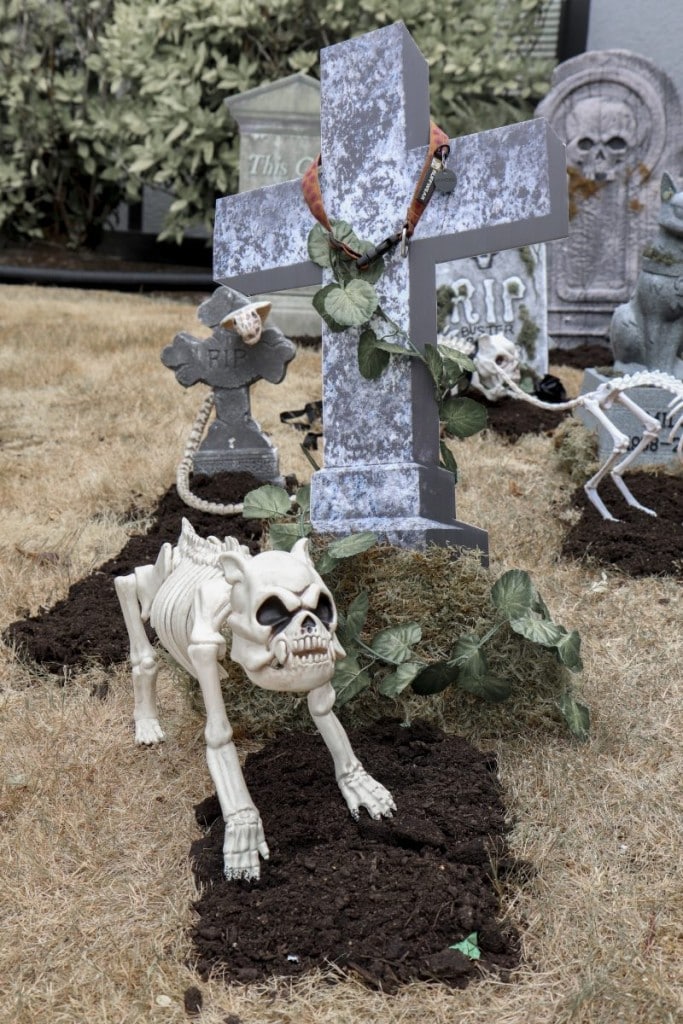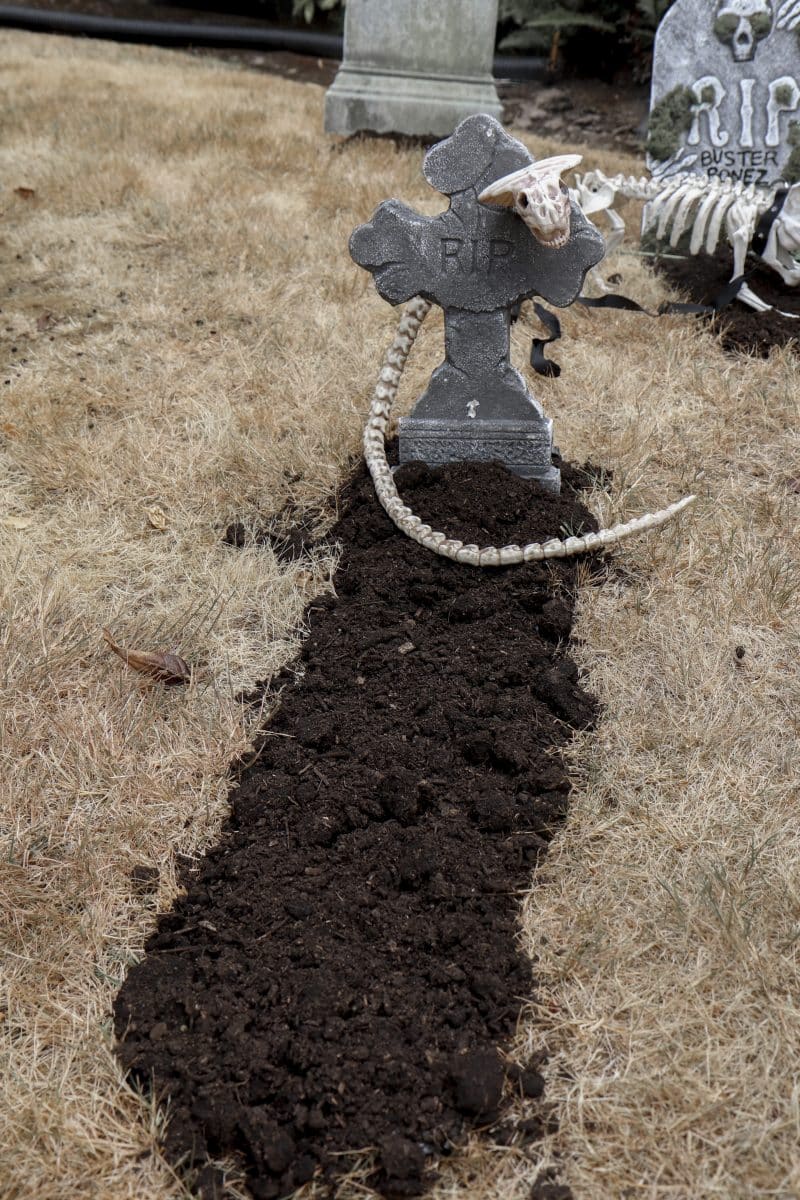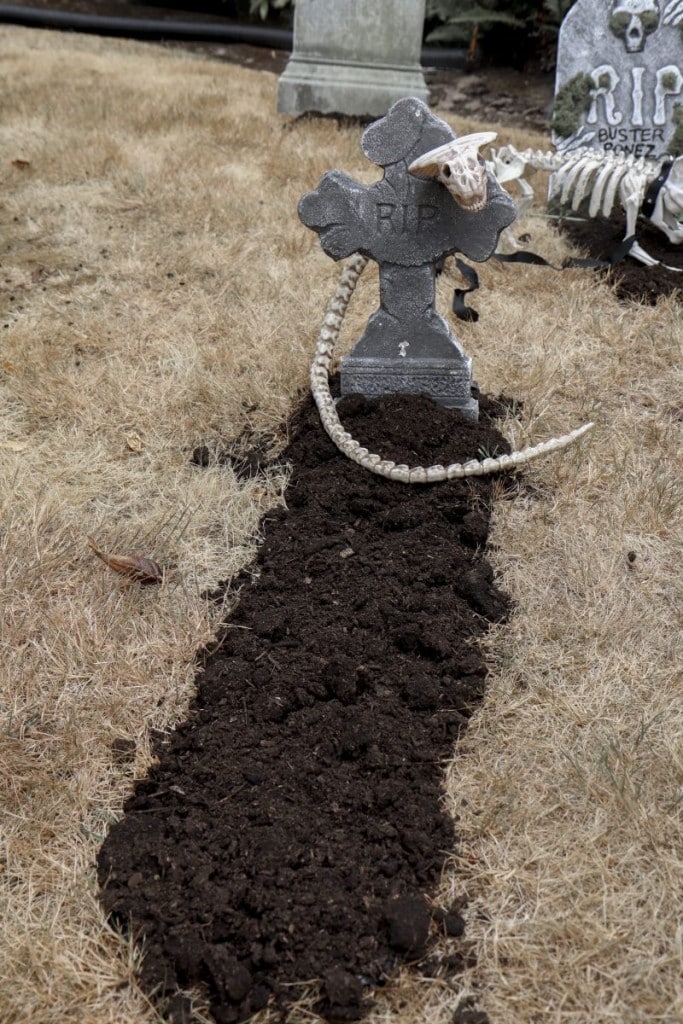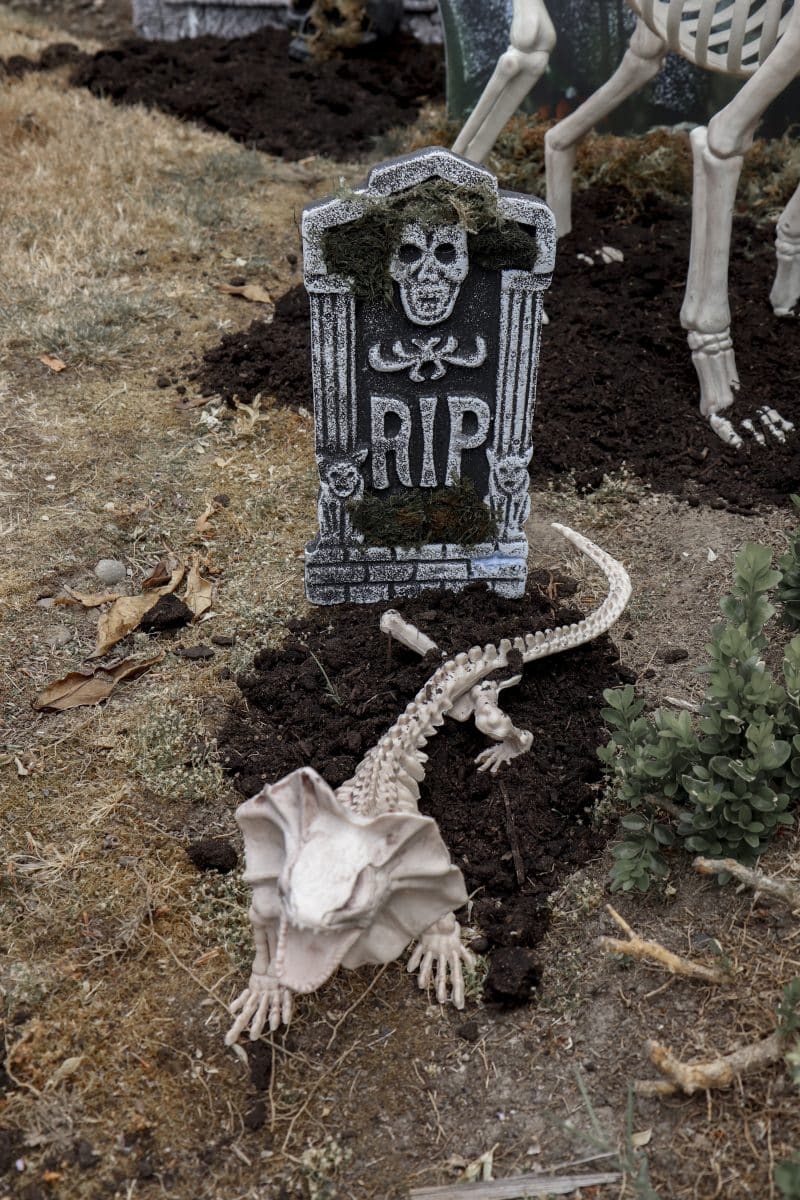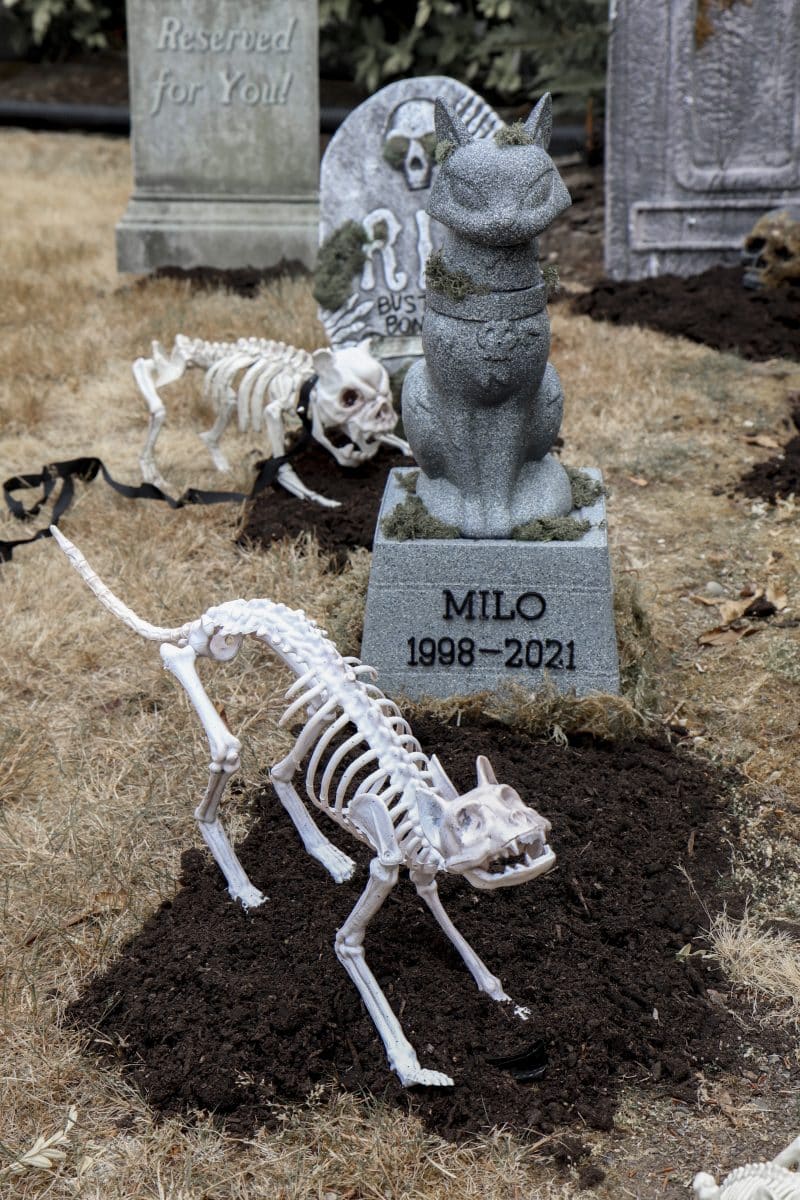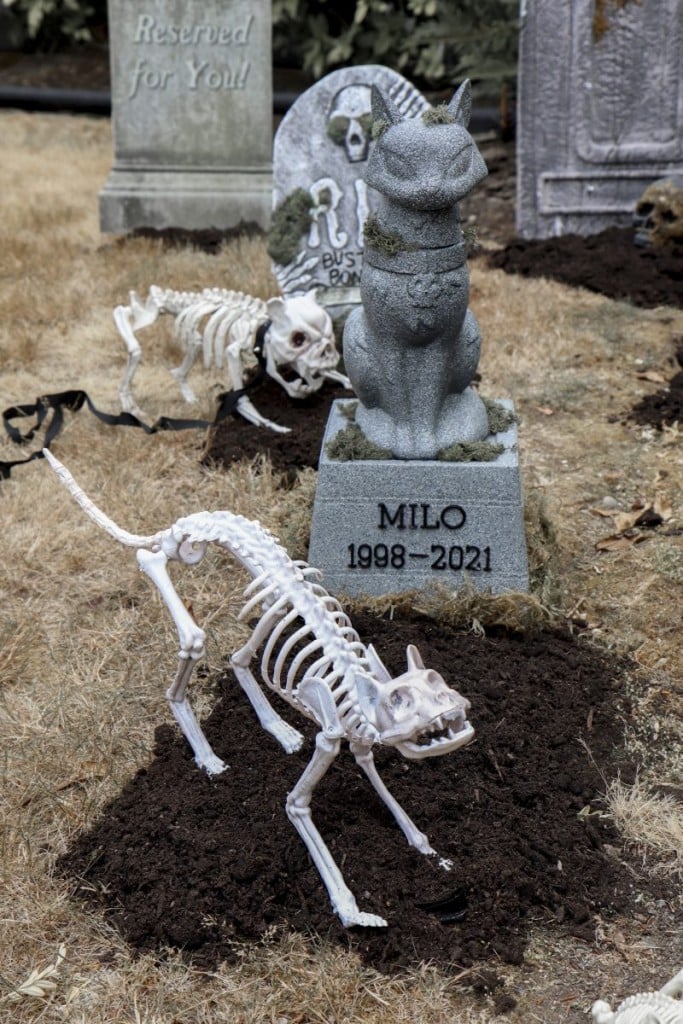 Even without as many faux gravestones as I used, you can easily create grave markers with bricks or wood. Get creative!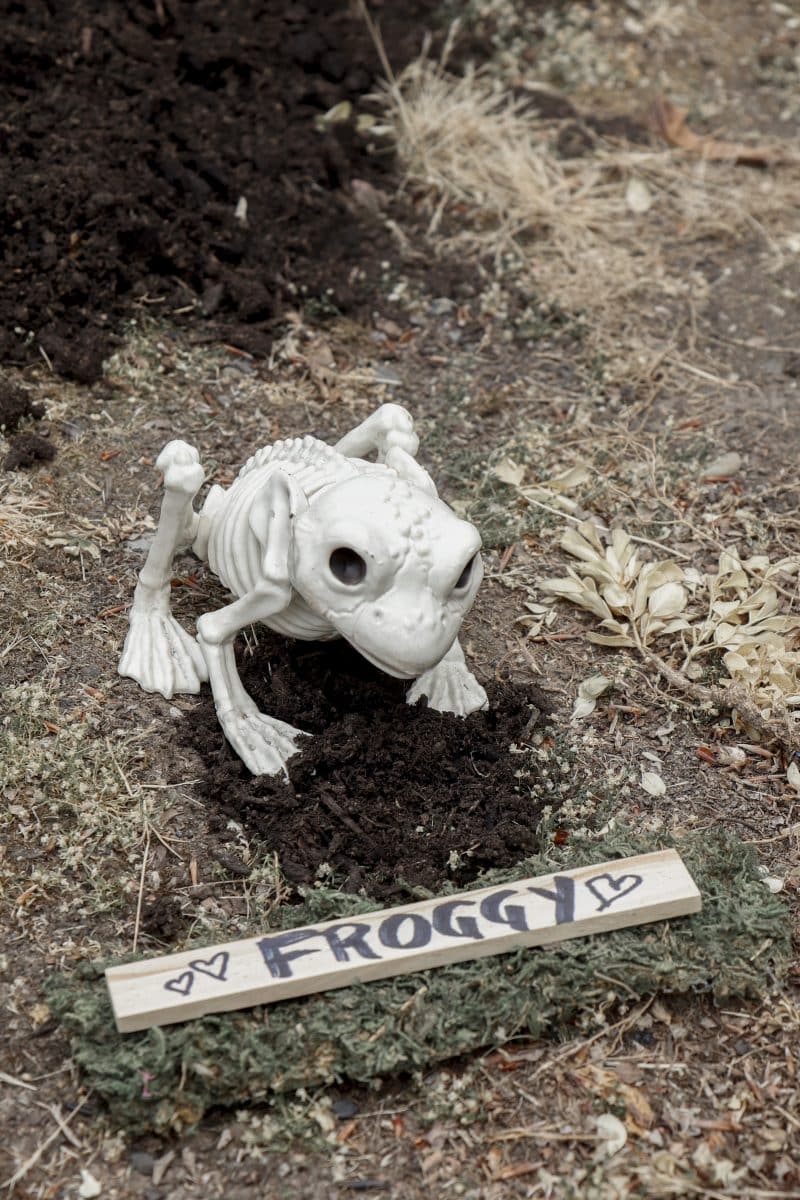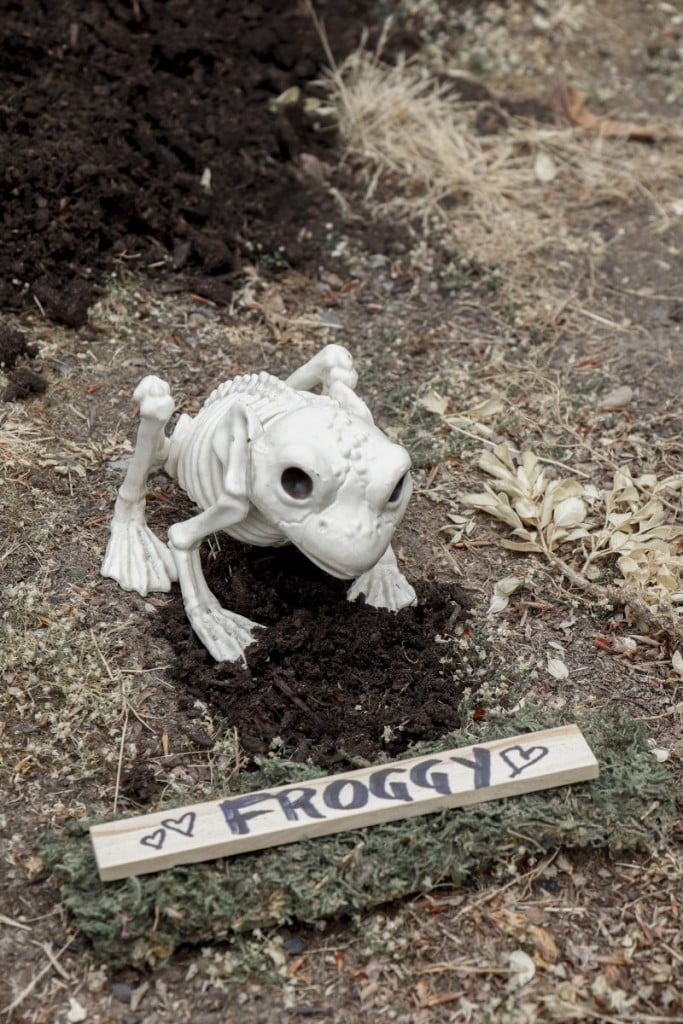 I even included some spilled "ashes" from a black Halloween urn.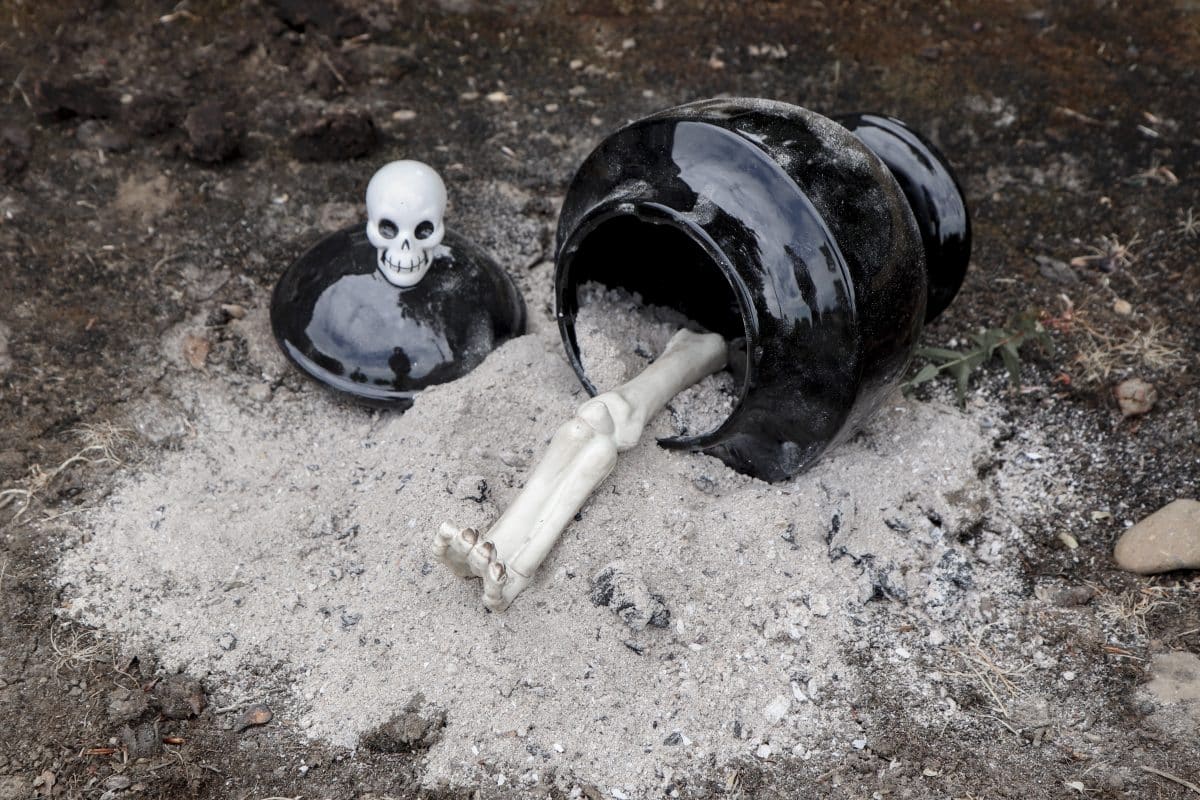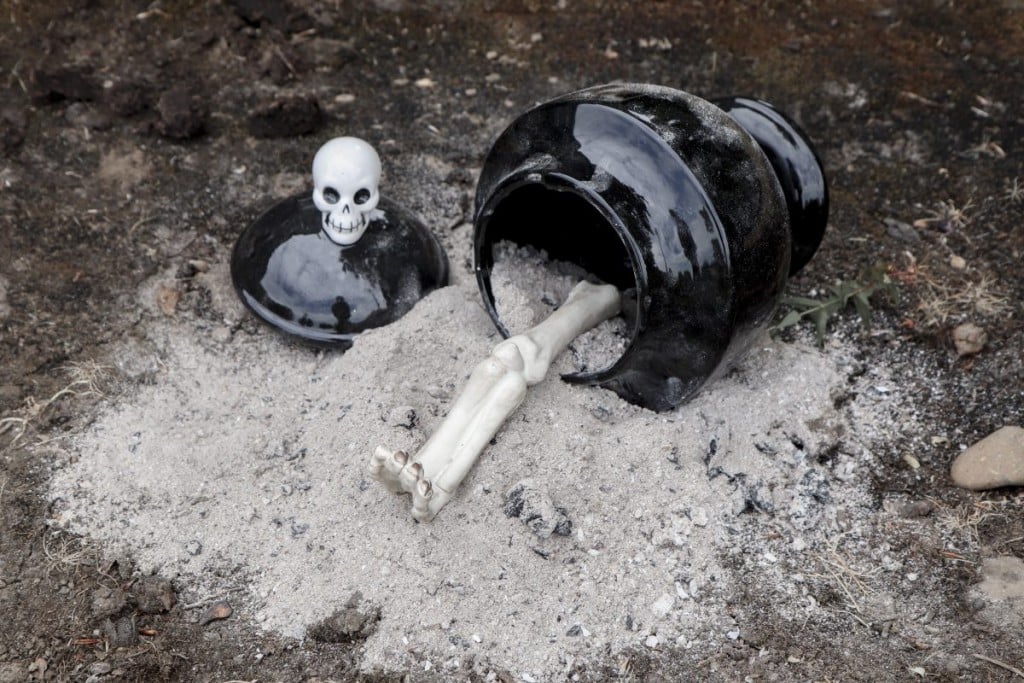 Finally, I added the final gravestone – one for YOU! Muahahaha. The perfect extra spine-chilling touch for cemetery visitors.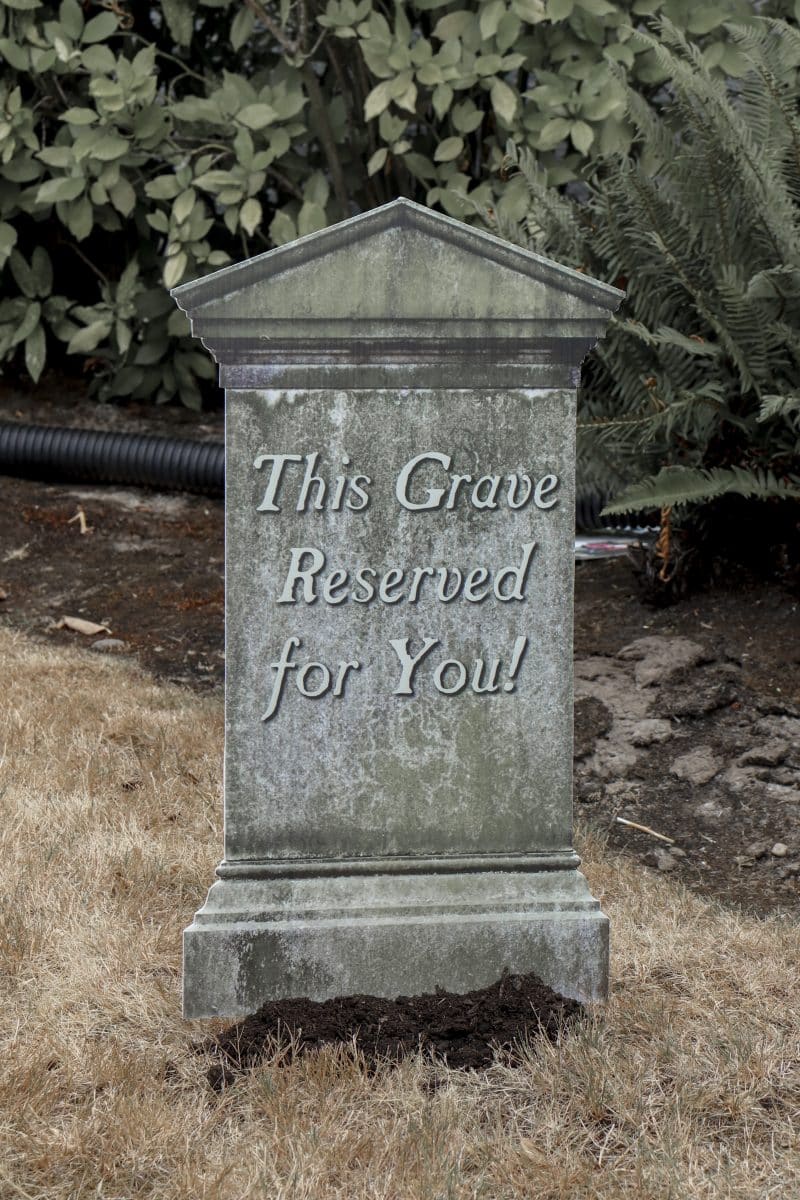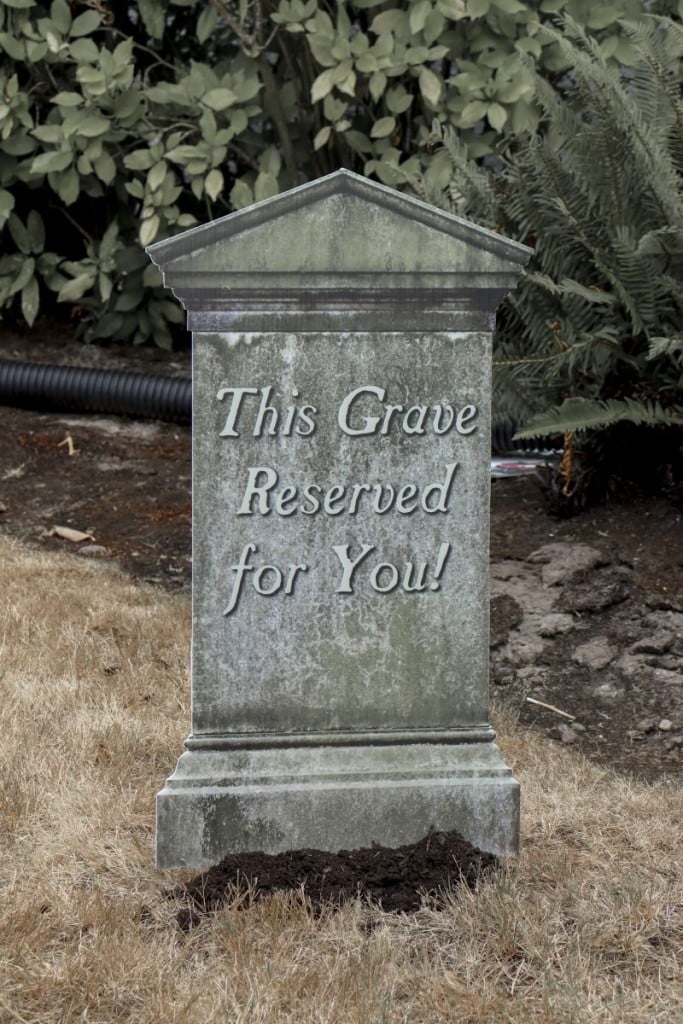 Treat Stand
I wanted this pet cemetery to be somewhat functional as well, especially because we have so many neighbors with the cutest (live!) dogs. So I set up my farm stand in the front yard as a "Deathly Dog Treats" stand. Luckily – it included jars of real (non-deadly!!) dog treats that neighbors could safely give to their living companions as they passed. I draped it in two colors of creepy cloth and wrapped it in some faux vines.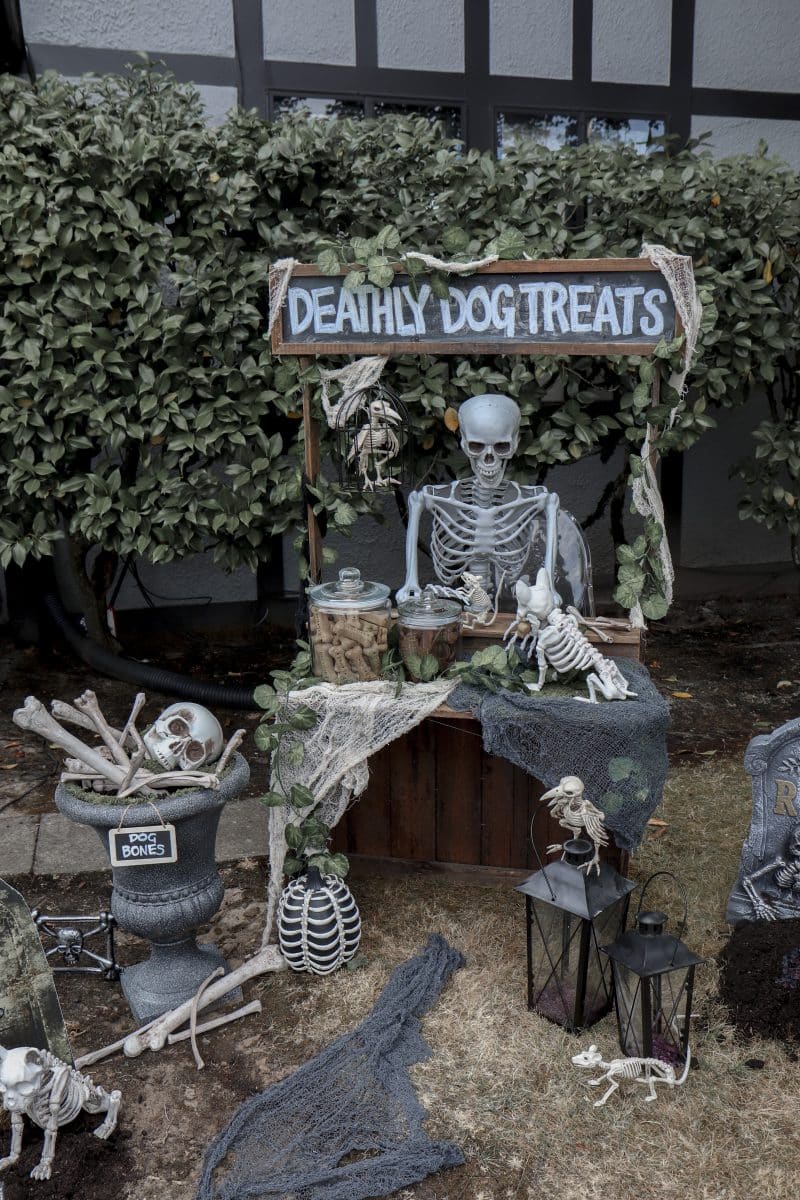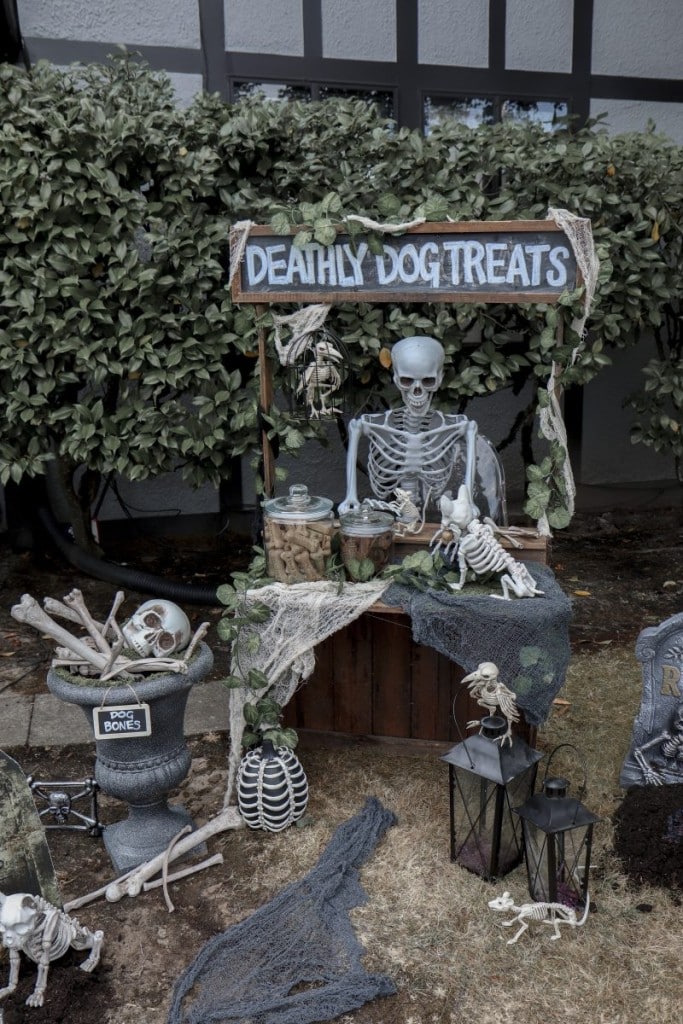 The stand was "run" by a life-sized skeleton helper, along with his array of skeleton pets.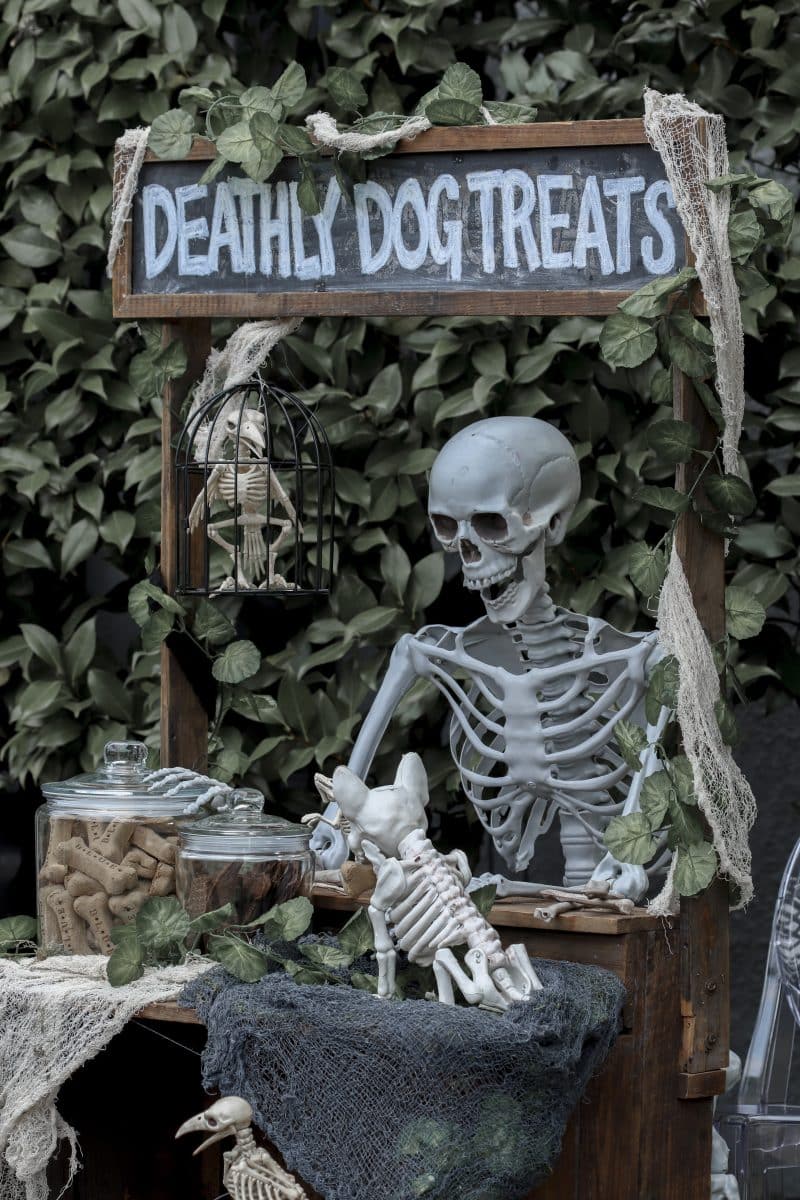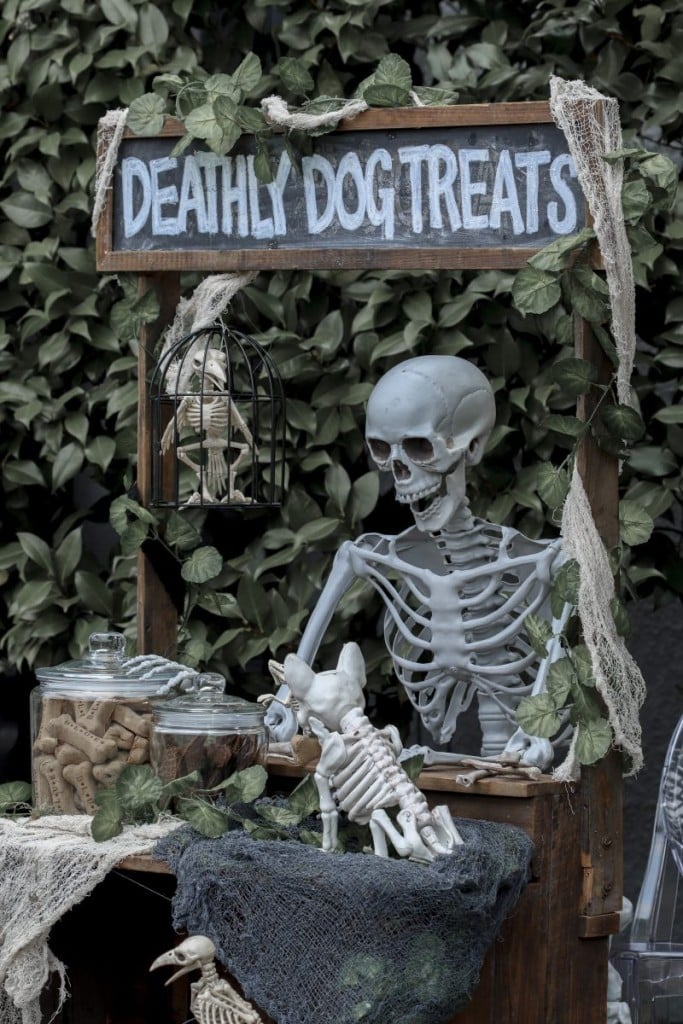 These included a guard rat, a small dog taste-tester, and a bird I hung in a cage by his head.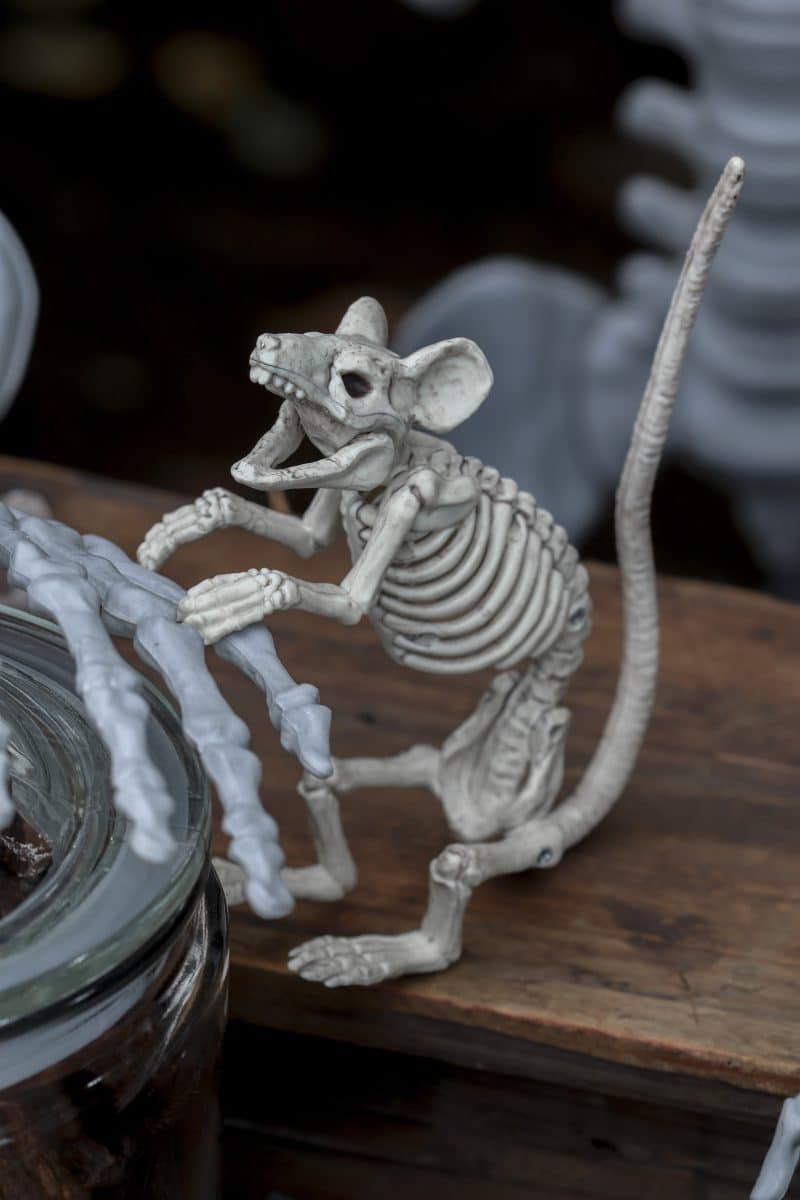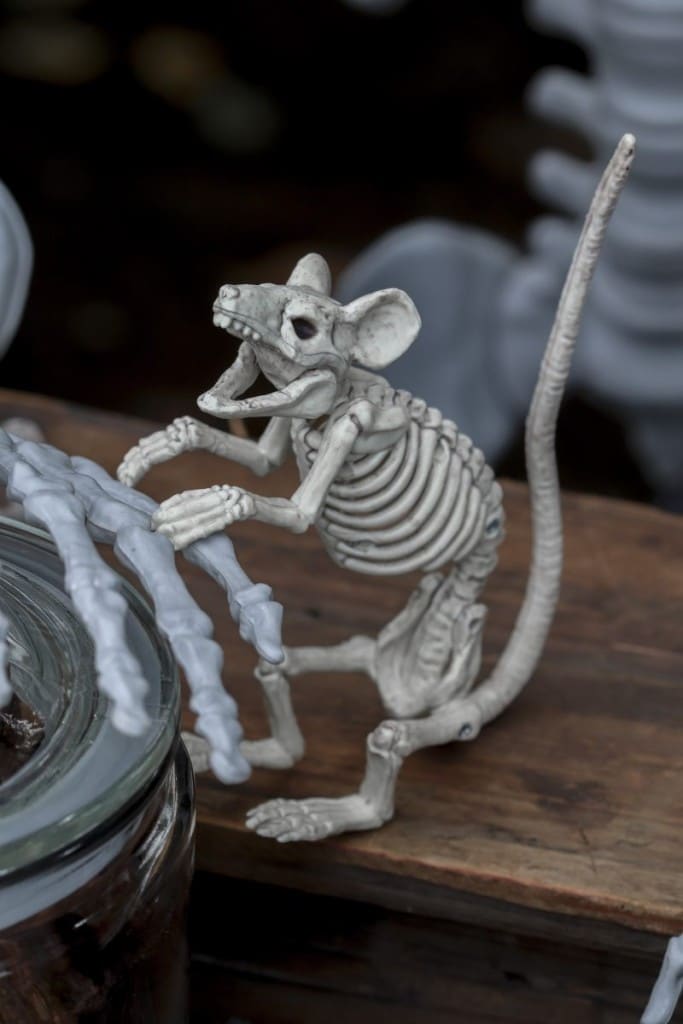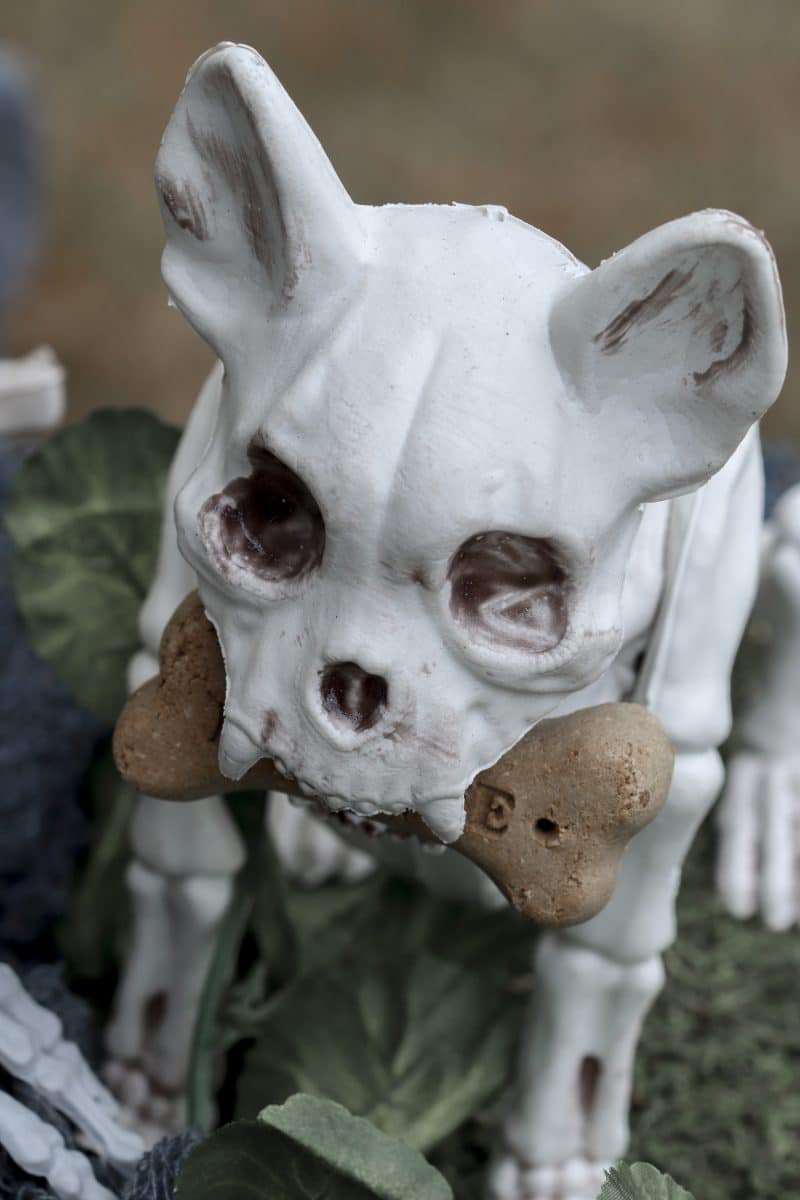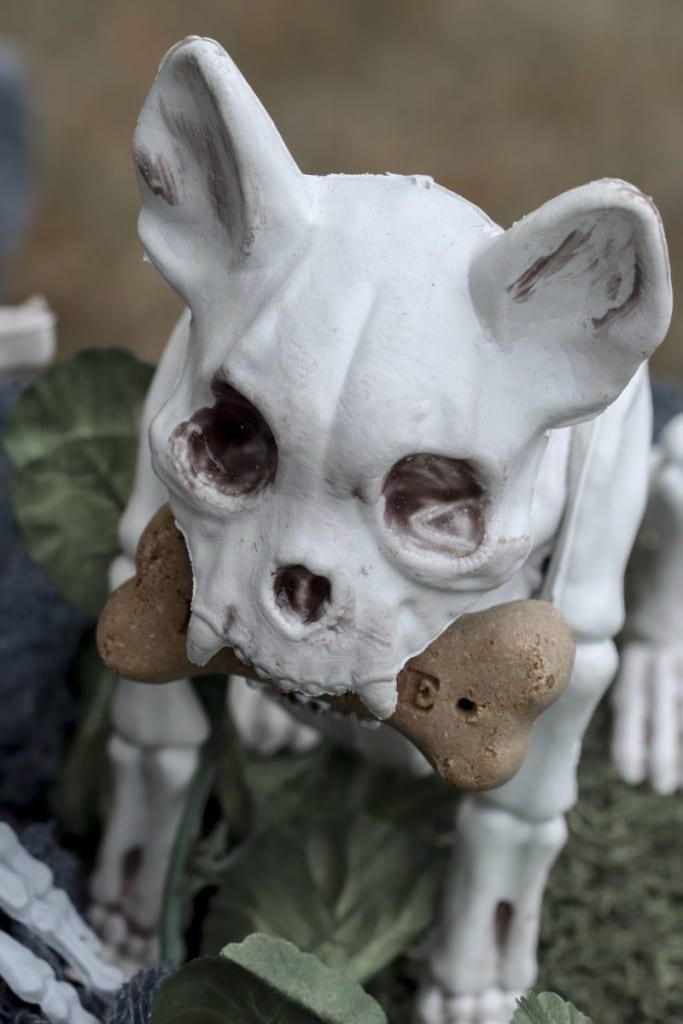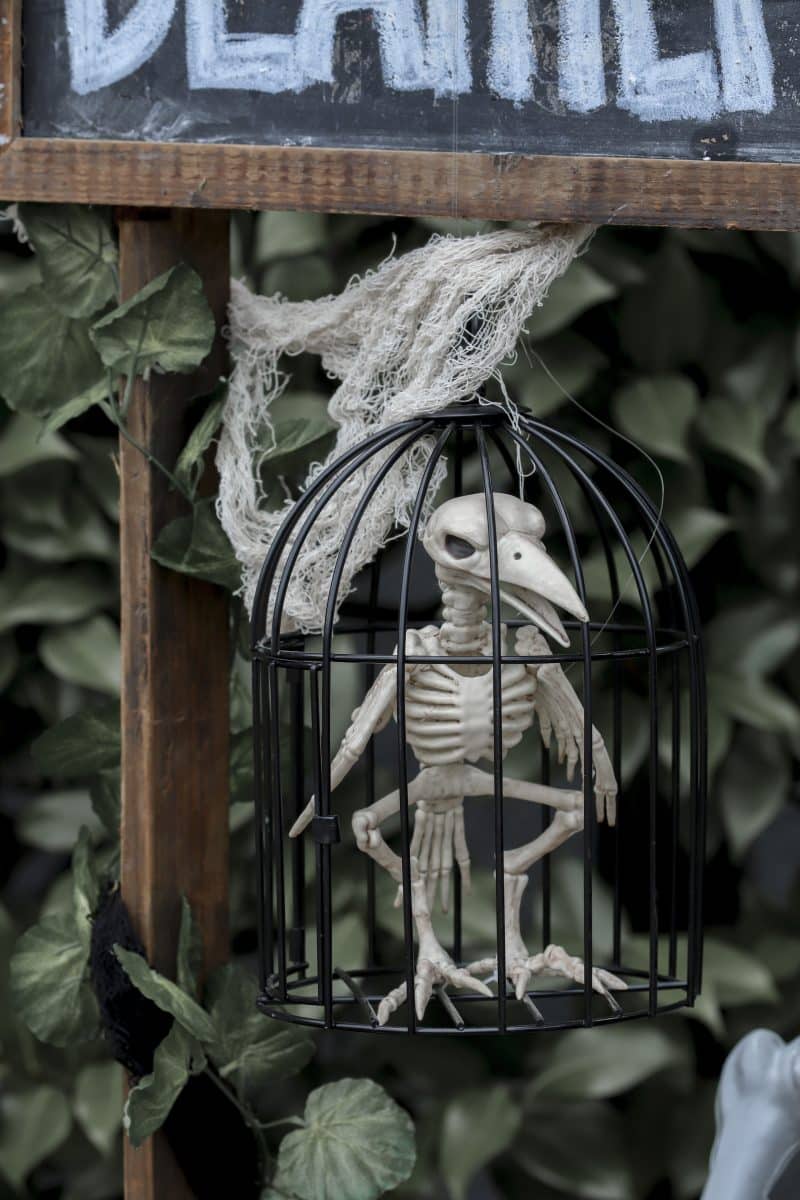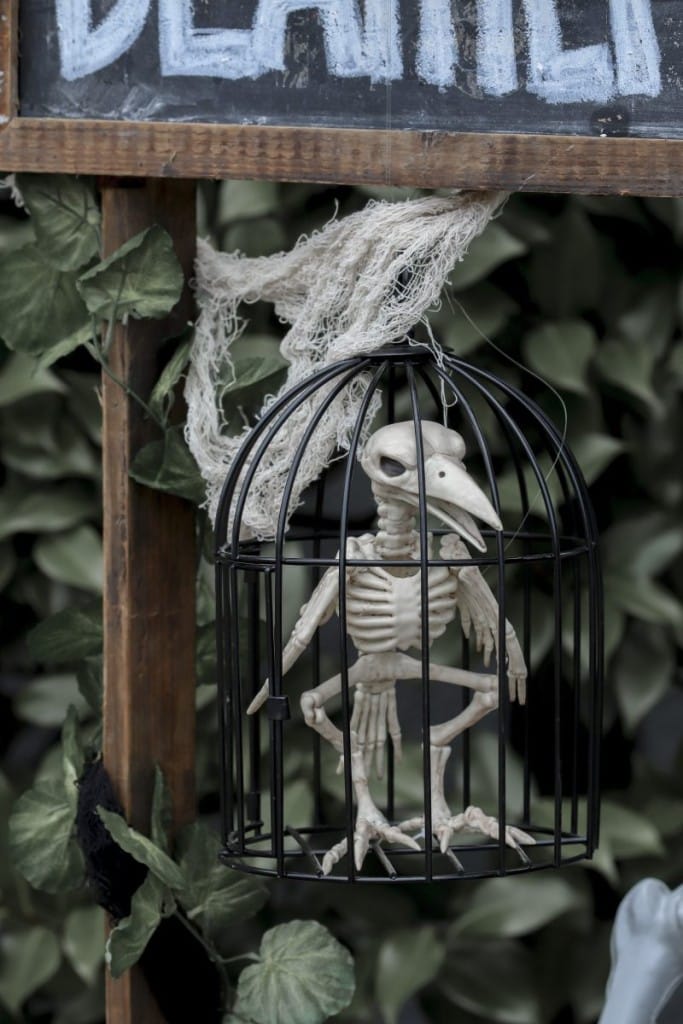 Next to the stand, I added more creepy cemetery decor, such as "dog bones" (not the treat kind…), lanterns, and black pumpkins (it is Halloween, after all!).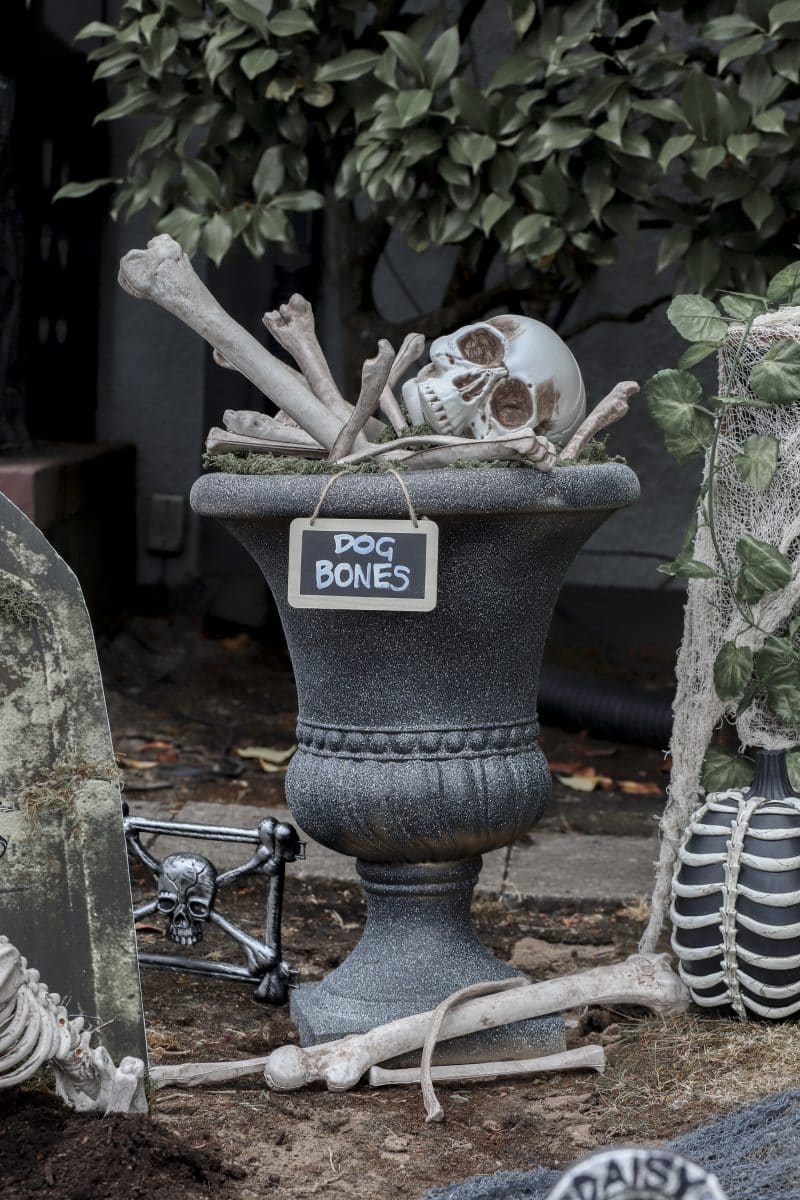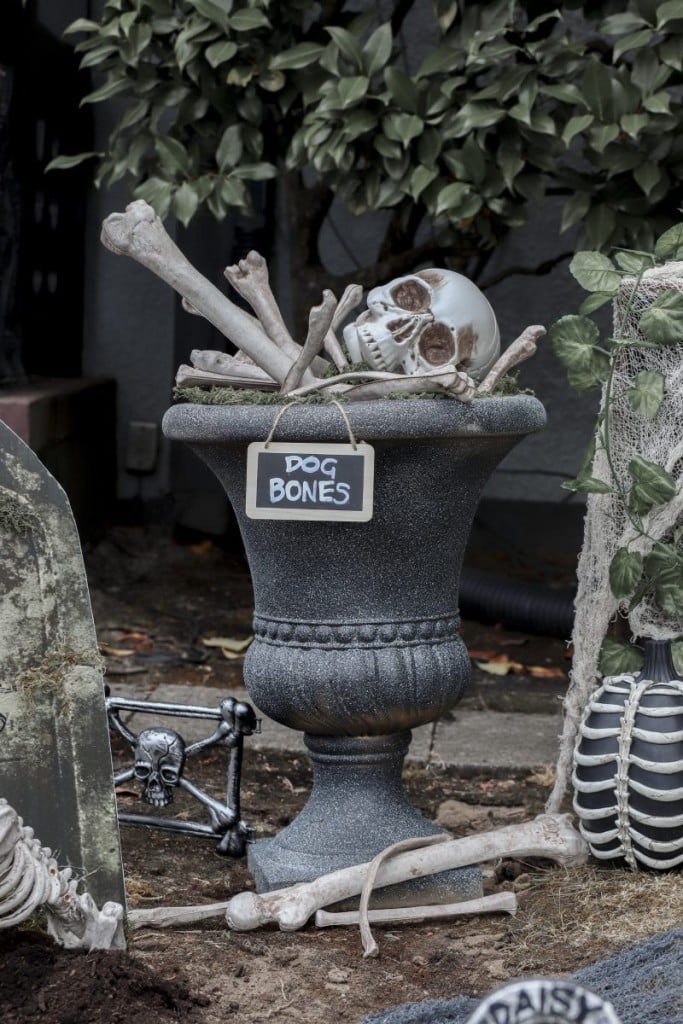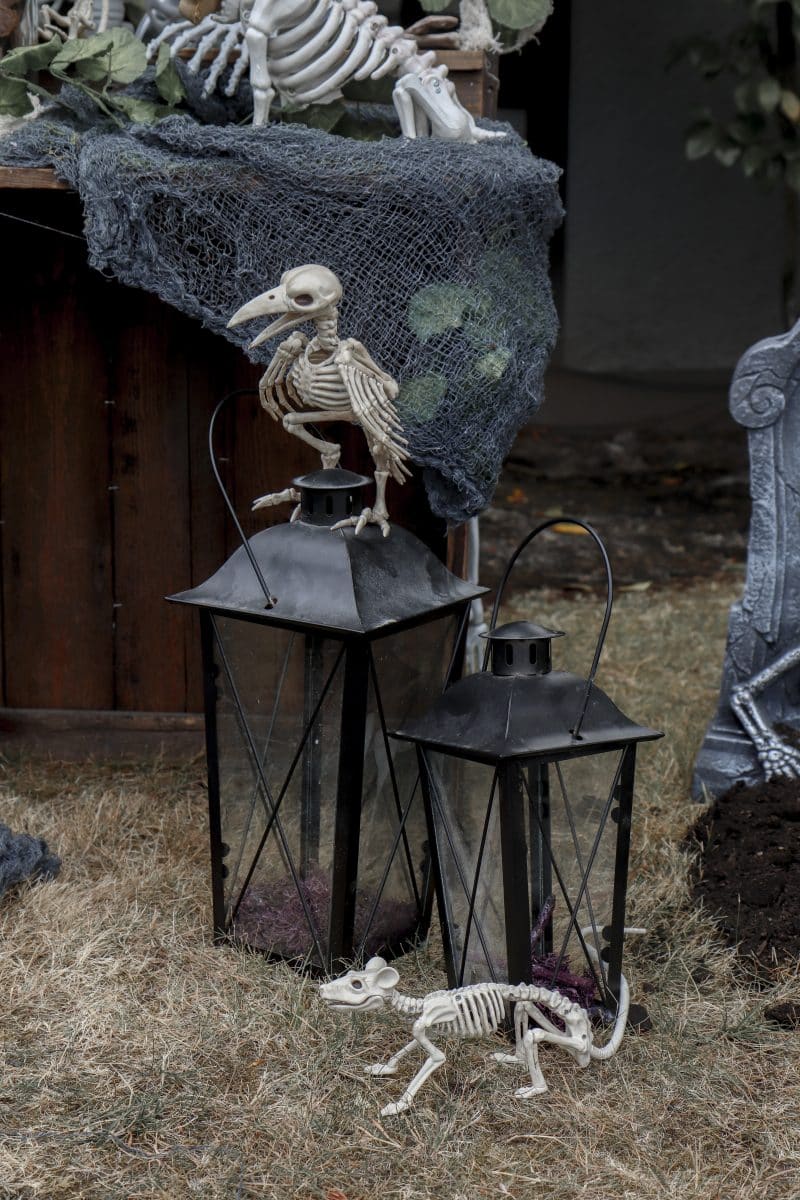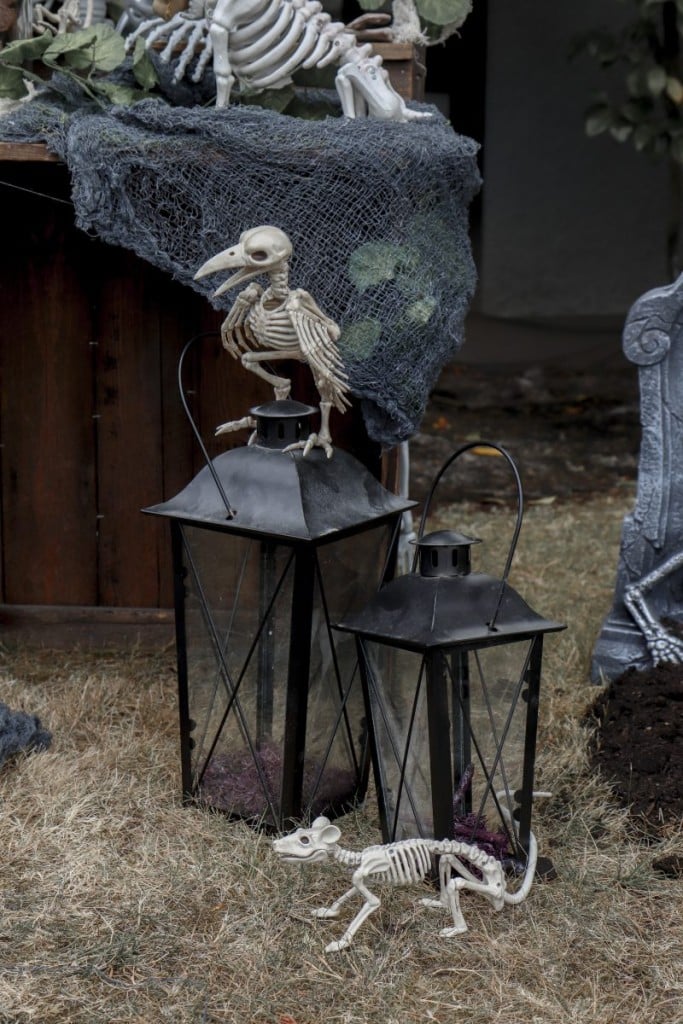 With my Spooky Pet Cemetery Halloween yard complete, I'd created a hauntingly memorable space that perfectly captures the creepy and fun essence of the season. From the front porch to the eerie graveyard, every detail contributes to the enchanting atmosphere. The "Deathly Dog Treat" stand adds a playful twist, showcasing the Halloween spirit!
For more Halloween ideas – be sure to visit my Halloween blog archives! I have TONS of ideas for you, for kid's parties, adult parties, crafts, treats, home decor, and more!
Happy Creating!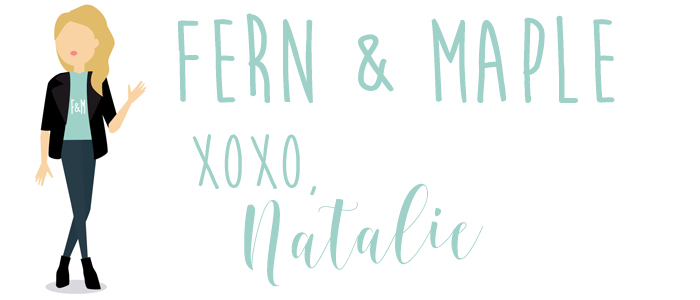 As a blogger, I sometimes receive compensation and/or products in exchange for my styling and crafting services. I also may earn a small commission from any sales that result from affiliate links on this page. As always, all project ideas and any opinions expressed here are my own. For further information on our disclosure policy please check out our disclosure page.
PIN FOR LATER: