If you're on the hunt for a bewitching gift idea that's perfect for craft-loving tweens, look no further than the Halloween Craft Cauldron Boo Basket! These gifts are full of Halloween-themed craft supplies, and your tween will love helping to conjure up the most spellbinding Boo Baskets that will leave their friends bubbling with excitement. Read on to see how to help your little tween witch create them (and what supplies you need!).
How to Create Halloween Craft Cauldron Boo Basket Gifts for Tweens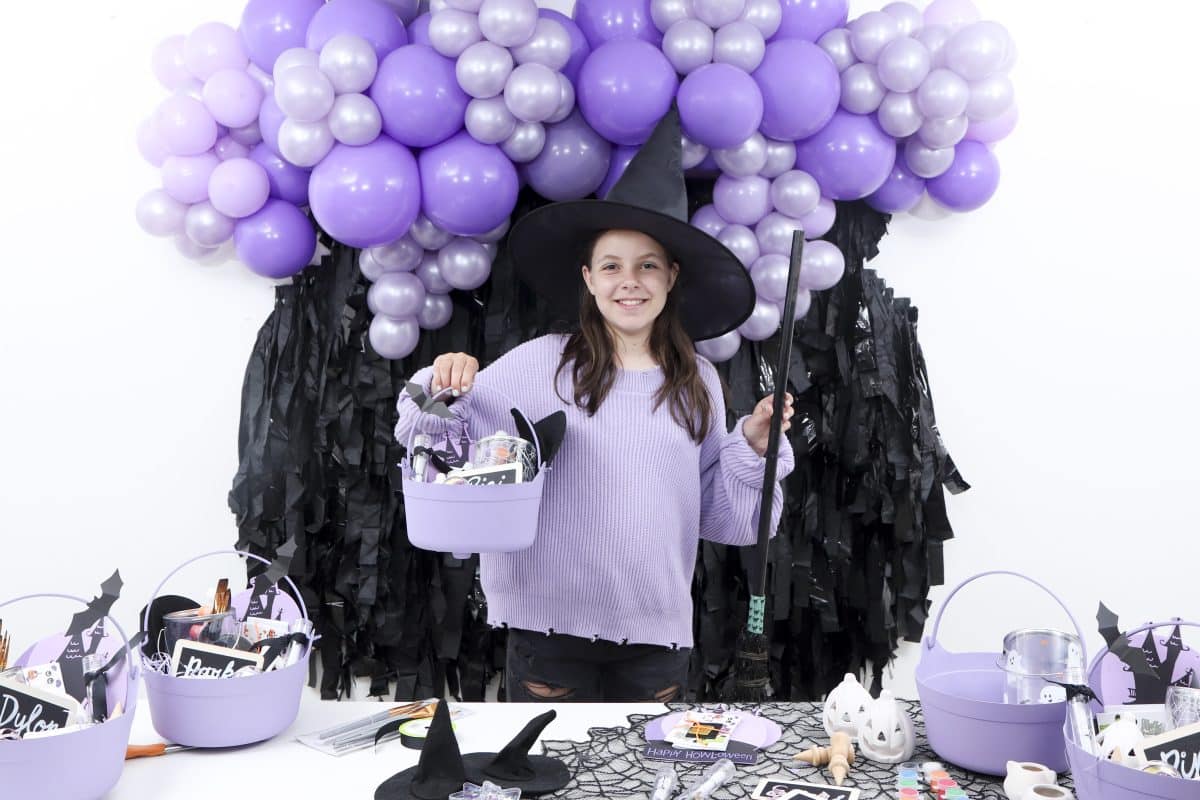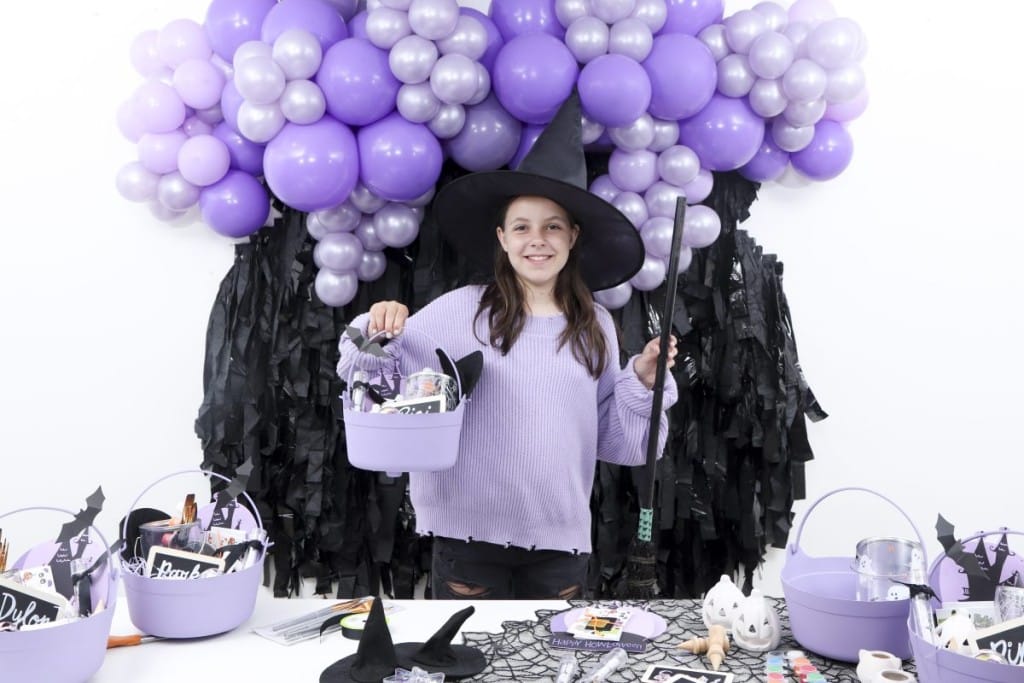 Bubbling Balloon Backdrop
Okay, so this is a bit of a side note to start – but because my tween Parker wanted to gift a Boo Basket to one of her friends right away and have a mini crafting party with her, I decided to set up a fun witch-themed balloon backdrop behind our craft table setup. I had decided on a lavender and black color scheme for the party, so I used matte and iridescent balloons in shades of purple to create a bubbling brew coming out of a black fringe cauldron backdrop I got from Oh My Darling Party Co.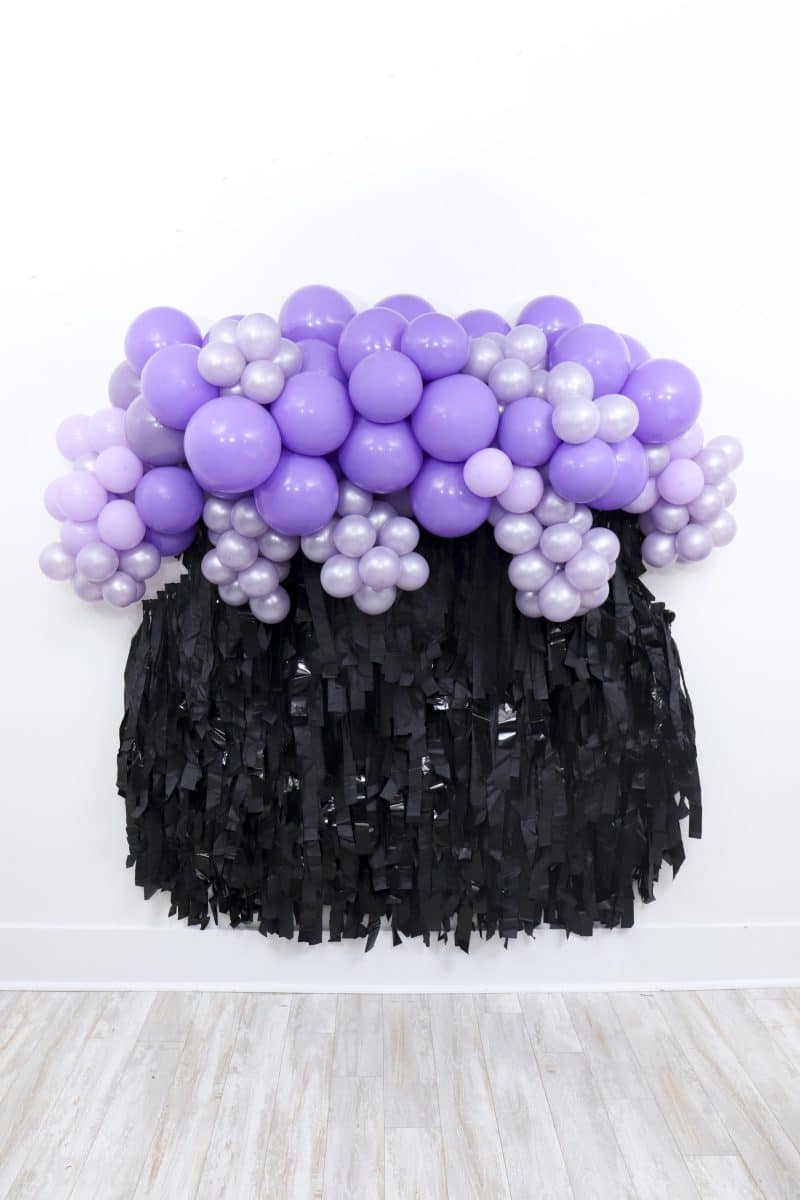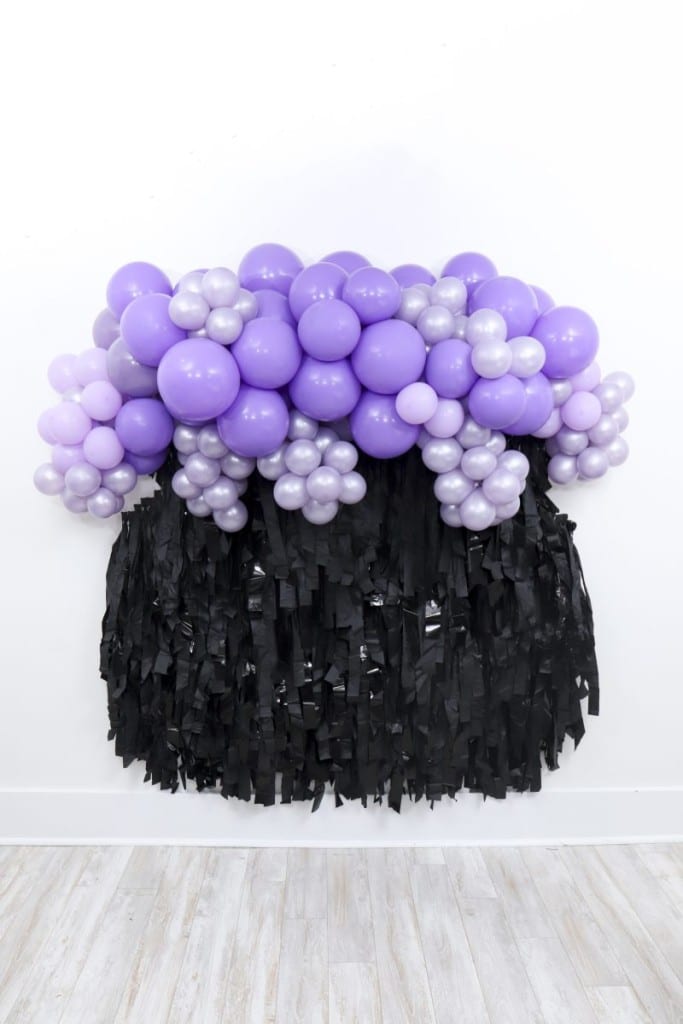 Arranging the balloons in bundles of each color really helped to create the illusion of a bubbling liquid.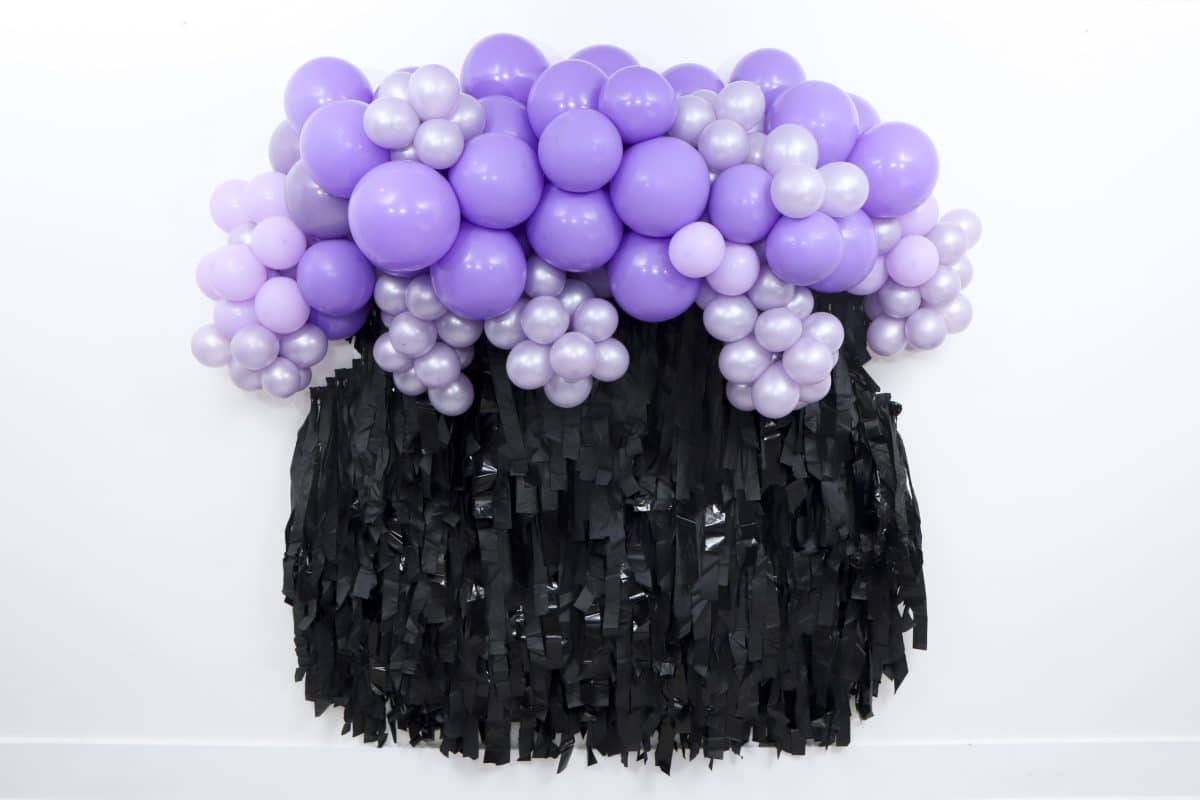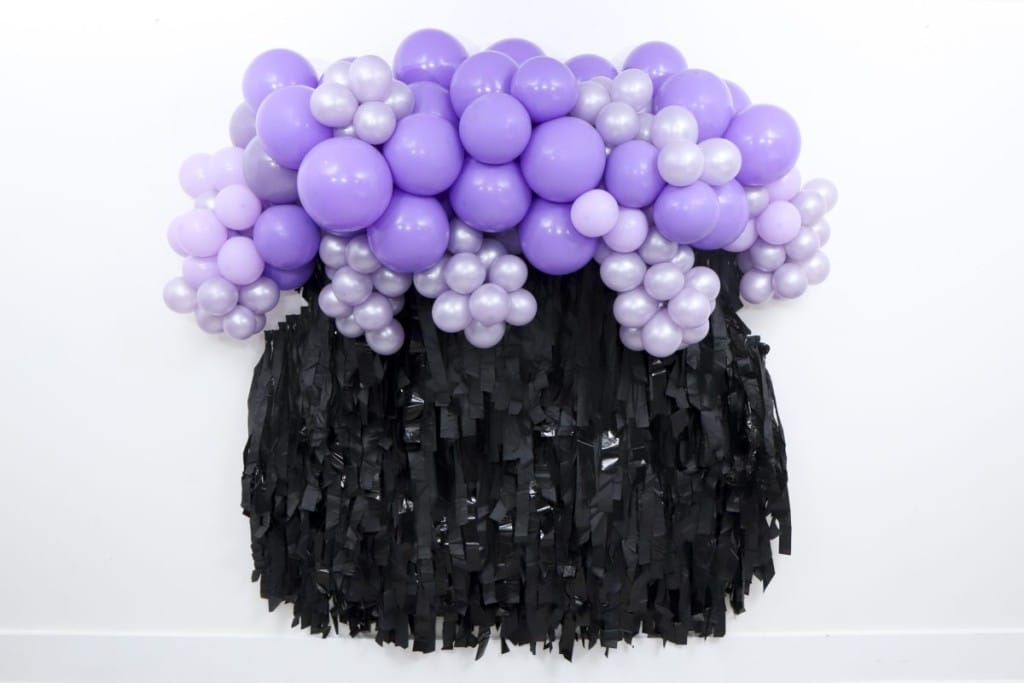 Spooky Supplies
Next, I laid out all of the supplies we planned to add to the Craft Cauldron Boo Baskets on a table I covered with some spider web lace.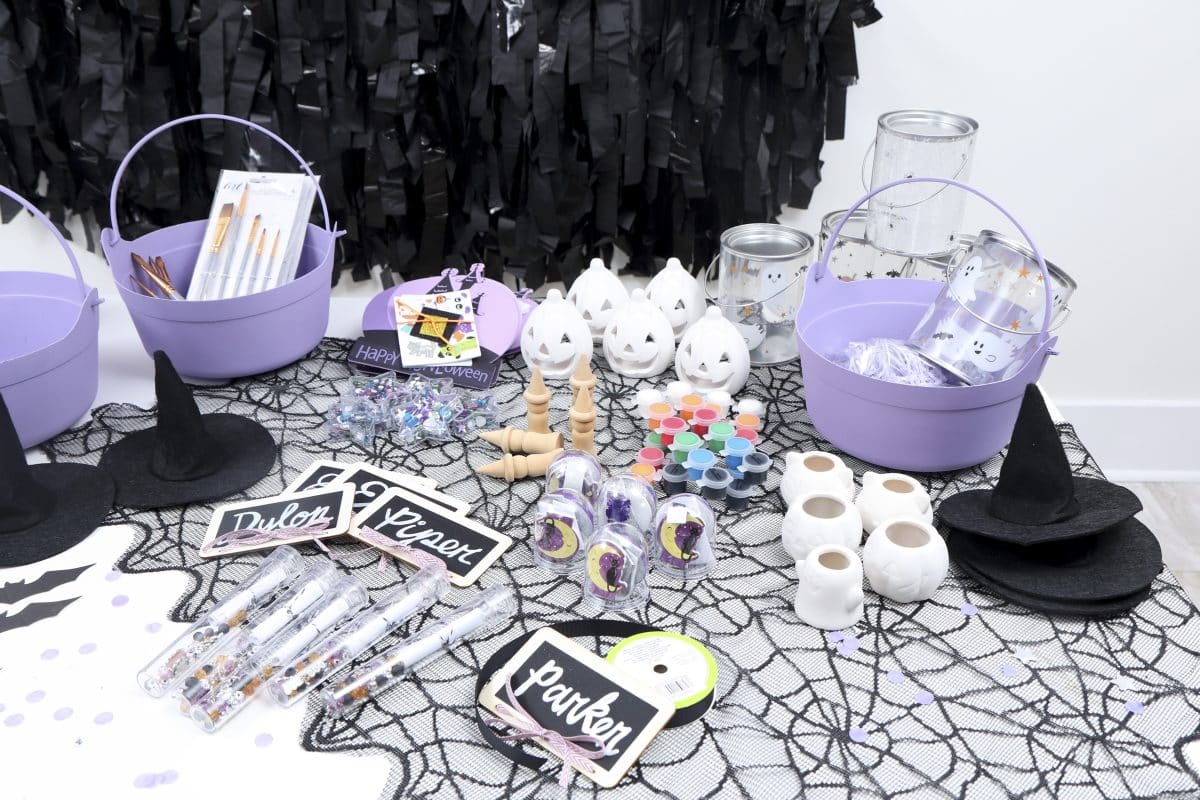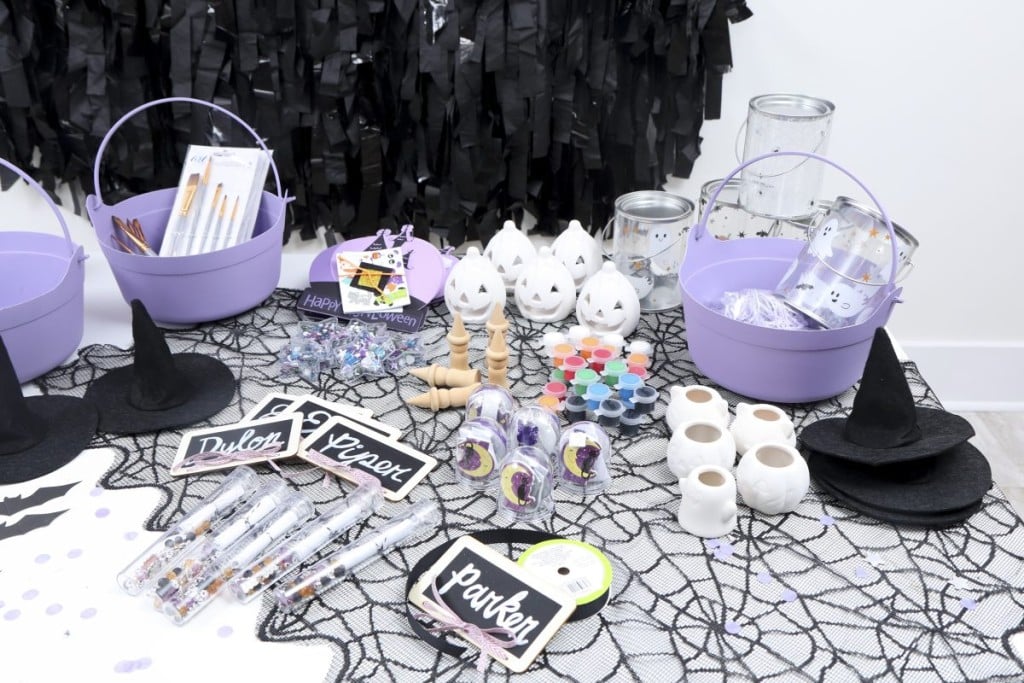 I used plastic cauldrons that I painted lavender for the base, and provided lavender paper shred to fill the bottom of each.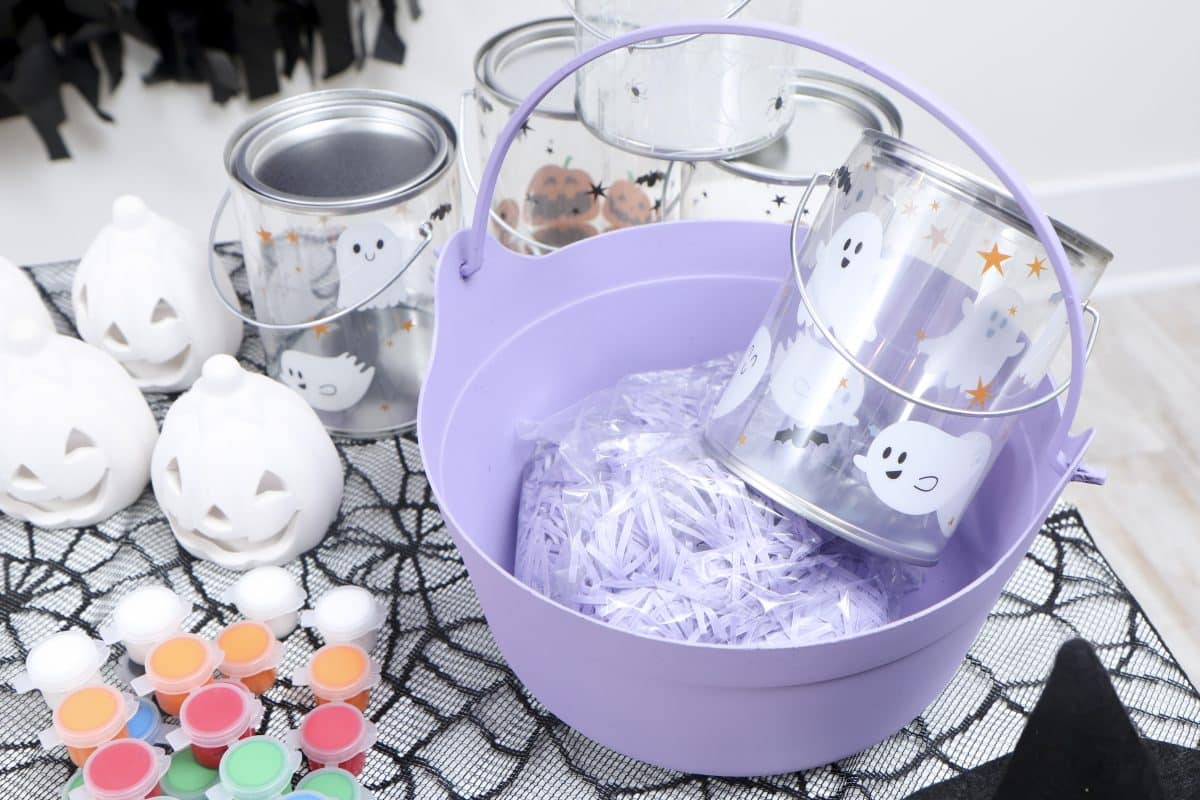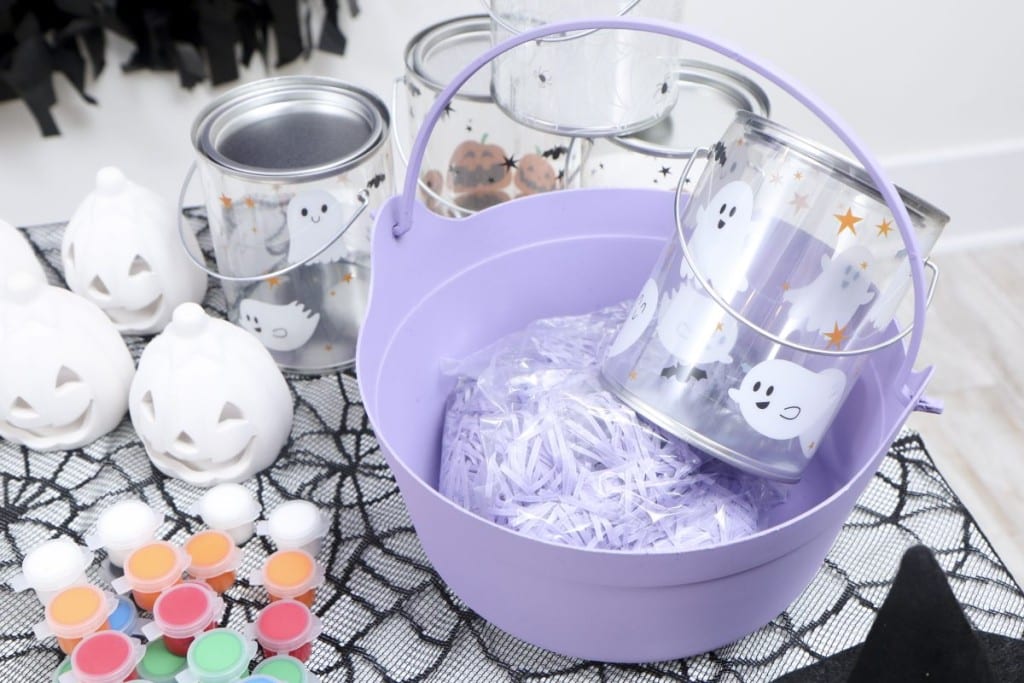 I also included some adorable Halloween paint can buckets to hold some of the craft supplies.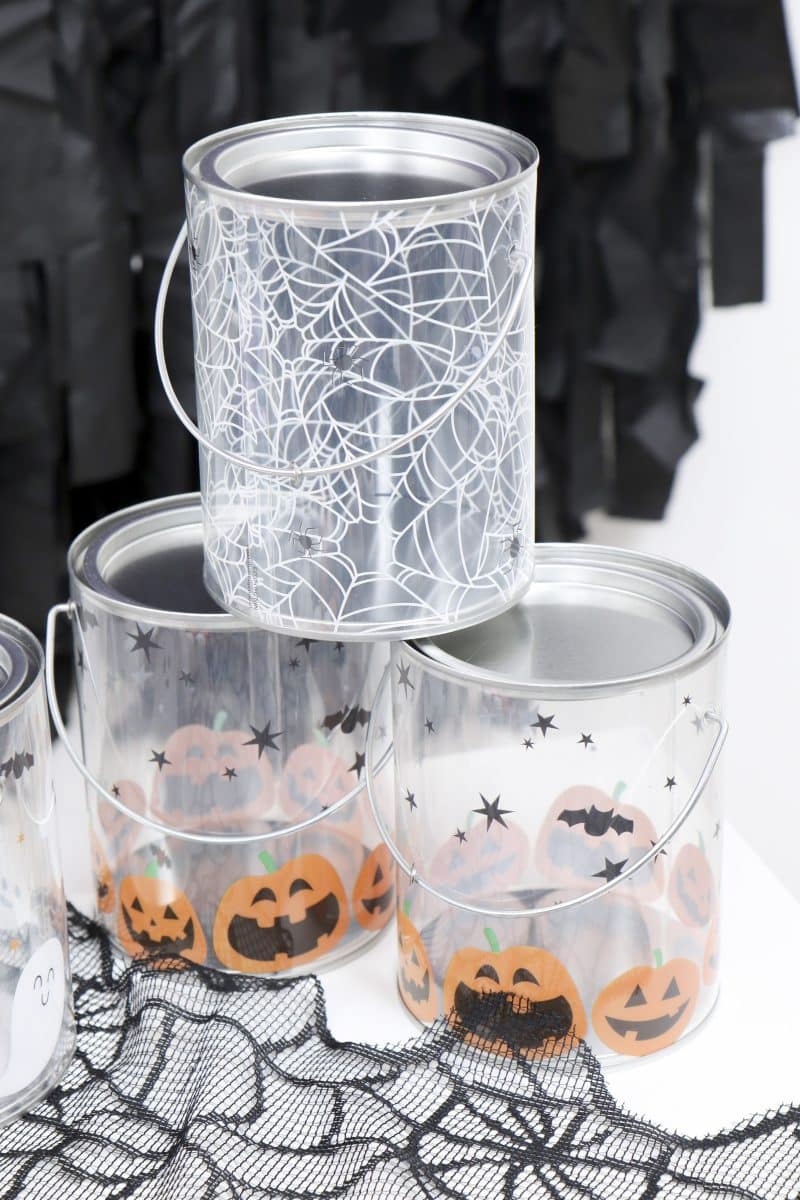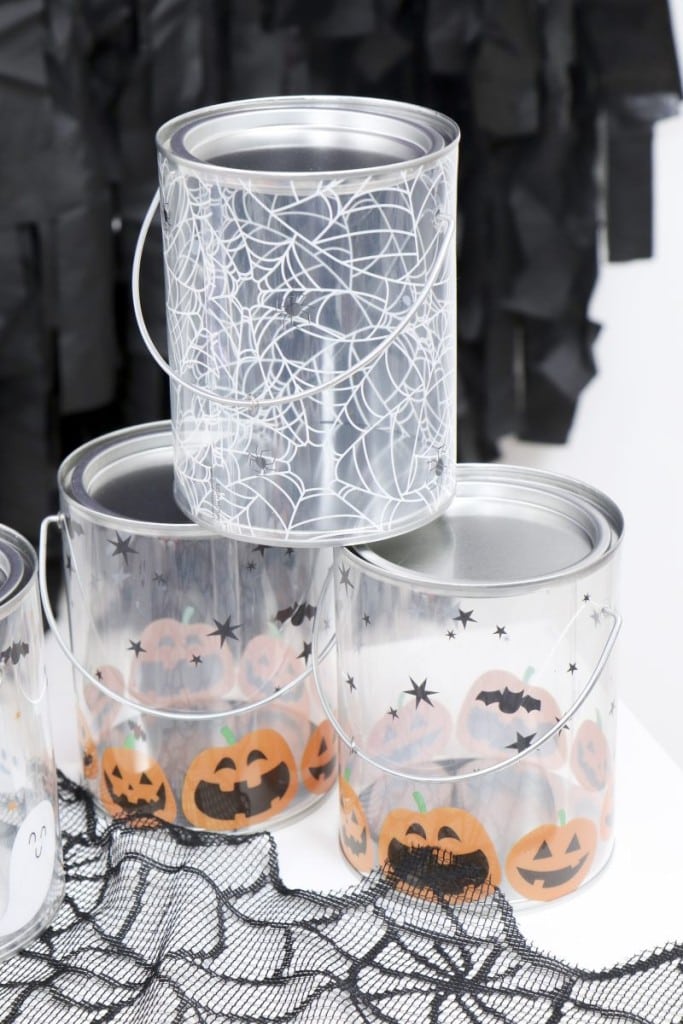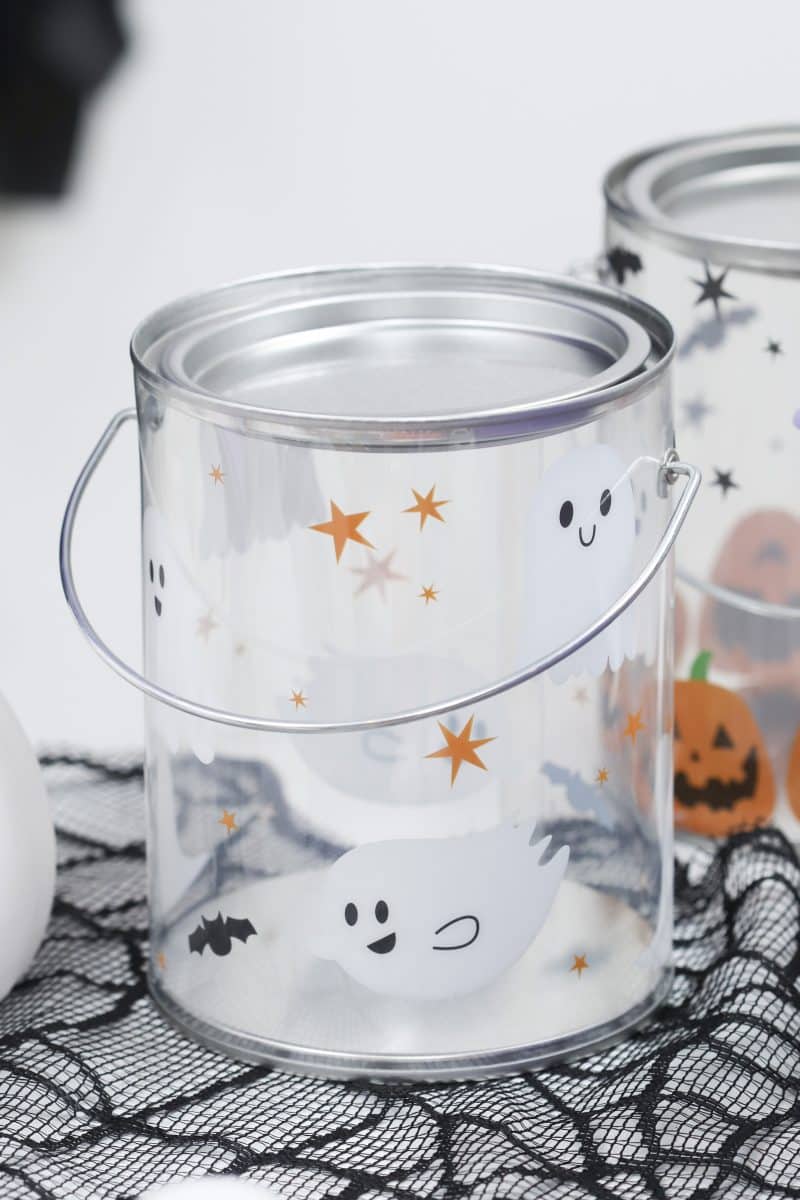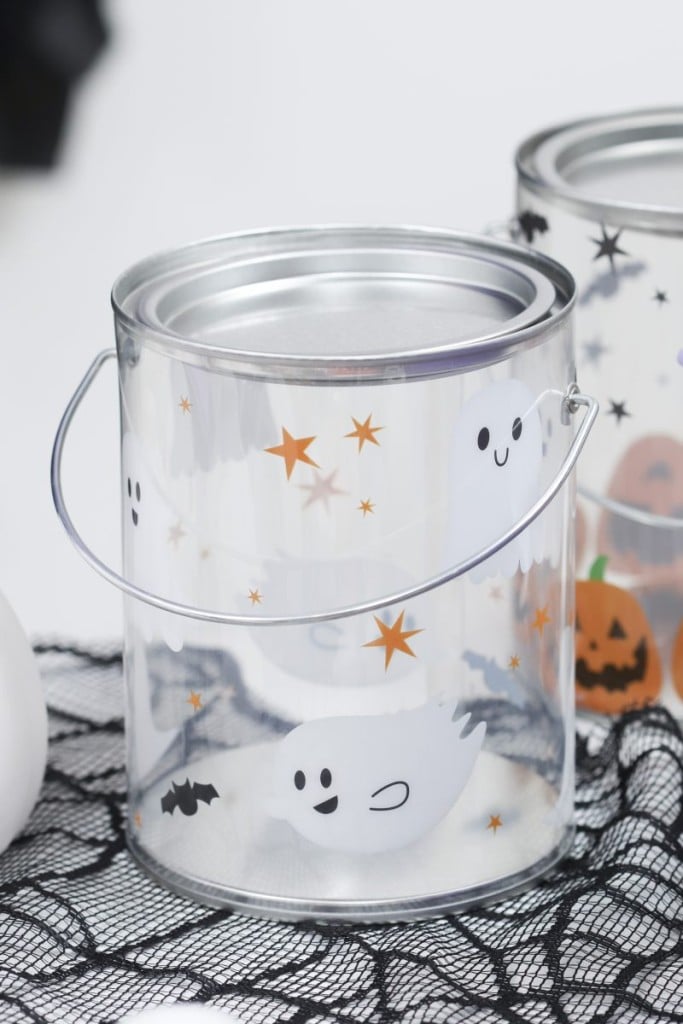 You can't have paint cans without including some paint brushes – an essential craft supply!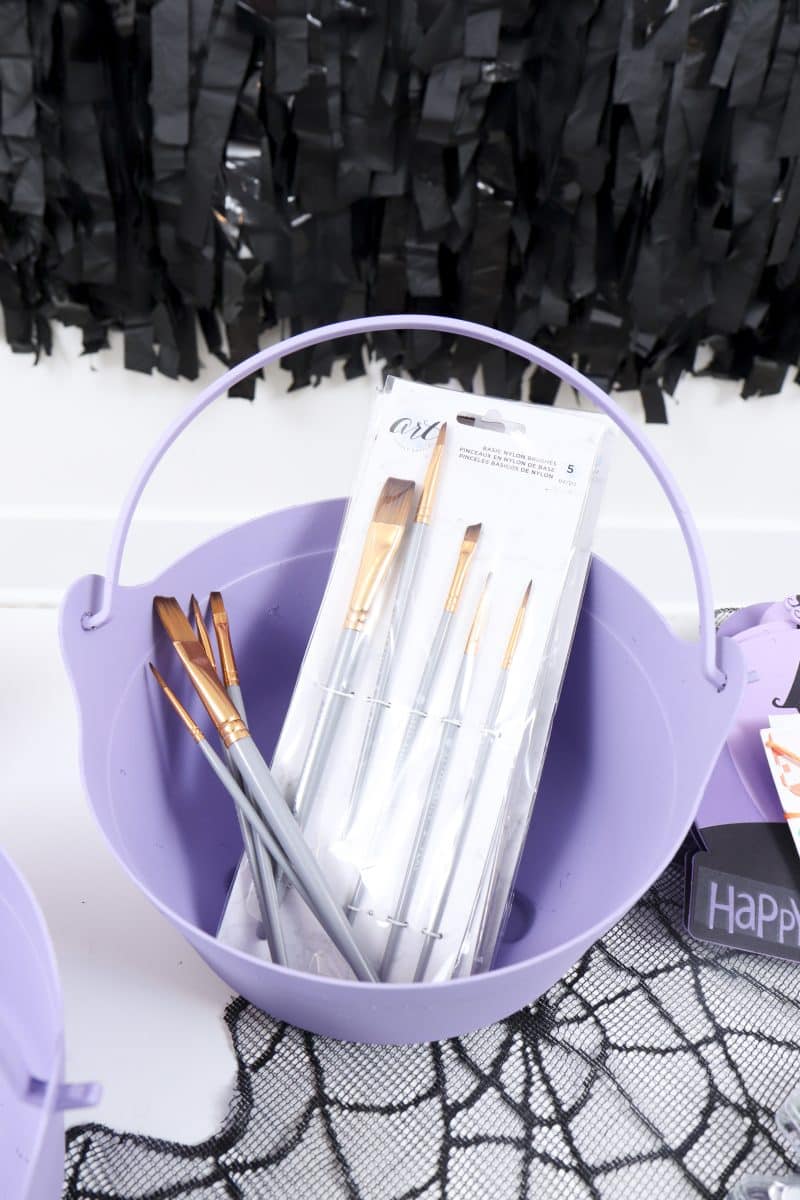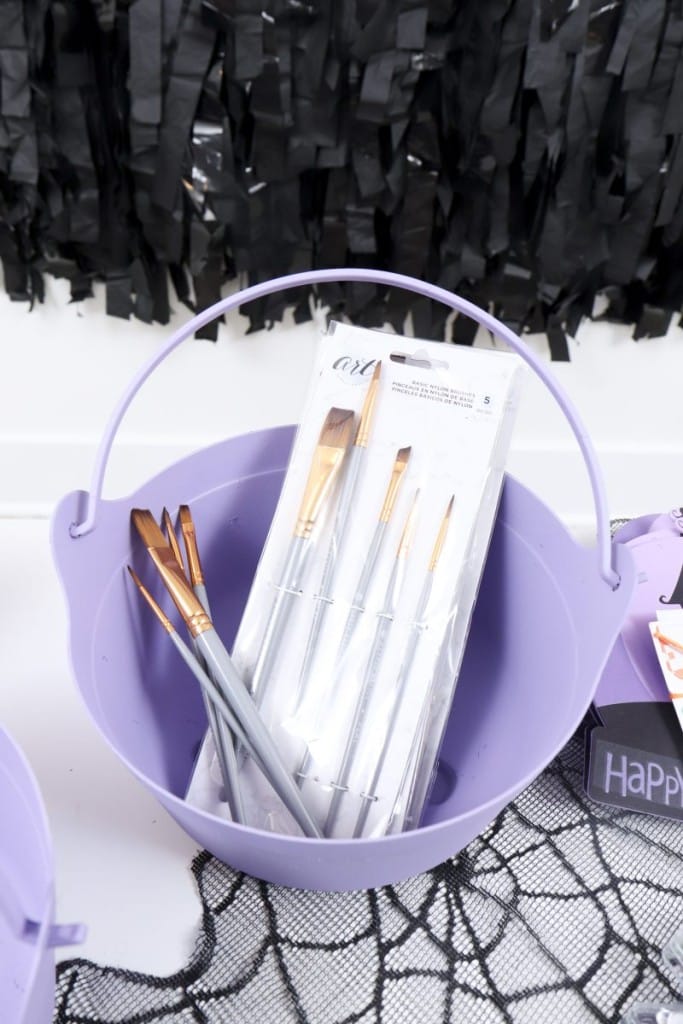 The brushes would be necessary for painting the variety of ceramic and wooden Halloween decorations I included: ghosts, pumpkins, and cats – plus the cutest little wooden witches. There were also sets of small paint pots for each Boo Basket.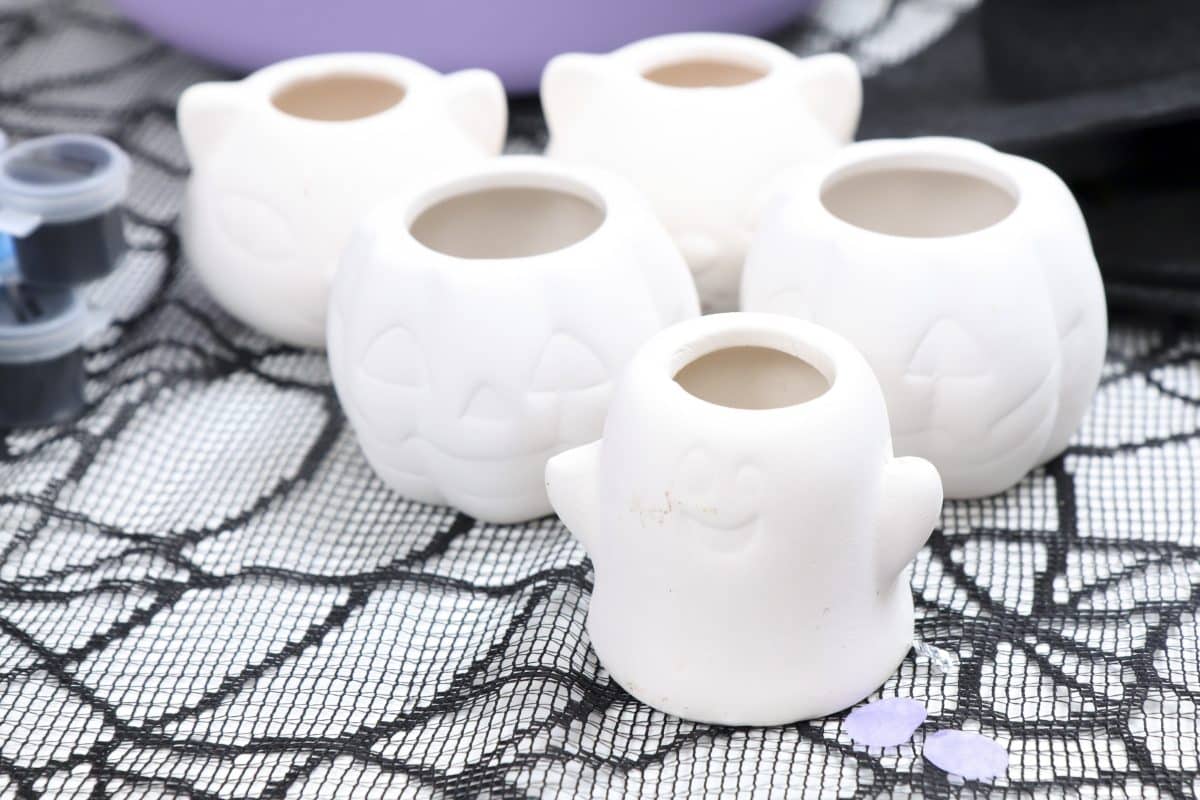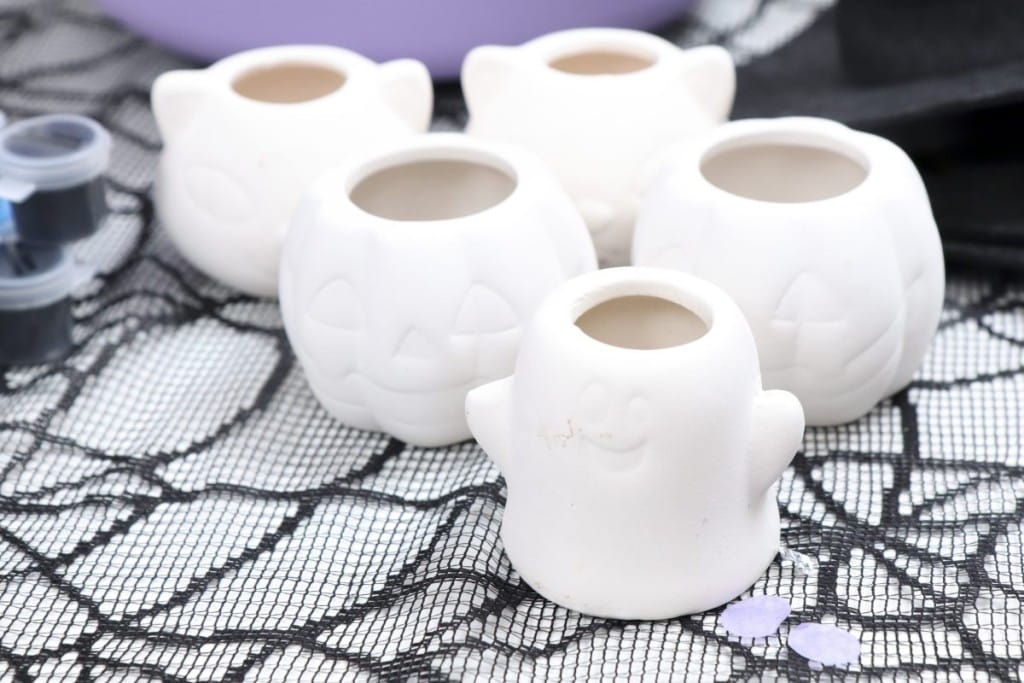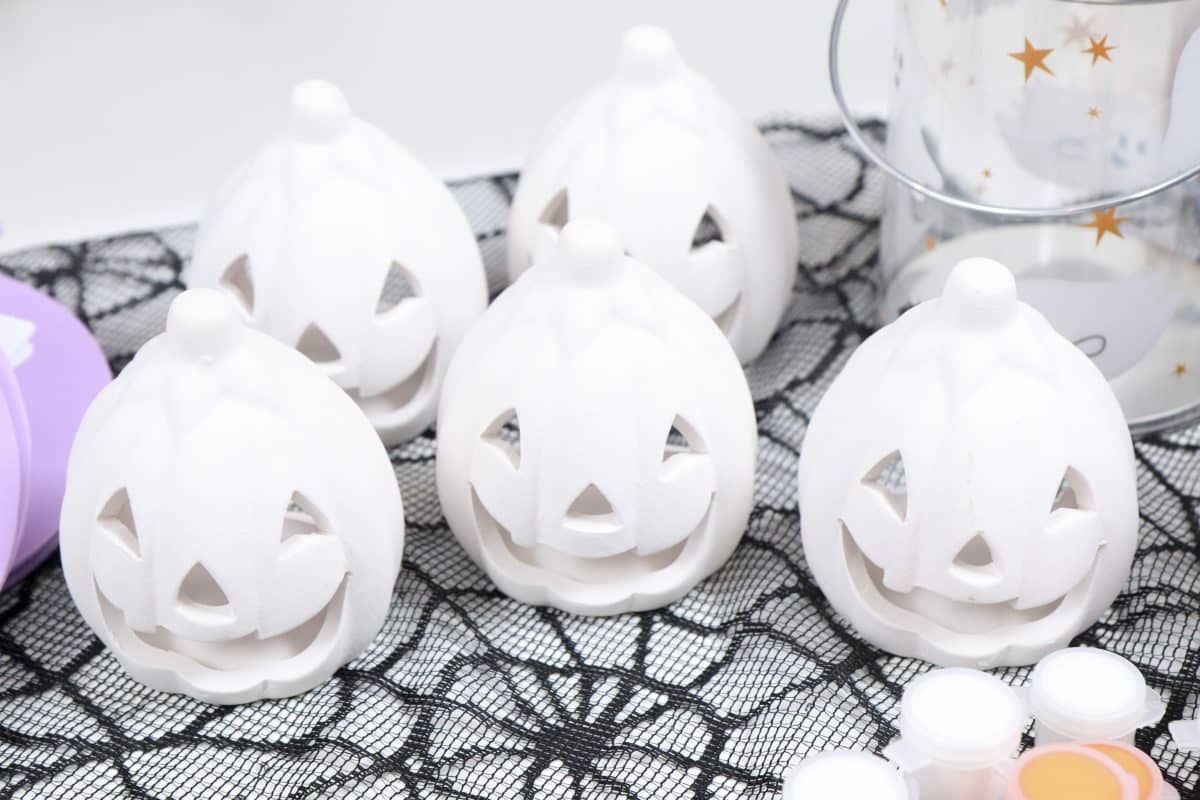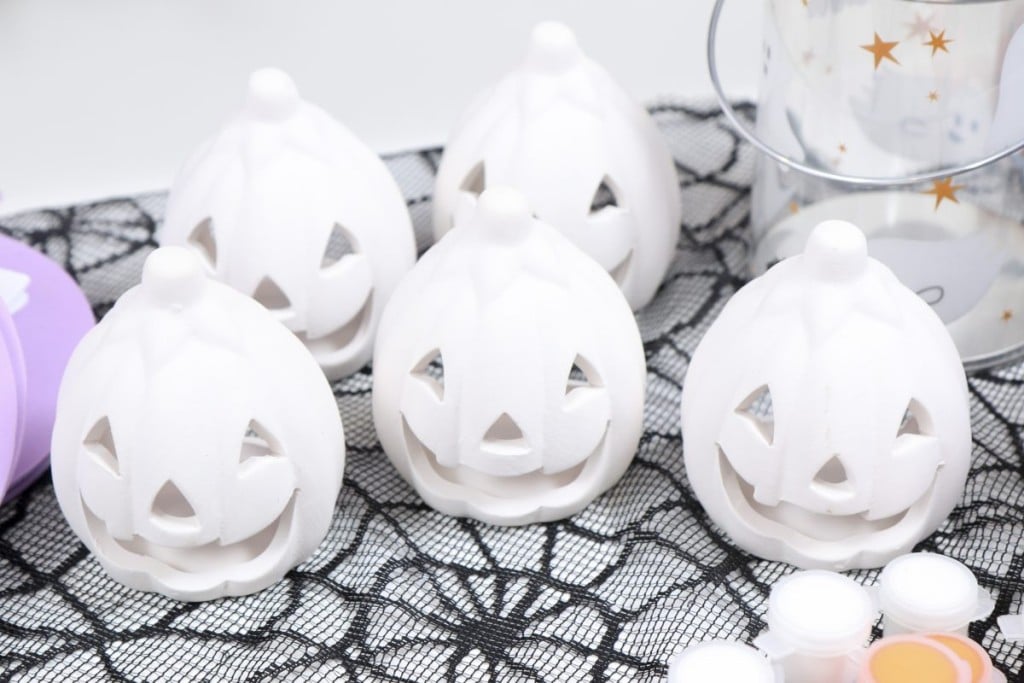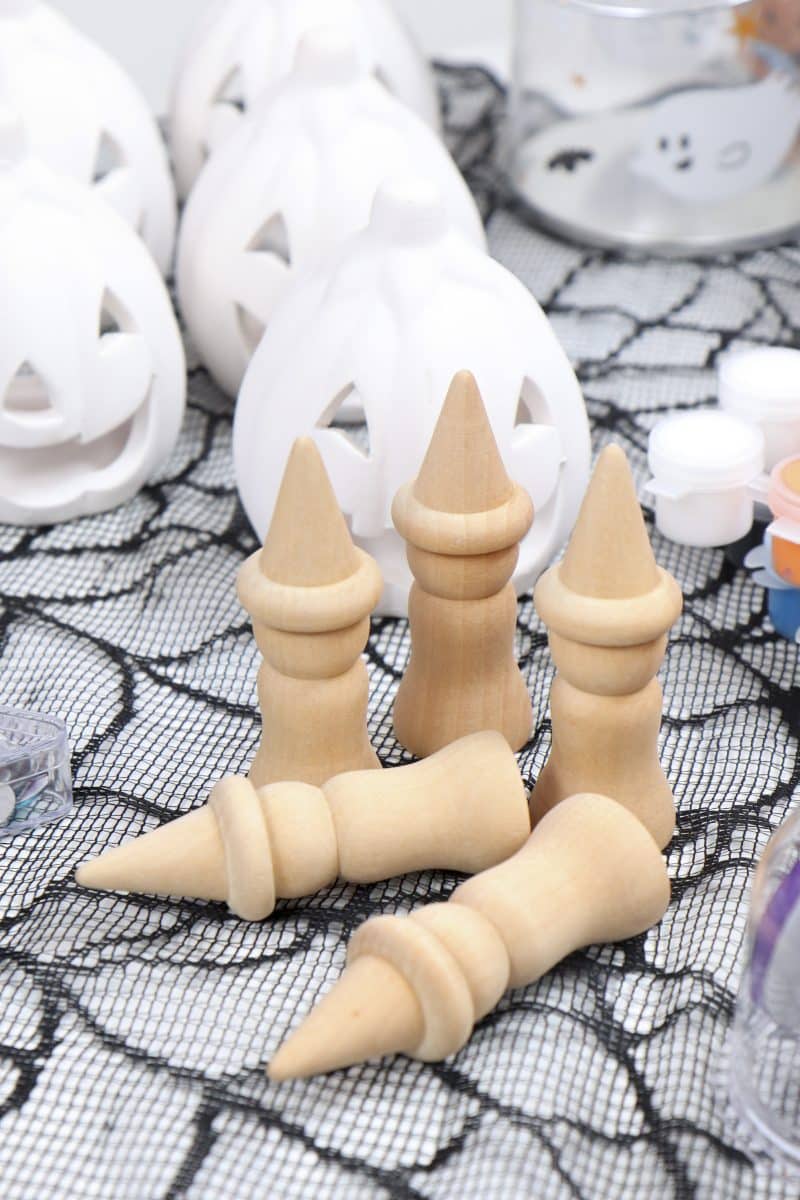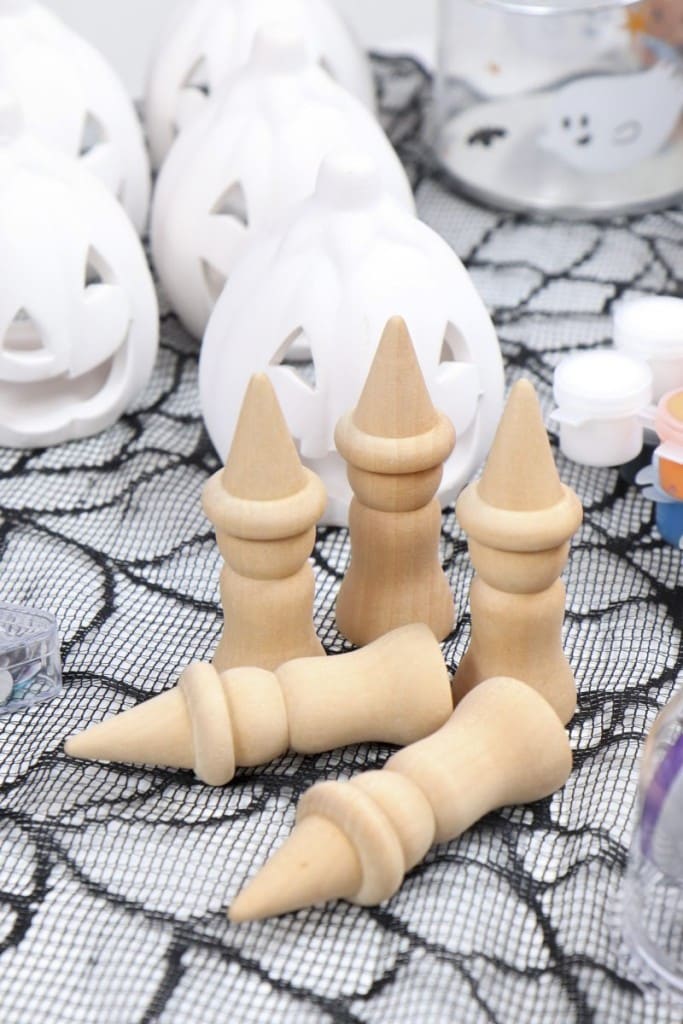 For those who prefer a bit more structure when it comes to crafting, I also wanted to include some craft kits. I included some Happy Halloween door hanger sticker kits, as well as some black cat and moon snow globe kits.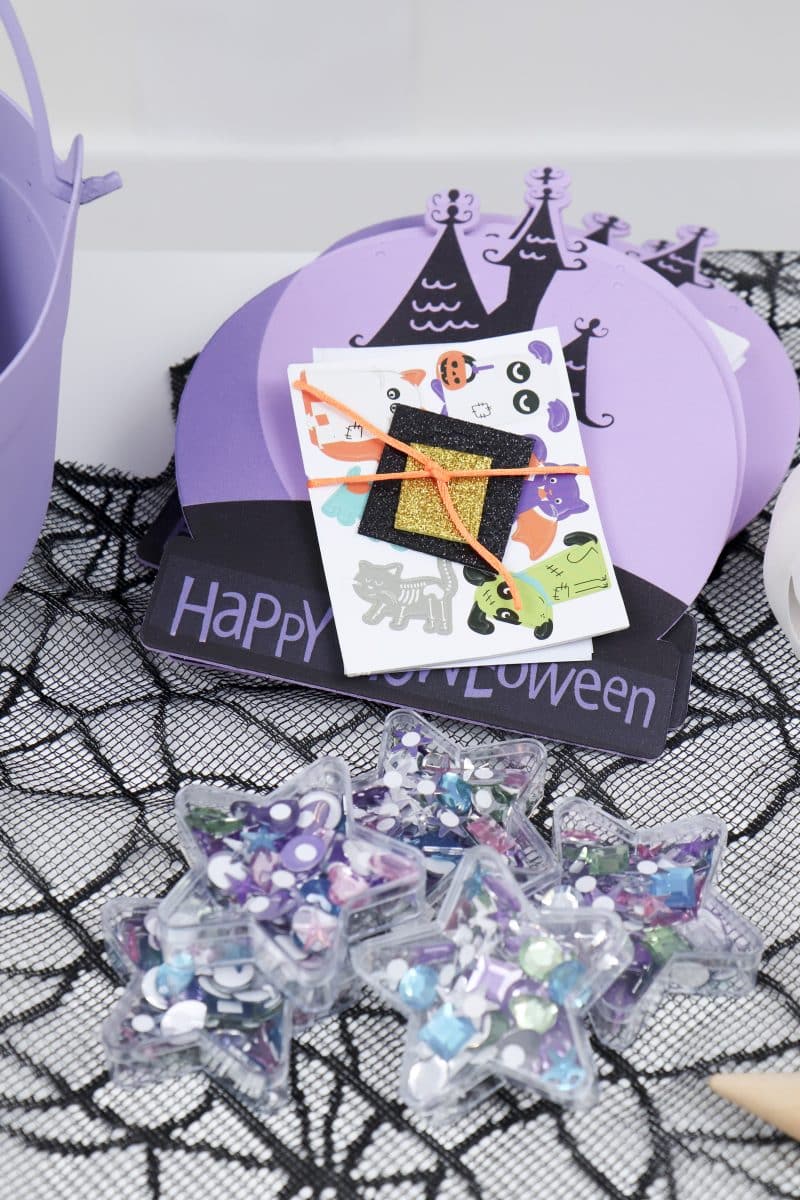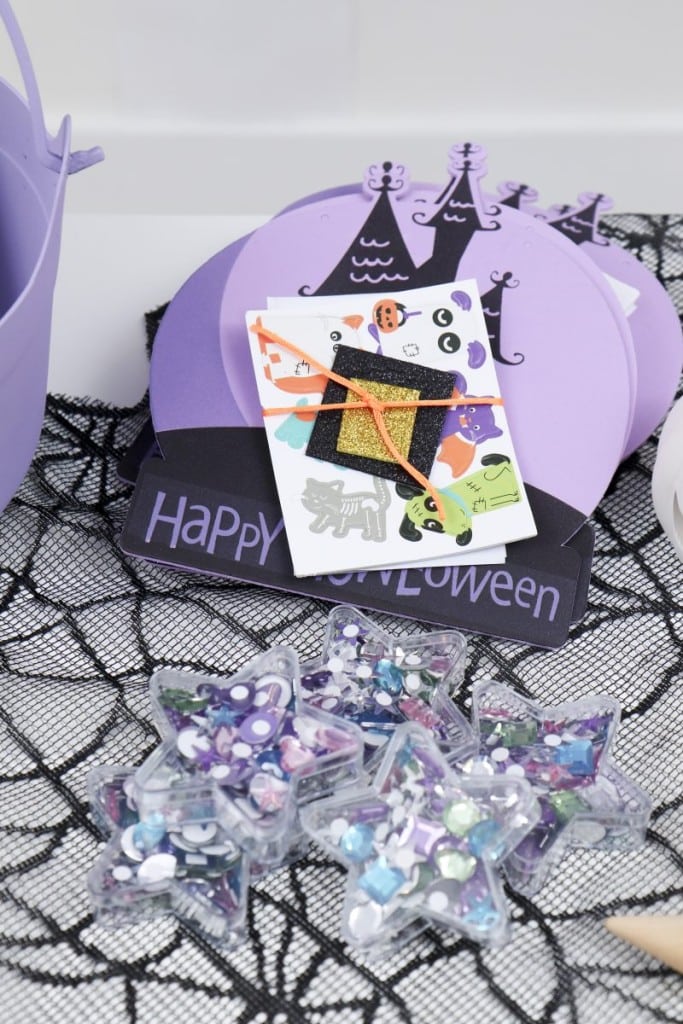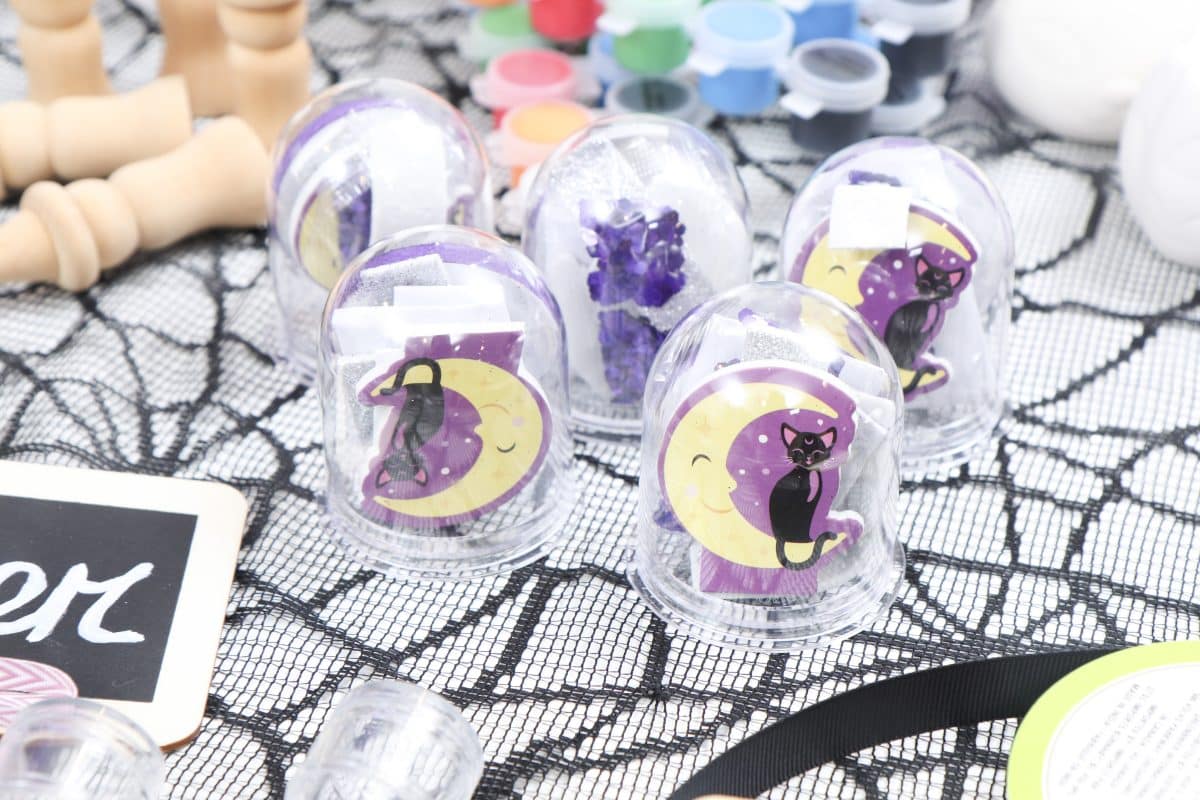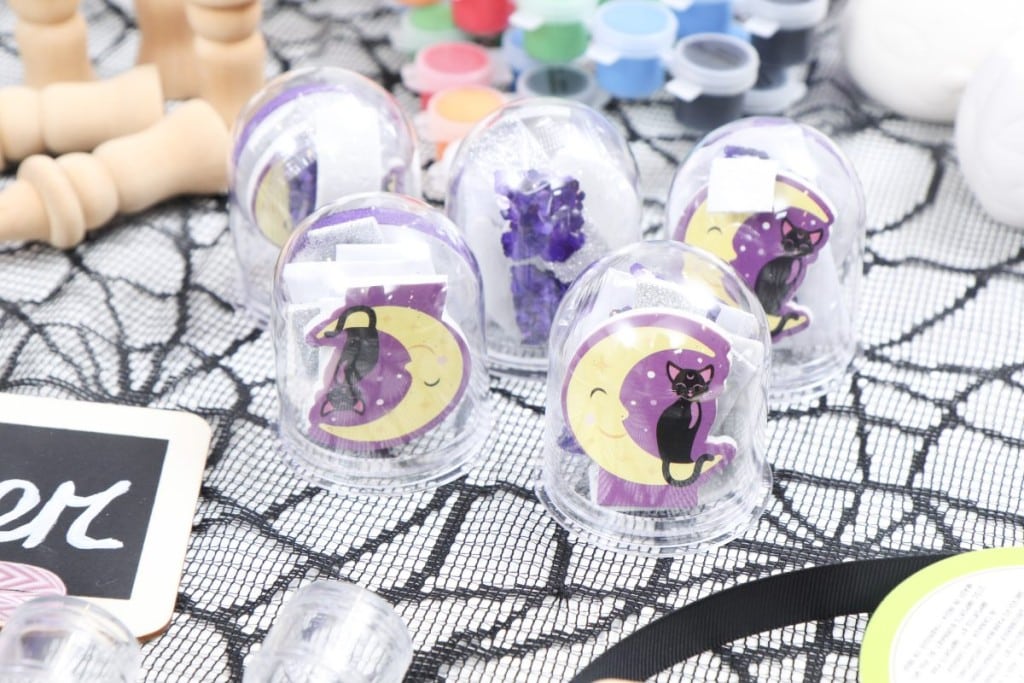 I love to personalize things – so I also added mini chalkboard nameplates embellished with lavender chevron bows, containers of gems for Parker's friends to decorate their cauldrons however they'd like once they received them, and DIY Halloween bracelet kits.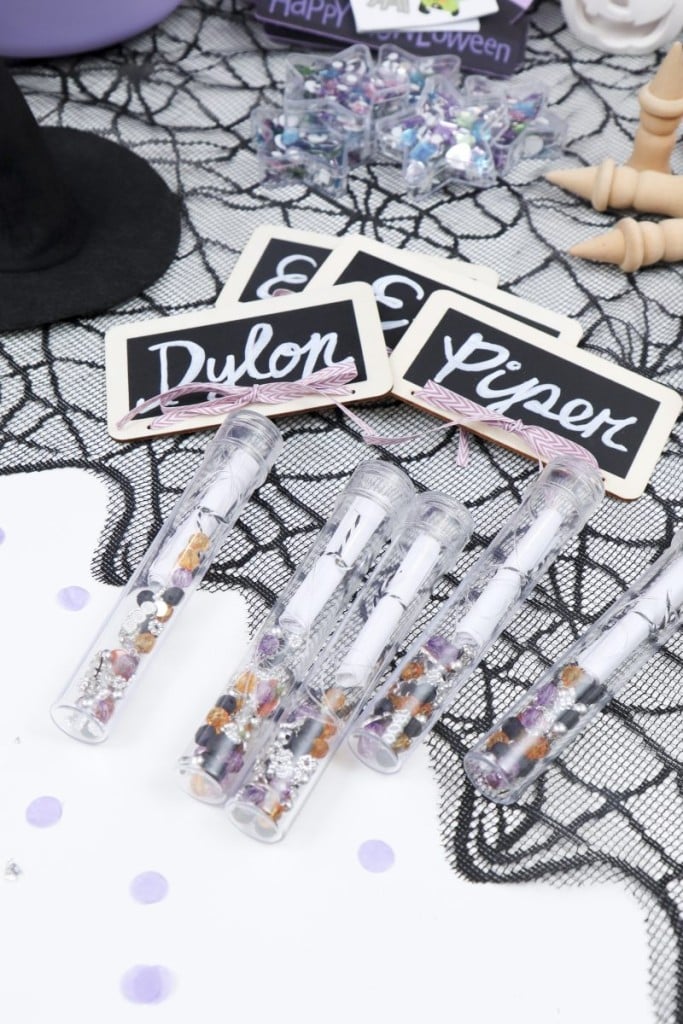 Finally,  I added cute mini witch hats for decorating to really drive home the witchy theme of the Boo Baskets.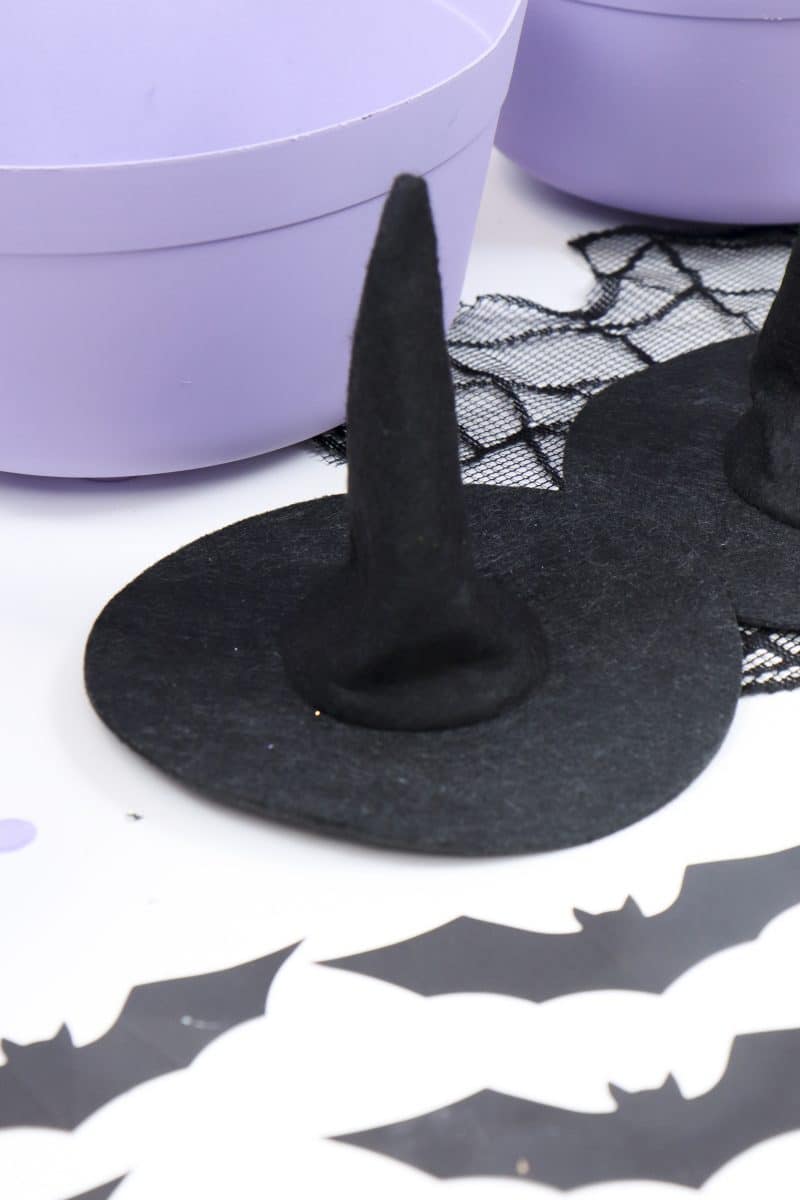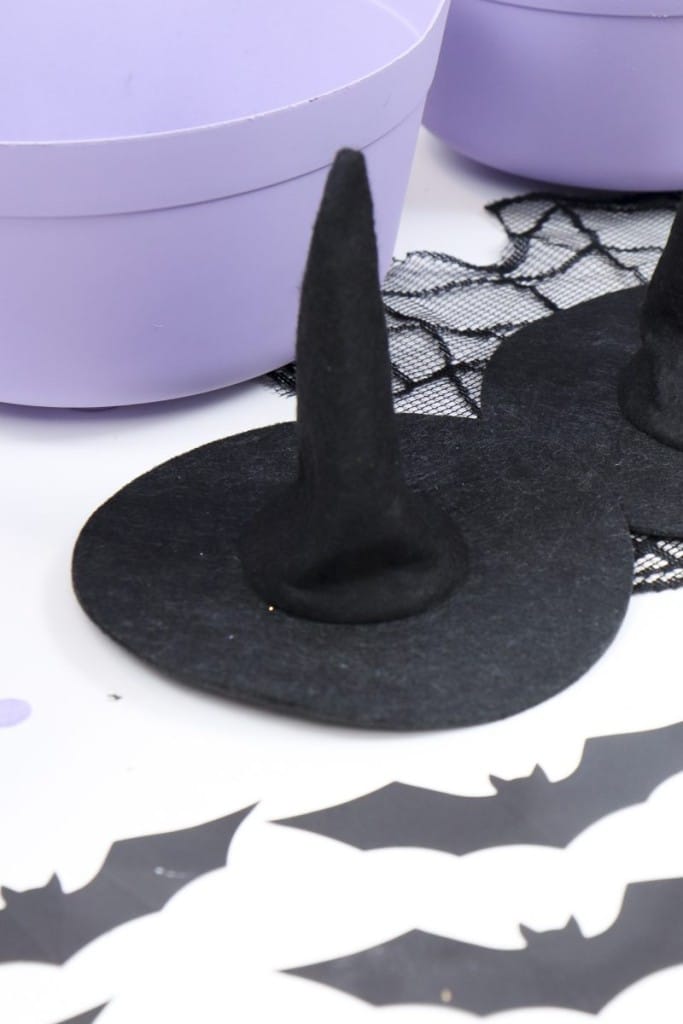 Put It All Together
Then, it's time for assembly! This is when I got Parker involved, and let her get to work putting each Craft Cauldron together for her friends. Paper shred in the bottom of each cauldron, the bigger things in the back and the smaller things in the front, and the paint brushes and paints inside the paint can.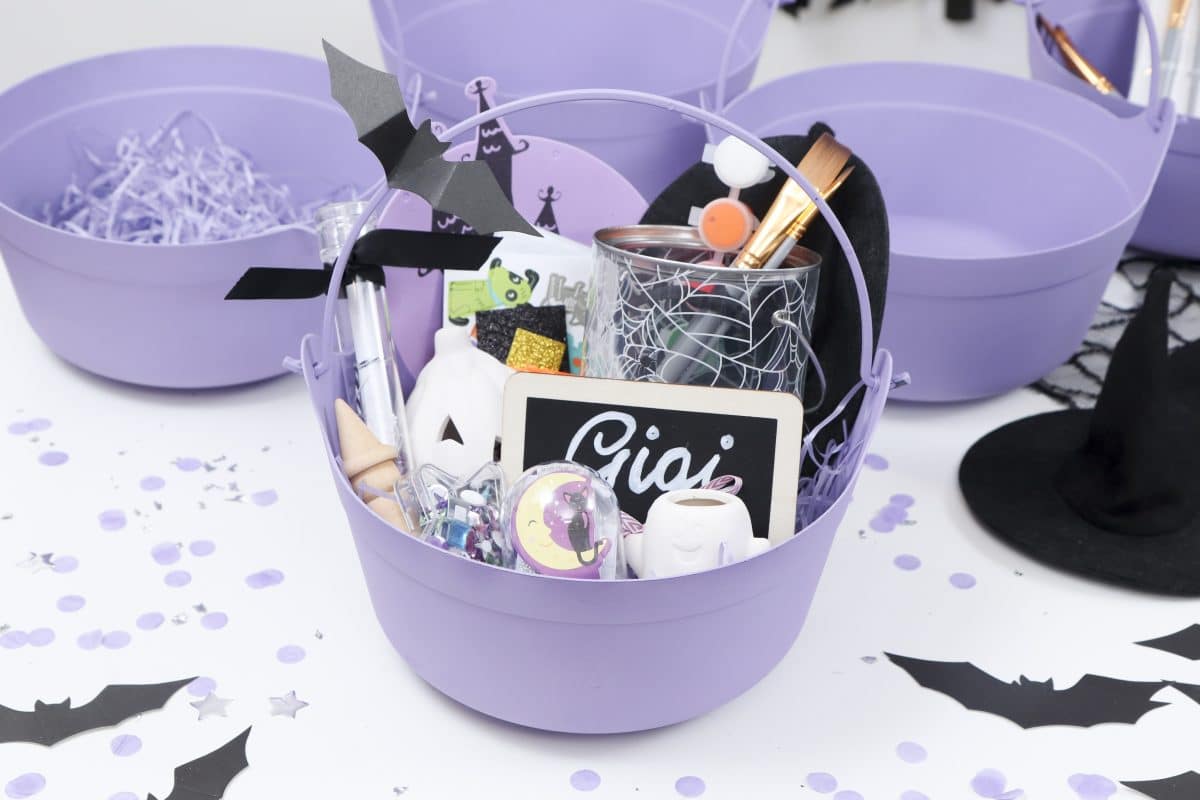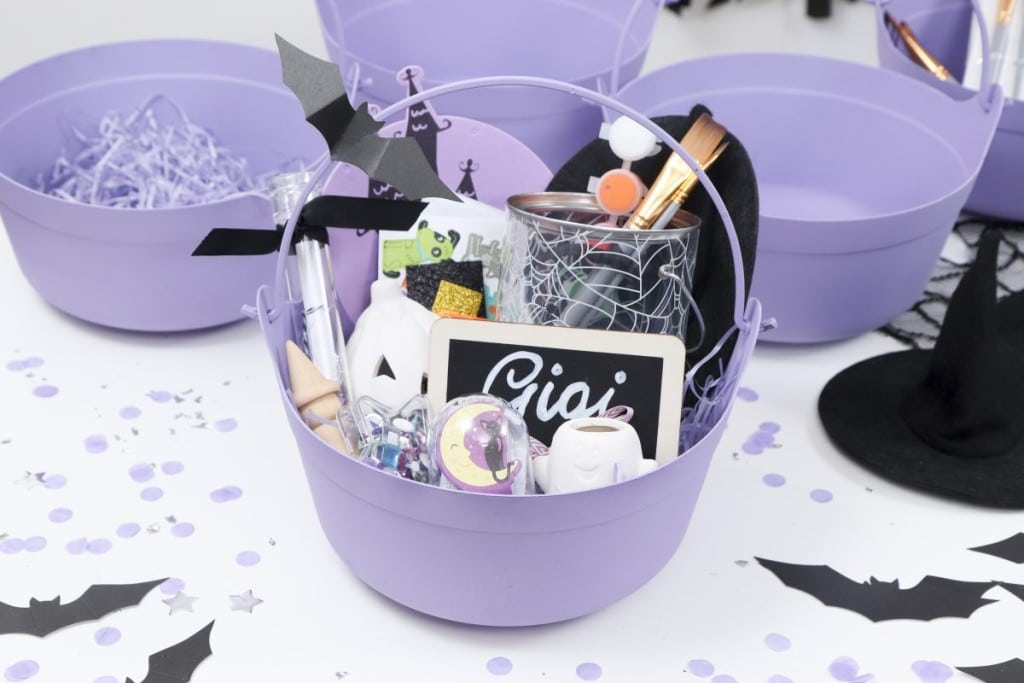 Then, add a witch's hat and a paper bat for the final embellishment on the handle of the cauldron.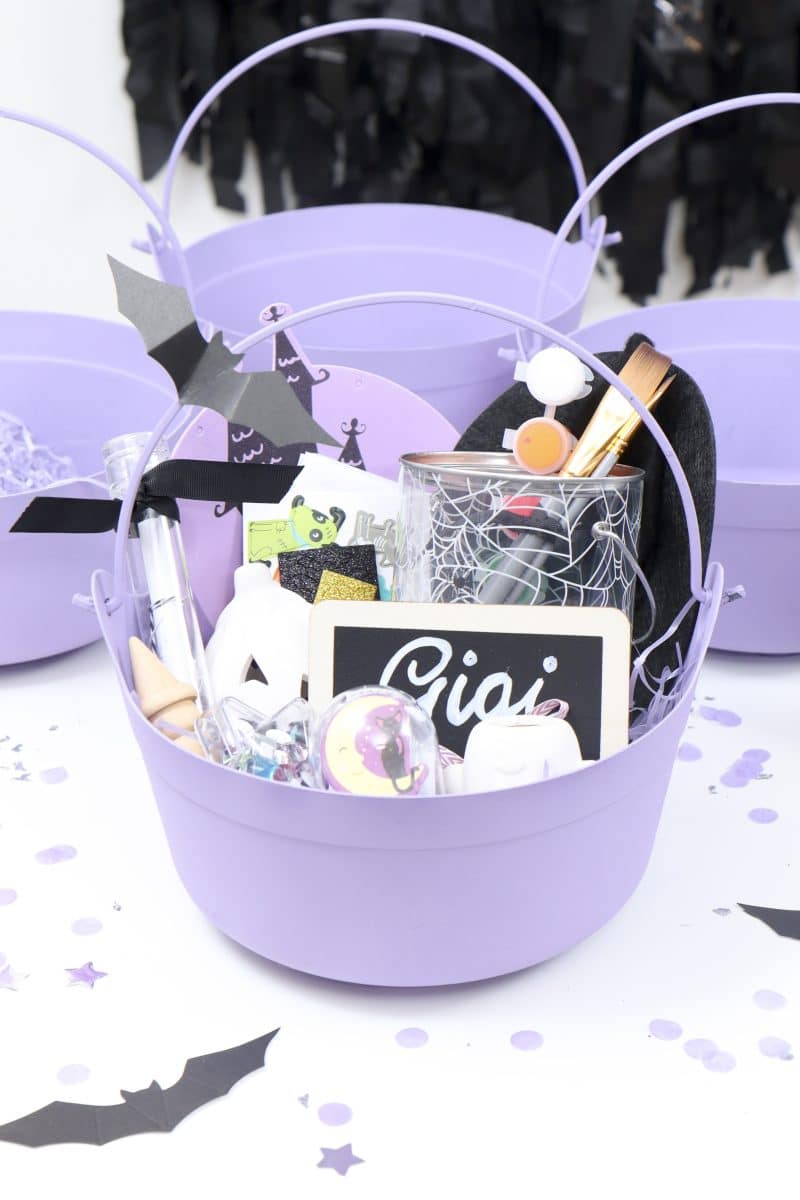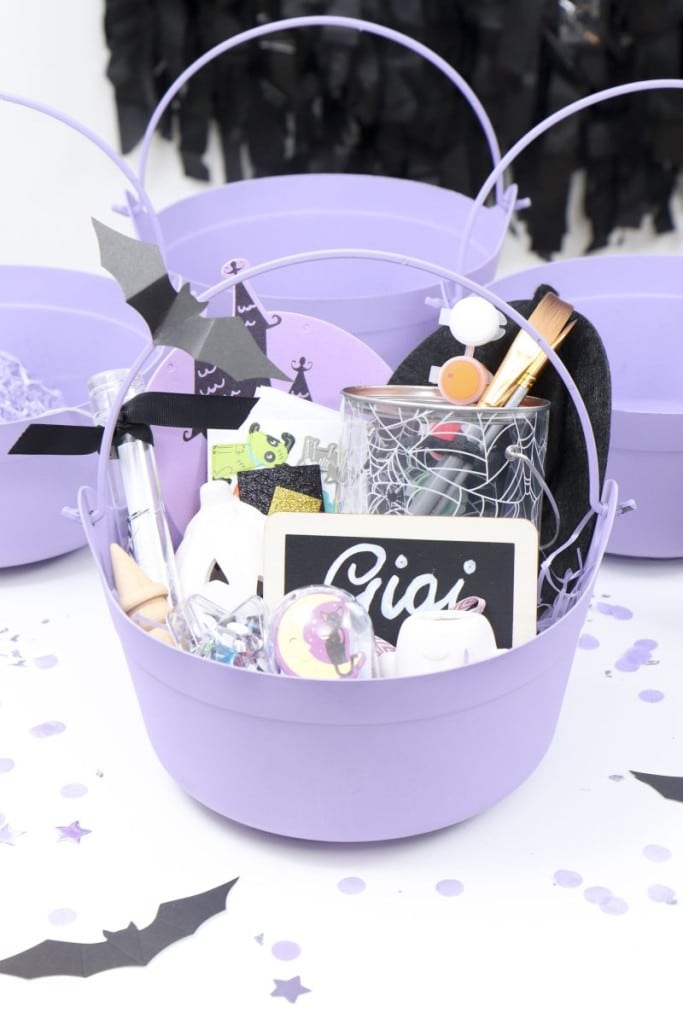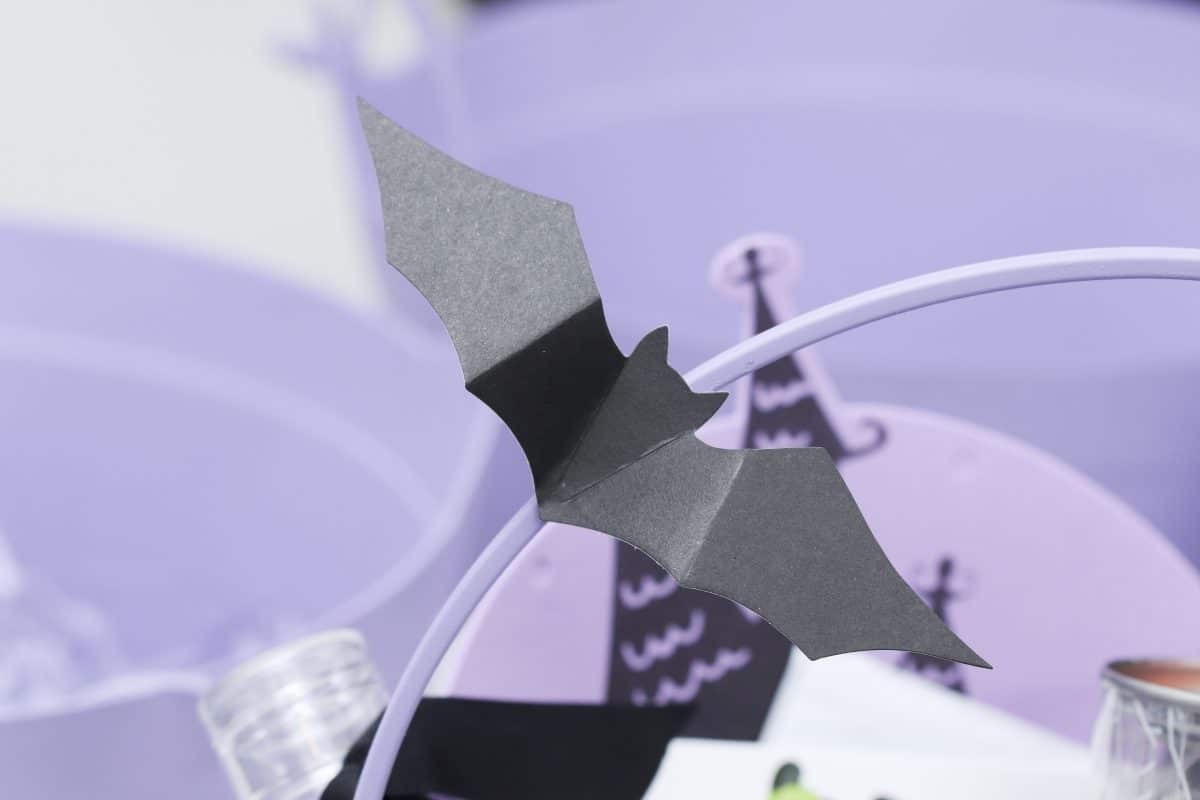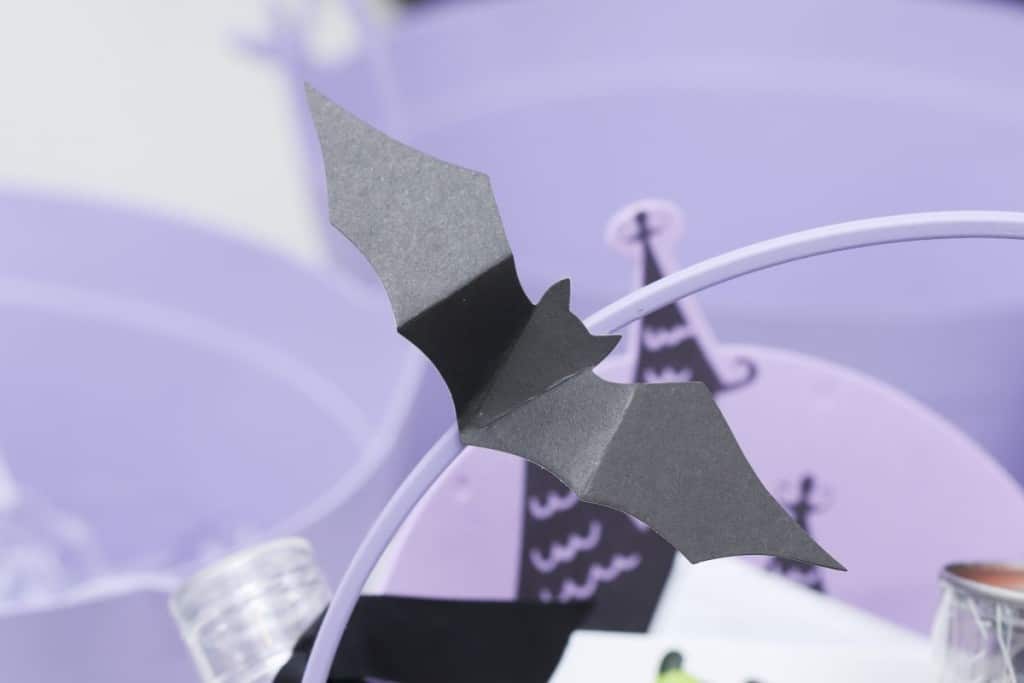 Voila! The perfect Halloween Craft Cauldron Boo Basket for your little witch and all her friends!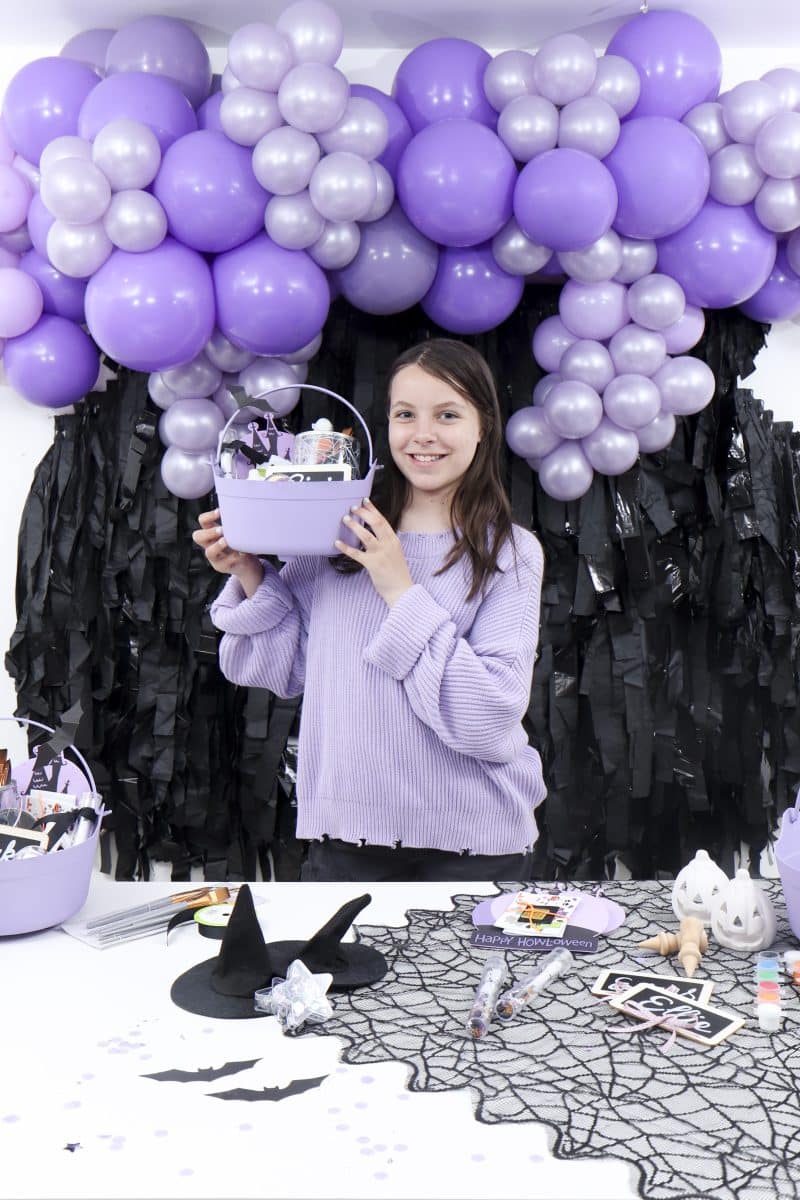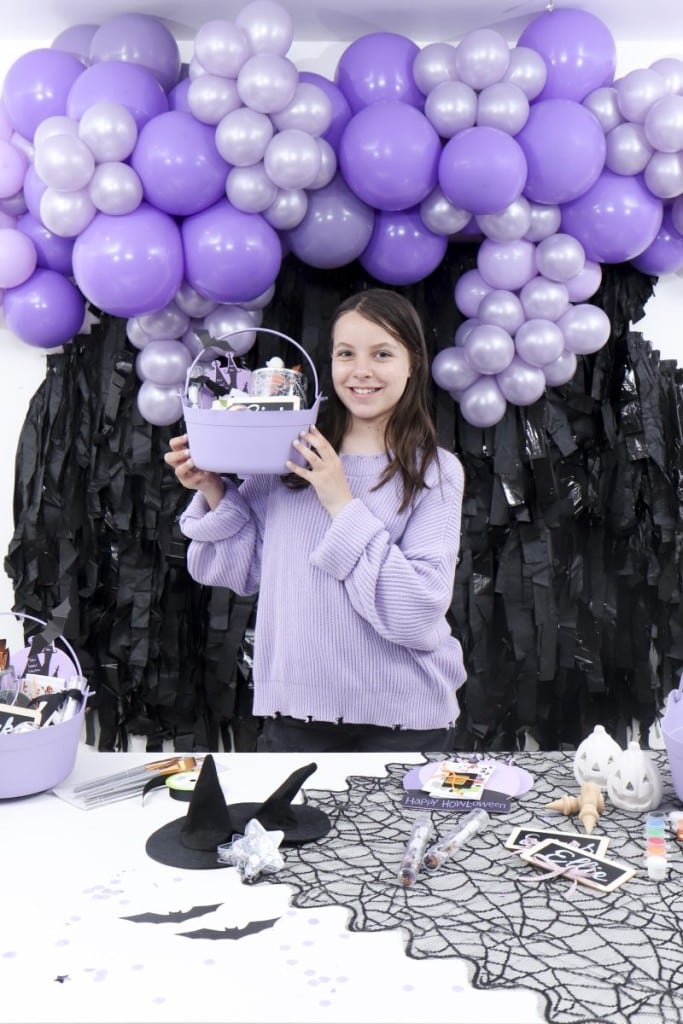 Give the Gift and Get Crafting!
When Parker's friend came over, she was thrilled to receive the Boo Basket gift, and the girls wasted no time in getting started on all of the crafts! First, they decorated their cauldrons.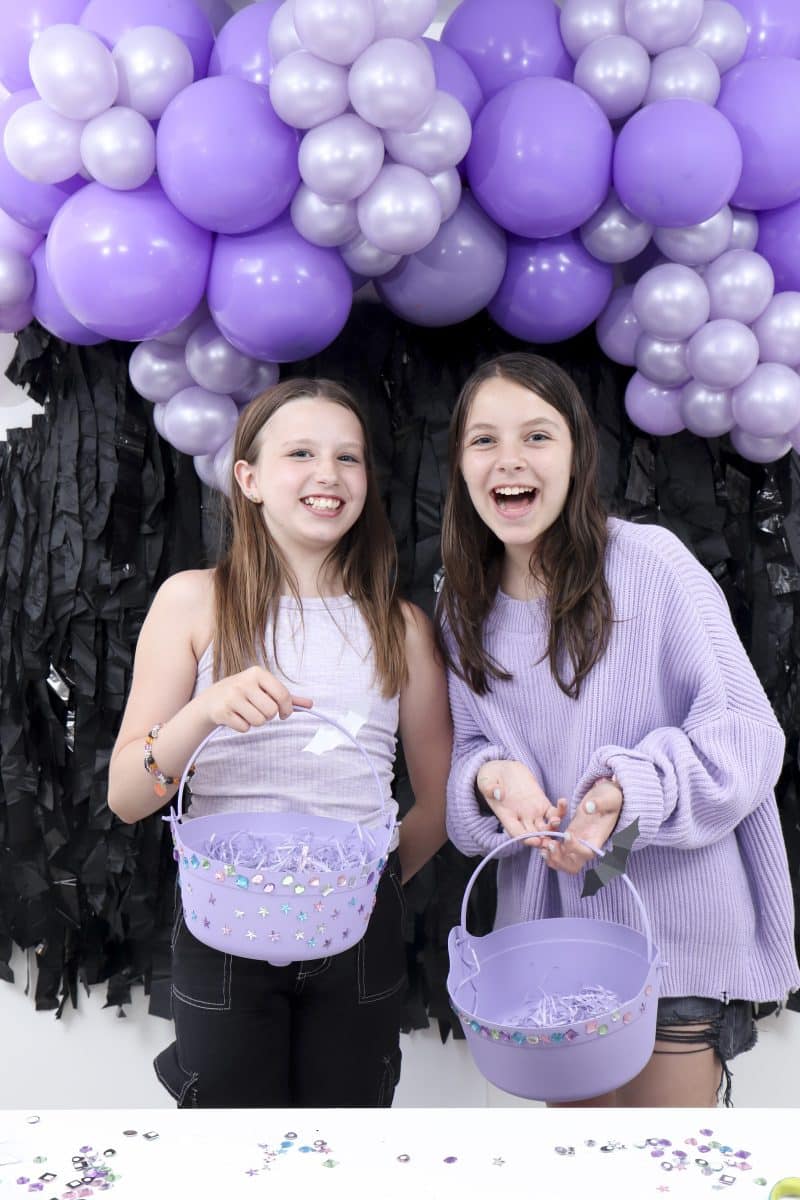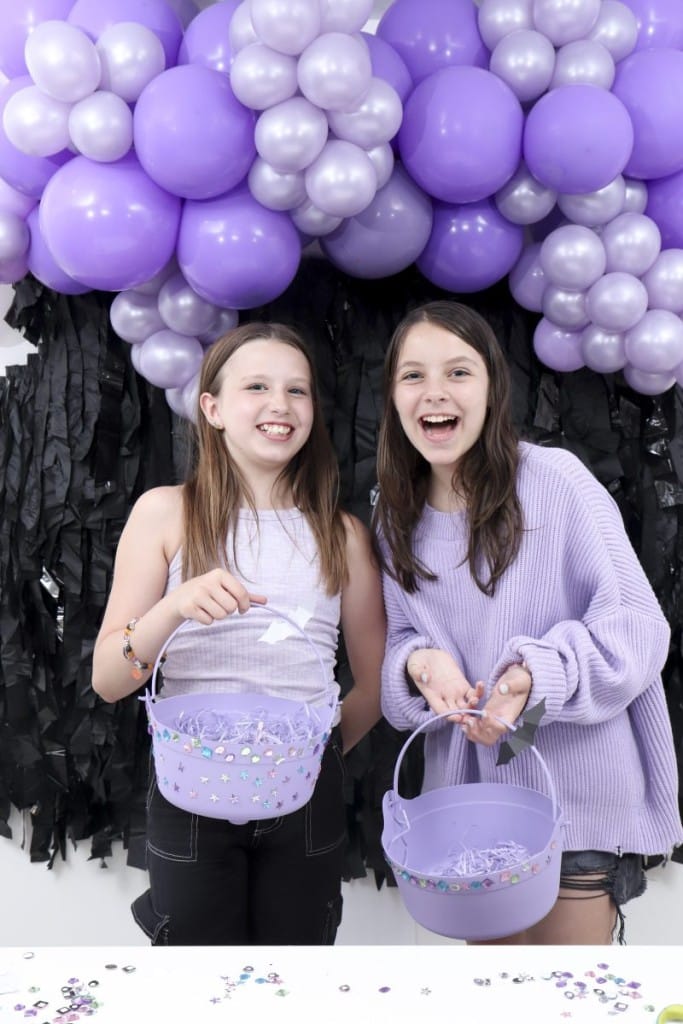 Then, they painted some jack-o-lanterns.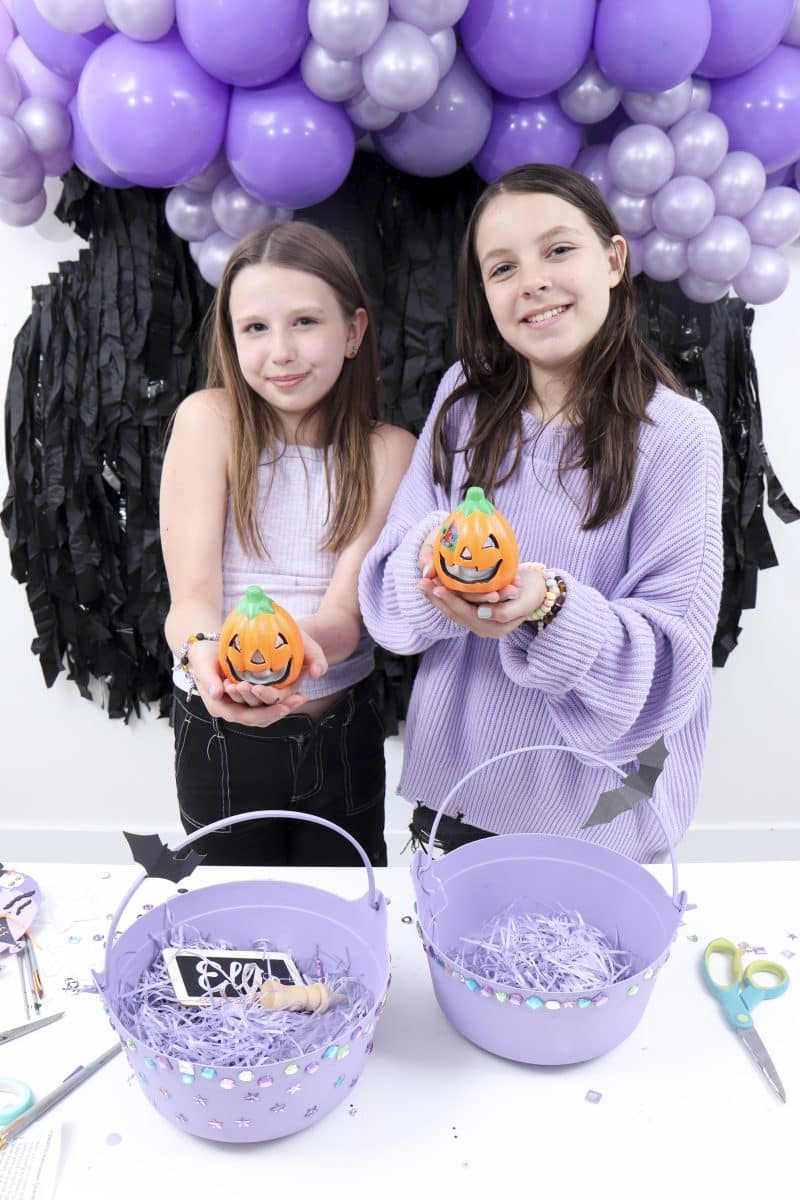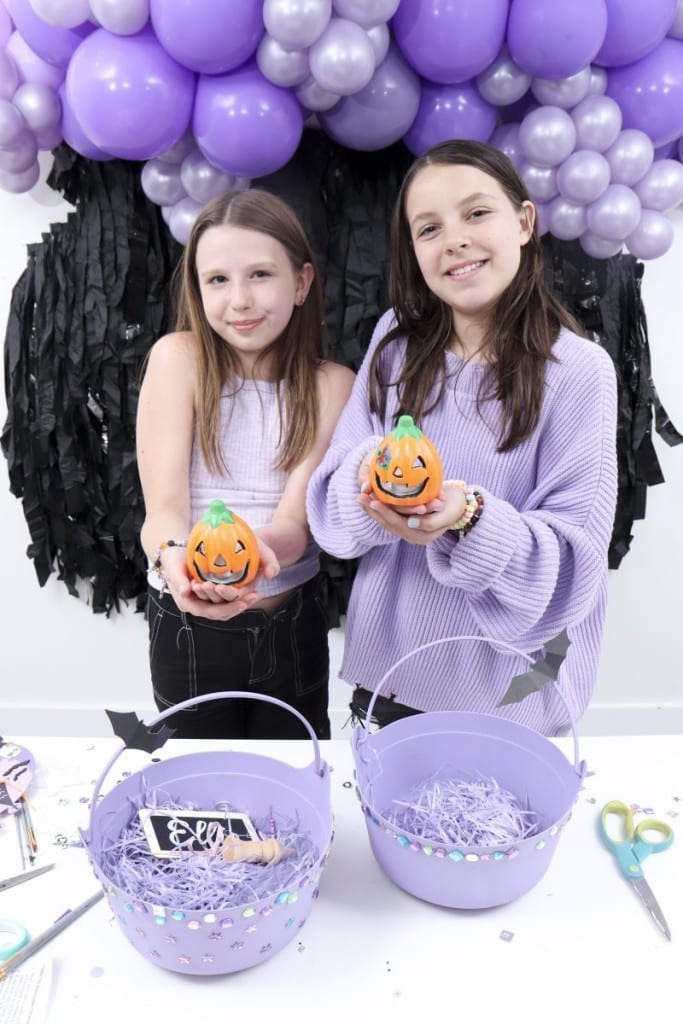 Finally, they worked on the craft kits.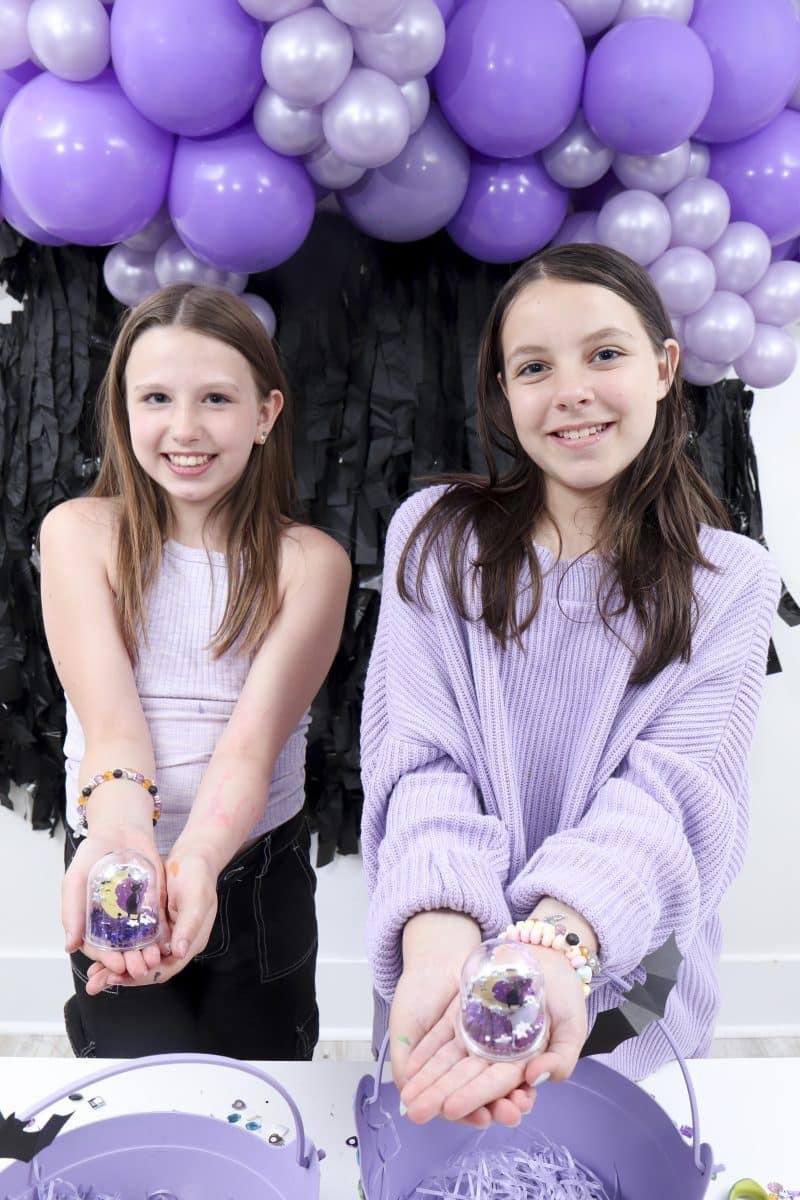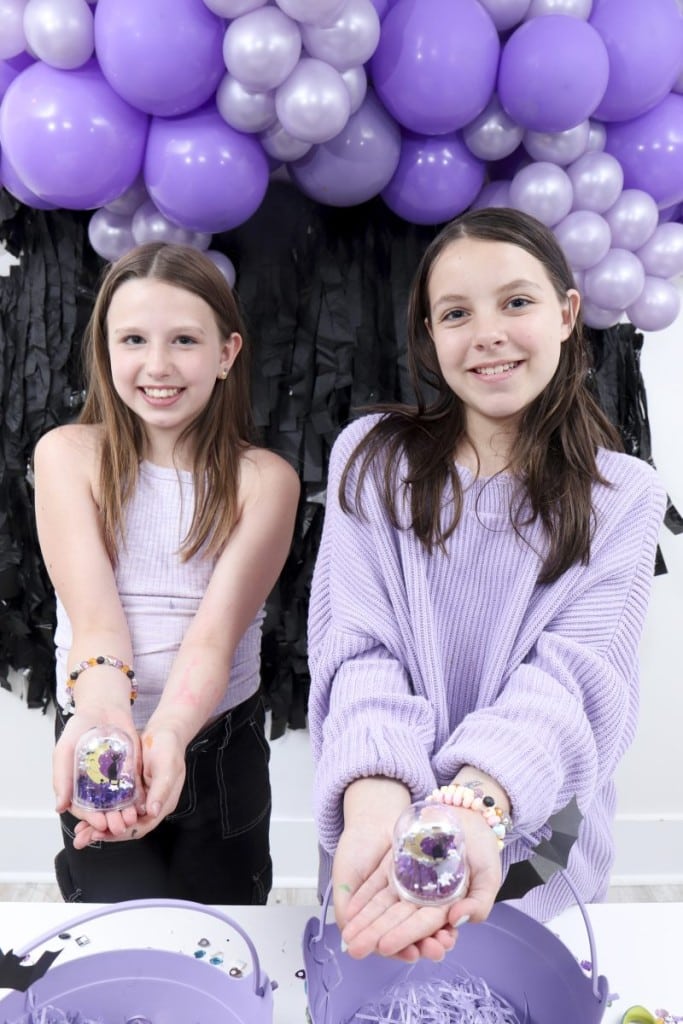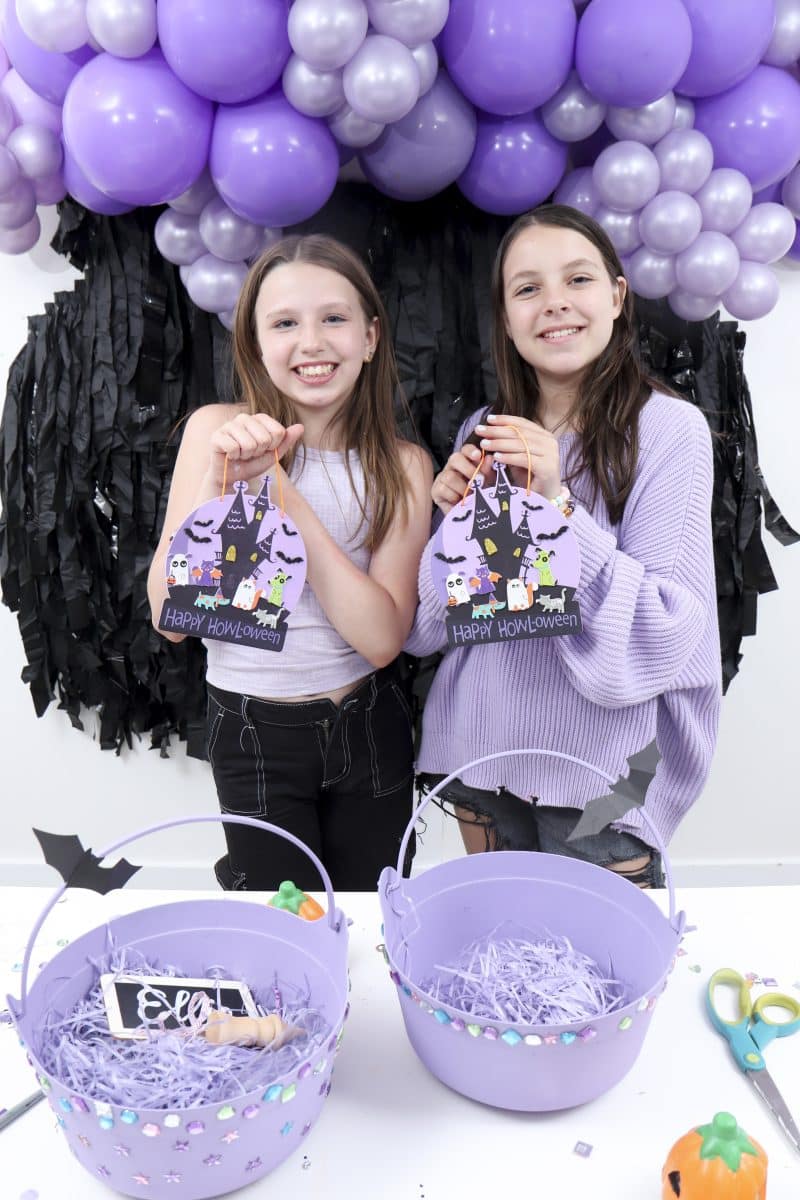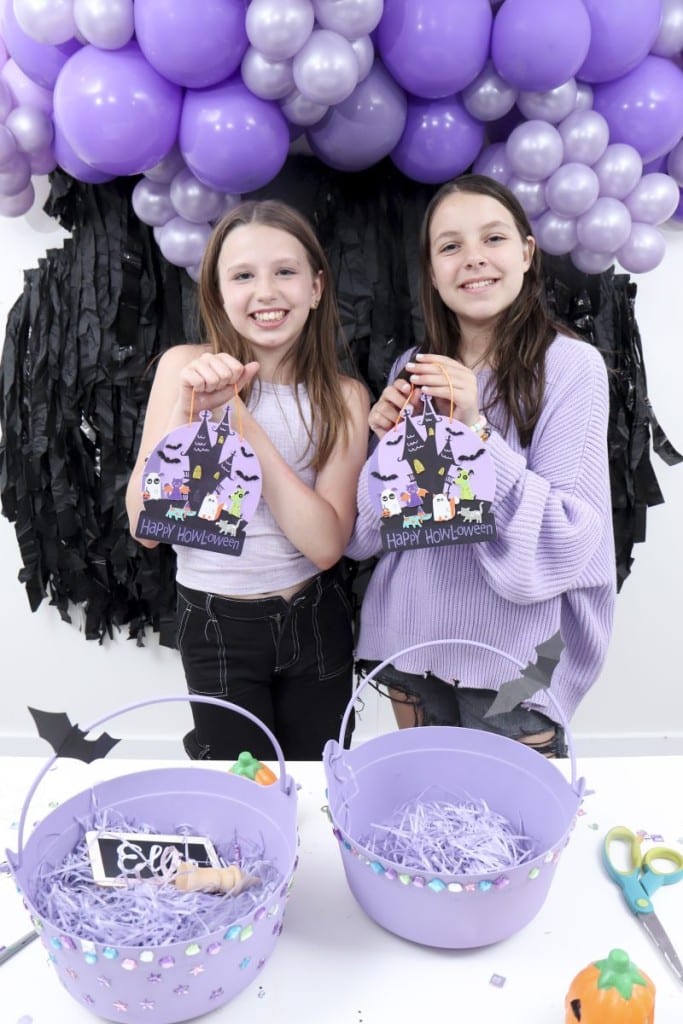 These Halloween Craft Cauldron Boo Baskets are such a fun way for tweens to show their friends they care, plus they provide hours of entertainment! The smiles and creations of those who receive these baskets will remind them that the best kind of magic is the one we share. So here's to a Halloween filled with creativity and connection!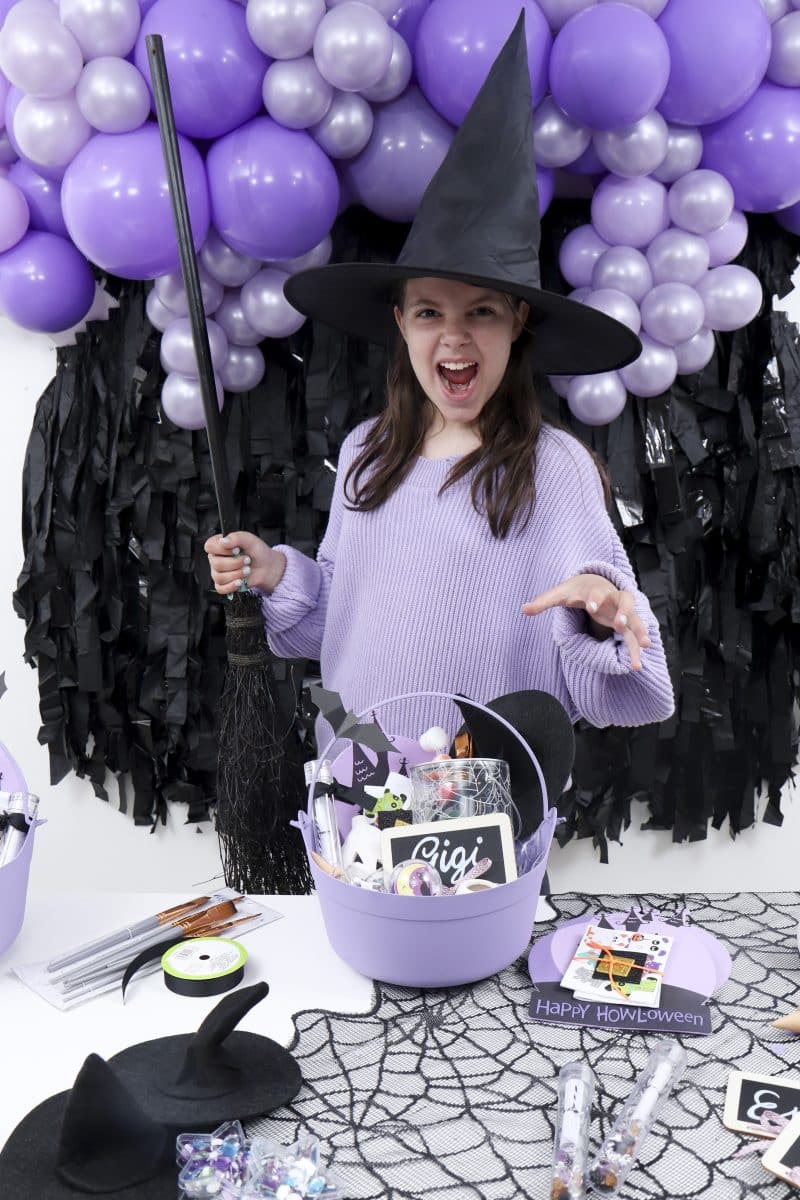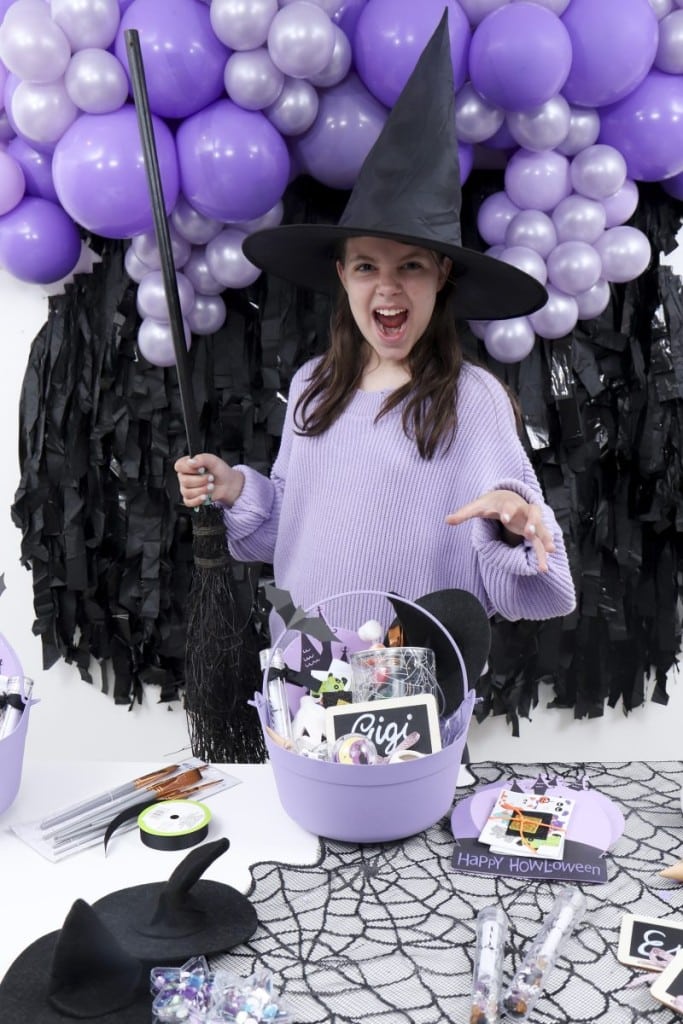 For more Halloween ideas – be sure to visit my Halloween blog archives! I have TONS of ideas for you, for kid's parties, adult parties, crafts, treats, home decor, and more!
Happy Creating!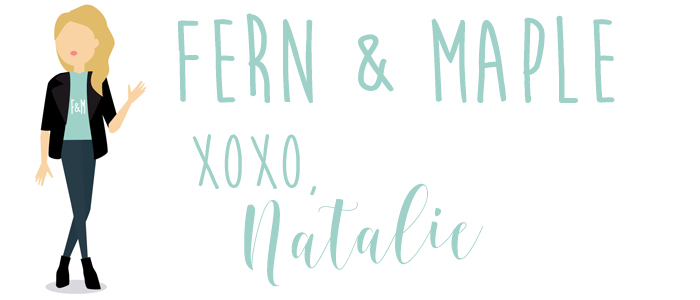 As a blogger, I sometimes receive compensation and/or products in exchange for my styling and crafting services. I also may earn a small commission from any sales that result from affiliate links on this page. As always, all project ideas and any opinions expressed here are my own. For further information on our disclosure policy please check out our disclosure page.
PIN FOR LATER: