If you've been following me for the last few years, you know I've started a yearly themed Halloween Gingerbread House Decorating tradition with my family (if you've missed the last couple of years' themed parties – be sure to check them out at the end of this post for even more inspiration). I recently realized I hadn't shared last year's party with you! So as I work on styling a new one for this upcoming Halloween, I wanted to share last year's Vintage Halloween Gingerbread House Decorating Party with you and show you how I set it all up!
P.S. I found my supplies in a variety of places, some of them linked in this post, but I also rounded up some similar or alternative Vintage Halloween-themed party supplies in my Amazon Shop!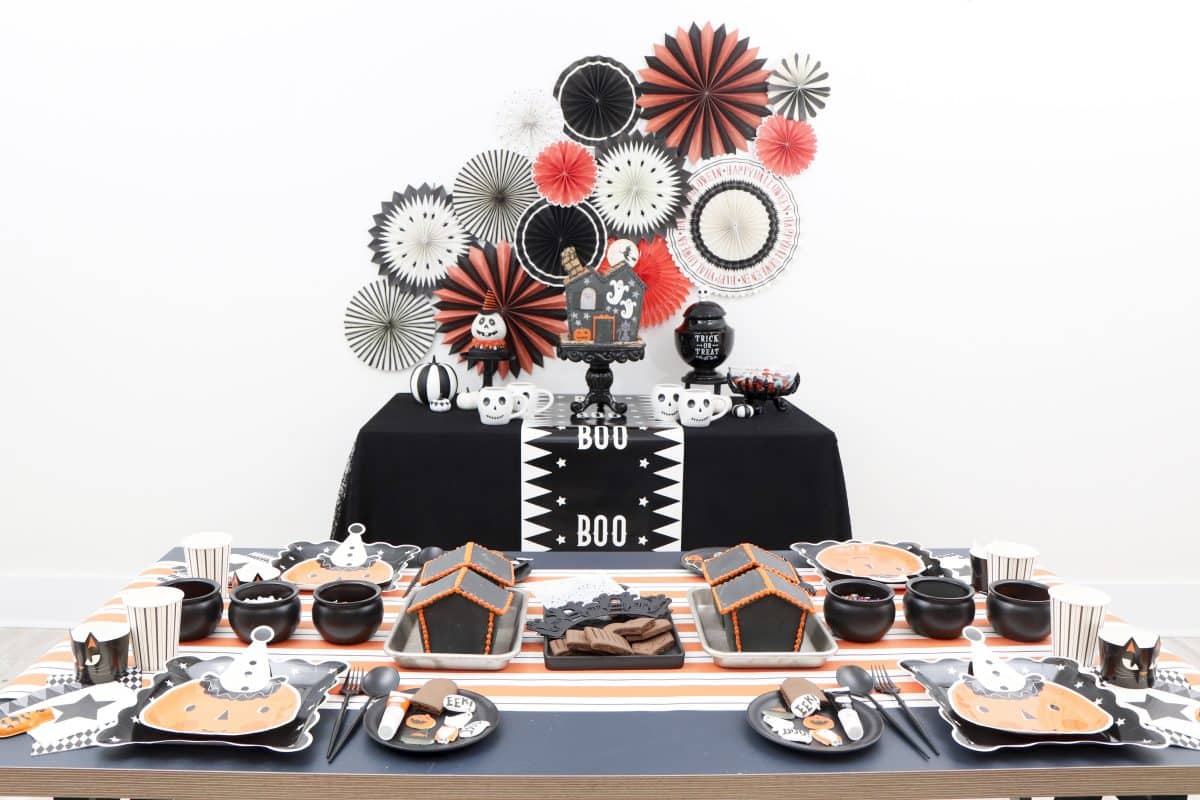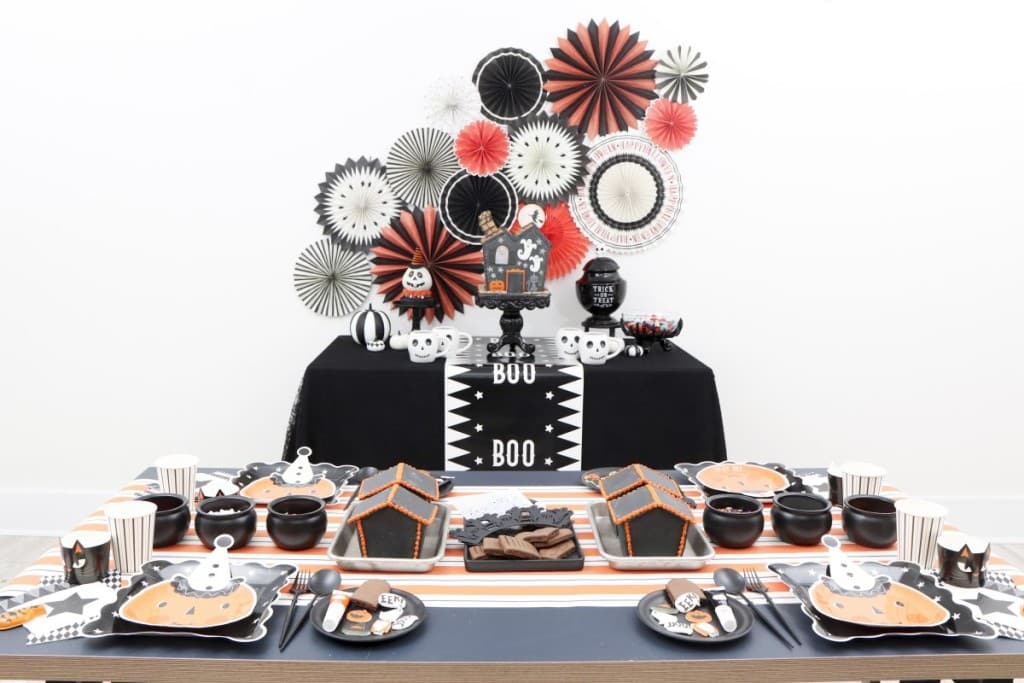 How to Set up a Vintage Halloween Gingerbread House Decorating Party
Decorations & Gingerbread House Inspiration
First, I set up a table with a paper fan backdrop in the party color scheme, vintage Halloween décor, and a large Halloween Gingerbread House for inspiration!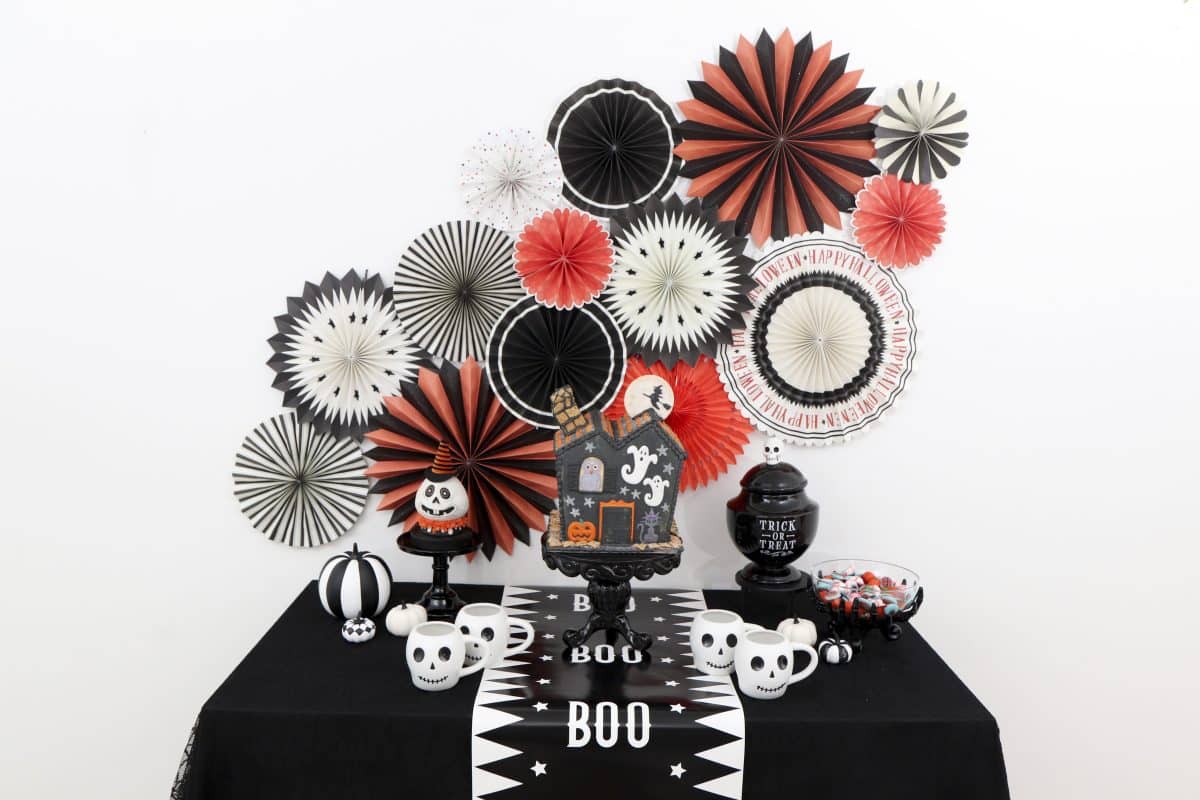 I used poster putty to hang a variety of orange, black, and white paper fans on the wall behind the table. Starting from the bottom left corner and moving upwards to the right, I added different sizes and vintage patterns for dimension and visual interest. Then, I covered my table with a black tablecloth and layered it with a sheer spiderweb tablecloth. I added a vintage "BOO" table runner to draw attention to the center of the table where the inspiration house centerpiece sits.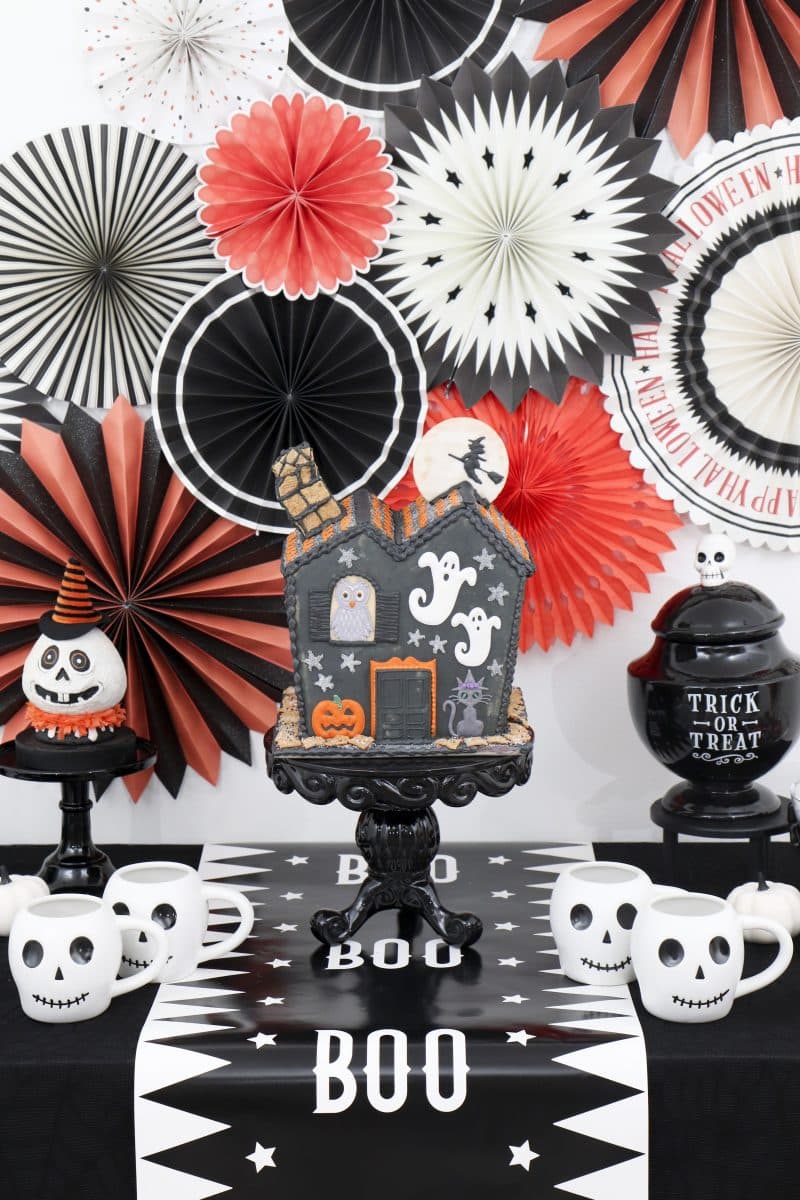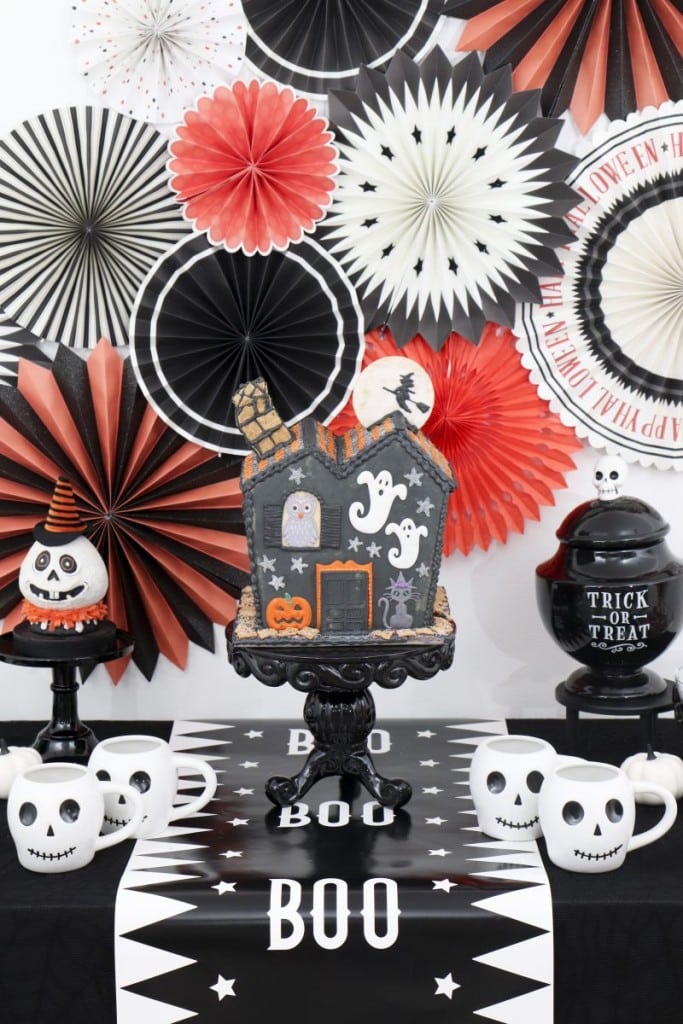 The amazing inspiration house was made by a local baker friend of mine, Adrienne of Trophy Baking. I elevated it on a vintage-look black cake stand.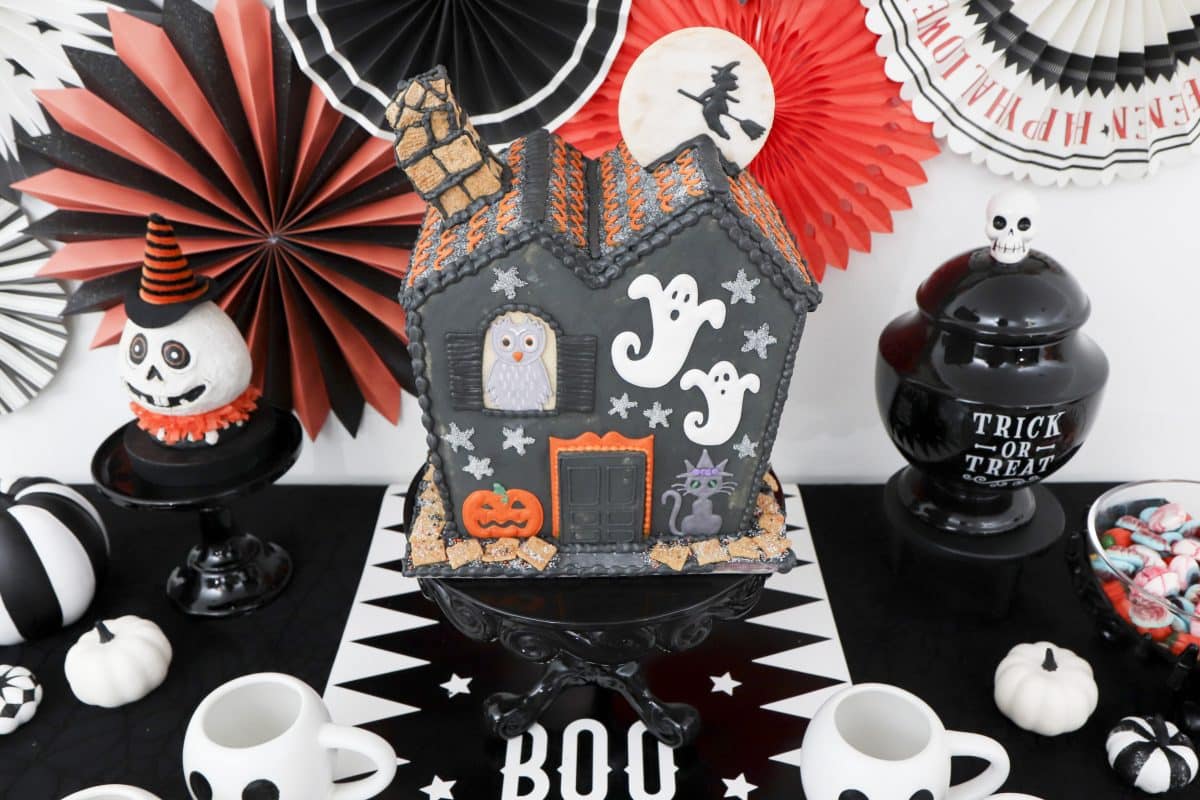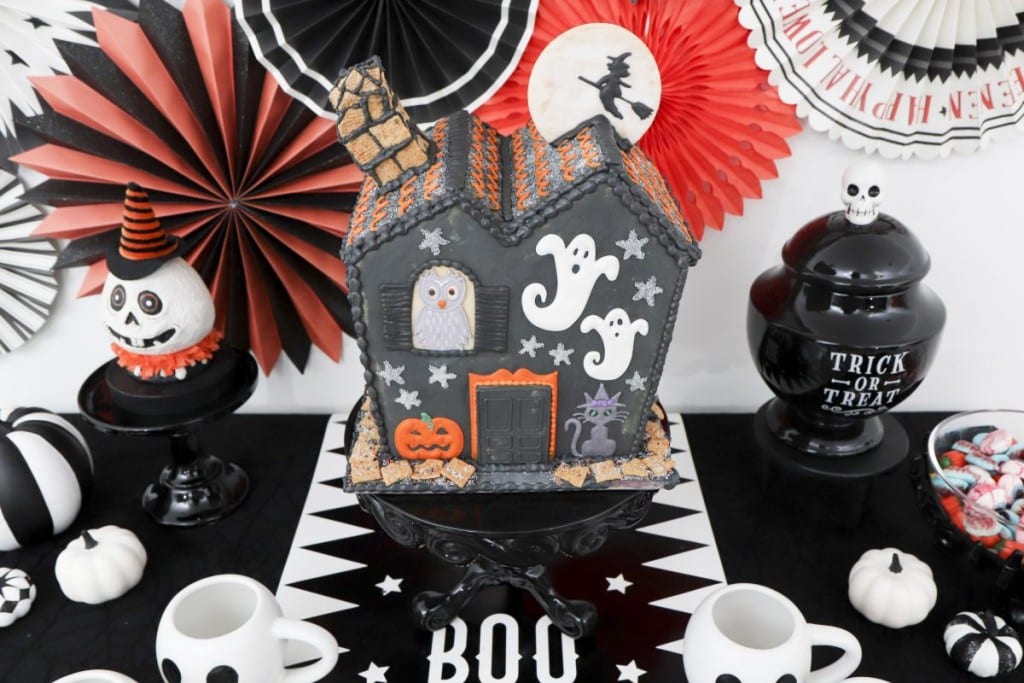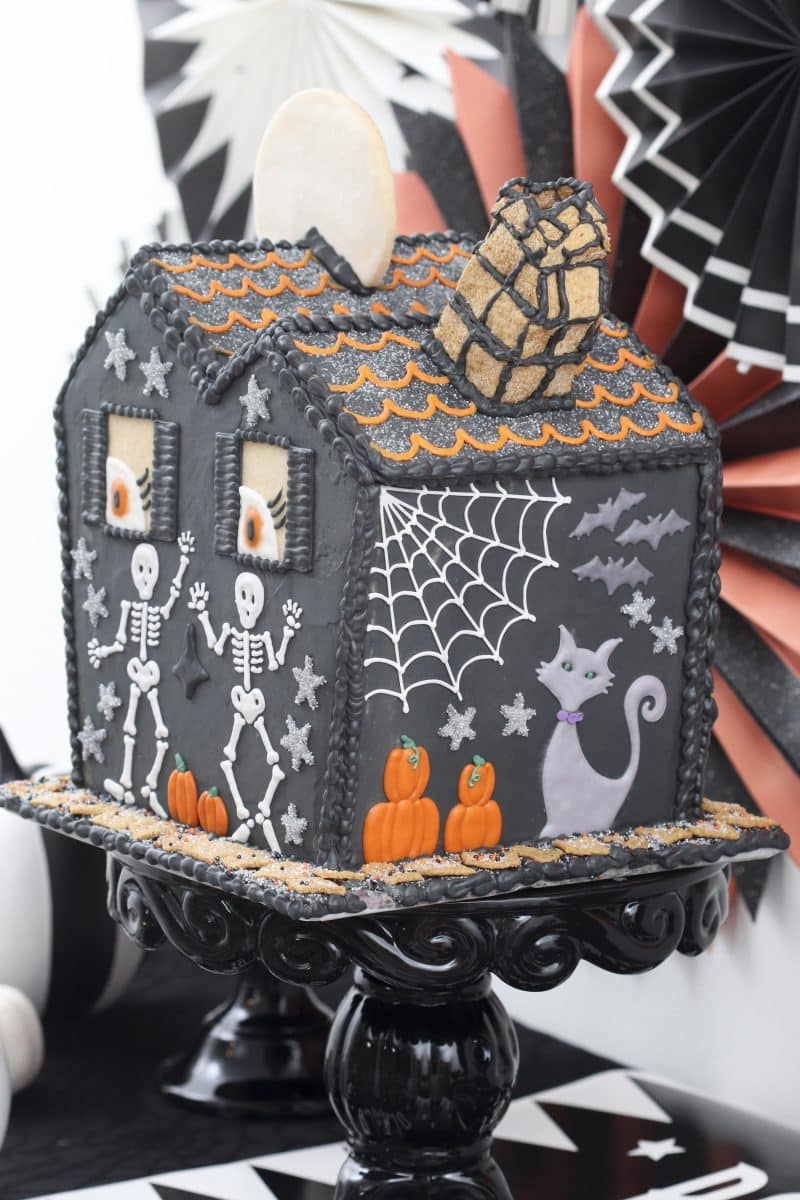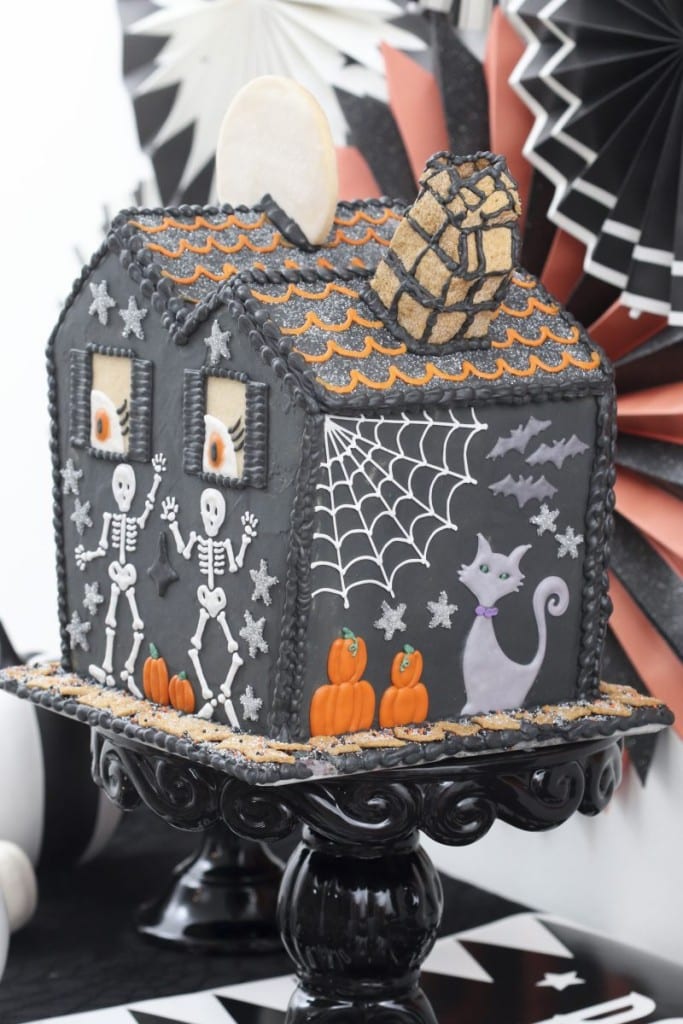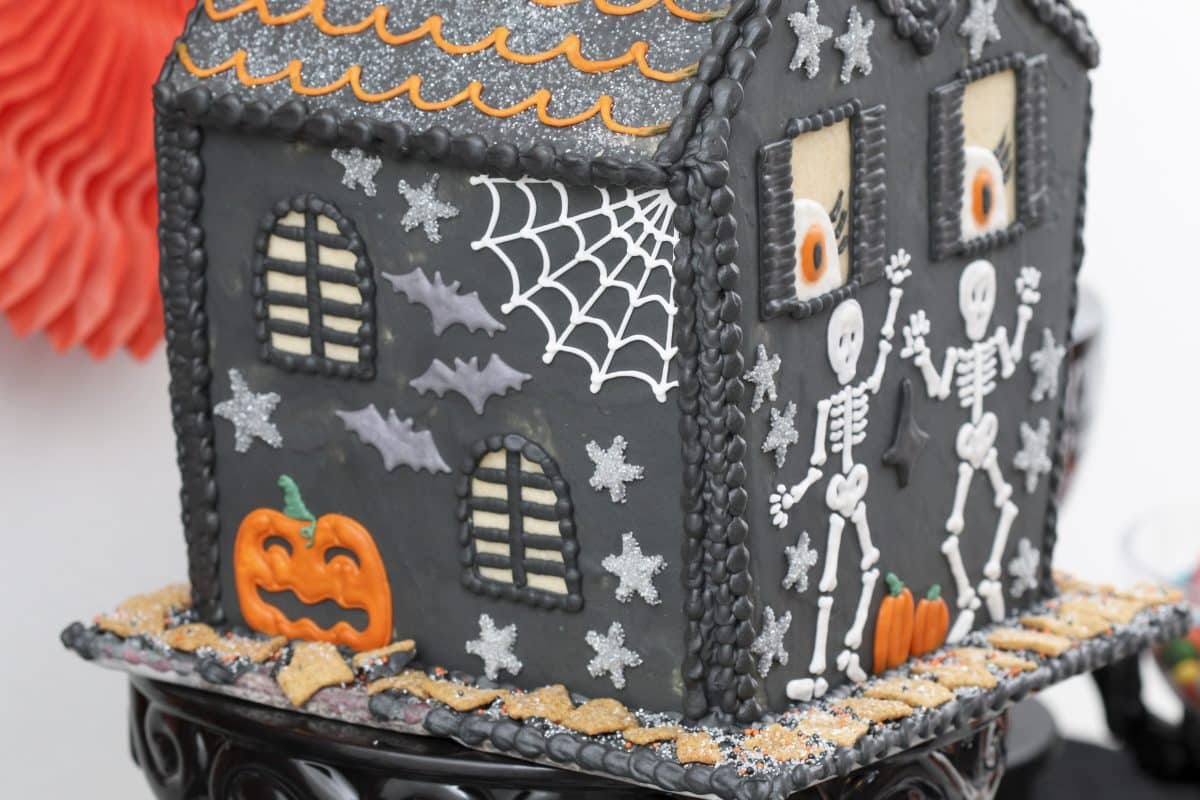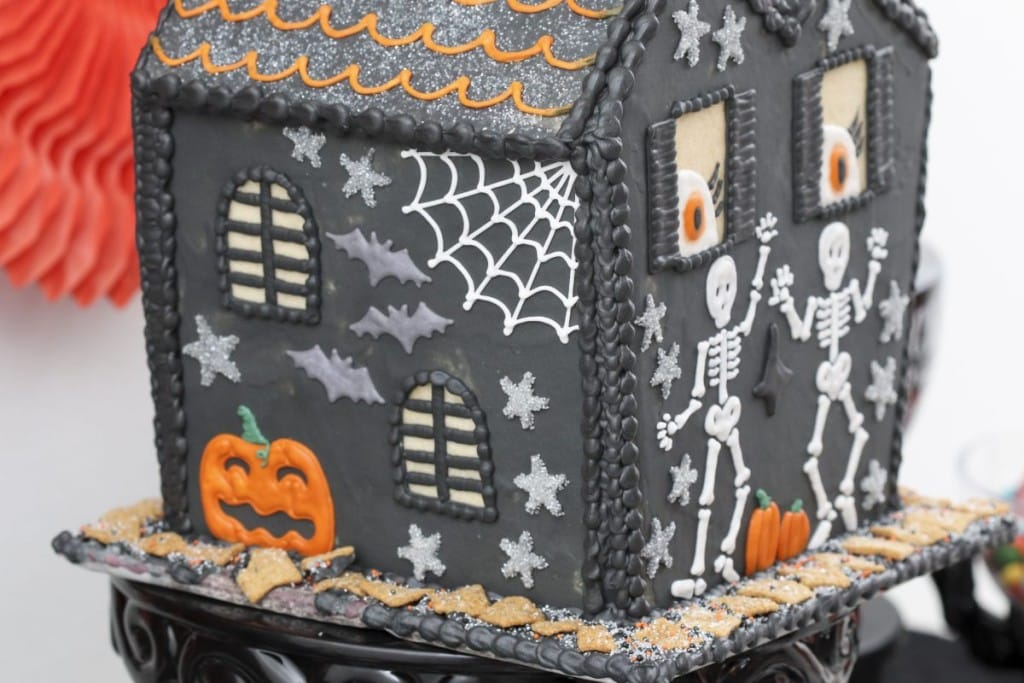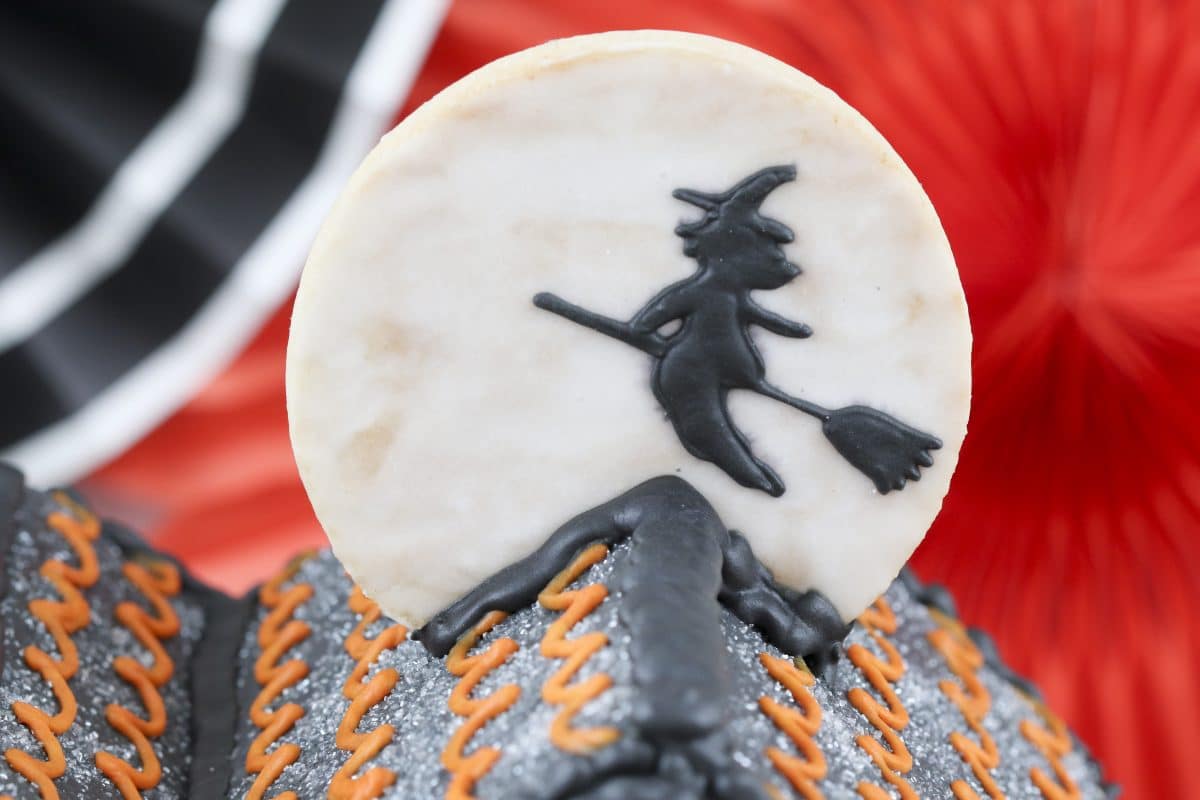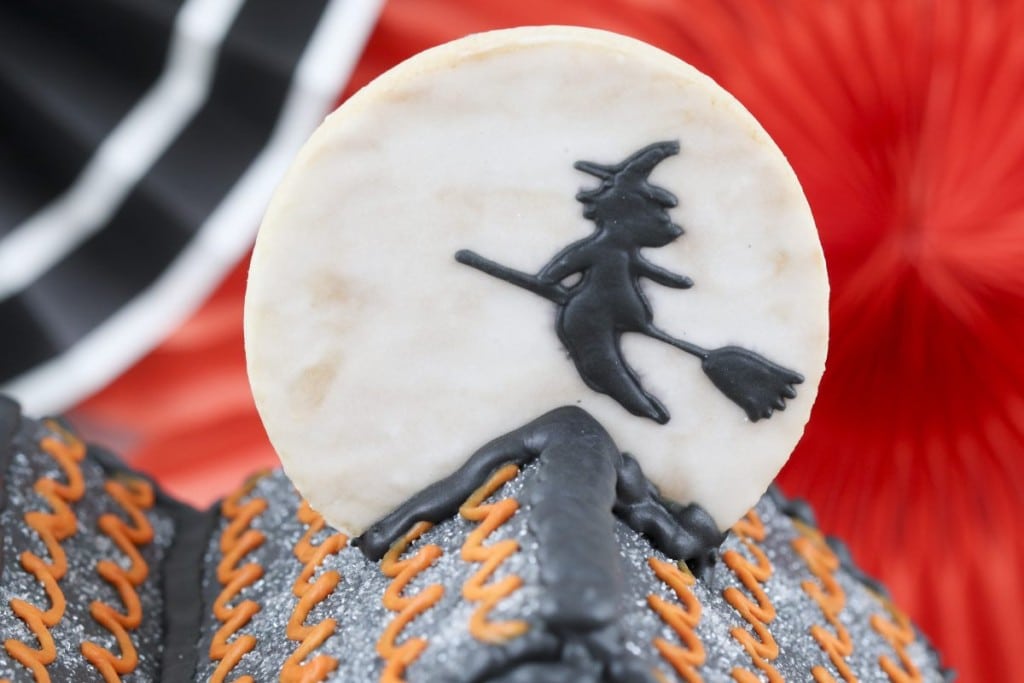 Then, on one side of the table, I set an adorable vintage Halloween party ghost decoration on a smaller black dessert stand, and surrounded him with black and white vintage patterned painted pumpkins and a couple of smiling skeleton mugs for hot cocoa during or after the decorating process.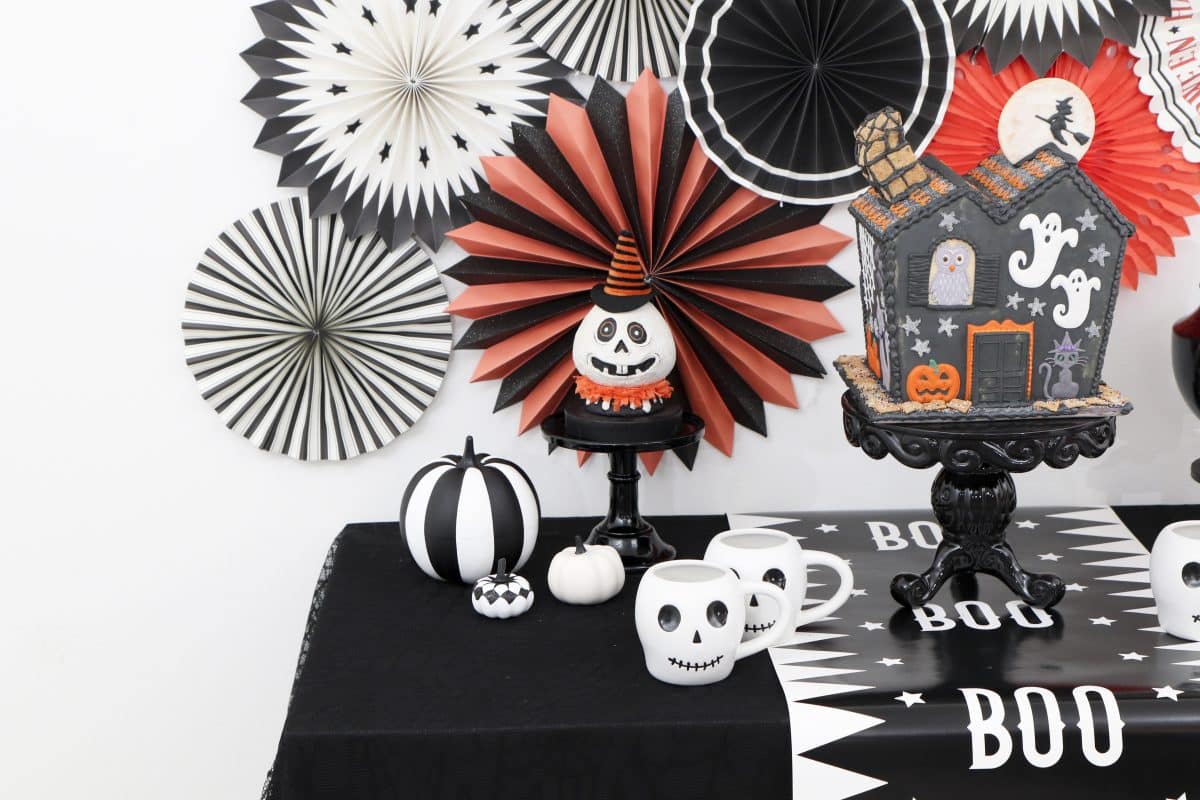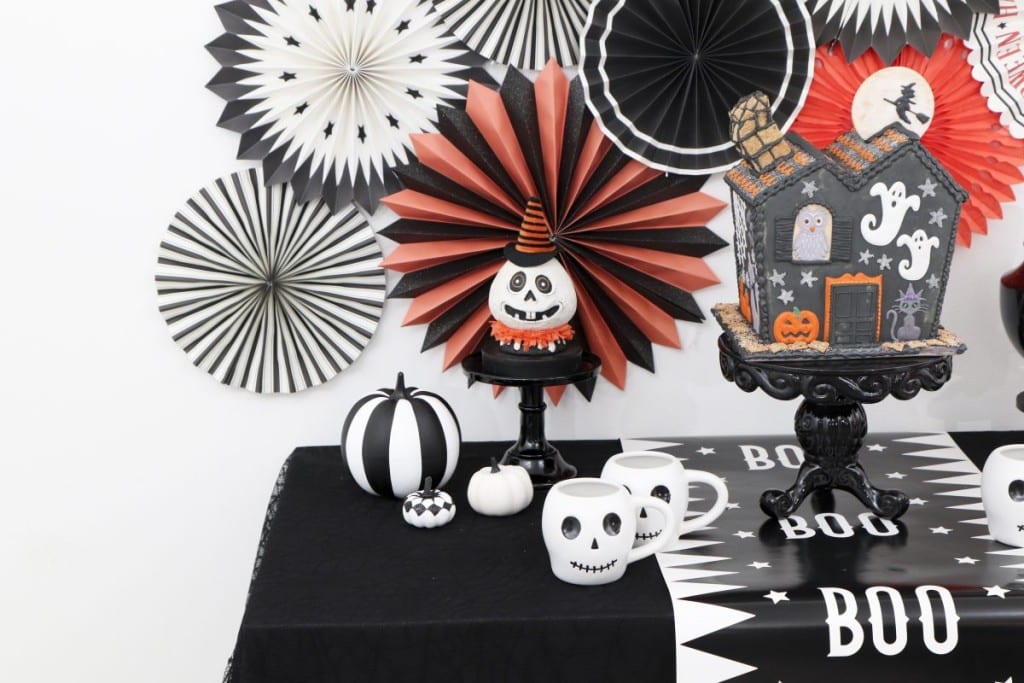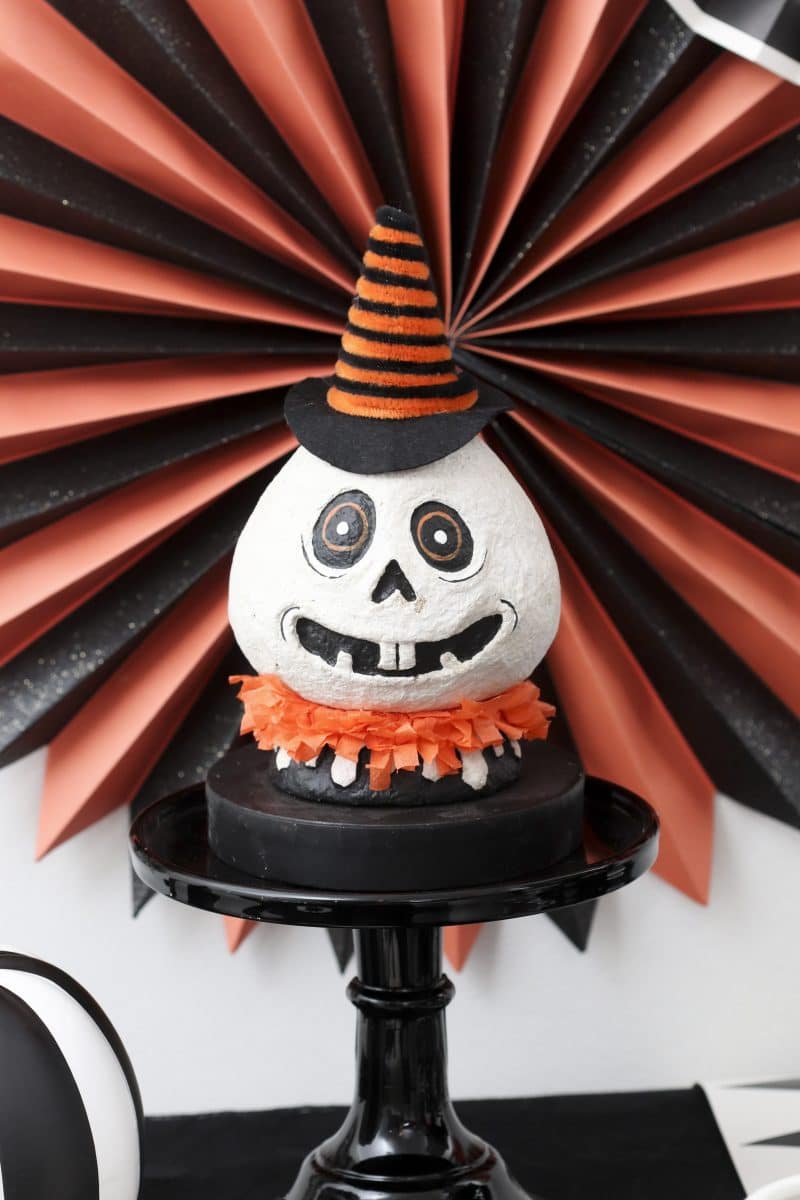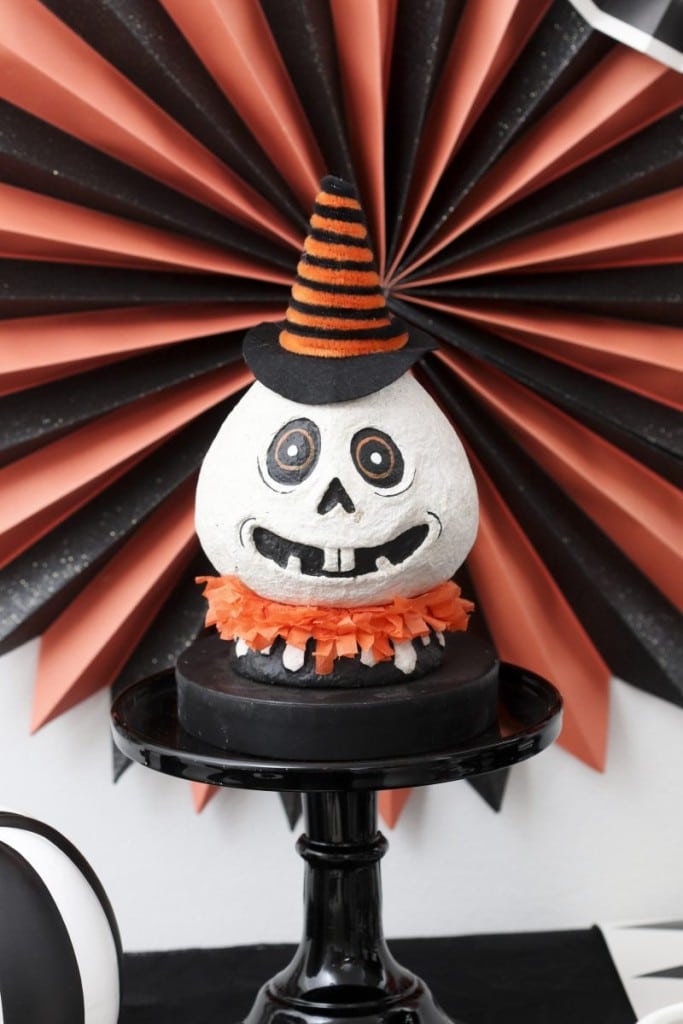 On the other side, I placed a vintage Halloween urn on a smaller stand for just a bit of height to balance both sides of the table. I used more painted pumpkins for décor, added the mugs, and also added a large Halloween bowl of extra candy for decorating.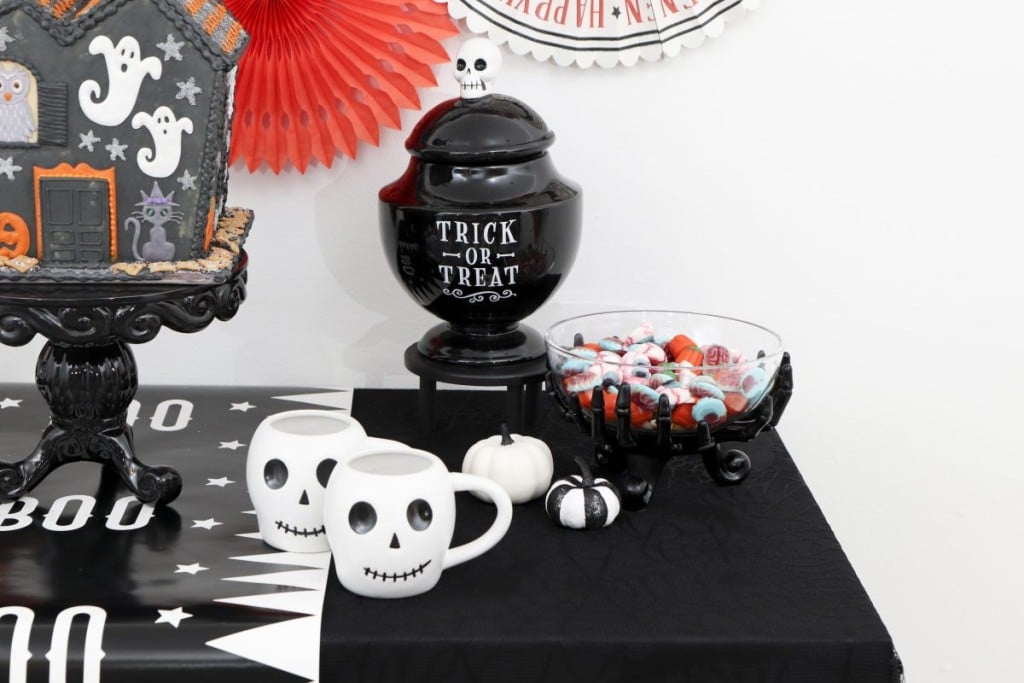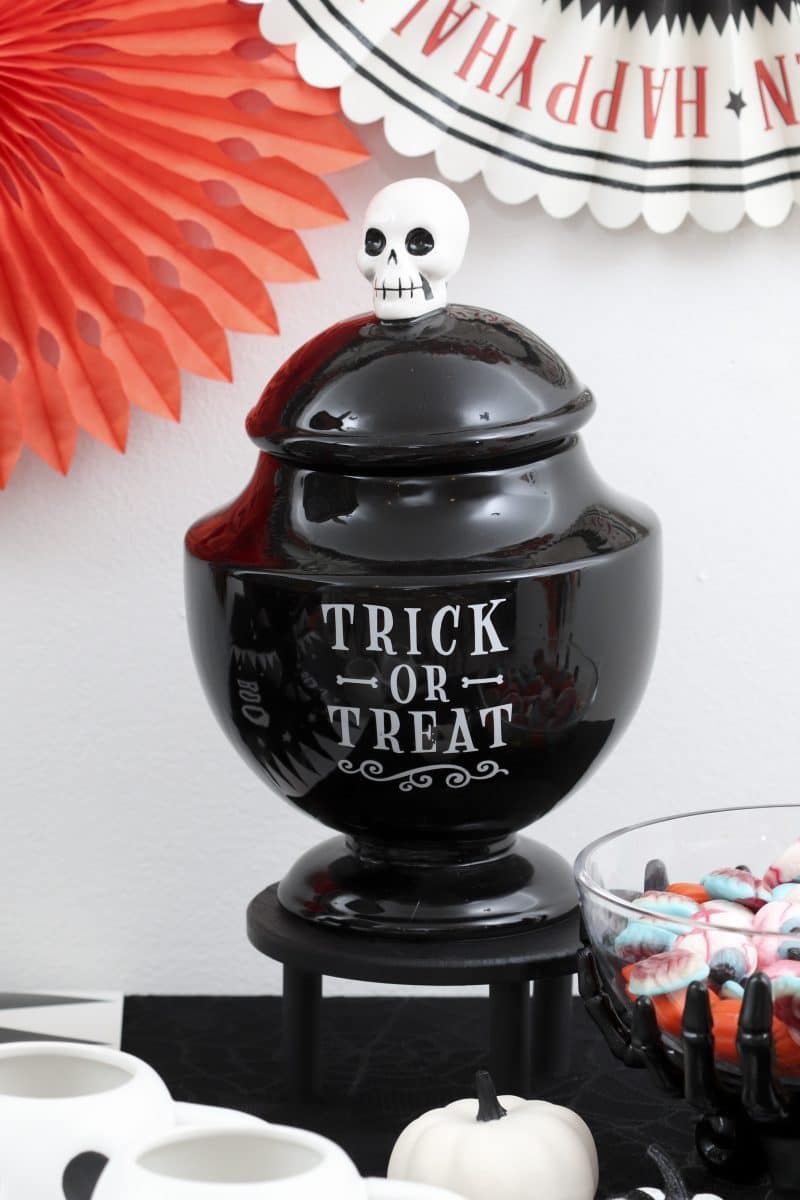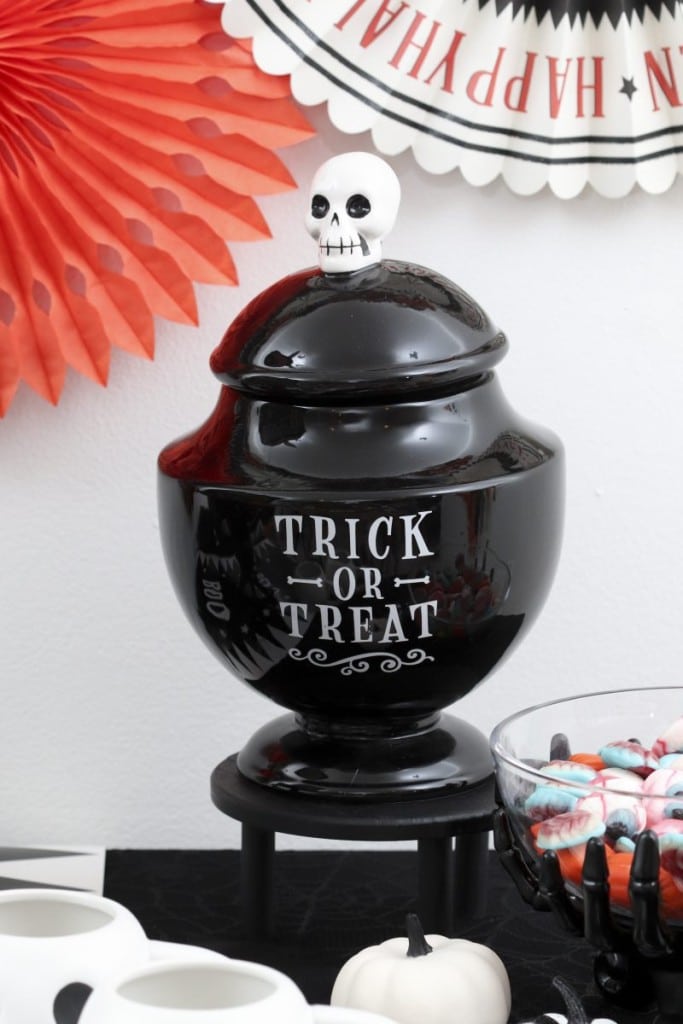 Table Setting
On my main decorating table, I used a orange-striped paper table runner down the middle, length-wise this time. Then, I layered a square black scalloped edge dinner plate for house decorating with a vintage jack-o-lantern pumpkin plate for snacks and desserts at each place setting. I also included two napkins – one with a black and white diamond pattern, and the other with a black star and fringed edge. Finally, I added a striped cup for drinks, a cute black cat treat cup to hold decorations, black plastic flatware, and a fun old-school clicker toy favor.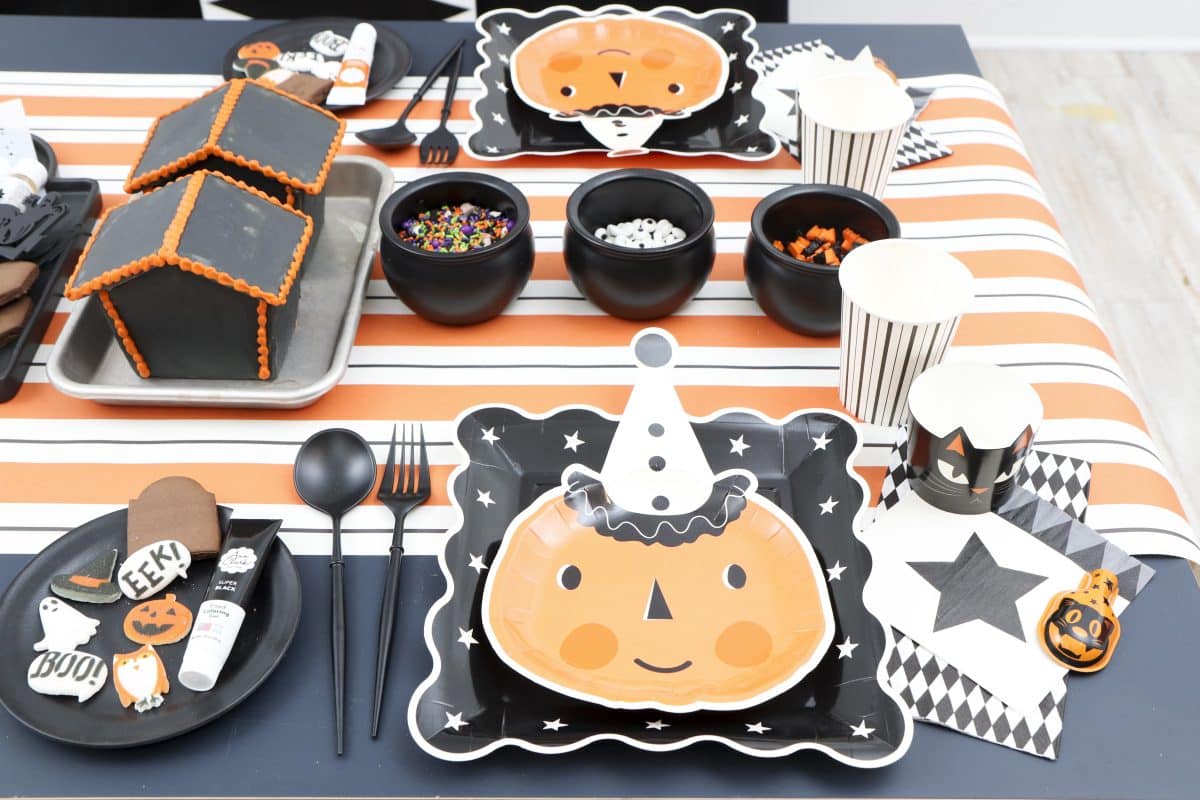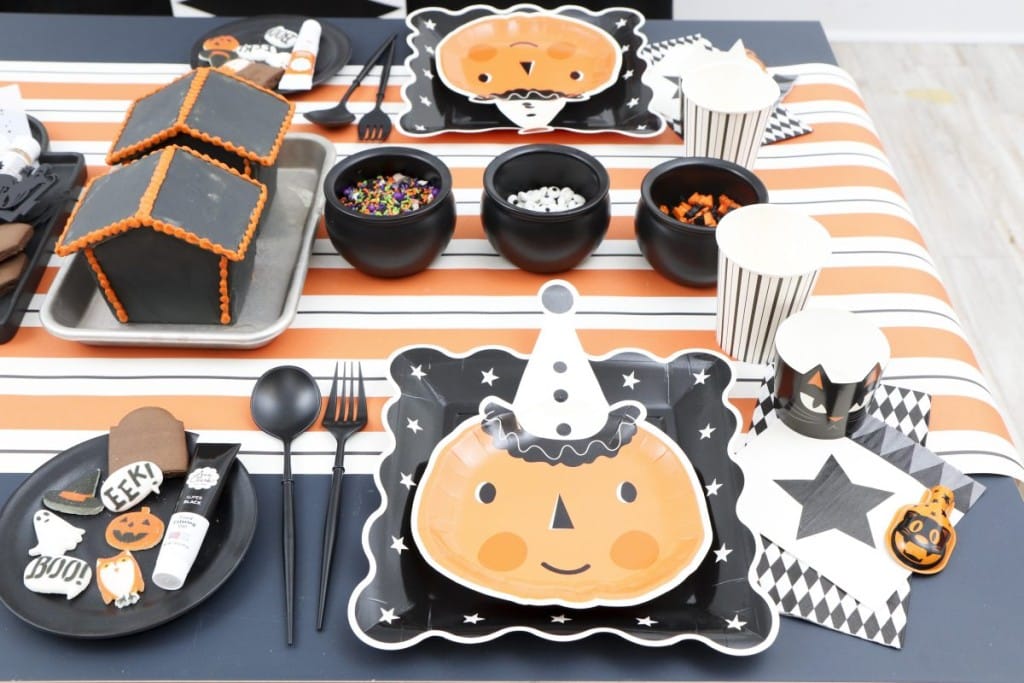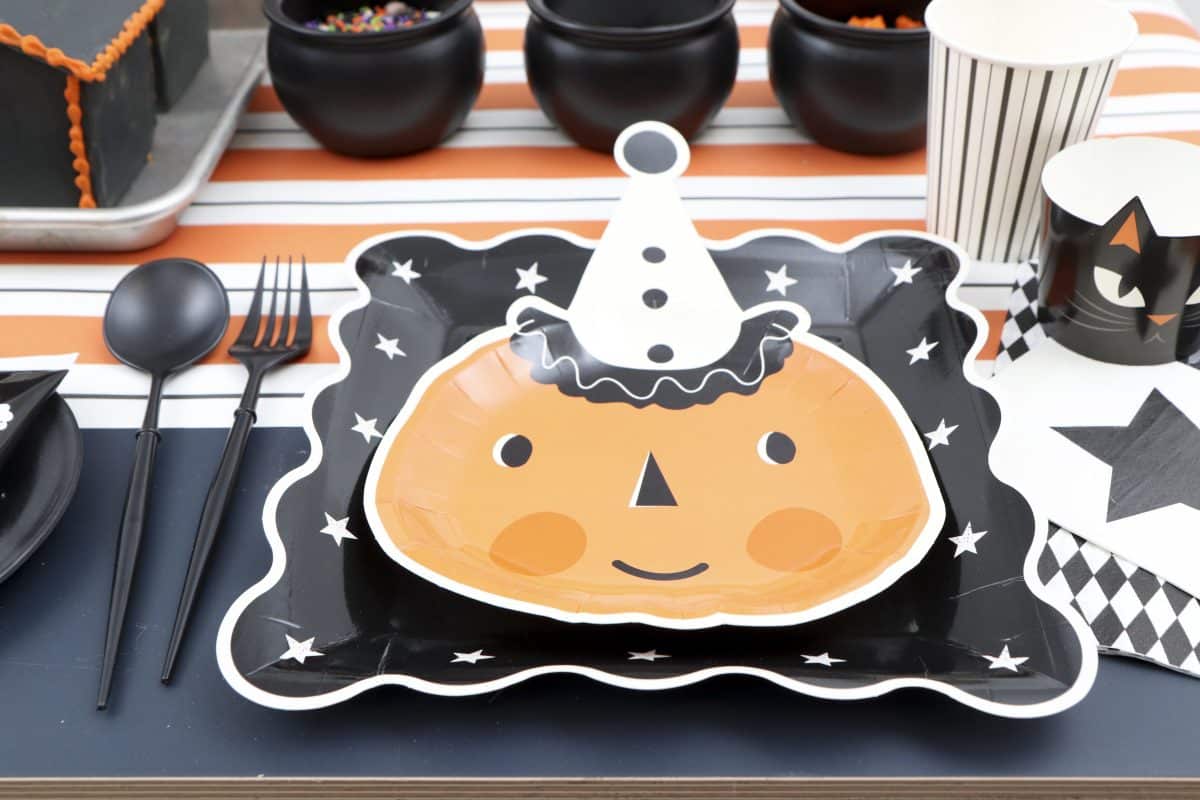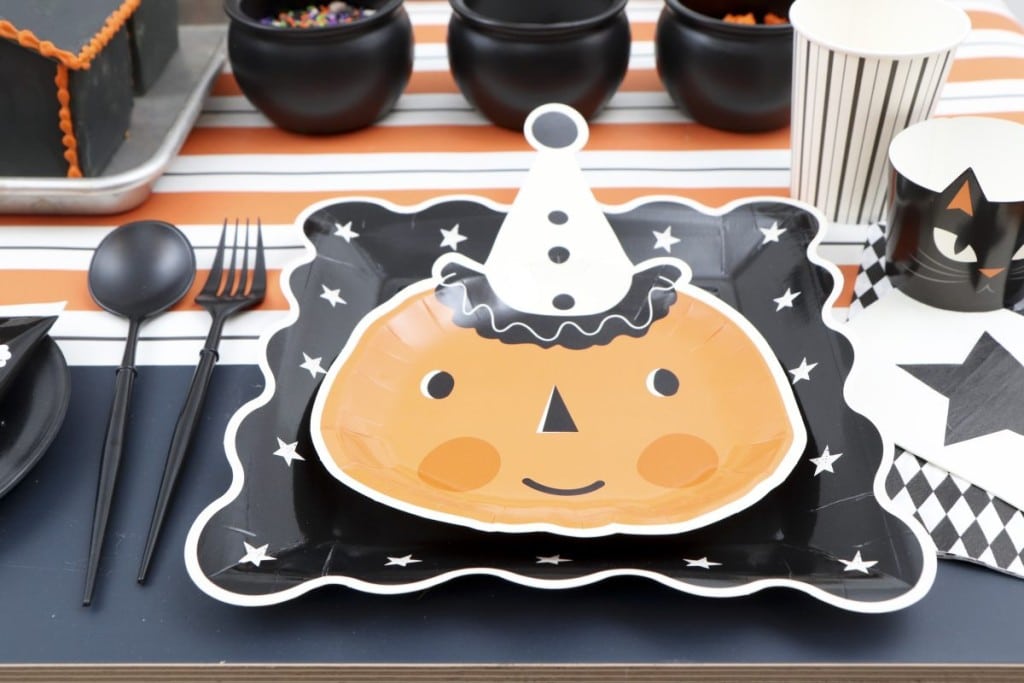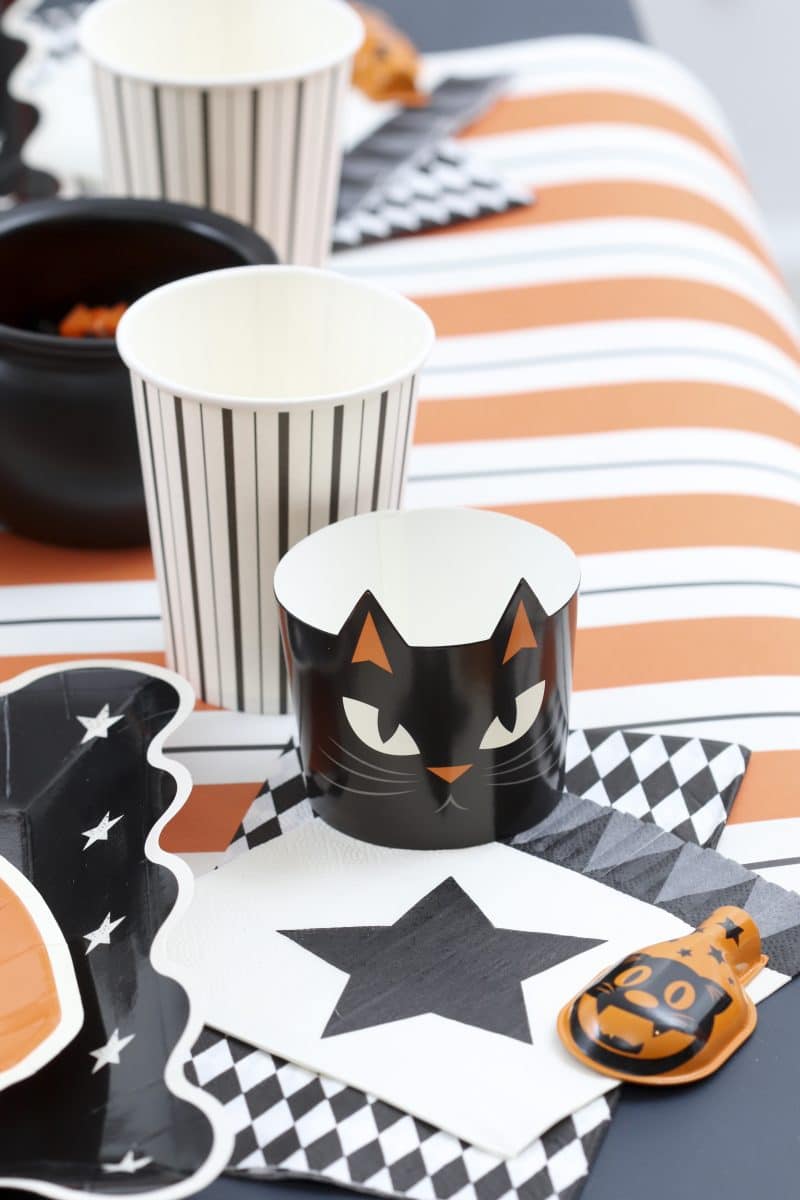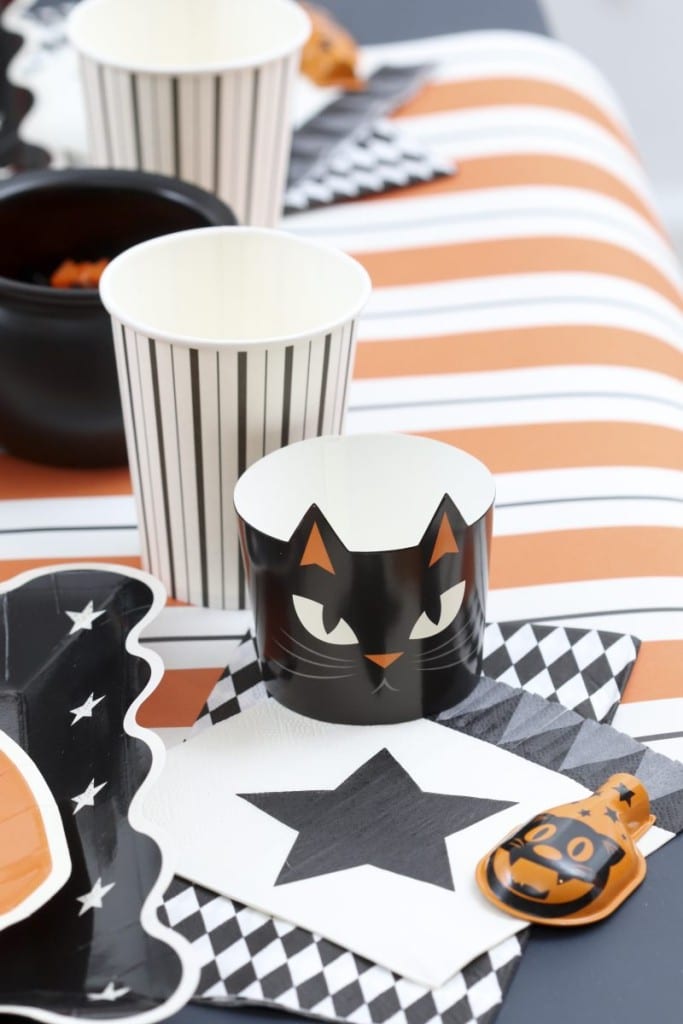 Supplies
The rest of my table setting included all the supplies for the main activity – decorating Halloween Gingerbread Houses! I placed individual plates next to each place setting with orange and black icing tubes, a gingerbread gravestone, and icing add-ons that I wanted to make sure got evenly distributed.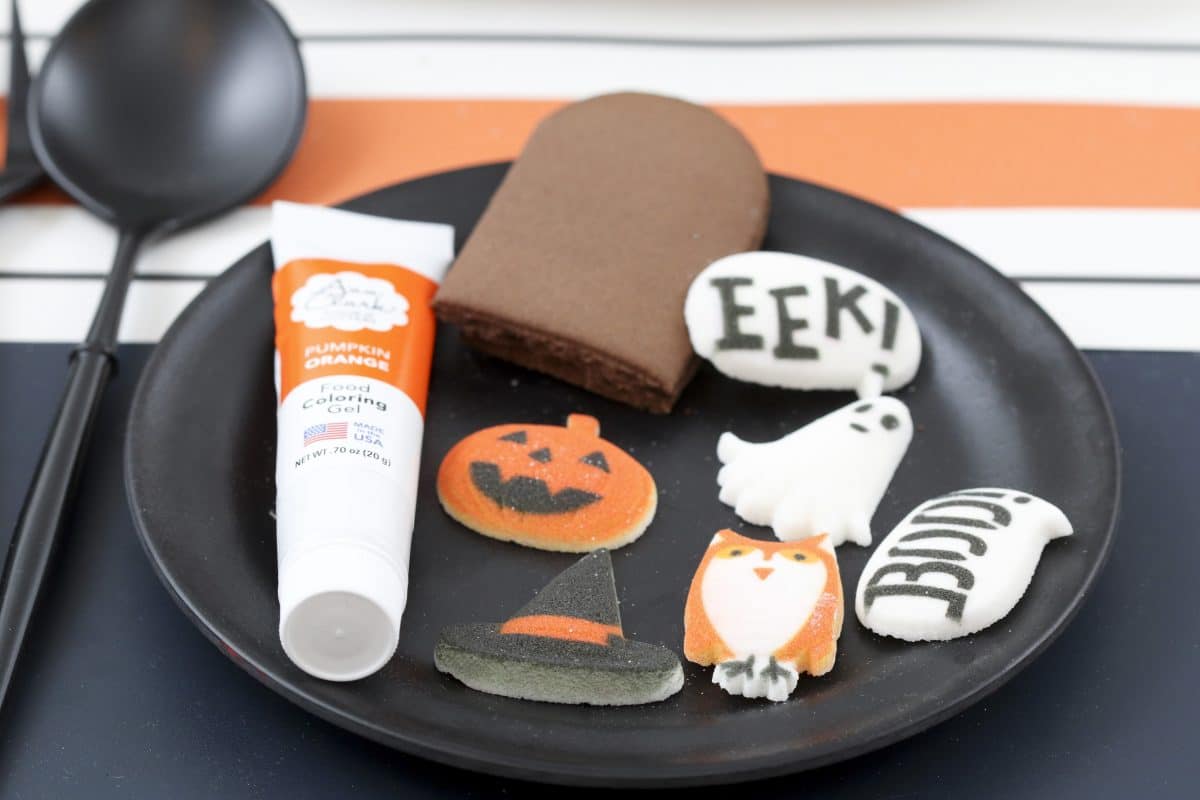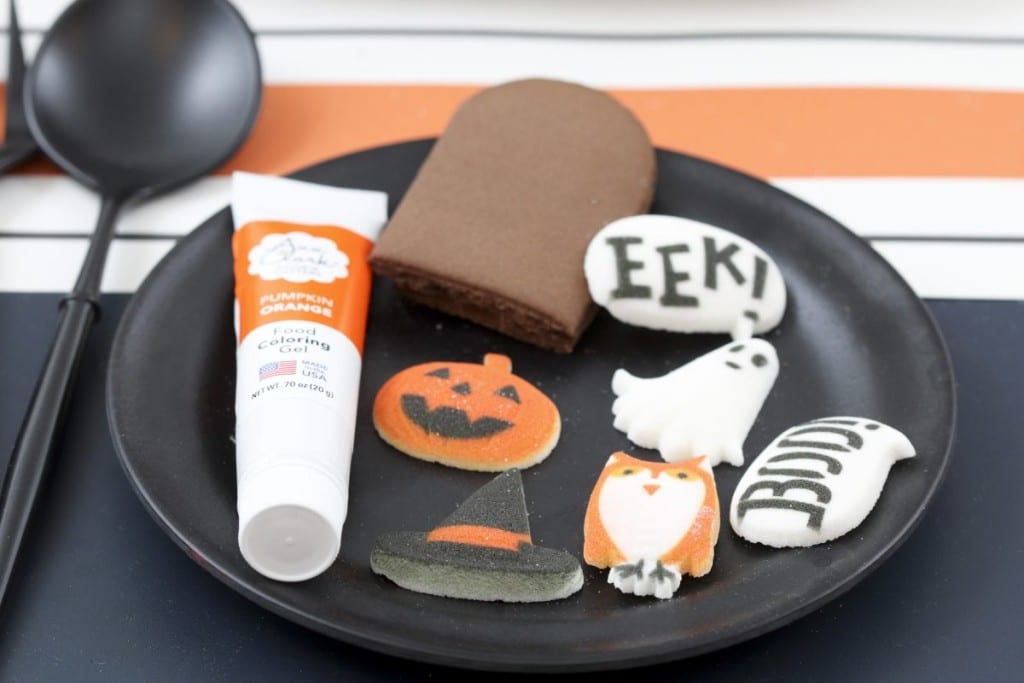 In the center of the table, I added a tray of more gingerbread tombstones and fences, and some black paper Halloween scene cupcake liners I found at the dollar store. I also included a star stencil with gold and silver edible glitter paints.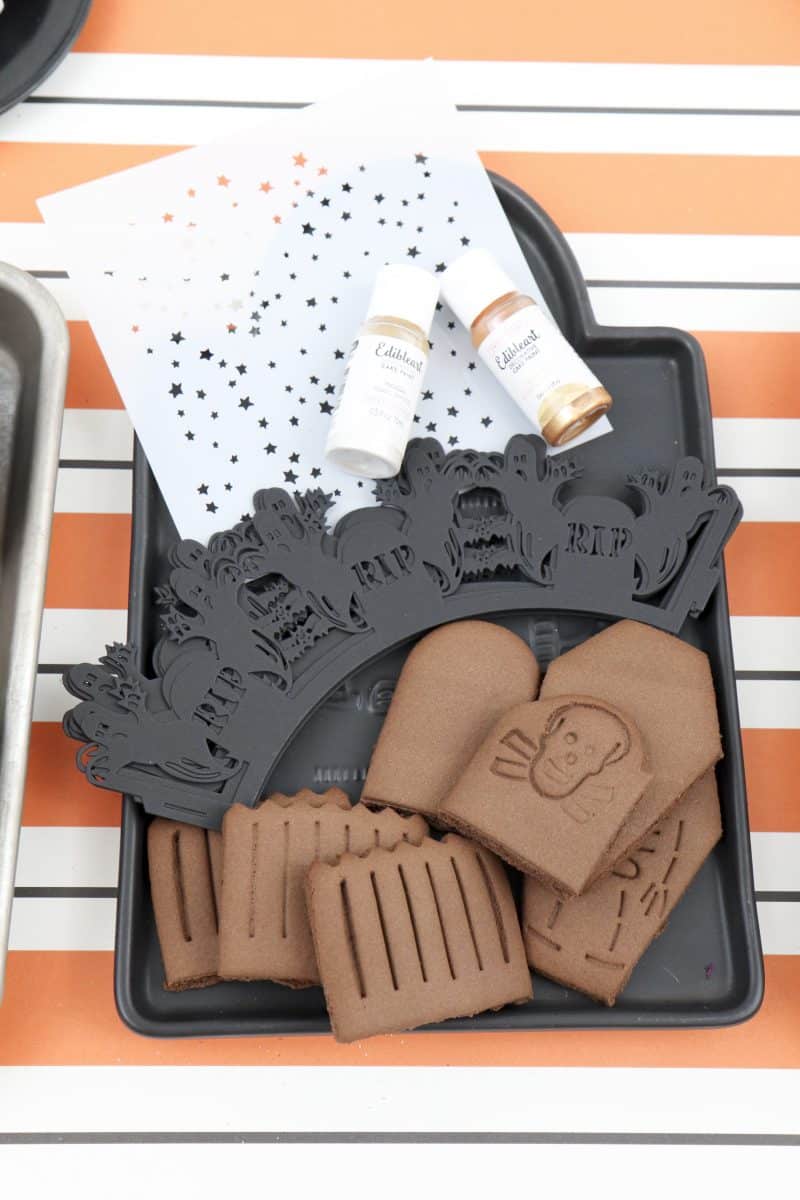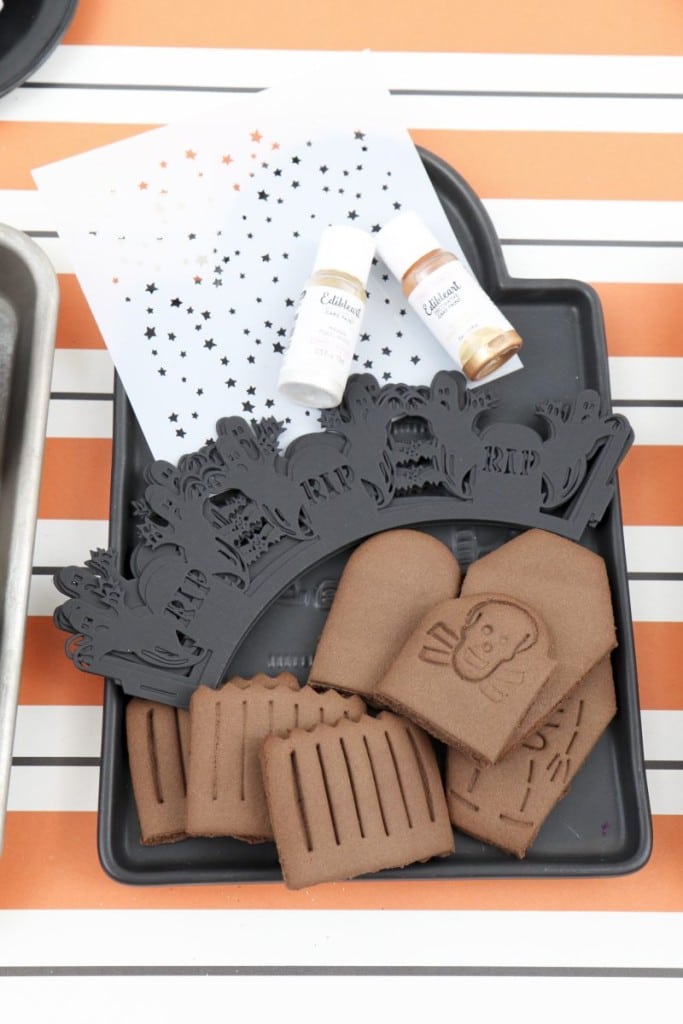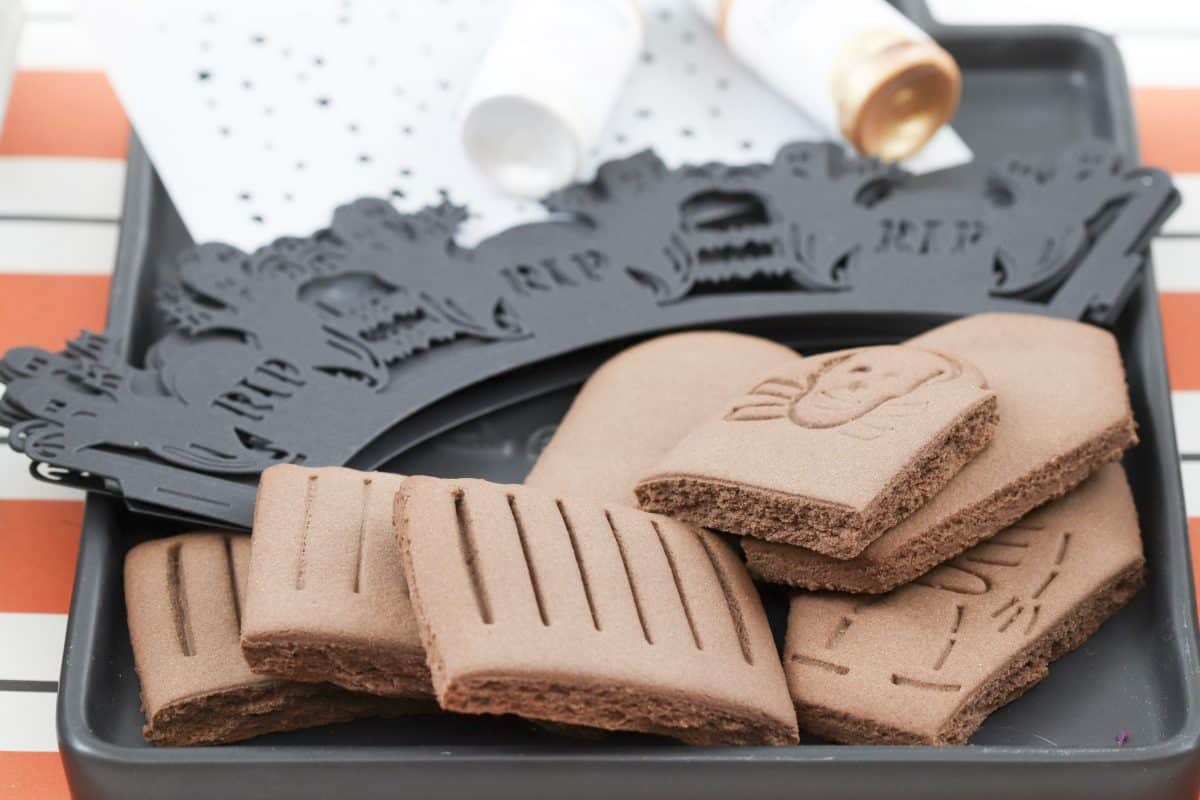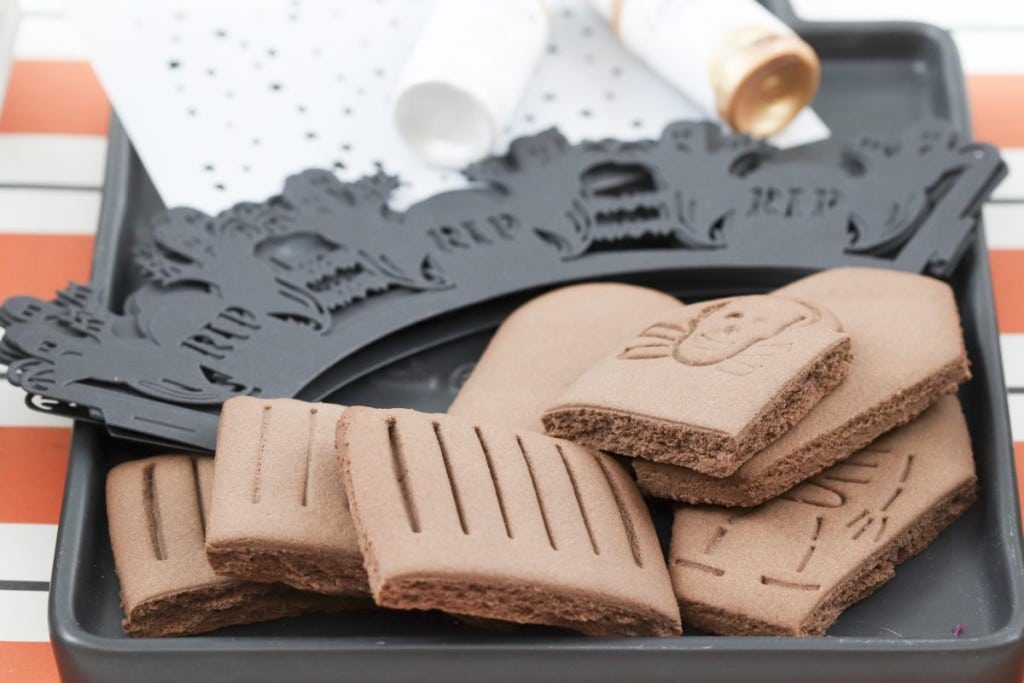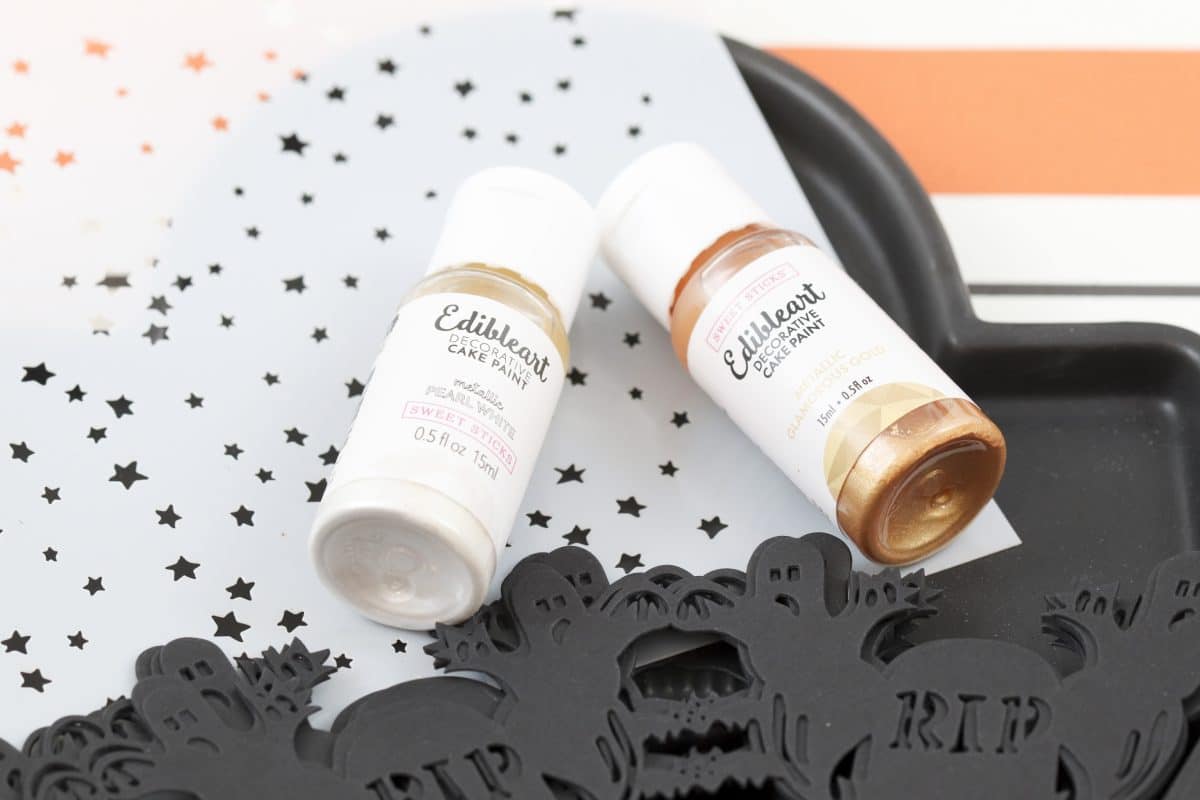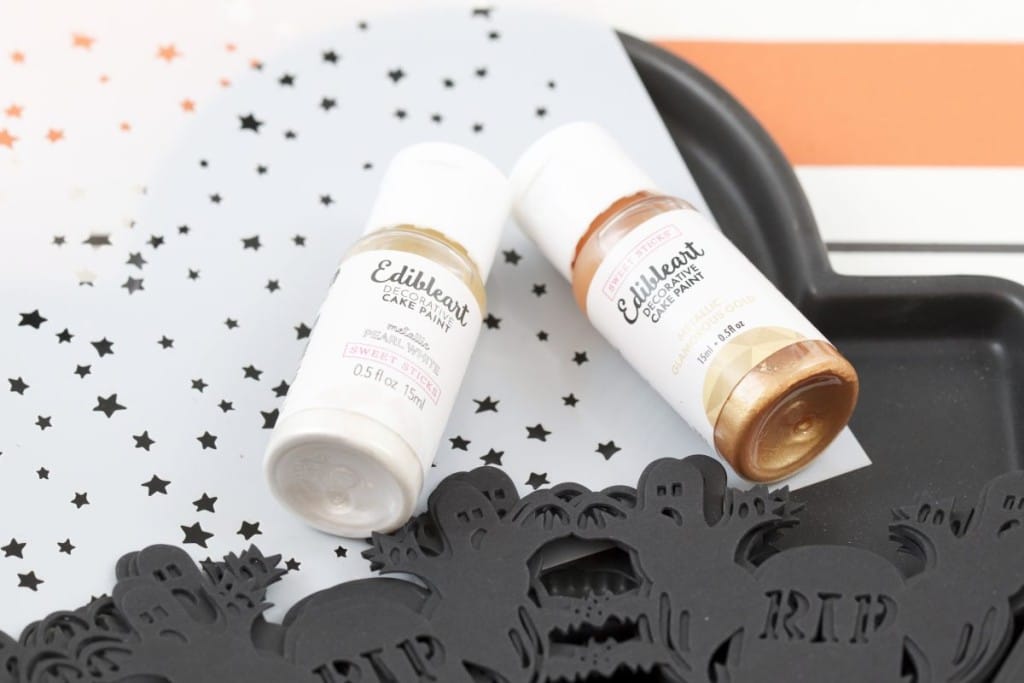 Then I added trays of the pre-made small gingerbread houses for everyone to decorate. If you have an ambitious group, you can just provide the pieces and have them build their own, but to make things easier and focus on the decorating, Adrienne pre-assembled them for us. I particularly love that this year, to go with our theme, she used black gingerbread with orange piped icing.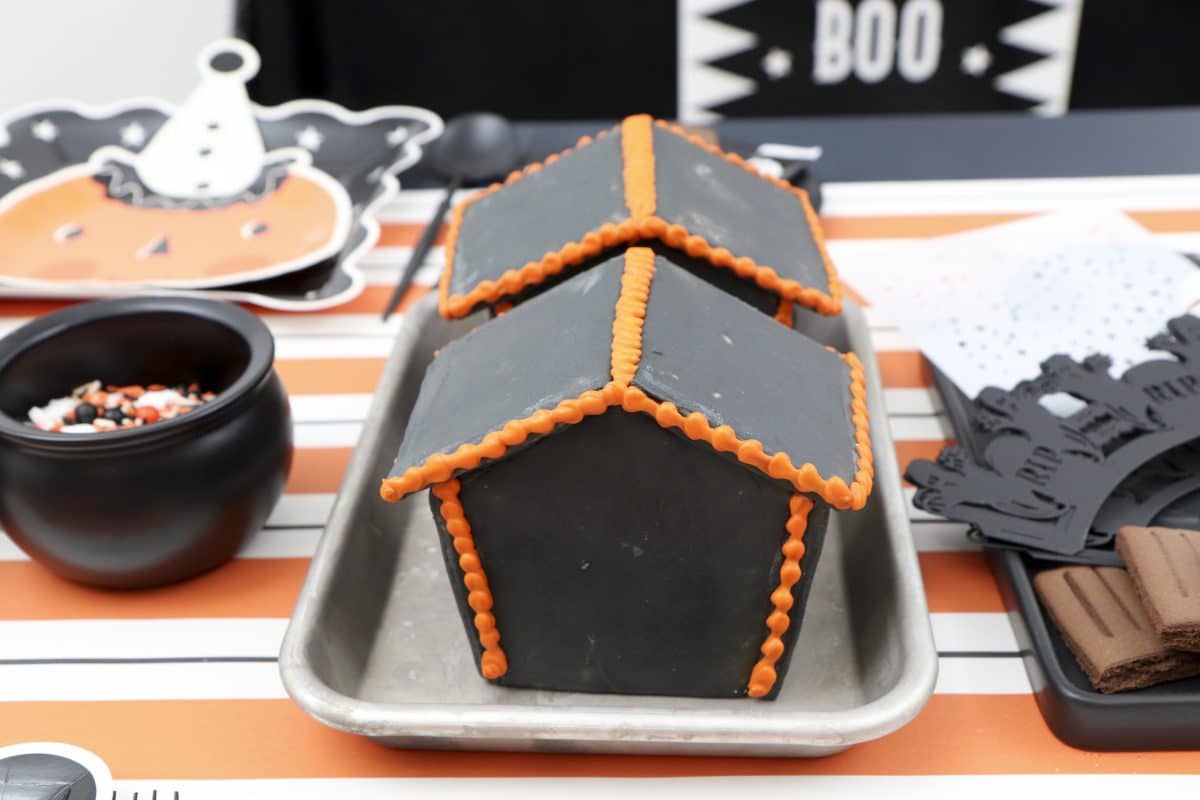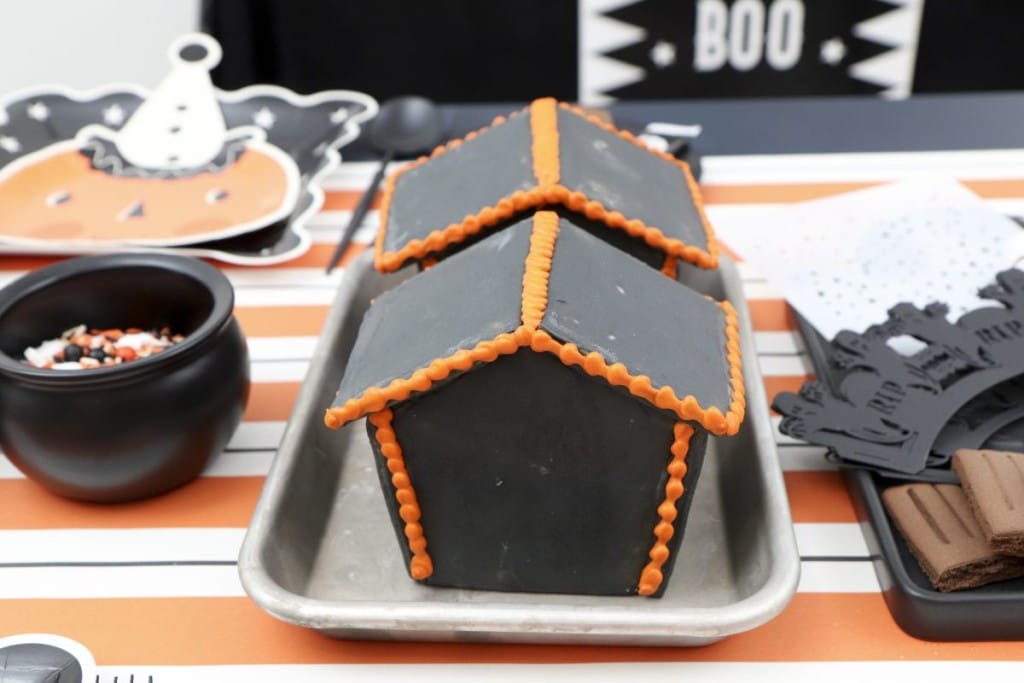 Finally, on either side of the trays of houses, I placed three cauldron containers of sprinkles and candy decorations.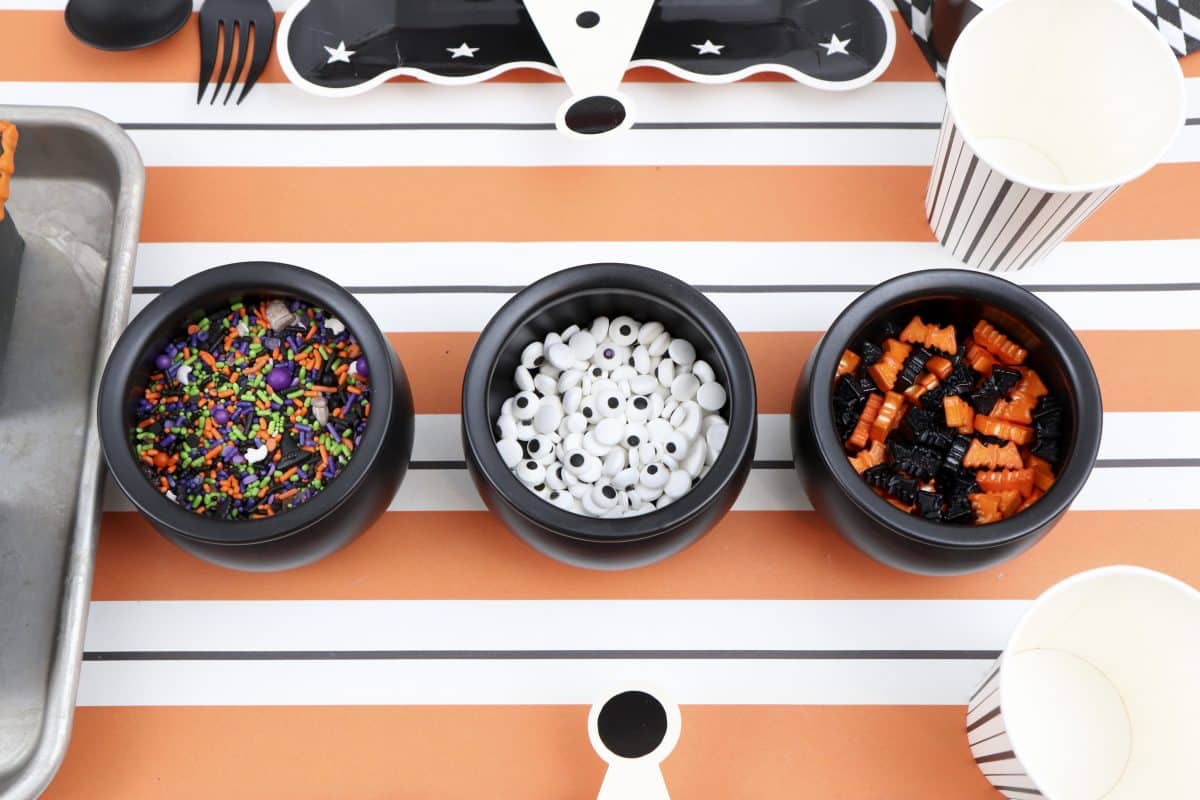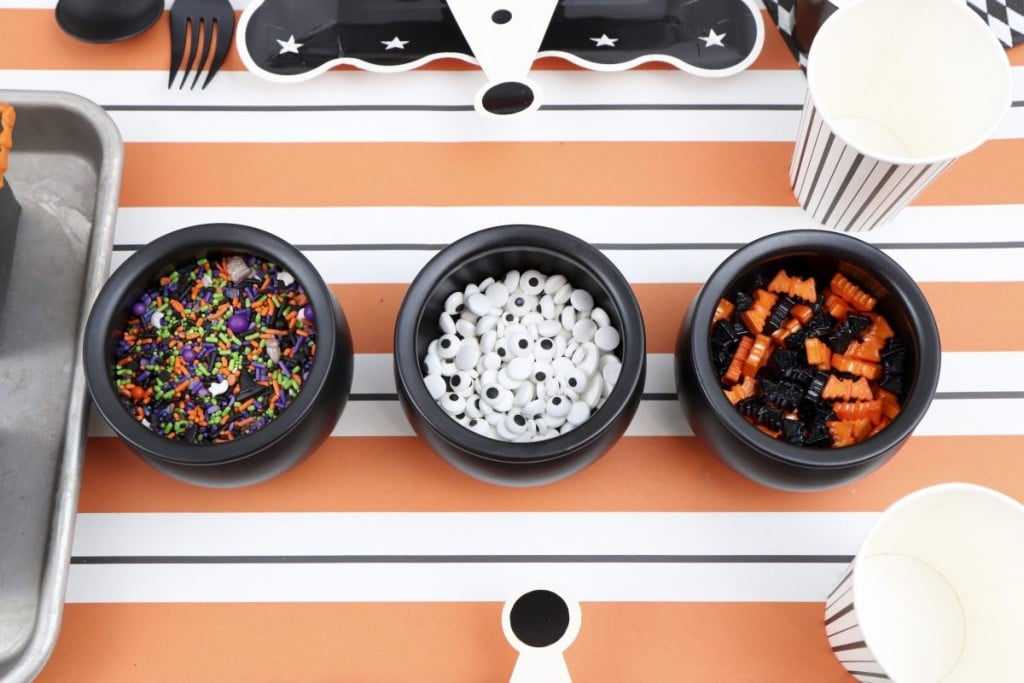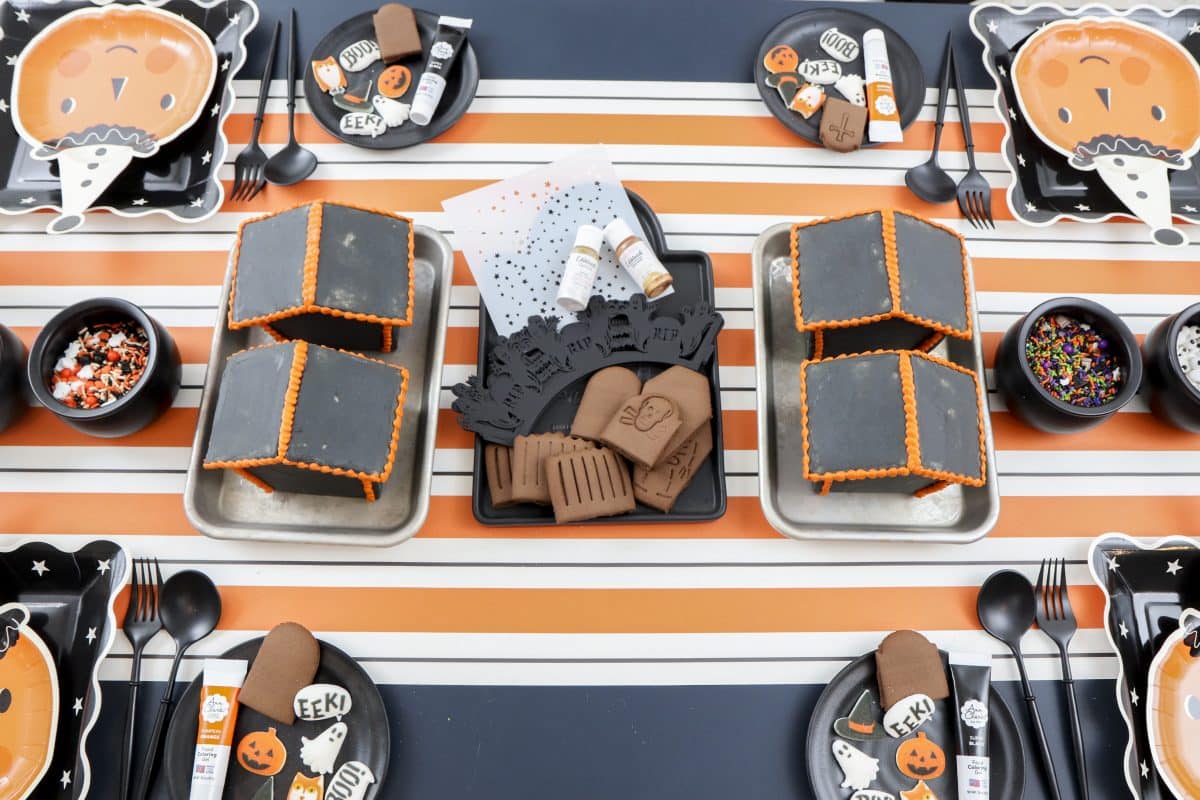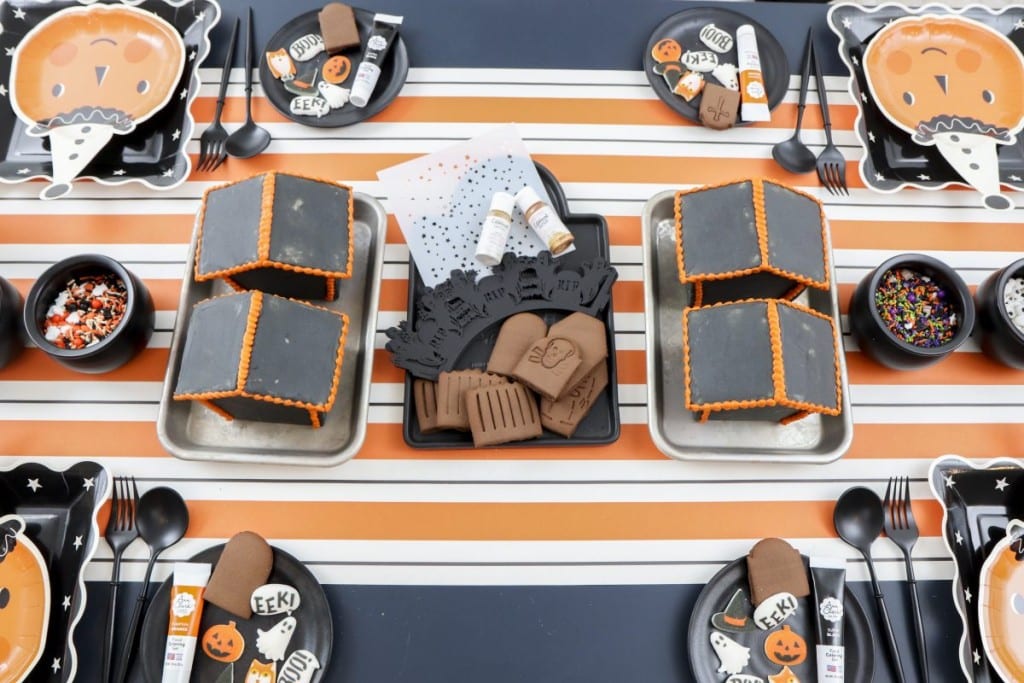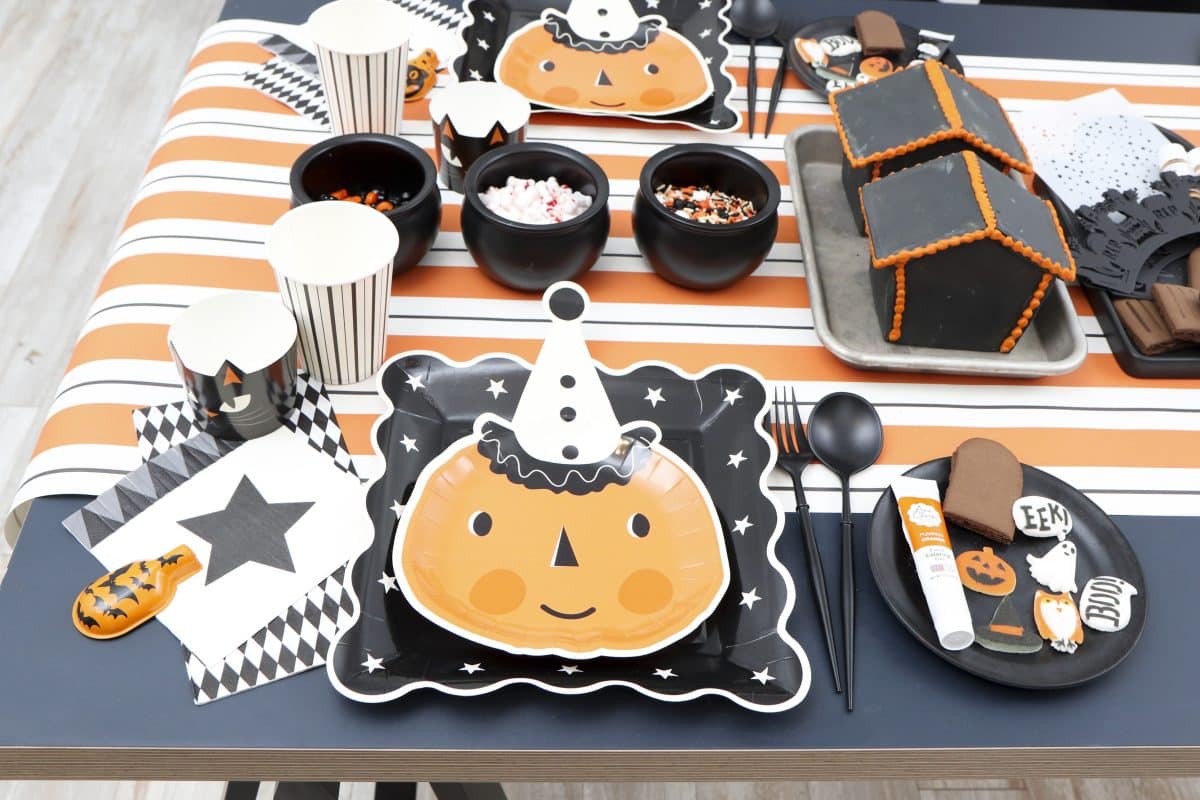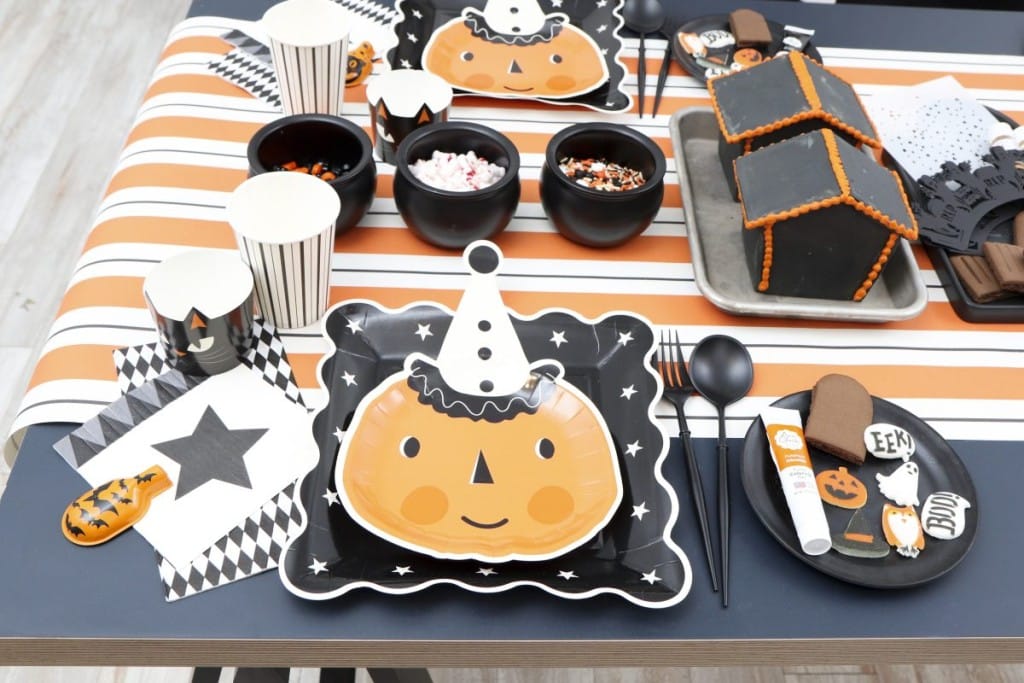 Photo Booth
Once decorating is done, you need a space where everyone can show off their final creations! I hung an orange, black, and white fringe backdrop on the wall, and then added a set of Vintage Hallowen garlands on top – one with stars and moons, and the other with "Boo" in the same vintage font as the other Boo décor. This simple backdrop is perfect for taking photos of the finished houses!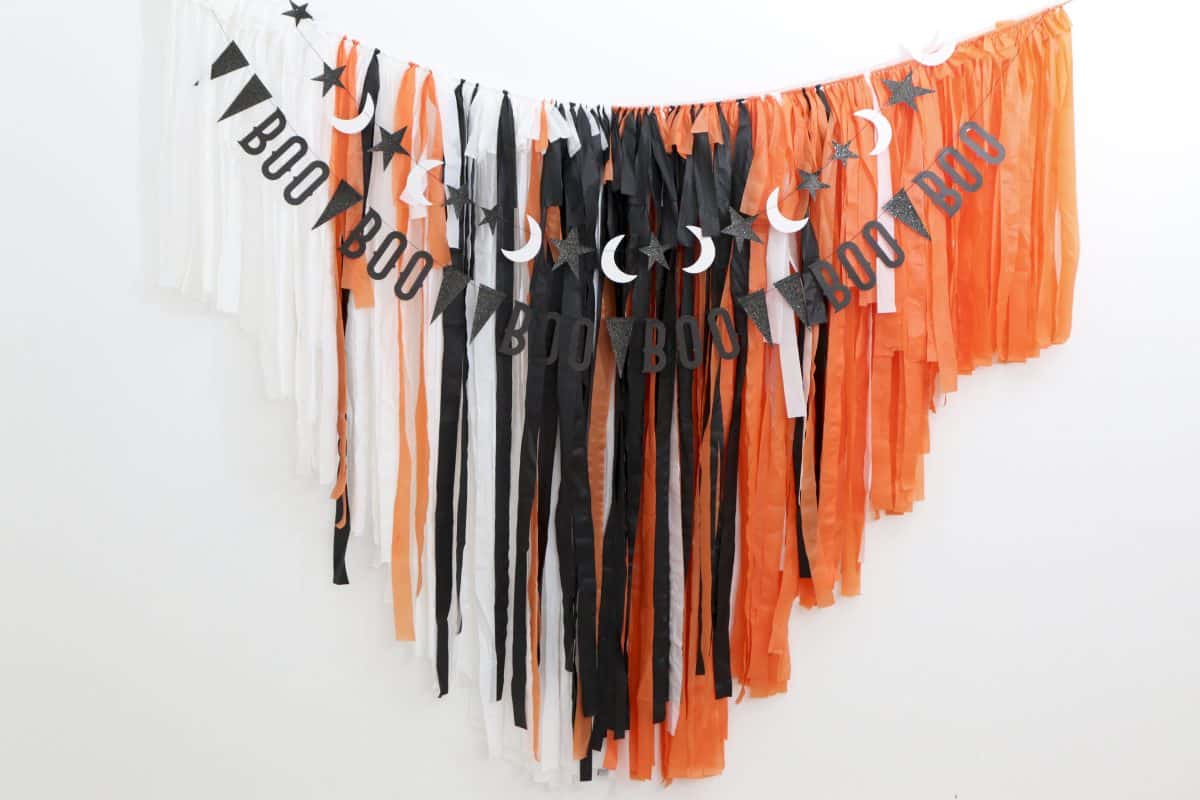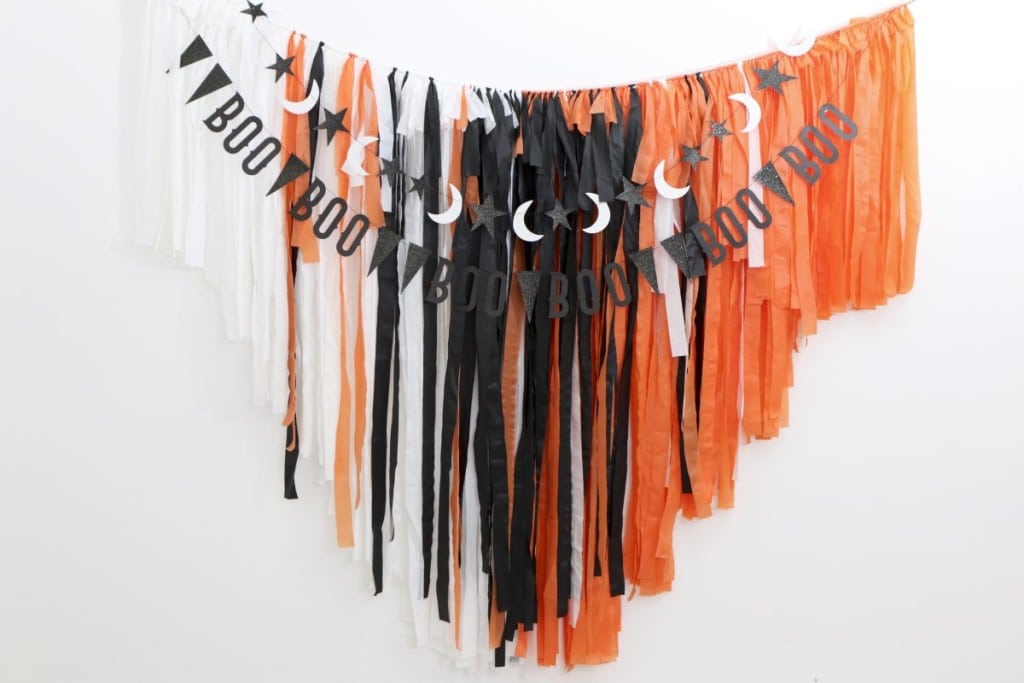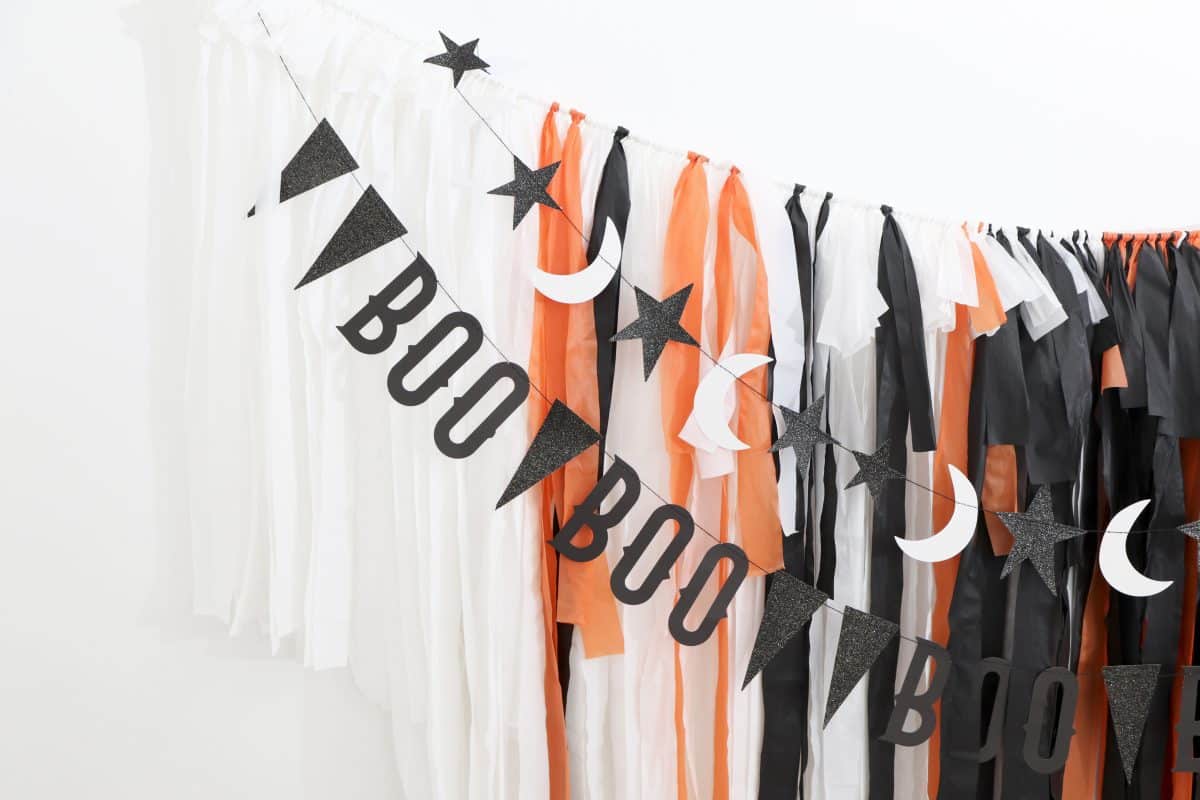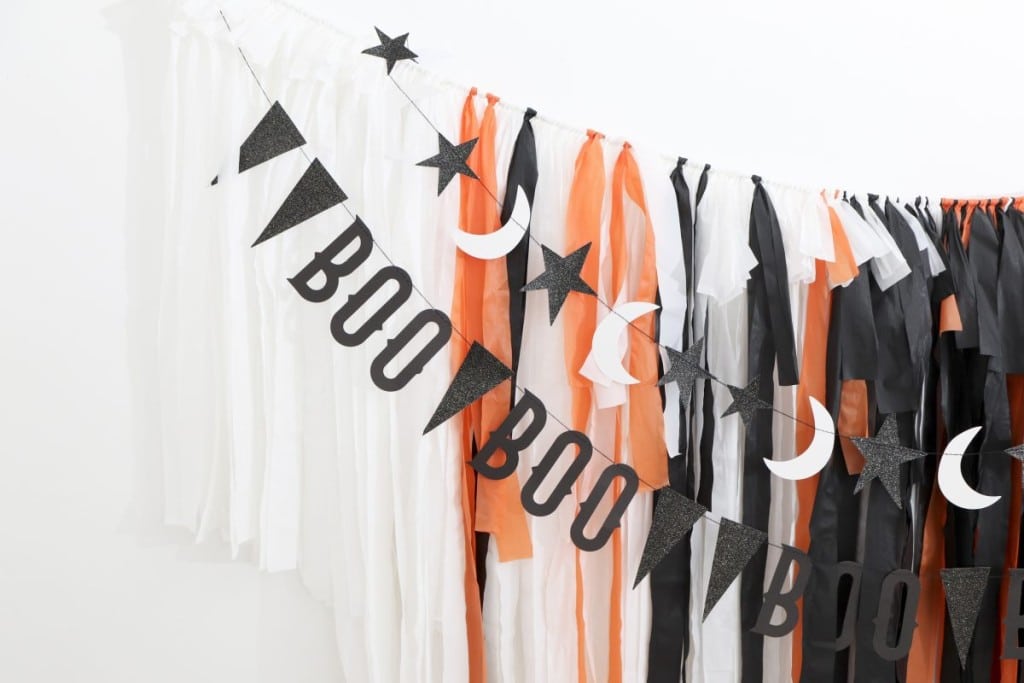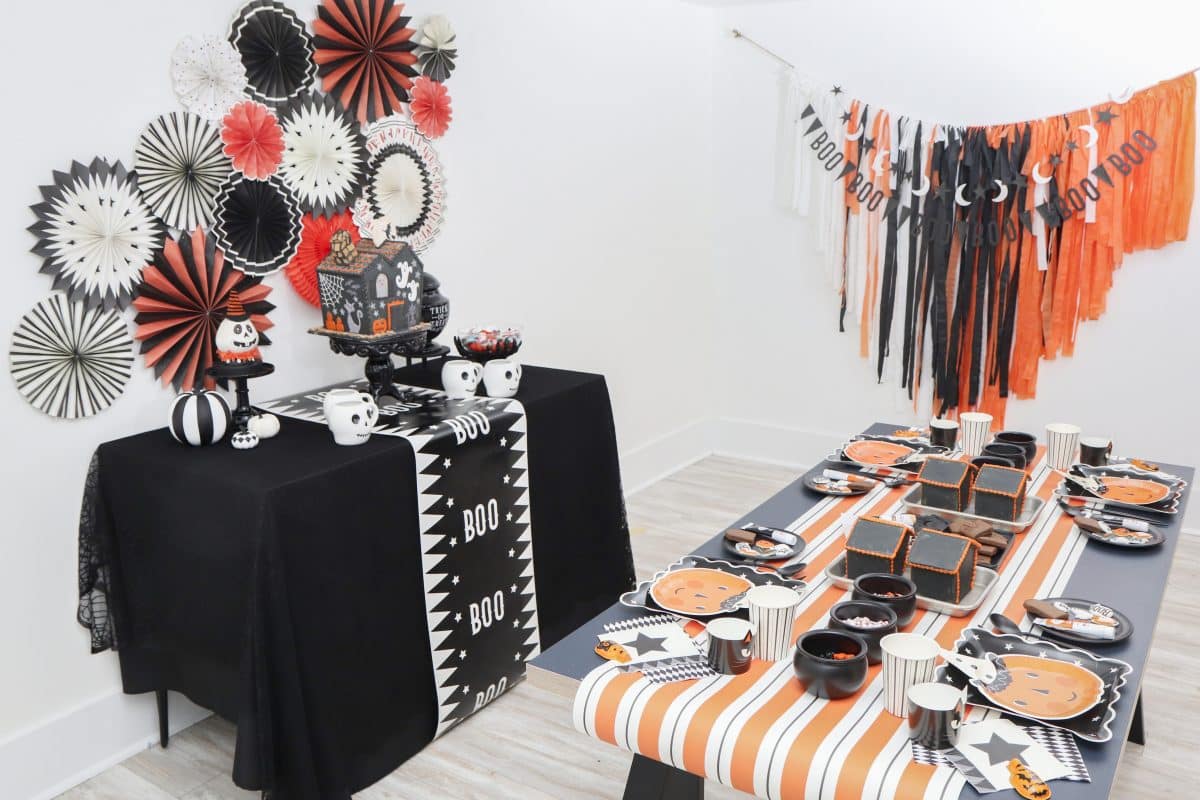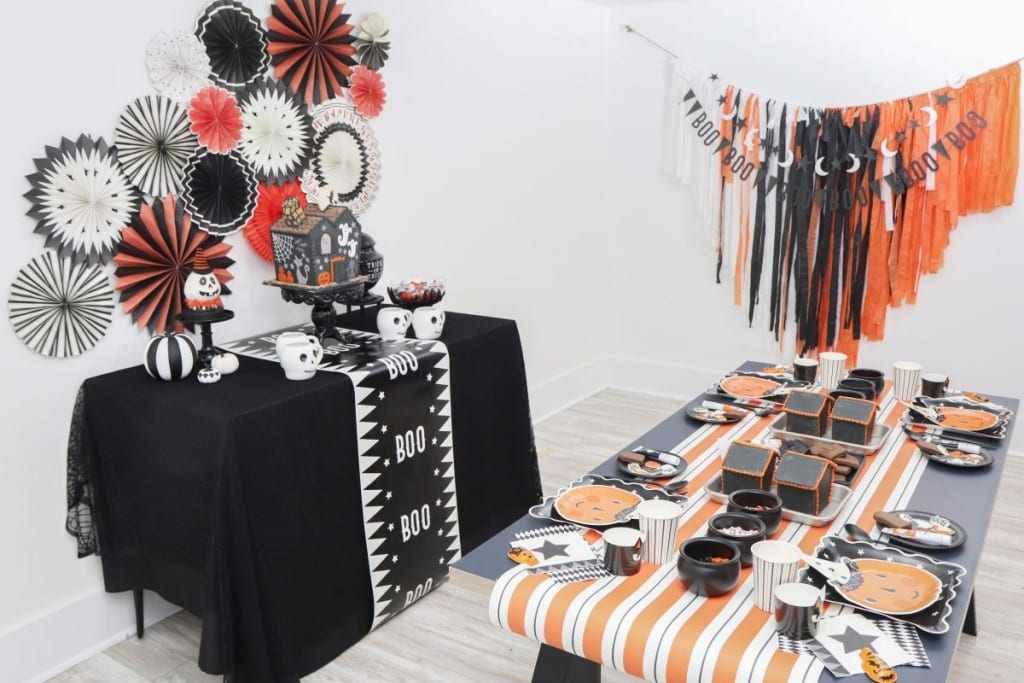 For a full and detailed video of this set-up step-by-step, check out my YouTube video.
And don't forget to visit the other Halloween Gingerbread House Decorating parties I've styled over the years!
Happy Partying!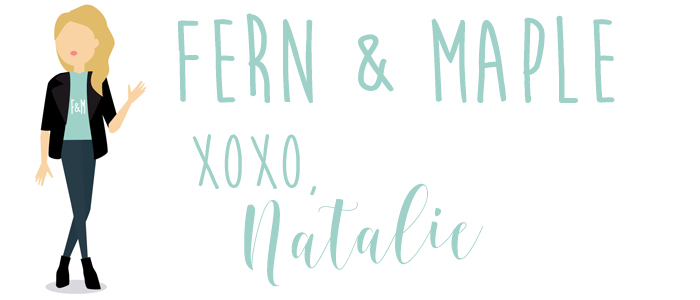 PIN FOR LATER: