Planning a FRIENDS Themed Party and need decor ideas? "I'll be there for you"….with tons of FRIENDS Themed Party Decor Ideas! I've styled two different parties based on the FRIENDS TV show (Friendsgiving Dinner Party and 30th Birthday Party), and I went decorating crazy with all sorts of things that payed homage to my favorite characters, quotes, and props from the show. I'm here to share them all with you to inspire you!
How to Create your own FRIENDS Themed Party Decor
As a blogger, I sometimes receive compensation and/or products in exchange for my styling and crafting services. I also may earn a small commission from any sales that result from affiliate links on this page. As always, all project ideas and any opinions expressed here are my own.  For further information on our disclosure policy please check out our disclosure page. 
1- Opening Credit Umbrellas
Everyone remembers the umbrellas from the opening credits of FRIENDS. You can easily incorporate them into your decor by getting inexpensive umbrellas, painting them in the colors from the opening, and adding words to them with vinyl stickers or Cricut cutouts. I used my Cricut and the FRIENDS font "Gabriel Weiss" to add the words "Happy" "Friends" and "Giving" for my FRIENDS themed Friendsgiving Dinner Party! These made the perfect photo backdrop for my party.

Another way to incorporate the iconic FRIENDS umbrellas into a party is by turning them into a cake topper! For the FRIENDS themed birthday party I styled, I painted umbrella-shaped favor containers in more modern muted versions of the FRIENDS umbrella colors, and added the age of the guest of honor with letter board numbers.
TIP: Don't forget to put some plastic wrap or parchment paper between the painted topper and the cake, to keep it food safe.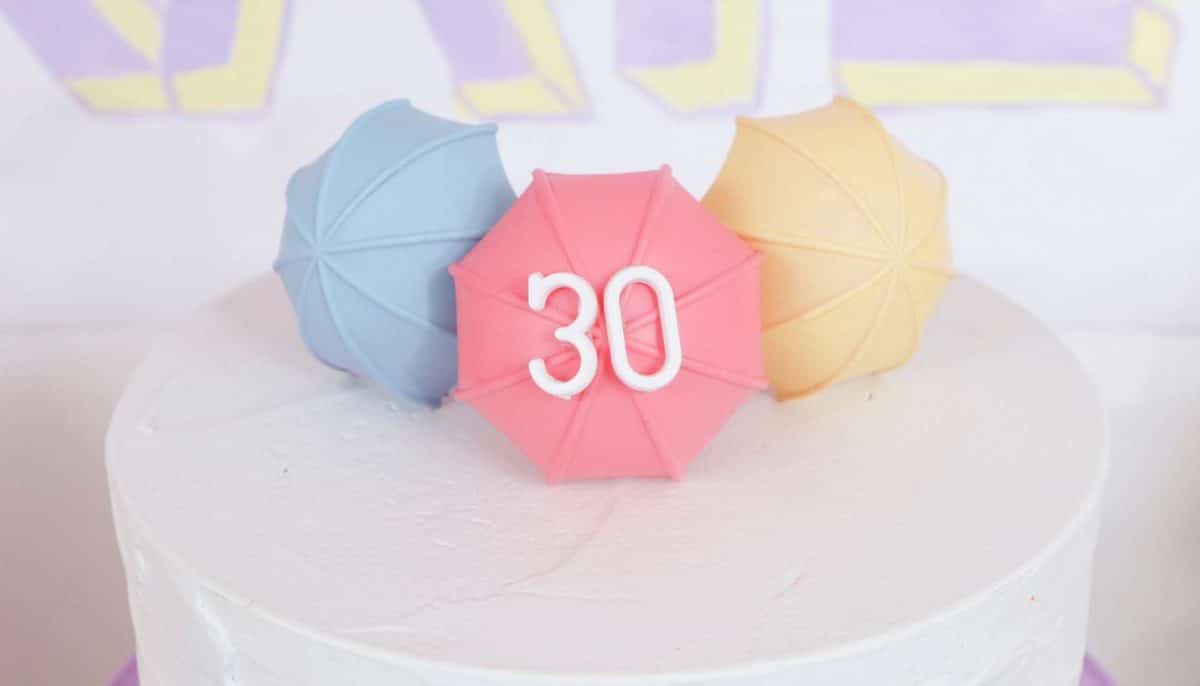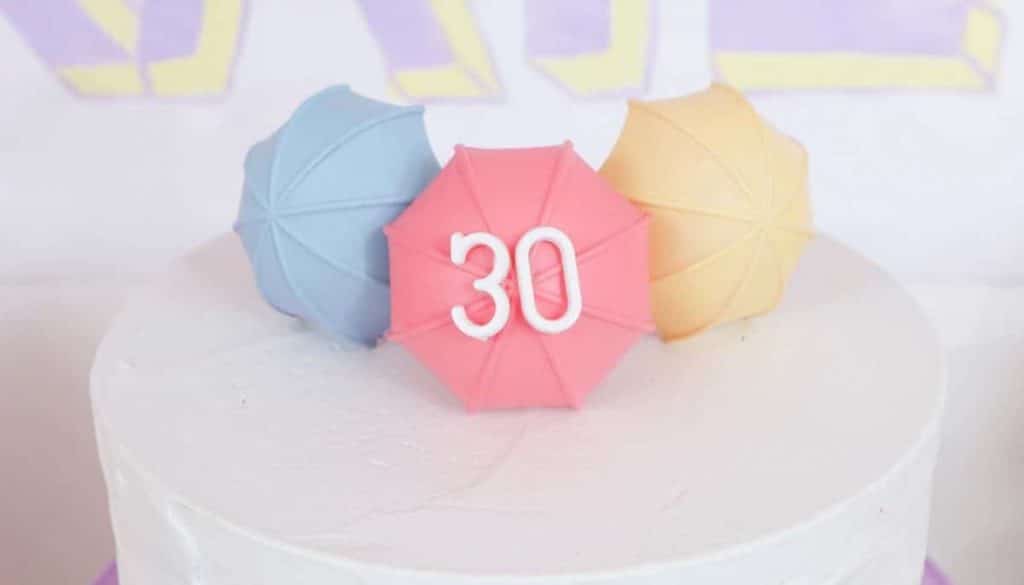 You can also place painted umbrellas on their own around your tables for more easy and cute FRIENDS themed decor.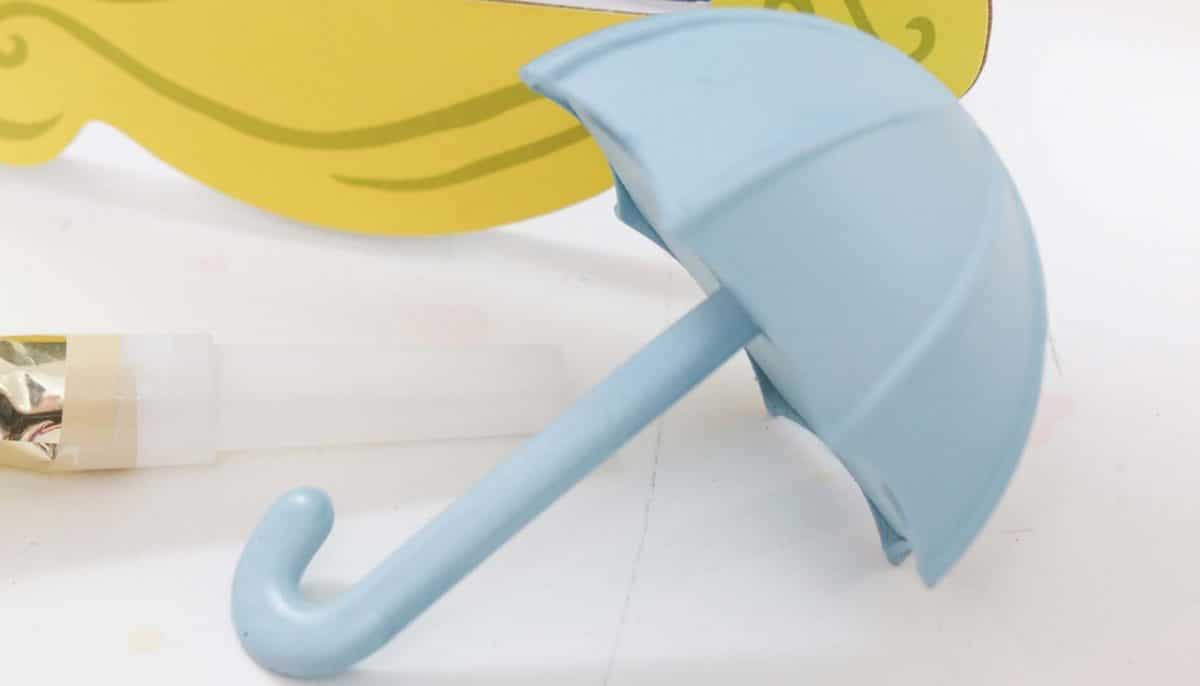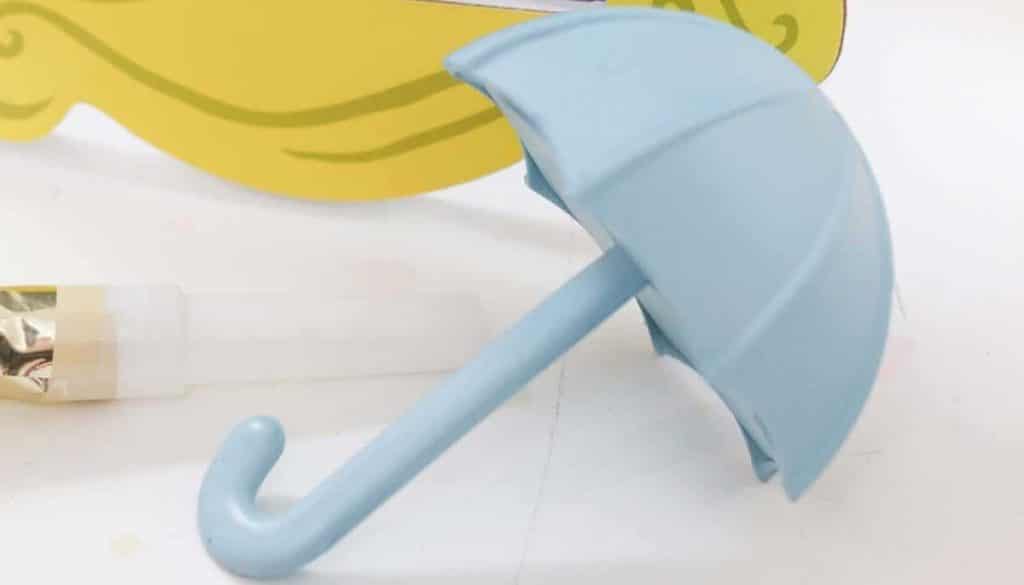 2 – FRIENDS Fountain Centerpiece
The other classic FRIENDS intro symbol is the fountain they all play in during the "I'll Be There For You" song. For my FRIENDS themed birthday party, I made a DIY Fountain Centerpiece to pay homage to it. The base is a glass floating candle dish, with a two sizes of margarita dishes hot glued on top. Then, I added faux hydrangea petals inside it to represent flowing water.  Finally, I added more of the painted umbrella favors for a pop of fun FRIENDS color!

3 – FRIENDS Quotes
When it comes to vinyl lettering, there are endless possibilities for where you can use it! You can add popular FRIENDS quotes to wine glasses, pumpkins, letter boards, cushions, on photo booth props for people to use…quotes really bring the party to life. People will get a good laugh from remembering the funny lines, and you can turn it into a game of guessing which Friend said it in which episode!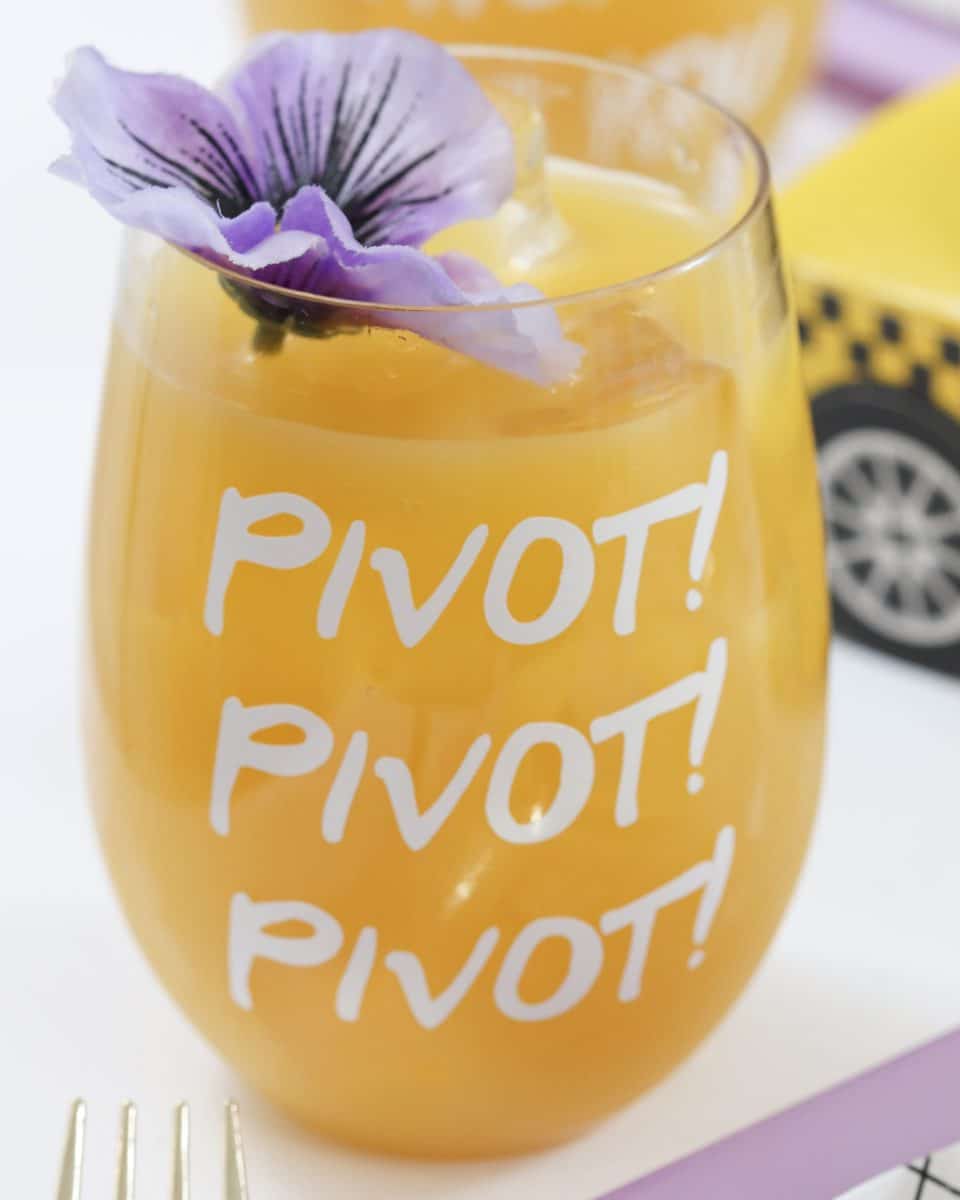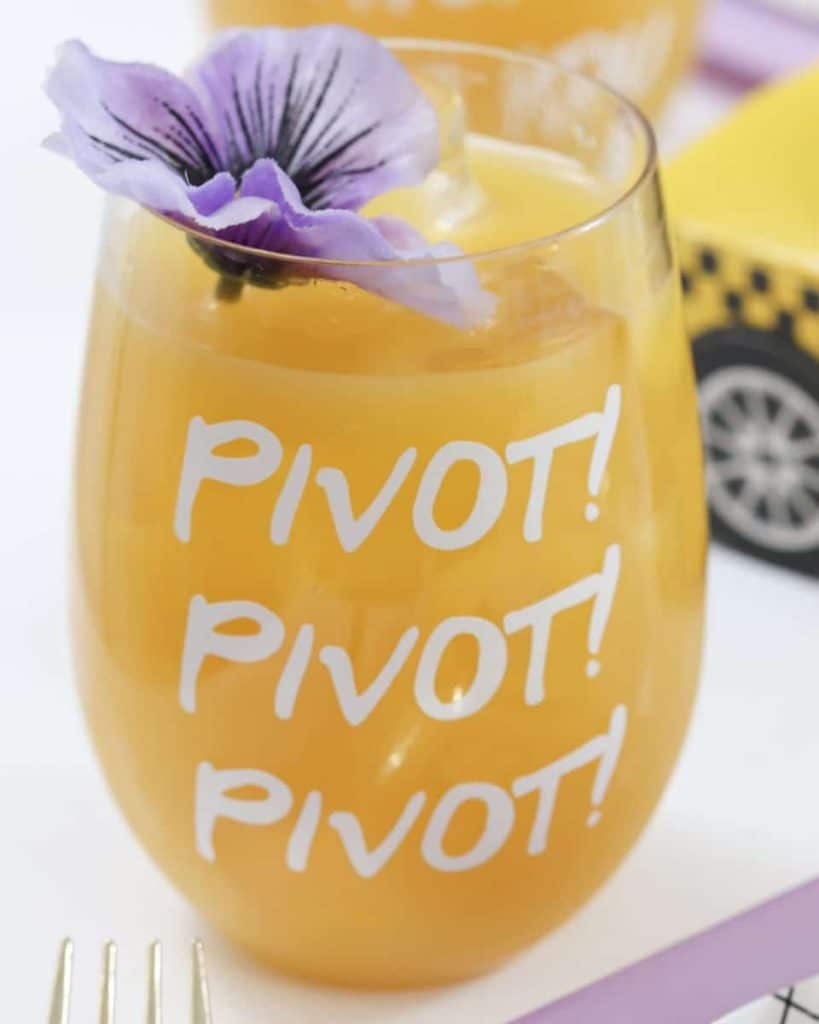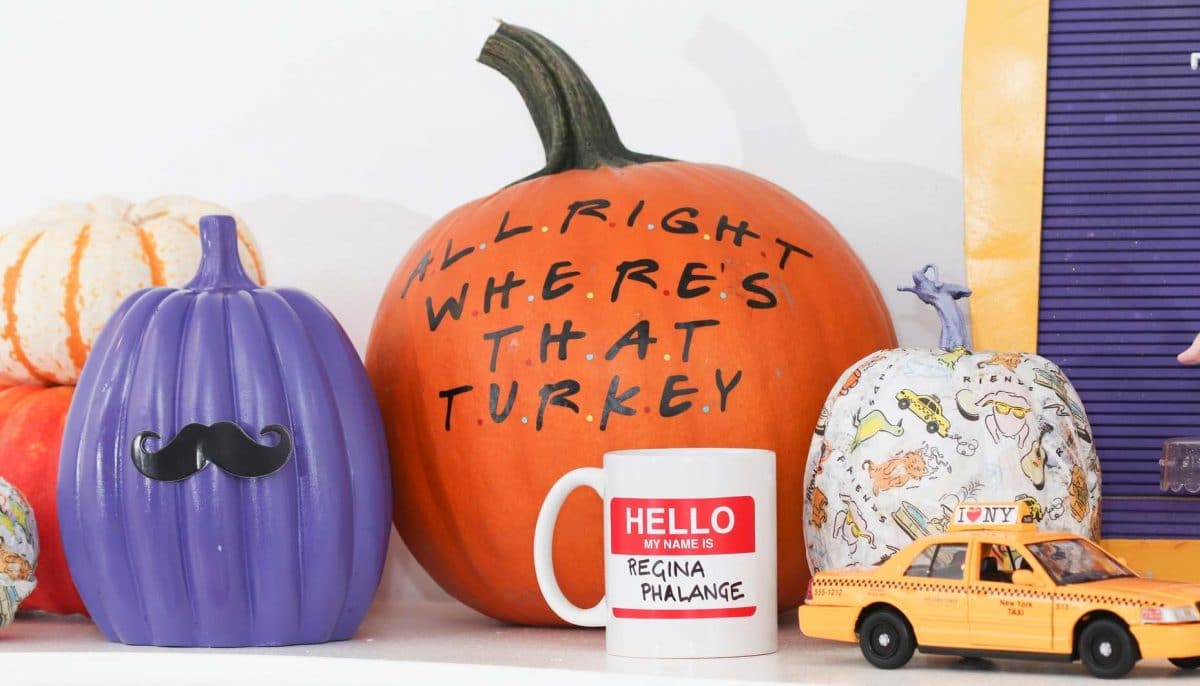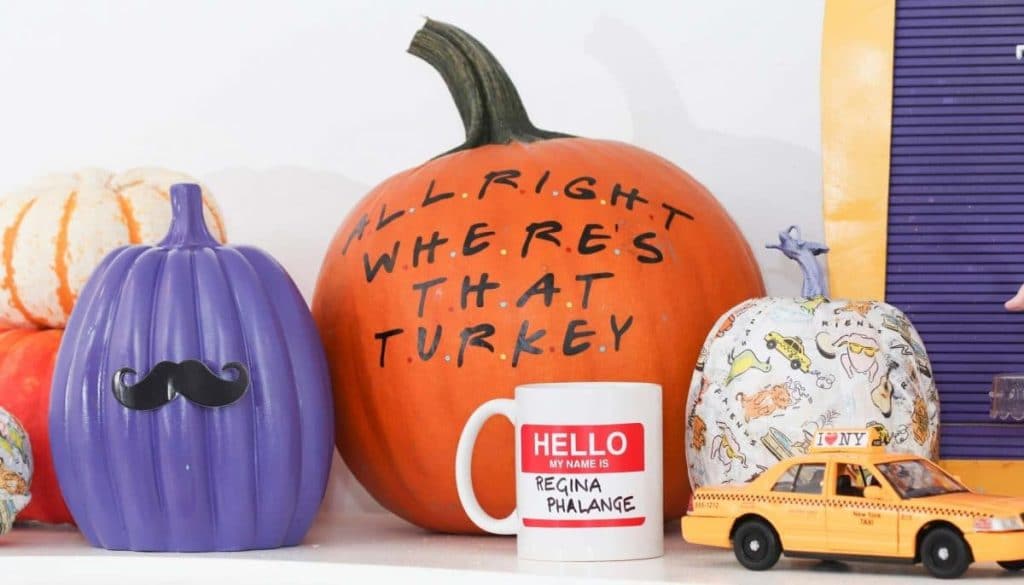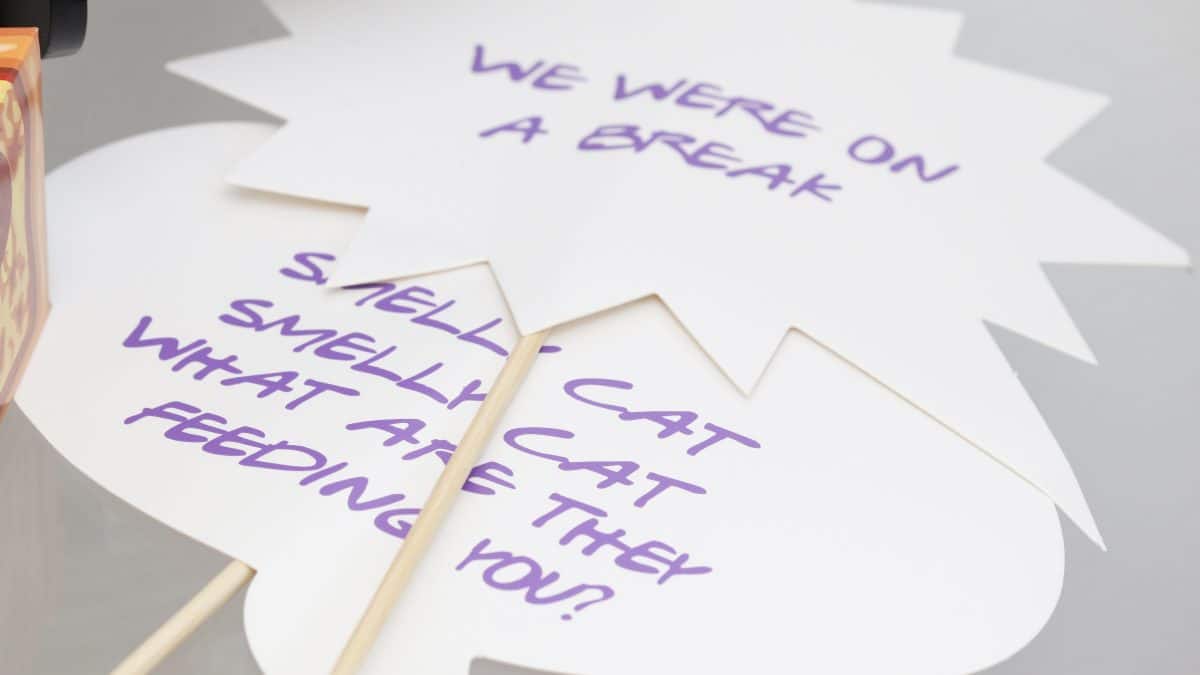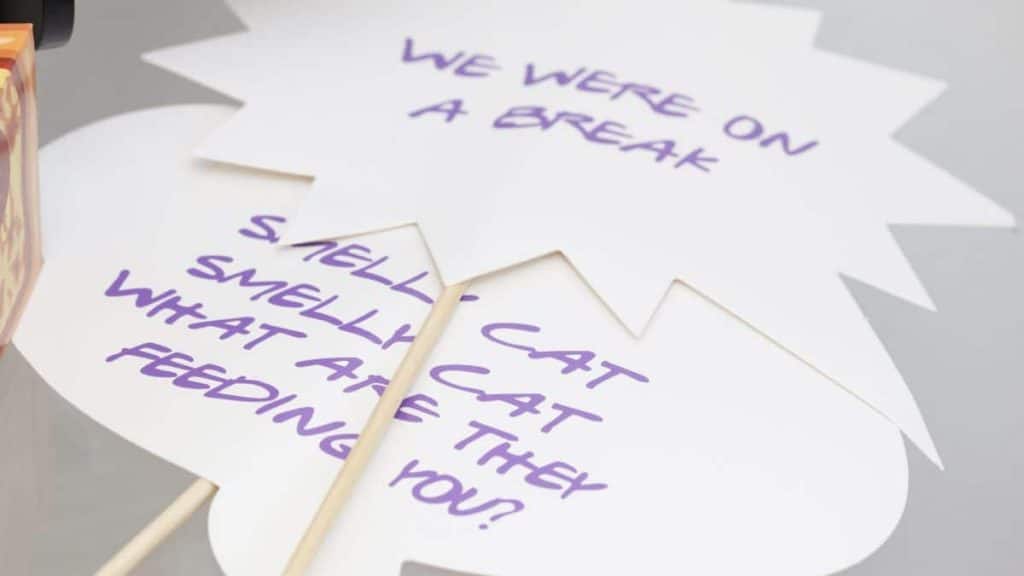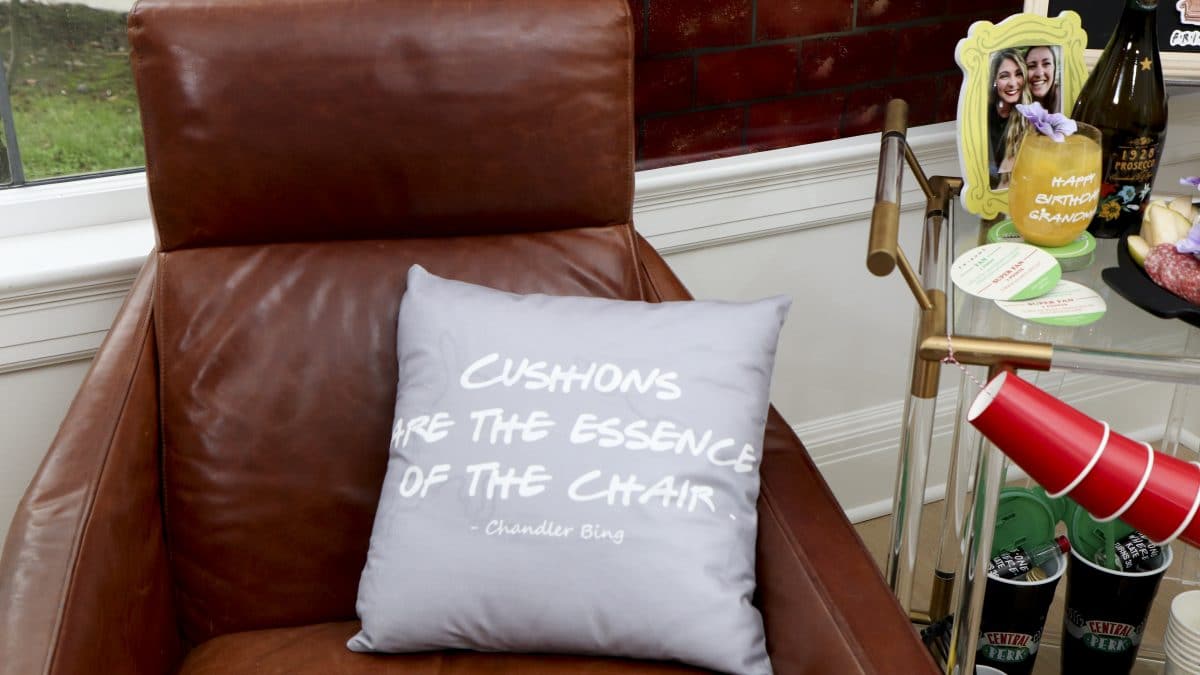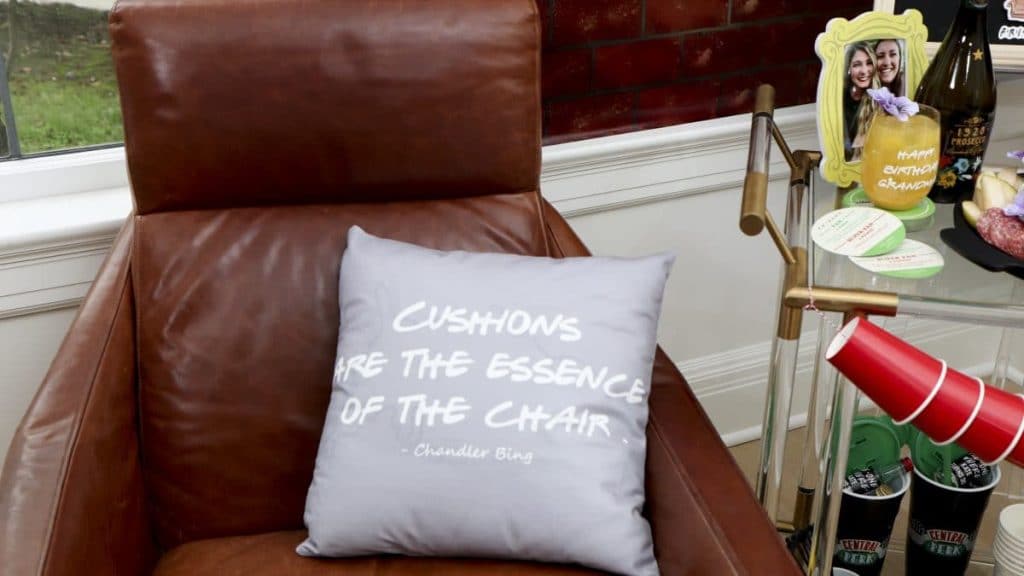 4 – FRIENDS Coffee Mugs
Coffee plays a vital part in the show. If they're not in the apartments, you can bet they are likely in the Central Perk coffee shop! No matter what time of day your party is, you can incorporate this part of the show using coffee mugs. If you're serving coffee, of course you can use them to drink out of, but first decorate them with character name tags, mustaches for a Richard vibe, FRIENDS themed stickers, etc. If coffee is not on the menu, you can still use decorated coffee mugs as vases, or containers for candy, favors, activity/guestbook pens, or anything else.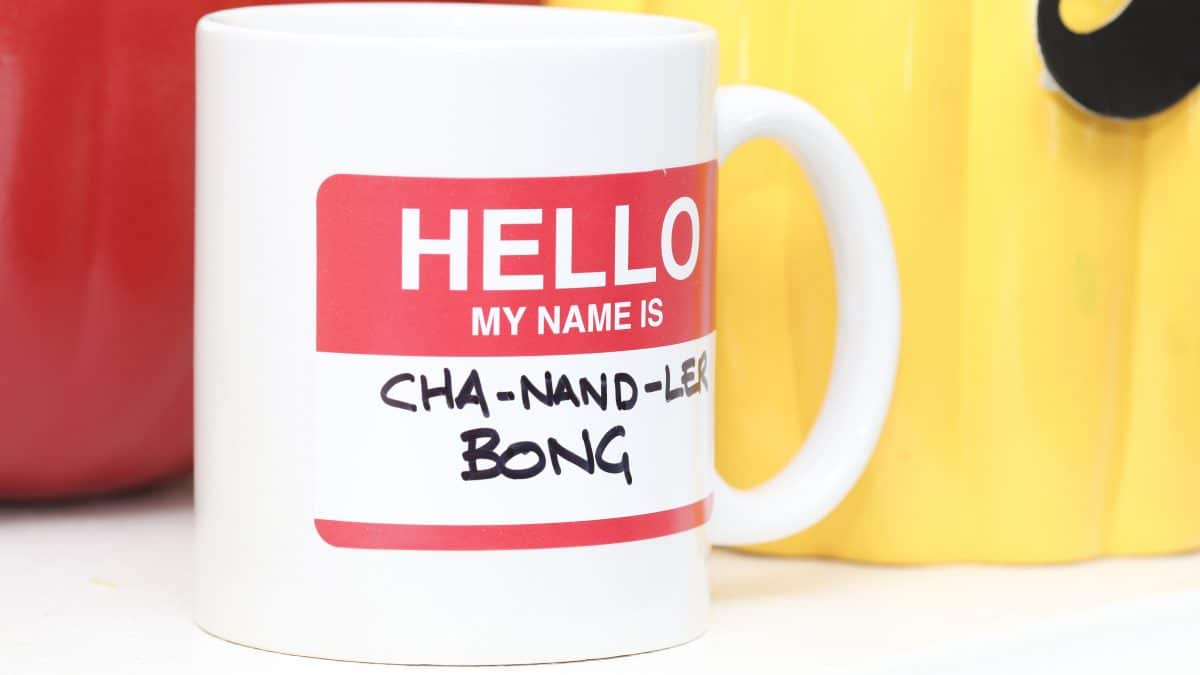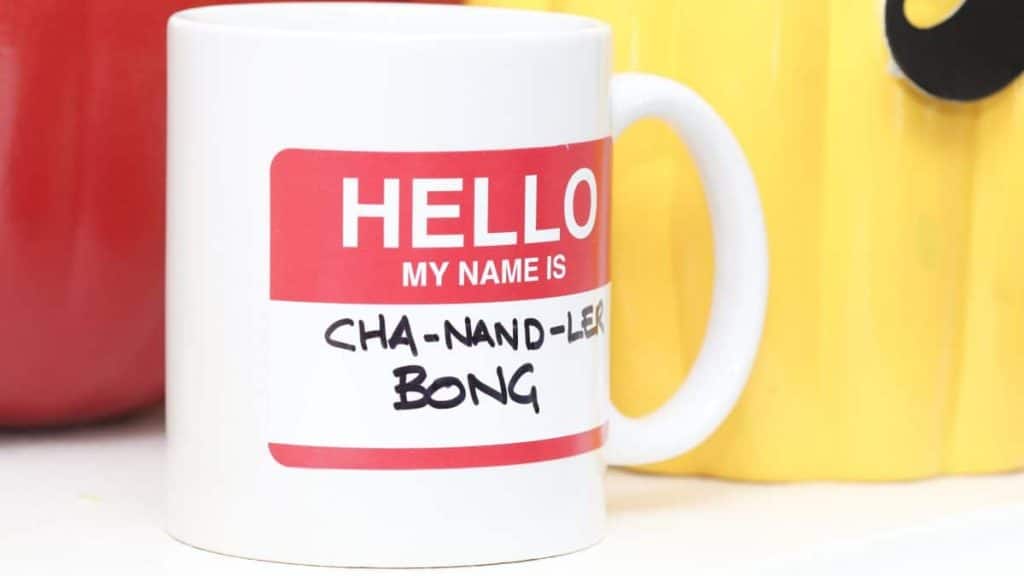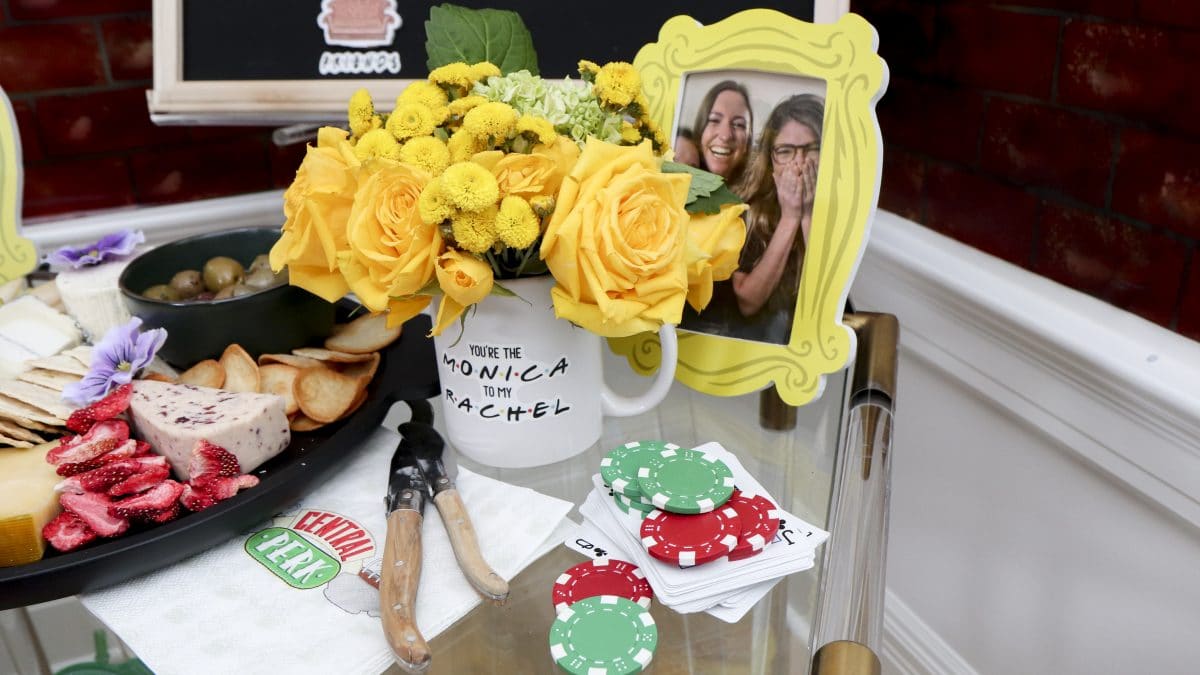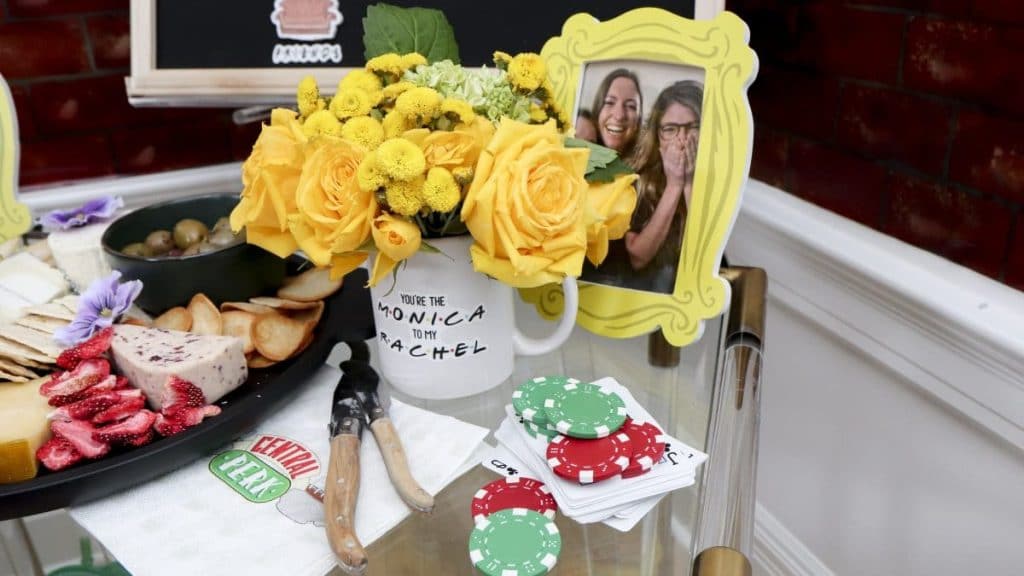 5 – FRIENDS Turkey Place Cards
Name tags can also be used as place cards. Do you remember the episode with Ross' new apartment, where he can't decide whether to have "Ross" or "Dr. Geller" on his name tag? Basic name tags are so inexpensive, and there are so many fun character nicknames from the show you can assign to your guests for an extra fun touch. For my FRIENDS thanksgiving, I created a place card holder out of clay in the shape of the turkey Monica wore on her head to make Chandler laugh. You can get details for this DIY project HERE.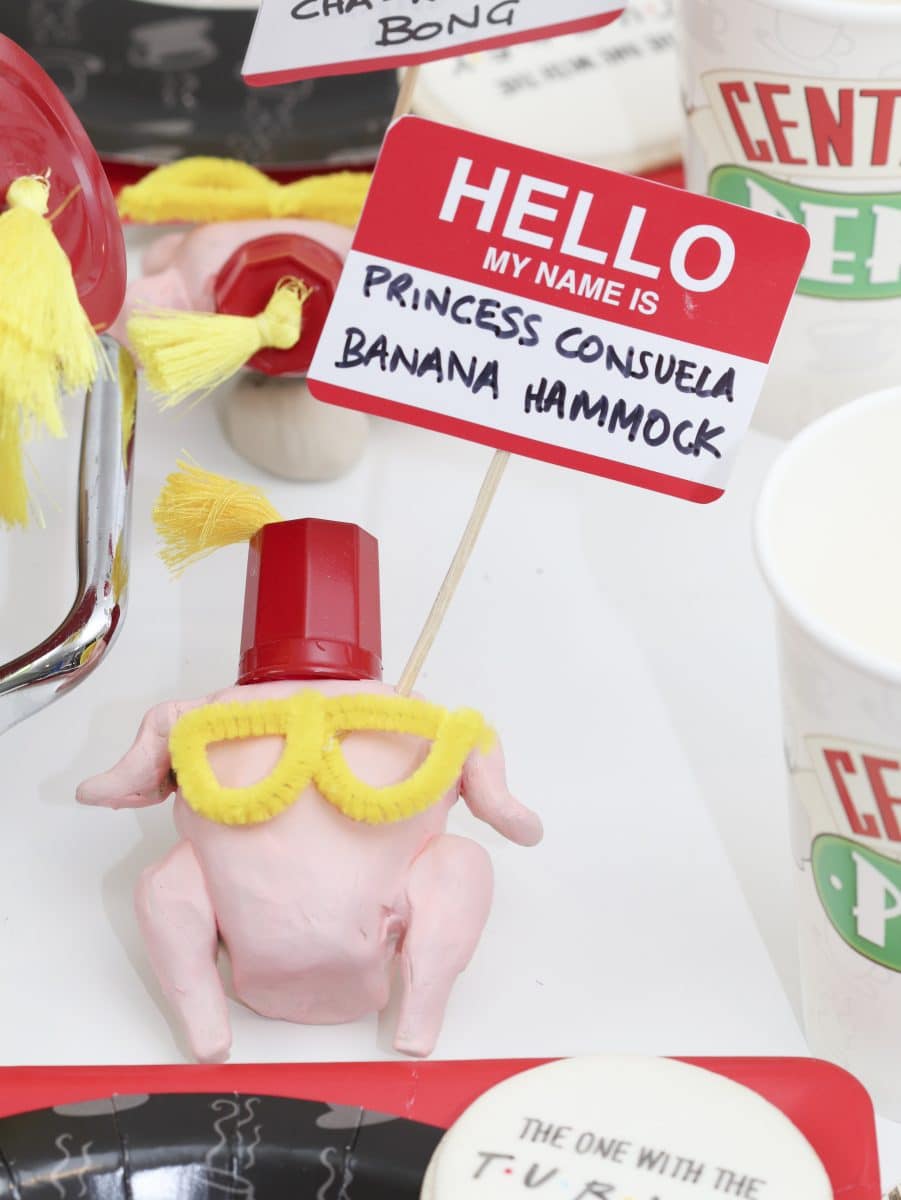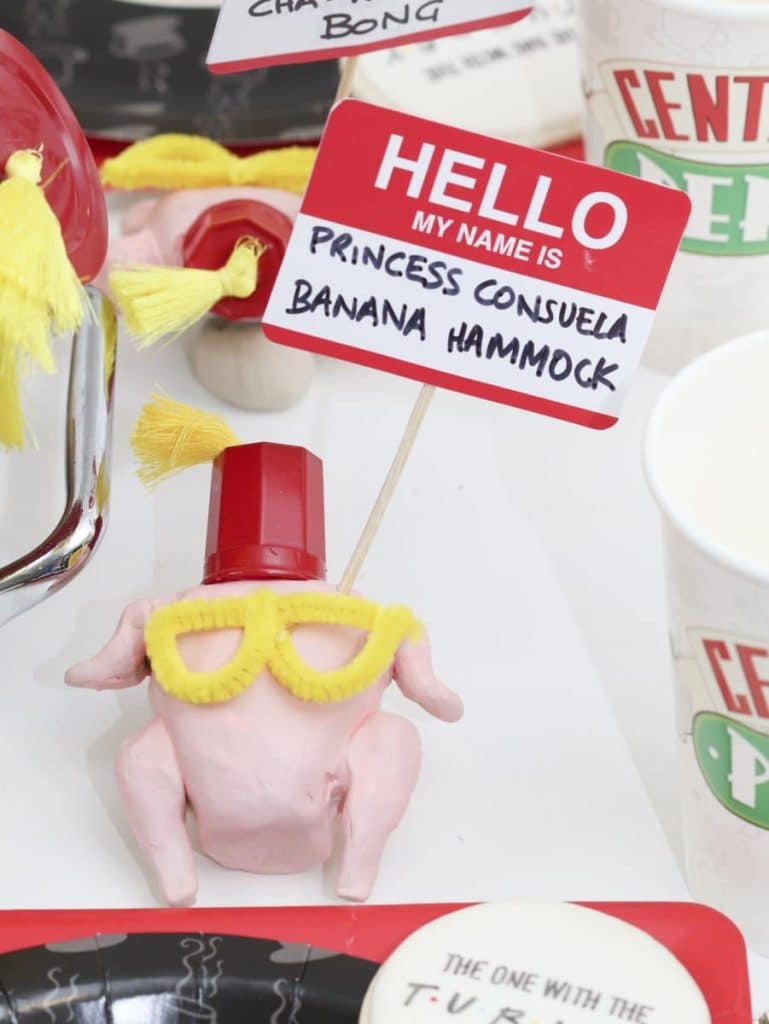 6 – FRIENDS Peephole Frame
Another easily recognizable component of the show is the peephole frame on Monica's purple apartment door. I recreated it for my parties as DIY letter board frames. I spray painted letter boards purple, cut them down to the sizes of my frames, and then placed the yellow frames over the cut pieces. Then, I cut up a metal tealight cover into a circle, and glued it in the middle of a gold-painted letter "O" to create the peephole. These make very versatile decorations- you can change what they say for any occasion!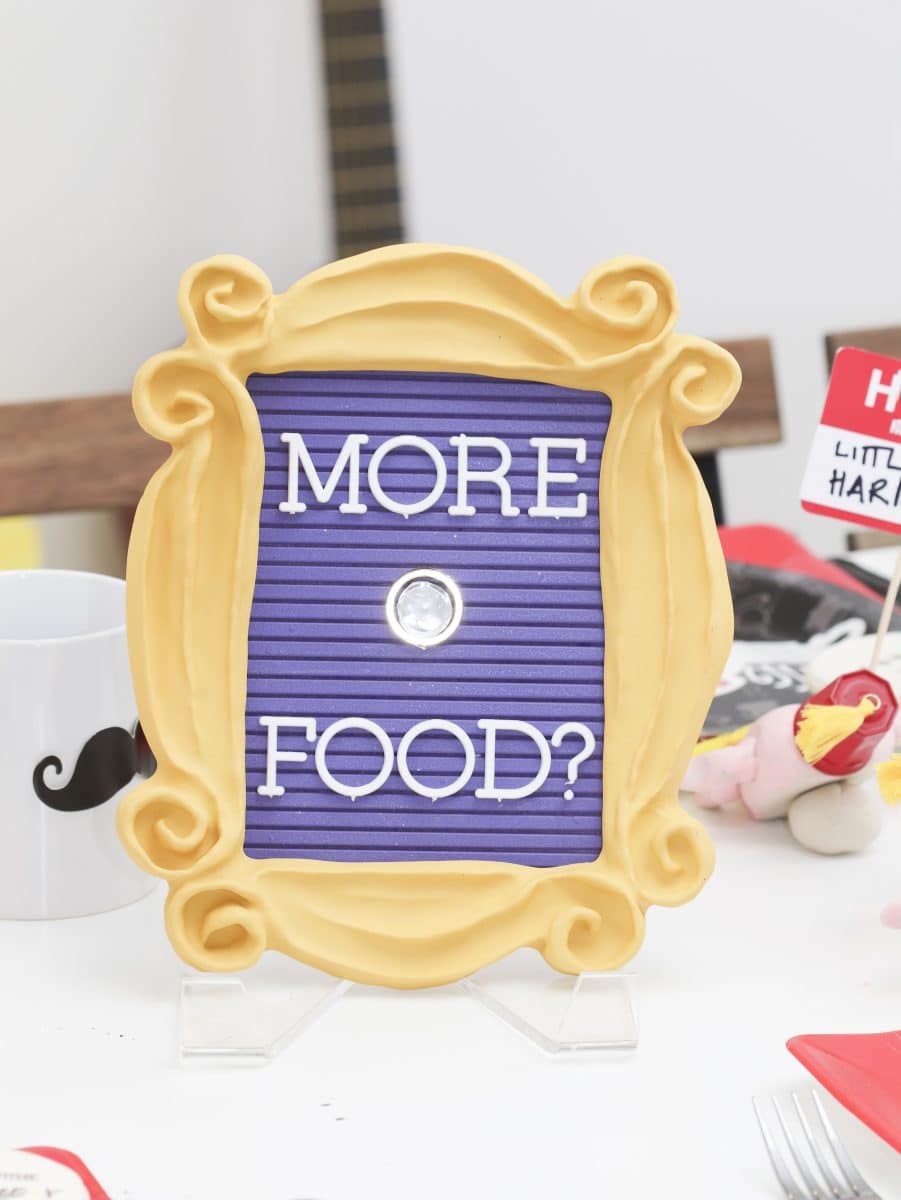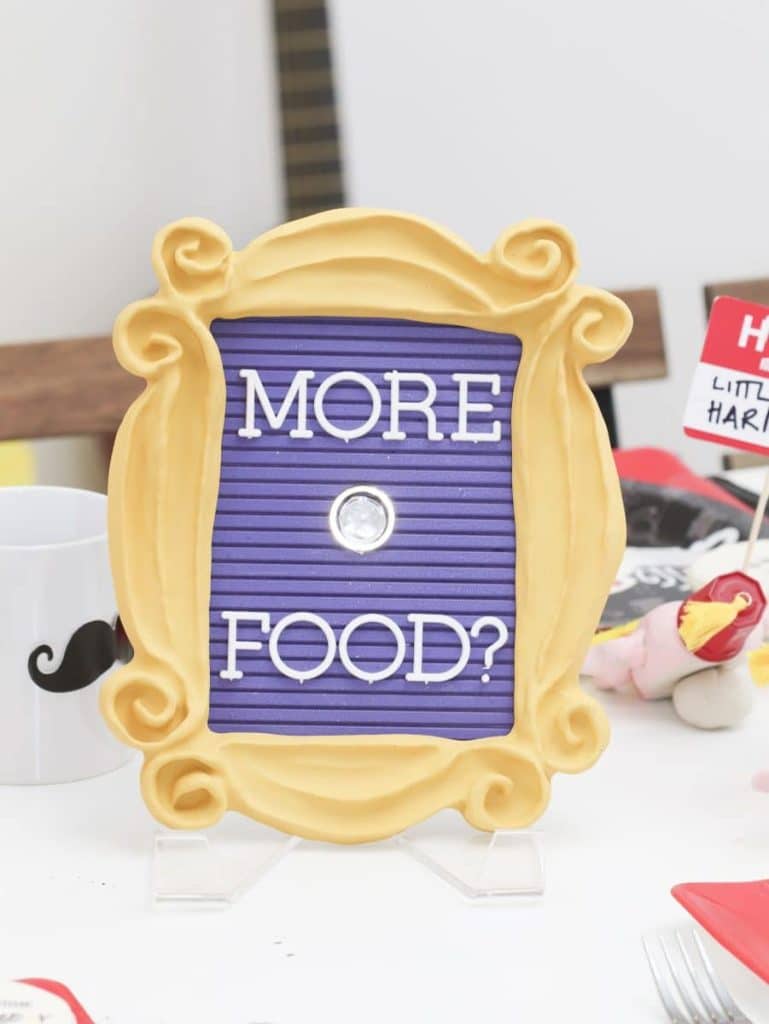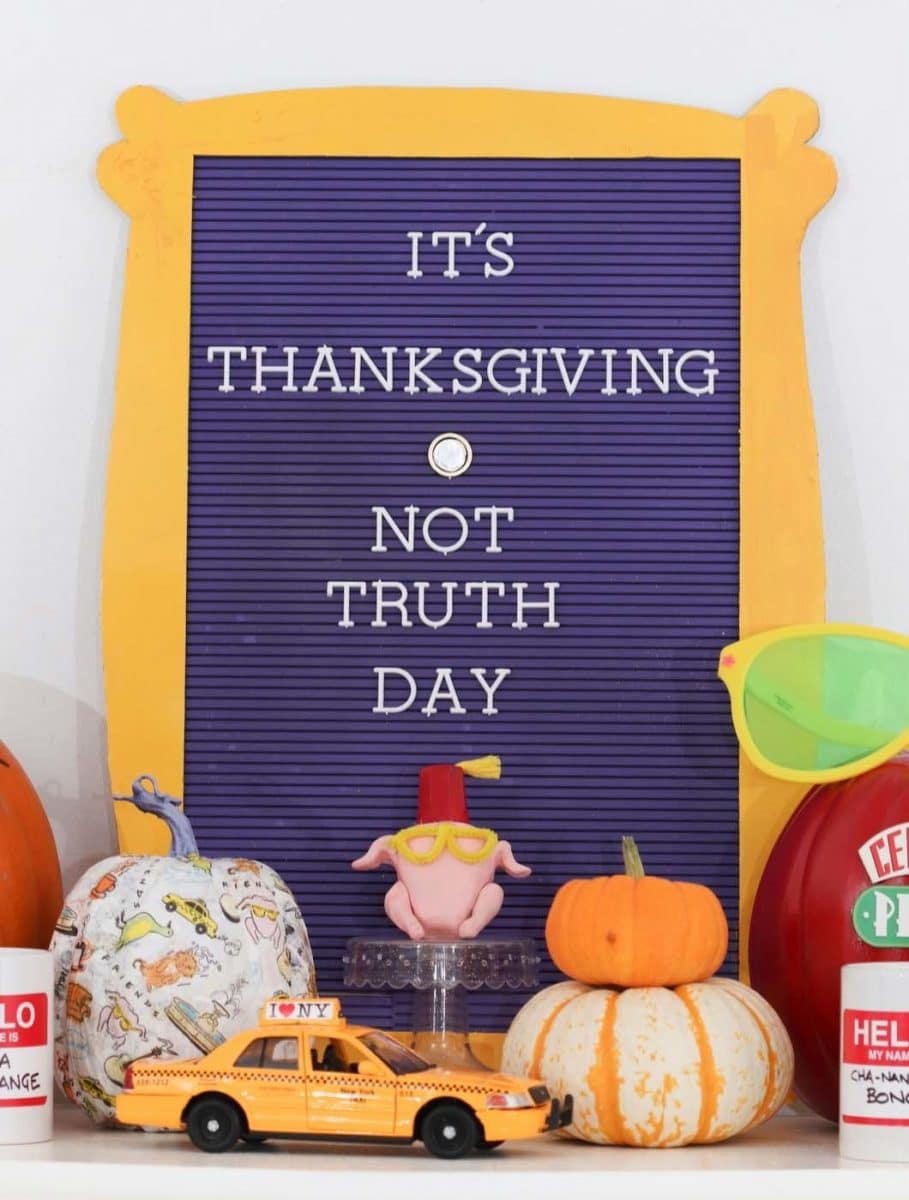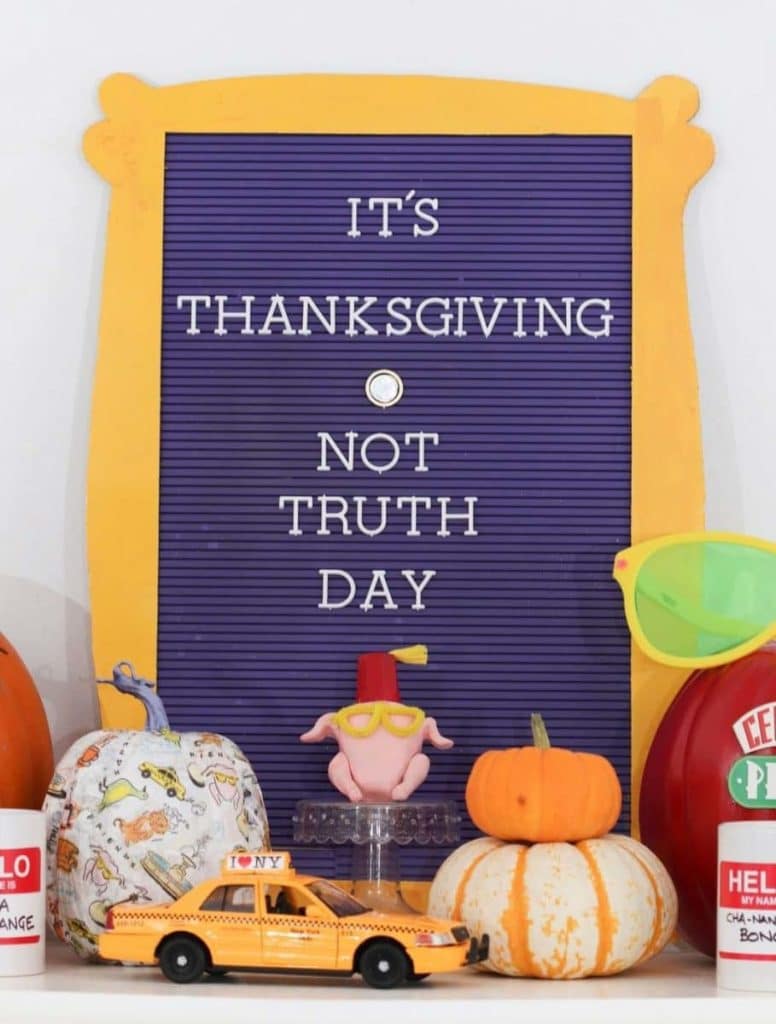 I also used yellow frame props filled with photos of the guest of honor at my FRIENDS themed birthday party. This is a great way to honor both the show and the birthday girl at the same time!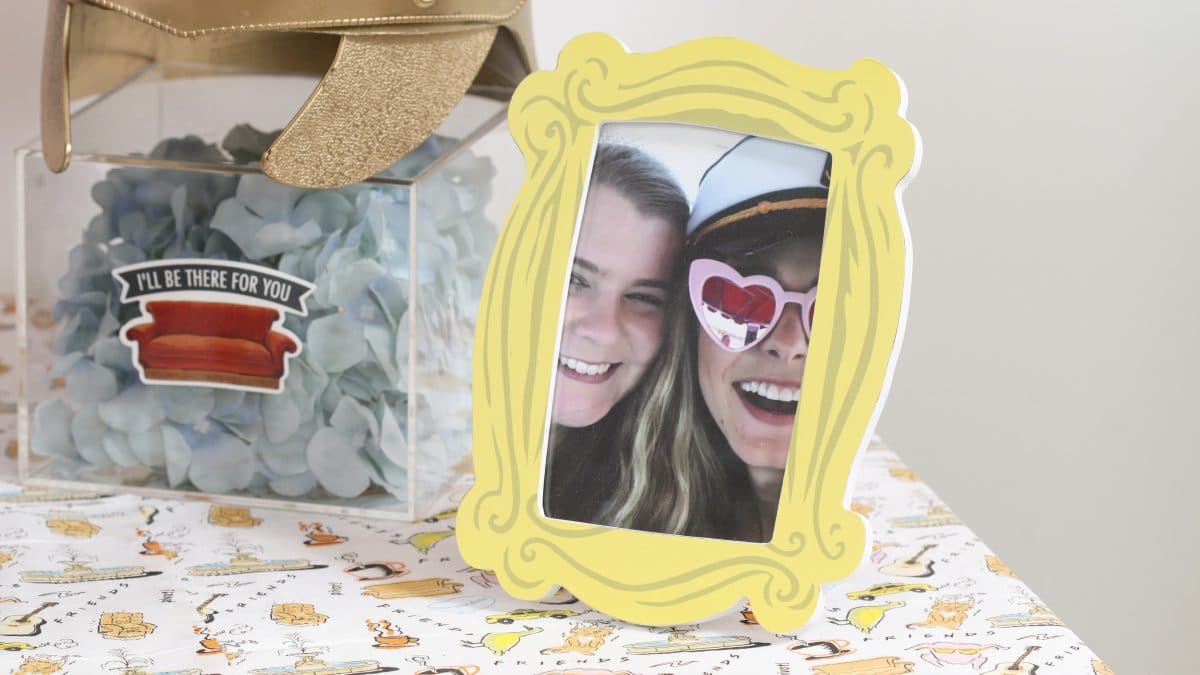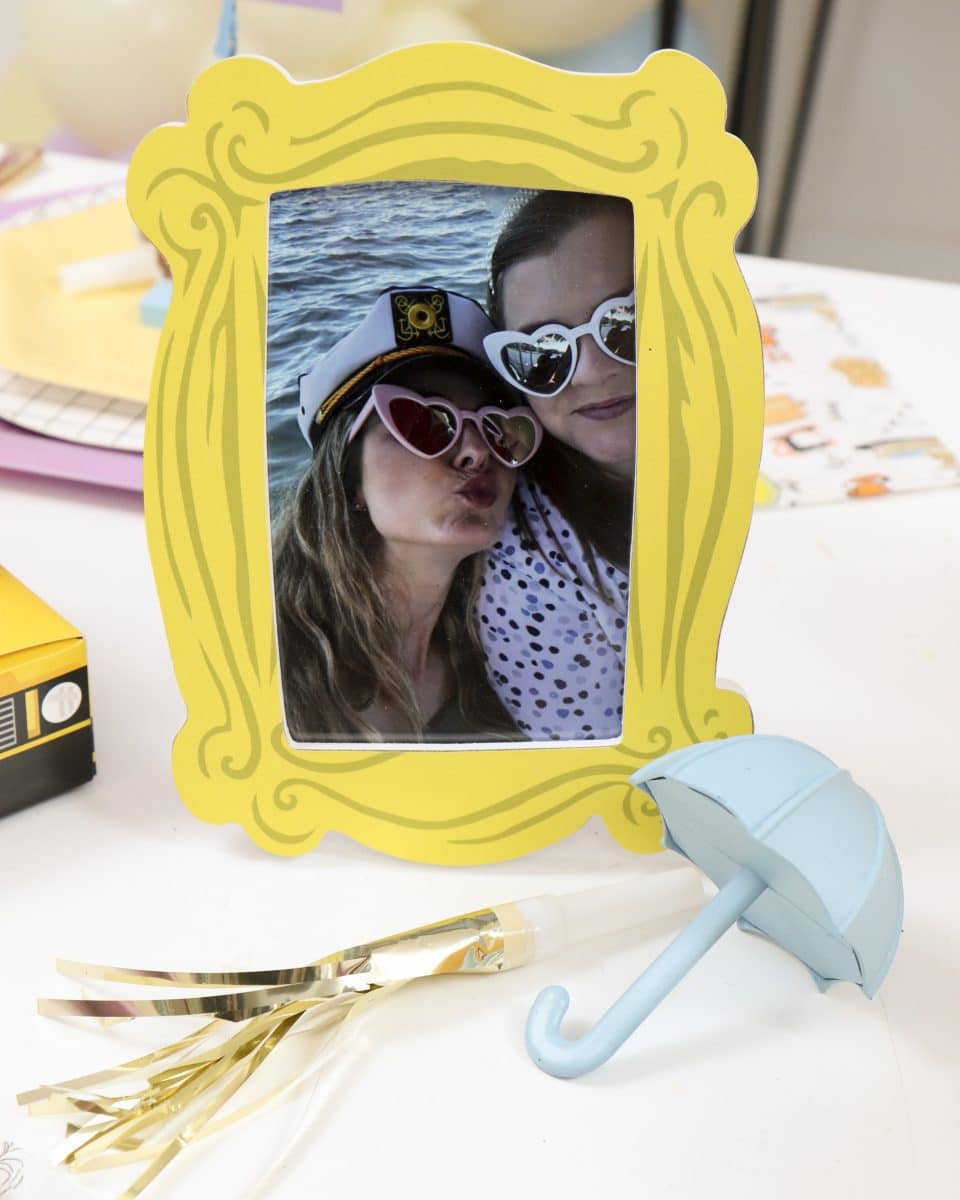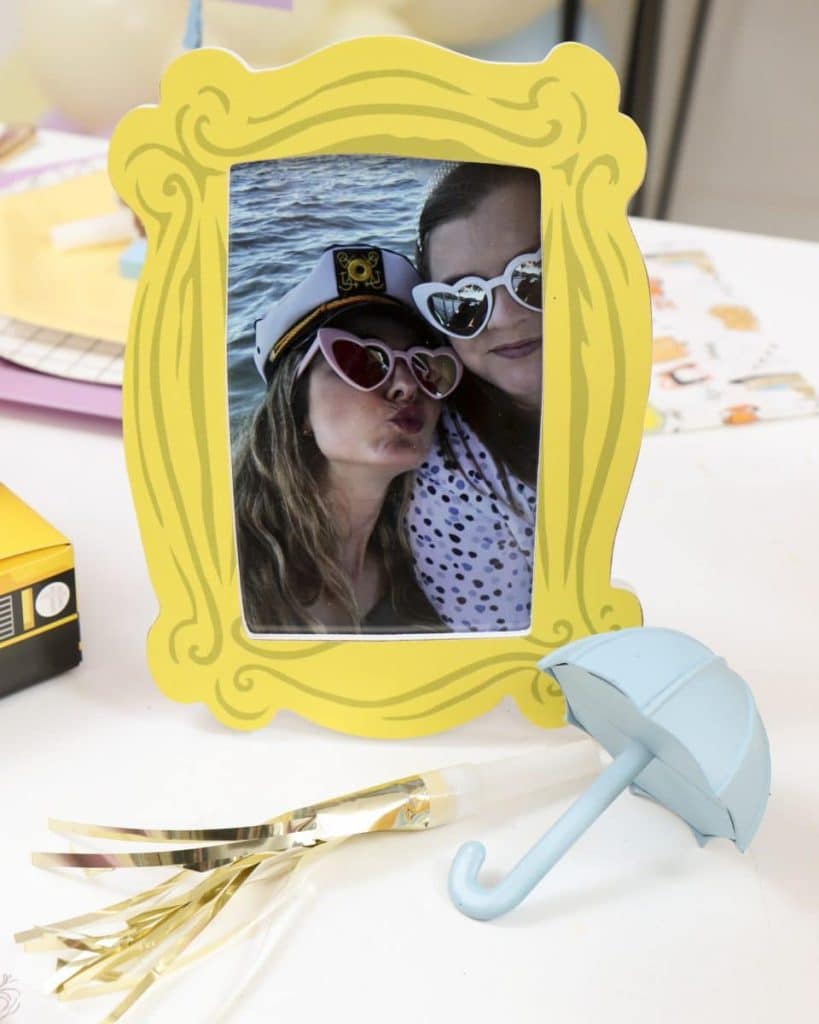 7 – FRIENDS Food Decor
JOEY DOESN'T SHARE FOOD! But if you are willing to share some with your guests, there are ways to make it themed, too! For my FRIENDS themed Friendsgiving dinner party, I placed yellow costume glasses on the turkey, and used a red plastic cup with yellow tassel added to create the hat. Just make sure no one actually tries to stick this one on their head…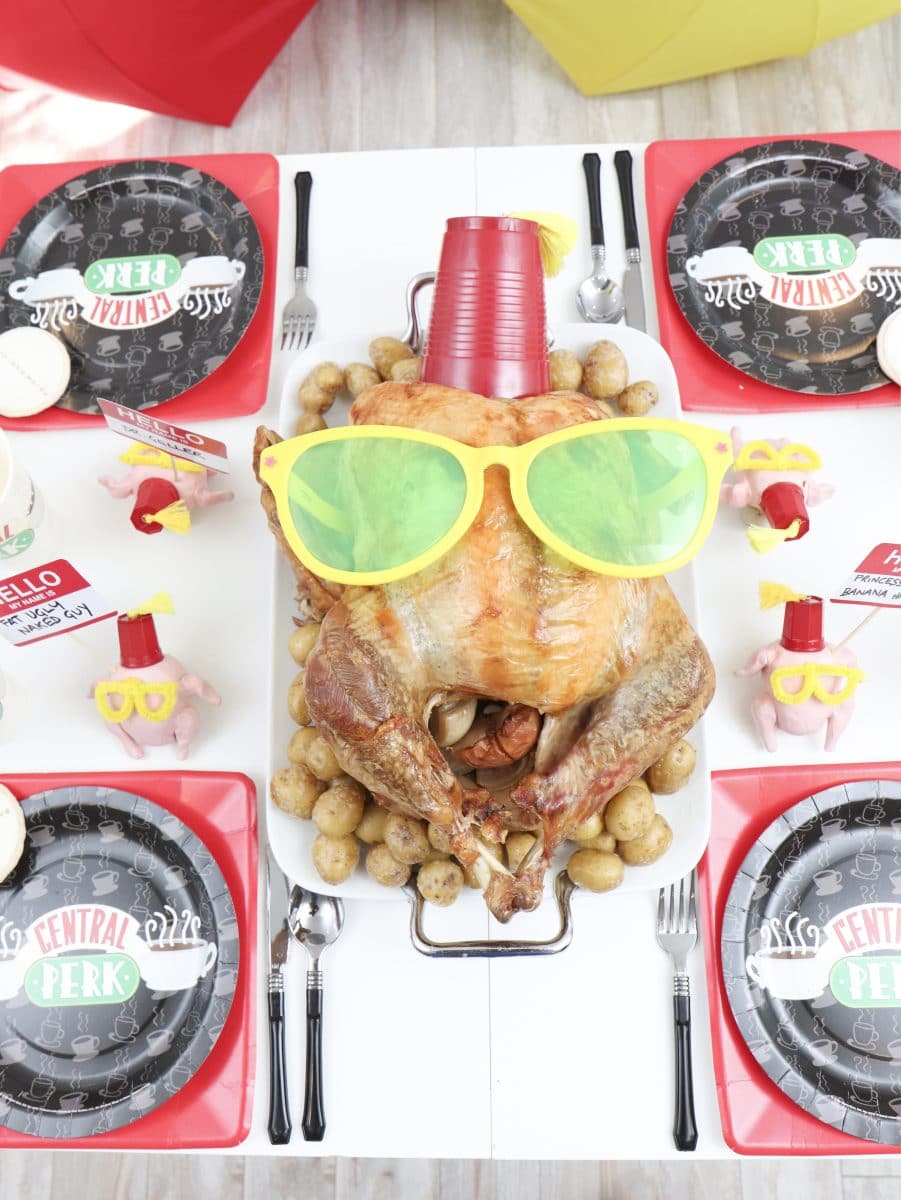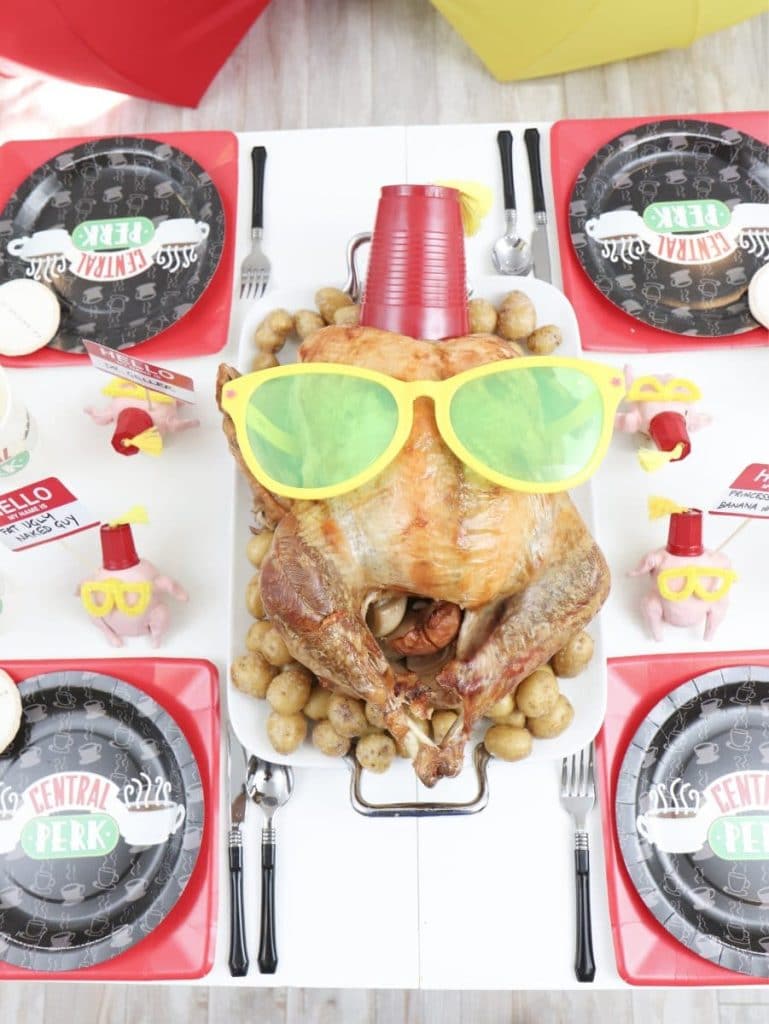 Another really simple way to create themed desserts is to use edible ink markers to write FRIENDS quotes on plain white iced cookies! Trying to duplicate the font and adding the signature colored dots in between the letters in the main word really ties it to the show.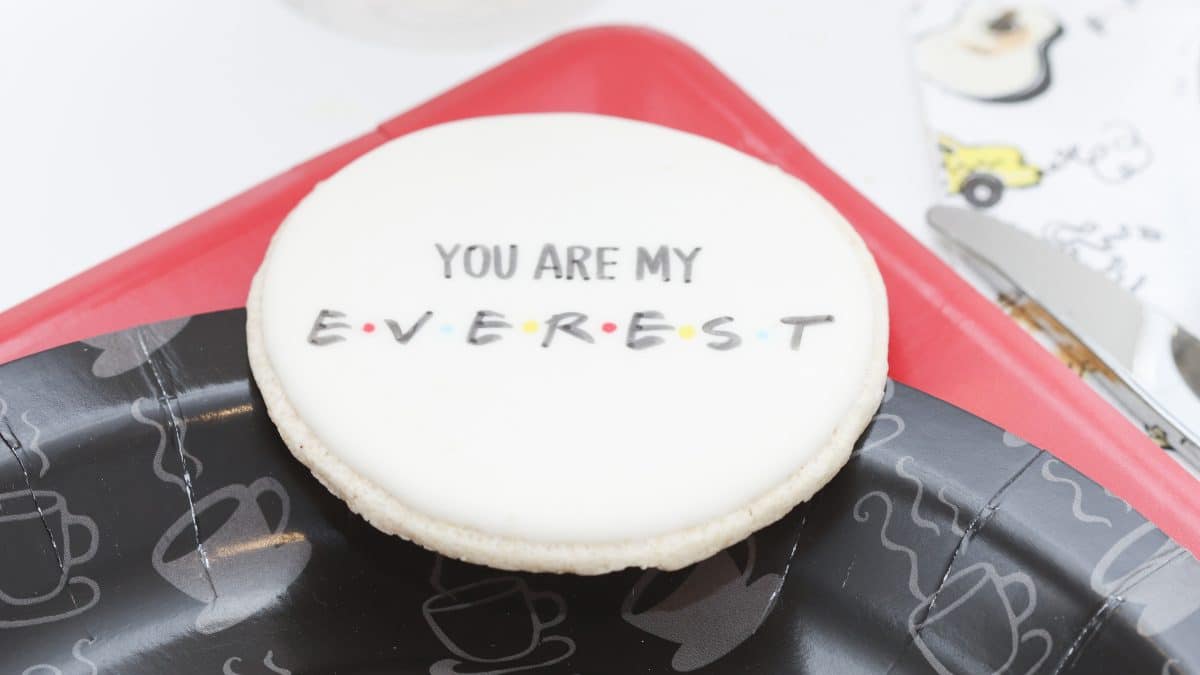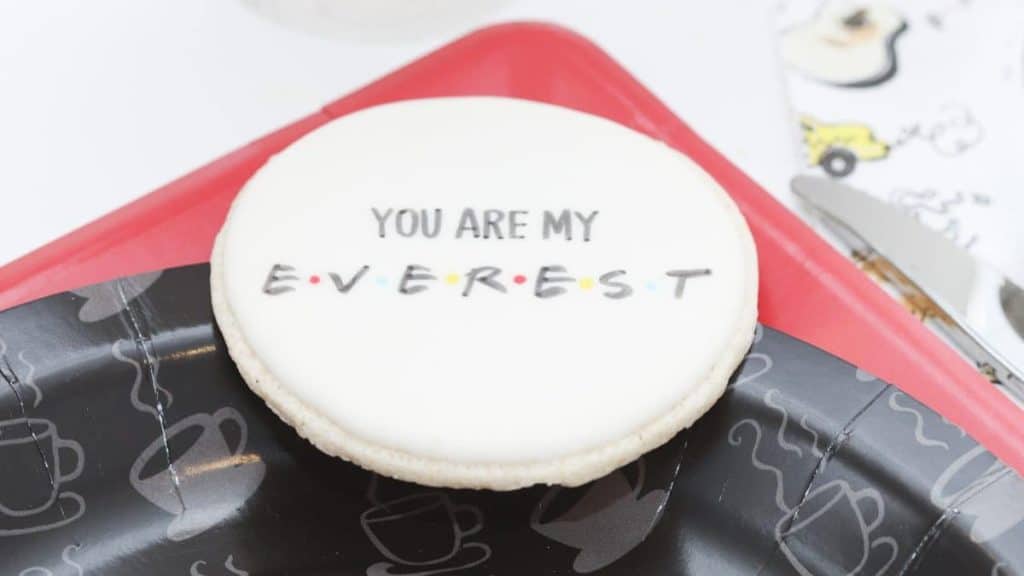 Another fun FRIENDS-themed dessert option that doubles as pretty decor is the trifle that Rachel made in the Thanksgiving episode. If you want it to actually be eaten, however, you should probably leave out the beef, peas and onions.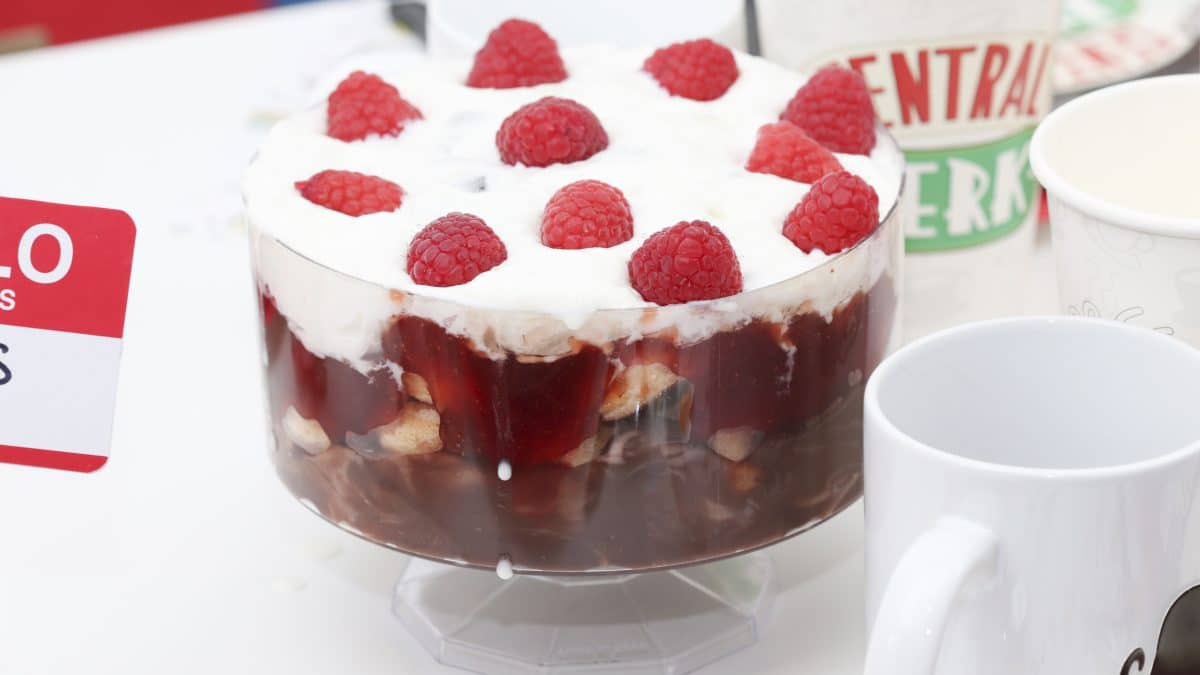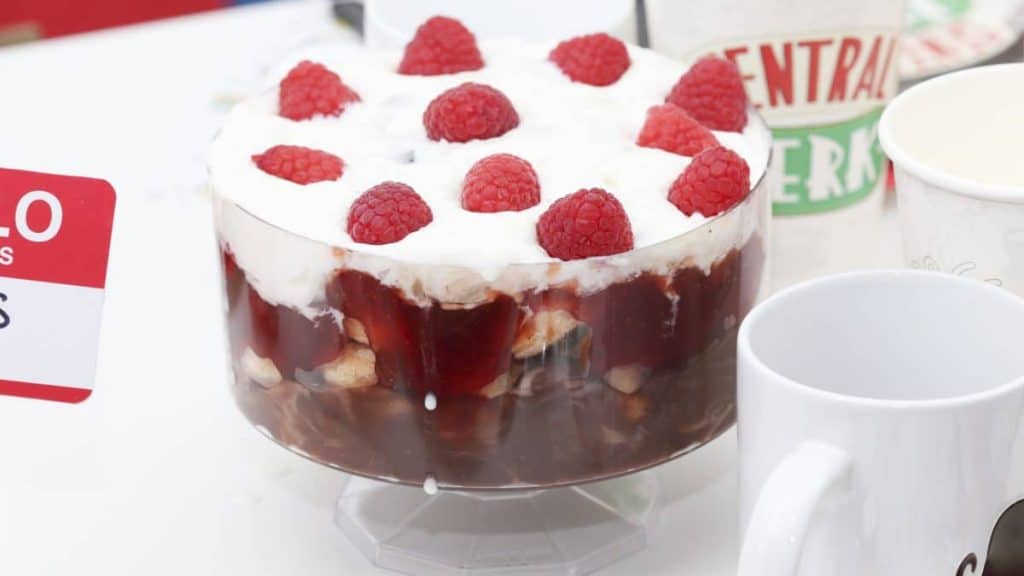 You don't have to actually serve real pizza to pay homage to Joey's favorite food. Put out some pizza boxes or cardboard pizza props. They make great additions to a FRIENDS-themed photo booth!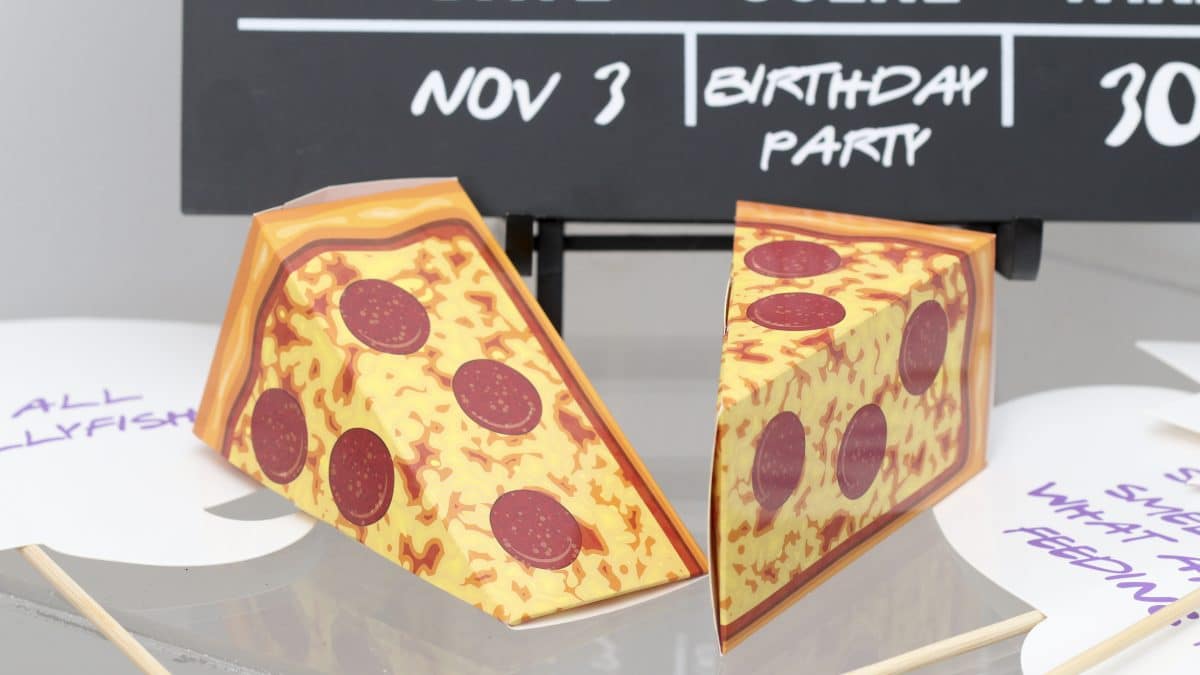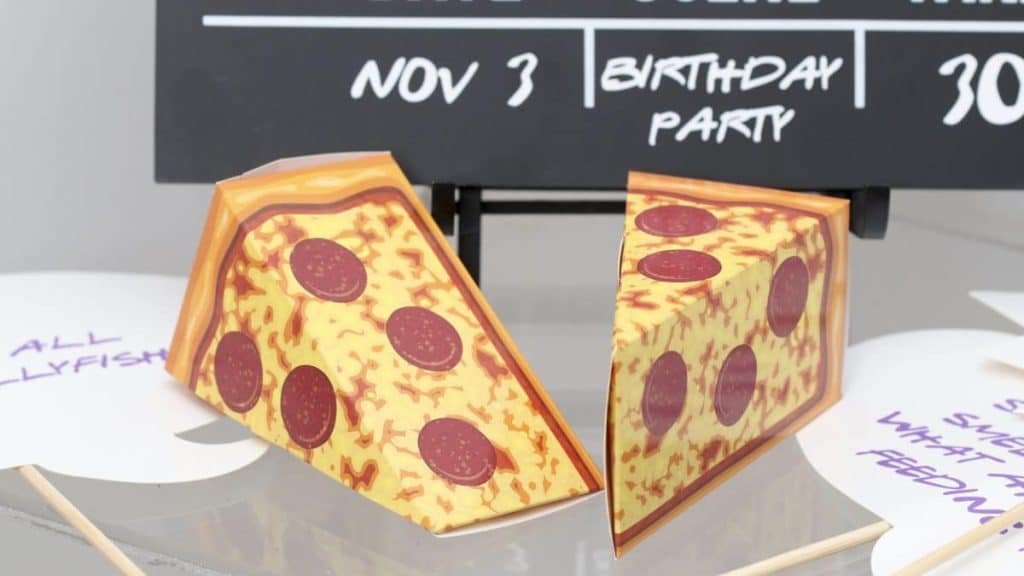 8 – Central Perk Menu Board
Drinks can be themed as well. For the FRIENDS-themed birthday party, I found a few different drinks online with fun show-related names, and created a Central Perk (Portland) menu board for them. Get details for how I created it HERE.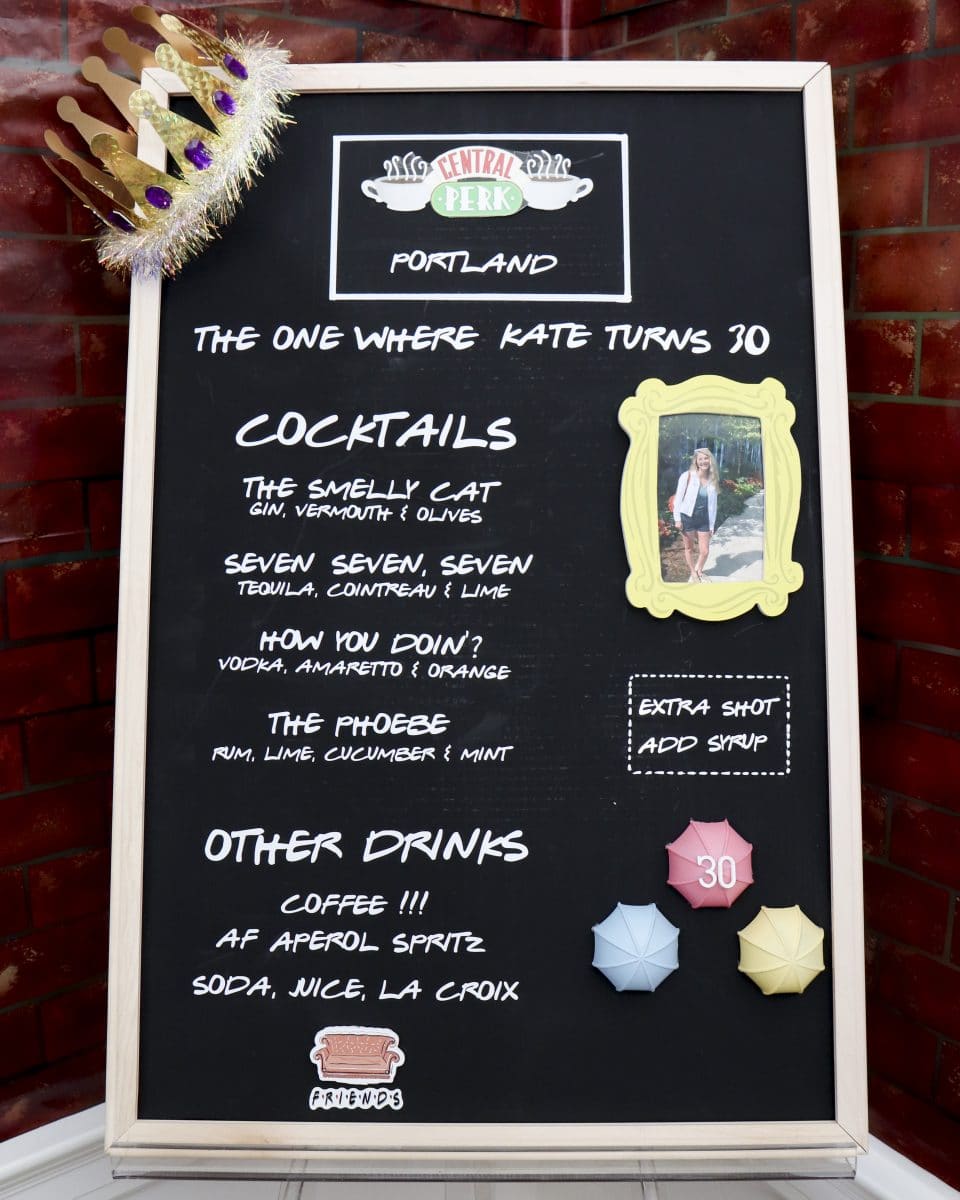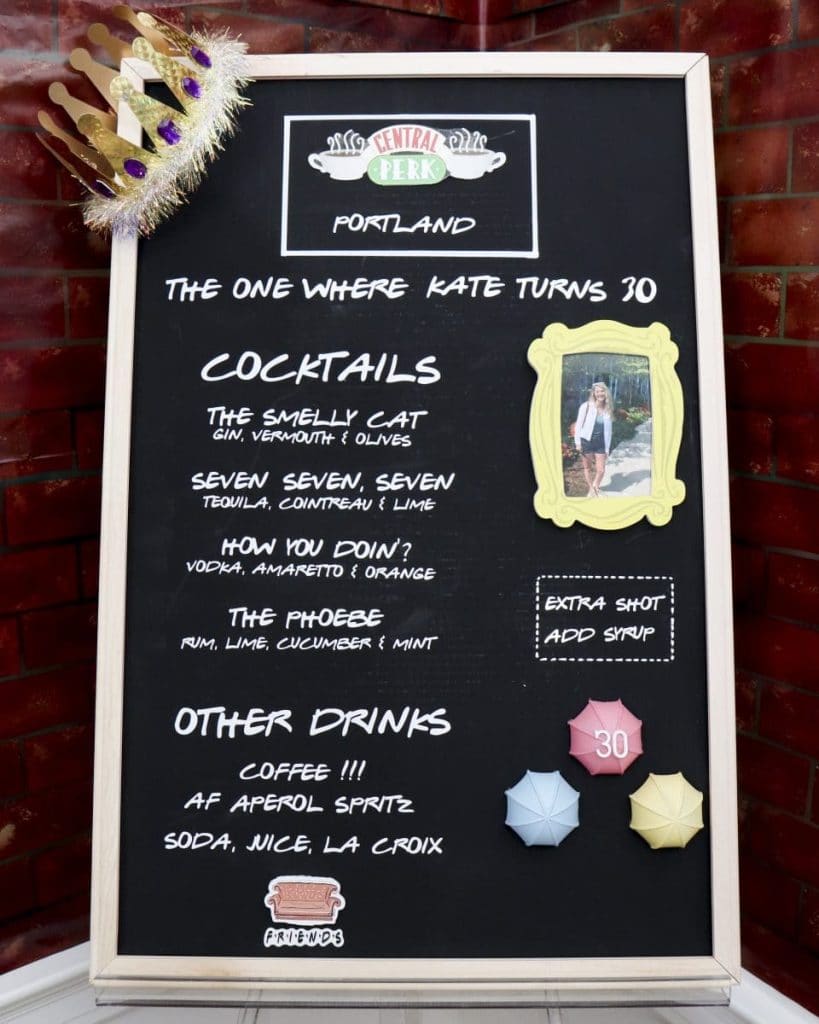 9 – FRIENDS Birthday Crown
If your party is in celebration of someone, give them a crown like Rachel's in "The One Where They All Turn Thirty".  You can easily add tinsel to the bottom of a plain gold birthday crown, and then add purple gems around it to make it look just like hers.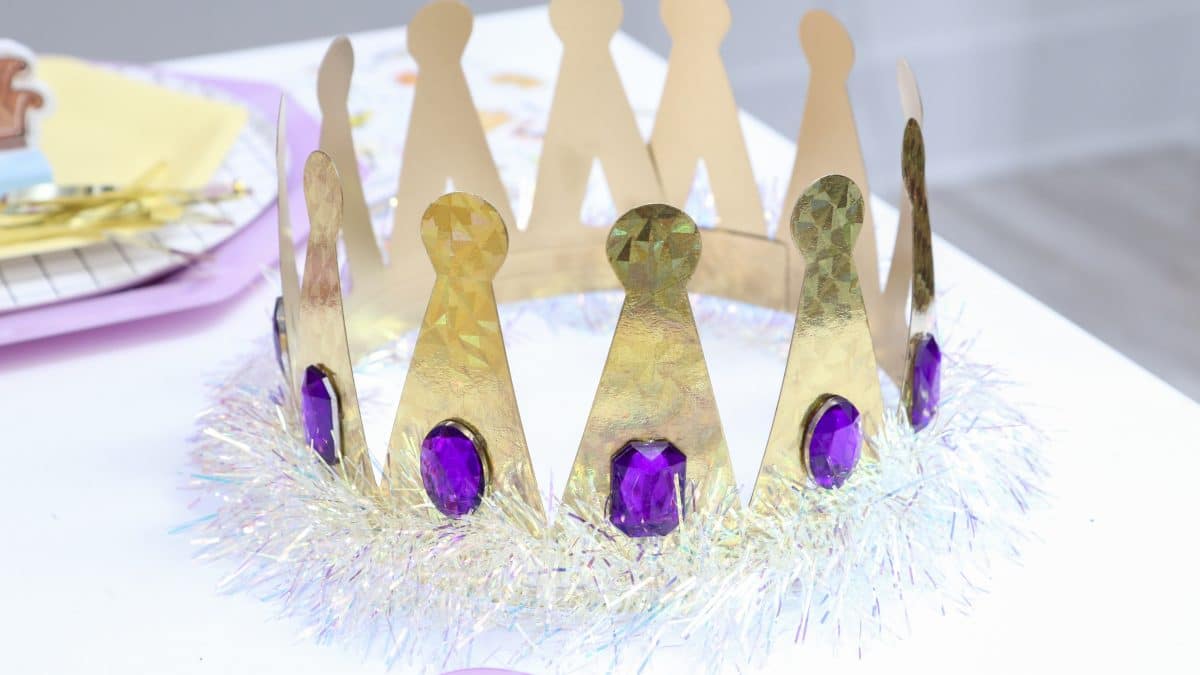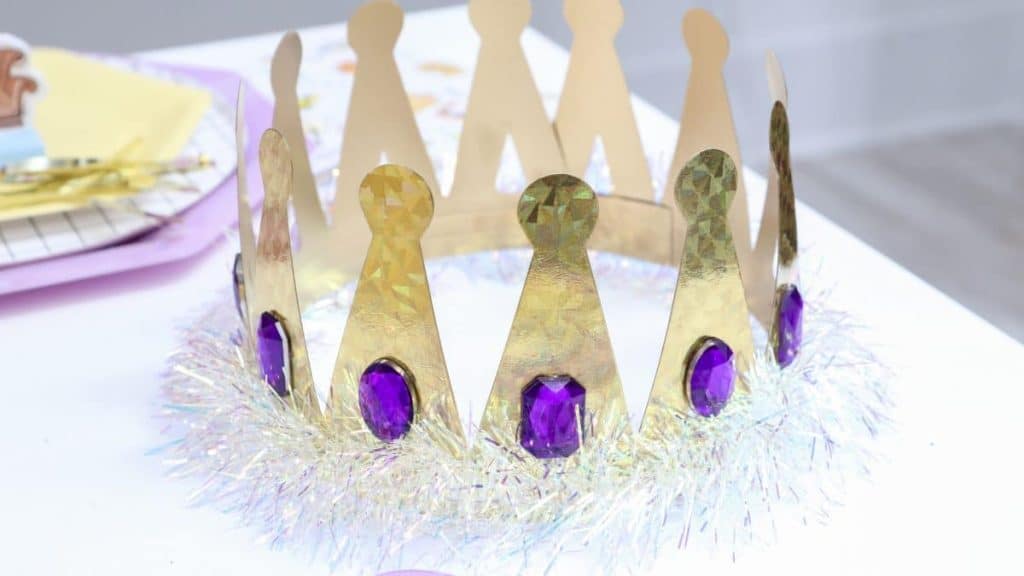 10 – DIY Banners
Speaking of The One Where They All Turn Thirty, the Friends also create a cute Happy Birthday banner for Rachel in that episode that is very easily replicated. Just use white bulletin board paper and paint or markers to recreate the look of the banner, and replace Rachel's name and age with the name and age of the birthday person! Adding a balloon garland around the banner is just a fun extra touch.
P.S. If you live in the Portland, OR area and need a balloon garland, contact me, I can help!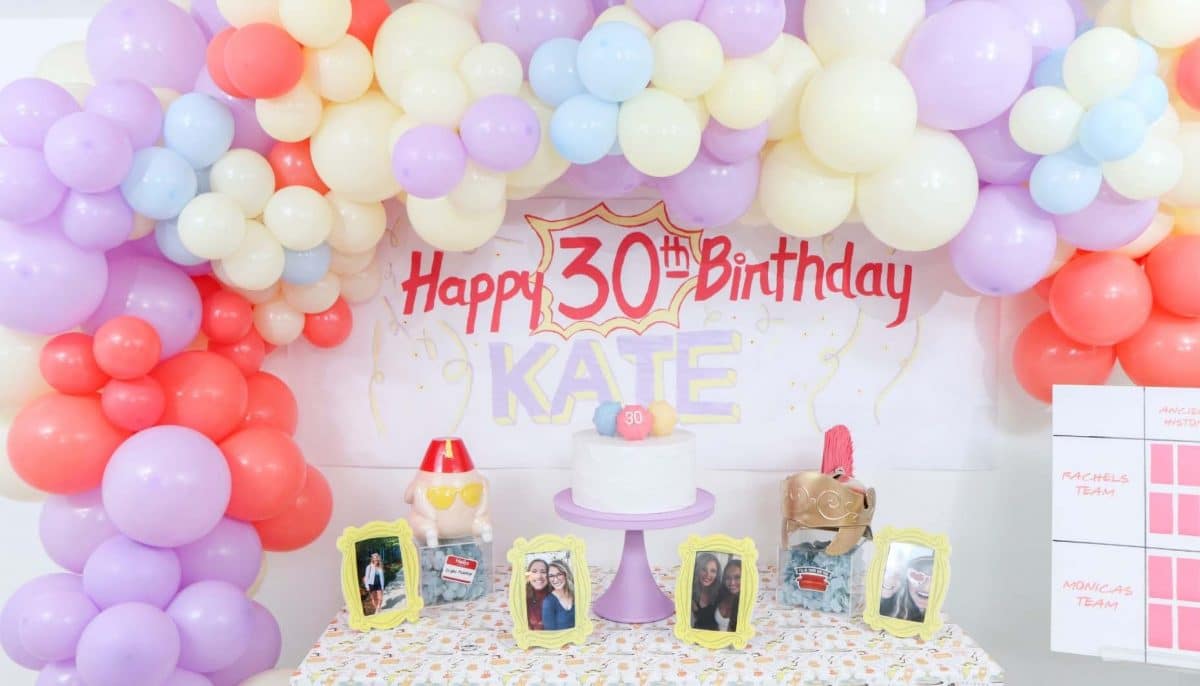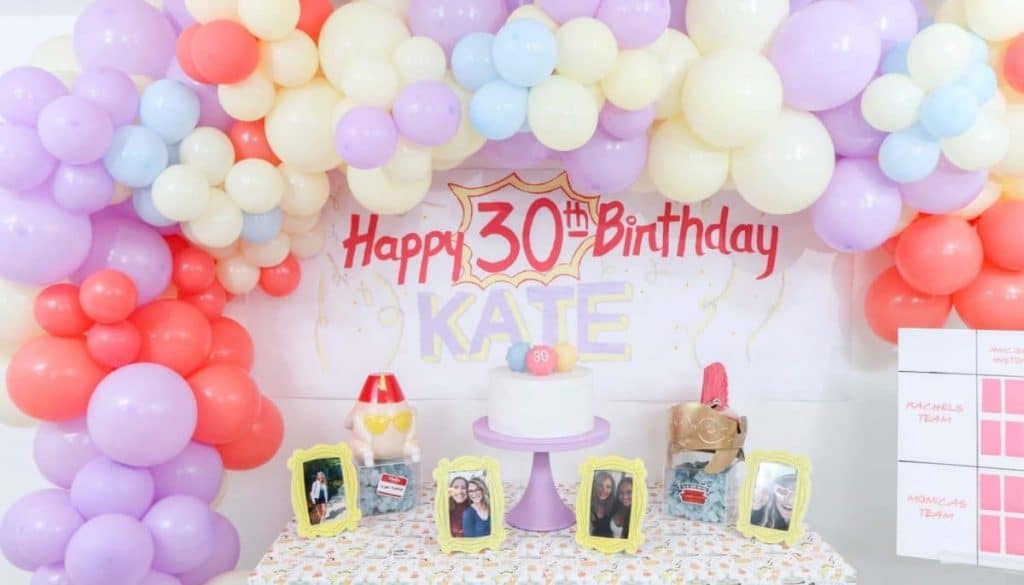 11 – FRIENDS Trivia Game
I'm a big fan of decor that doubles as entertainment. For my FRIENDS themed birthday party, I recreated the trivia game Monica and Rachel played against Chandler and Joey, which led to them losing their apartment! I suggest making smaller bets for your party, but the game can be tons of fun. I used white foam board for the game board, black sharpie to divide up the board, and colored post it notes cut in half for the questions. You can either use FRIENDS trivia for the questions, or have each team answer questions about themselves in advance to make the game more like the one in the show.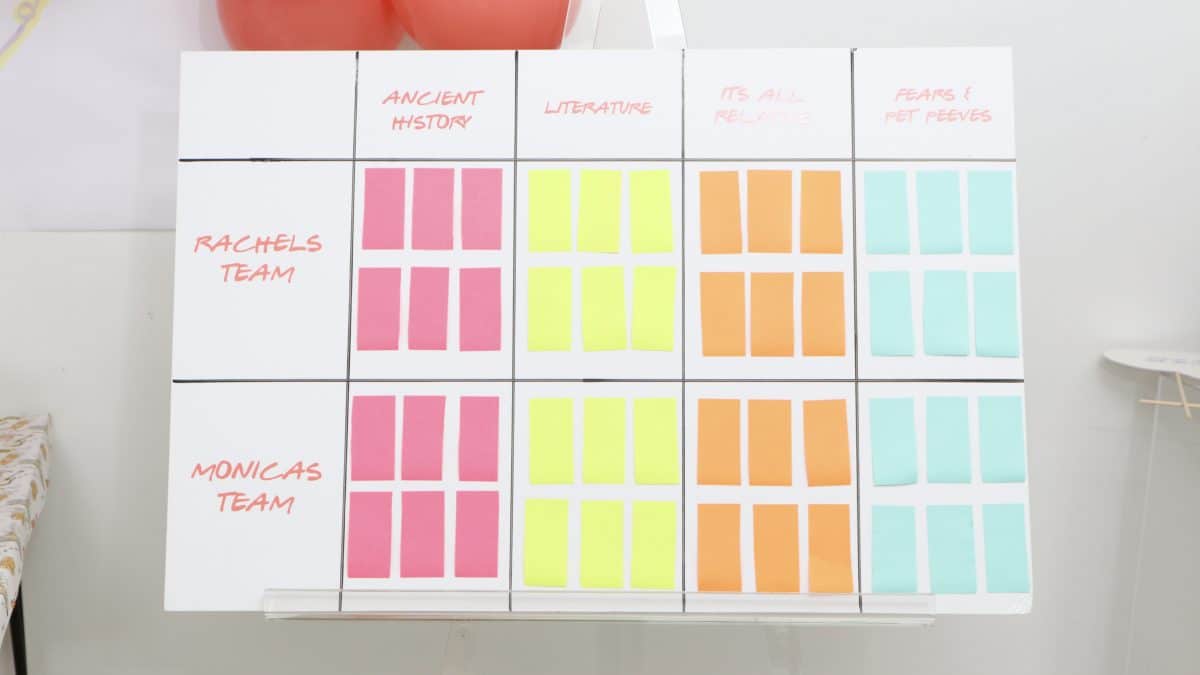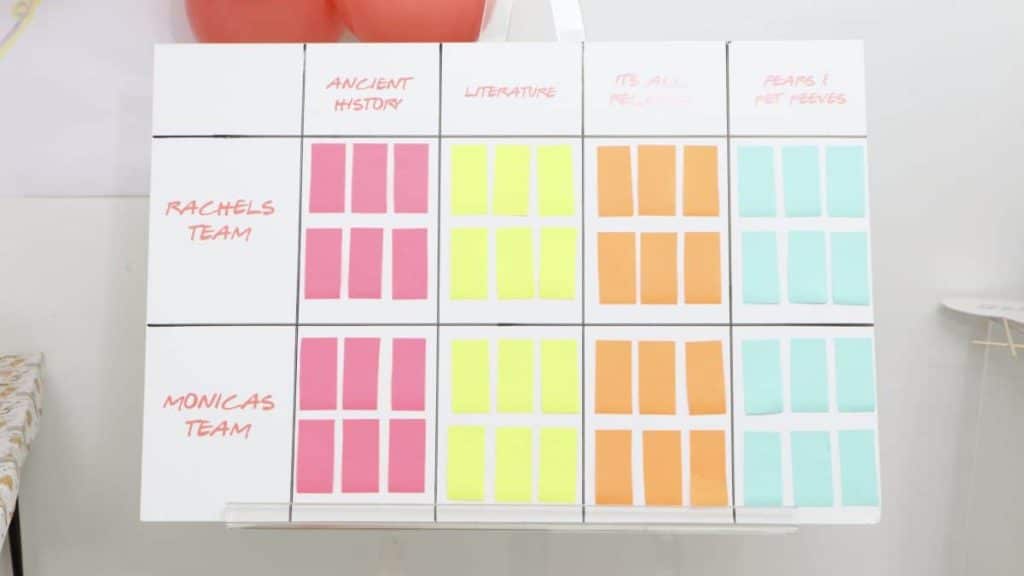 12 – Phoebe's Guitar
Whether you have a musically inclined friend in your group or not, a guitar makes a great prop for a FRIENDS party to represent Phoebe. If your friends are true fans, do they know all the words to Smelly Cat? What about the holiday song Phoebe sings to the rest of the Friends? A sing-a-long could be a fun party activity. I added friends stickers to the guitar, along with some faux flowers to tie it to the rest of the party decor (easily removable if the guitar needs to be played).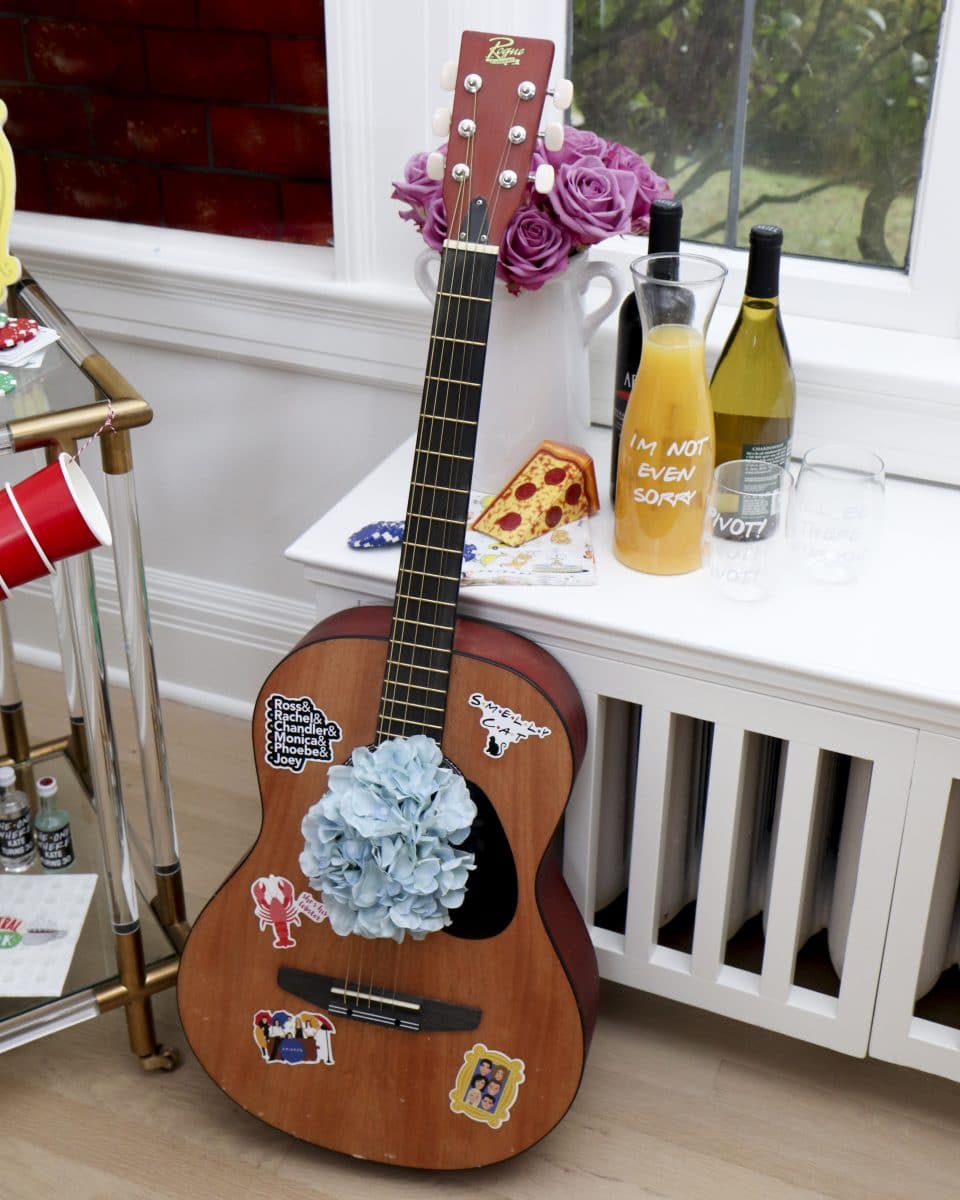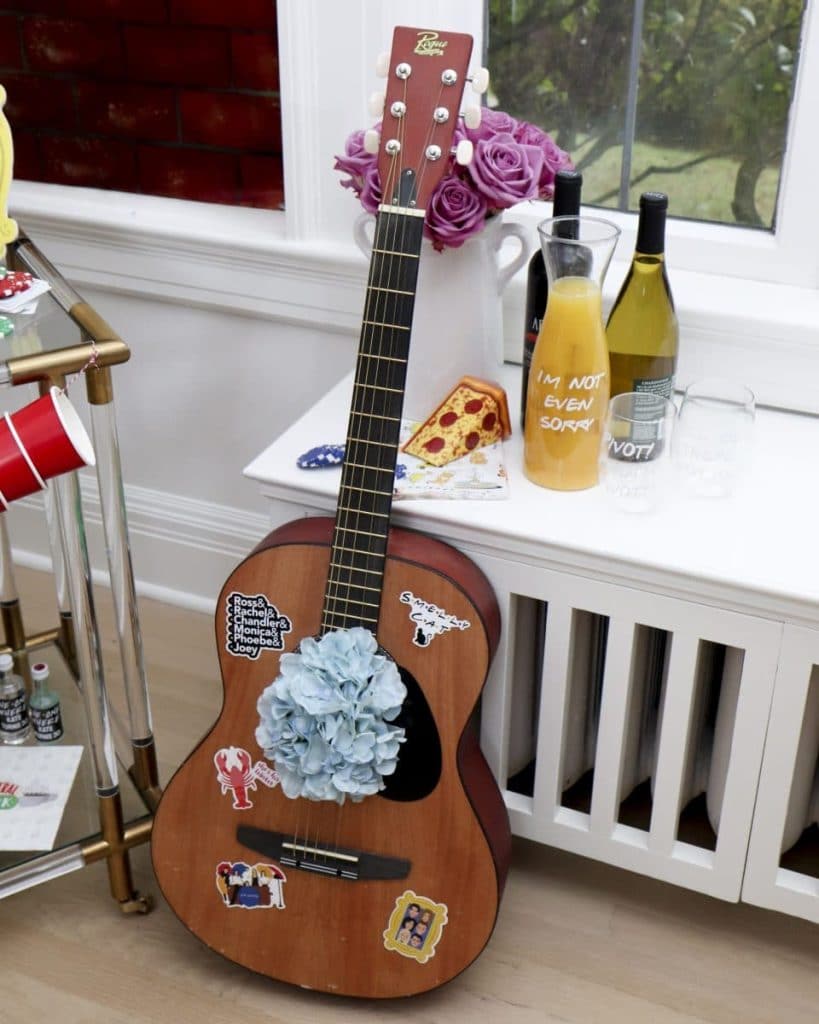 13 – Phoebe's Taxi
Another fun Phoebe-related party prop is a Taxi to represent her grandmother's cab she inherited. You can either use a toy, or these cardboard favor boxes. They are an affordable alternative that can double as take home favors if you fill them with candy!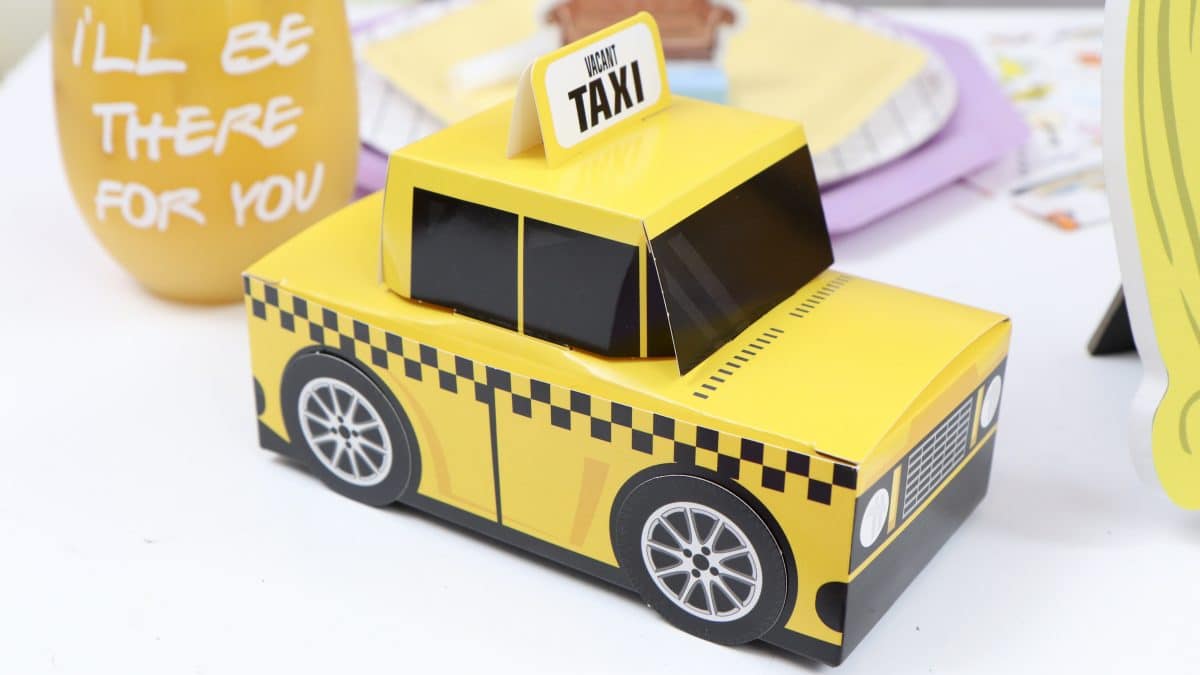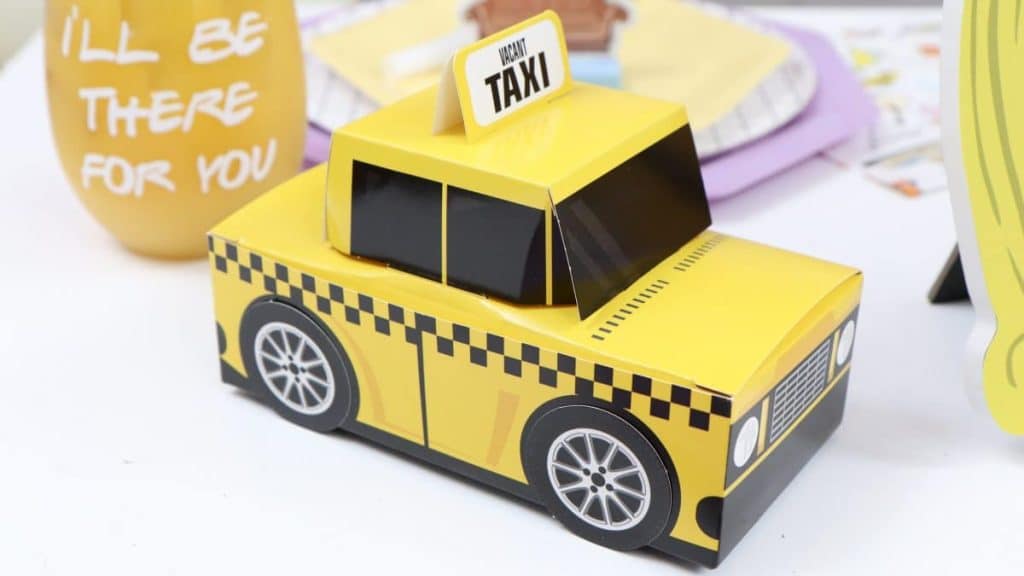 14 – Cups
For a particularly easy and cost-effective decorating idea, use plastic cups! In the episode "The One Where Rachel Smokes", Monica puts Phoebe in charge of cups and ice, and Phoebe says the quote, "Monica is going to rue the day that she put me in charge of cups and ice!" before decorating the entire apartment with plastic cups and serving up ice in all forms to guests. Plastic cups can be turned into garlands, stands, party hats – get creative!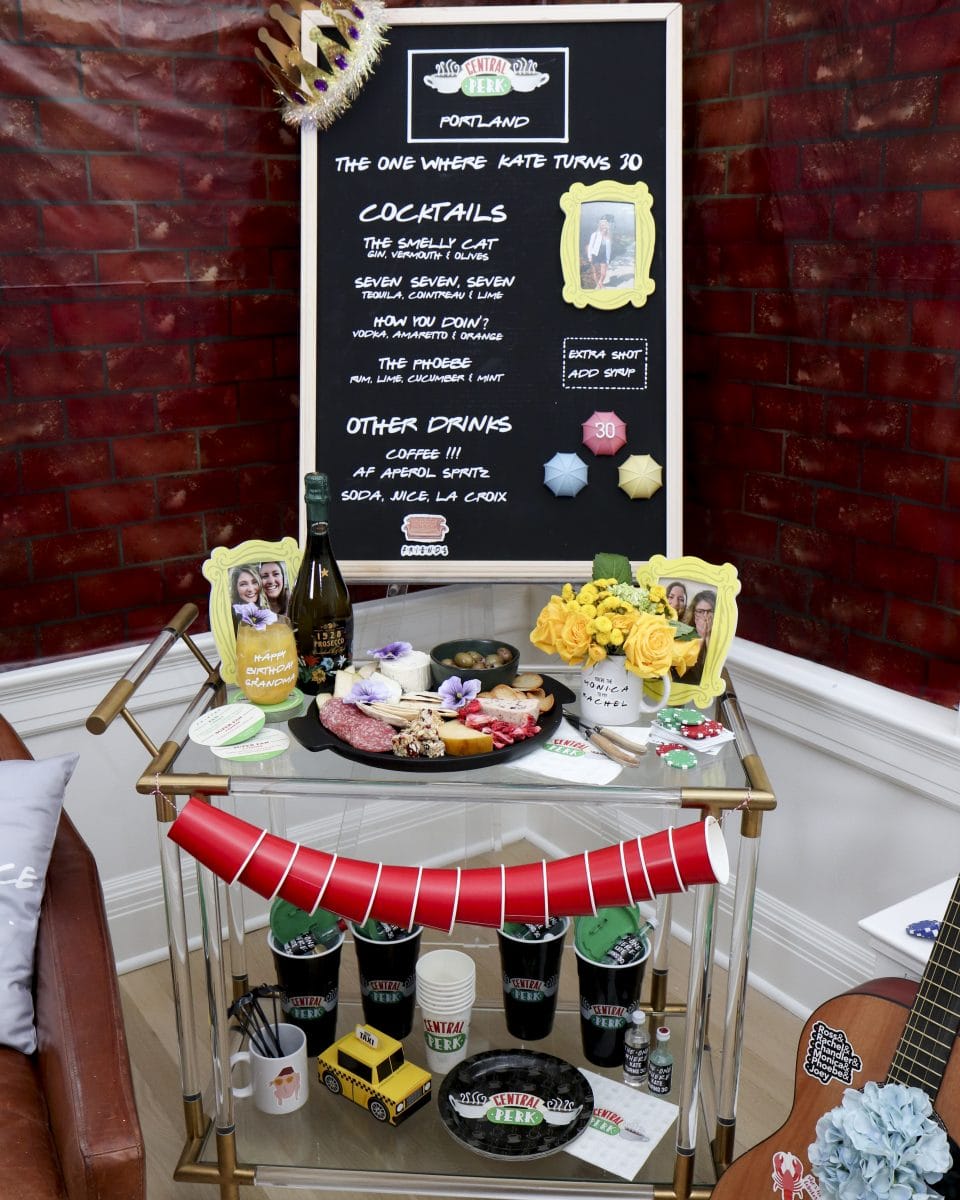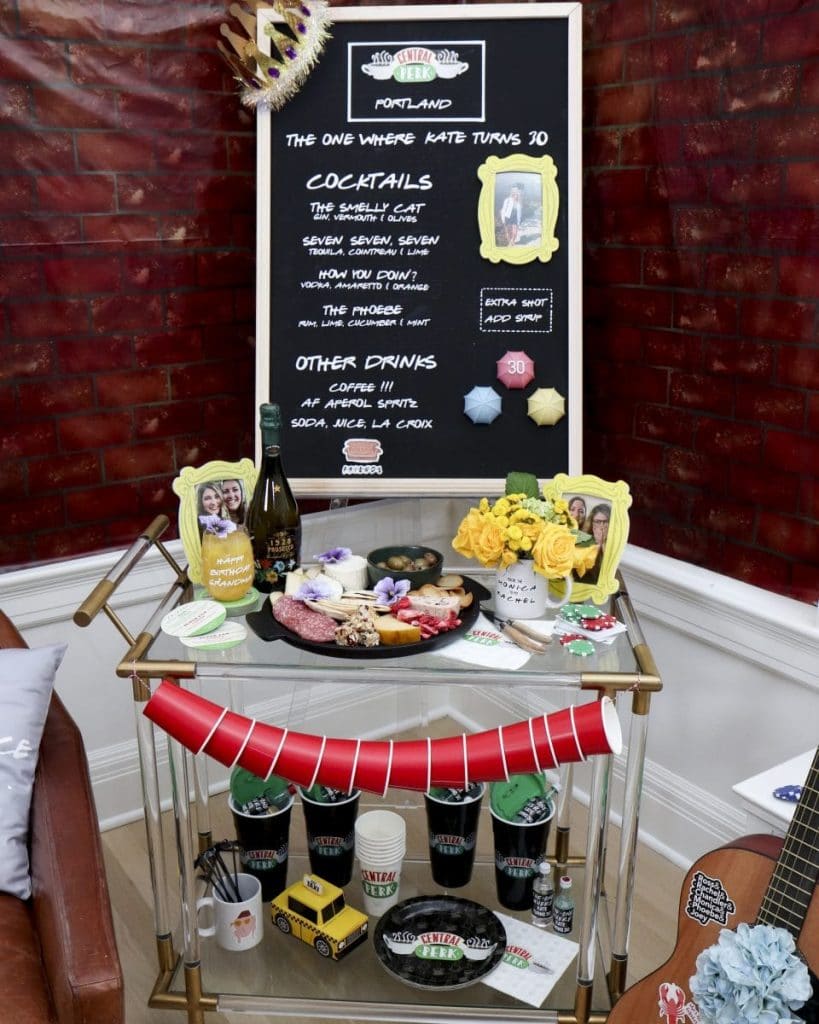 15 – Richard's Mustache
Mustaches are a fun addition to any party in my opinion, but in the case of a FRIENDS party, they make great decor to represent the great mustache Monica's boyfriend Richard rocked (remember how much Chandler tried to grow one to be like him?!). You can provide faux mustaches as photo booth props or favors, but they can also serve as decor on coffee cups, pumpkins, etc. I also found some great mustache drink stirrers that doubled as props when the drinks were finished.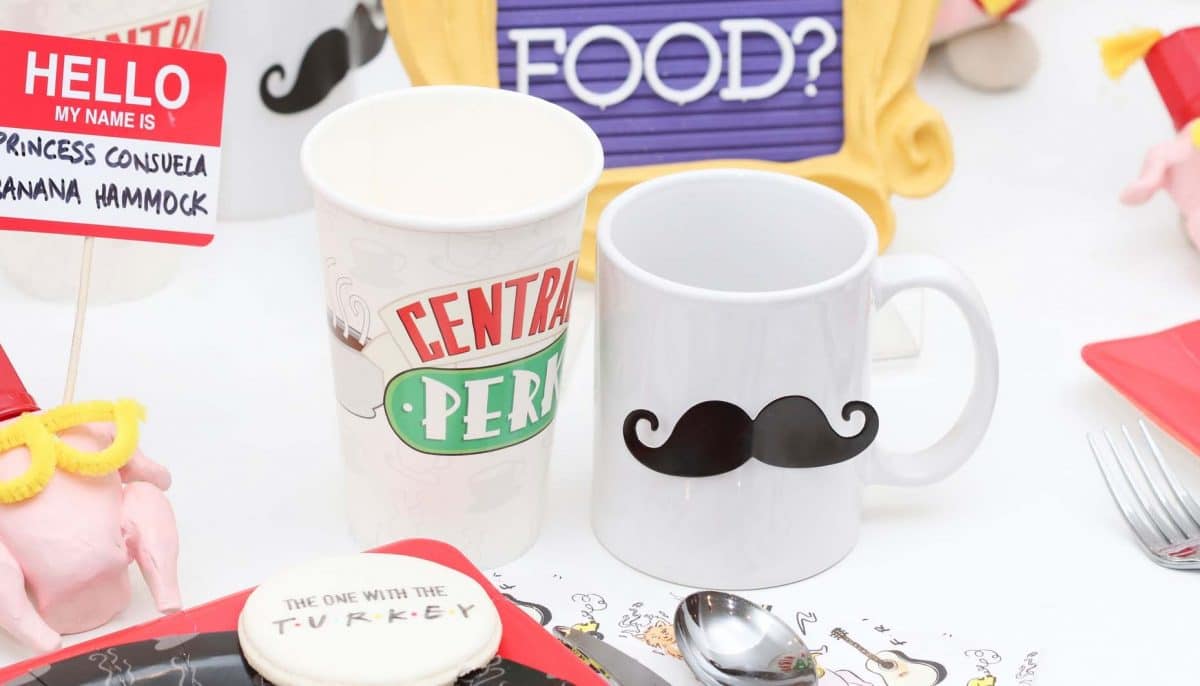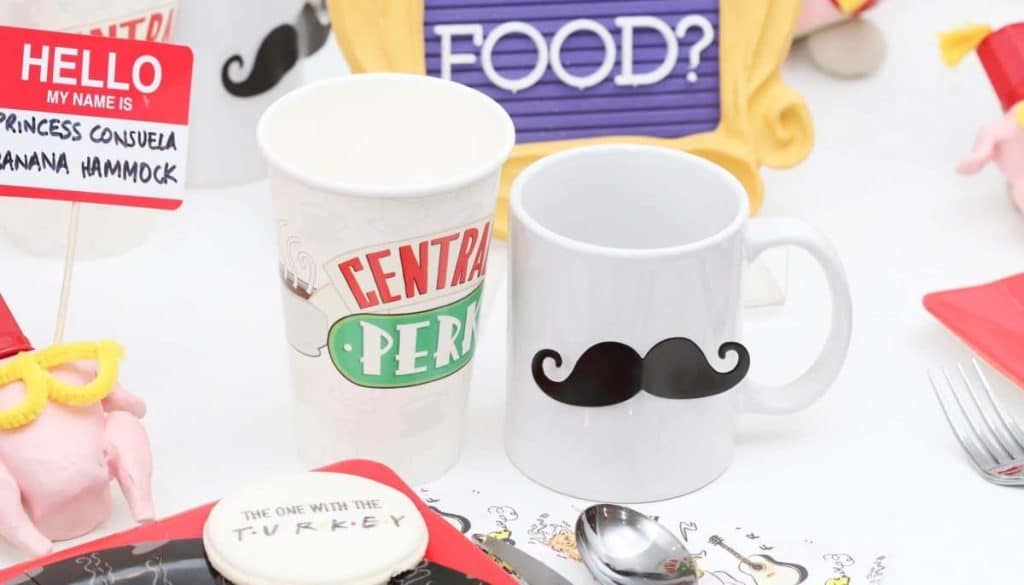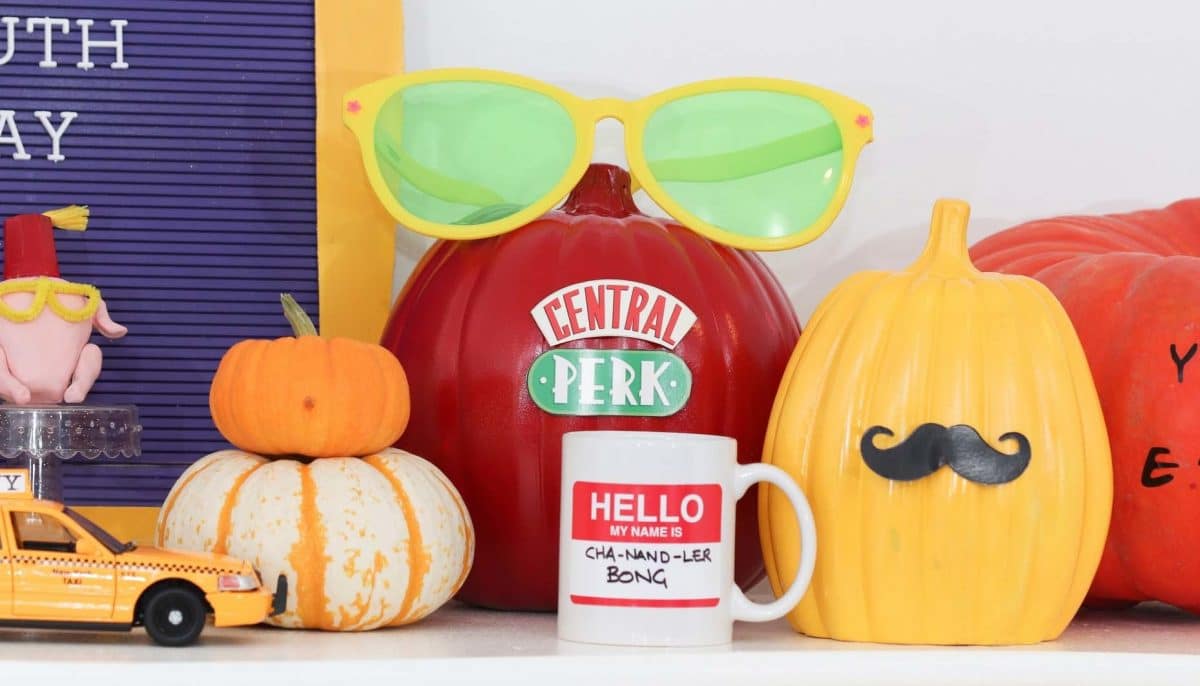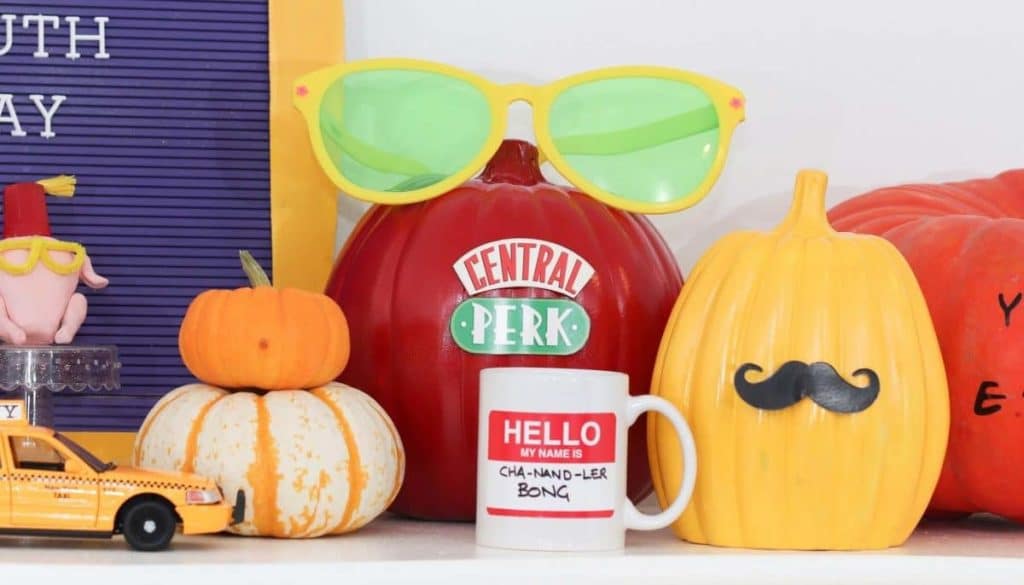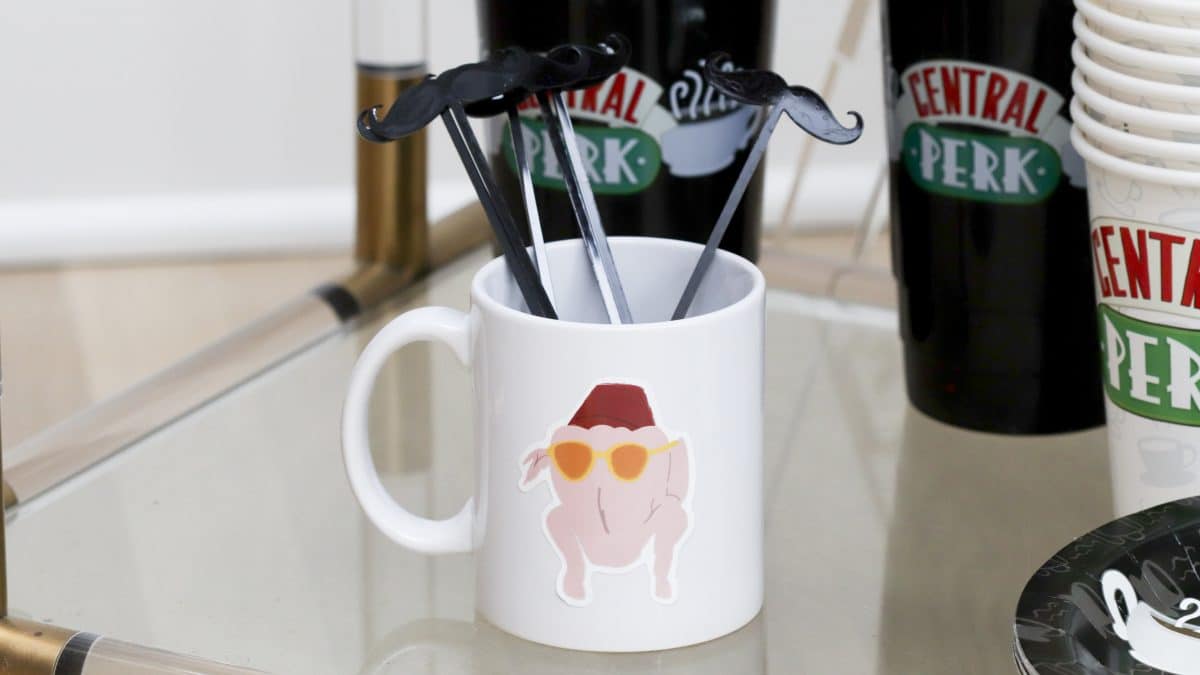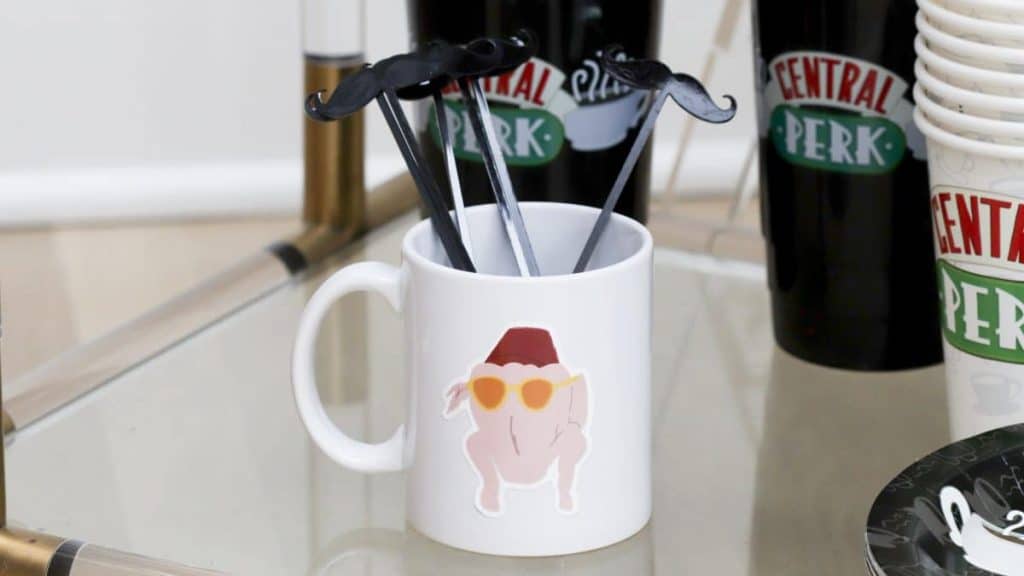 16 – Elevated Show Props
An easy way to decorate for any party is just to have themed props around – but I like to elevate them further by putting them on stands or boxes. You could use a cake or dessert stand, an overturned basket – anything to give height and dimension to your decor. I love using clear acrylic risers to display decor, because you can fill them with whatever makes sense for that party. For my FRIENDS props, I picked things that are easily recognizable – like this gladiator helmet from Joey's movie in Vegas, or the turkey from the Thanksgiving episode. I filled the risers with the same faux flower petals that I used in the fountain centerpiece and on Phoebe's guitar, and then added a FRIENDS sticker/name tag to the front for extra oomph.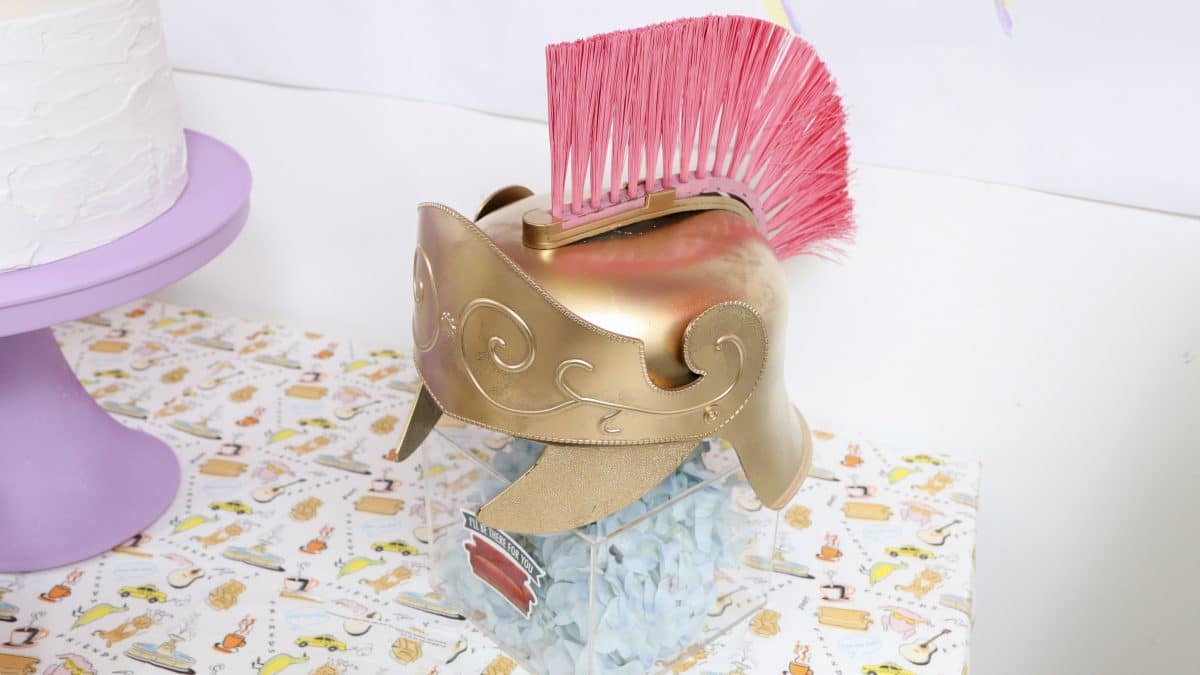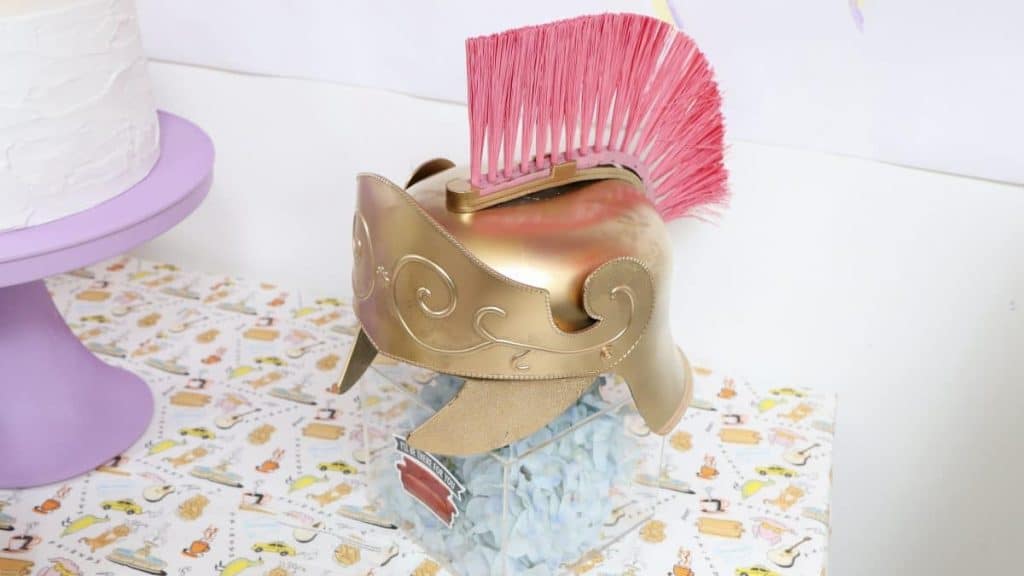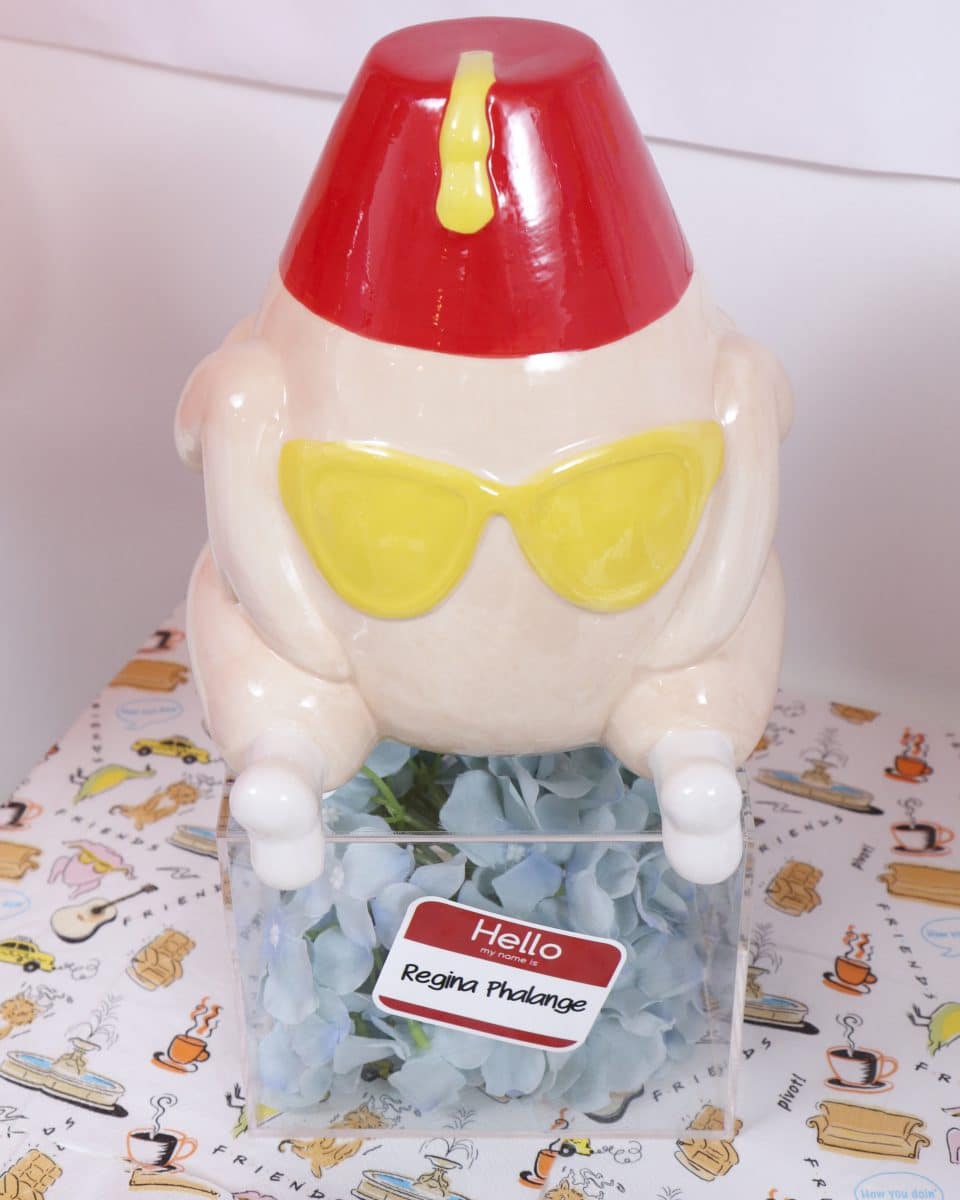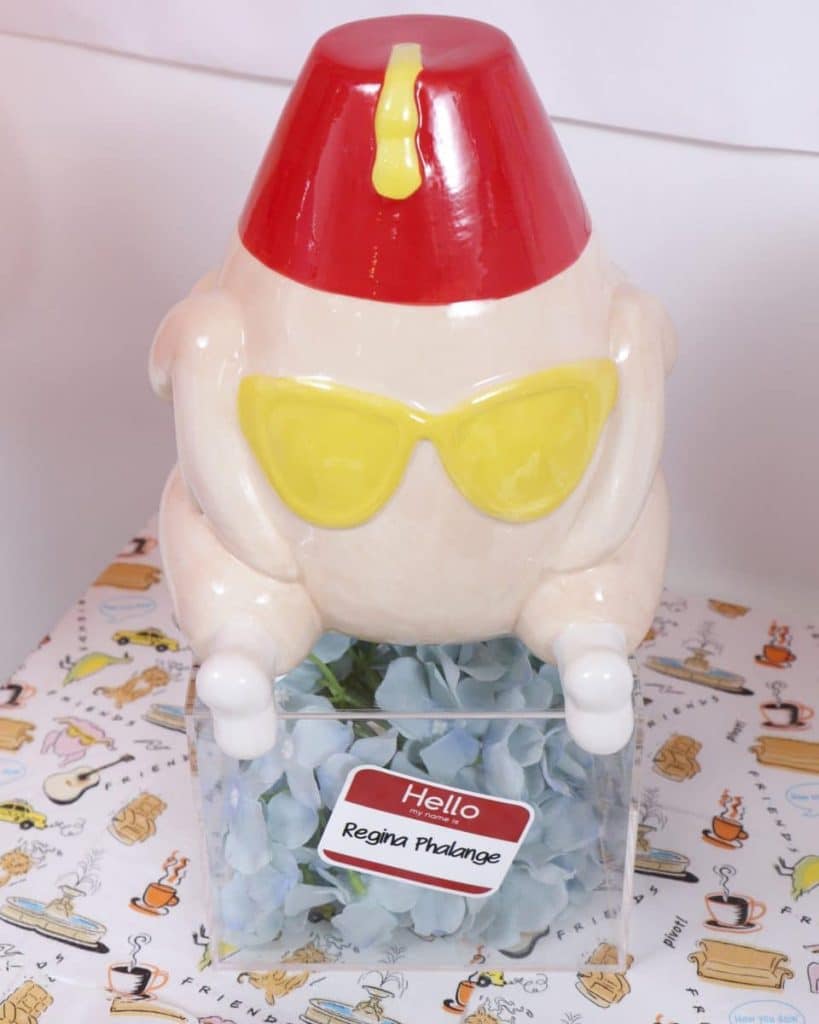 17 – The Couch
If you have a couch similar to the FRIENDS couch, great- but even if you don't, there are ways to incorporate the iconic couch into your party decor. It is one of the most instantly recognizable FRIENDS items, and you can find plenty of decor out there that features it. I added it as place card holders, photo holders, and on stickers added to mugs, decor stands, and props.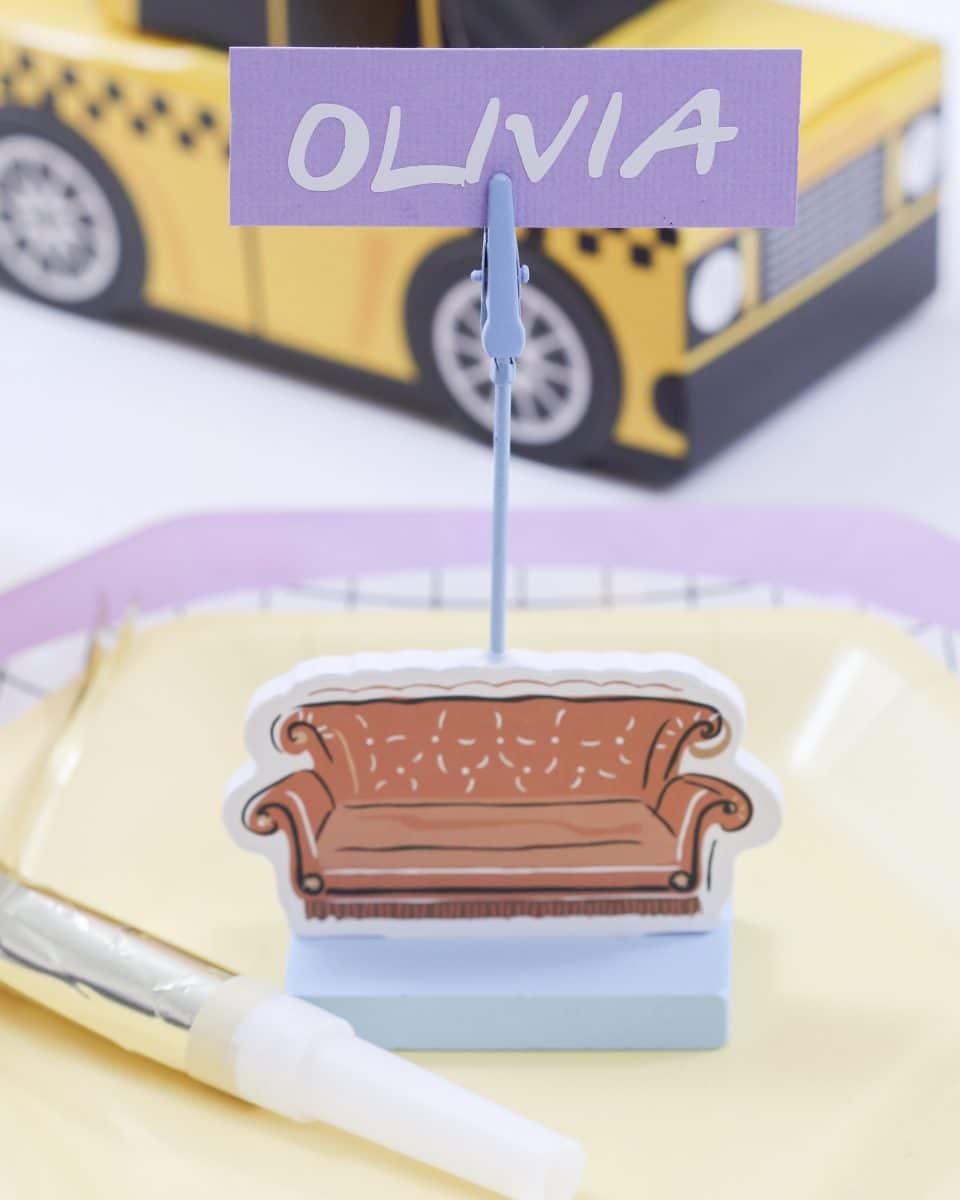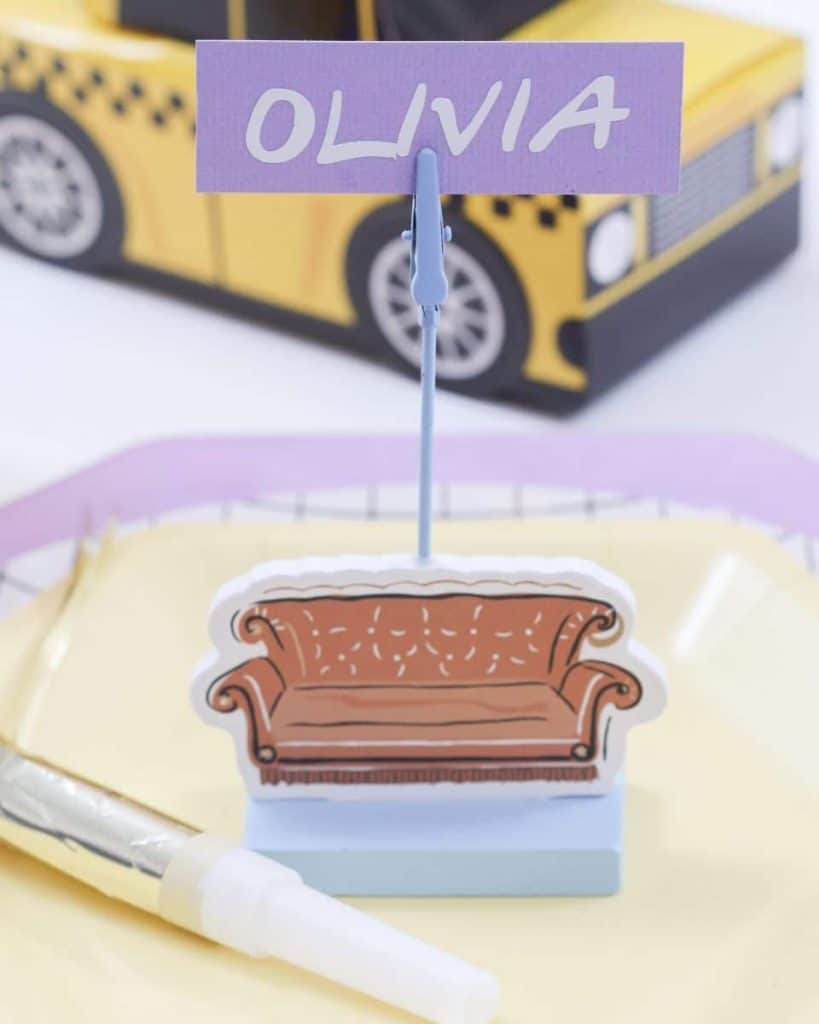 18 – Clapboard
A customizable clapboard is a fun way to incorporate some of the behind the scenes action, as well as personalize the decor to the party.  Use "The One Where…." phrase to describe your event, and have the host as the director! This doubles as a great photo booth prop as well.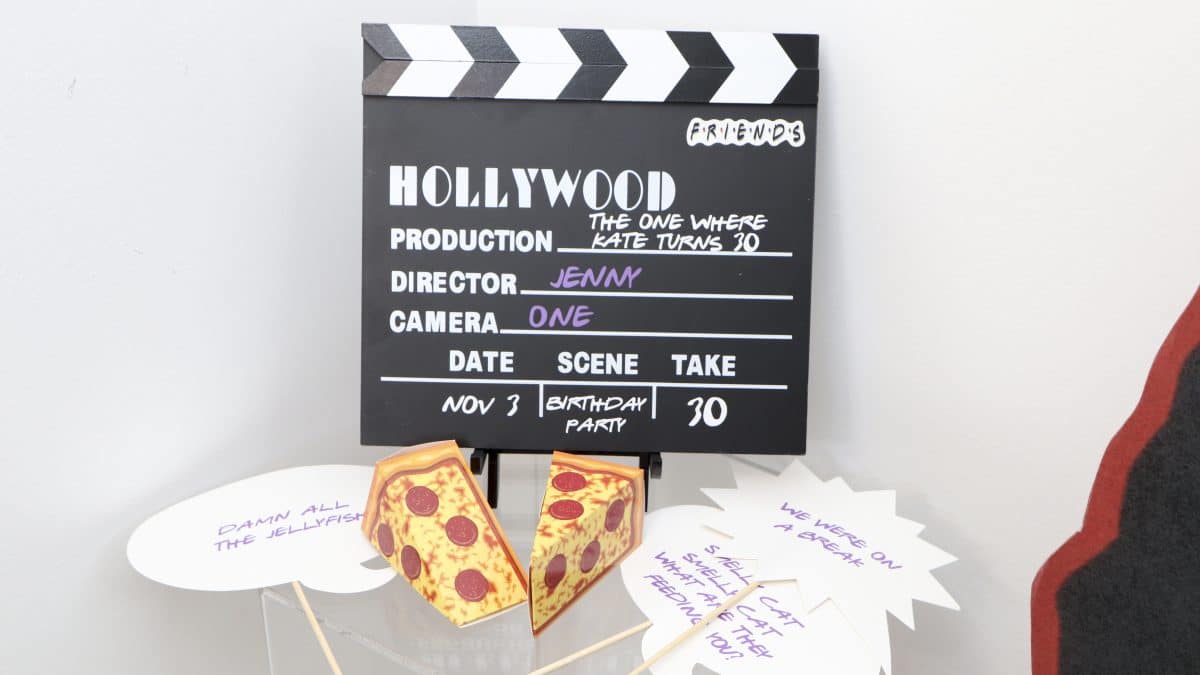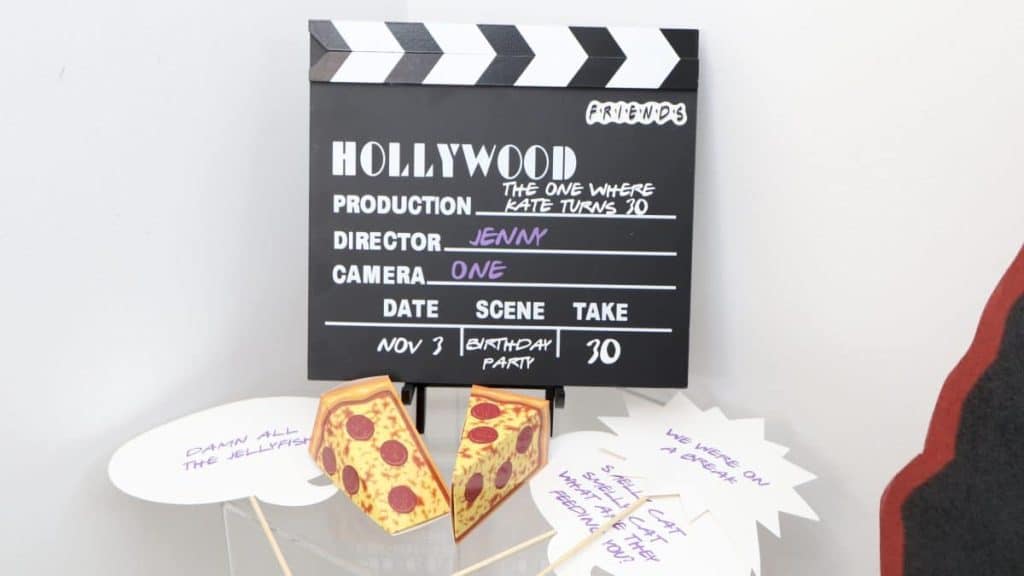 19 – FRIENDS Tableware
One of the easiest ways to bring a theme into a party is through the table ware. Luckily, there are tons of options out there for FRIENDS party ware that will make your guests say "Can these place settings BE any more cute?!" I used FRIENDS-themed plates, napkins, and tumblers for both of my FRIENDS parties.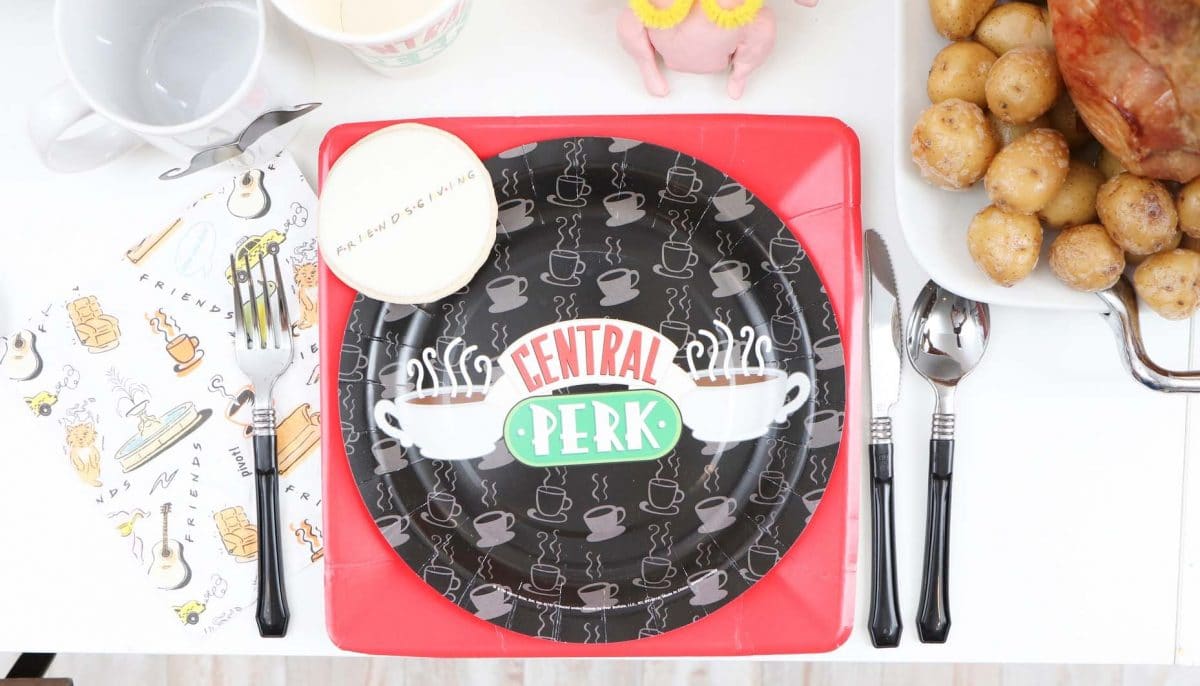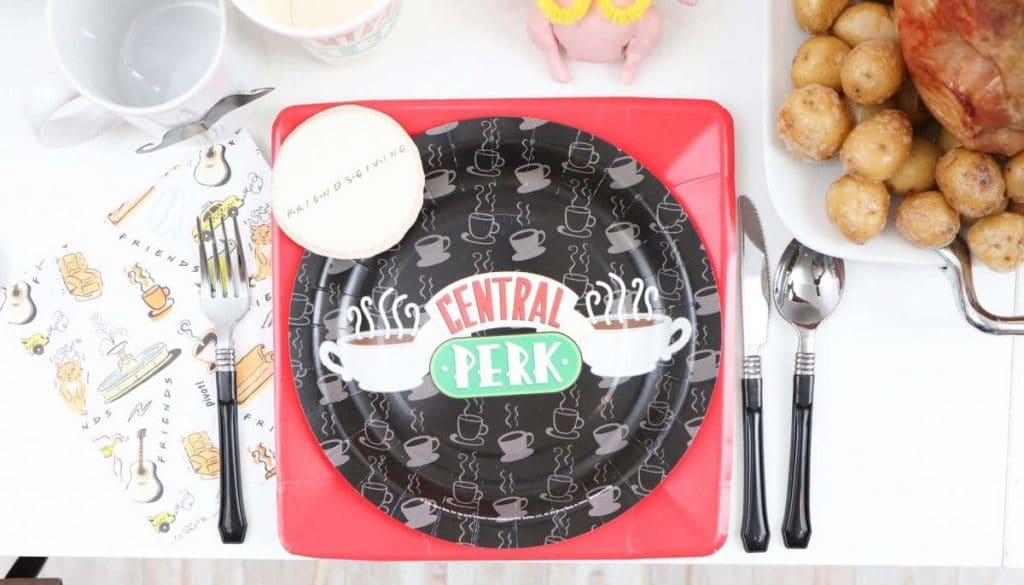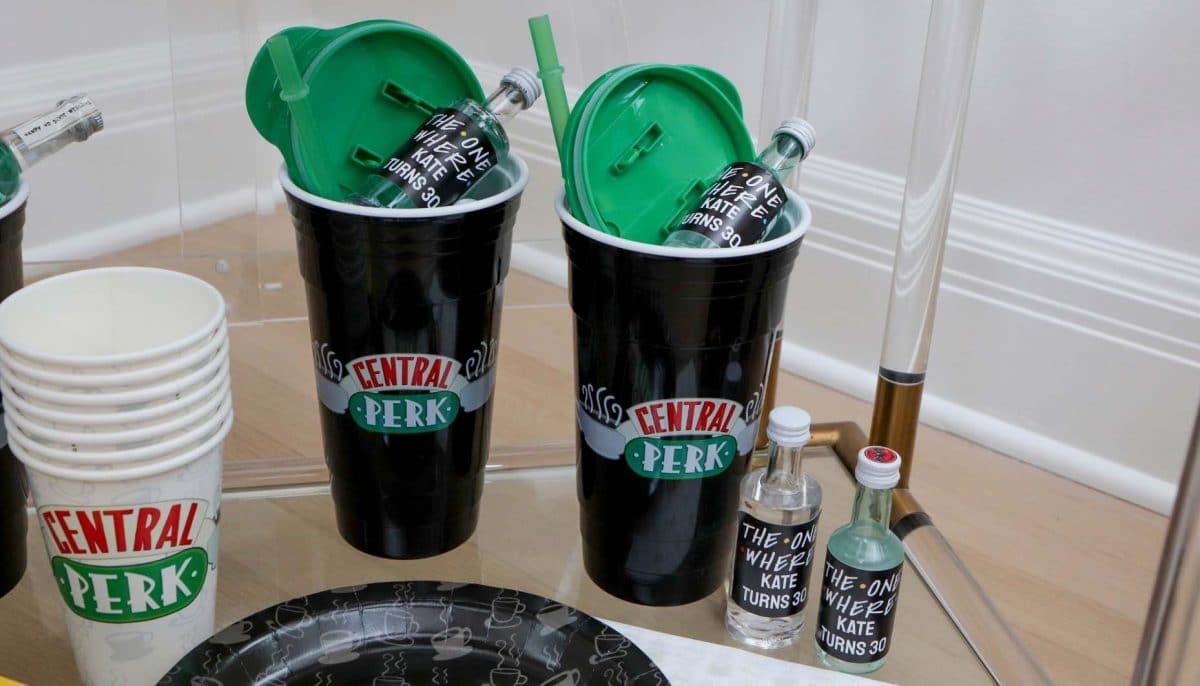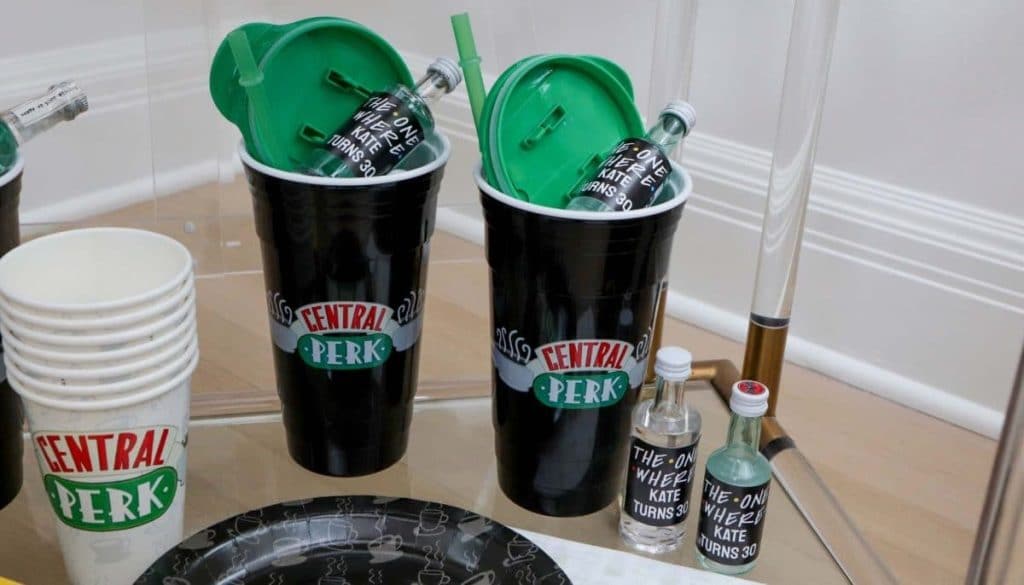 20 – The Friends
Finally, my favorite decor for a FRIENDS party is the Friends themselves! I got a large stand up of the FRIENDS characters, which served as the perfect backdrop for the party's photo booth. Who doesn't want to pose with Chandler, Rachel, Phoebe, Ross, Monica and Joey, and pretend they are part of the group?! Adding write-on thought/speech bubble props means you can make them say some of your favorite FRIENDS quotes, or hold them yourself.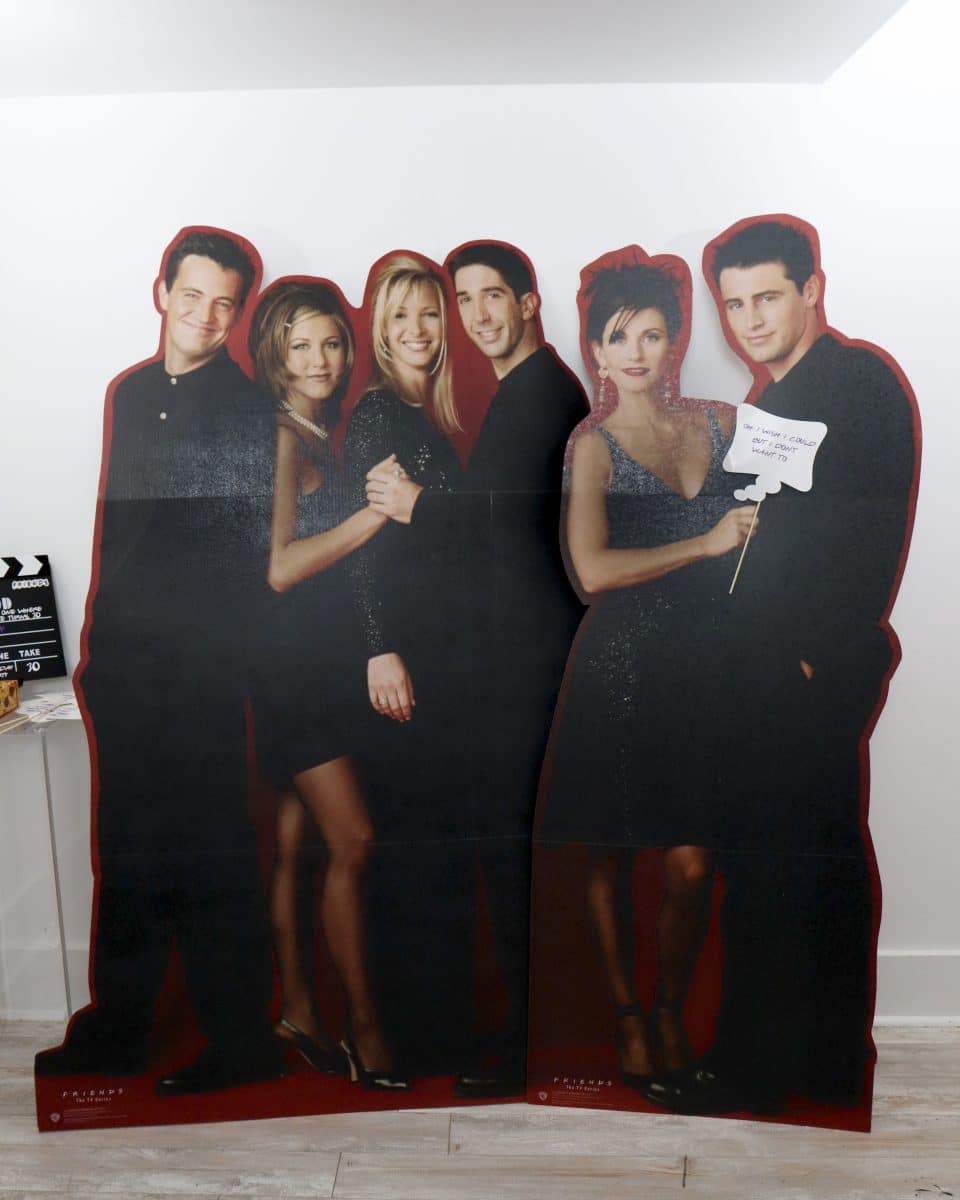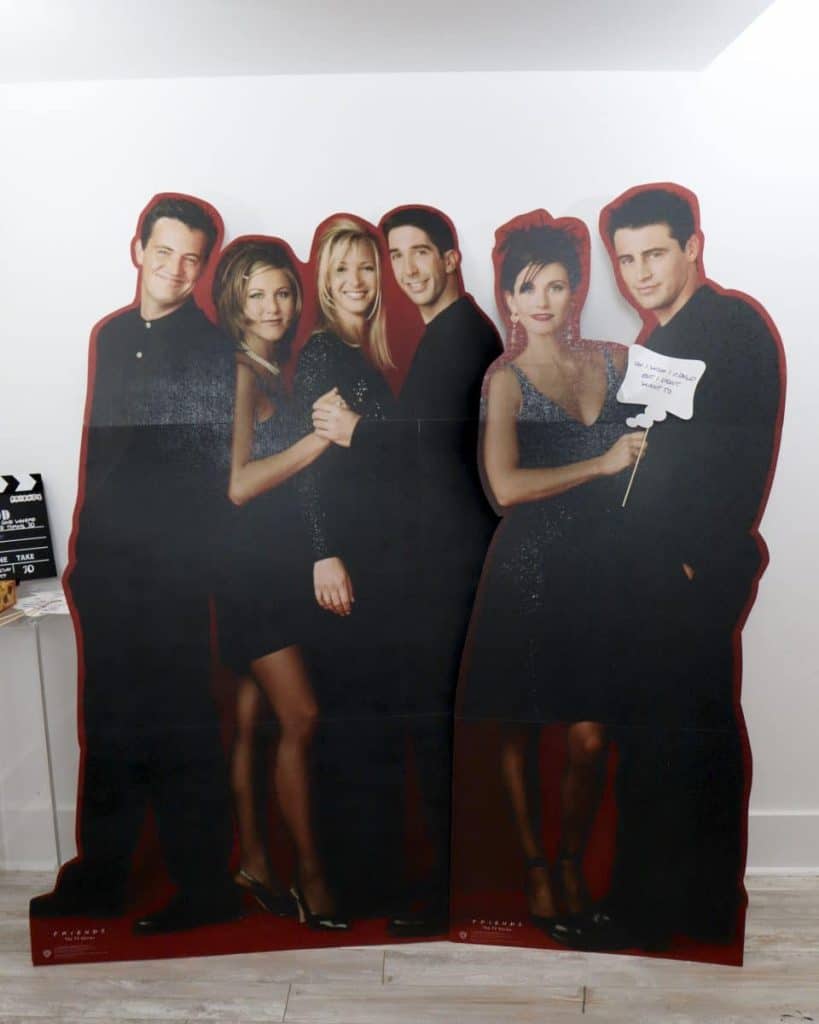 BONUS IDEAS:
With a show that ran for 10 seasons, the options for themed decorations really are almost limitless. Some other ideas include poker chips/cards from the episode where the girls learn how to play poker, the chick and the duck, dinosaur bones, a magic 8 ball, Ross' sandwich with a note, Hugsy, lobsters, smelly cat, foosball…get creative! Plus, planning this party is a great excuse to rewatch all of your favorite FRIENDS episodes for ideas.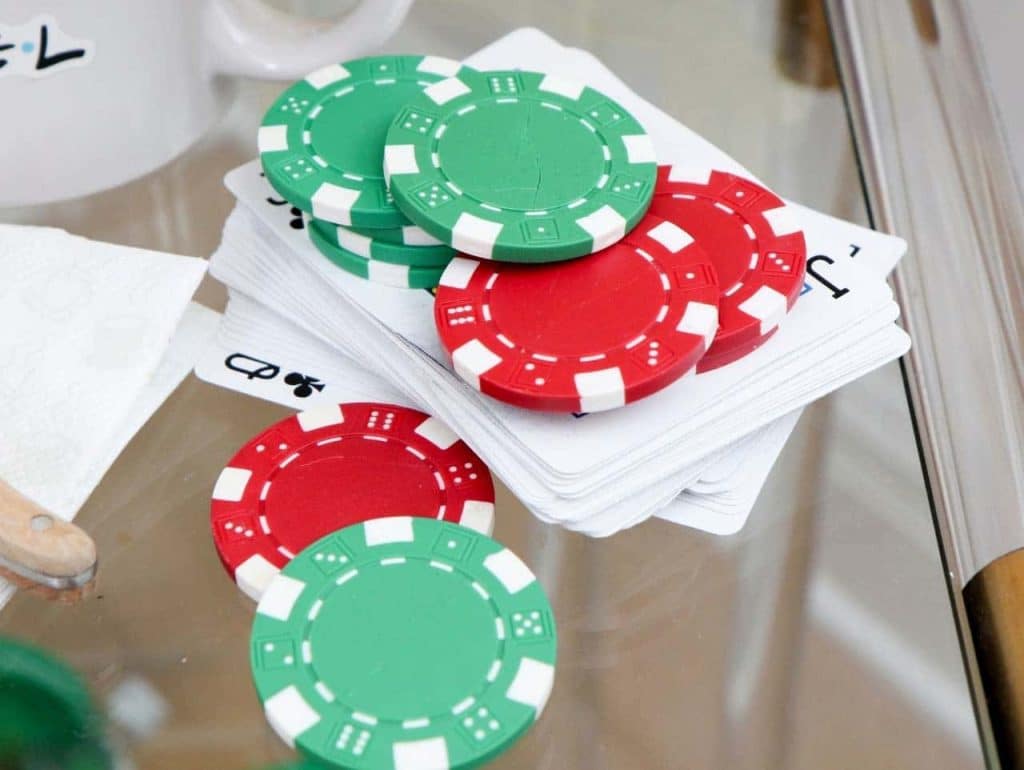 Be sure to check out the posts on the FRIENDS Themed Friendsgiving Dinner Party and the FRIENDS Themed Birthday Party for all of the details on how I set up both of those parties!
Happy Partying!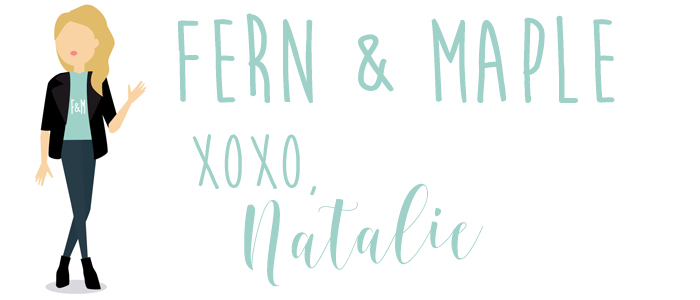 PIN FOR LATER: