One of my favorite things to watch around Halloween (other than spooky movies, of course!) are all the fun themed food competition shows on the Food Network! Recently as I was watching the Haunted Gingerbread Showdown, I was reminded of an awesome Haunted House Party from Andressa at Twinkle Twinkle Little Party a couple of years ago, and just knew I had to throw one of my own this year. Read on for all the details on how I set up my Haunted House Decorating Party for my daughter and her friends!
Batty Backdrop
First, I used a streamer backdrop from my friend Bri of Glam Fete. She used a variety of purples, interspersed with some black and iridescent streamers to tie in with my place settings. I love the way the bottom of the backdrop forms a V, which highlighted the center of my décor table and the shape of a flying bat.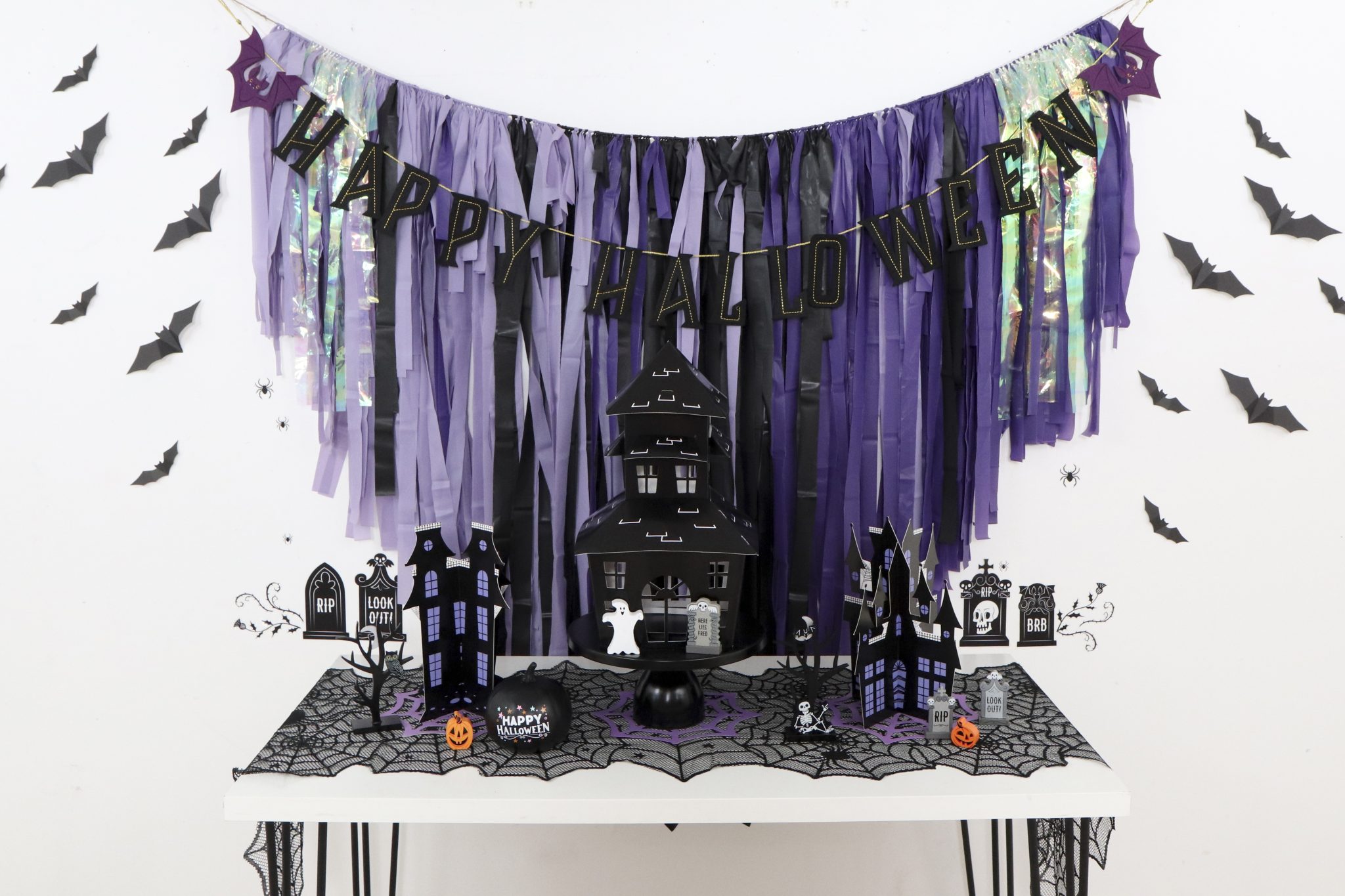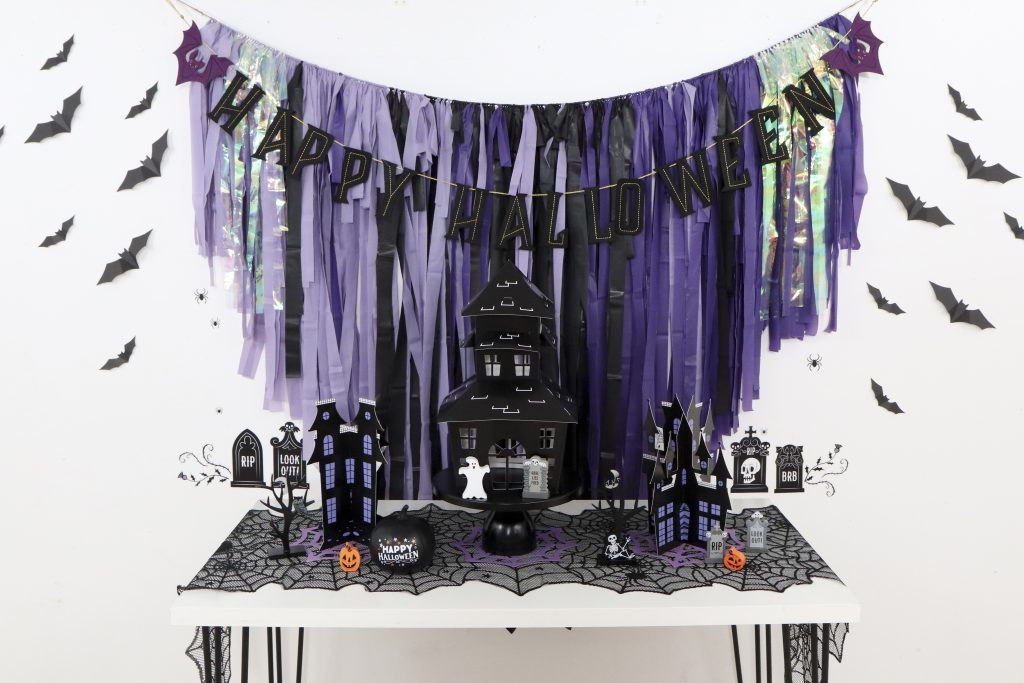 In front of the streamers, I hung a "Happy Halloween" bat garland, a new item in the Target Hyde & Eek Boutique.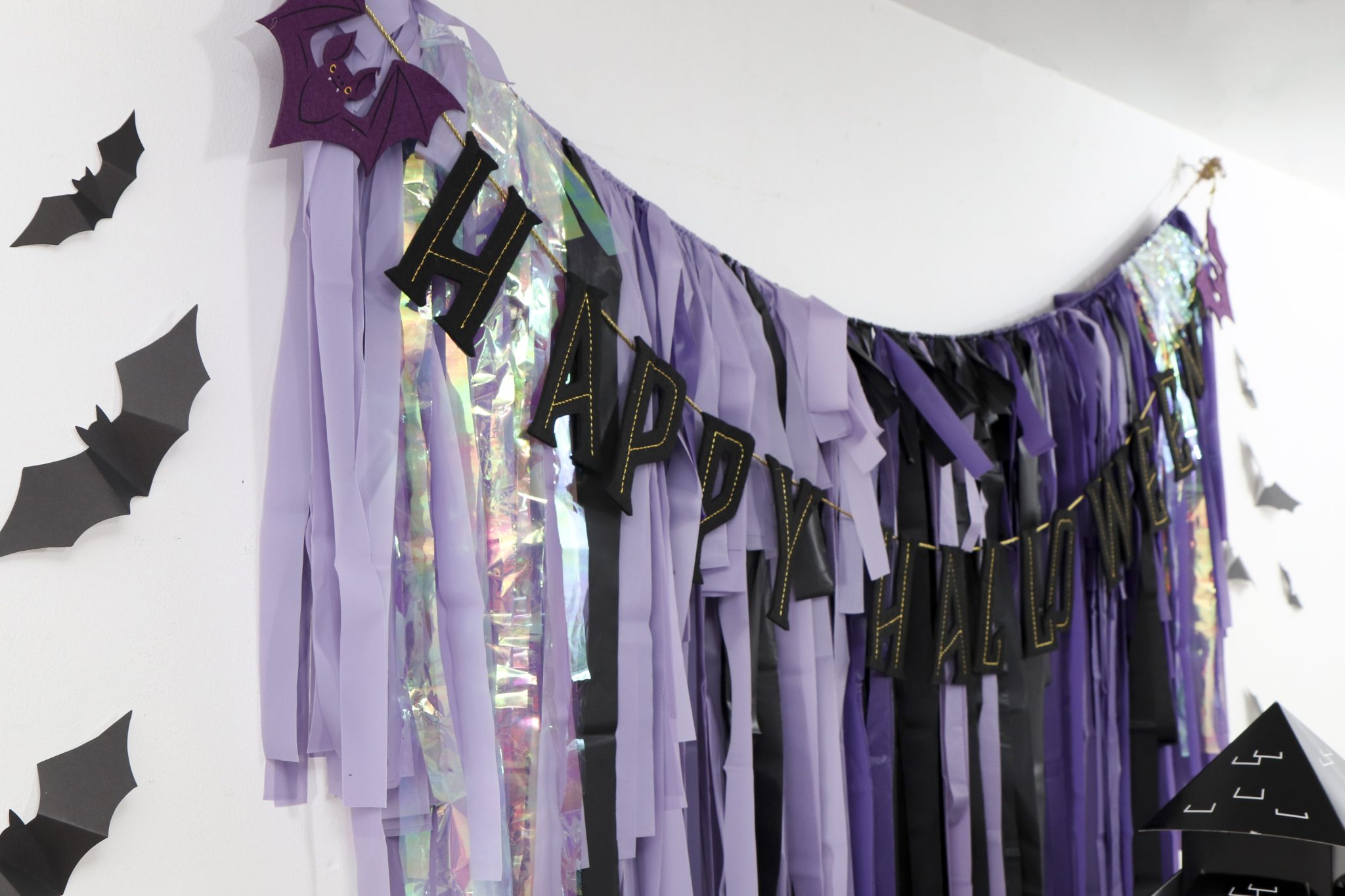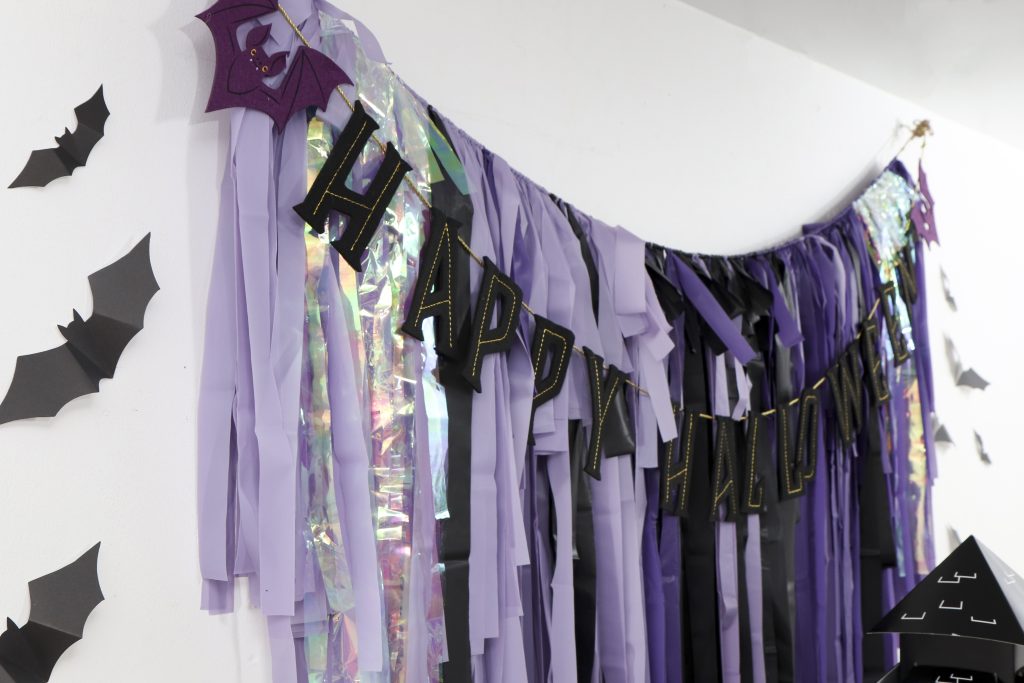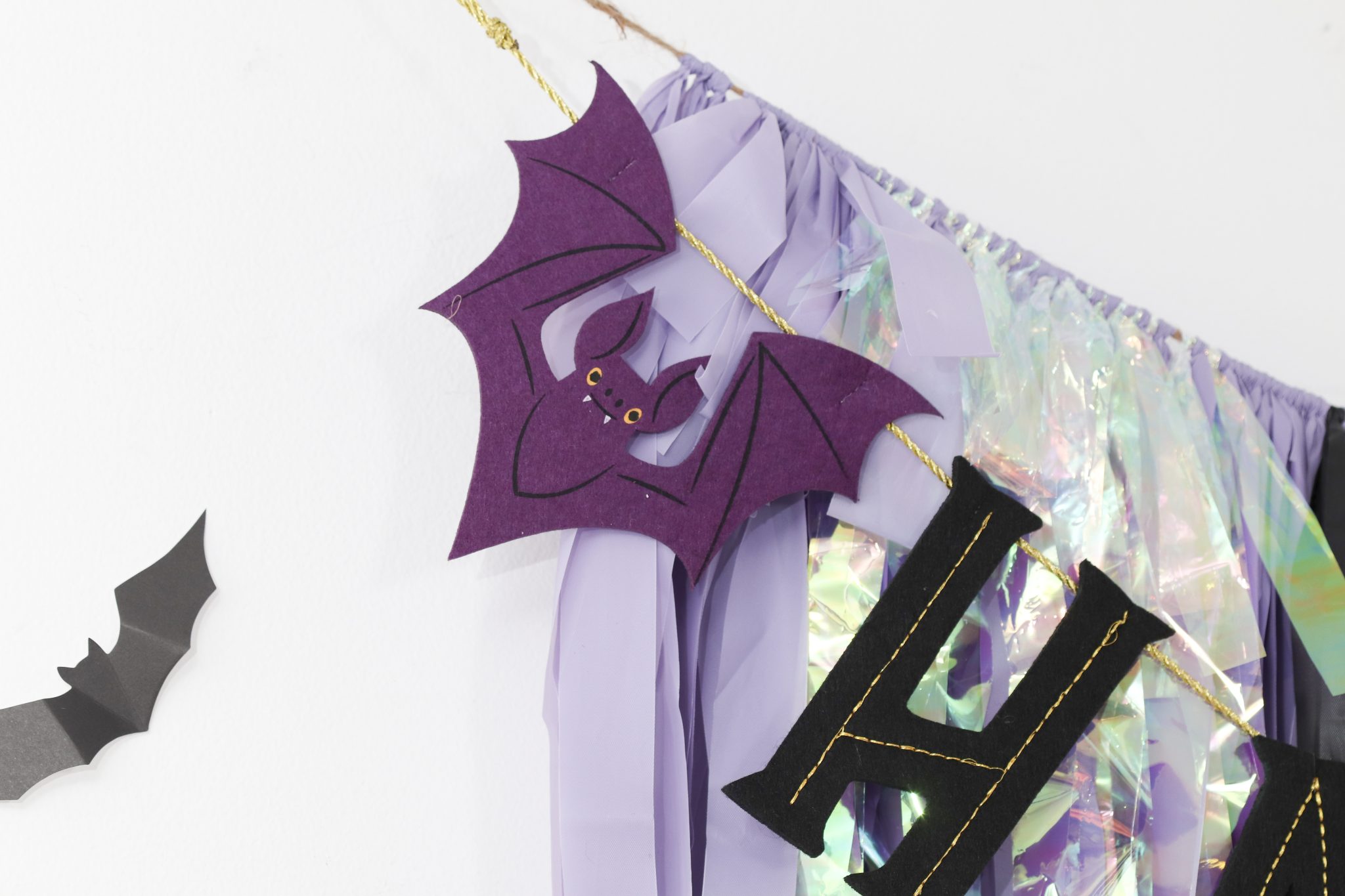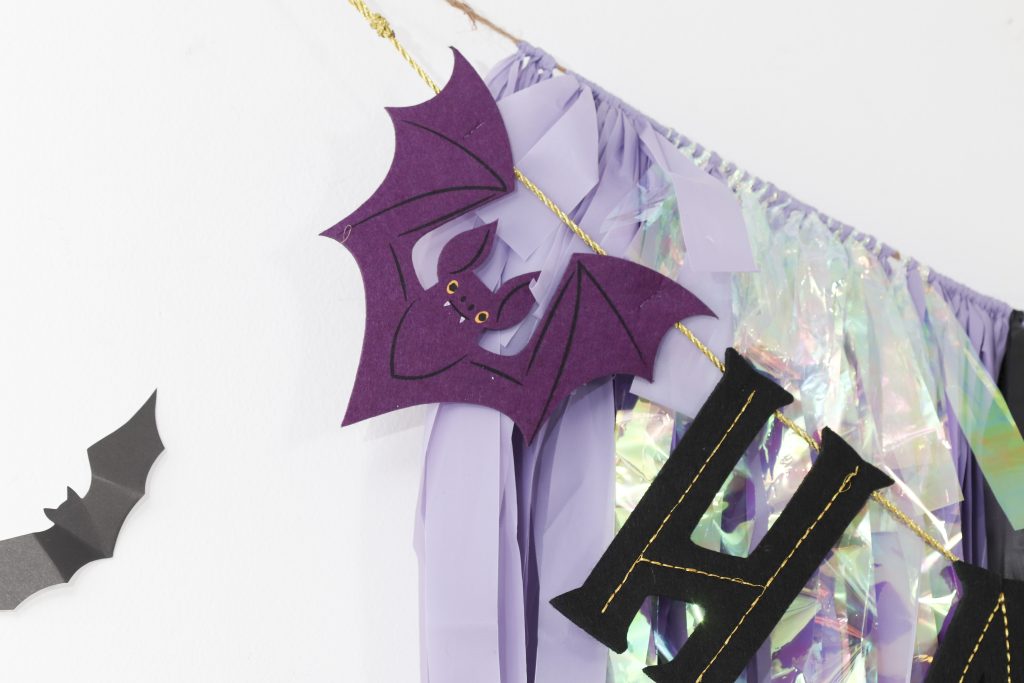 Then, I placed several bat cutouts on each side (source: Target, Bullseye's Playground), framing the streamer backdrop and making it look like they were flying out from the haunted house placed in the center of the décor table!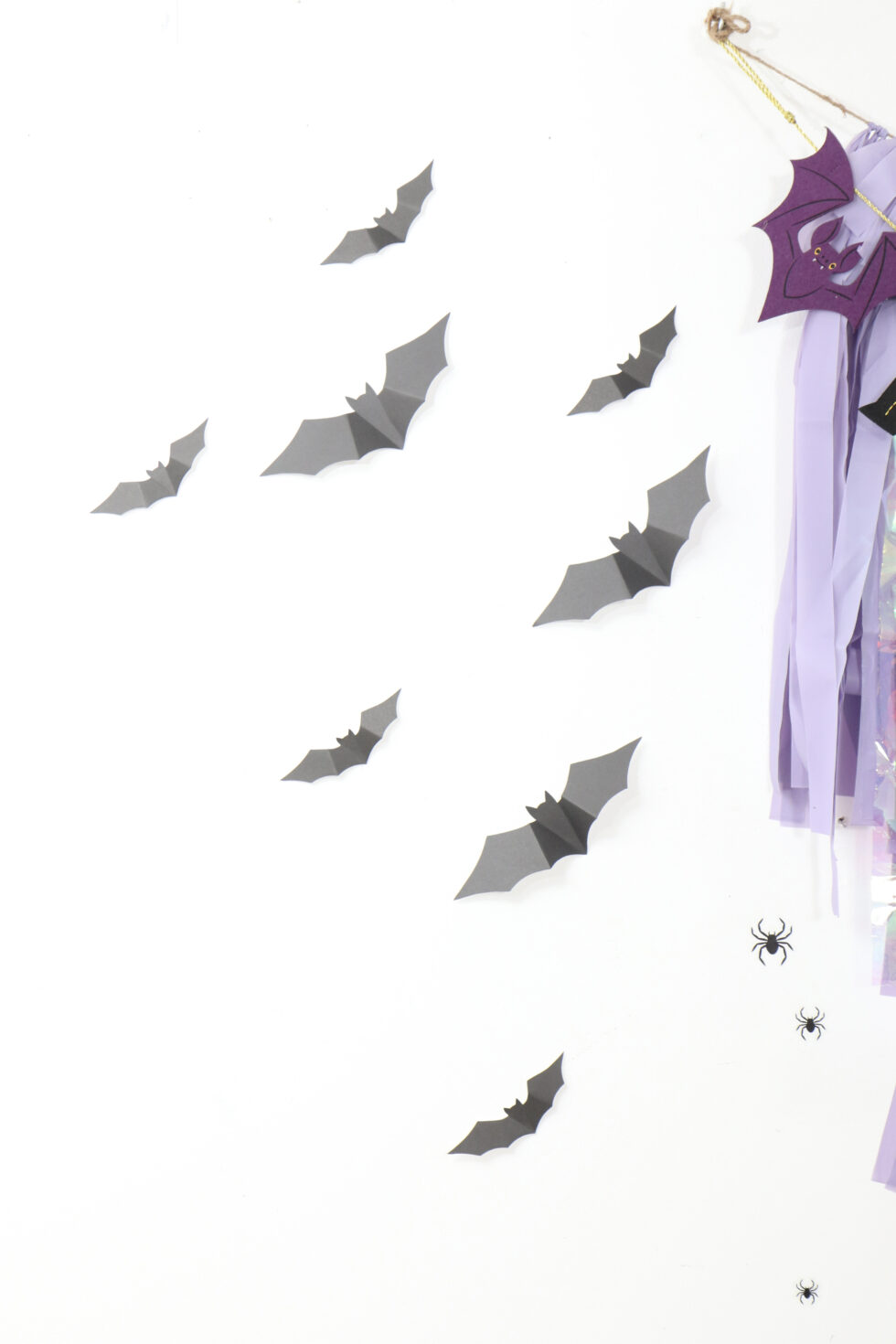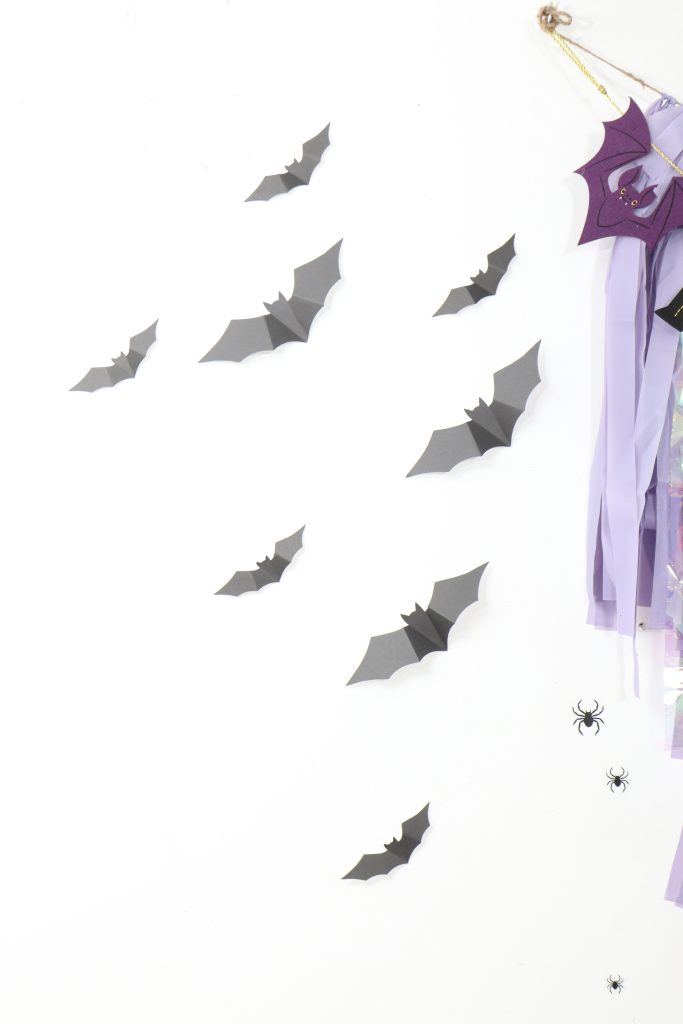 Finally, I added a few spider and gravestone decals towards the bottom. These are from wall décor sets that are readily available around Halloween.  I love that they are easily removable and reusable for future years.  These really made the backdrop blend with the table décor nicely.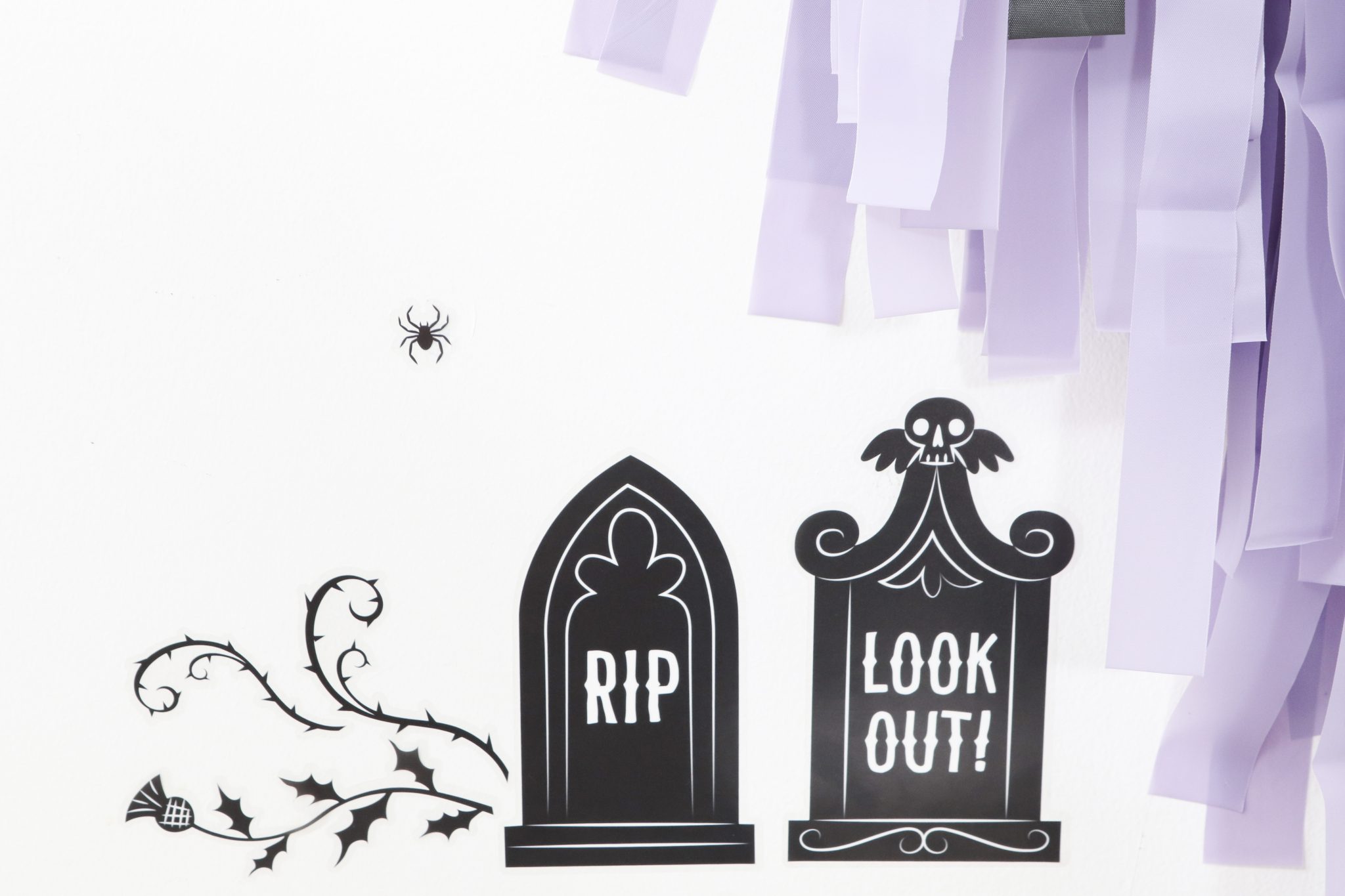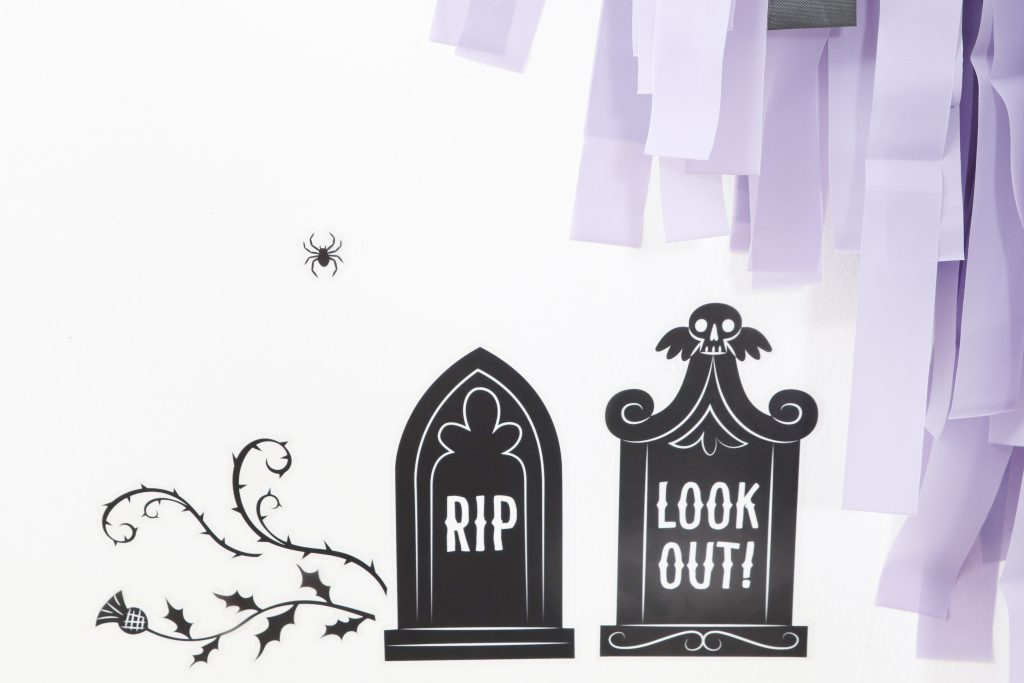 Décor Table
Next, I styled a Haunted House table in front of the backdrop, to really set the scene for this party theme. I spread a spider web lace table runner across a white table, and then used a few bright purple spiderwebs as placemats for my haunted houses. The purple really popped on the black runner (Note: I painted gold placemats purple to tie in with the color palette).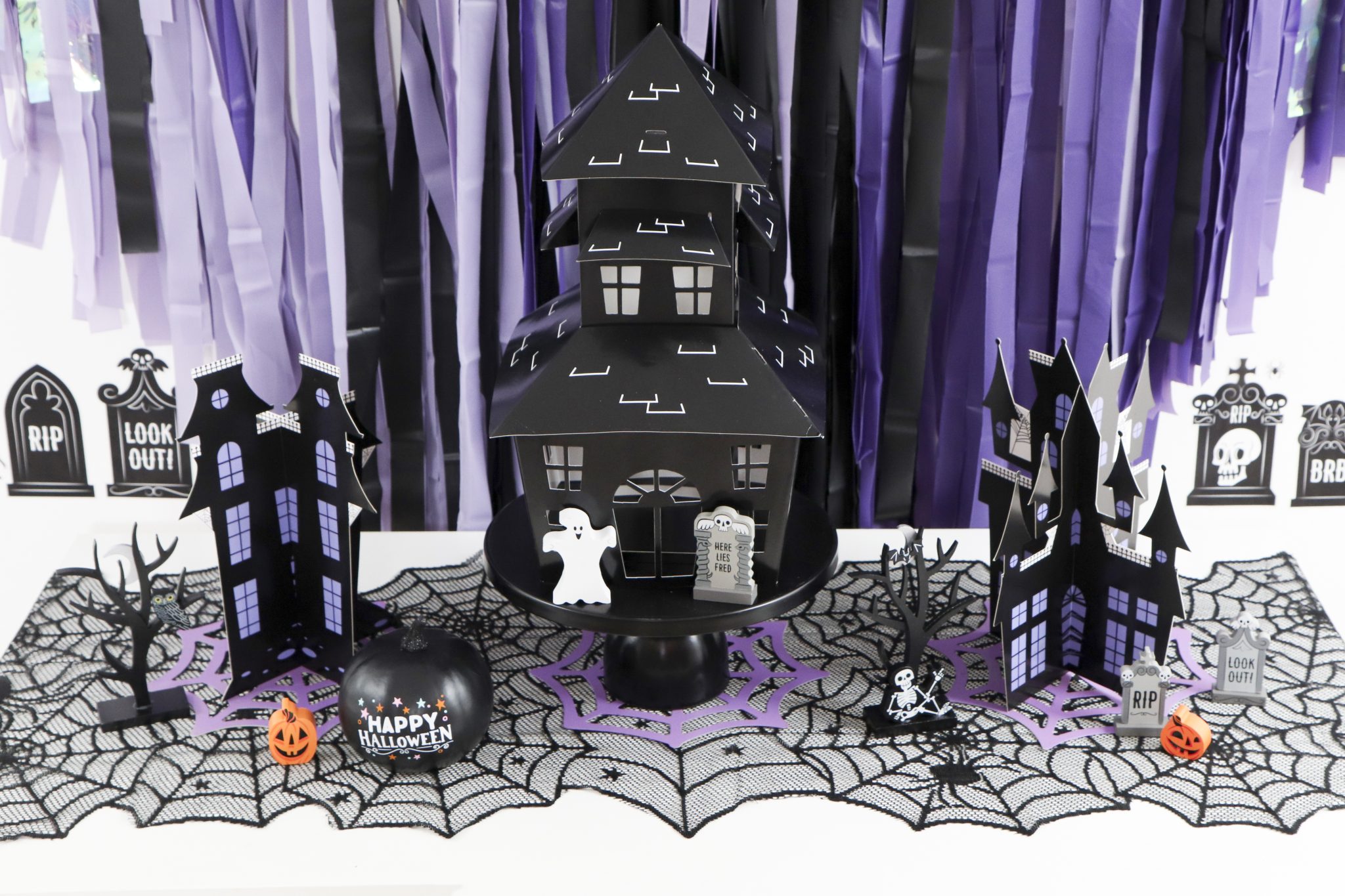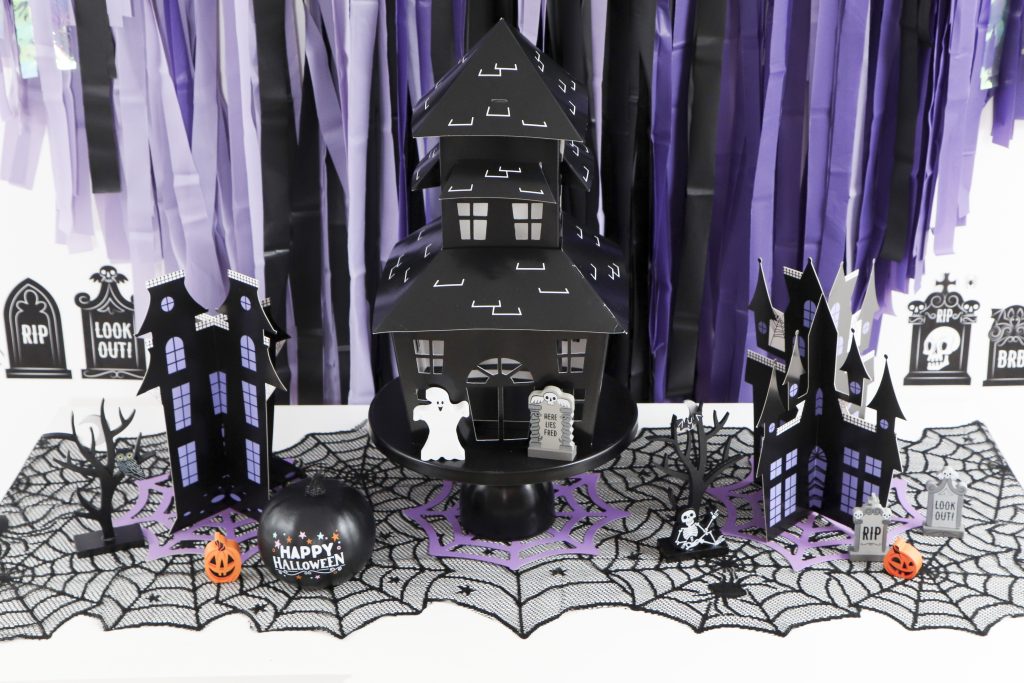 In the center of the table I placed a large 3-D paper haunted house. I used a black cake stand under it, to elevate it as my centerpiece.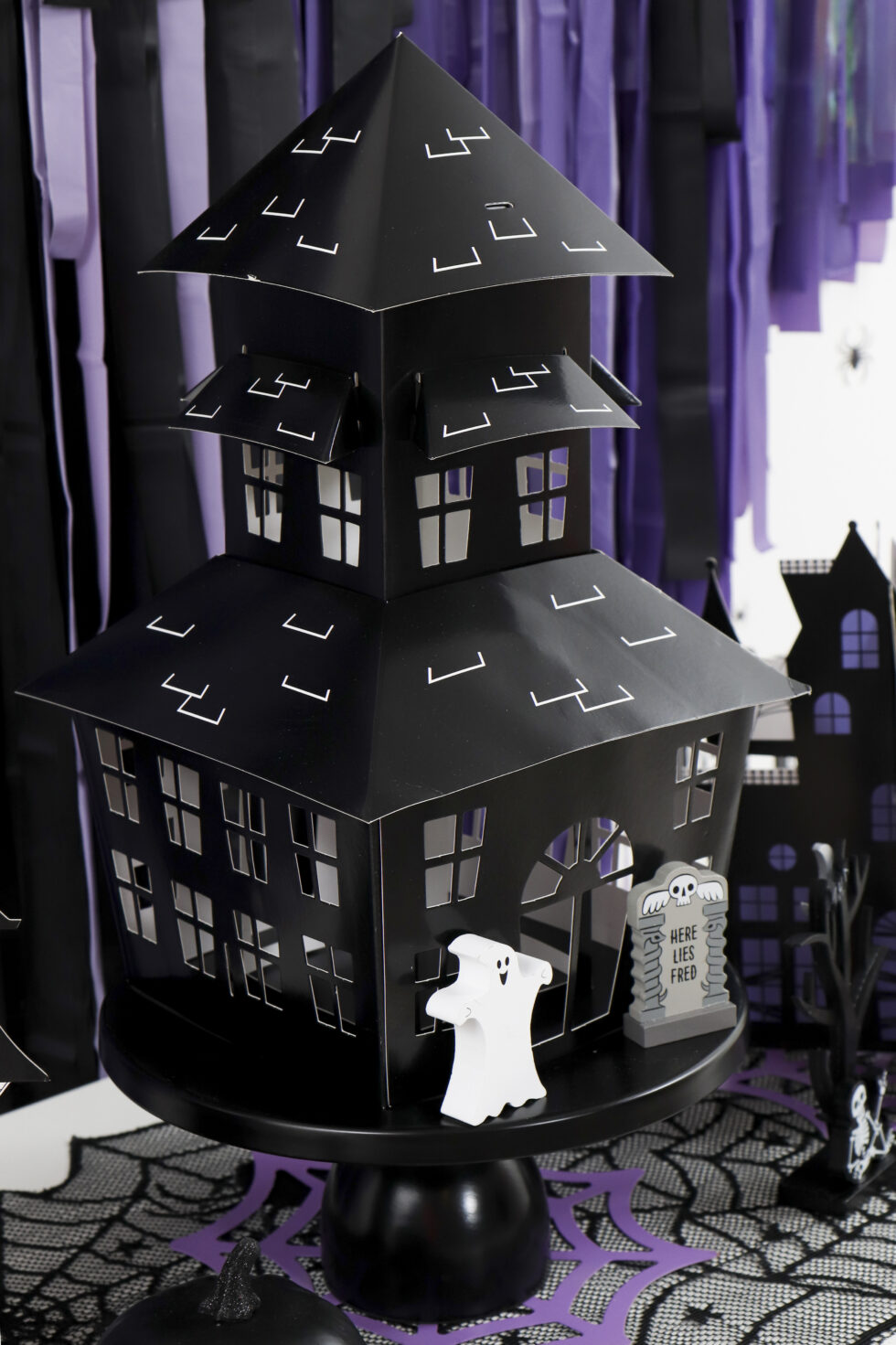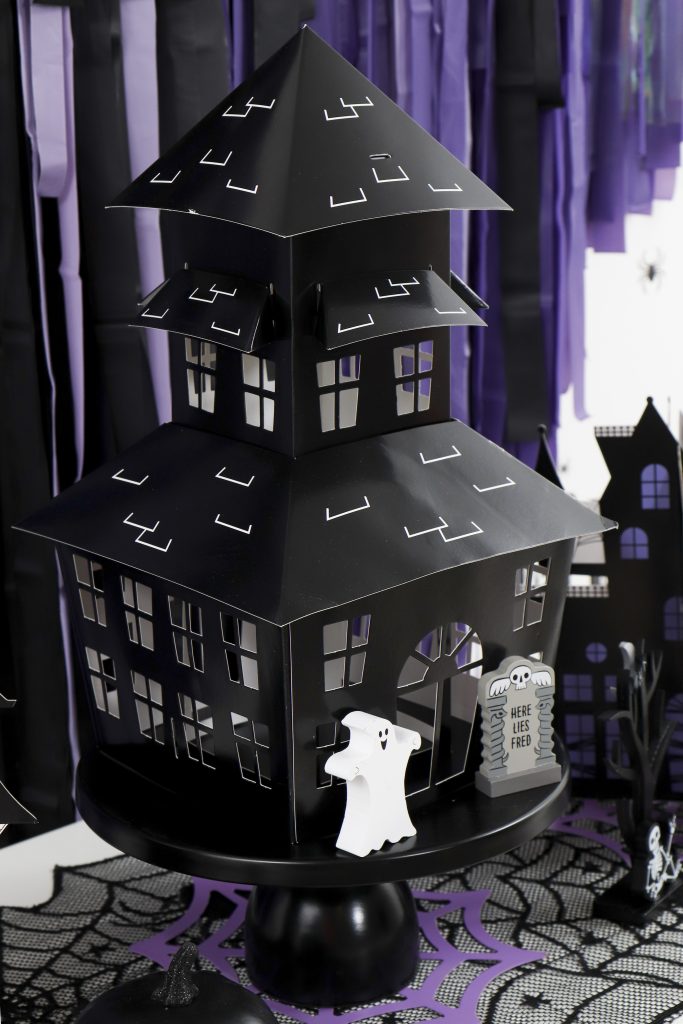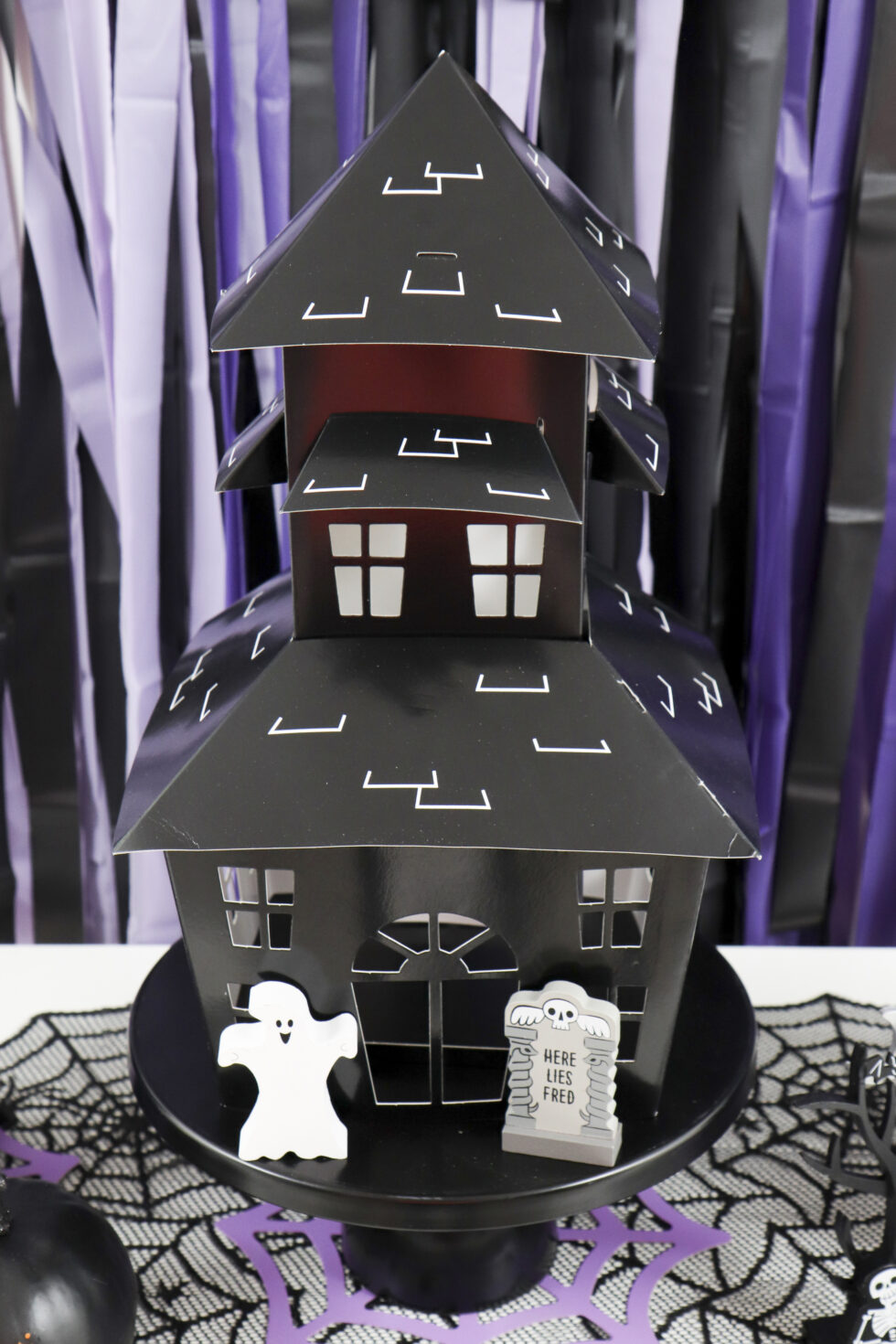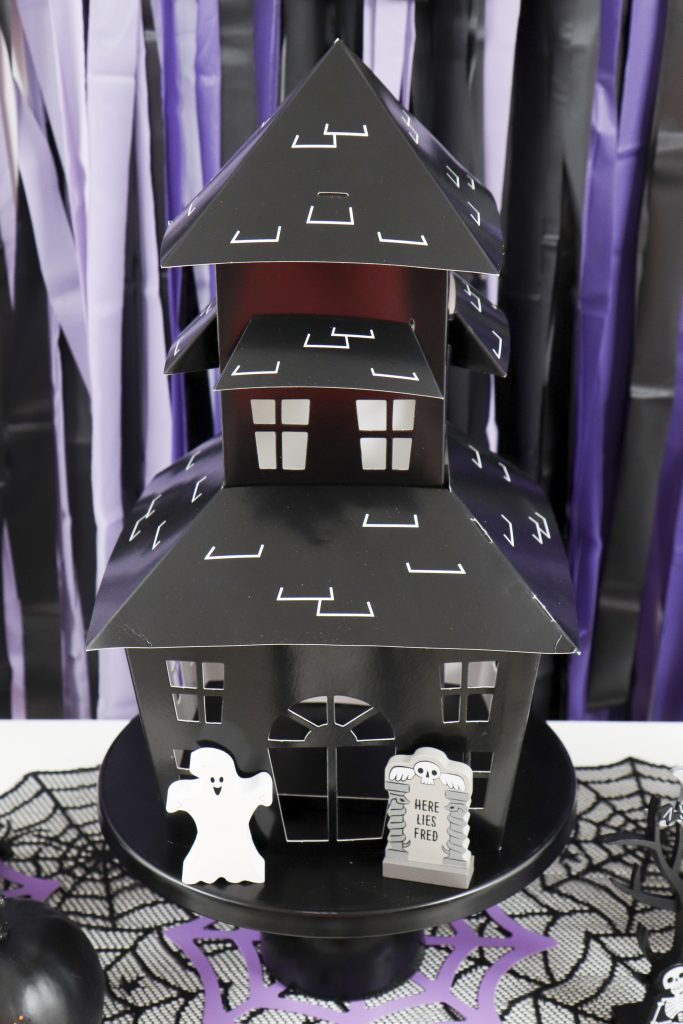 Then, on the other two placemats, I put two smaller paper haunted house decorations. It's a haunted house neighborhood! To add to the haunted community, I placed a variety of  additional décor, including trees, waving skeletons, jack-o-lanterns, and more gravestones. All of these are from the new mantel décor found at the Hyde & Eek Boutique collection at Target.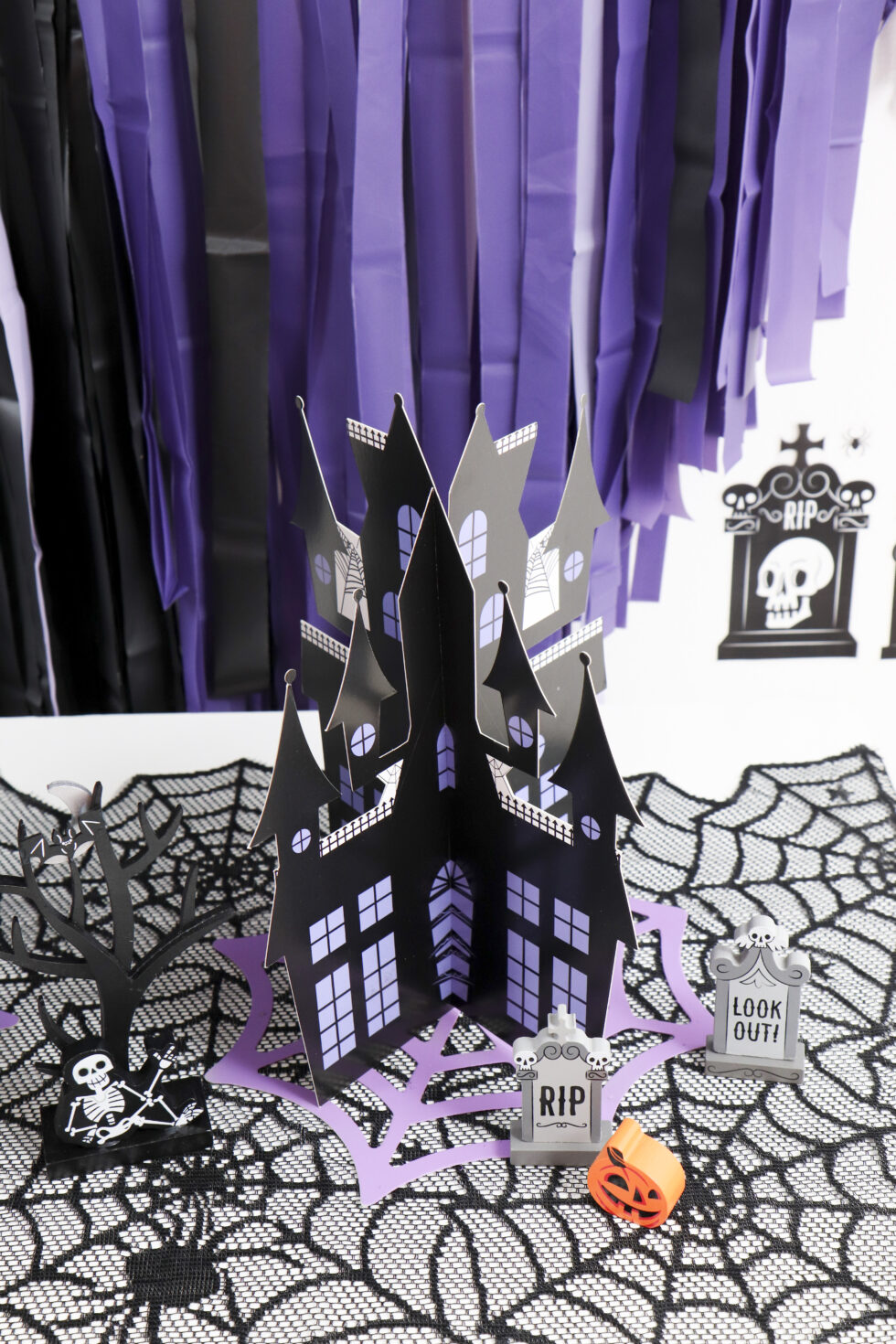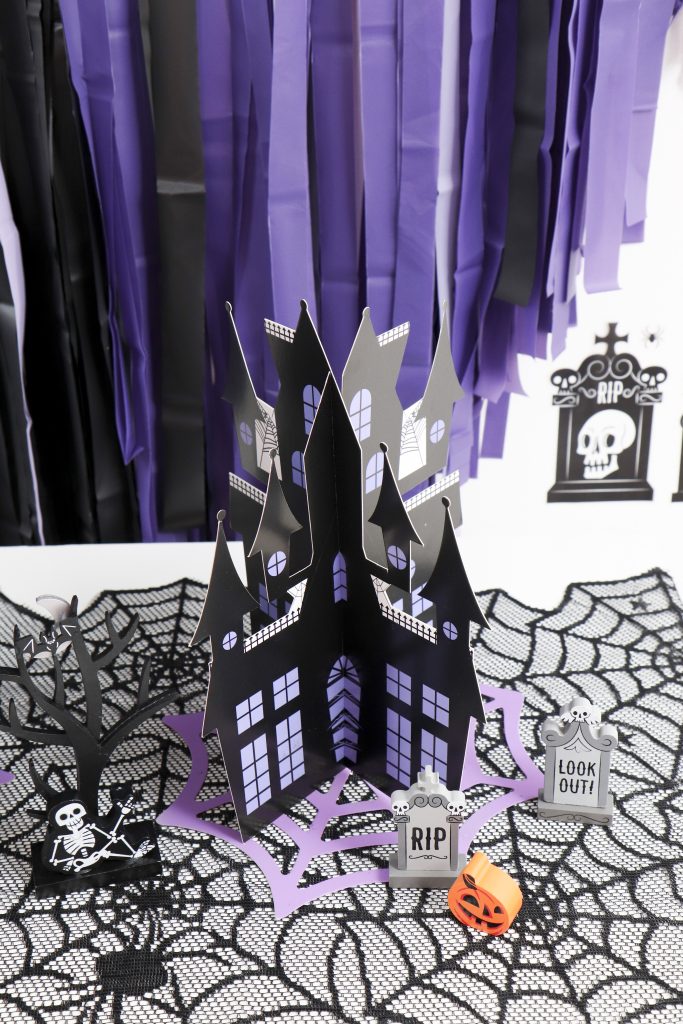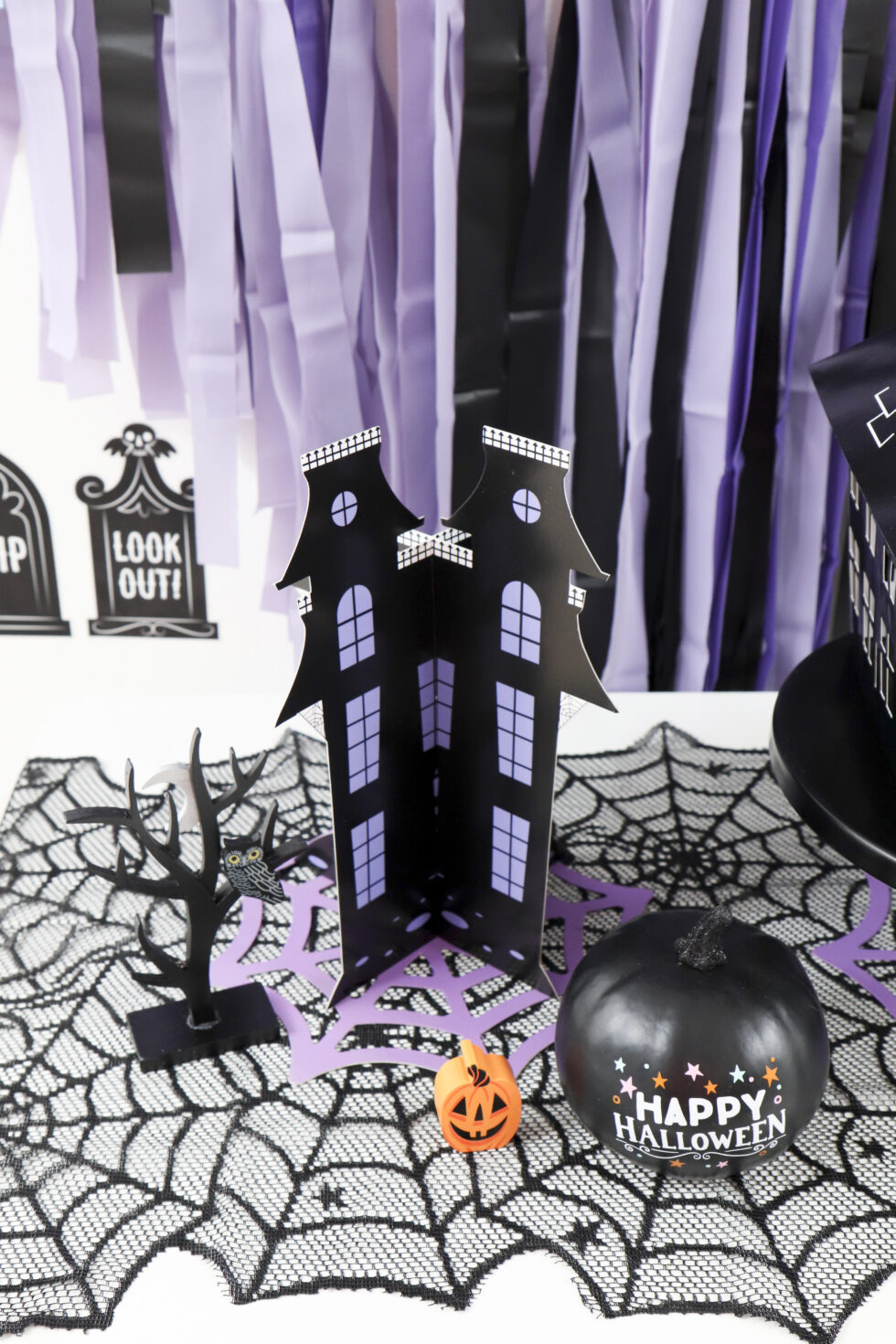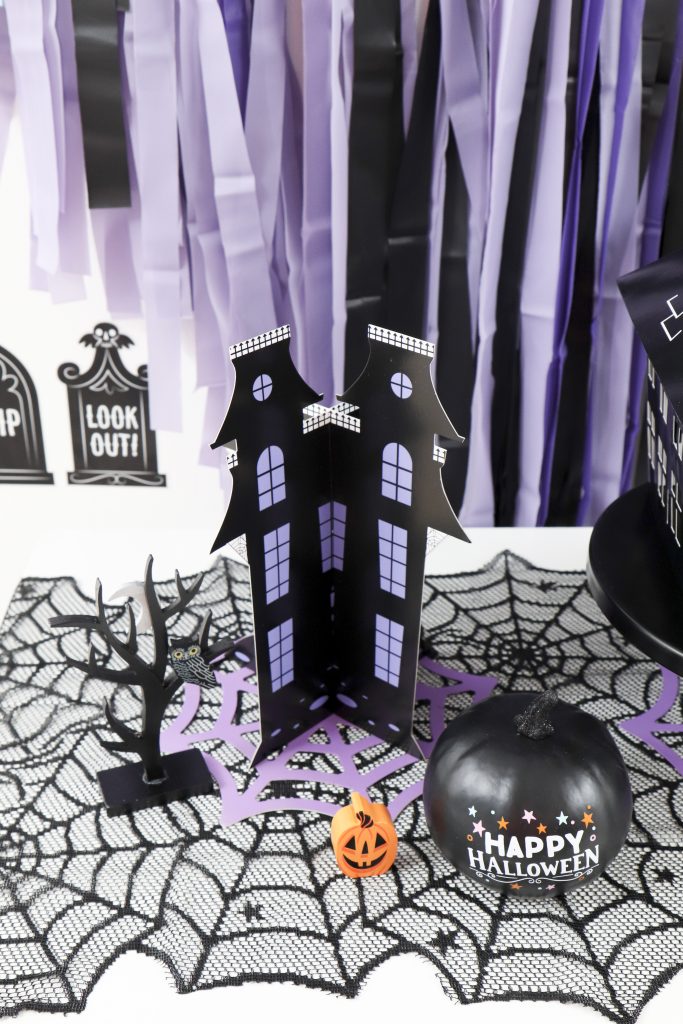 Haunted House Decorating Table
Next, it was on to the most important part of this decorating party – the decorating table! The centerpiece of this table was an amazing giant gingerbread haunted house, created by my friend Adrienne from Trophy Baking. How cute is this house?! The spooky ghosts and dancing skeletons served as great creative inspiration for the girls' houses.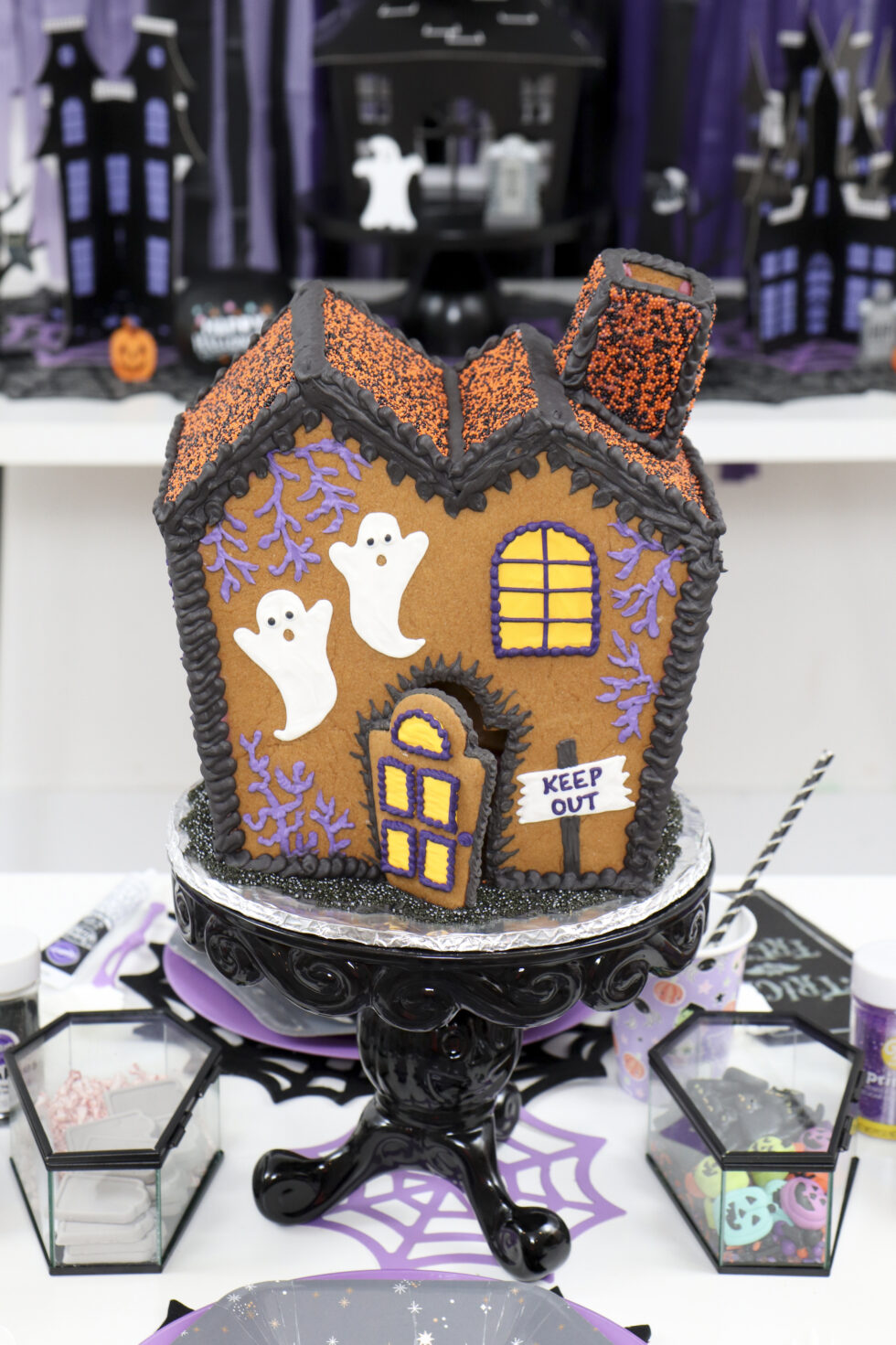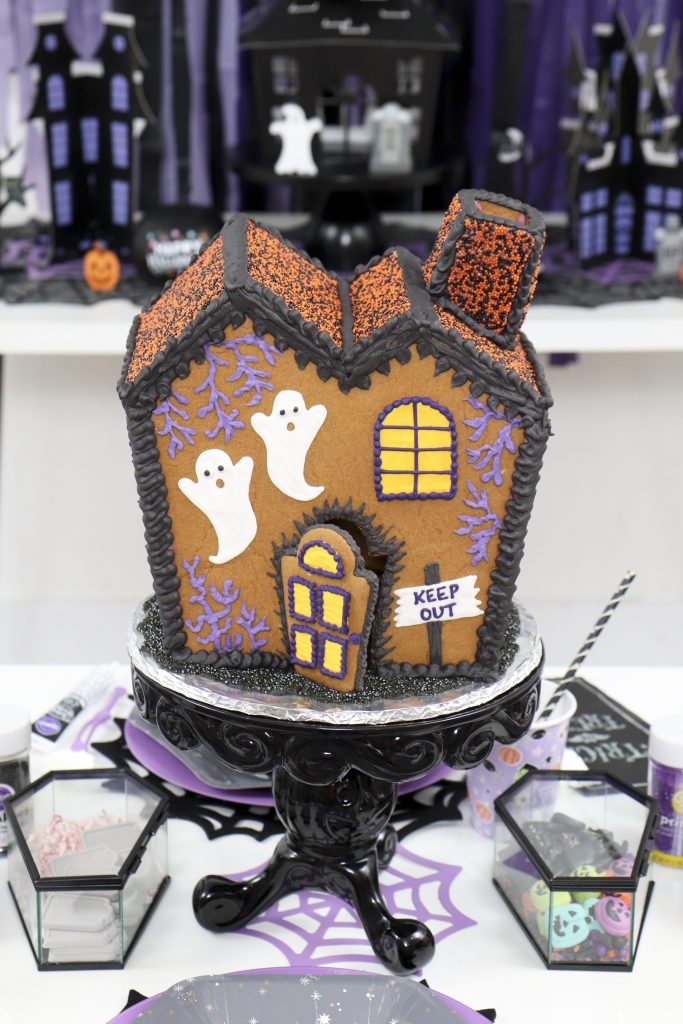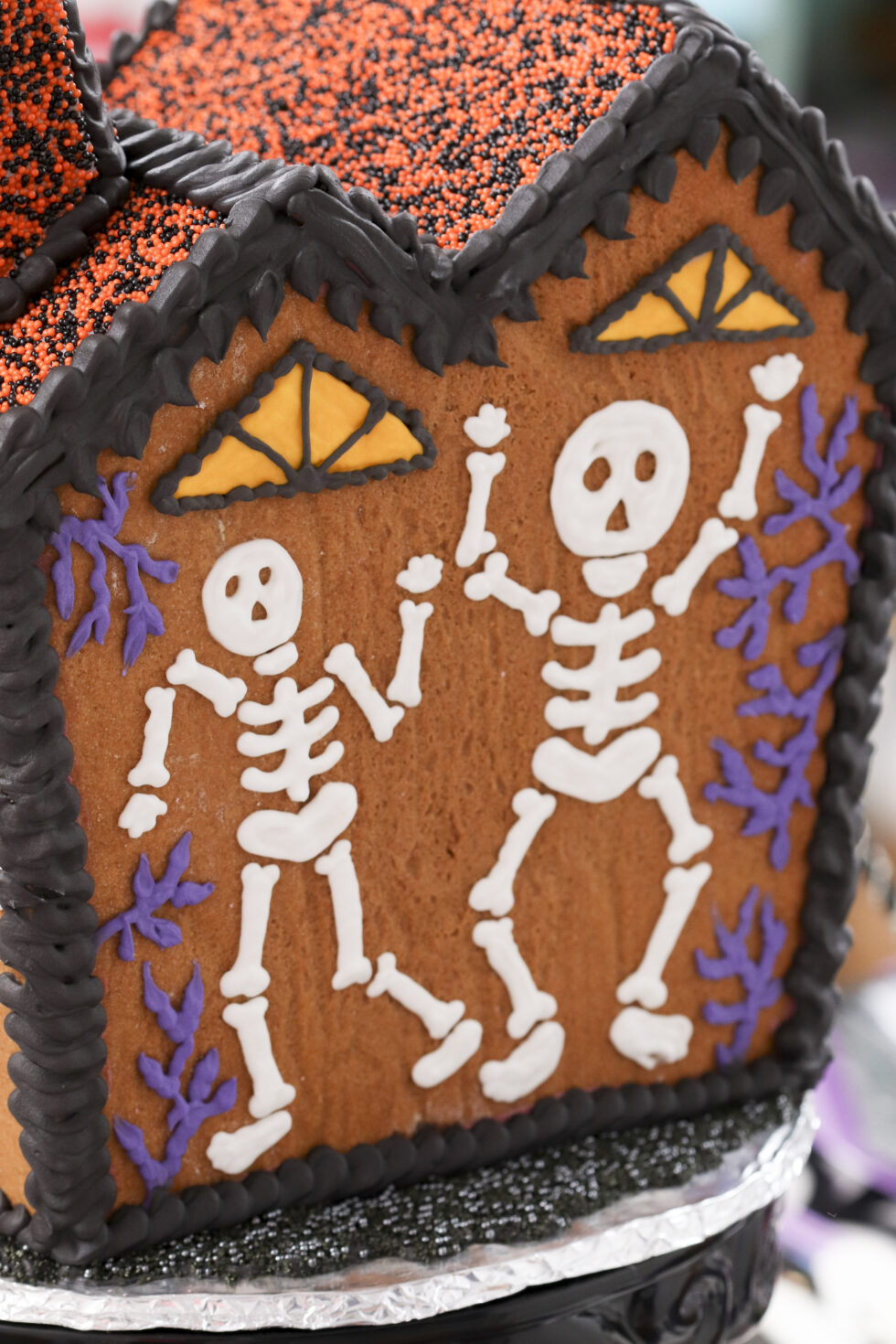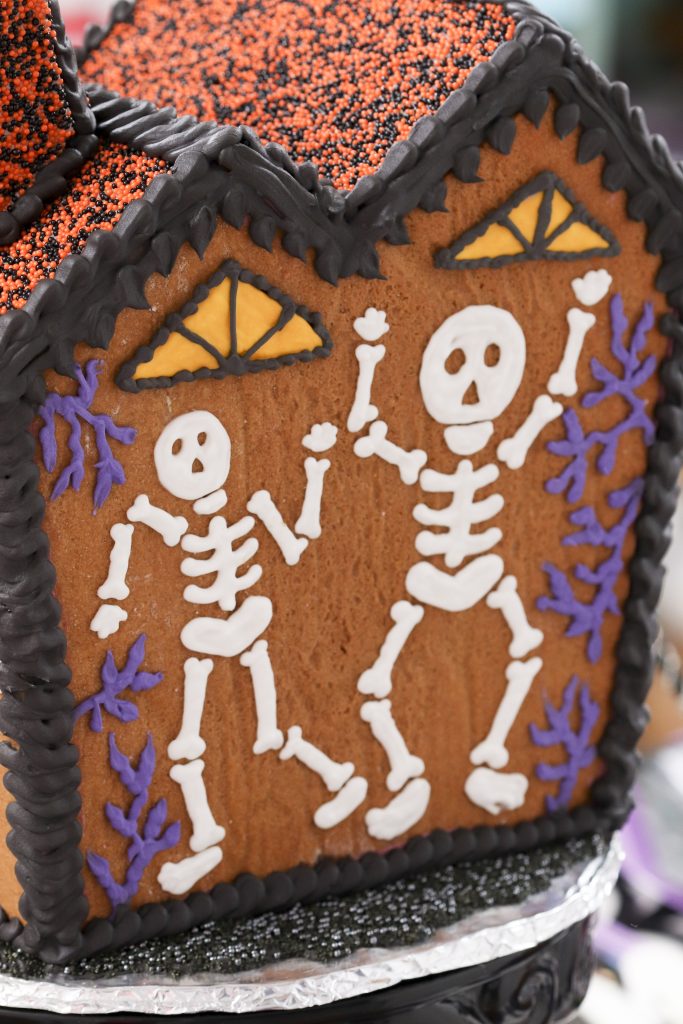 On either side of the centerpiece, I set out cauldrons and coffins with all sorts of candy from the Sweet Tooth Fairy, M&M's Michaels baking and more that the girls could use to decorate their own houses (and snack on as they went, of course!). They'd have to brave the skeleton guards on each candy cauldron, however!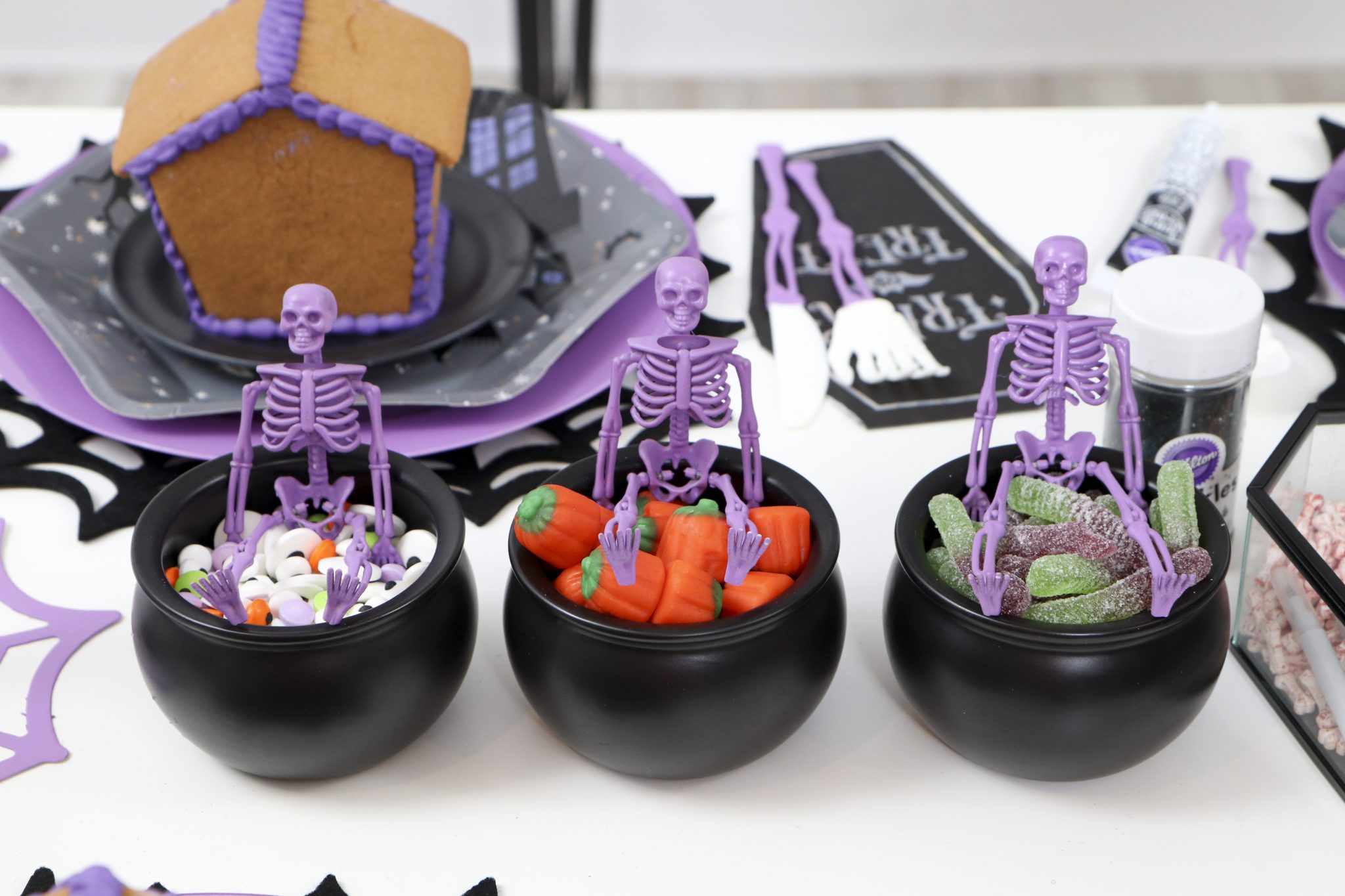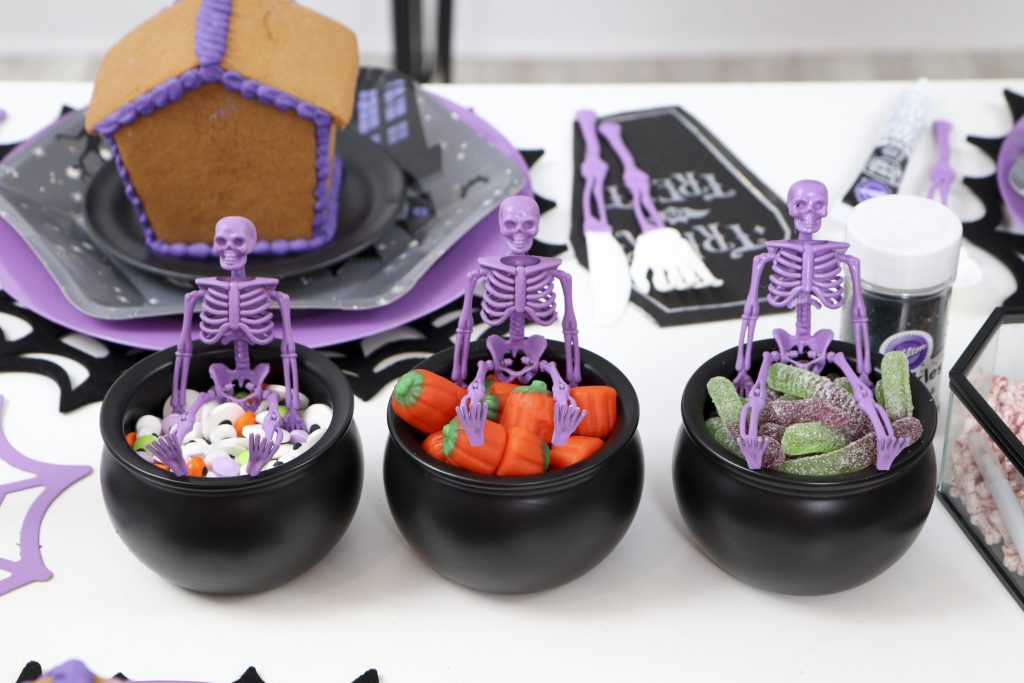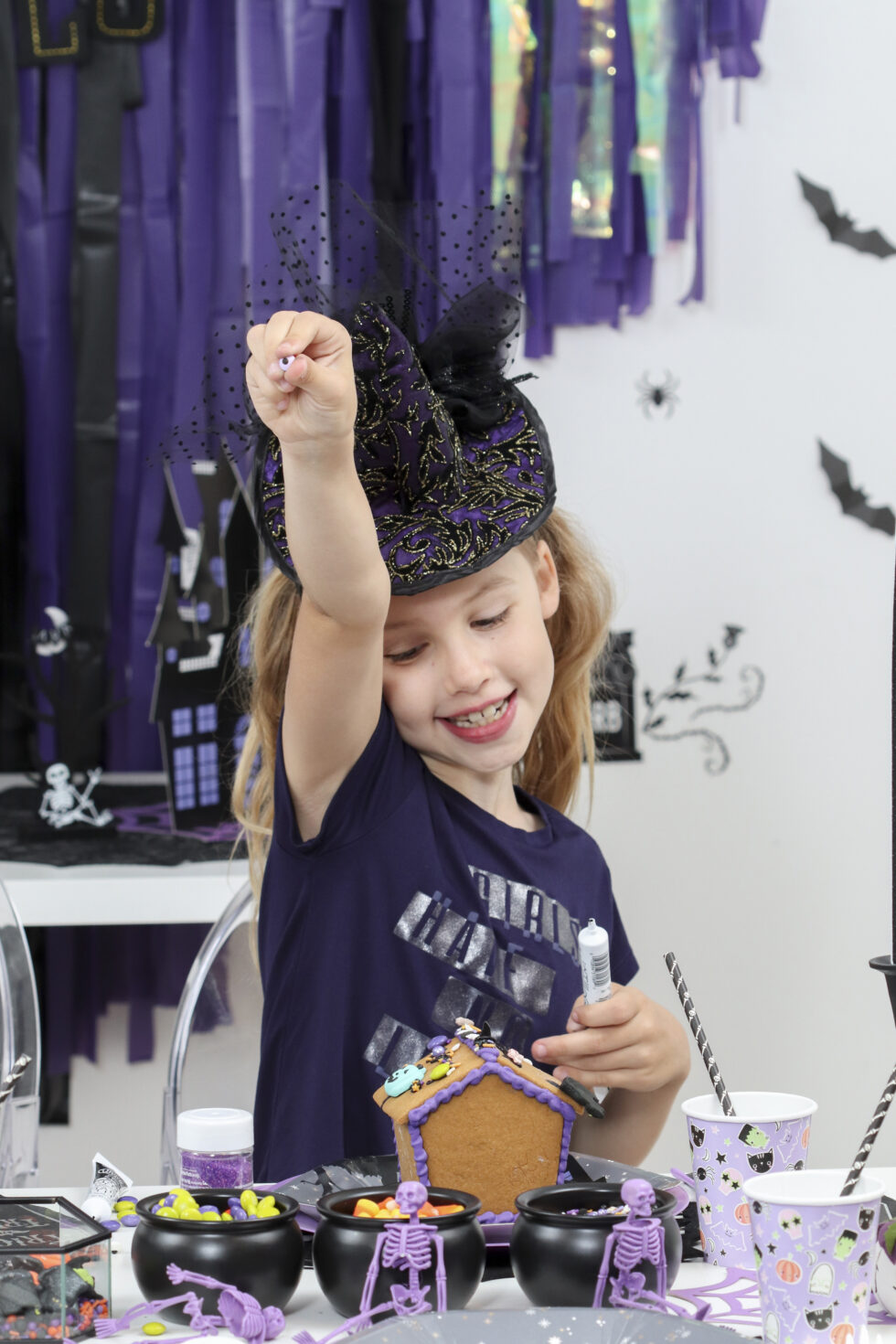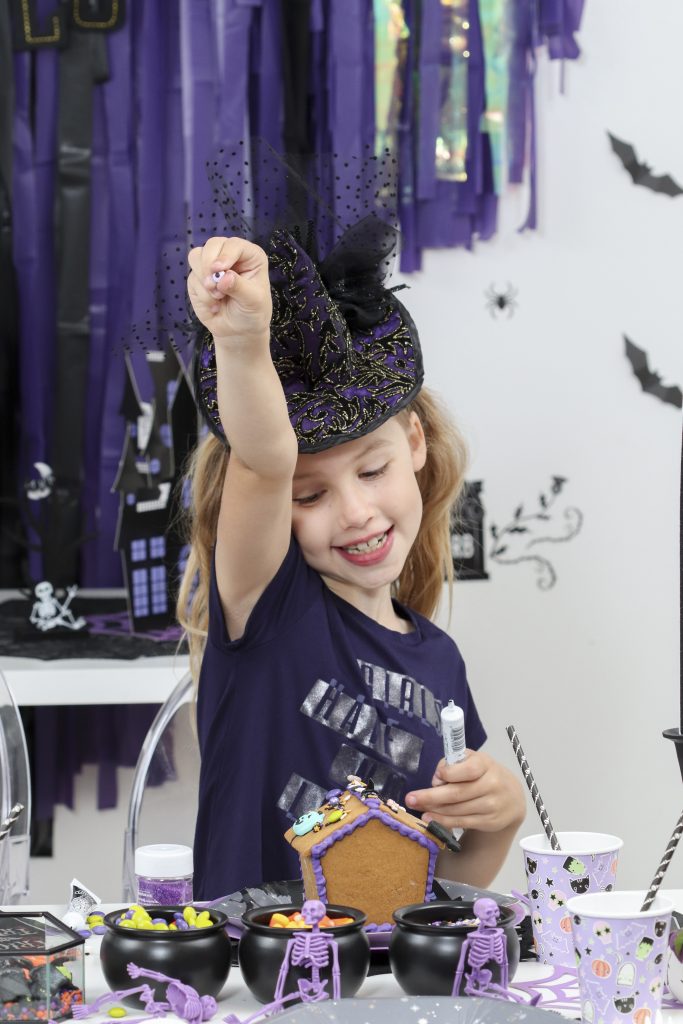 I removed the skeletons from a garland and painted them a fun popping purple.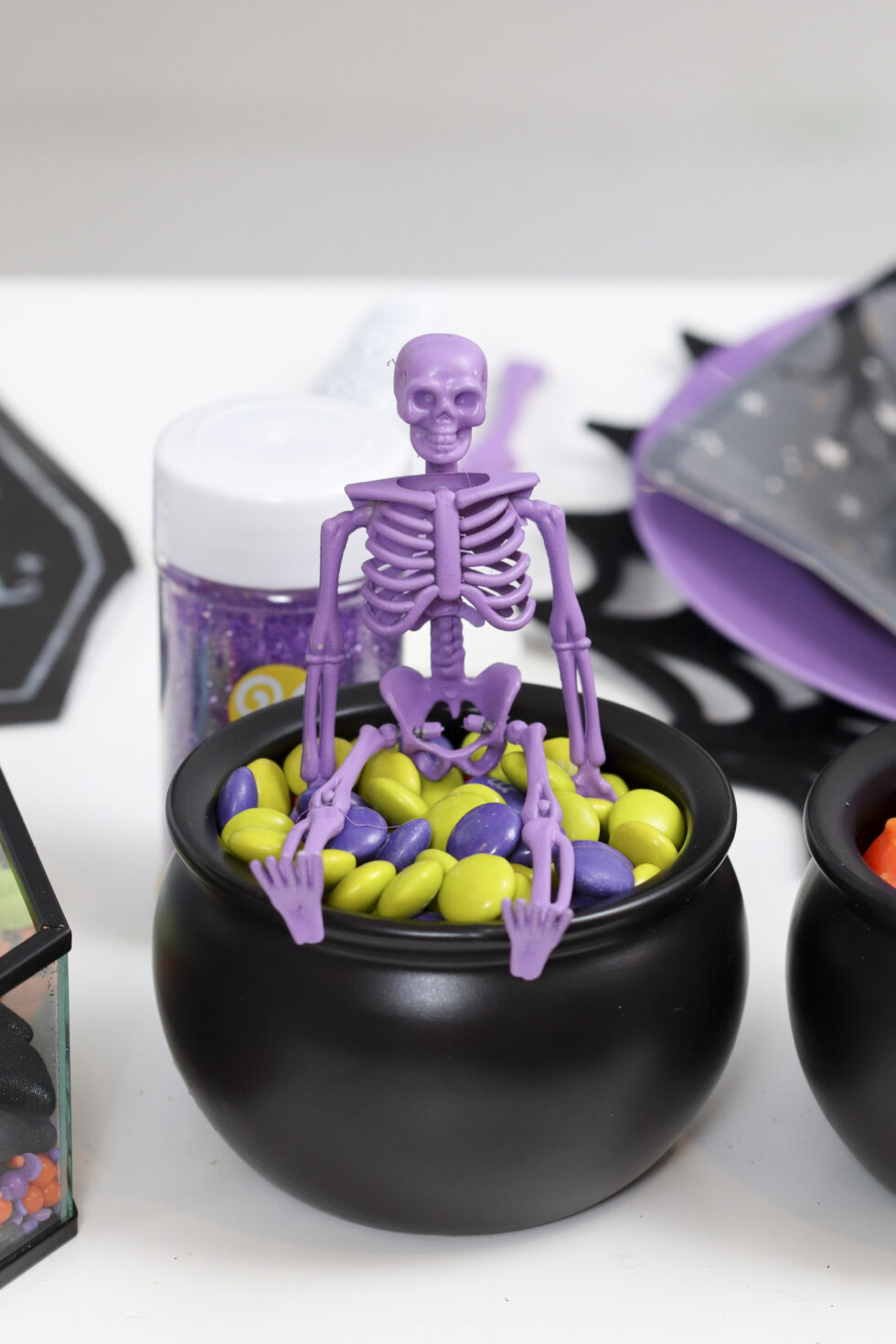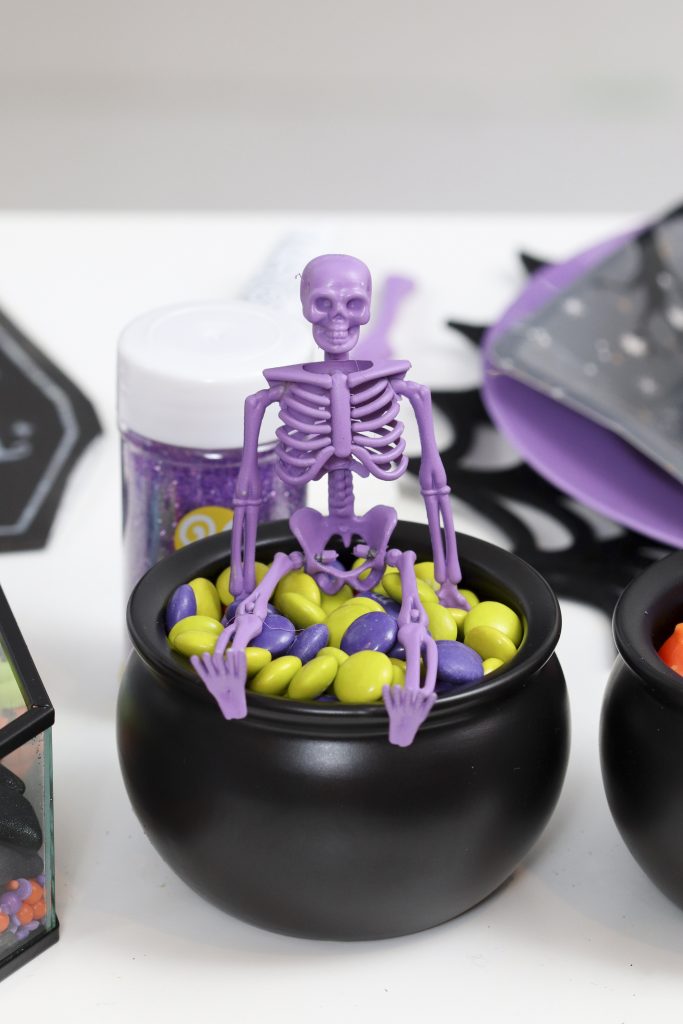 I also added plenty of edible cupcake toppers for decorating.  Black cats, Pumpkins, lots of Eyeballs and edible Tombstone Gravestones that they could write on.  So fun! It seemed appropriate to place these in mini glass coffins, don't you think?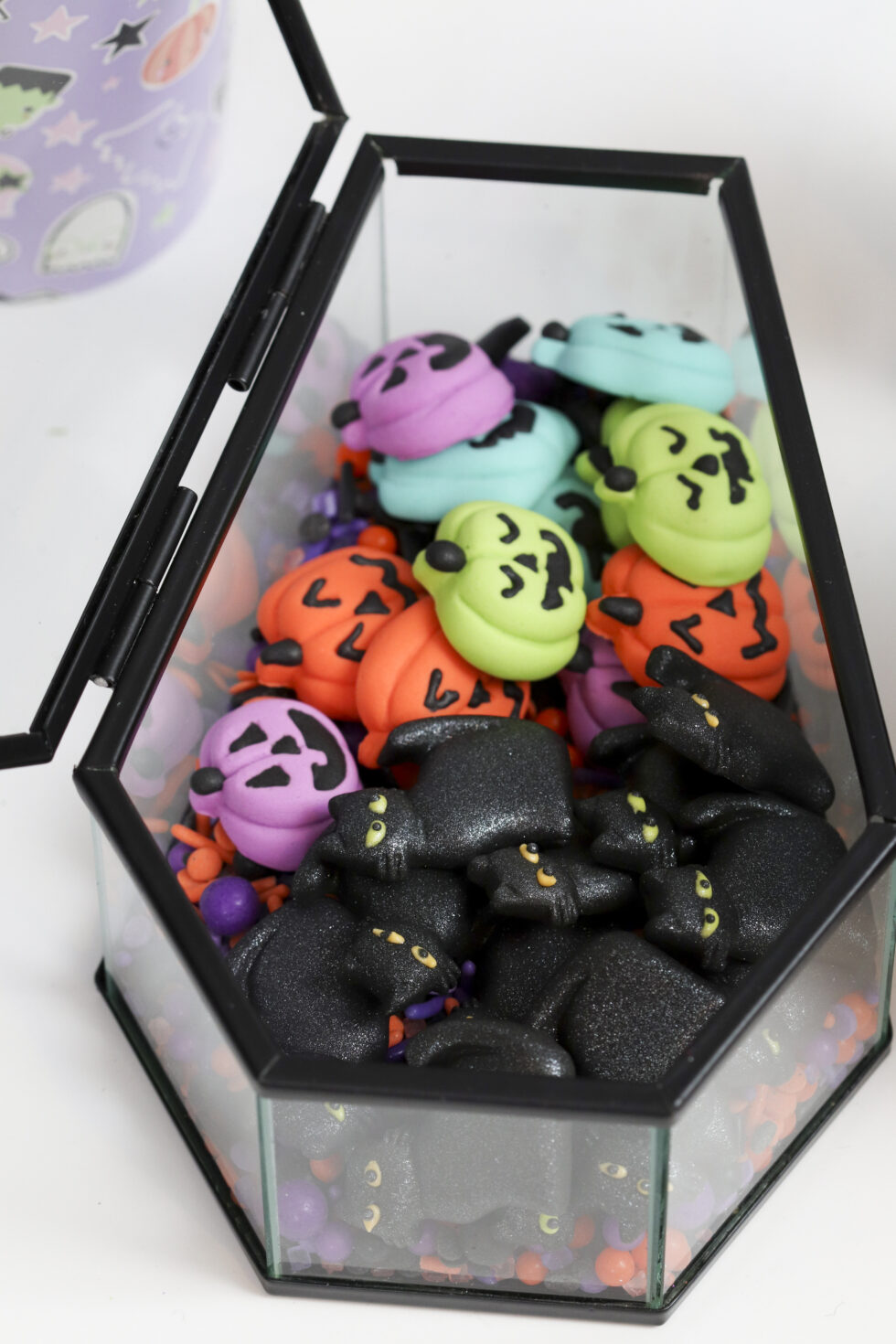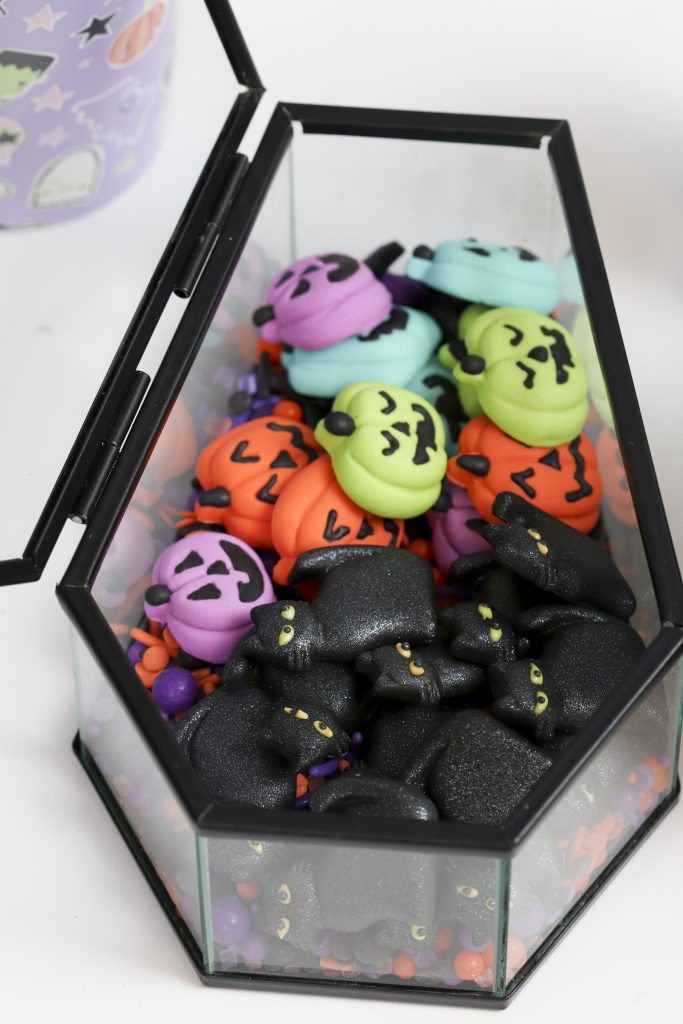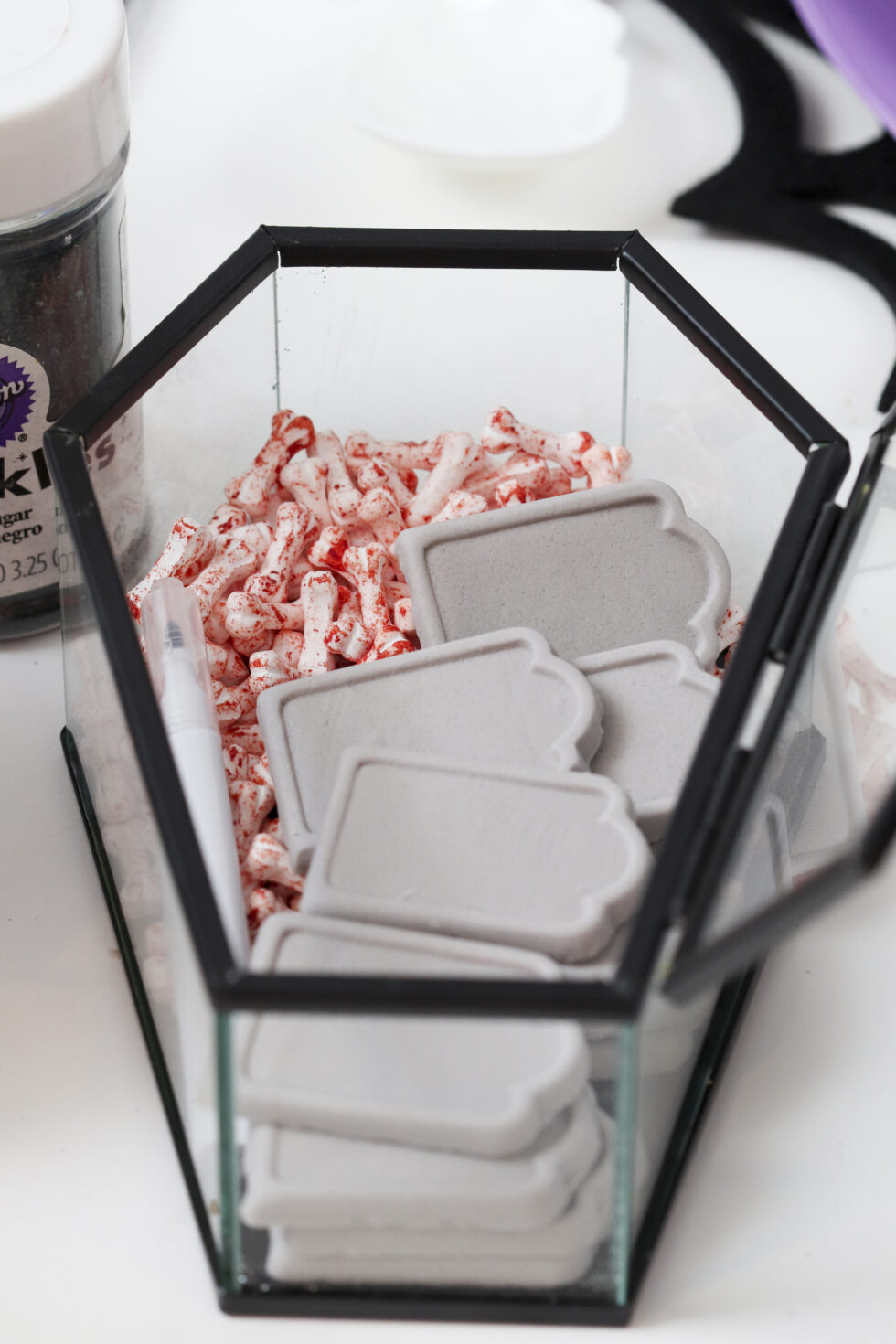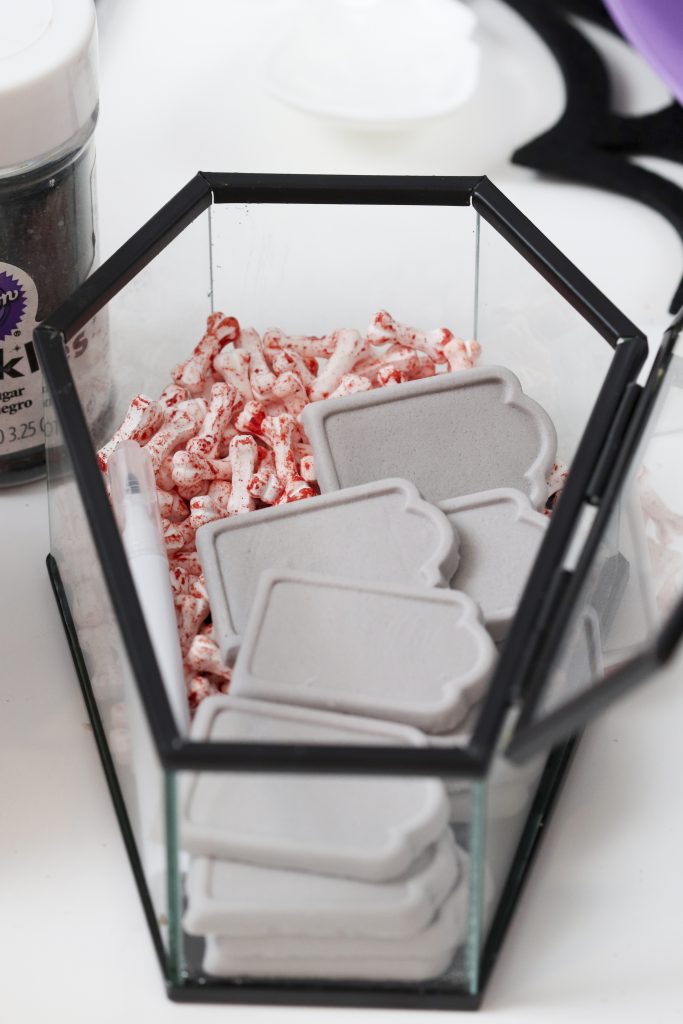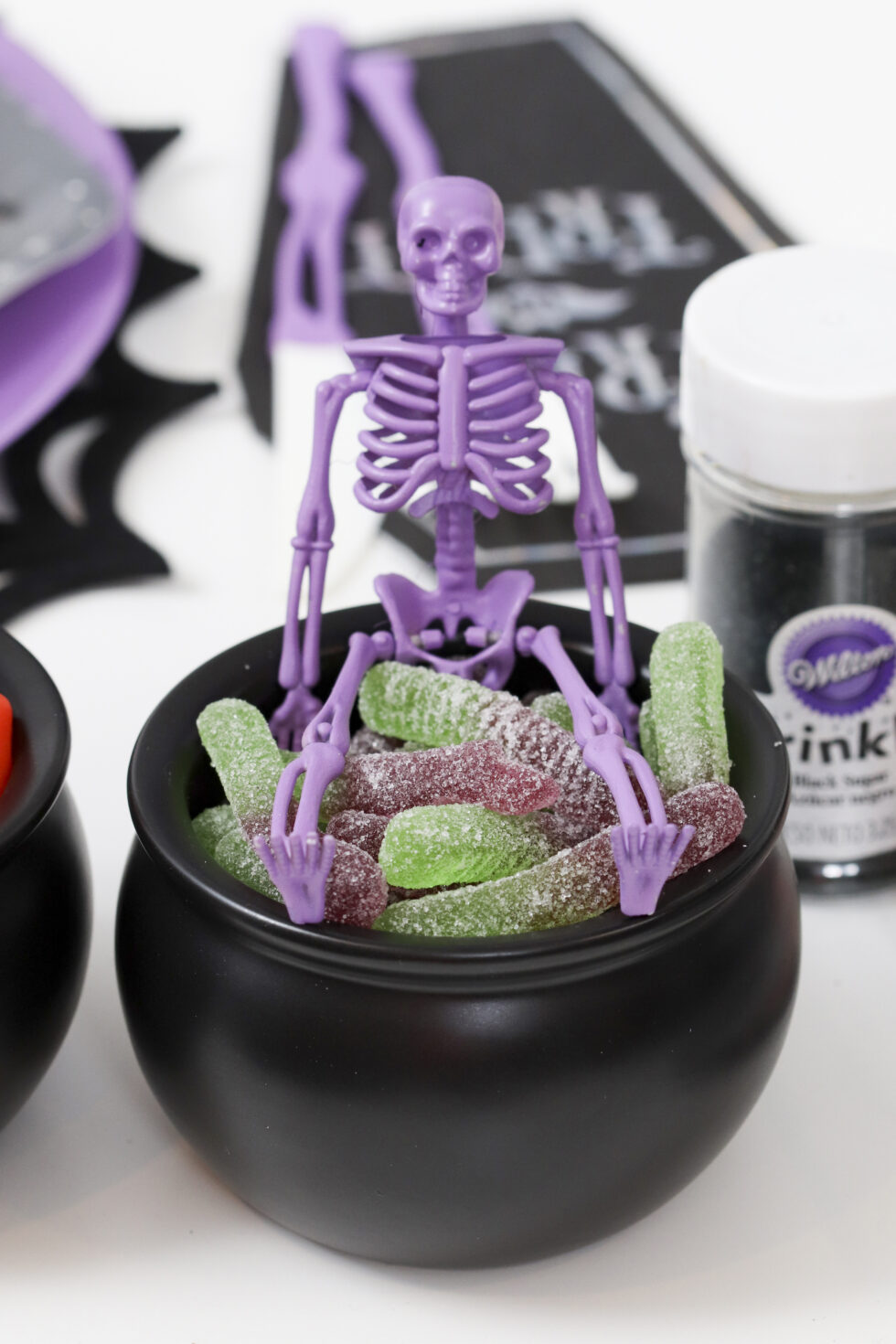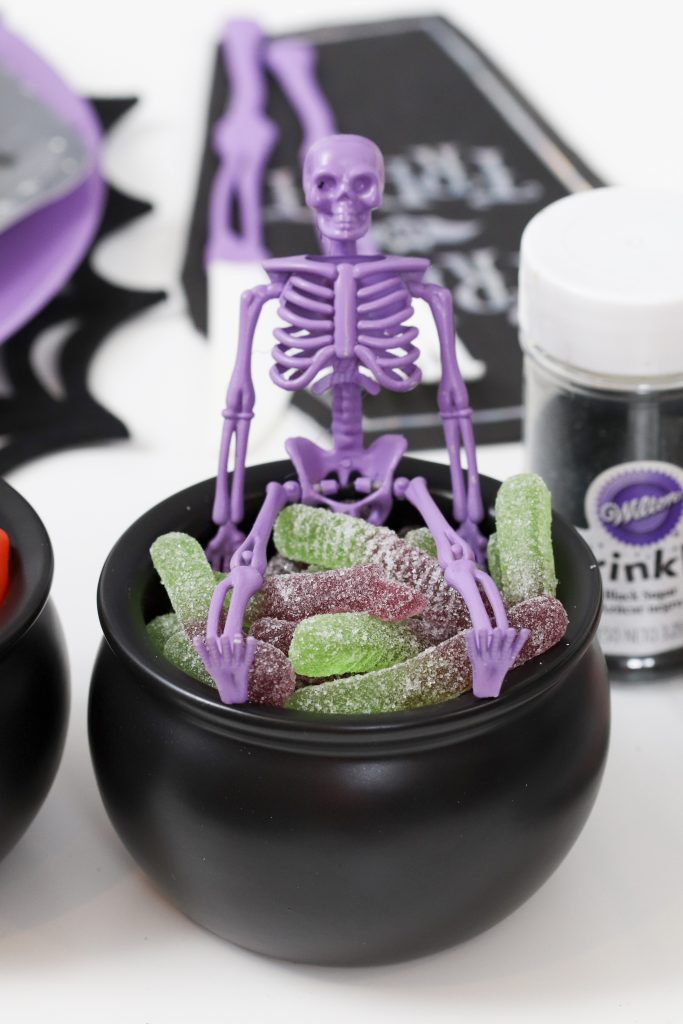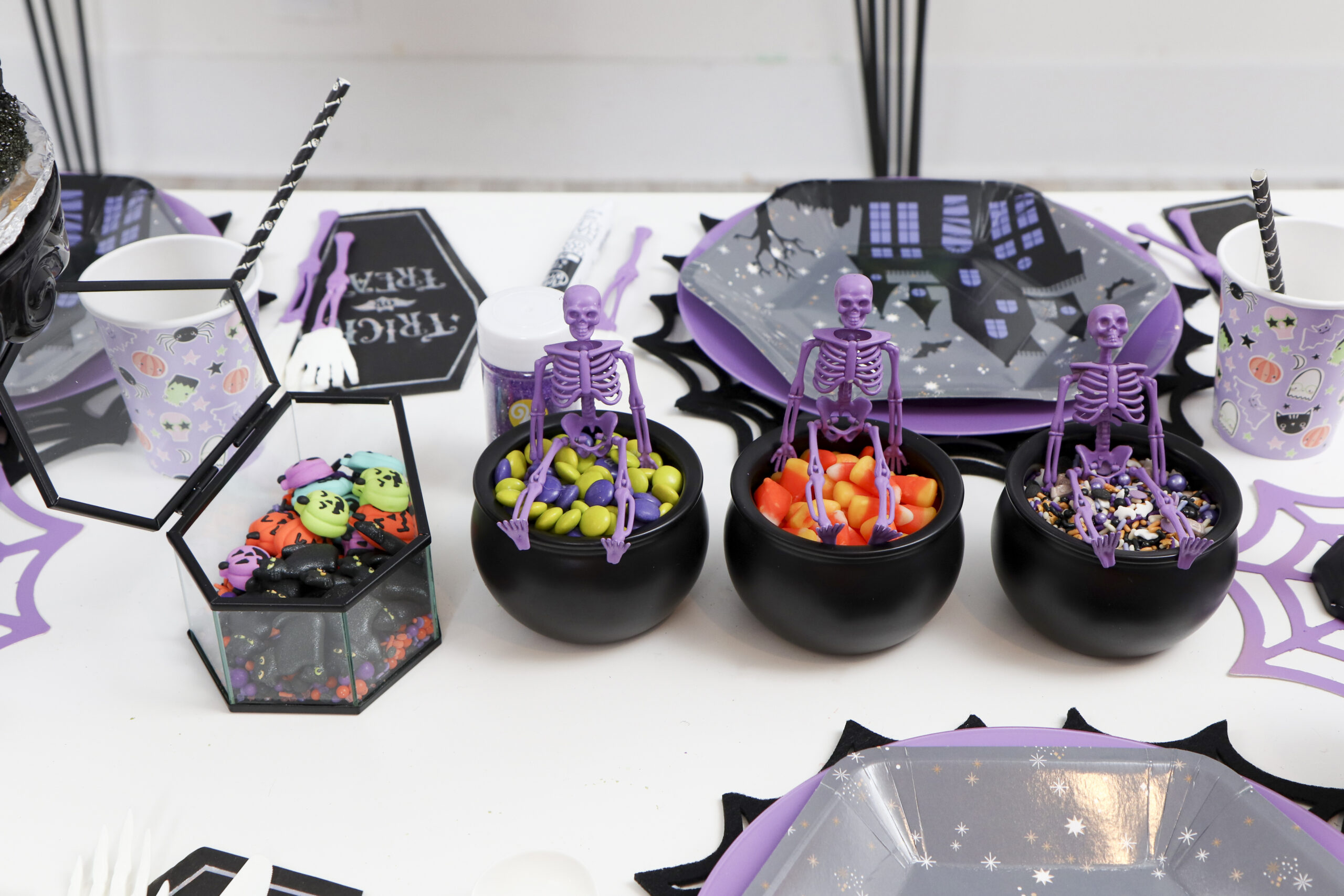 Then, at each end of the table, I set out a small purple spider web placemat and put a black and white striped candle and a silly spooky flower I got from Target on them, these were of course to keep an "eye" on the guests.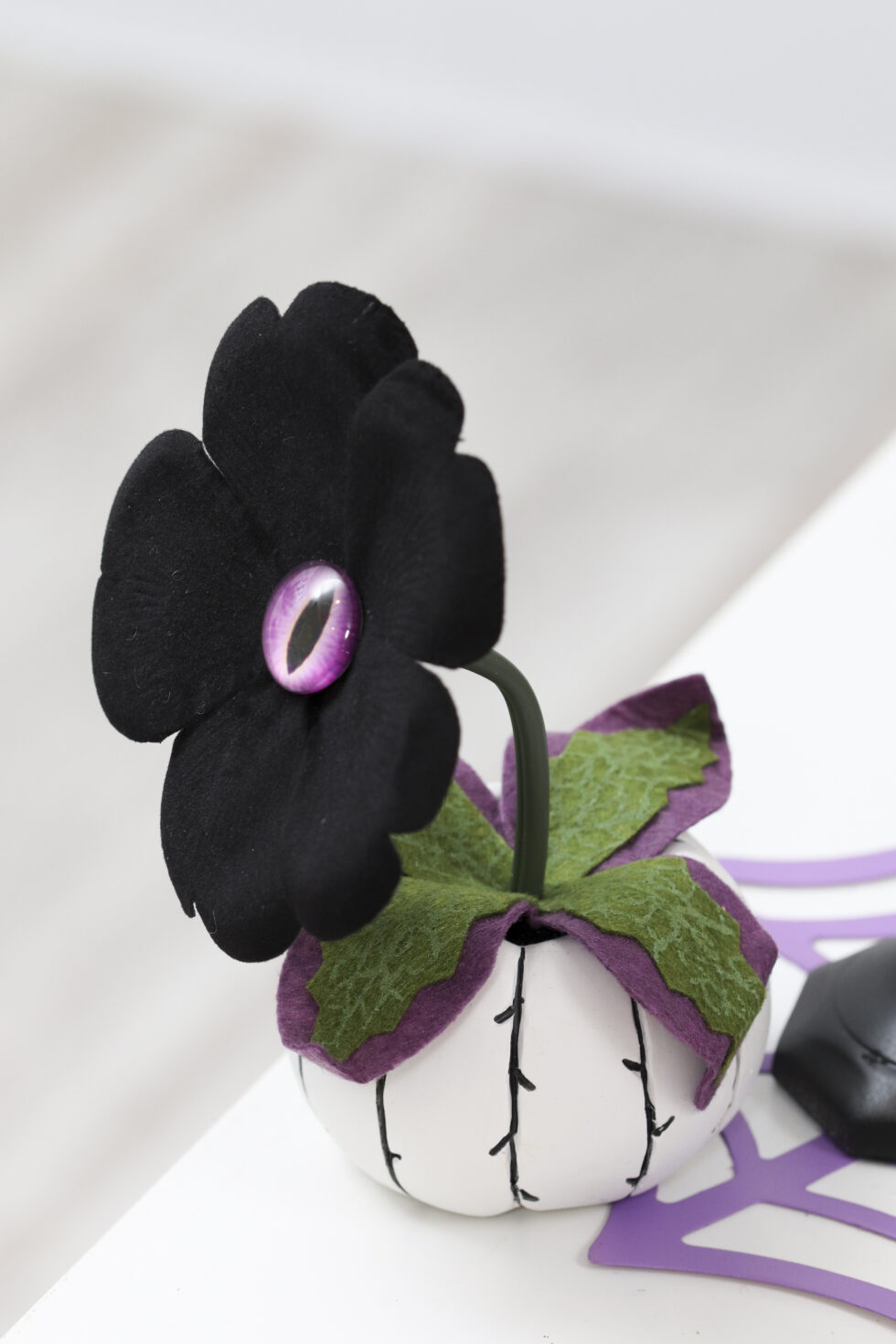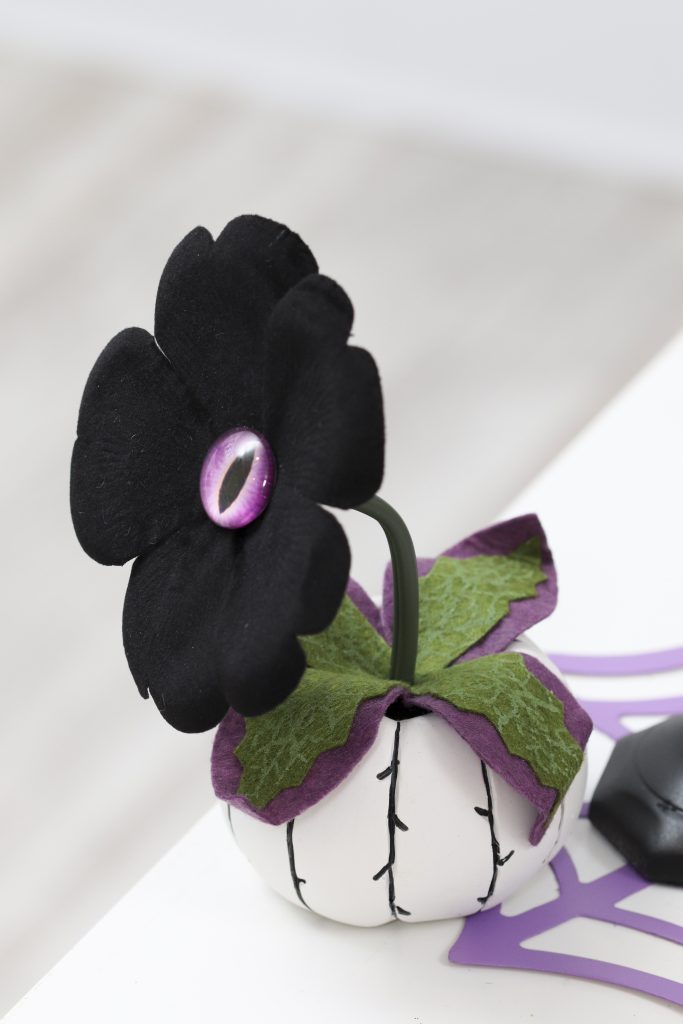 Place Settings
The place settings for this table served double duty as a place to eat dinner, and a place to decorate the haunted houses after. I placed black spider web placemats at each seat, and then layered them with DIY purple chargers (clear acrylic plates with the underside painted purple), spooky dinner plates from Oriental Trading, and Haunted House dessert plates from Jollity and Co.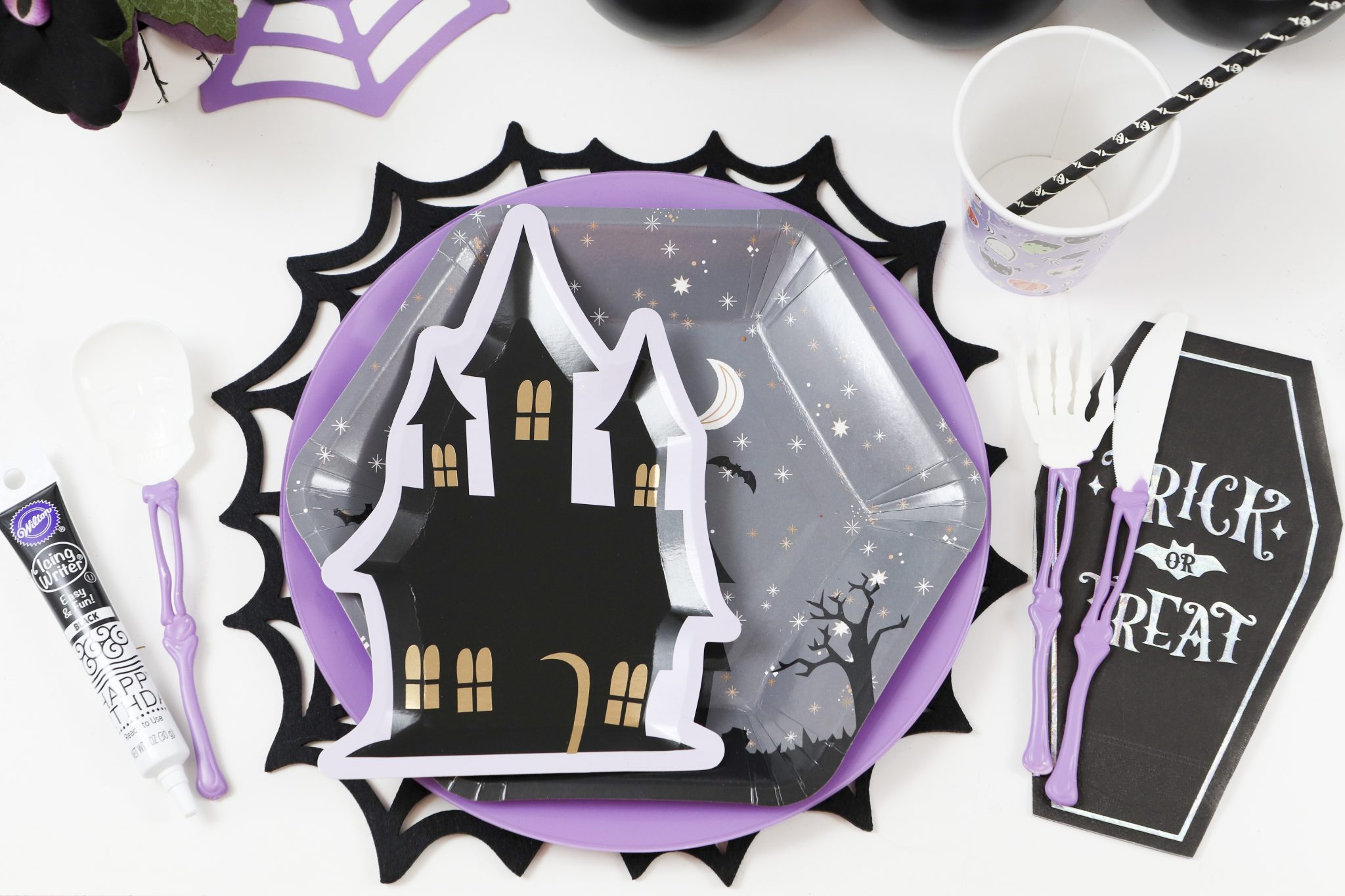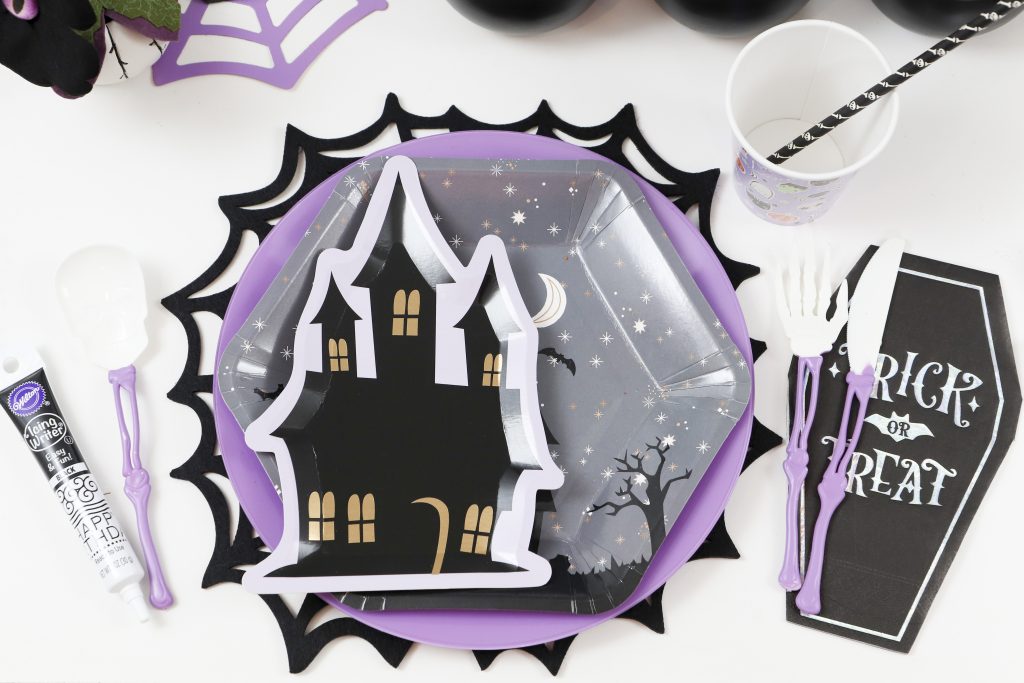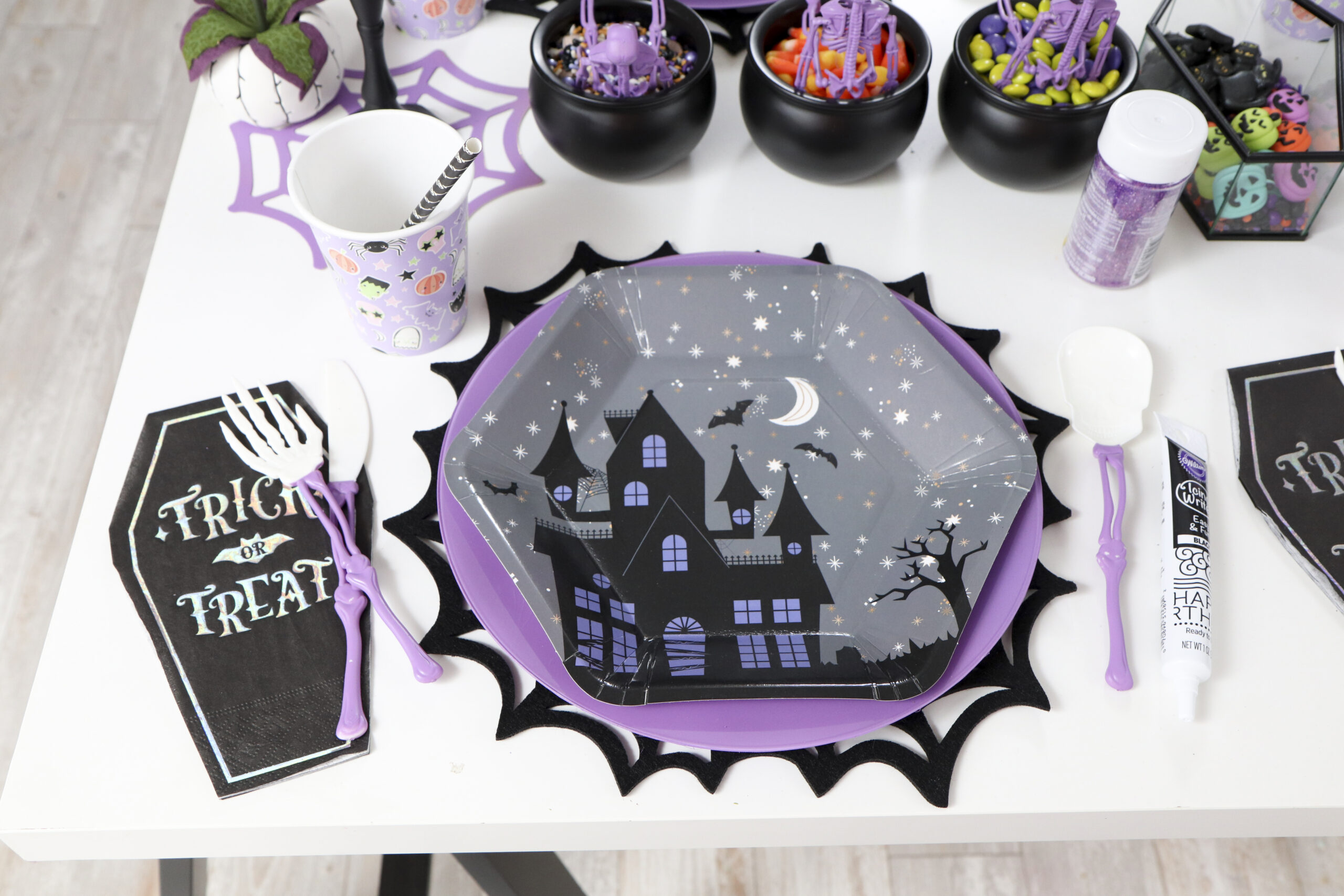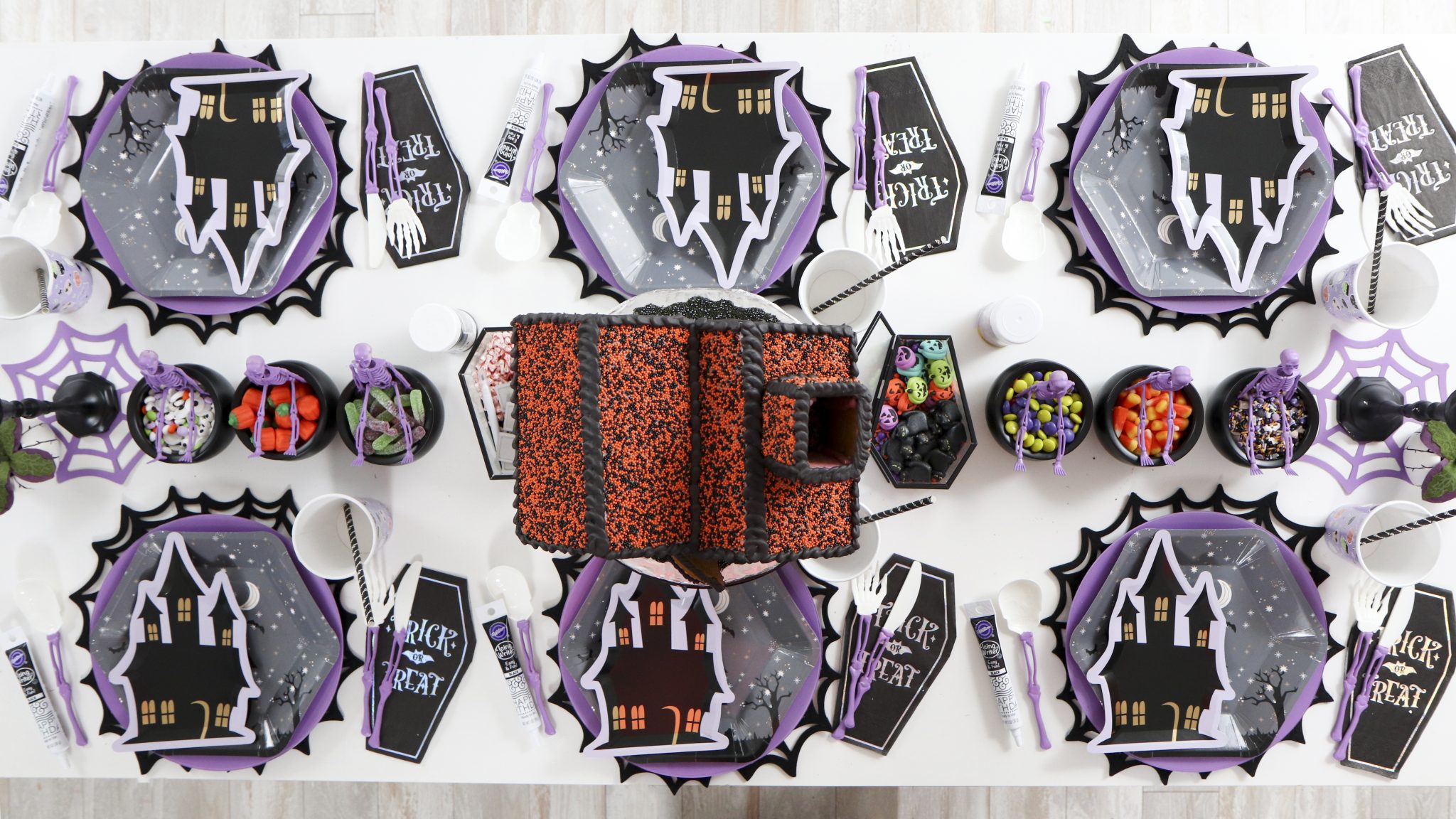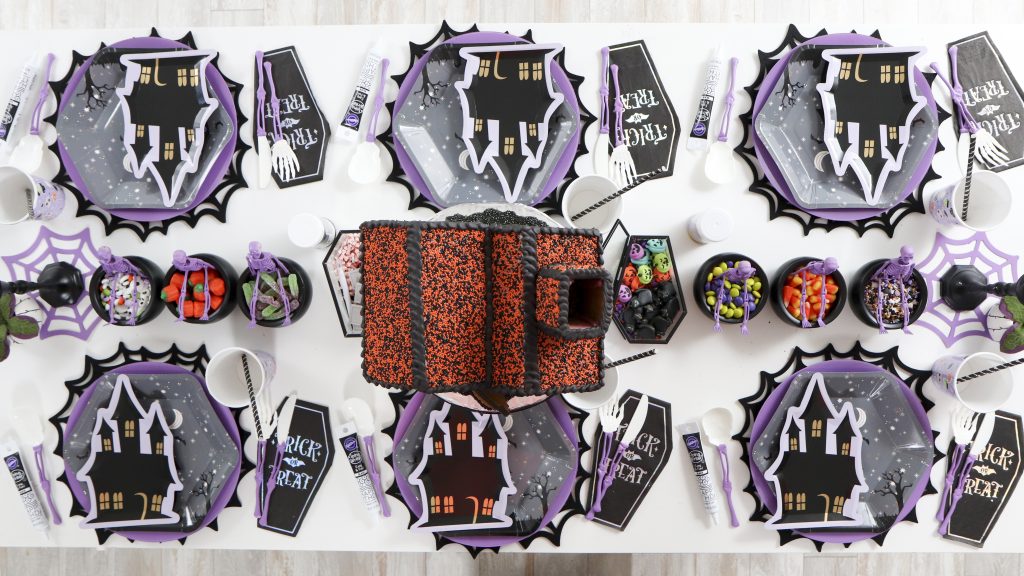 Next to the plates, I set out trick-or-treat coffin napkins from Oriental Trading, skeleton bone utensils from Michael's (with the handles painted purple), and purple Halloween cups from Fred Meyer with skeleton straws.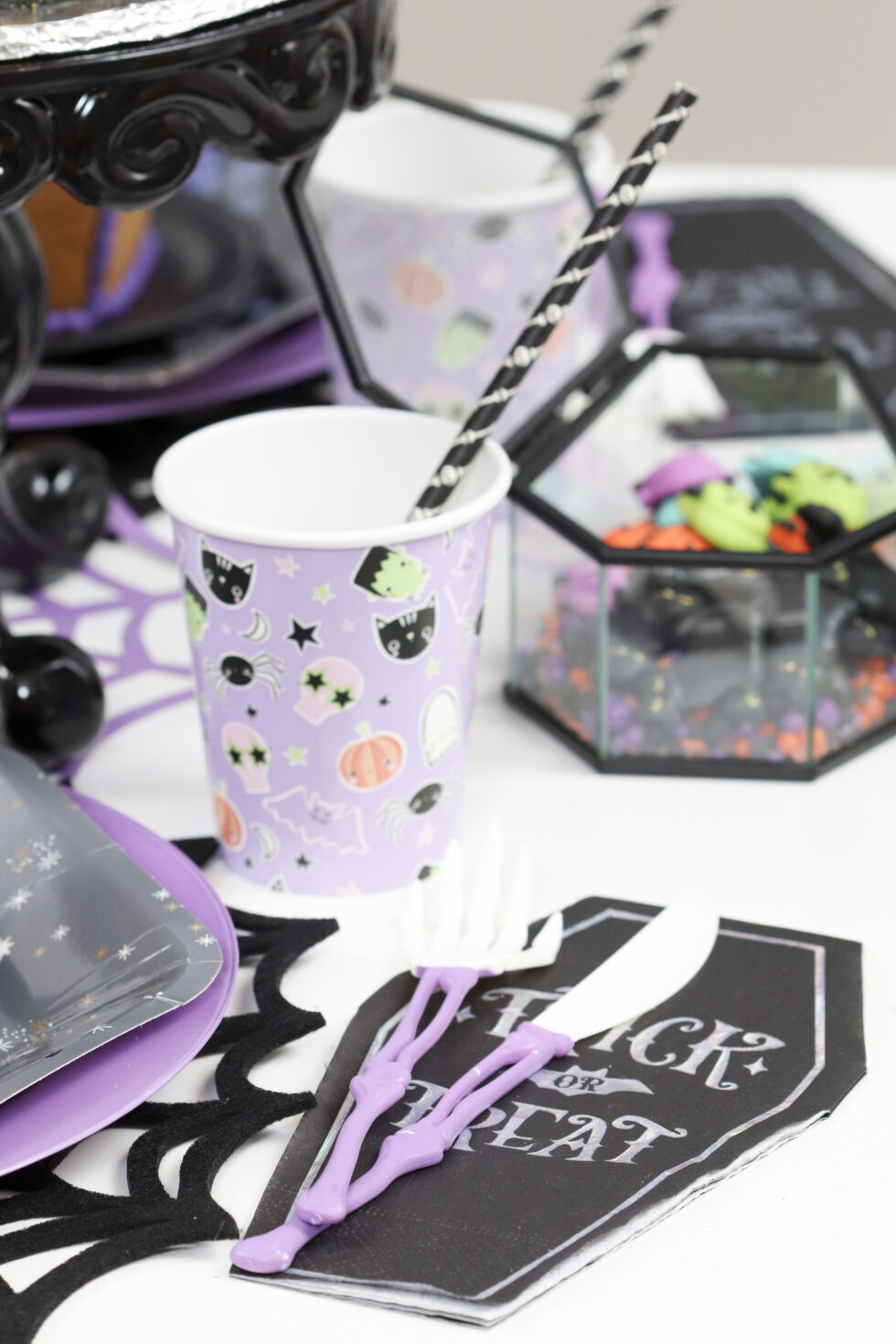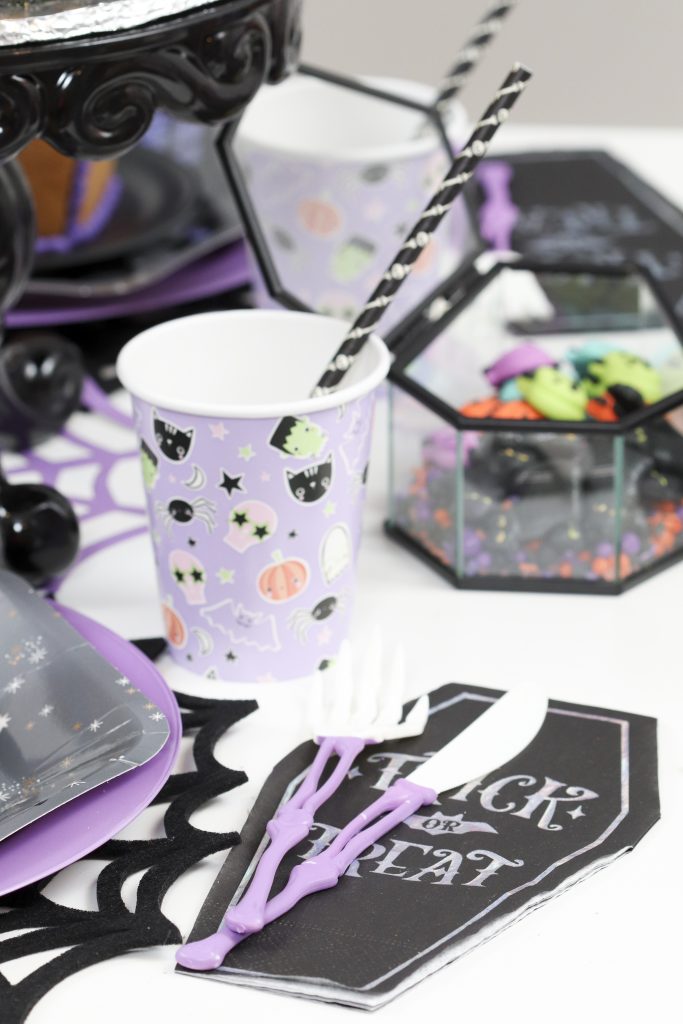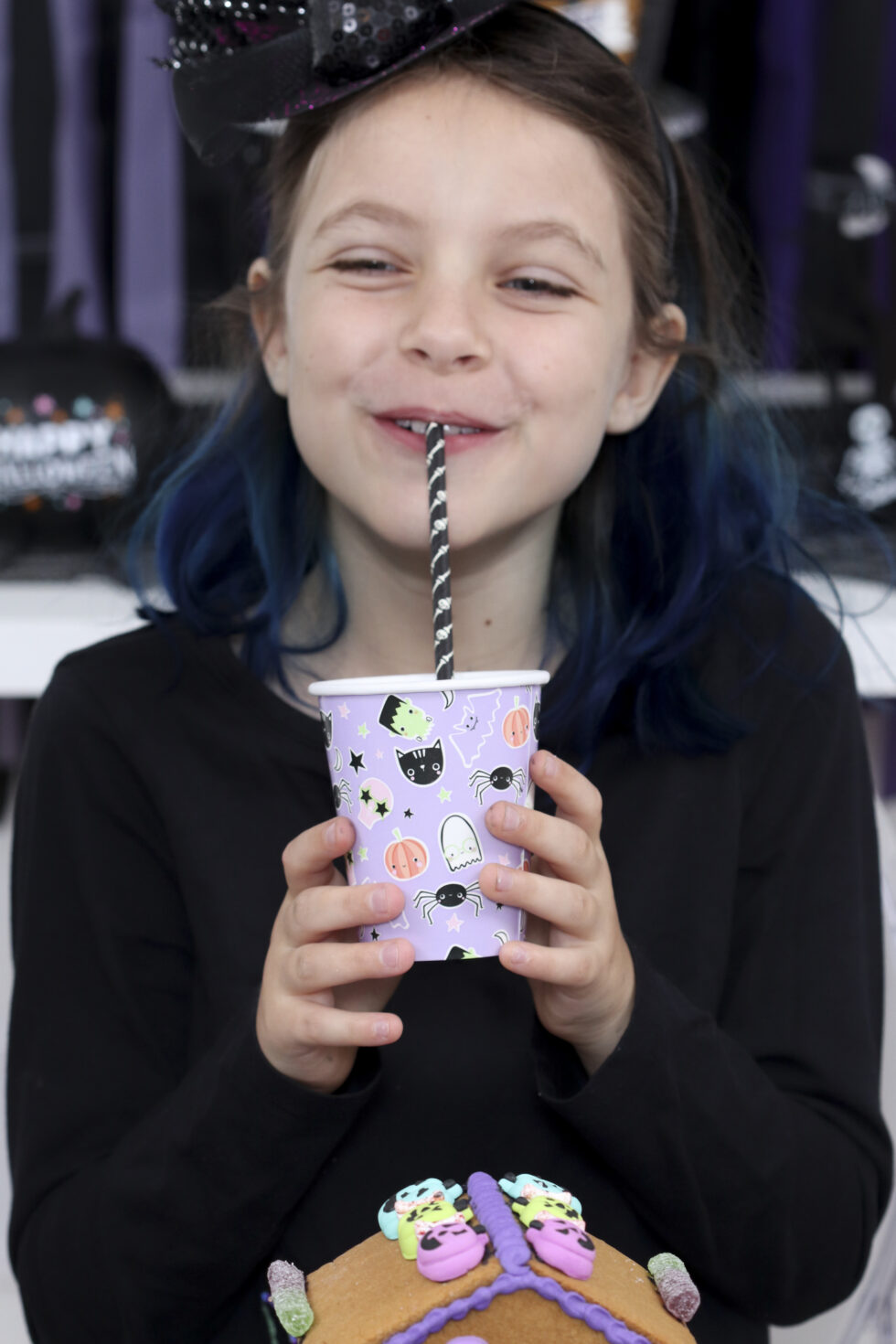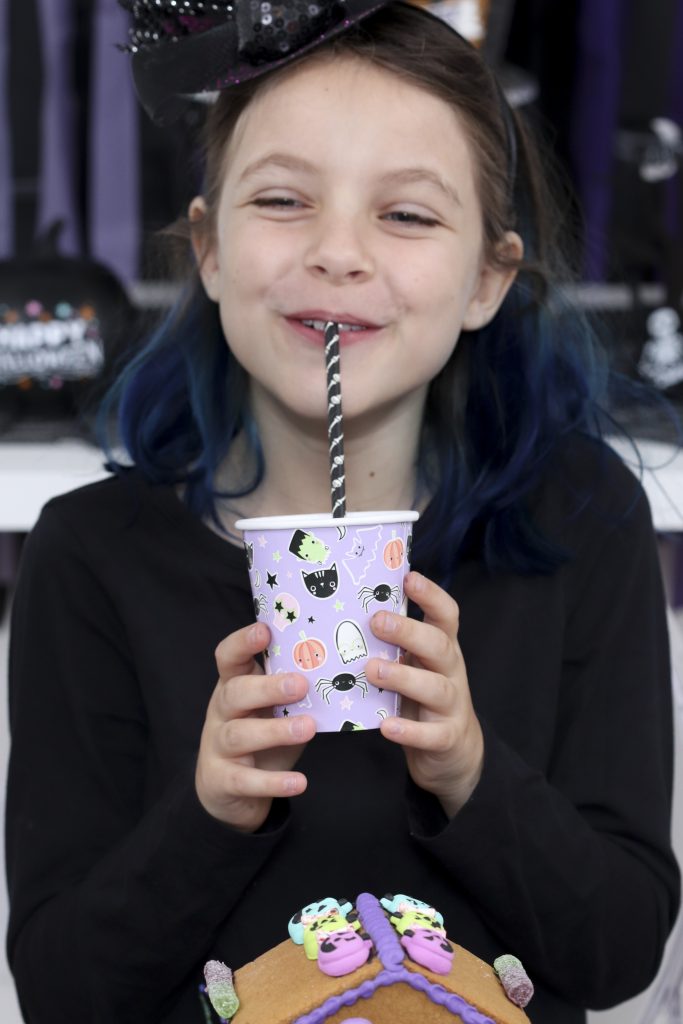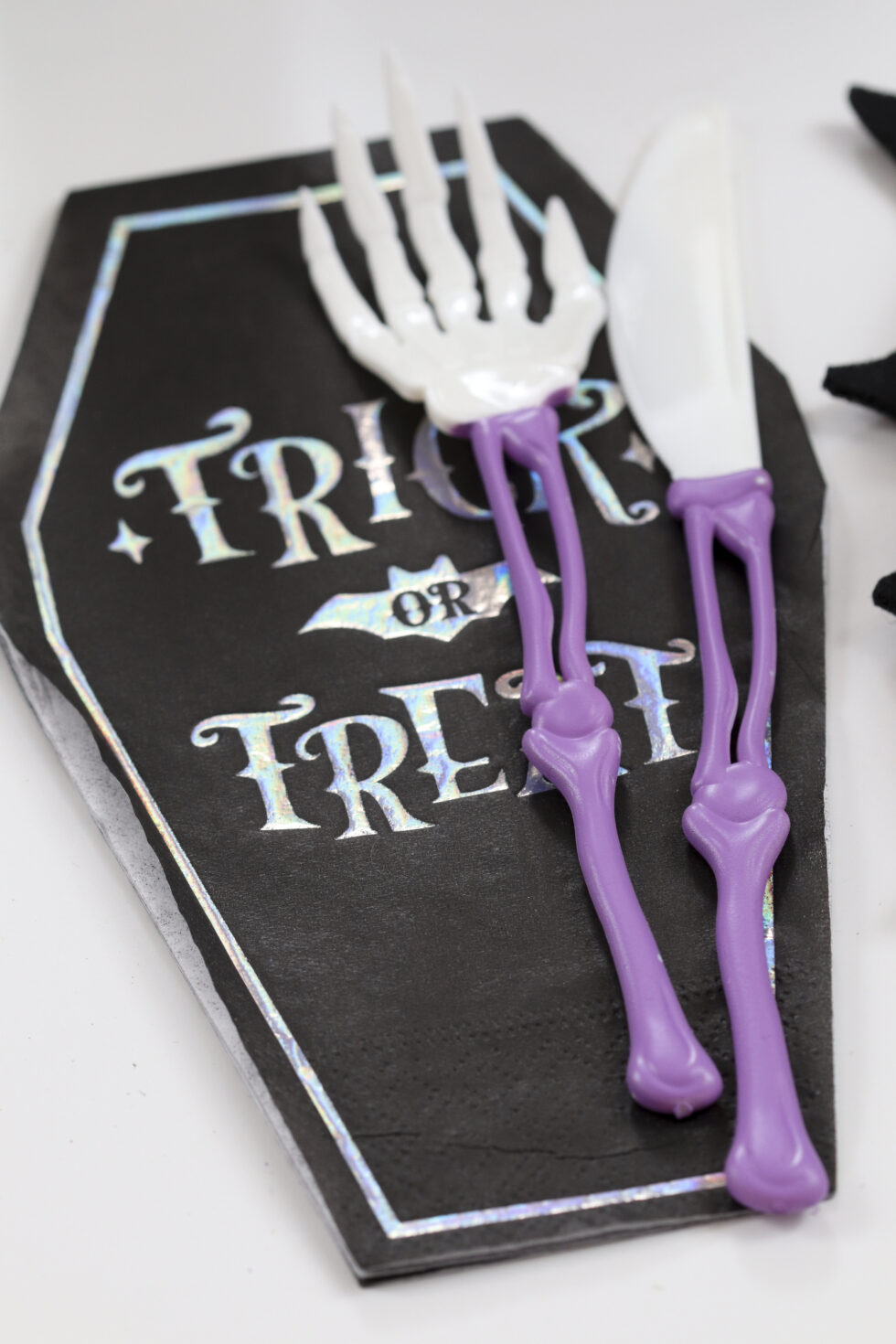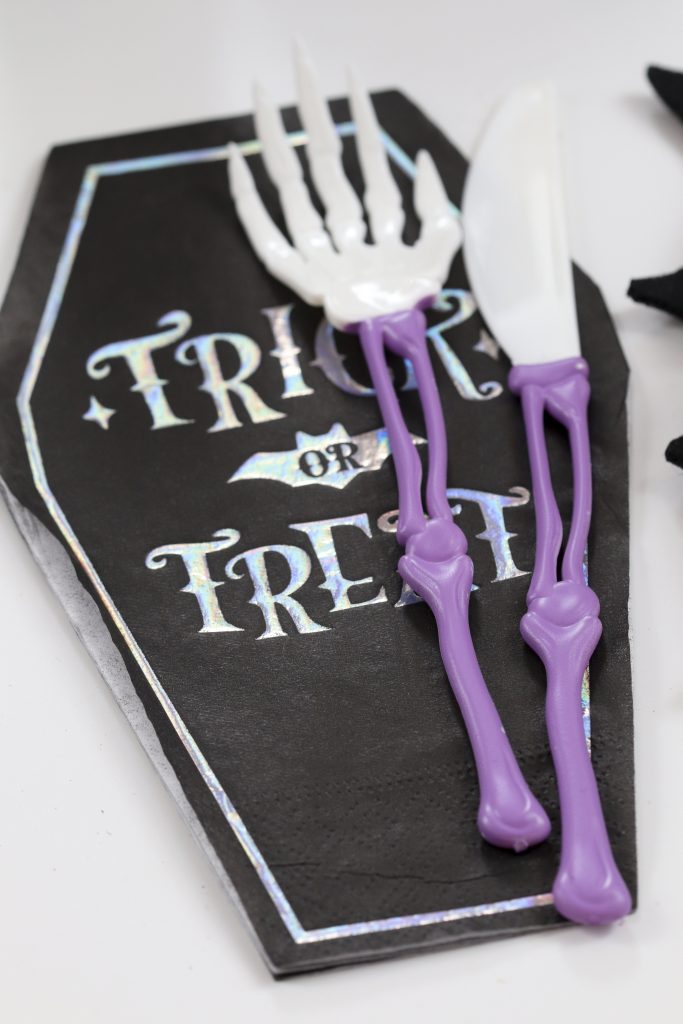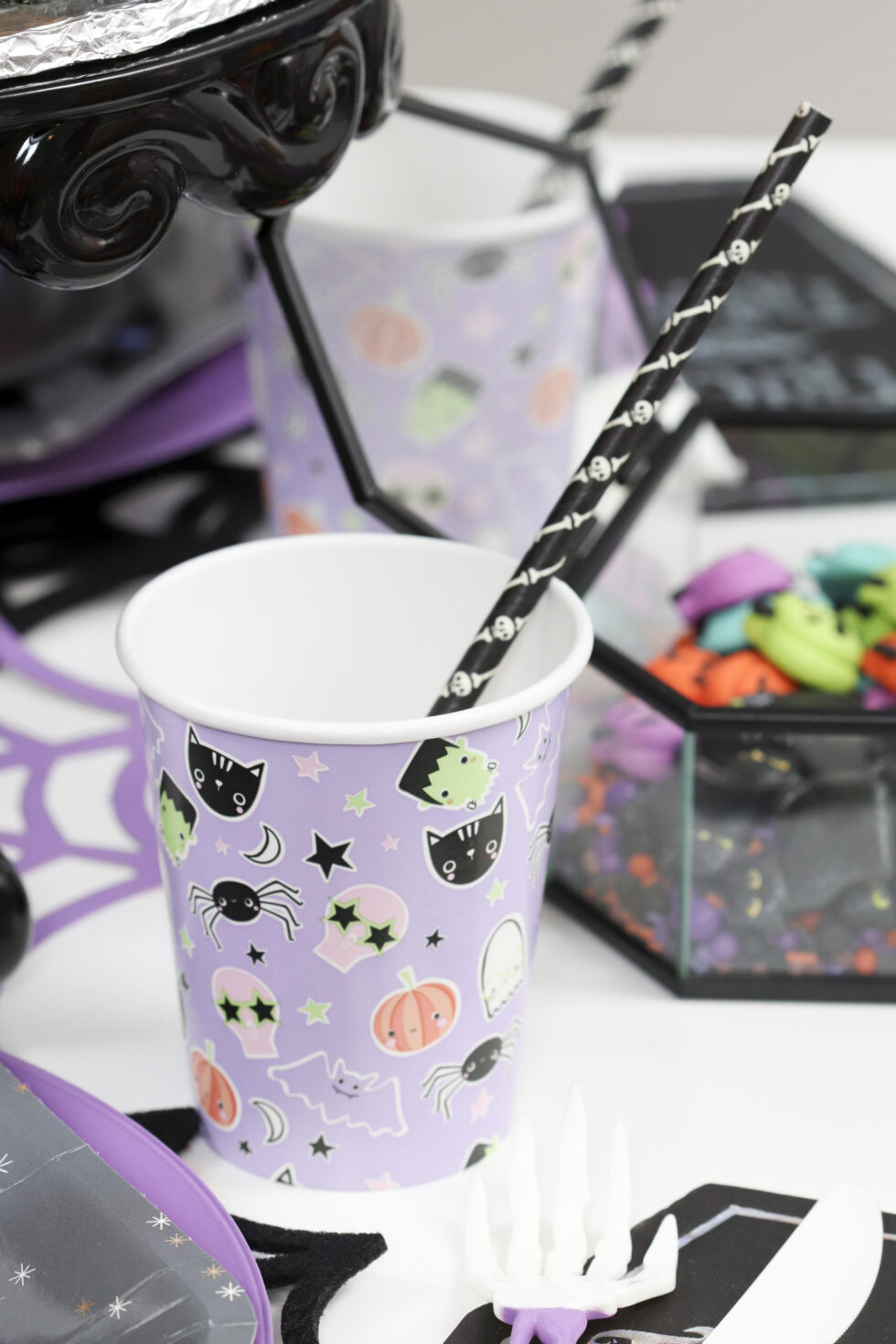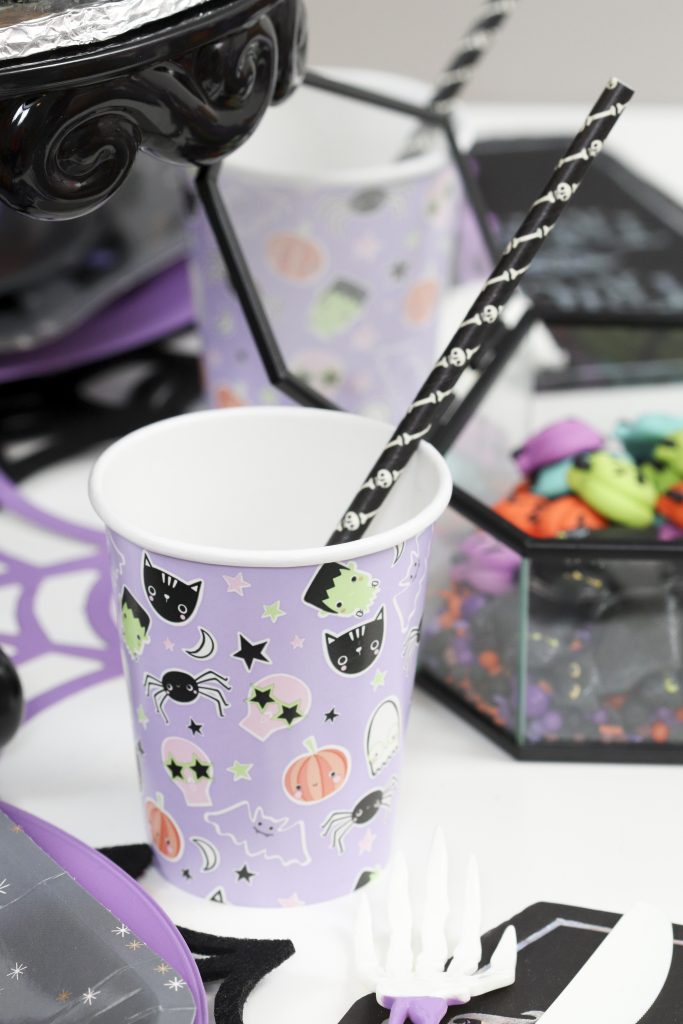 When it was time to decorate, I gave each guest a small gingerbread house from Trophy Baking. Each also got a tube of Wilton icing to serve as the glue for their decorations.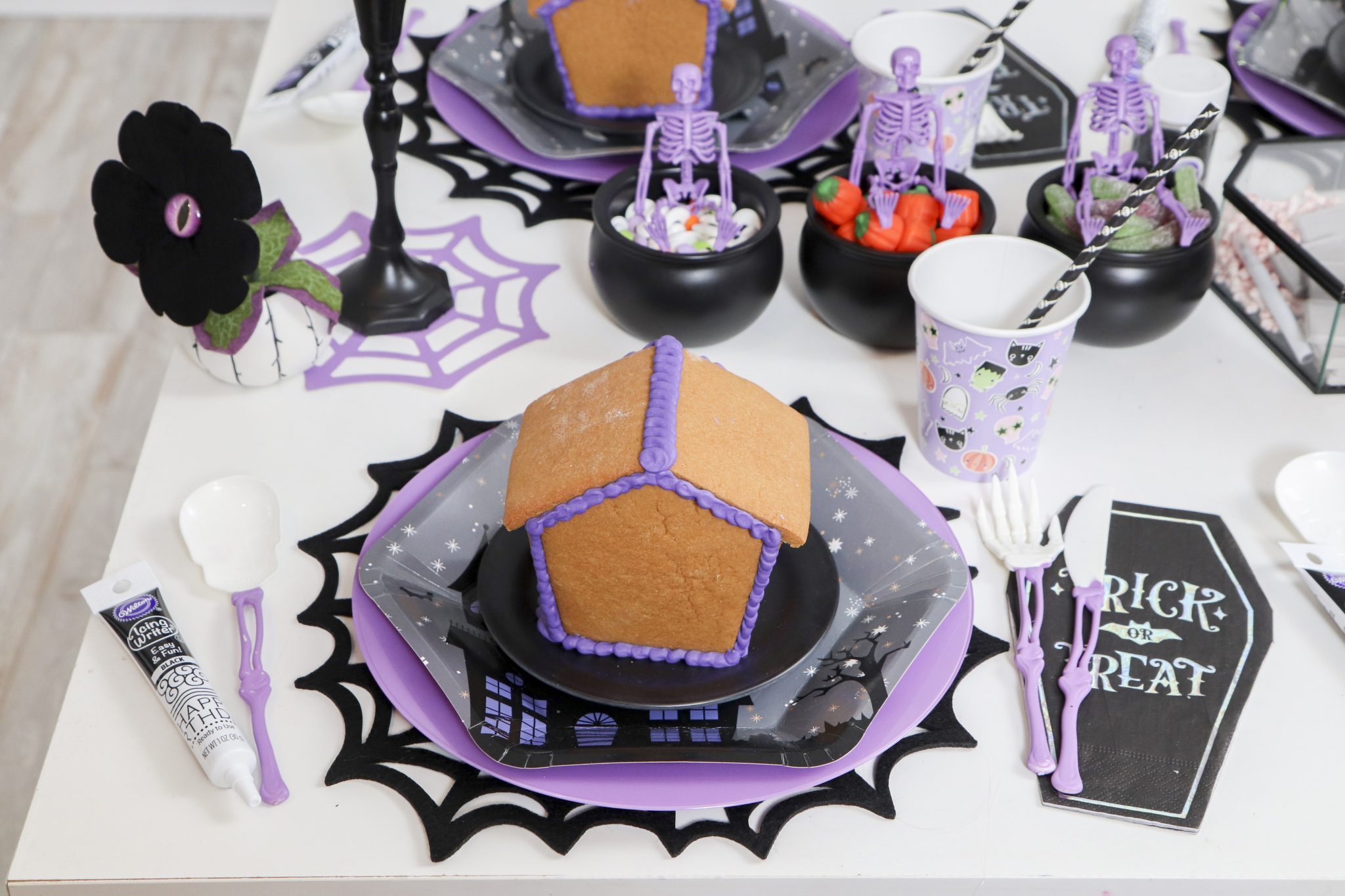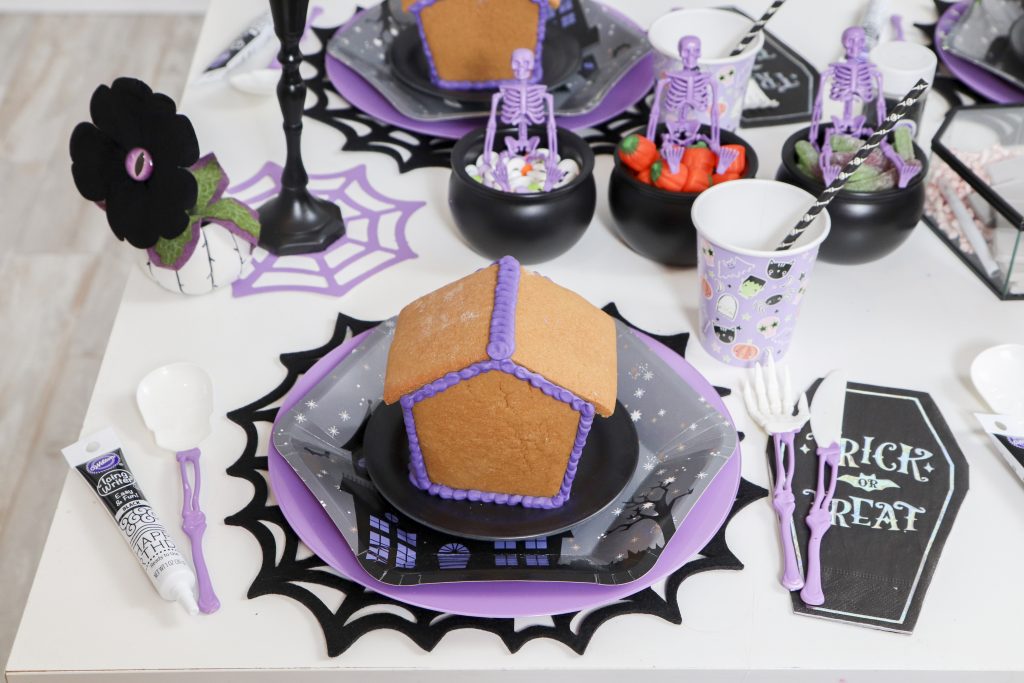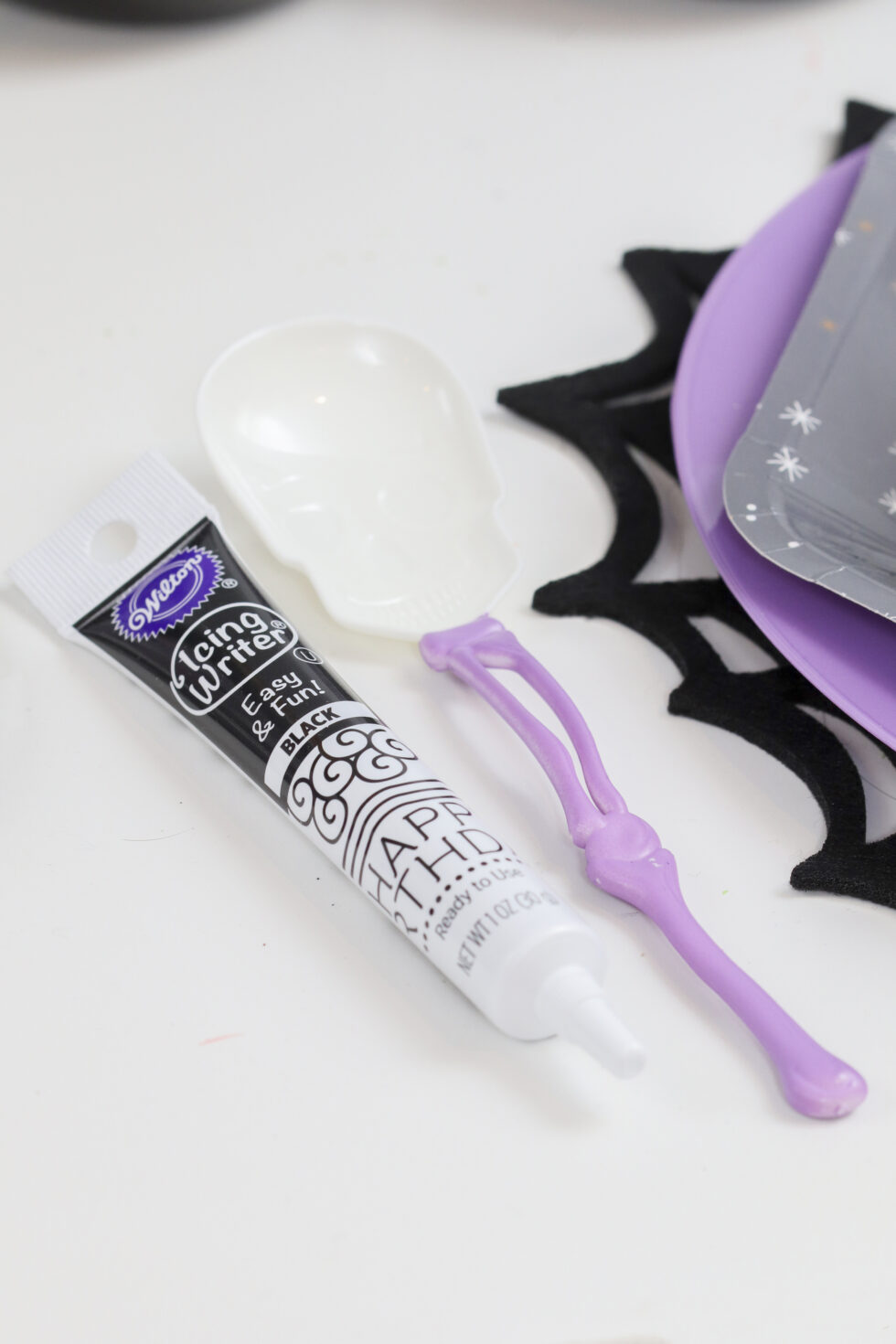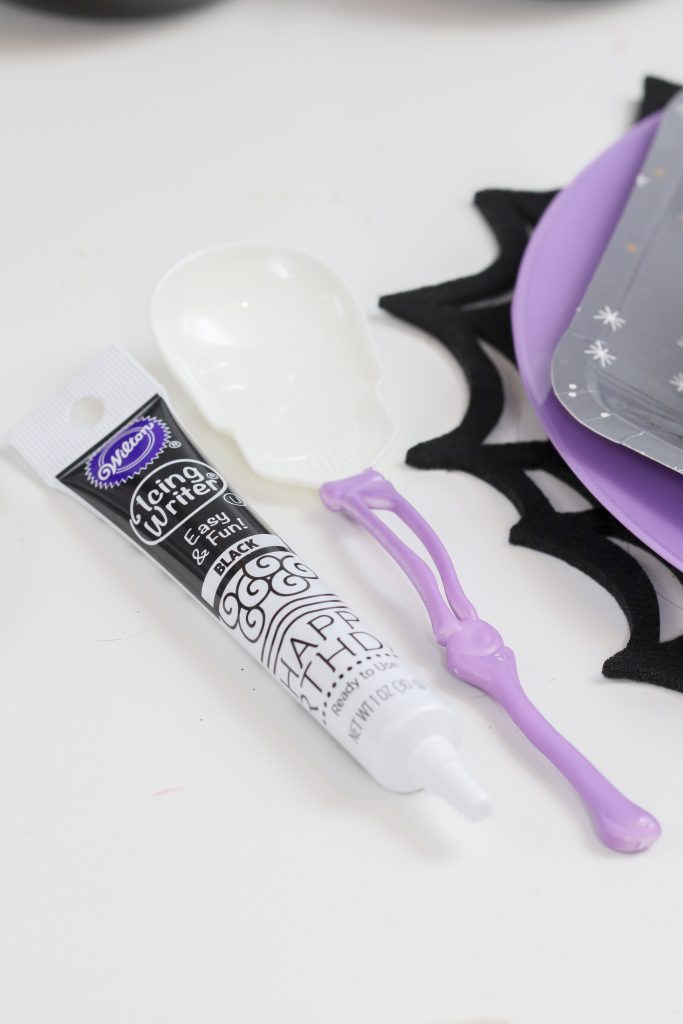 Then it was time to decorate! It was so fun to watch the girls as they concentrated on their spooky works of art, and they had a blast personalizing their own haunted houses.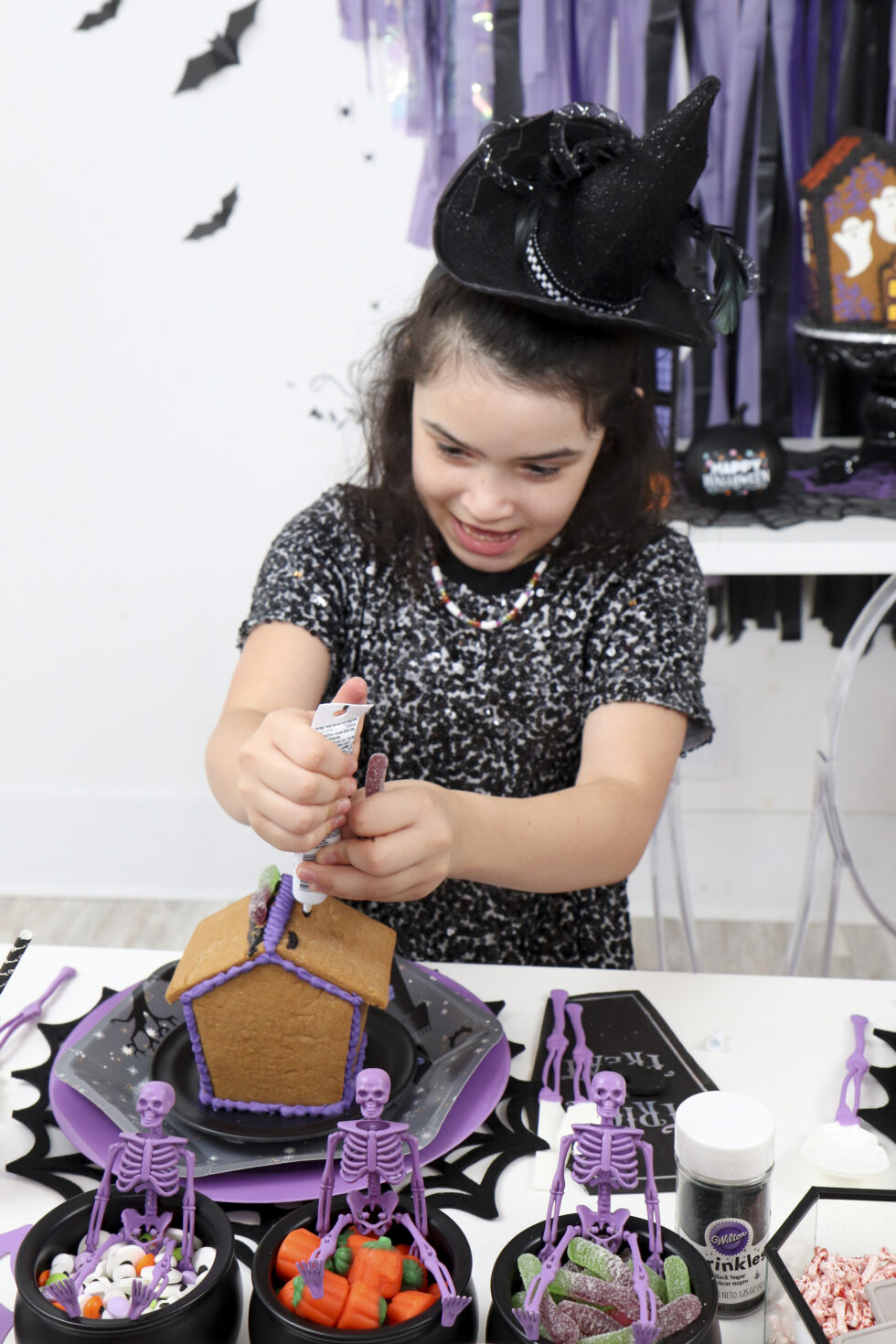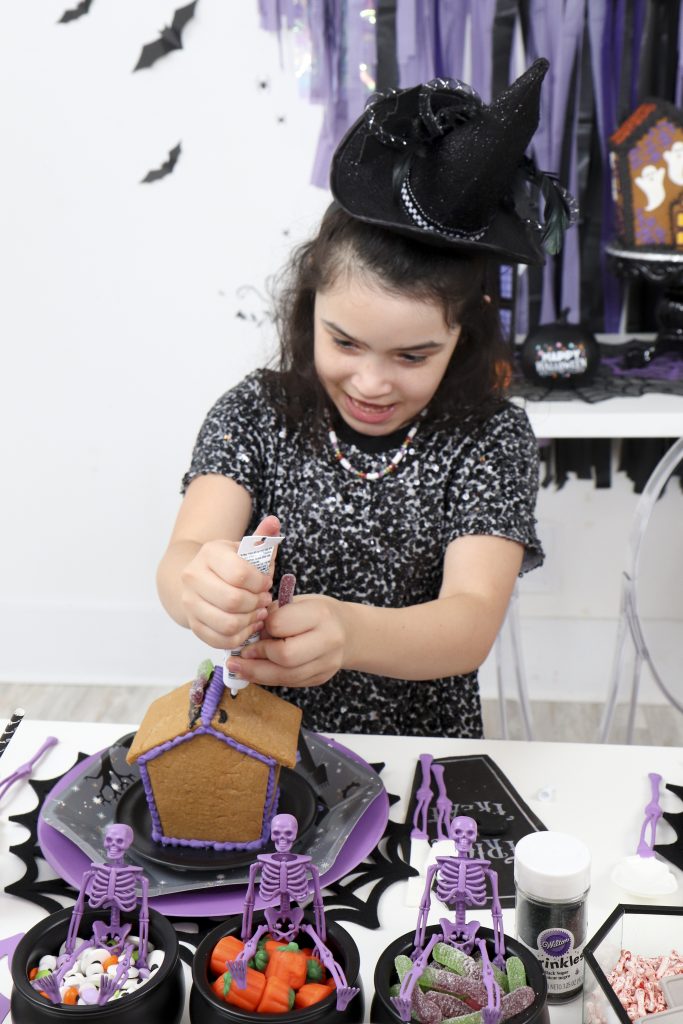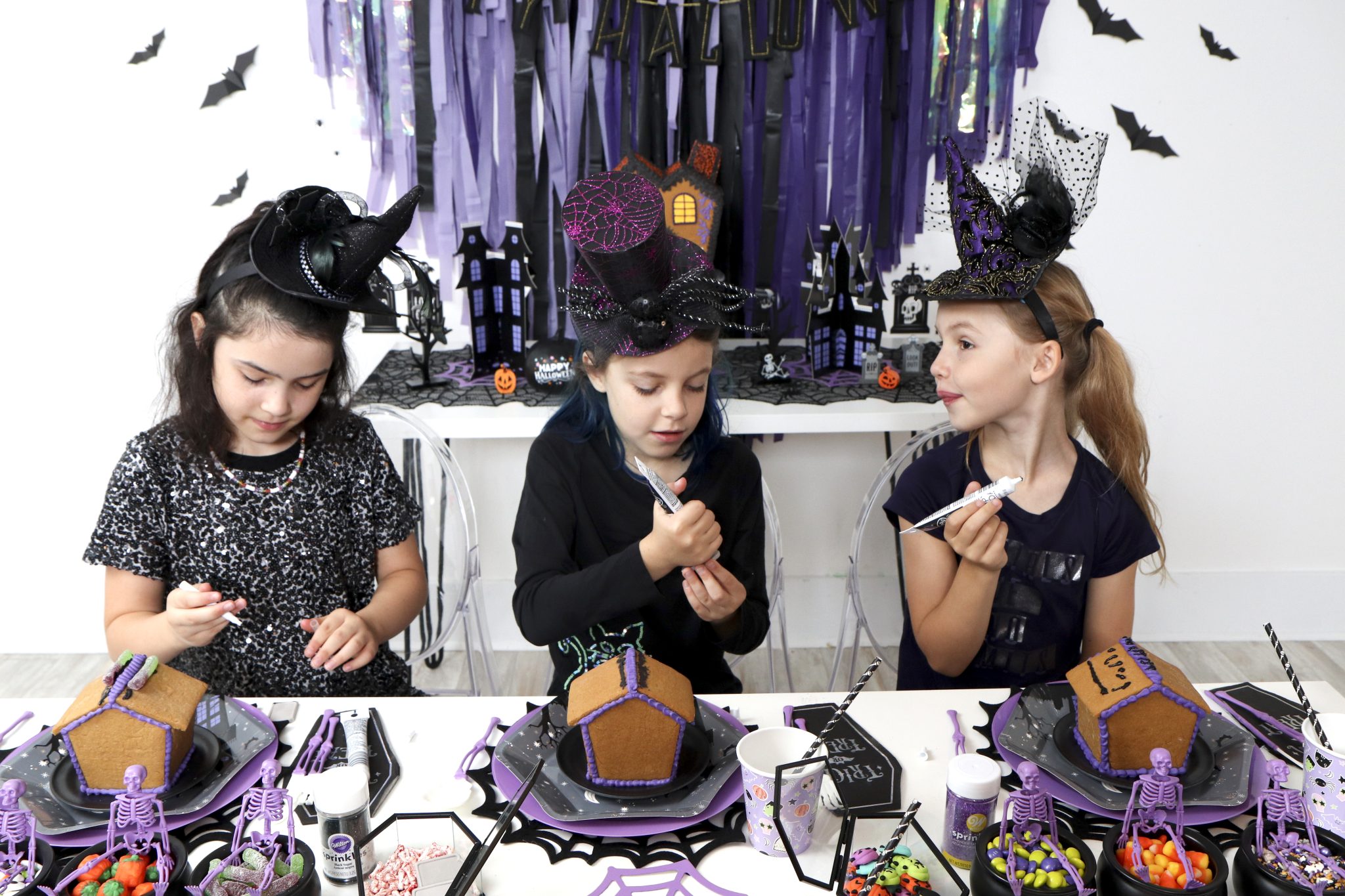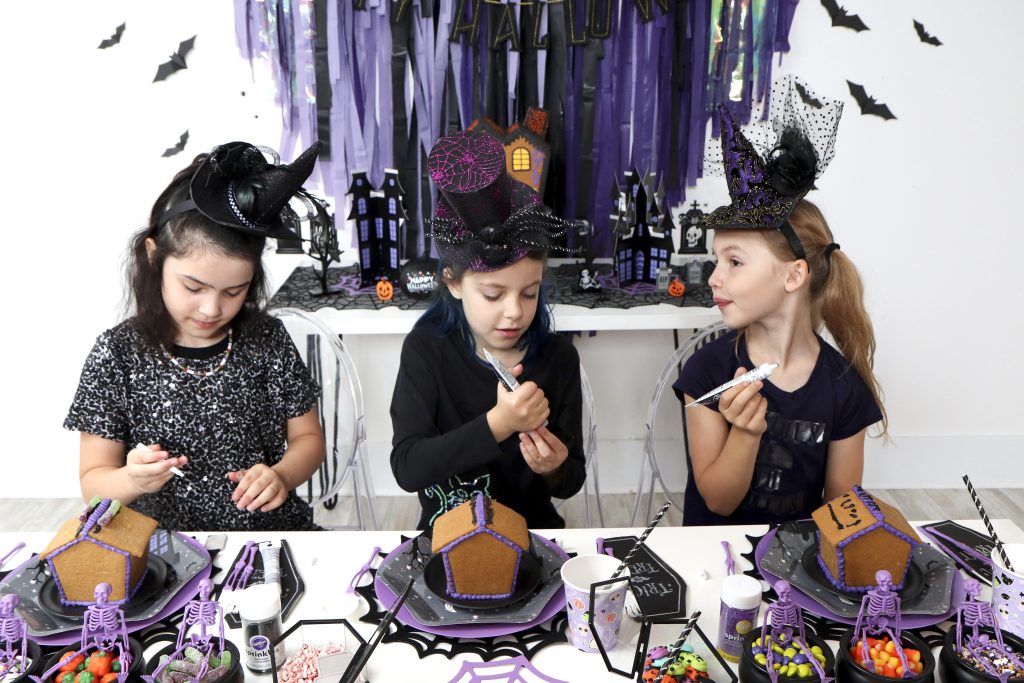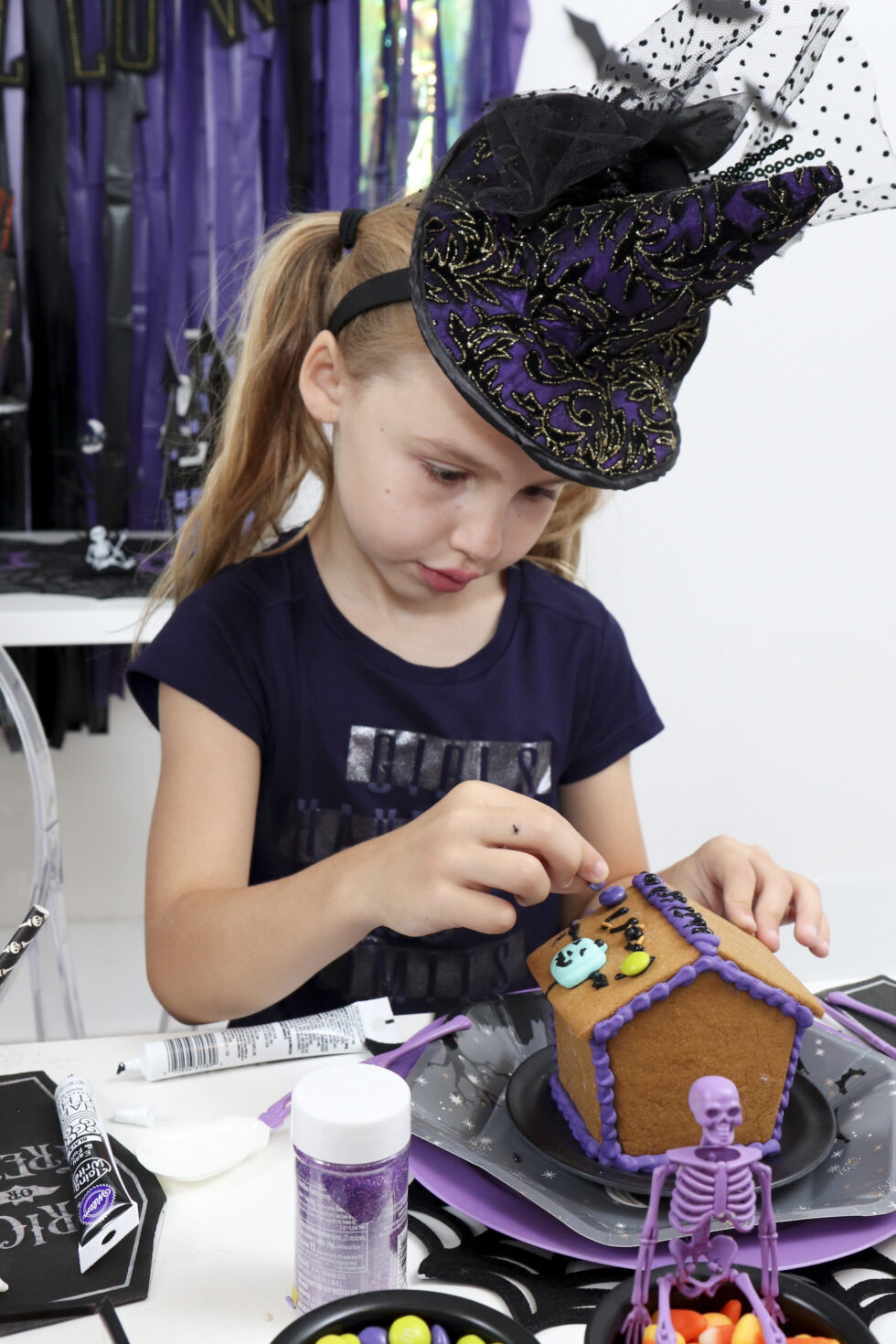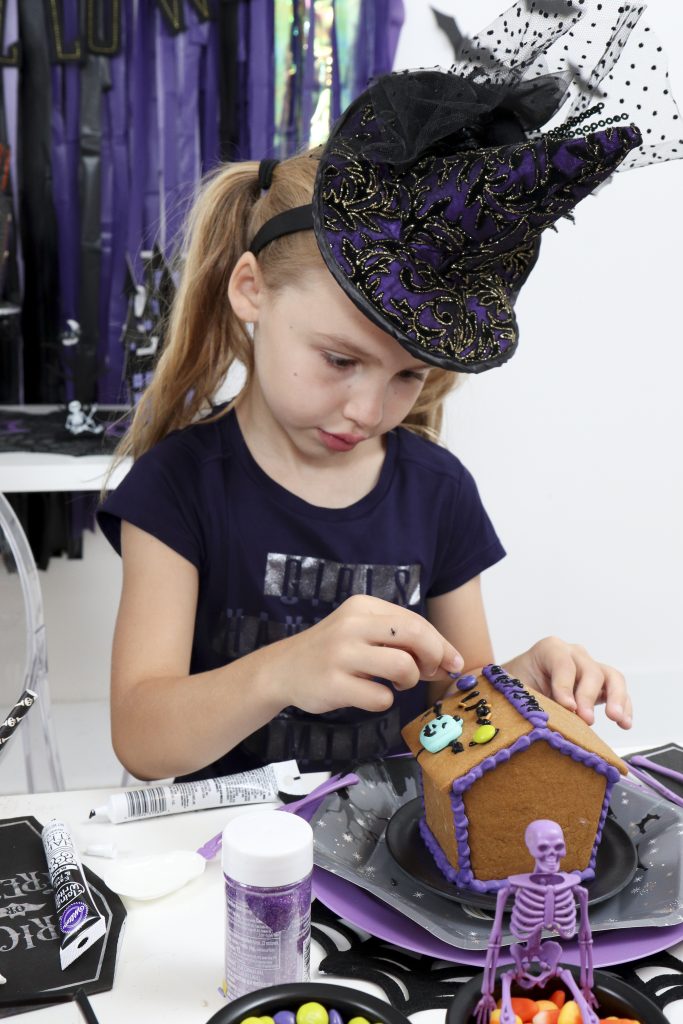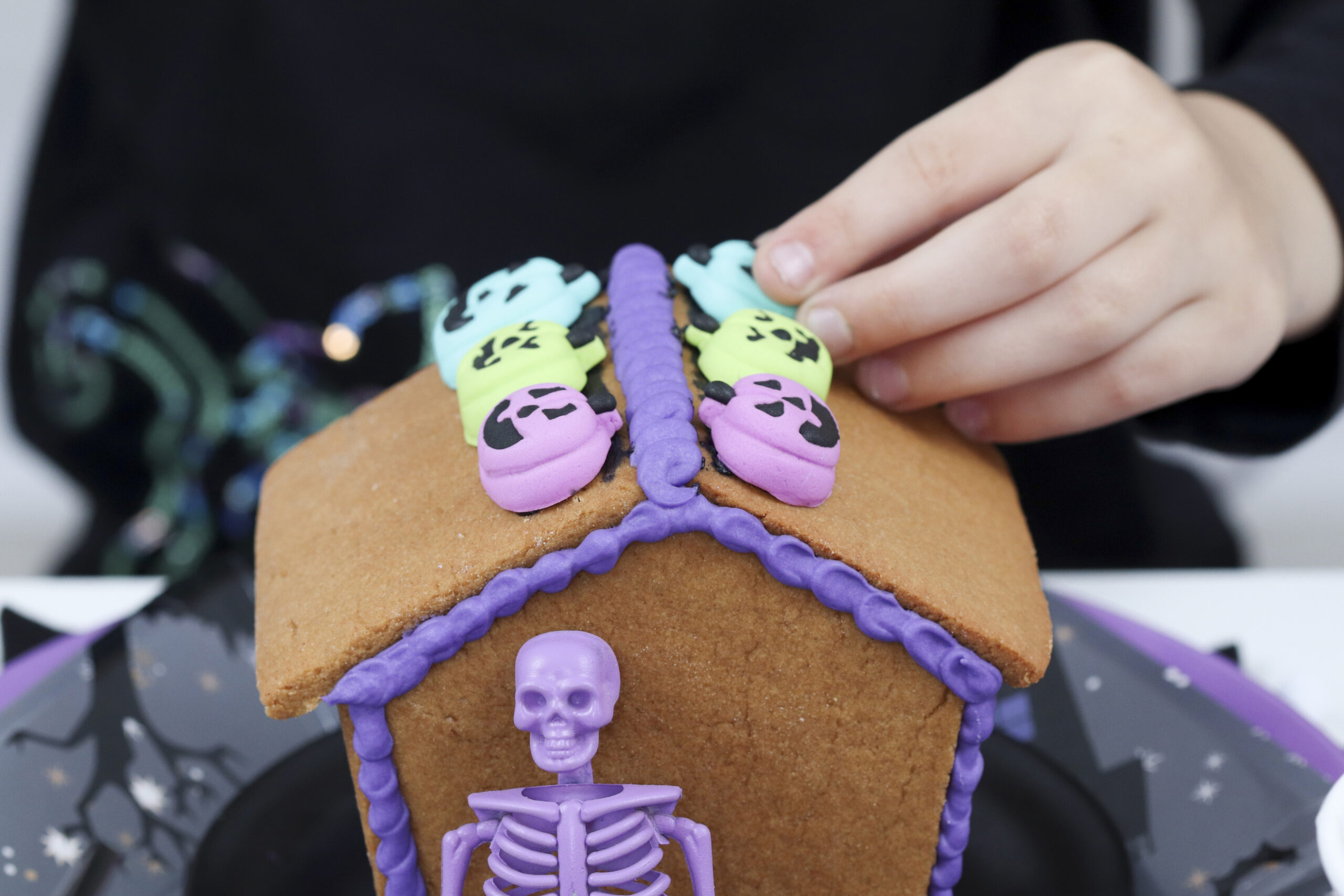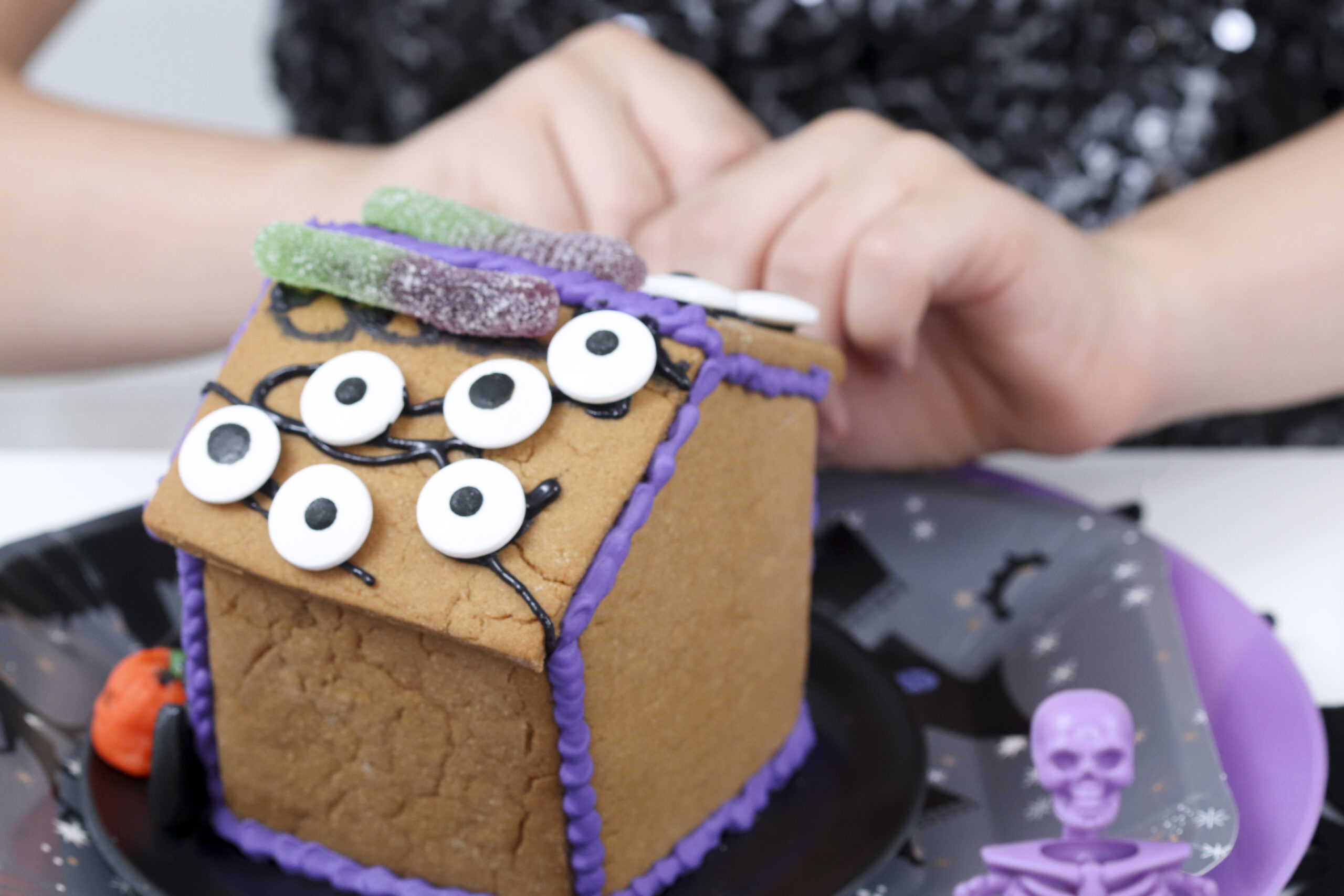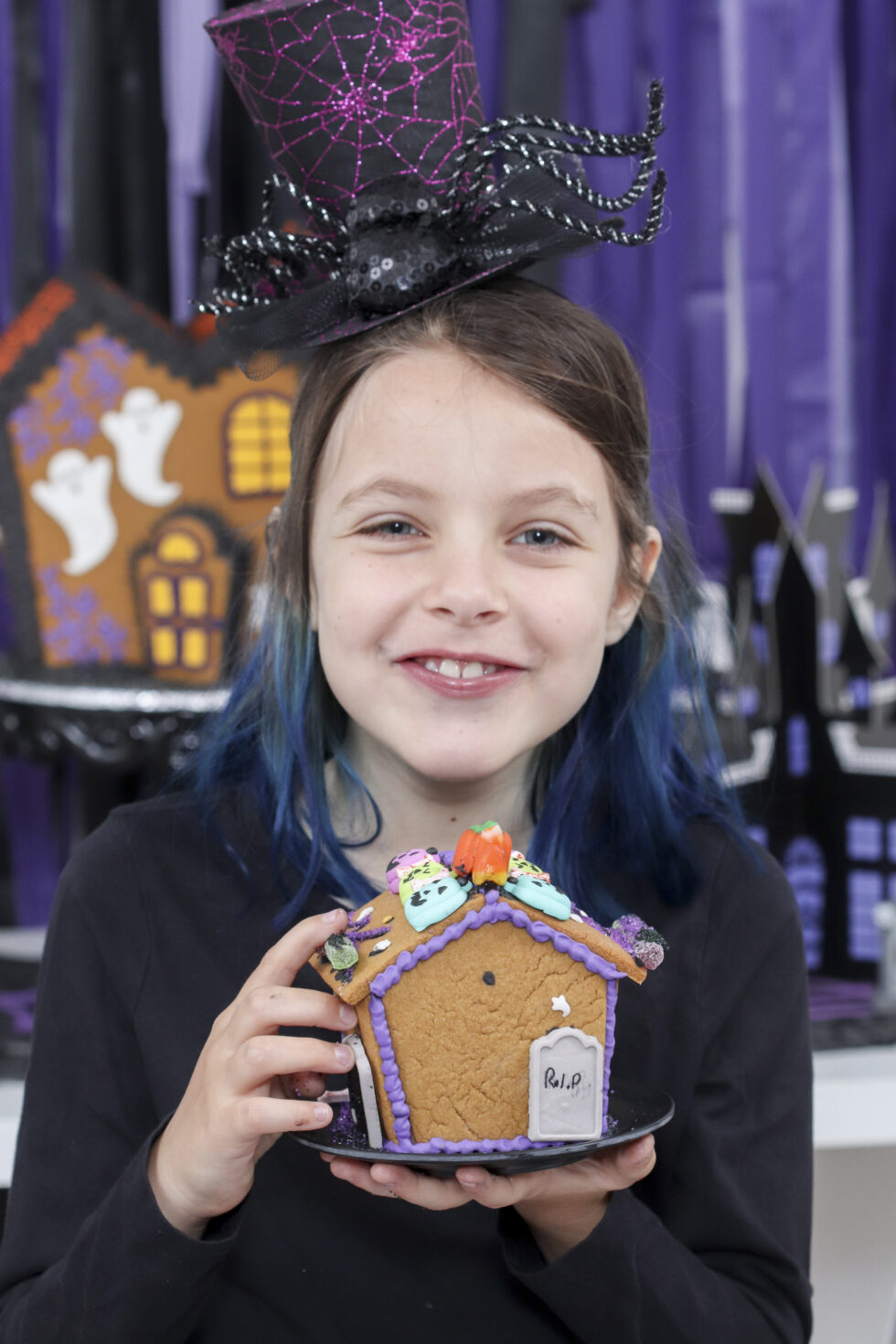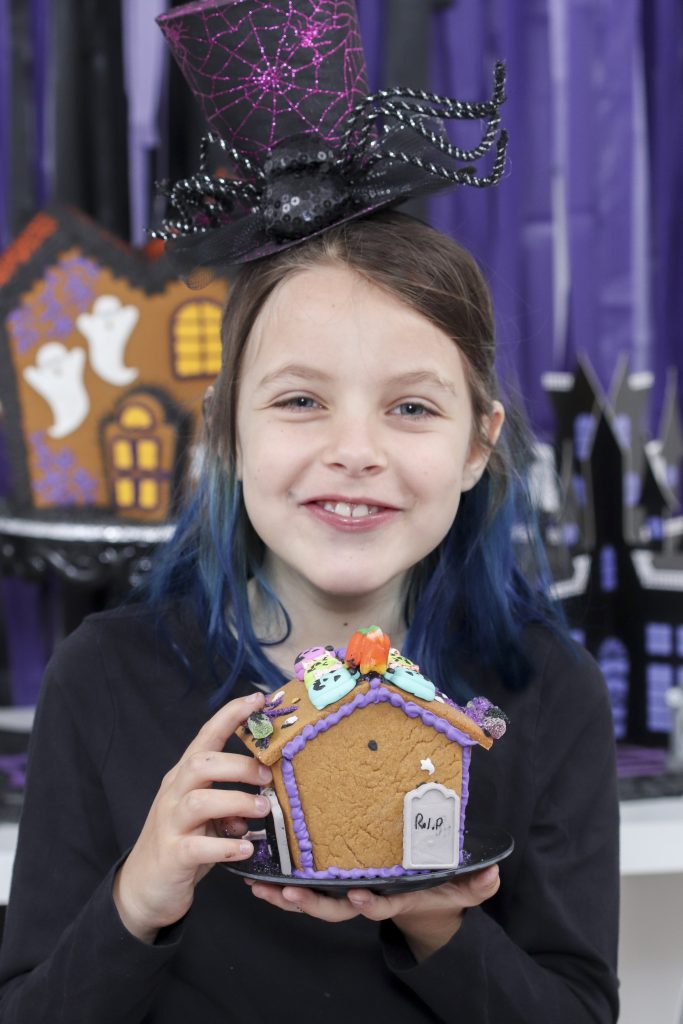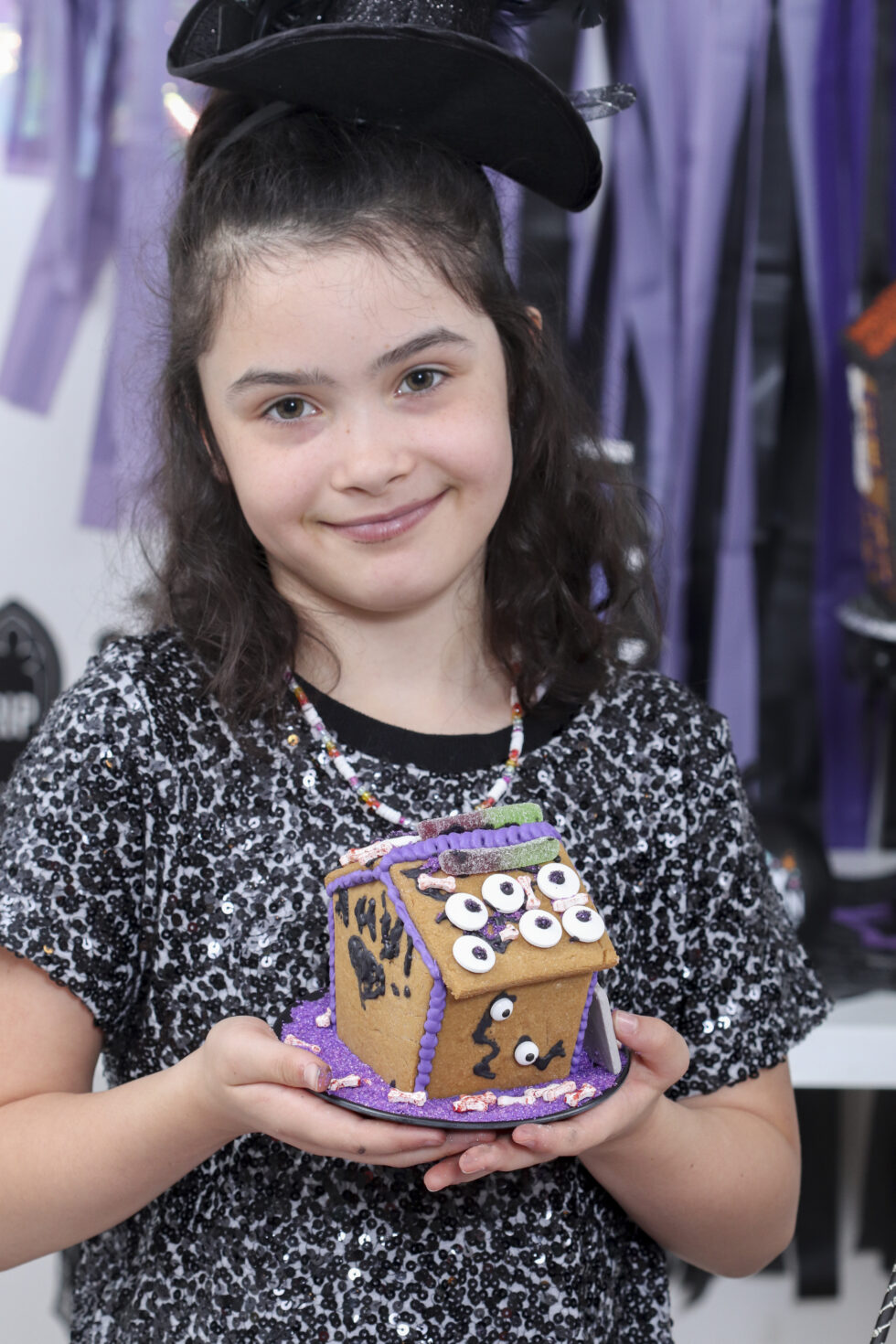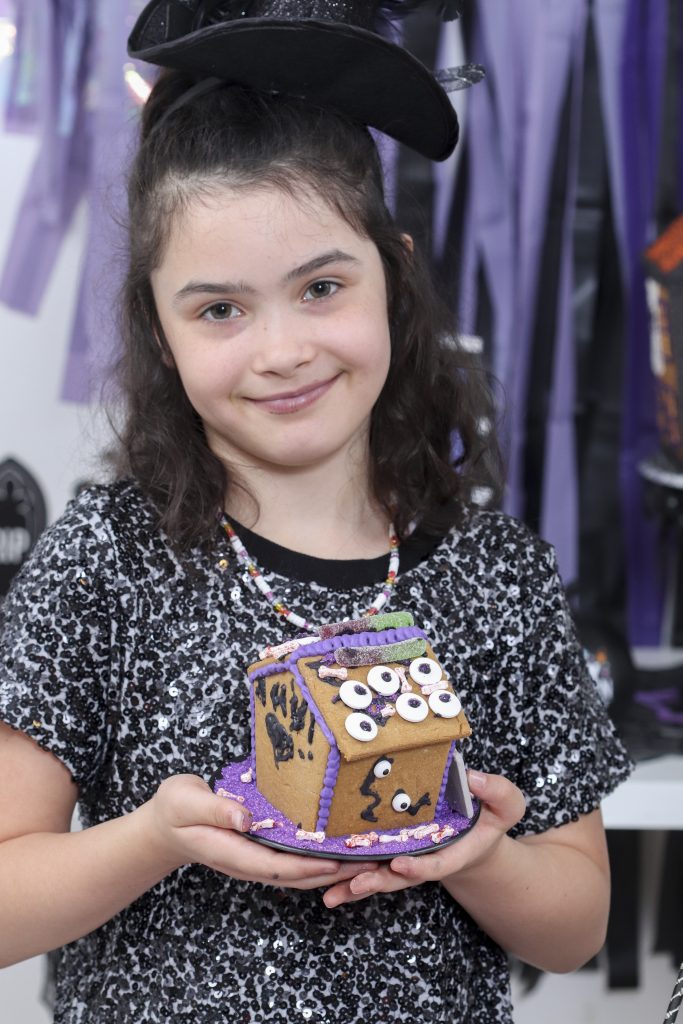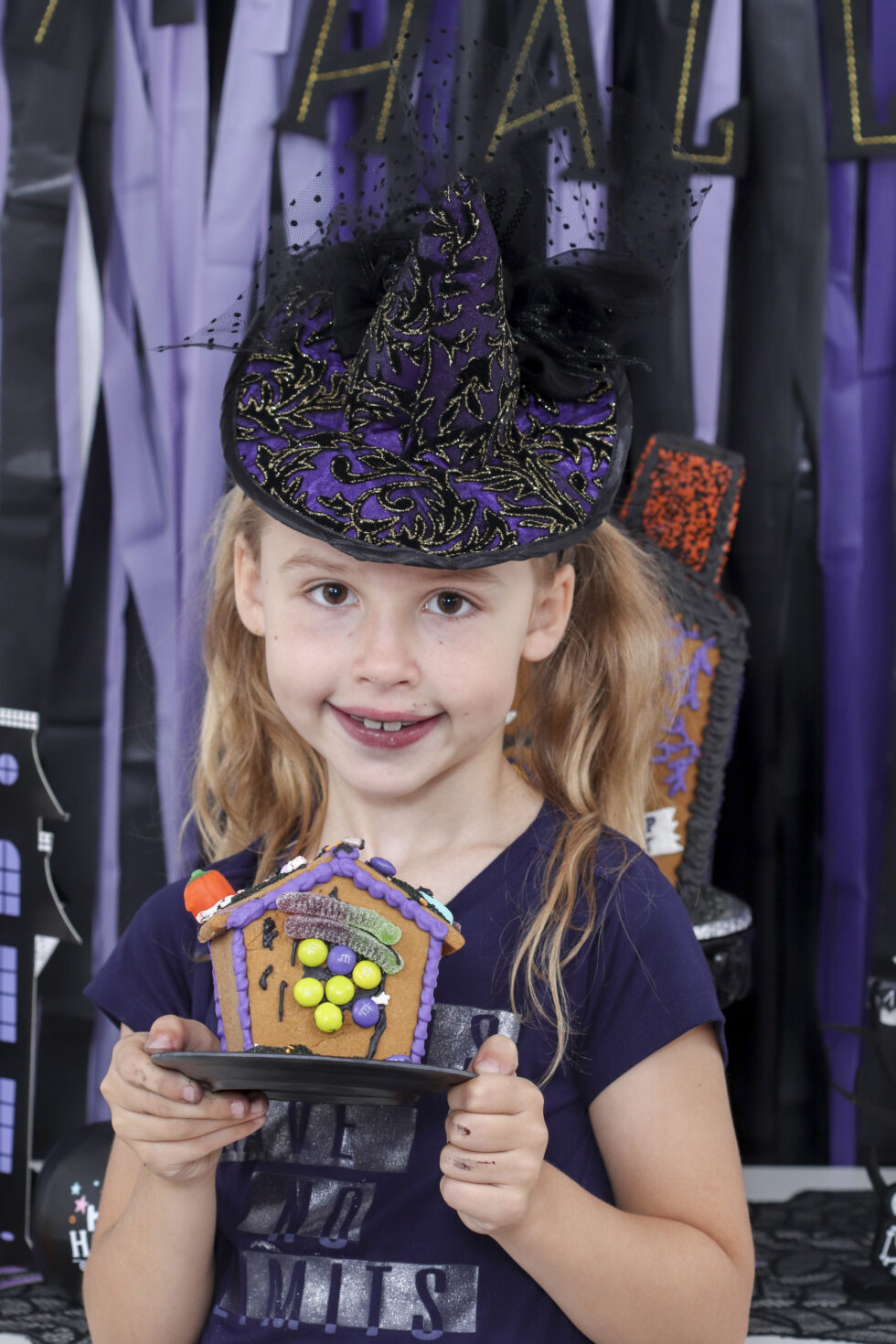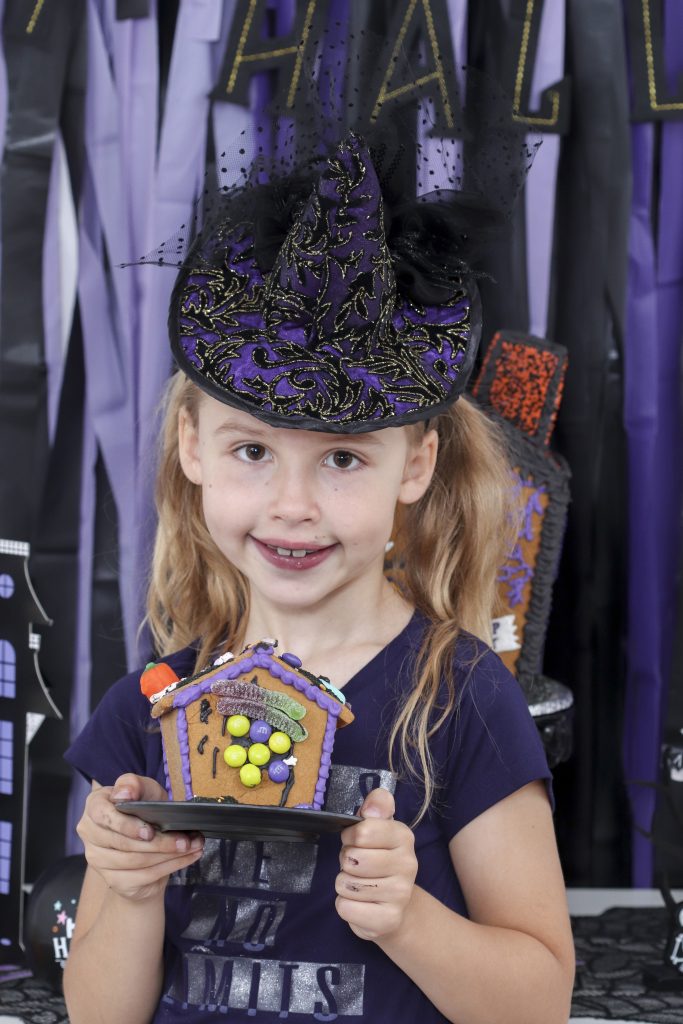 Be sure to check out my Amazon stop for alternative Haunted House Decorating Party supplies in a one-stop-shop list!
And for more kid's Halloween party ideas and inspiration, check out my recent Friendly Frankie Frankenstein Themed Party, or get tons more ideas from my post on 13 Halloween Party Ideas for Kids.
Happy Decorating!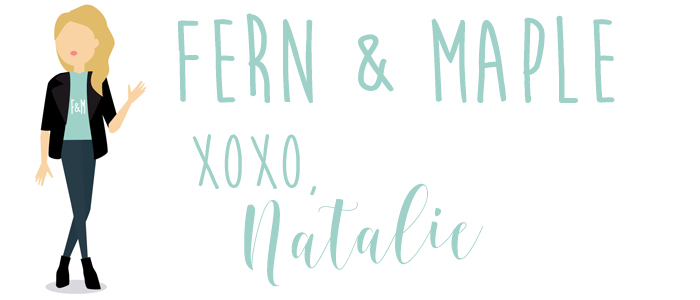 As a blogger, I sometimes receive compensation and/or products in exchange for my styling and crafting services. I also may earn a small commission from any sales that result from affiliate links on this page. As always, all project ideas and any opinions expressed here are my own.  For further information on our disclosure policy please check out our disclosure page.
PIN FOR LATER: