Last year, I threw my daughter Parker and her friends a Haunted House Decorating Party, and it was a total hit. So this year, when I found MeParty's adorable Halloween balloons and tableware, I used them as an excuse to set up another gingerbread Halloween House Decorating Party, this one with a bit of a cute witch theme for Parker and her girls. They had a blast both decorating their houses, and having a photo shoot after, showing off their creations and the MeParty balloons! Read on to see how I set it all up.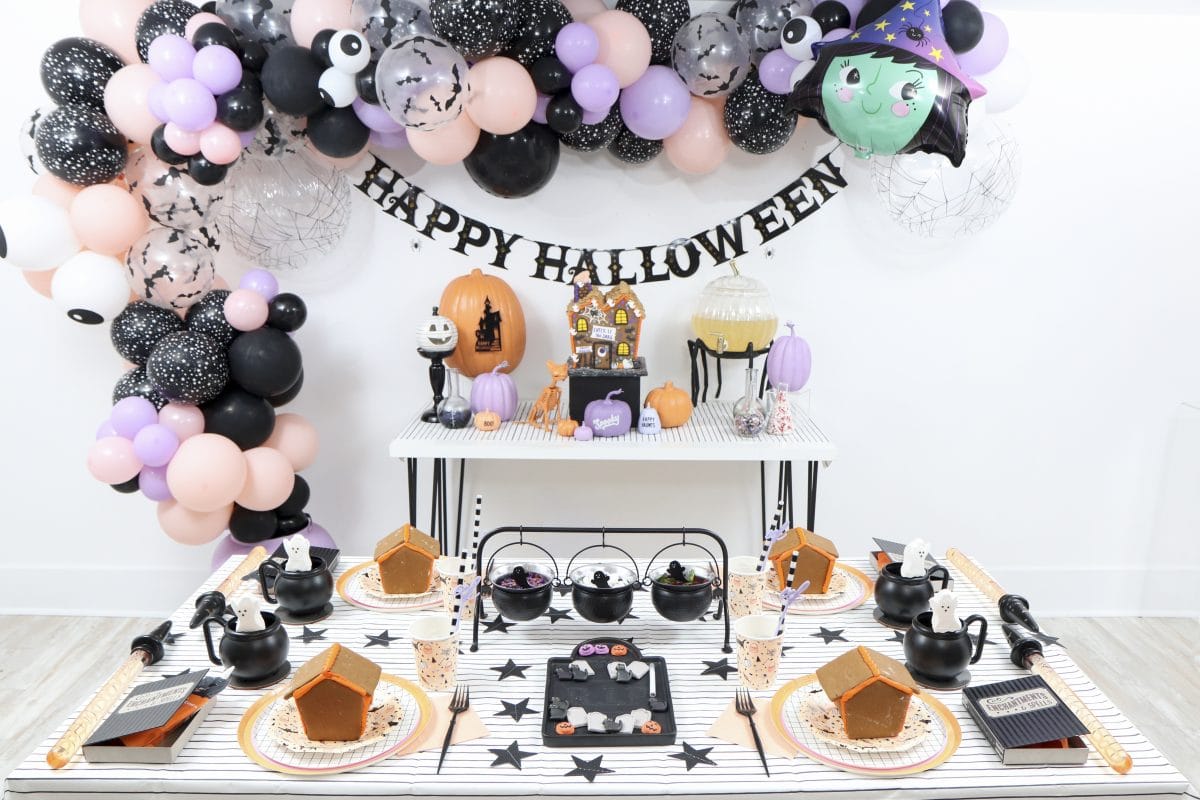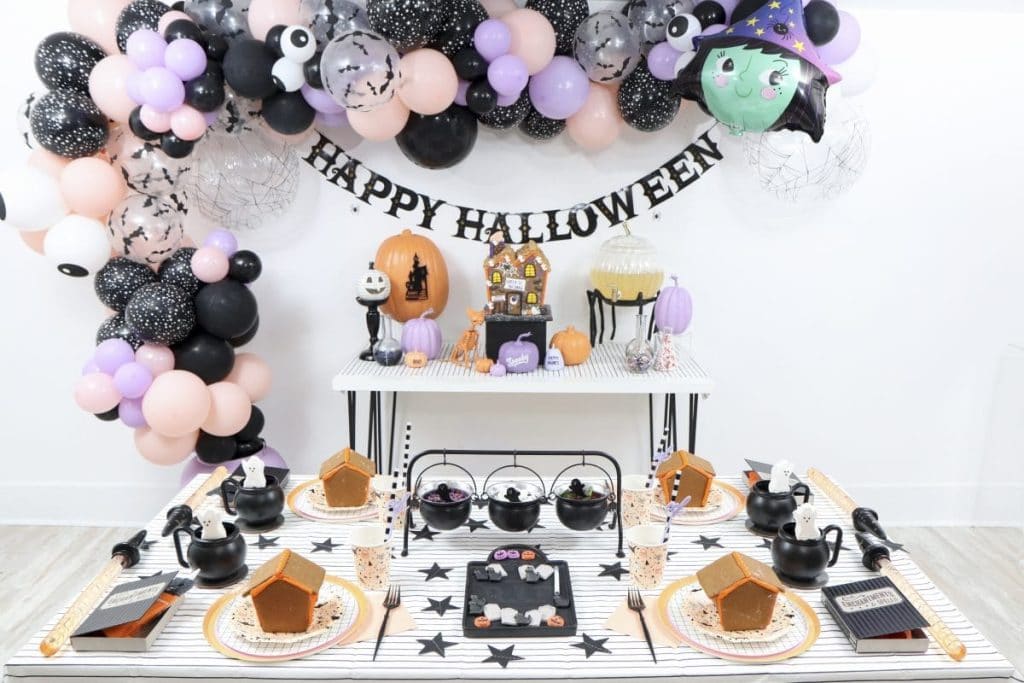 How to Set up a Cute Little Witch-Themed Halloween Gingerbread House Decorating Party
As a blogger, I sometimes receive compensation and/or products in exchange for my styling and crafting services. I also may earn a small commission from any sales that result from affiliate links on this page. As always, all project ideas and any opinions expressed here are my own.  For further information on our disclosure policy please check out our disclosure page. 
Balloon Backdrop
First, I created a giant balloon backdrop out of MeParty's balloons!
Here is what I used to create it:
I finished off the end of the garland with a giant plastic lavender jack-o'-lantern bucket. Underneath the balloon garland, I hung a black "Happy Halloween" banner.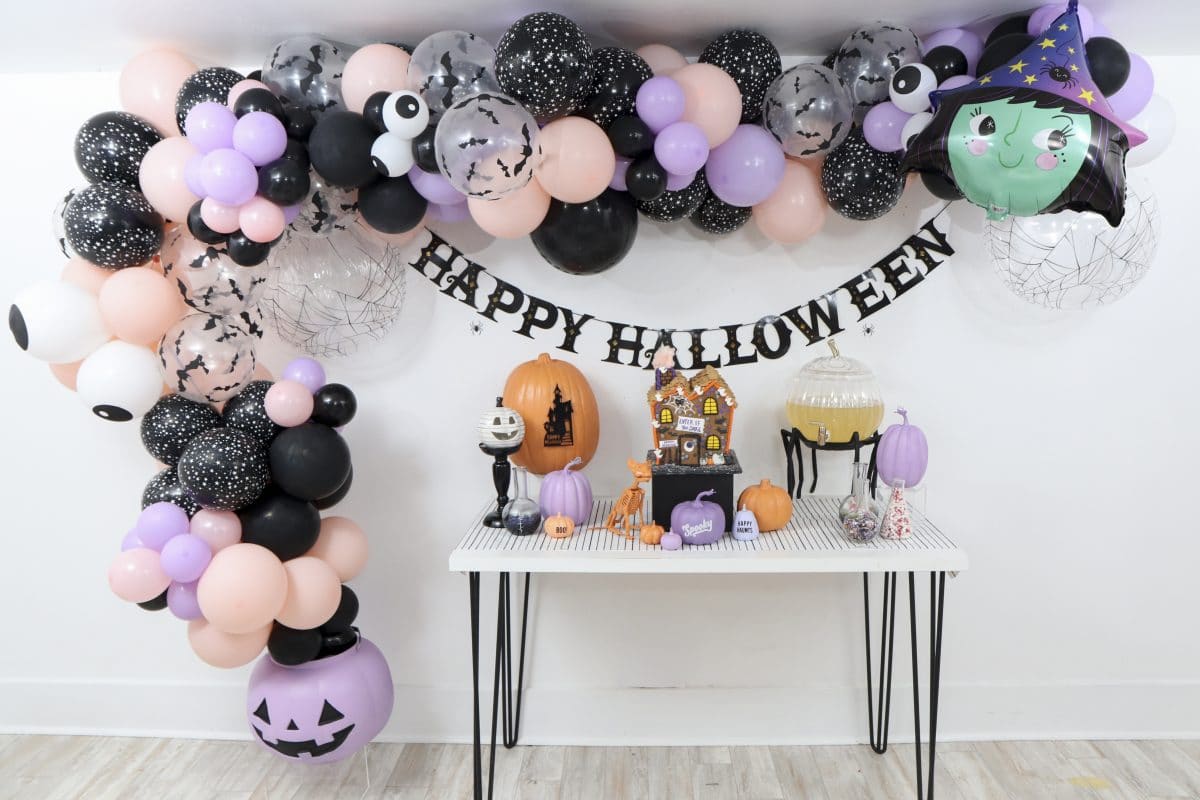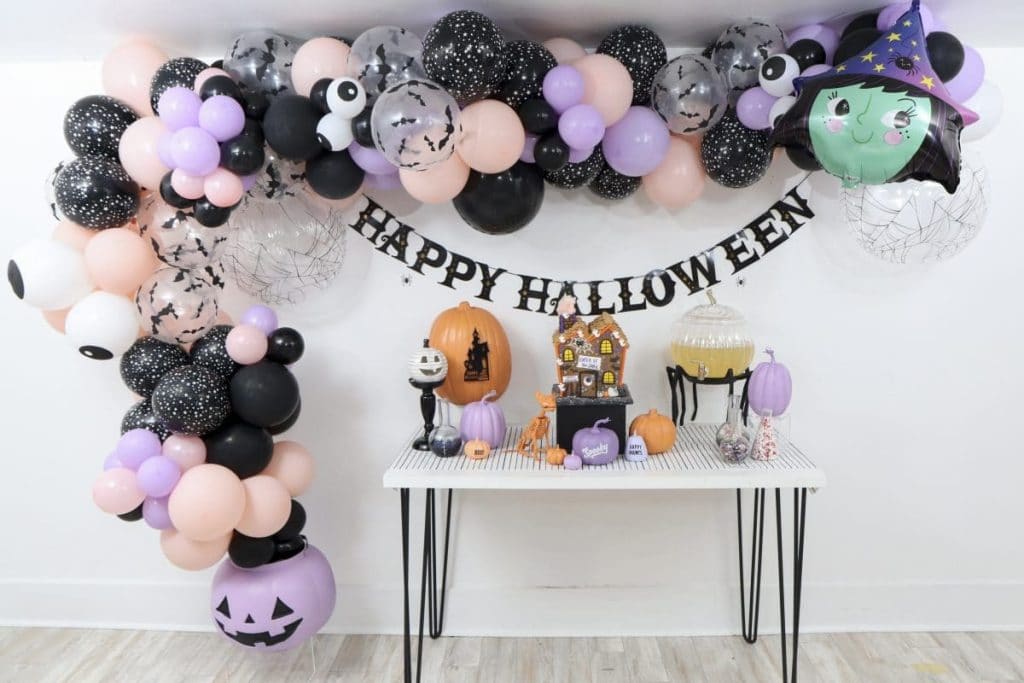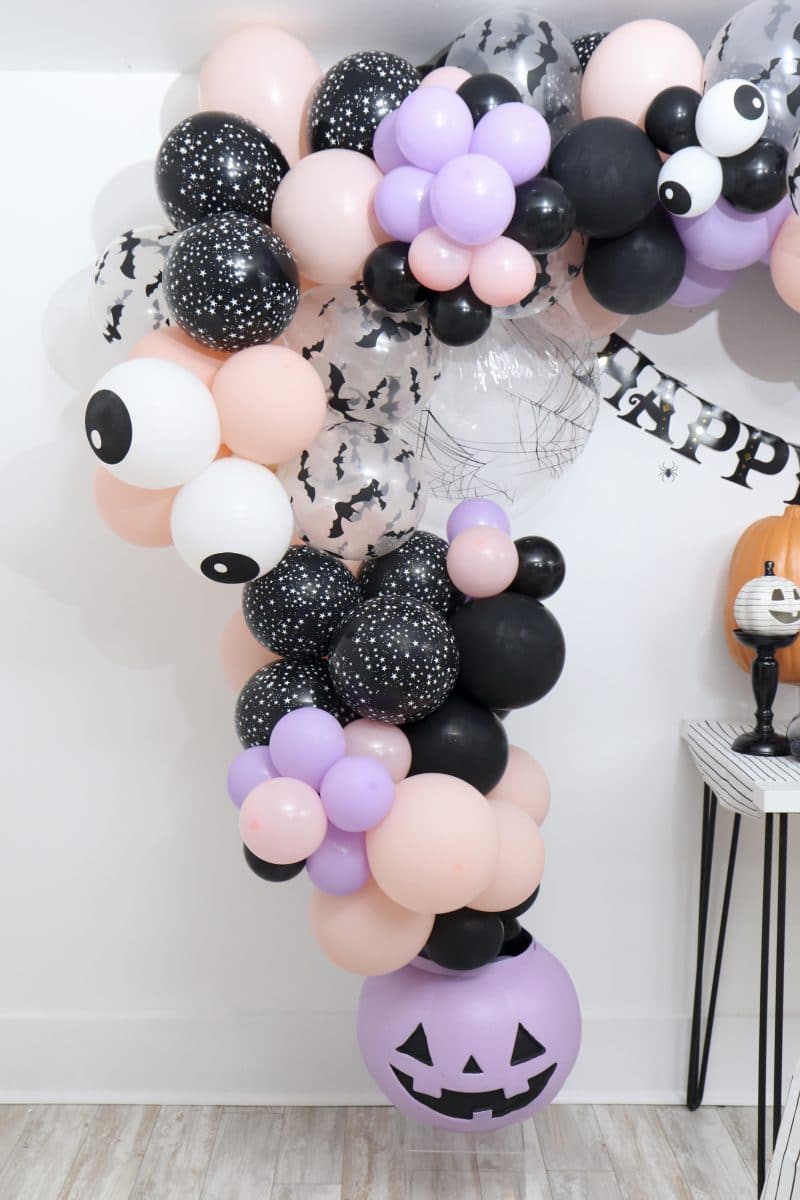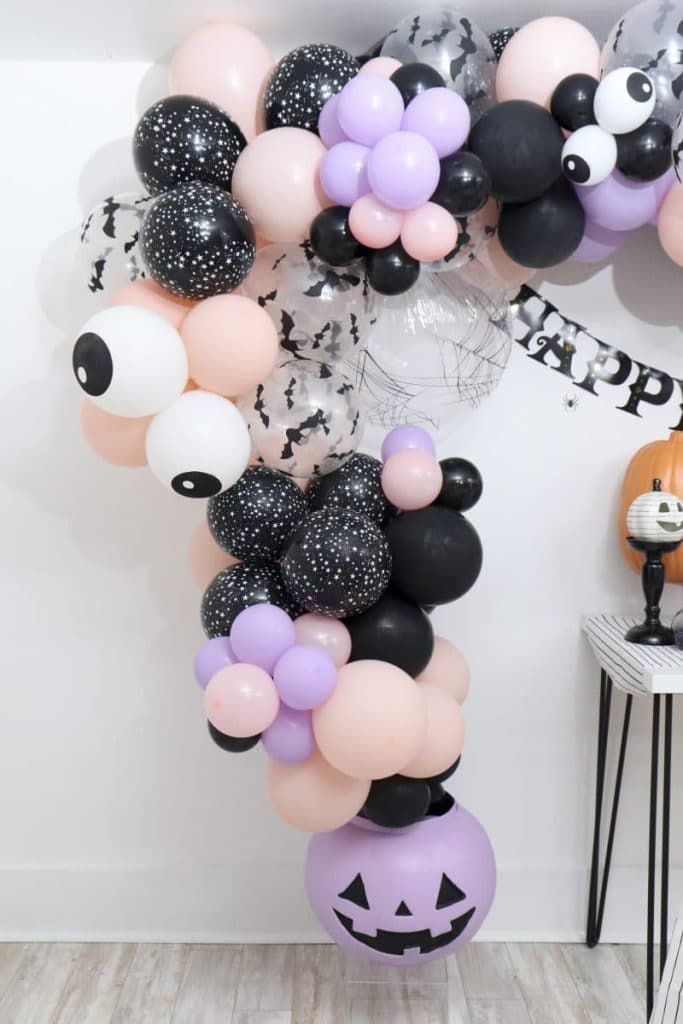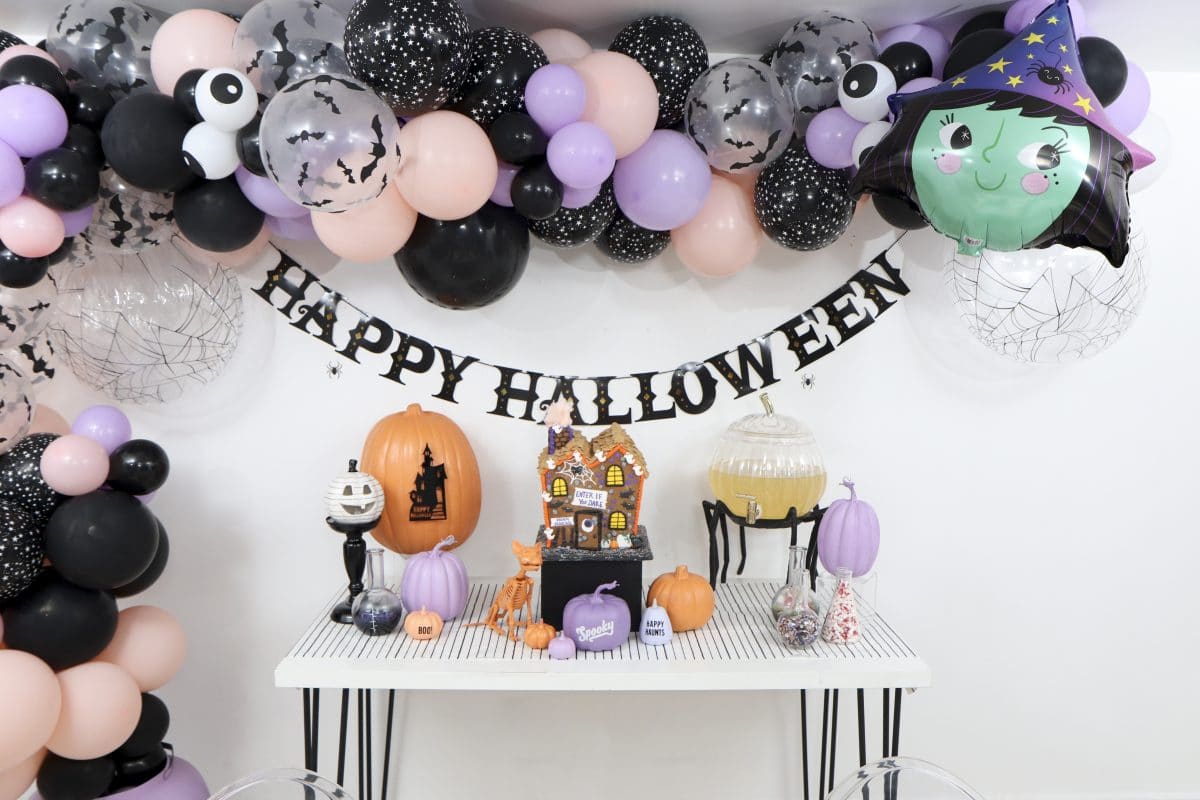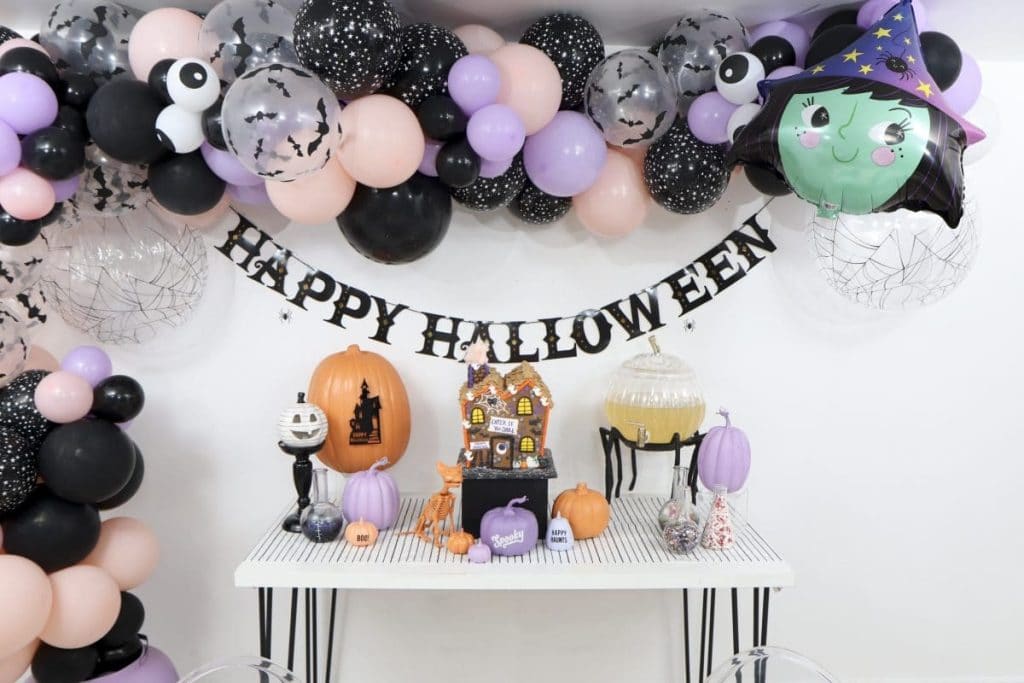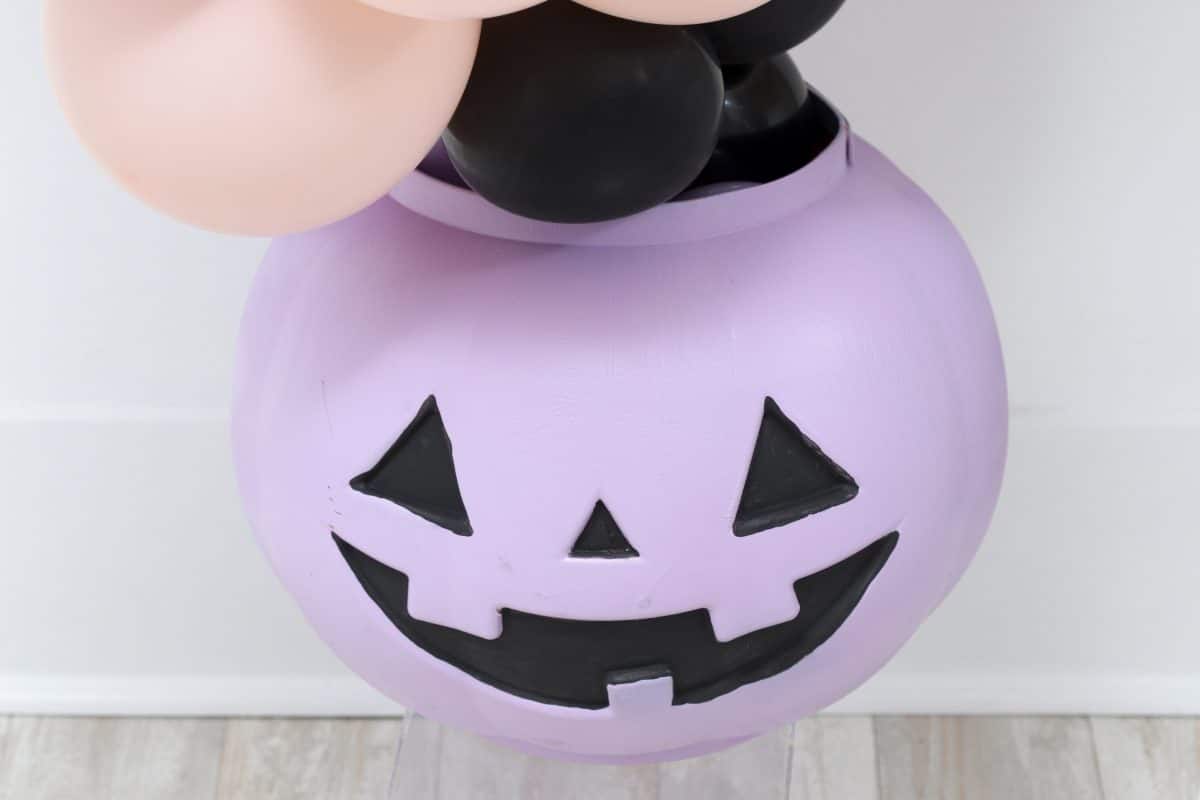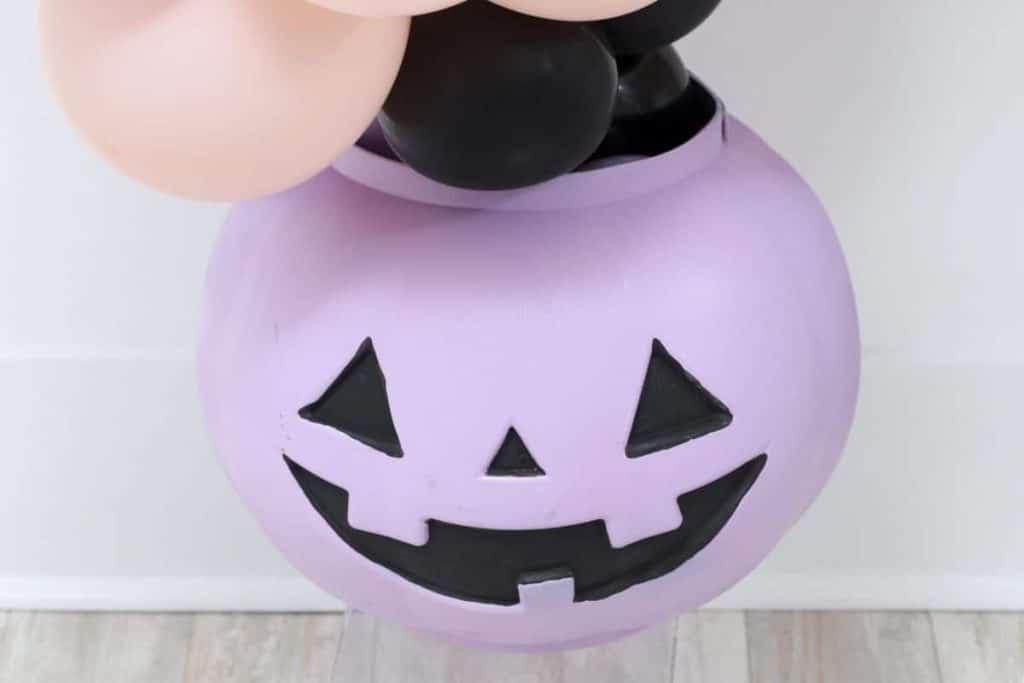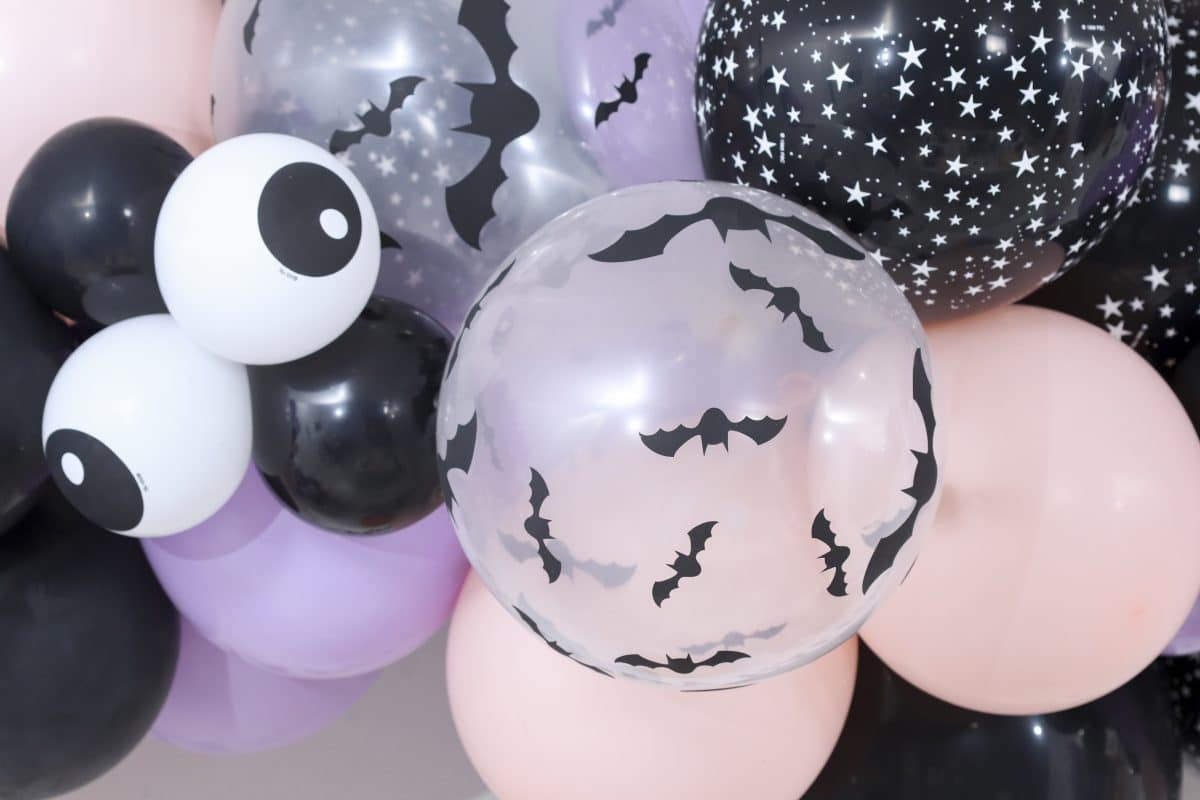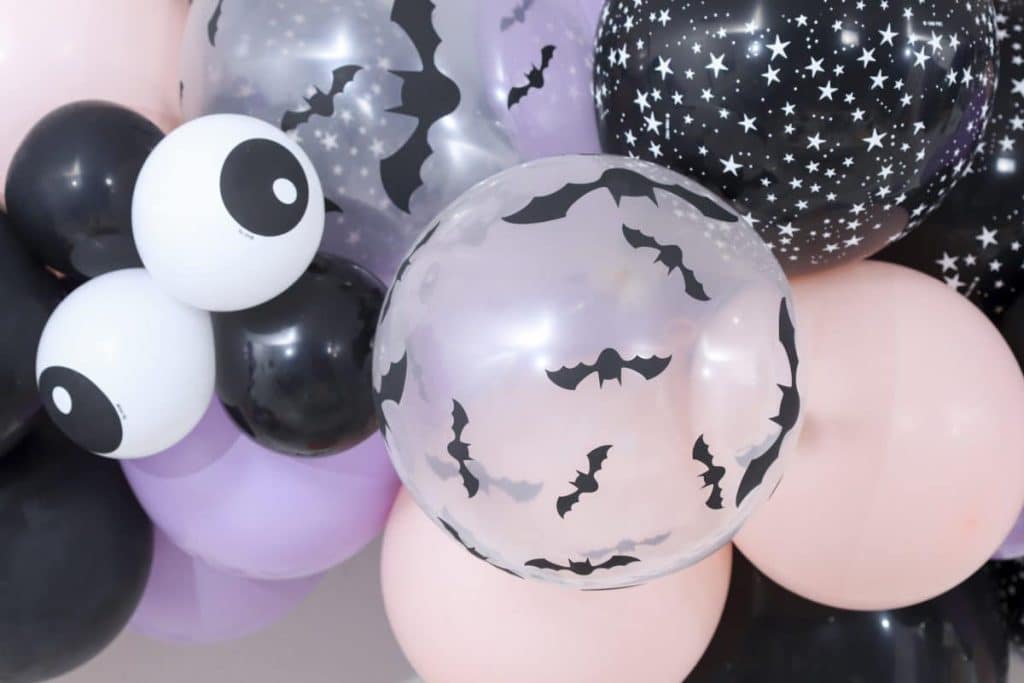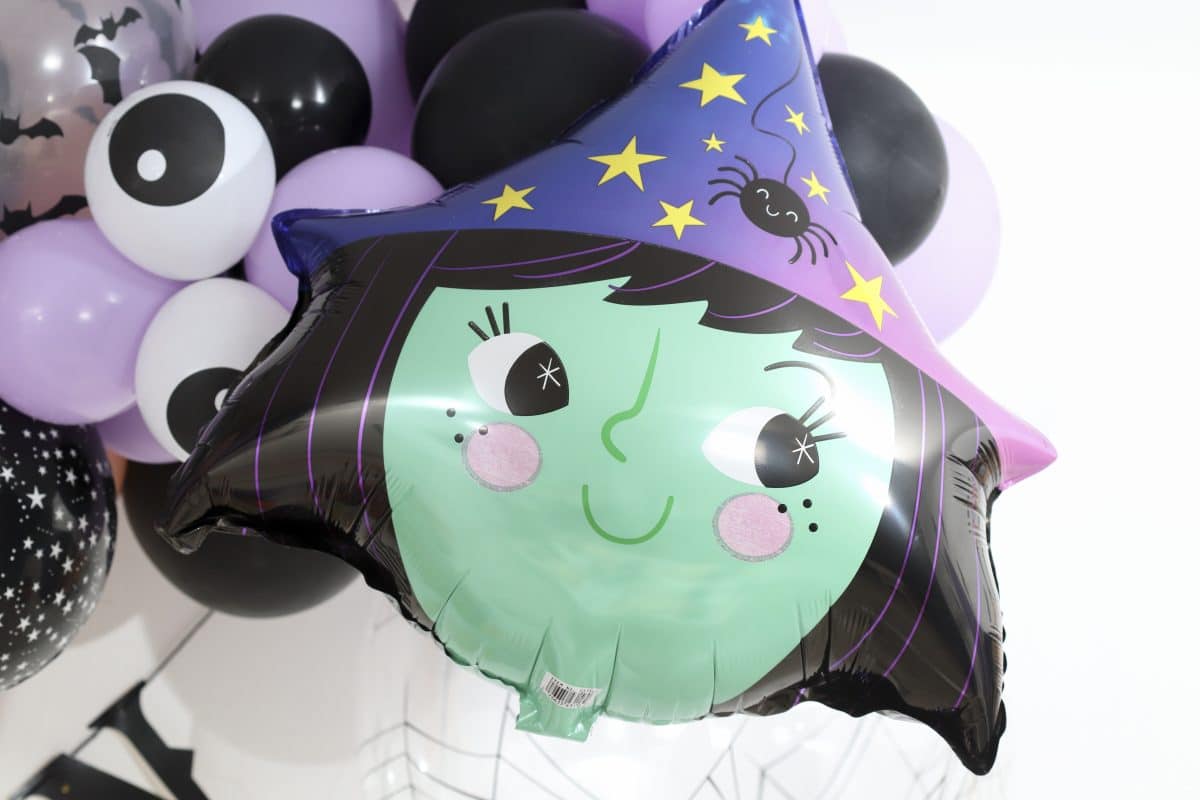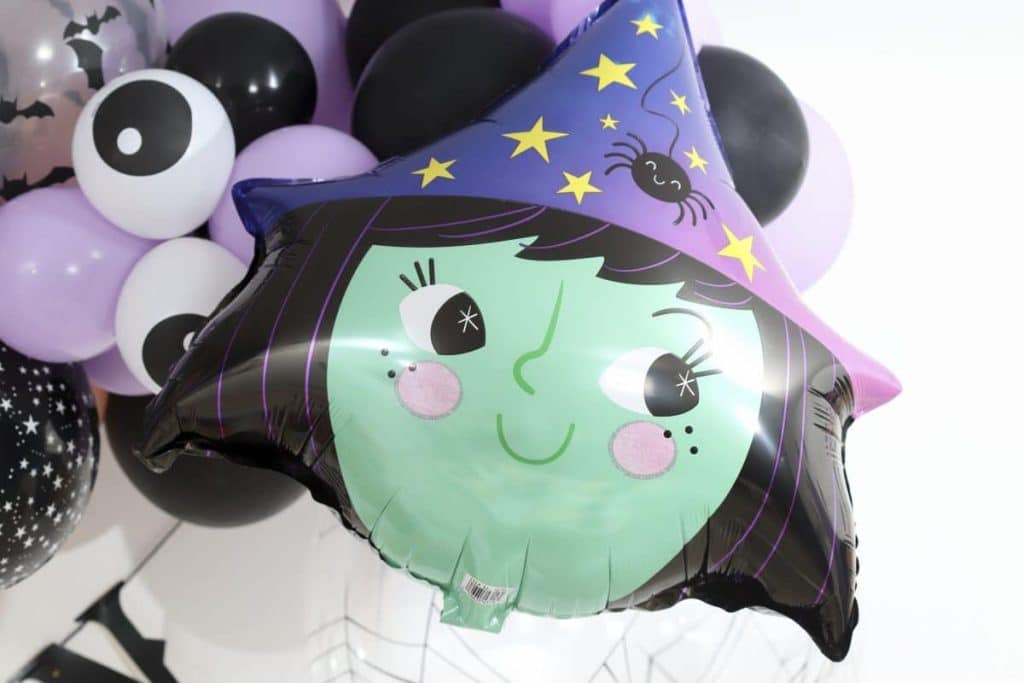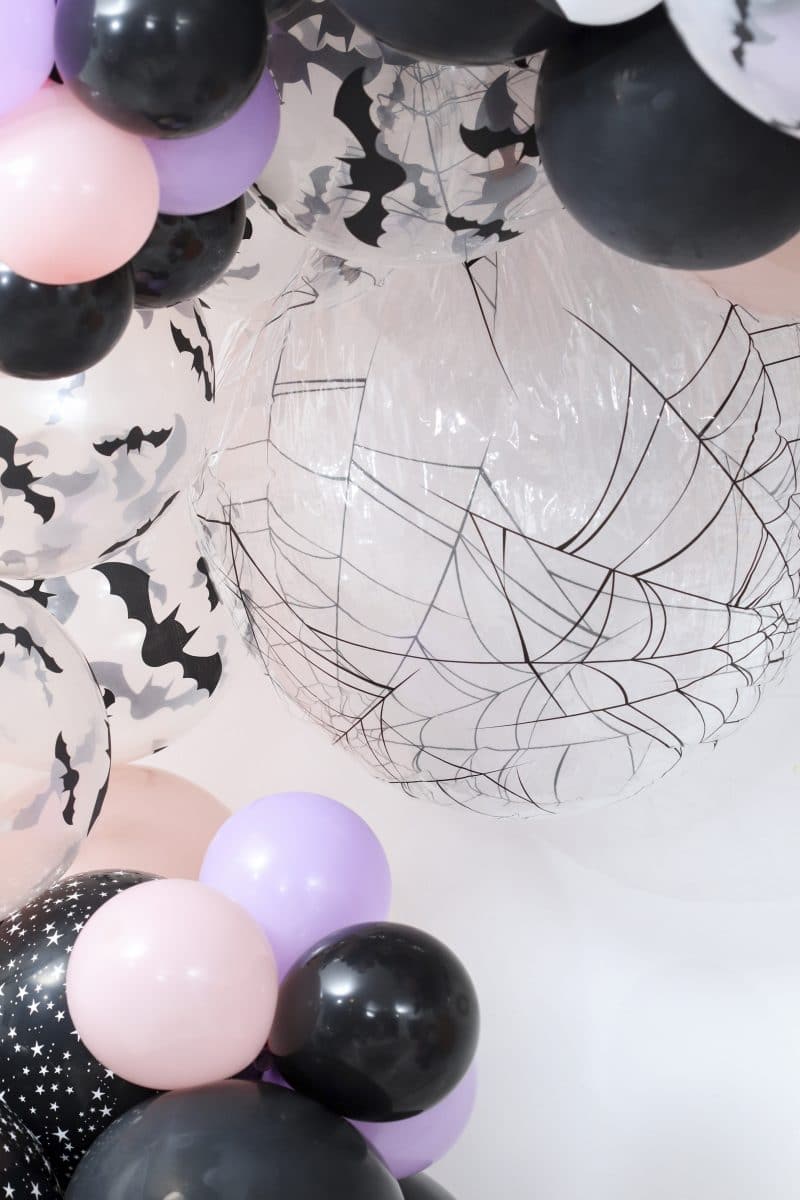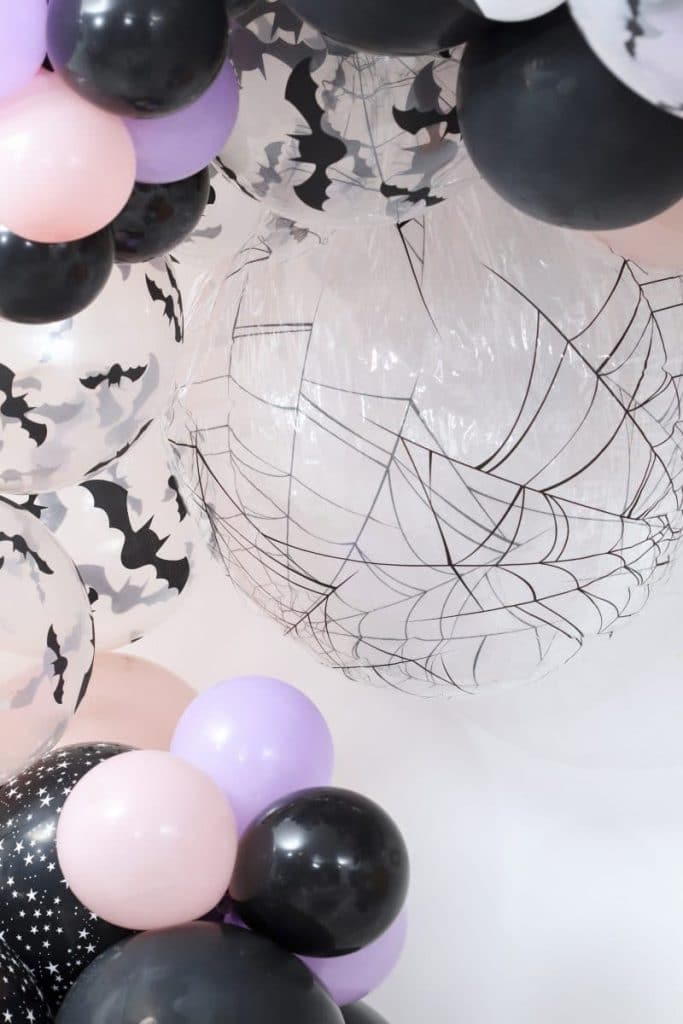 Drinks & Decor
On a table underneath the balloon and banner backdrop, I placed a black and white striped runner. Then, in the center, I added an amazing Gingerbread Witch's House from Trophy Baking for decoration inspiration on a black stand. There are so many adorable details on this house – from the sneaky little black cat on the corner, to the cotton candy smoke coming from the chimney, to my favorite part – the "broom parking" in the front of the house. So perfect!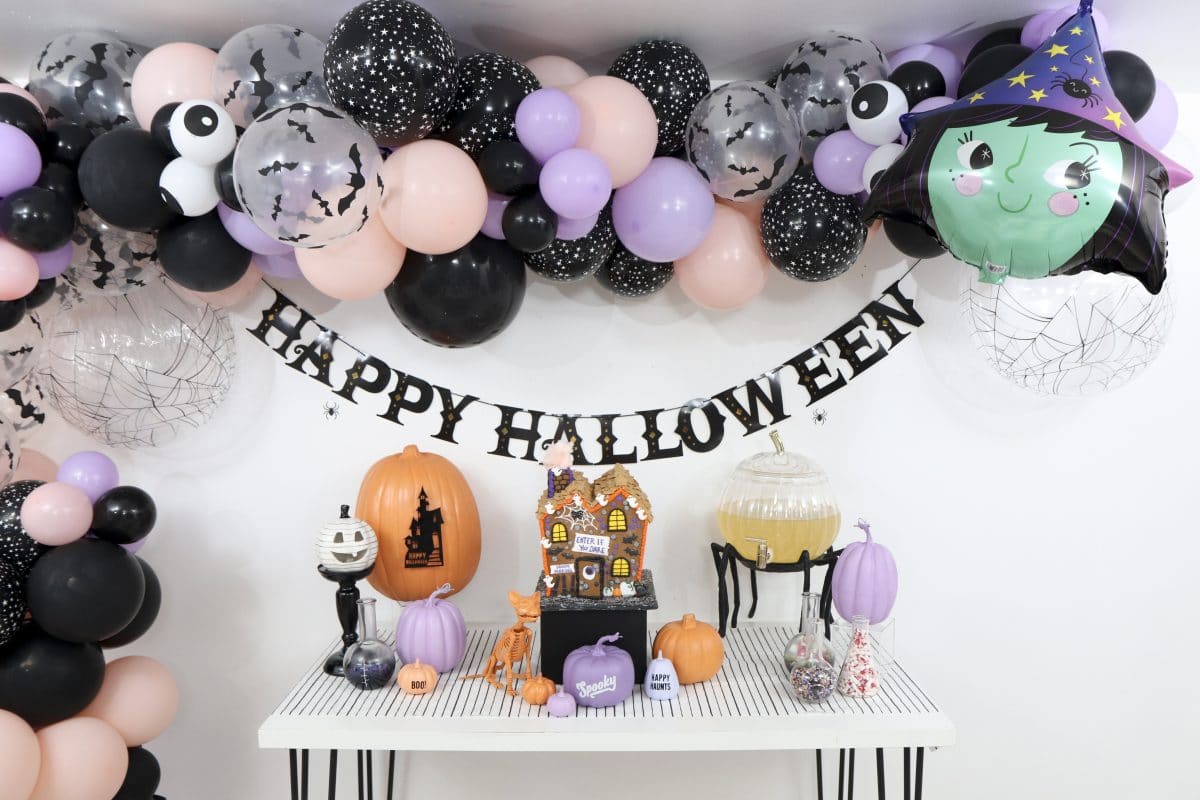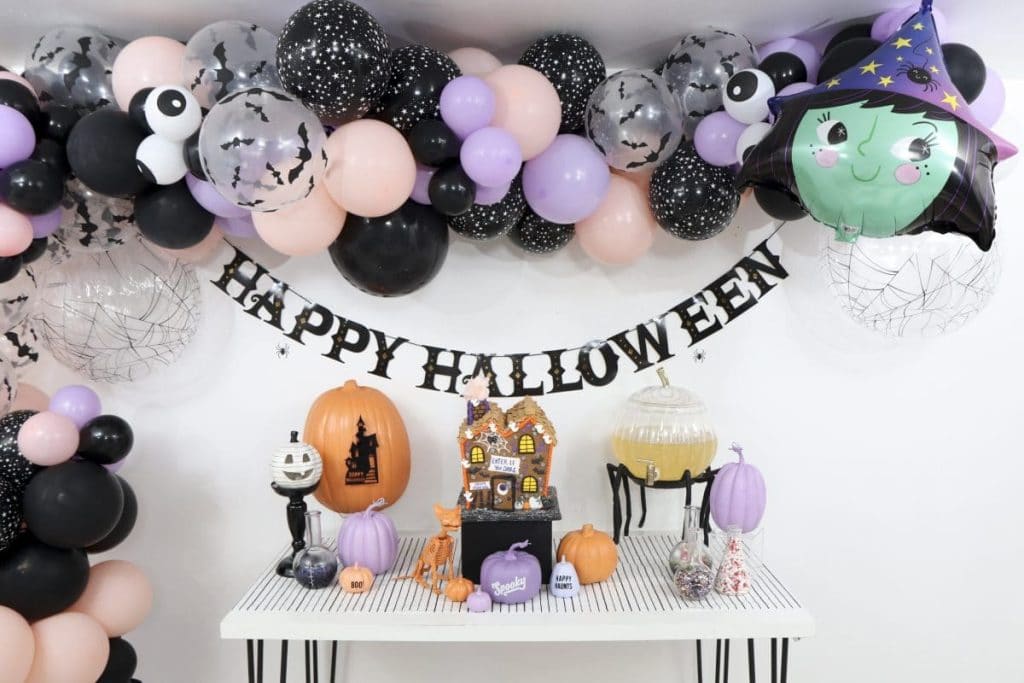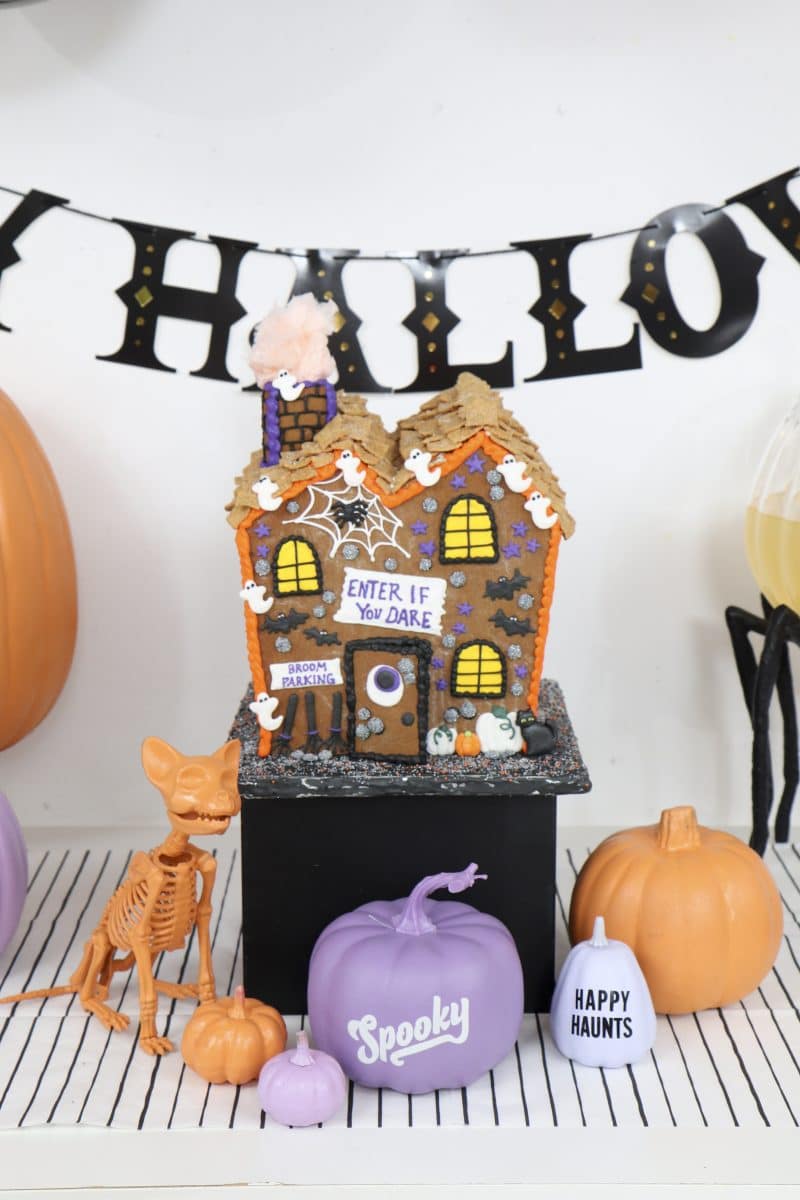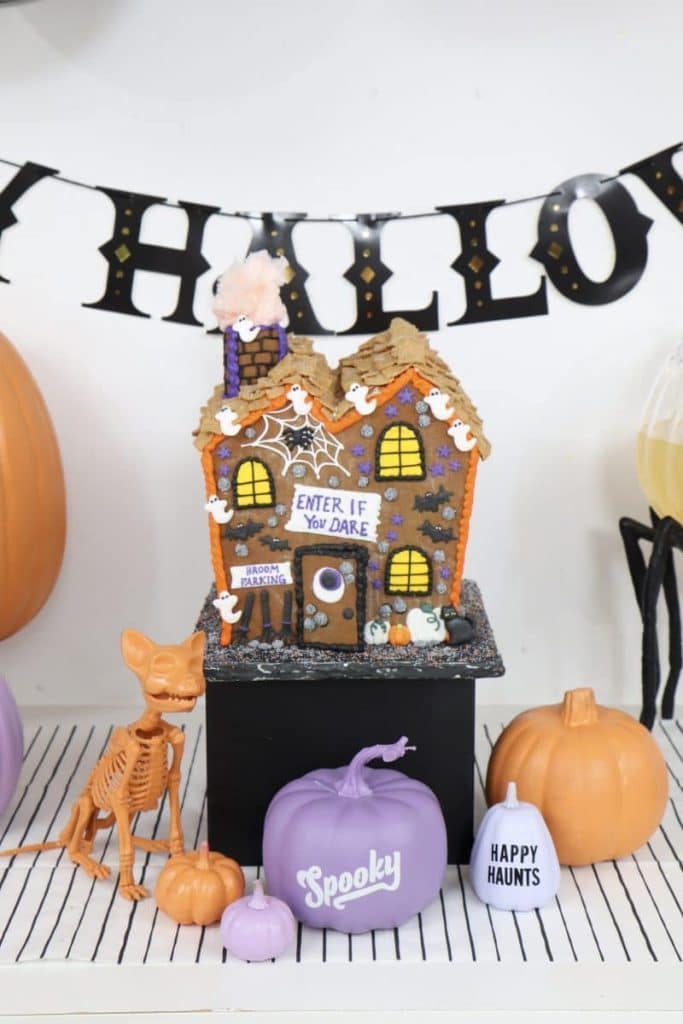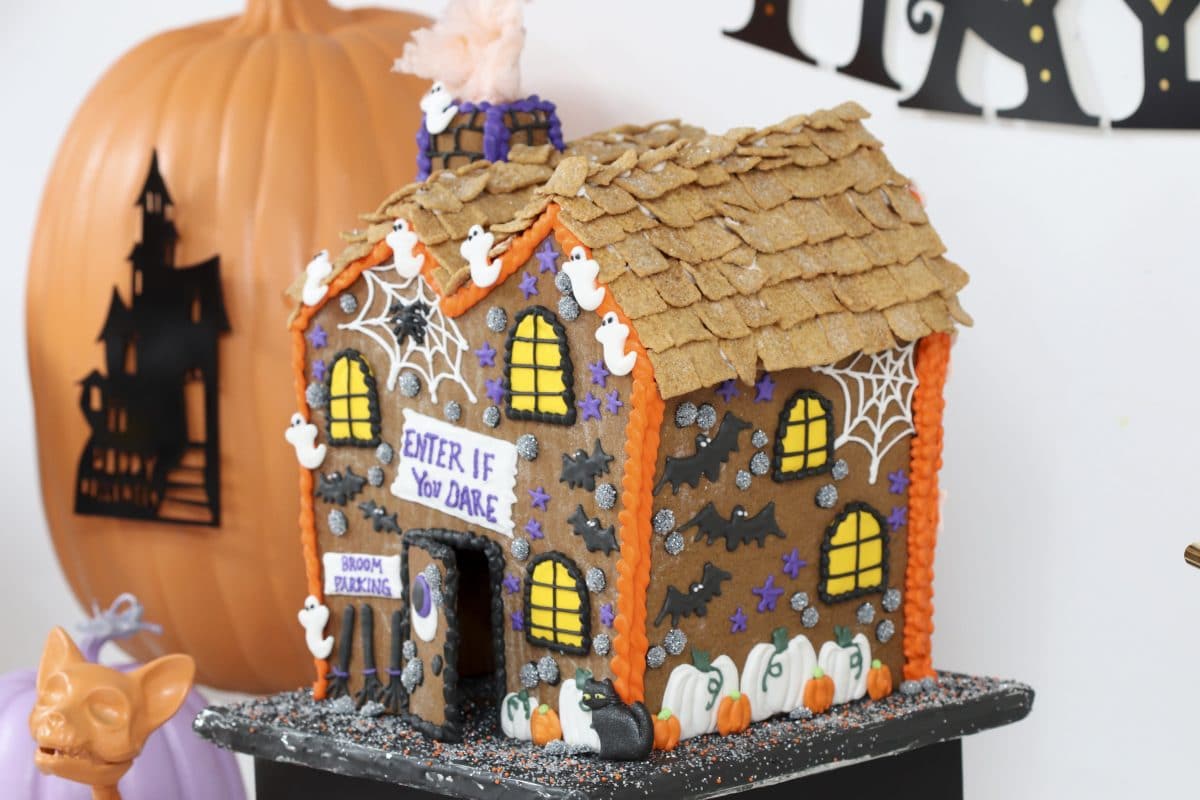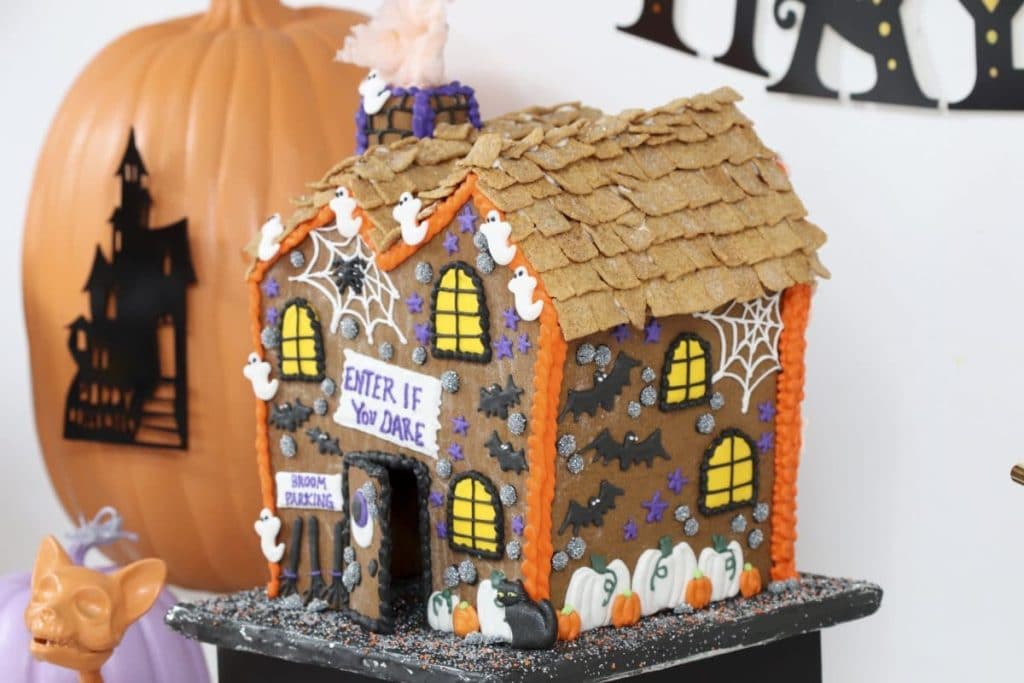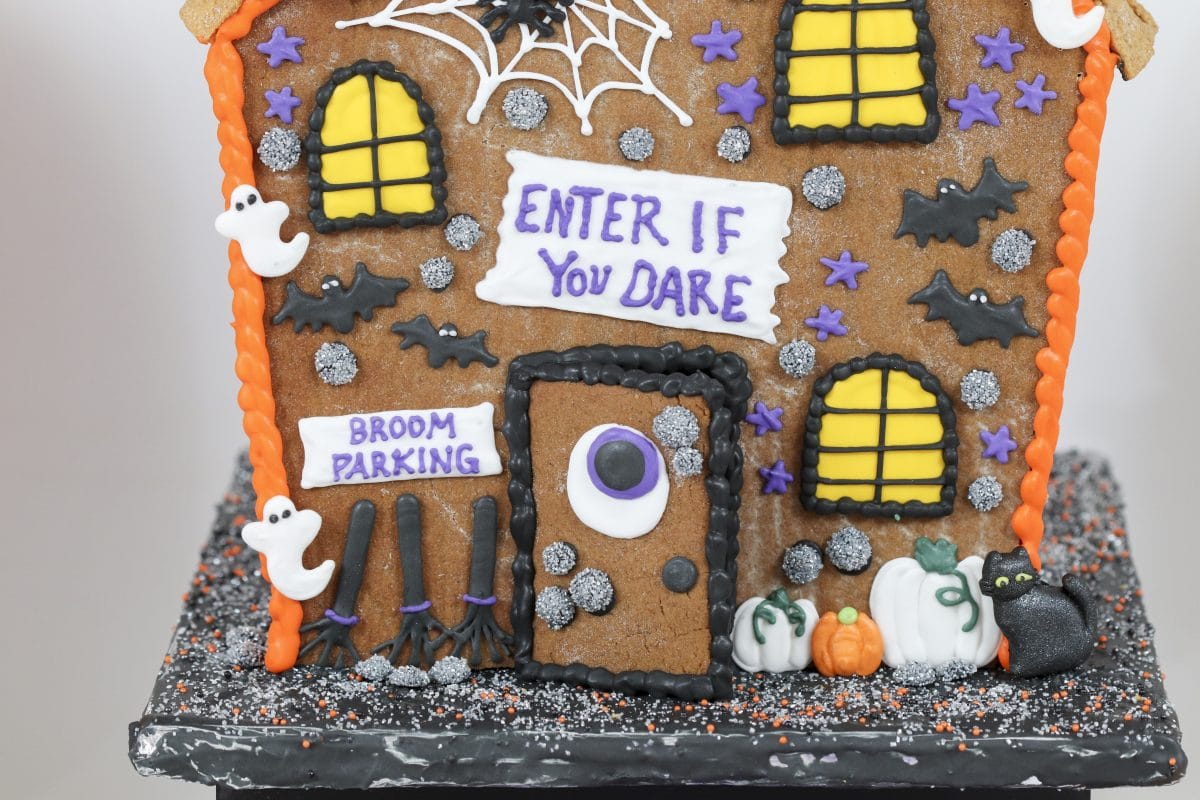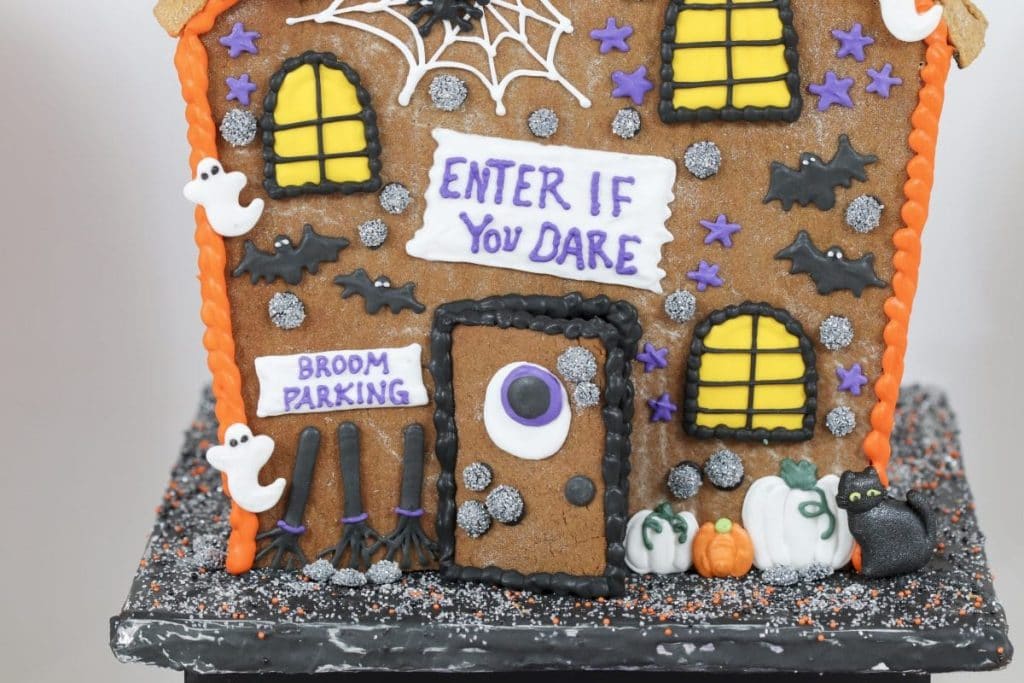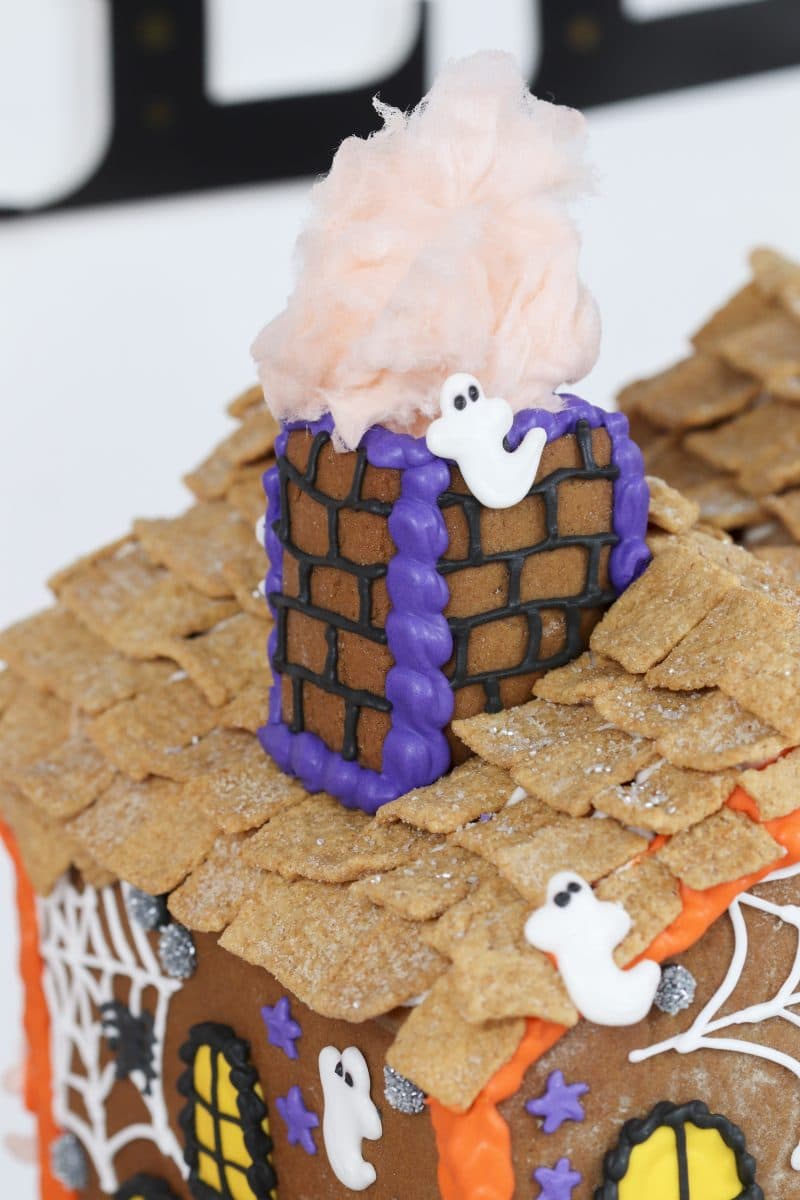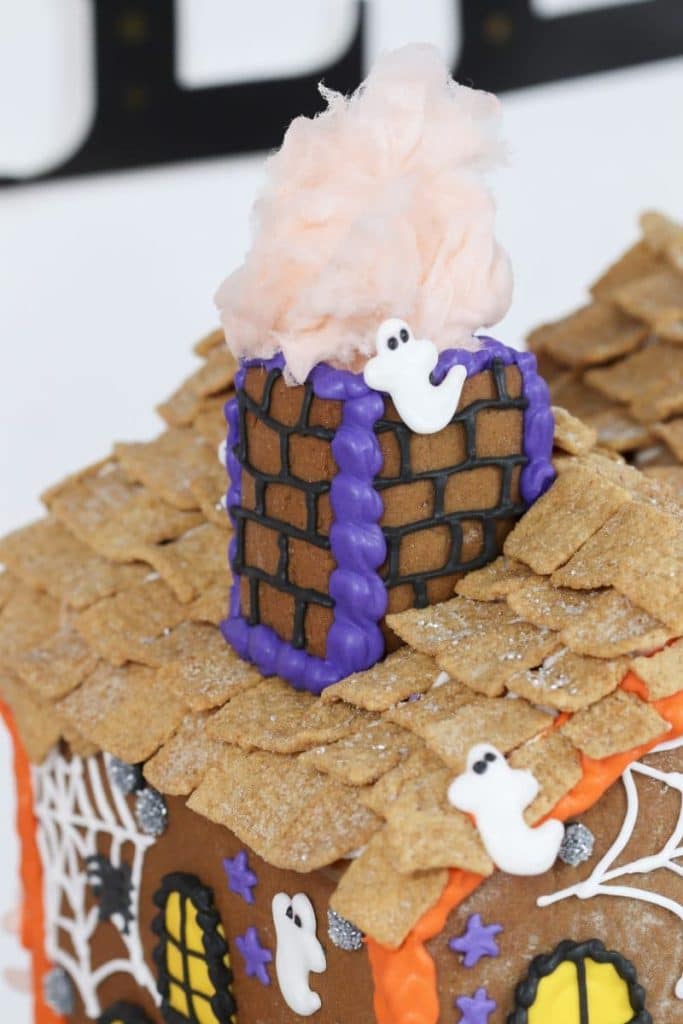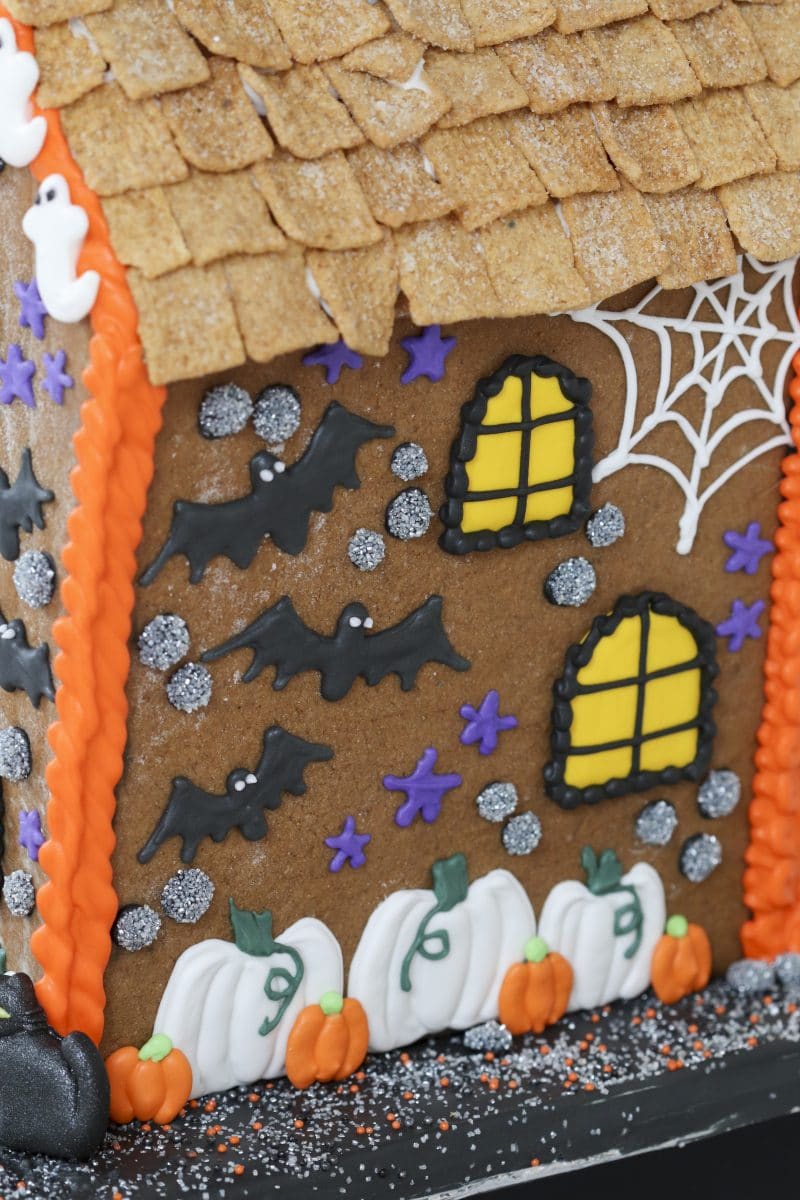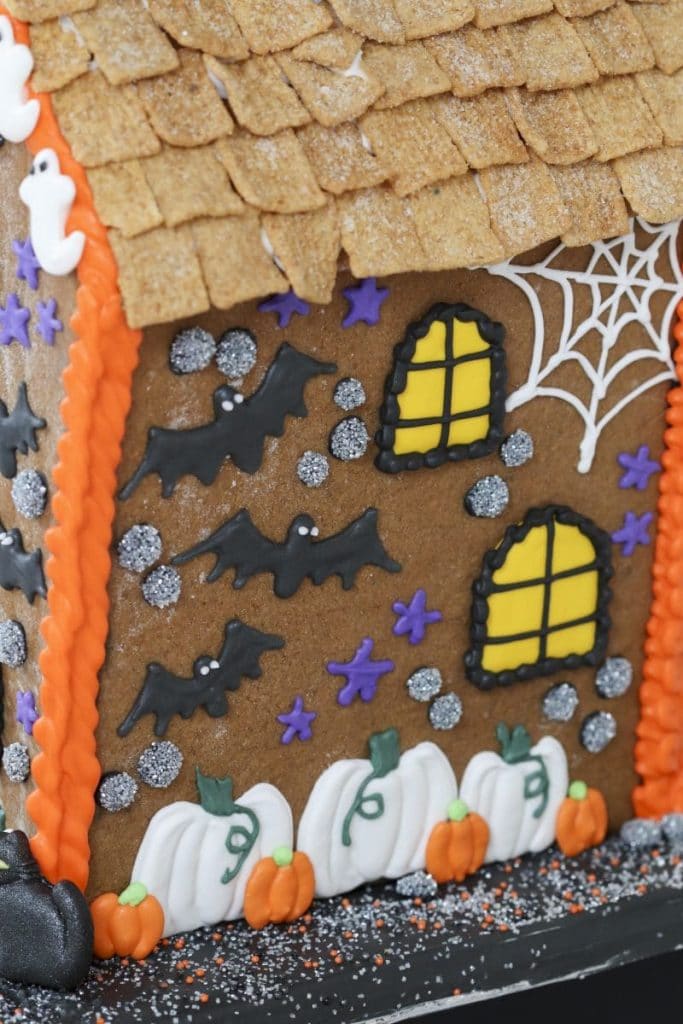 To one side of the Gingerbread House centerpiece, I added a clear pumpkin-shaped drink dispenser on a spider-leg stand.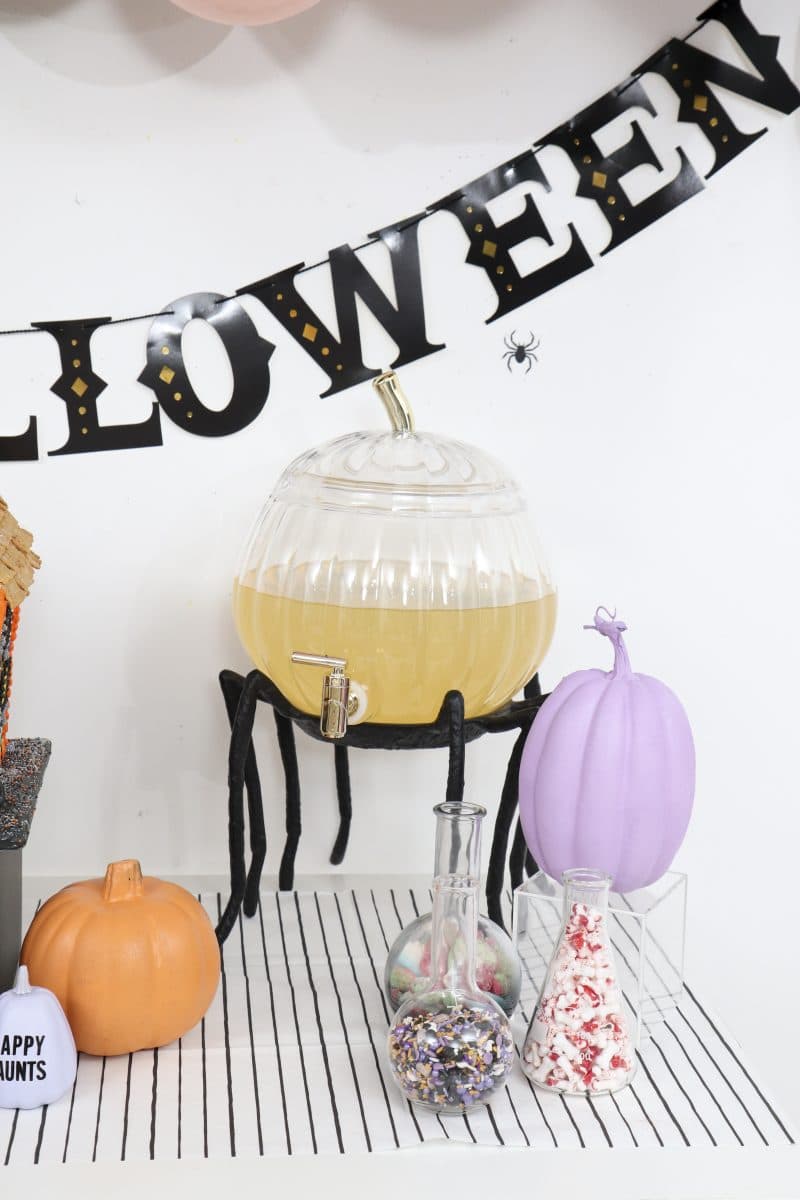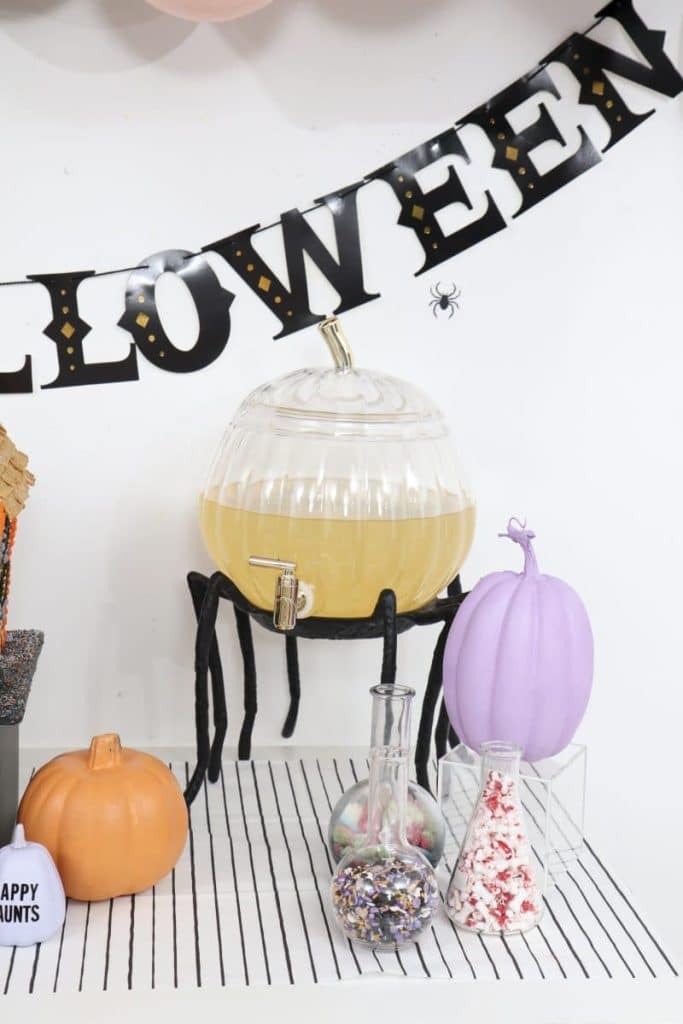 Next, I filled the rest of the table space with decor – including various sizes and colors of faux pumpkins, an orange cat skeleton, and beakers full of sprinkles (these double as house decorating supplies later!).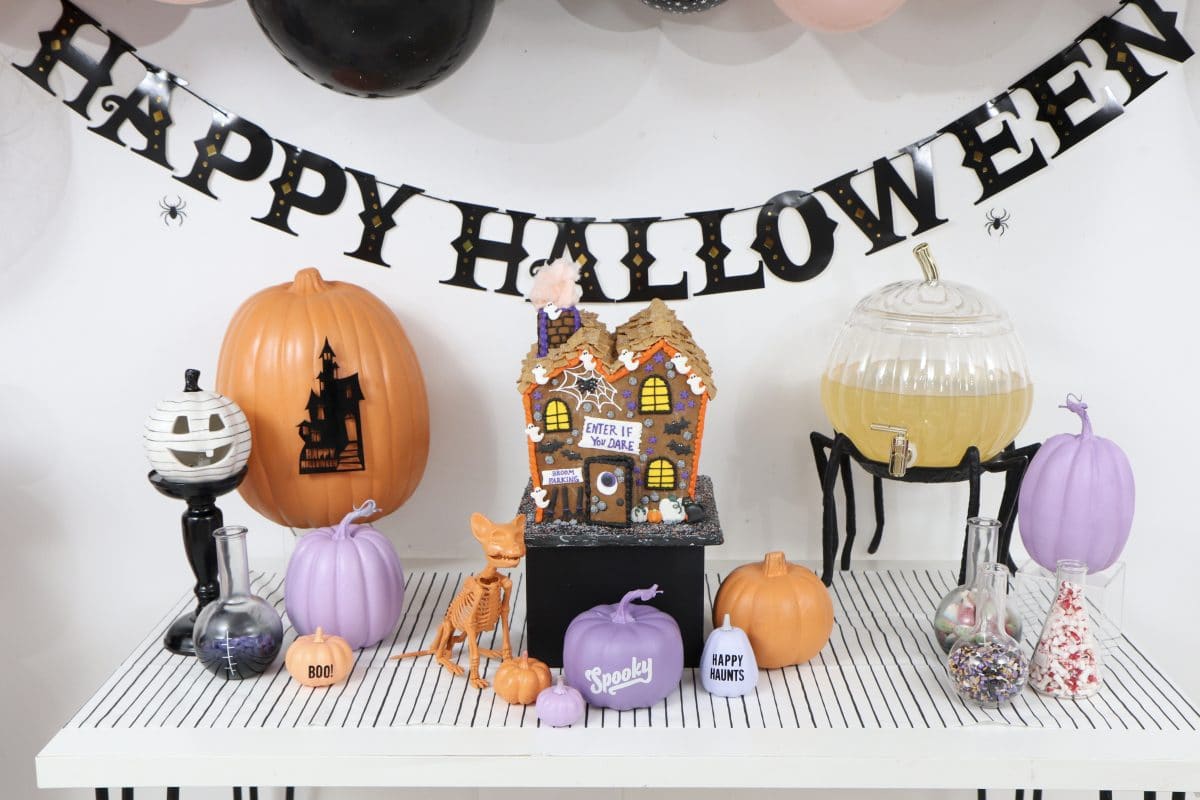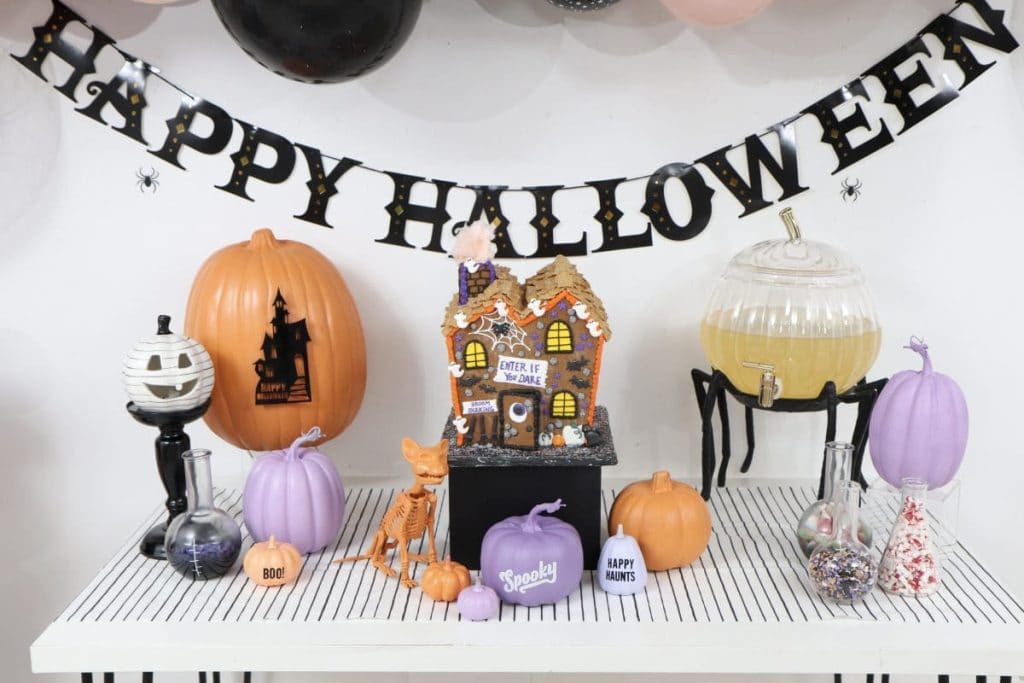 Table Setting
Then I set the dining and decorating table. I used a matching black and white striped fabric tablecloth, and arranged a black star garland around the table for more decor. In the center of the table, I used a trio of hanging cauldrons to serve as a centerpiece, as well as to hold more gingerbread house candy decorations. The cauldrons hung over a tray of more edible Halloween-themed gingerbread house decorations.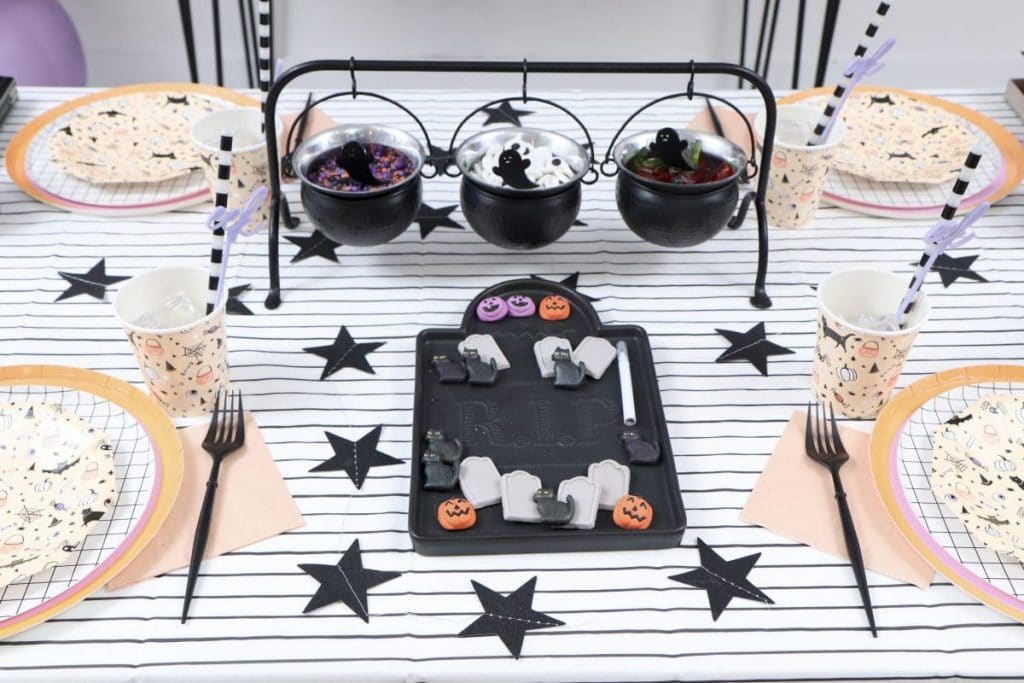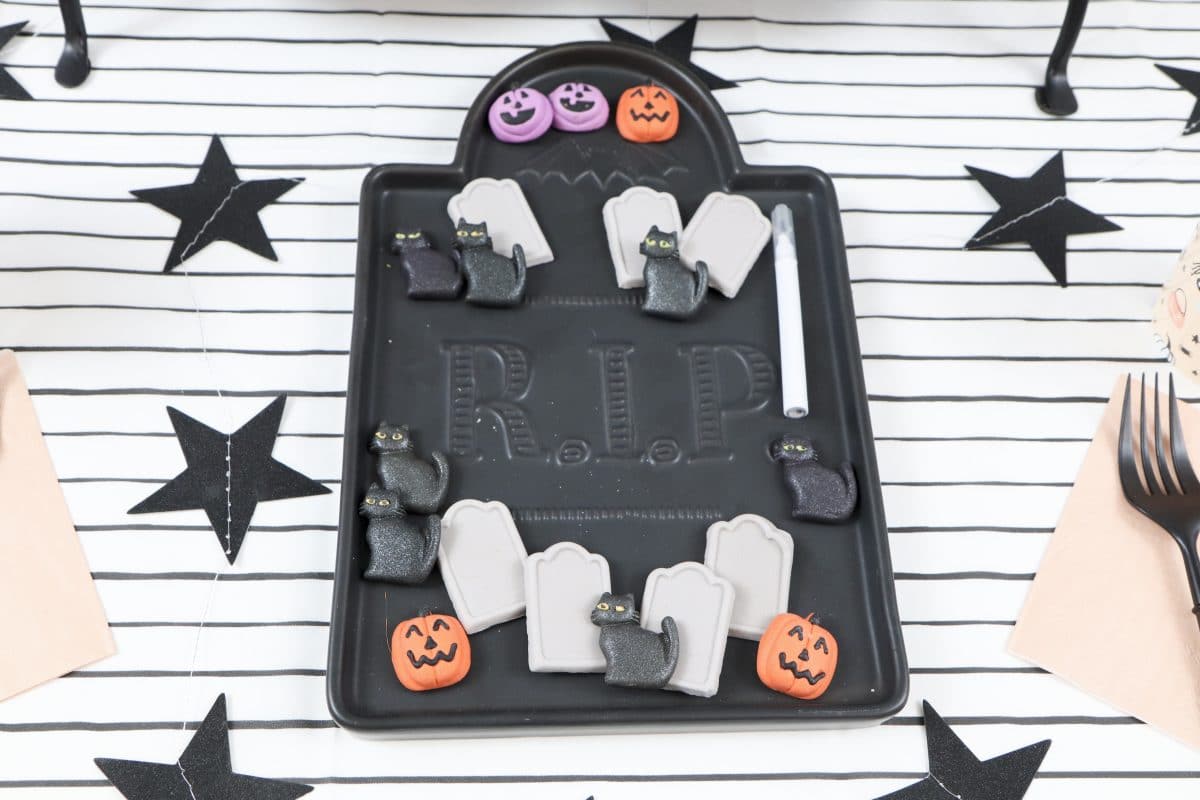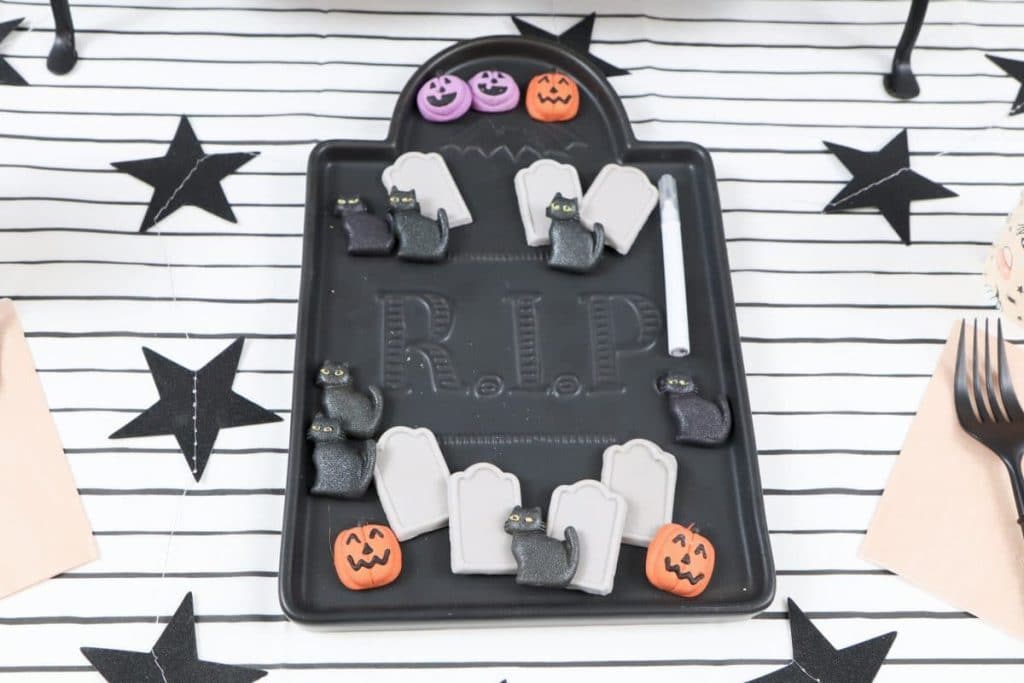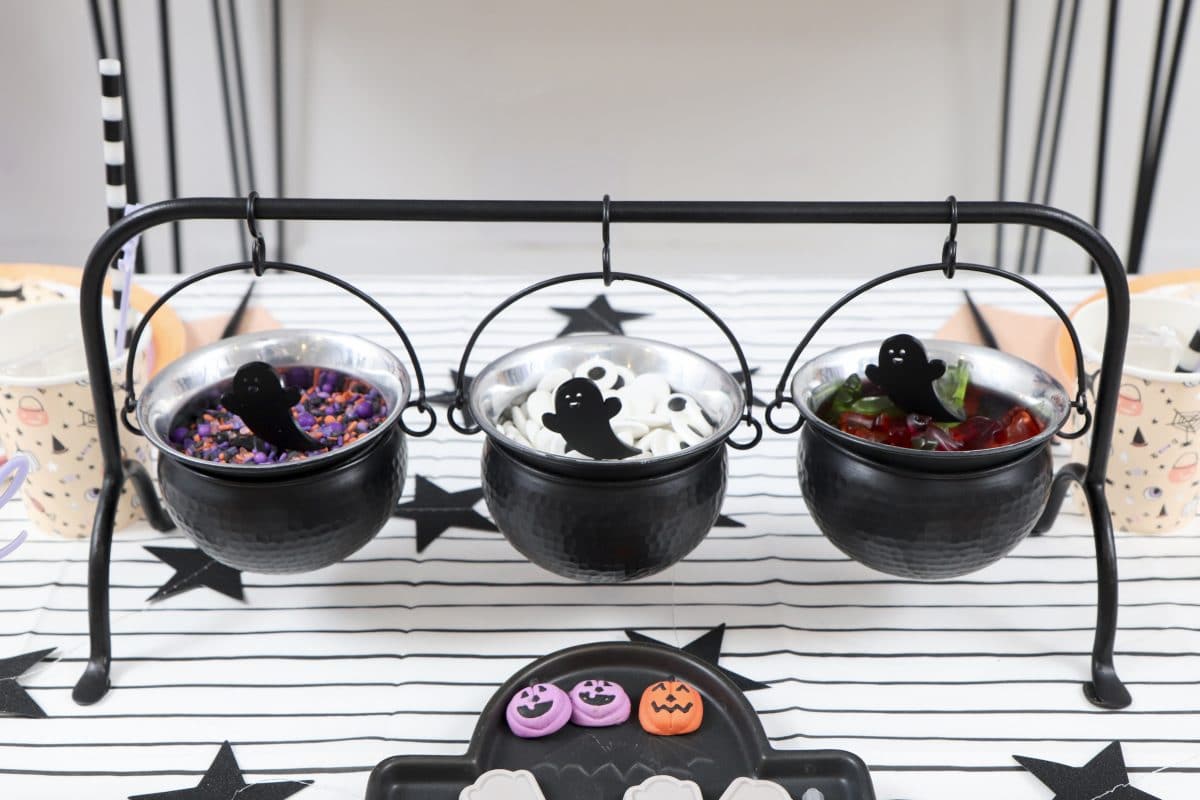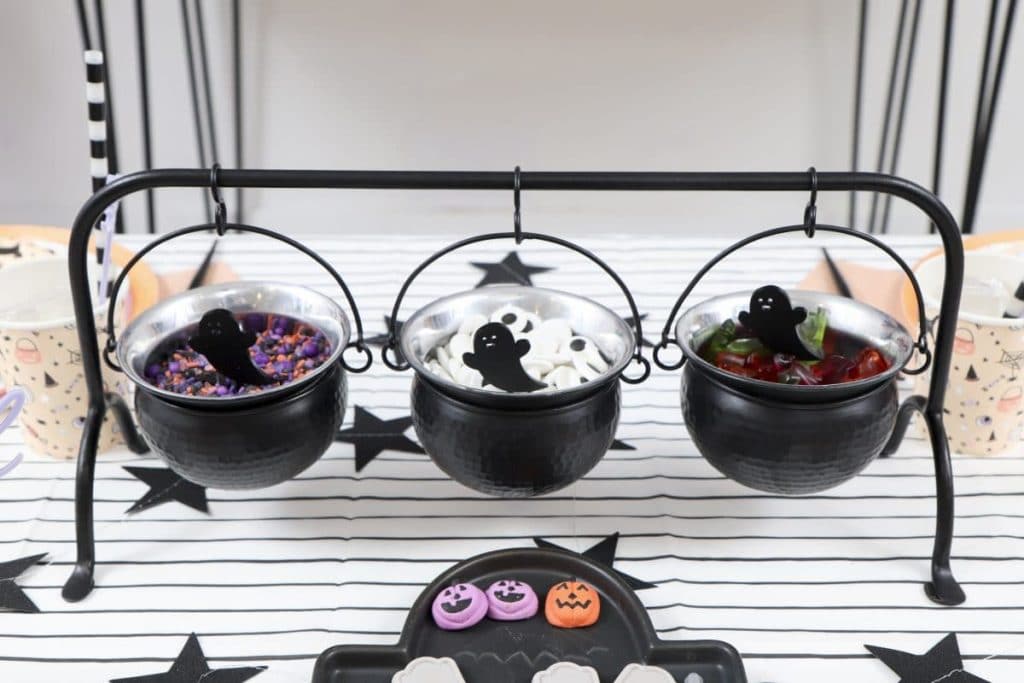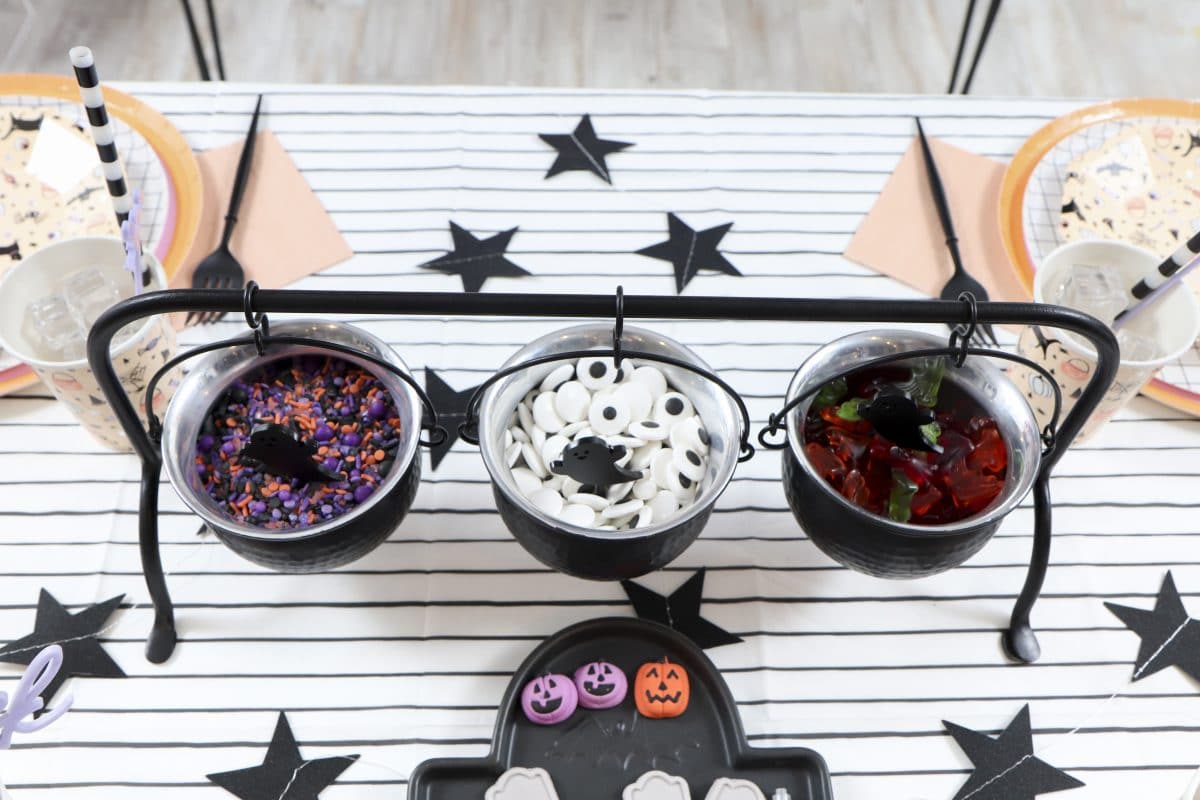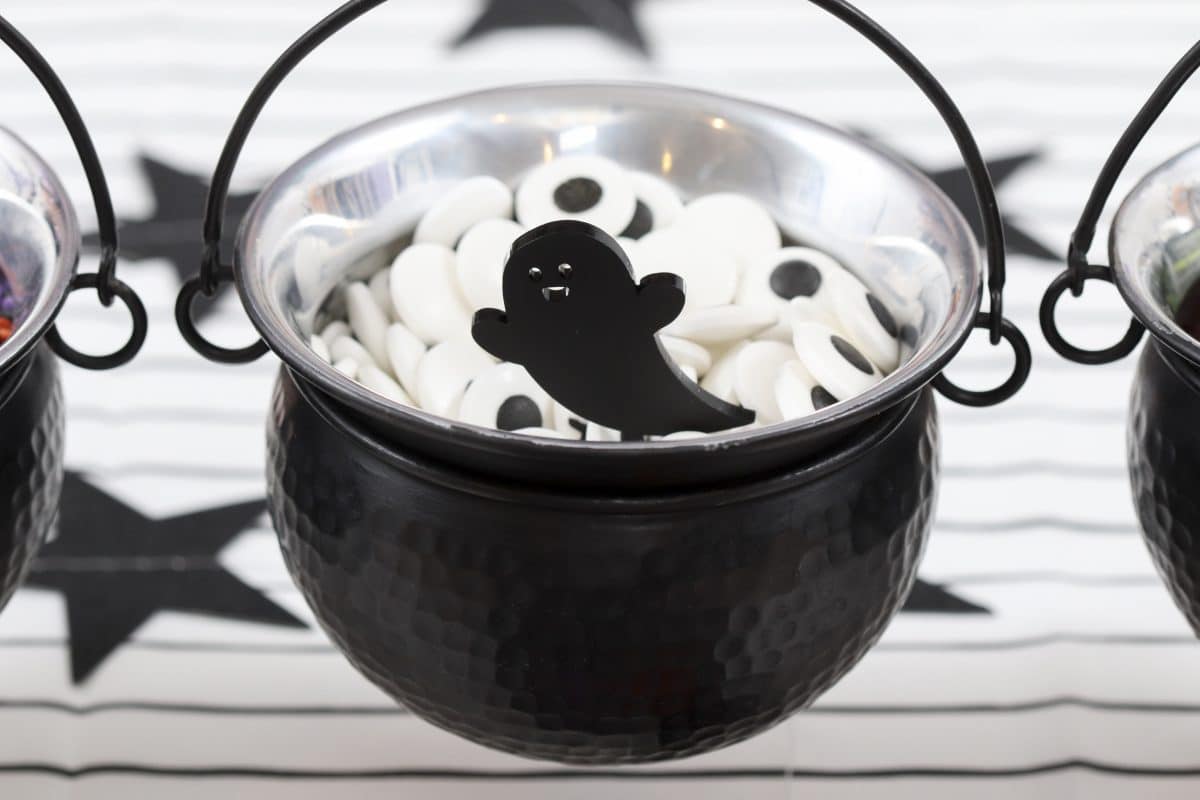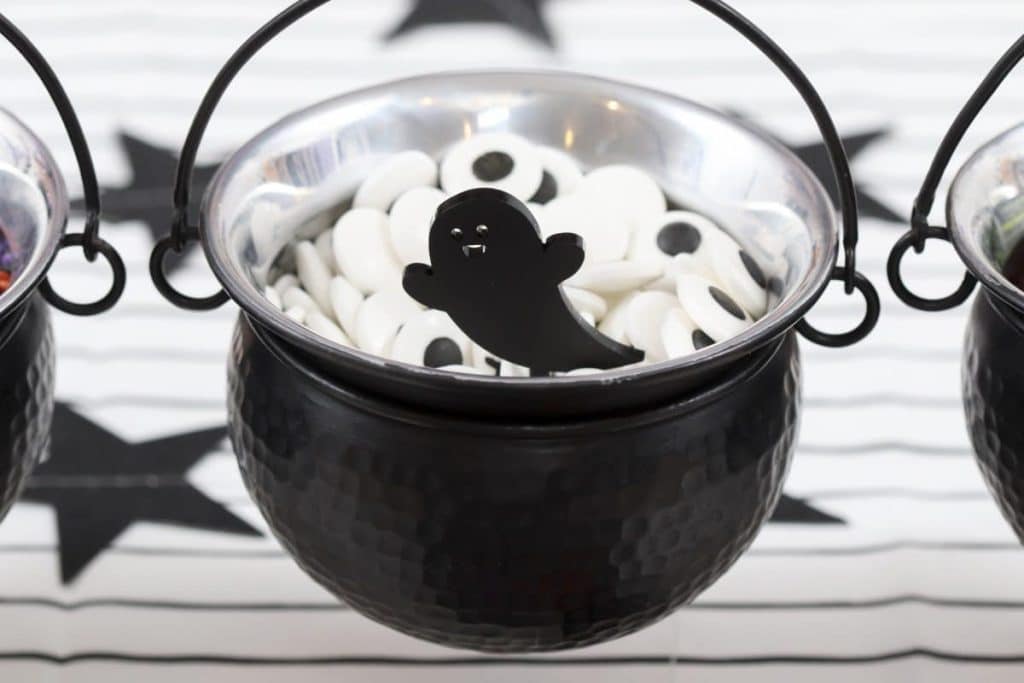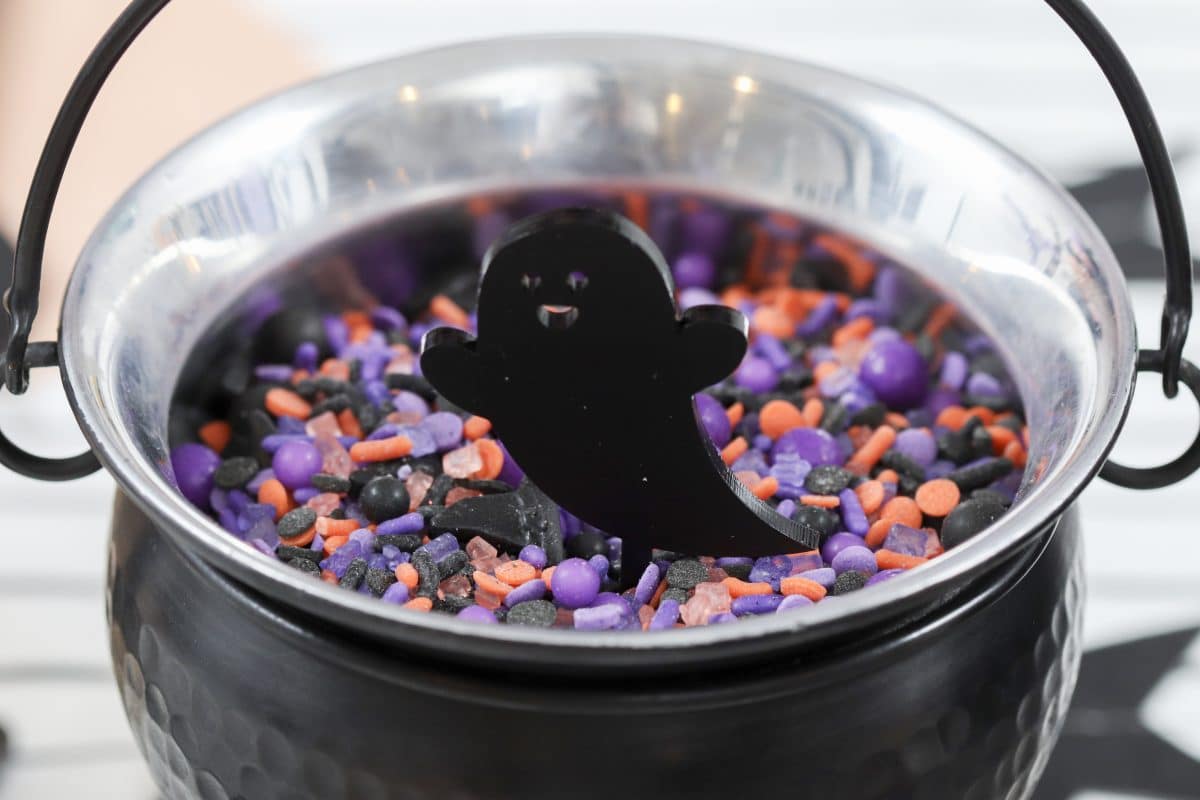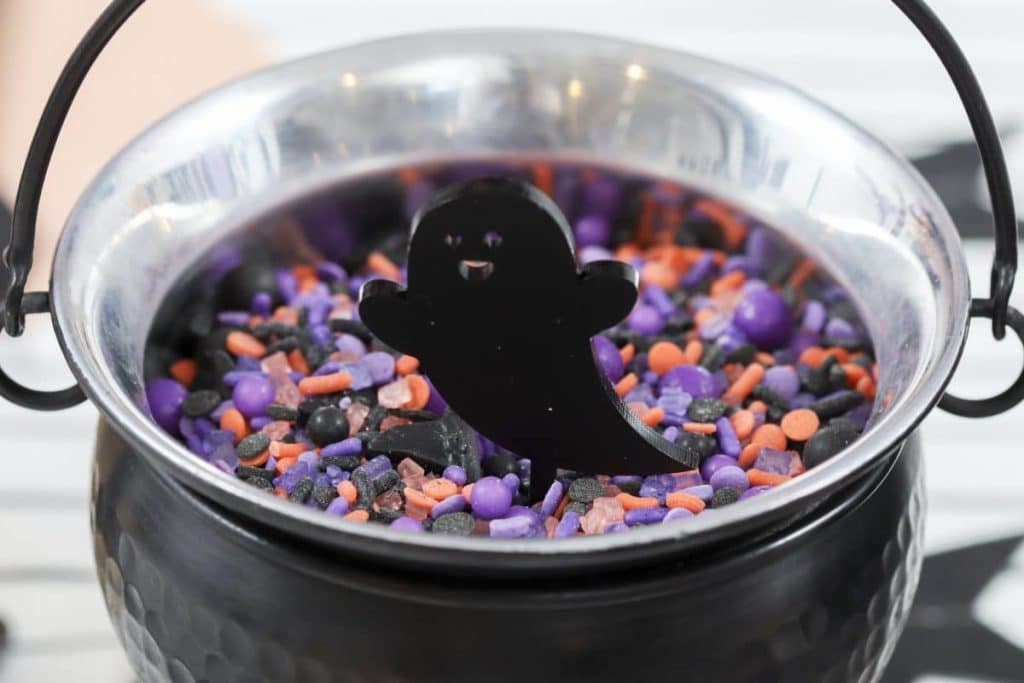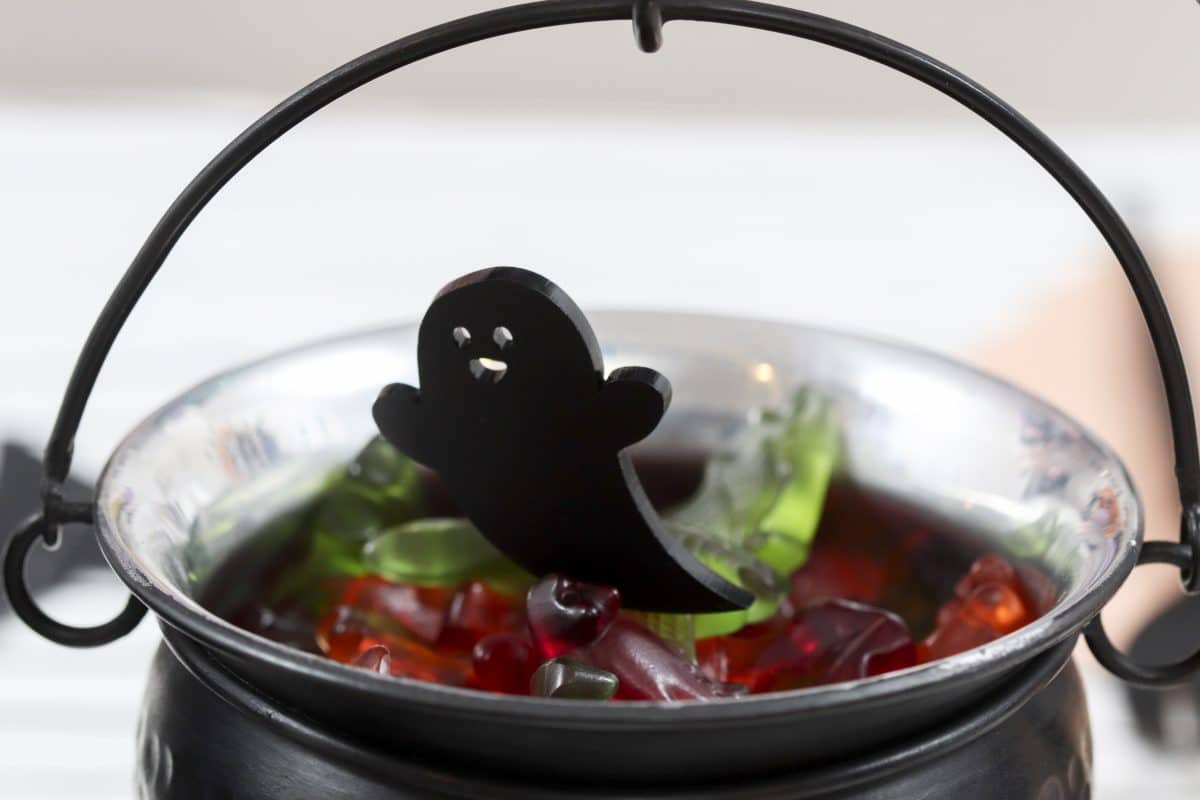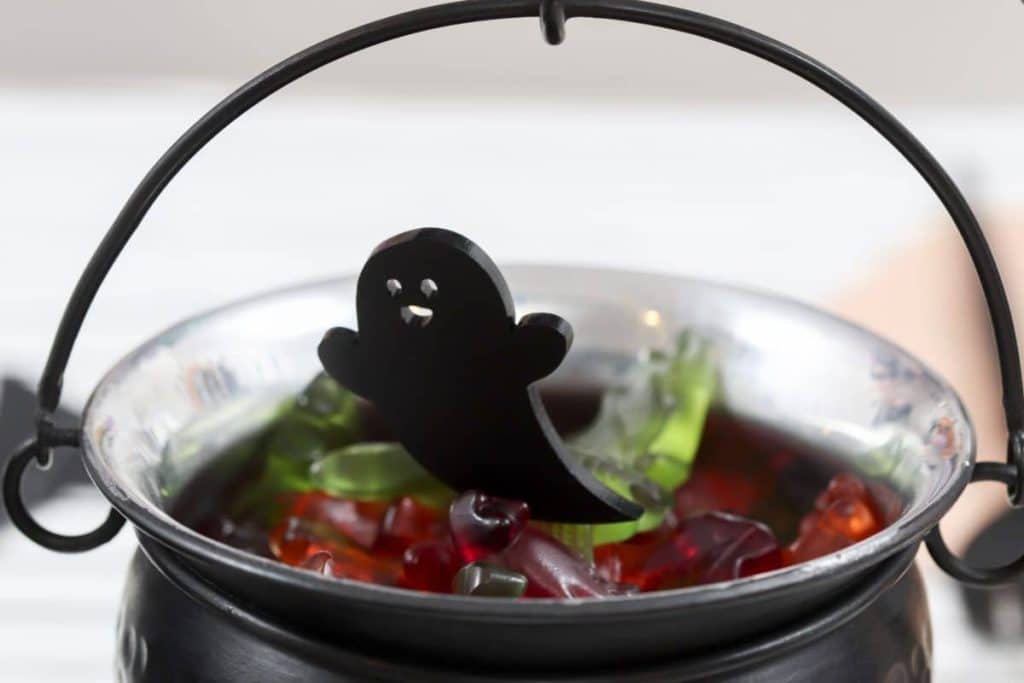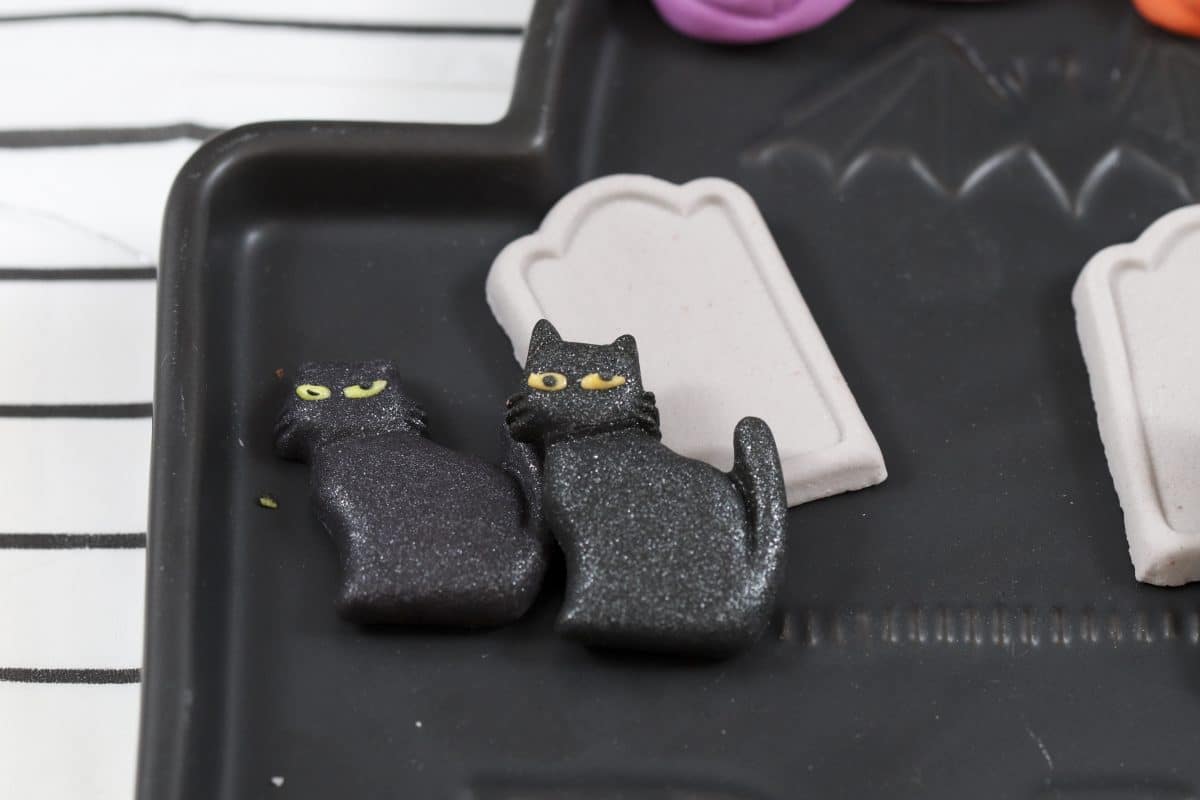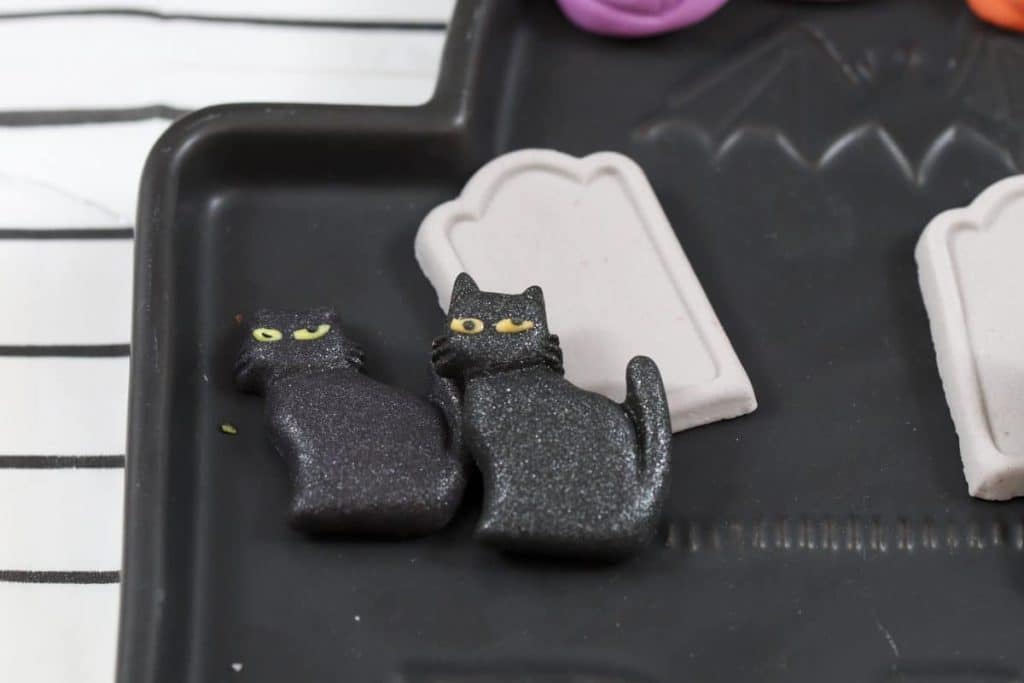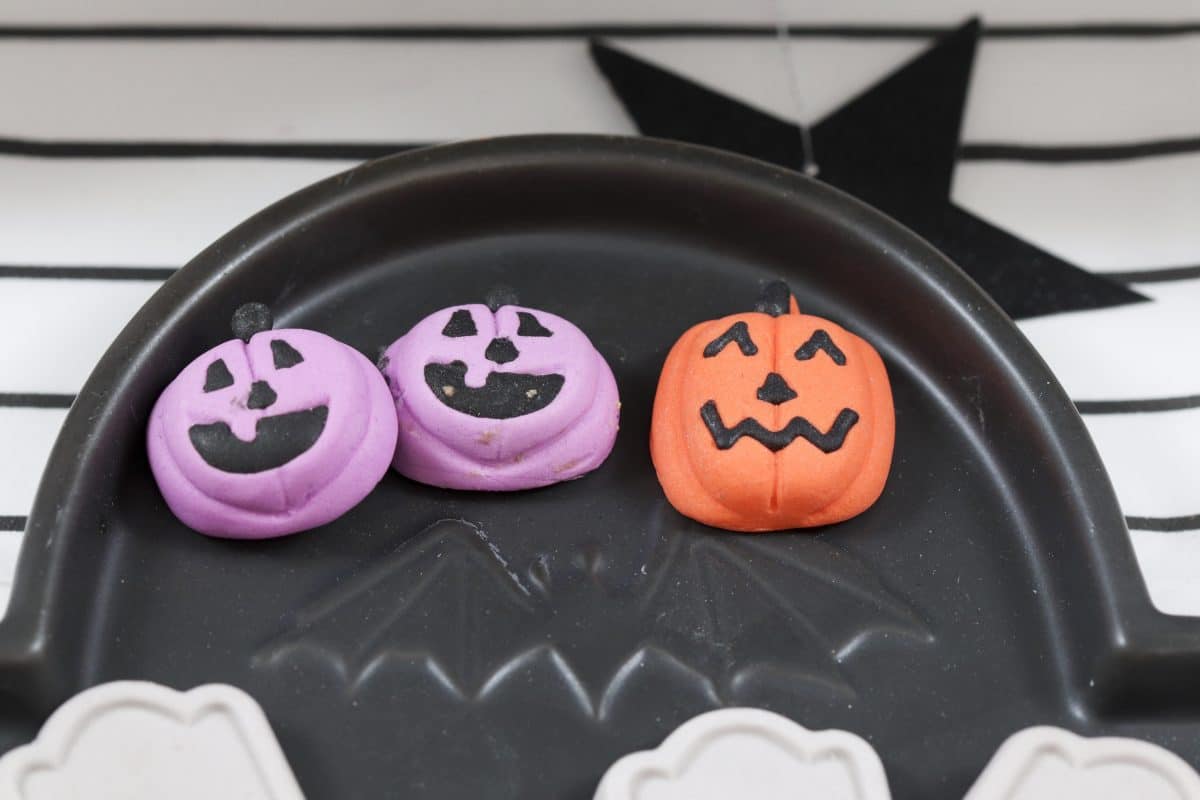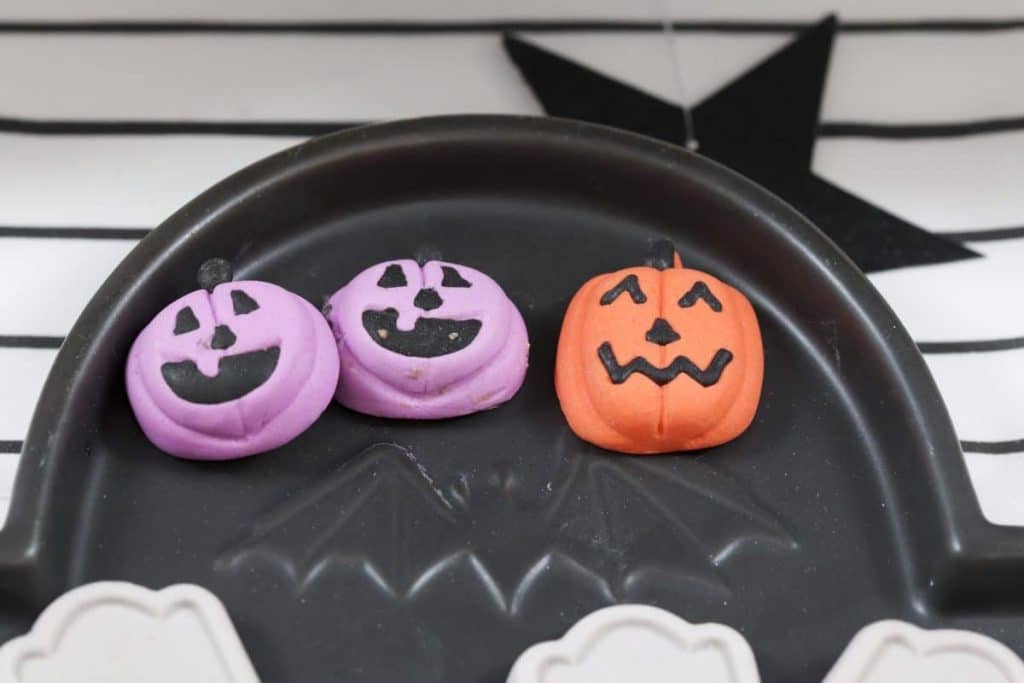 Place Settings
Next, I layered large peach and lavender color blocked plates with black and white grid plates and MeParty's Hocus Pocus Small Plates. I added a peach napkin, black plastic fork to each place. Then, Hocus Pocus Cups from MeParty with black and white striped straws and cute lavender "eek" stirrers.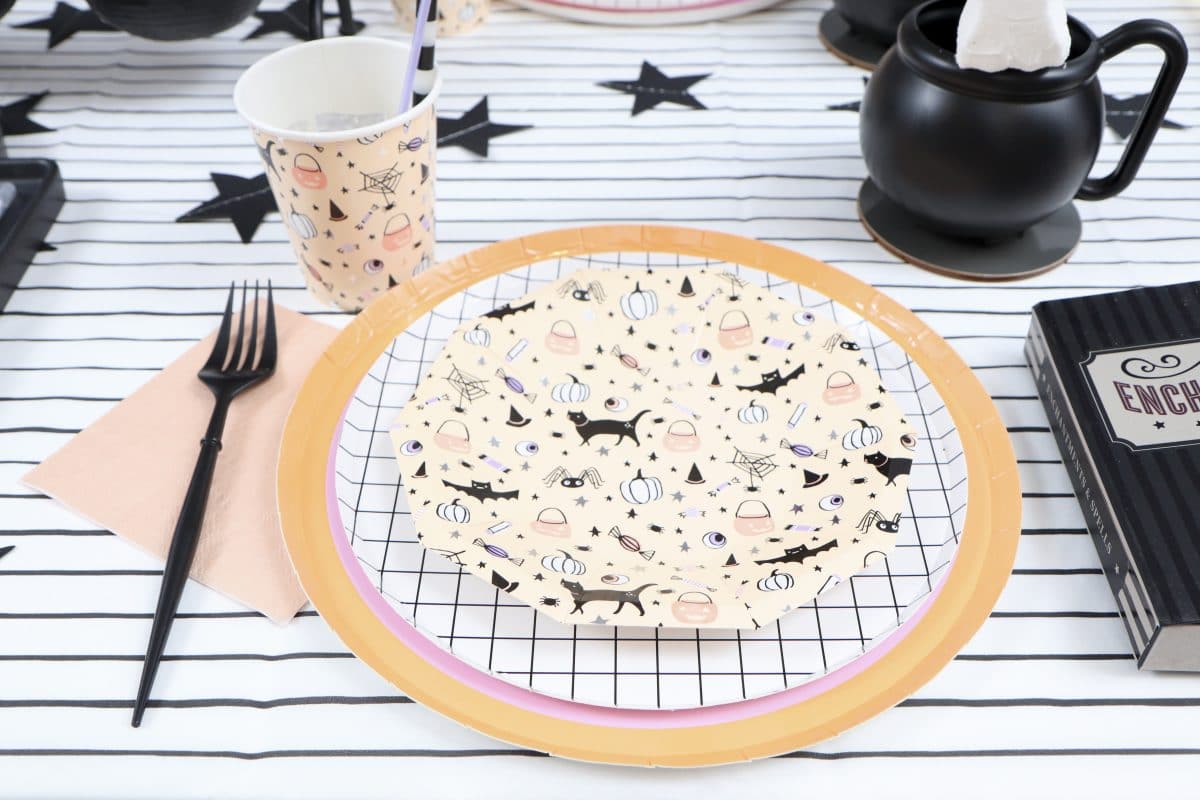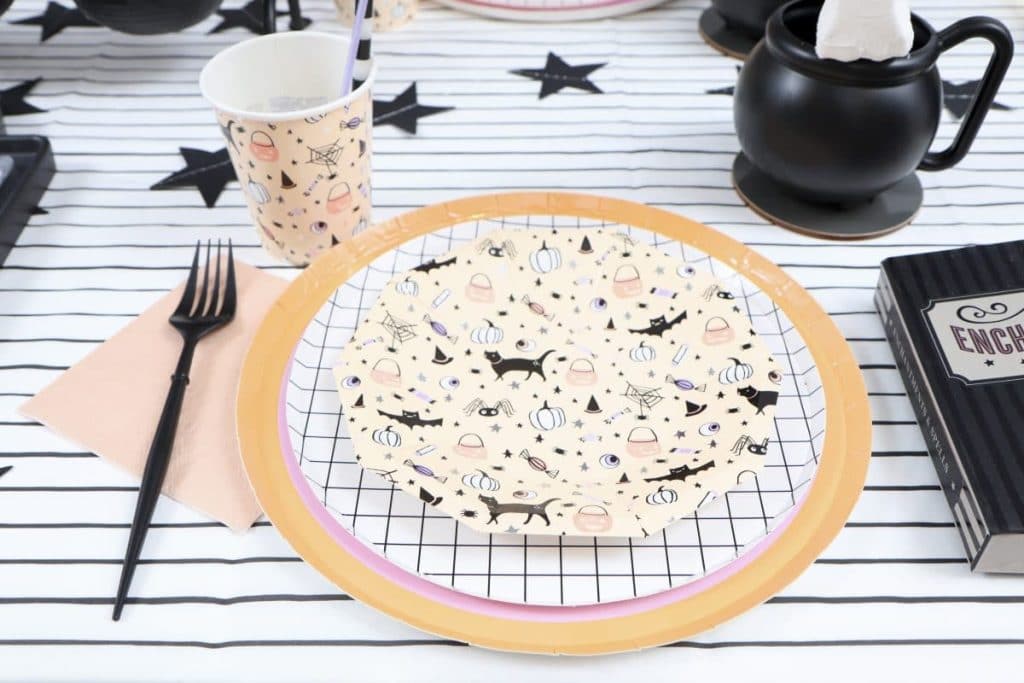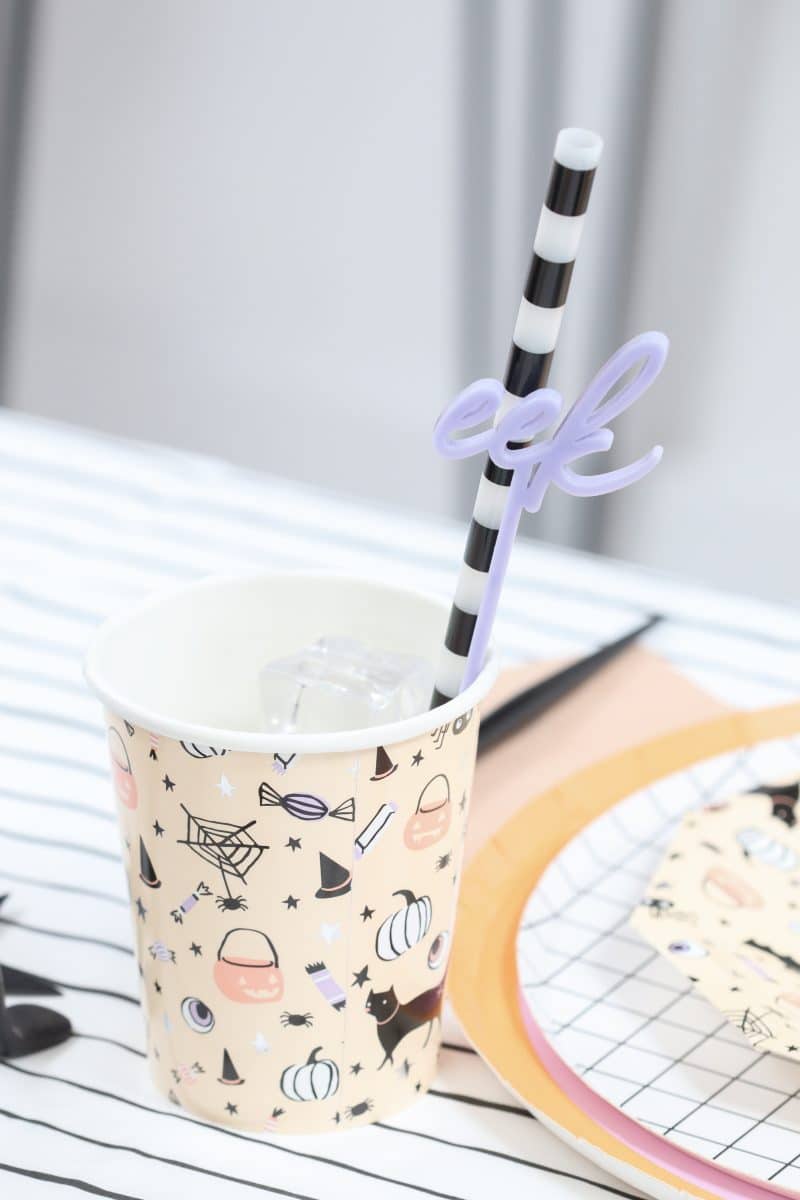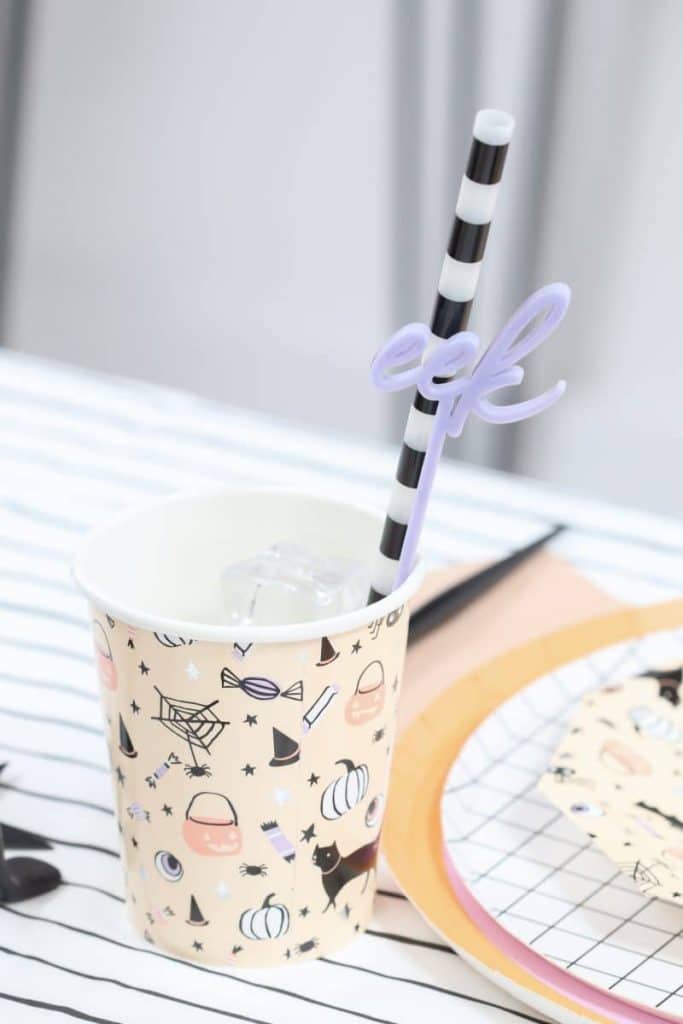 In addition to their drinks with dinner, I provided each guest with a cauldron mug on a "witch's brew" coaster, complete with ghost marshmallow, for some hot chocolate fun while they decorated their houses after dinner.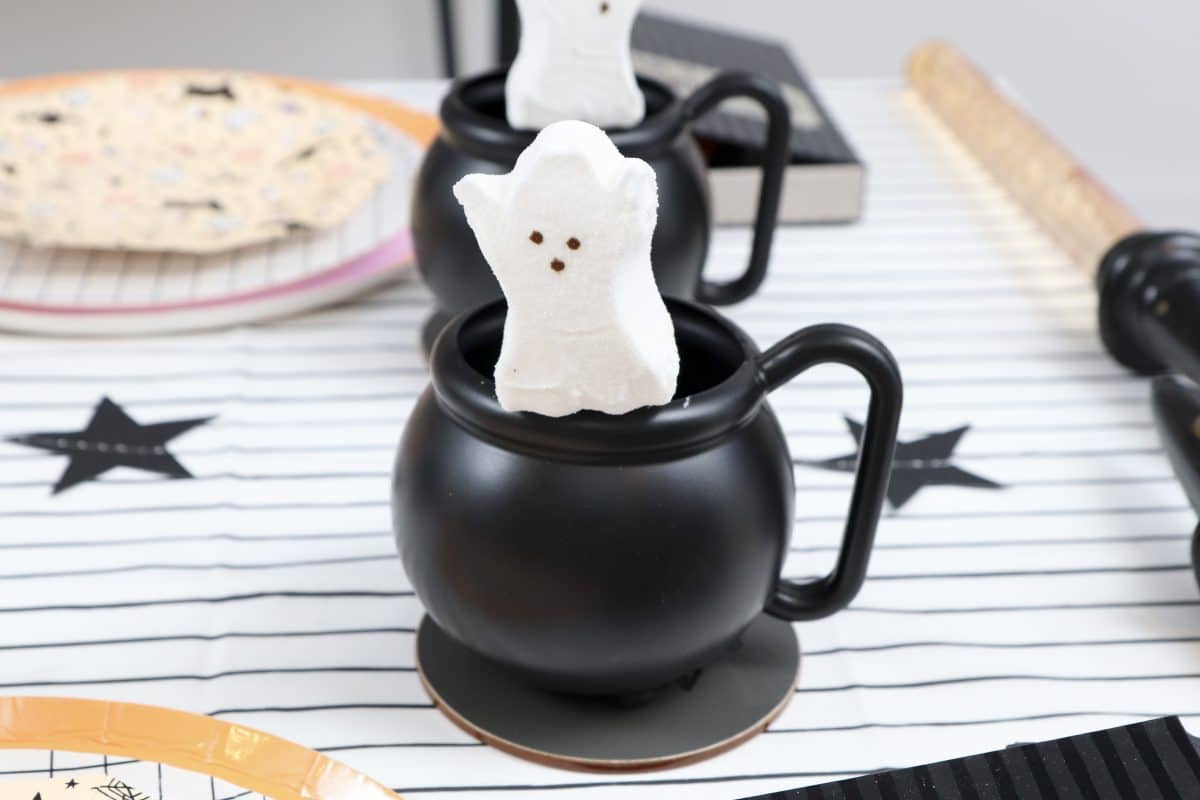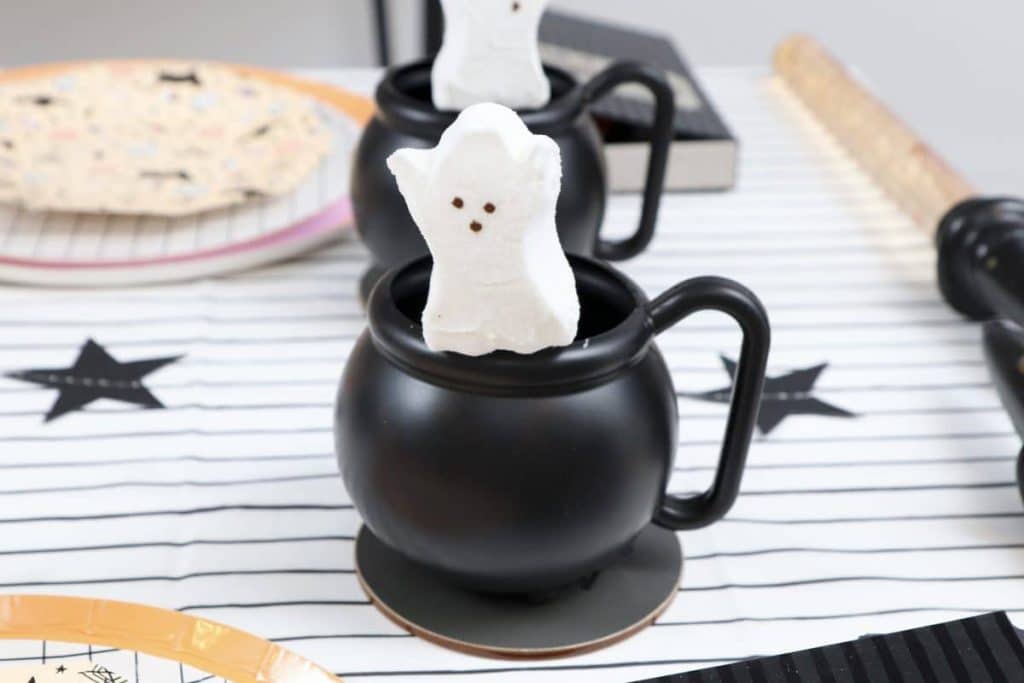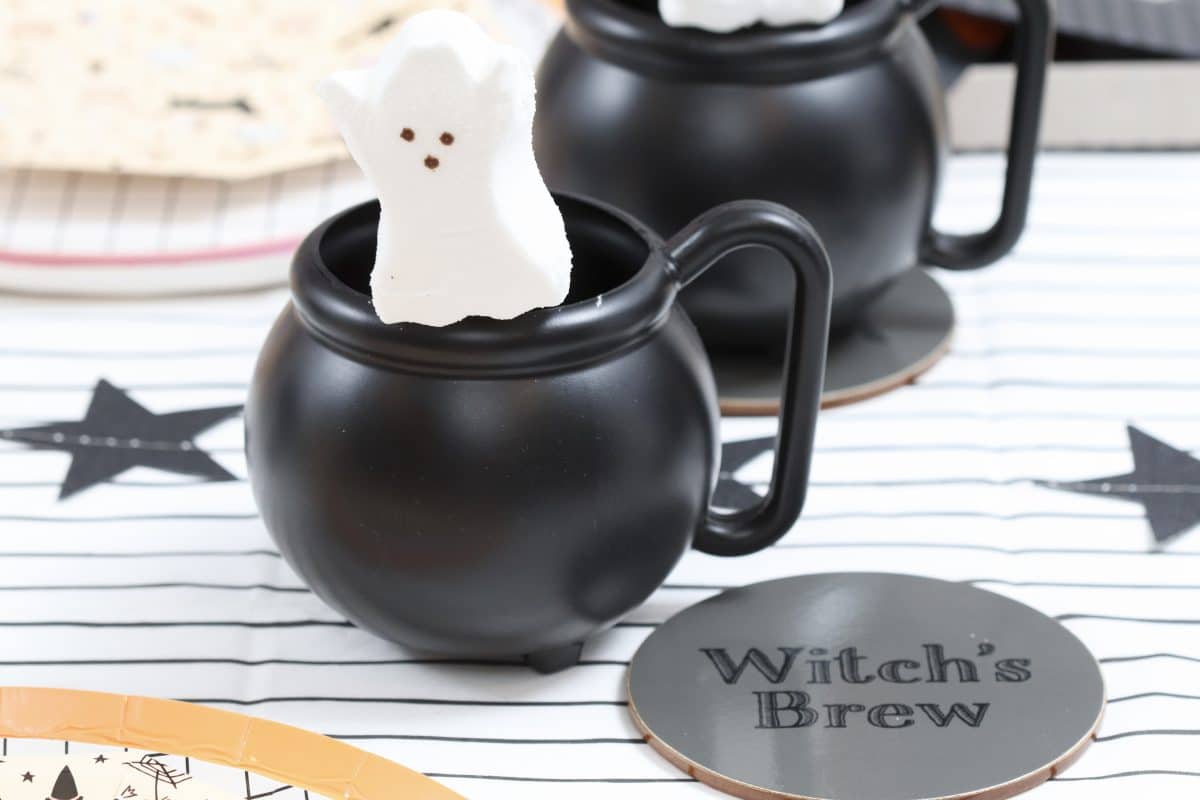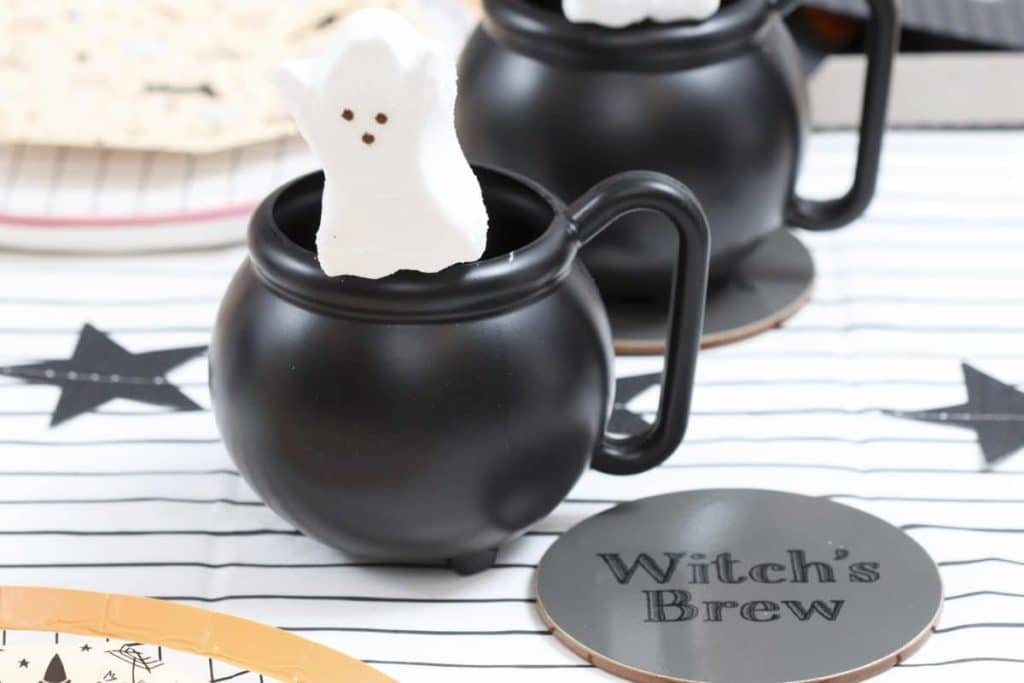 I also set a "book" of "enchantments and spells" next to each place setting. These were actually secret boxes that held their icing! Finally, I gave each guest a witch-hat bubble wand for some extra entertainment once the decorating was done.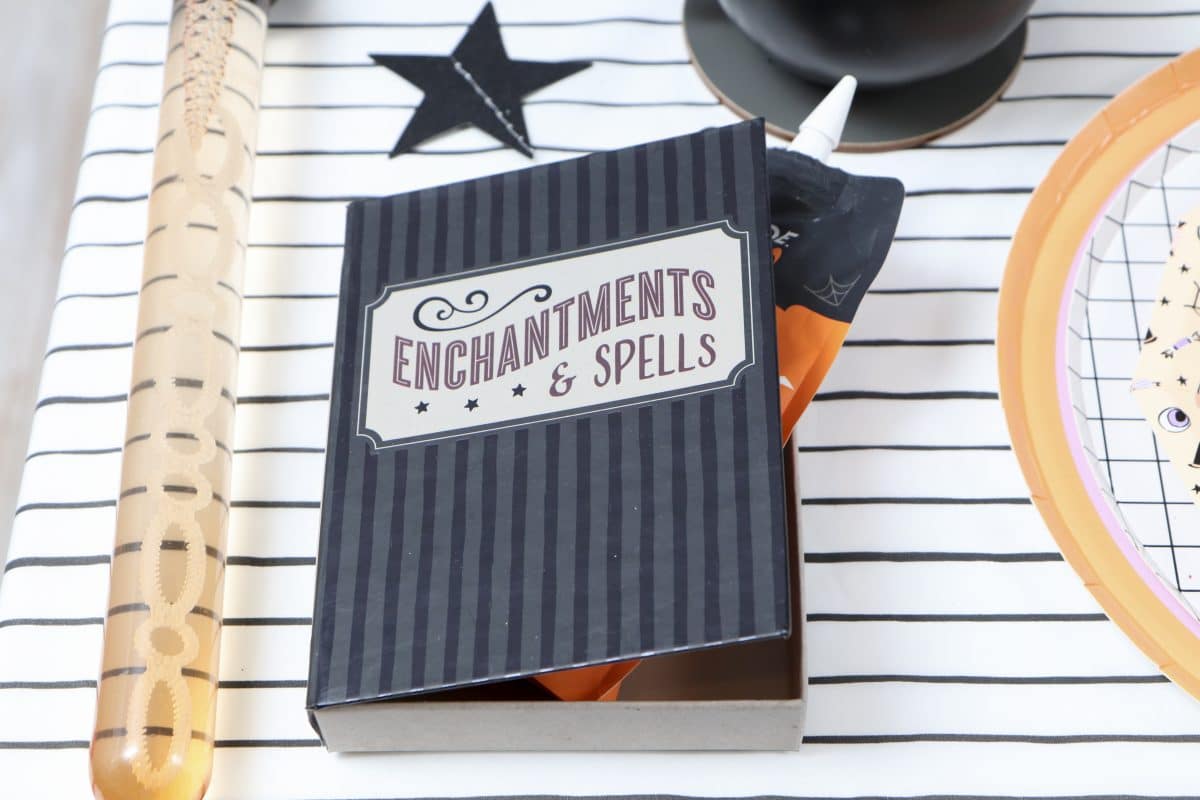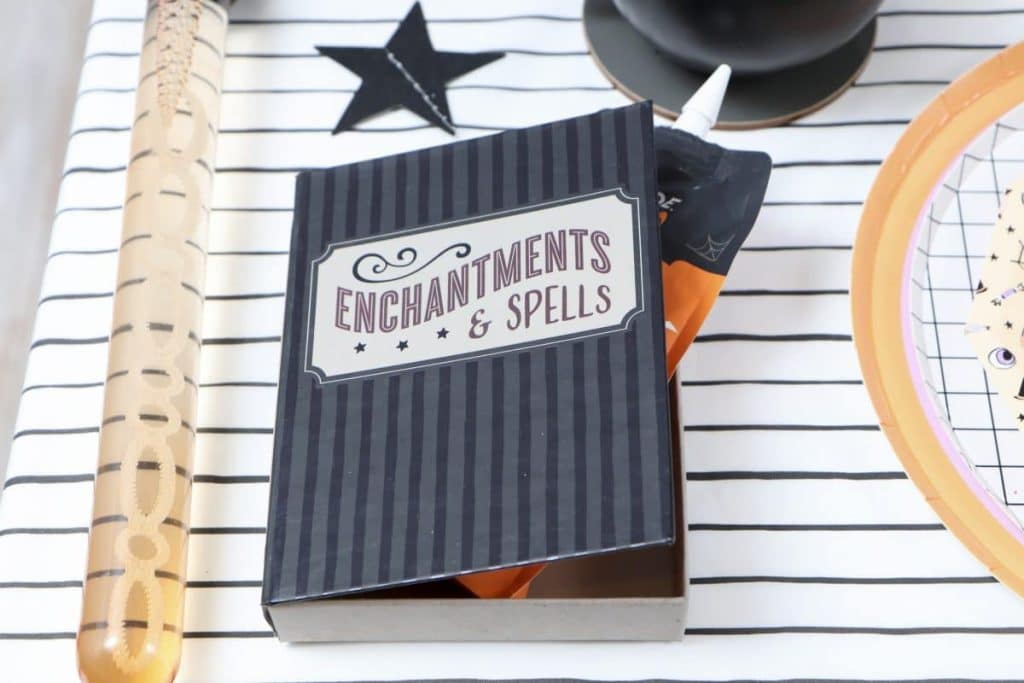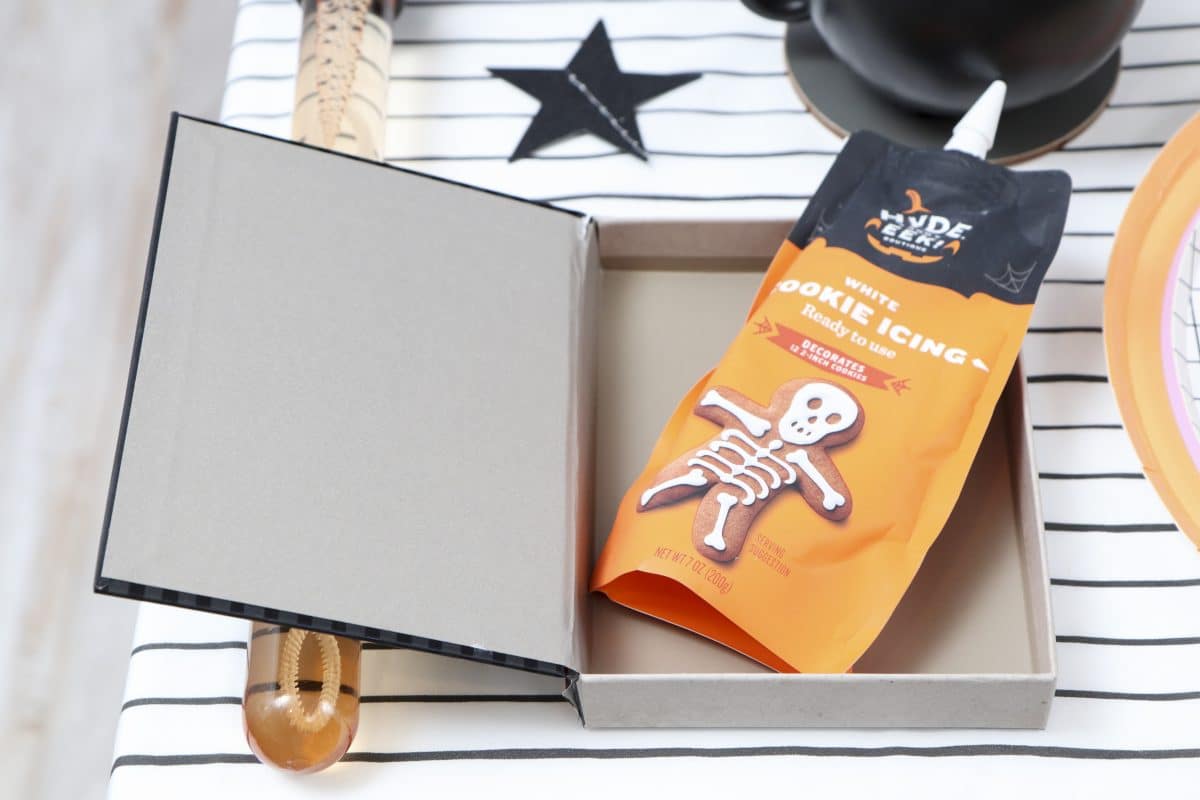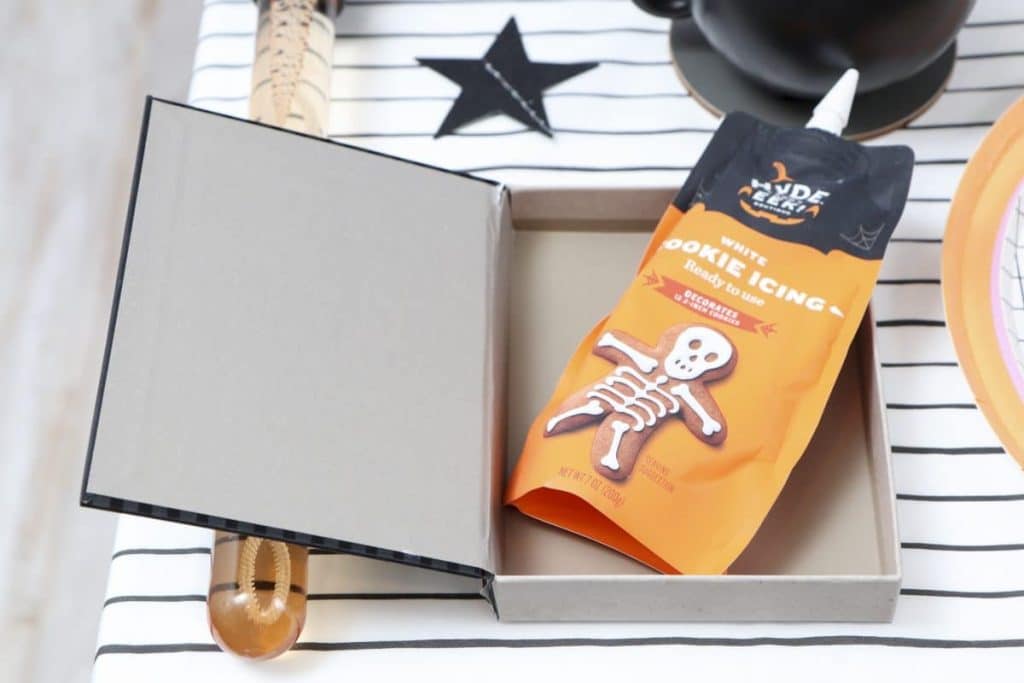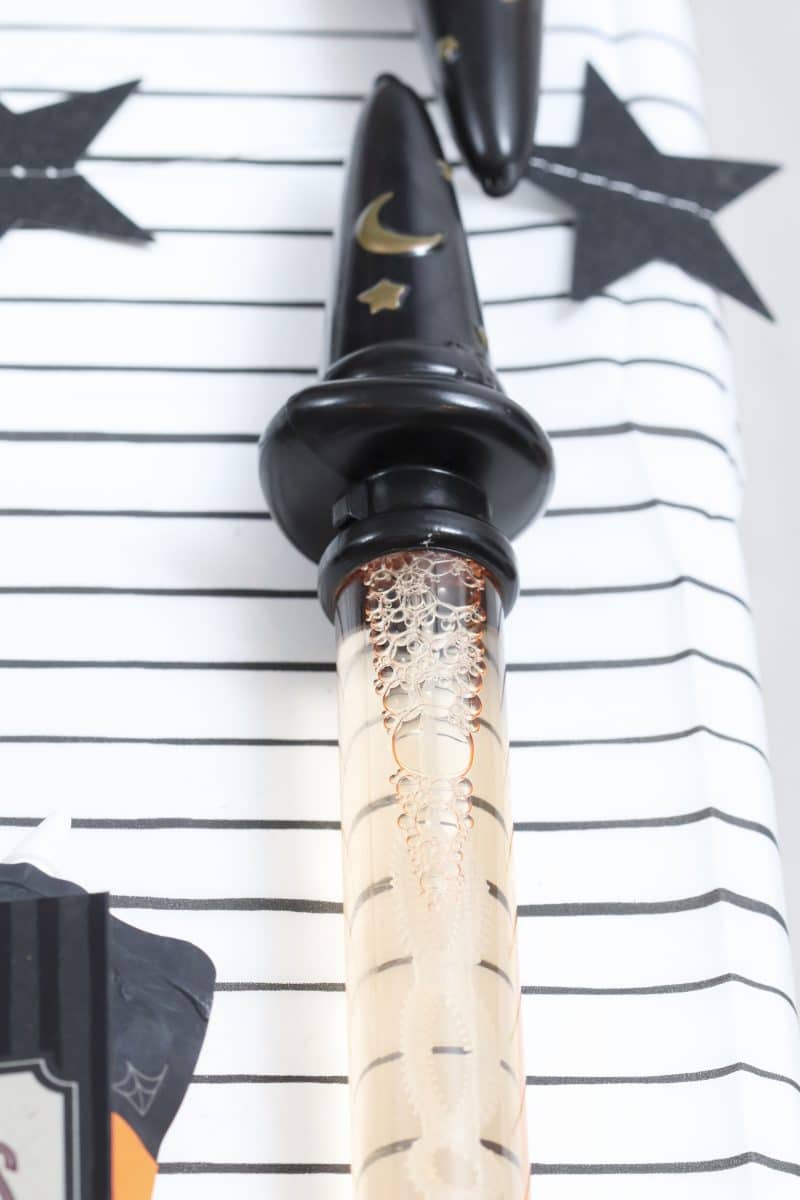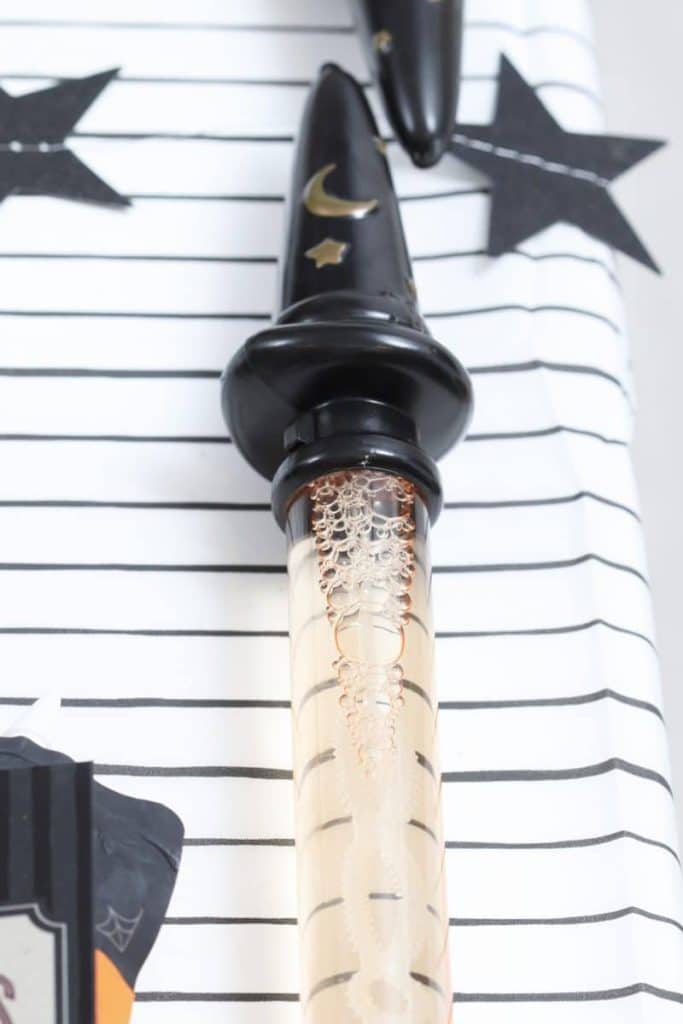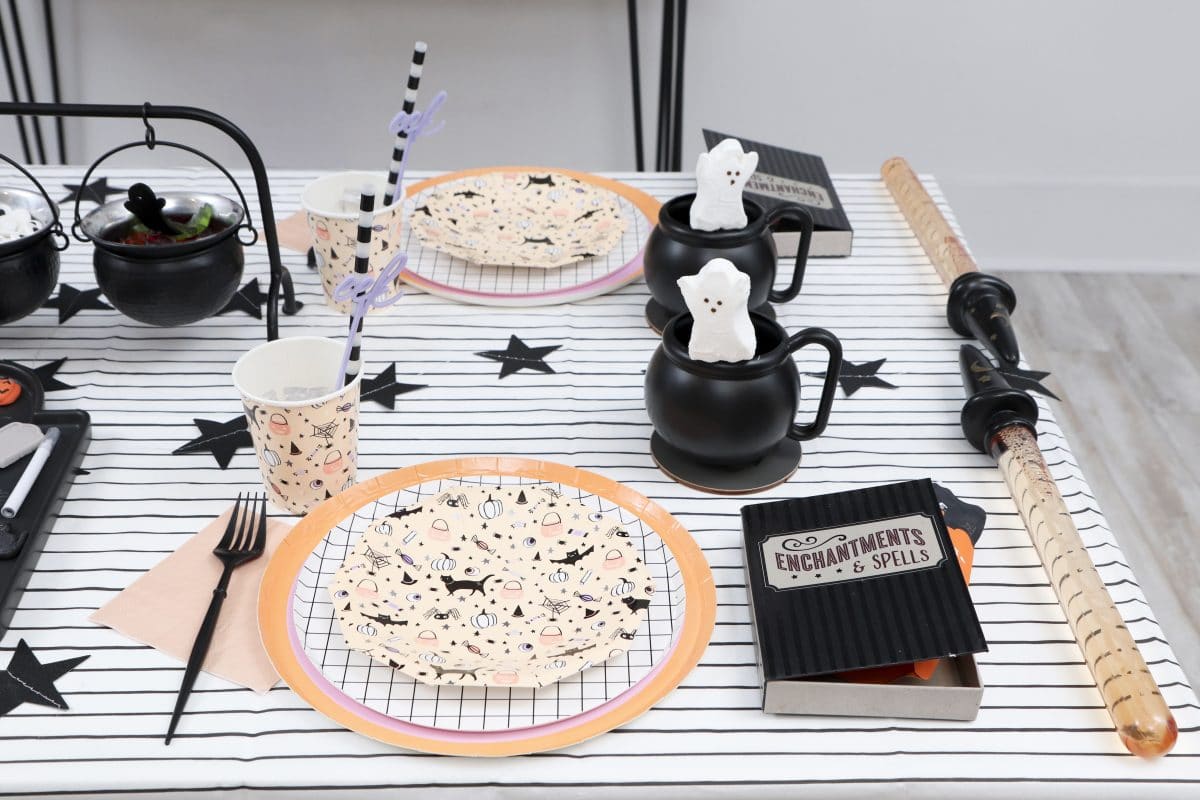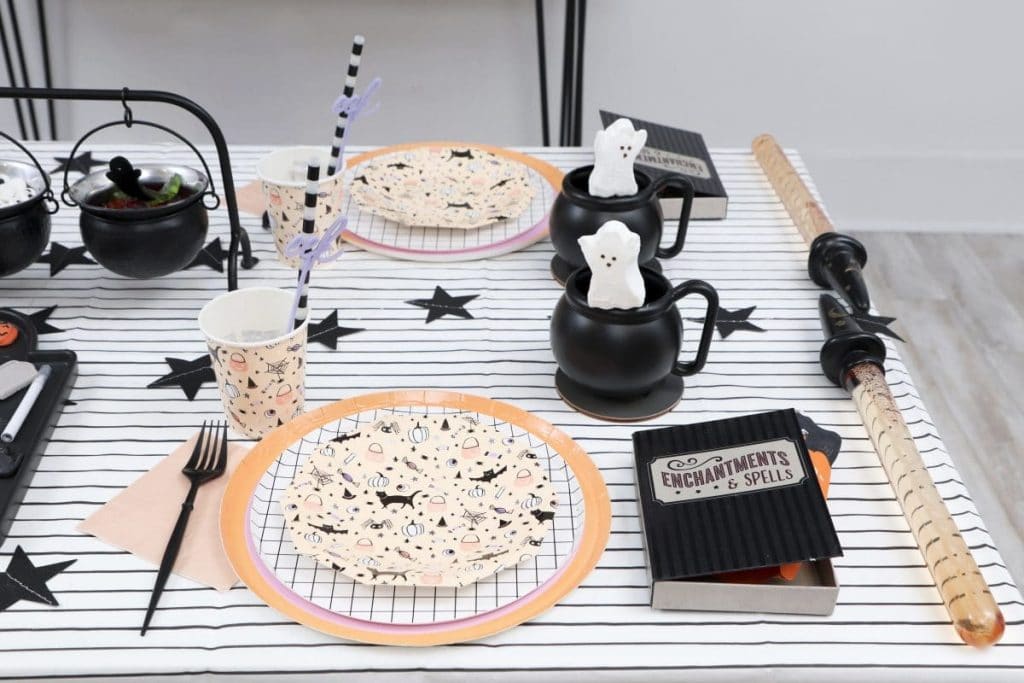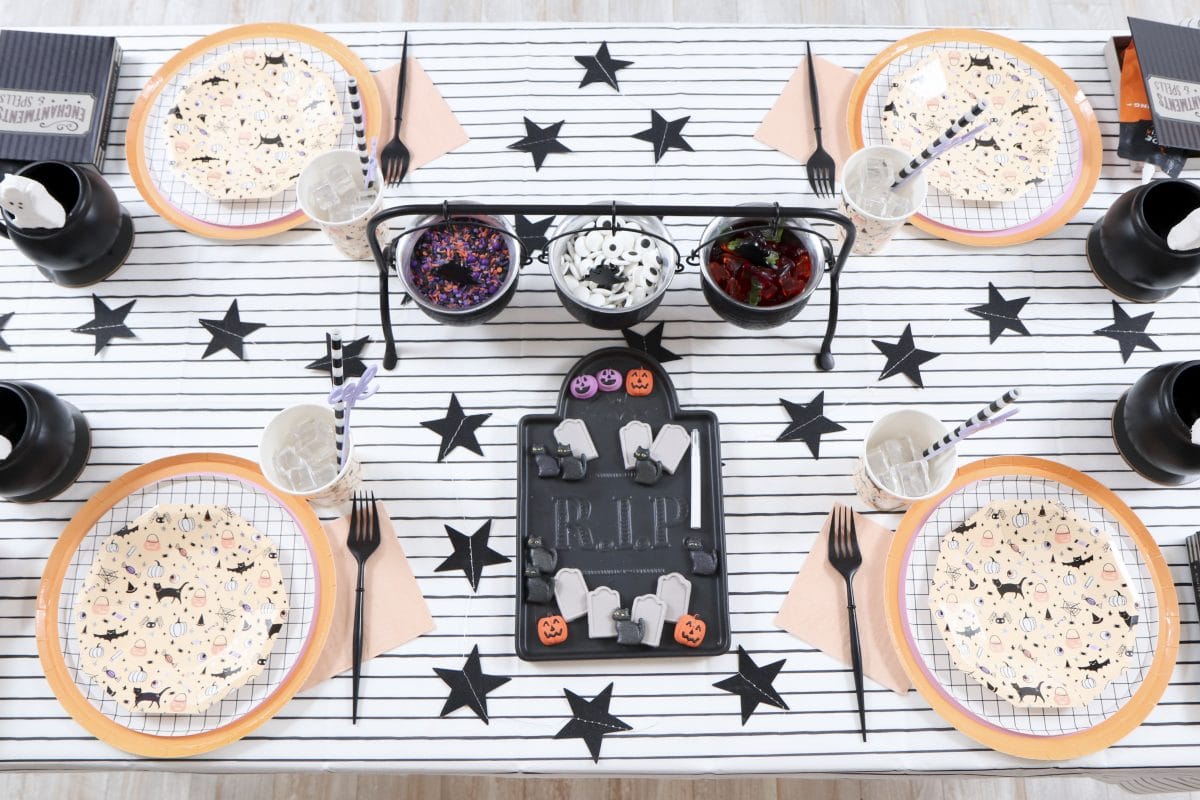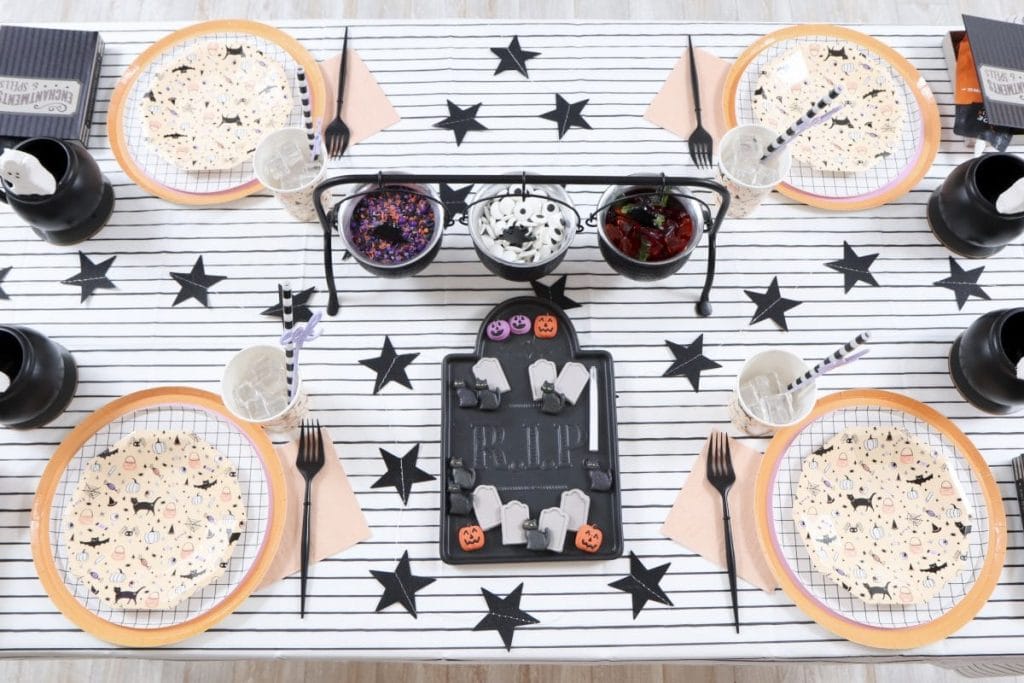 Let the Halloween Gingerbread House Decorating Begin!
Once dinner was over, it was time to decorate! I provided each guest with a small gingerbread house.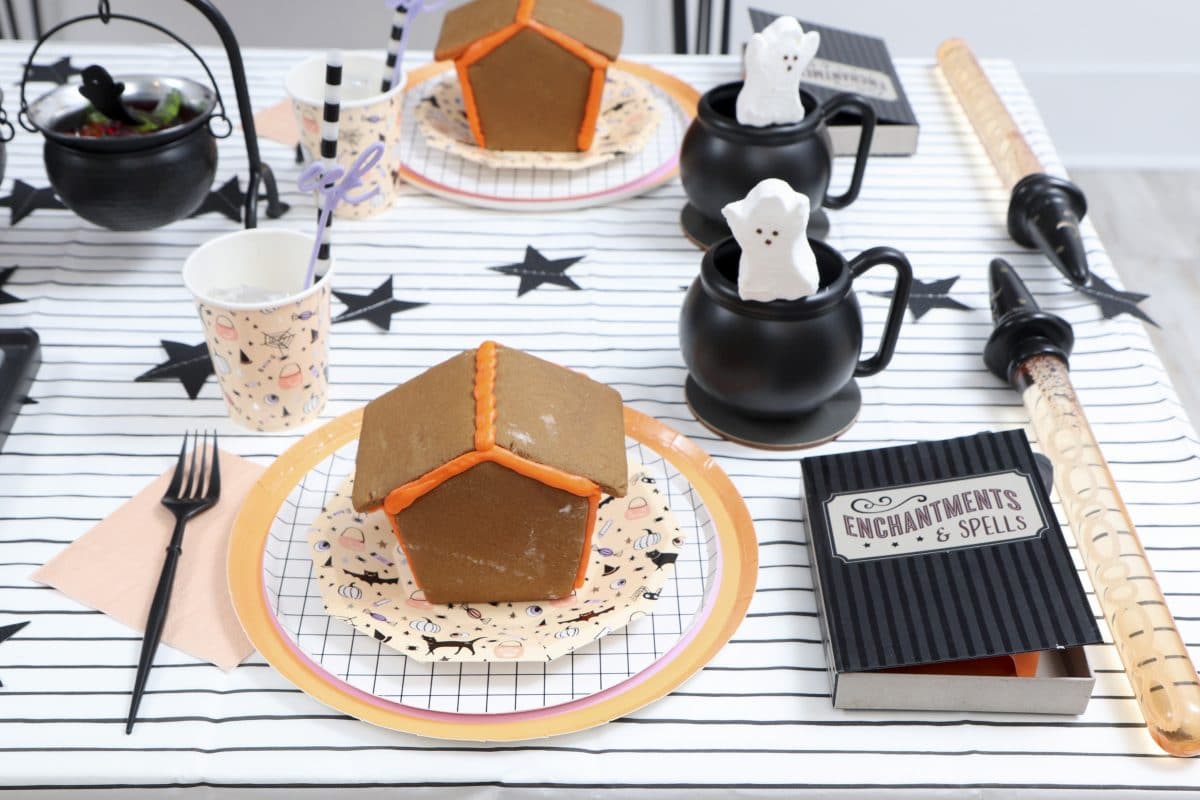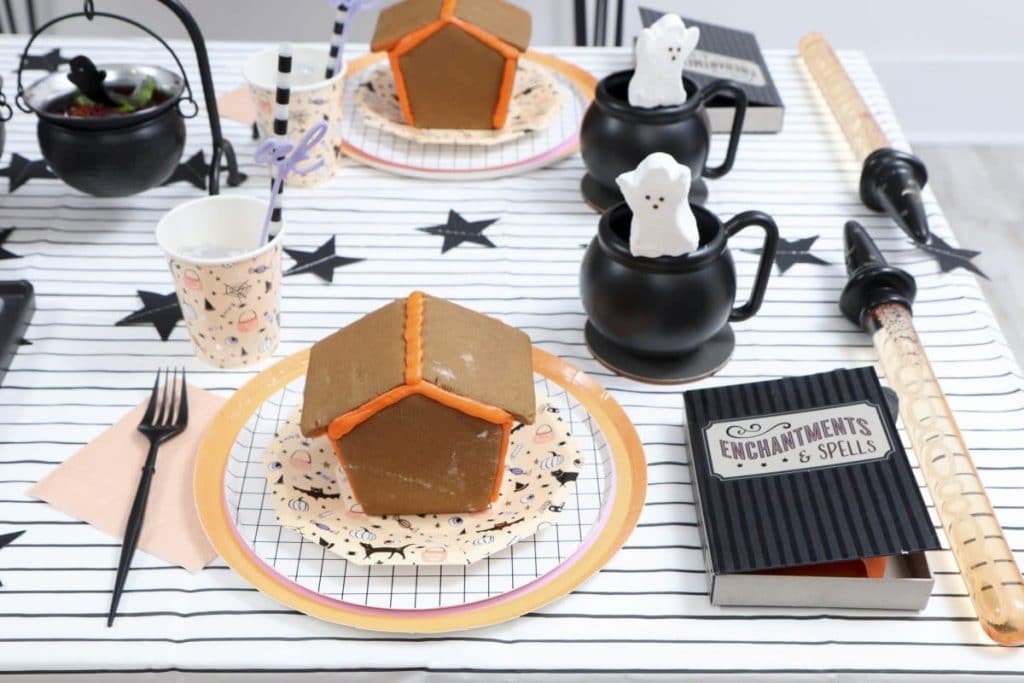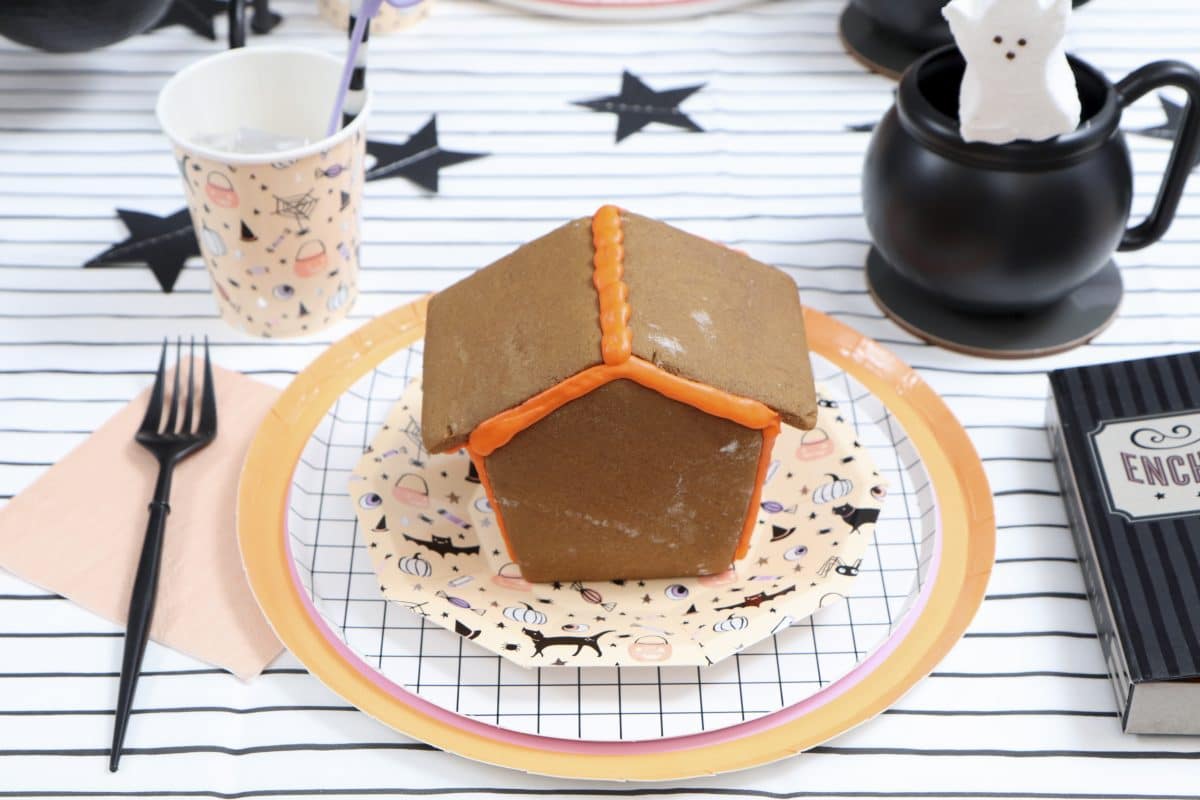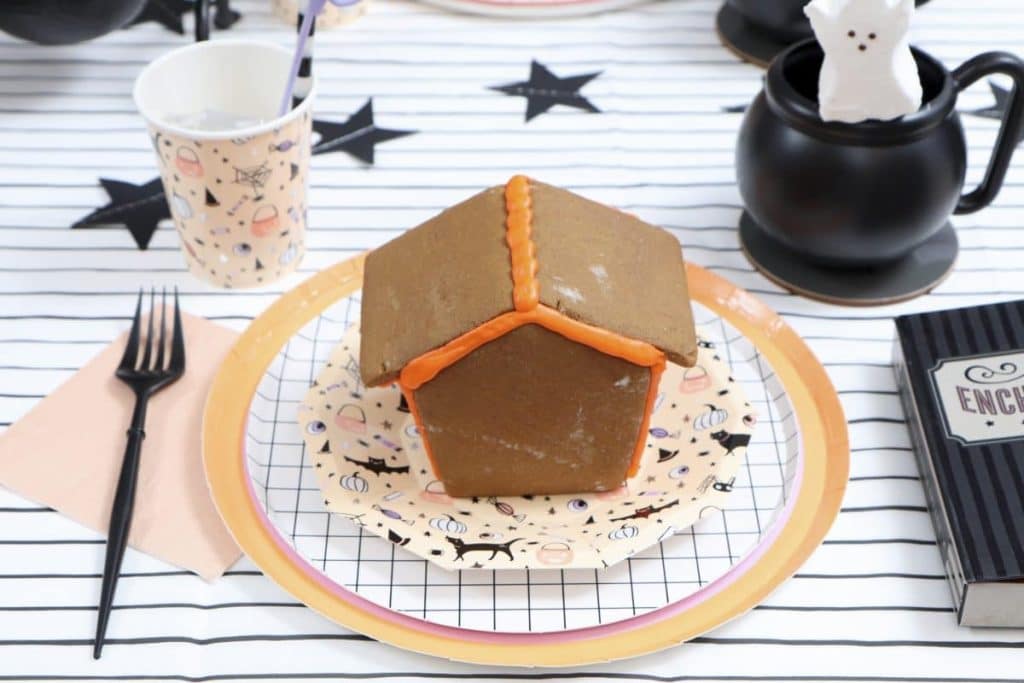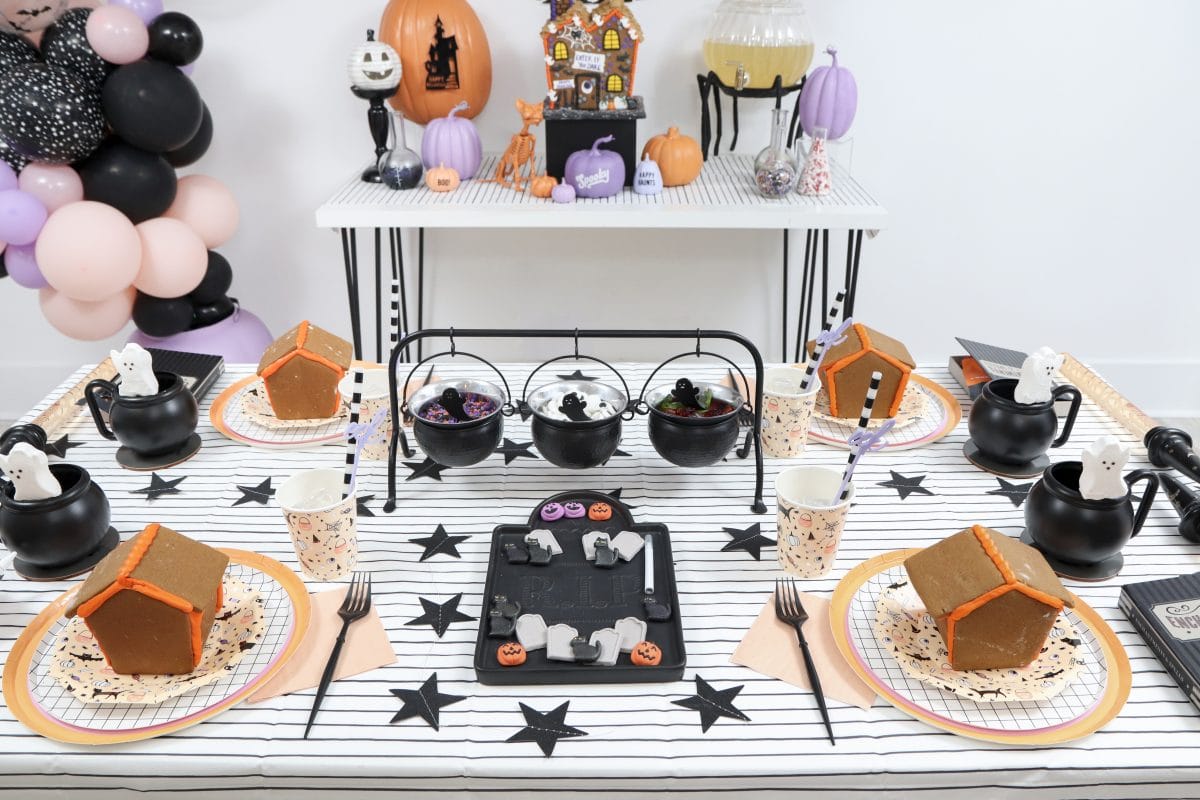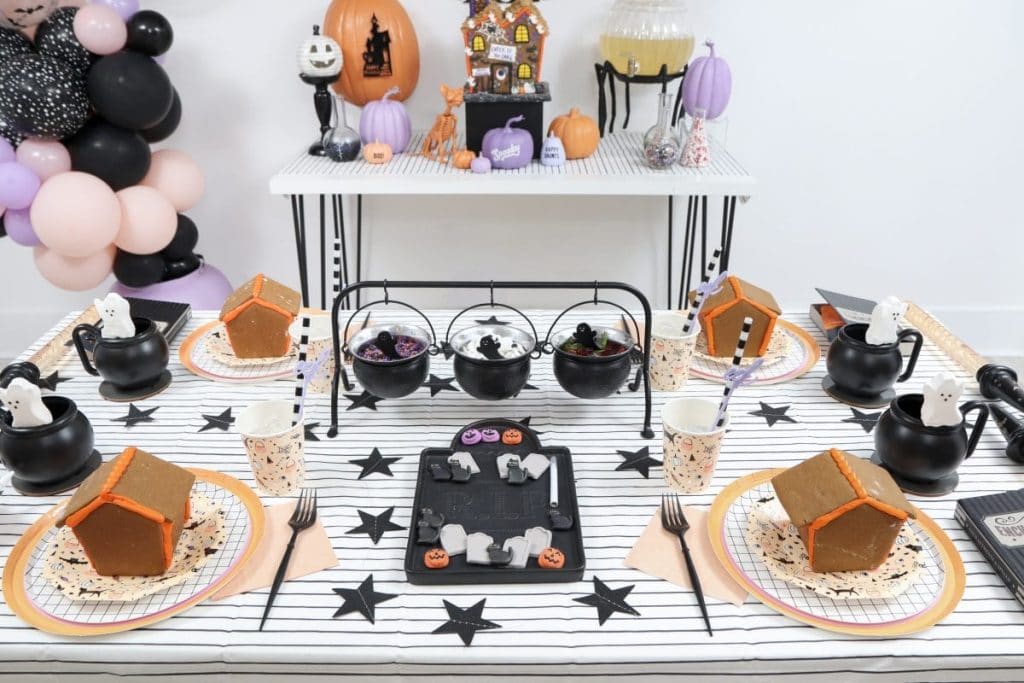 Then, Parker and her friends each got to use icing, sprinkles, and candy decorations to create the gingerbread Witch's House of their dreams. I love seeing what they come up with and how proud they are of their creations when they're done!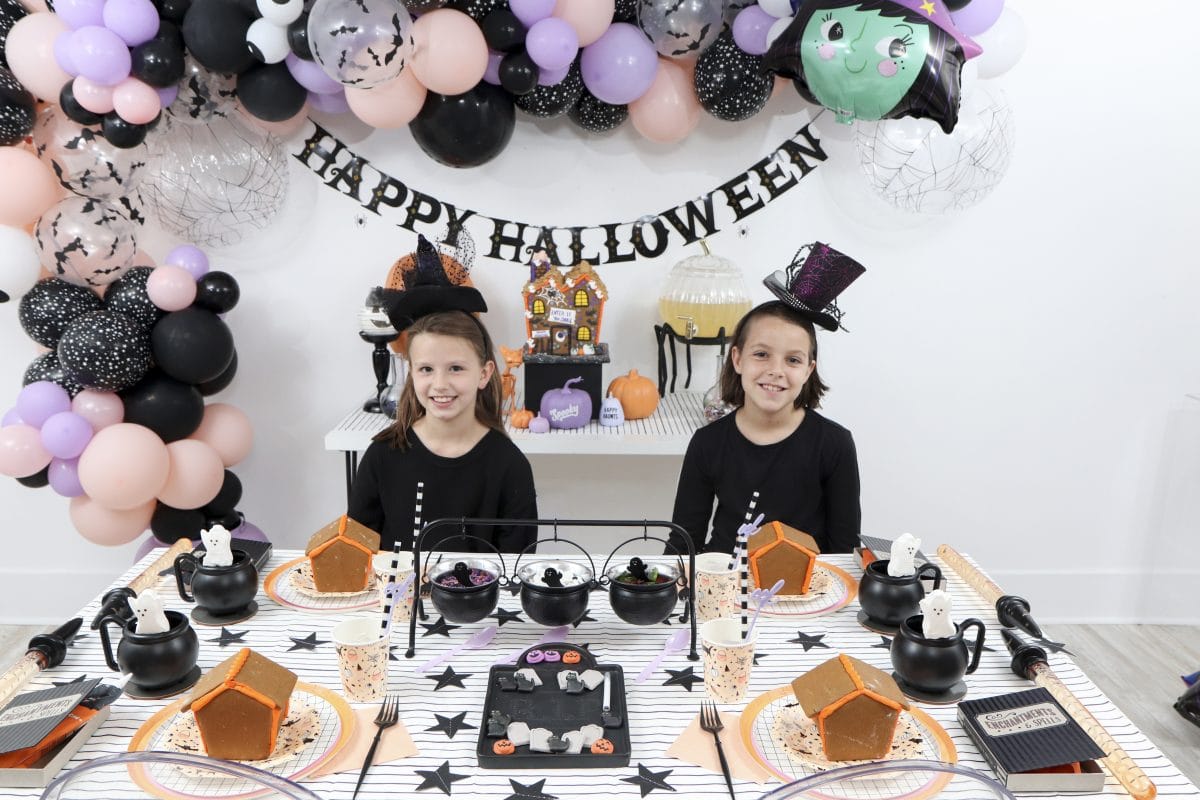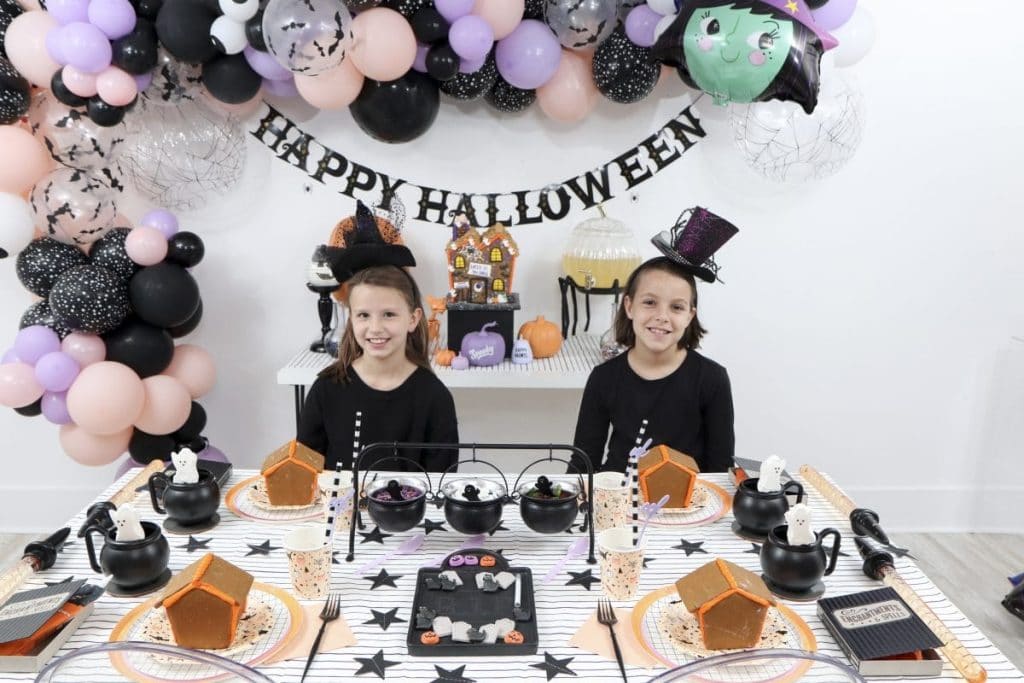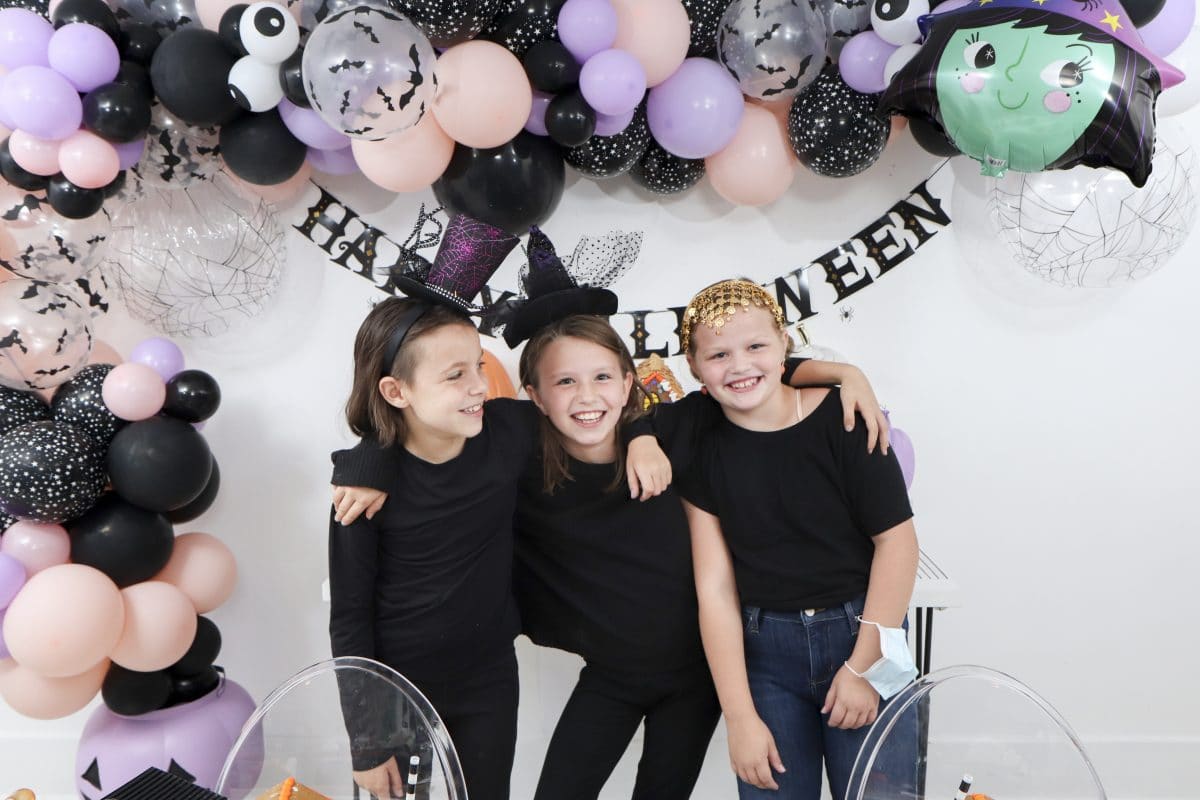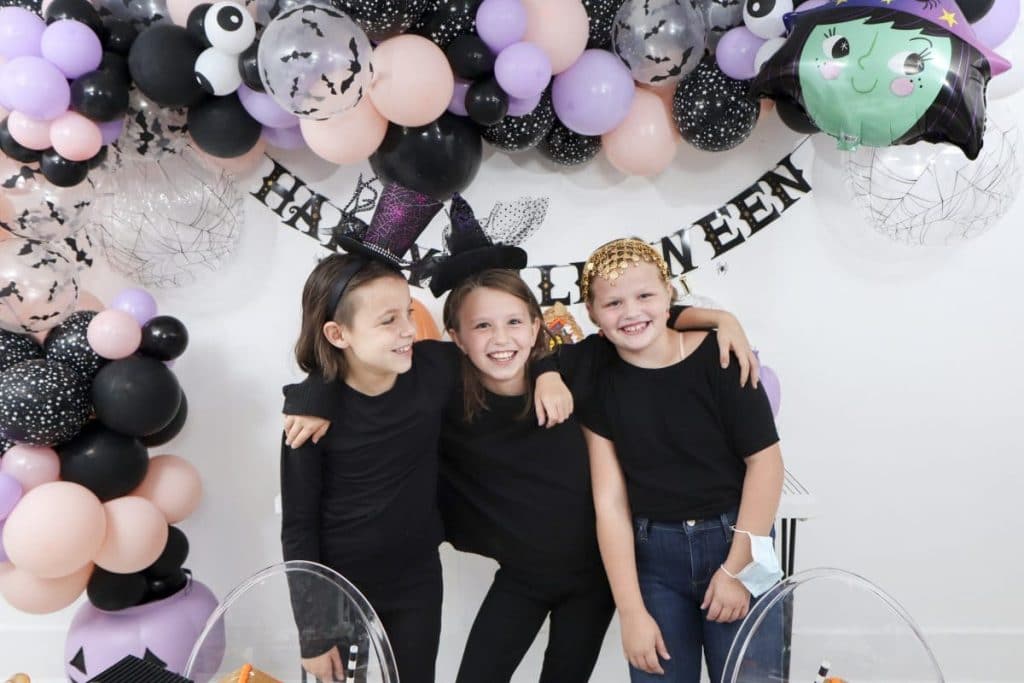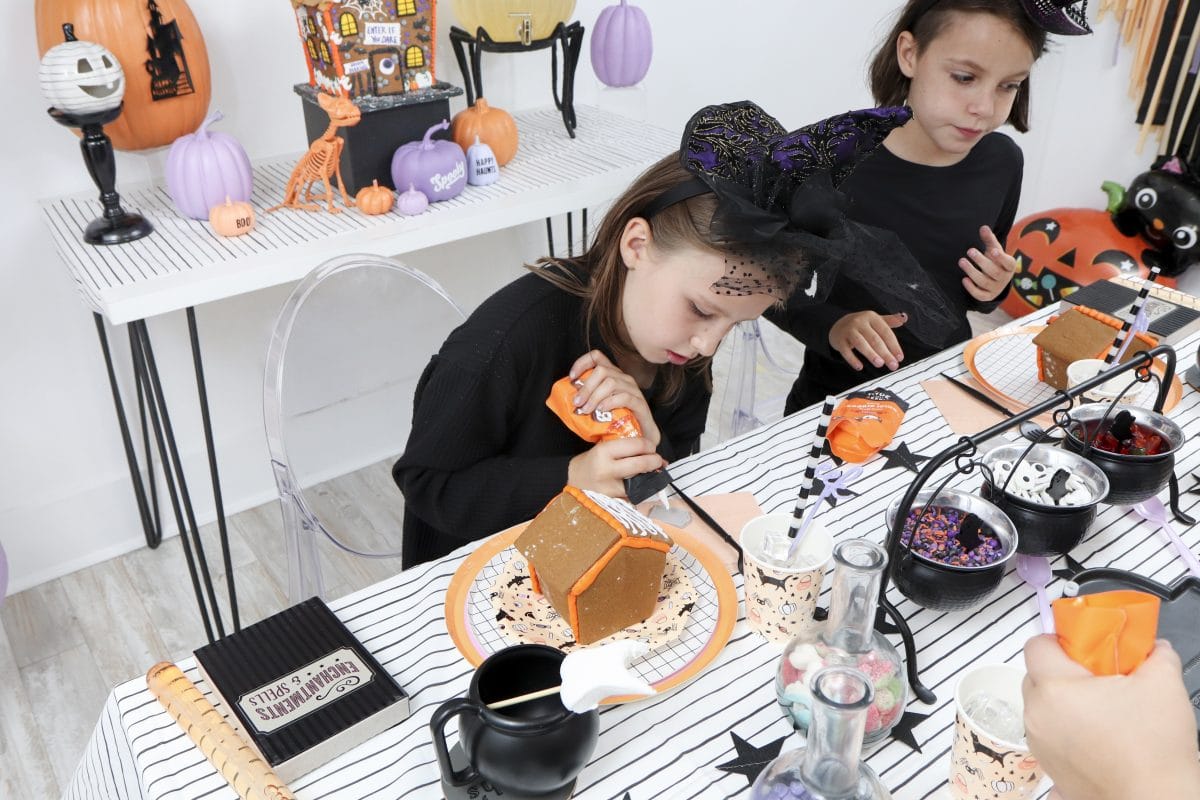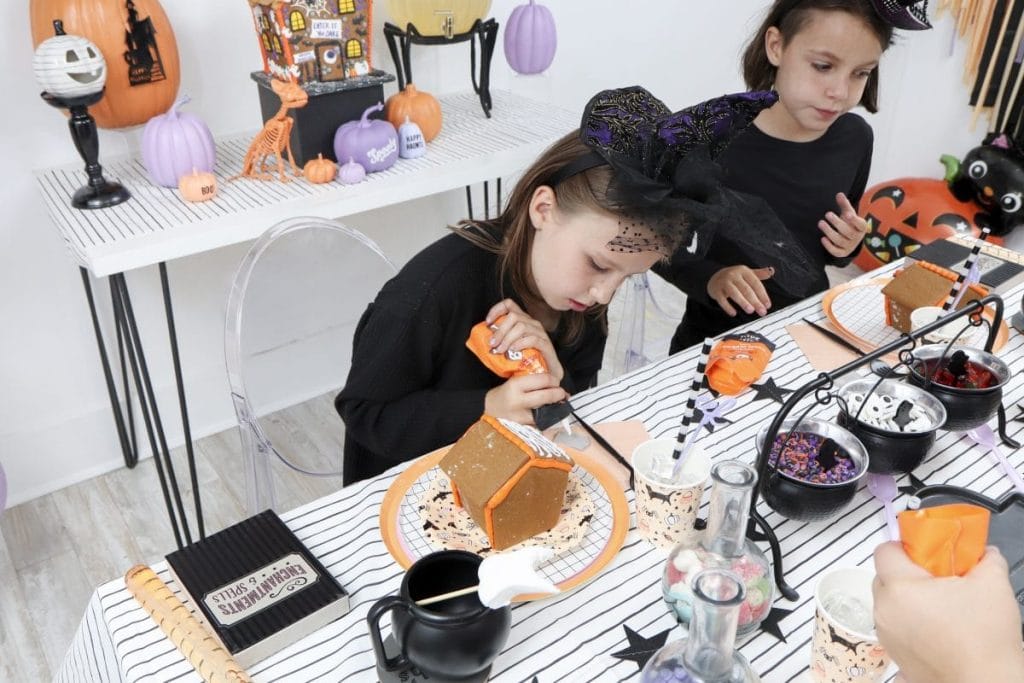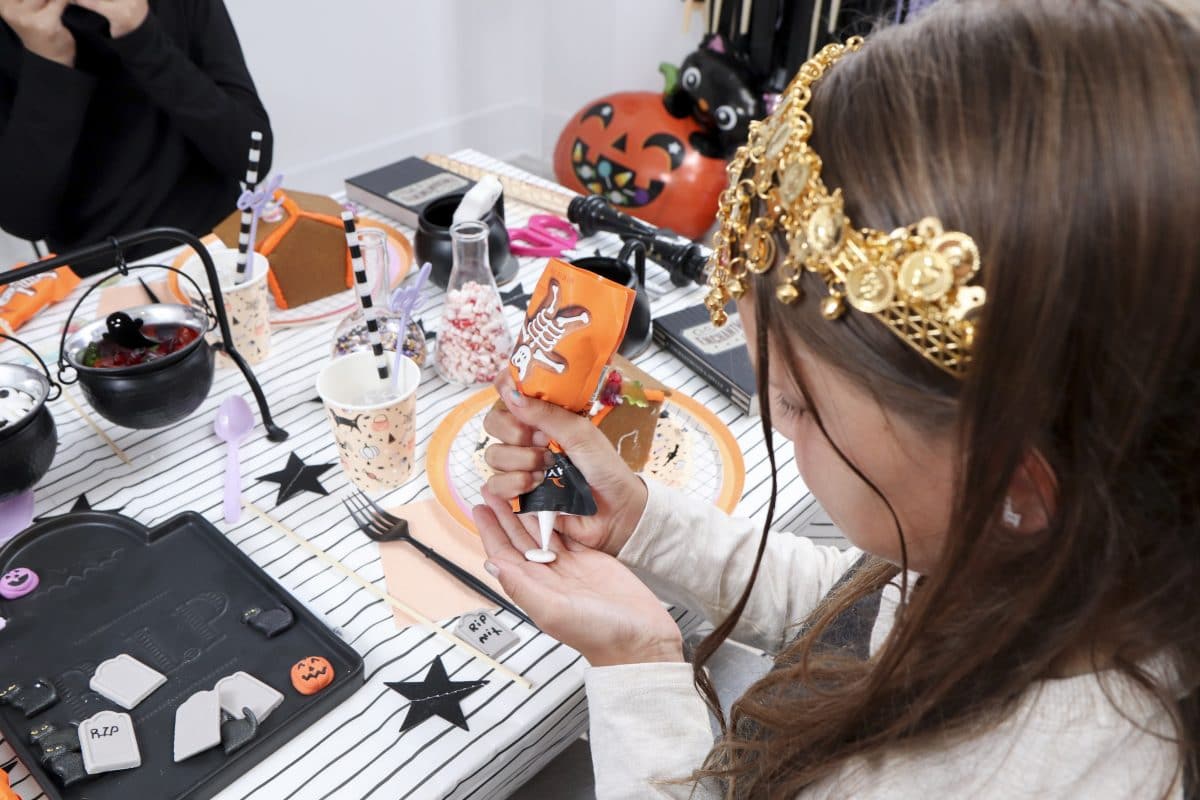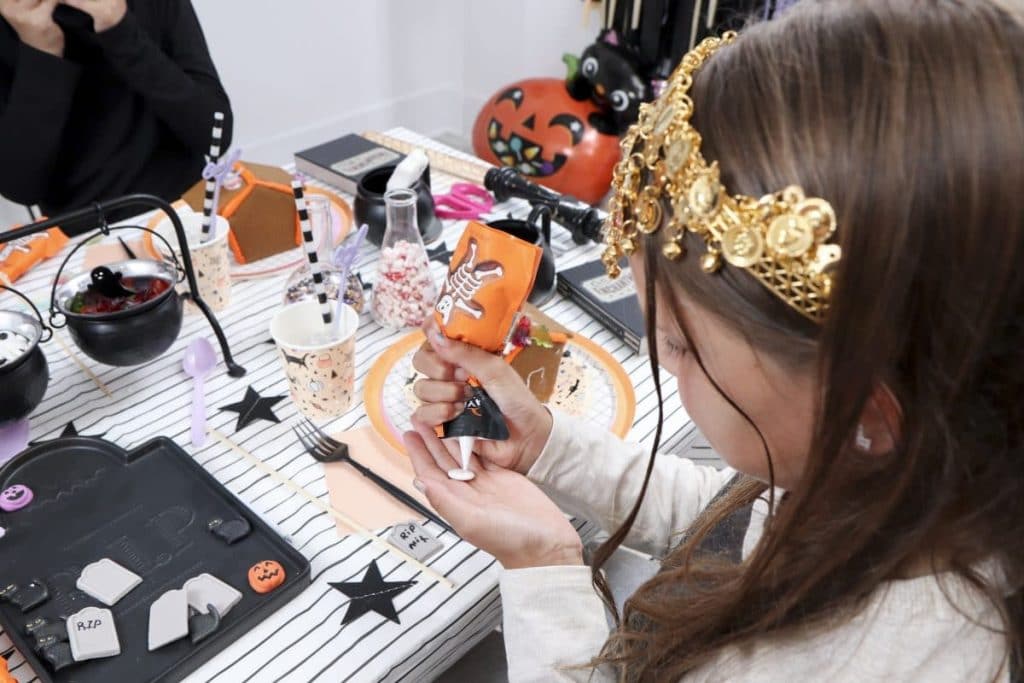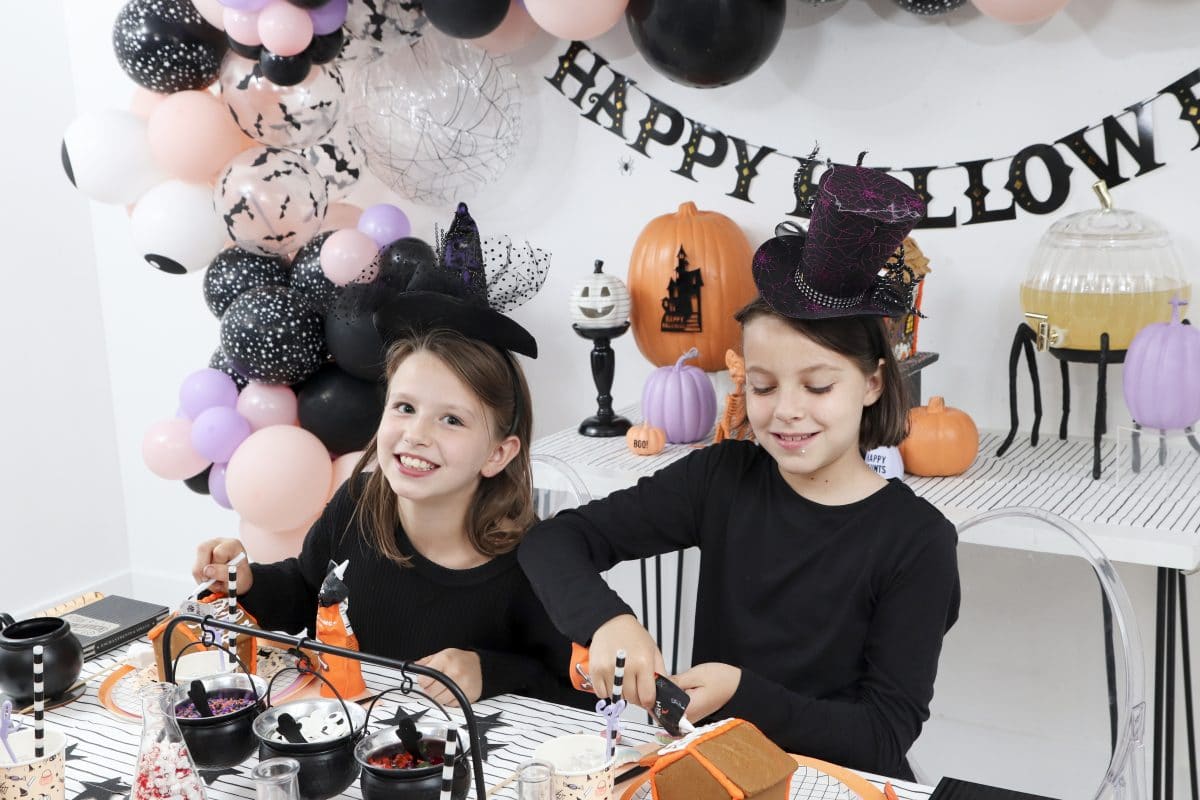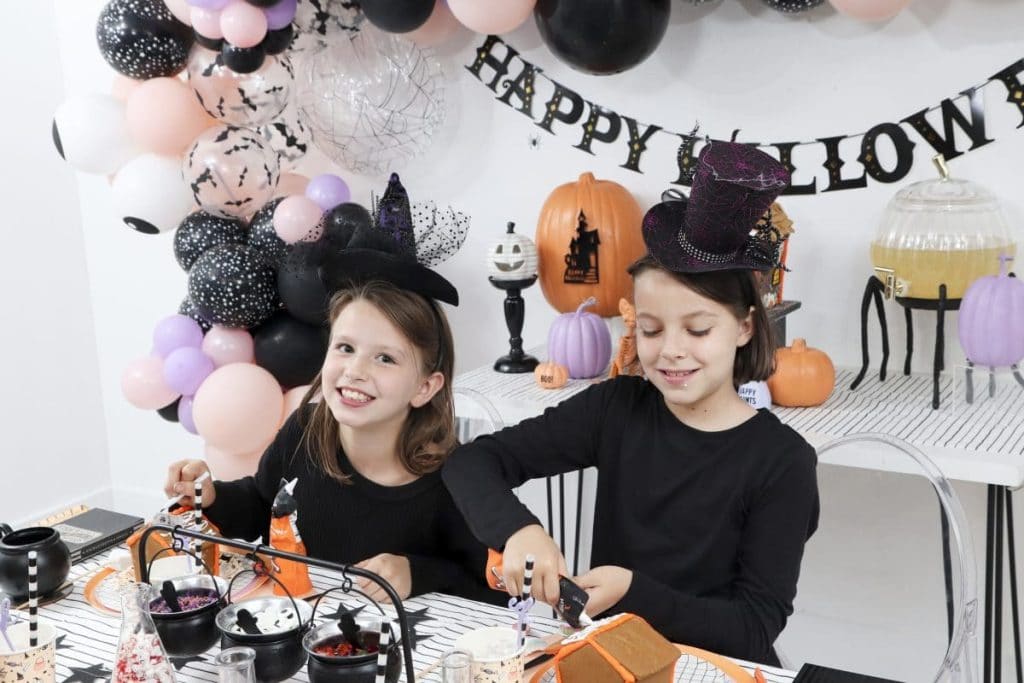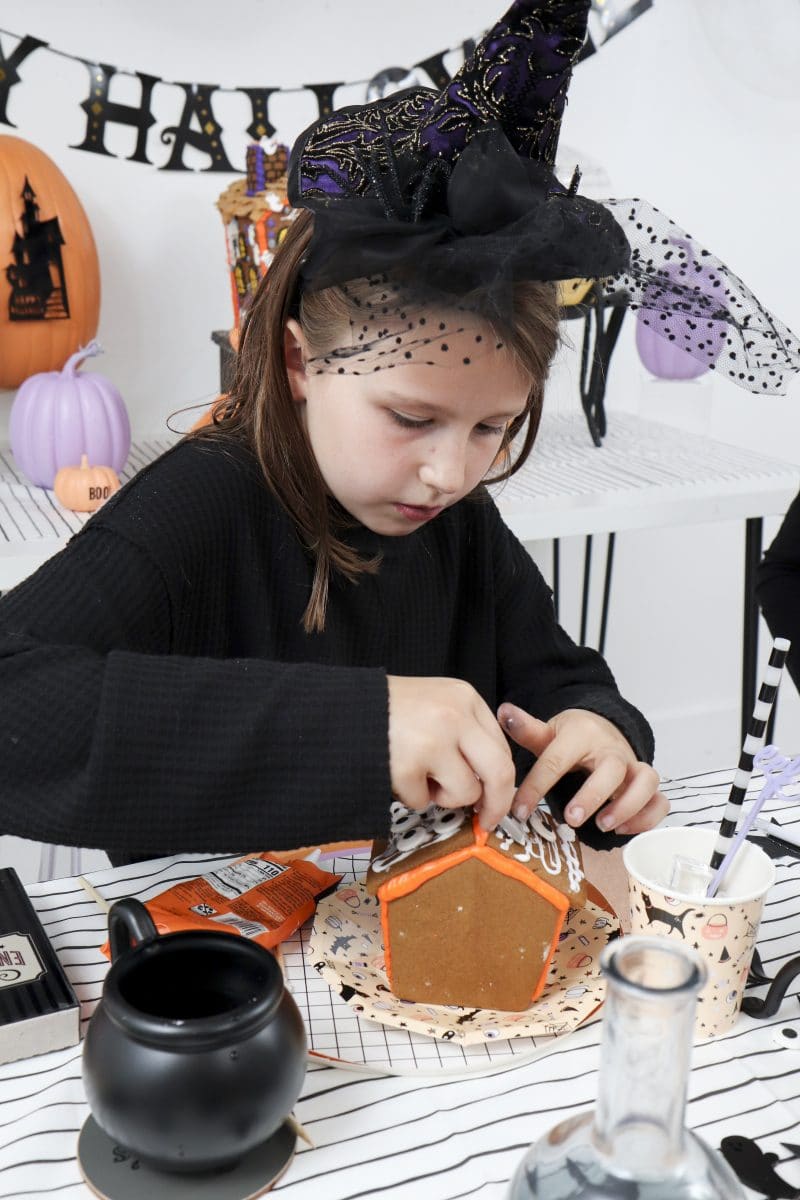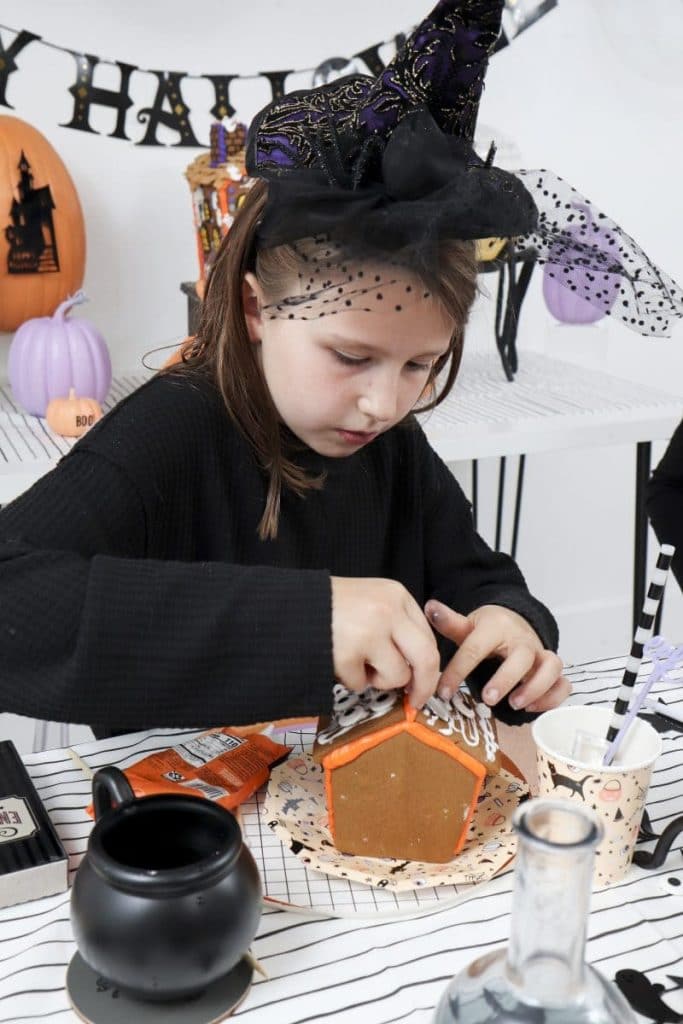 Of course, some of the icing may have not made it onto the houses…it was just too tempting!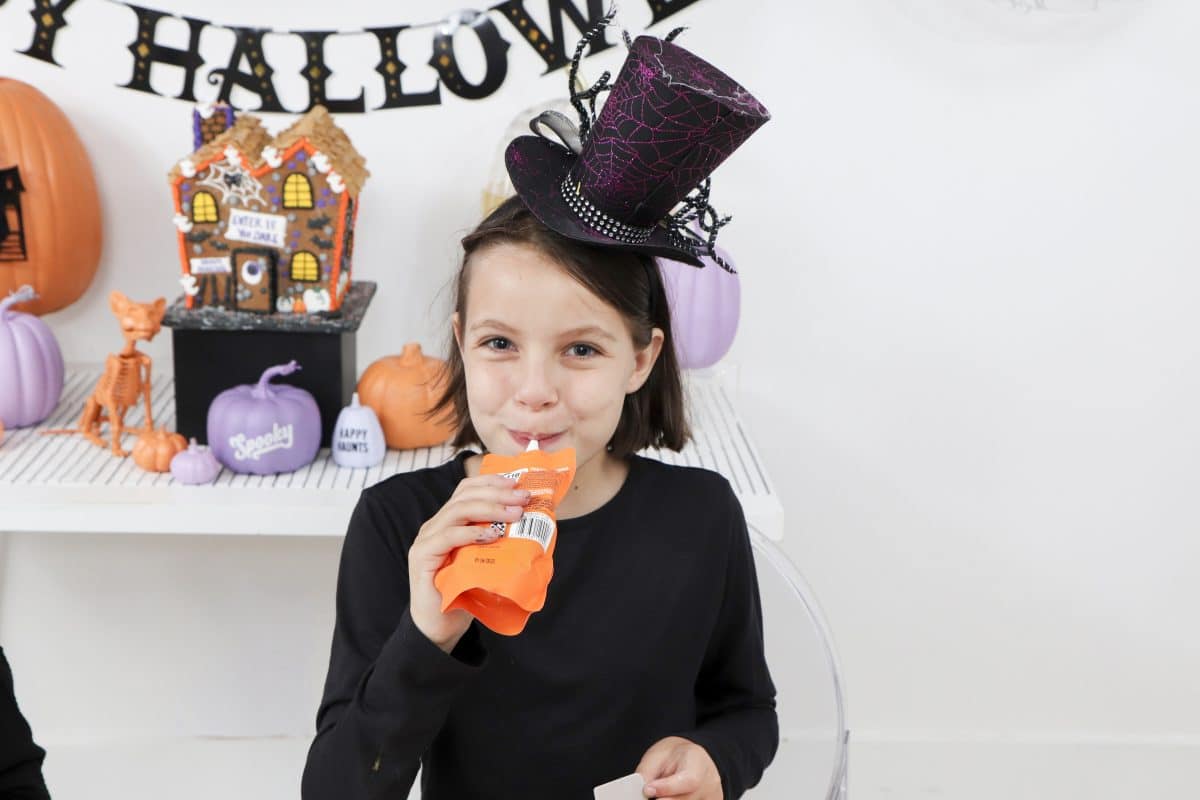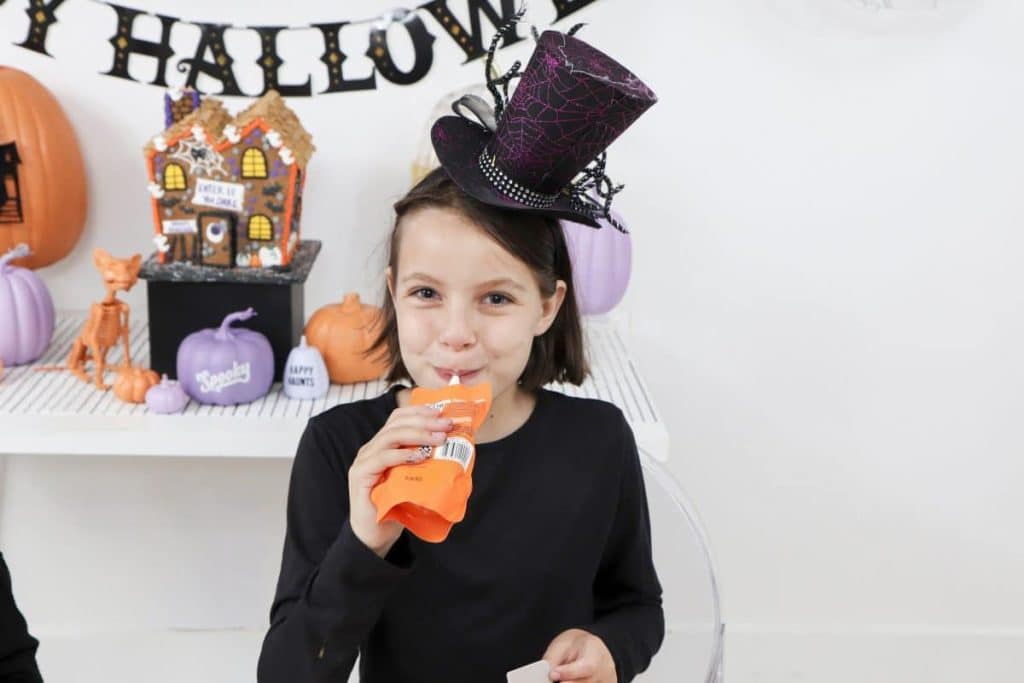 Photo Shoot
Speaking of being proud, I of course wanted to give each girl the chance to show off her Witch's Gingerbread House for the camera, so I draped a Halloween Fringe Photo Backdrop from Glam Fete across a blank wall. I also added some black bird paper cutouts, a "Witch Parking" sign, and every witch's favorite pet – a black cat on a pedestal next to the backdrop.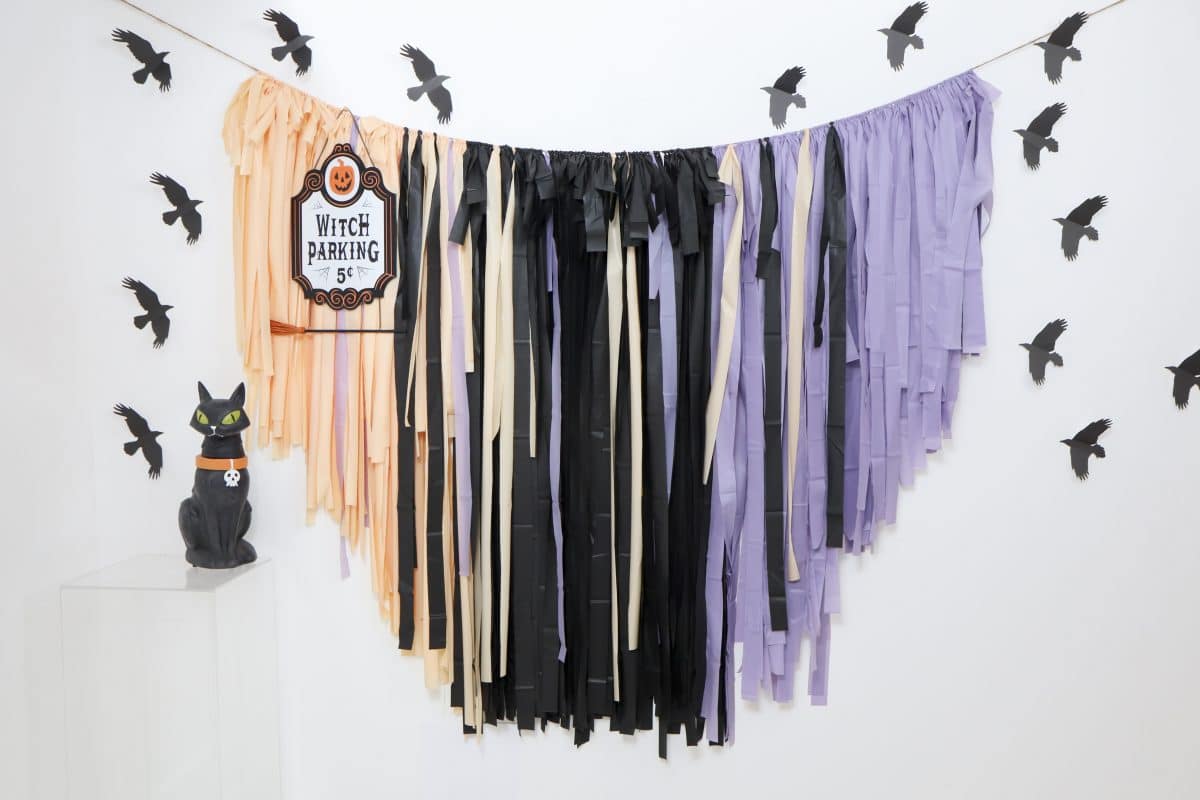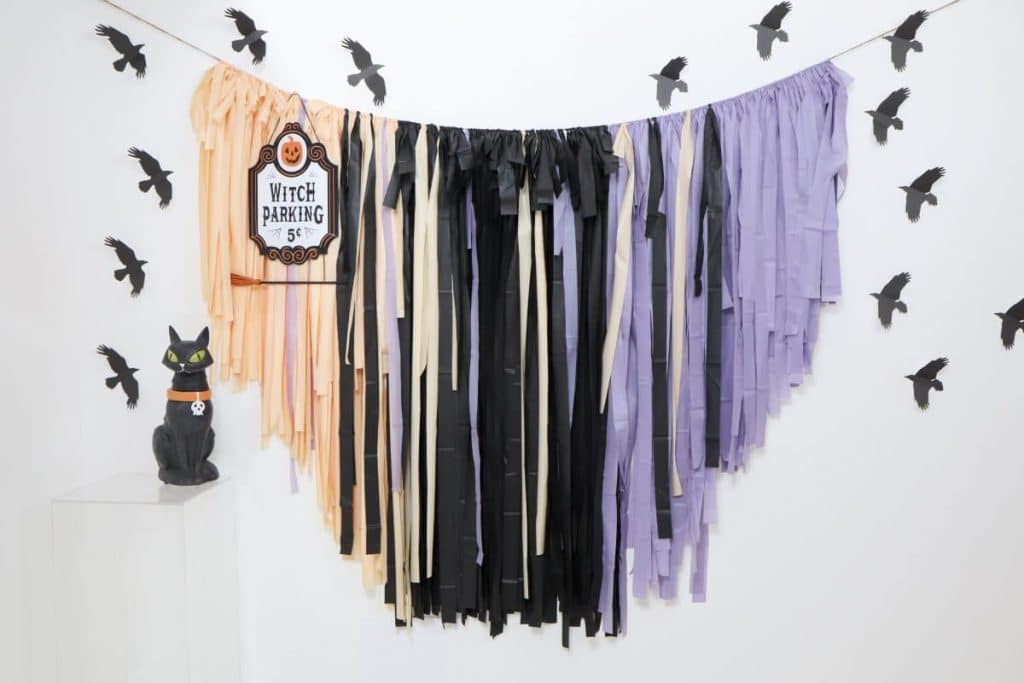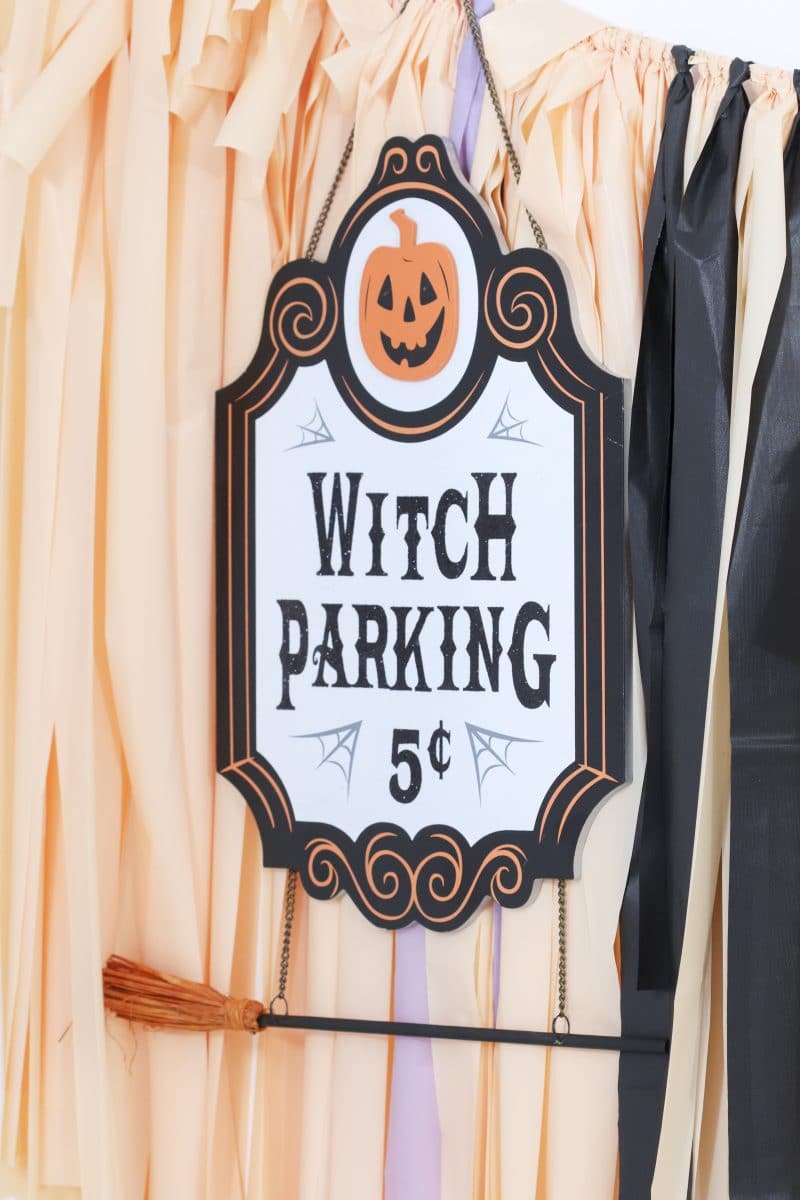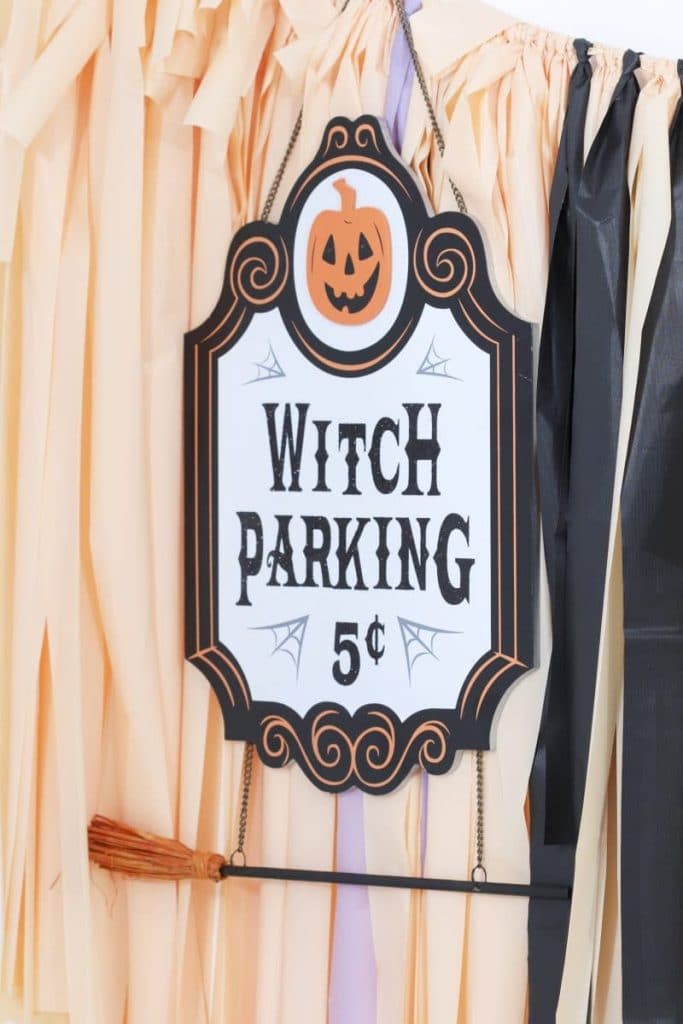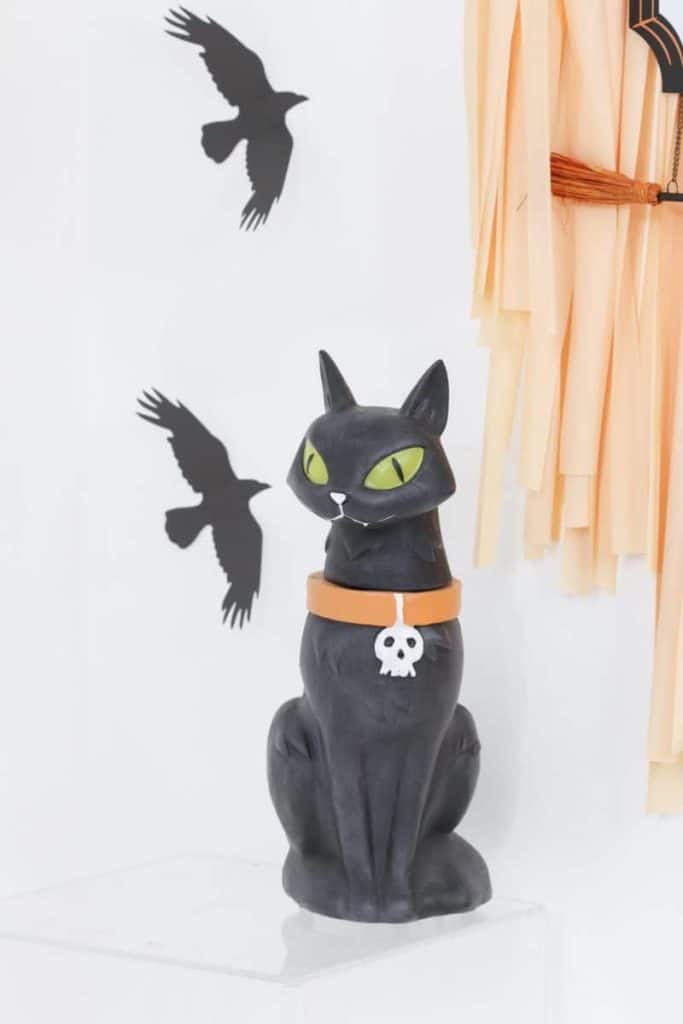 Then the girl's posed with their houses, and couldn't resist also posing with more of MeParty's adorable Halloween balloons.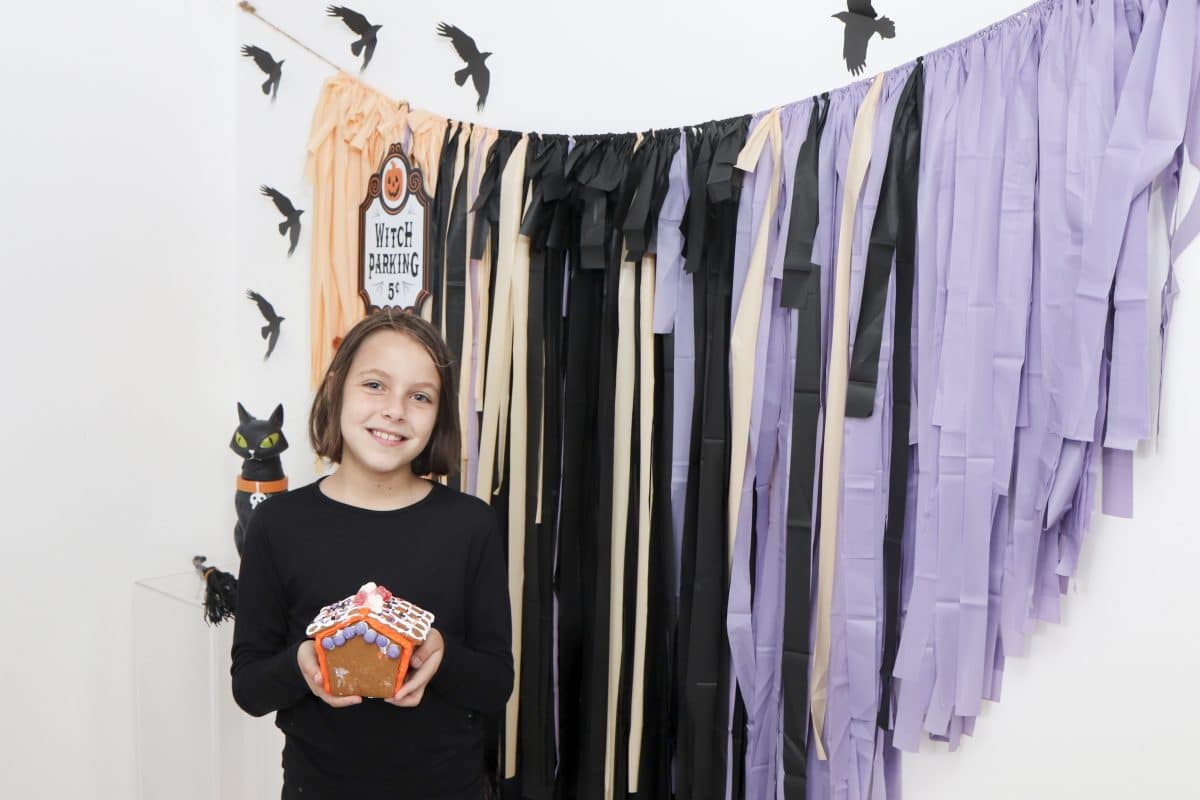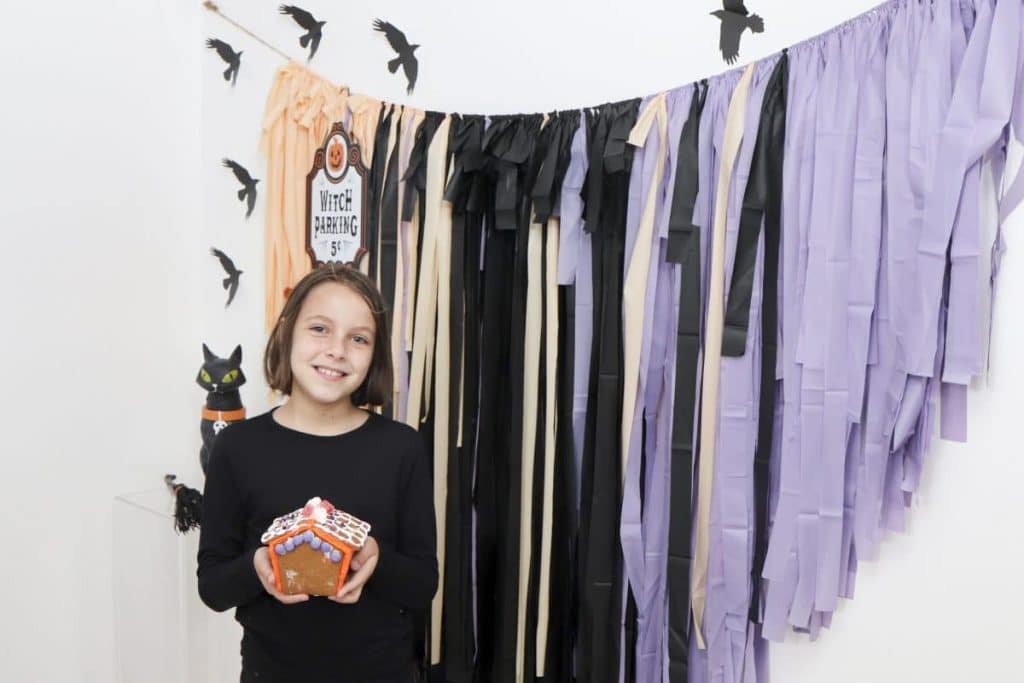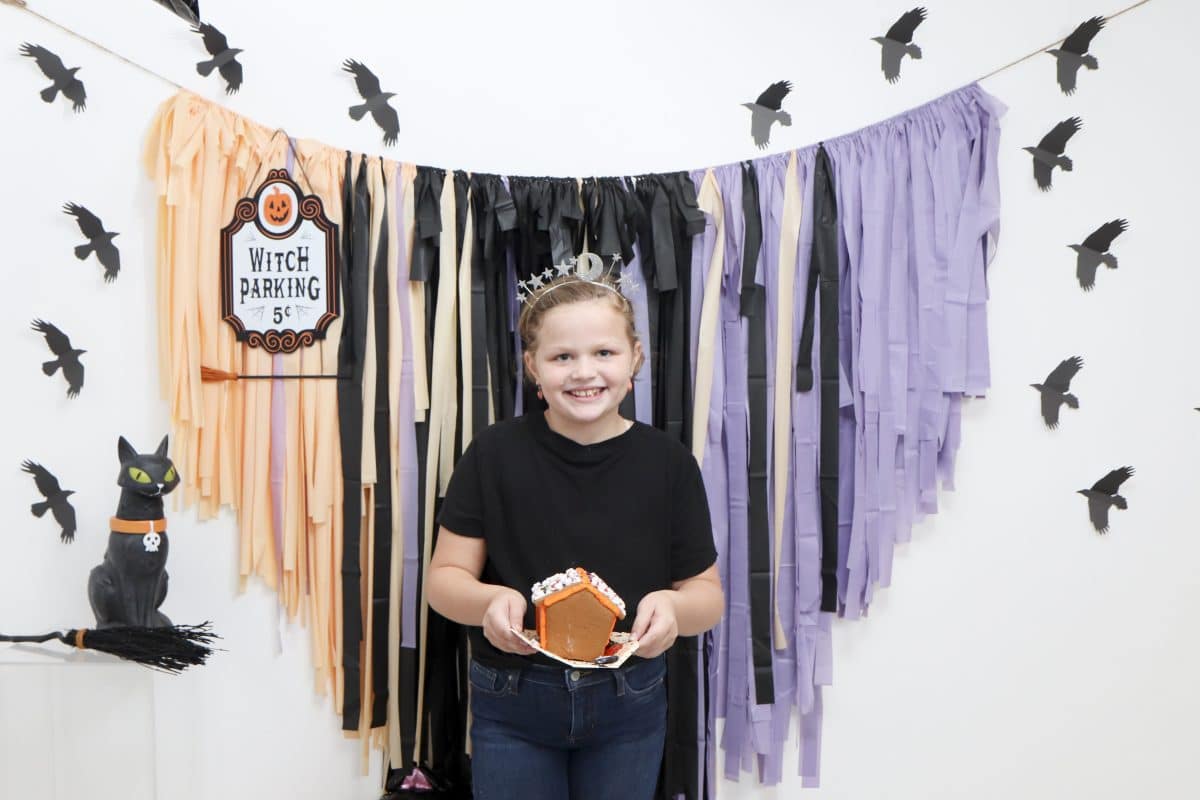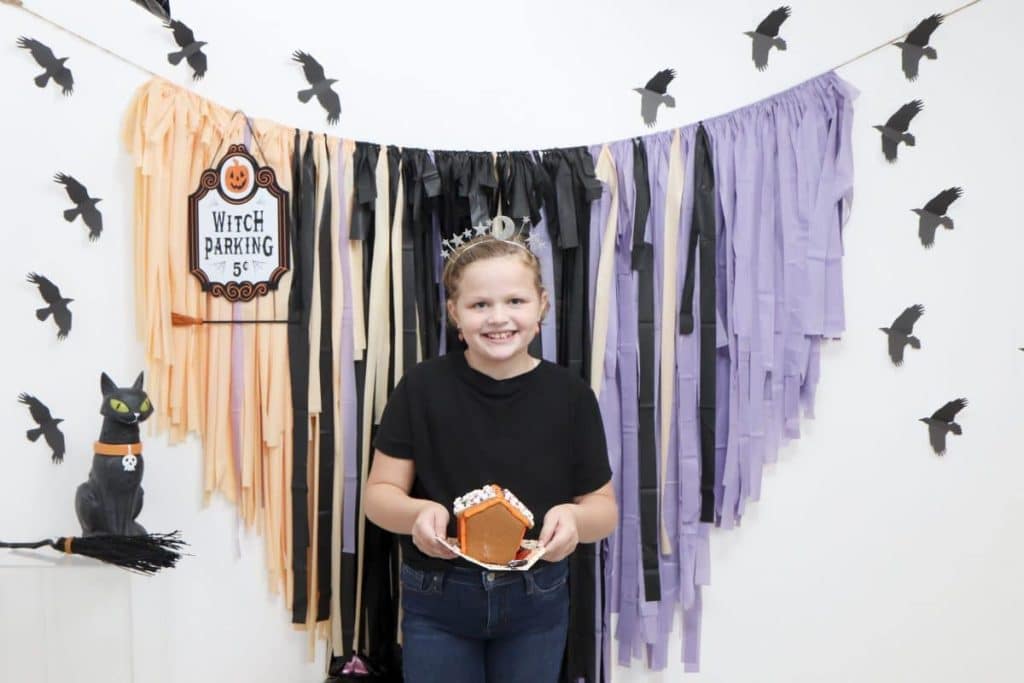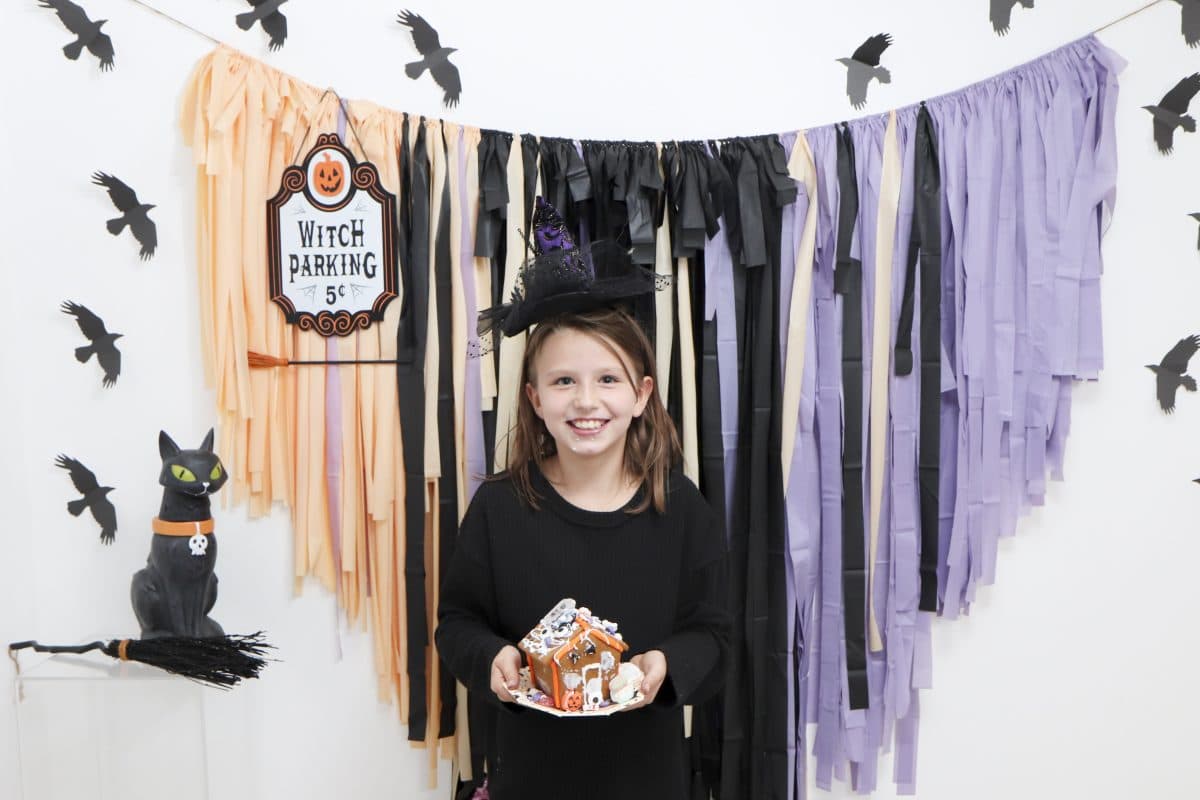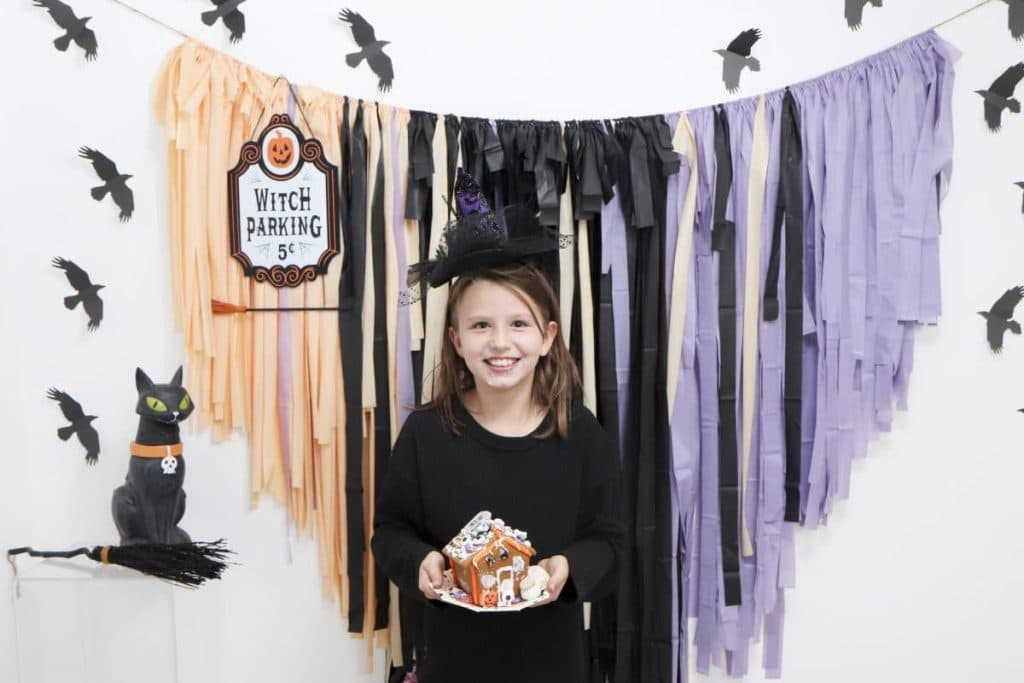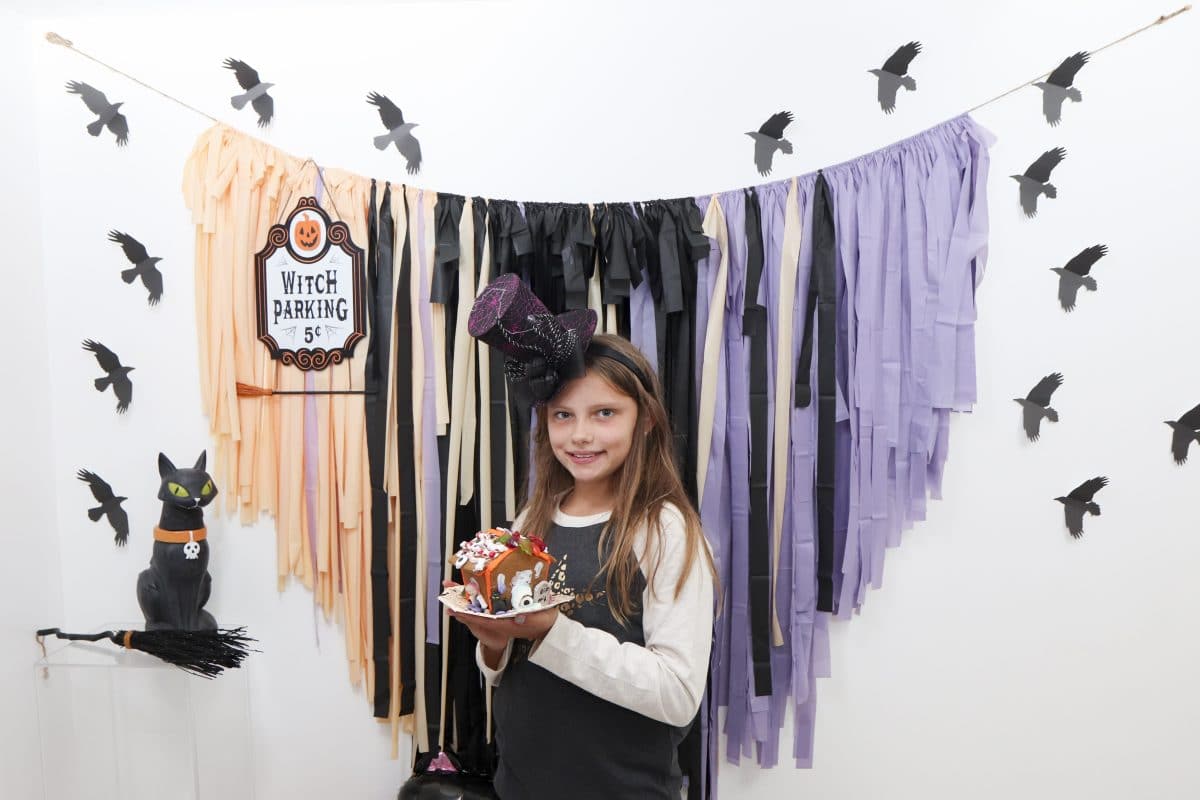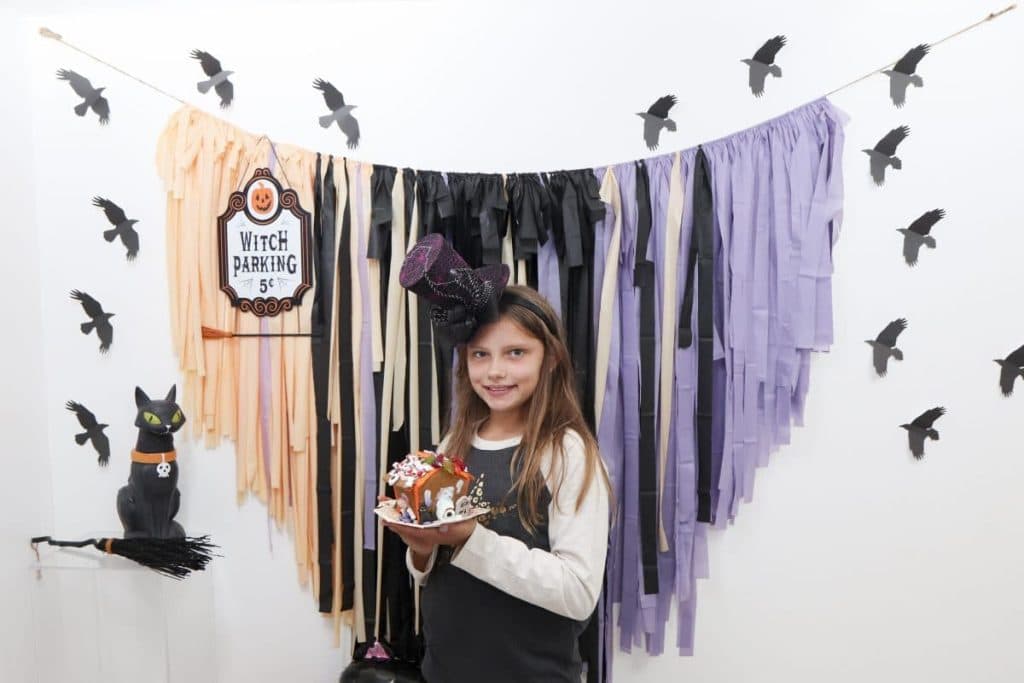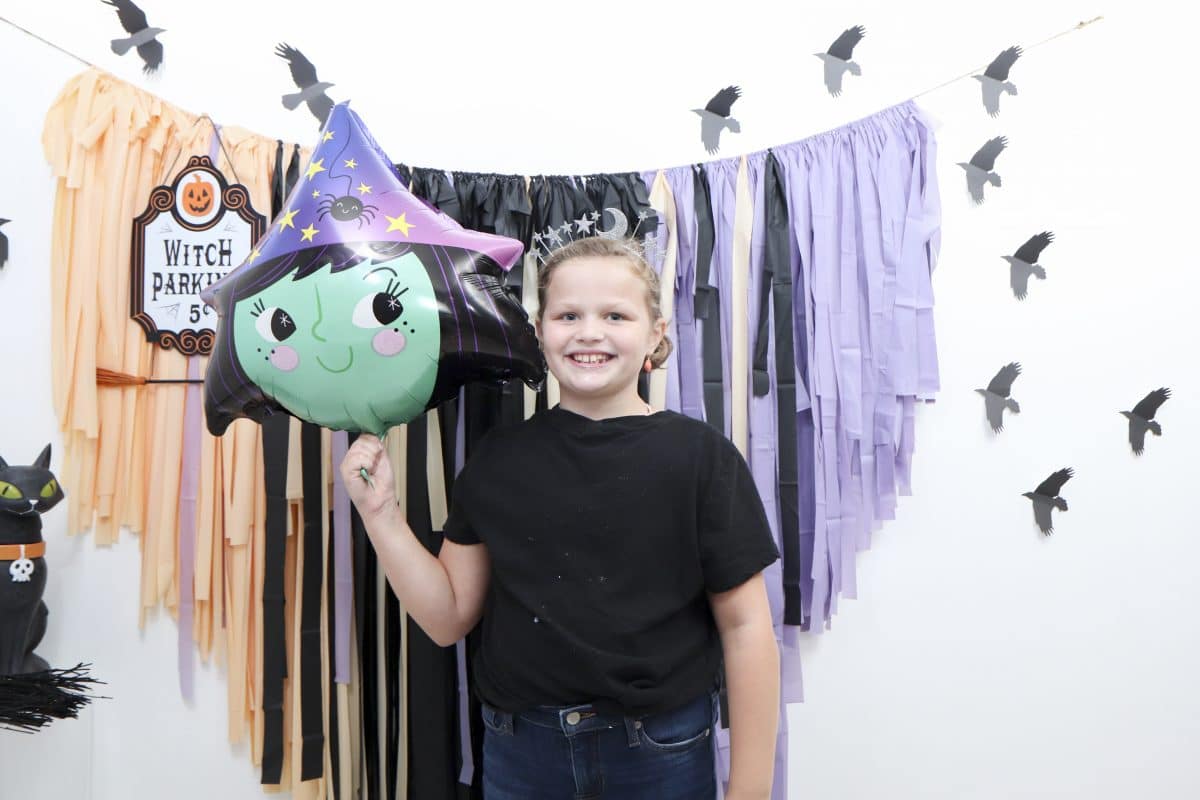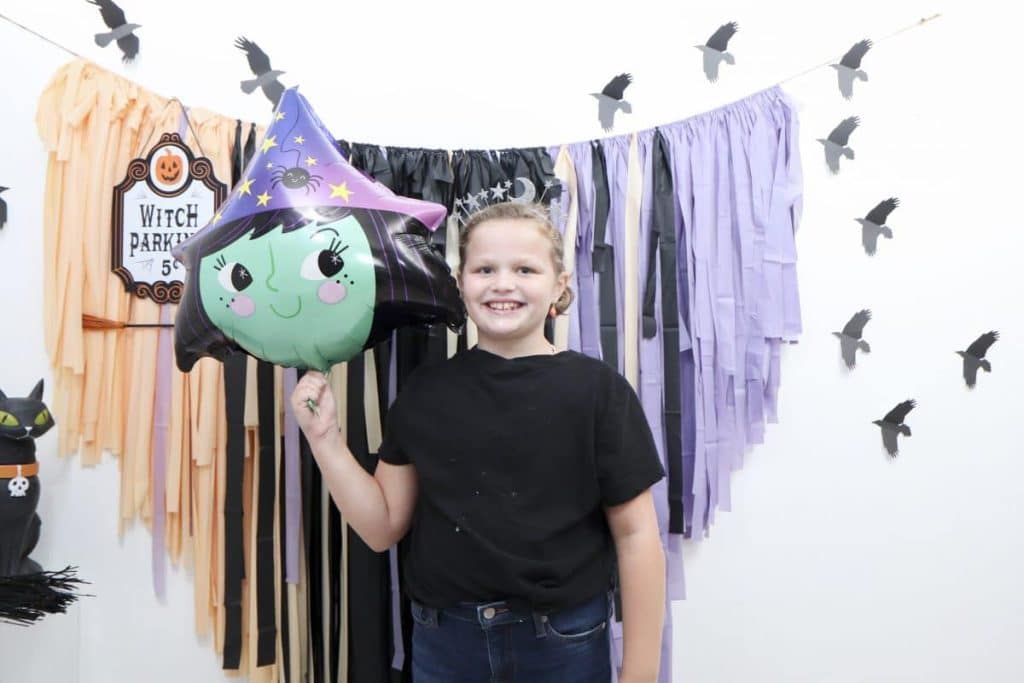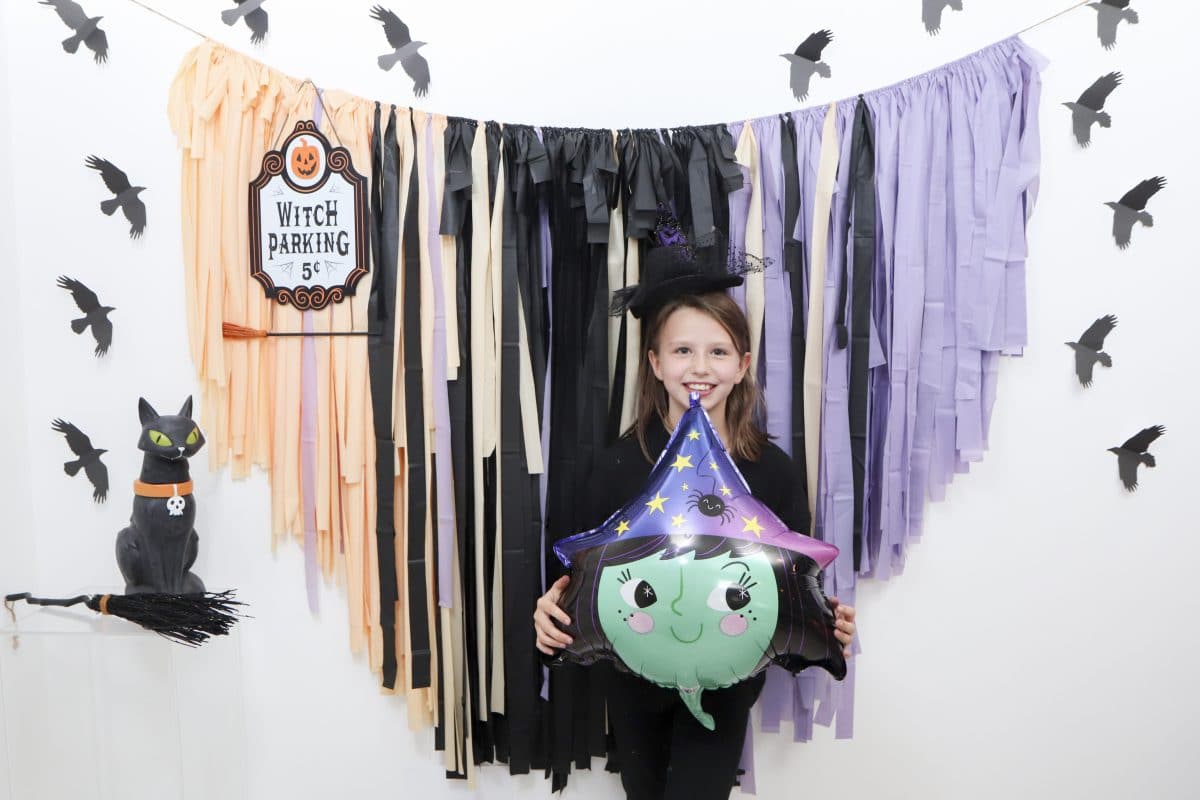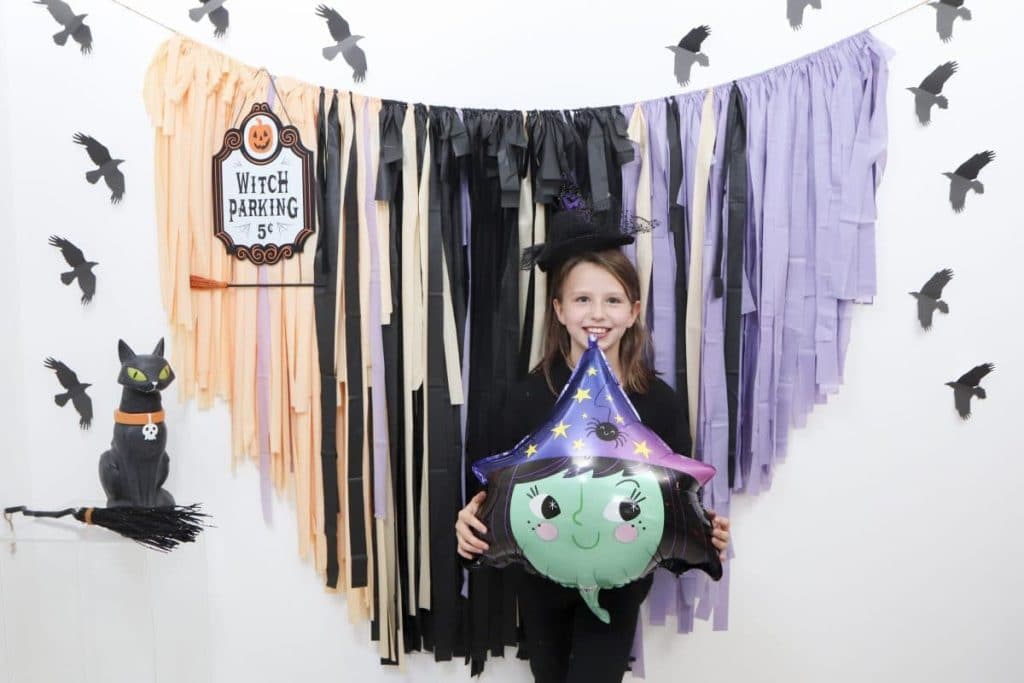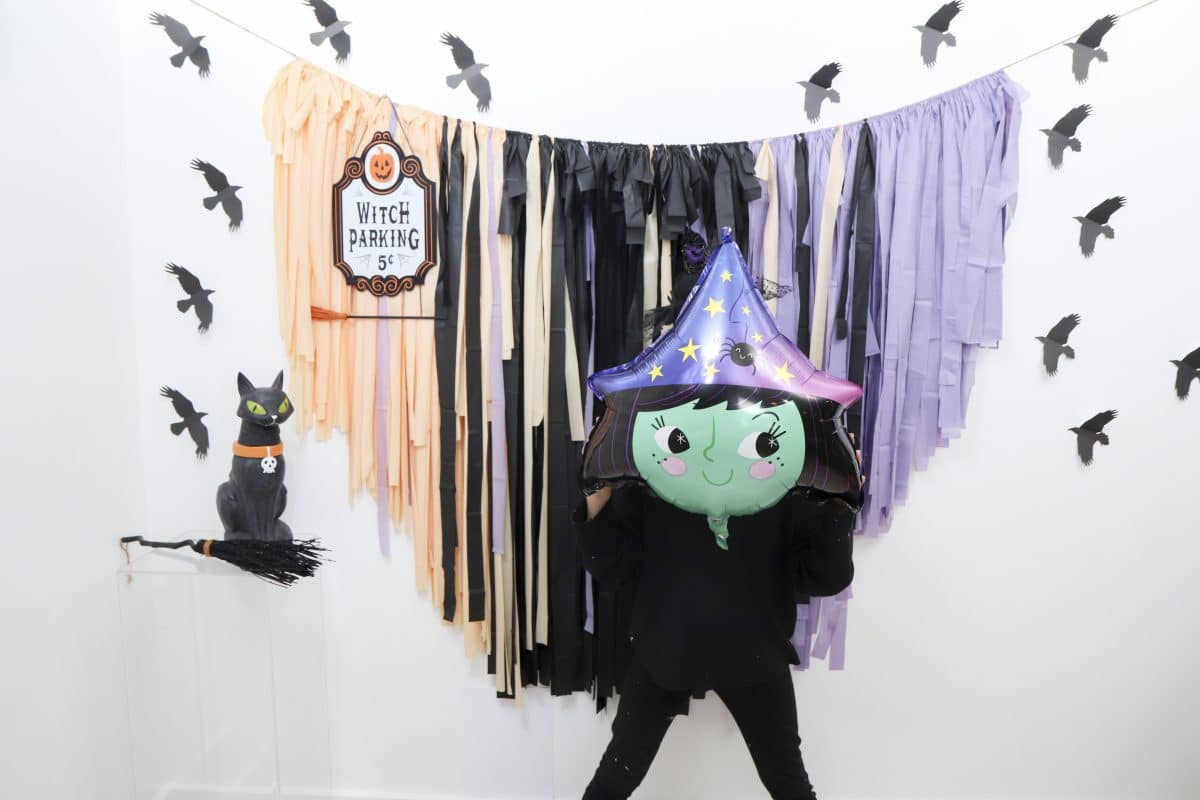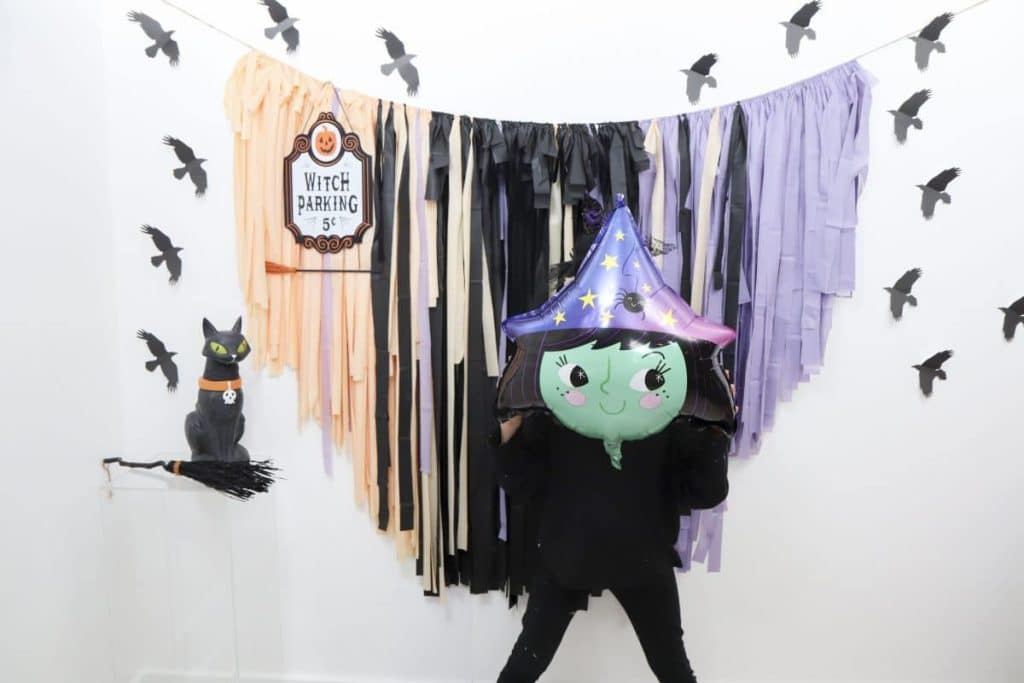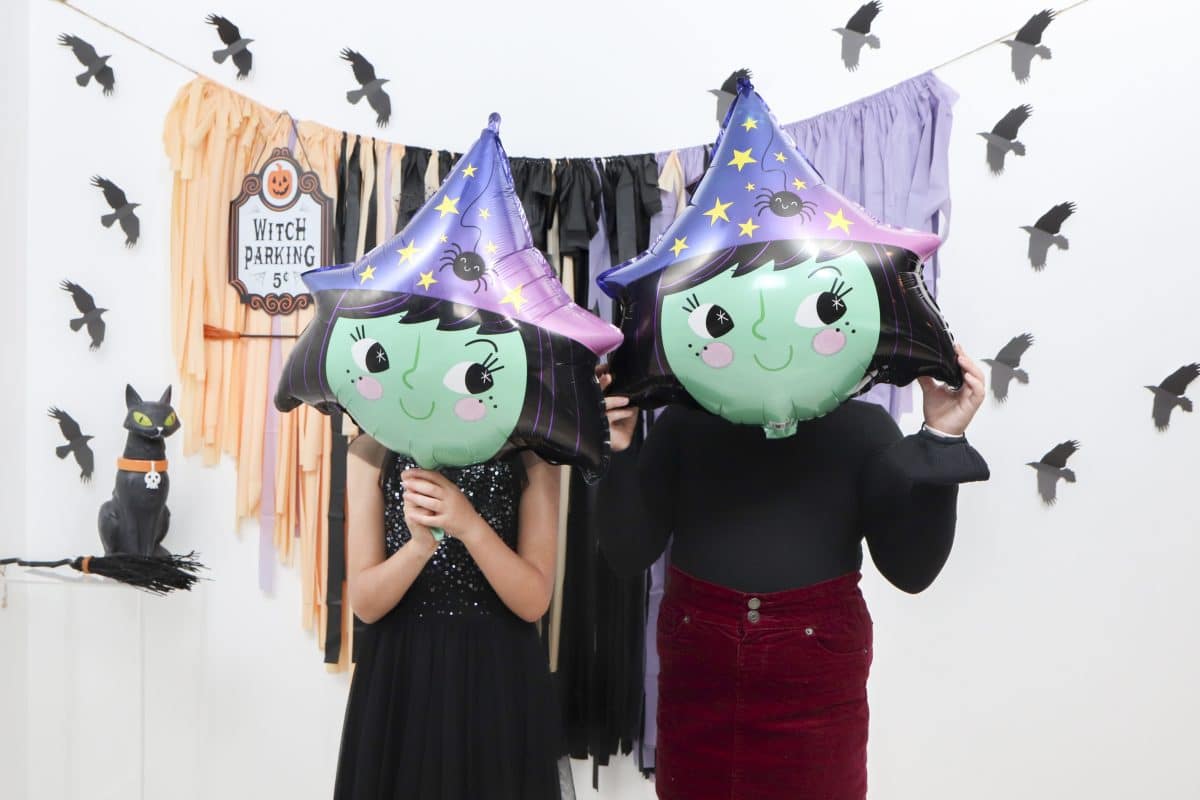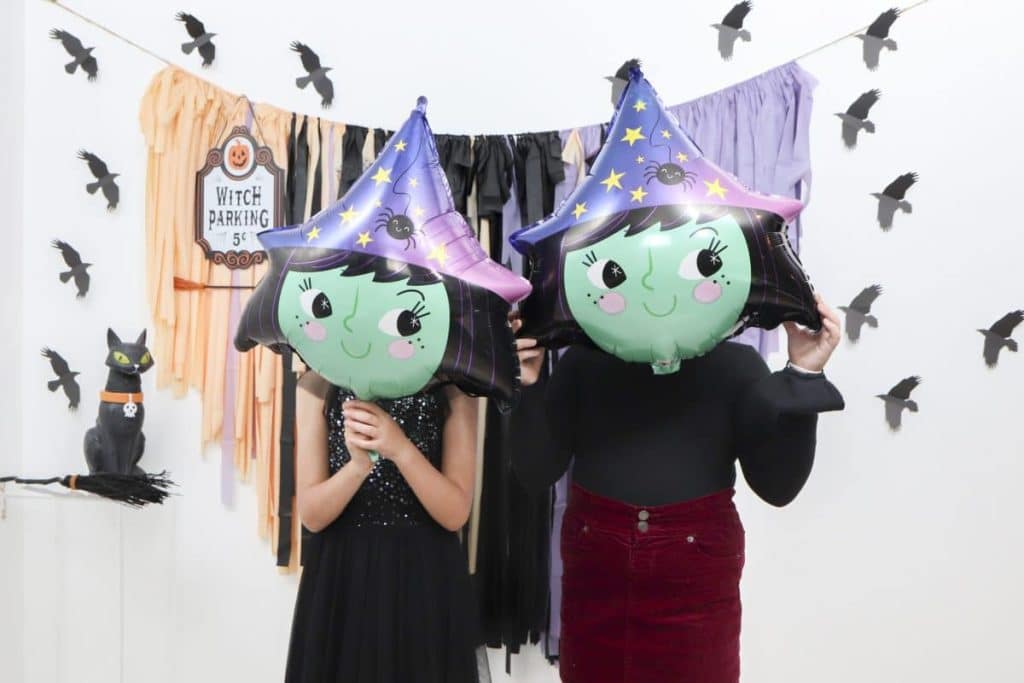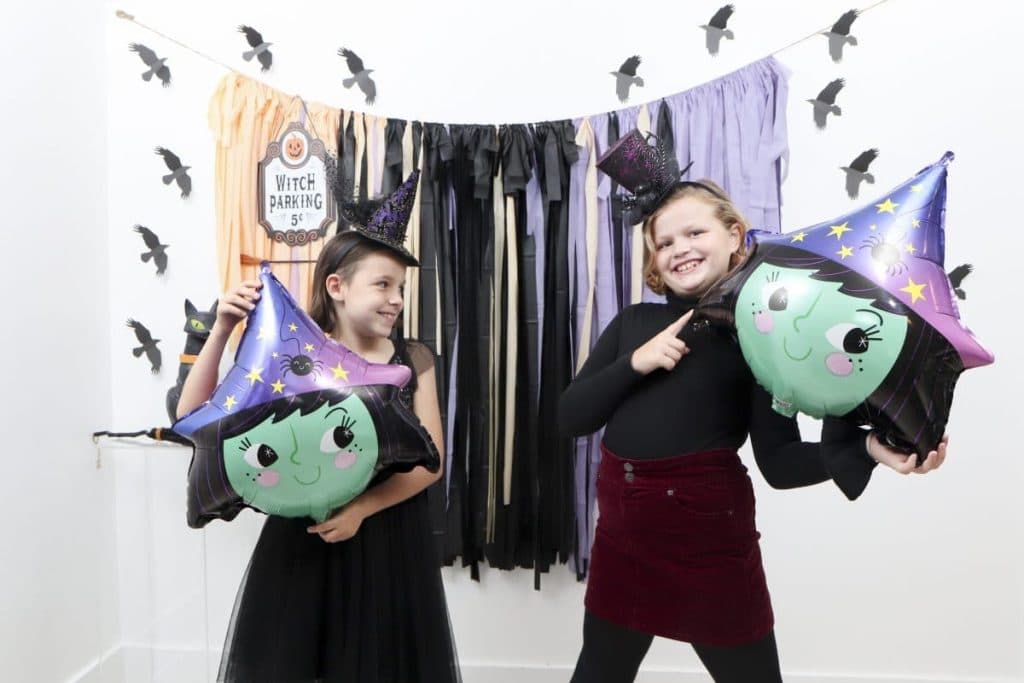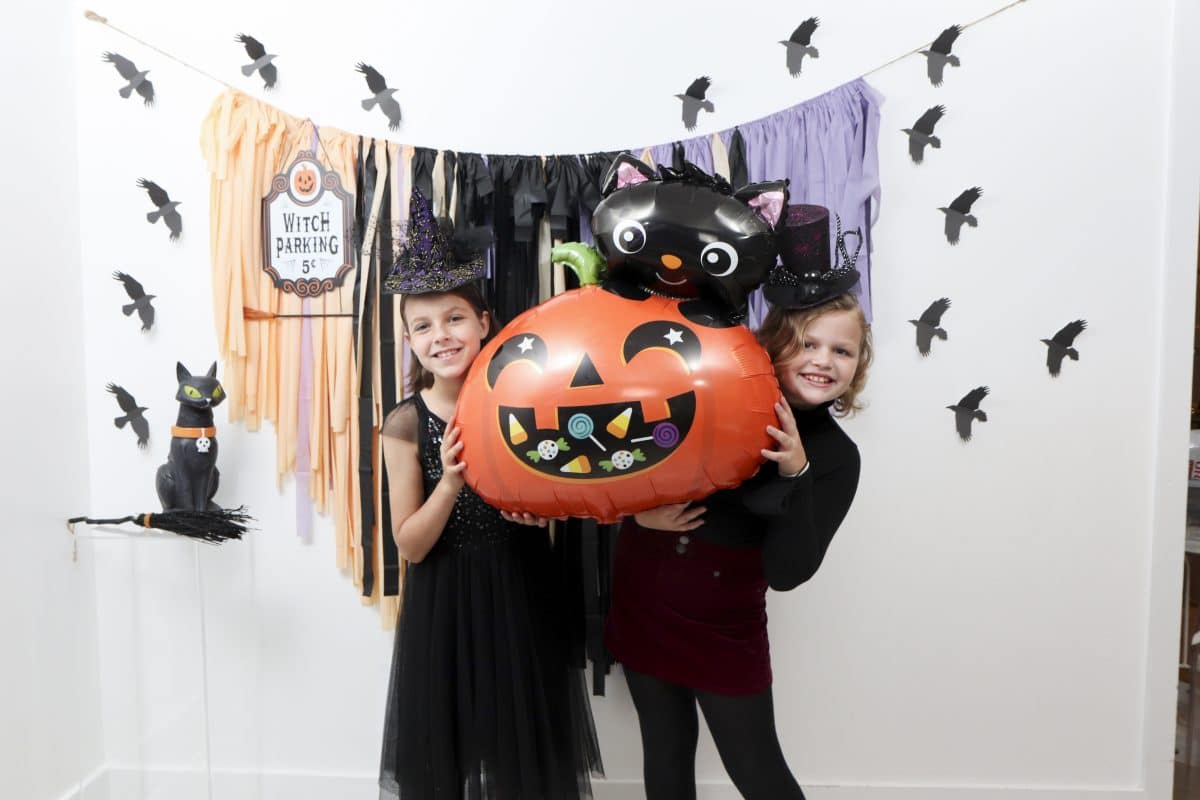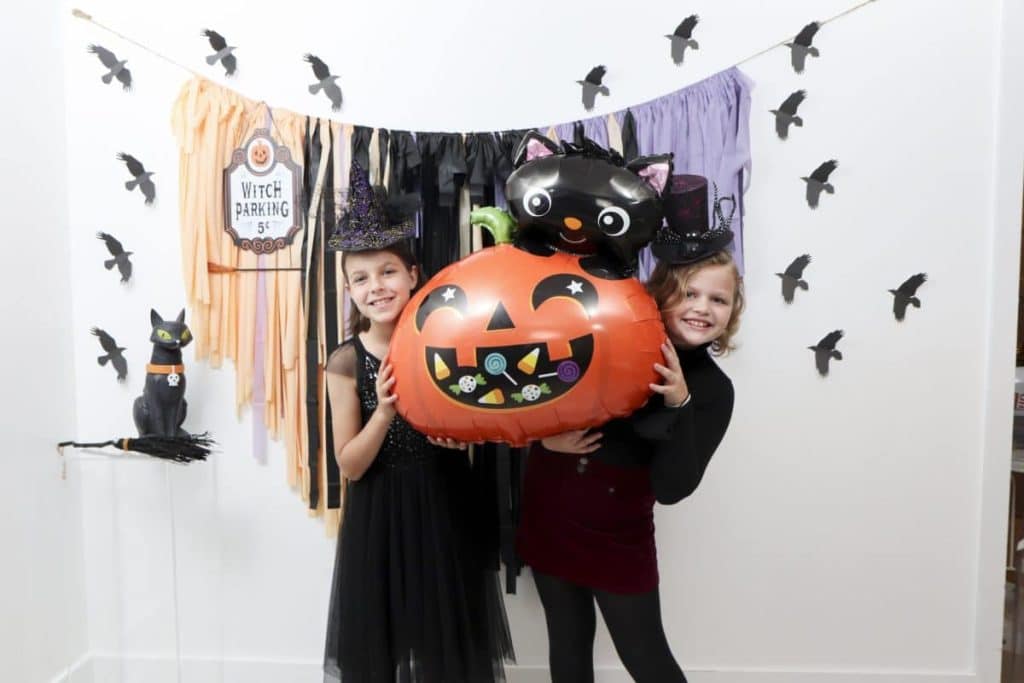 Then, it was time to share some Witch's Brew Hot Chocolate and call it this party a success!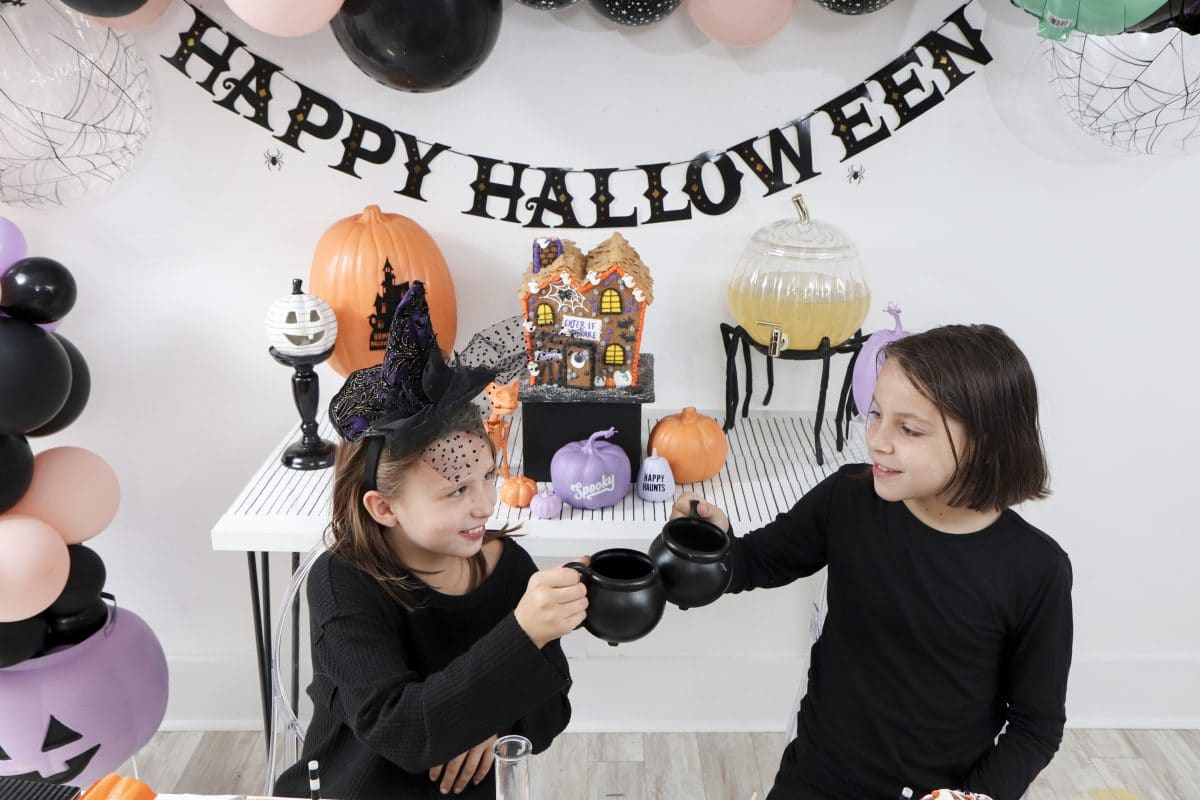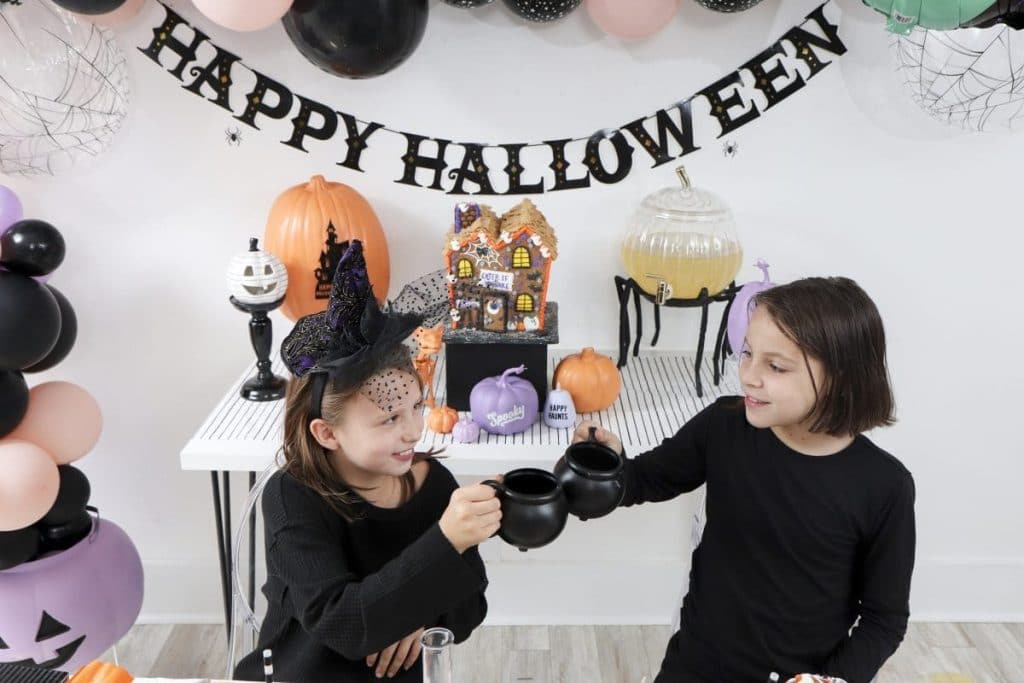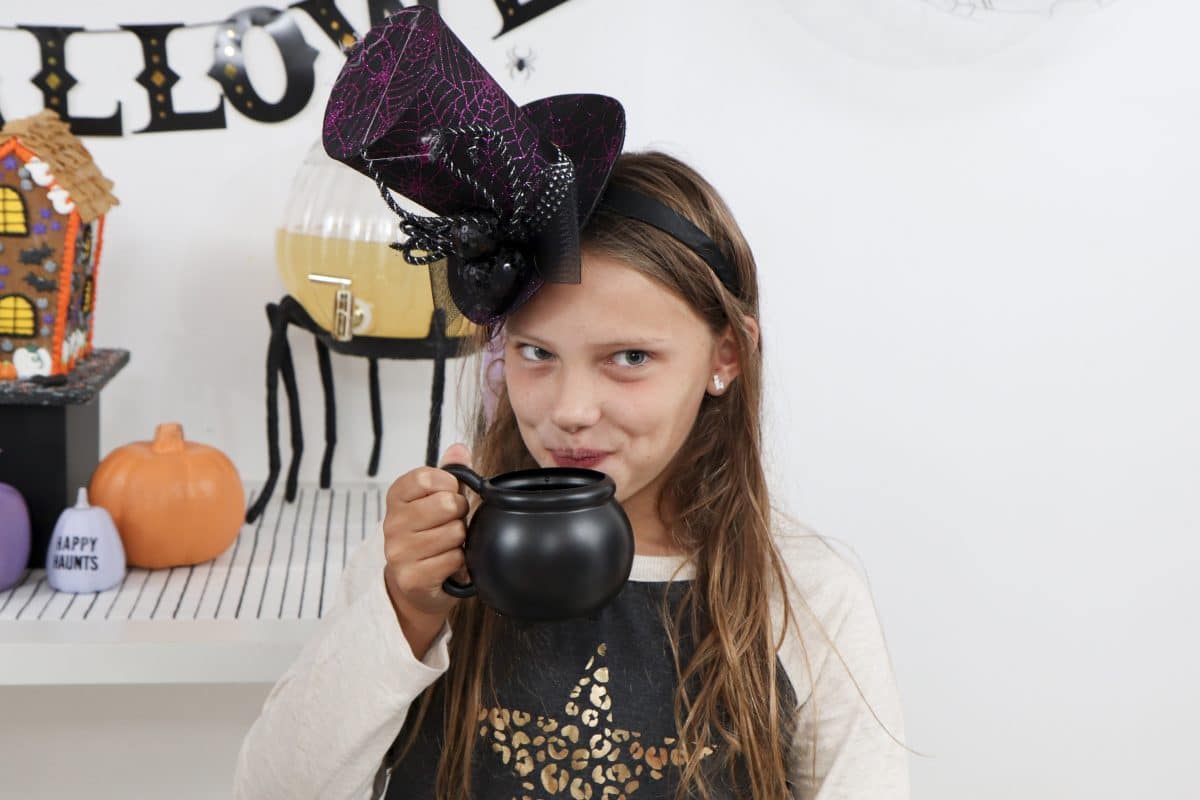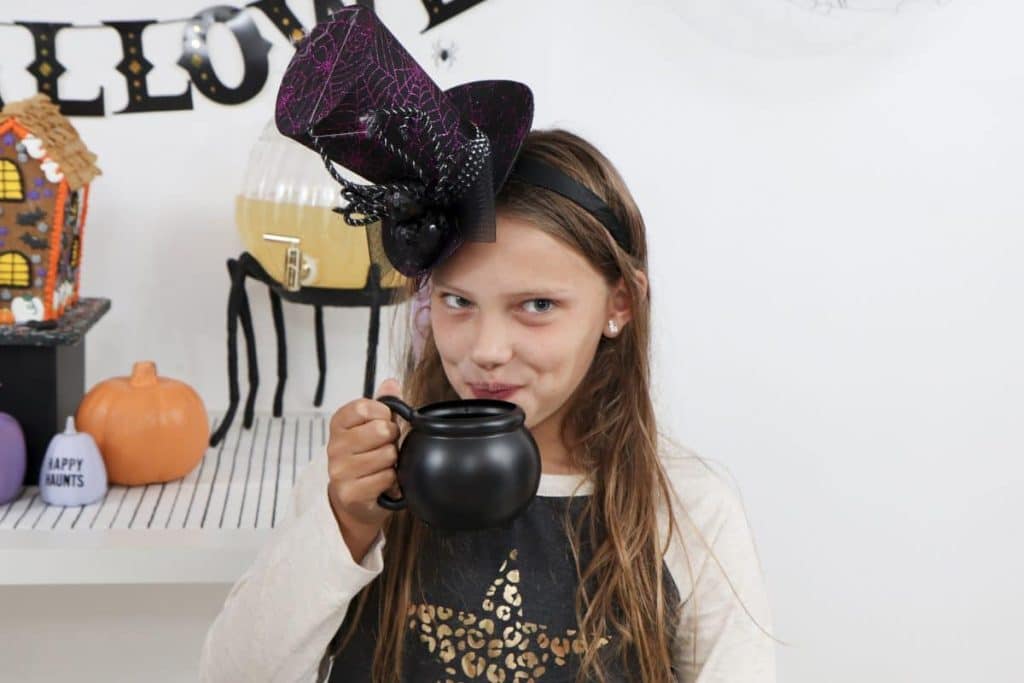 For more Gingerbread House Party fun, be sure to check out last year's Halloween Haunted House Decorating Party, and my Spring Gingerbread House Decorating Party.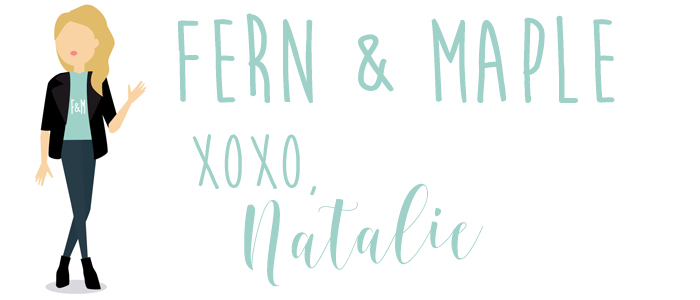 PIN FOR LATER: