Pumpkin carving is a fun Halloween activity, but can be a lot with young kids. They can't handle the sharp tools, and things can get more than a little messy. This makes it the perfect activity for older kids or teens, however! It's a great way to get them thinking creatively, and keep them entertained. For my Pumpkin Carving Party for Teens, I wanted to make sure to make it attractive to their age level – nothing too silly or too kid-like. So I decided to go with a "Chop Shop" theme – with all sorts of things that can carve – knives, swords…even an executioner axe! These gave it the perfect level of spooky and cool my son Harrison and his friends loved. Read on to see how I set it all up, and then be sure to check out my post with 7 Tips for Planning the Perfect Pumpkin Carving Party!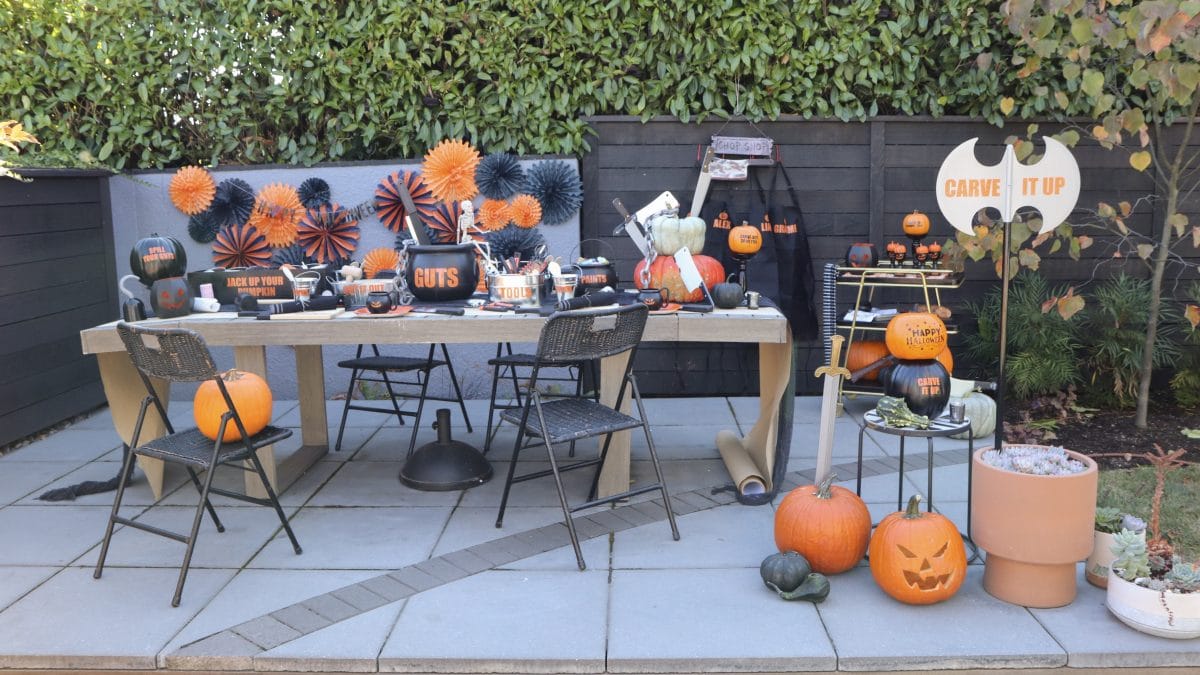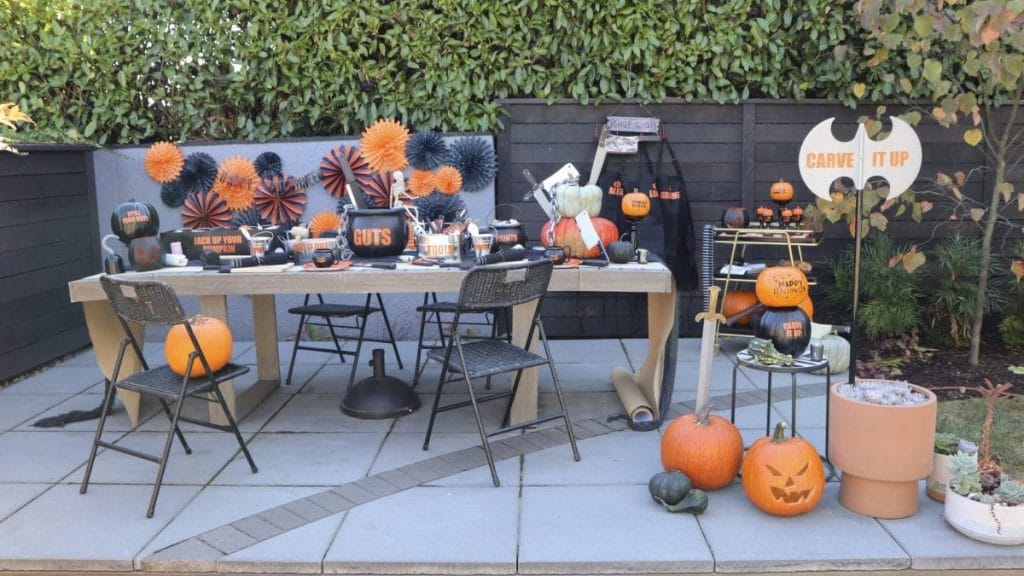 How to Set up a Pumpkin Carving Party for Teens
As an OTC blogger, I received compensation and/or products in exchange for my styling and crafting services. As always, all project ideas and any opinions expressed here are my own.  For further information on our disclosure policy please check out our disclosure page.
Backdrop & Decor
I welcomed Harrison's guests to the party with a variety of pumpkins that had knives and swords coming out of them. I used vinyl letters to add themed messages to some of the pumpkins, and to the large executioner's axe. Guests were invited to "Carve it up!"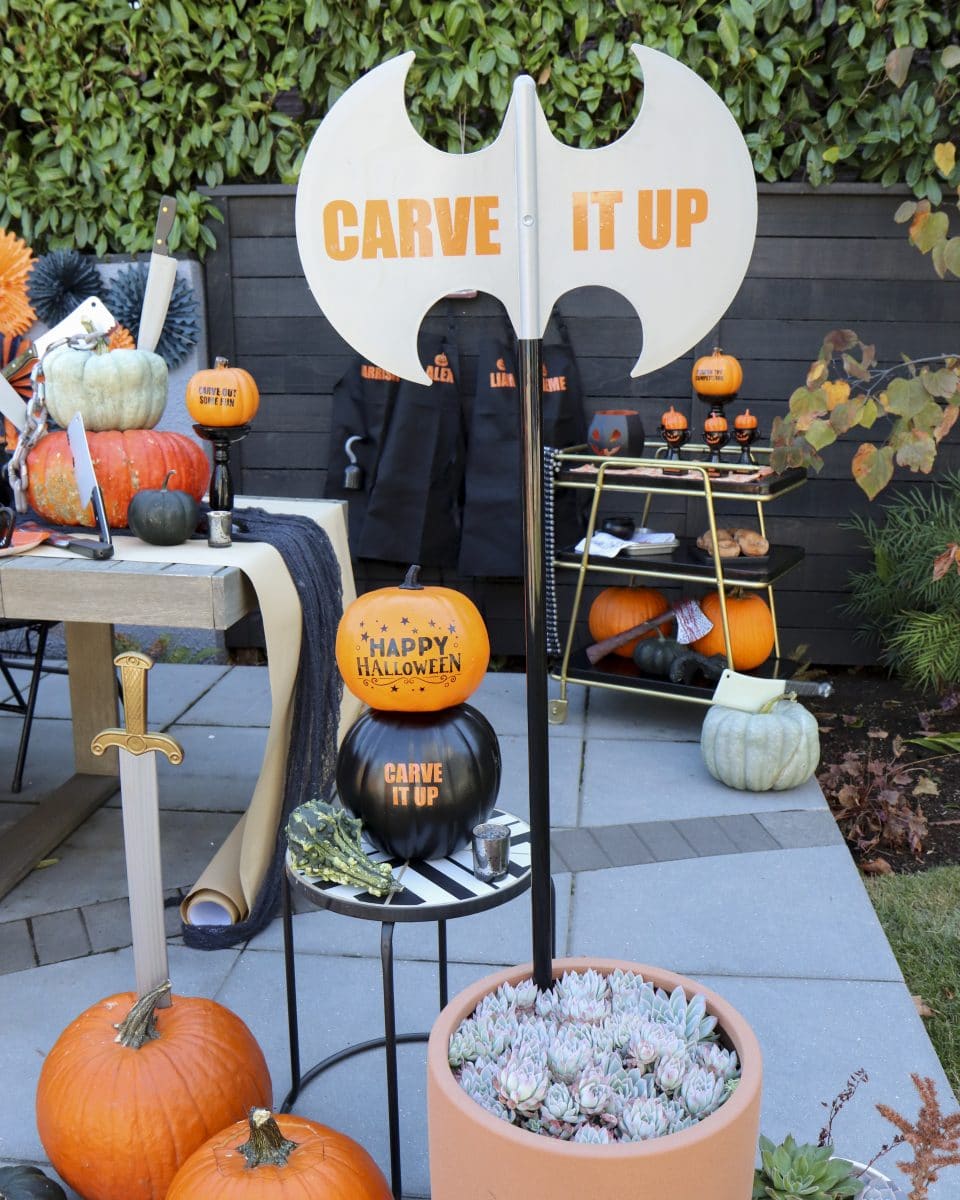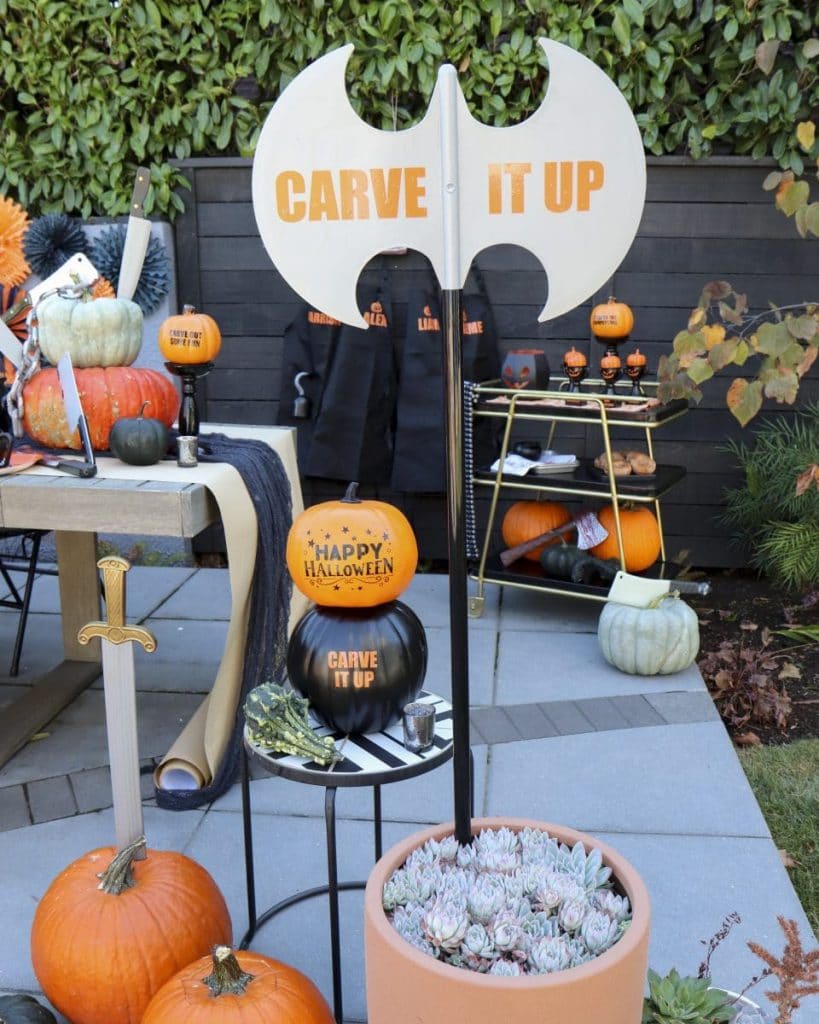 Then, to set the scene, I hung a bunch of black and orange paper fans to form a Halloween backdrop. In front of it, I hung a "Happy Halloween" garland.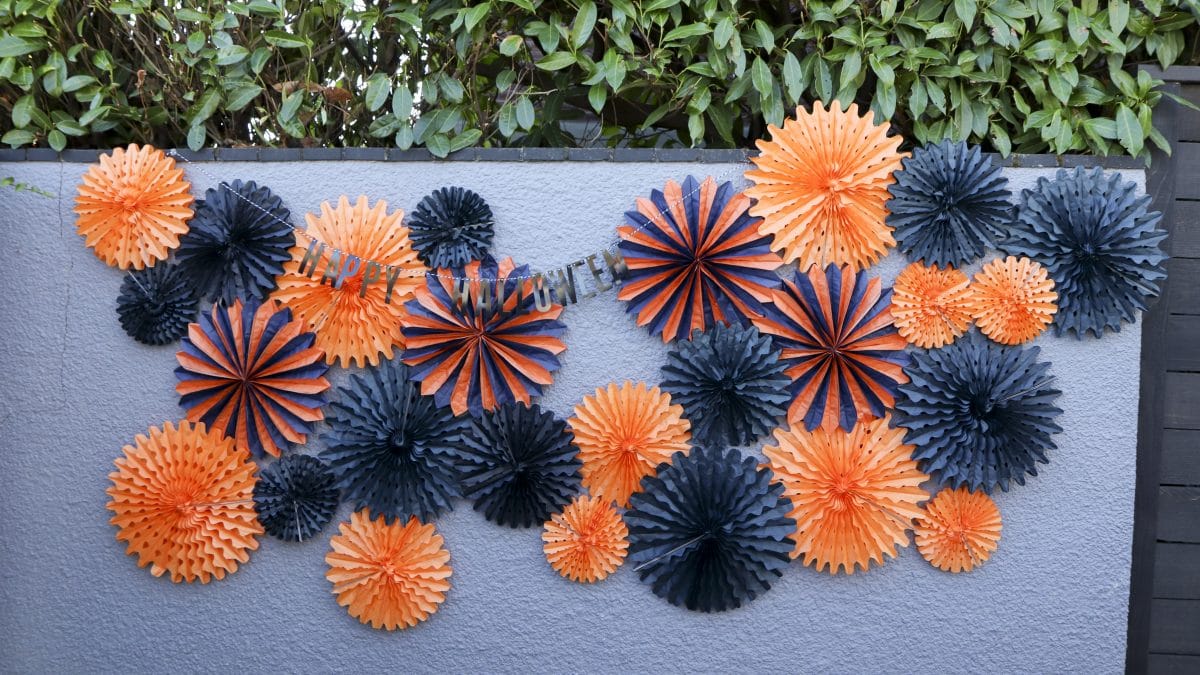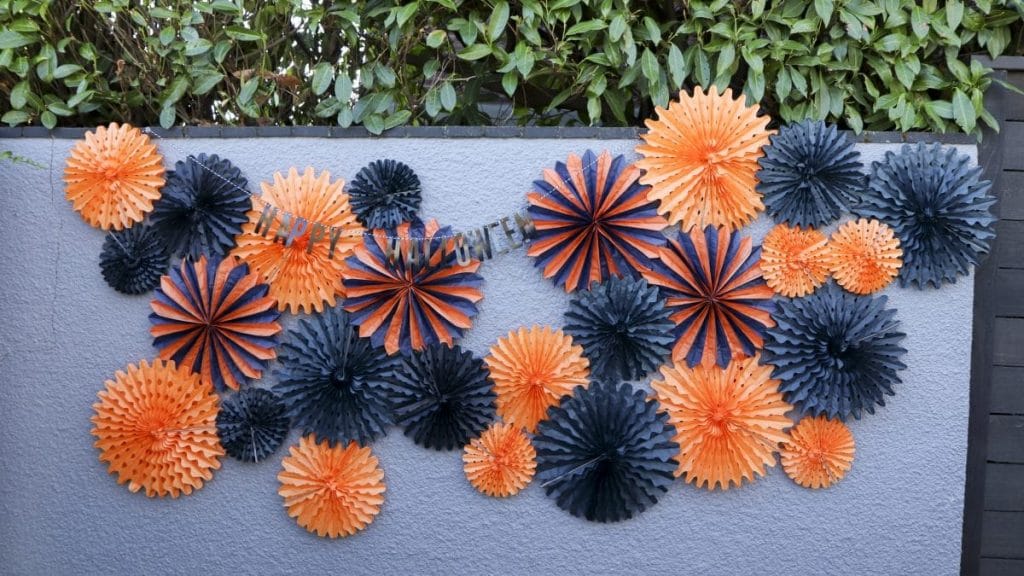 Next, I hung personalized aprons for each guest under a bloody "Chop Shop" sign. Chopping up pumpkins is a messy business!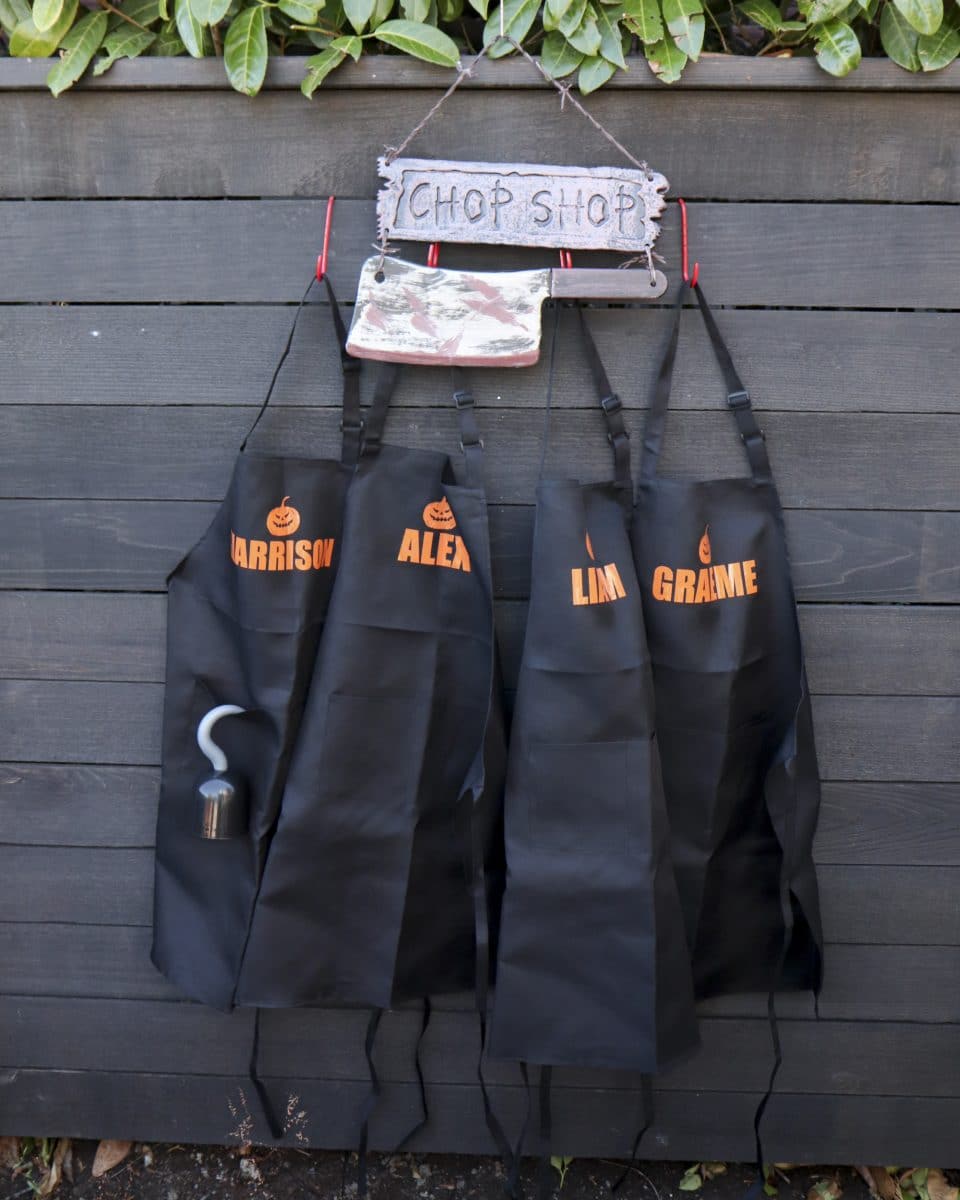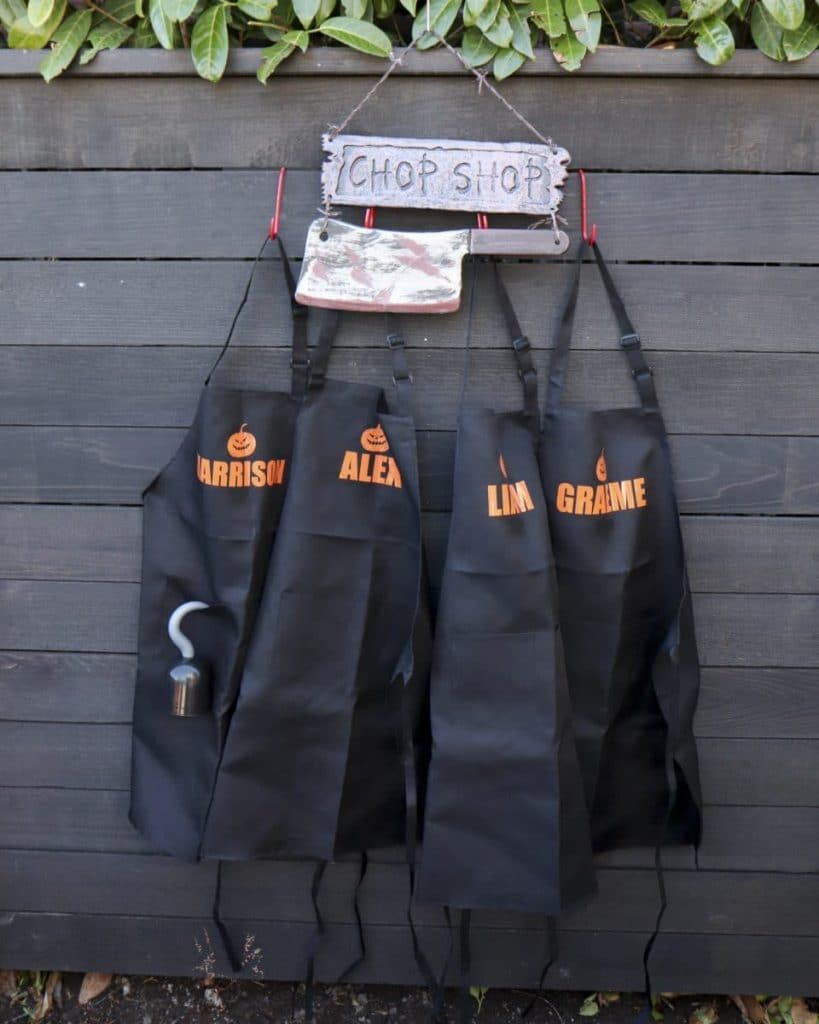 Table Setting
Before pumpkin carving, the teens have to eat! They'll need their energy for all the carving later (and if you have teens, you know how much they love food!). I served pizza on pumpkin shaped plates, and soda in black cauldron cups. I added orange jack-o'-lantern faces to the cups with vinyl to add to the spooky vibe. Finally, I put a black and white plaid napkin on each place setting, and a (plastic!) bloody knife prop for entertainment.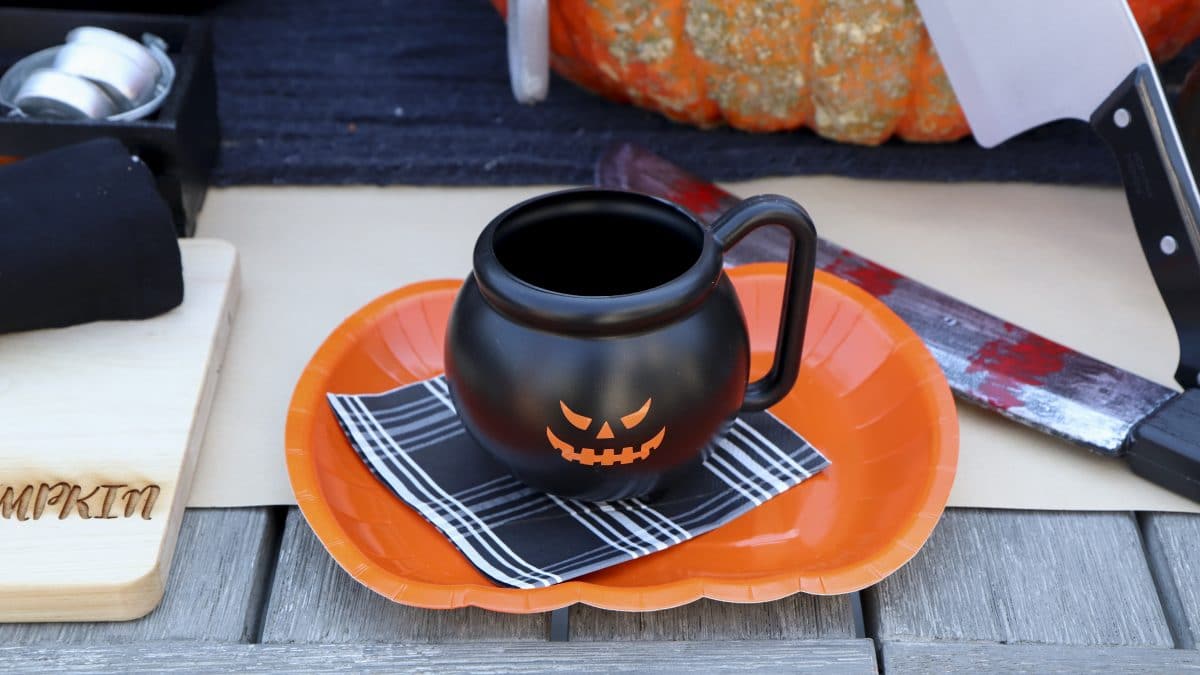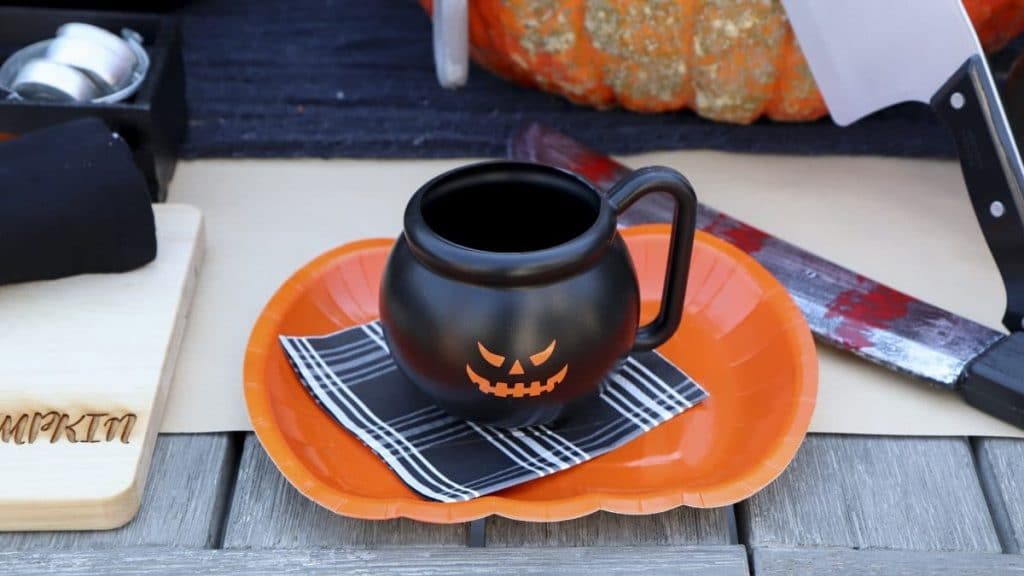 Pumpkin Carving Tools
The rest of the table was filled with everything the boys needed to create the creepy pumpkin of their dreams. I used metal pails to hold scoops, knives, cutters, mallets and more carving tools. In the center of the table, I placed a large black plastic cauldron labeled "GUTS" for the guests to place all the pumpkin innards they cut out of their pumpkins. This cuts down on the mess (a bit)!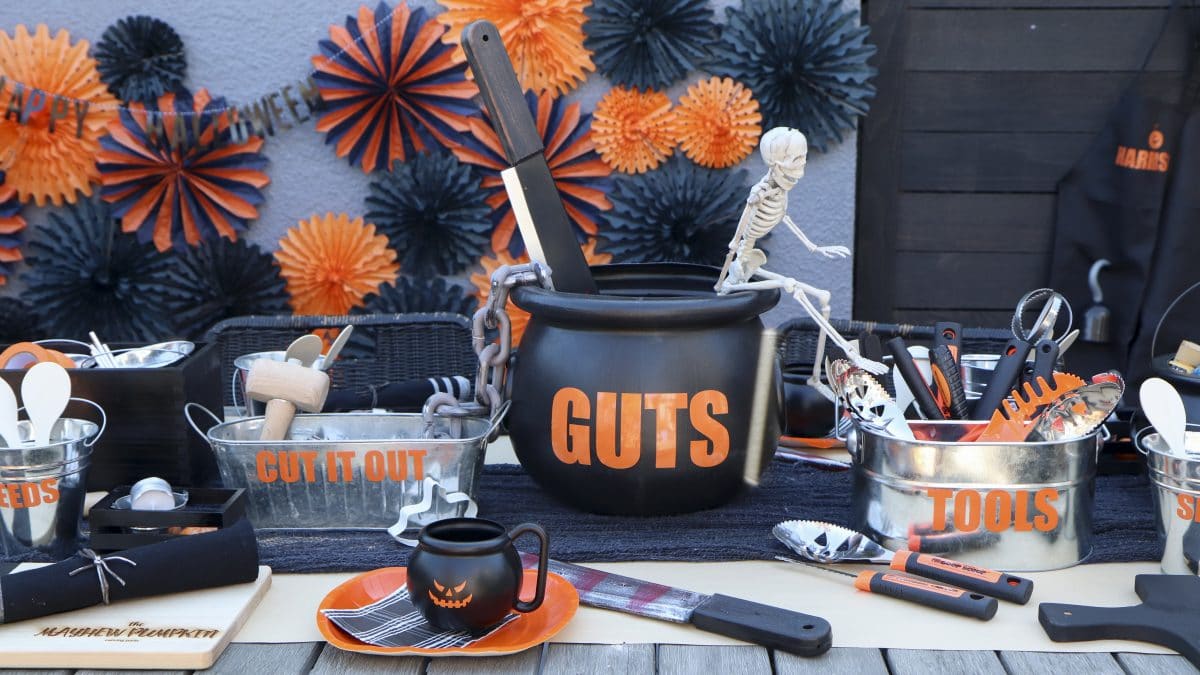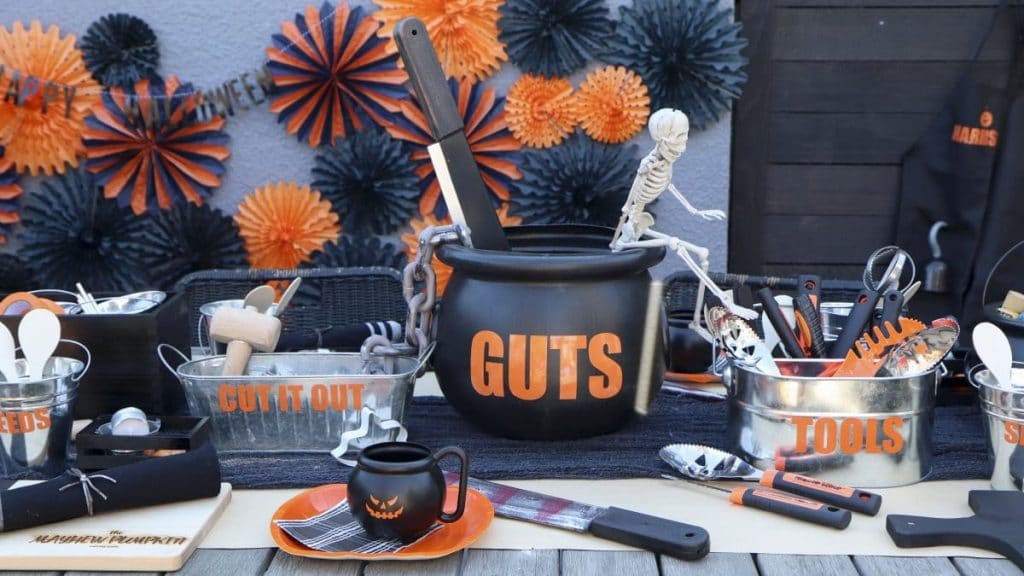 Pumpkin Carving
After dinner, it's carving time! Harrison and his friends donned their aprons, cut the tops of the pumpkins, scooped out the insides, separated out the seeds for roasting later, and then got to work on their designs.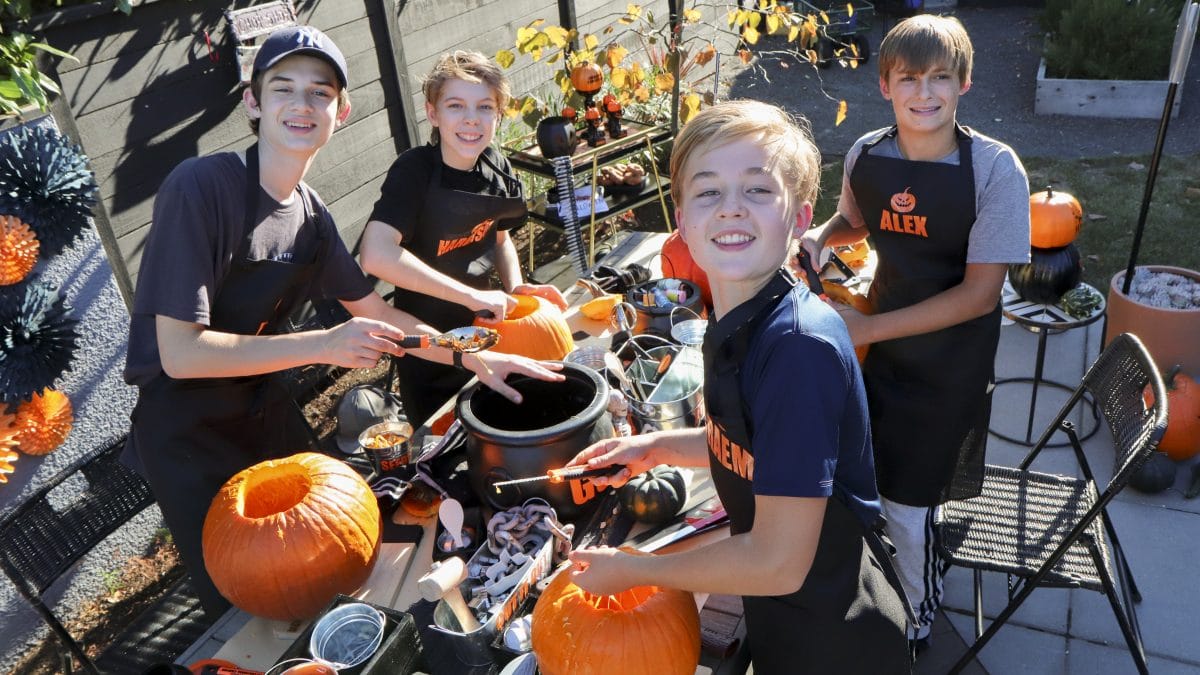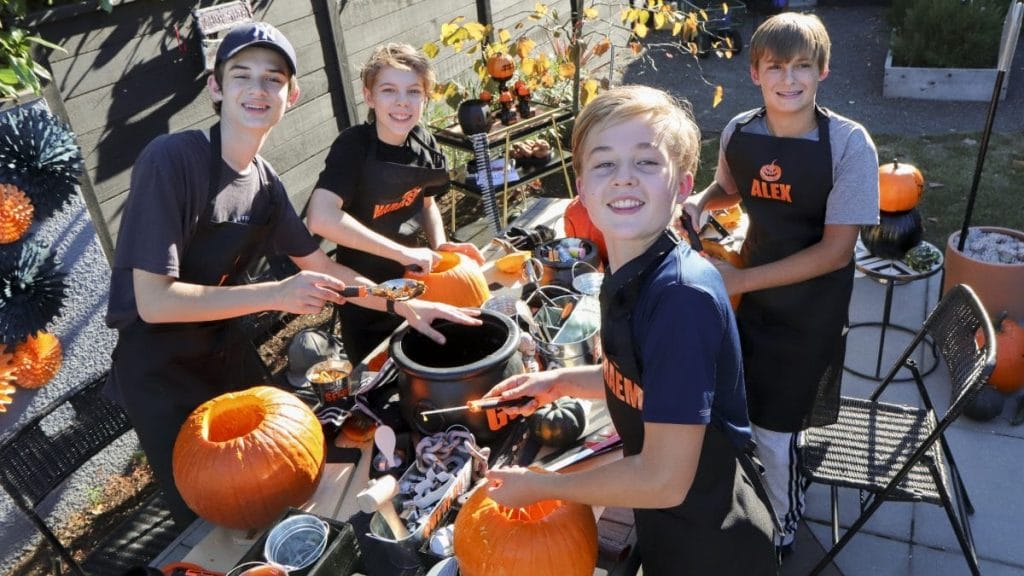 Awards
After they were done carving, we provided each with an award I created with plastic trophies and pumpkin props. I added jack-o'-lantern faces and an award label to each. We came up with categories like "scariest", "silliest" etc. The kids loved showing off their awards!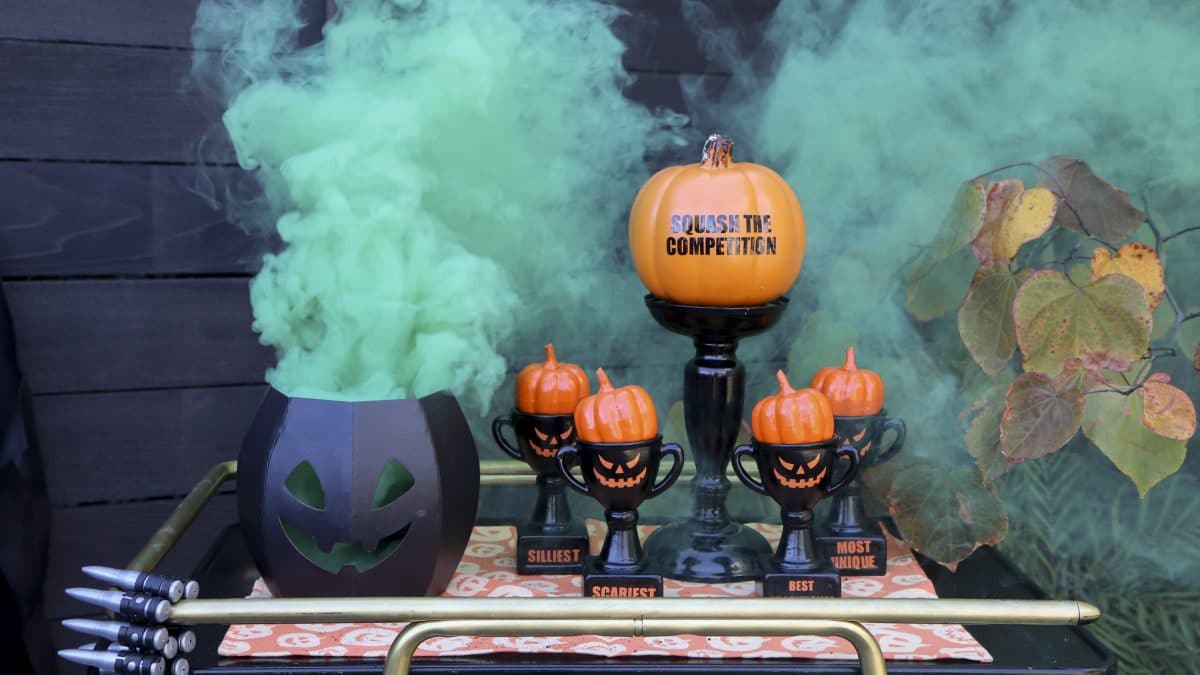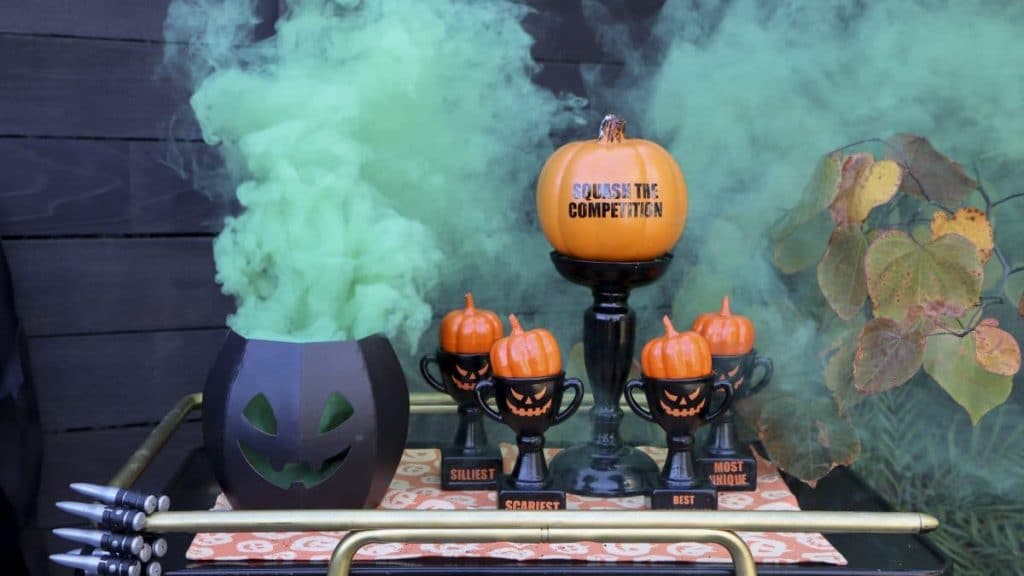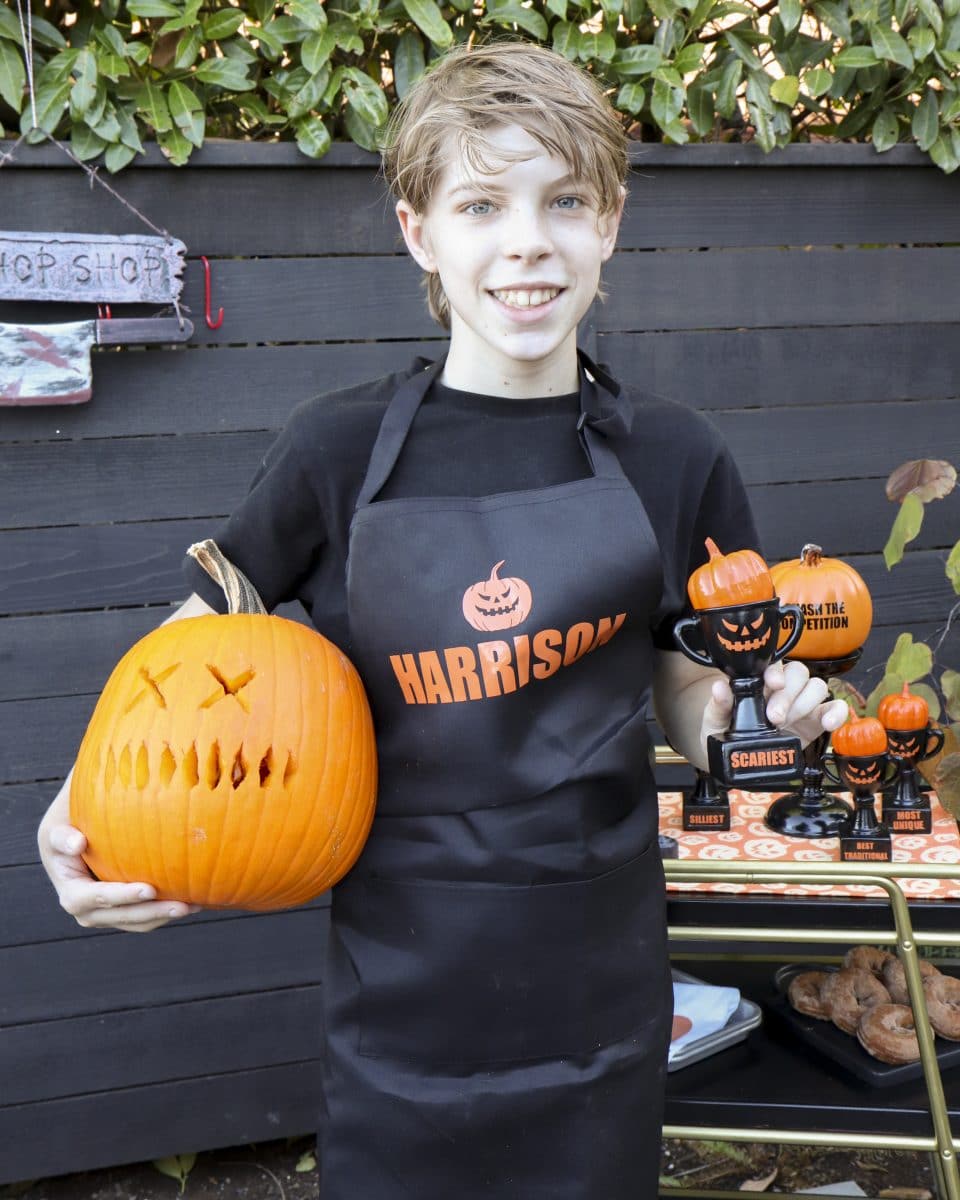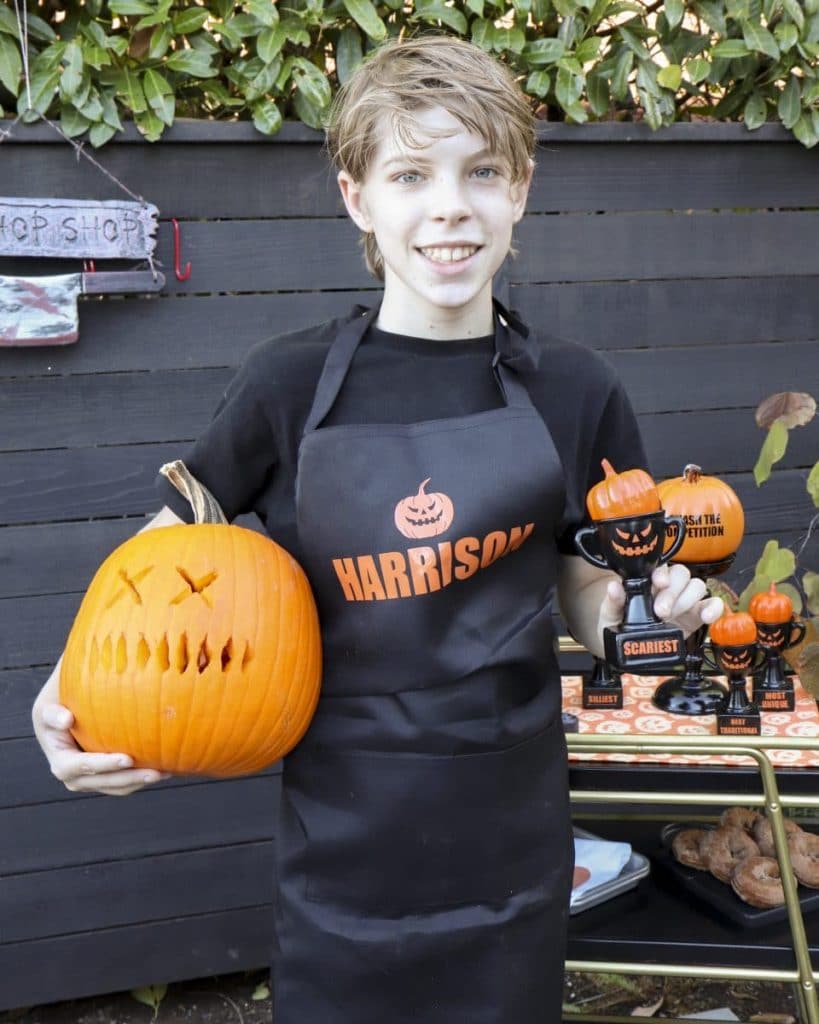 You can get tons of additional details for this Teen's Pumpkin Carving Party, as well as shop for everything you need to create it yourself on Fun365 at Oriental Trading. Everything you need to See It, Shop It and Make It with the click of a button!
And don't forget to also check out my post with 7 Tips for Planning the Perfect Pumpkin Carving Party!
Happy Carving!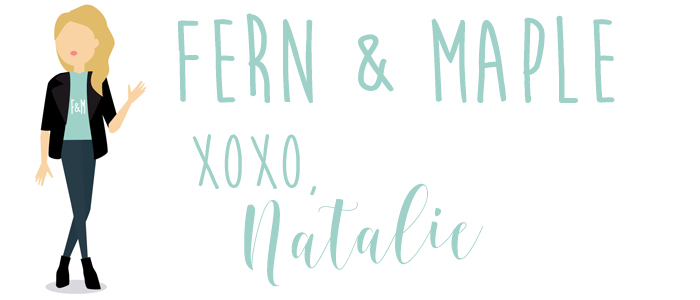 PIN FOR LATER: