Spring is in the air! I love shaking off the winter chill and getting into the happy spring vibe! It means glorious spring pastels, lots of gingham, and the cutest baby bunnies and chicks. What better way is there to kick it off than decorating spring gingerbread houses? This is a really fun spin on the holiday gingerbread house decorating theme! 
You may remember my Haunted House Decorating Party back at Halloween. It was so fun, I thought we should revisit it for Spring. There are so many fun ways to use these little gingerbread houses. You could even decorate them as mini edible fairy houses! Read on for all the details on how I set it up for my daughter and her friends!
P.S. Check out my Amazon Shop for similar or alternative supplies for this party!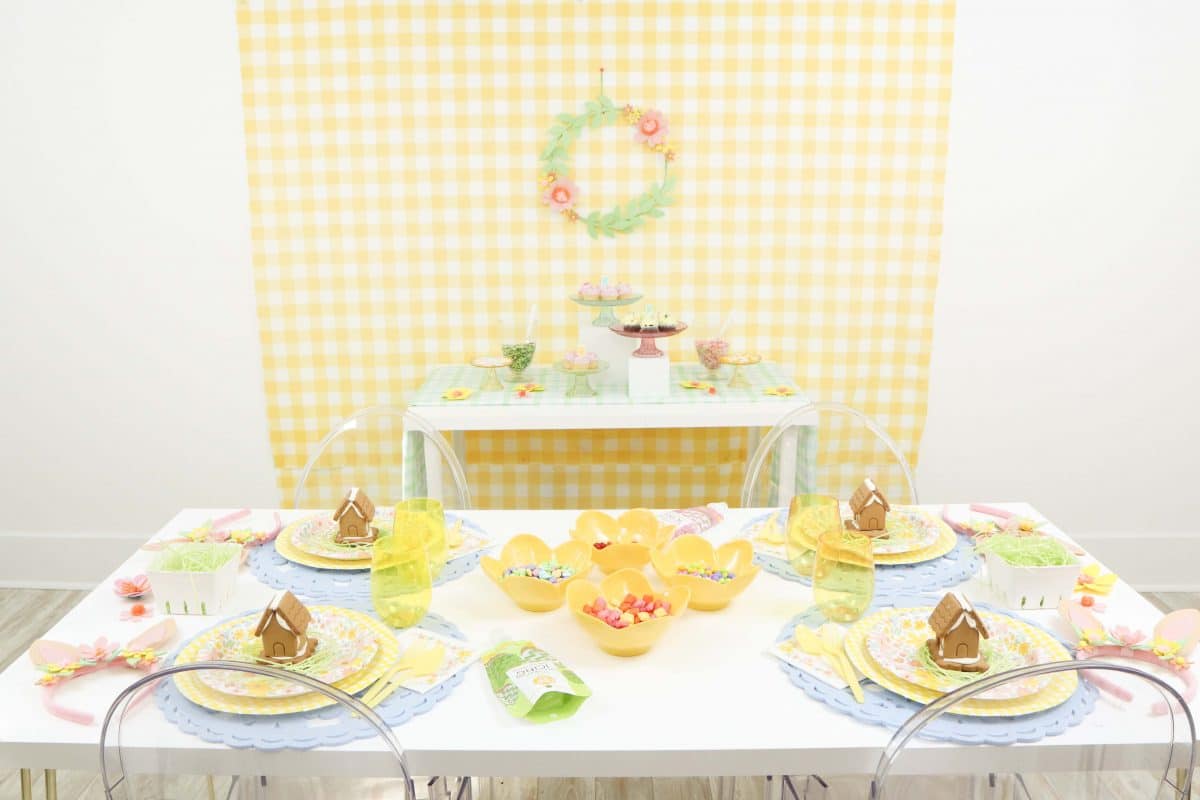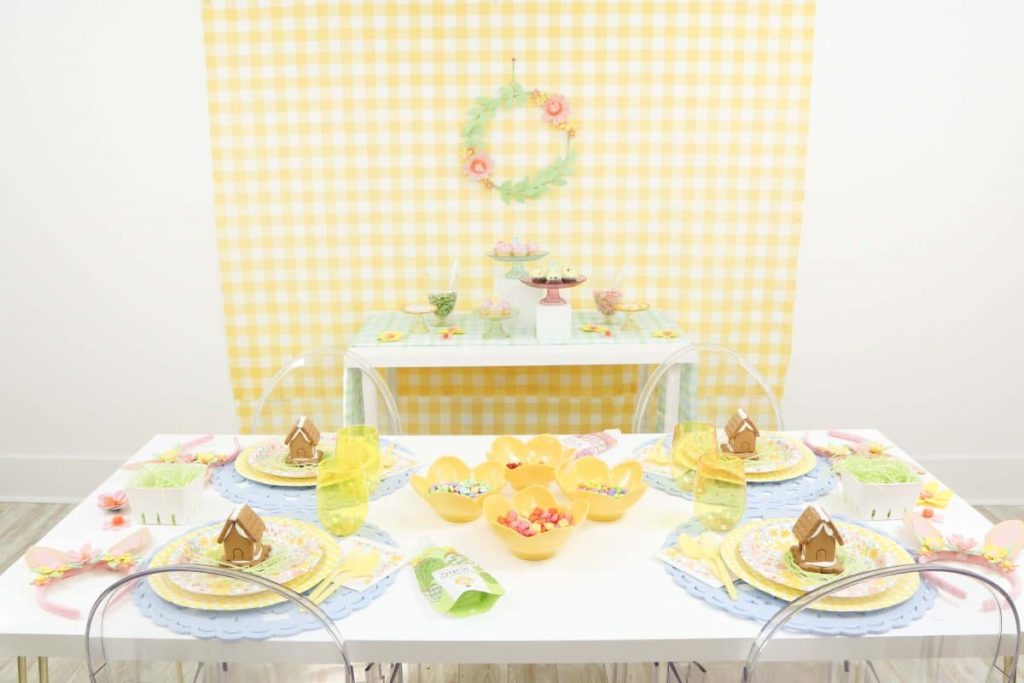 All About The Gingham
I love a high impact, easy backdrop. This one is also super affordable, as this yellow gingham paper tablecloth was only $5! It is very light, so I was able to hang it horizontally across the wall using removable glue dots.
Tip: To get additional height, cut of a portion from each side of the tablecloth and attach to the bottom of the tablecloth.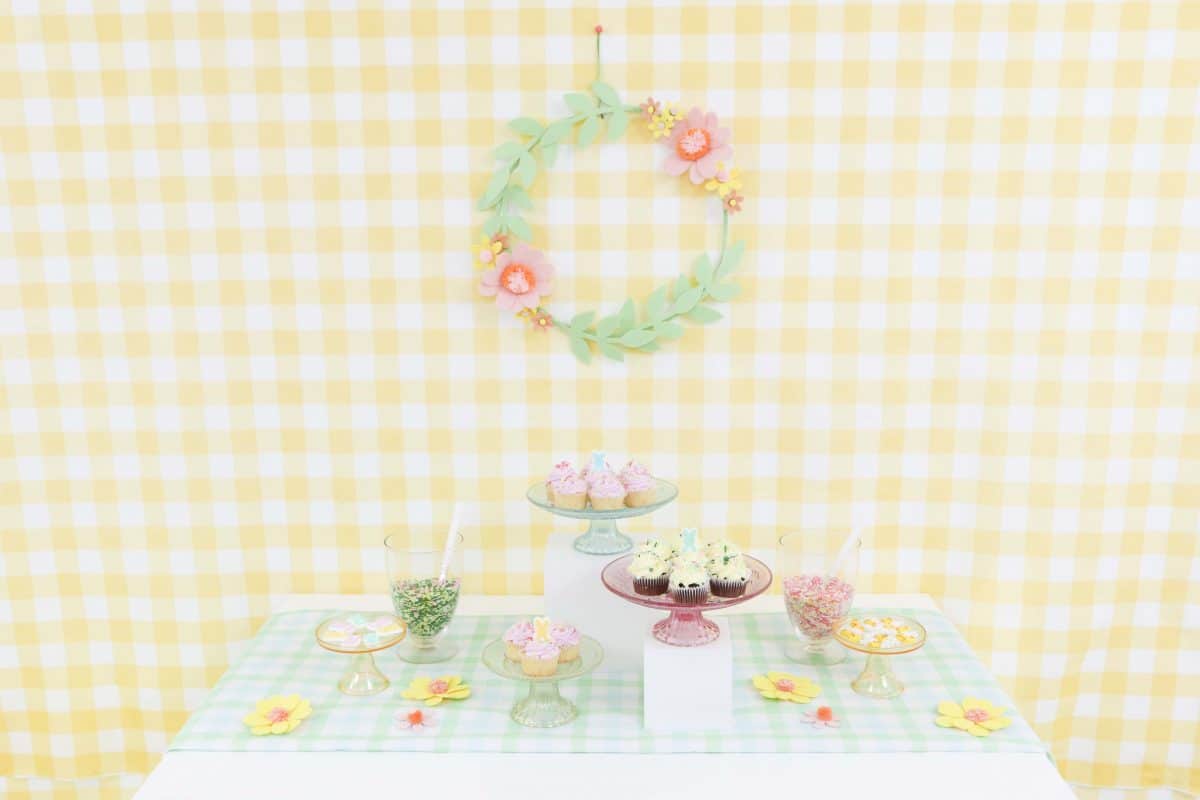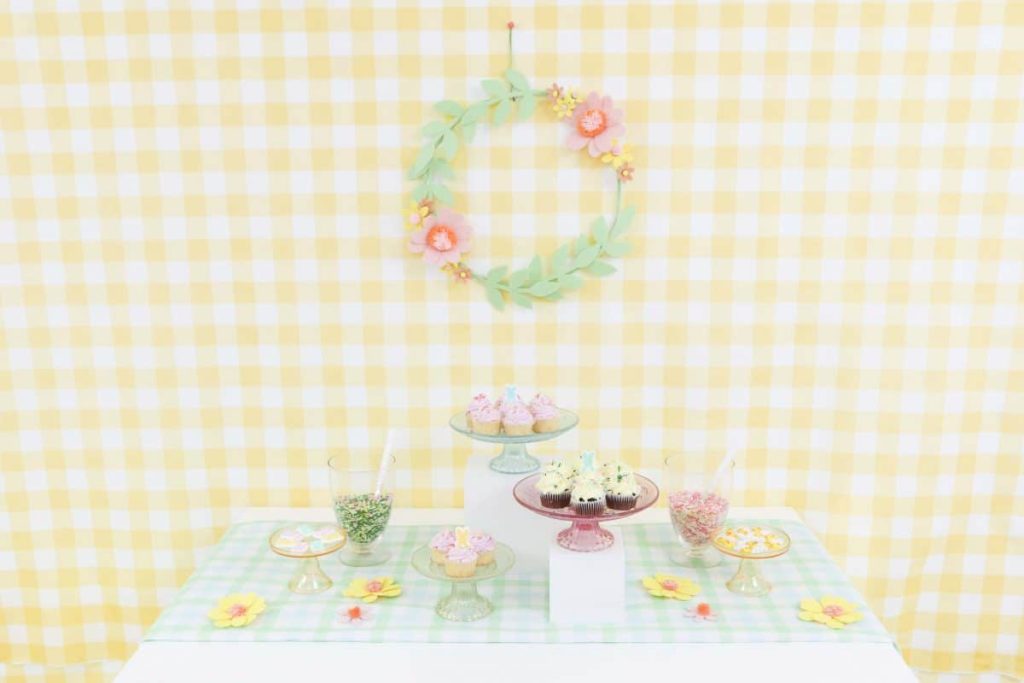 In the center of the gingham backdrop, I hung a simple felt flower wreath. This floral wreath can also be created using a selection of felt or faux florals and a simple gold hoop.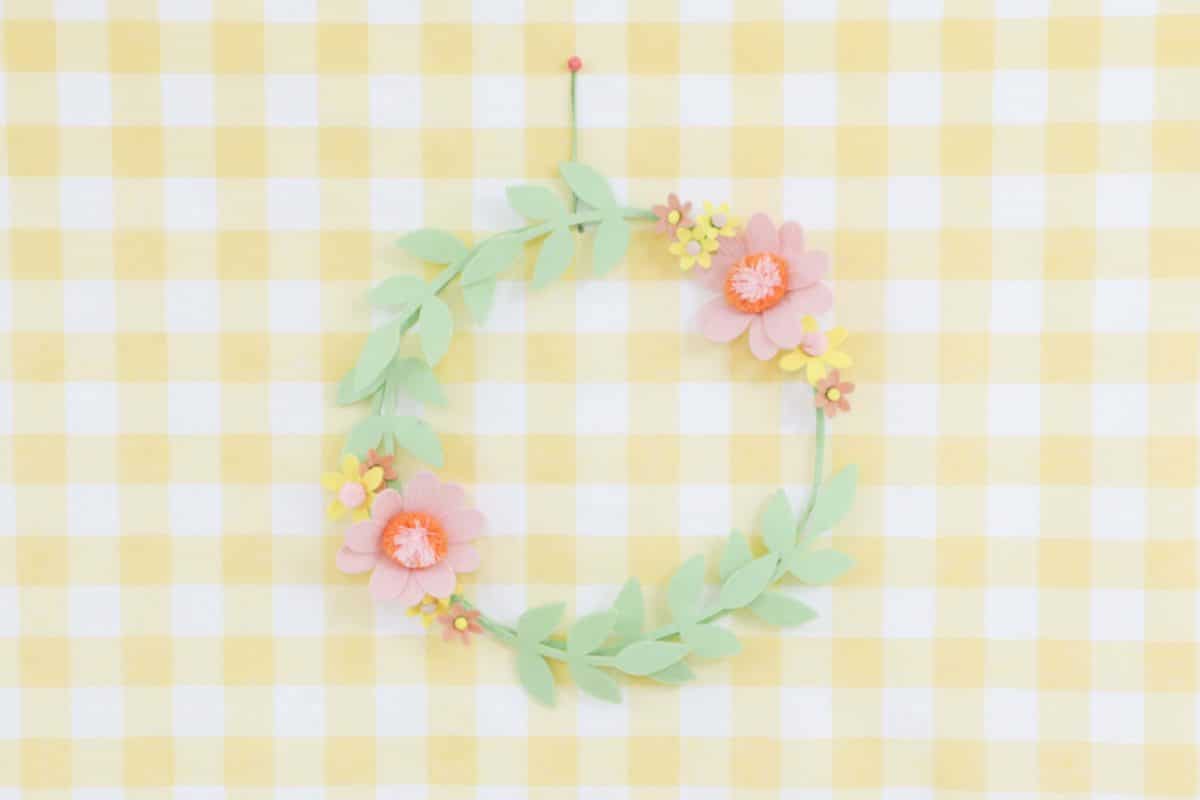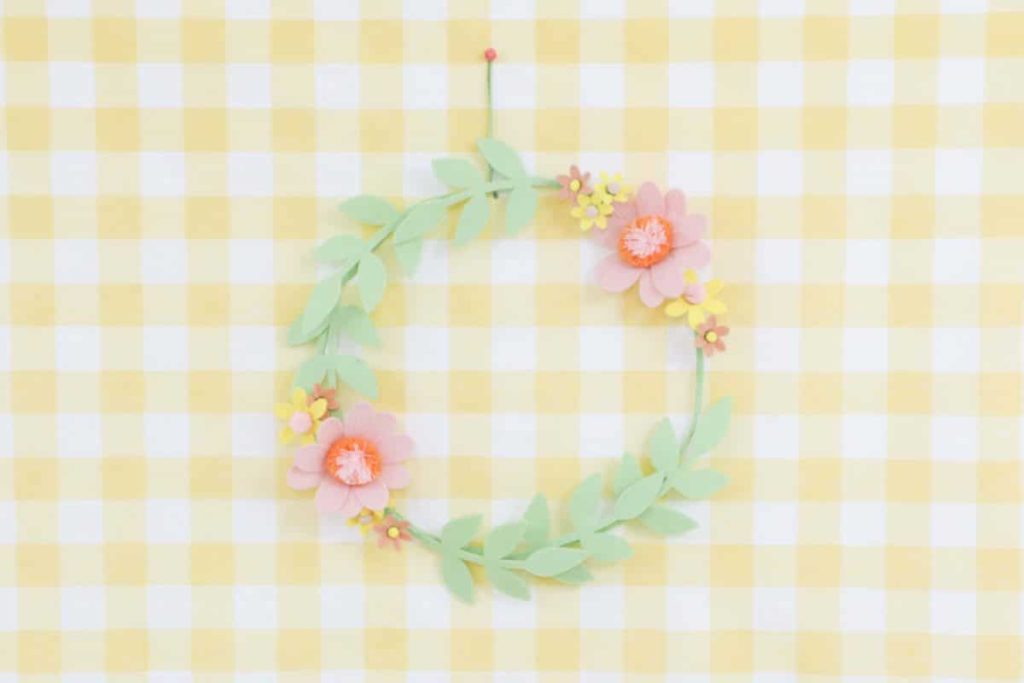 The gingham also makes a gorgeous photo backdrop too – check out two of my little hopping bunny rabbits!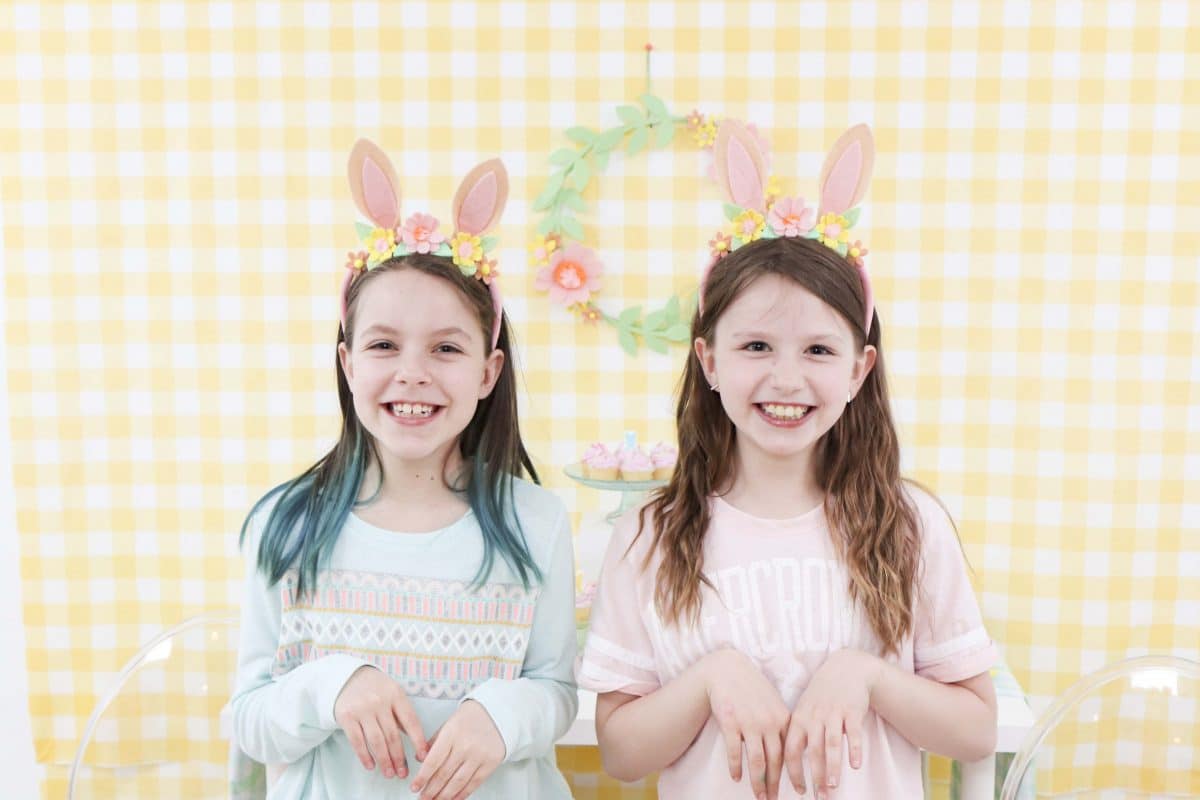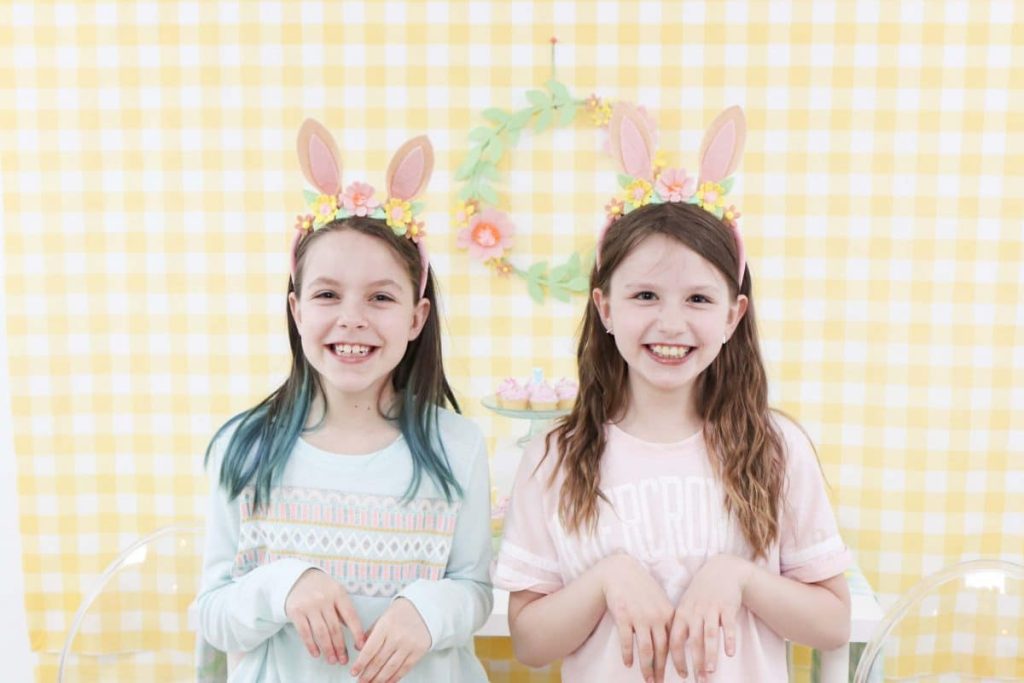 Dessert & Sprinkles Table
On the dessert table in front of the backdrop, I used a contrasting gingham: a blue & green table cover that I folded to create a runner.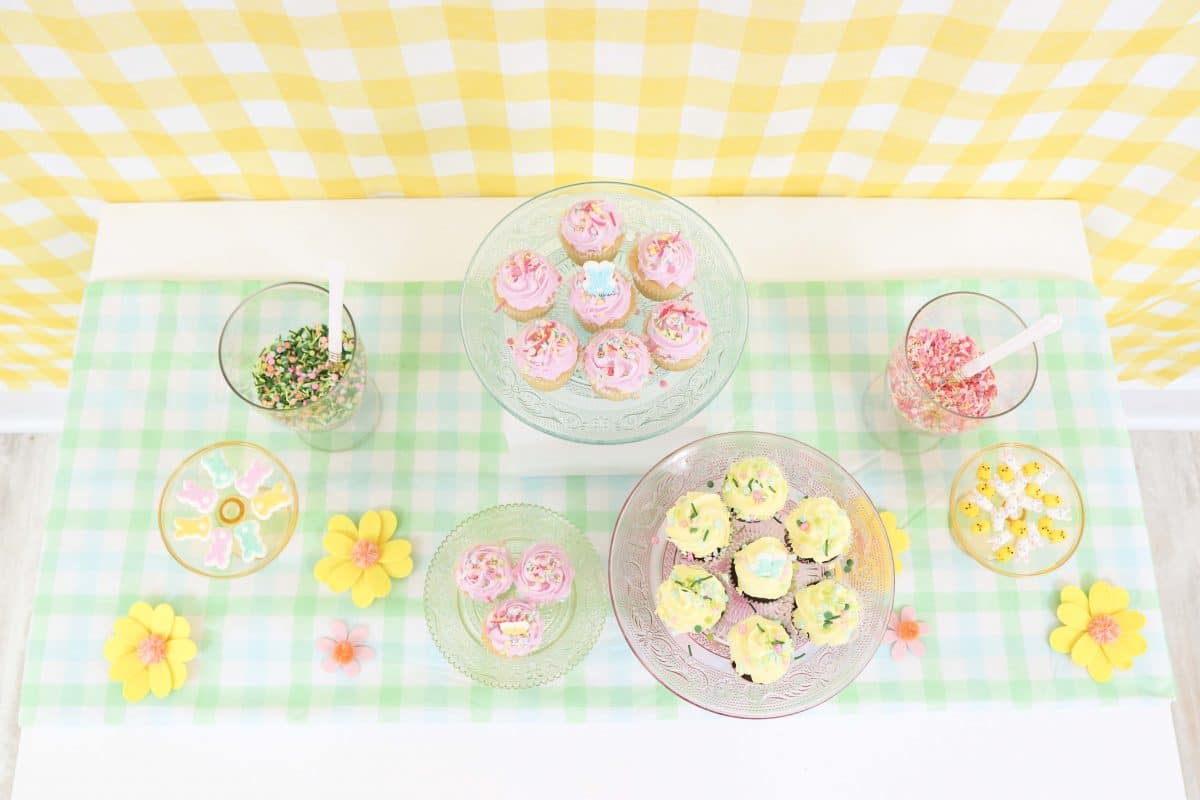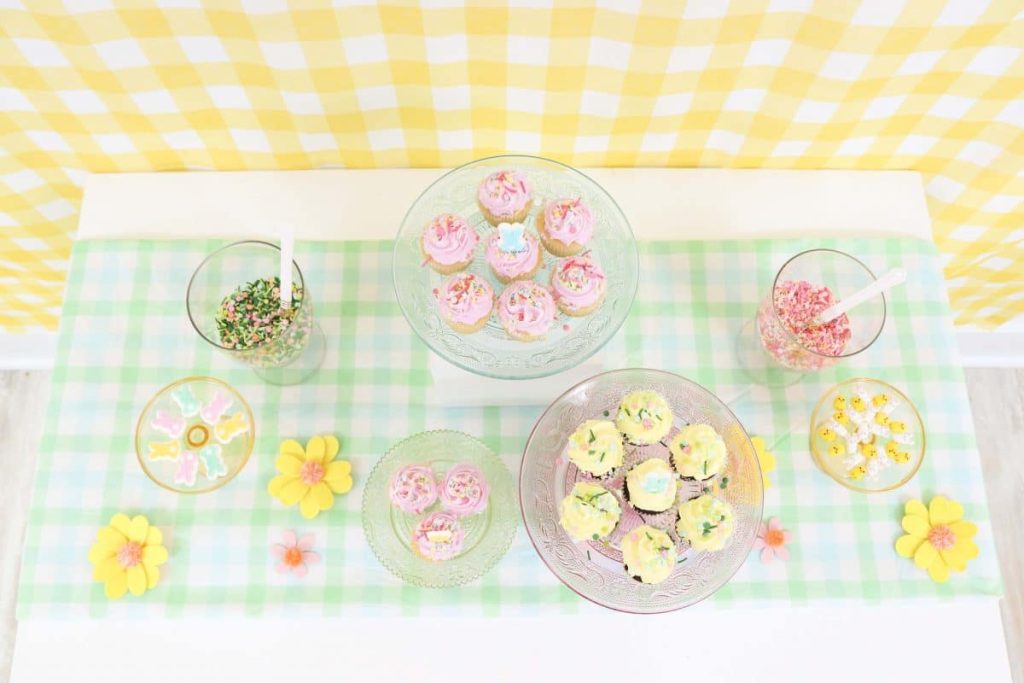 To further emphasize the Spring scene, I added a sprinkling of felt flowers that I removed from a Floral Banner.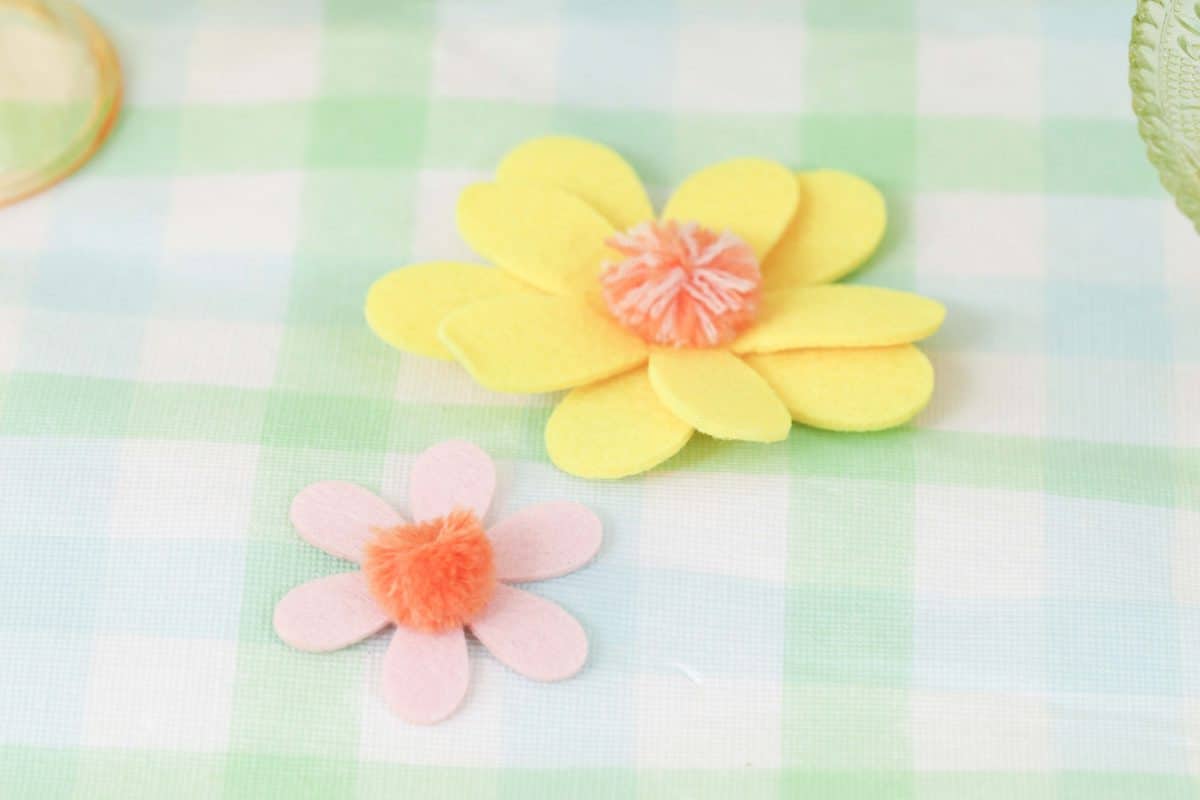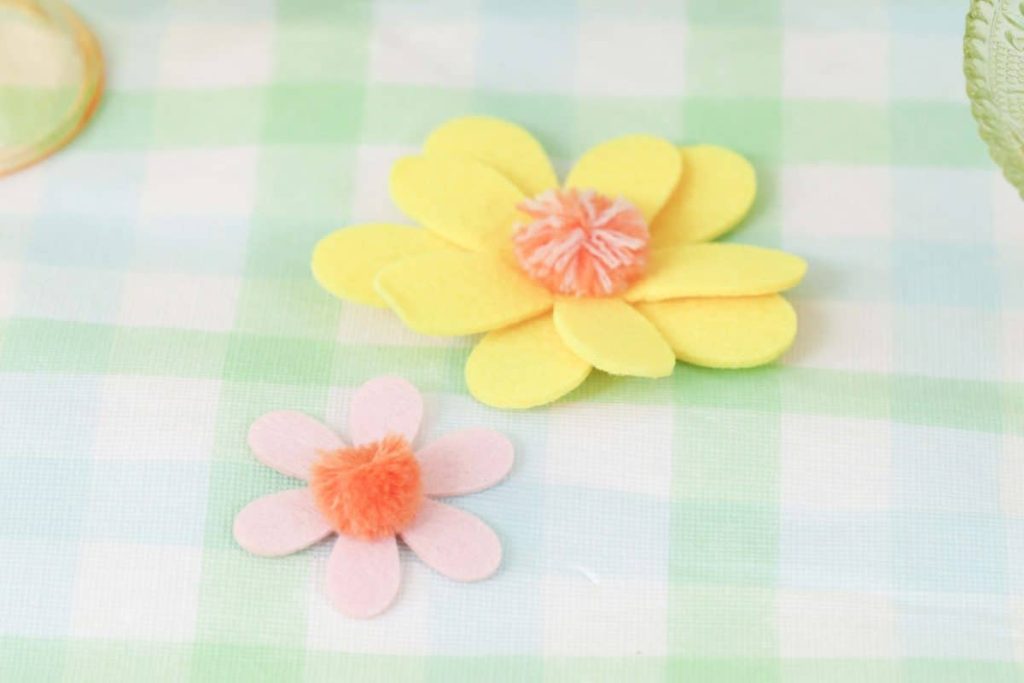 In the center of the table, I used white buffet risers to elevate some of my spring-colored cake stands. Having desserts displayed at different heights really captures the eye! I kept desserts simple by displaying store bought cupcakes and decorating them with sprinkles and candy bunnies to tie them into the décor.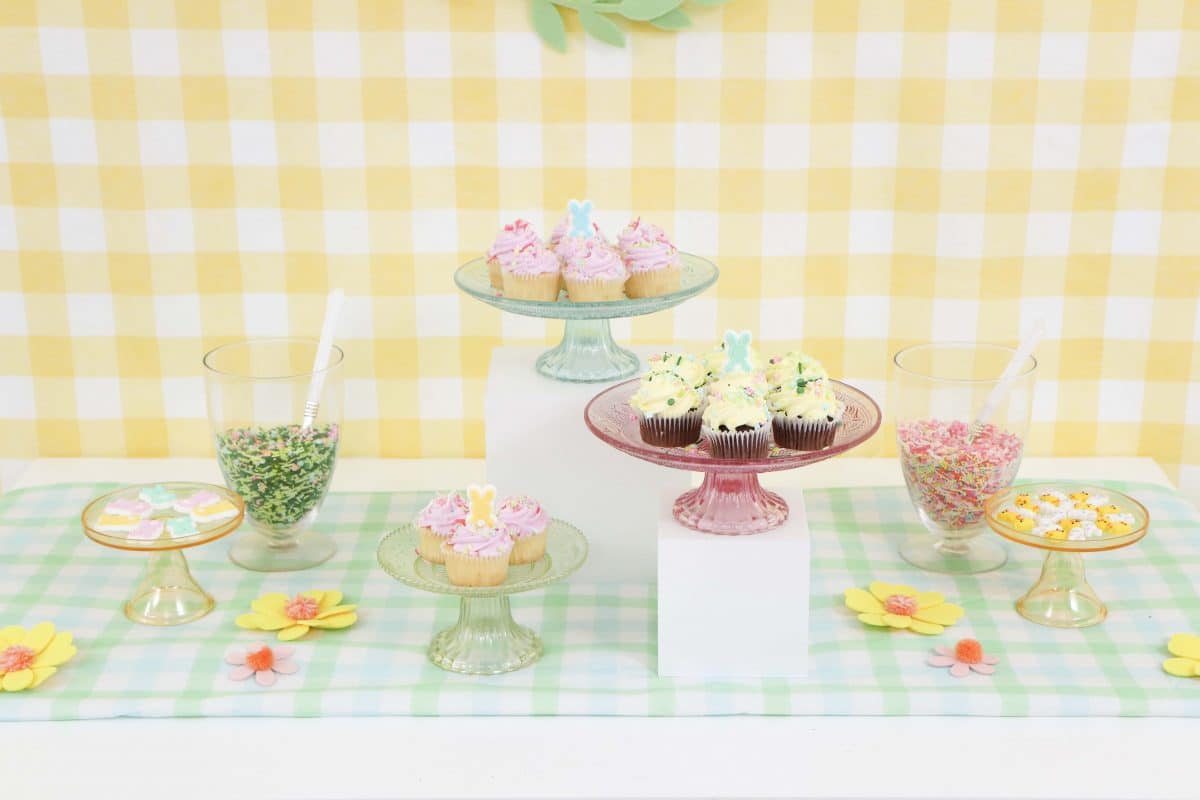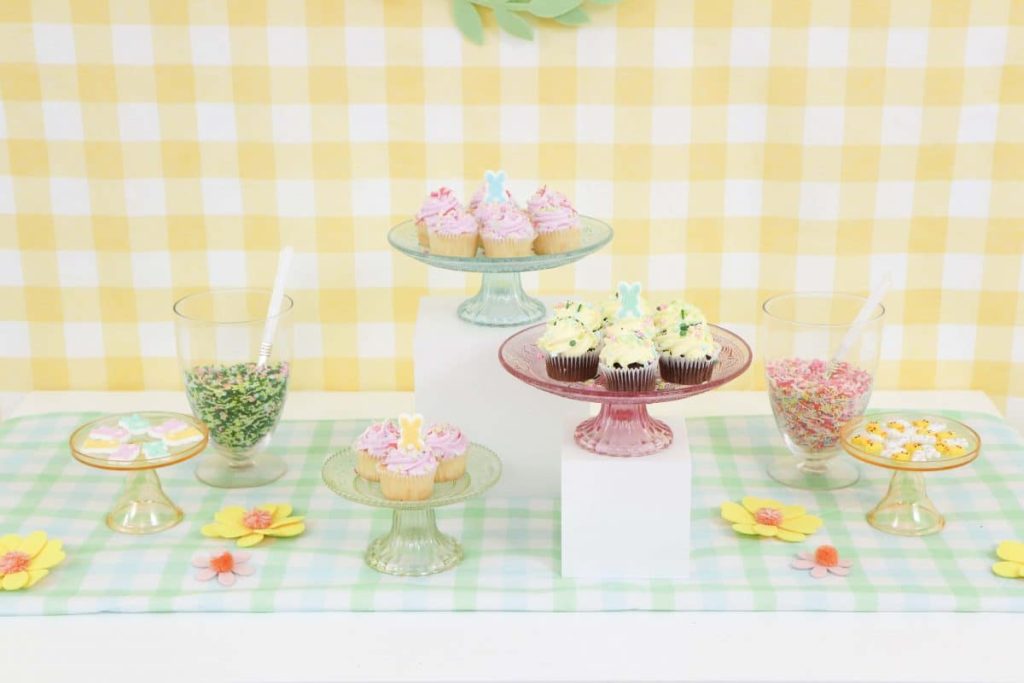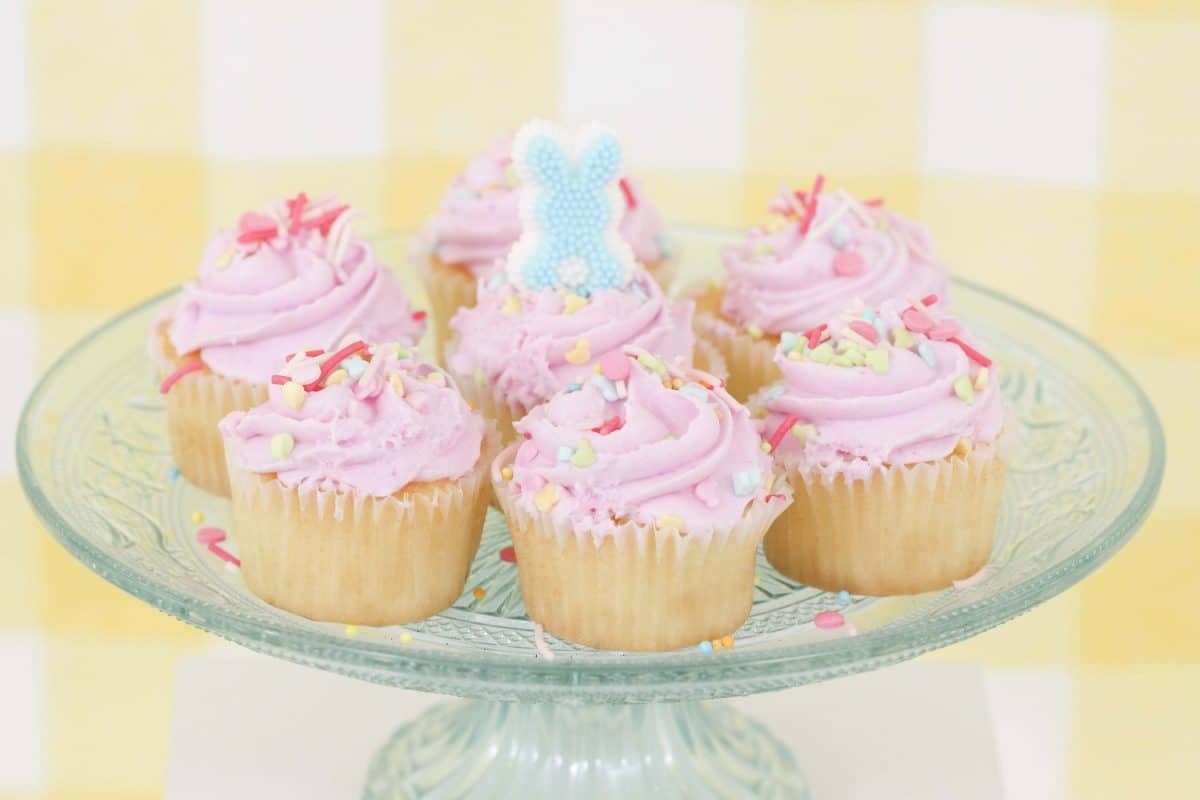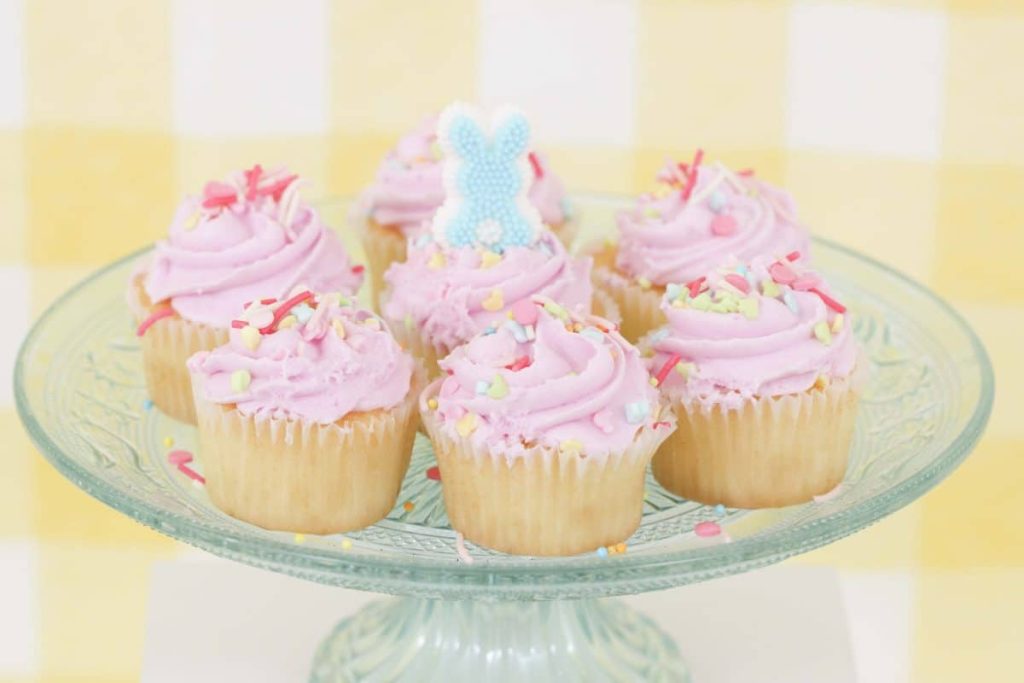 Then, I added additional decorating supplies to the dessert table: glass candy jars filled with Sweet Tooth Fairy Spring sprinkle mixes.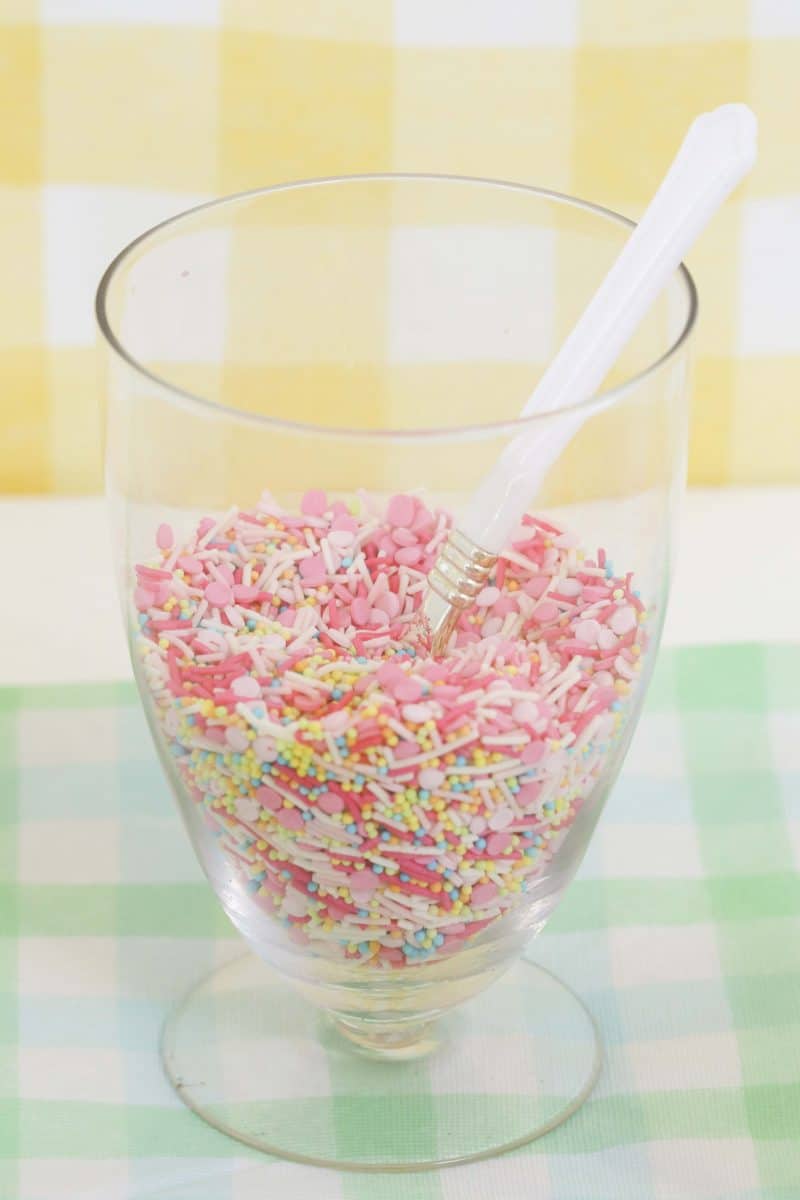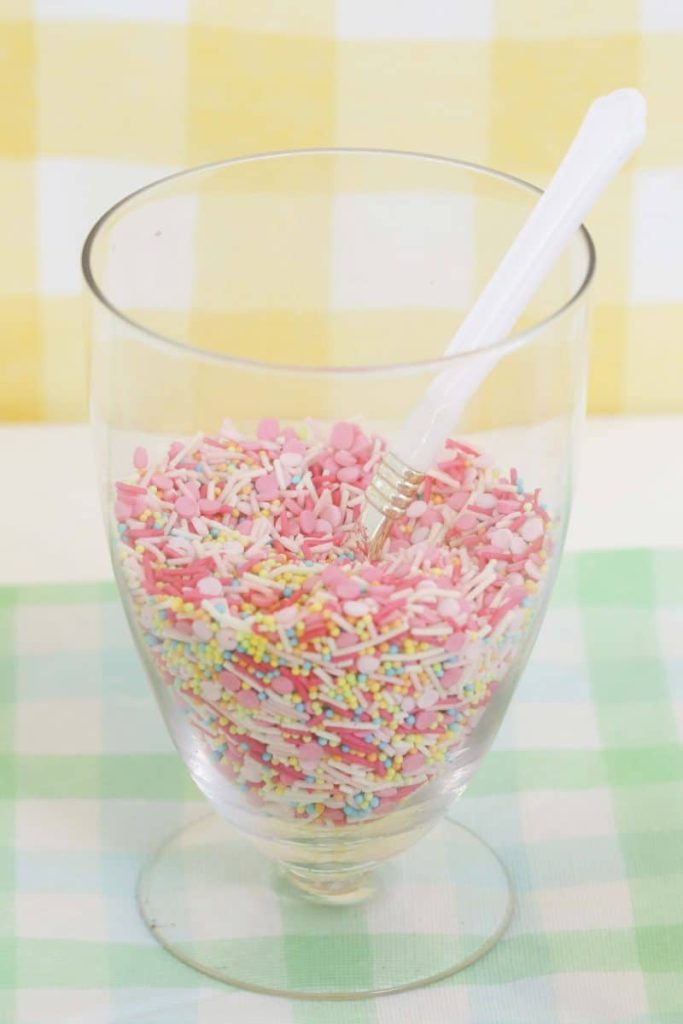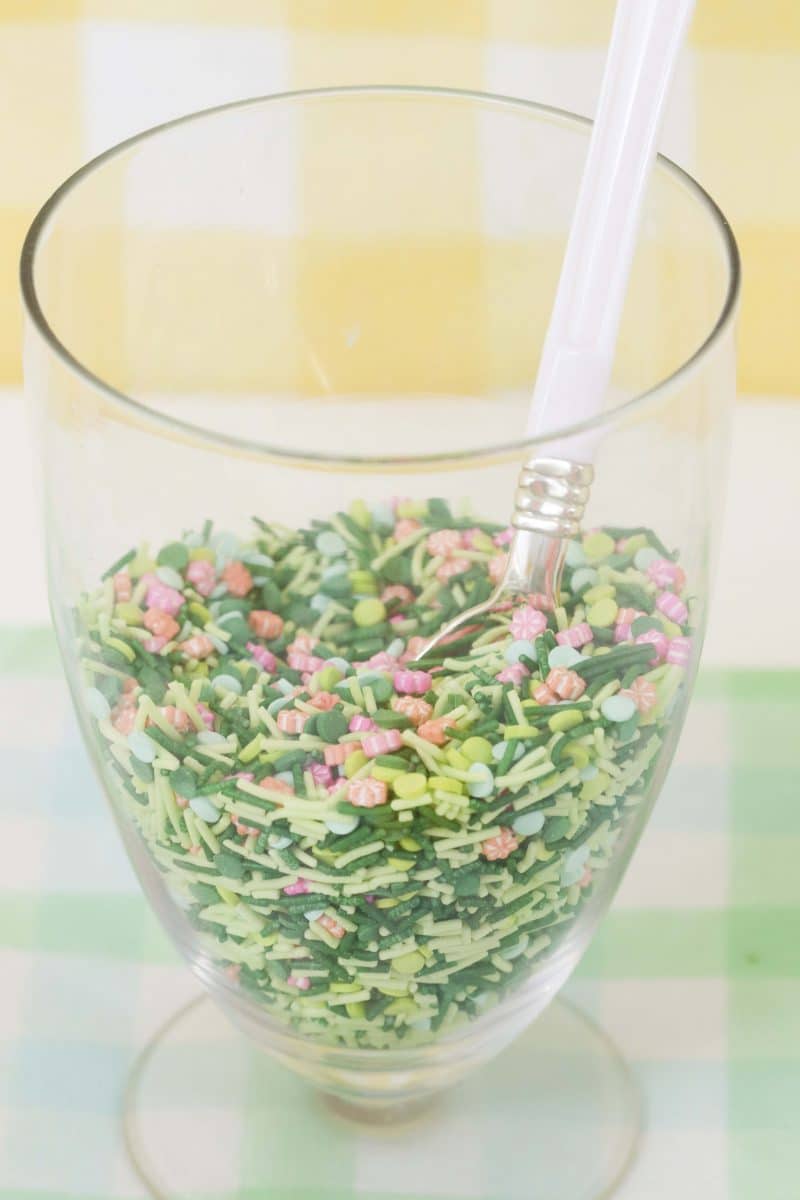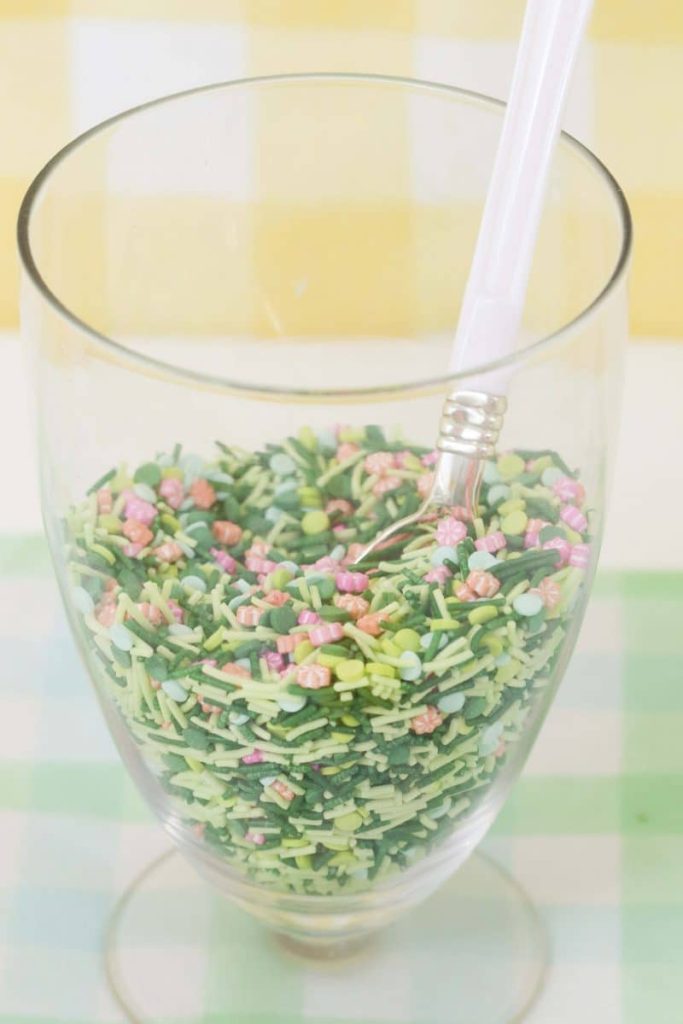 I used yellow cupcake stands to display the sweetest edible mini chicks & bunnies and larger bunnies. The kids favorite? The little chicks!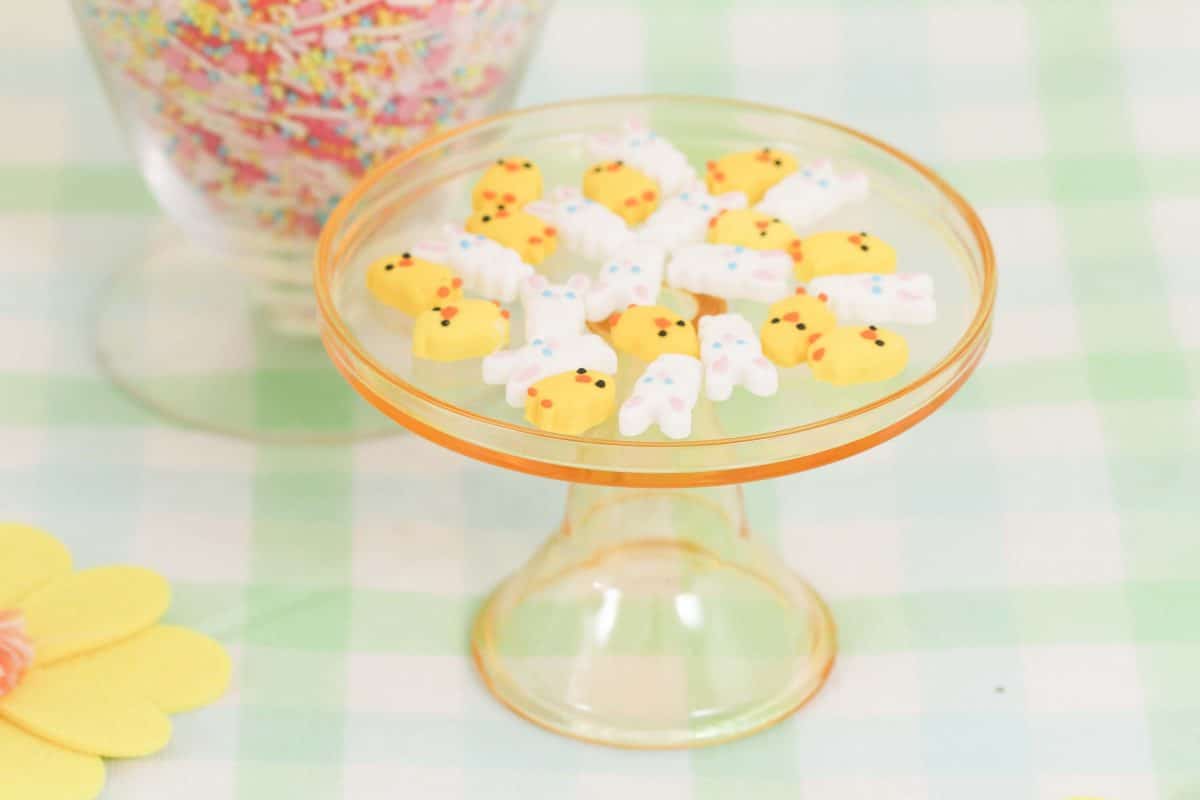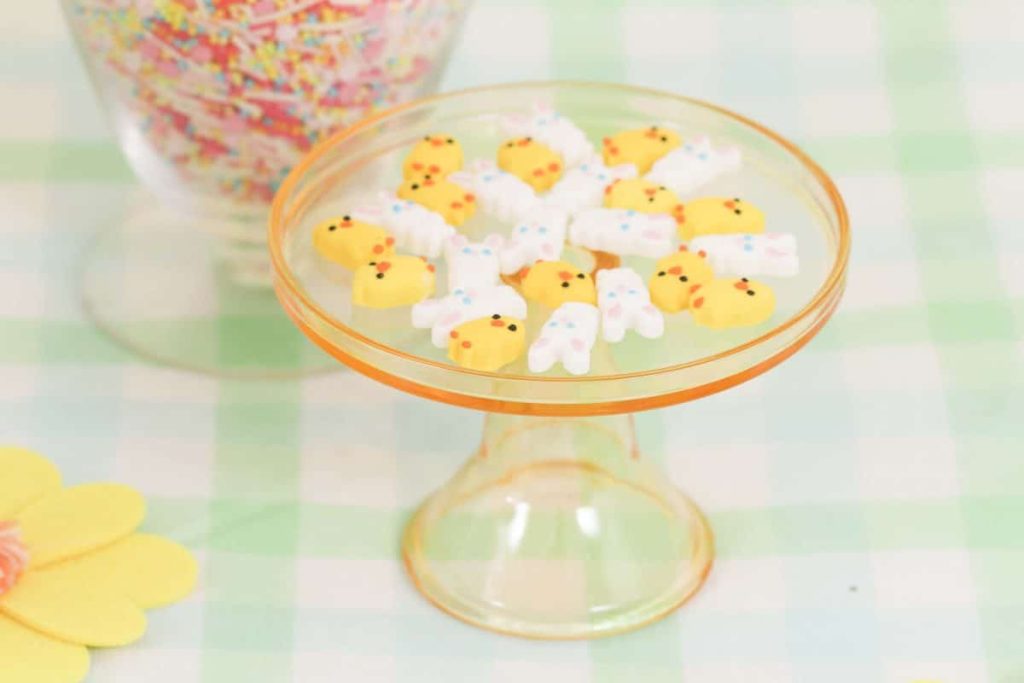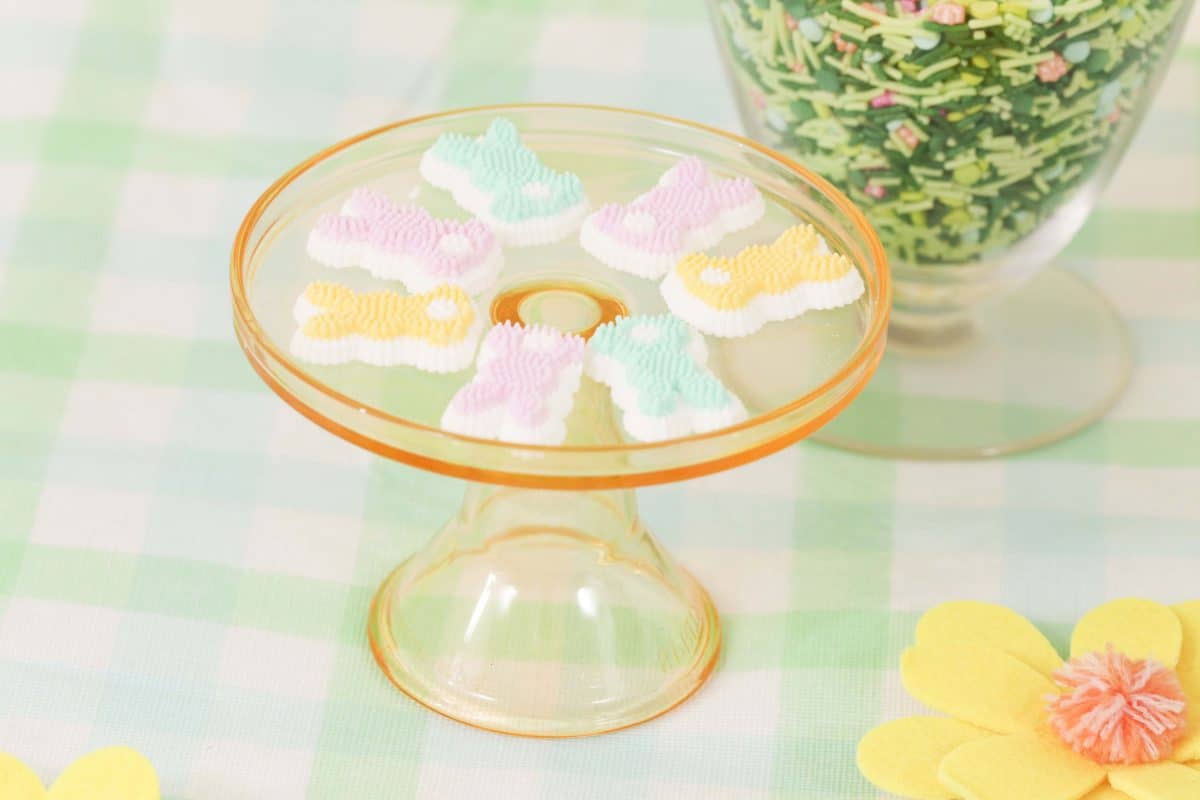 Spring Farm House Decorating Table
Next, it was on to the most important part of this decorating party – the decorating table! This is where the magic happens! The centerpiece of this table was a selection of larger candies for decorating, all placed in the cutest yellow flower candy bowls, and a few tubes of pink & green decorating icing.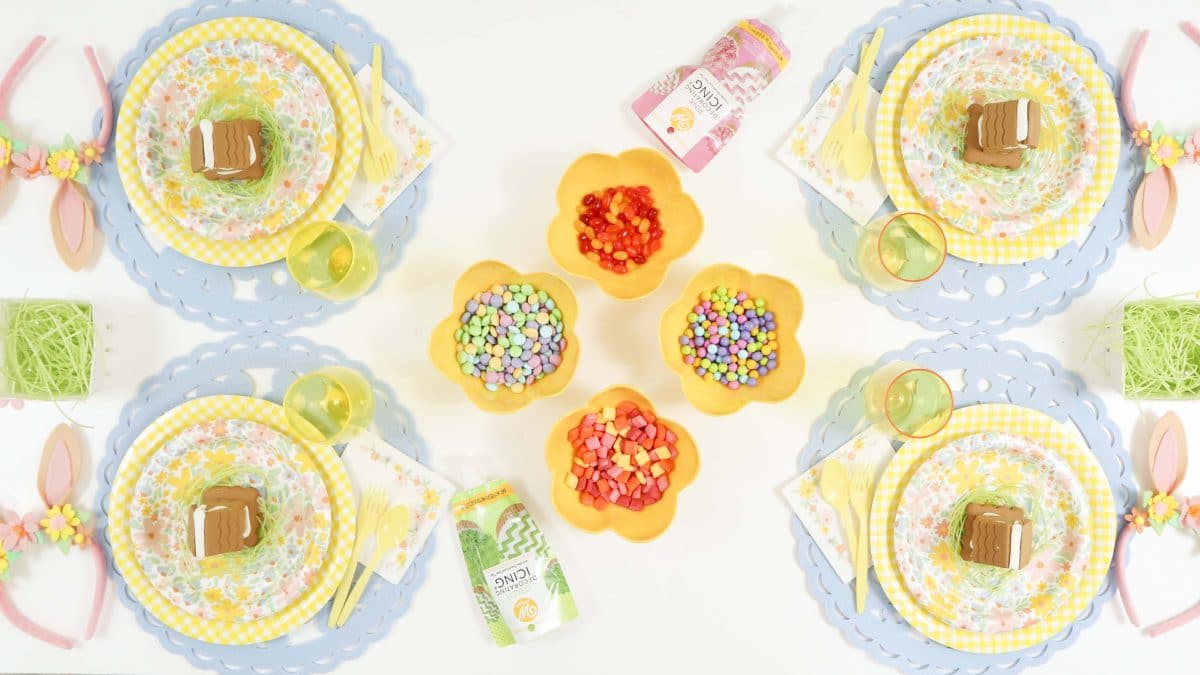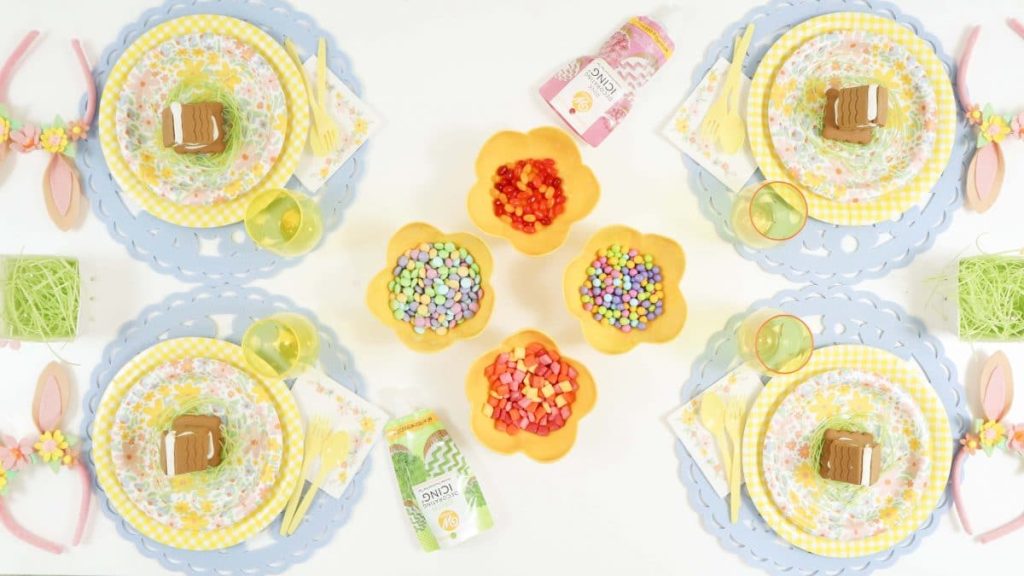 I love using pastel M&M's and Starburst minis, among others. The girls used these to decorate their own houses (and snack on as they went, of course!).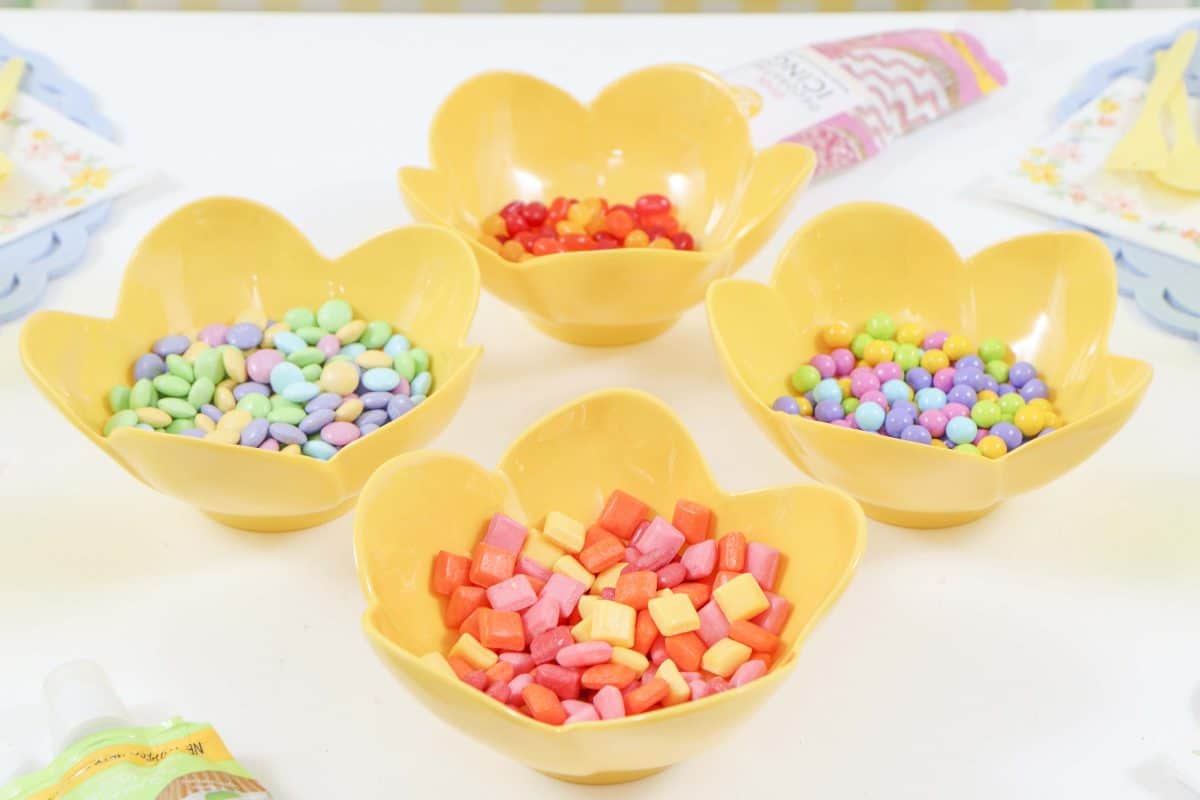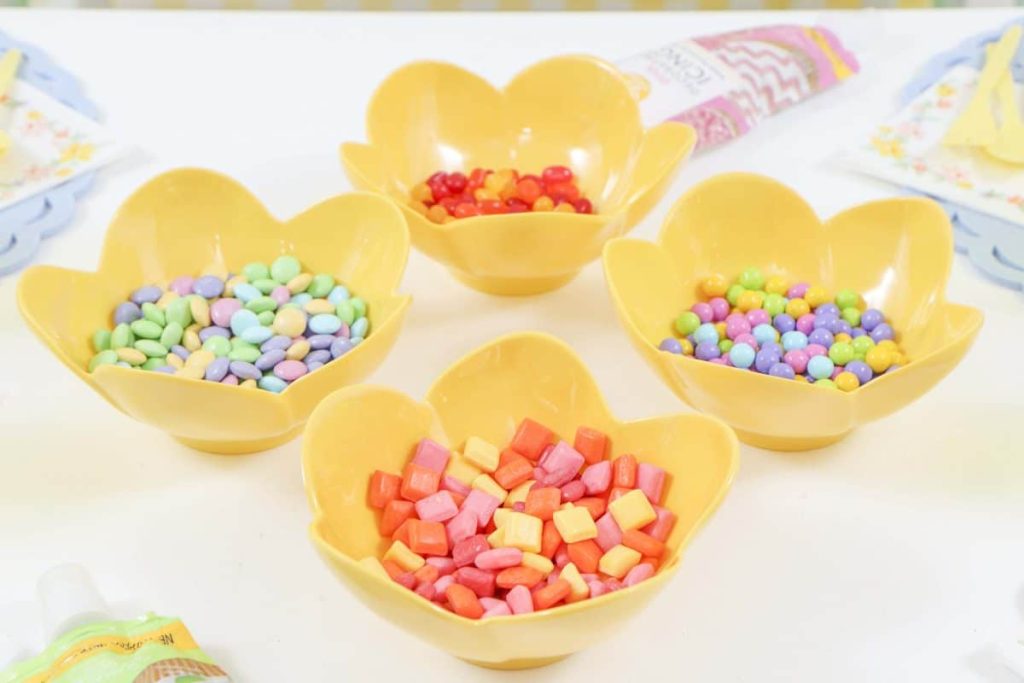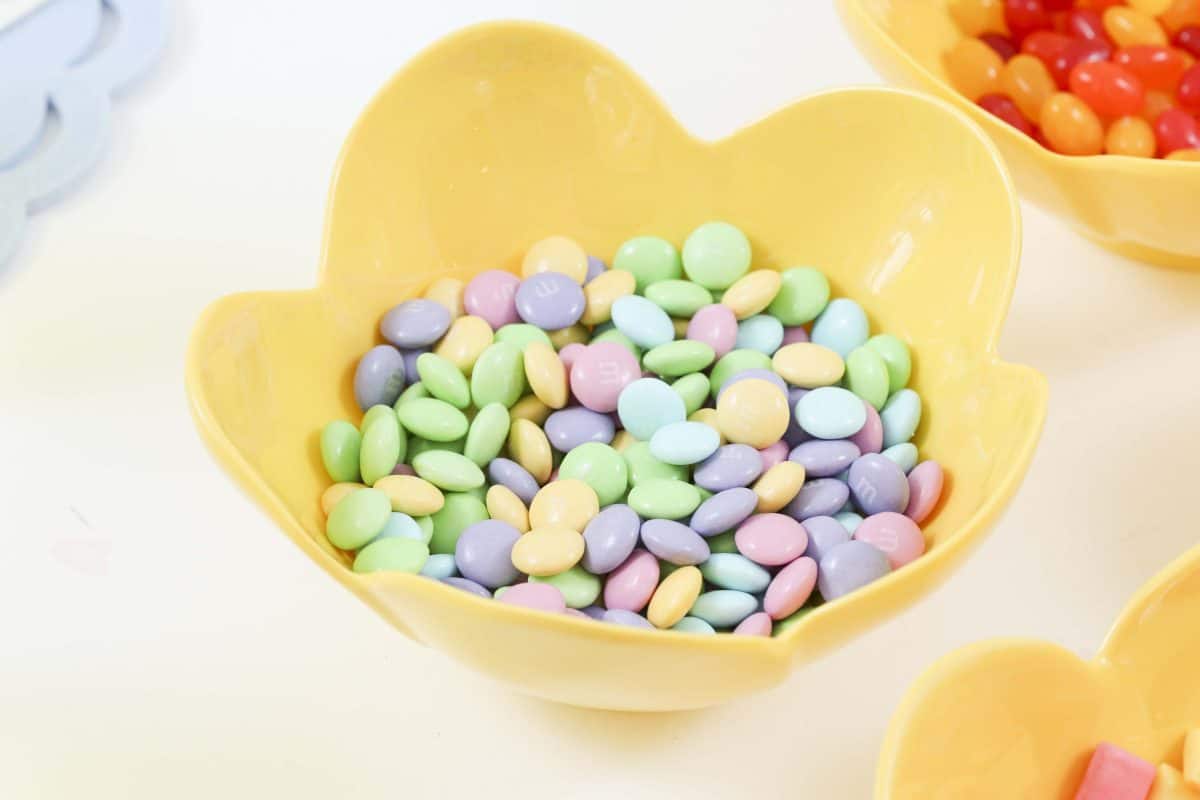 At each side end of the table, I added more edible grass in white berry baskets. Beware of grazing bunnies!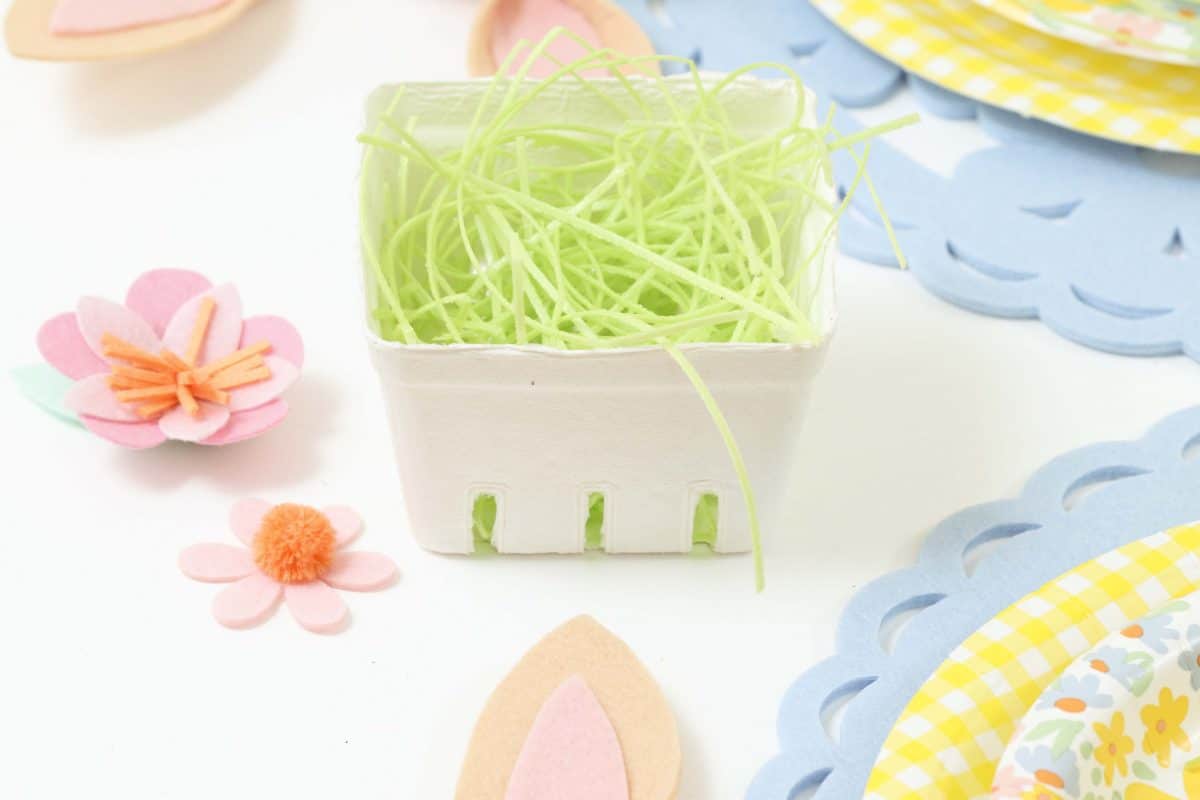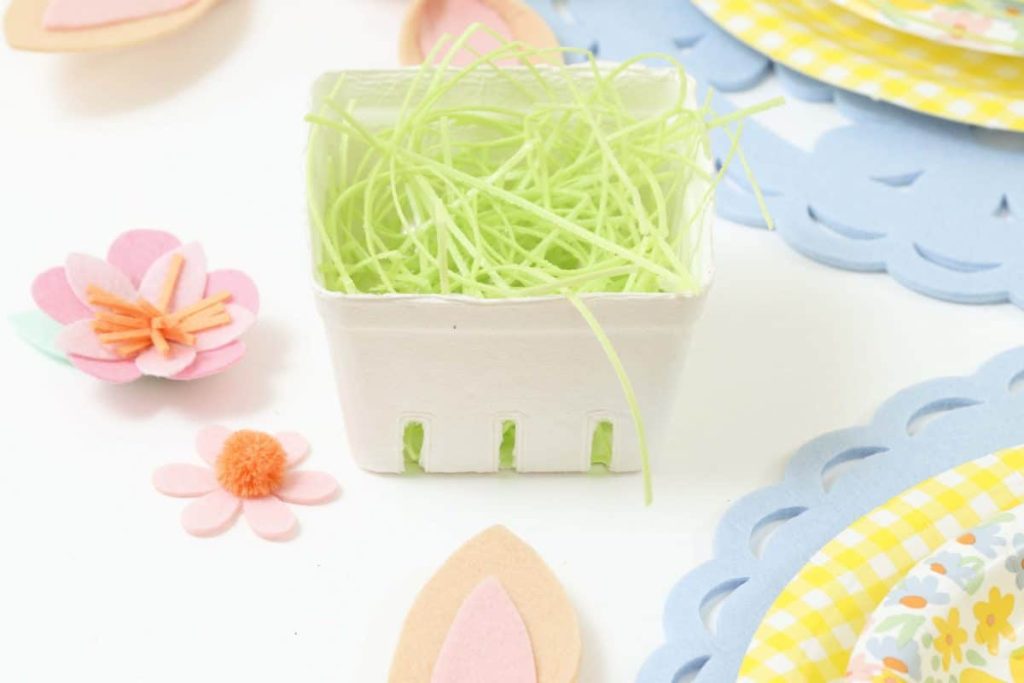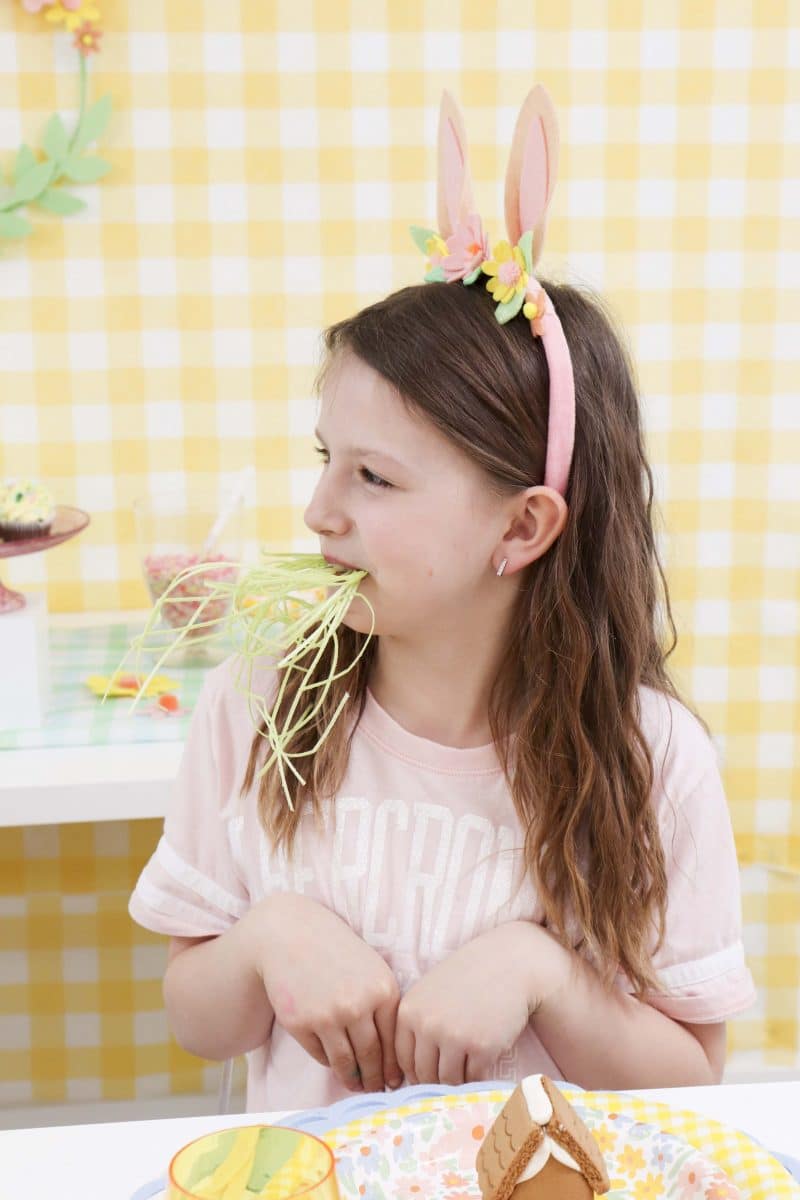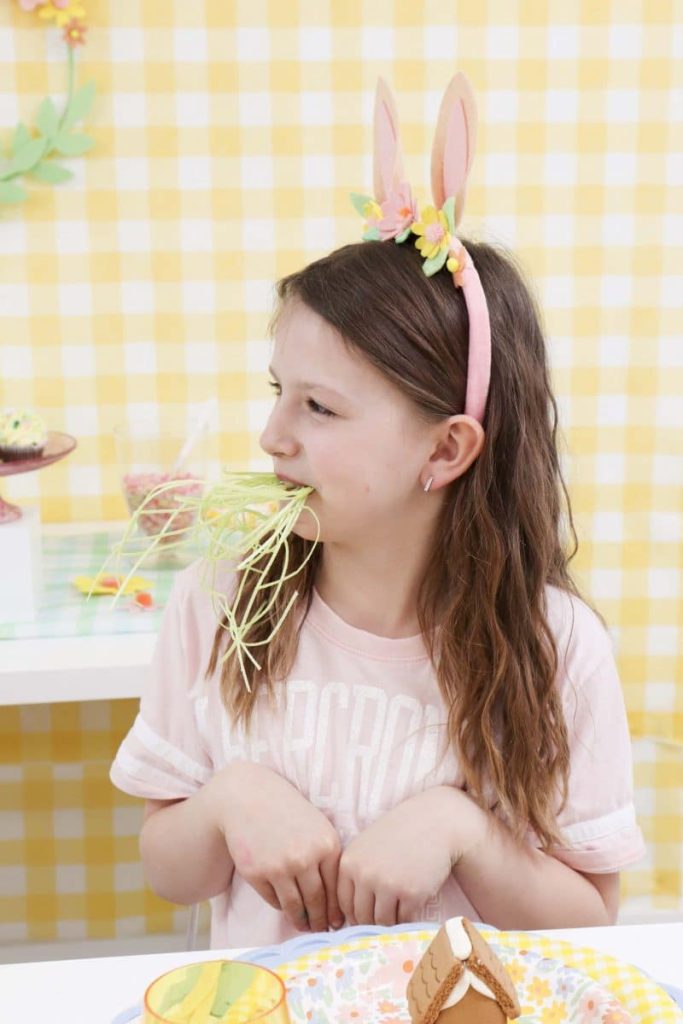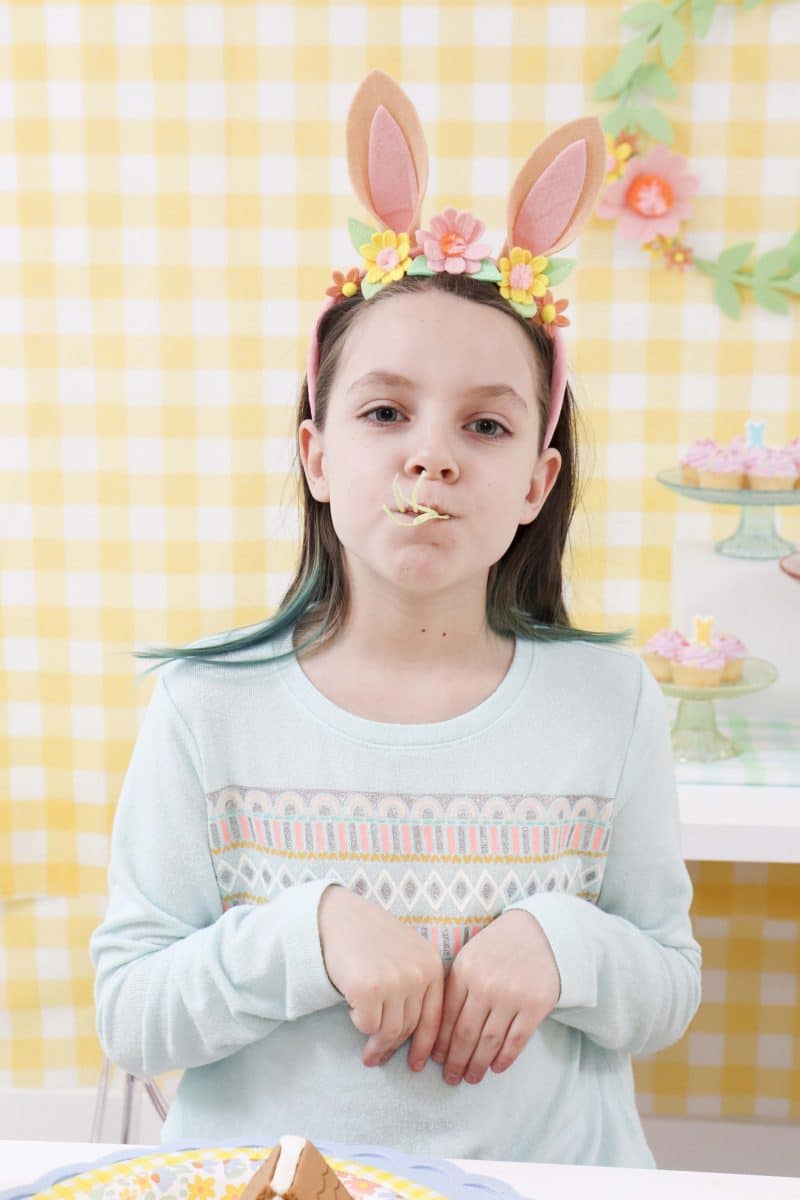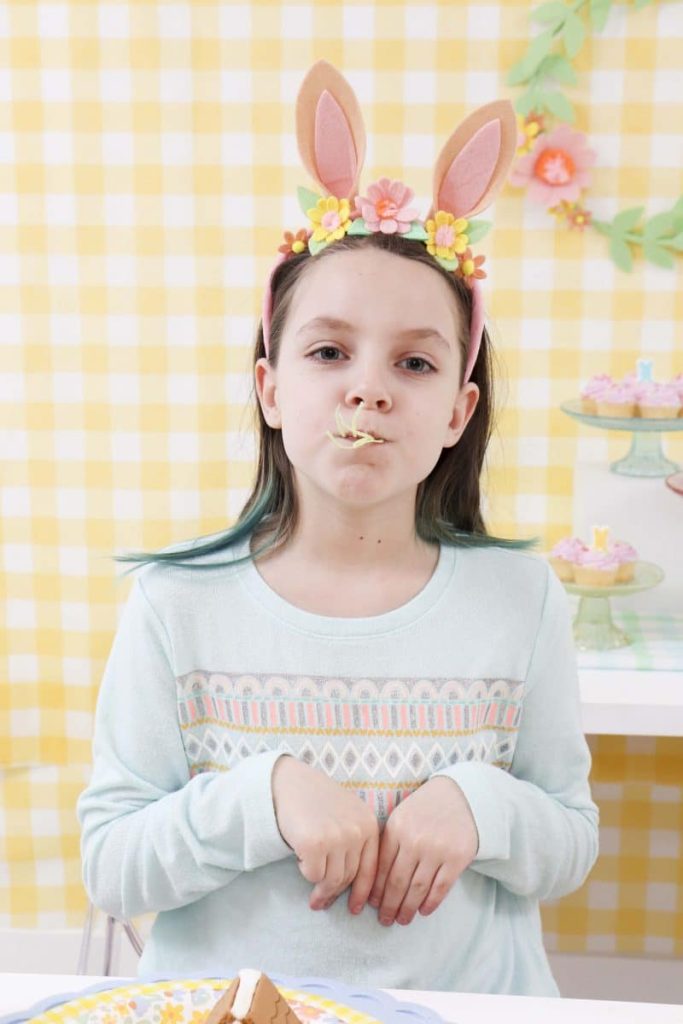 Floral Place Settings
The place settings for this table served double duty as a place to eat lunch, and a place to decorate the spring houses. I placed blue felt floral placemats at each seat, and then layered them with yellow gingham dinner plates and a pretty floral plate.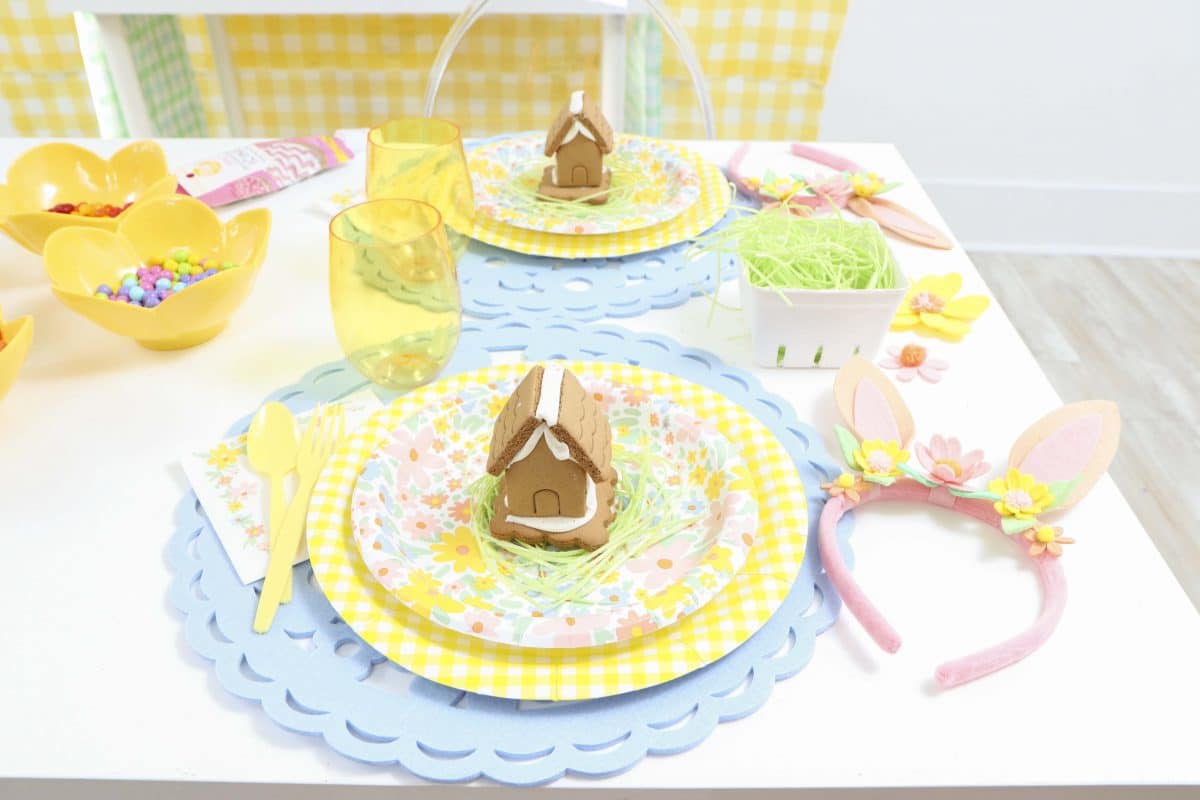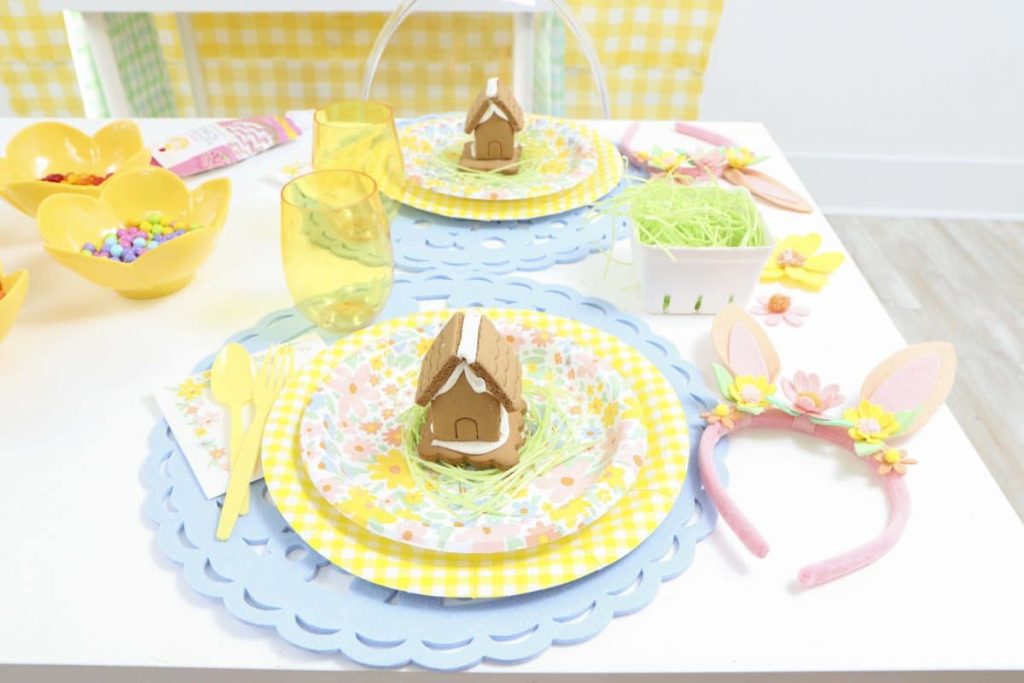 Next to the plates, I placed a sweet floral napkin and yellow cutlery.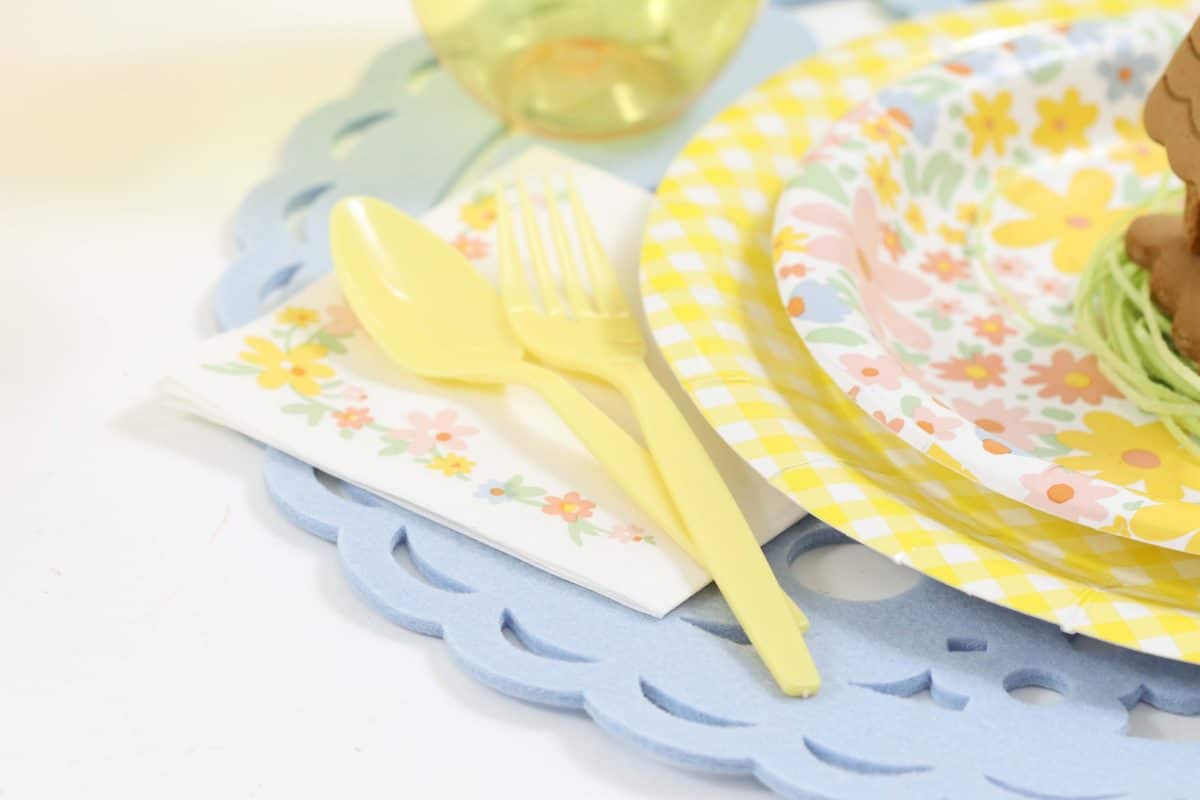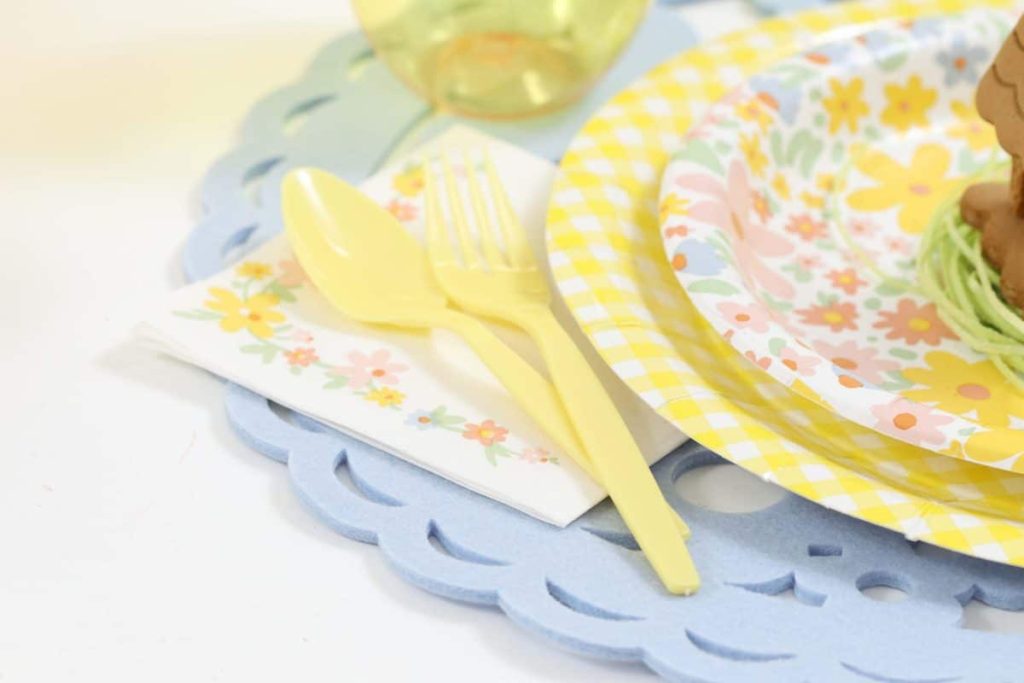 Next to each plate, I added the cutest bunny ears for each child to wear while decorating. I may or may not have also worn a pair myself…LOL!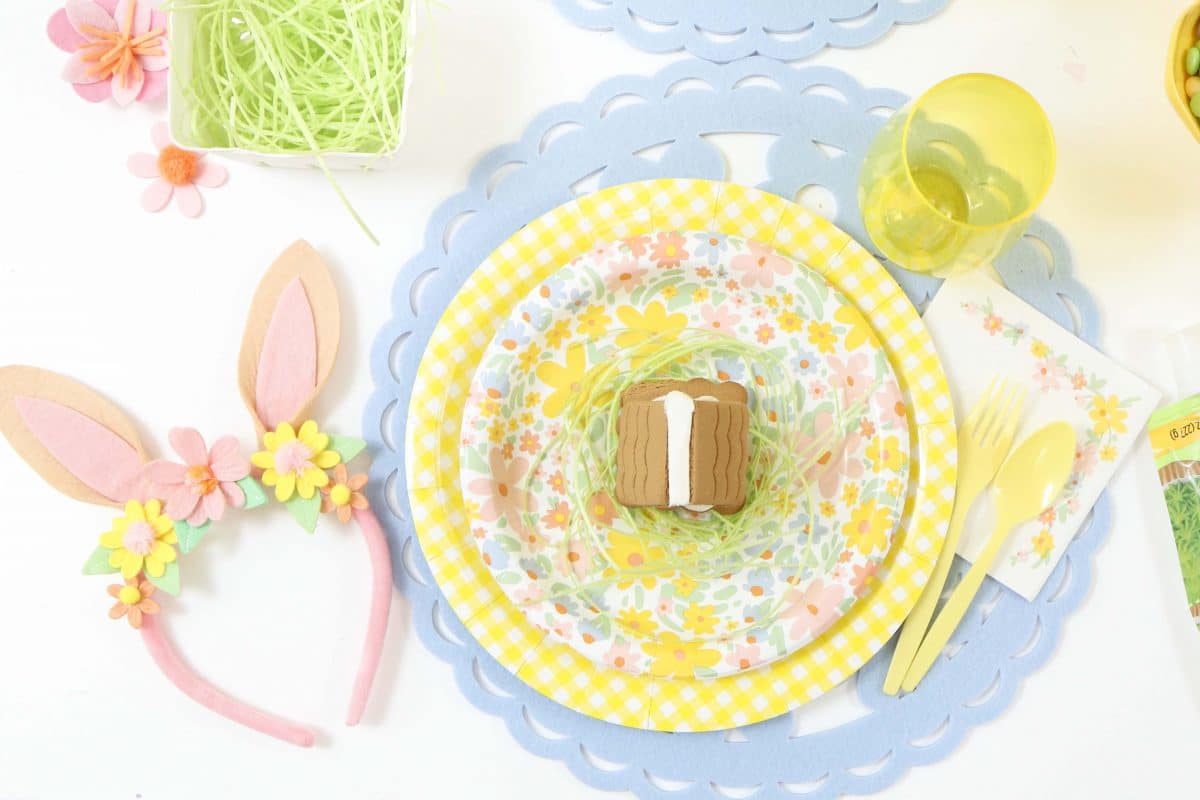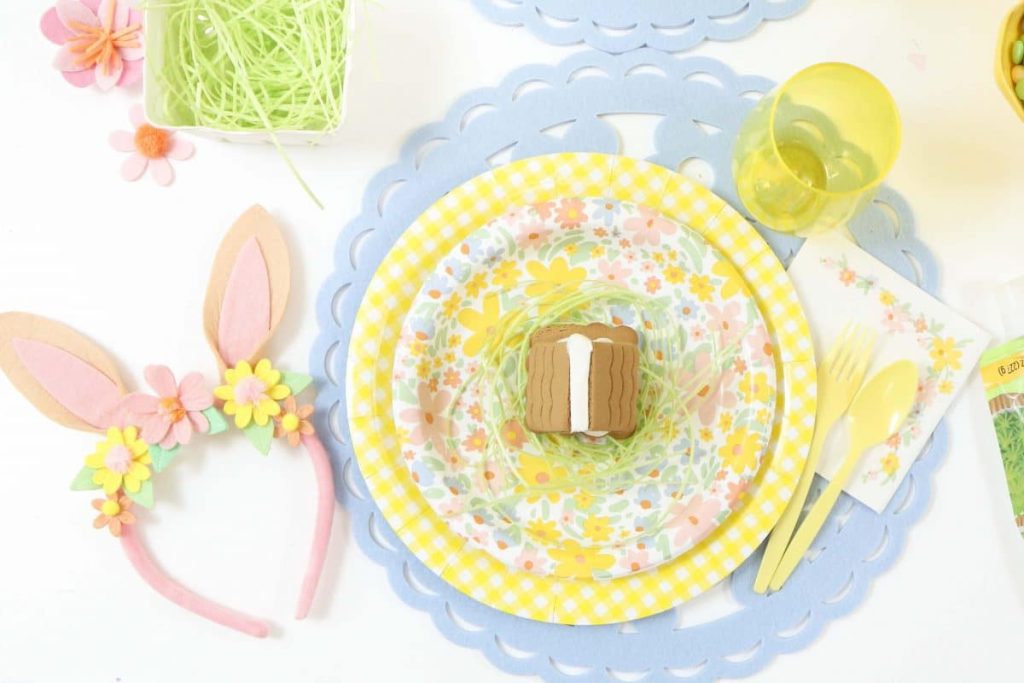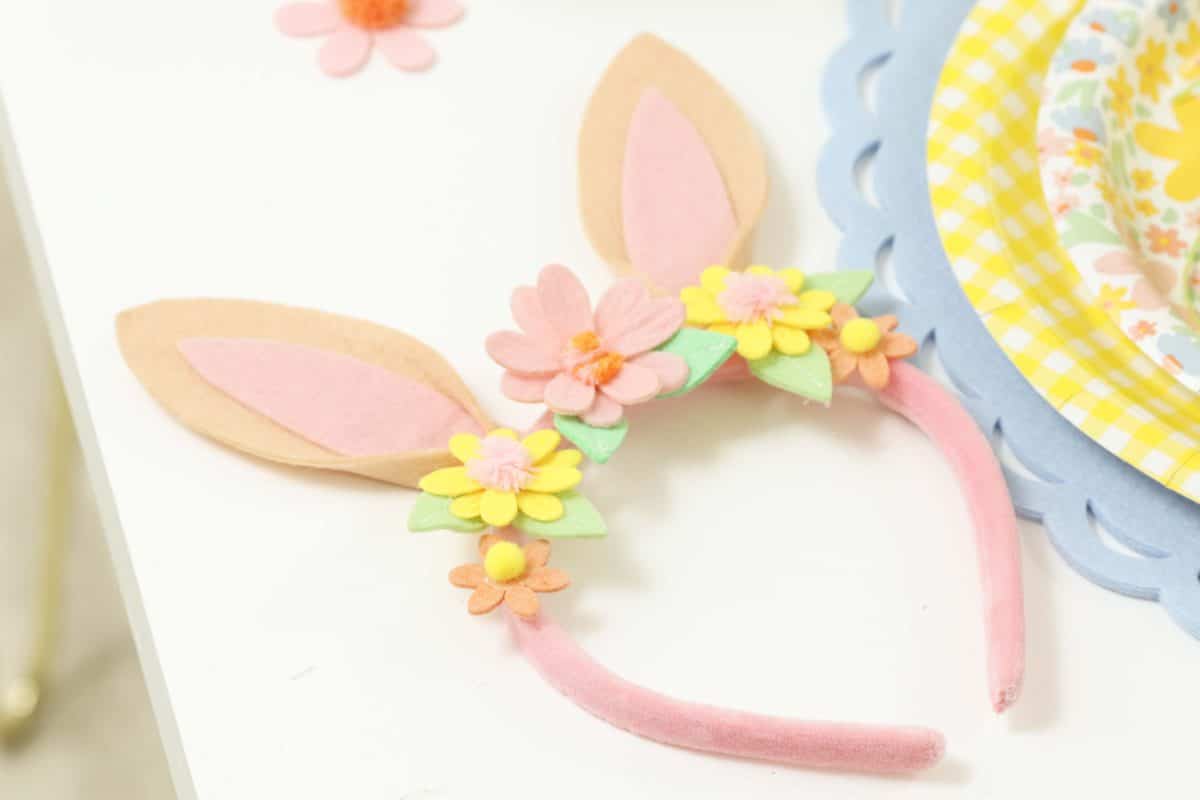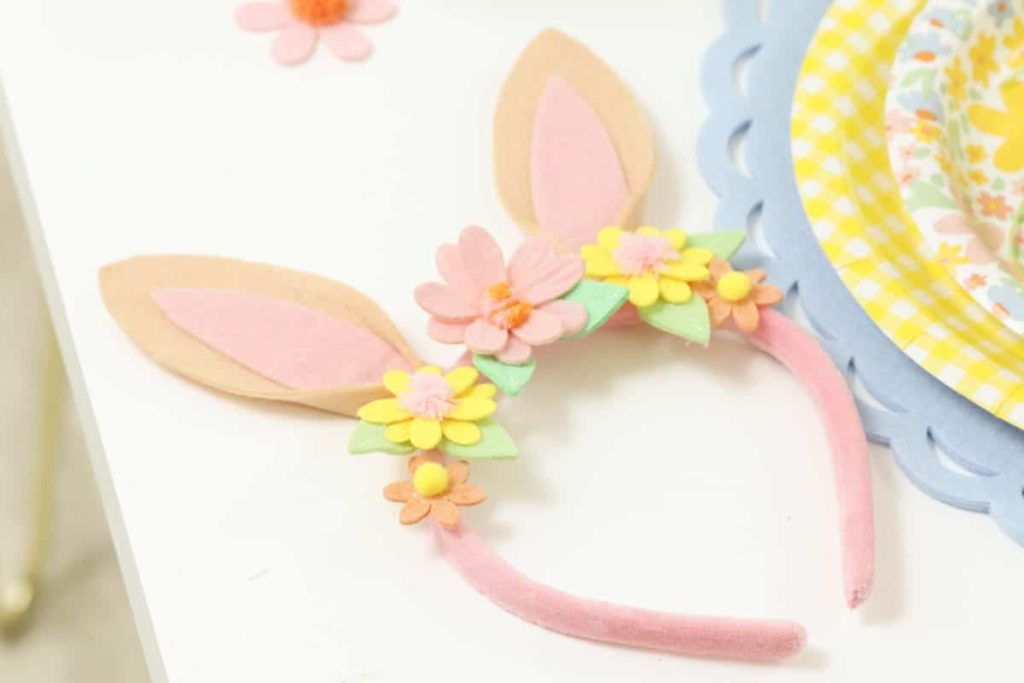 When it was time to decorate, I gave each guest a small gingerbread house, placing it on top of edible grass. I had bought extra gingerbread houses during the holidays so that we could use them during the year for other occasions, such as Spring! Alternatively, you can find kits and sets from M&Ms or Wilton and others on Amazon.
Or, consider asking a local baker or cookie maker create some for you. Here in Portland, I used Trophy Baking to make my Halloween Gingerbread Houses!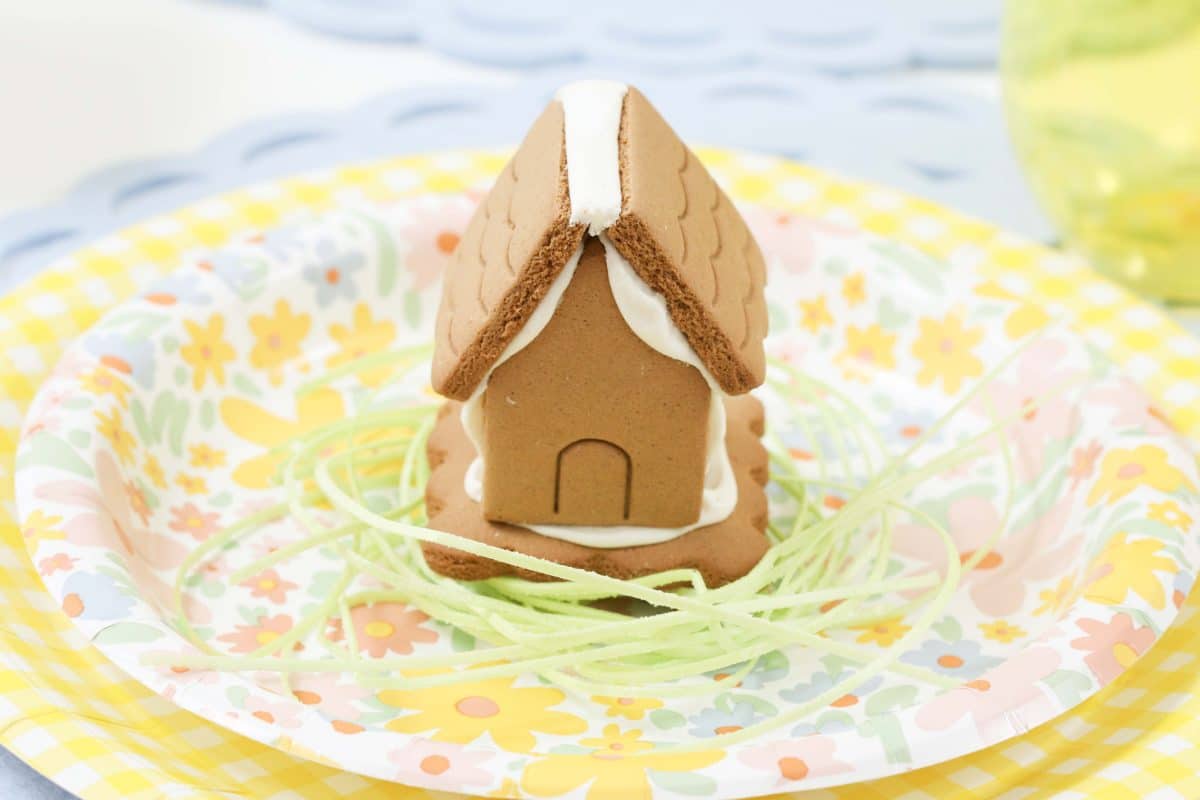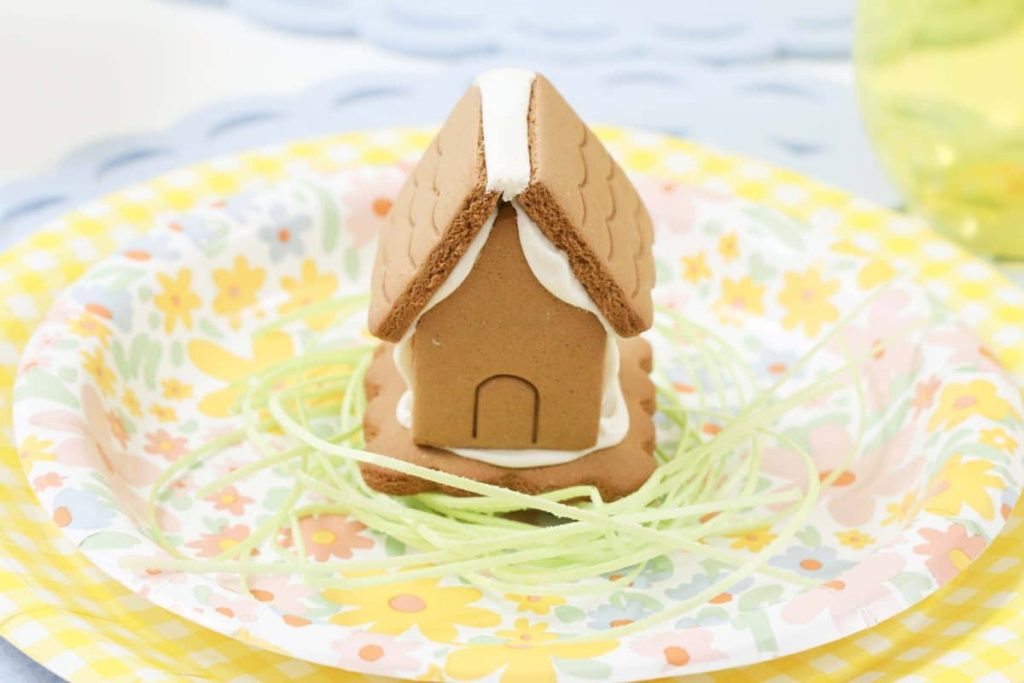 Decorating the Houses
Then, it was time to decorate! It was so fun to watch the girls as they concentrated on their sweet Spring works of art. They had a blast personalizing their own houses, and making homes for little chicks and bunnies.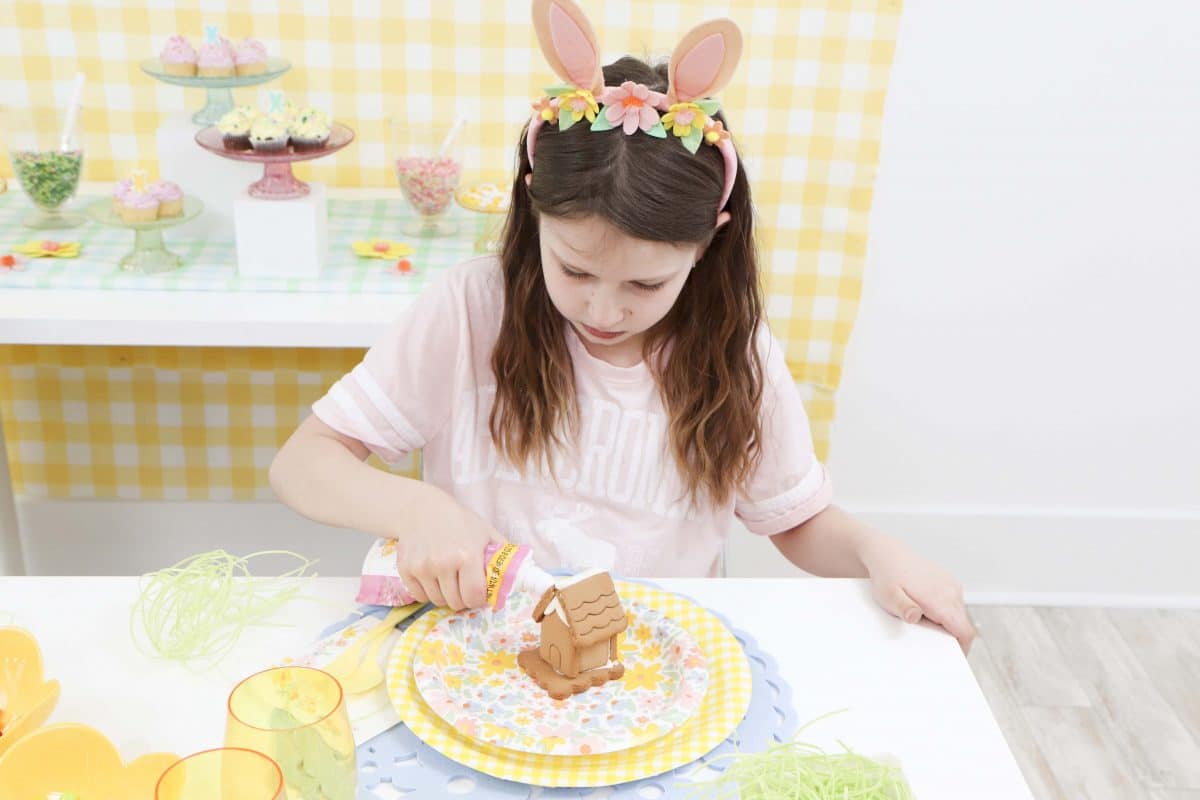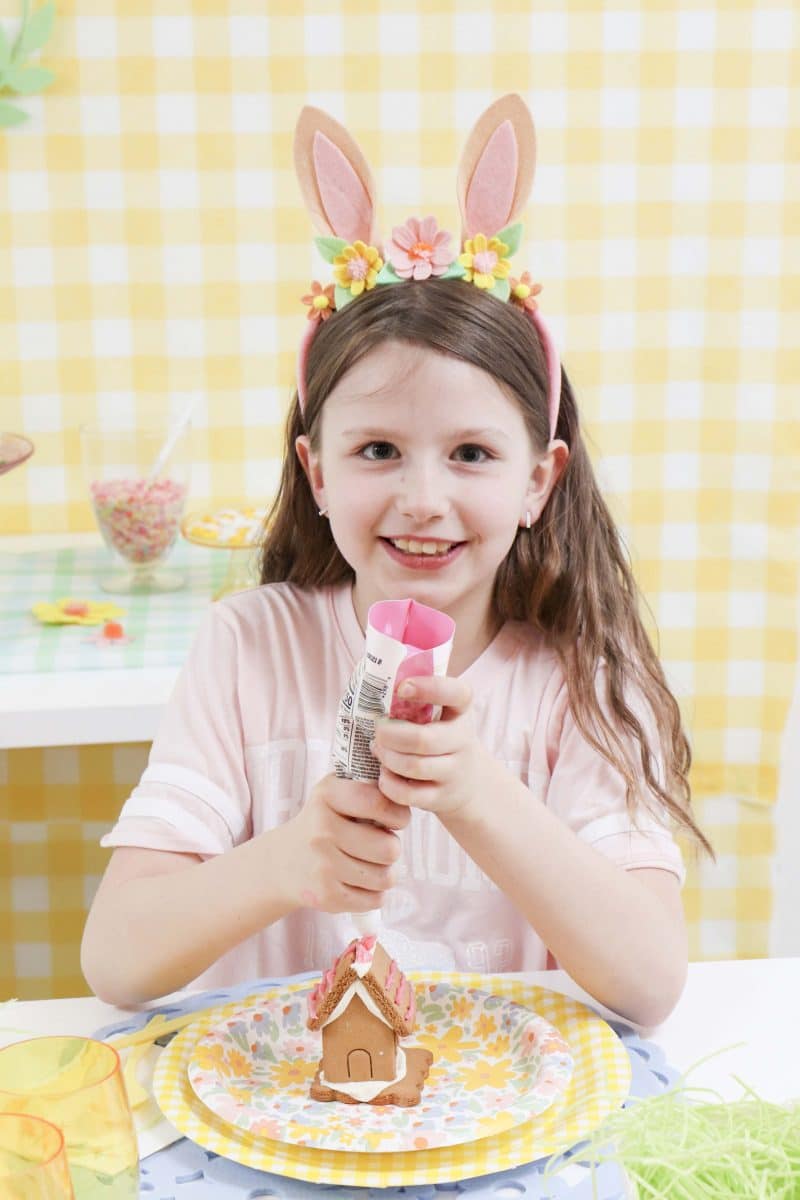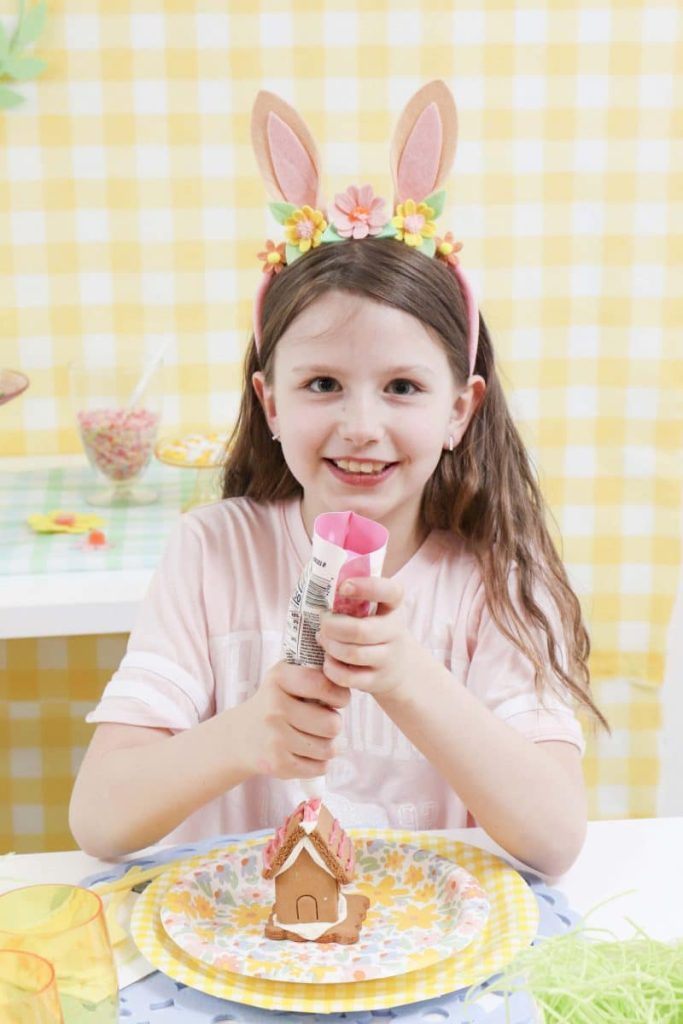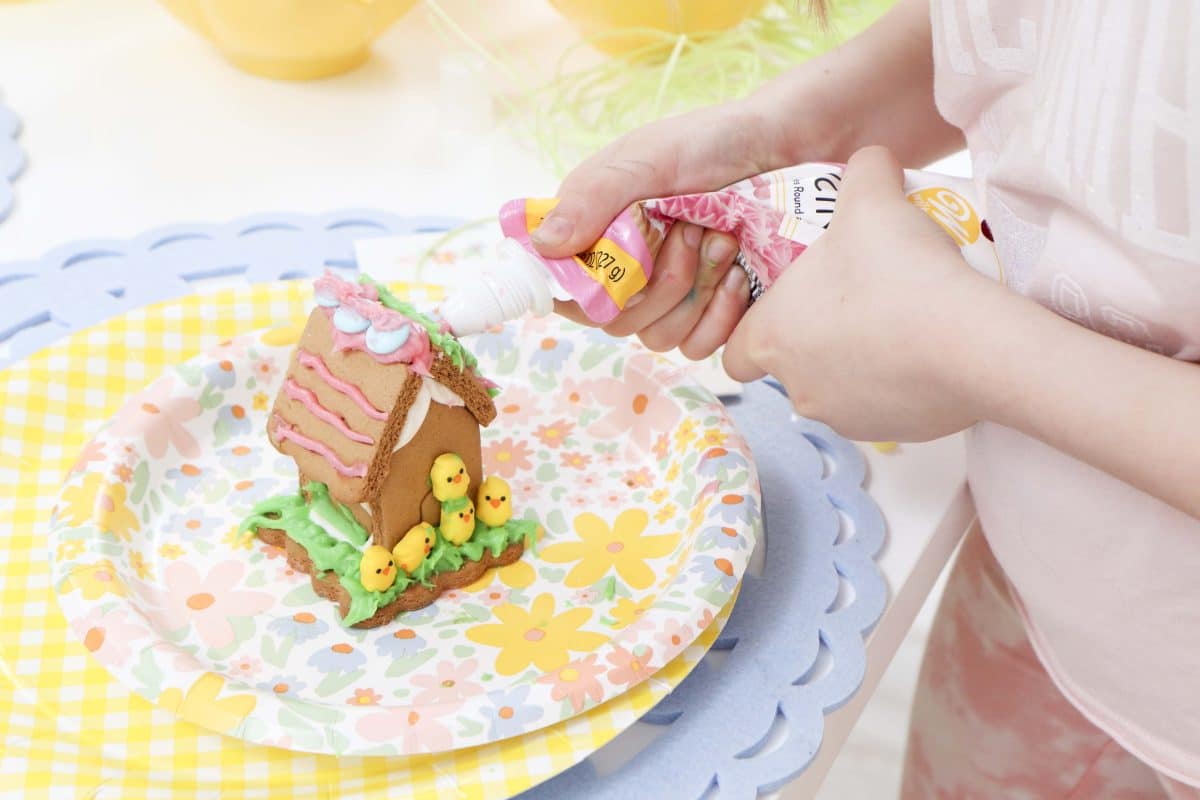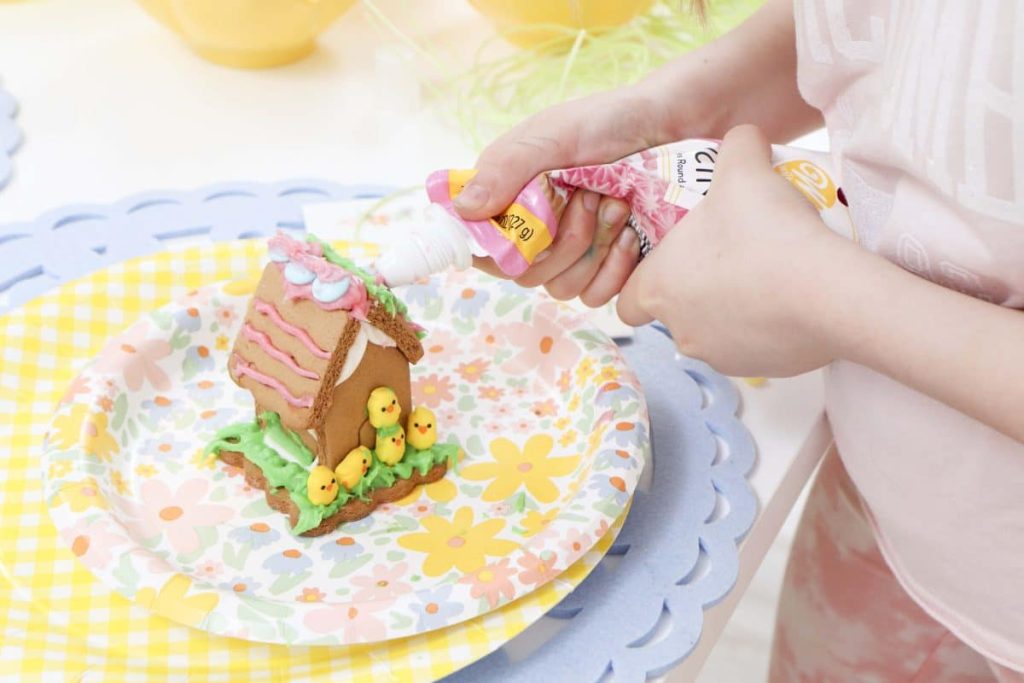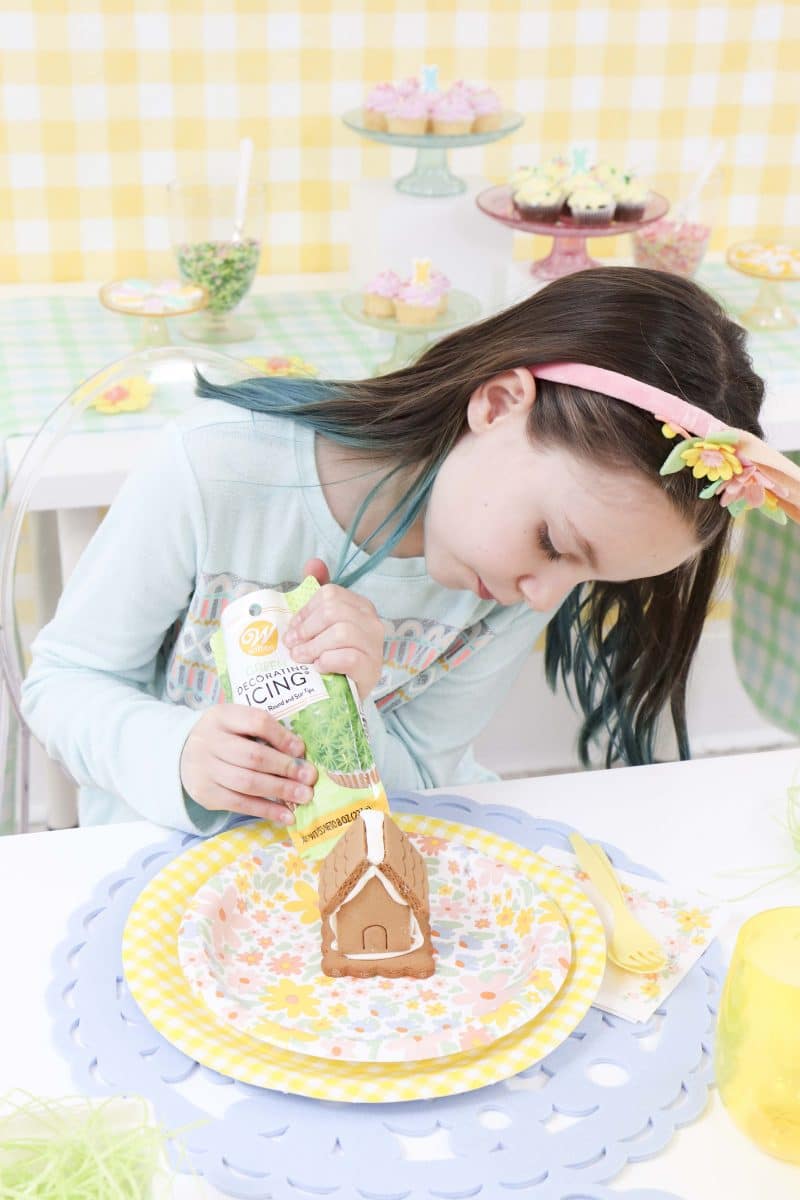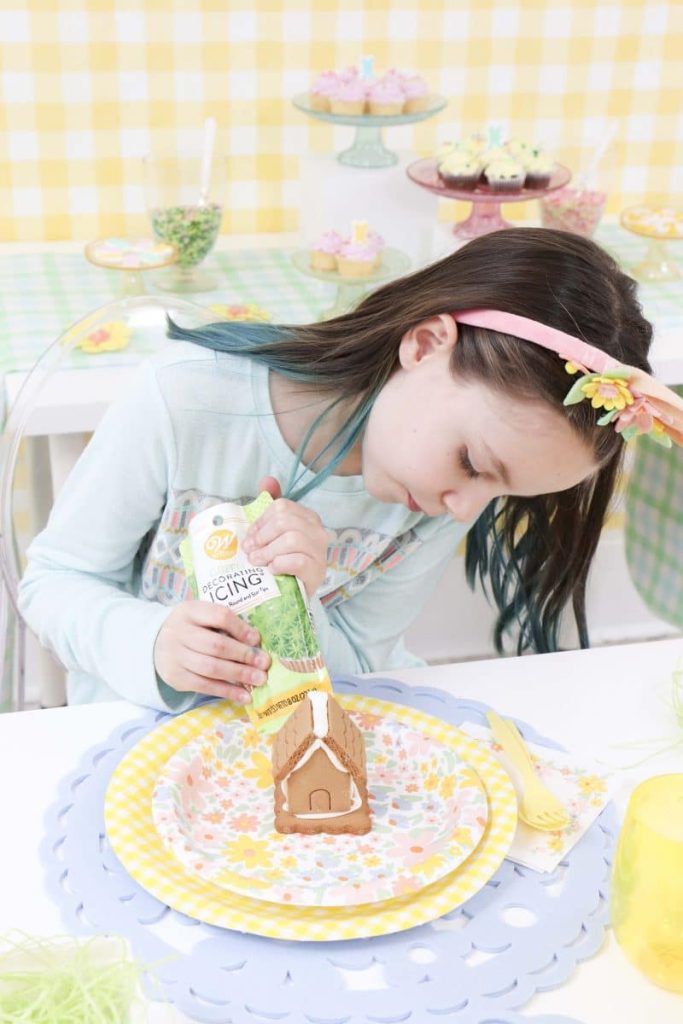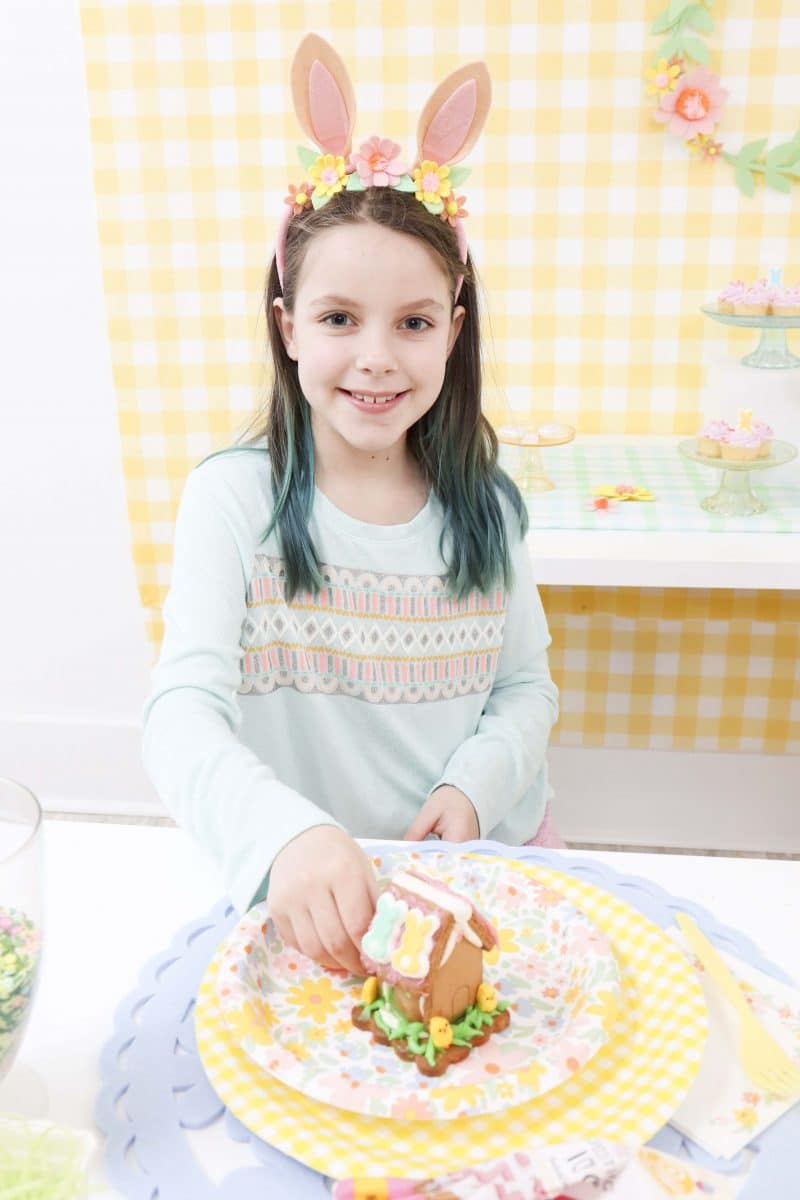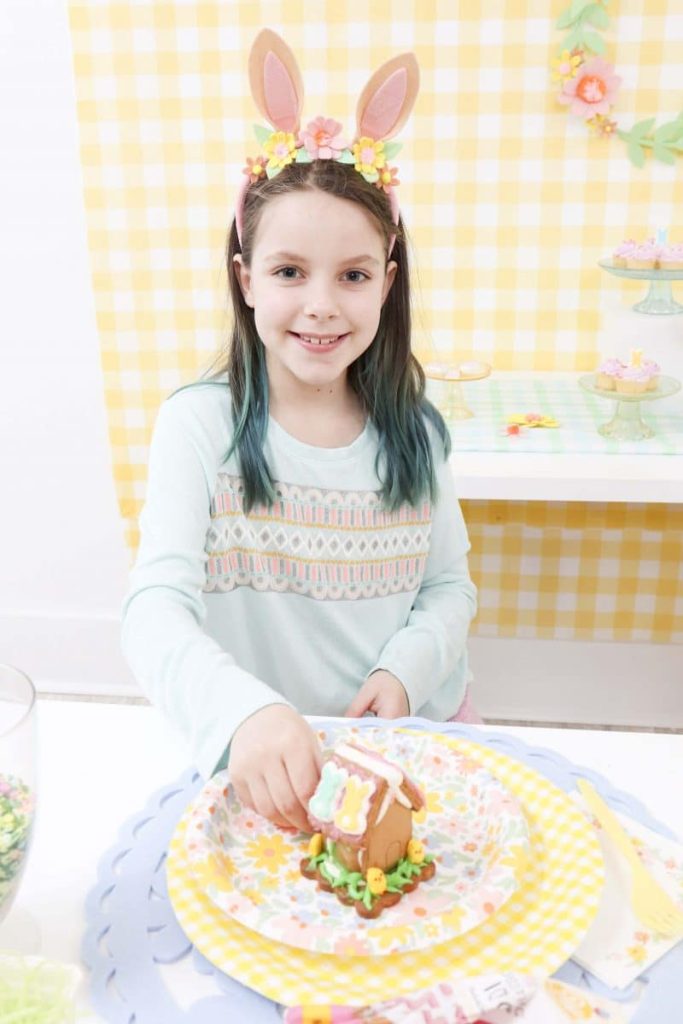 The finished houses were so sweet! The sprinkles also made great lawns and fields.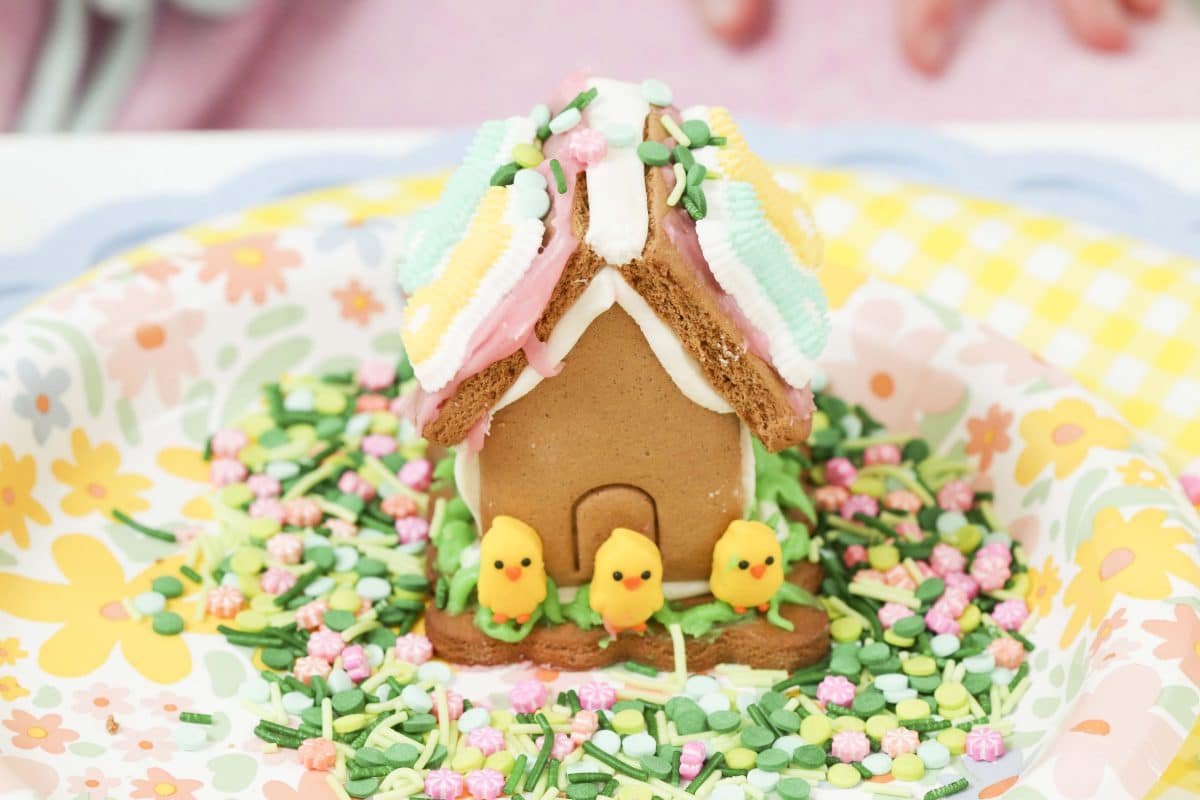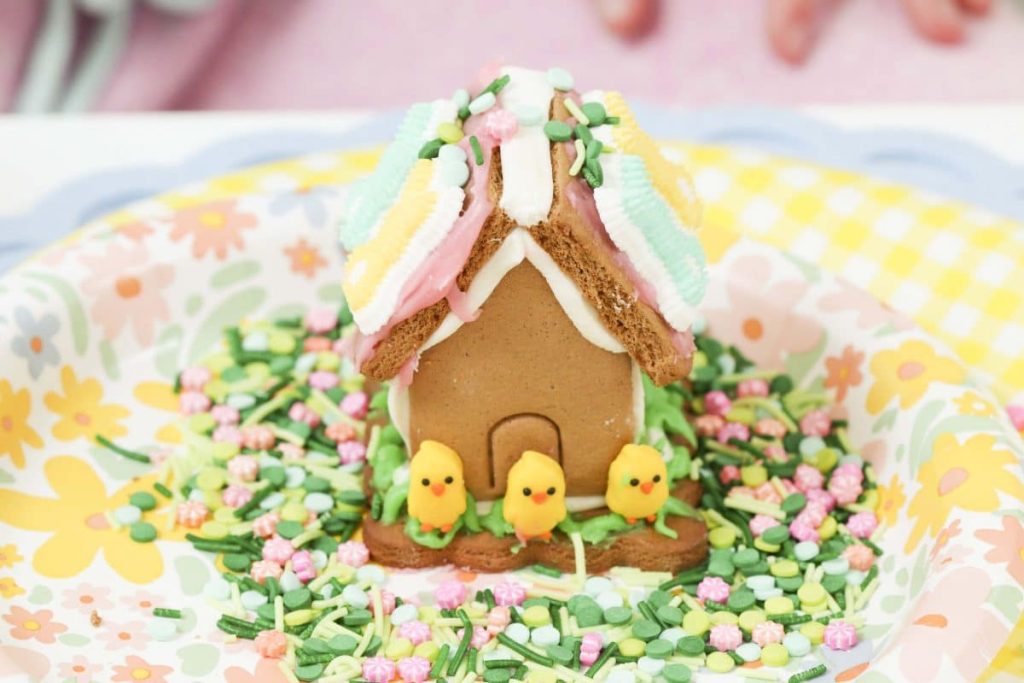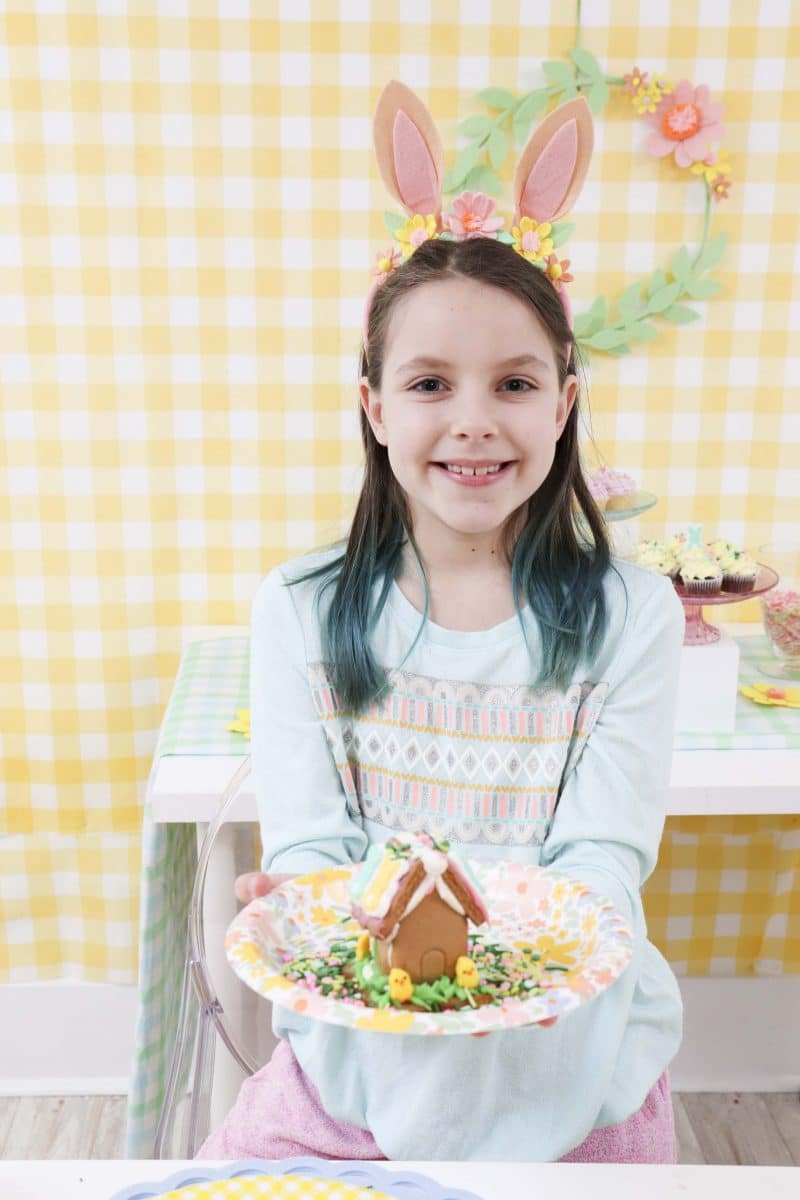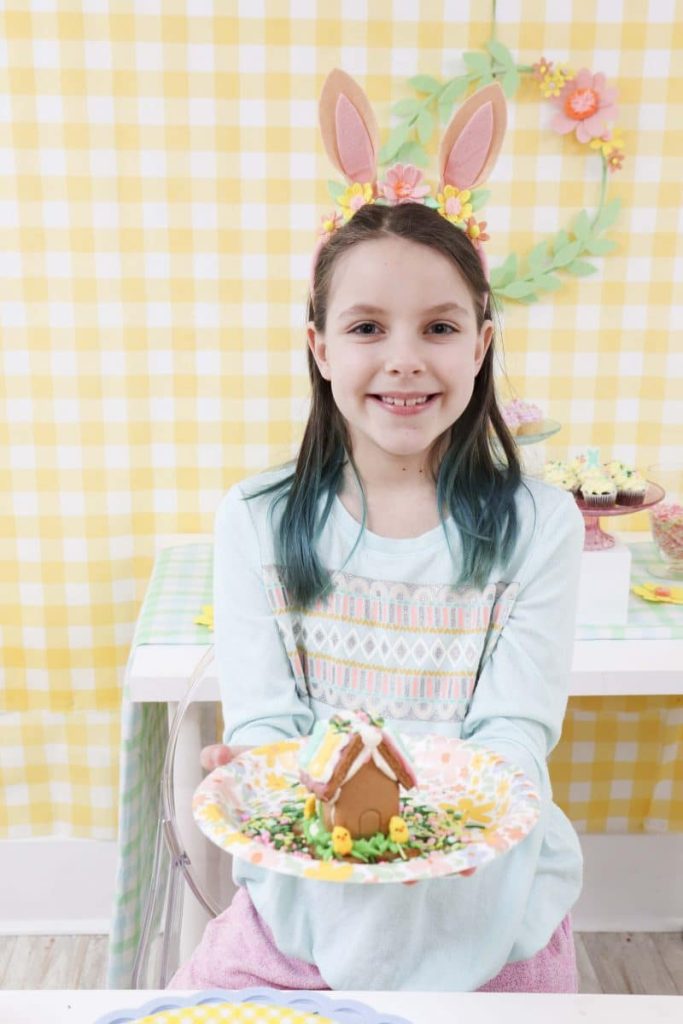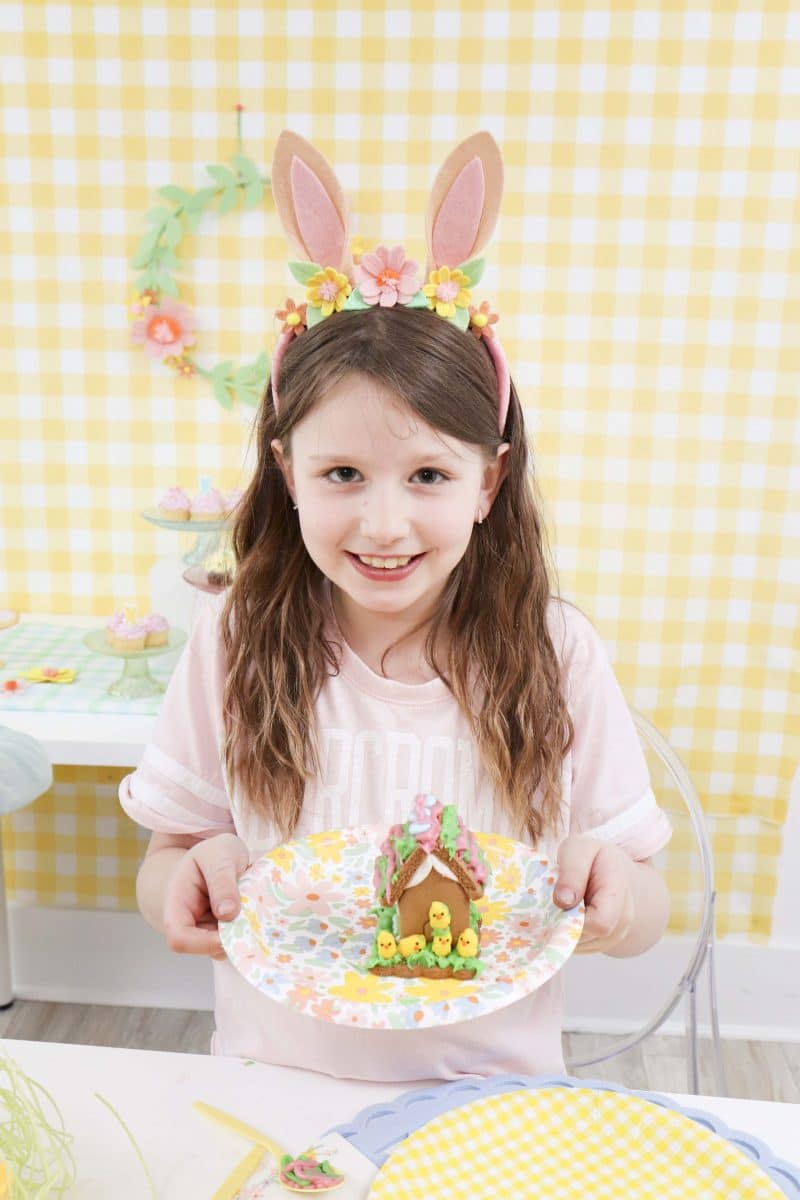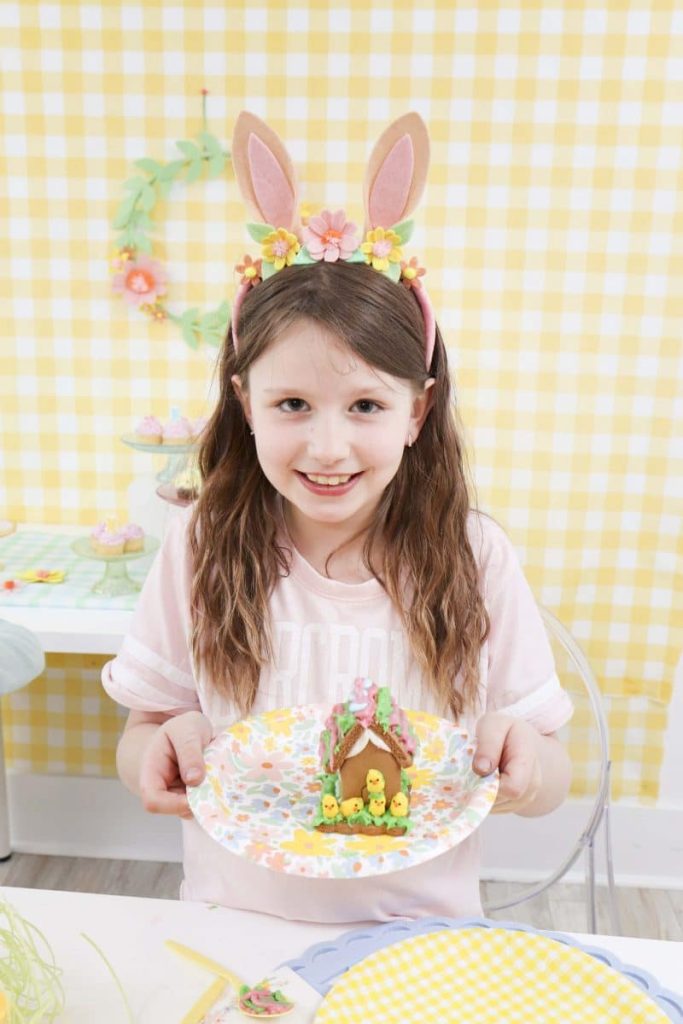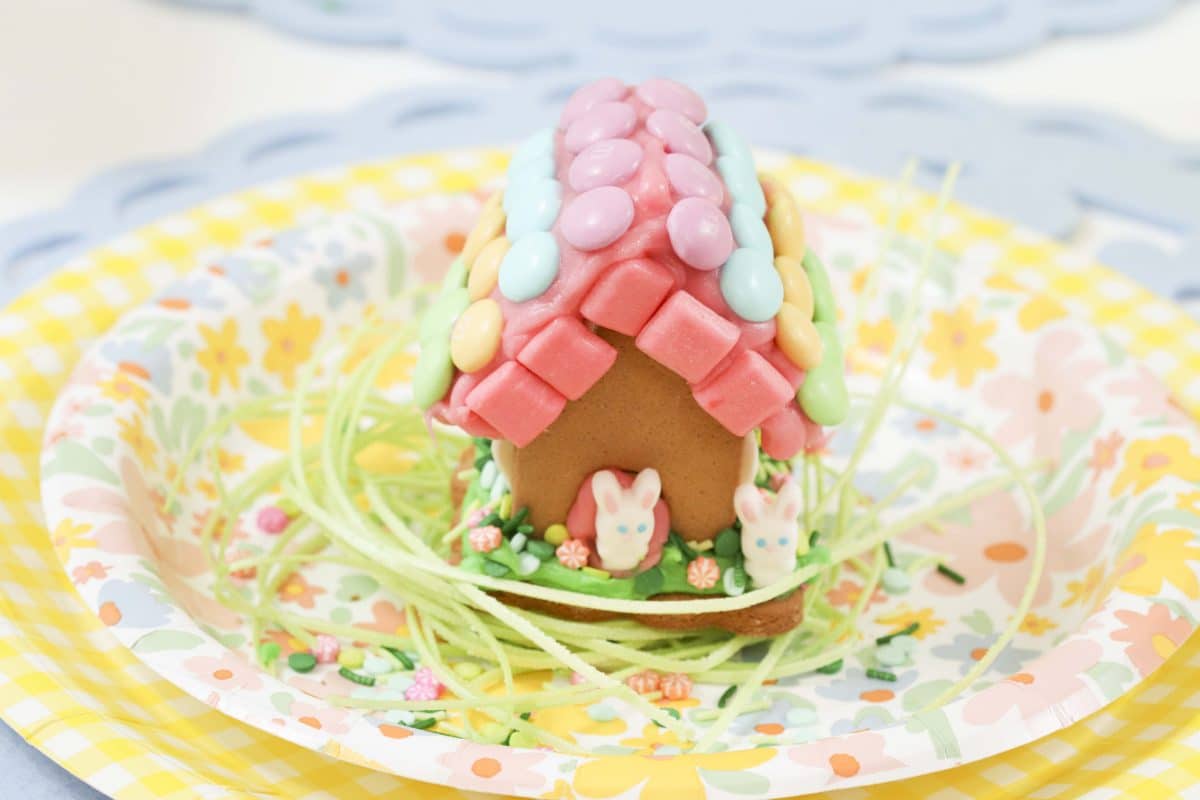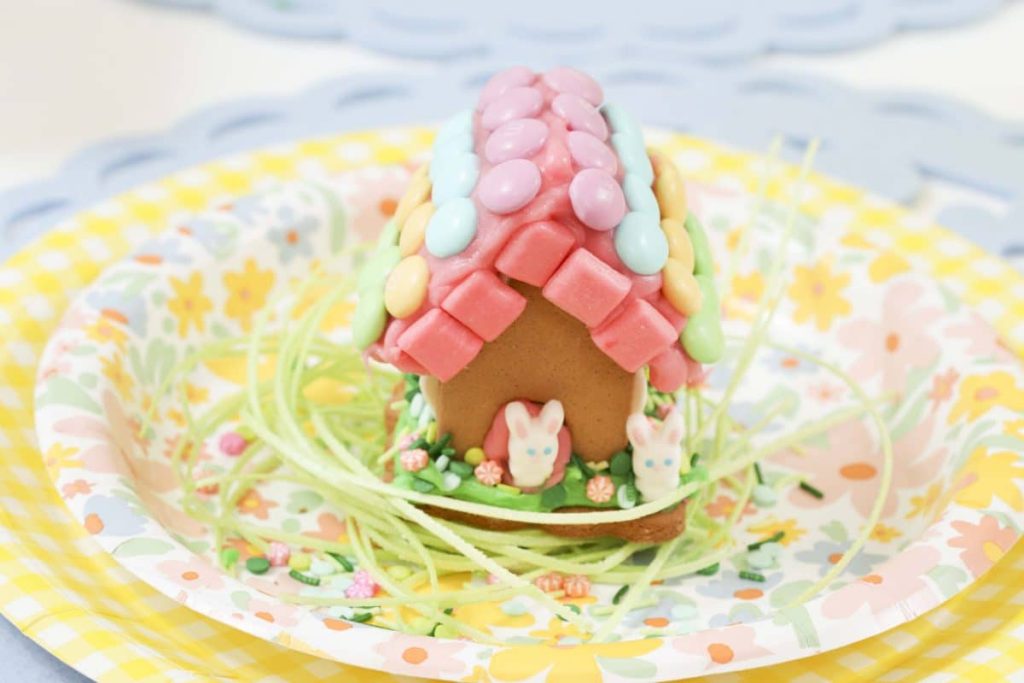 Fun Blindfold Challenge
Things don't always have to be perfect! Have a little fun with this activity, and let kids go a little crazy. We had a blindfold decoration challenge, which was so funny! Not quite so pretty –  but lots of laughter!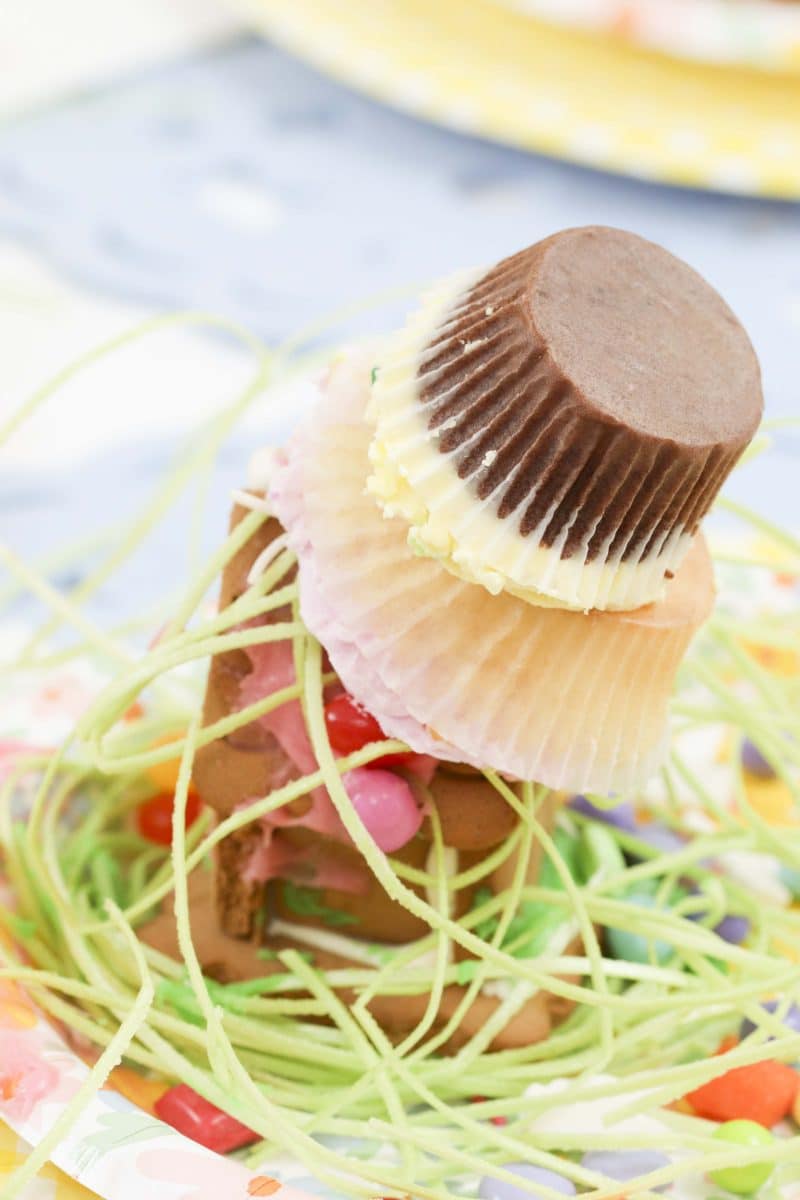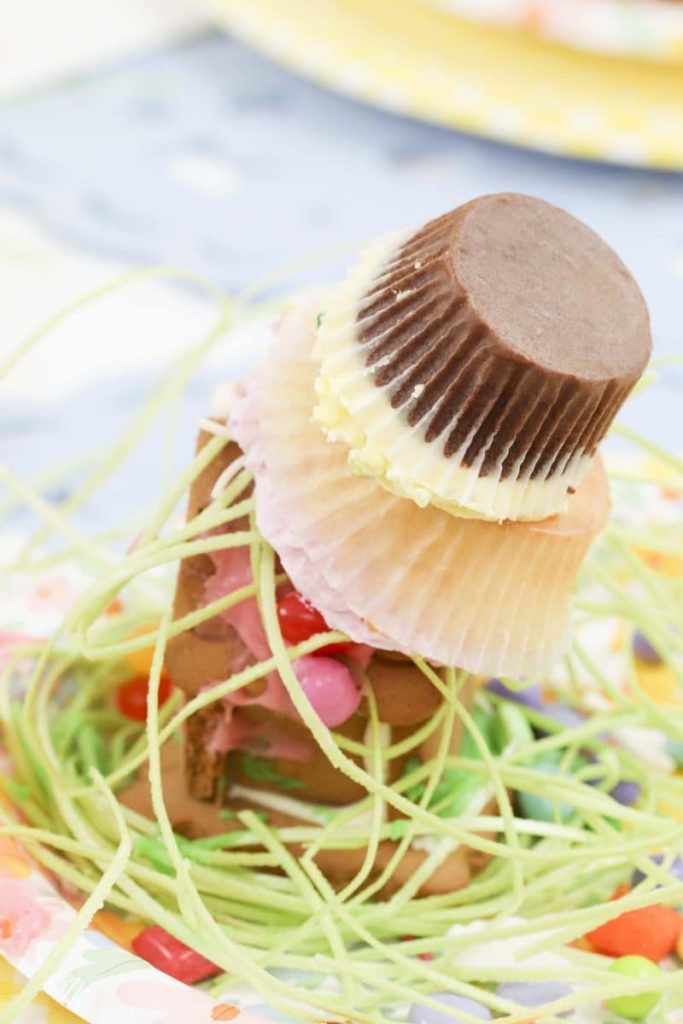 For more kid's Easter party ideas and inspiration, check out my recent post with 25 Easter Party Ideas for Adults & Kids.
Happy Decorating!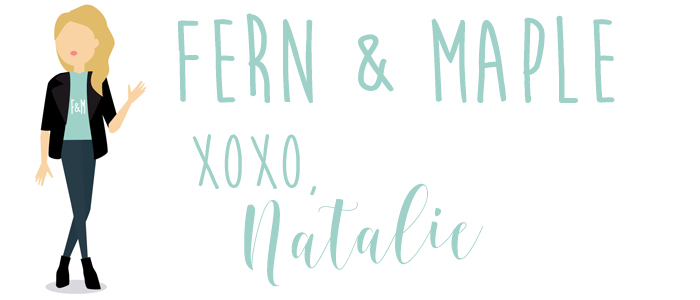 As a blogger, I sometimes receive compensation and/or products in exchange for my styling and crafting services. I also may earn a small commission from any sales that result from affiliate links on this page. As always, all project ideas and any opinions expressed here are my own.  For further information on our disclosure policy please check out our disclosure page.
PIN FOR LATER: