I have to admit something to you – after the holidays, my studio is usually a giant mess. I'm not always great about organizing as I go, particularly when I get so busy! But I can't deny that there is something about the Spring season that always just puts me in the organizing mindset, and makes me want to start cleaning everything. Starting fresh and minimizing the clutter that accumulated over the holidays feels like a breath of fresh spring air! And for me, as you might imagine, there is nothing that needs organizing more than my craft and party supplies. So today, in case you feel similarly, I'm sharing 5 ways you can also use to organize your craft and party supplies!
How to Organize Your Party and Craft Supplies
Open Shelving
The first step in any organization project is to find space for all of the supplies! I am a big fan, if you have the space in an office or studio, of open shelving. There are several benefits of this. One is that you are able to display your supplies in attractive ways that can help to inspire your next party or project, rather than having them all hidden away somewhere. Another is that having supplies out in the open makes it much more likely you will keep them organized…it can't be just me that finds it much easier to throw things in a closed cabinet or drawer and employ the "out of sight, out of mind" concept, right? With everything in sight, you'll have no choice but to keep it all clean and organized, which will keep you happier in the end!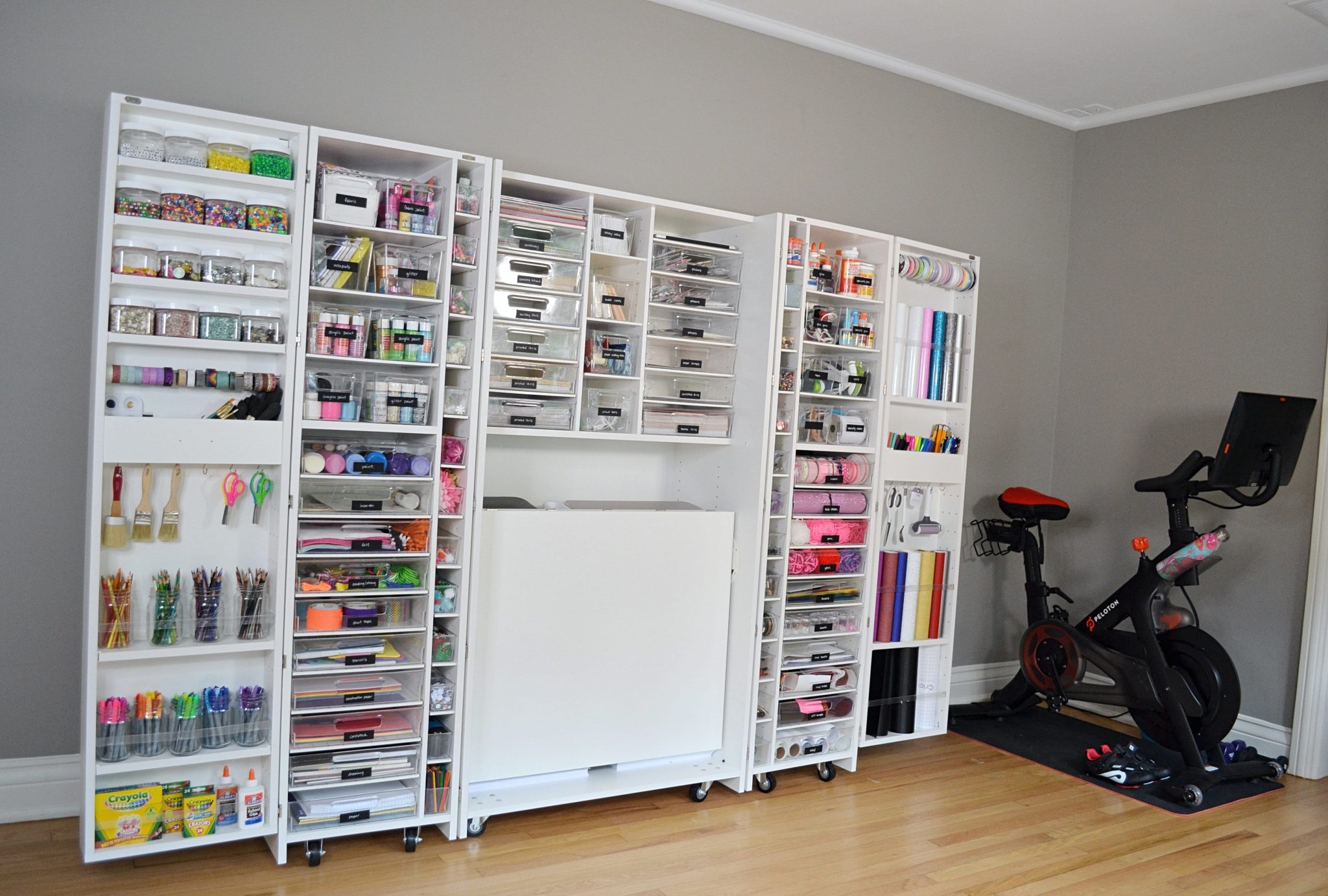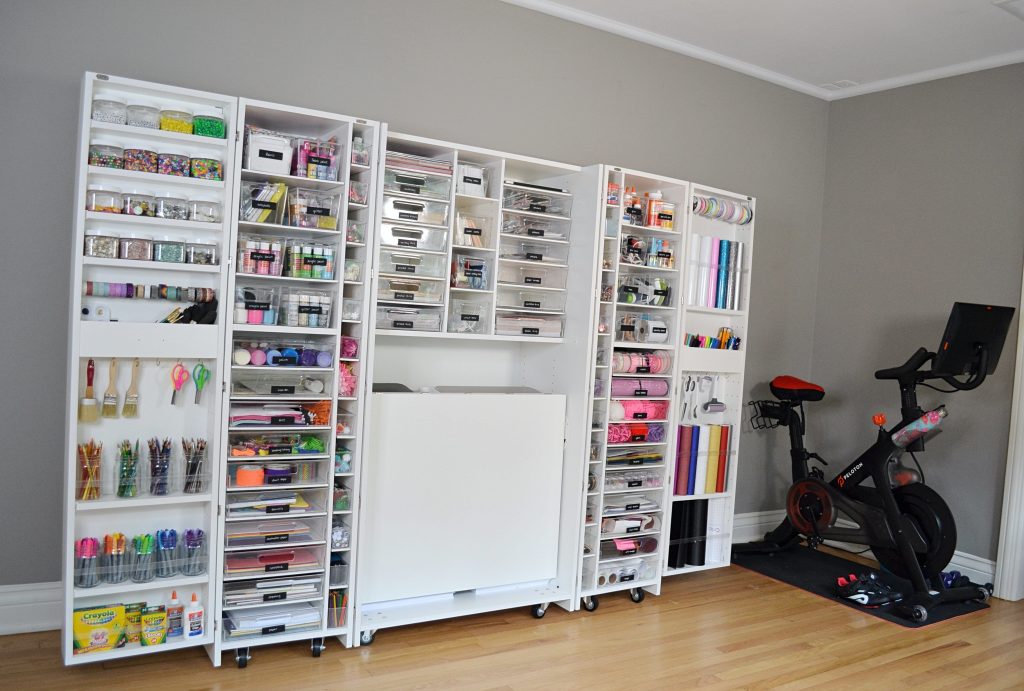 Clear Containers
Whatever space you use, the best thing you can do for organization is to use clear containers. Being able to see everything without digging into it all is game changing! While labels are great no matter what containers you use, having clear bins or jars are especially helpful for party supplies with a variety of colors, like balloons or confetti.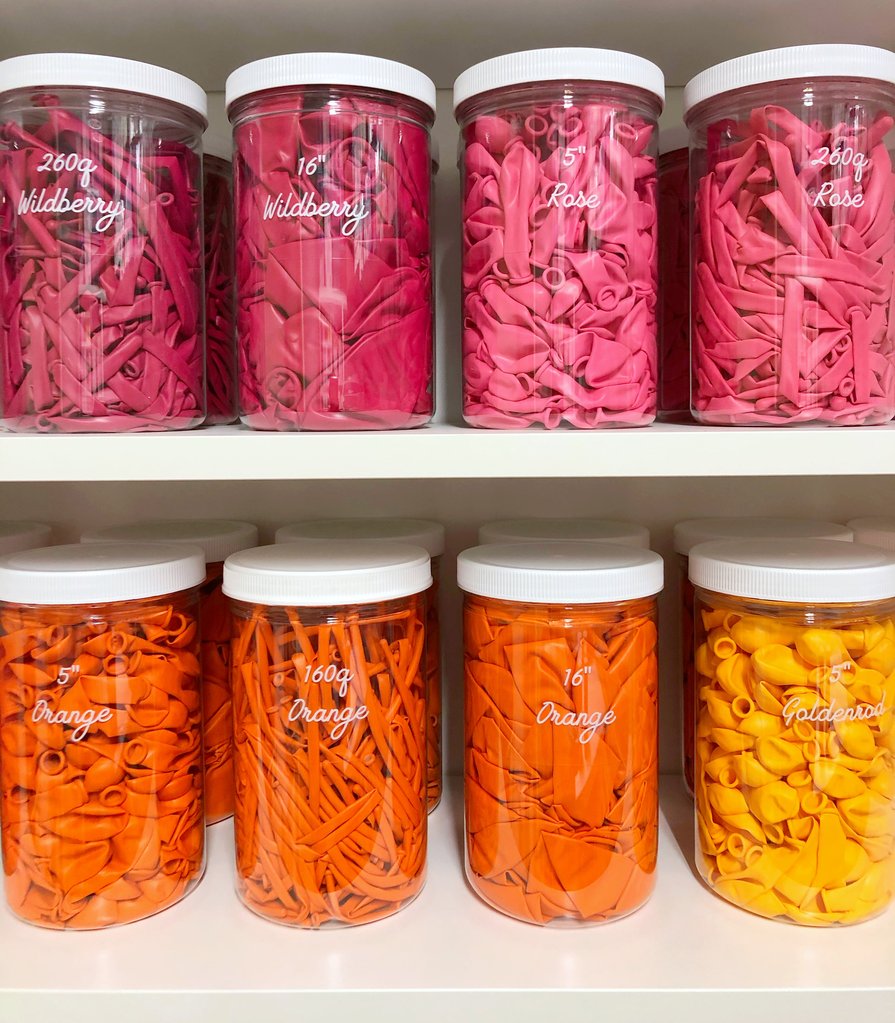 Hanging Supplies
If you don't have an open space for organizing and displaying craft supplies, don't worry! You can utilize any closet space to it's full potential by hanging supplies! Use hanging closet organizers to create flexible shelving, or repurpose shower curtain hooks to hang supplies like balloons or paper fans directly in their packaging or in plastic bags.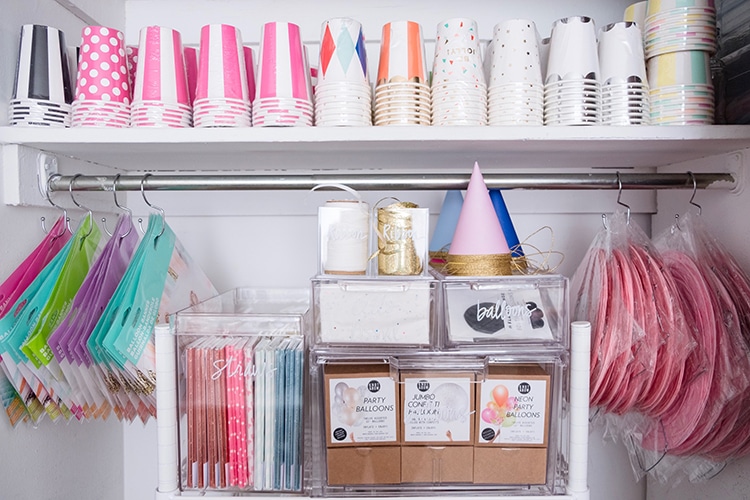 Pegboard Organizer
Another way of hanging supplies, but out in the open, is by using a pegboard organizer. This is perfect for things you use on a regular basis, like common craft supplies. Hanging them on a pegboard means easy access whenever you need them. Pegboards are also incredibly easy to rearrange as needed – just move the pegs or hooks!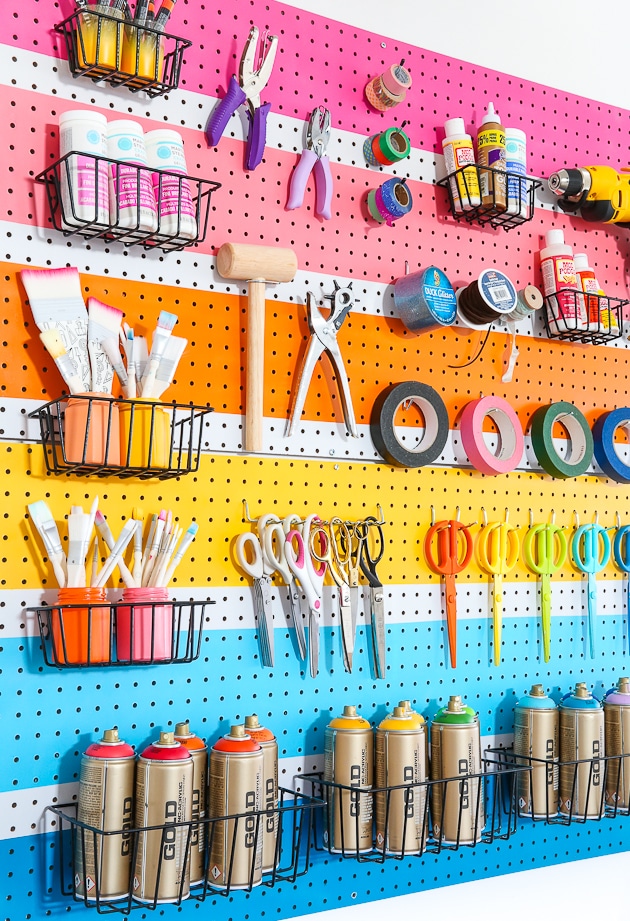 Rolling Cart
Also great for currently needed or heavily used supplies, a rolling cart is another game changer. It goes wherever you need! You can use it during an actual party to hold the plates, cups, napkins, and anything else you might need, or you can use it in your office or studio to hold the craft supplies you use most often.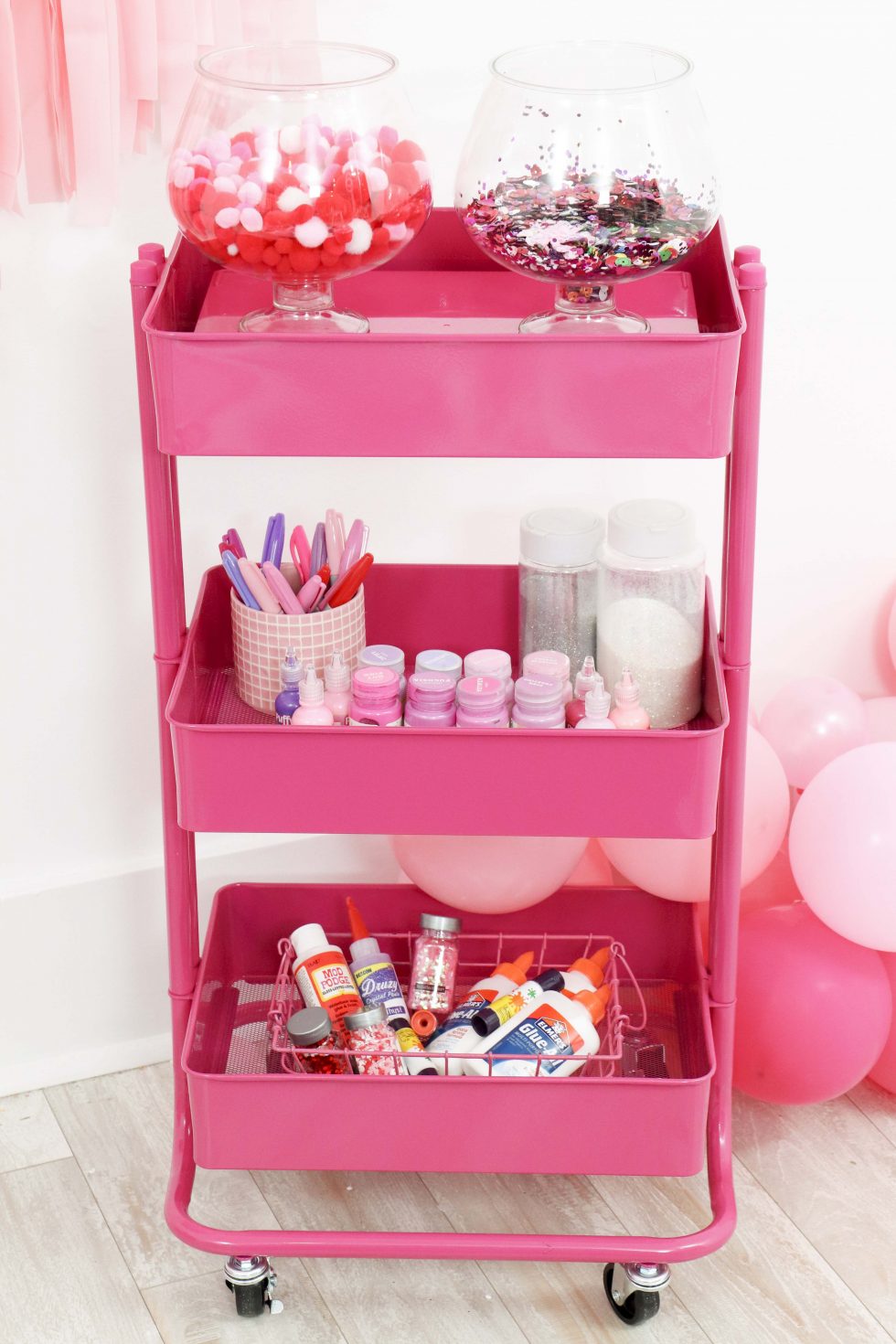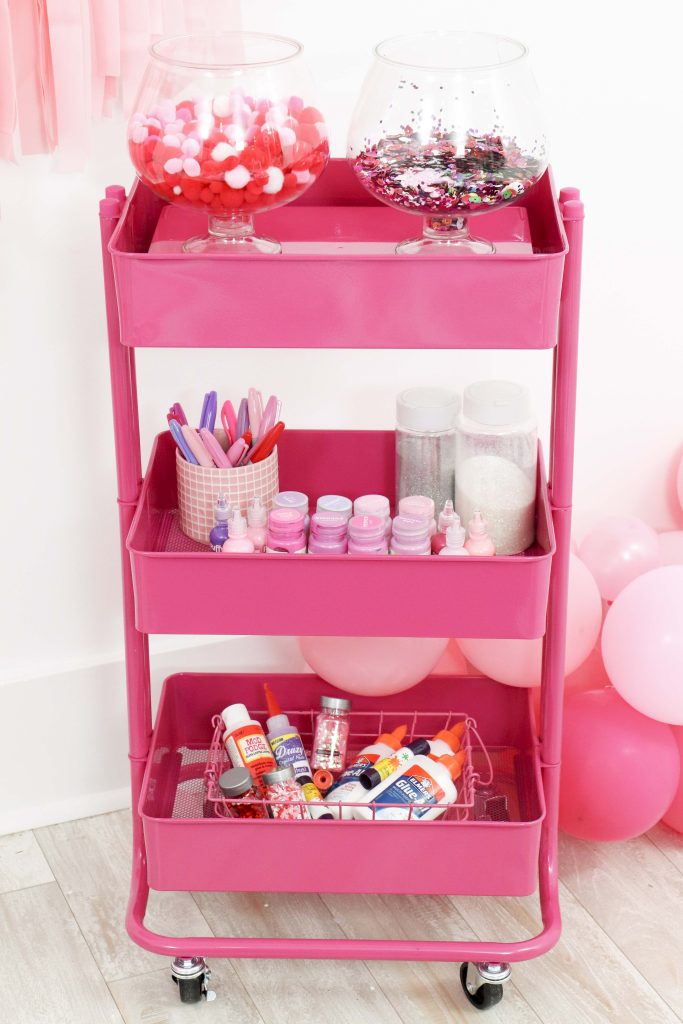 What is your favorite way to store and keep party and craft supplies organized? I'd love to hear your ideas in the comments!
More Party Planning Ideas
For more tips on staying organized with your party planning, check out my posts on 10 Tips for Summer Birthday Parties, Hassle Free Grad Party Planning, Tips for Community Block Parties, and How to Throw Virtual Parties and Celebrations!
Happy Organizing!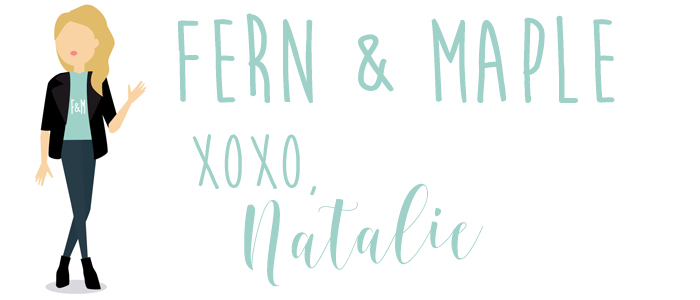 PIN FOR LATER: