With the pandemic unfortunately still raging on, I have been looking for more and more ways to keep the kids entertained and happy while being mostly still stuck at home. I'm also always a fan of (although particularly in these times, perhaps), celebrating as often and as much as possible! That's why I have been inspired to set up several different Valentine's Day-inspired parties for my kids and their small Covid-safe pods of a few friends. First, I set up a Valentine's Day Science Party, and in that same interactive and entertaining party vein, I'm now sharing a Valentine's Day Craft Party for Kids! Read on to see how I set it all up, and maybe it will inspire you to create some celebrations of your own!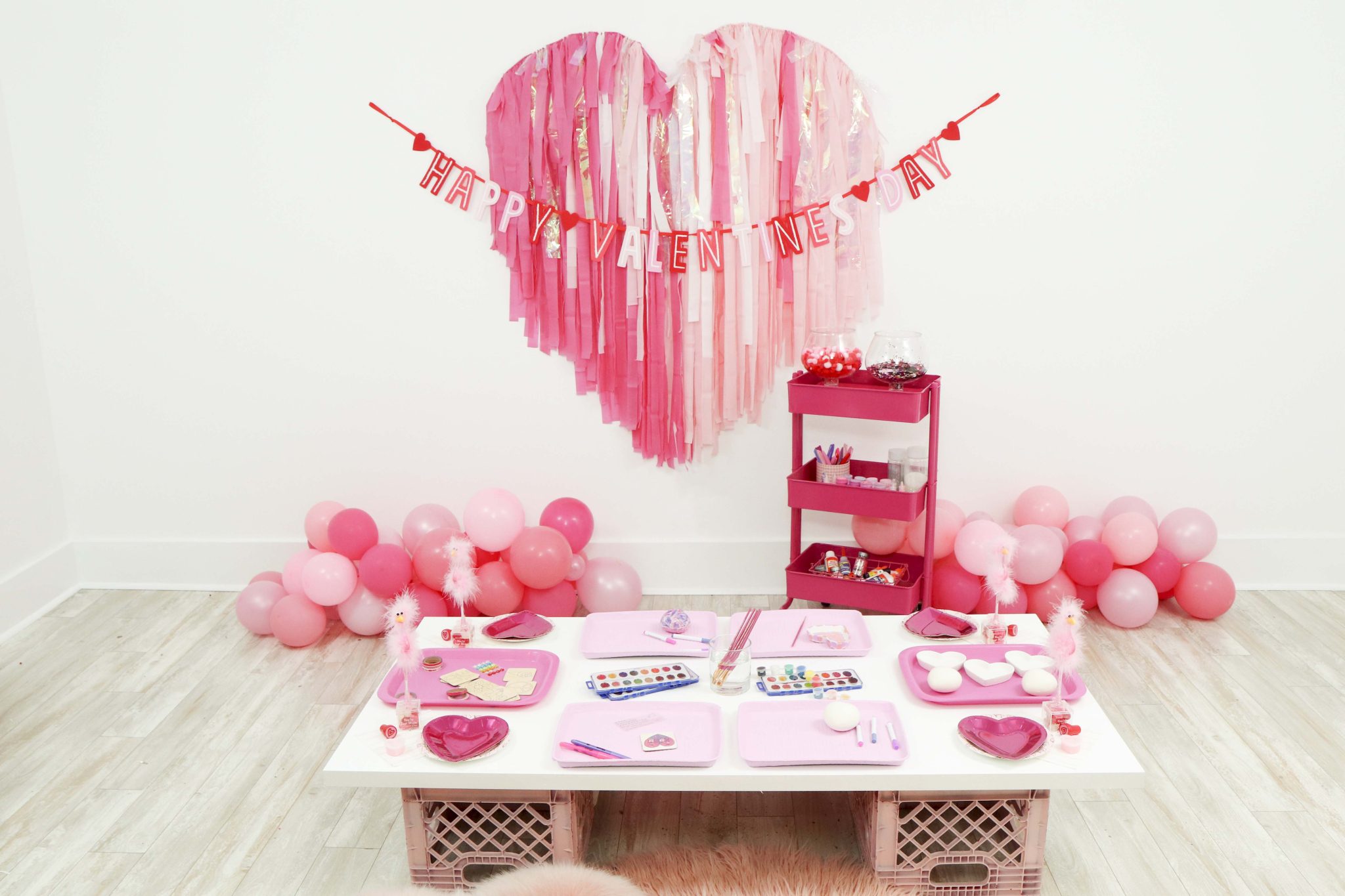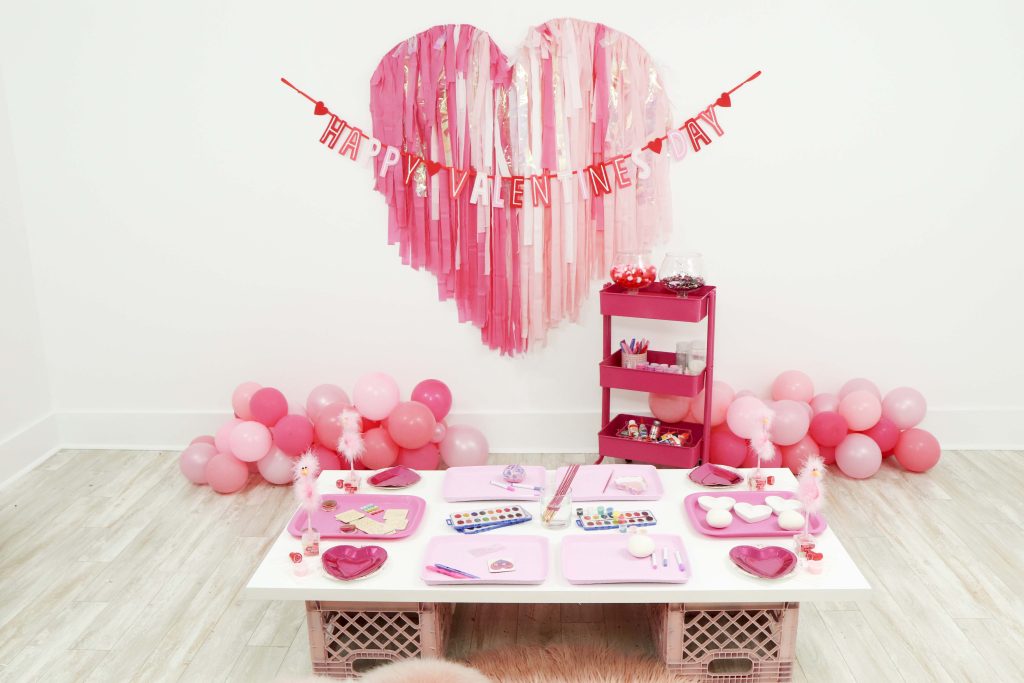 Backdrop
First, let's talk about this amazing heart backdrop. I was thrilled to partner with Bri from Glam Fete to design and create this eye catching ombre fringe backdrop that can easily be pinned in the shape of a heart and customized in your choice of colors! It makes the perfect fun photo booth, or backdrop for a cake or dessert table, or, in my case, a craft cart backdrop! You can purchase one for yourself HERE, and see how easy it is to set up HERE.
I layered my fringe backdrop with a "Happy Valentine's Day" garland, and flanked each side with a balloon garland in a variety of pretty pinks.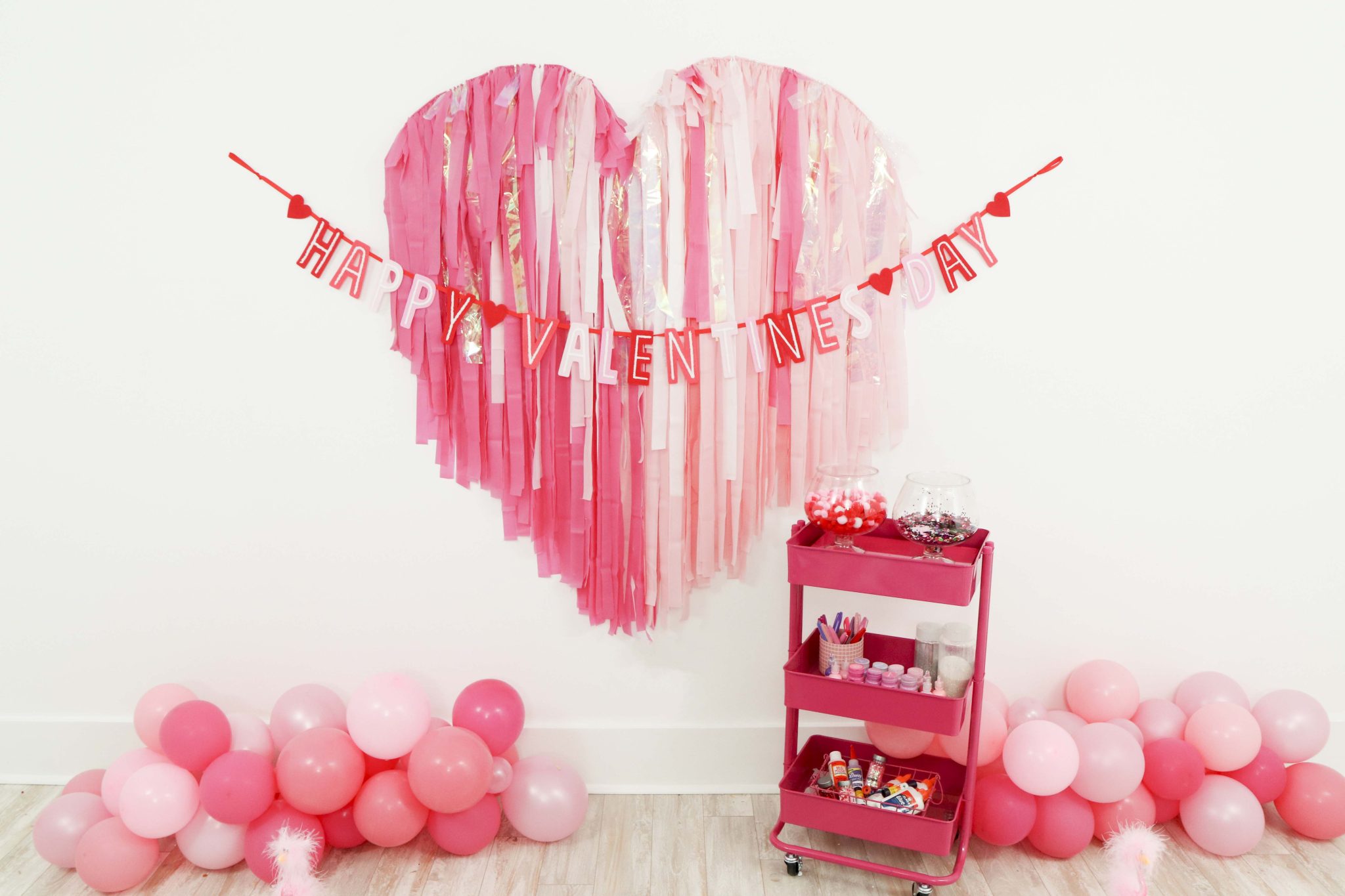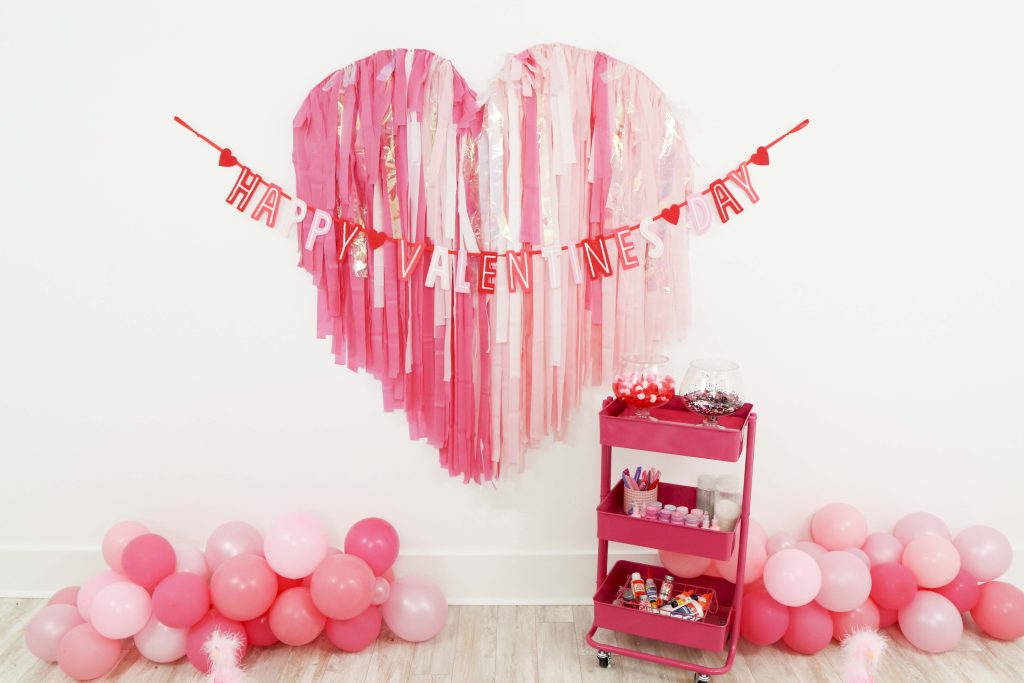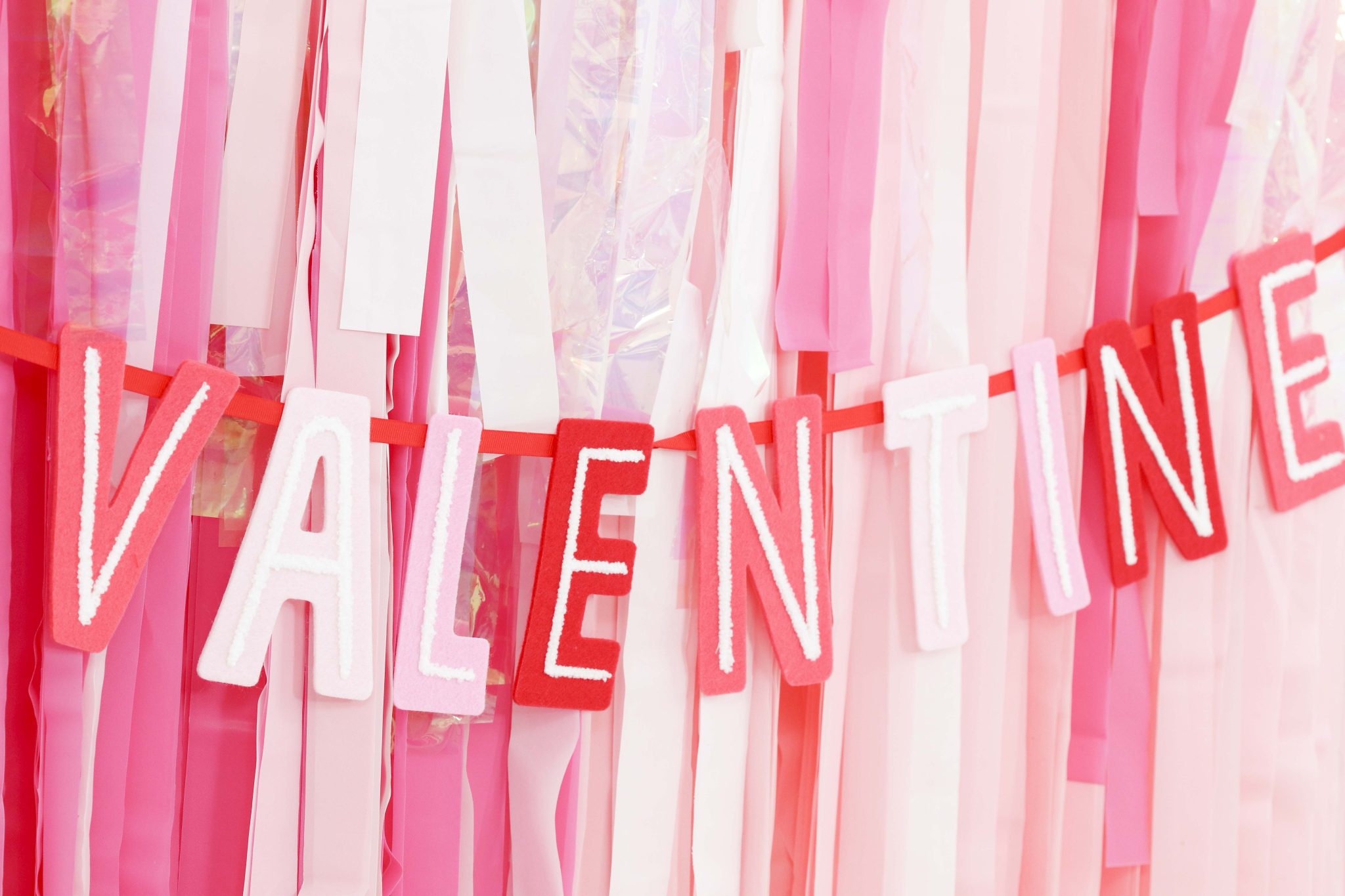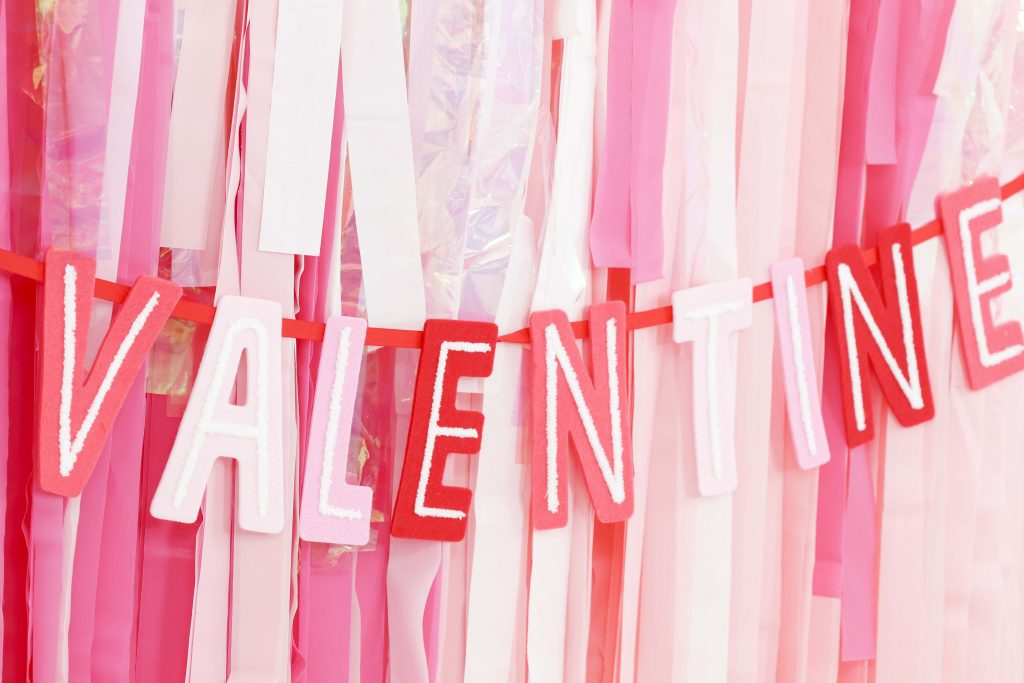 Craft Cart
Underneath my backdrop, I set up a pink rolling cart with craft supplies. This cart makes an excellent supply storage option, so that your crafting table doesn't get too crowded – more room for the actual crafting! You can simply roll this cart to where you need it. I placed two large pedestal bowls on the top shelf of the cart with confetti and pom poms, and then added tons of paints, markers, glitter and glue to the bottom two shelves.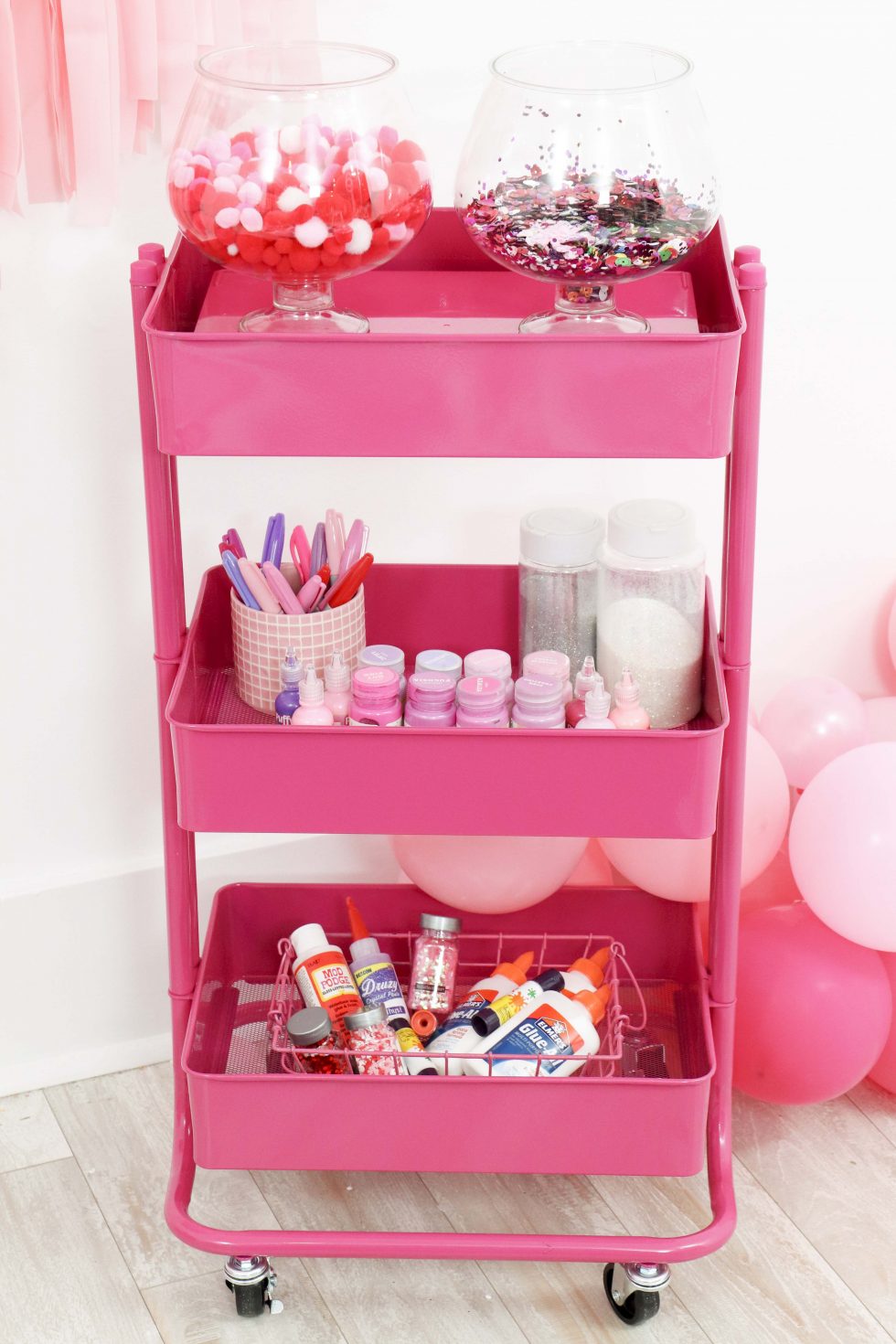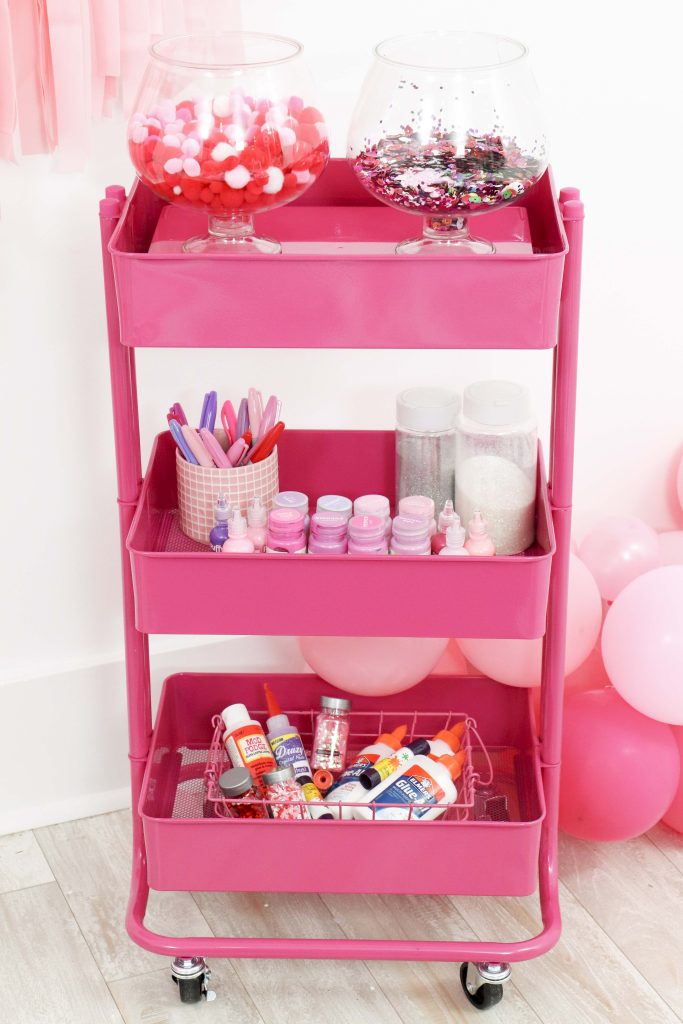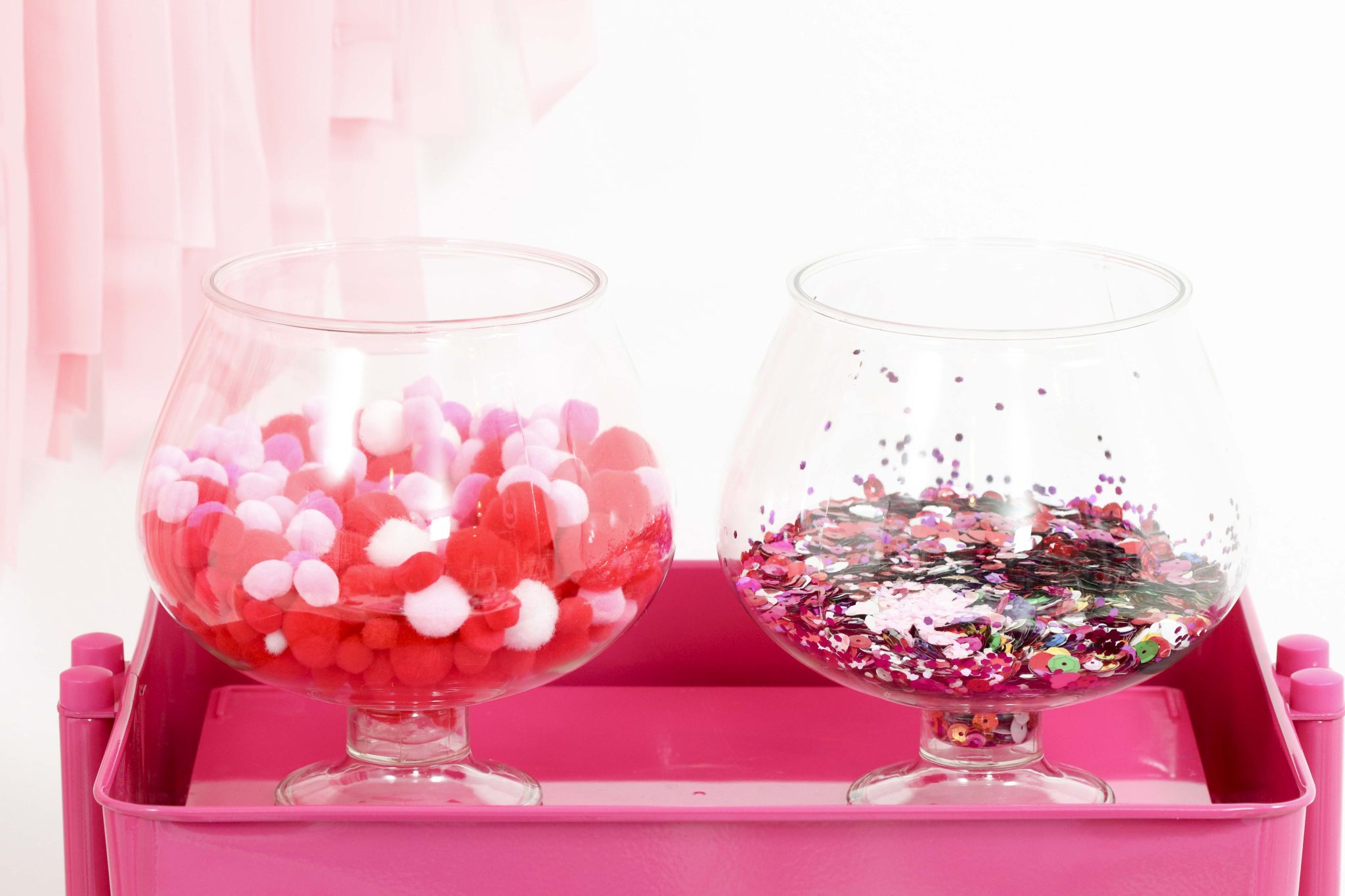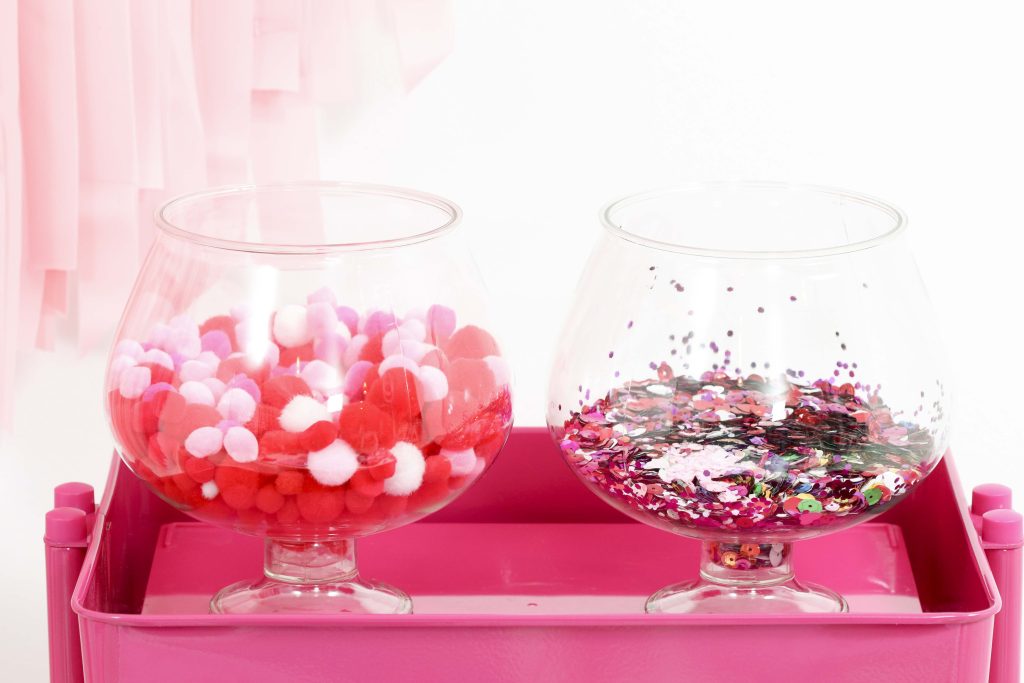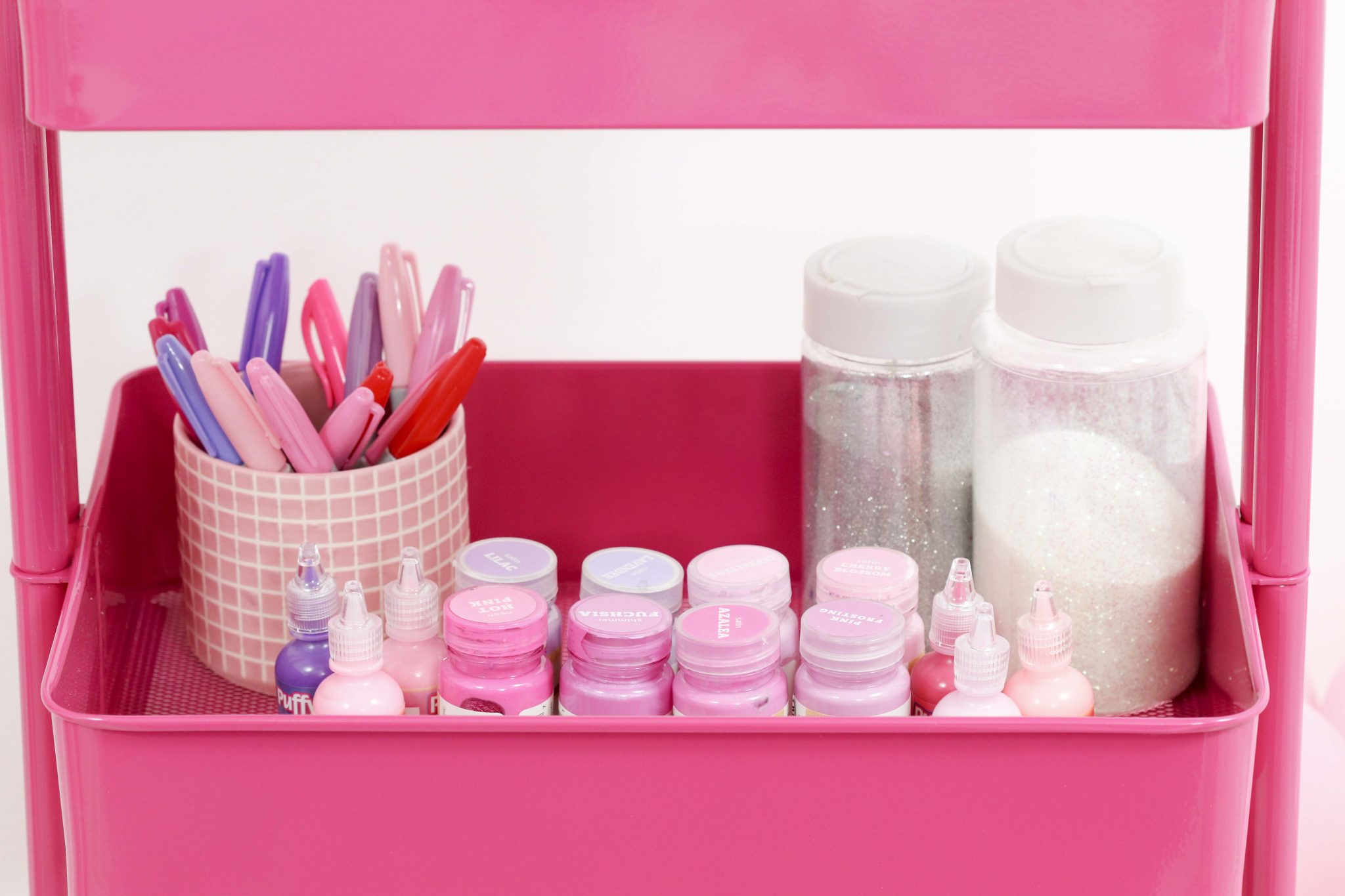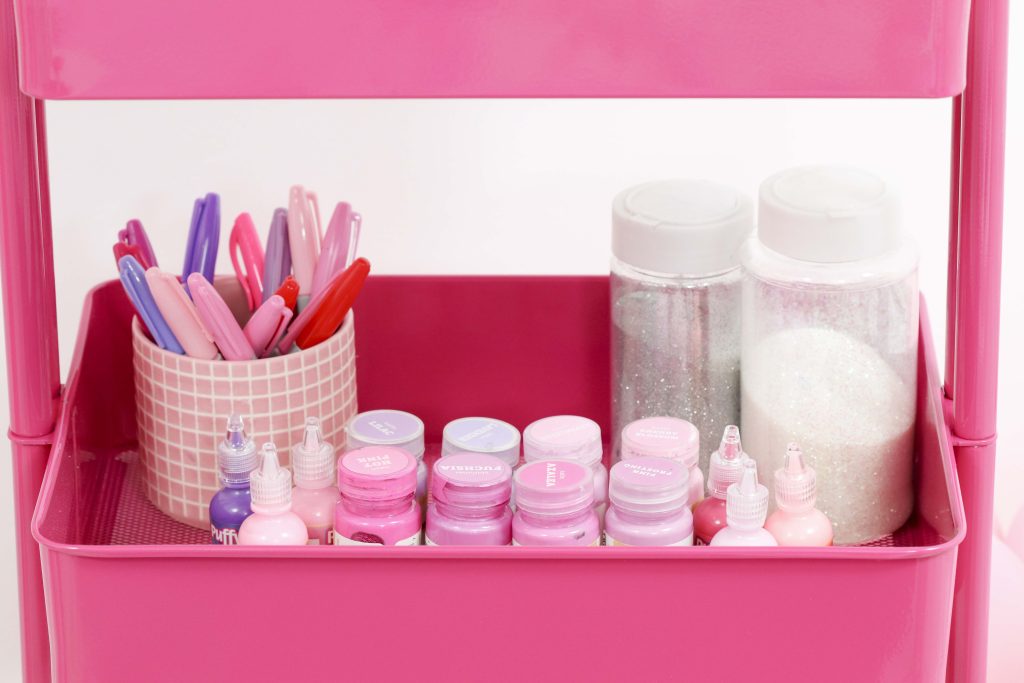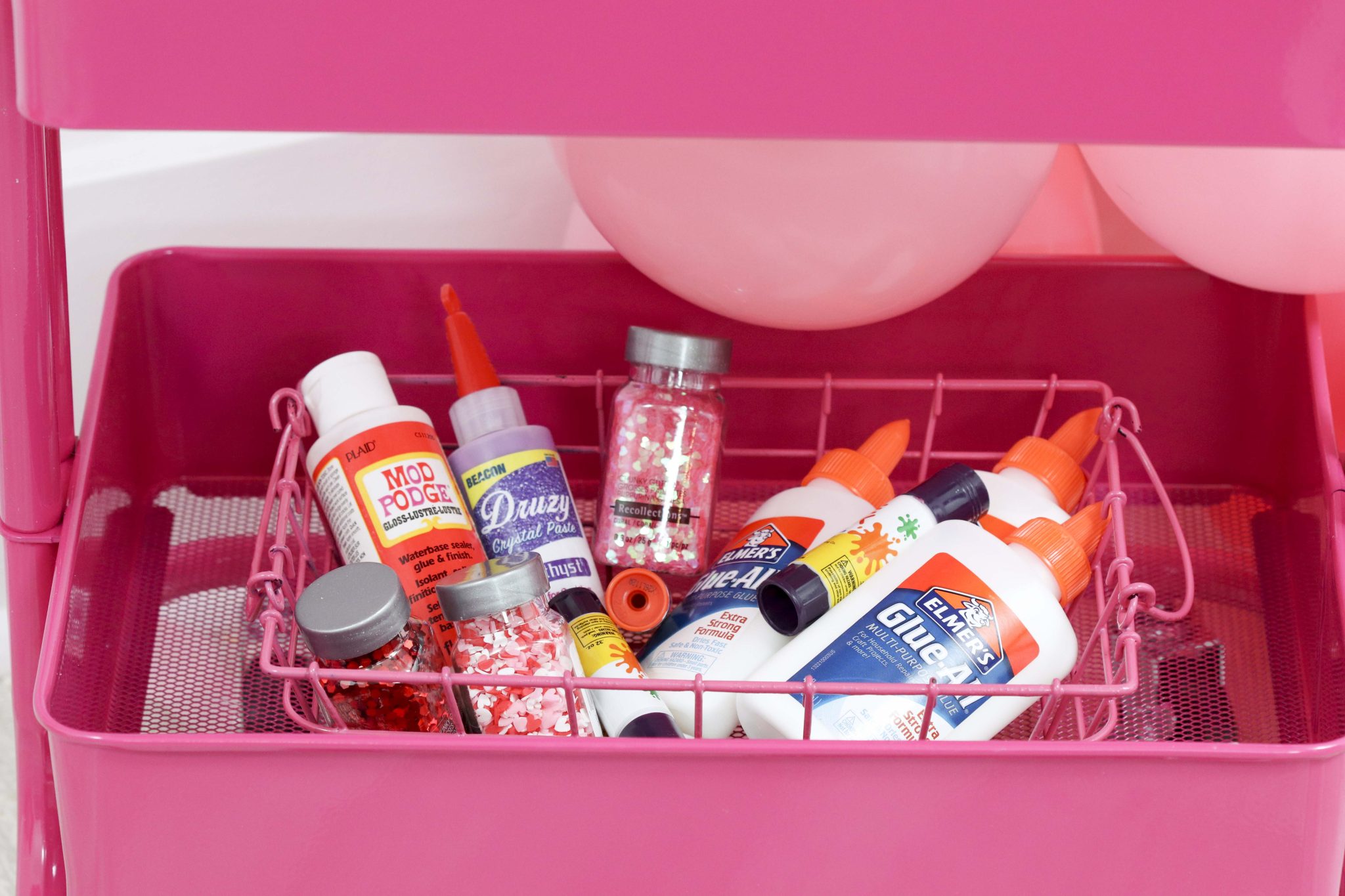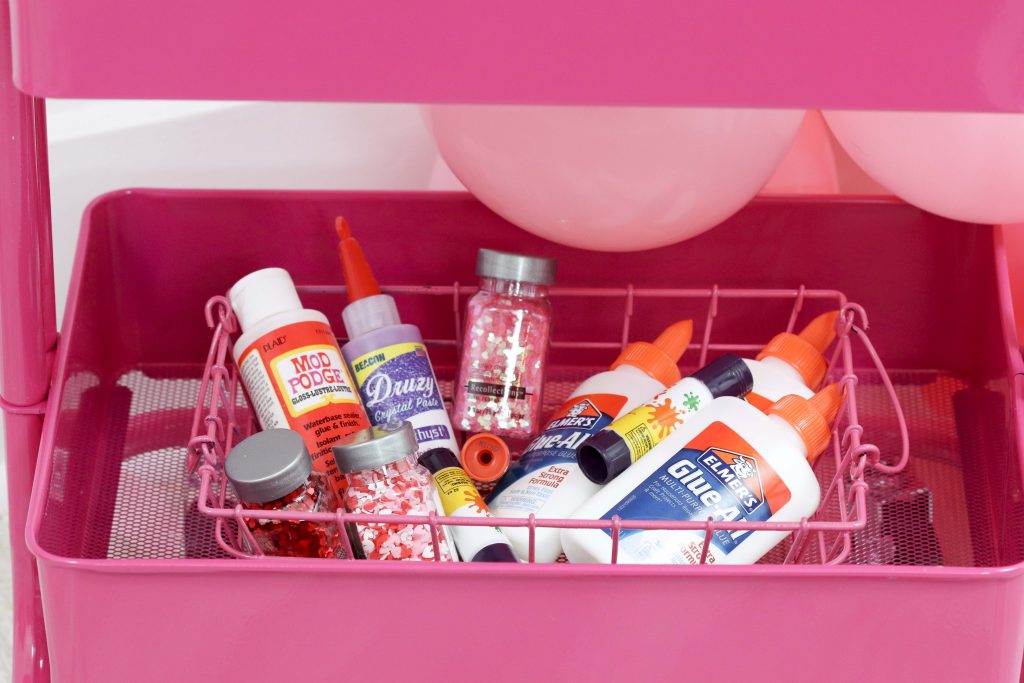 Craft Table
The most important part of this party is the craft table! After all, this is where all the crafty magic happens. I made my table low to the ground, so that it's perfect for kids, by using a table top on overturned pink milk crates. I used cozy pink fur rugs and heart-shaped pillows for on-the-floor seating.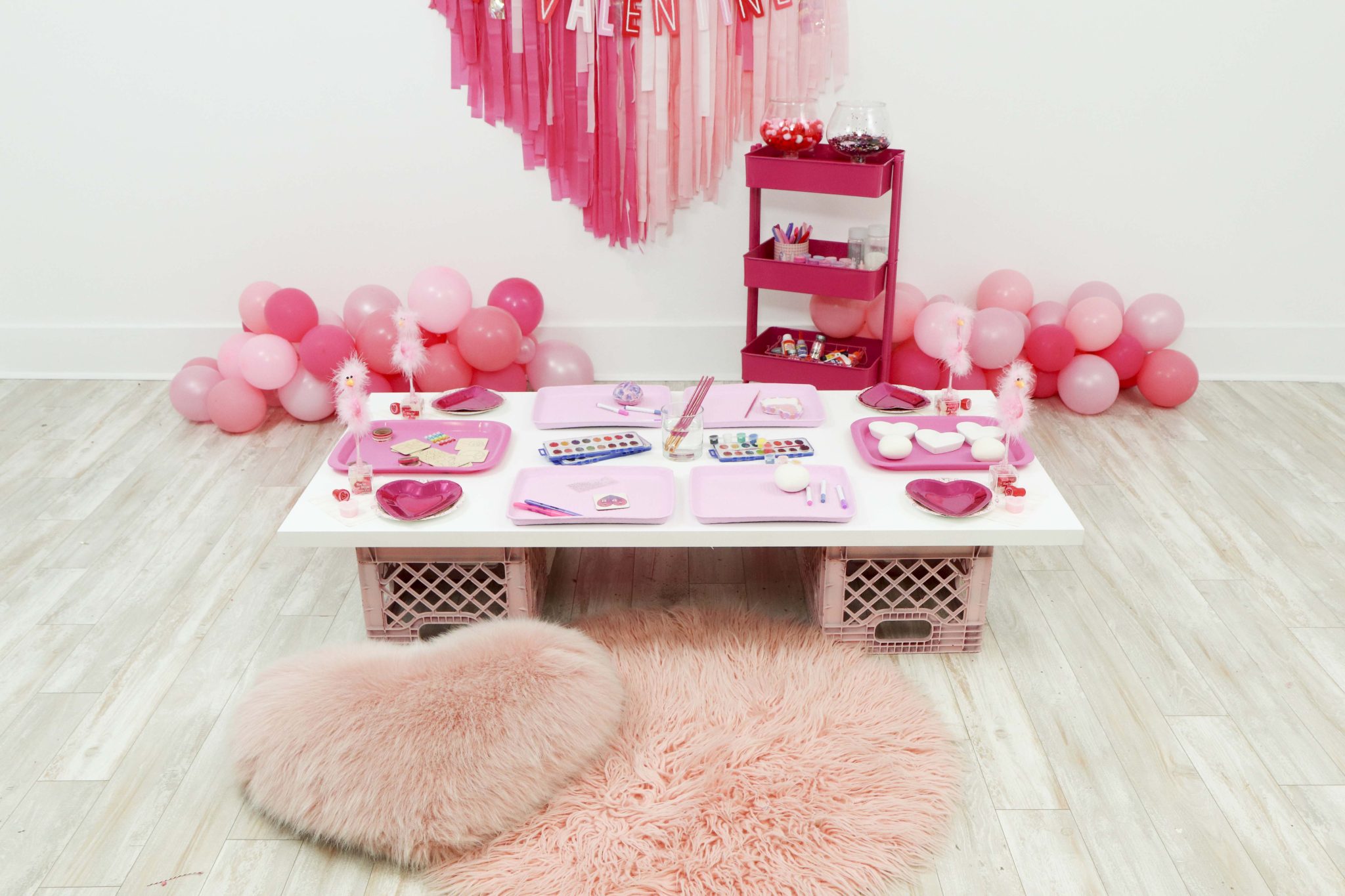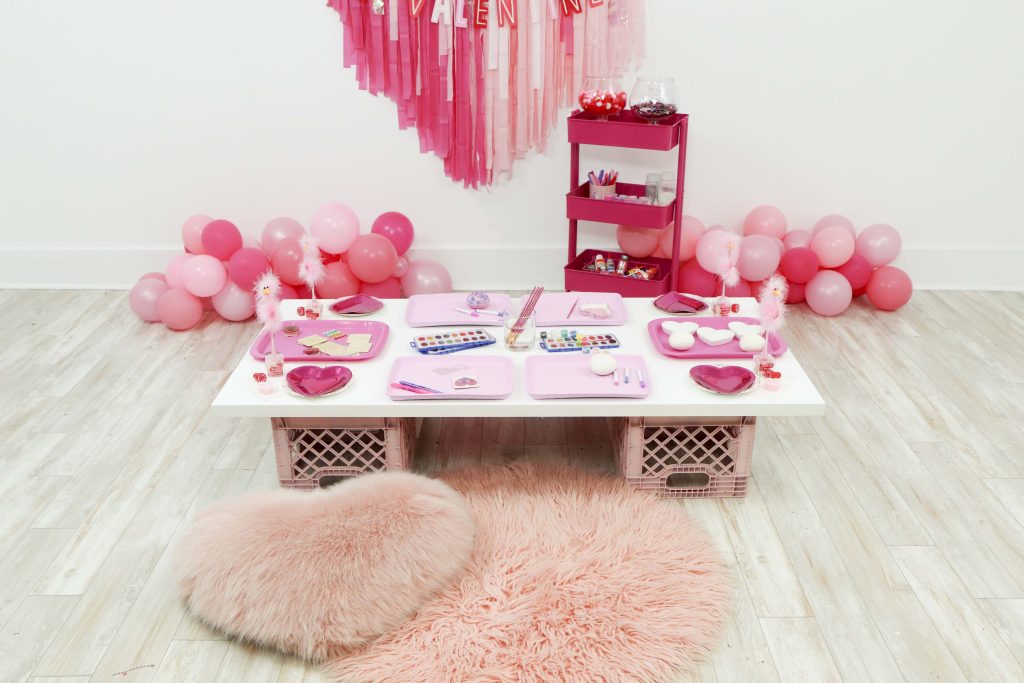 Then, I set up the center of my table with a centerpiece of paint brushes in water with watercolor and acrylic paint pots on each side. At each end, I placed a dark pink tray of craft projects to decorate that I got from Target Bullseye Spot, these packs are only $3 each! – squishy hearts, ceramic heart dishes, and wooden Valentine's Day magnets. If you can't find them at Target, Oriental Trading has tons of budget friendly Valentine's craft kits that you can order from the comfort of your home!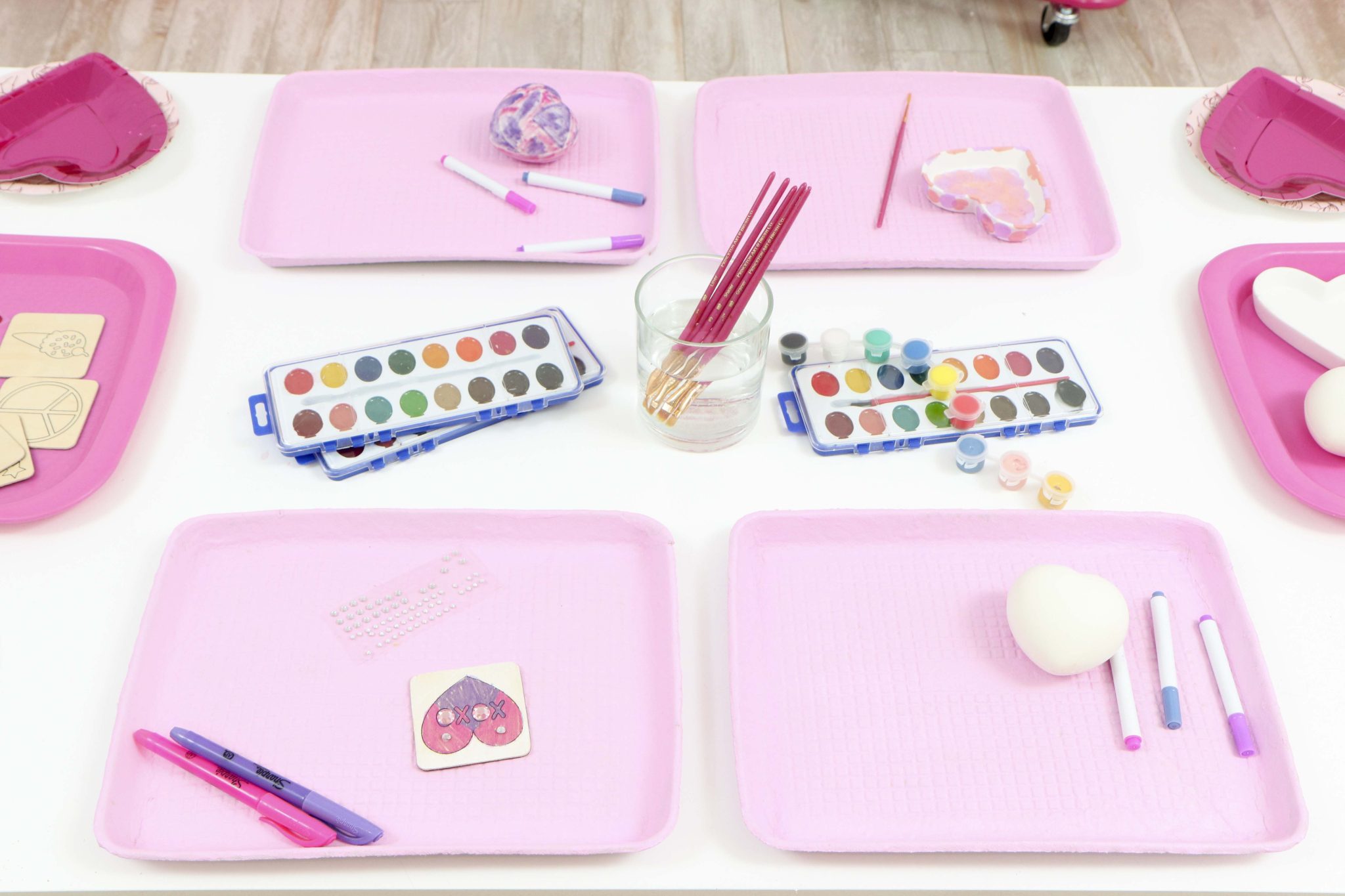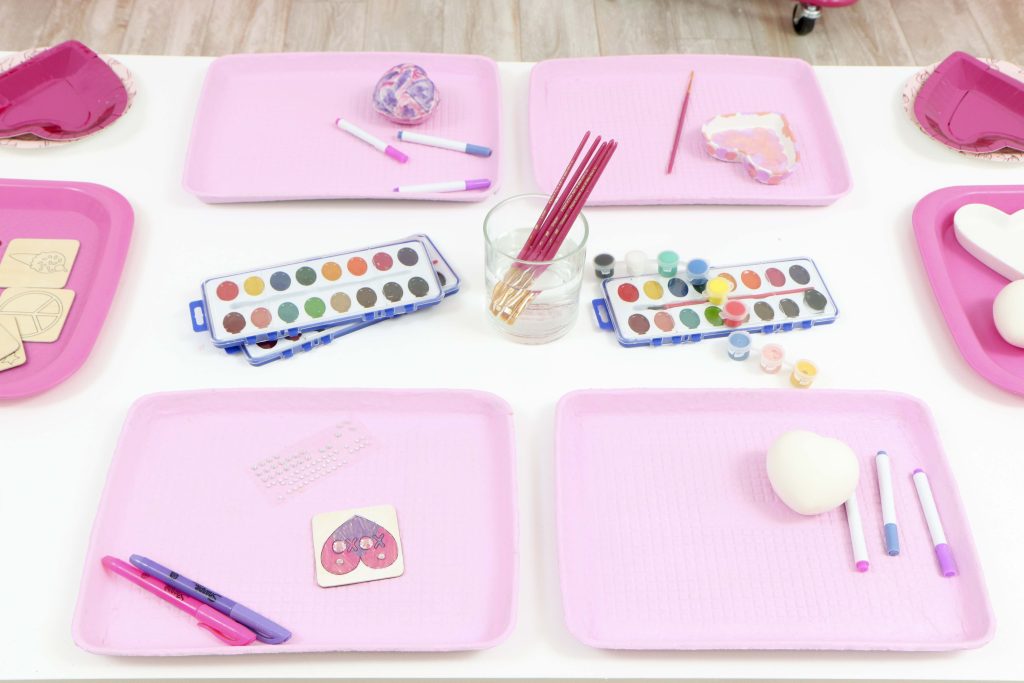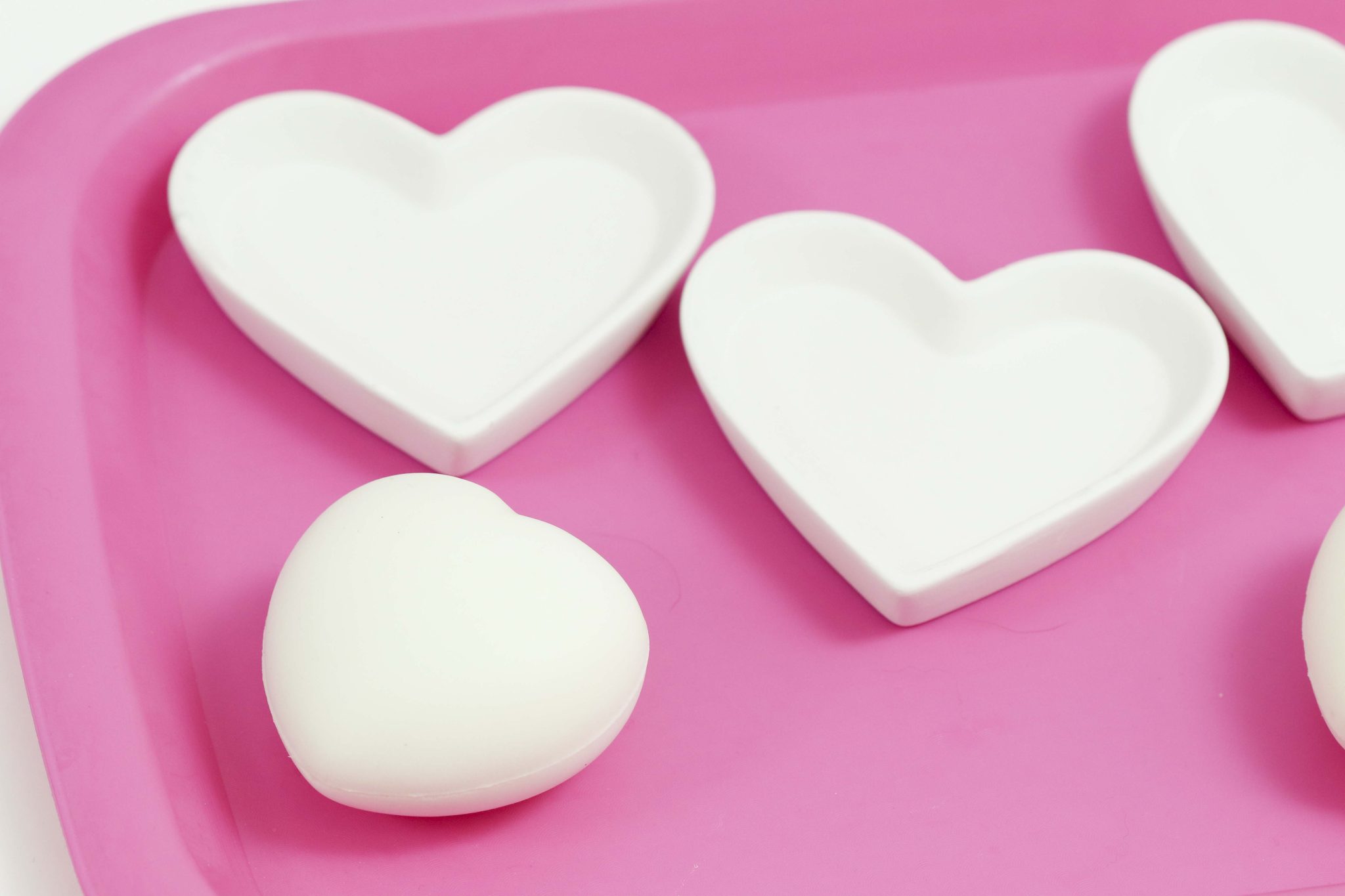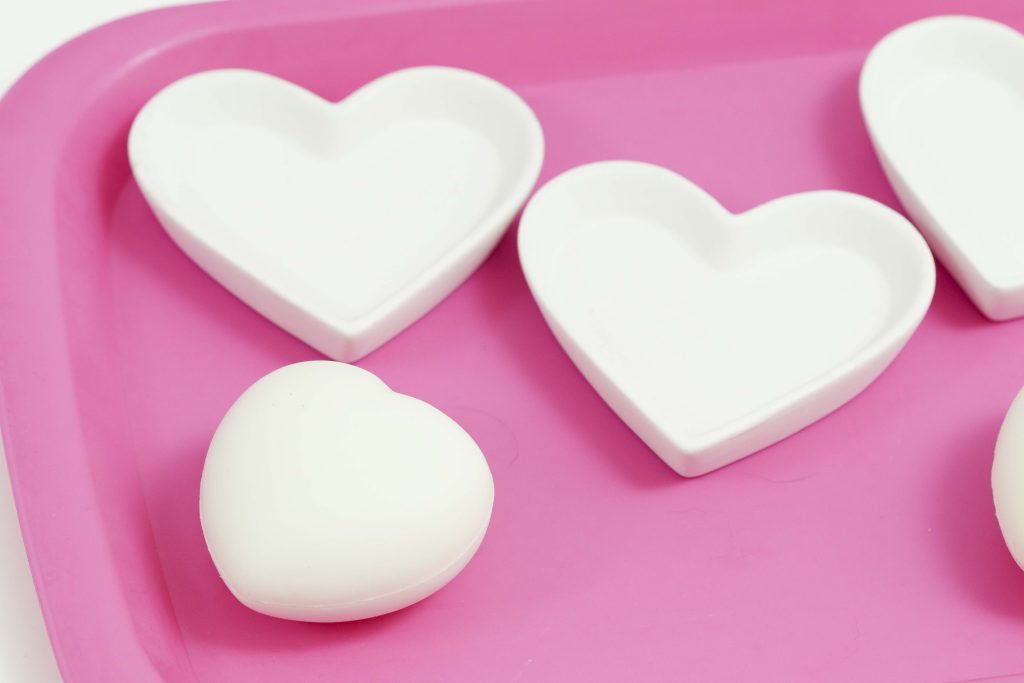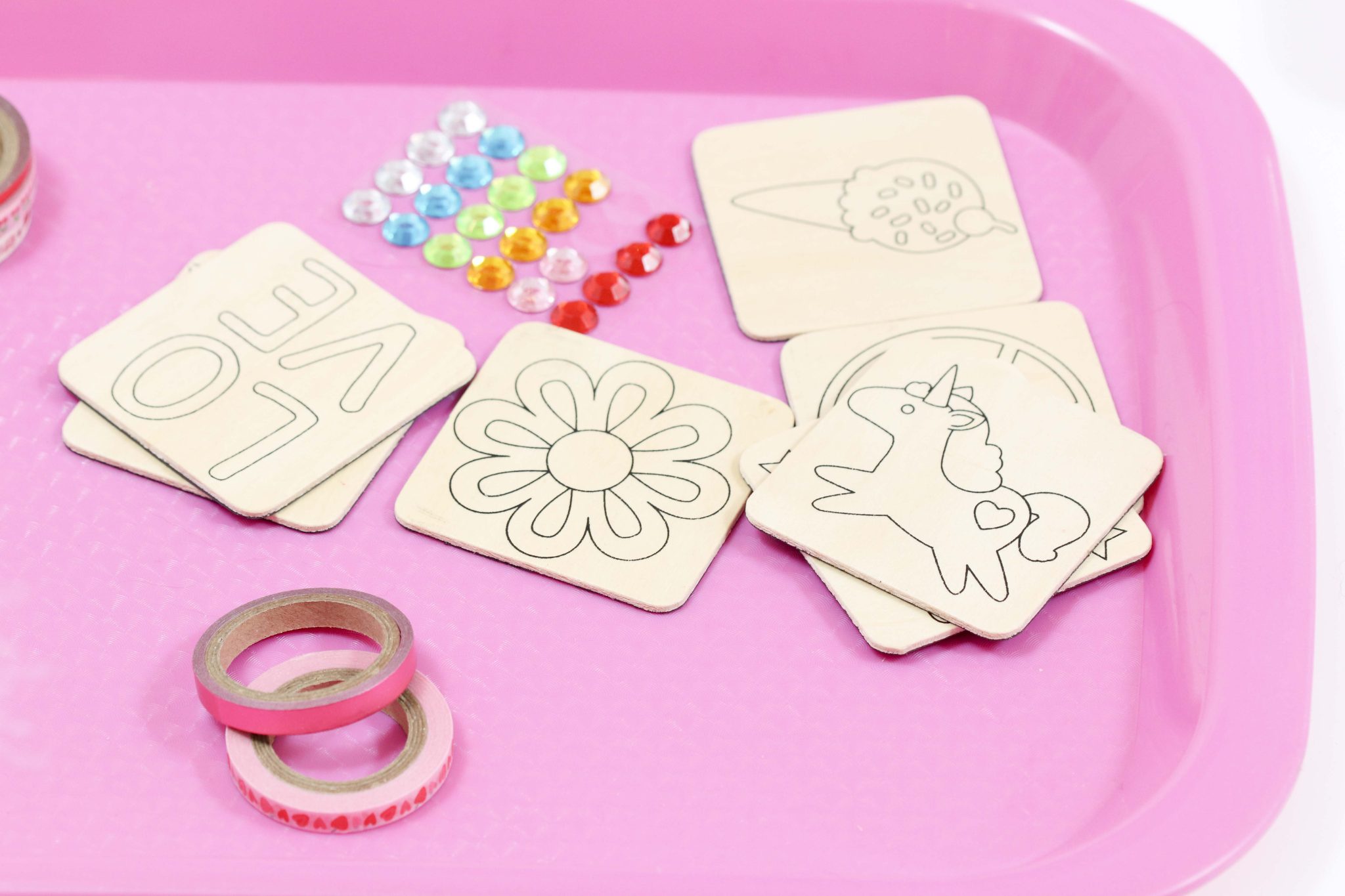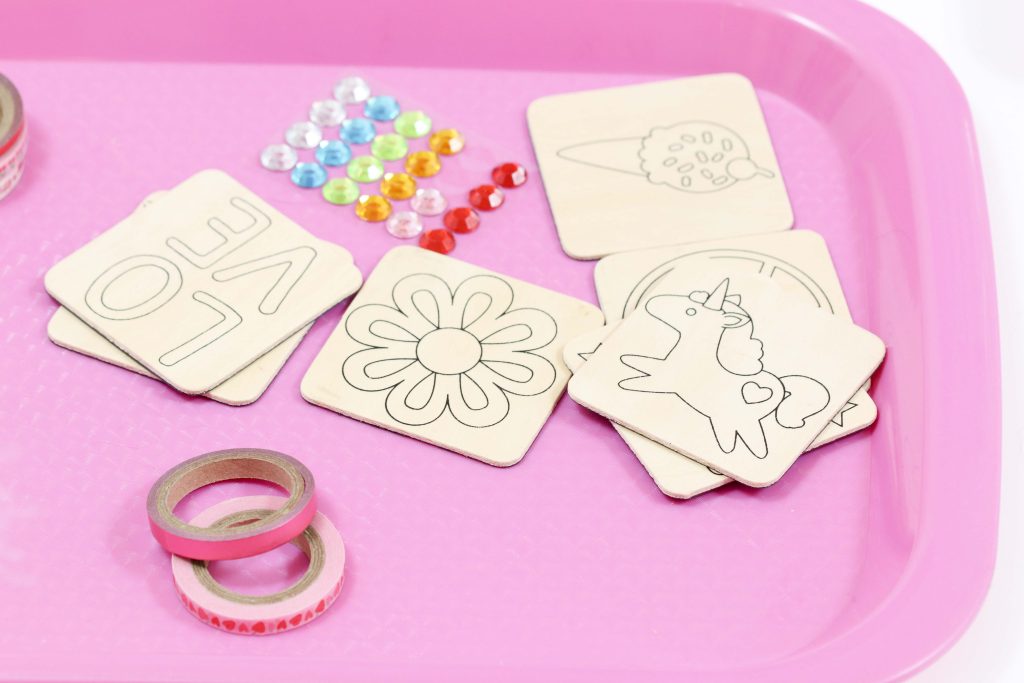 Place Settings
Finally, I set up each place with a light pink tray (these are recycled paper trays that I painted pink using acrylic paint) to help each child to keep their materials at least somewhat contained (wishful thinking, perhaps?).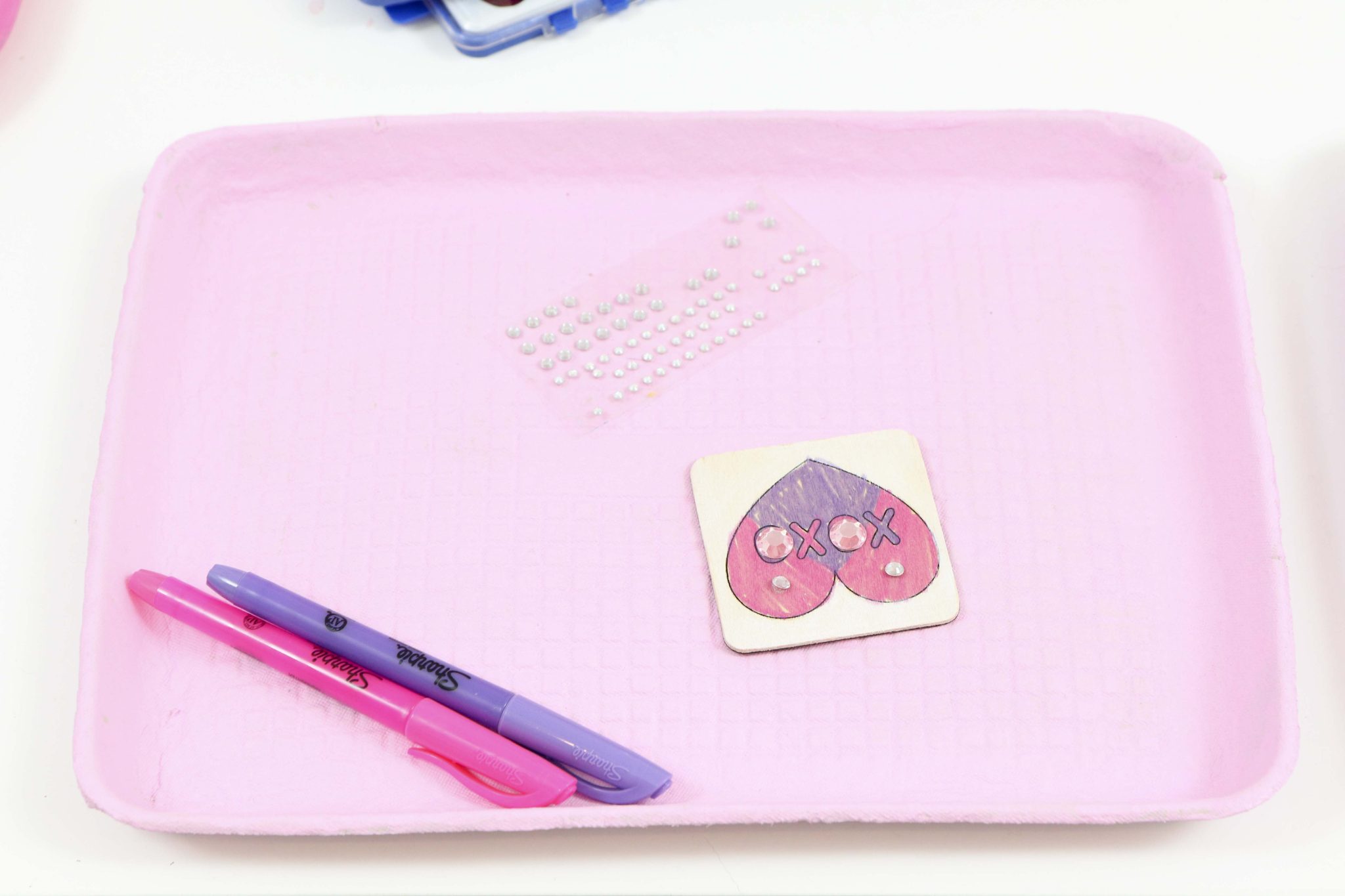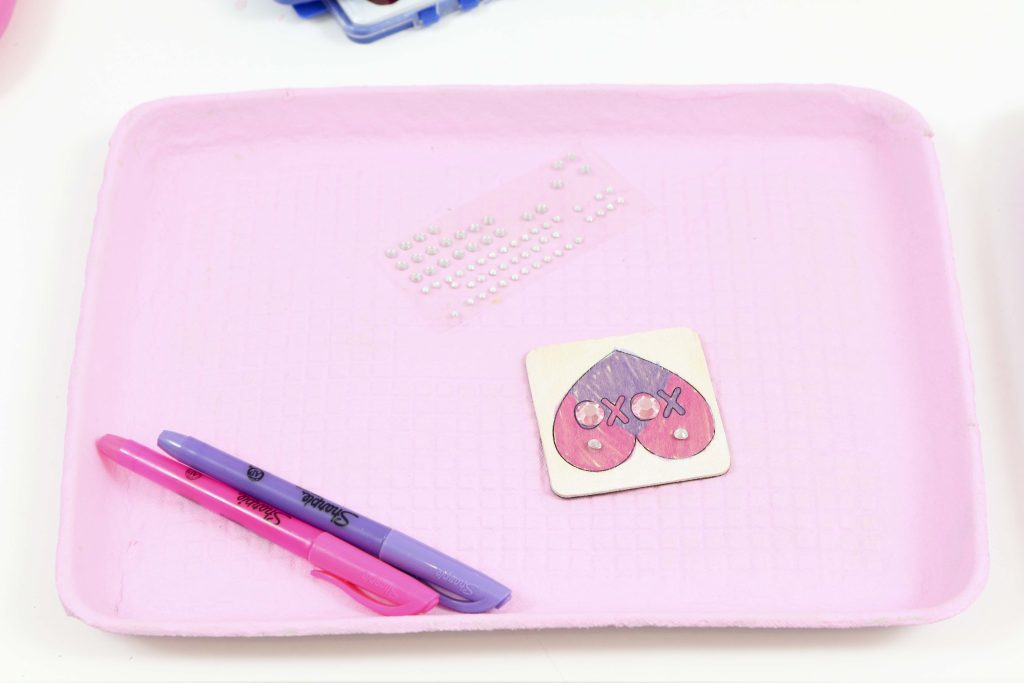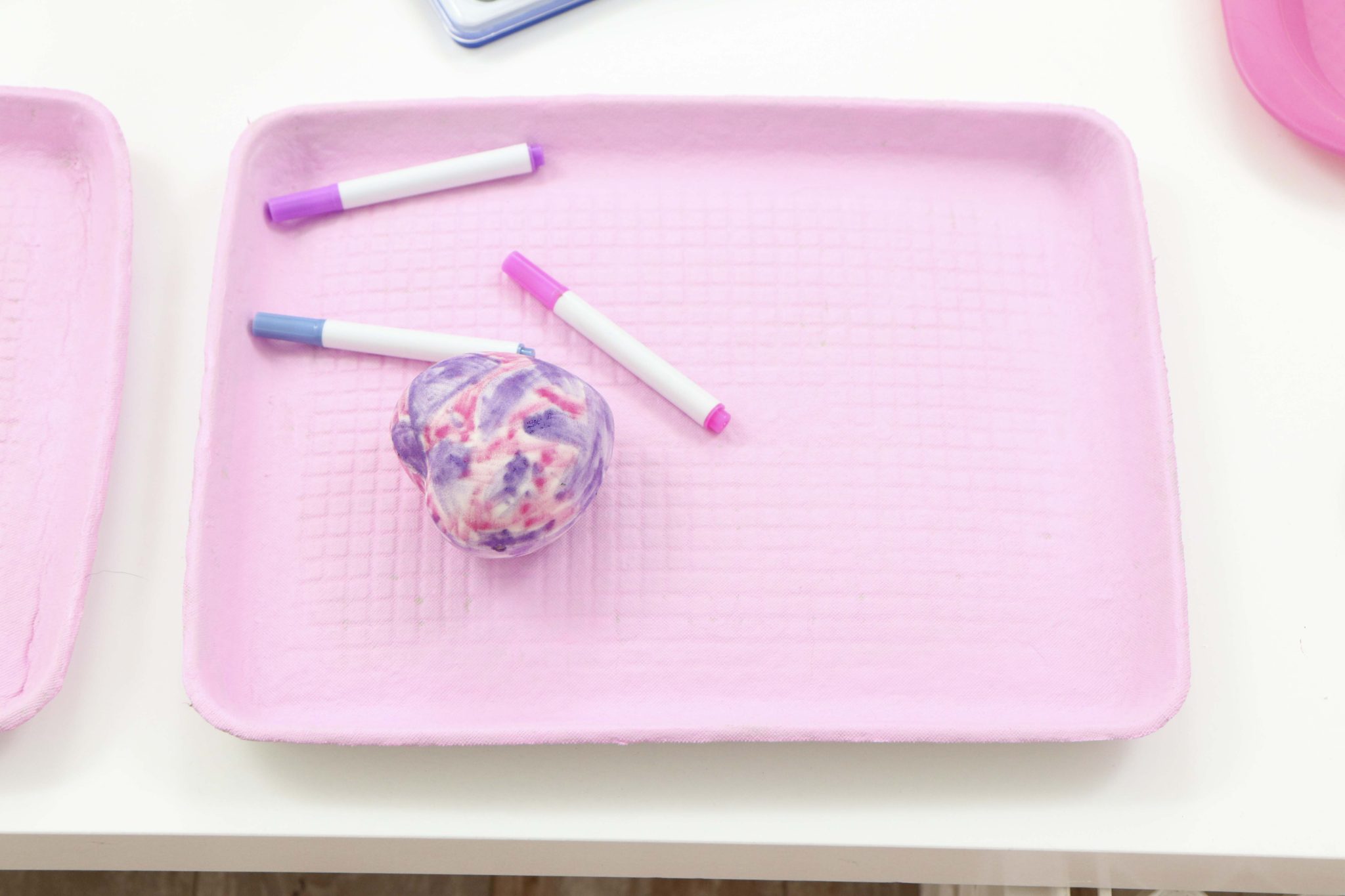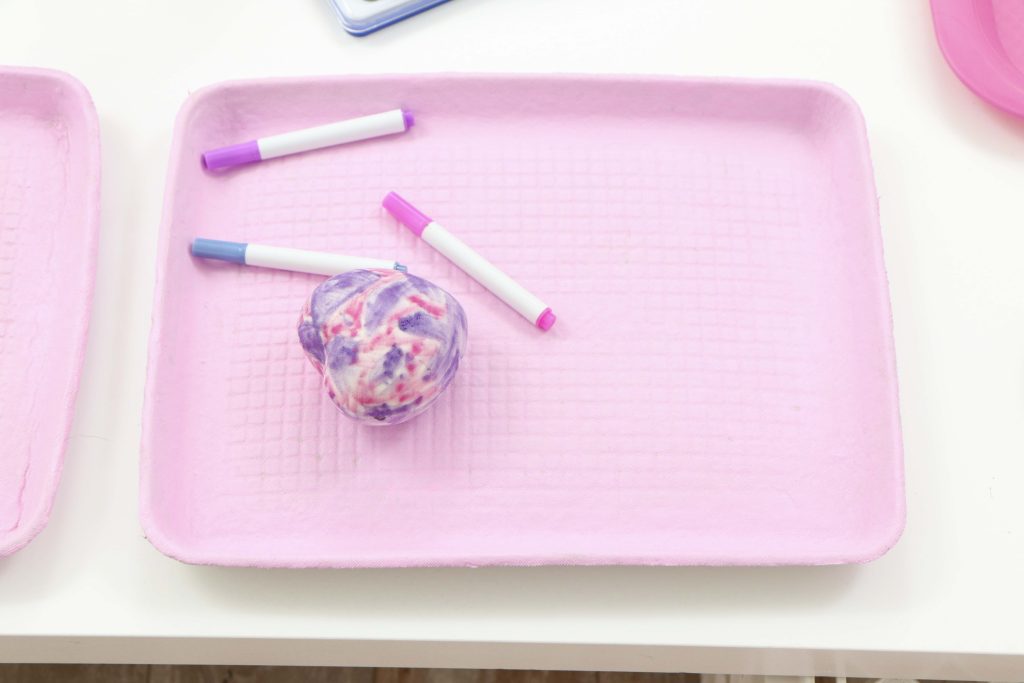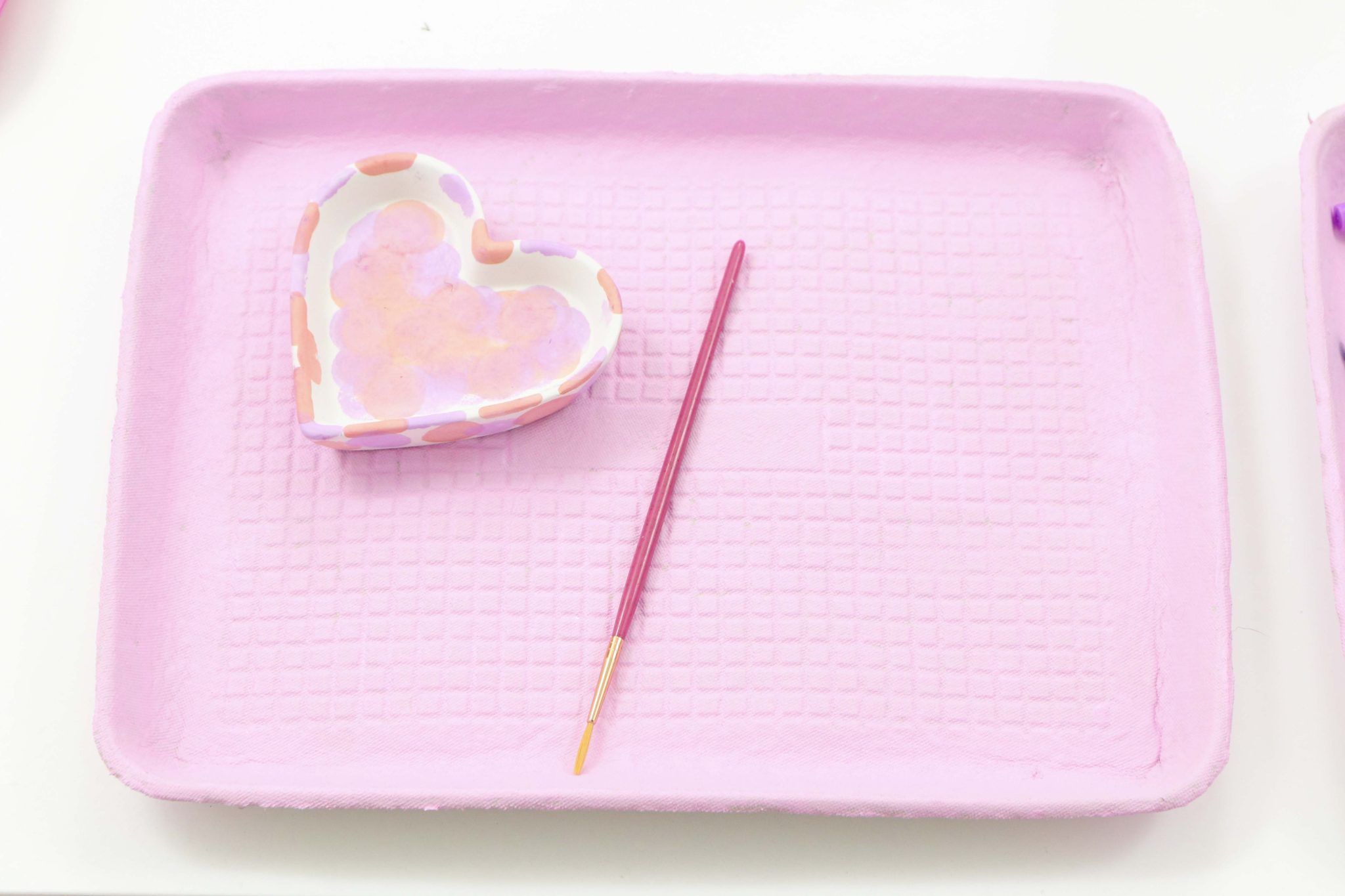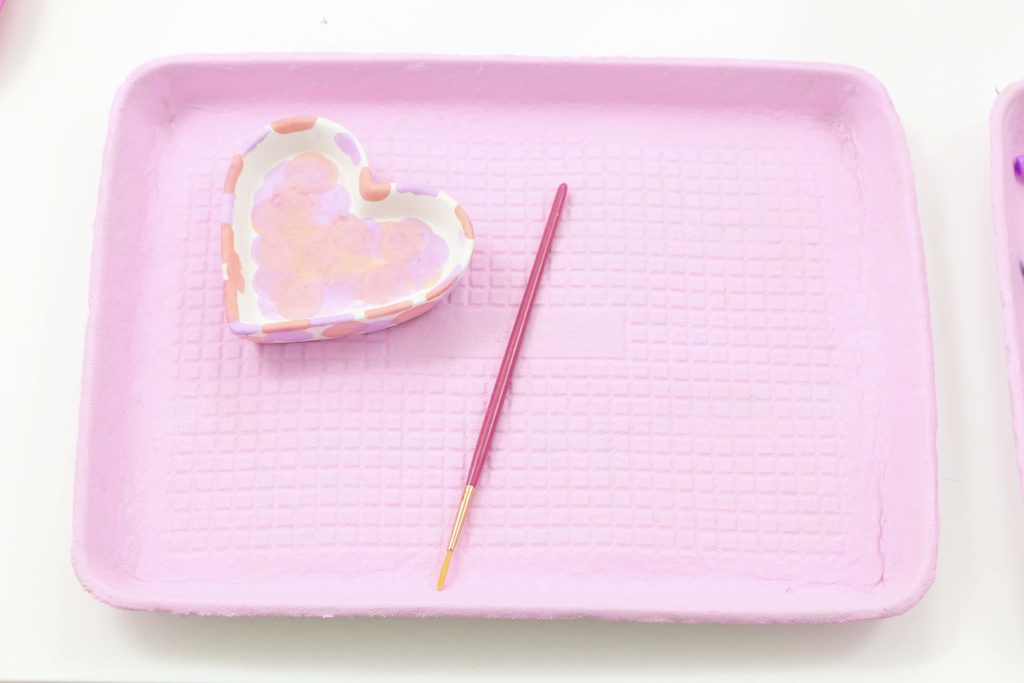 Next to each tray, I layered a pink heart-shaped paper plate on top of a foil flamingo paper plate, and added a pink striped napkin. These are used for snacks and desserts to munch on throughout – crafting takes energy!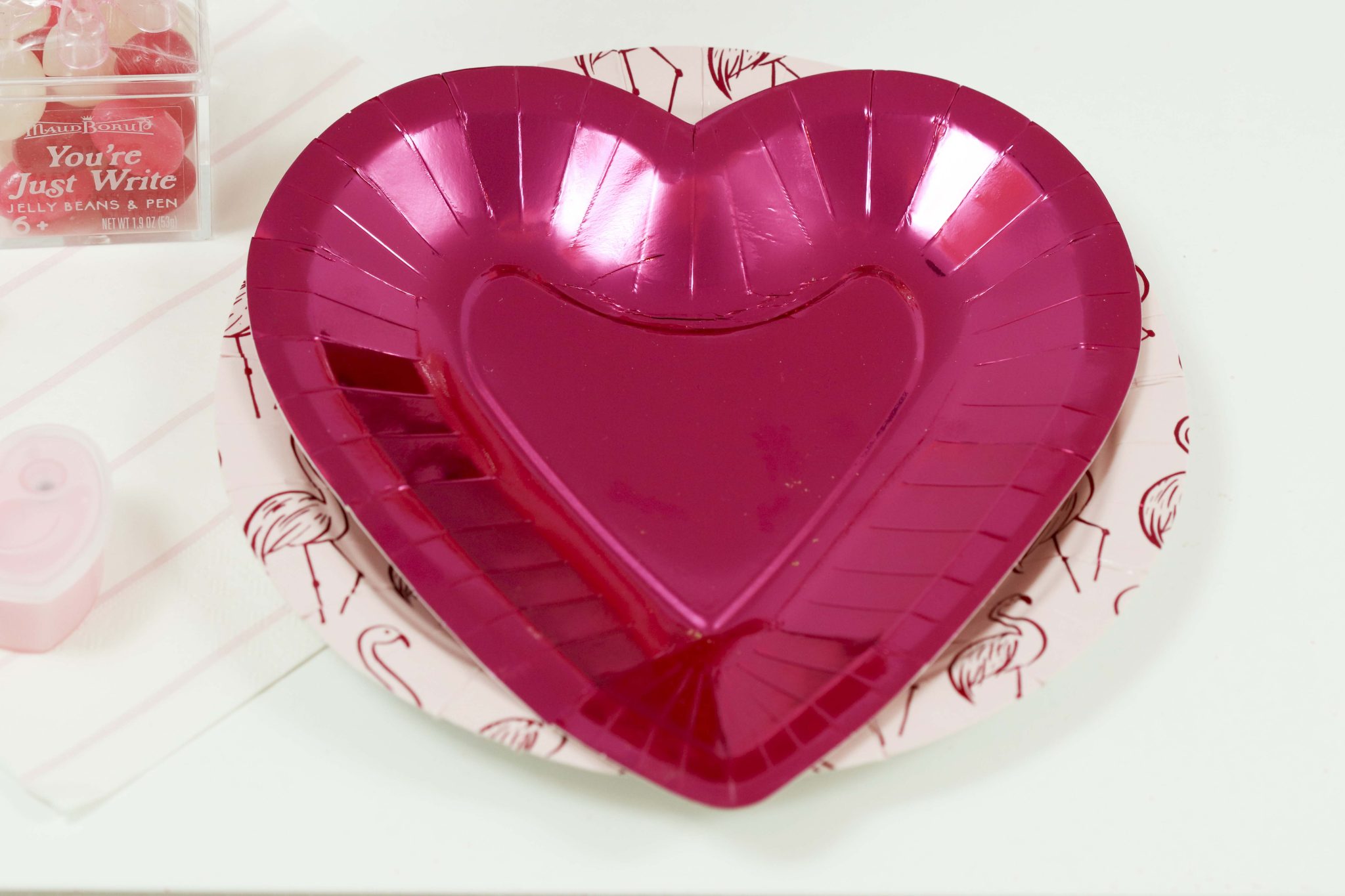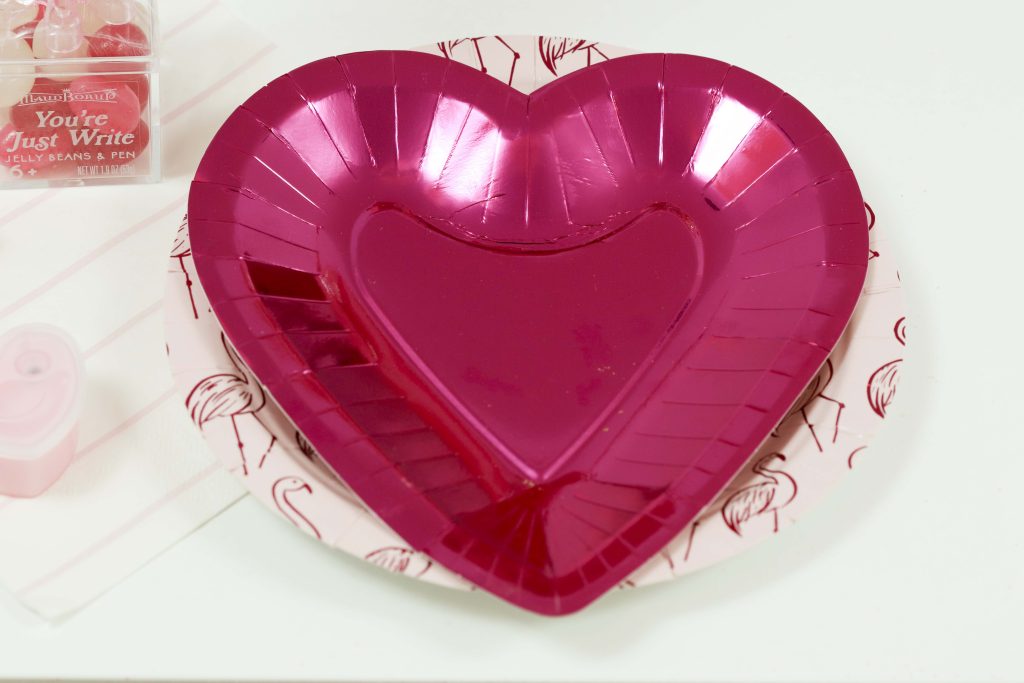 For favors, in addition to the crafts they made, I added some Valentine's goodies to each place: pink Valentine's Day slime, a Valentine's Day stamp, and the cutest fluffy pink flamingo pen and jelly bean treats.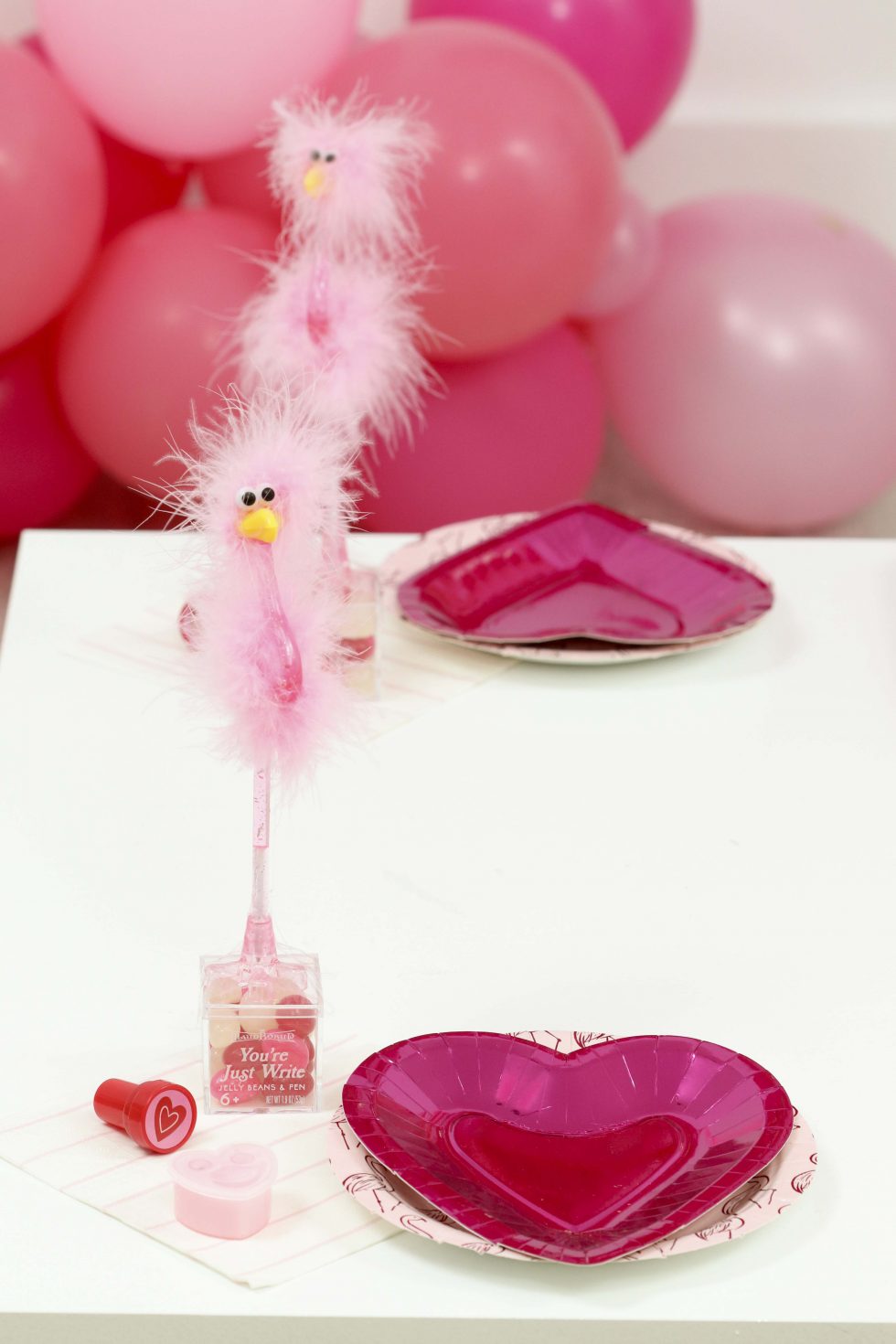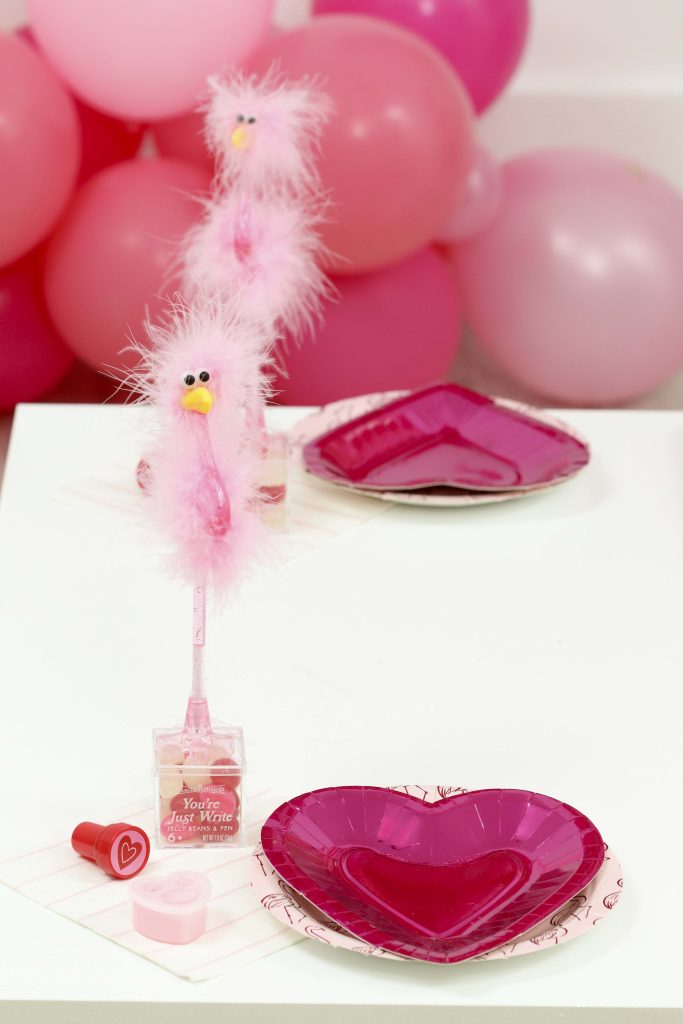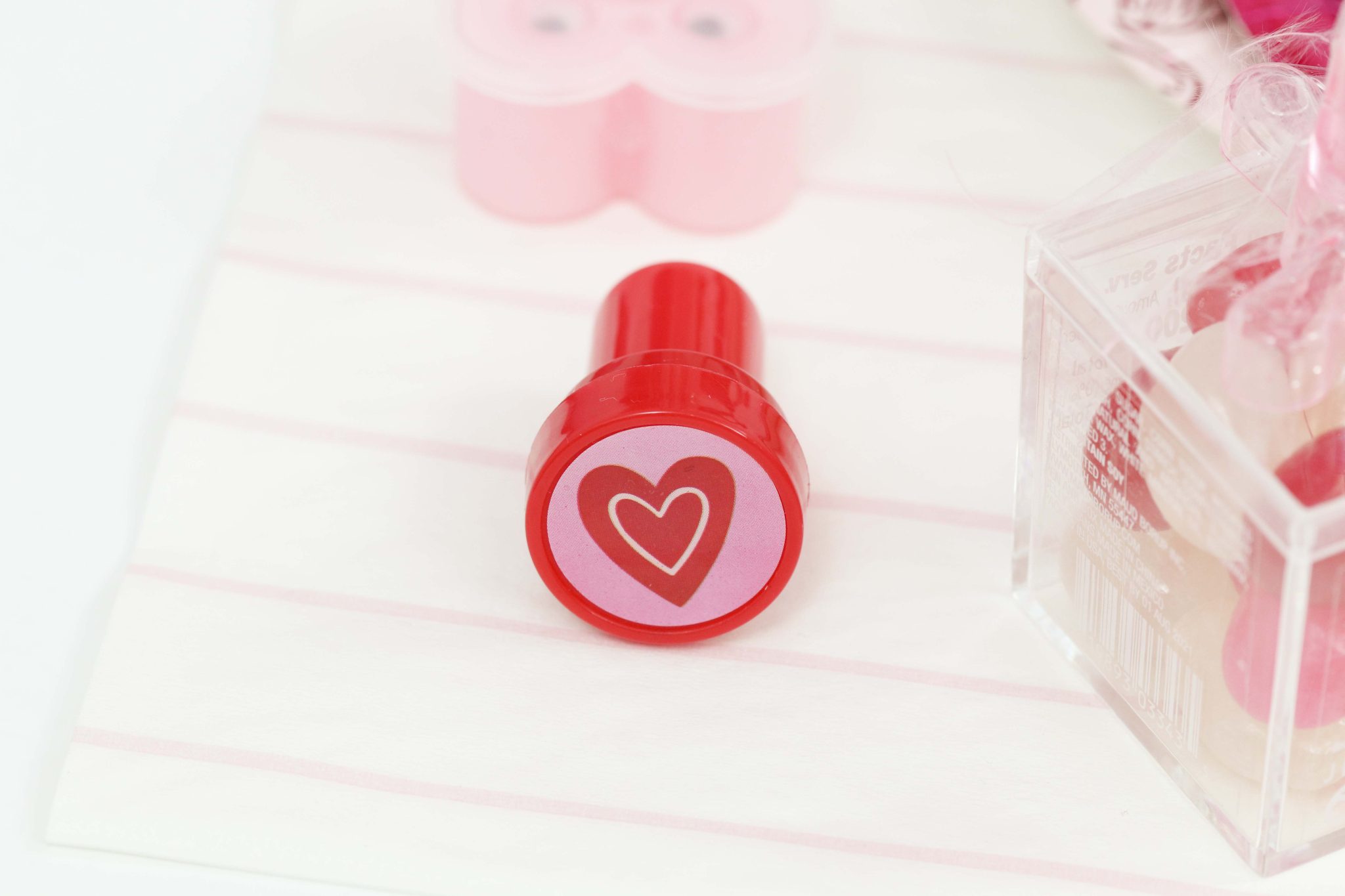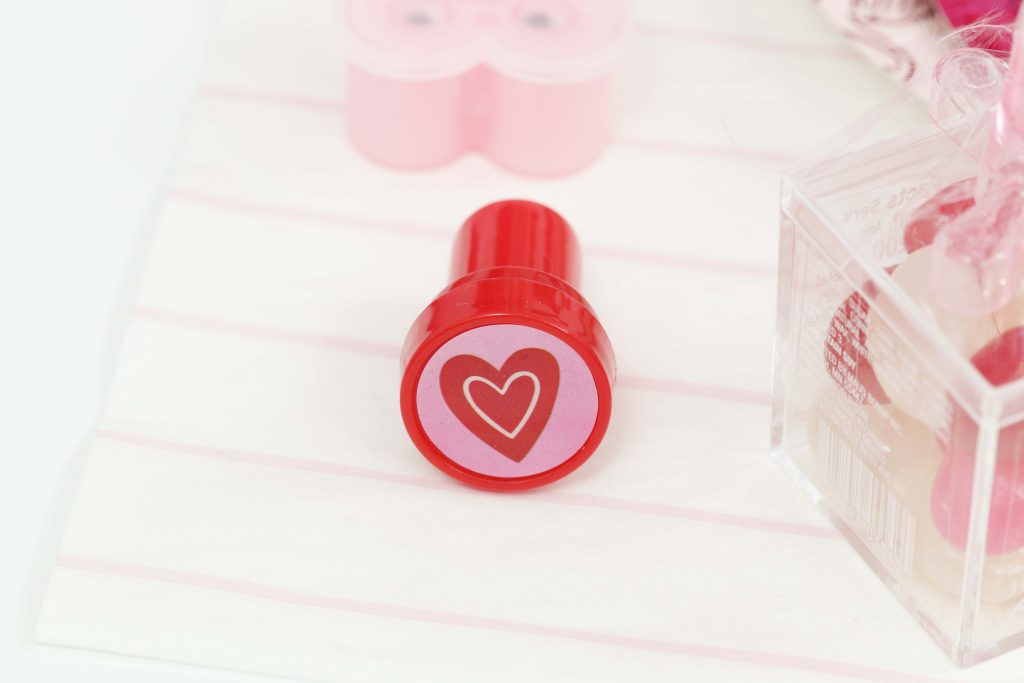 \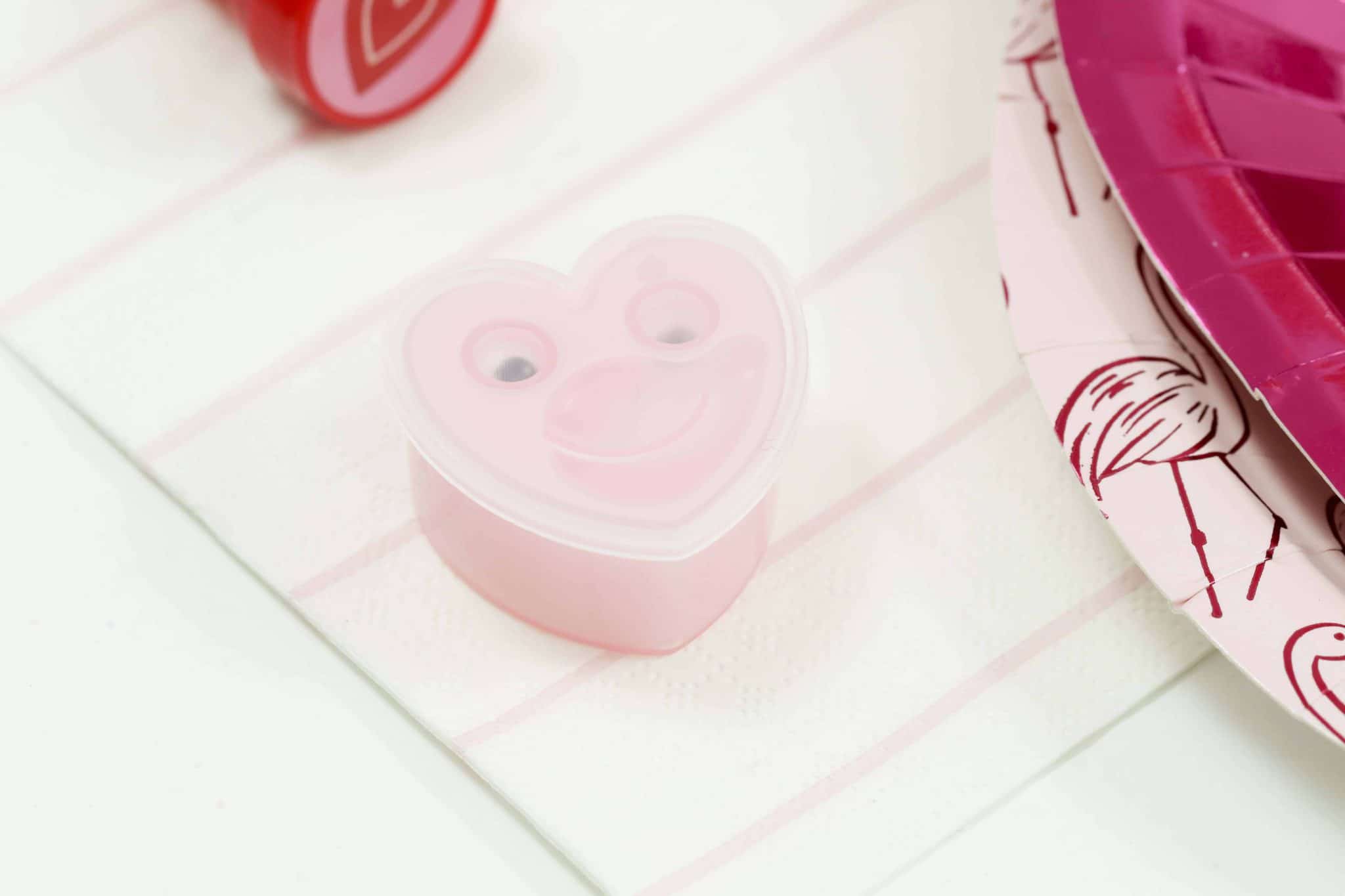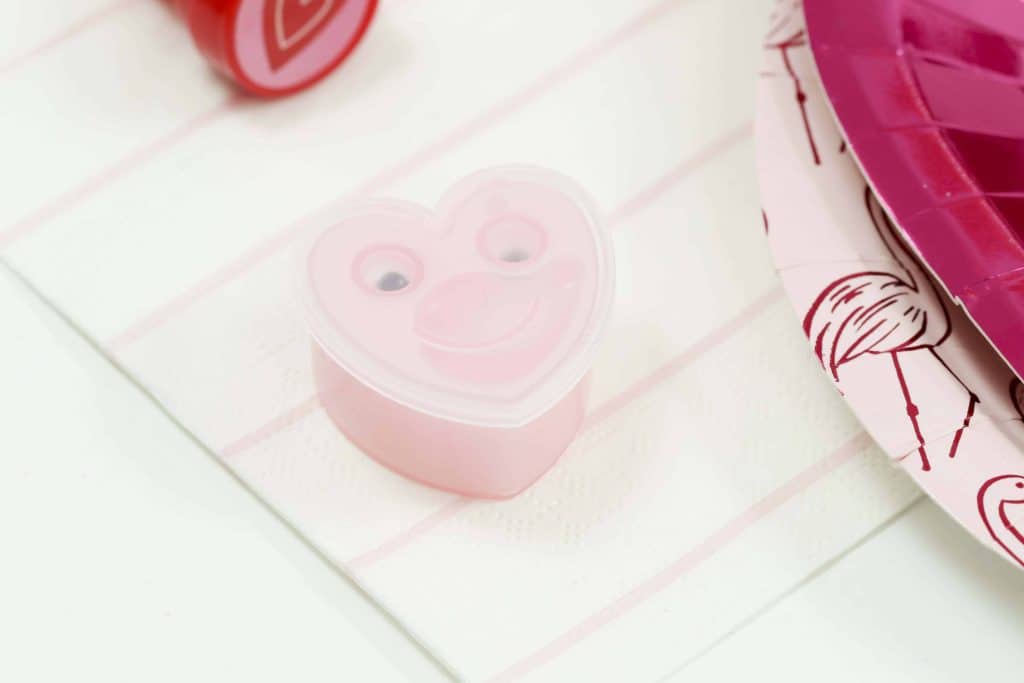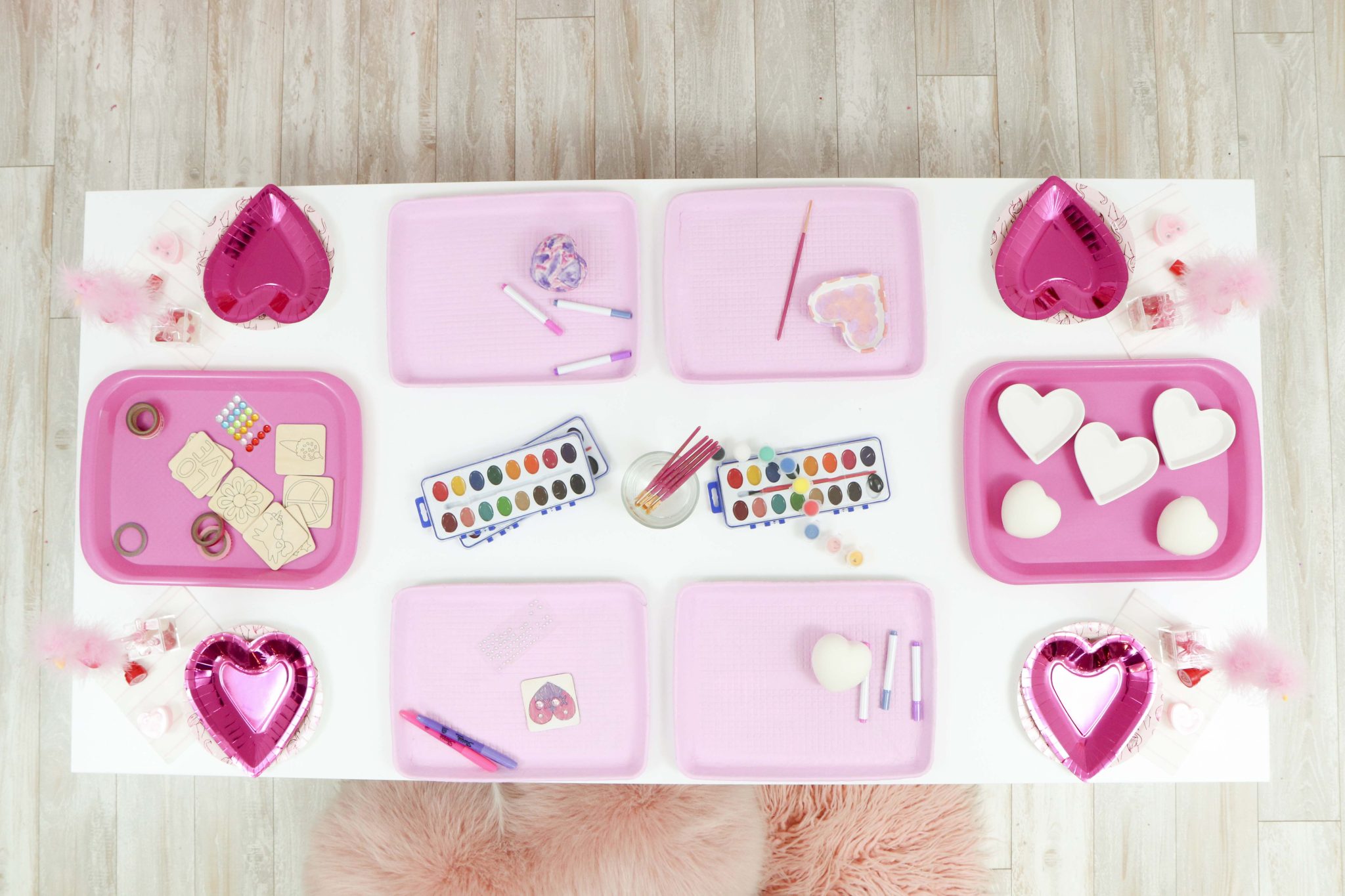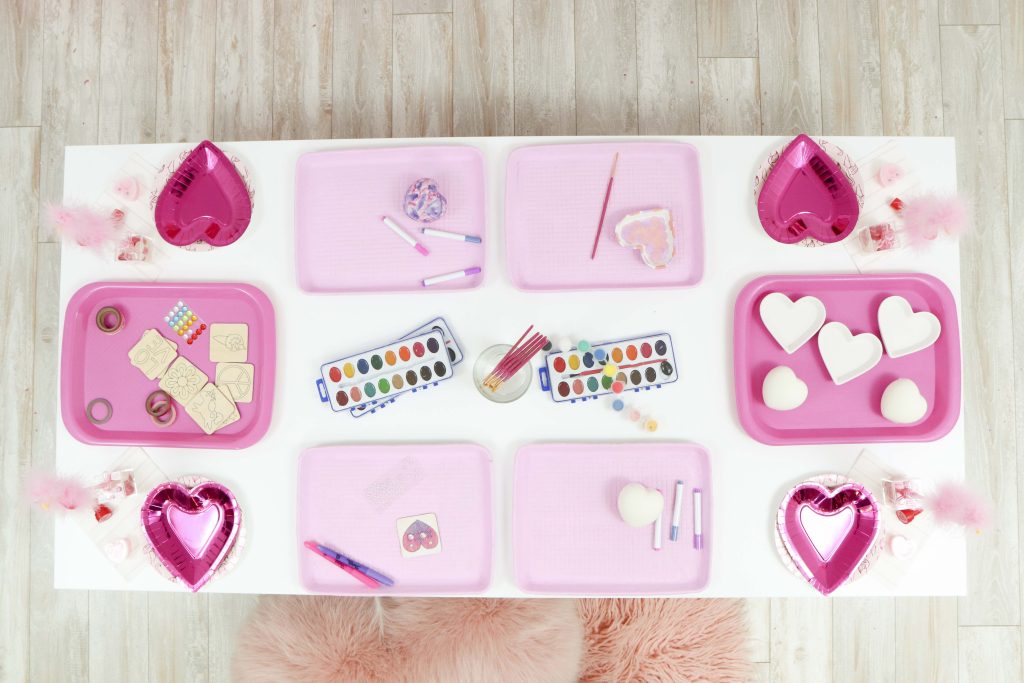 Voila! Easy craft fun for Valentine's Day. For more fun and interactive Valentine's Day fun for kids, you'll definitely want to check out my Valentine's Day Science Party for Kids!
Happy Crafting!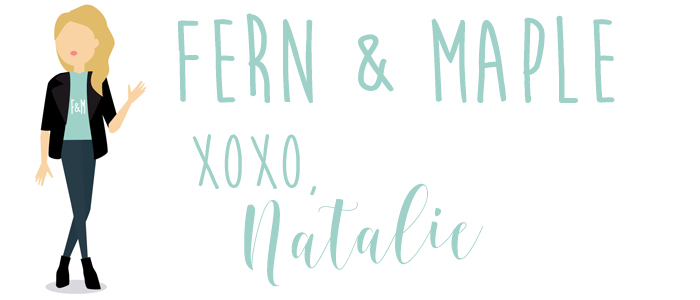 As a blogger, I sometimes receive compensation and/or products in exchange for my styling and crafting services. I also may earn a small commission from any sales that result from affiliate links on this page. As always, all project ideas and any opinions expressed here are my own.  For further information on our disclosure policy please check out our disclosure page. 
PIN FOR LATER: