Are you hoping to throw a Valentine's Day party that will dazzle your guests without breaking the bank? With a backdrop as unique and special as the day of love itself, you can show your friends, family, or co-workers just how much they mean to you – but it doesn't have to cost a ton of money to make. Keep reading for 7 easy and affordable DIY Valentine's Day Party Backdrop Ideas that'll look amazing in photos and impress all your guests.
7 Low-Budget Valentine's Day Party Backdrop Ideas You Can Make at Home
1 – Fringe Streamer Heart
First, this fringe streamer heart is fun, trendy, and easy to make with crepe paper streamers or strips of plastic table cloths. You can tie the streamers or strips in varying lengths and Valentine's Day colors to a length of plastic fencing. Then, use tacks or glue dots to adhere the top of the fencing to the wall in a heart shape. Trim the bottoms of the fringe to finish creating the heart shape, and voila! The perfect Valentine's Day party backdrop.
P.S. If you're feeling less DIY and more simple – you can also purchase a premade pink fringe backdrop – get details here!

2 – Ombré Balloons
Next, this gorgeous ombré balloon heart backdrop really adds a fun multidimensional element to a party and is perfect for photo ops. Balloons are inexpensive and the organic nature of the backdrop with various sizes of balloons means this one is flexible and easy to not mess up. Get step-by-step instructions HERE and check it out in my Romantic Ombré Wedding HERE.

3 – Masking Tape Beaker & Periodic Table
This one is for the kiddos! My Valentine's Day Science Party is one of my most popular Valentine's Day parties for kids. It's perfect for kids who love to have fun, AND learn at the same time. And a party this creative needs an equally creative backdrop, that is right on theme. That's where this amazing masking tape beaker and balloon backdrop comes in. The printed periodic table banner is the icing on the cake of this Valentine's Day party for little scientists. Get details on the backdrop HERE, and be sure to check out another great masking tape beaker backdrop in my Valentine's Day Slime Party for Kids.

4 – Masking Tape Geometric Heart
It's no secret that I love using masking tape for any party backdrop (check out my post with tons more masking tape backdrops HERE). Valentine's Day Party backdrops are no different. Masking tape is a particularly great material to use to make perfectly straight lines for a modern and bright Geometric Heart Backdrop. Check out the backdrop and the rest of the party HERE.

5 – Watercolor Hearts
For a more subtle and elegant backdrop, these DIY watercolor hearts are ideal. I used this backdrop for my Watercolor Hearts Bridal Shower, but it's also great for a Valentine's Day Party backdrop! It's fully customizable – choose your own colors! Get details HERE.

6 – Mosaic Heart
Okay, so technically this party backdrop that I used for my Diamonds are a Girl's Best Friend Bridal Shower is in the shape of a diamond, not a heart, but I had to include it because this technique can easily be used to make the shape of a heart and I just love how it looks. It's much easier than you might think, and looks so unique. See how I made it HERE.

7 – Printable Valen-slime Lab Signage
Remember that Valentine's Day Slime Party I mentioned earlier? This party is also crazy popular with kids, and in addition to the fun beaker and balloon backdrop, it utilized cute "Slime Lab" printables. Printables are the ultimate affordable and easy backdrop – just print and hang, and you're done! These particular printables were created for me by Small Moments Design. She has a great array of products AND does custom design work. You can also search Etsy for Valentine's Day printables – there's endless options!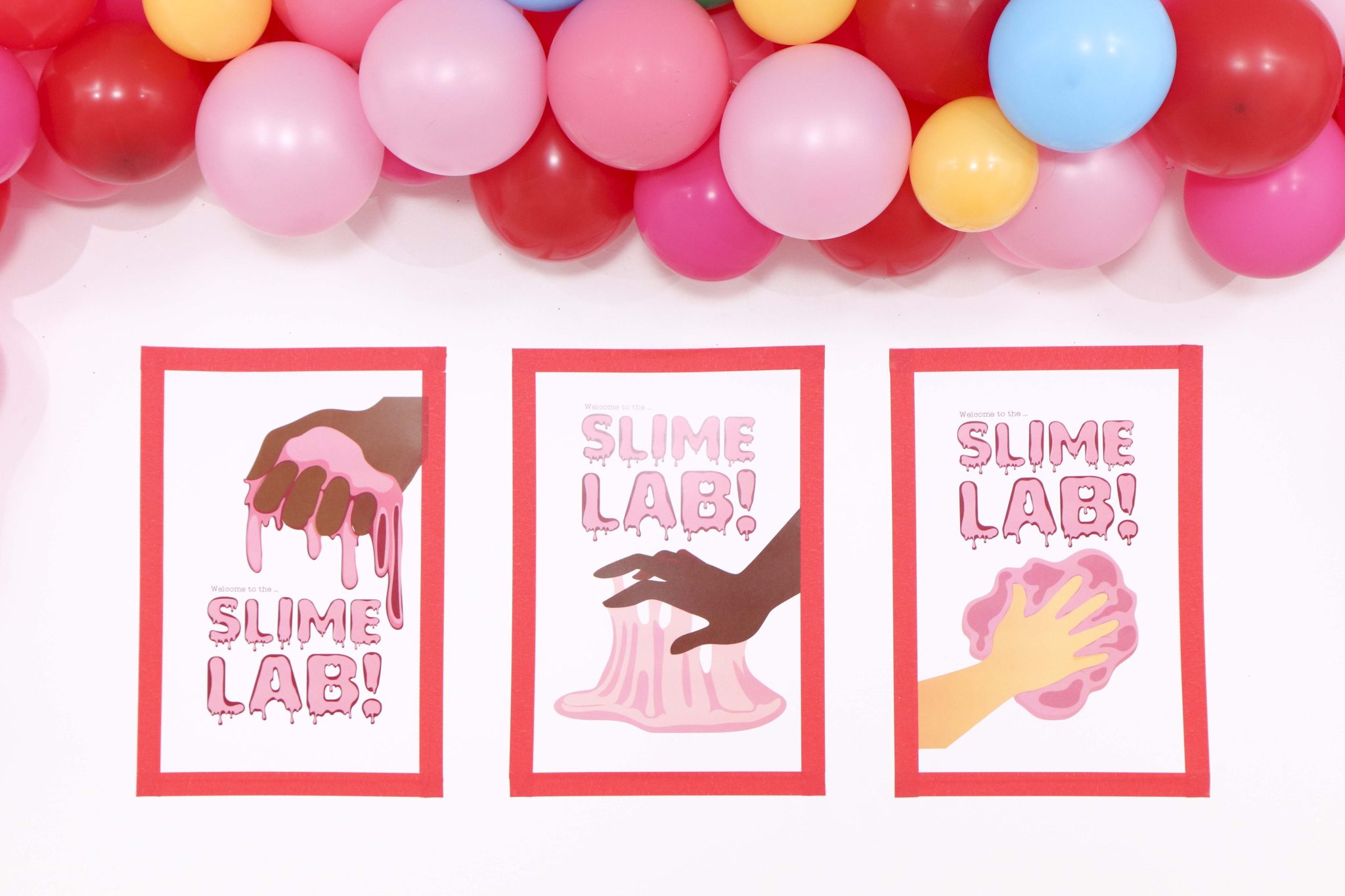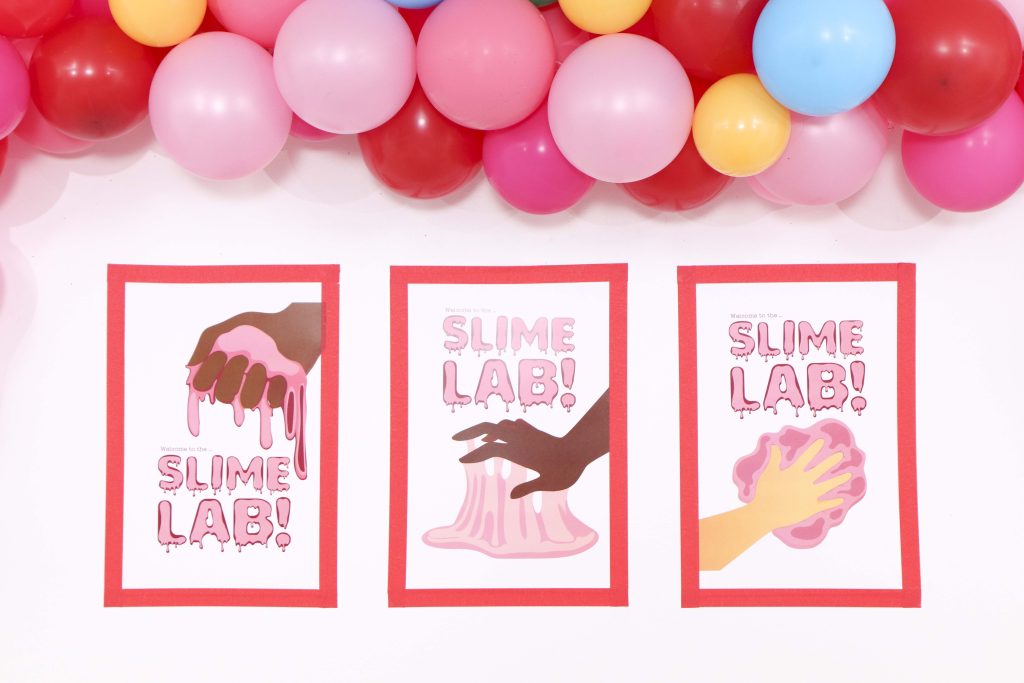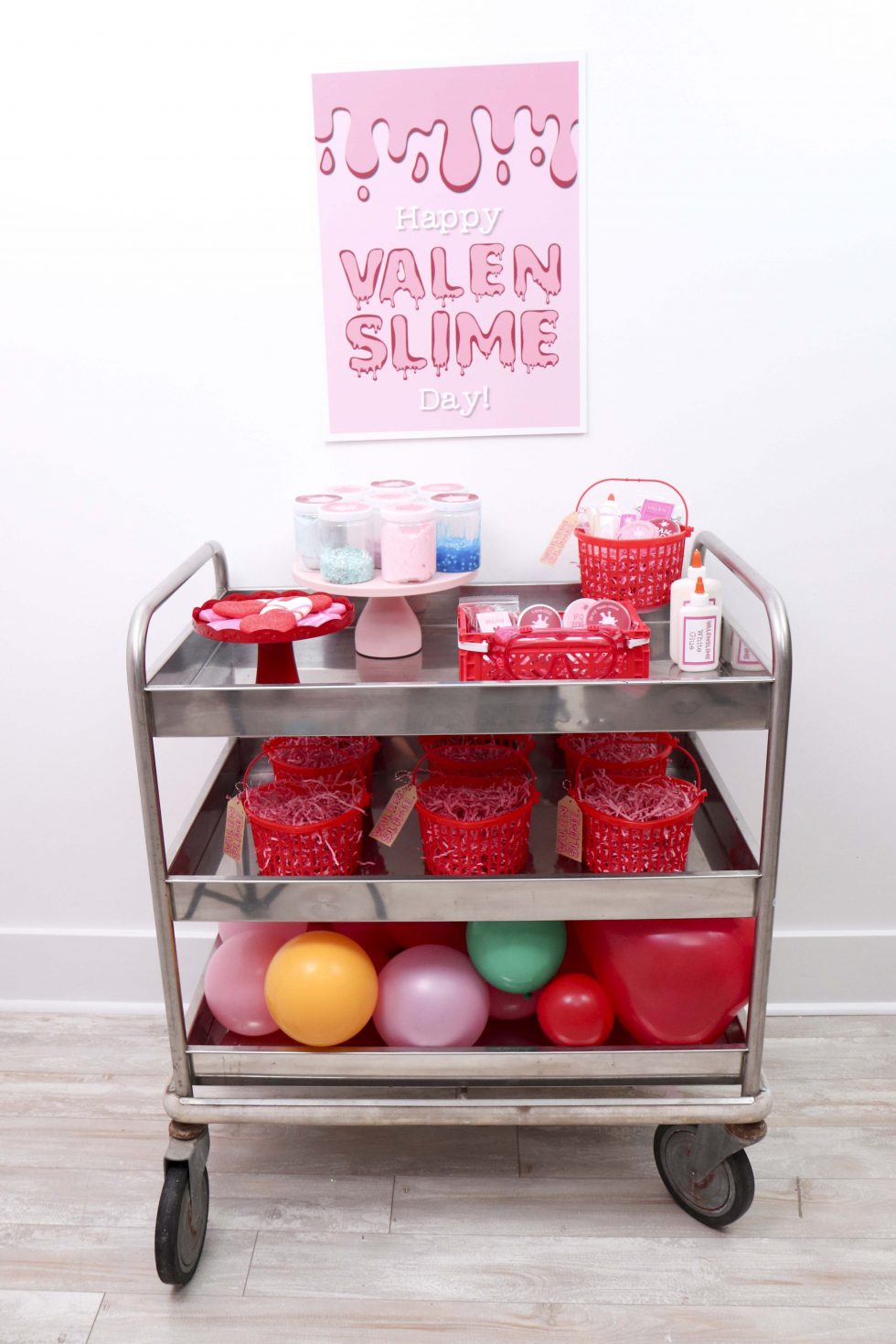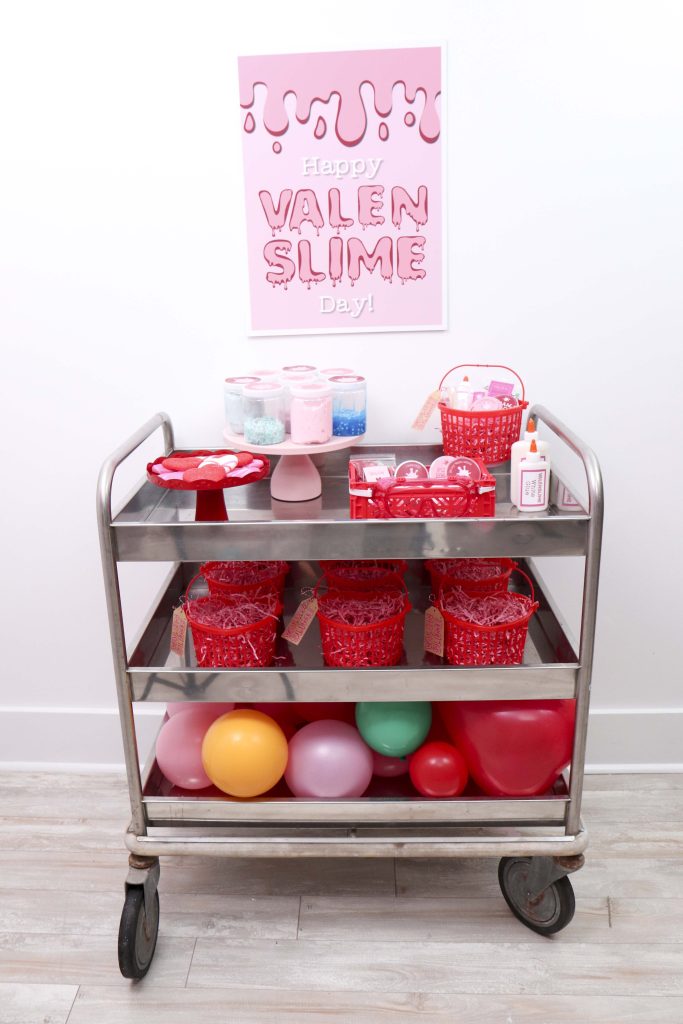 For more easy and affordable Valentine's Day decor ideas, don't miss my post on 8 Easy & Inexpensive Dollar Store Valentine's Day Crafts. And for more love-filled party ideas, check out my posts on 13 Great Galentine's Day Party Ideas for You and Your Best Gals and 15 Valentine's Day Party Ideas for Kids and Teens.
Happy Decorating!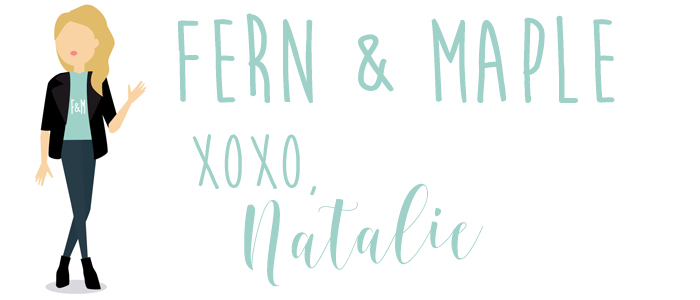 PIN FOR LATER: