When the warm weather hits and Pride Month comes around, it's the perfect chance to throw an outdoor Pride party in honor of our LGBTQ+ friends and family. Don't worry–you don't have to plan the entire shindig from scratch this June! From colorful decorations, wearable favors, and photo ops to sweet treats and drinks, I've put together some amazing rainbow-infused outdoor Pride party ideas for you. Not only will your neighbors appreciate the effort put into such an affair, but it's also a great opportunity for local families to come together and build friendships. Keep reading if you'd like some tips on how to organize an outdoor neighborhood Pride party that everyone will enjoy!
P.S. I got most of my supplies at Oriental Trading. Check out their amazing selection of Pride supplies! Or, if you prefer Amazon, check out my Amazon Shop for many of the same or alternative products for this party!
How to Set up the Perfect Pride Party for Your Neighborhood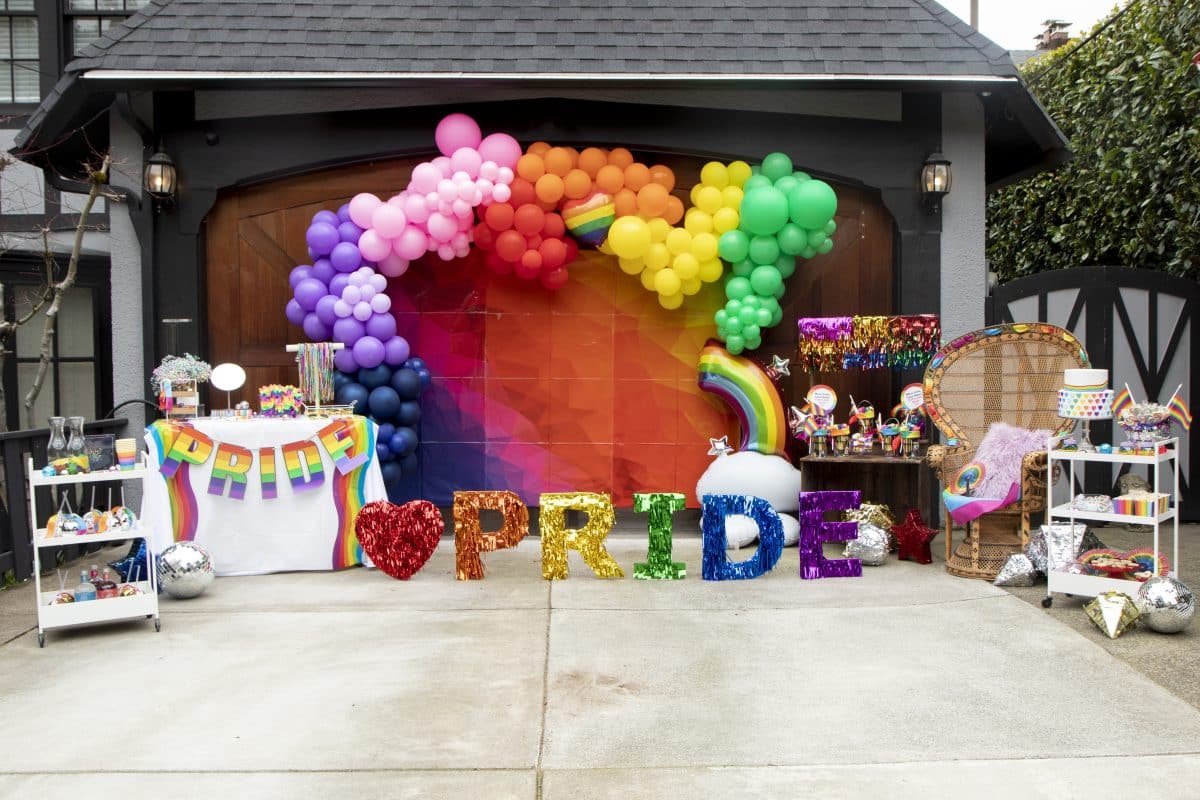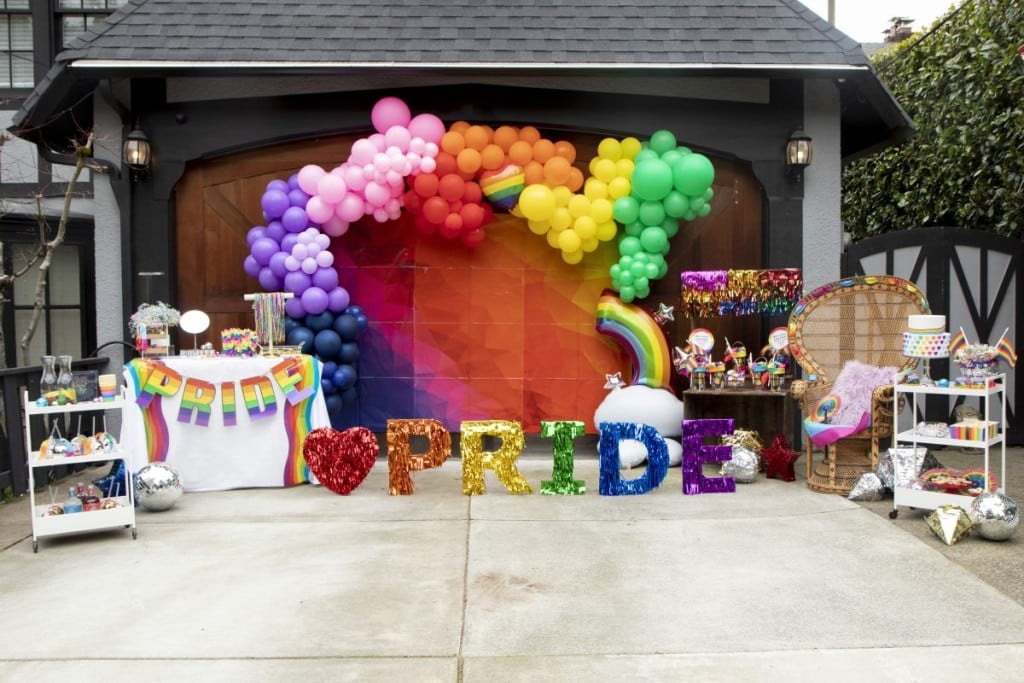 Rainbow Backdrop
First, I set up a show-stopping backdrop on my garage door. A colorful geometric backdrop makes a big splash! I surrounded it with a bubbly balloon garland in rainbow hues.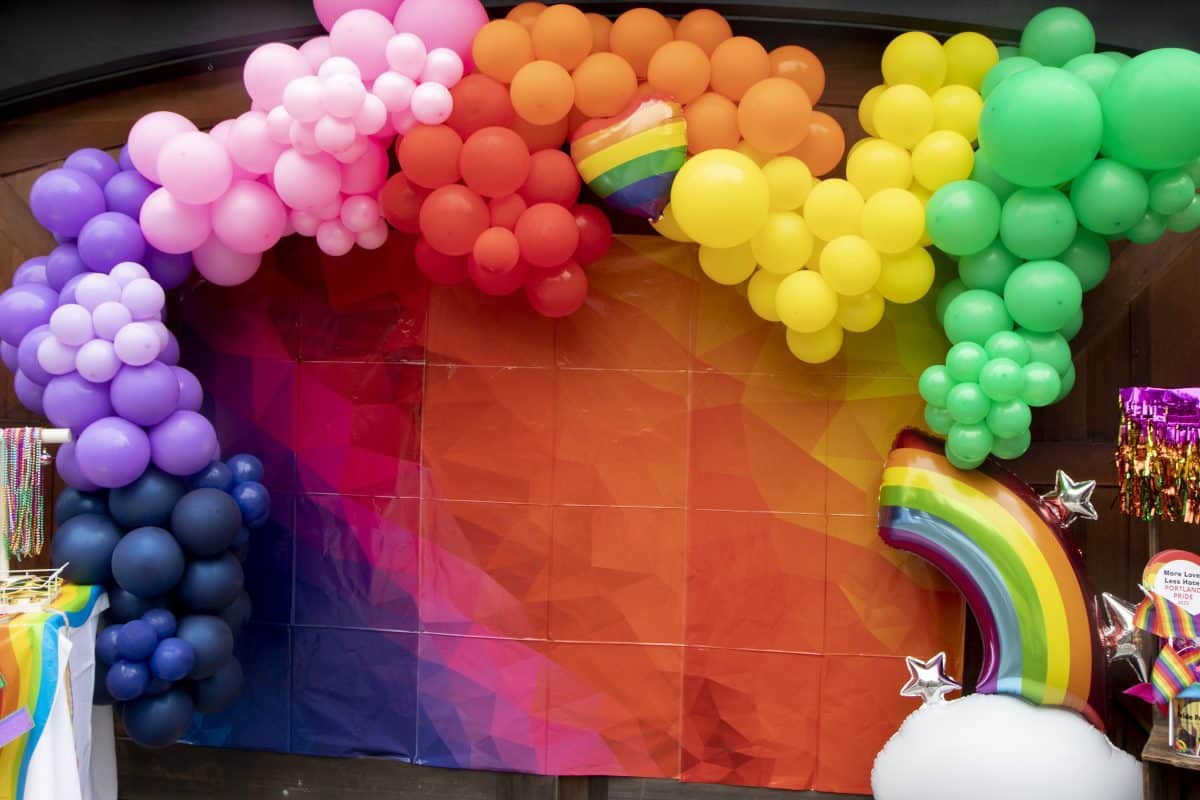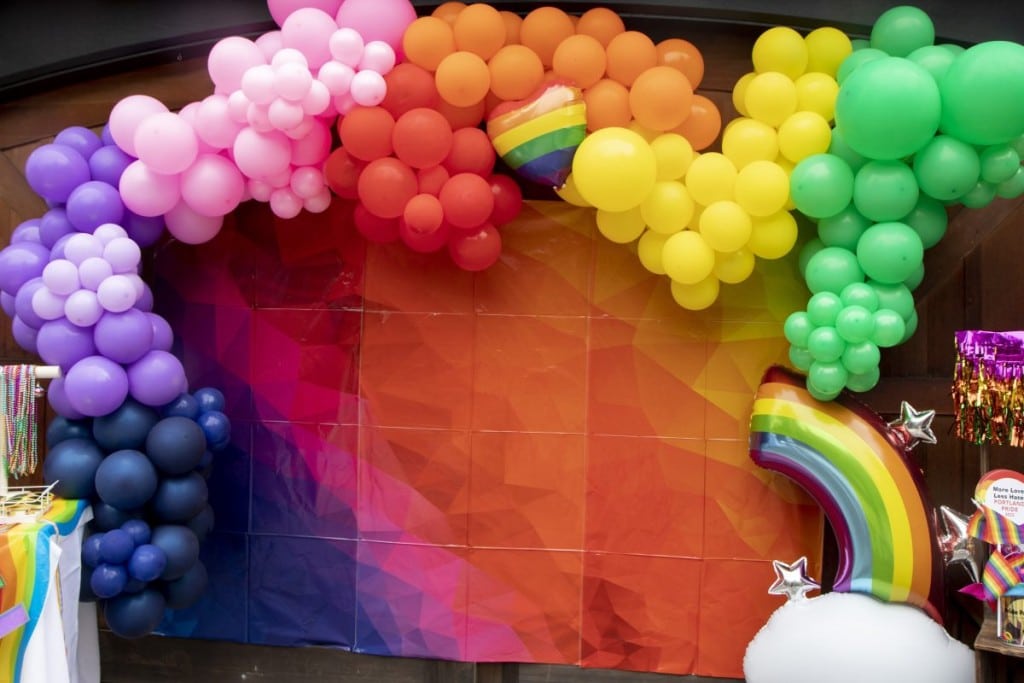 In addition to the colorful latex balloons, I used some rainbow mylar balloons in a couple of spots for extra Pride symbols.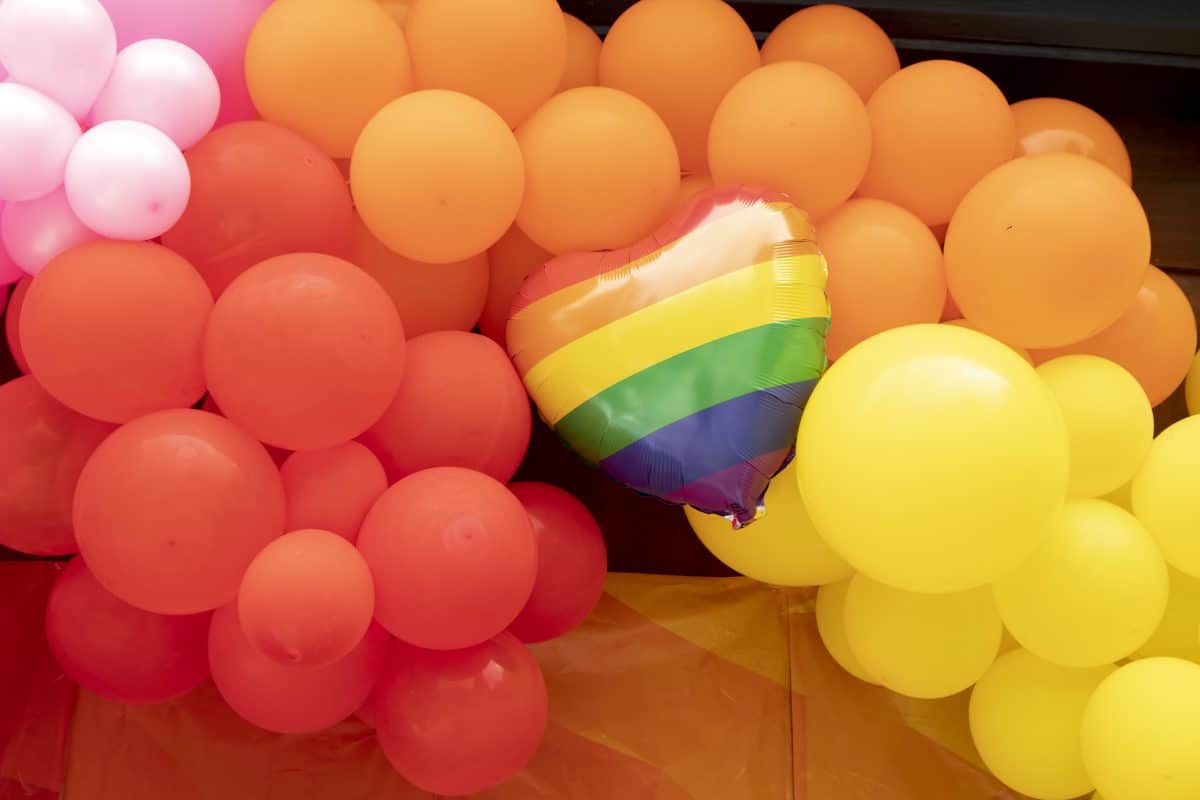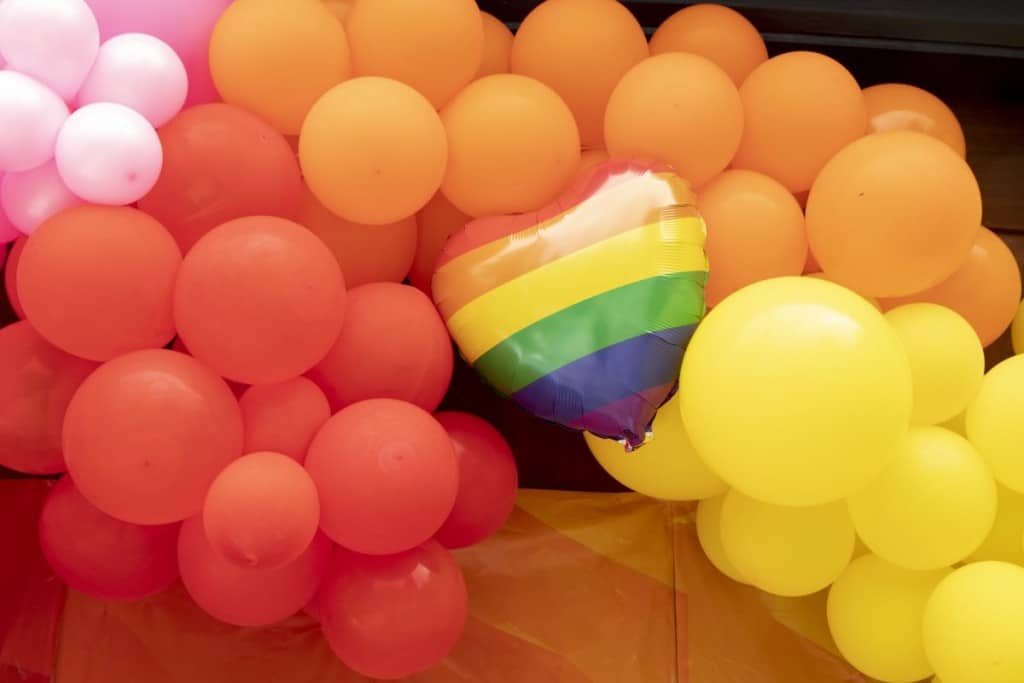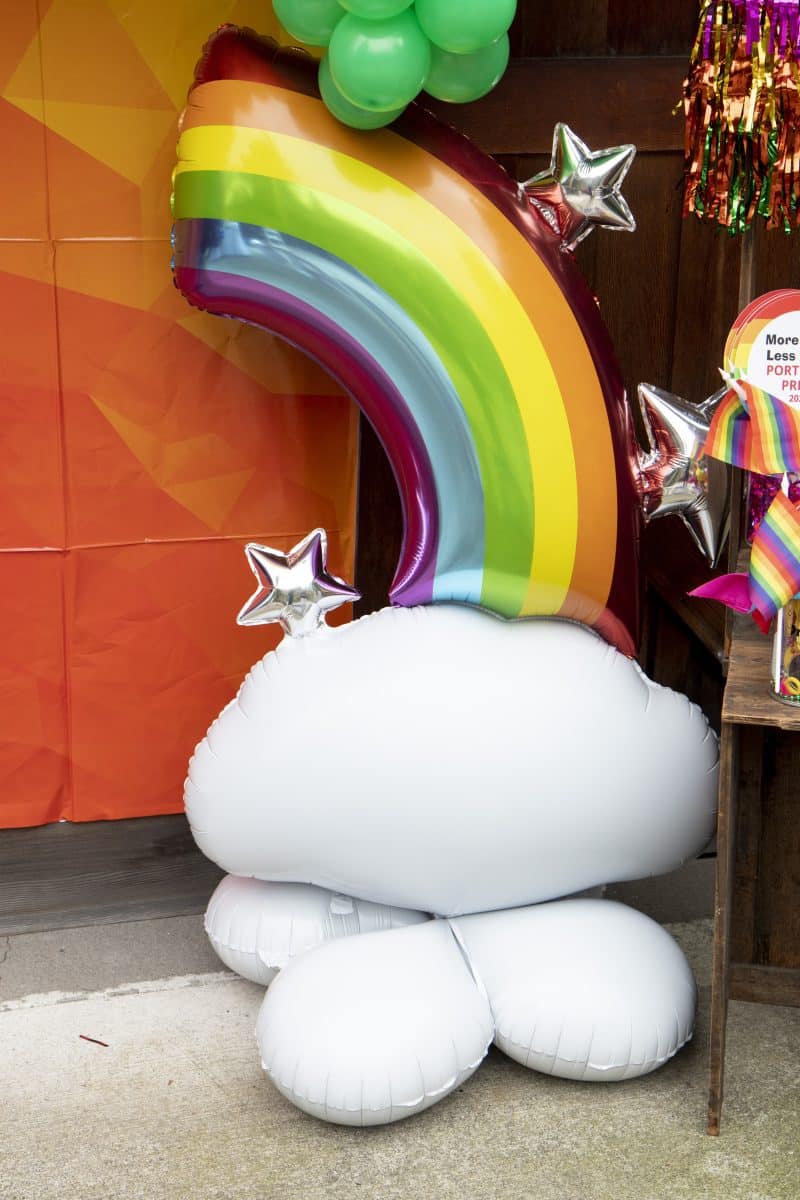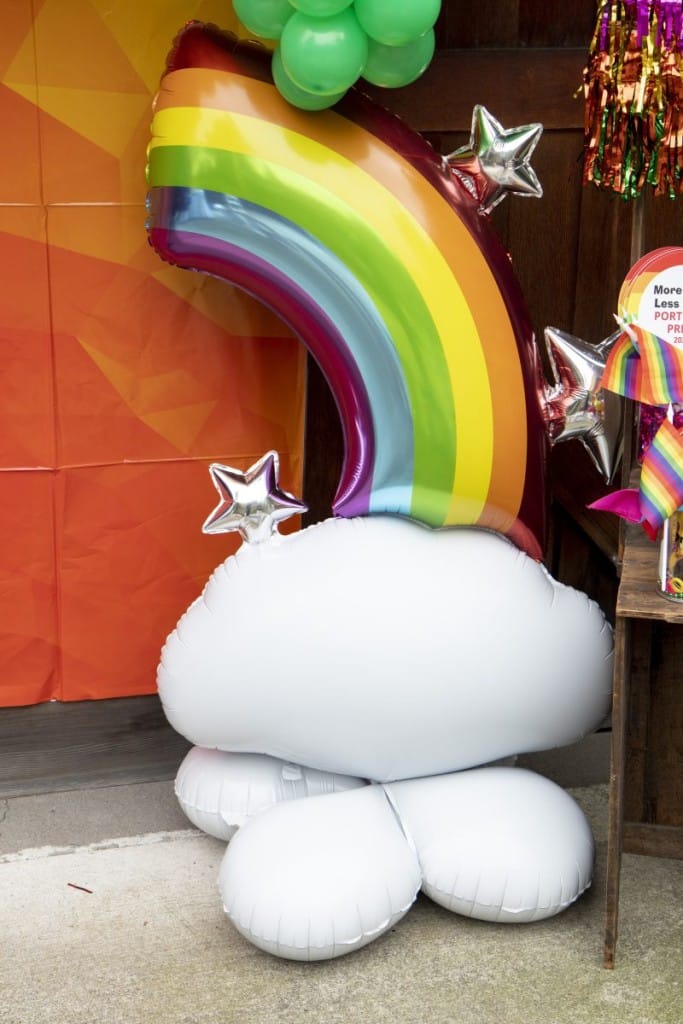 In front of all of that, I set up some glitzy metallic piñata fringe rainbow PRIDE letters. These really add some glam to the backdrop, and turn it into the perfect photo opportunity. I left some space between them and the garage door so that people could stand behind the letters for photos.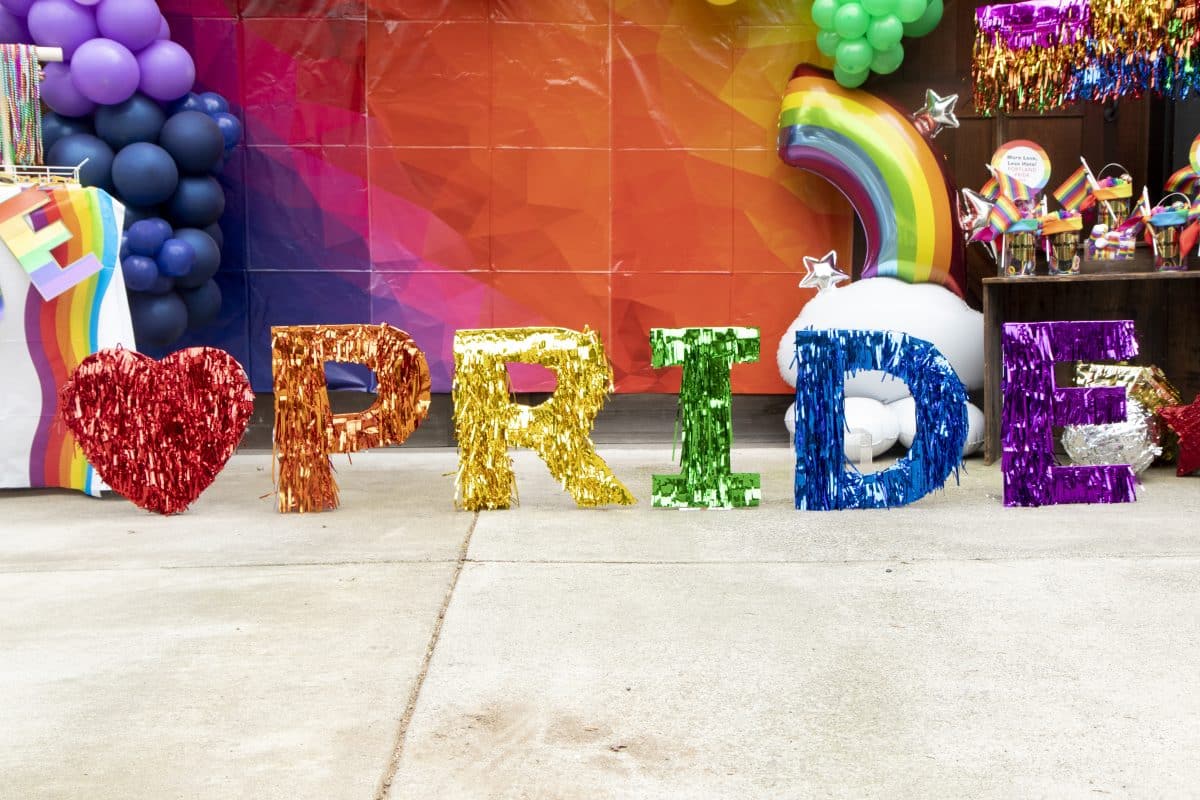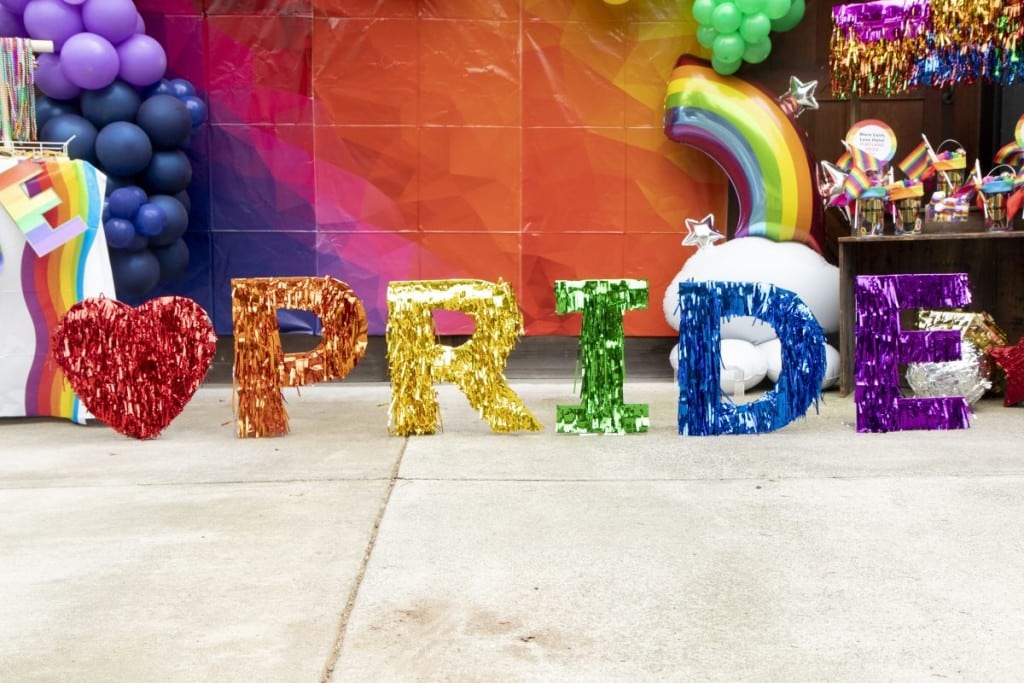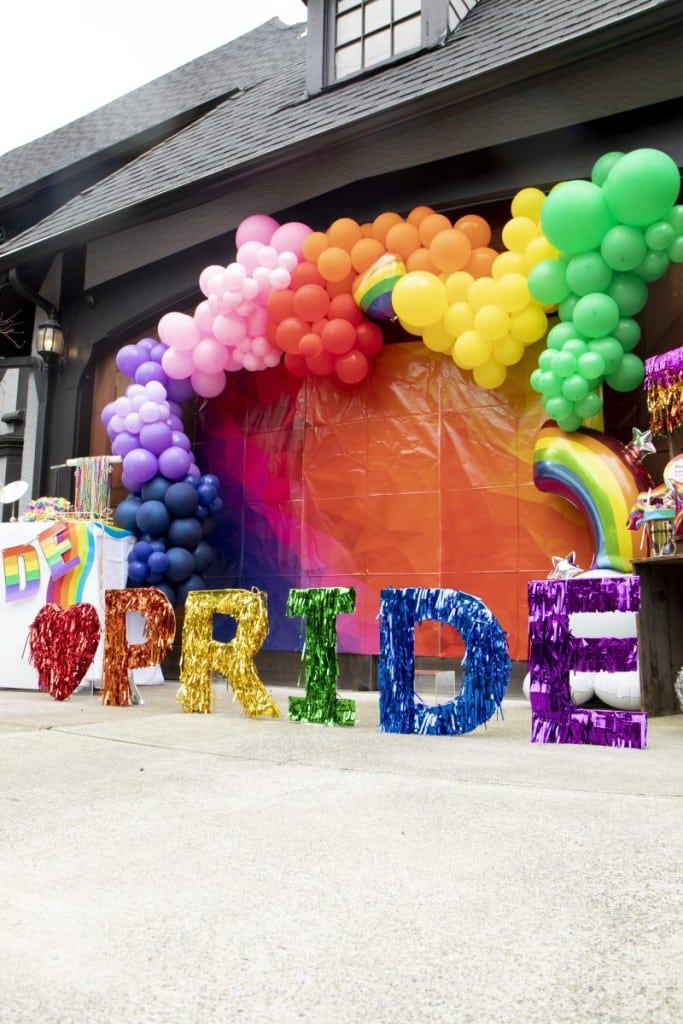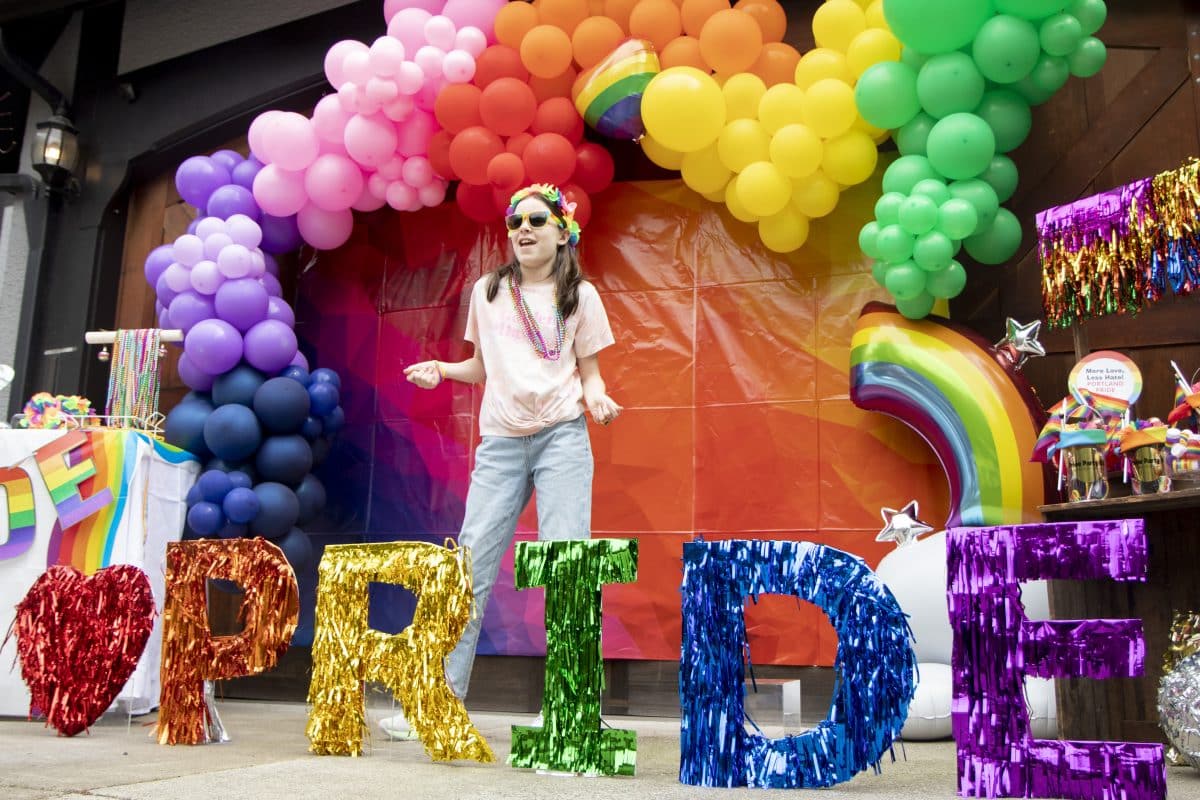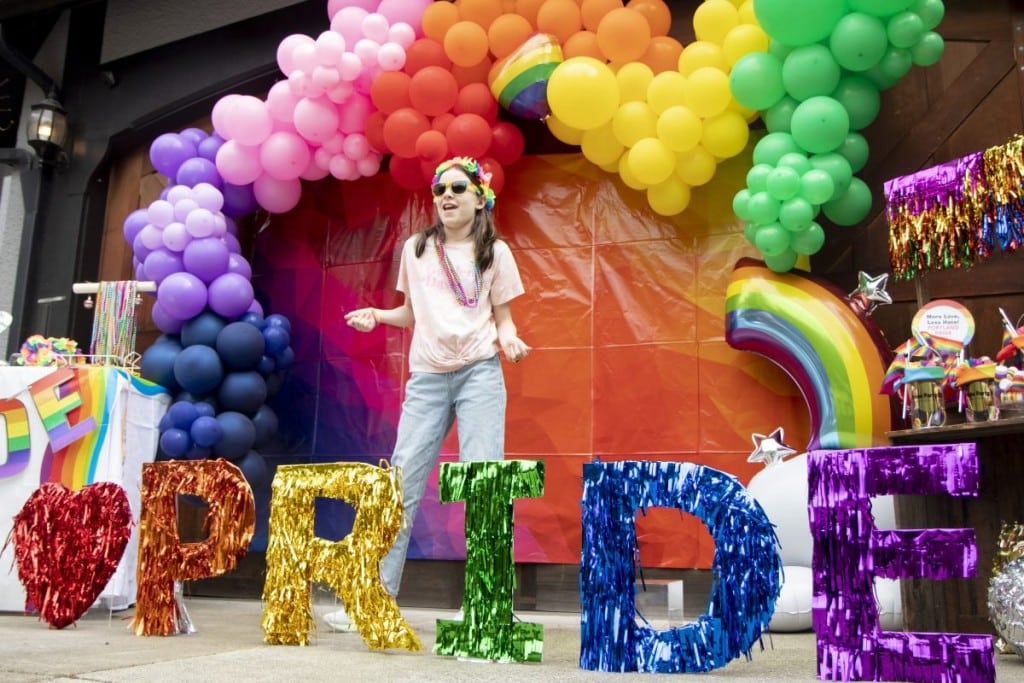 Wearable Pride Favor Station
Before they take photos in front of the Pride Party backdrop, you'll want to provide your guests with rainbow items to wear! I set up a wearable Pride favor station right to the side of the backdrop. To create this, I simply covered a small table with a rainbow tablecloth, added a glittery PRIDE banner, and set out all of the wearables on top.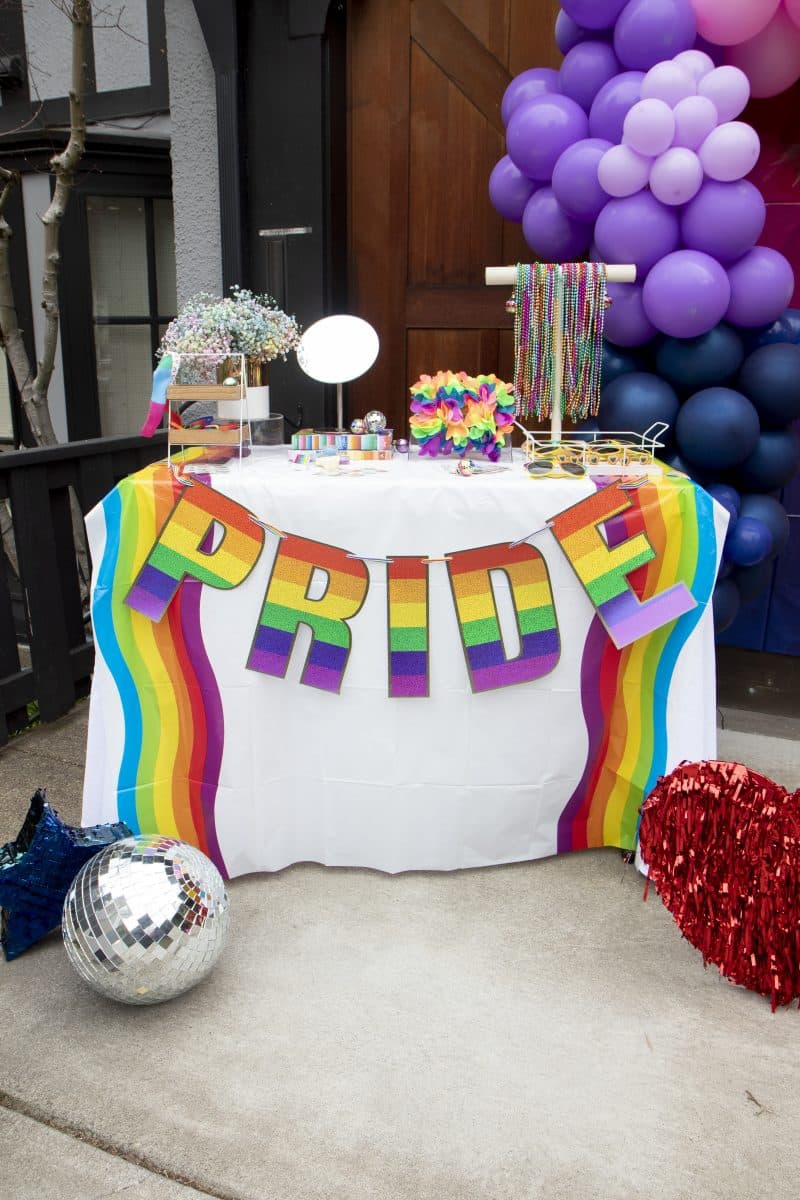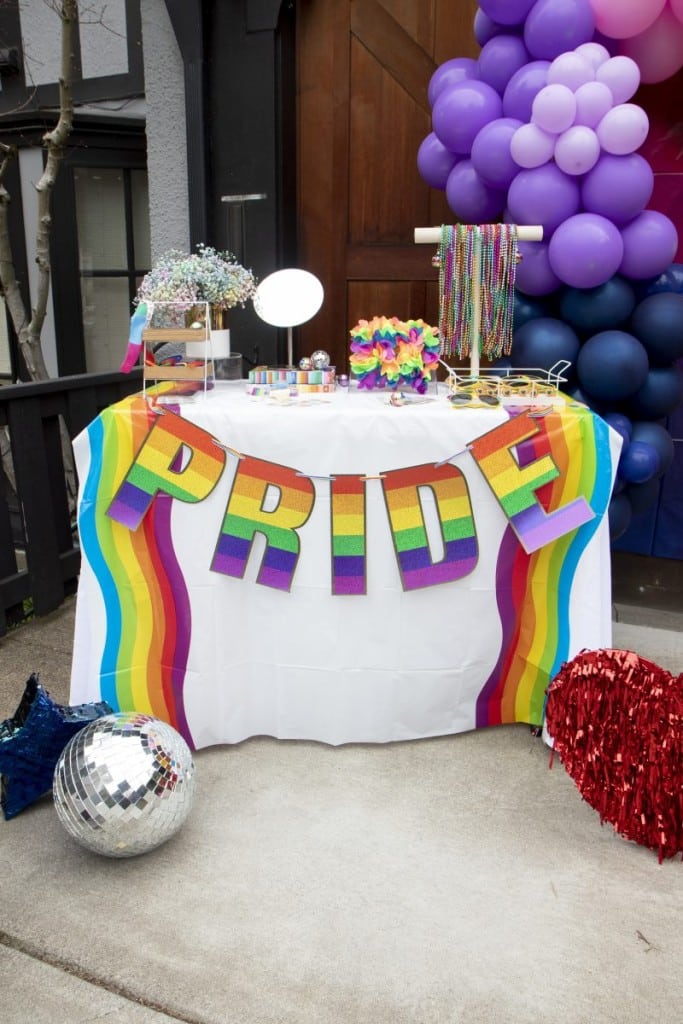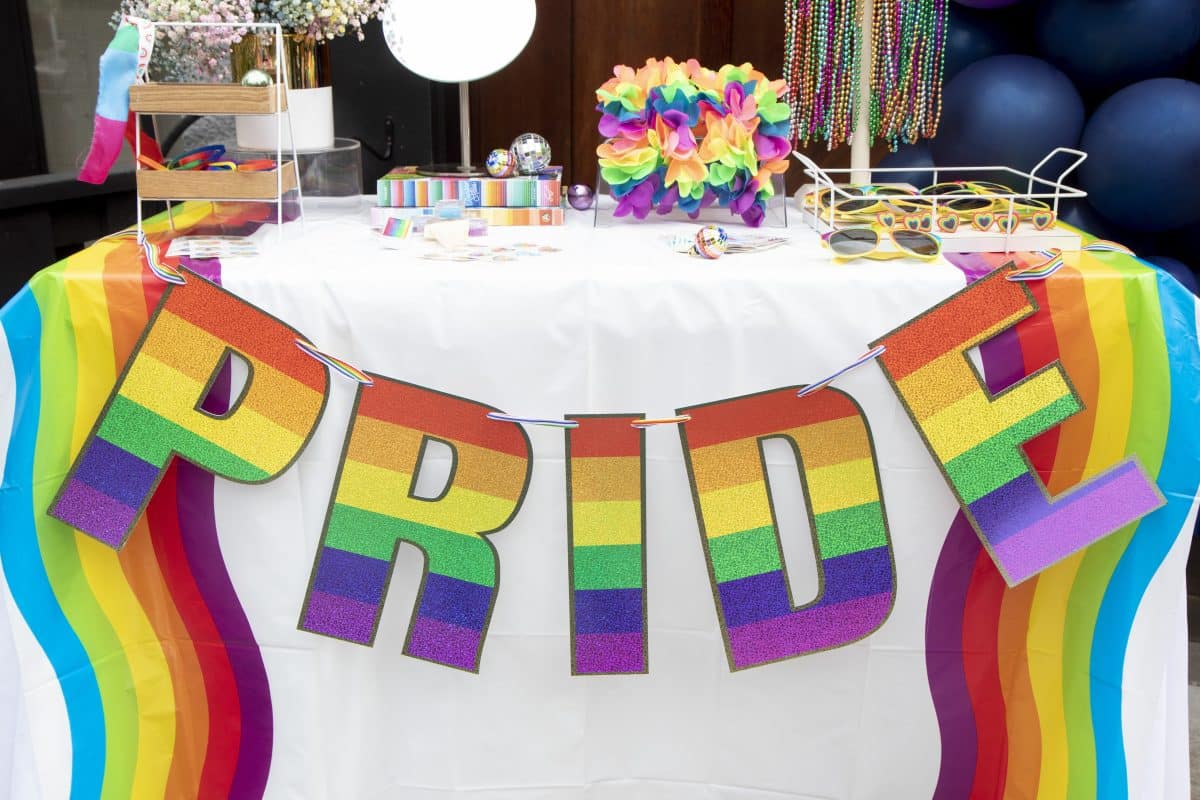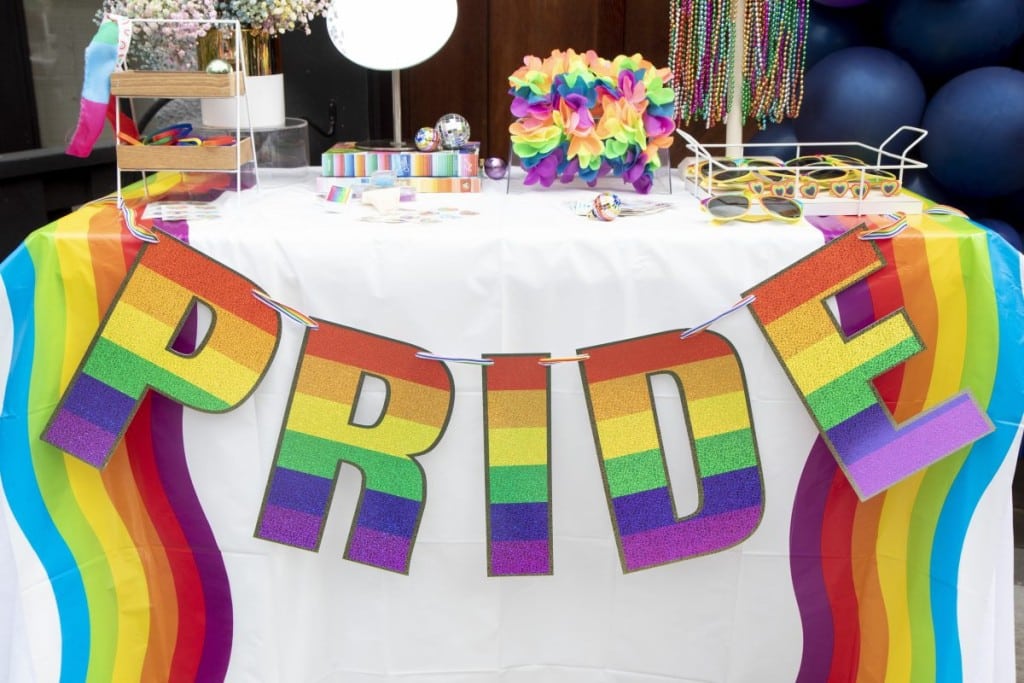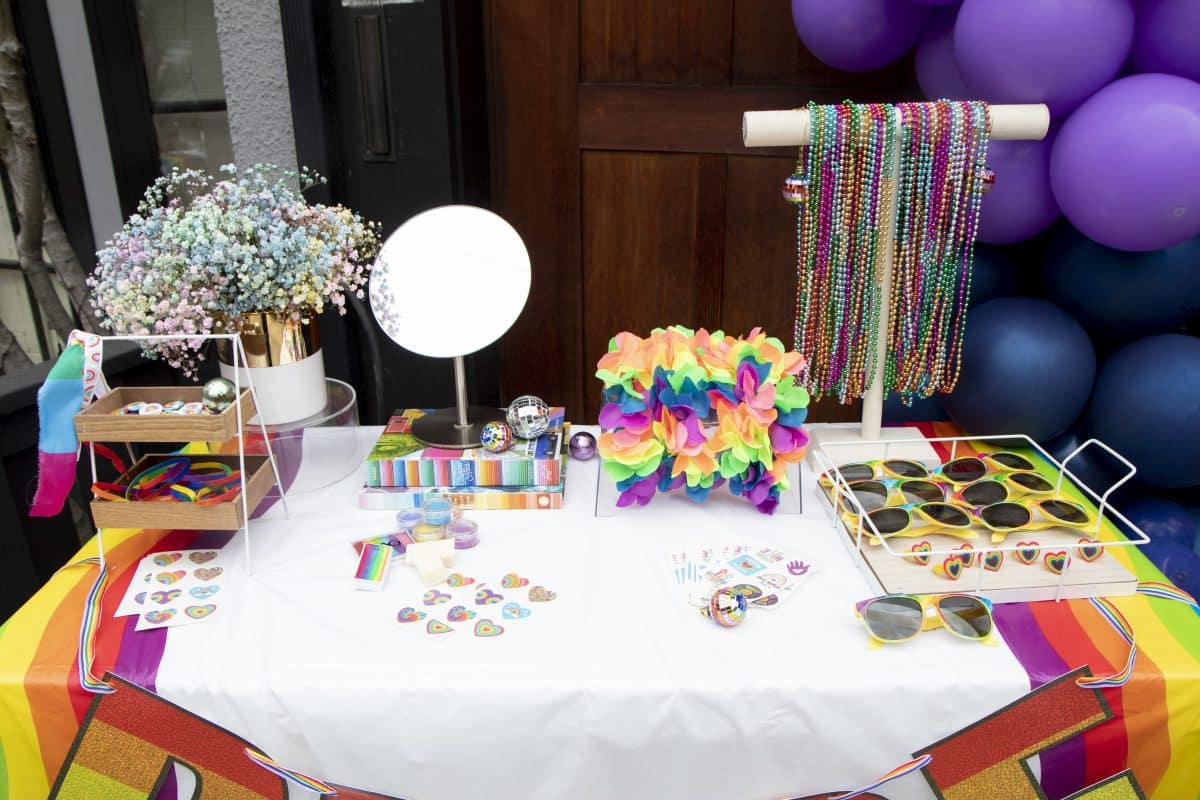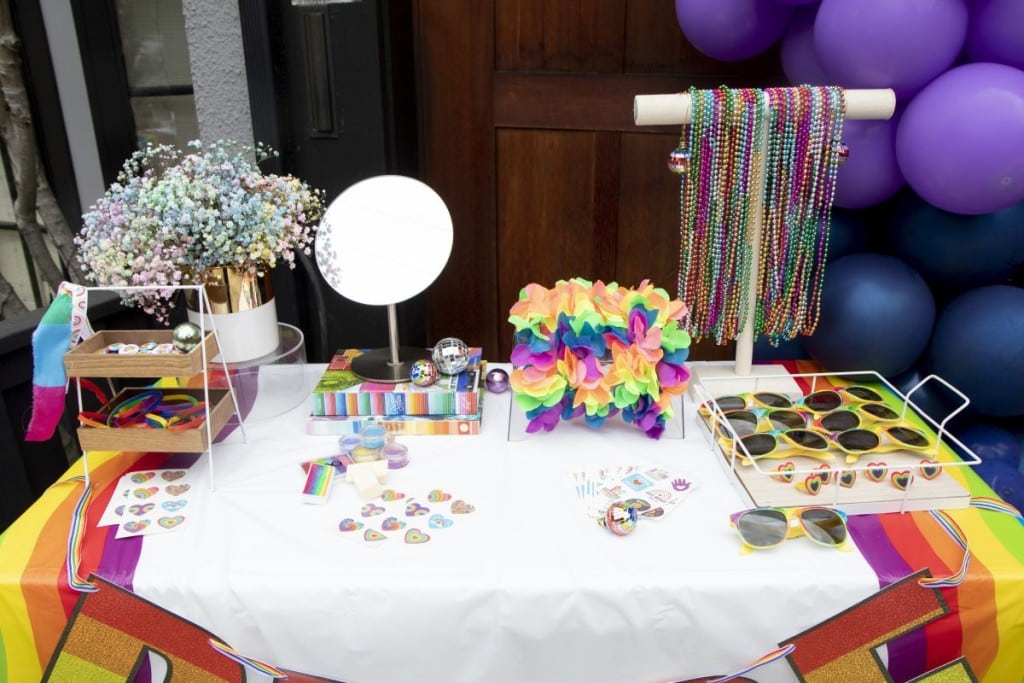 On one side of the table, I placed a vase of rainbow-dyed flowers (these look great tucked into hair or in shirt pockets!), rainbow pins, bracelets, and temporary tattoos.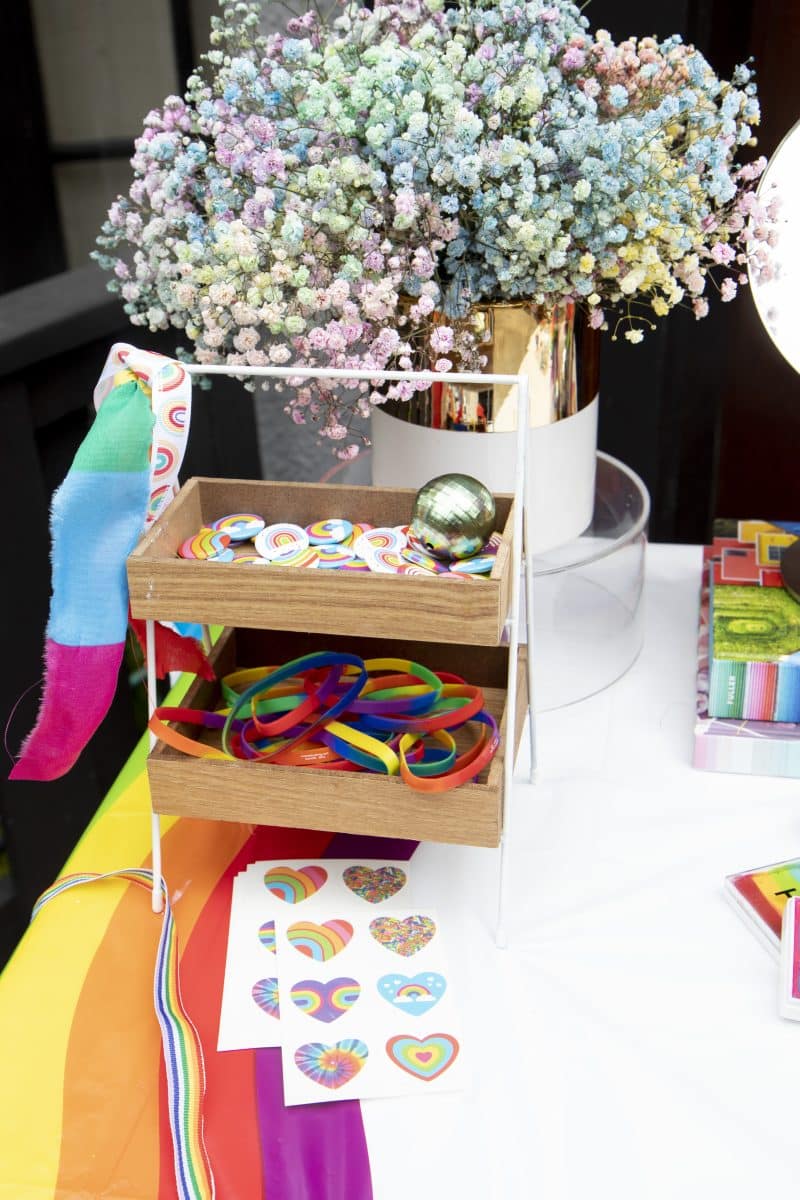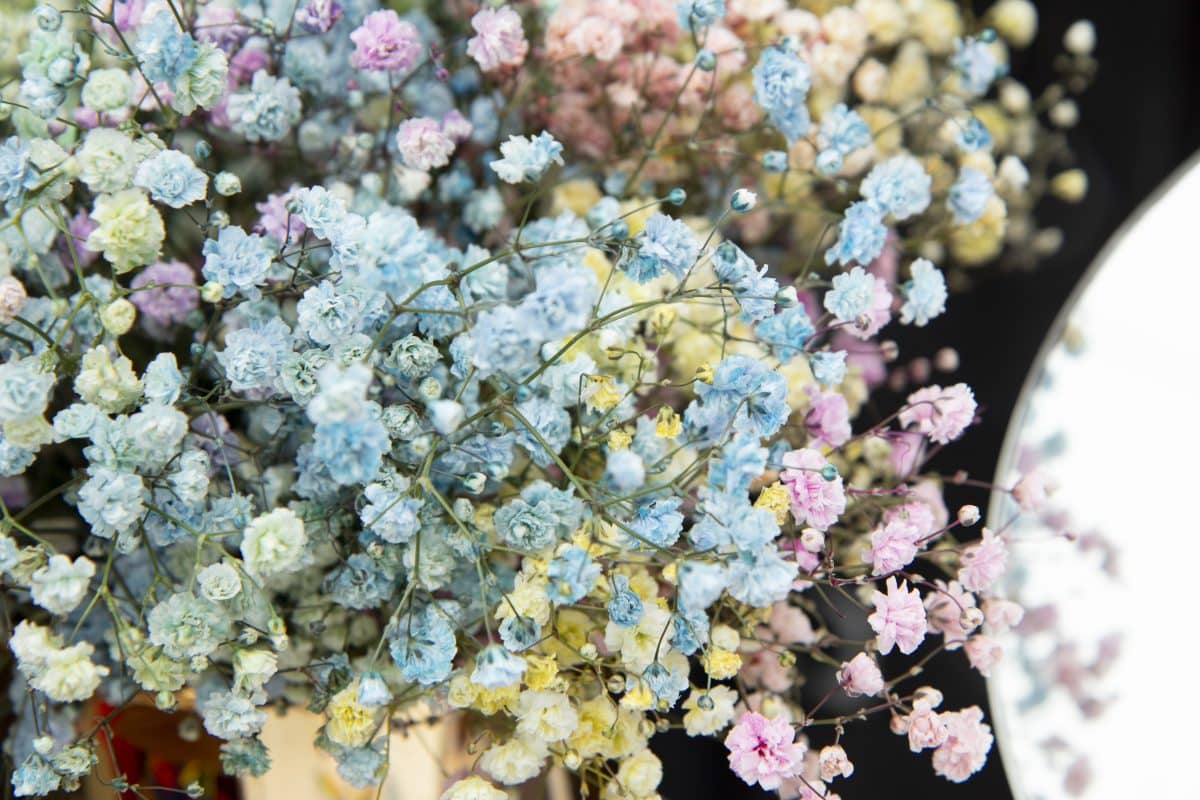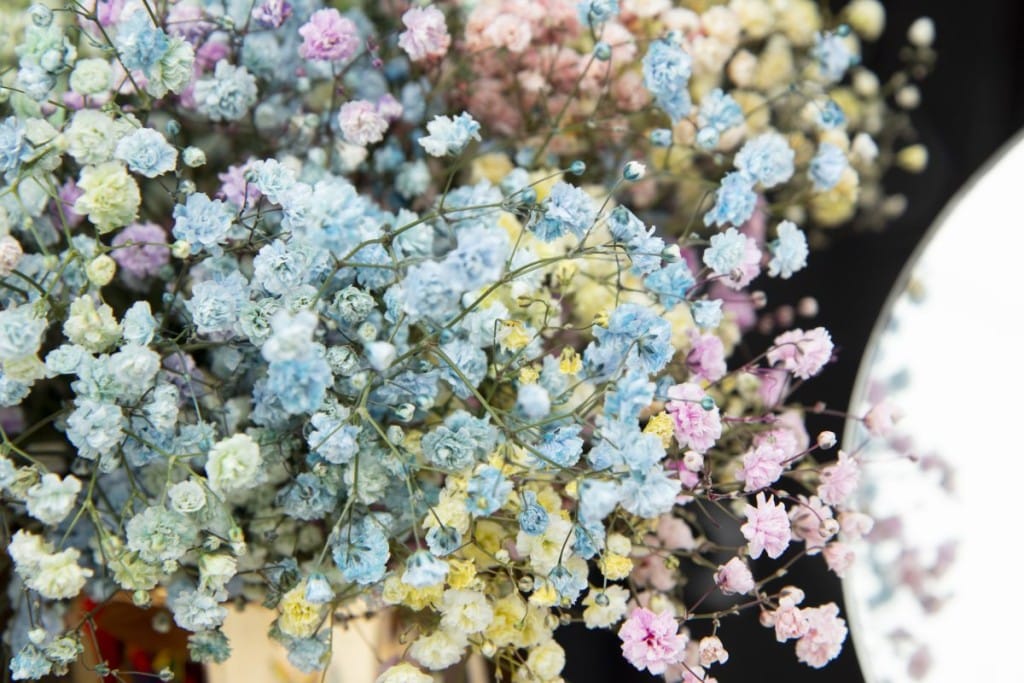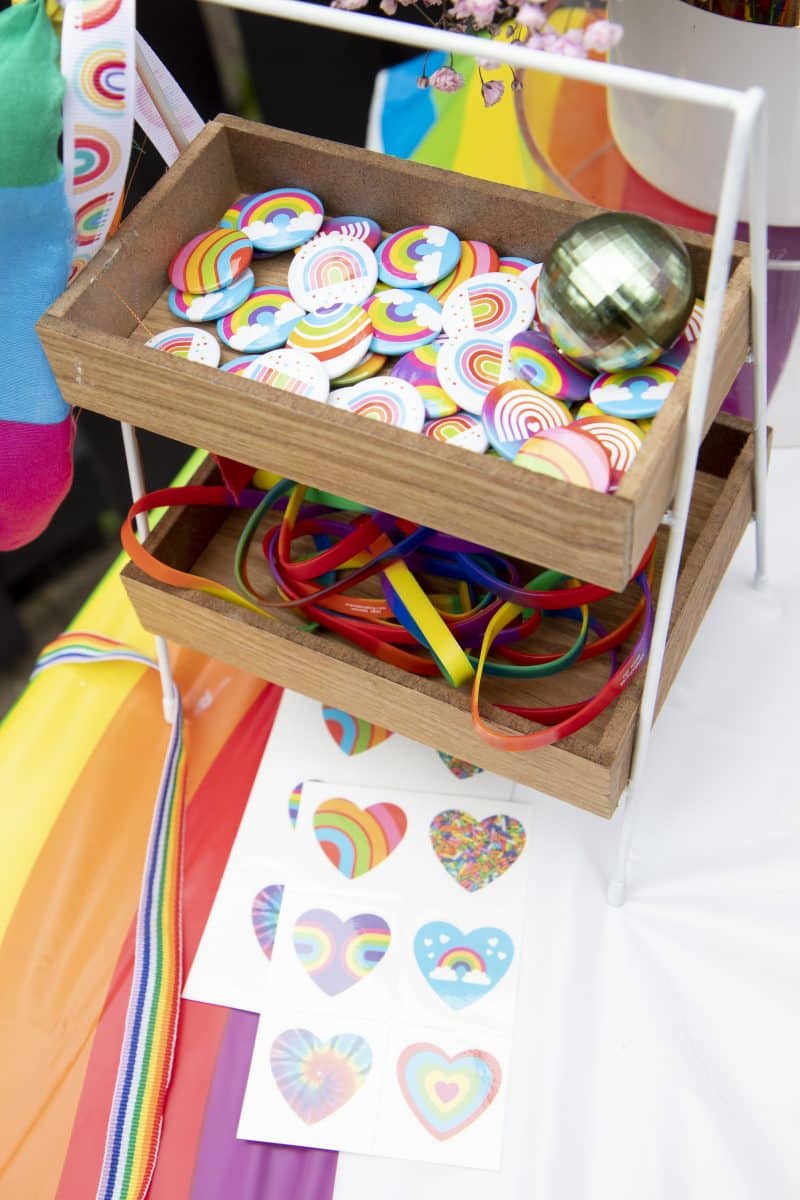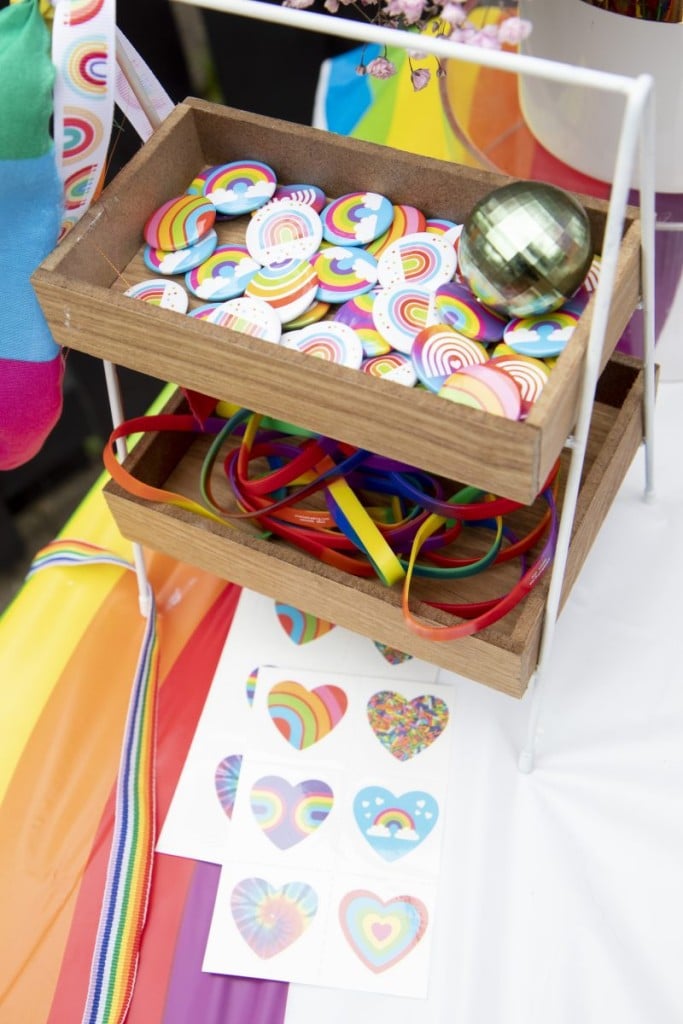 In the center of the table, I placed a round standing mirror on a couple of rainbow-colored coffee table books. In front of it I placed some colorful facepaint and more temporary tattoos.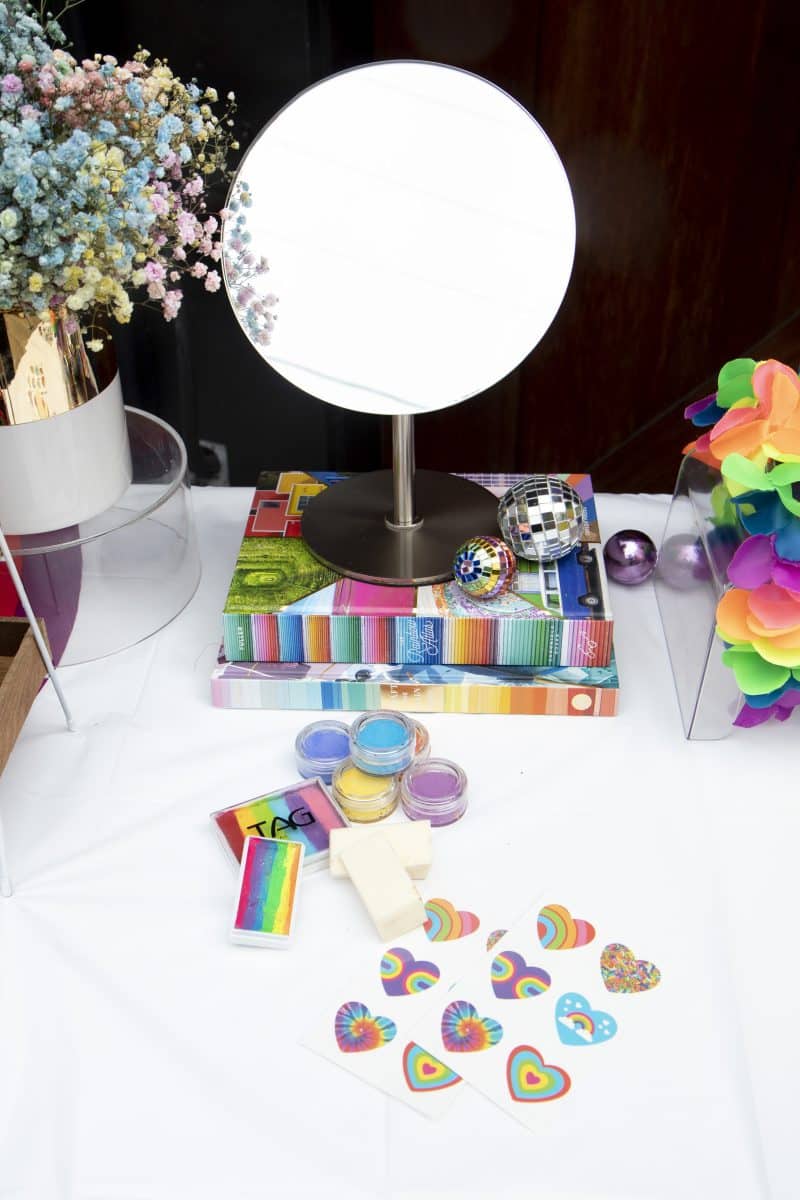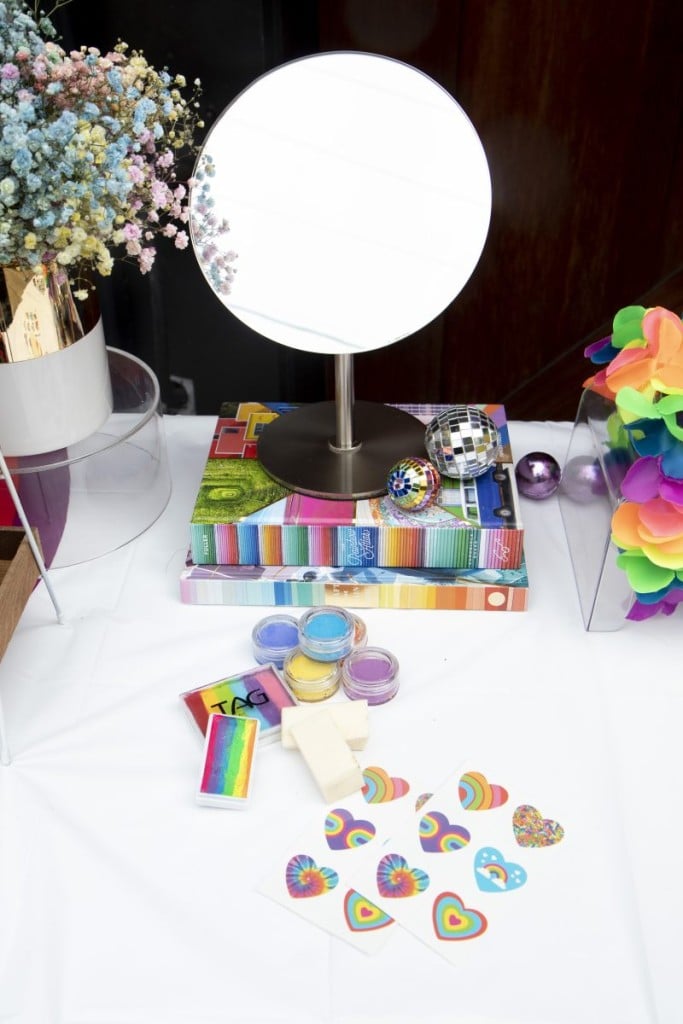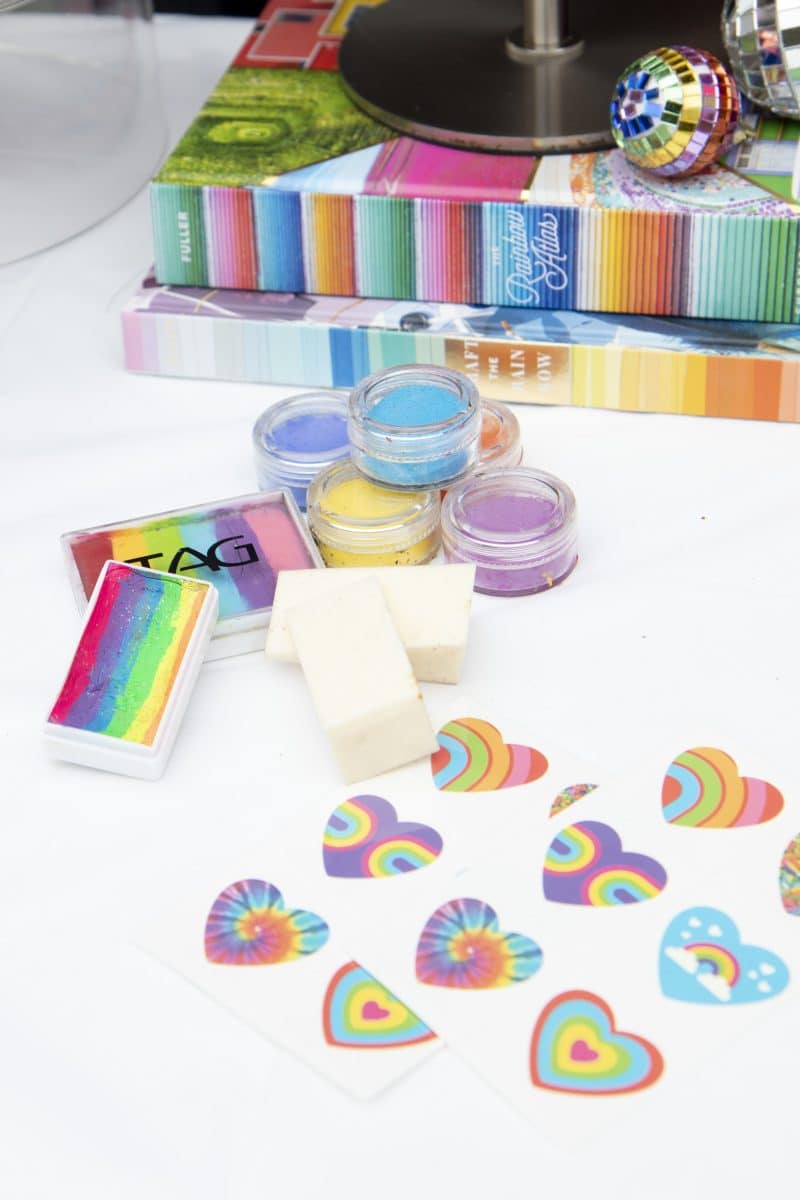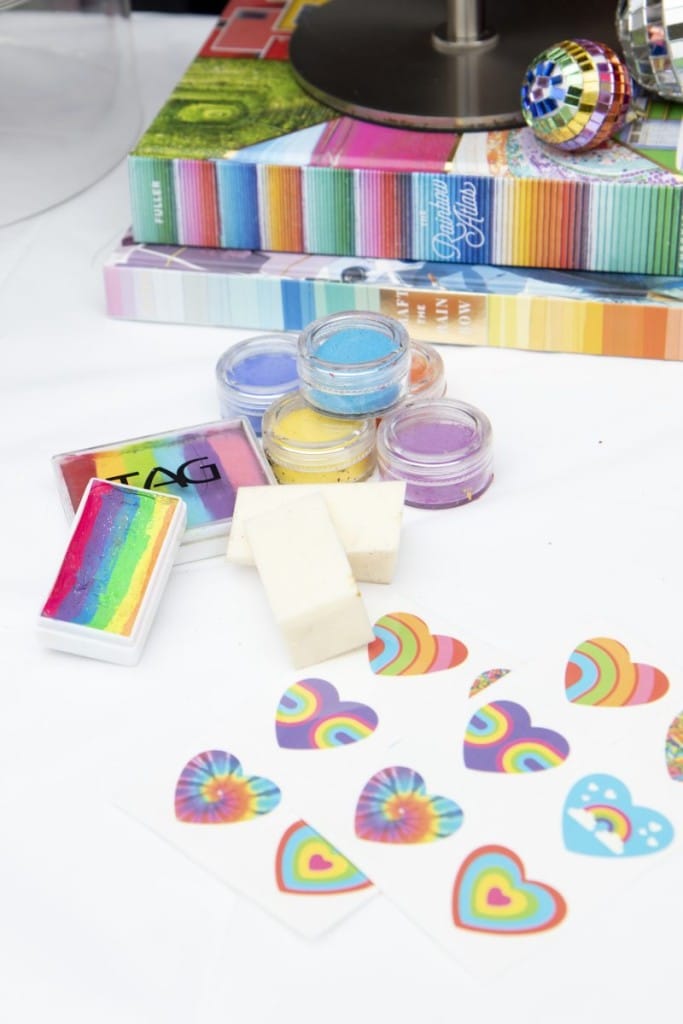 Right next to that, I set out some rainbow floral crowns and different styles of temporary tattoos.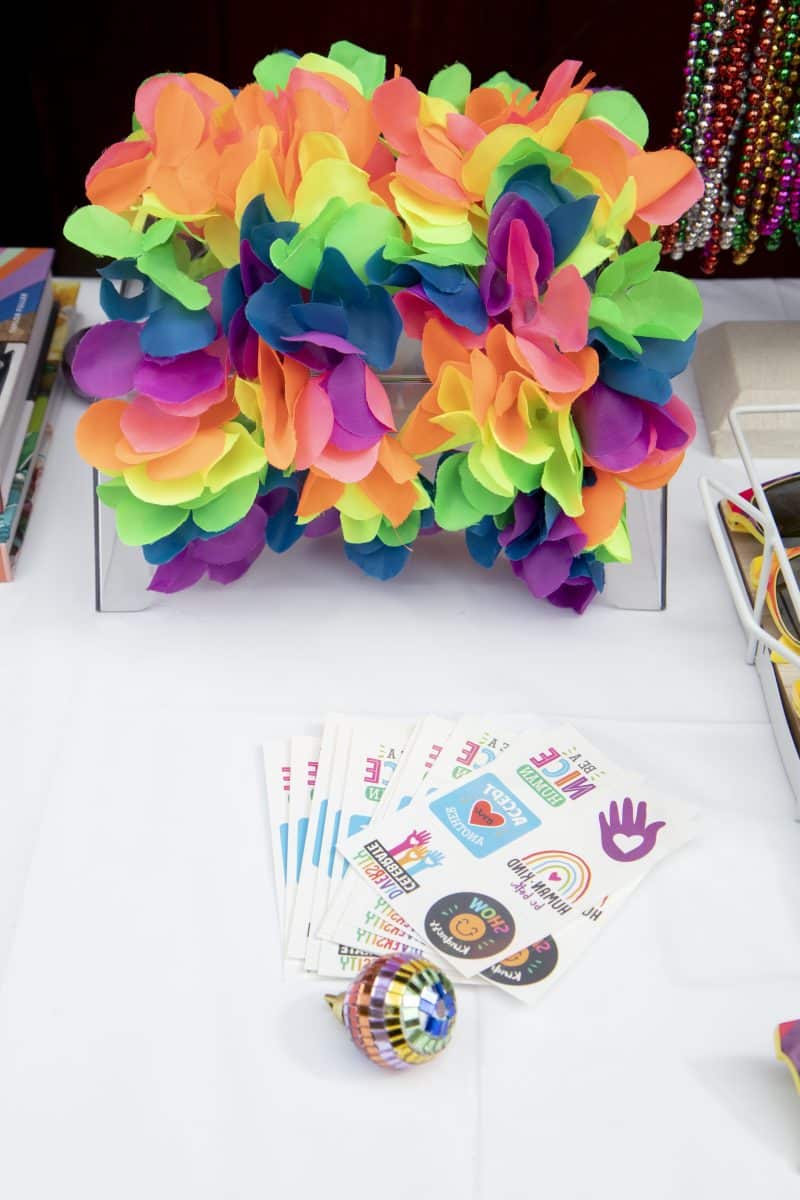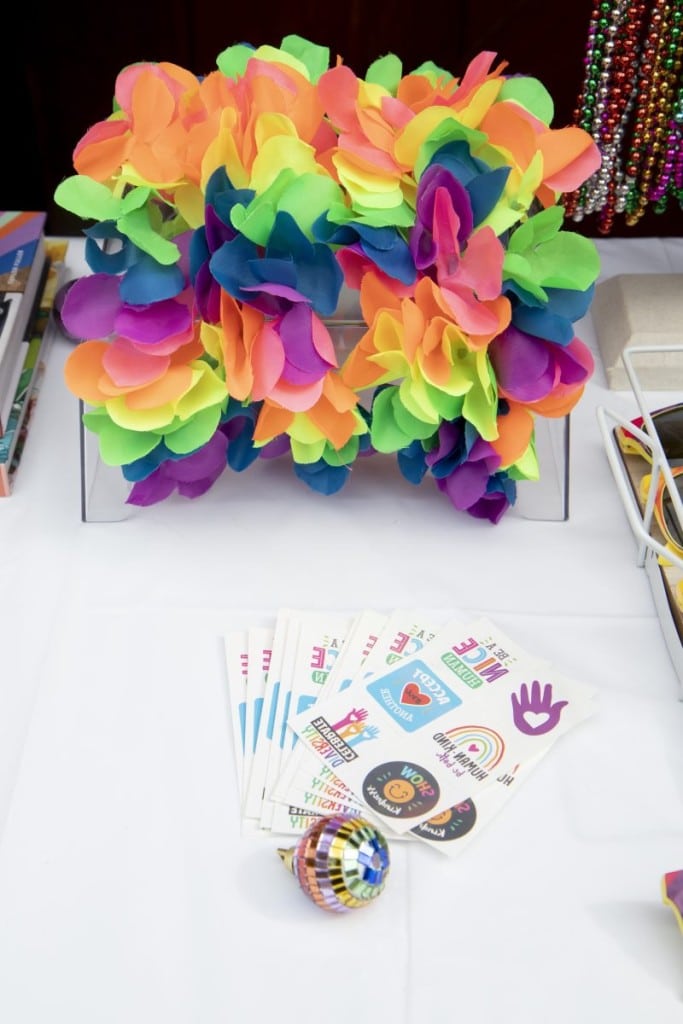 On the other side of the table, I used a necklace holder to provide colorful bead necklaces and an acrylic tray to hold brightly-colored sunglasses and rainbow heart rings.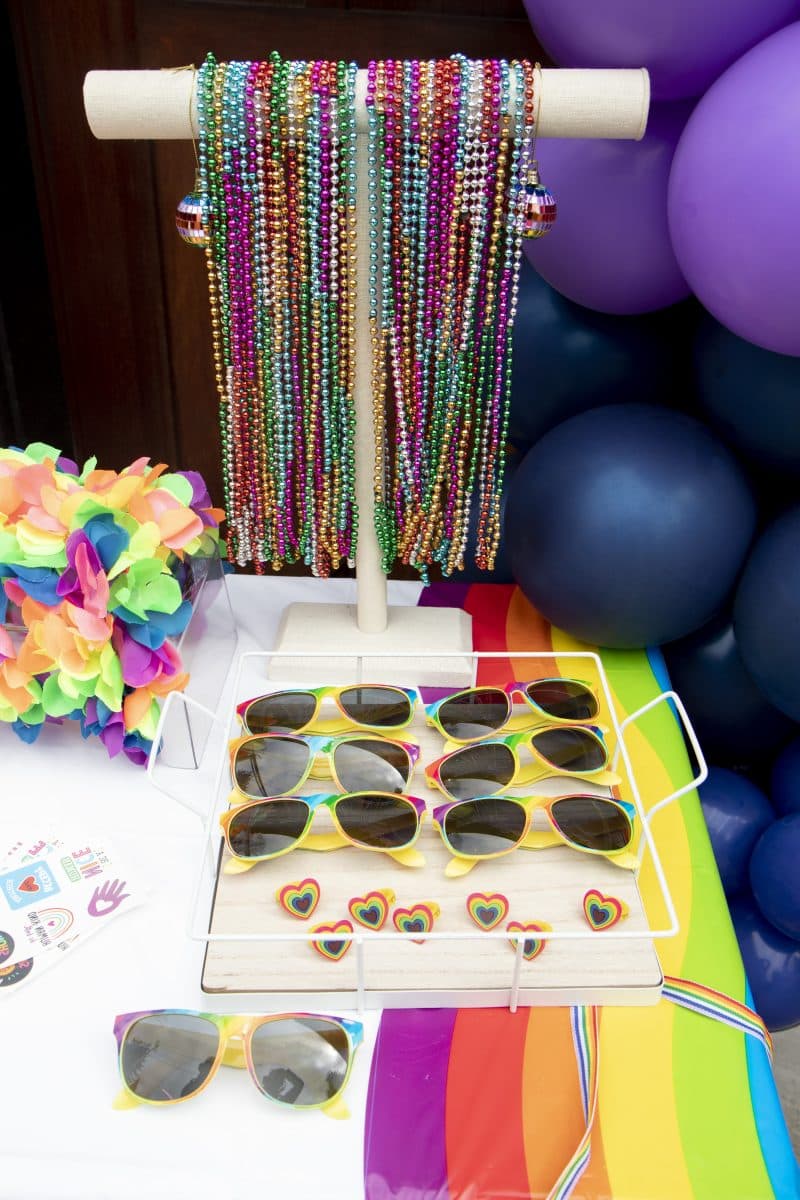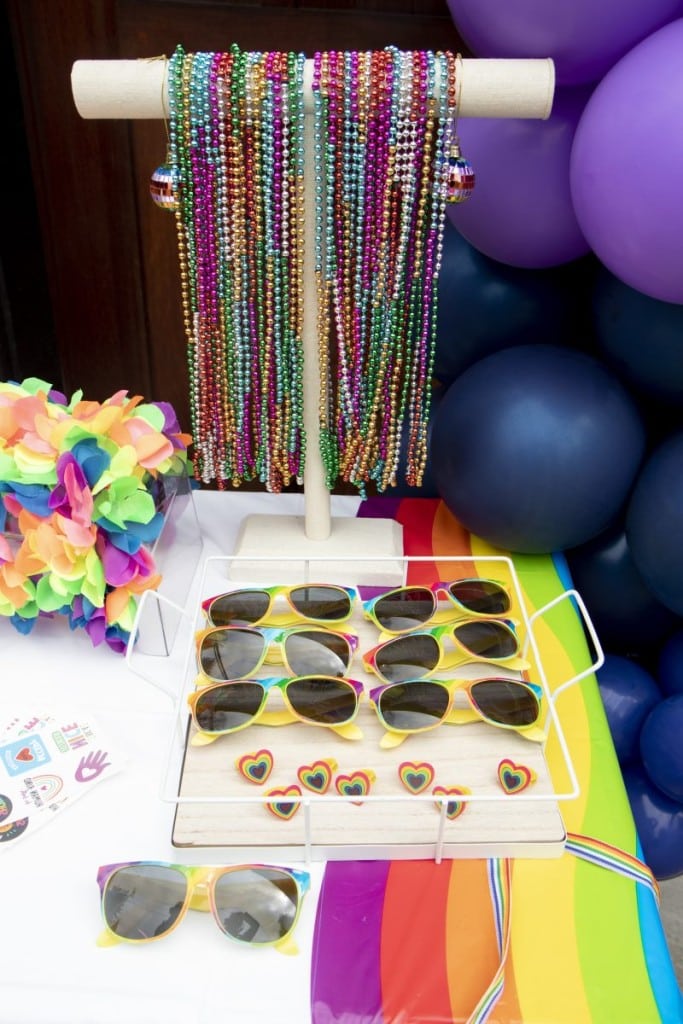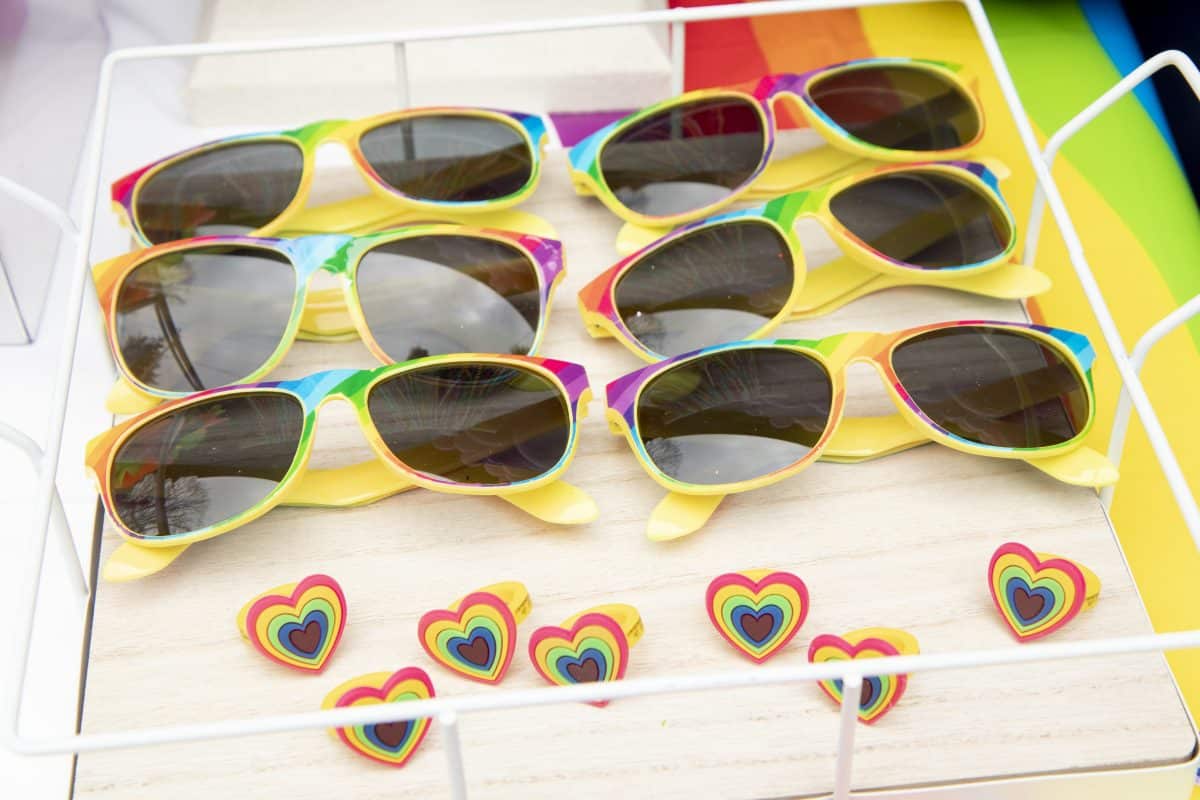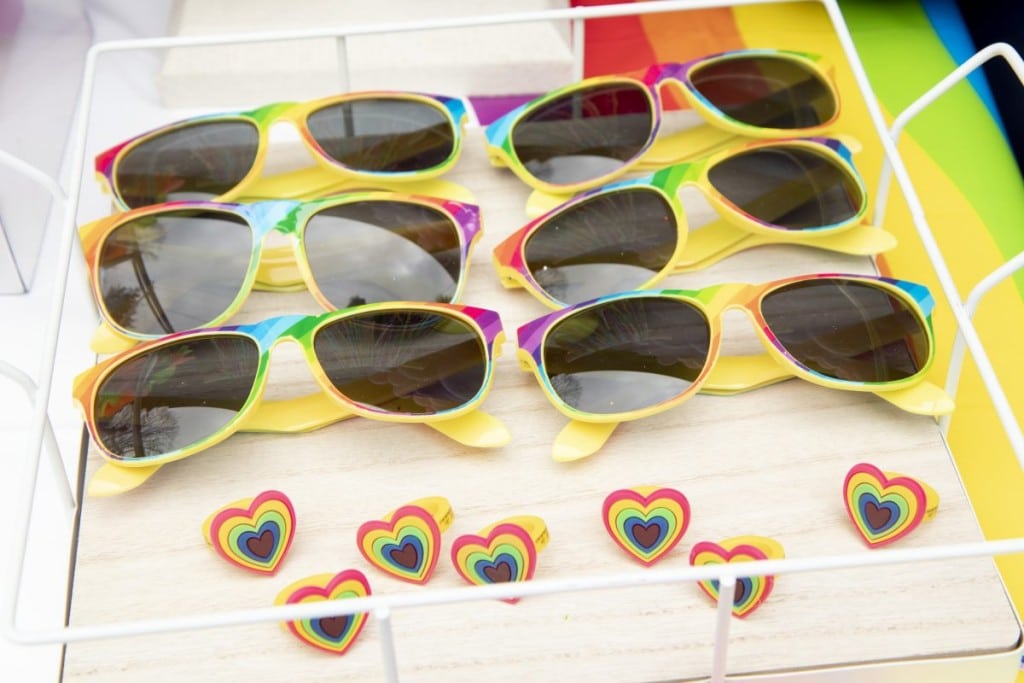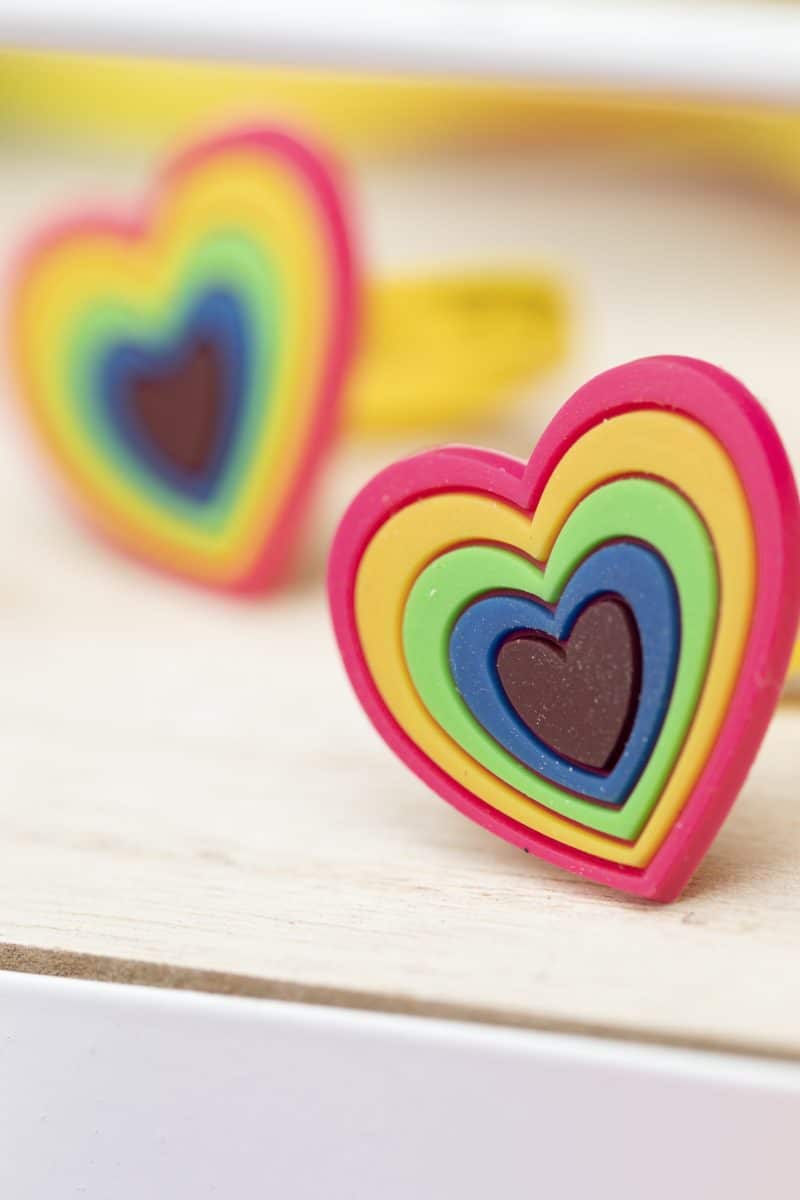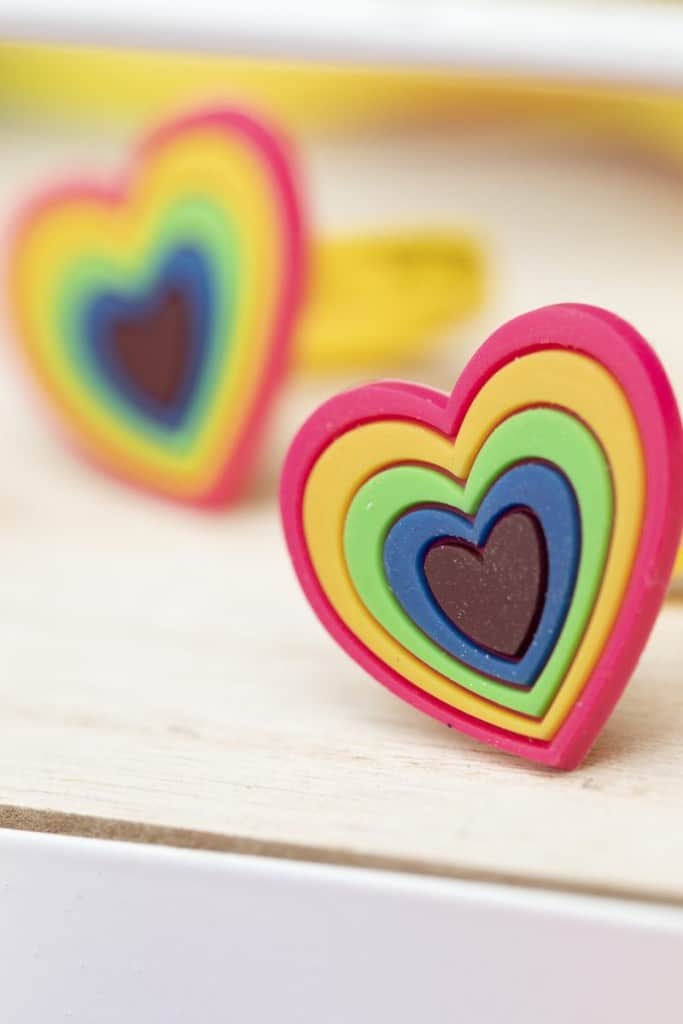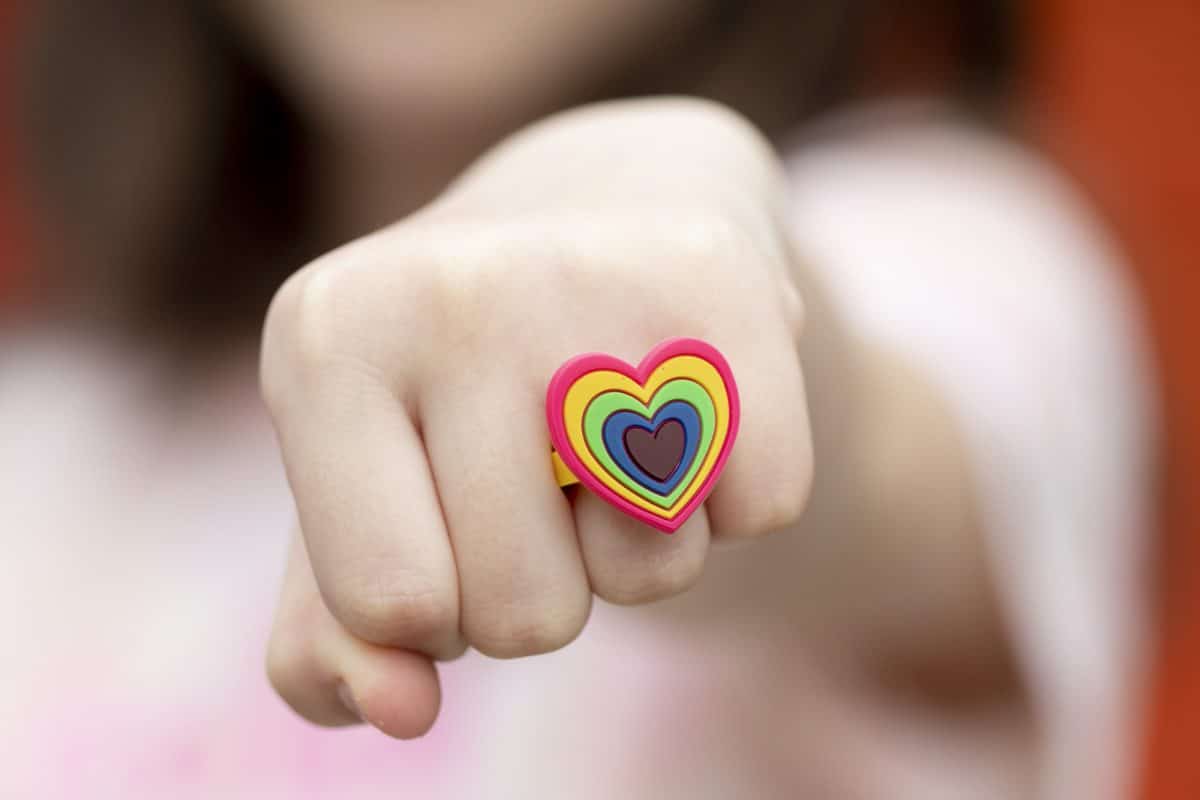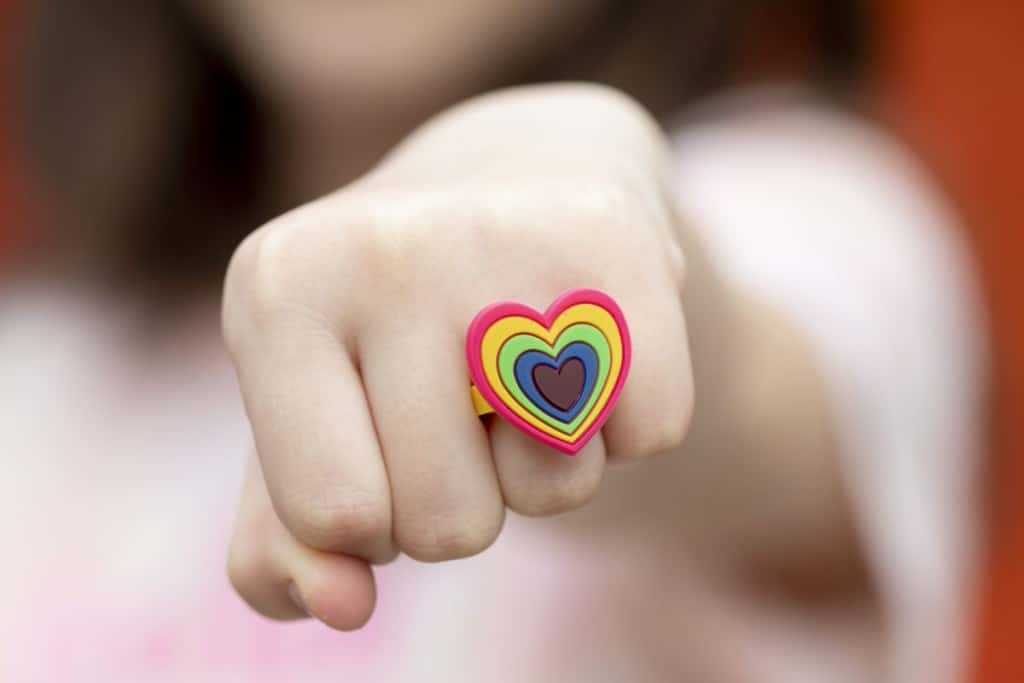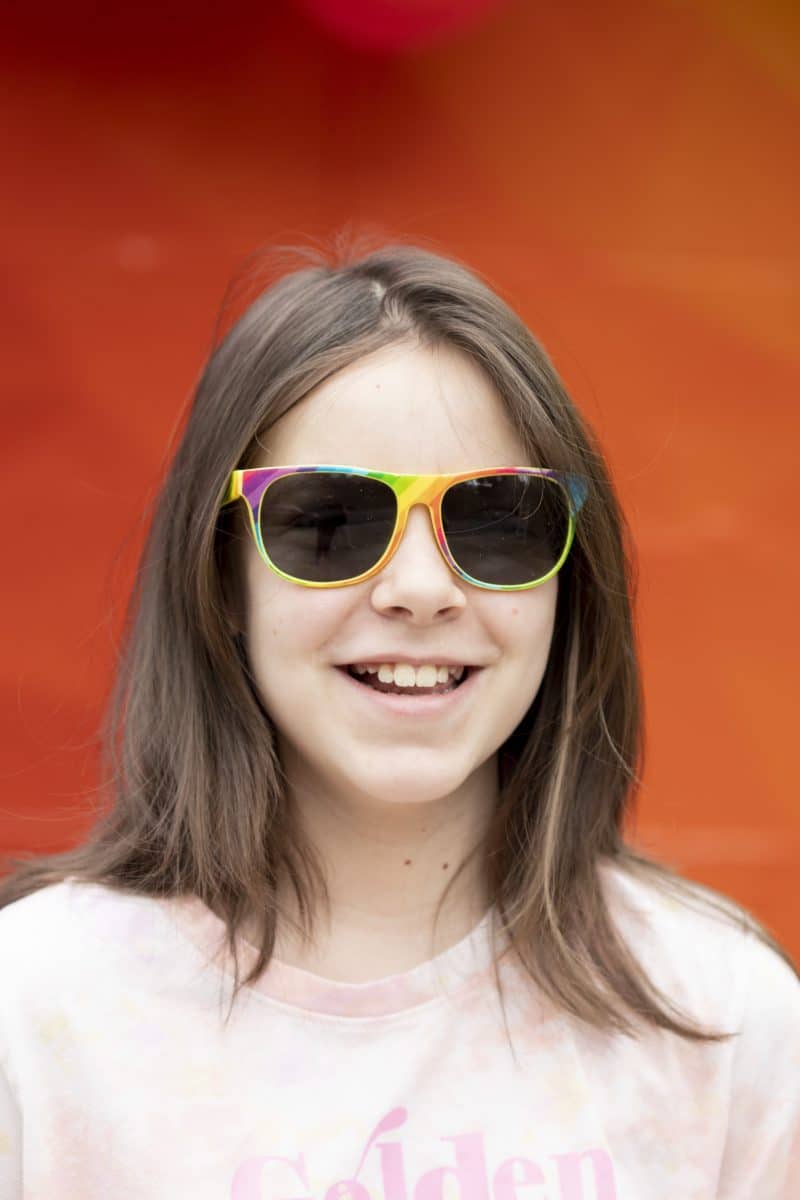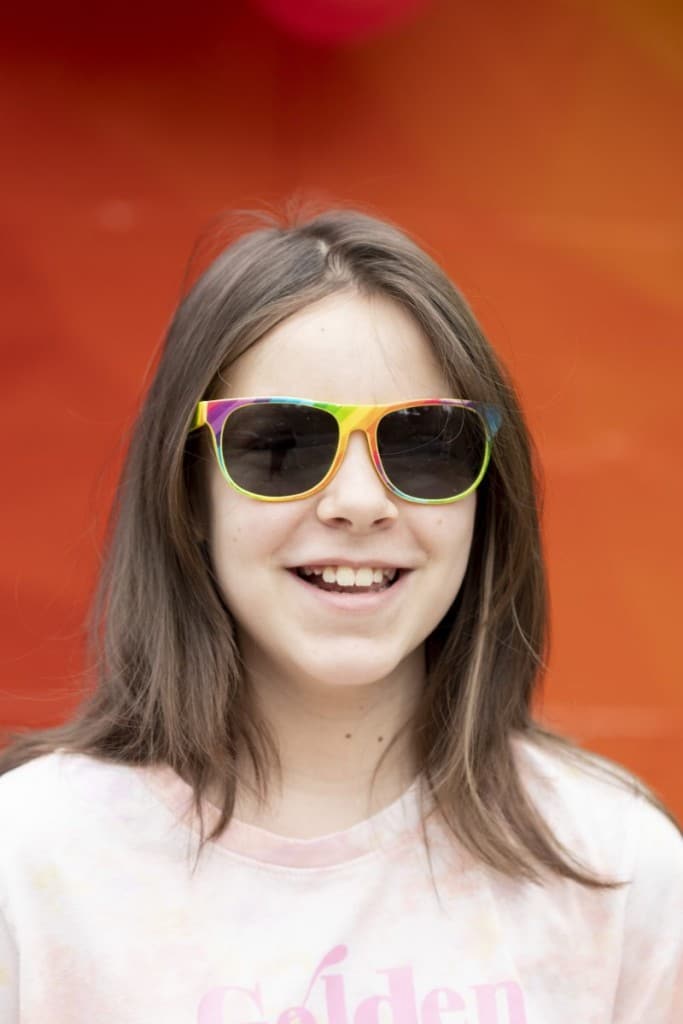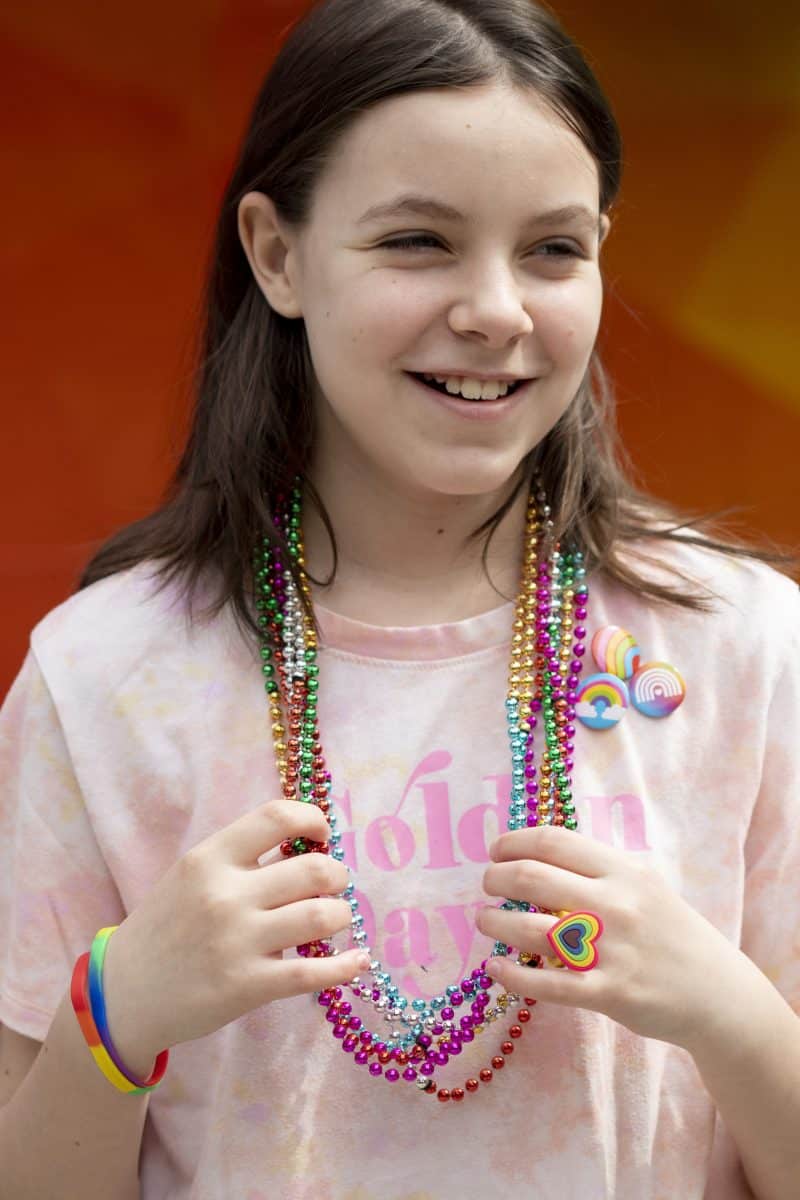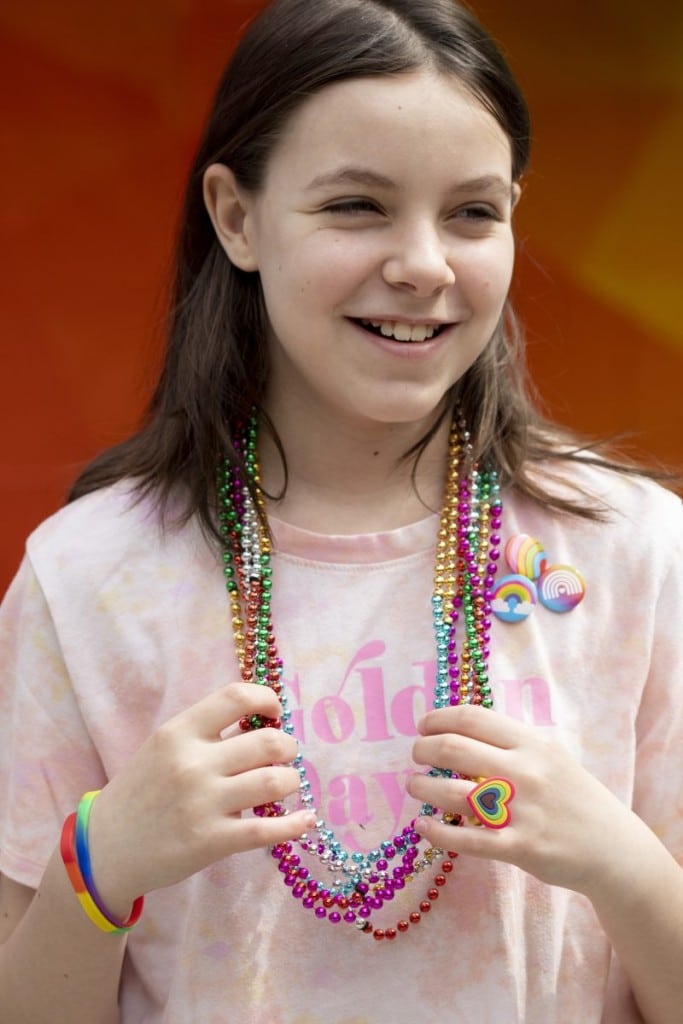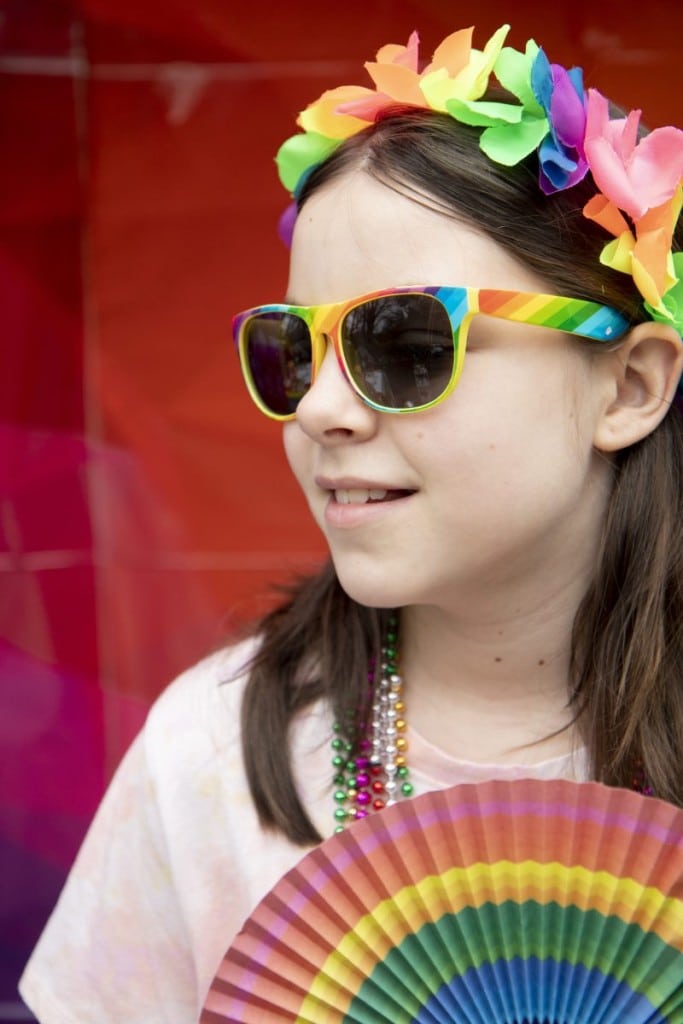 Photo Booth
With so many amazing wearable favors, I wanted to provide an additional spot for photos. So I set up a Pride "throne" with a rattan peacock chair that I wove colorful bandanas through. On the seat of the chair, I added another bandana to sit on, a fuzzy lavender pillow, and a rainbow fan.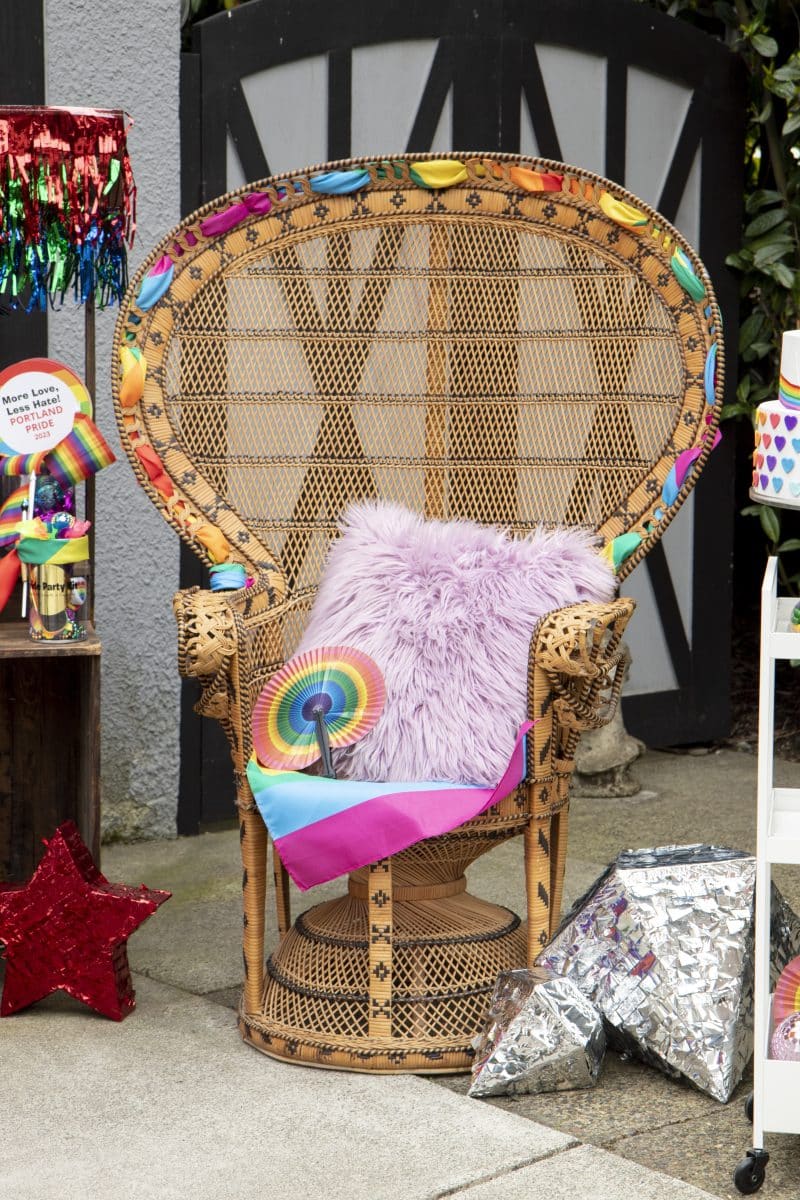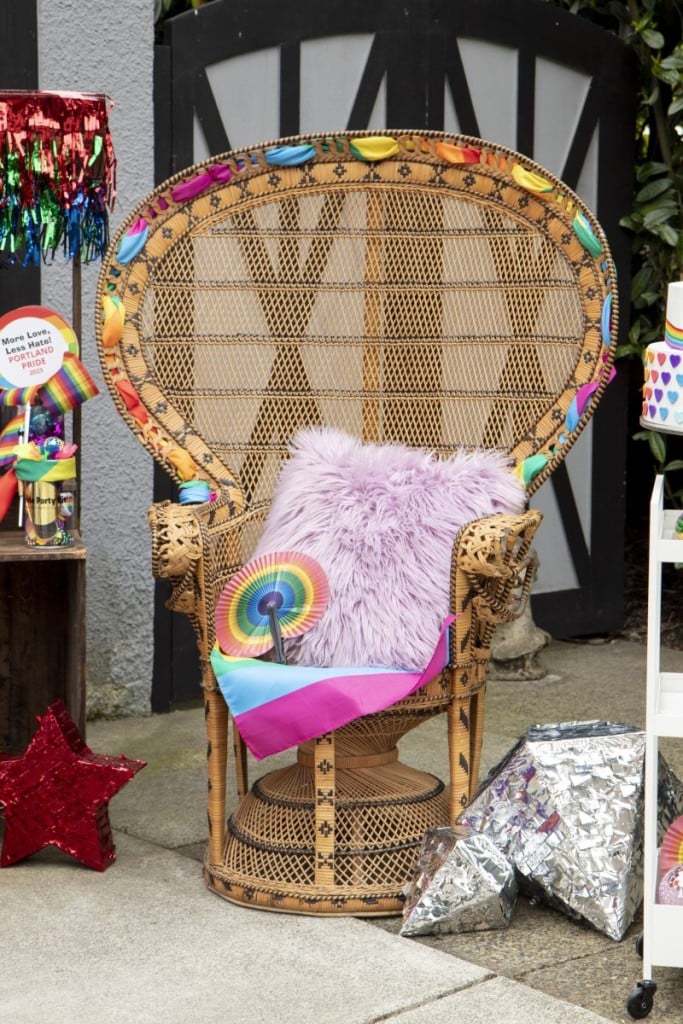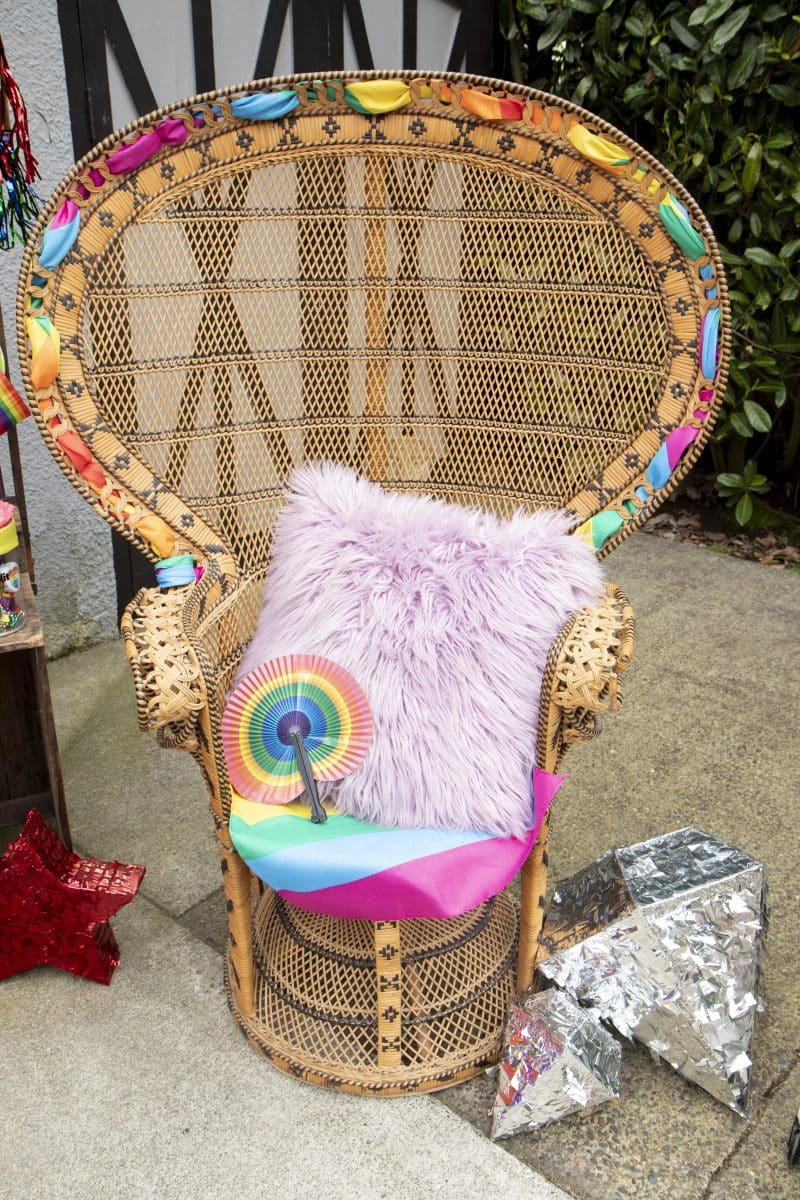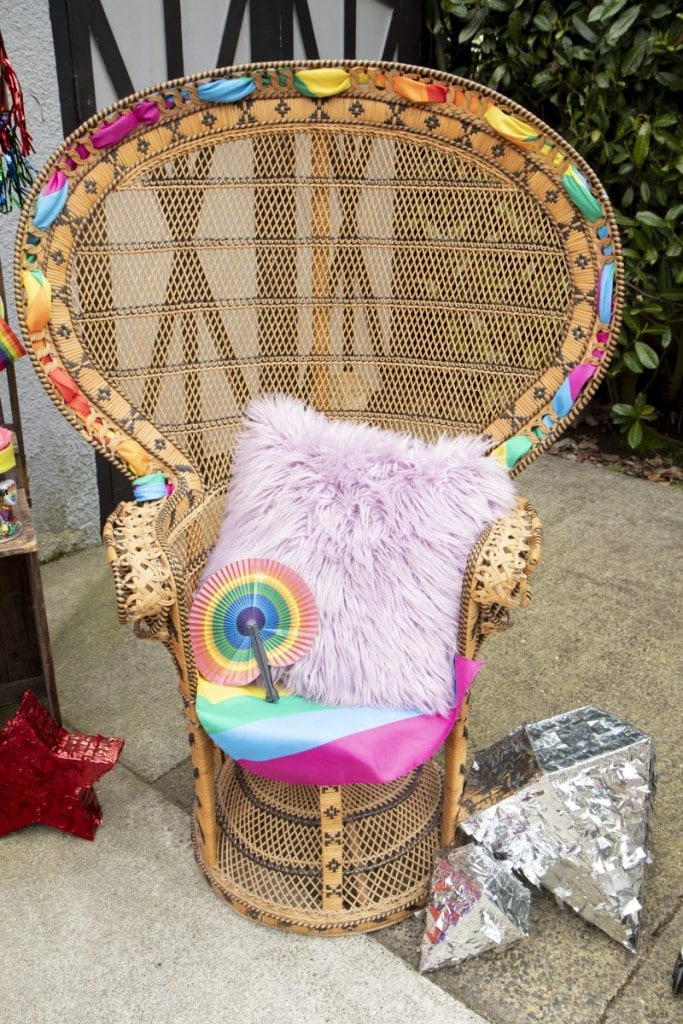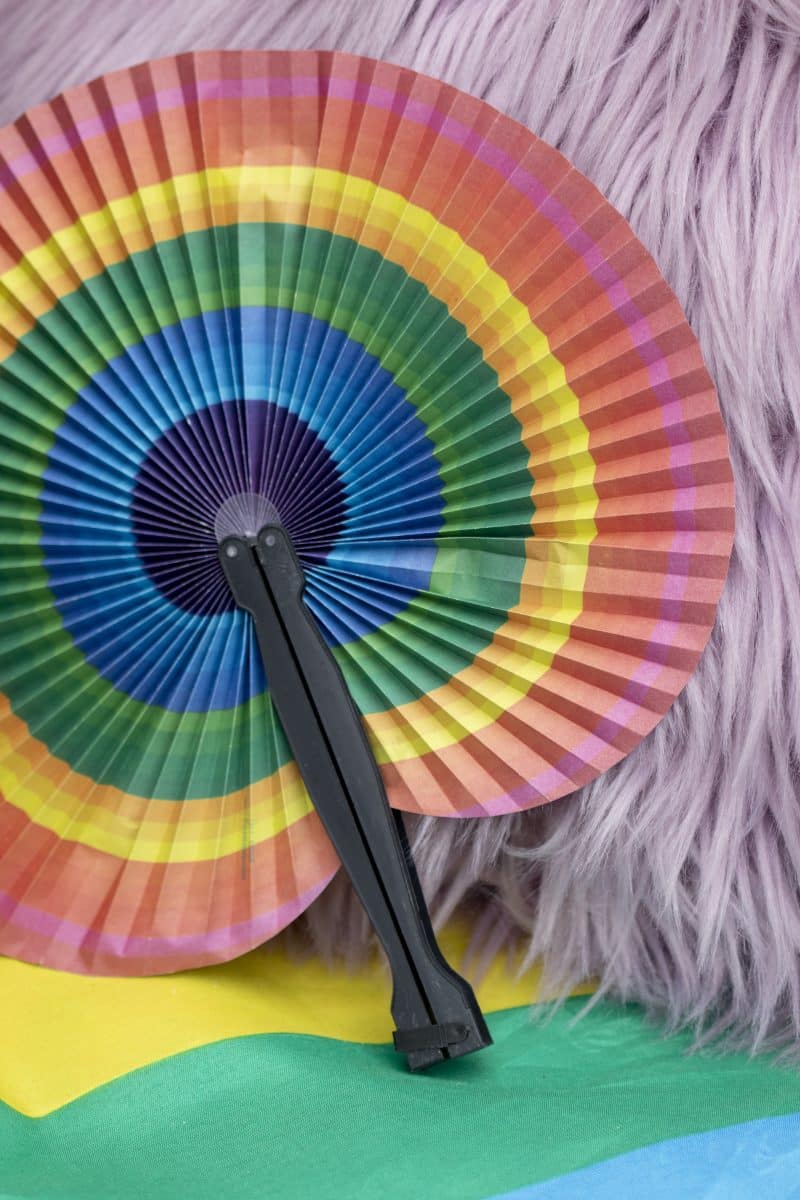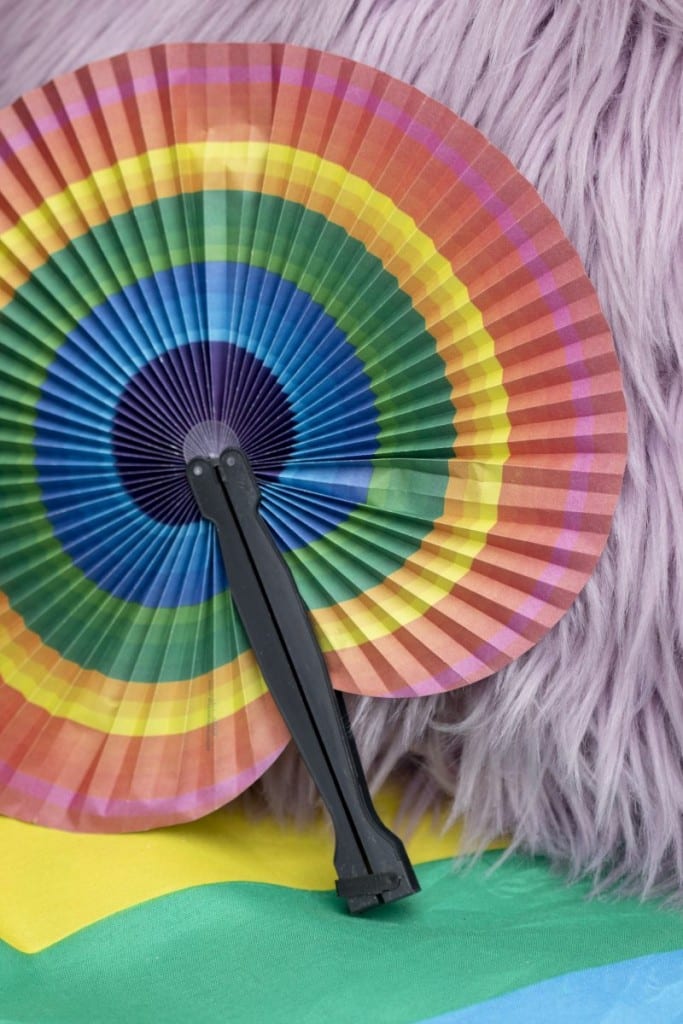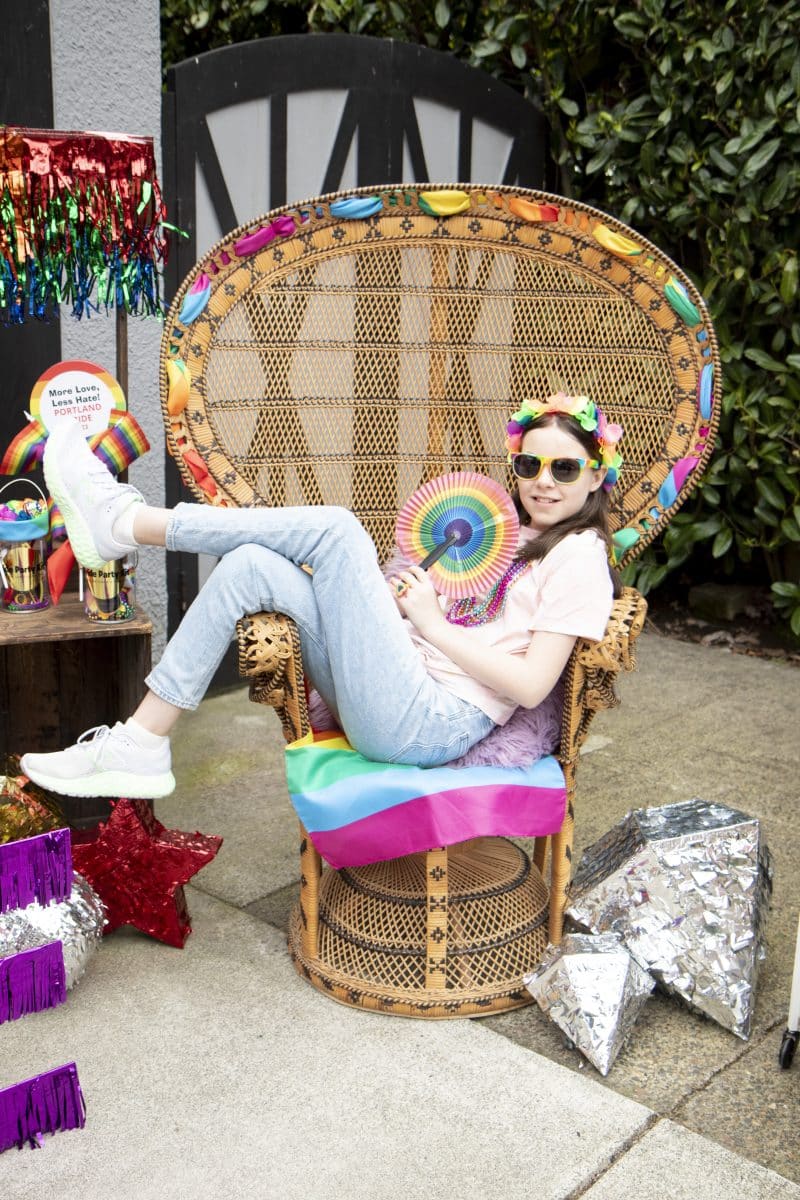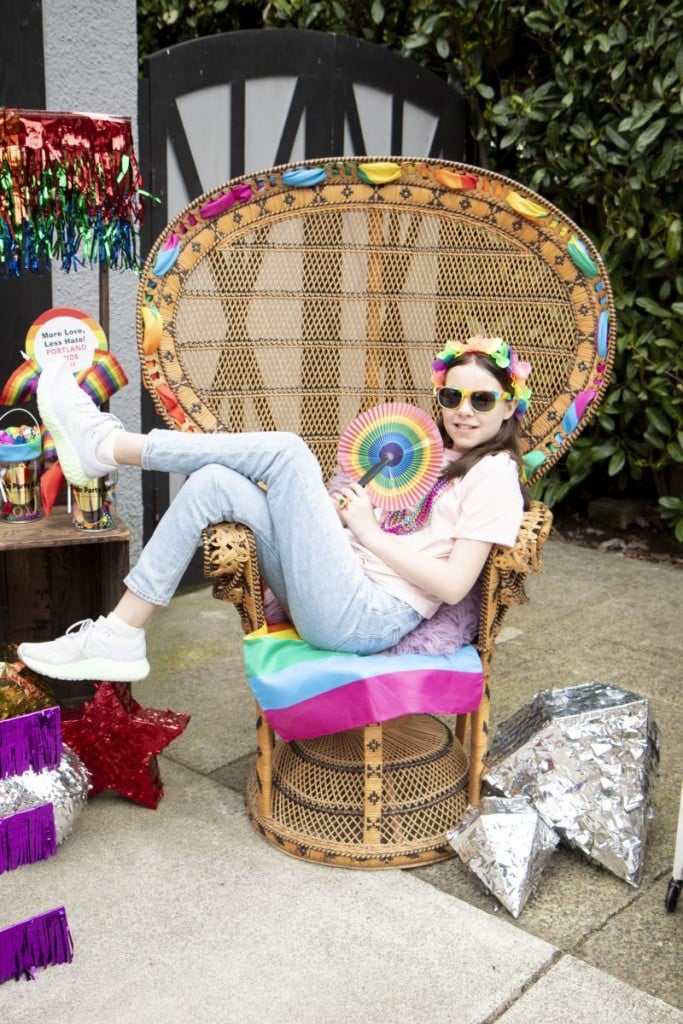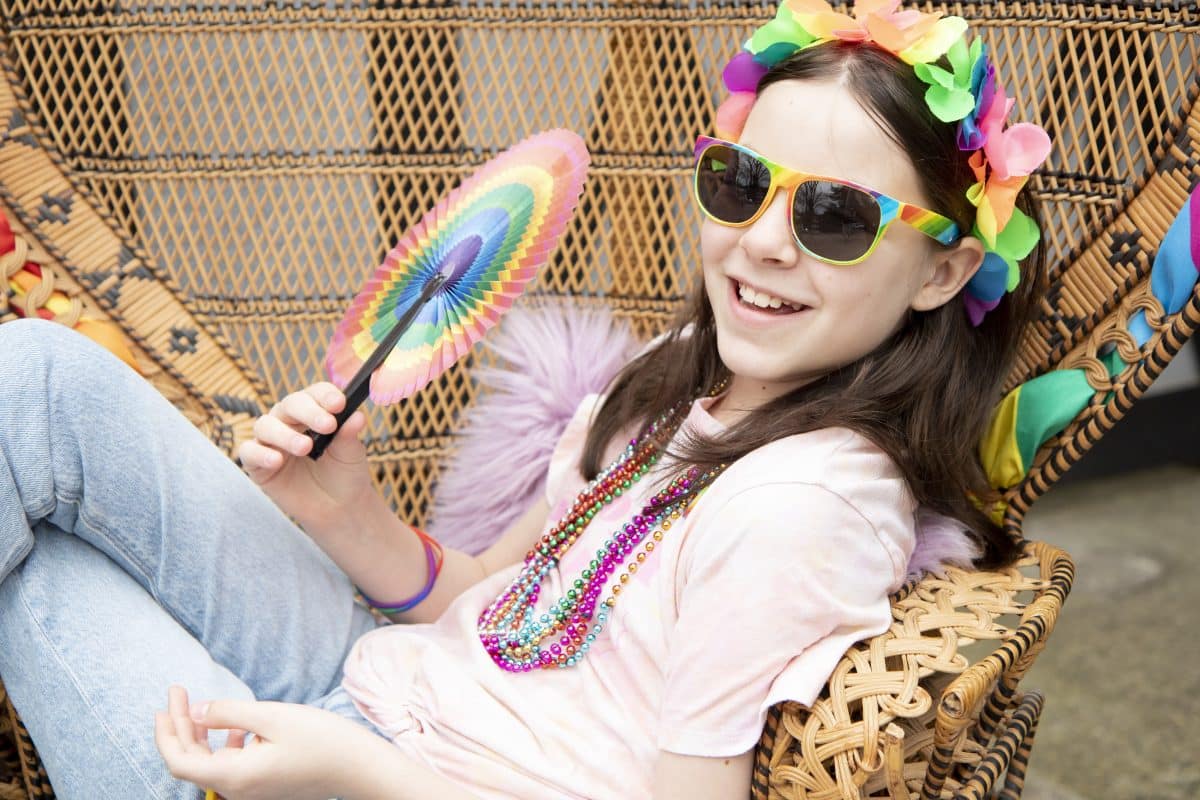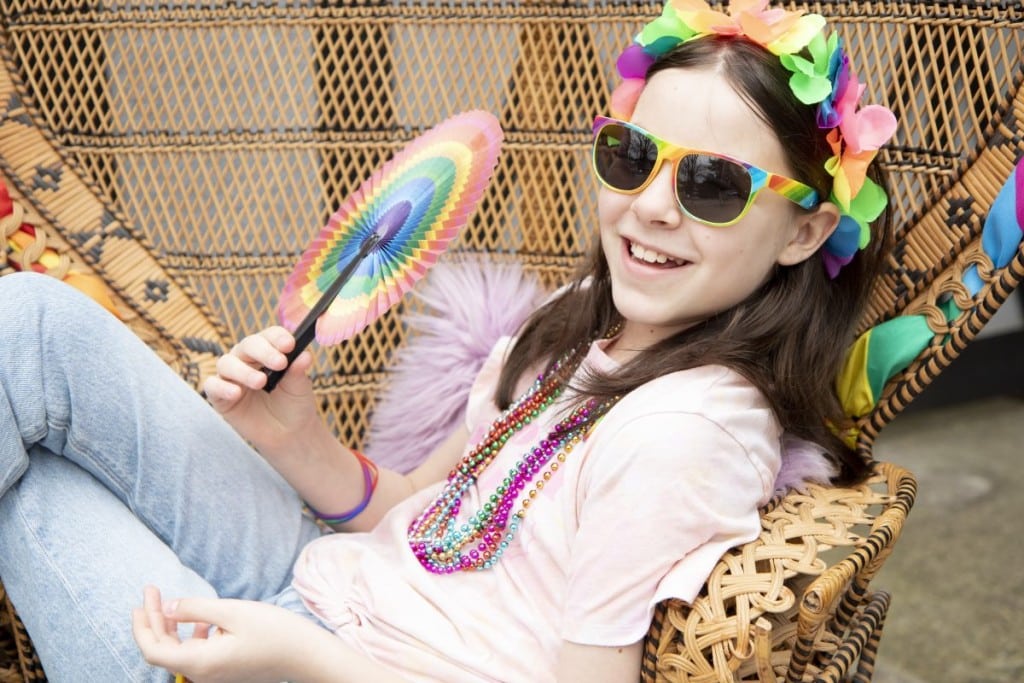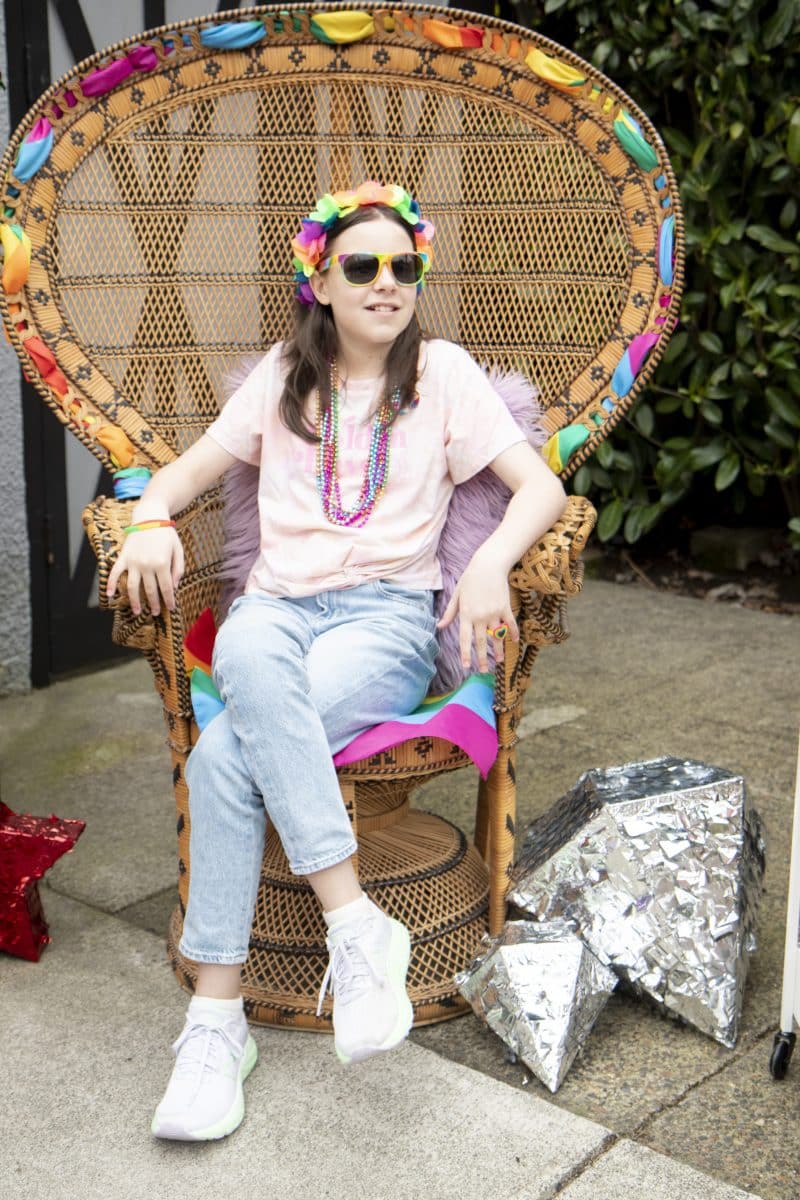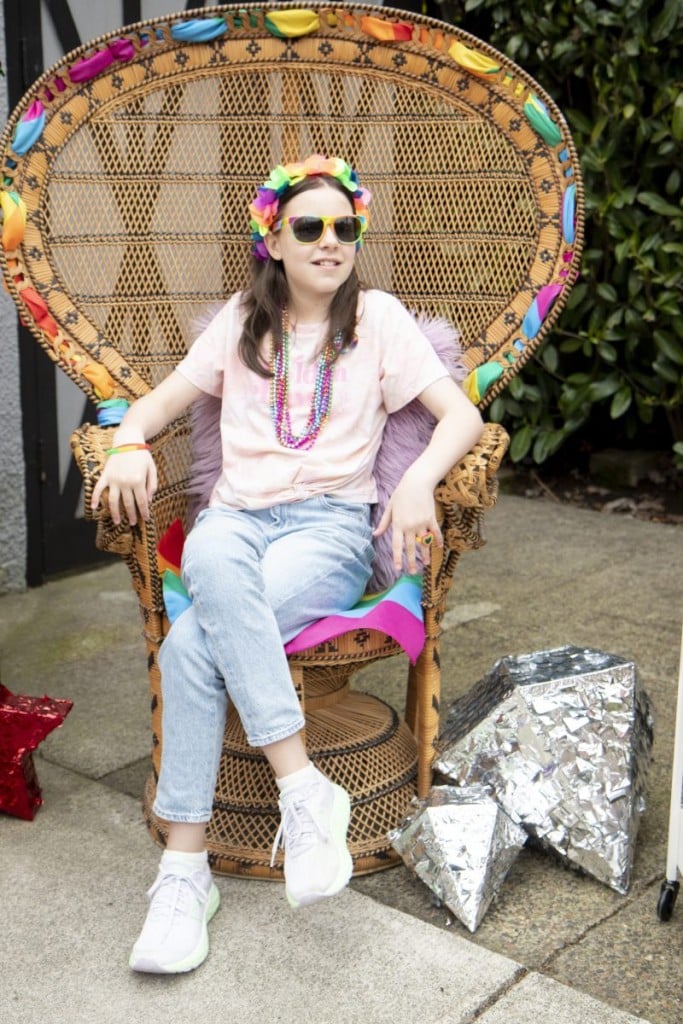 Drink Station
For refreshments, I rolled out a cart and set it up on one side of the driveway. Rolling carts are one of my favorite party supplies – they are so versatile and can be moved wherever you need them!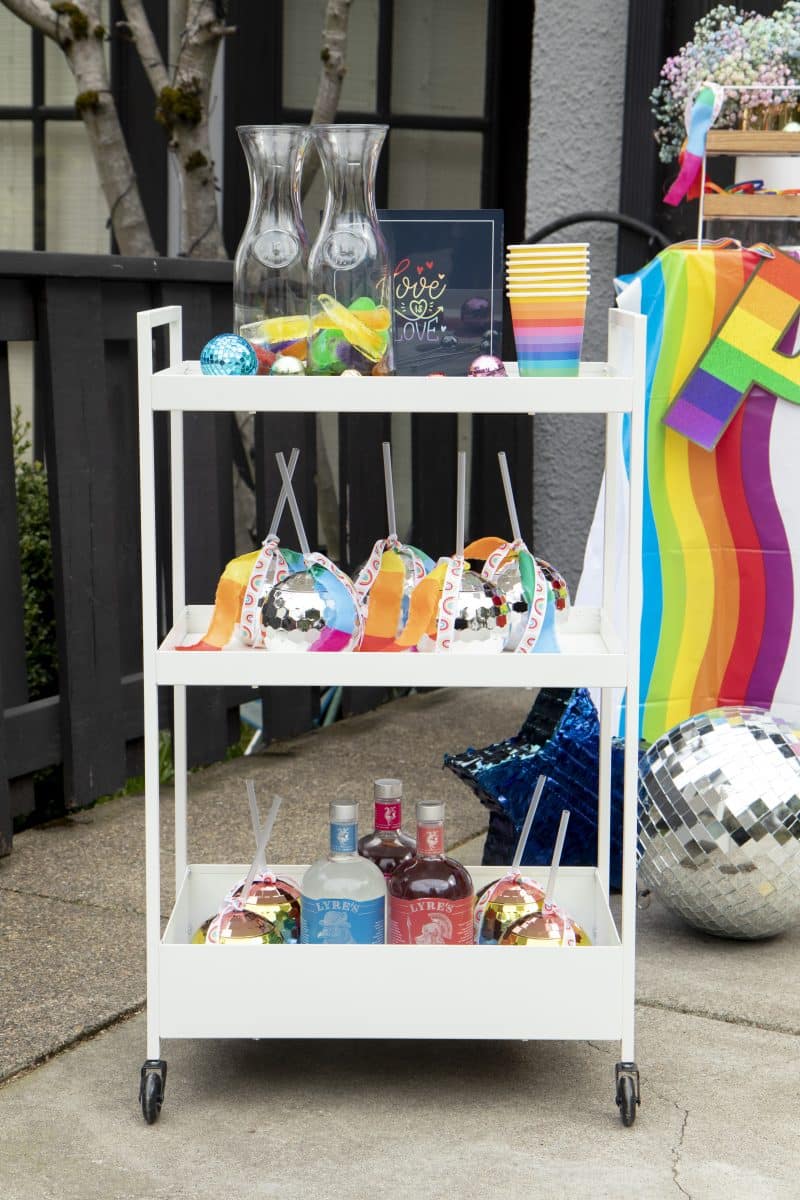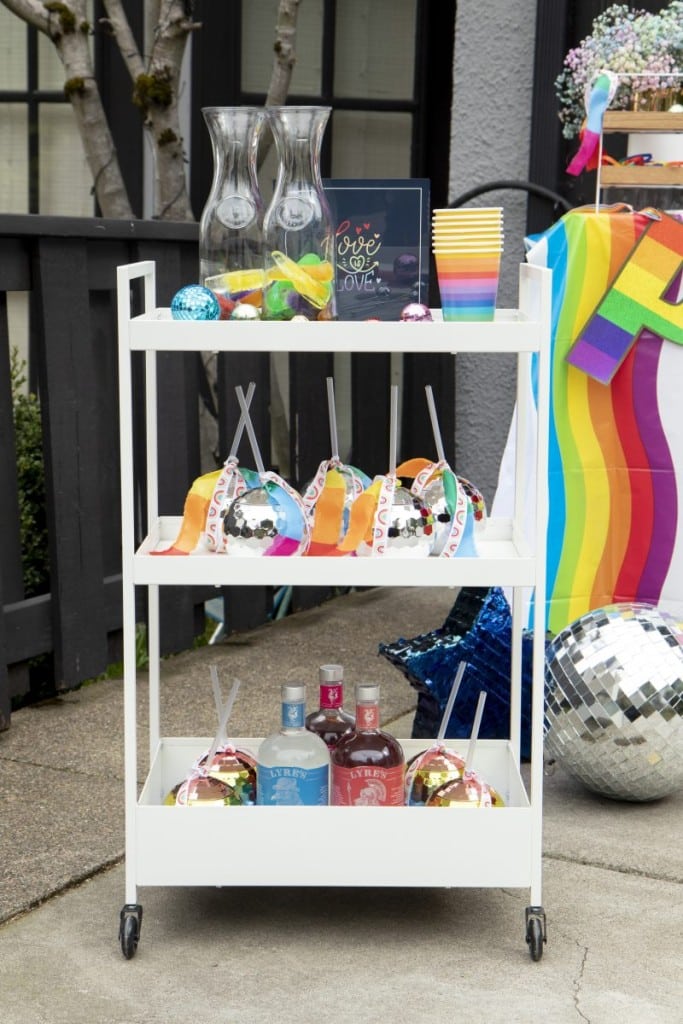 On the first shelf, I placed carafes of colored ice on a painter's palette serving tray that I decorated with color-coordinating disco balls. I also set out some adorable disco ball drink stirrers, and rainbow cups and napkins. As a backdrop to this shelf, I used a colorful "Love is Love" sign.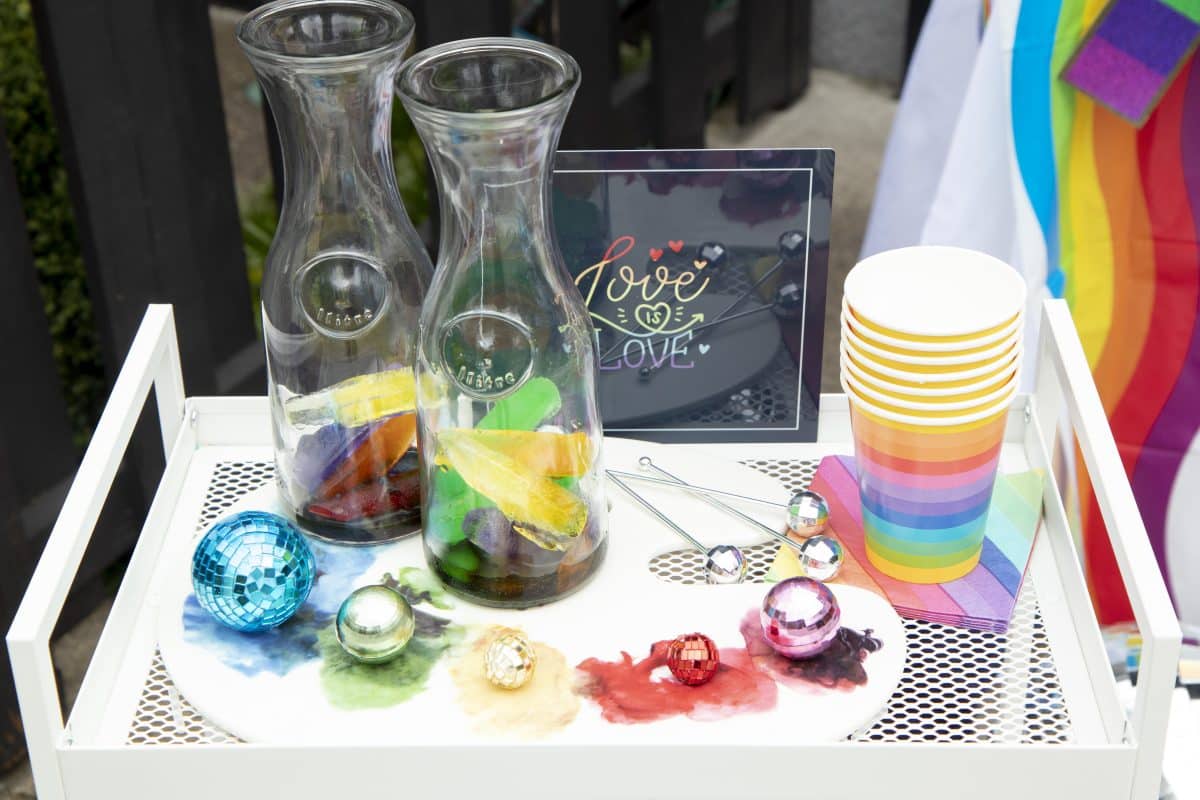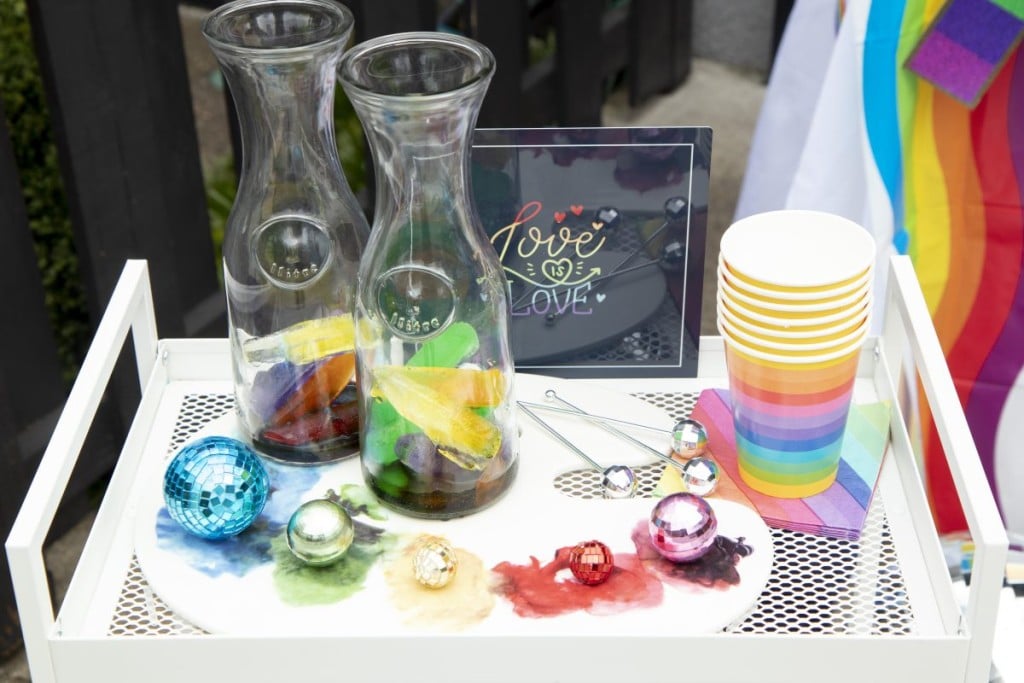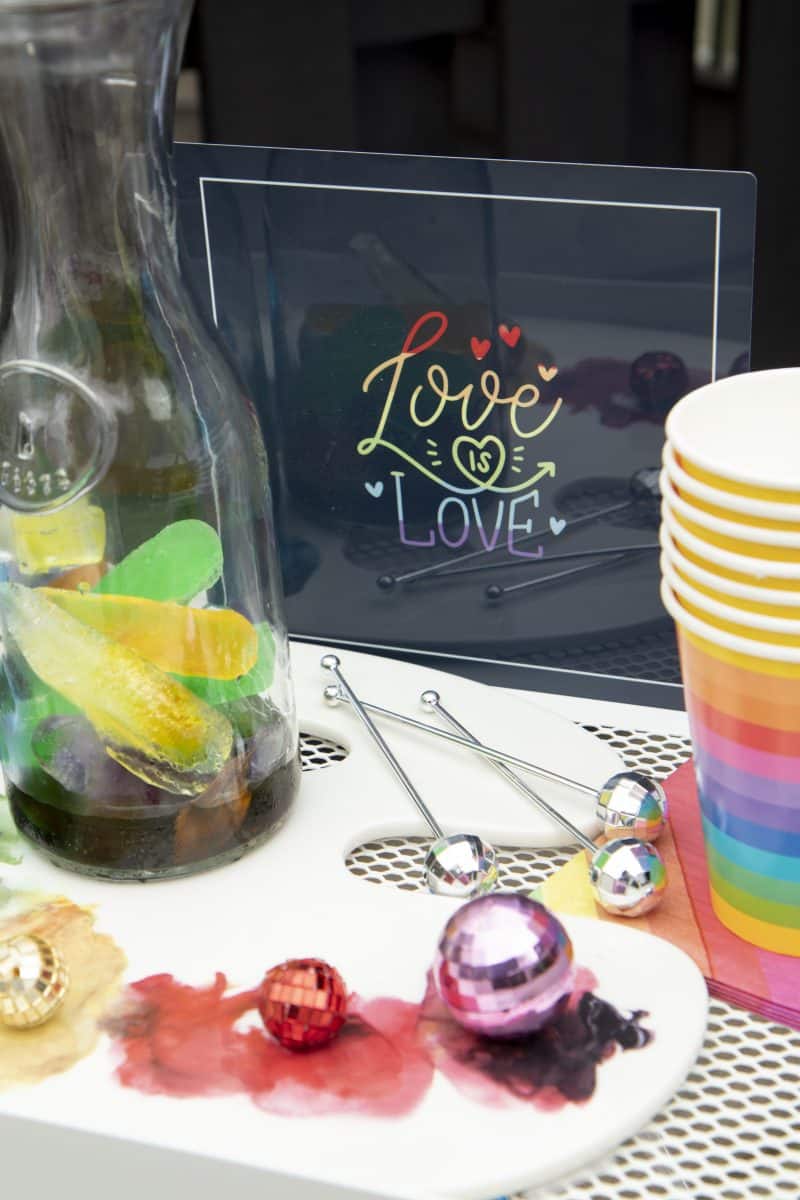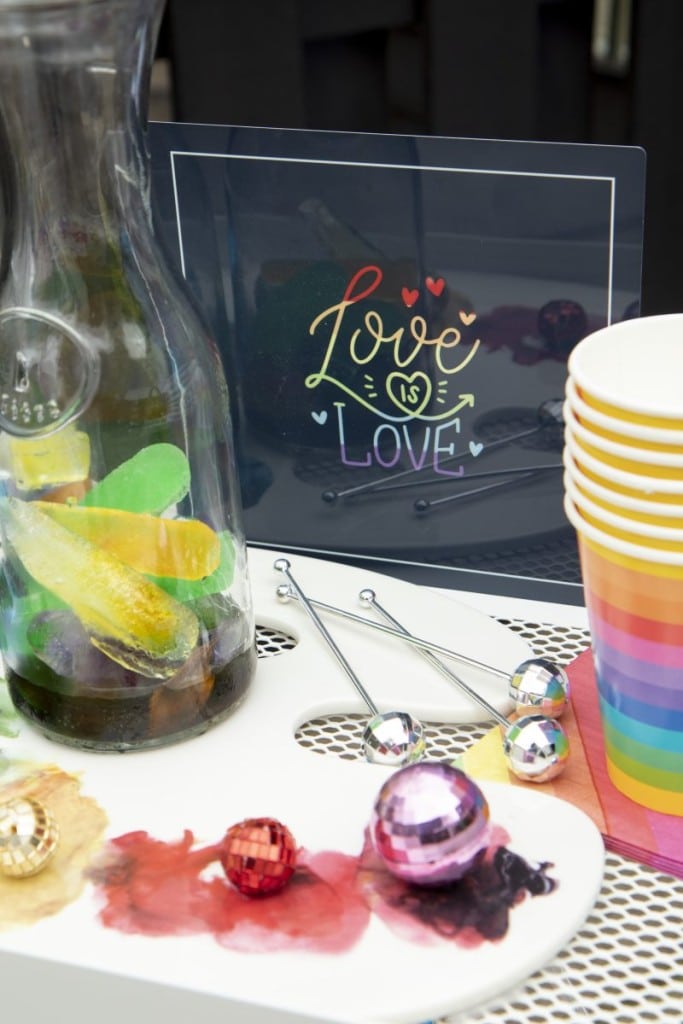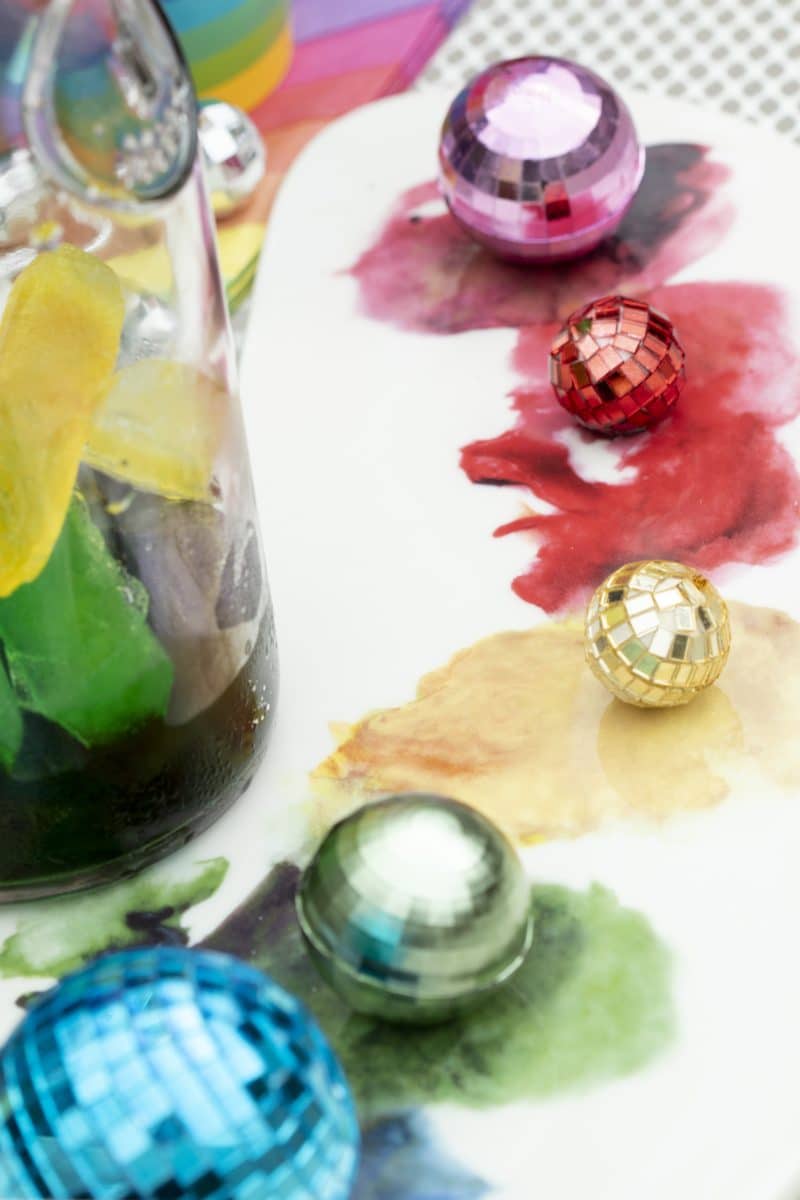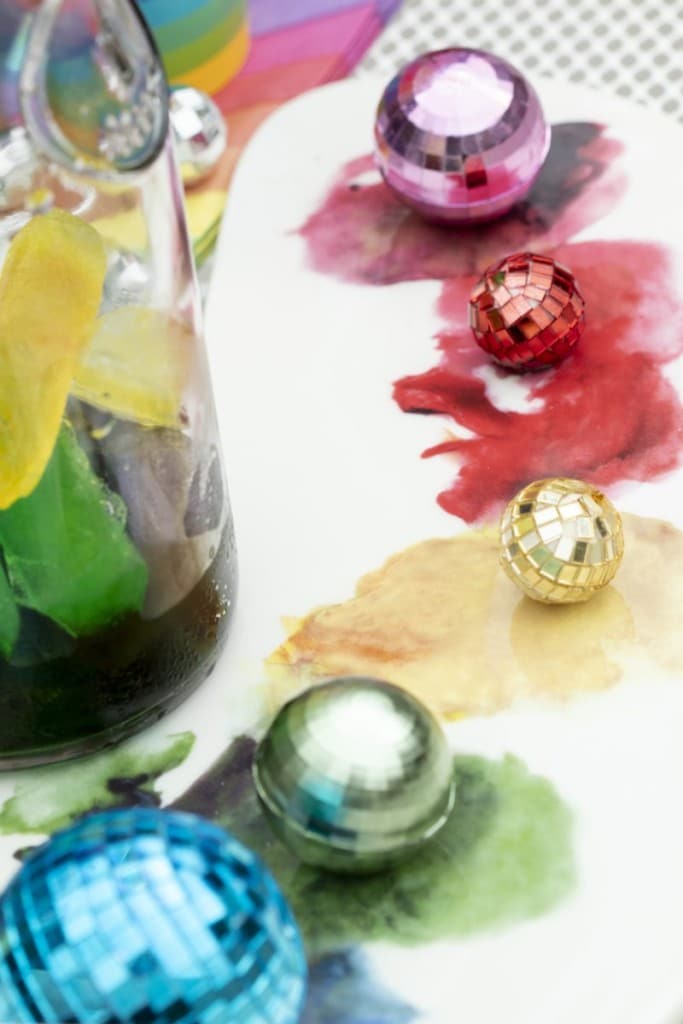 On the middle shelf, I placed silver disco ball tumblers embellished with rainbow ribbons.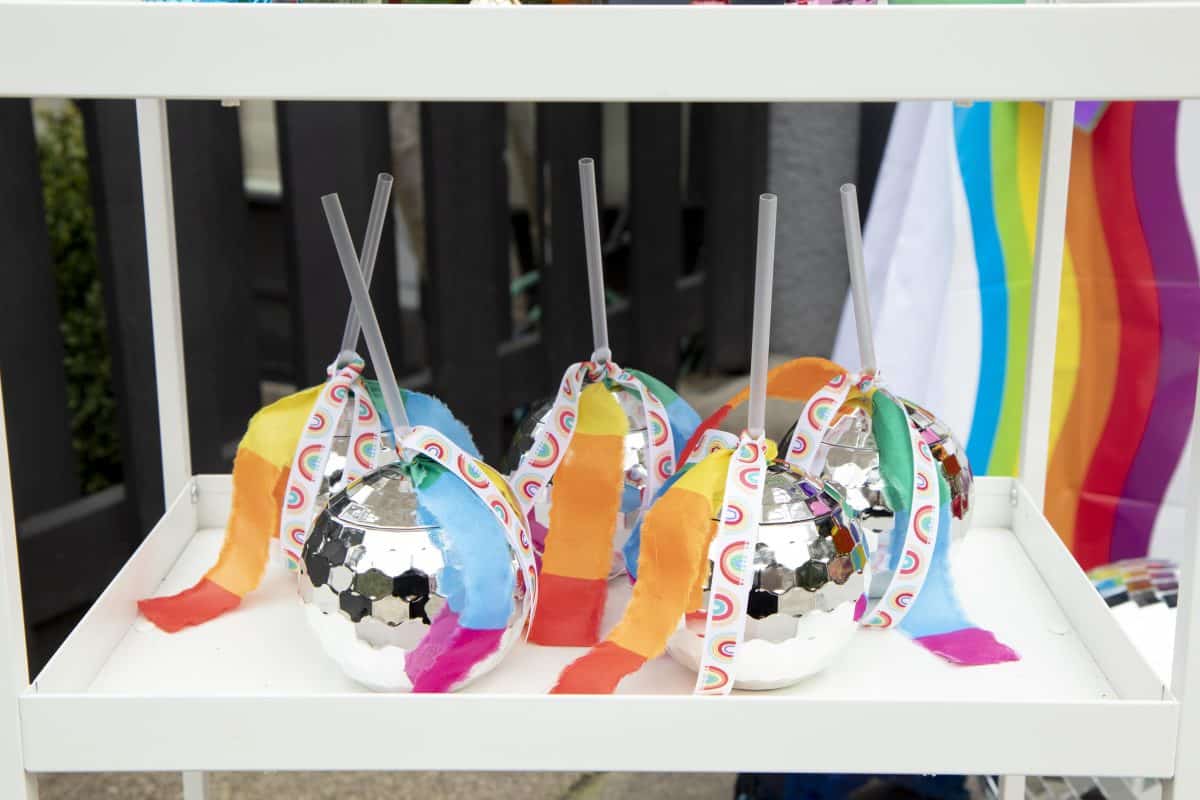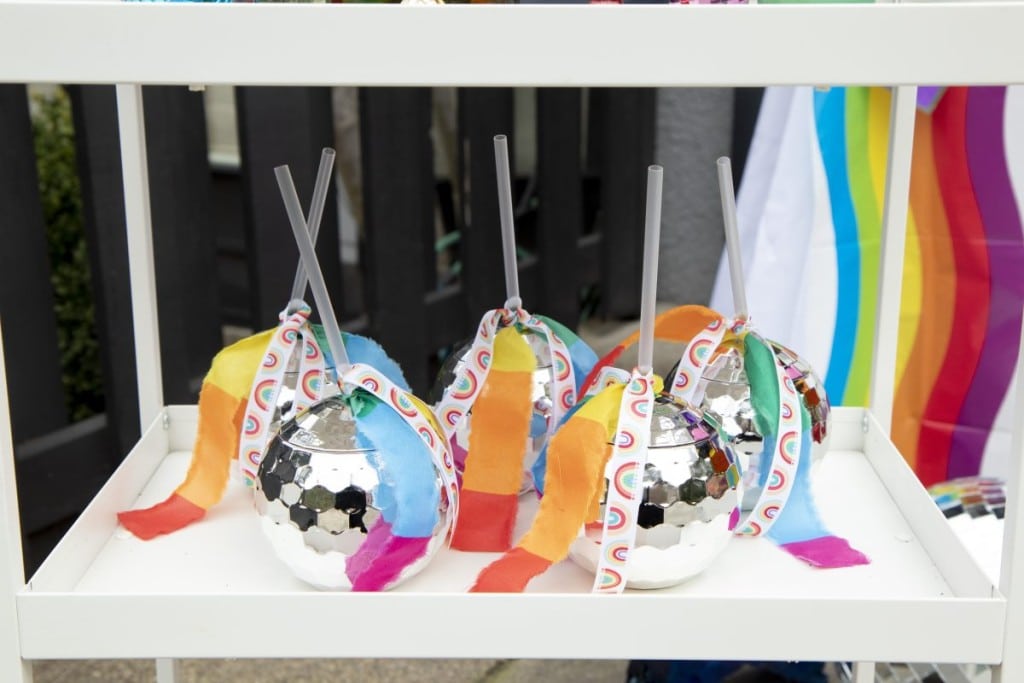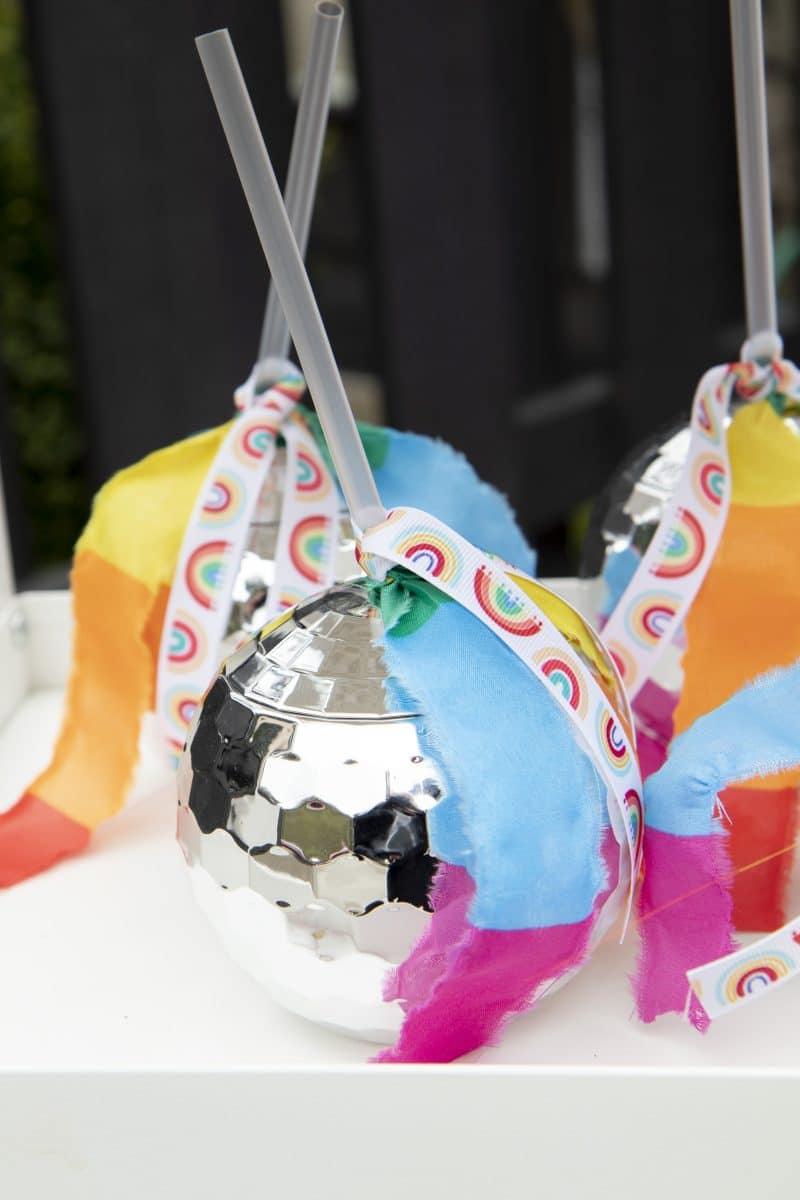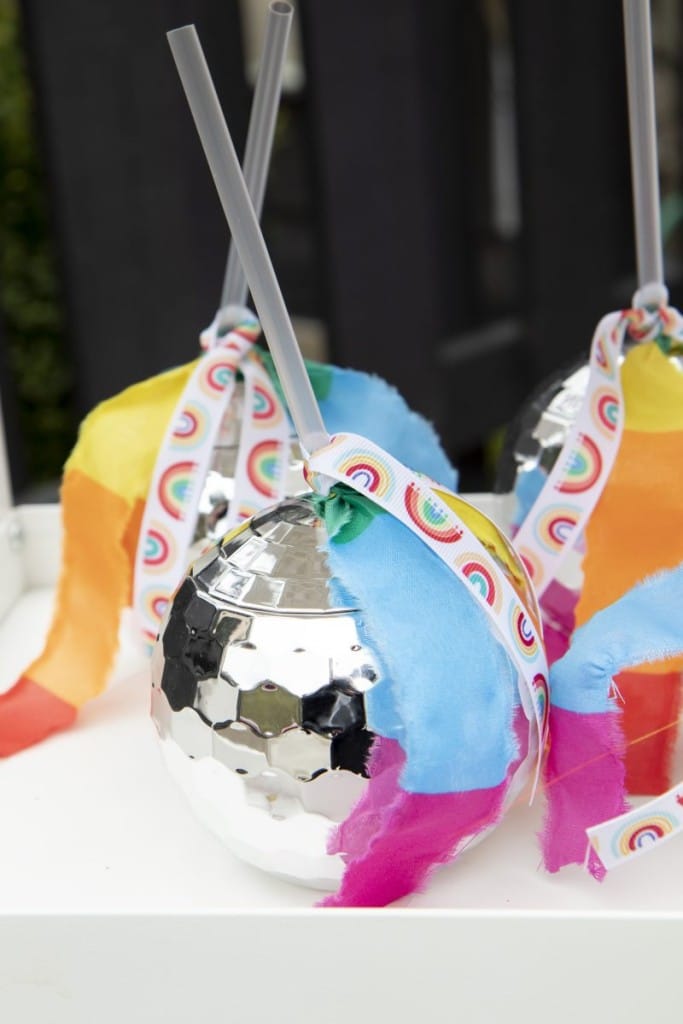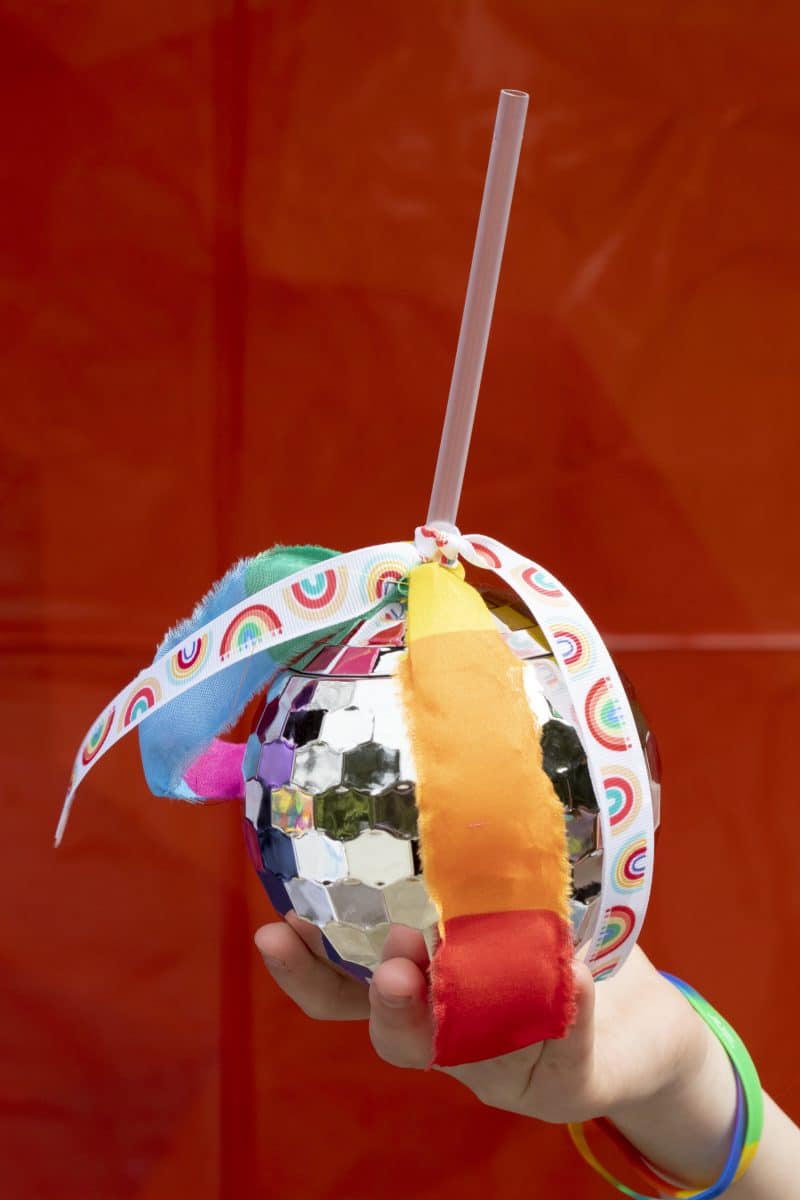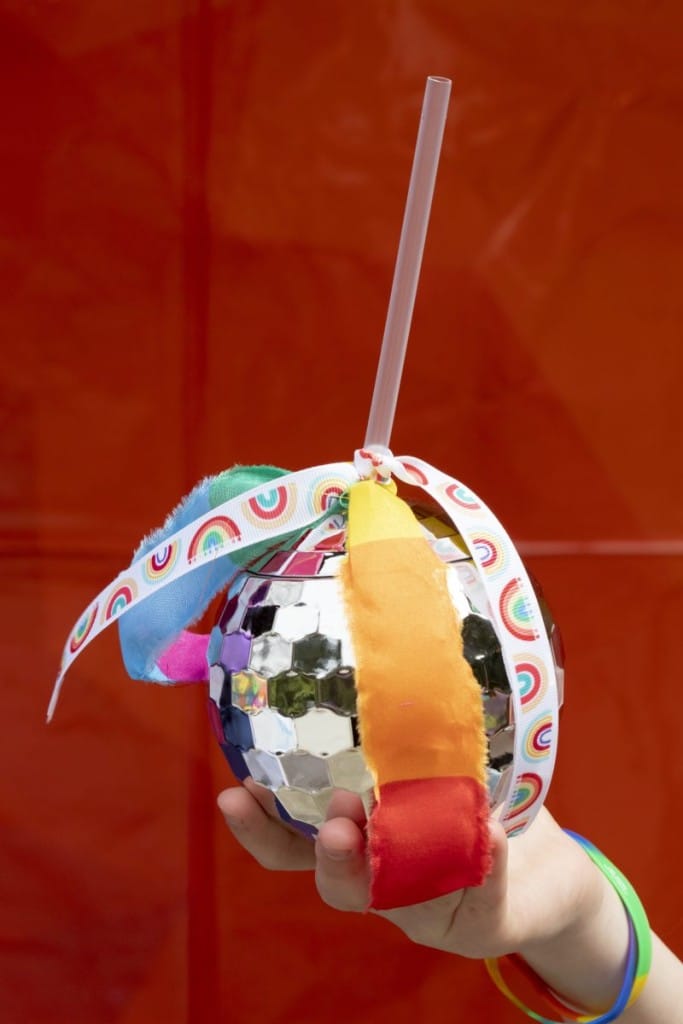 The bottom shelf held bottles of drinks and rainbow disco ball tumblers. The perfect Pride party cup!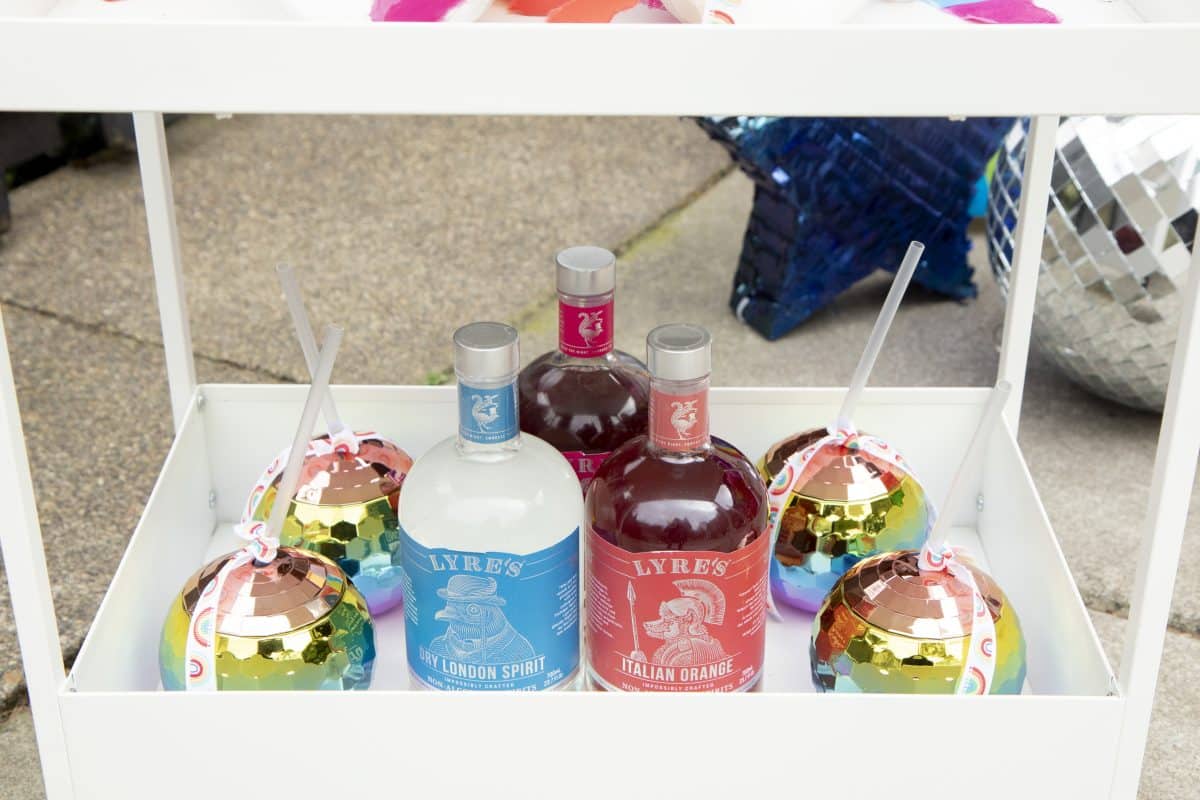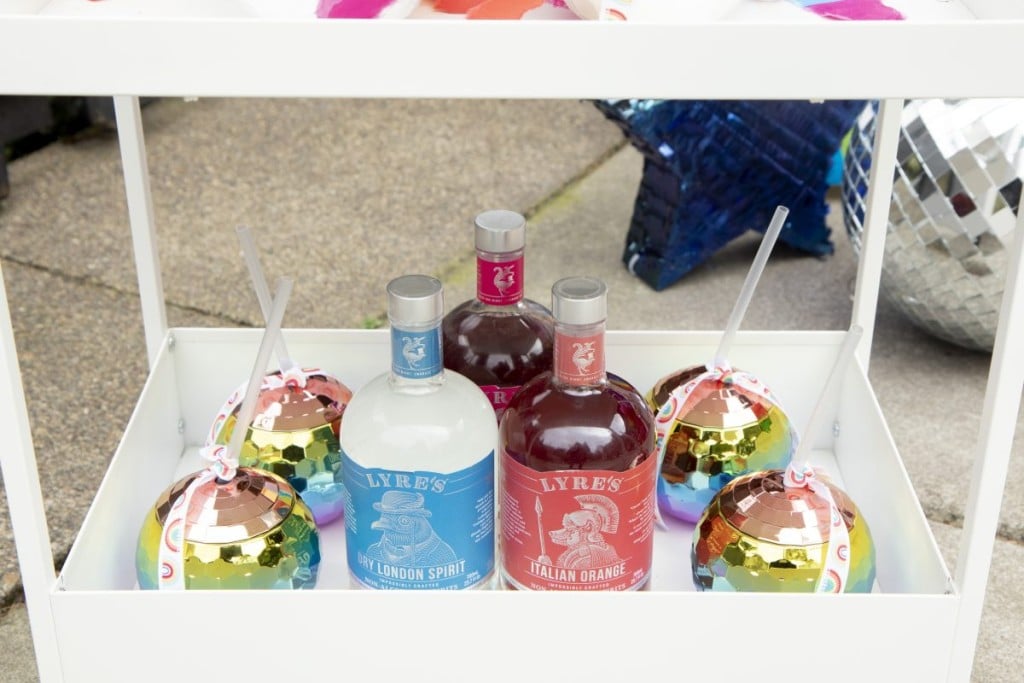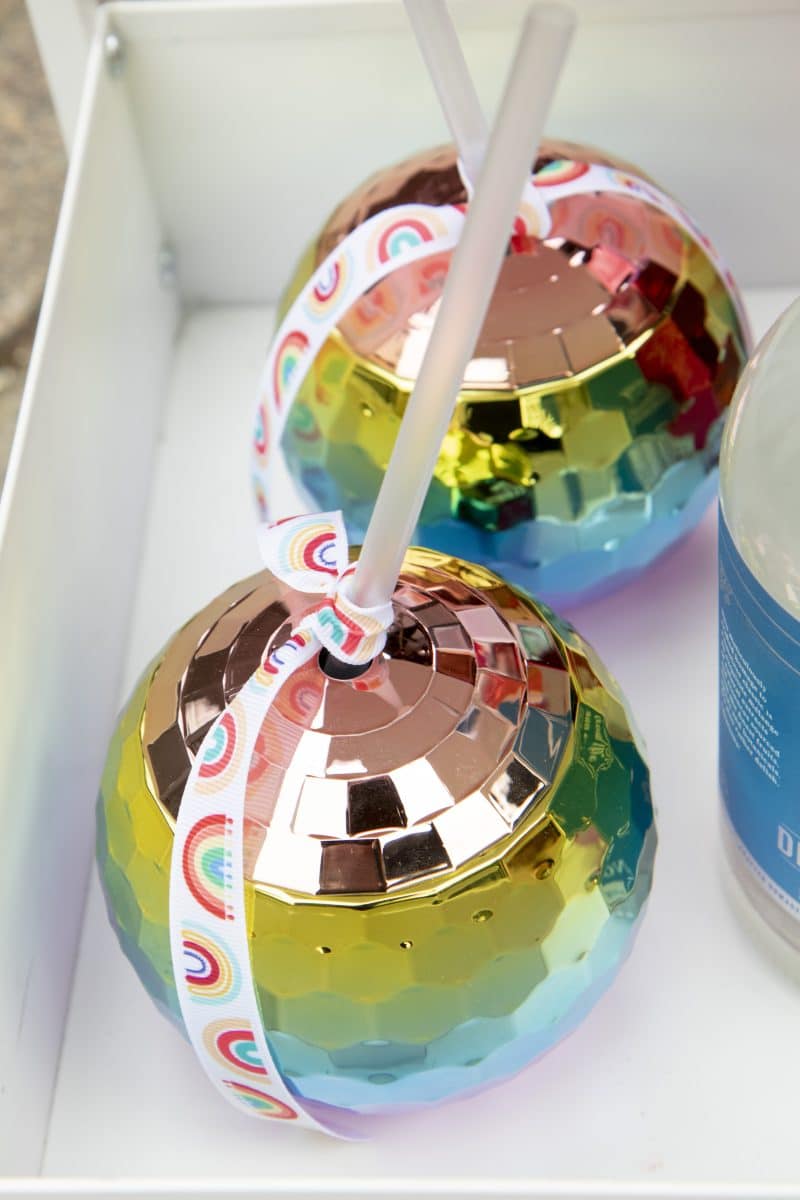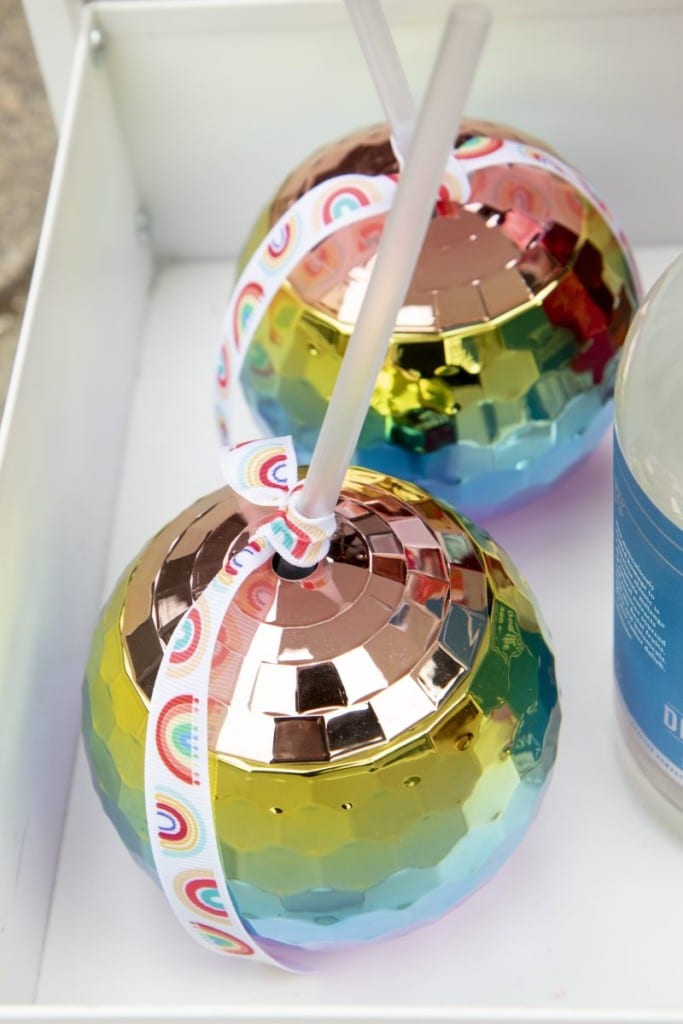 Snack & Dessert Station
At the opposite side of the driveway, I used another rolling cart to hold my snacks and sweet treats!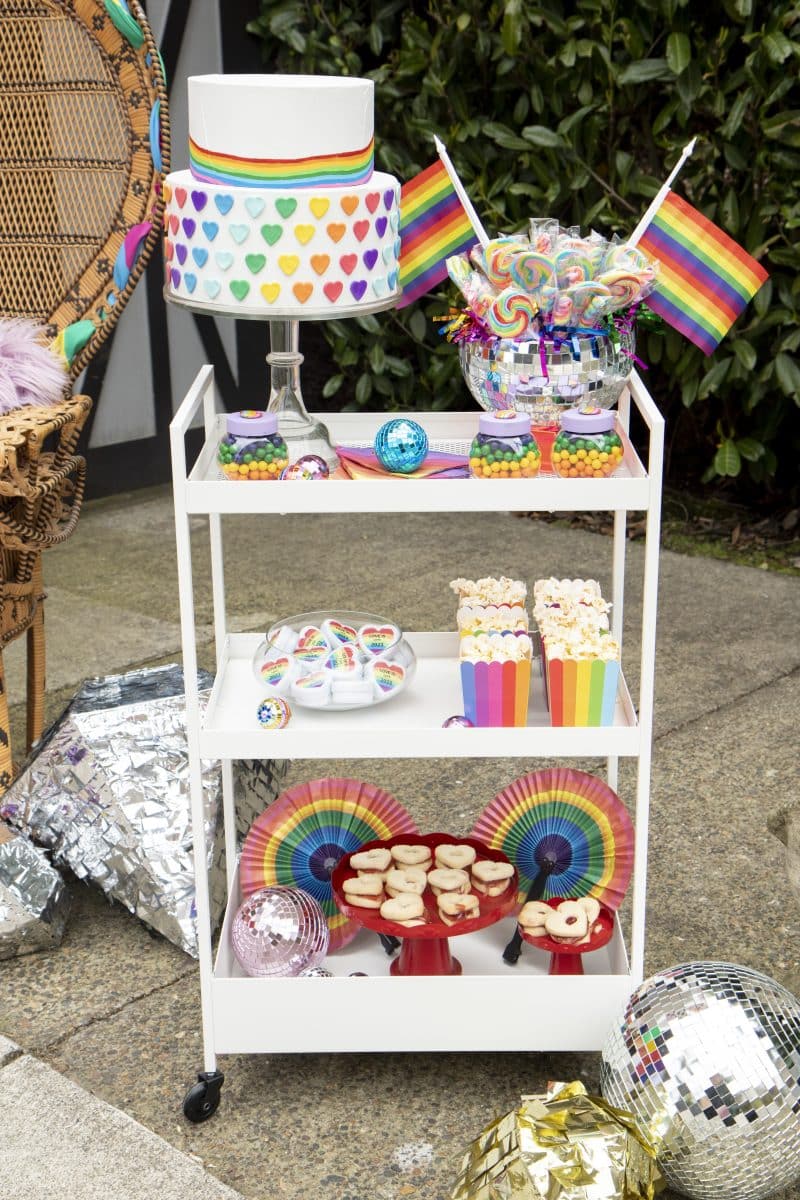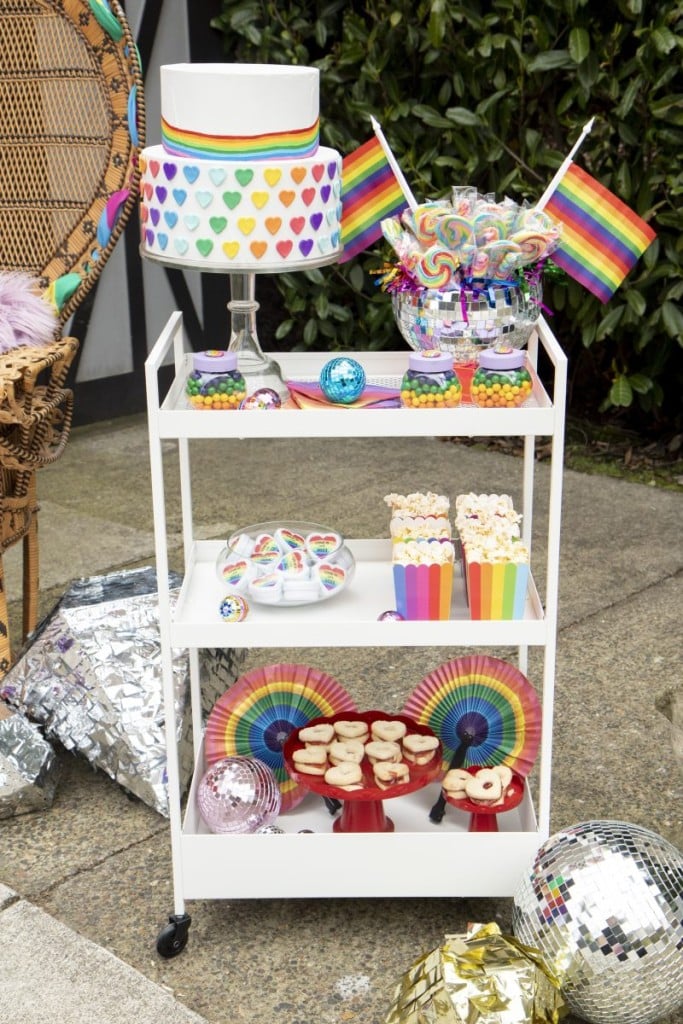 This top shelf contained a disco ball bowl of rainbow swirl lollipops (I placed these in a bed of metallic rainbow fringe and added rainbow flags to the bowl), a rainbow heart cake, rainbow napkins, and some DIY rainbow candy favor jars.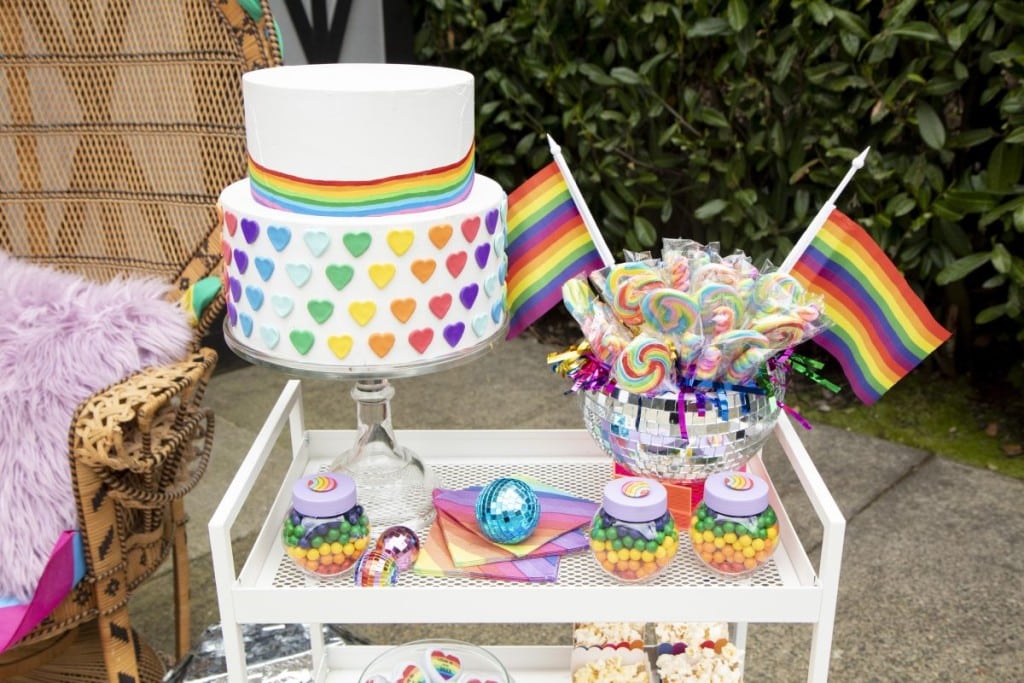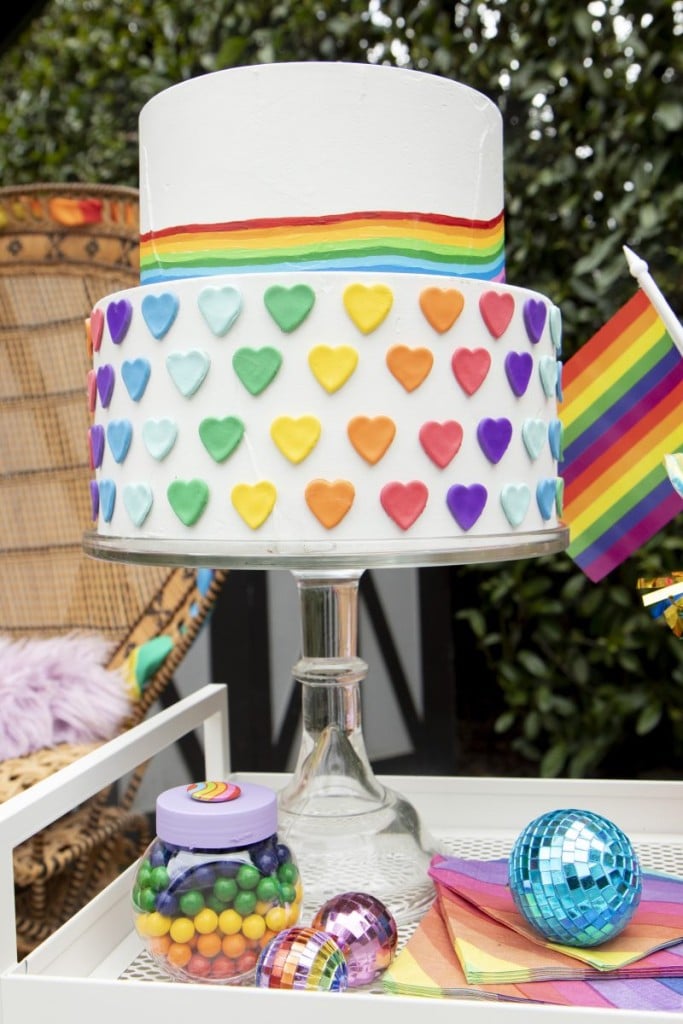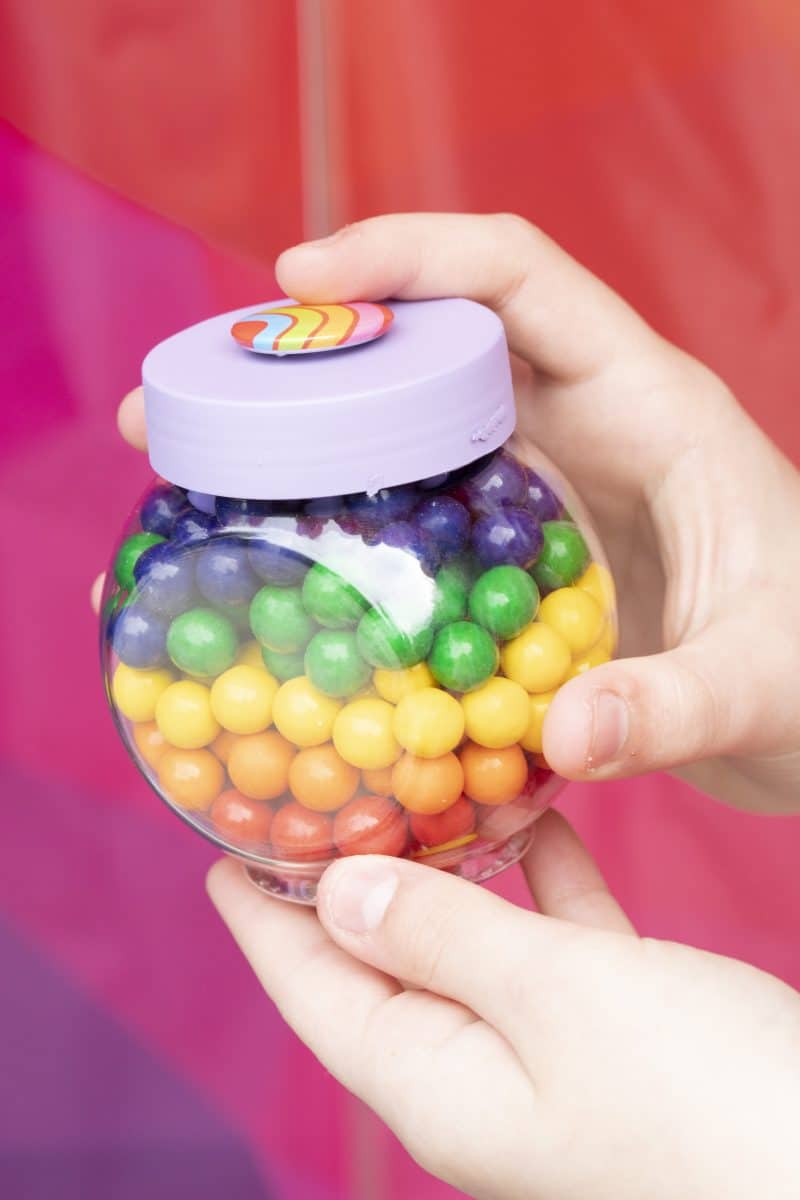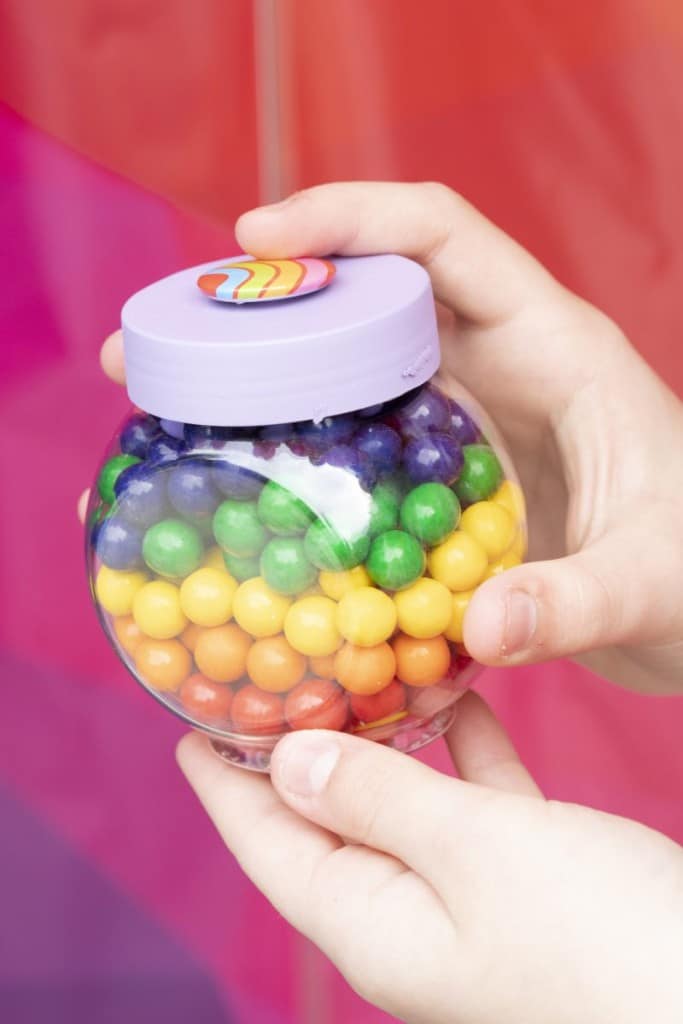 The middle shelf had a jar of "Love is Love" mint containers and bright and colorful popcorn boxes.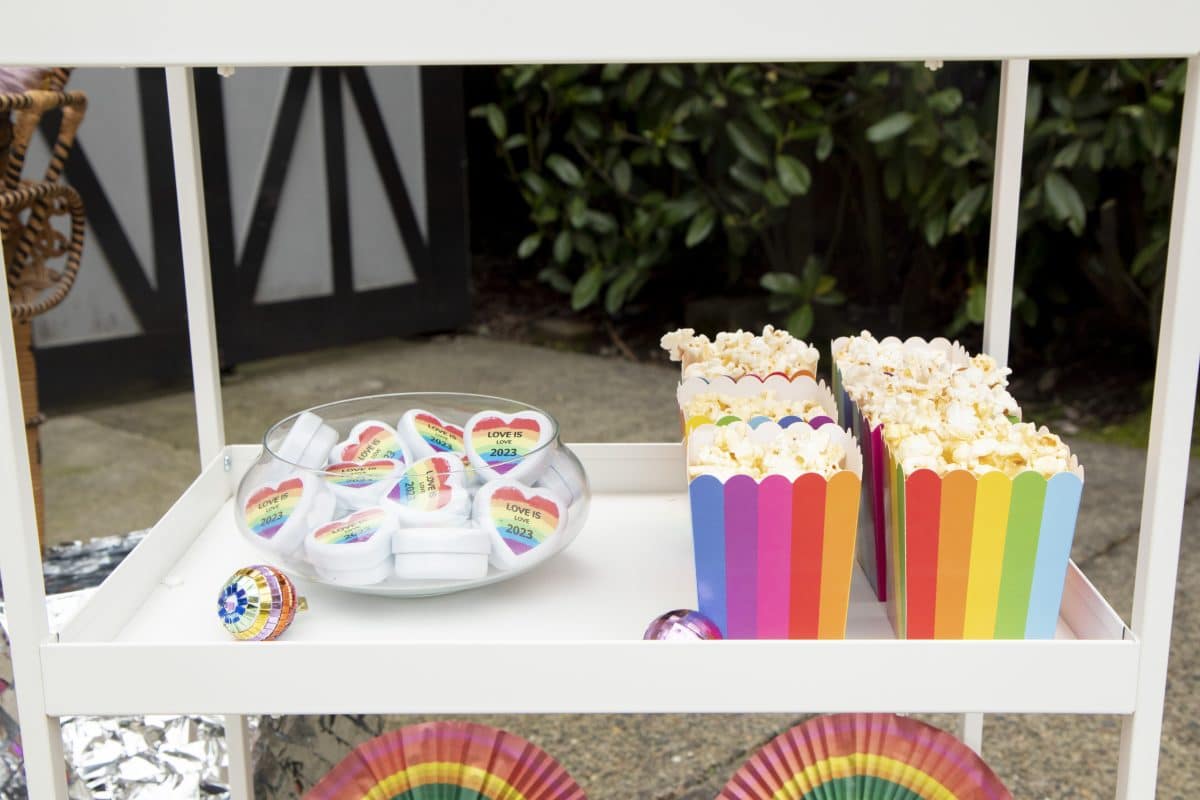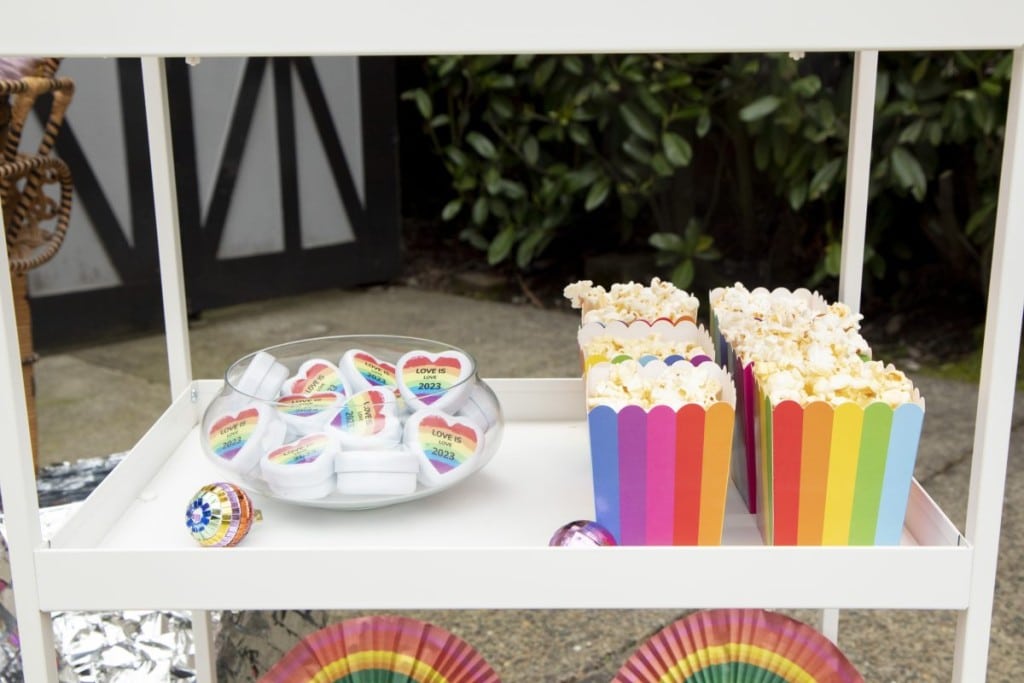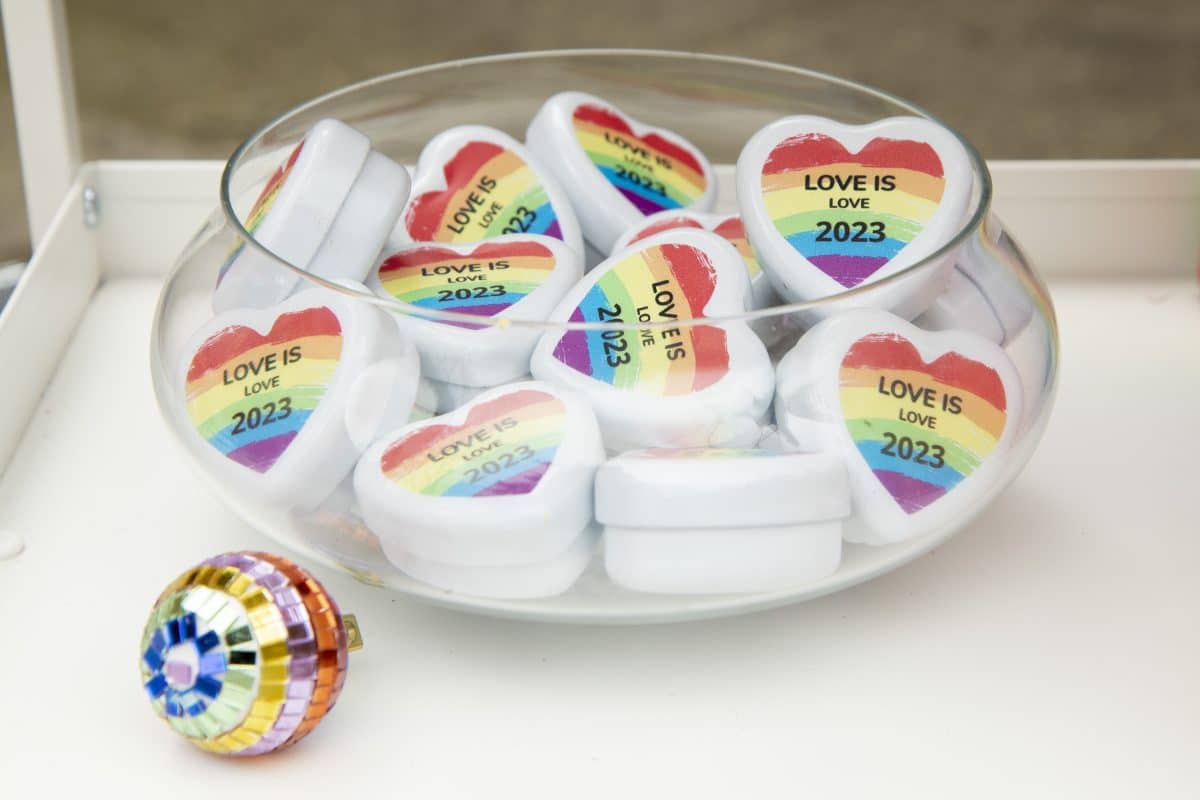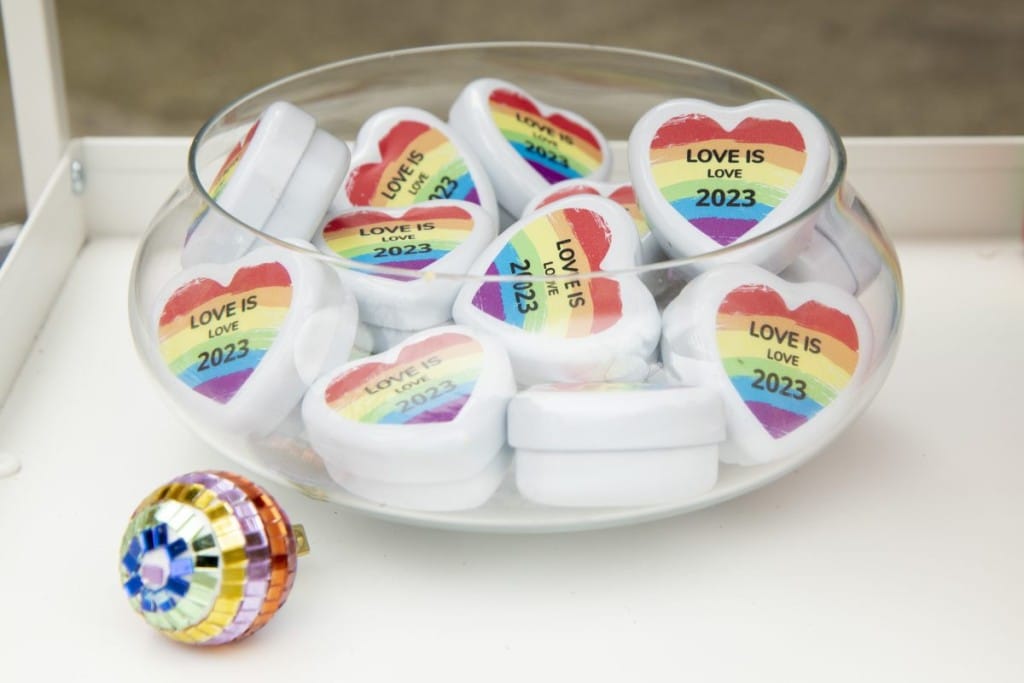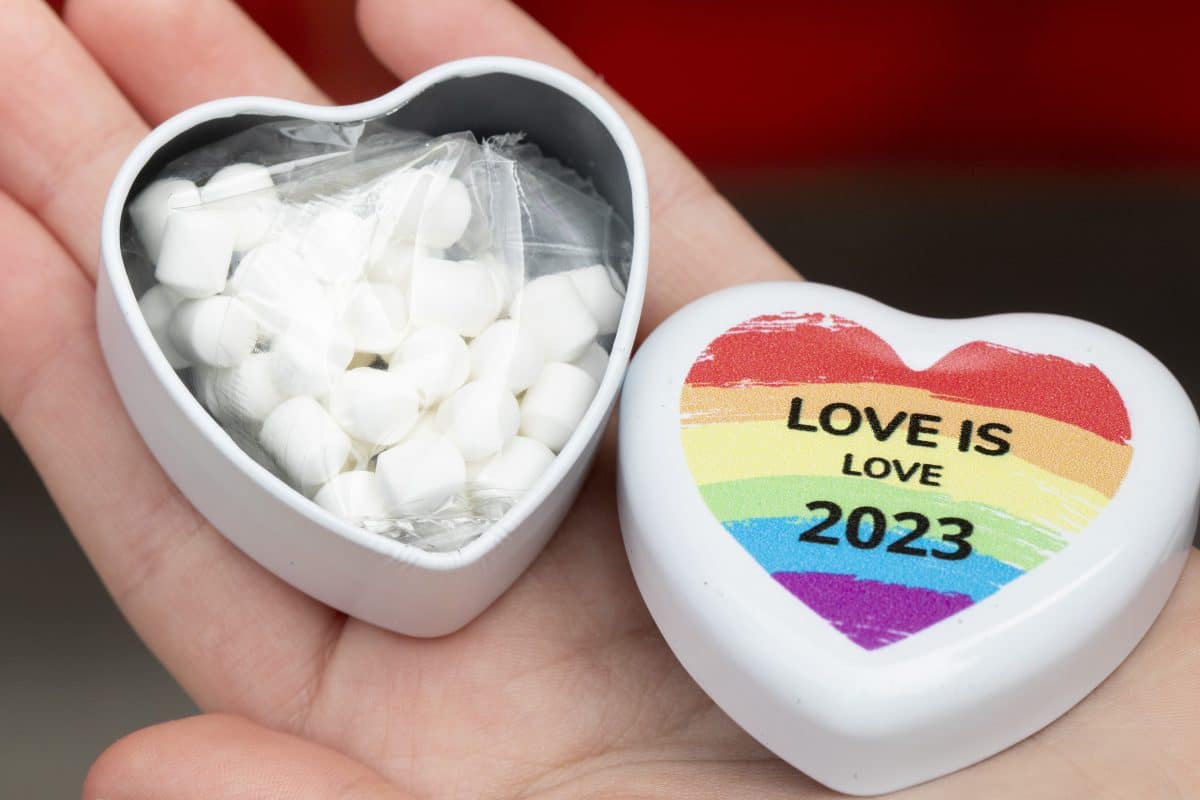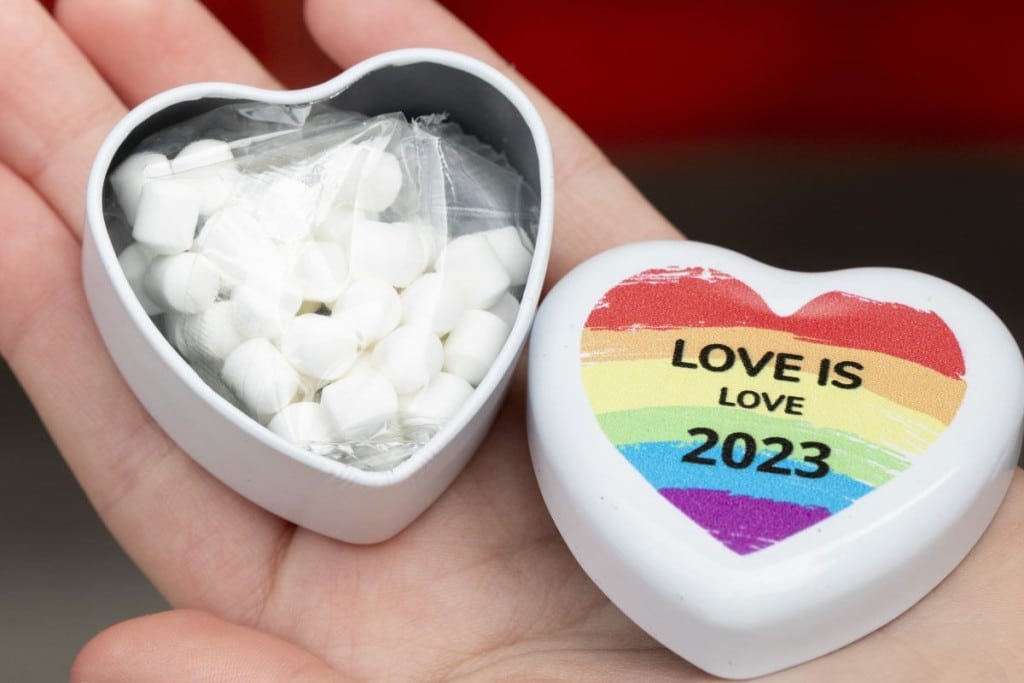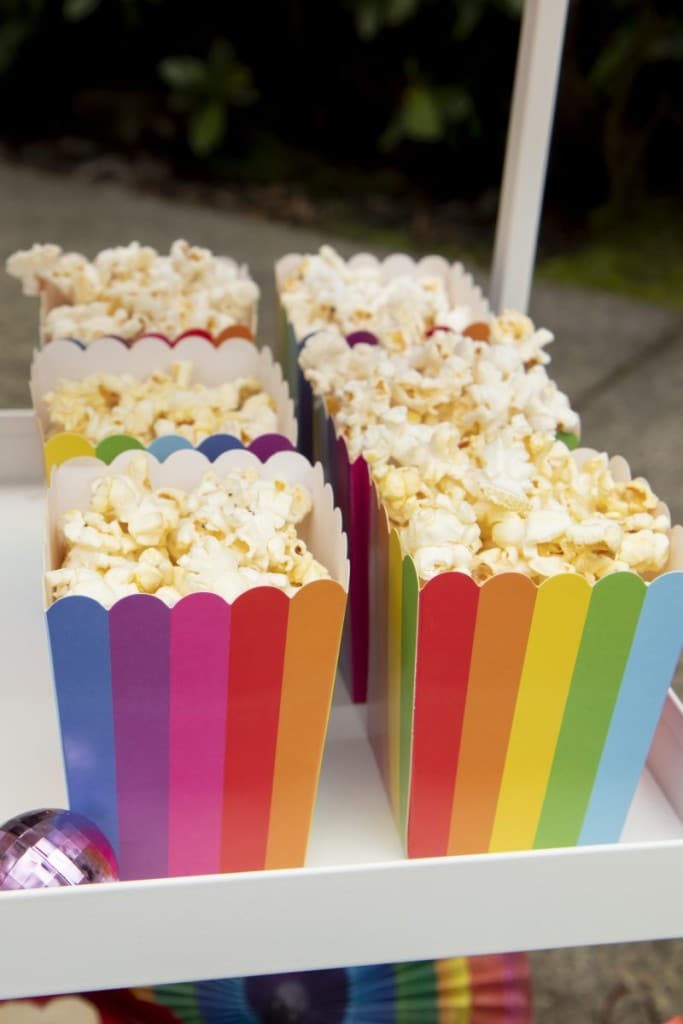 On the bottom shelf, I placed two stands of jam-filled heart cookies. A variety of disco balls and more rainbow fans added some flair to this shelf.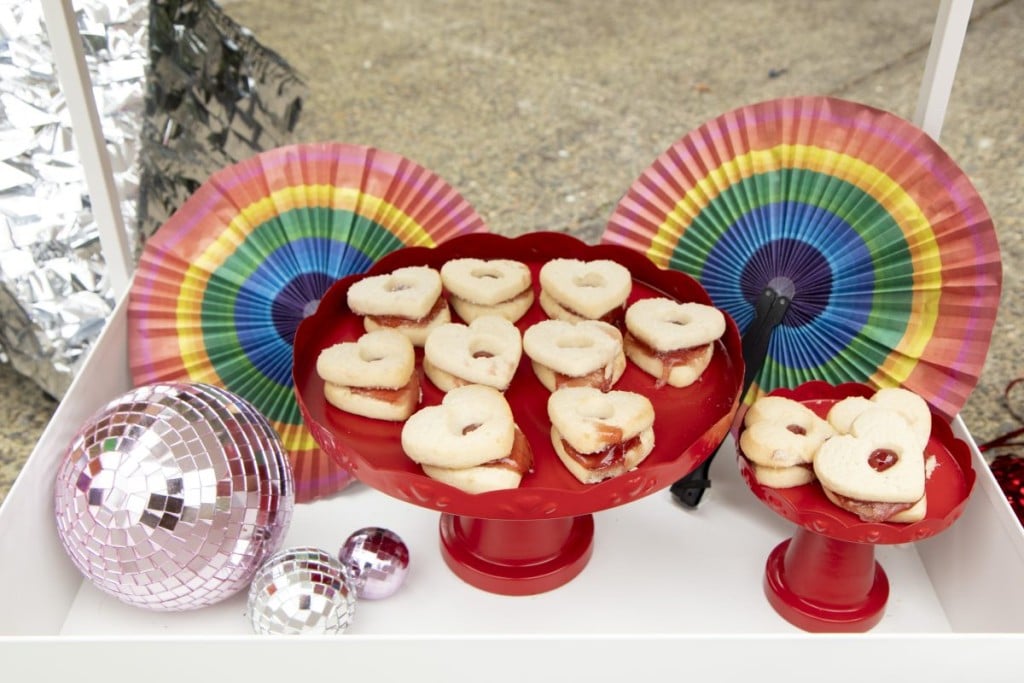 For a bit of extra decor, I used a disco ball and one of my lawn statue planters filled with metallic fringe as hair next to the snack and dessert cart.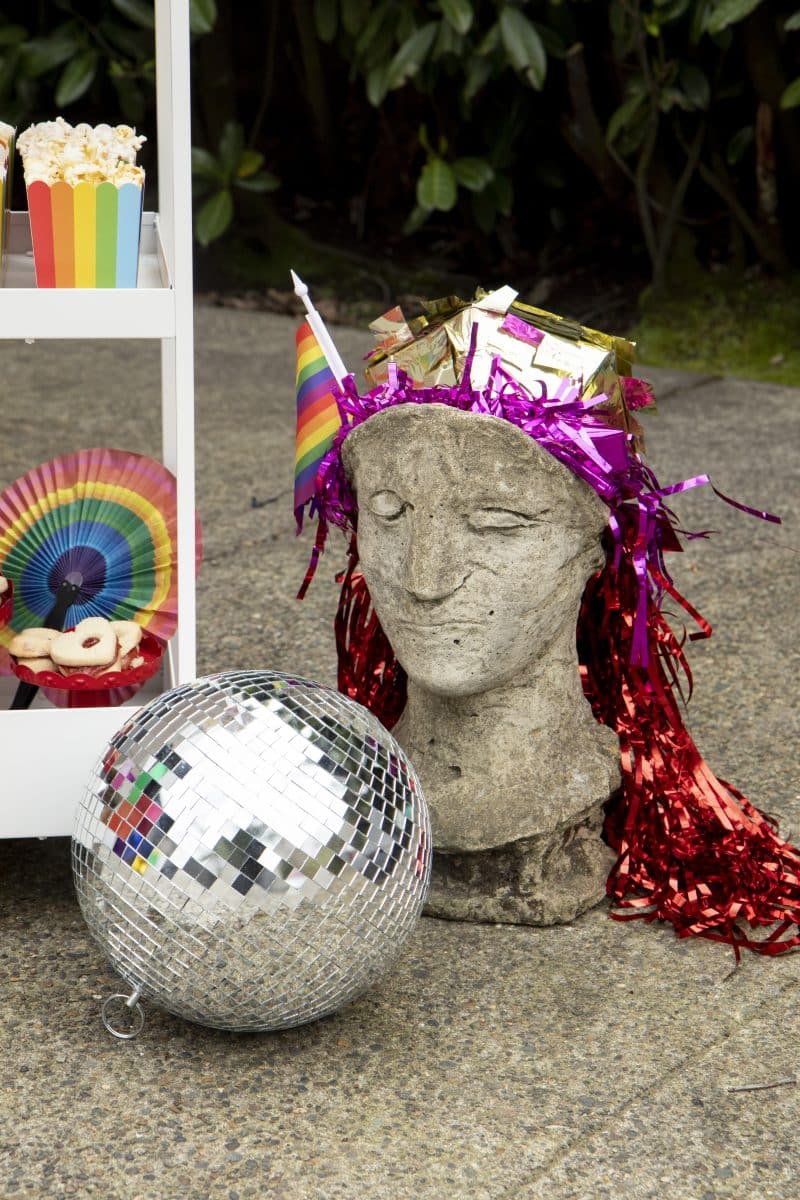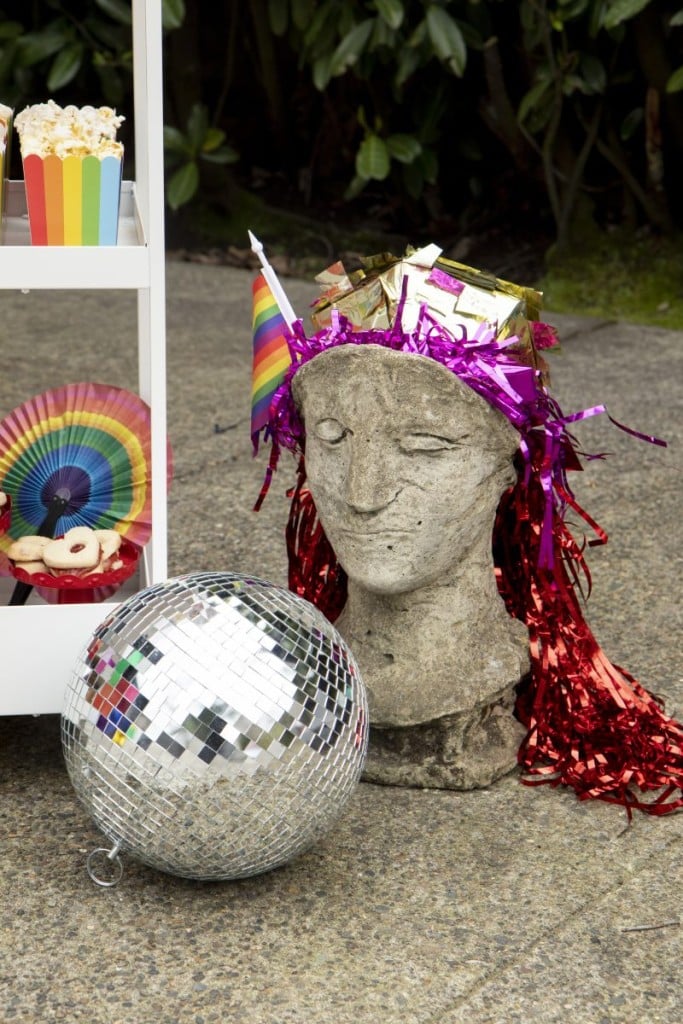 Pride Party Kits
To help my guests celebrate Pride all month long, I set up a station with Pride Party Kits for them to take home to keep the party going. These are also great for giving to neighbors who may not be able to make it to the party, so they can celebrate too! I used a wooden stand decorated with layered metallic fringe for this.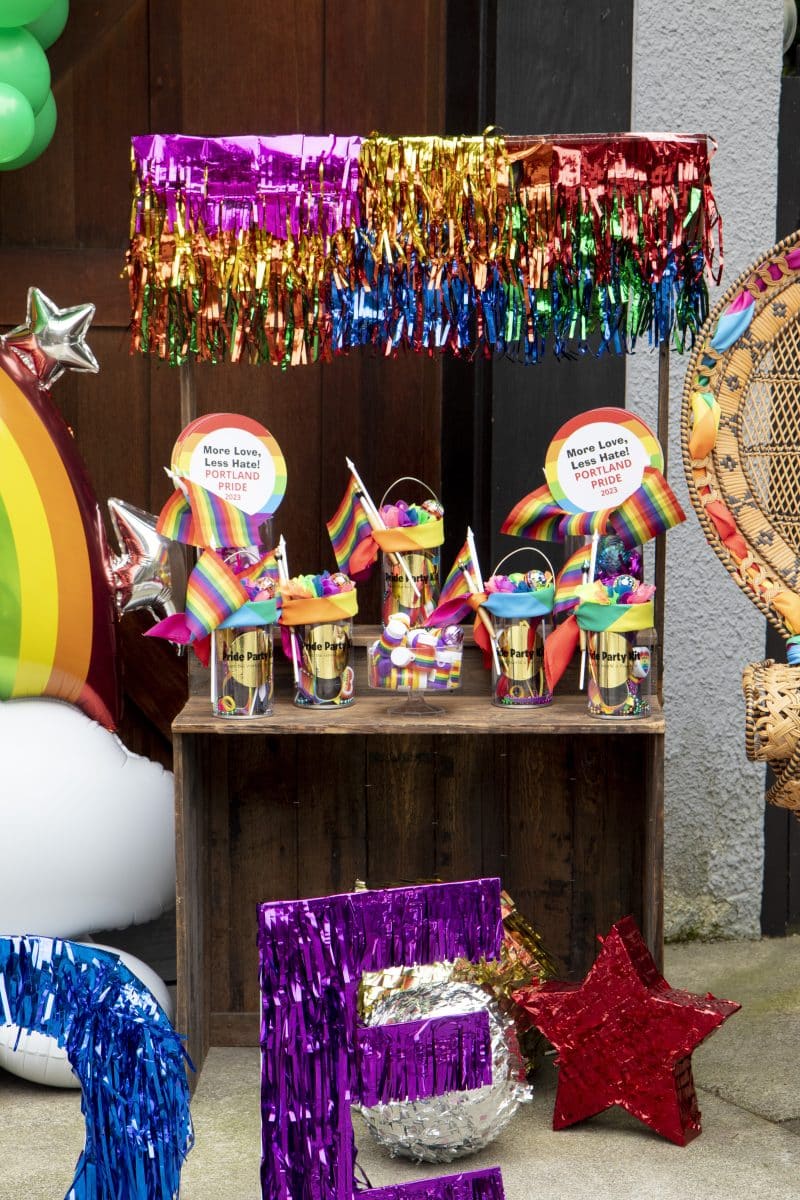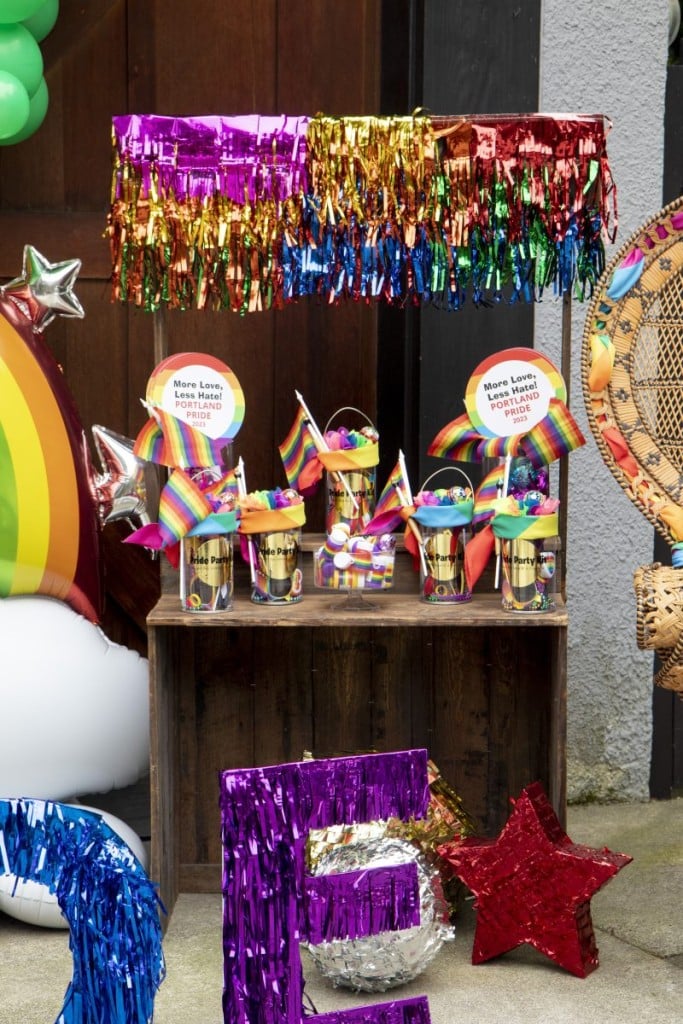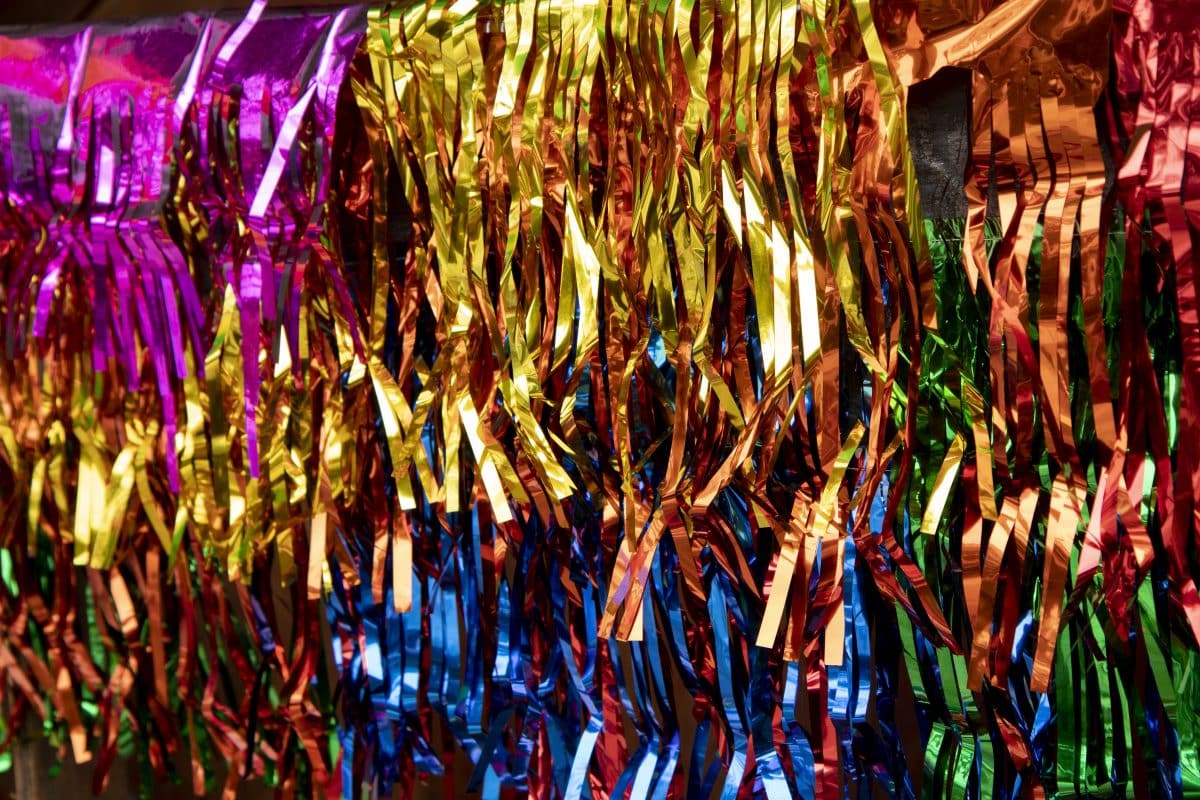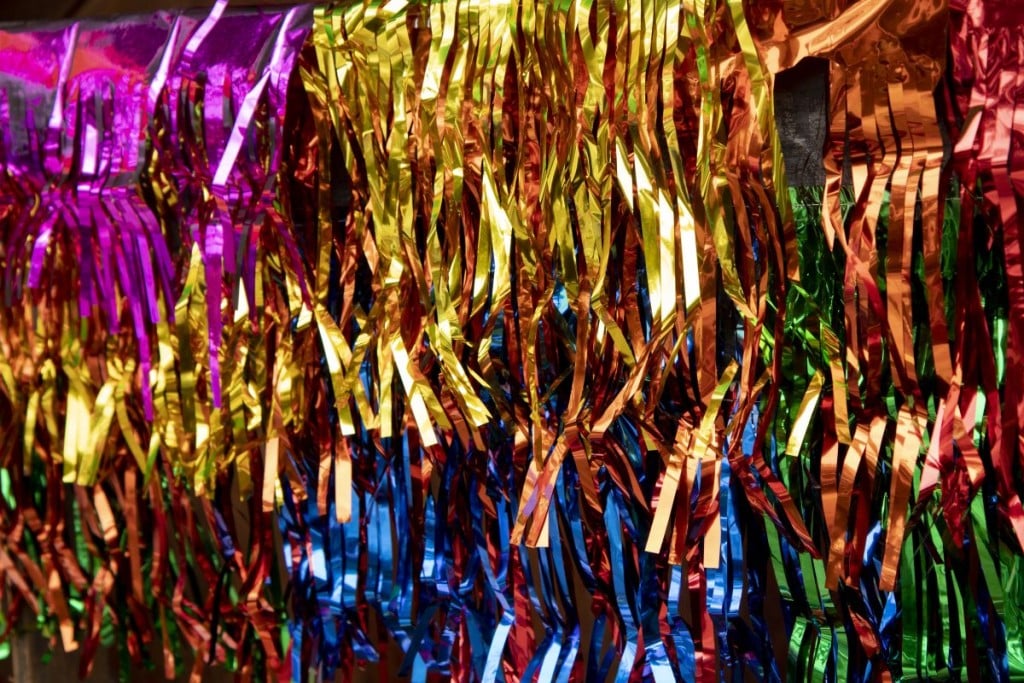 The kits were artist-themed, so guests could "paint" the neighborhood with pride for Pride Month! I used paint can favor containers, and filled them with more of the rainbow wearable favors.  Each paint can was wrapped with a rainbow bandana that held a pride flag and a "paintbrush" pen. In the center of the kits, I also set out a bowl of rainbow bubble containers.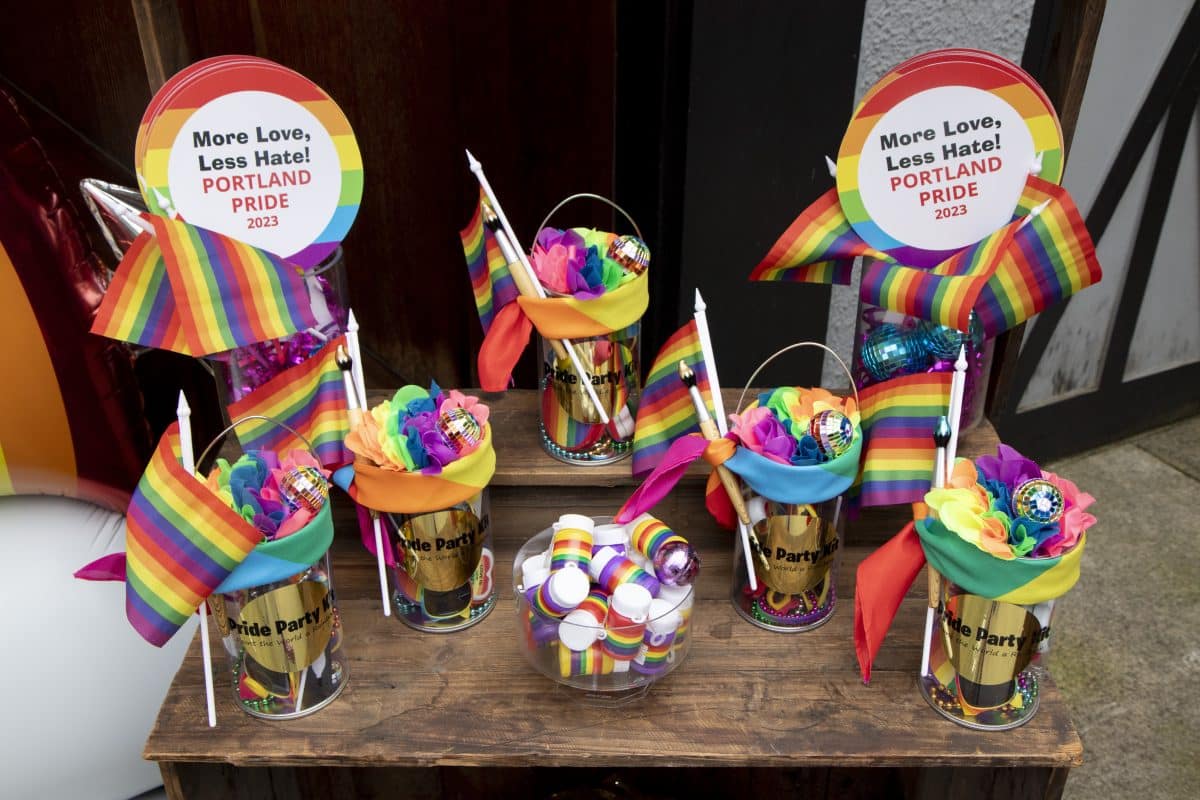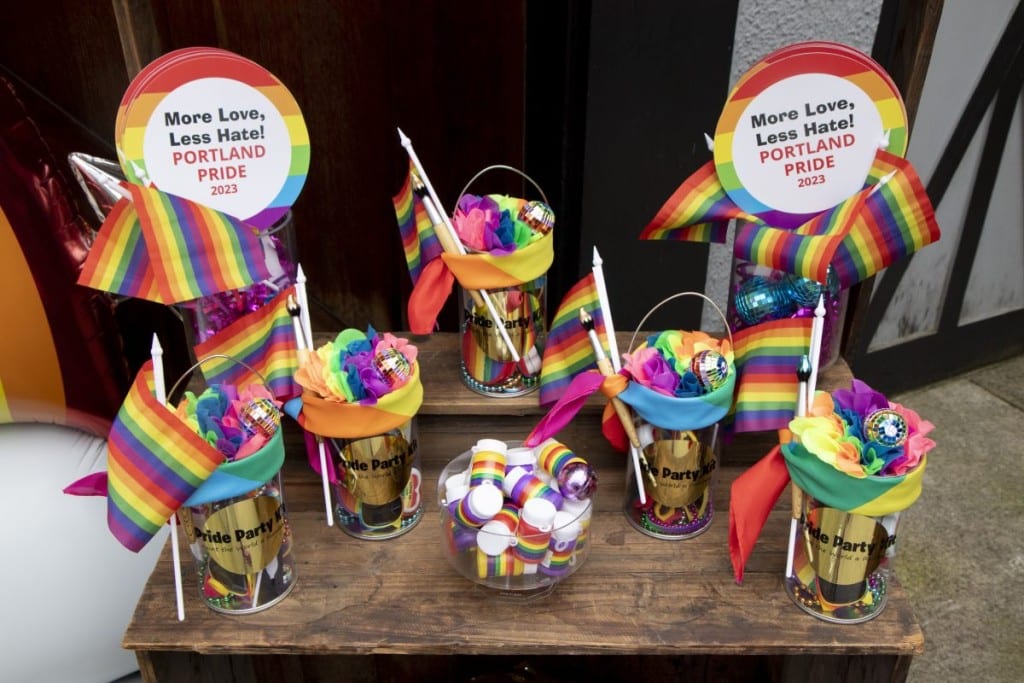 I also provided "More Love, Less Hate!" fans for everyone to take home. These were personalized for our city and can easily double as signs for neighbors' yards or windows.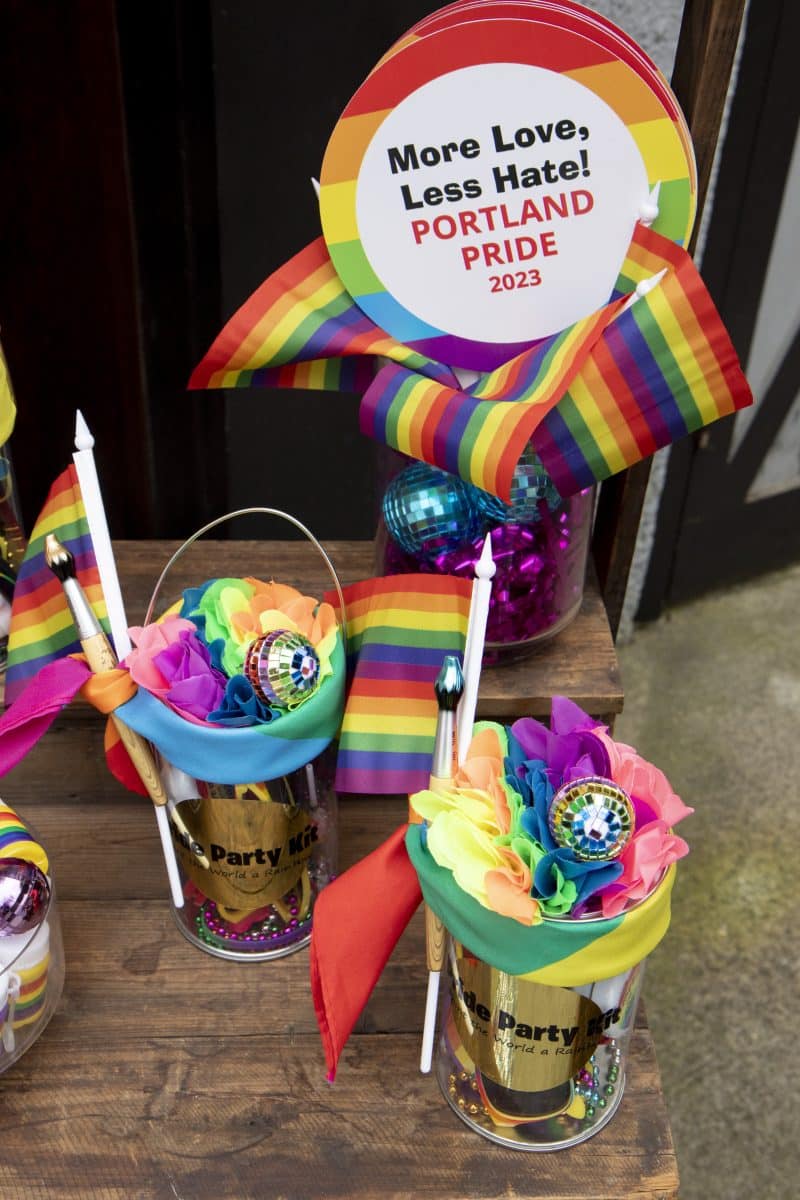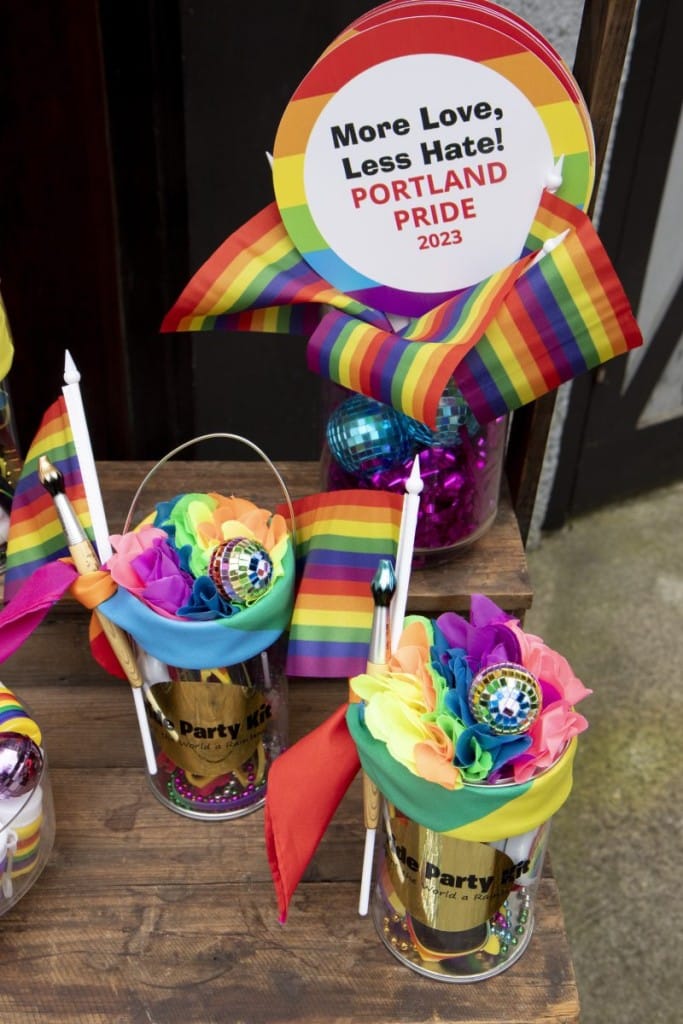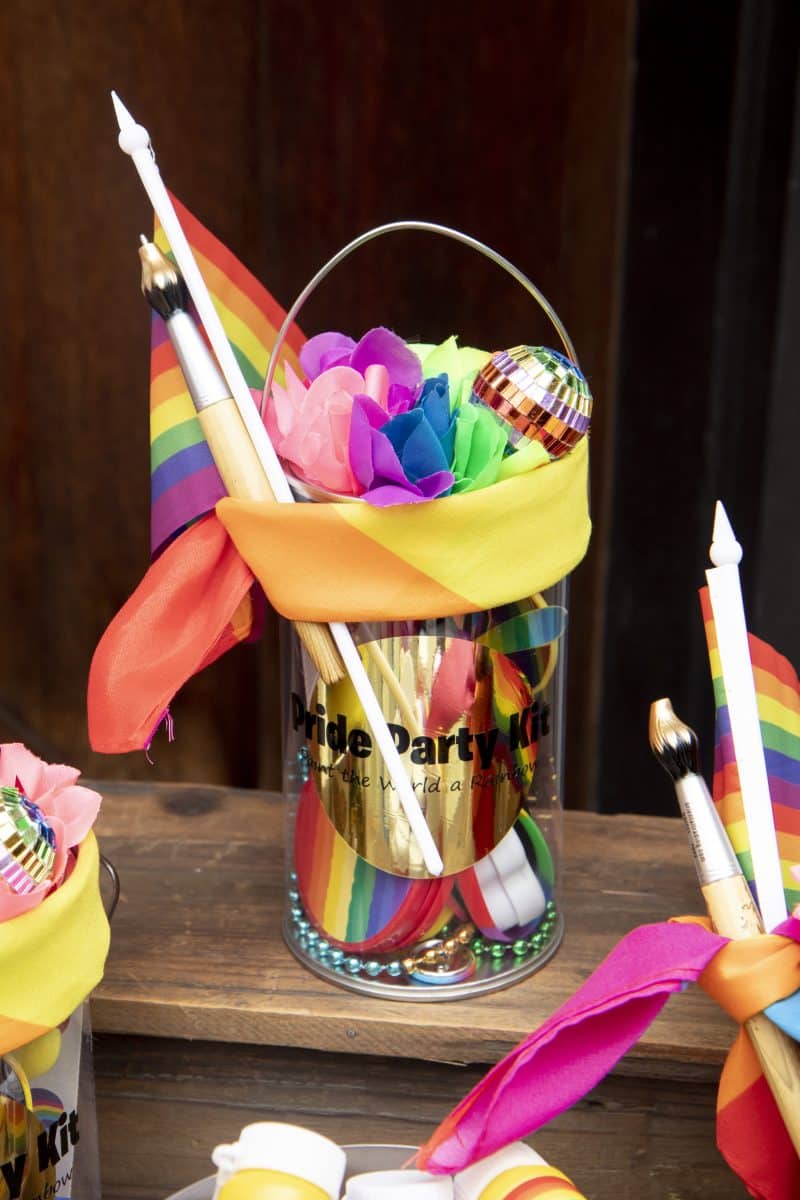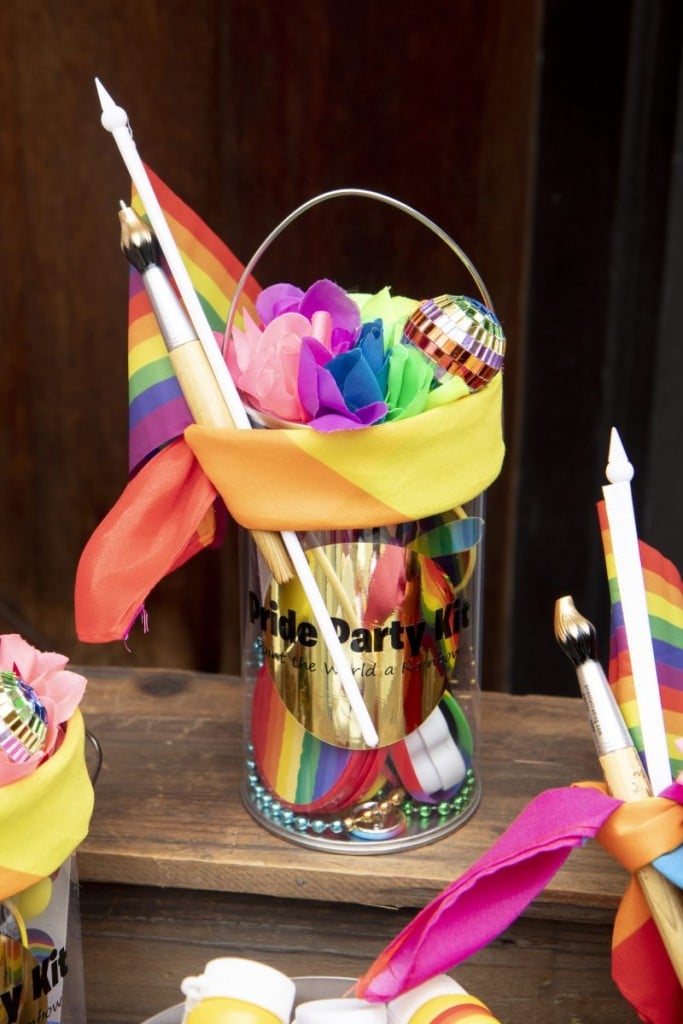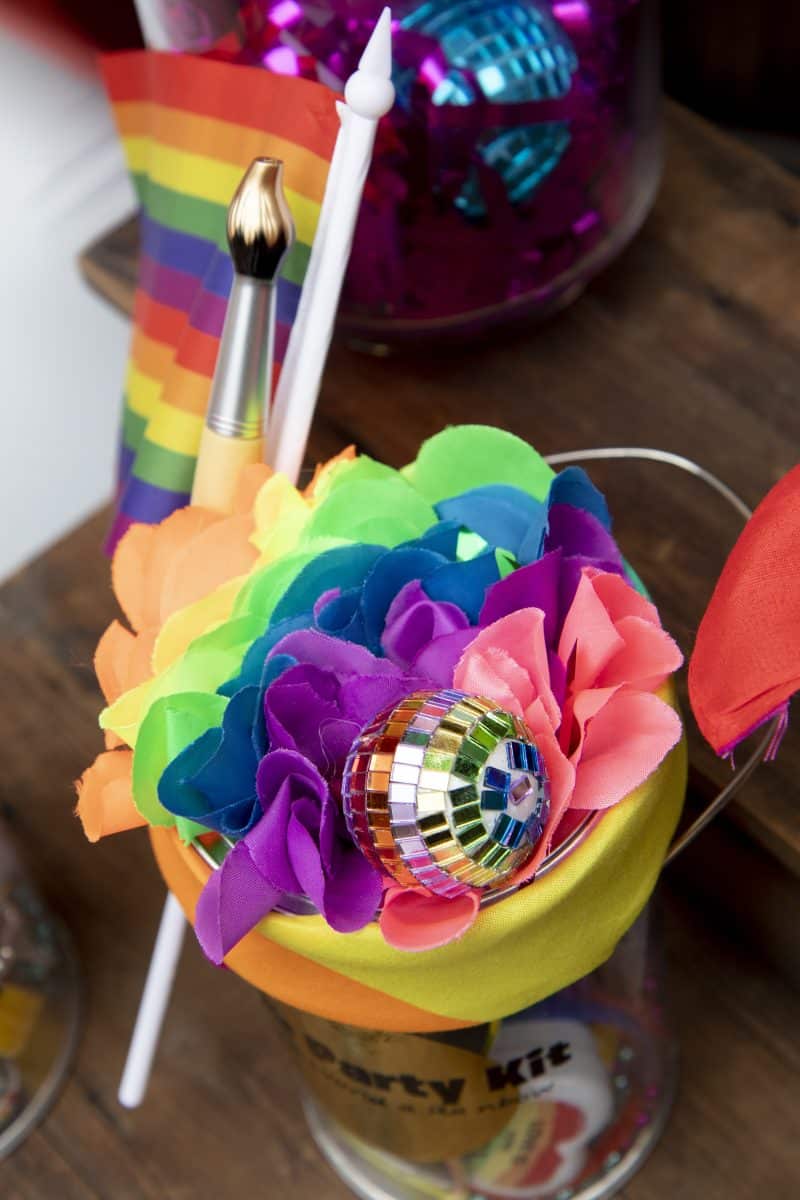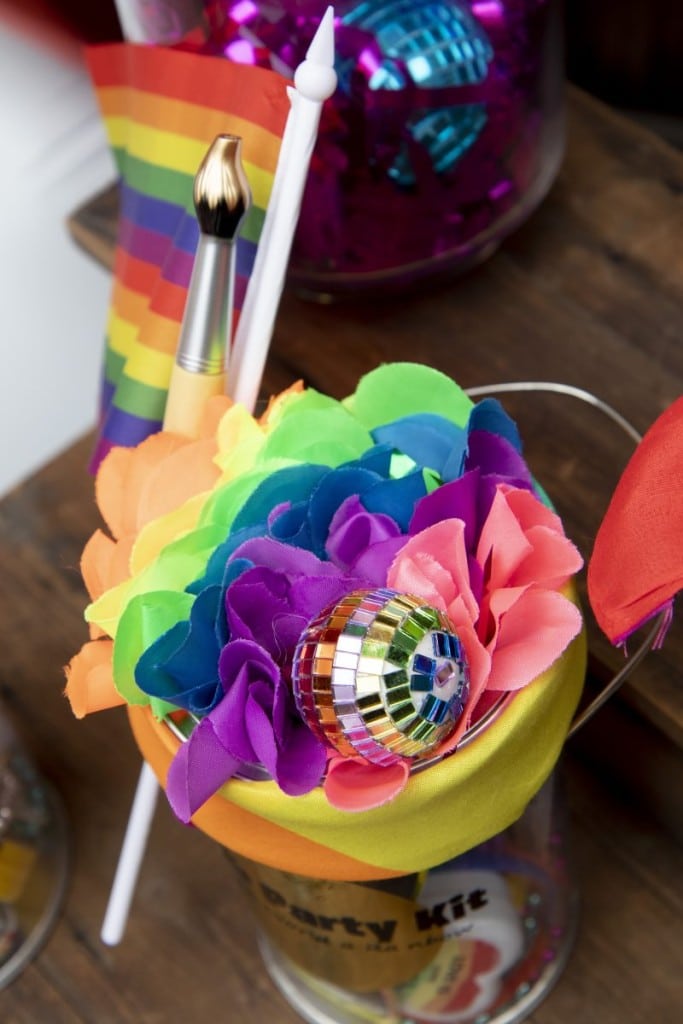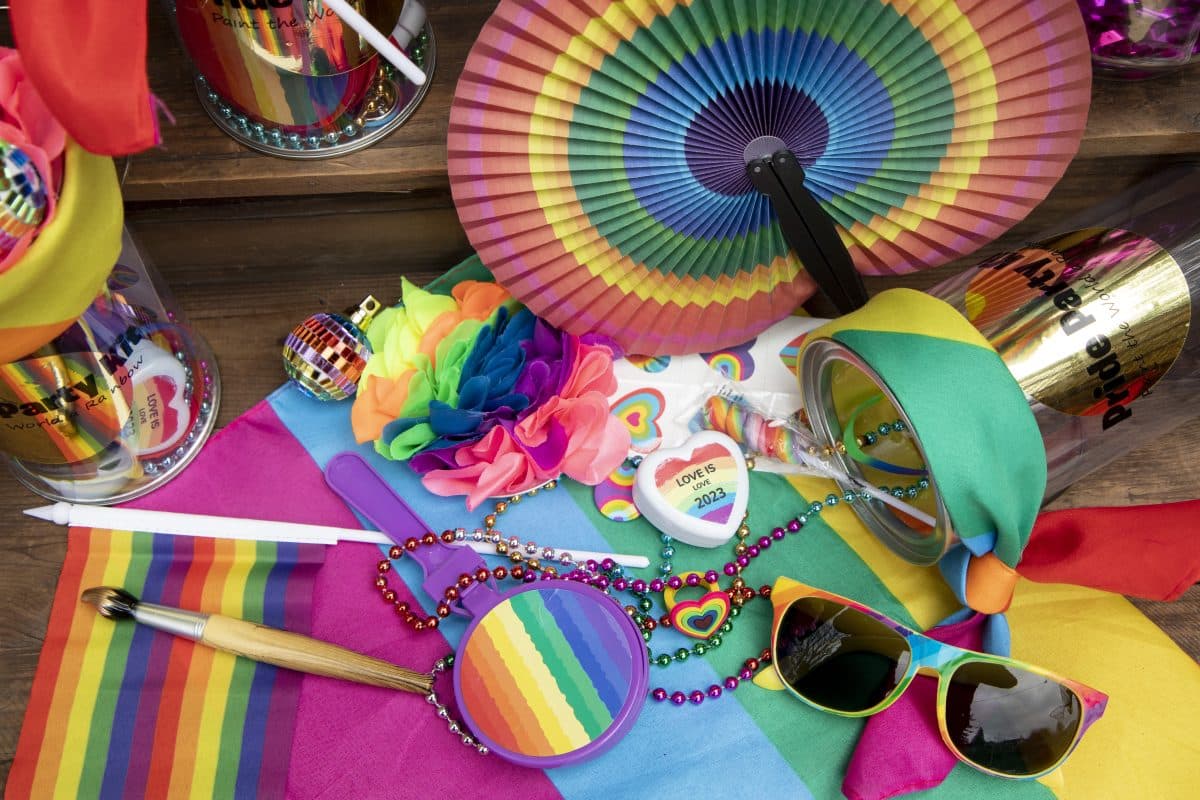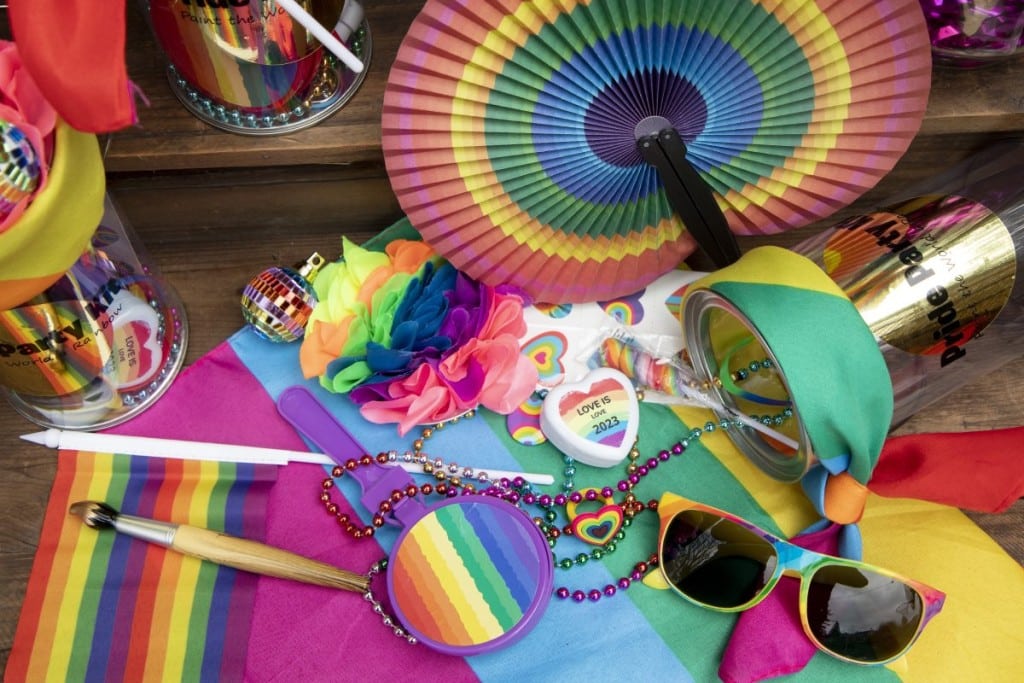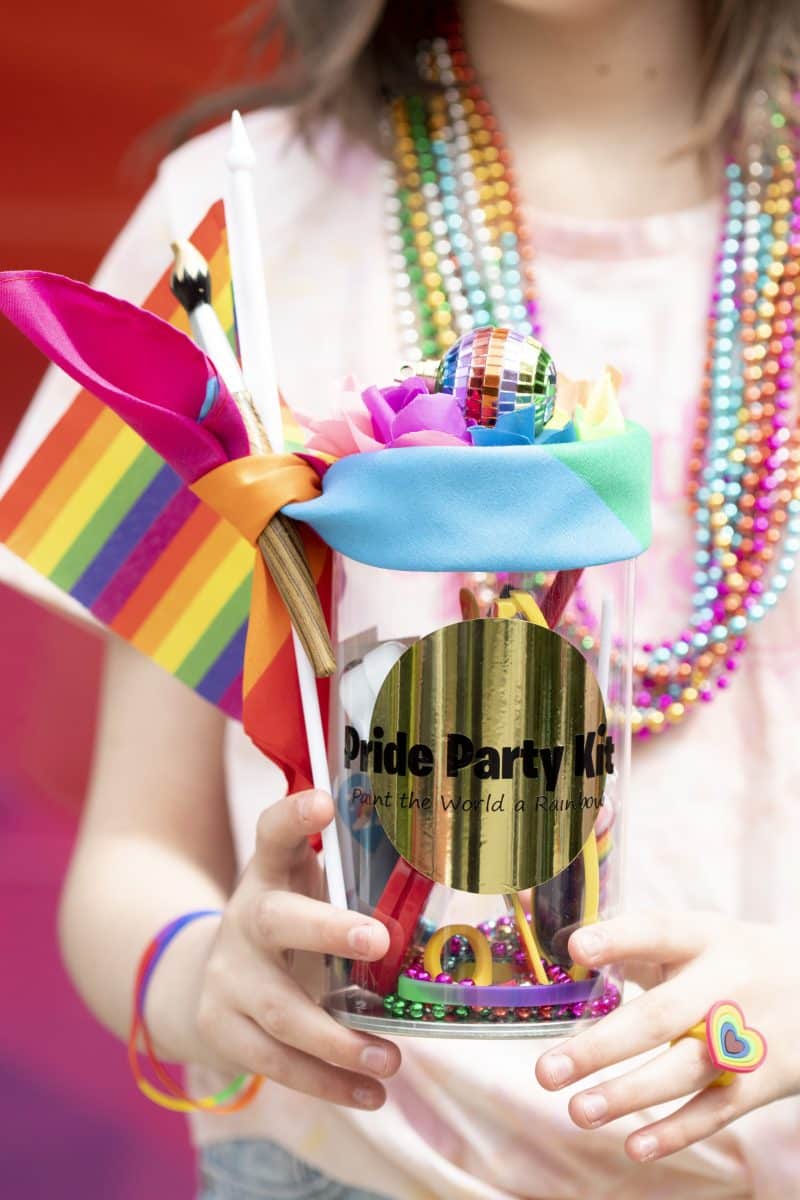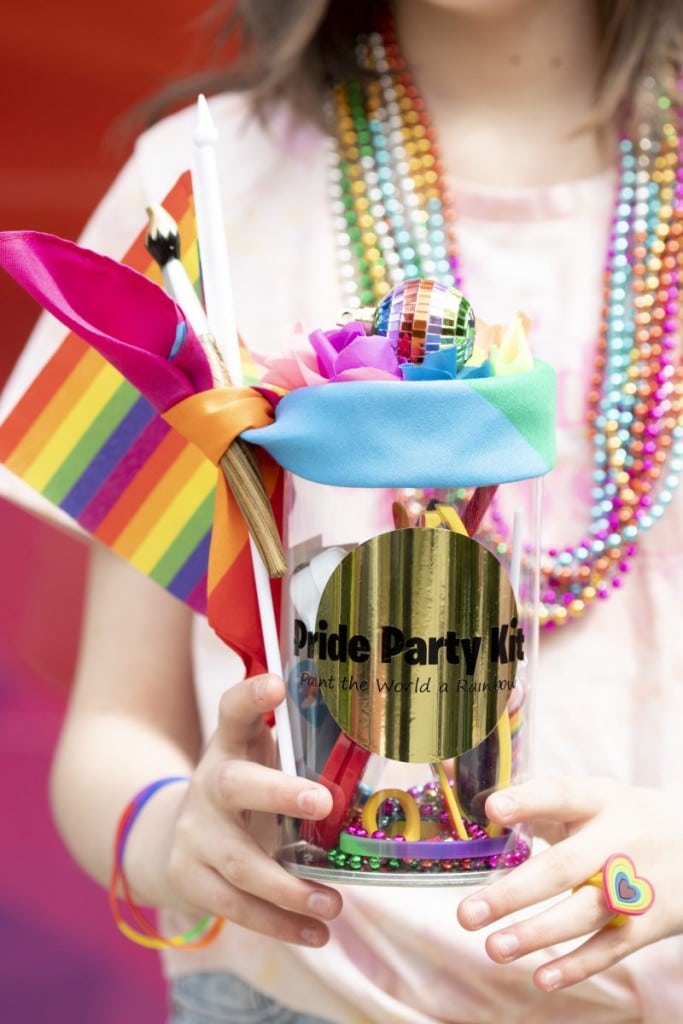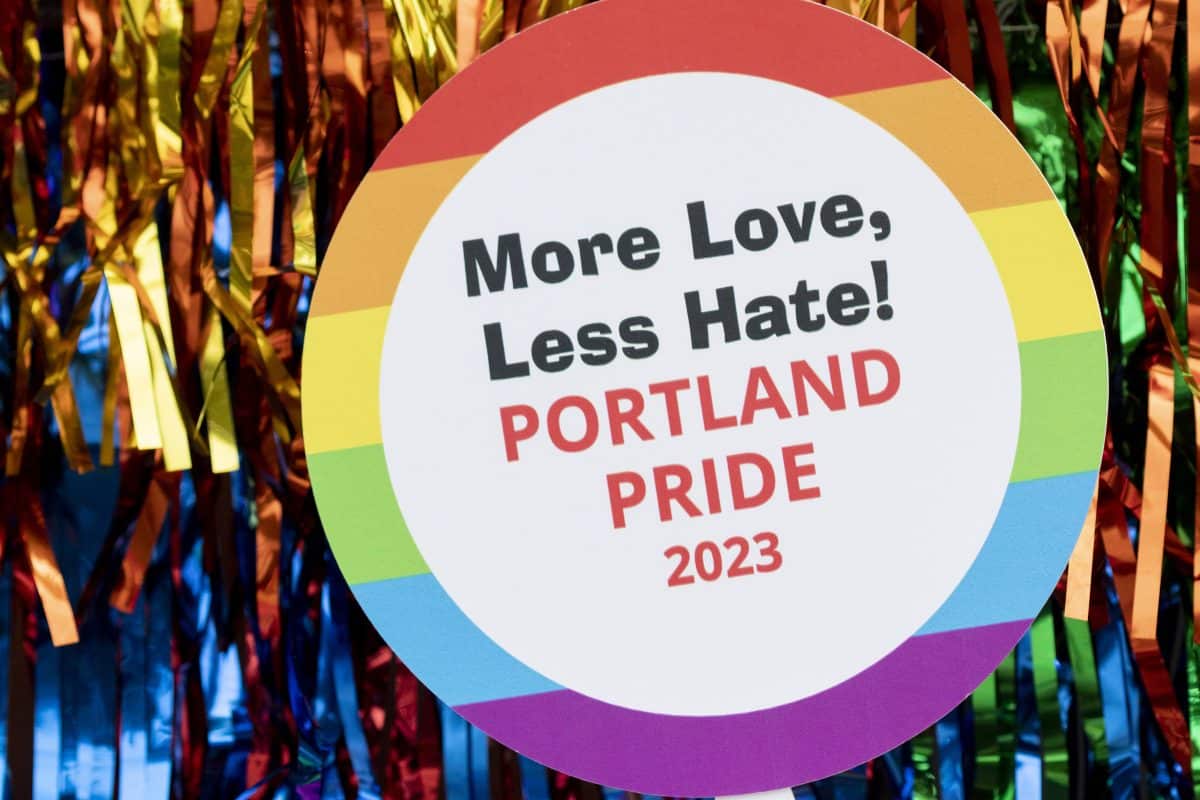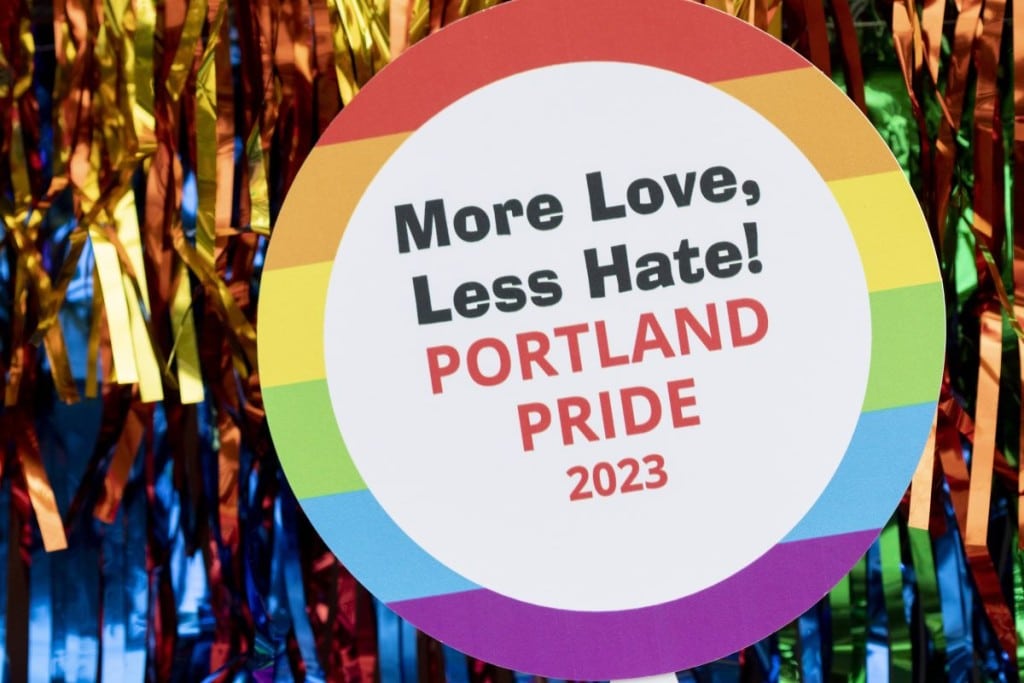 So, there you have it— a guide to throwing an unforgettable outdoor Pride party! It's essential that everyone can show their true colors and feel safe in whatever way makes them feel seen. Inviting your neighborhood to celebrate with you is the perfect way to spread some positivity and uplift the LGBTQ+ community. Here's to Pride! ✨
Happy Partying!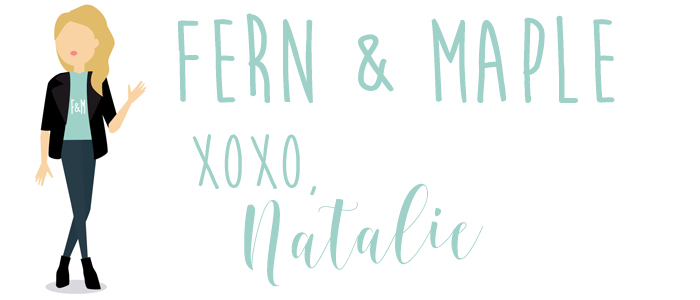 As a blogger, I sometimes receive compensation and/or products in exchange for my styling and crafting services. I also may earn a small commission from any sales that result from affiliate links on this page. As always, all project ideas and any opinions expressed here are my own. For further information on our disclosure policy please check out our disclosure page.
PIN FOR LATER: