With the warm sun shining and school out for vacation, what better way to celebrate the joyous season than by throwing a spectacular outdoor summer party for the kids? Whether you're celebrating the end of the school year, hosting a birthday bash, or throwing a "last hurrah of the summer" party, I've got you covered with a treasure trove of ideas for outdoor summer party decorations, a refreshing drink station, delectable snacks, exciting activities, and delightful favors. These are the essentials of organizing a summer extravaganza outdoors that will leave both kids and parents awestruck. Read on for all my ideas and tips from when I hosted my daughter's End-of-School Summer Party!
P.S. You can shop for many of the items I used in this party or similar in my Amazon Shop!
How to Set Up an Amazing Outdoor Summer Party for Kids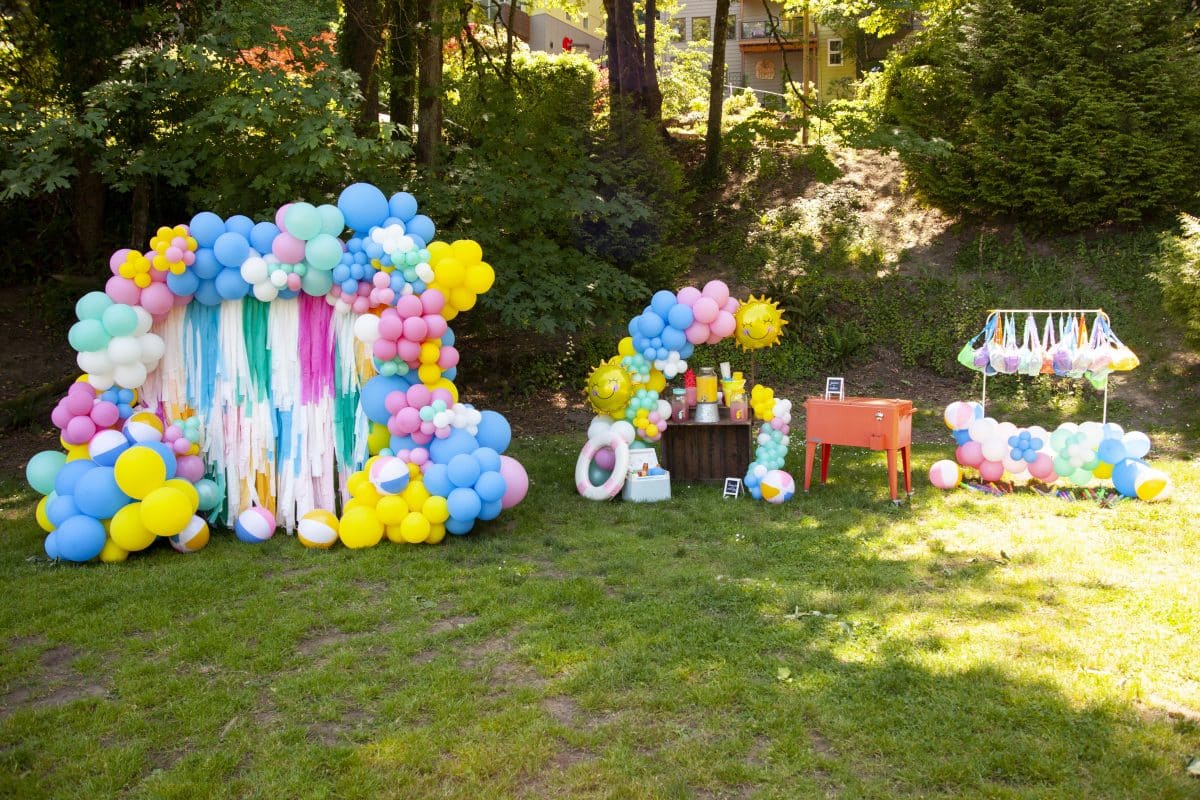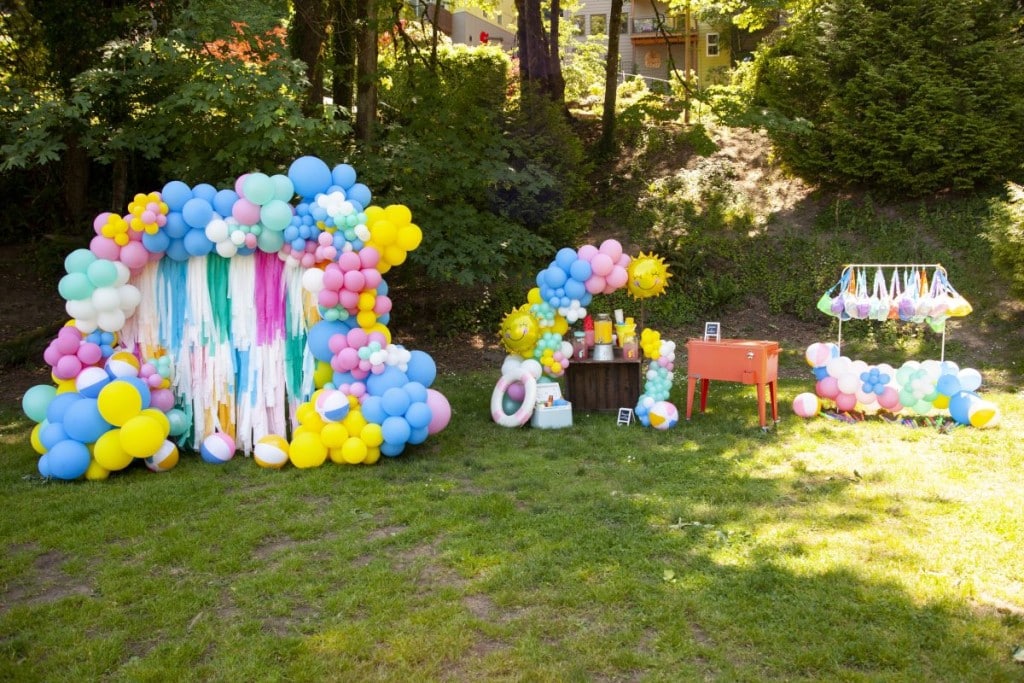 Decorations
The first thing I did was decide on a summery color scheme of pink, blue, yellow and mint, with white as a neutral base color keeping everything light and airy. Then, I set up balloon garlands for some my main party stations – a Summer Party photo booth, drink station, and favor station.
For the photo booth, I used streamers in the party's color scheme to create a fringe photo backdrop surrounded by bubbly balloons.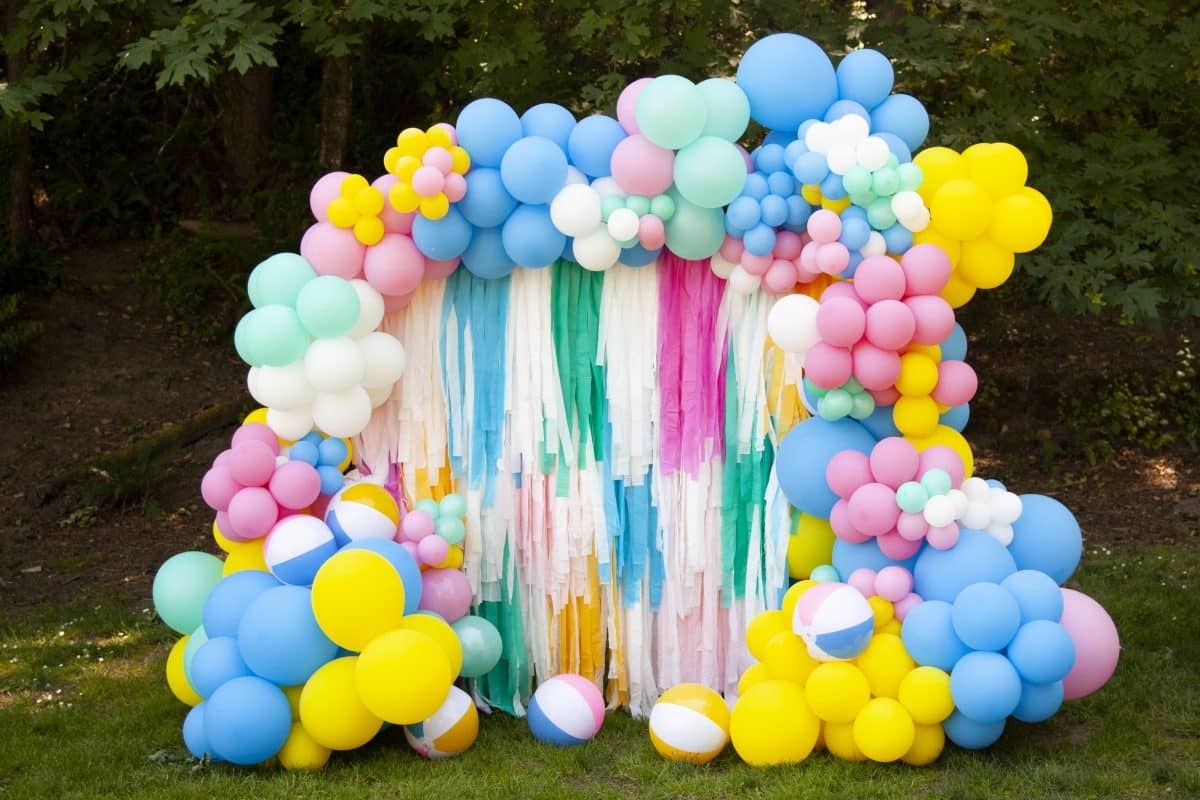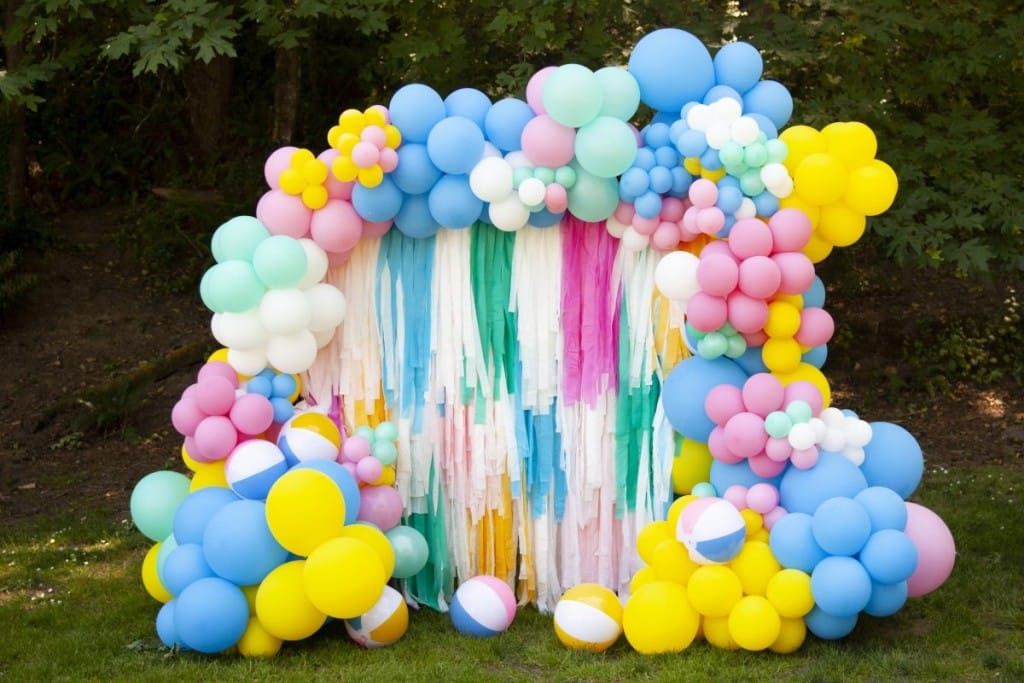 Behind-the-scenes tip: use plastic netting to loop and tie streamers in a pattern. The netting acts as a perfect grid guide for your design, and makes the front of the backdrop look organized while still feeling organic with the fringe.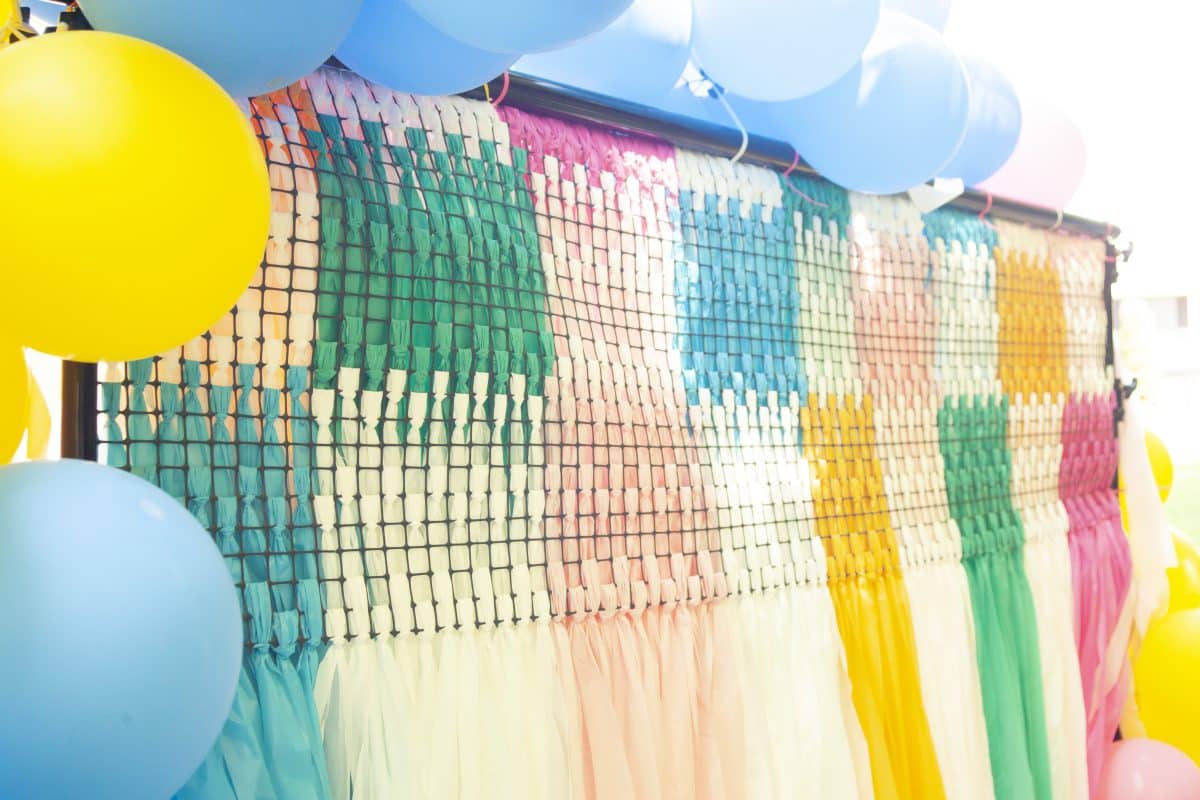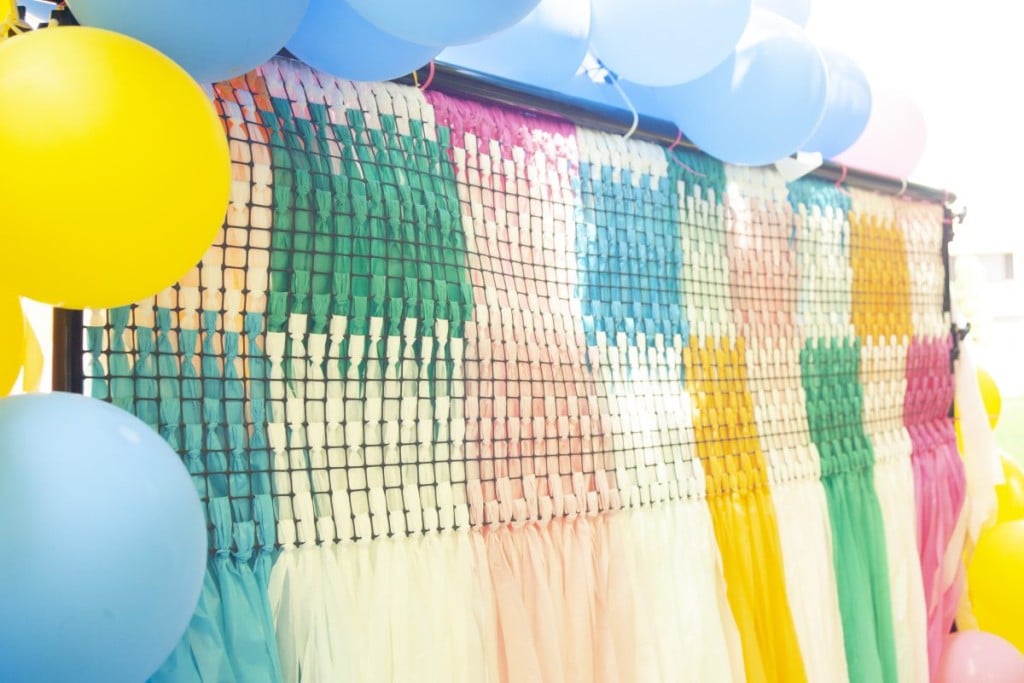 I added a few colorful beach balls throughout the balloon garlands for an extra summery detail.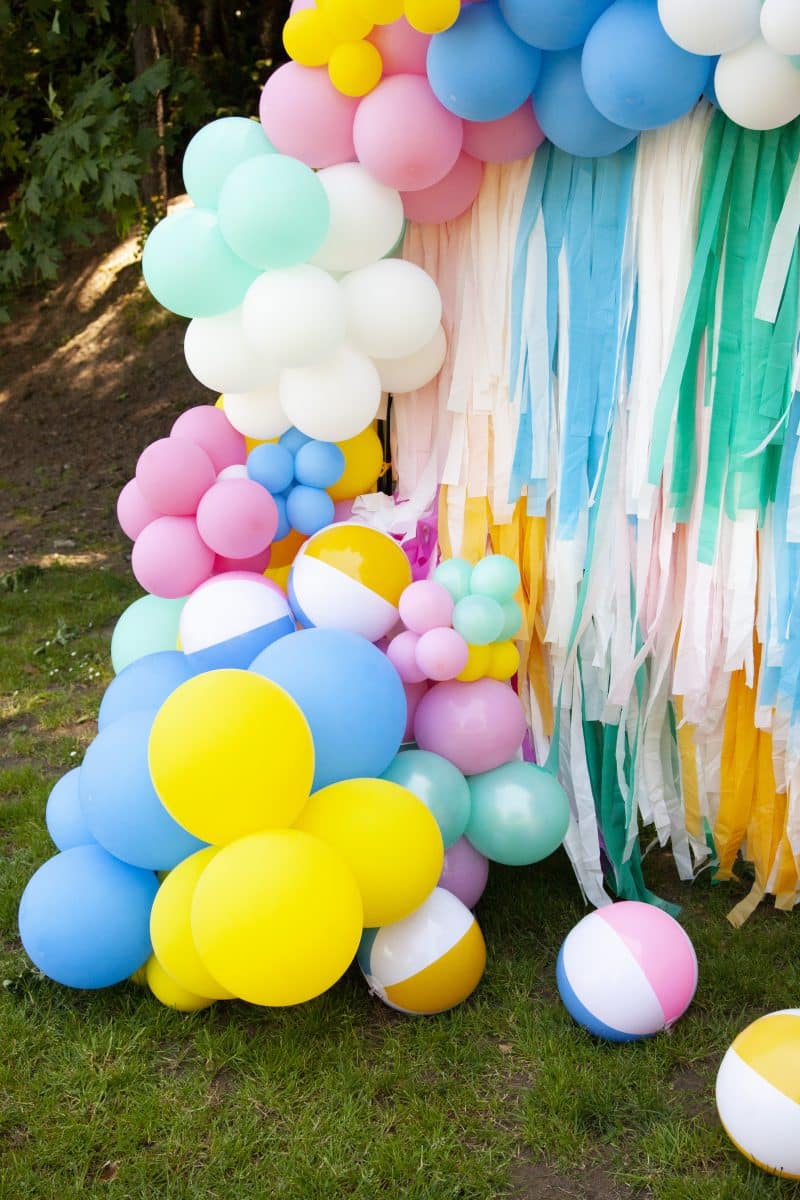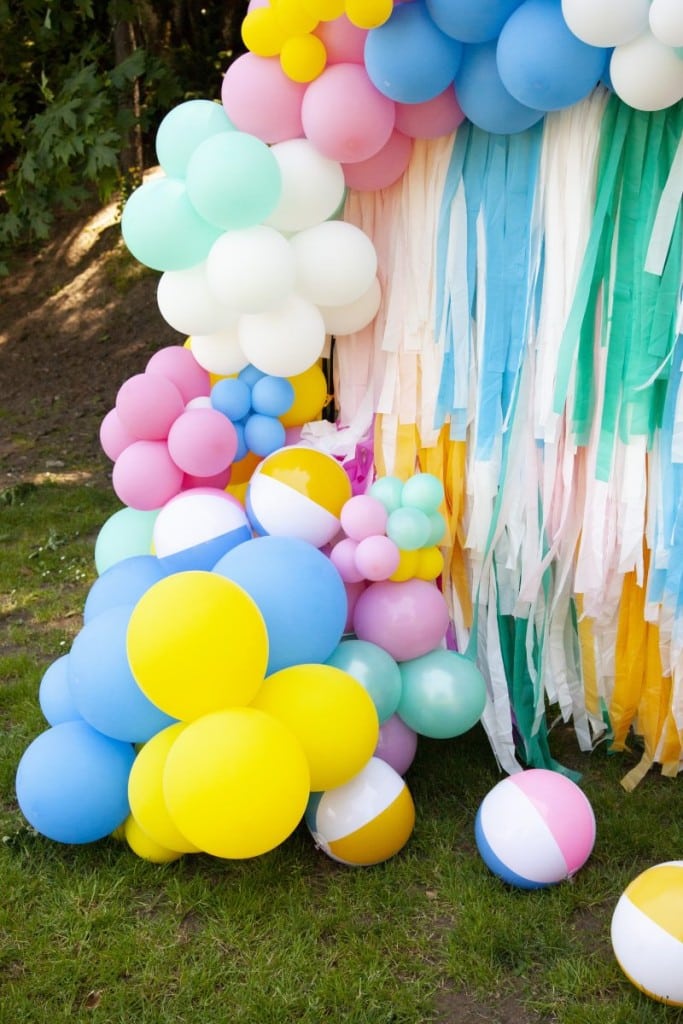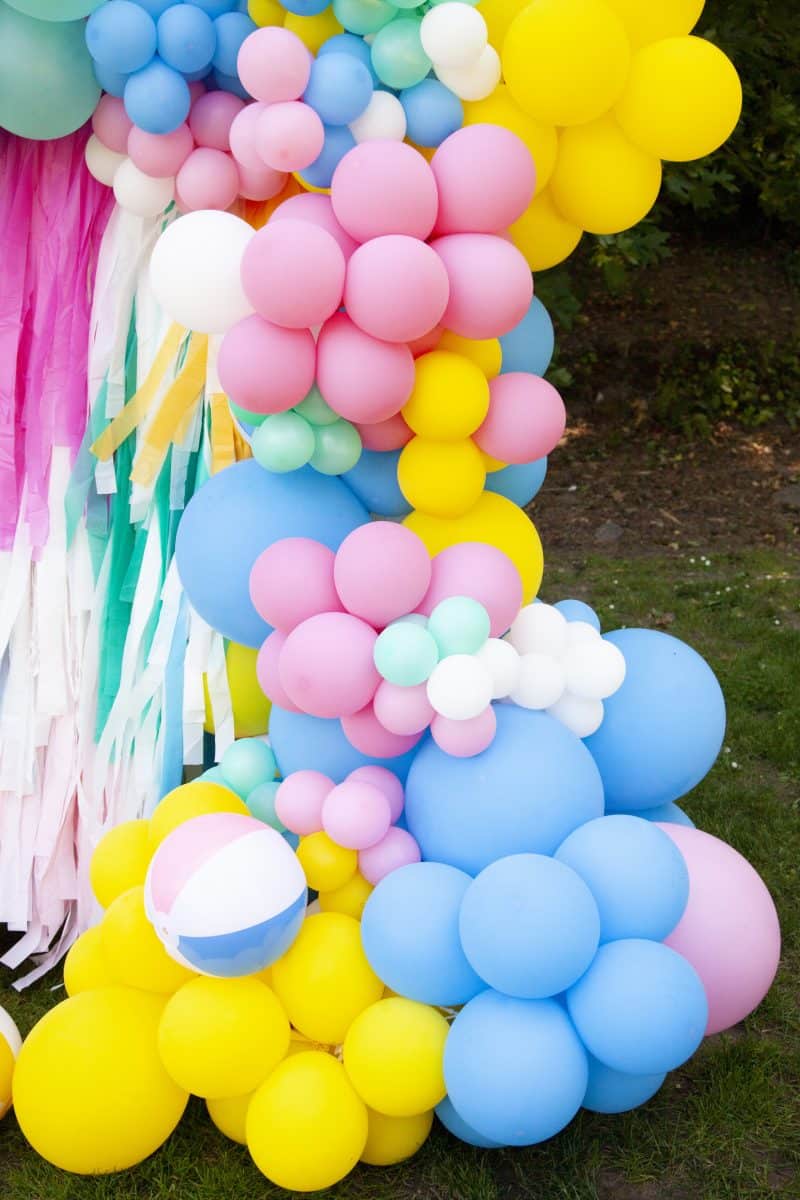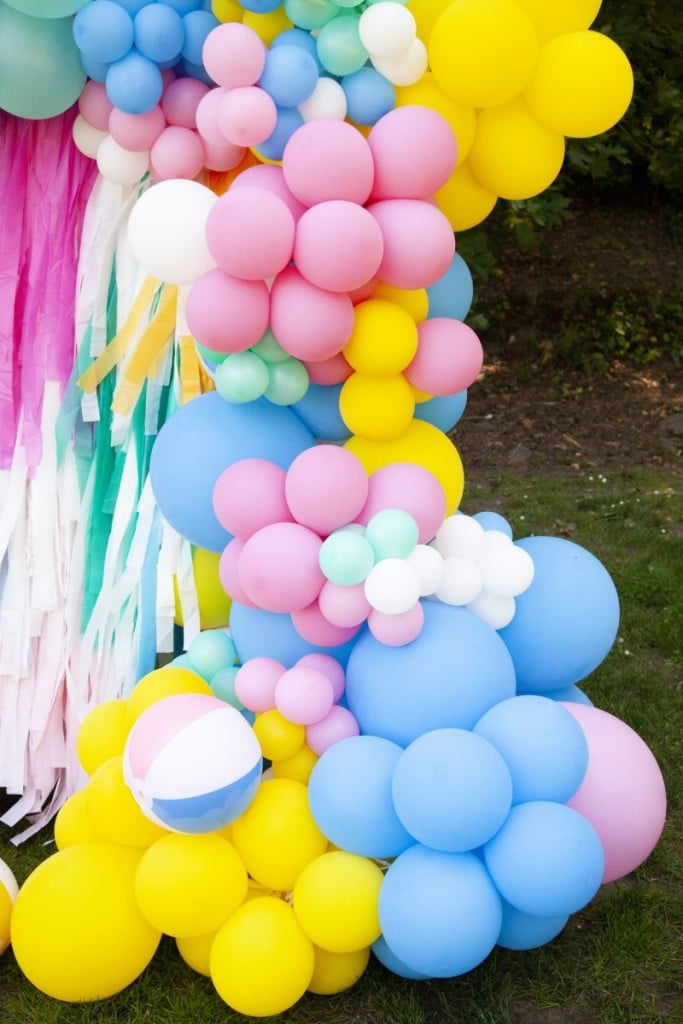 For the drink station decor, I also added some smiling sun mylar balloons and a lifebuoy tied with pink ribbon. A small ice chest filled with small blue balloons, rather than ice, was the perfect anchor and also held sunscreen and bug repellant – essentials for any outdoor summer party!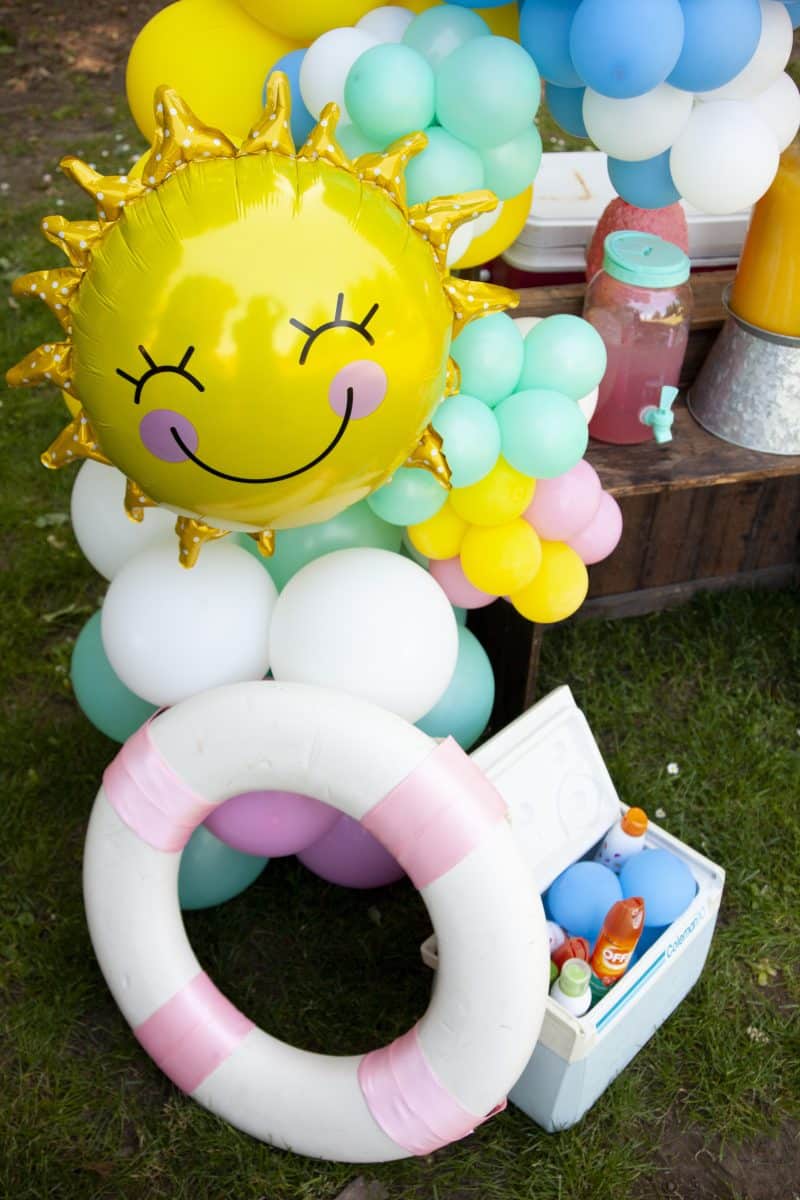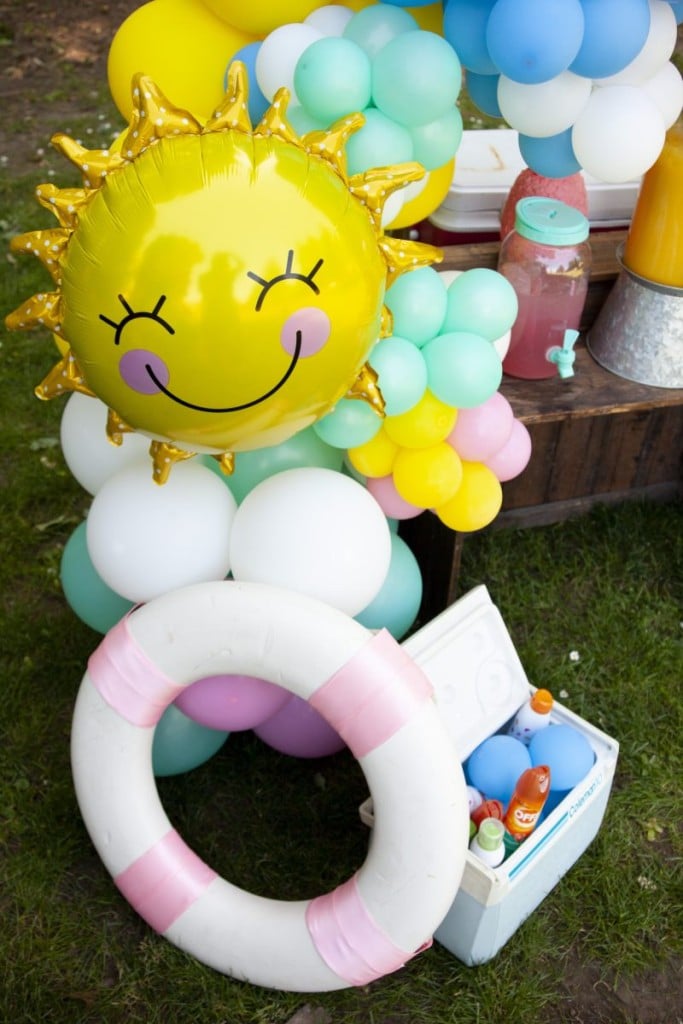 Drinks
The drink station itself was a wooden stand on which I placed three drink dispensers with various types of refreshing juice and lemonade. Lemonade is, after all, THE kid's drink of summer!

I used a galvanized metal base drink dispenser with more height in the middle to create some dimension on the stand. You can achieve this by using a taller drink dispenser like I did or elevating one of them using an overturned bucket or box.
On the shelf behind the dispensers, I placed a sand bucket to hold plastic cups. A pretty pink-painted pineapple on the other side of the shelf added the perfect final piece of summer decor.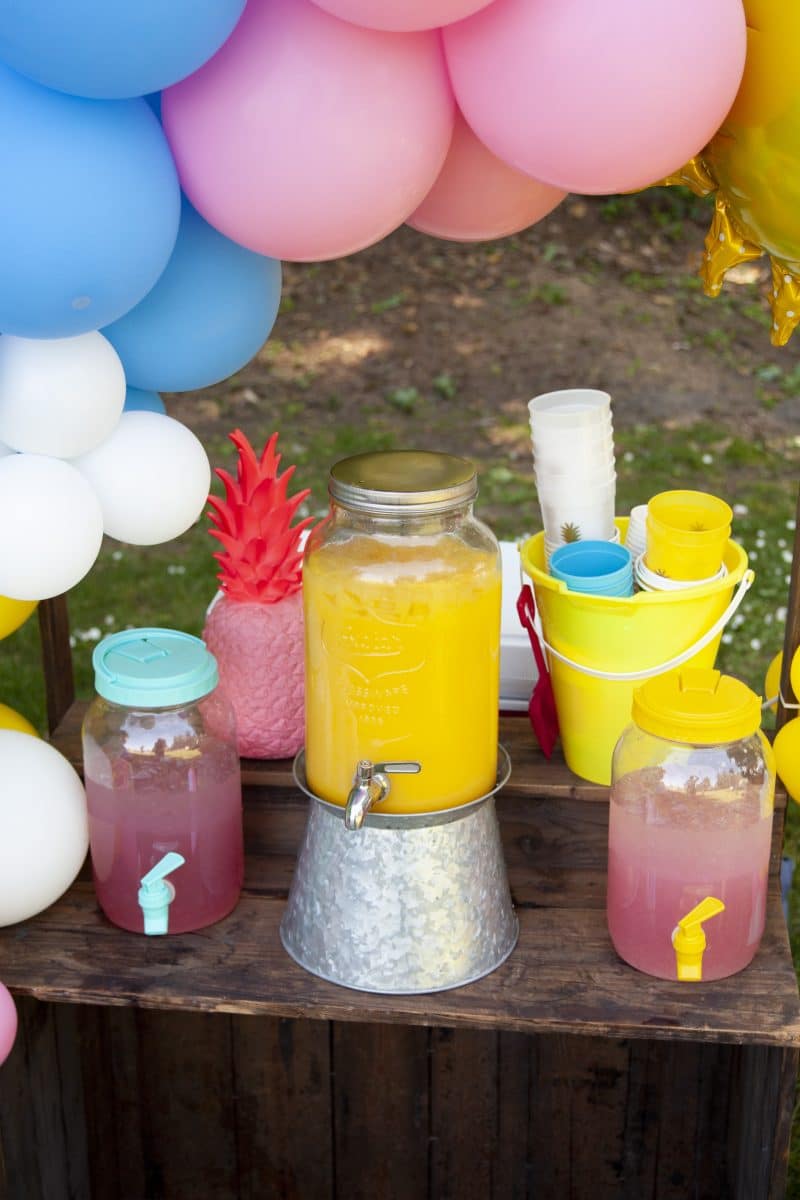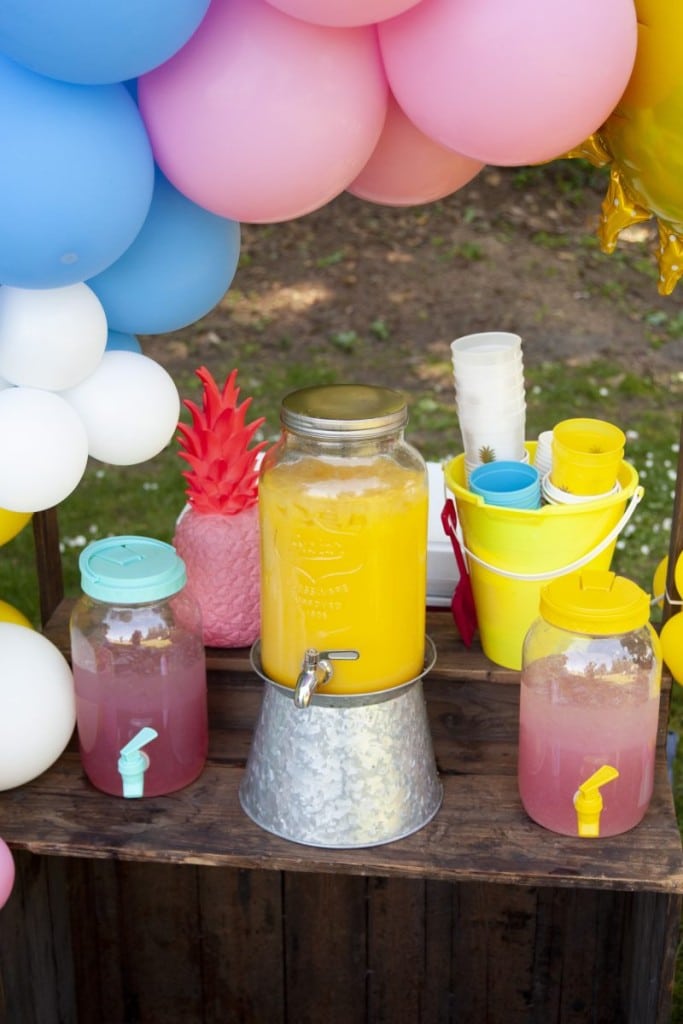 I also provided the kids with refillable drink pouches. These are so fun for kids to fill up and run around with – much less spillage than a regular cup!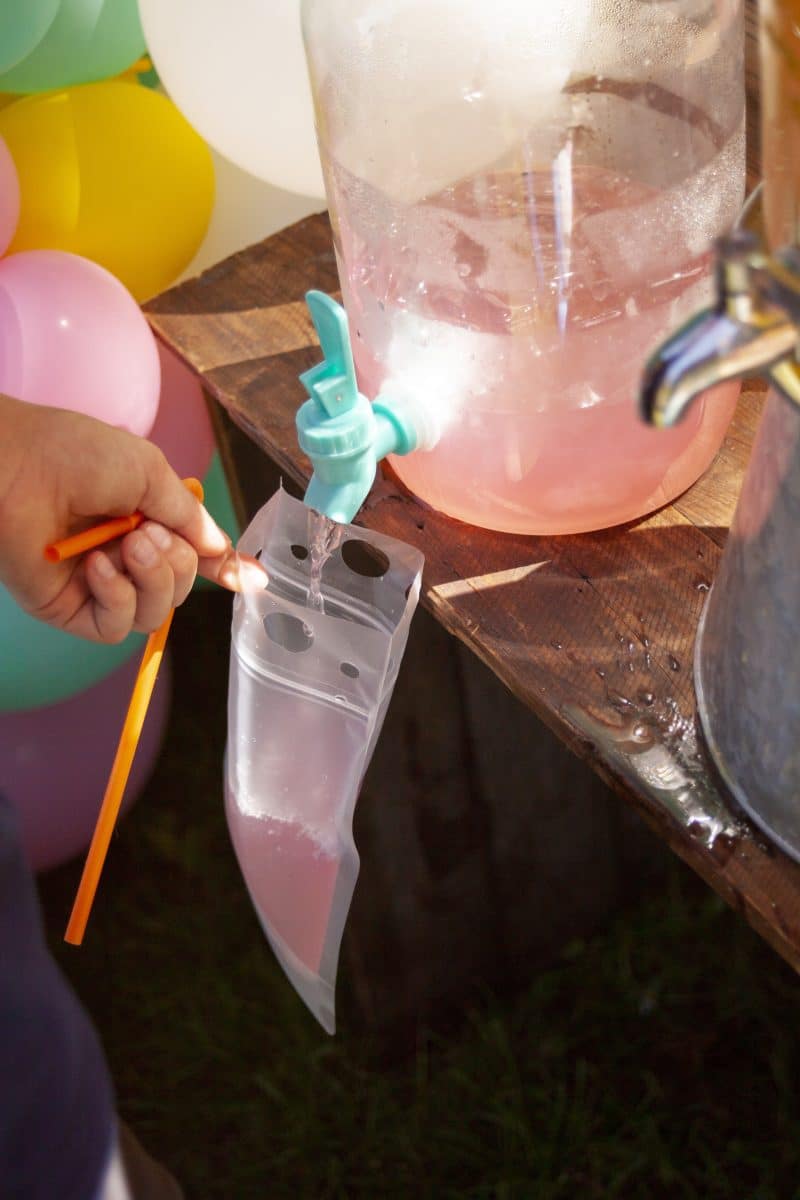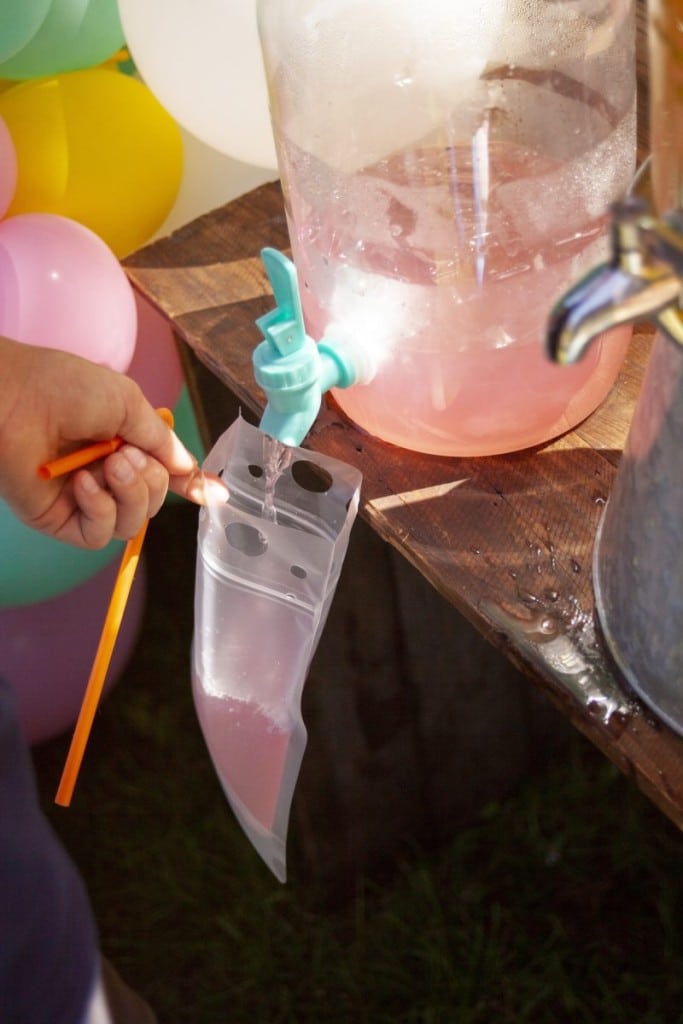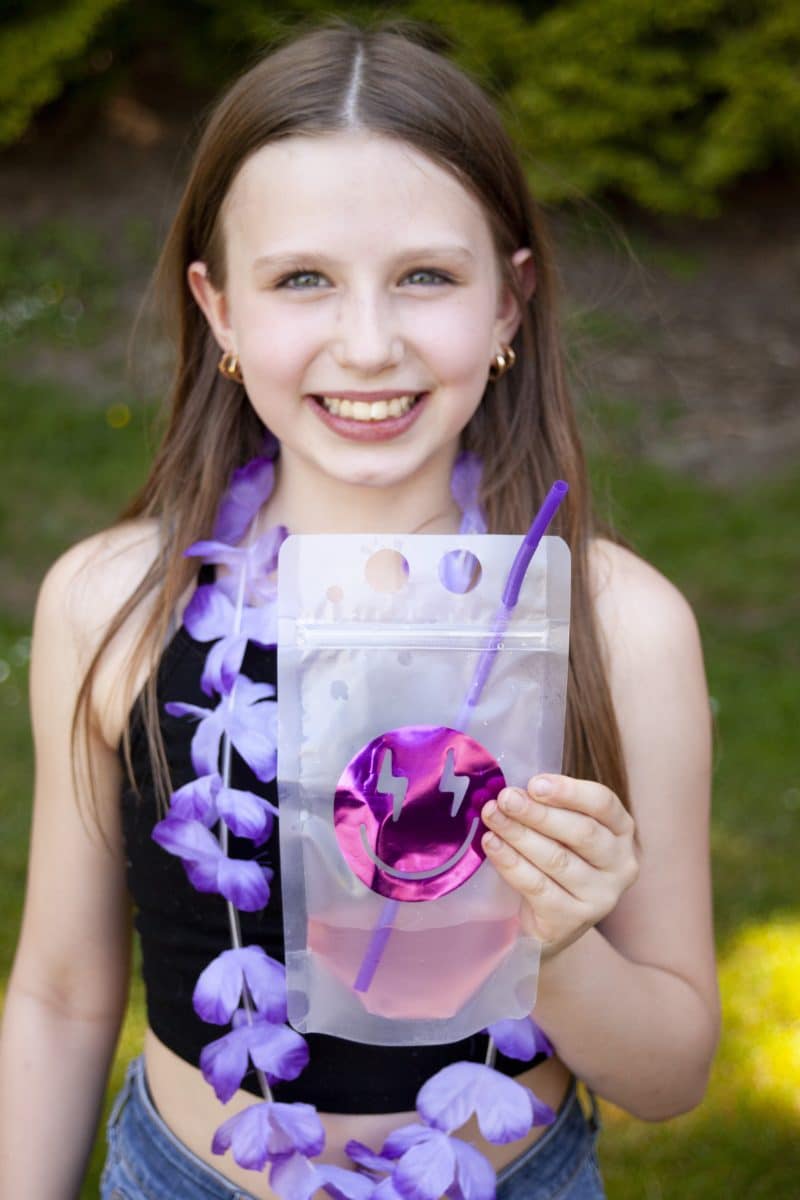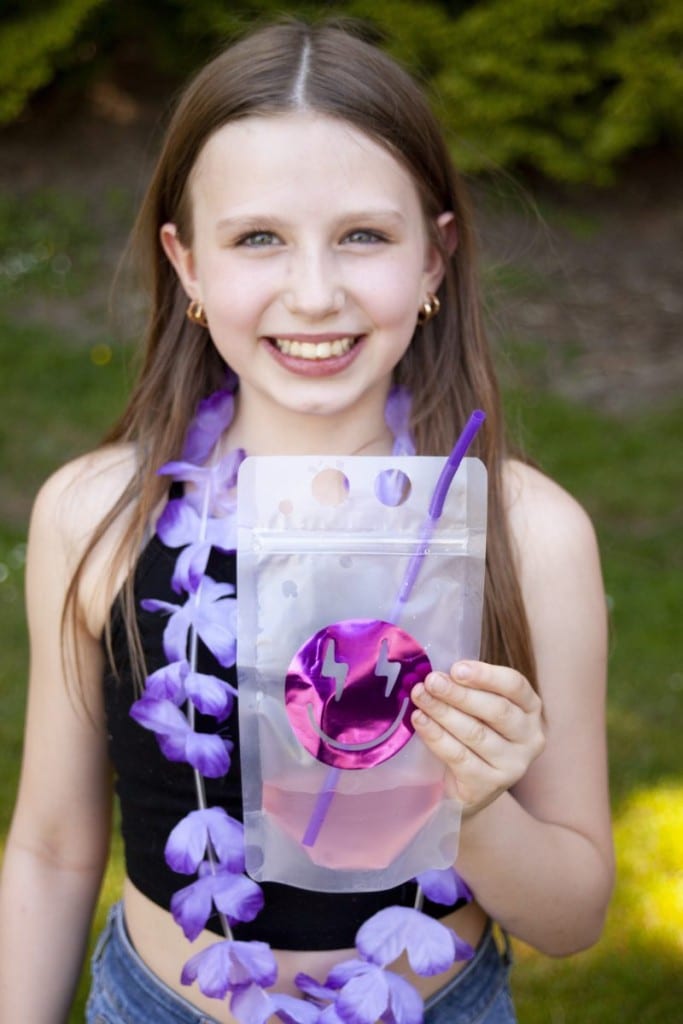 Then, in a large cooler stand next to the drink station, I added packaged juices and water bottles for on-the-go and take-home drinks. In the heat of the summer, you can never have too many drink options, and water is an absolute must!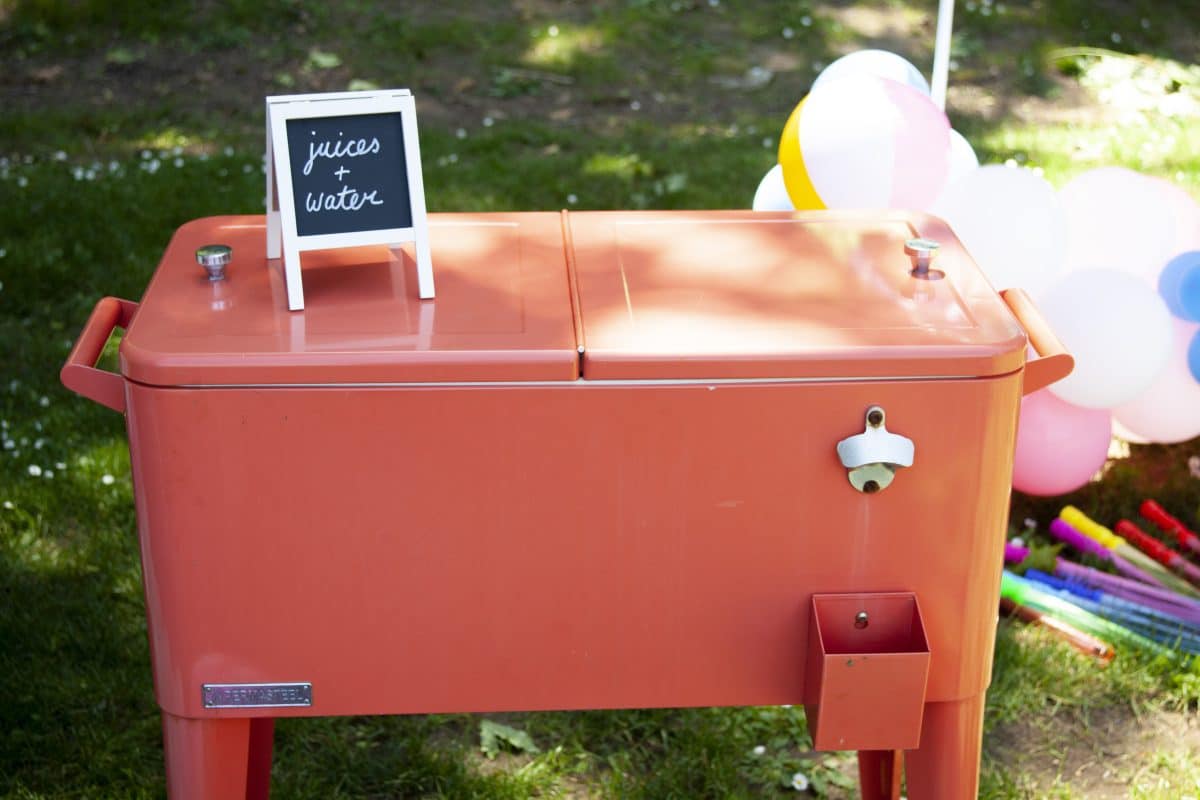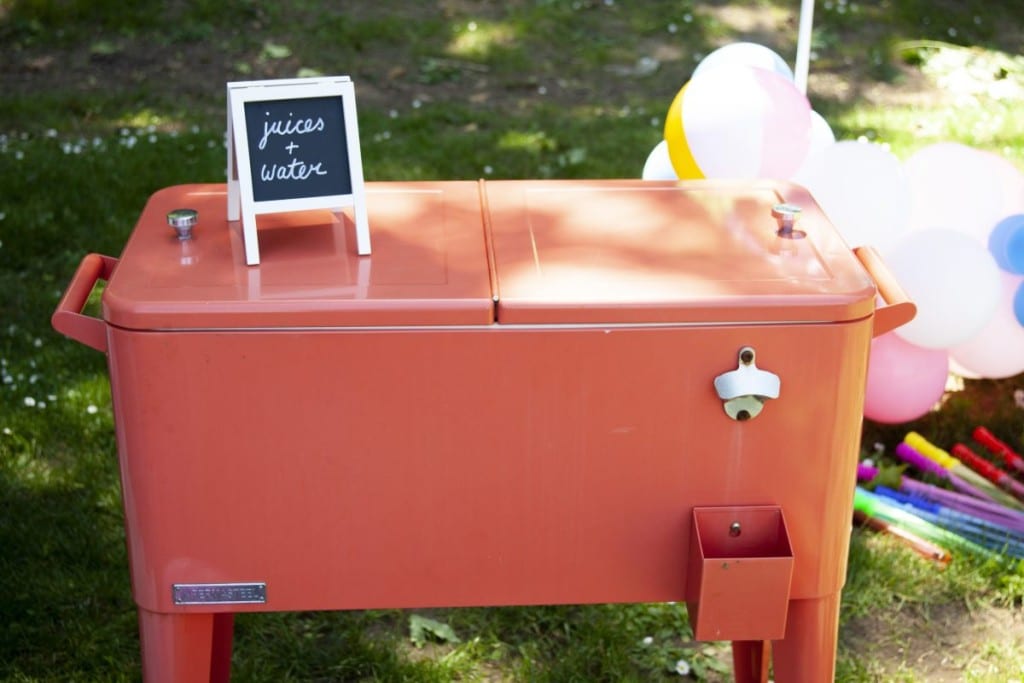 Snacks
Speaking of absolute musts – snacks fit that description as well. For kids, easy grab-and-go snacks are the best option. It's too hard for them to sit still for very long (especially with all the activity options – more on that later!). I set out a table with a cheerful table cover and added individual bags of chips, chewy bars, string cheese, and some cookies.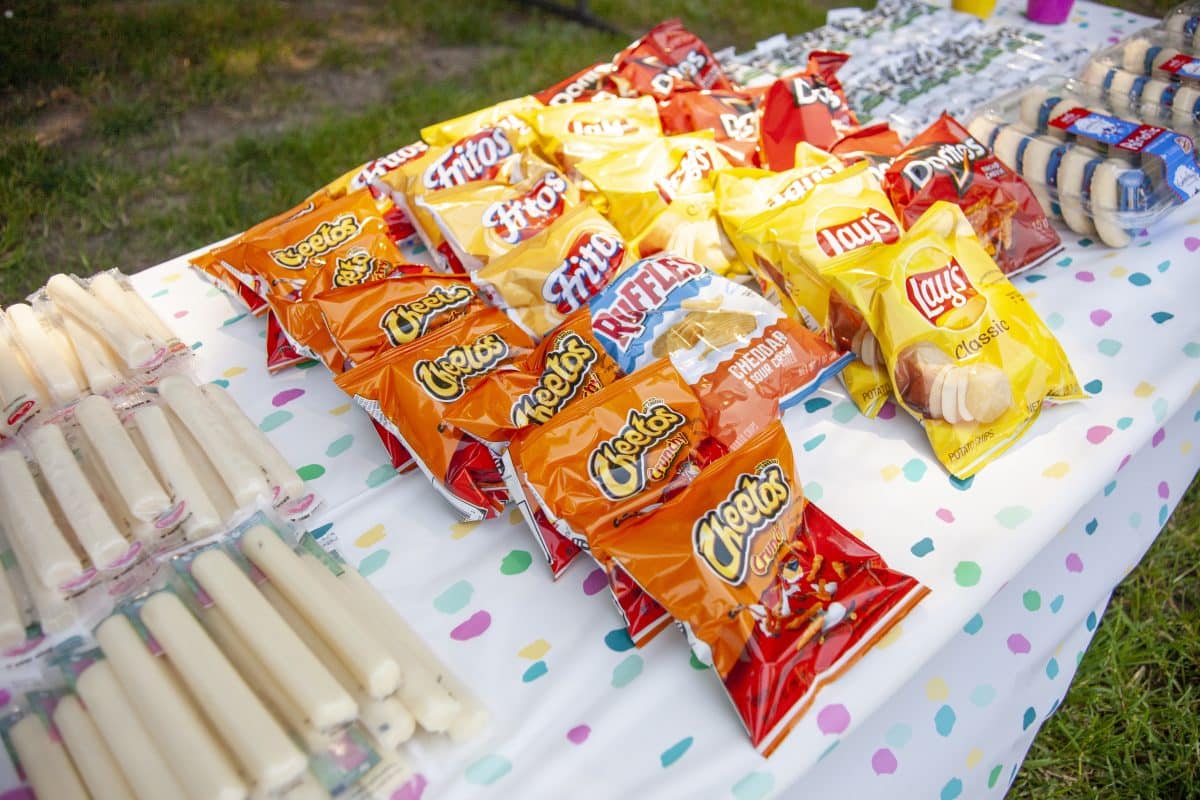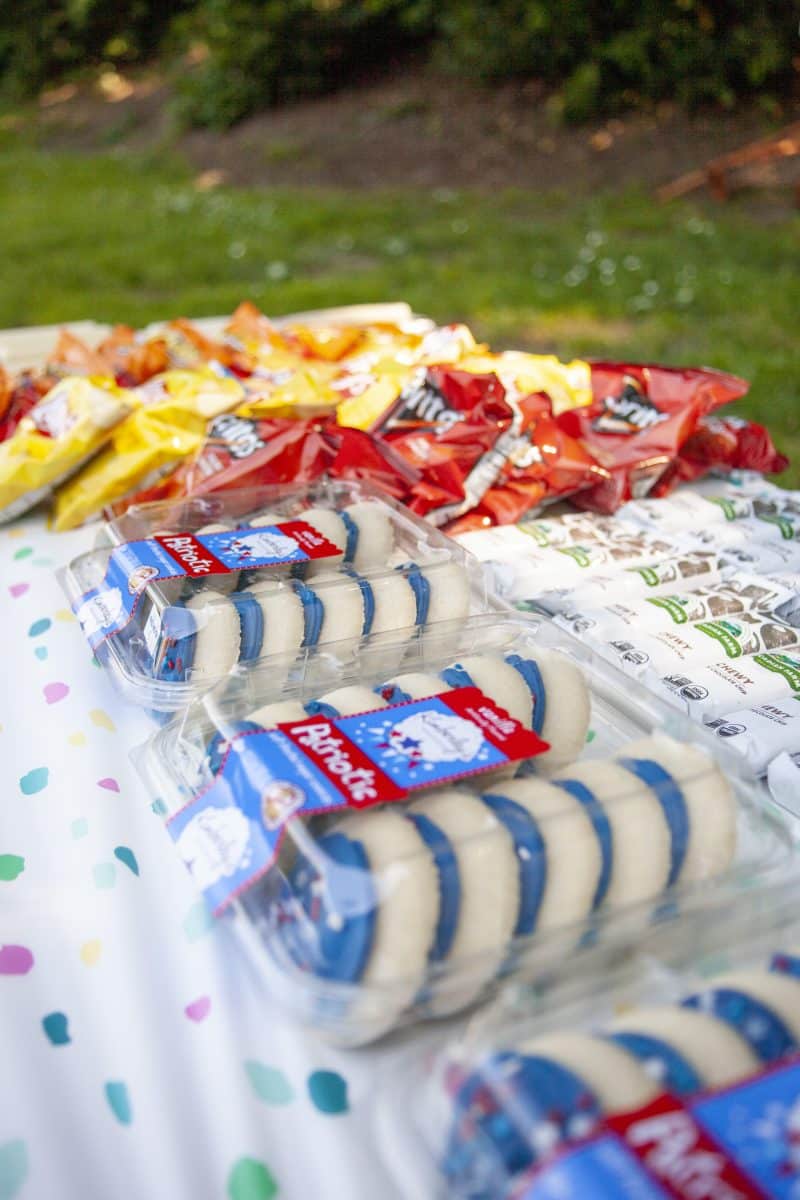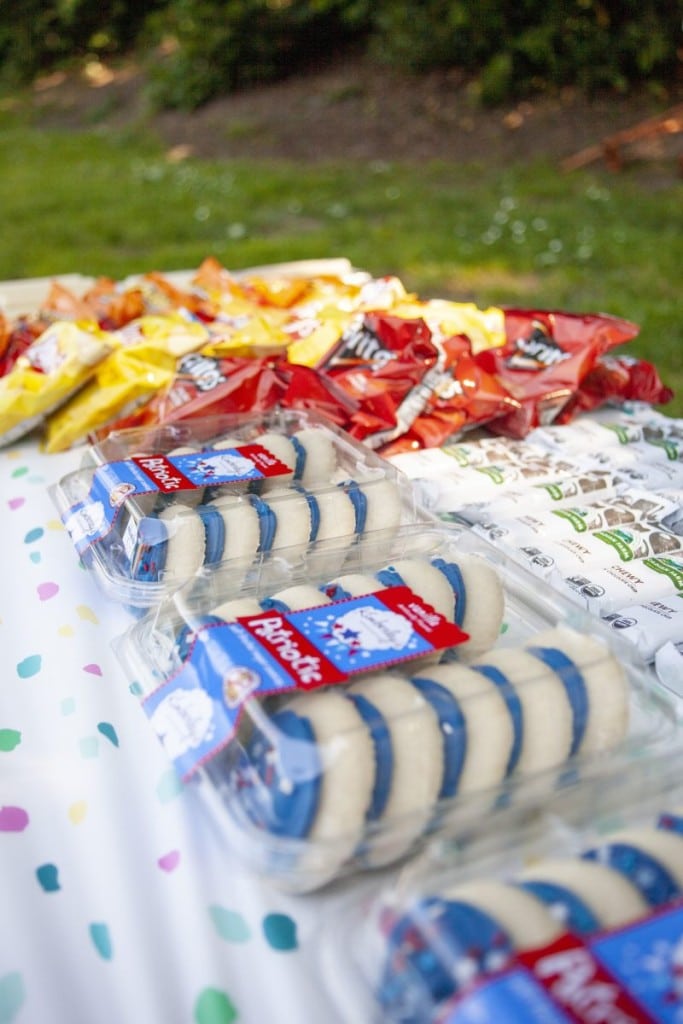 For our end-of-school party, we also decided to go the extra mile to celebrate and hired an ice cream truck to provide frozen treats for all the kids. It was a big hit! For a smaller celebration, you could easily fill a cooler with a variety of popsicles to keep everyone cool.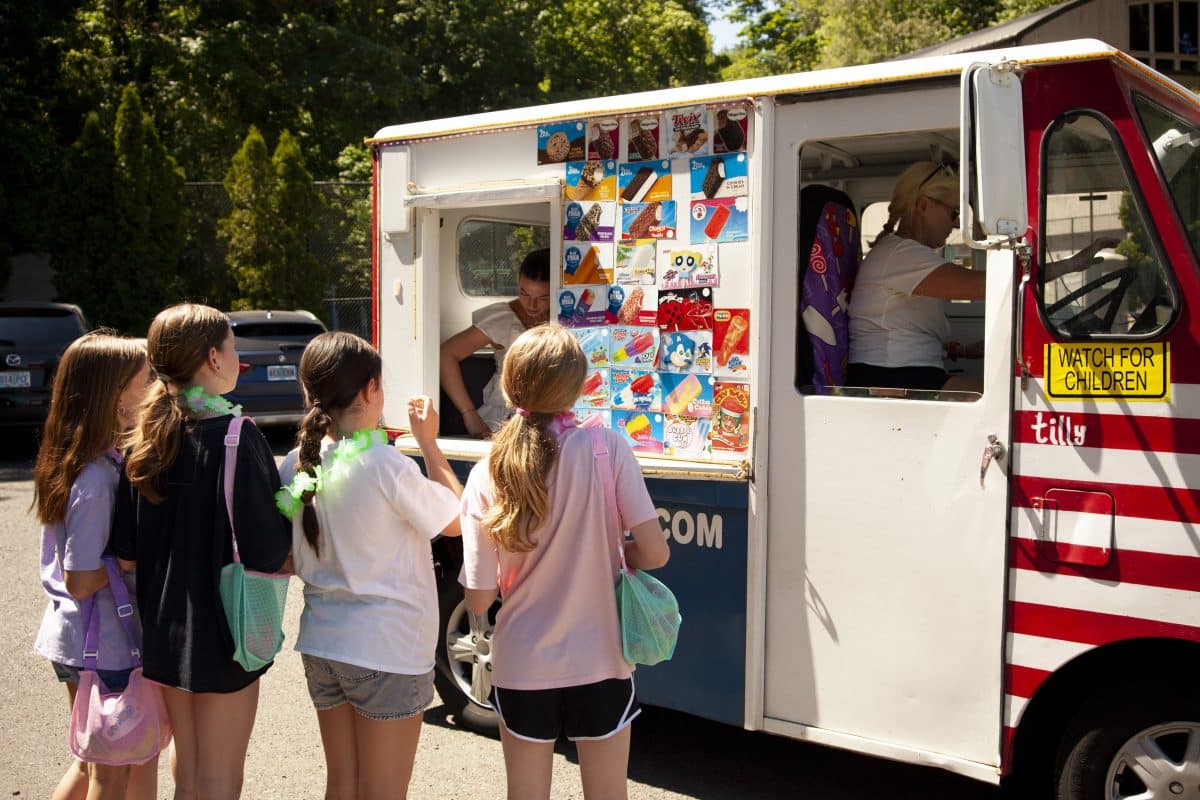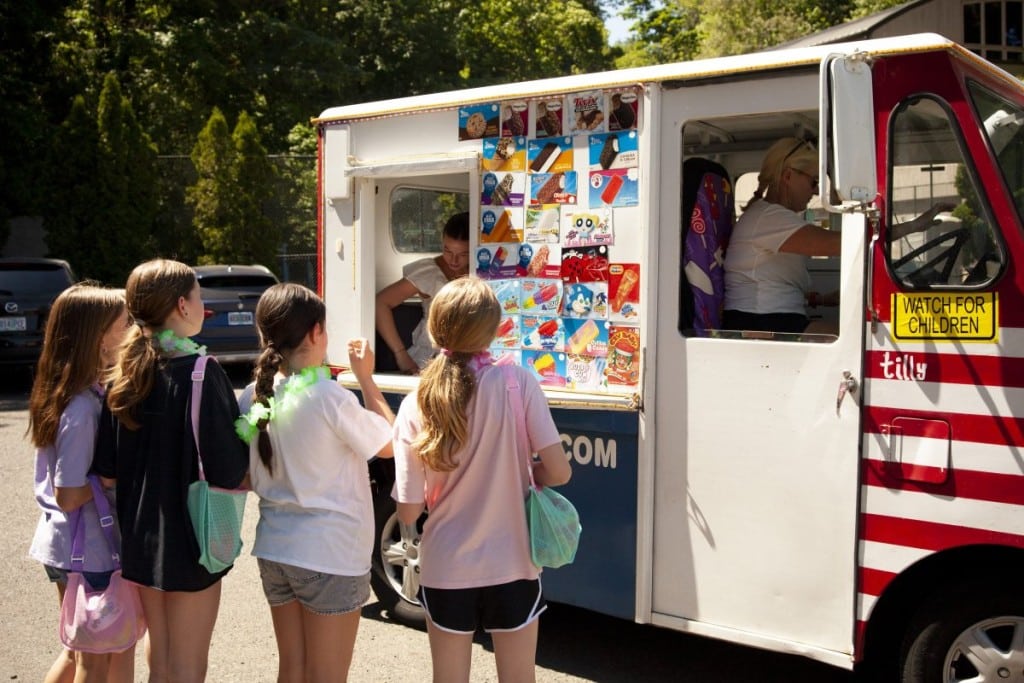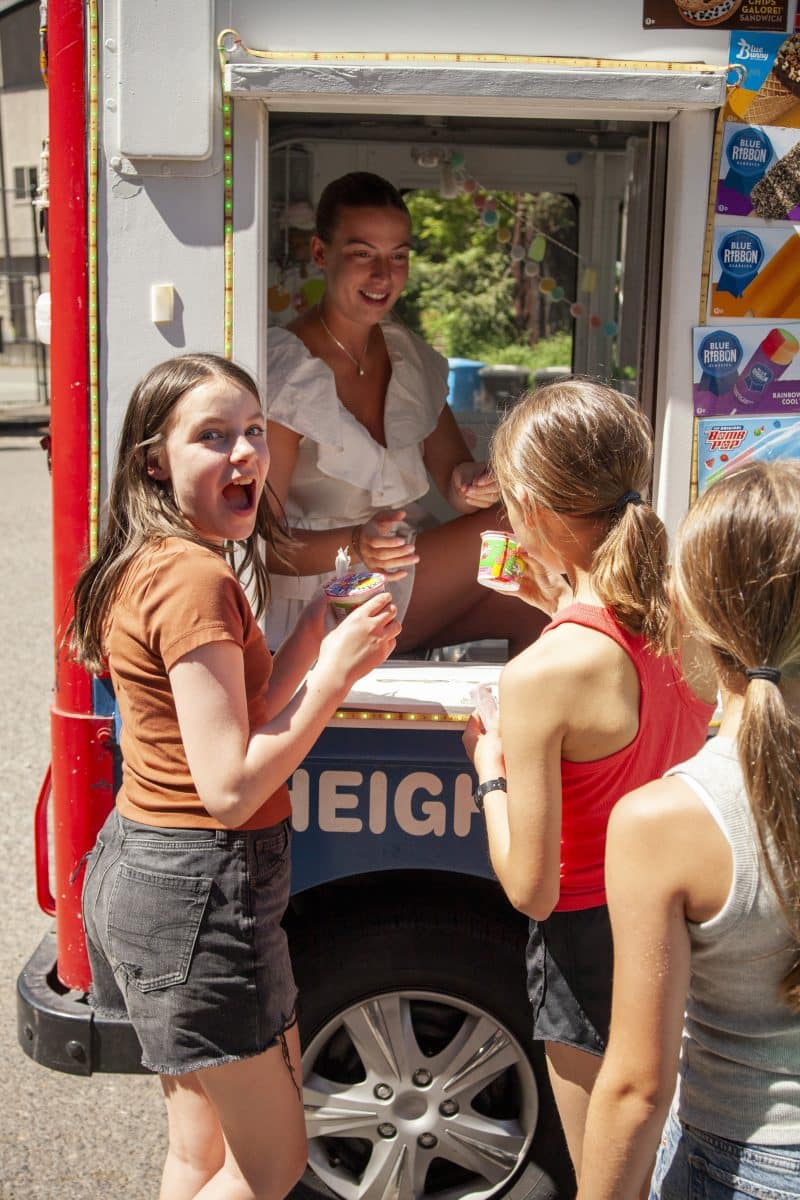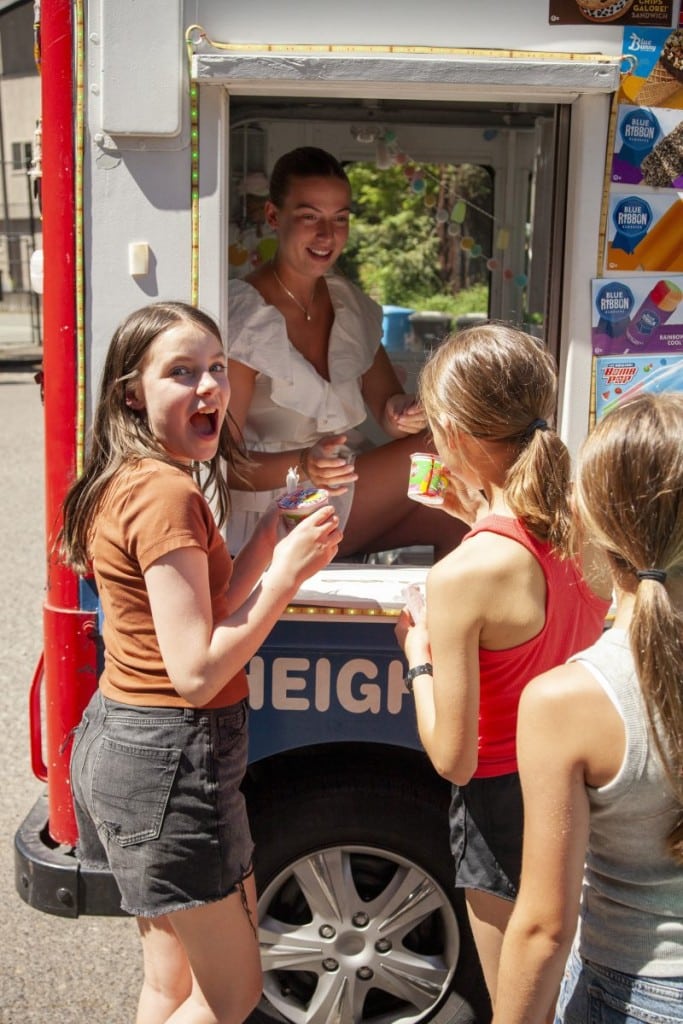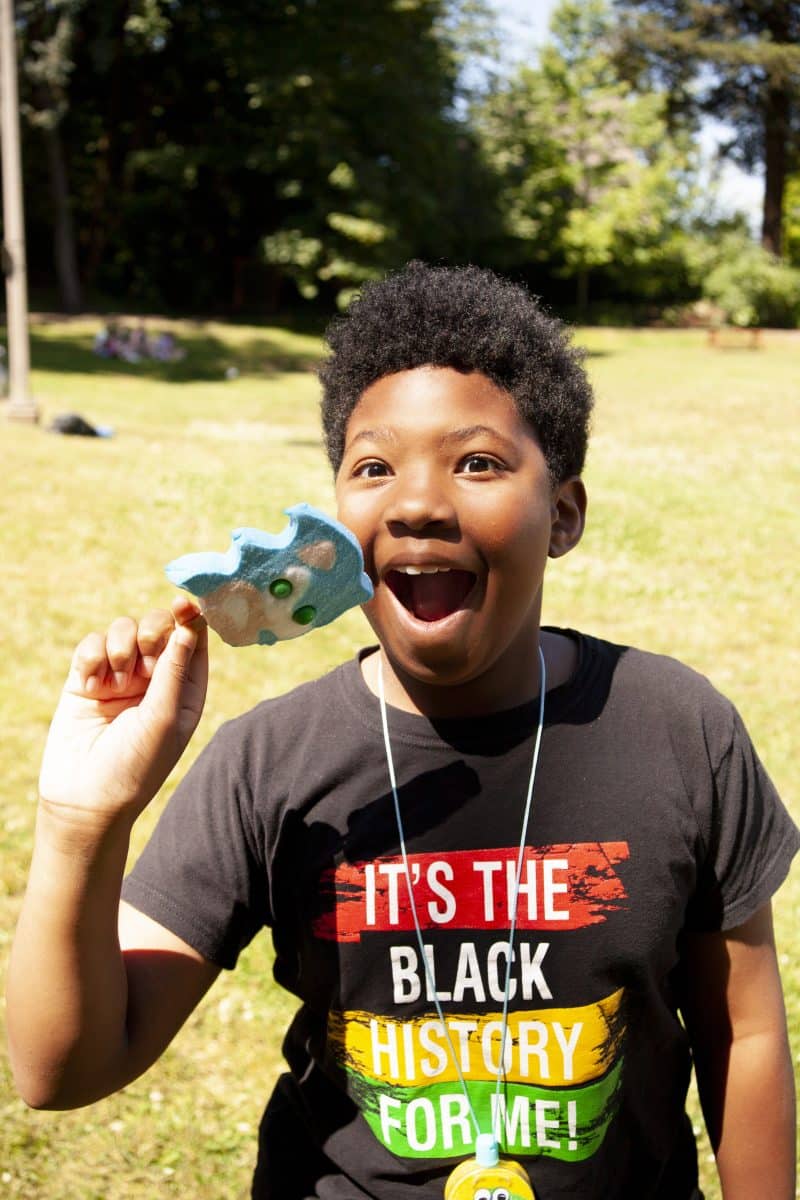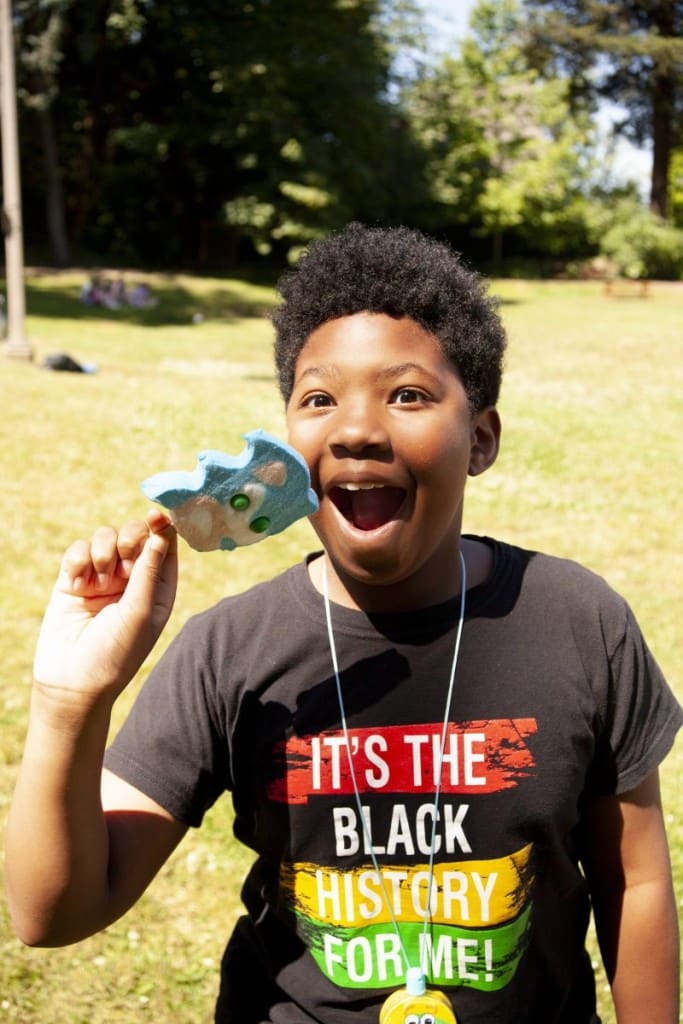 Games & Activities
Keeping the kids entertained (and getting some energy out!) is a huge part of any party. For an outdoor summer party for kids, you have so many options for fun physical and creative activities you can do on a lawn. I've written a whole other post about all of the activities I set up for this party, so be sure to check it out HERE.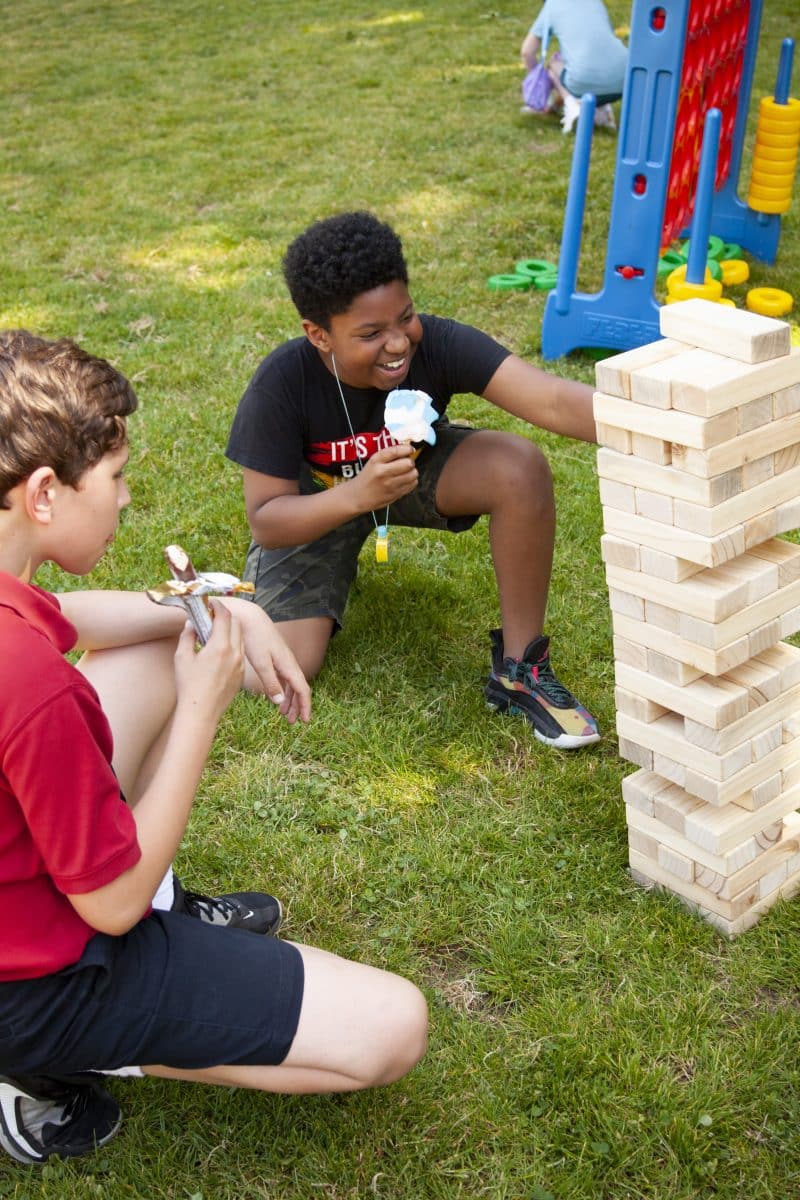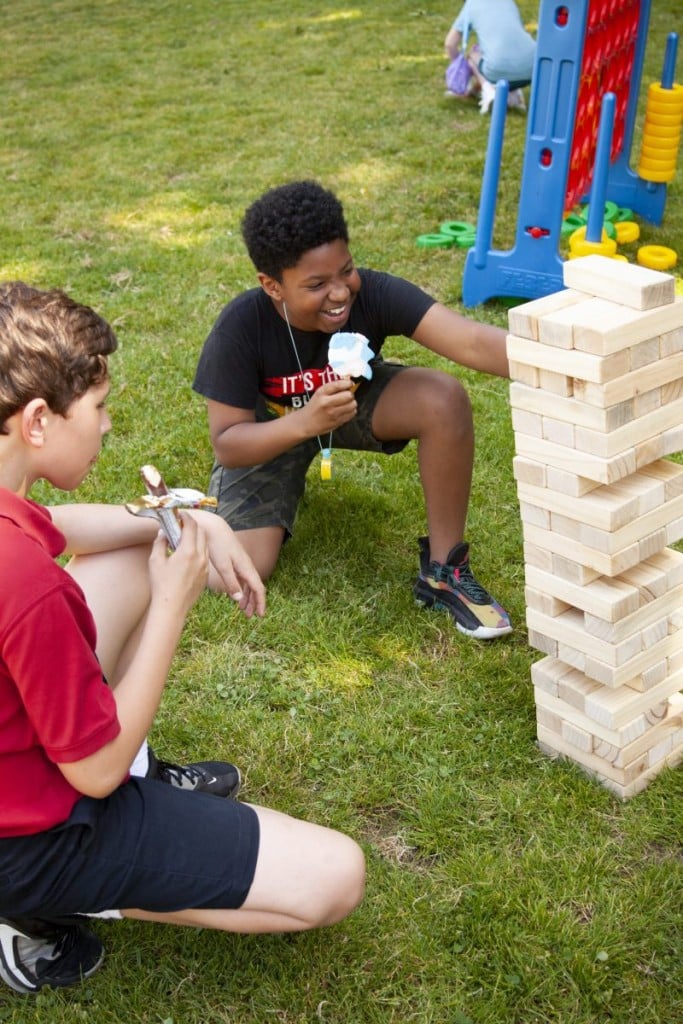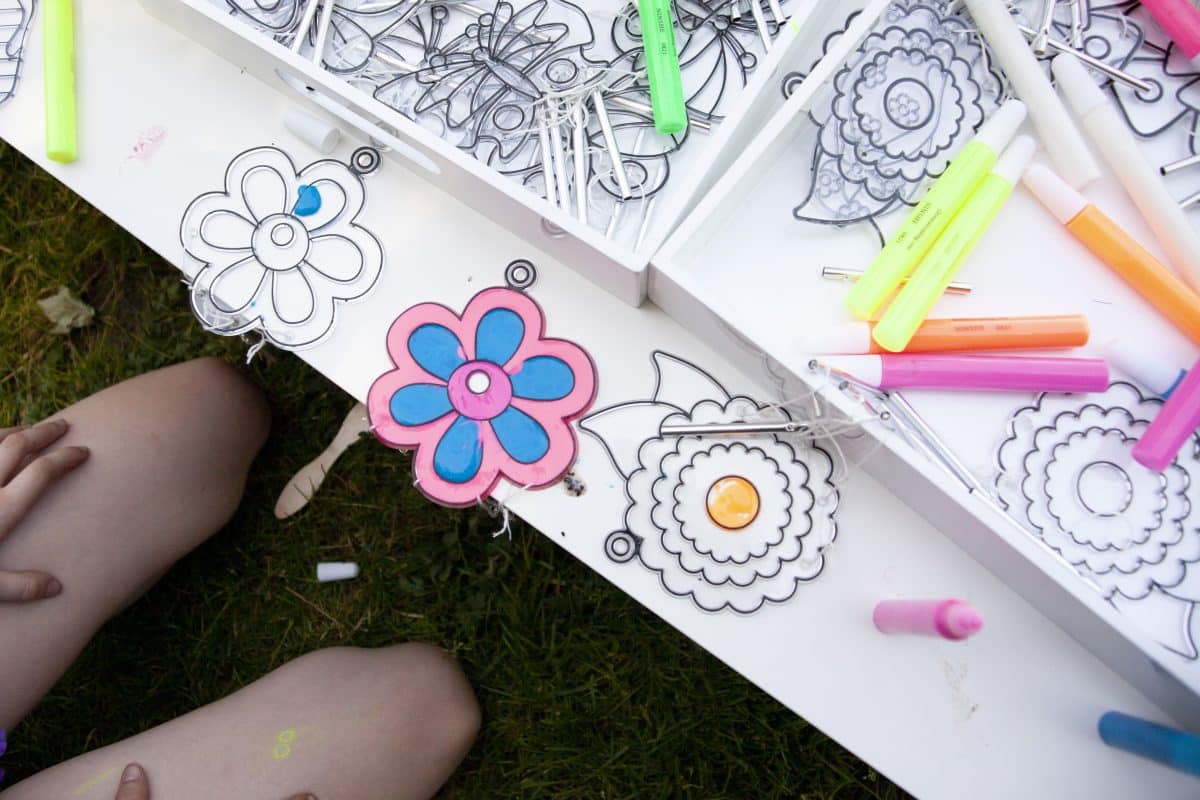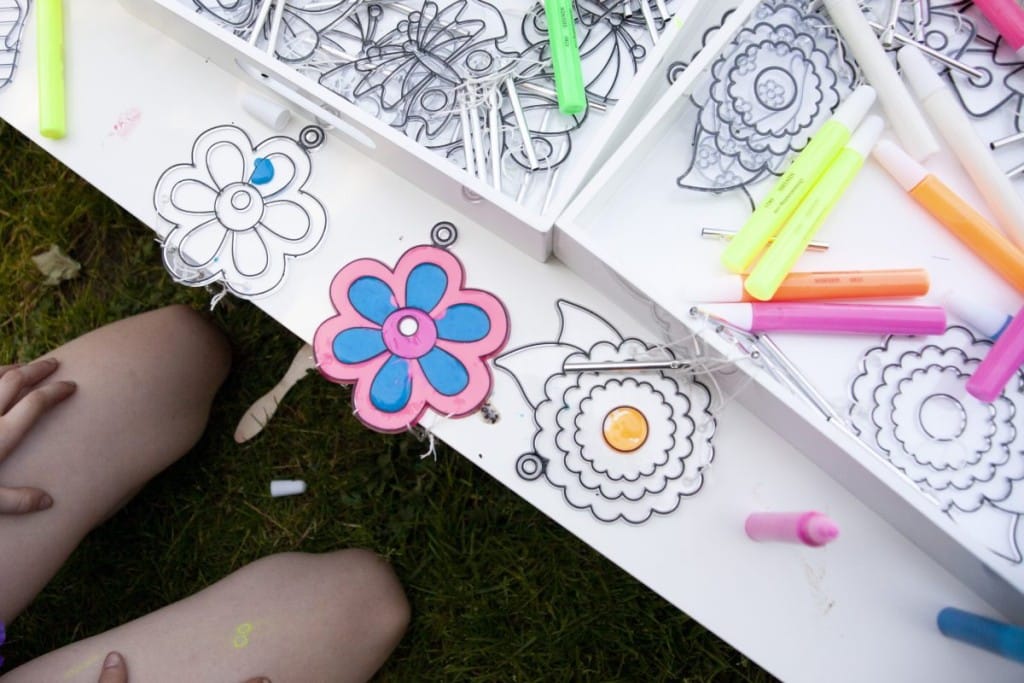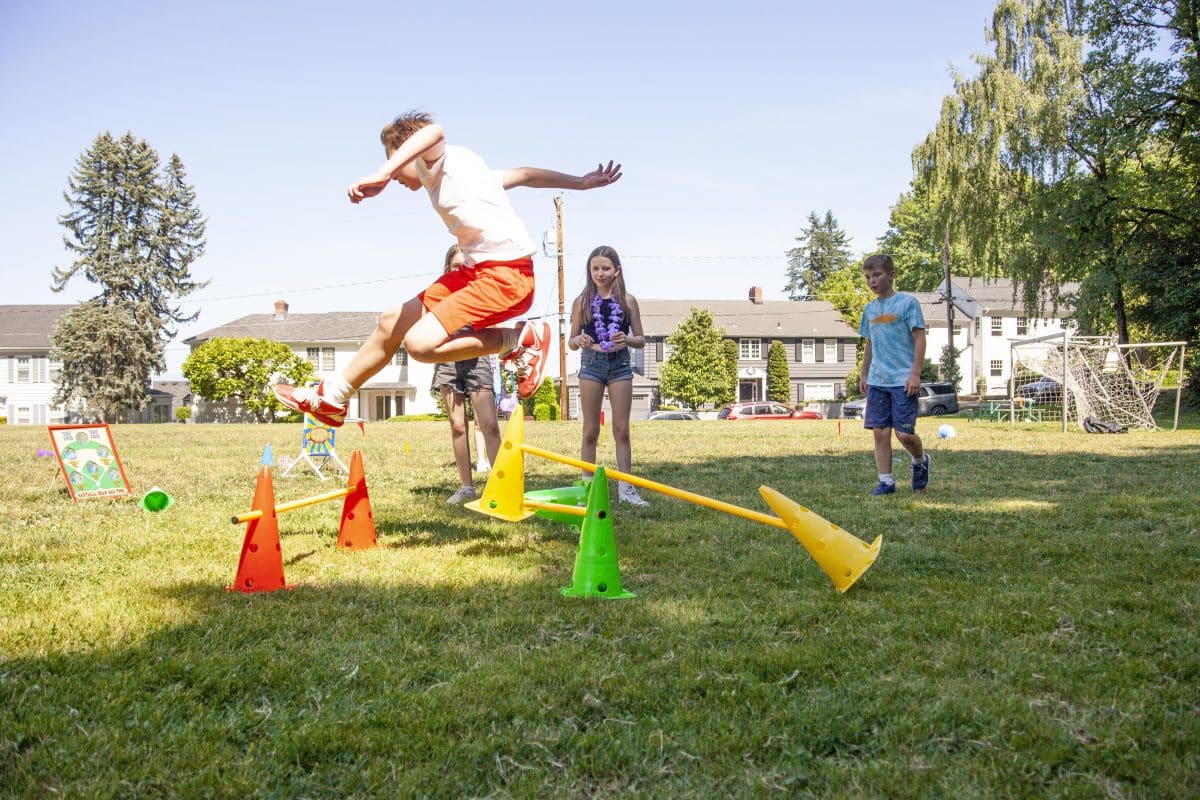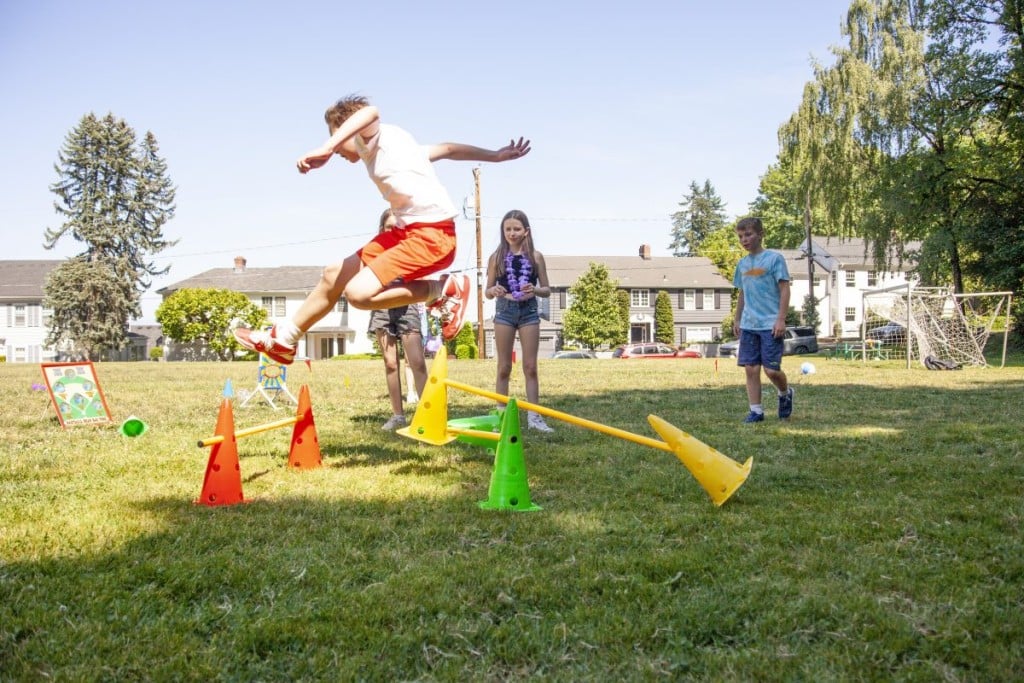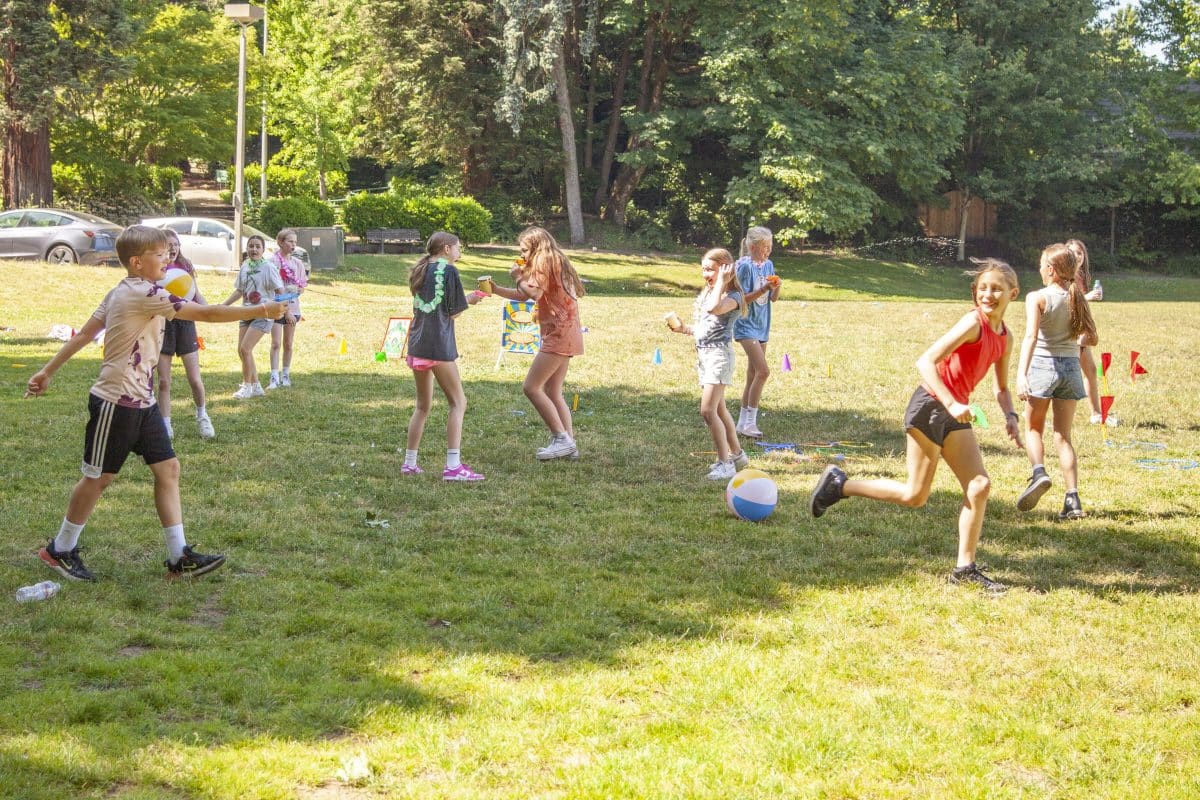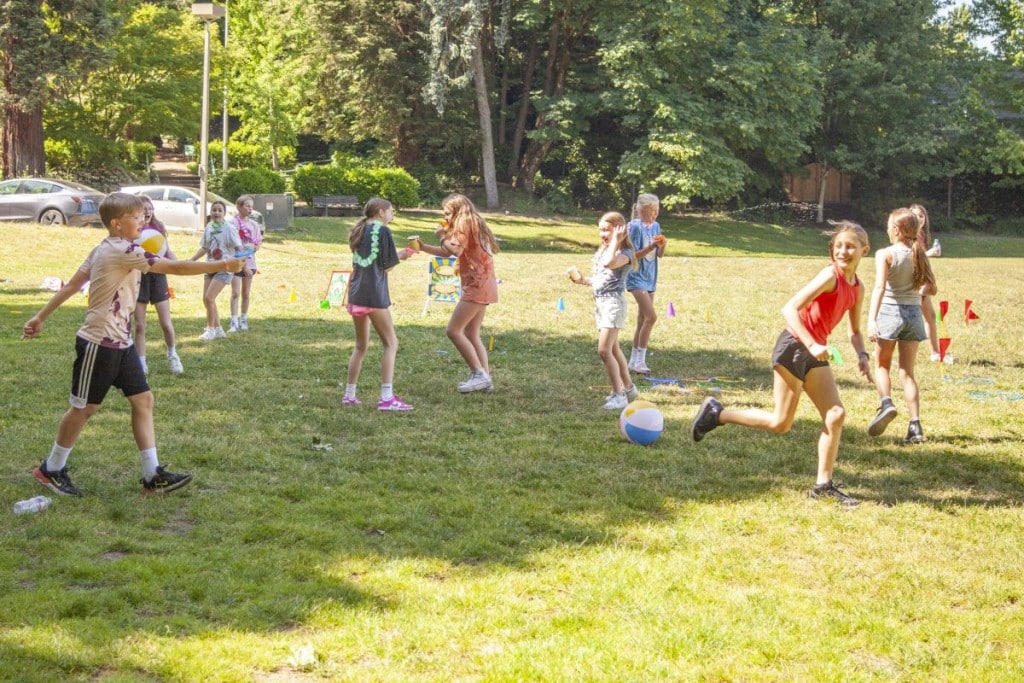 Favors
I always love to send guests home with a themed thank-you gift. In this case, since we threw our party at the end of the school year, I also wanted to provide entertainment options for the kids to use all summer! I set up a favor station with a simple clothes rack on which I hung colorful bags of summer fun essentials.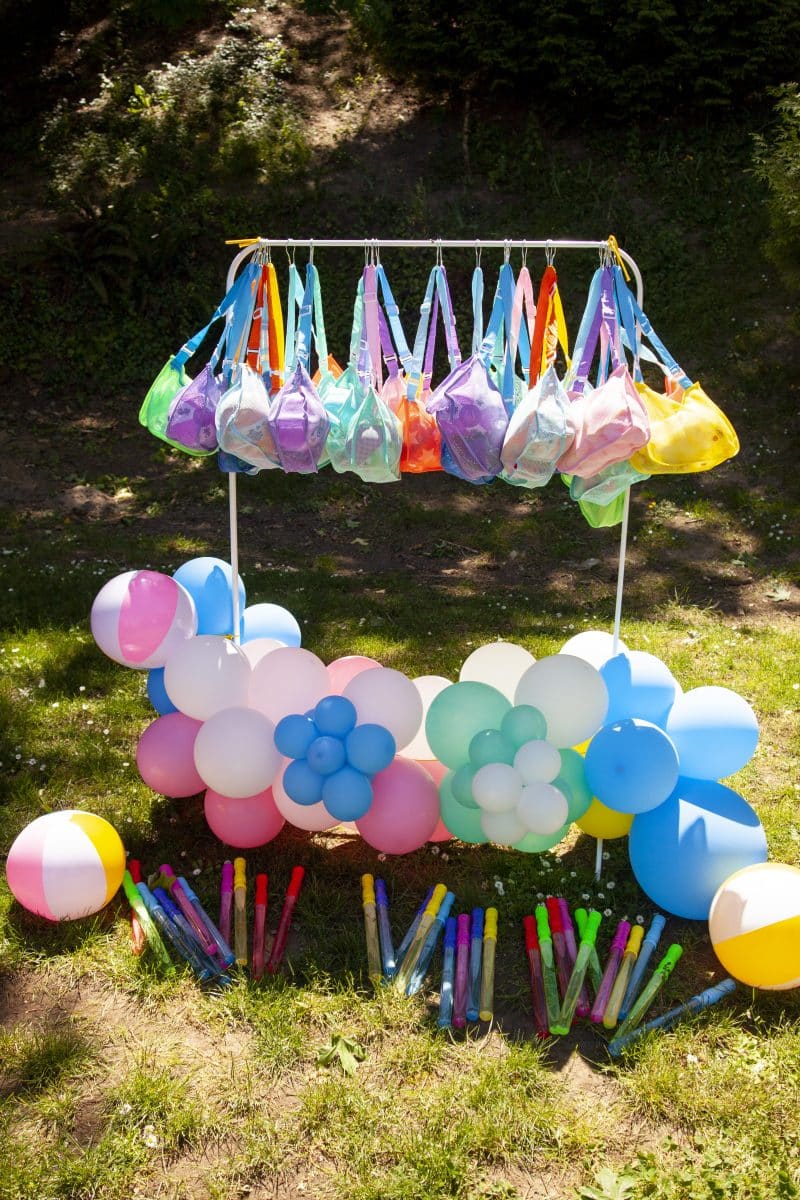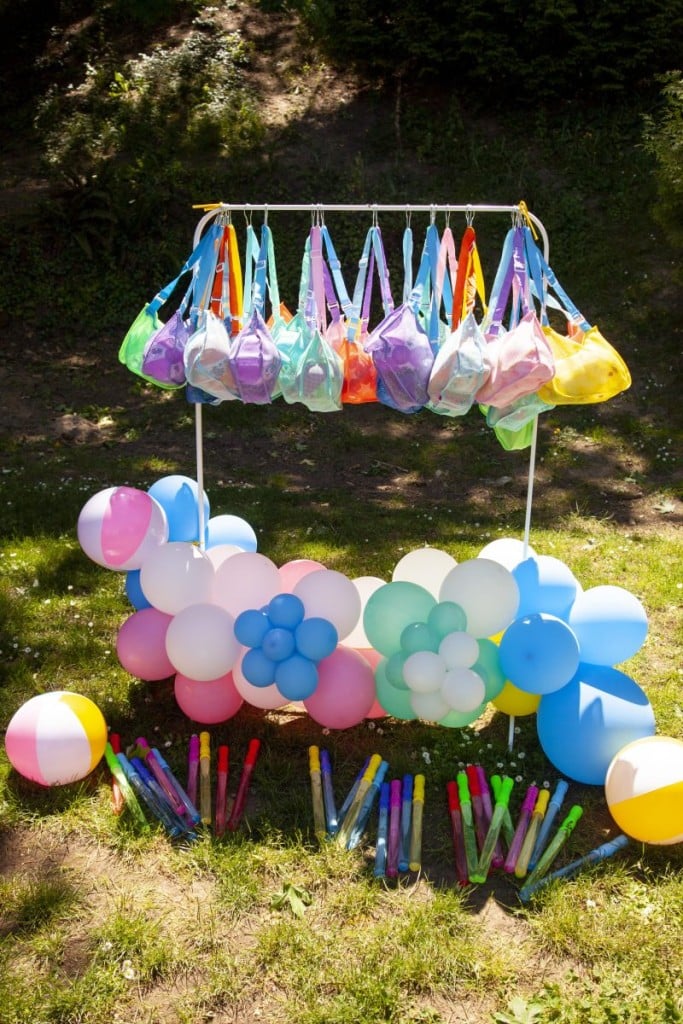 In front of the bags, I also laid out tons of giant bubble wands for the kids to use during the party, as well as take home with them at the end.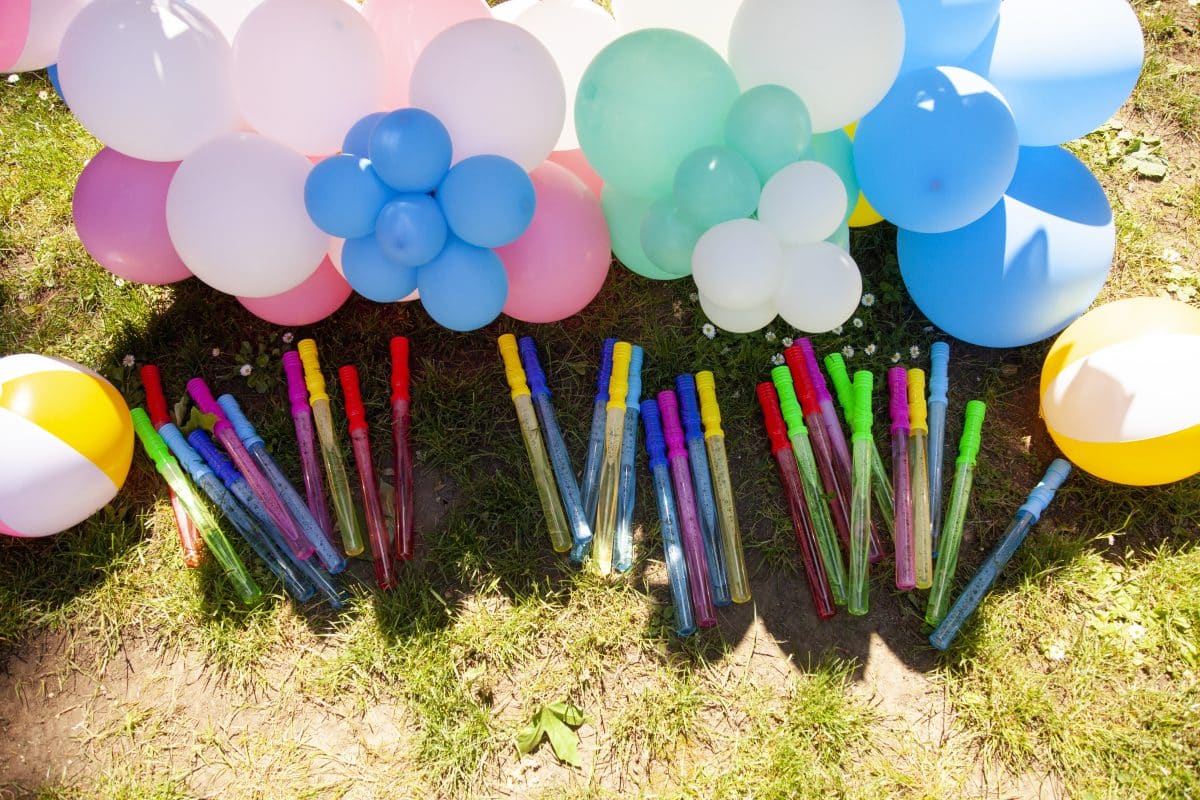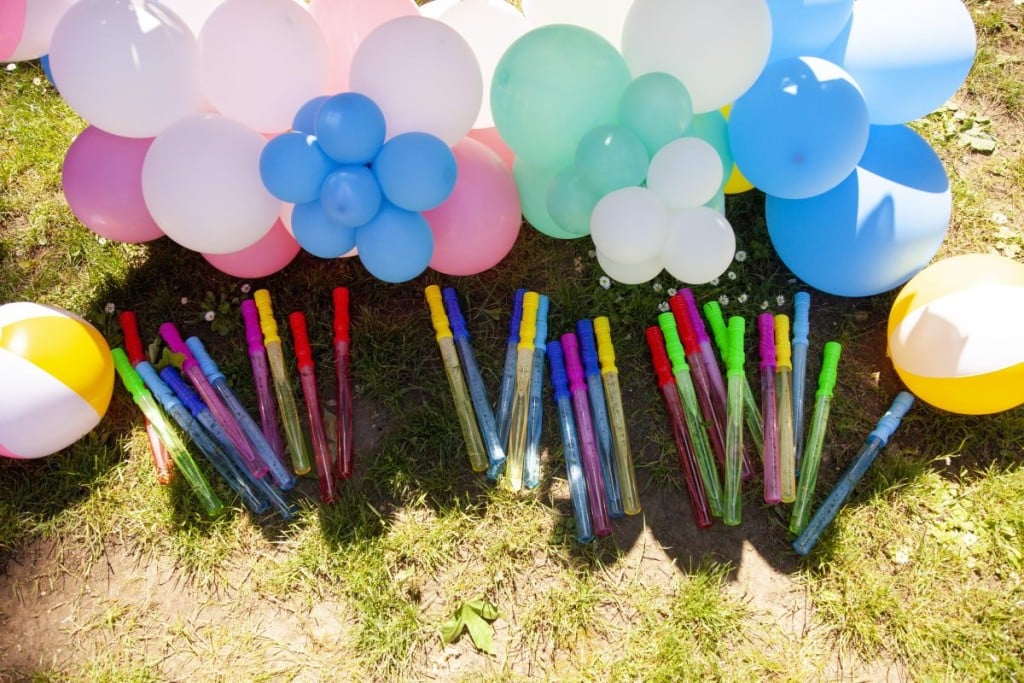 These adjustable mesh bags are great reusable options to bring to the pool or beach for the rest of the summer!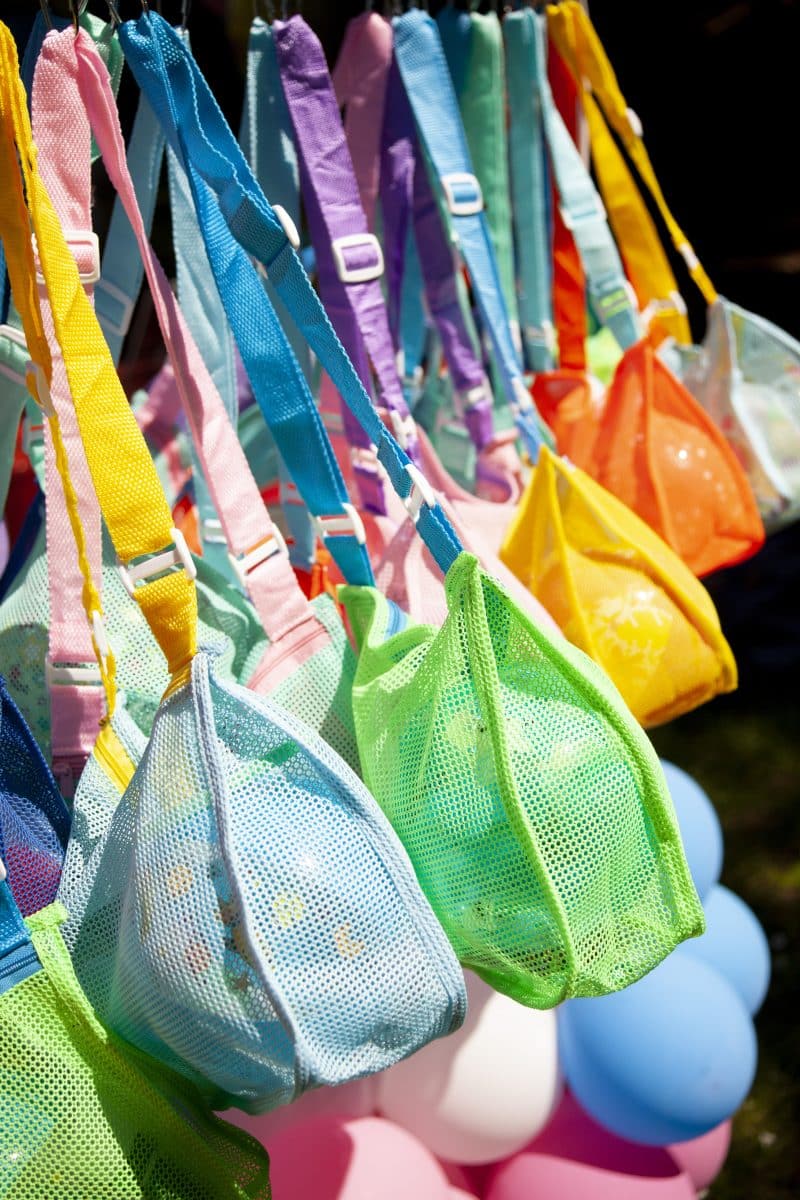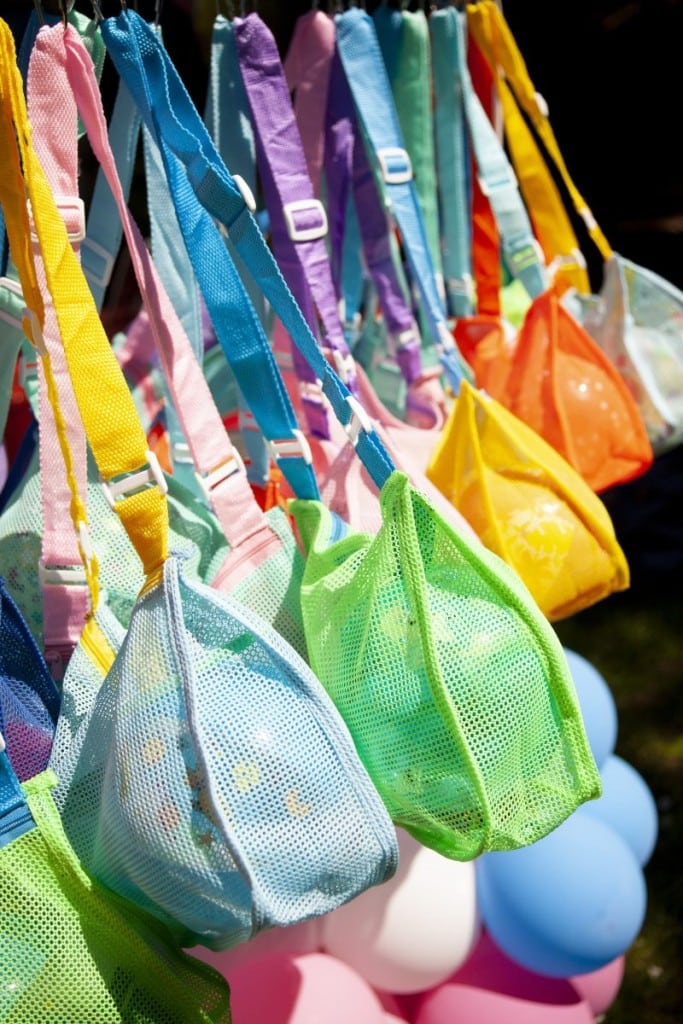 Everyone loved choosing which color of bag they wanted and getting goodies to take home with them!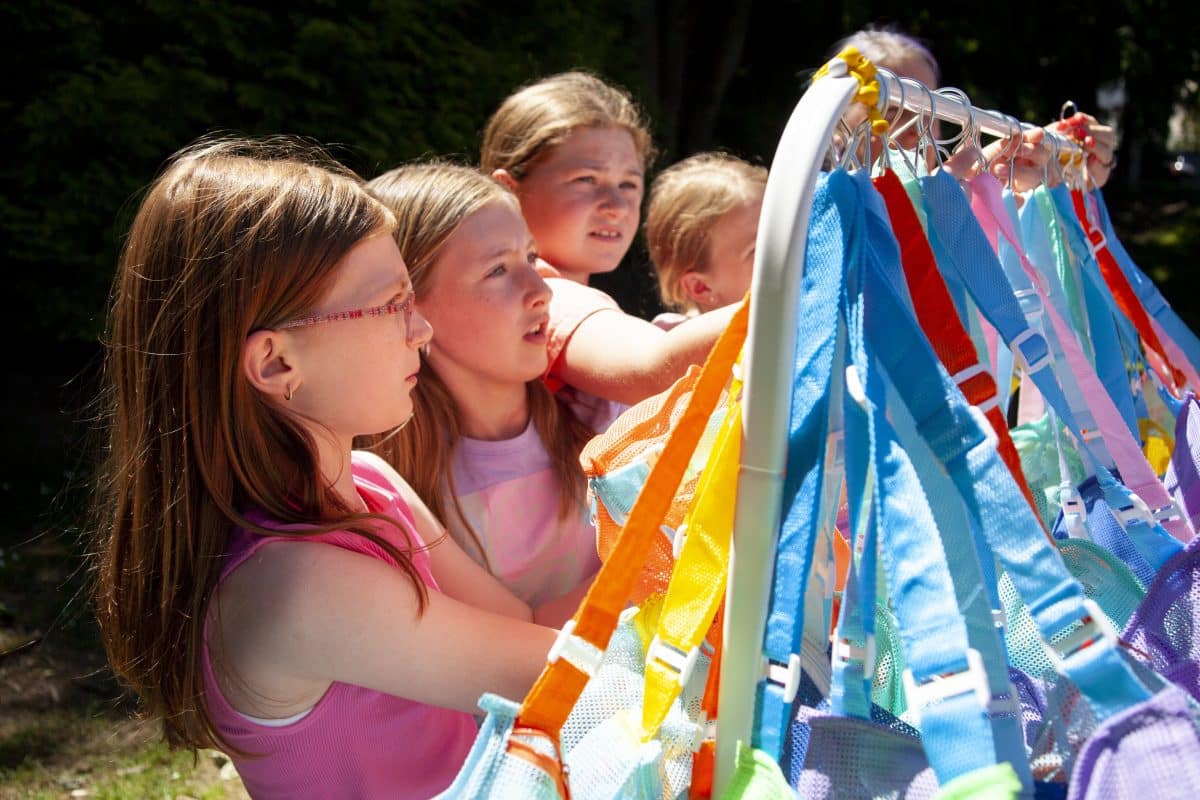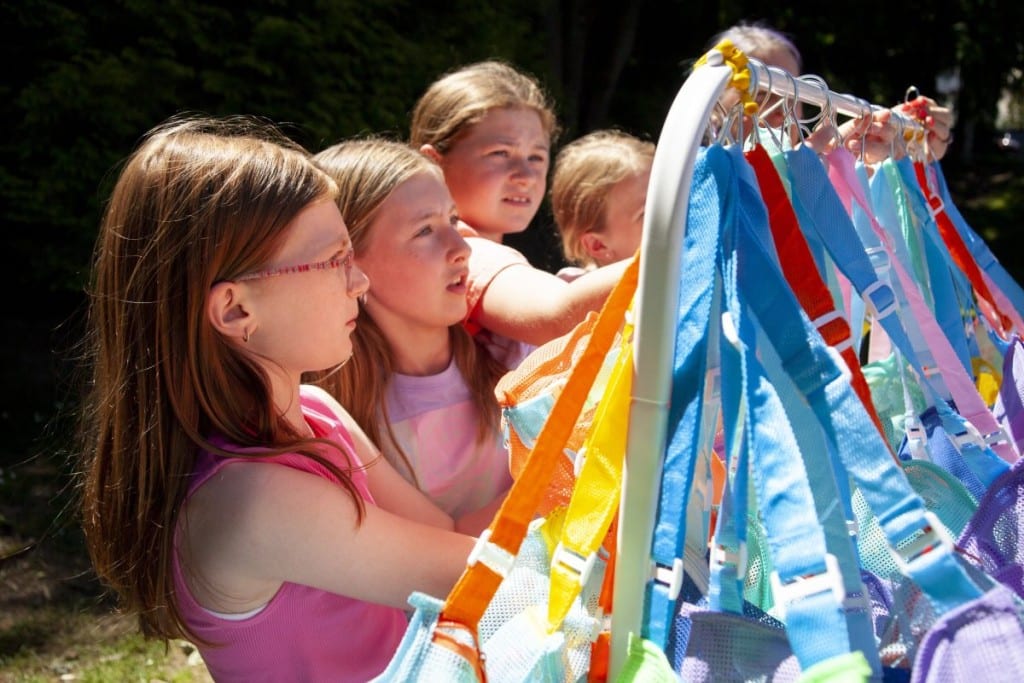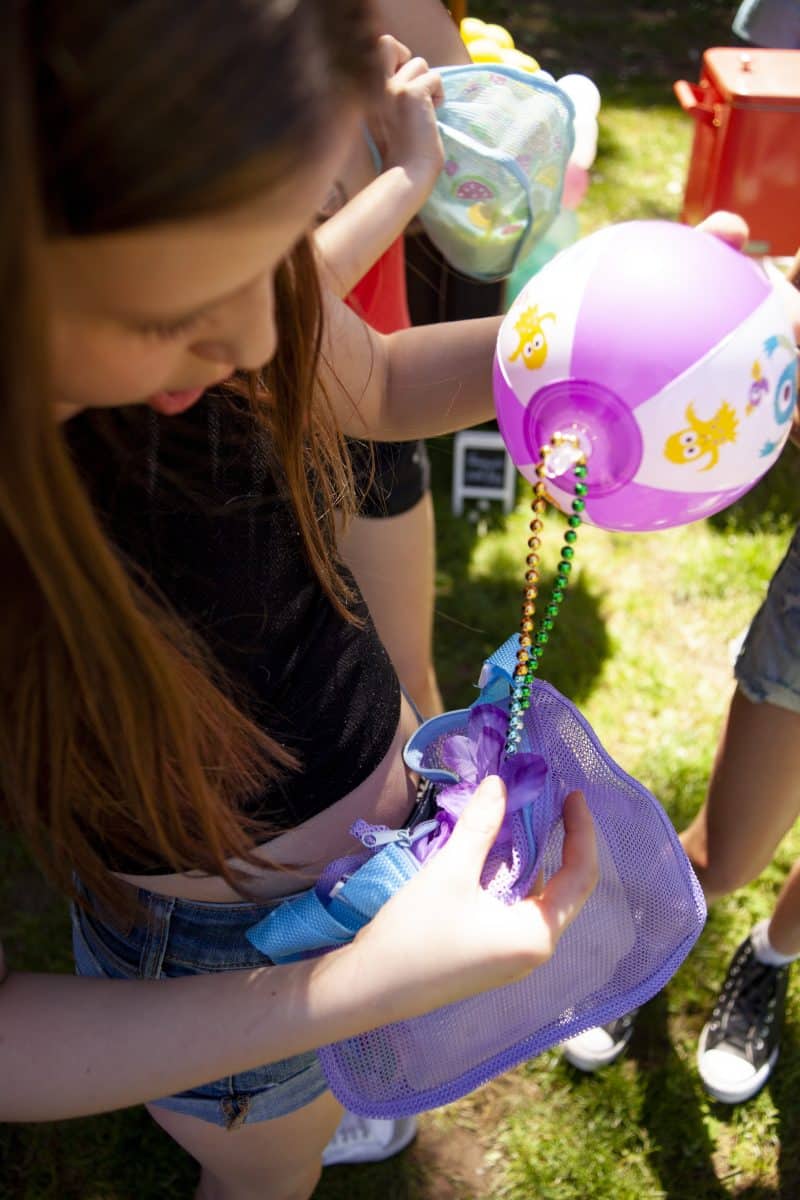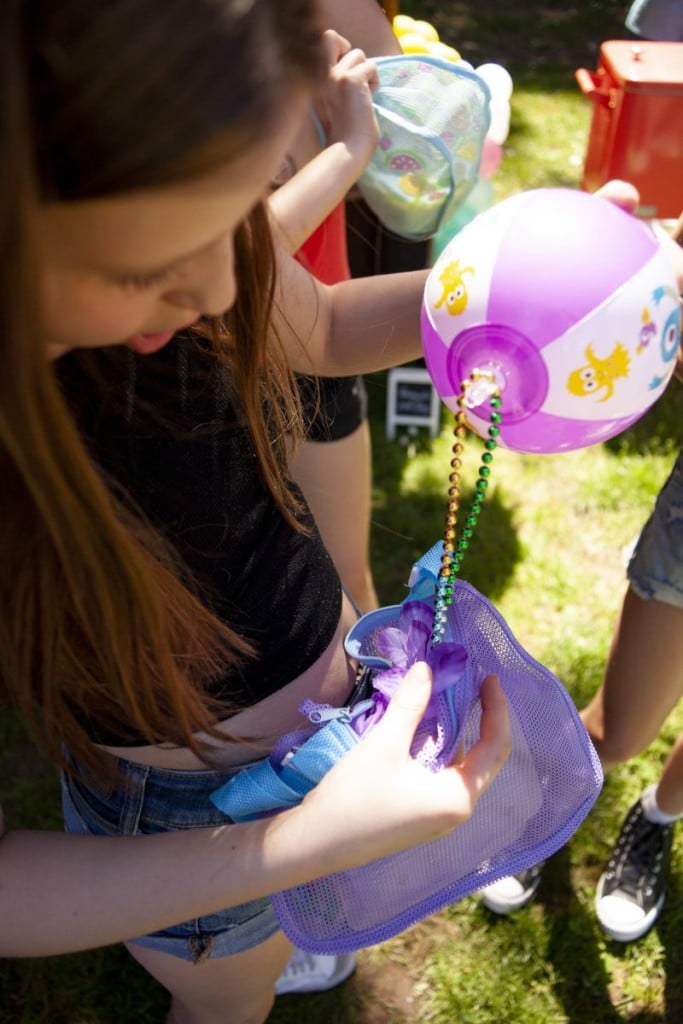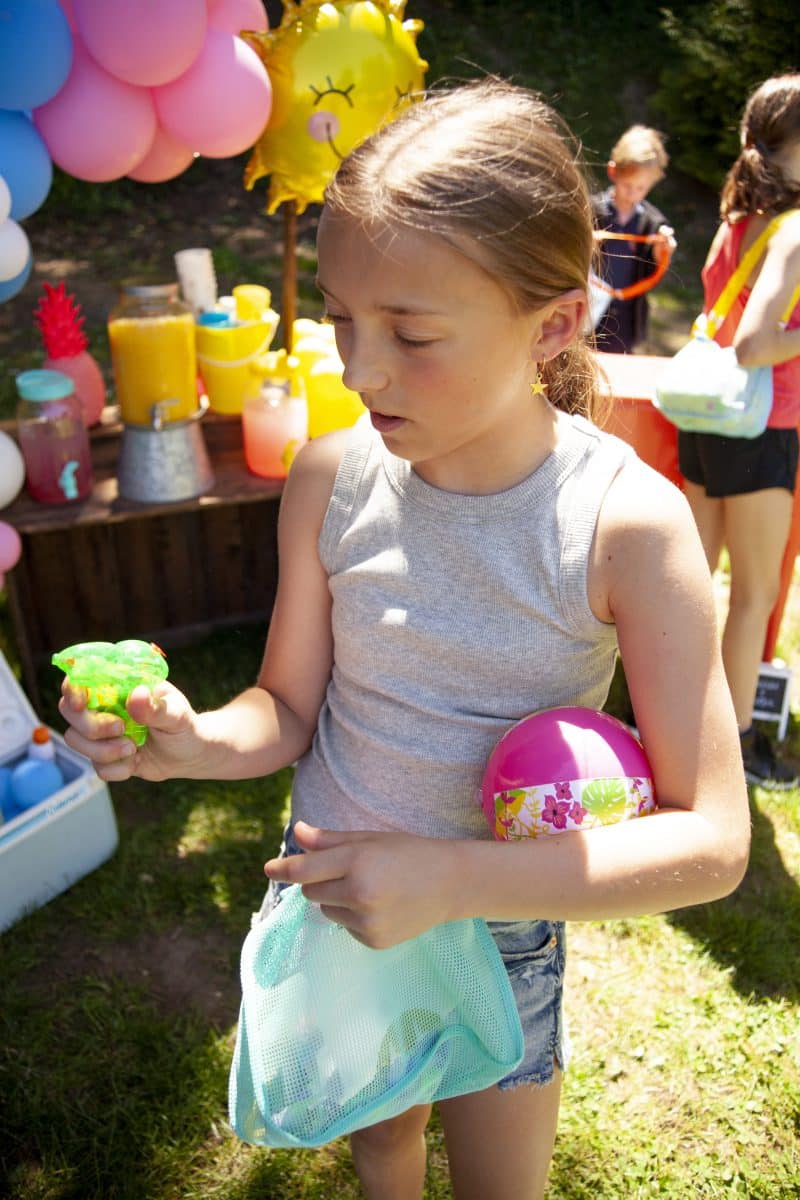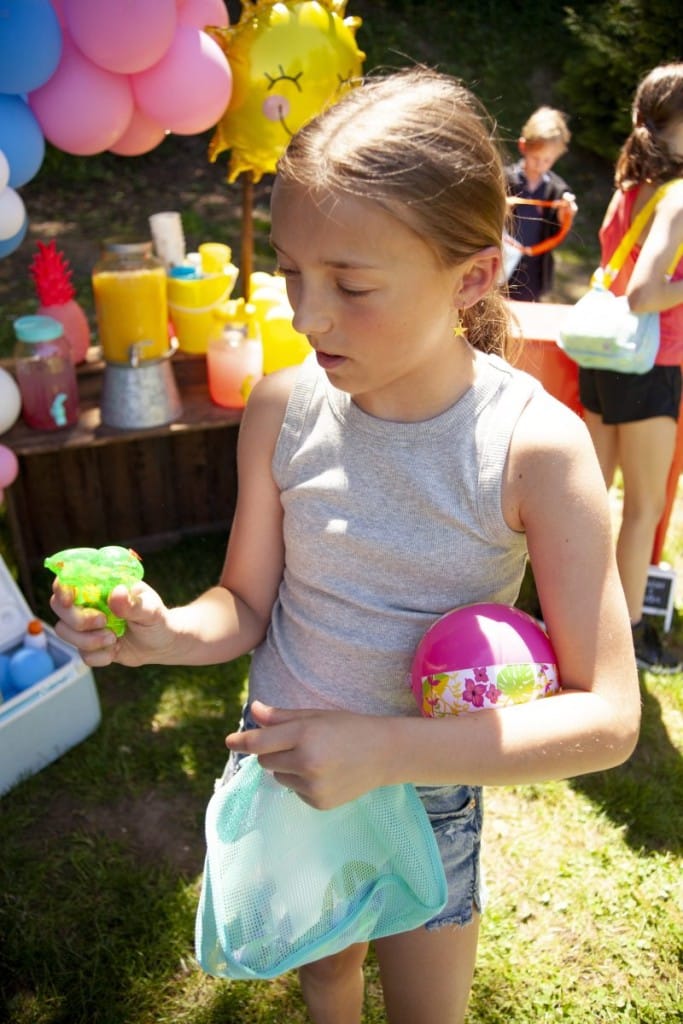 Memories
Finally, before heading home, everyone made sure to take some photos in front of the photo booth backdrop. Perfect for social media and for creating memories for years to come!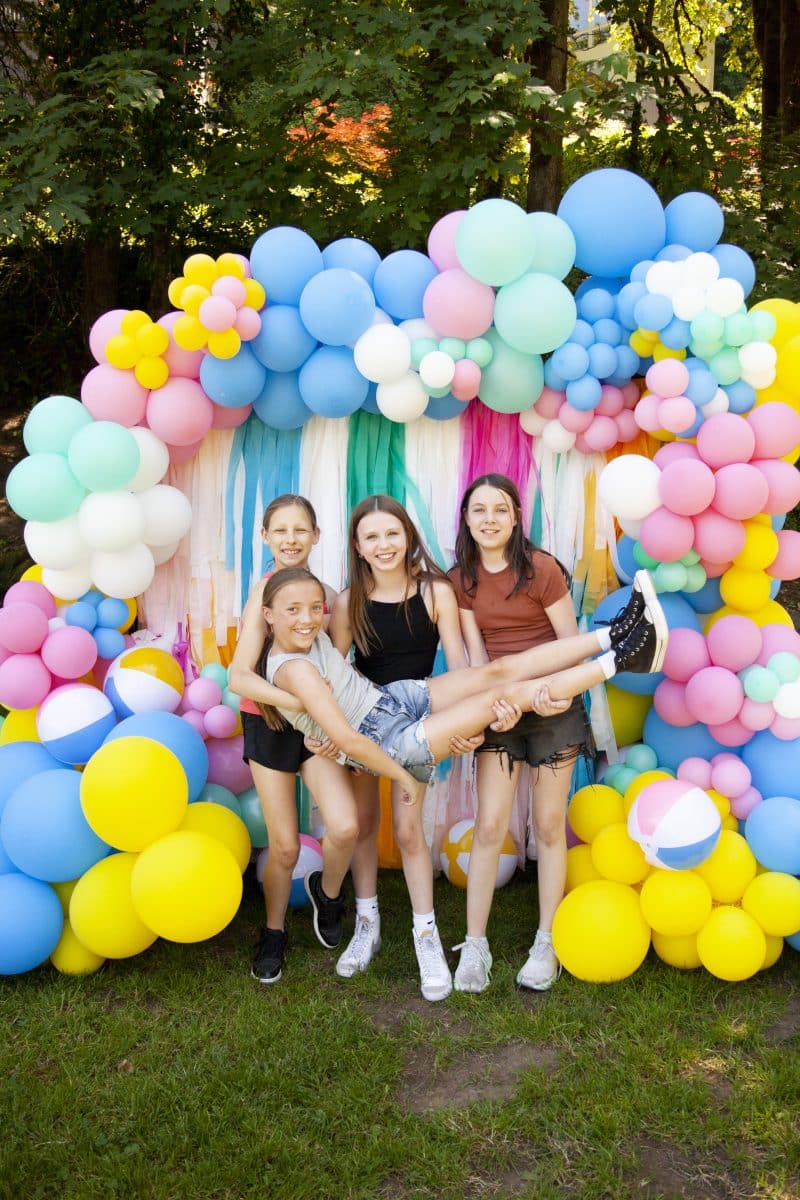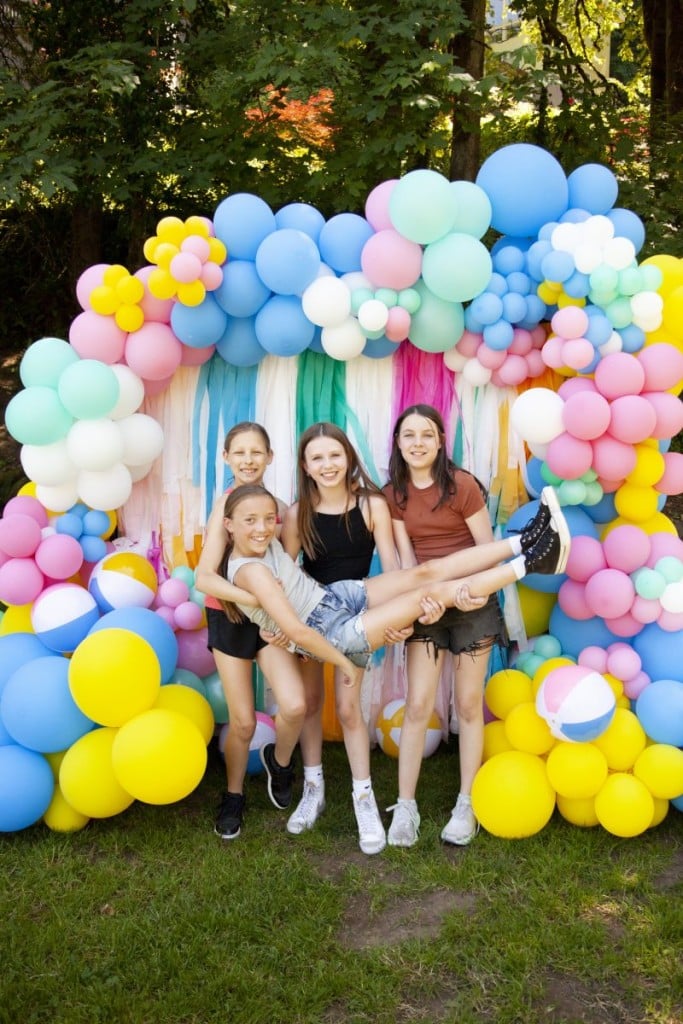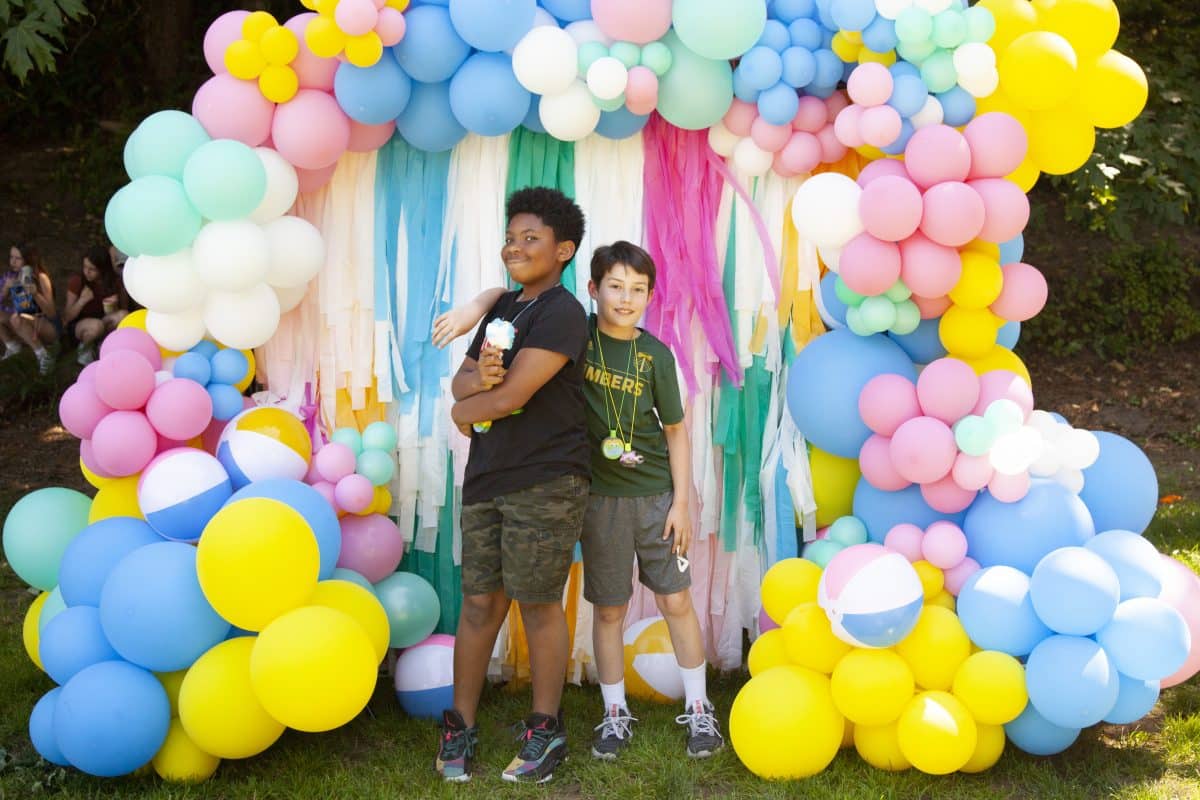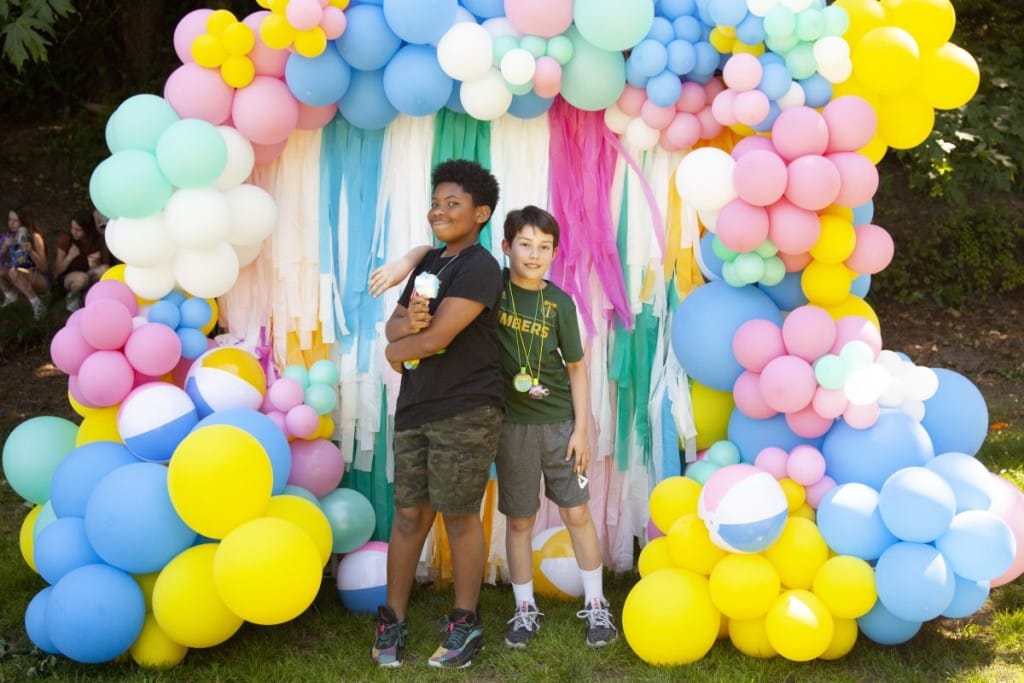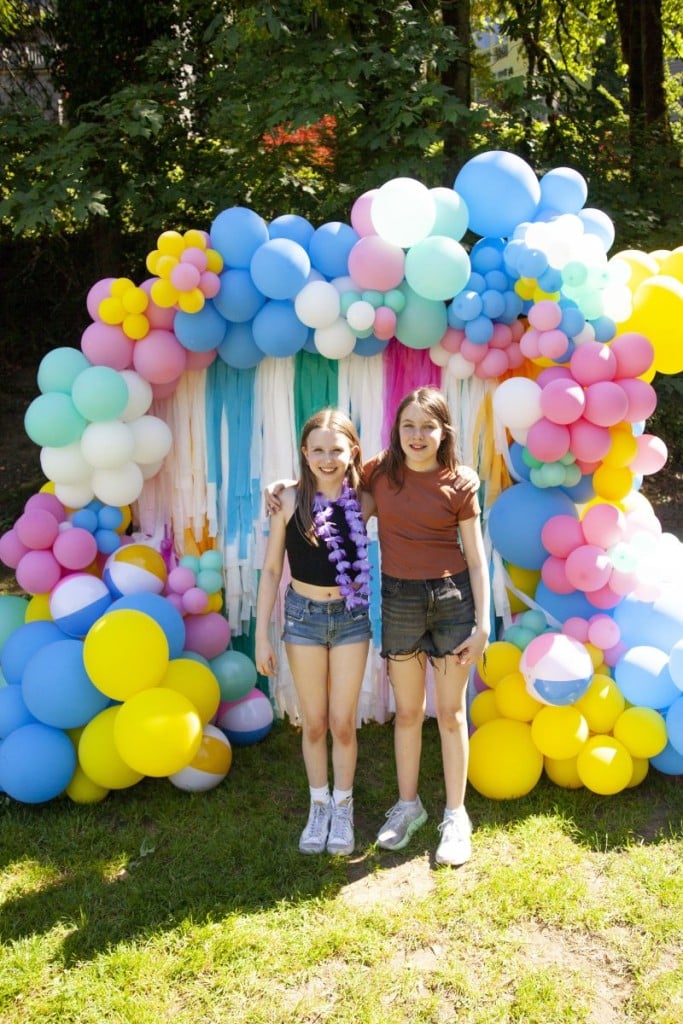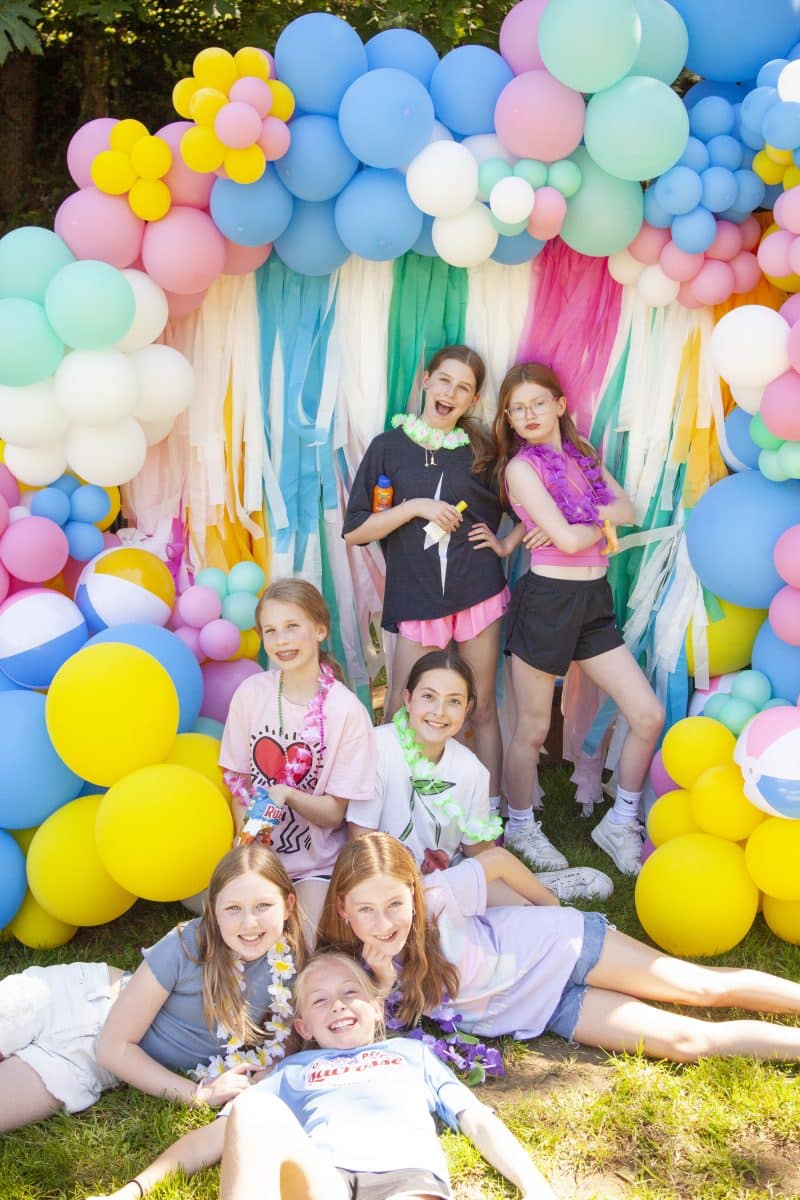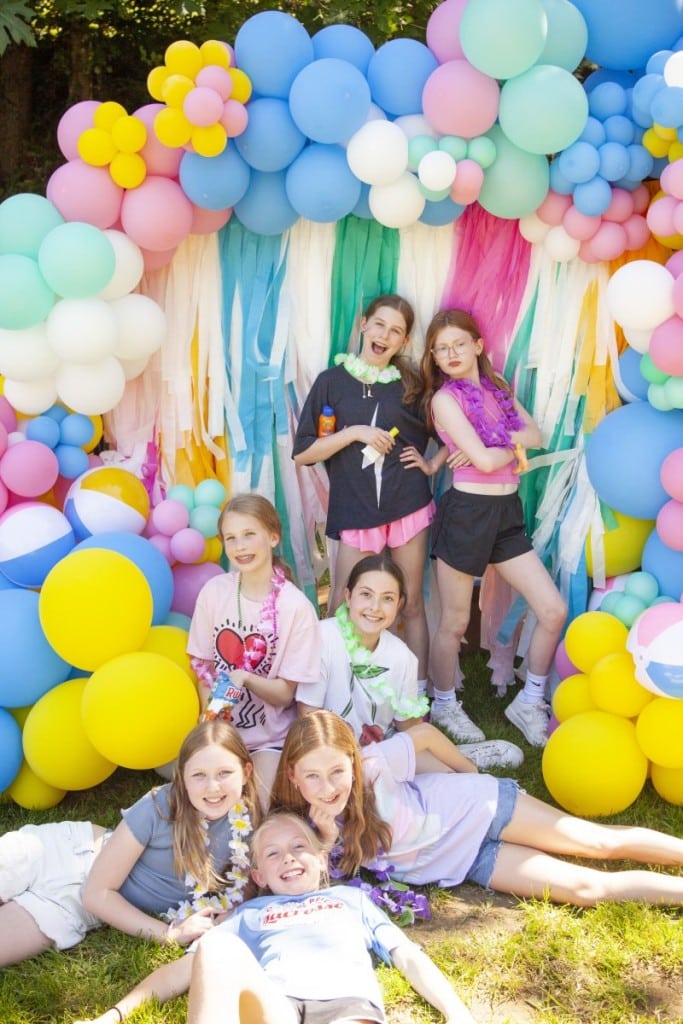 Just keep an eye out for photo bombers!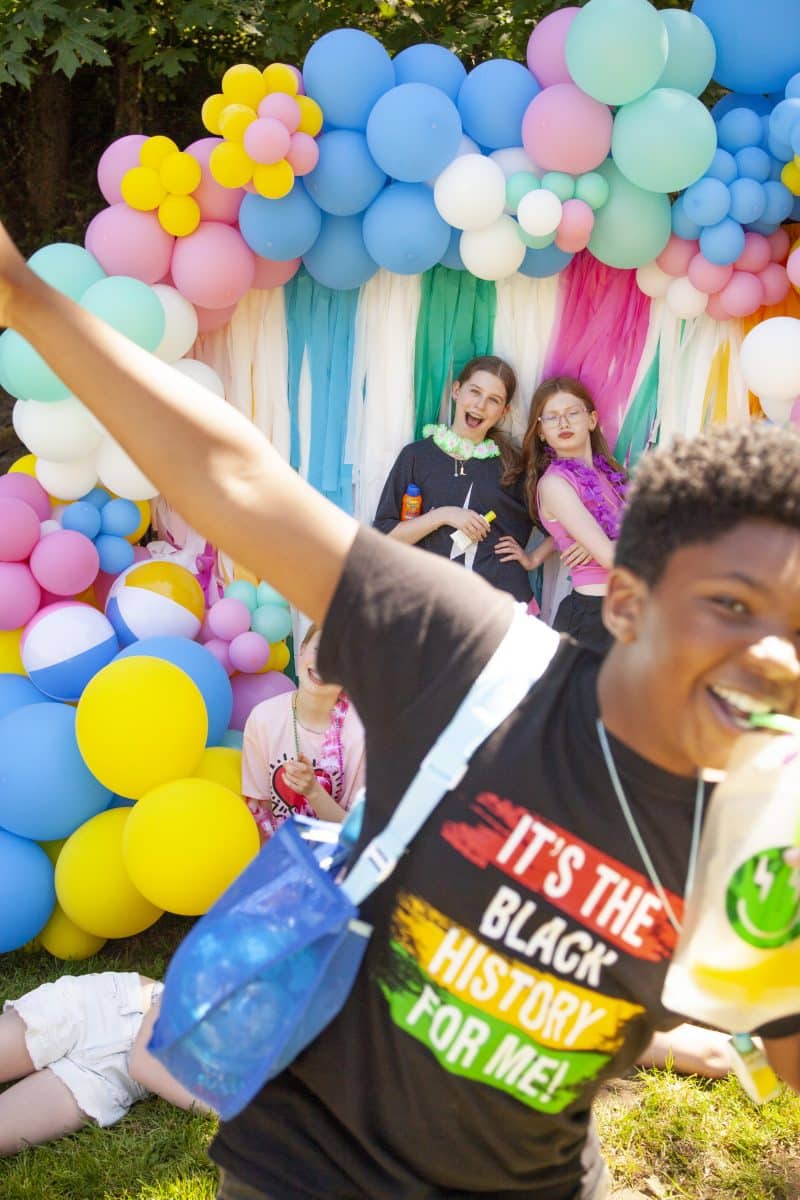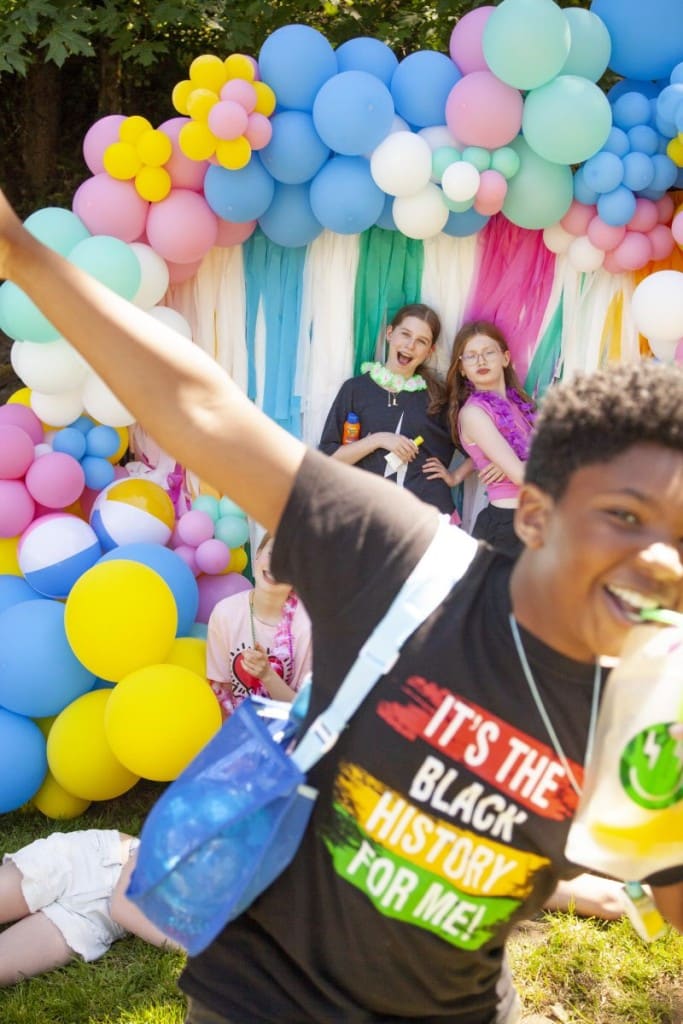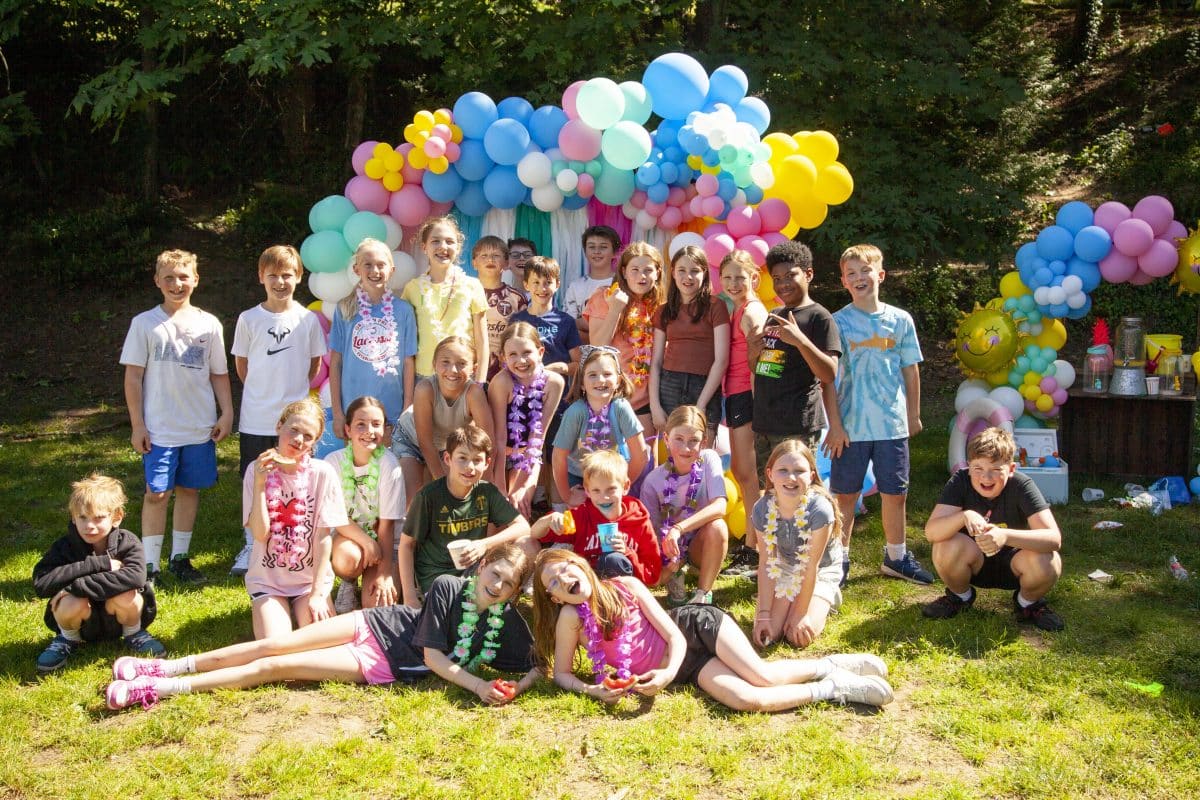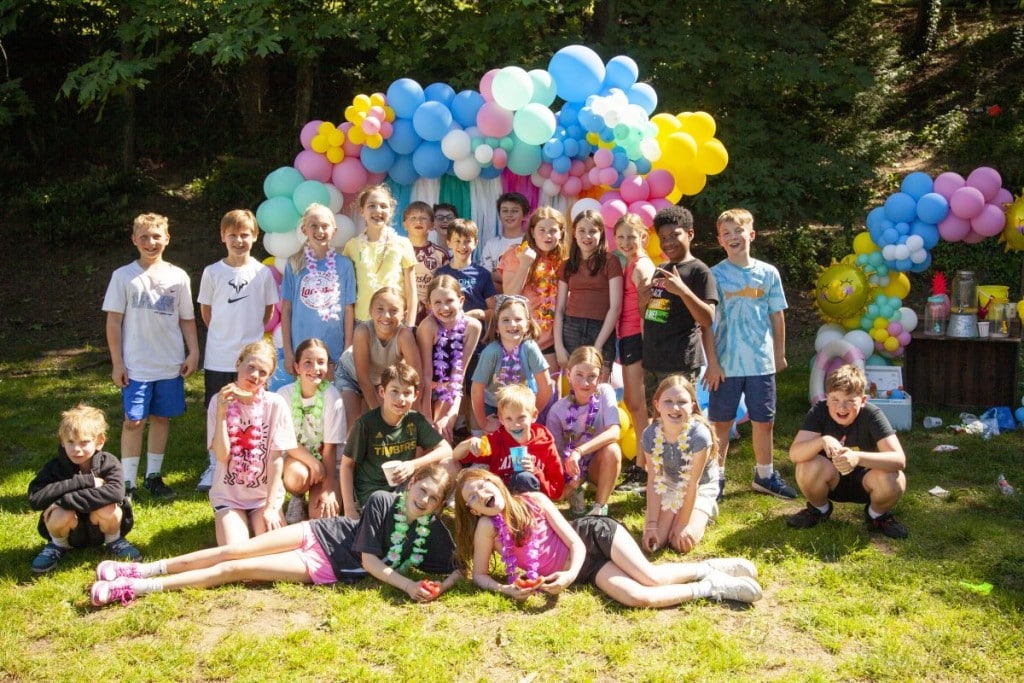 I hope you've found inspiration and ideas to create a truly magical and memorable Outdoor Summer Party for Kids. Remember to infuse your own creativity and personalize the celebration to match your child's interests and preferences. And don't forget to check out my post of the Best Summer Party Activity Ideas to see all of the activities I put together for this party, and my Amazon Shop for everything you need to recreate it. Cheers to making magical memories together!
Happy Partying,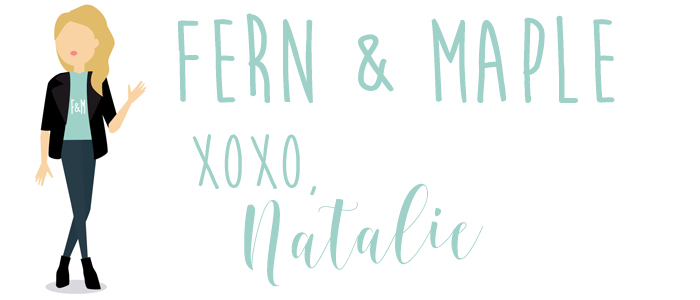 As a blogger, I sometimes receive compensation and/or products in exchange for my styling and crafting services. I also may earn a small commission from any sales that result from affiliate links on this page. As always, all project ideas and any opinions expressed here are my own. For further information on our disclosure policy please check out our disclosure page.
PIN FOR LATER: