If you're planning a celebration for your teen's hockey team, I've got you covered with all the tips and tricks to make it a memorable event. I'll walk you through the essential elements of creating the perfect Hockey Team Party, including décor, table setting ideas, dessert table setup, favors, and more! Get ready to score big with an unforgettable event that will leave lasting memories for both your teen and their teammates. Let's dive into the details!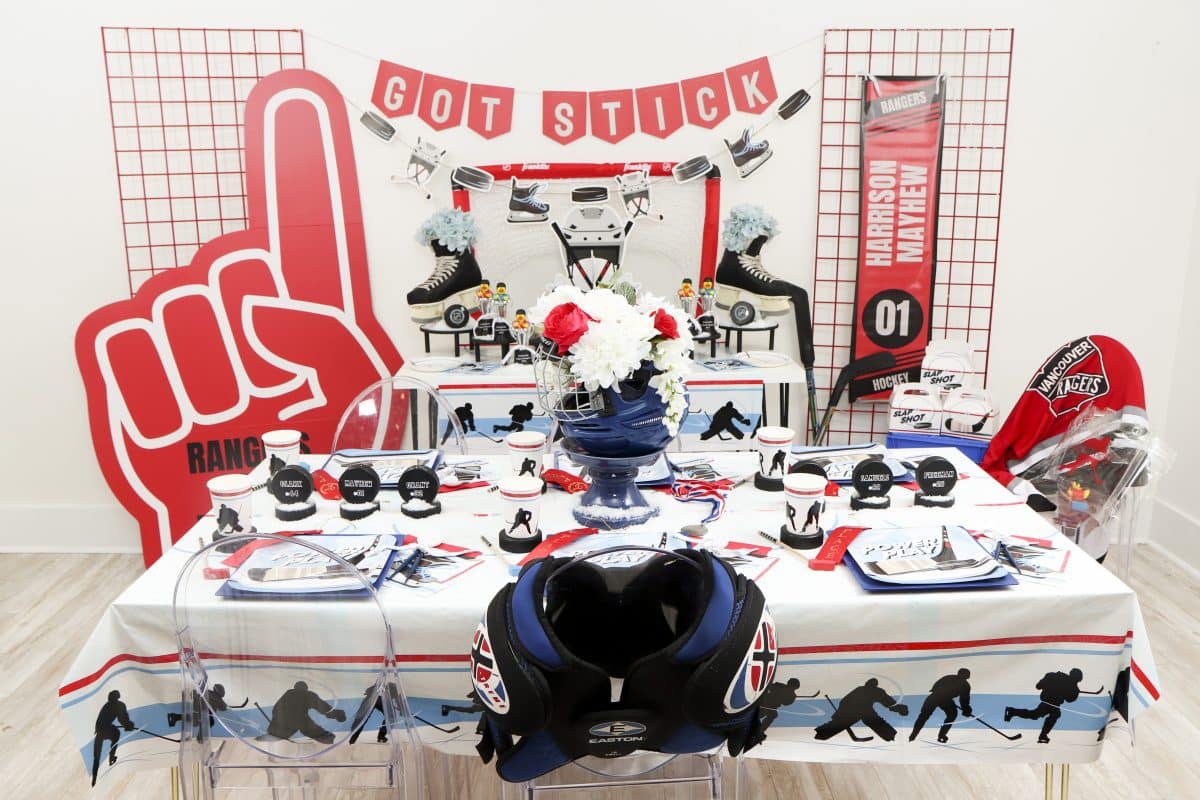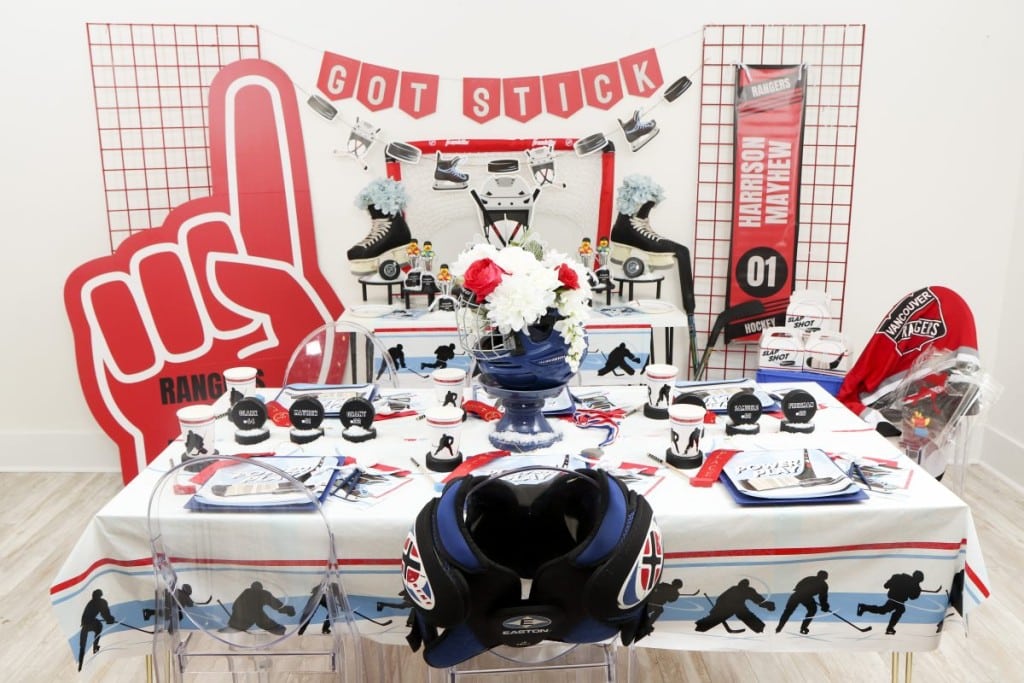 P.S. I got most of my Hockey Team Party supplies at Oriental Trading, check out their awesome selection here! But if you prefer shopping on Amazon, be sure to check out my Amazon Shop for many similar or alternative Hockey Team Party supplies.
How to Set up the Perfect Hockey Team Party for Teens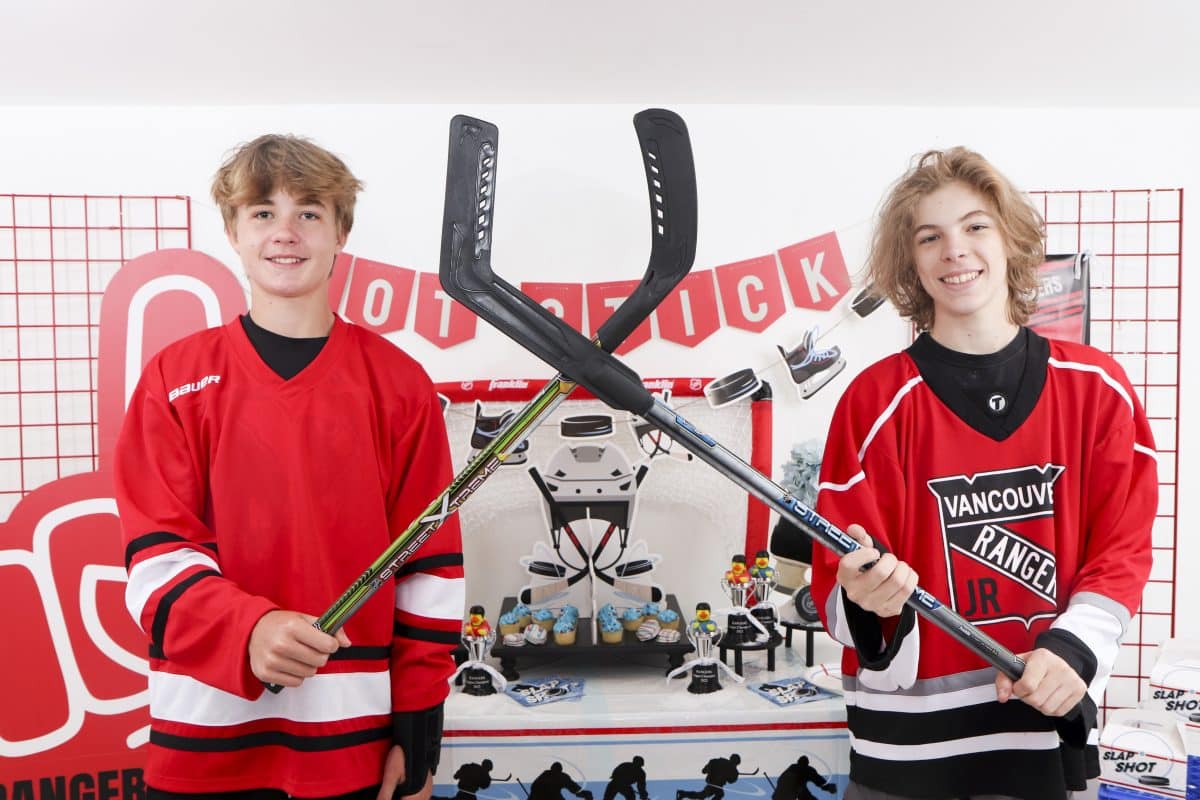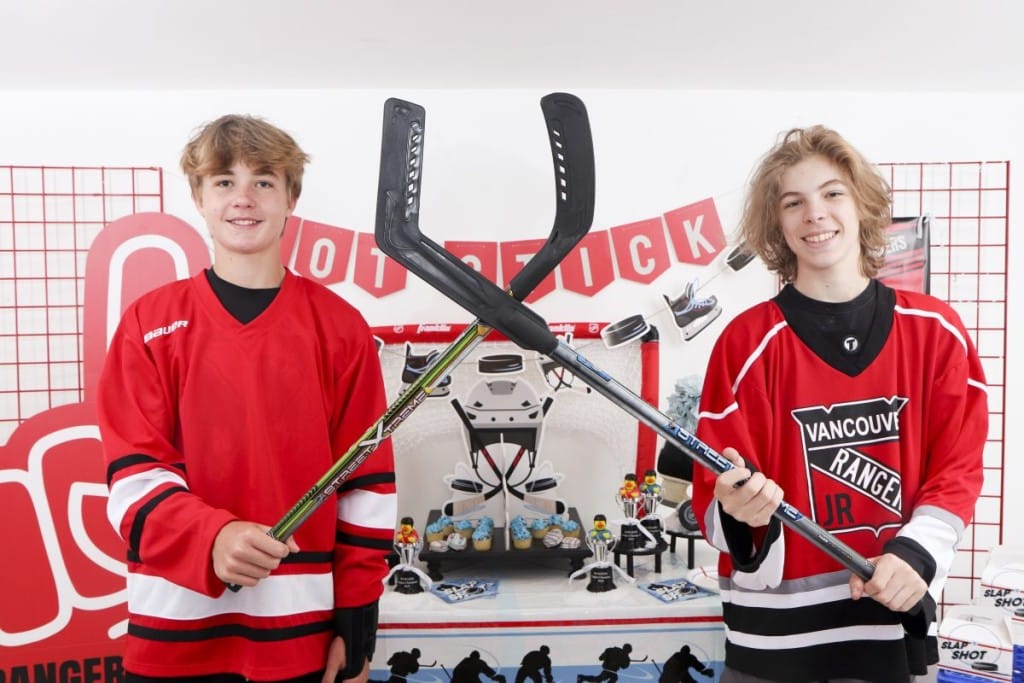 Decorations
First, I set the scene with some hockey-themed party décor in the team's colors. I used a couple of metal grid panels that I painted red on either side of the dessert table. In front of one, I placed a huge "foam finger" cardboard cutout. This made a huge splash as soon as you entered the room, particularly because I personalized it with the team's name and motto.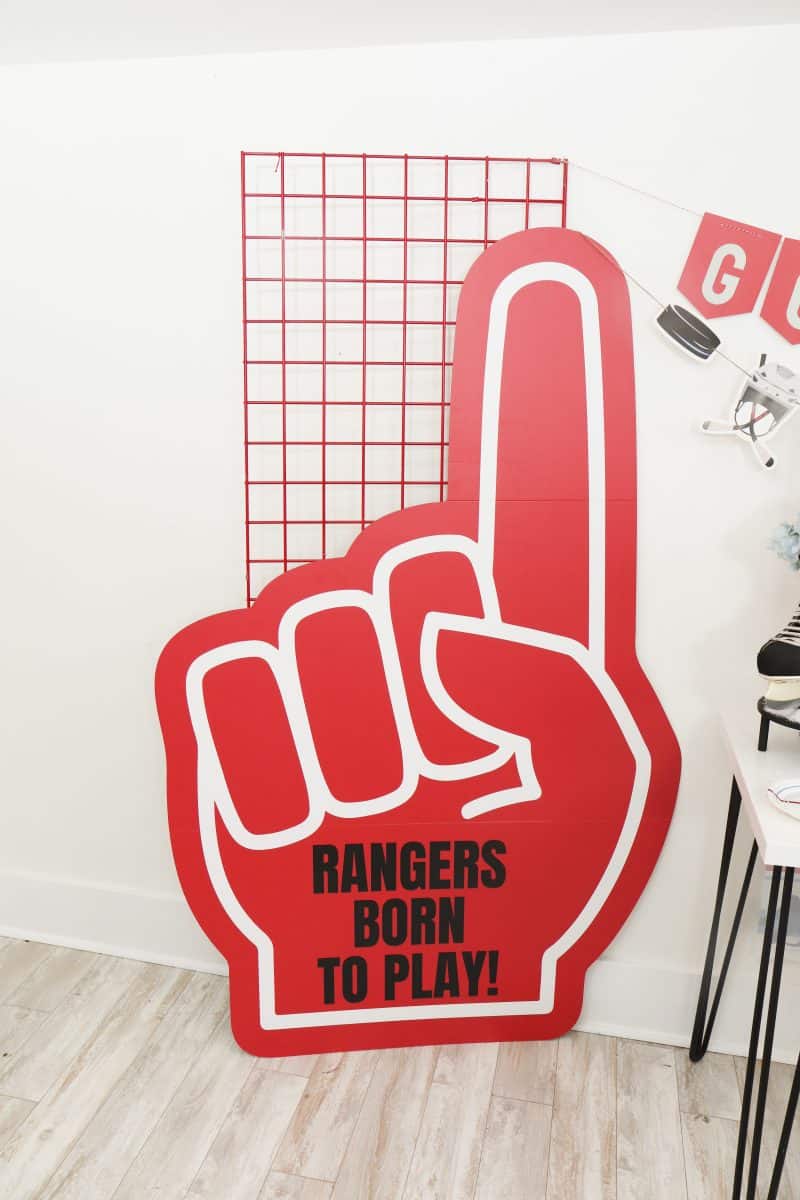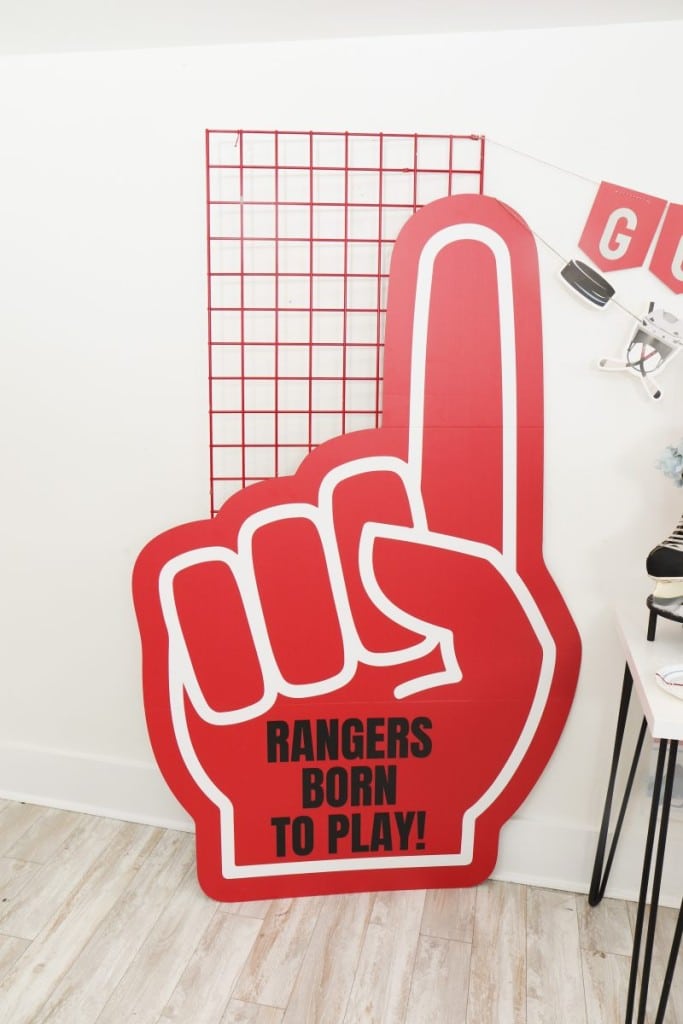 On the other panel, I hung a personalized banner for my teen, Harrison.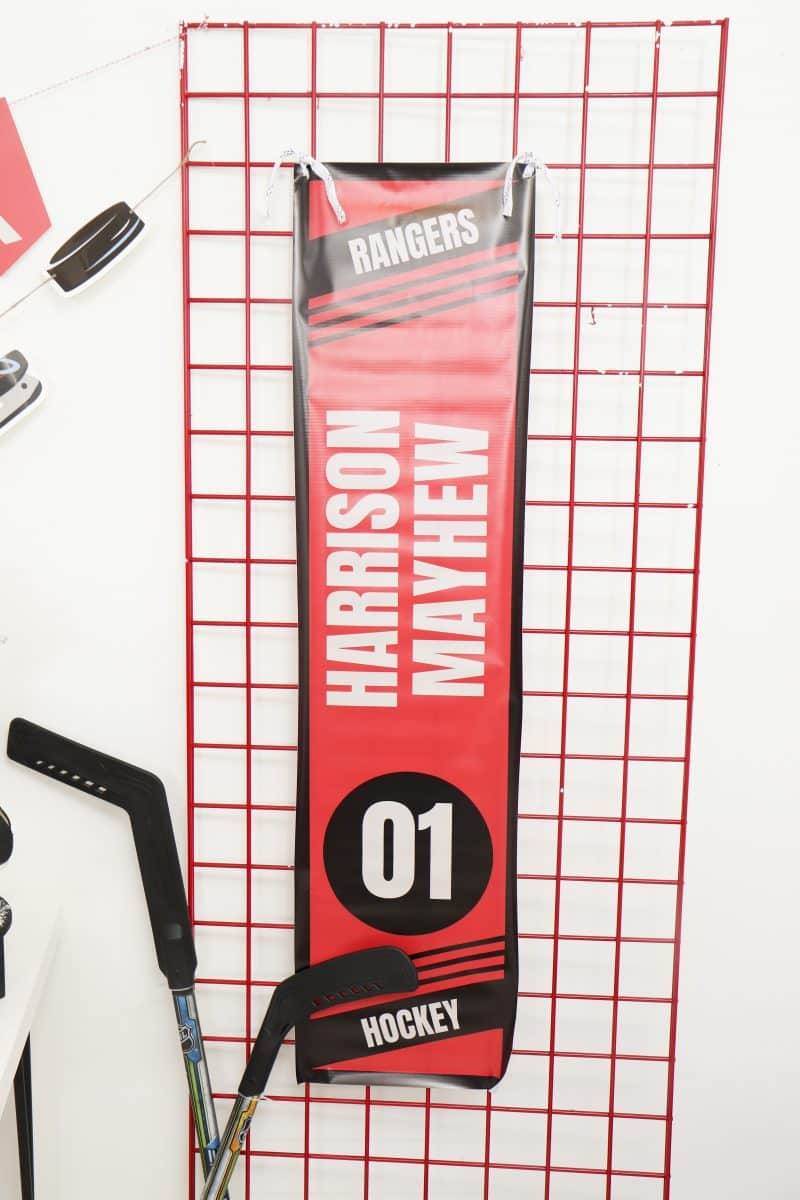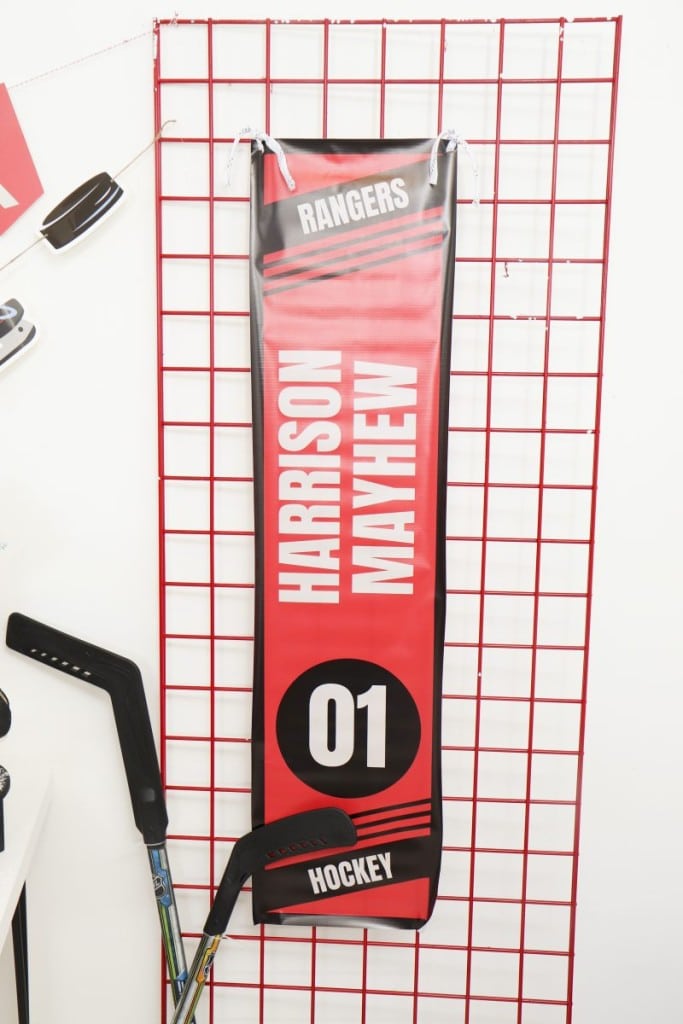 Behind the dessert table, I hung a "Got Stick" letter garland, along with a cute hockey-themed garland. These hung over a mini hockey goal I placed underneath.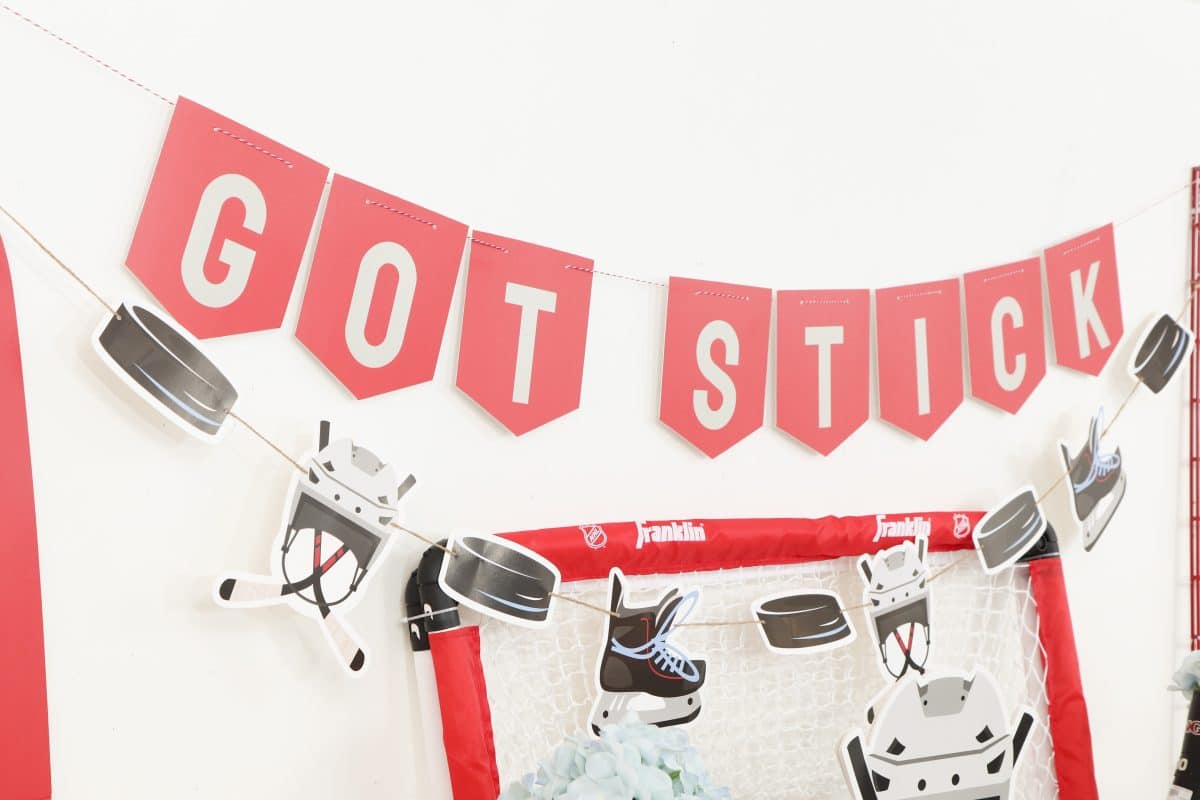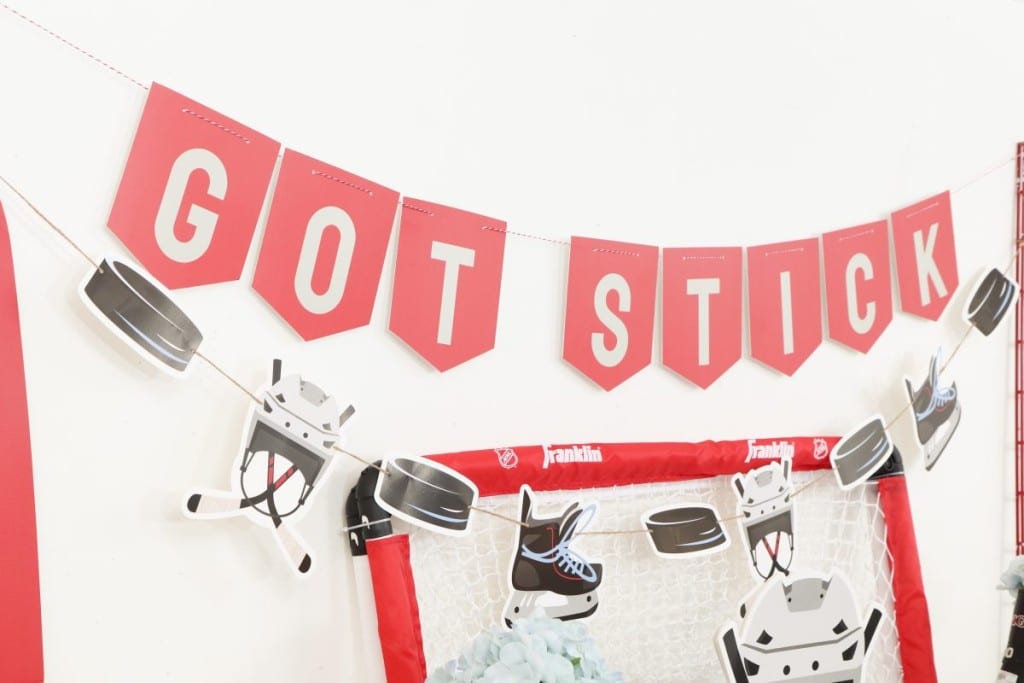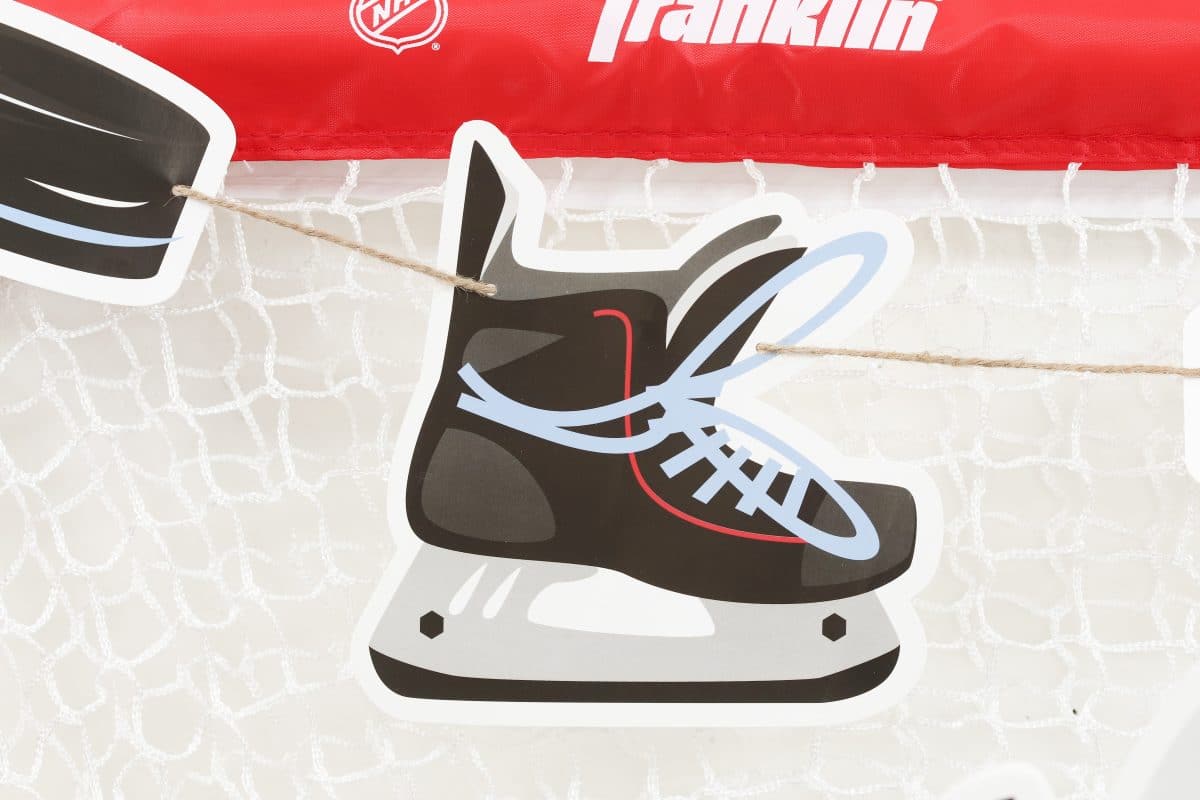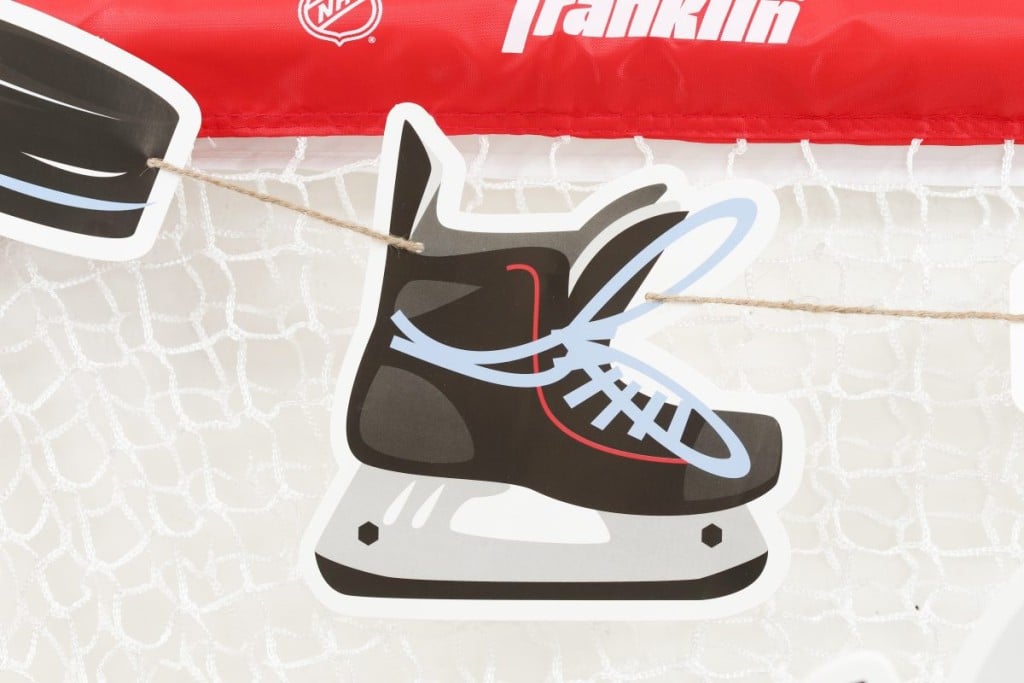 I love using actual sports items as décor. It's a budget-friendly way to decorate (just use what your teen already has!) but also adds some authenticity to the theme. On the dessert table, I used real ice skates willed with faux florals set on top of black stands with faux ice and a hockey puck.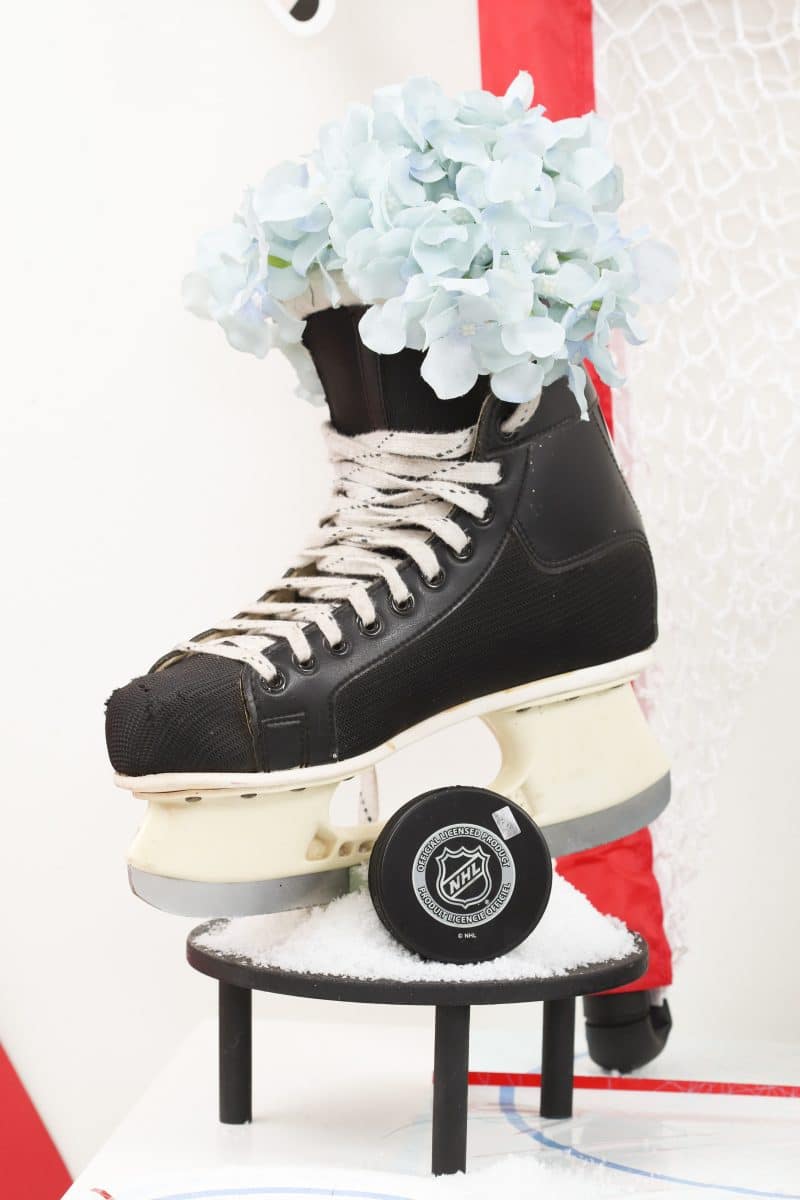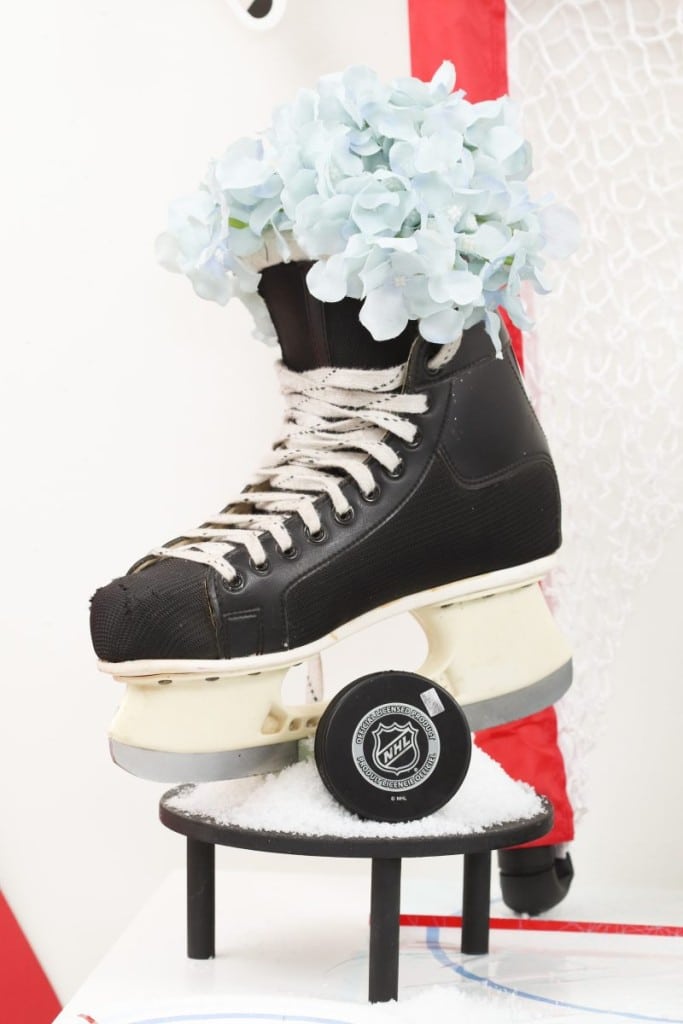 I also used my son's padding on one of the dining table chairs for another piece of décor.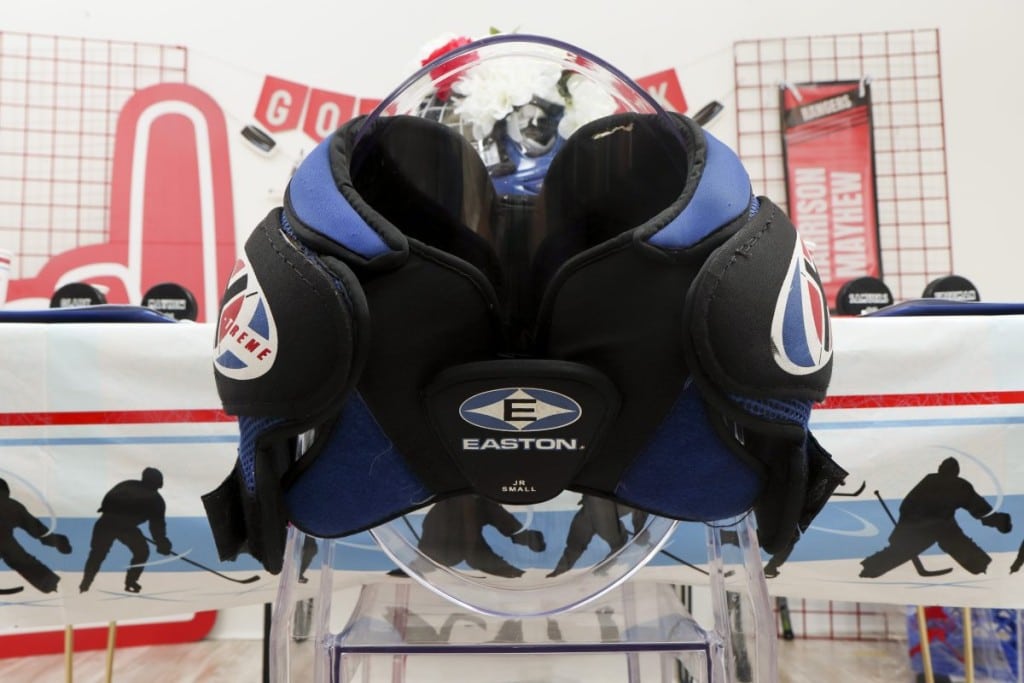 Lastly, I placed a couple of hockey sticks that came with the small net in between the dessert table and the favor station.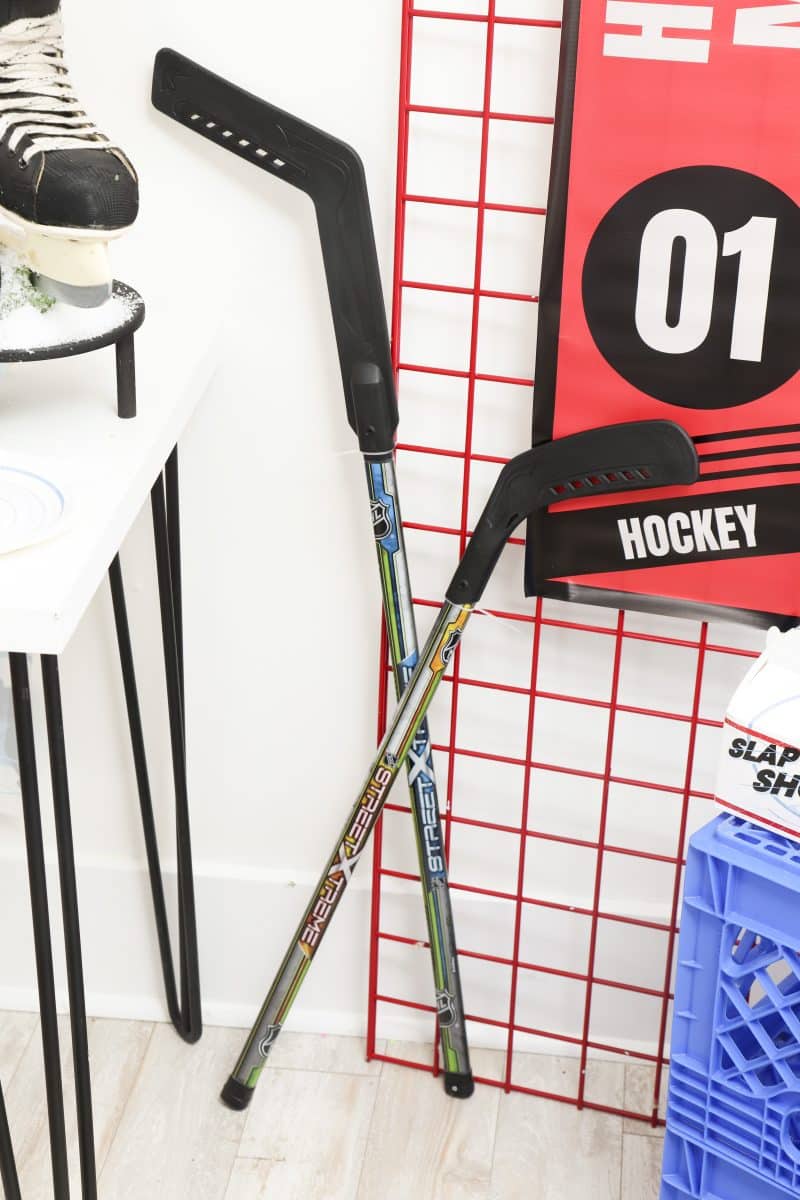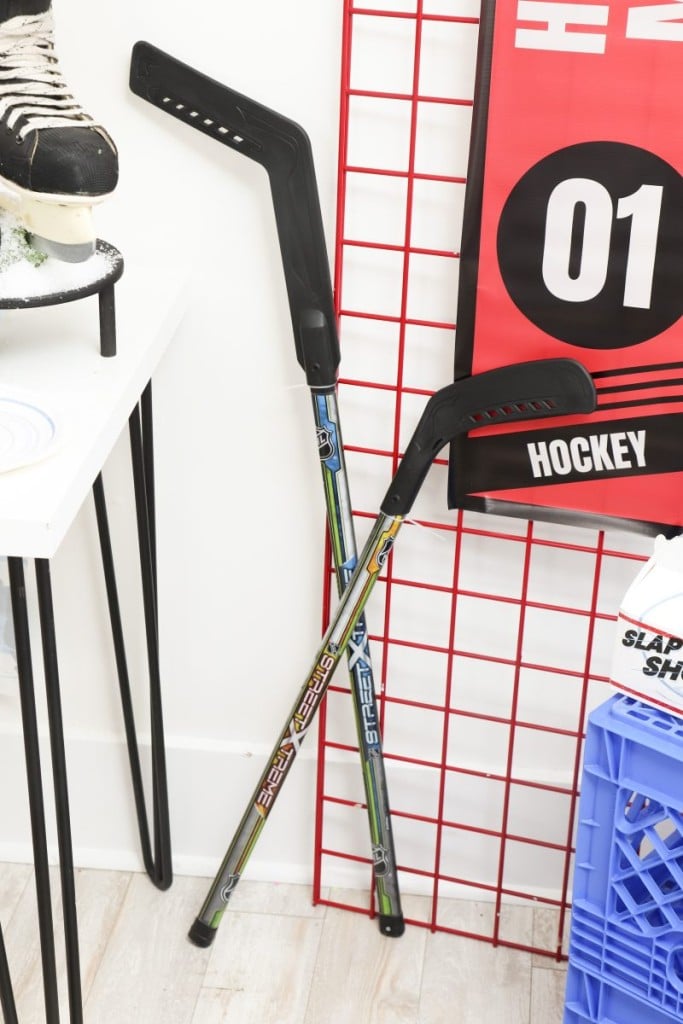 Dessert Table & Award Station
Underneath the garlands, I set up the dessert and award station.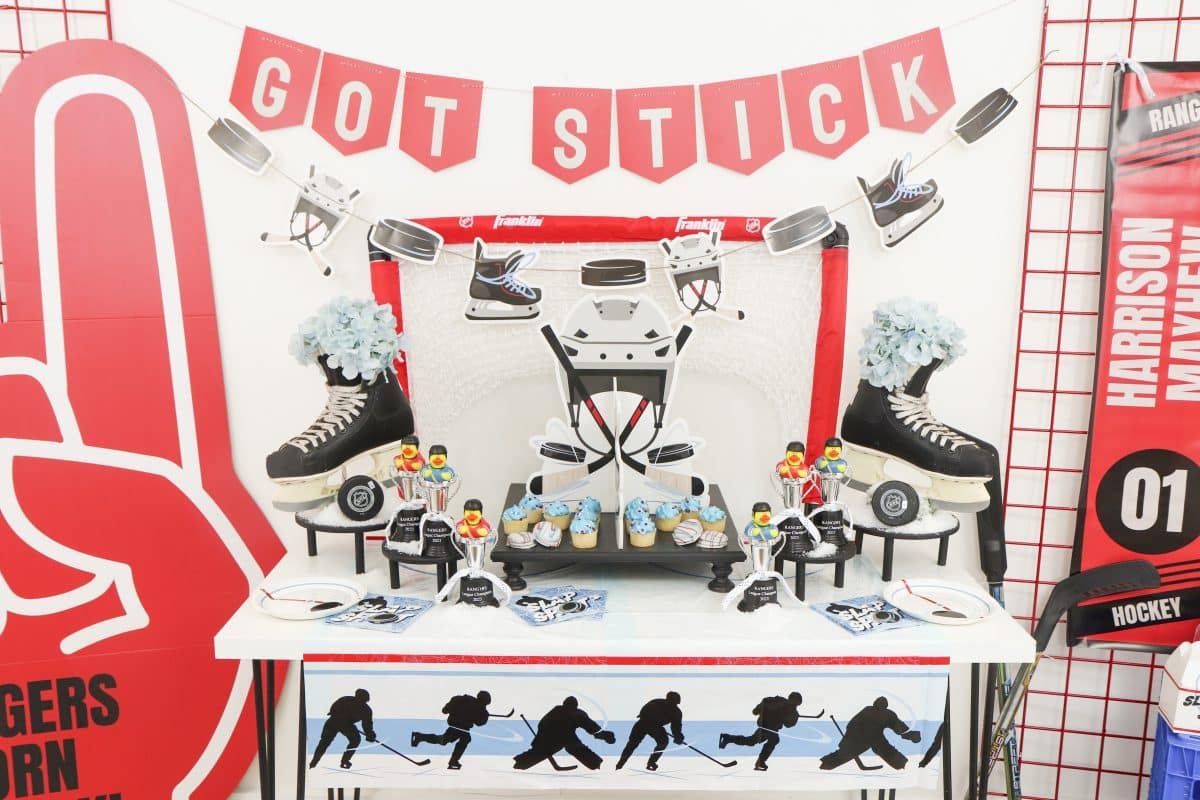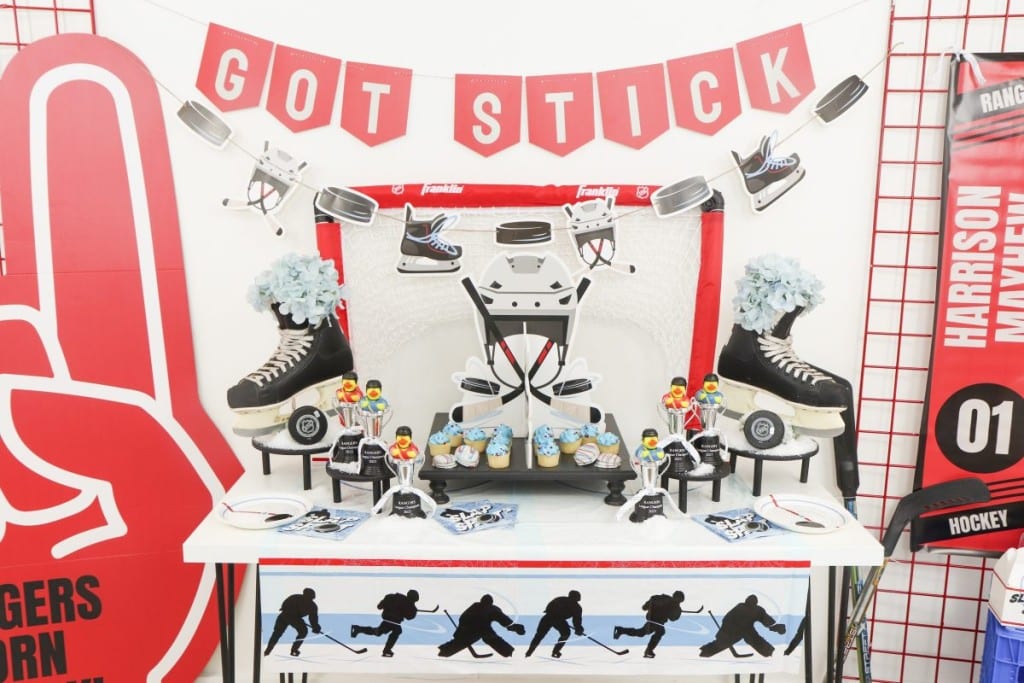 I covered the table with a hockey-themed table cover.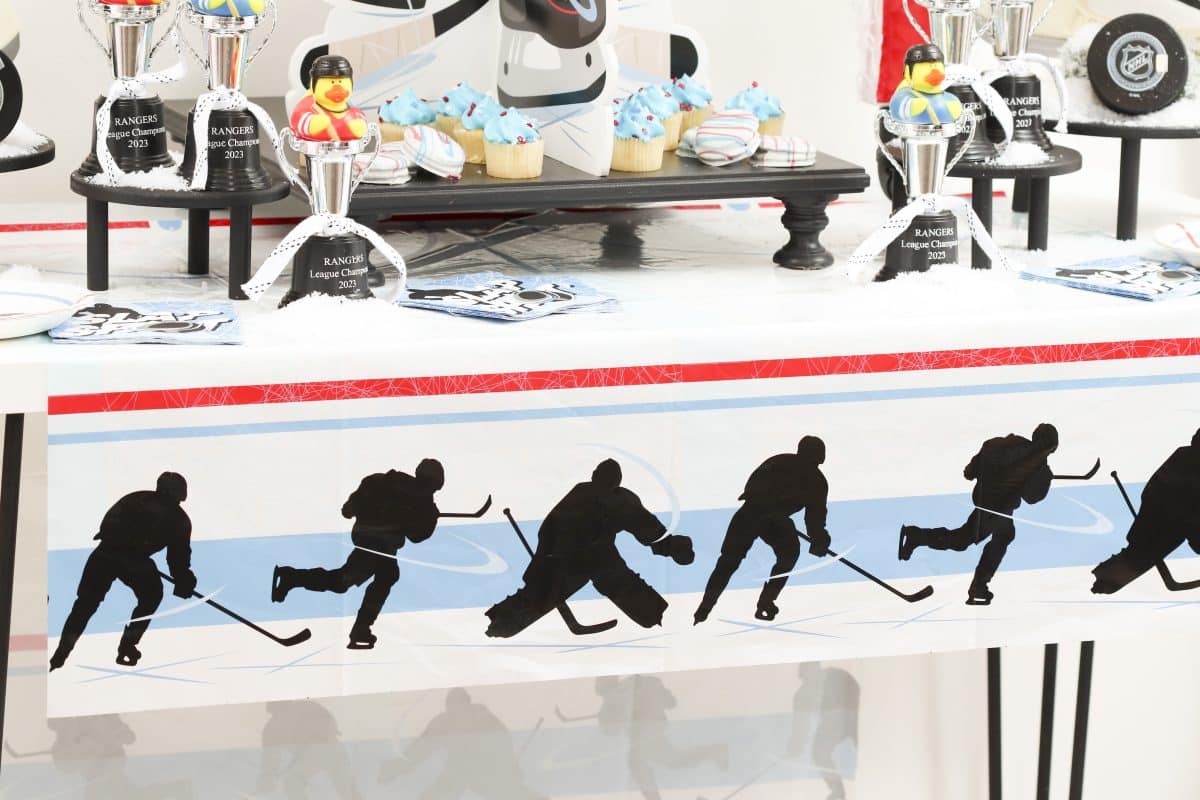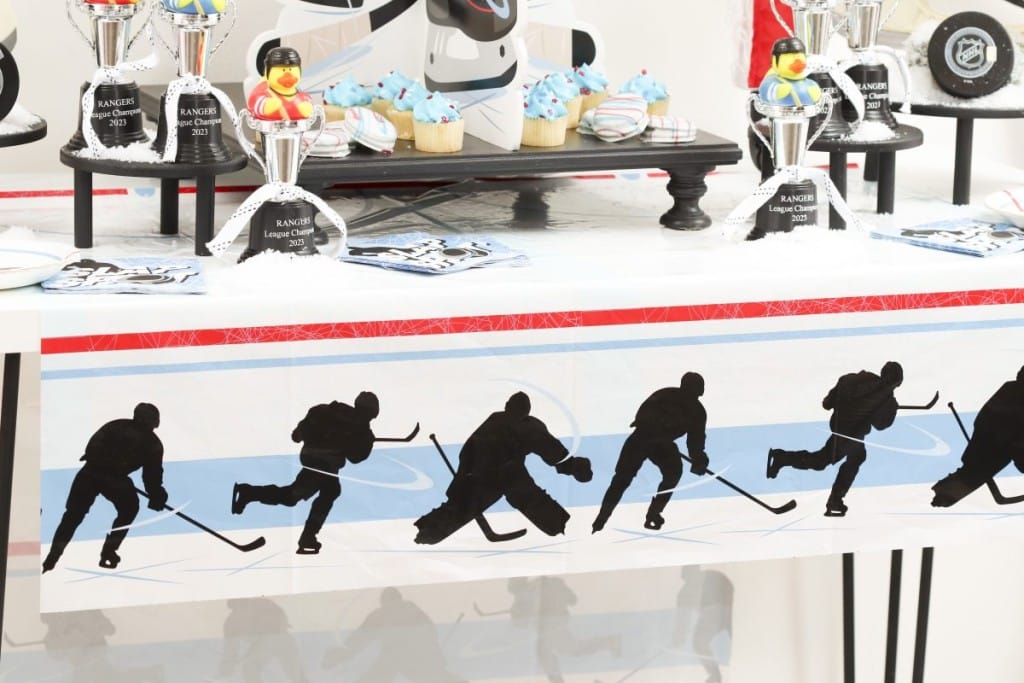 For desserts, I set up a hockey-themed stand with mini treats that matched the color scheme of the decorations and tableware.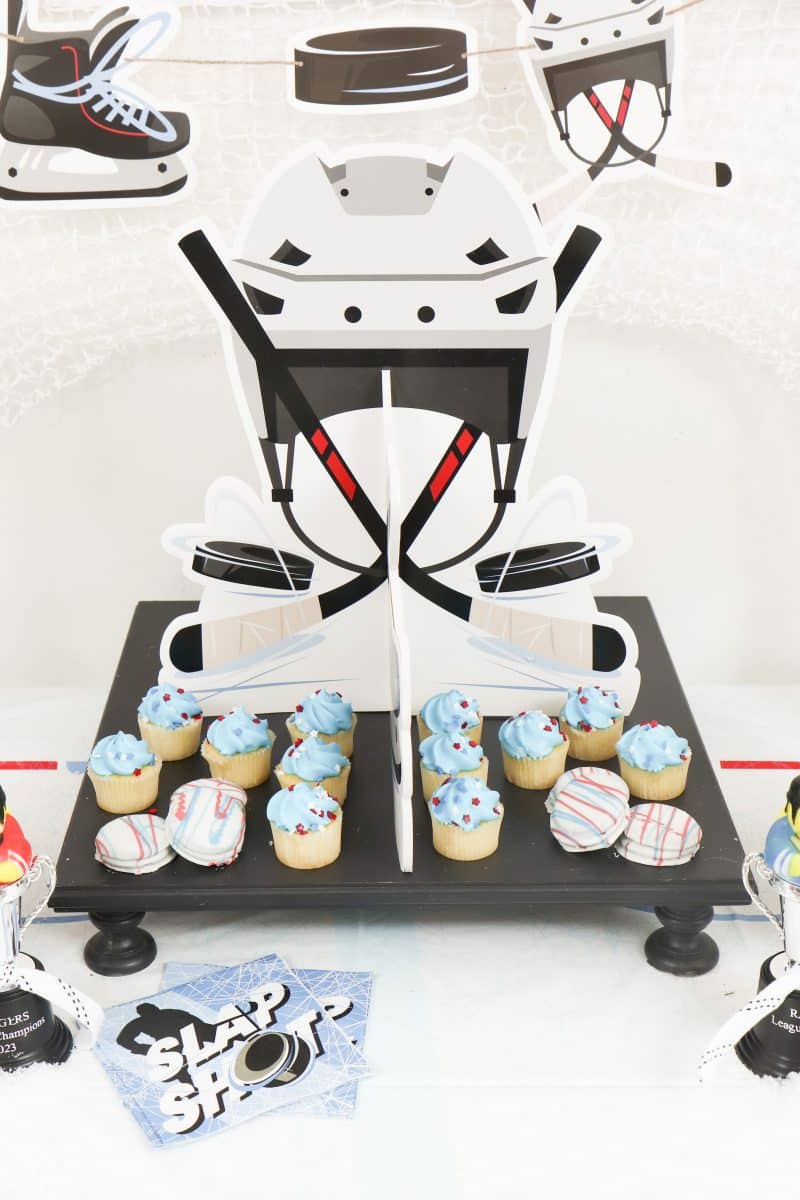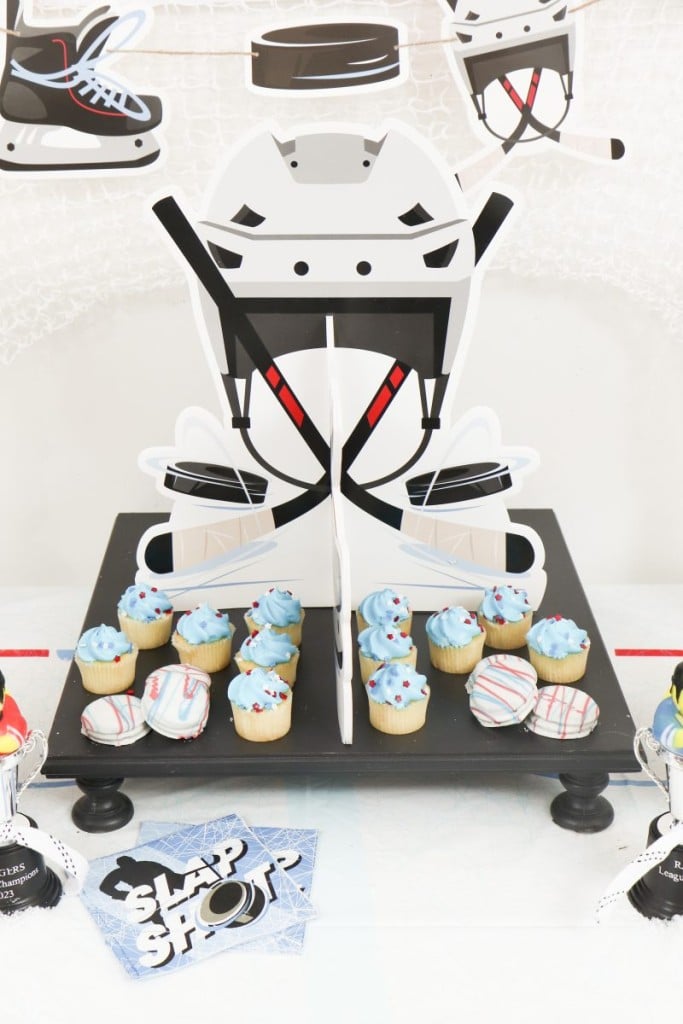 I also provided hockey-themed dessert plates and "slap shot" napkins.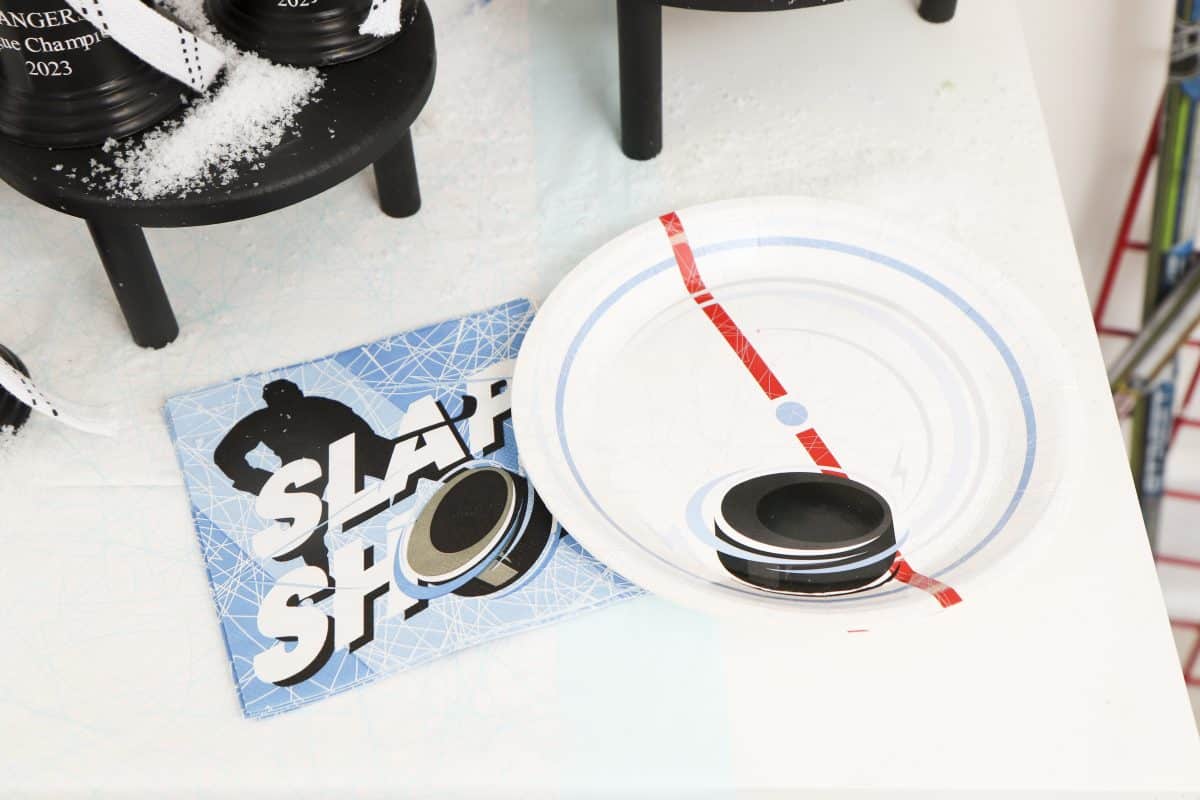 I wanted to make awards extra fun this year, so I made these adorable DIY Hockey awards that I customized with the team details and to which I added silly little hockey player rubber ducks. Teens are sure to get a kick out of these!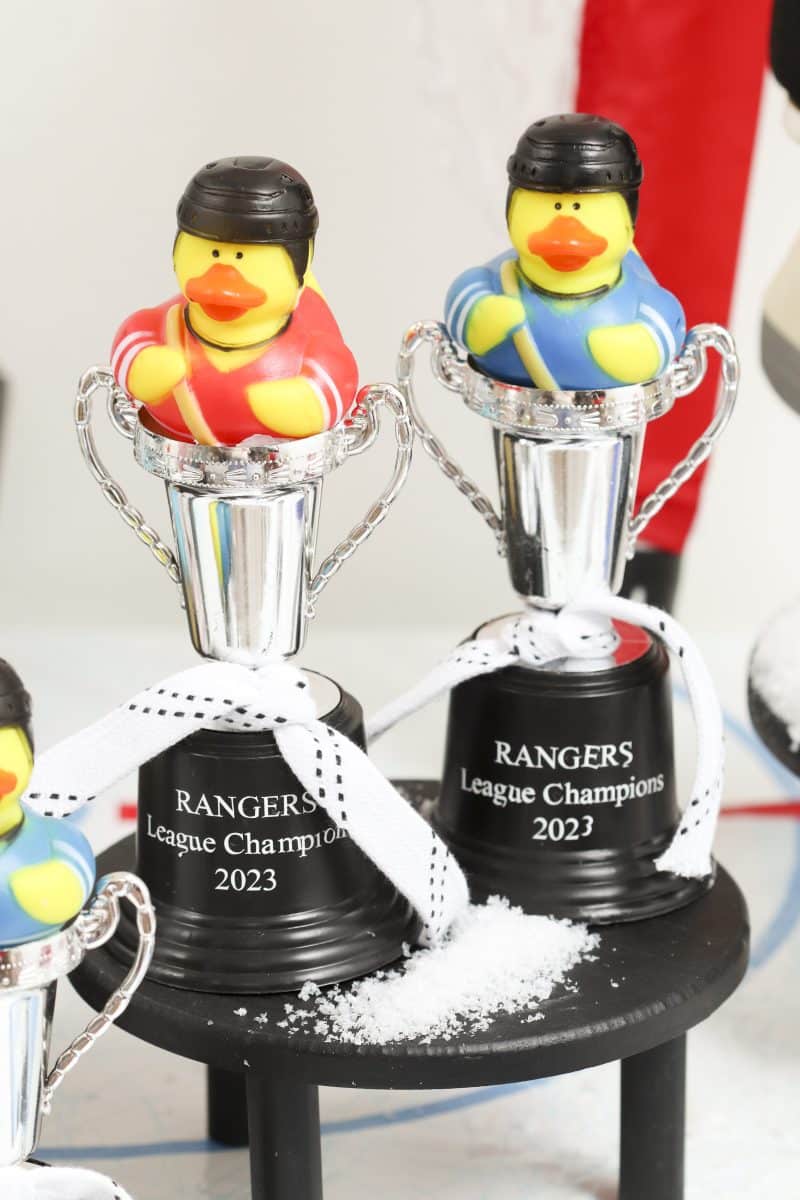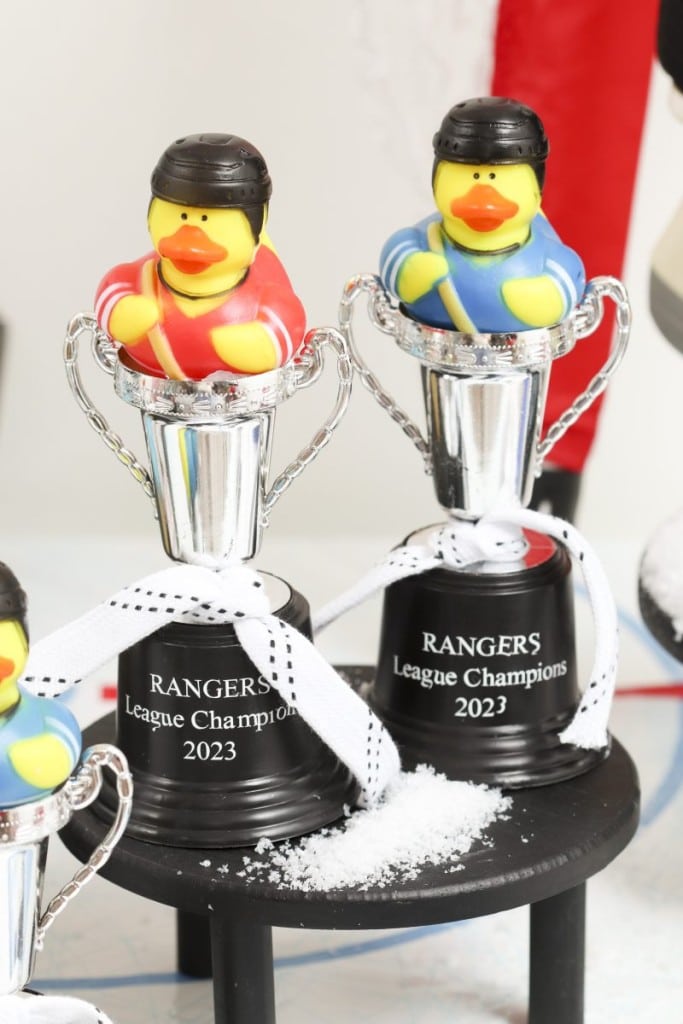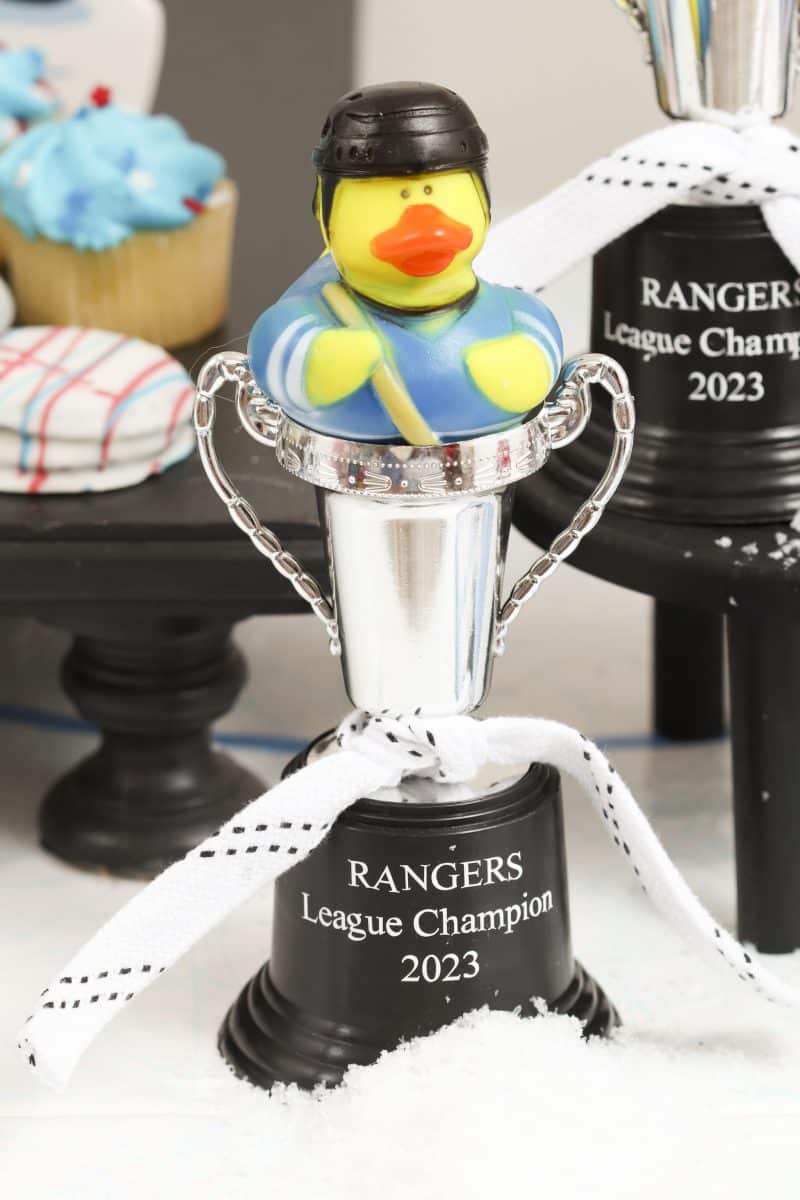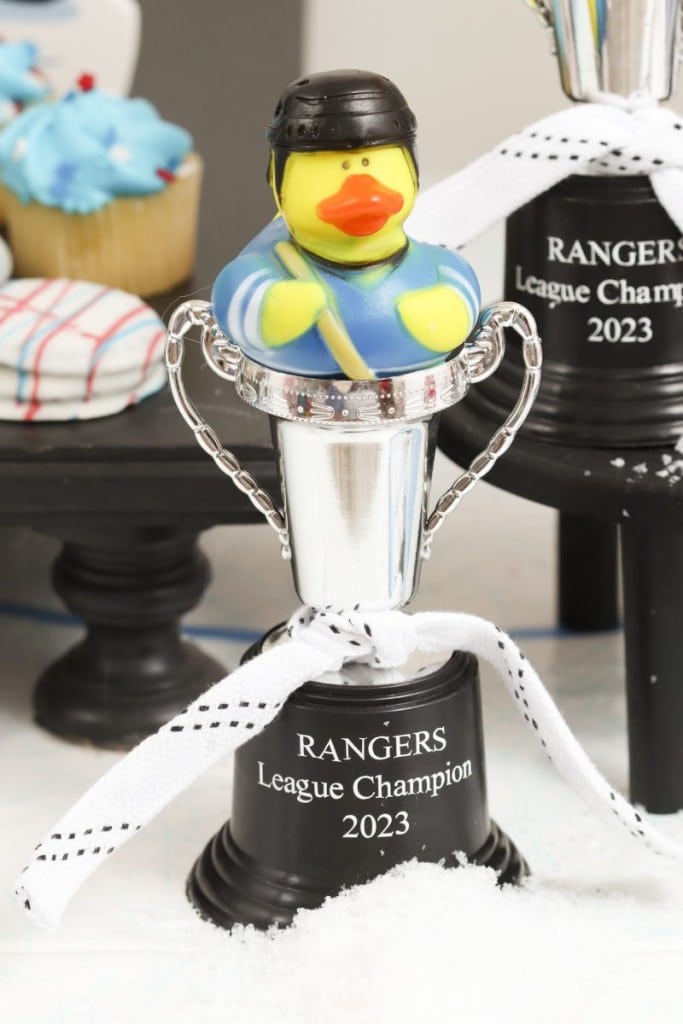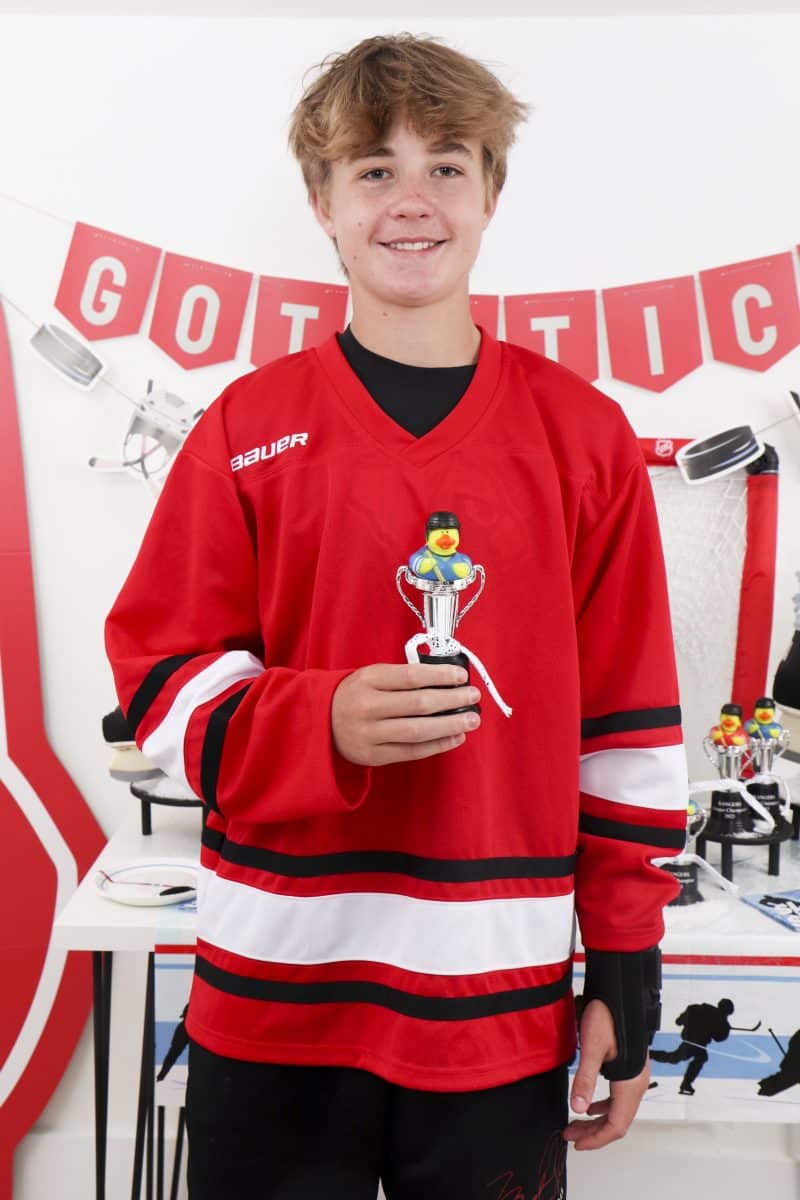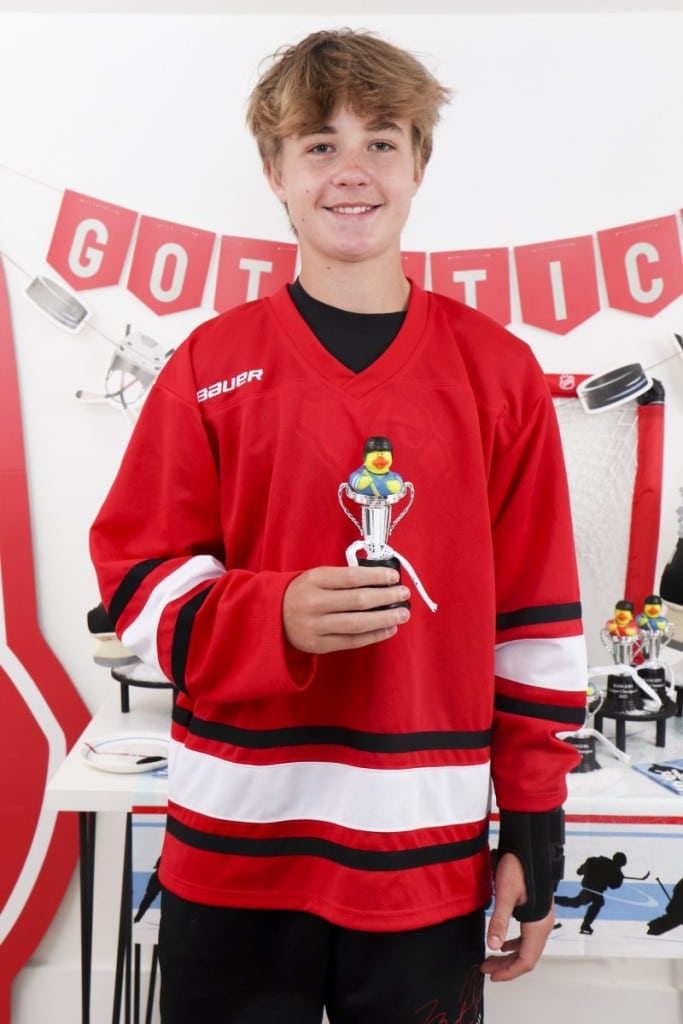 Table Setting
For the dining table, I wanted to create a show-stopping centerpiece that was still budget-friendly. So I put my teen's hockey helmet on a stand and added an array of coordinating faux florals. I placed this DIY centerpiece in the middle of the table on a "table runner" of more faux ice.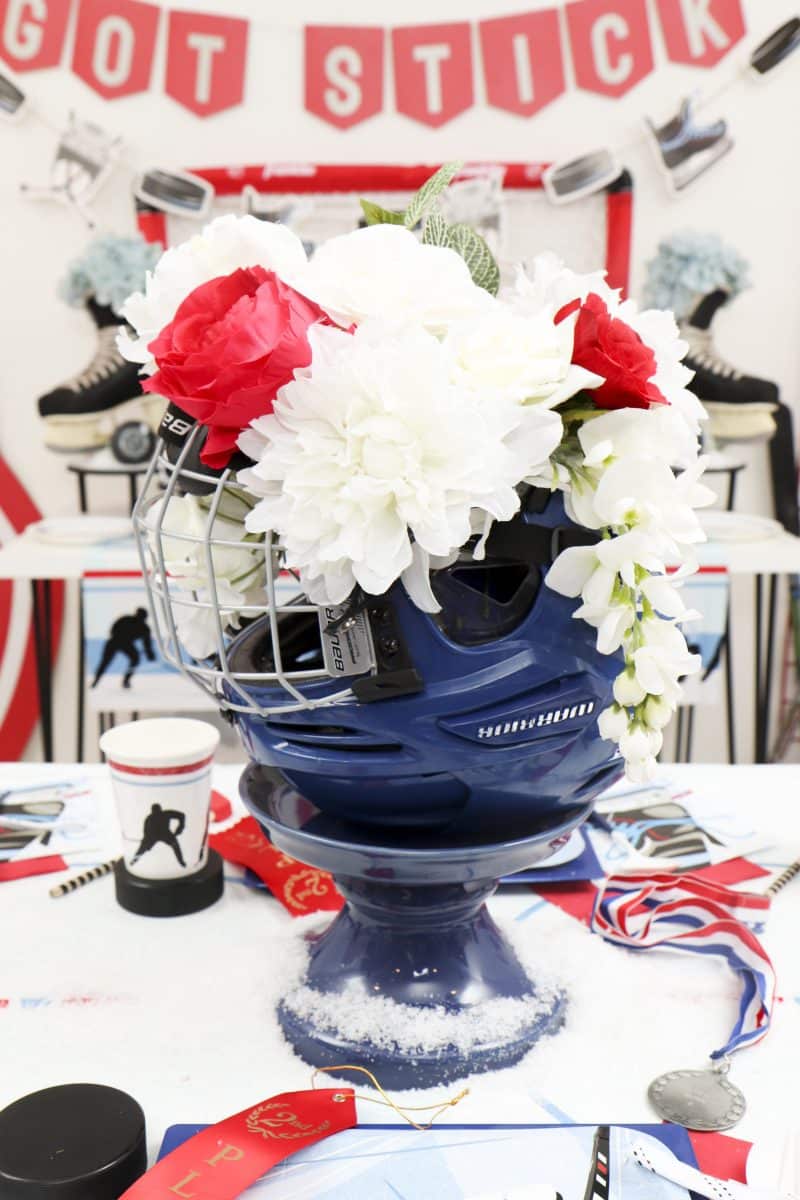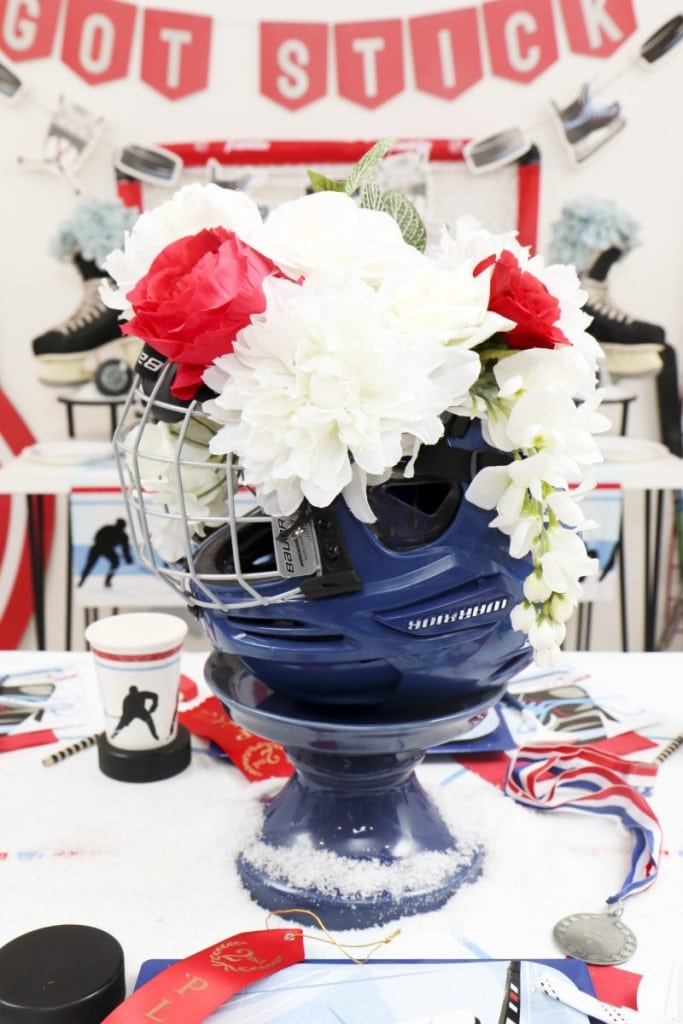 Then, on either side of the centerpiece, I set out rows of easy DIY hockey puck decorations that I personalized with all of the team members' last names and team numbers.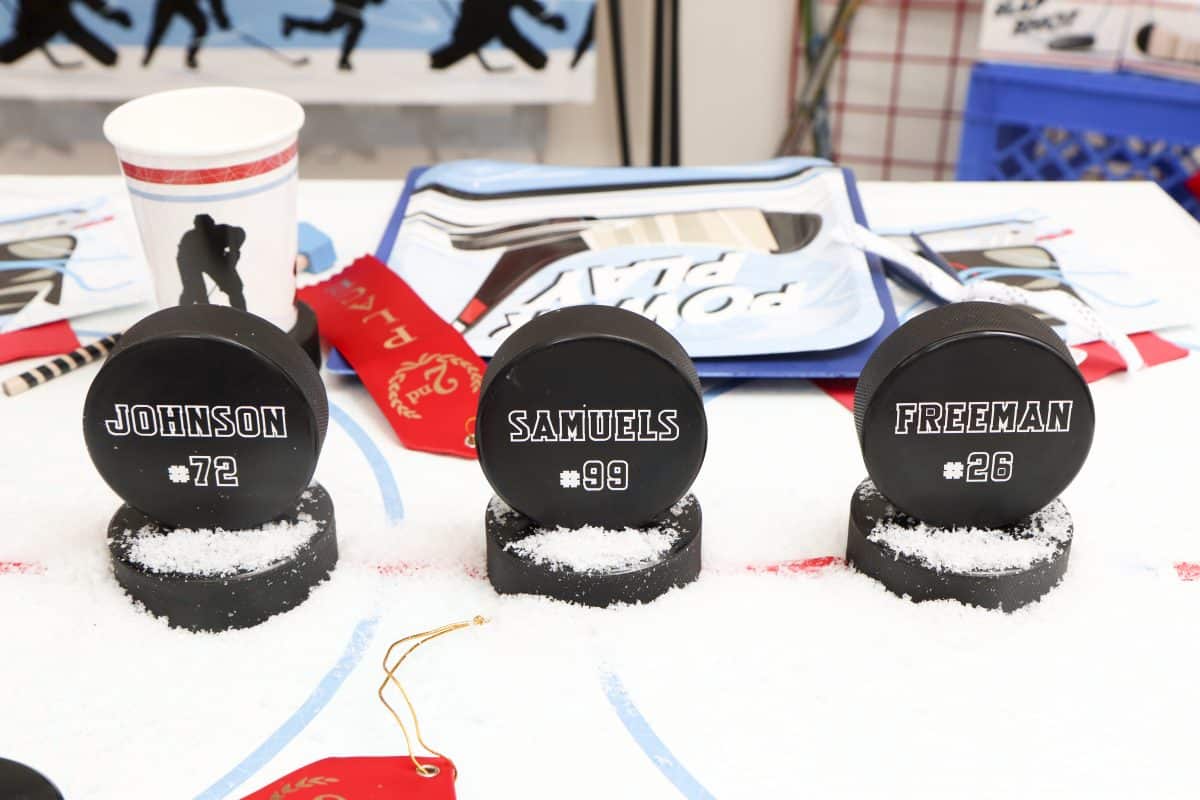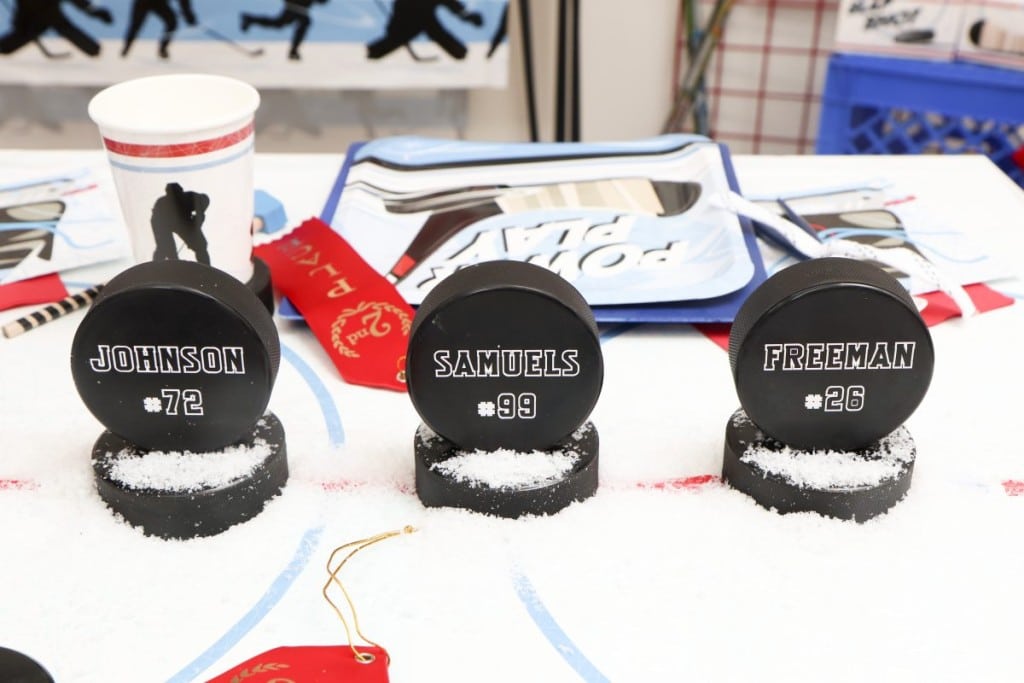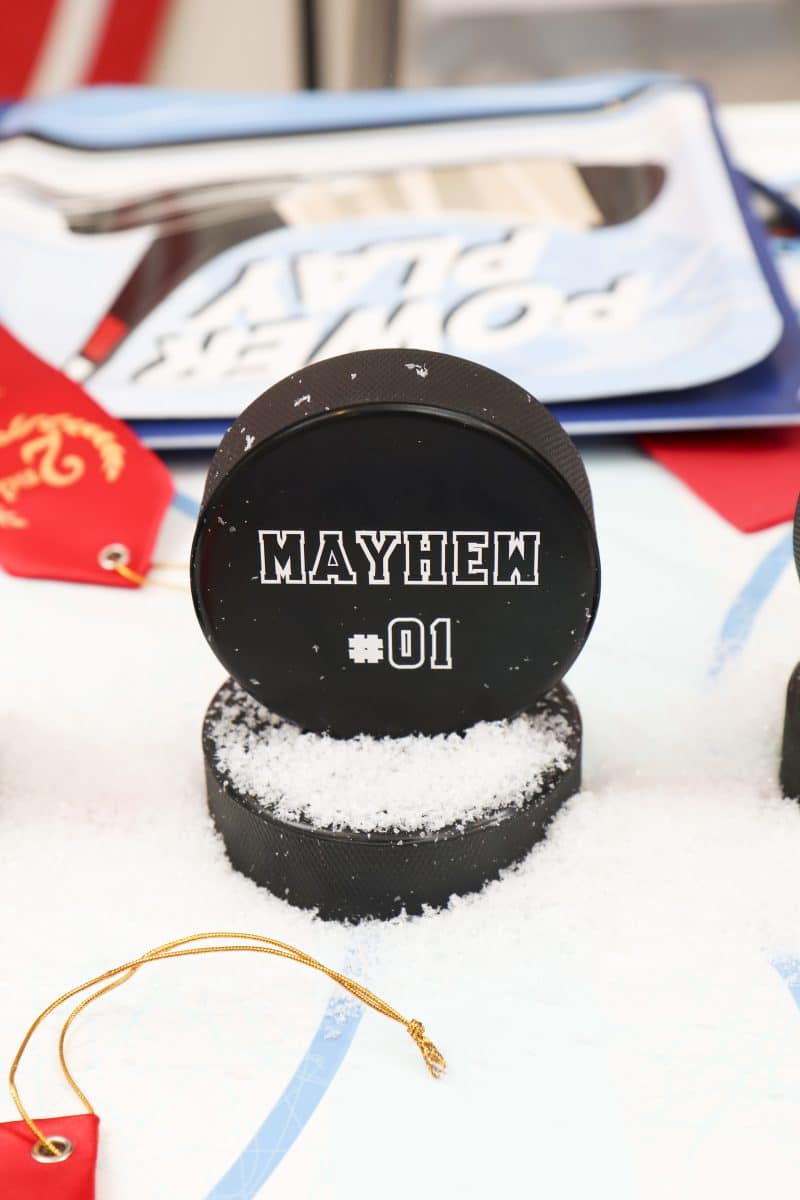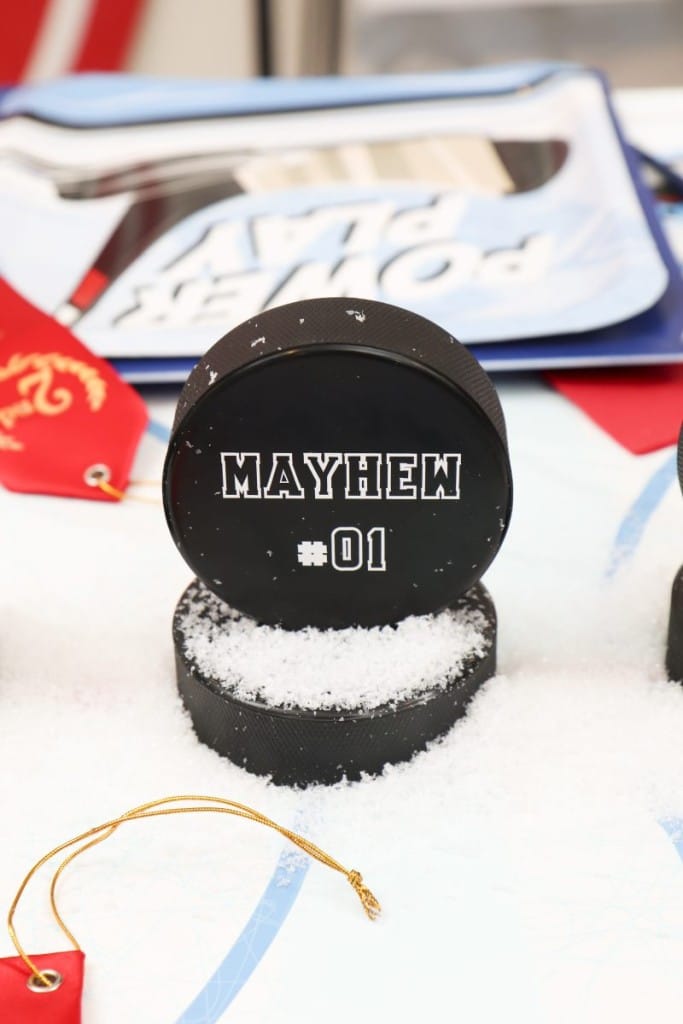 Finally, I added a couple of "victory" medals to the table to celebrate the victorious team's season.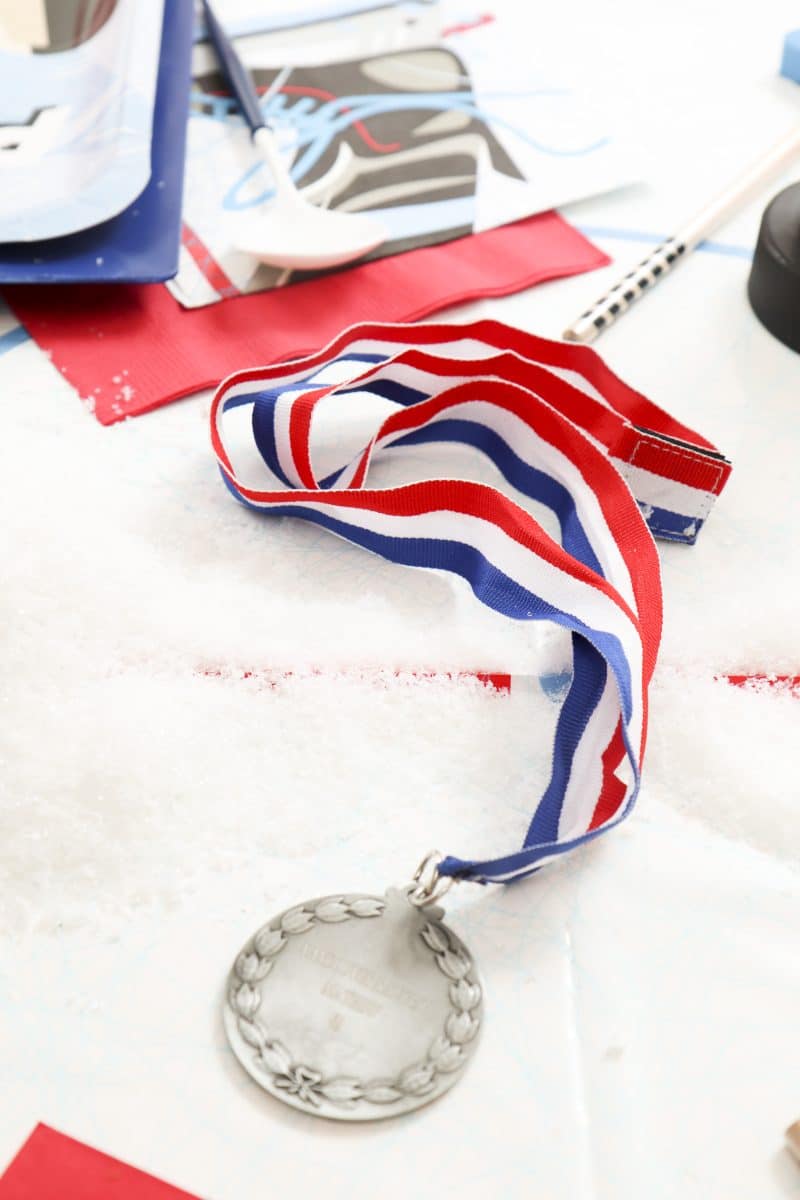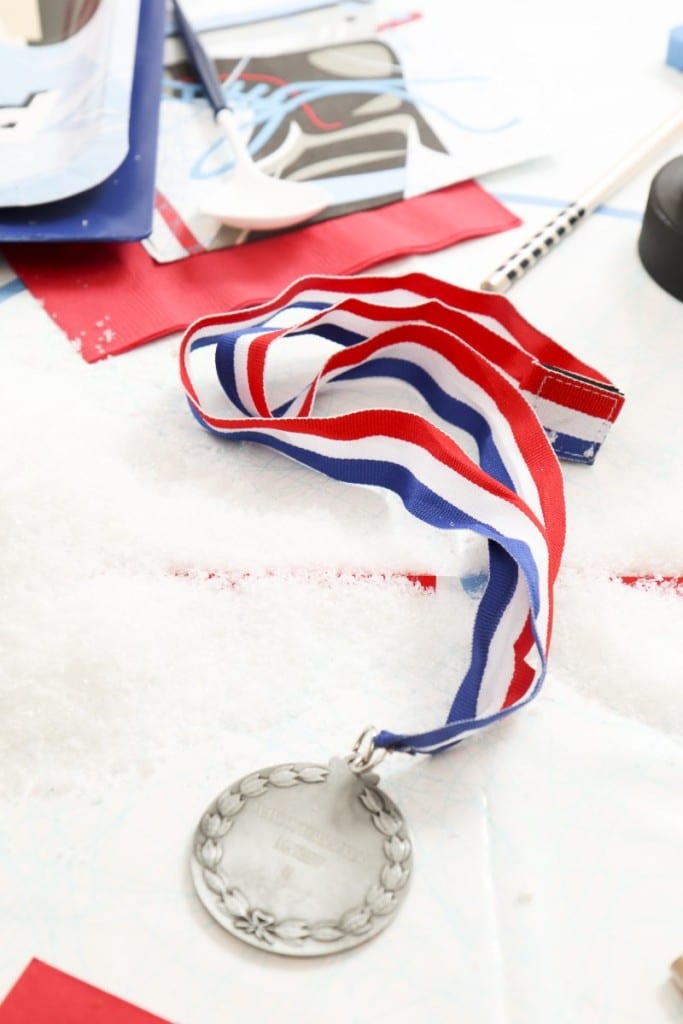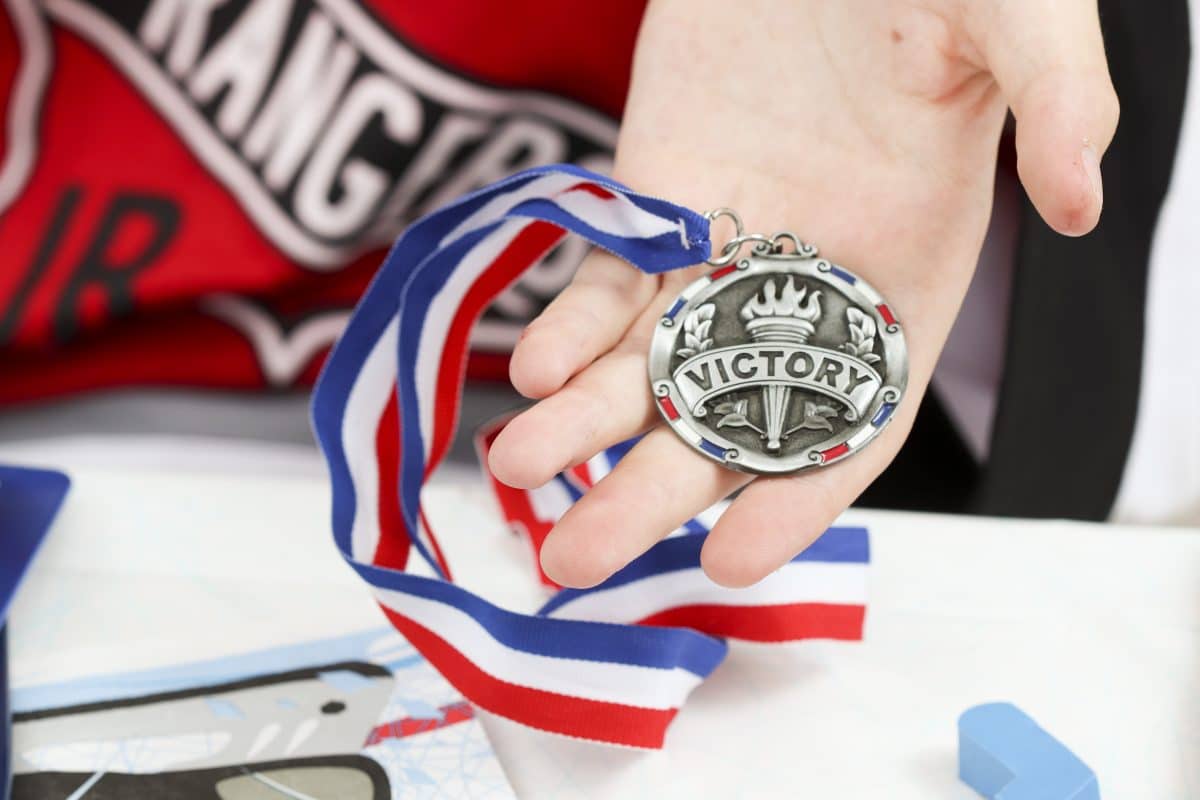 Place Settings
For each hockey player, I layered a "power play" hockey party plate onto a slightly larger blue square plate.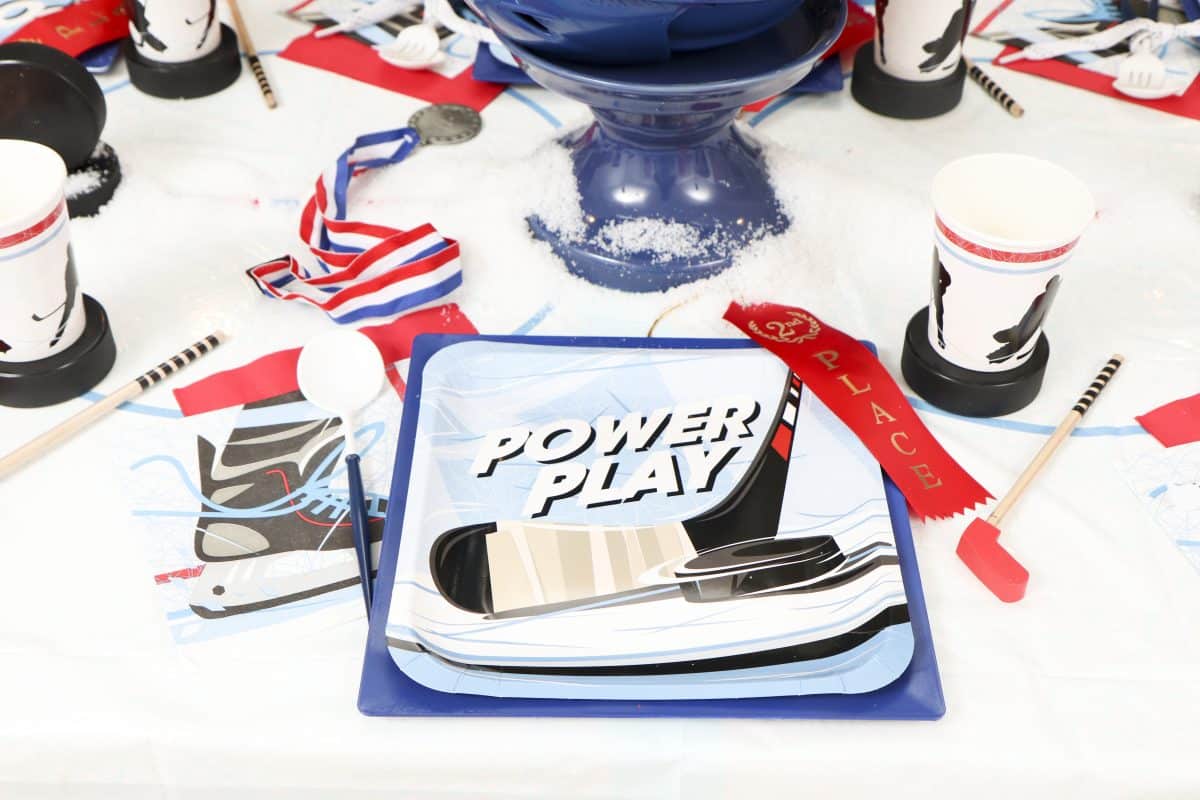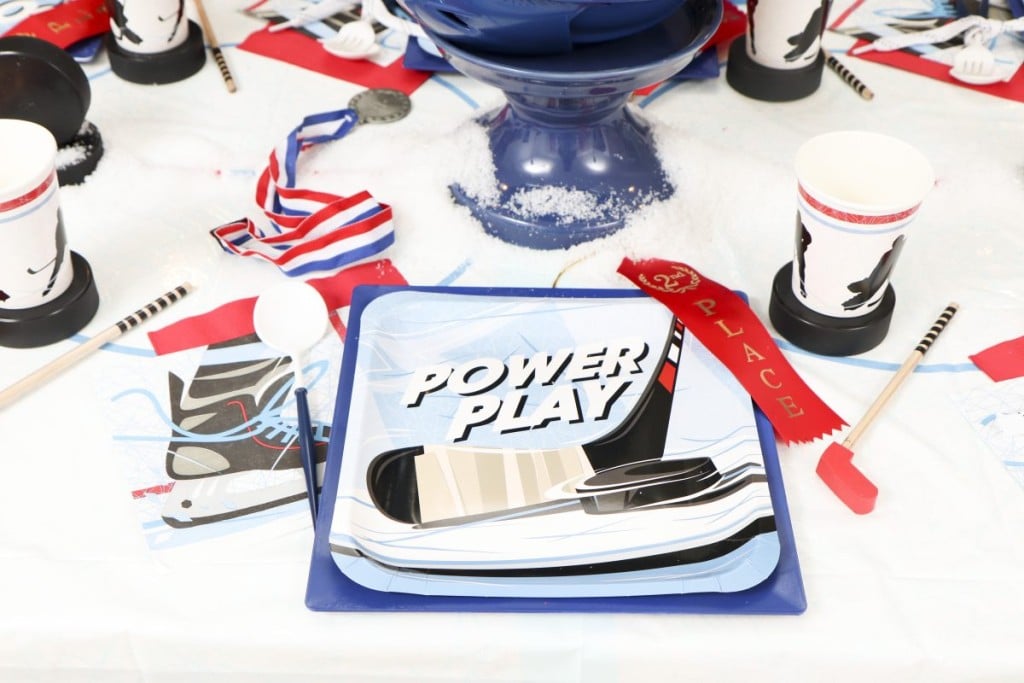 I tied some blue and white plastic utensils with (unused!) hockey skate laces and placed them on top of hockey skate napkins.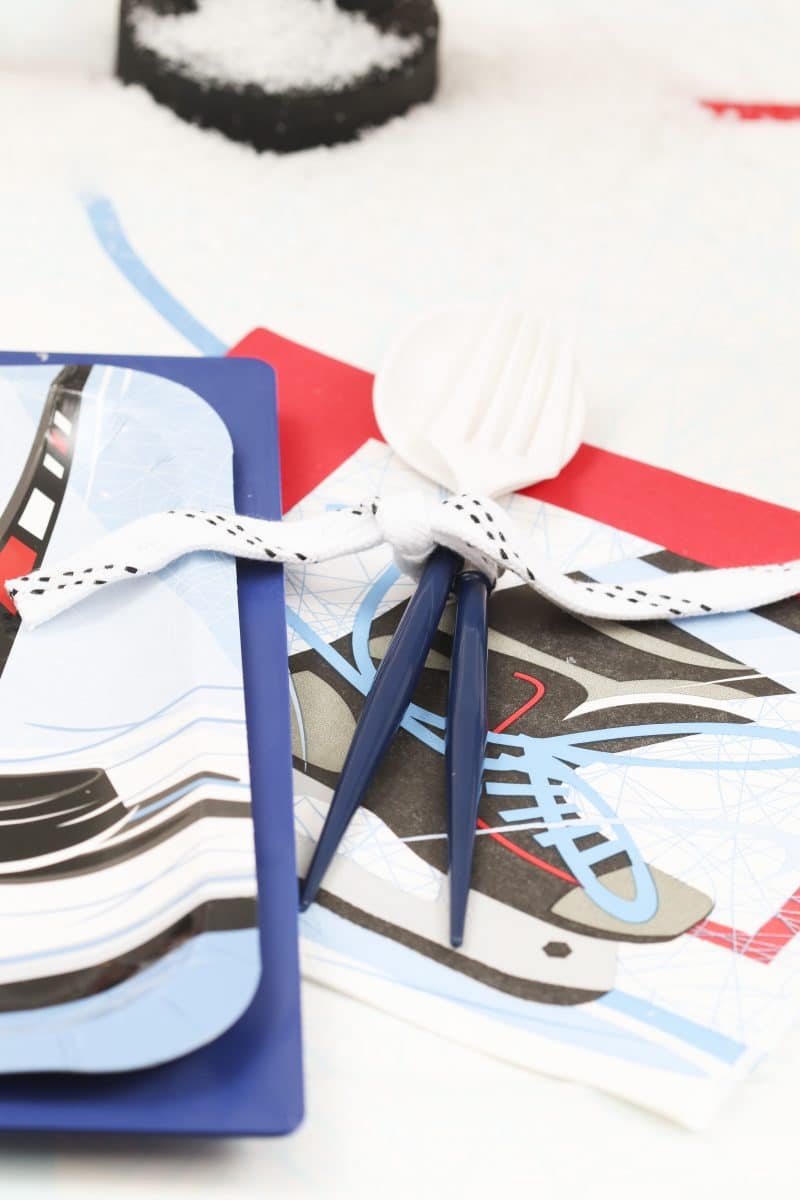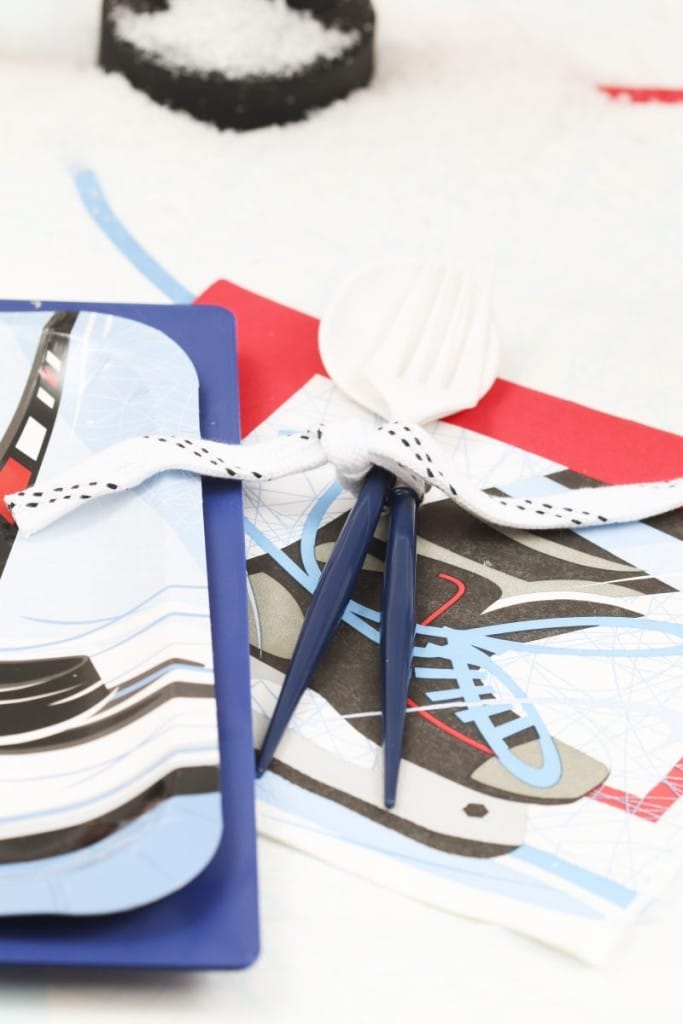 On the other side of the place settings, I elevated hockey player party cups by placing them on hockey puck "coasters".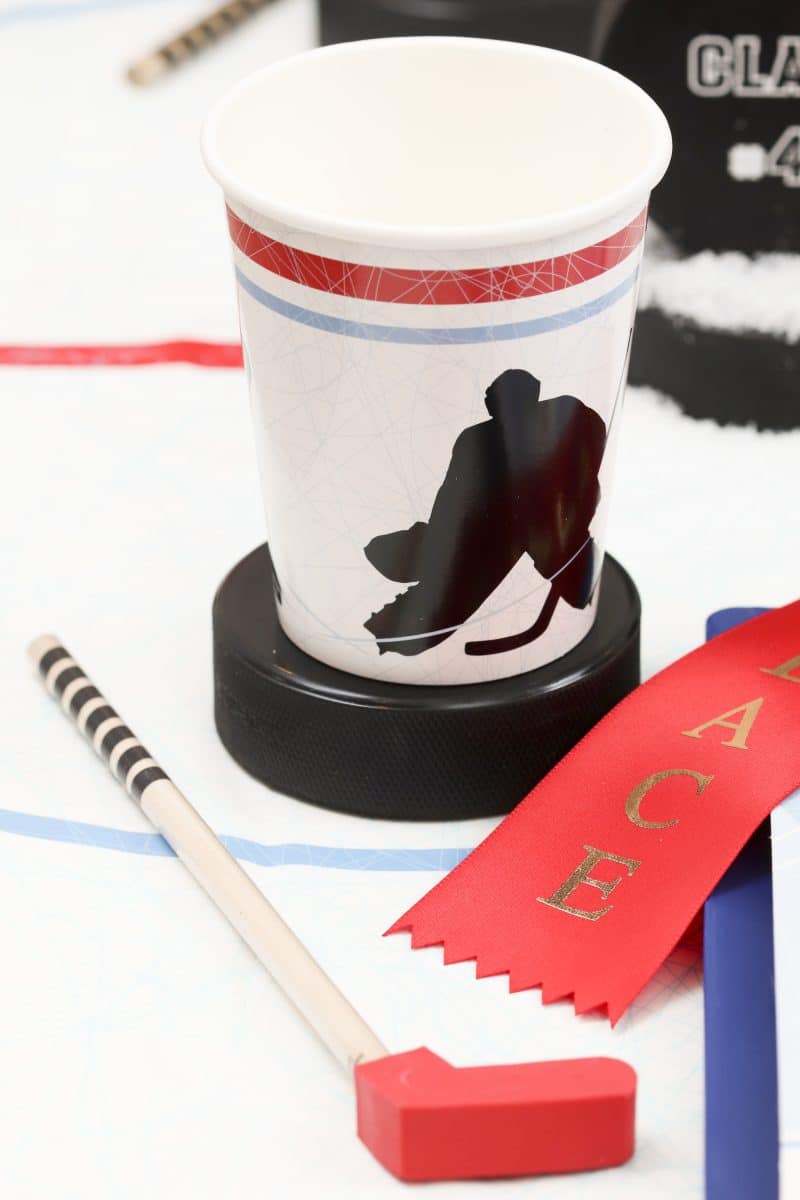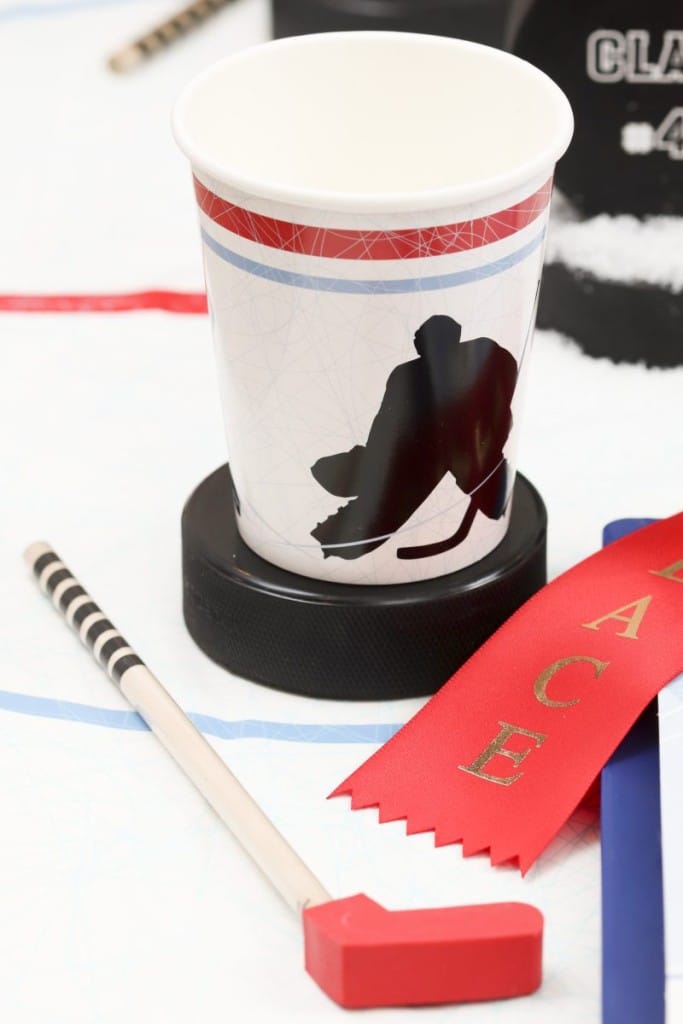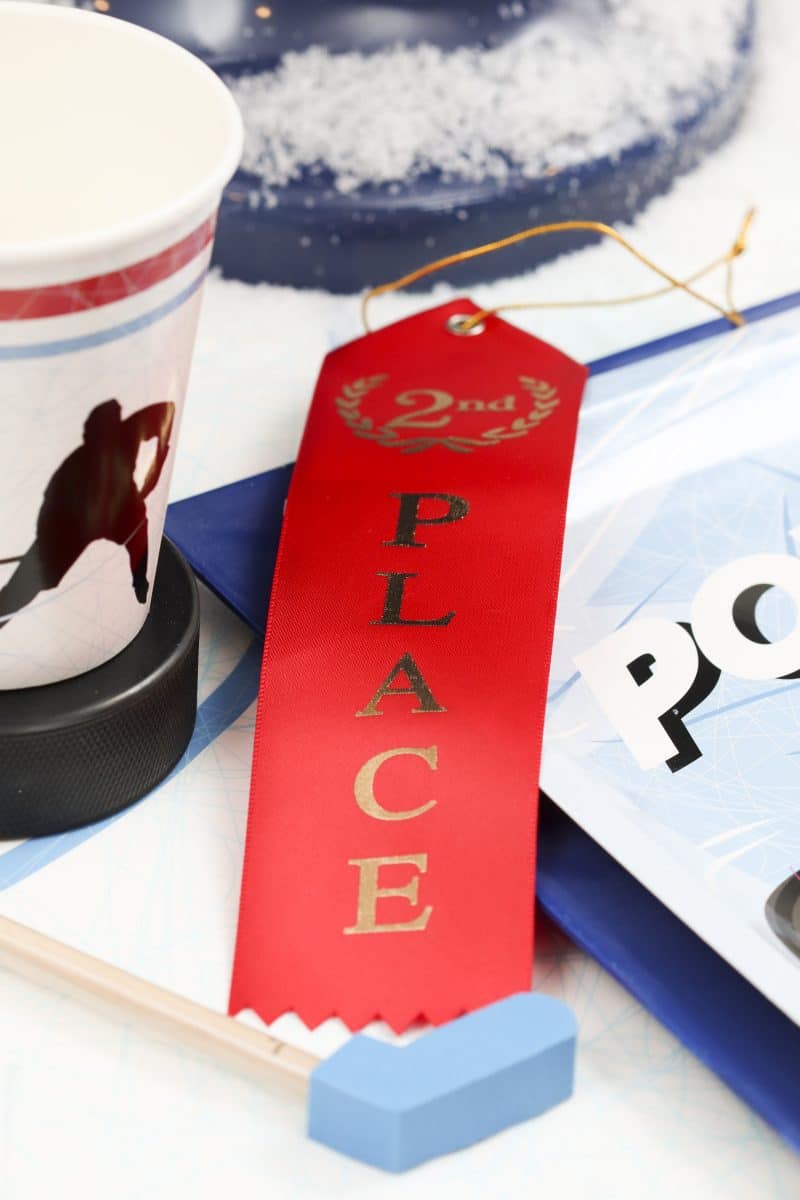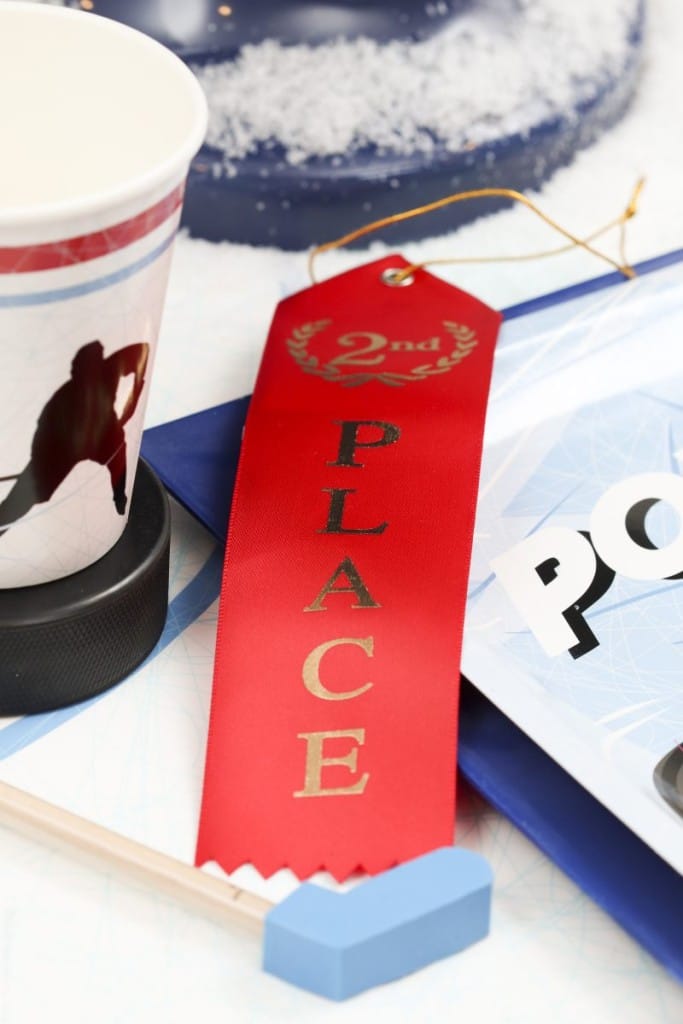 I also gave everyone a place ribbon to take home.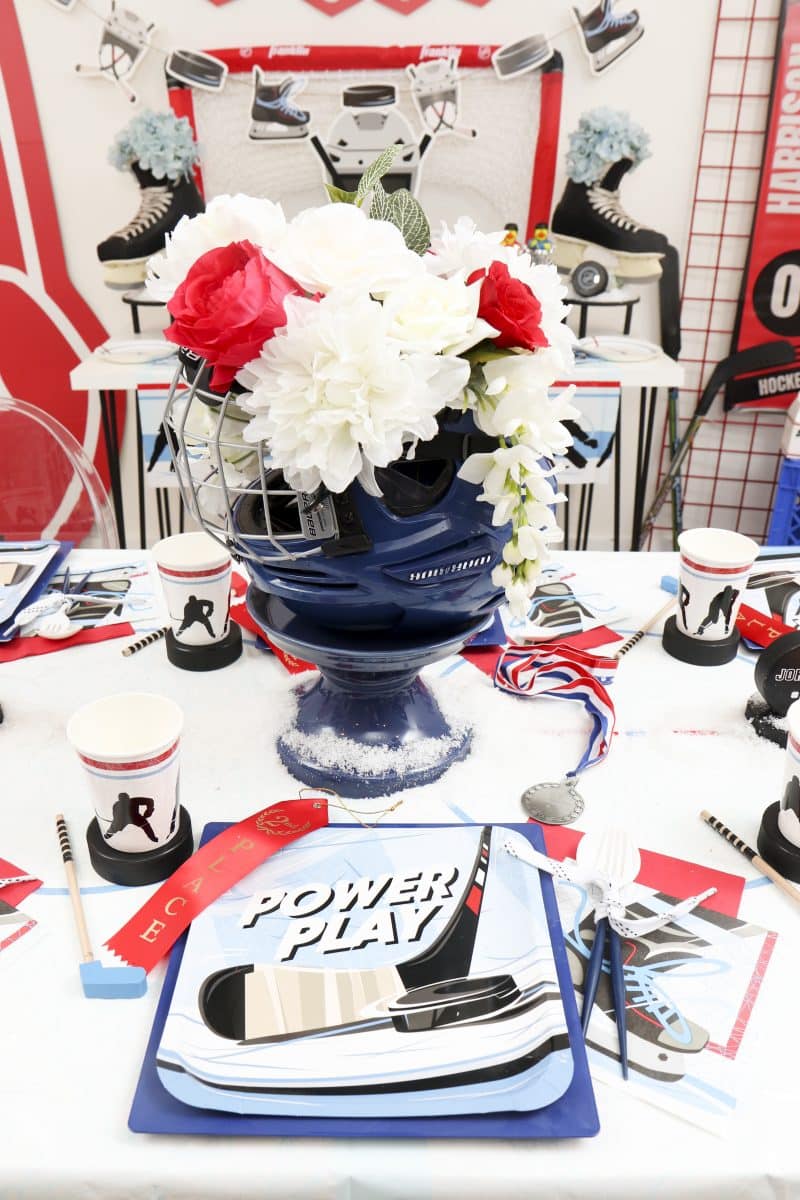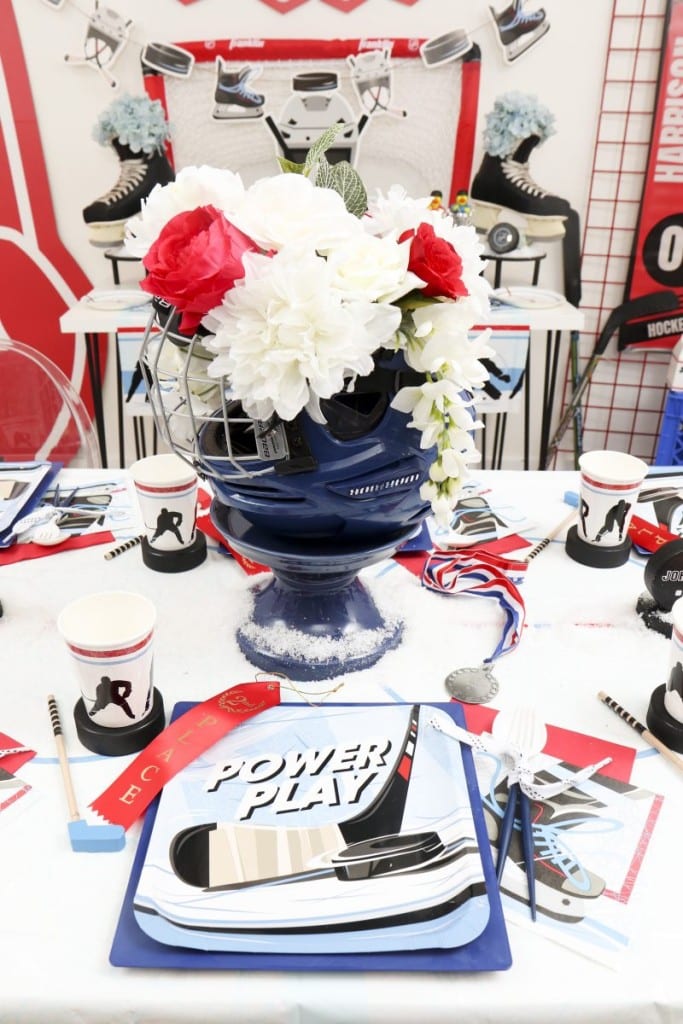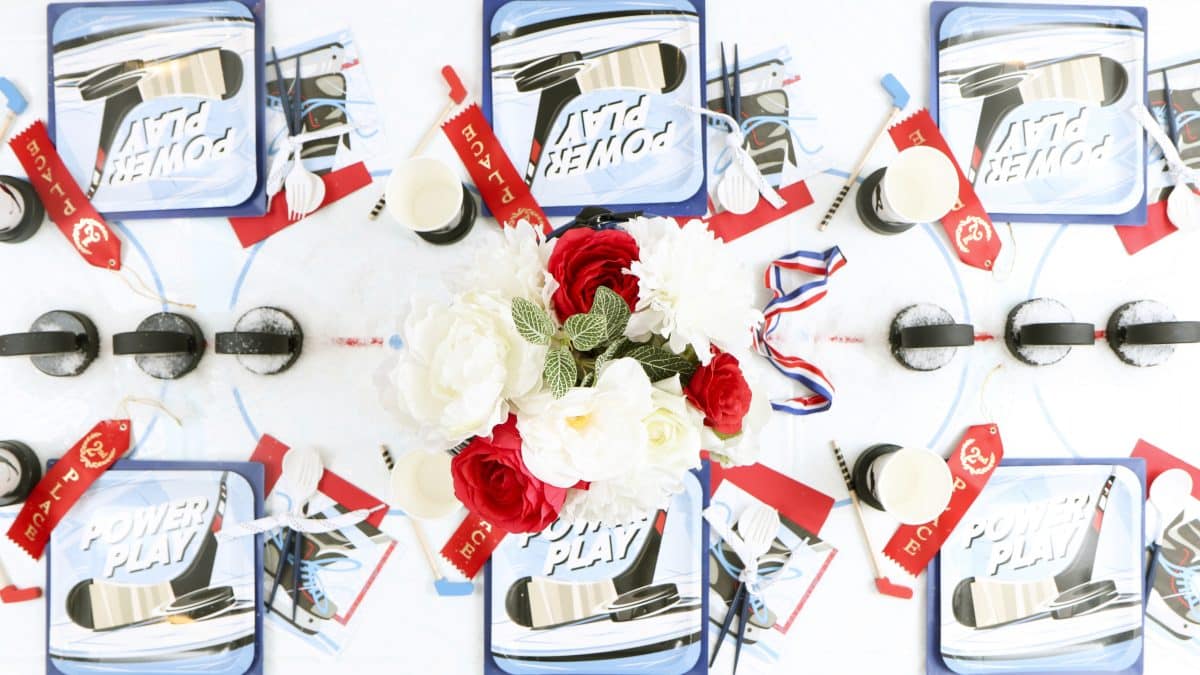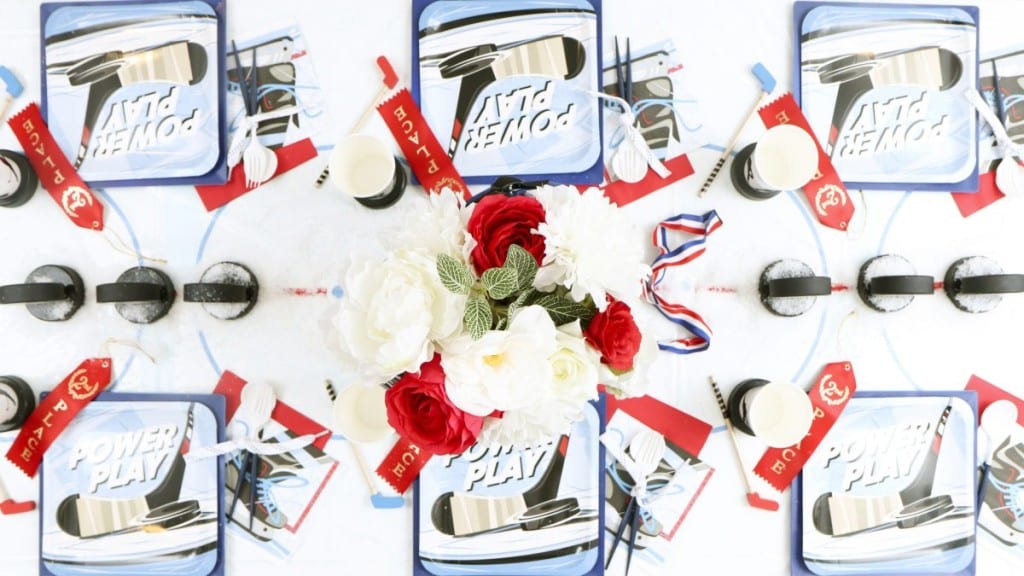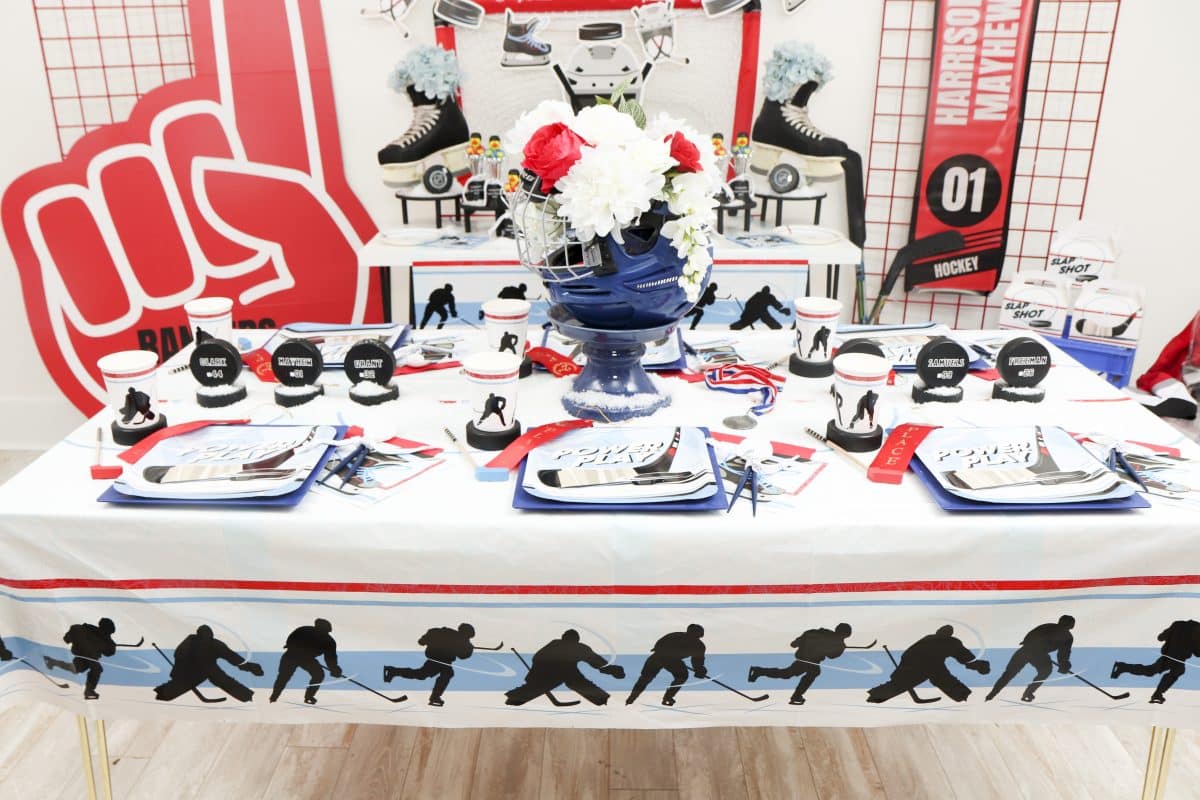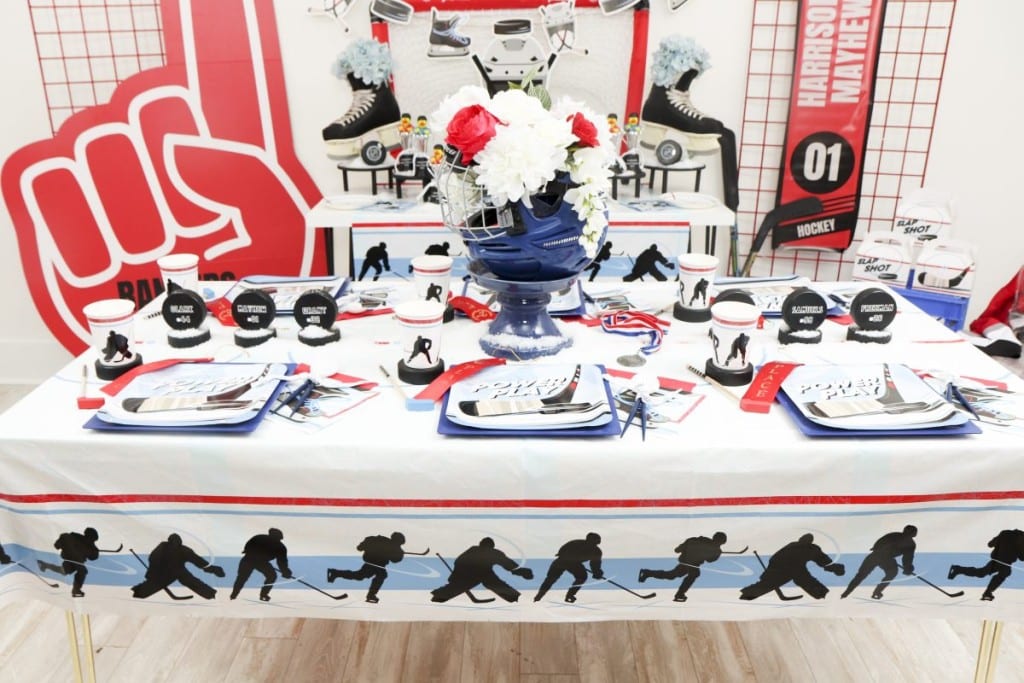 Favors
Speaking of things to take home, I never style a party without favors! I love sending guests home with treats and trinkets to remind them of the fun times they had at the party. Setting up a favor station doesn't have to be complex or expensive. For this one, I used items I had on hand – a chair and some milk crates – to hold my favors.
I draped a team jersey over the back of the chair, and placed hockey-themed clear "got stick" bags on and around the bottom of the chair. These bags are great for the teens to bring essentials to hockey practice in the future!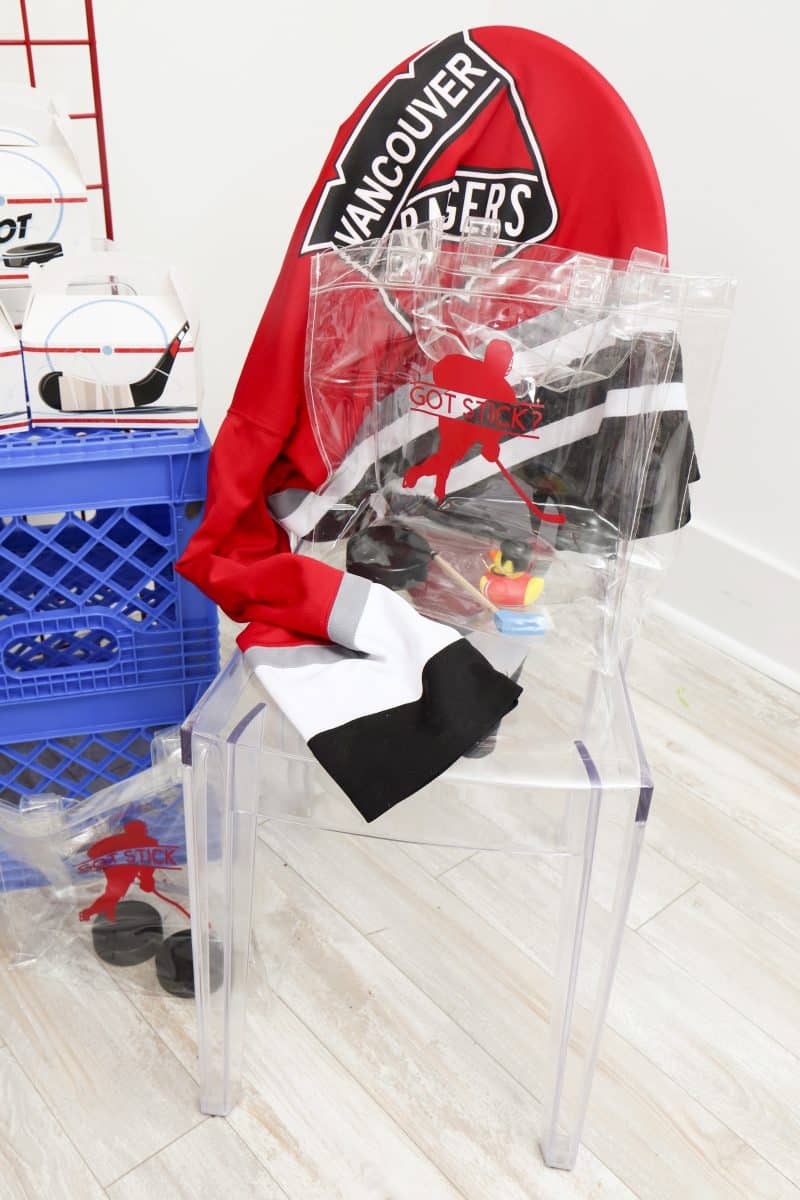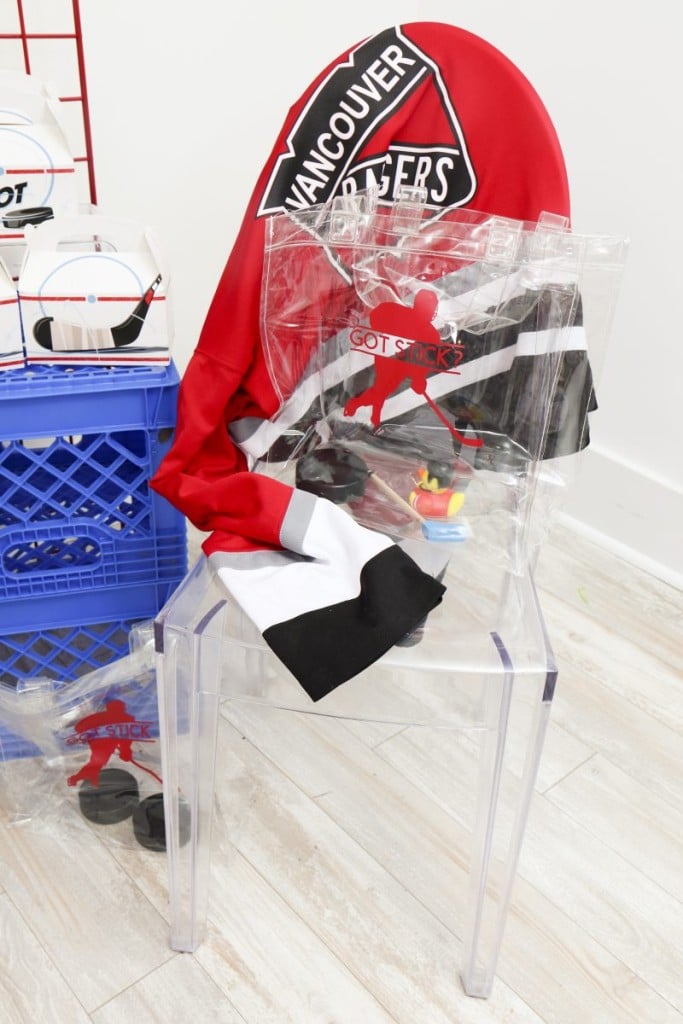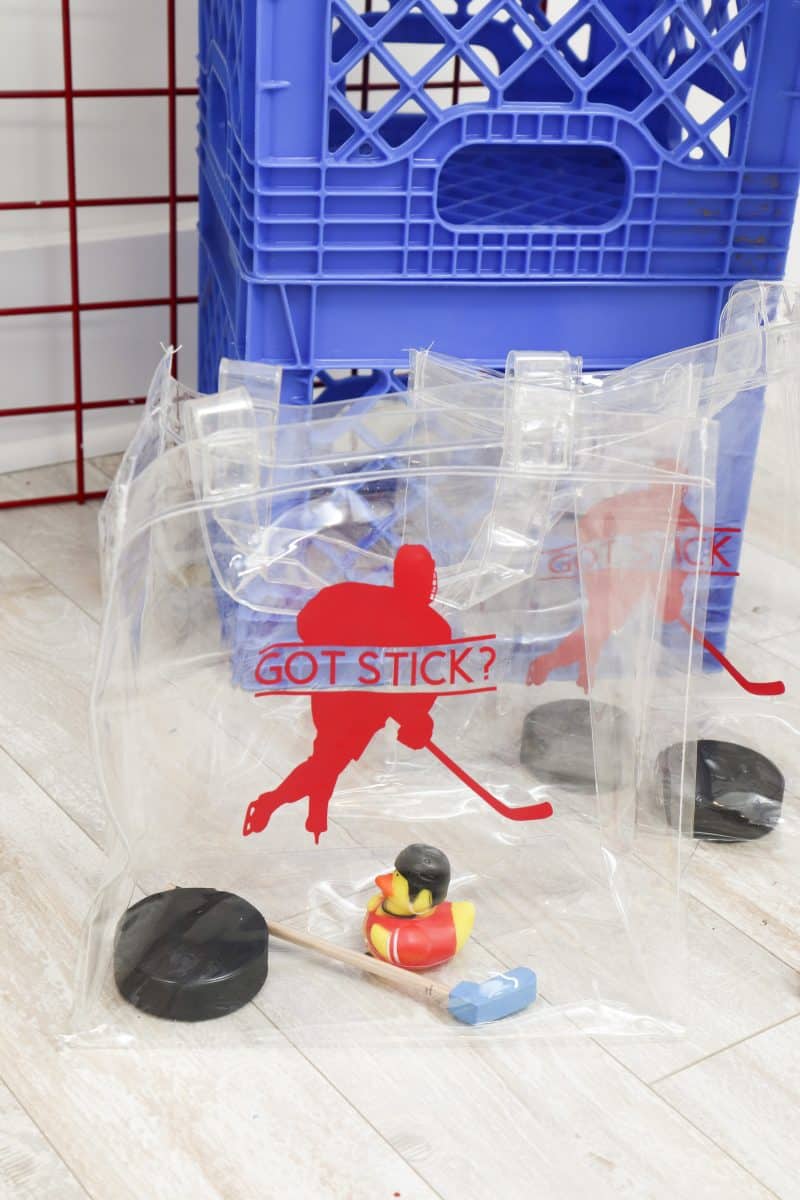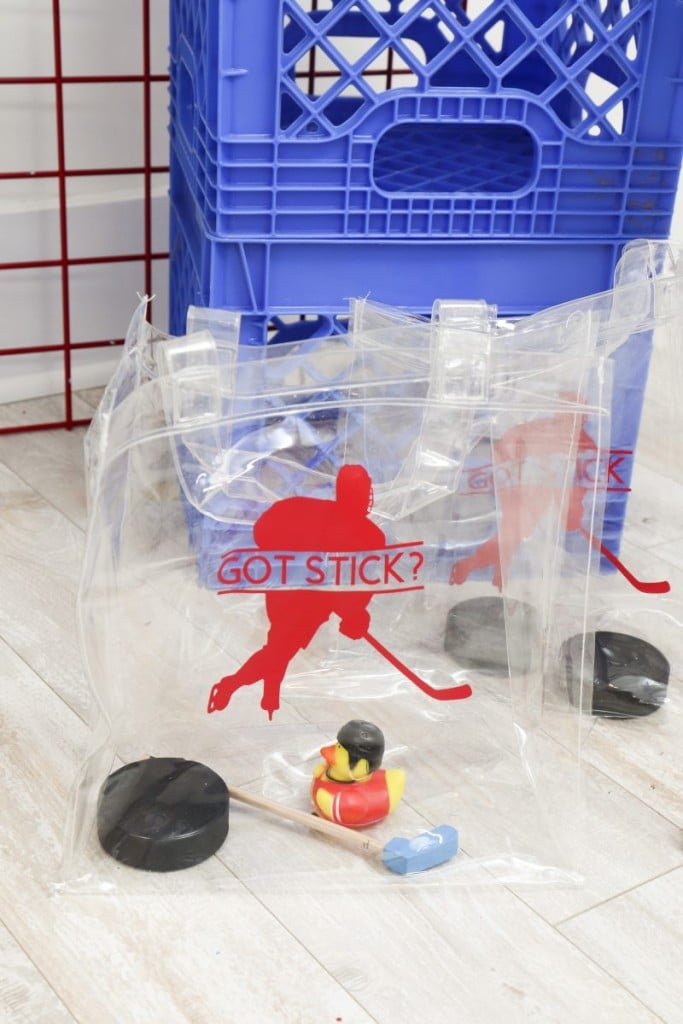 I put a few extra hockey trinkets in the bags for them to take home as well.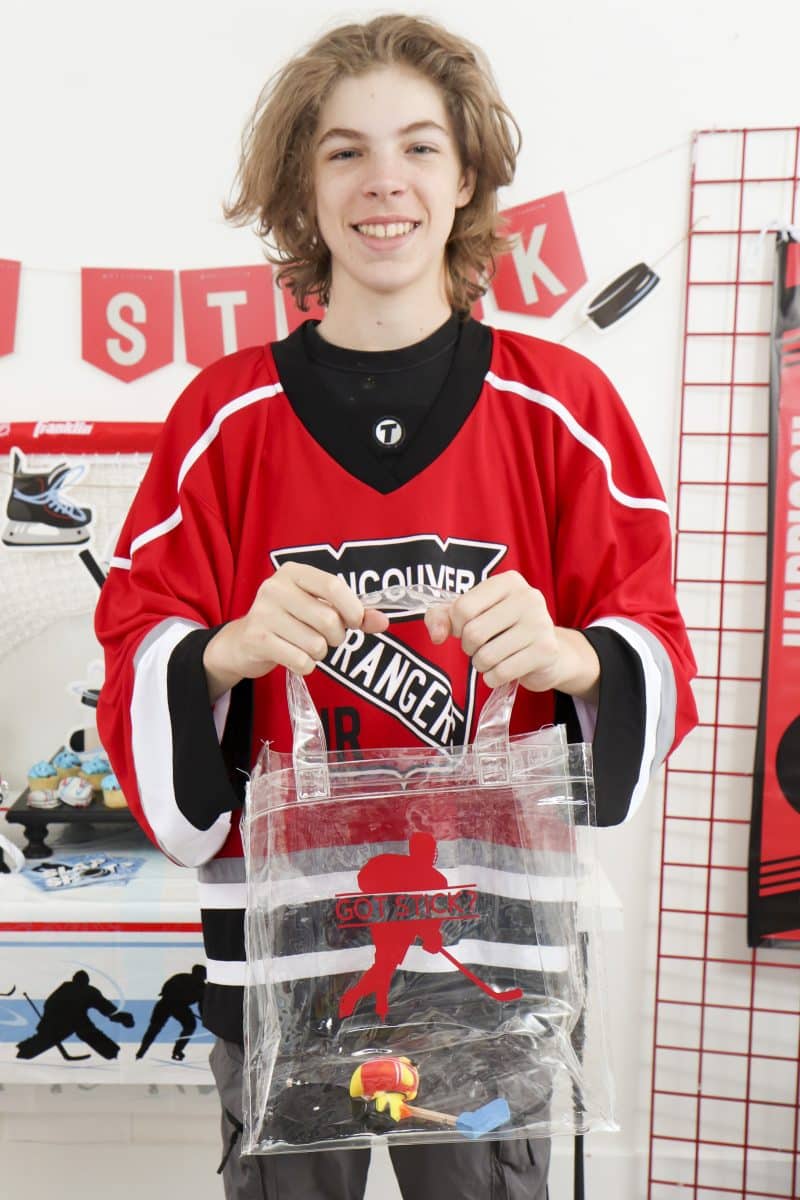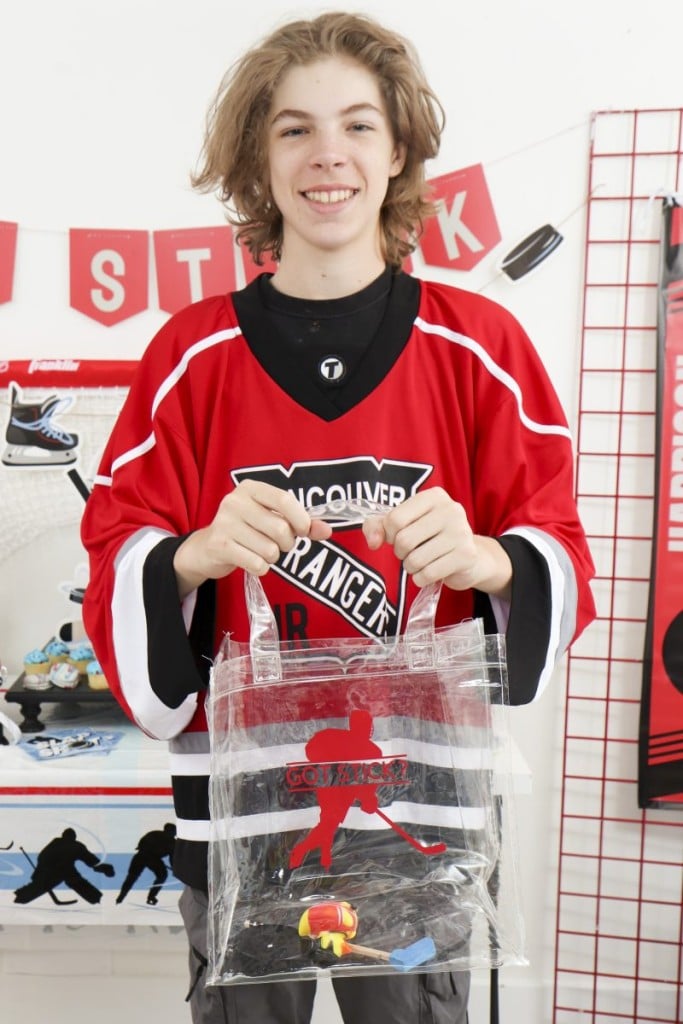 I also provided some "slap shot" hockey containers for the kids to take home extra desserts.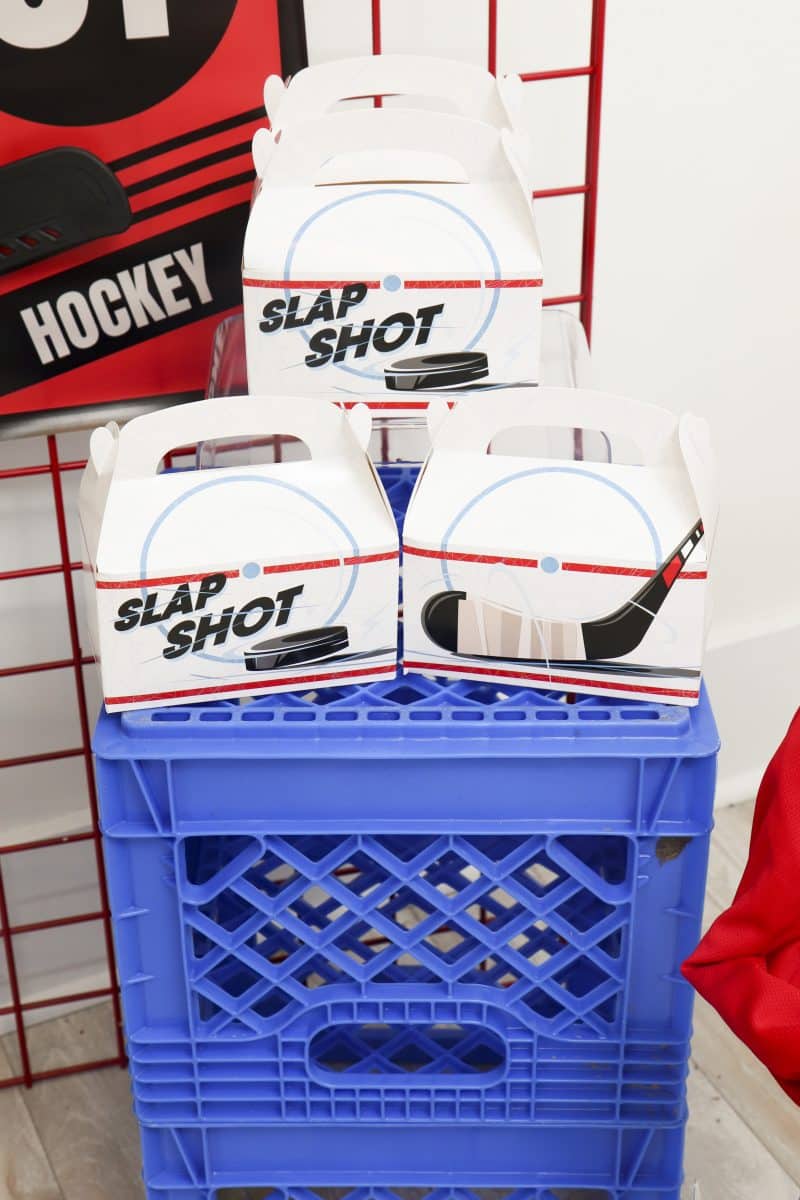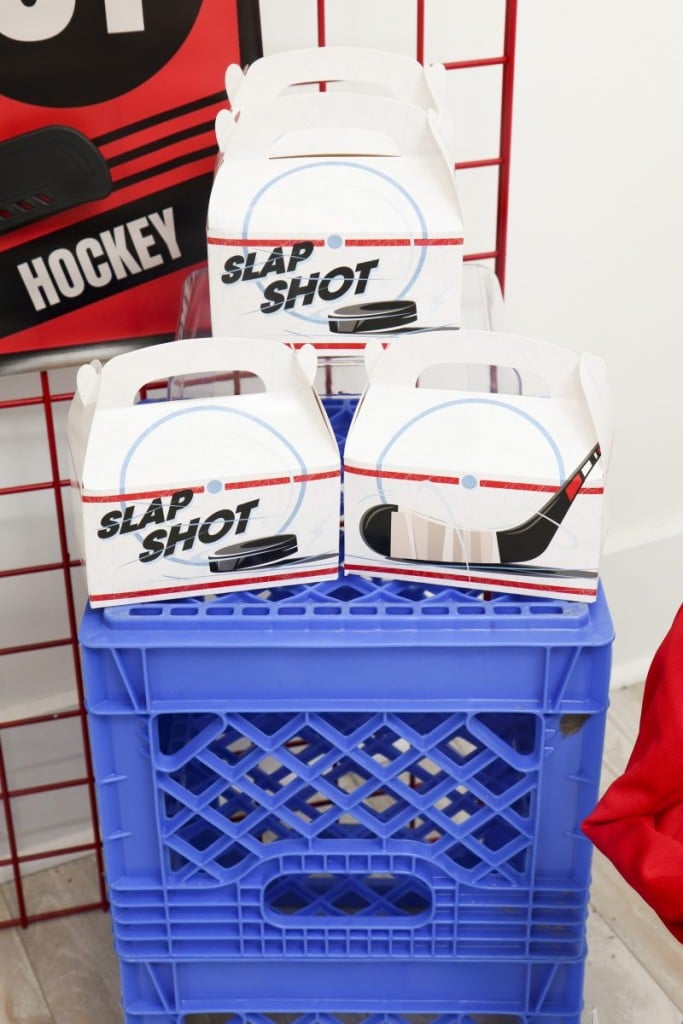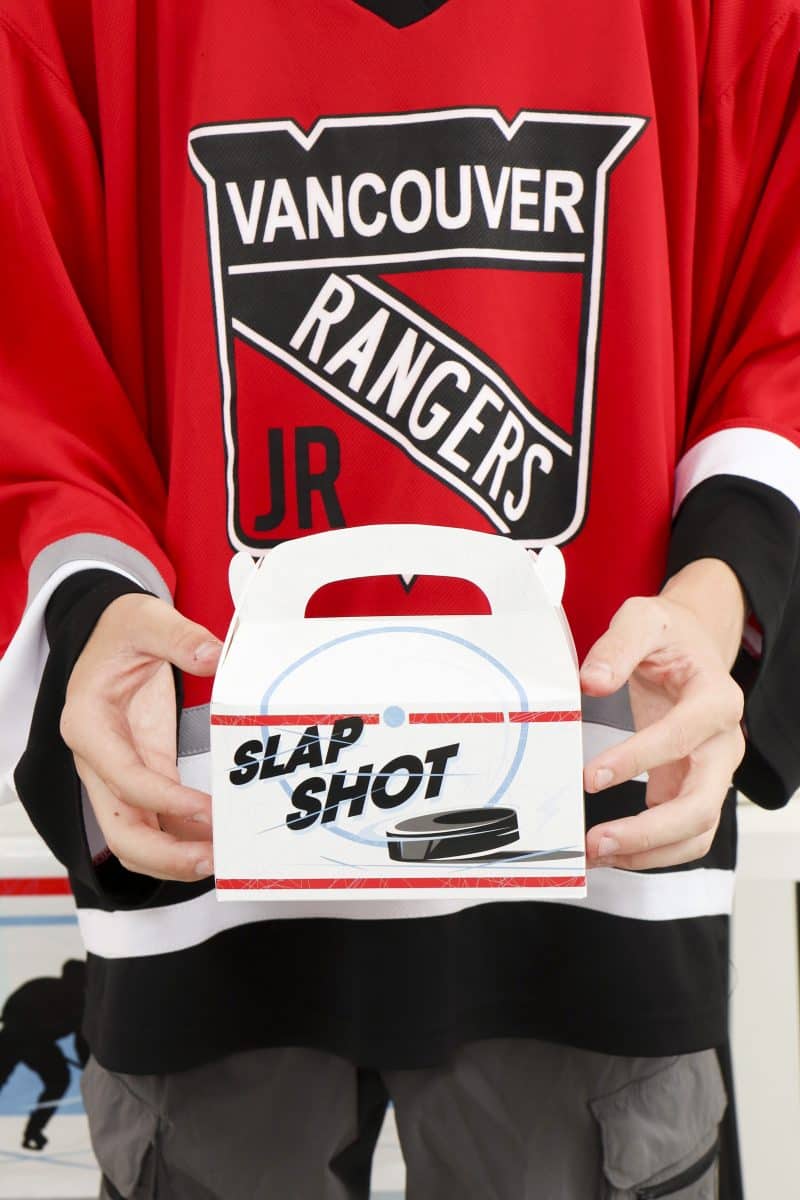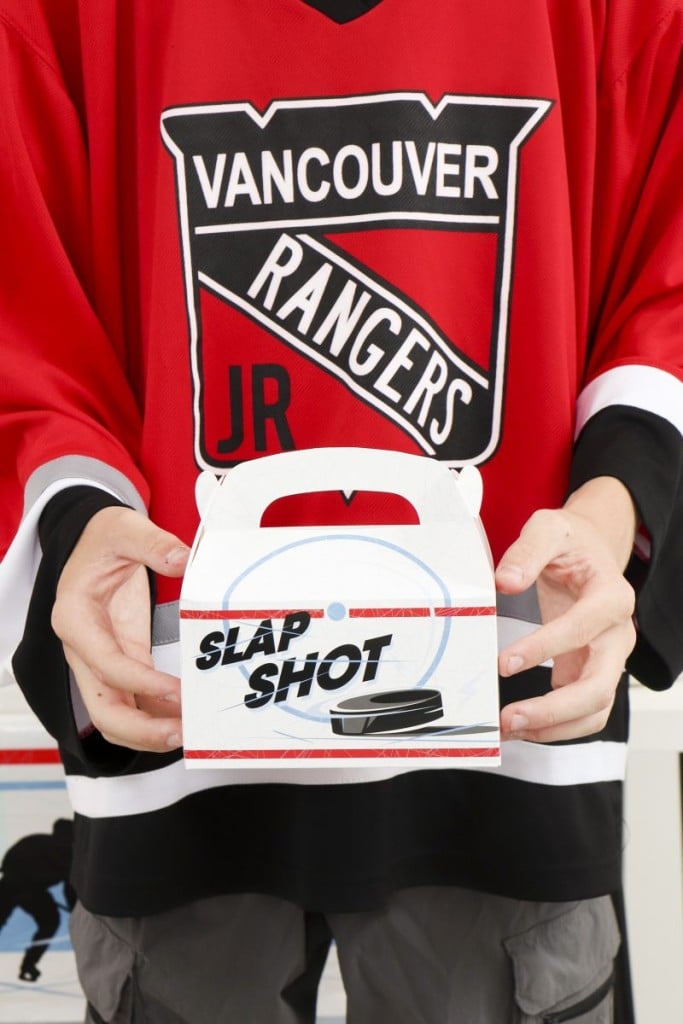 The players will be excited to take home their personalized hockey pucks and trophies as favors, too!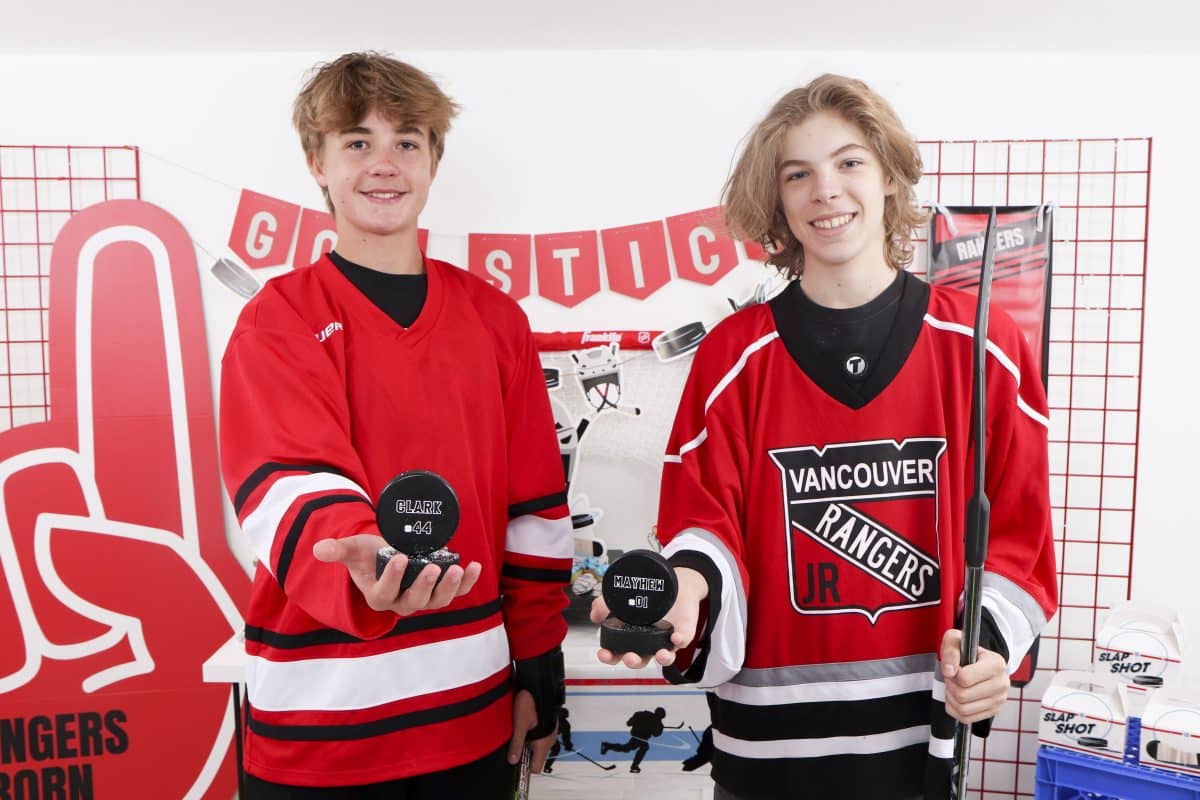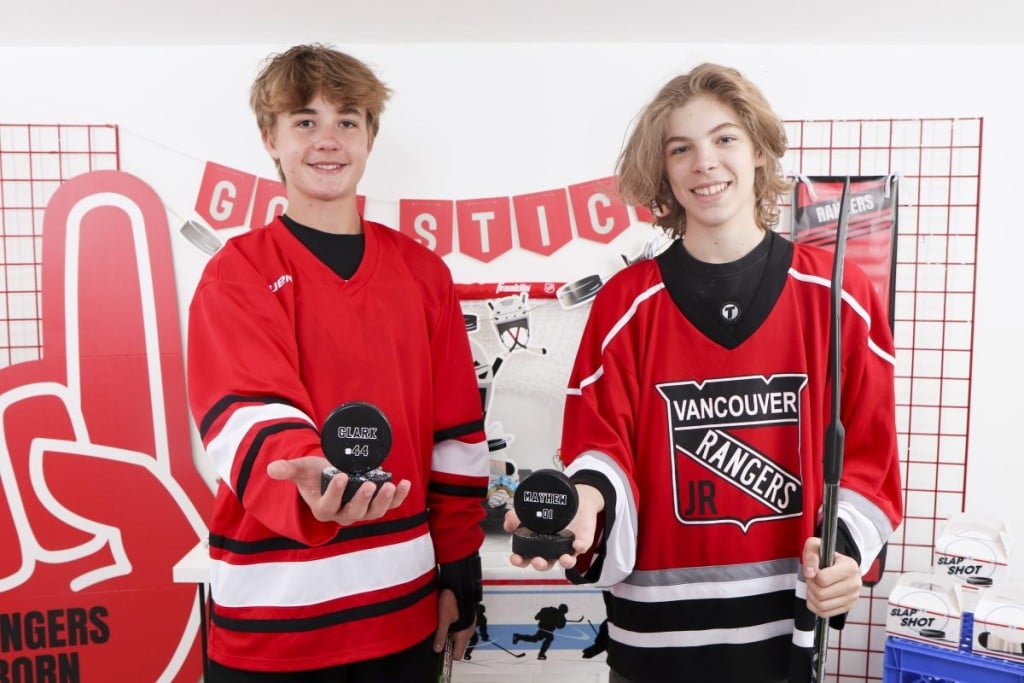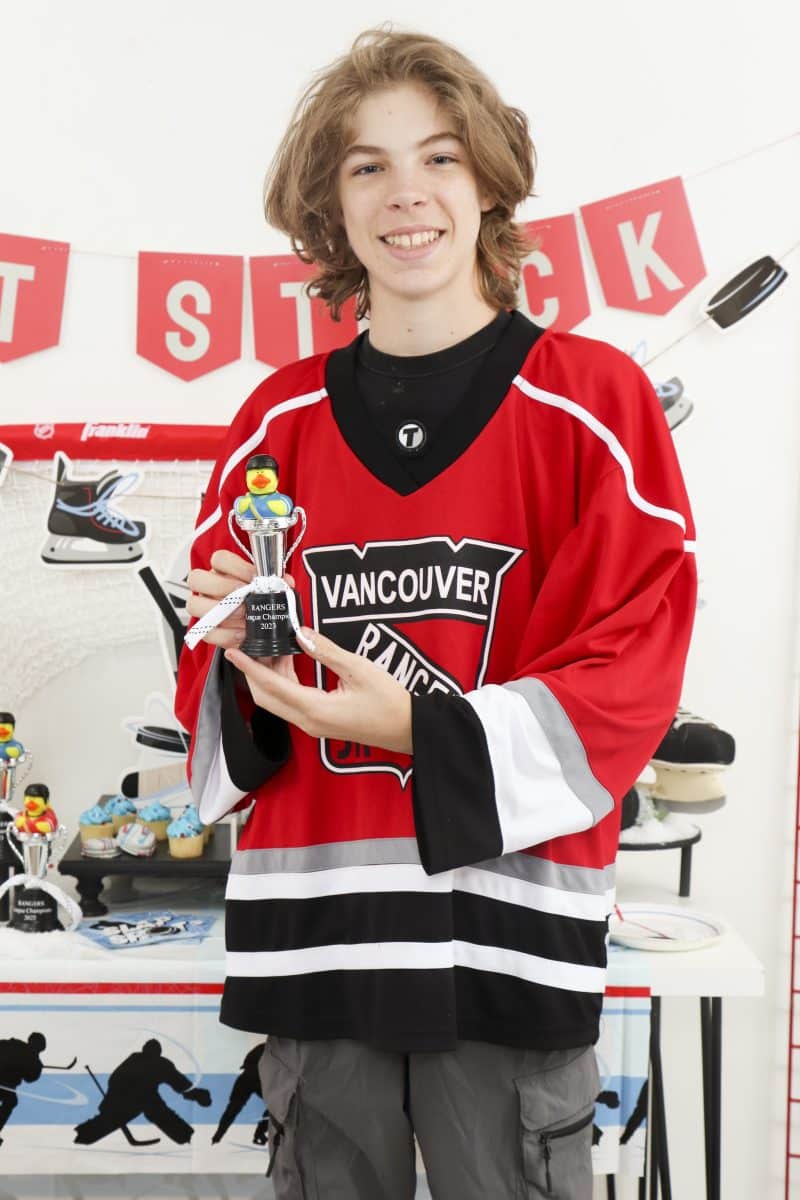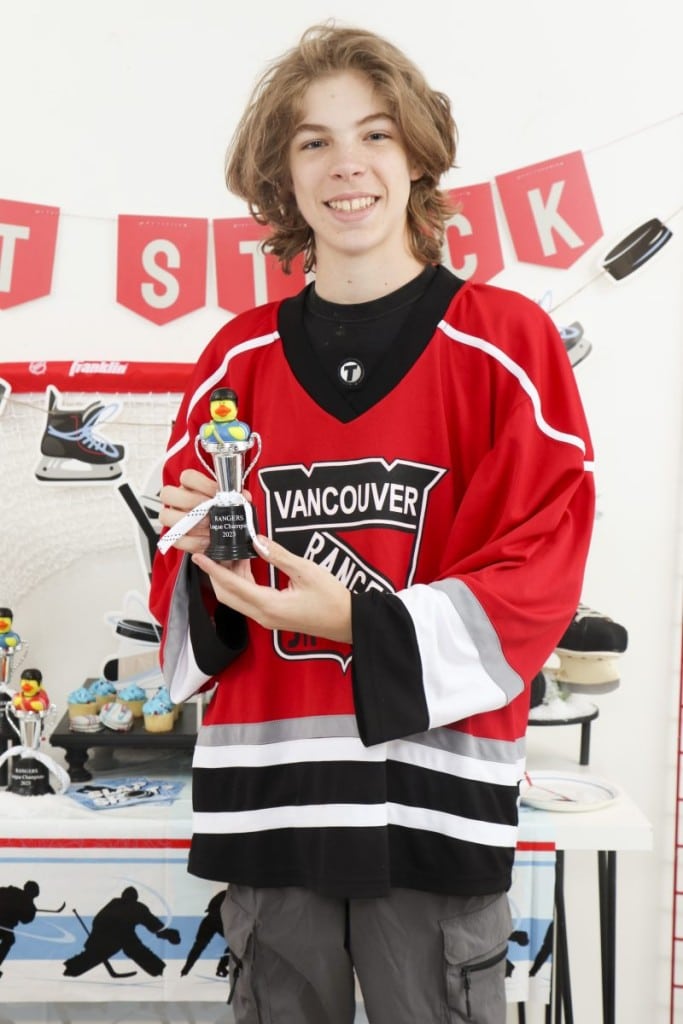 With these ideas for decorations, table setting, place settings, dessert table, and favors, you'll be well on your way to organizing the perfect hockey team party for your teens.
Don't forget to check out Oriental Trading or my Amazon Shop for supplies!
And for more sports-themed party ideas, check out my March Madness Basketball Party, Volleyball Team Party, Football Party, Baseball Graduation, and Golf Themed Shower.
Happy Partying!