Are you looking to raise the stakes this year and host an unforgettable party? Throw a Casino Night Party! Whether you're hosting a birthday party, ladies' night out, corporate function or charity event, a casino night can provide hours of entertainment. With some glitzy decorations and easy-to-set-up casino games, you'll be able to transform your home into an exciting casino with all of your guests feeling like they've stepped straight into Vegas.
Throwing a Casino Party is a great way to guarantee everyone has a good time and stays entertained. I set mine up with my teens in mind – you can decide how kid- or teen-friendly you want your event to be. This theme can work for all ages! Read on for all the best ideas for how to plan the perfect casino night party.
P.S. I got most of my supplies at Oriental Trading. Check out their amazing selection of Casino Night Party supplies!
How to Set up an Epic Casino Night Party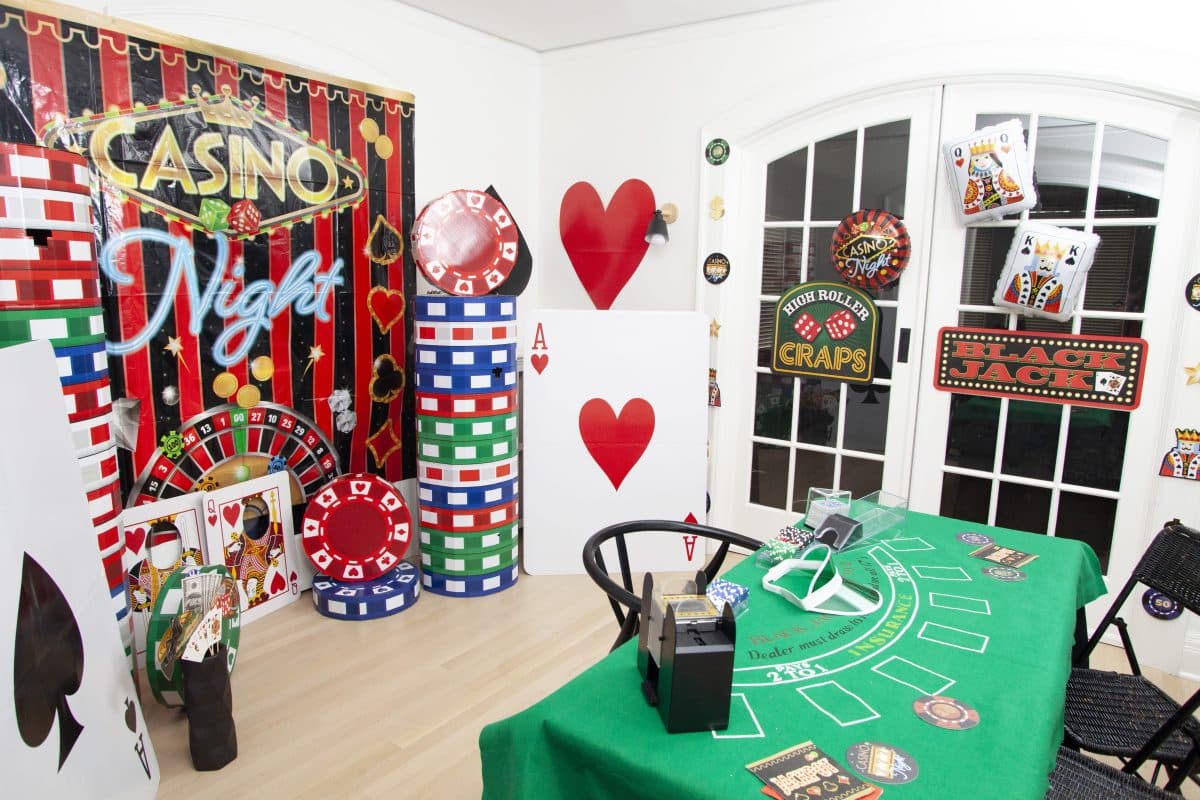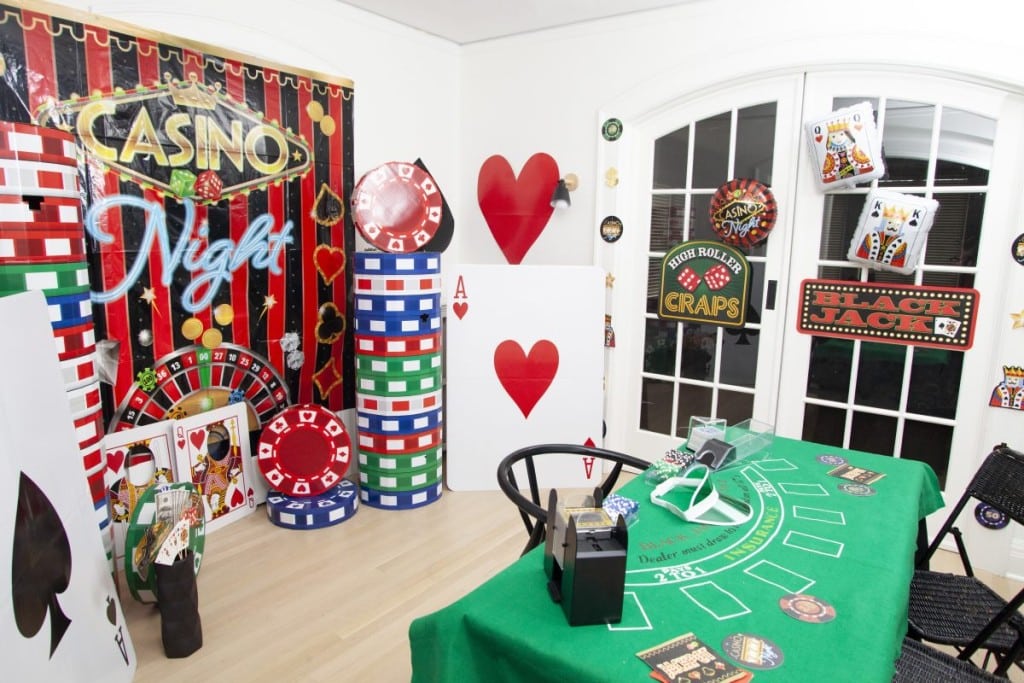 Decor
First, I set up some larger-than-life Casino-themed decorations. Giant poker chips and large 3D inflatable dice helped to fill some empty space in the room and set the Casino scene.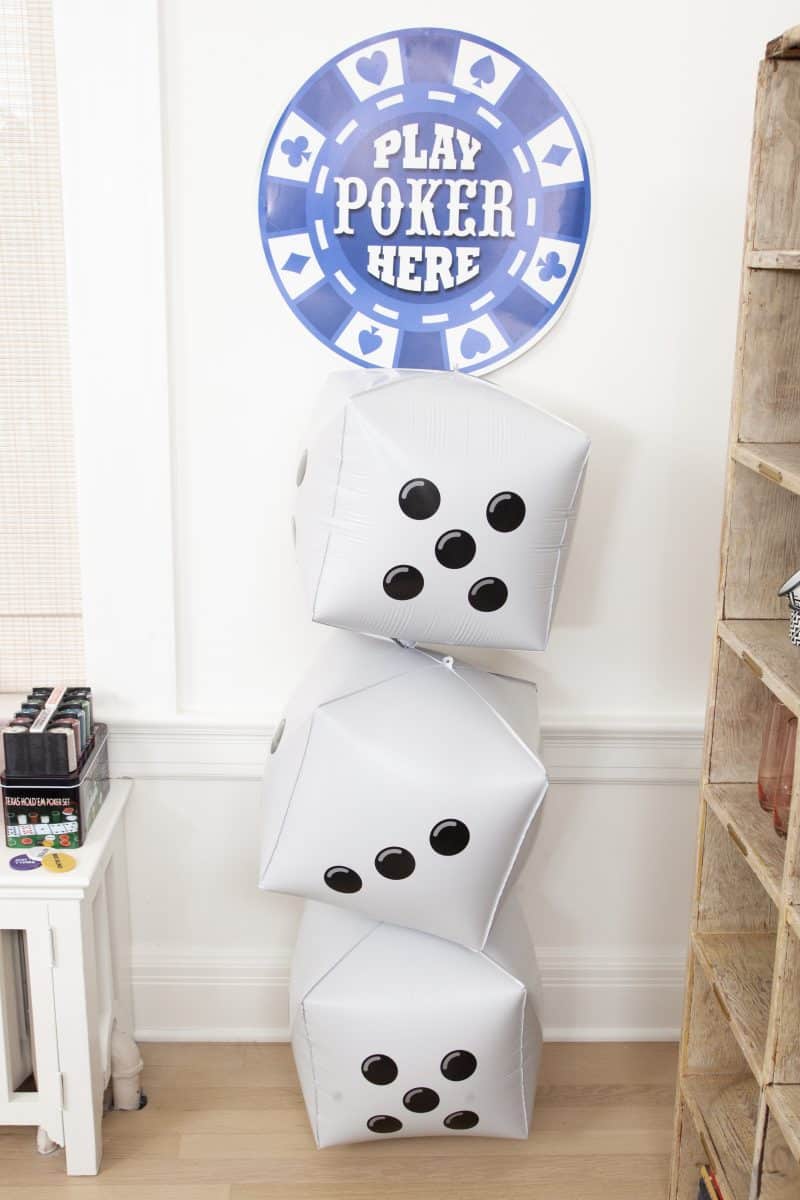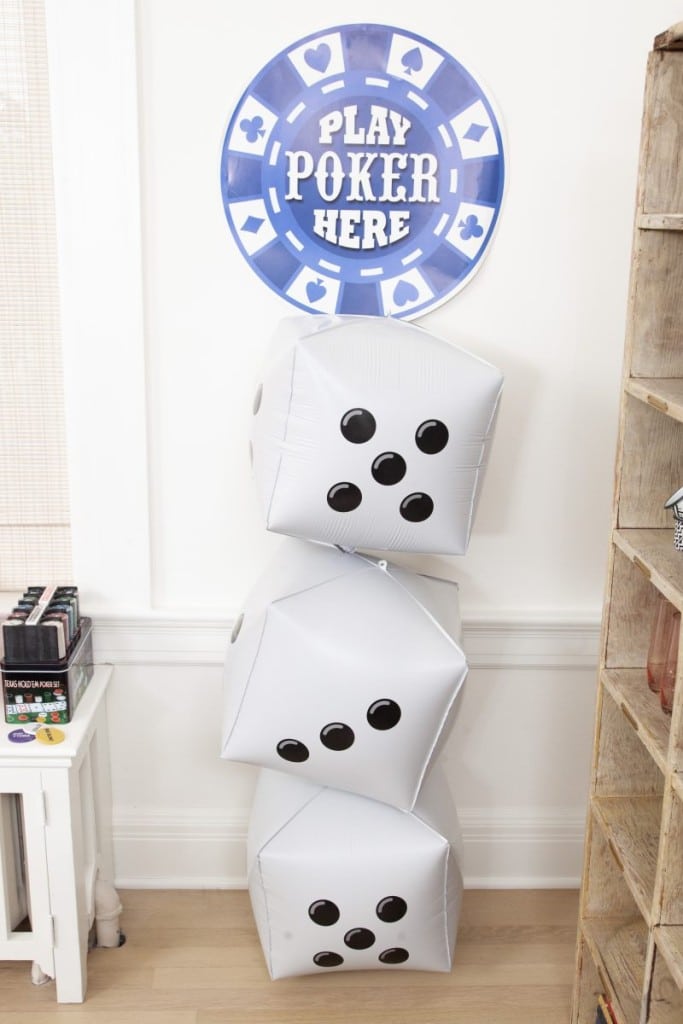 I also hung huge playing cards that really made a big impact. Casino-themed paper fans added pops of color.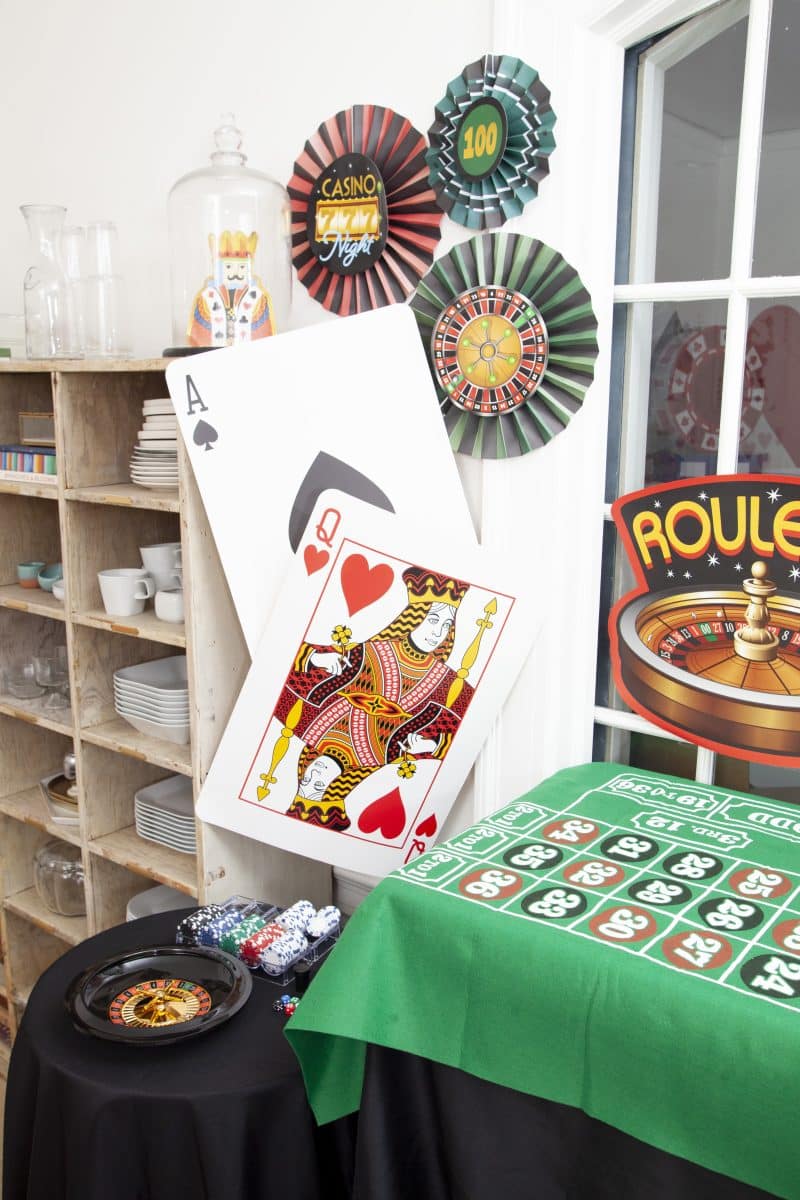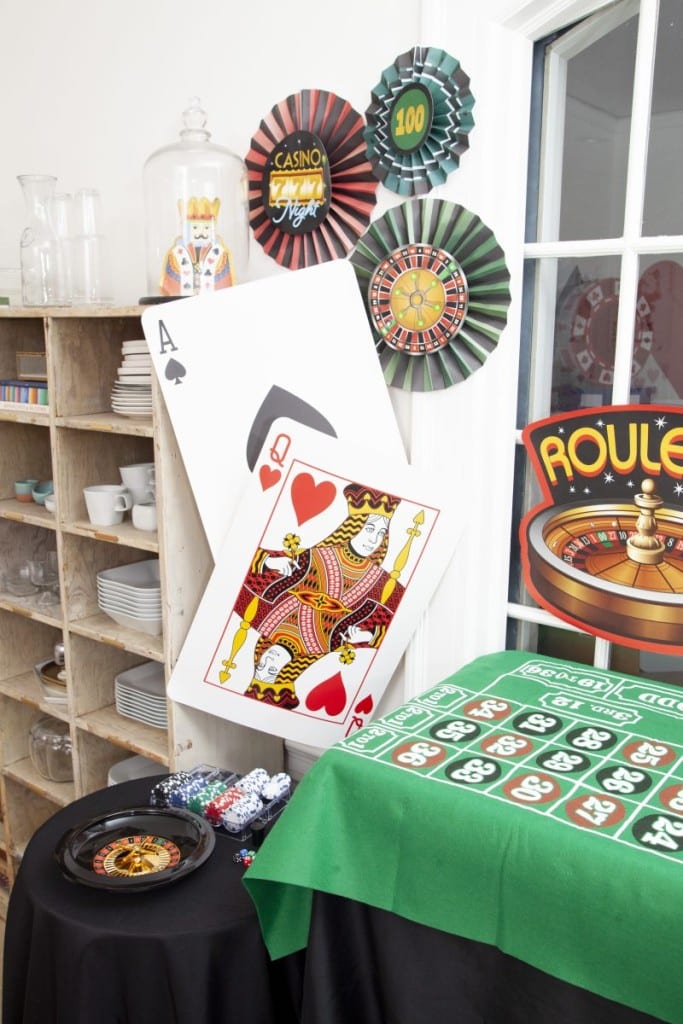 If you've been following me for a bit, you know I love to use glass or plastic cloches to display and emphasize decor. In this case, I used a large one to hold a paper standup of the King from a deck of cards!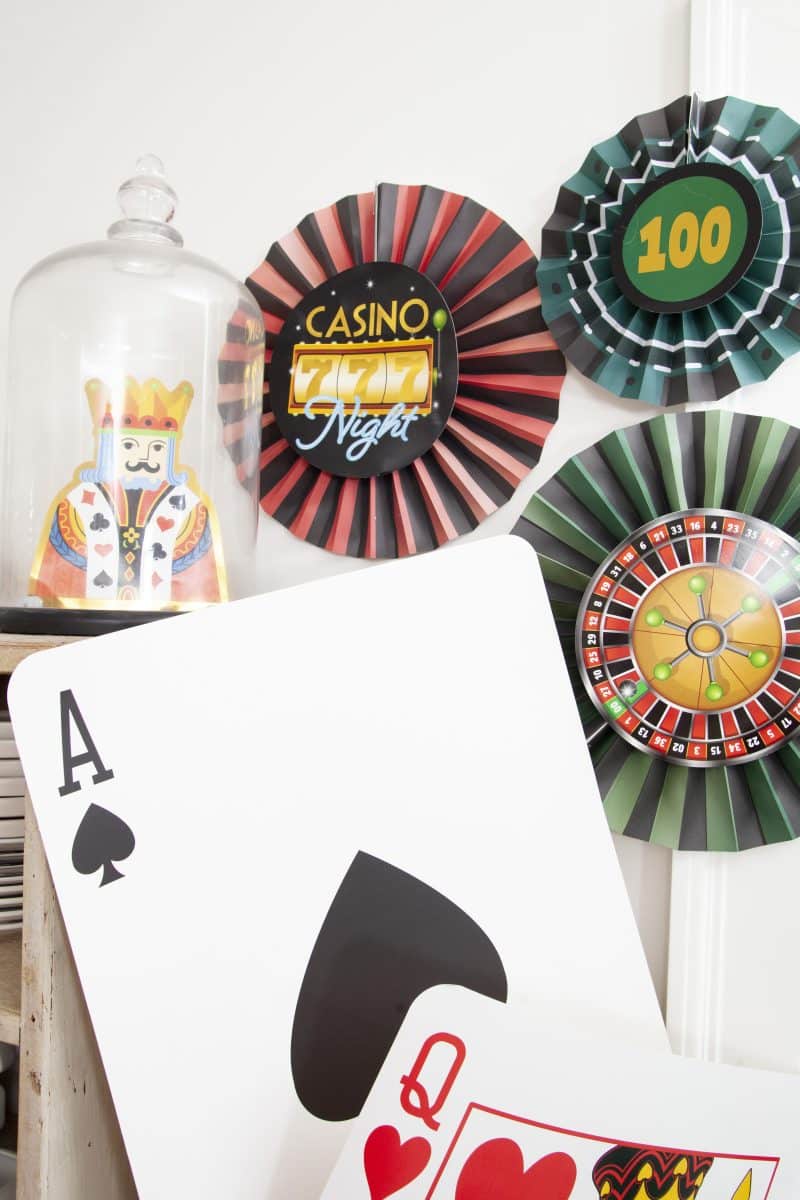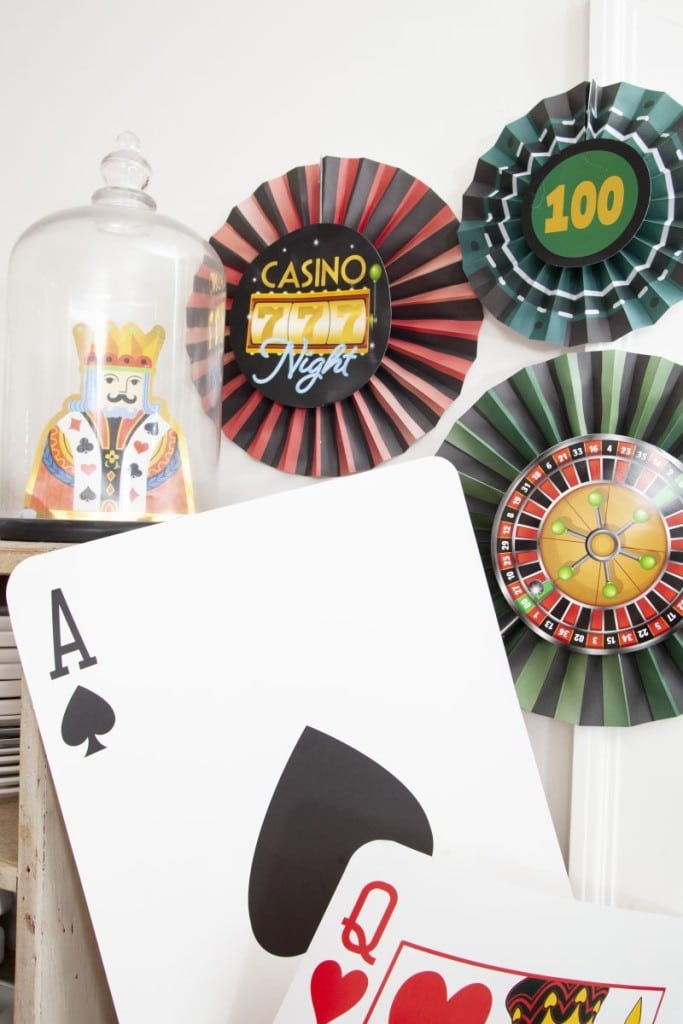 No celebration is complete without balloons, right? Themed mylar balloons provided the perfect look for any spaces missing decor, and I absolutely fell in love with the adorable card-shaped mylar balloons.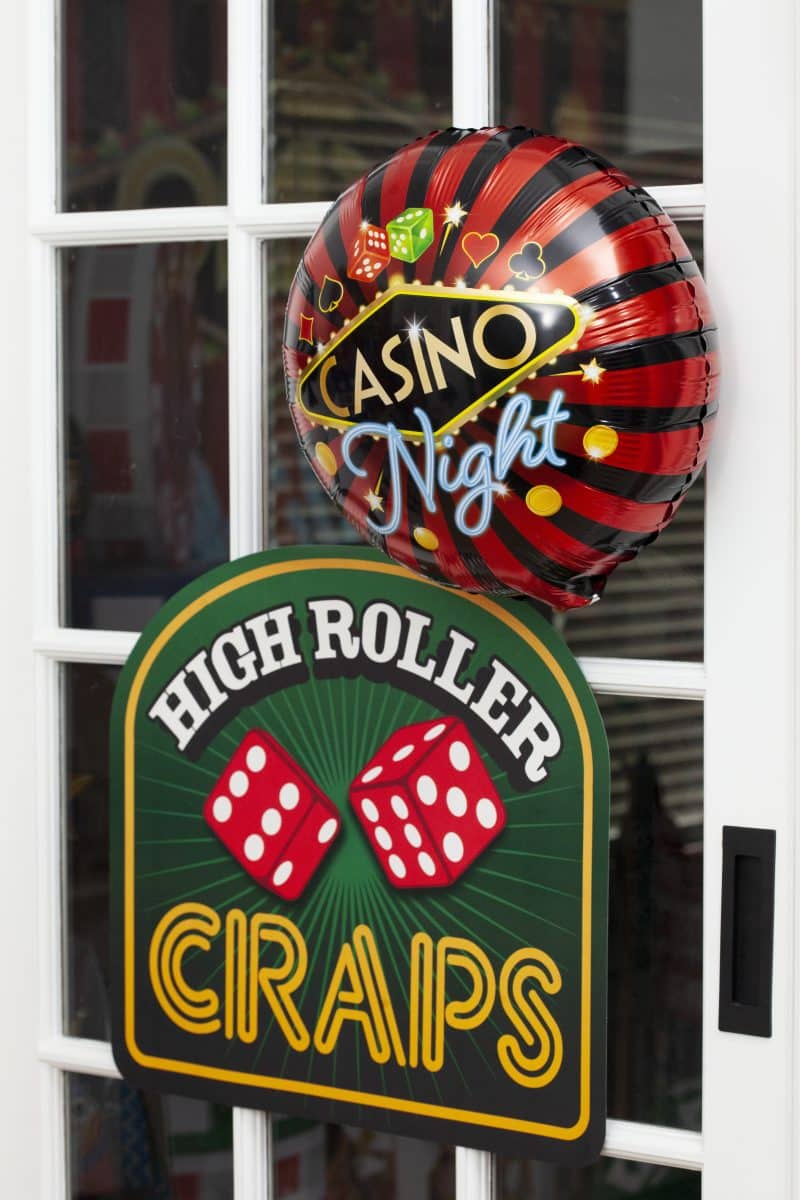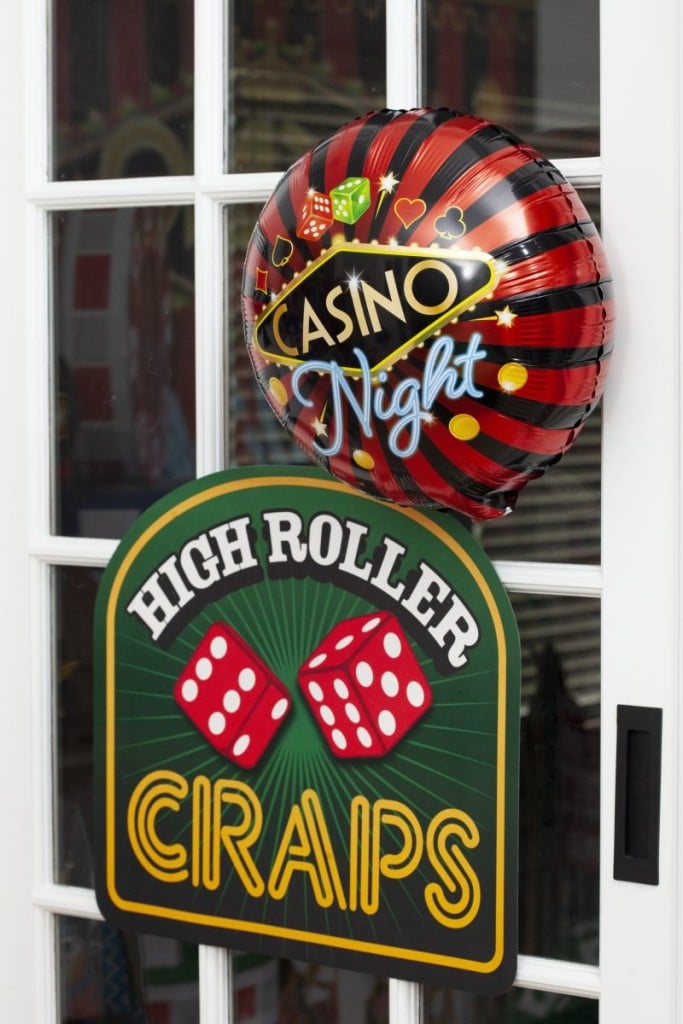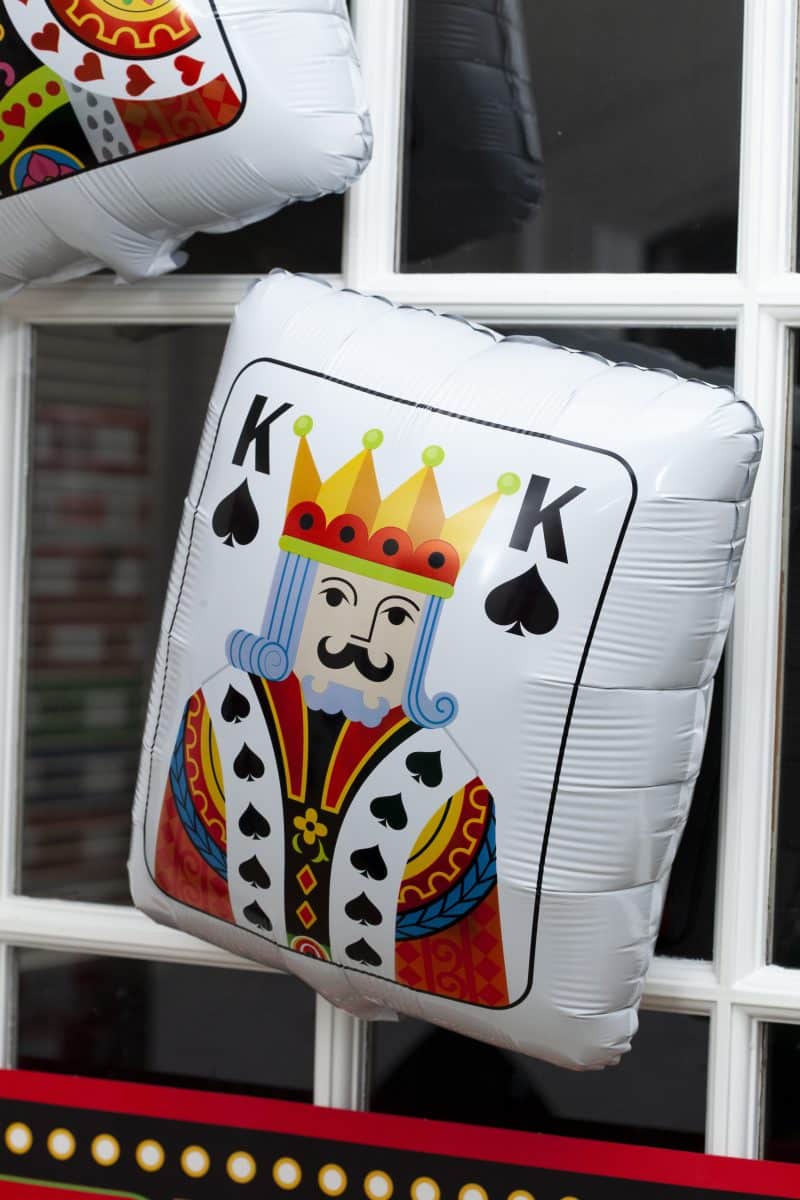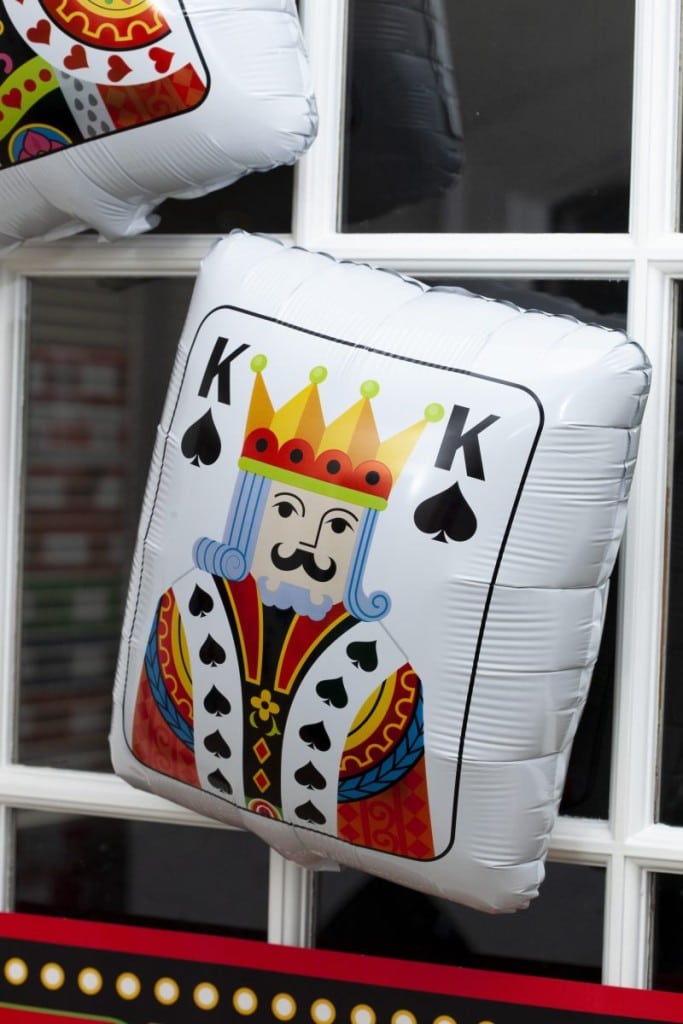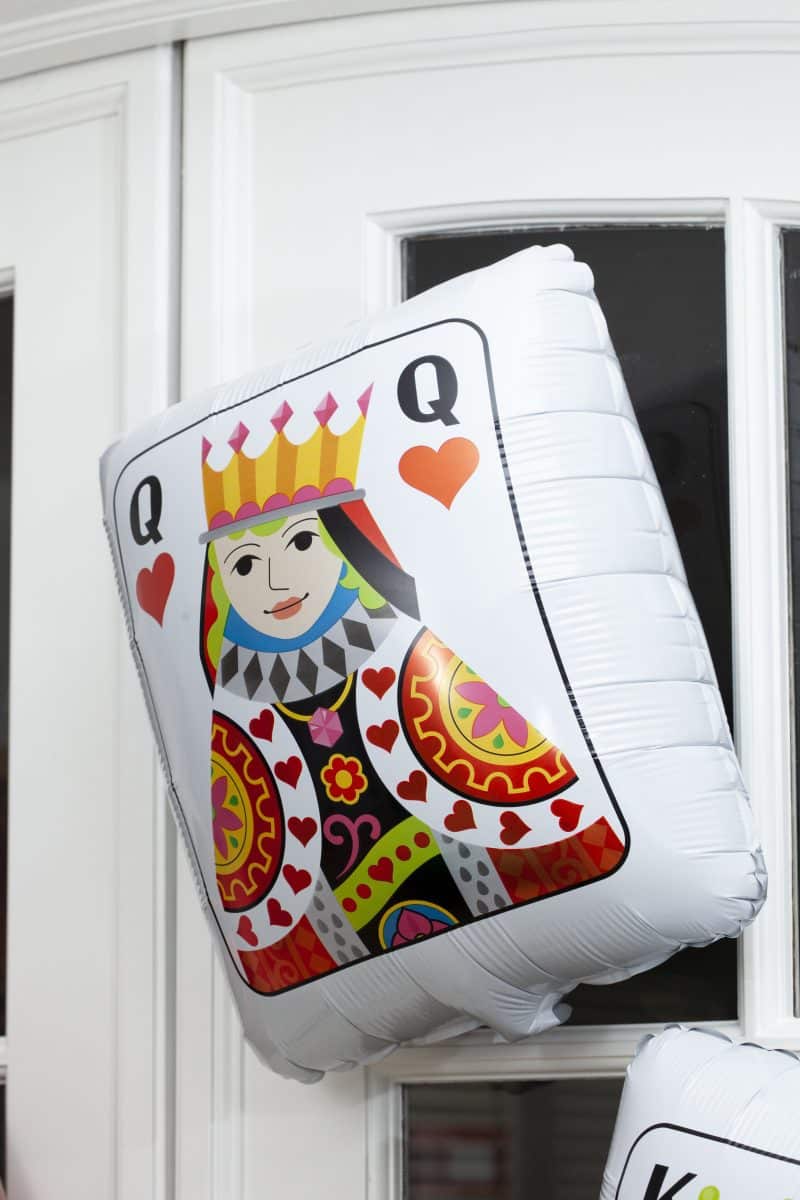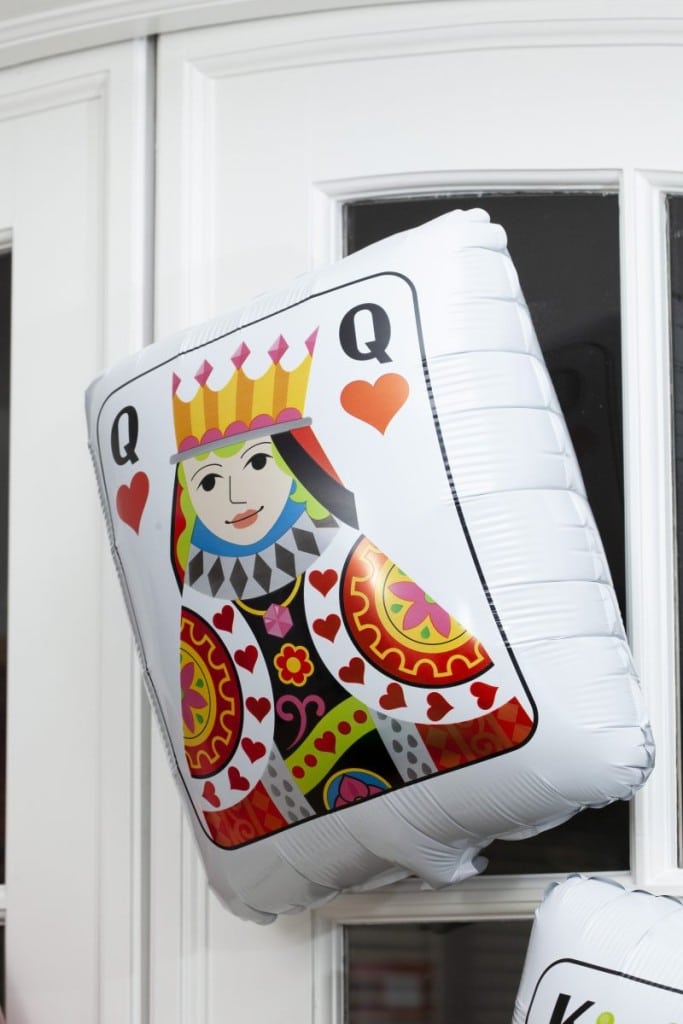 Photo Booth
Speaking of larger-than-life decor, I used plenty of it to create a really fun and showy Photobooth. Trust me, guests are going to want to remember this night. And this photo booth is perfect for creating memories! Get details on the photo booth HERE.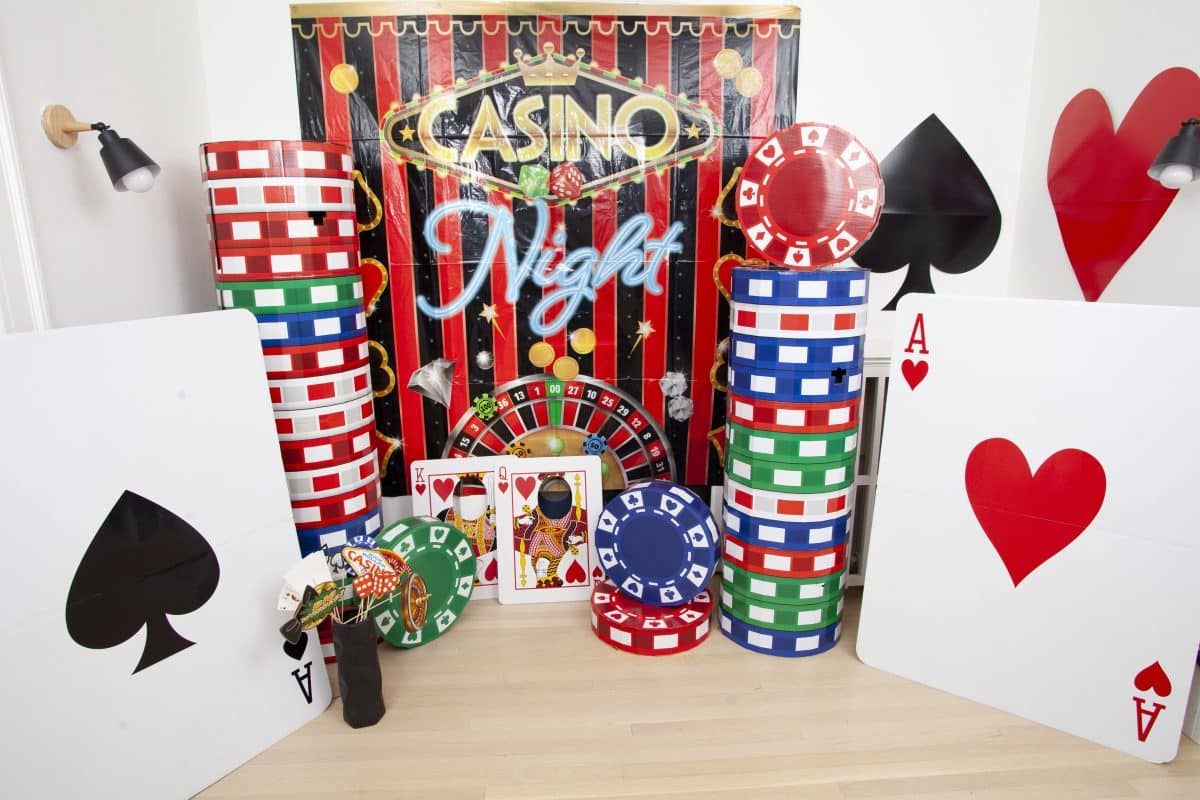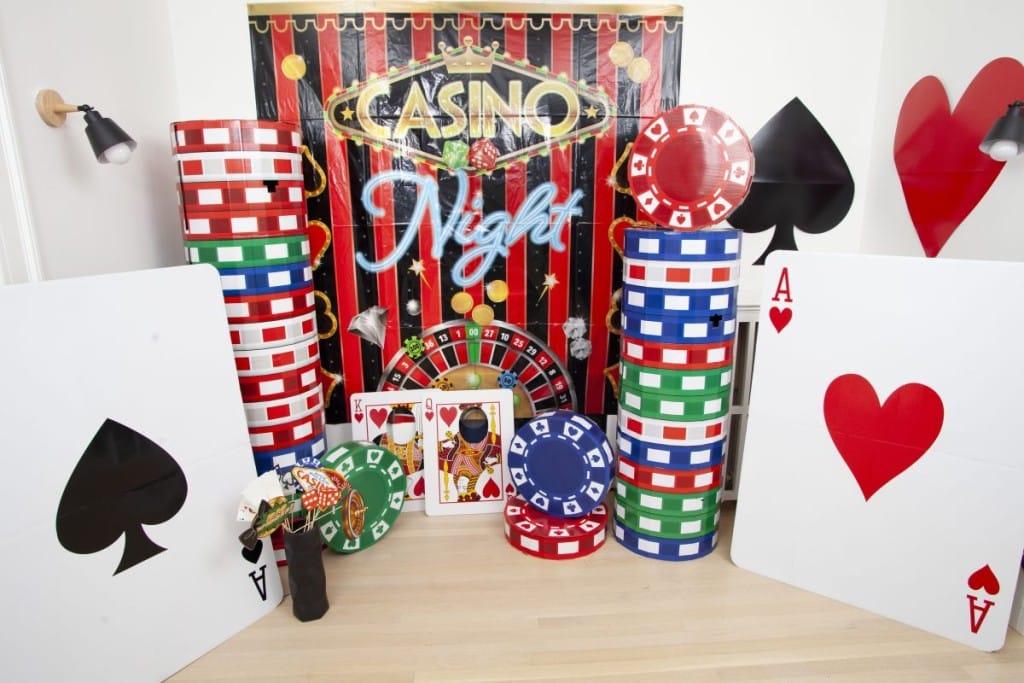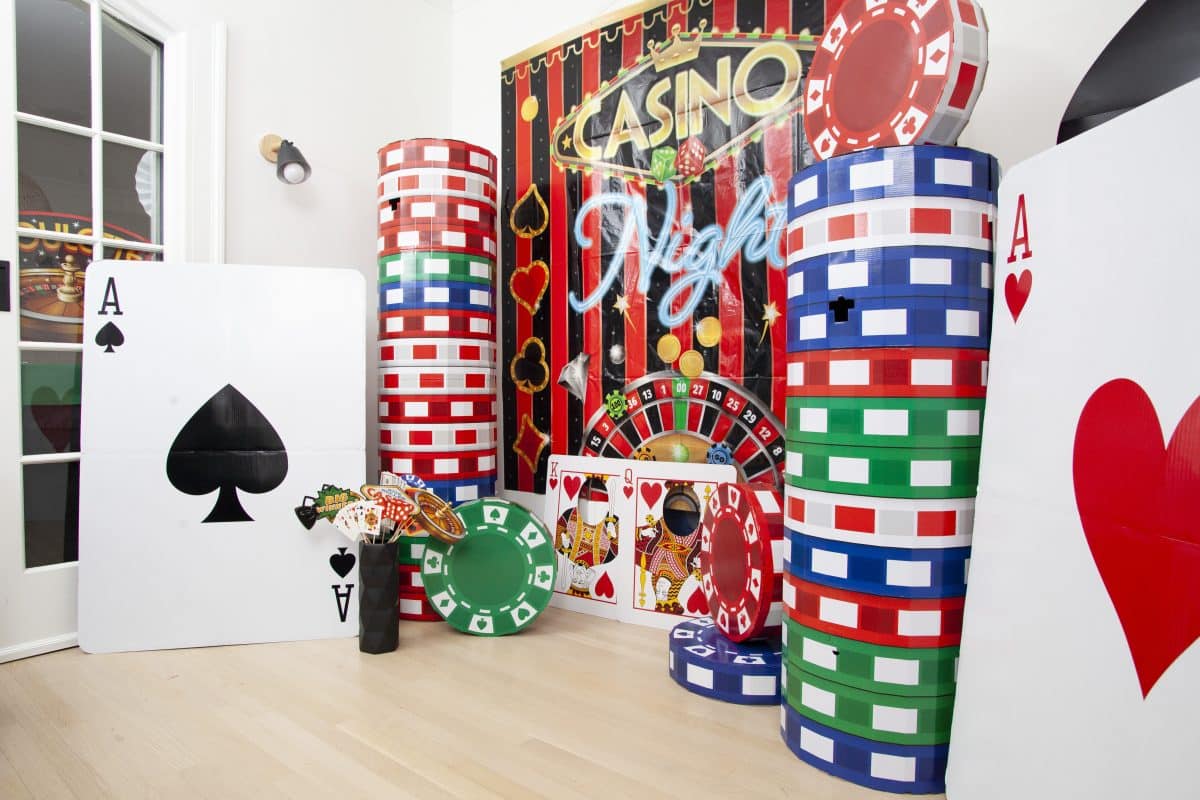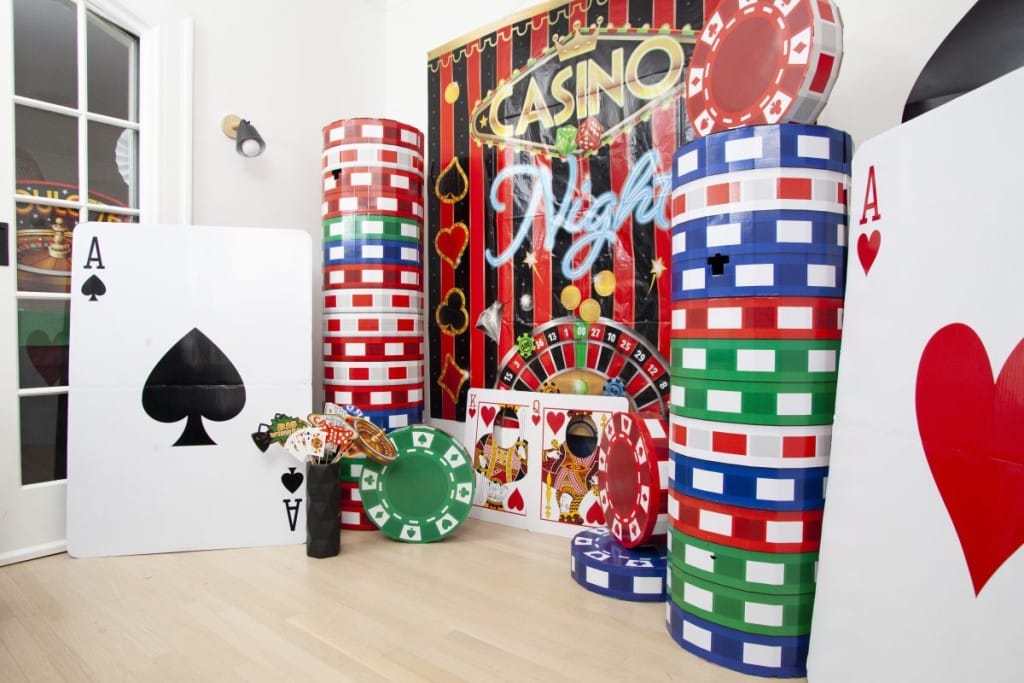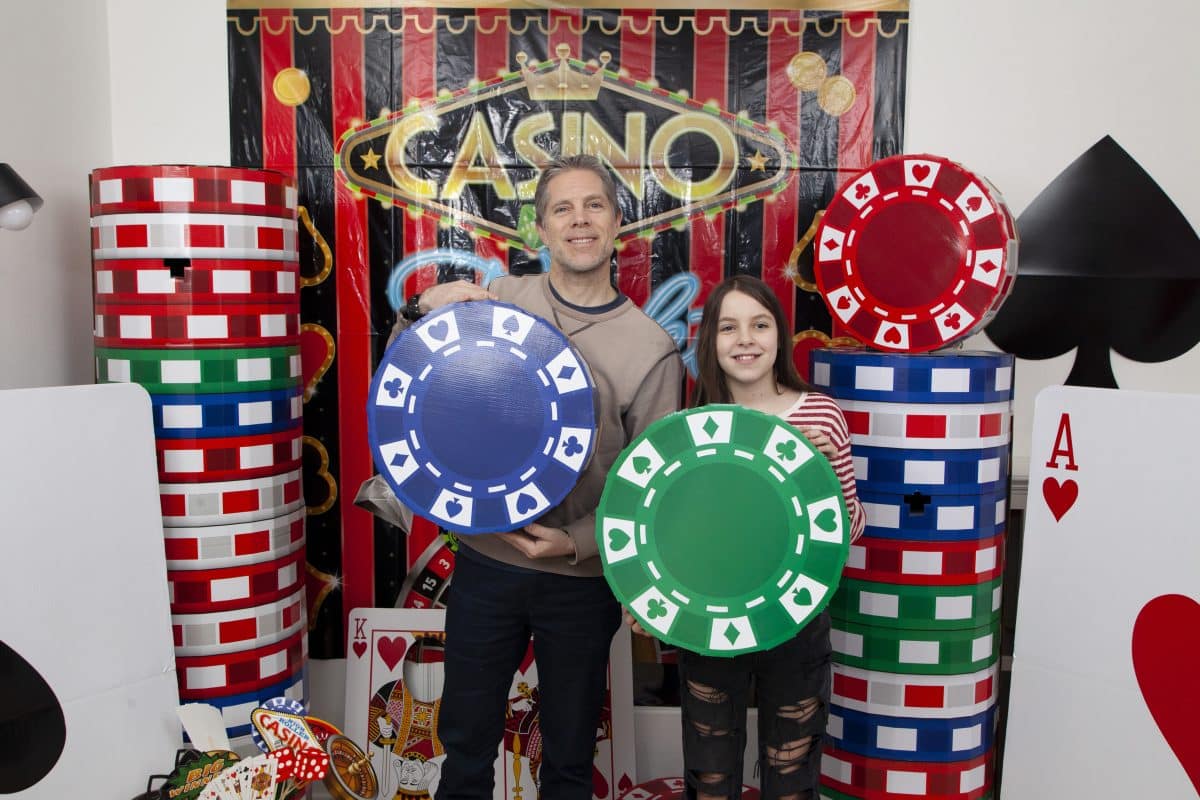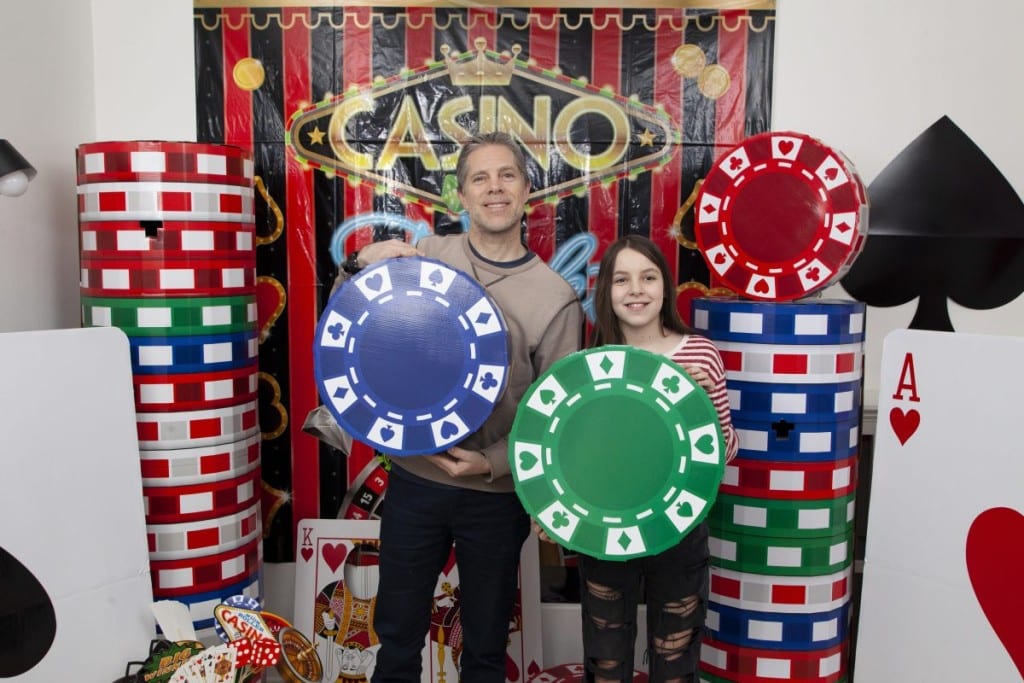 Games
If a casino party has felt intimidating to you because of the idea of having to create the casino games, never fear! There are easy ways to set up games that don't involve purchasing game tables. Oriental Trading has everything you could need, including easy felt tablecovers printed with casino game markings that you can use over tables you already have!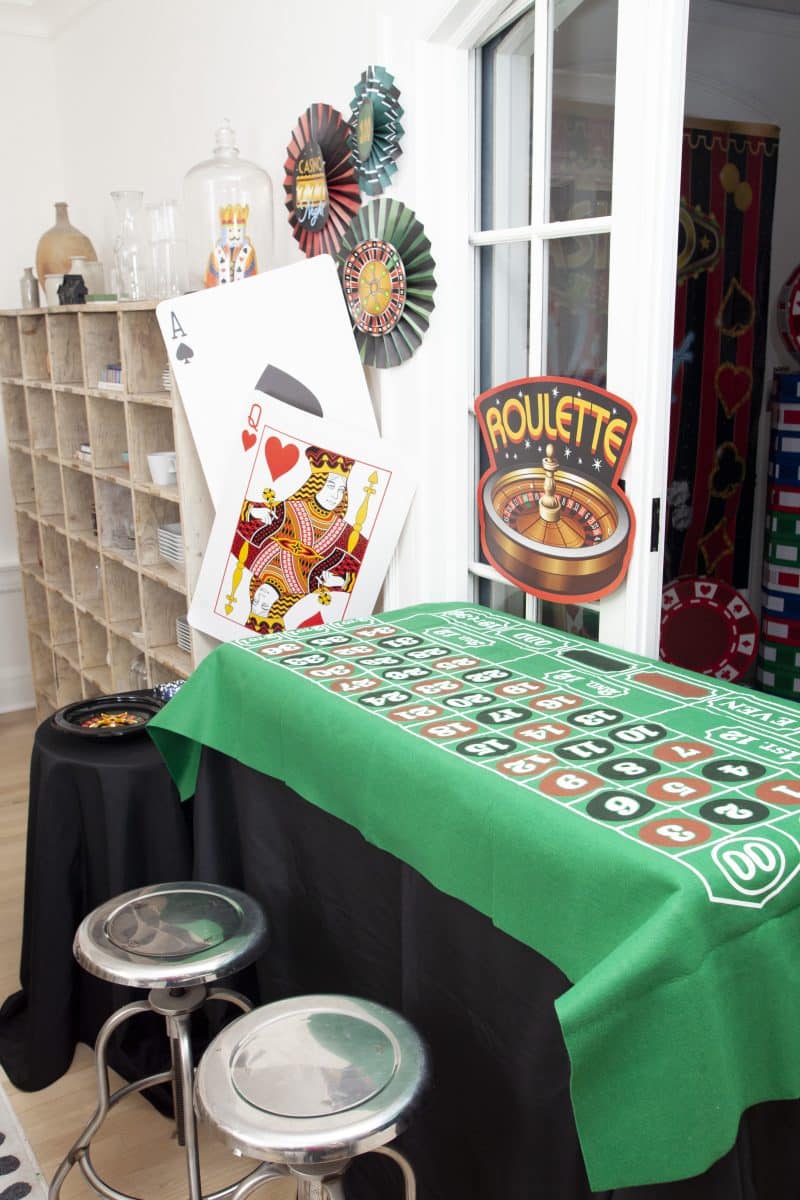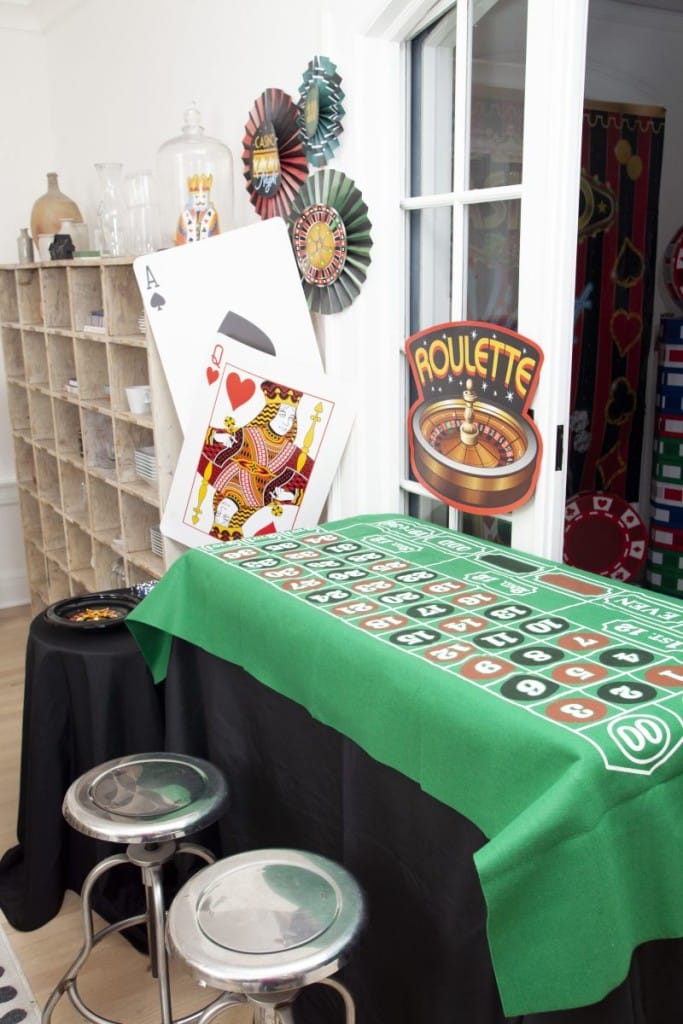 You'll also want to have plenty of dice and poker chips on hand!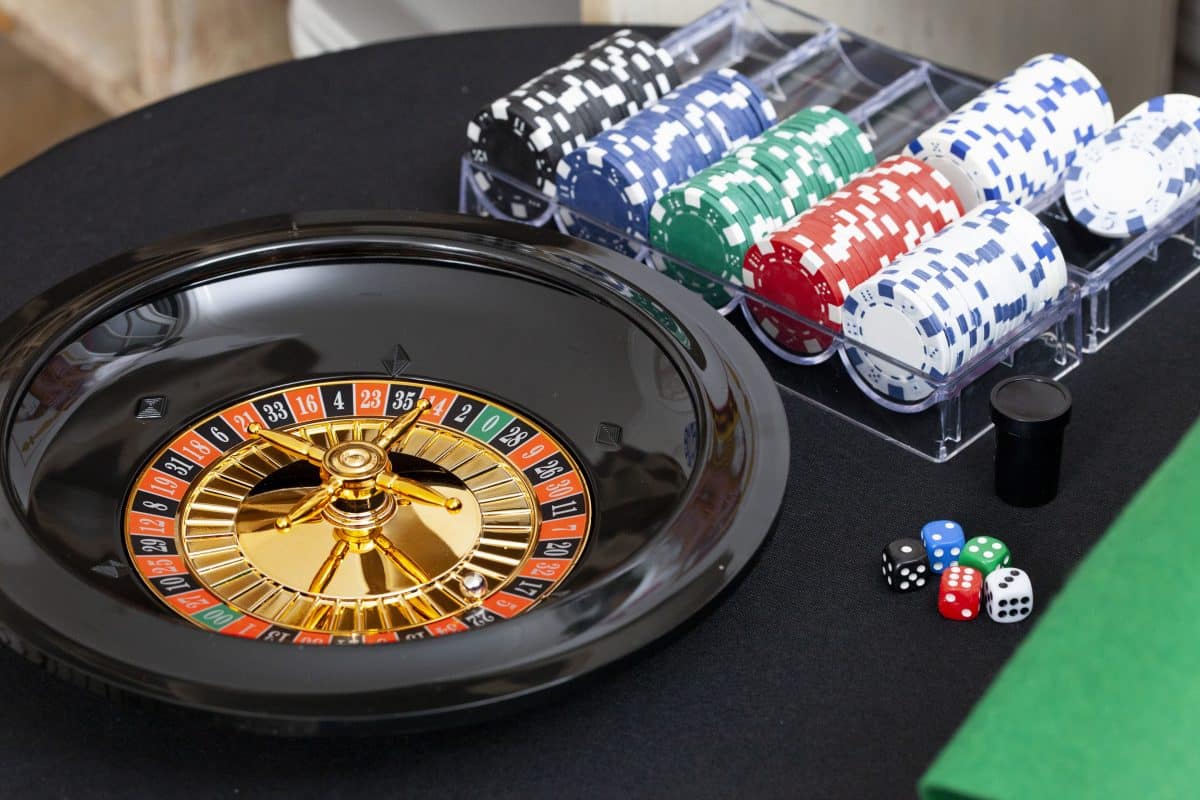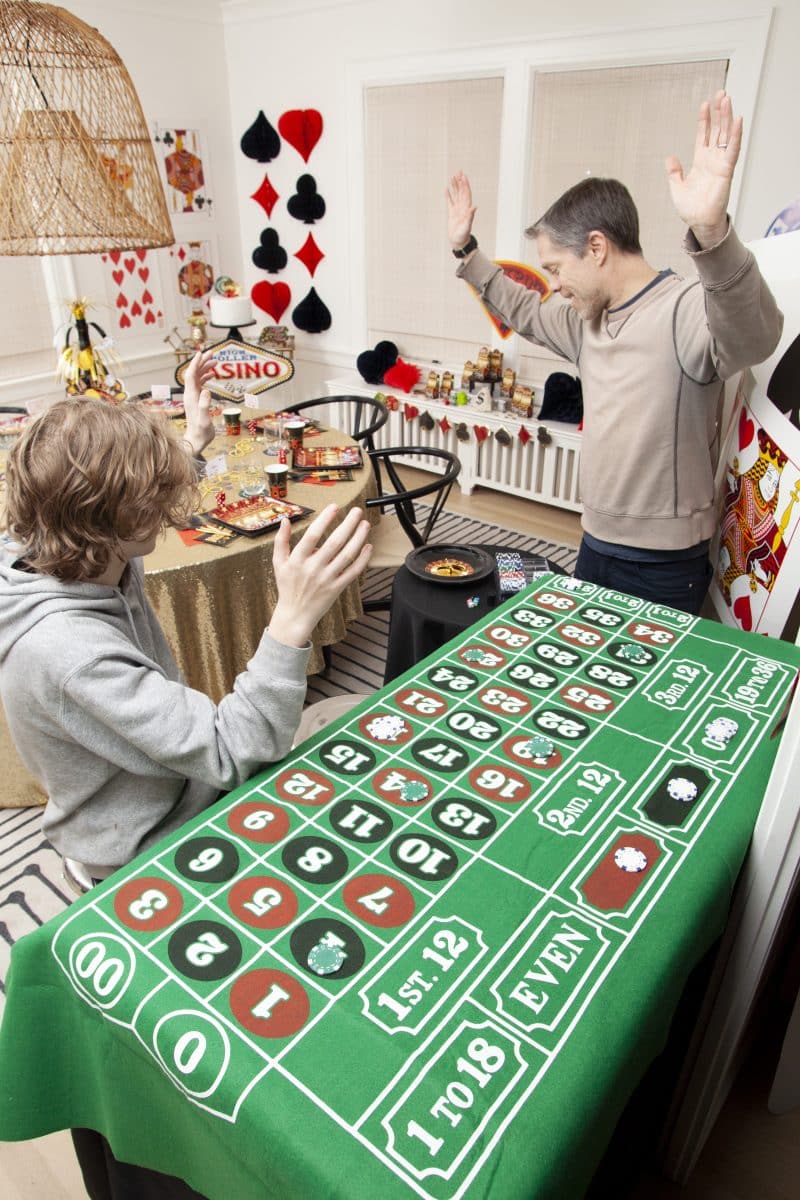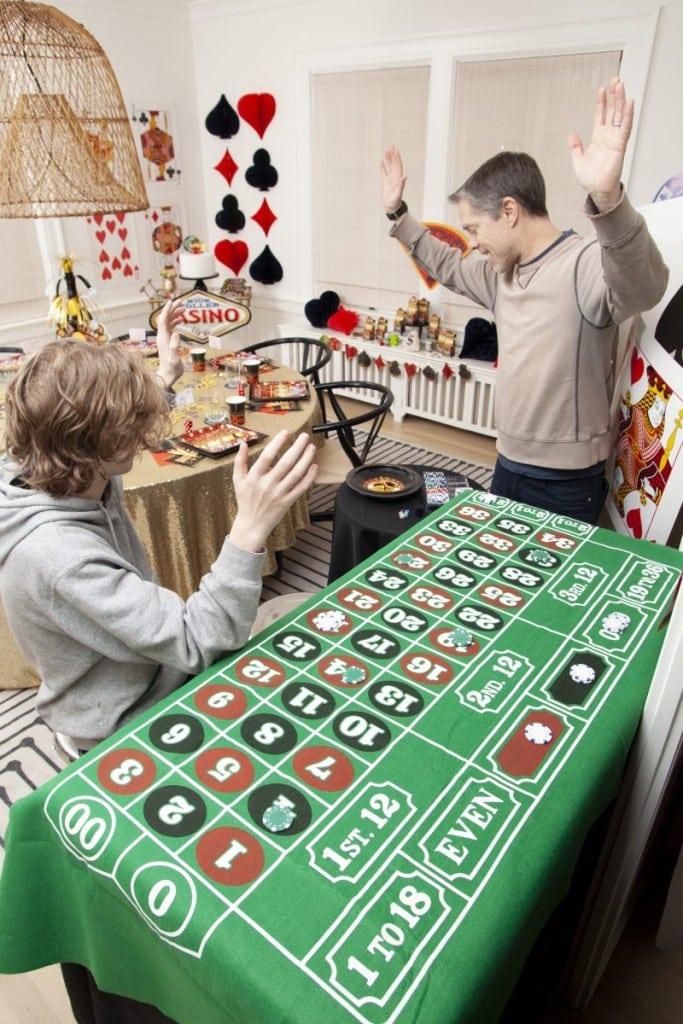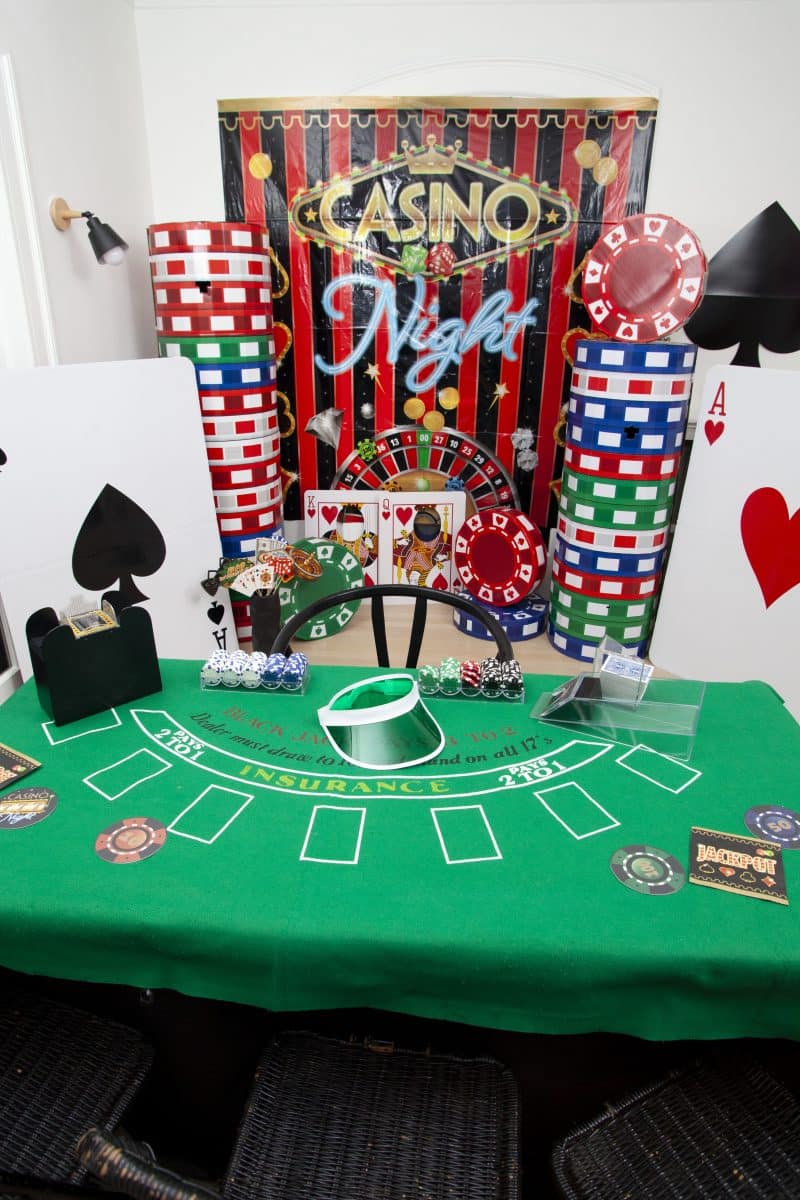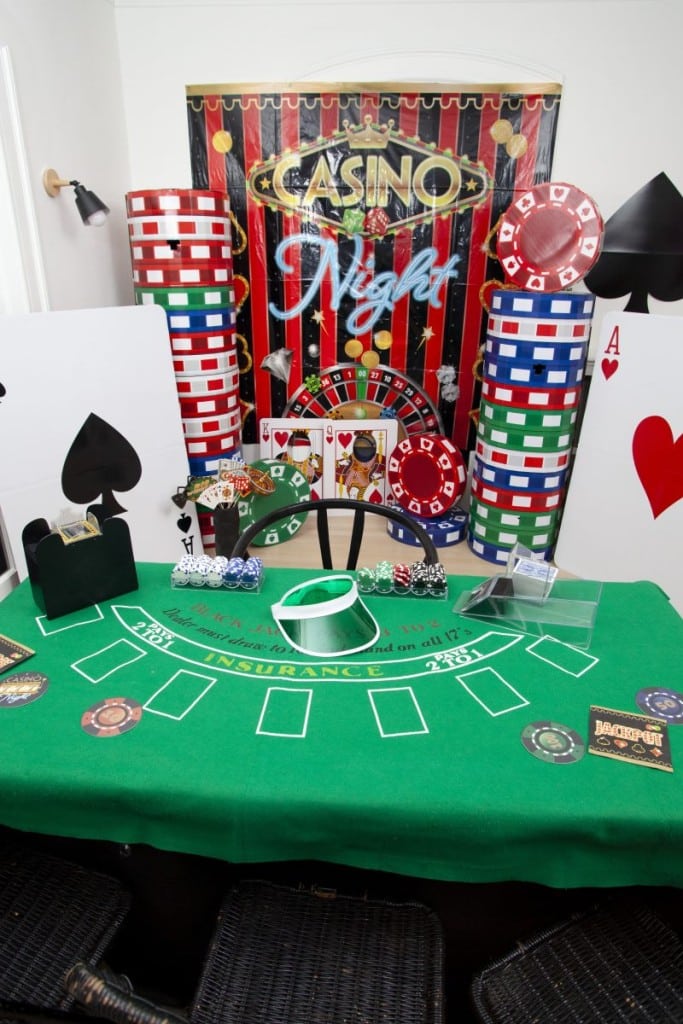 You'll want to make sure the dealer looks the part as well, so provide a Casino visor at their seat!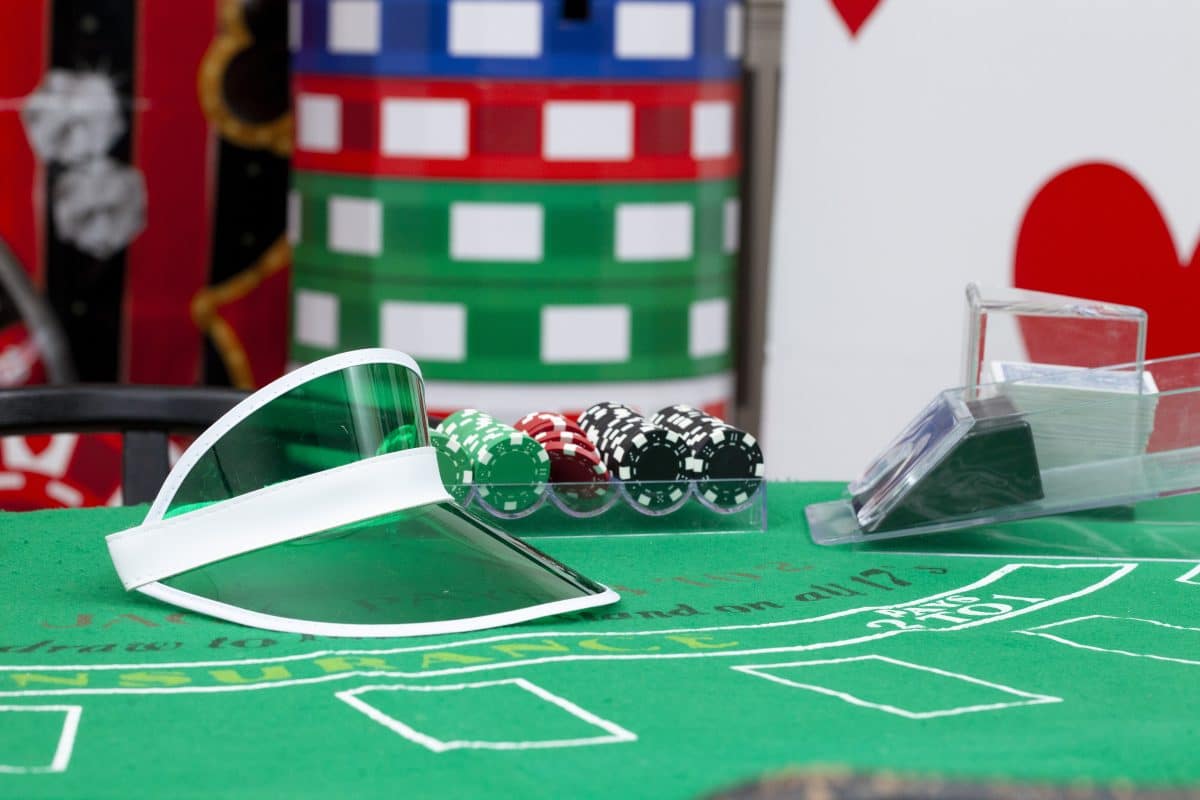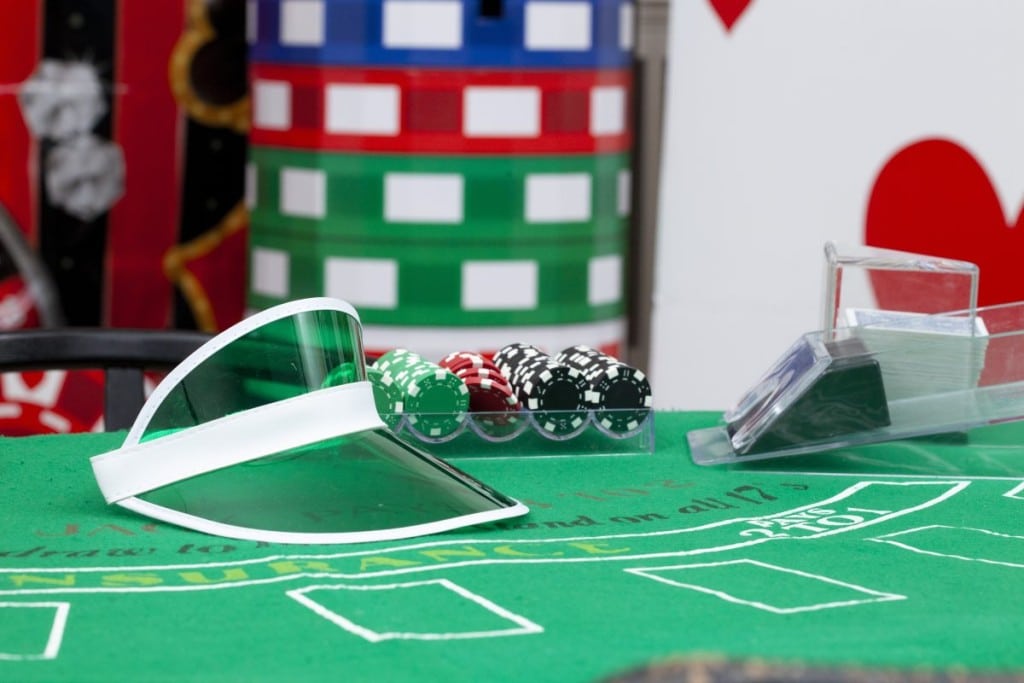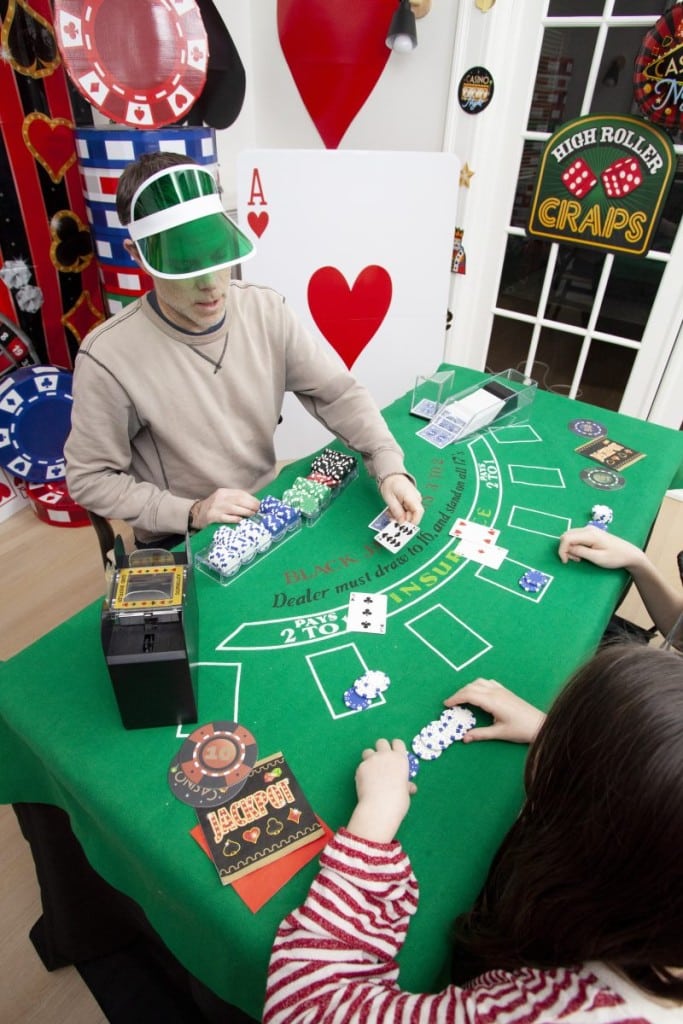 I also made sure to provide casino-themed coasters and cocktail napkins on each game table so everyone could keep a drink or small snack with them while playing games.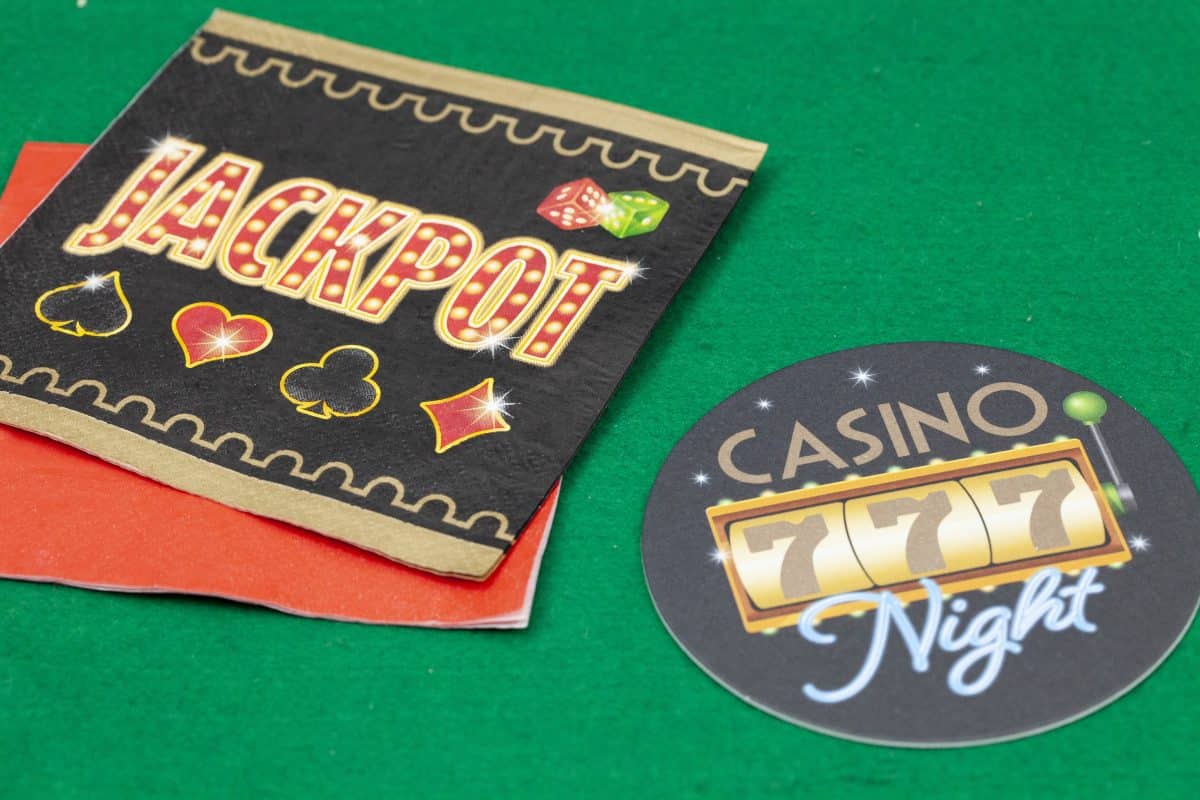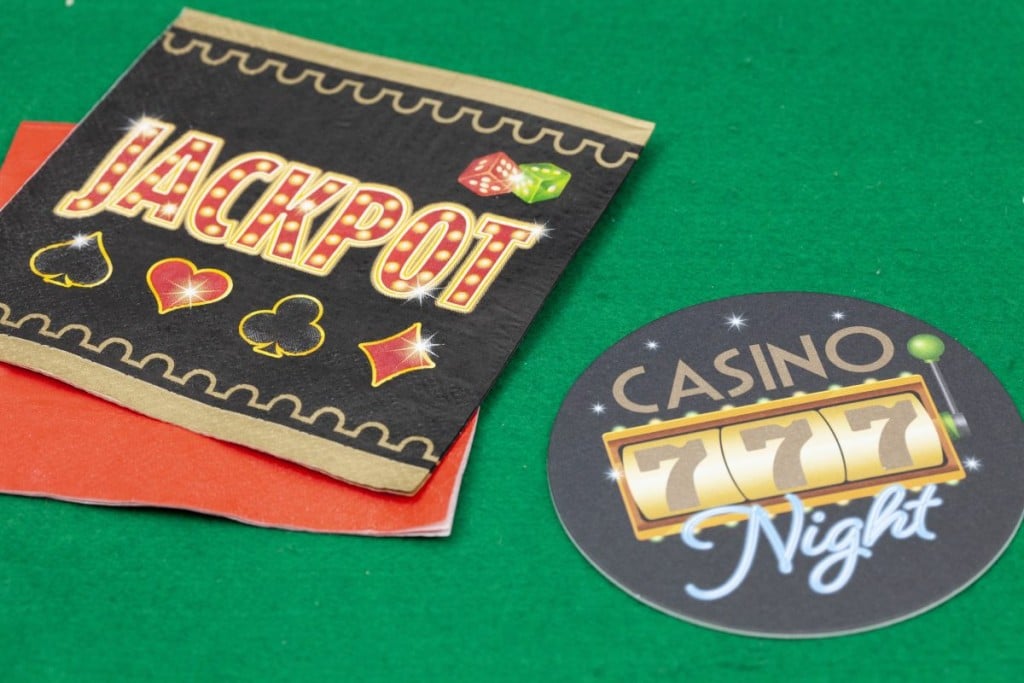 Table Setting
At some point, your guests will likely want to take a gambling break to indulge in some food! I set an extravagant food table with tons of decor. Get details on how I set it all up HERE.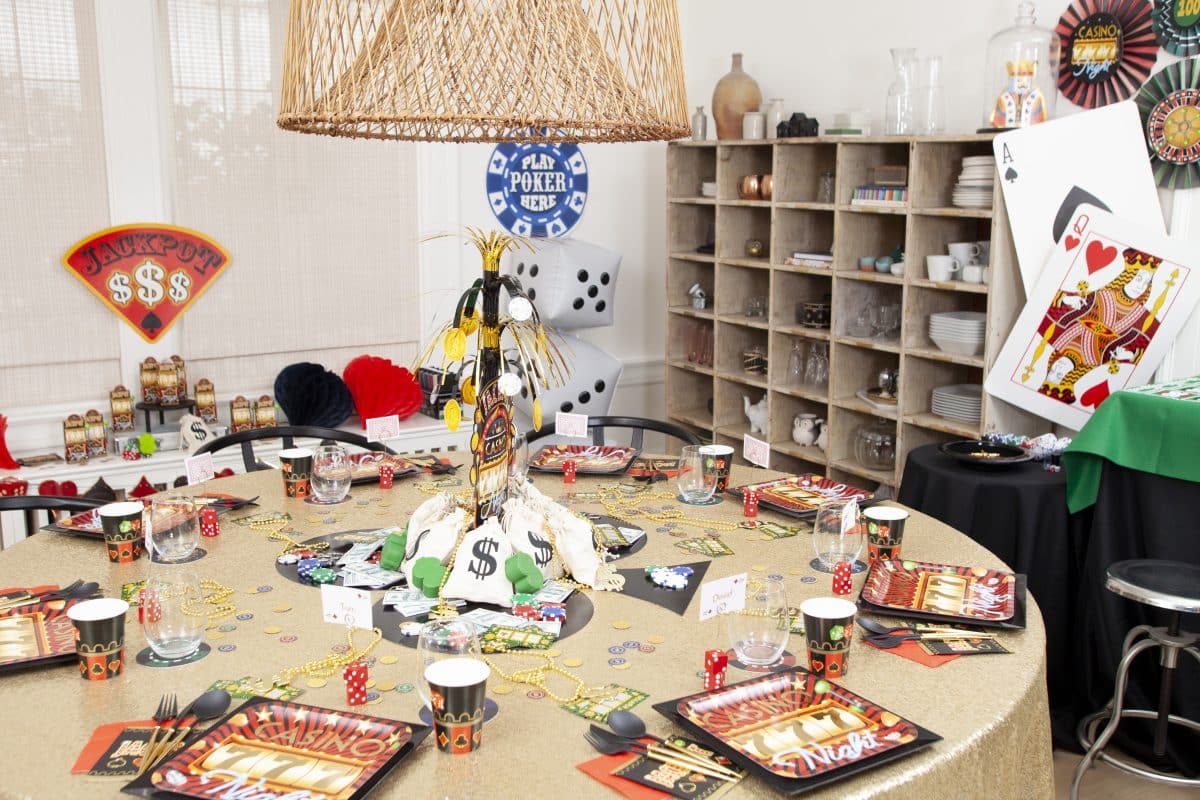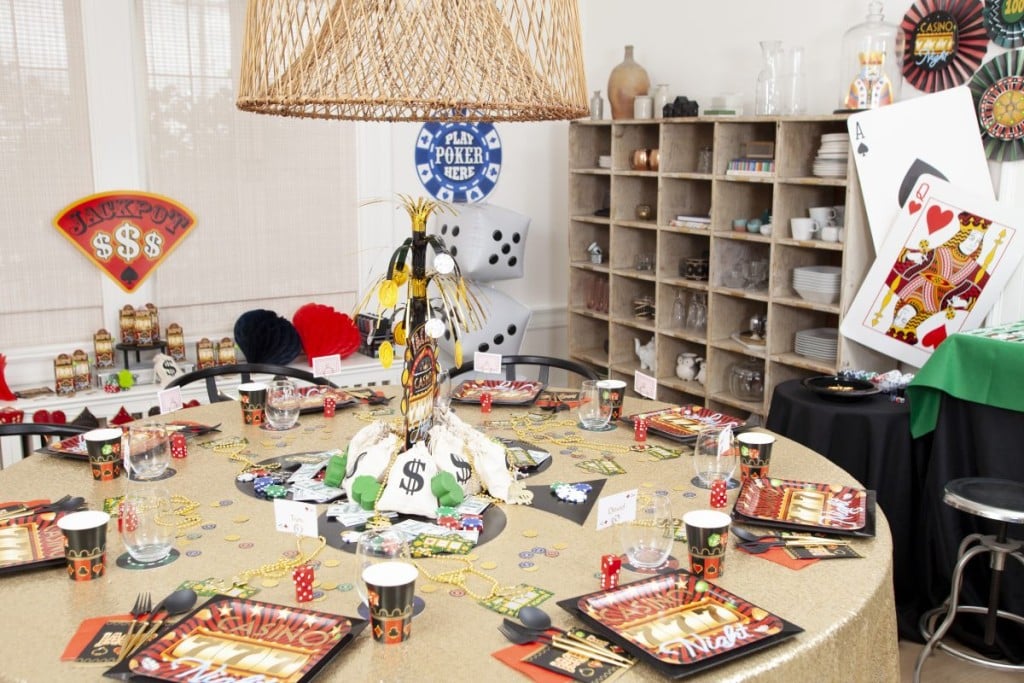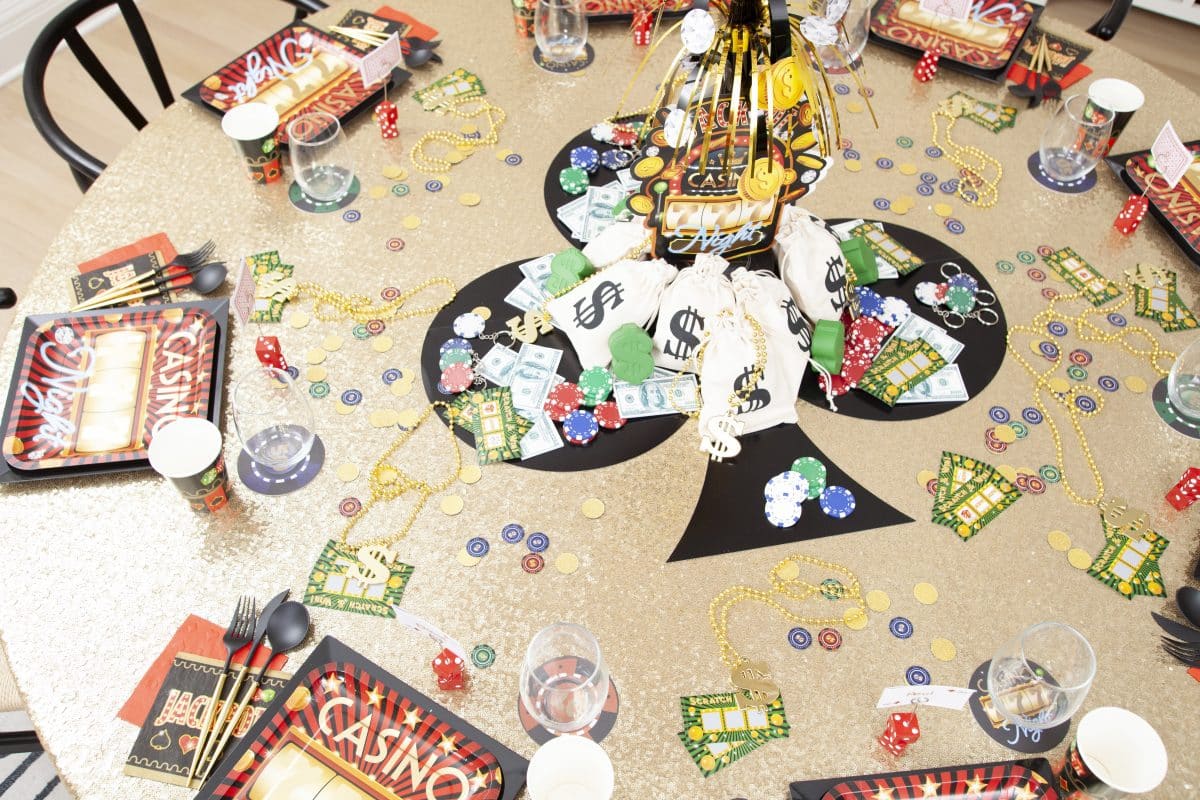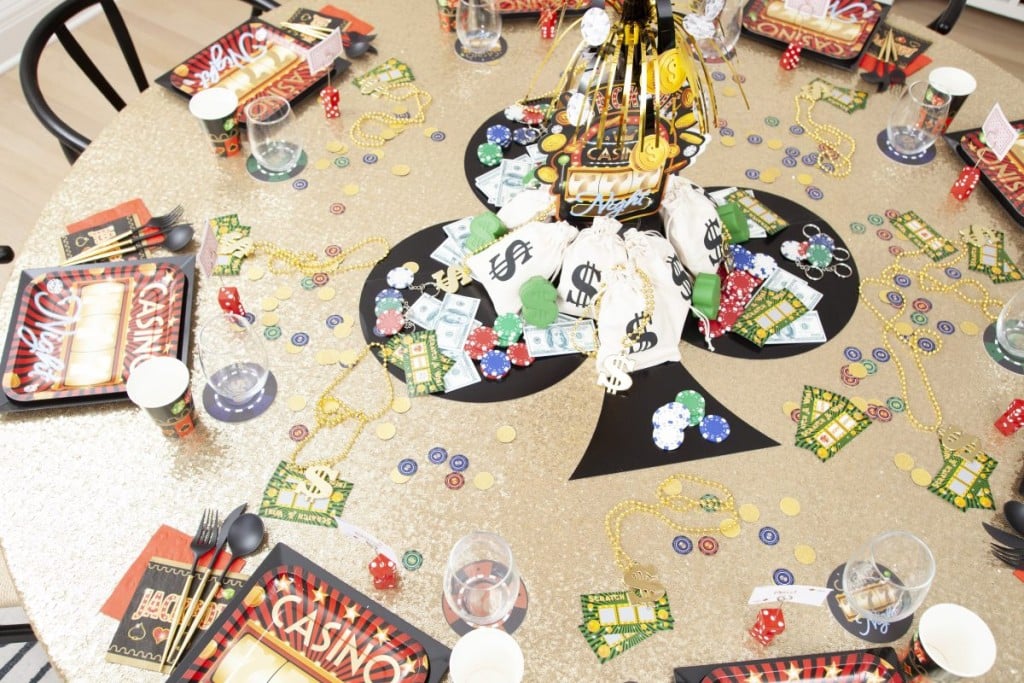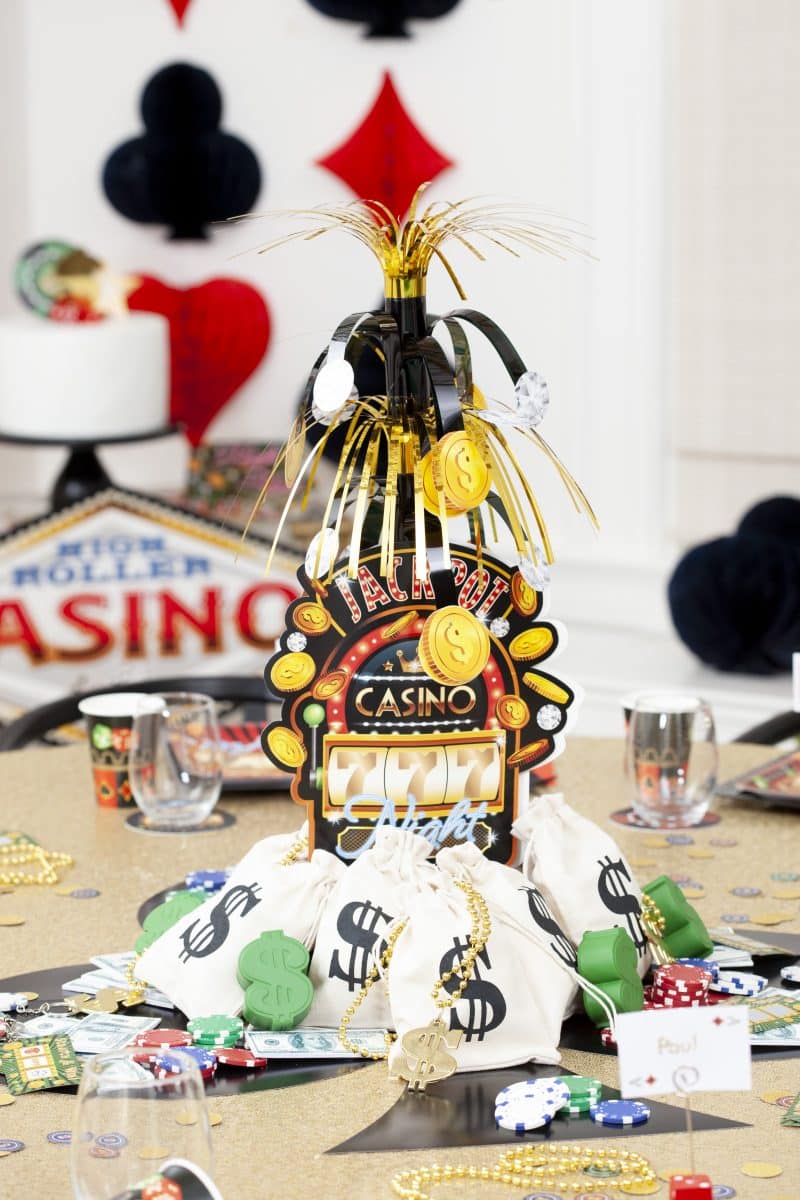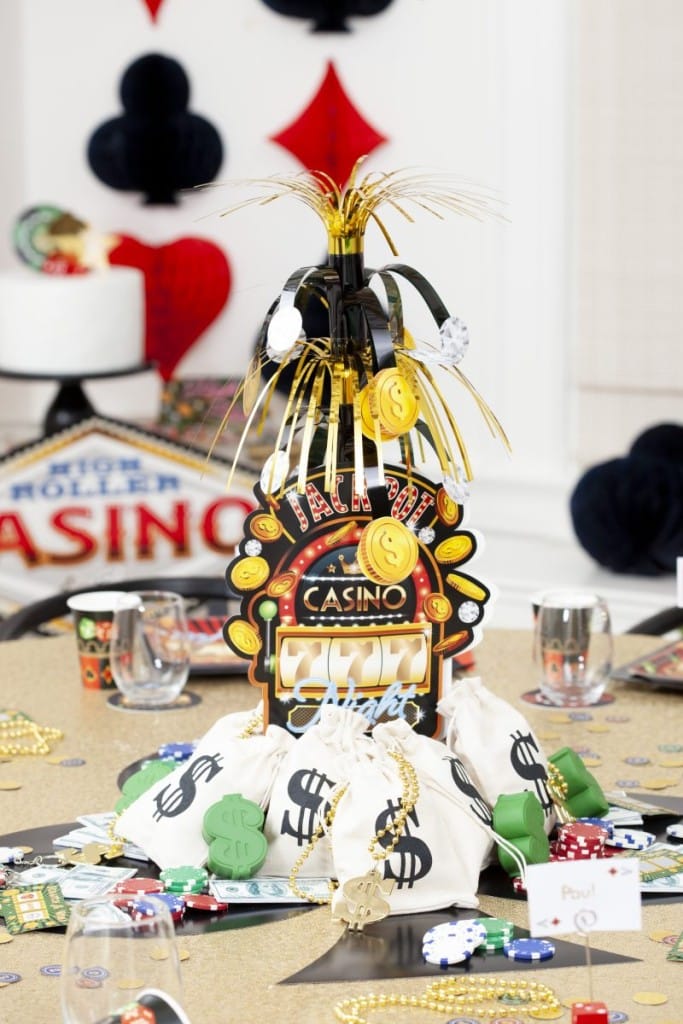 Desserts
For my desserts, I used a rolling bar cart in a corner of the room. The one I have has clear glass shelves and gold embellishments, and the luxe aesthetic was perfect for a Casino Night party. Behind it, I hung honeycomb card suit decor and large playing card wall hangings.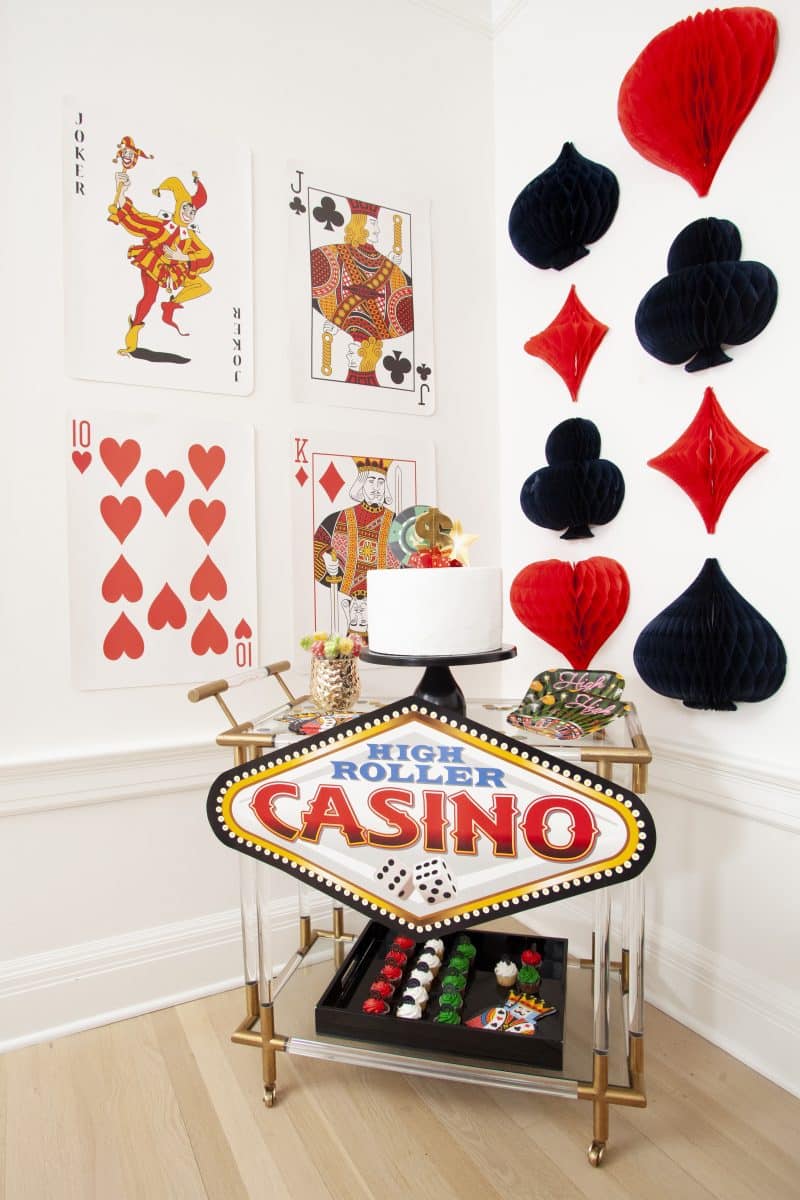 I also hung a "High Roller Casino" sign to the front of the dessert cart to tie it even more with the rest of the decor and party theme.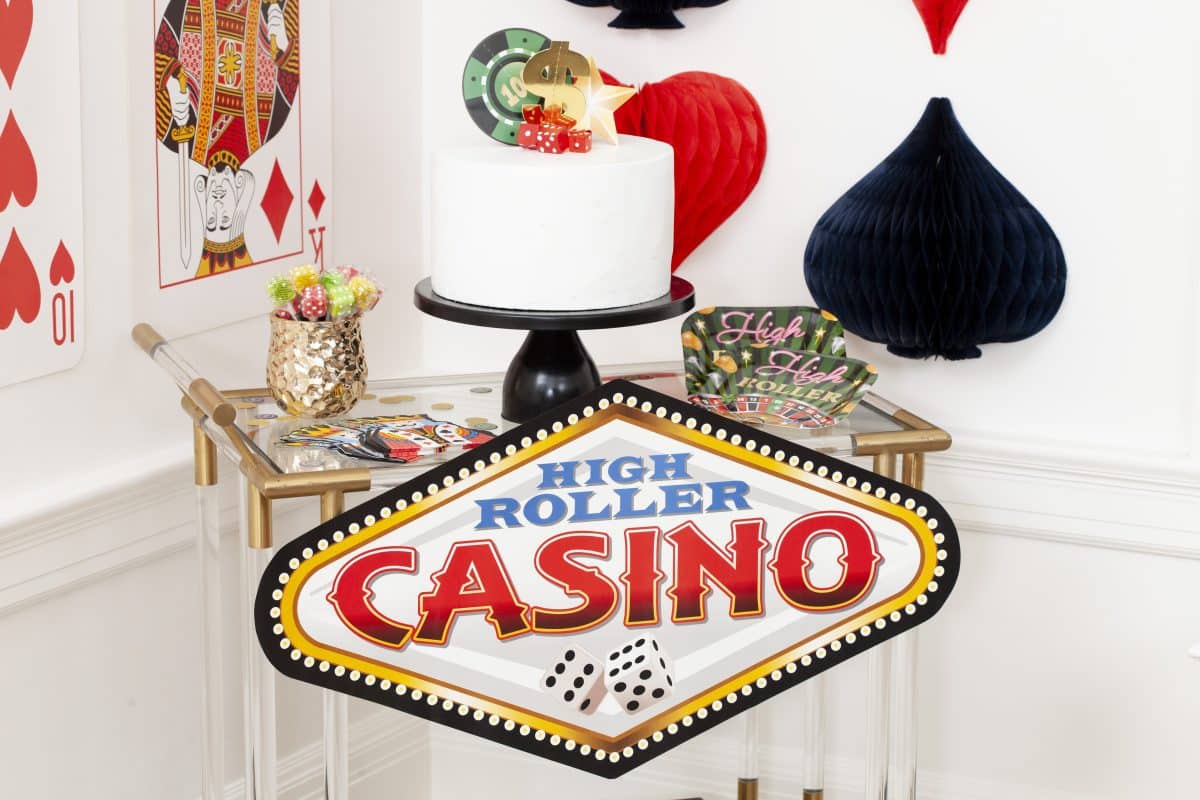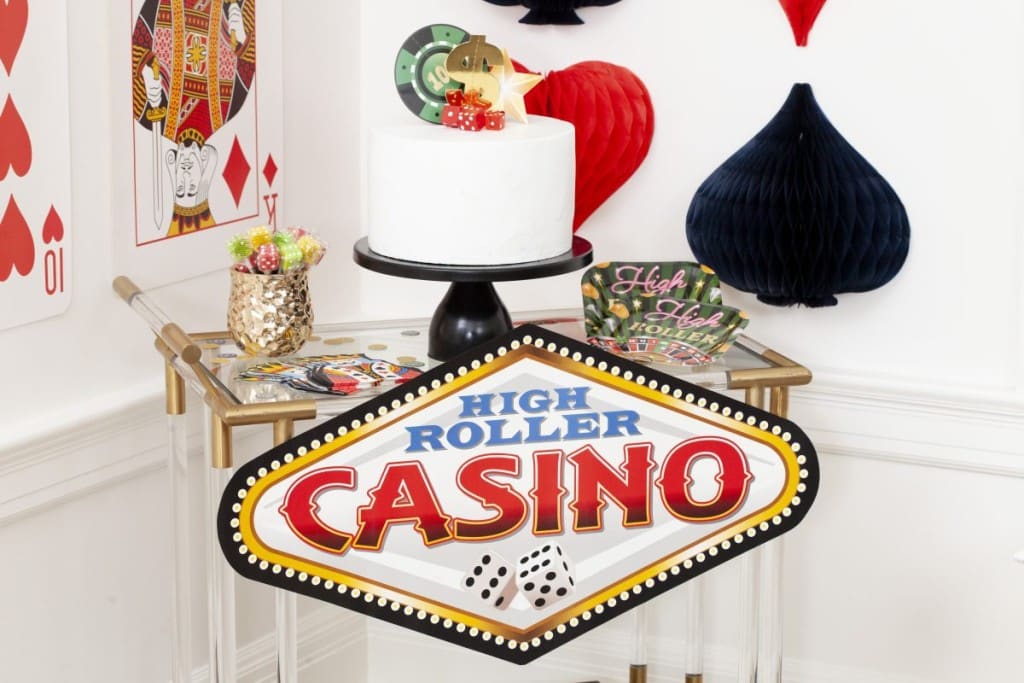 On the first shelf of the dessert cart, I set up a basic white cake topped with casino themed toppers, including some real dice (be sure to wash these first, or use a small piece of plastic wrap underneath your toppers to keep everything food safe!).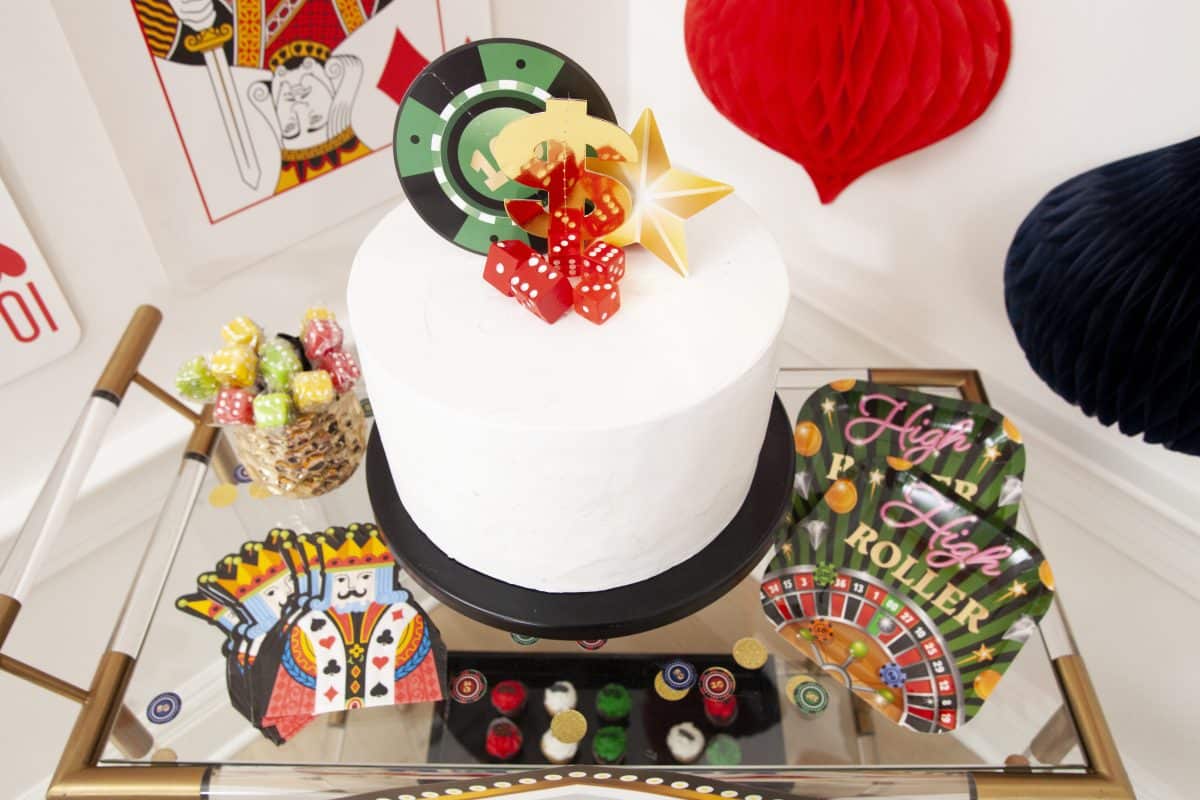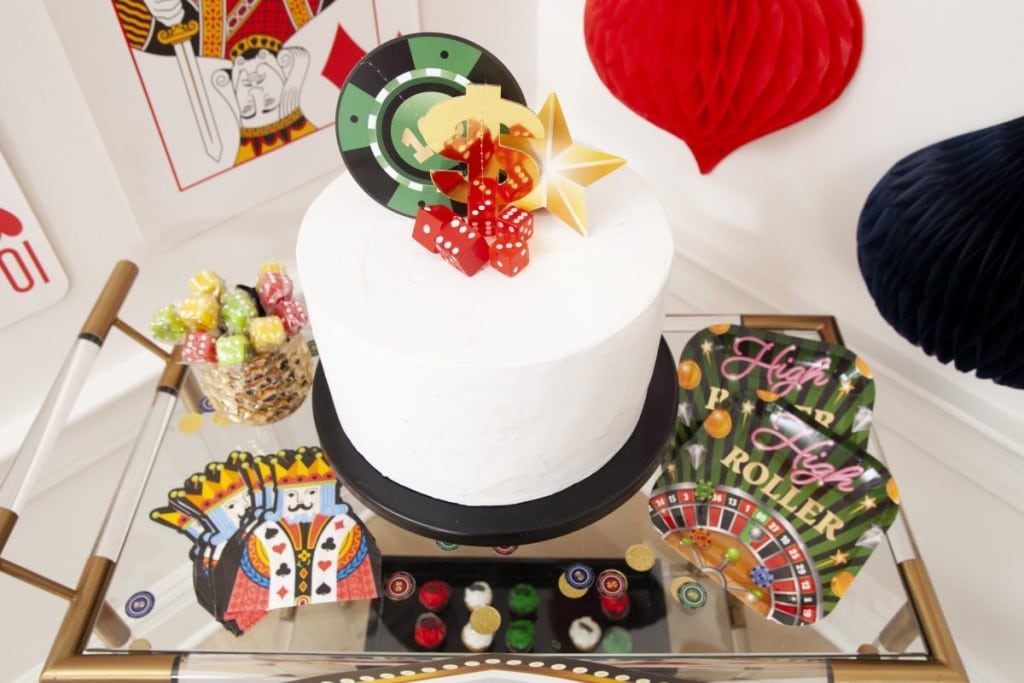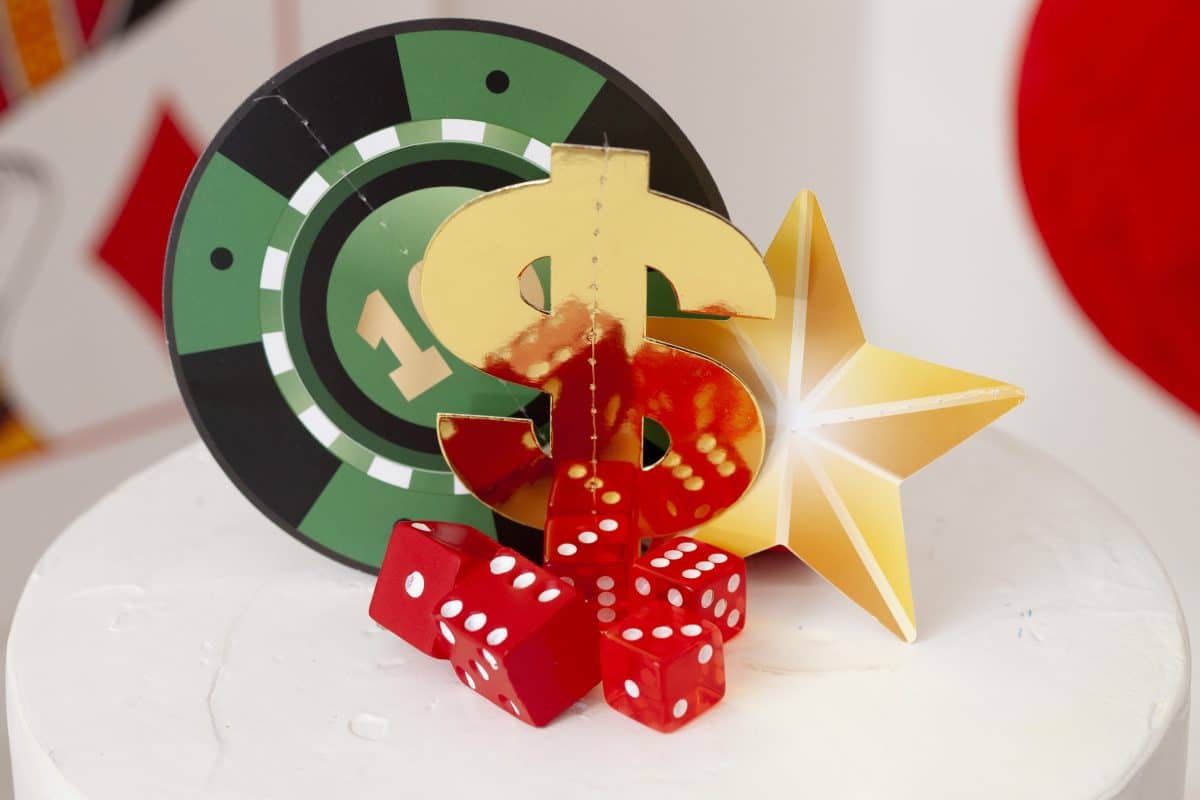 I also added some "high roller" dessert plates and playing card King napkins. I sprinkled some casino chip confetti around the shelf as well for more visual appeal.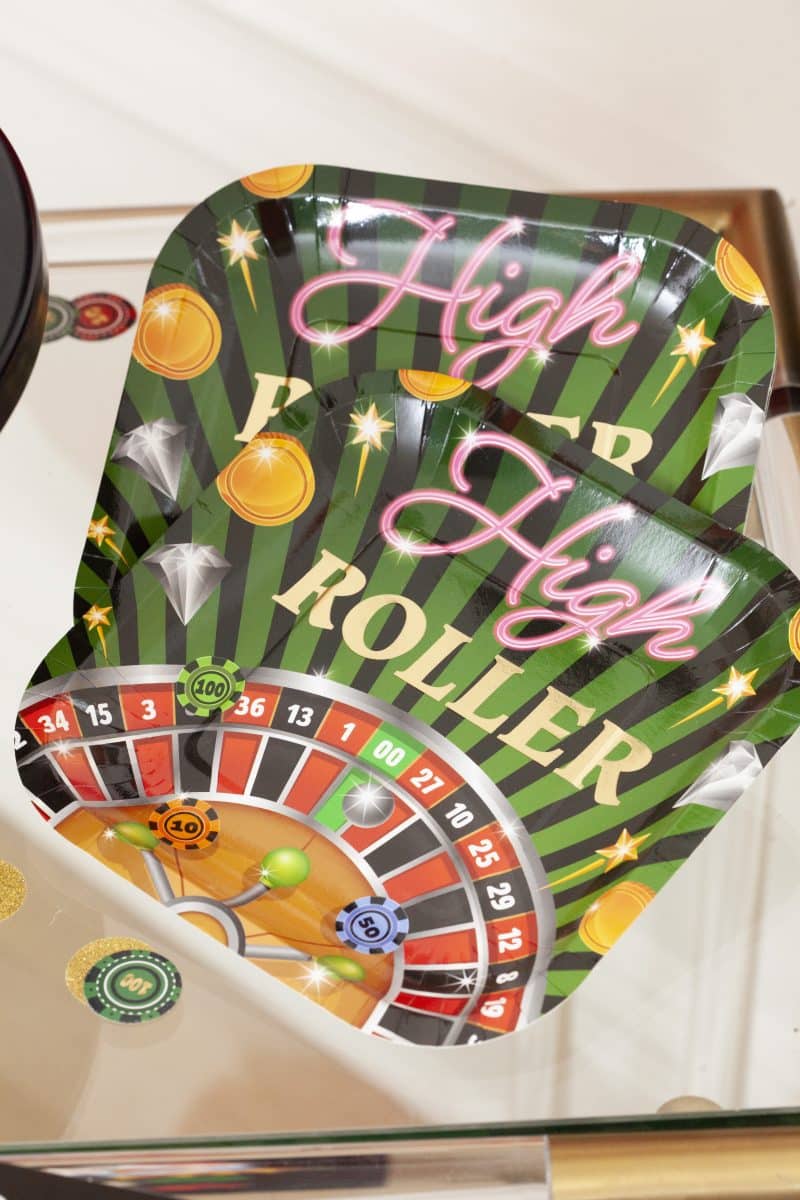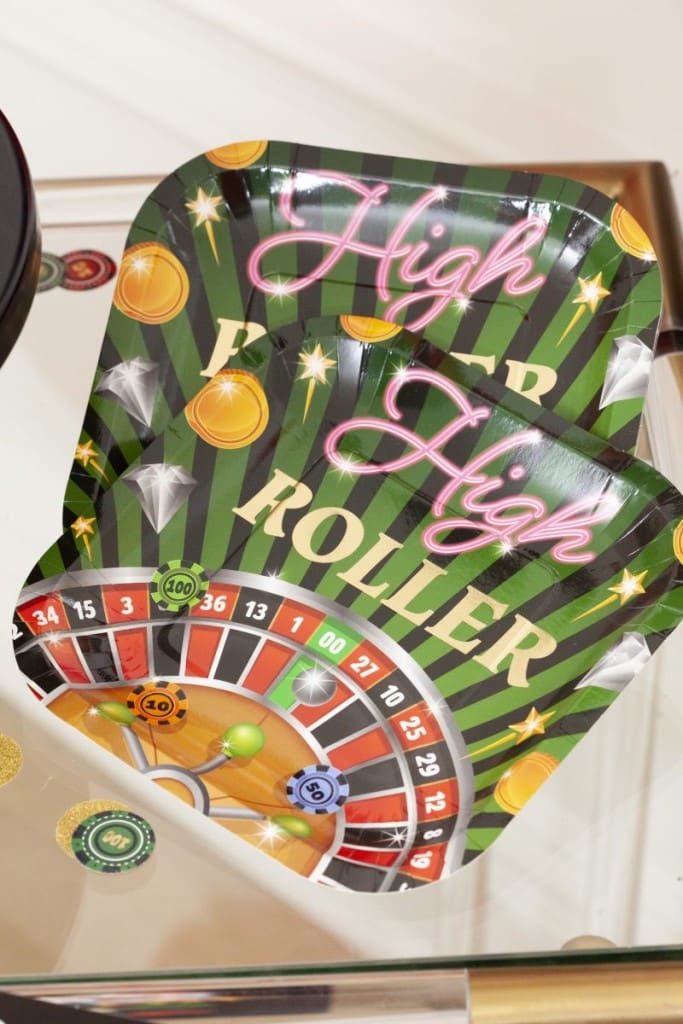 Colorful casino dice lollipops make a great take-home treat. I set them up in a glitzy gold container. Having them displayed in this way means they can serve as decor in addition to being treats!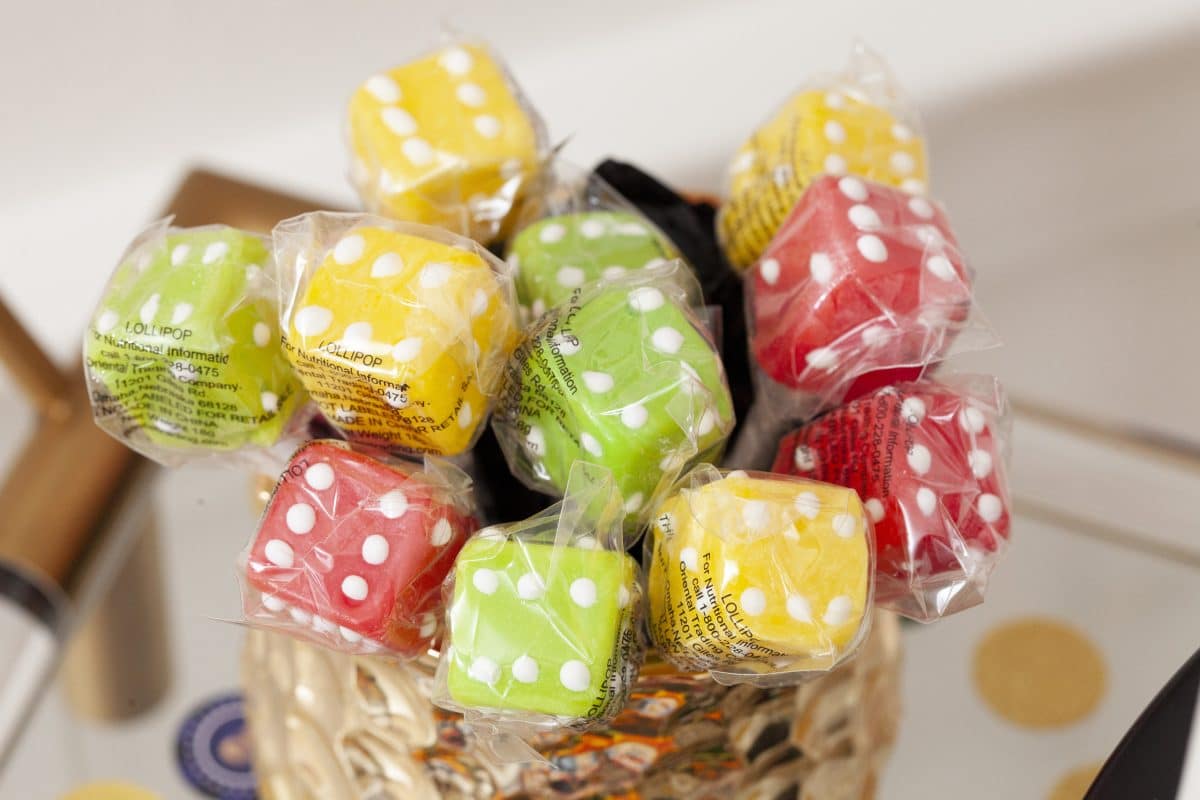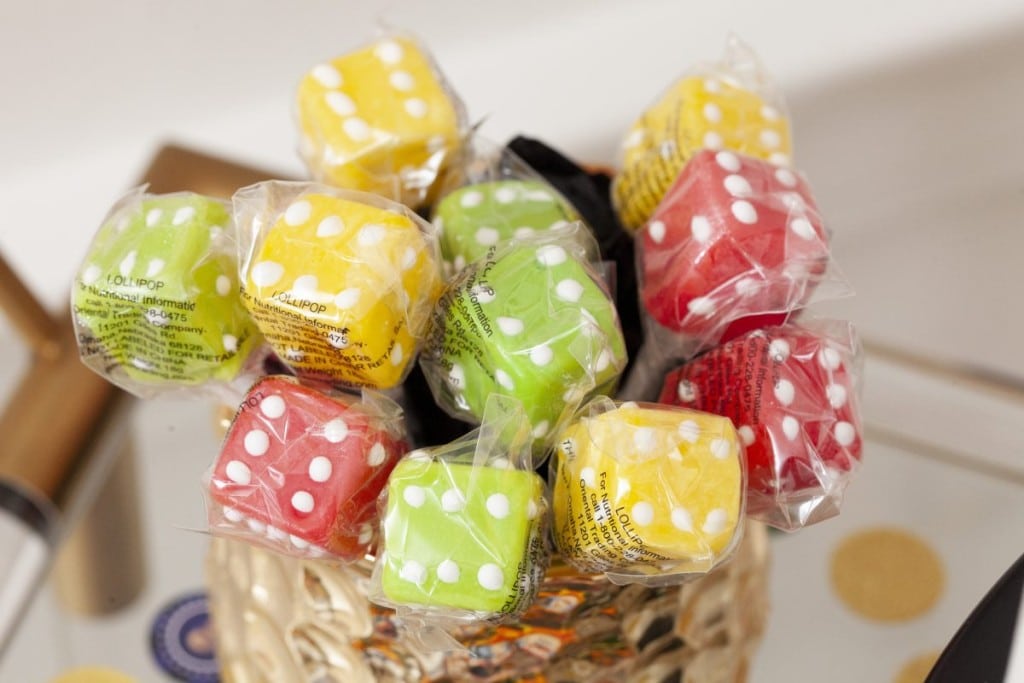 Then, on the bottom shelf, I set up a tray of red, white, and green cupcakes to match the general color scheme of the Casino Night Party. For simple on-theme dessert toppers, I used poker chips!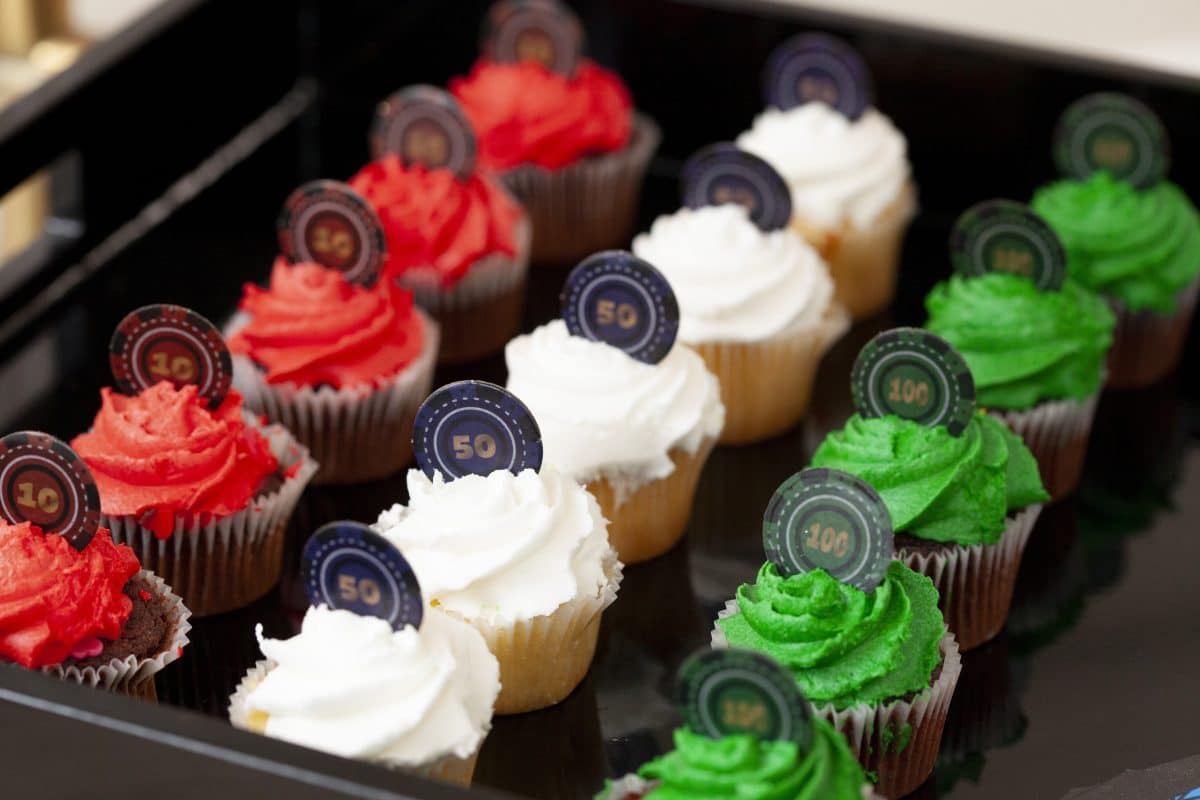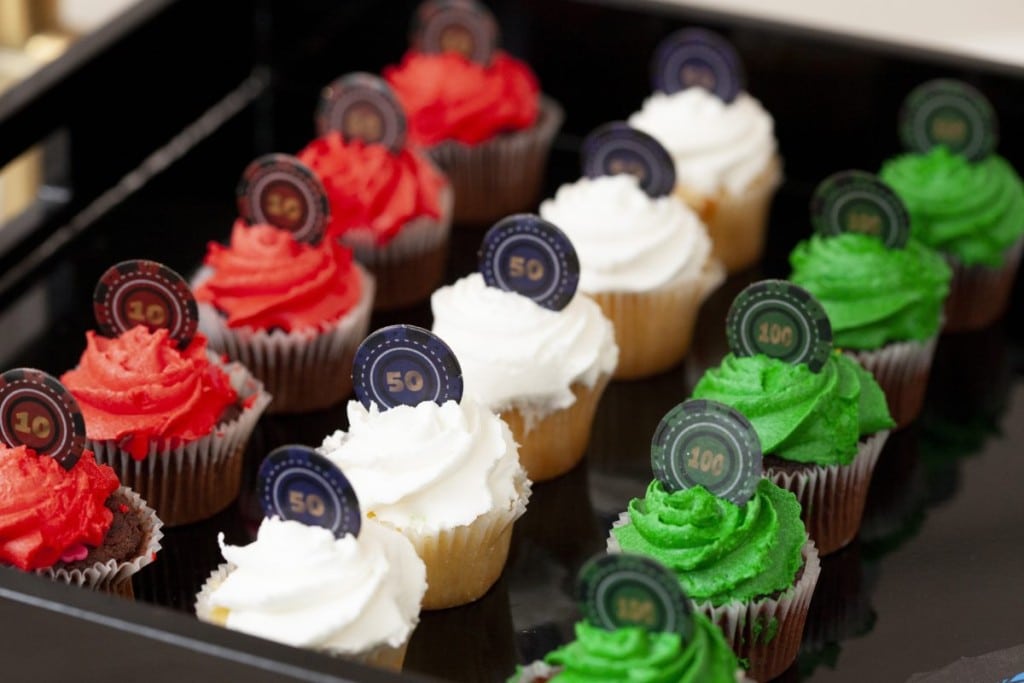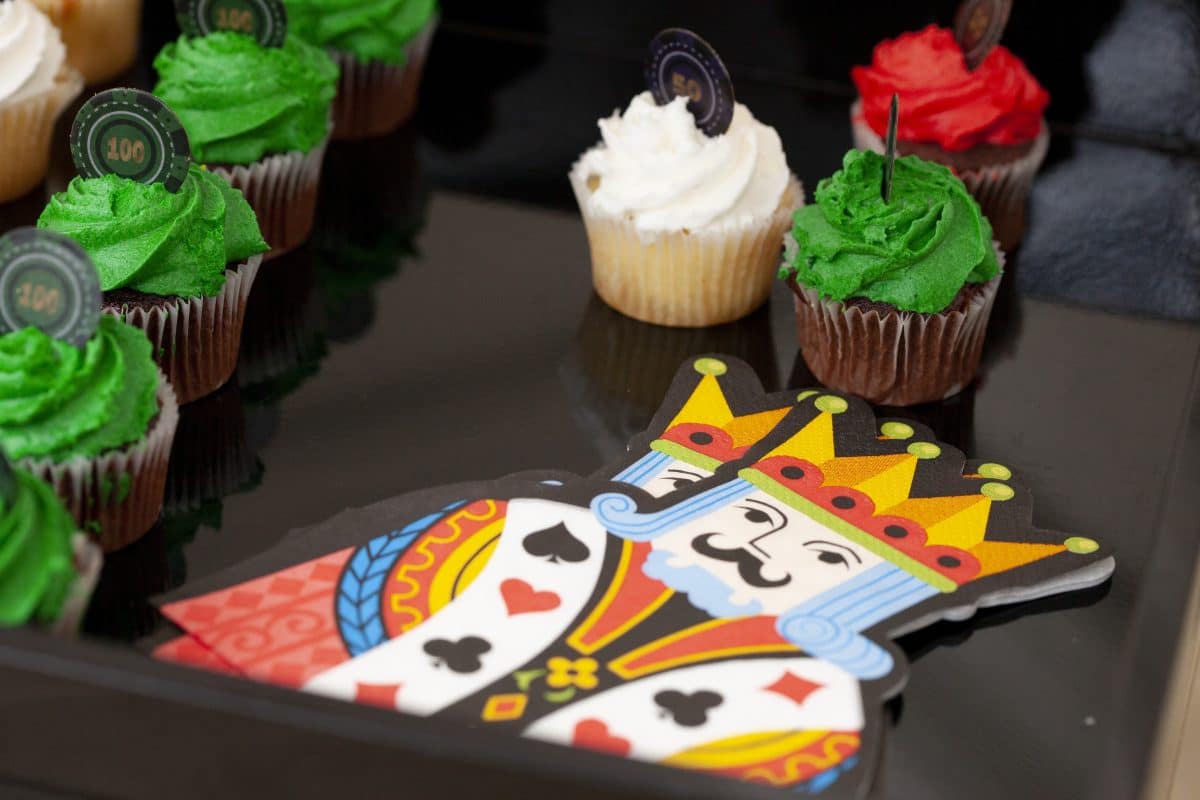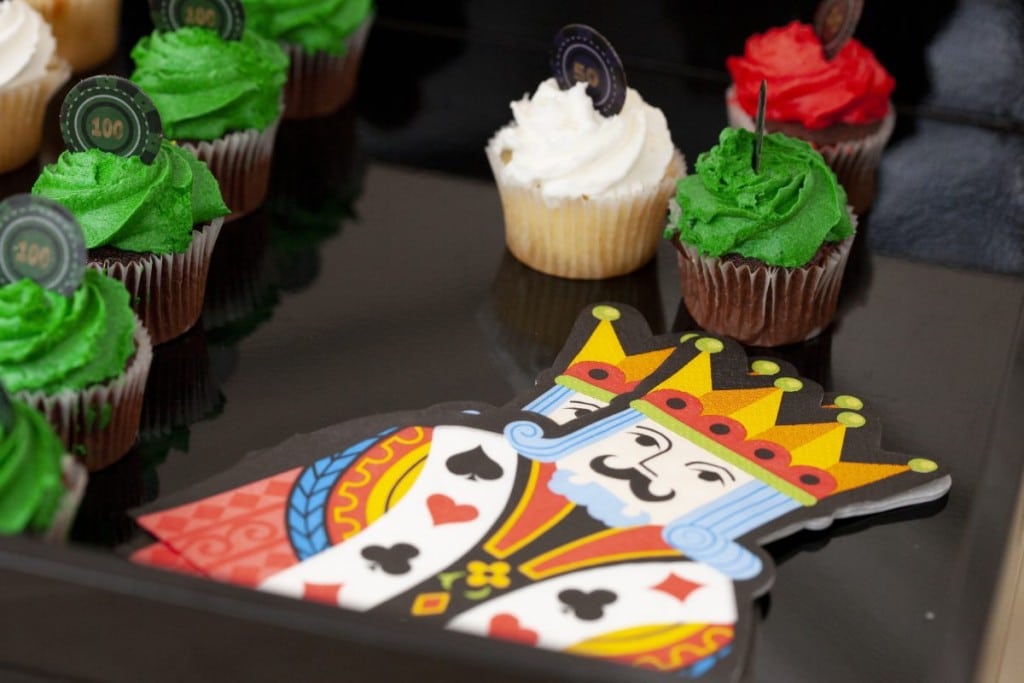 Displaying them in a tray allowed for easy (portable!) access. When everyone is tied up in their casino games, you can walk around with the tray to offer them sweets. Don't forget napkins!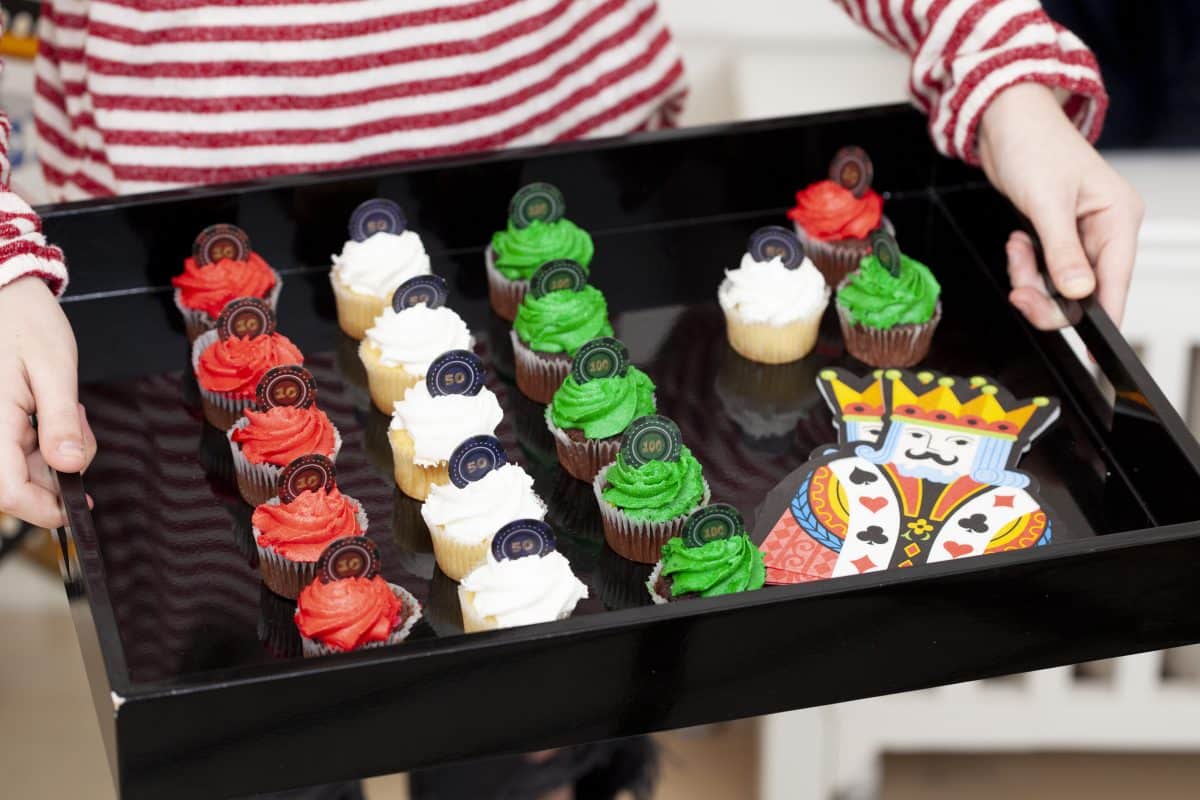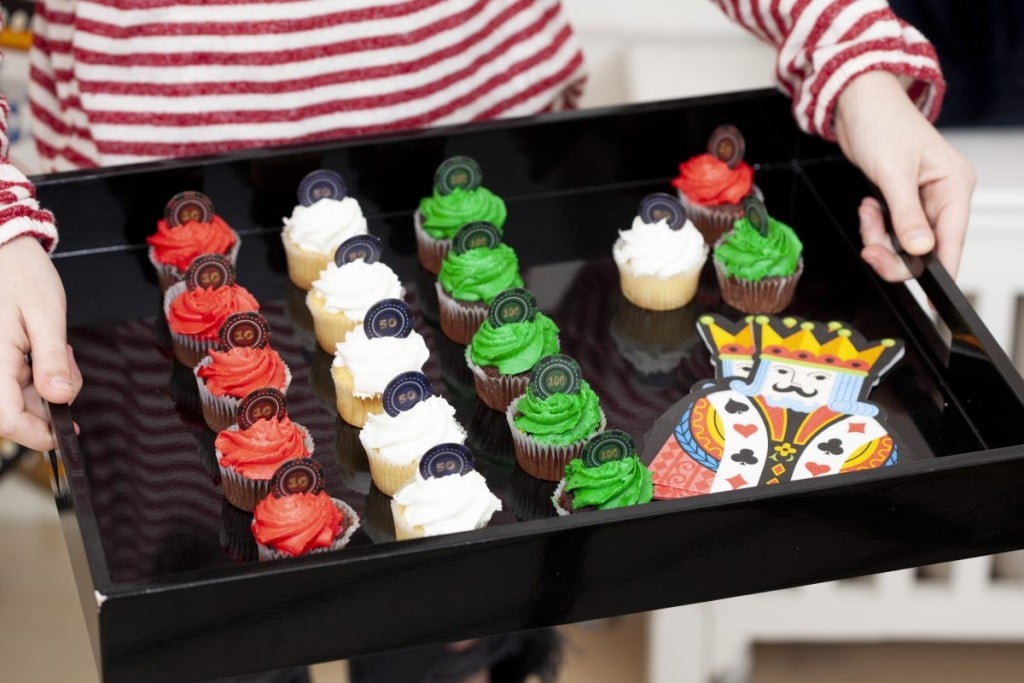 Favors
Finally, I set up a favor station so all of my guests could leave with more than just fun memories. I hung a "Jackpot" sign above the bench I used to hold my favors. To spruce up my favor table even more, I added some honeycomb card suit decorations and a card suit garland.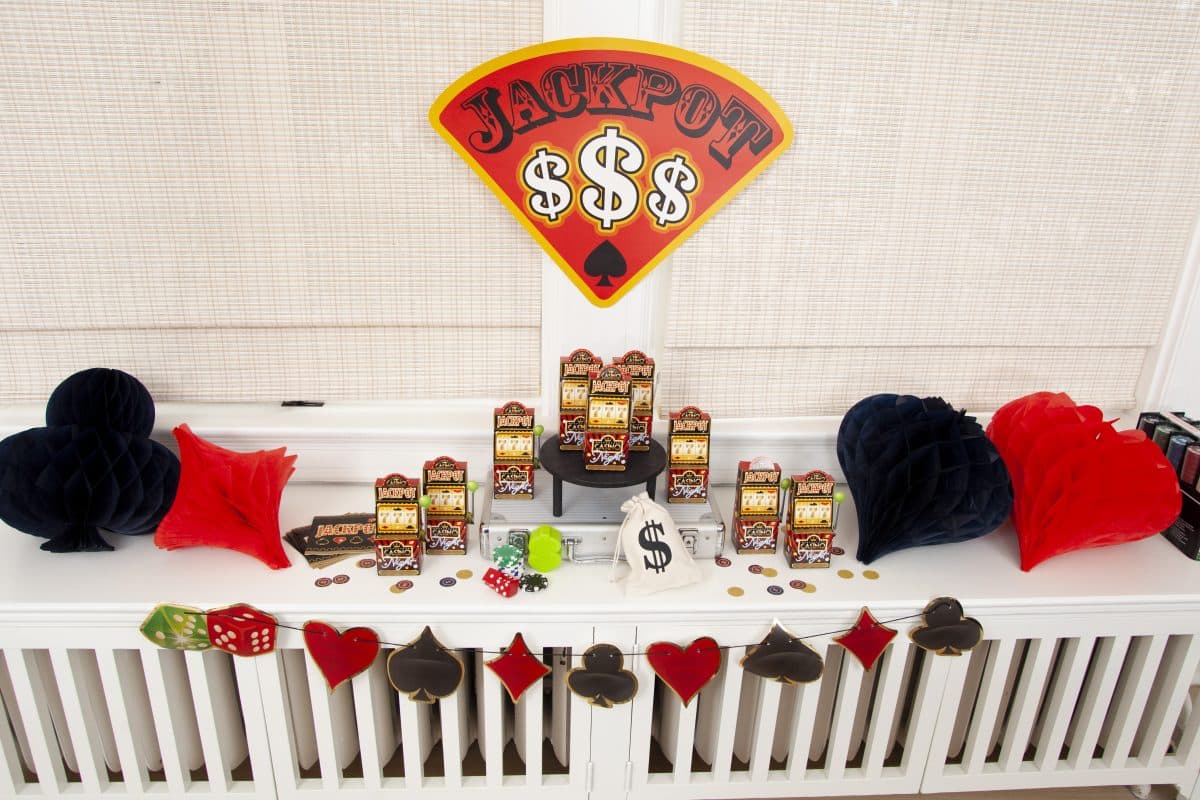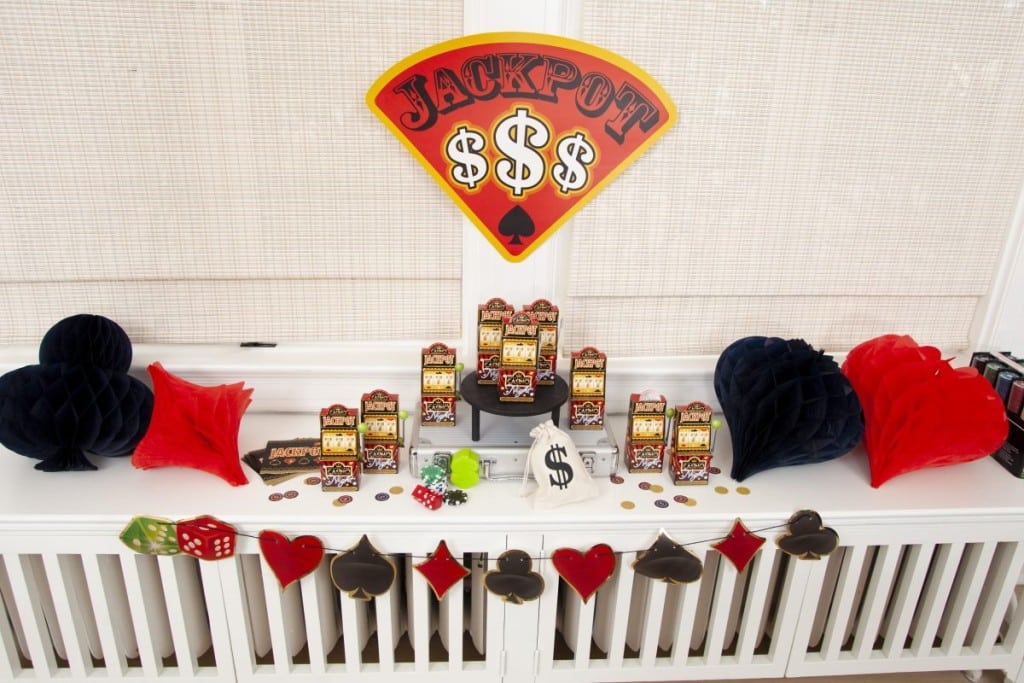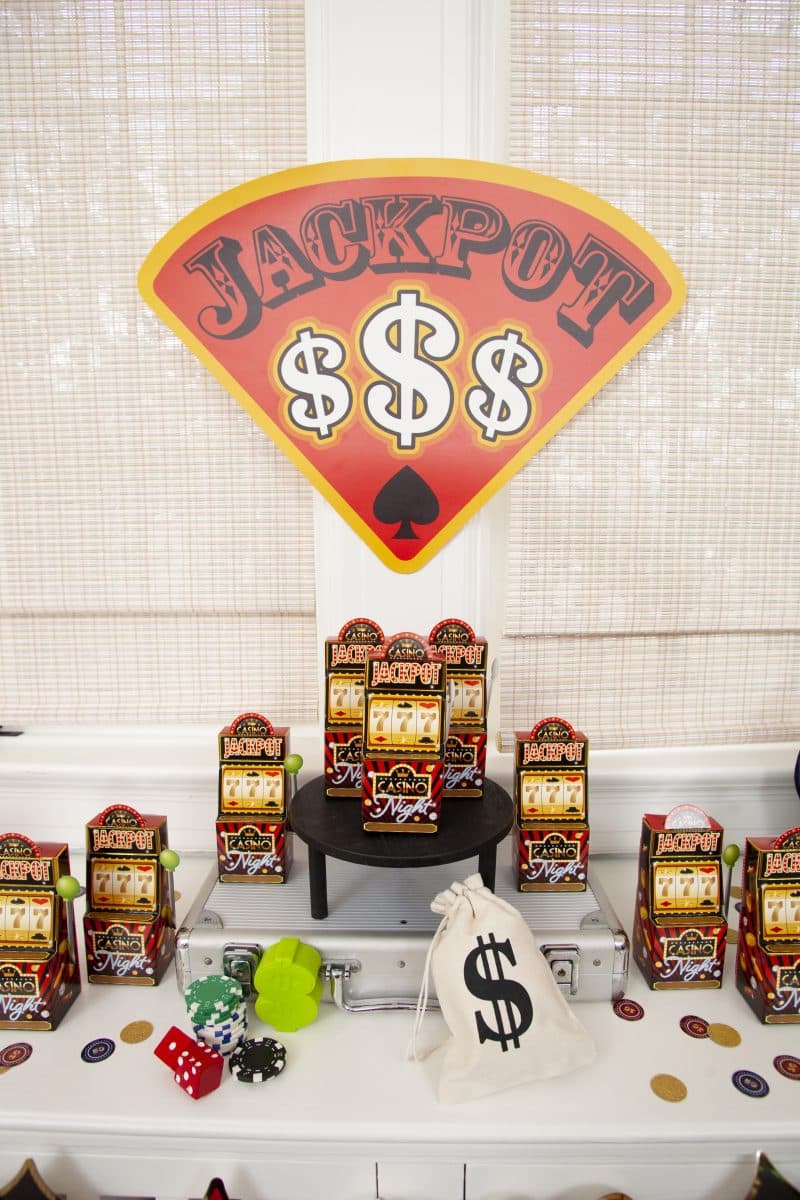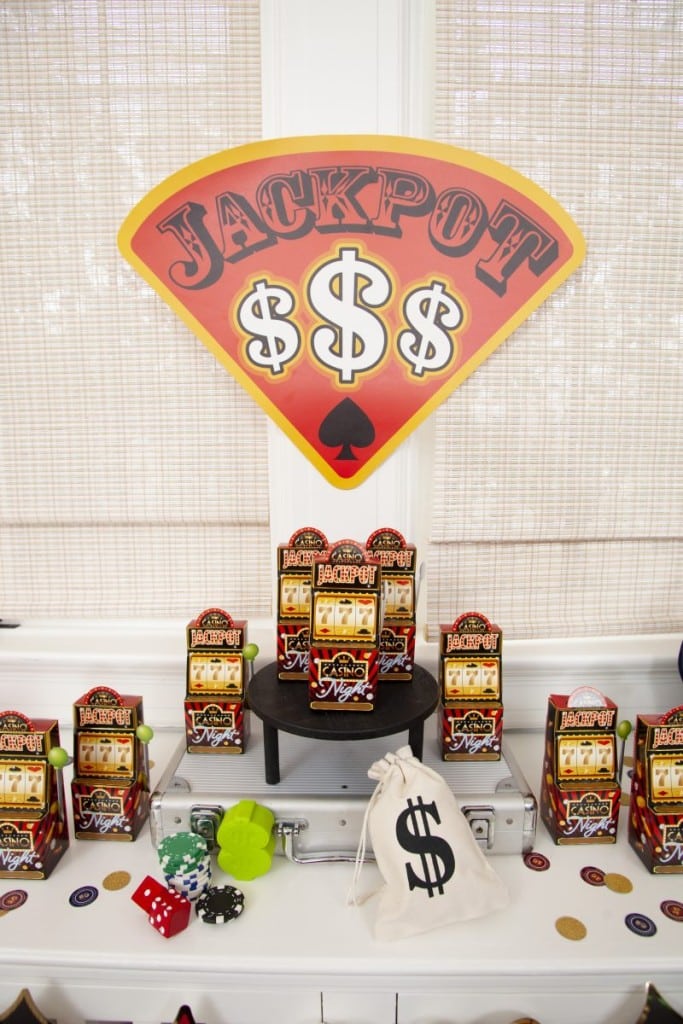 Dollar sign stress balls, money bags, poker chips and dice helped to decorate the table as well.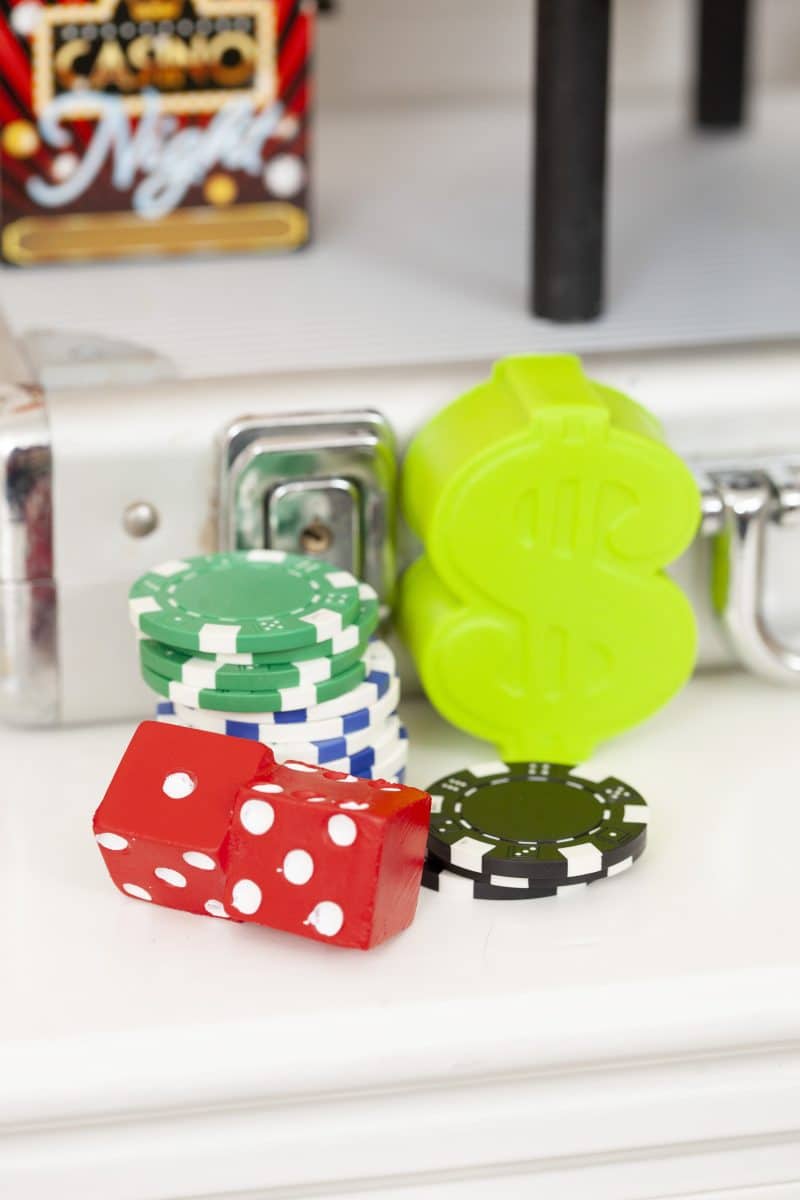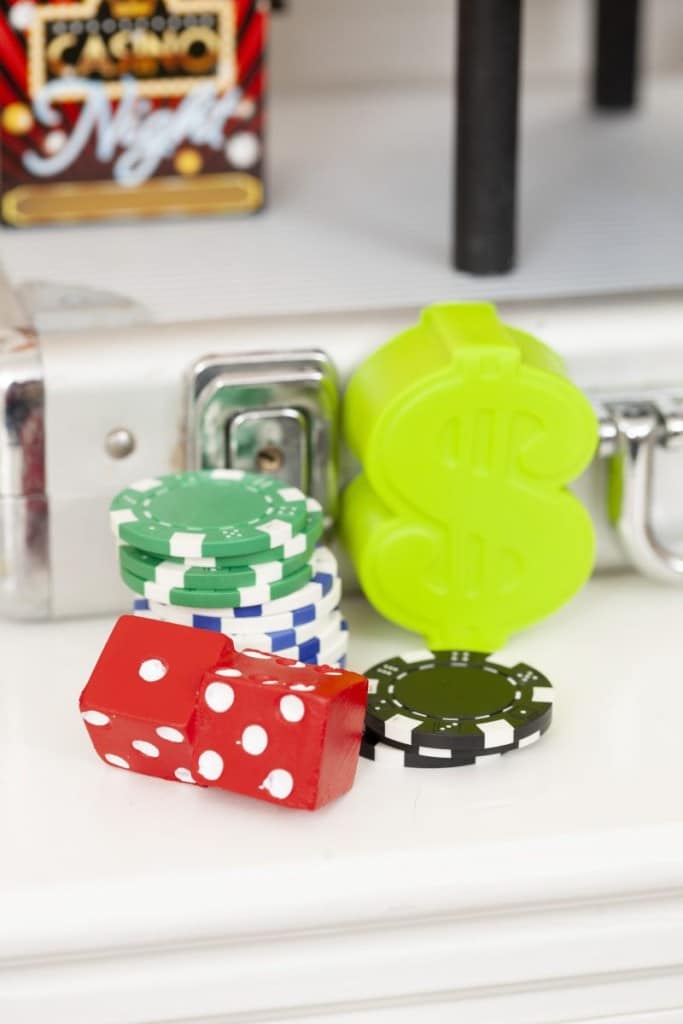 For favors, I used the cutest little slot machine favor boxes and filled them with candy.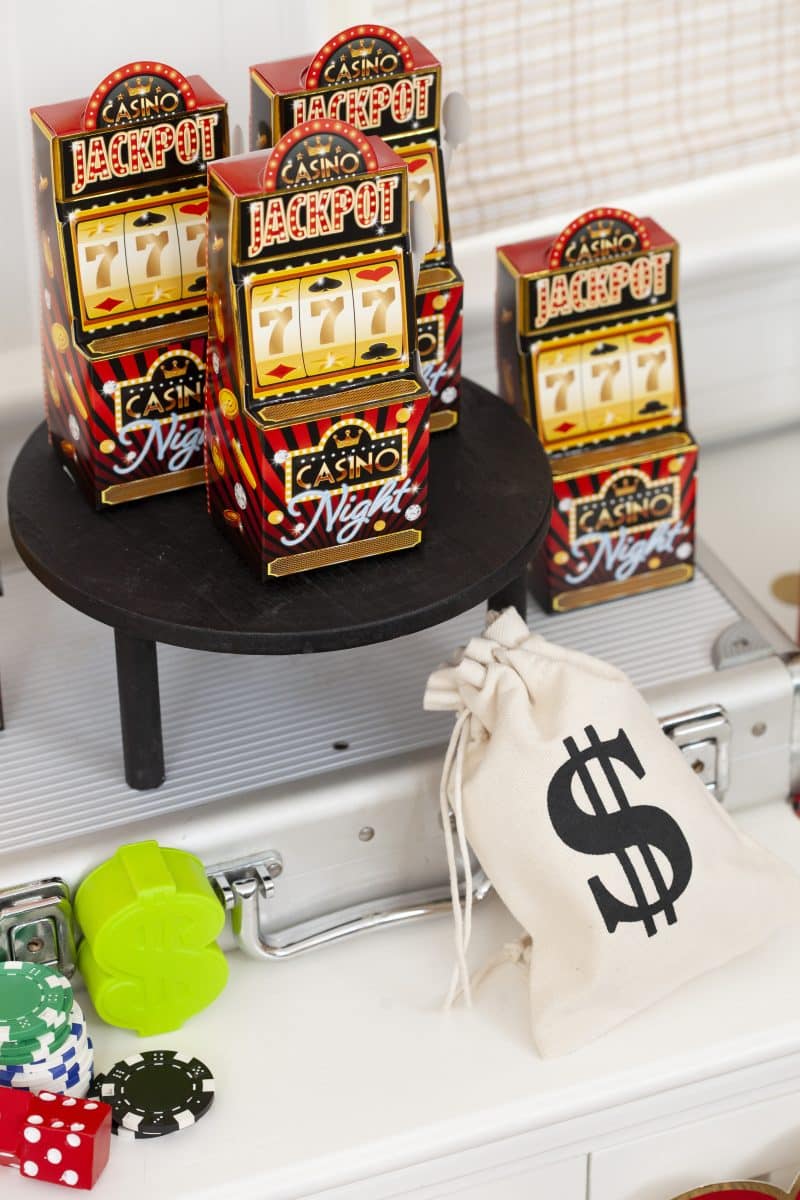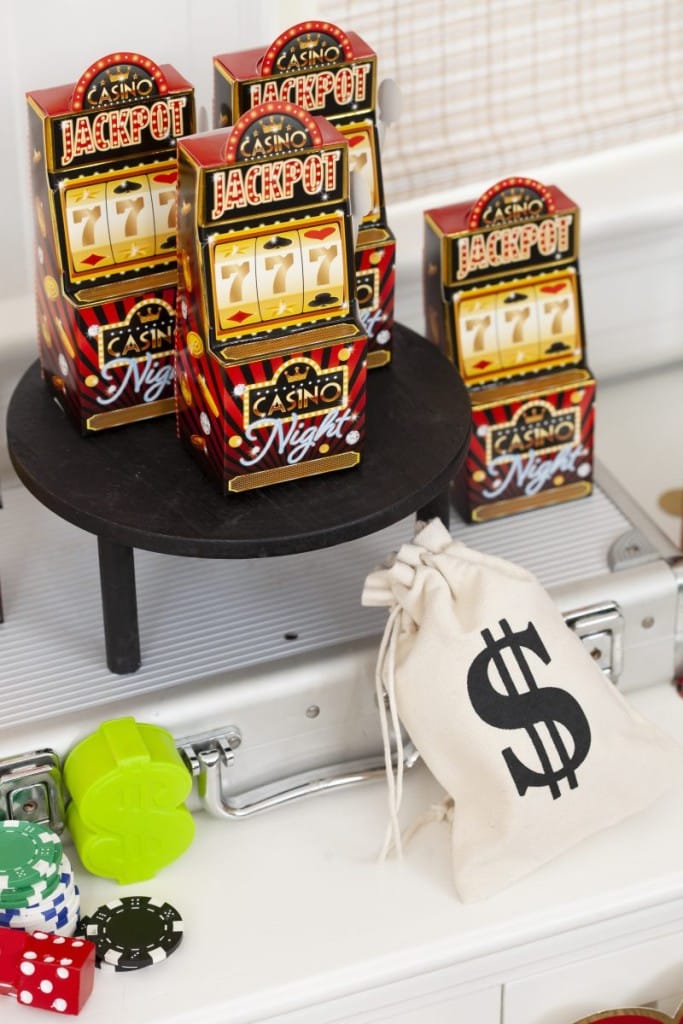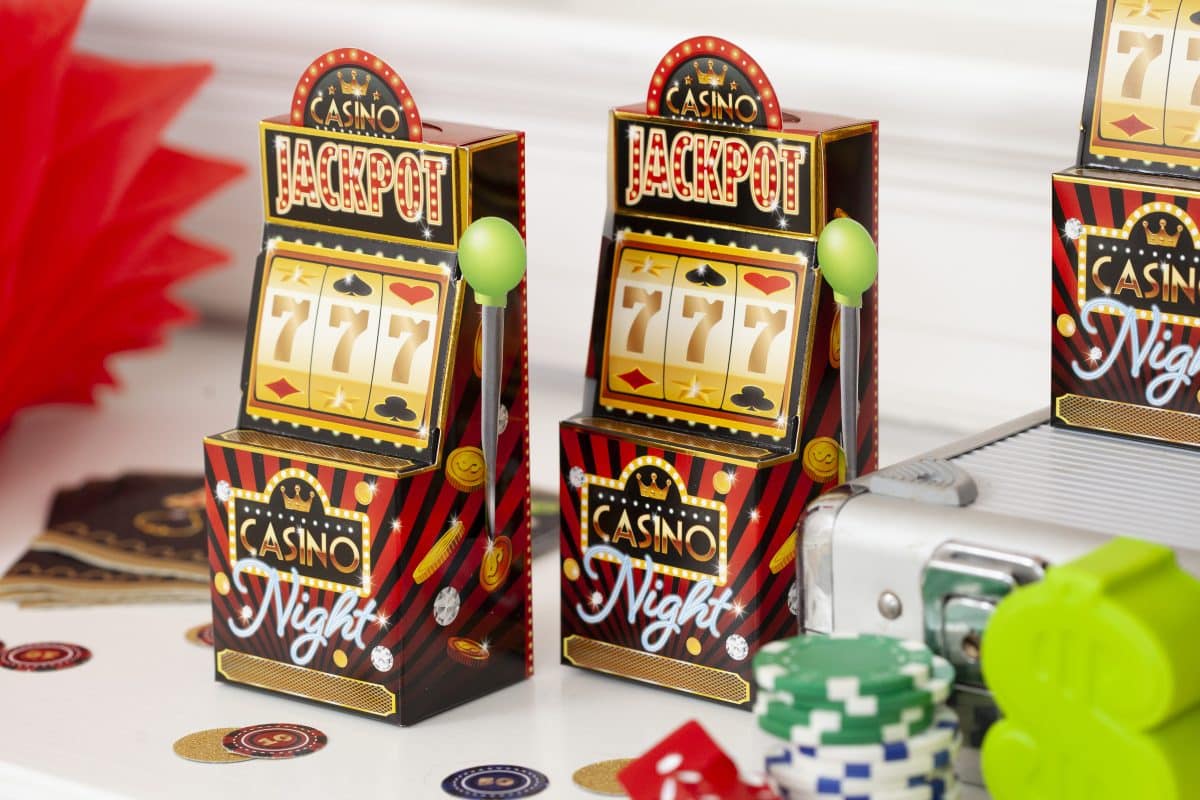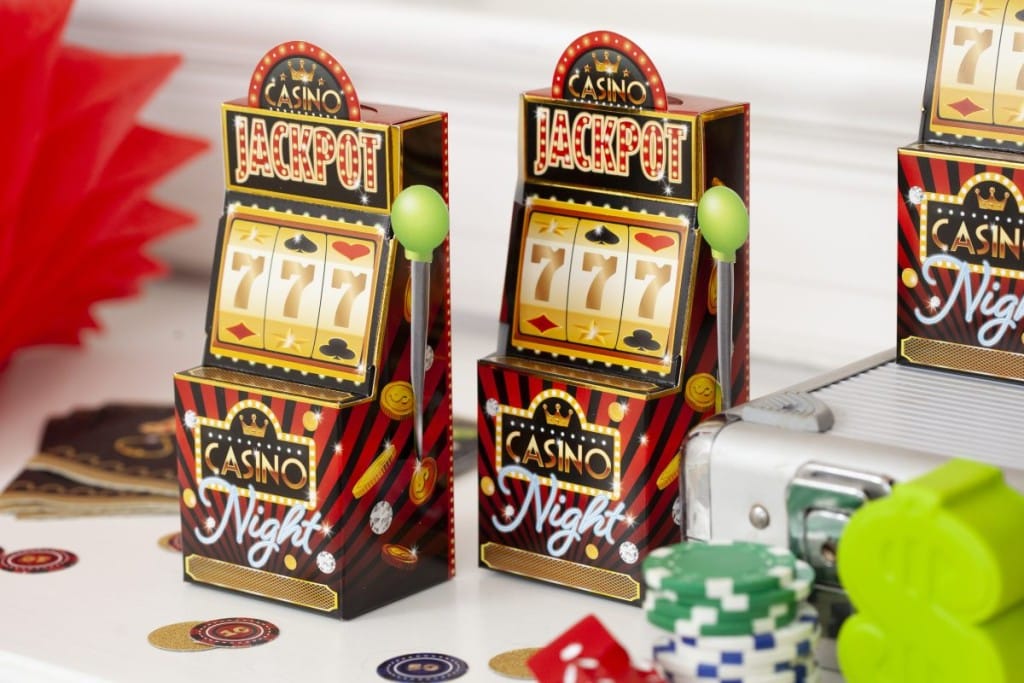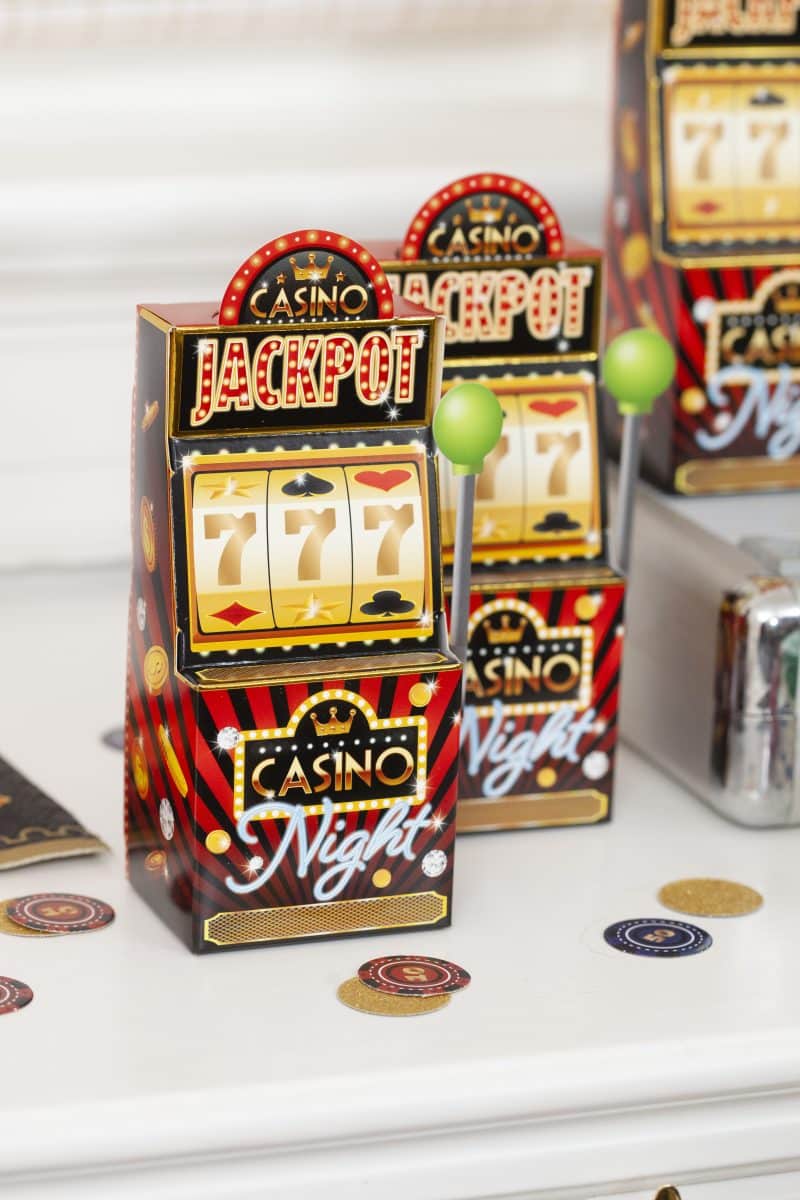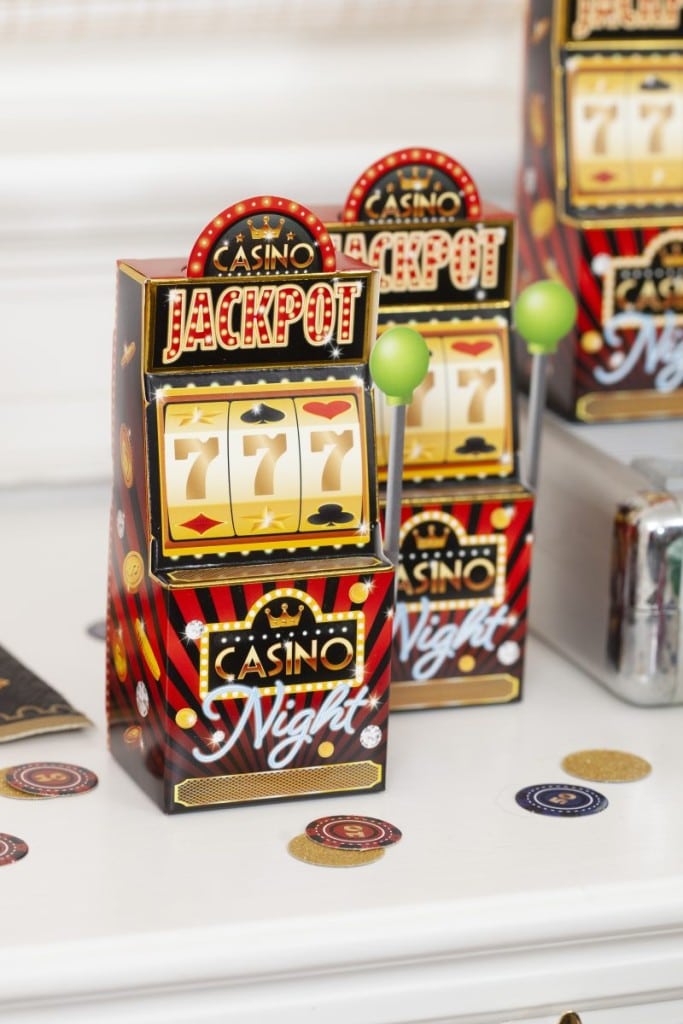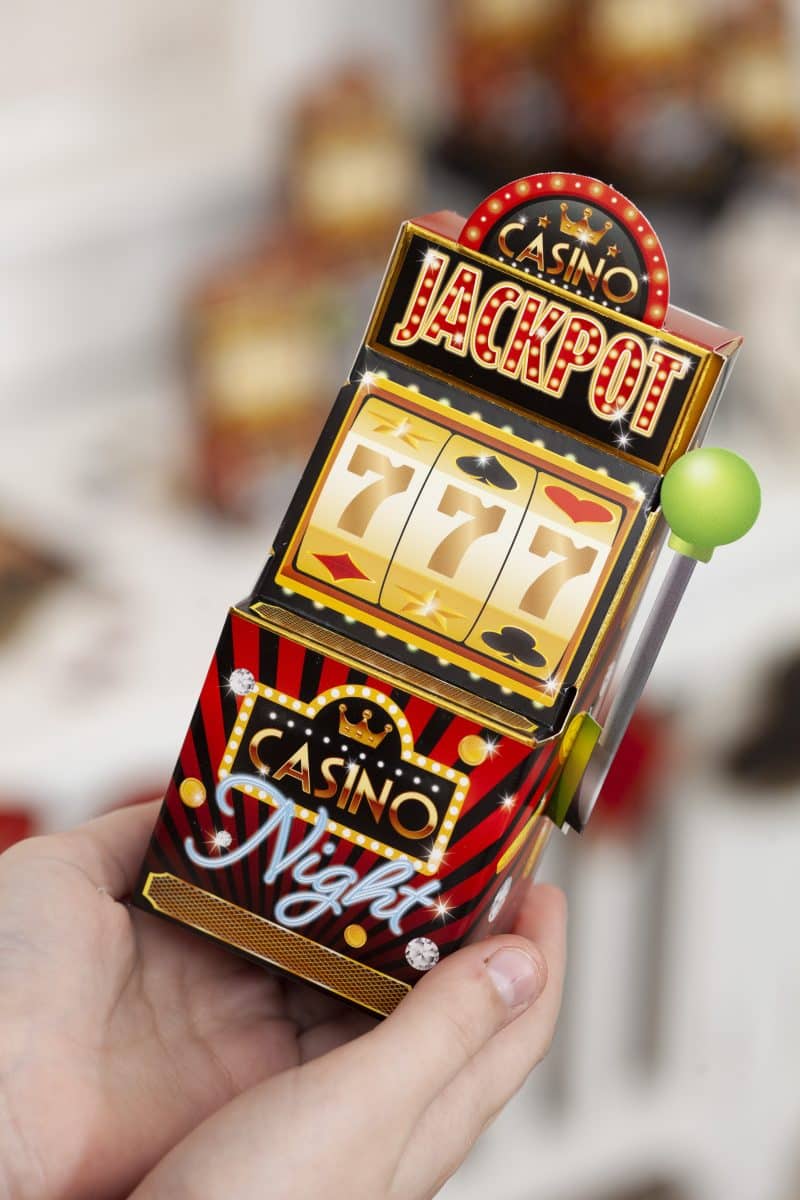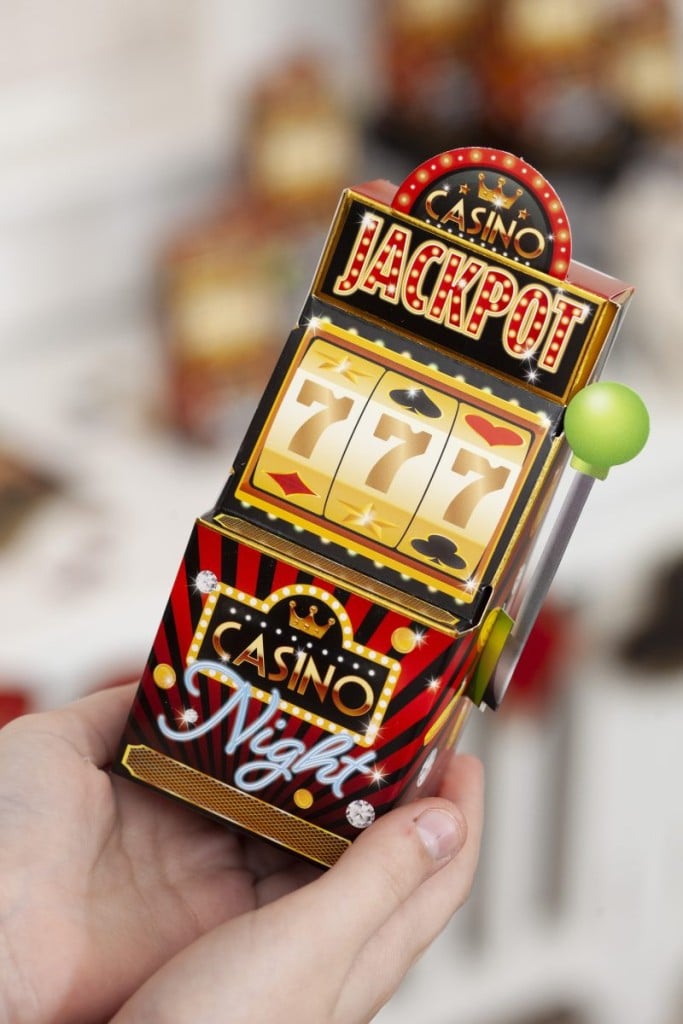 This Casino Night Party is so much fun to set up and host. Don't forget to get the details for how I set up the Show-Stopping Casino Night Photobooth and my Casino Night Table Setting Ideas!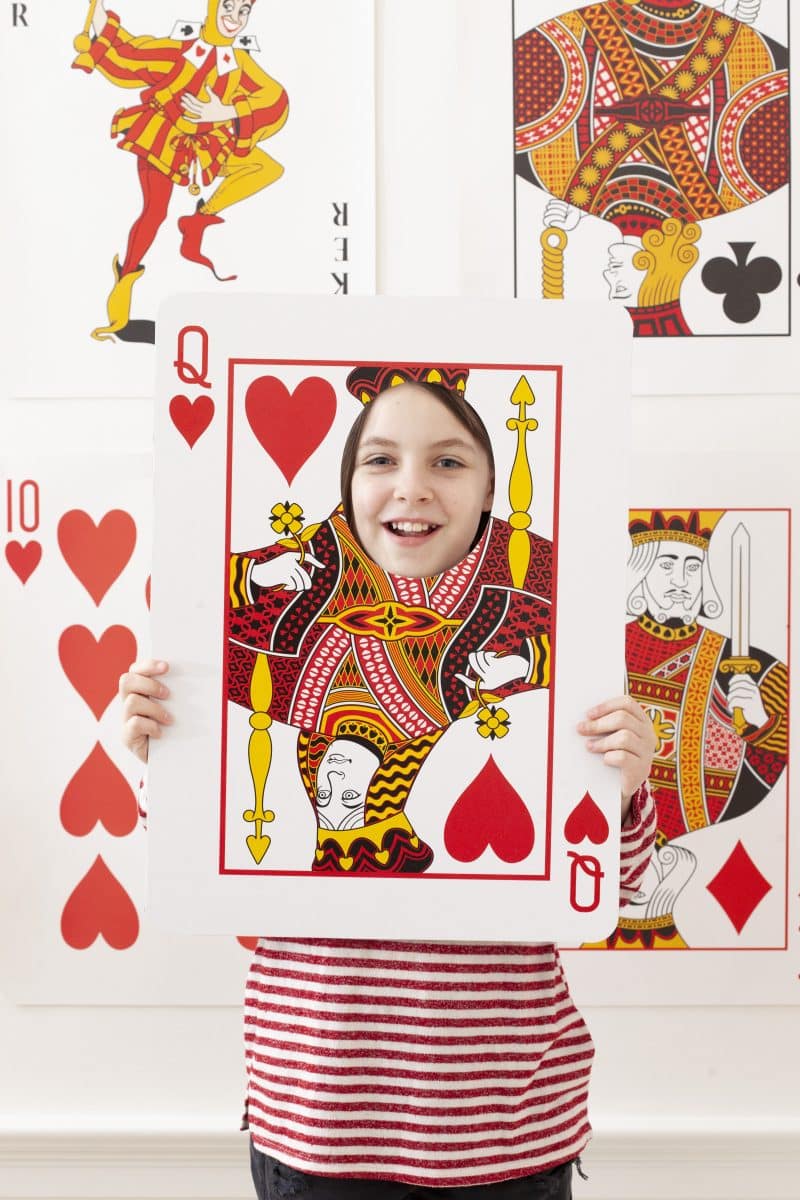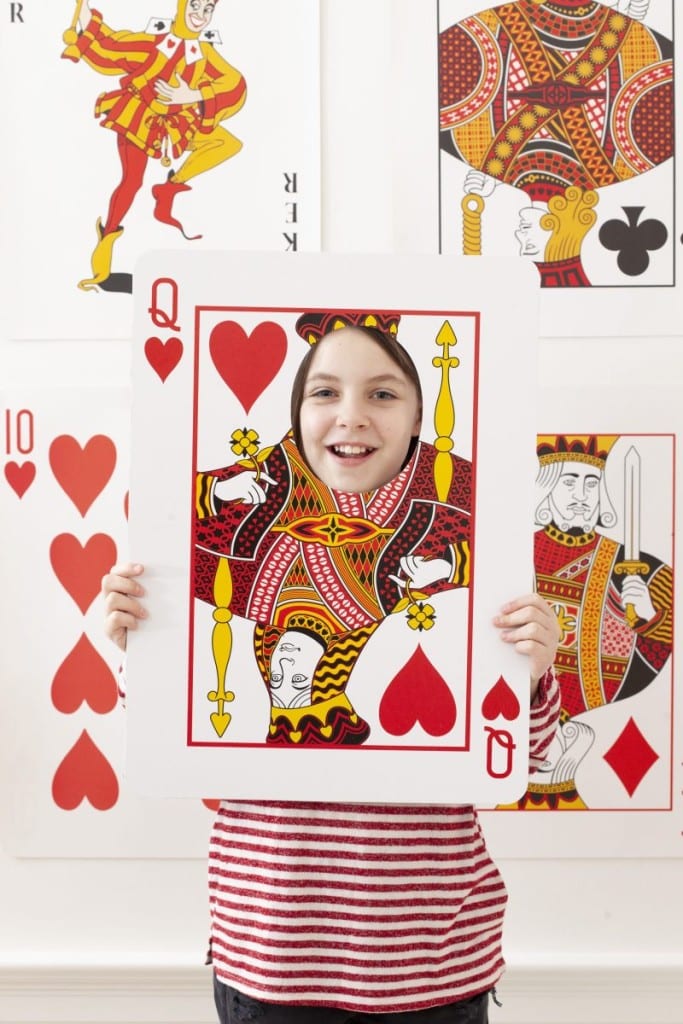 Happy Partying!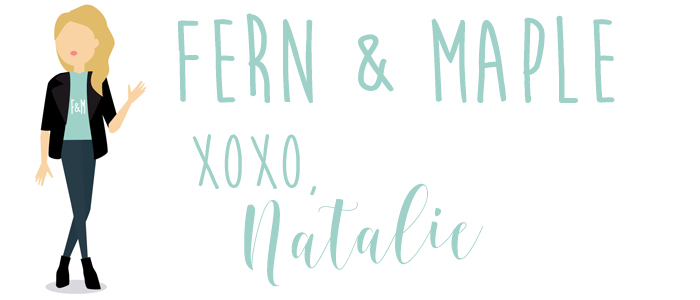 As a blogger, I sometimes receive compensation and/or products in exchange for my styling and crafting services. I also may earn a small commission from any sales that result from affiliate links on this page. As always, all project ideas and any opinions expressed here are my own. For further information on our disclosure policy please check out our disclosure page.
PIN FOR LATER: