My family loves to participate in March Madness fun. Some friendly competition, picking our favorite teams, watching the games, and – let's be real – eating lots of snack foods. Of course, I'll take any excuse to style a party, so I am always the first to offer to host March Madness watch parties with our family and friends! Luckily, it's easy to create a slam dunk of a March Madness Party with fun decor from Oriental Trading and some easy DIY projects. 
VIP Viewing Area
The first thing I did was to create a VIP Viewing Area where the game could be comfortably watched. This meant bringing in squishy bean bag chairs and some overturned milk crates for side tables. These give the room a more casual vibe that is perfect for lounging and enjoying the game. Then, I added some foam finger props so that guests could have something to wave when their team scored. Behind the viewing area, I placed alternating team plates on the wall to create an easy and eye-catching backdrop – perfect for photo ops during commercial breaks!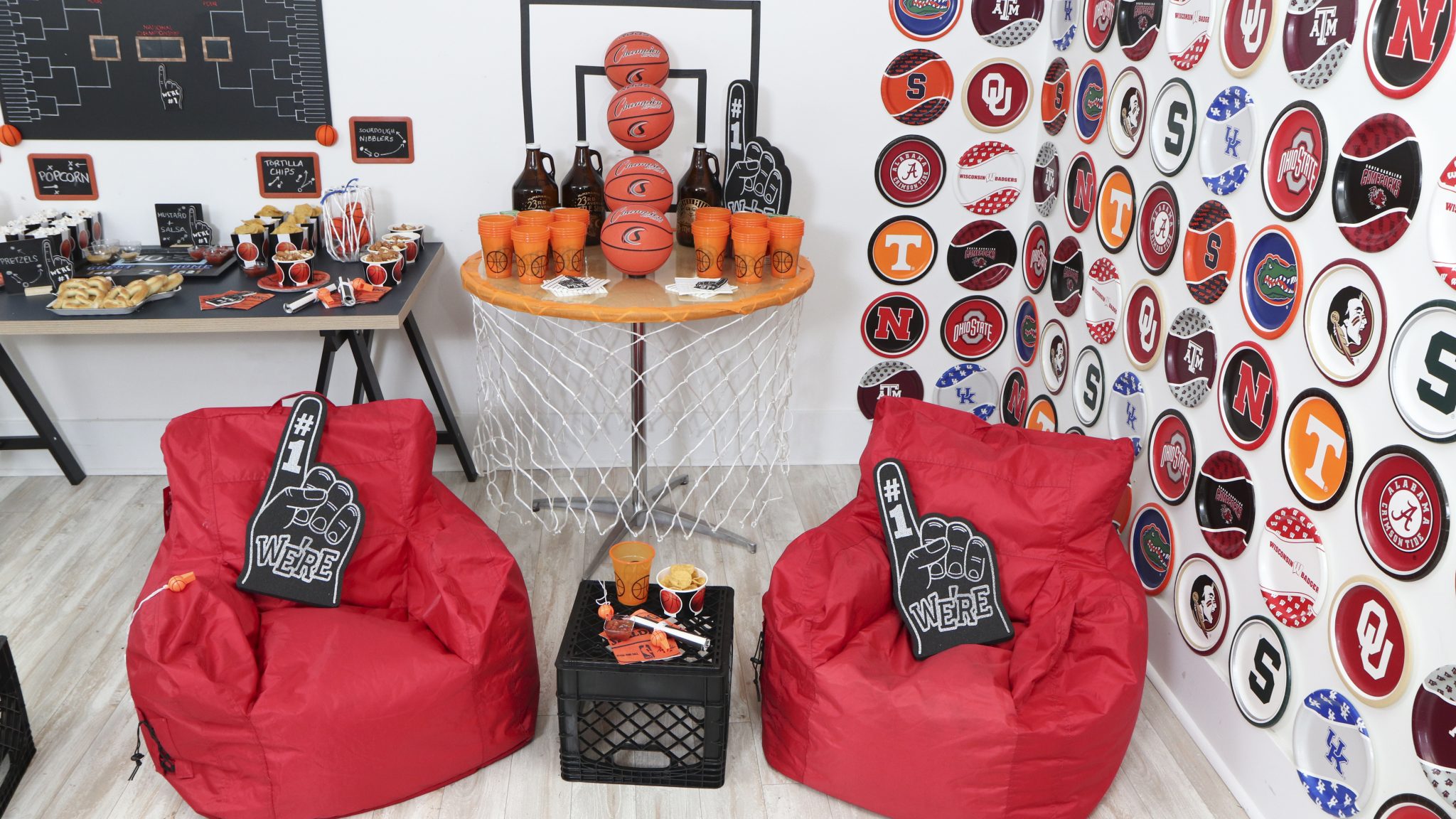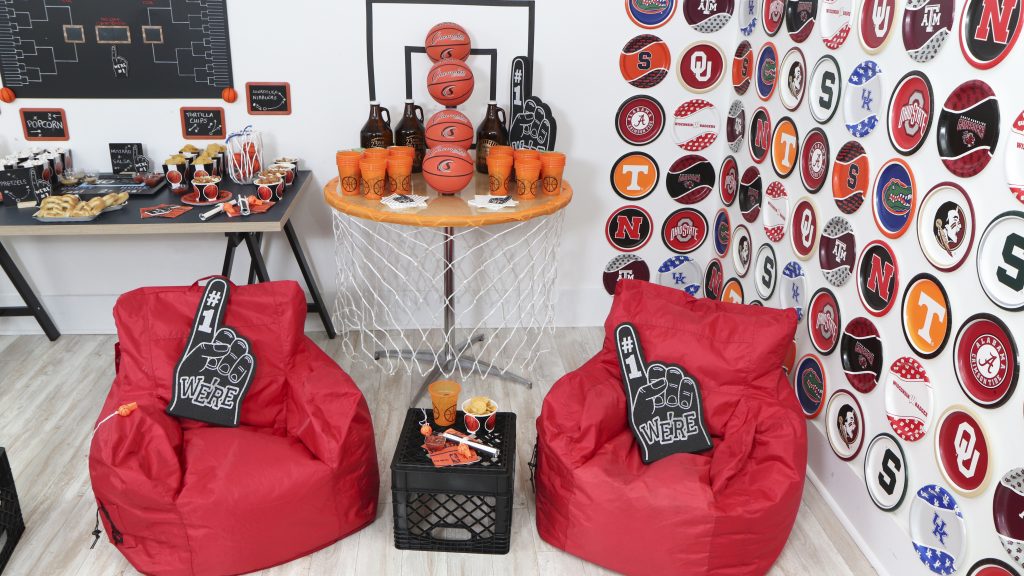 Basketball Bar
Next, I set up the coolest DIY Basketball Hoop Bar. I served both alcoholic drinks for adults who wanted to partake, and non-alcoholic options such as juice, water, and even sports drinks to continue with the theme of the party. No matter what they were drinking, guests got to use bright orange basketball cups reminiscent of the kinds of disposable cups you get at sports arenas. Get the details on how to create your own DIY Basketball Hoop Bar HERE.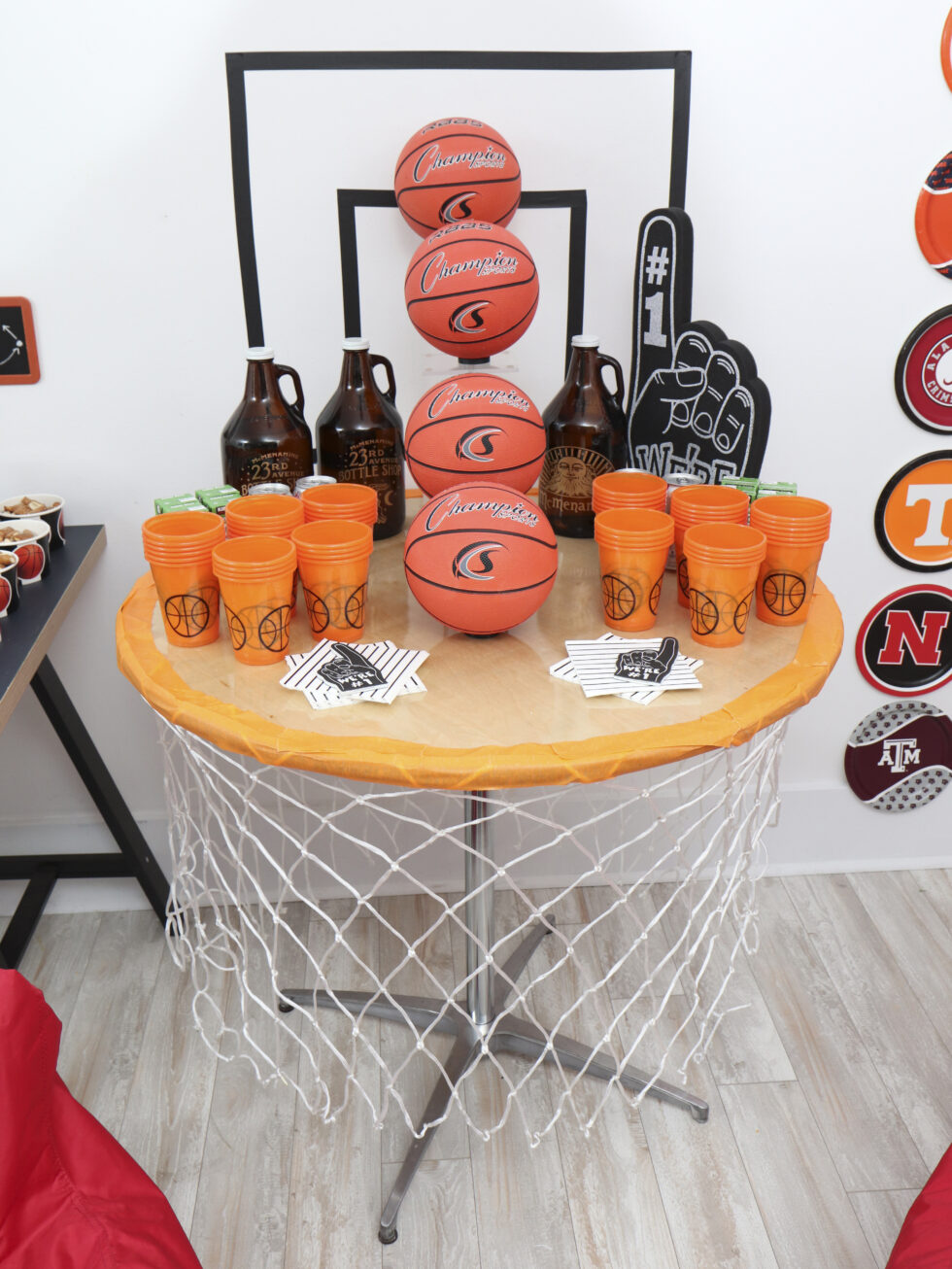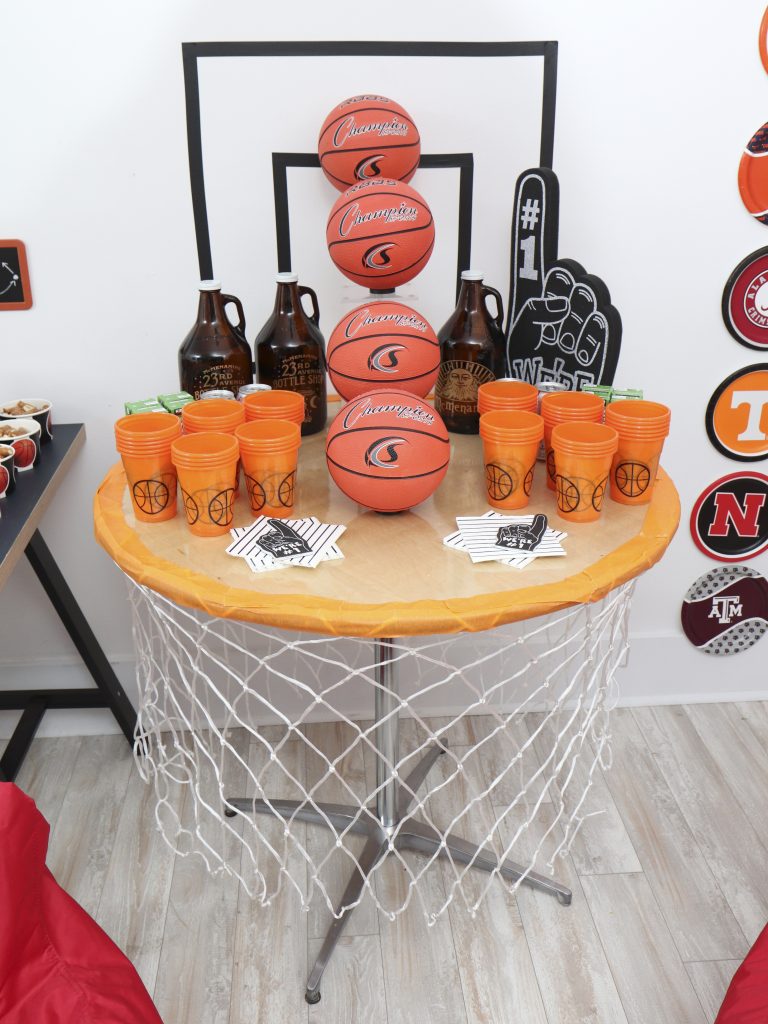 Slam Dunk Snacks
Finally, and perhaps most importantly, it was time to set up the snack table! First, I decorated the table with basketball and net centerpieces and referee-striped napkins tied with basketball whistles. Then, I set out my snacks in coordinating black and white basketball containers.  I chose easy-to-carry snacks so that they could be transported from the table back to the viewing area. Popcorn, chips, or pretzels are all great options. I used chalkboard signs to label each snack, and added basketball play diagrams to each to tie them into the theme even further. Then, I set out some sauces and salsas on a DIY Scoreboard Serving Tray. Find out how to make it HERE.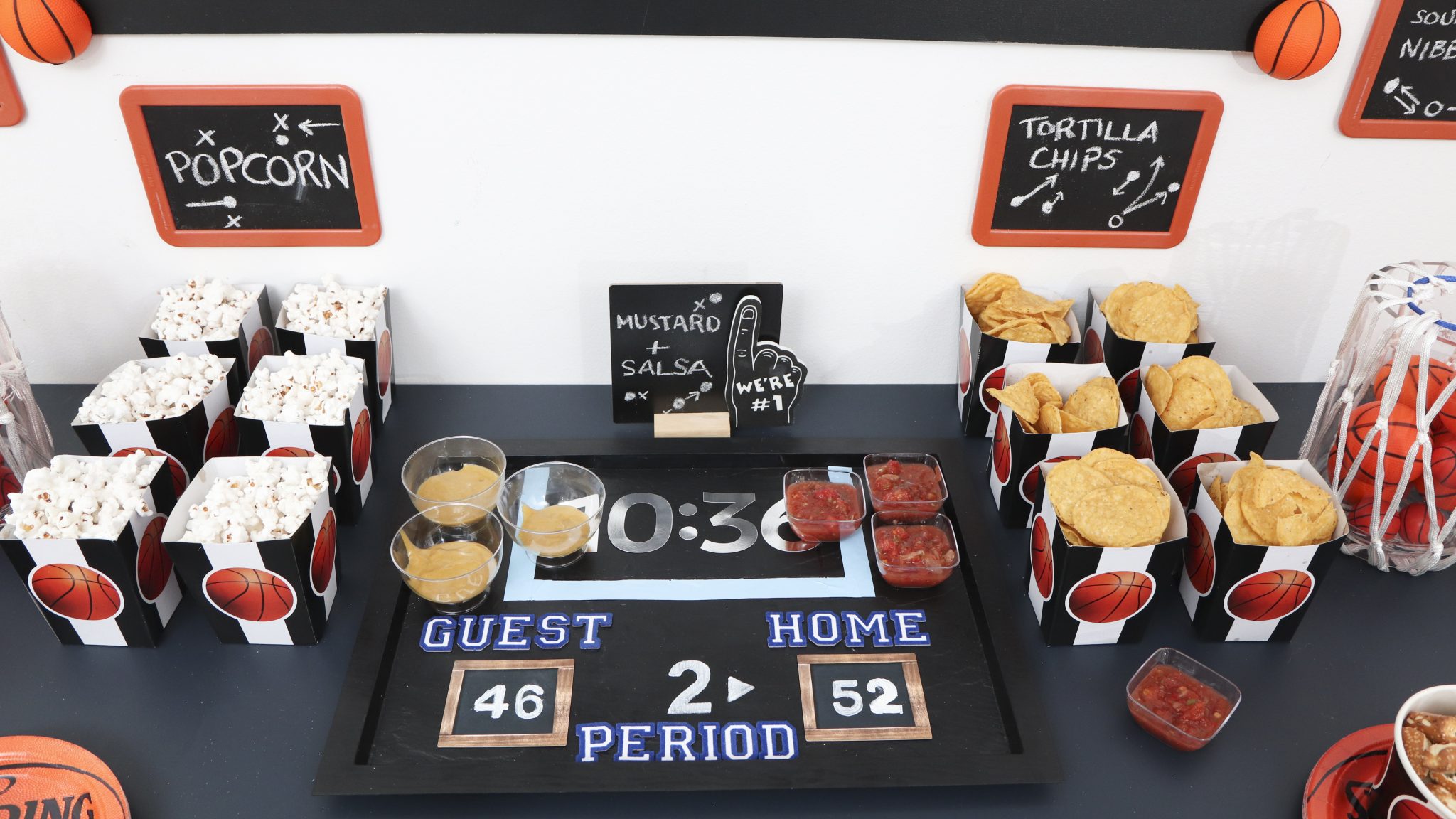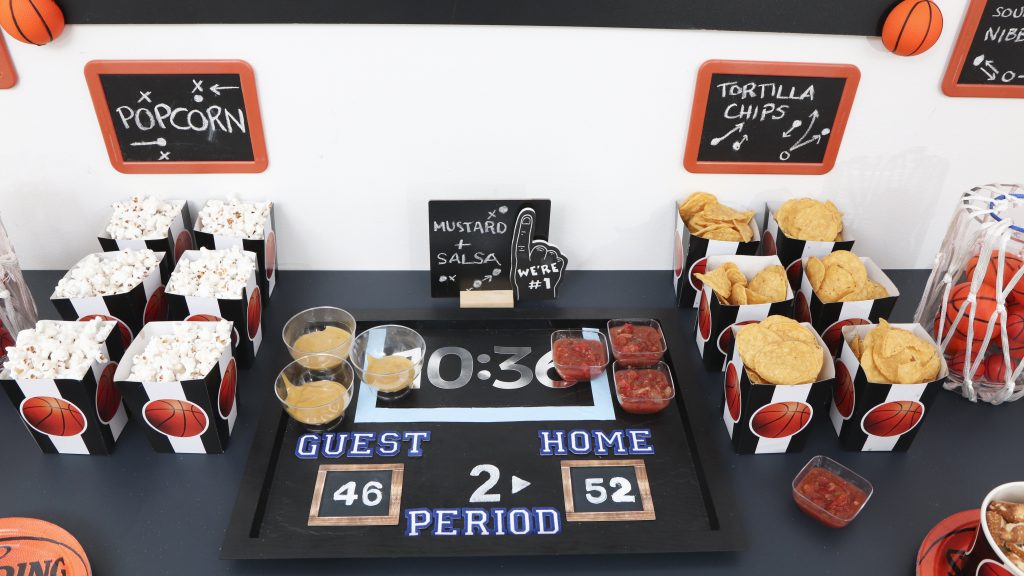 Behind the snack table, I made a giant March Madness Bracket Backdrop. While guests can each fill out their own brackets with their predictions for the winners of each game before the start of the season, this giant bracket backdrop can be used to keep track of the actual winners as the tournament progresses. It is a uniquely interactive backdrop! Get the instructions for making it HERE.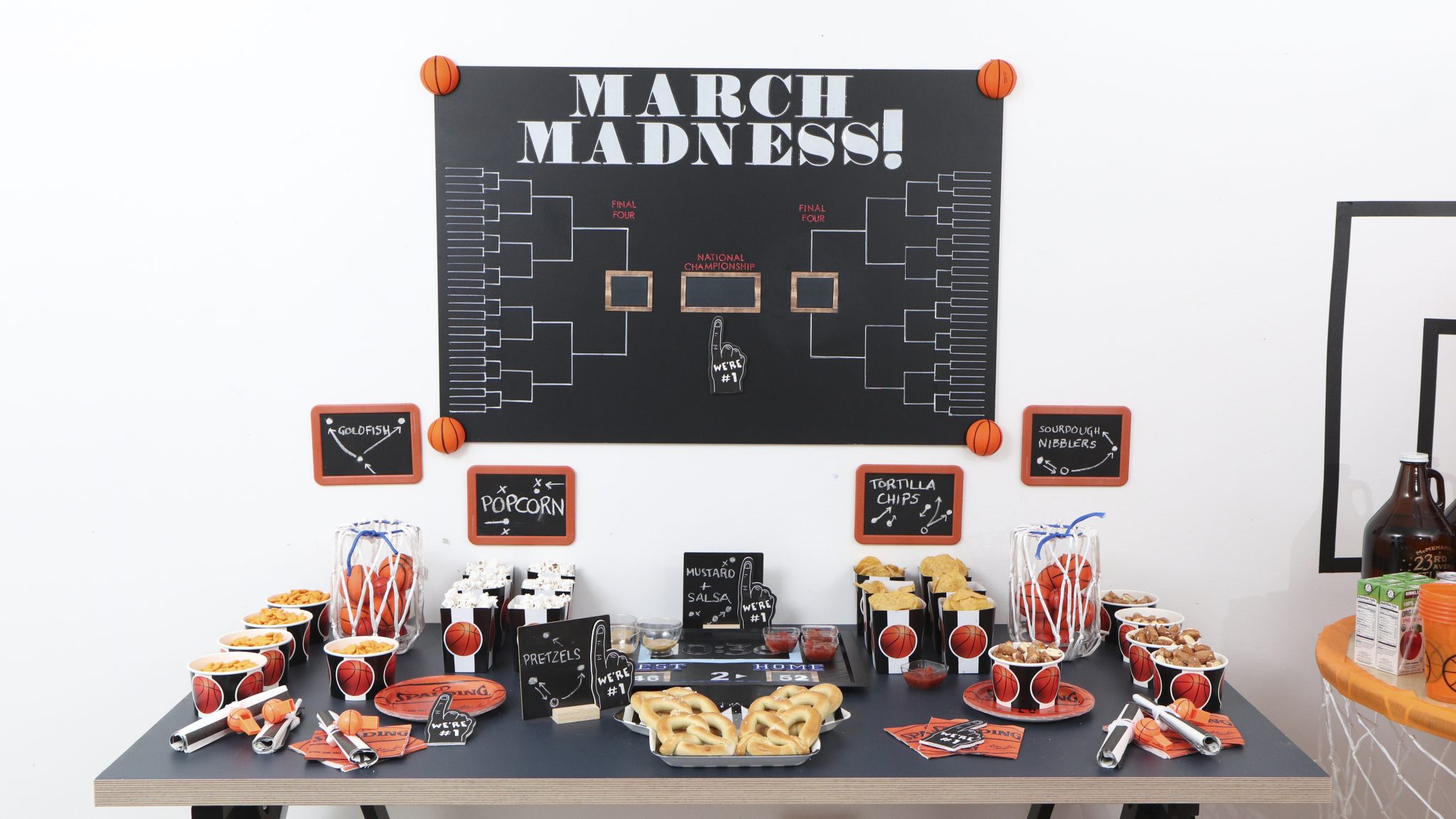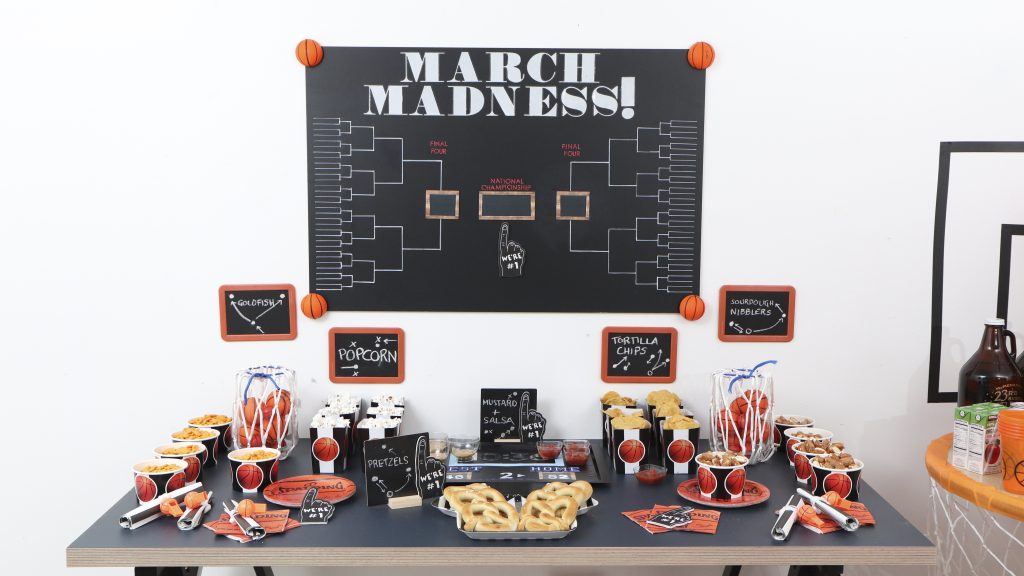 March Madness season is a great excuse to get together with family and friends for some light-hearted competitive fun. I hope that these party planning ideas can inspire you to host your own March Madness Party! You can get all of the additional details for how I created it on Fun365 at Oriental Trading. Everything you need to See It, Shop It and Make It with the click of a button! 
Let me know what team you are rooting for in the comments! Happy Partying!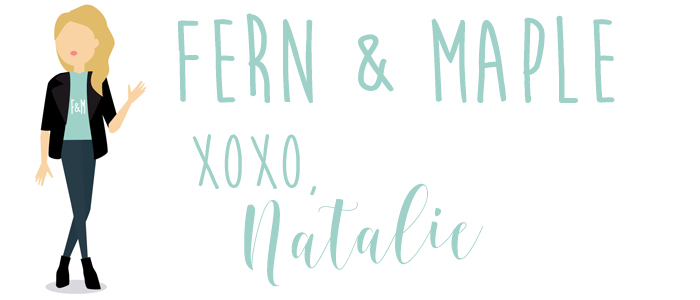 As an OTC blogger, I received compensation and/or products in exchange for my styling and crafting services. As always, all project ideas and any opinions expressed here are my own.  For further information on our disclosure policy please check out our disclosure page.
PIN FOR LATER: