With Mardi Gras coming up, I thought it'd be a great time to share the epic Mardi Gras-themed evening I styled for my kids' elementary school fund raising auction a couple of years ago! This glittering purple, green, and gold party was the perfect way to honor the indulgent traditions of Mardi Gras – a celebration of life and fun – while also raising money for the school and children.
This post is full of tips on how to incorporate the Mardi Gras theme into your event, decorate a large corporate space and how to include elements that encourage attendees to bid at your auction.
I've also created a list of similar or alternative party supplies for you to create your own Mardi Gras celebration – check it out HERE. Just so you know, as an Amazon affiliate, I may earn a small commission on any qualifying purchases made.
Grand Entrance
We were lucky to have Weiden+Kennedy donate their Portland office space to our cause.  This space is beyond spectacular!  The entire lower level is a dedicated gallery space with rotating exhibitions.  The ceilings are high and the space huge.
To bring guests into the space and immediately capture their attention I created a glamorous gold entrance & sign-in booth.  It welcomed guests into a world of glitz and got them ready to "Let the Good Times Roll"! I used a giant gold arch that resembled an ornate picture frame and decked it out with colorful masks and beads. The key to making the decor look authentically Mardi Gras is to drape the beads everywhere in a somewhat unorganized way. That way, they give the impression of being thrown, like in Mardi Gras parades!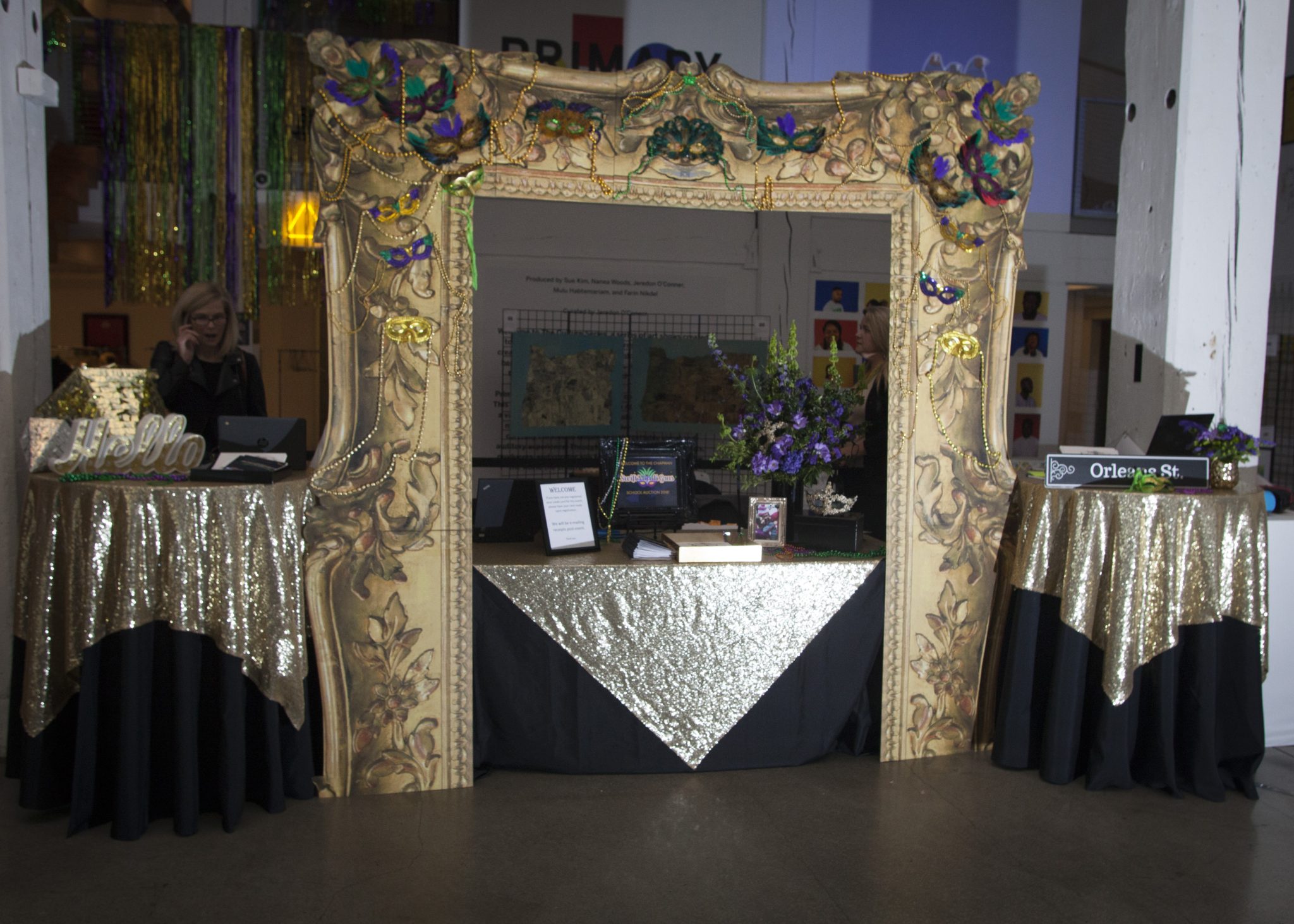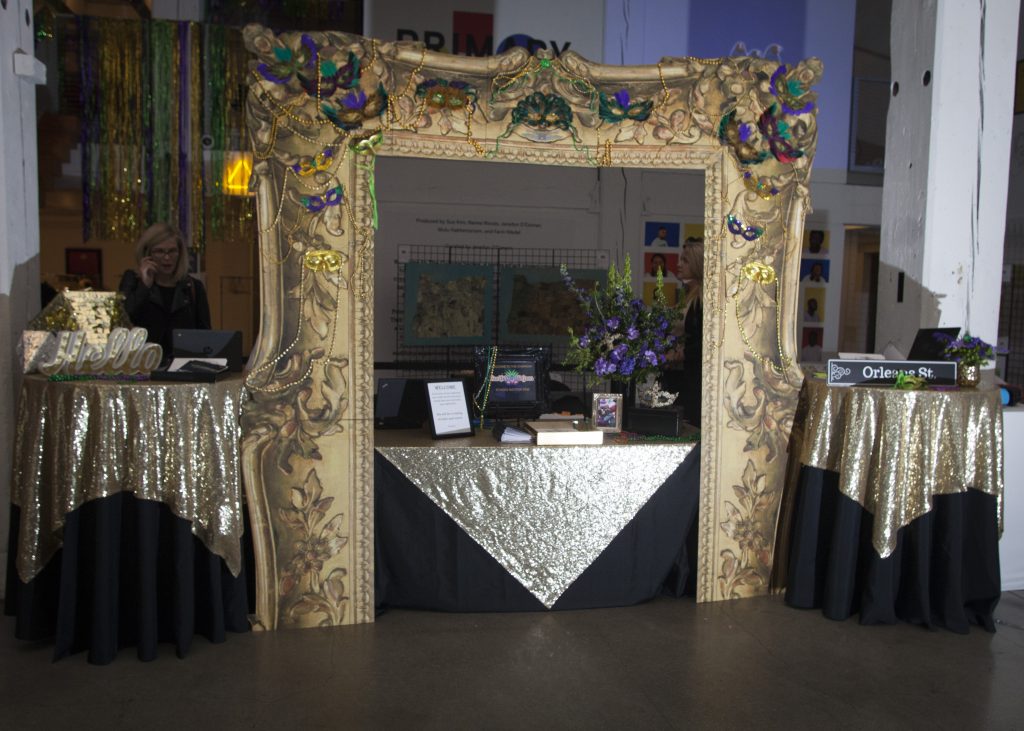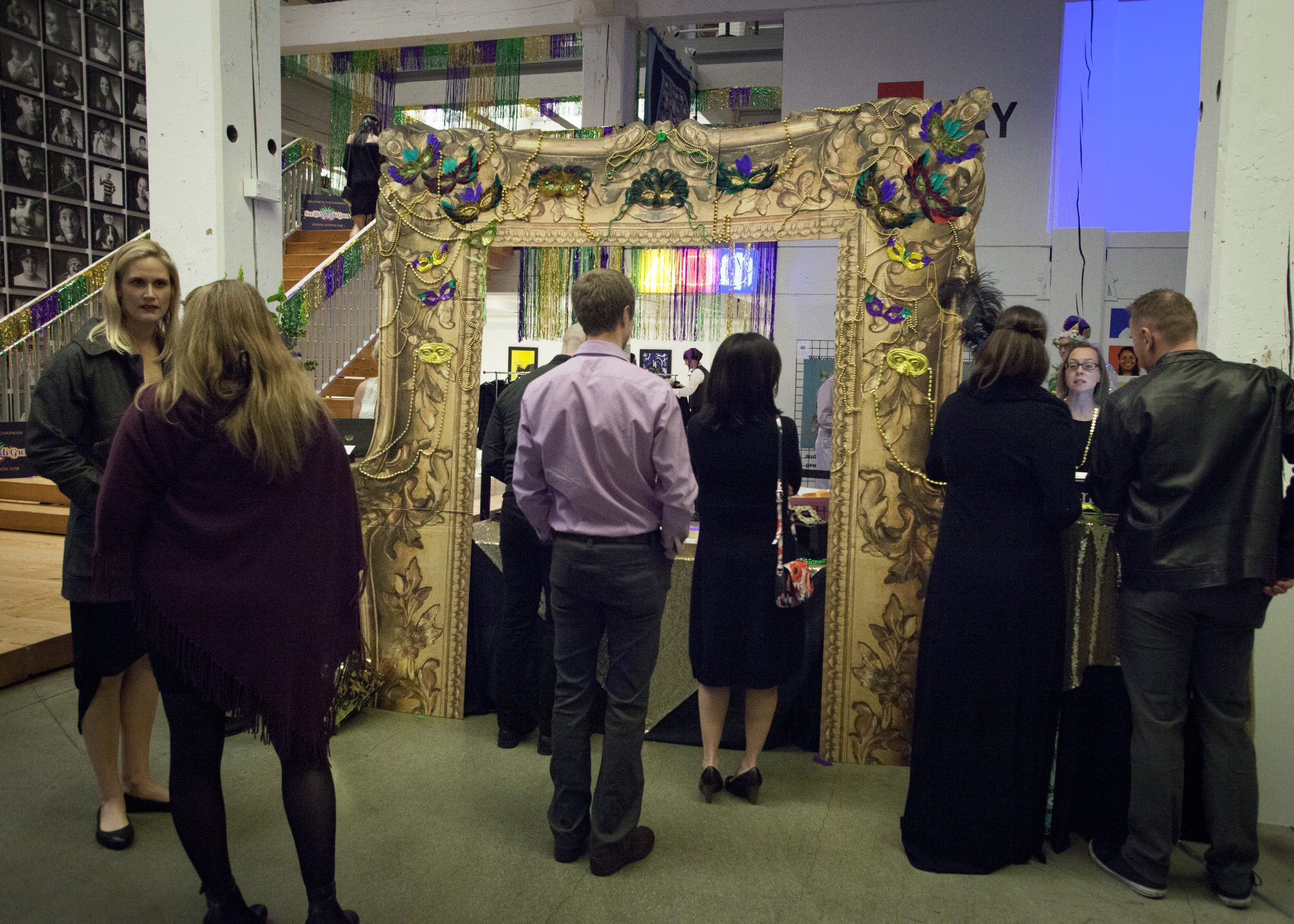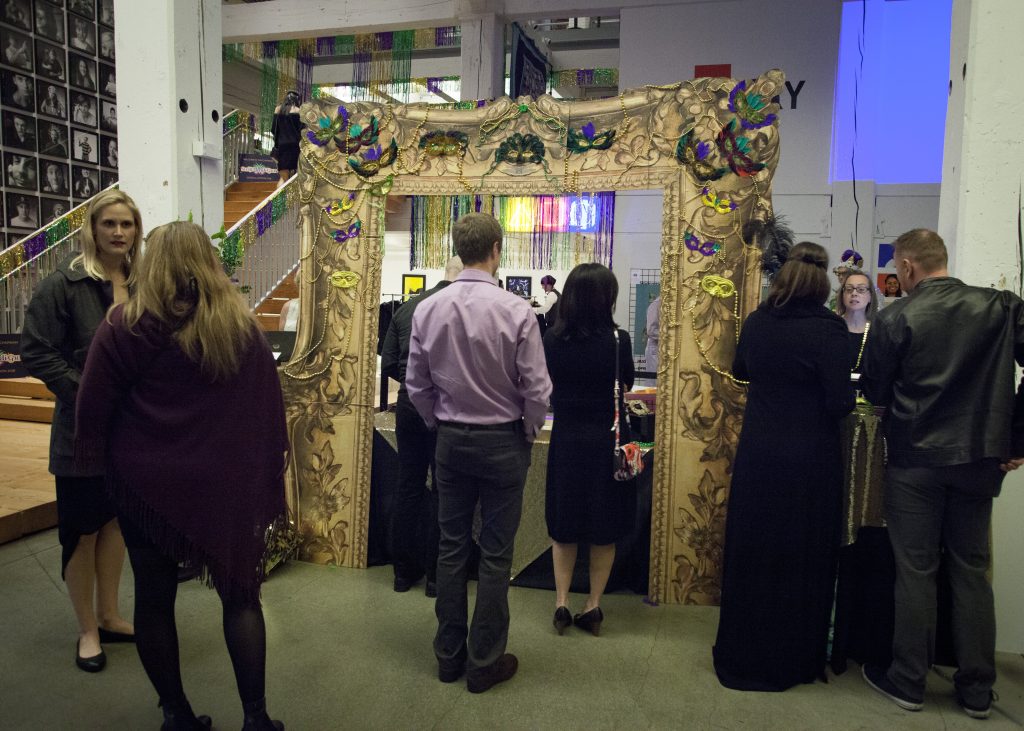 Then, I set up welcome tables to ensure guests were signed up to bid online and to share key information with guests – for example, a map of the venue and an auction book with a schedule of events.  I started with layered table covers, an elegant black, with sequined gold on top for pizzazz.  Then I added more masks, beads, signage in ornate black frames, a gold marquee "Hello" sign, and a gorgeous purple and green floral arrangement.  An elegant take on the traditional Mardi Gras color palette.
TIP: If you are raising money for a charity or school consider framed pictures of the recipients. We included photos of the kids we were raising money for on the tables and also as an on-going slide show during the night.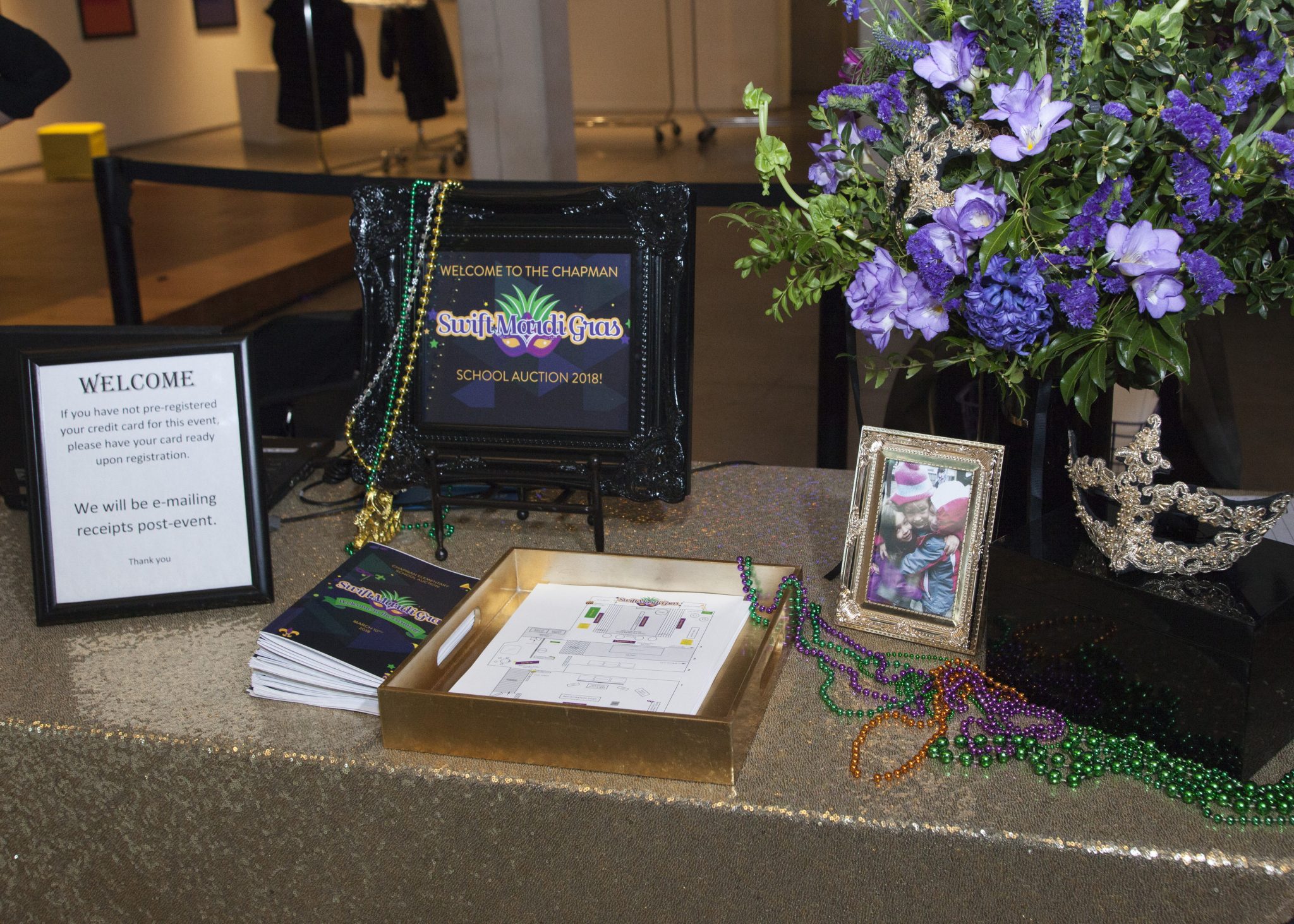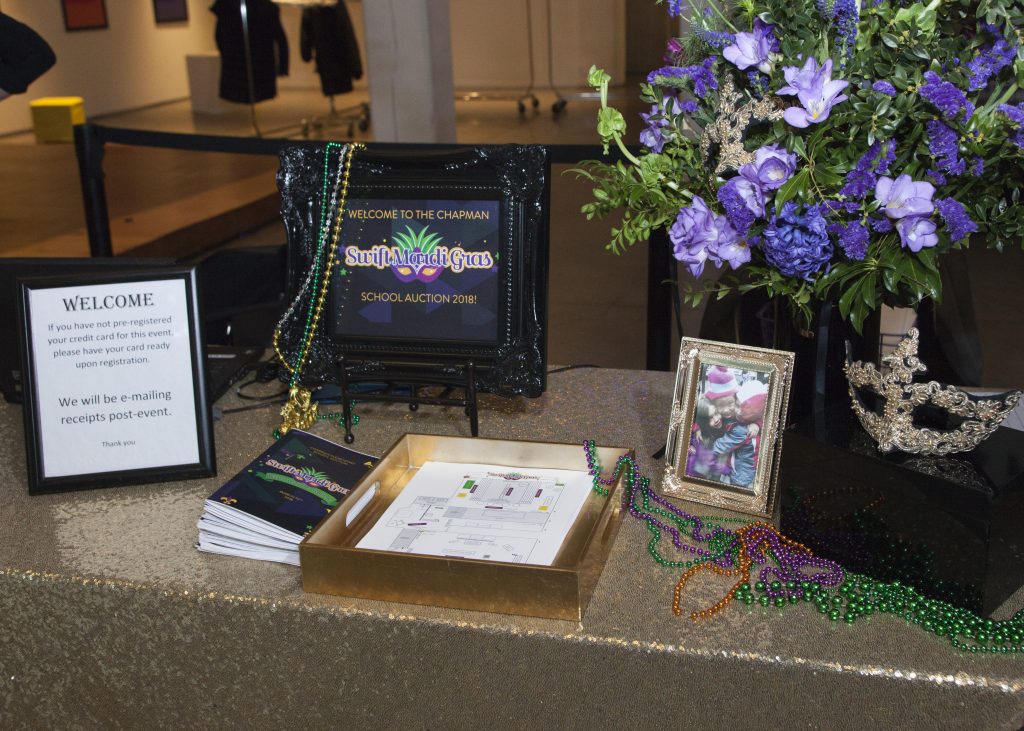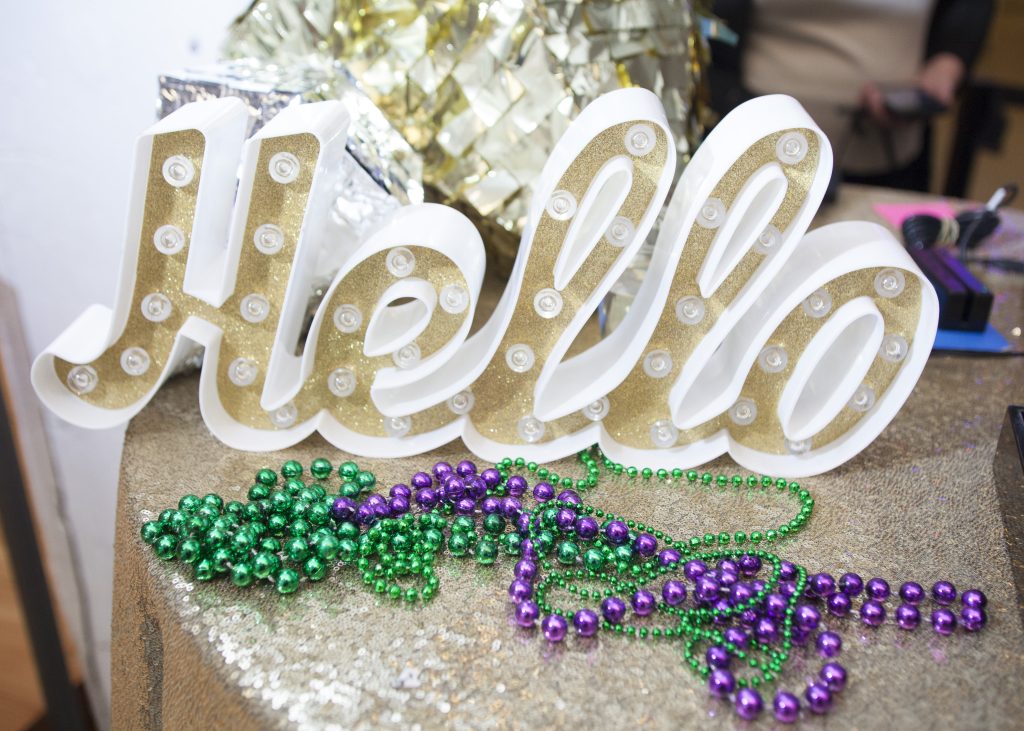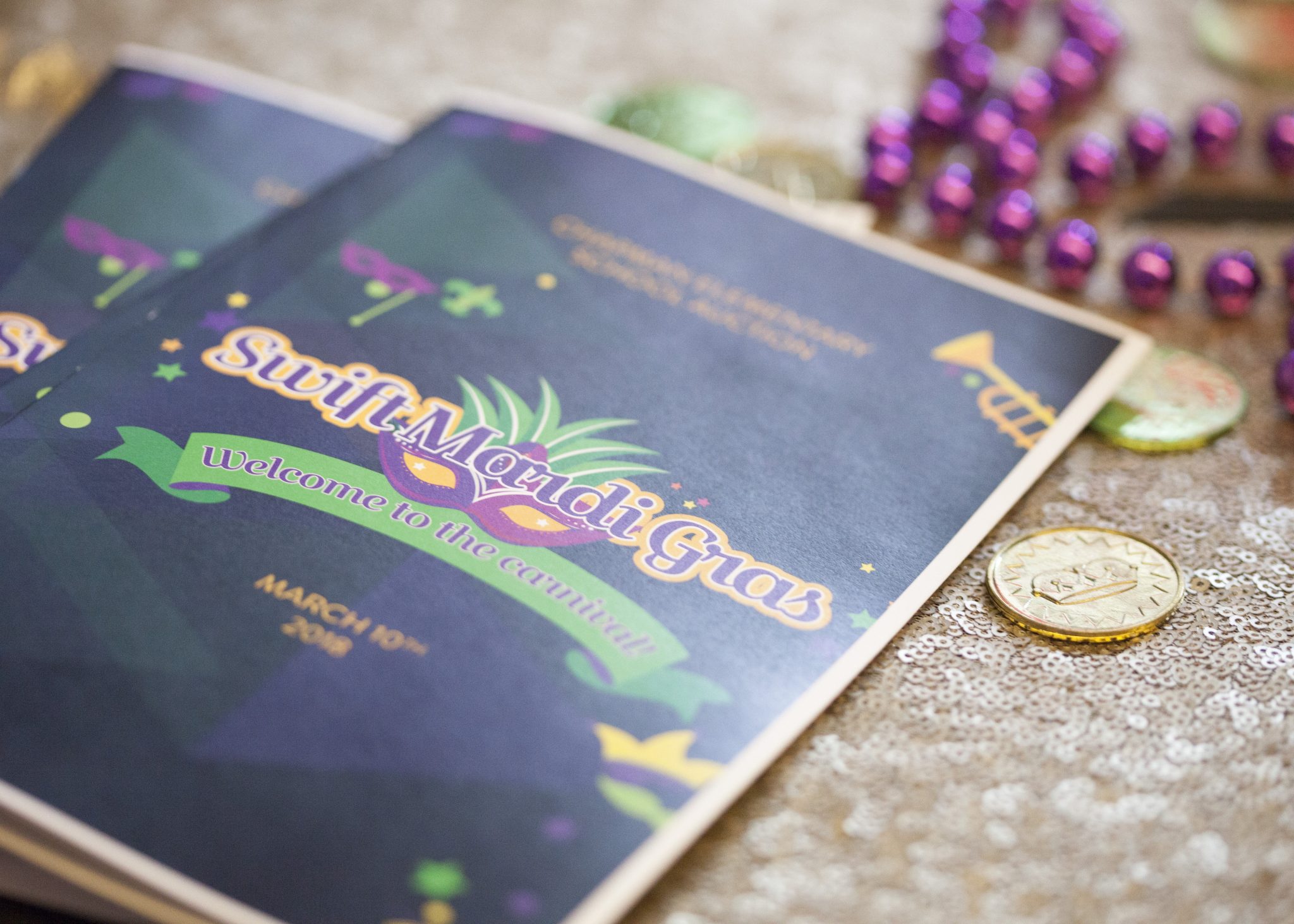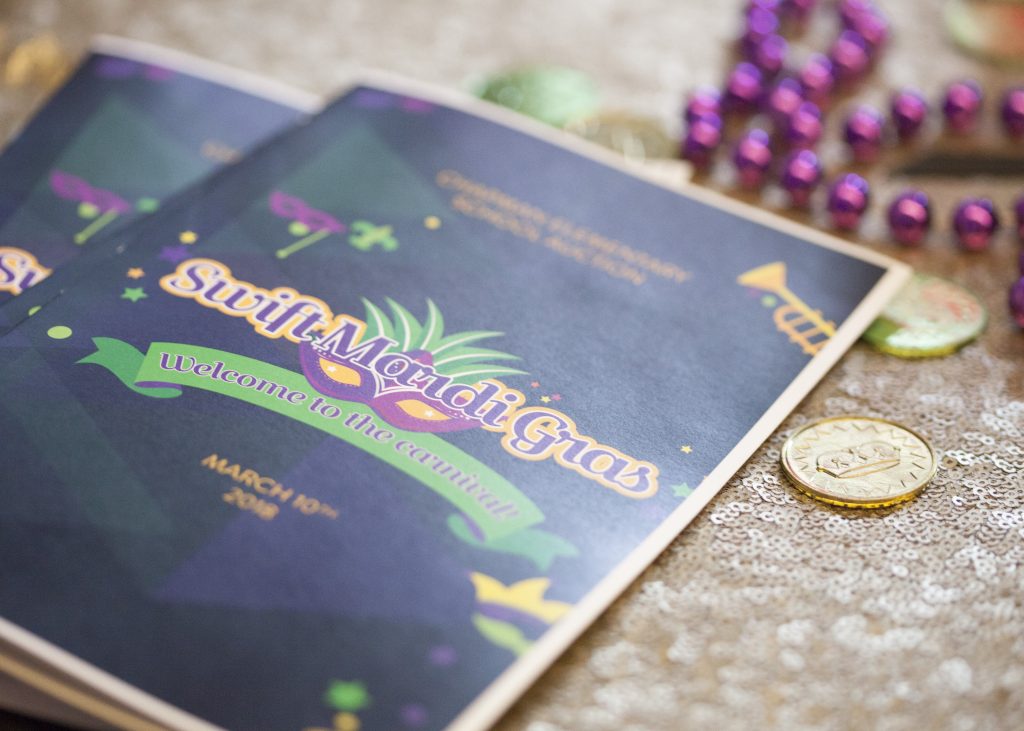 TIP: Use New Orleans street signs to mark spots around the venue, these can then be used on your venue / event map so guests can easily find their away around.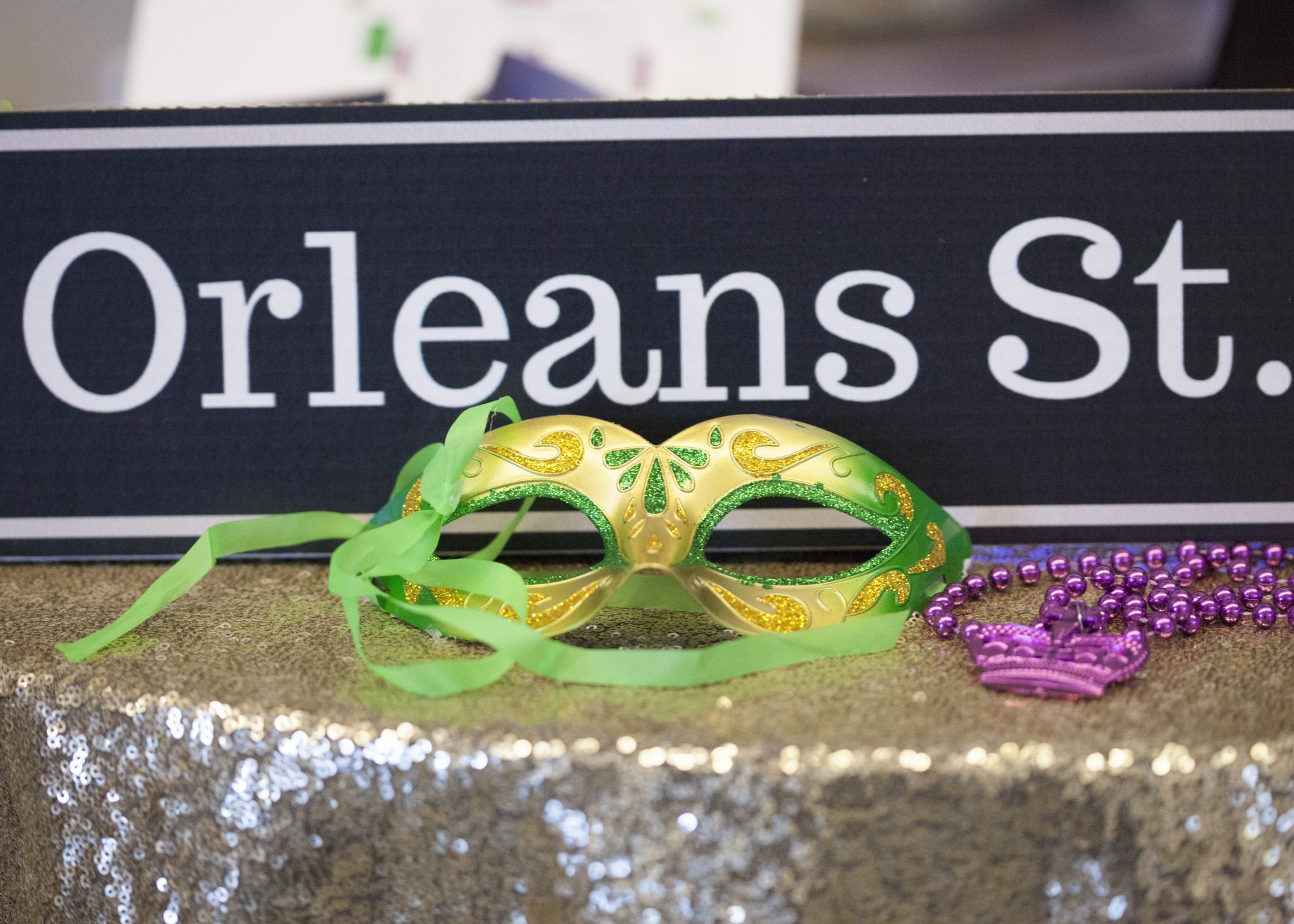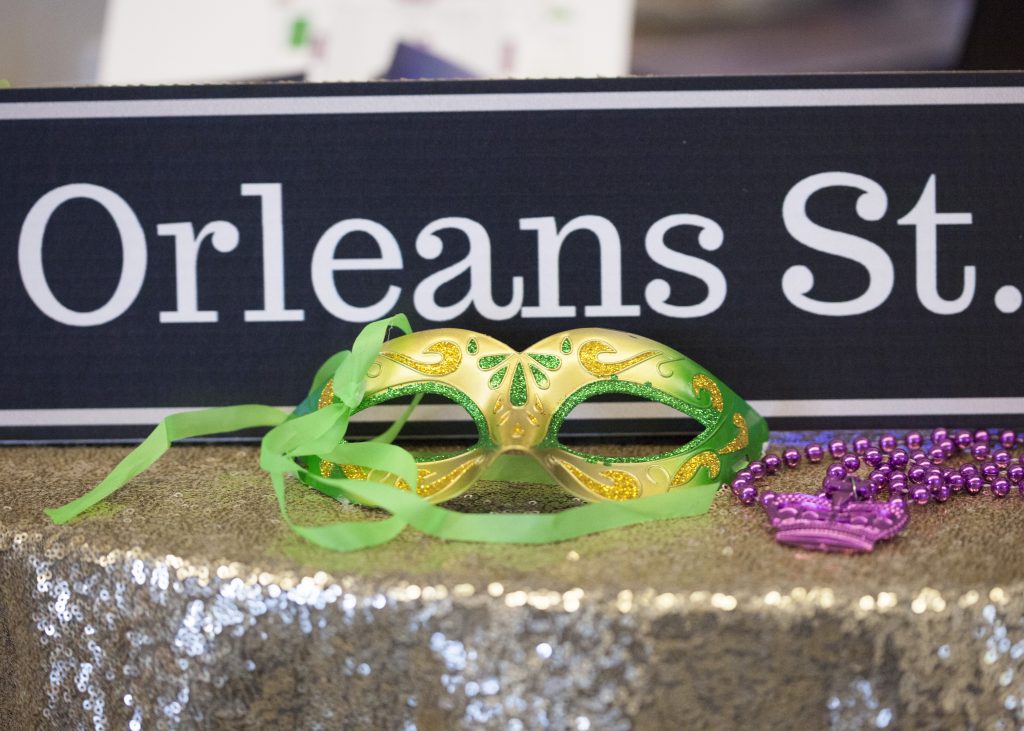 Jazzy Auction Decor
Next, I focused on the route to the main auction space. Most importantly, I wanted to guide guests to the space by drawing their attention to the walkway with decor that evoked the Mardi Gras vibe. Along the staircase railings, I tied purple, green, and gold beads.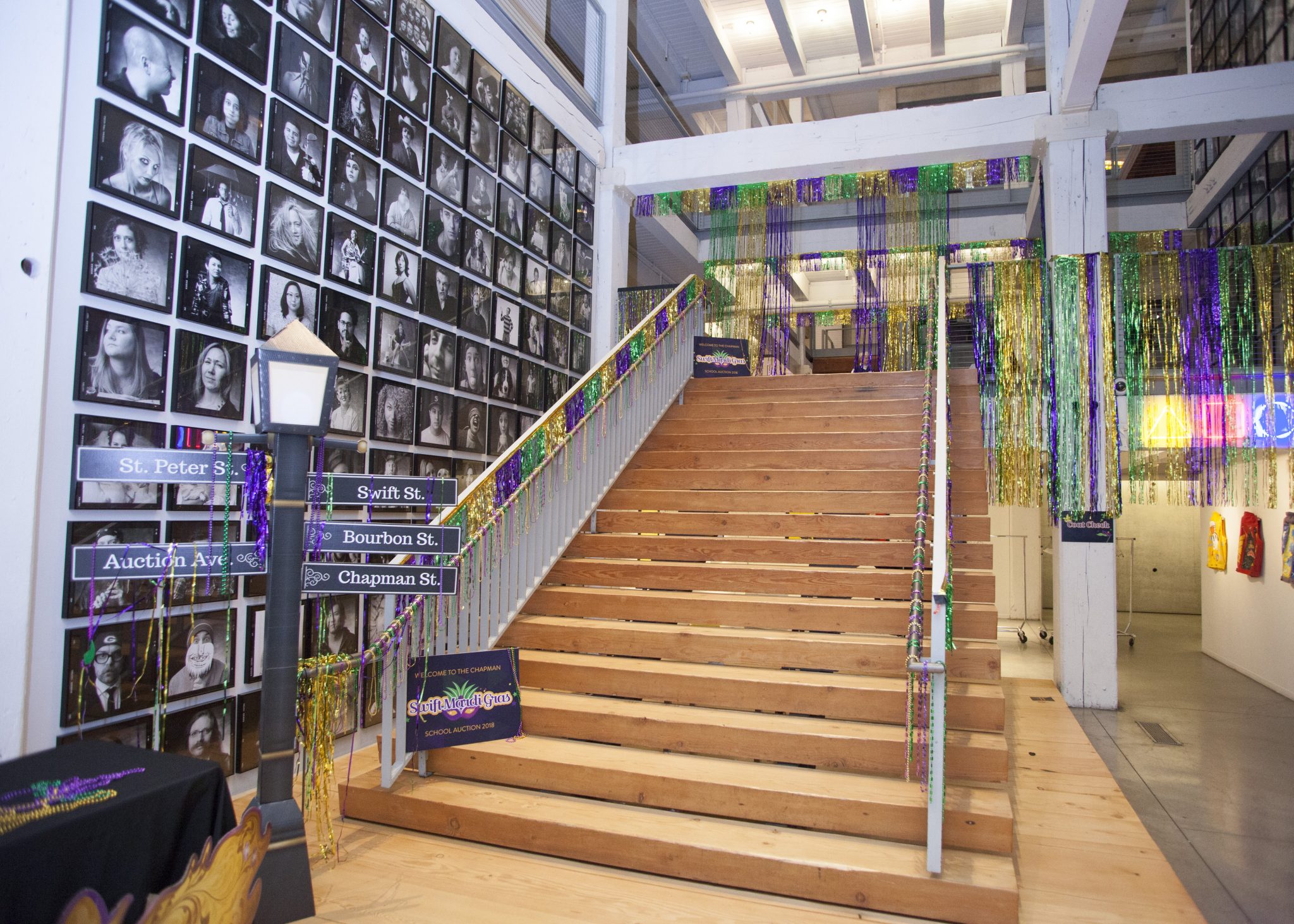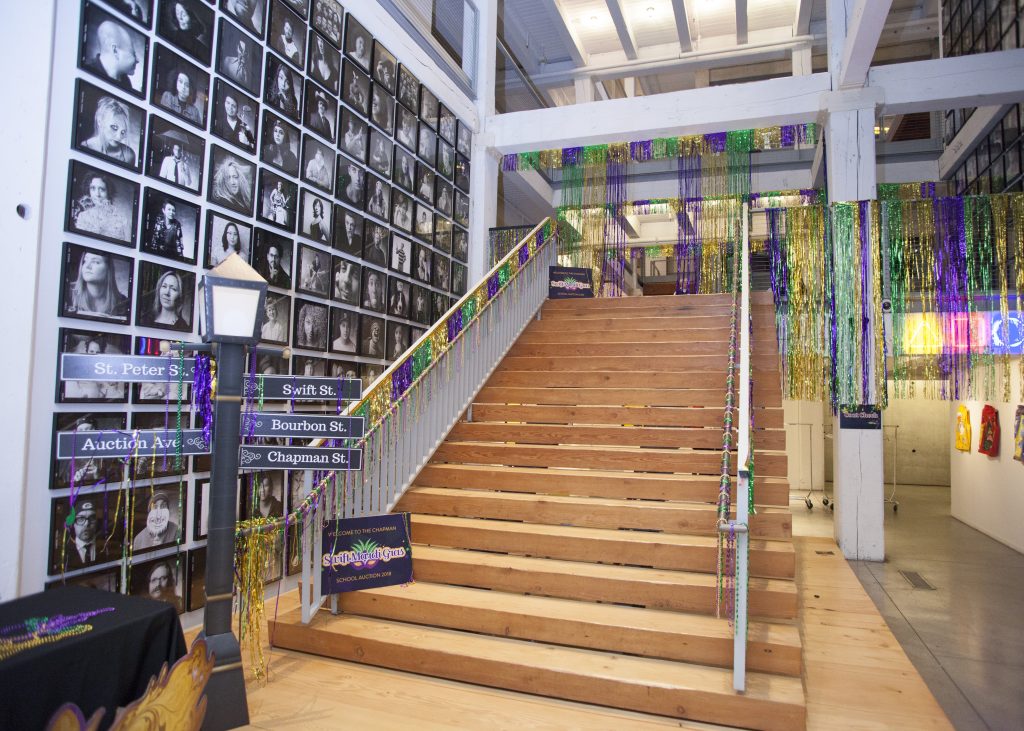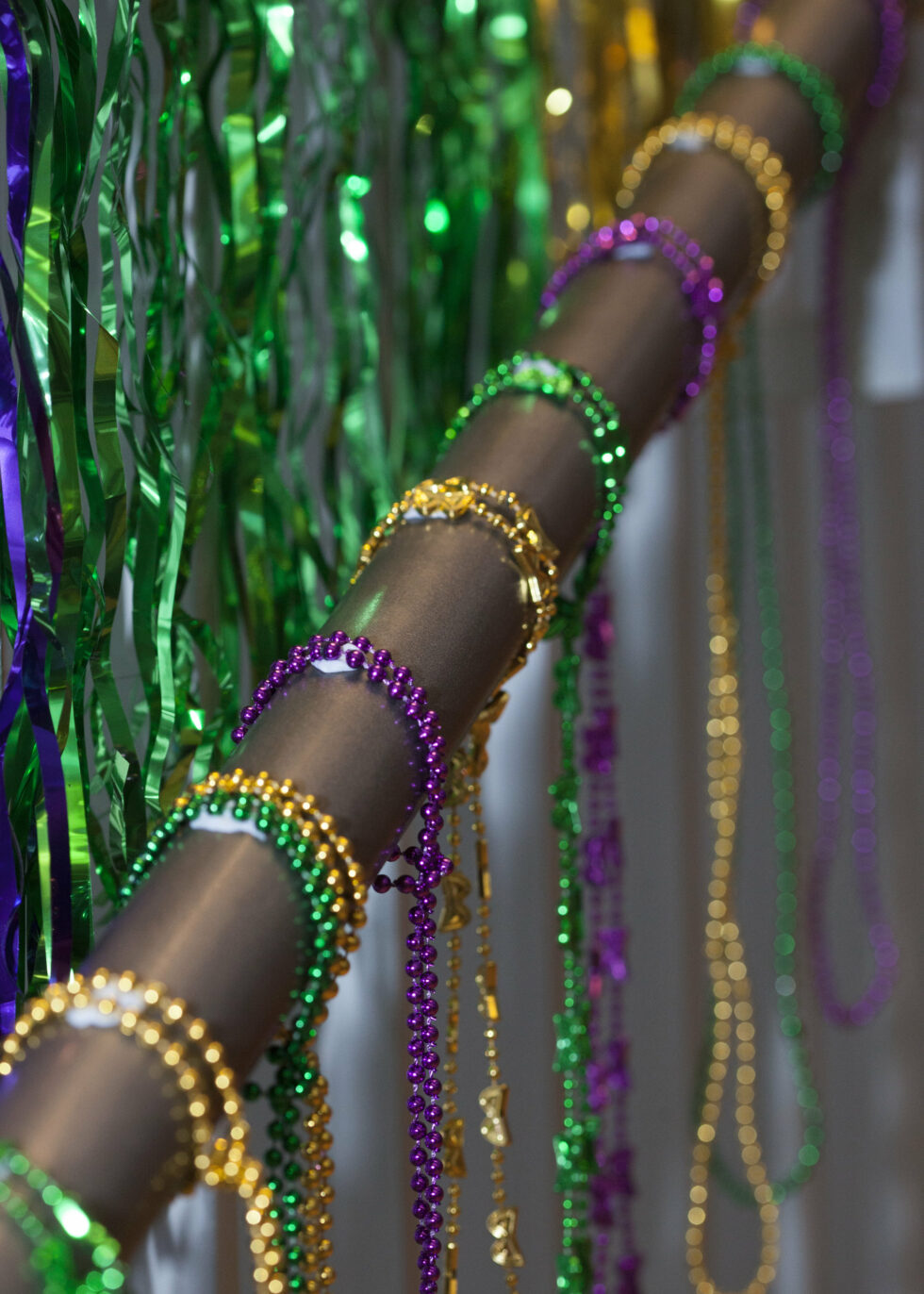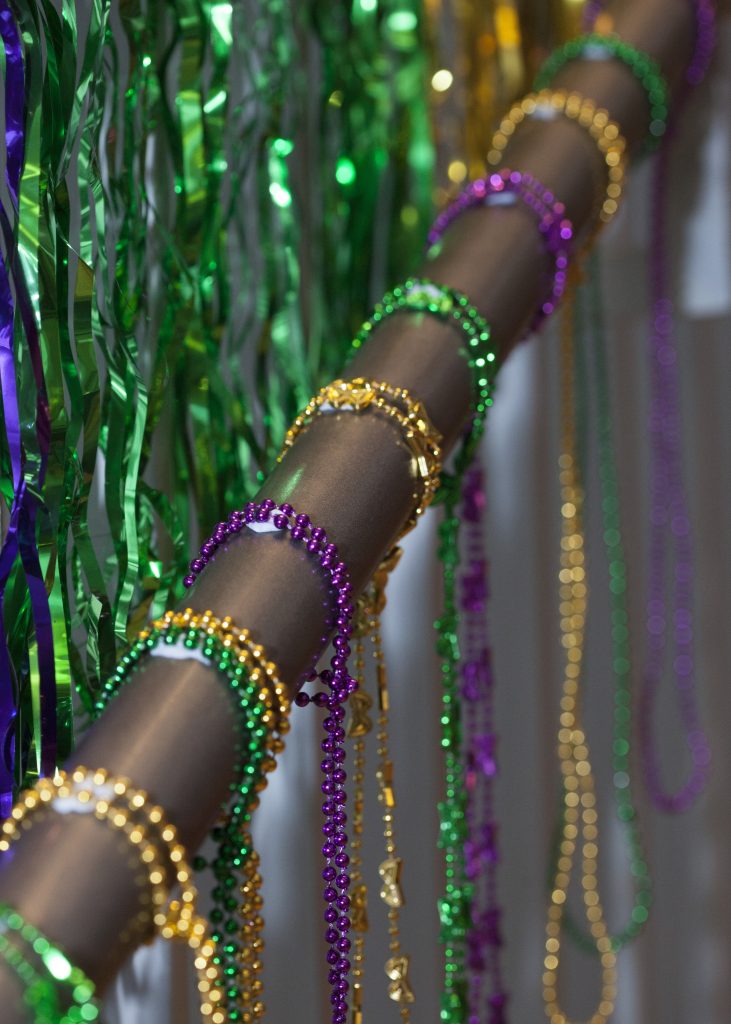 No space was safe from the toss of the bead, even the giant piece of art that graces Weiden+Kennedy entrance, a huge beaver…seen here with our fabulous hostess LuinLuLand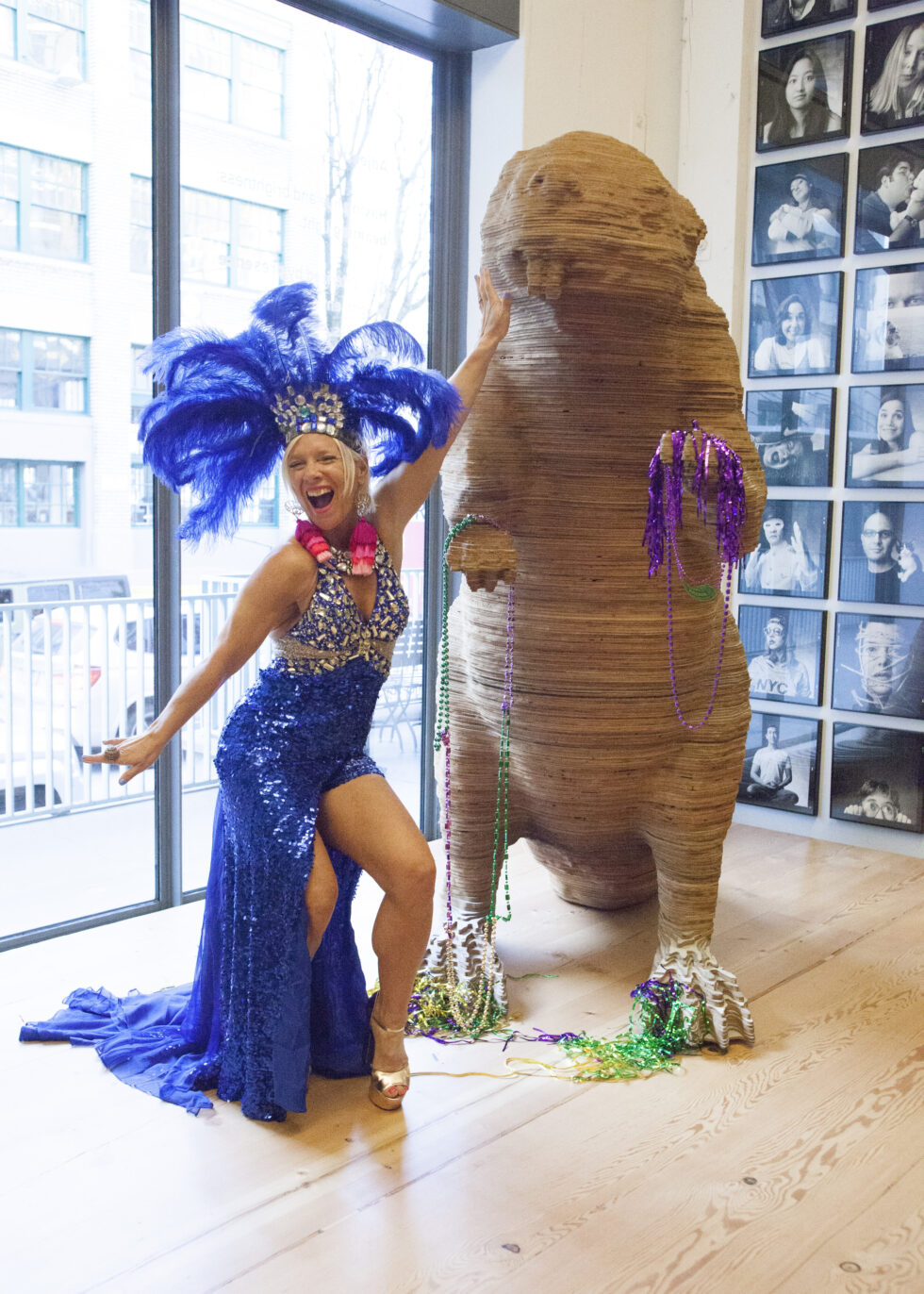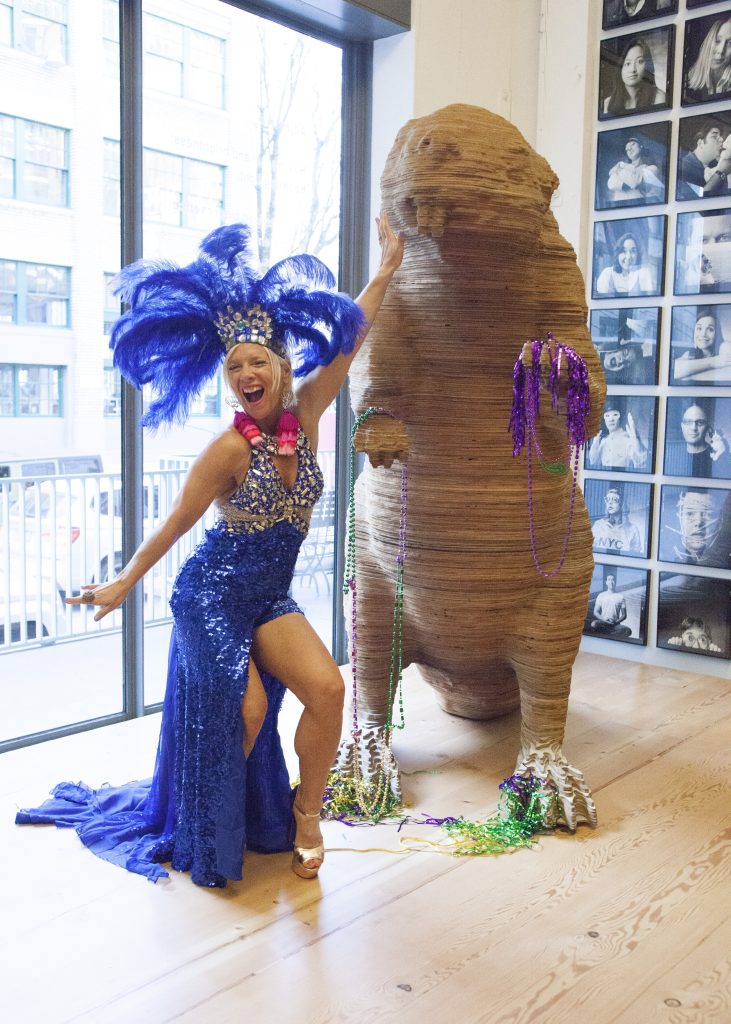 I also used metallic fringe in the same colors along the walls and walkways, this also gave the whole space a parade float feel. The bonus, another fun photo spot! This picture is of Veery, the auction event planner and I making the most of the scenic spot.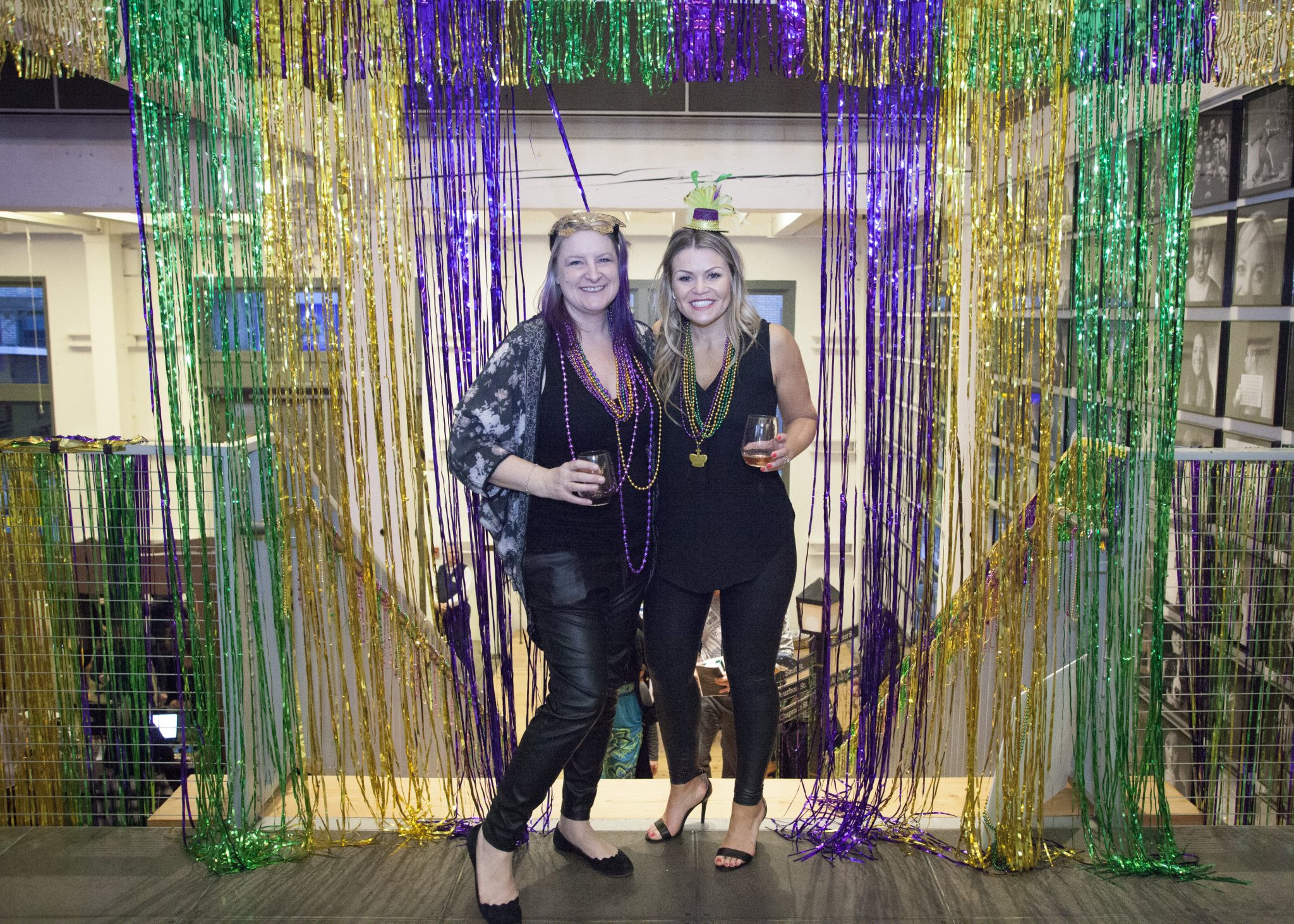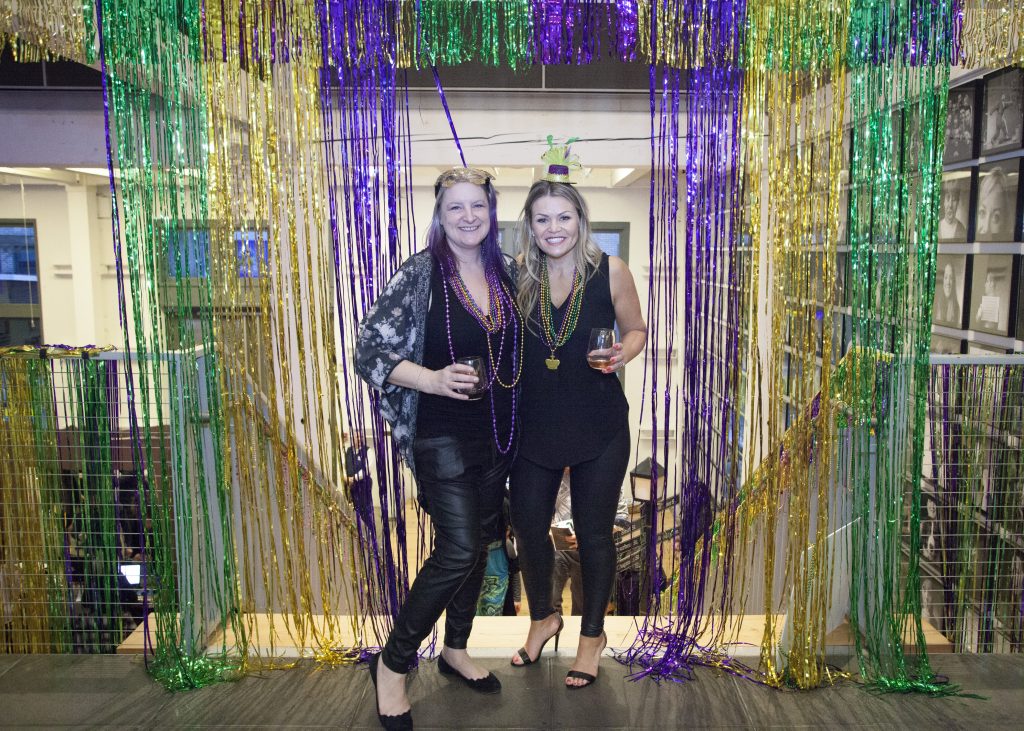 TIP: Large cardboard stand-ups also make great decor pieces for a large event space.  Better yet they are super easy to put together!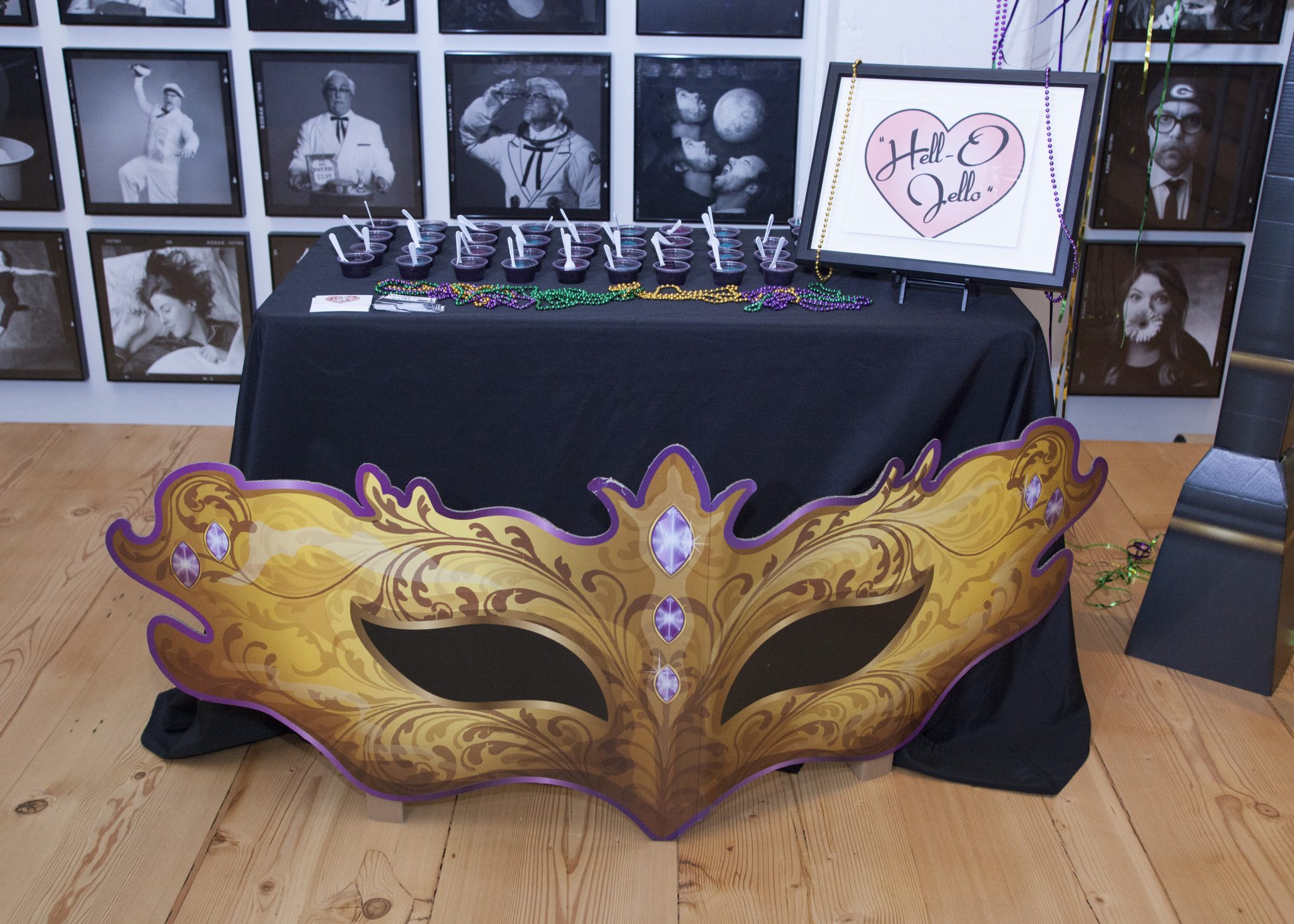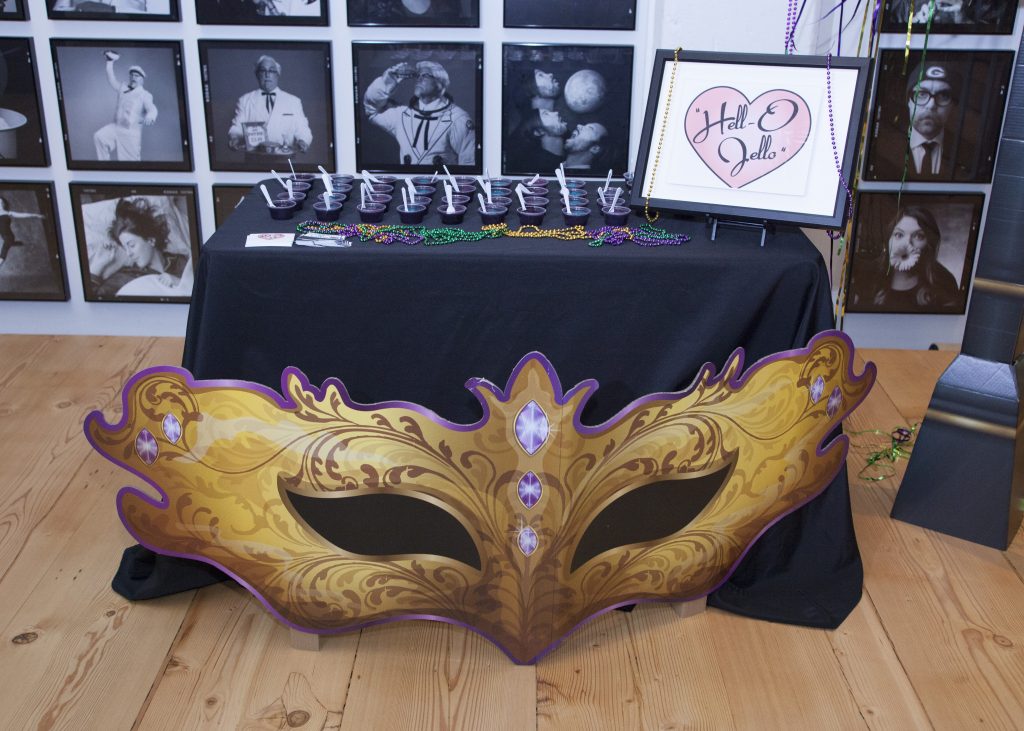 This led to the central event space, an amazing staggered viewing auditorium.  You can see just how large it is from this photo taken just as guests started to arrive.  I needed to draw guests attention to specific areas, particularly the front of the space without distracting from the beauty of the venue itself.  This is where the auctioneer was and also where items up for auction were displayed.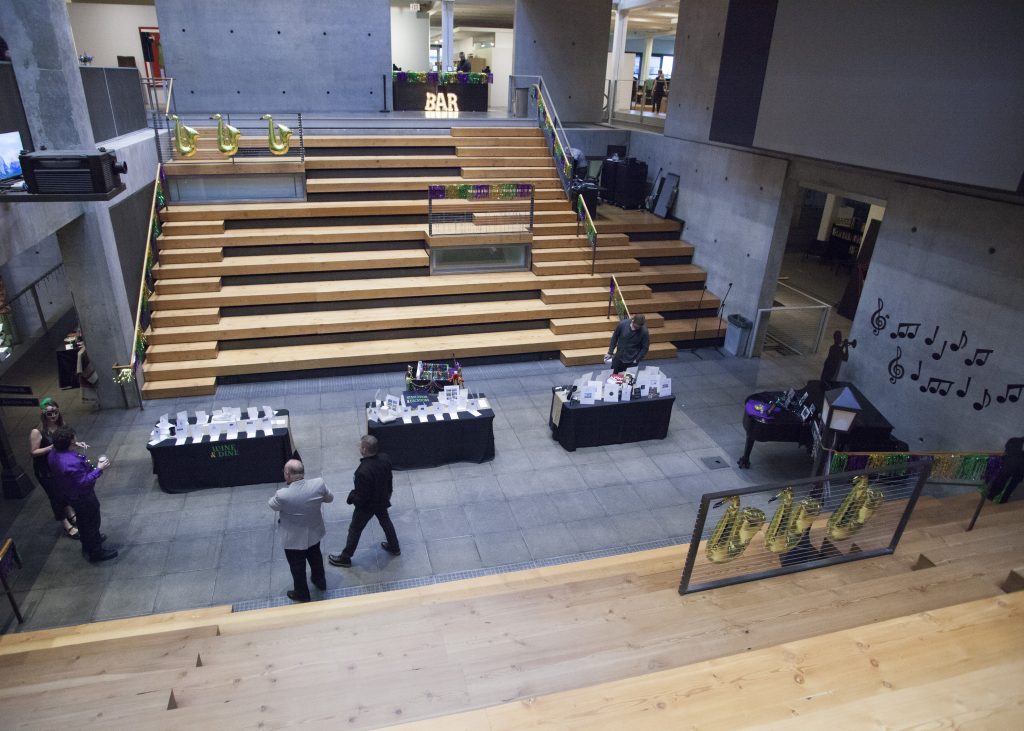 To honor the jazz music of New Orleans, I decorated a piano with black sequin and purple fabrics. Behind it, I placed life-sized jazz musician silhouettes and music notes. Some strategically placed saxophone balloons rounded out the jazz area. To make it really feel like we were on a New Orleans parade street, I set up a lamppost street sign with street names that played off of the school name and mascot. 
I also added more framed photos of the kids here, a large screen also dropped from above with an ongoing stream of photos of the kids.
TIP: Add key items you are fund raising for to the presentation, for example IT or technology goals, or number of children requiring financial aid and support.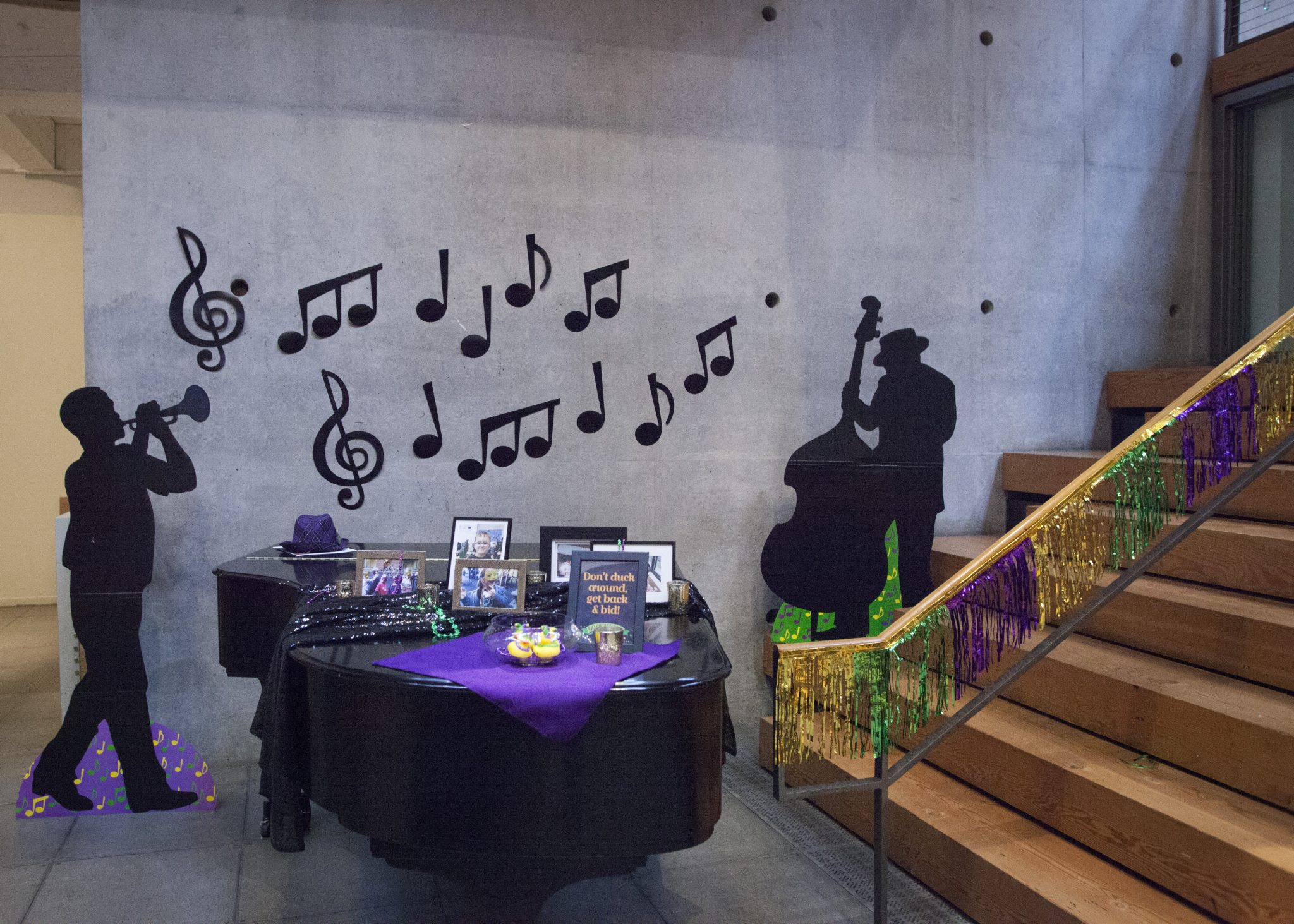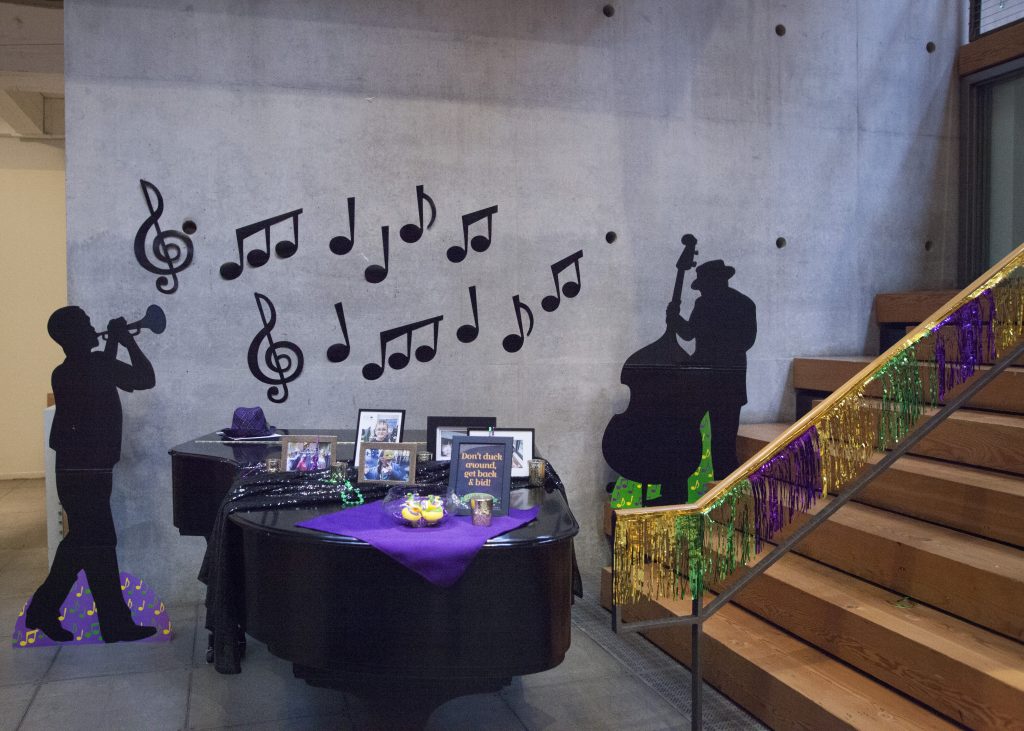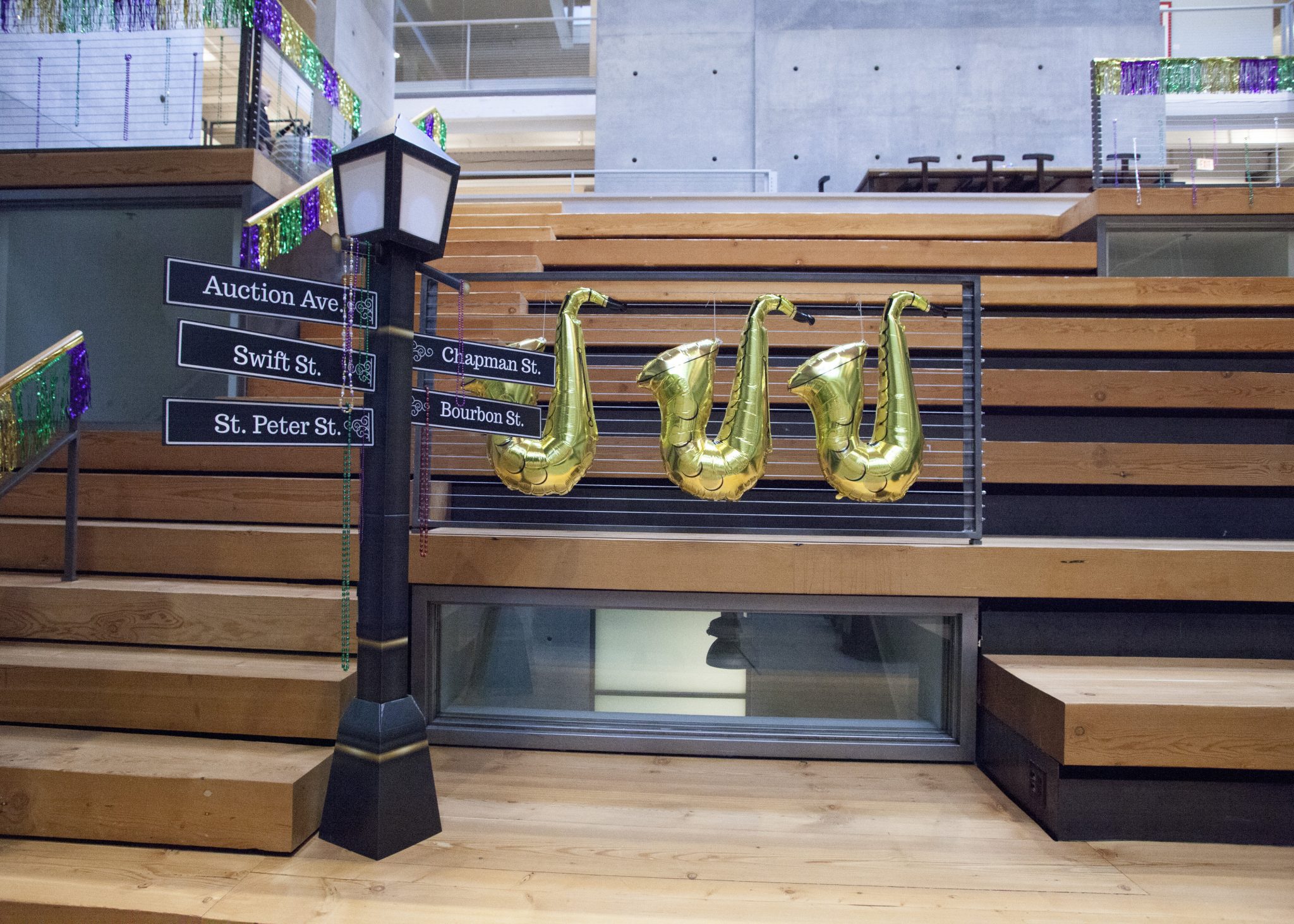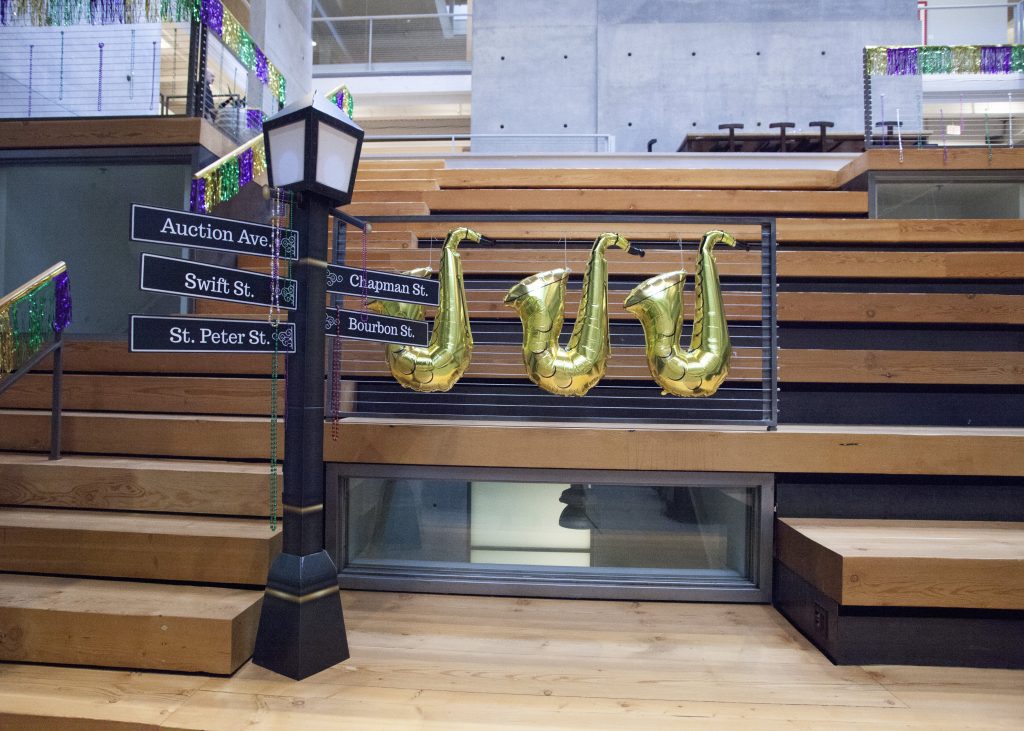 Finally, for some extra fun, I put some really cute Mardi Gras rubber ducks out. A framed sign reminded guests, "Don't Duck Around, get back and bid!". I'm all about fun, but couldn't let anyone forget the real purpose of the evening…the auction!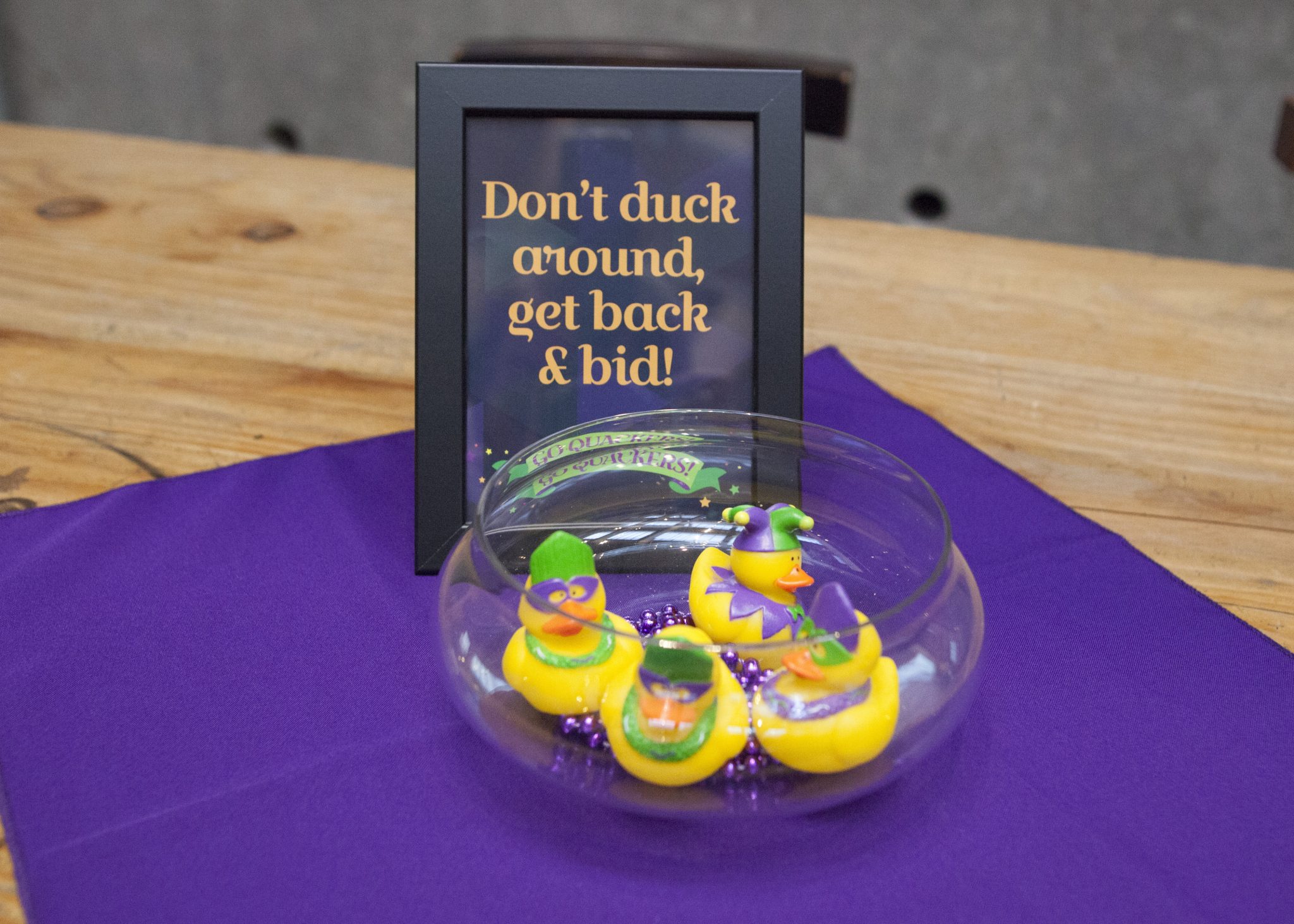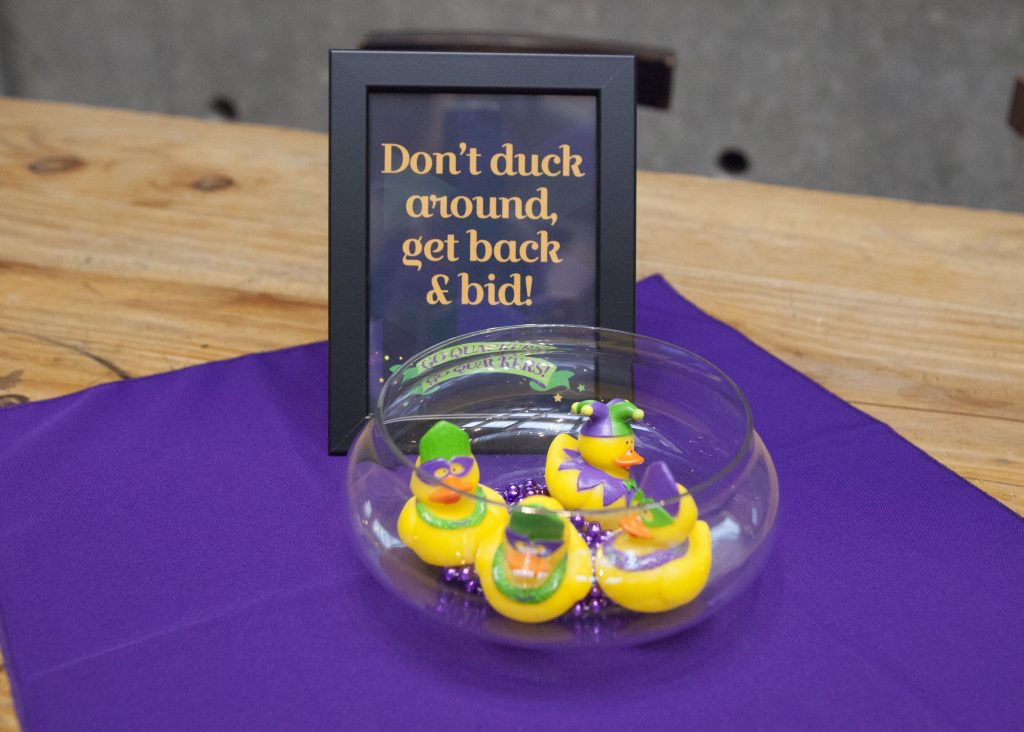 The auction tables themselves were kept pretty simple. I used black table cloths with sequined gold runners. Then I set up some tables with either one or the other fabric to mix things up a bit. I draped beads on each, and added masks here and there to keep with the theme. Guests were invited to purchase and bid on numerous items.
TIP: Include personal items like art created by the students.  We had class art projects and personalized bricks for a new walkway that was to be built at the school!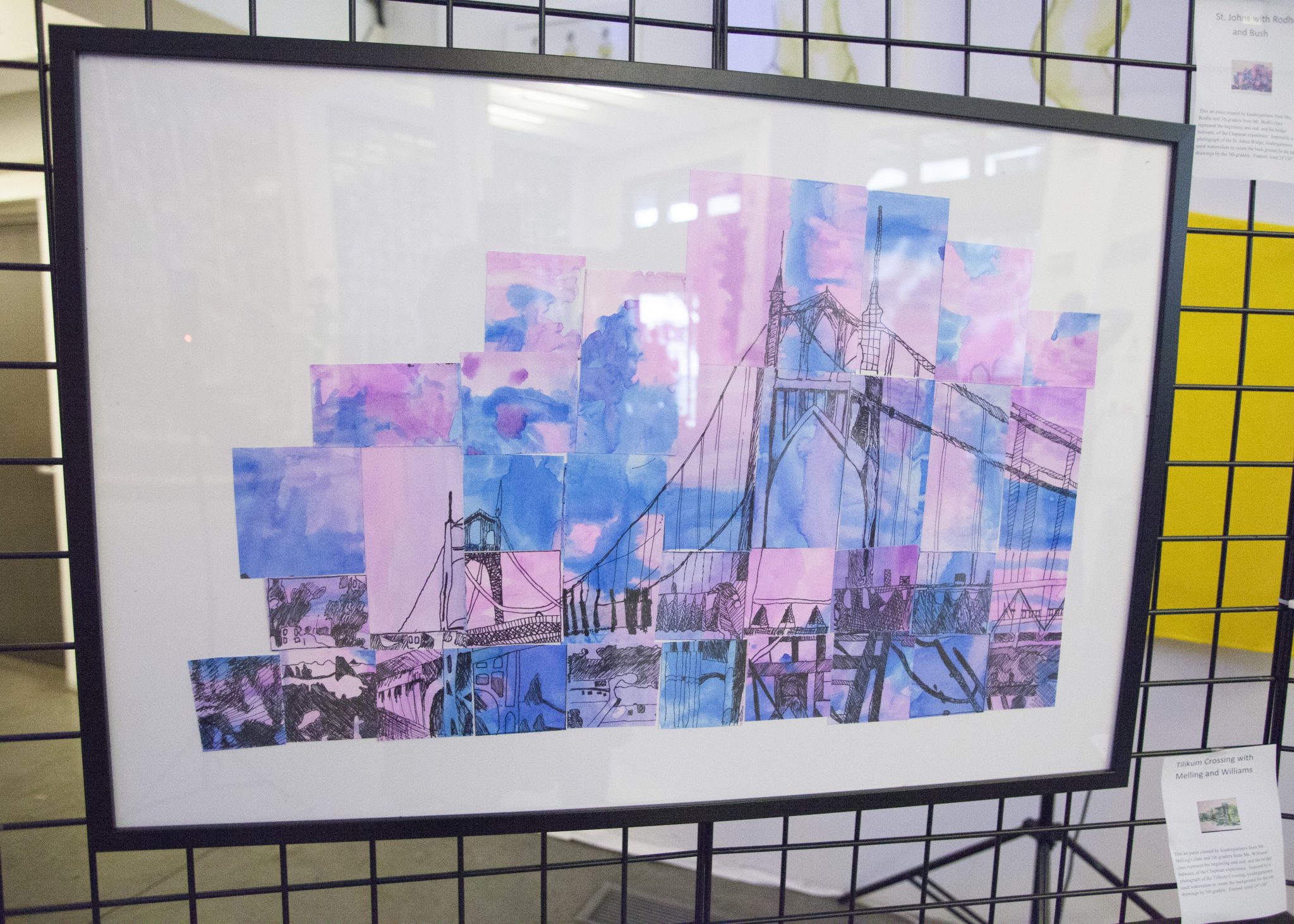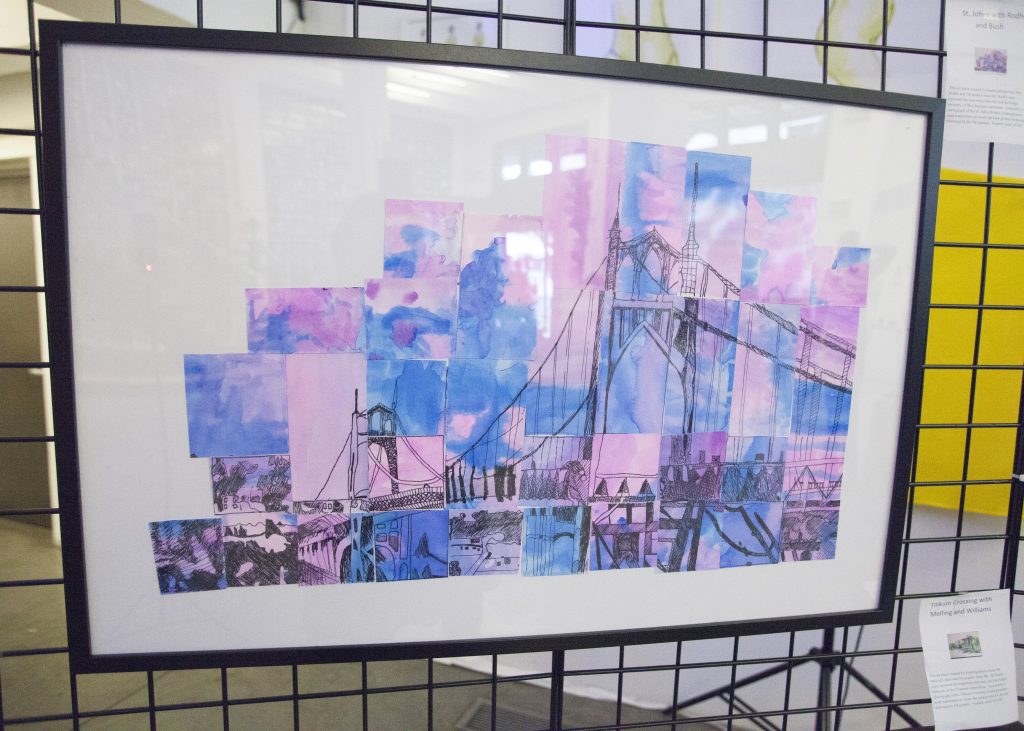 TIP: Although we had an online auction we also displayed smaller items up for auction on tables.  We also used print outs that showed the details of larger items (hotel stays, holidays, shows etc) and placed them in clear frames for guests to see.  Each table stuck to a theme (e.g. meals, sports gear, accommodation).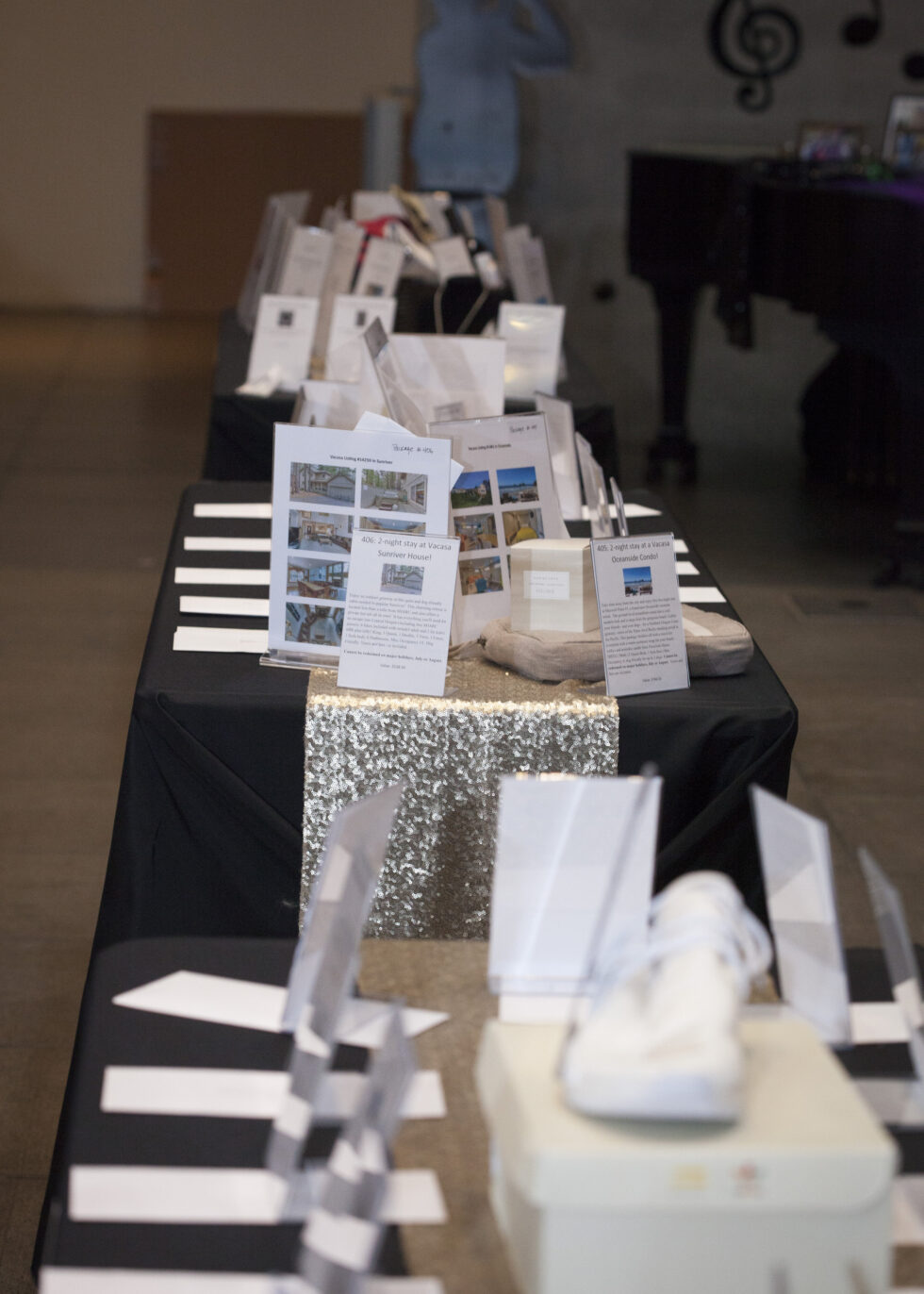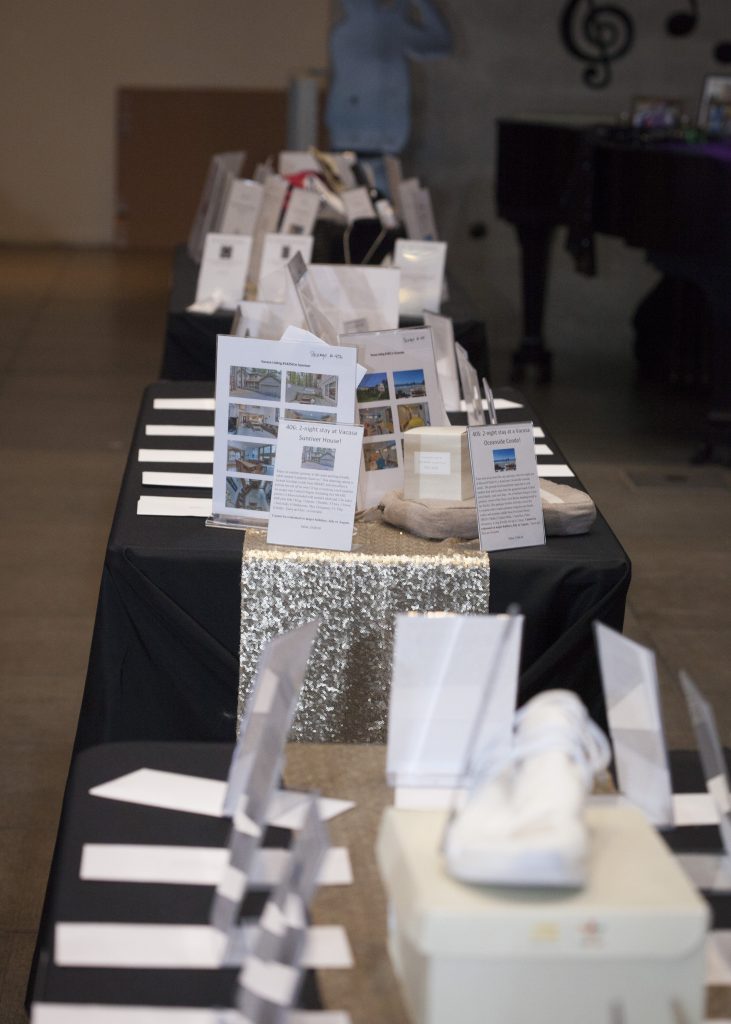 TIP: Not everyone is prepared or dressed-up for the event! Take this opportunity to make a little extra for the event, purchase bulk masks and sell these for a nominal amount.  This has the added bonus of getting everyone into the spirit of the theme.
TIP: Use Mardi Gras beads to sell special tickets or lottery gifts.  We used gold beads guests could wear as "golden tickets" – the winner was drawn on the night.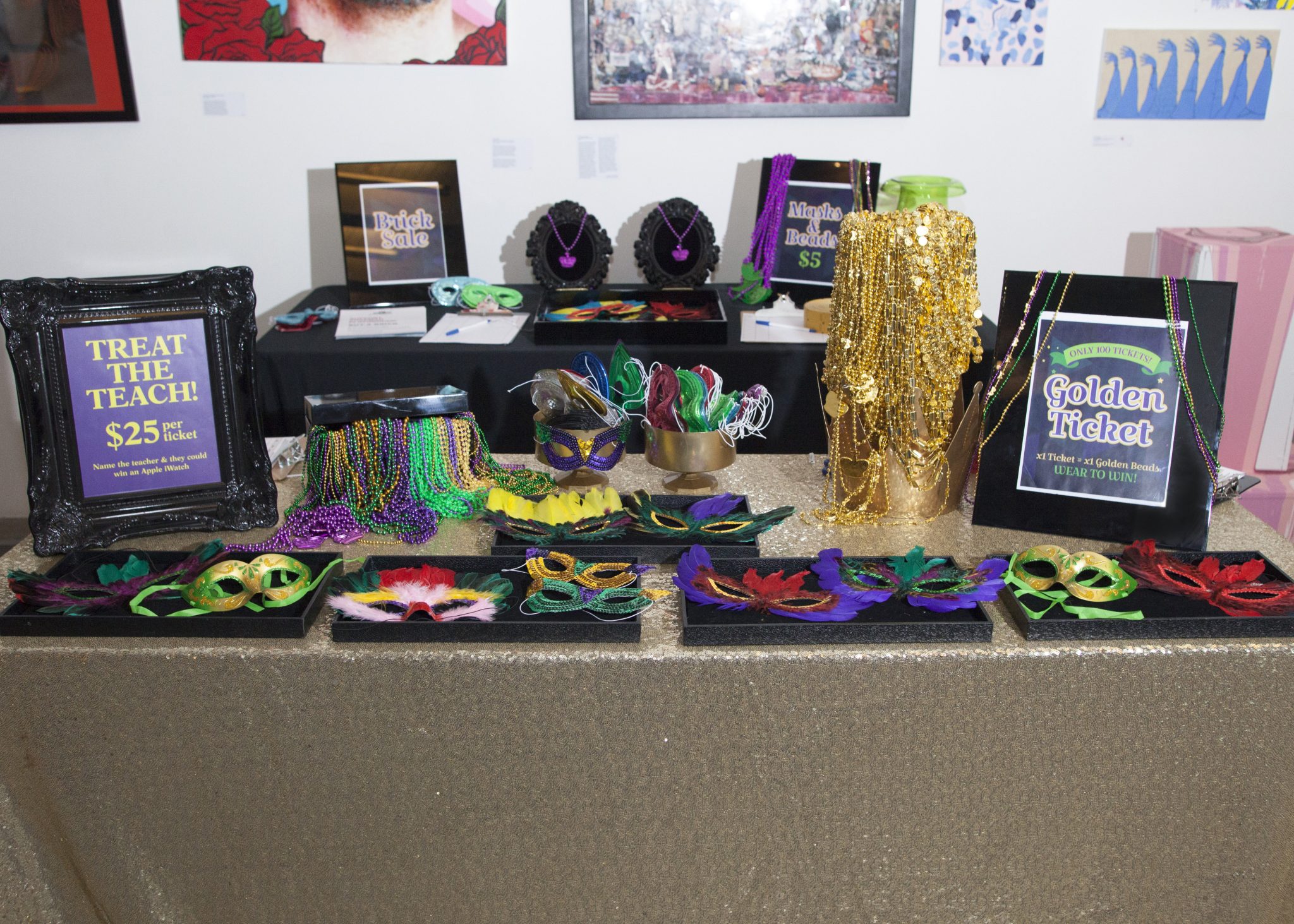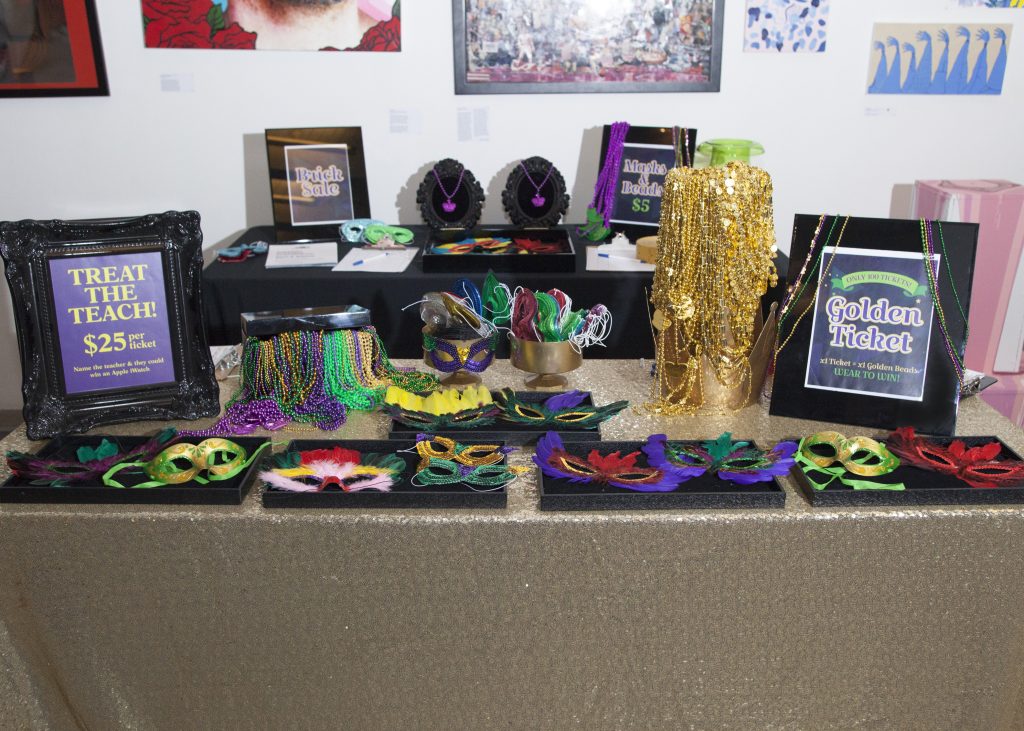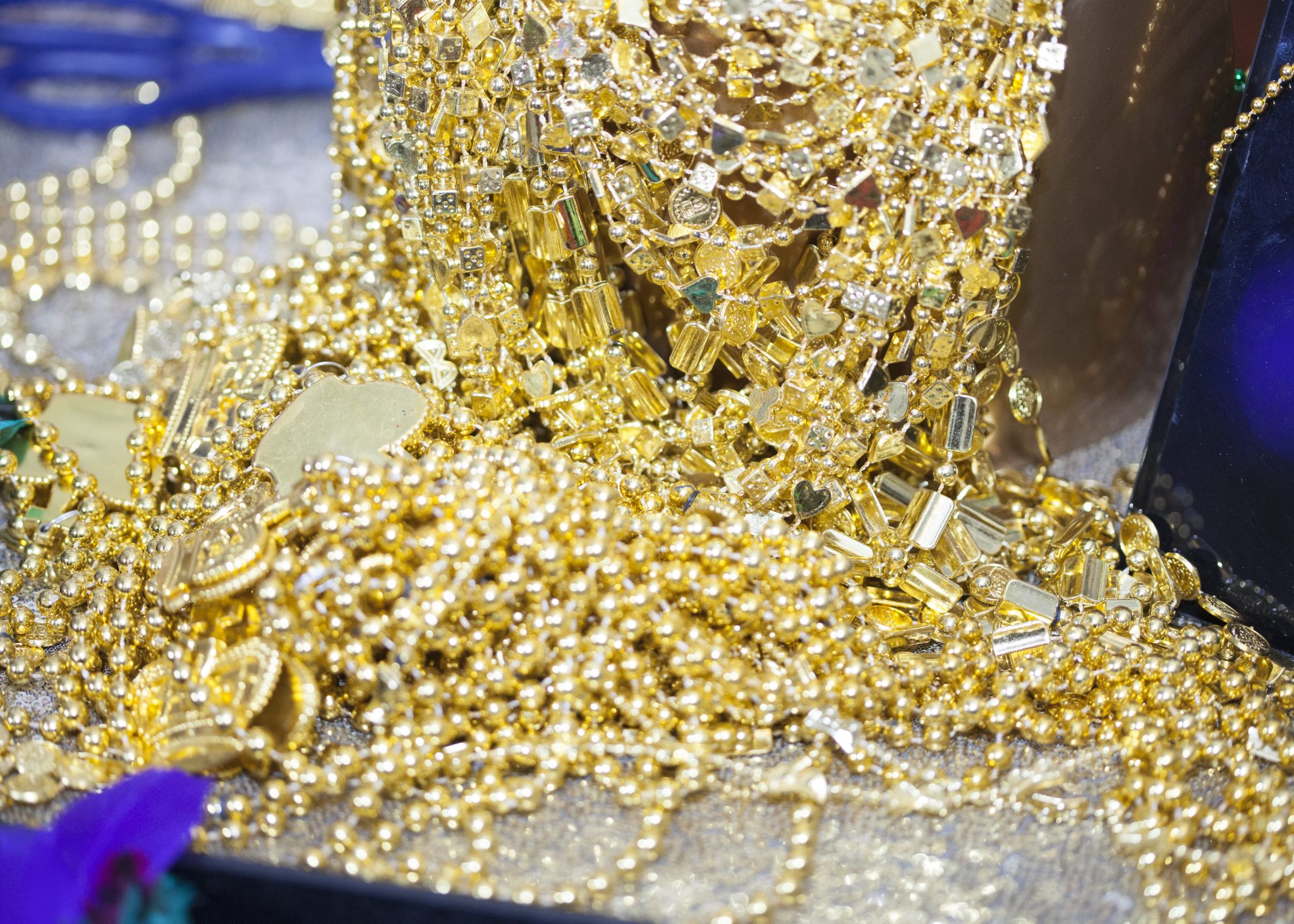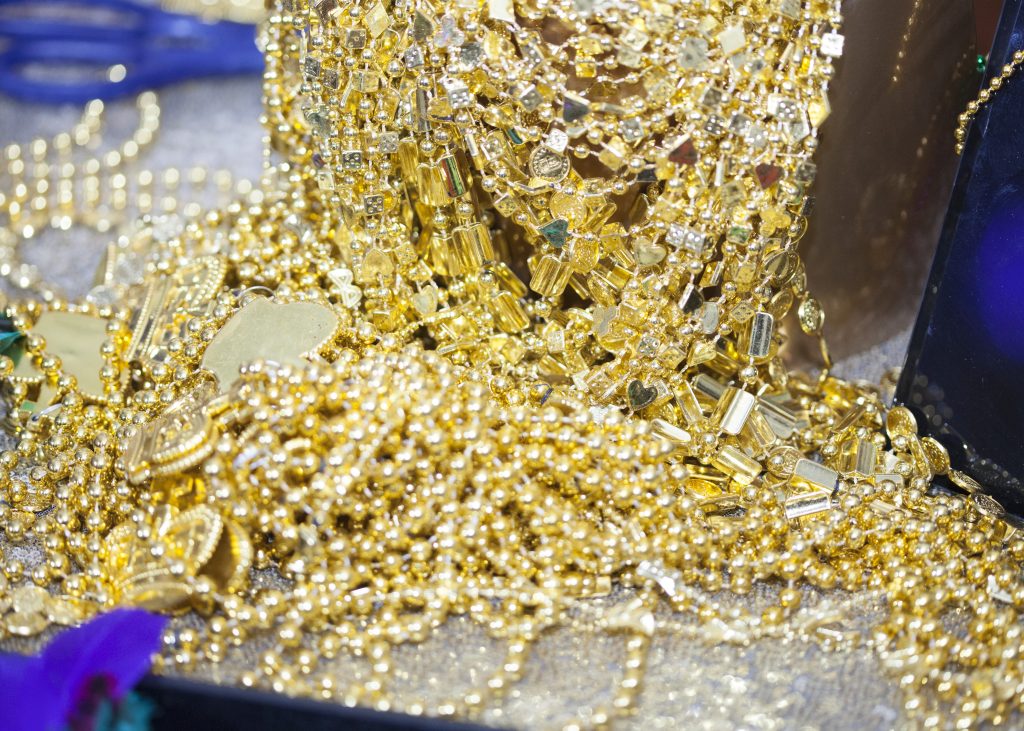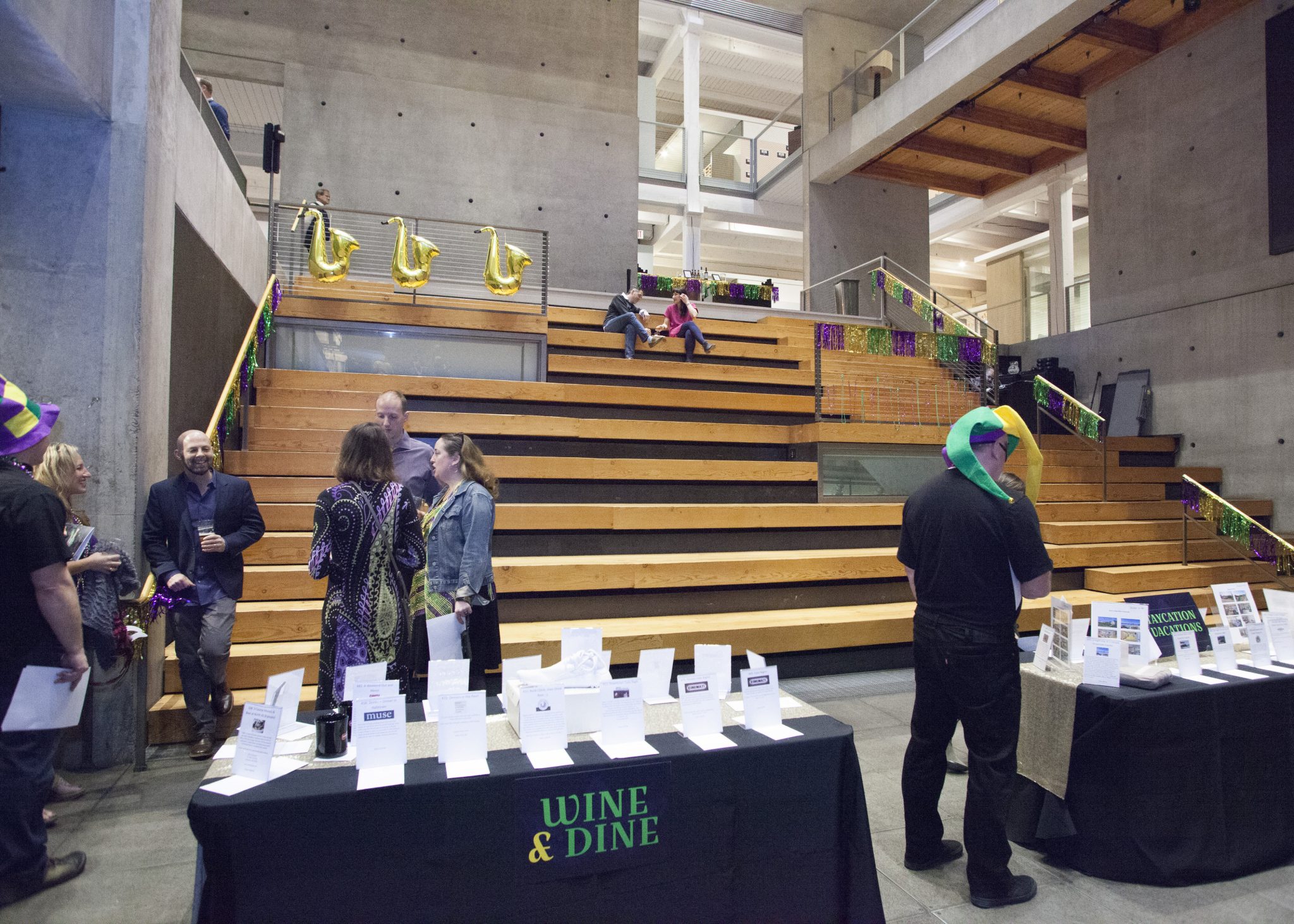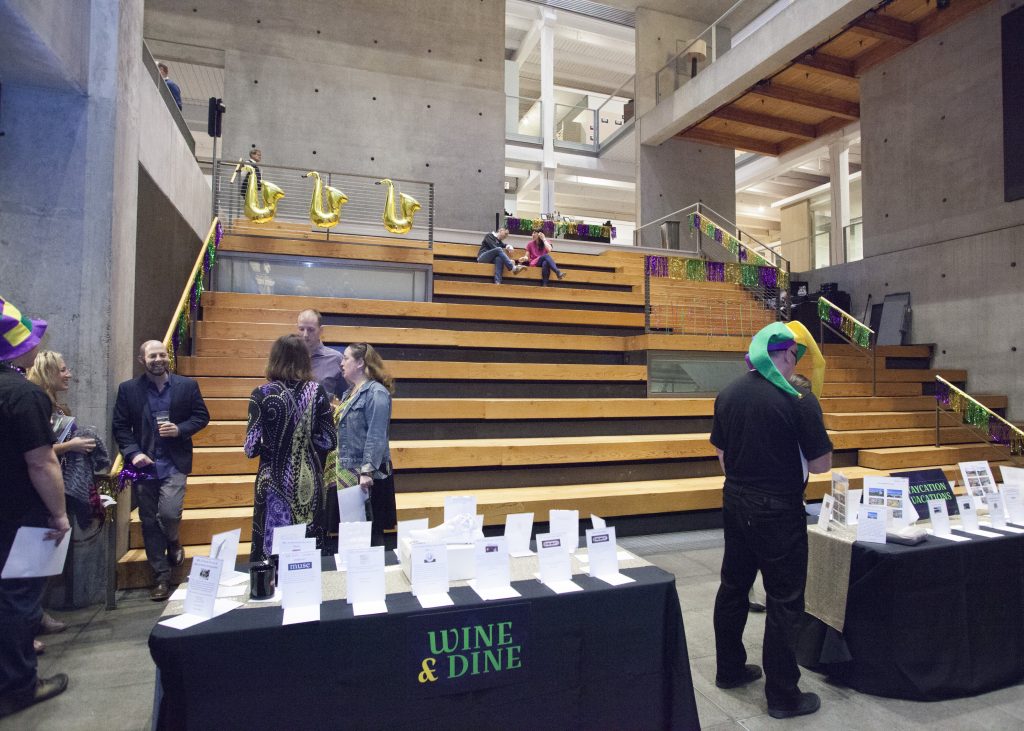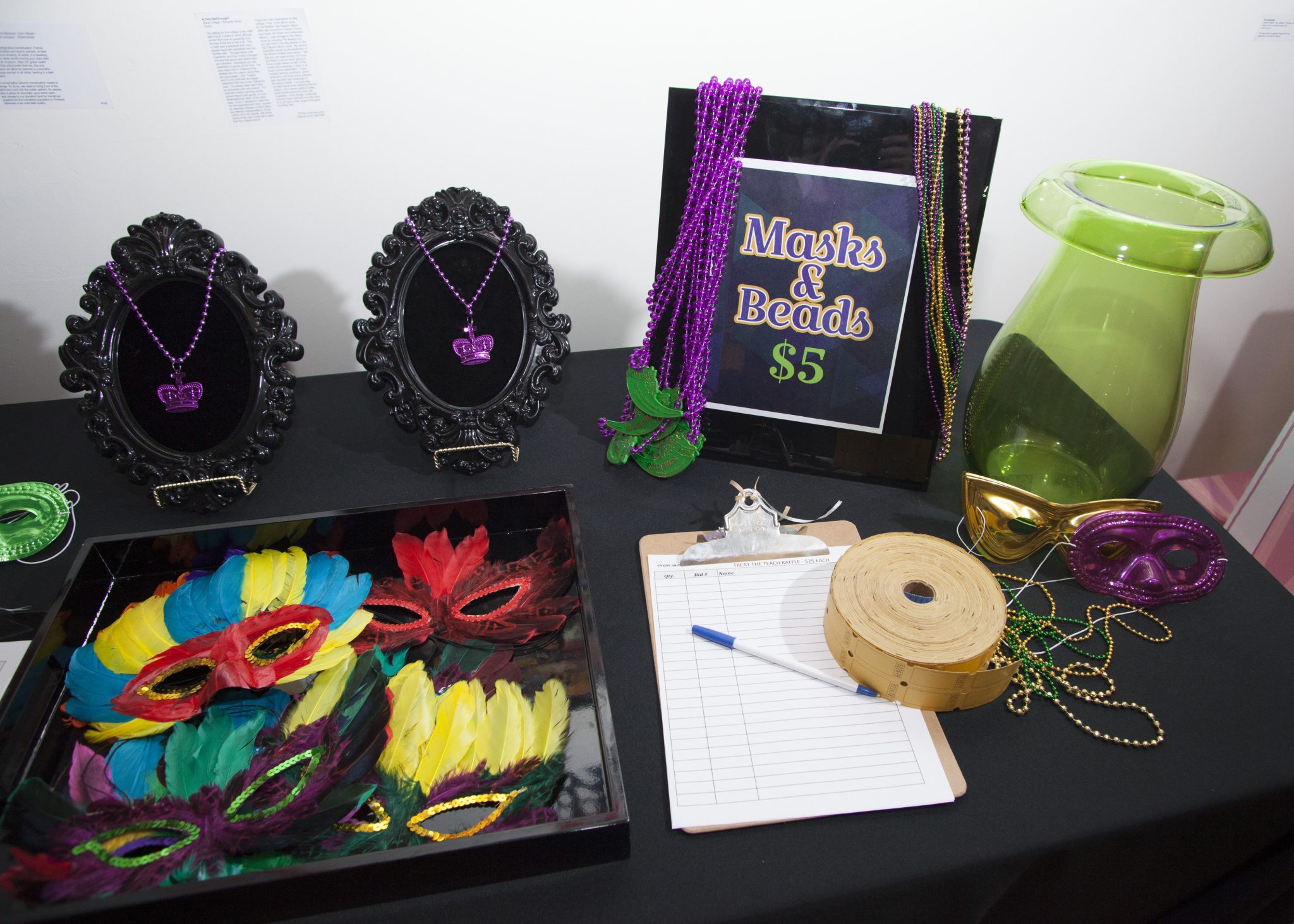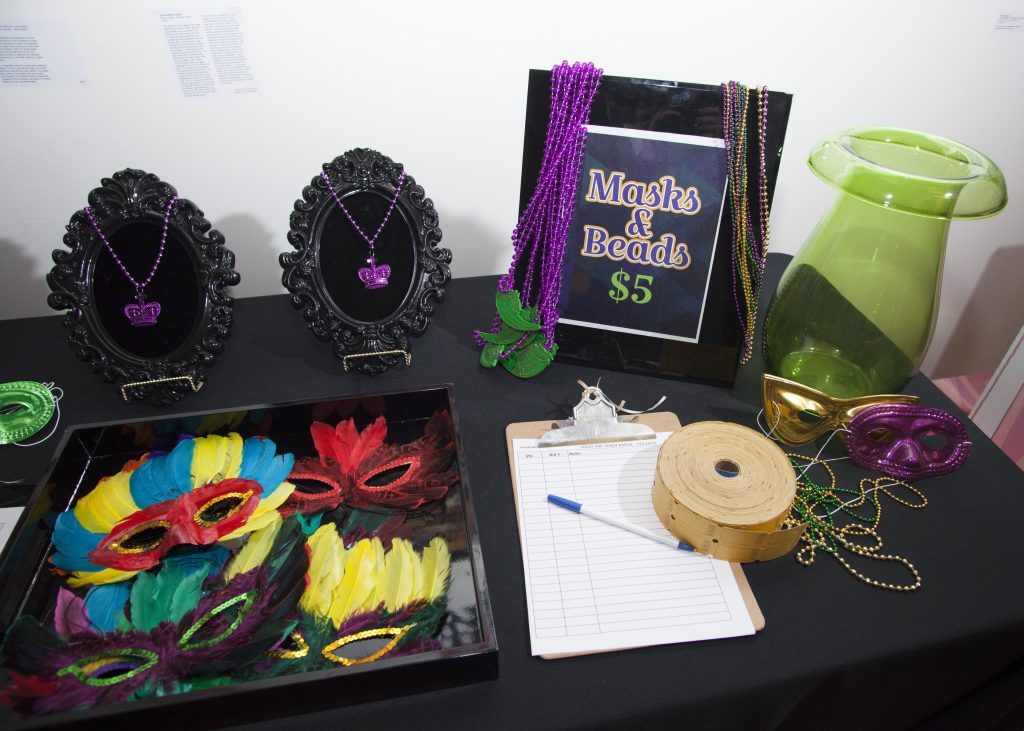 Fat Tuesday Food and Drink
It wouldn't be a Mardi Gras party without there being lots of food. After all, "Mardis Gras" does translate to Fat Tuesday. It's traditionally the last day celebrators would eat meat before Lent.  Each guest collected their food coin as soon as they arrived.  Each coin gave them a meal at a different food cart.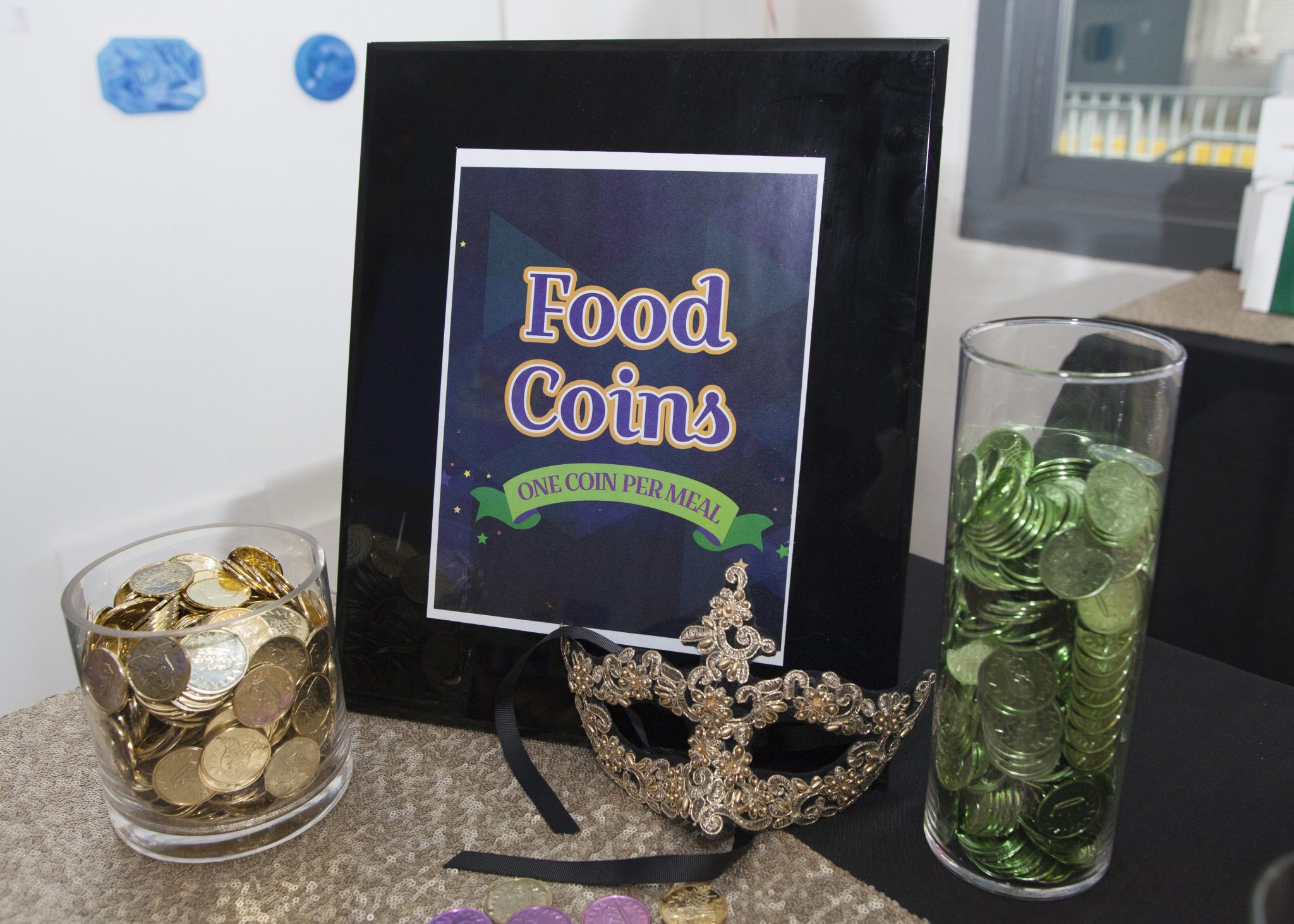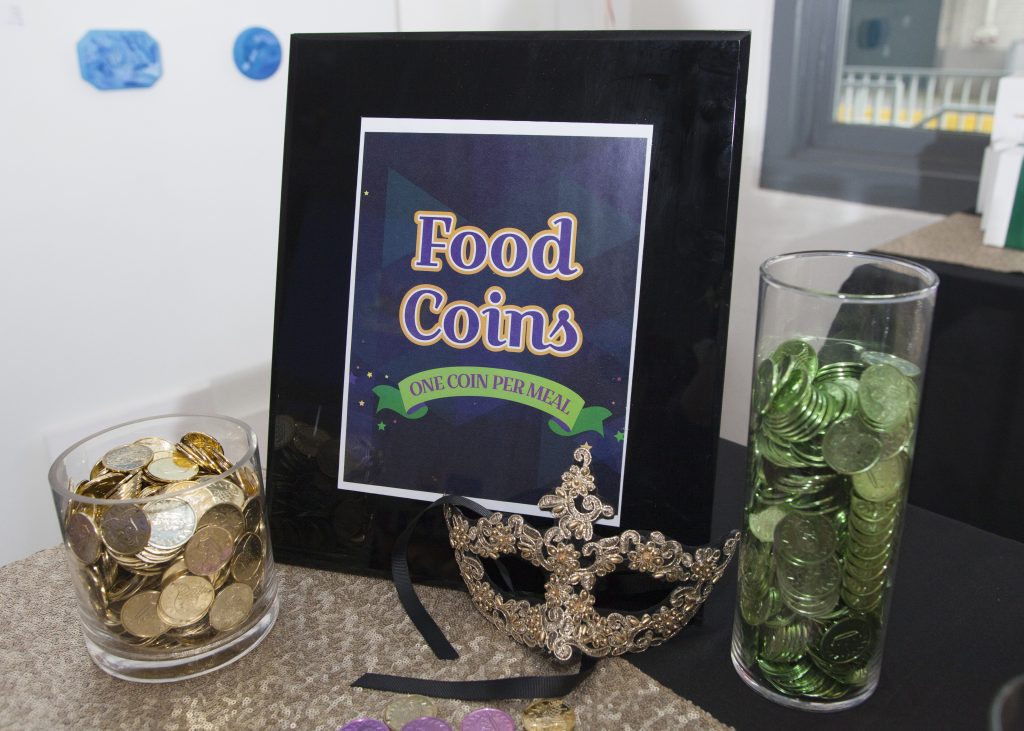 Because I wanted our celebrators to have places to put their plates and drinks, I set up cocktail tables with gold sequin table covers. Each table had a gold votive candle and a small purple floral arrangement, embellished with Mardi Gras masks and feathers. Next, I placed royal purple napkins on each table that were personalized with gold writing and a Mardi Gras mask symbol.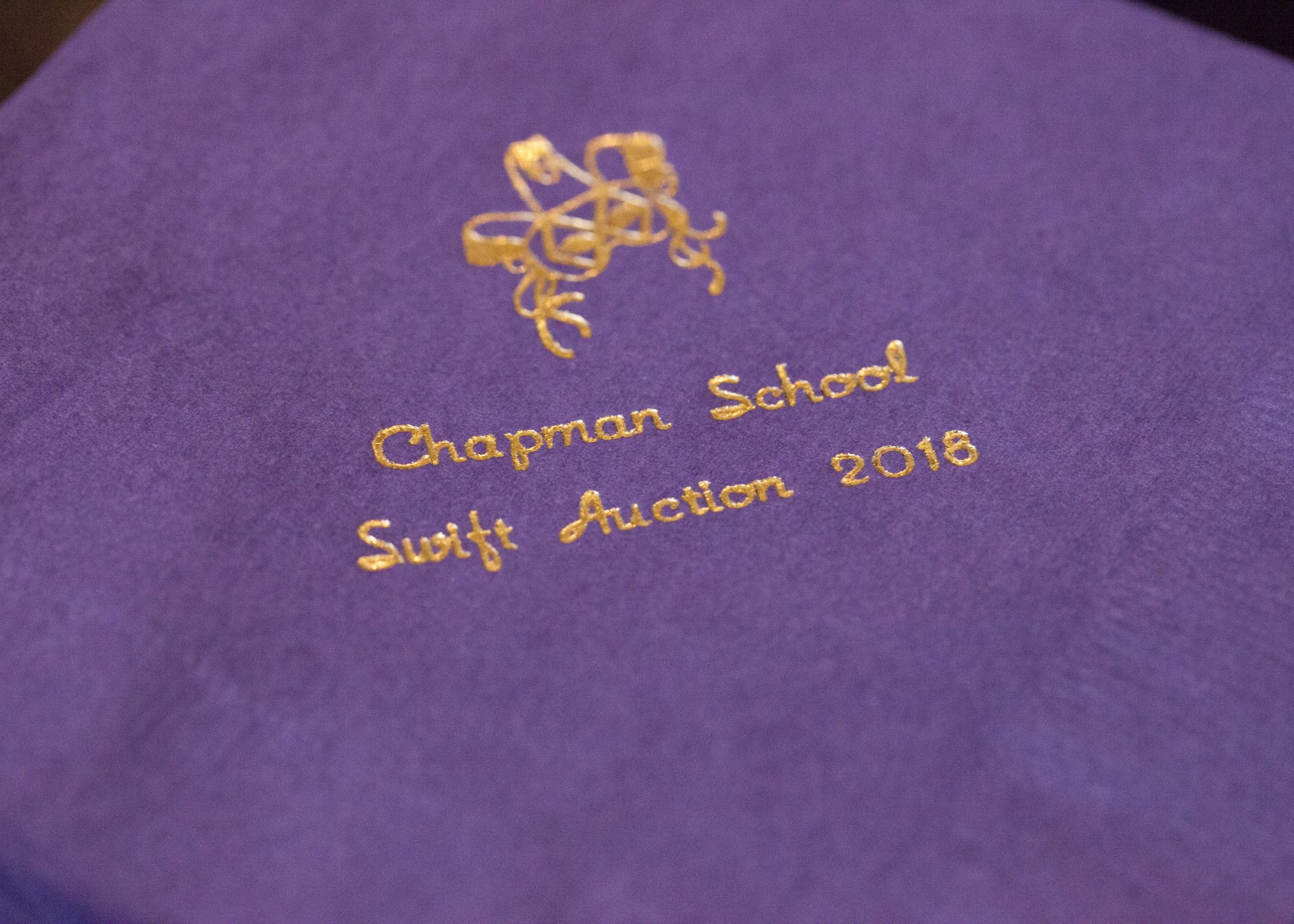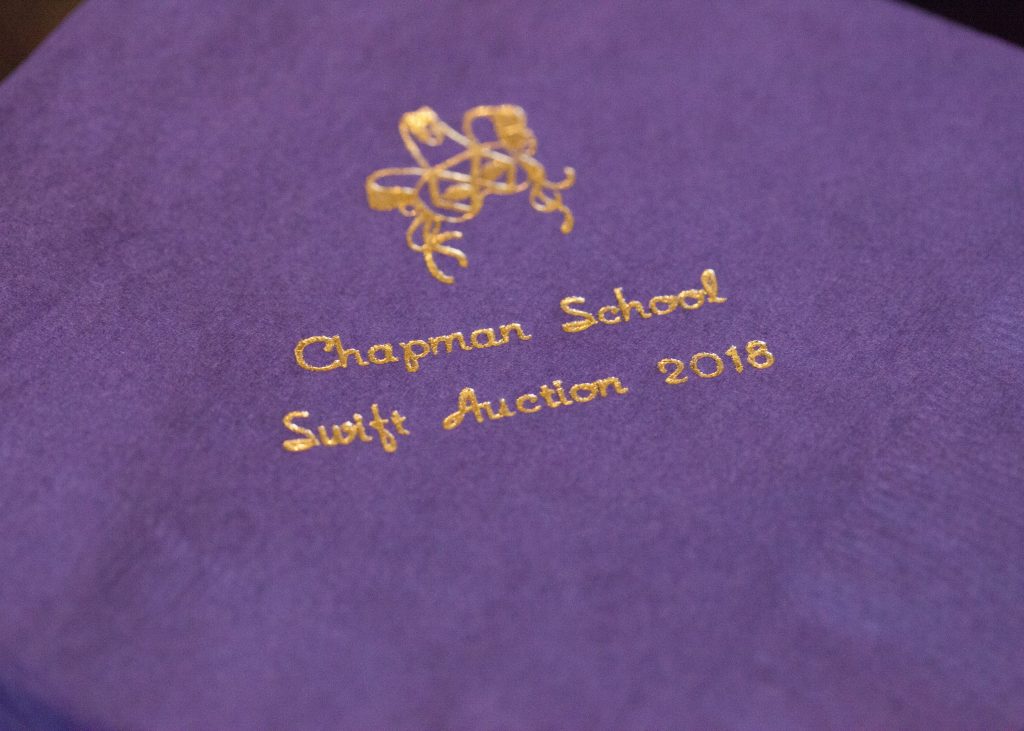 Lastly, I set up signs on each cocktail table that reminded guests of the impact of their funding….and more ducks!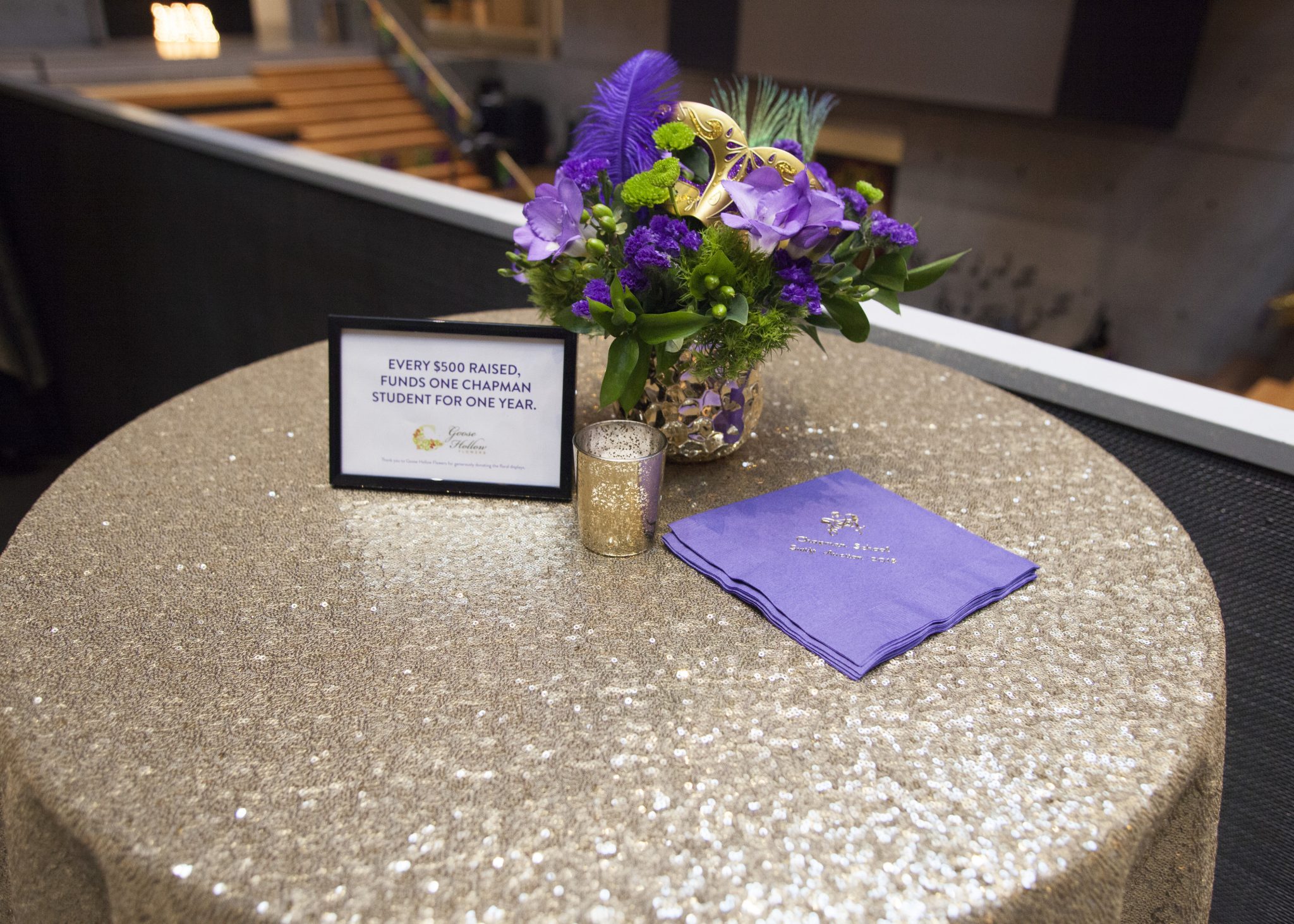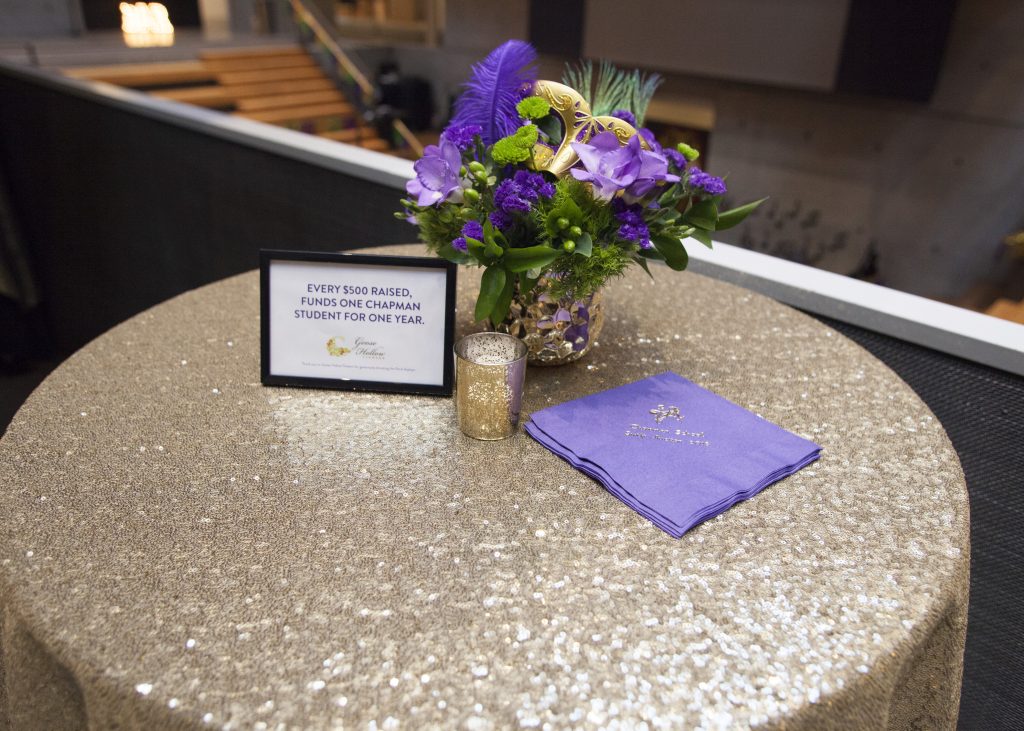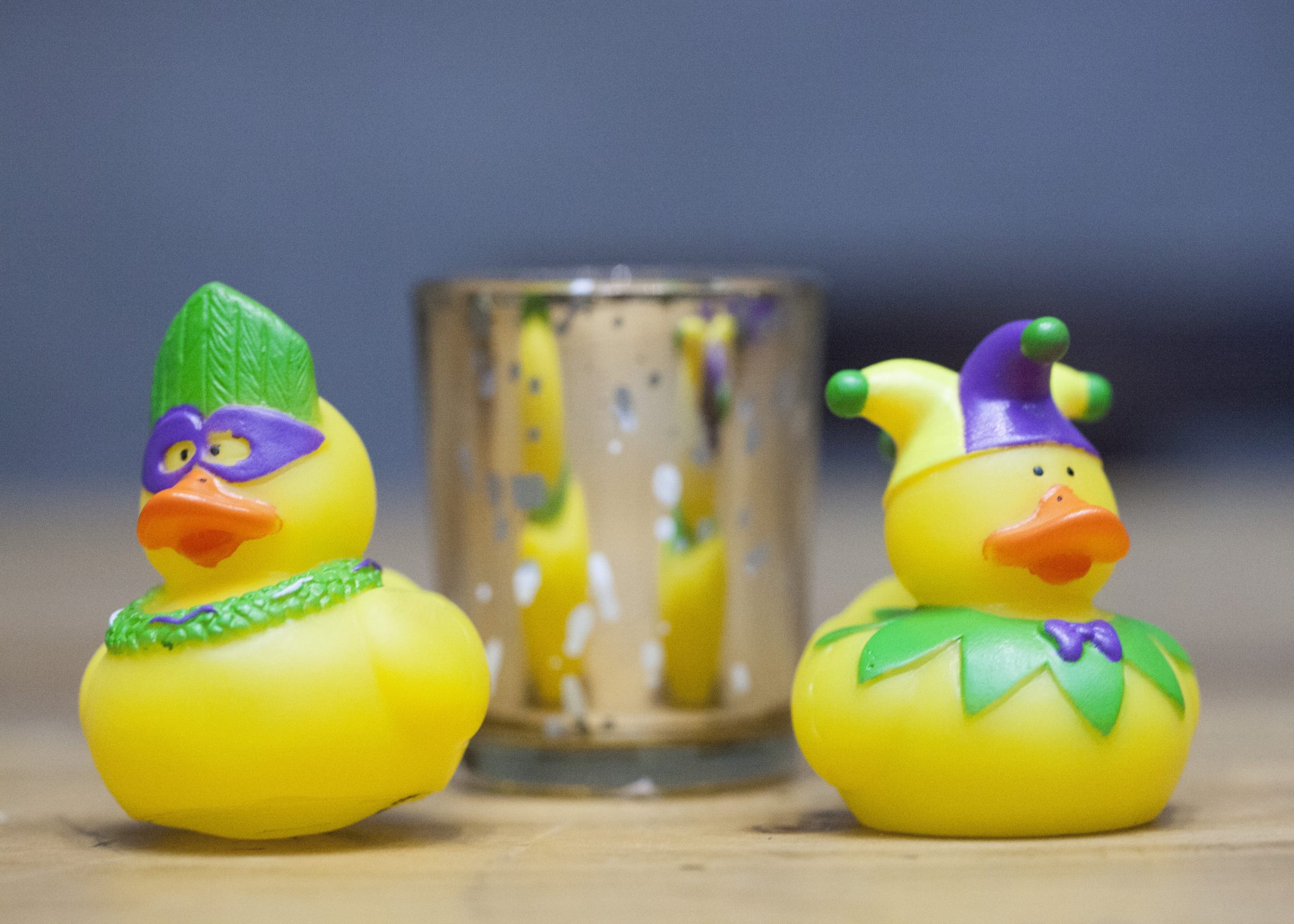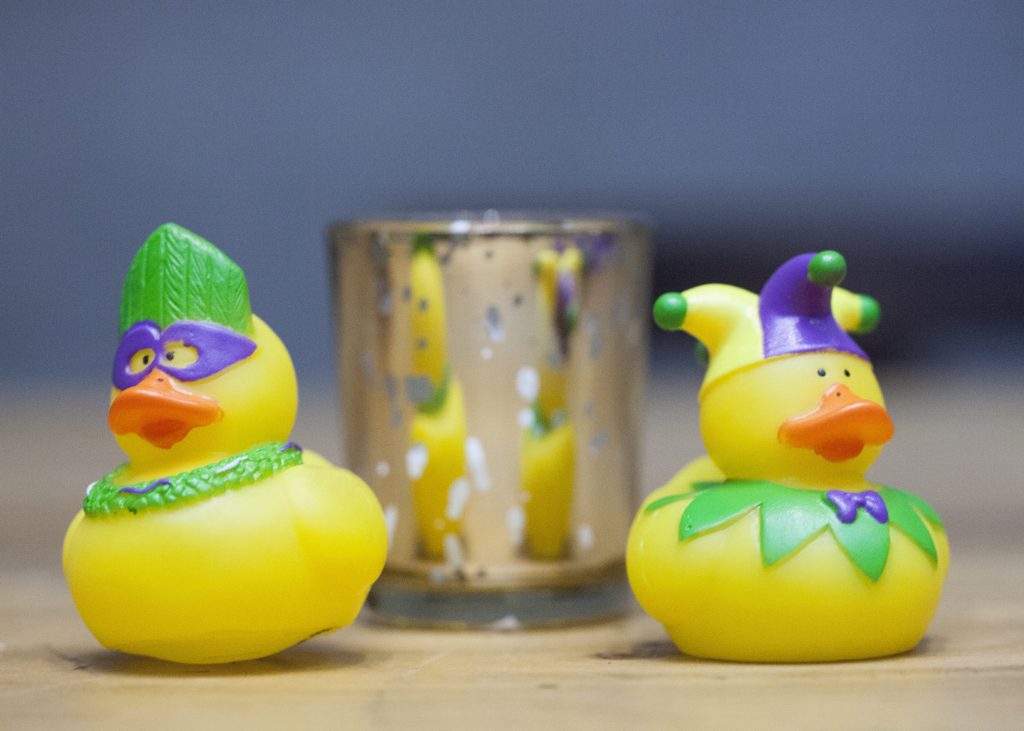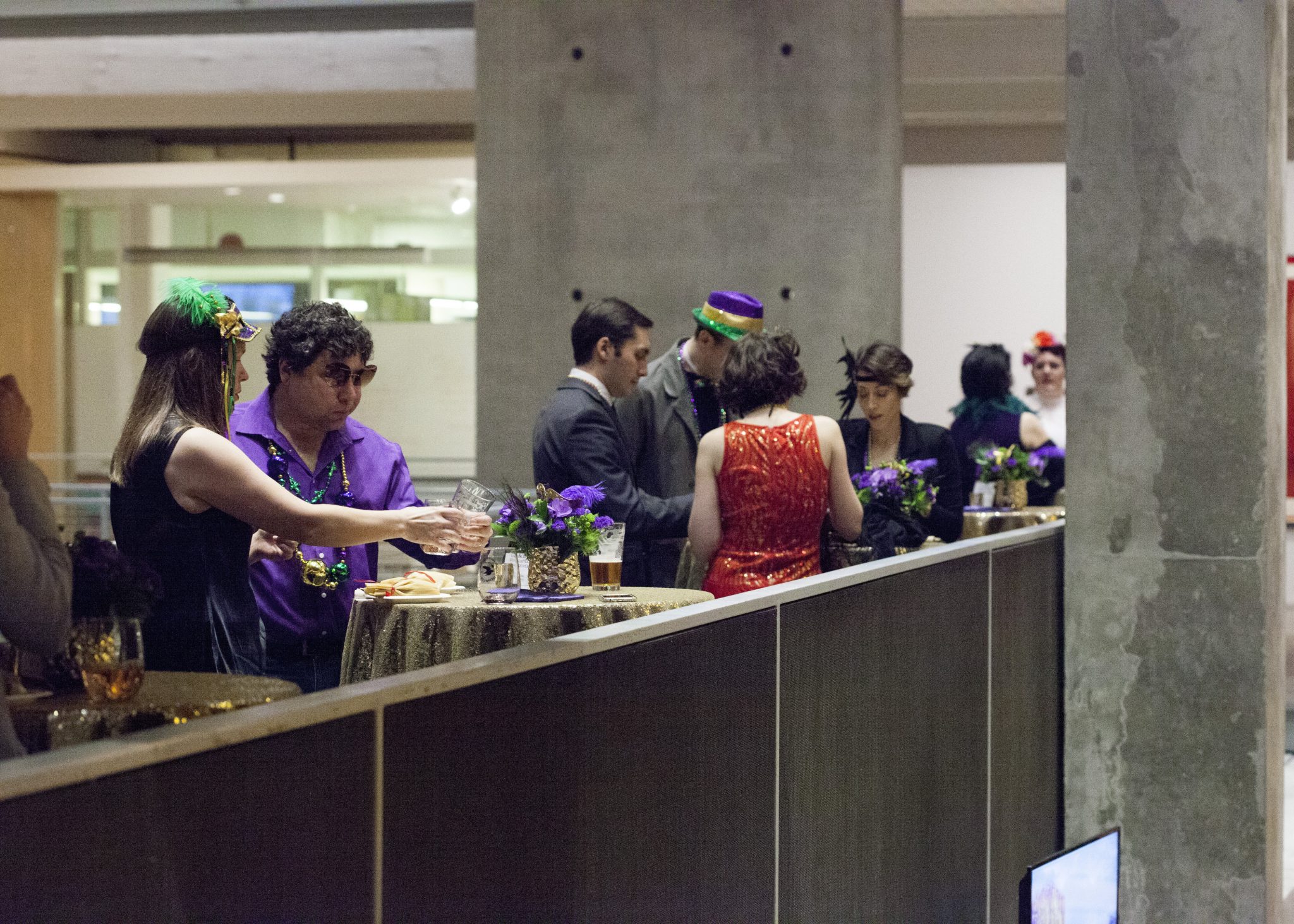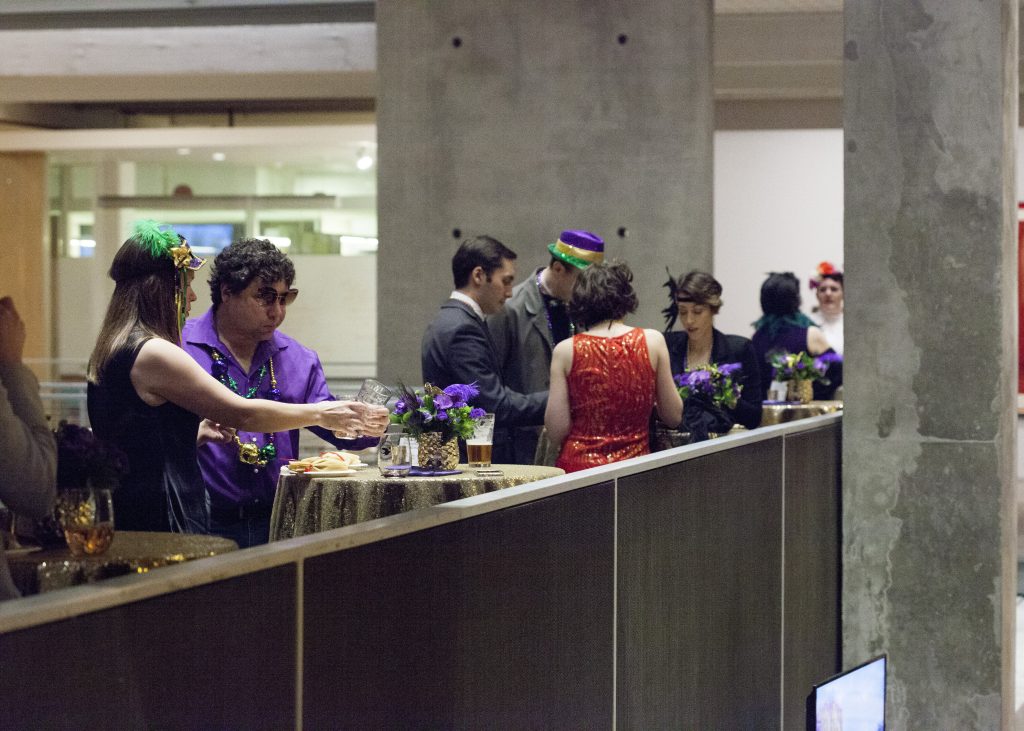 TIP: Keep guests informed, let them know what to expect during the night.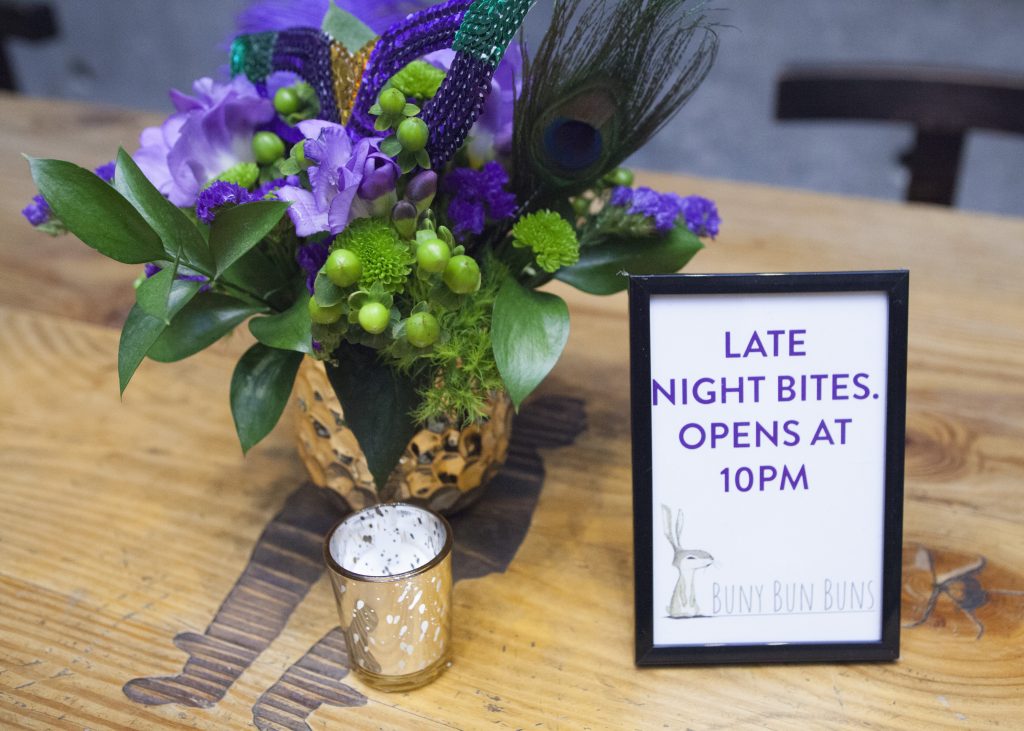 We sold single serve drinks on the night as well as having a themed (and branded) bottomless glass available. Each guest could purchase a glass that gave them unlimited refills. This was a great money maker as we had a large amount of wine donated from local Portland wineries, plus guests absolutely loved having a souvenir glass to take home in a personalized box.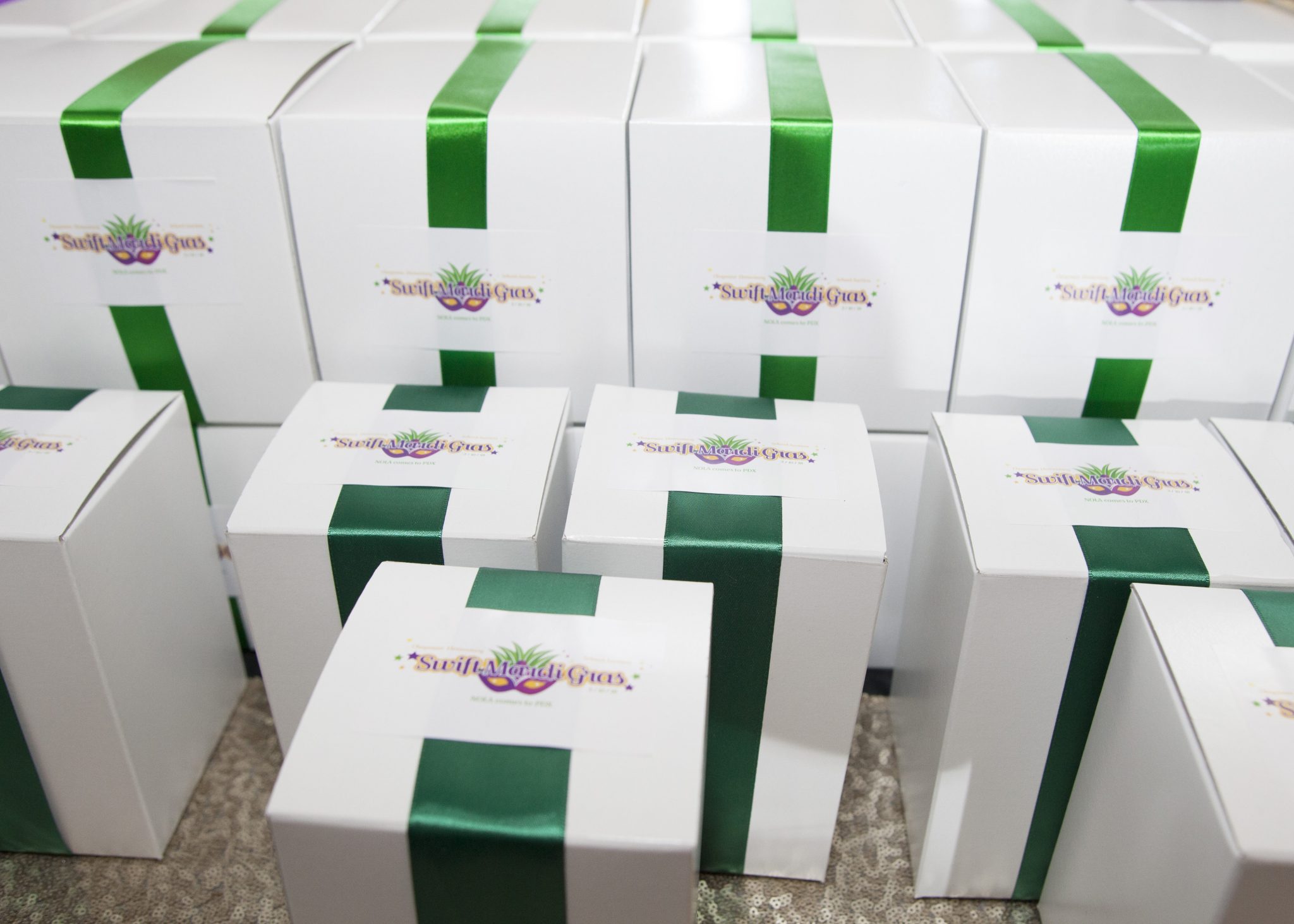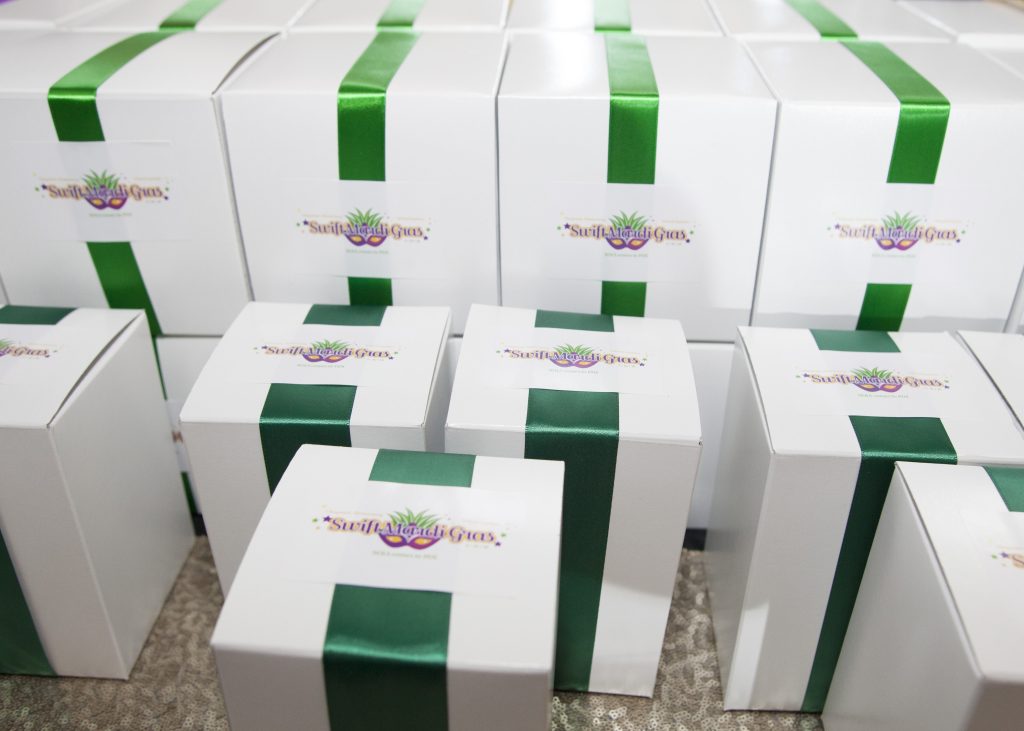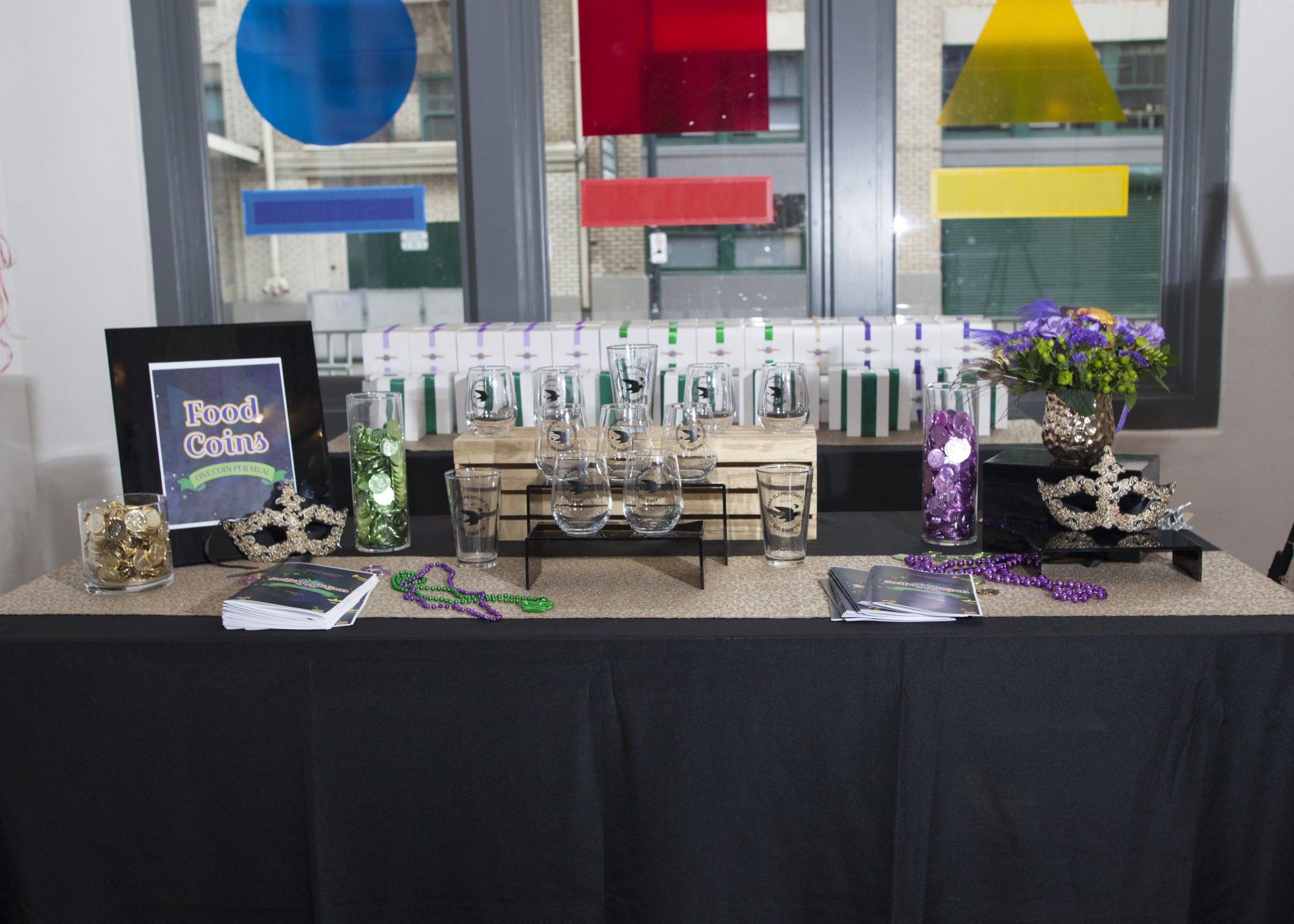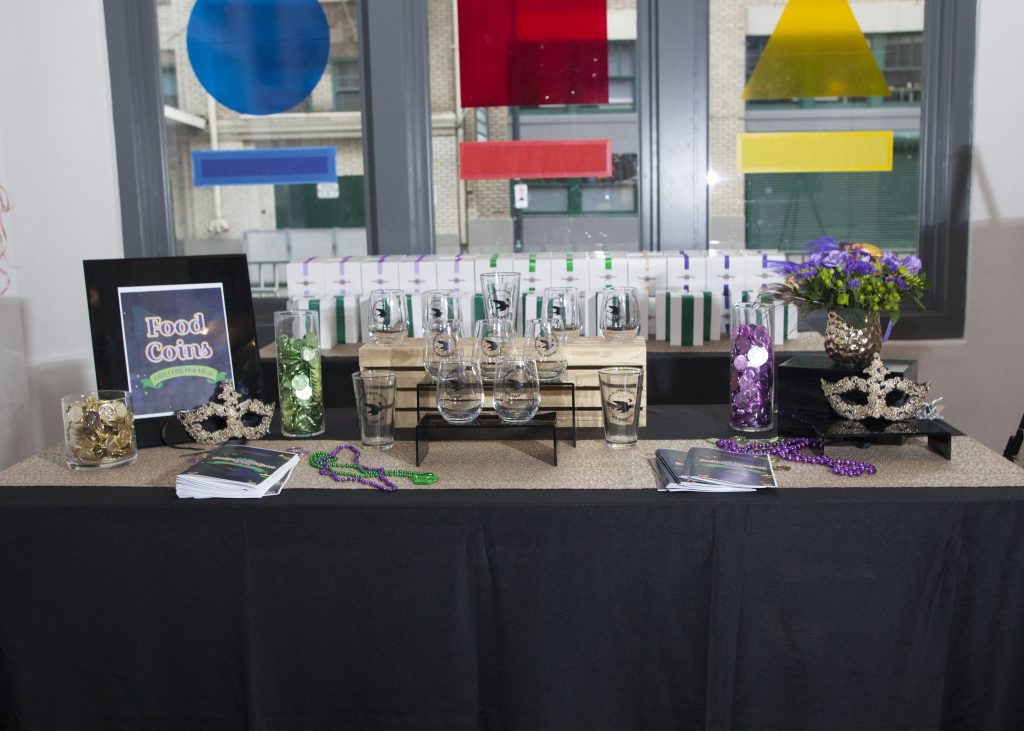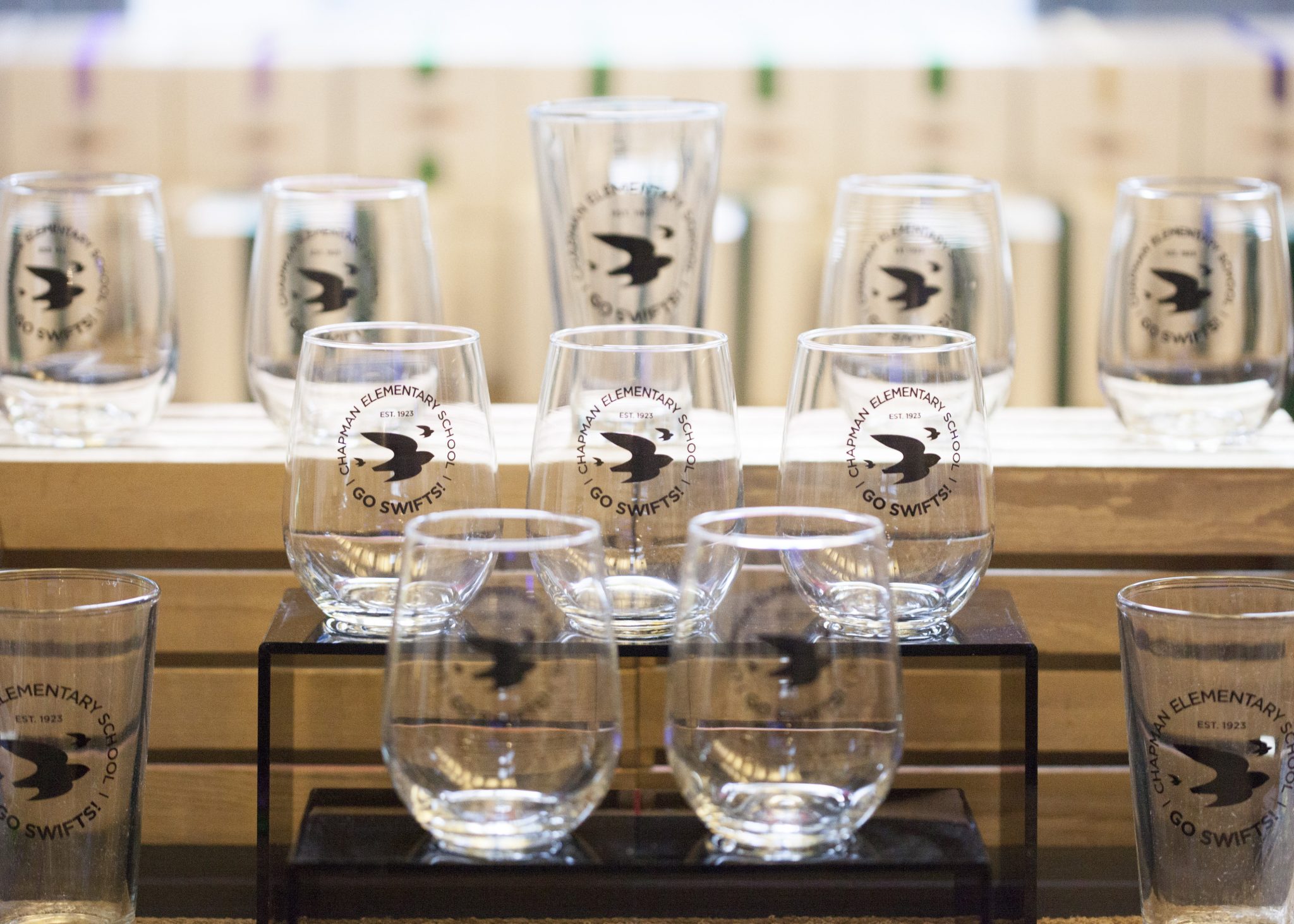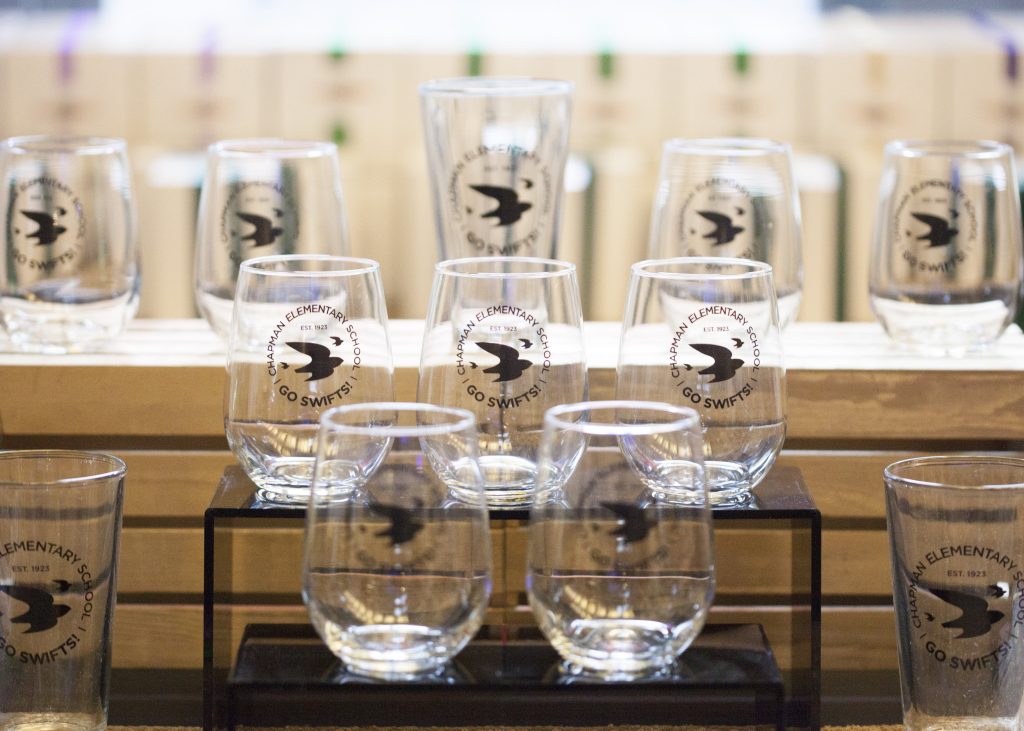 We had a couple of bars set up to keep the drinks flowing! TIP: More drinks, more bids! LOL
The bar area got a Mardi Gras makeover with more metallic fringe. Then, just so that no one missed it (it is a pretty important part of the celebration, I think…), I set out large lit-up marquee letters spelling out "BAR".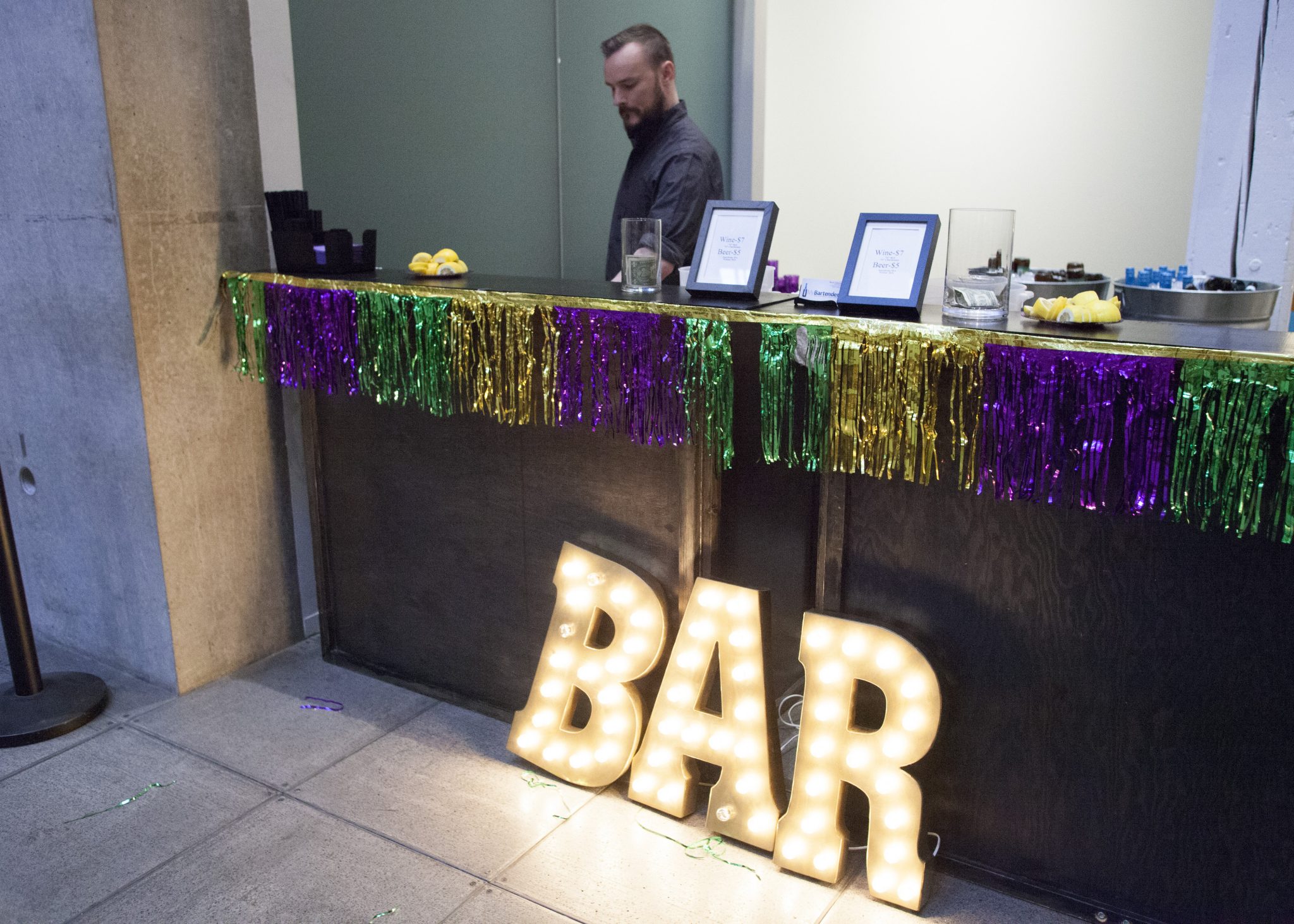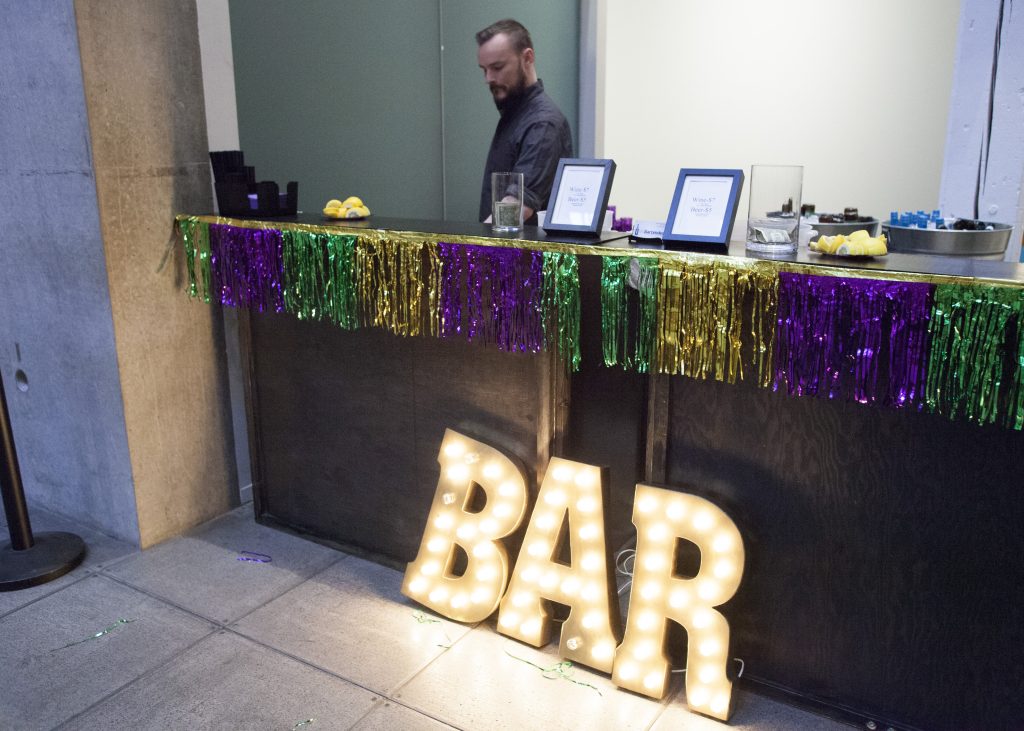 While the auction was on we didn't want guests to leave for the bar too often.  To keep guests seated and drinks flowing I created a Bar Mardi Gras float! 2 bar tenders walked around the auction area with the bar float and passed drinks to guests as they bid for items.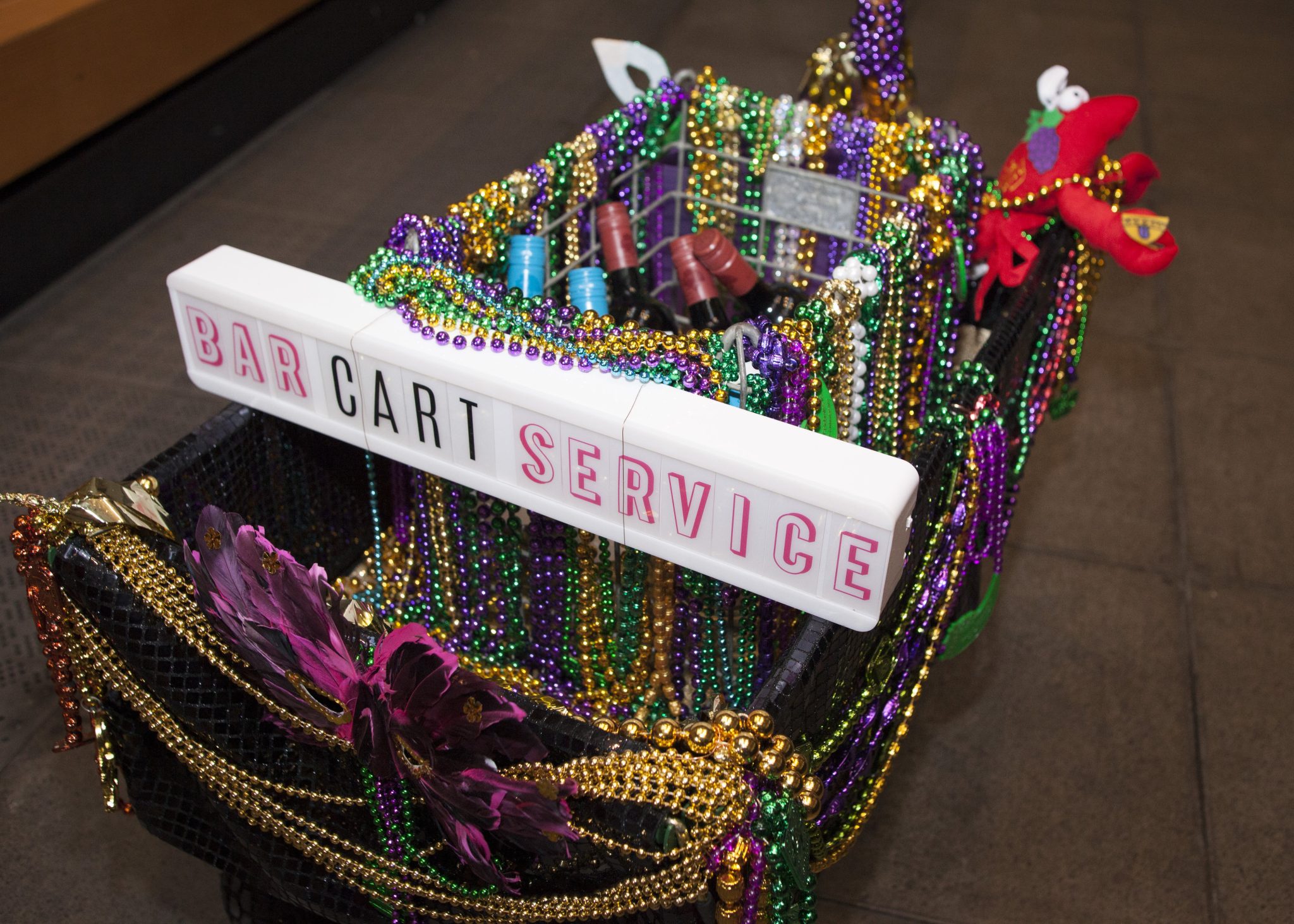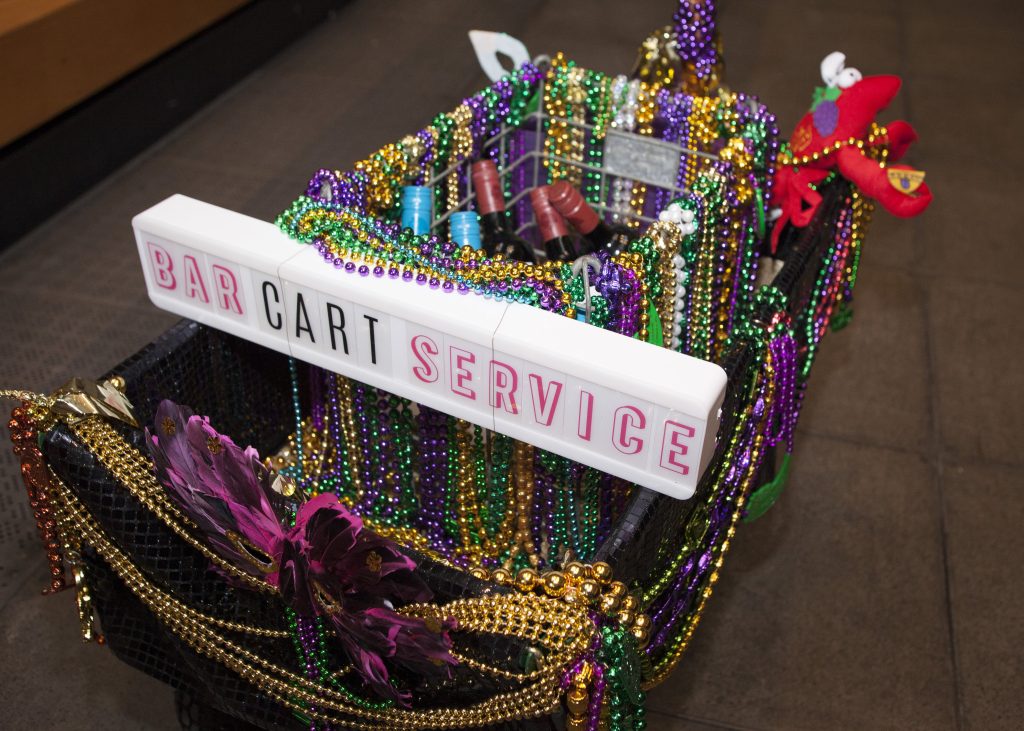 I used a steel garden cart (utility cart) as the base.  I covered the base with glam black sequined fabric and then tied multiple beads to the frame in addition to masks and even a stuffed lobster! In the middle of the float I added a crate that held the bottles securely in place and again decorated it with beads.  The final touch a light box! I attached this to the front with floral wire, the box made it super easy for the guests to spot.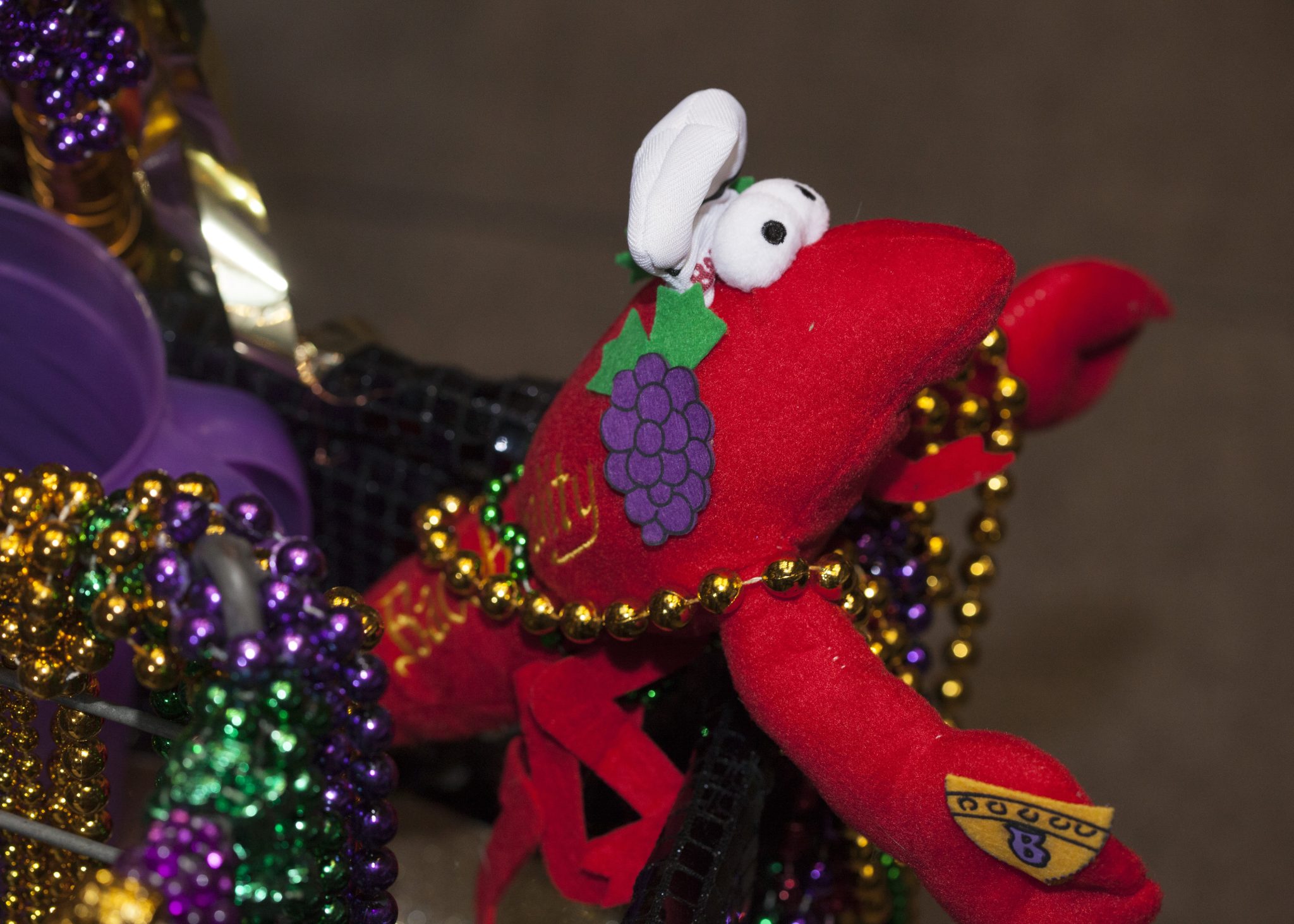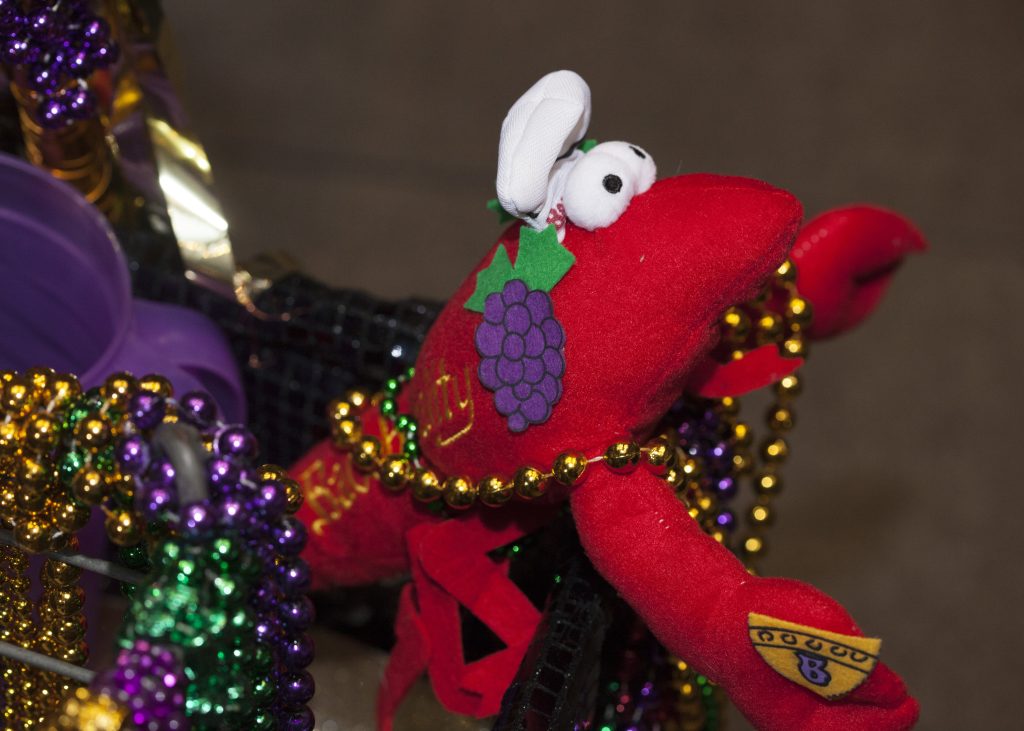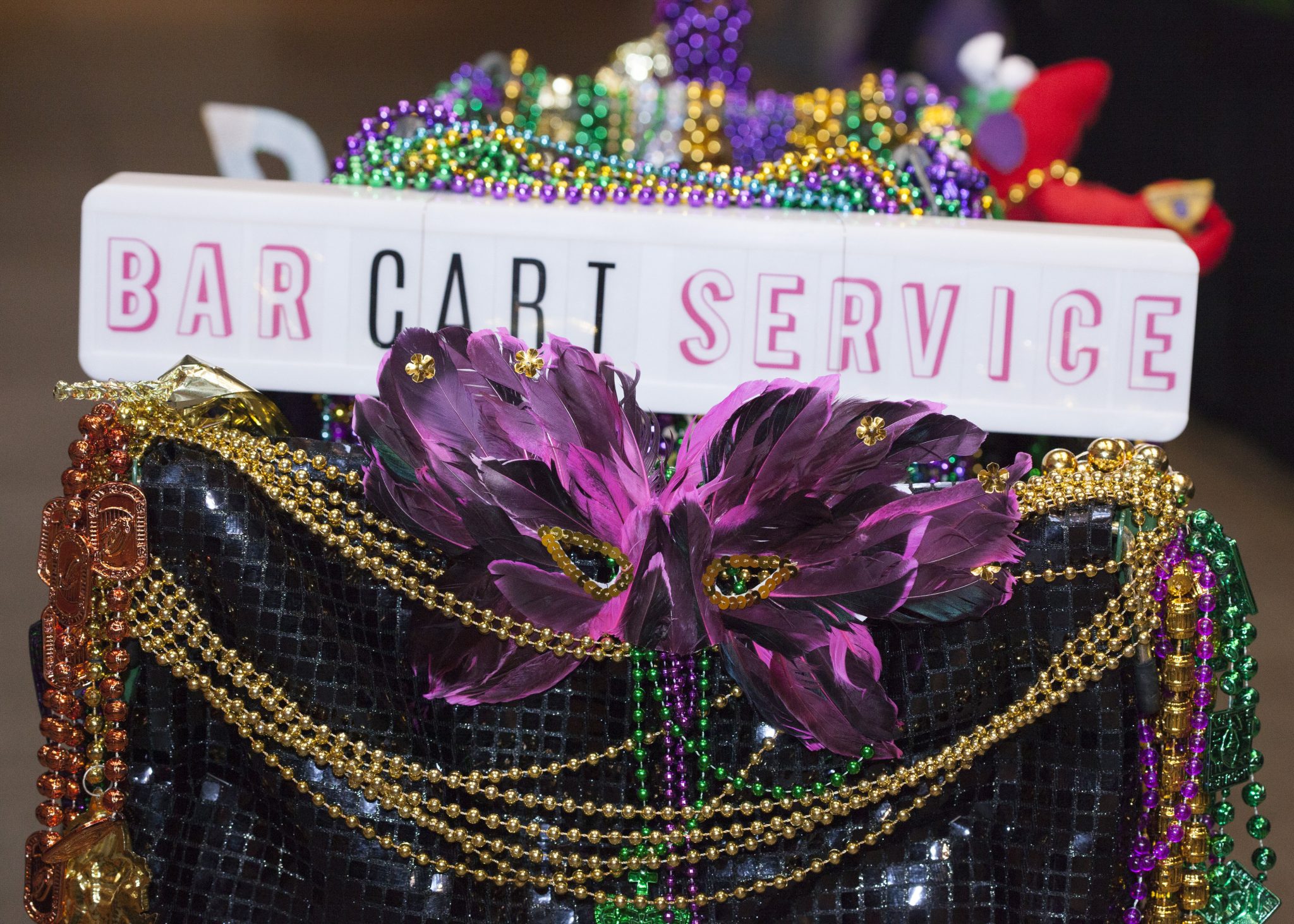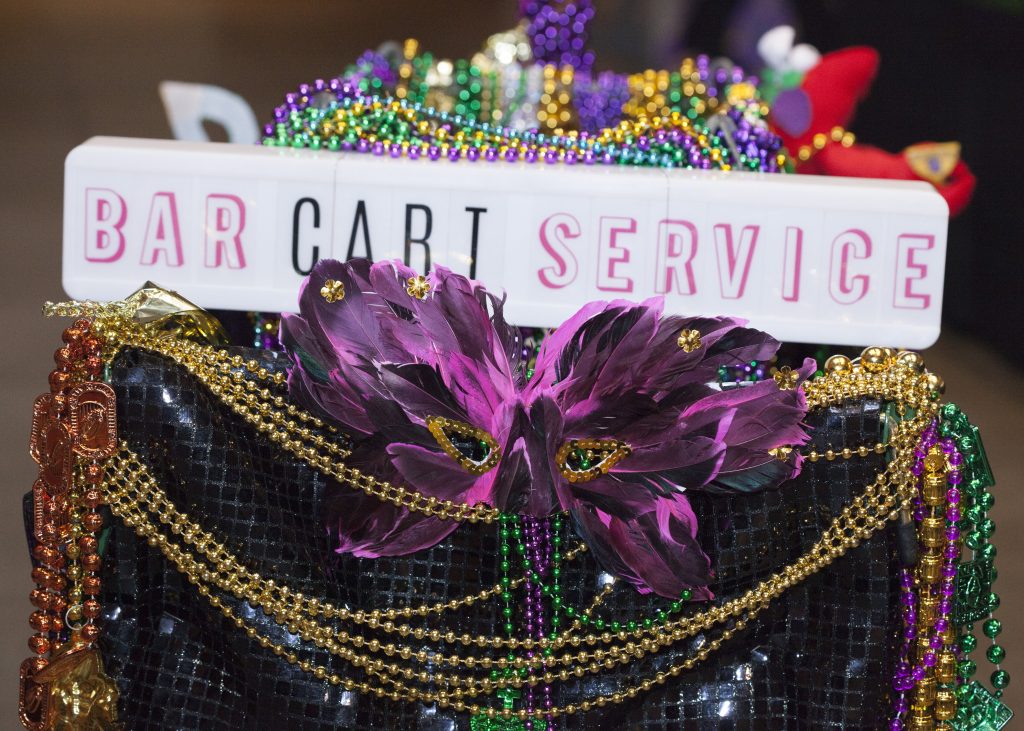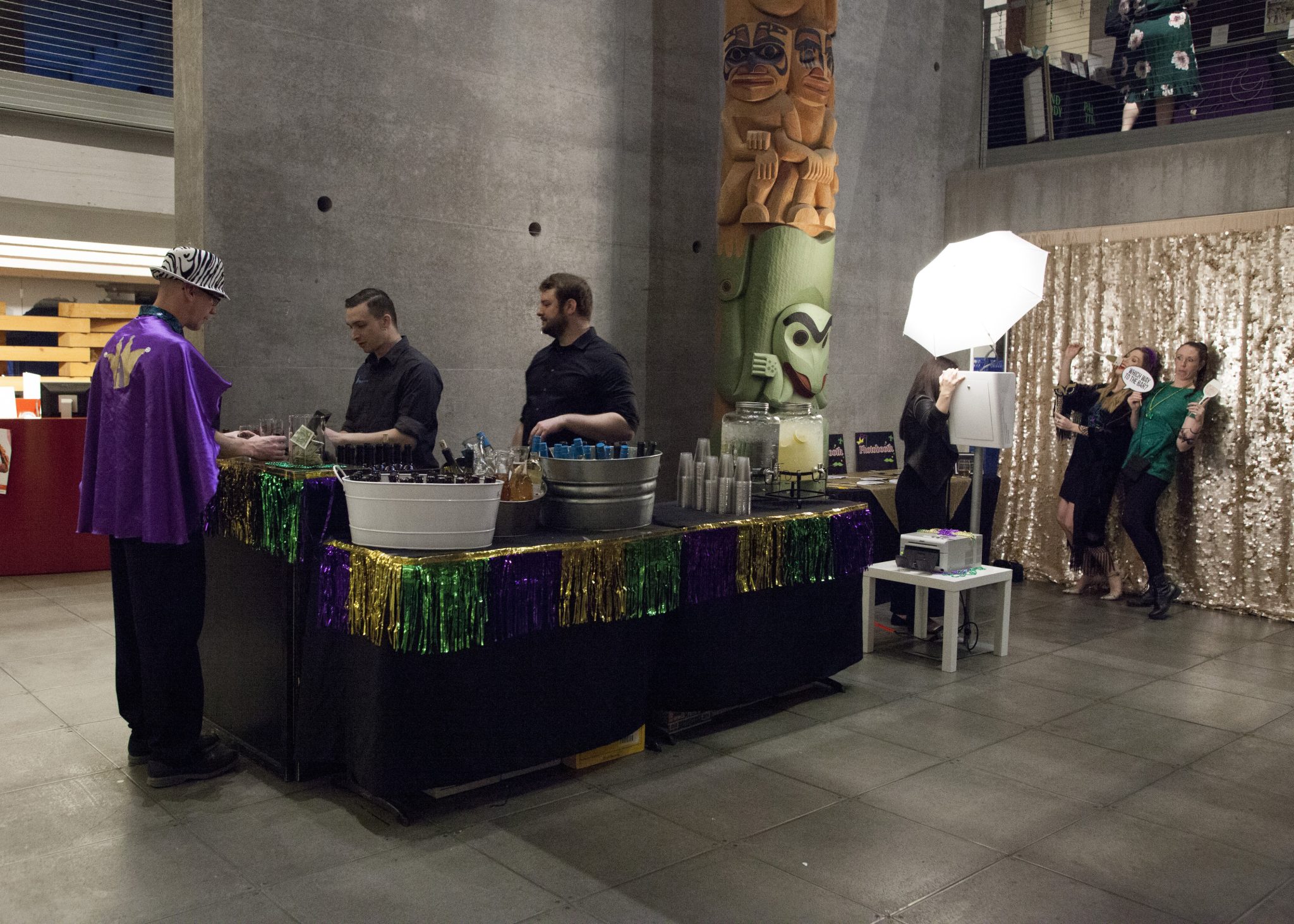 Finally, to capture all of the fun memories of the evening, we set up a photo booth. The booth, courtesy of Smirk Photo Booth here in Portland was fabulous! A lush gold sequin backdrop was perfect for the glitzy theme, and plenty of props made for the perfect photo op.  I love how each guest got 2 photo strips to take home and the school also received a great collection of photos to keep.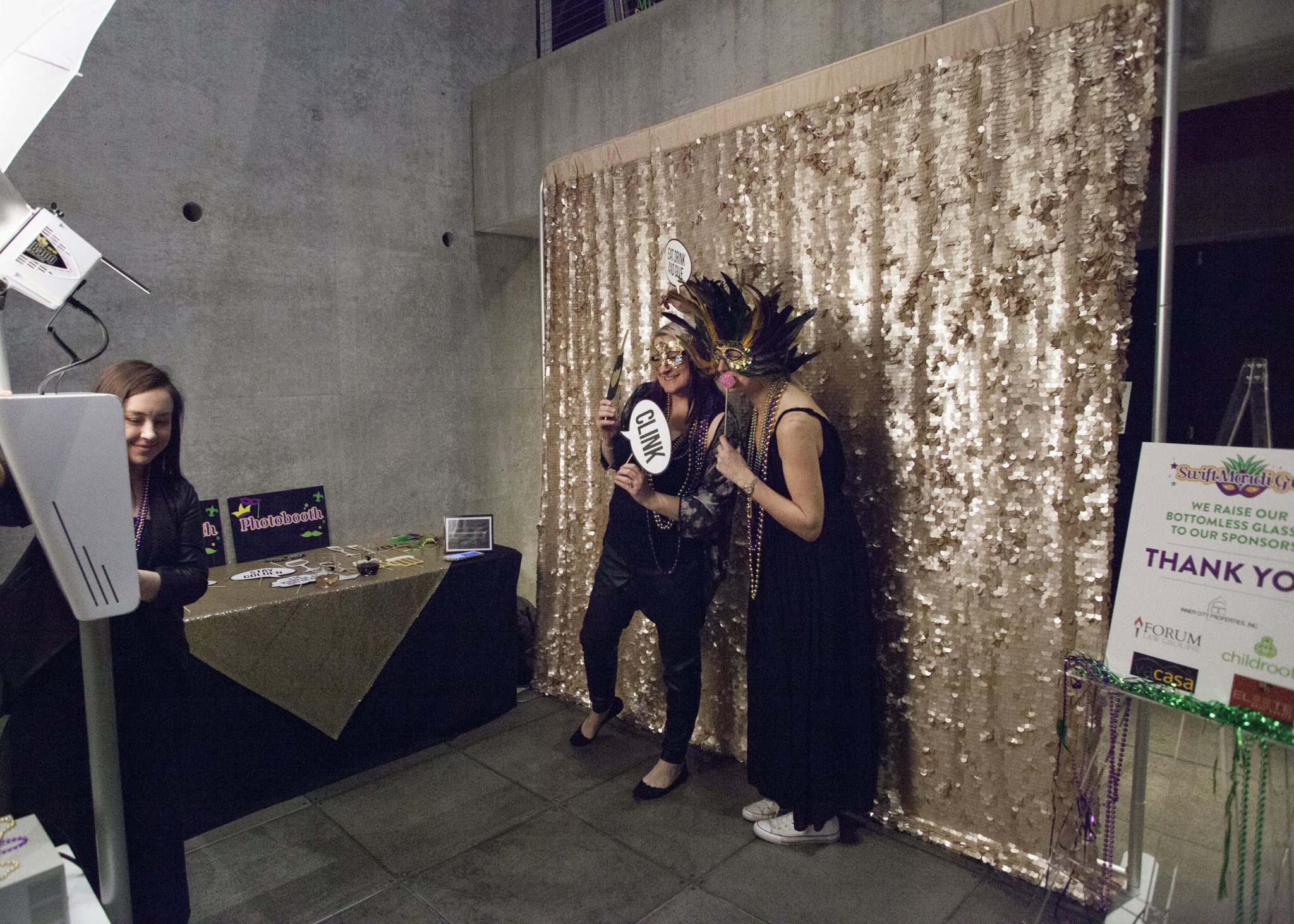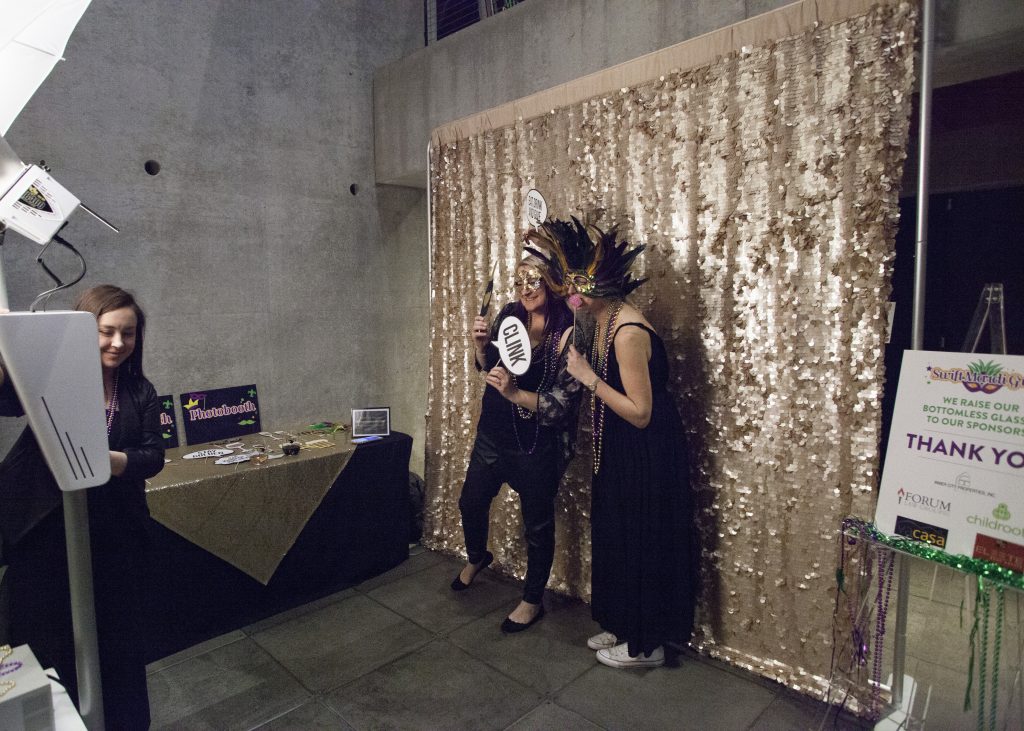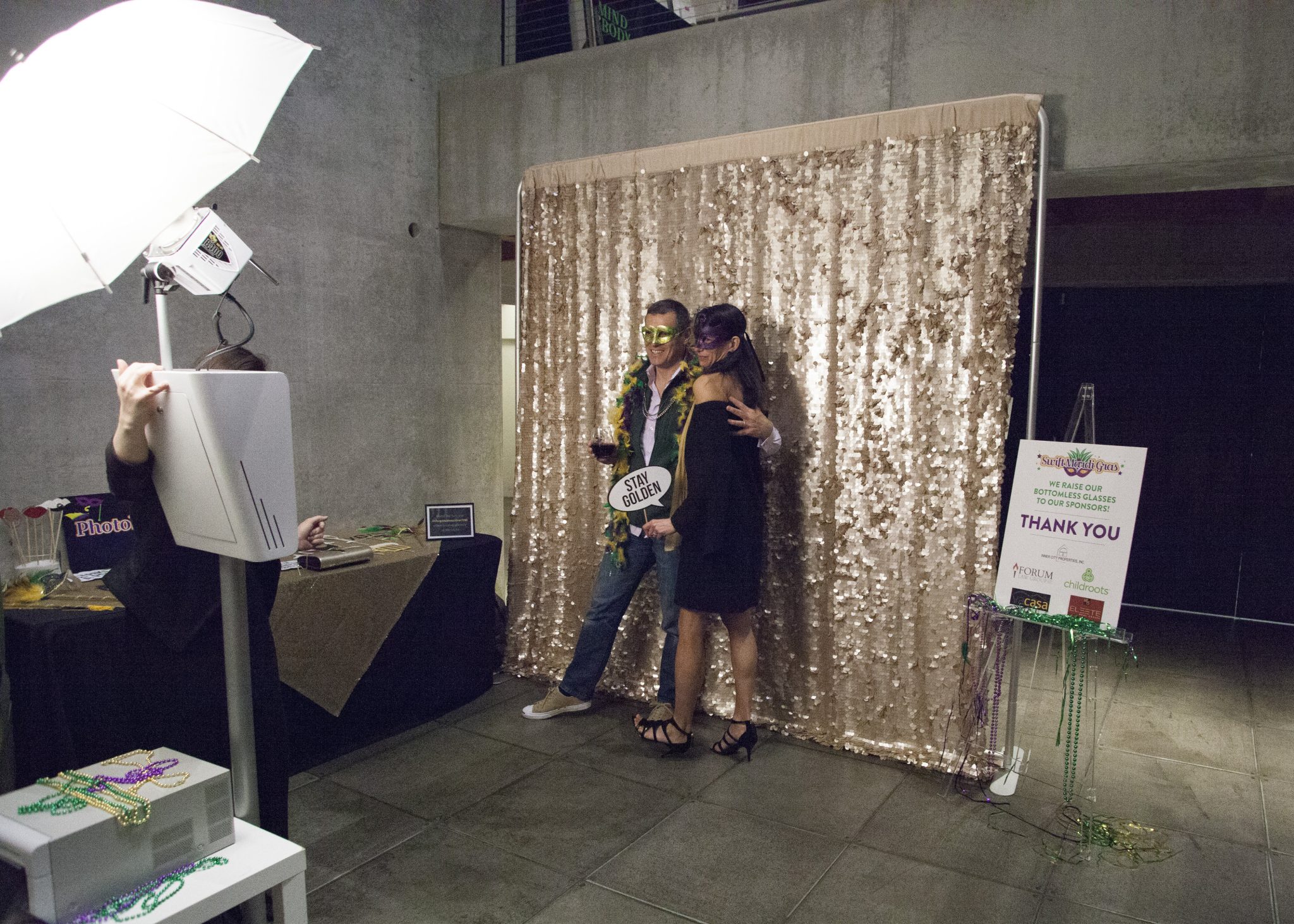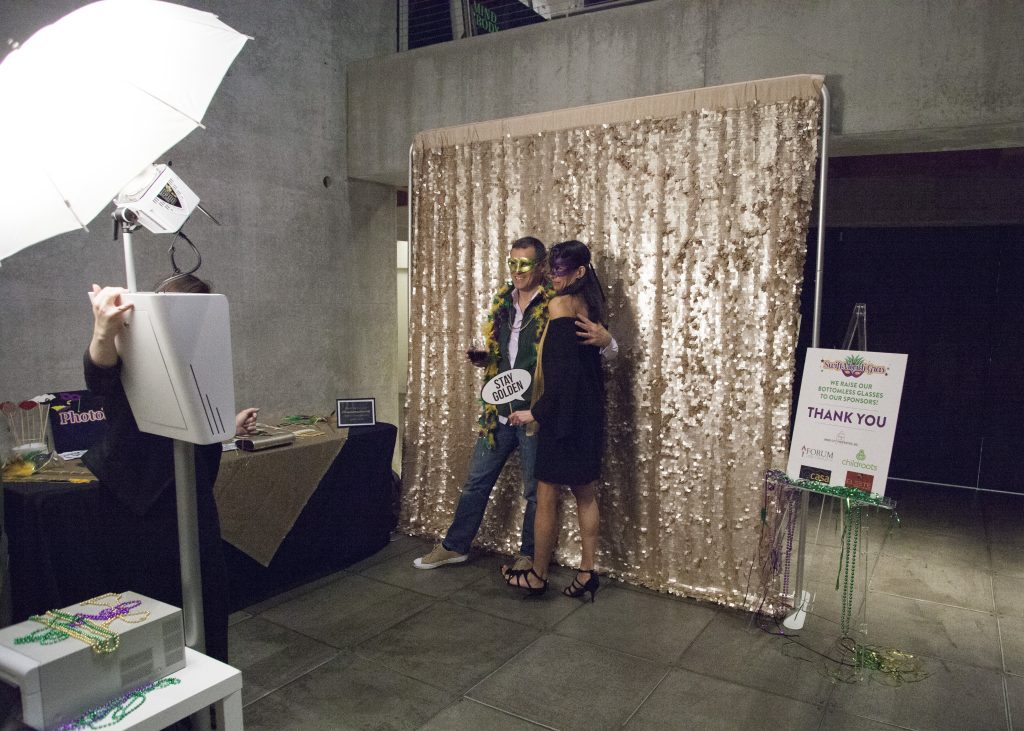 All in all this theme is perfect for any occasion that you want to feel glamorous, but with an extra dash of wild and crazy. I could definitely see it for a birthday or bachelorette. Or, you could use it for a fundraiser like I did. Besides, people are more likely to give when they are having fun, right?!
Our auction was a huge success: we raised a lot of money for our school, and had a blast doing it.  I hope you enjoy your Mardi Gras celebration, no matter the occasion and that it's inspired you to let the good times roll Mardi Gras style!
As an OTC blogger, I received compensation and/or products in exchange for my styling and crafting services. As always, all project ideas and any opinions expressed here are my own.  For further information on our disclosure policy please check out our disclosure page.
Happy partying!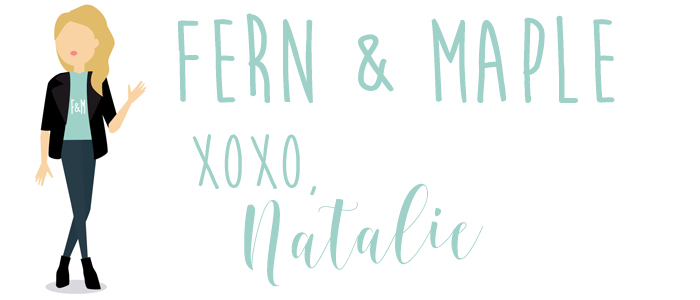 PIN FOR LATER: