Are you looking for a unique way to celebrate your baseball player graduate's accomplishments this year? What better way to do that than with a personalized baseball-themed graduation party? Celebrating your grad and the sport they love is an amazing way to mark this milestone and have some fun. Plus, it's easy to plan with my step-by-step guide. So get ready to knock their big day out of the ballpark by following these helpful tips on how to throw a stellar ballgame graduation party!
P.S. I got most of my supplies at Oriental Trading. Check out their amazing selection of Baseball and Graduation supplies! Or, if you prefer Amazon, check out my Amazon Shop for some similar or alternative supplies!
How to Set up a Home Run Baseball-Themed Graduation Party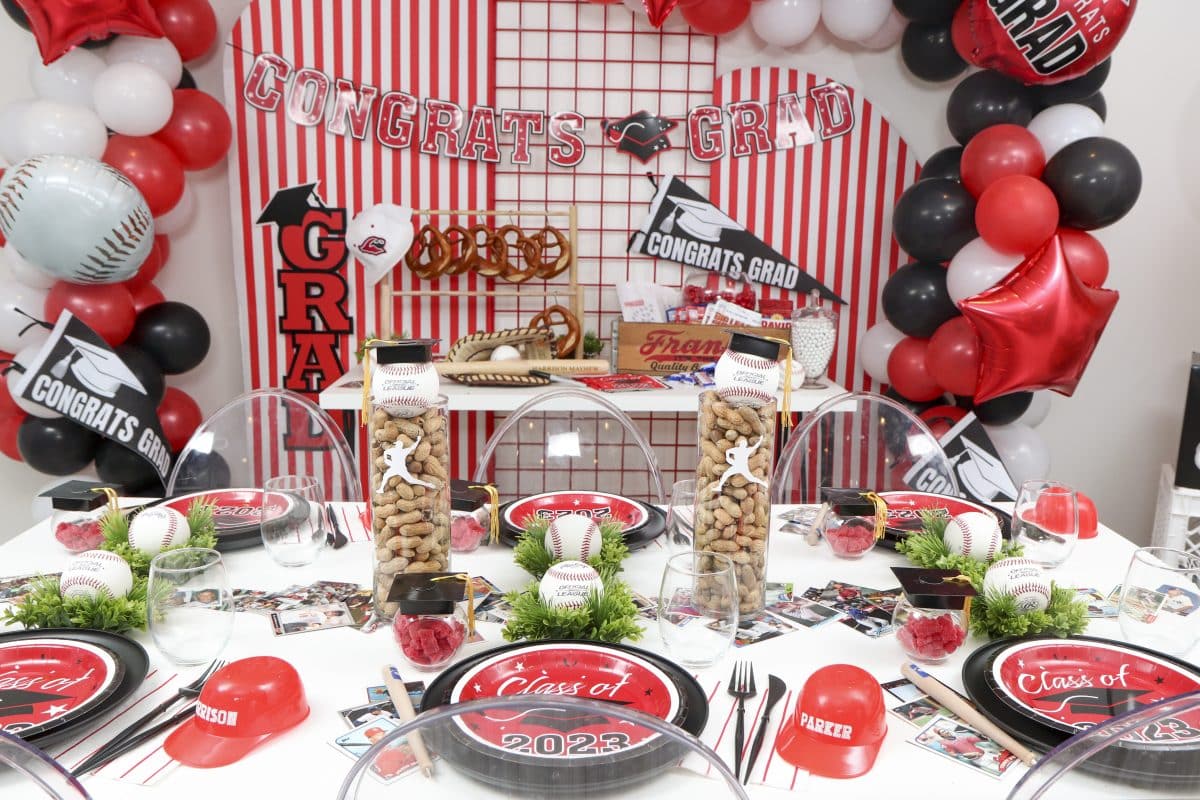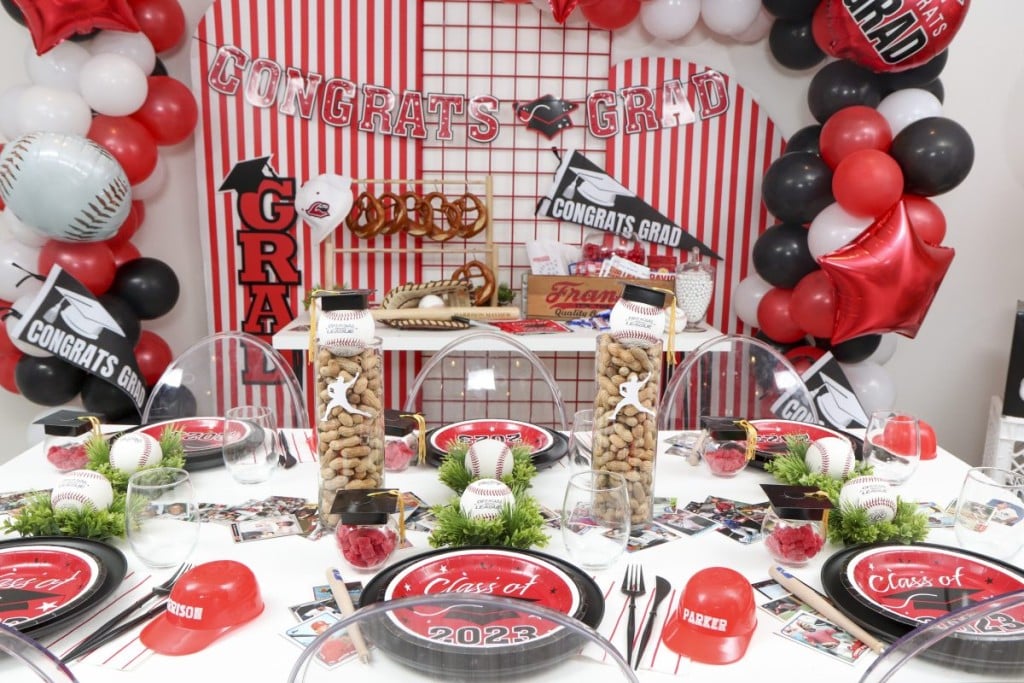 Backdrop
First, I set up a bold backdrop with balloon garlands in the grad's school colors. I used red, white and black balloons as the base for two garlands. Then, I added red mylar stars, mylar baseballs, and "Congrats Grad" balloons. For a final touch, I hung some "Congrats Grad" pennant flags on some of the balloons.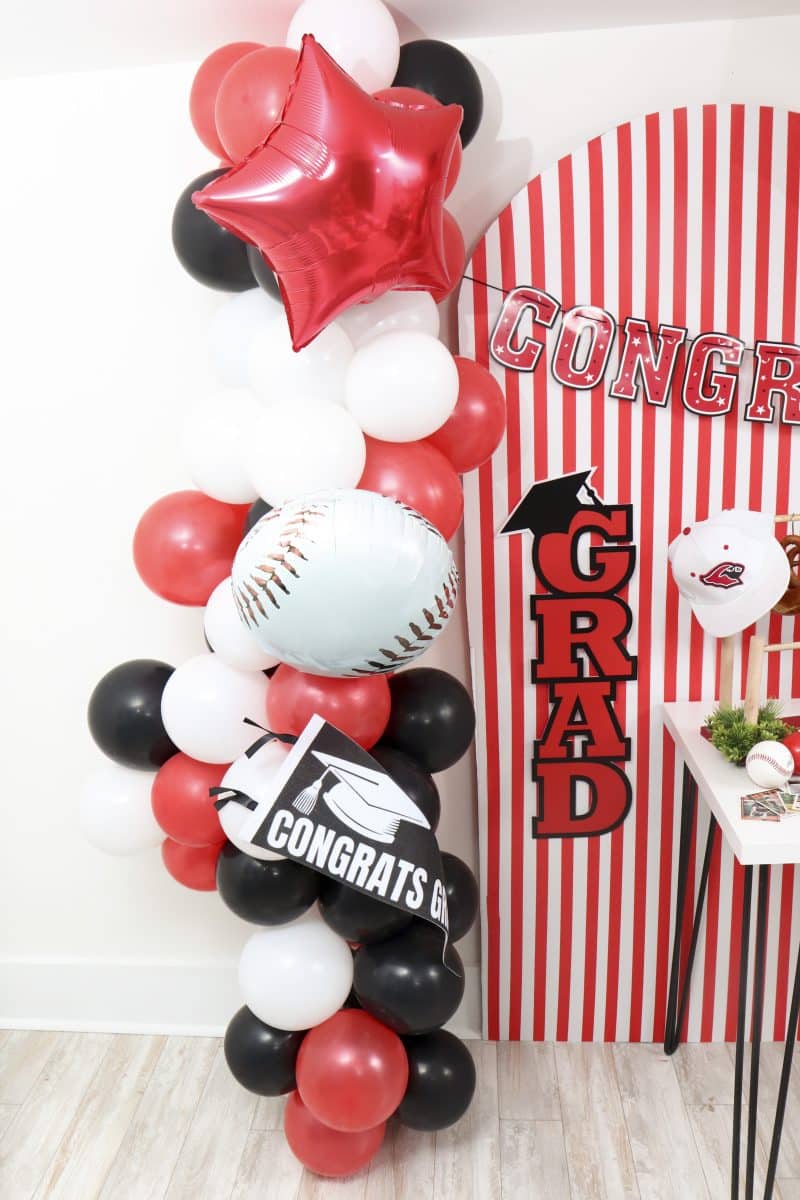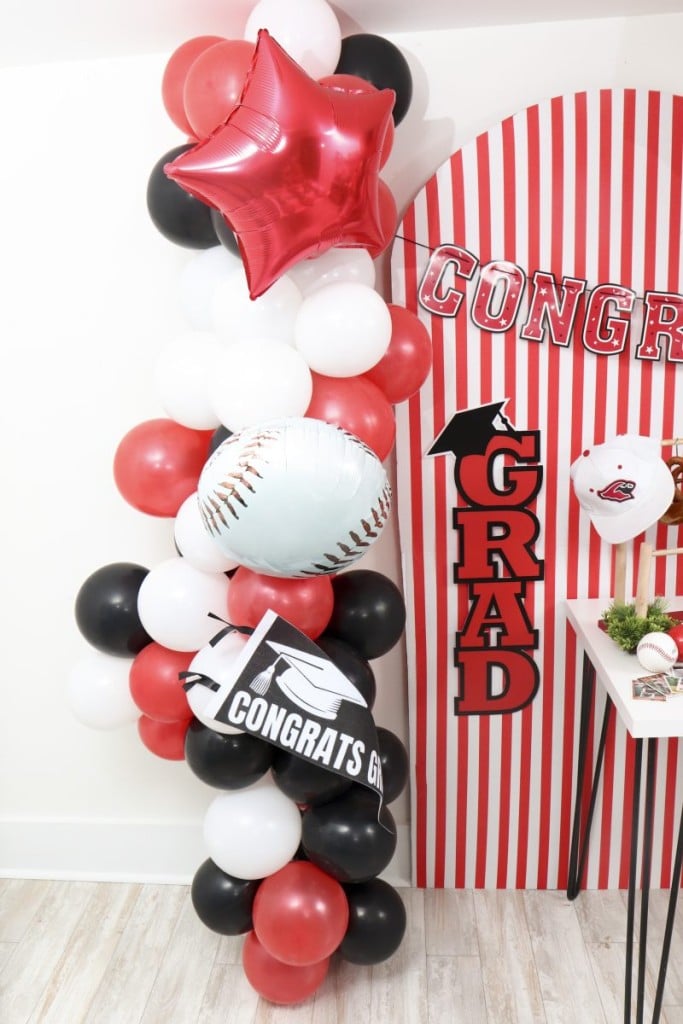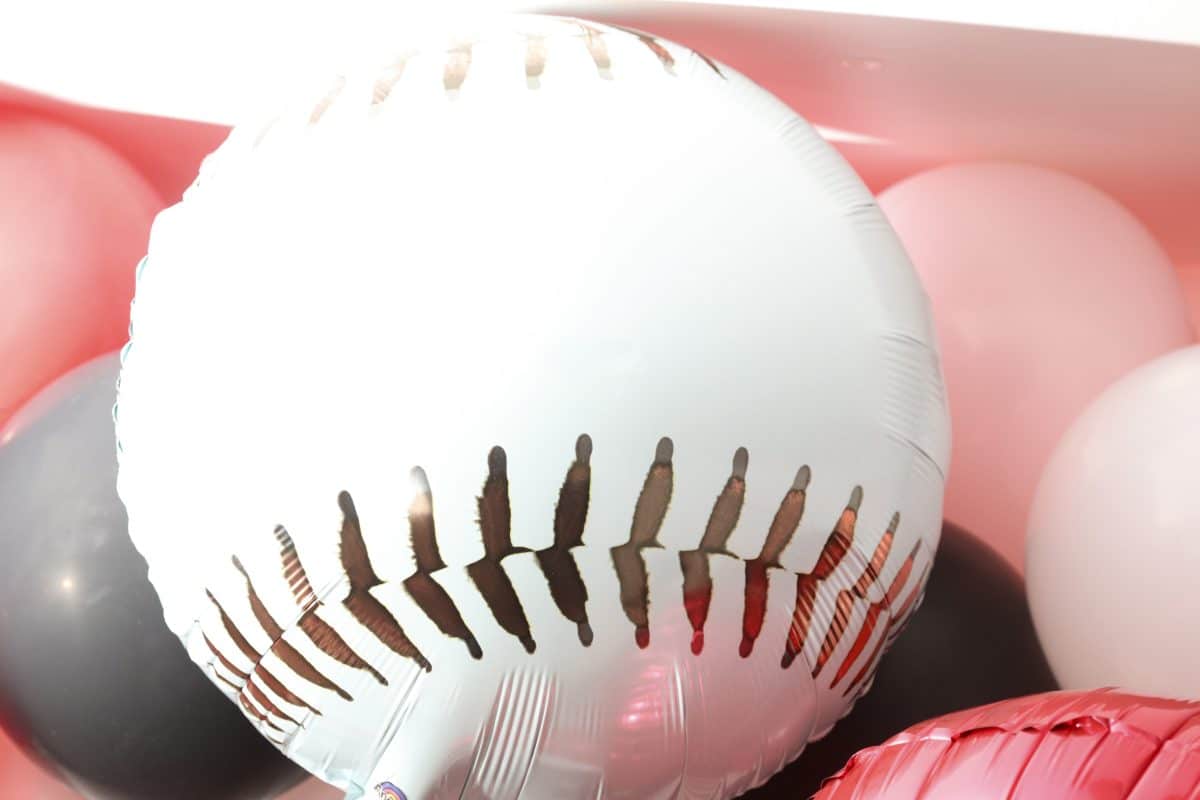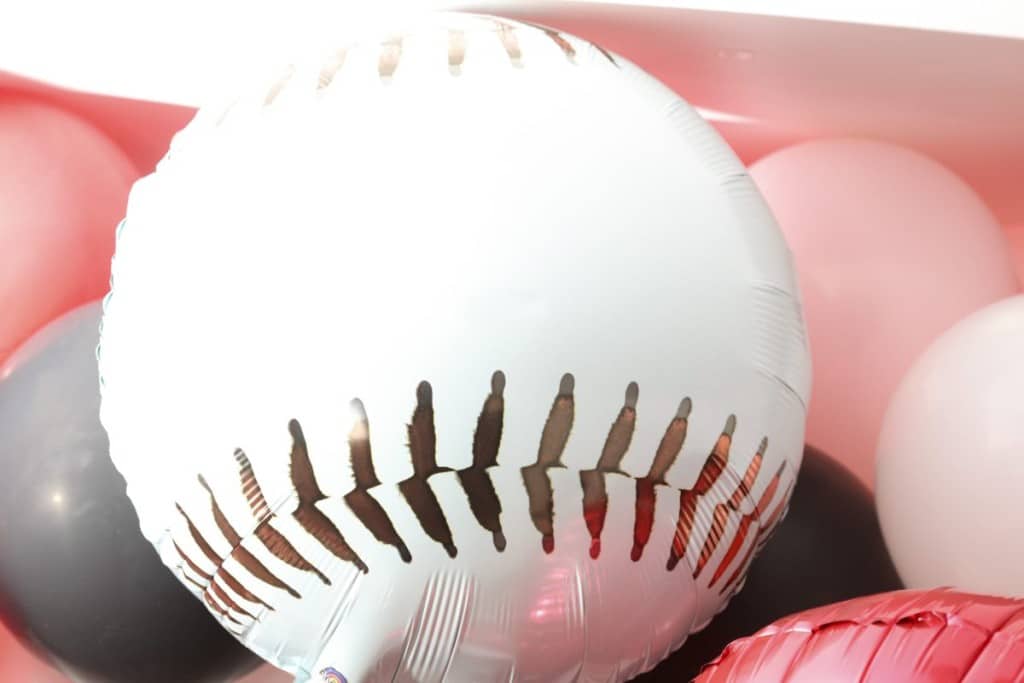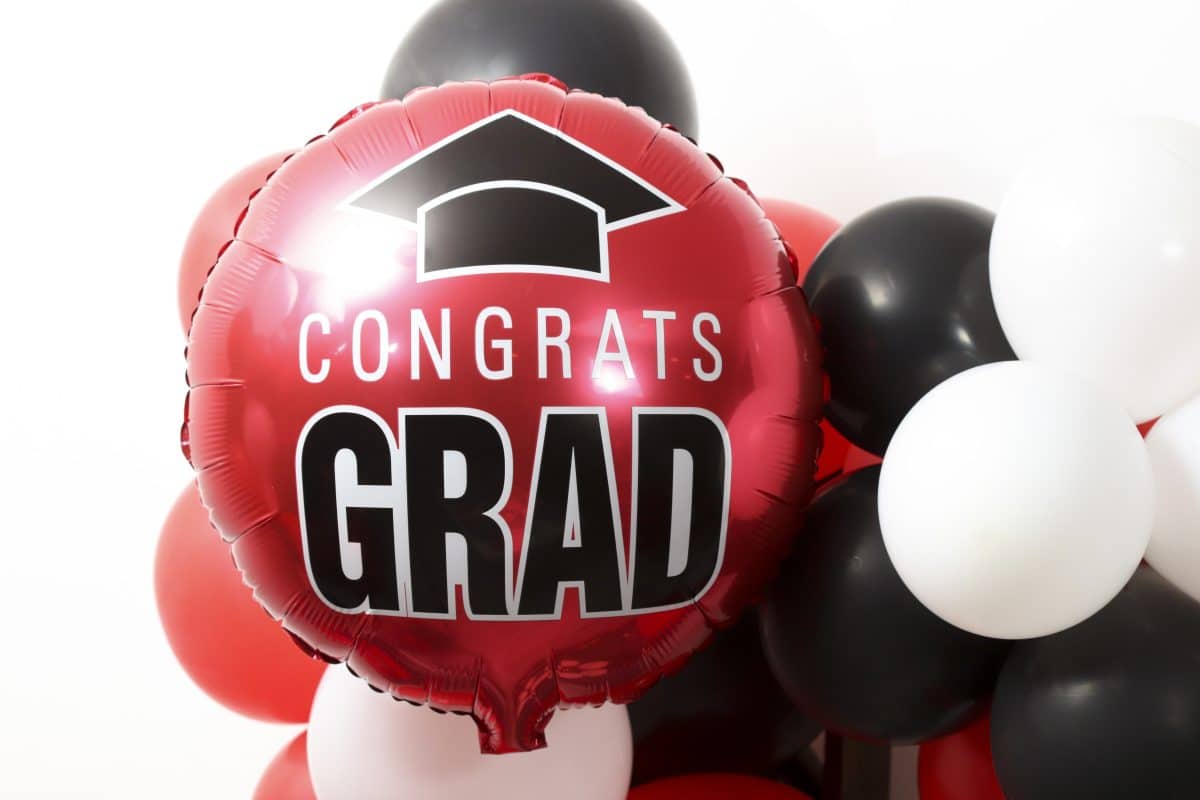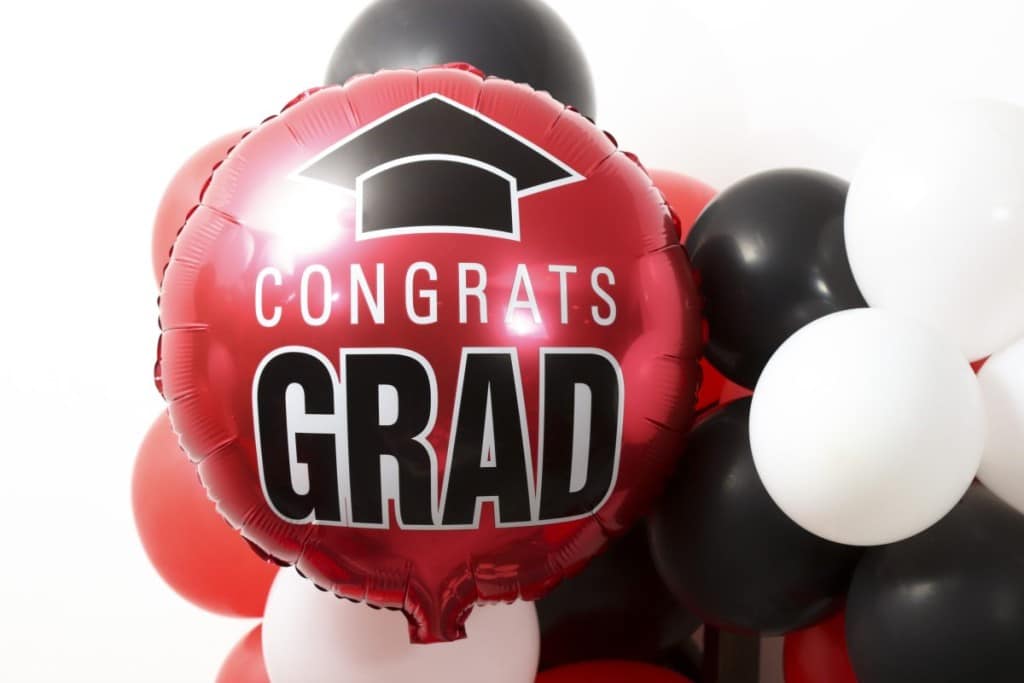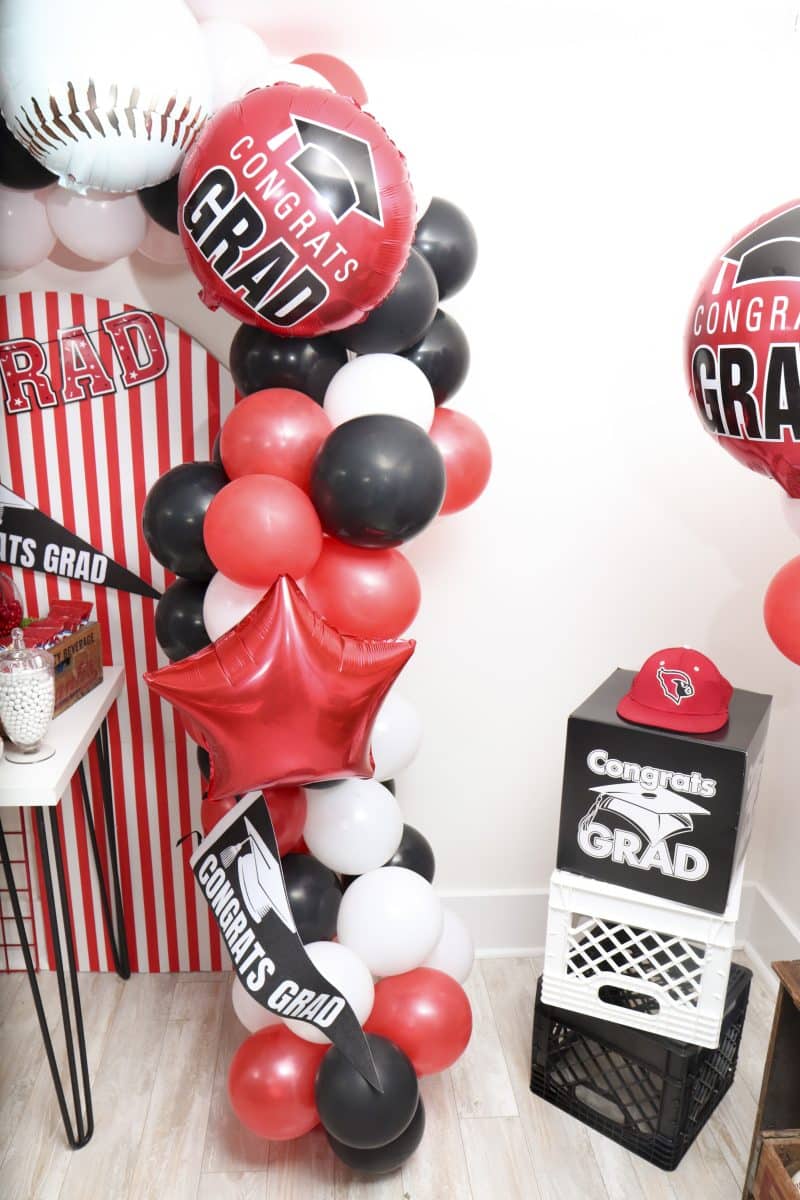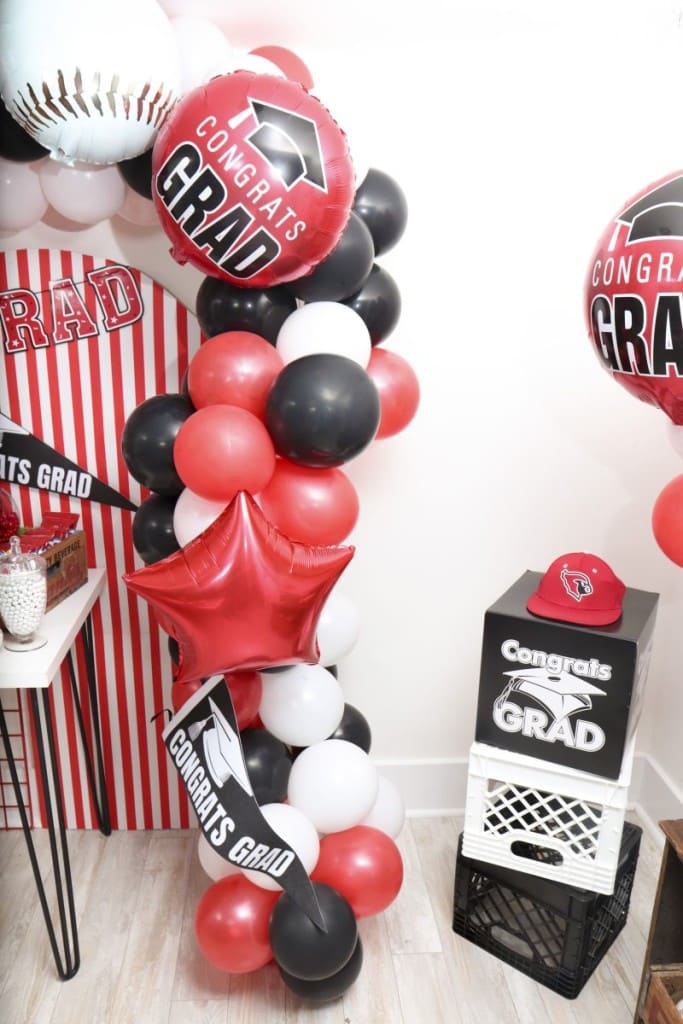 I hung these balloon garlands on either side of a red and white backdrop. I created this with striped arches and a red wire grid panel. A "Congrats Grad" banner, "Grad" cutout, and additional pennant flags added more graduation-themed decor to the backdrop.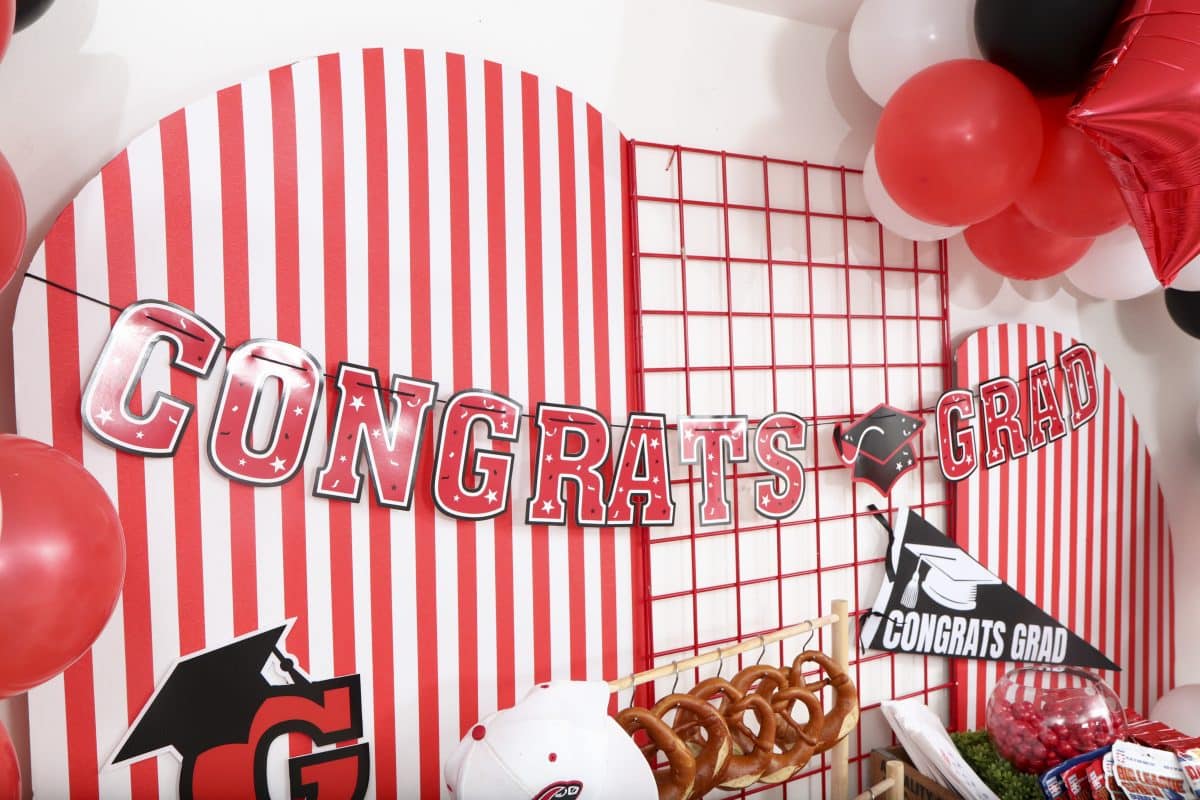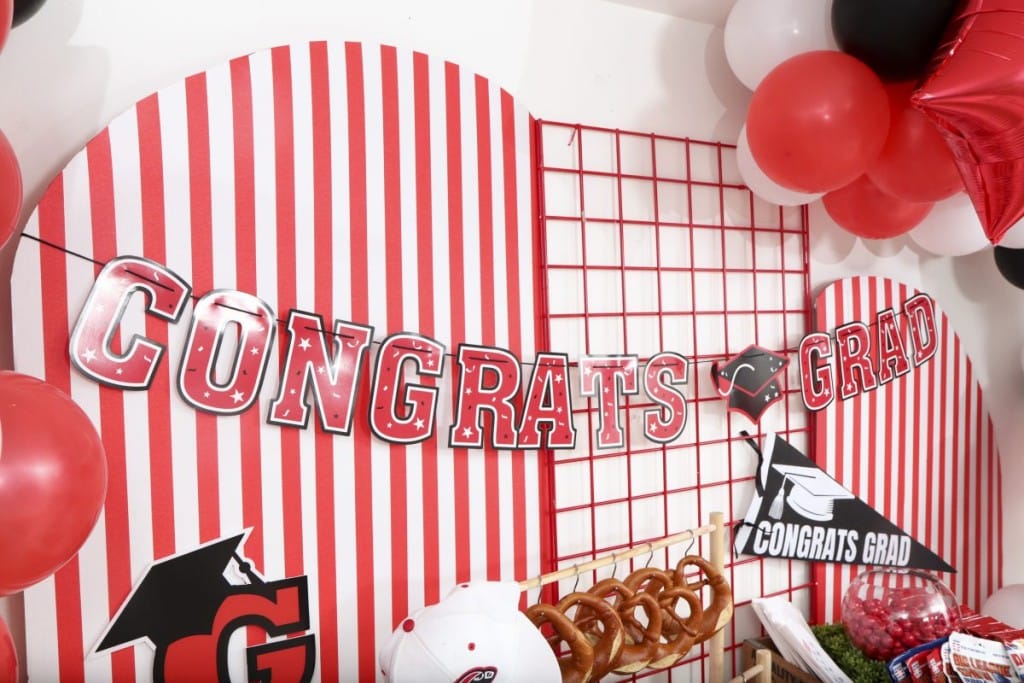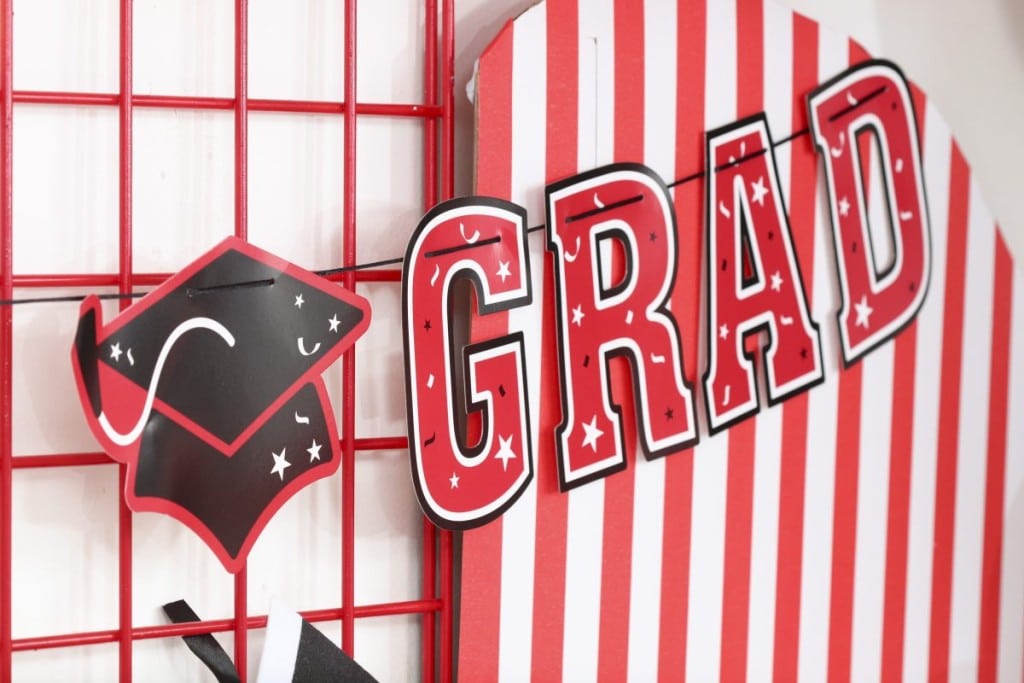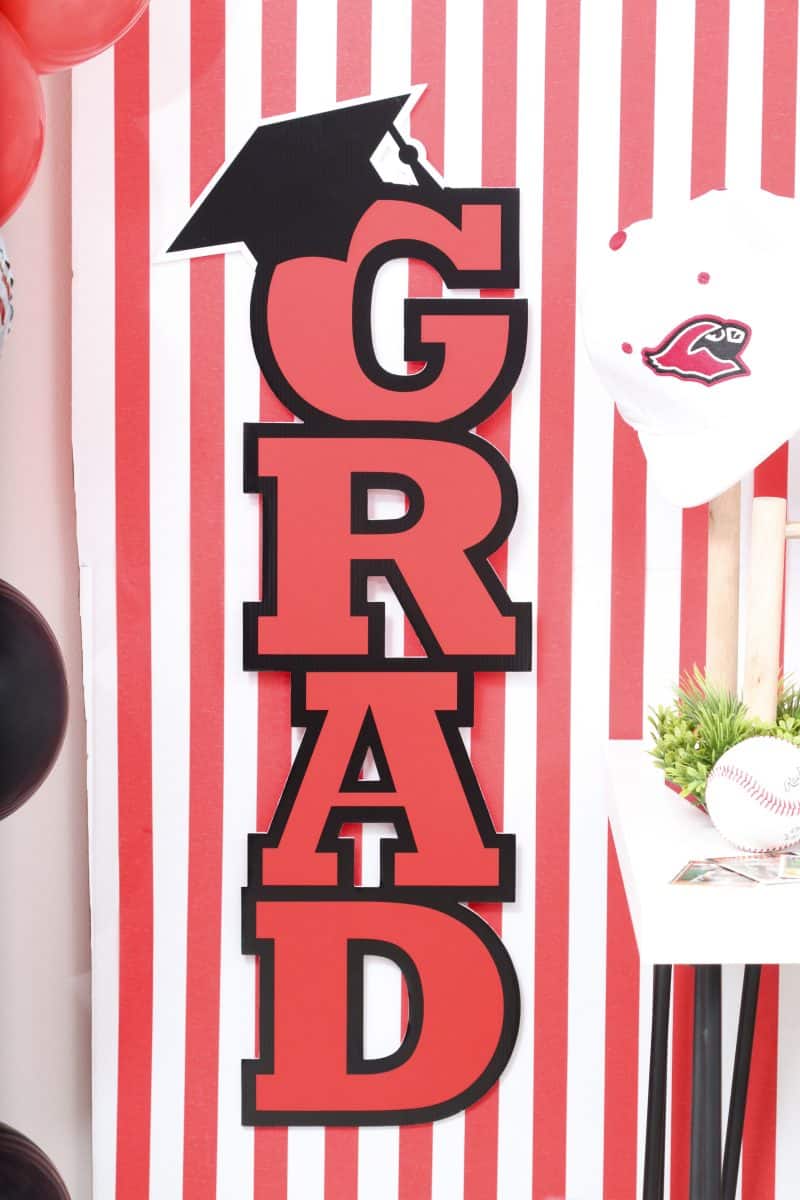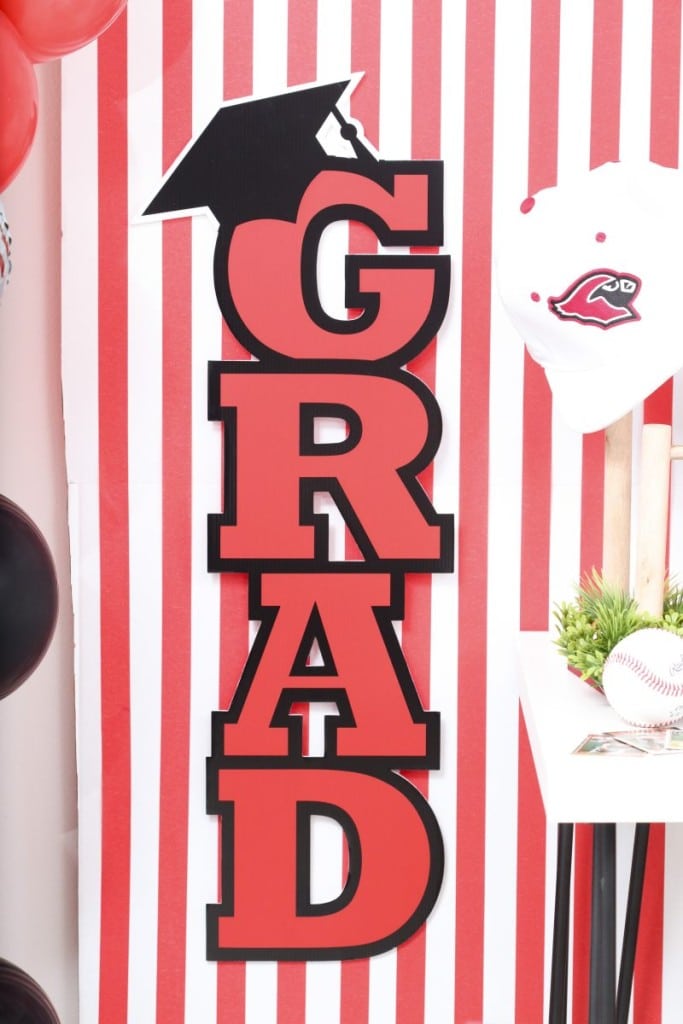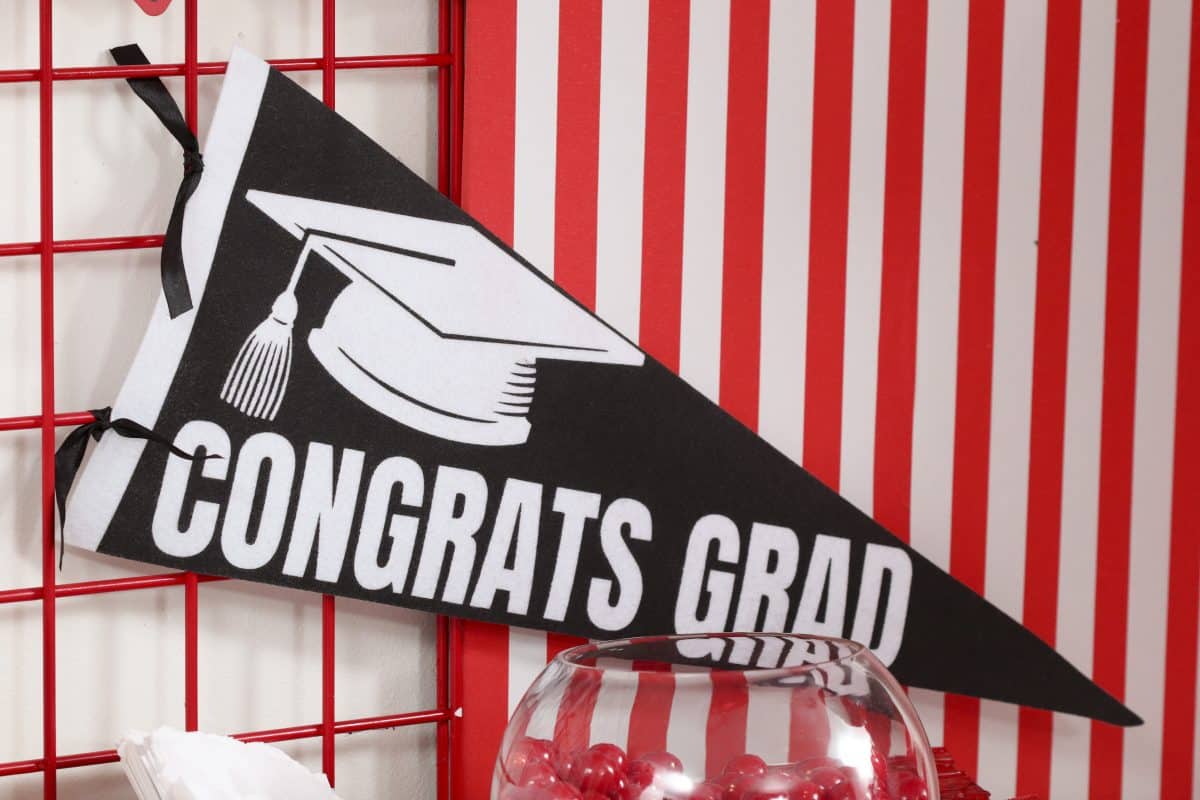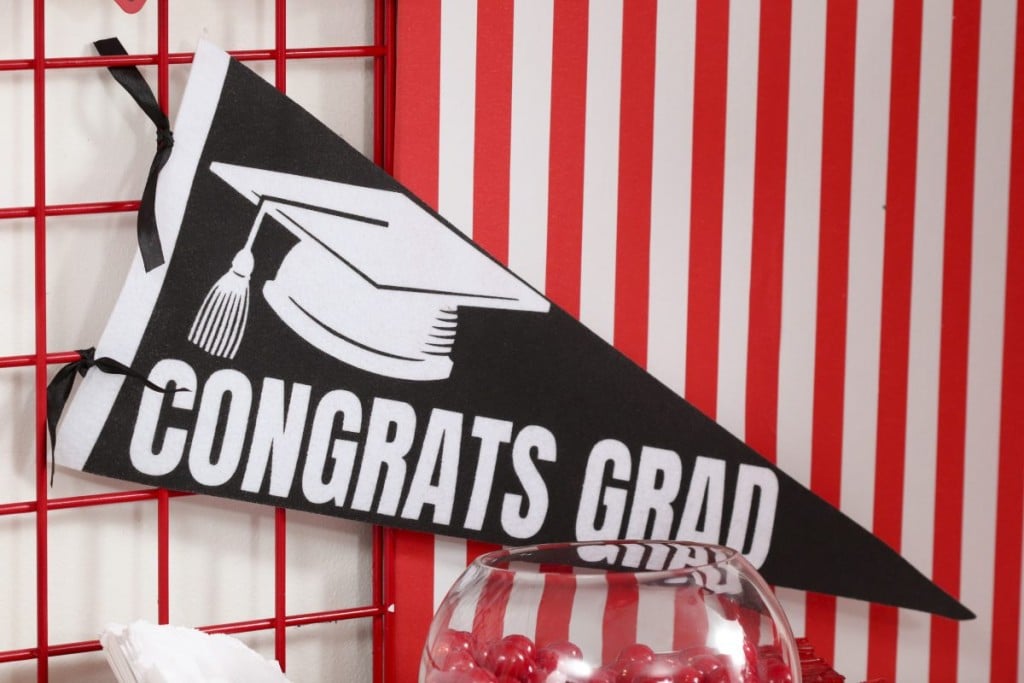 Then, I stacked a graduation card box on top of a milk crate with a baseball cap on top to create a pillar decoration for an empty corner of the room.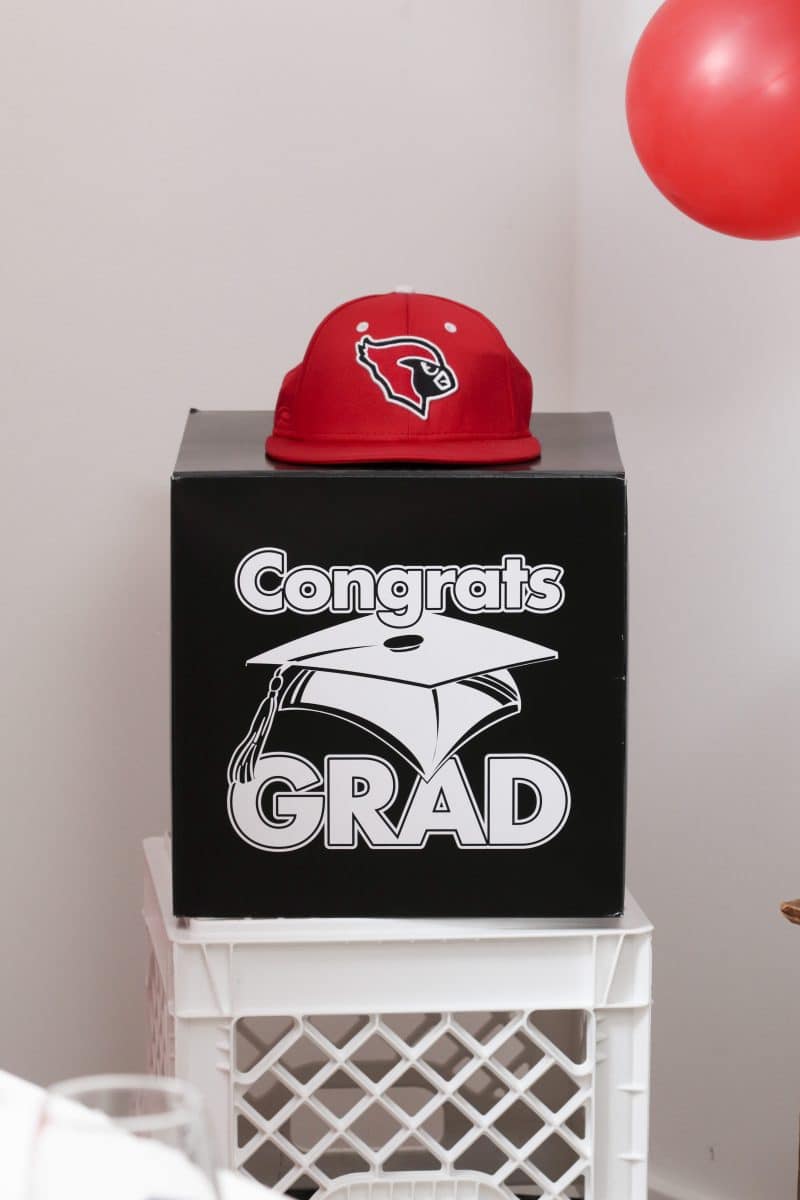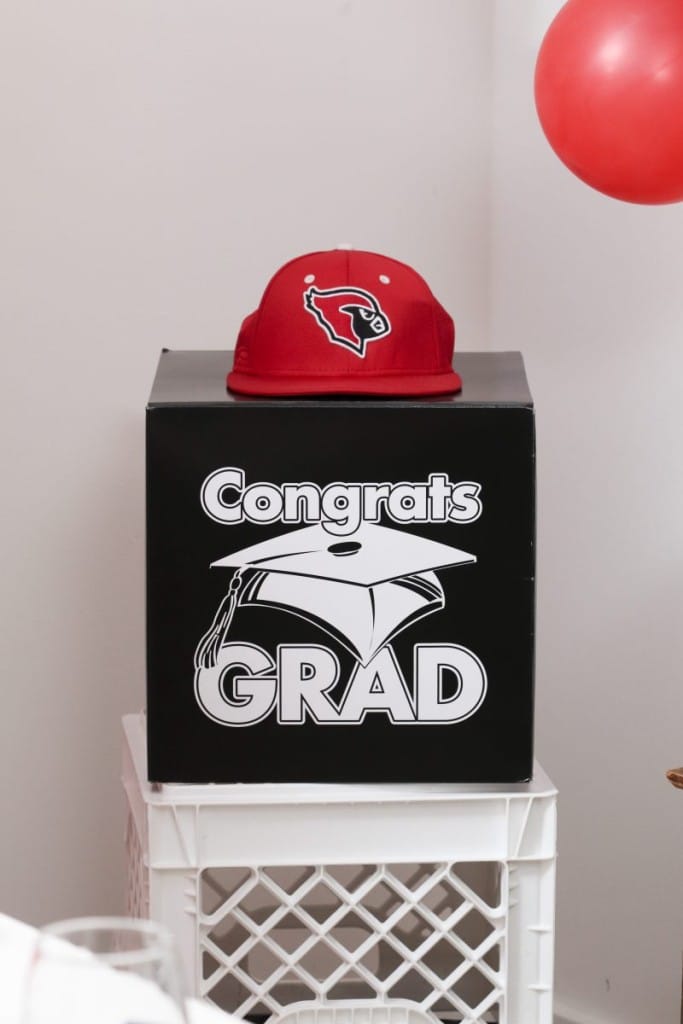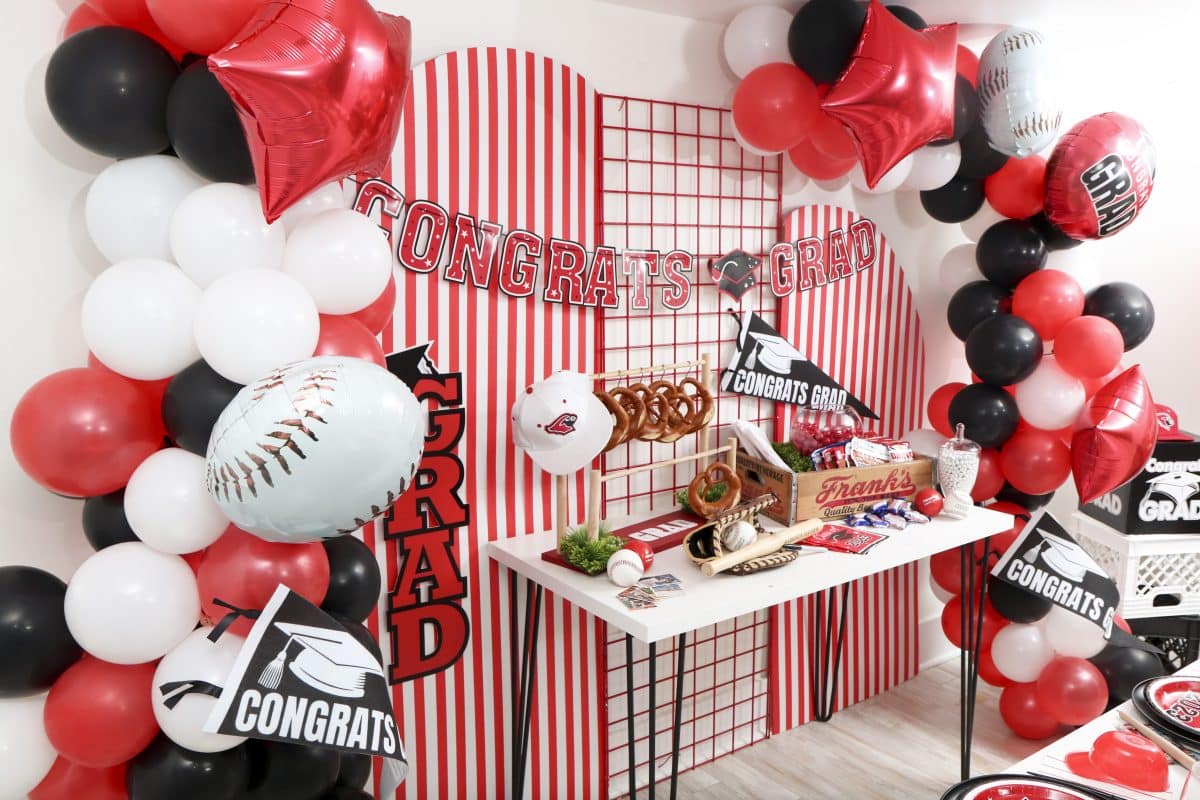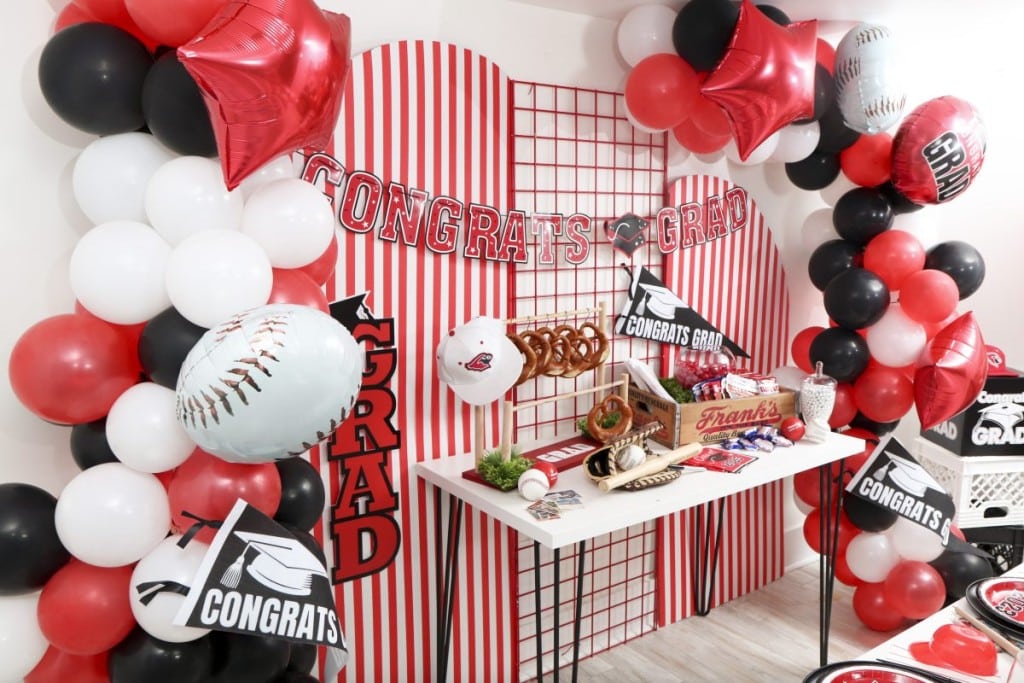 Snack Table
In front of the backdrop, I set up a snack table. I really wanted this area to feel reminiscent of being at a baseball game and visiting a concession stand. I used a wooden hanging stand to display delicious soft pretzels. For a more personalized look, I painted the base red, added some faux grass around a couple of the legs, and added vinyl baseball and graduation stickers.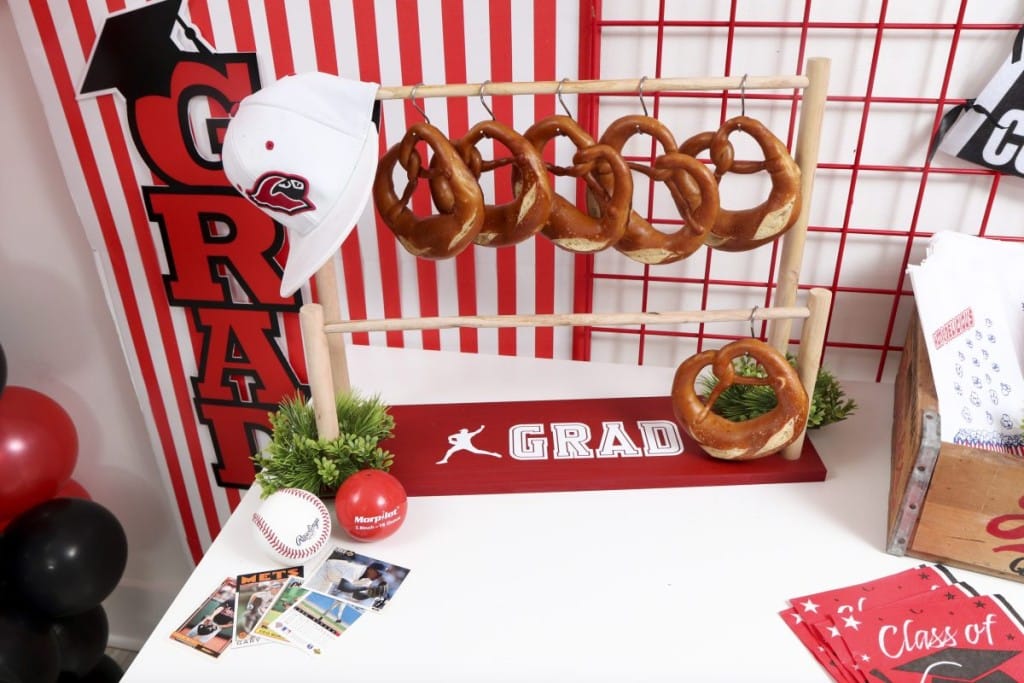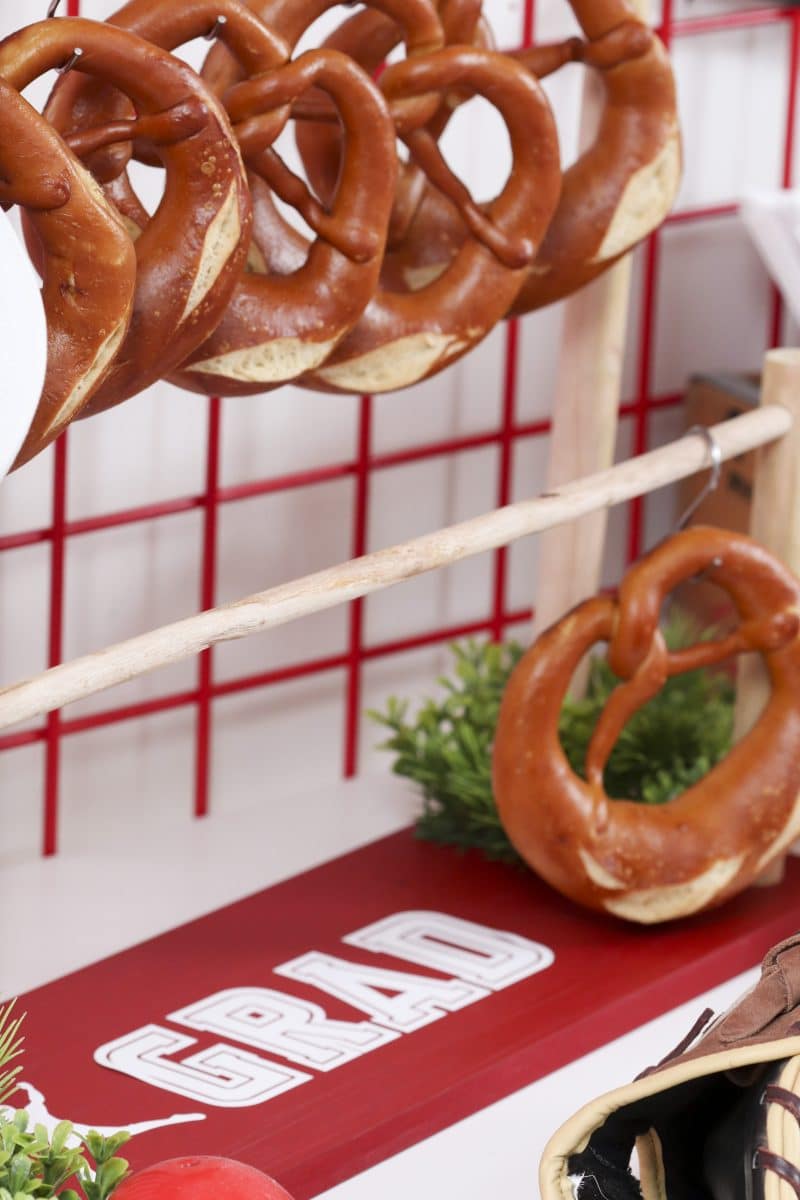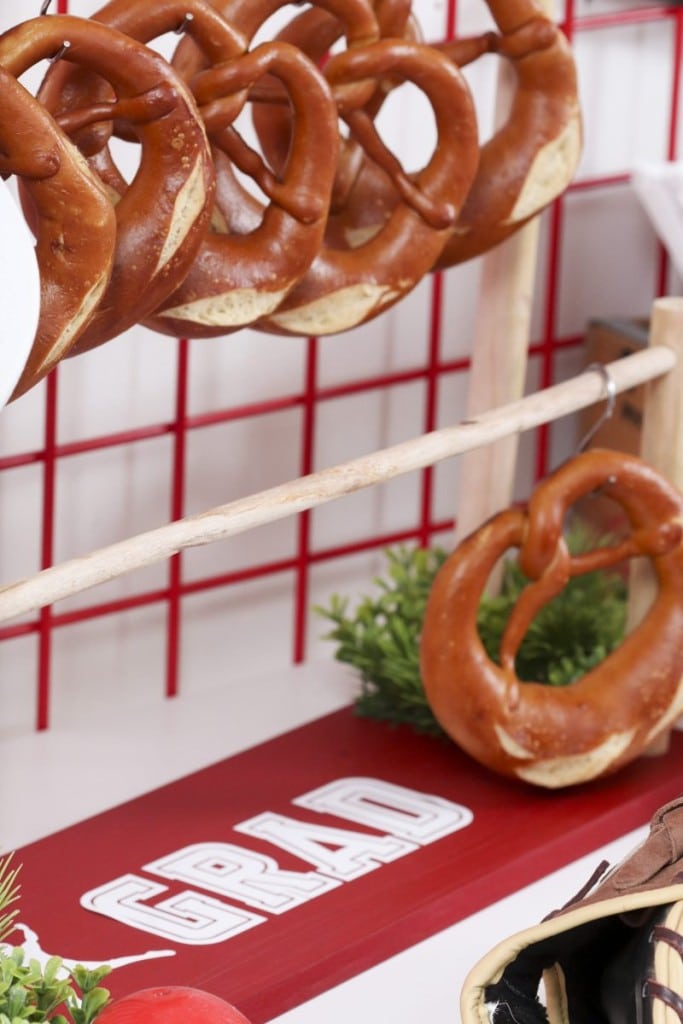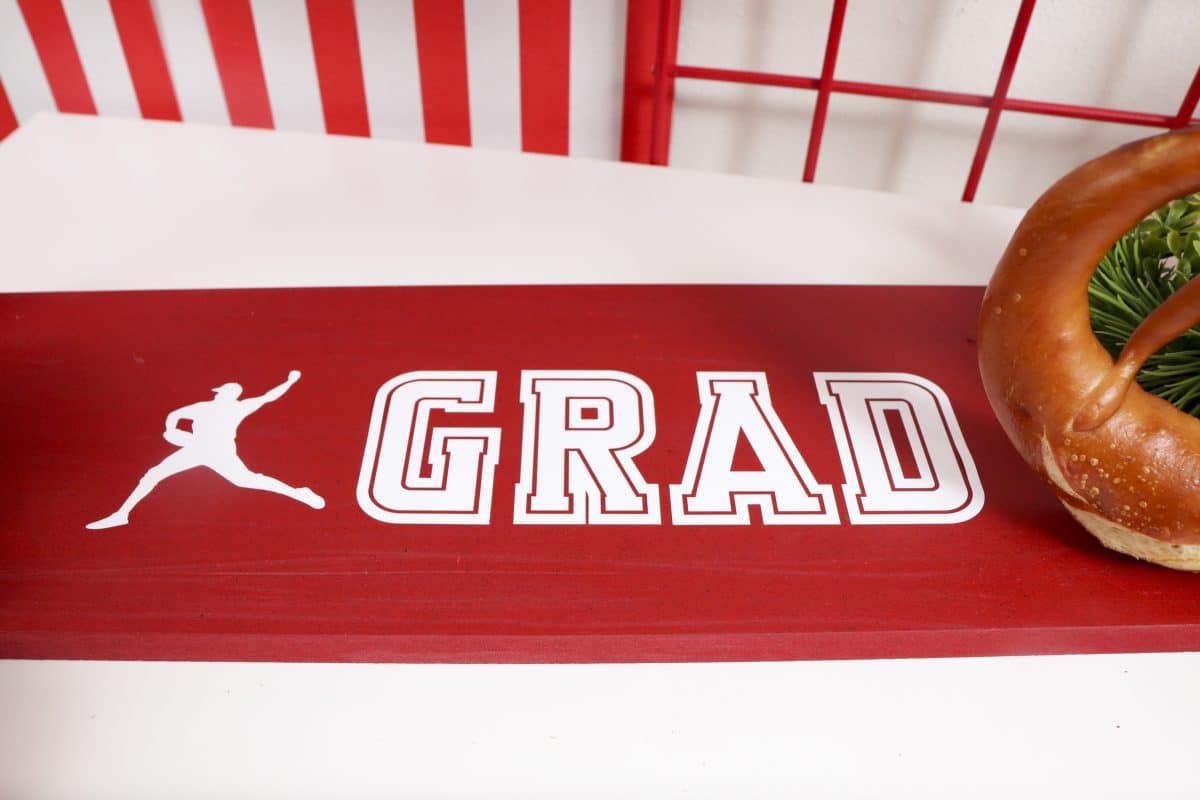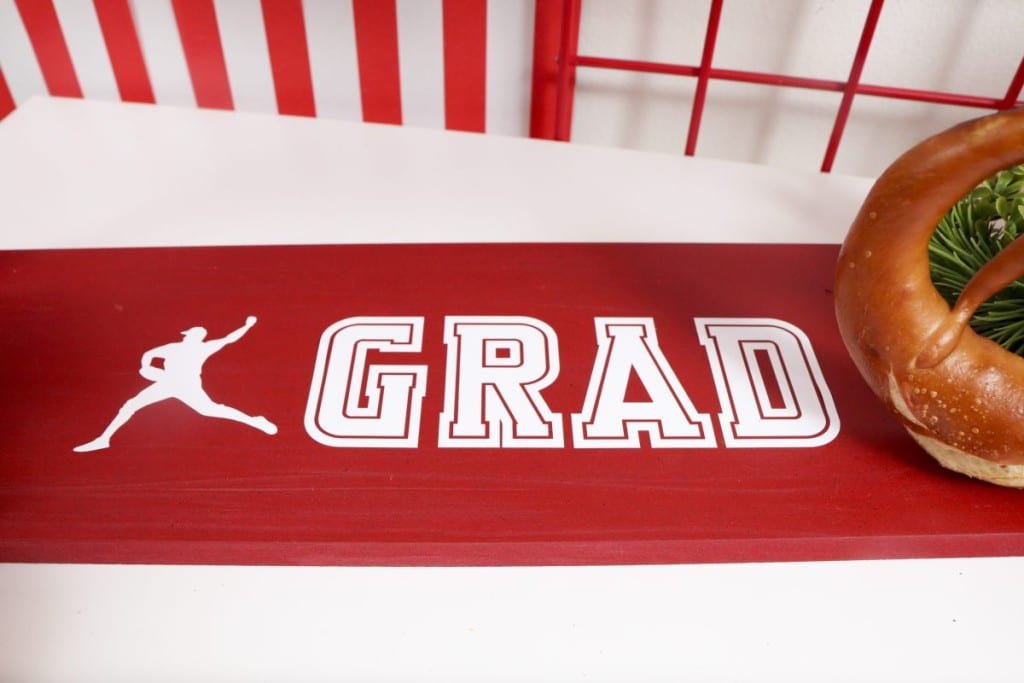 In front of that, I set up a baseball glove holding a baseball and a personalized bat carved with the grad's name and graduation date. I left this out with a permanent marker nearby so that party guests could sign the bat – a creative and unique guest book idea!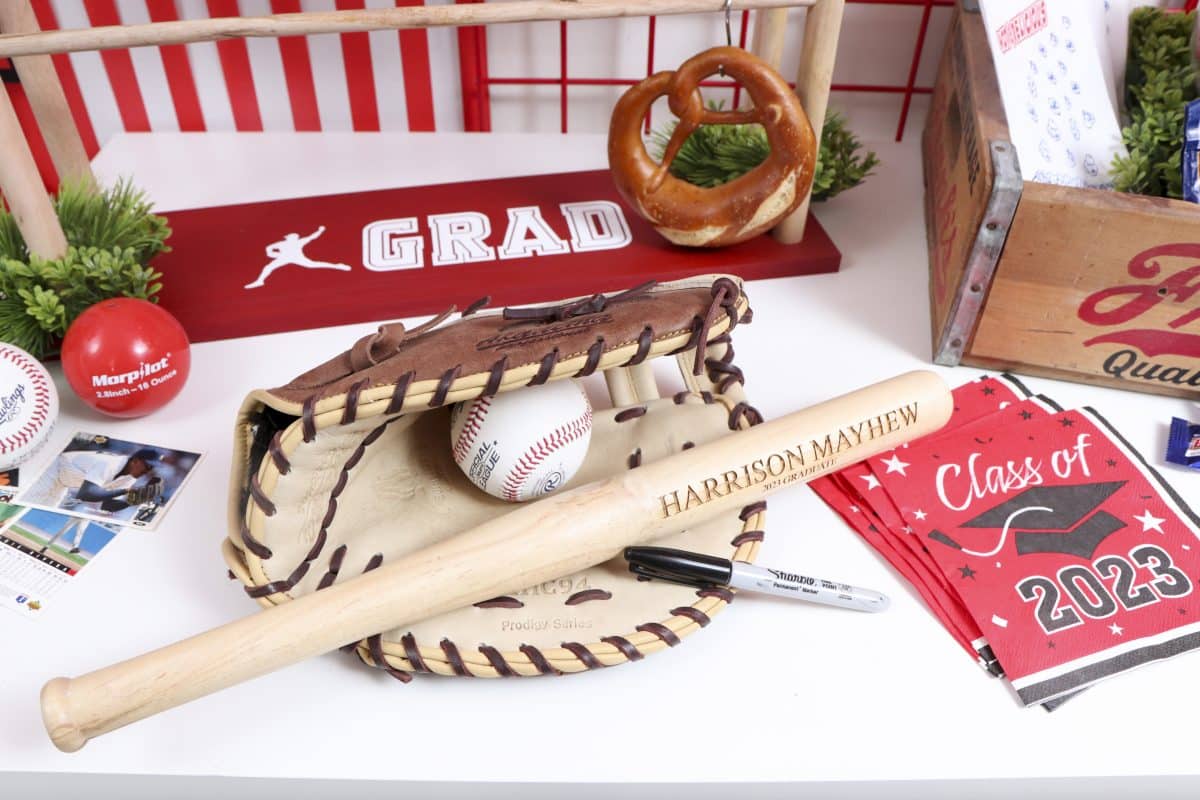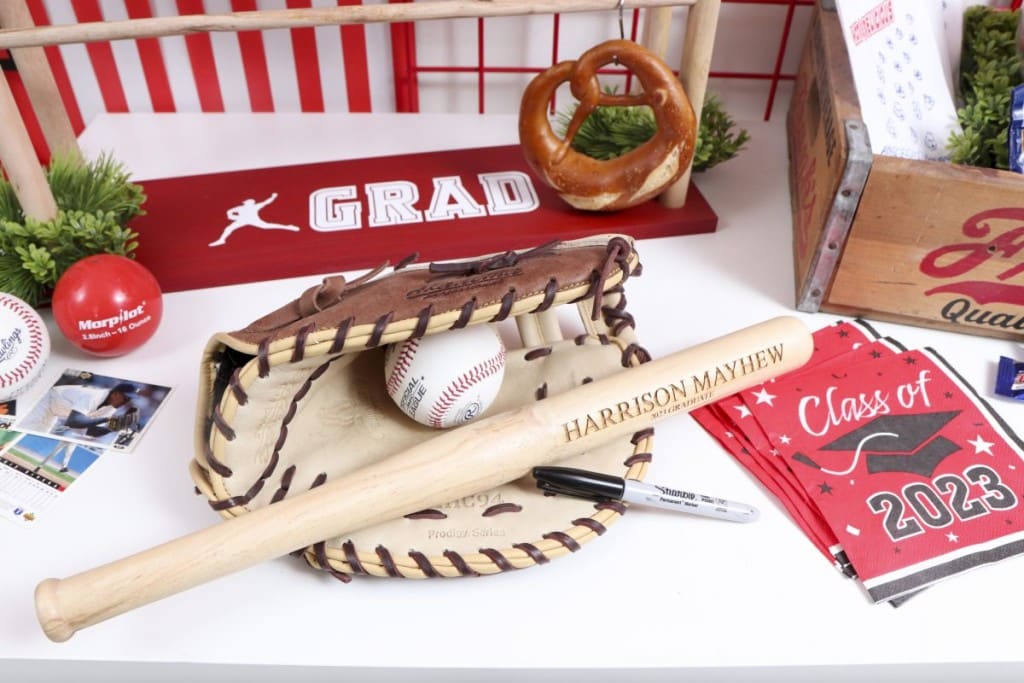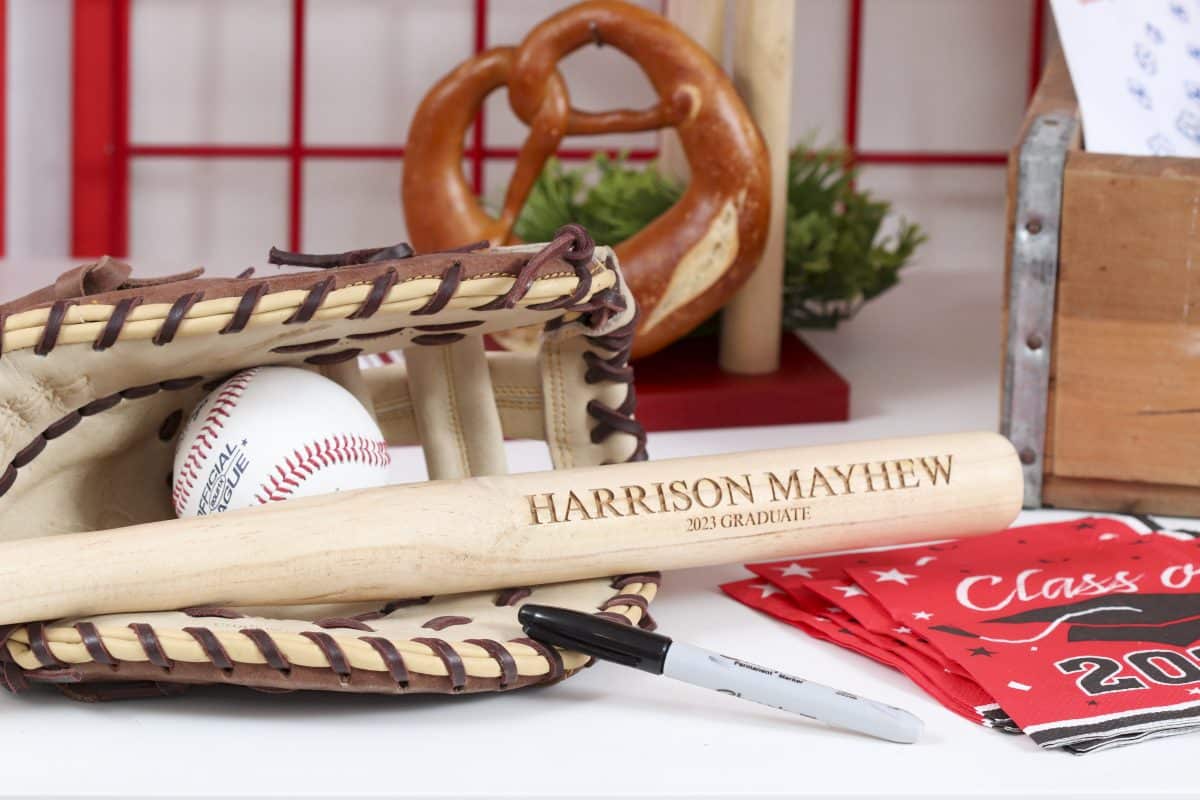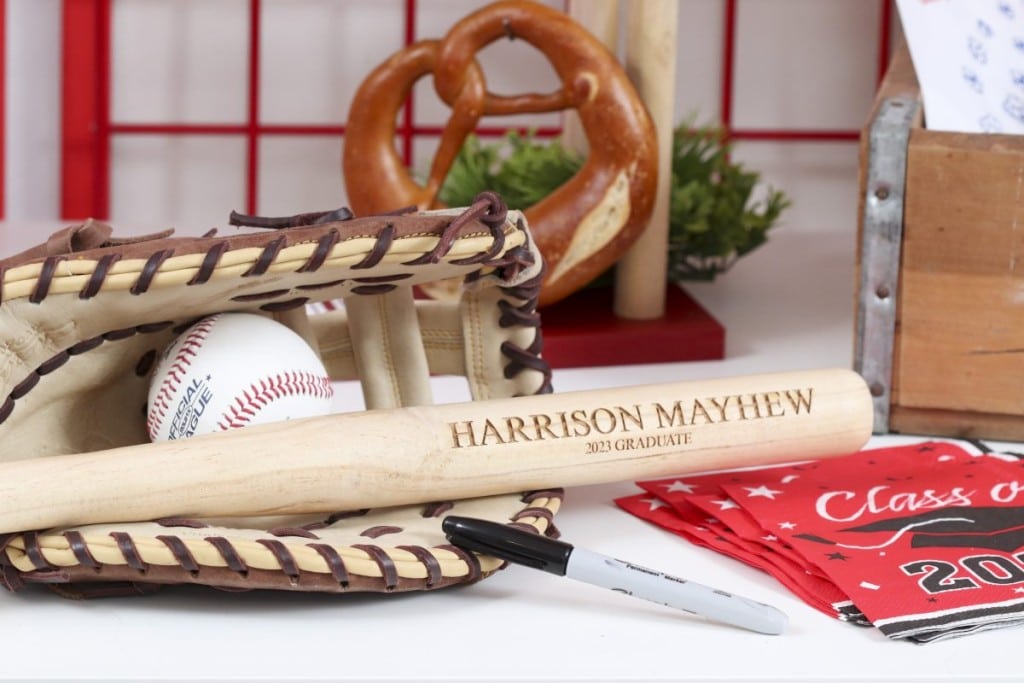 On the other side of the table, I set up an antique beverage box with a variety of easy grab-n-go baseball-themed snacks on a bed of faux greens to prop everything up. Bags for popcorn, a bowl of red candy, bags of sunflower seeds, and big league chew bubble gum.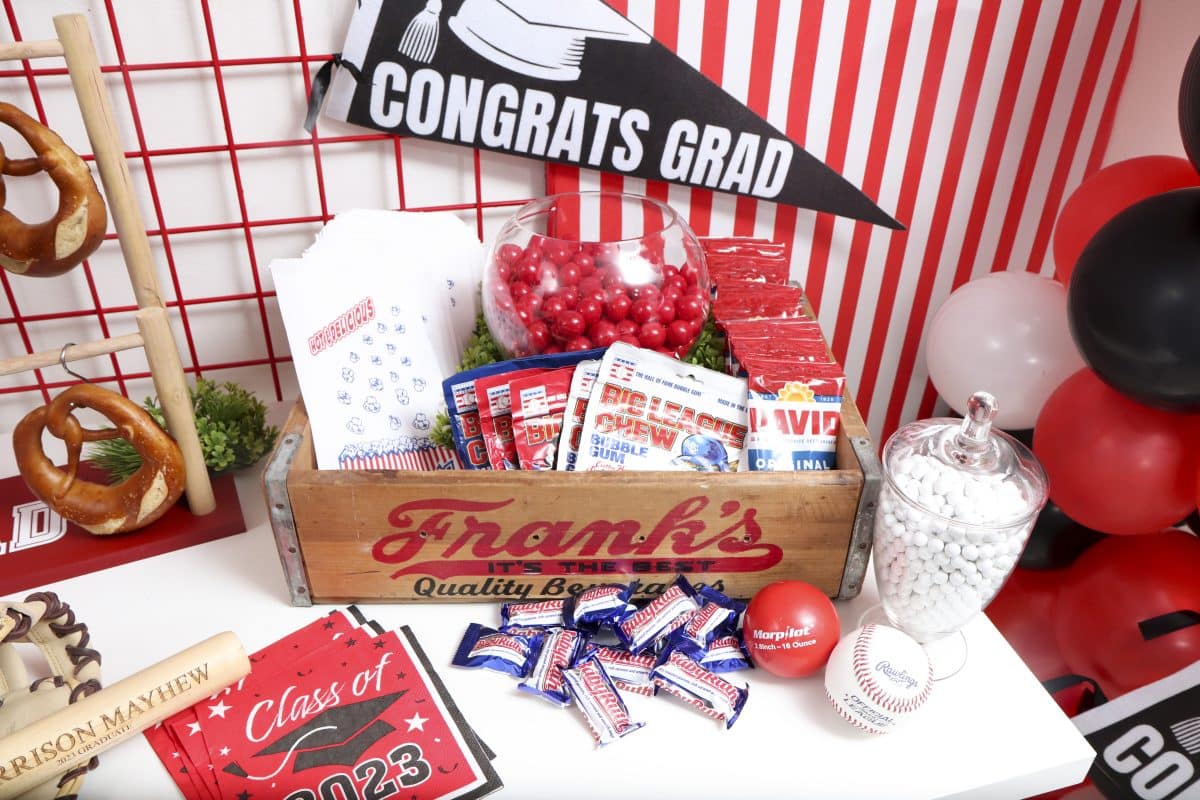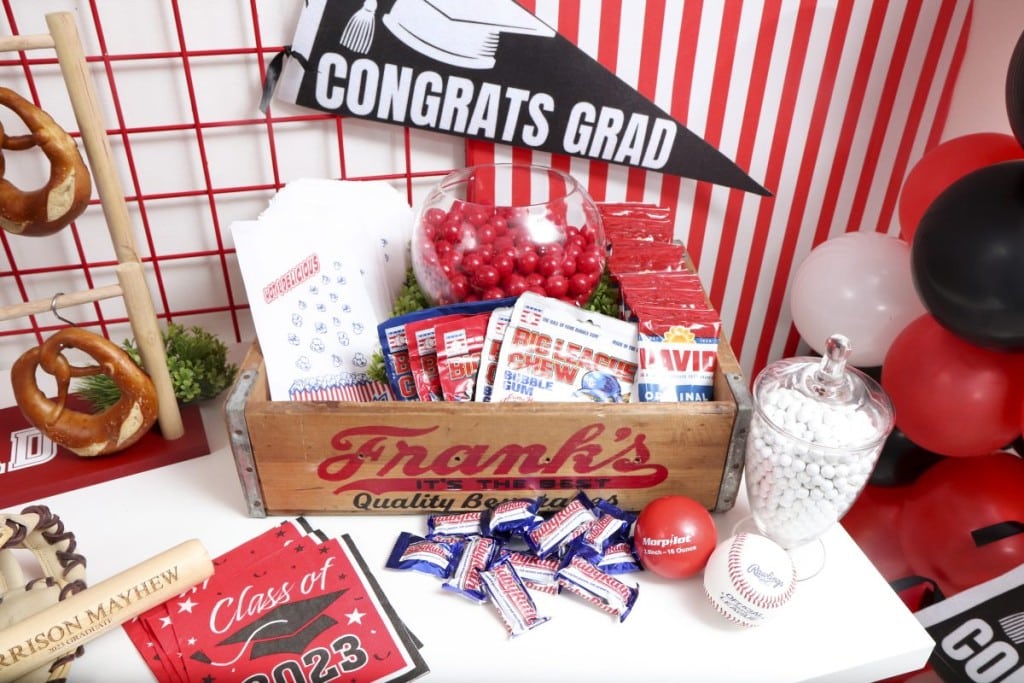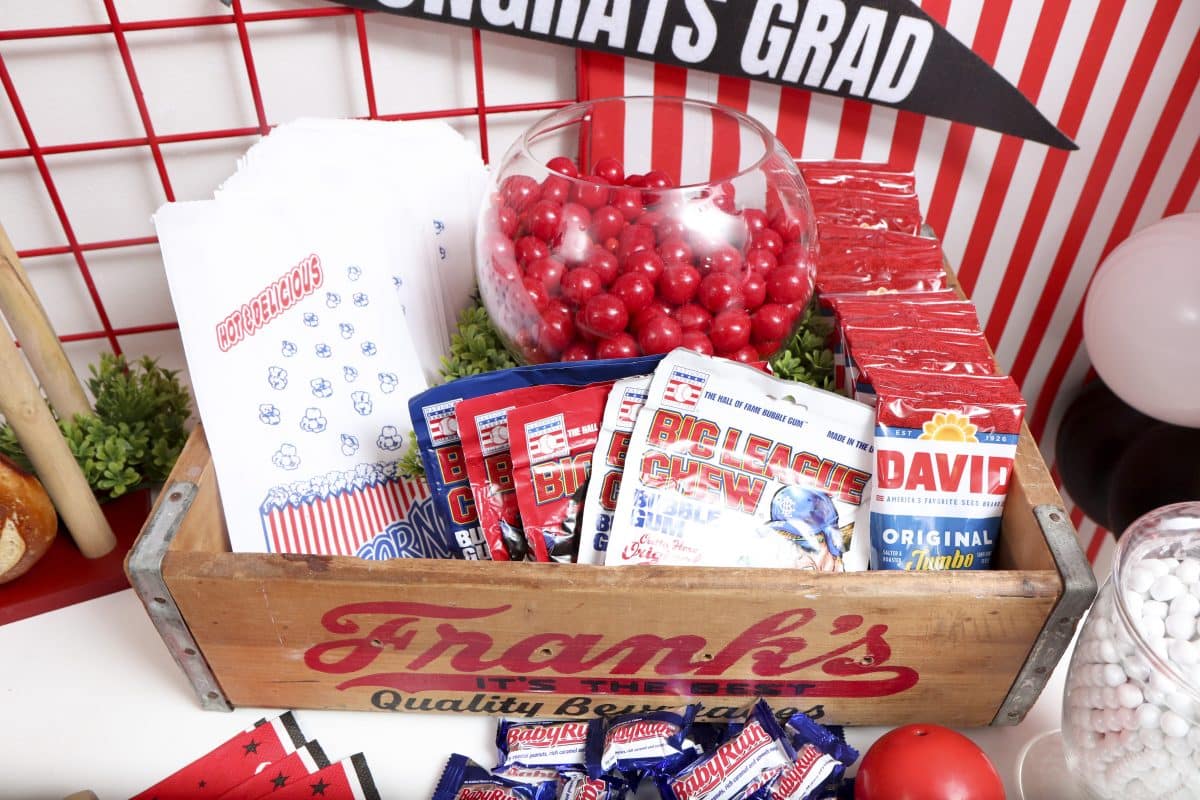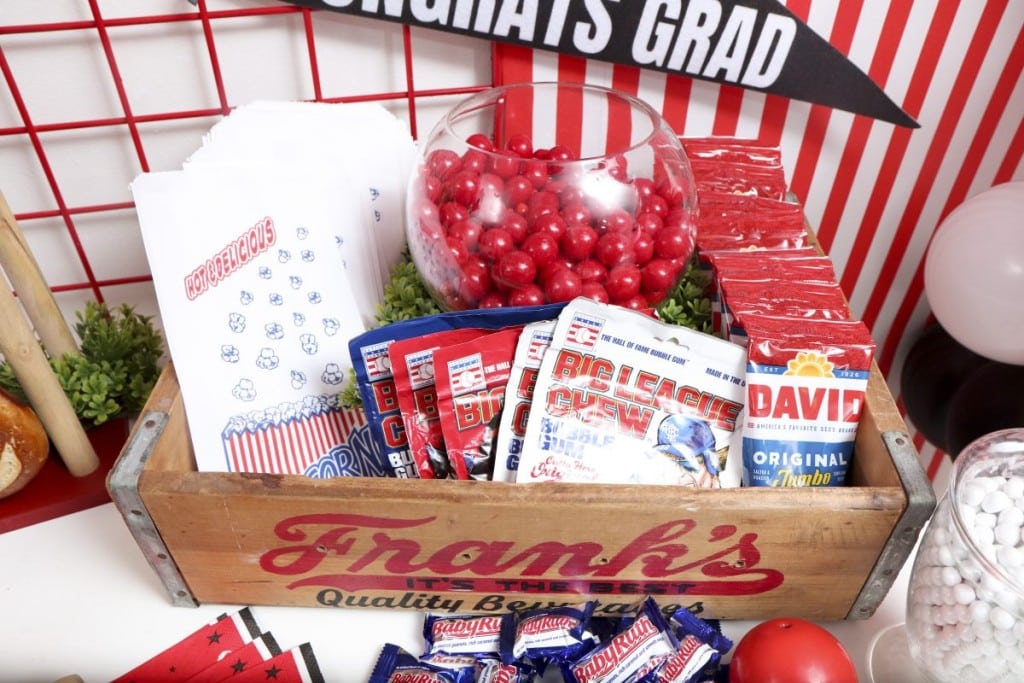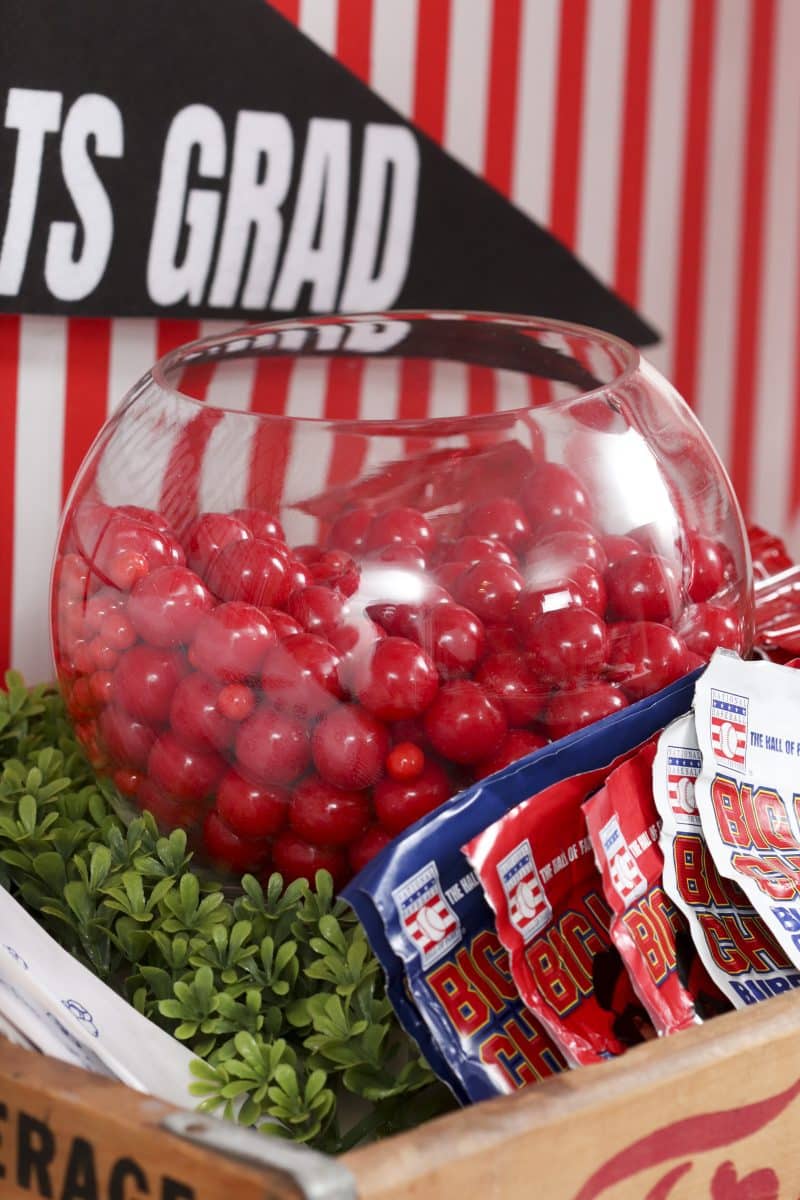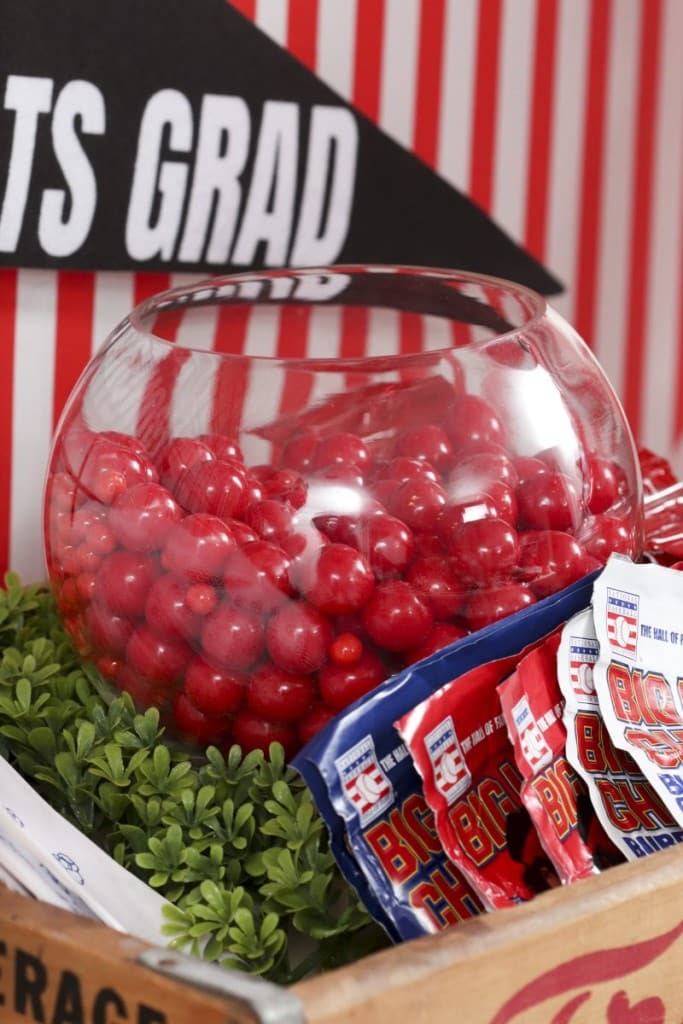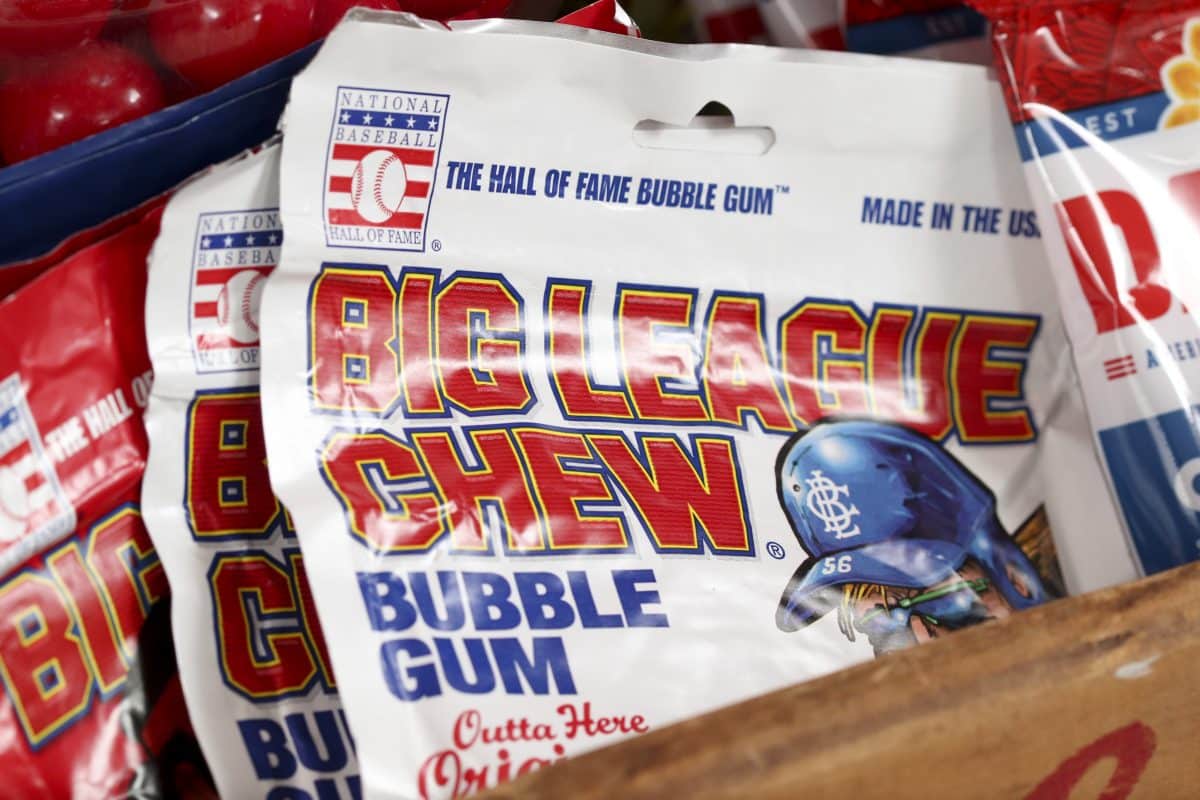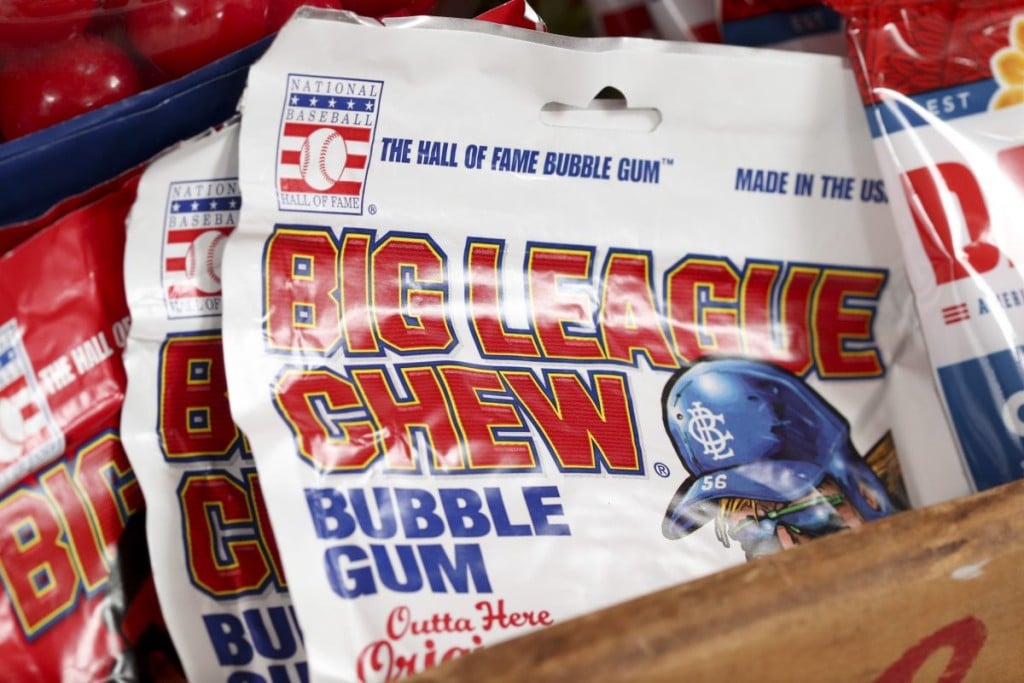 In front of the box, I added a pile of mini Baby Ruth candy bars to take up some empty space on the table and give more dimension to the snack box area.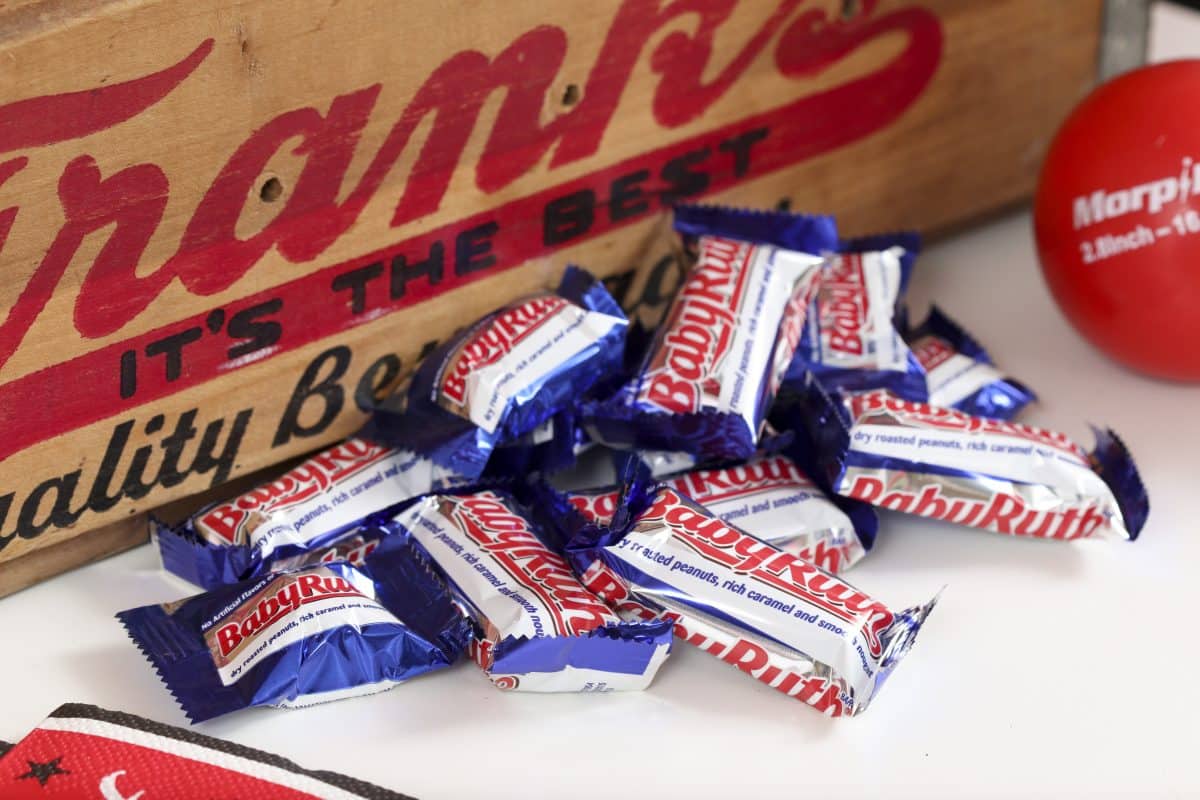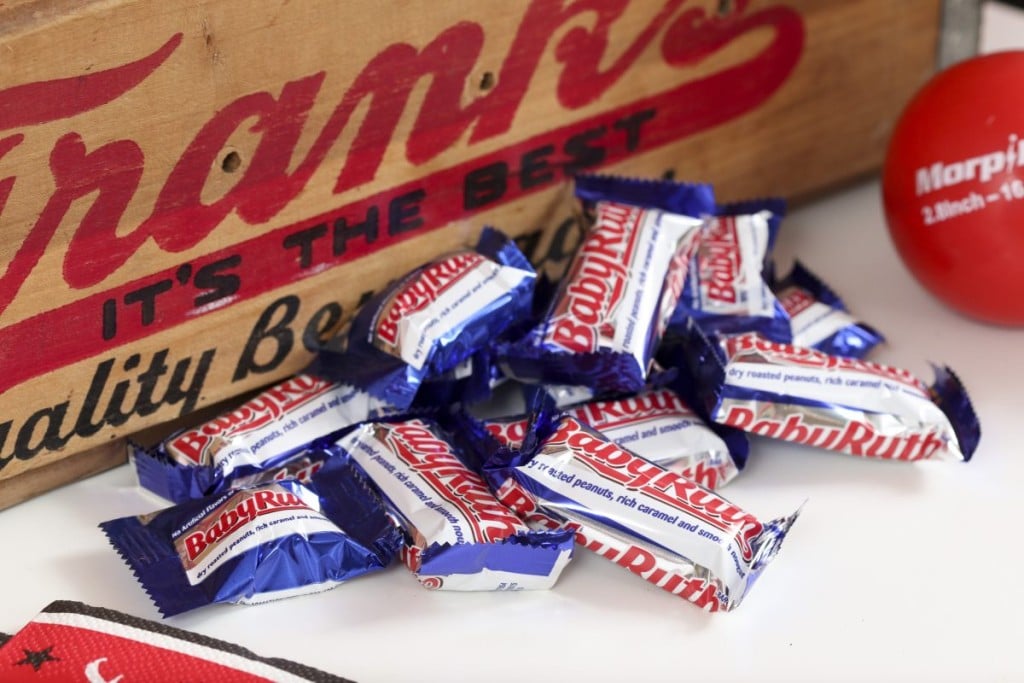 To fill the remainder of the empty space on the table, I placed baseballs, baseball cards, graduation napkins, and an additional apothecary jar of white candy.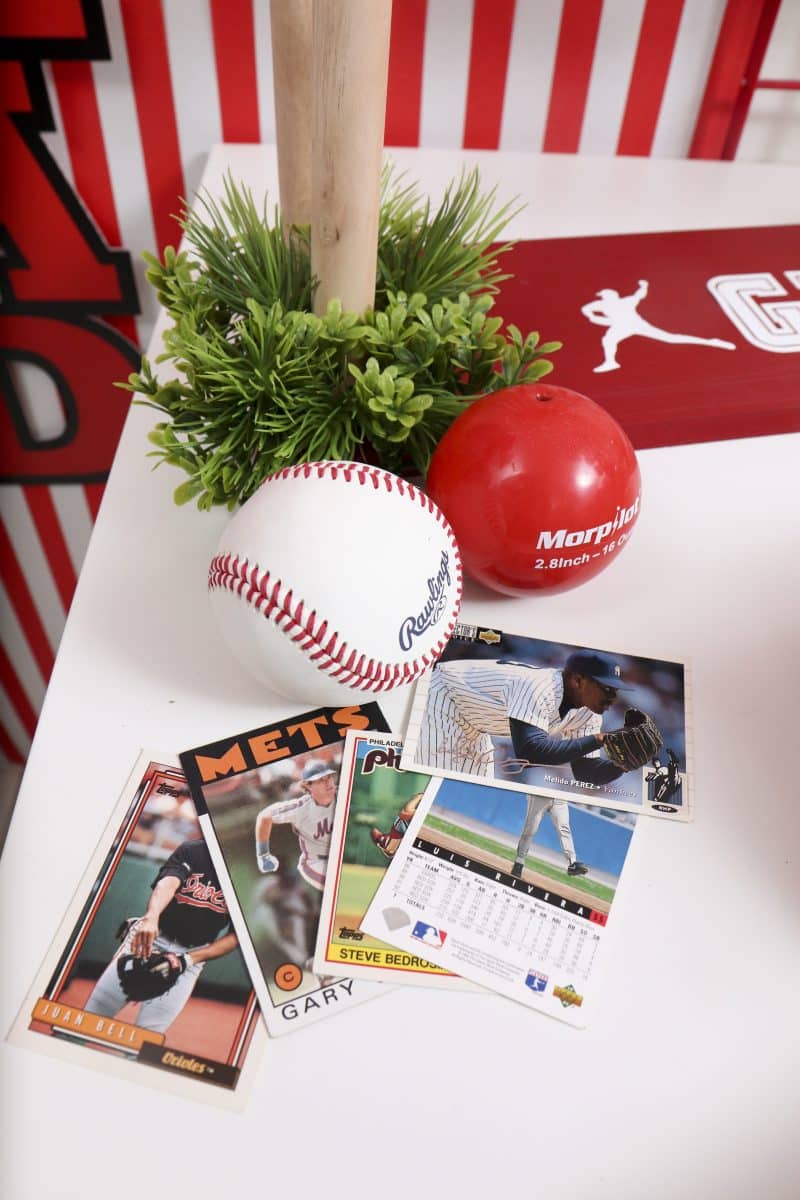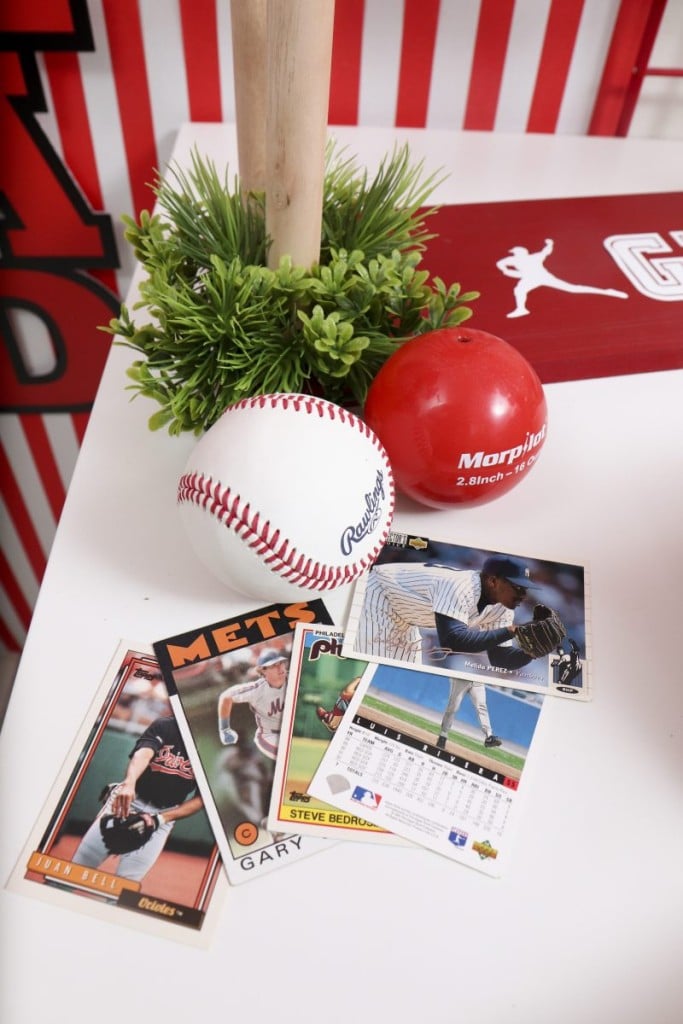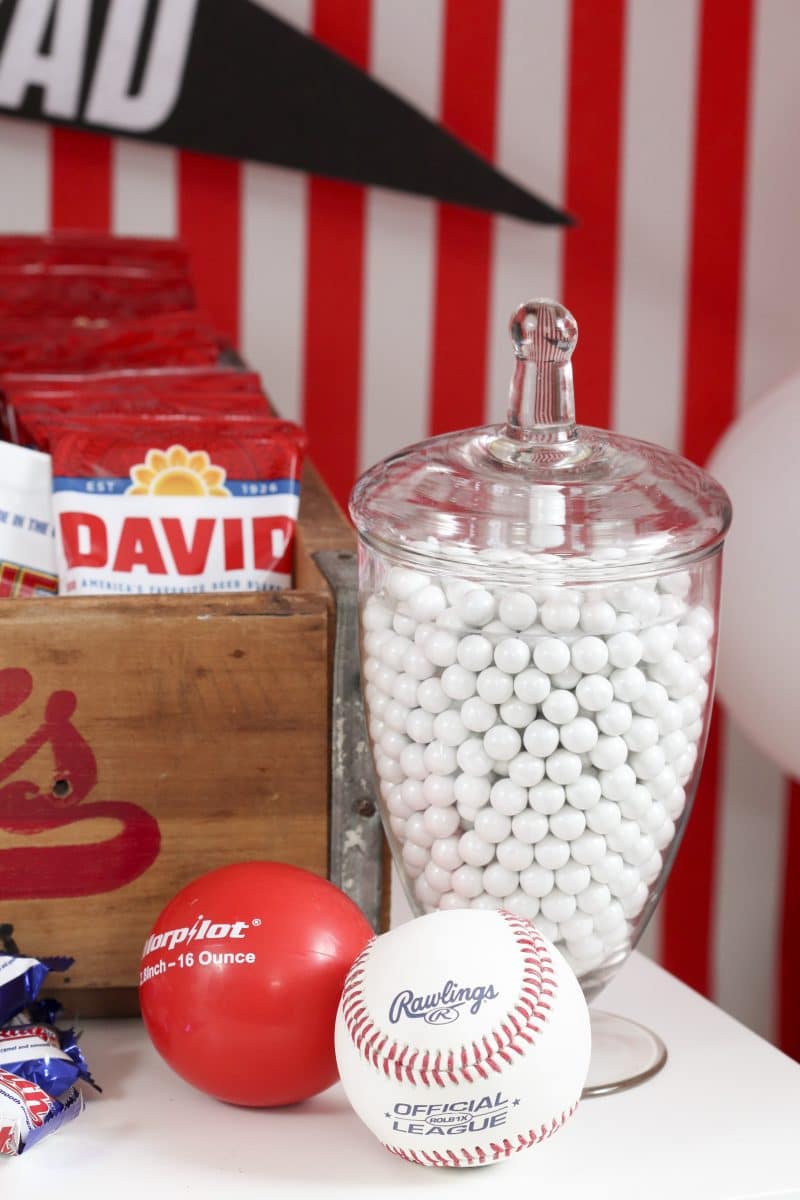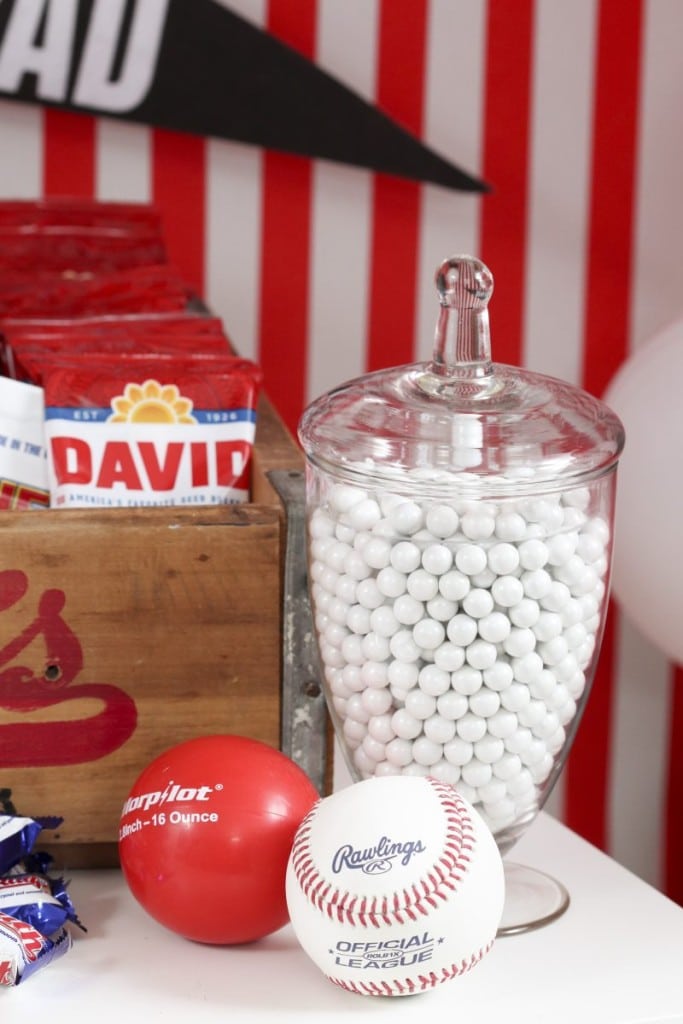 Drink Station
For refreshments, I set up a drink station with a wooden stand to make it feel like a stand at a baseball game. I decorated the top with a smaller balloon garland, a pennant flag, and another baseball cap. Underneath, I placed a few antique beverage boxes of baseballs.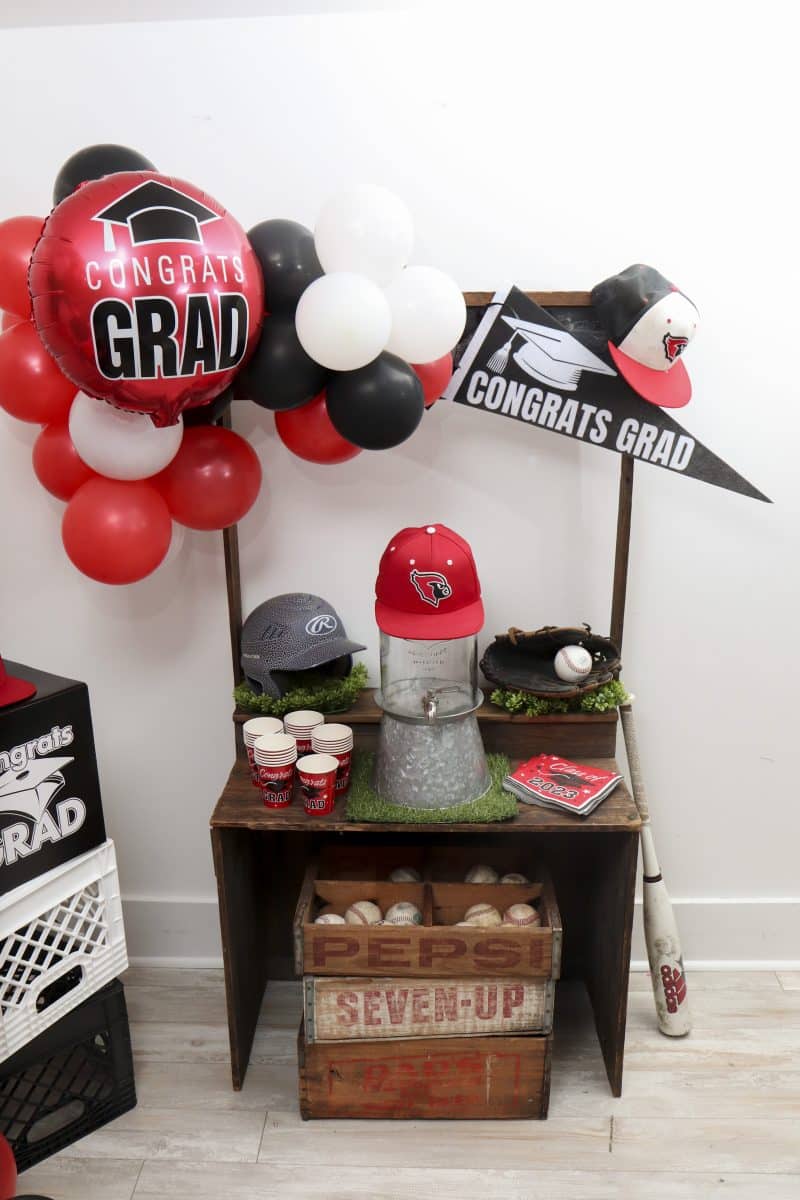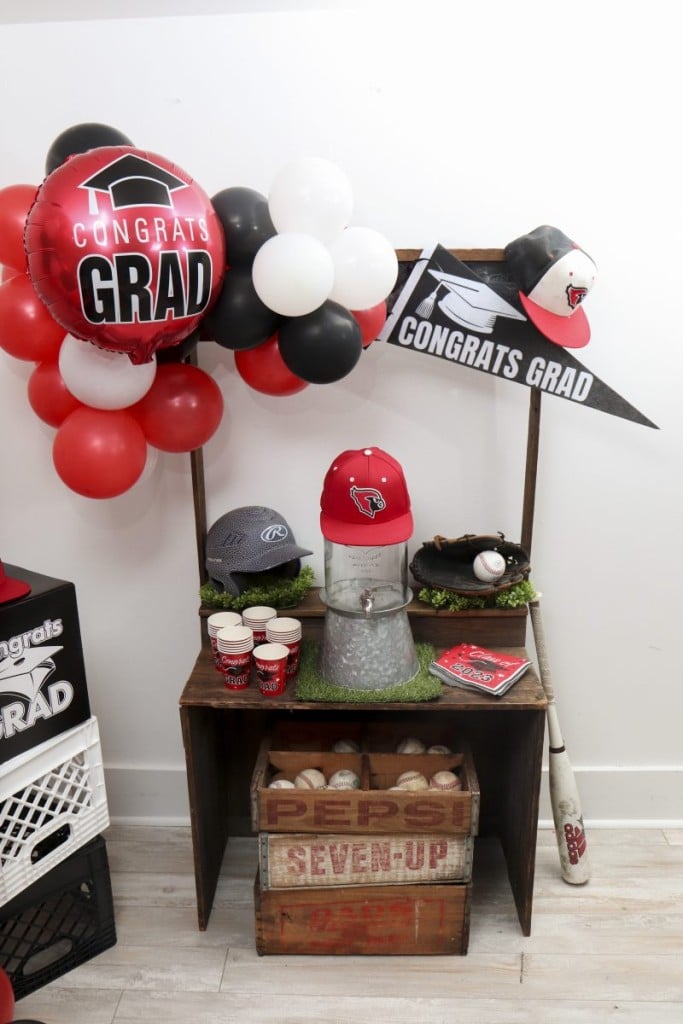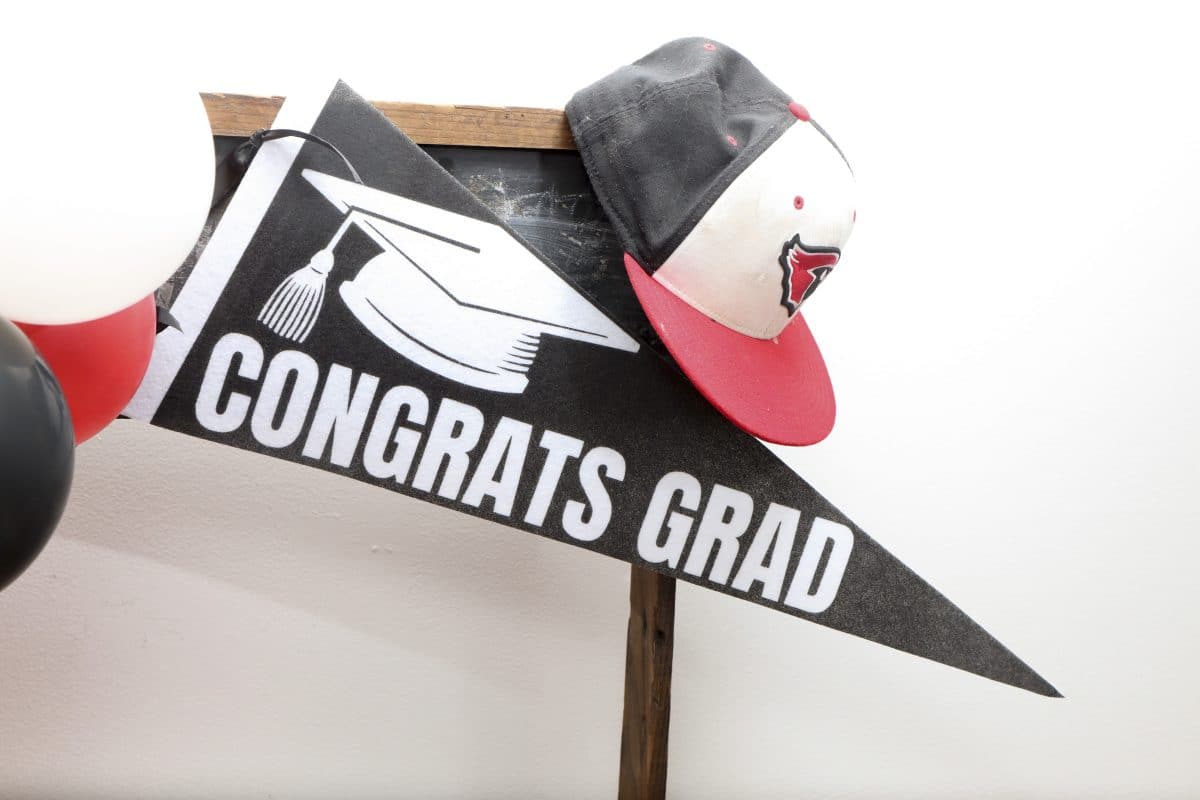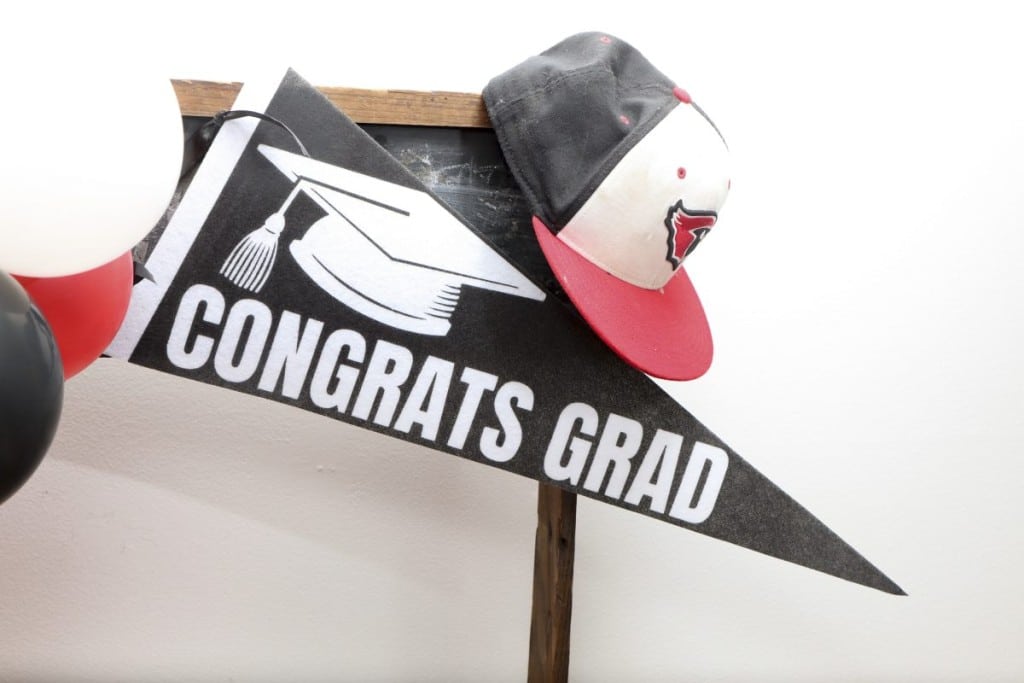 On the top shelf of the stand, I placed faux grass patches decorated with a baseball glove and baseball, and a baseball helmet.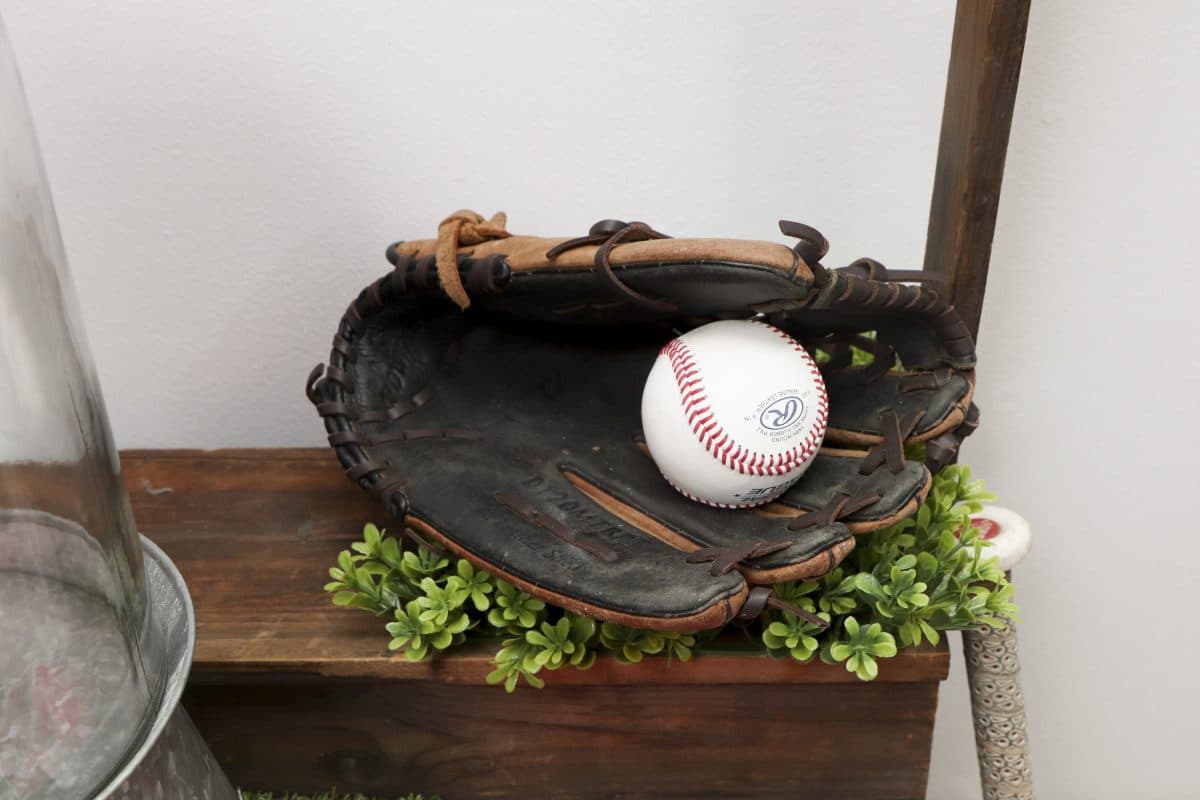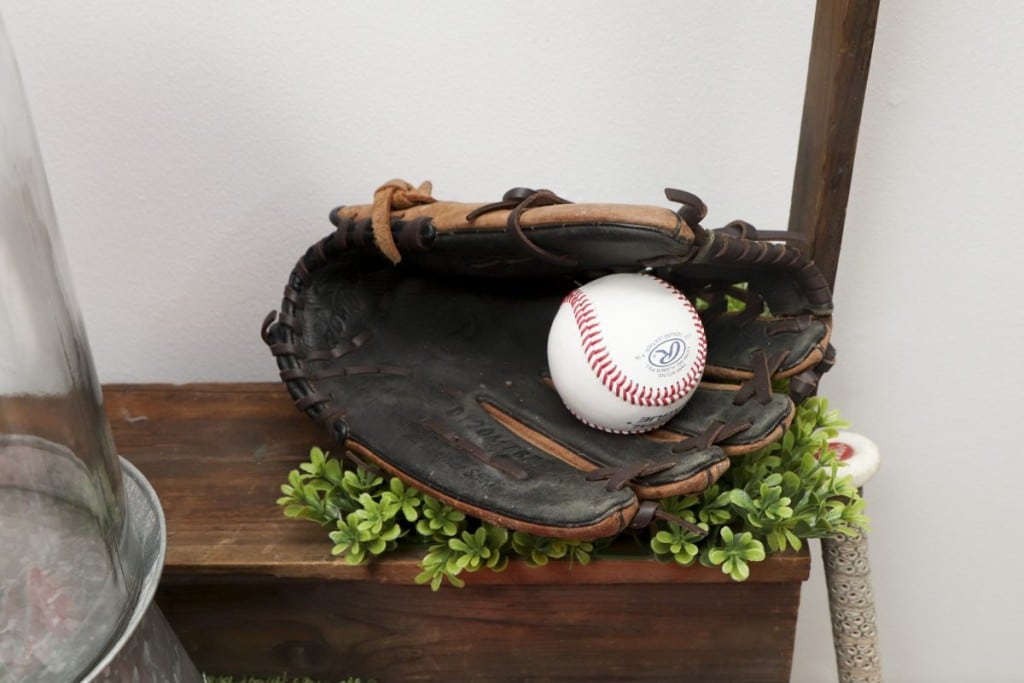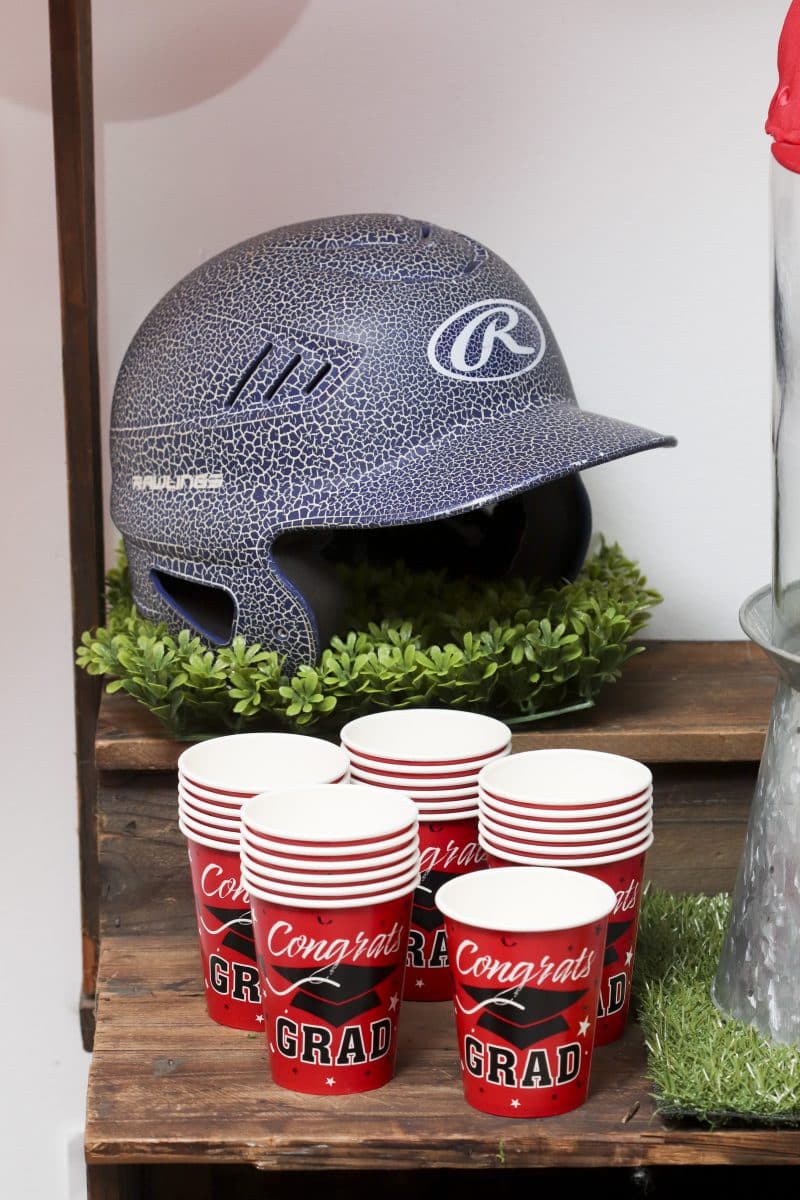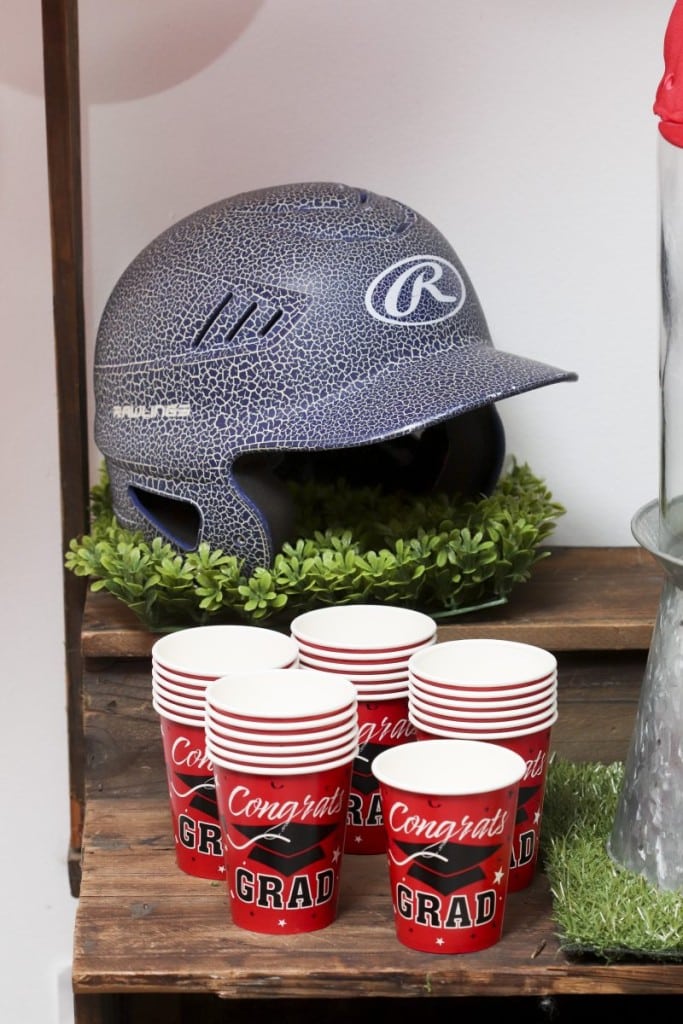 Underneath the decorations, I set up stacks of graduation-themed paper beverage cups, and matching napkins.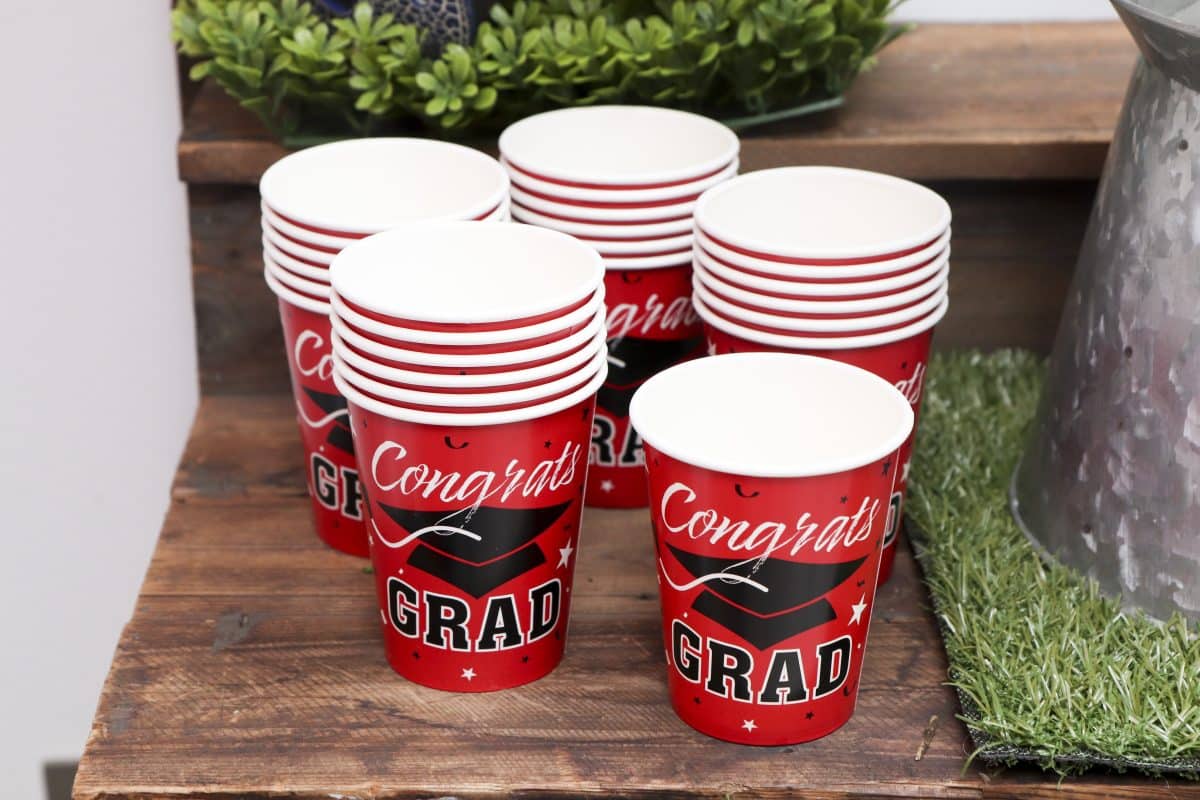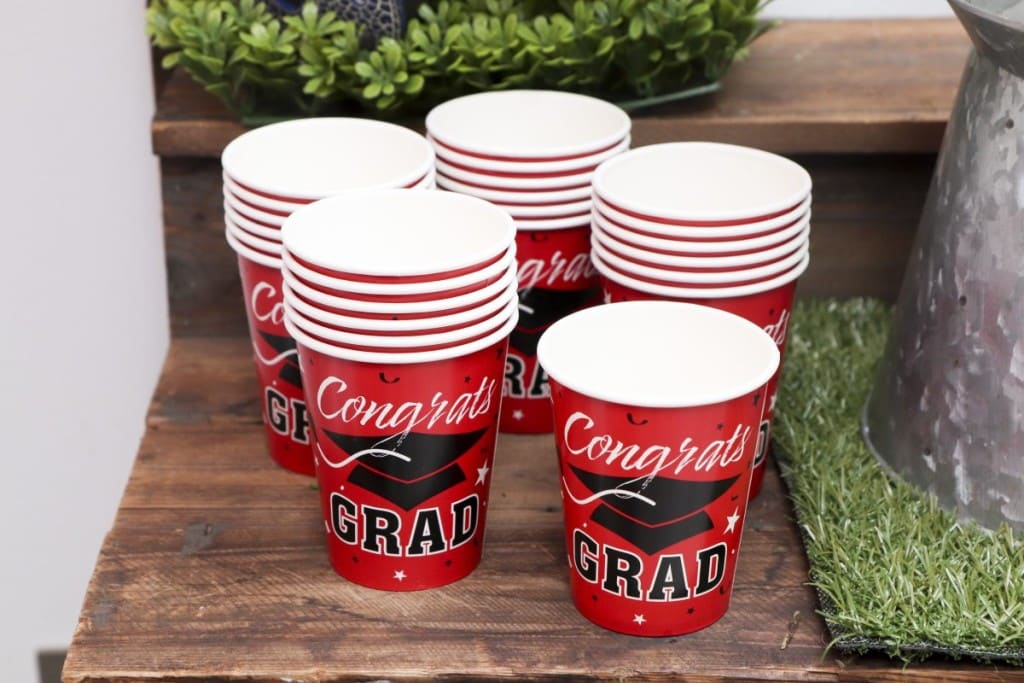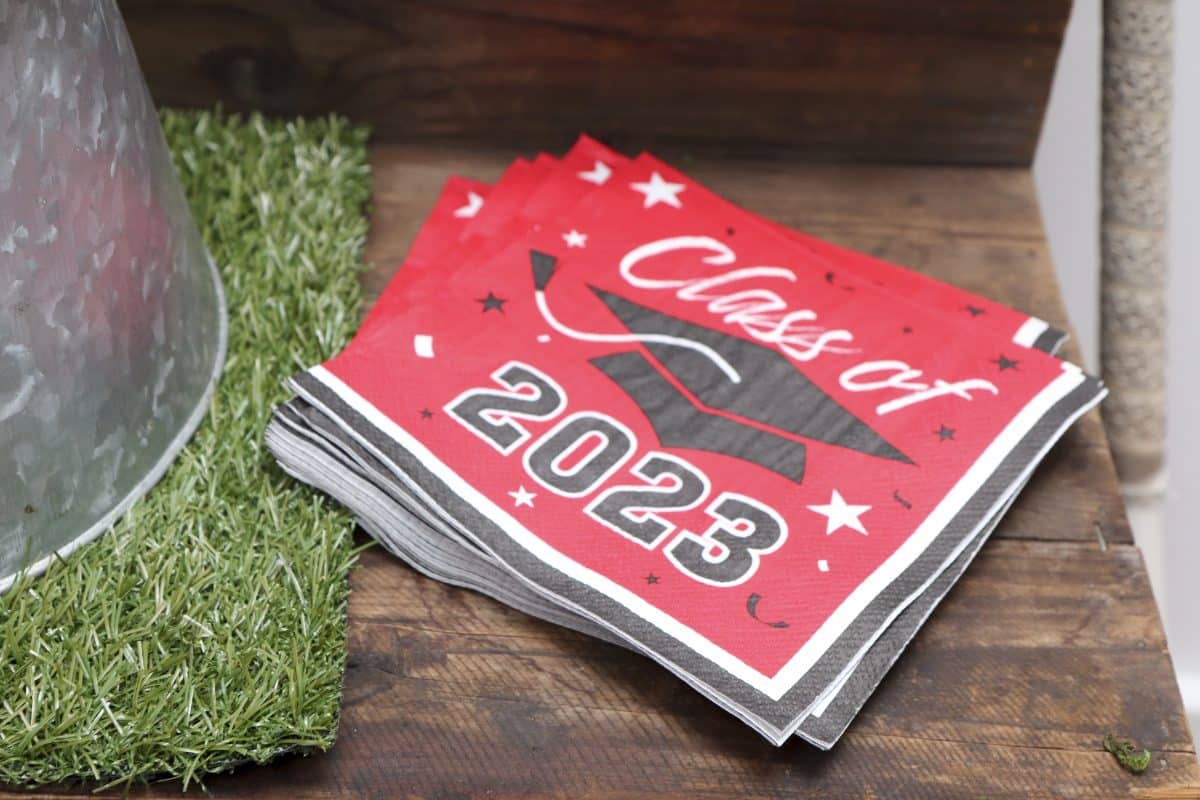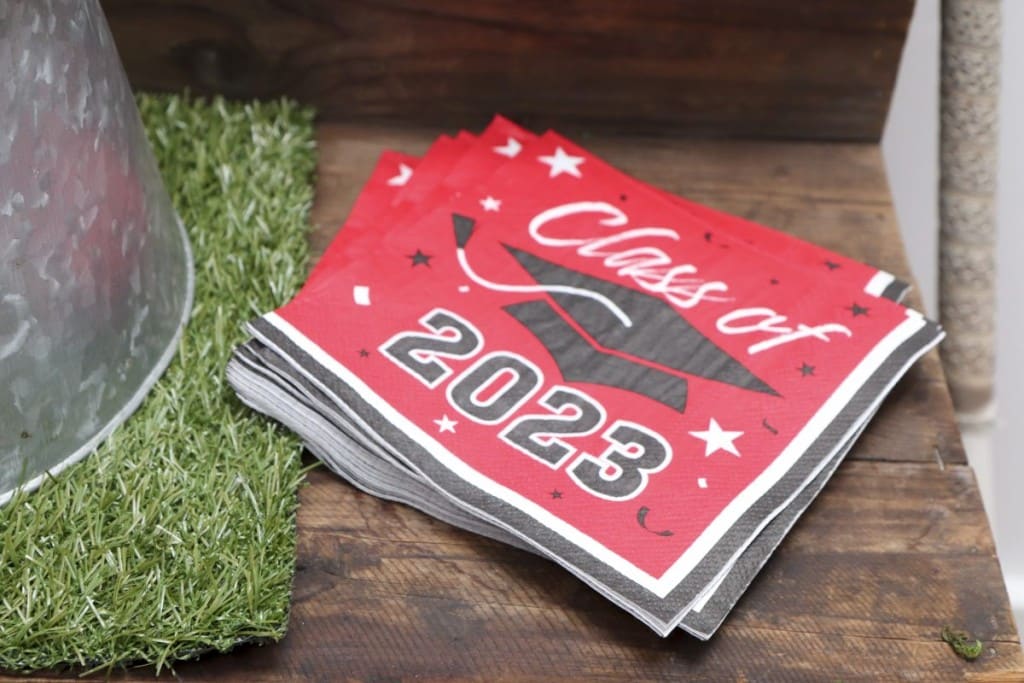 In the center, I set up a rustic galvanized metal and glass drink dispenser on a patch of faux grass, and with a baseball hat on top.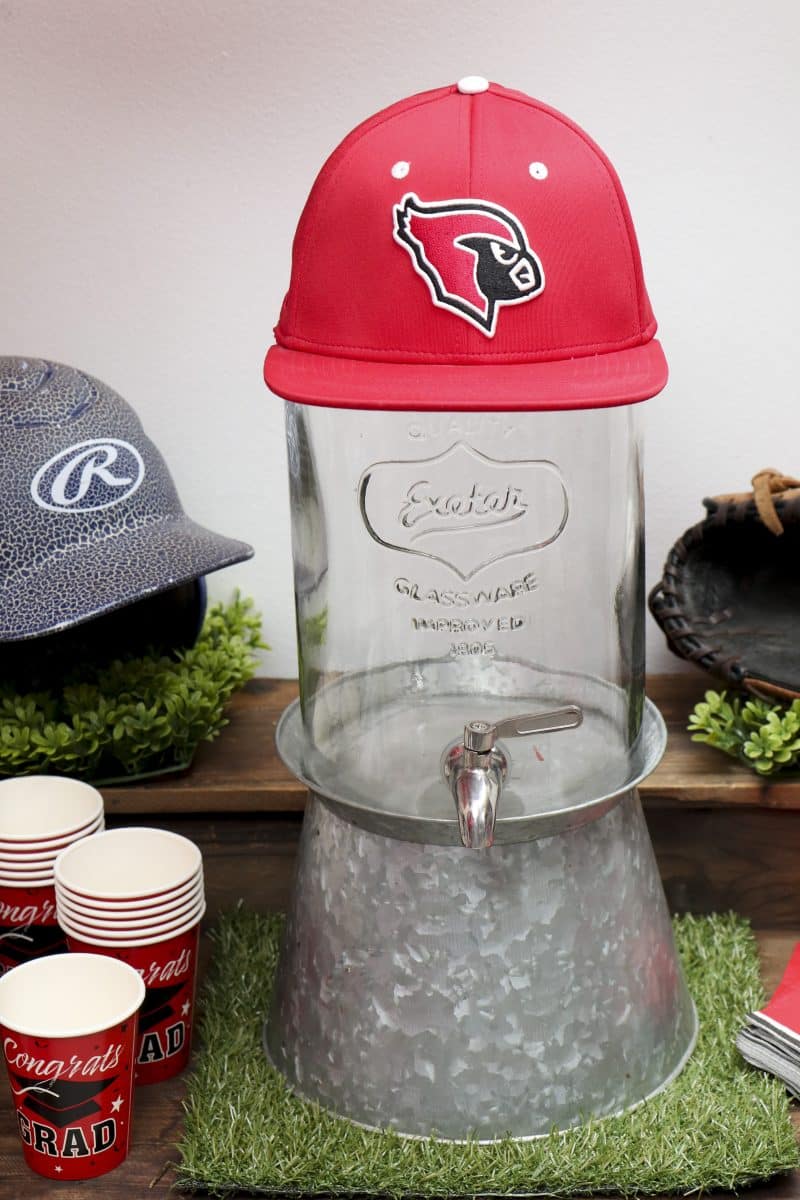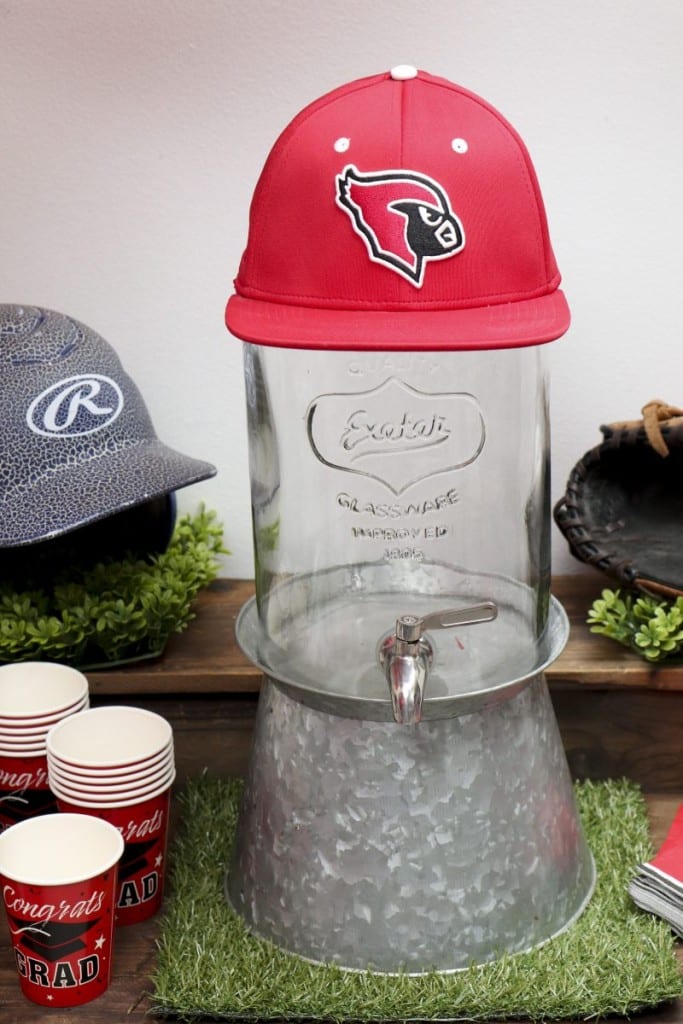 The touches of red throughout all of the decor and party supplies really helped to pull the drink station together.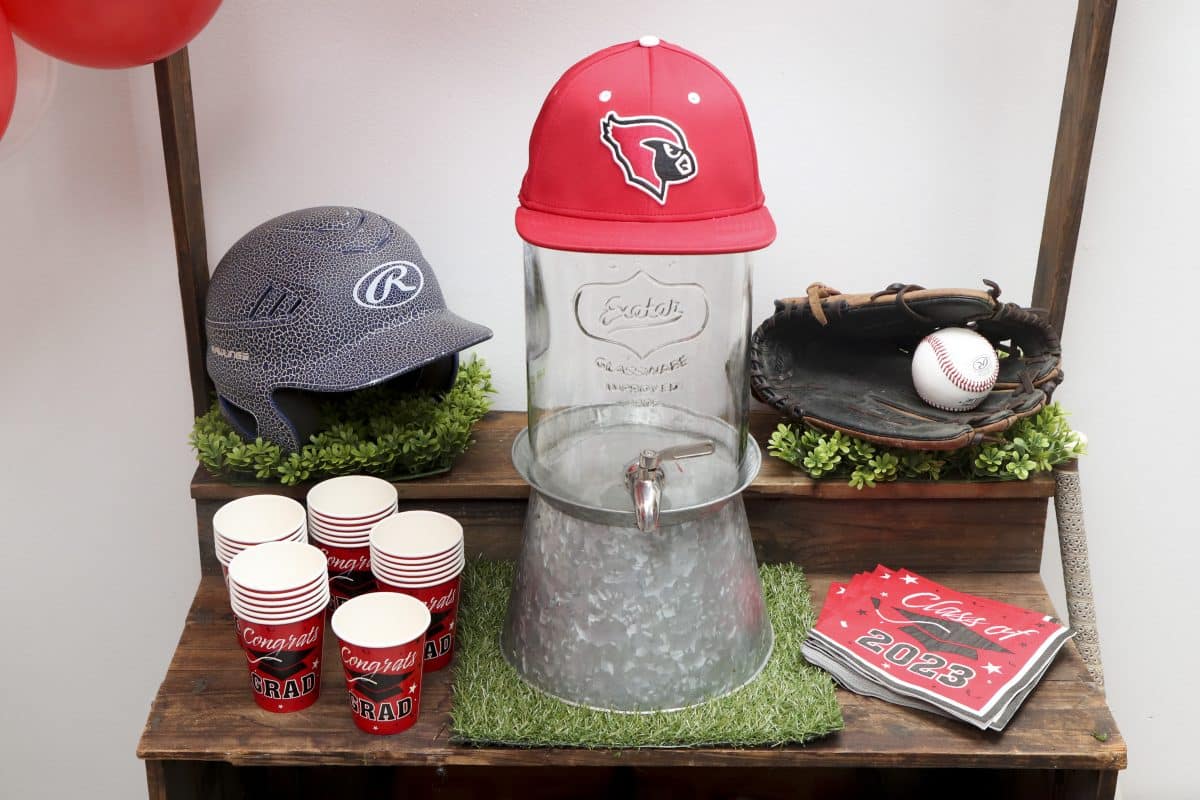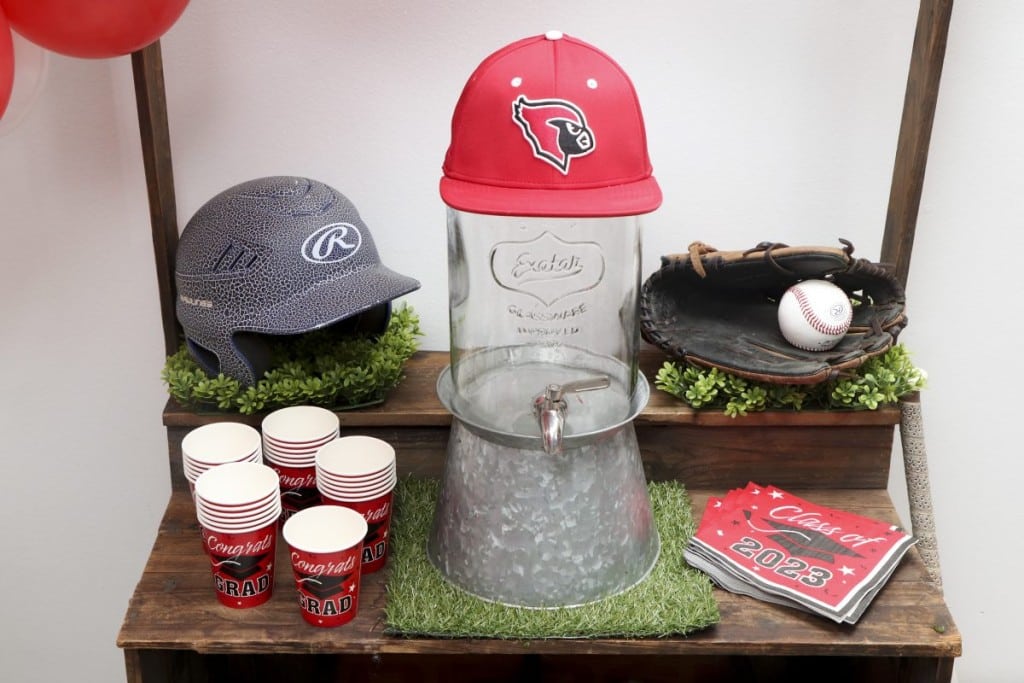 Table Setting
Next, I set up the main table. First, I created easy DIY Baseball Graduation Party table centerpieces. To create these, I filled tall glass jars with peanuts, put a baseball on top, and added a small graduation hat decoration and a vinyl baseball player sticker.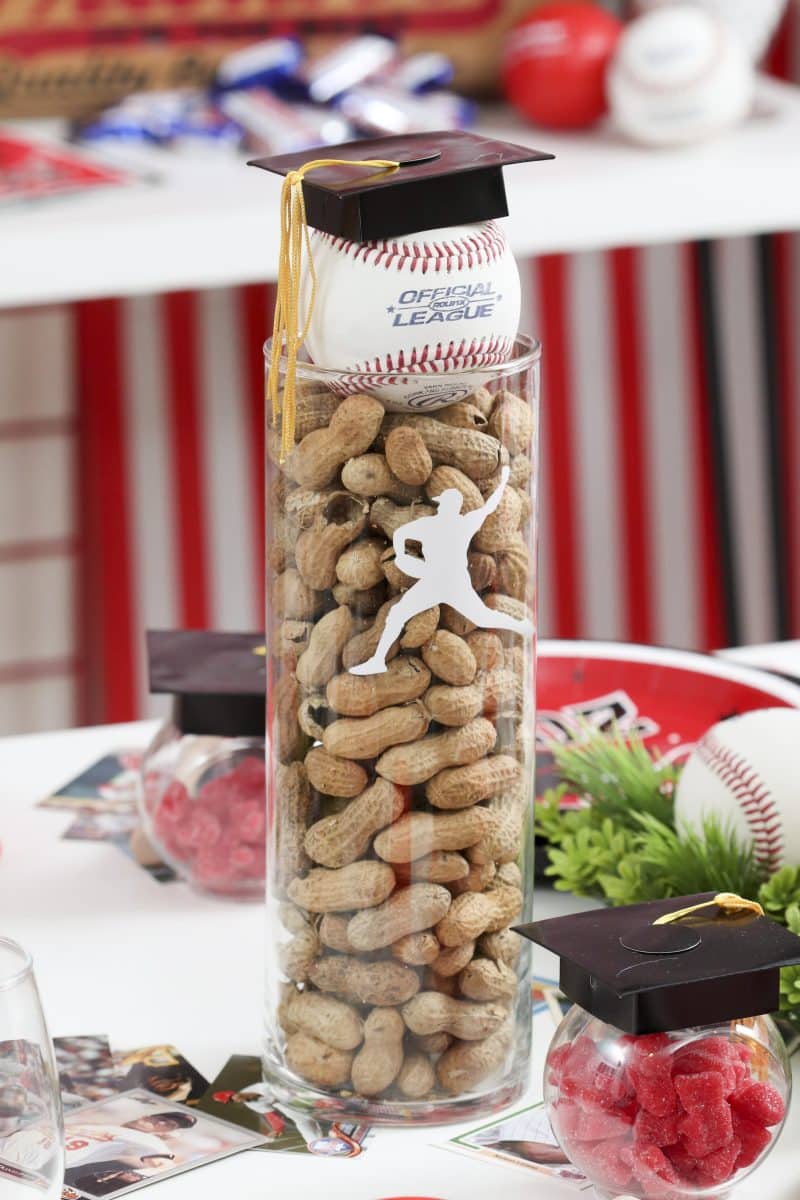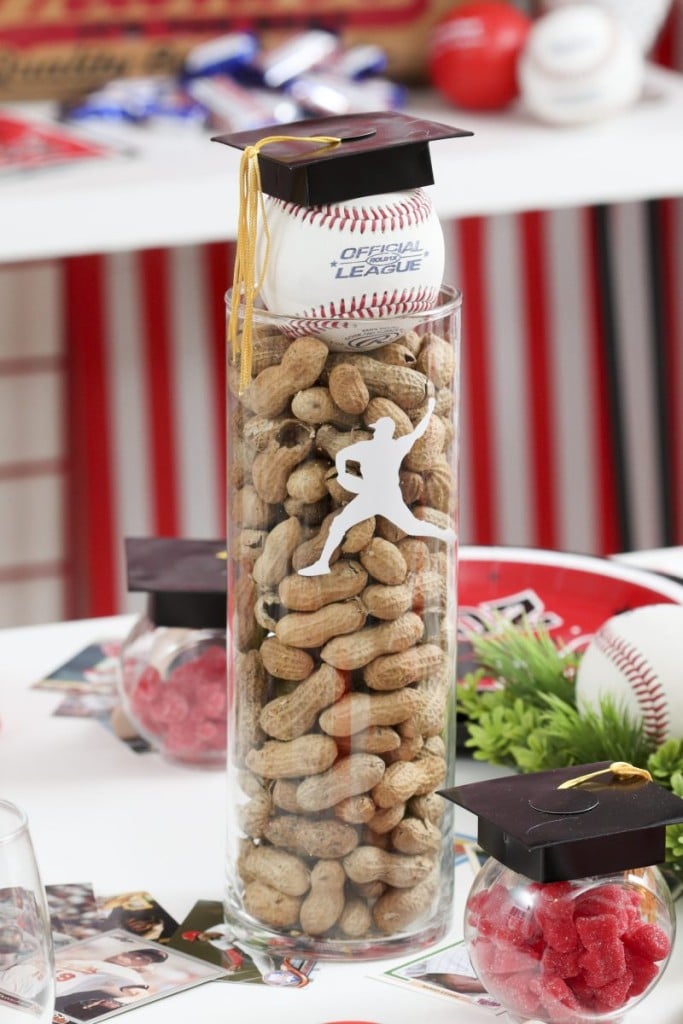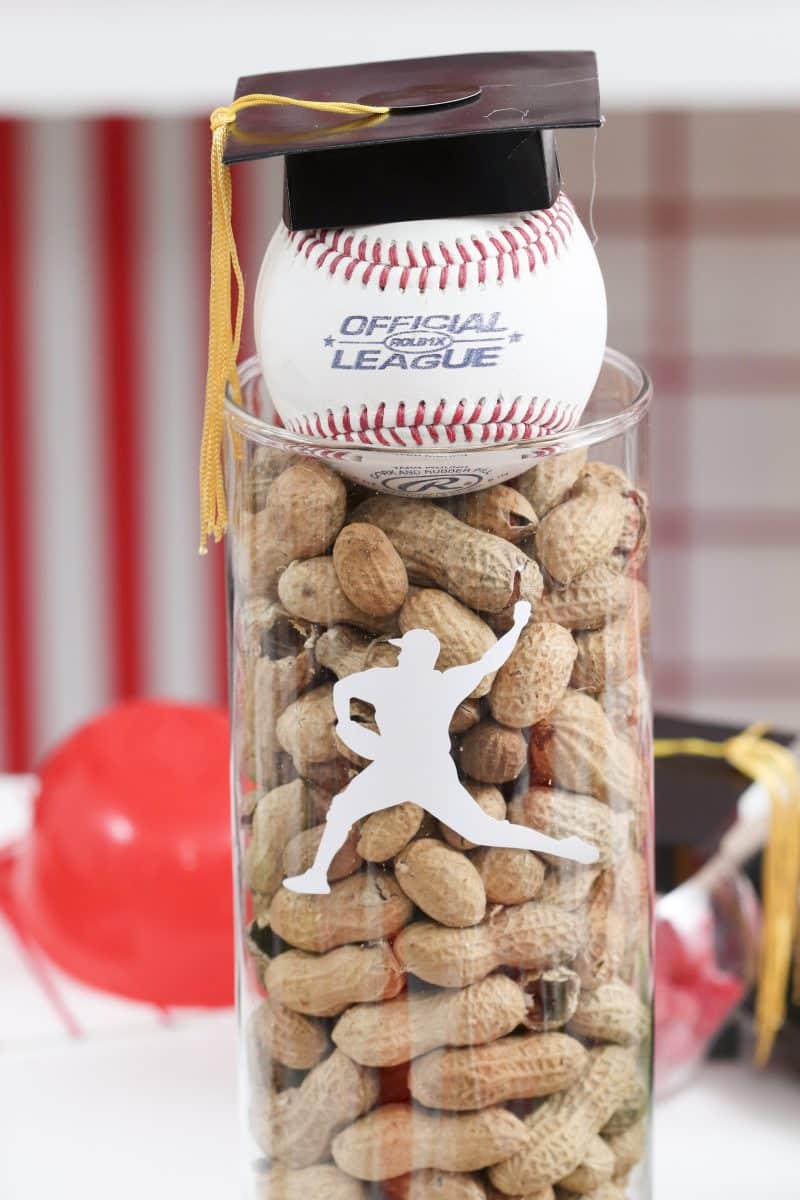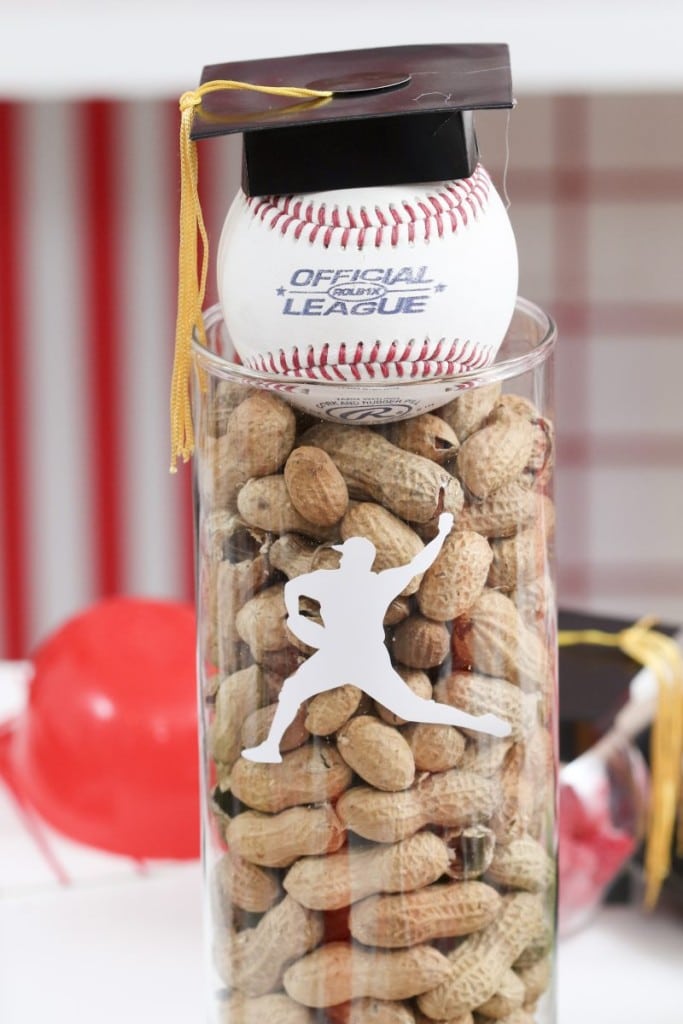 I set these on top of an array of baseball cards that created the feel of a table runner in the center of the table.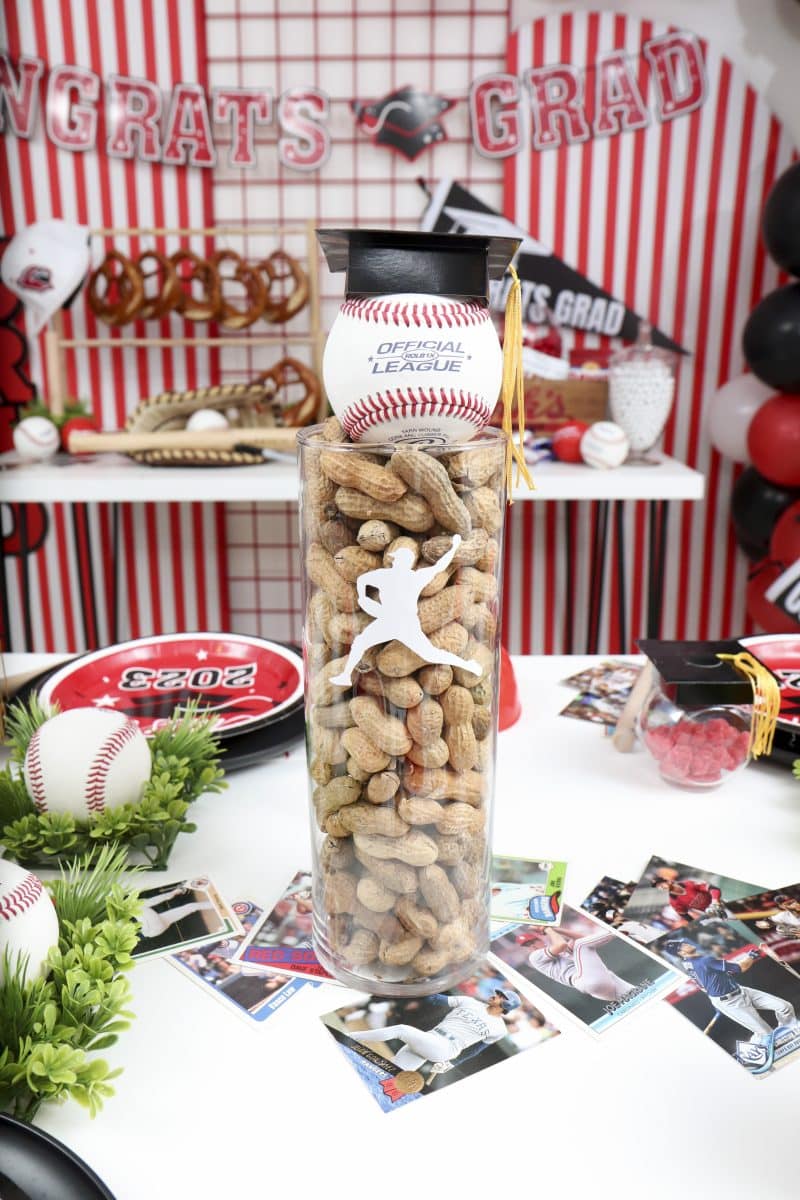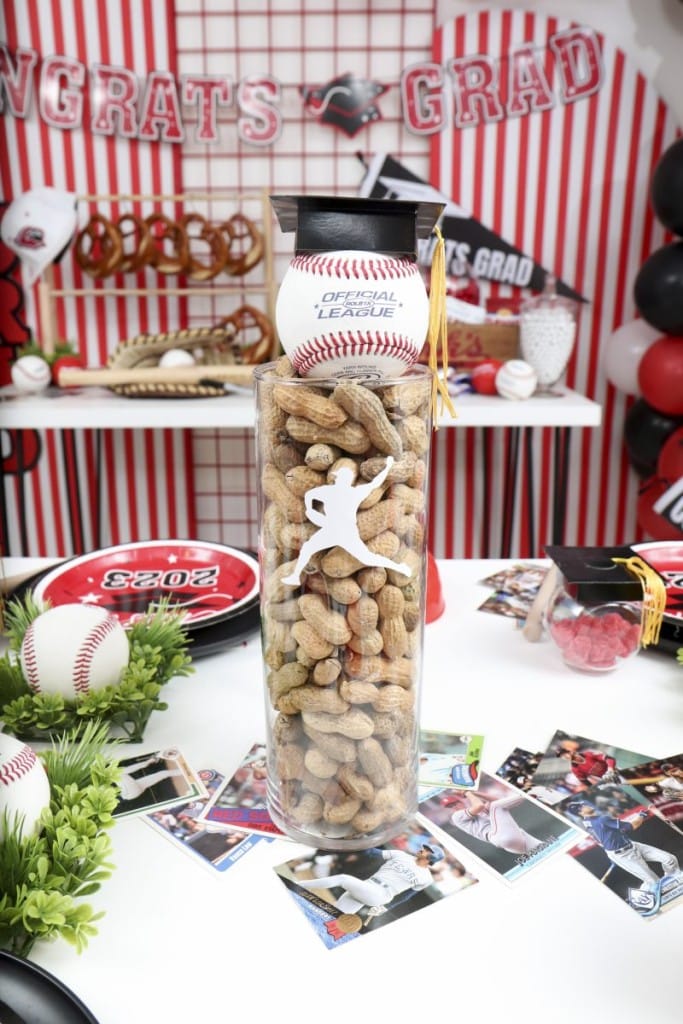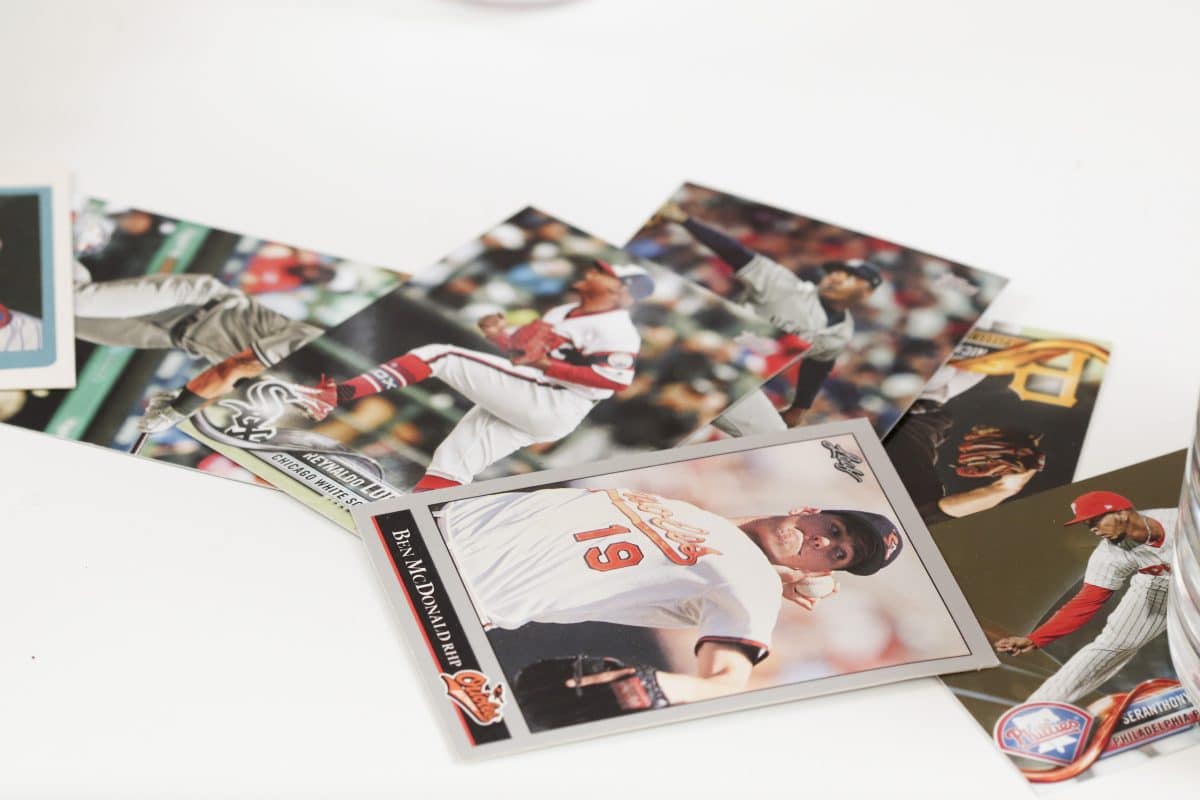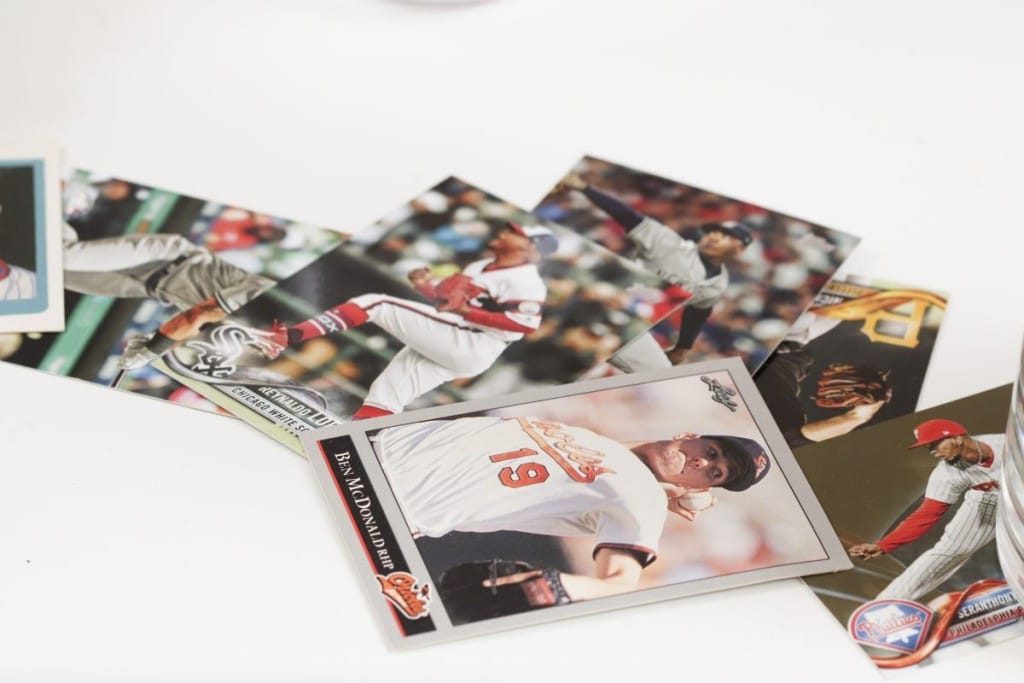 In front of each place setting, I placed a small patch of faux grass with a baseball in the center. I loved the pop of bright color the green brought to the table.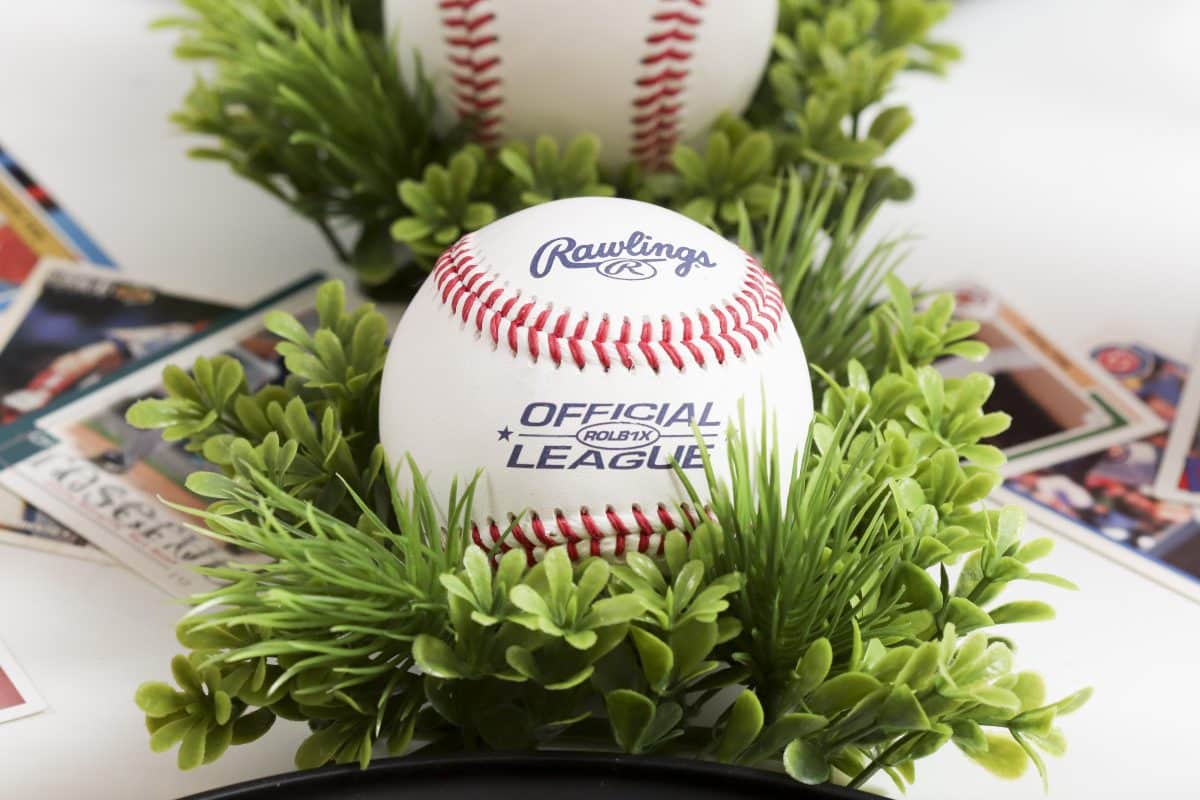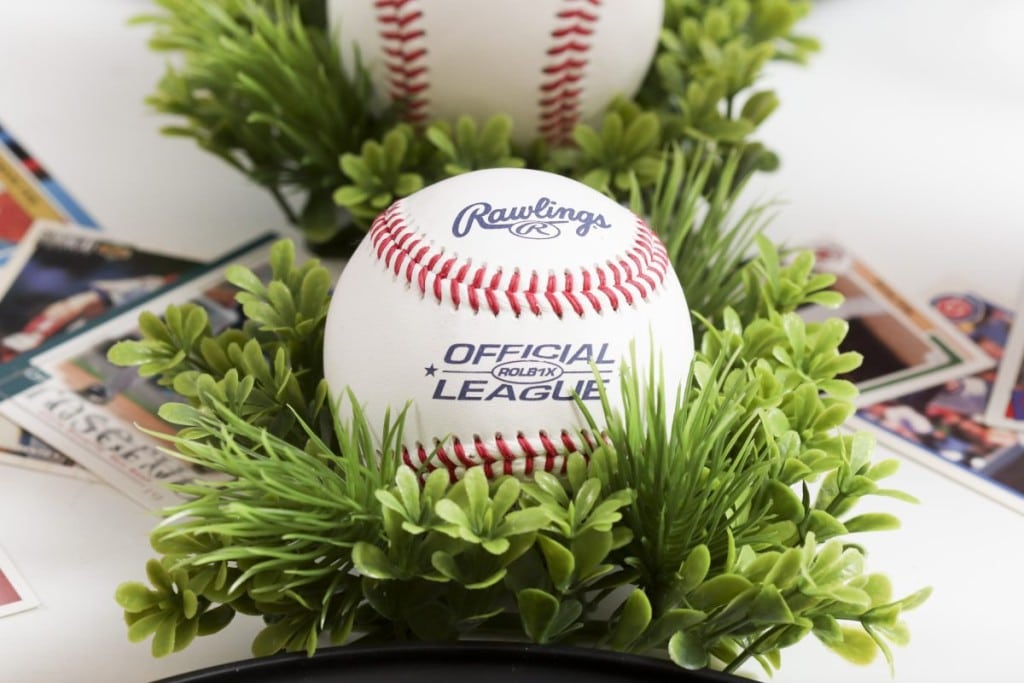 Place Settings
The place settings themselves consisted of black chargers layered with red and black paper graduation plates, and simple plastic glasses.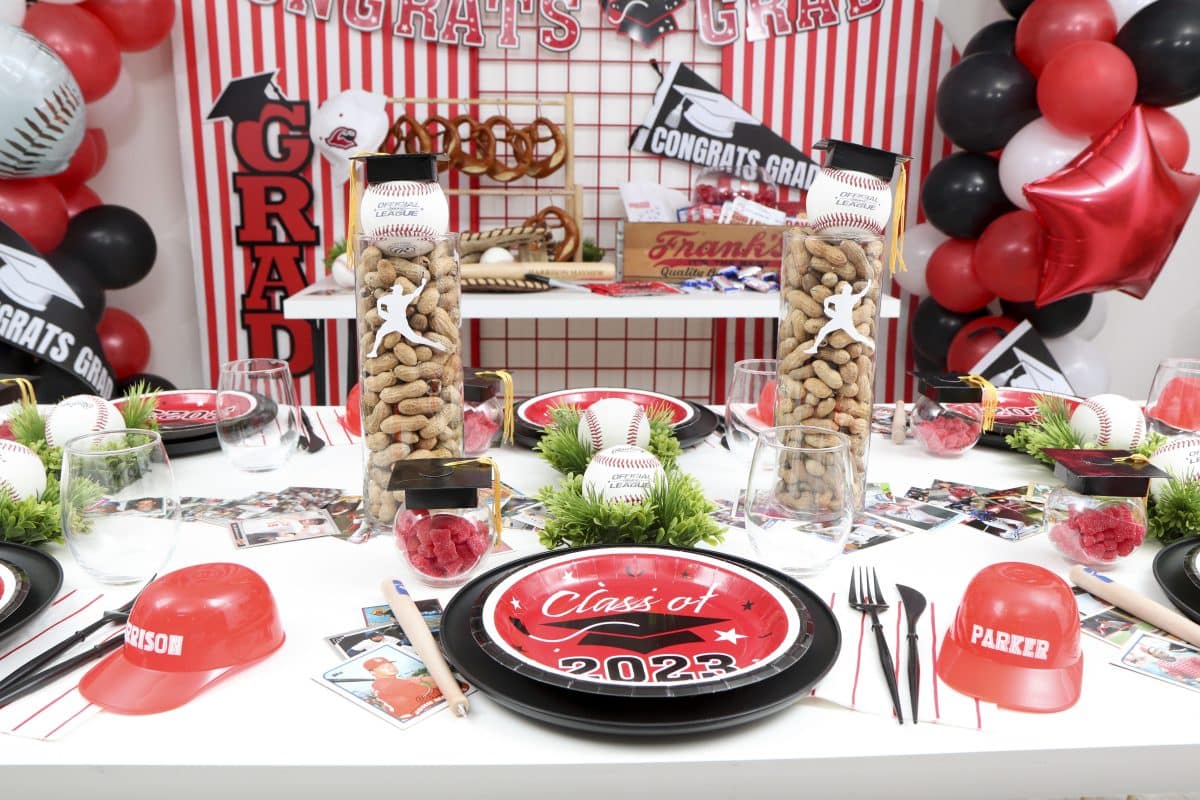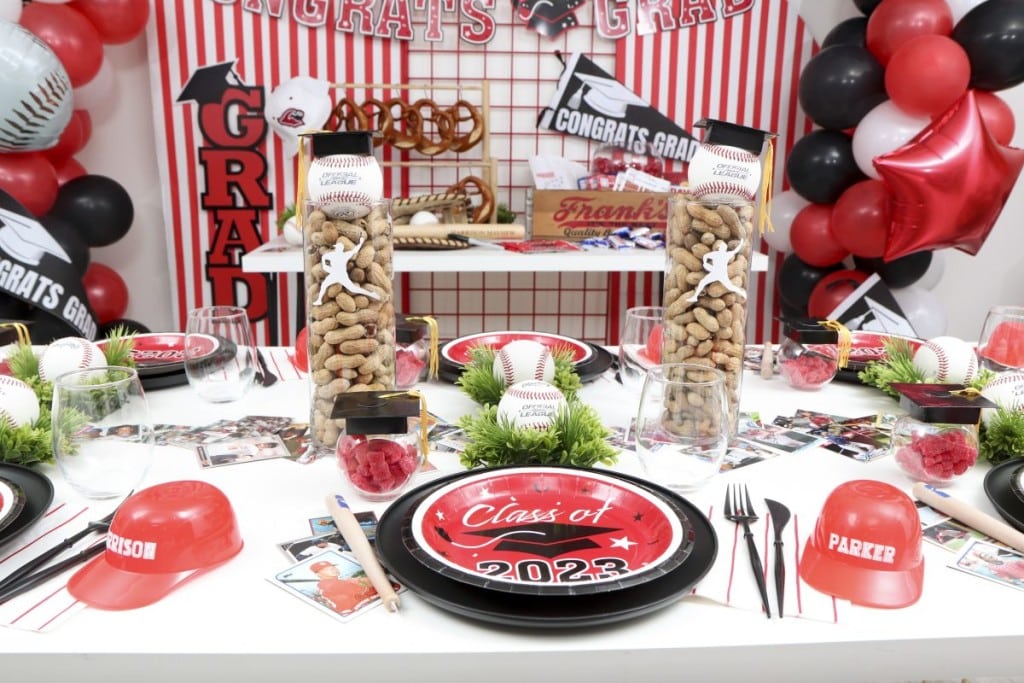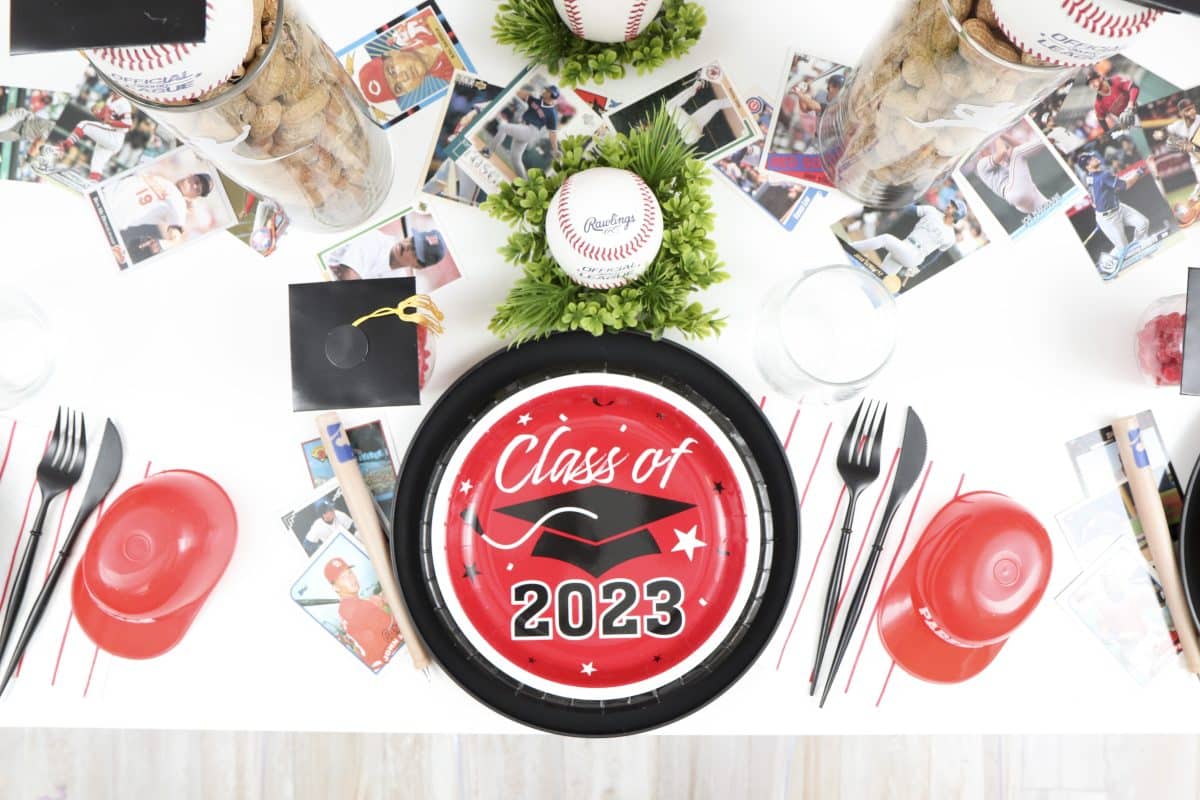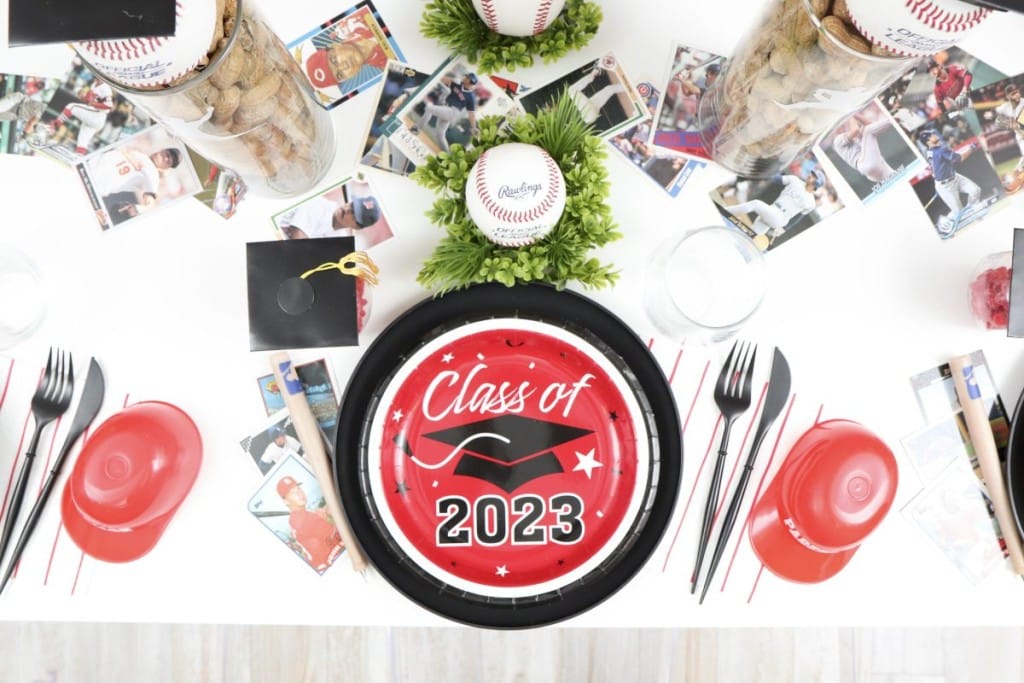 To one side of the plates, I added a red and white striped napkin and black plastic utensils. For place cards, I used the cutest little personalized baseball helmets. These were simply overturned baseball helmet snack bowls that I added guest's names to with stickers.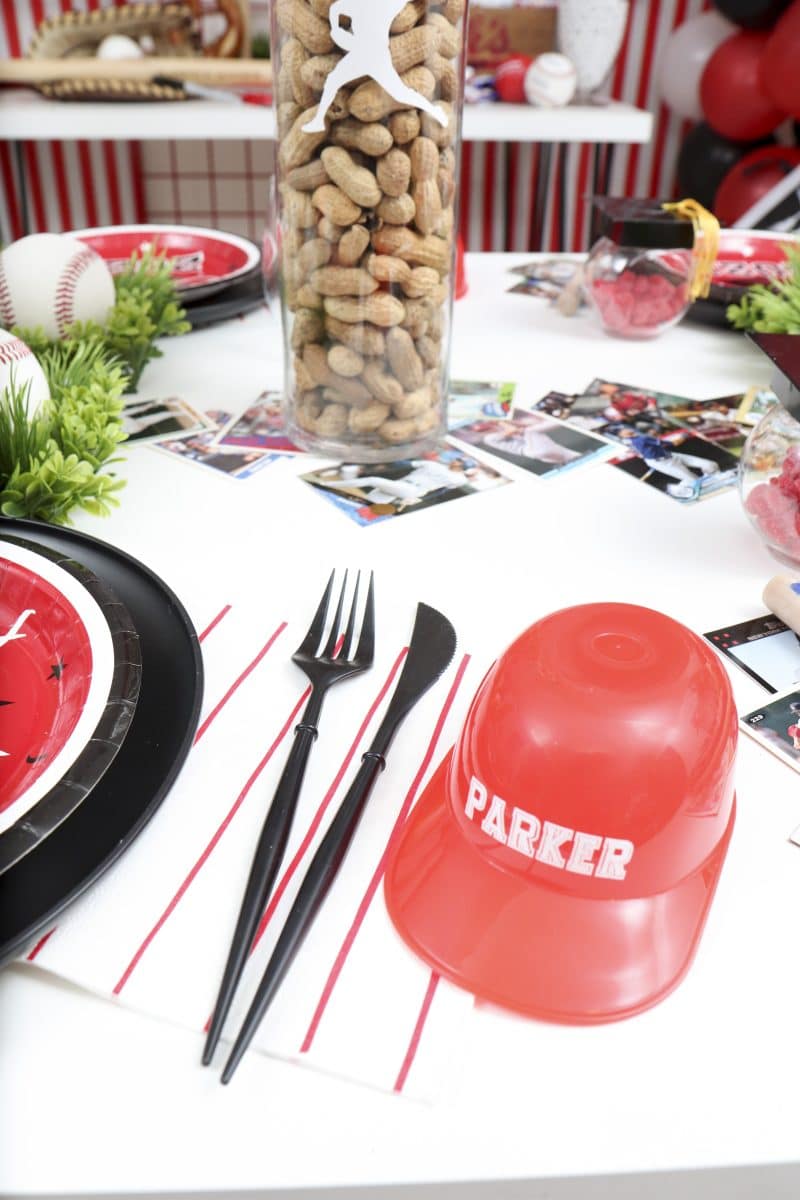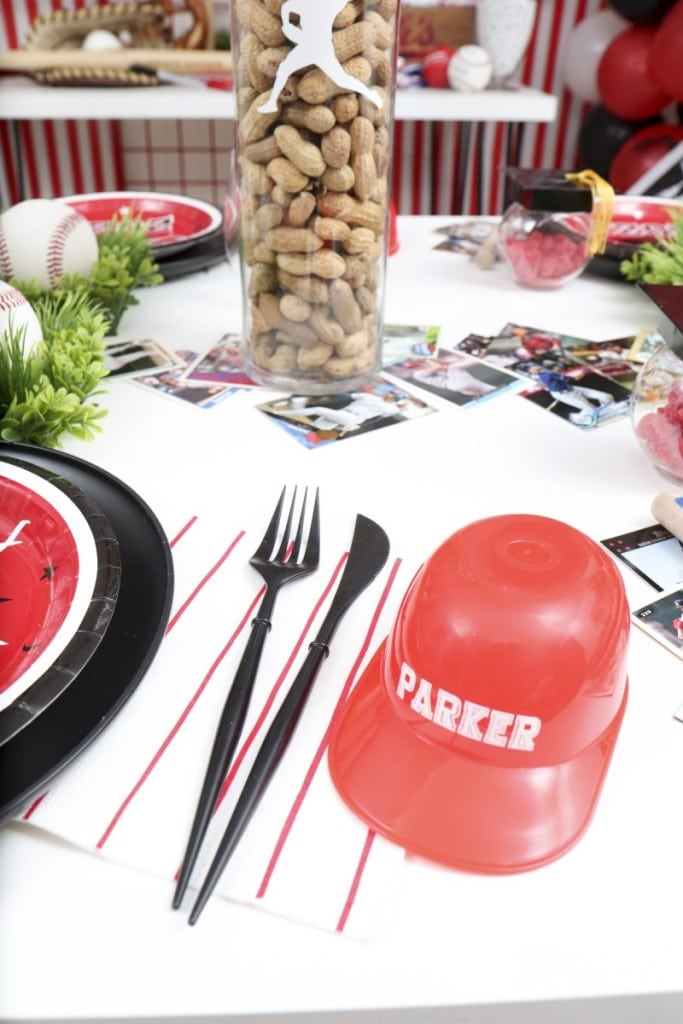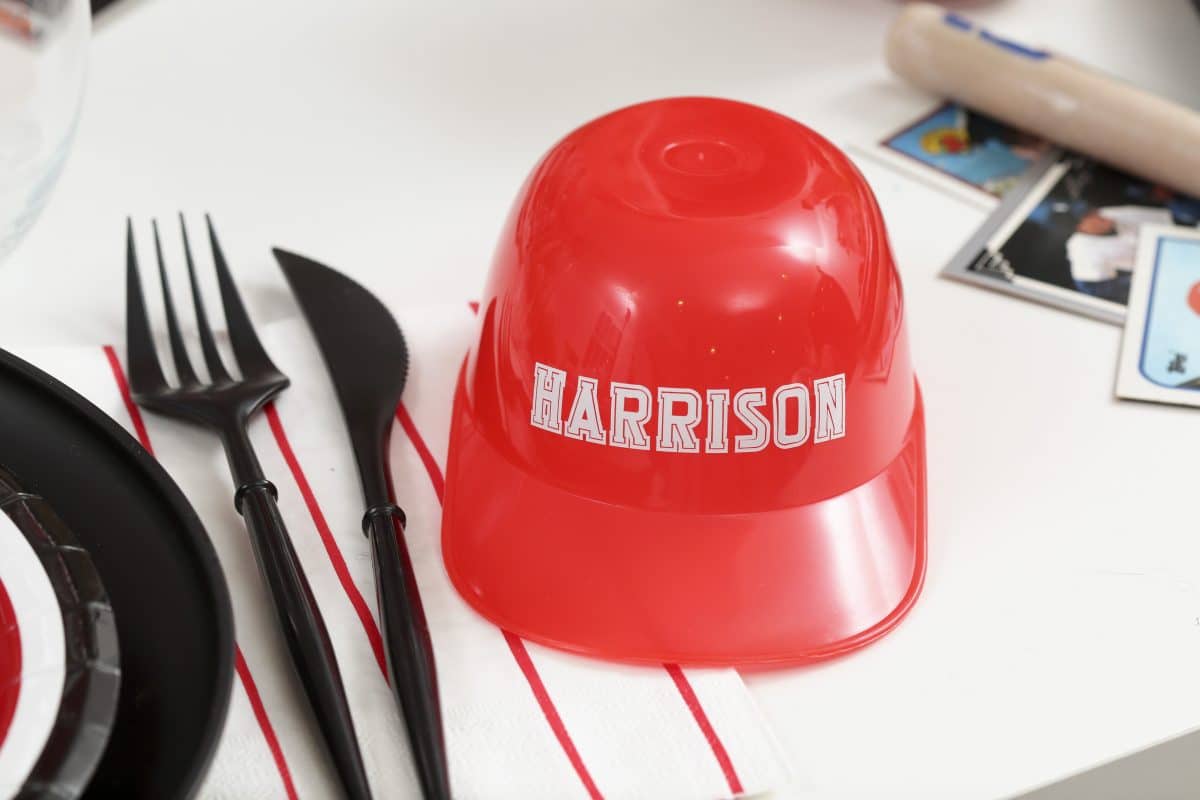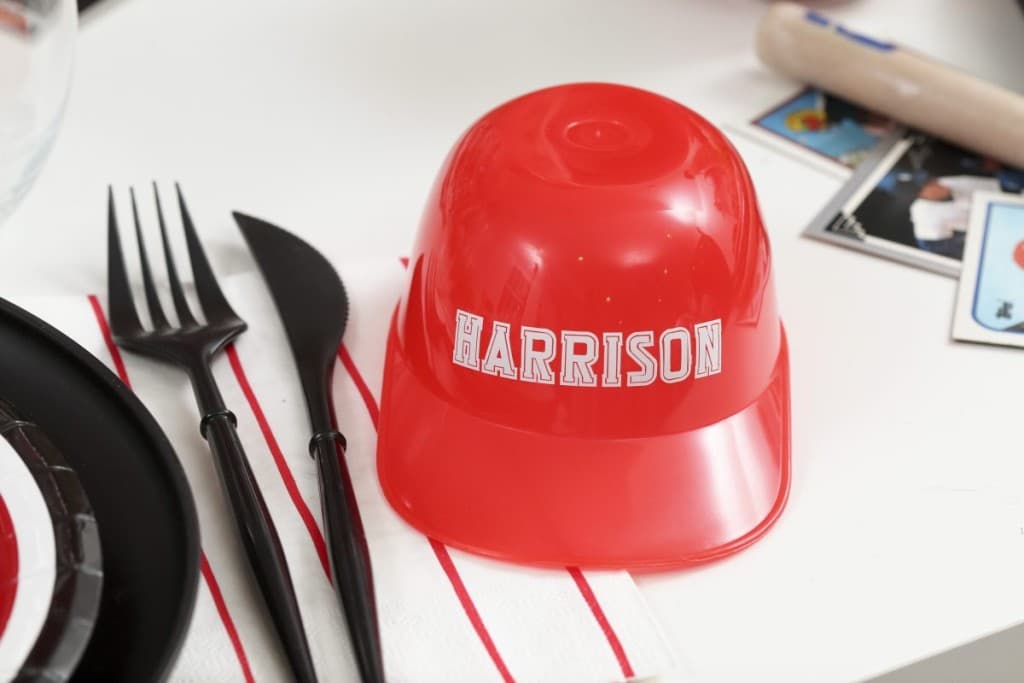 On the other side of the plates, I placed a baseball bat pen favor on top of a few more baseball cards, and a DIY candy graduation party favor.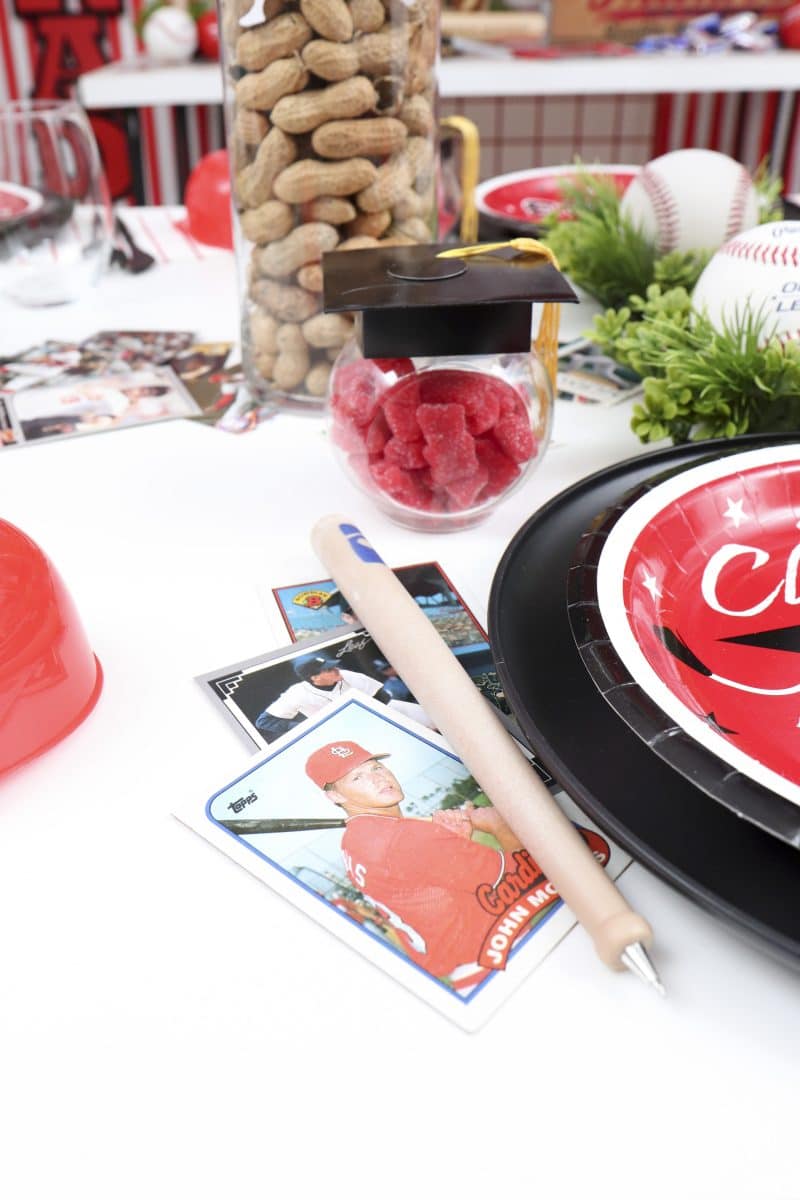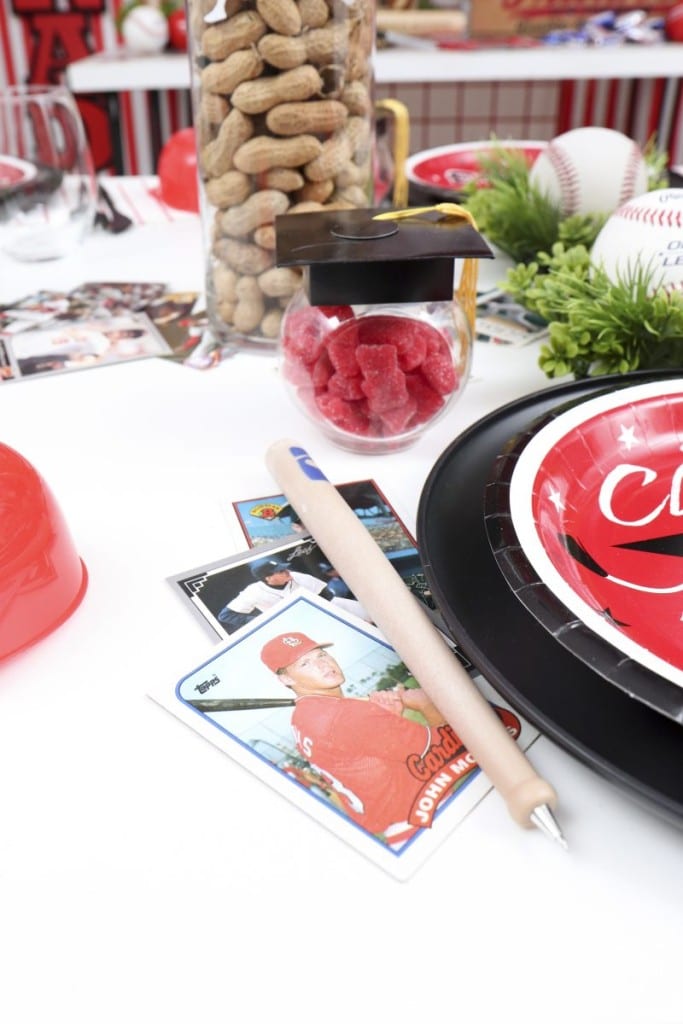 To make these, I used clear plastic favor jars topped with paper graduation hats and filled with red candy.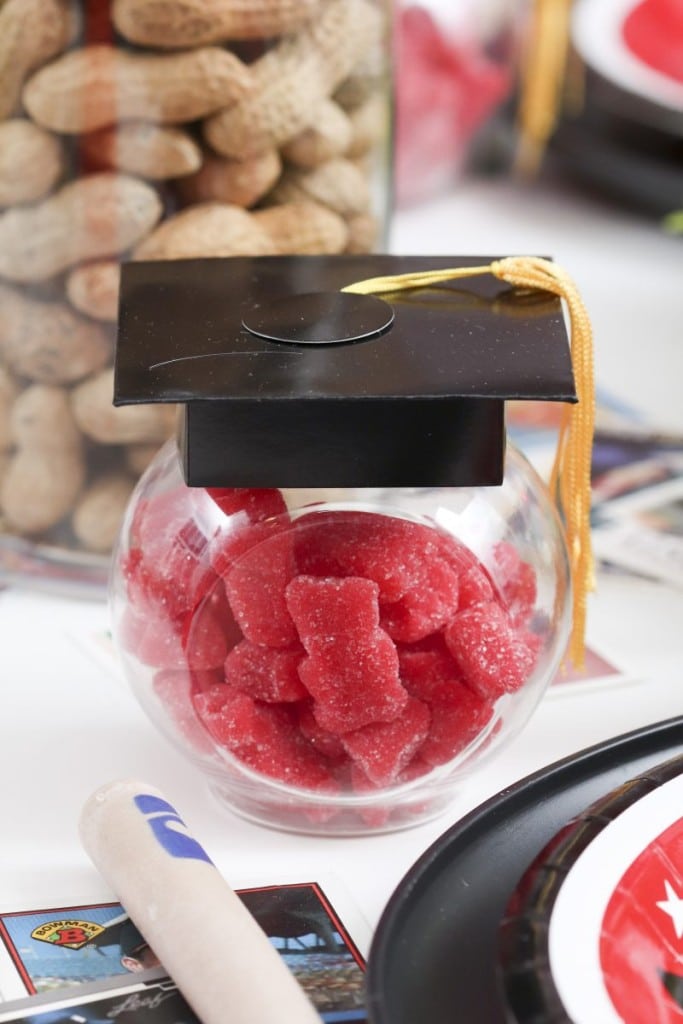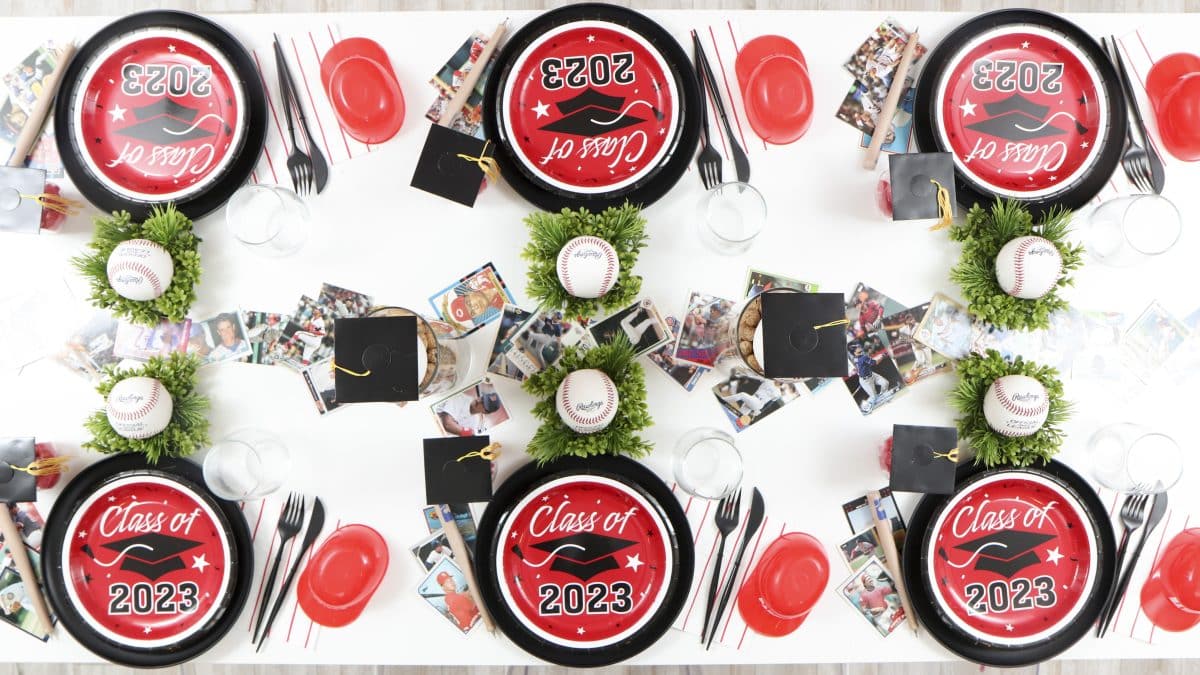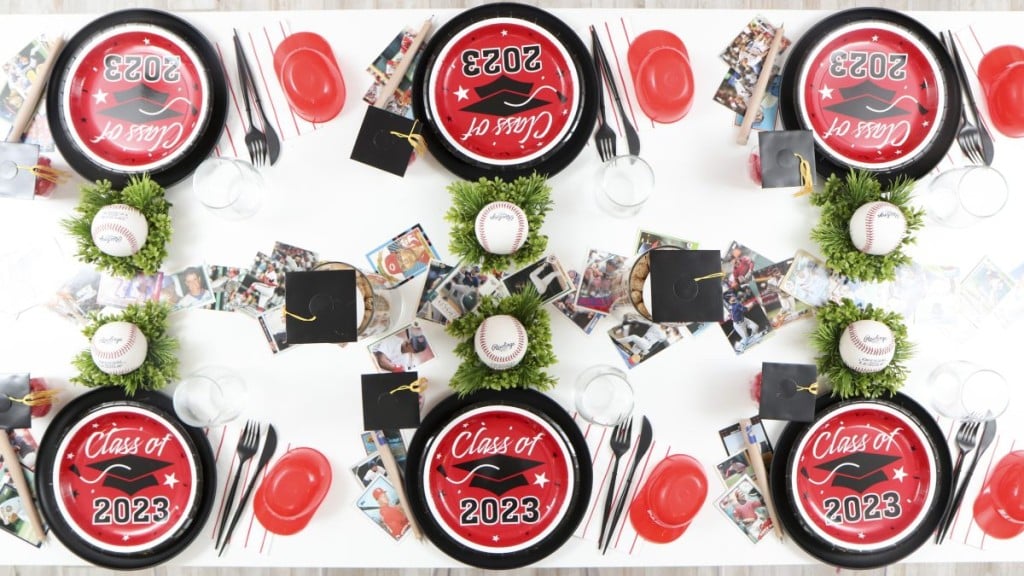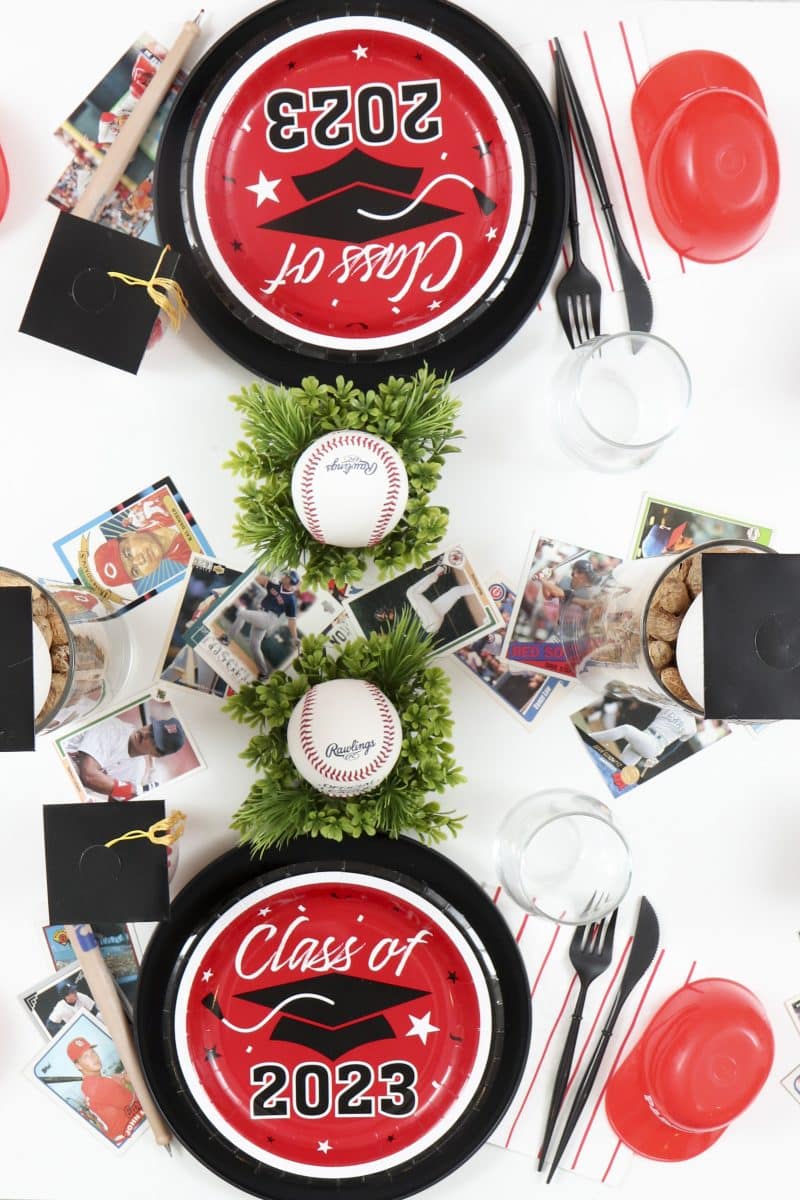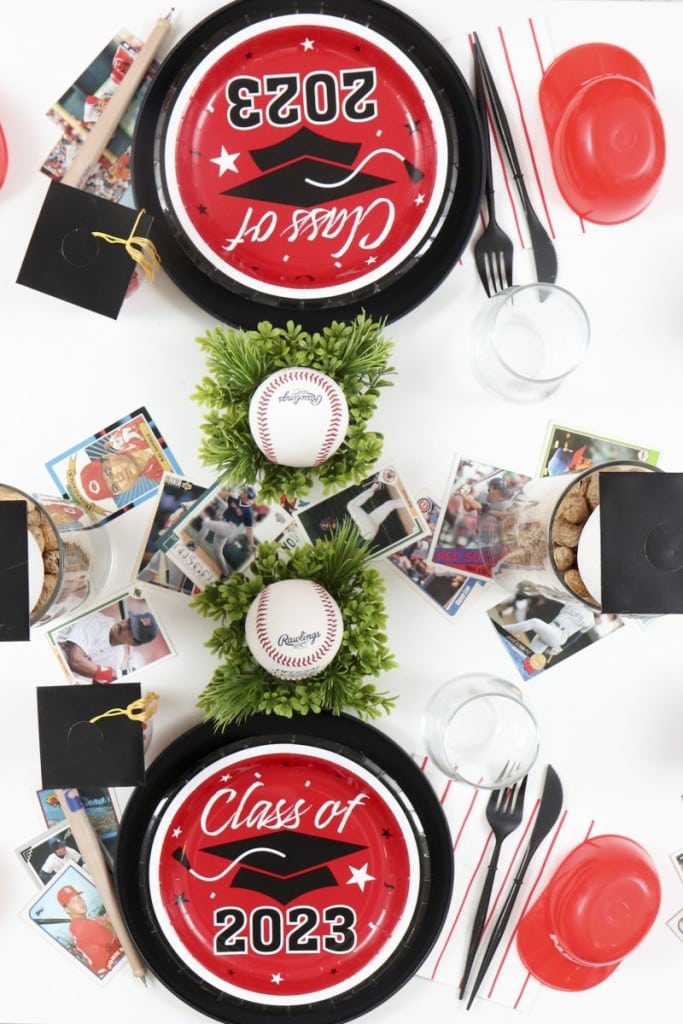 By following these tips, you can create a one-of-a-kind baseball-themed graduation party that will be the talk of the town. Whether your grad is an avid baseball fan or player, this party is sure to be a home run. So, grab your baseball cap and get ready to hit it out of the park!
For more graduation ideas, check out my Creative Ways to Give a Cash Graduate Gift. And for more sports-themed party ideas, don't miss my Personalized Volleyball Team Party Ideas, March Madness Party, Game Day Party for Teens, and Hole-in-One Golf Bridal Shower!
Happy Partying!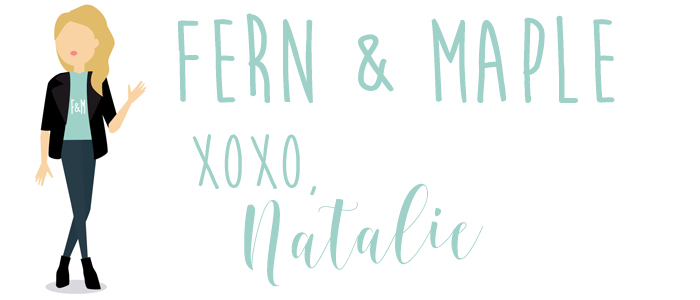 As a blogger, I sometimes receive compensation and/or products in exchange for my styling and crafting services. I also may earn a small commission from any sales that result from affiliate links on this page. As always, all project ideas and any opinions expressed here are my own. For further information on our disclosure policy please check out our disclosure page.
PIN FOR LATER: