Are you looking for a way to make this year's Super Bowl Sunday extra special? If you have teens in the family, why not host a Game Day Party for Teens that they'll love? Setting up an epic Super Bowl Party can seem like a daunting task — but with some planning and preparation, it doesn't need to be. Our helpful ideas below make turning your living area into the ultimate game day watch spot easier than ever. Plus, the ideas I'm sharing here aren't limited to Super Bowl parties – they can be used for any game day or football party! Gather some snacks and supplies, send out invitations, and get ready – I'm about to show you how to set up your own memorable Game Day Party for Teens!
P.S. I found most of my supplies at Oriental Trading. Check them out here!
How to Set up a Game Day Party for Teens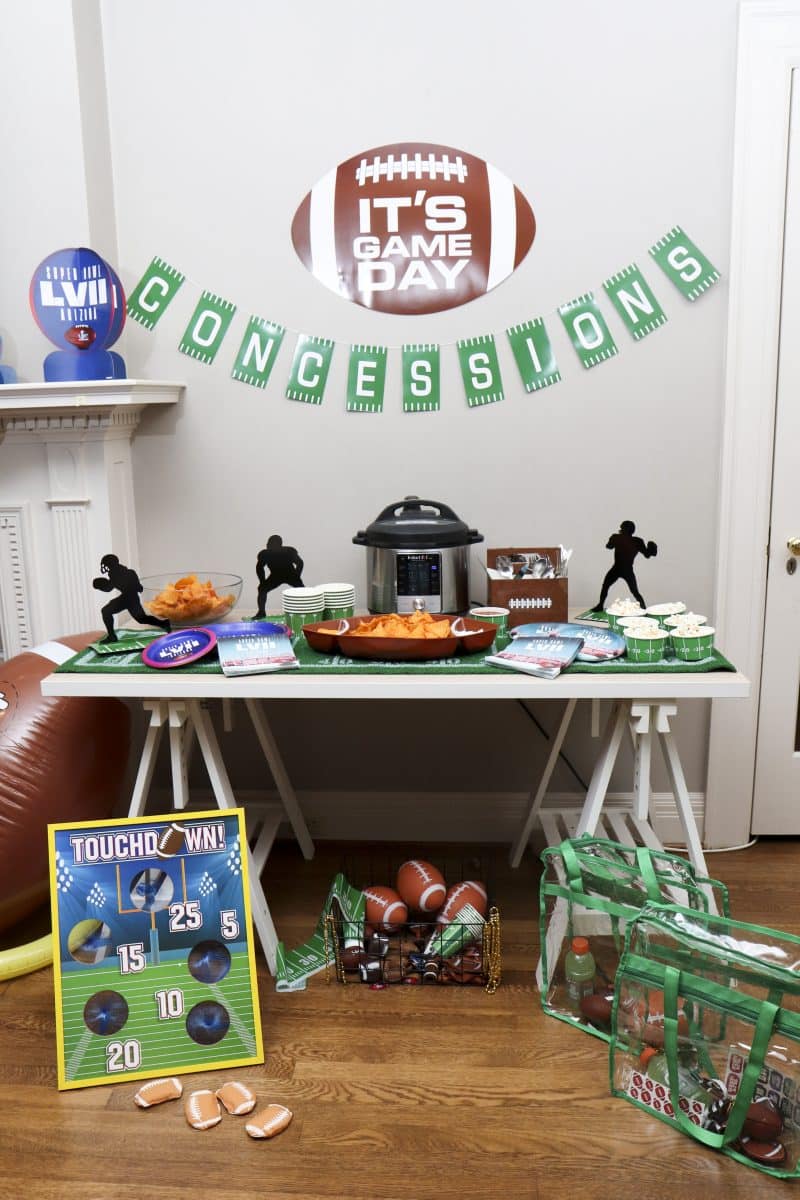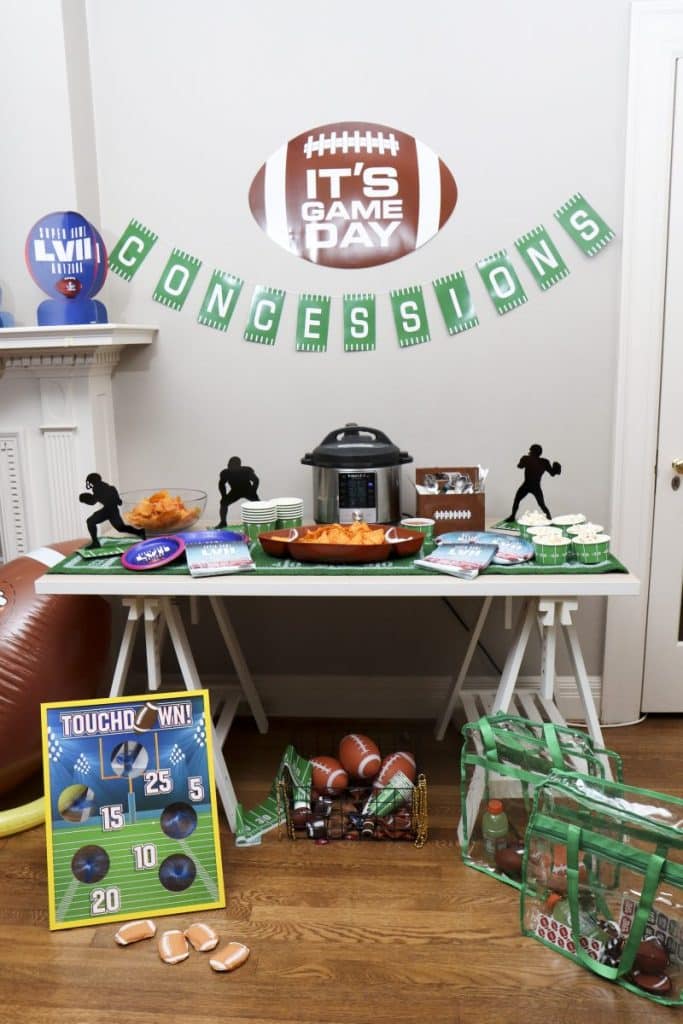 As a blogger, I sometimes receive compensation and/or products in exchange for my styling and crafting services. I also may earn a small commission from any sales that result from affiliate links on this page. As always, all project ideas and any opinions expressed here are my own. For further information on our disclosure policy please check out our disclosure page.
Decor
First, you'll want to set the Super Bowl scene with some football-themed decor. I set up most of my decor around the focal point of the living room for the big game – the TV! Since my TV is mounted above my fireplace, I used the mantle to hold some easy Super Bowl-themed centerpieces and signage. Then, I hung a "touchdown" banner above the fireplace.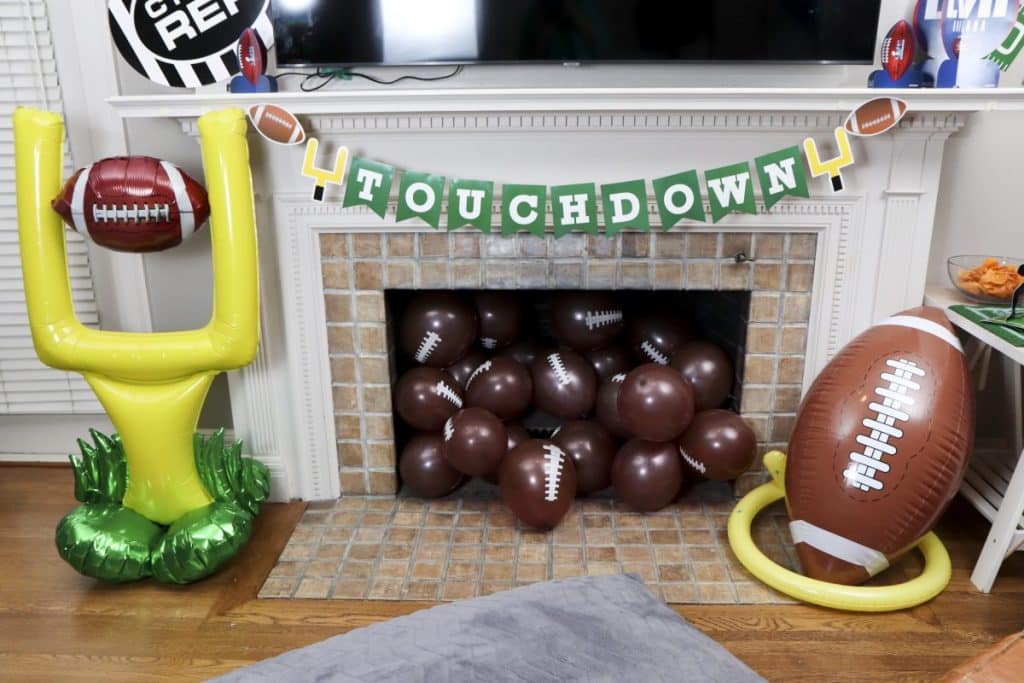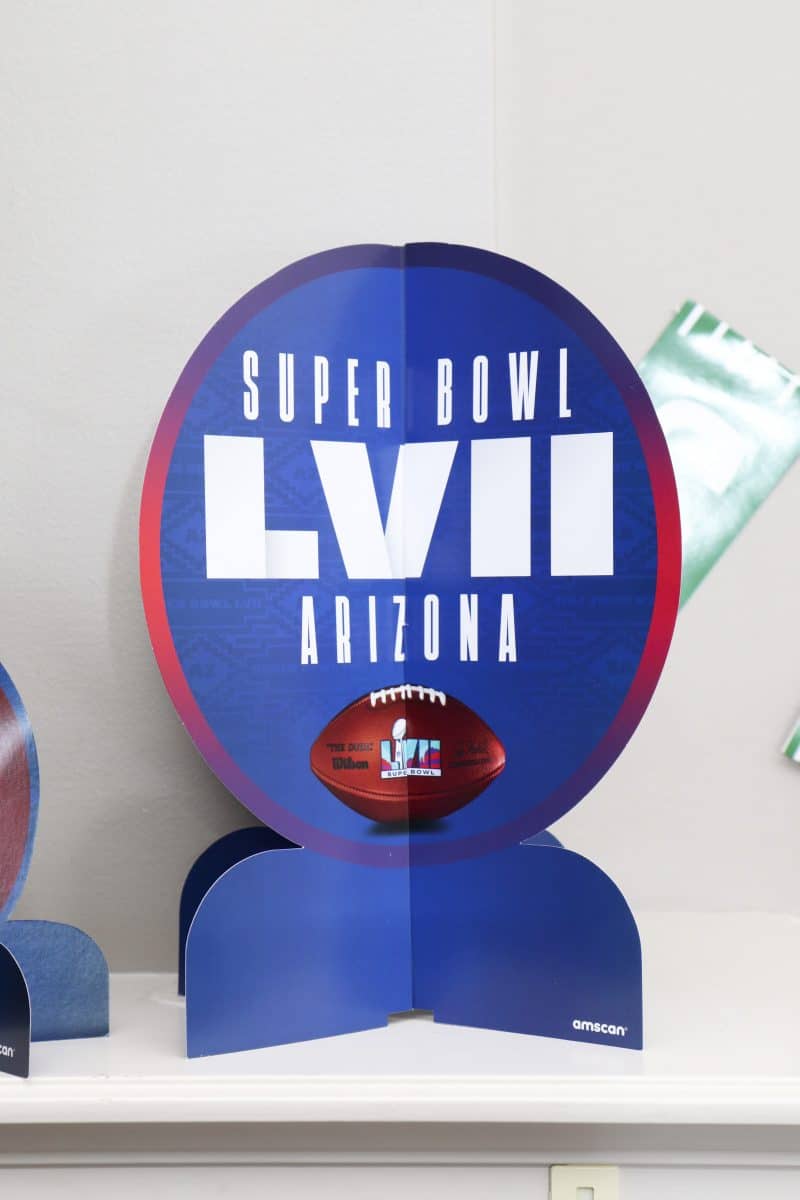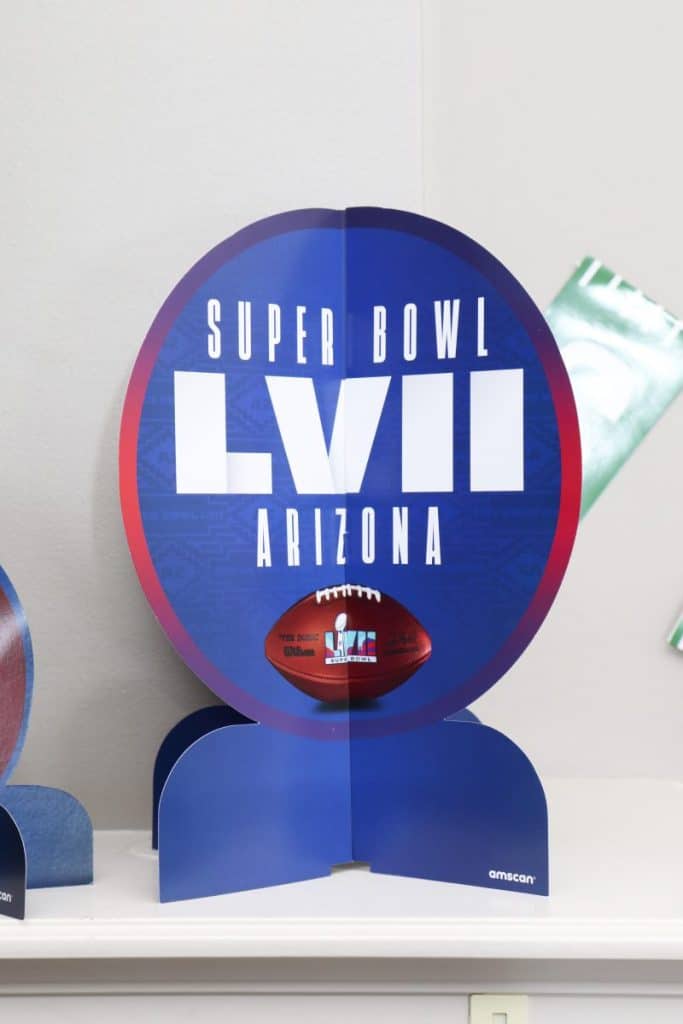 My favorite decorations I set up were the football balloons I had overflowing out of the fireplace itself. How fun is that?! I love using this space for unexpected decor.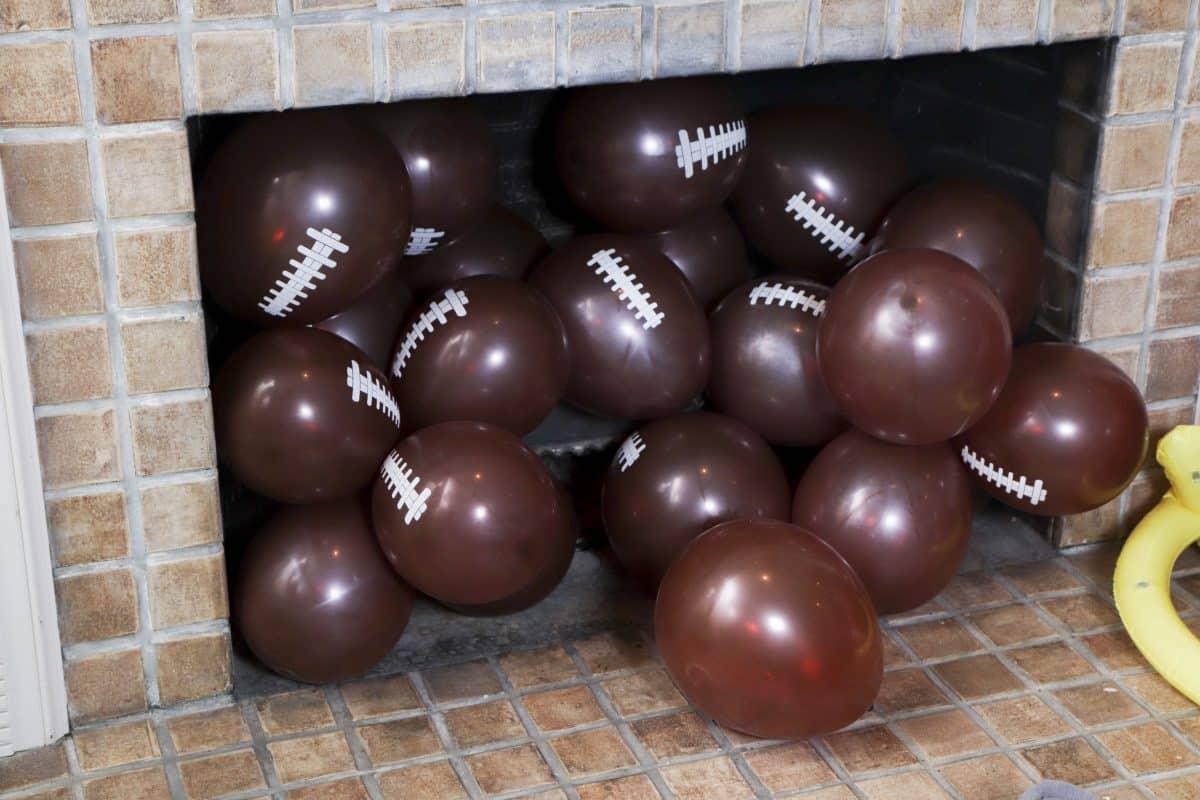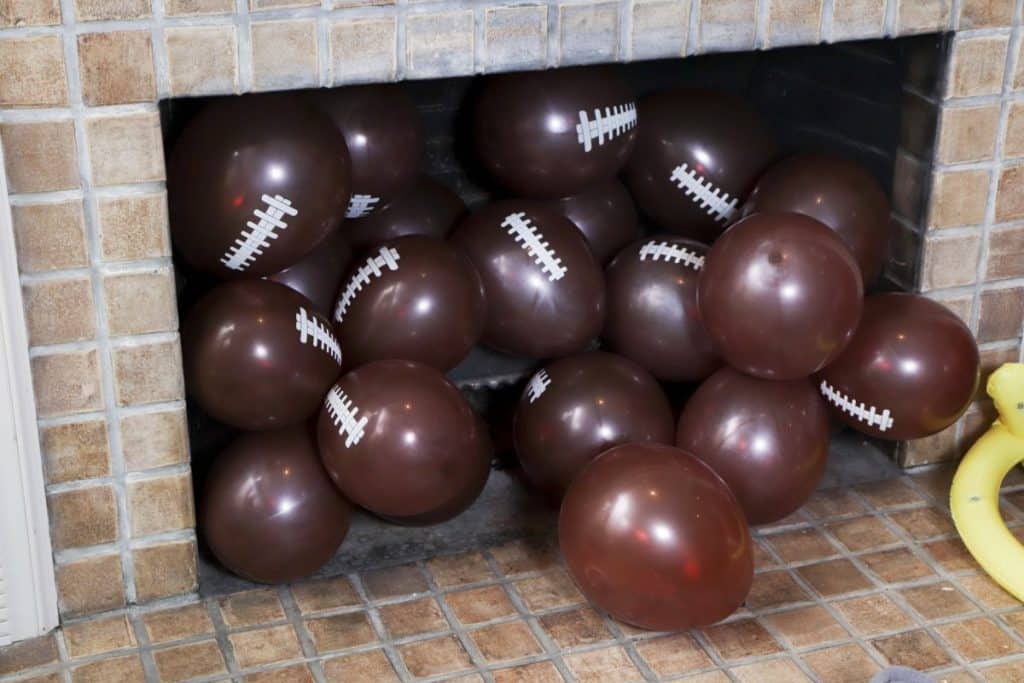 Next, on one side of the fireplace, I set up a GIANT inflatable football – which turned out to be the teens' favorite decoration. So much fun to play with, and (mostly!) safe for indoor play, since it's so light.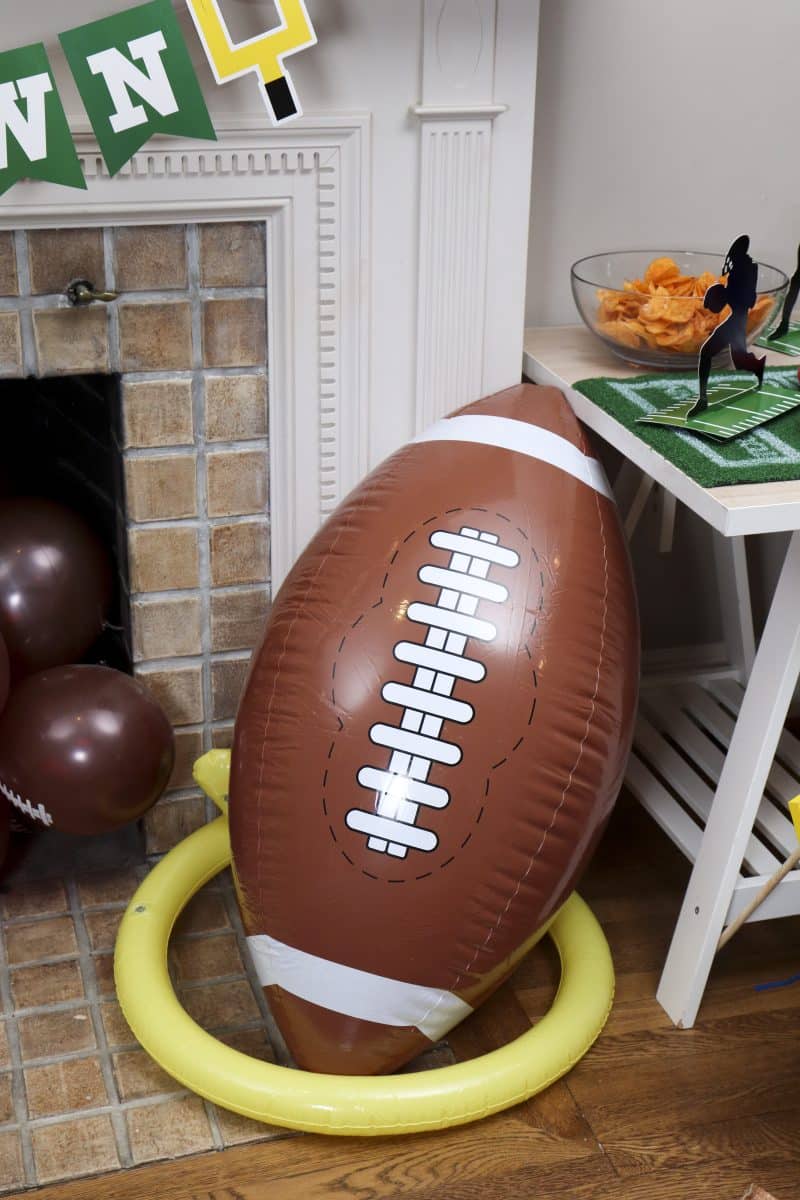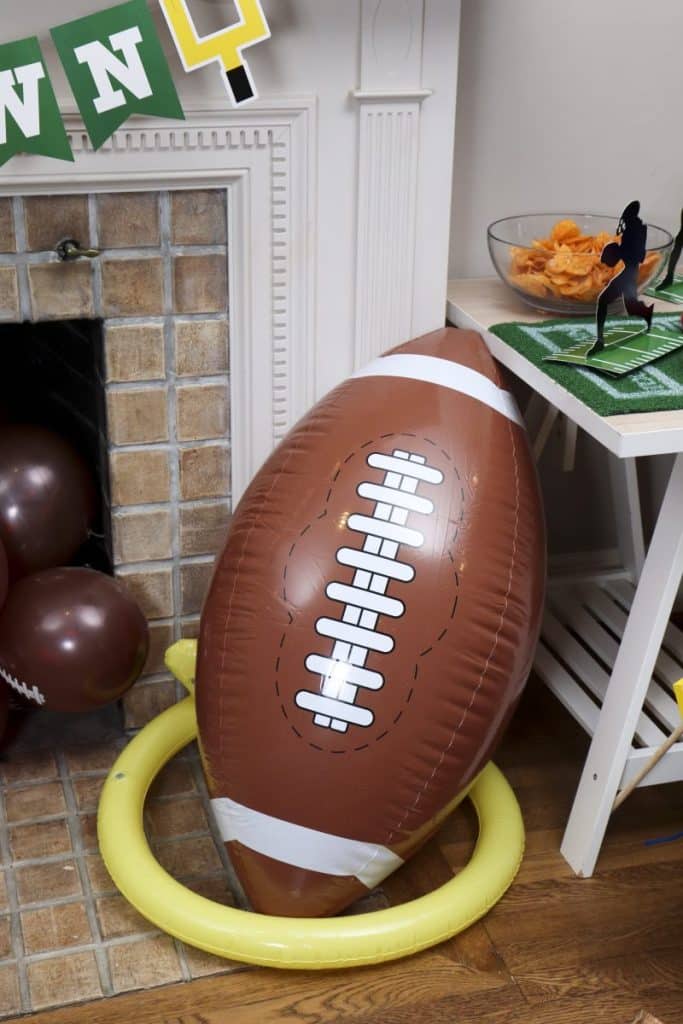 On the other side of the fireplace, I added a large football goalpost mylar balloon. Adding big balloons like this is such an easy way to make a big impact.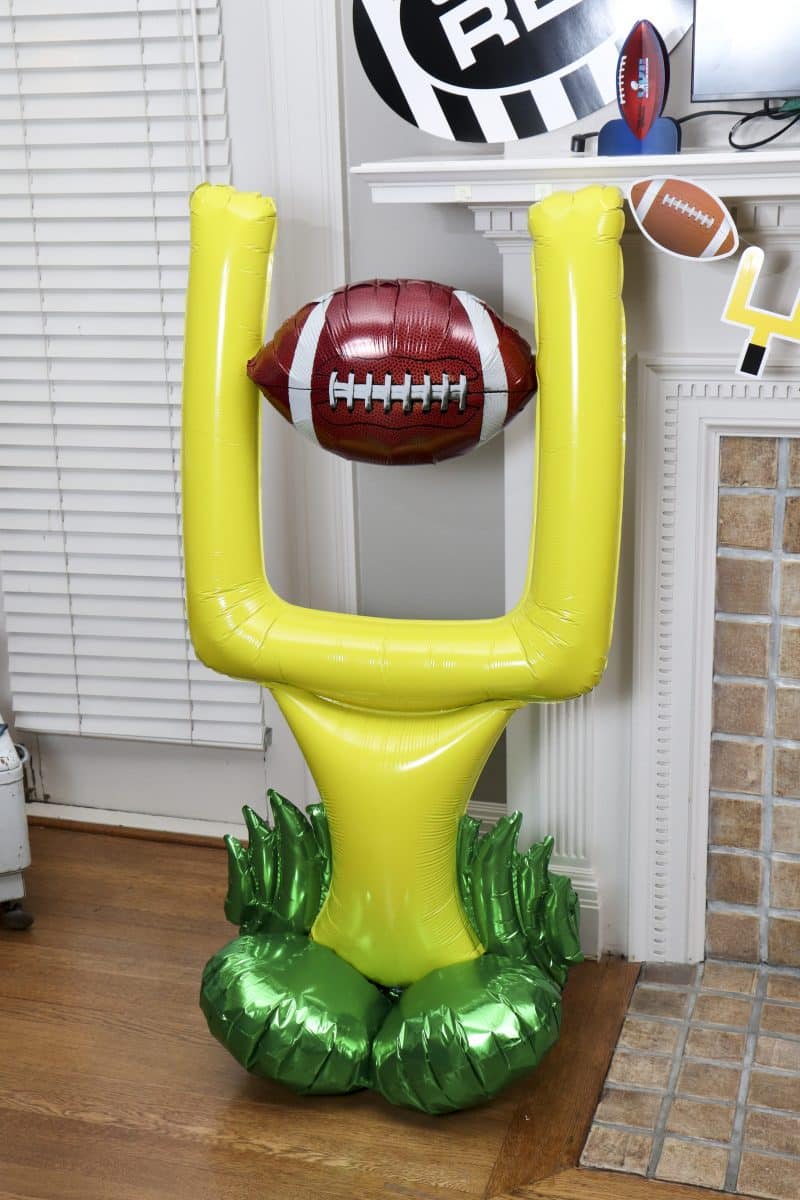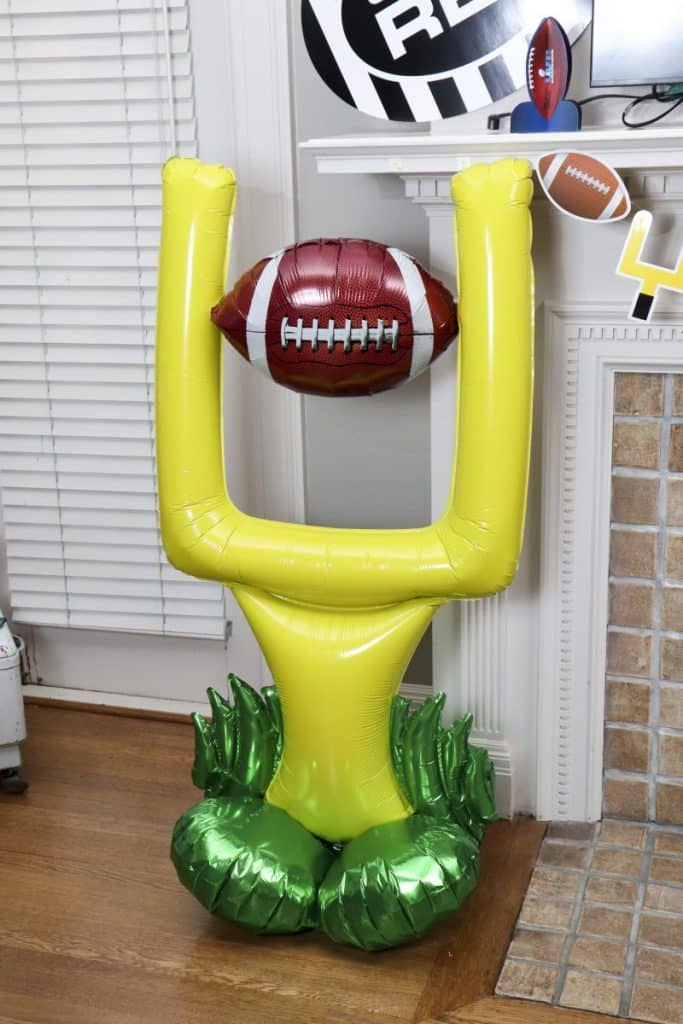 Snack Table
Next, I set up a snack table. You can't have a Super Bowl Party without snacks, particularly if you are hosting some hungry teens!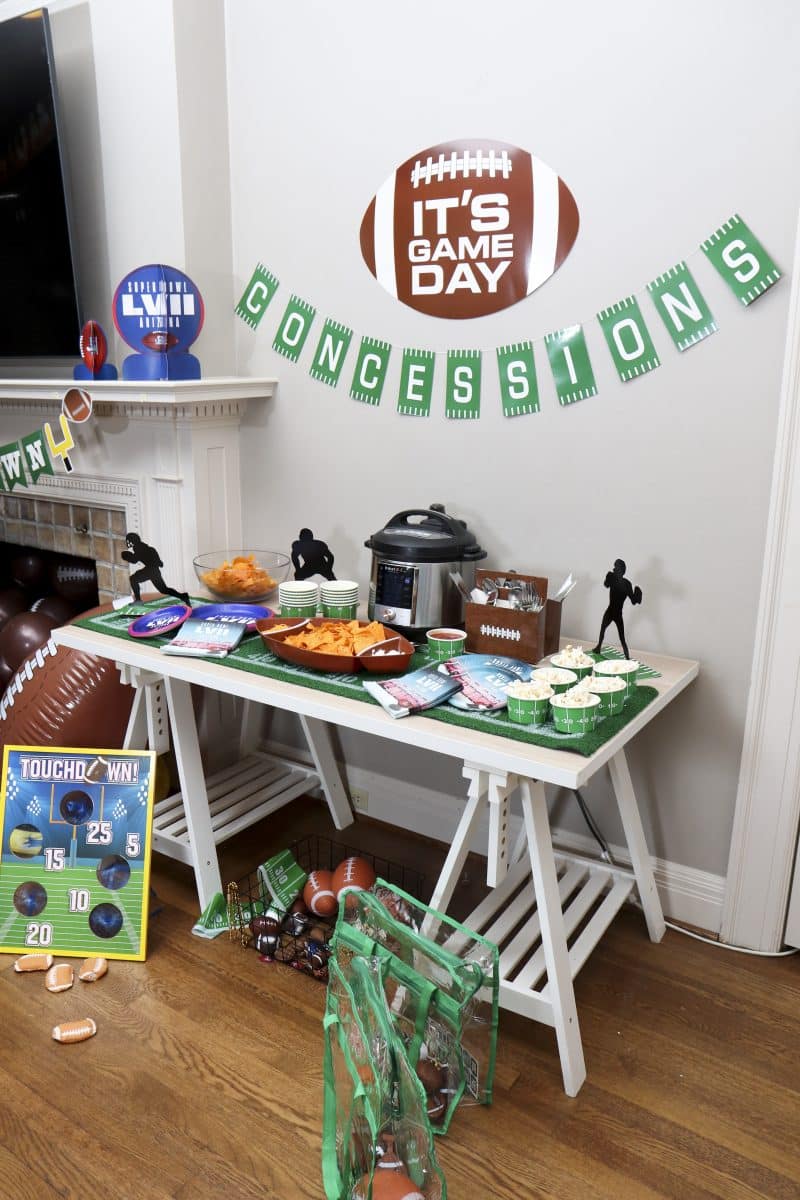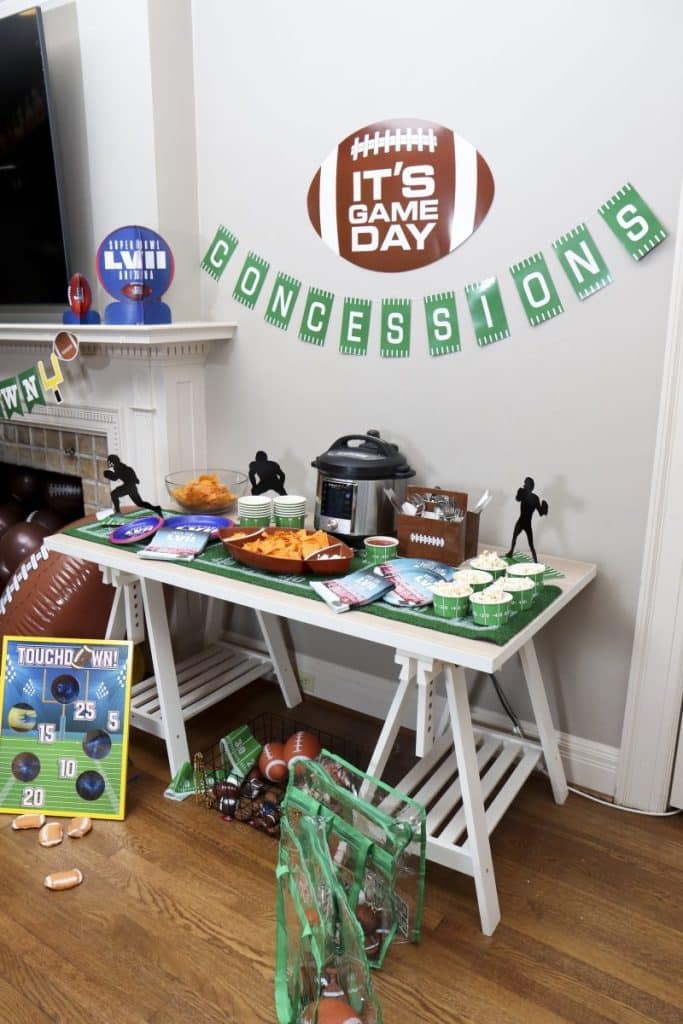 To designate the food area (not that the teens needed any help finding the food…), I hung a "Concessions" banner under an "It's Game Day" wall sign.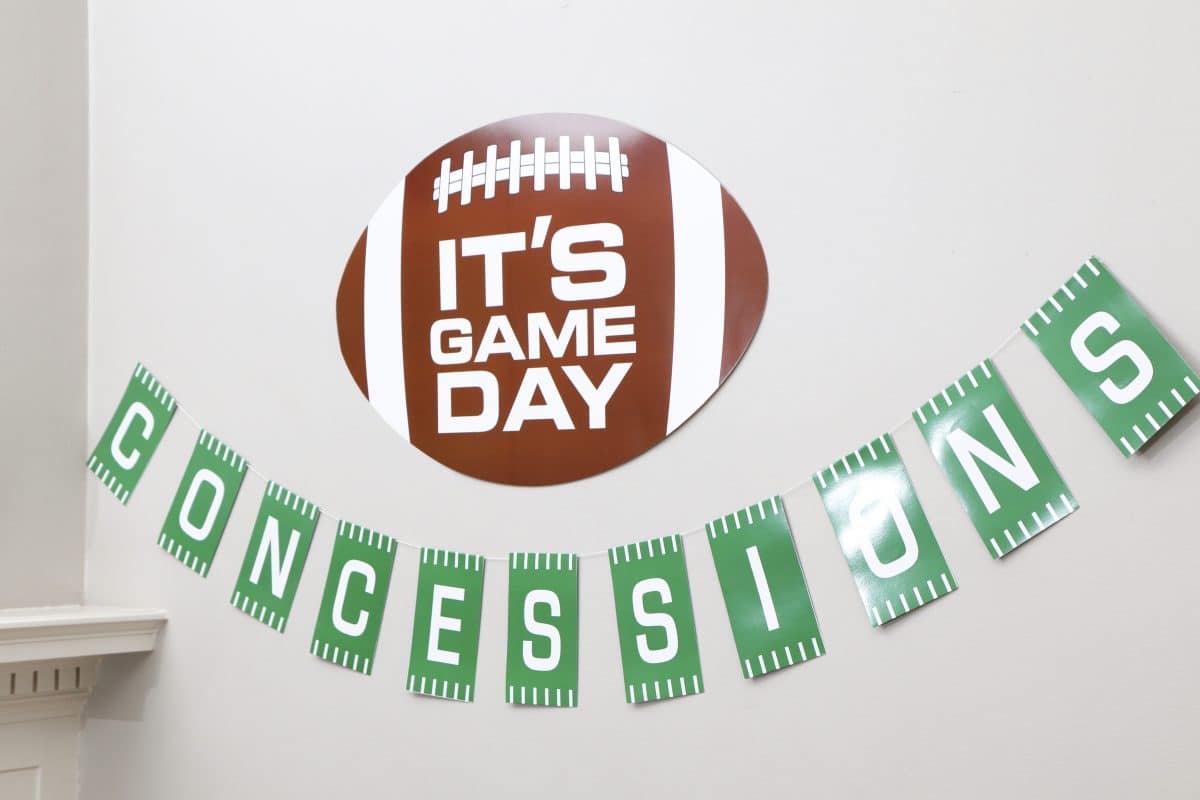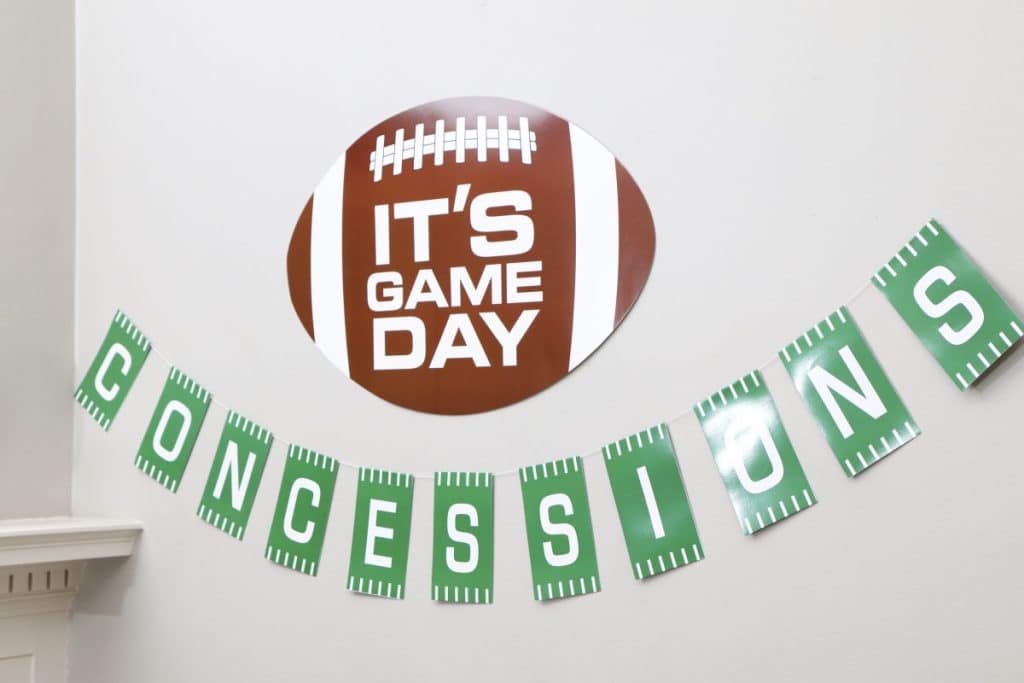 To cover the table, I used a faux grass table runner painted with yard lines like a football field. For plates and napkins, I set out specific "Super Bowl LVII" tableware. If you're setting this party up for a different game, you can easily substitute team tableware or generic football-themed tableware here. For example, I used generic football field-themed bowls and a cute football-style flatware holder.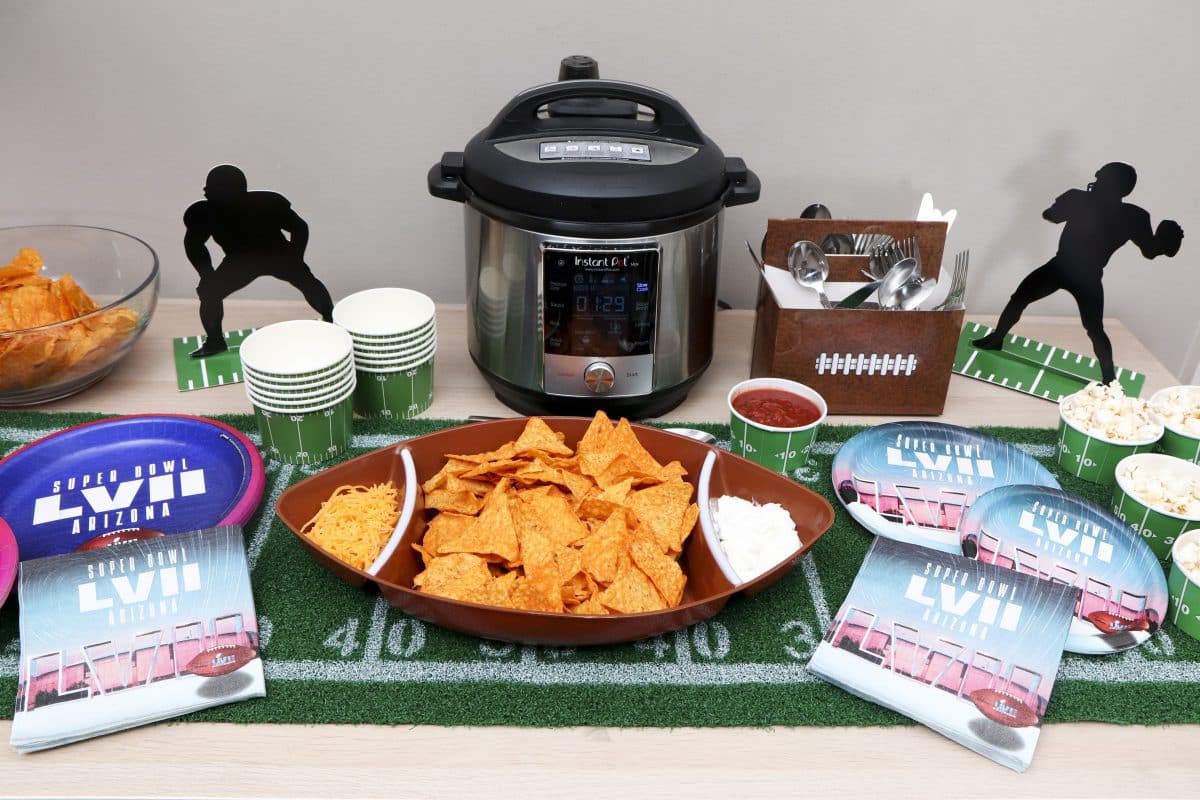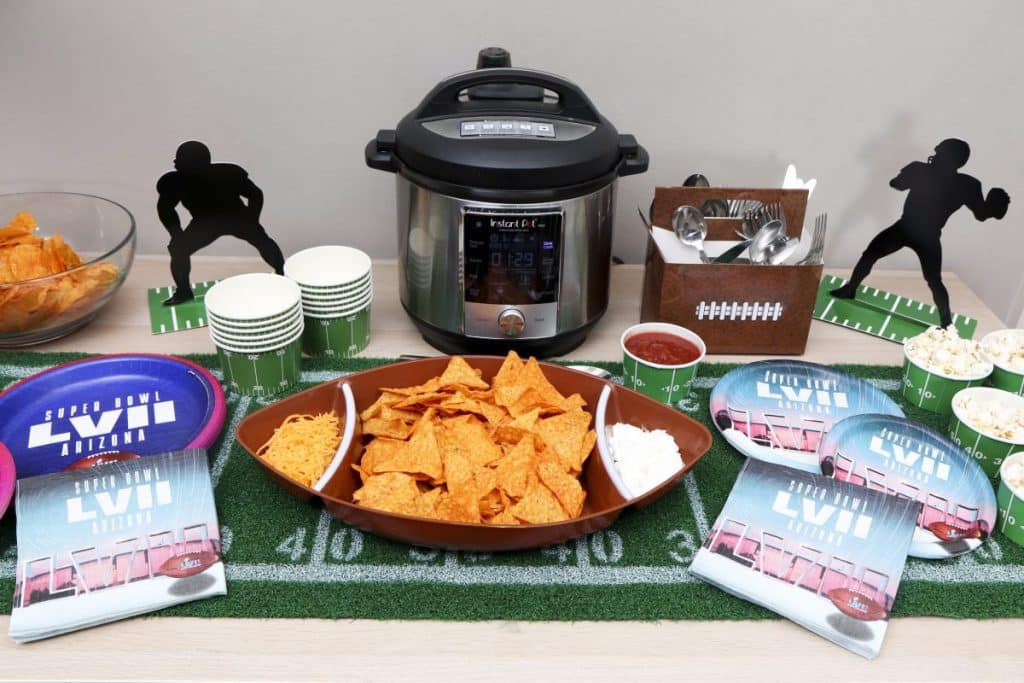 Then, of course, it was time to set up the snacks! I set up an instant pot of chili and then filled a fun football-shaped tray with chips and toppings. This tray has separated compartments, which makes it great for holding a variety of things.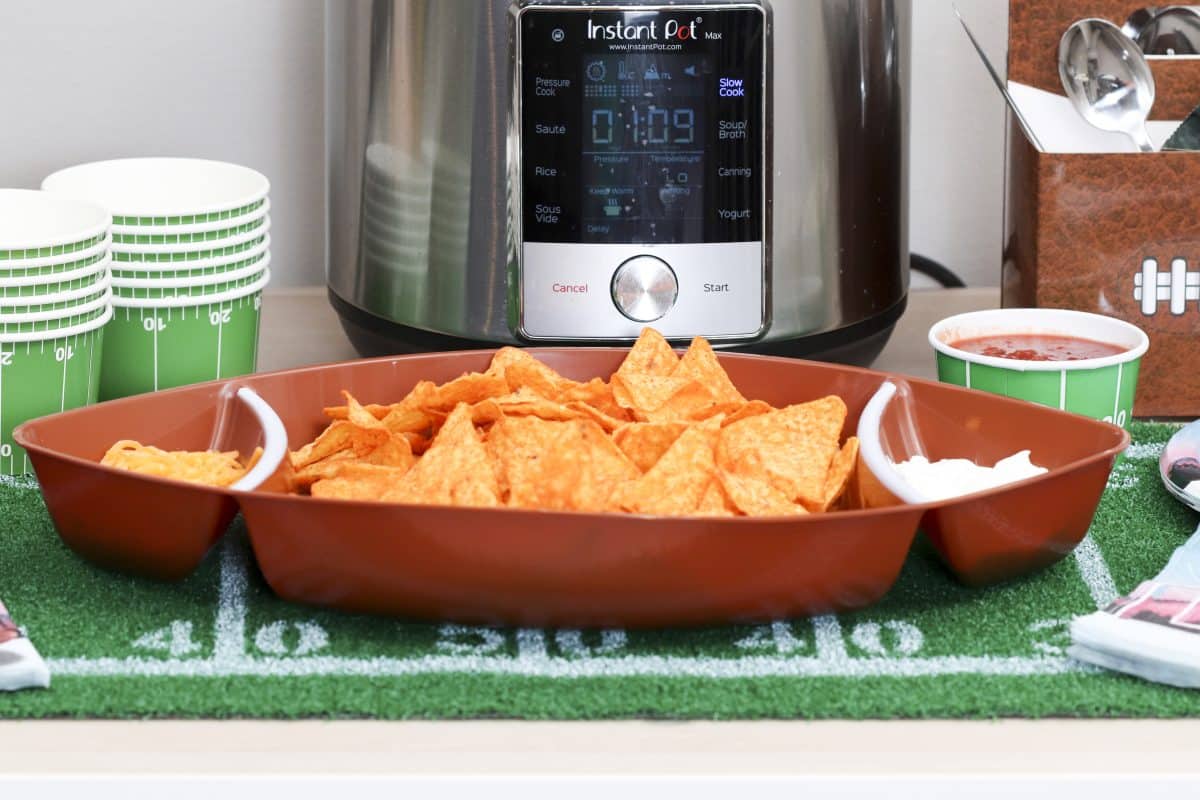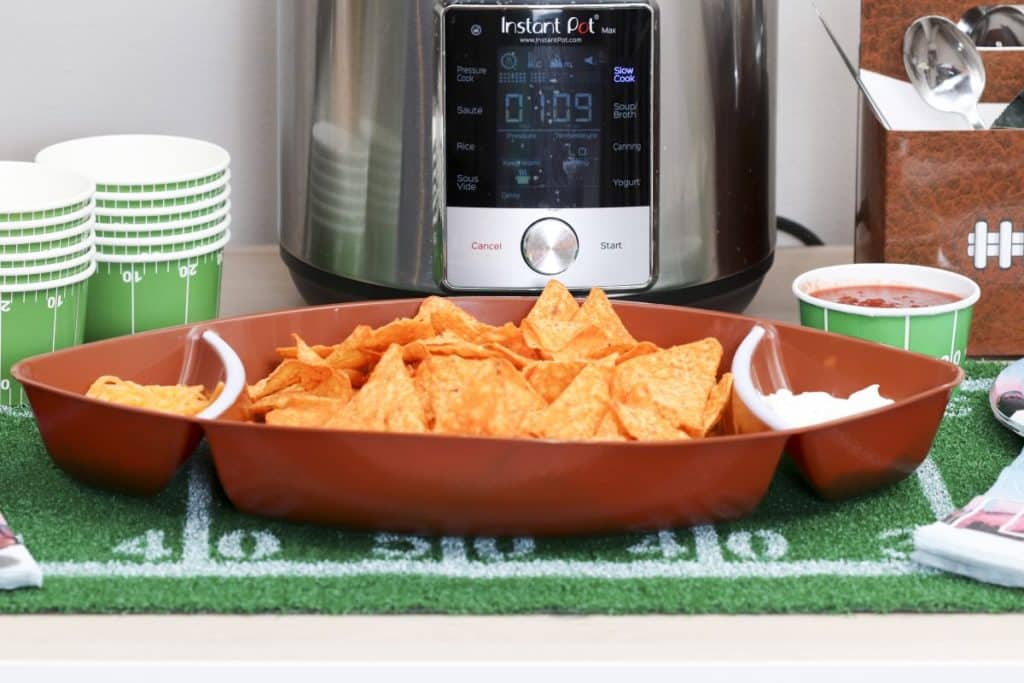 I also used football yard line treat cups to hold popcorn for when the game gets really good.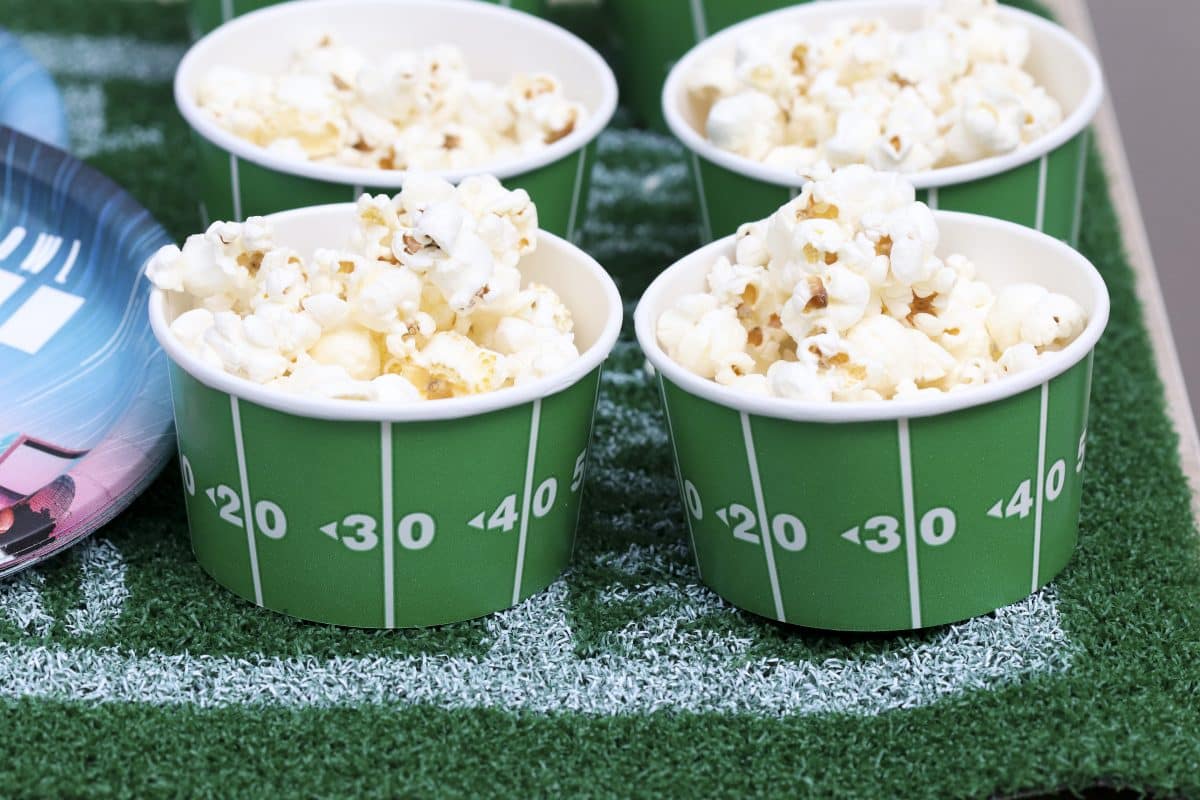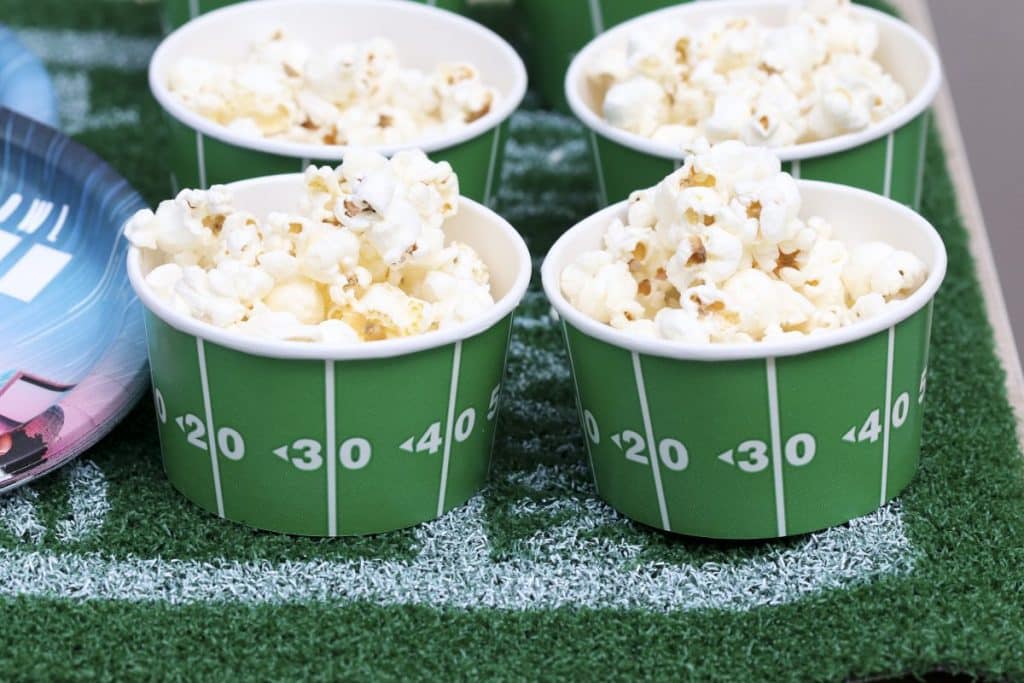 To make the table feel even more like a miniature football field, I placed football player silhouettes around the snacks.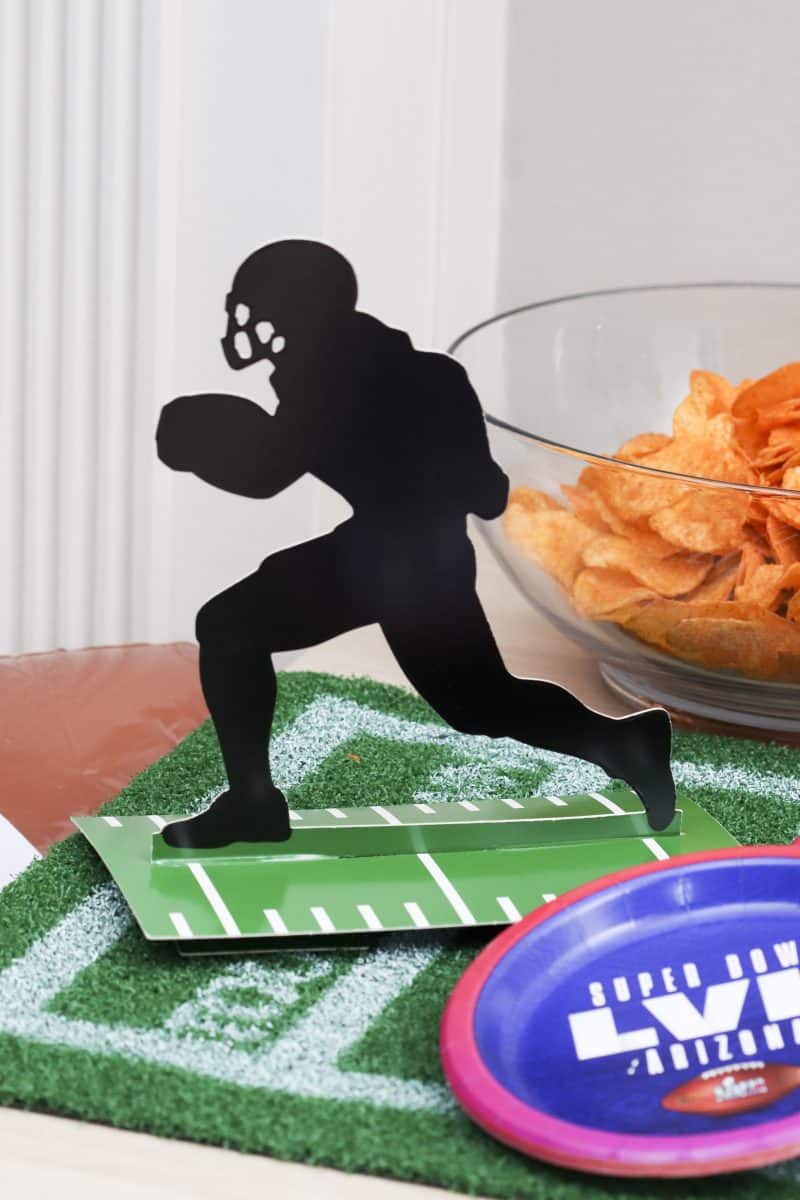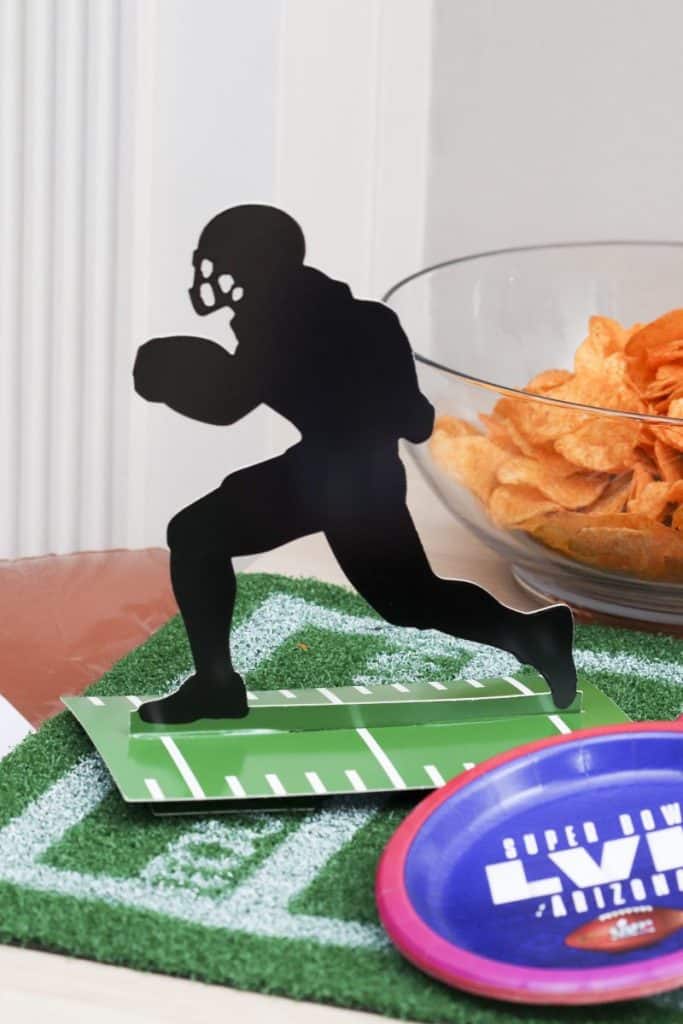 Drink Station
Then, I set up a really fun drink station. Underneath some more football-themed signage, I set up a table with a Superbowl LVII tablecloth.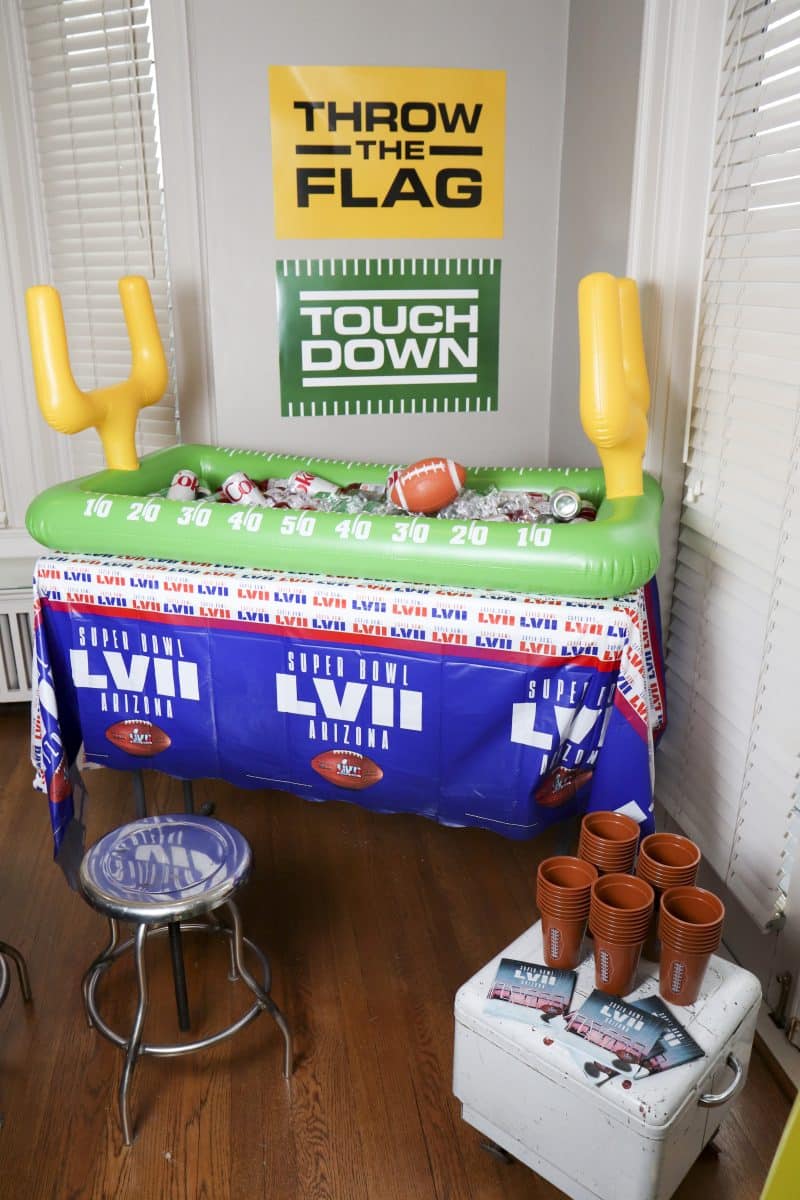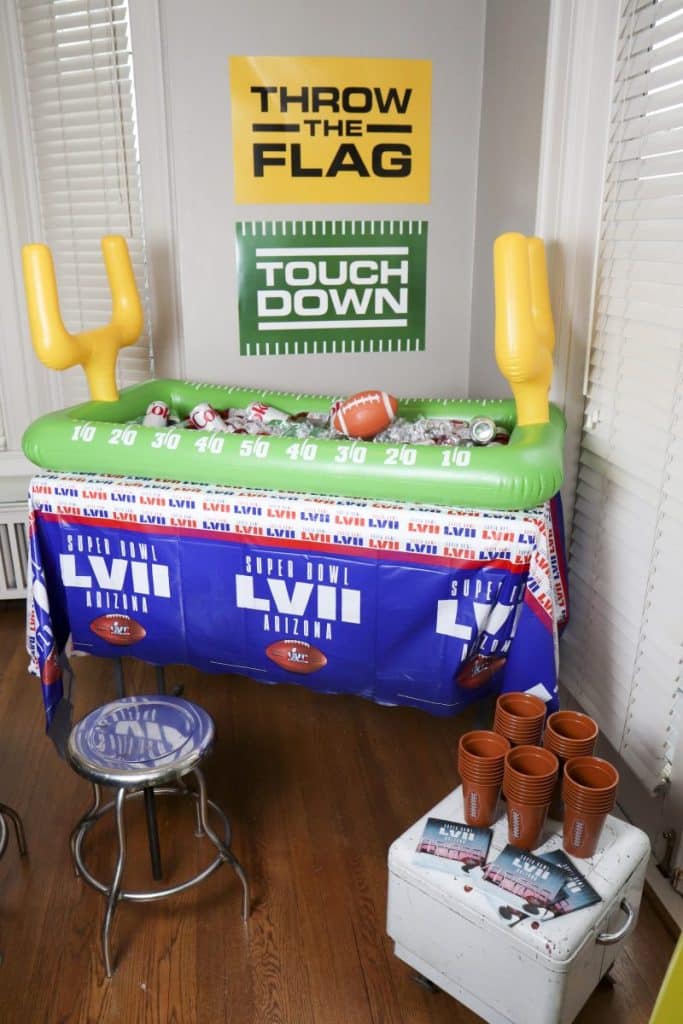 Then, I added an adorable inflatable football field cooler that was perfect for holding an assortment of sodas and sports drinks. I love how easy this cooler is to set up, and that when the party is over, you can just fold it up and put it away without taking up much space!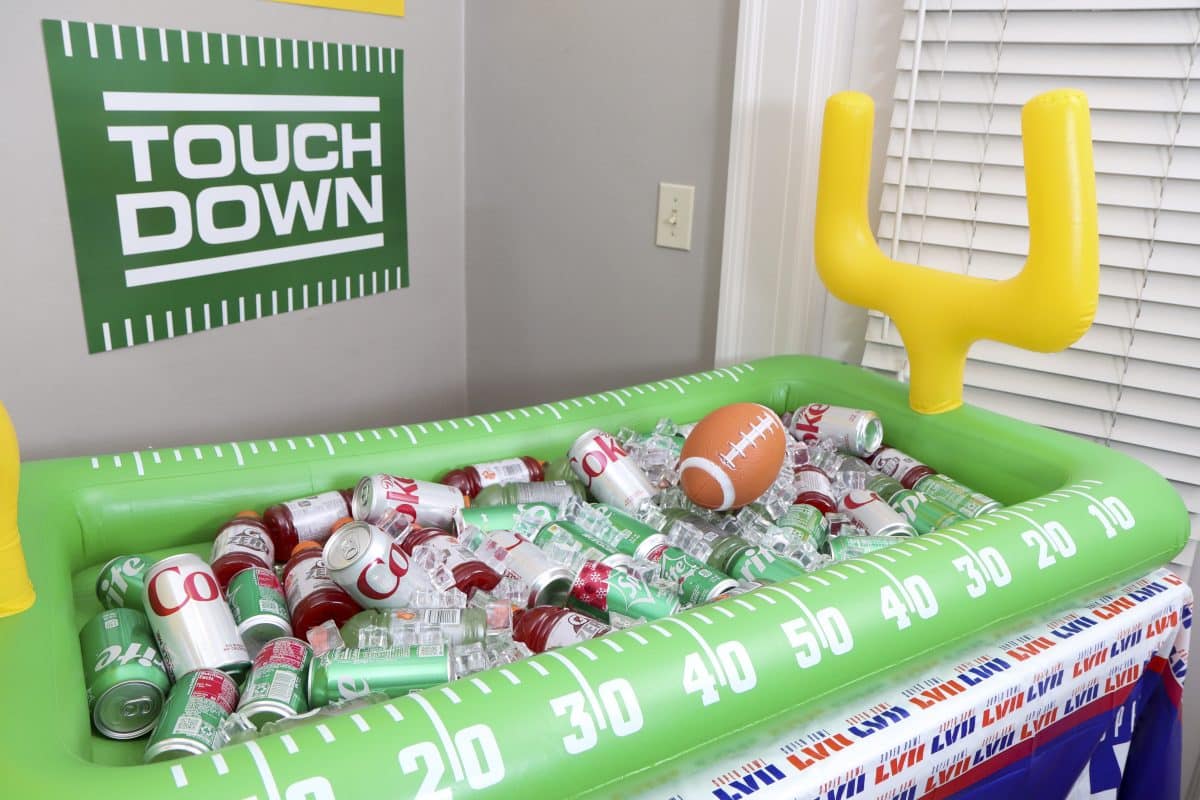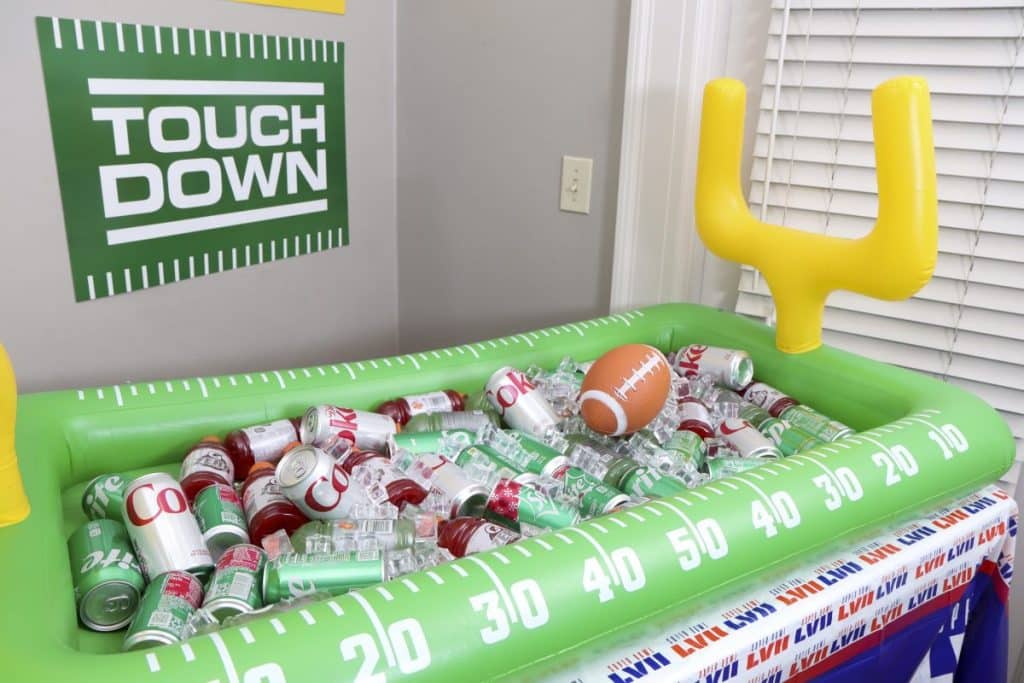 Football-inspired cups were provided, along with Superbowl LVII-themed cocktail napkins.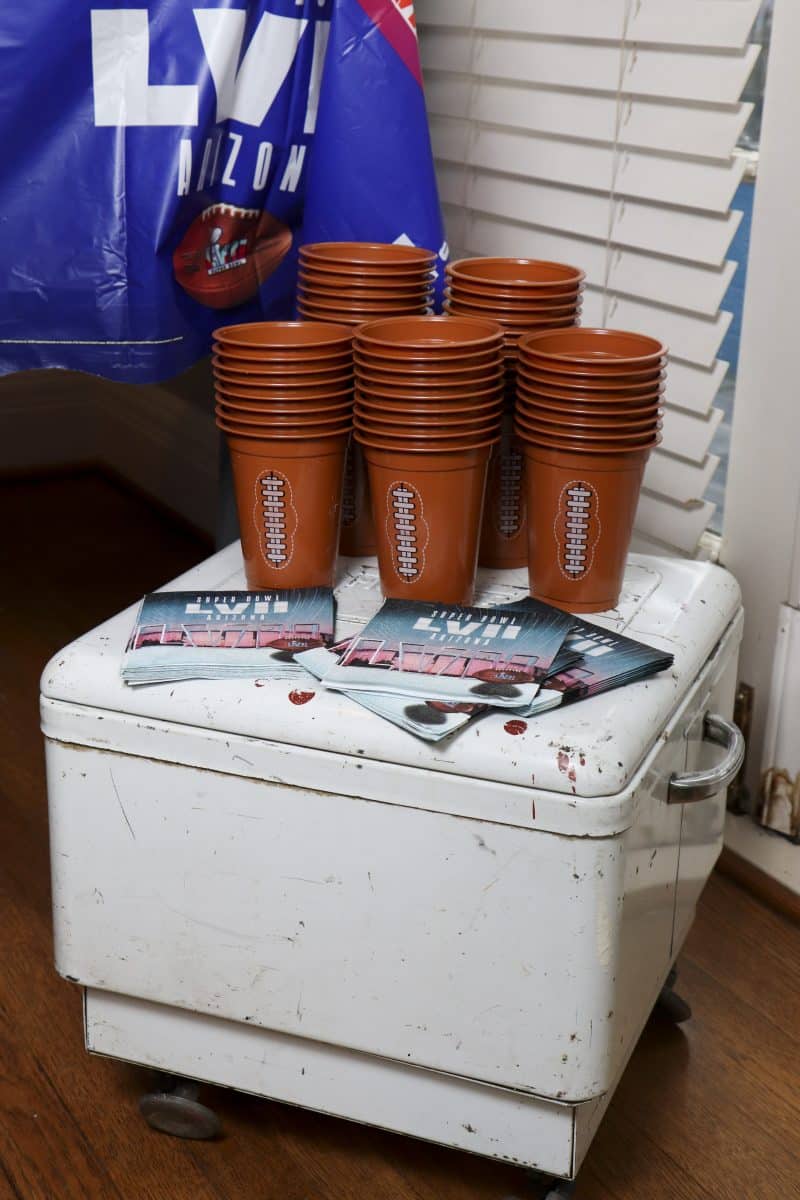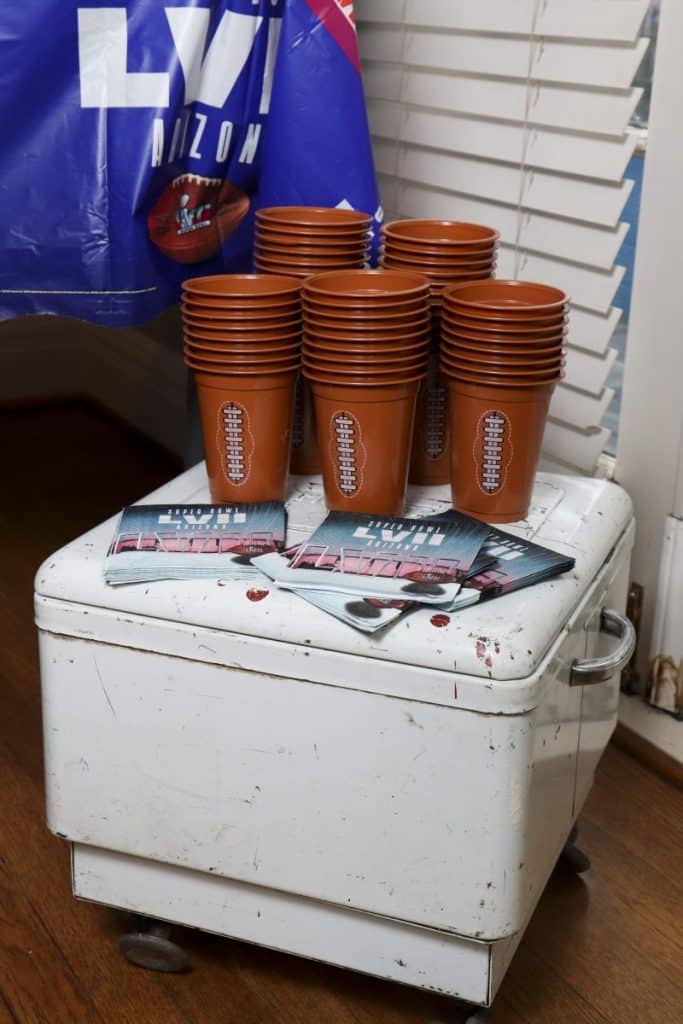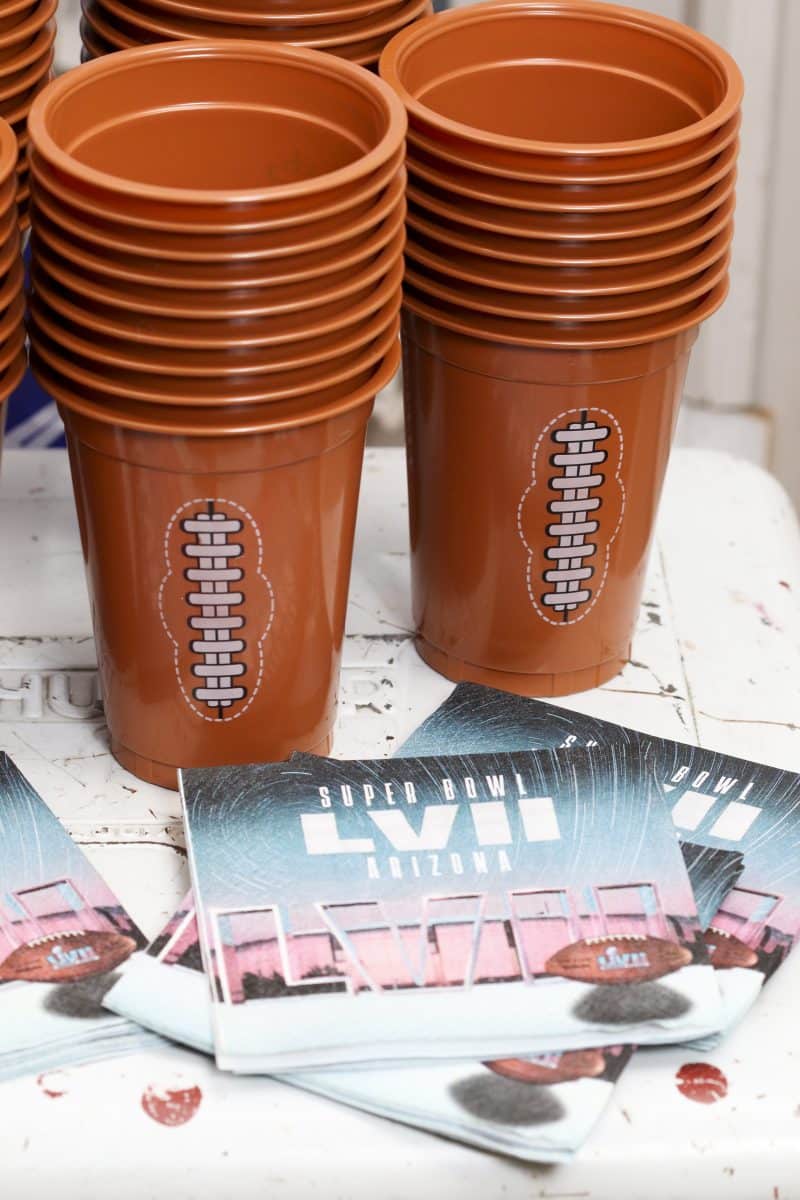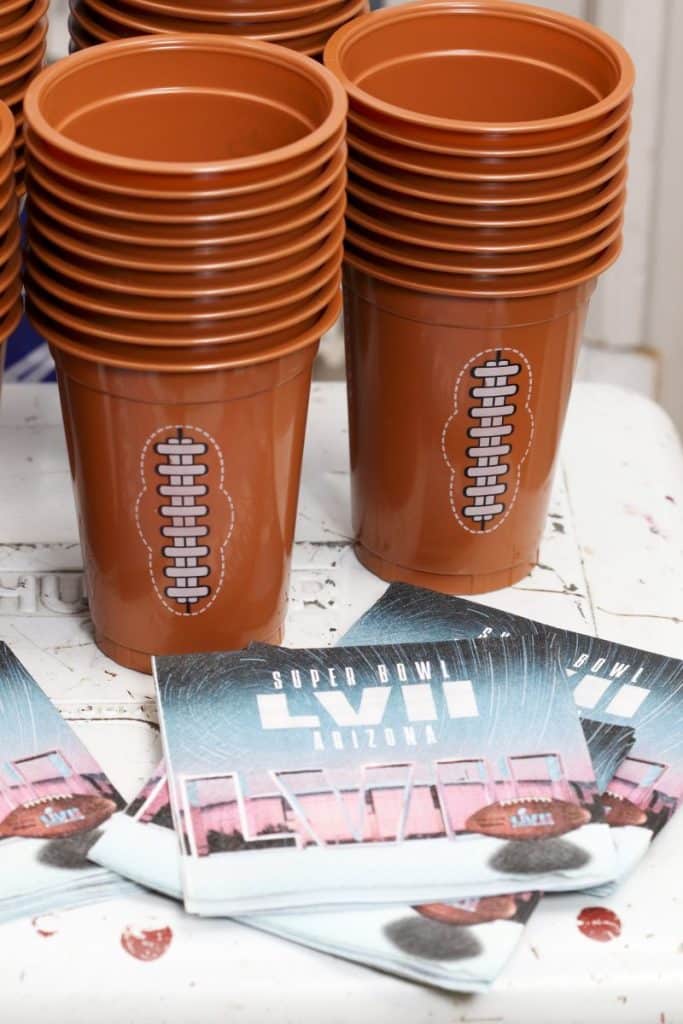 Dessert Table
A dessert table is a must at any celebration. For this Game Day Party for Teens, I covered a table with another Superbowl tablecloth, and then added an array of desserts on top.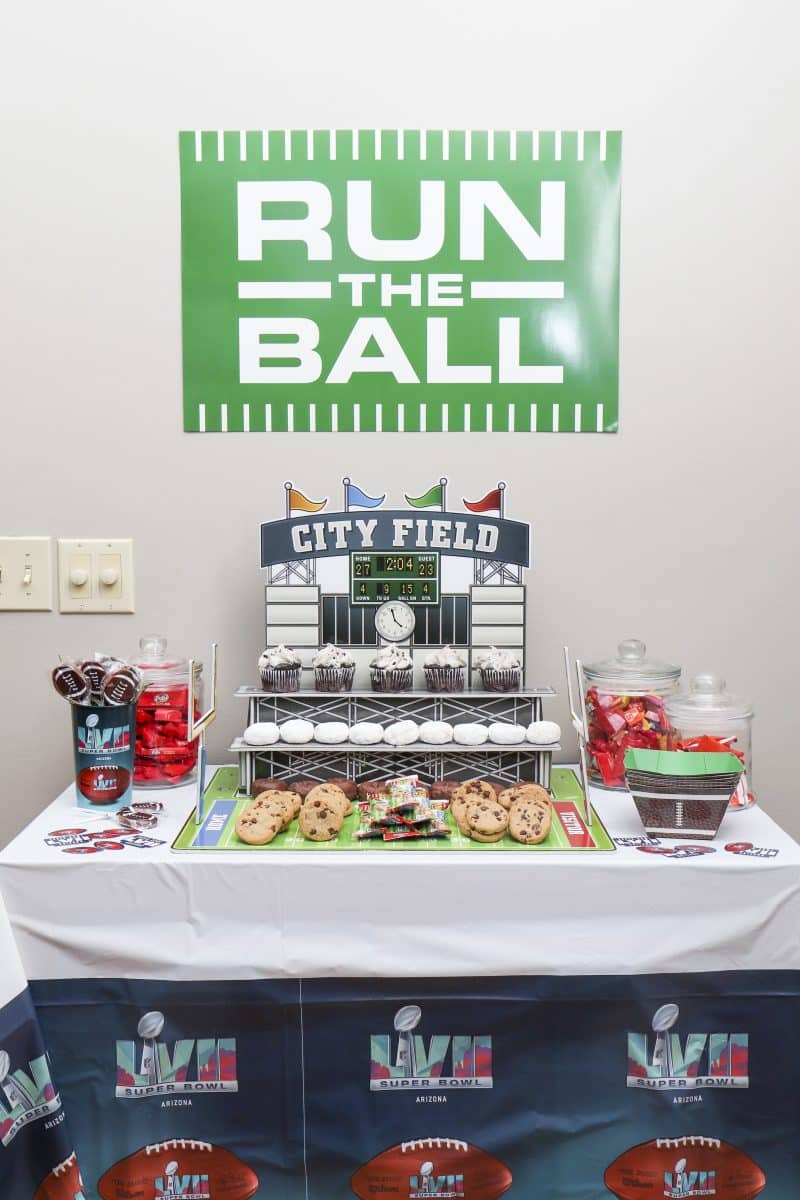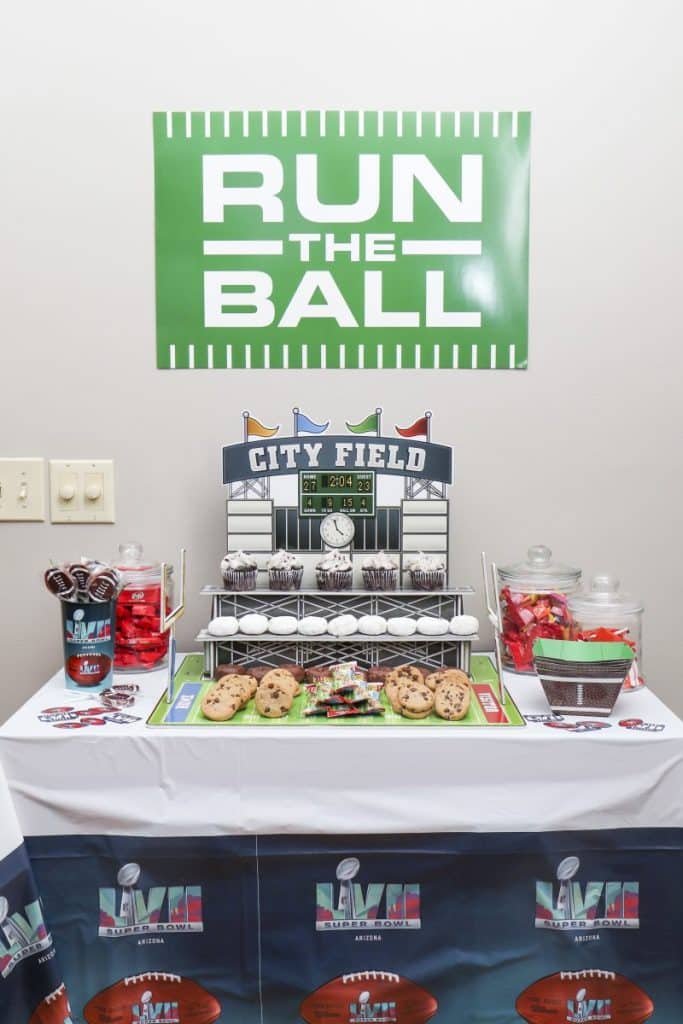 The centerpiece of the dessert table was an amazing football field dessert stand. It's so easy to decorate with multi-functional pieces like this one! All I had to do was set up my desserts on the "field" and "stands".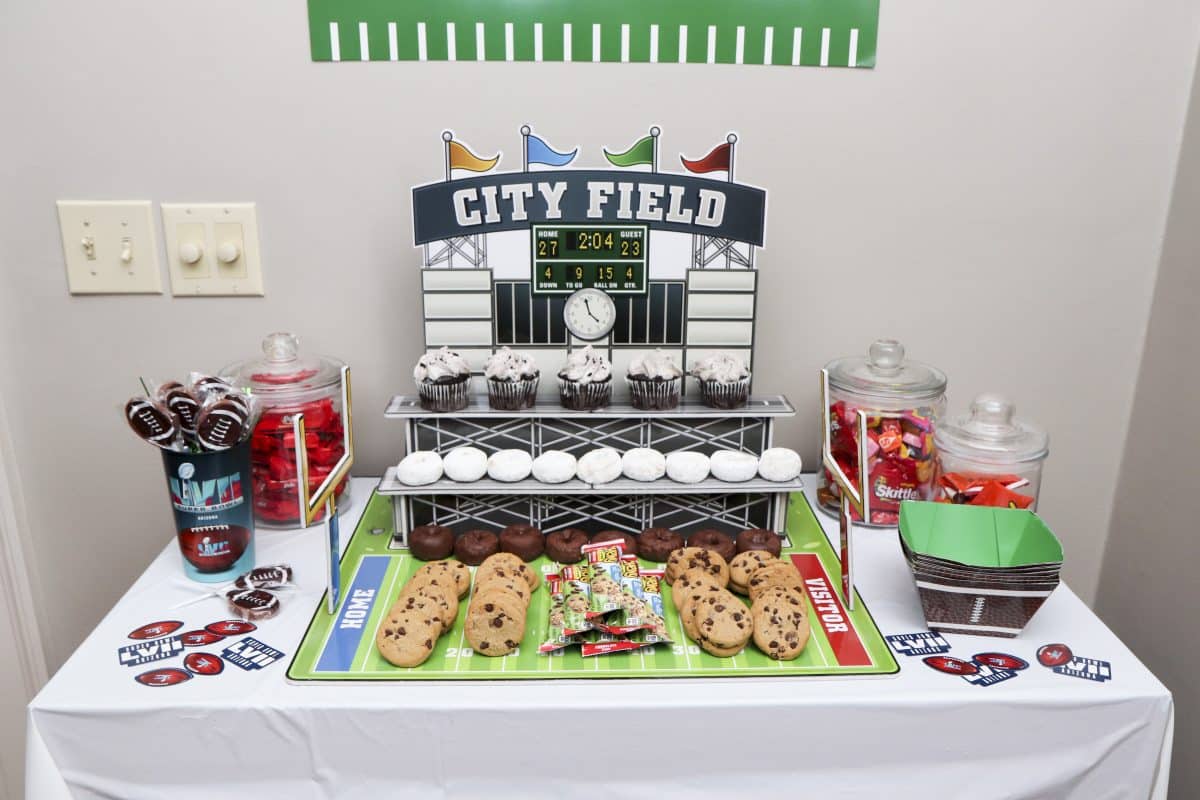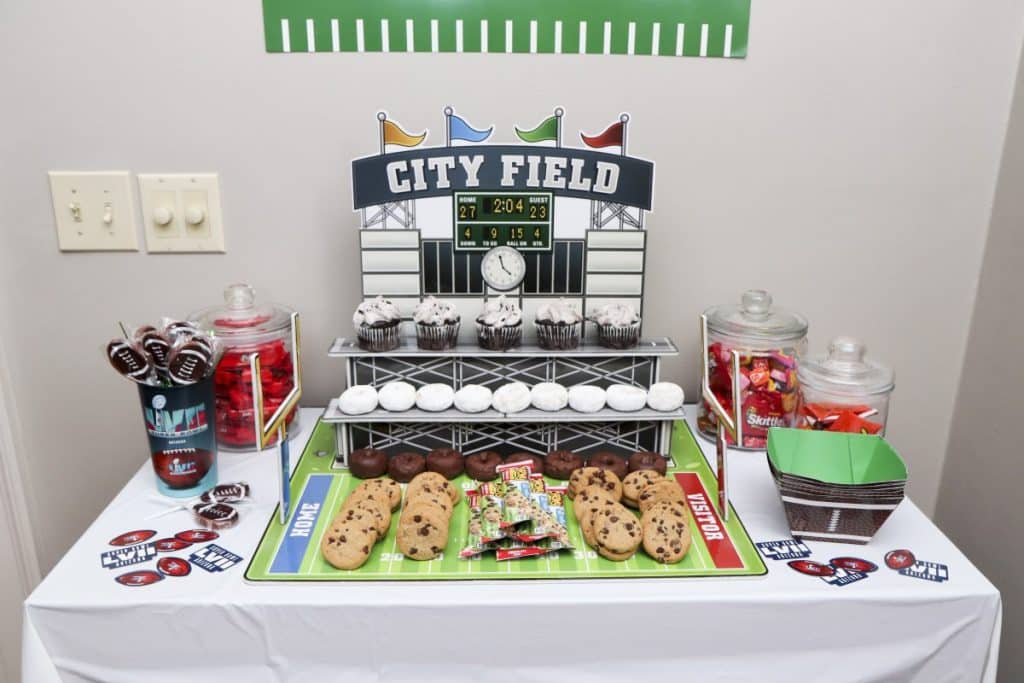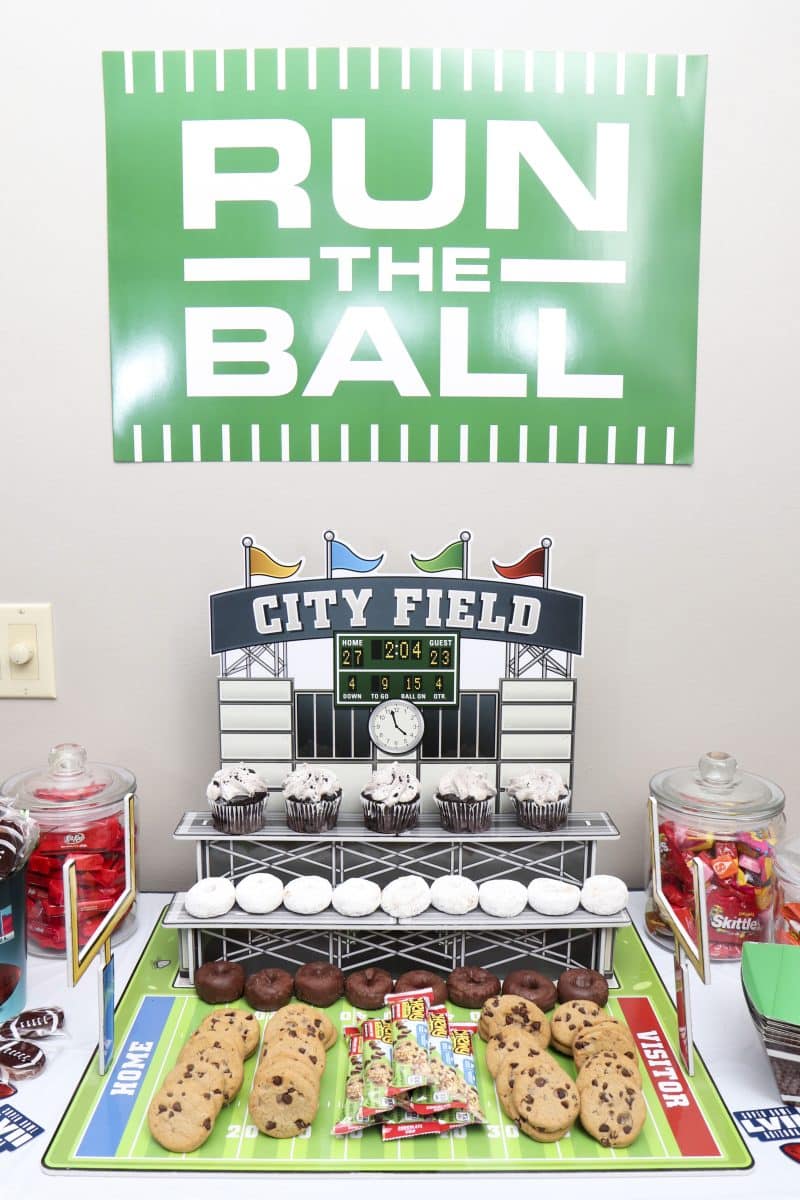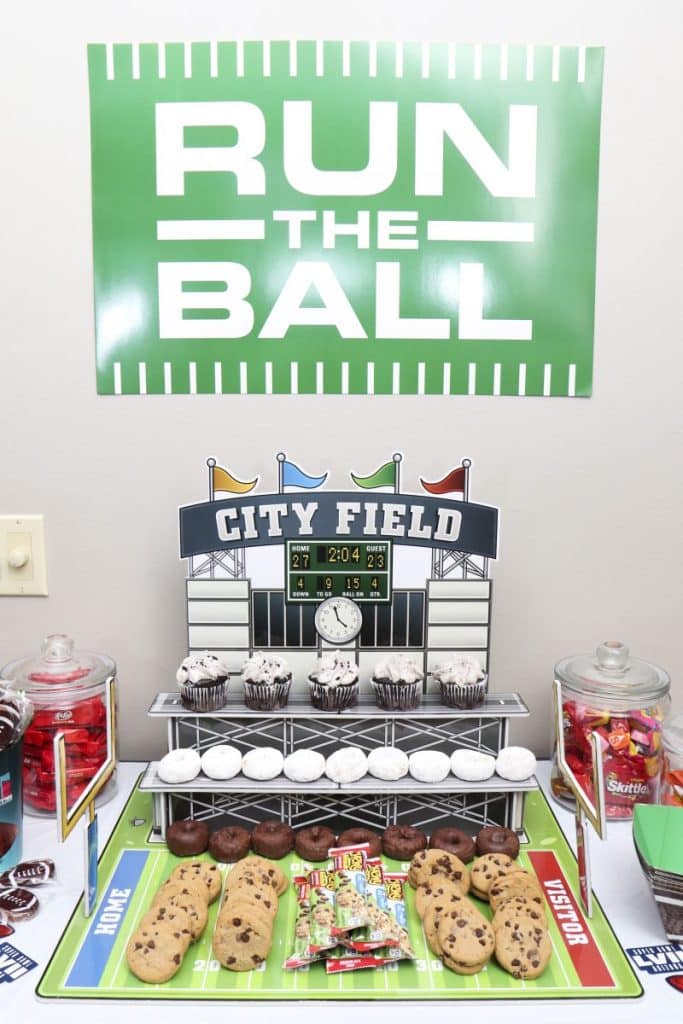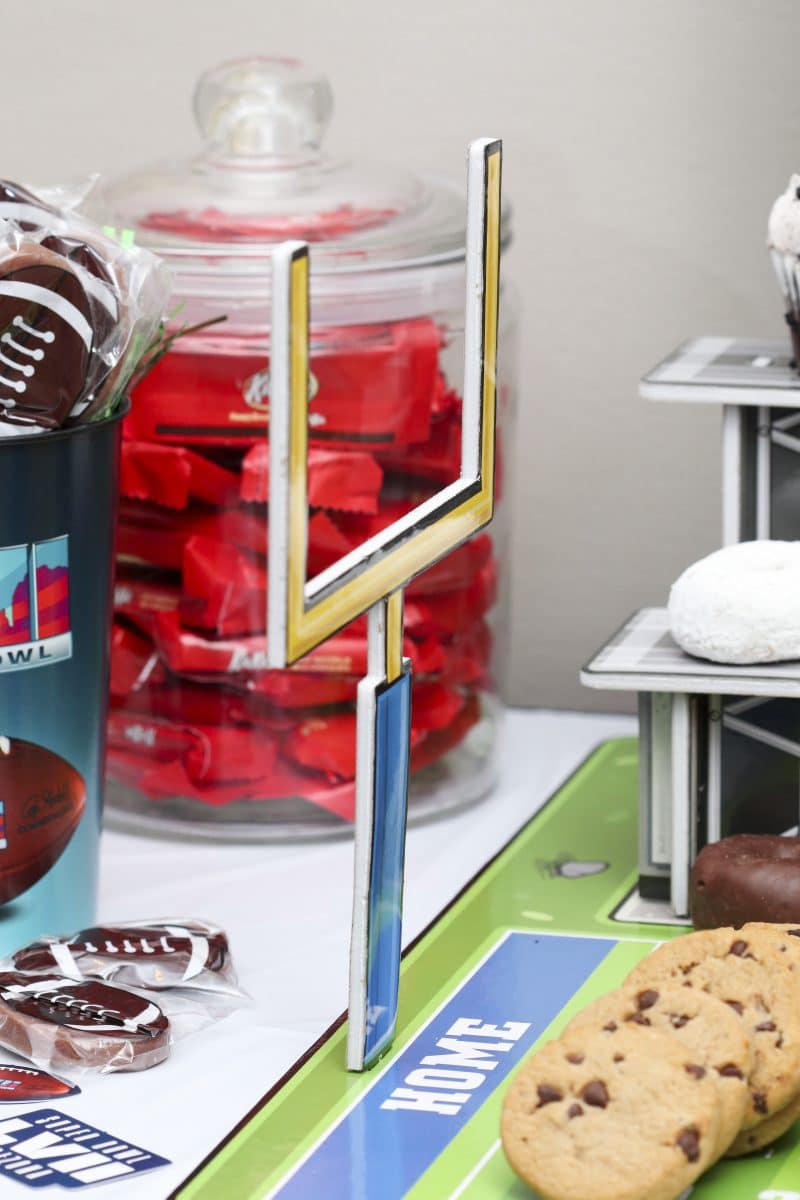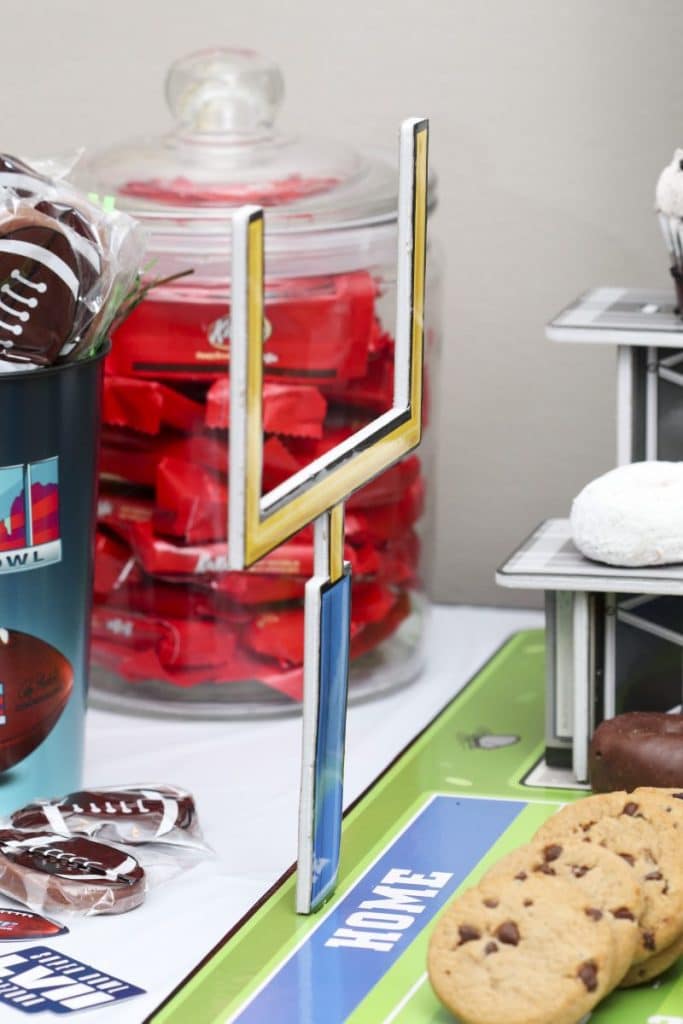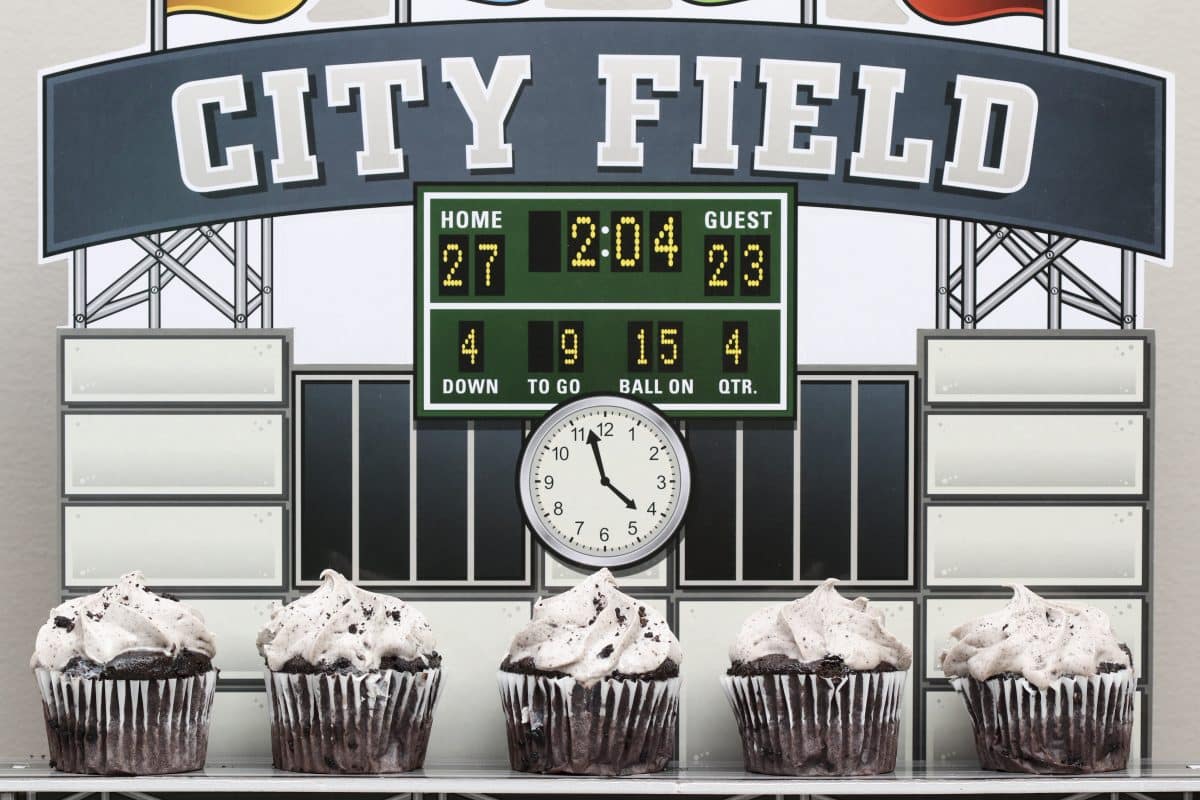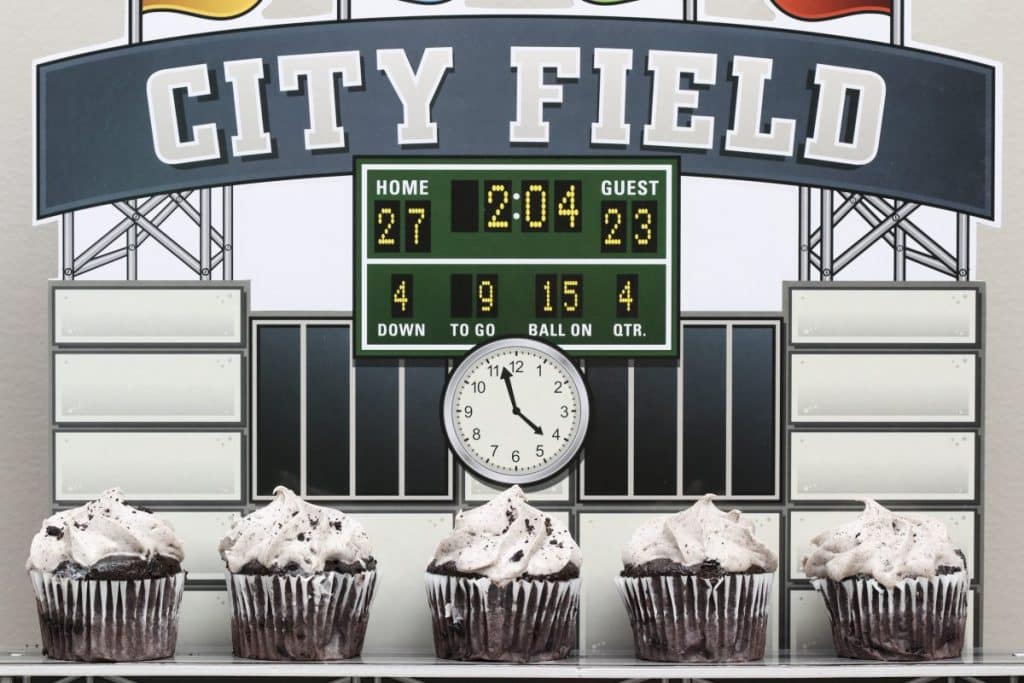 Then, to one side of the dessert football field, I added a large Superbowl LVII cup filled with football cake pops, and a jar of chocolate candy.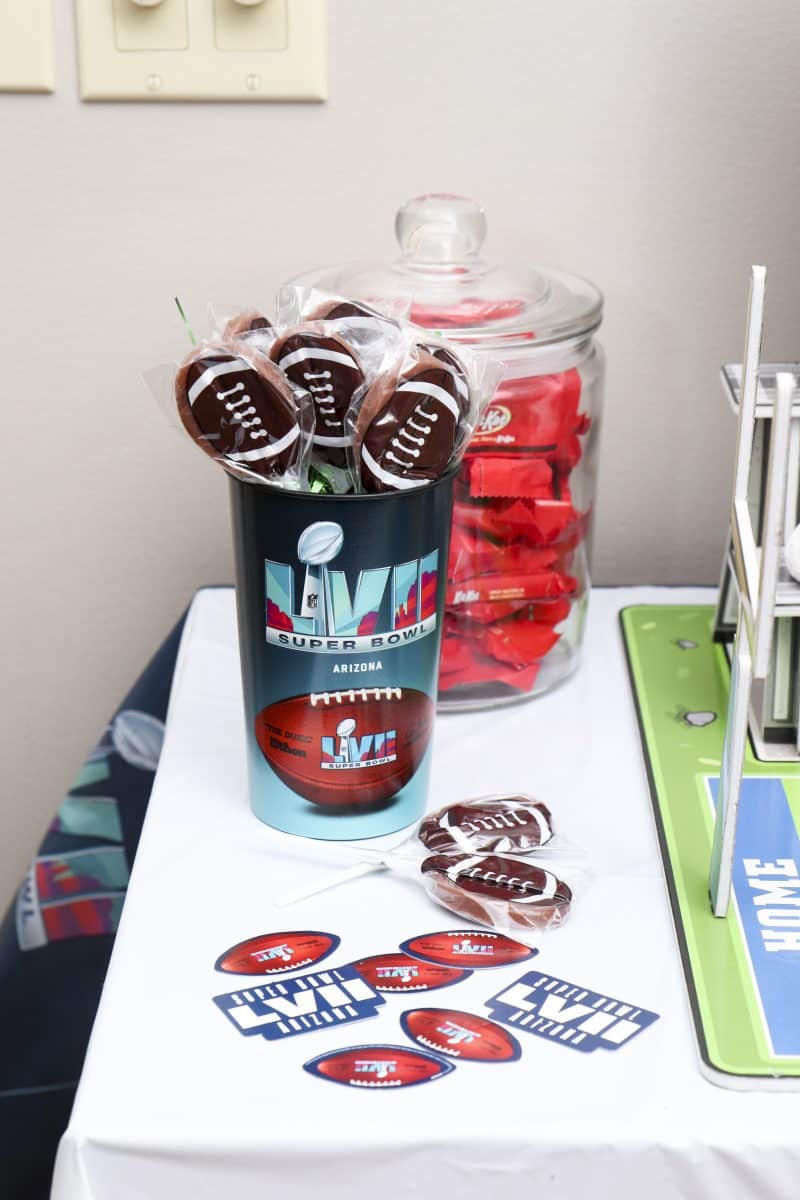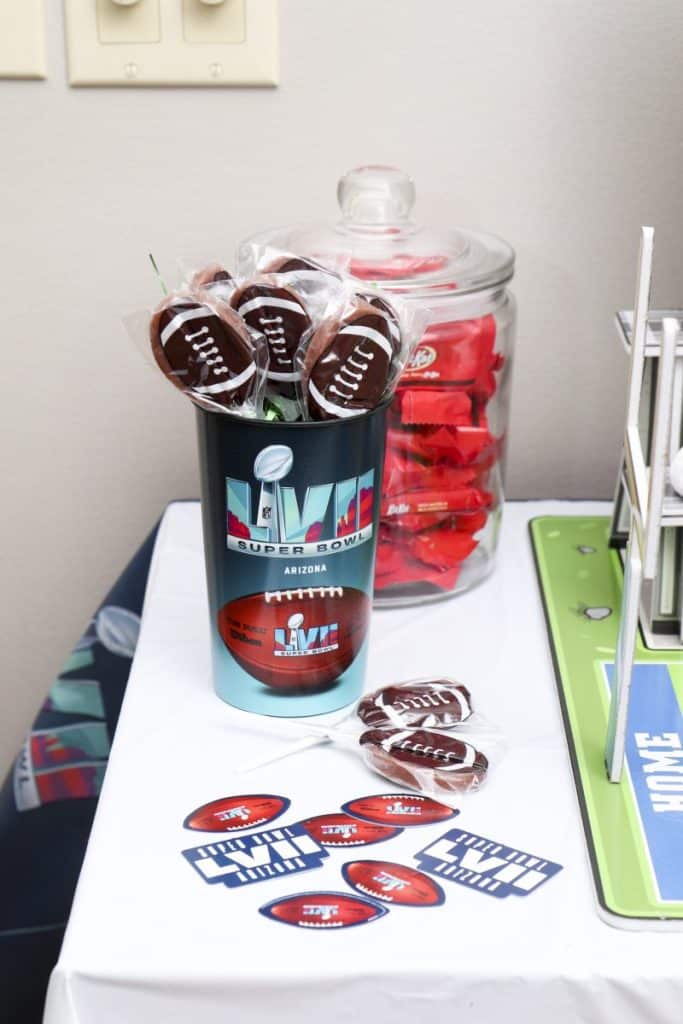 On the other side, I added more jars of fruity candy for variety. Additionally, I set out some football-themed treat trays for each teen to fill with whichever desserts they chose so that they could easily take them back with them to the couch to watch the game!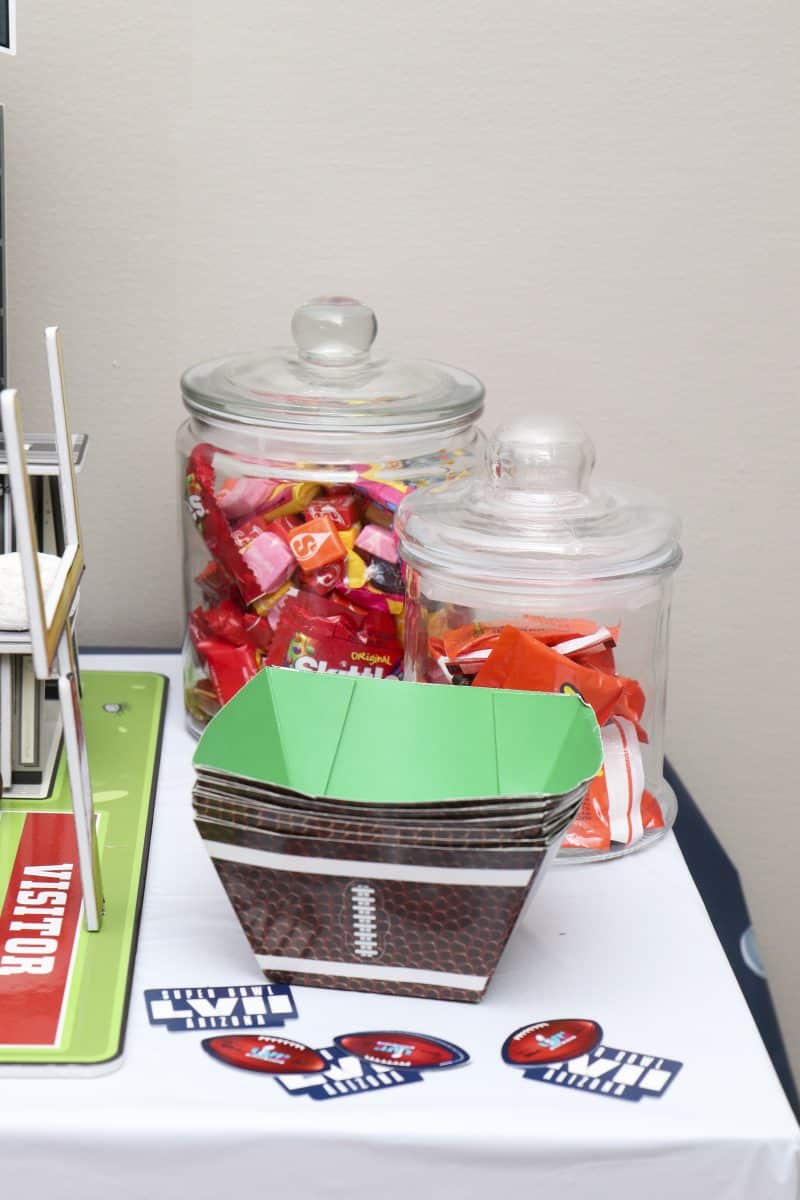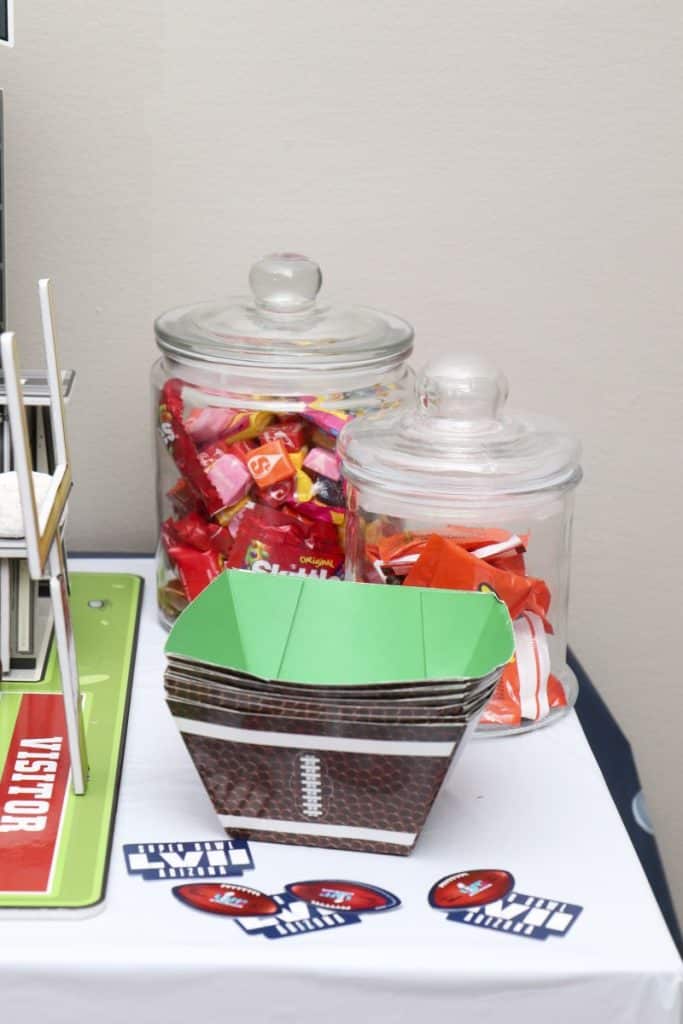 Entertainment
For those teens who aren't that into commercials (although I'd argue they are one of the best parts of any Super Bowl…) or who just need to get rid of some excess energy during the game, I placed a football beanbag toss game on the ground. Time to test their throwing (or in this case, tossing) skills!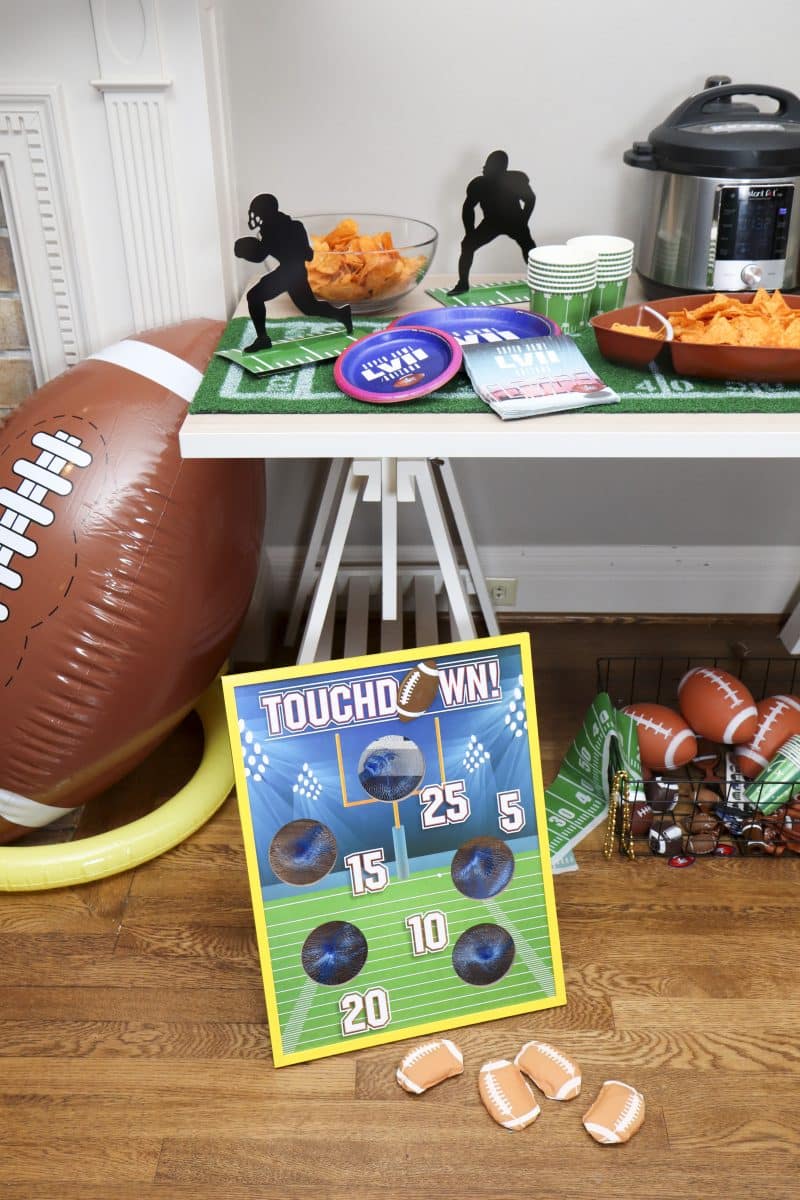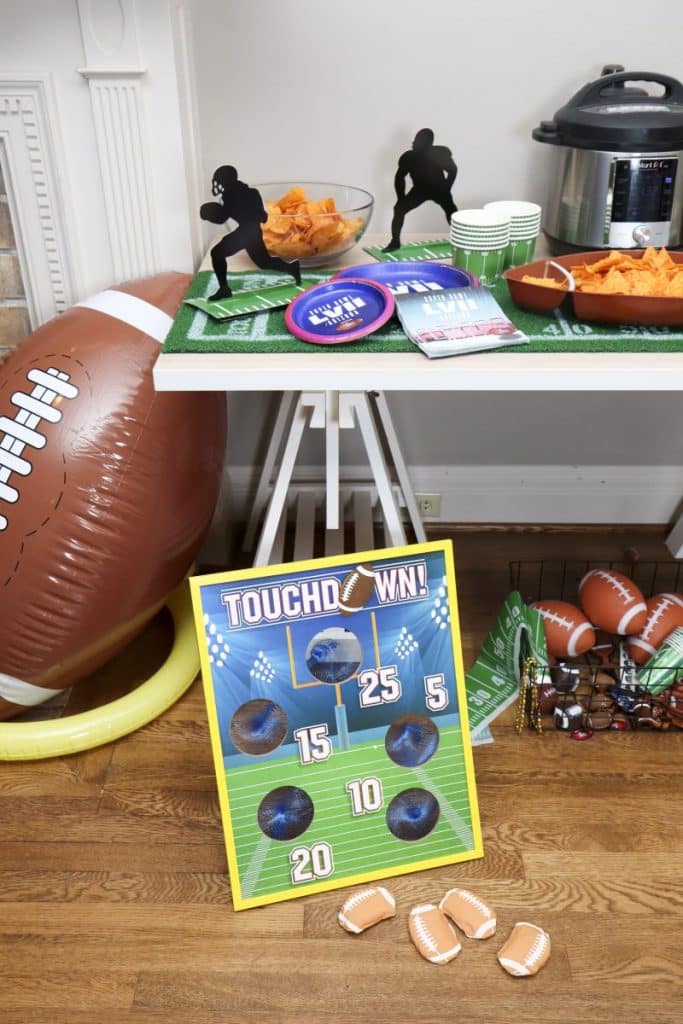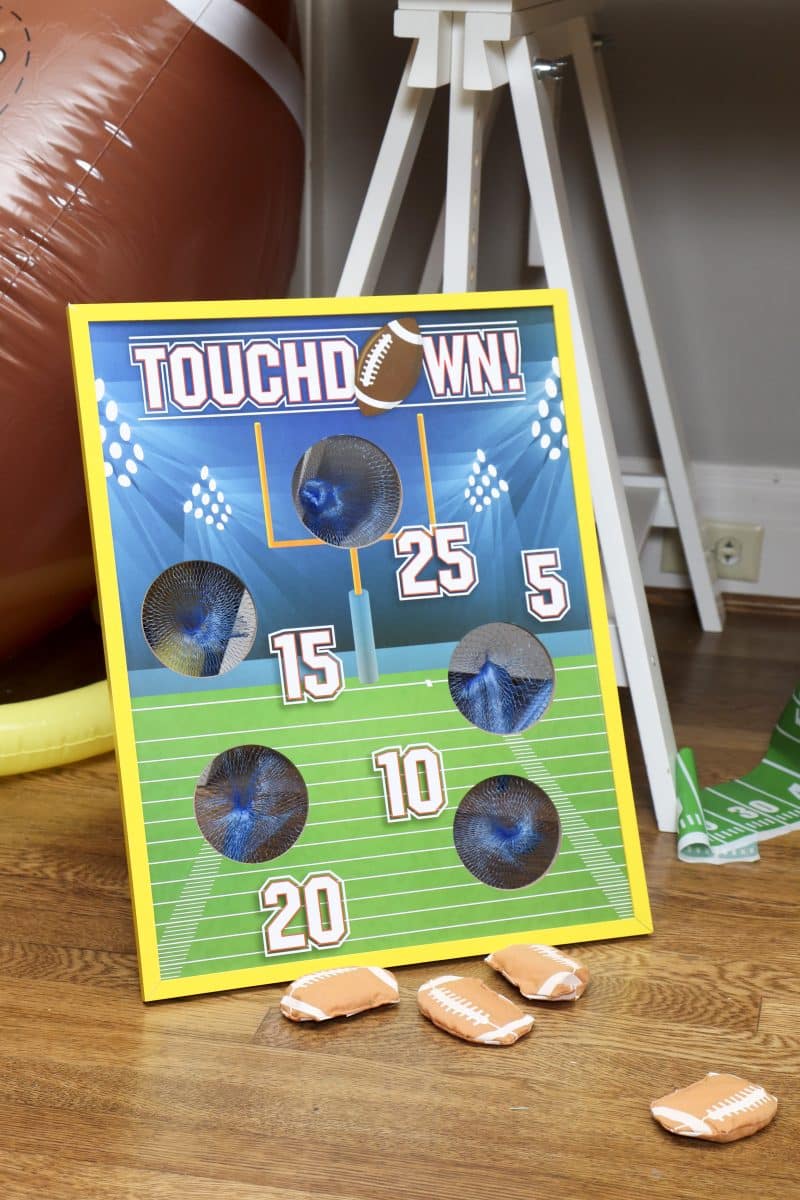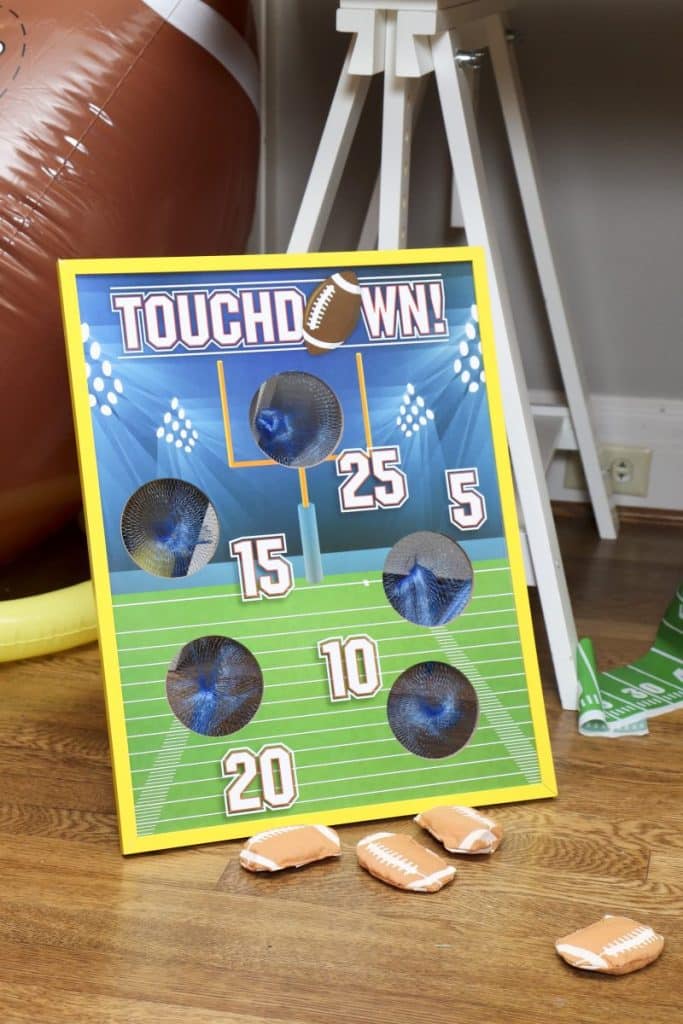 Football Favors
In addition to the stickers I spread over the dessert table, I wanted to provide more take-home favors for the teens. So I set up a basket underneath the table with an abundance of football toys and trinkets, noise makers, beads, and more.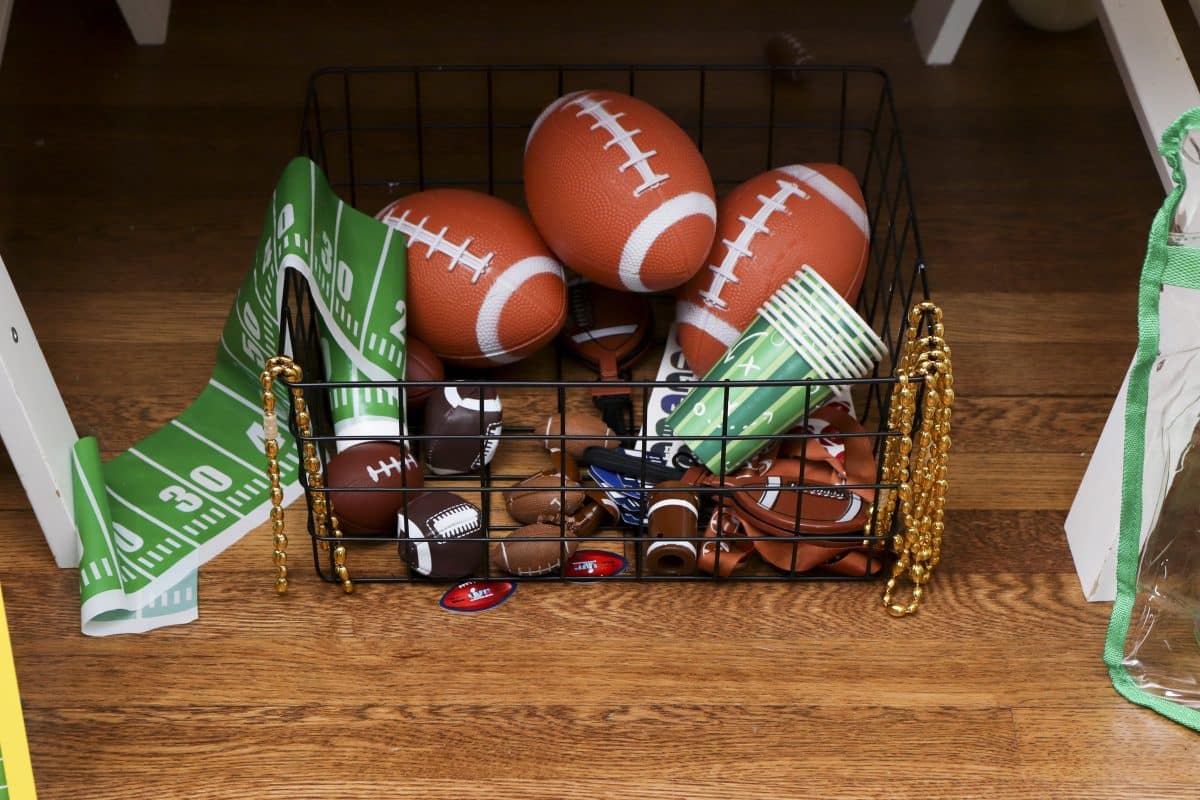 Next to this, I placed some sports supply bags for them to fill and easily carry their favors and some more sports drinks for the road. These bags can easily be used again and again in the future, which makes them a great option over single-use plastic favor bags.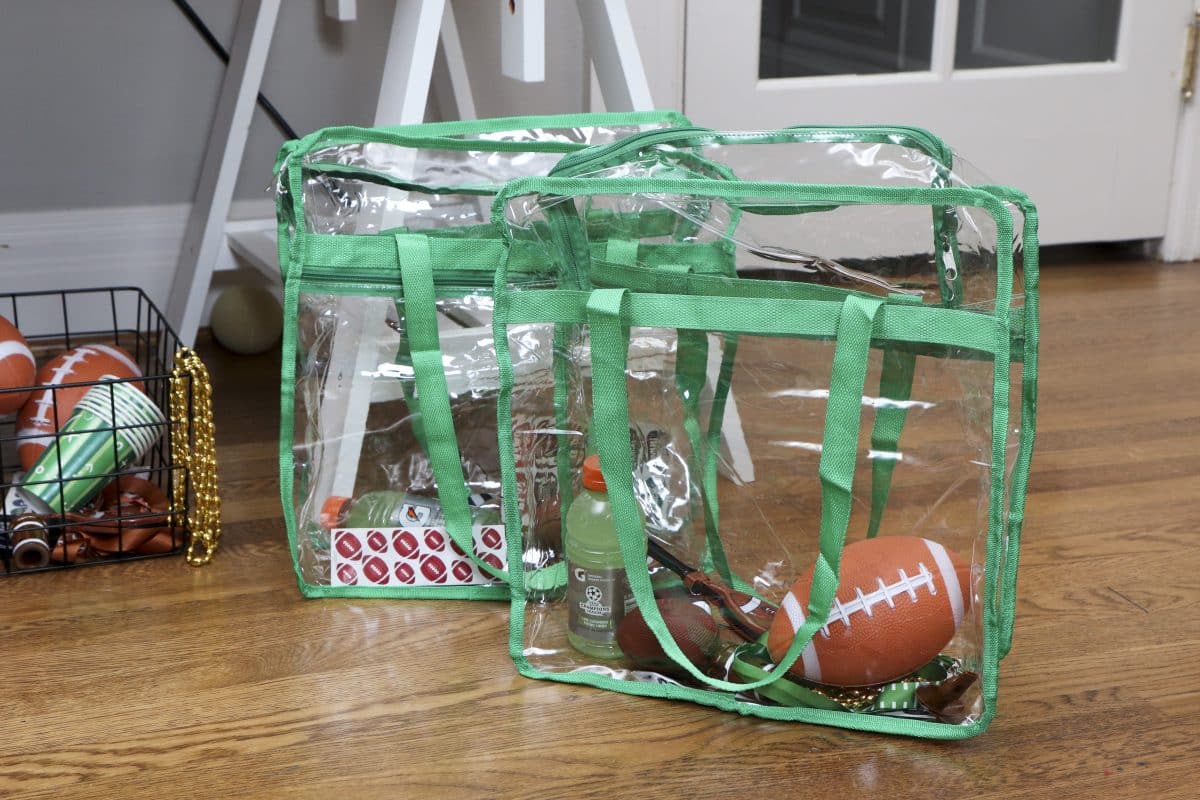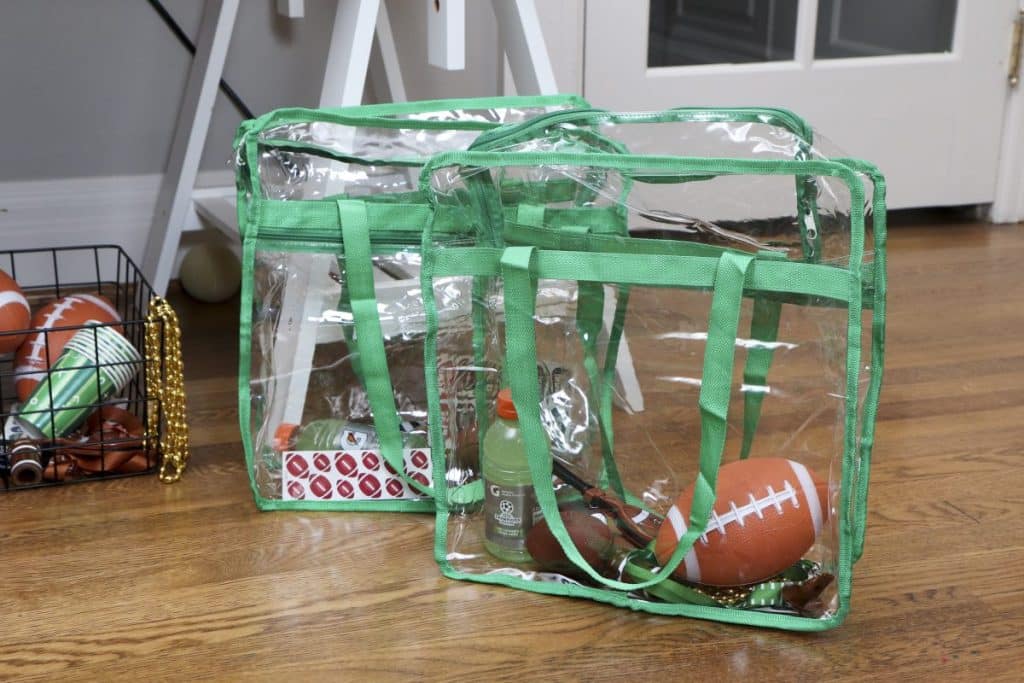 This Game Day Party is totally teen-approved!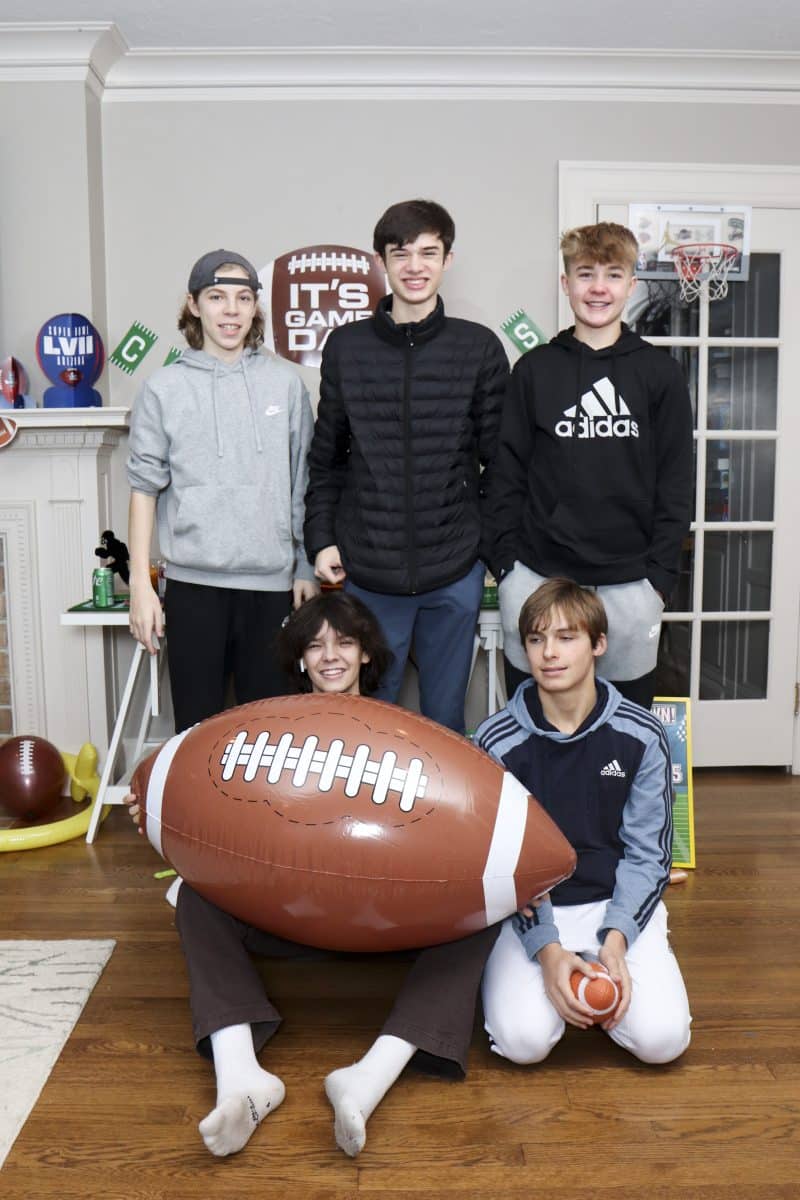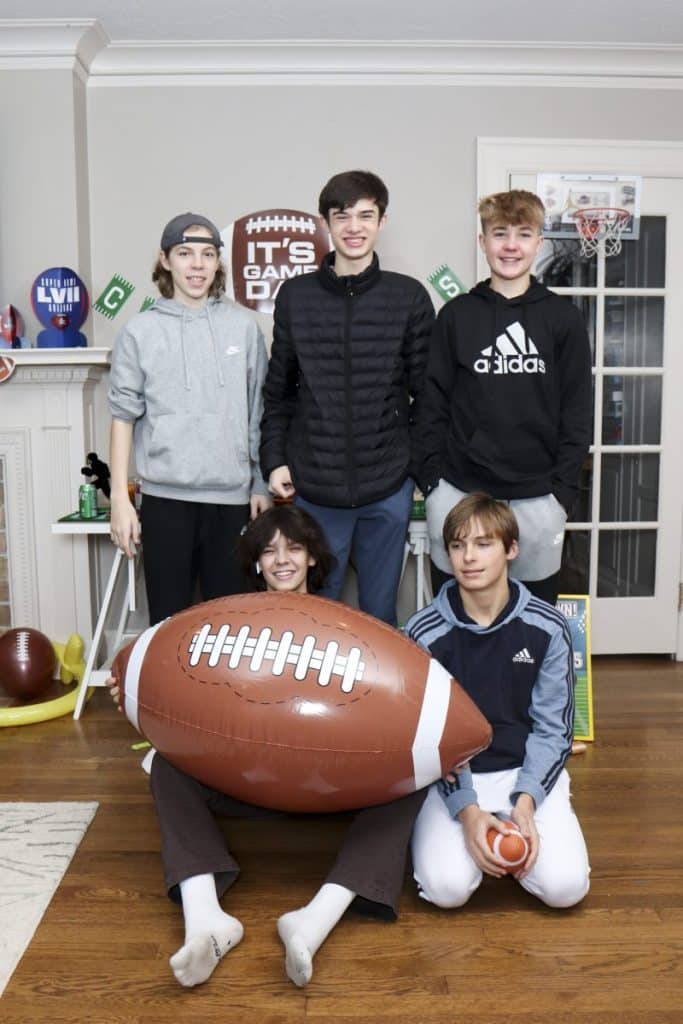 For more sports-themed parties, check out my March Madness Basketball Party, my Hole-in-One Golf Shower, and my Volleyball Team Party!
Happy Partying!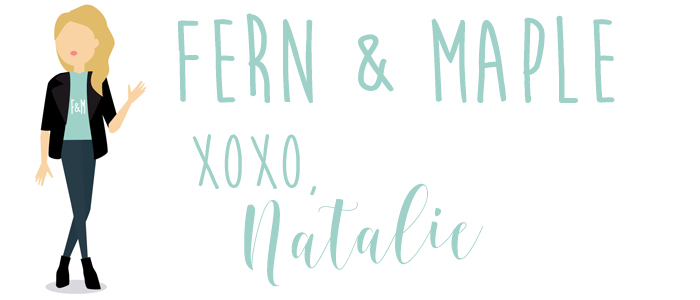 PIN FOR LATER: