A bridal shower picnic is a delightful way to honor a bride-to-be. And what better way to infuse romance, elegance, and a touch of je ne sais quoi than by indulging in the timeless allure of a French-inspired theme? Whether you're a bride-to-be planning your own bridal shower or a close friend entrusted with the task of organizing this special day, I'll show you how I set up a visually stunning bridal shower picnic that exudes French flair and will transport you and your guests to a romantic park in Paris. Read on to get details on this French-inspired Bridal Shower Picnic that blends elegance, sophistication, and the timeless beauty of French culture, all in the pursuit of creating an enchanting celebration that will be remembered for a lifetime.
How to Set up a French-Inspired Bridal Shower Picnic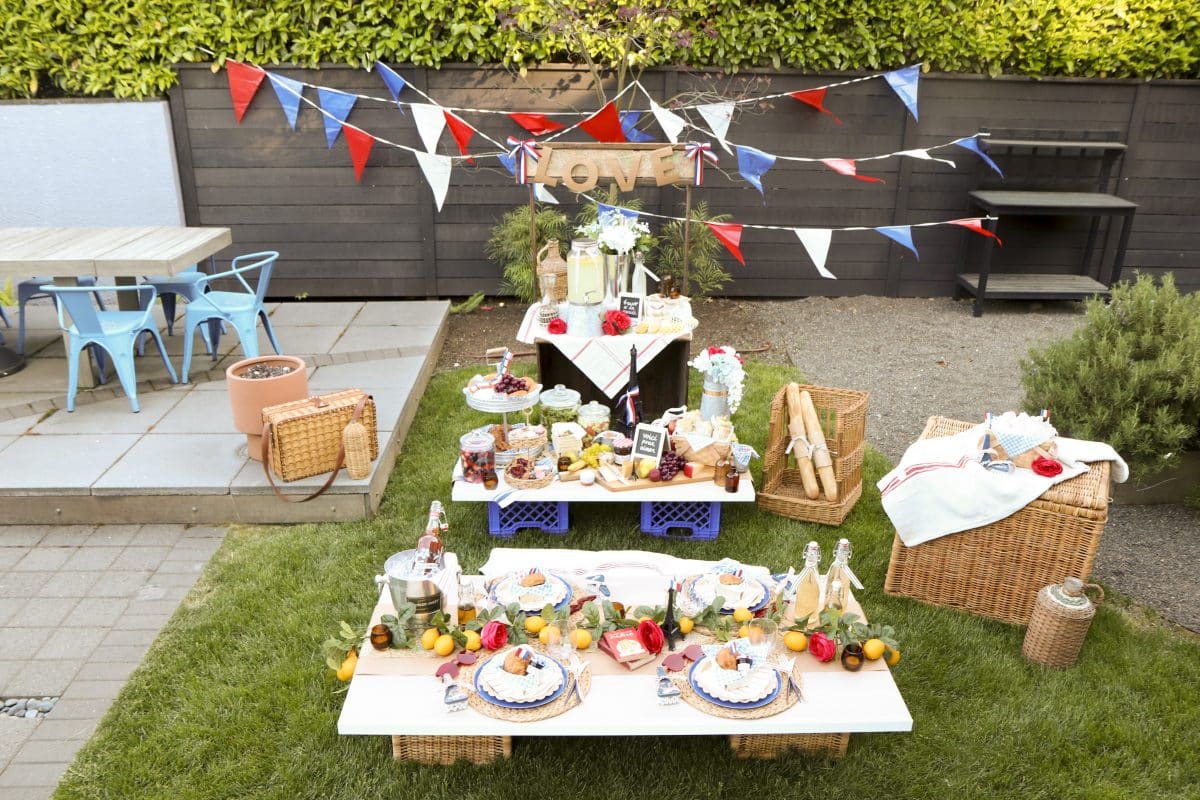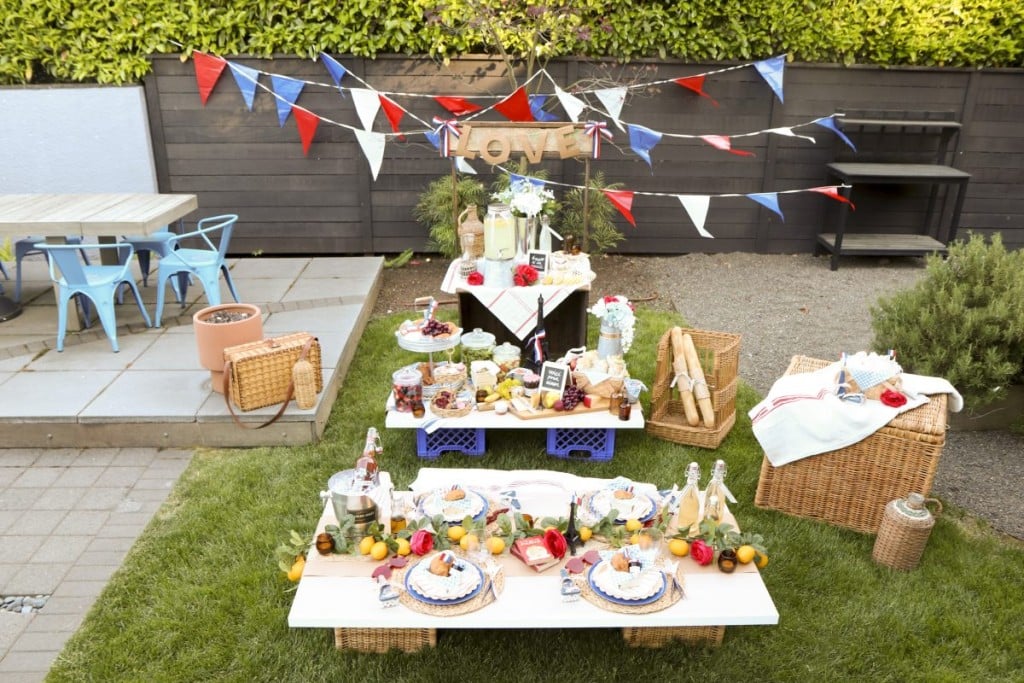 Picnic Table Setting
First, I set my picnic table using a low tabletop on top of some rattan baskets. I decided to use rattan elements throughout the party, for a natural French countryside picnic feel. on either side of the table, I placed some long white pillows with blue and red stripes for comfortable picnic seating in the grass.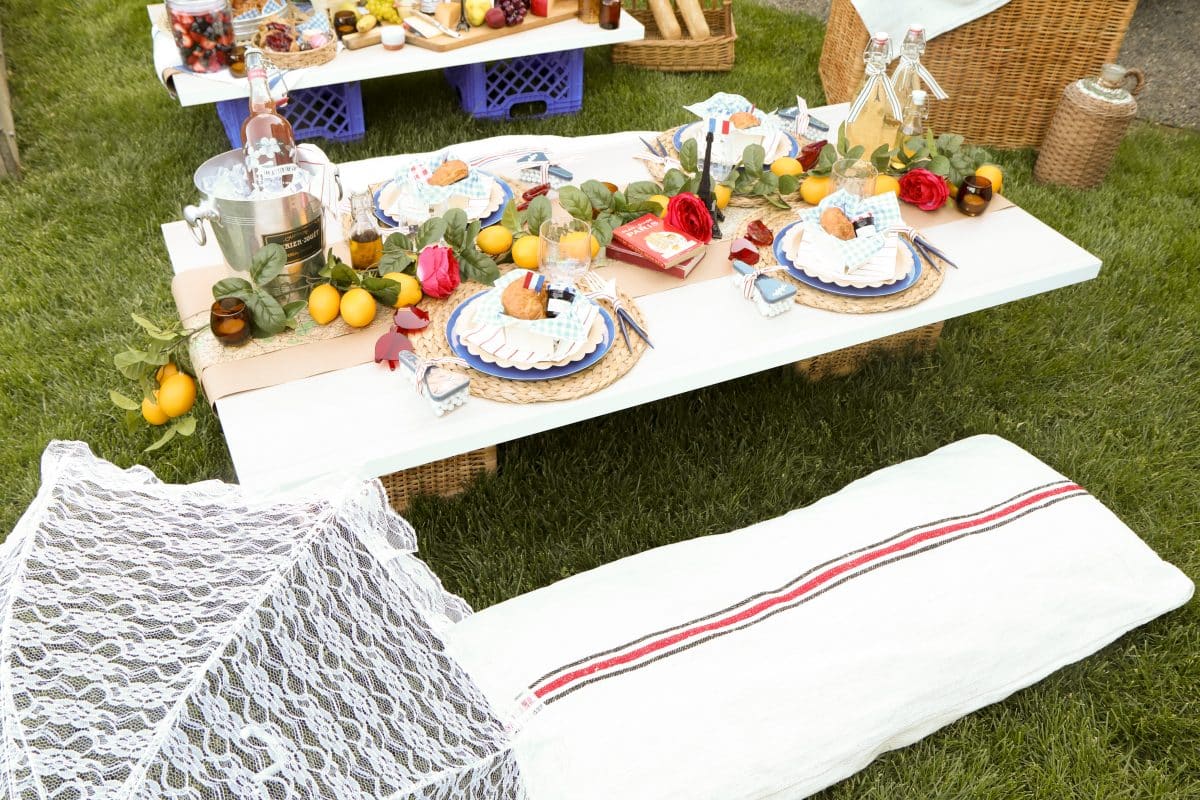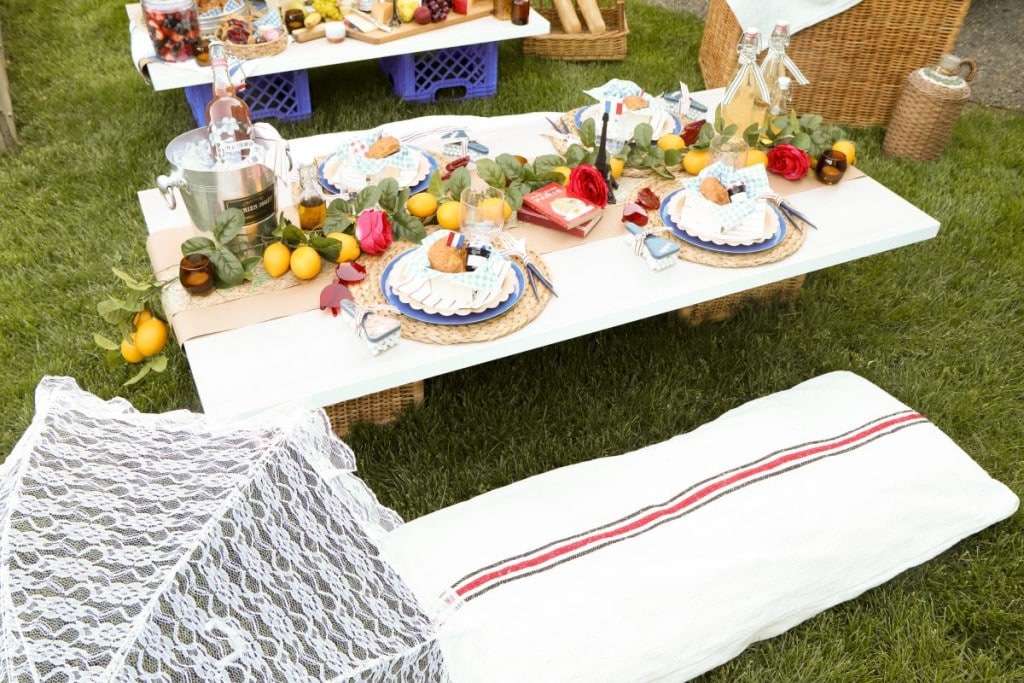 Then, in the center of the table, I created a French-inspired table runner by using maps of France, faux greenery and lemons, and roses. I also added Parisian props – mini Eiffel towers and guides to Paris.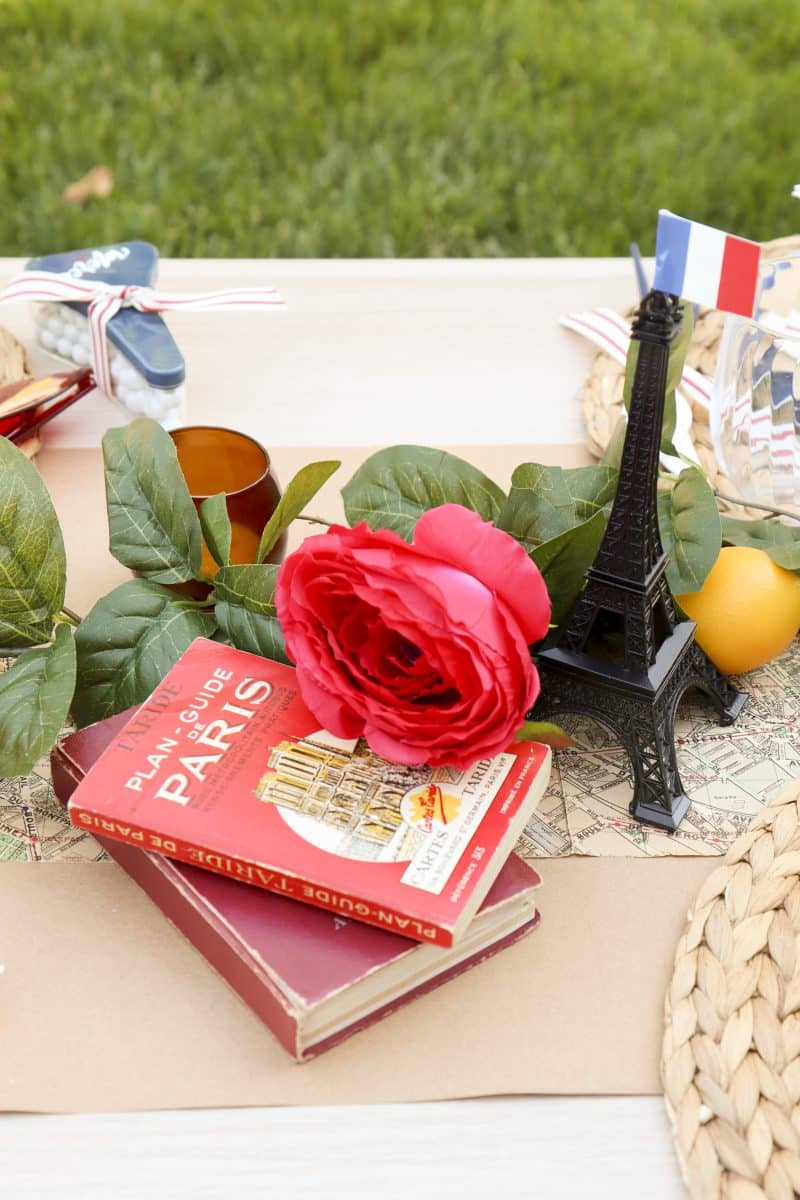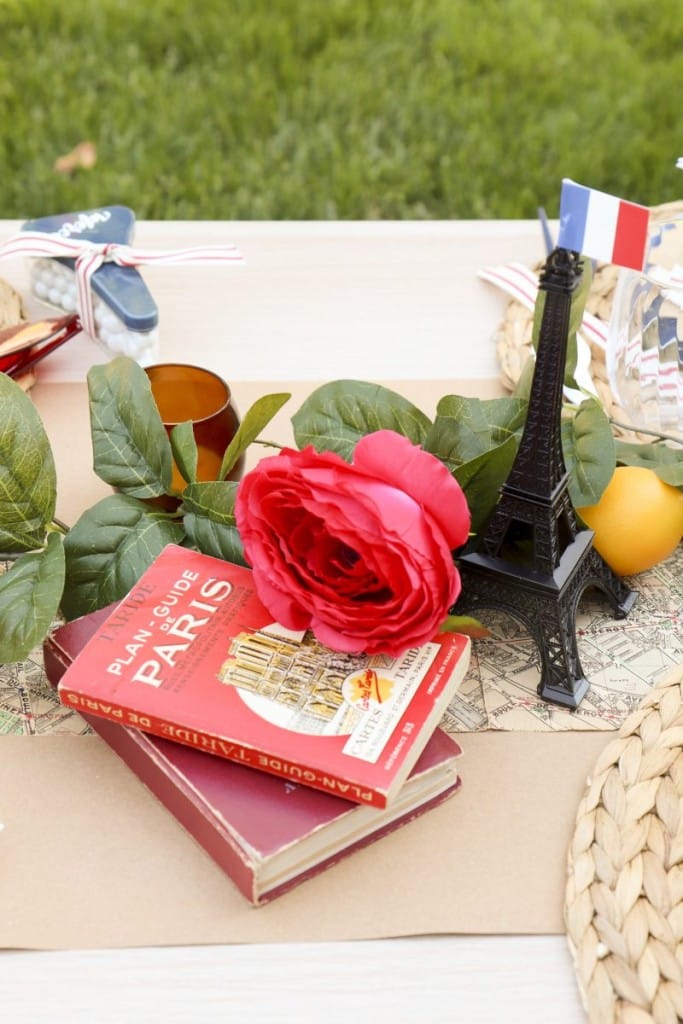 On the ends of the table, I set out some candles and glass containers of drinks.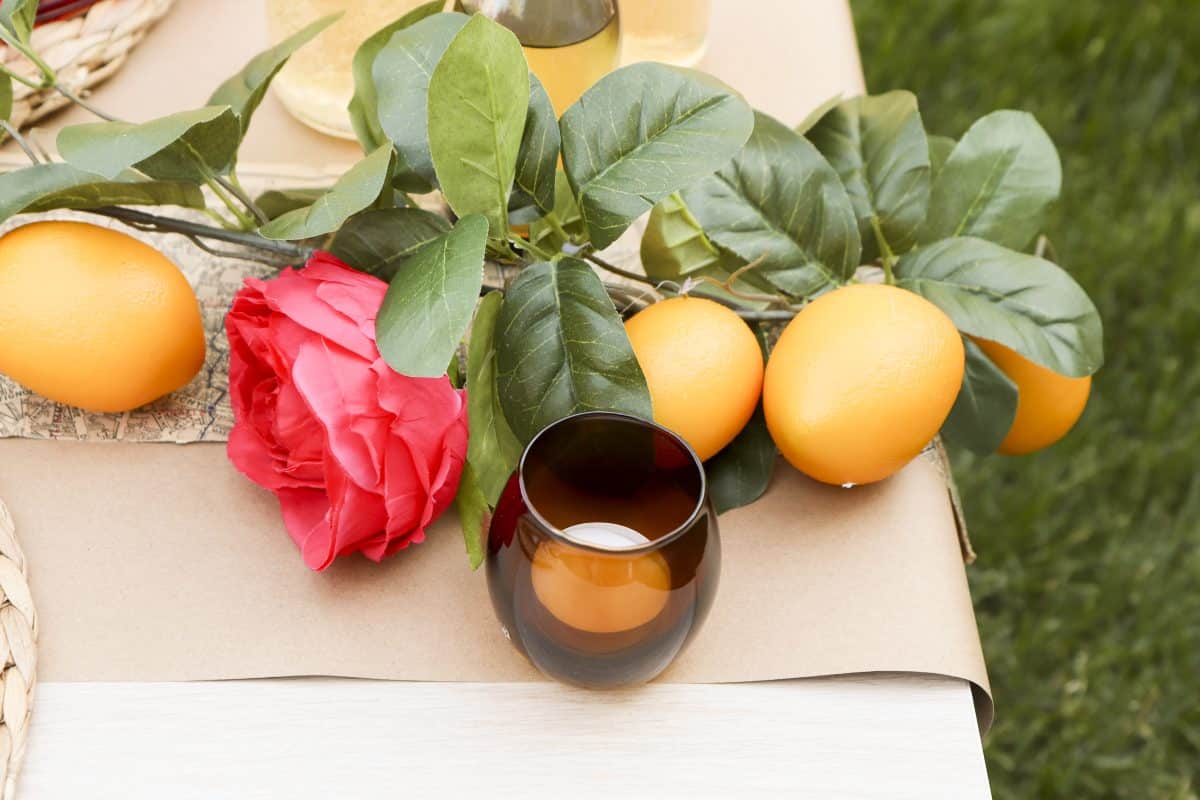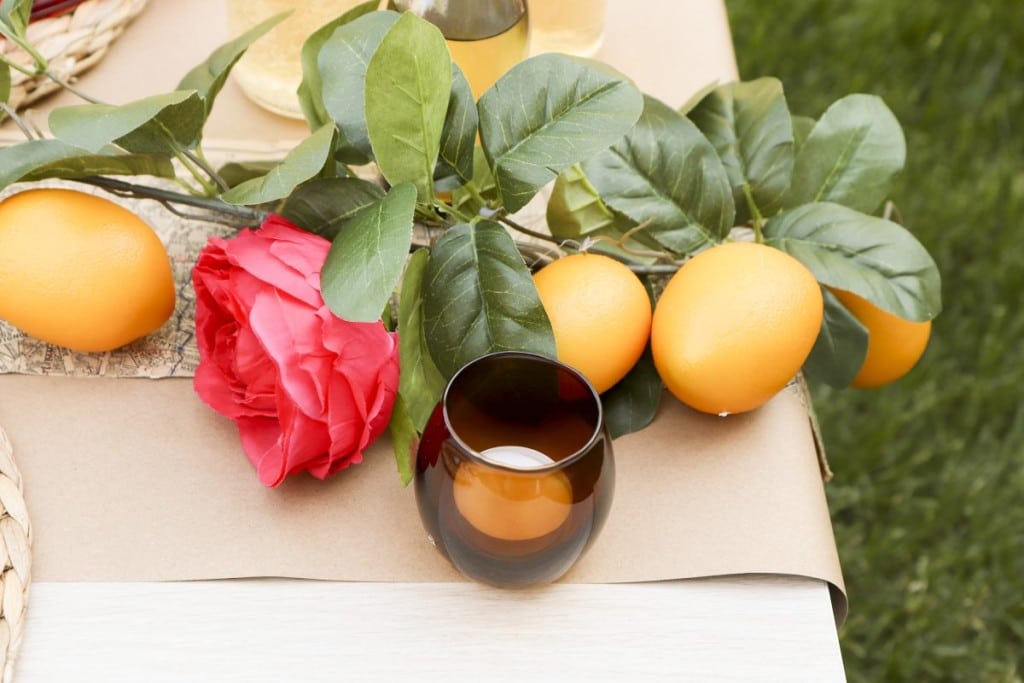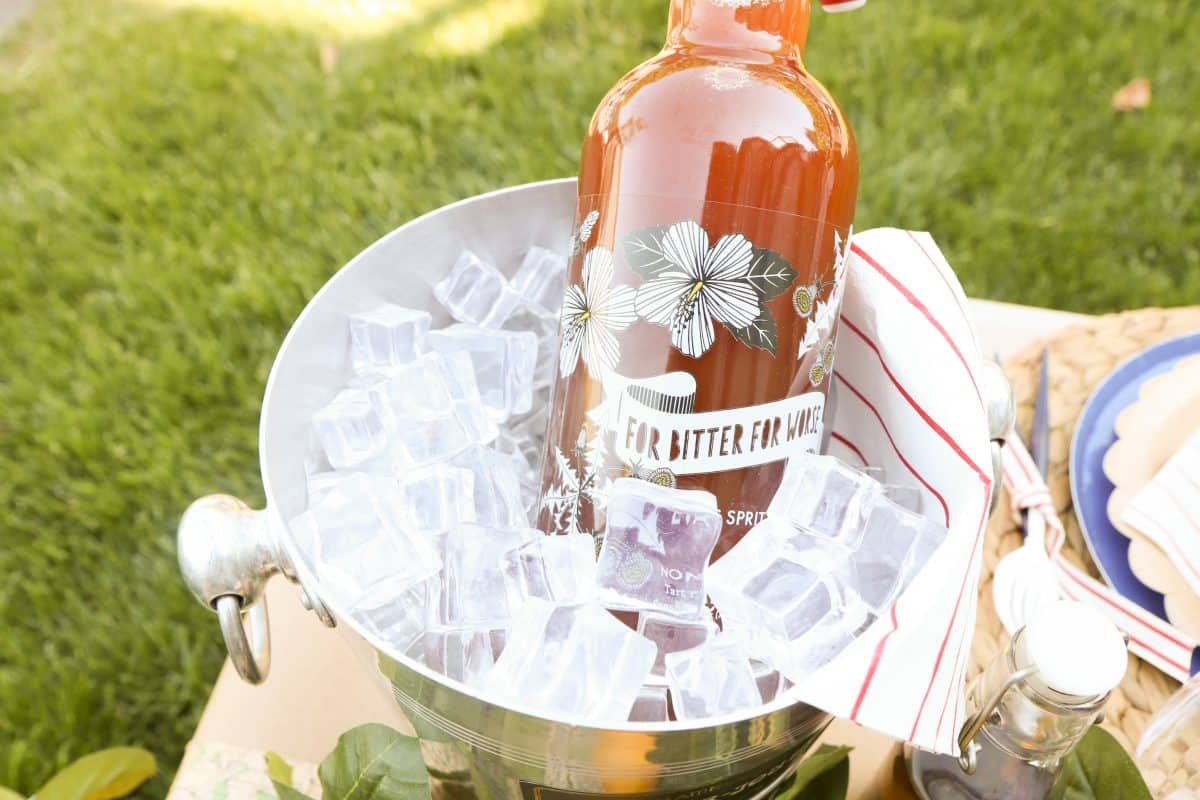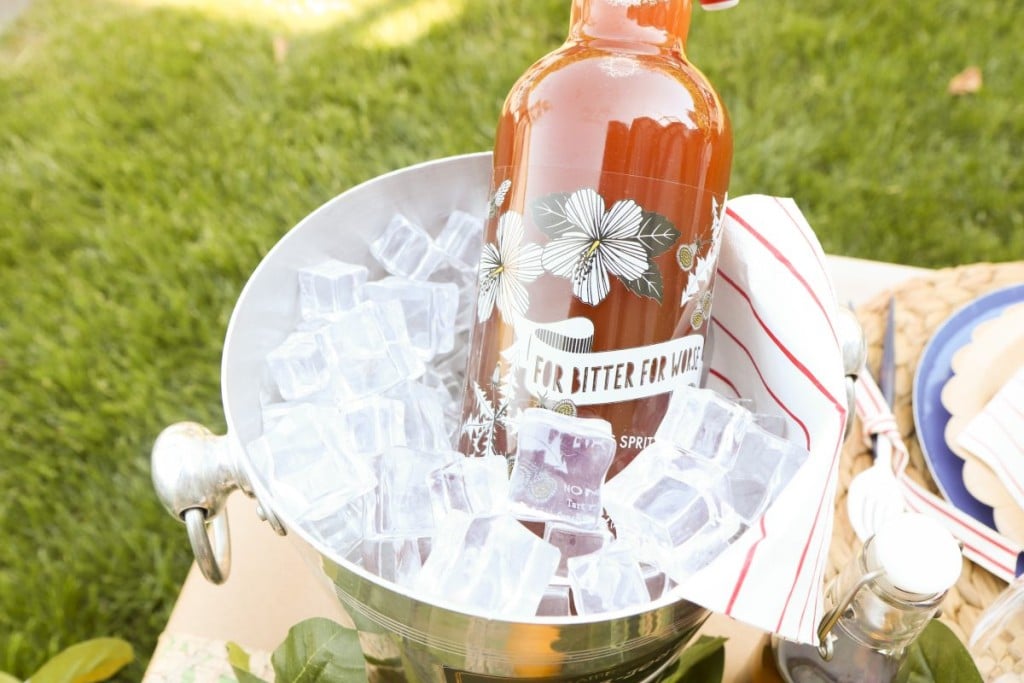 For a bit more French flair, I added some blue-striped ribbon with Eiffel tower charms to some of the bottles.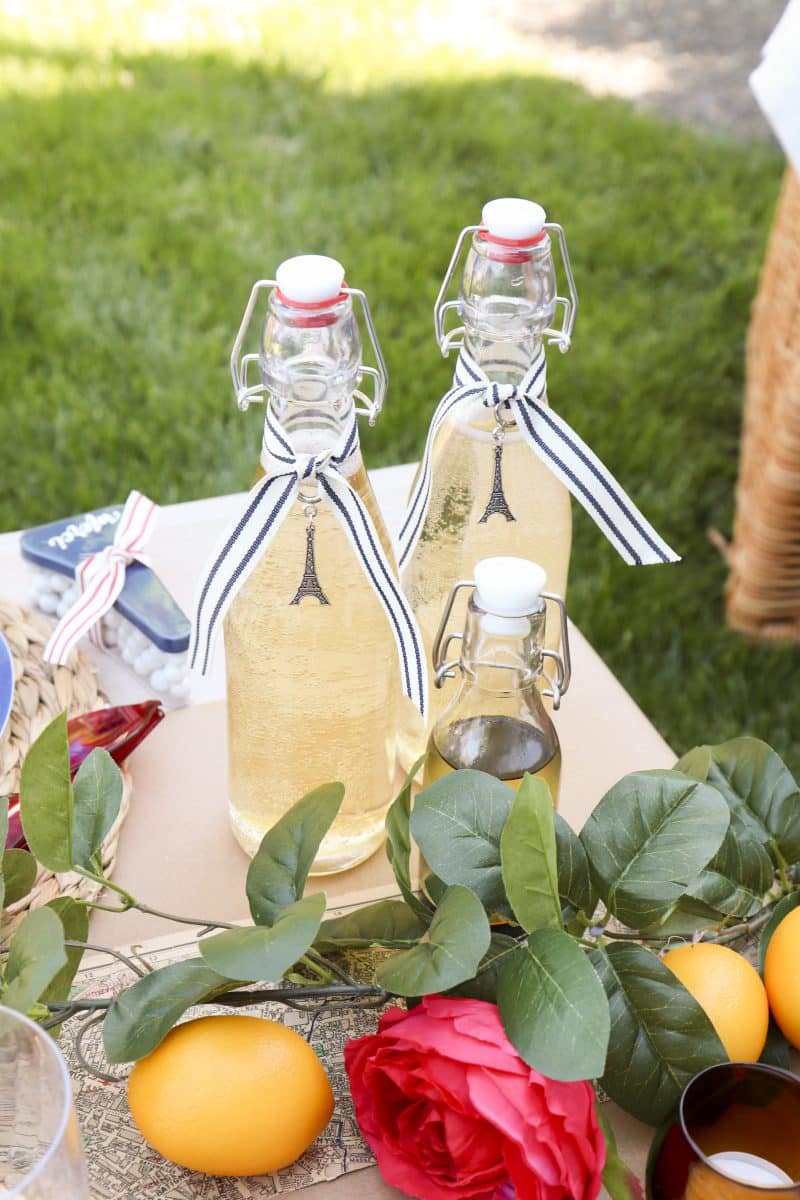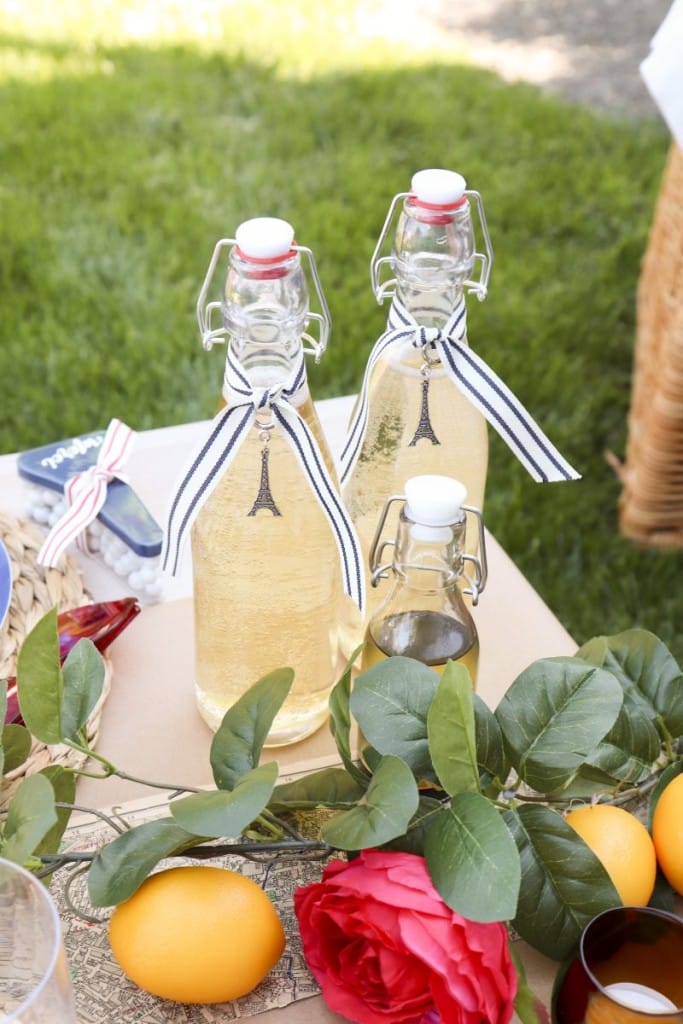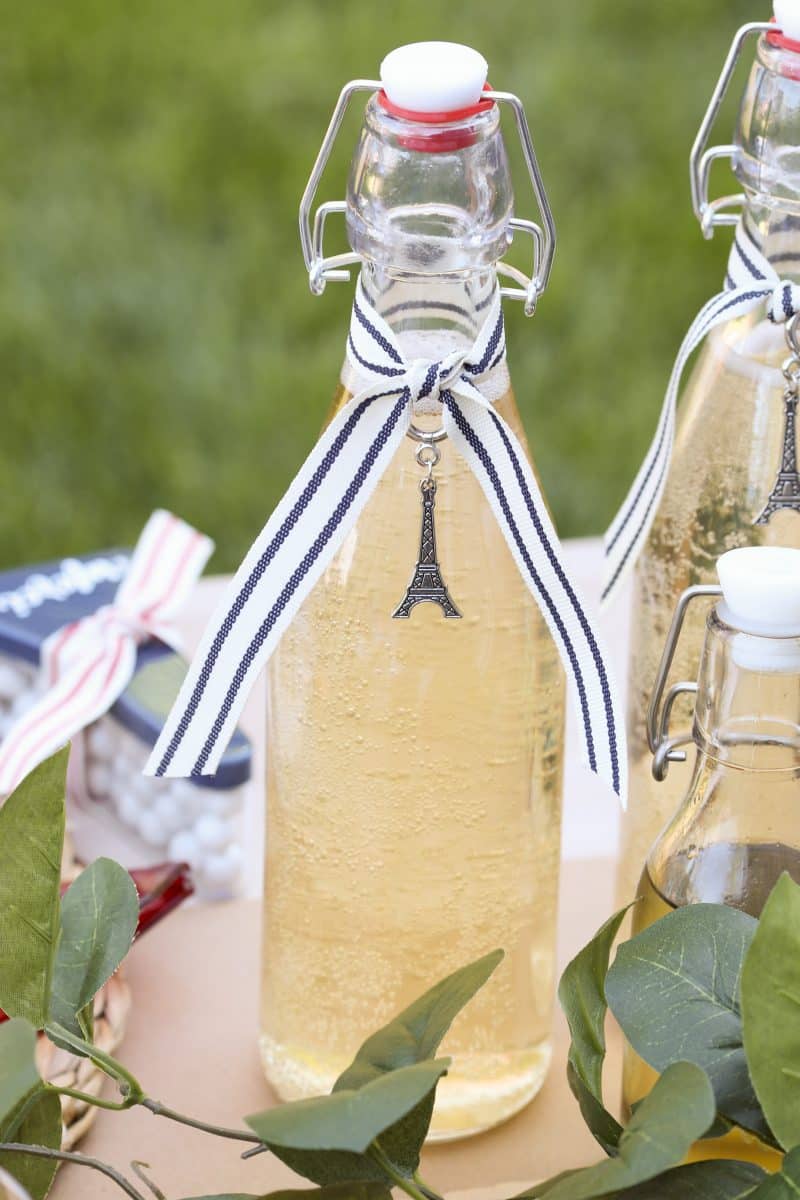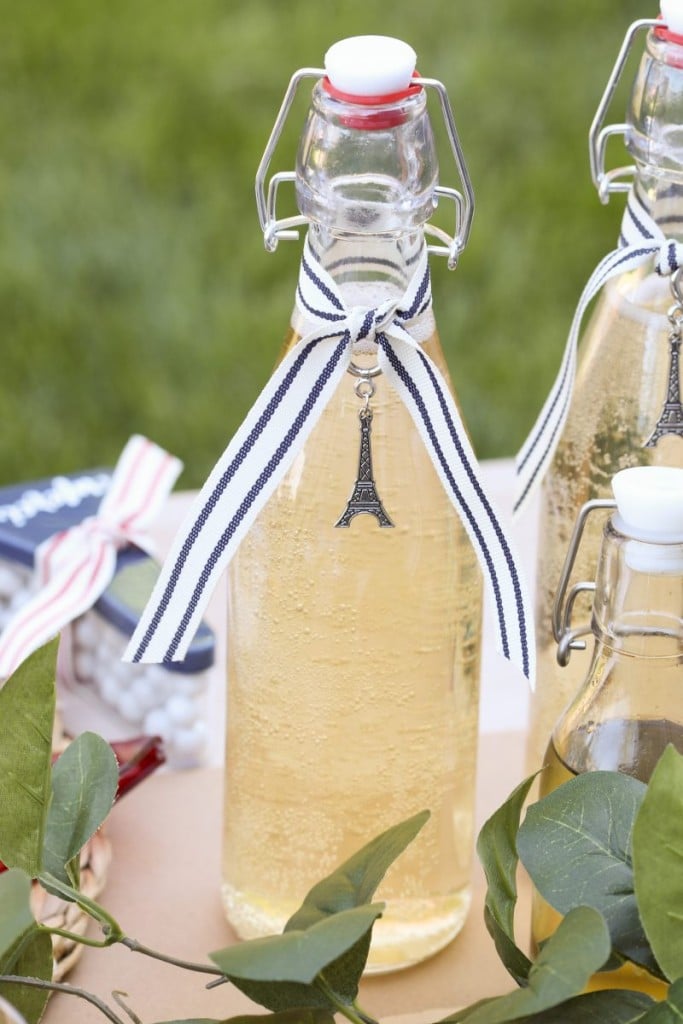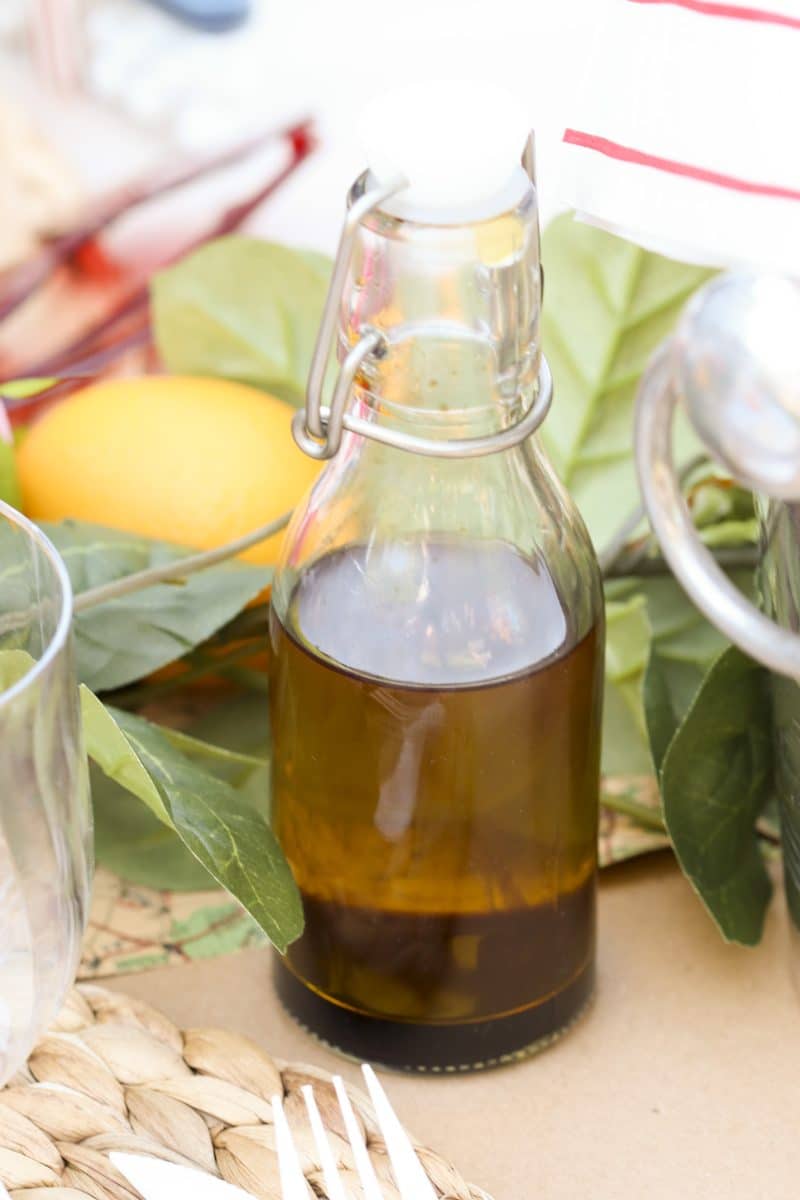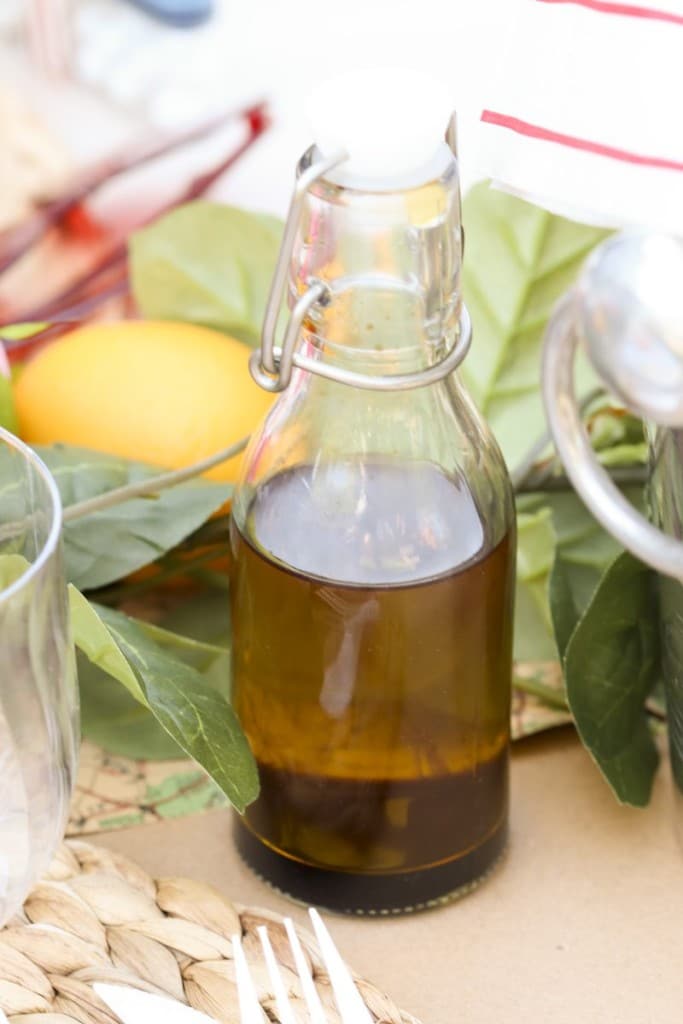 Place Settings
Next, I created my place settings on either side of the table. I layered rattan placemats with blue luncheon plates and natural scalloped-edge dessert plates. Then, I added a red-striped napkin and a blue gingham-lined berry basket filled with a croissant and mini jam jar, to start the brunch.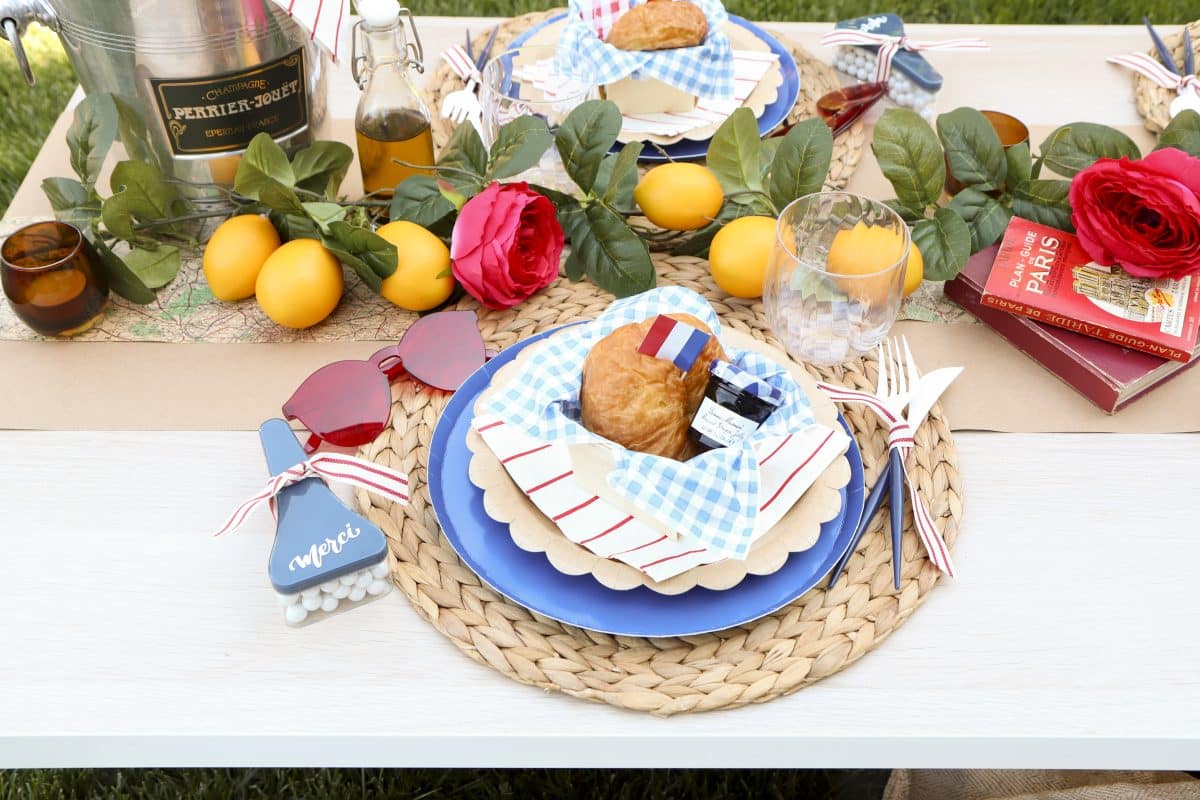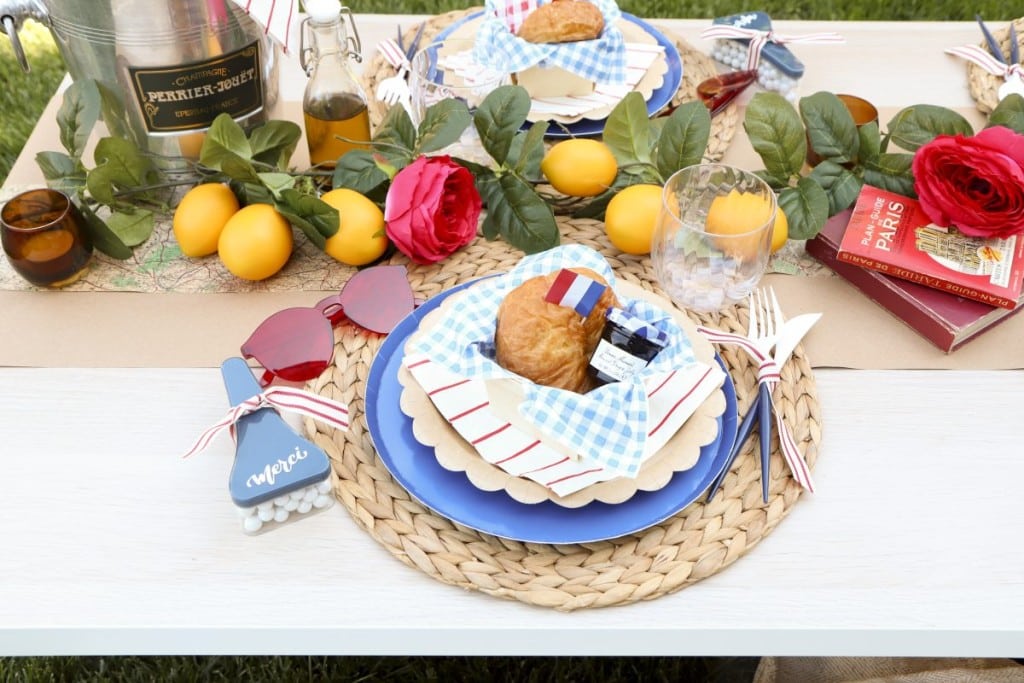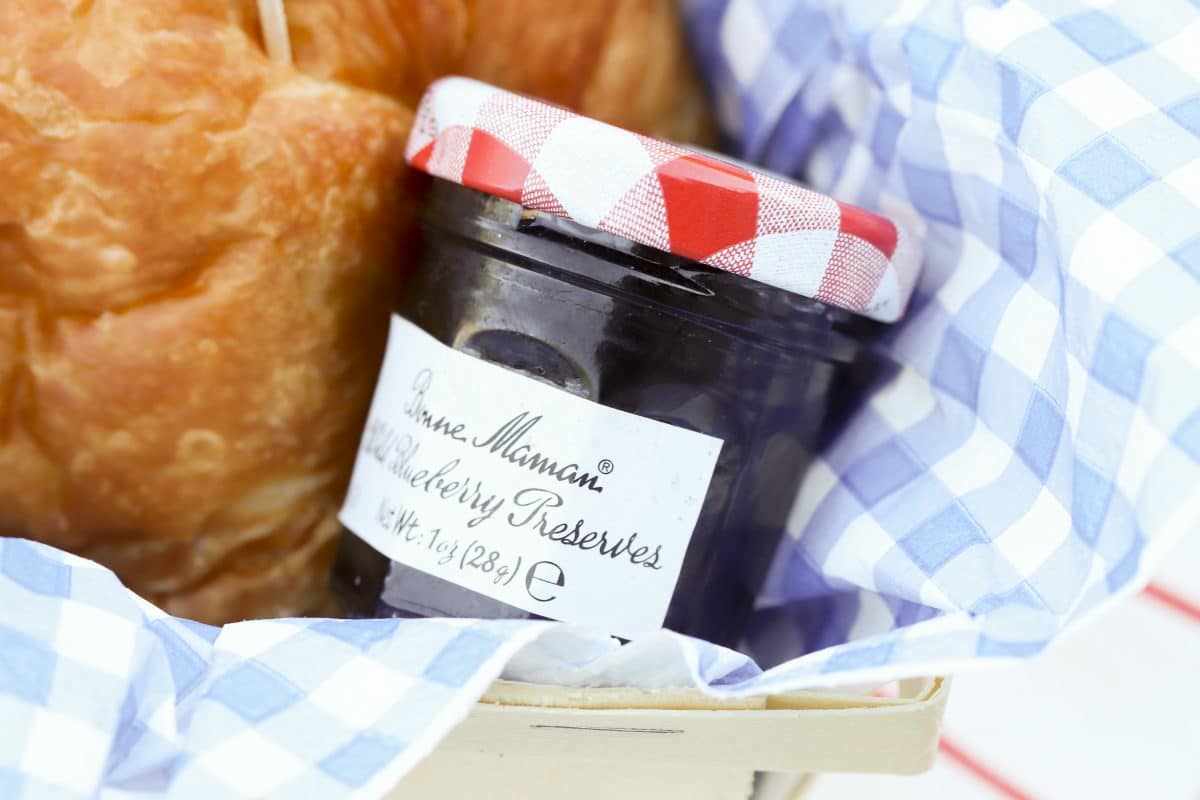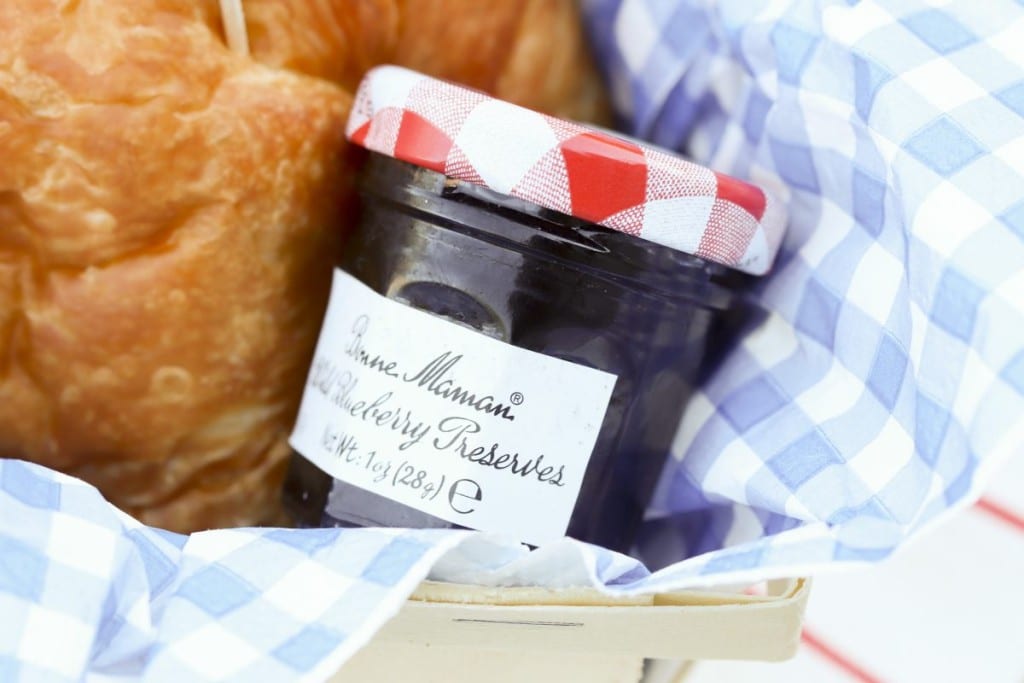 Adding a cute little French flag pick to the croissant is an easy way to bring more of the theme into the place settings.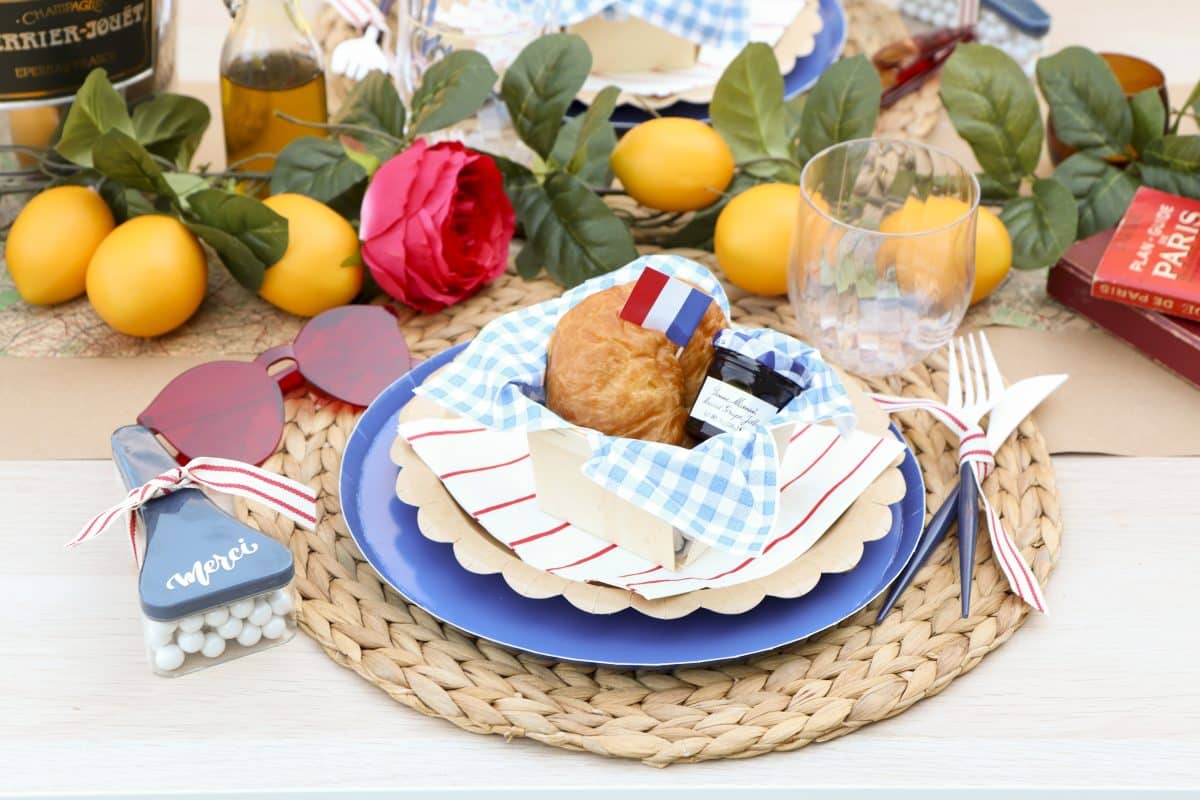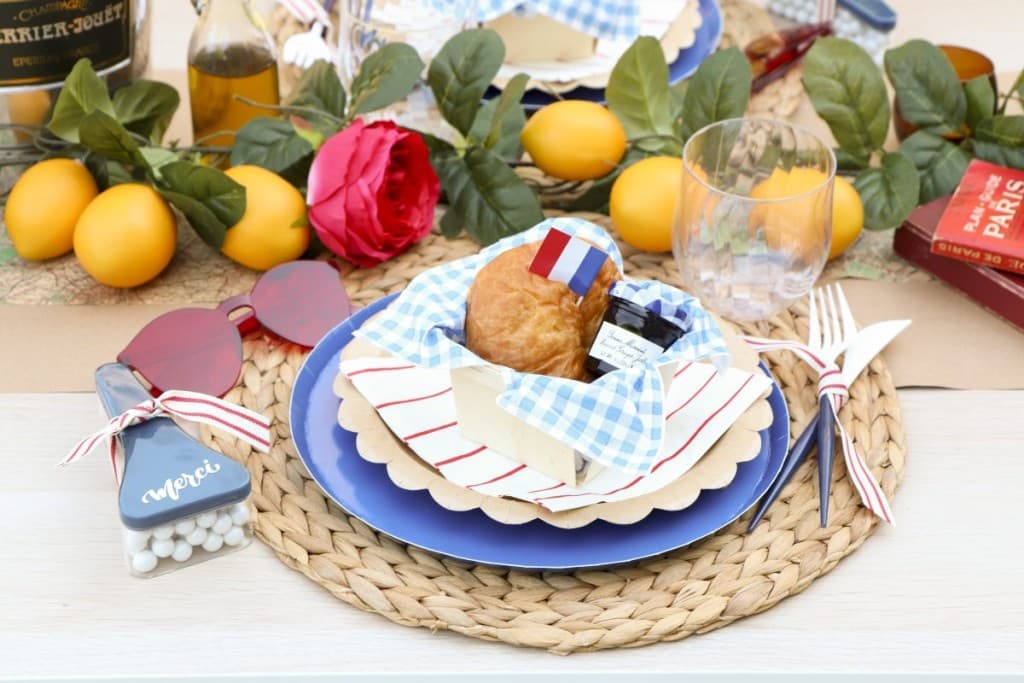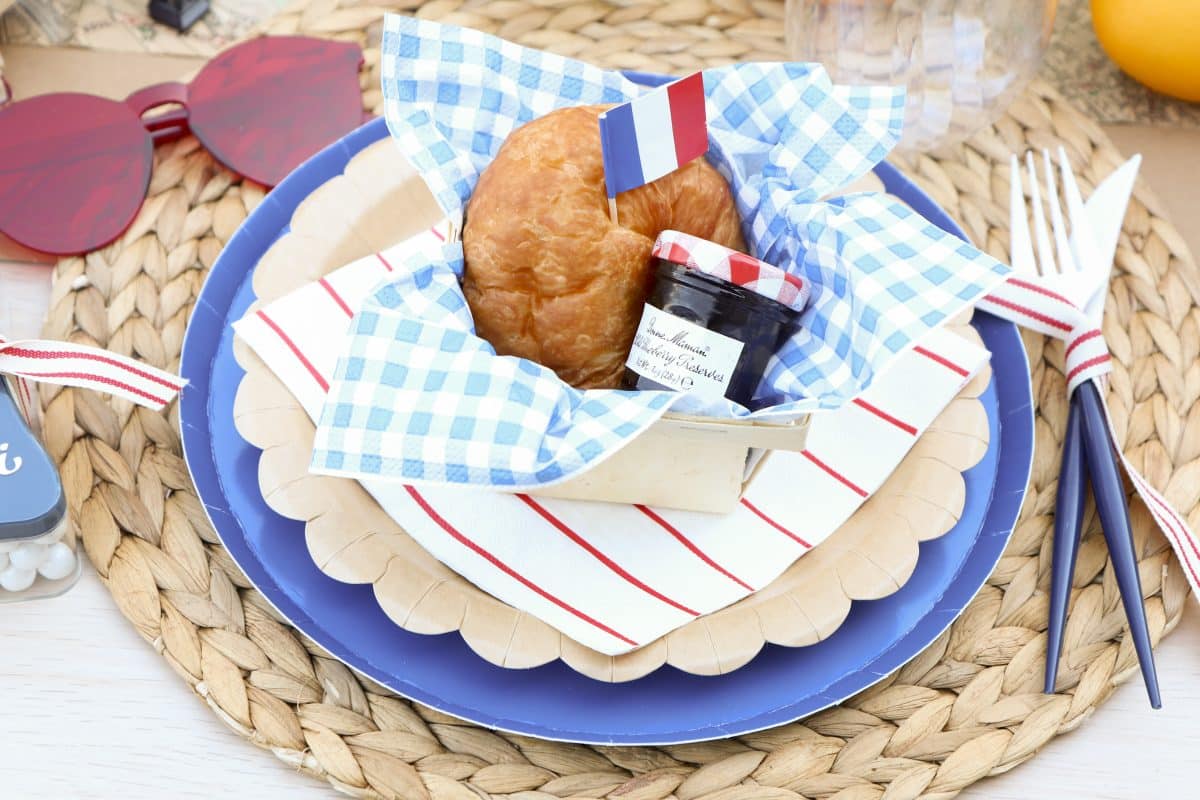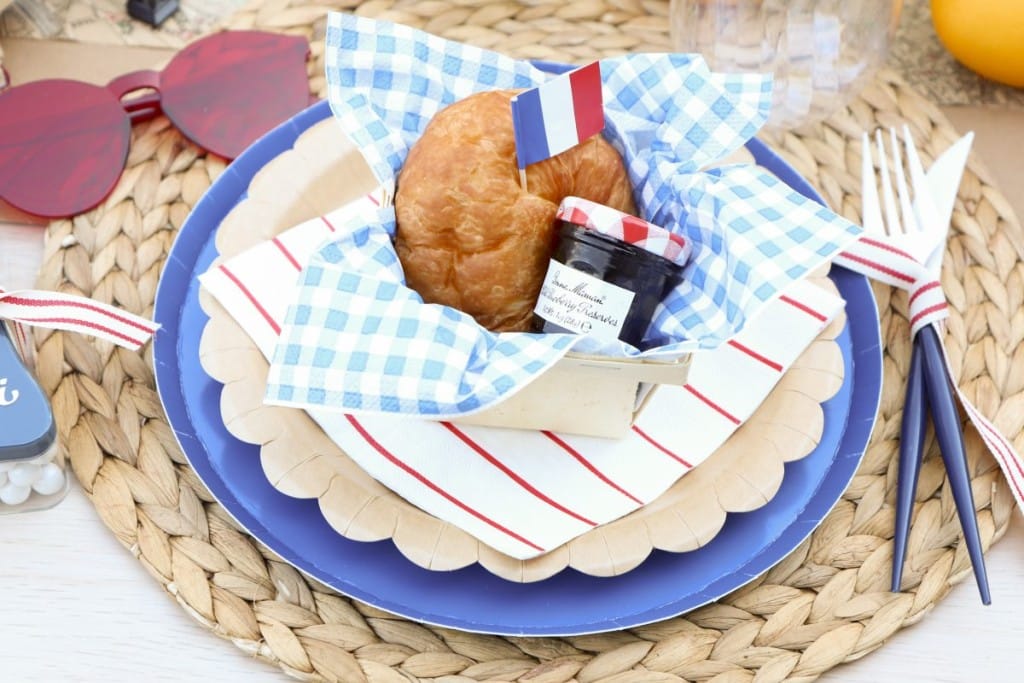 Each place setting also got a clear plastic wine glass, and white and blue plastic utensils wrapped with red striped ribbon.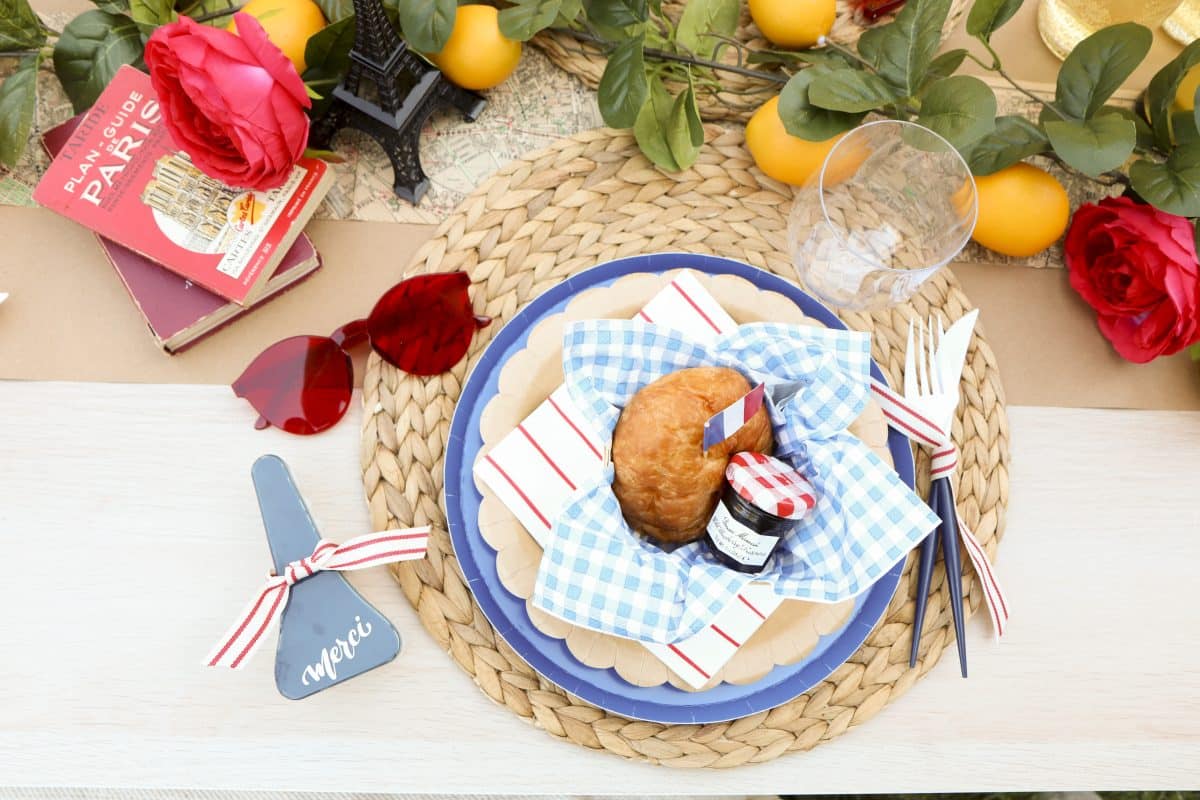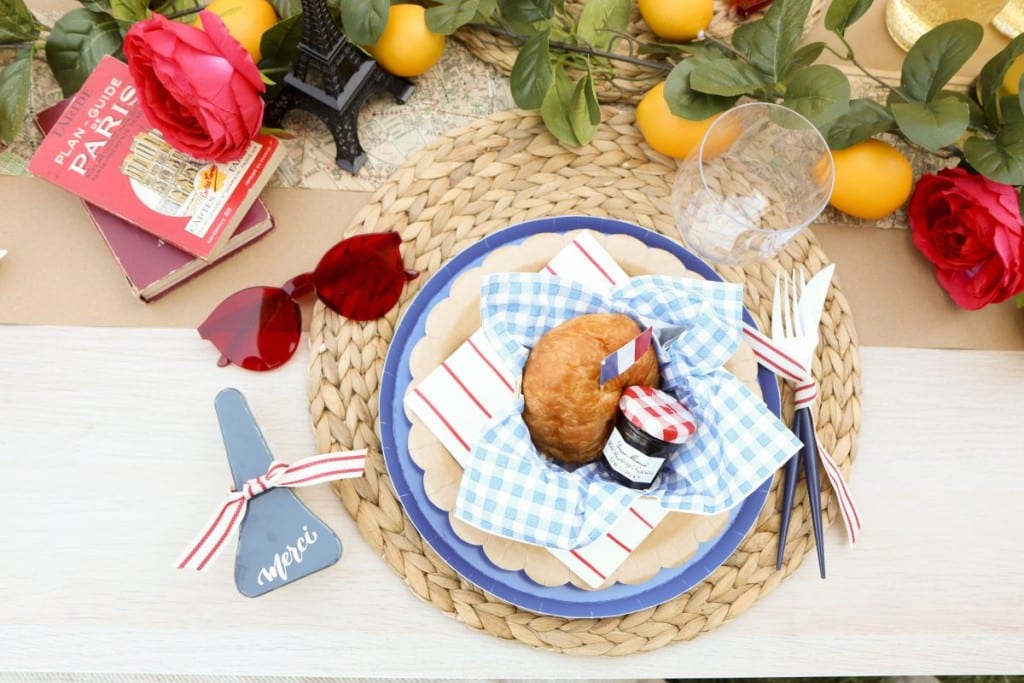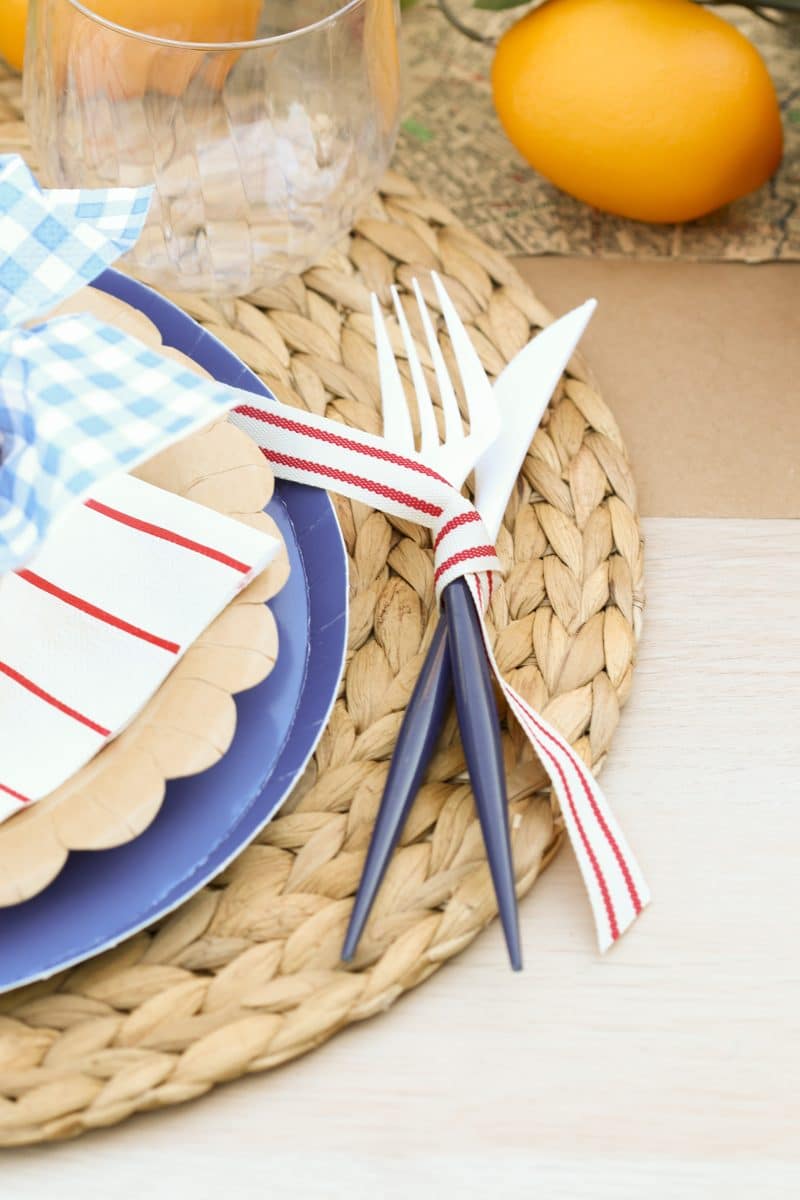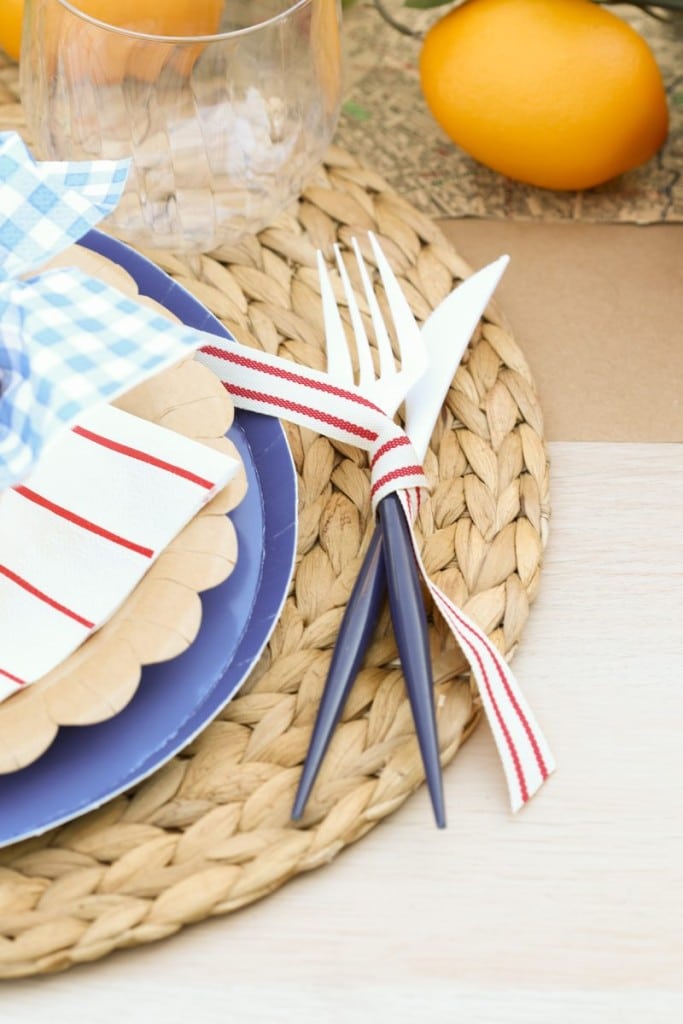 Finally, I added some red sunglasses and a "Merci" candy favor to each seat (more on these in a bit!).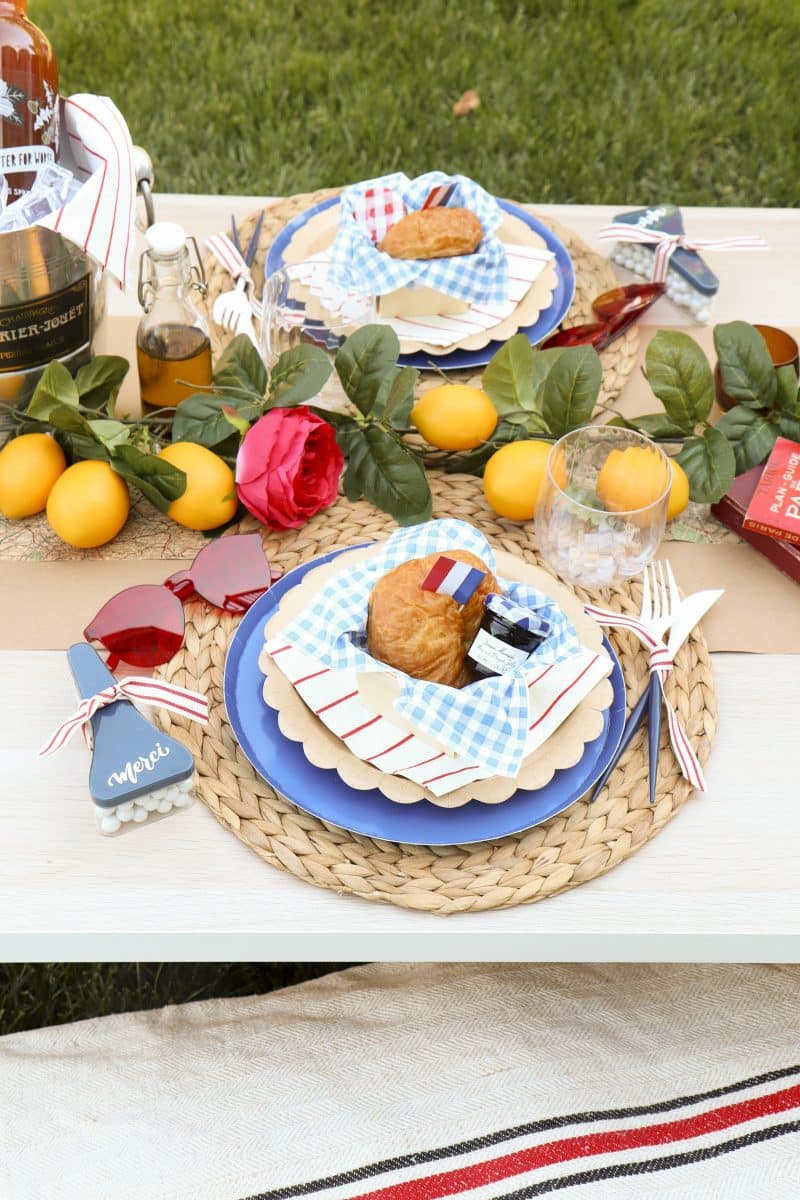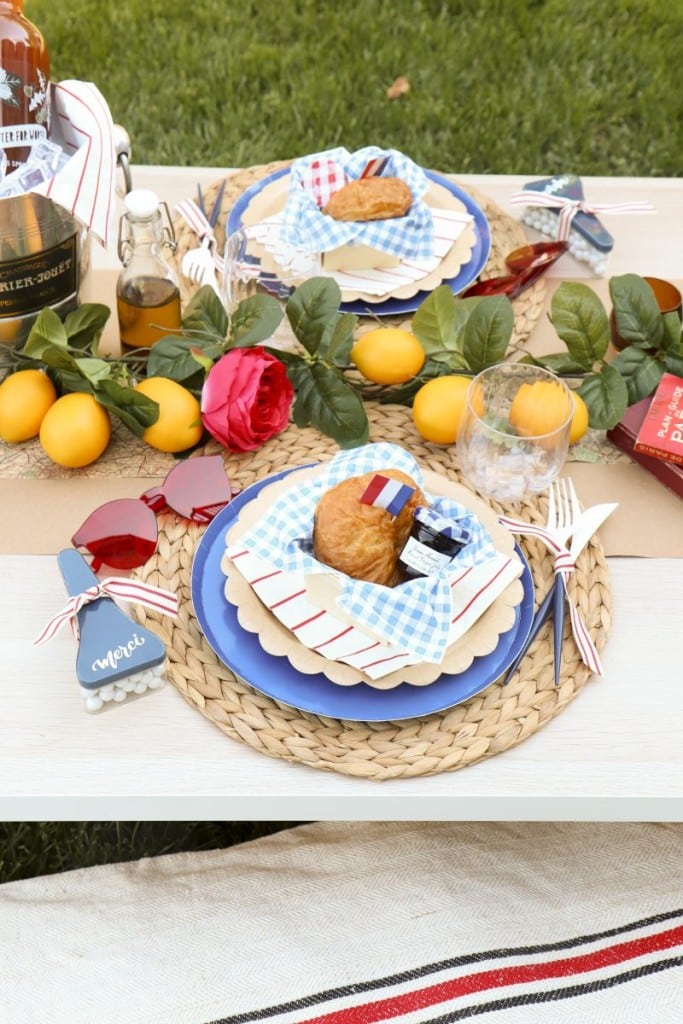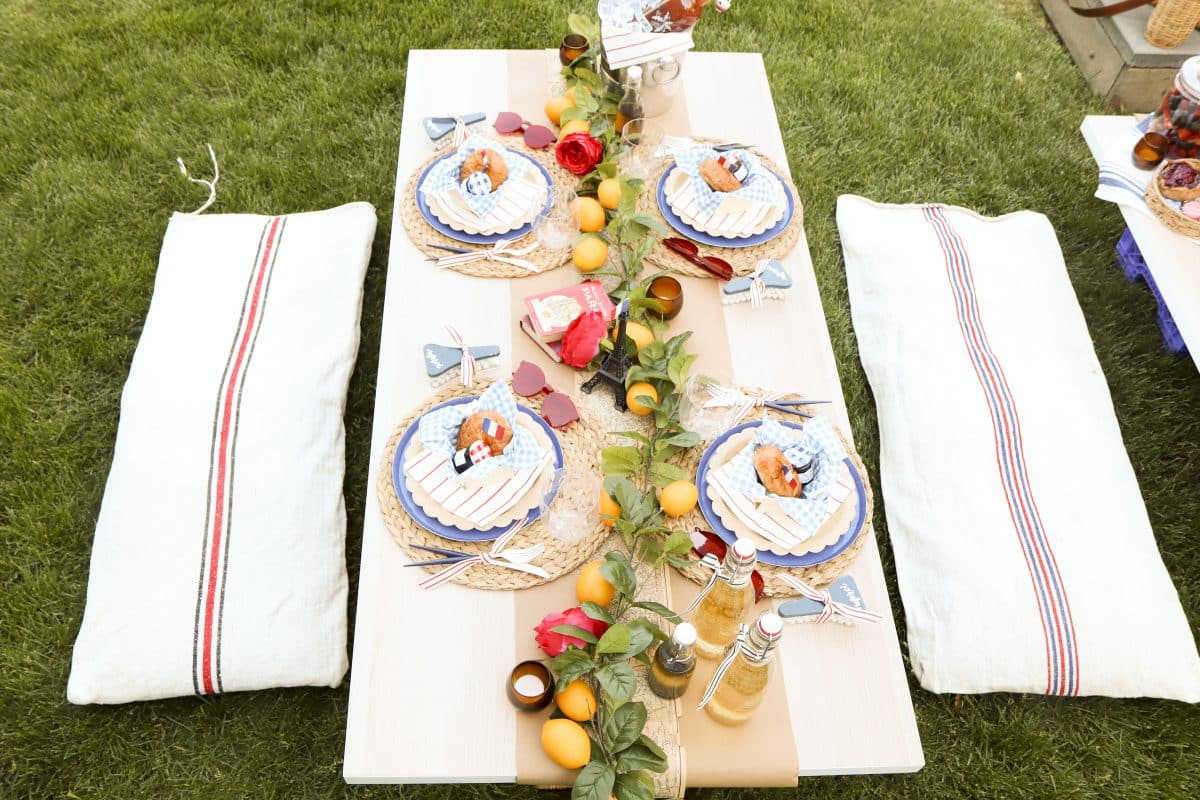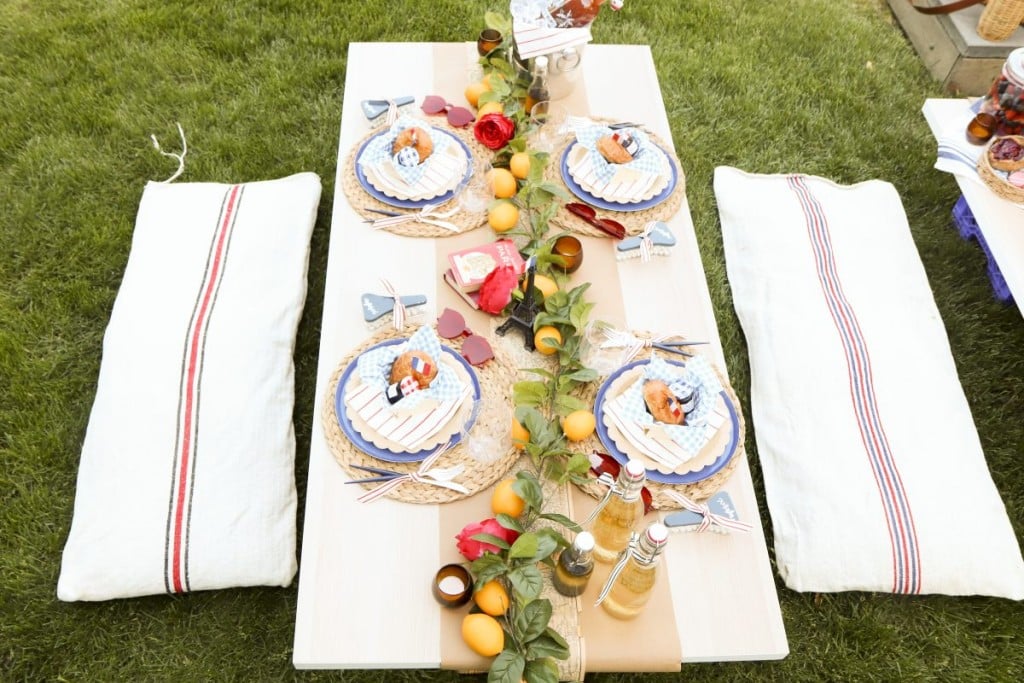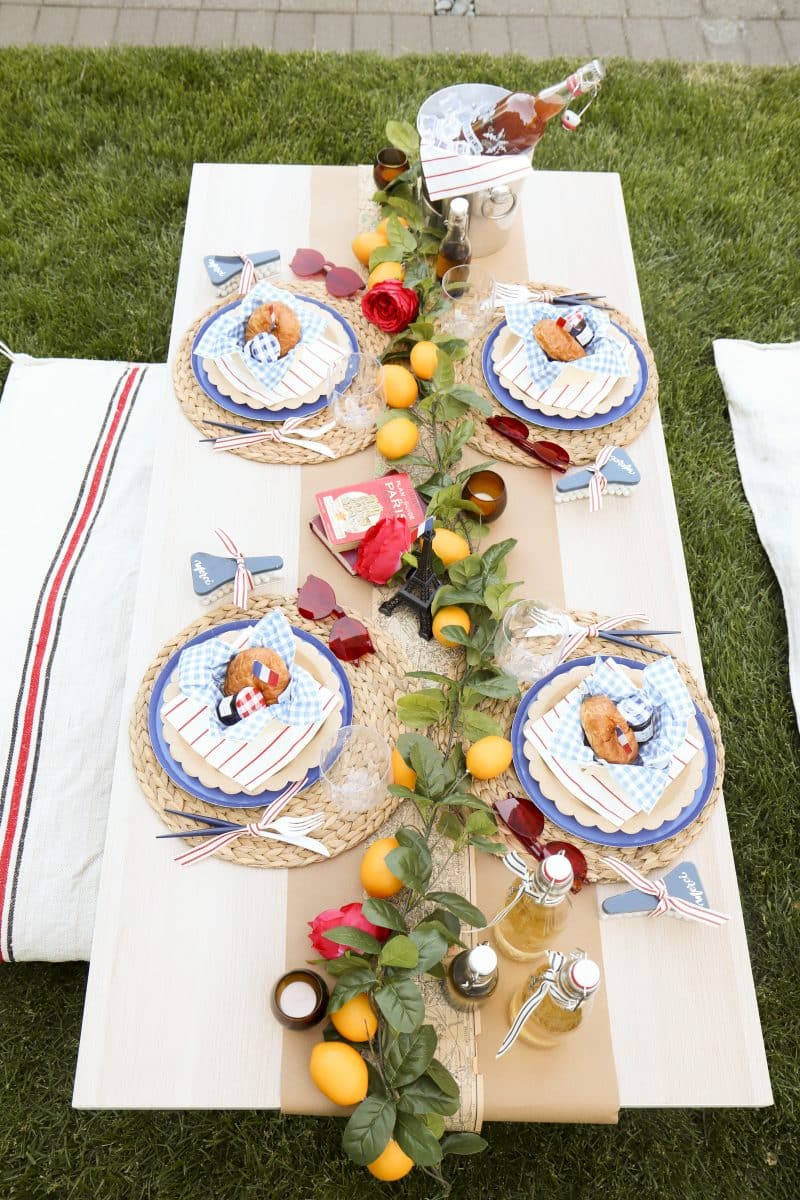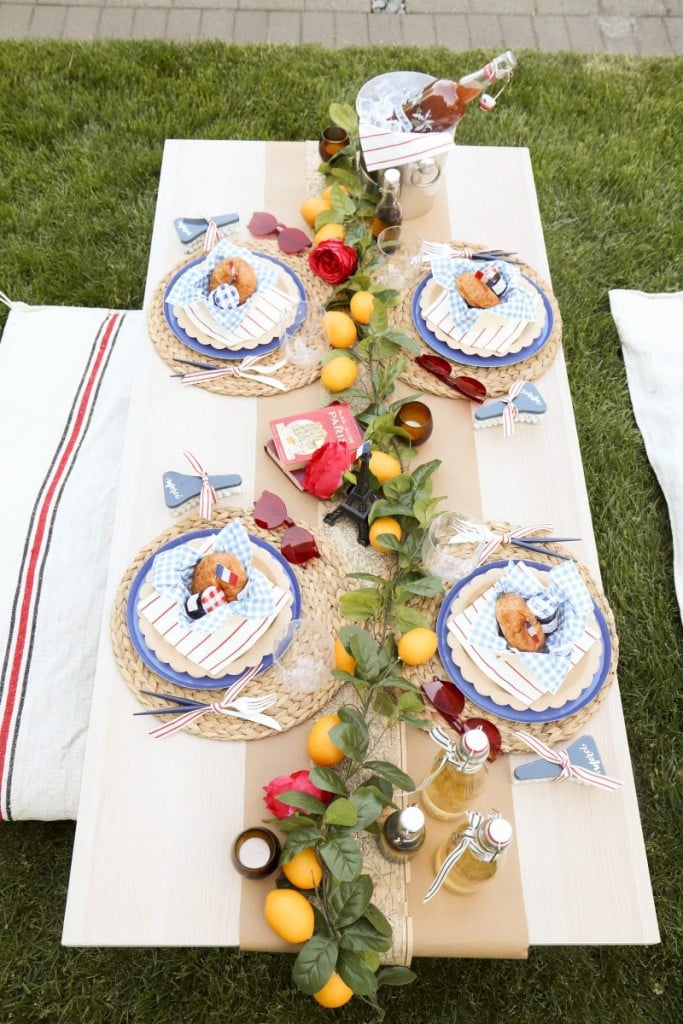 Food Table
Next, I set up my French-inspired bridal shower brunch food table. I wanted to give this table a lot of dimension, so I used a variety of food stands, containers, boards and bags to hold breads, cheeses, fruits, veggies, wraps and desserts at various levels on another low table.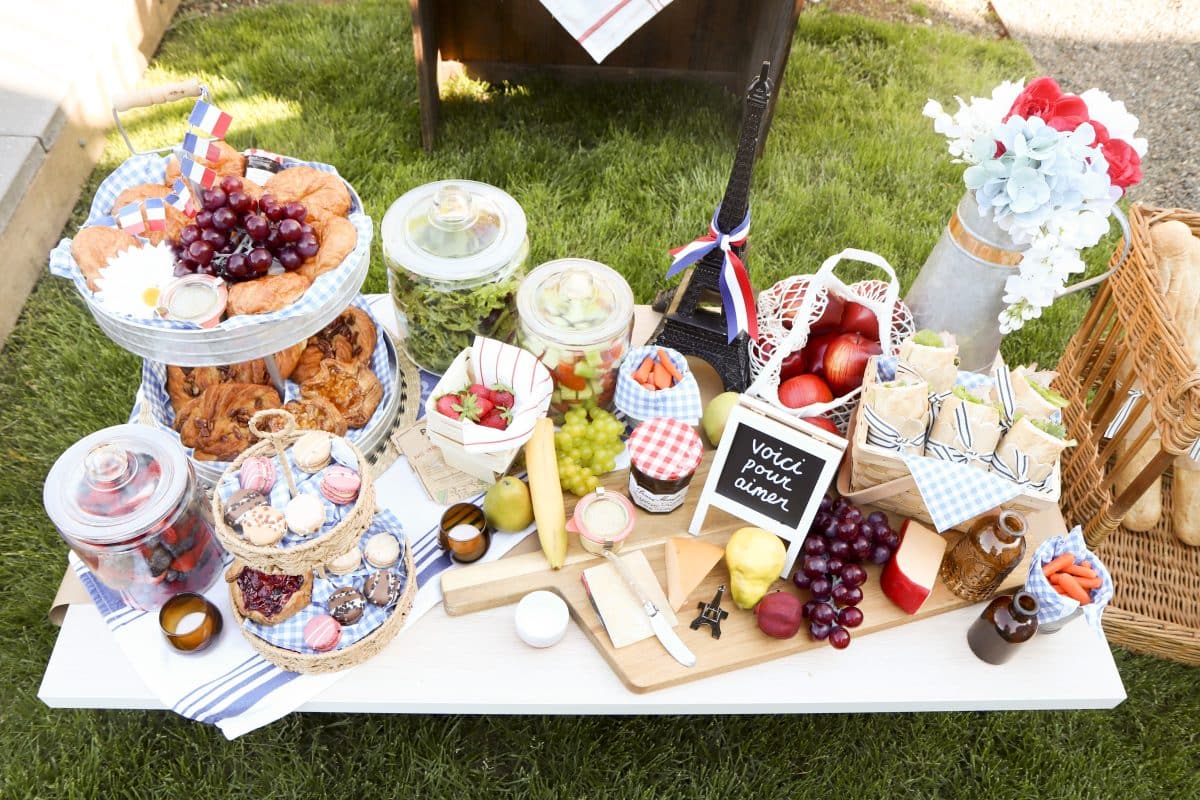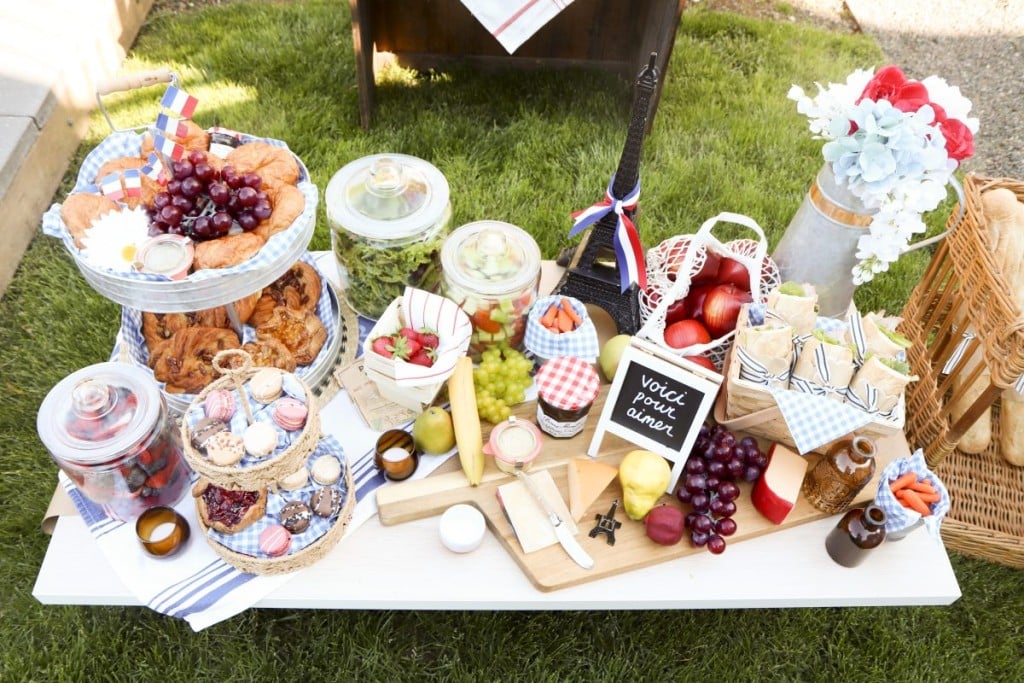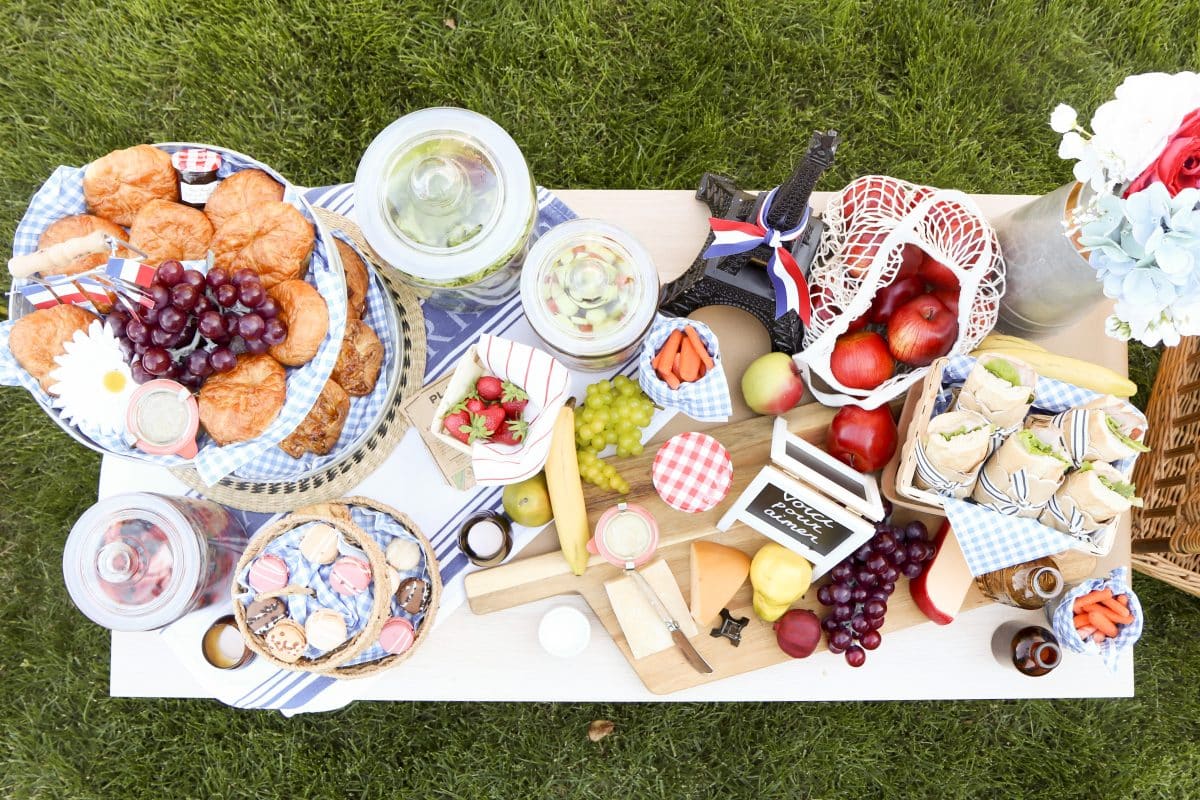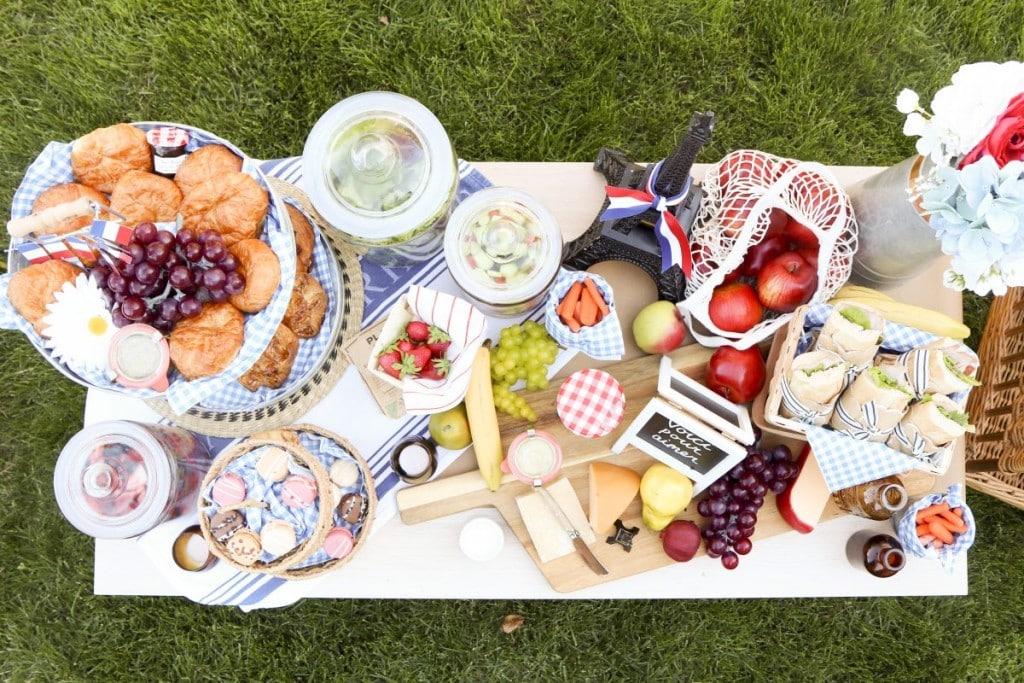 I also used a galvanized pitcher to hold blue, red, and white faux blooms on one side of the table.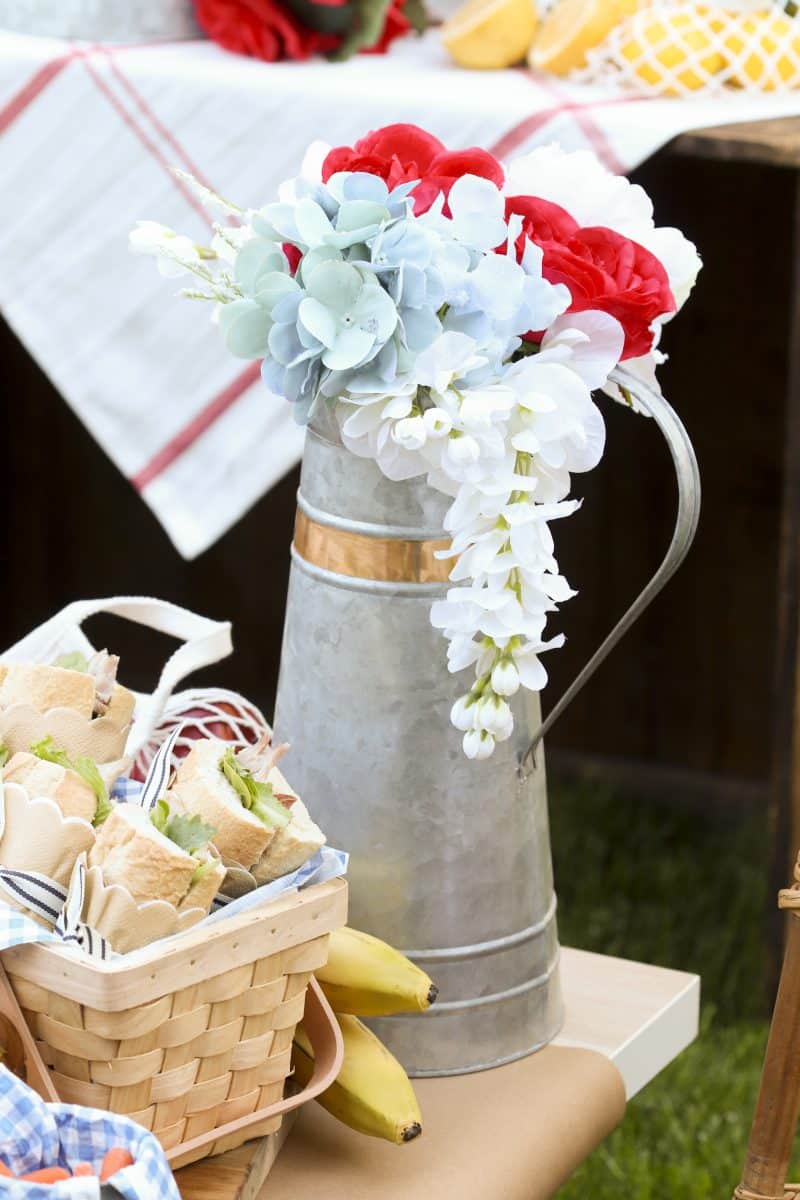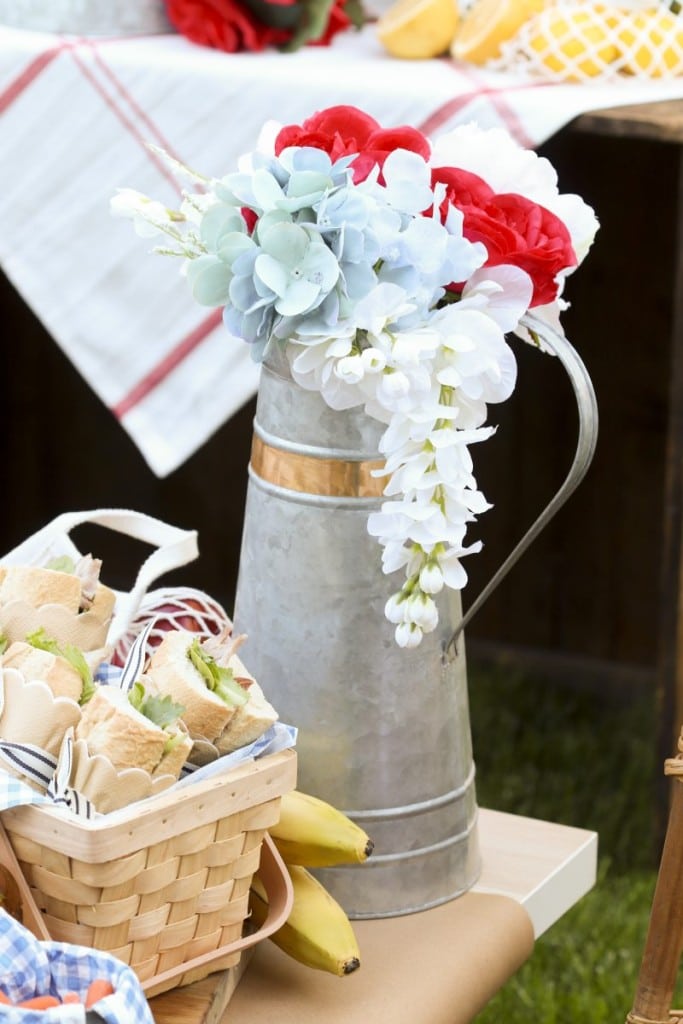 A little chalkboard sign on the table read "Voici pour aimer": "Here's to Love".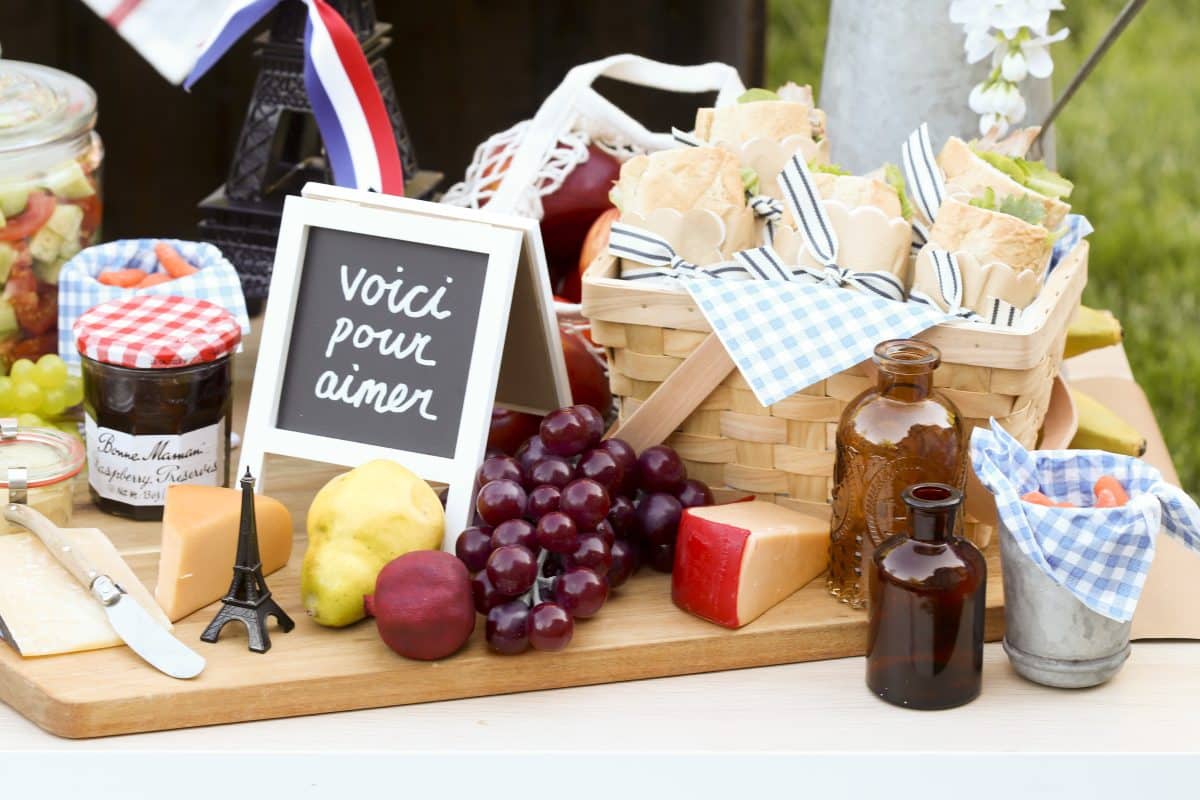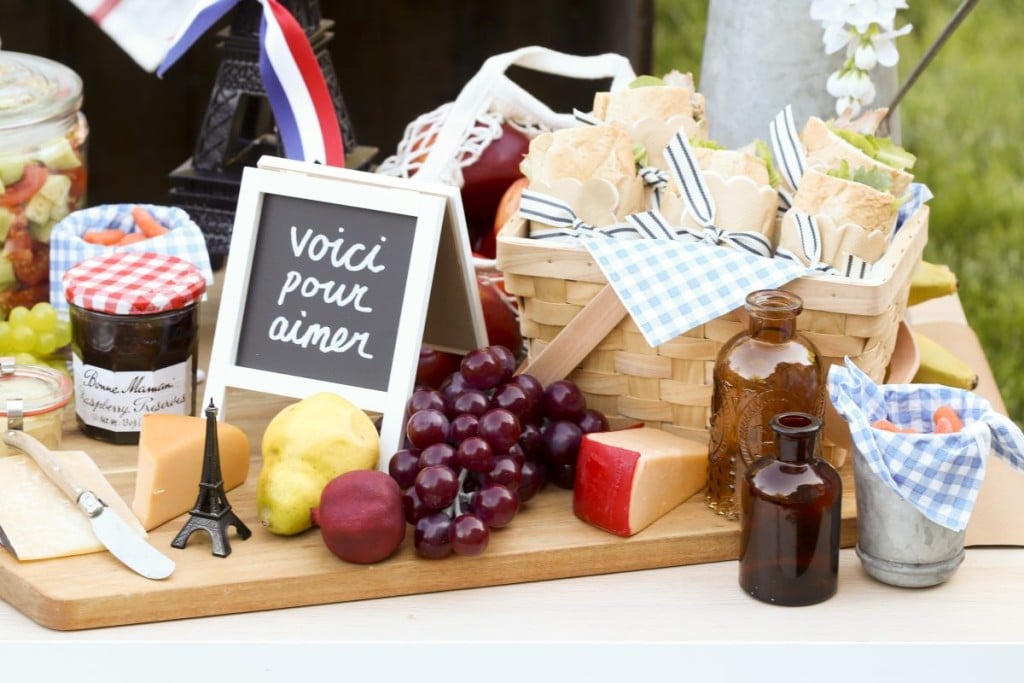 I held the wraps together with blue-striped ribbon – perfect double-duty for practicality and decor!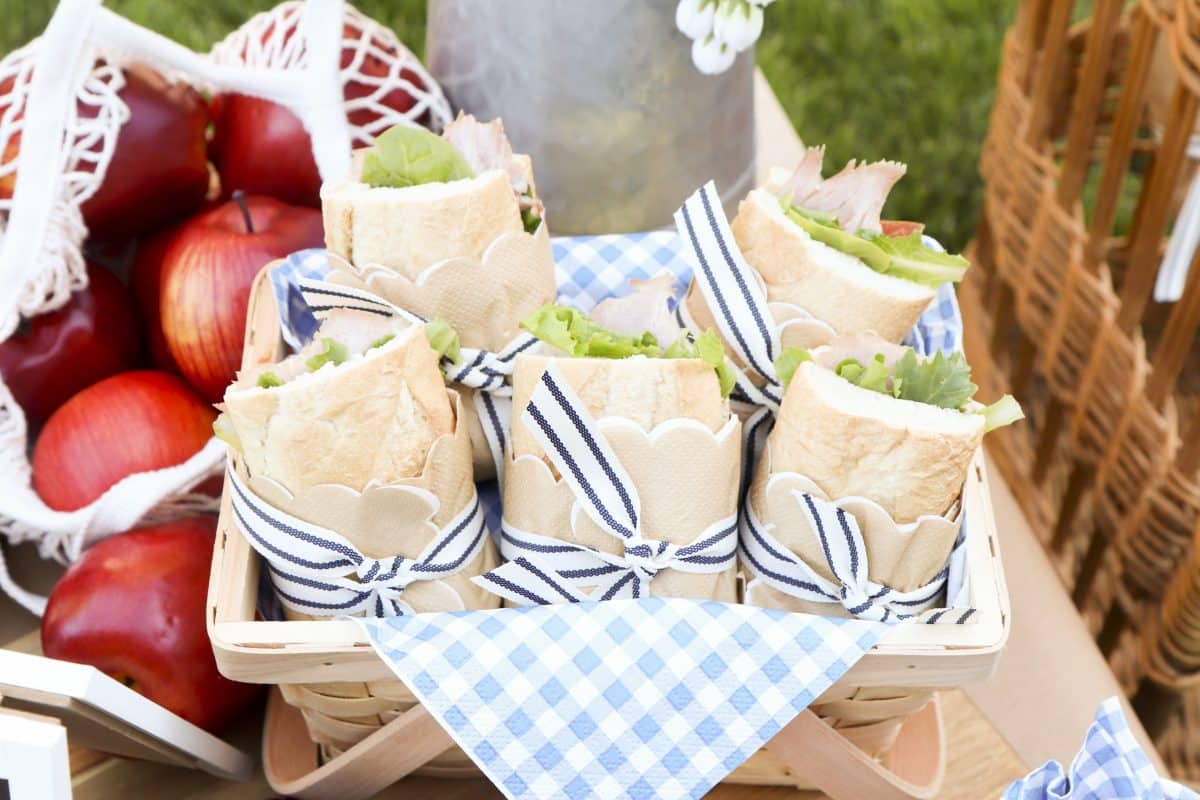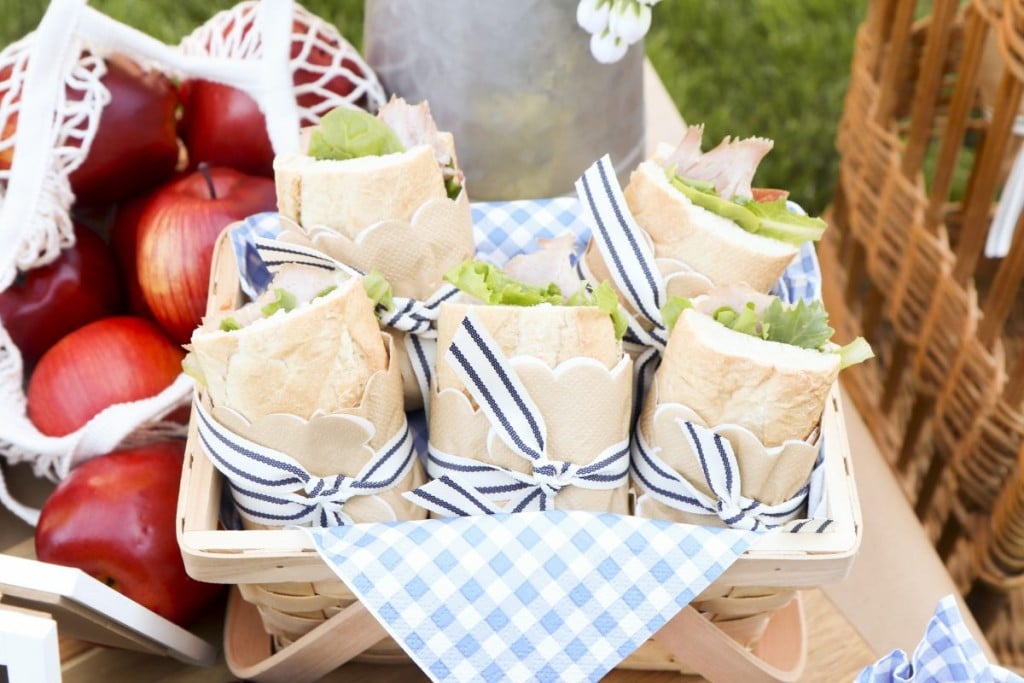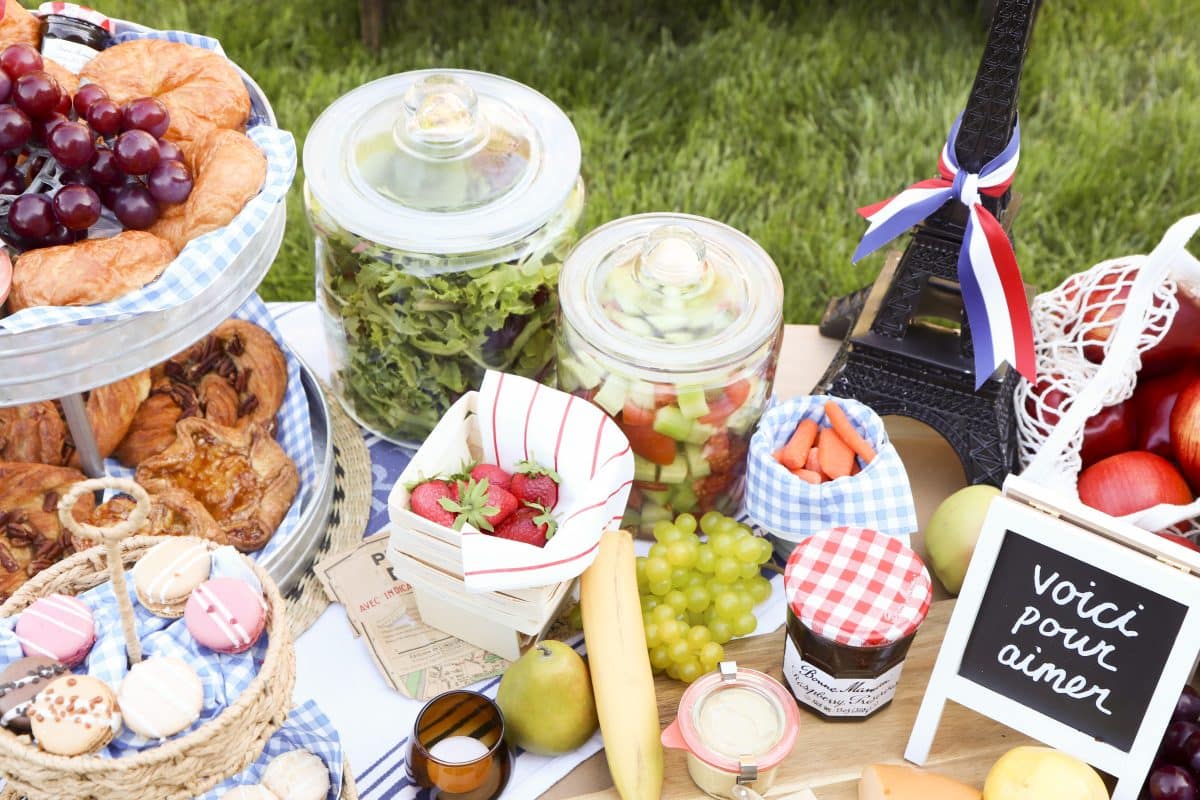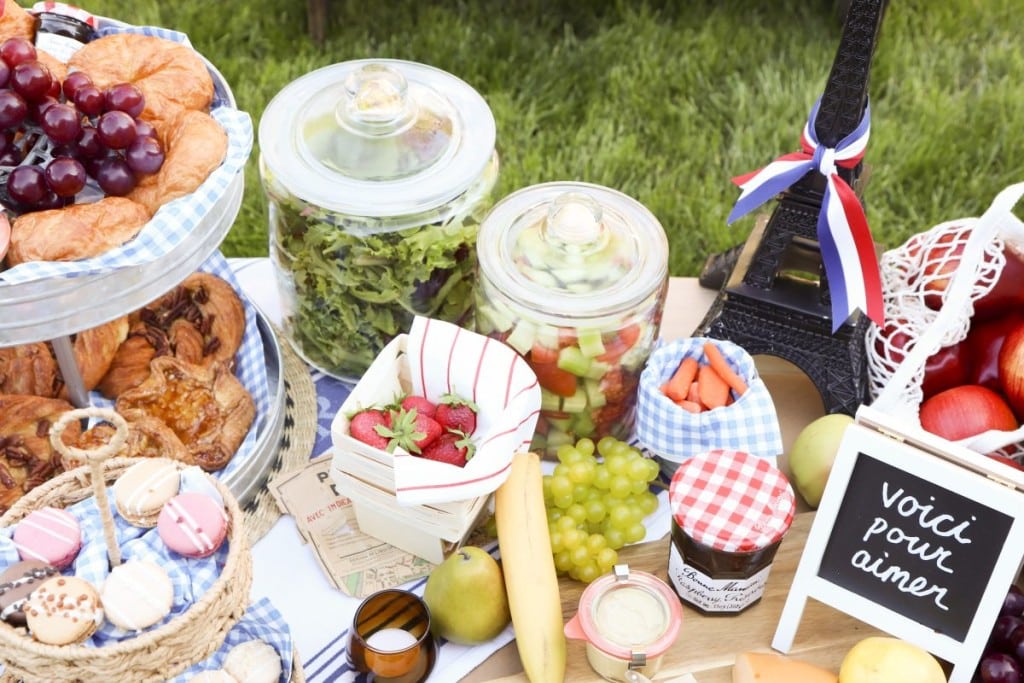 Adding some Eiffel Towers throughout provides more themed decor on the food table.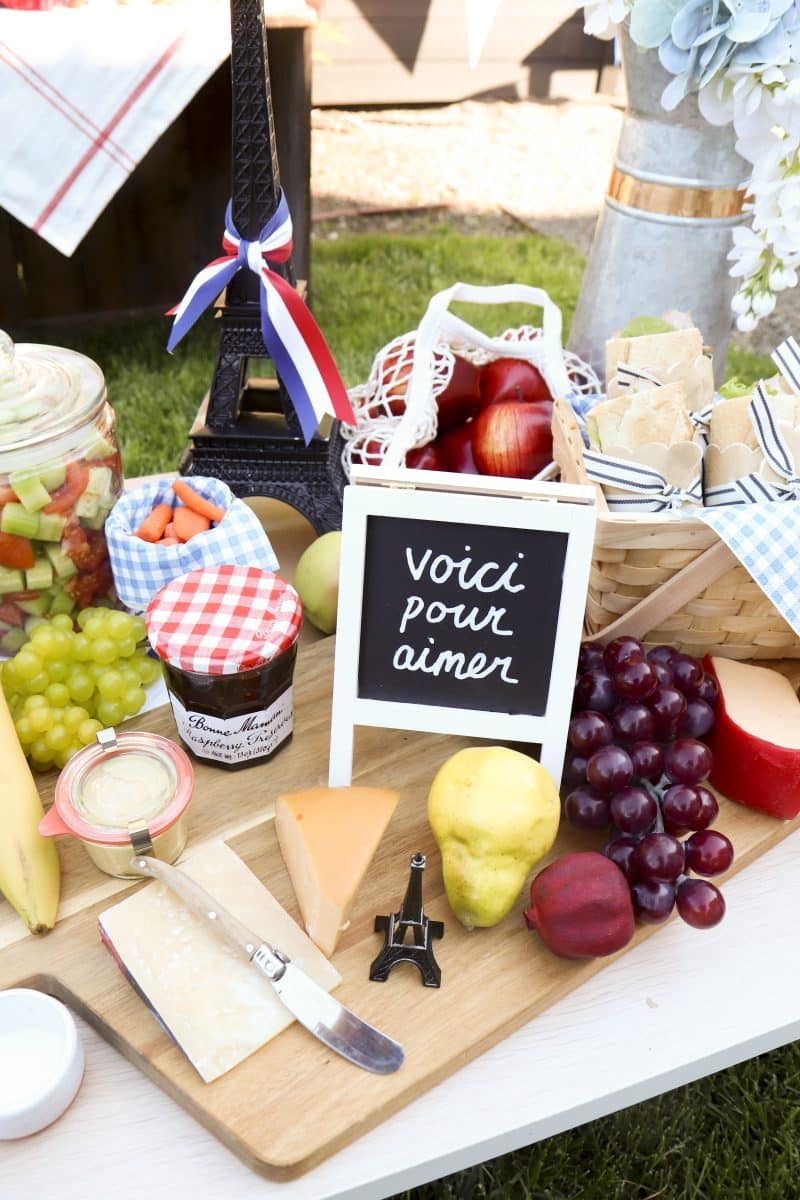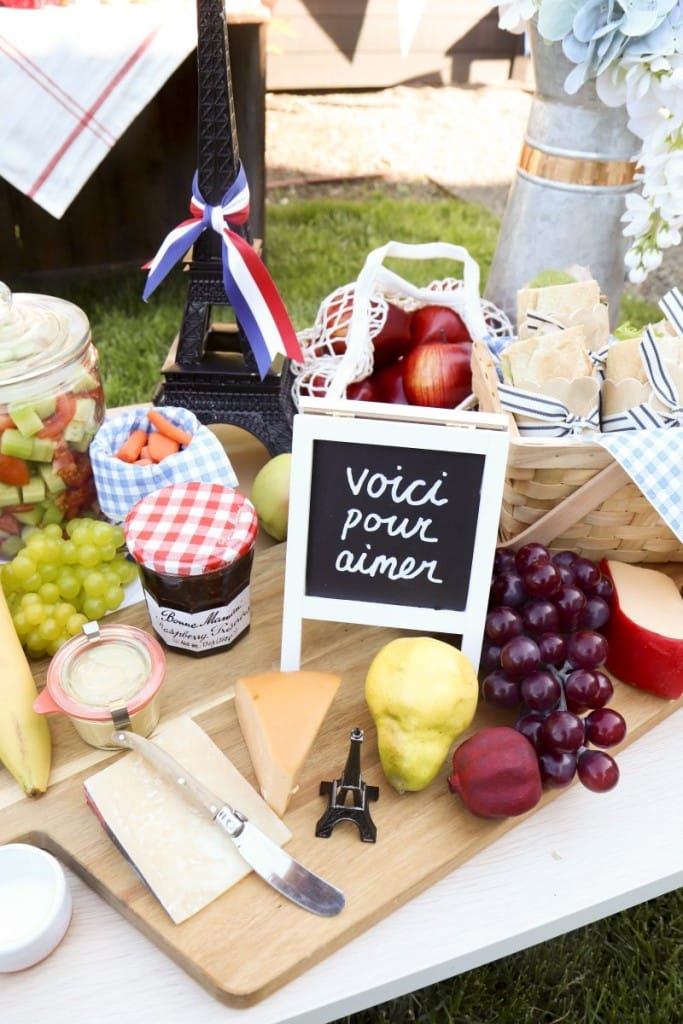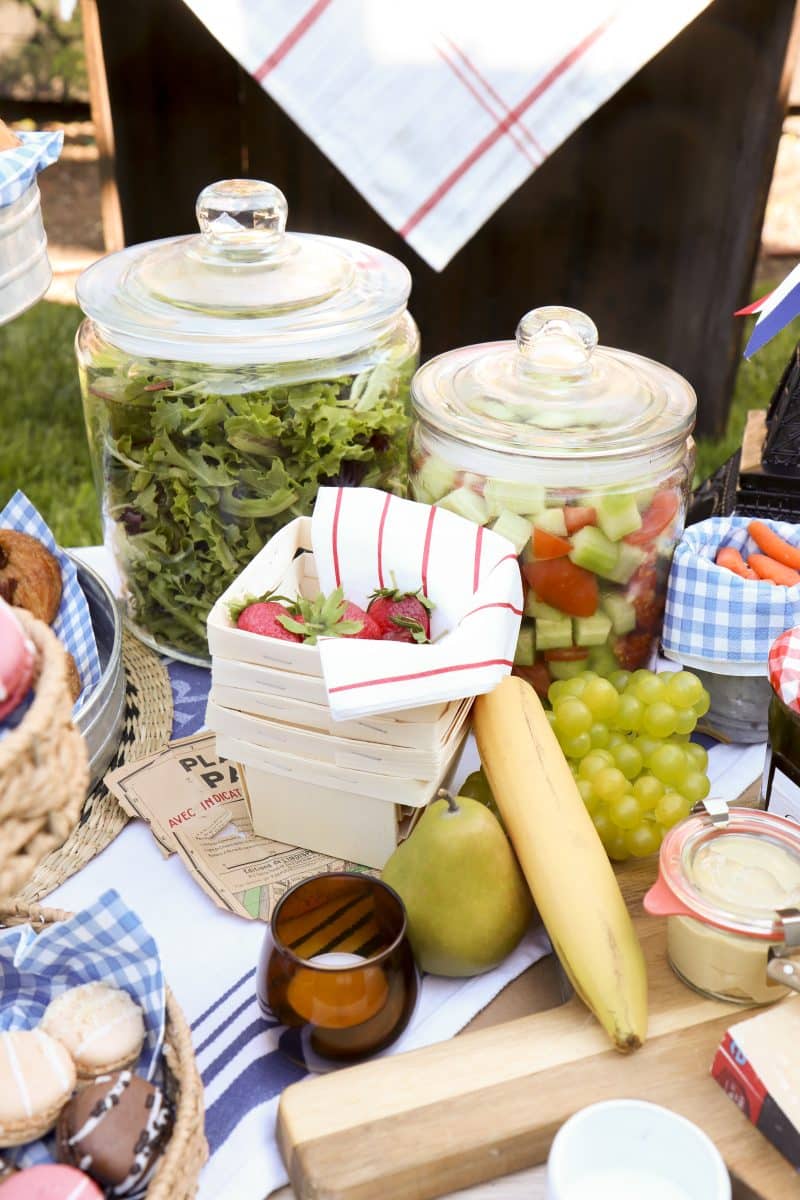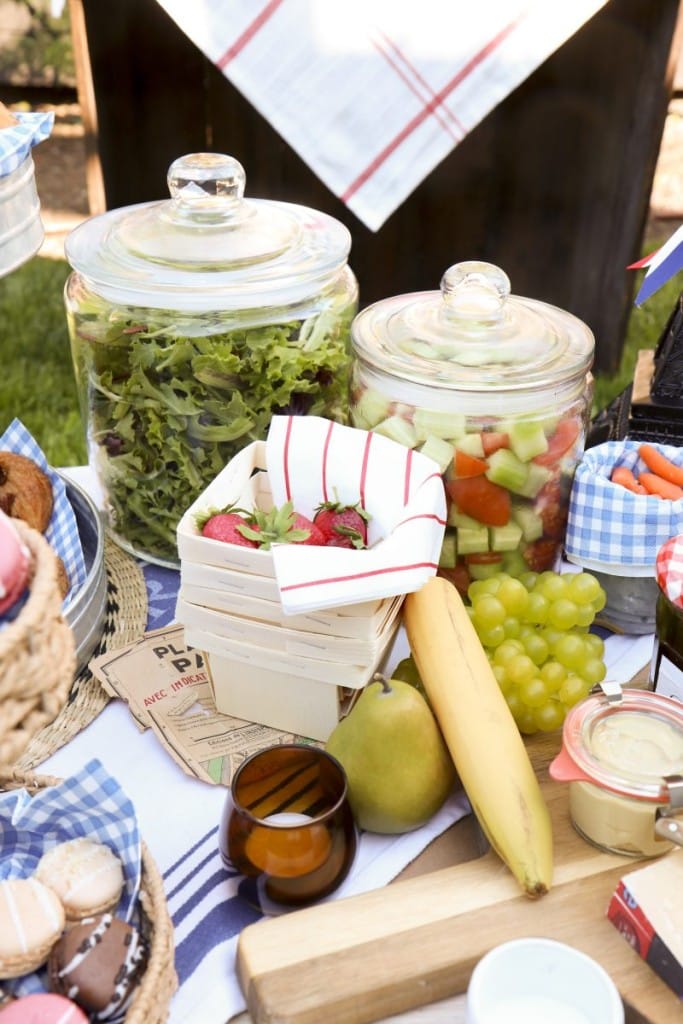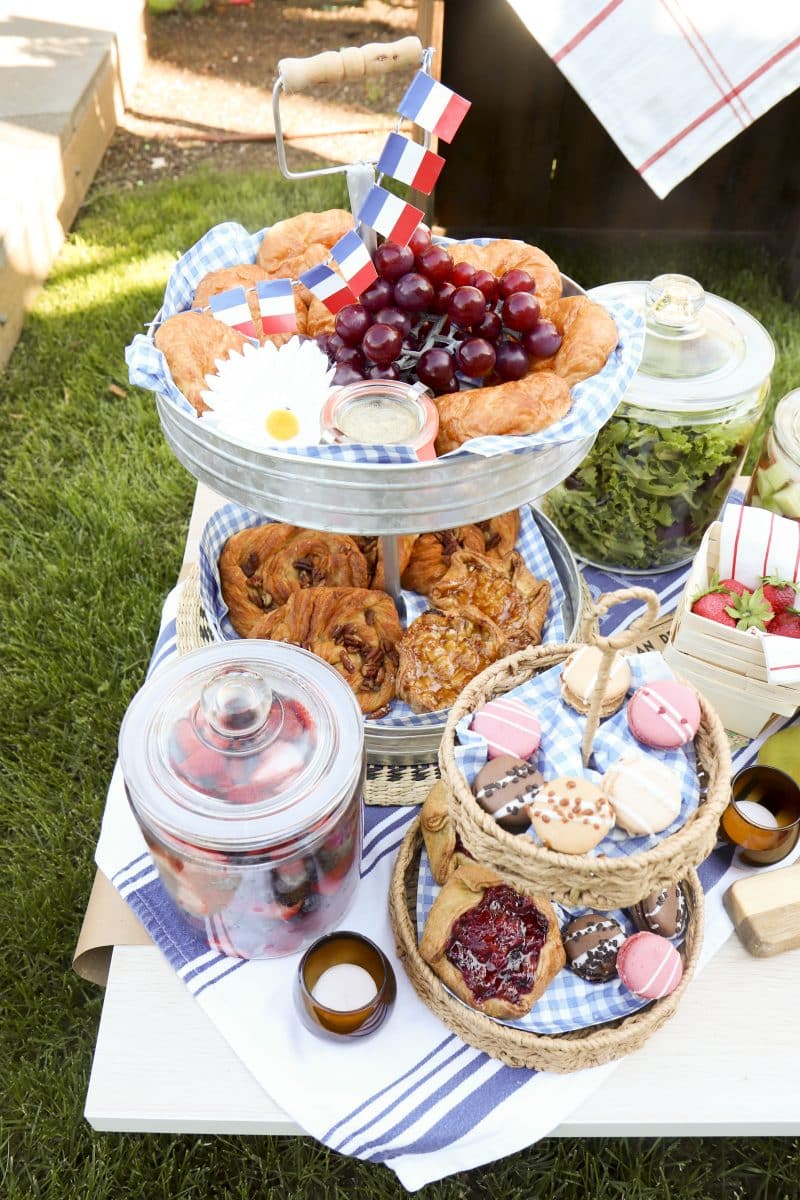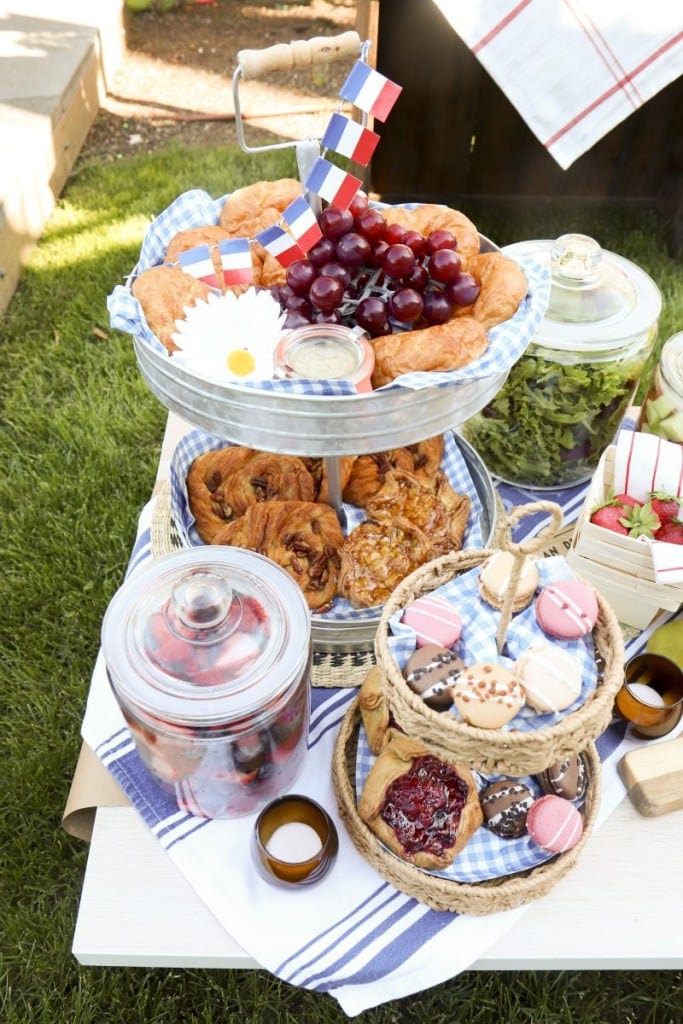 Glass jars are stylish containers for the food table, and help to keep fruits and veggies fresh throughout the picnic!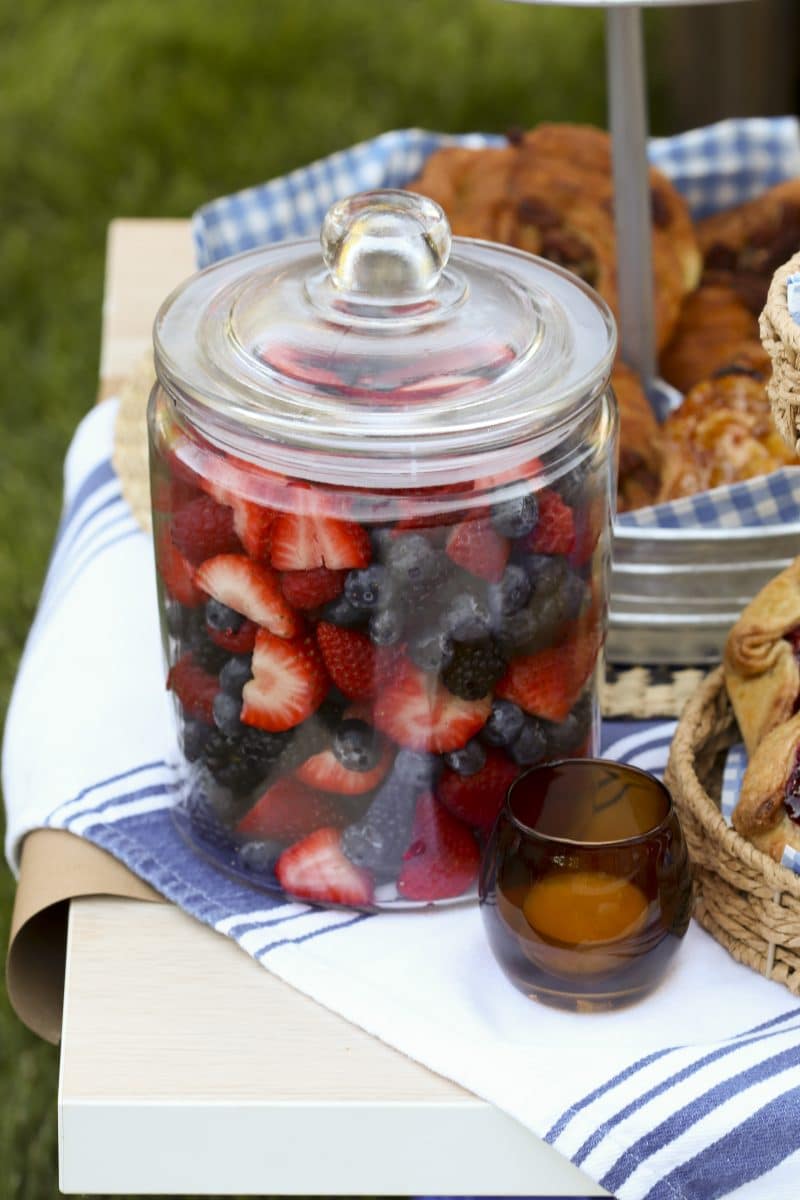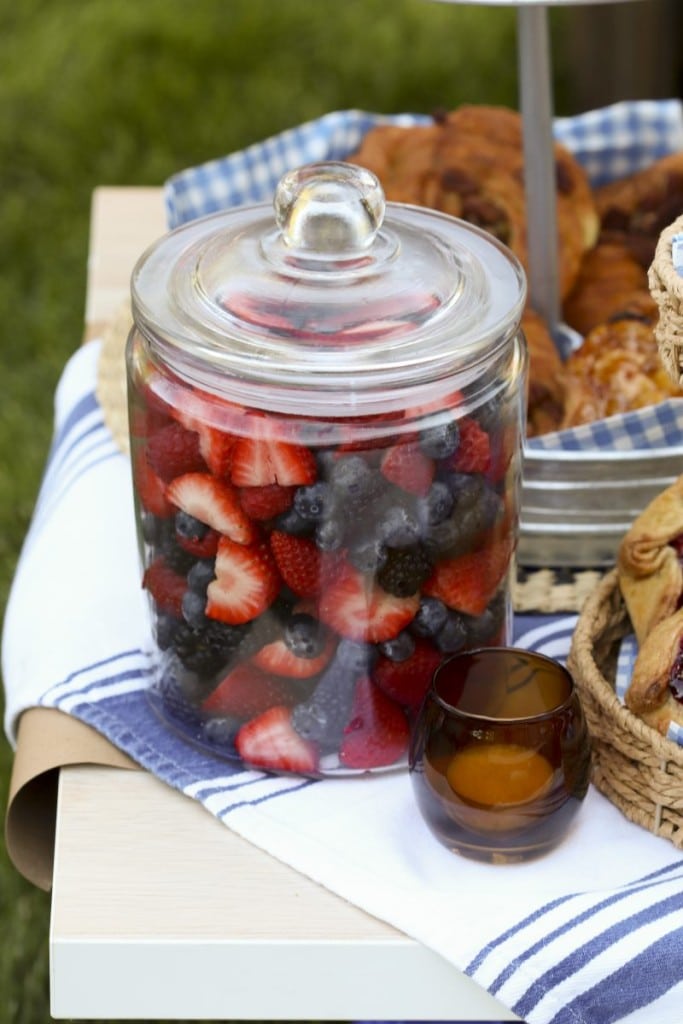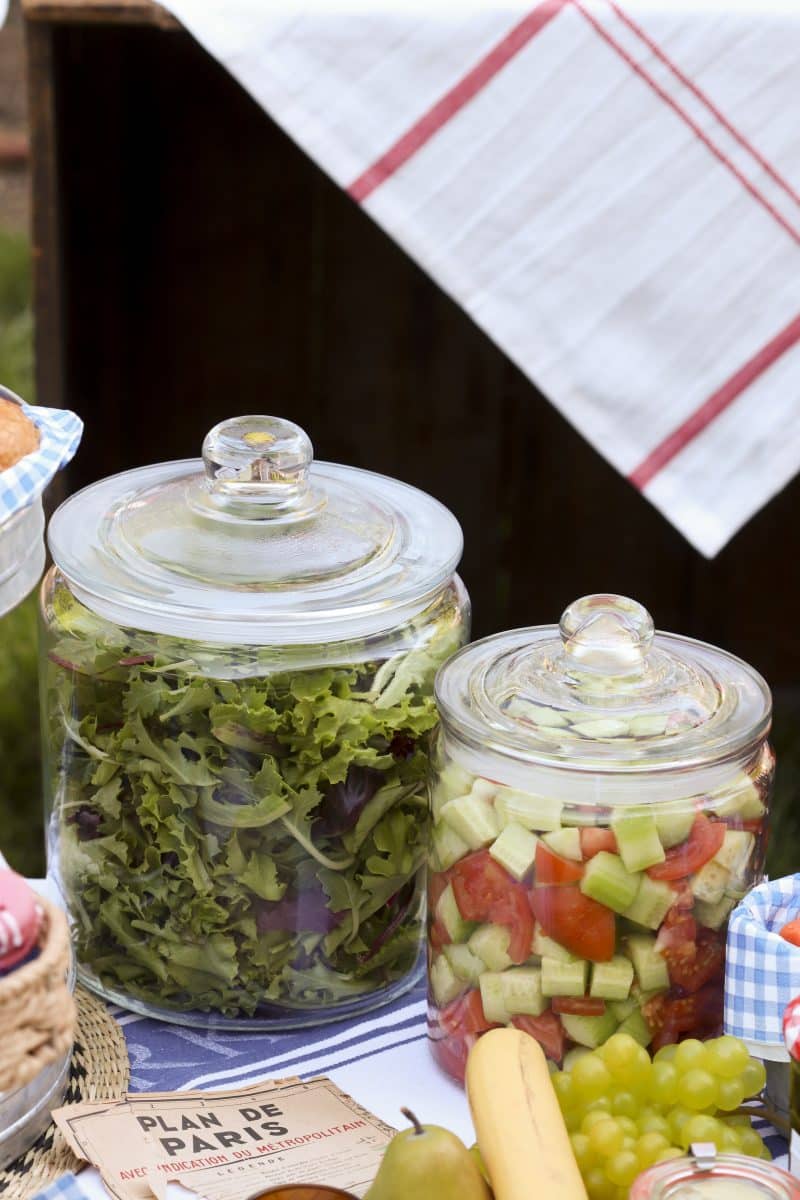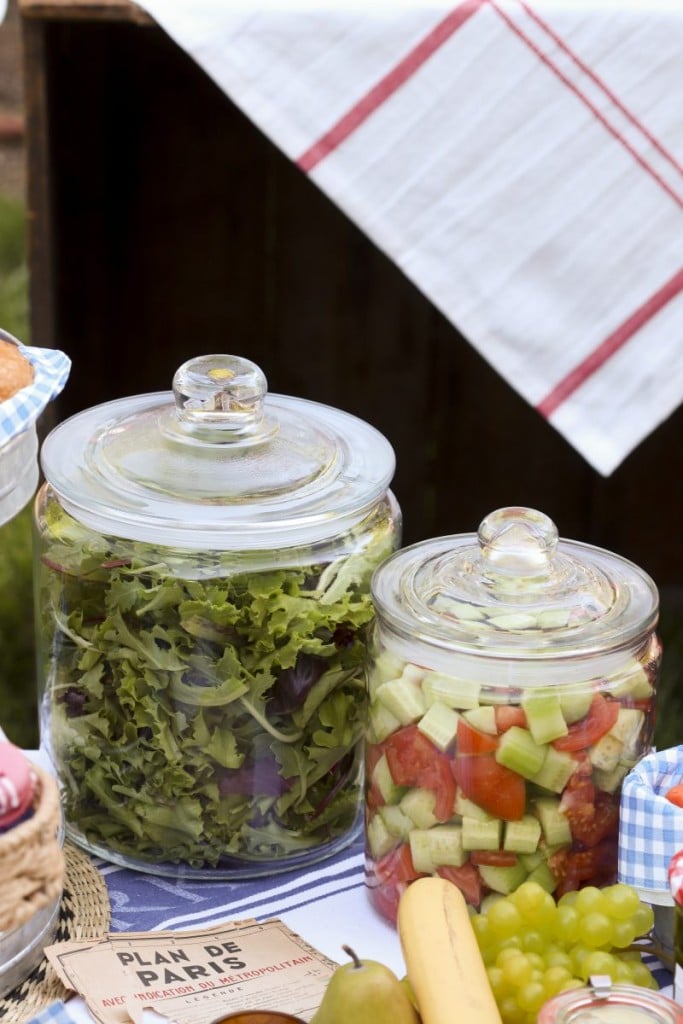 You can't have a French-inspired bridal shower without macarons!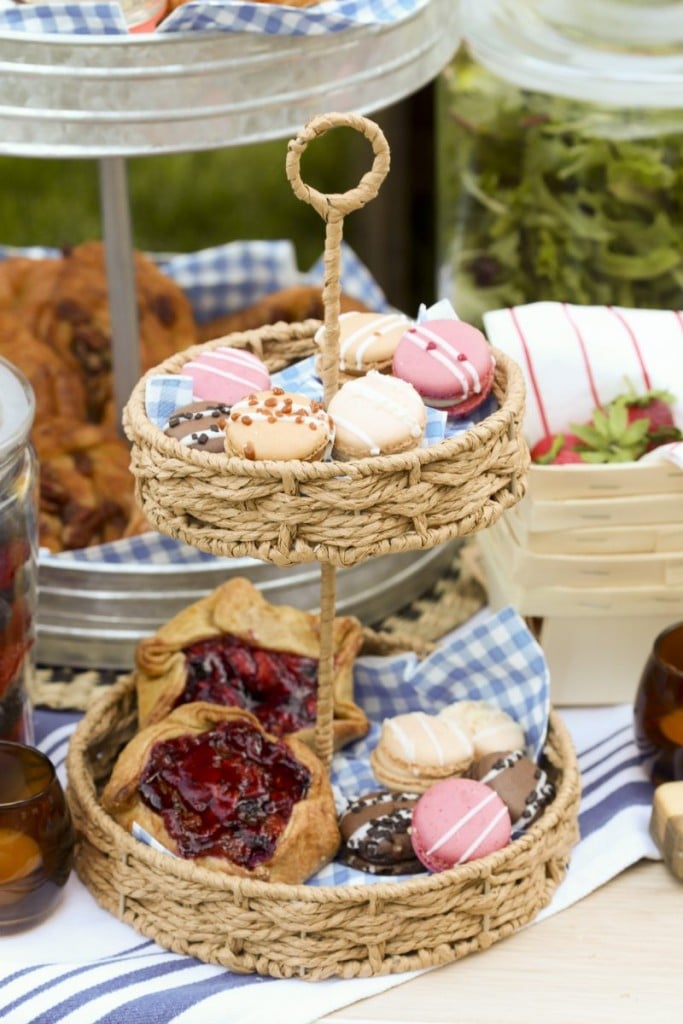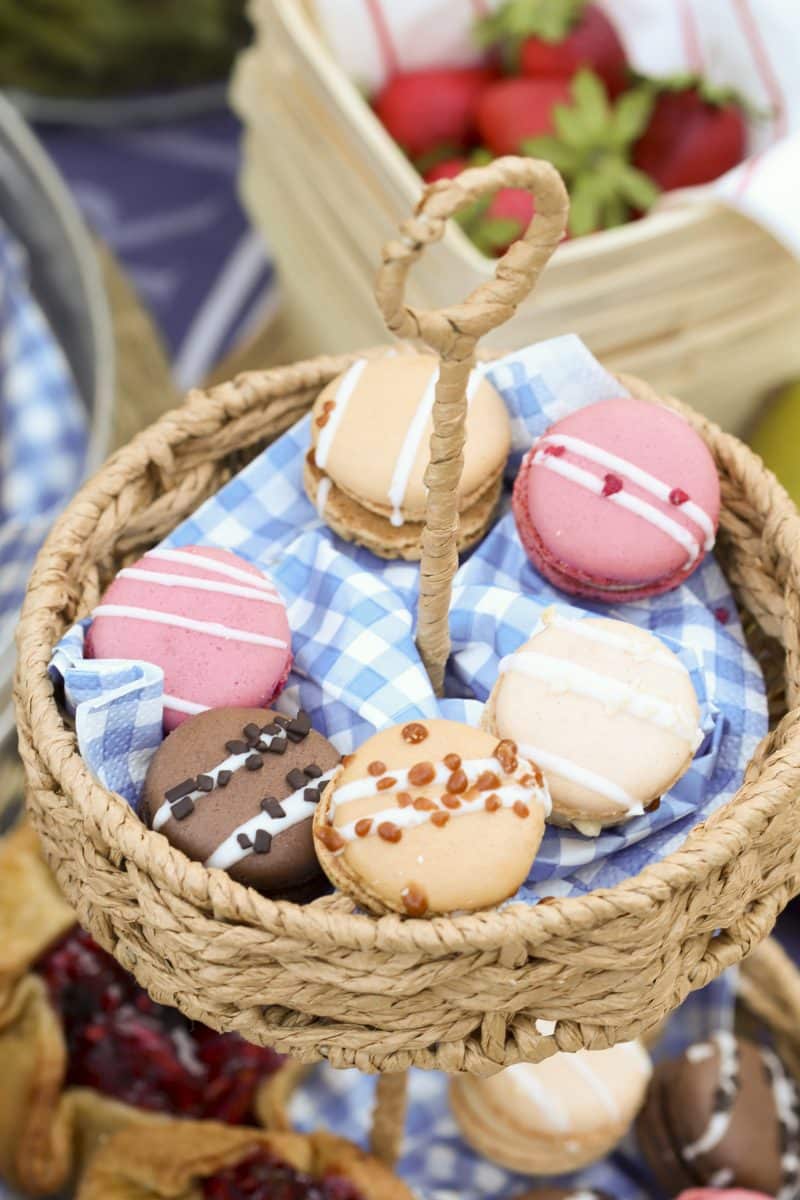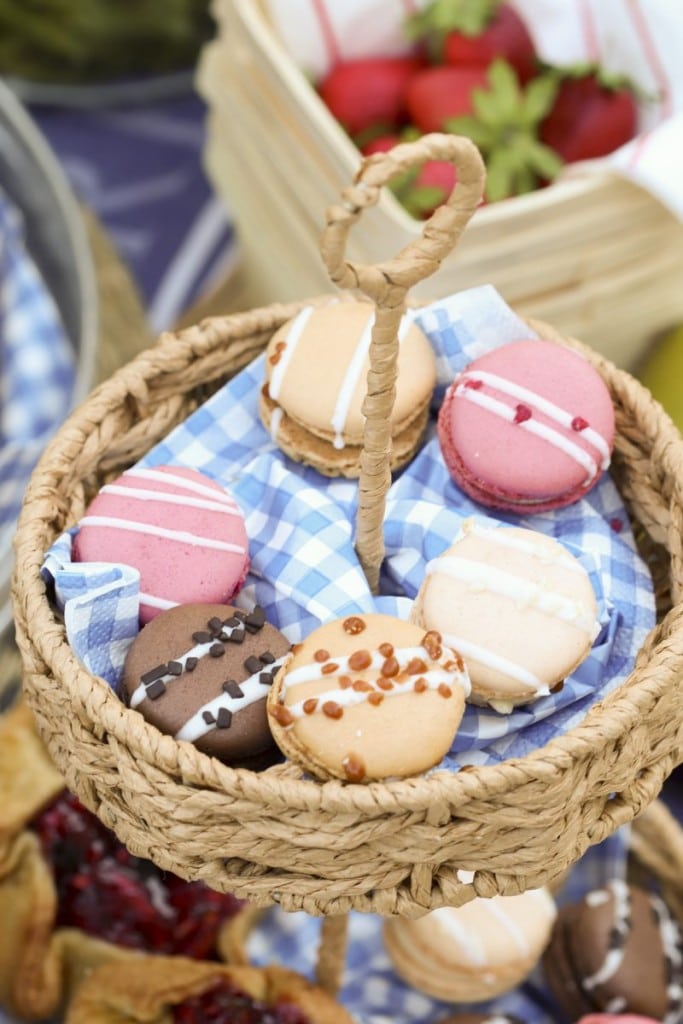 Next to the food table, I used a rattan basket to hold a couple of baguettes – another French food staple.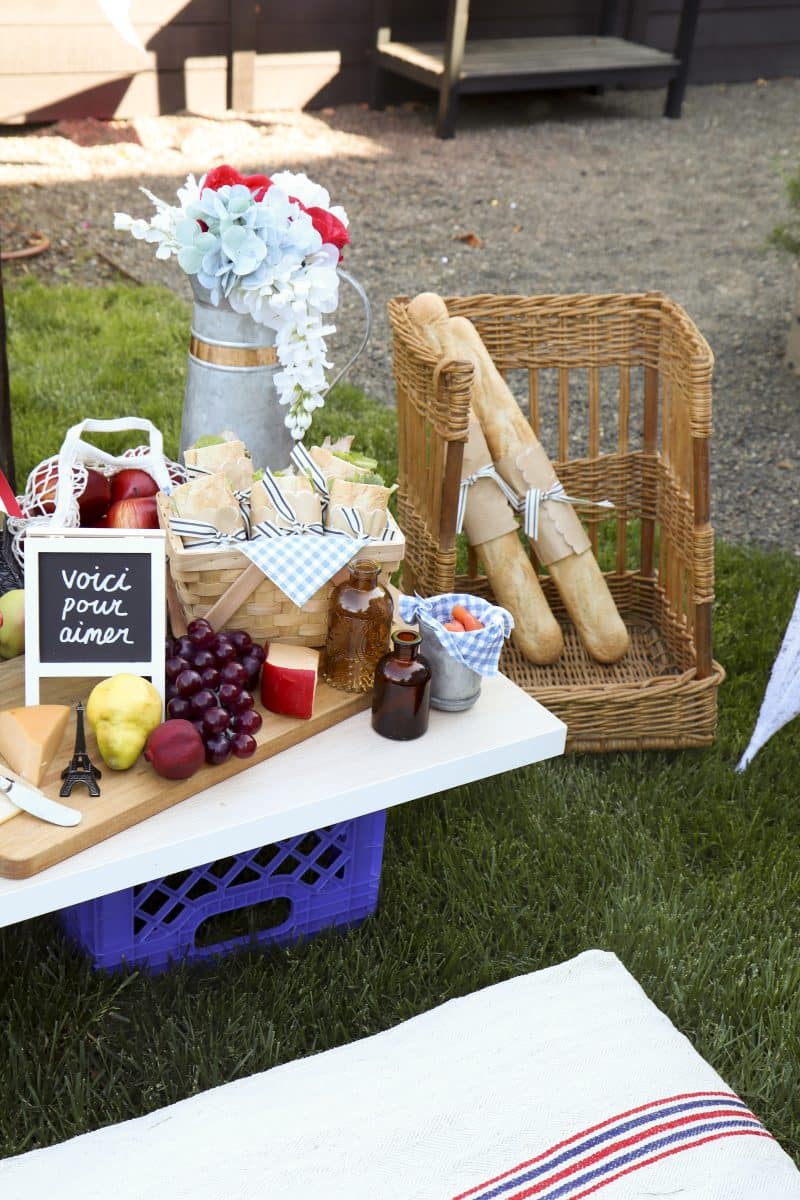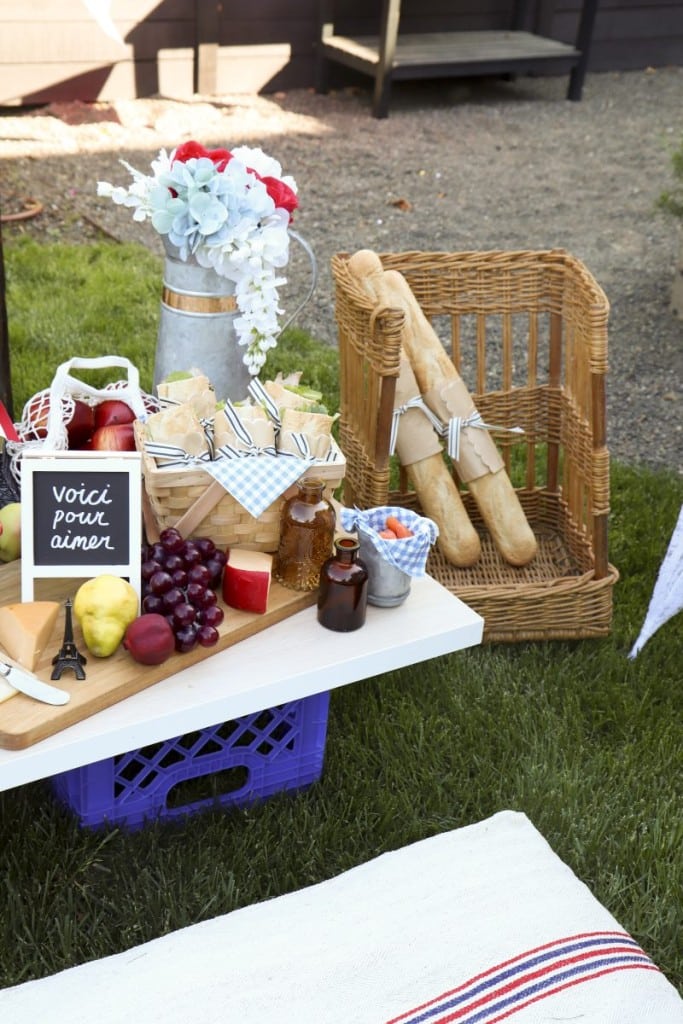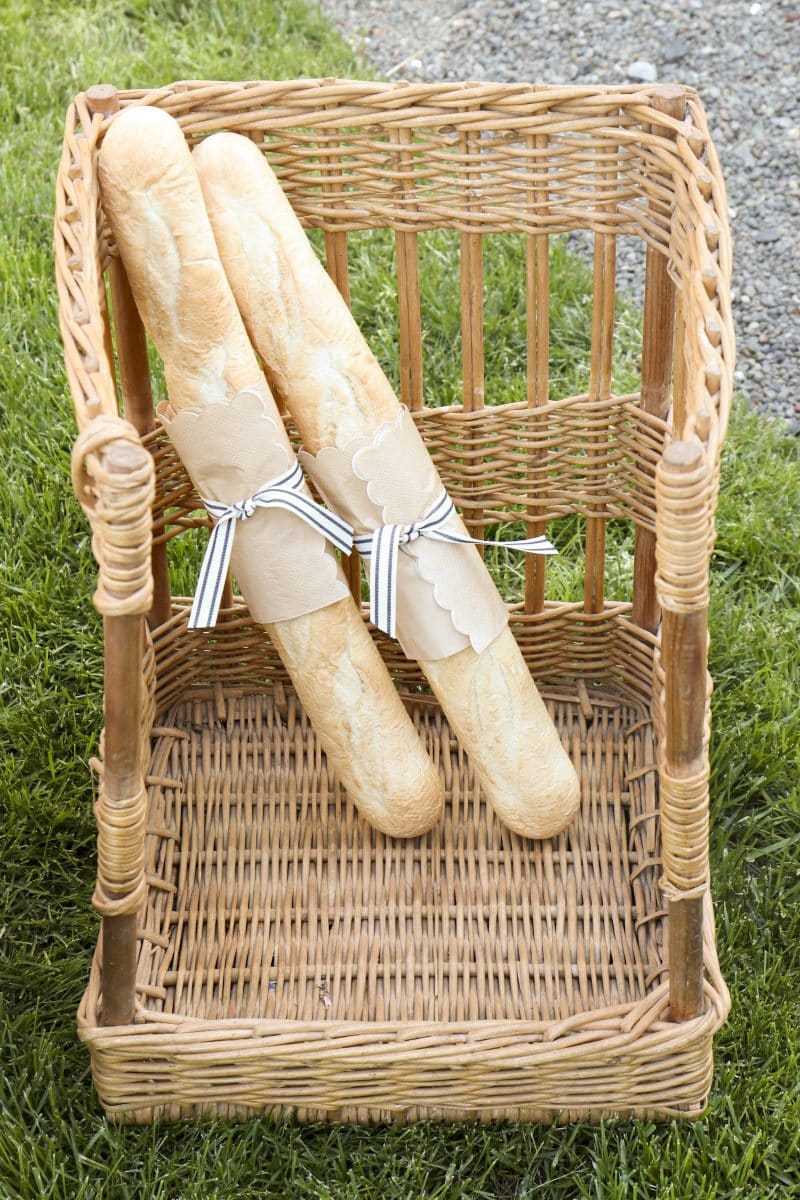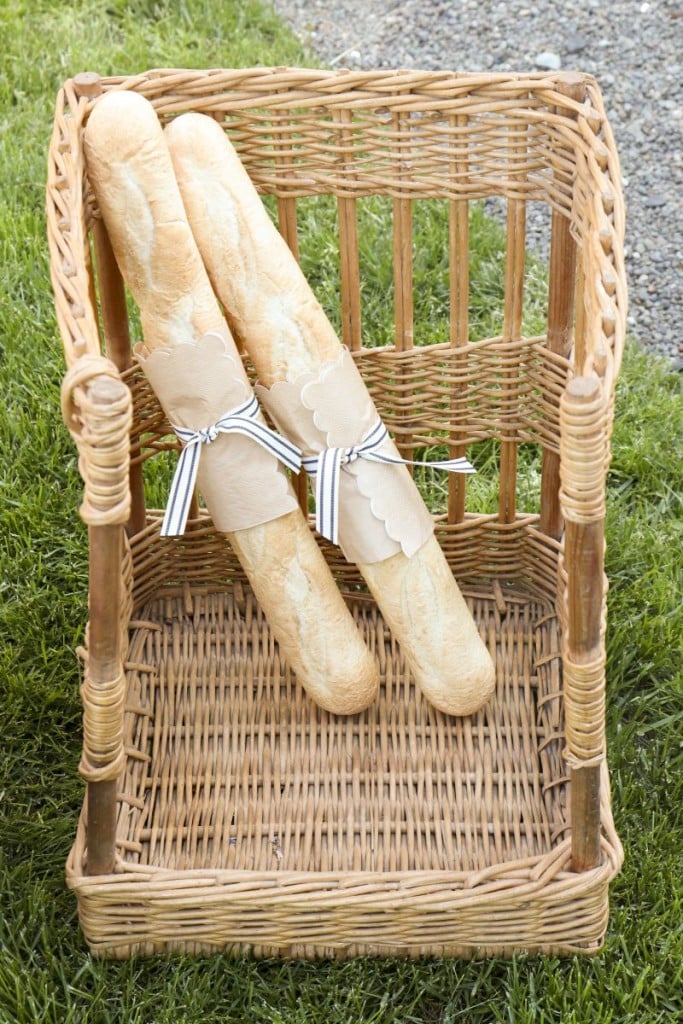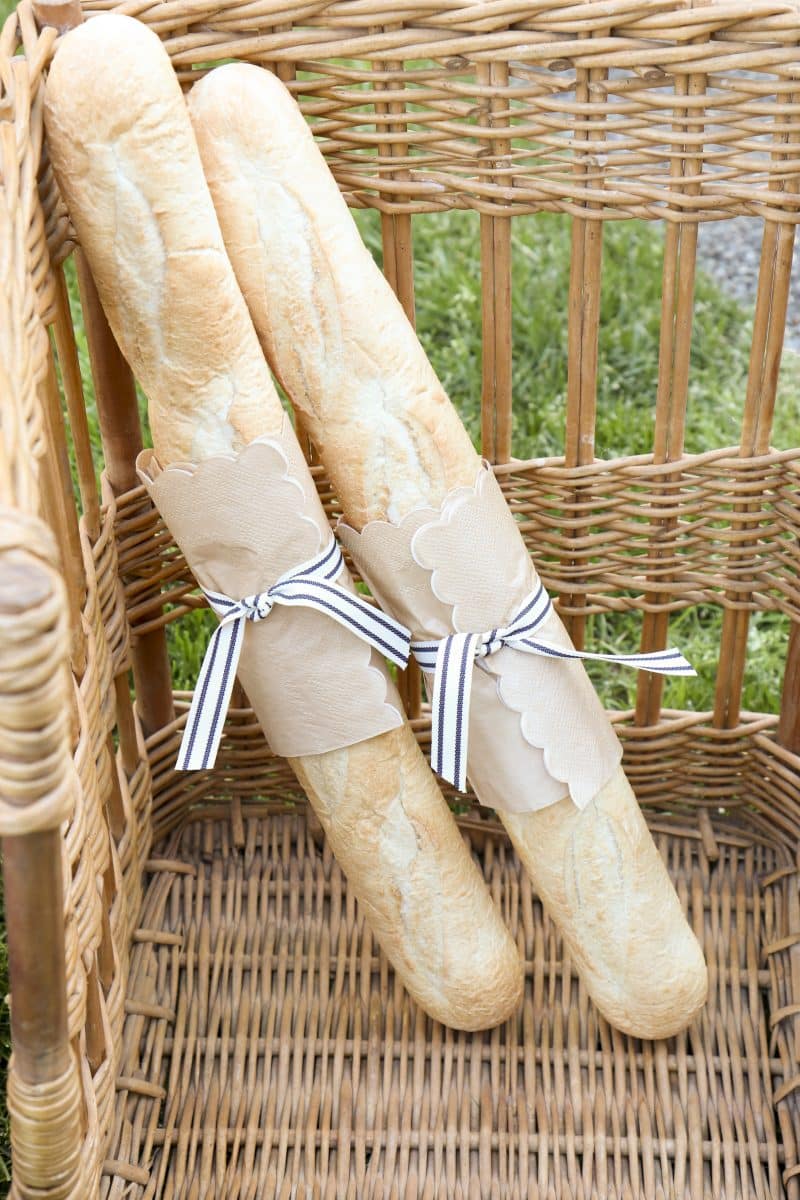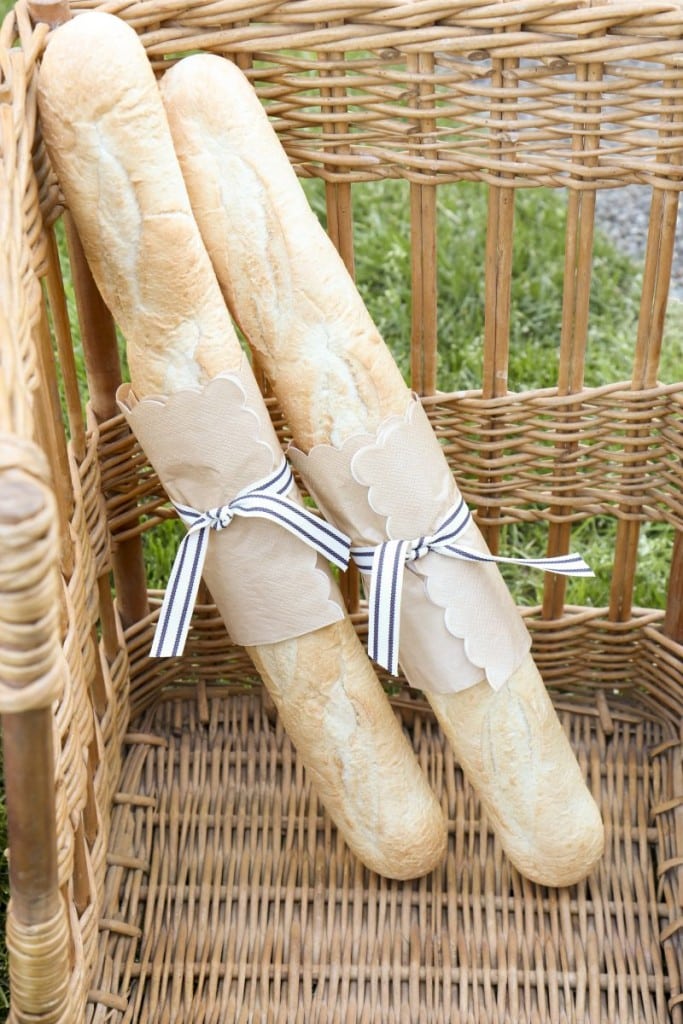 Drink Station
For my drink station, I used a little wooden farm stand.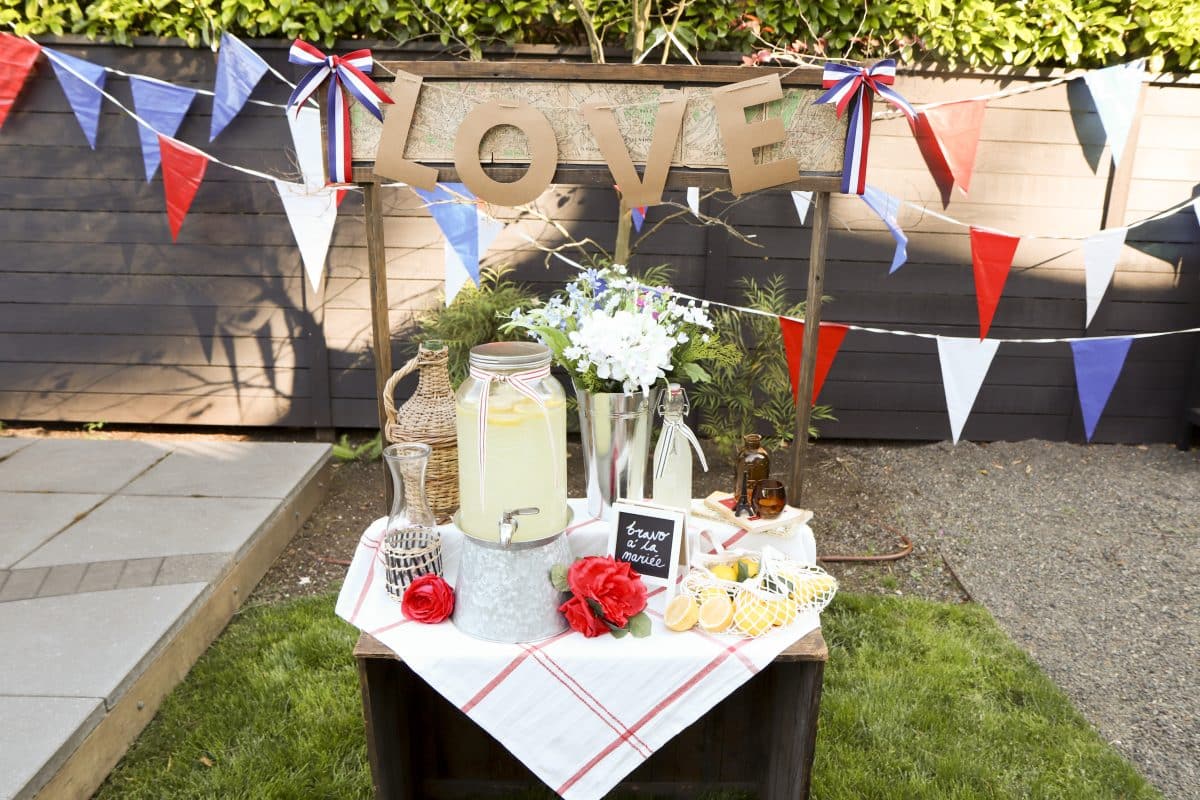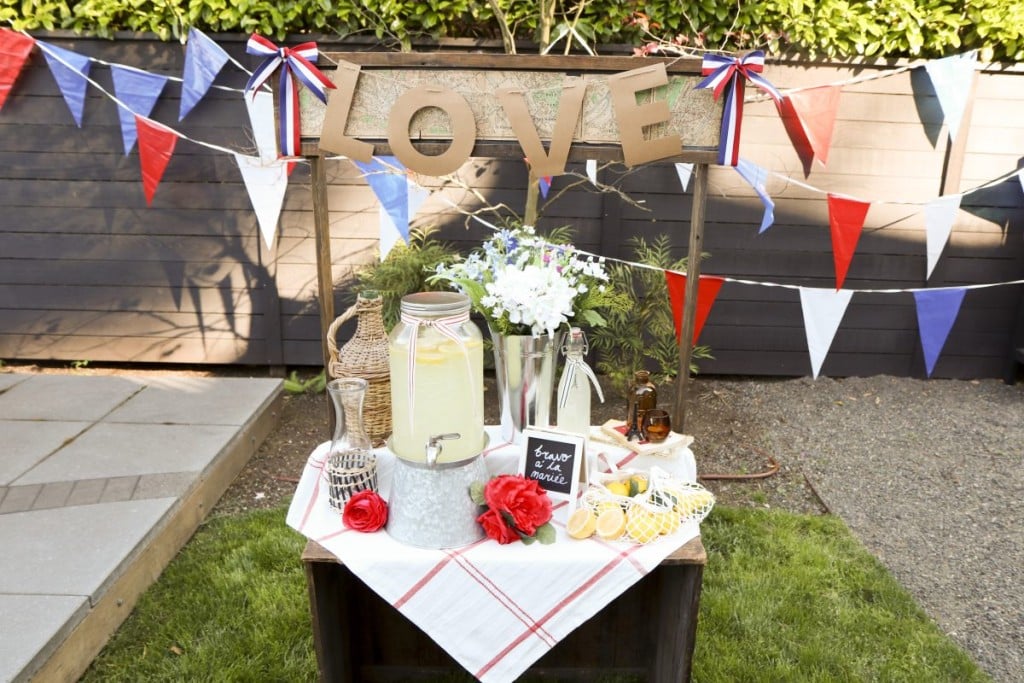 I decorated the top of it with maps of France as a backdrop, and a LOVE garland hung with two blue, white, and red ribbons.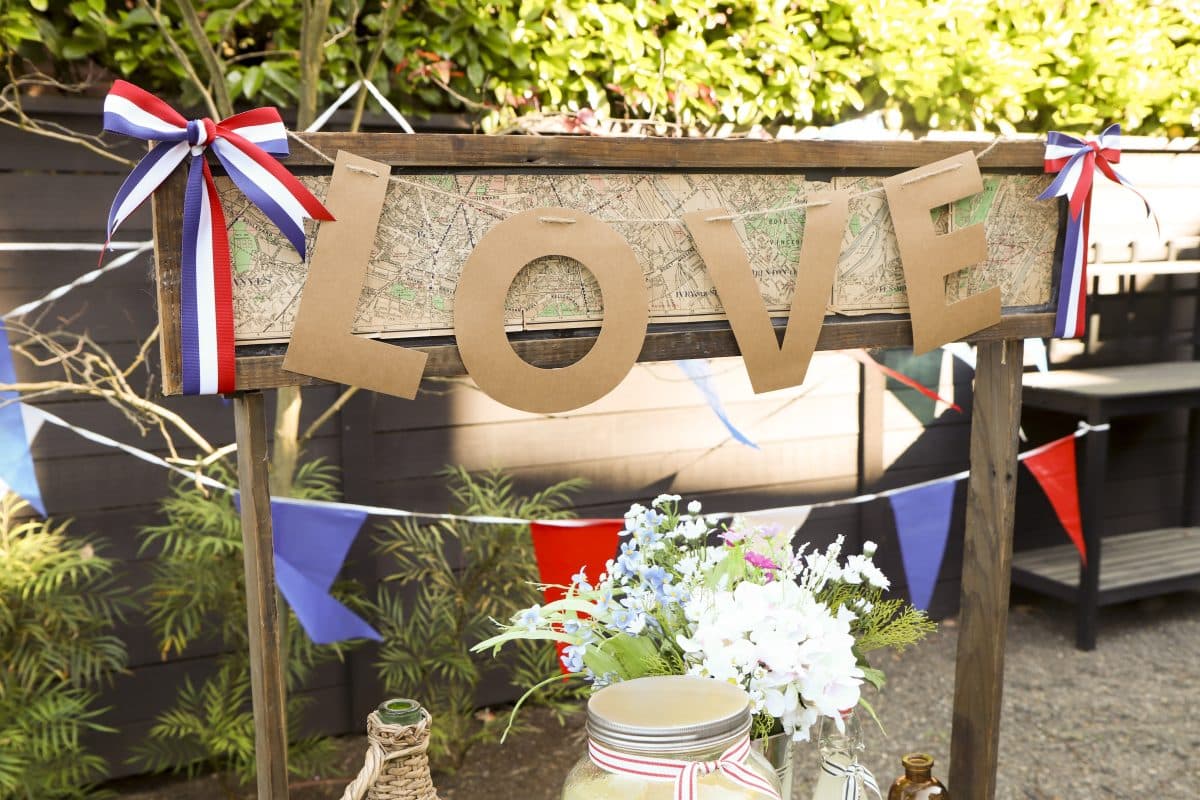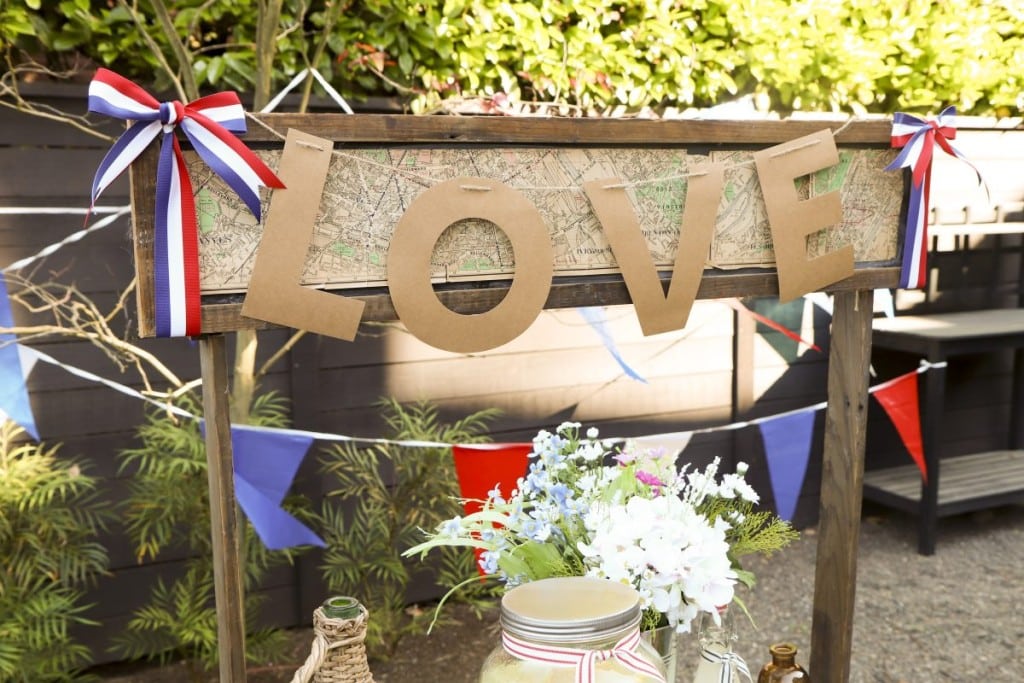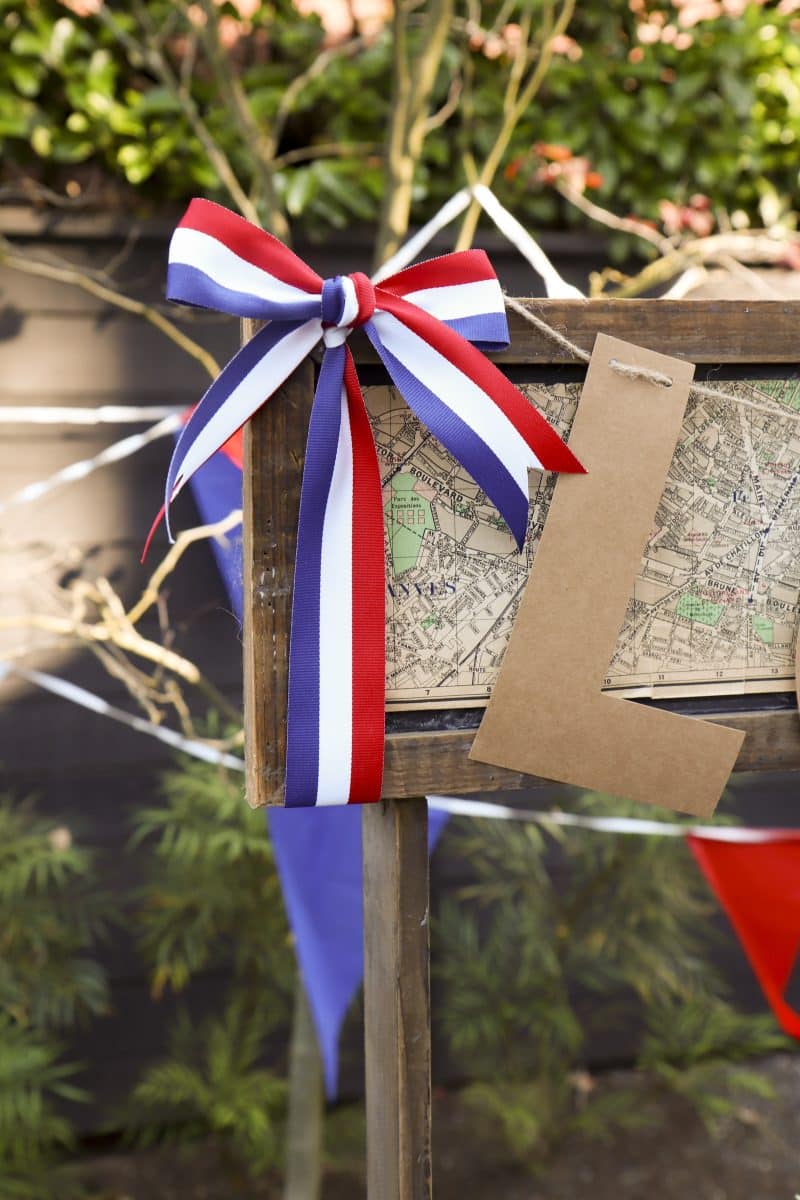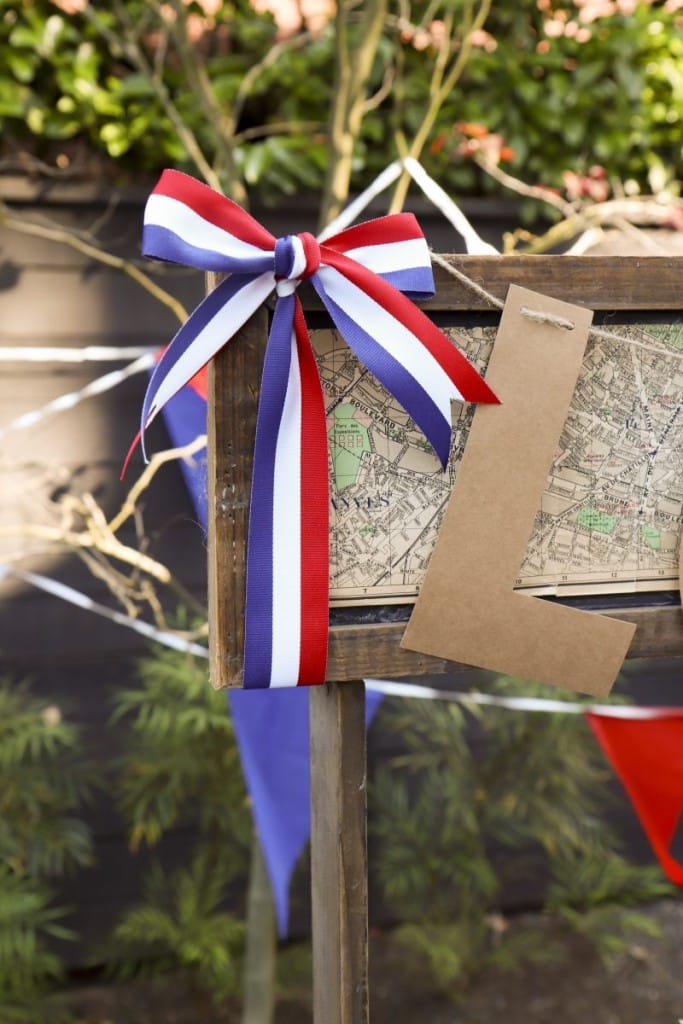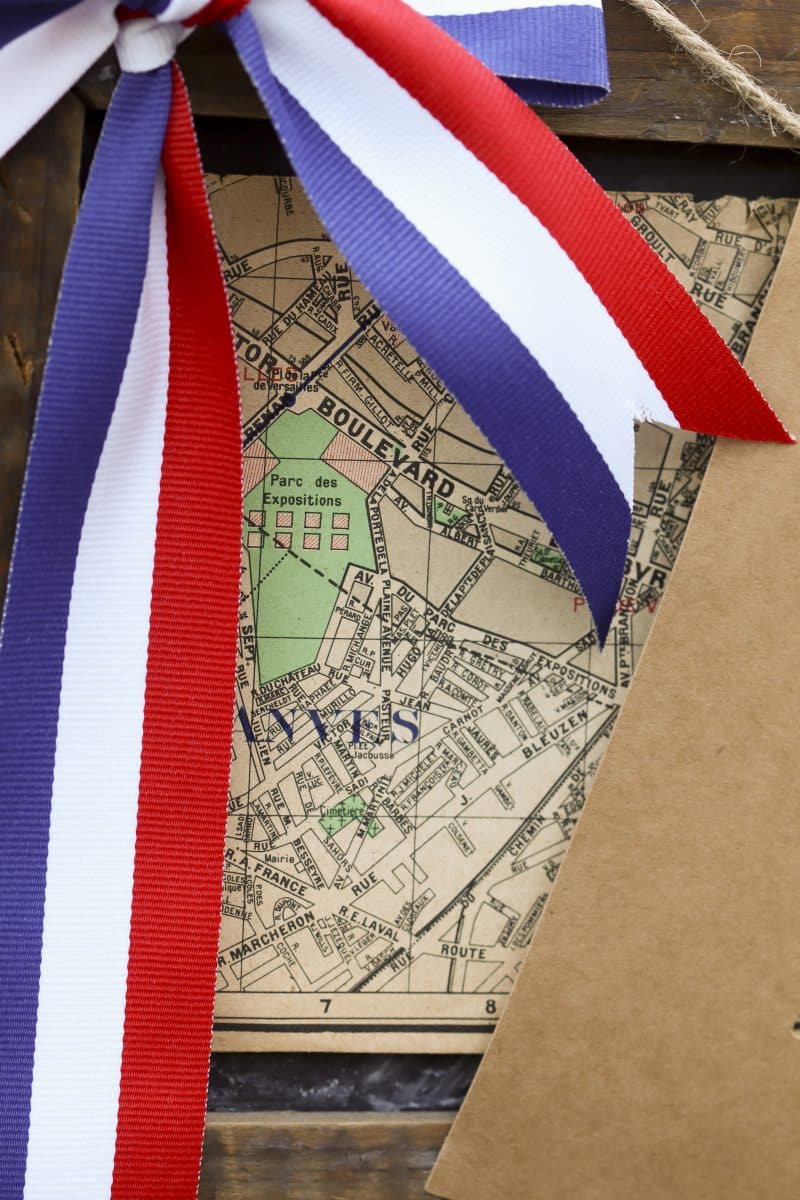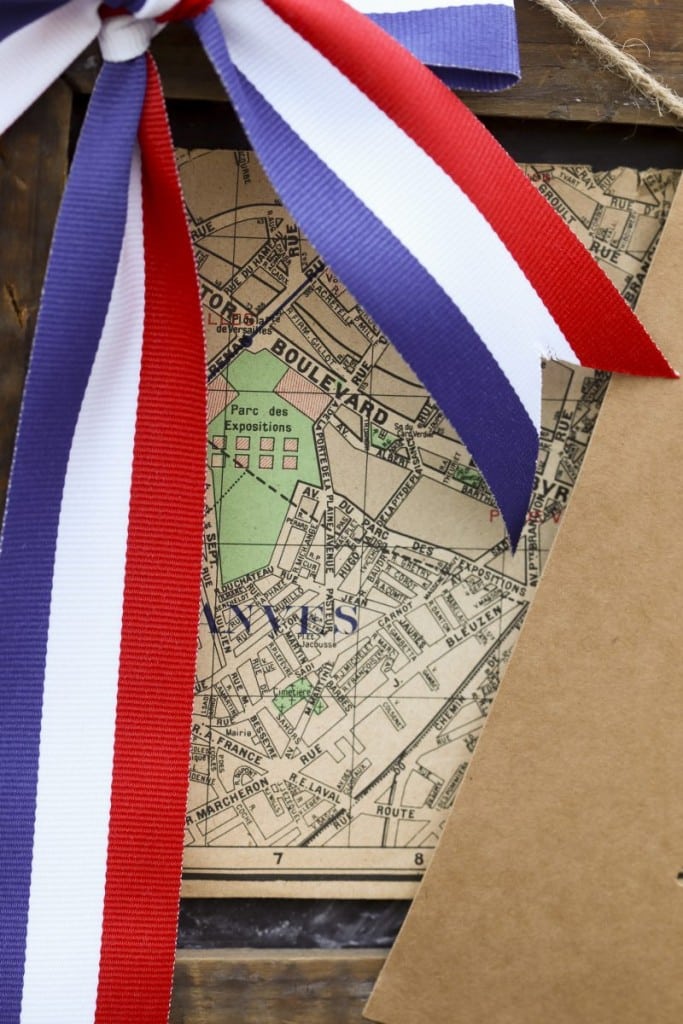 On the top level of the farm stand, I used amber glass jars and candle holders as decor for a vintage french feel. An Eiffel Tower, more holiday travel guides, more faux flowers, and a rattan jug also helped to set the scene.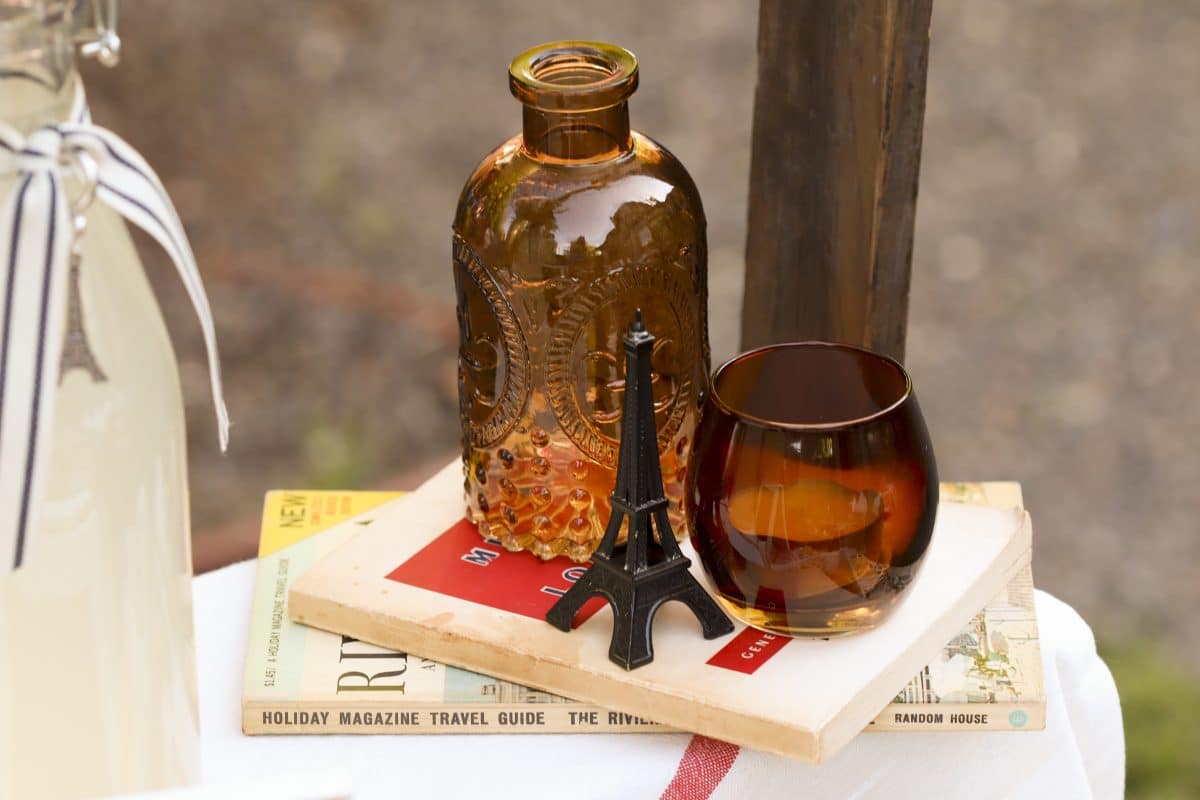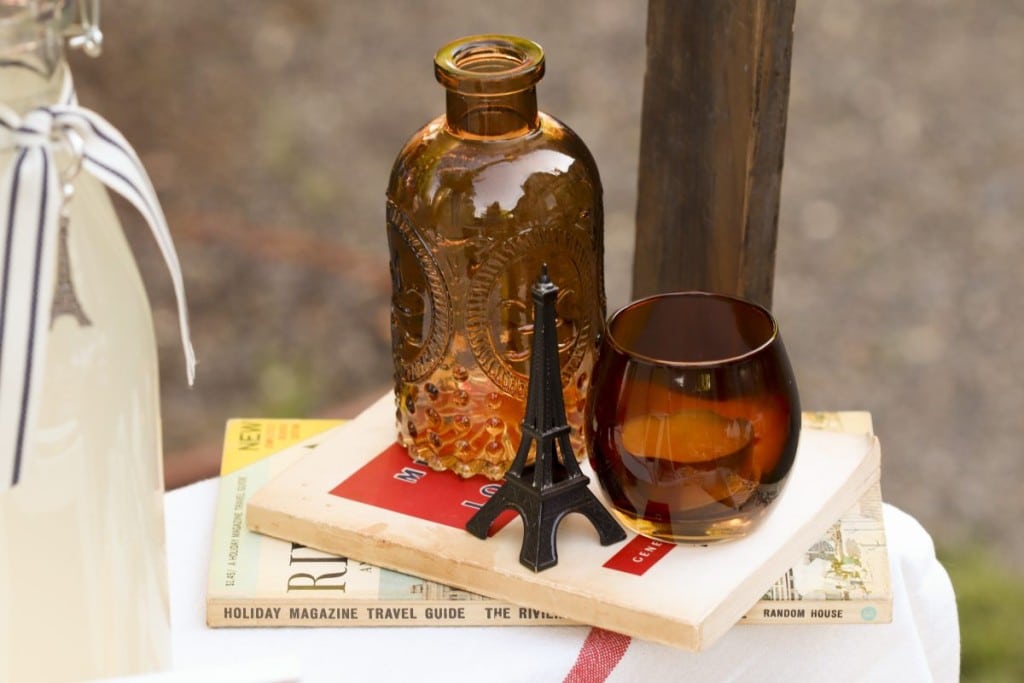 On the main shelf of the stand, I set up a galvanized metal and glass drink dispenser filled with lemonade and fresh-cut lemon slices. I added faux roses, a carafe, another chalkboard sign, and a bag of lemons as decor.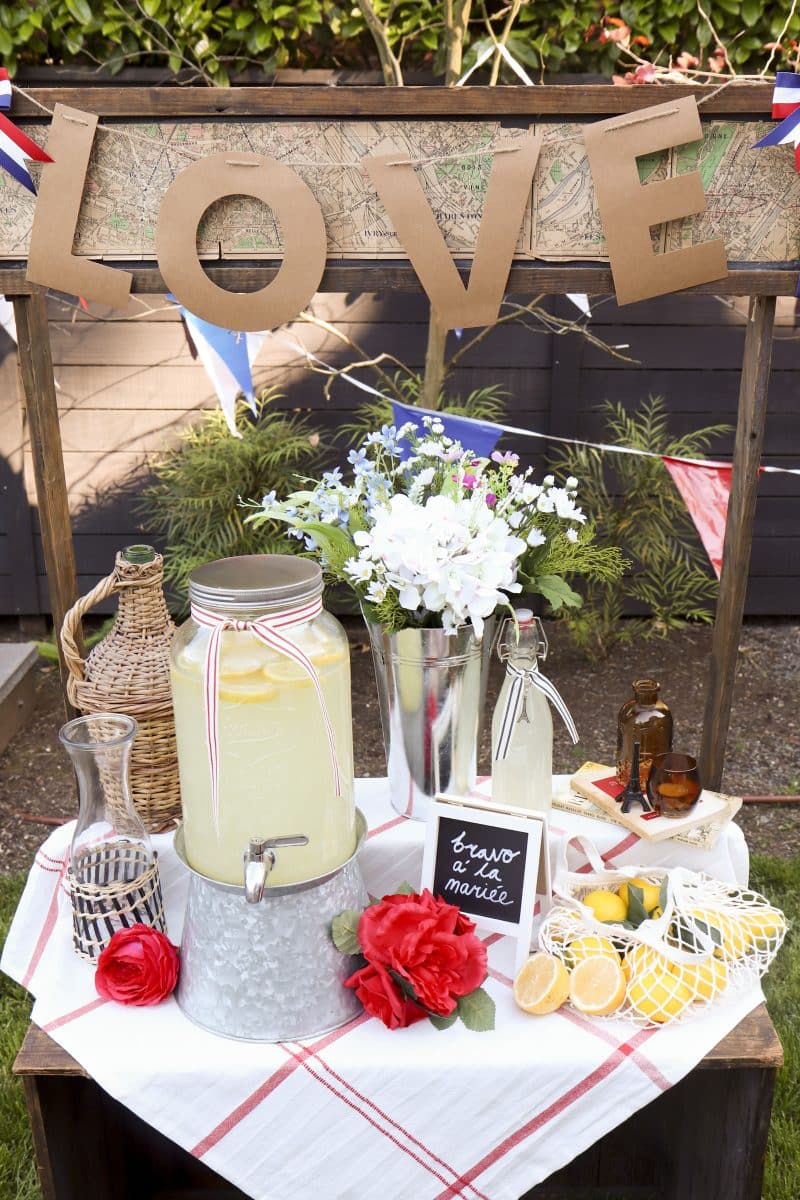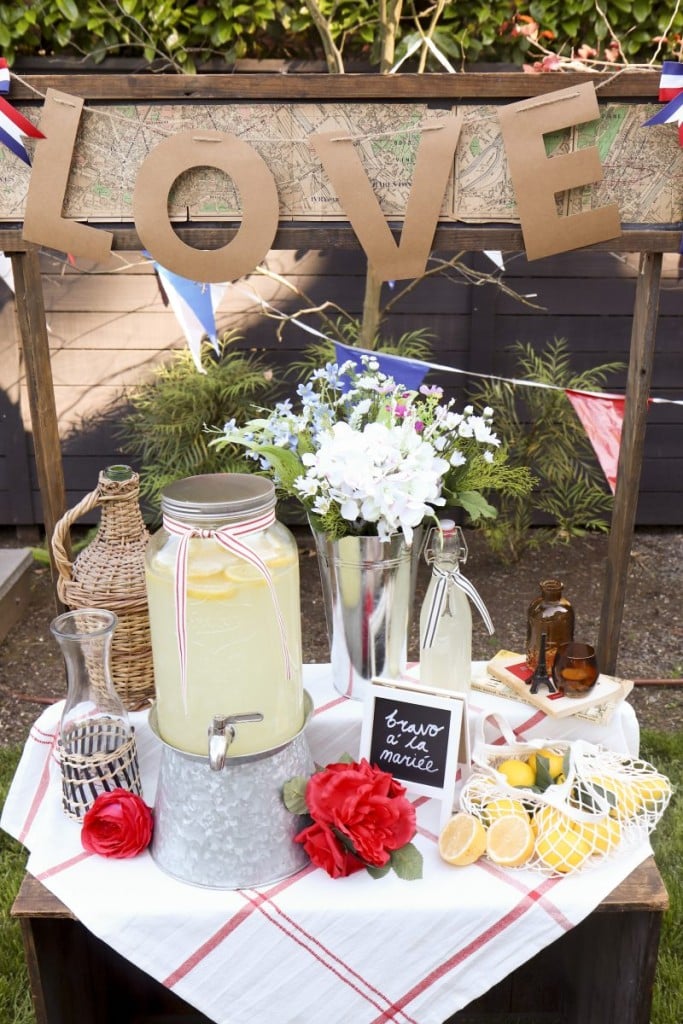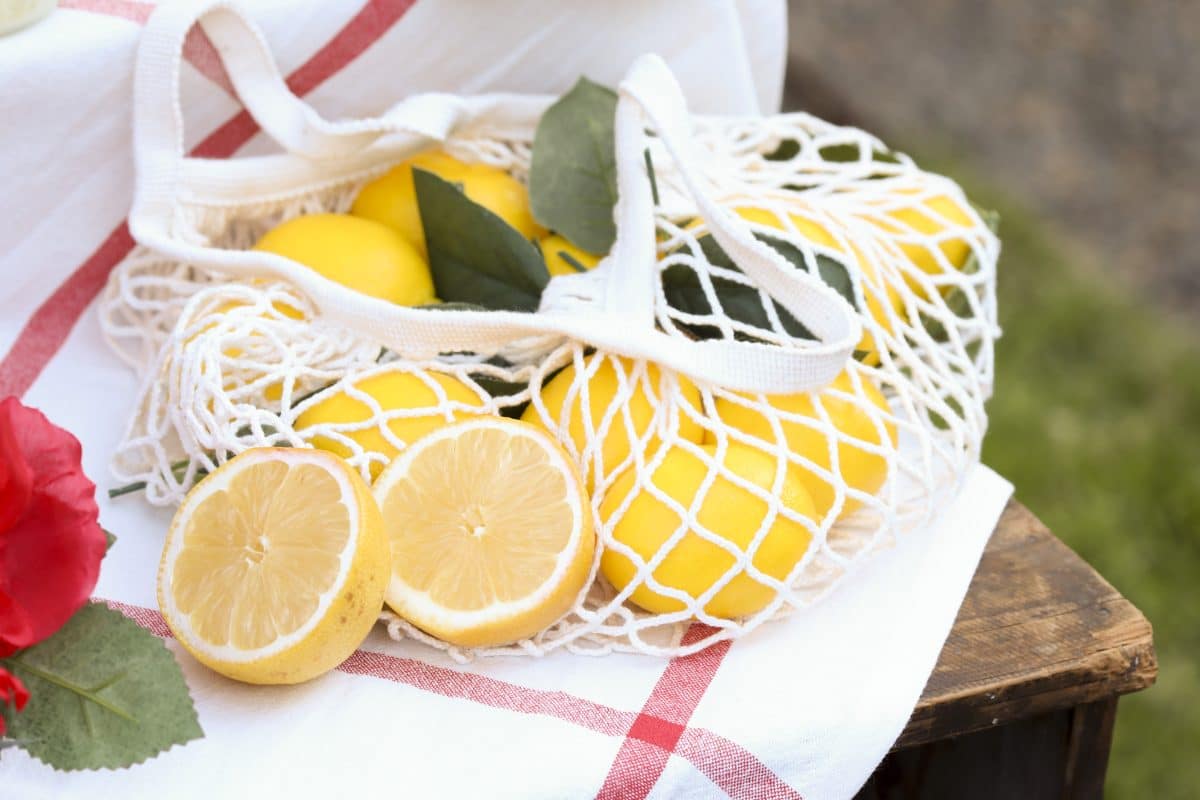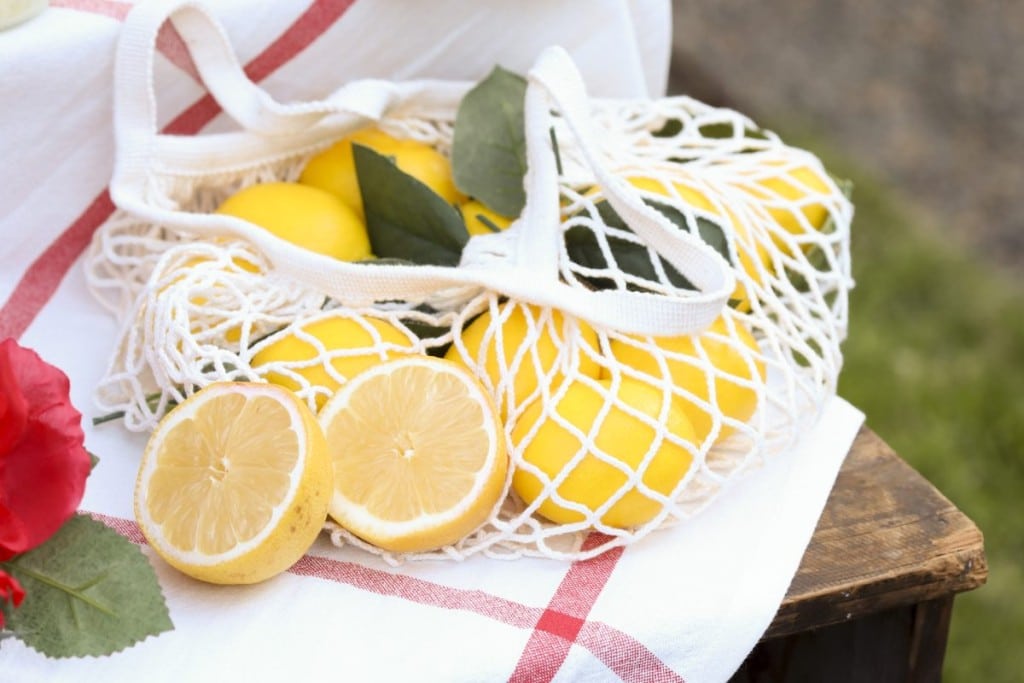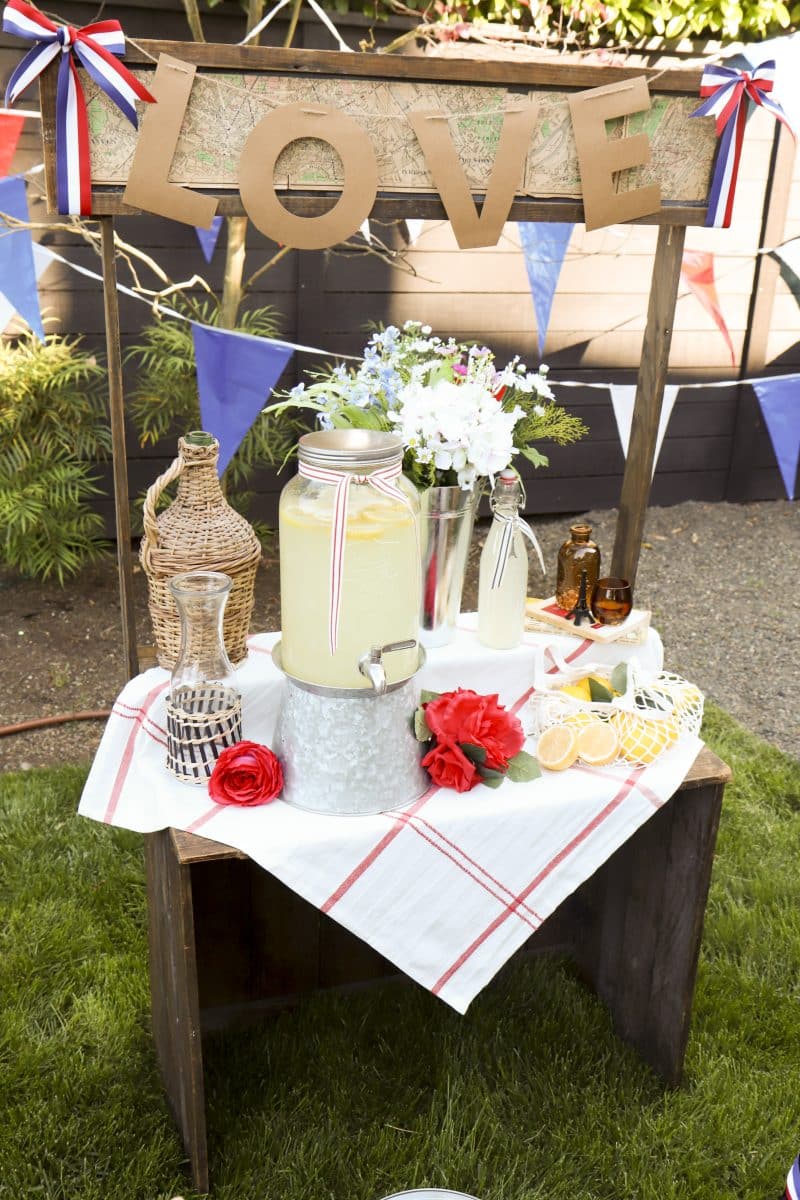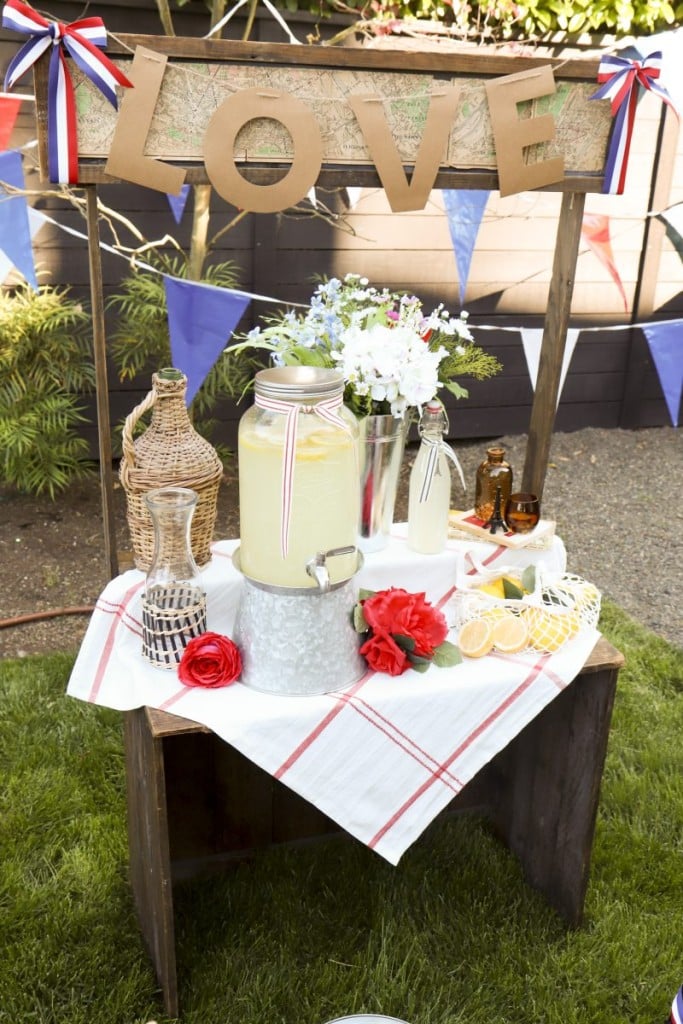 DIY Parisian Favors
The last thing I set up was a little favor station for my French-inspired bridal shower. I used a rattan bin as a mini table, and covered it with a red-striped white cloth. At it's base, I added a rattan-wrapped jug and a white lace parasol for some additional French vibes.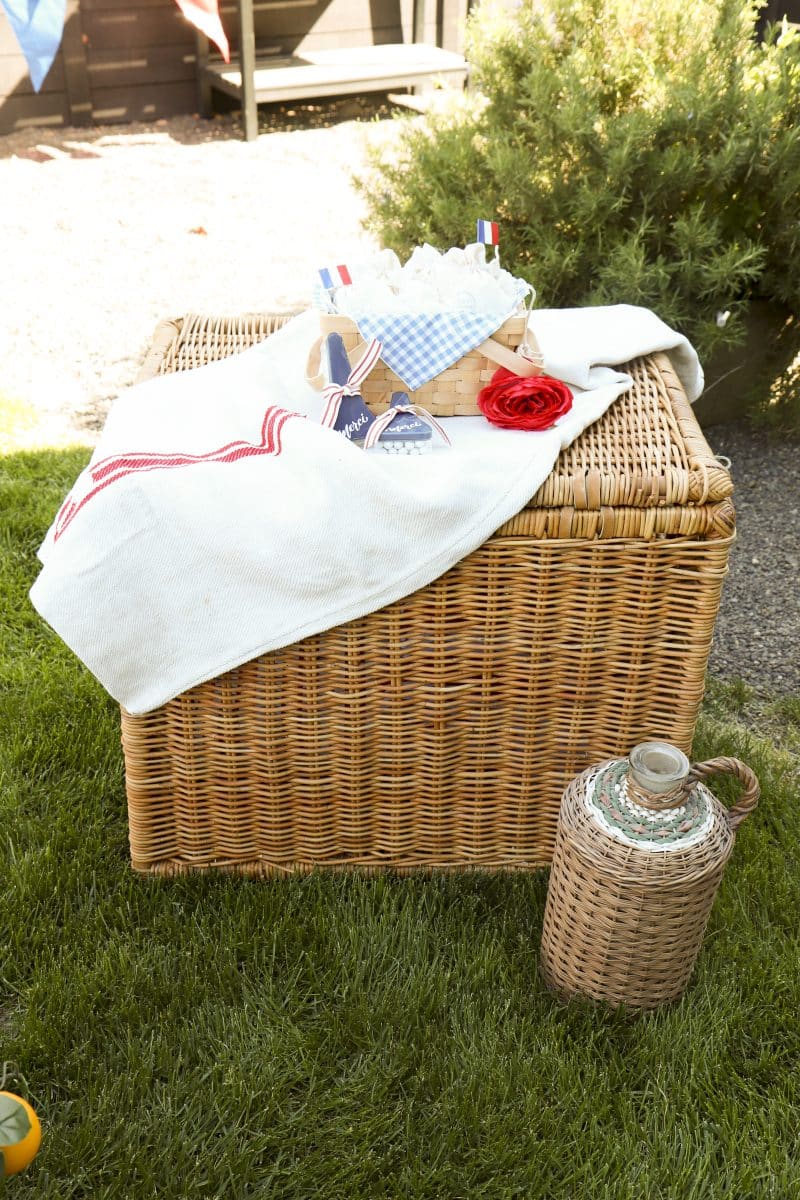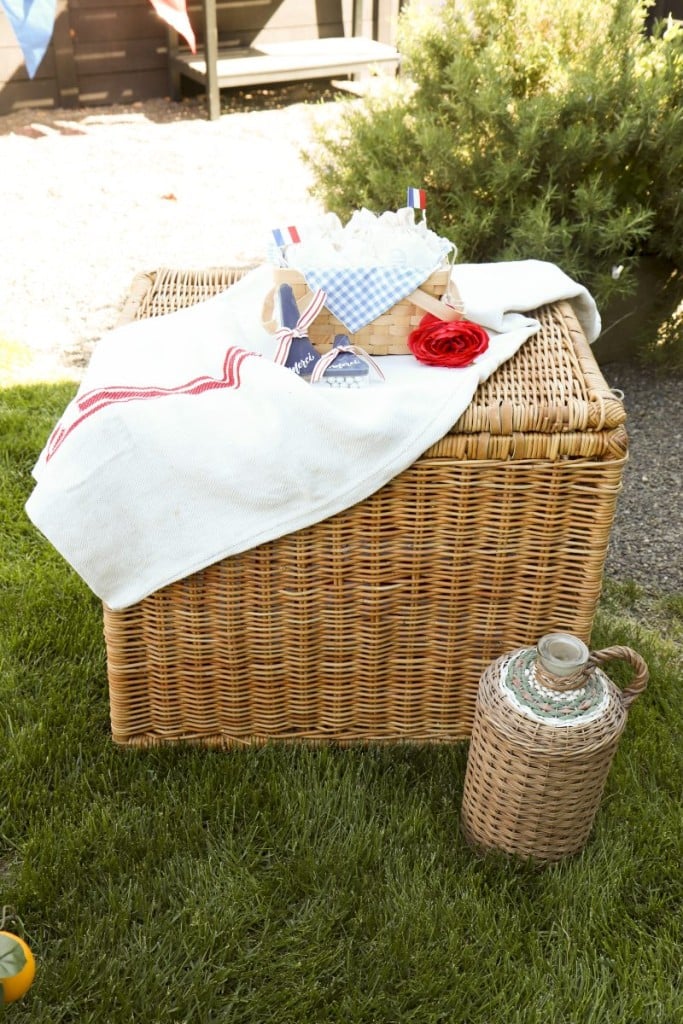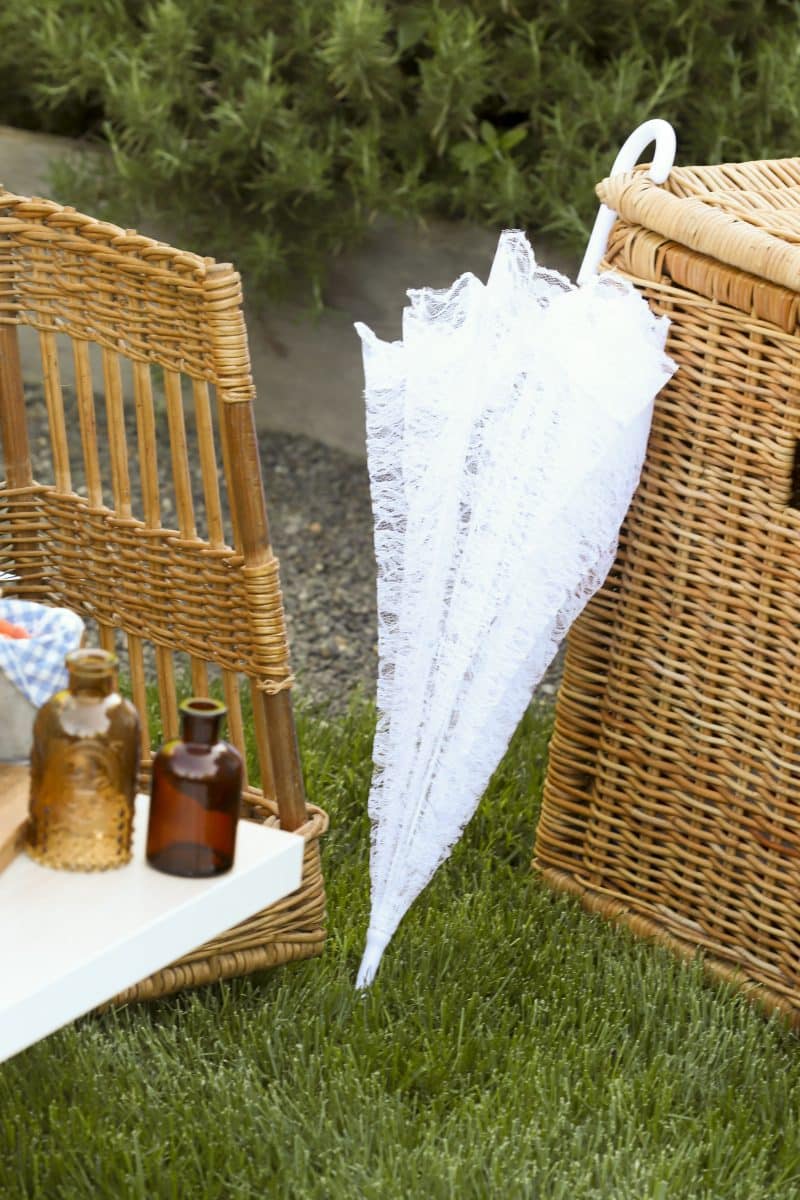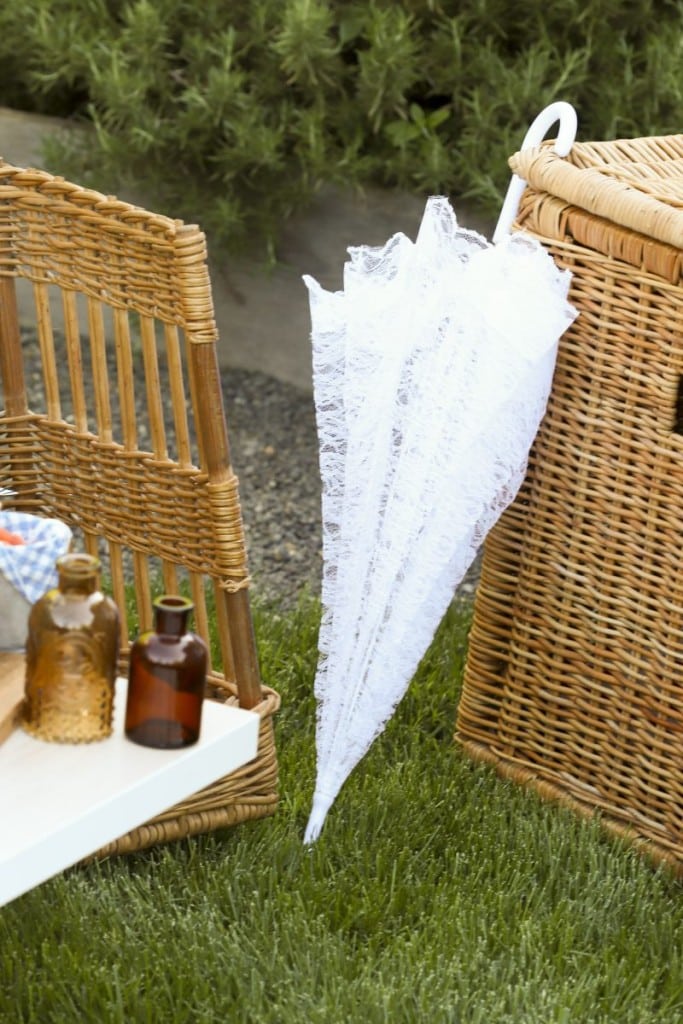 Then, on top of the cloth, I placed a picnic-style basket lined with blue gingham fabric and filled with muslin treat bags that said "merci beaucoup" on them.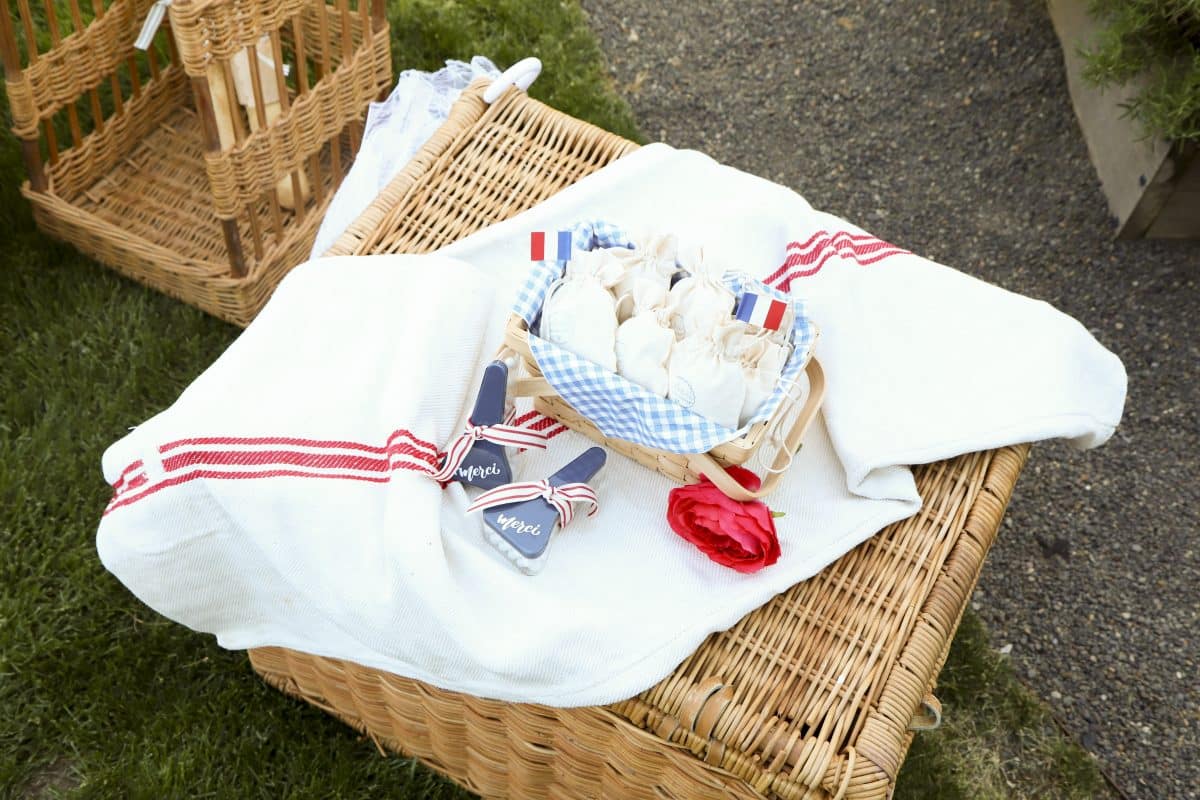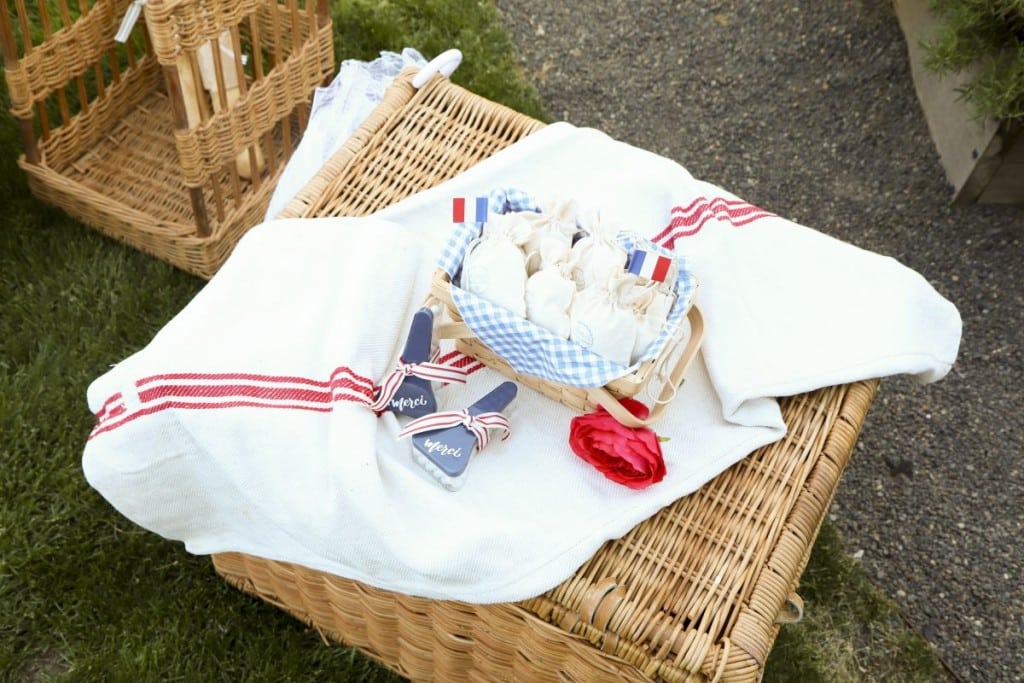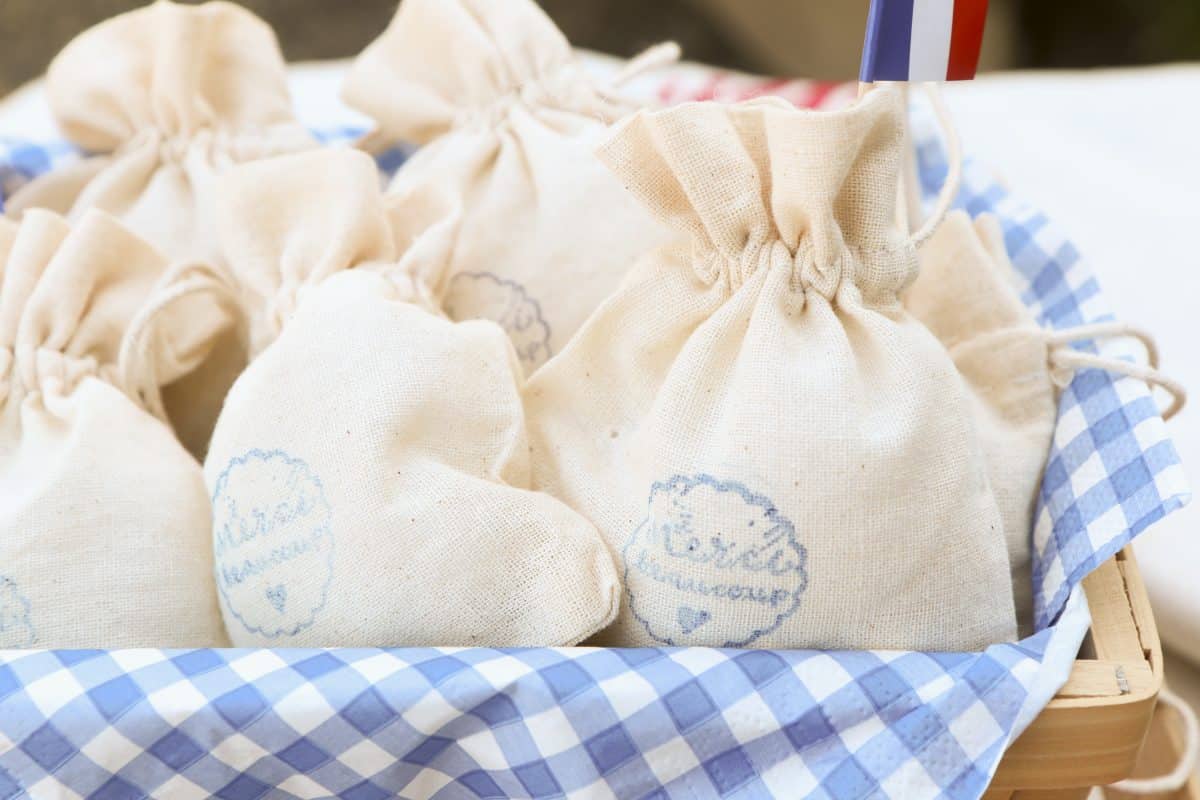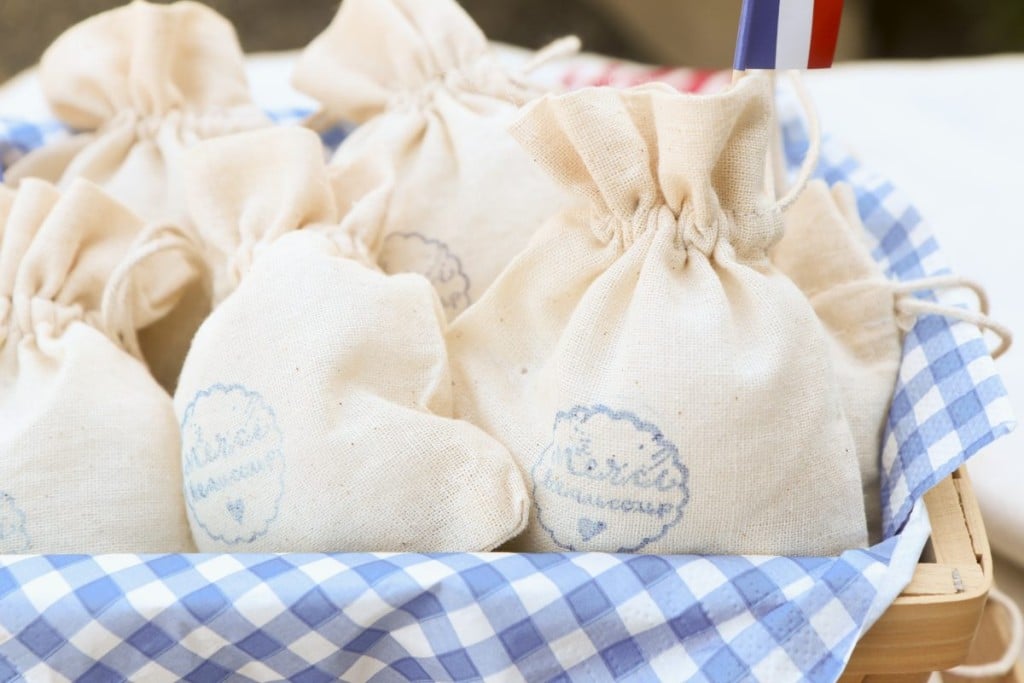 I placed a couple of French flags in the basket as well.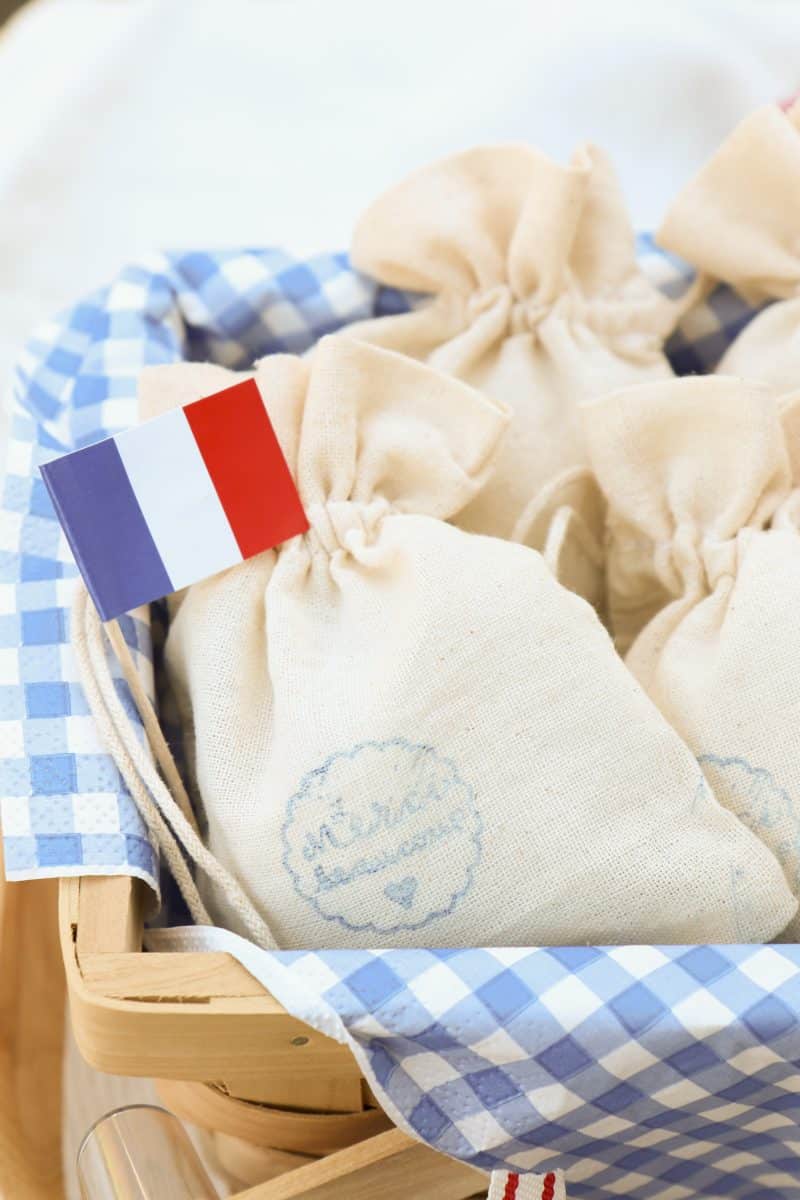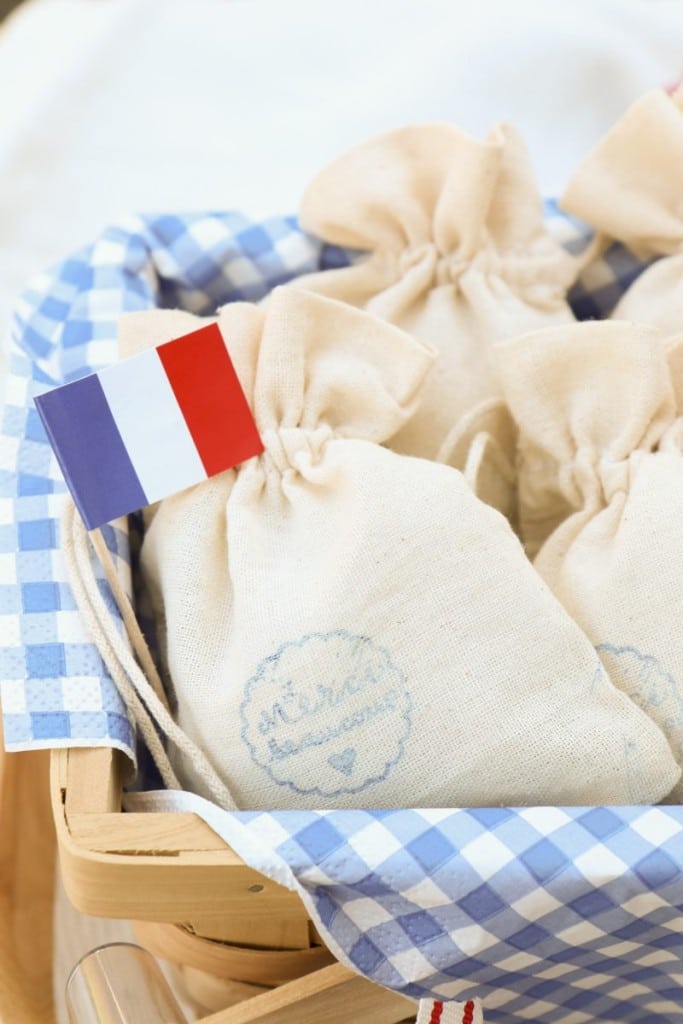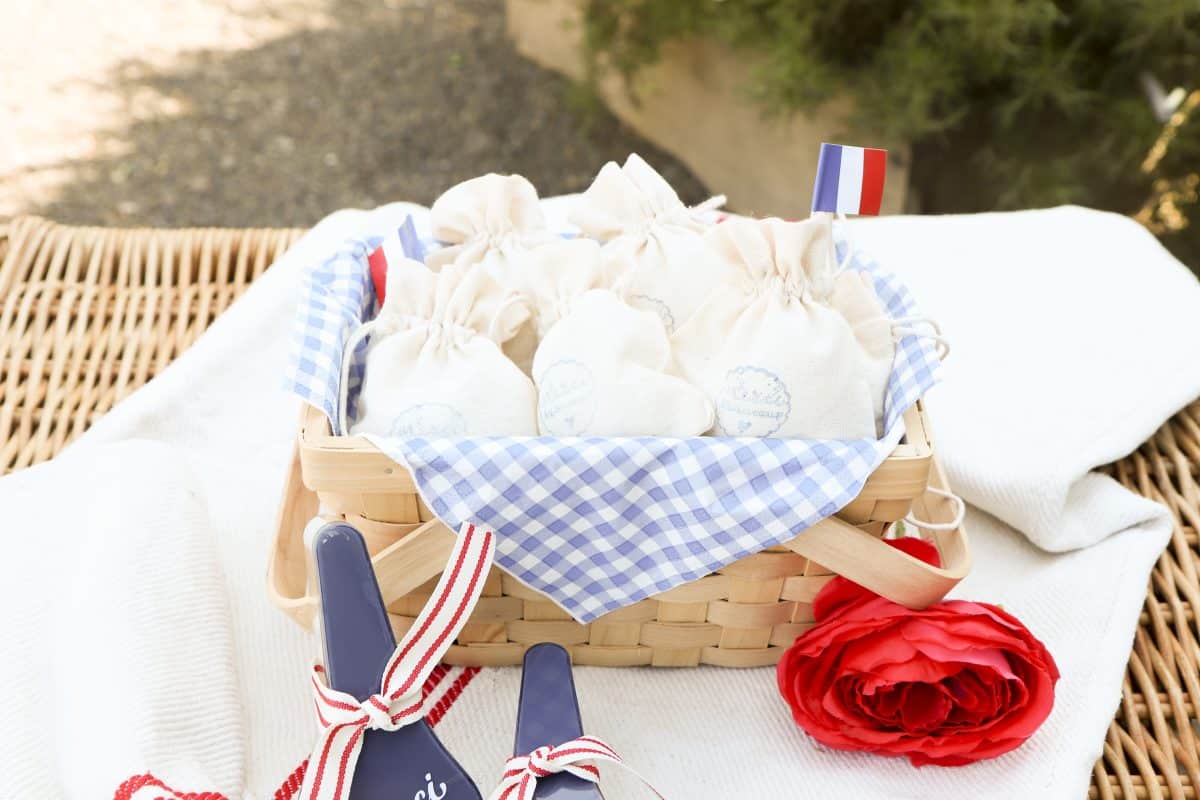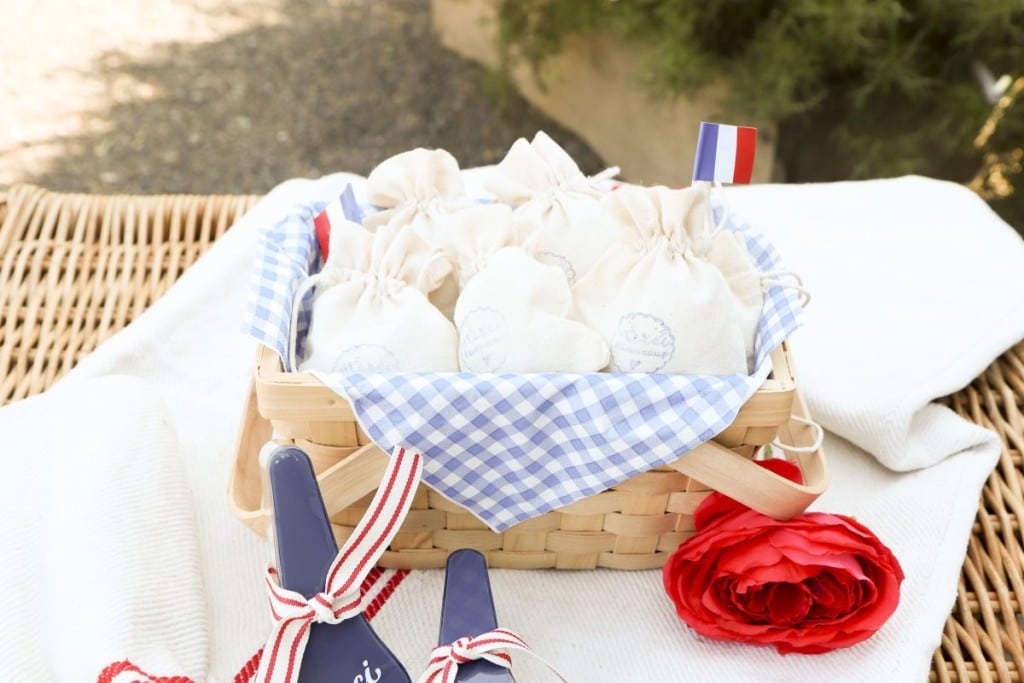 Finally, I added some DIY Eiffel Tower-inspired candy favors in front of the basket.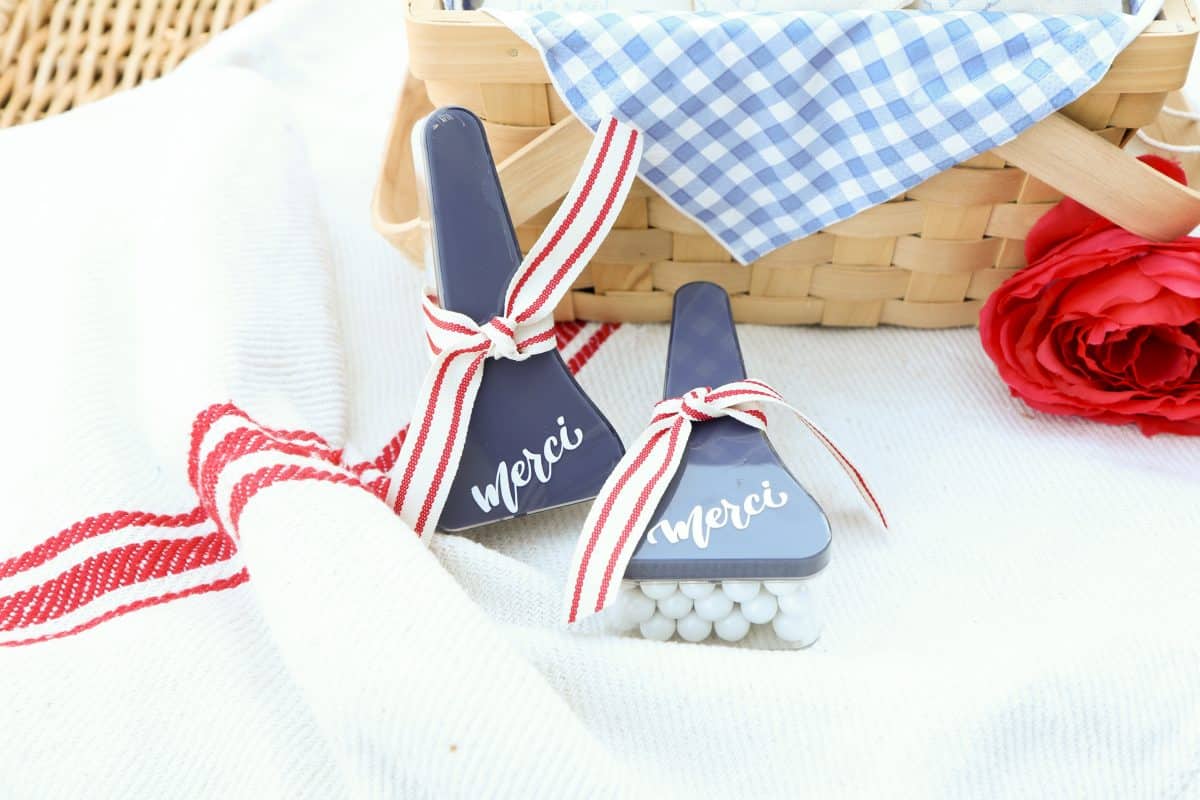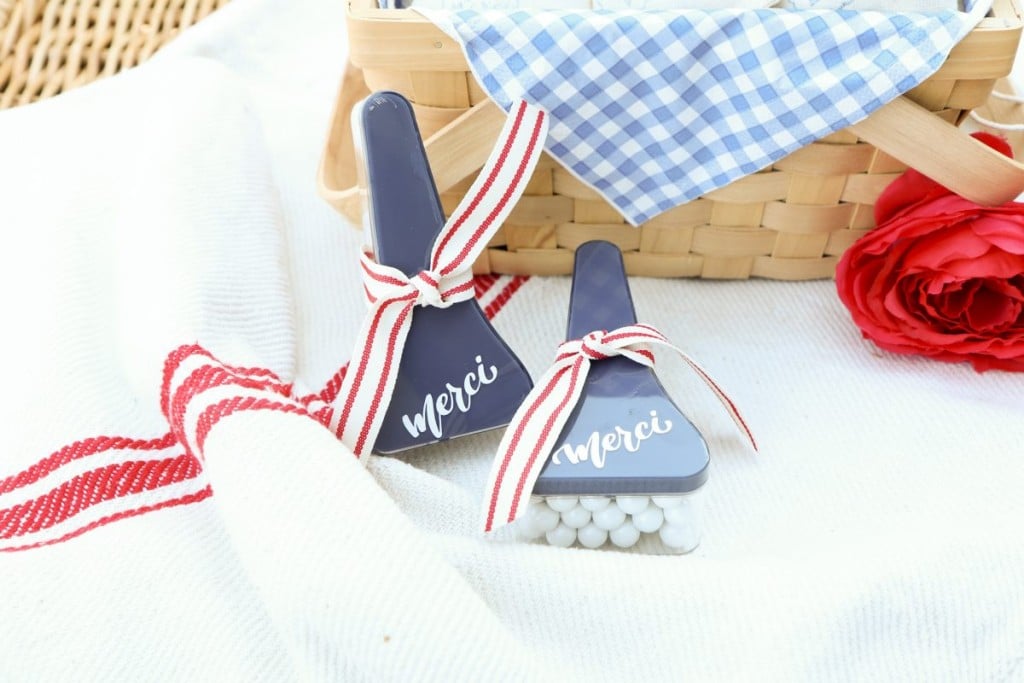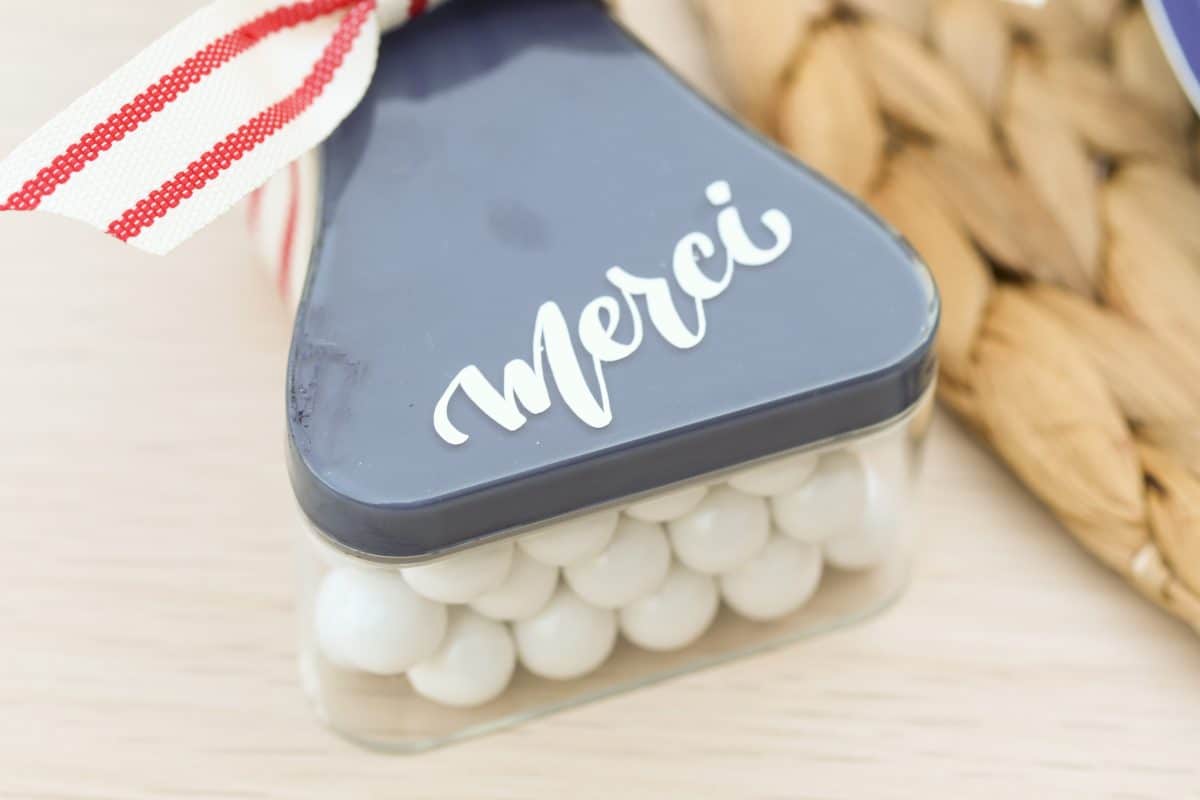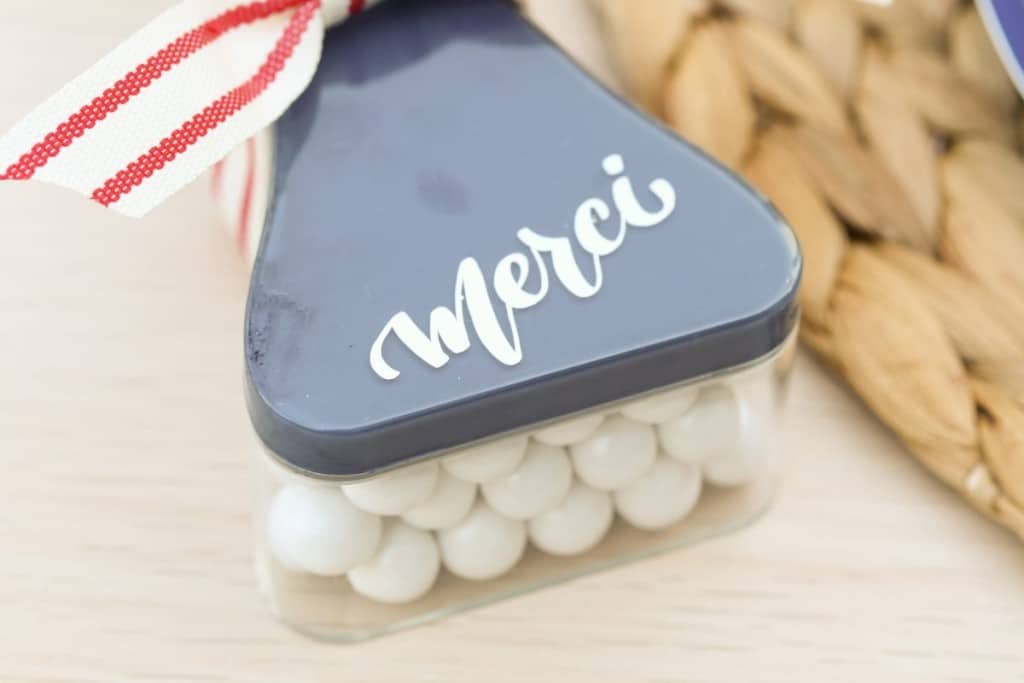 You can see how I made these DIY favors below.
View this post on Instagram
I hope this guide has provided you with the inspiration and guidance you need to embark on your own French-inspired bridal shower picnic journey. May your event be filled with elegance, romance, and an air of joie de vivre.
For more bridal shower inspiration, be sure to check out my many other bridal shower posts!
Happy Partying,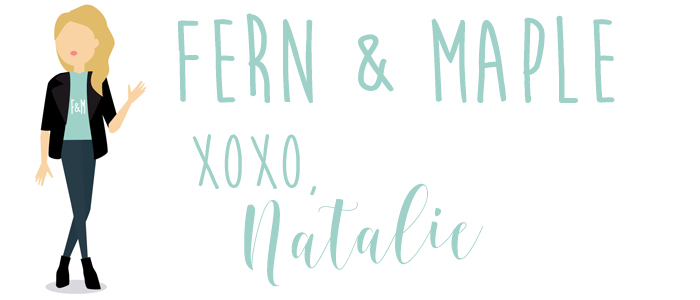 PIN FOR LATER: