After the success of my Valentine's Day Science Party for Kids, in which slime was by far the most popular experiment, I decided to take it a step further and create a party solely for slime! Creating a Slime Lab was so much fun for me, and the kids had tons of (messy – but easily cleaned up with my tips!) fun at this Valentine's Day Slime Party! Read on to see how I set it all up!
P.S. All of the printables for this party were created by Small Moments Design, and you can purchase these as well as custom Valen-slime invitations from her shop! And for an easily shoppable list of supplies for this party, check out my Amazon Shop!
DIY Backdrop
First I created an easy DIY backdrop using red masking tape to create two beakers on my wall. I used glitter-filled heart stickers for the measurements, and a multi-colored (but heavy on the Valentine's colors) balloon garland to represent bubbles between the beakers! Then, I hung some printed "Welcome to the Slime Lab!" signs underneath.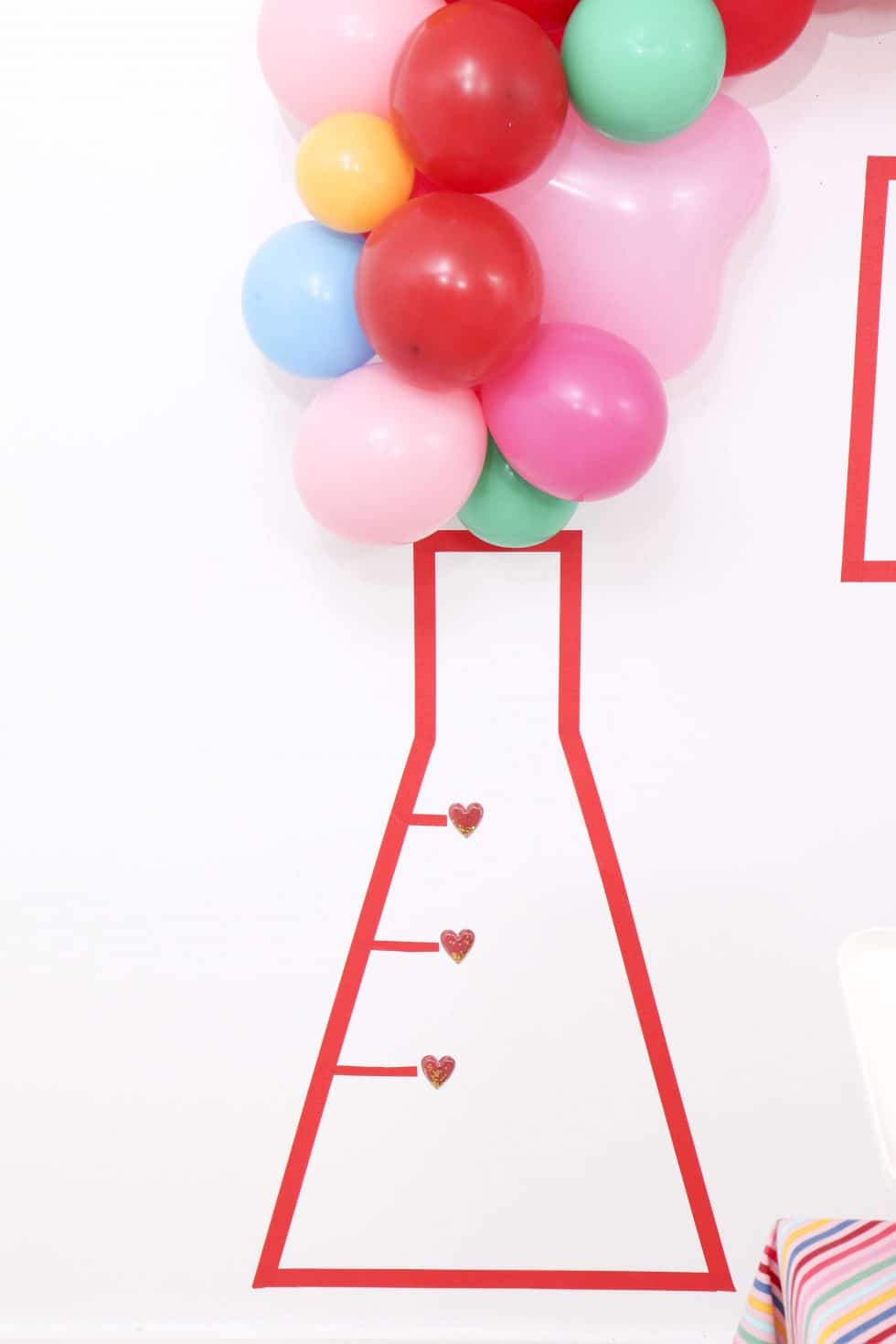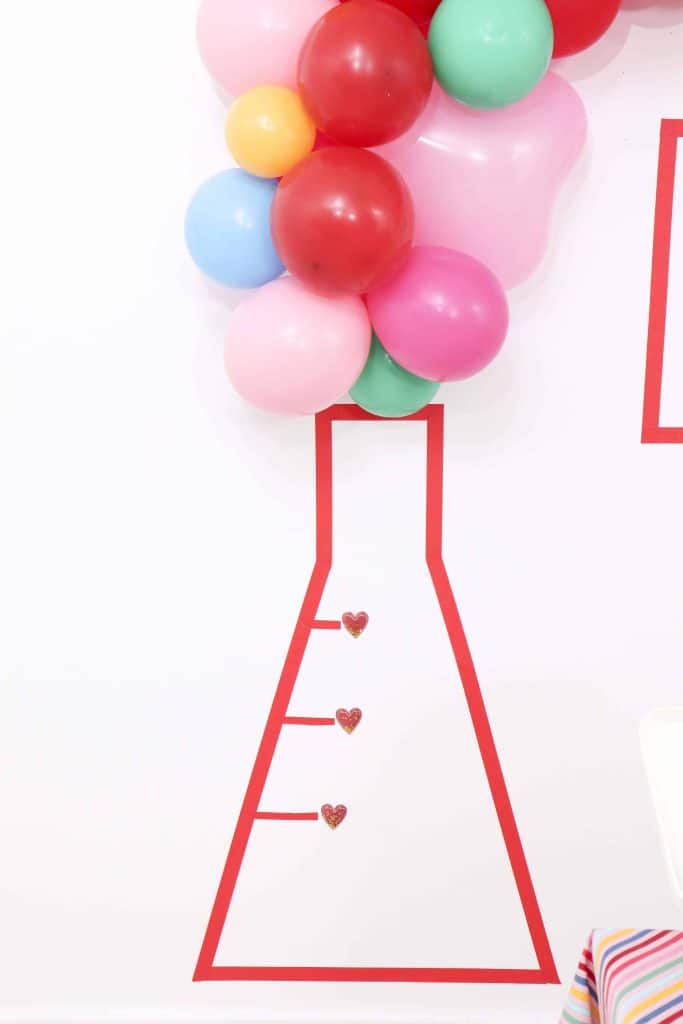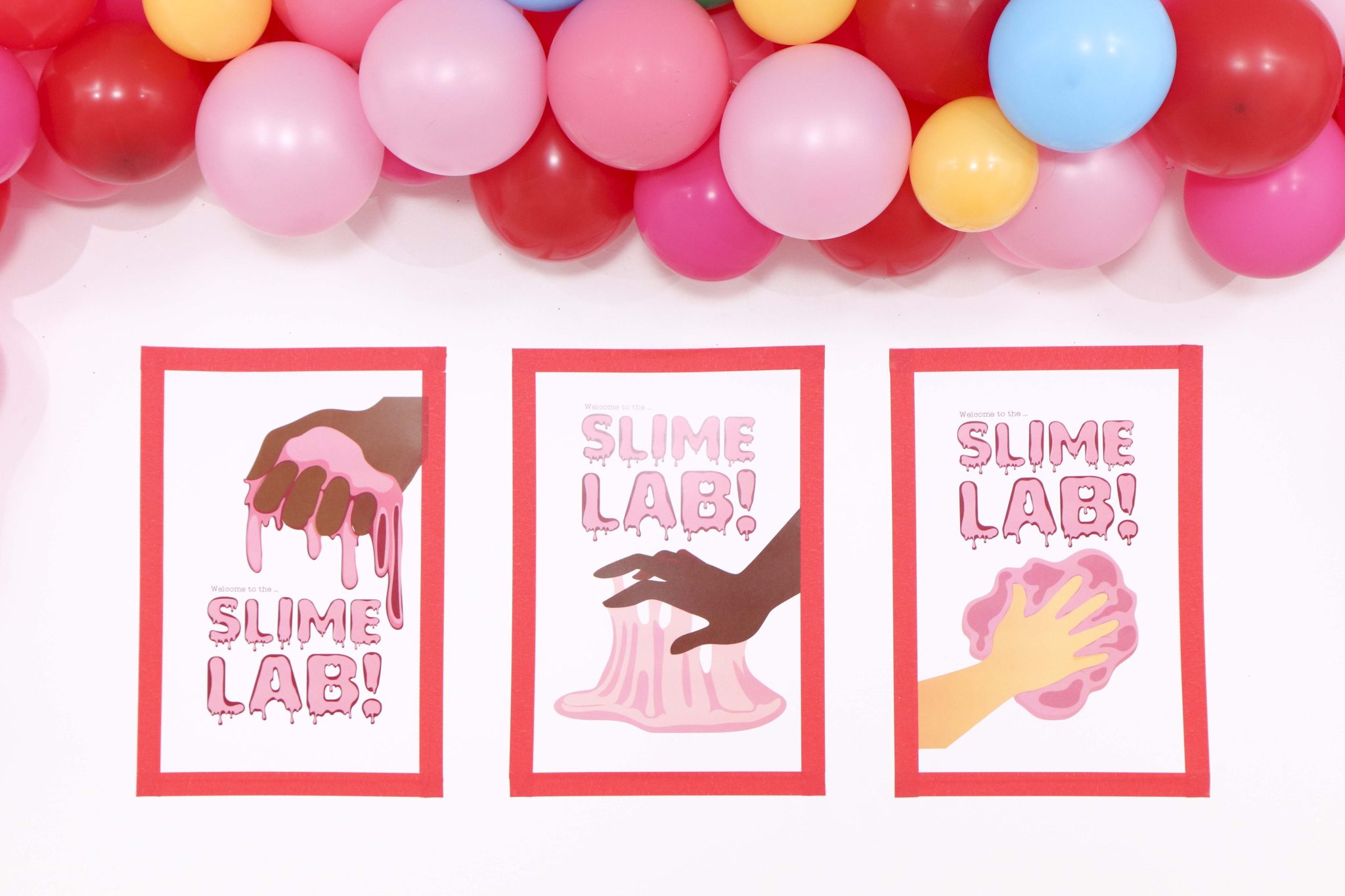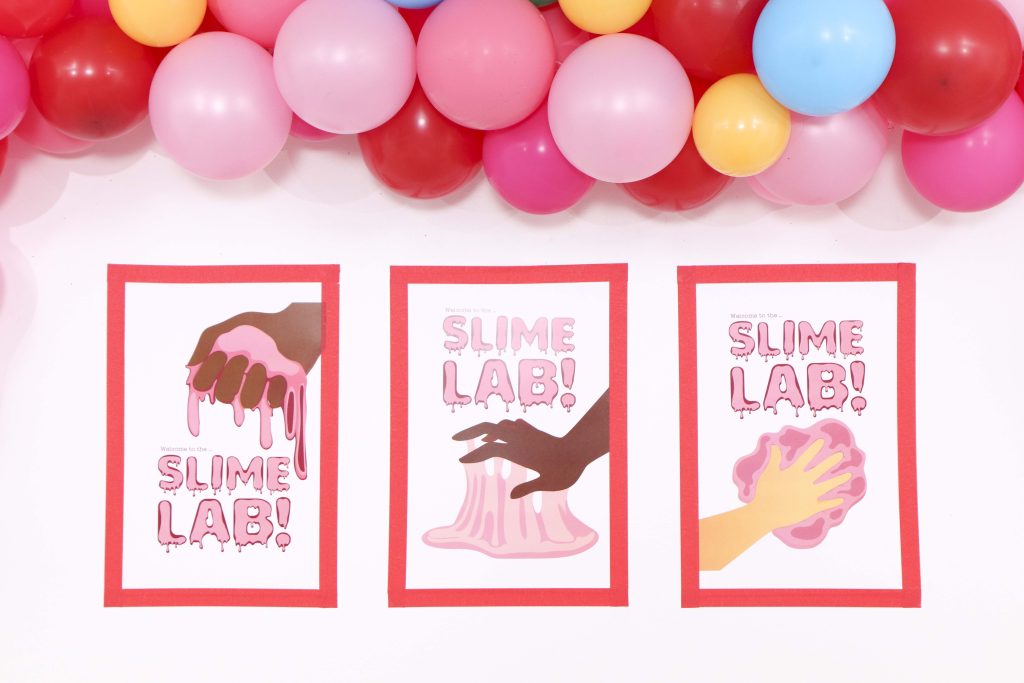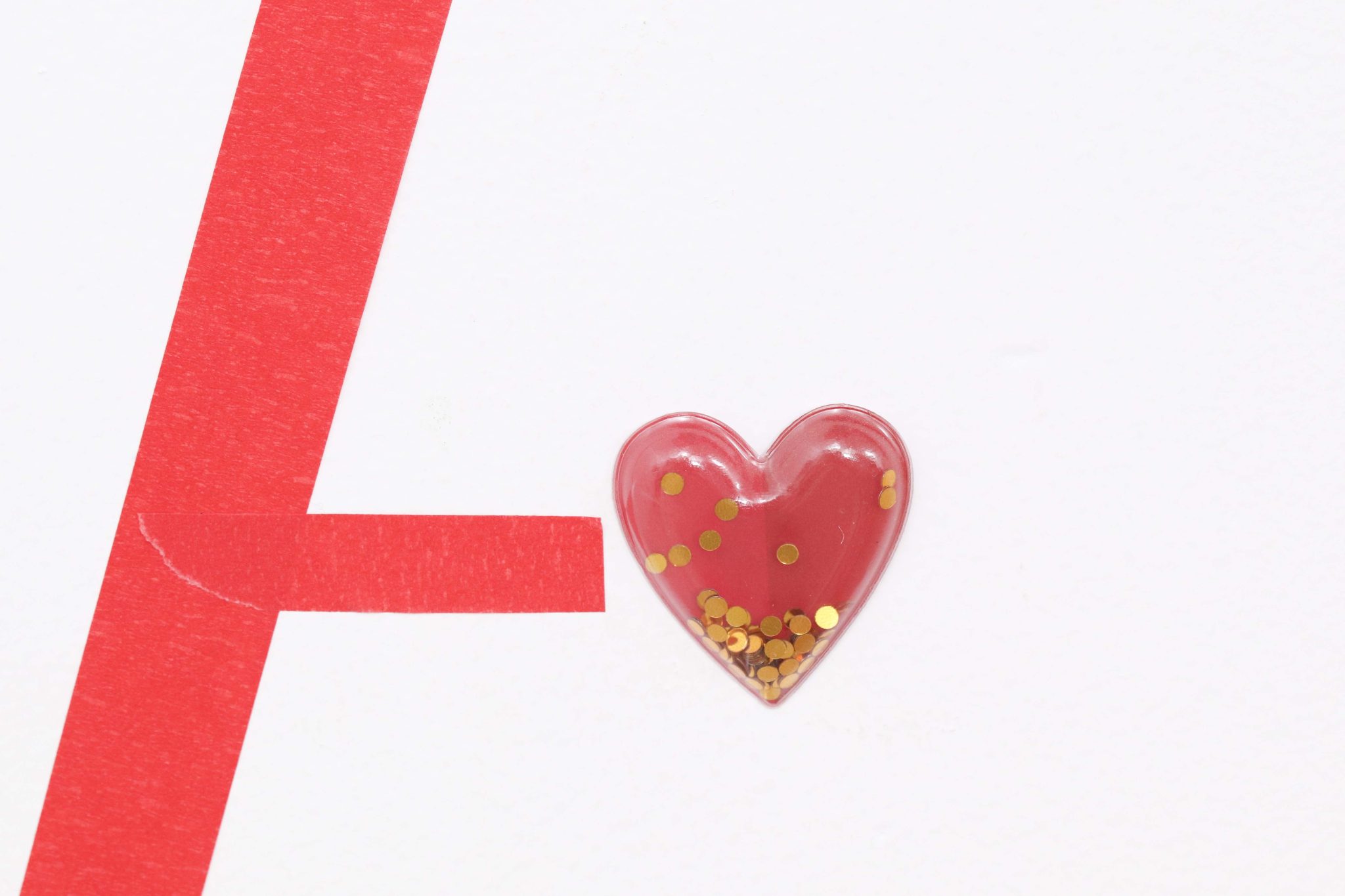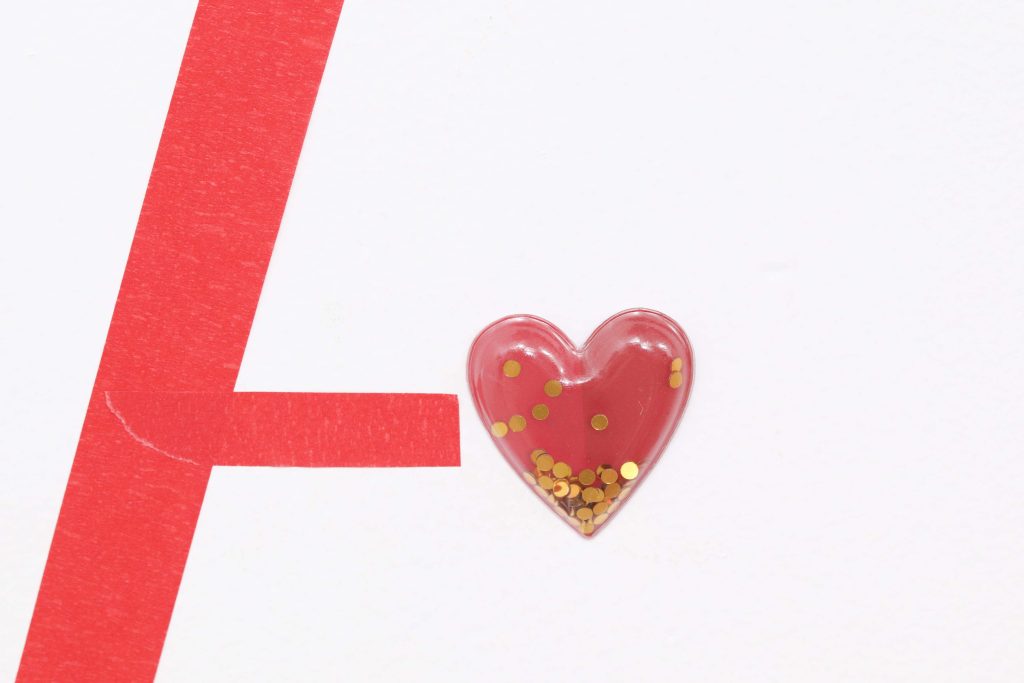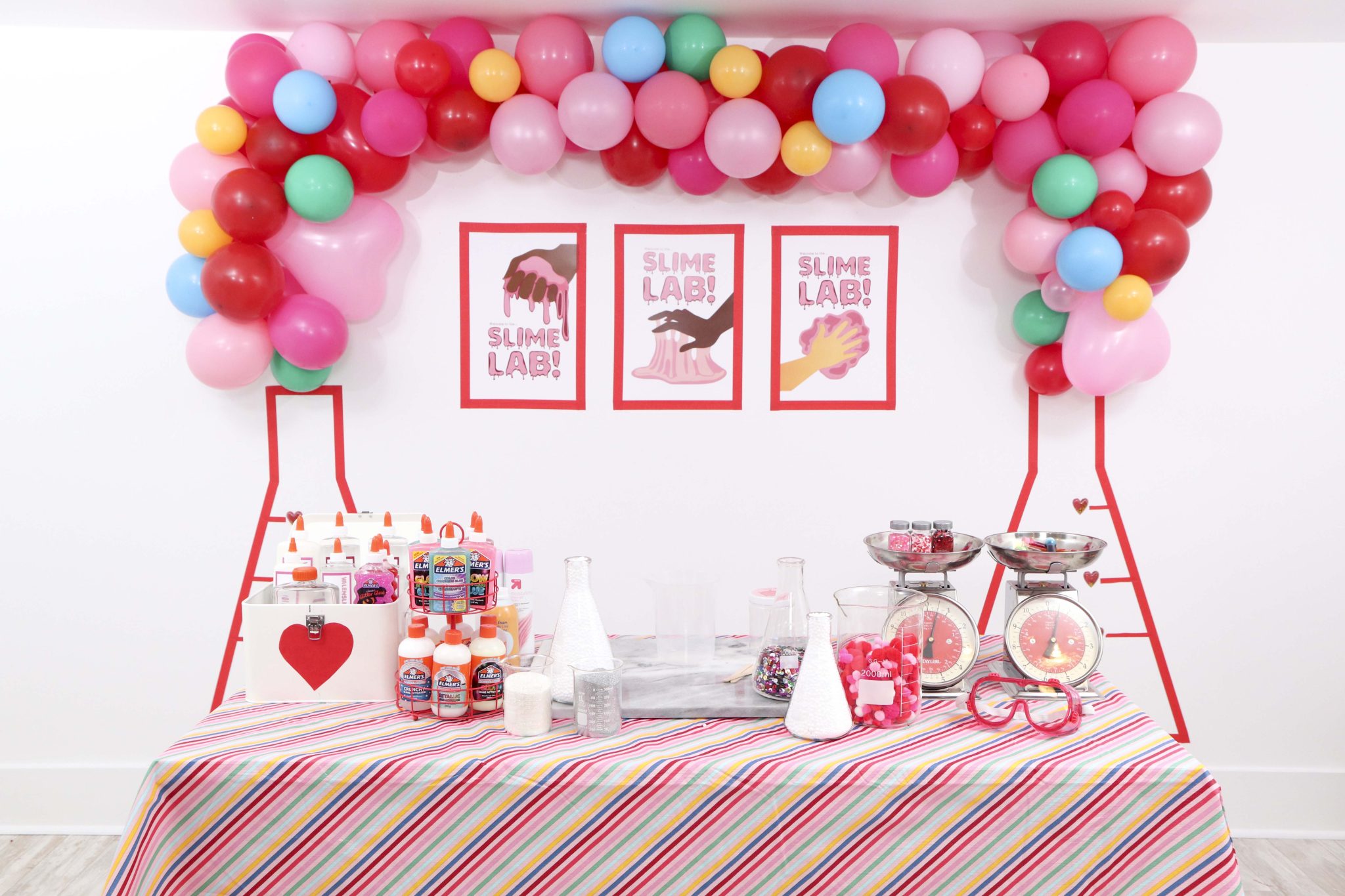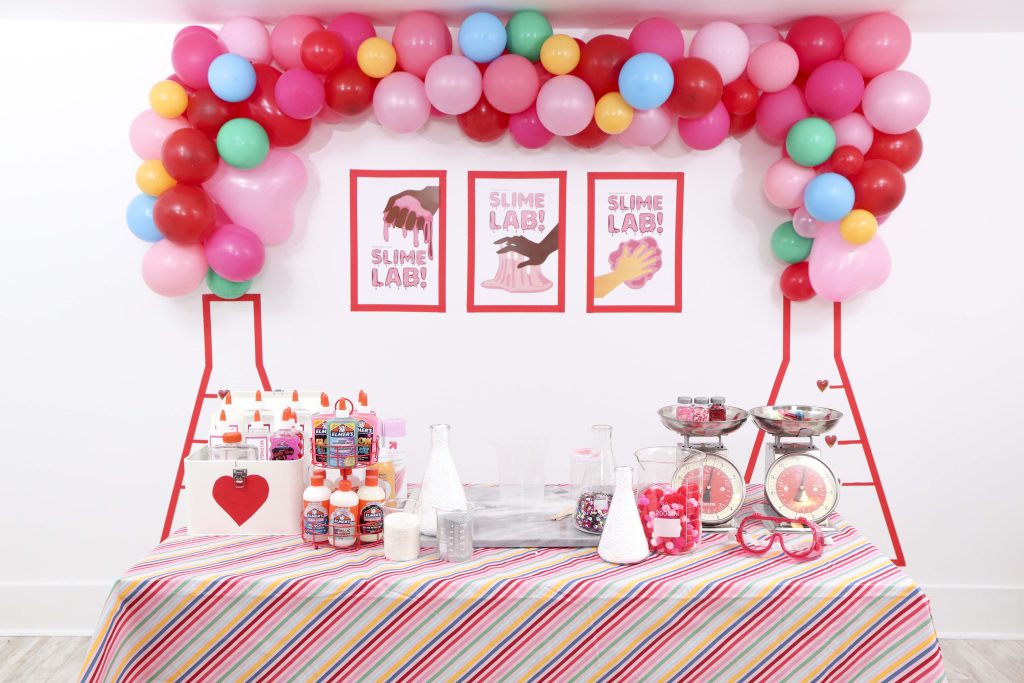 Slime Lab
In front of the backdrop, I set up the Slime Lab! This is where the fun happens! I covered the table with a plastic tablecloth, striped in the same colors as the balloon garland. This is easy to either wipe off or throw away after the party.  In the center of the table, I placed a marble cutting board with a couple of large clear bowls as a designated slime-making space. On either side, I put everything you need to make all sorts of slime!
TIP: To minimize mess on the floor – use an additional plastic tablecloth as a "drop cloth" under the Slime Lab! When the party's over, just carefully roll it up, and toss!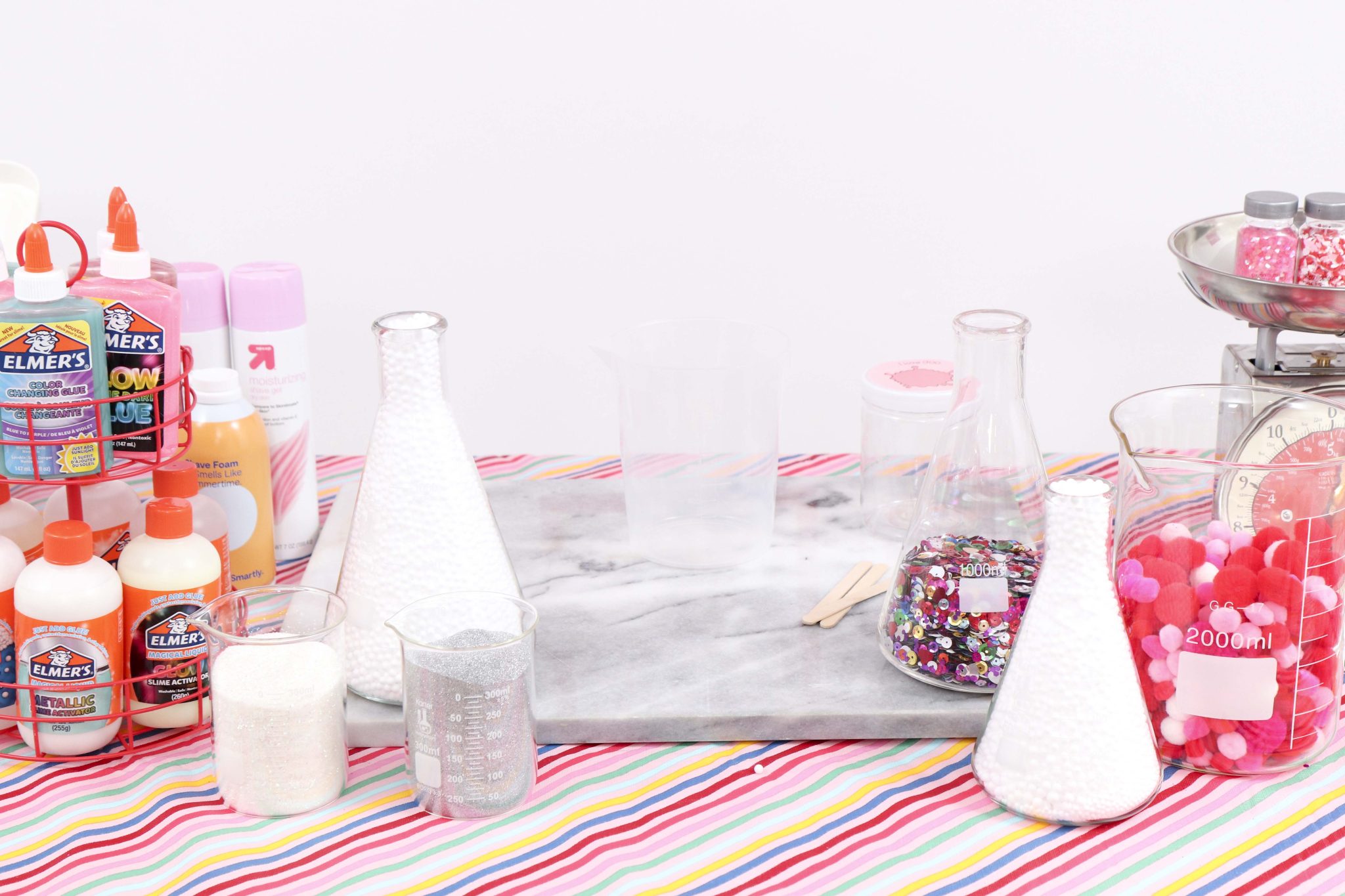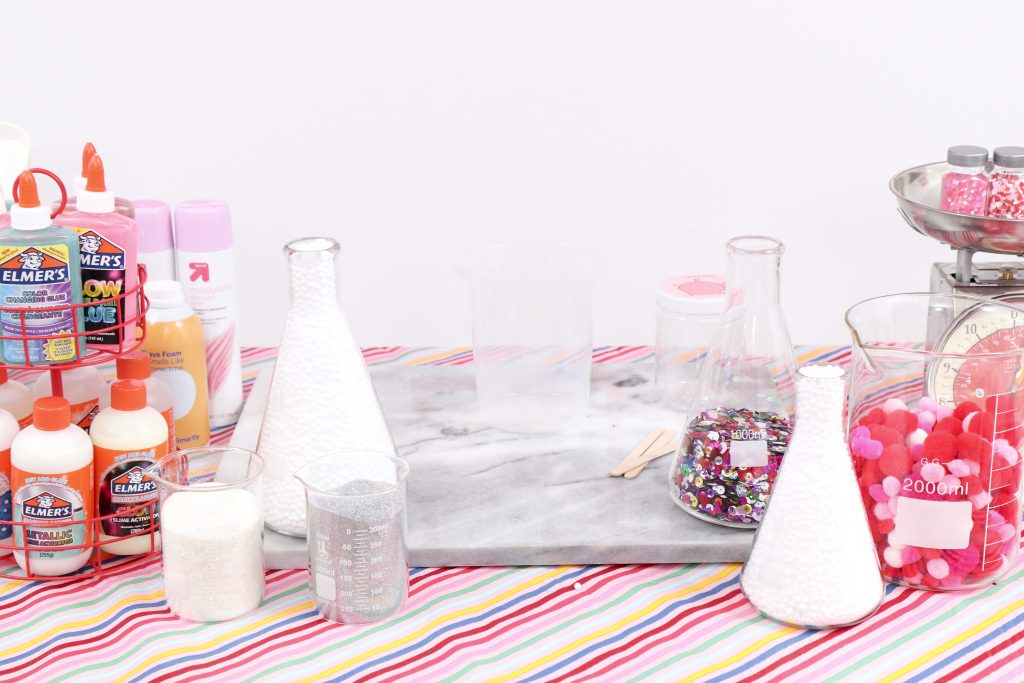 On one side, in a cute metal heart box (it is actually a first aid box and I covered the cross with a paper heart) and wire condiment holder, I put tons of glue and slime activator. White and clear glue are the most common bases, so I made sure to have plenty of those, but I added some glitter, metallic, color changing and glow-in-the-dark glues for some special slimes. Additionally, Elmer's makes so many different types of activators now, from crunchy to glow-in-the-dark to metallic to tropical scented, so I made sure to provide a variety of those as well.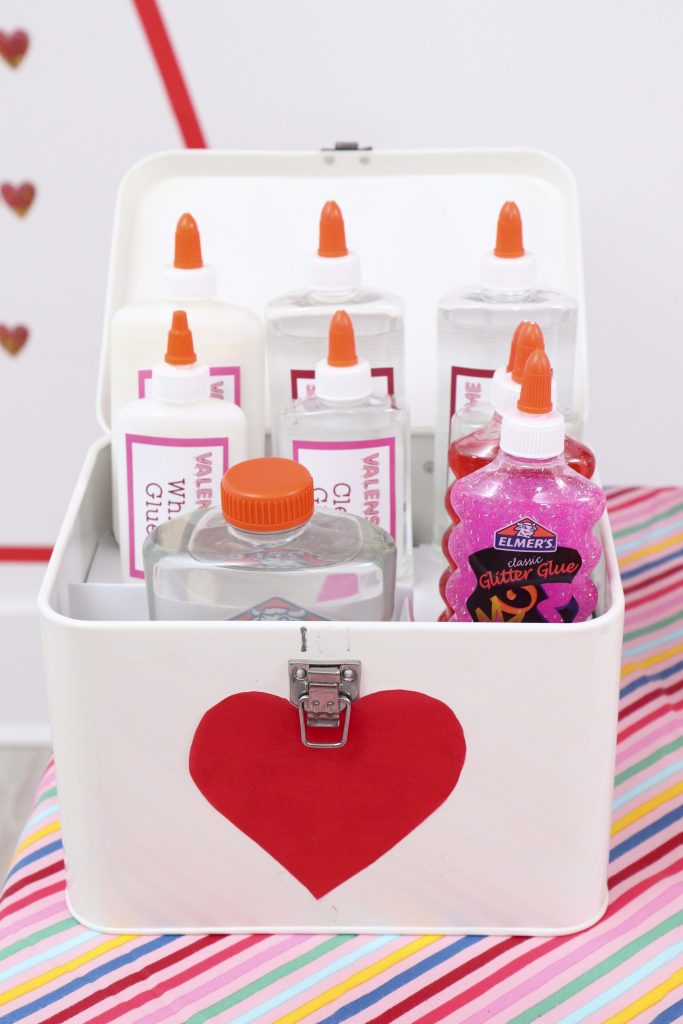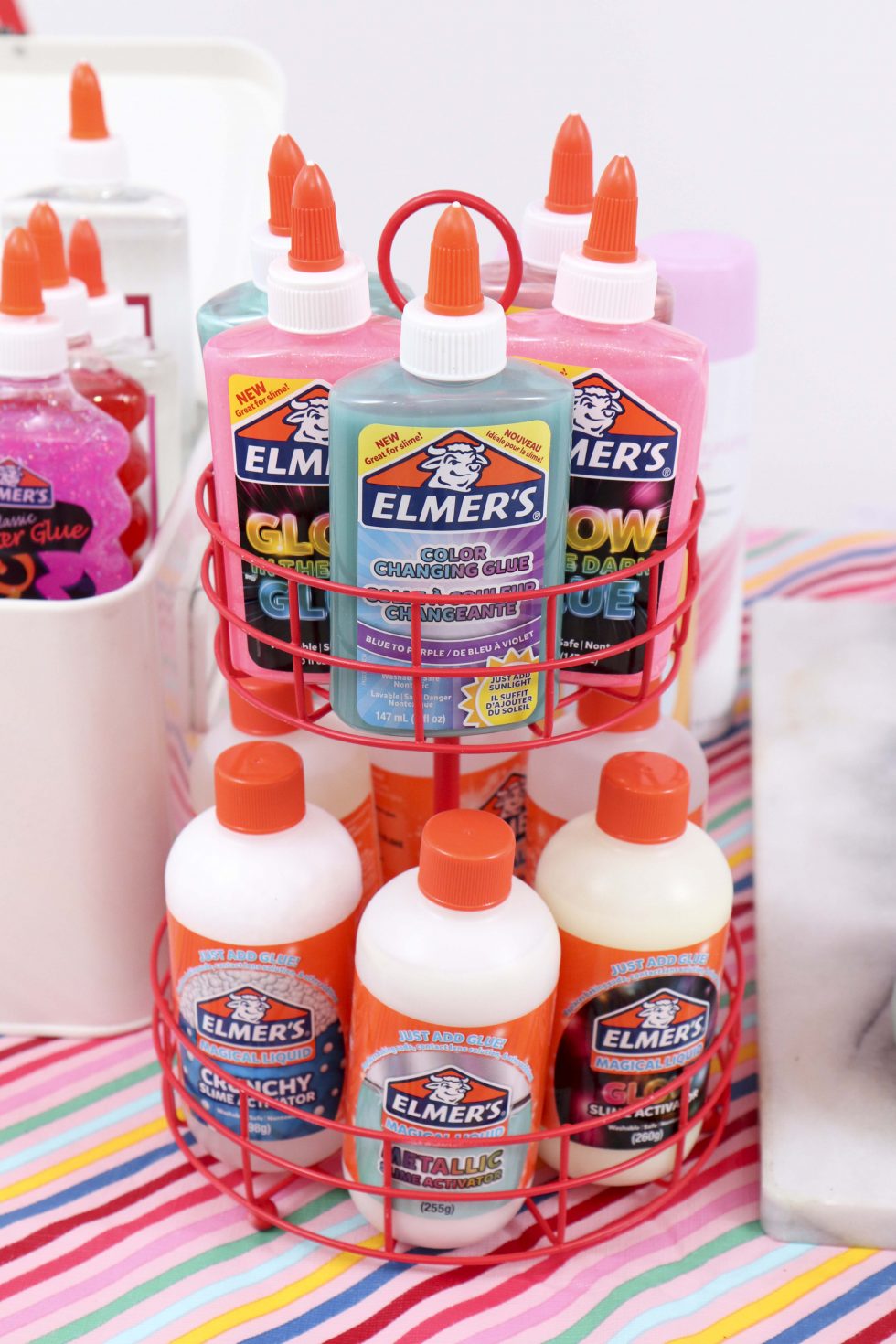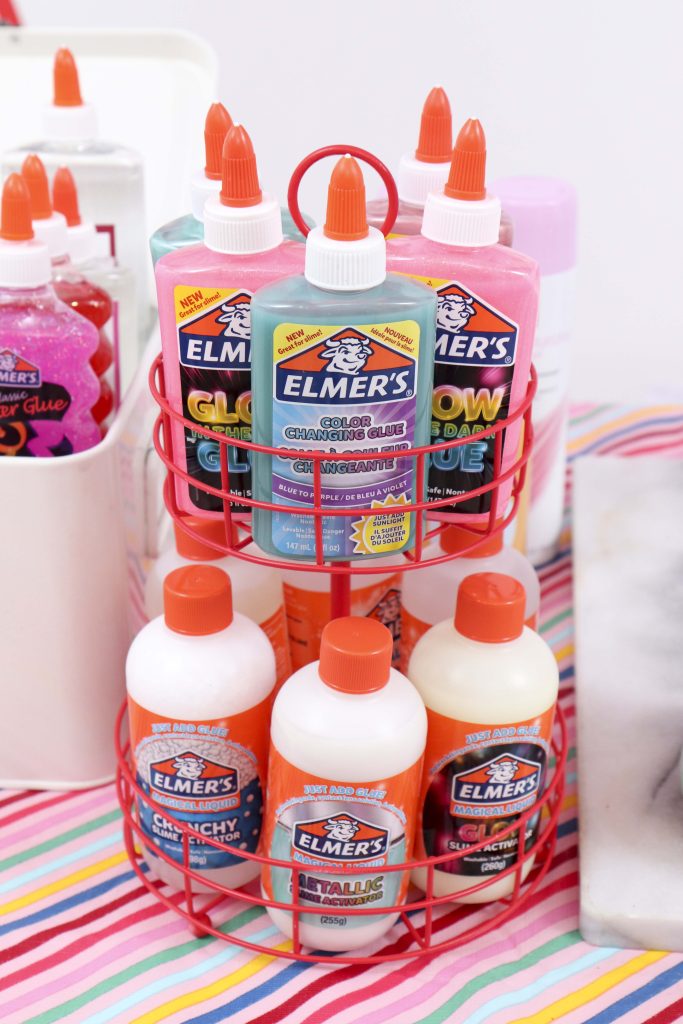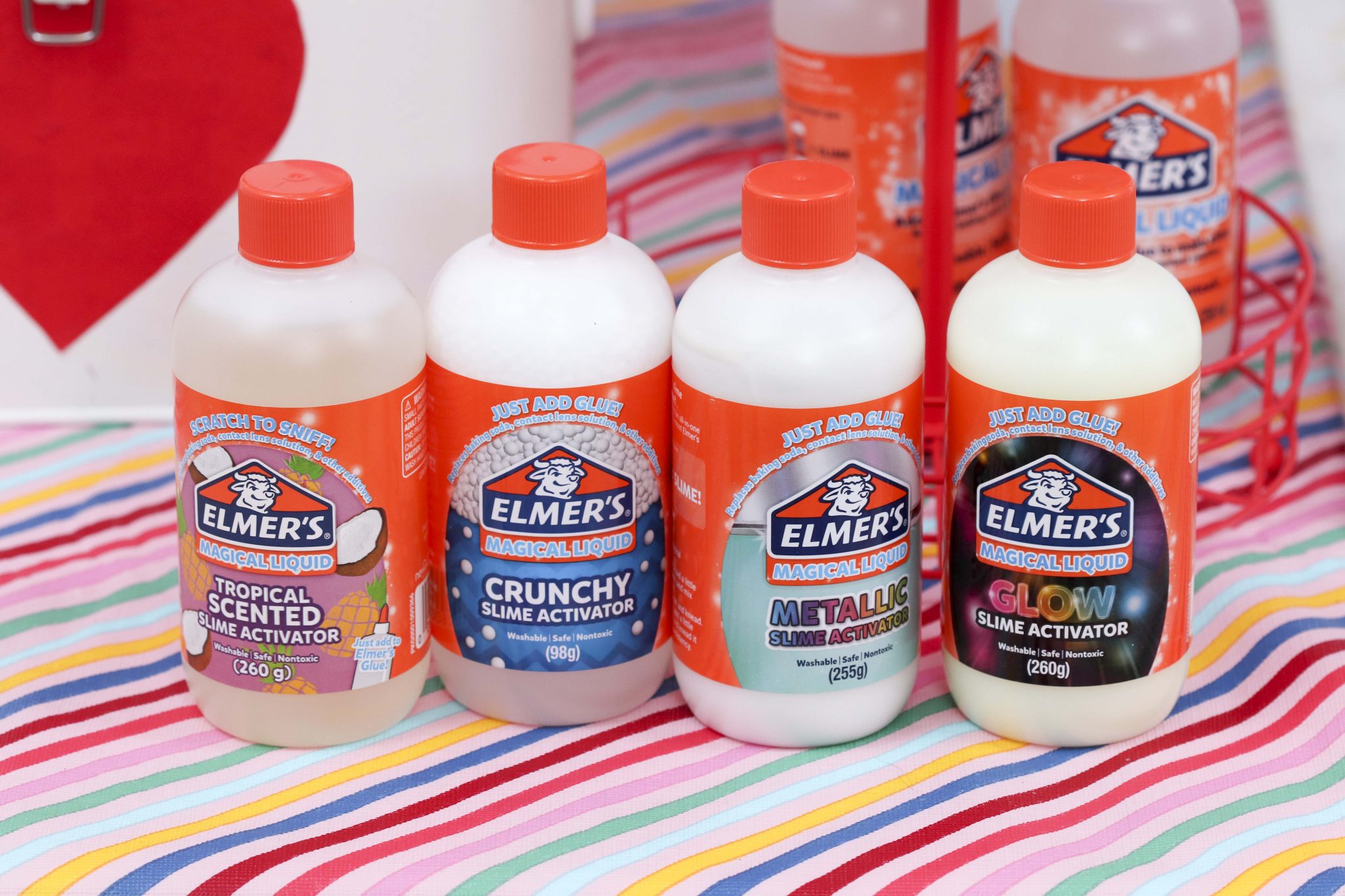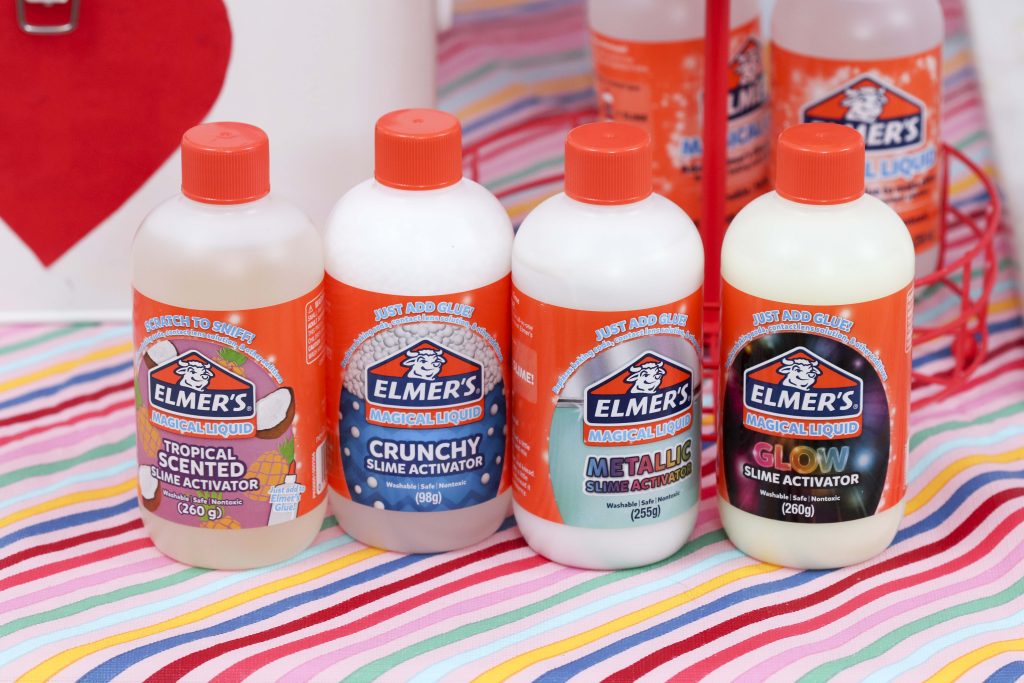 On the other side, and in front of the cutting board, I put all of the potential slime additions! I used beakers and graduated cylinders to hold small foam beads and pom-poms, which are great for adding texture to slime, and glitter and sequins for some bling!  My kids are into ASMR, listening to the sounds of slime is just as good as the texture. If your kids are the same they will love the crunchy activator!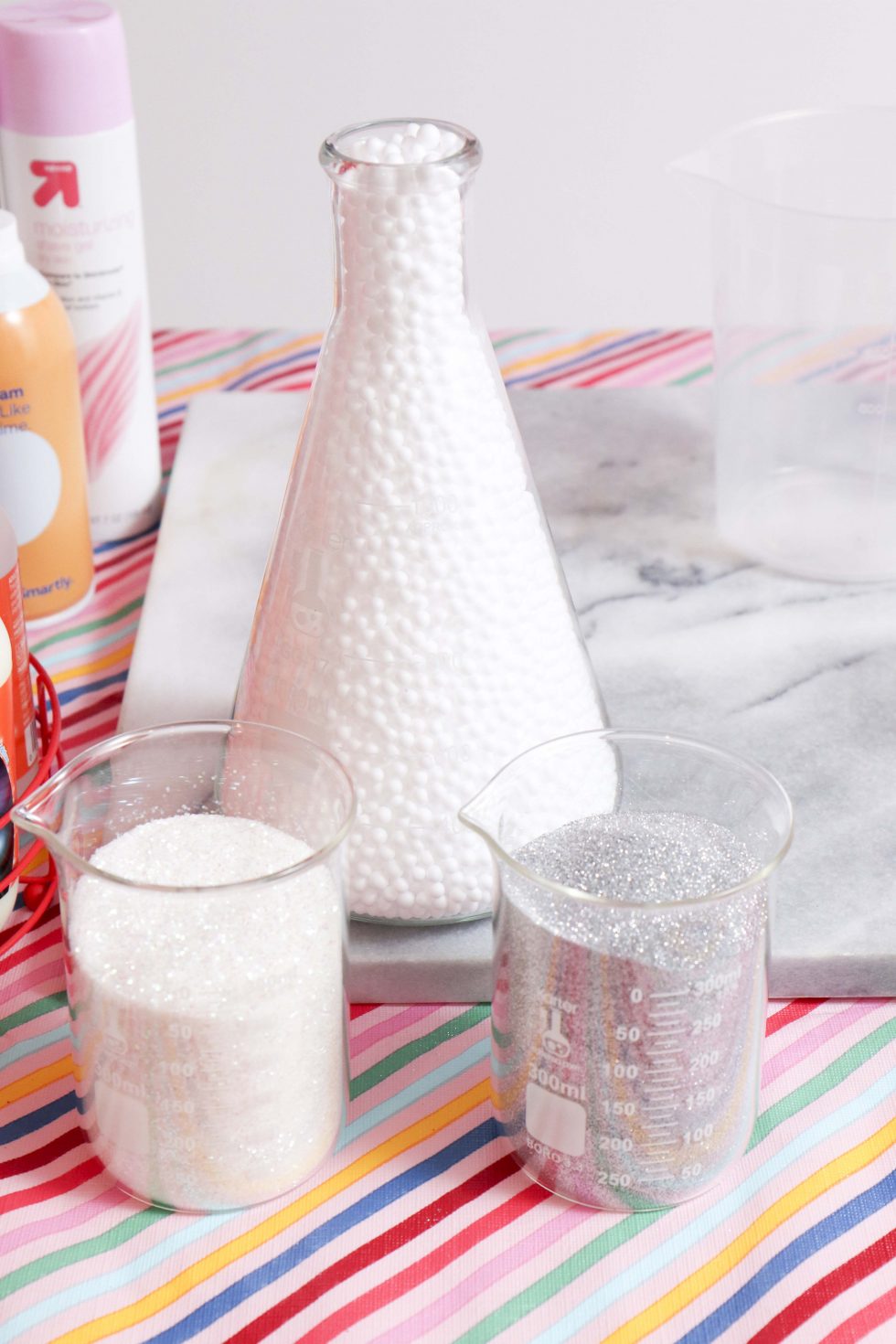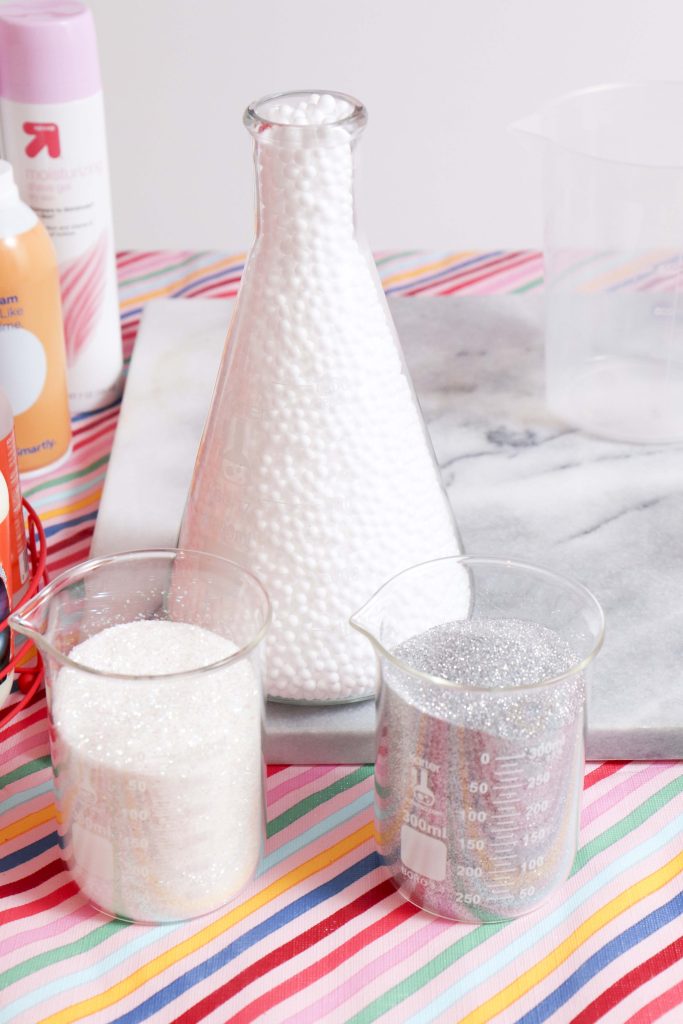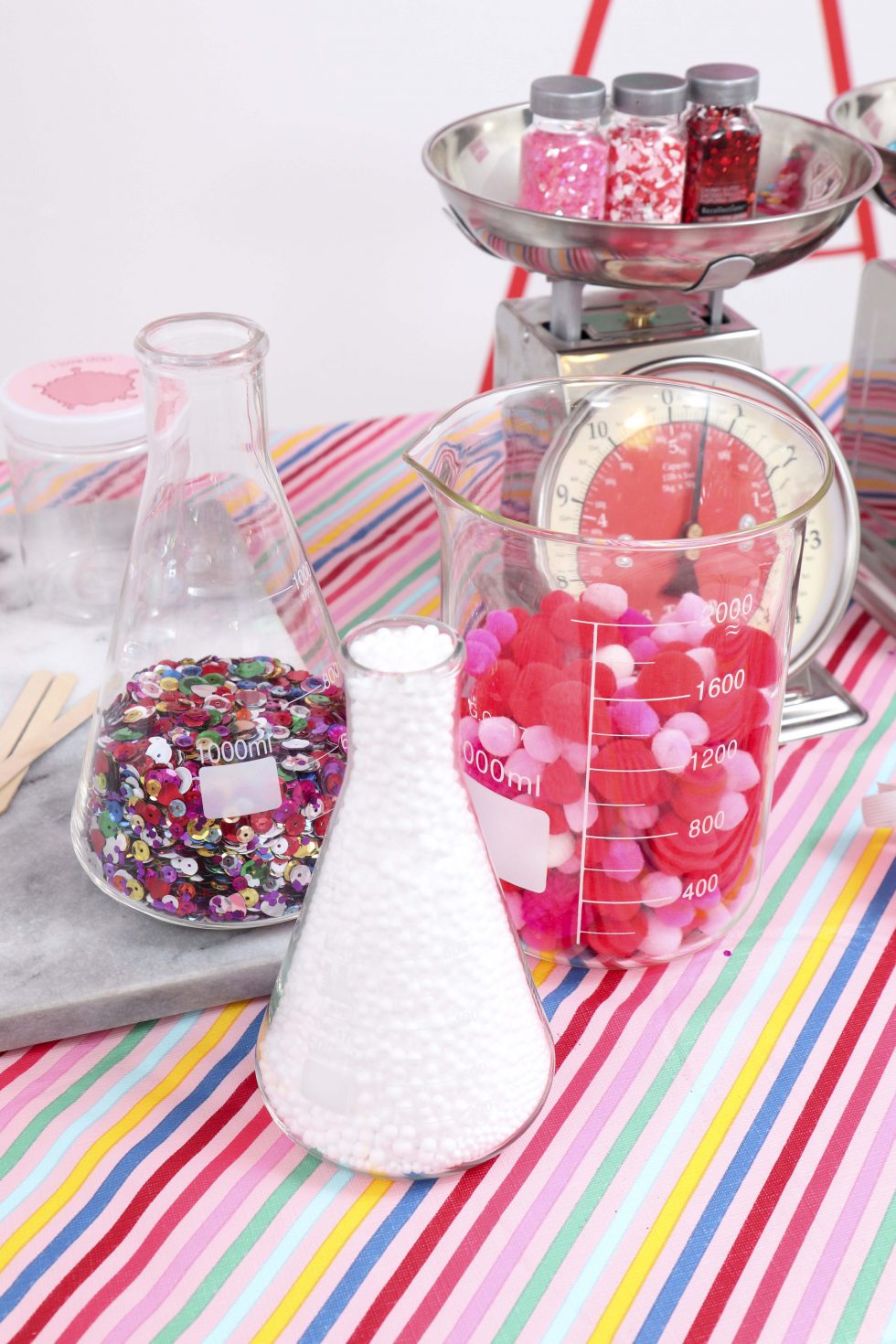 I also used some old scales to hold additional glitter and food coloring for customized color.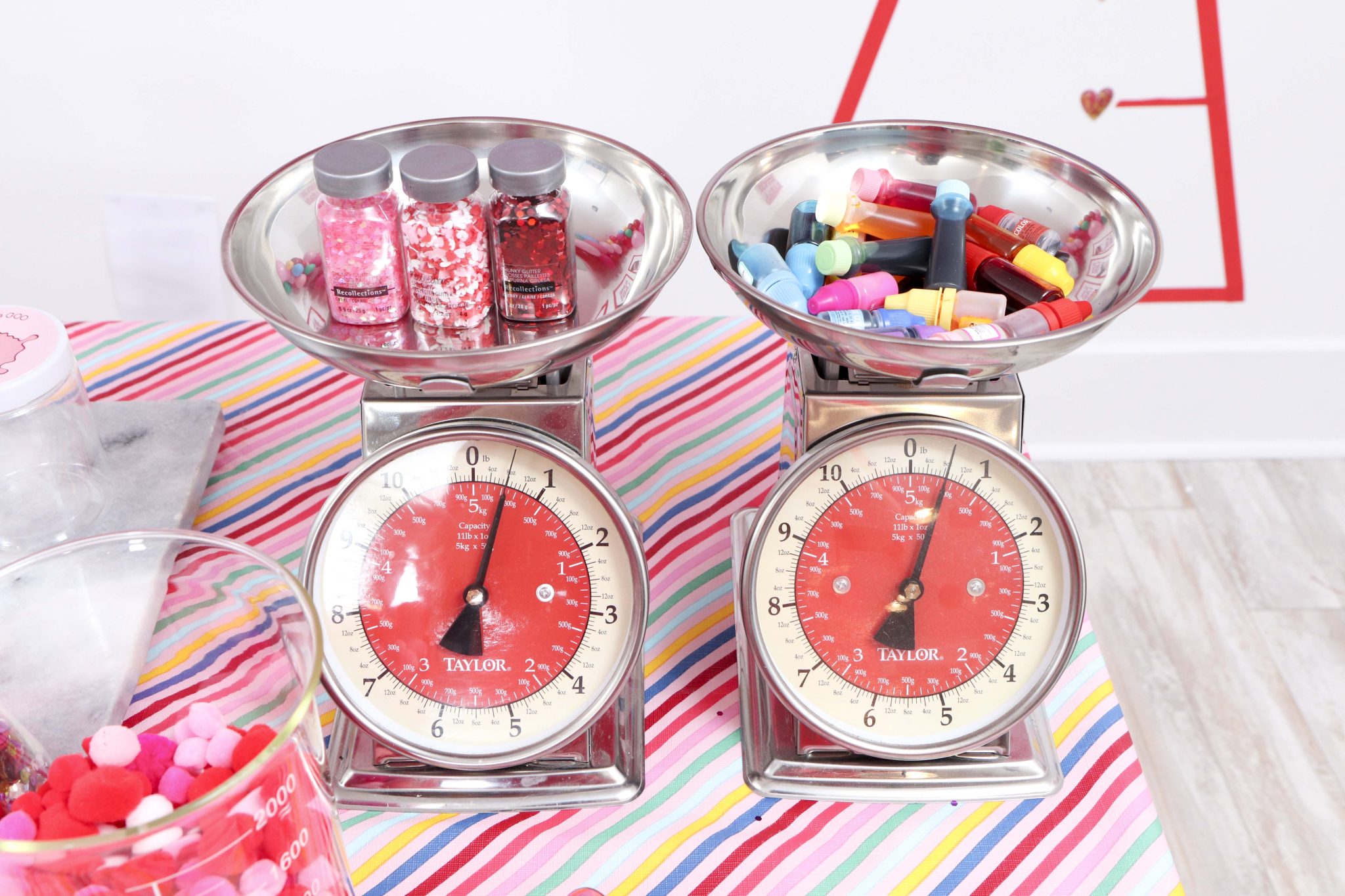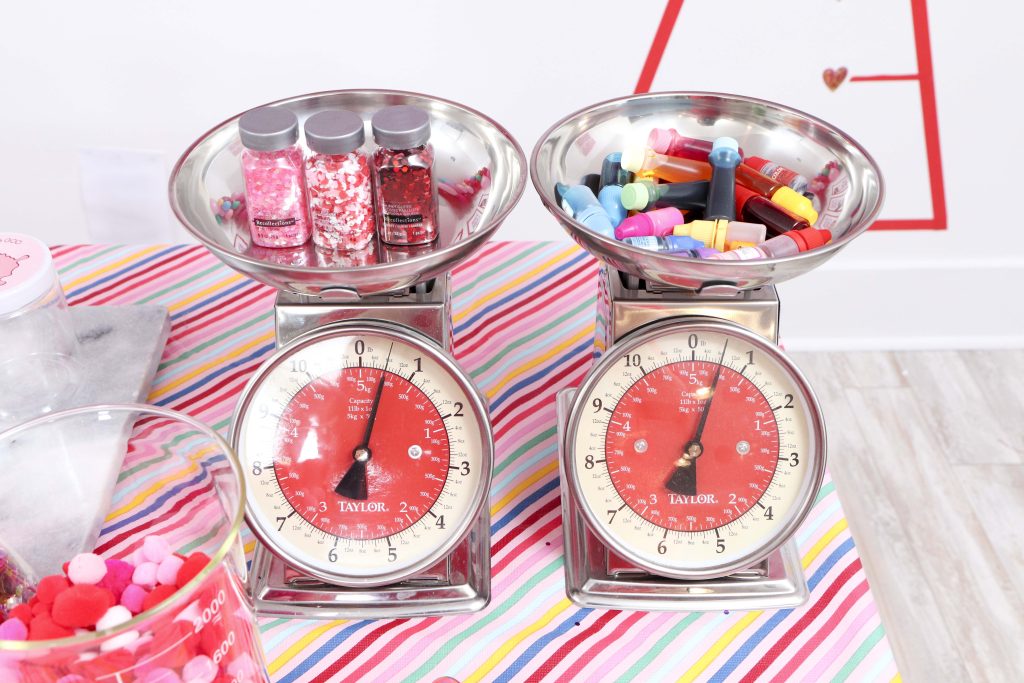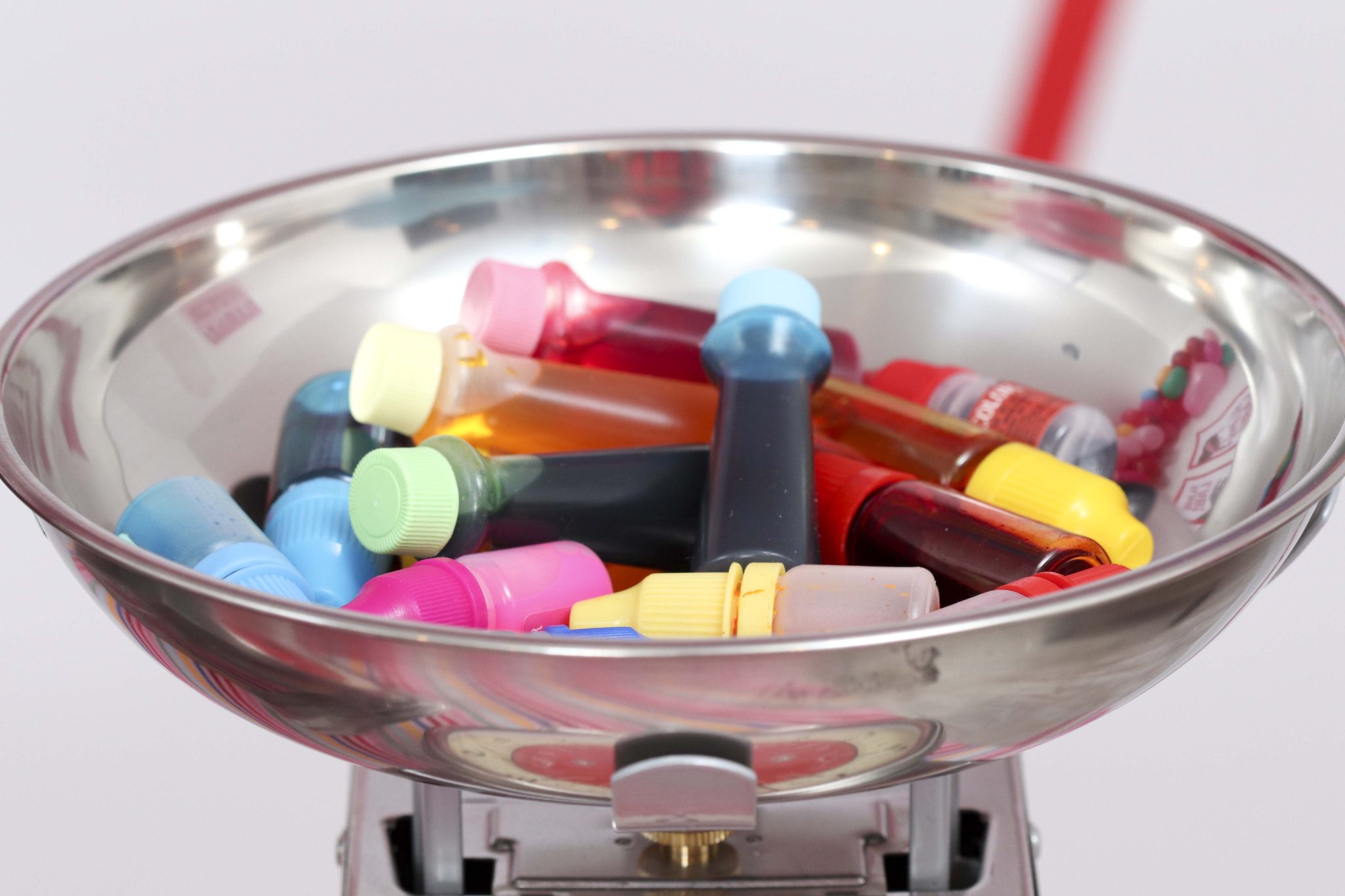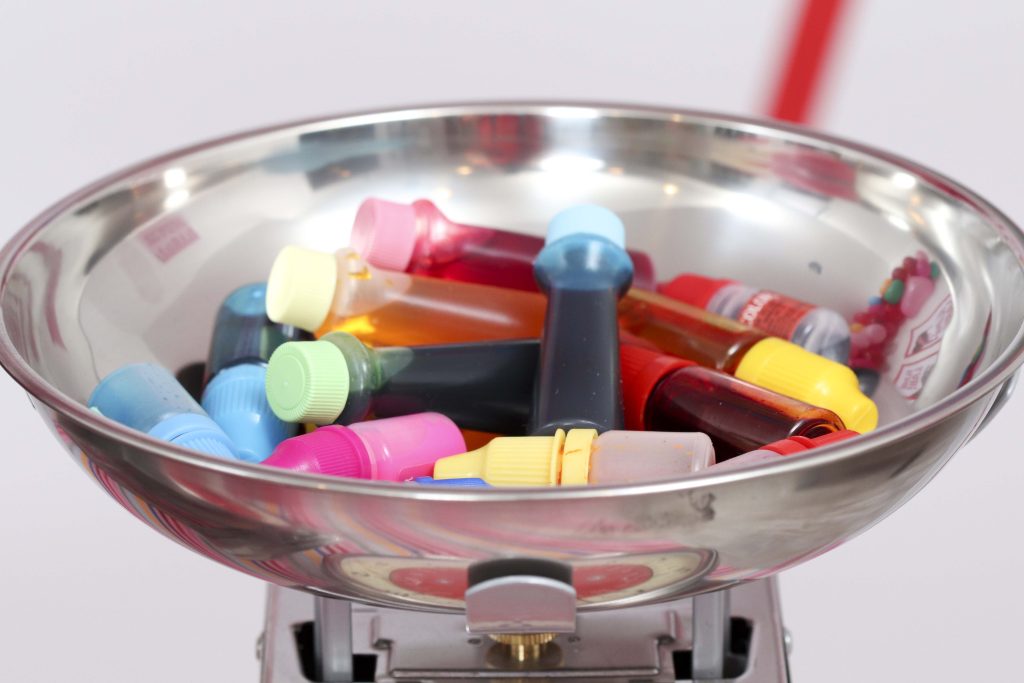 Each child also got some red goggles and plenty of wooden popsicle stick stirrers.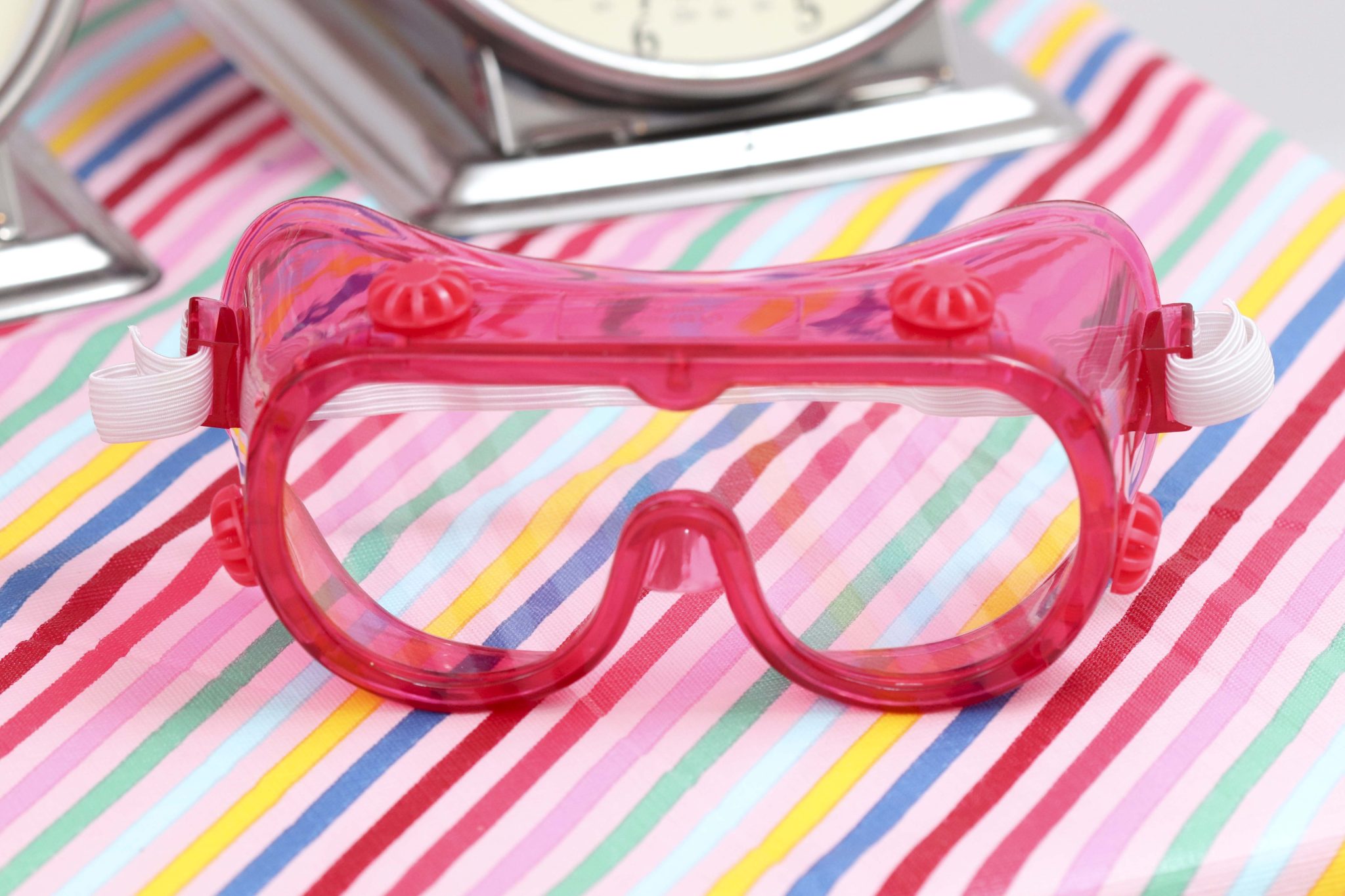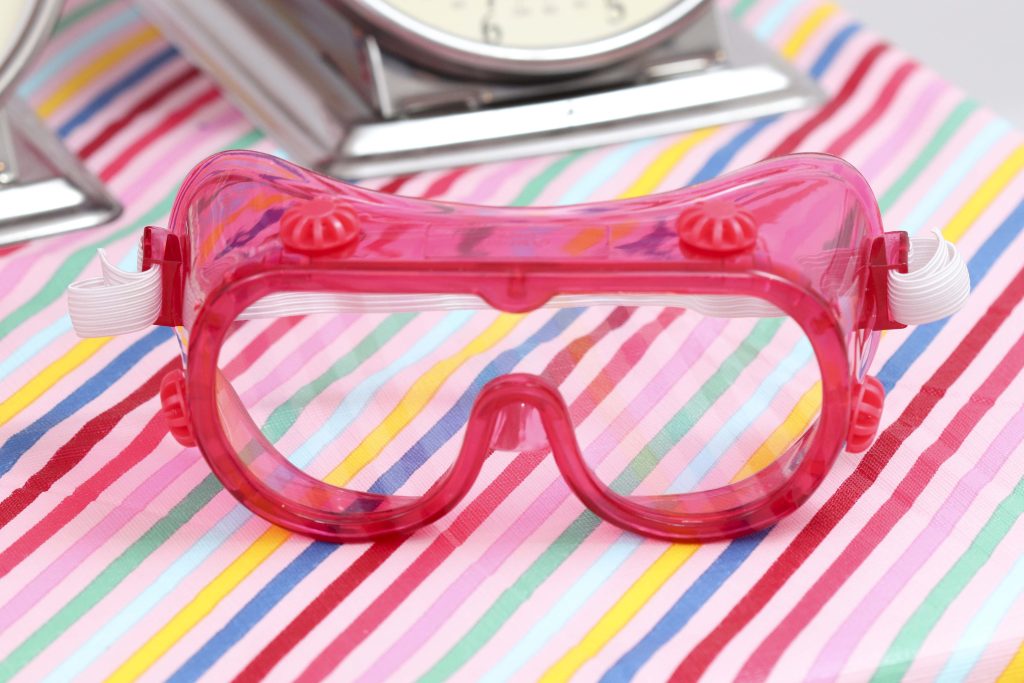 TIP: Use the stir sticks when adding food coloring so that hands are less likely to be dyed! After it's mixed with the glue enough, feel free to use your hands to mix and play!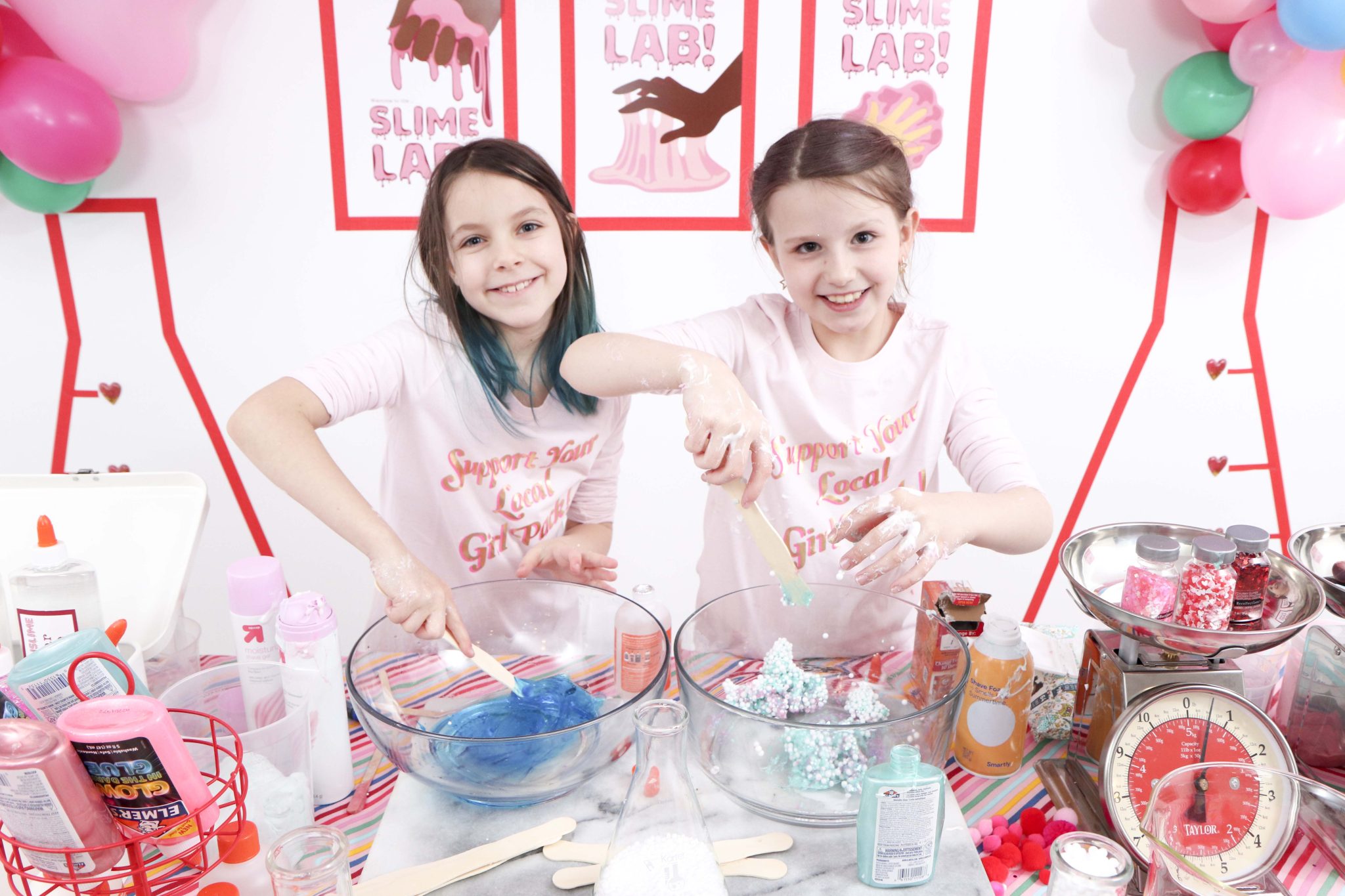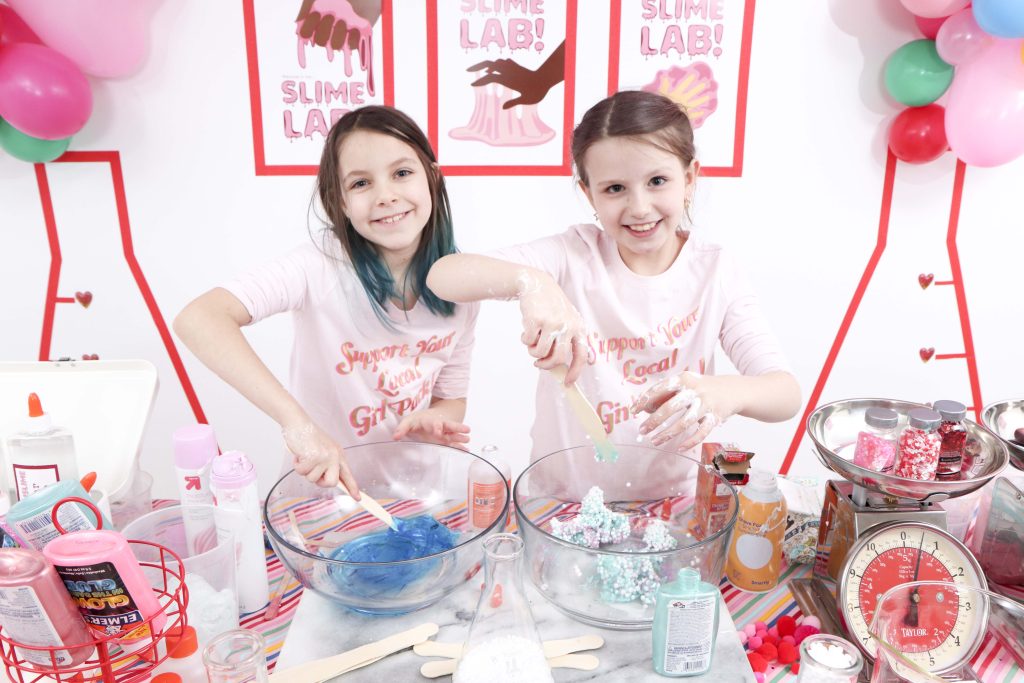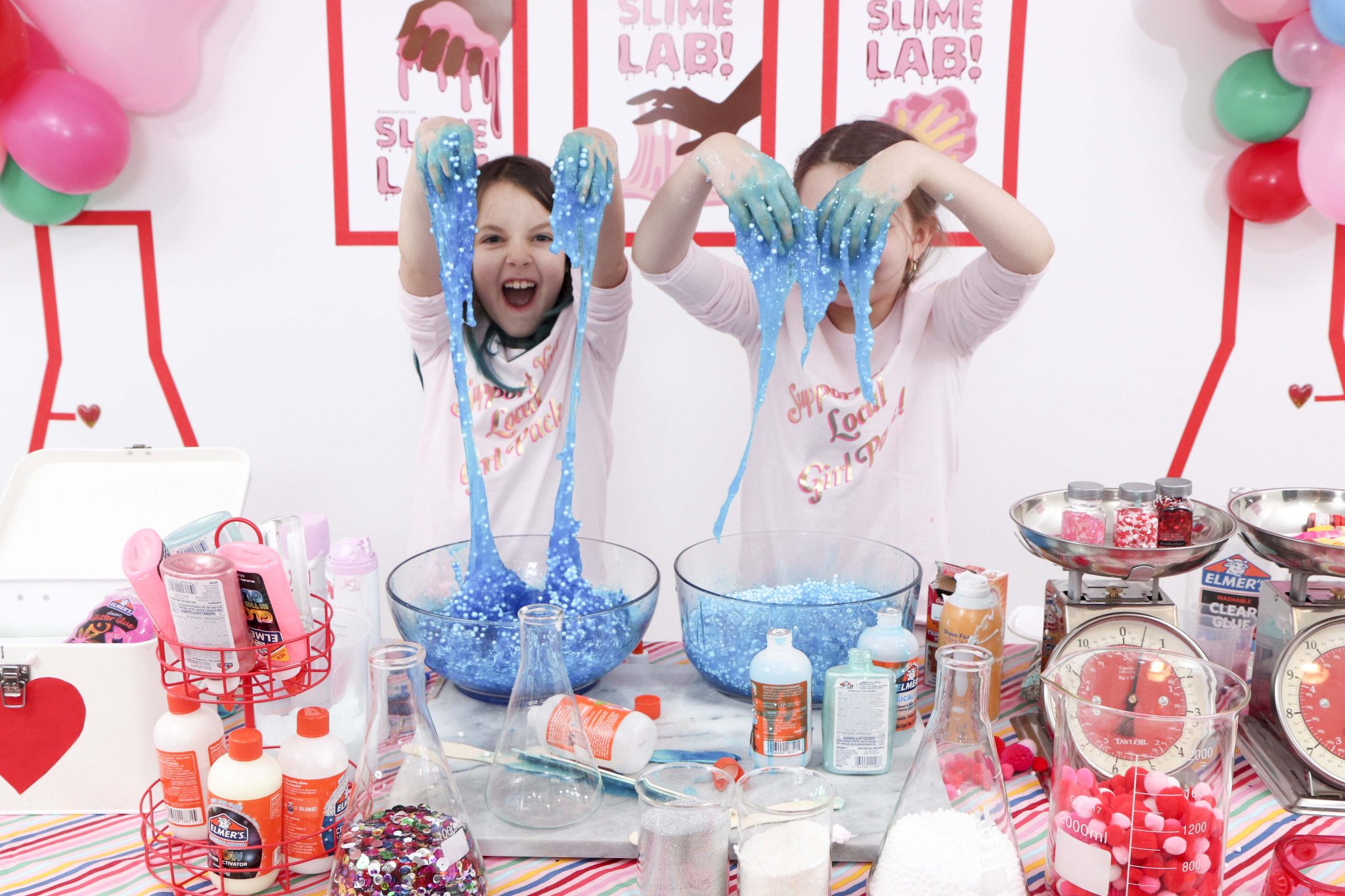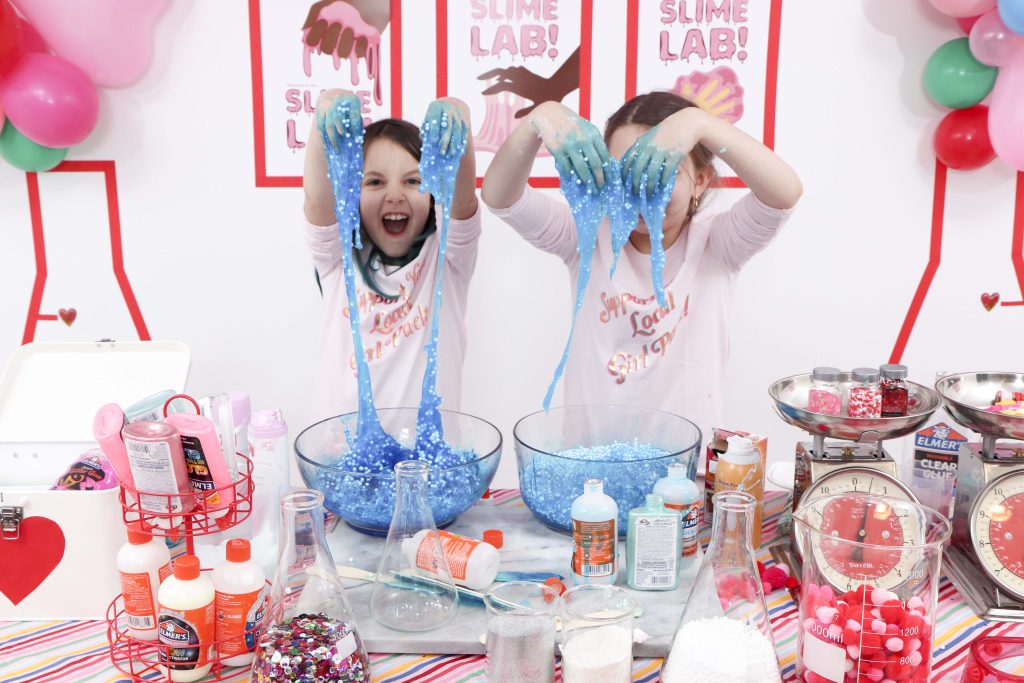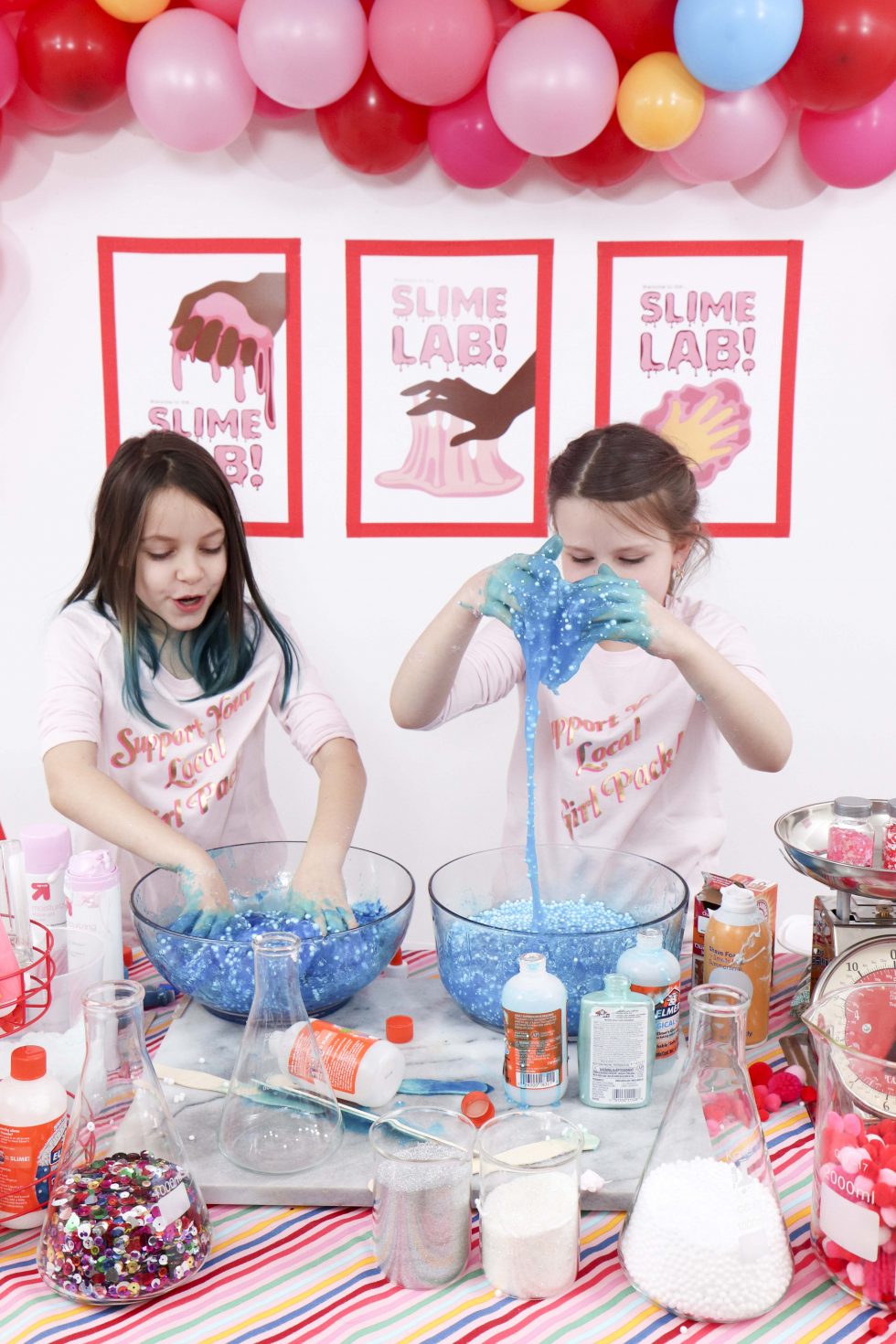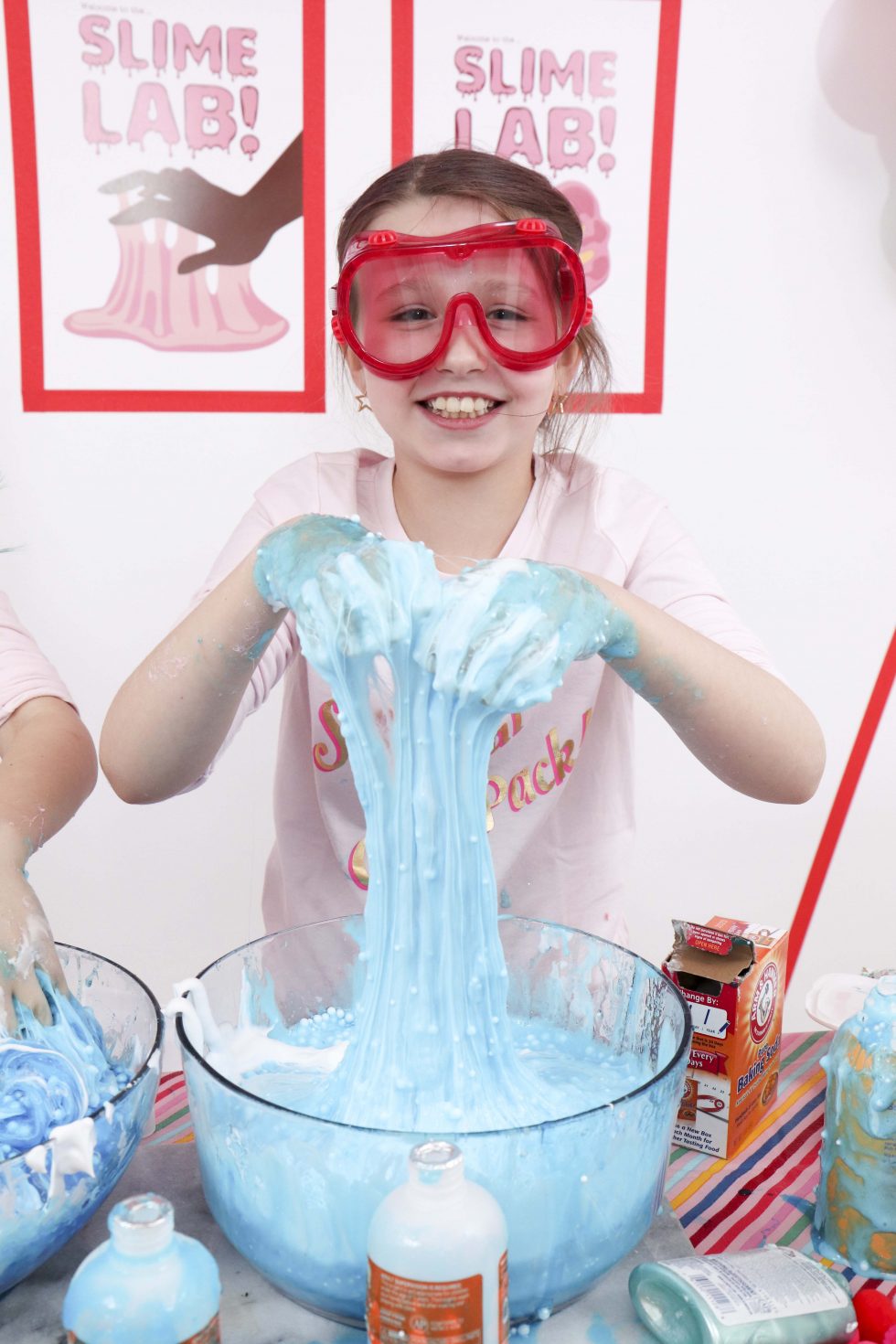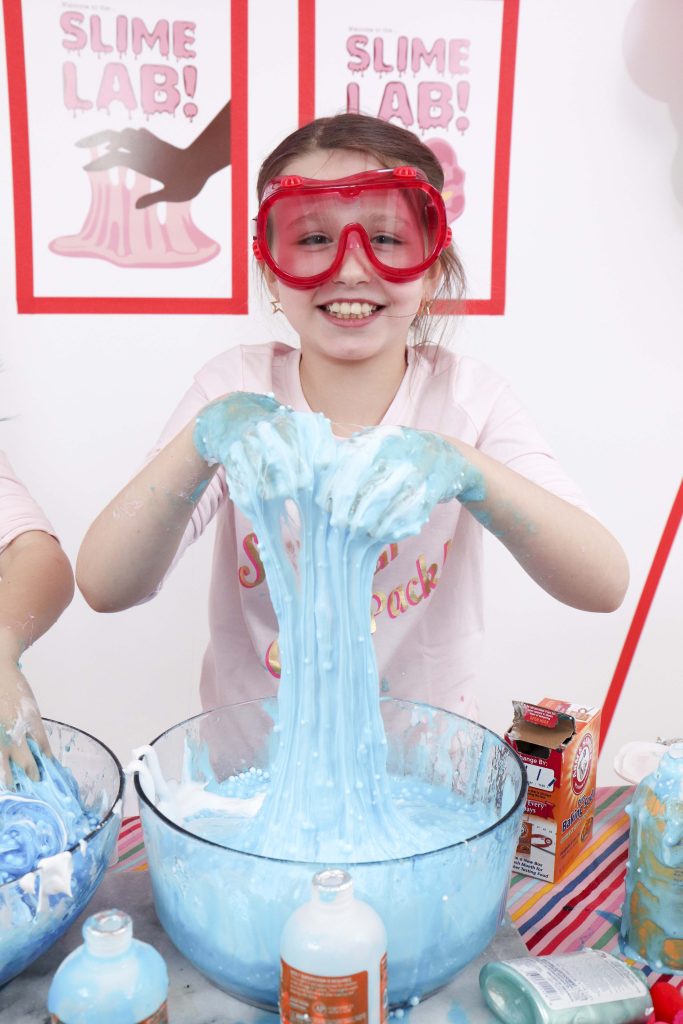 Slime Kit Cart
I also set up a cart with everything kids would need to save their slime creations – jars and lids with silly "Valen-slime" labels.  I gave out red heart-shaped baskets filled with paper shred to carry their creations home in. Above the cart, I hung a "Happy Valen-Slime Day" poster.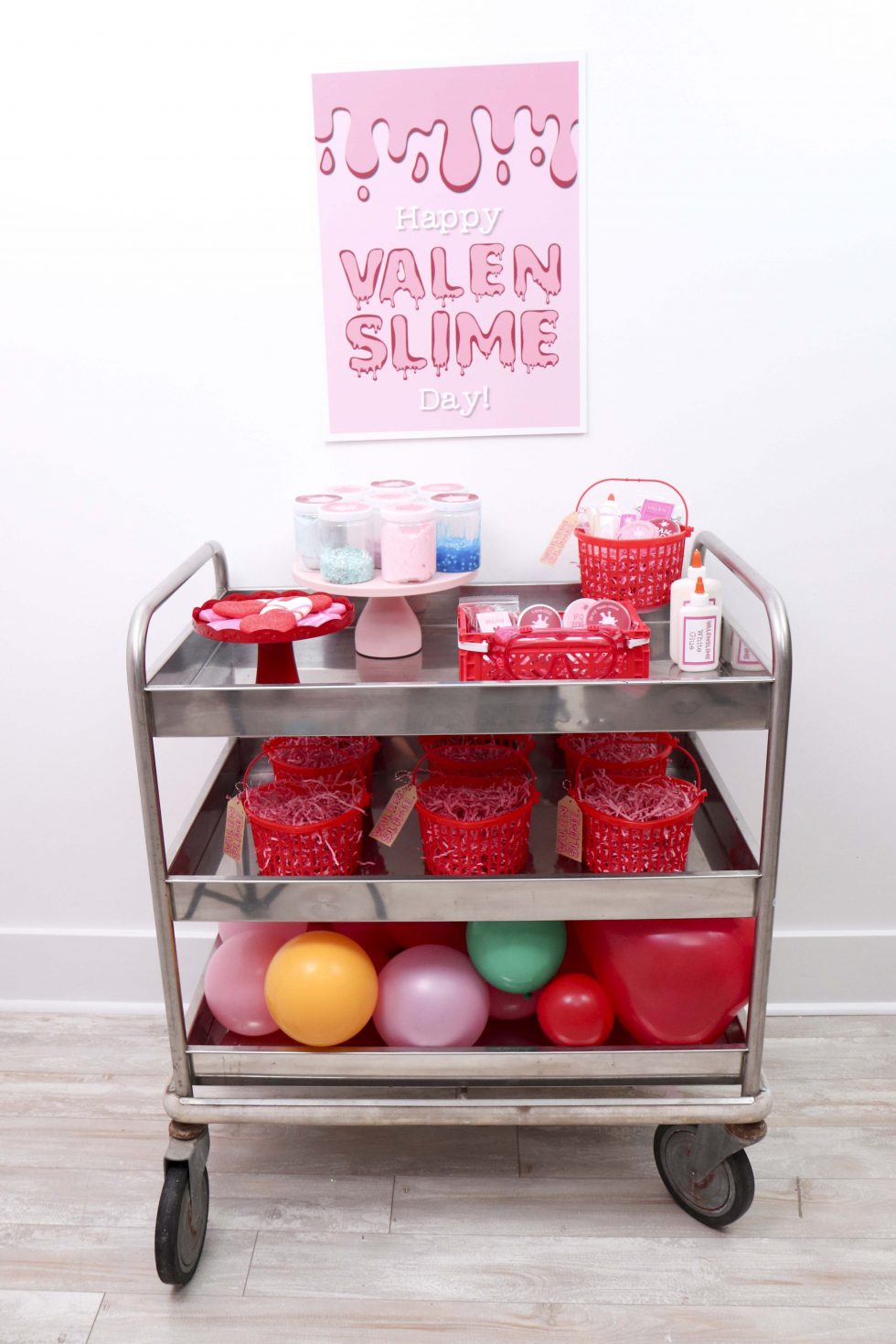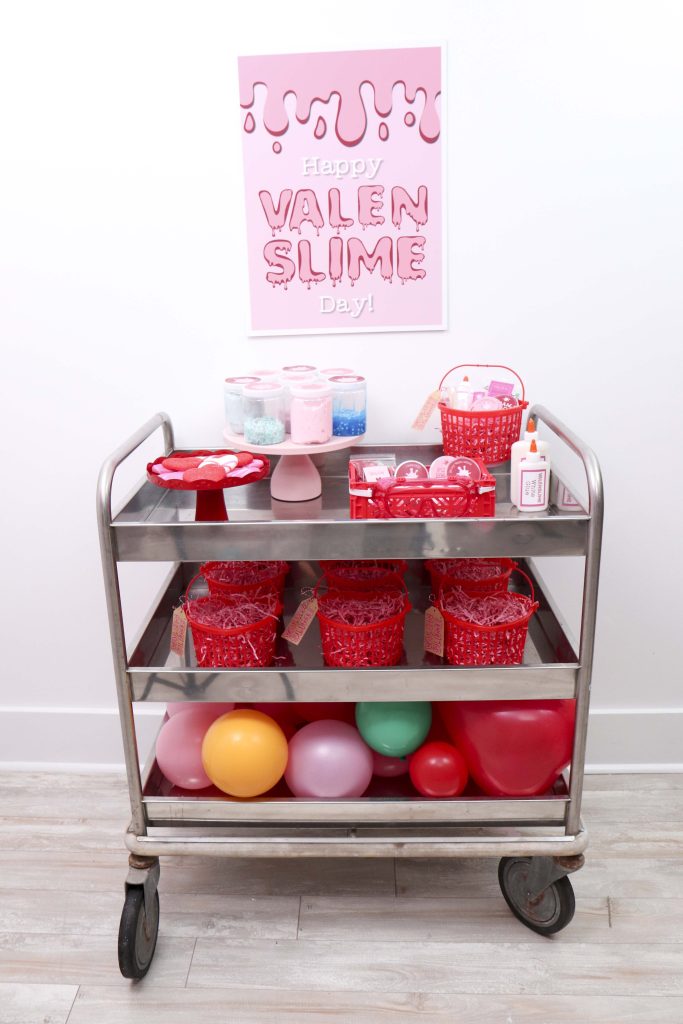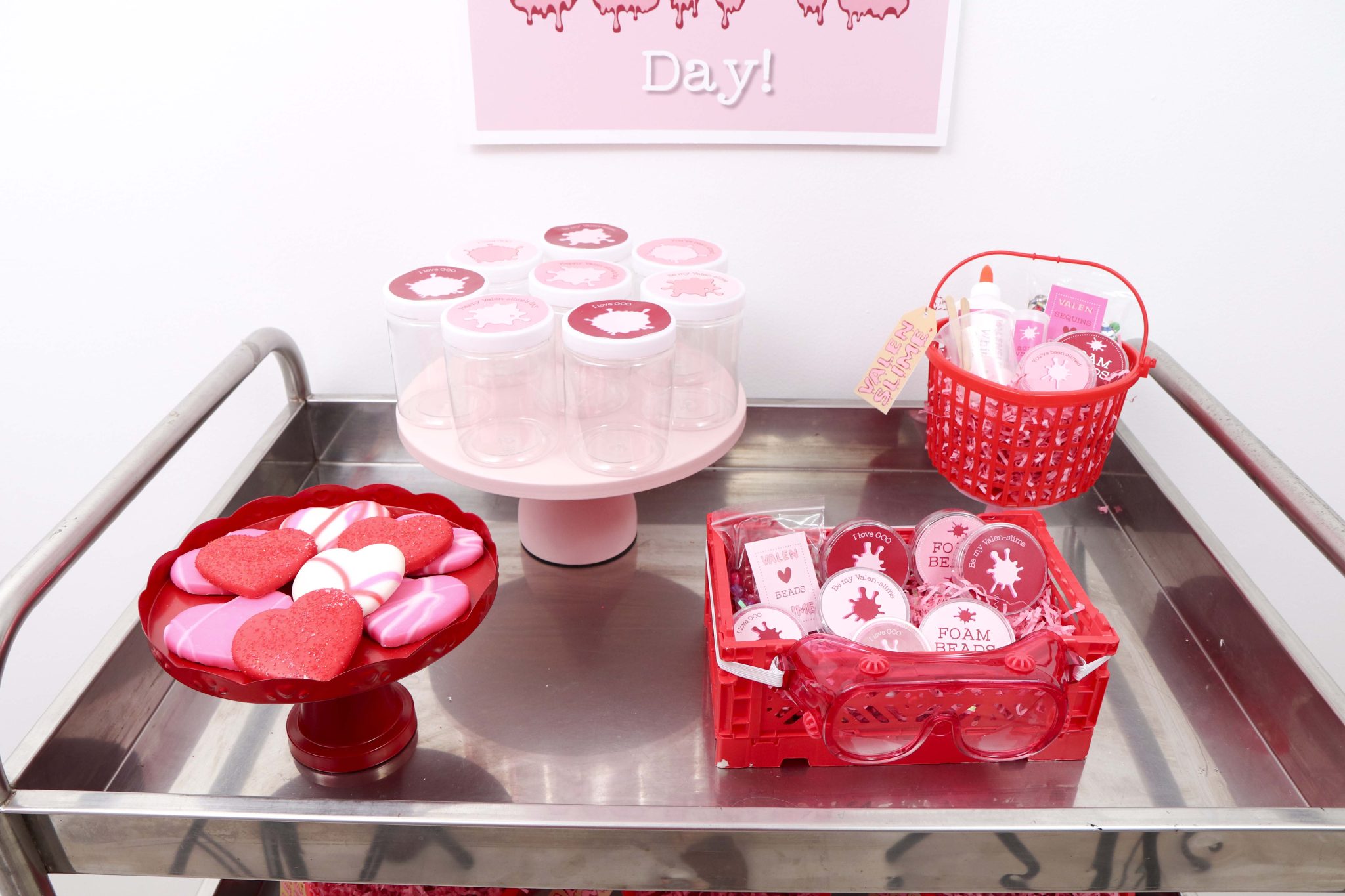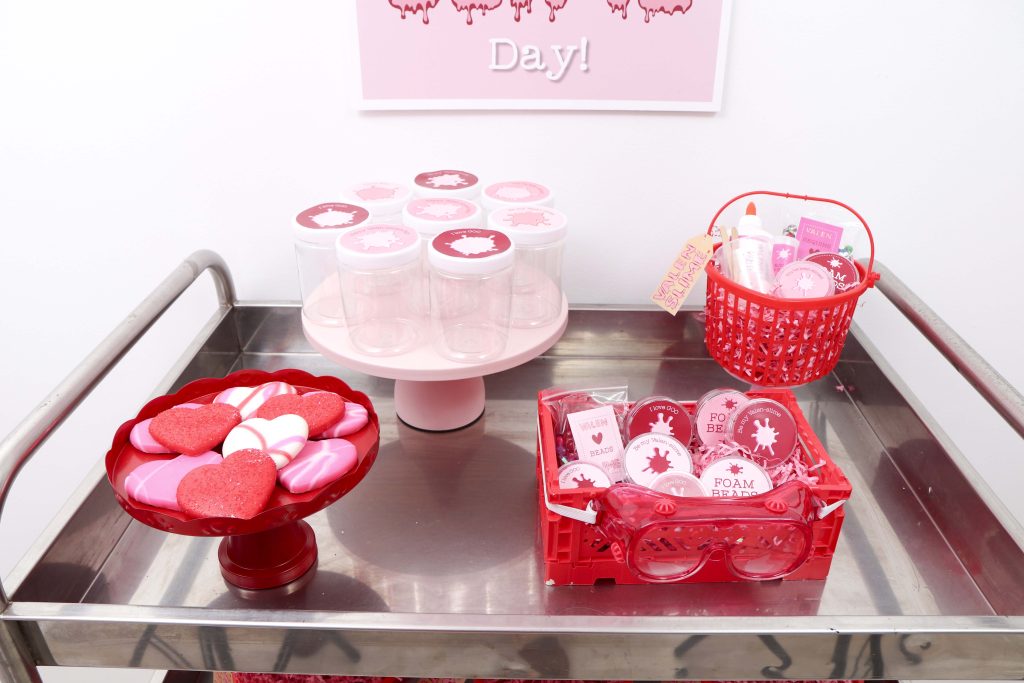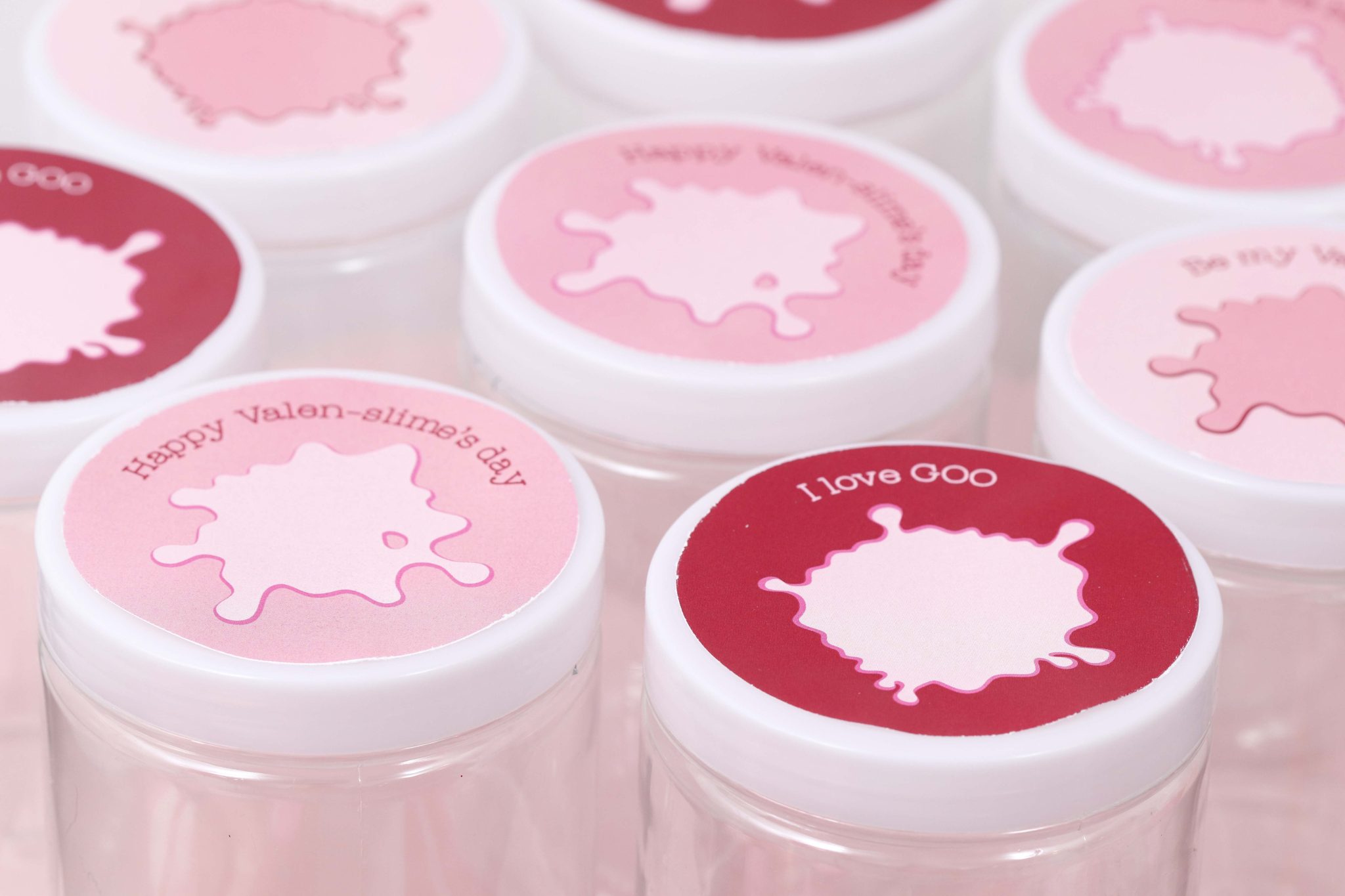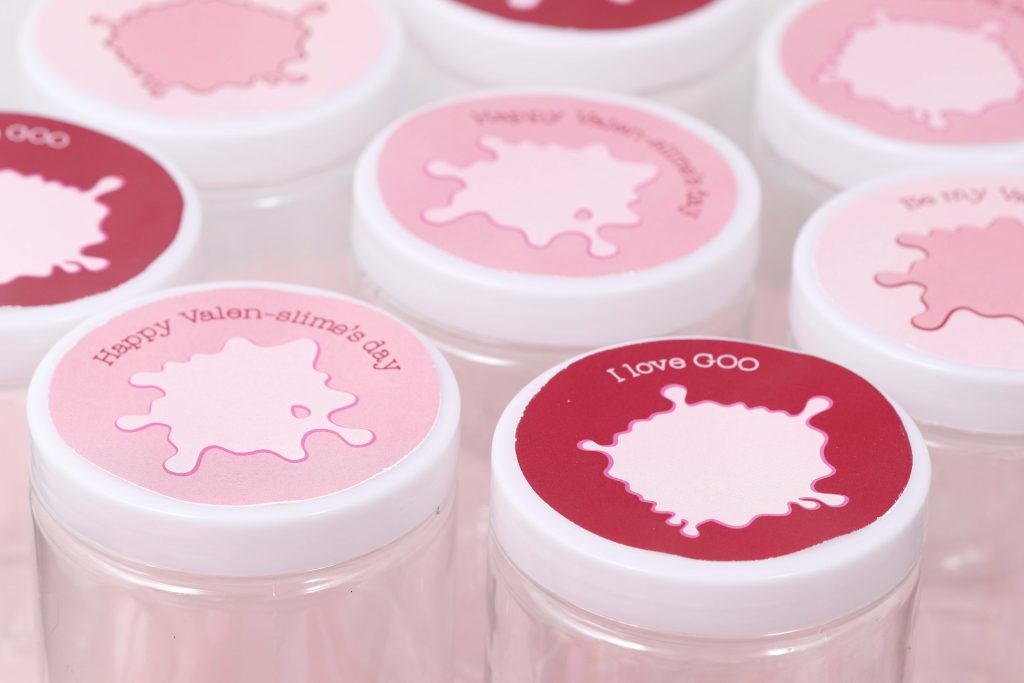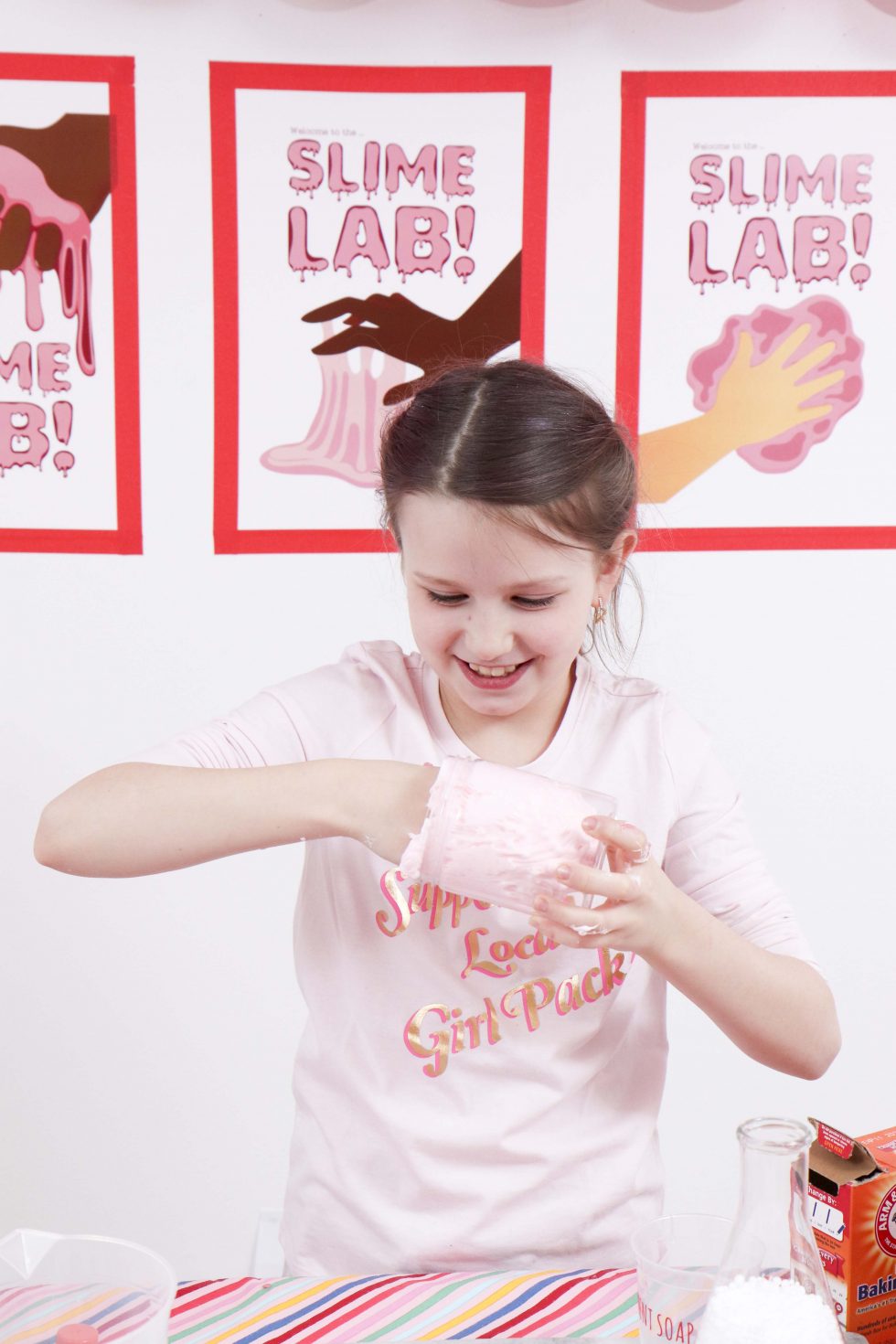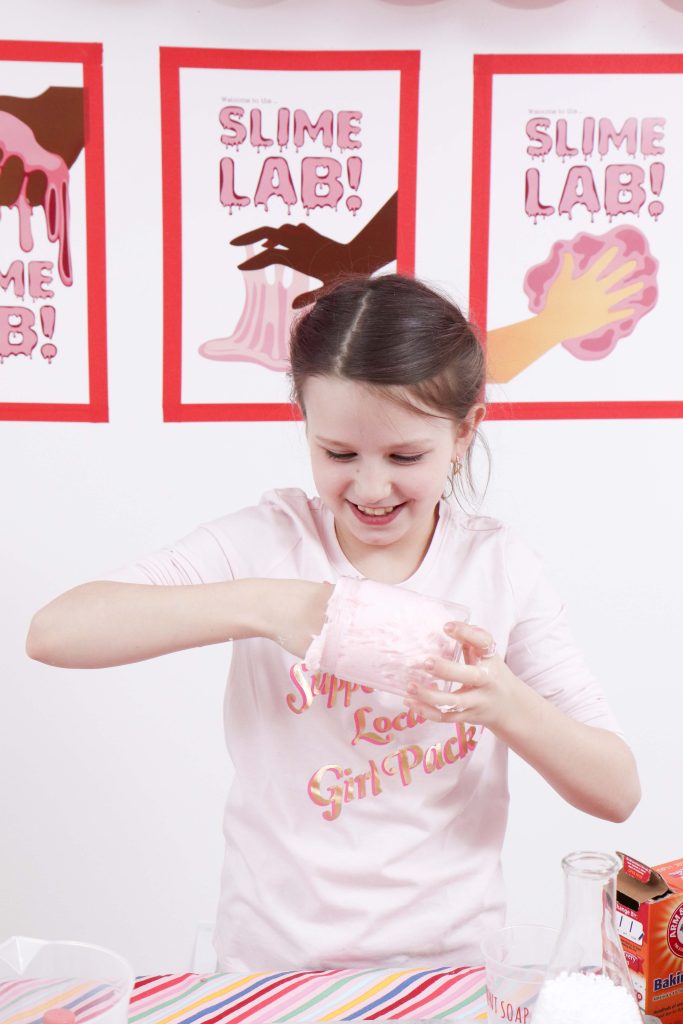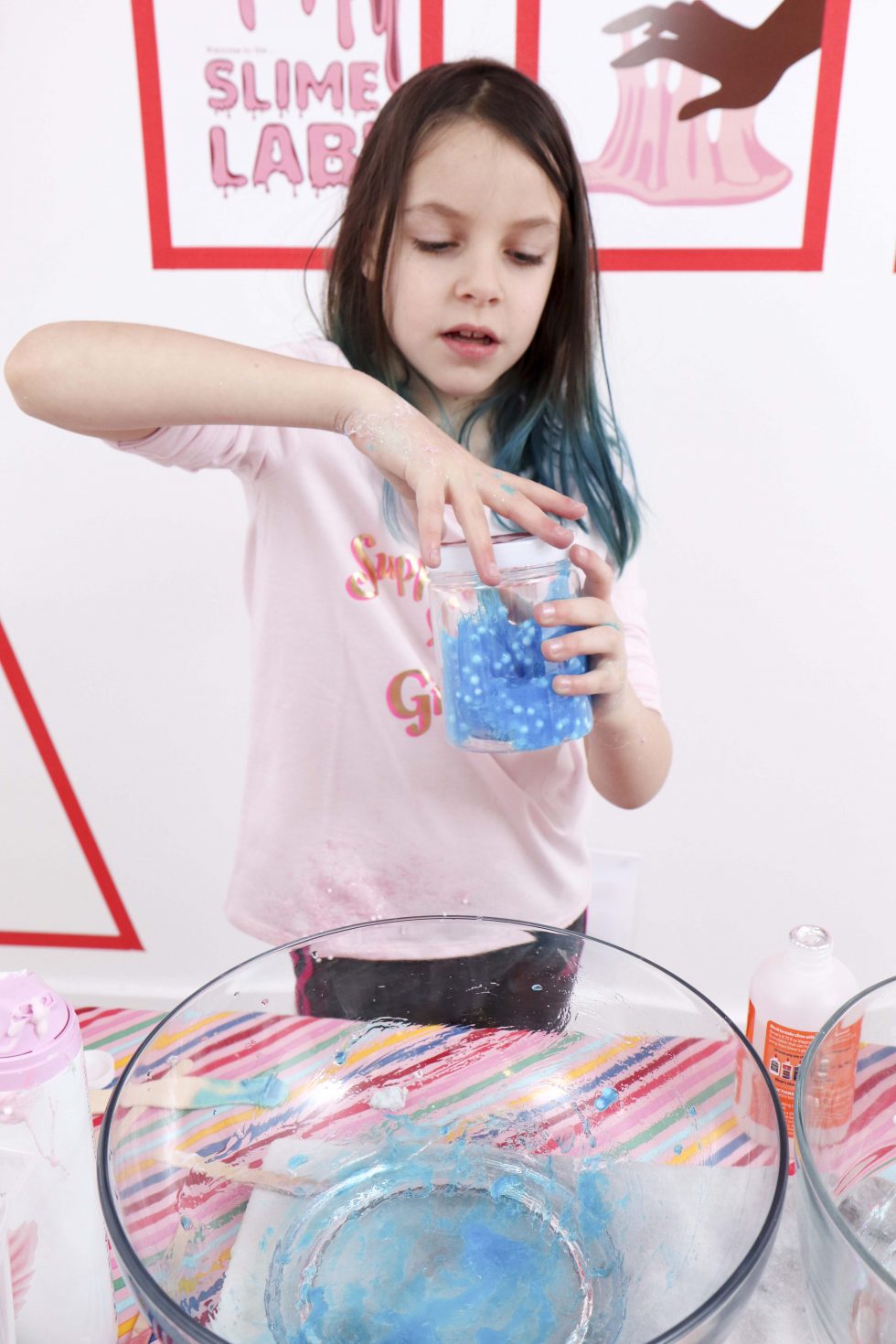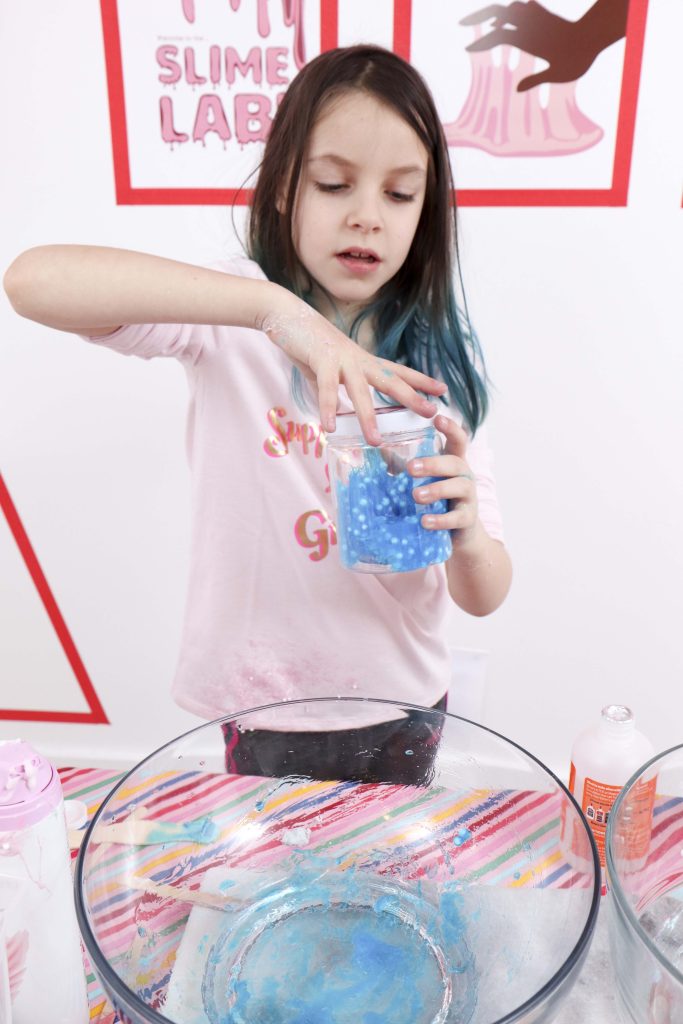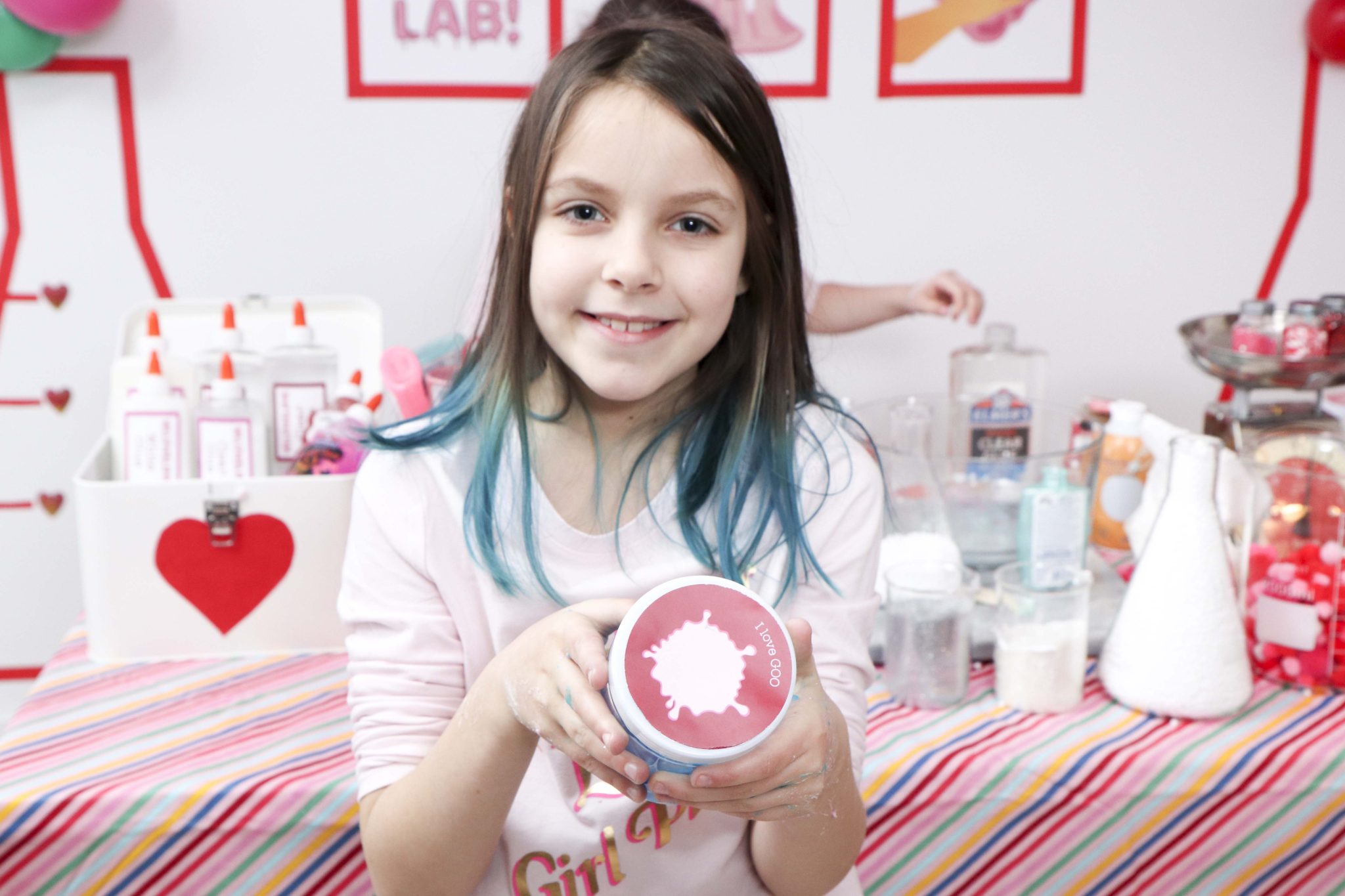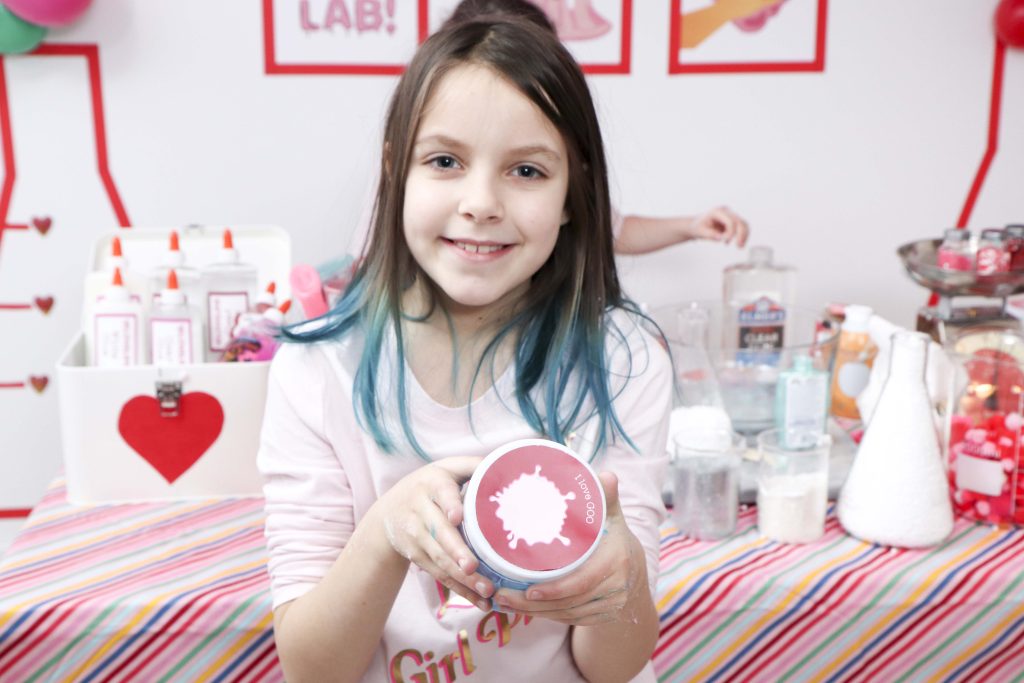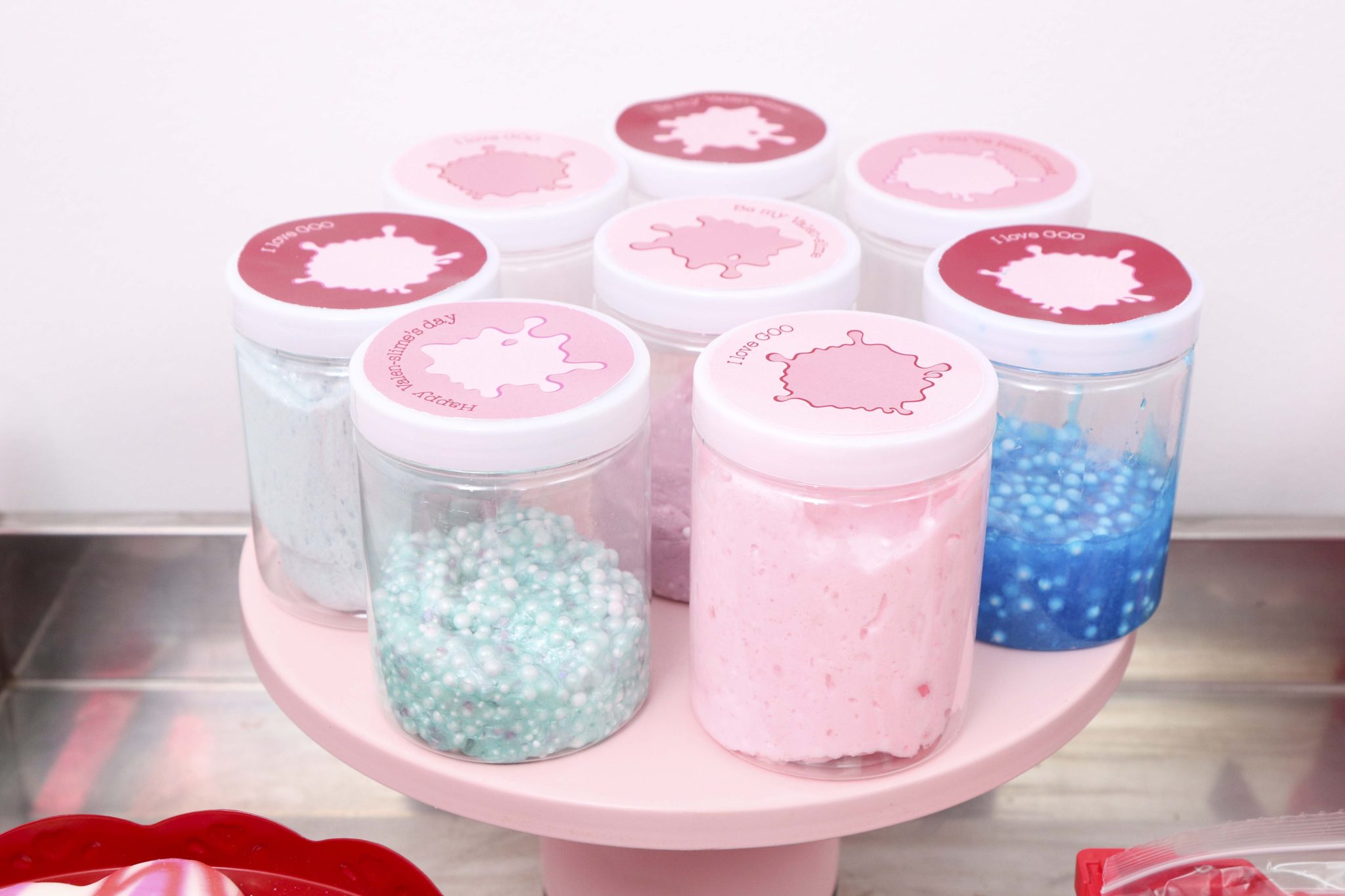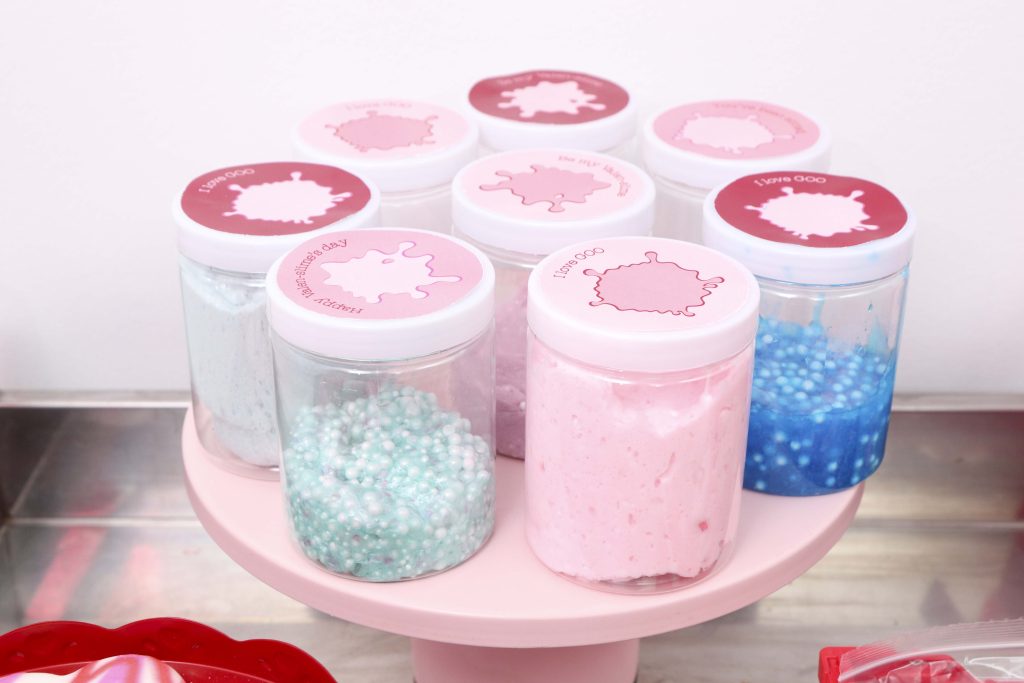 This is also a great place for the girls in my daughter's covid-safe pod to create "Valen-slime" kits for their friends who couldn't participate! I provided a basket of small clear containers and bags labeled with ingredients for the girls to fill and add to the kits, along with glue and activator, a plastic beaker and stir sticks. These can be safely dropped off on front porches so that everyone can have some slimy Valentine fun!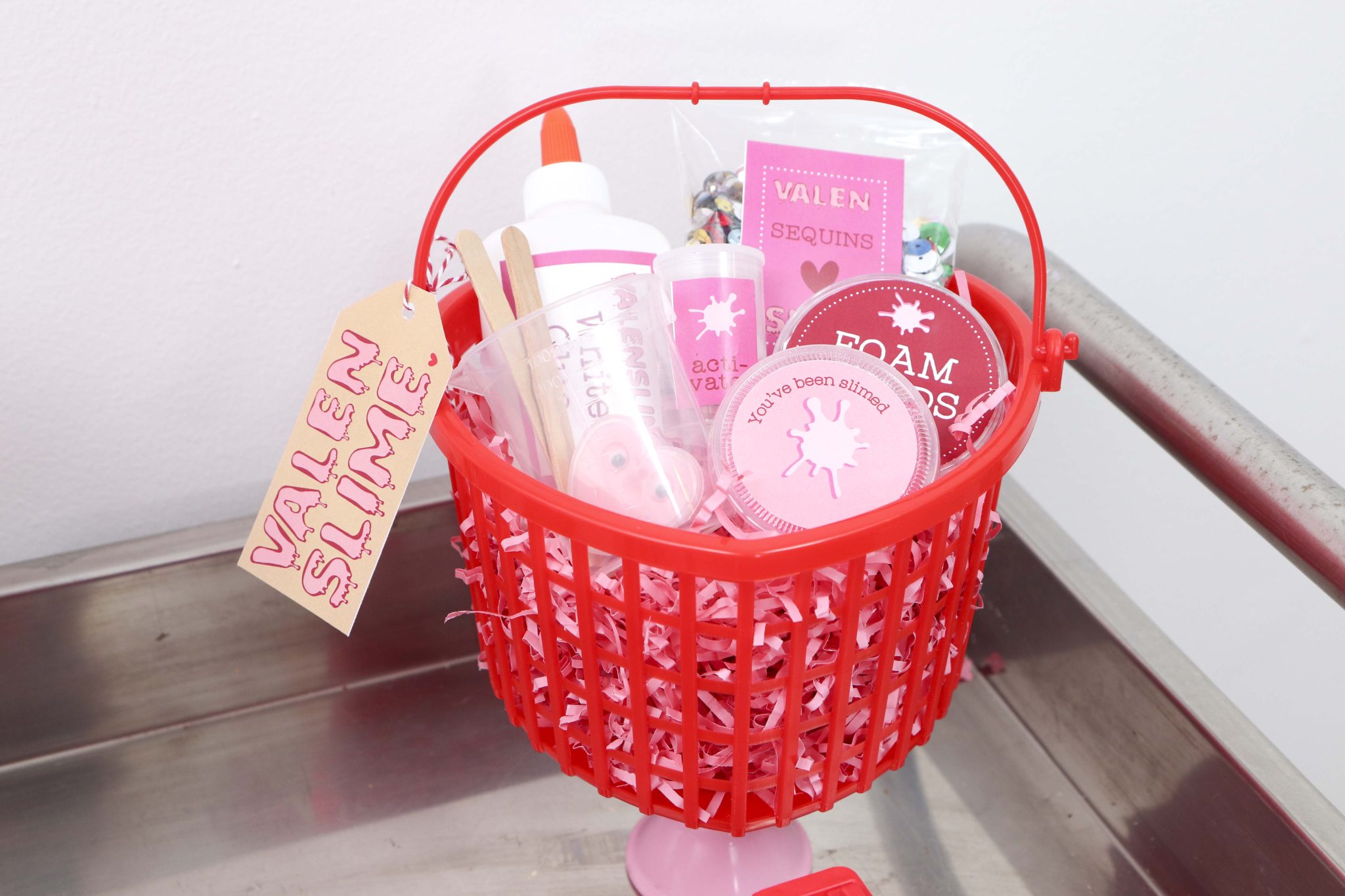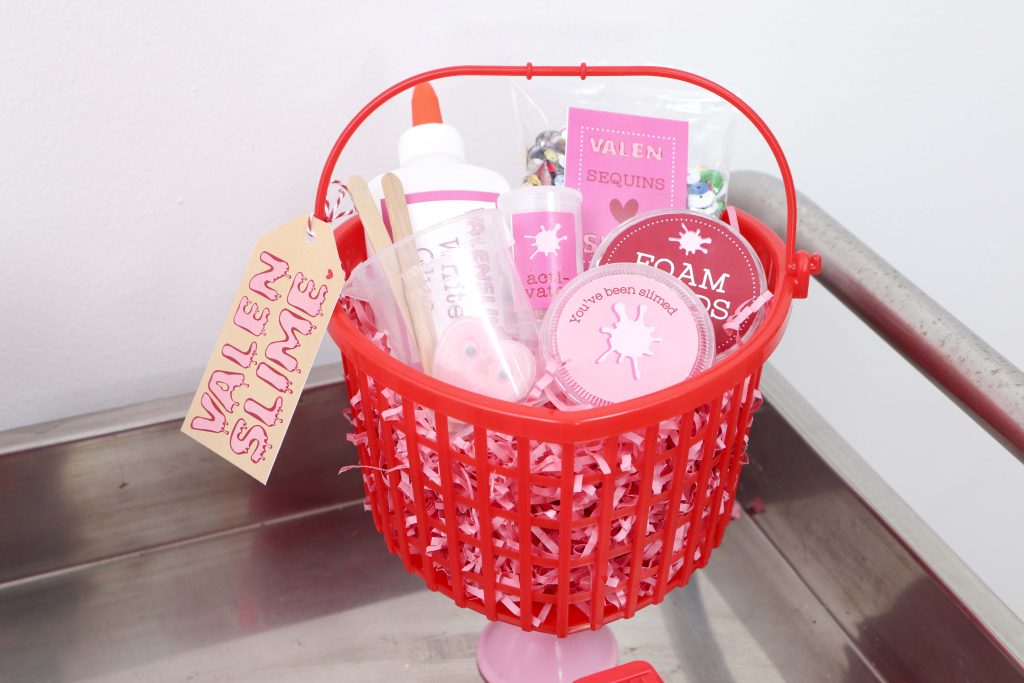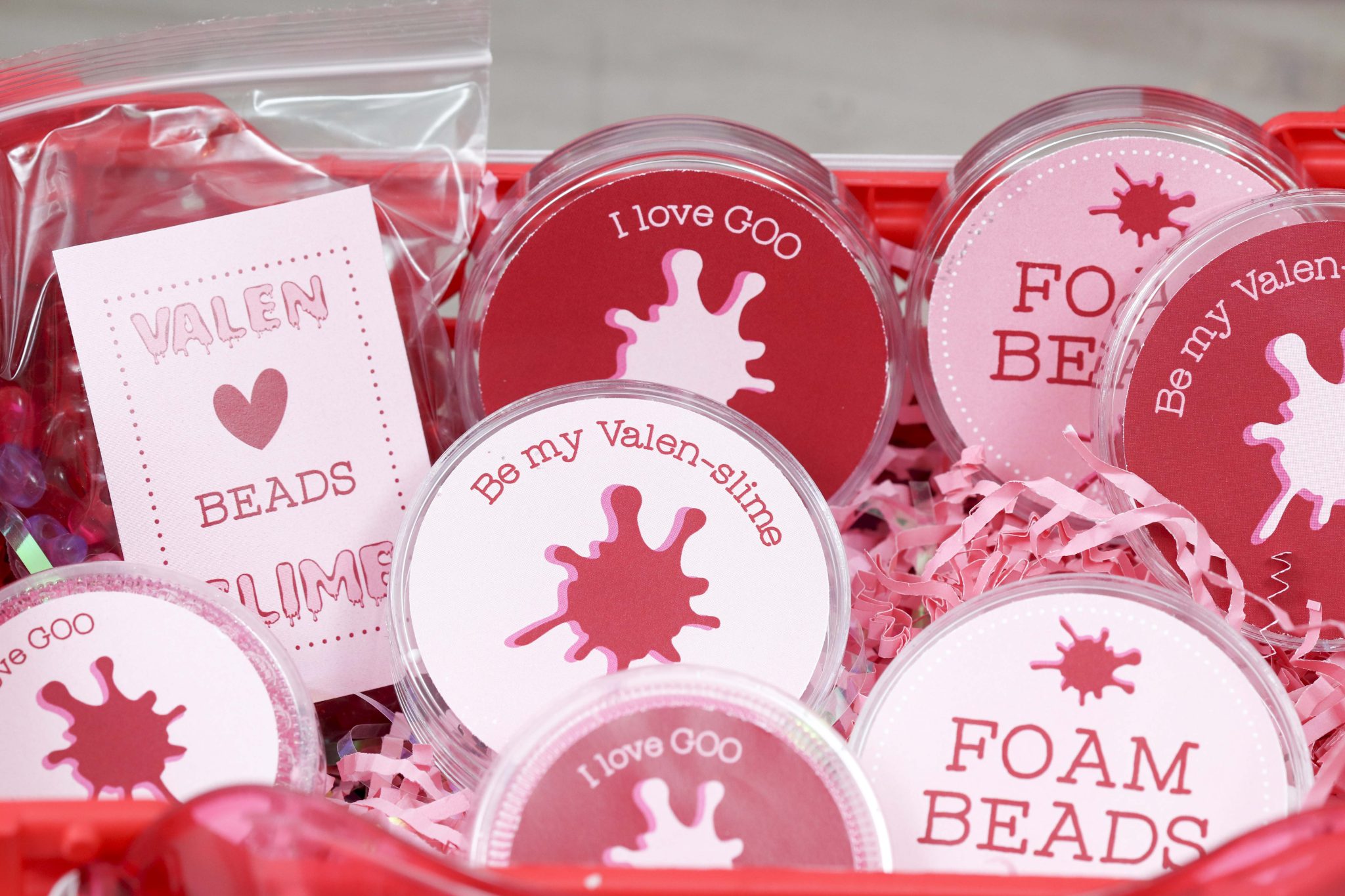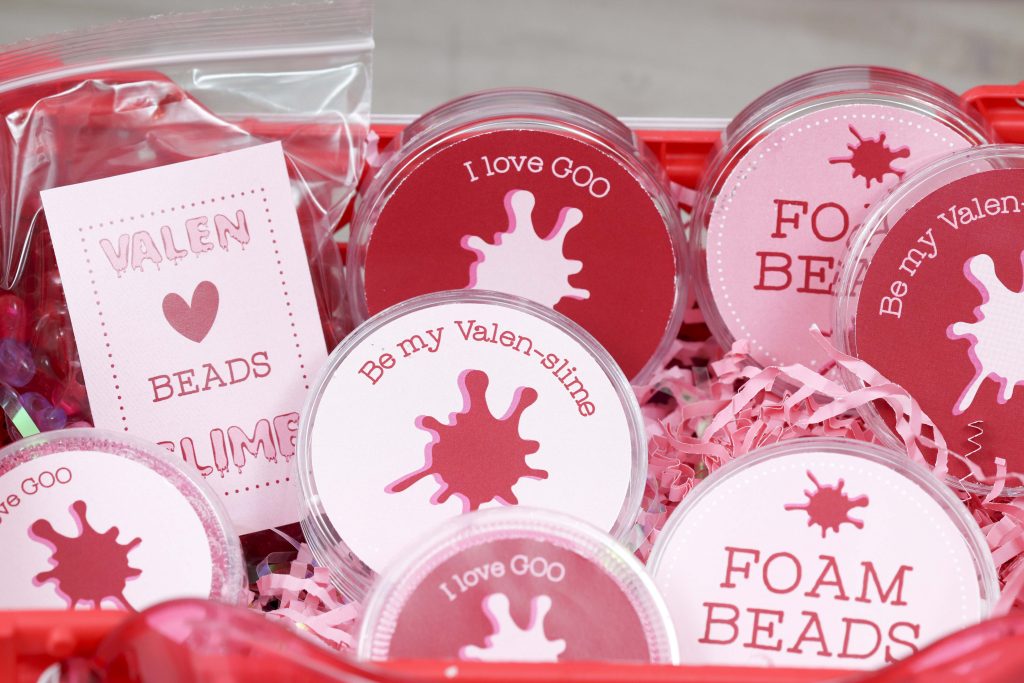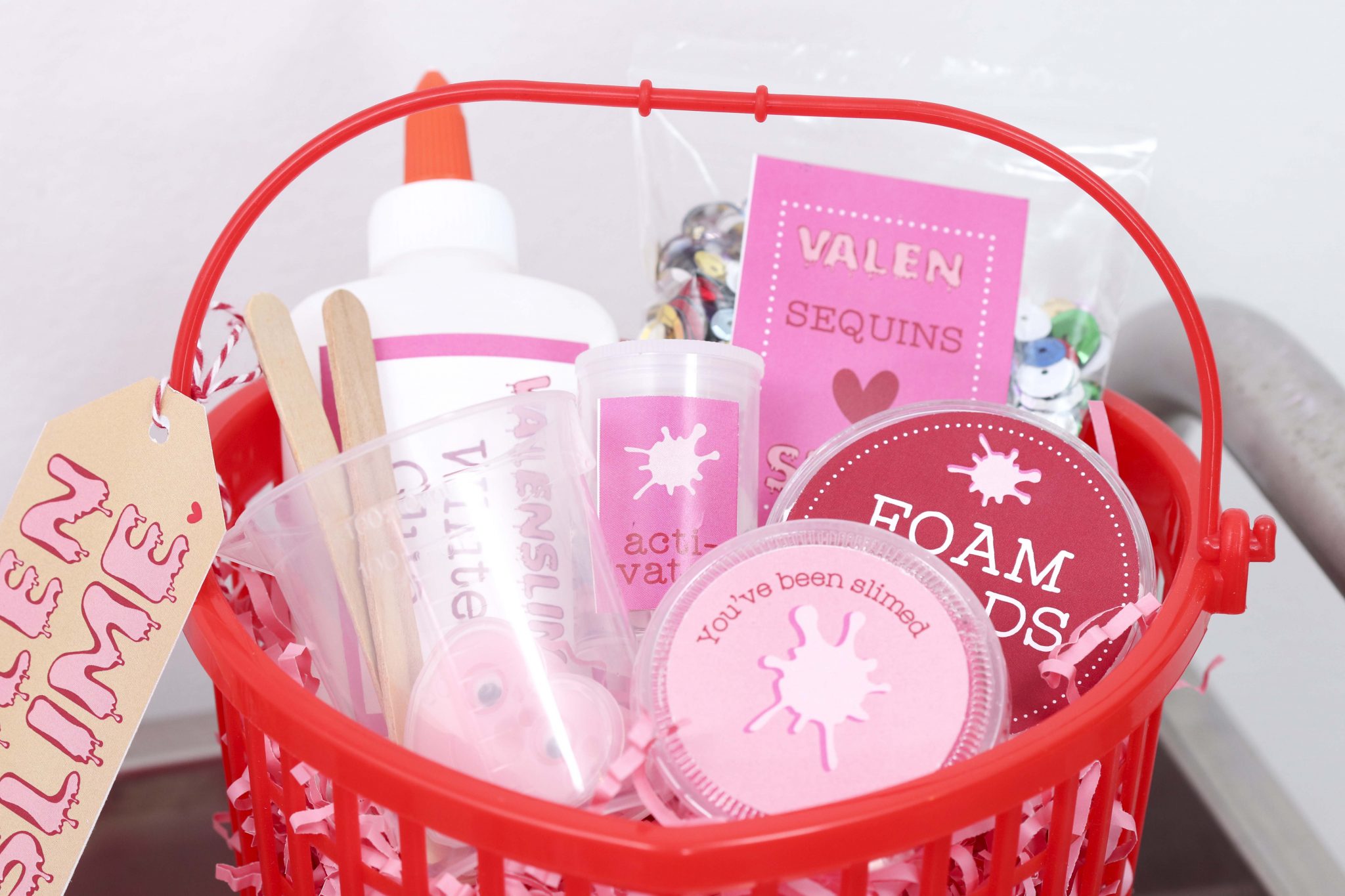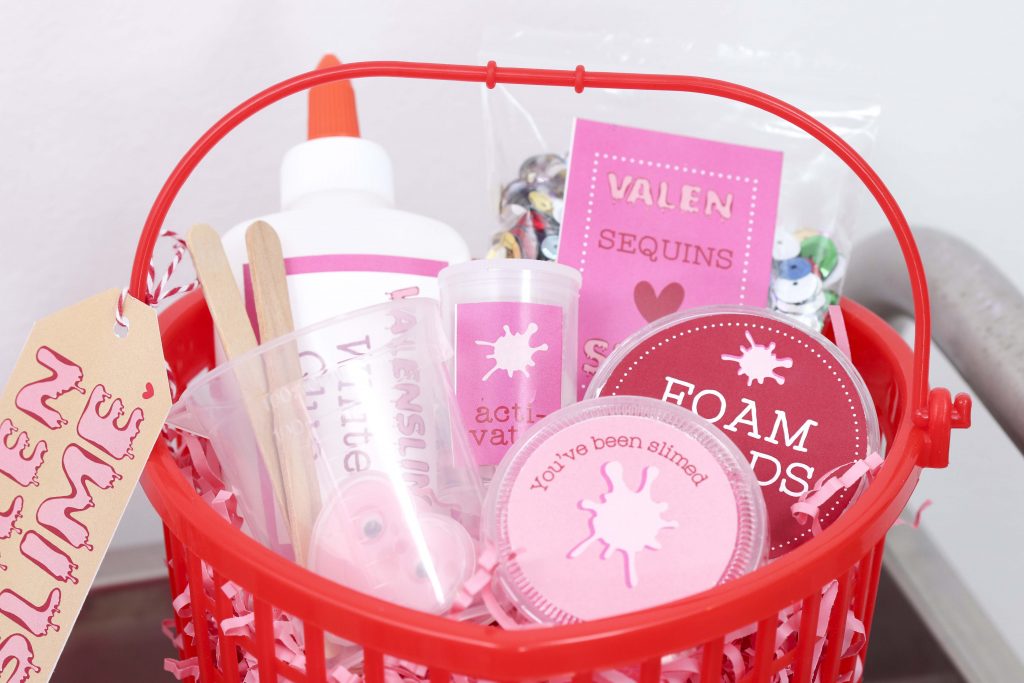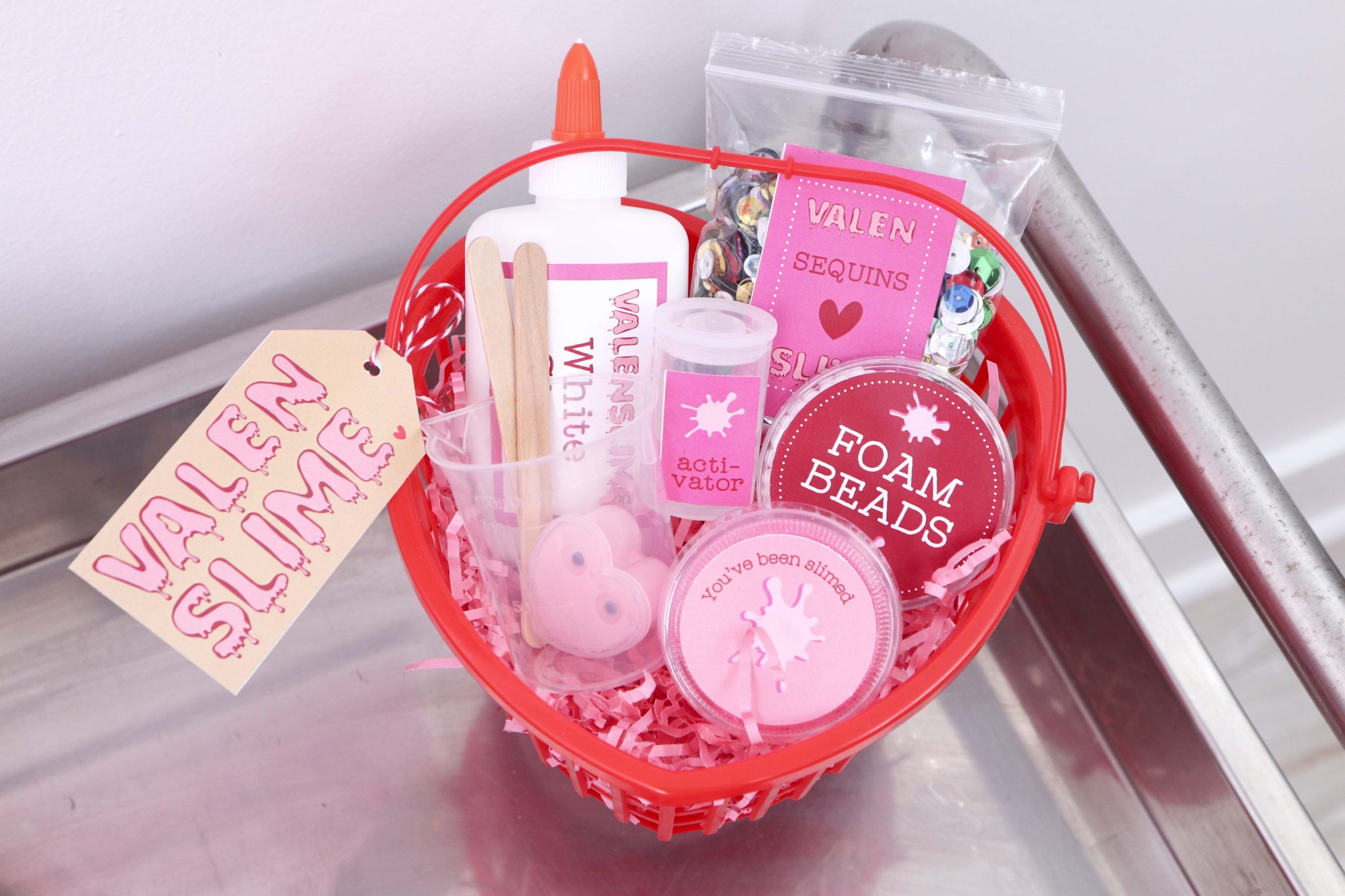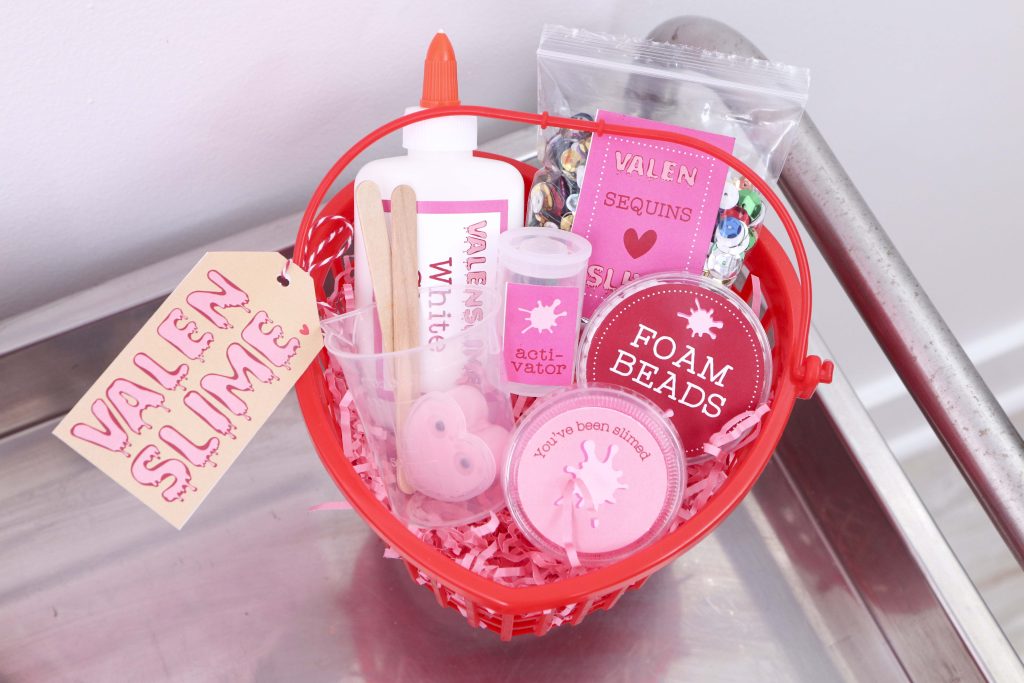 Finally, because creating all of that slime can take up a lot of energy, I set out a plate of pretty heart-shaped cookies for a mid-slime or post-slime pick-me-up (once hands are clean of course…). 
TIP: Cookies are also a great option for slipping into plastic bags and adding to the Slime Kits.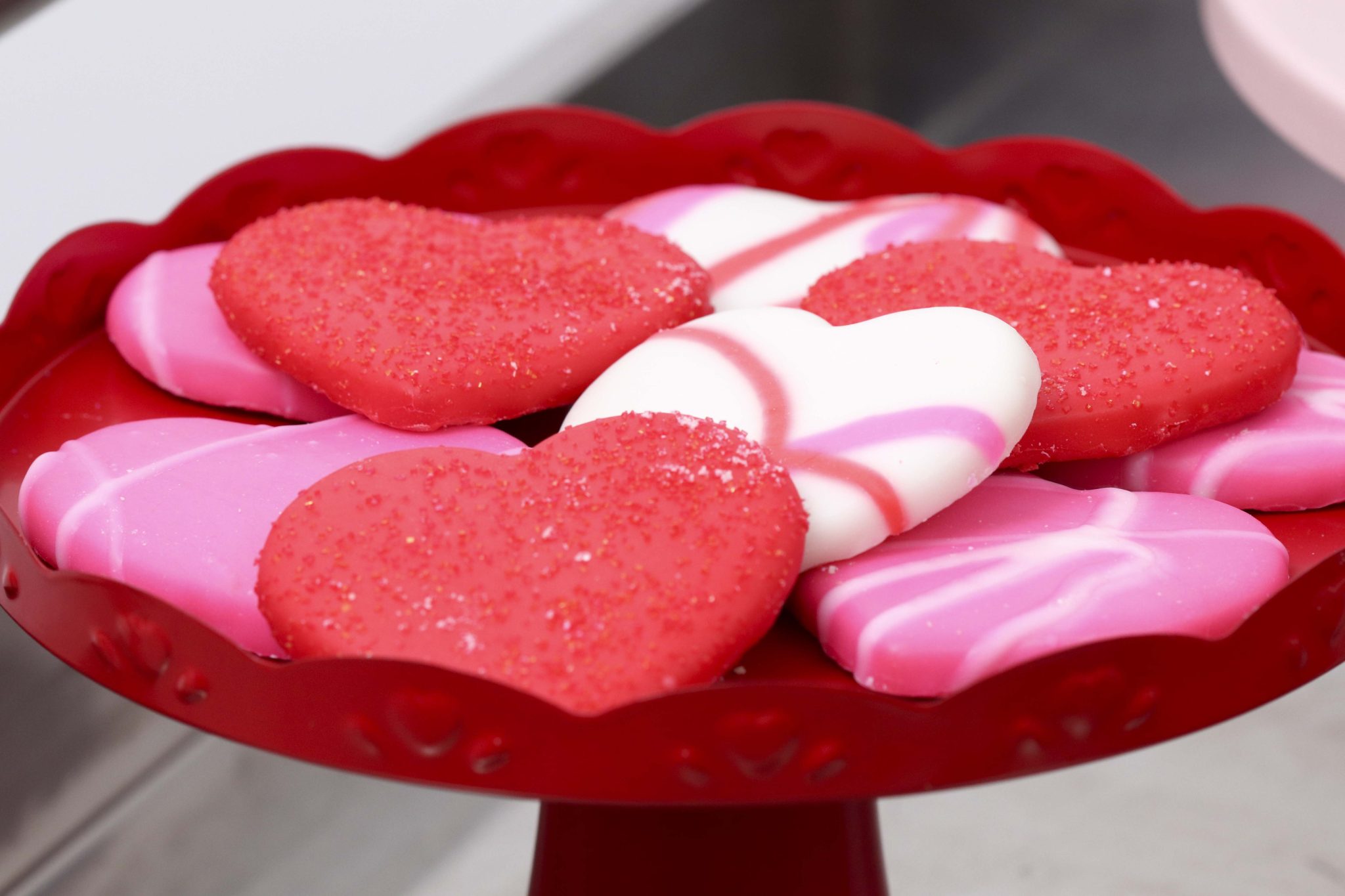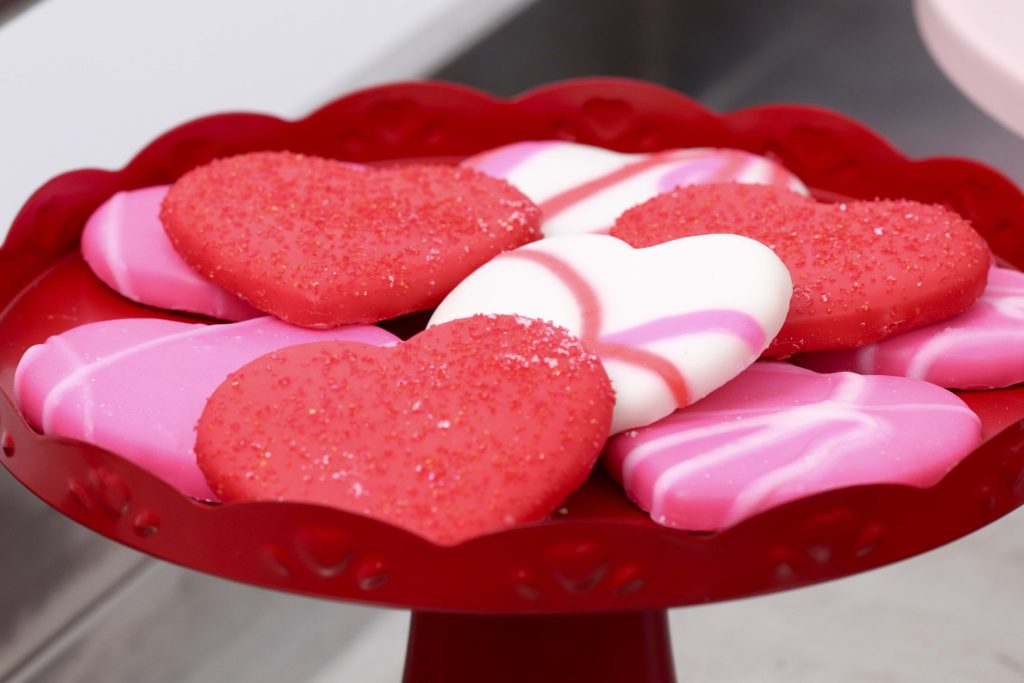 This party was such a slimy blast, and the perfect way to keep the kids entertained while celebrating Valentine's Day!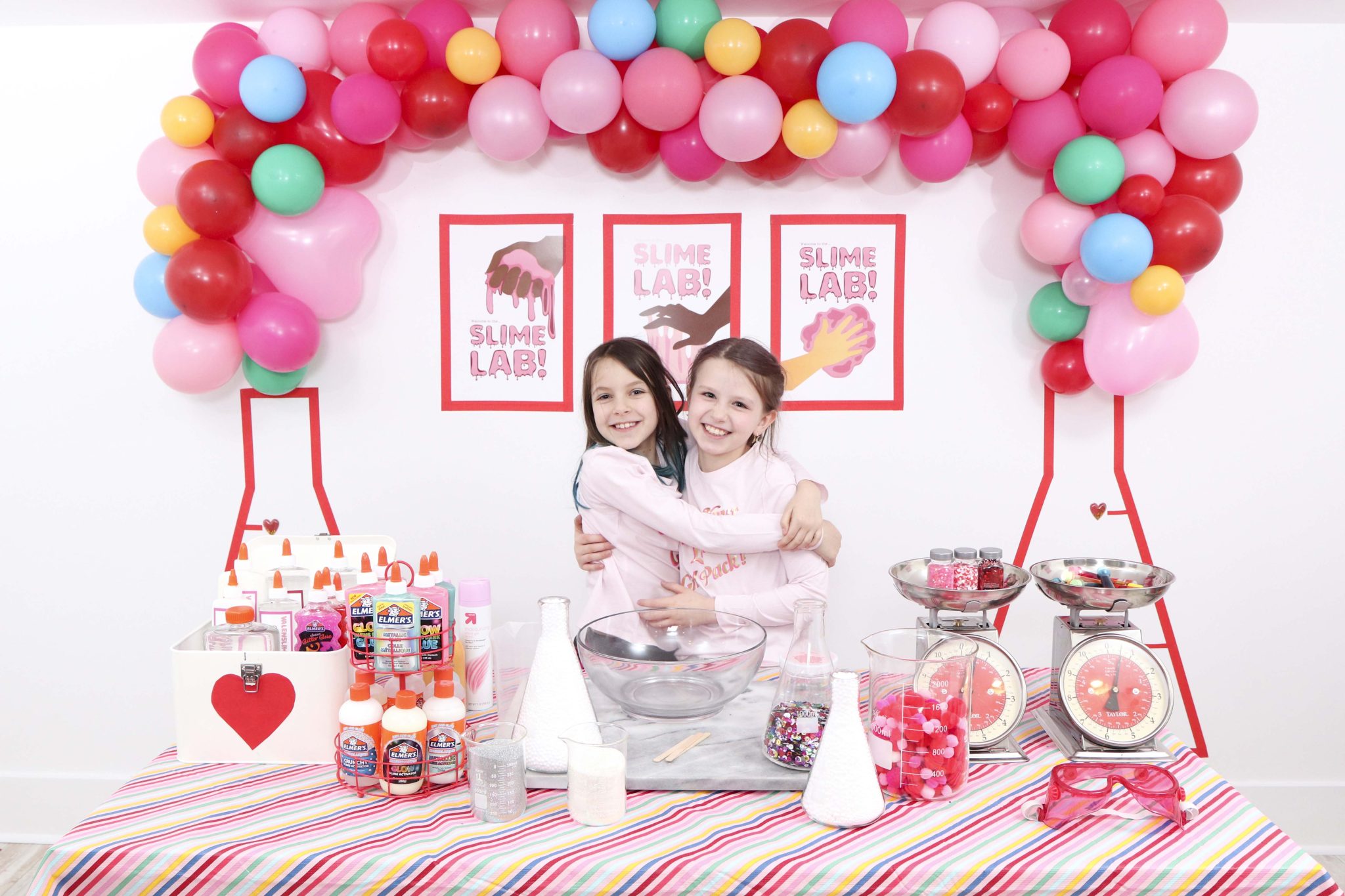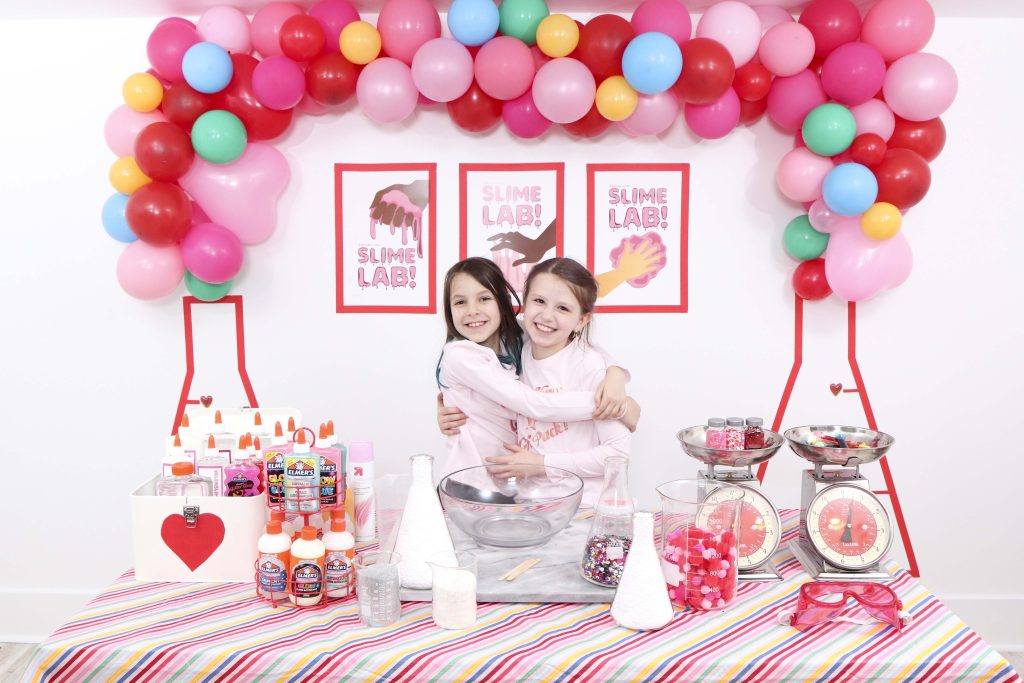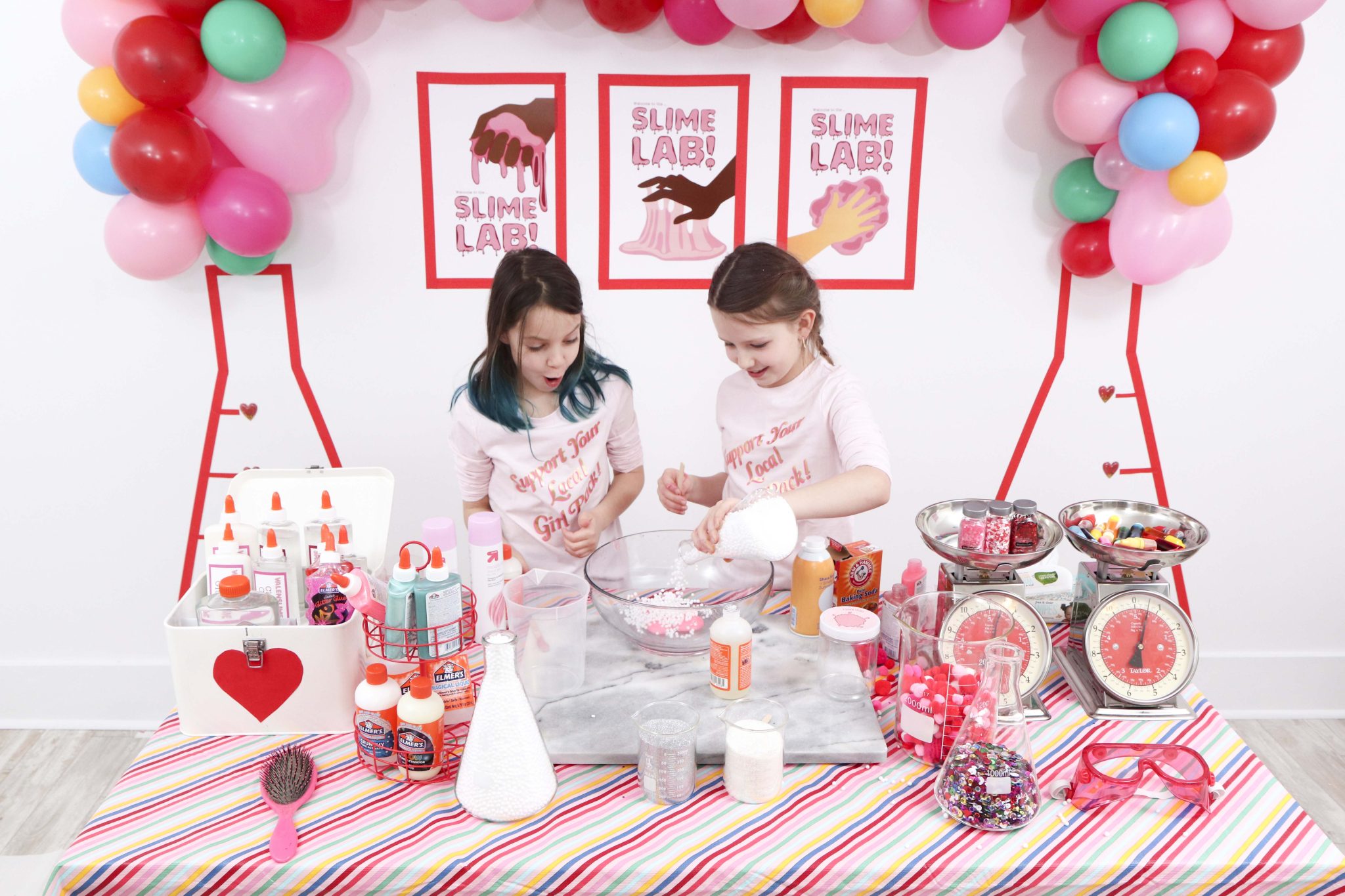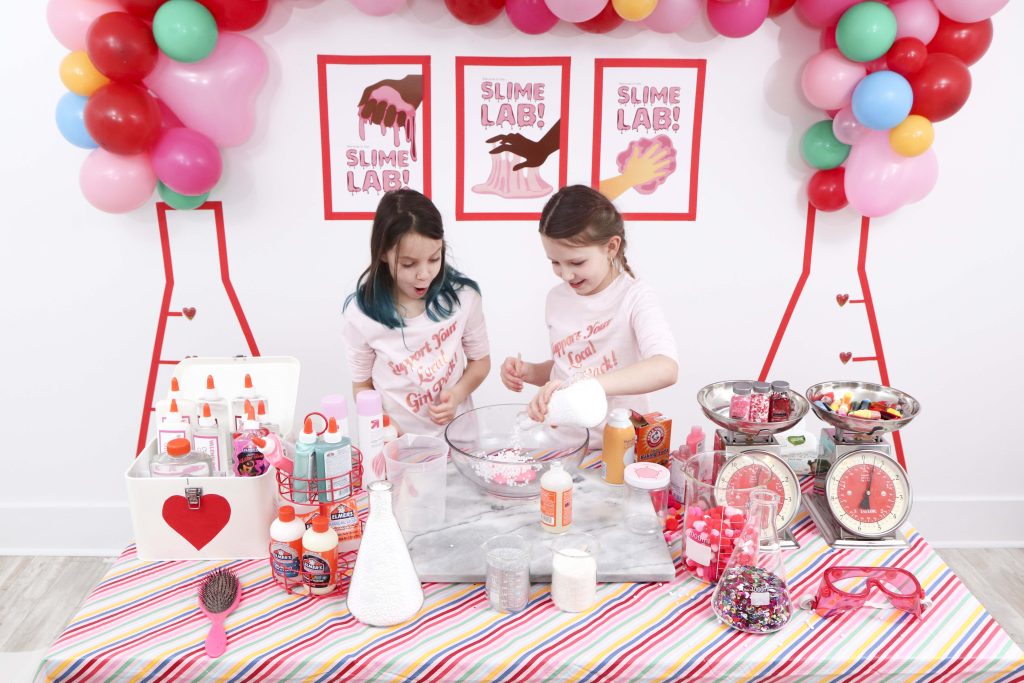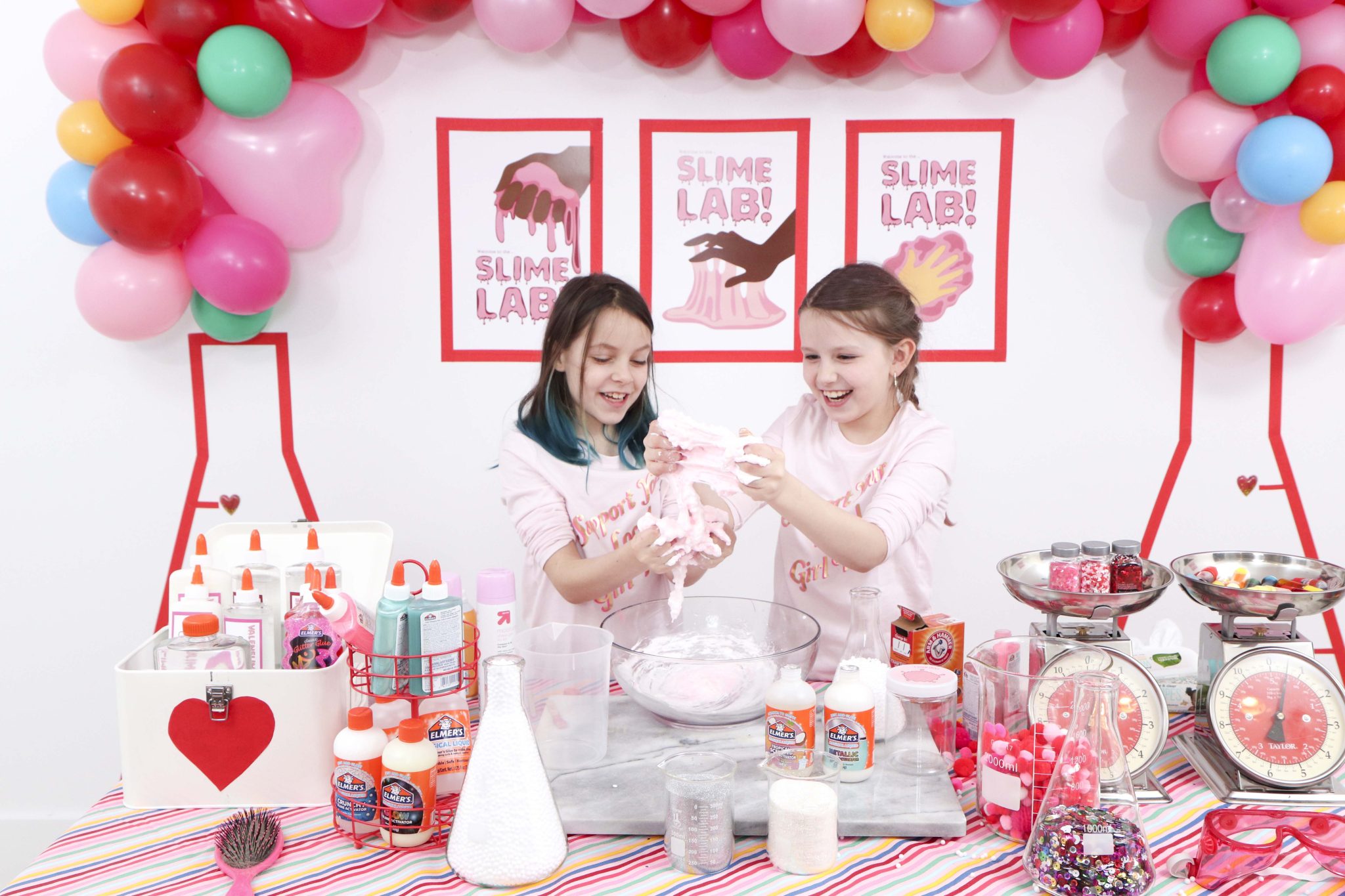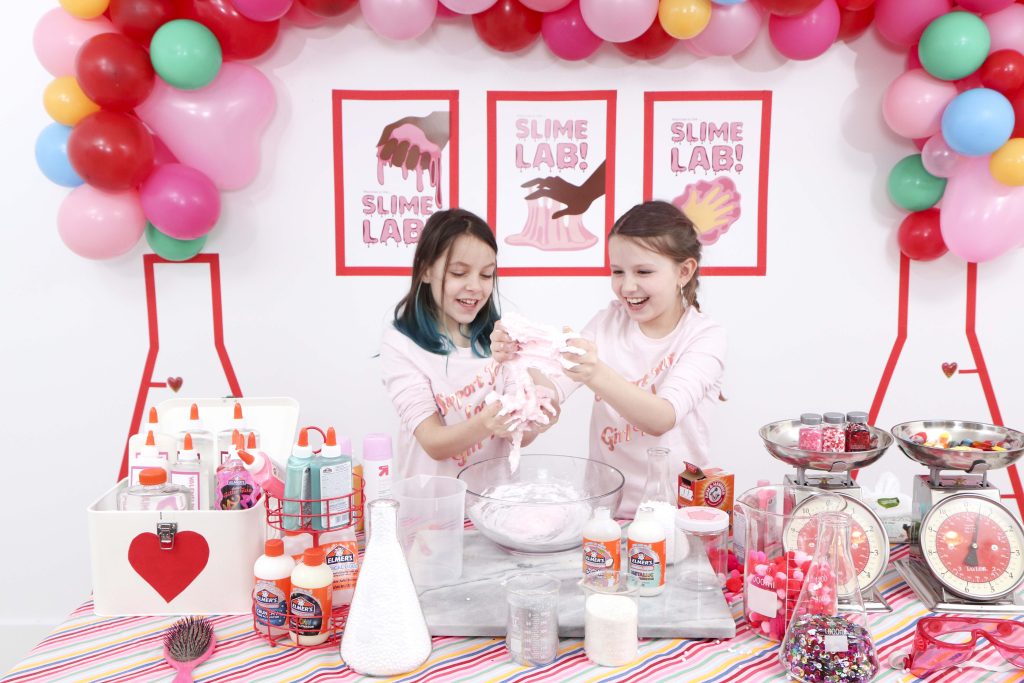 For more fun and interactive Valentine's Day fun for kids, check out my Valentine's Day Craft Party, Valentine's Day Science Party, and Valentine's Tree Decorating Party with DIY Candy Heart Ornament Craft!
Happy Valentine's Day Sliming!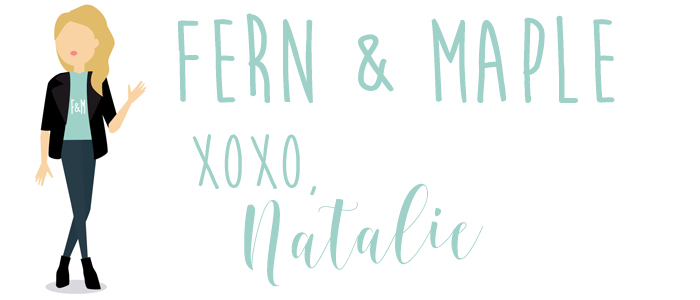 As a blogger, I sometimes receive compensation and/or products in exchange for my styling and crafting services. I also may earn a small commission from any sales that result from affiliate links on this page. As always, all project ideas and any opinions expressed here are my own.  For further information on our disclosure policy please check out our disclosure page.
PIN FOR LATER: