Recently, I styled a cute Valentine's Day Tree Decorating Party, and wanted to include something crafty for kids to create to add to the tree. Inspired by some candy necklace candy canes I saw during the holidays from Handmade Charlotte and Fete Gazette, I came up with the idea for Candy Heart Ornaments! These are such a fun and easy project for kids of all ages to make (and eat!) and bonus – threading the candy is great for practicing fine motor skills! The finished hearts can be used as ornaments on a Valentine's Day tree, as hanging decor around the house, or as gifts for friends and family. Read on for the step-by-step instructions, and check out the video at the end to see it in motion!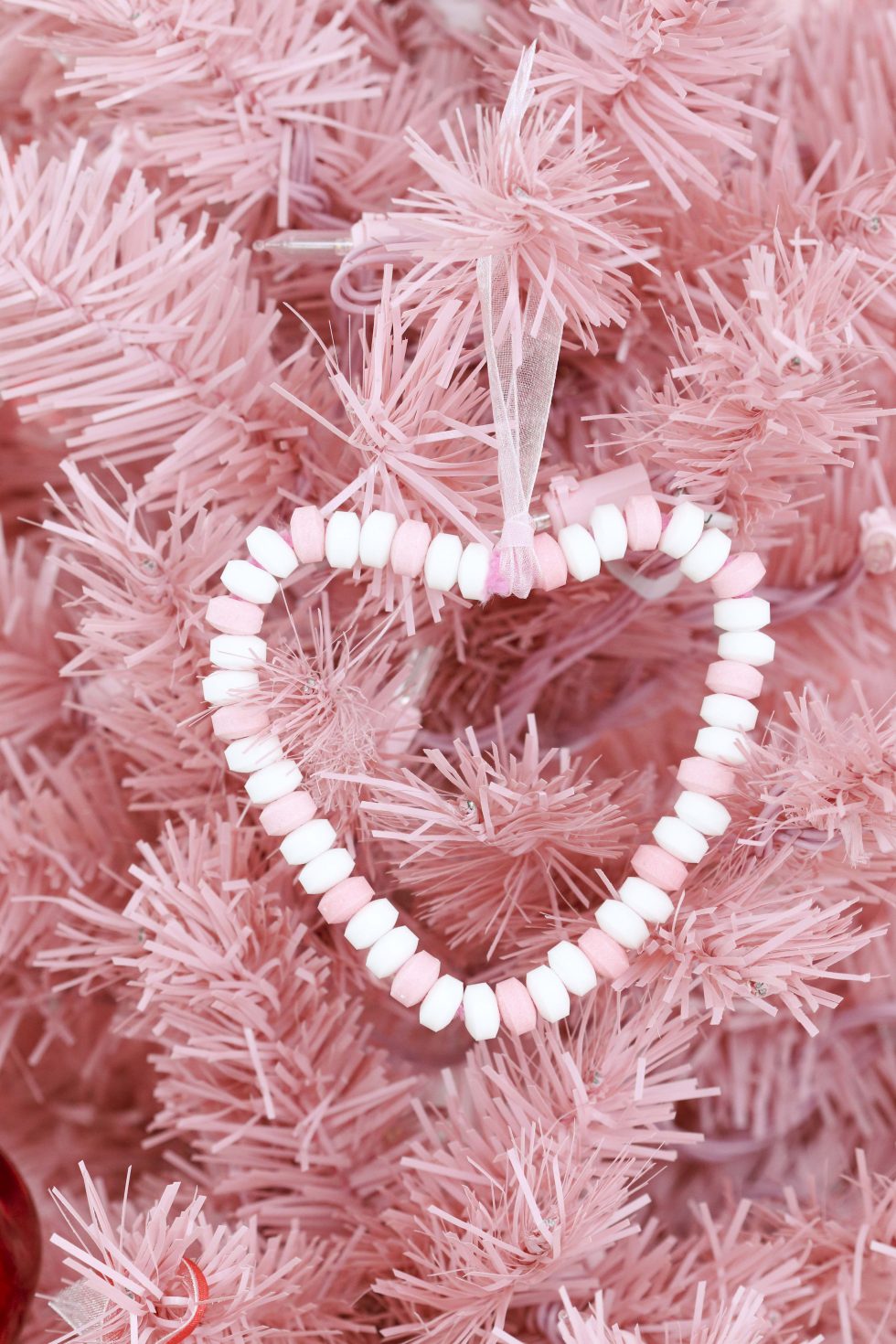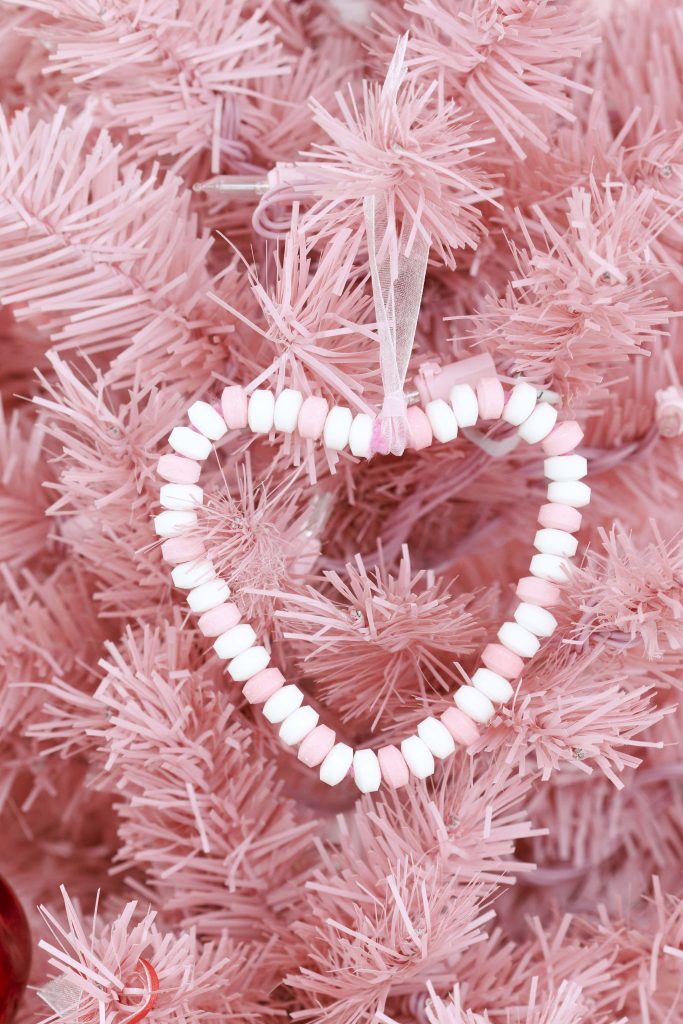 Step 1 – Gather Your Craft Materials
For this craft project, you'll need:
Cut the candy necklaces and remove the string to leave just the candy.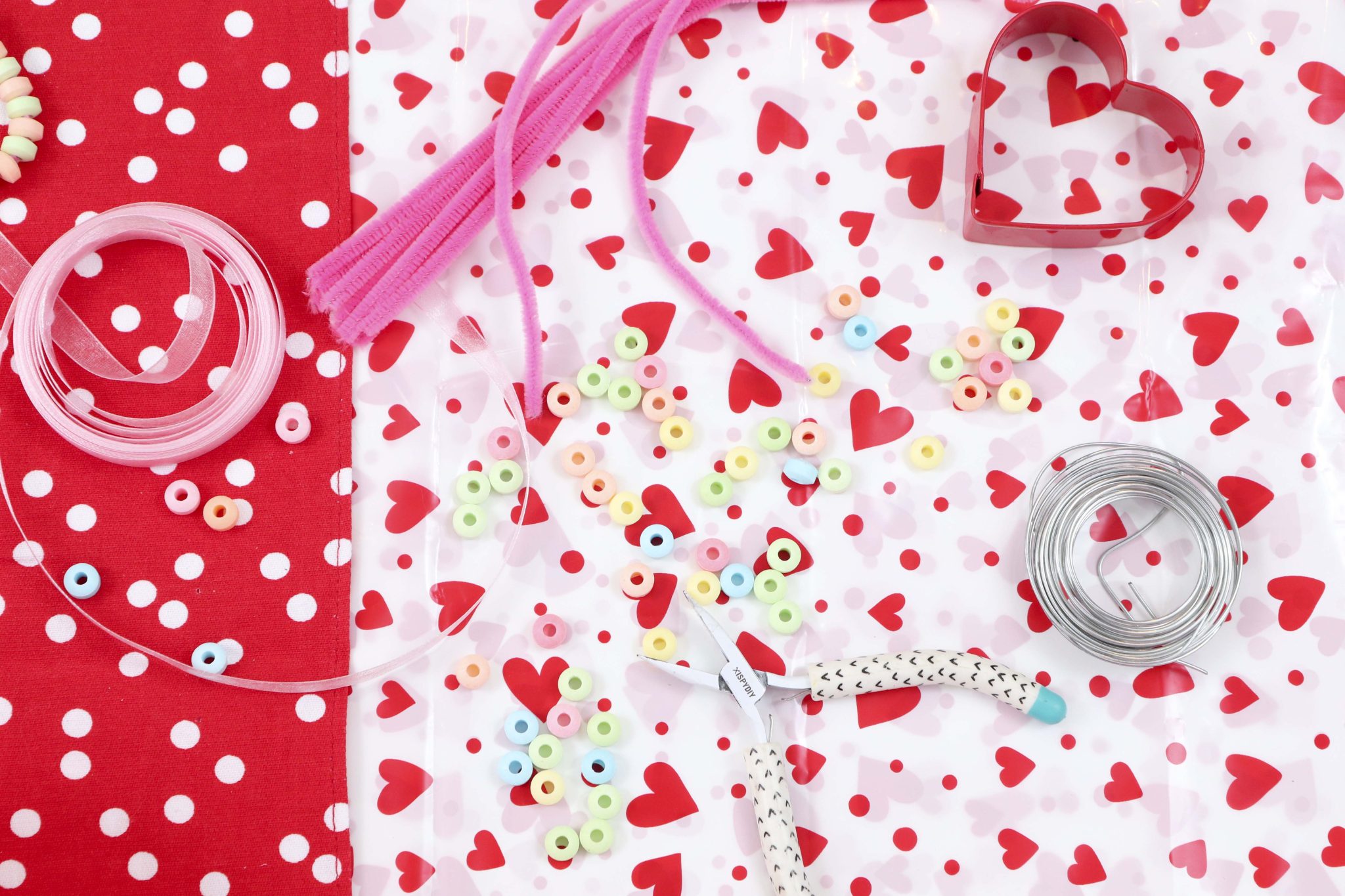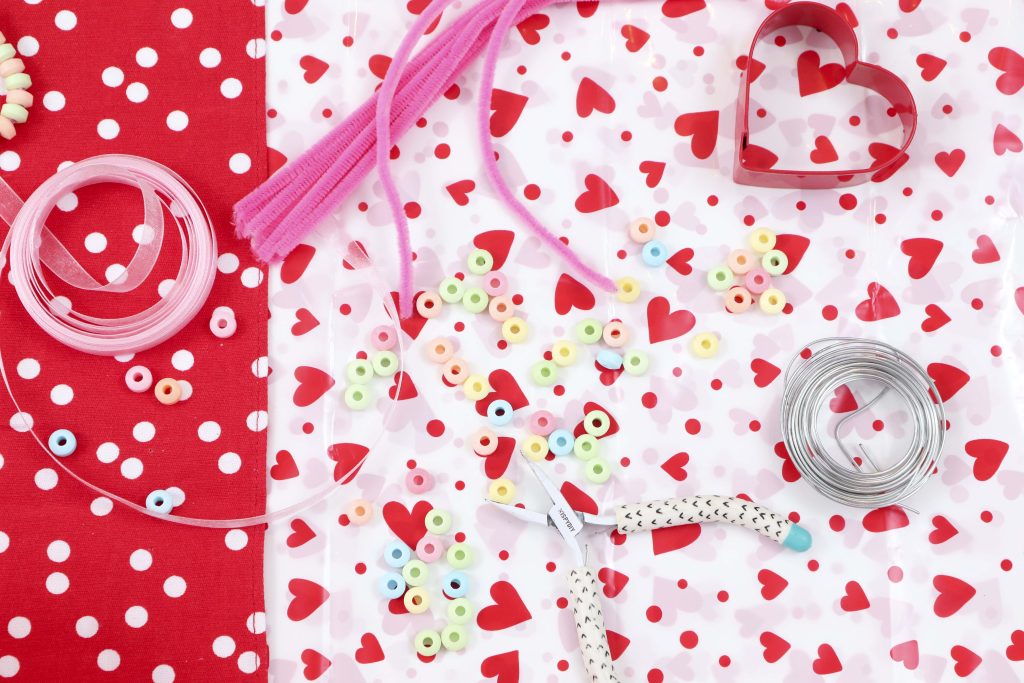 Step 2 – Thread the Candy onto the Pipe Cleaners/Wire
The fun part! Choose your candy and thread it onto a pipe cleaner. You can do solid color, a color pattern, or go totally random – it all looks good in the end! The fuzziness of a pipe cleaner makes the candy less likely to fall off than if you were to use wire – this makes those great for little (and sometimes a little clumsy) hands.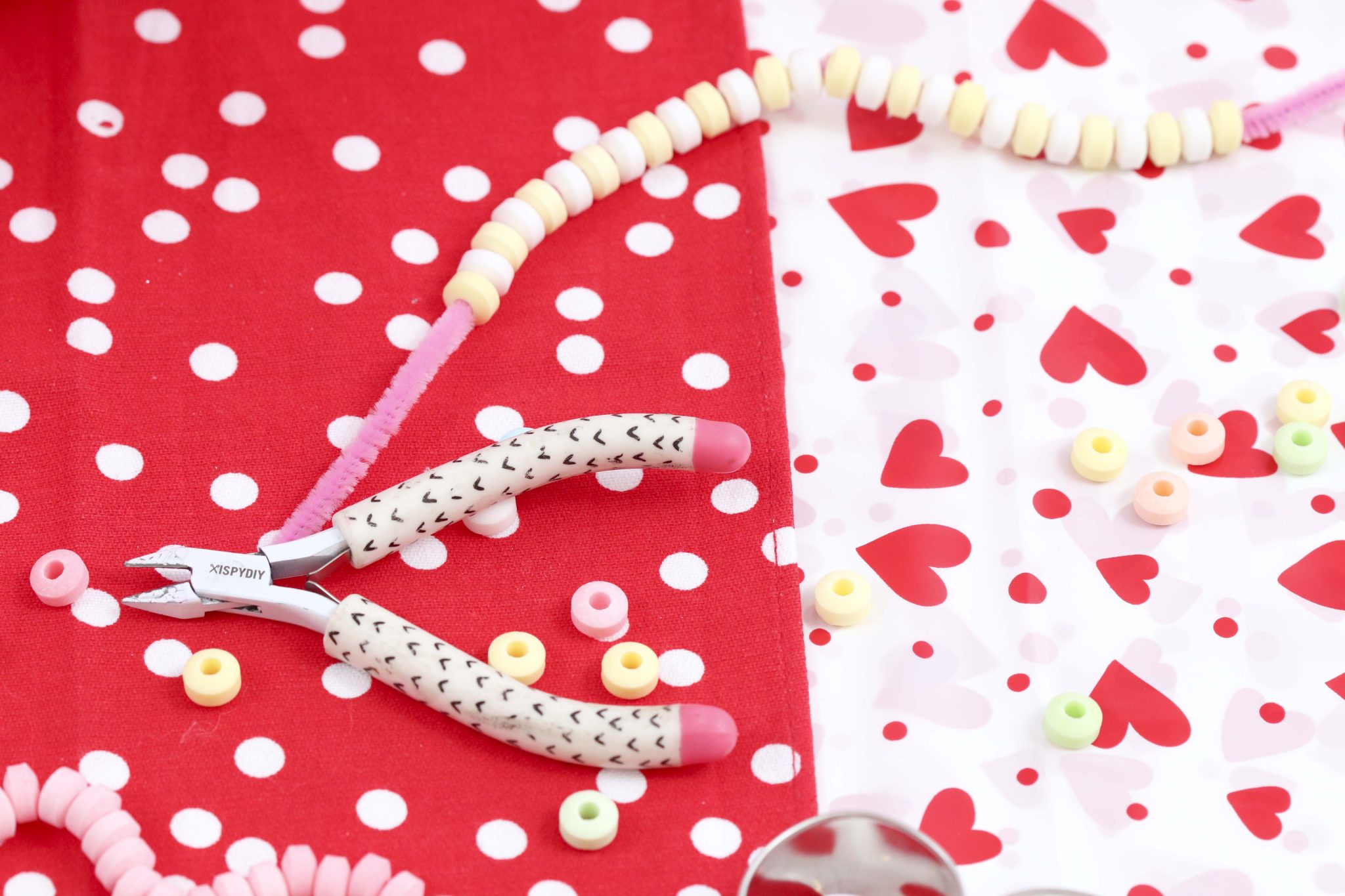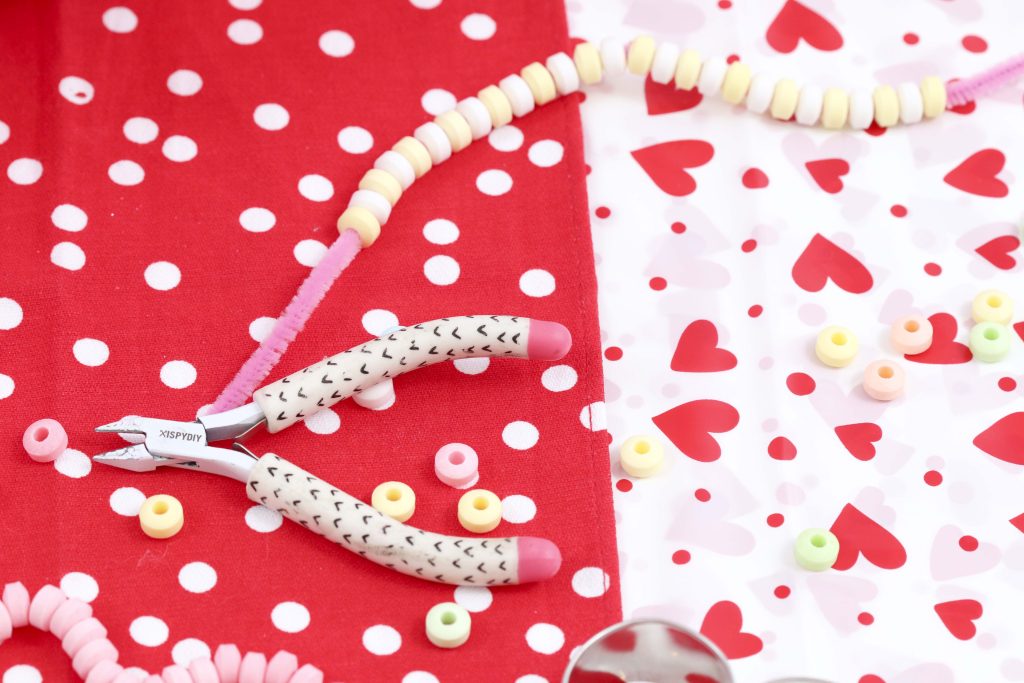 Step 3 – Shape your Ornament
The easiest way to do this is to wrap your completed pipe cleaner/wire around a heart-shaped cookie cutter. Perfect heart shape every time! However, you could also shape them into hearts by hand if you don't have a cookie cutter handy. Fun is necessary, perfection is not!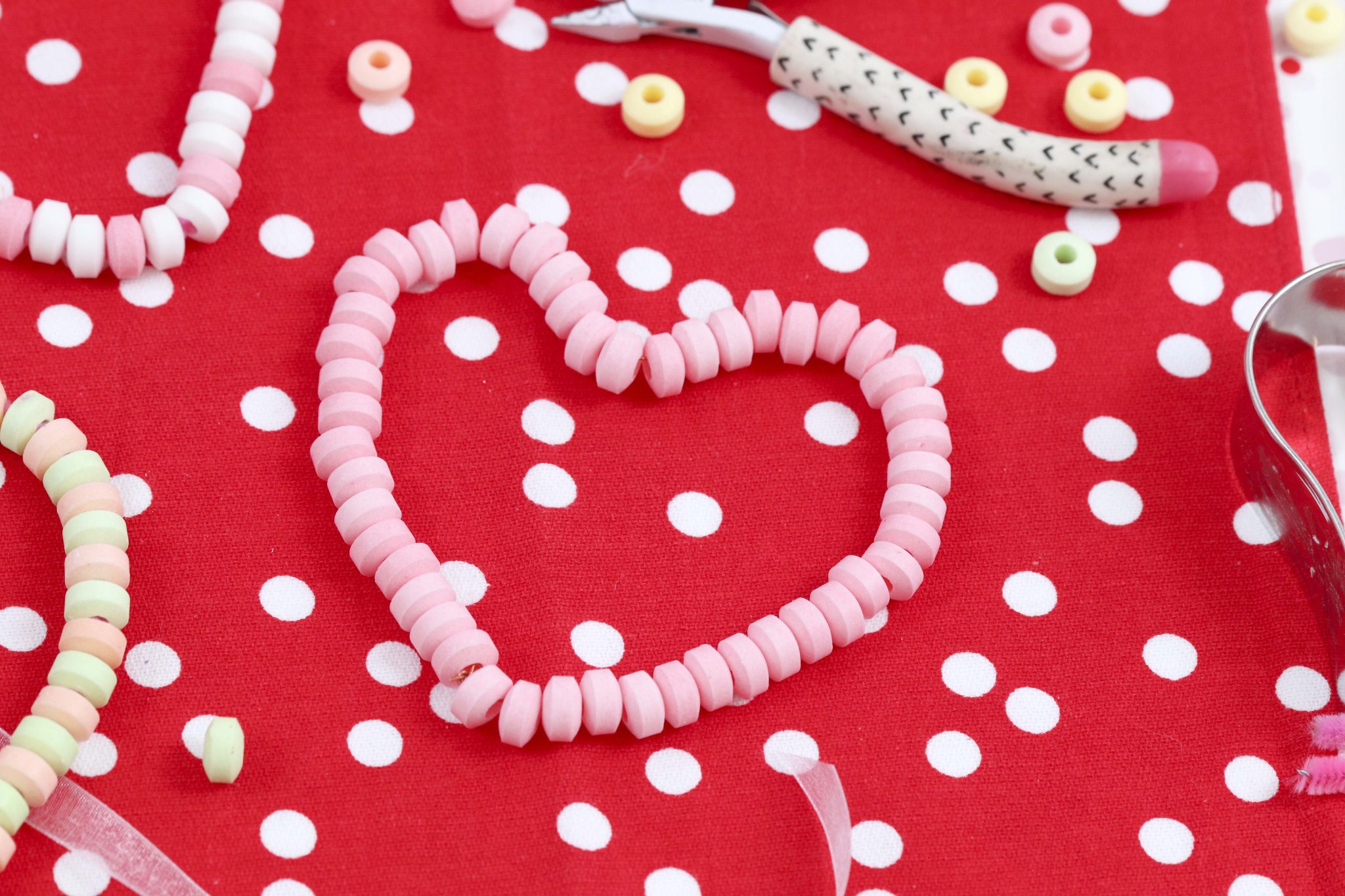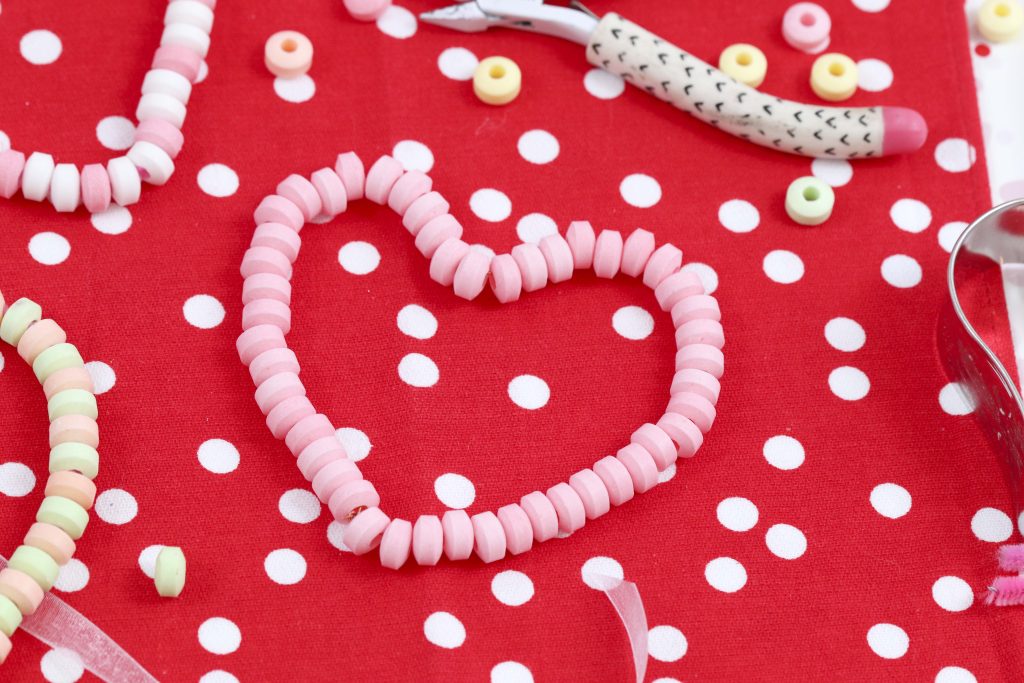 Step 4 – Close the Ends and Remove Excess
Once you have a heart shape, twist the ends together to create a solid loop so that the candy stays on the ornament. Use the wire cutters to cut off any excess pipe cleaner/wire.
NOTE: While the threading can be done by little hands, this part is best done by an adult because the cutters are sharp!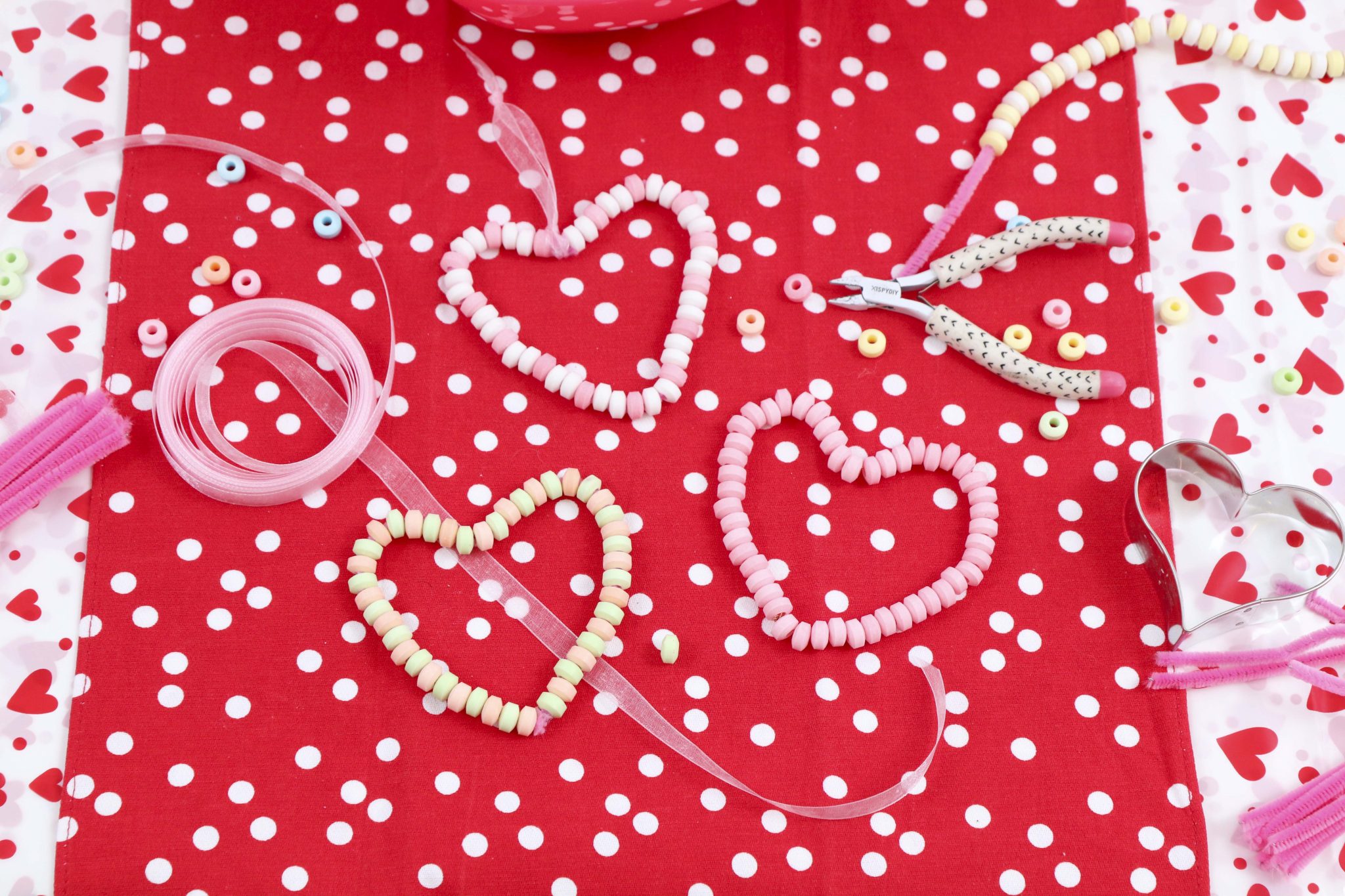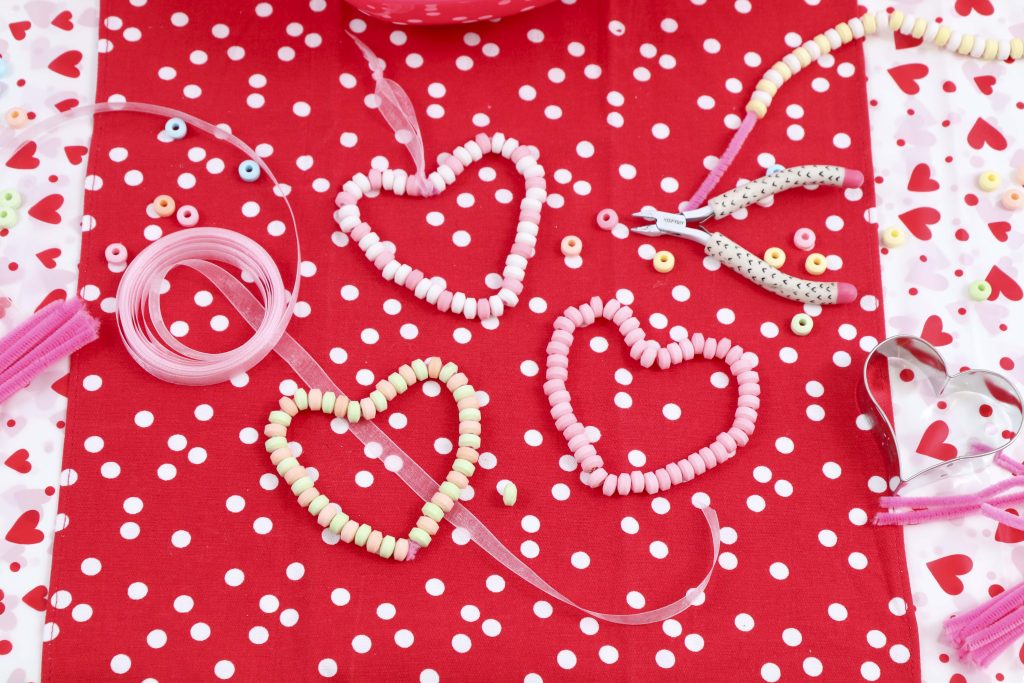 Step 5 – Add Ribbon for Hanging
Tie a piece of ribbon in a loop at the top of your heart. You can do this right in the center, or on one of the sides to hang at an angle to change it up – whatever you like!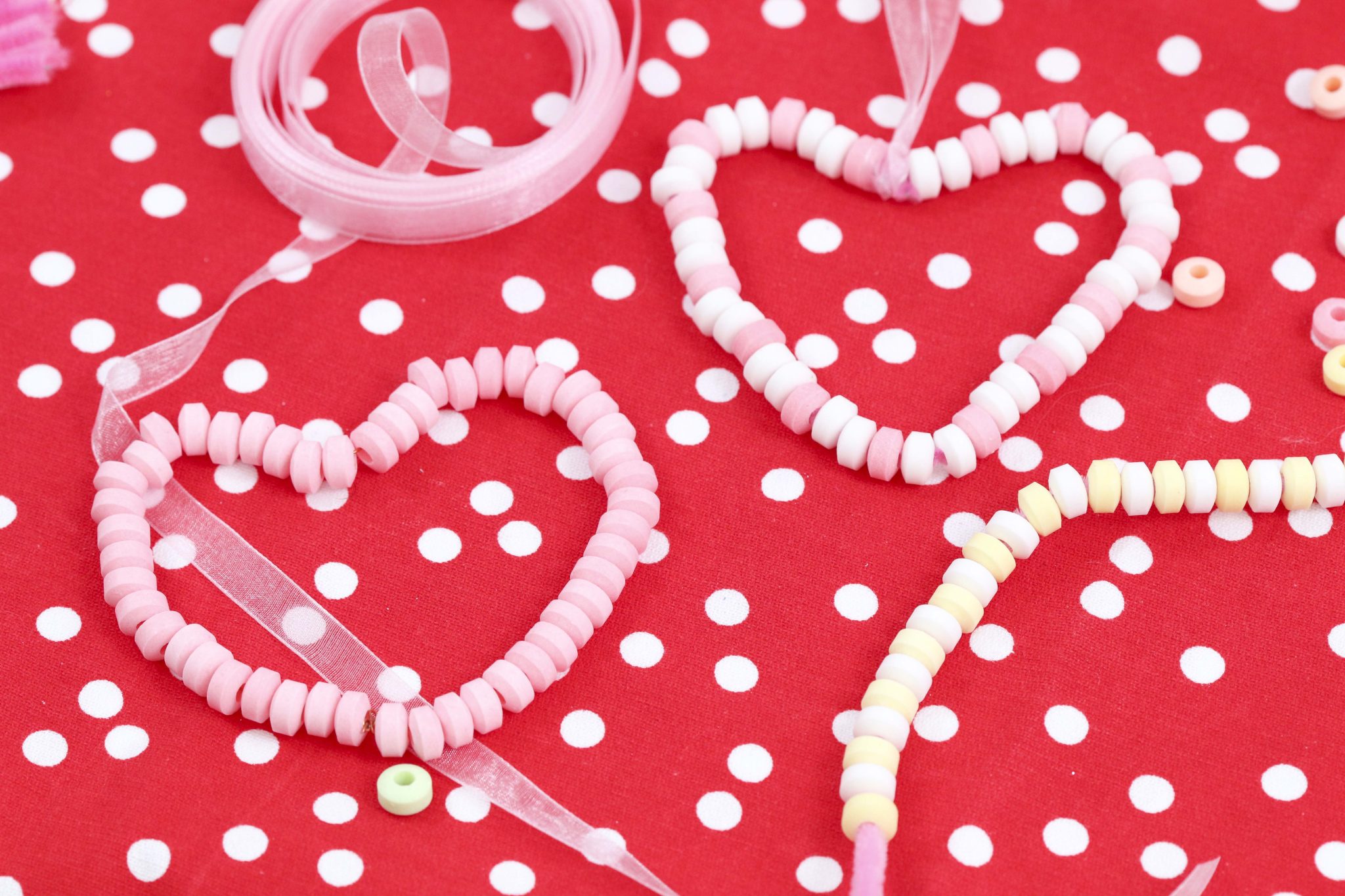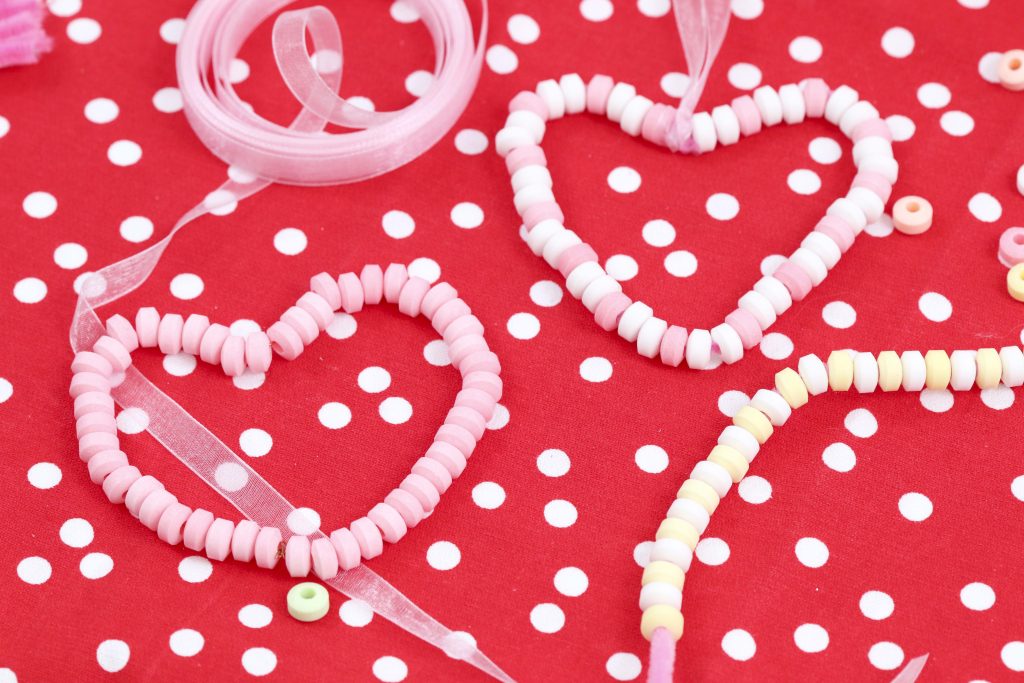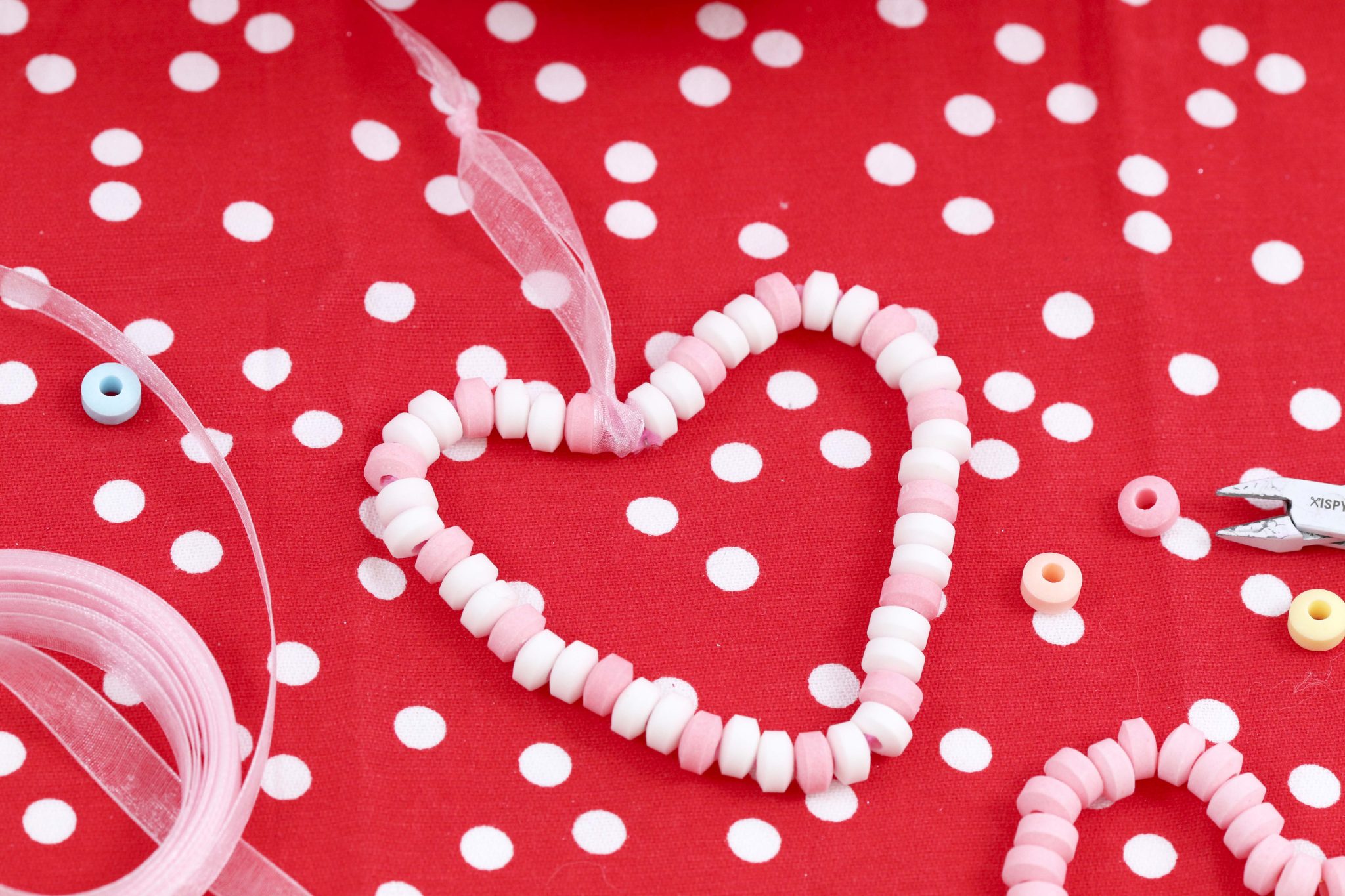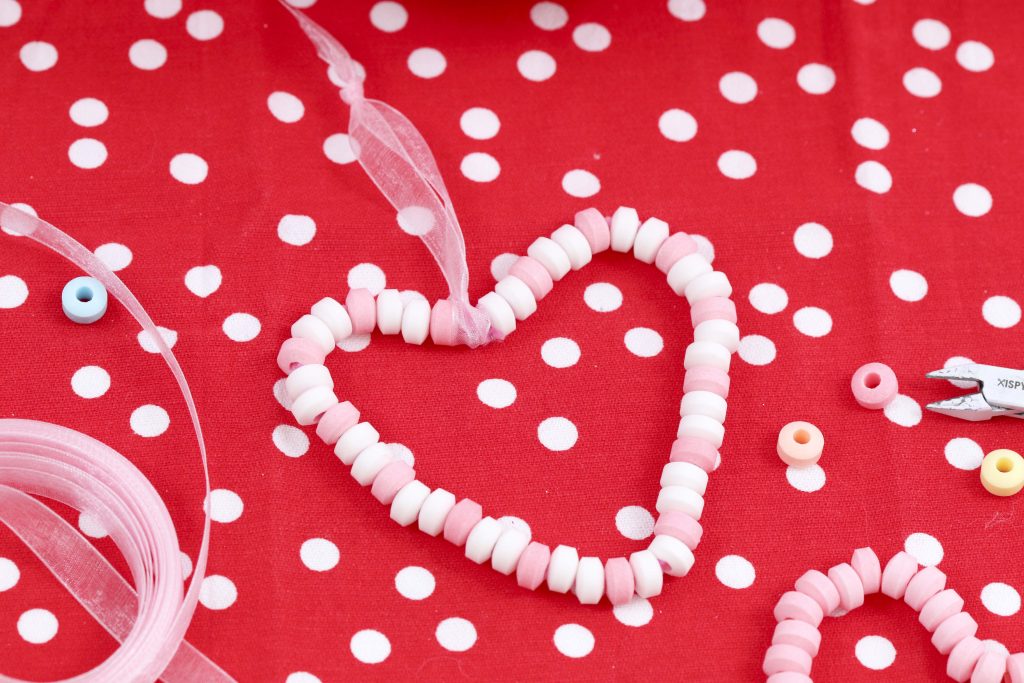 That's it! So easy and so pretty in the end. Now you can hang wherever you choose, or wrap them up and give them as edible gifts! Or just eat them yourself – no judgment here.
Here's a video of the whole process:
View this post on Instagram
Don't forget to check out my Valentine's Day Tree Decorating Party where I set this crafting station up, and for more interactive Valentine's Day fun check out my Valentine's Day Craft Party and Valentine's Day Science Party for kids!
Happy Crafting!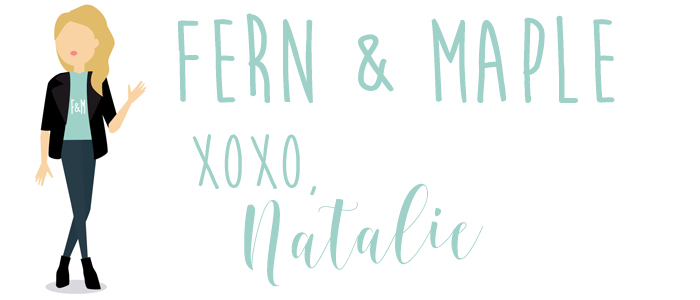 As a blogger, I sometimes receive compensation and/or products in exchange for my styling and crafting services. I also may earn a small commission from any sales that result from affiliate links on this page. As always, all project ideas and any opinions expressed here are my own.  For further information on our disclosure policy please check out our disclosure page. 
PIN FOR LATER: