Remember how, in my last post about the Valentine's Day Craft Party for Kids, I was talking about wanting to celebrate as much as possible to offset some of the challenging times we have been dealing with? Well, I was thinking about it, and one of the things that brings my family joy during the holidays is decorating our Christmas tree. We are always a bit sad to take it down. But who says we can't decorate trees for other holidays too?! So next in my quest to style as many fun Valentine's Day parties as possible – a Valentine's Day Tree Decorating Party!
Backdrop and Valentine's Tree
First, I hung a pink and red fringe backdrop from Glam Fete. In front of that, I hung a pink XOXO heart garland. Then, I created two bunches of balloons in a variety of pinks, and added some red heart balloons to each. I placed these on the ground on either side of the pretty pink tree I got from Treetopia (or here is a similar Amazon option). Doesn't it kind of look like some pink fluffy snow around the tree?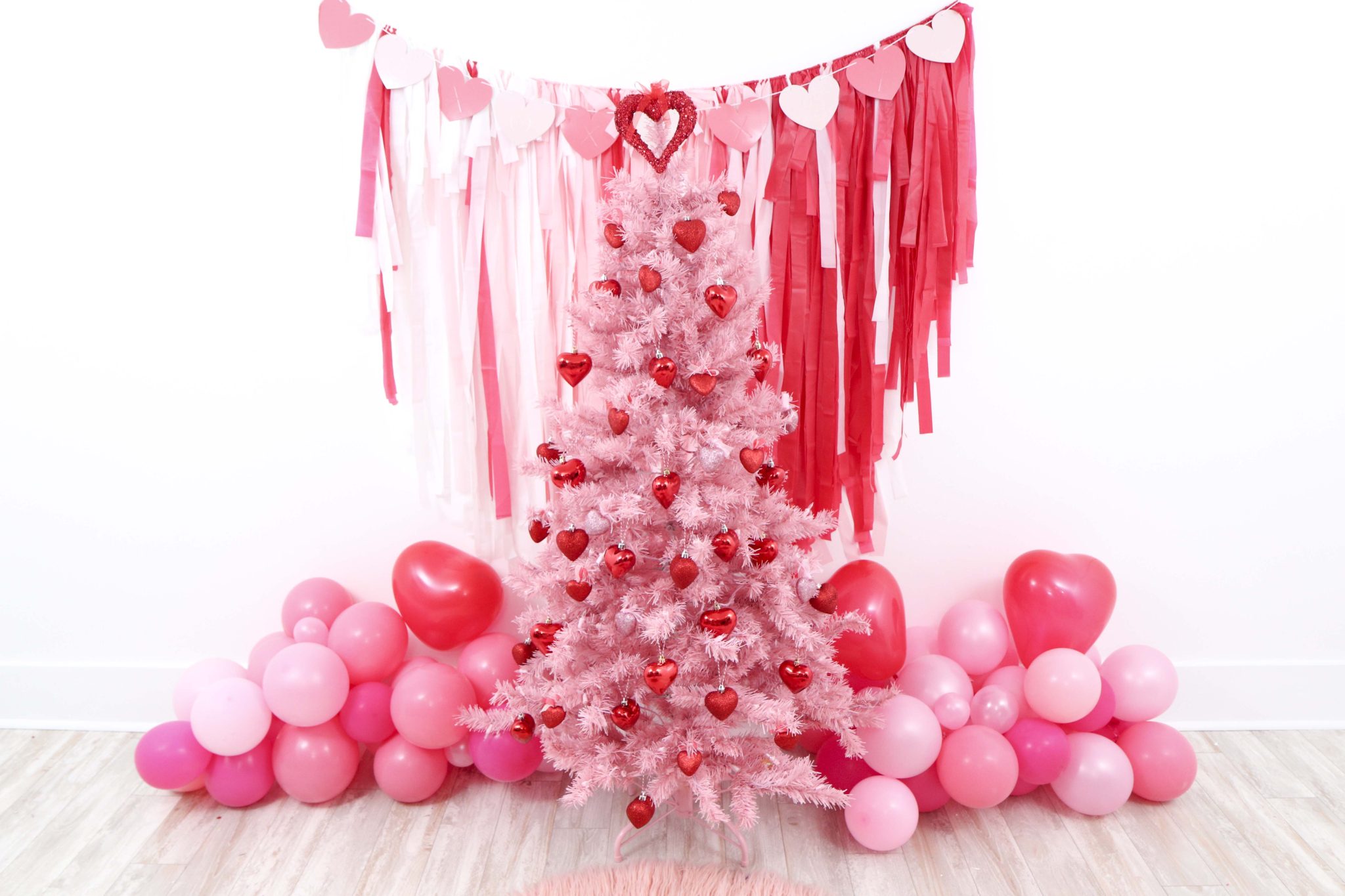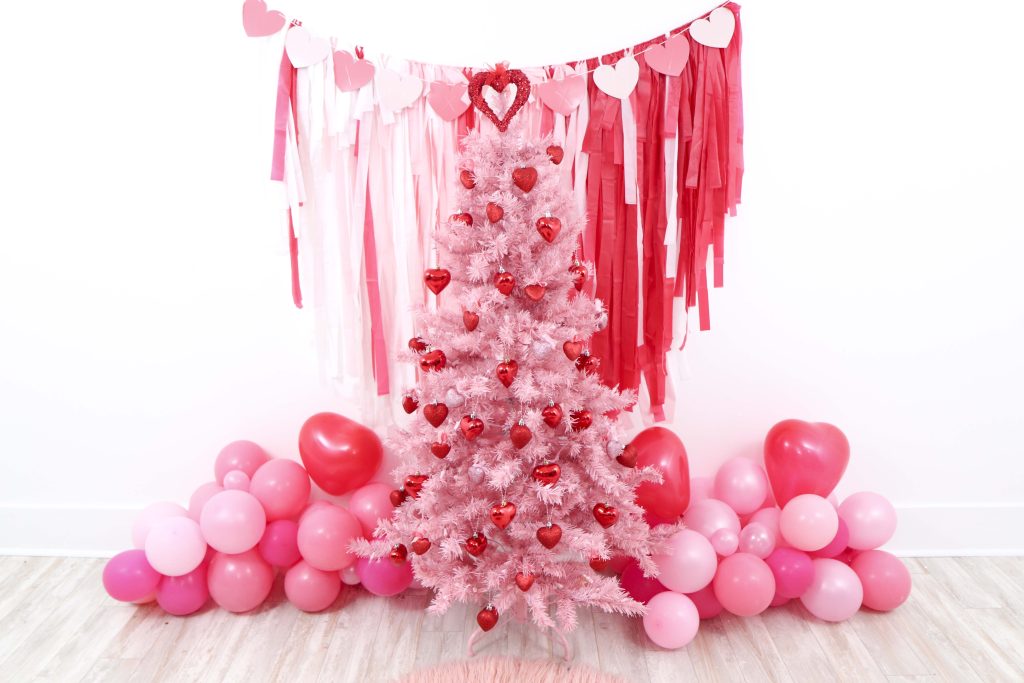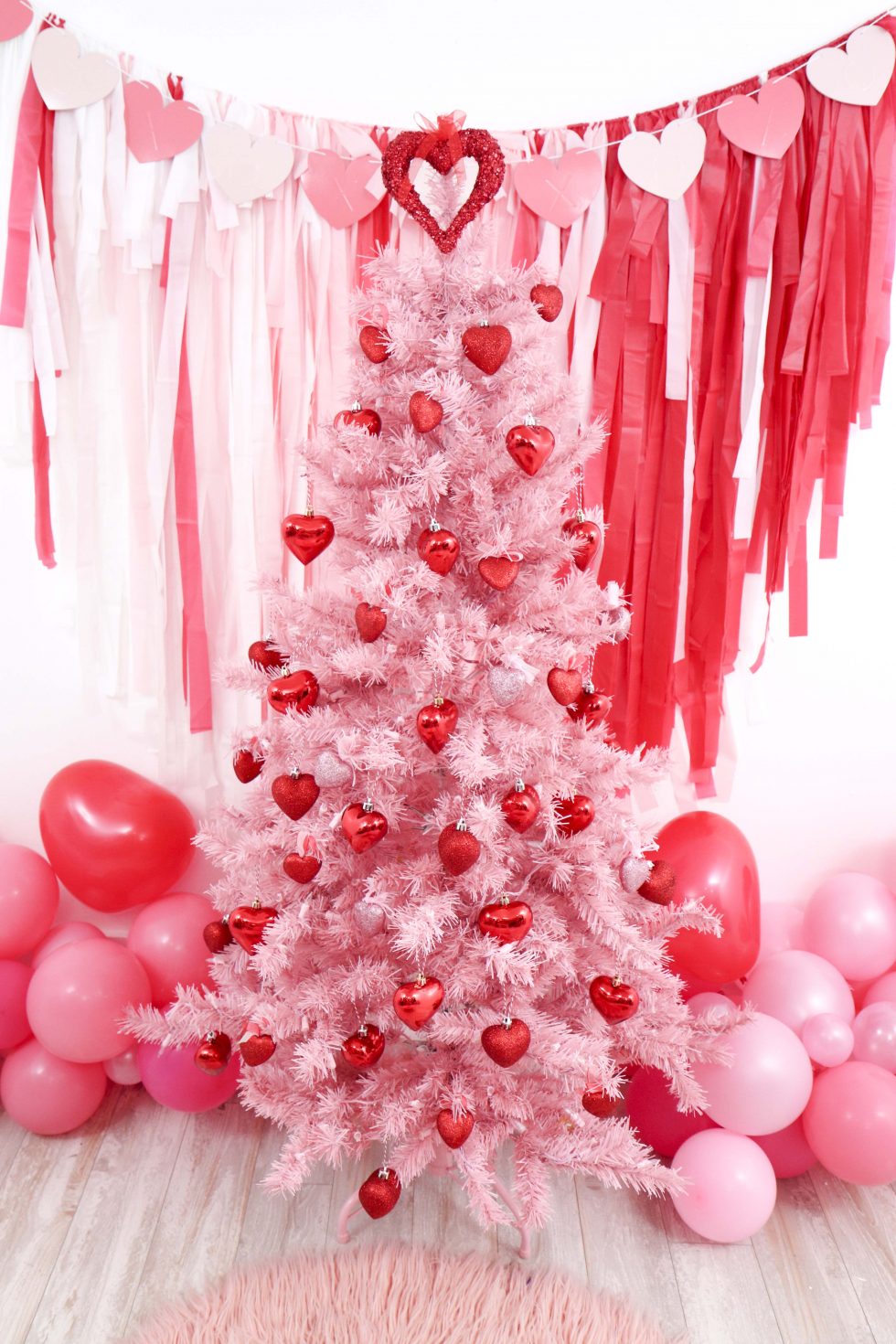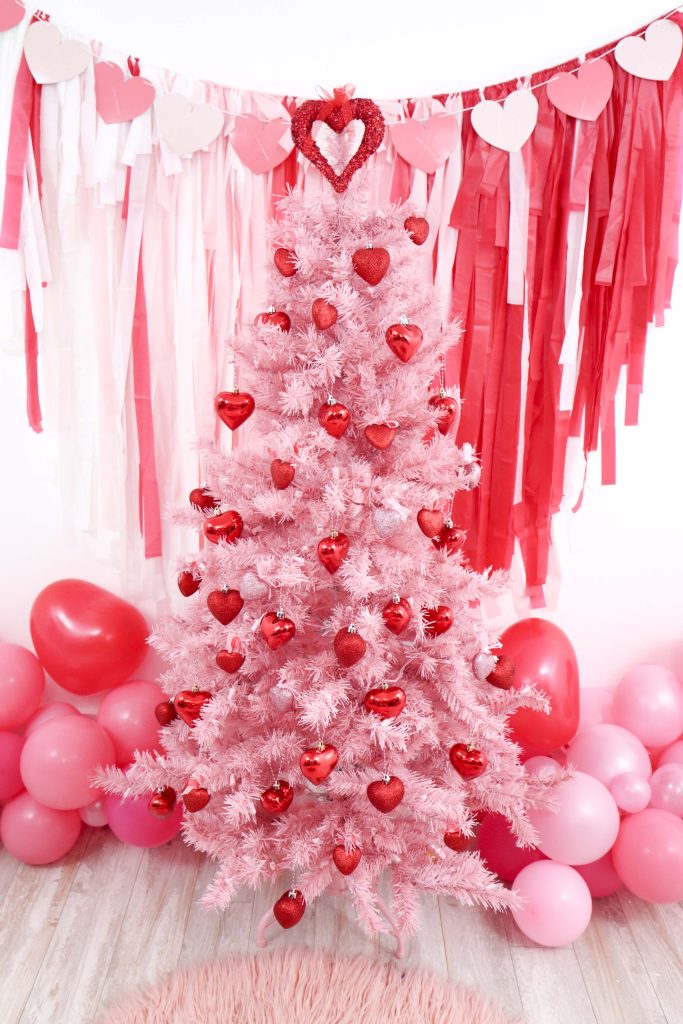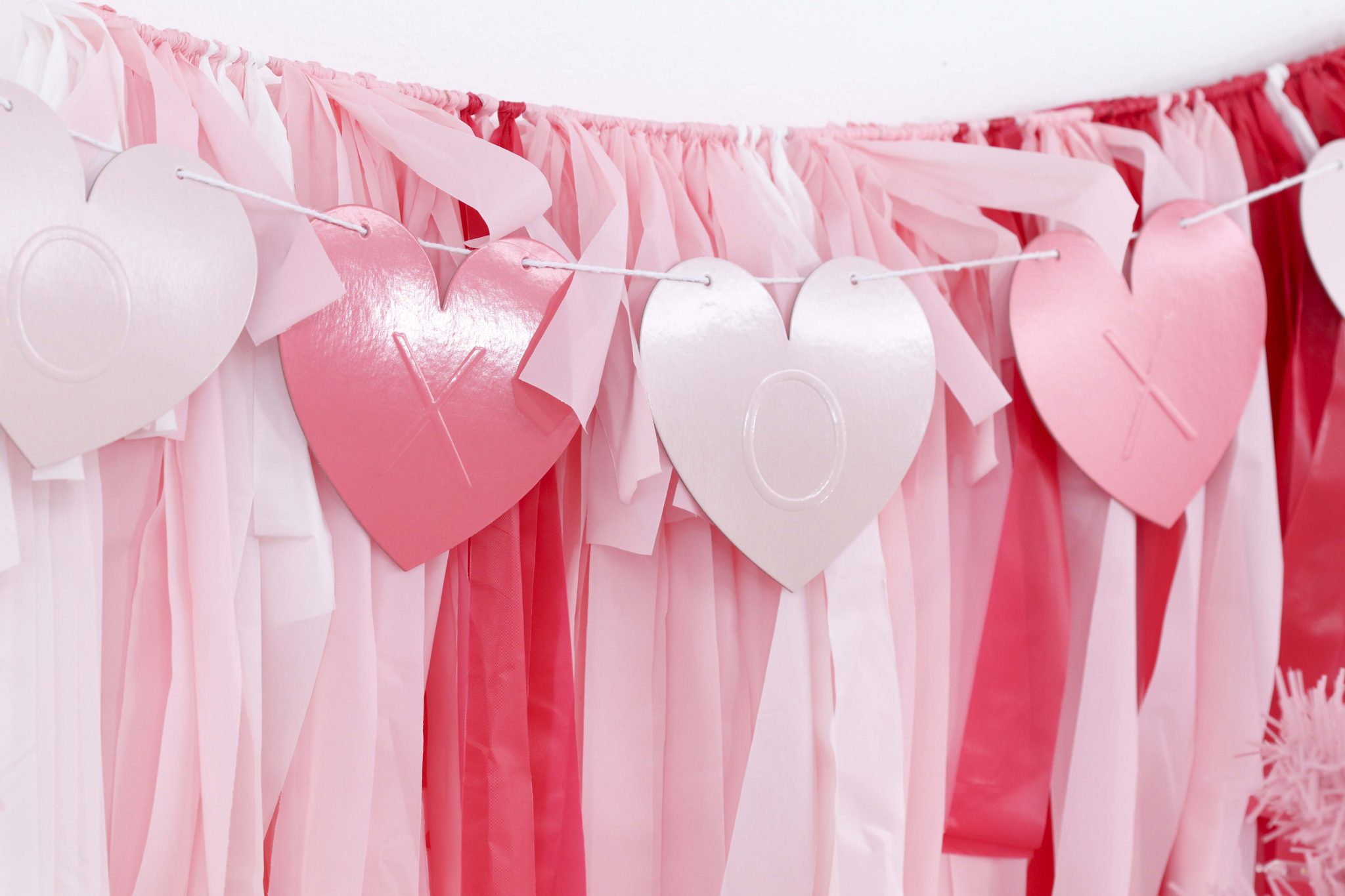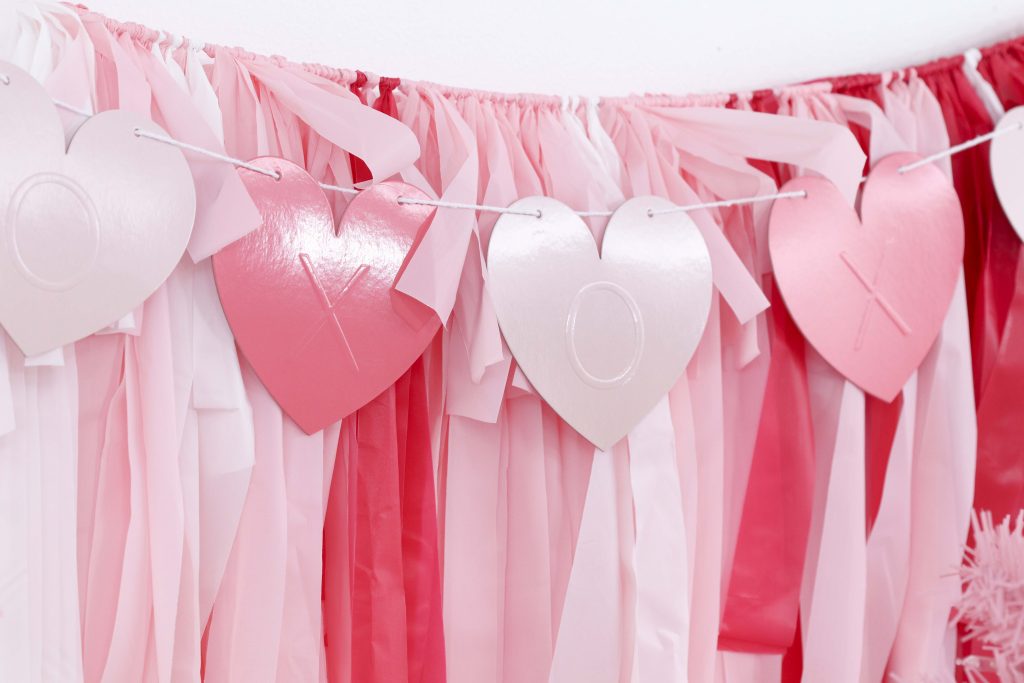 On the tree, I hung metallic and glittery red heart ornaments with ribbon and red and white bakers twine. I topped the tree with a red sequined heart topper.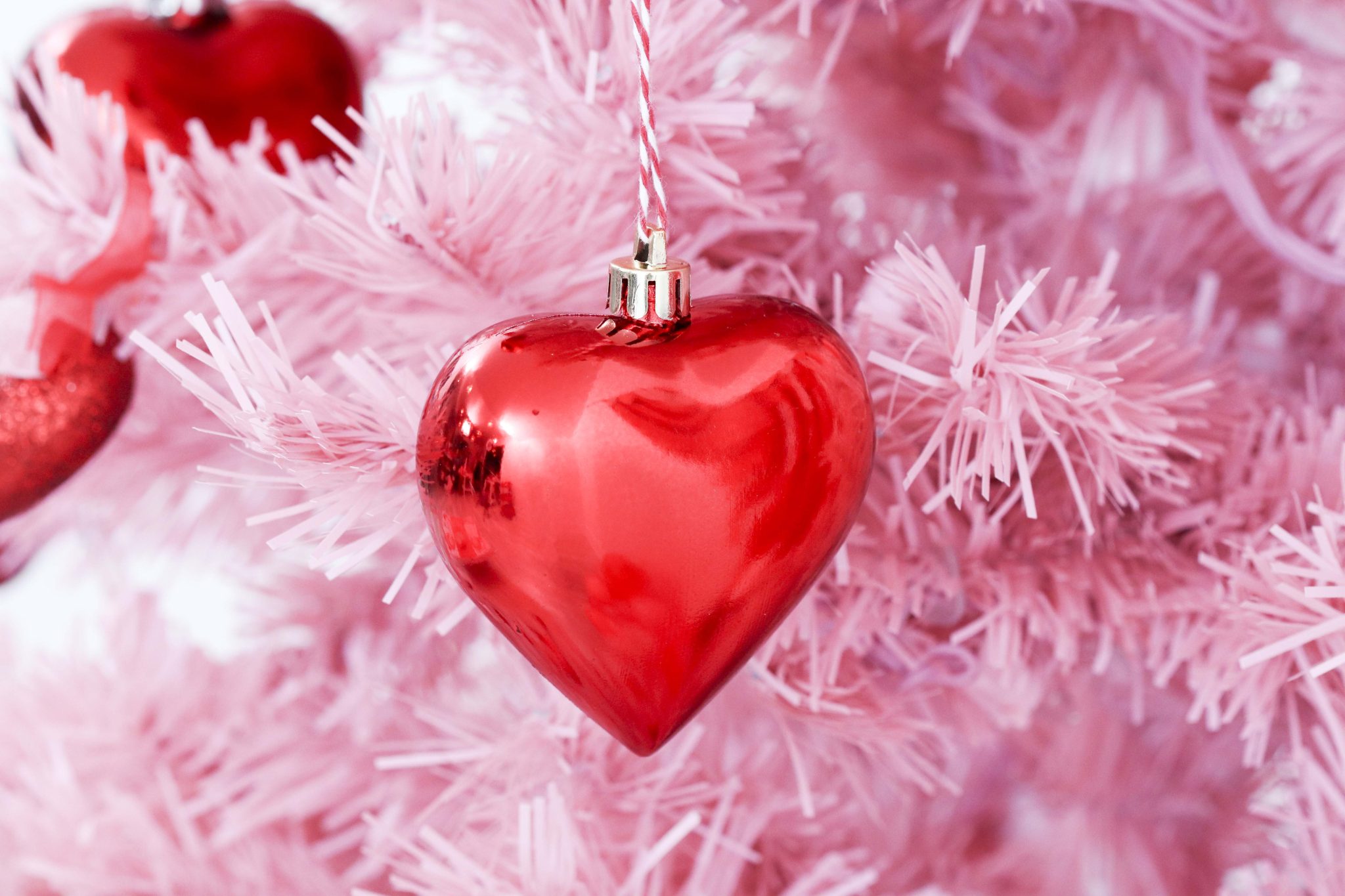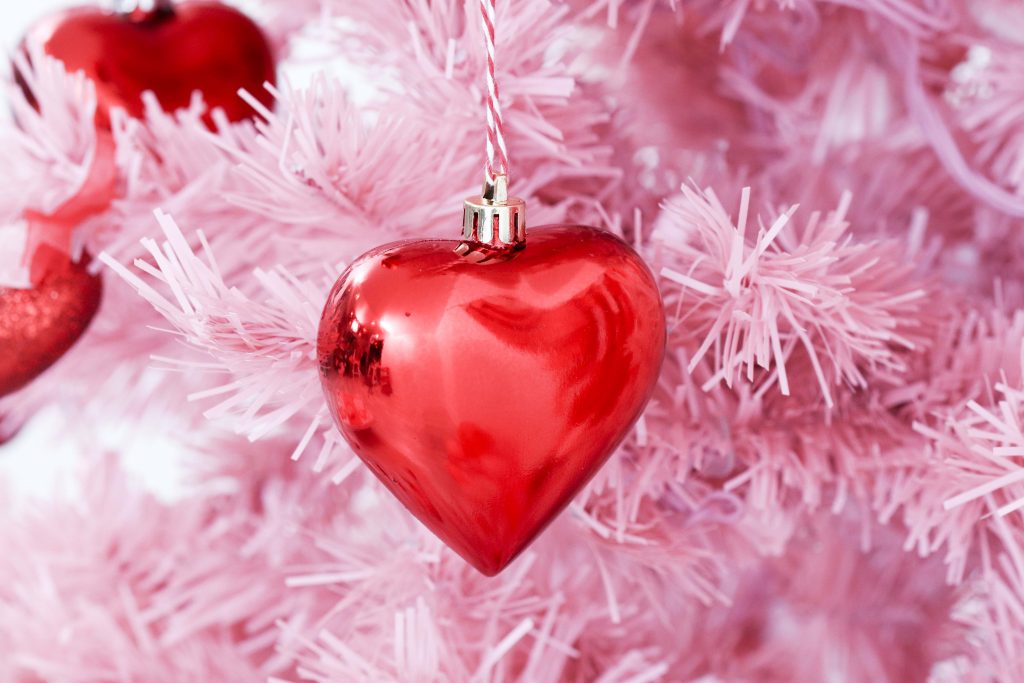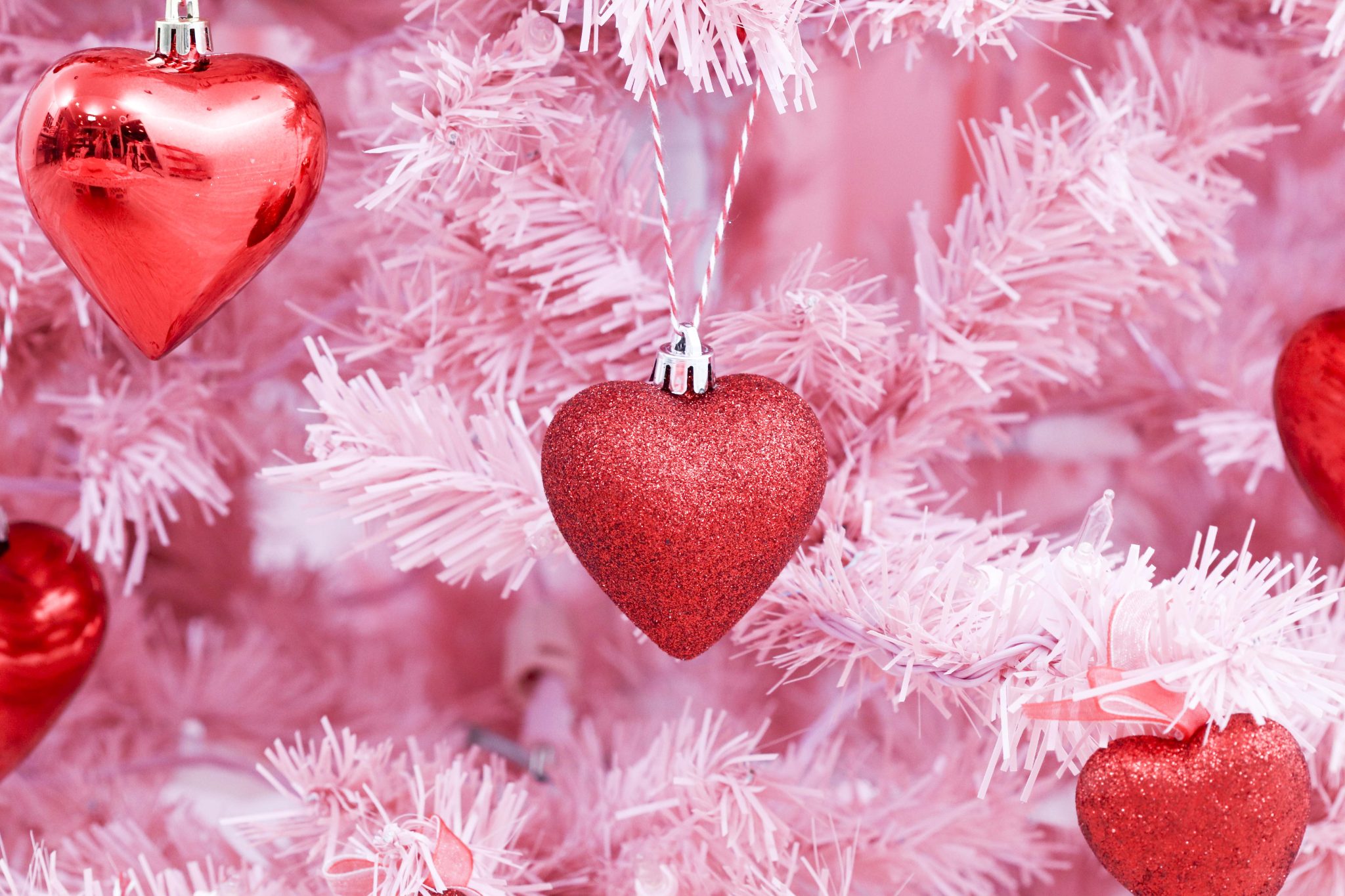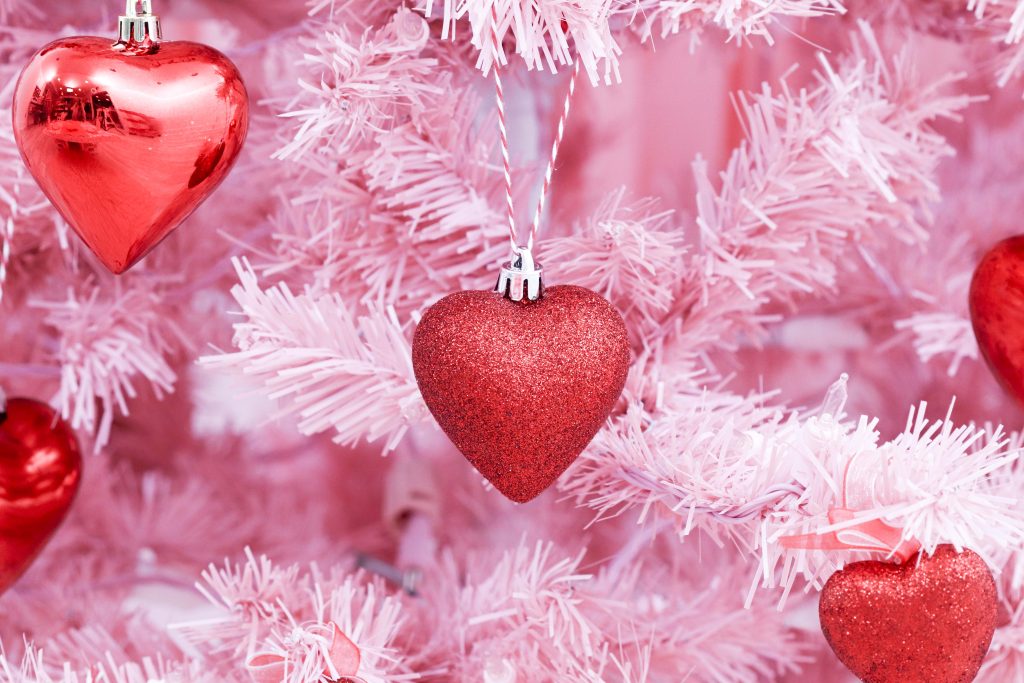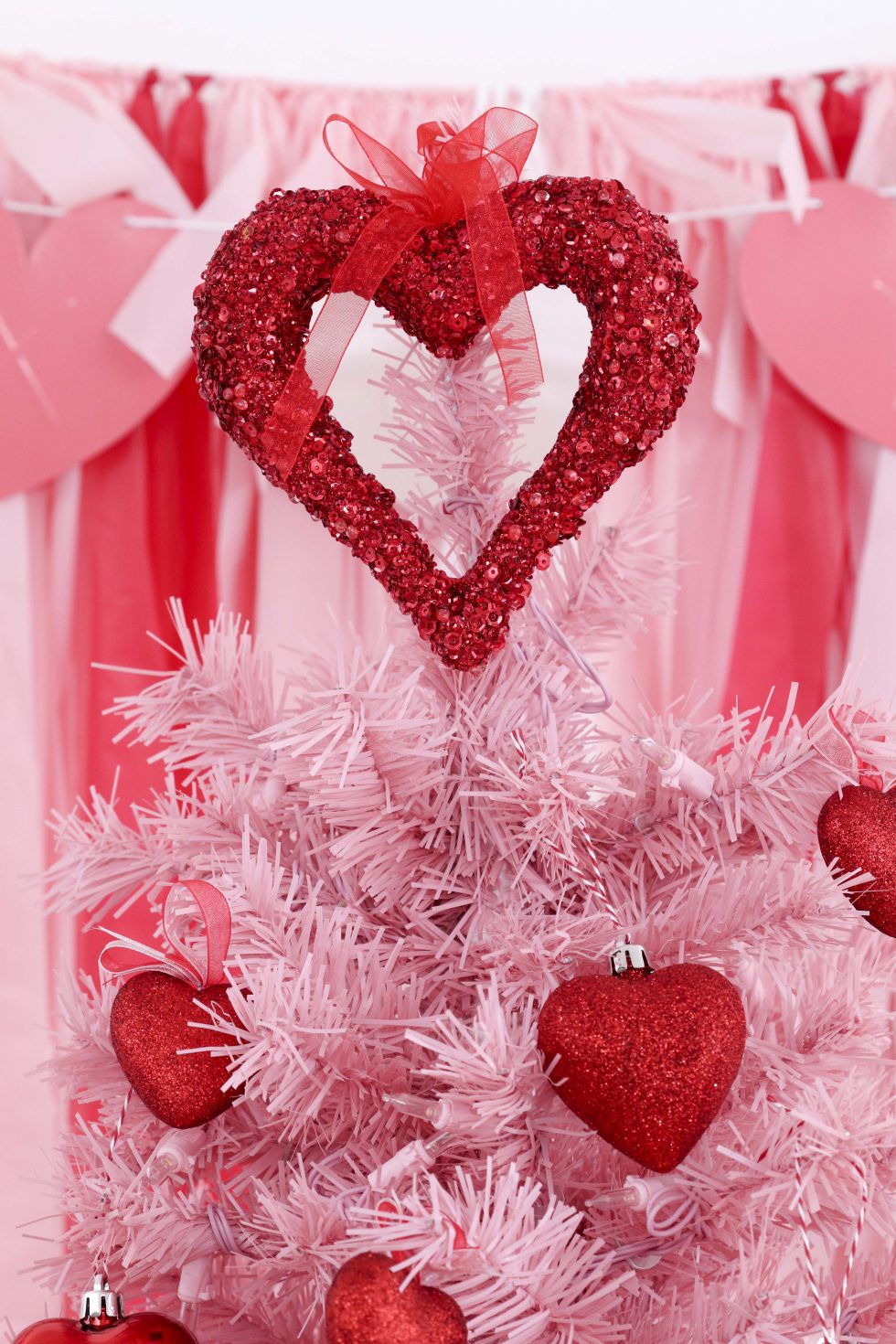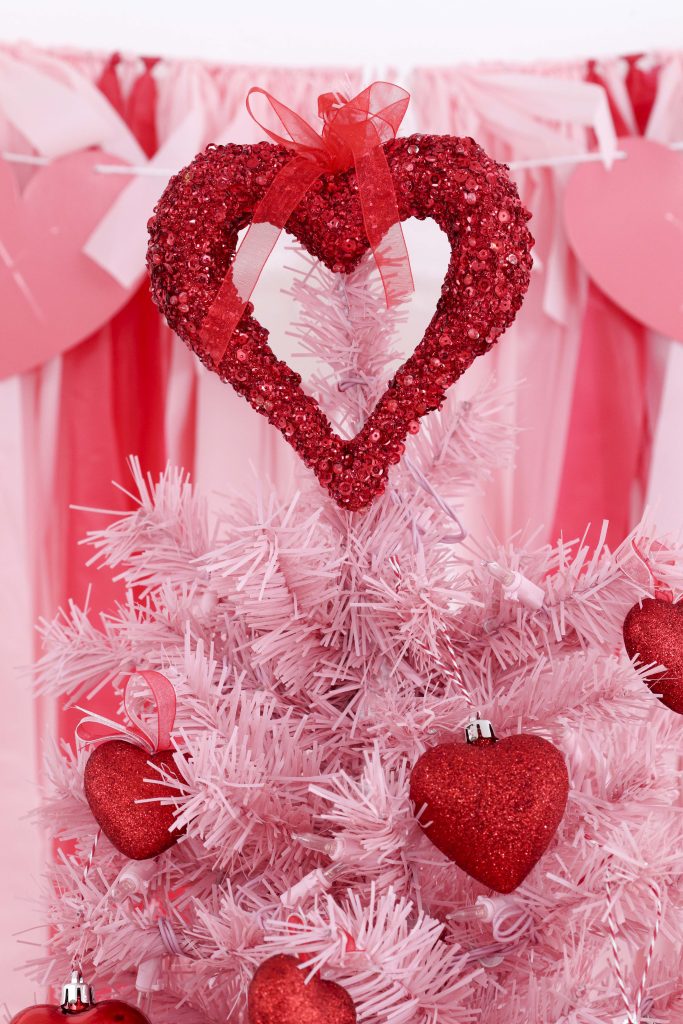 DIY Candy Heart Ornament Station
While decorating the tree with pre-made ornaments is a ton of fun in itself, I also wanted to include an even more interactive crafty component to this party. I was totally inspired by some candy necklace candy canes I saw during the holidays from Handmade Charlotte and Fete Gazette – so I decided to tweak that idea for Valentine's Day Candy Heart Ornaments! This is such a fun craft for kids and adults alike – and bonus: they're edible!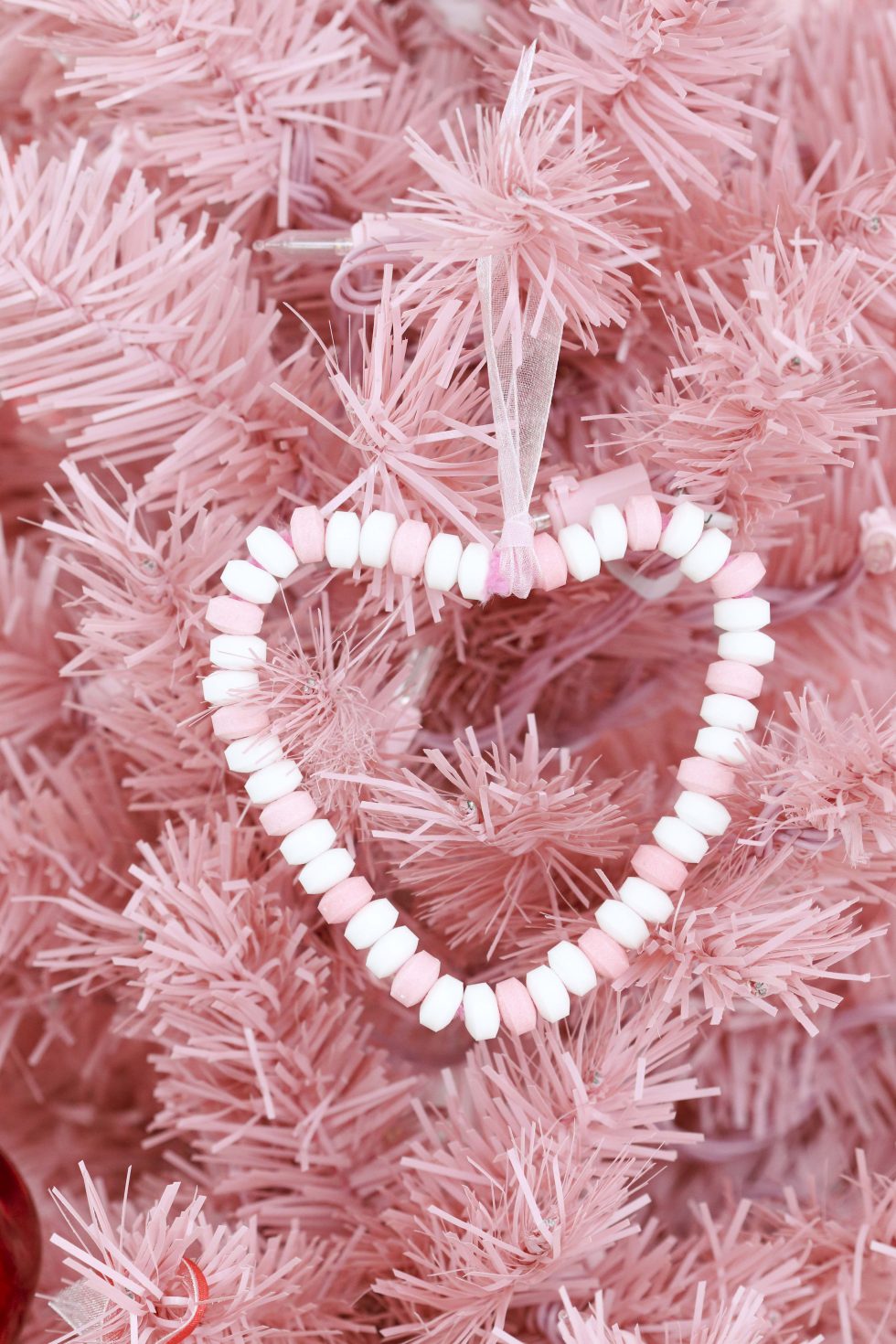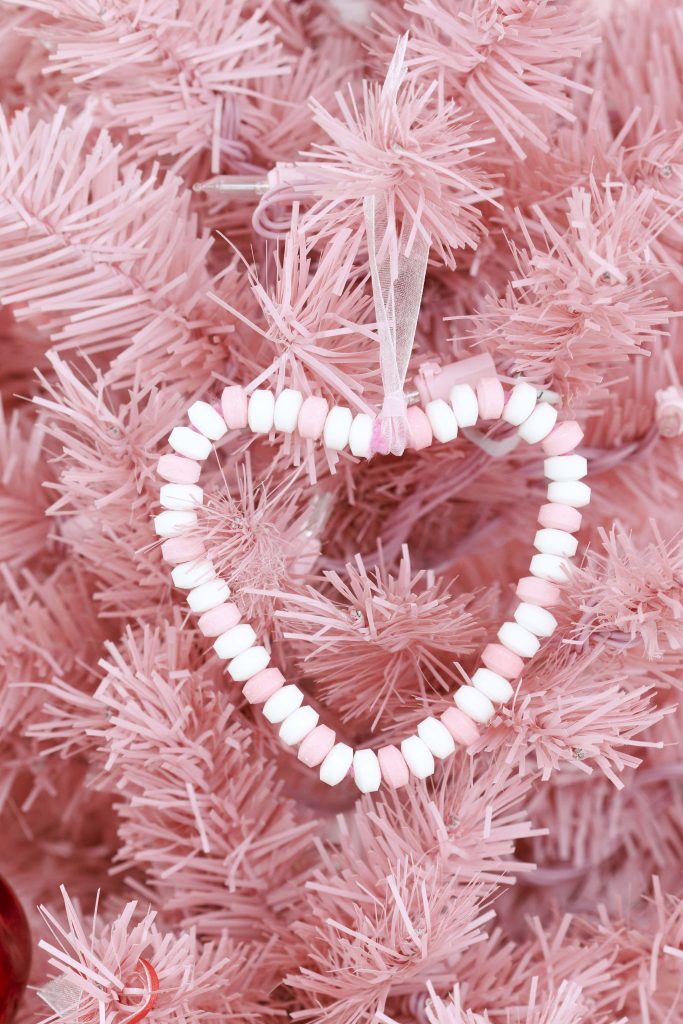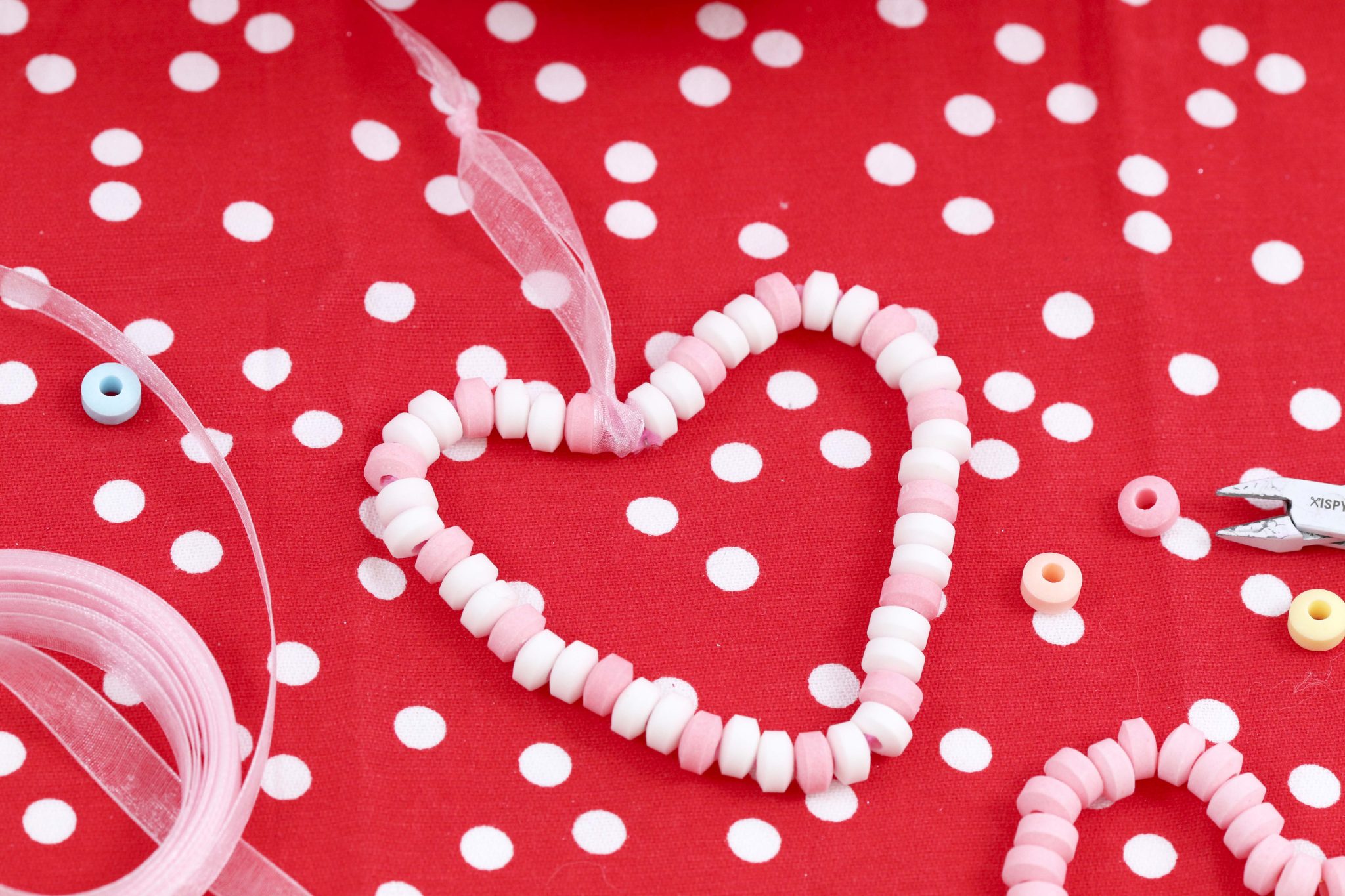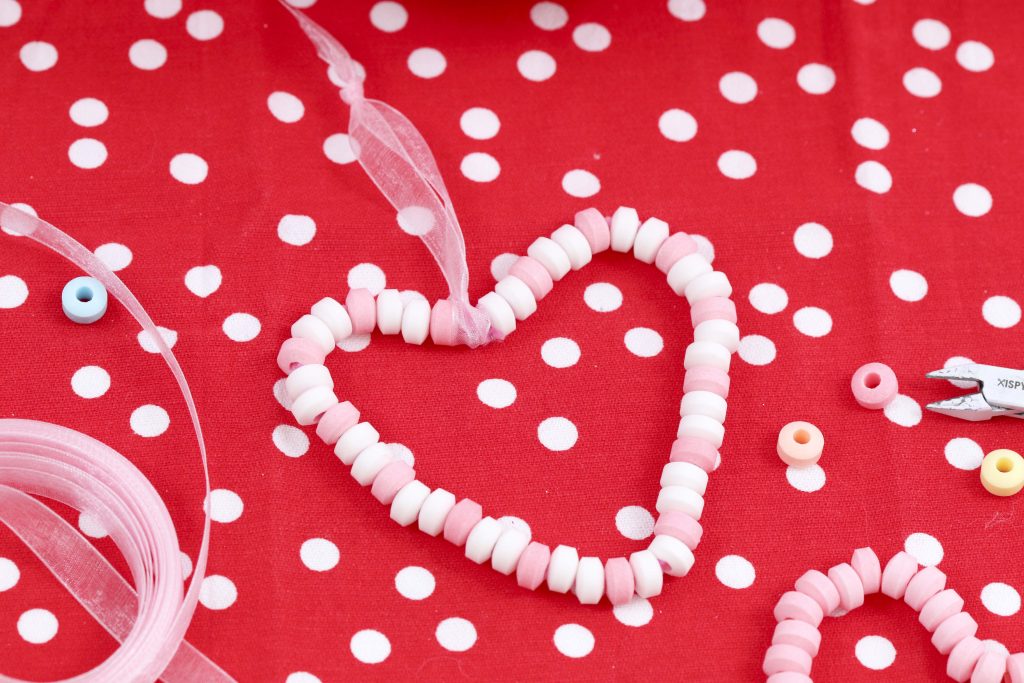 I set up a station to make these candy heart ornaments on a low table over upside down milk crates – perfect for kids. I created comfy seating on the floor with fuzzy pink rugs and pillows. The table was covered with a white and red heart tablecloth, with some red and white polka dotted fabric in the center for some contrast.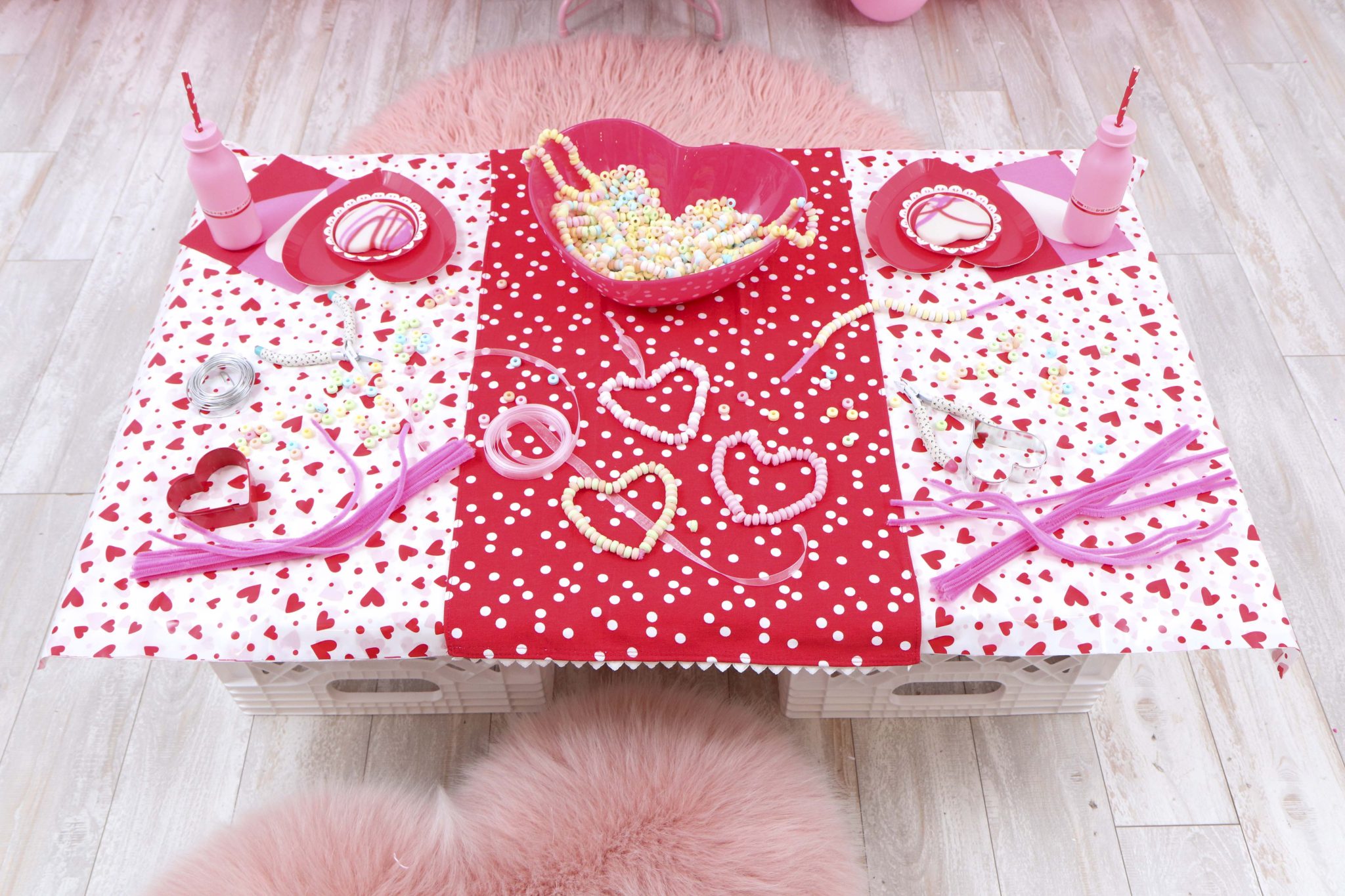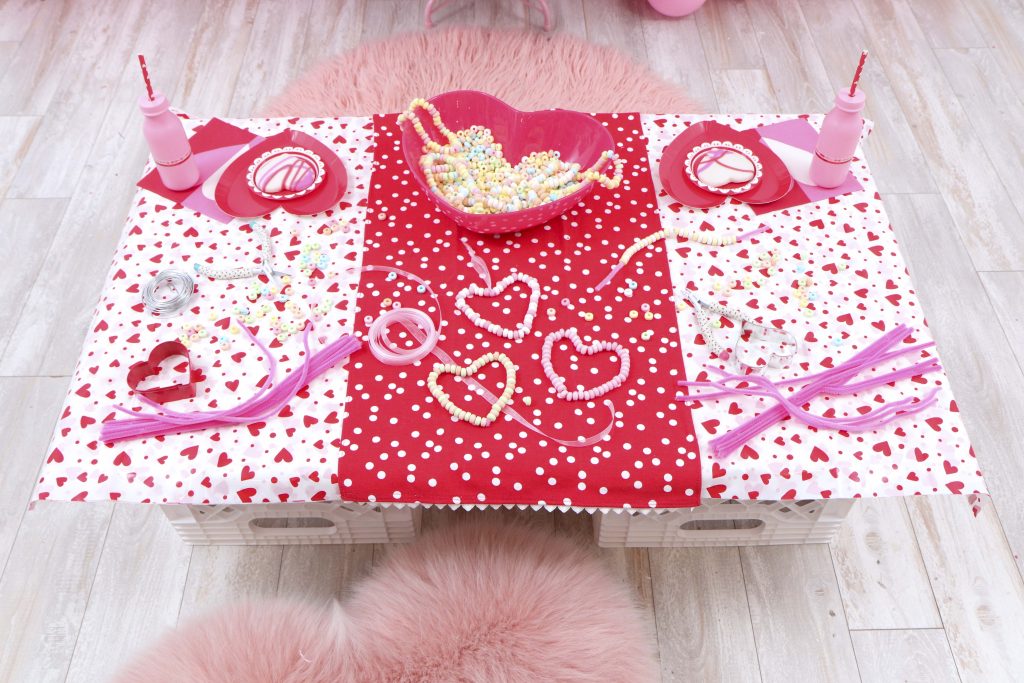 Then, I placed a heart bowl of candy in the center, and all of the supplies to create the candy ornaments on one side of the table. You can get all of the instructions for creating the DIY Candy Heart Ornaments HERE.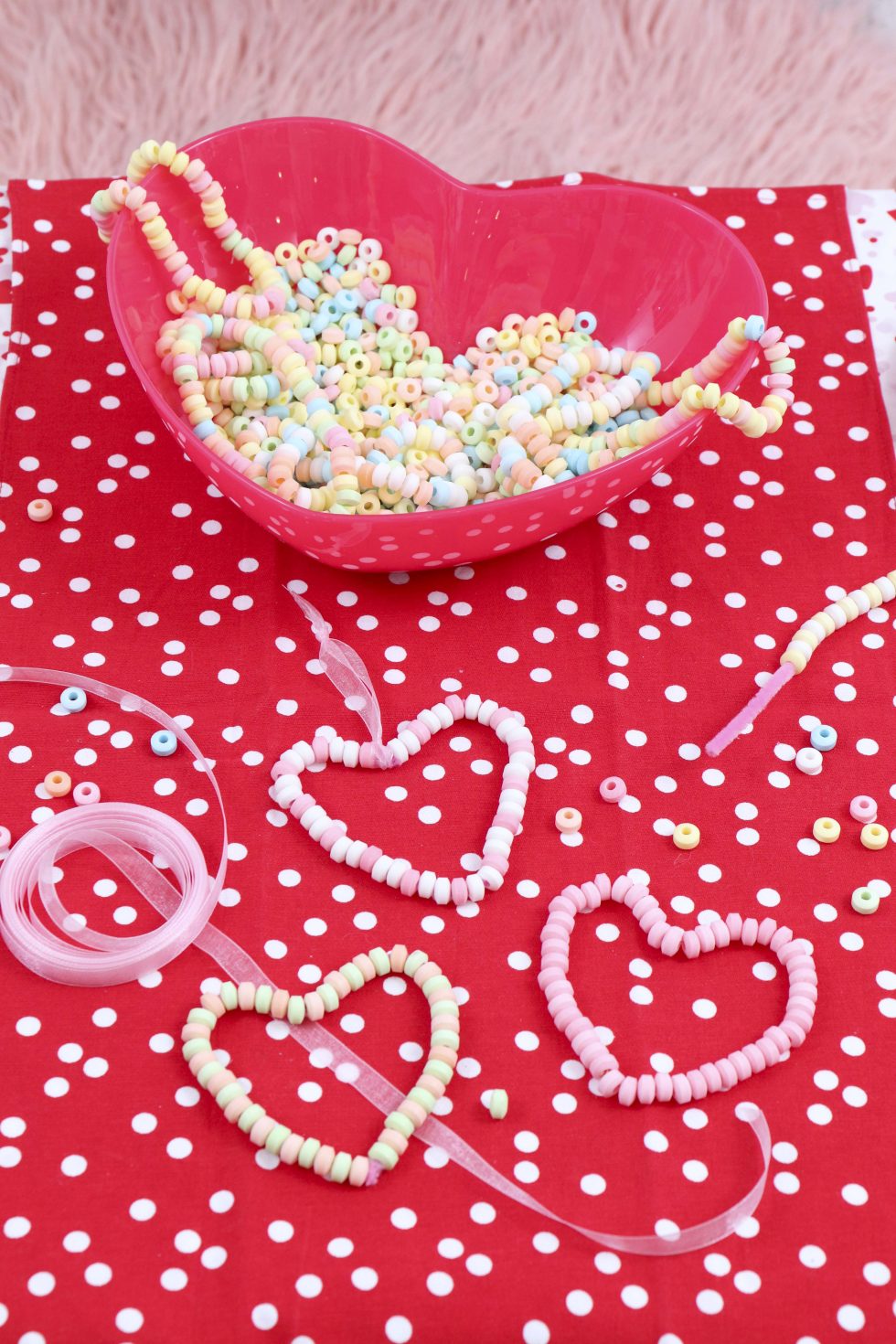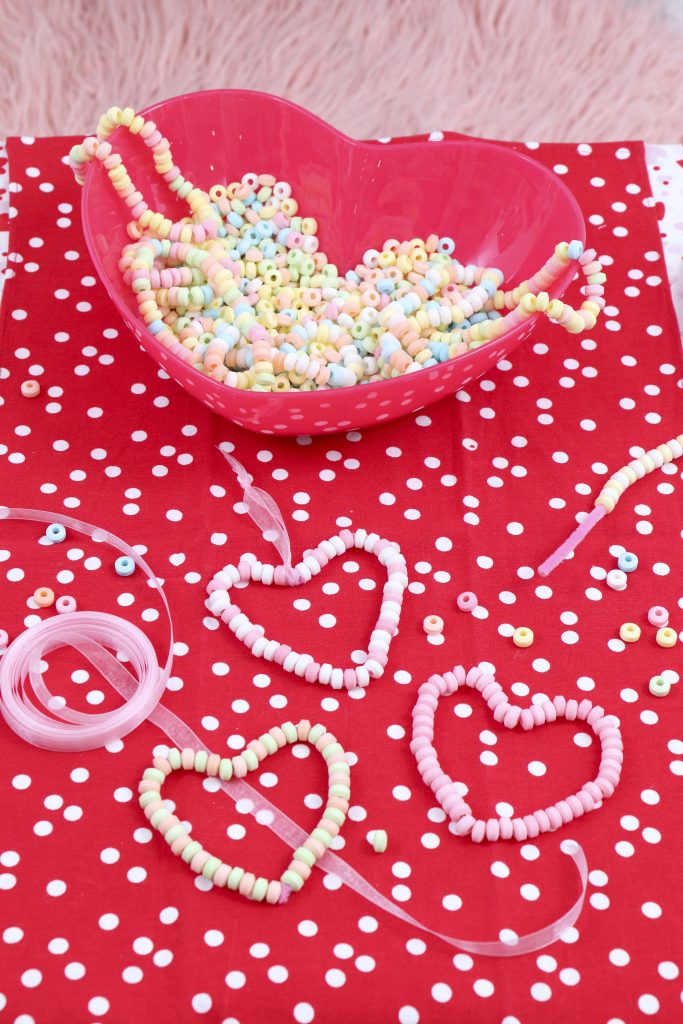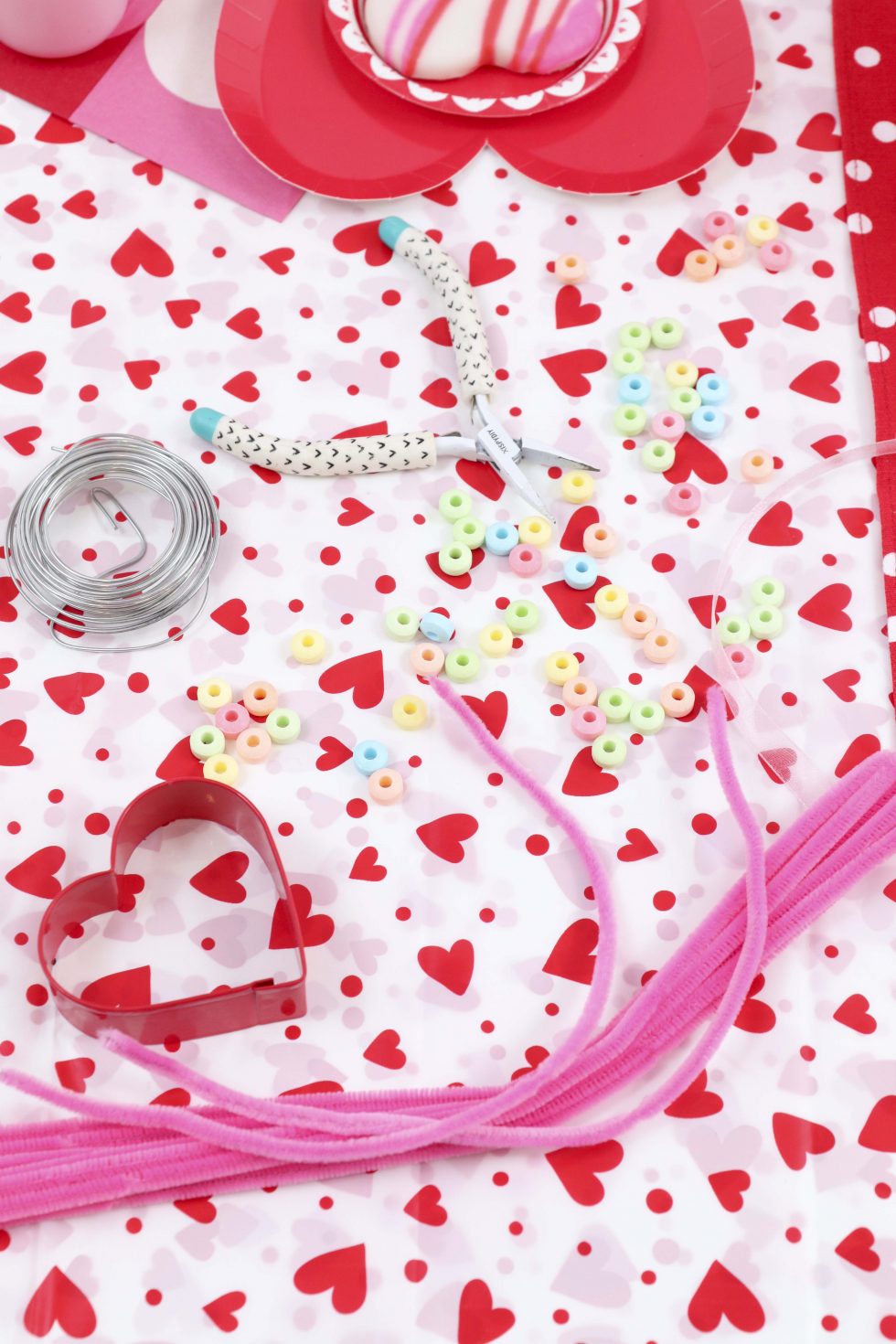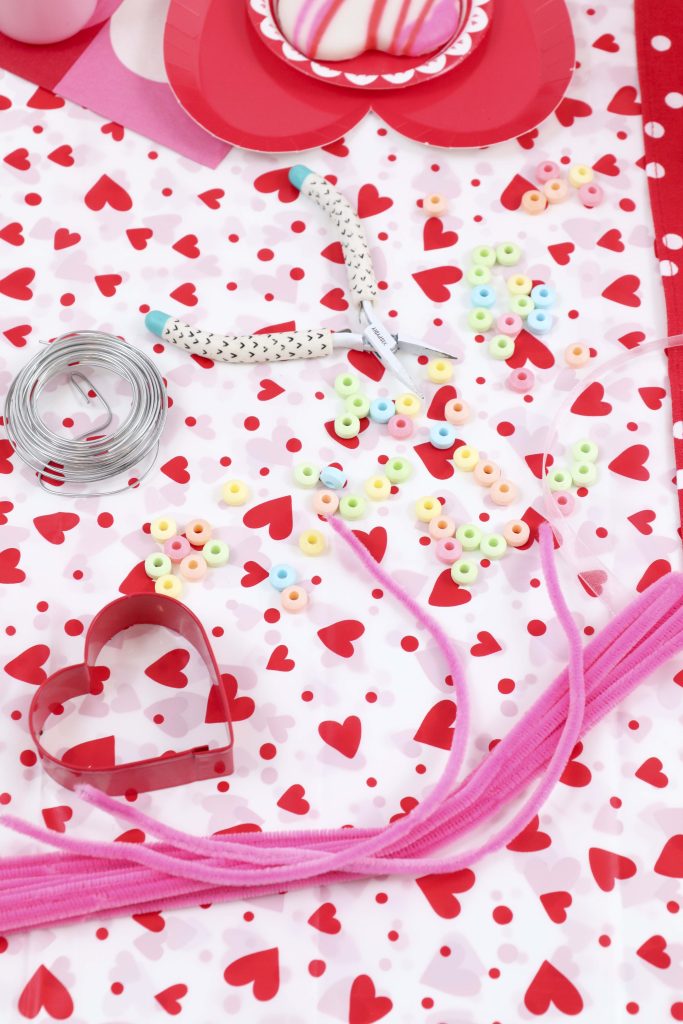 On the other side of the table, I set up a couple of place settings for food and desserts during the decorating. I set out cute color blocked heart napkins, red heart-shaped paper plates, and round red and white doily-inspired dessert plates with heart cookies on them. The place settings were completed with cute pink drink bottles decorated with Valentine's day washi tape, and with red heart paper straws.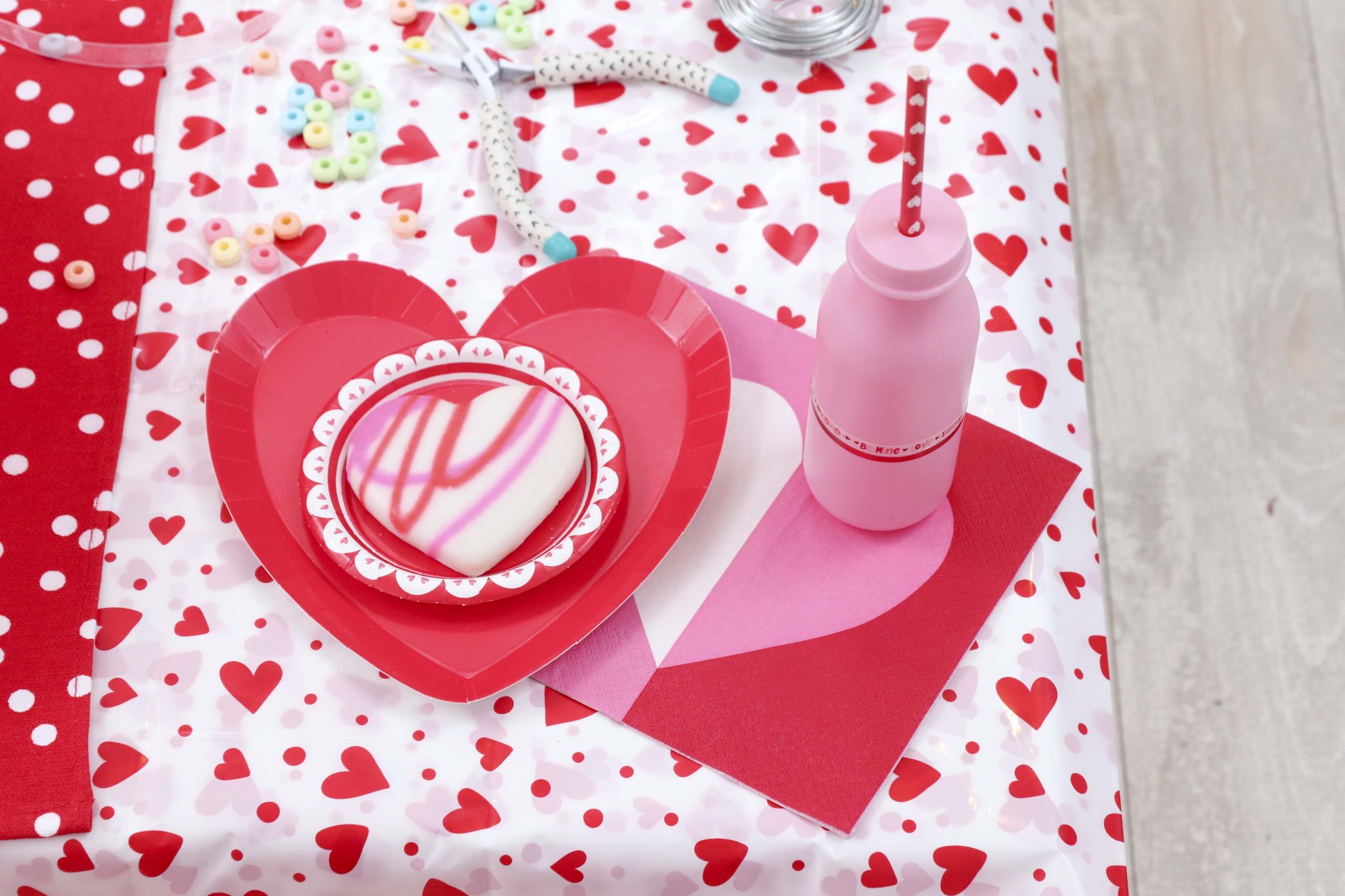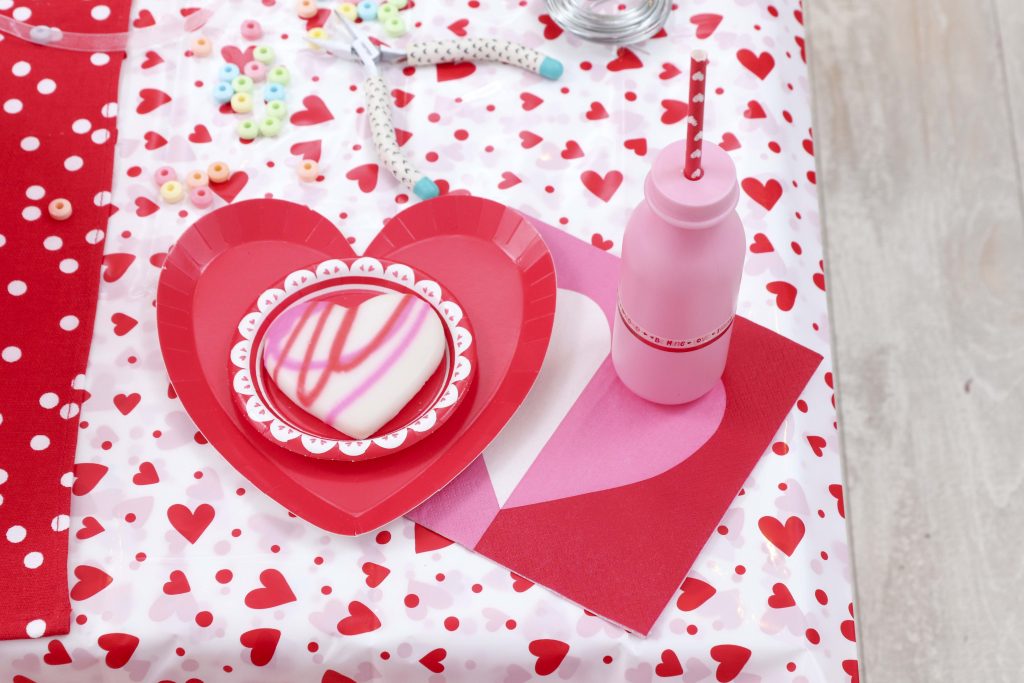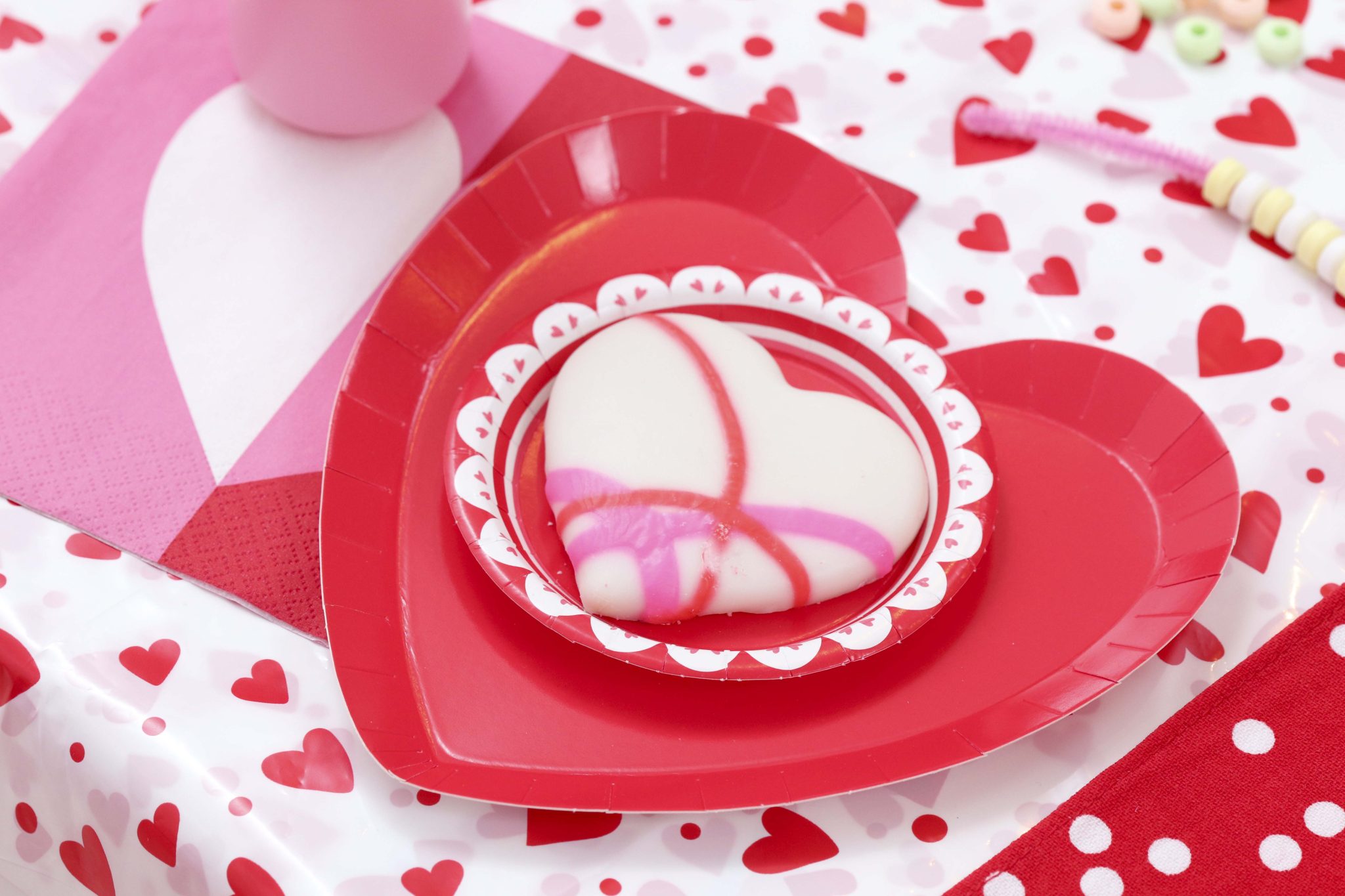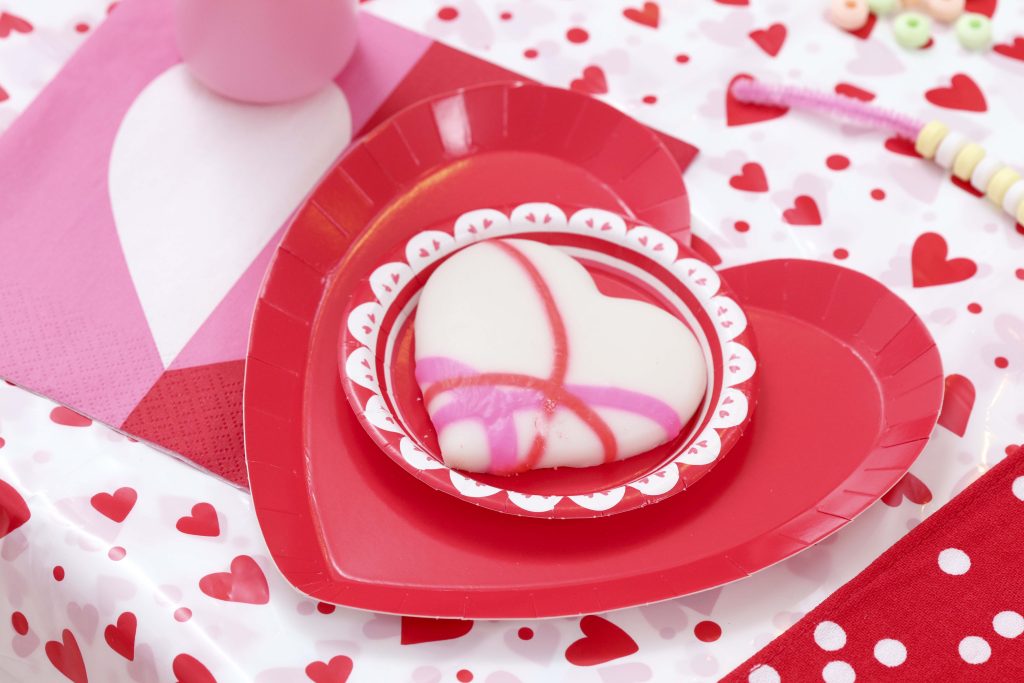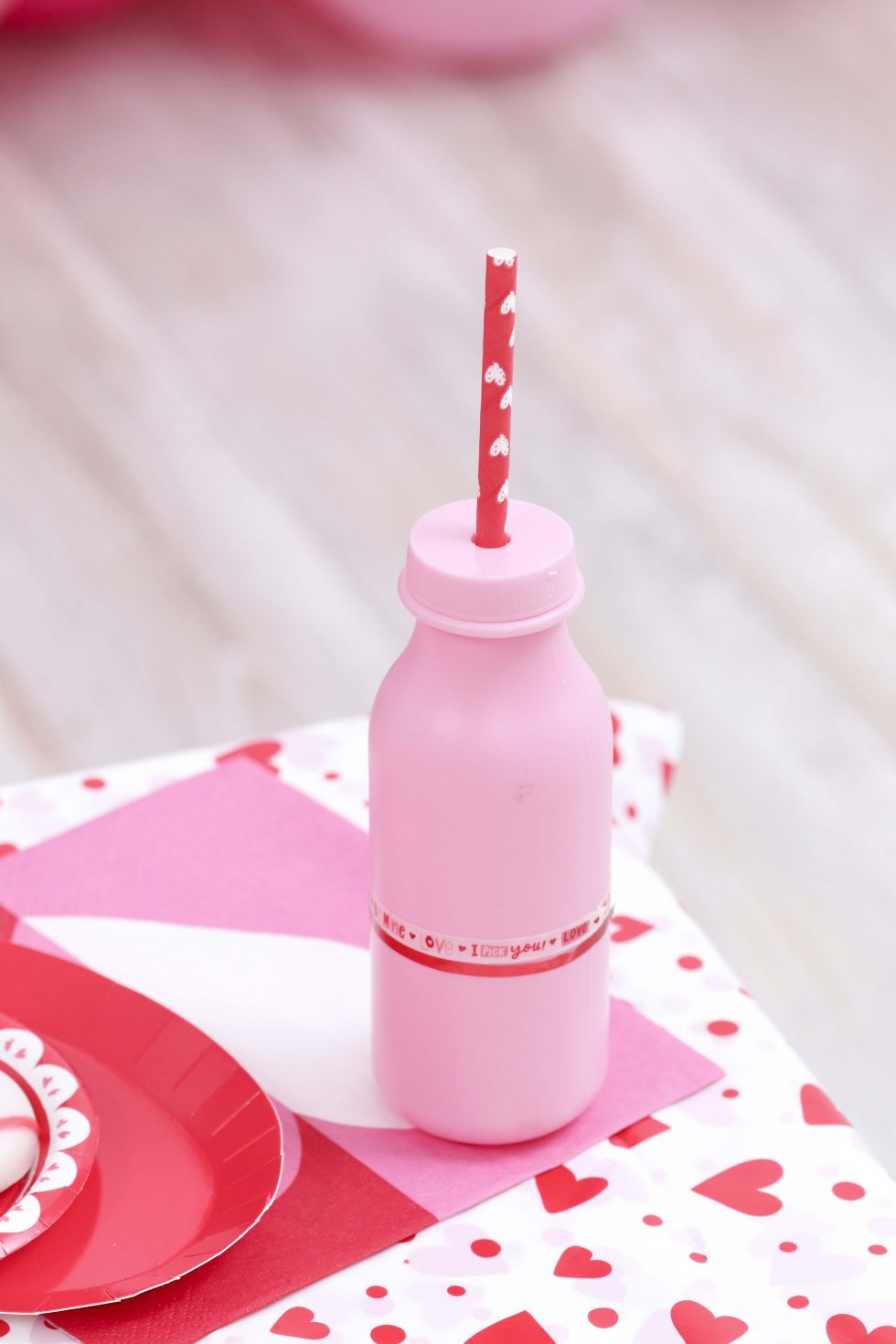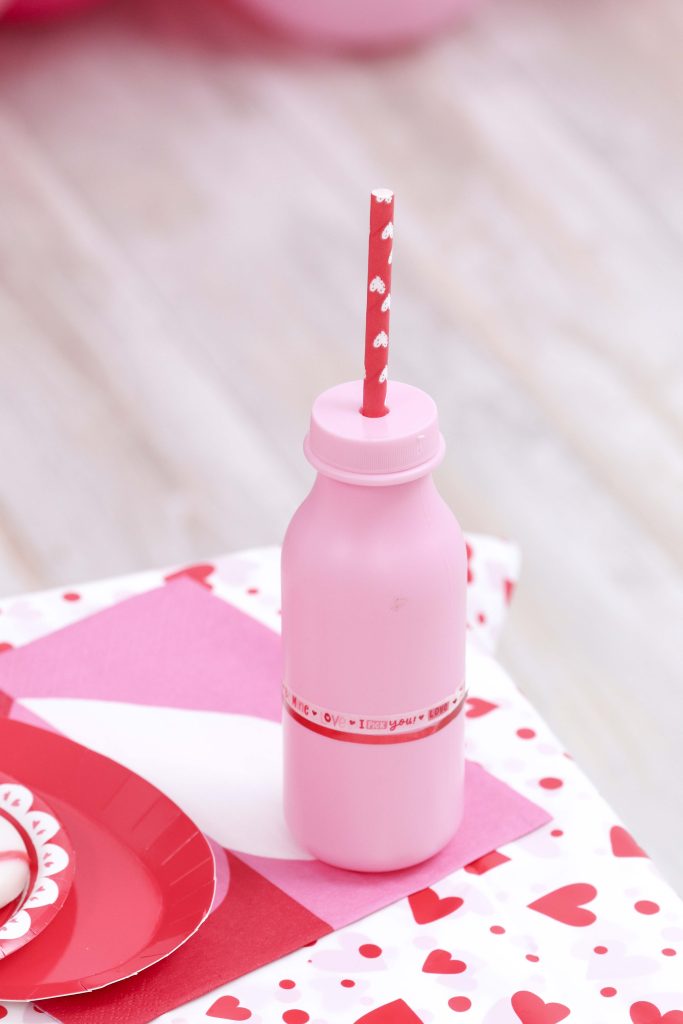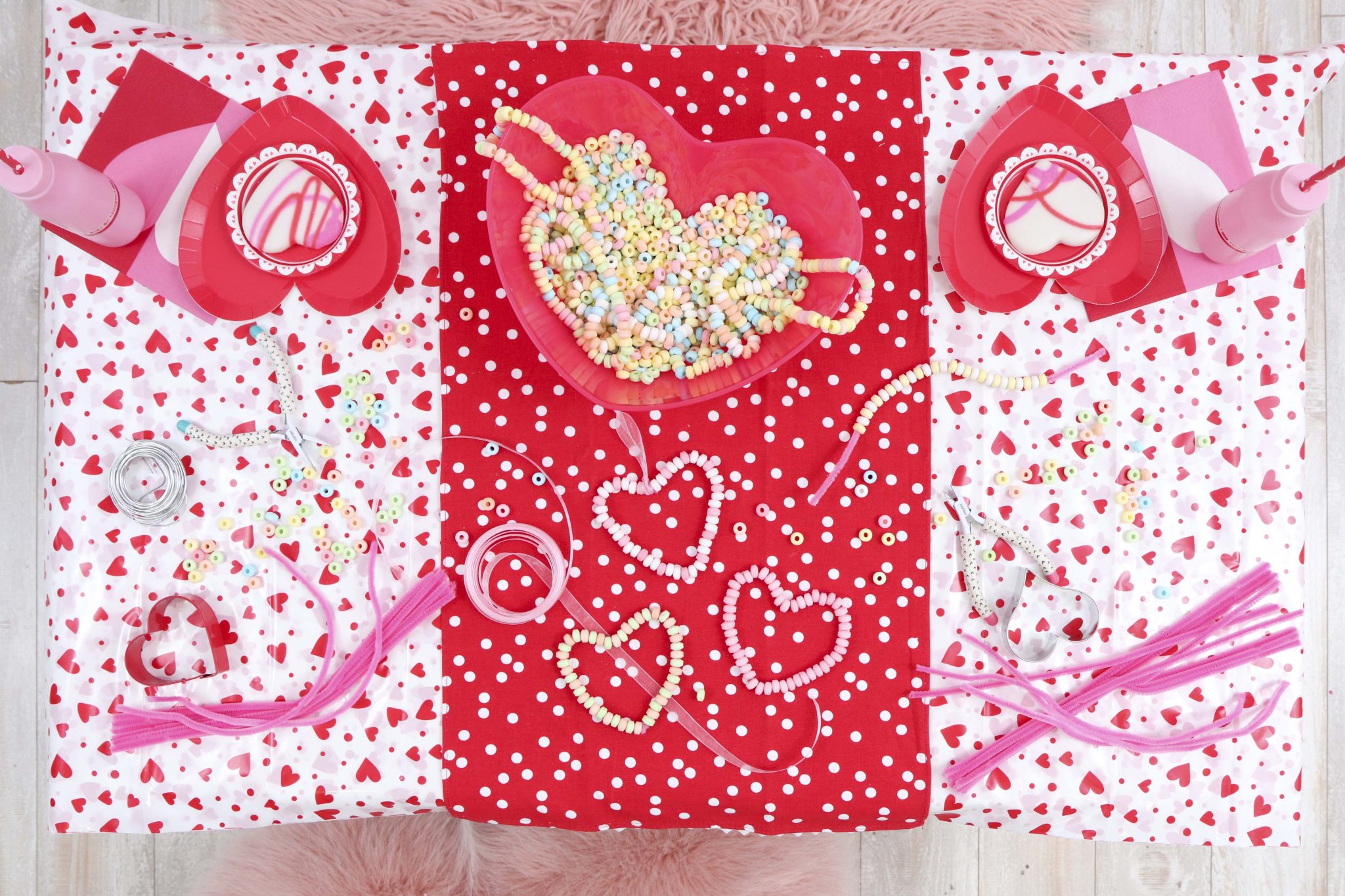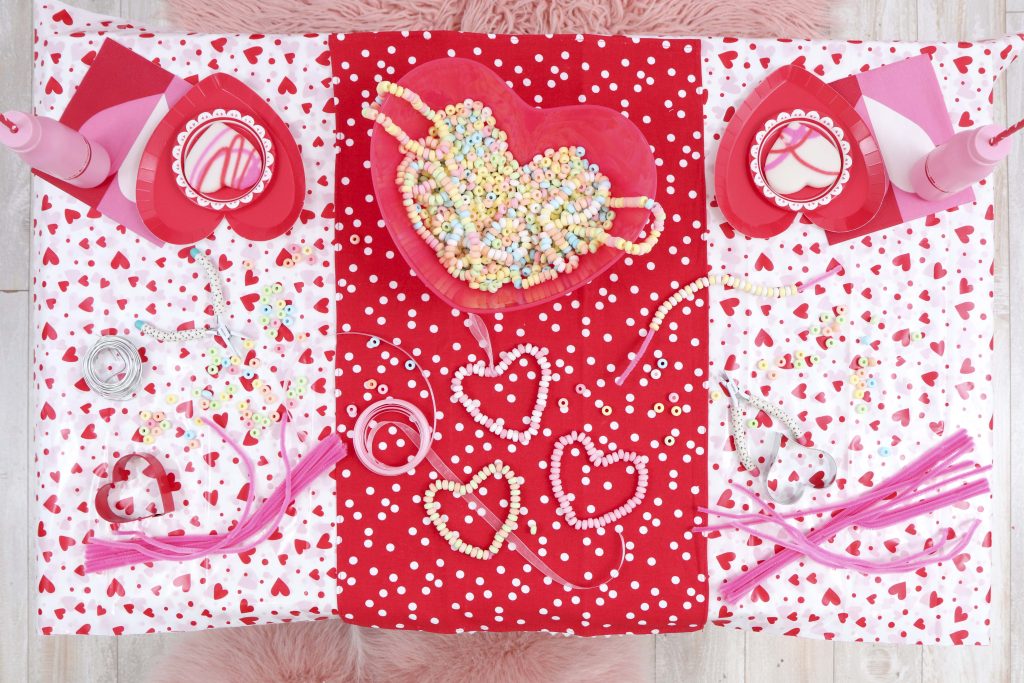 Don't forget to get the details for the DIY Candy Heart Ornaments HERE, and for more fun and interactive Valentine's Day fun for kids, check out my Valentine's Day Craft Party and Valentine's Day Science Party!
Happy Valentine's Day Decorating!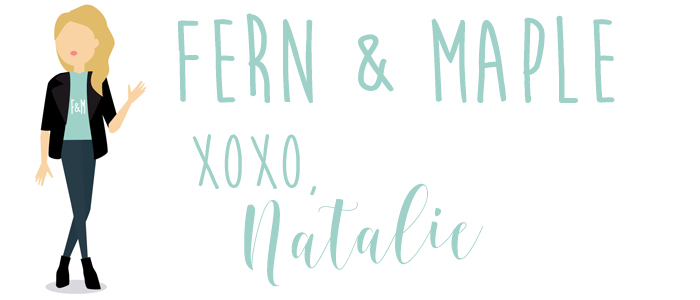 As a blogger, I sometimes receive compensation and/or products in exchange for my styling and crafting services. I also may earn a small commission from any sales that result from affiliate links on this page. As always, all project ideas and any opinions expressed here are my own.  For further information on our disclosure policy please check out our disclosure page. 
PIN FOR LATER: