Before we all went into lockdown, my sweet daughter Parker turned eight. As a party planner, I of course just had to go all out with a themed party that I hoped would bring her even a small portion of the joy she brings me on a regular basis. Parker has been really into horses, which provided the perfect inspiration for a party theme!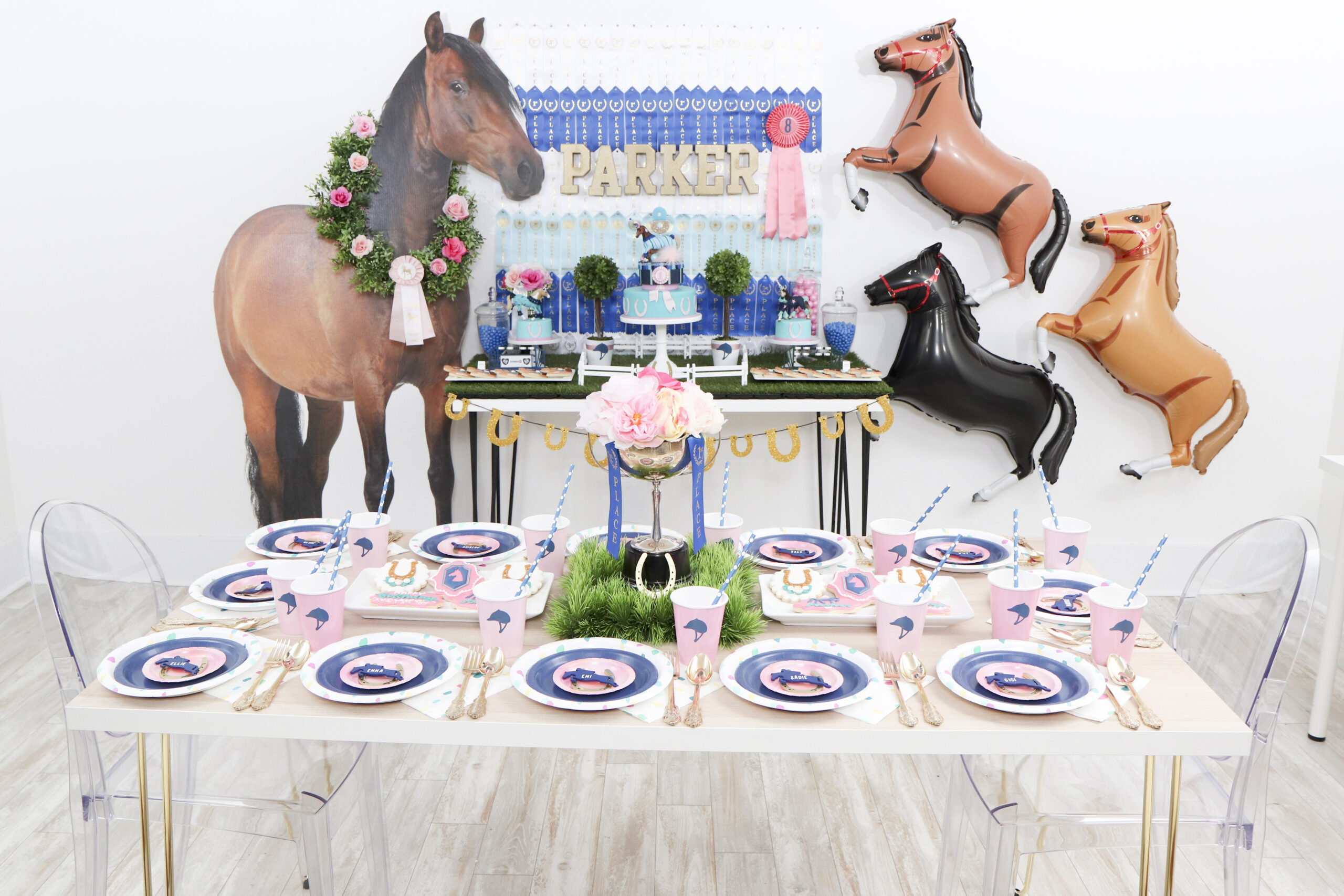 Read on to find out all my tips and ideas for setting up tables for a horse themed birthday party.
Dessert Table
The dessert table really served as the focal point for the horse decor of the party. I created a simple but eye-catching backdrop by arranging rows of blue and white prize ribbons behind the cake.
TIP: Overlap ribbons slightly and adhere to the wall with glue dots or removable putty.
On top of these ribbons, front and center, I used bold gold letters to display the name of the star of the show, the birthday girl! The gold letters coordinated perfectly with the gold text on the backdrop ribbons. Then, for a pop of a different color, I added a large pink prize ribbon with Parker's new age on it – eight!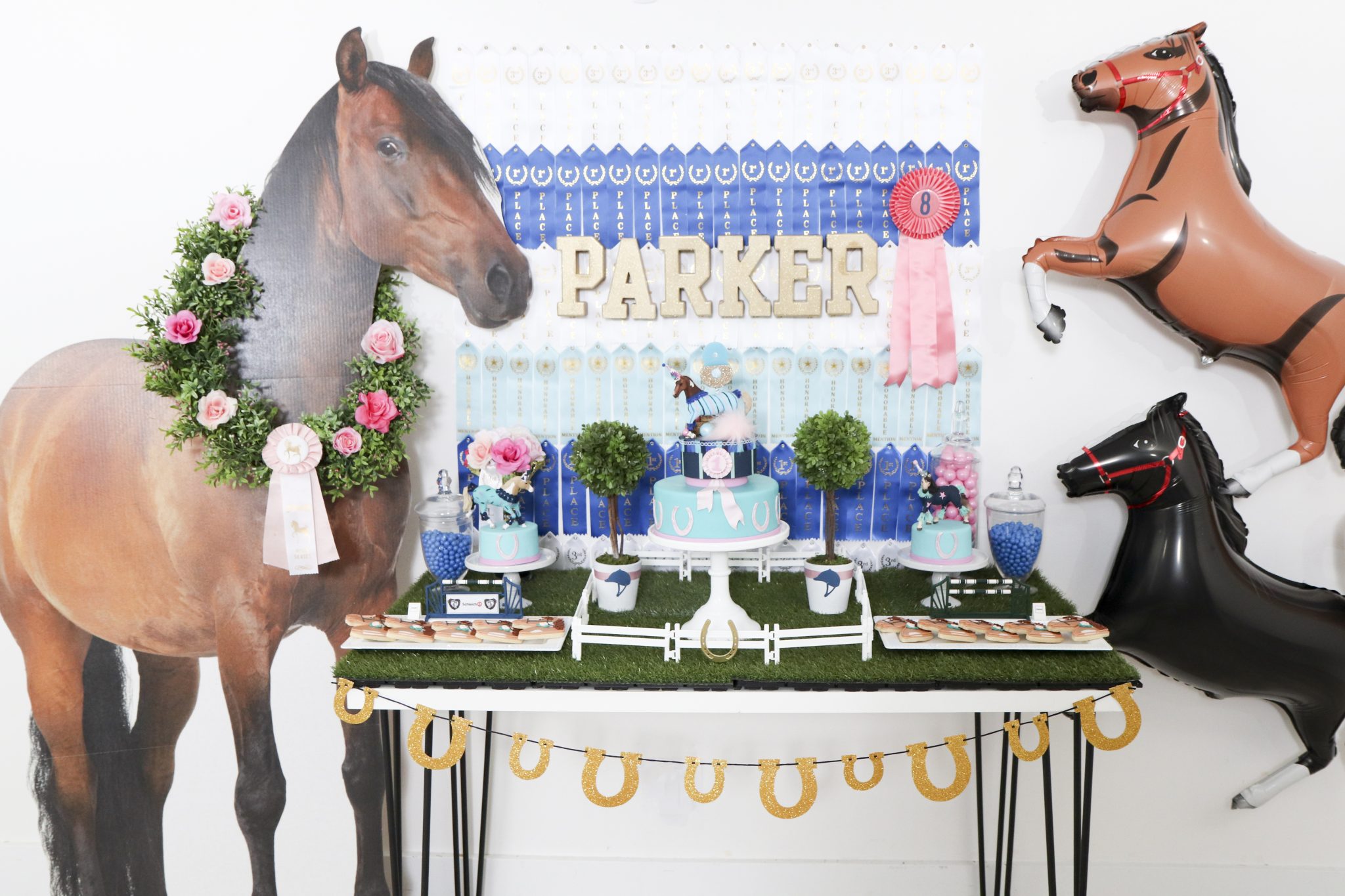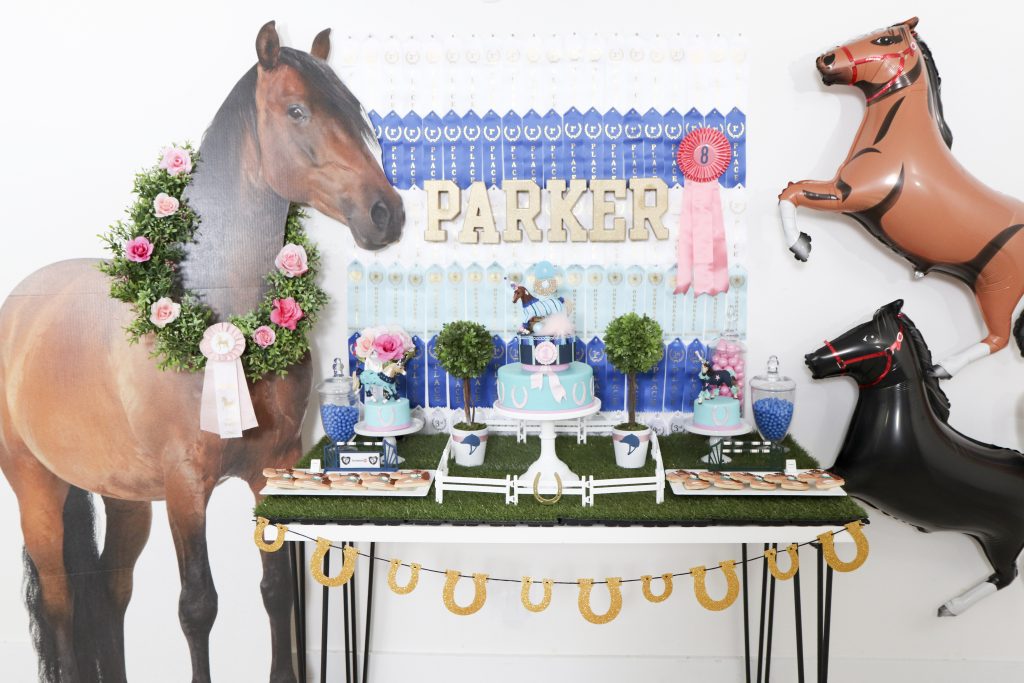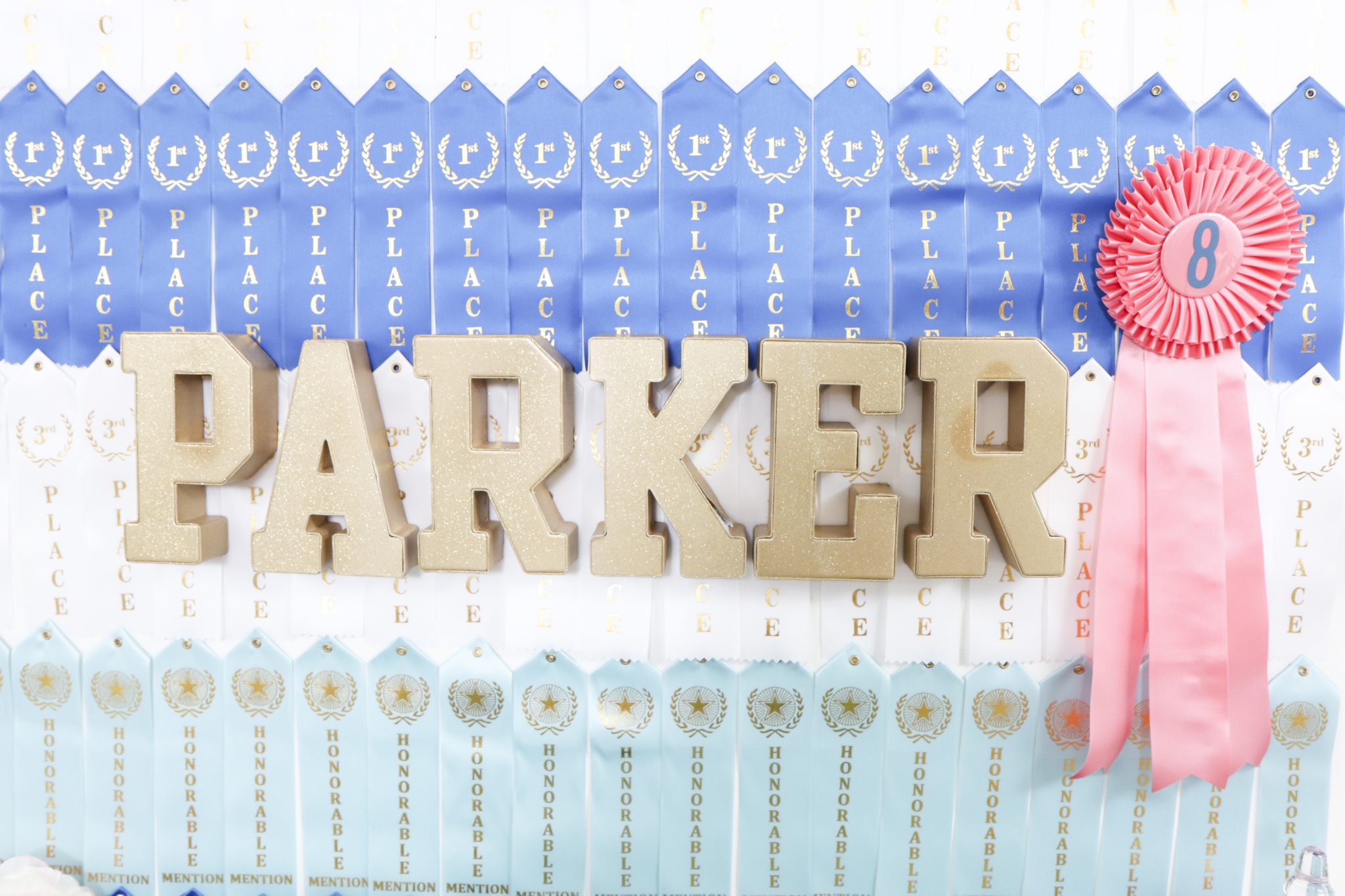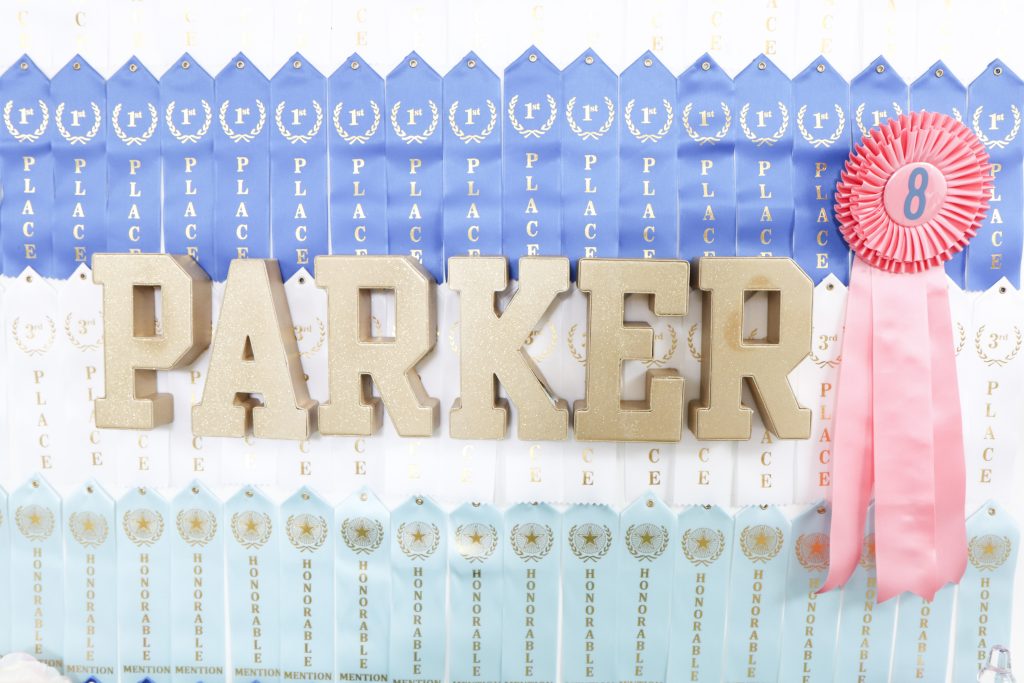 Then on one side of the table, I added a giant life-size cutout of a prize-winning horse.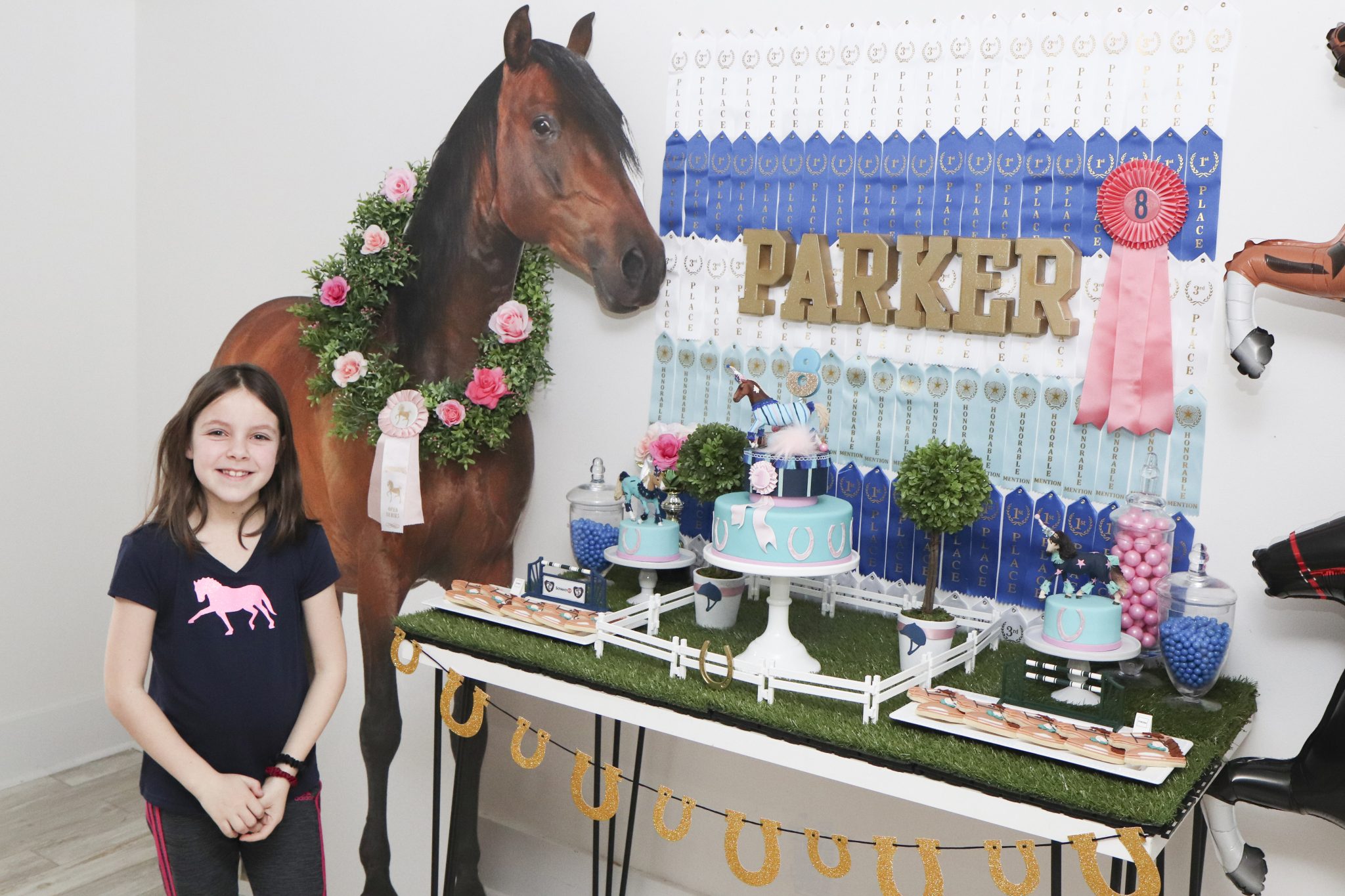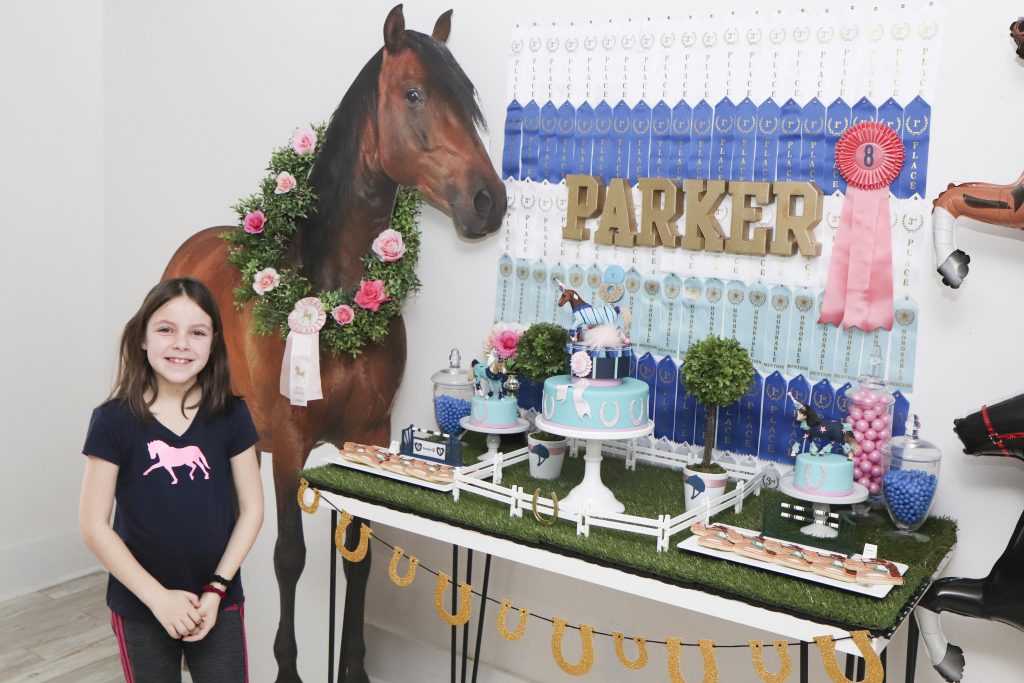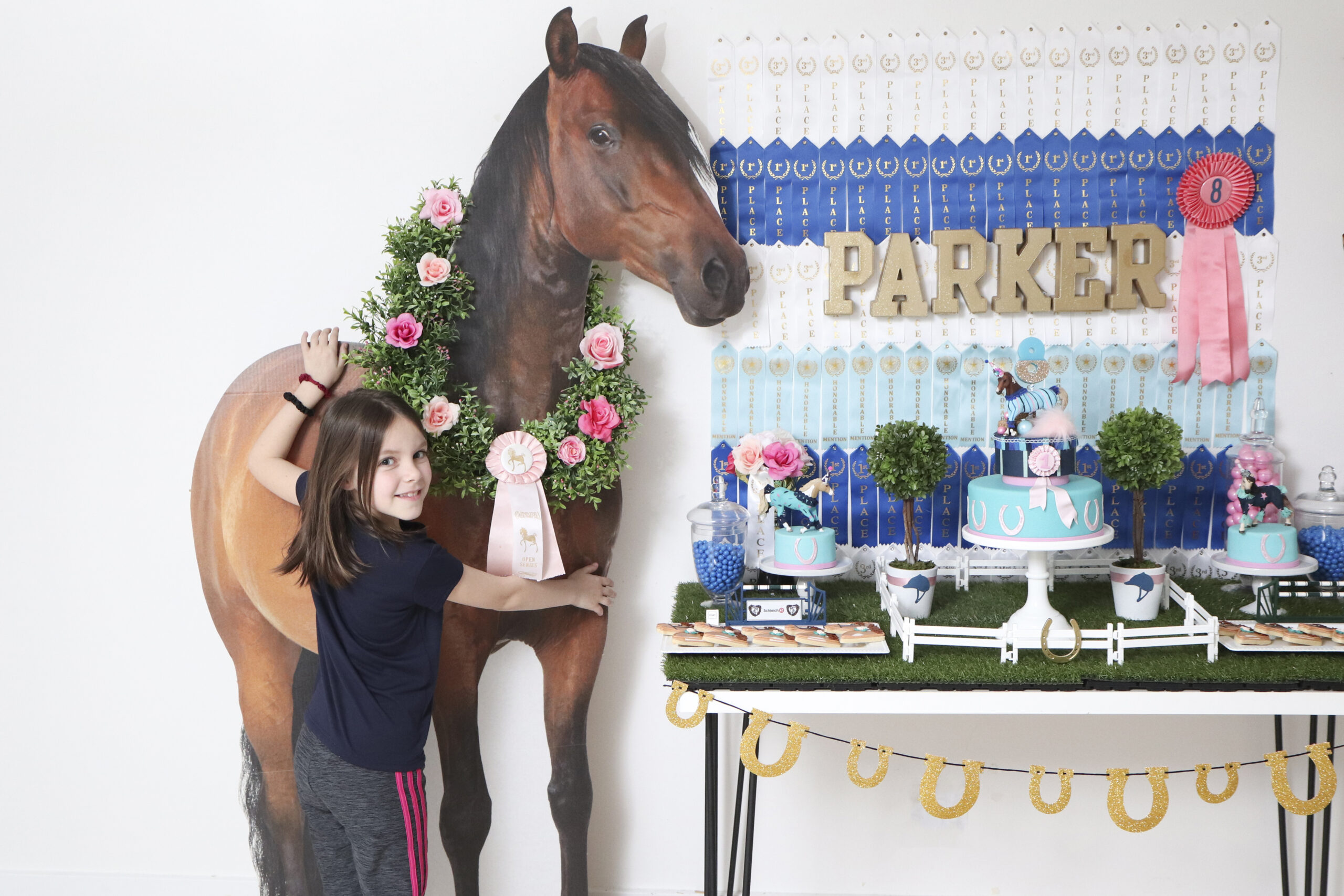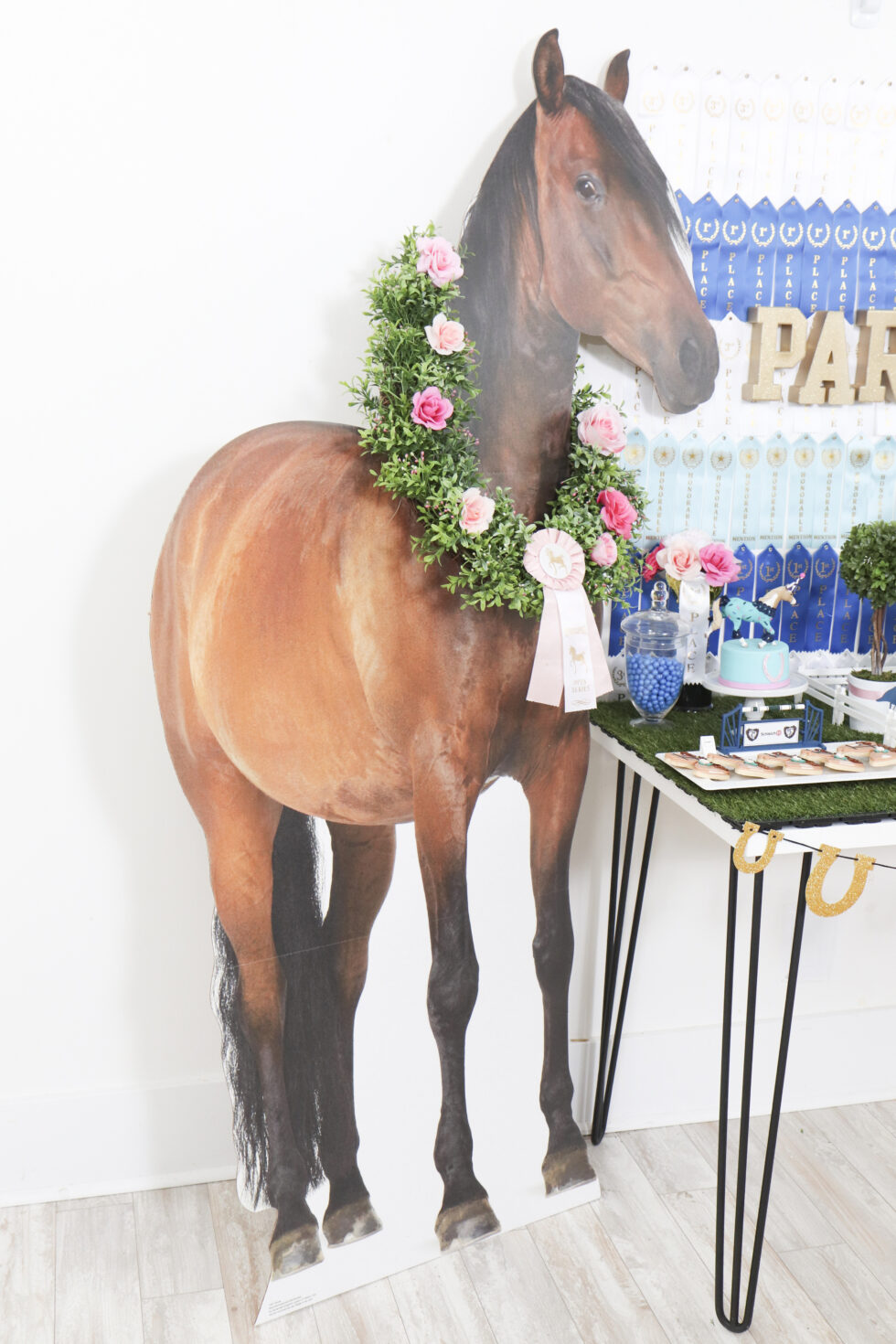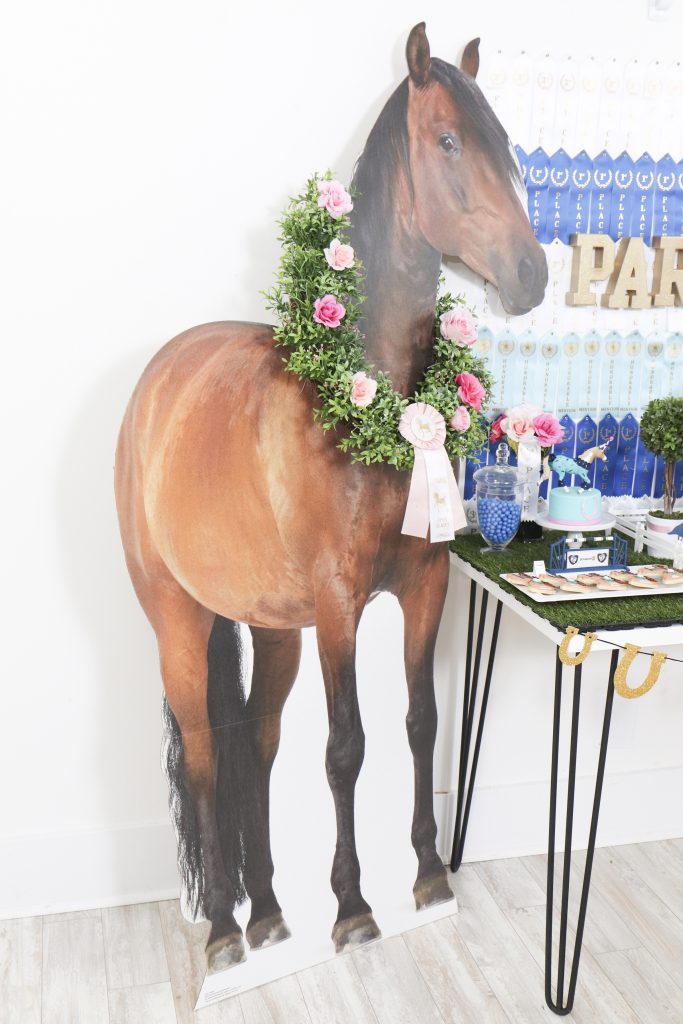 TIP: To create a winners wreath use a simple boxwood wreath.   Snip the top and bend the wire into a horseshoe shape that can be hung around the horses neck.  Add some faux pink roses and a prize ribbon.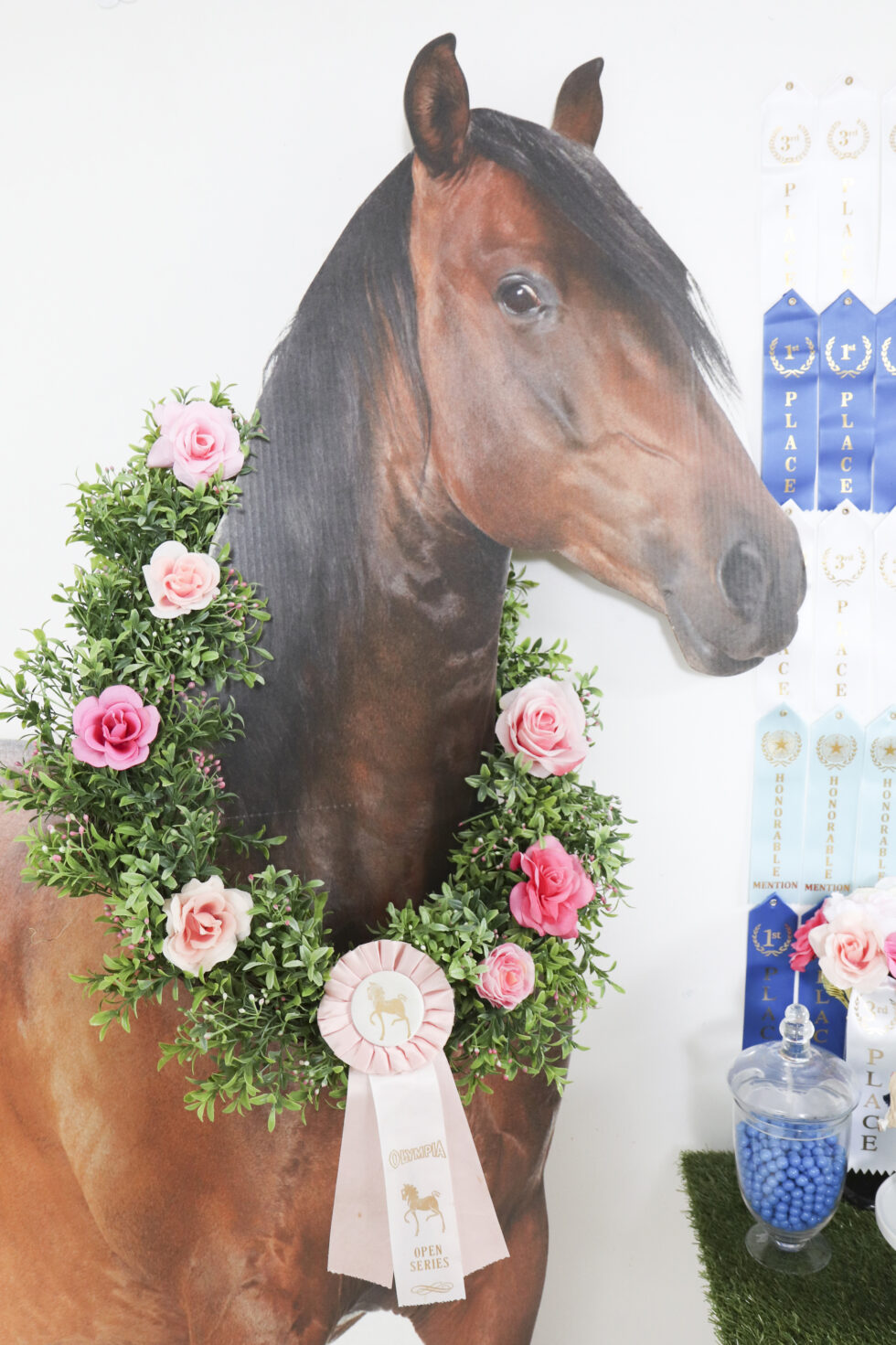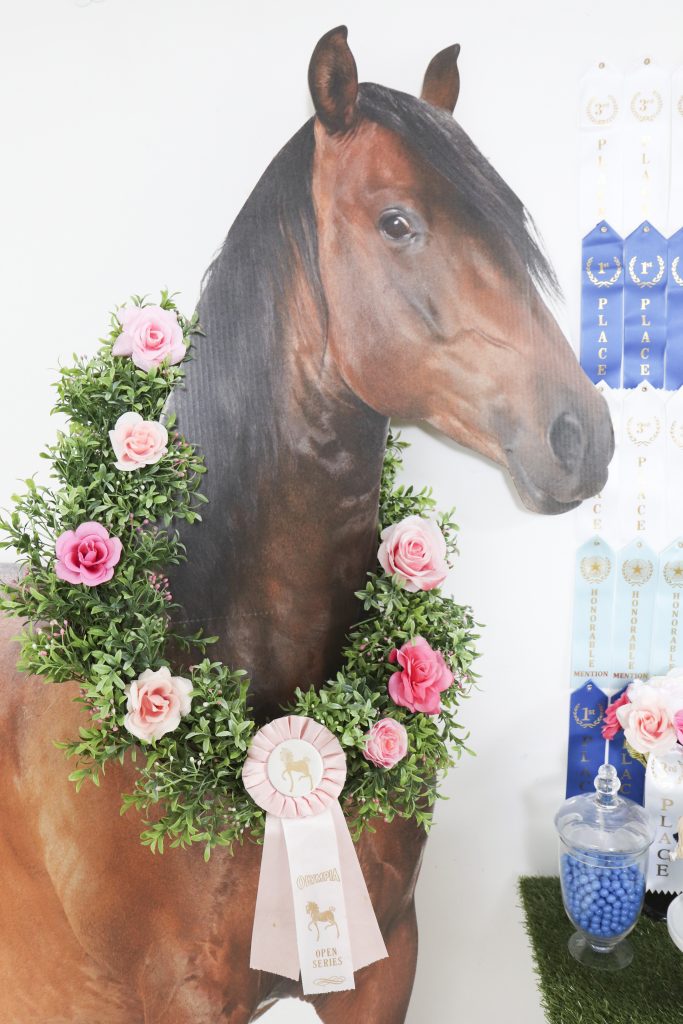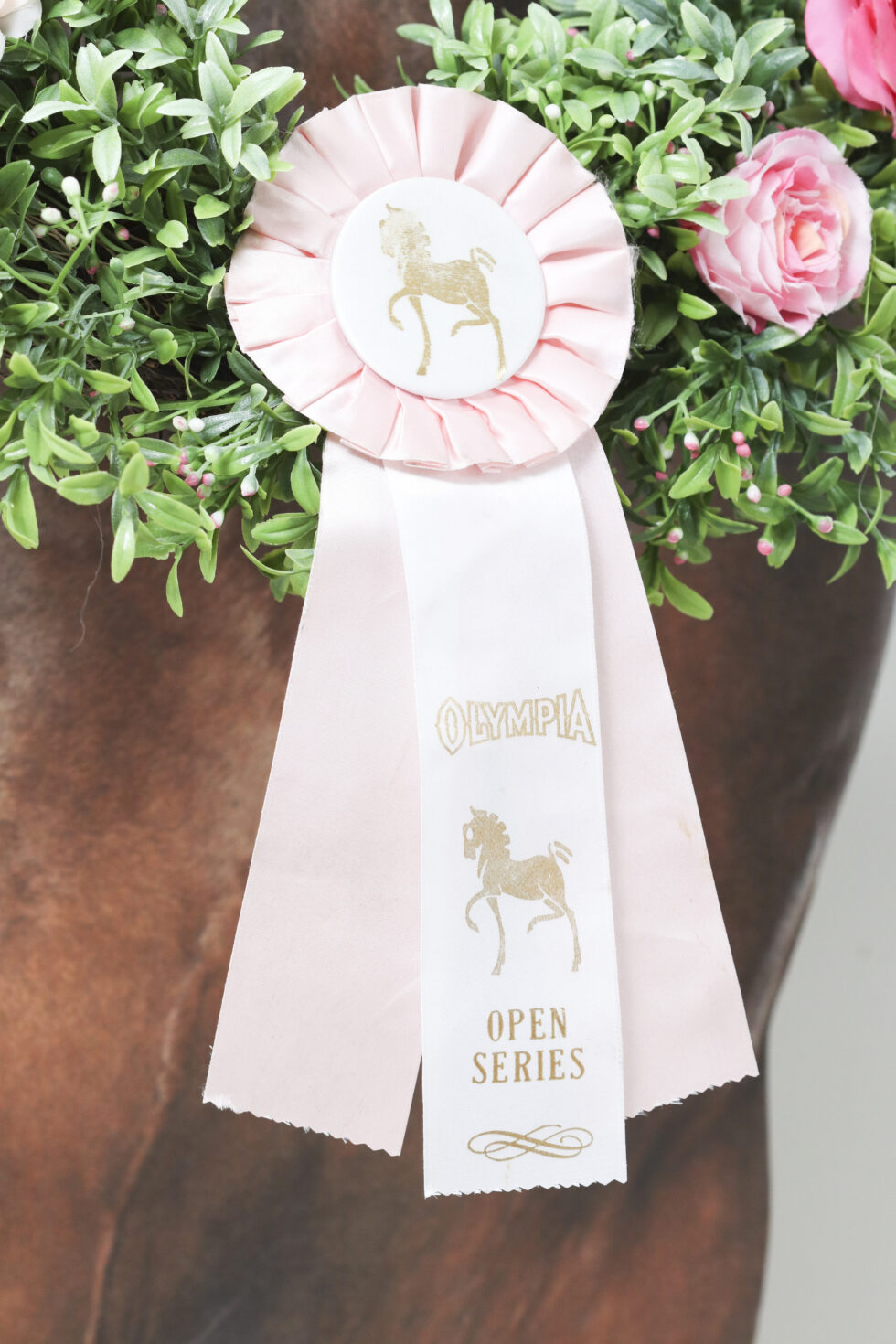 On the other side of the table I strategically placed large horse balloons so that they looked like they were getting ready to leap right over the table.  These horses proved to be pretty popular with Parker and her guests throughout the party! …with a game of Horse balloon volleyball!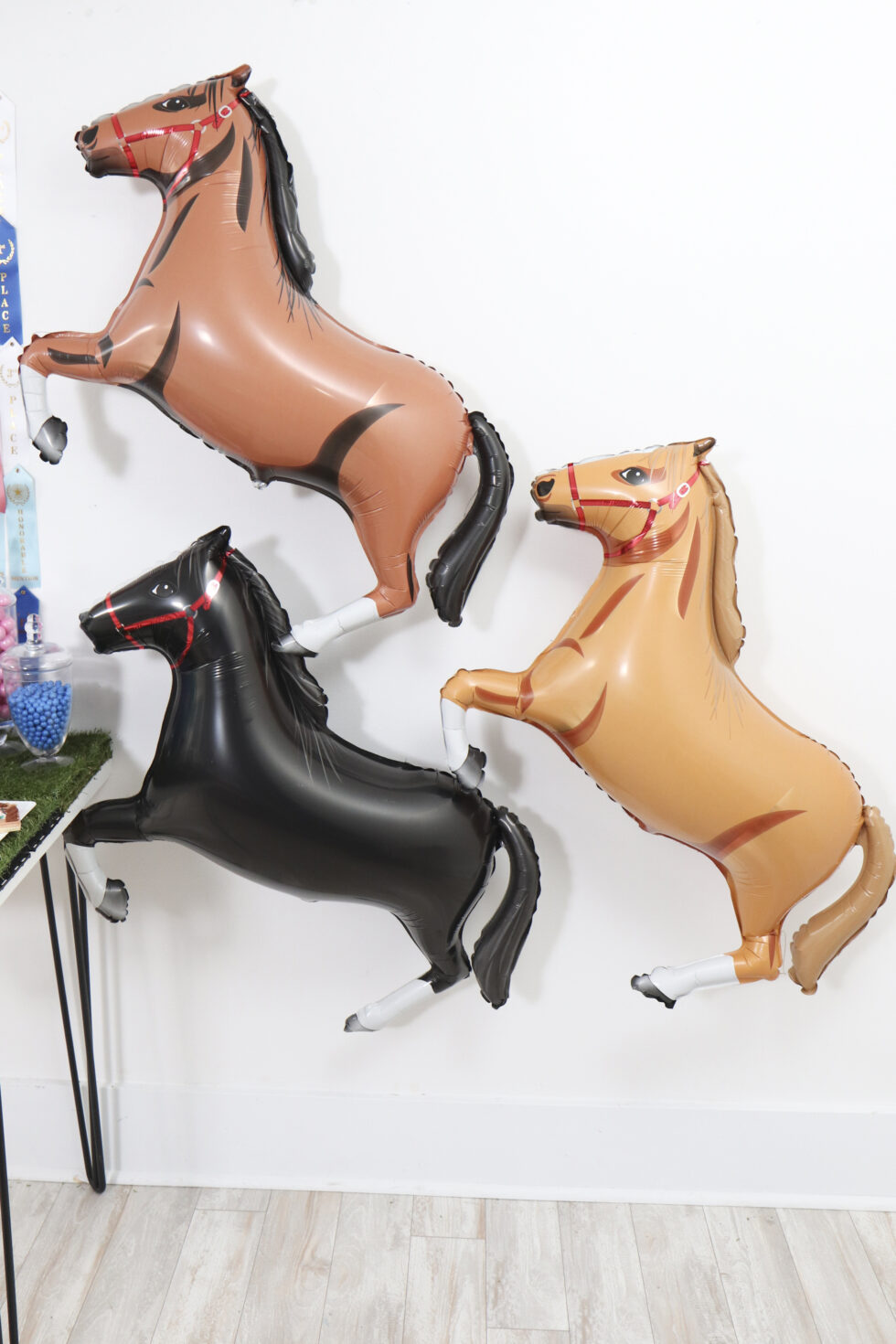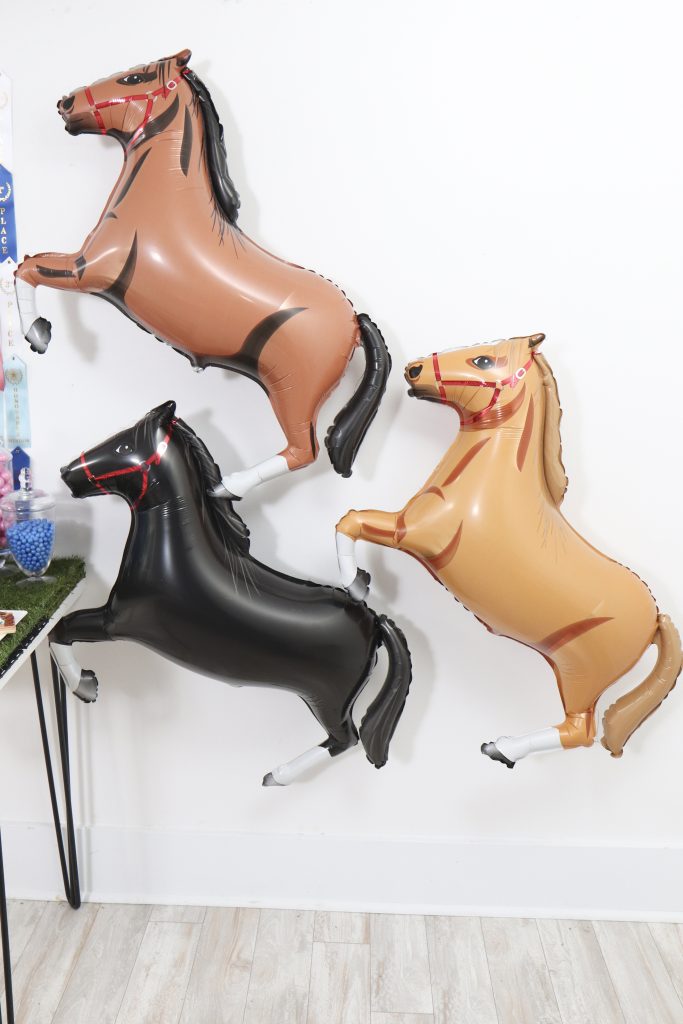 The actual cakes by Bake Lab PDX themselves sat atop white cake stands on a table with an artificial grass table cover and a gold horseshoe garland decoration in front. There were three cakes in total, the main two-tier cake in the center, with a coordinating one-tier cake on each side.  Each of them were topped with an adorable dressed up horse figurine from Painted Parade, and the main cake featured a first place ribbon and a candle in the shape of the number eight.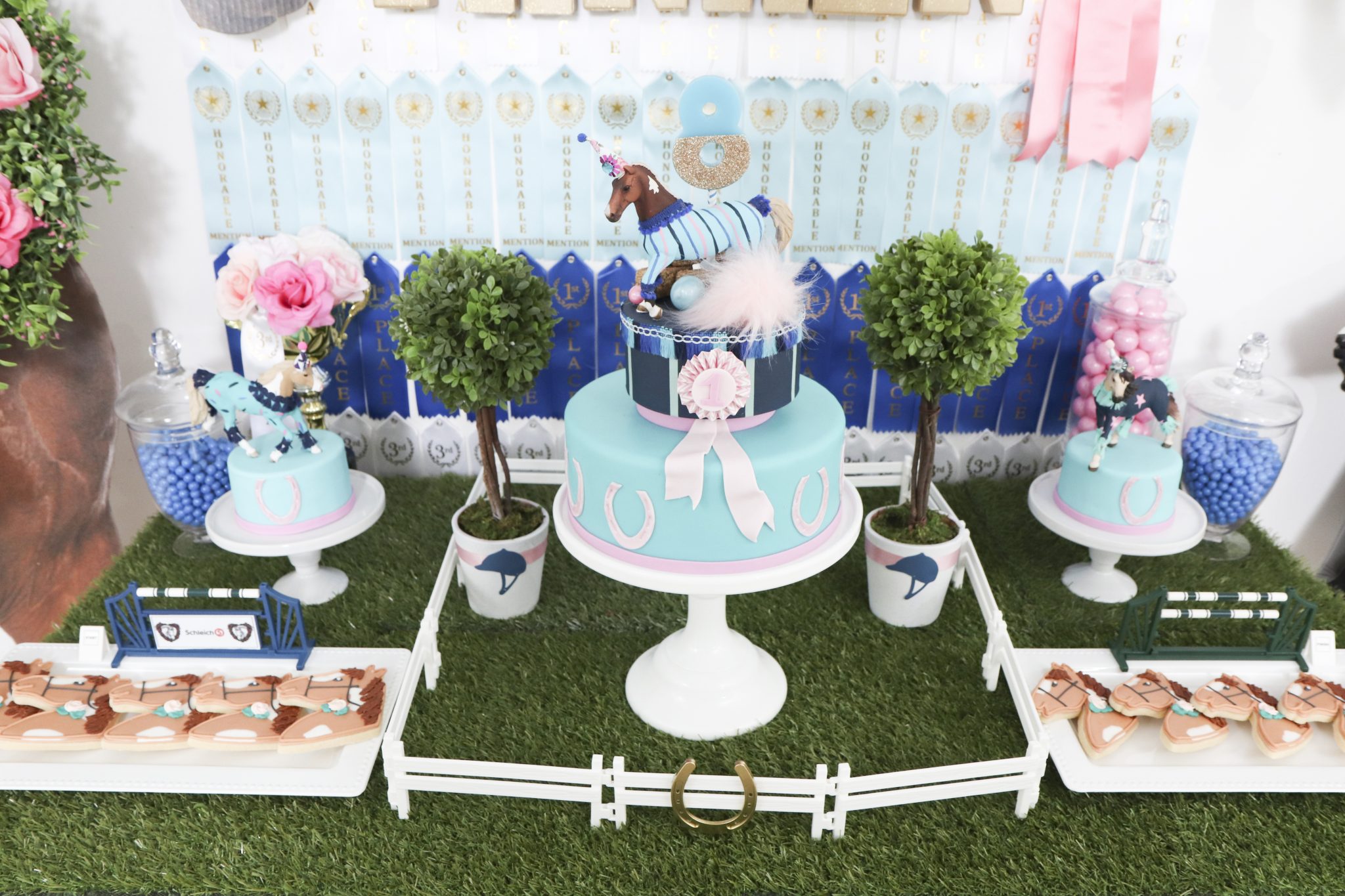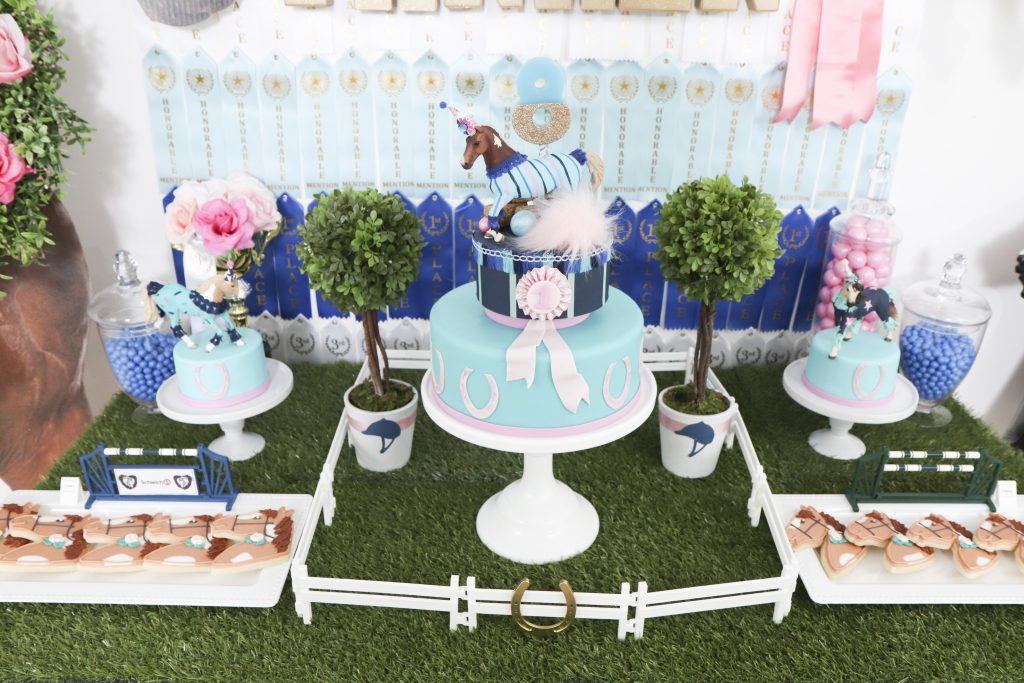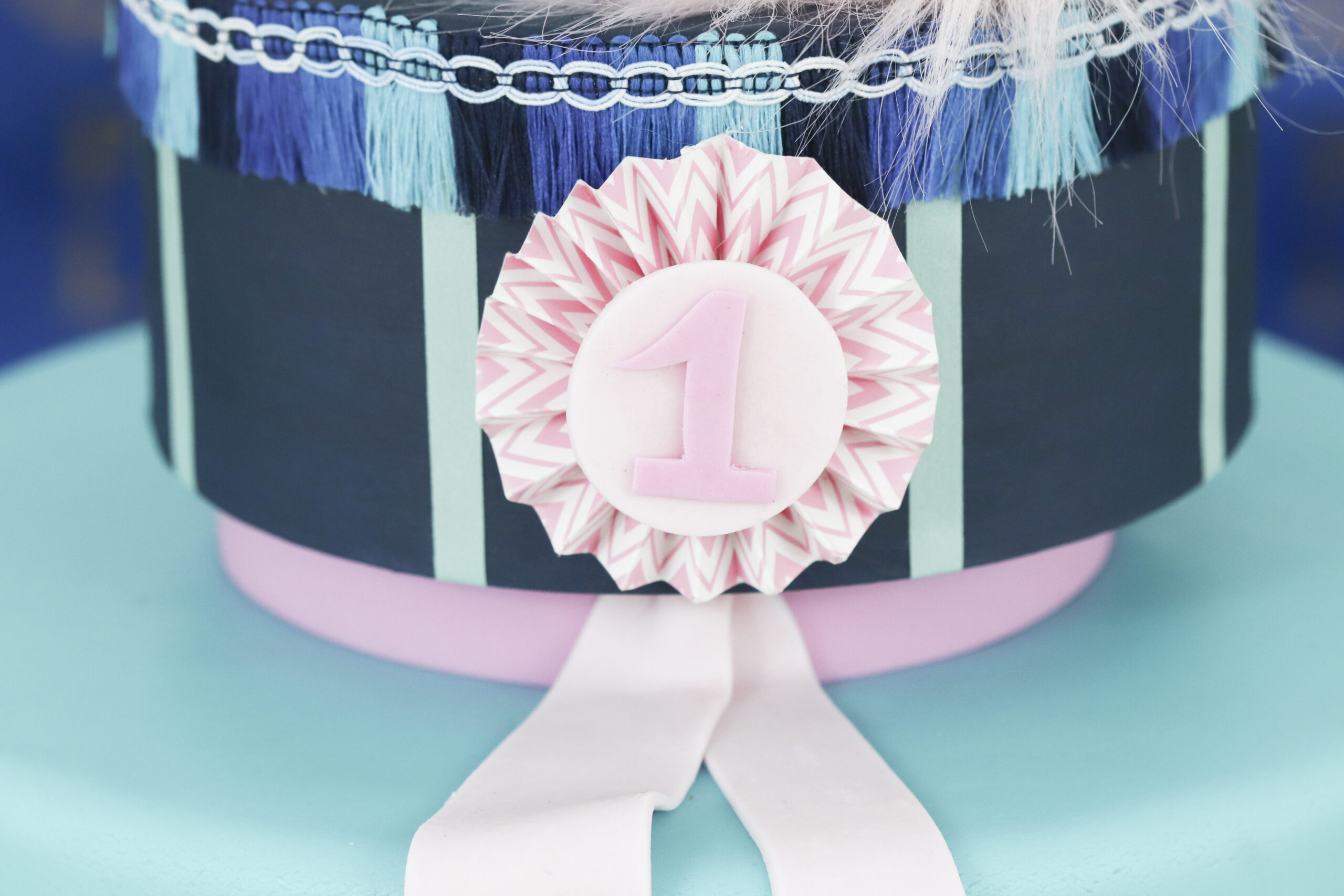 I then used tiny white fencing (from Parker's Schleich horse toy collection) to create the look of a horse paddock surrounding the main cake, and included two potted shrubs inside it as well to frame the cake.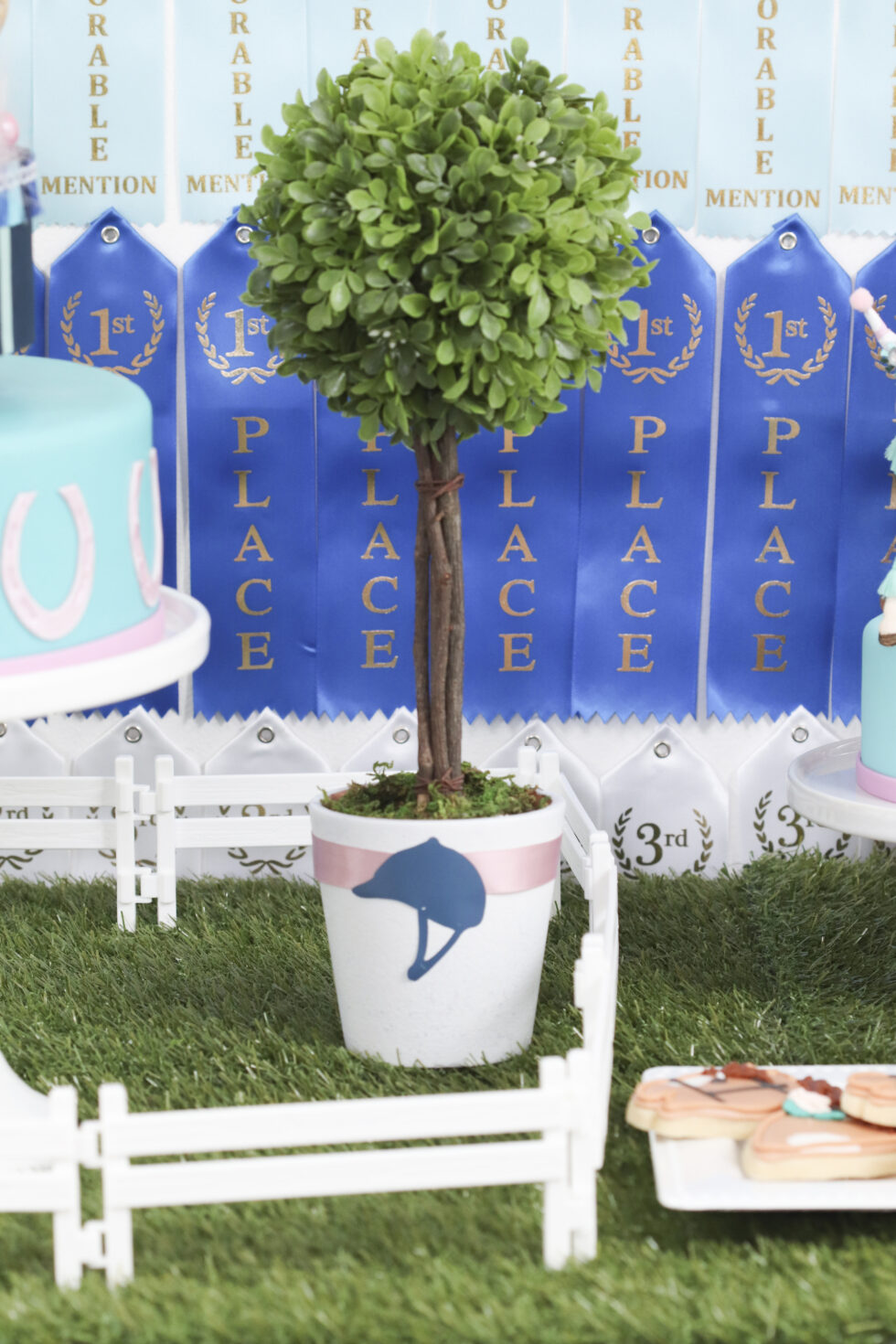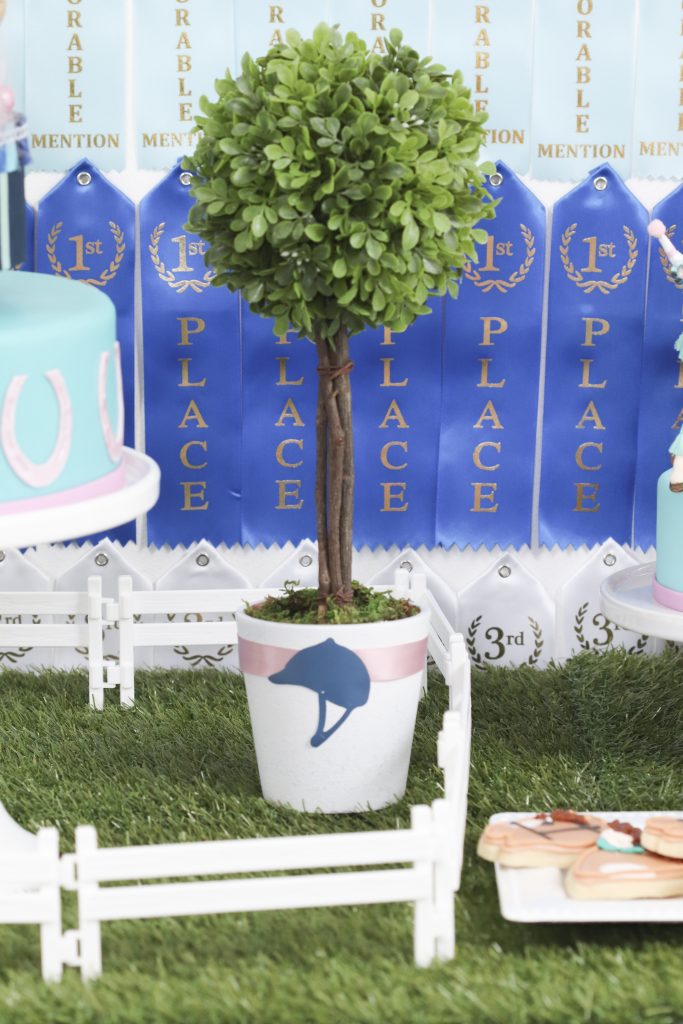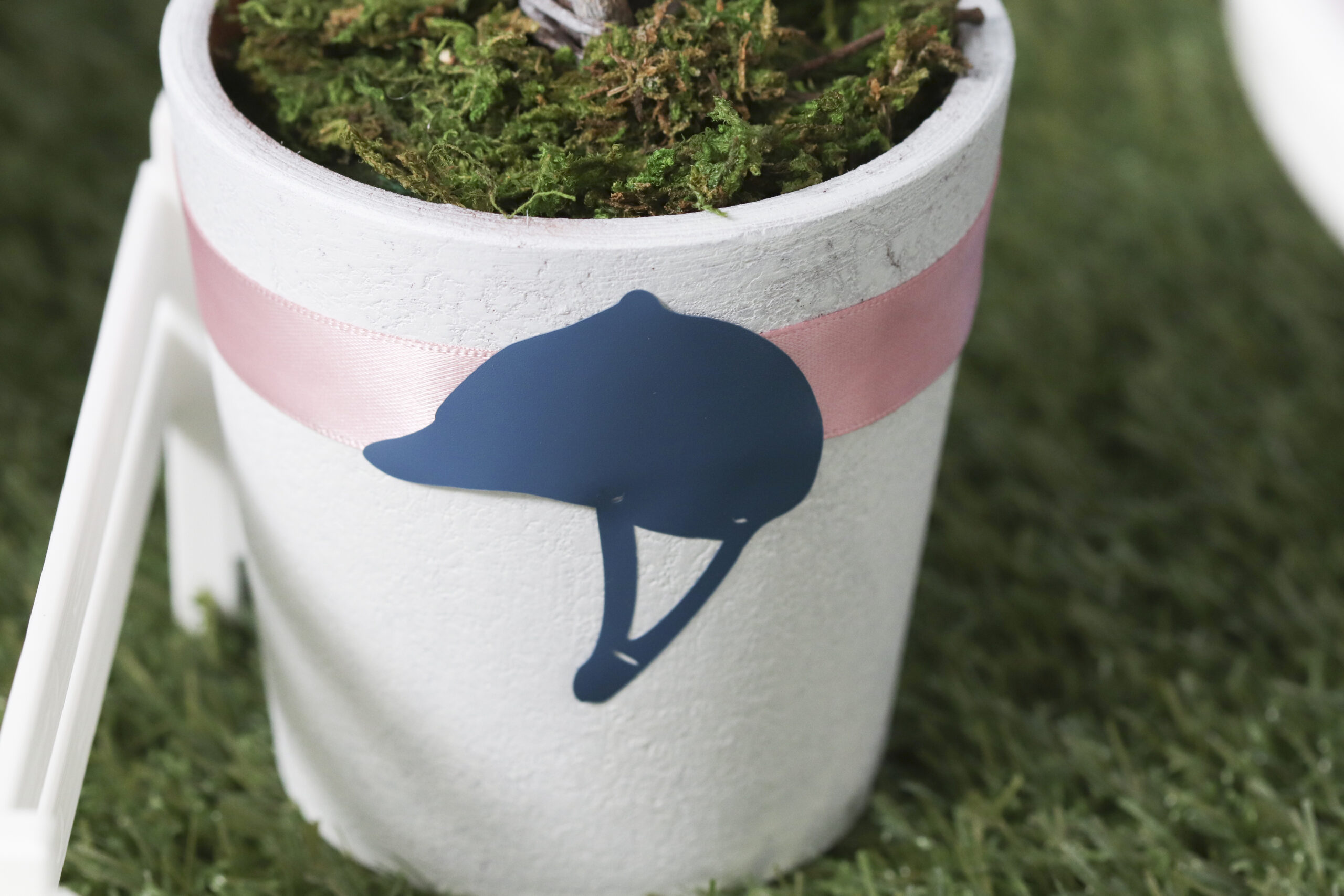 Behind my side cakes, I placed jars of color coordinating candies, and a trophy of fresh florals to match the life-size horse's floral neck wreath.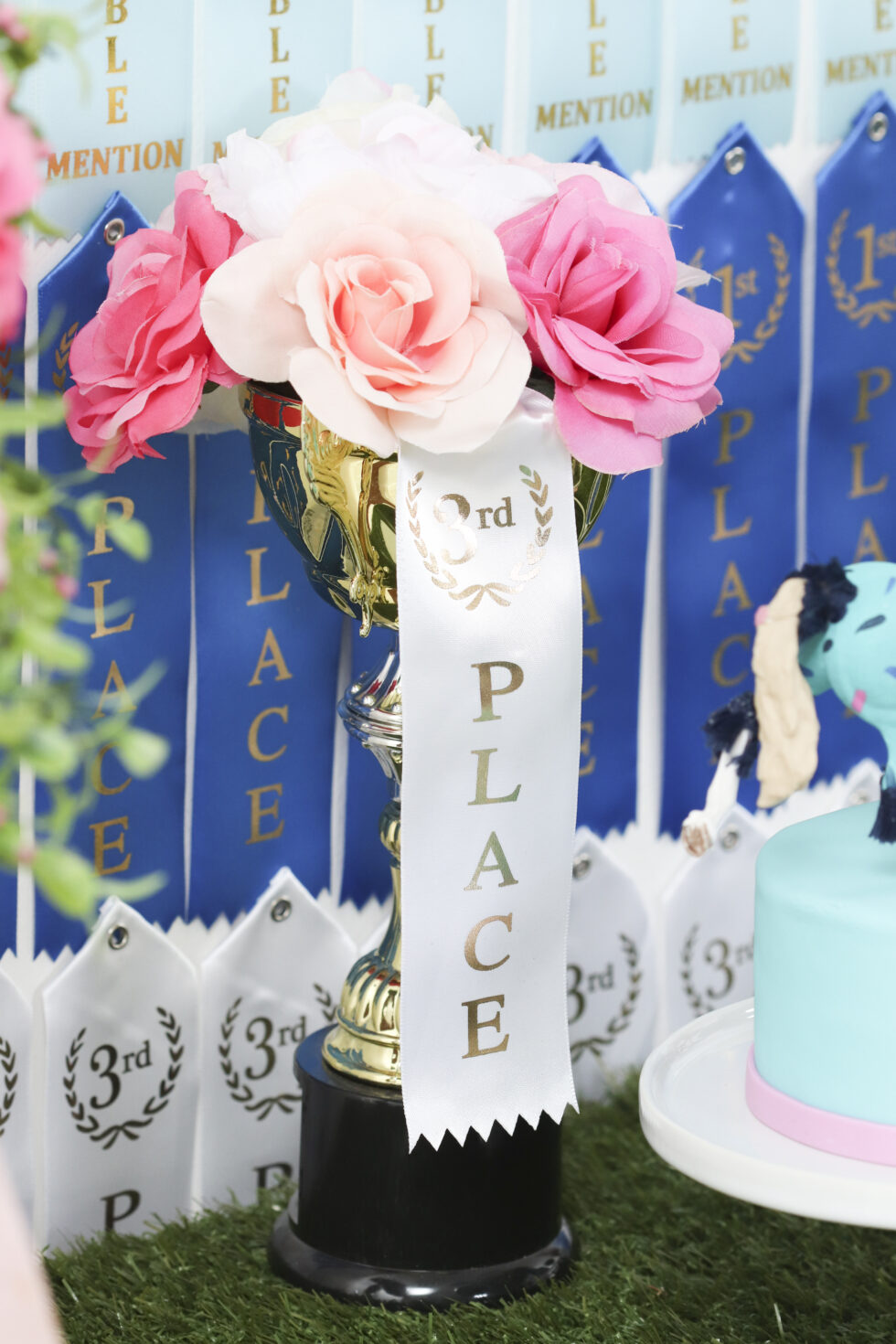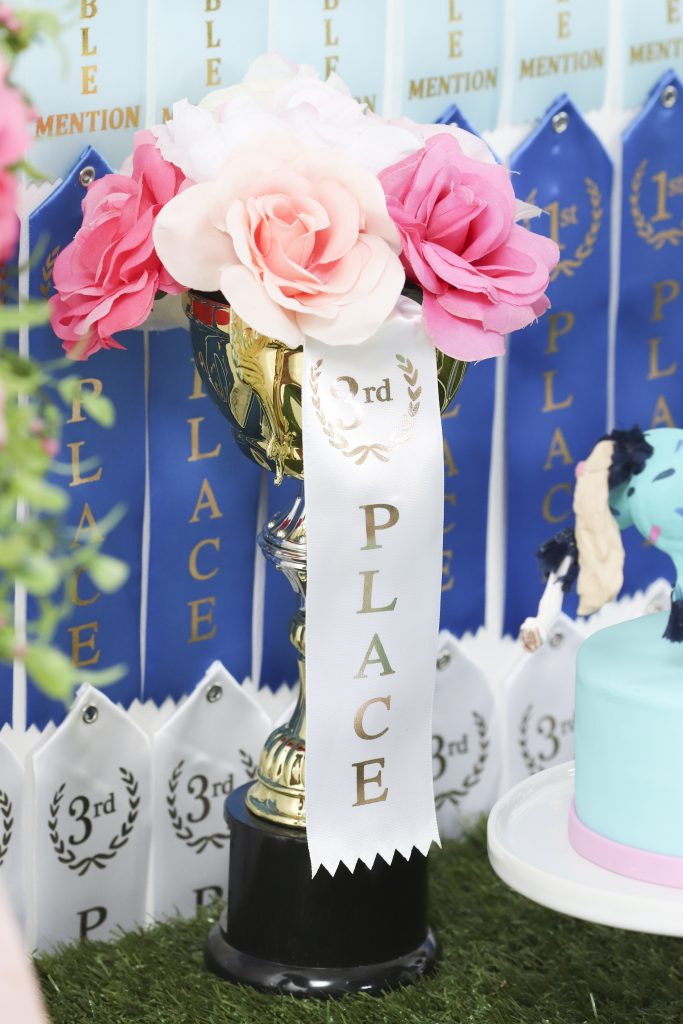 Last but not least, plates of fantastically decorated horse cookies from Trophy Baking Portland sat in front of the cakes, in case someone wanted a different type of dessert. I placed little horse hurdles on each of these plates for an extra equestrian touch.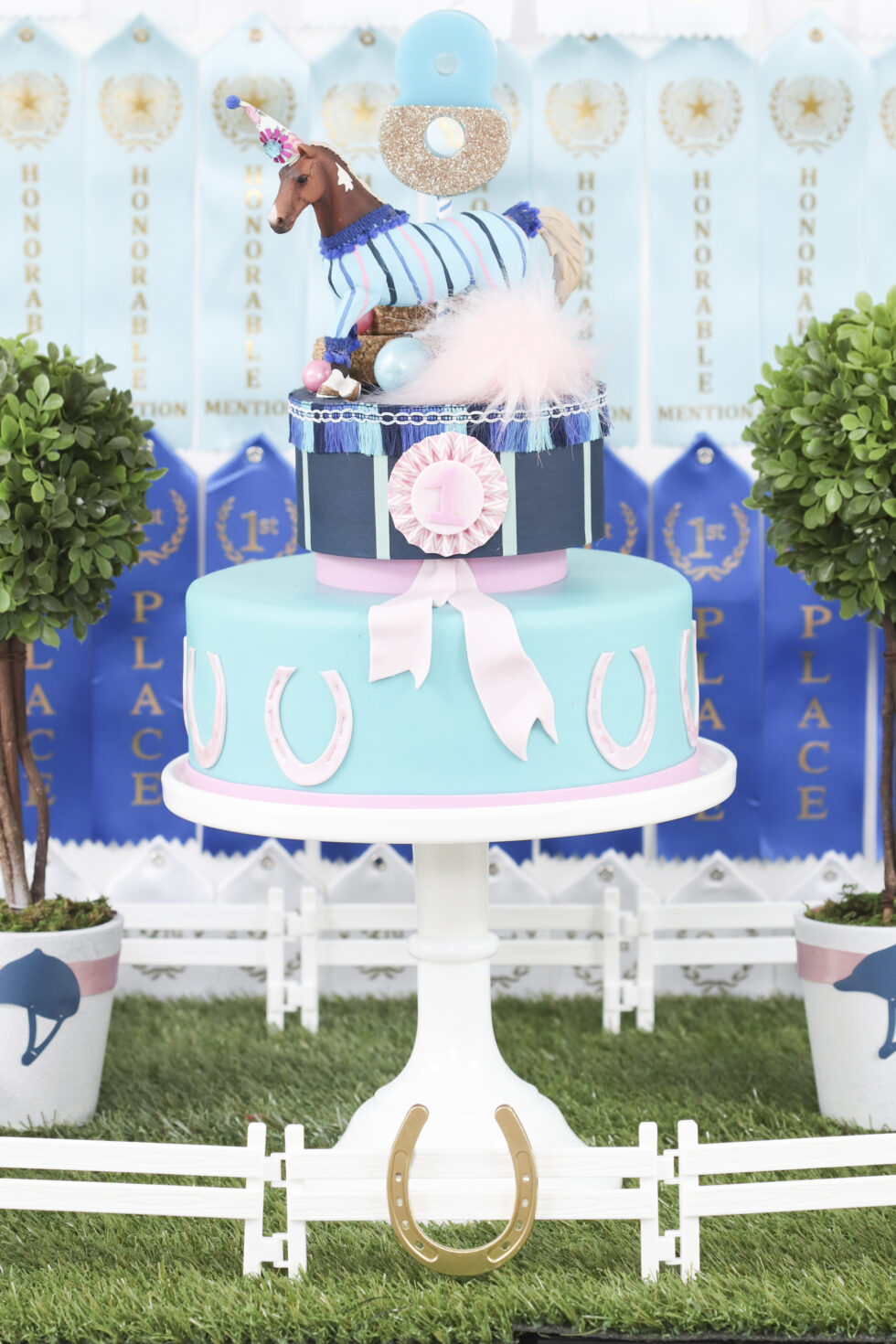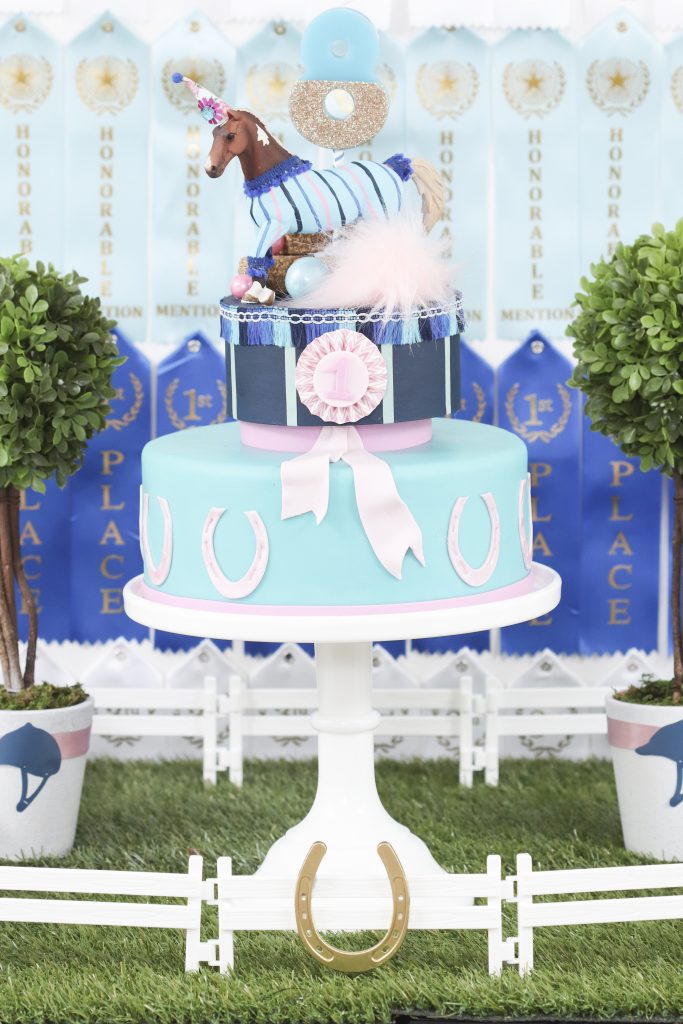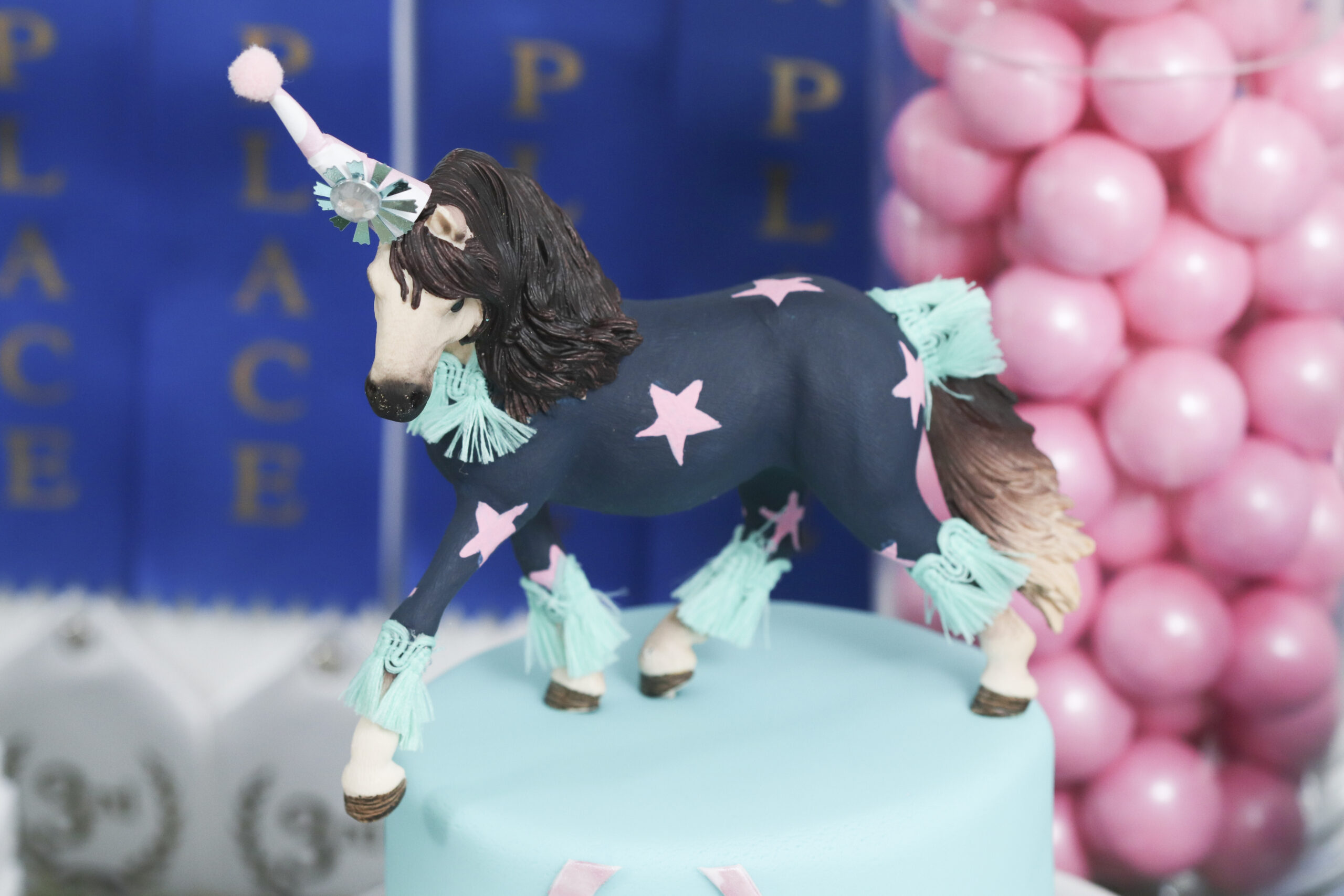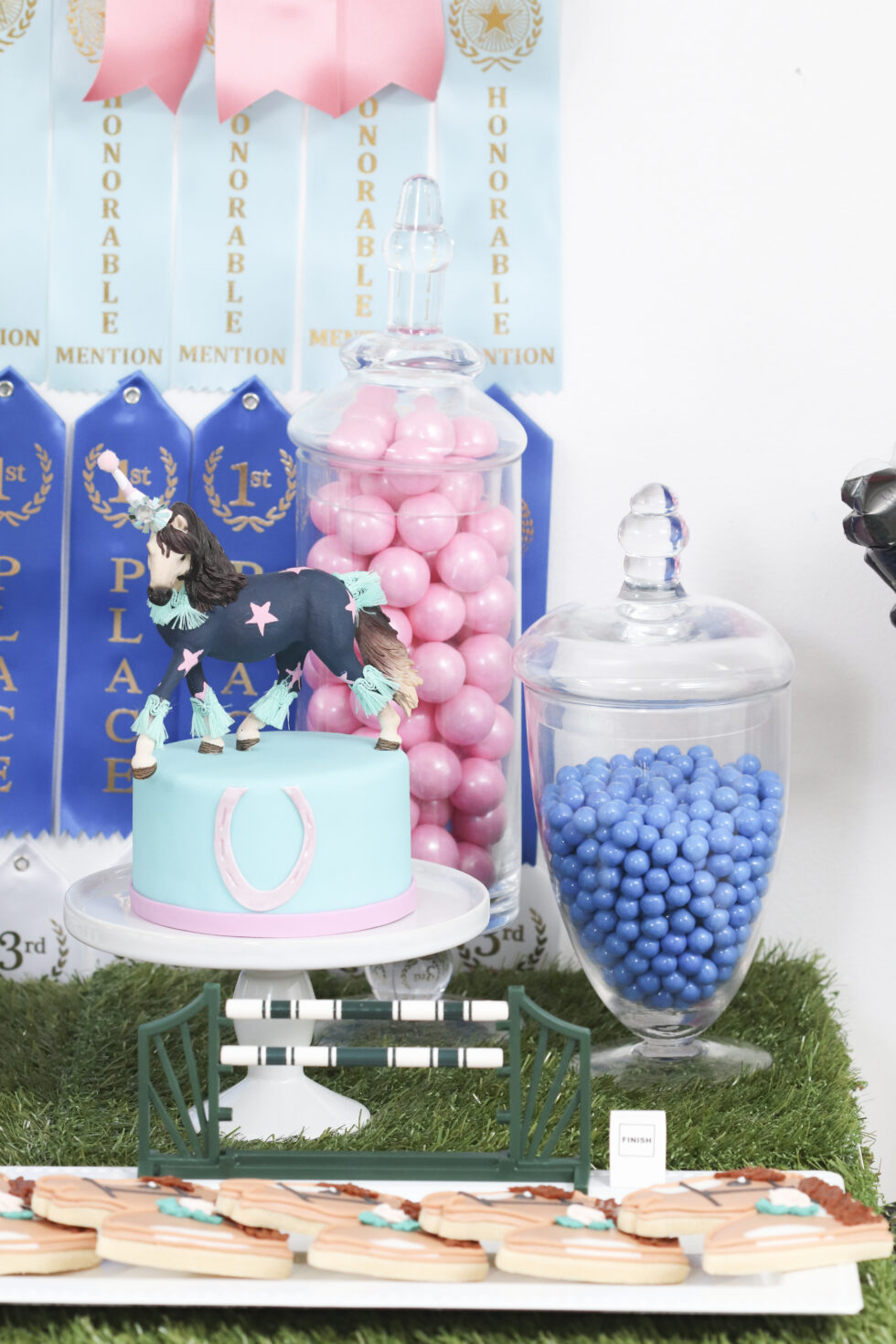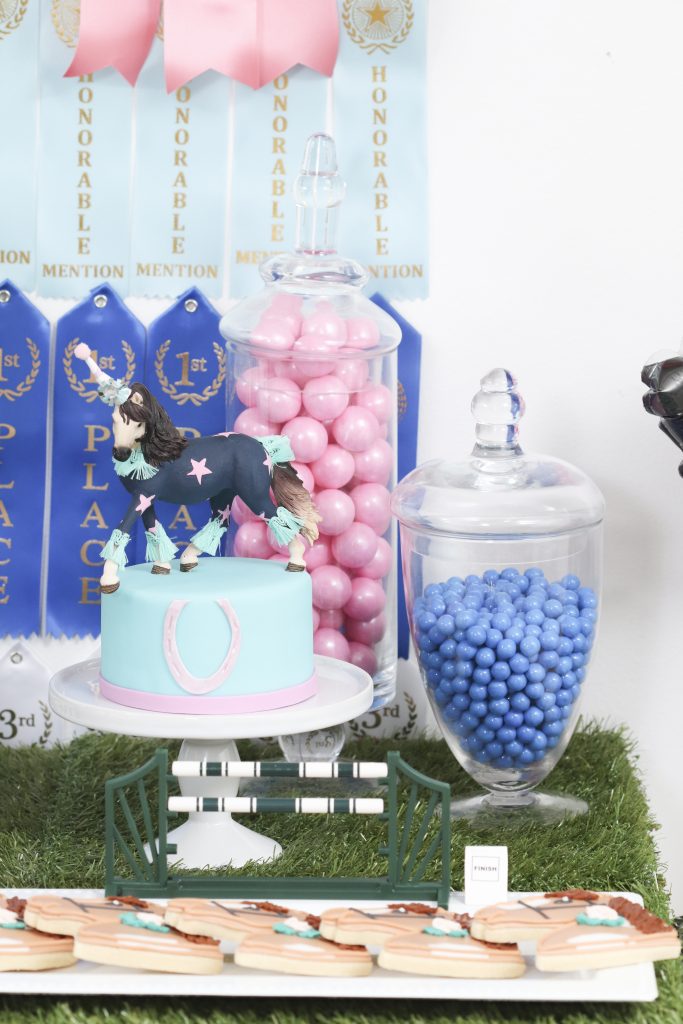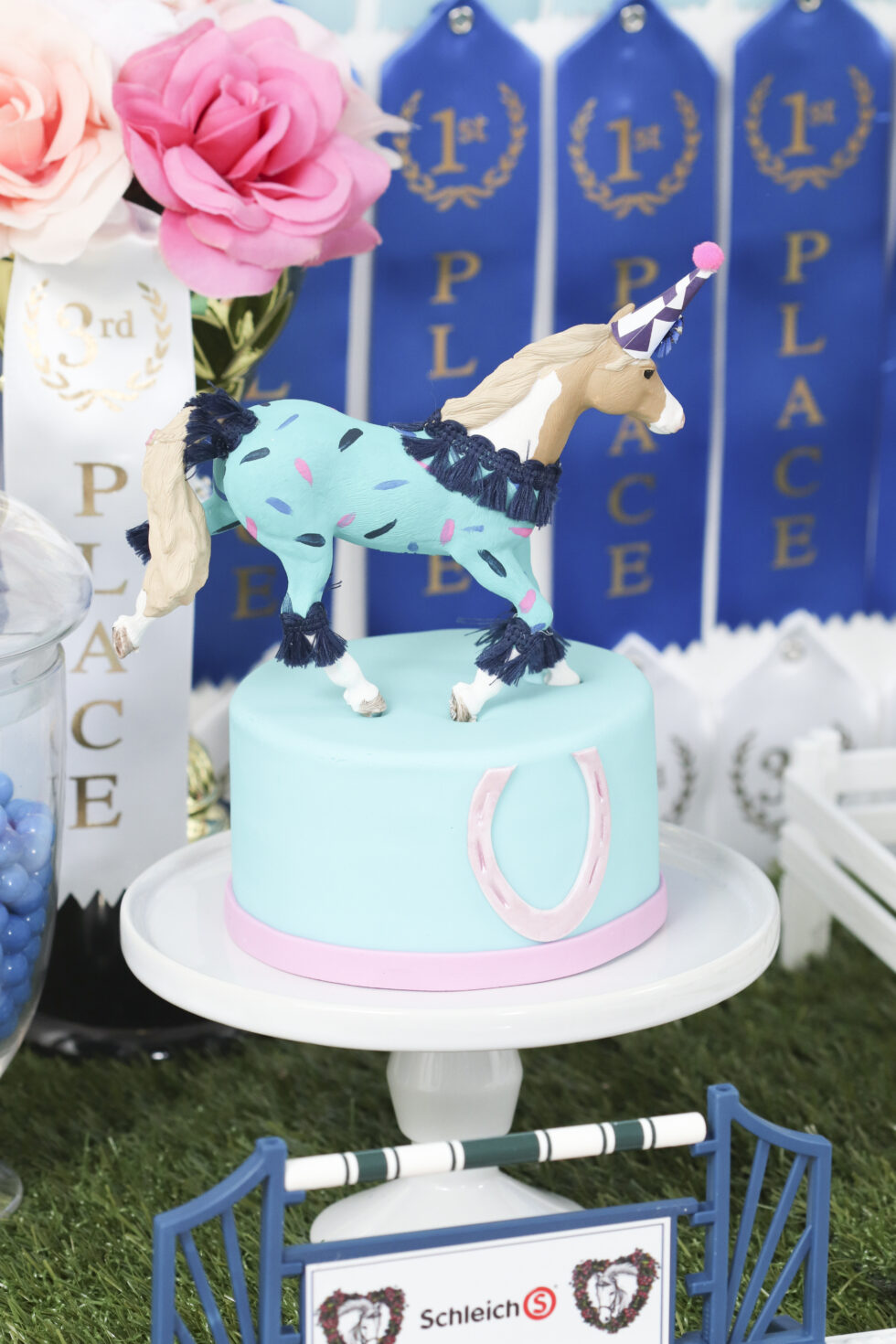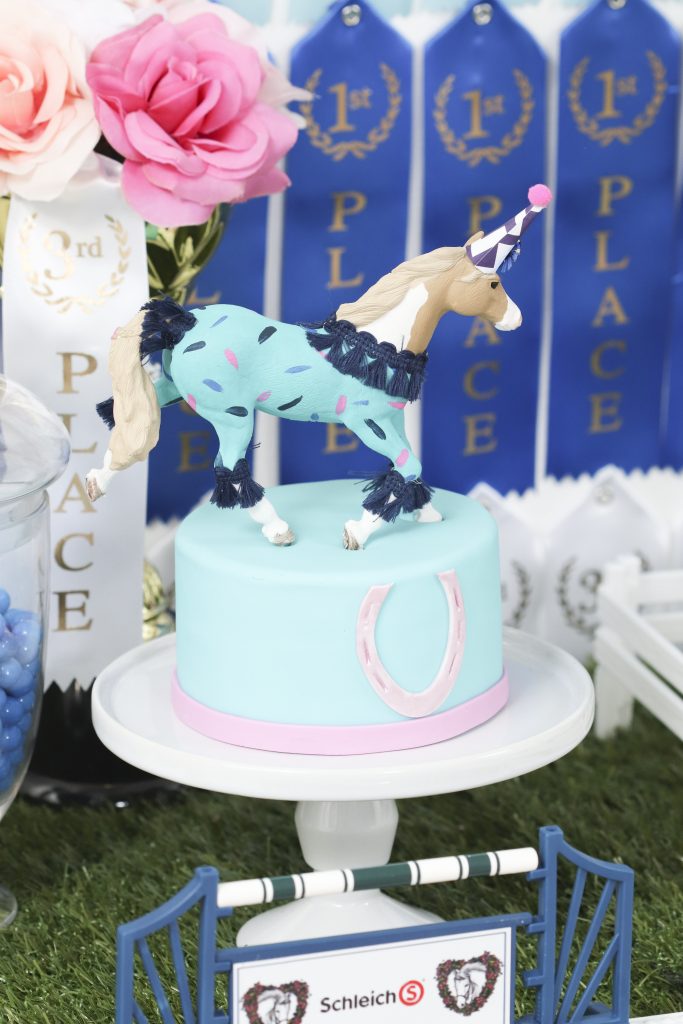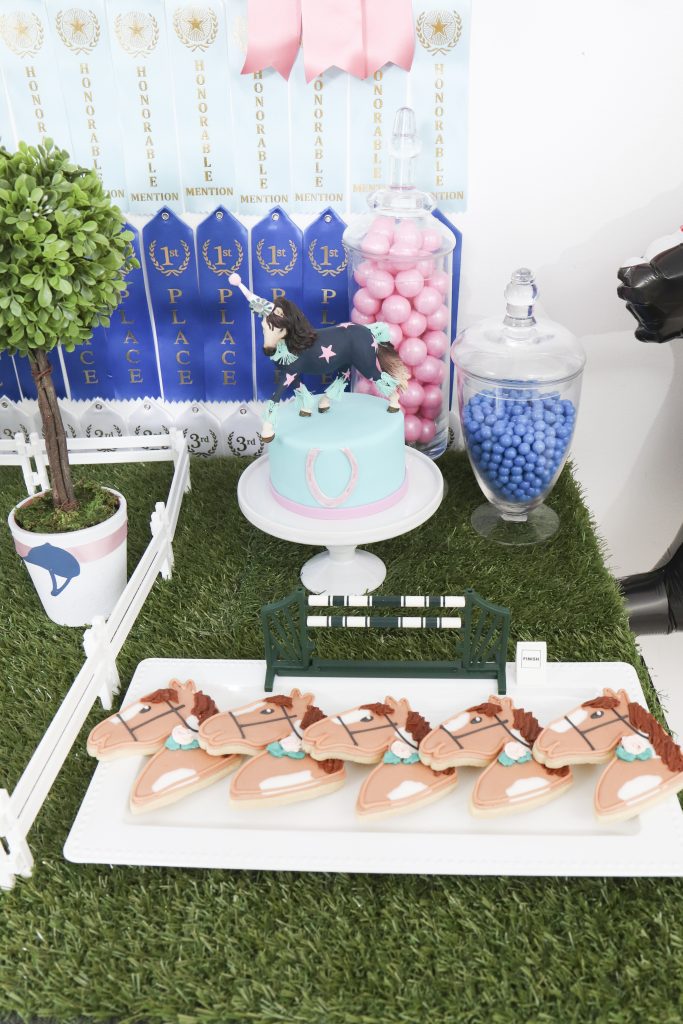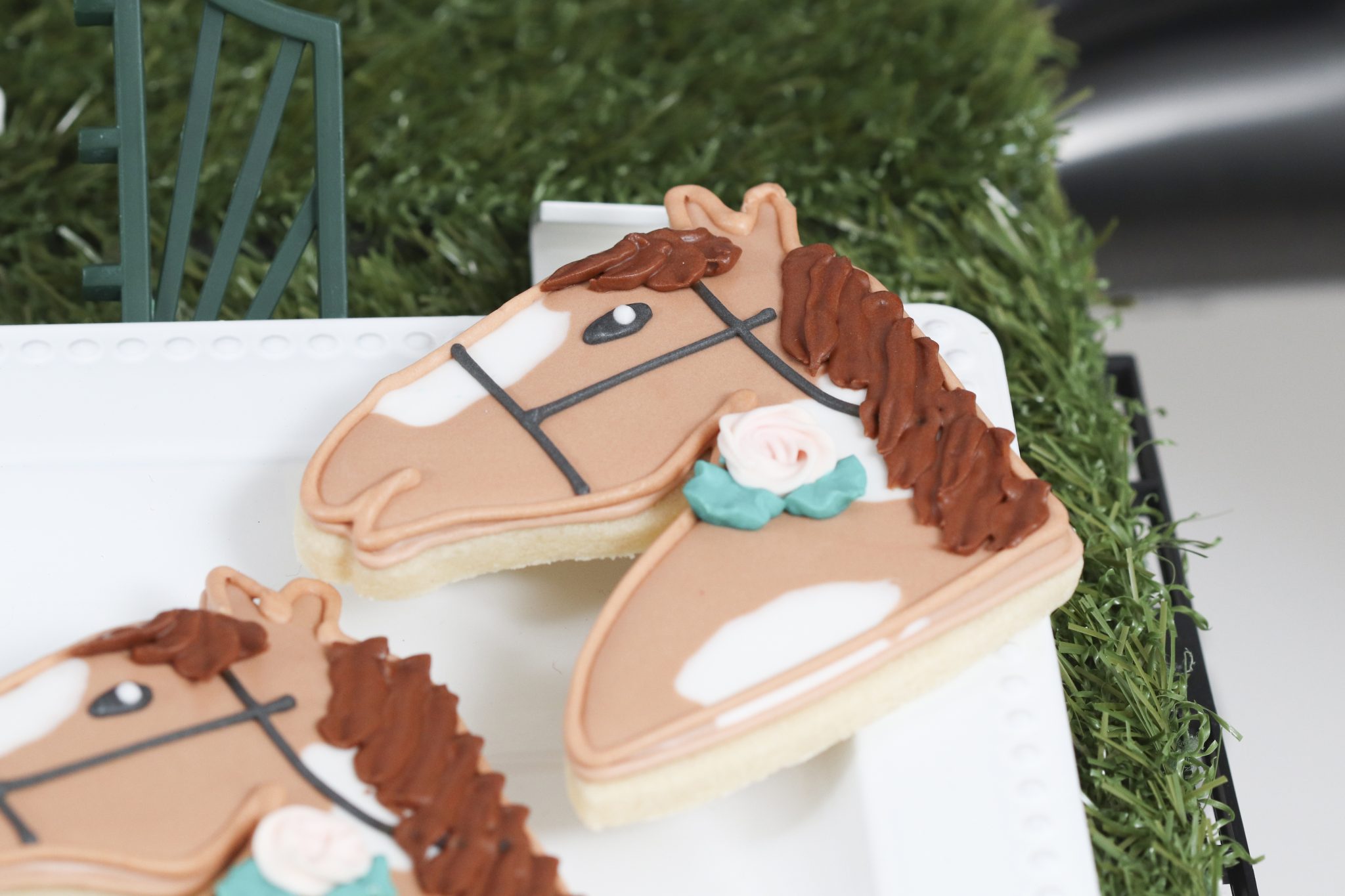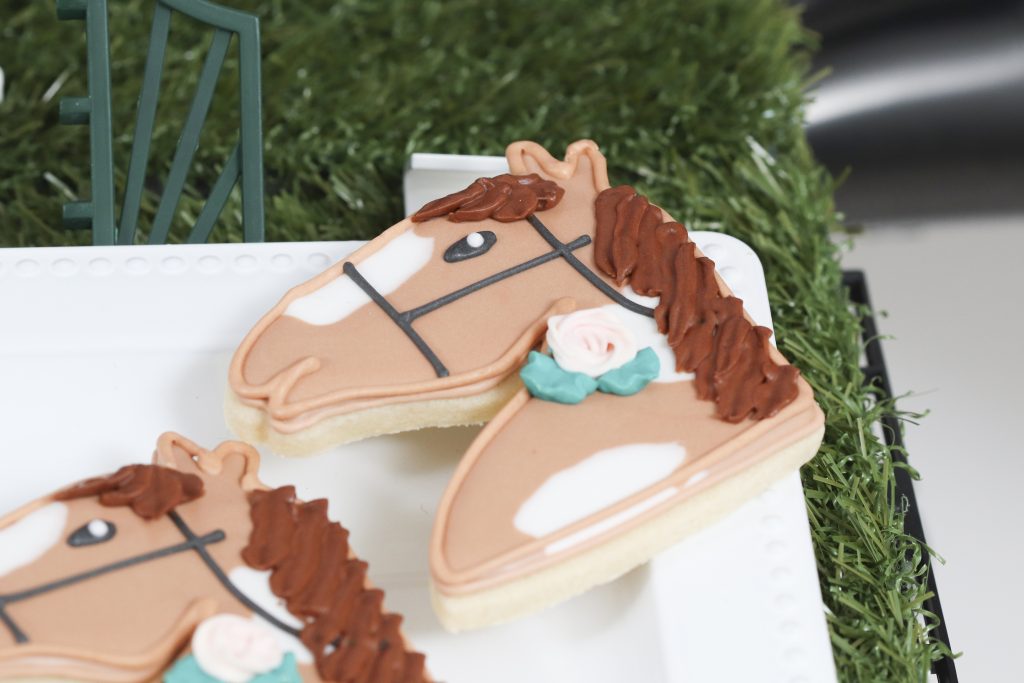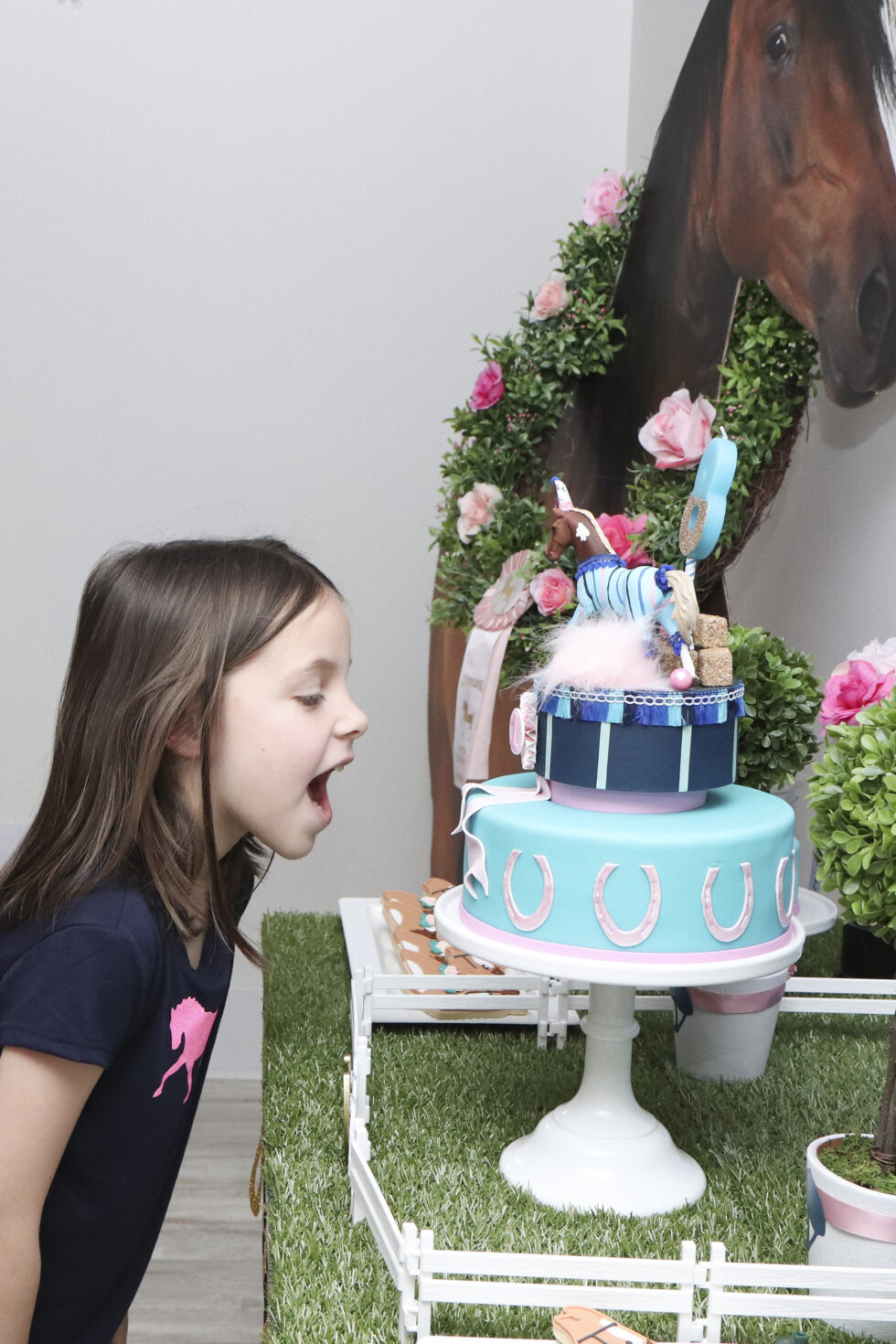 The Table Setting
For the table setting, I used an uncovered natural wood grain-topped table.Then  I created a horse show trophy centerpiece that also featured fresh pink blooms and blue prize ribbons, and sat atop faux grass. On either side of this show-stopping centerpiece, I placed additional plates of beautiful horse and birthday themed cookies from Trophy Baking Portland.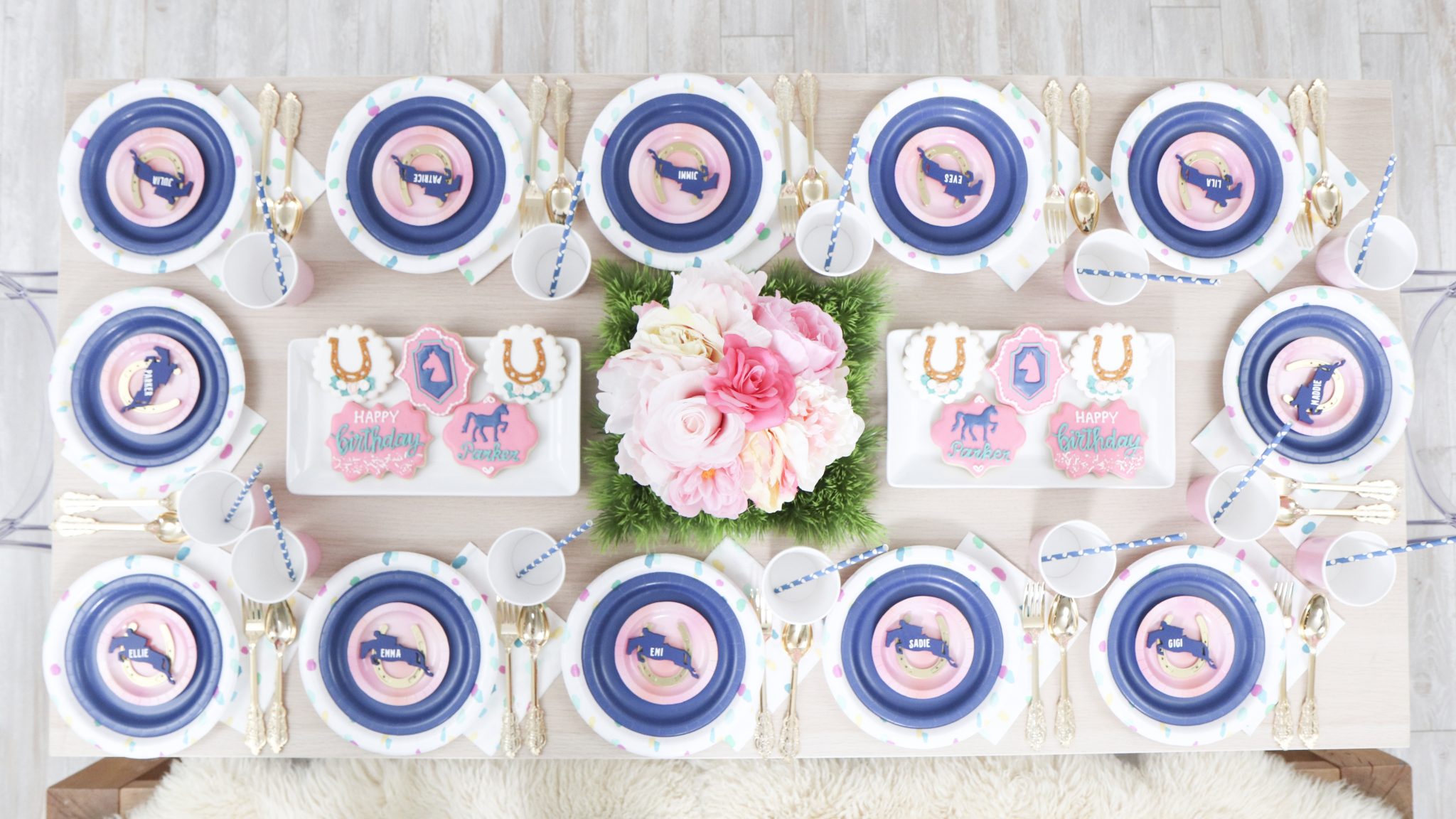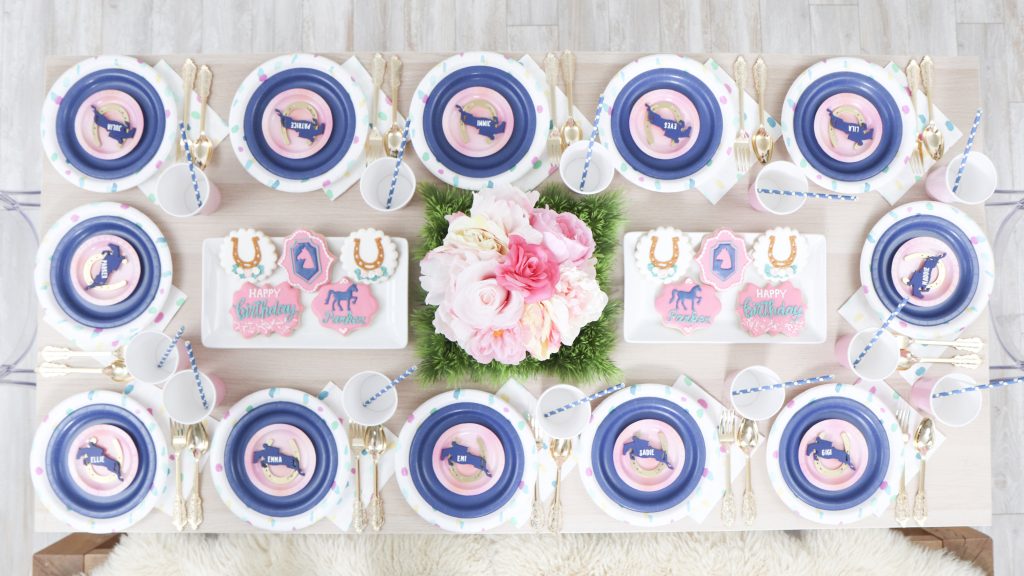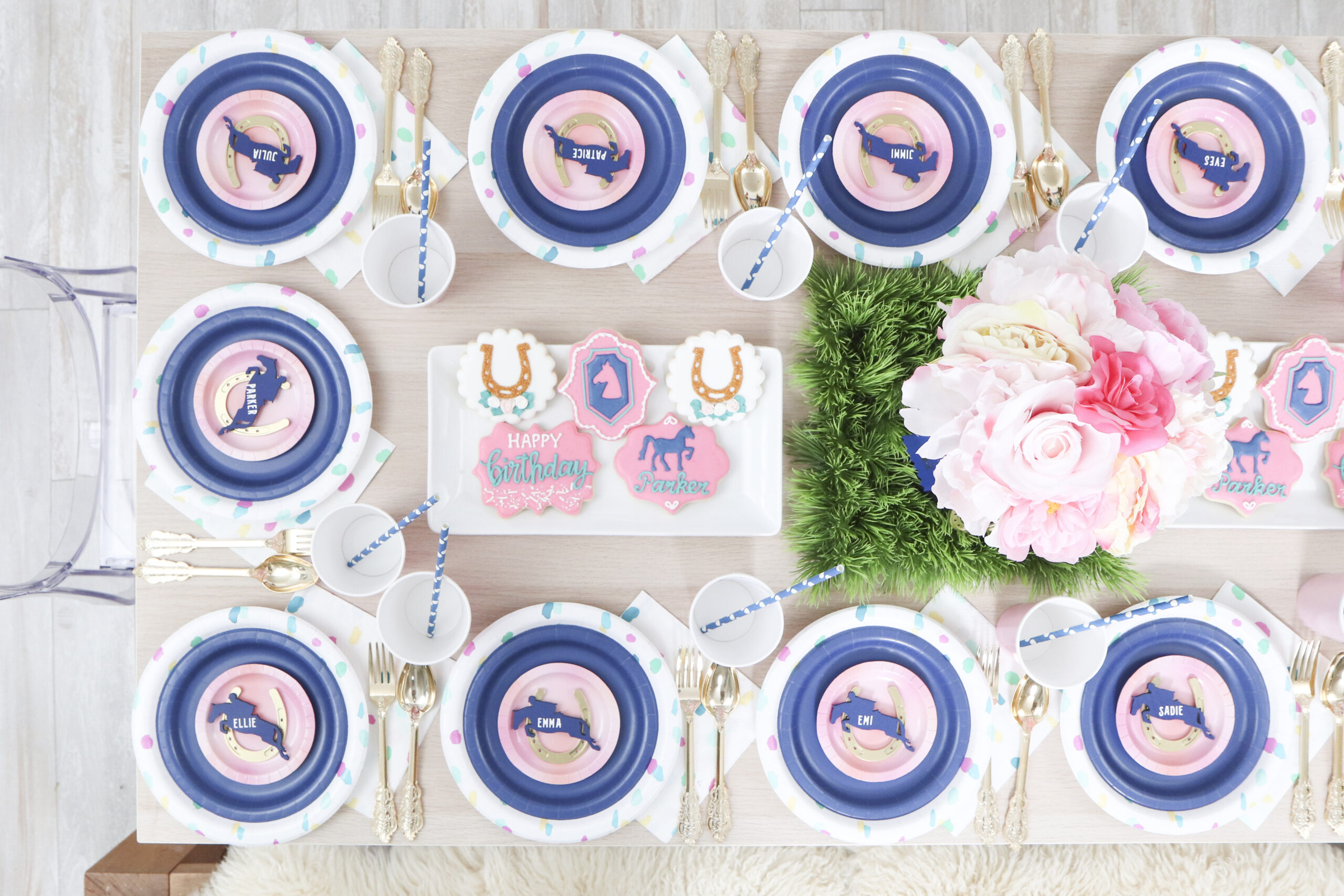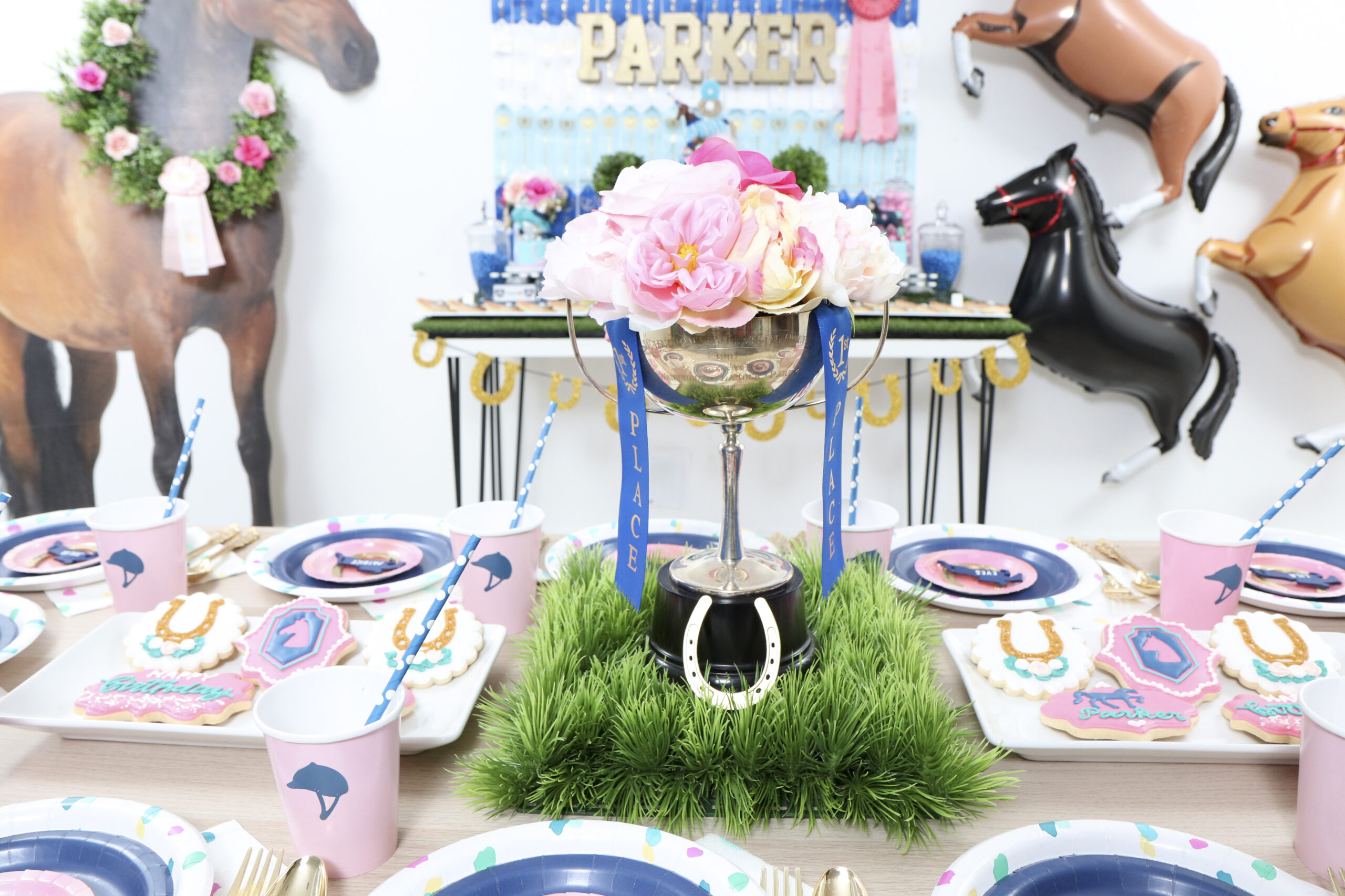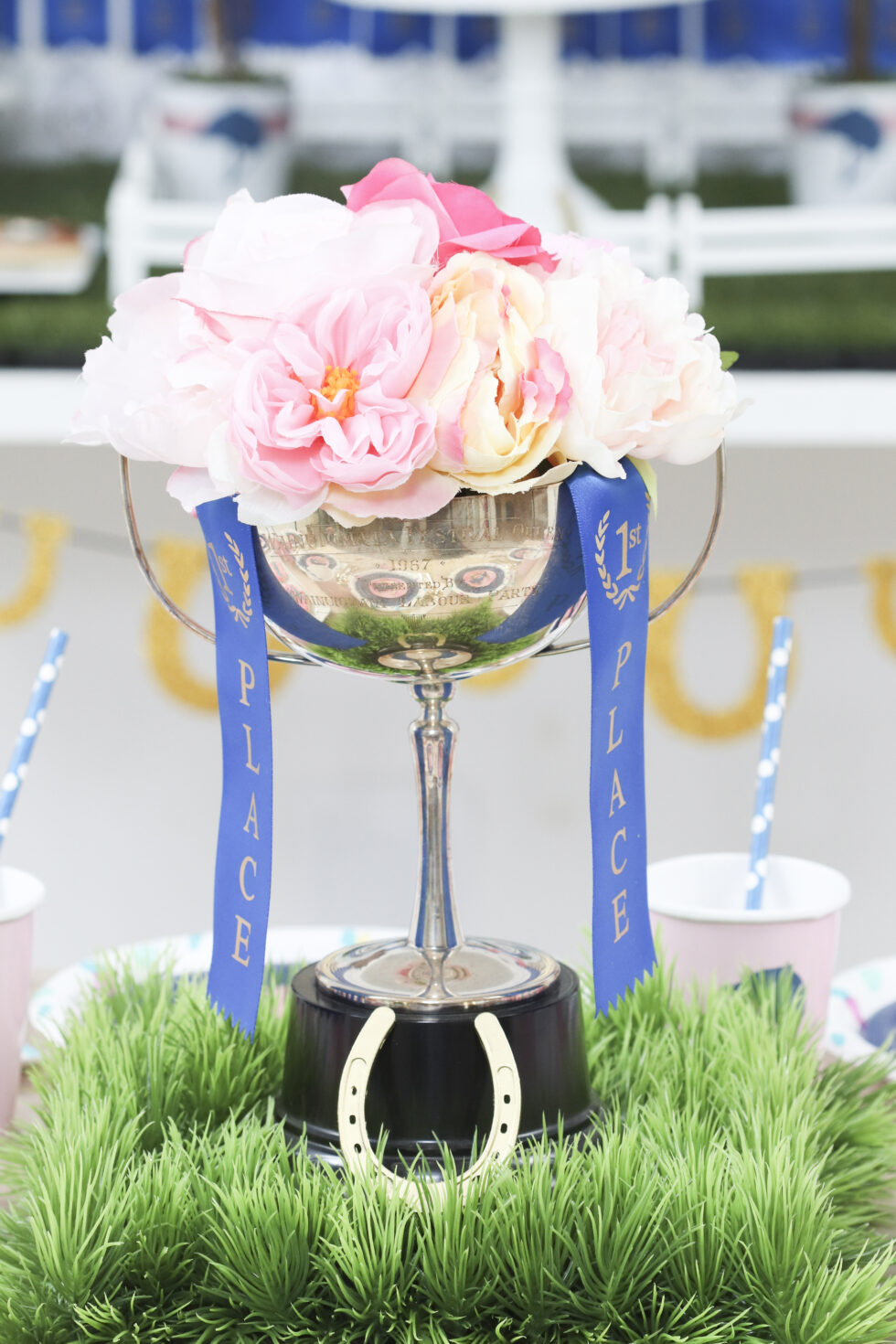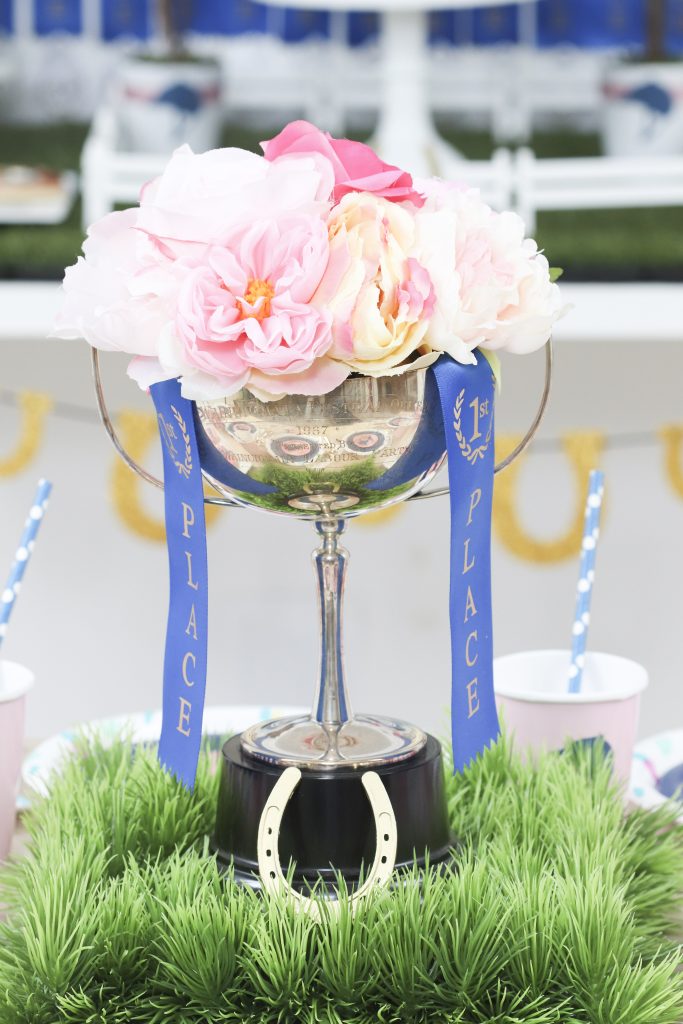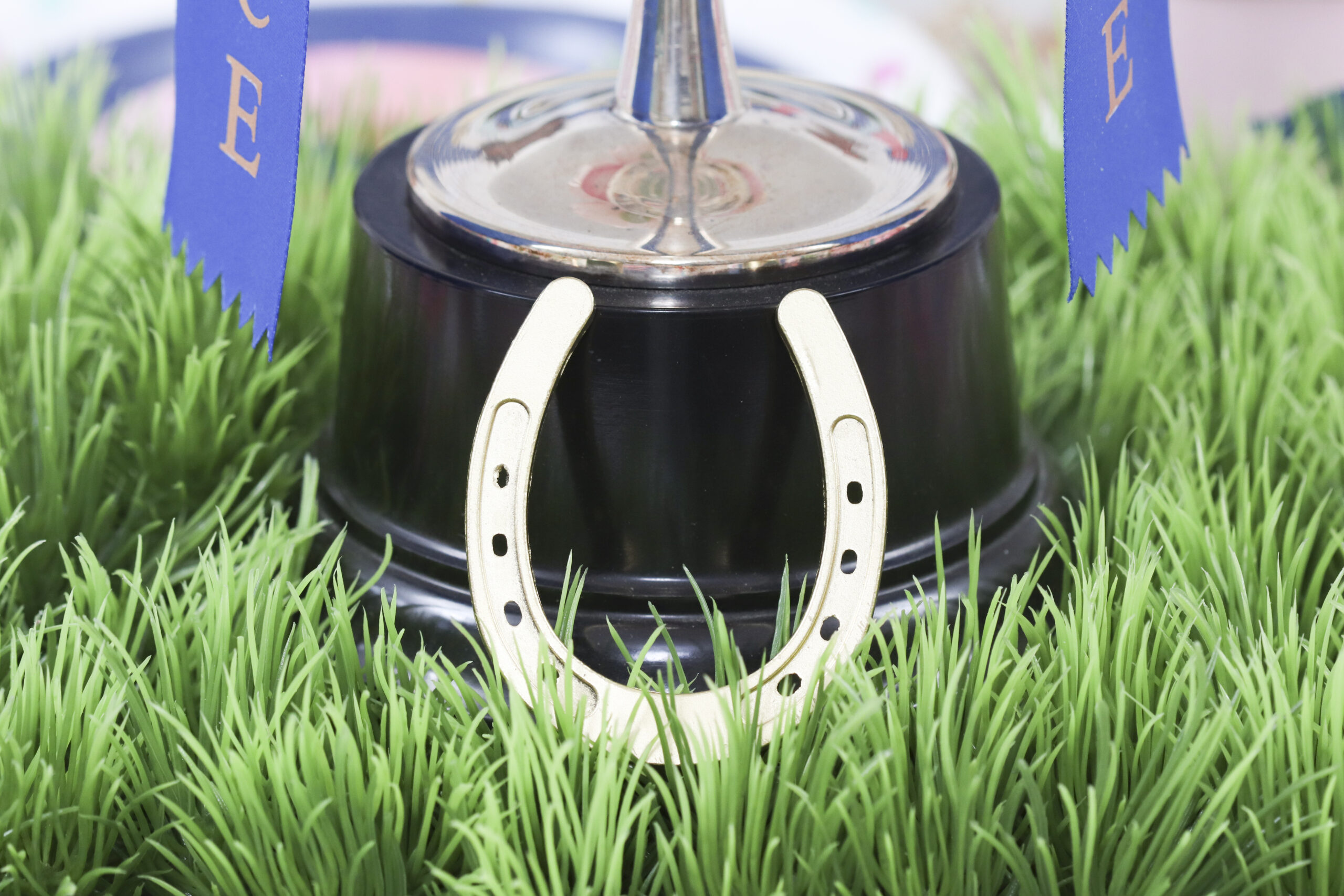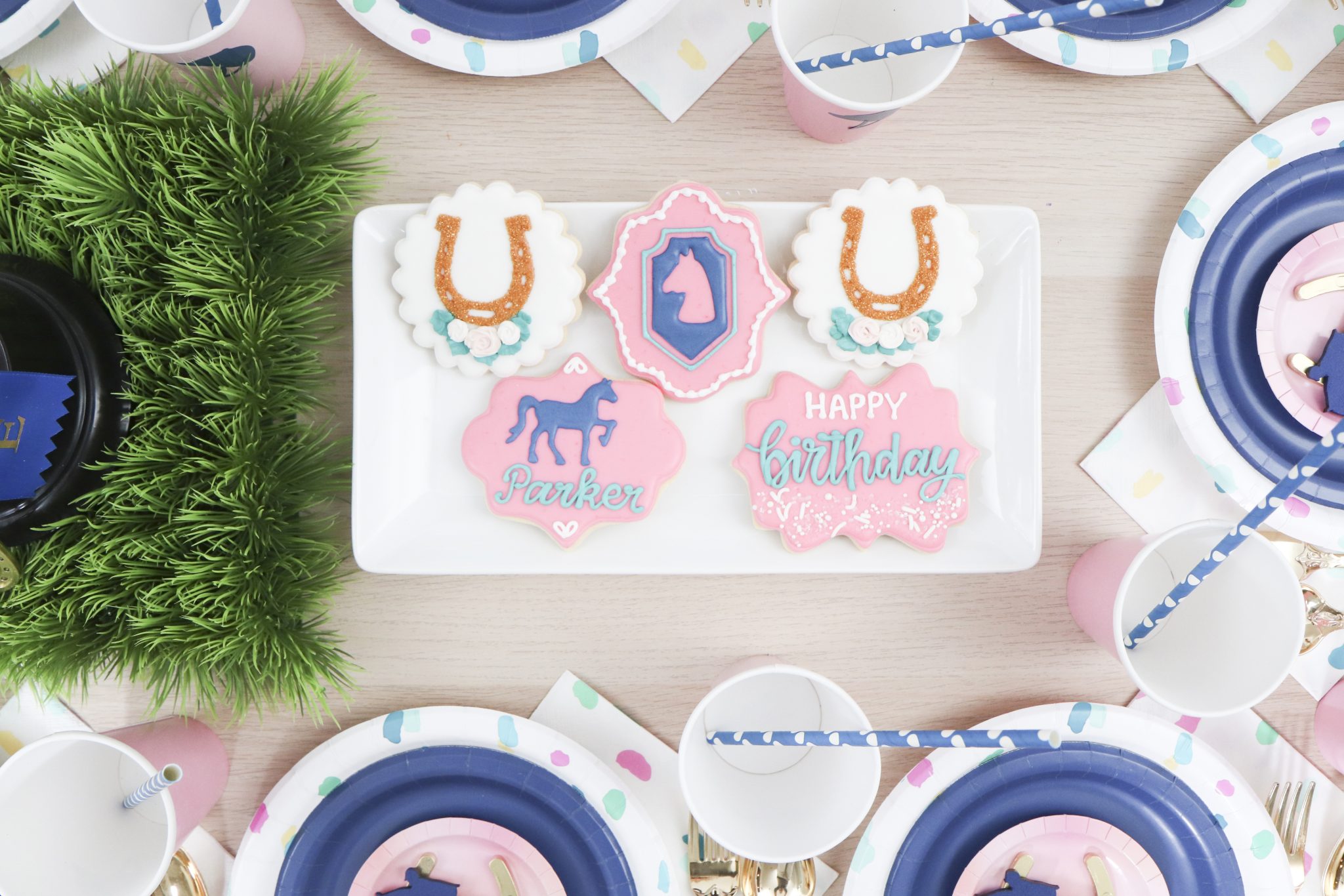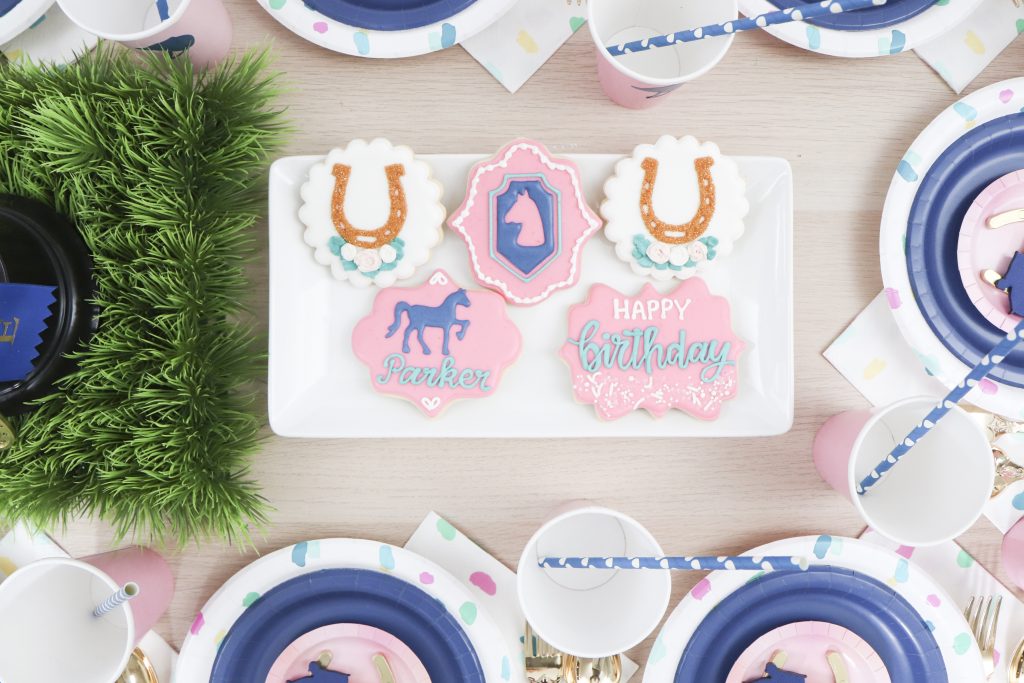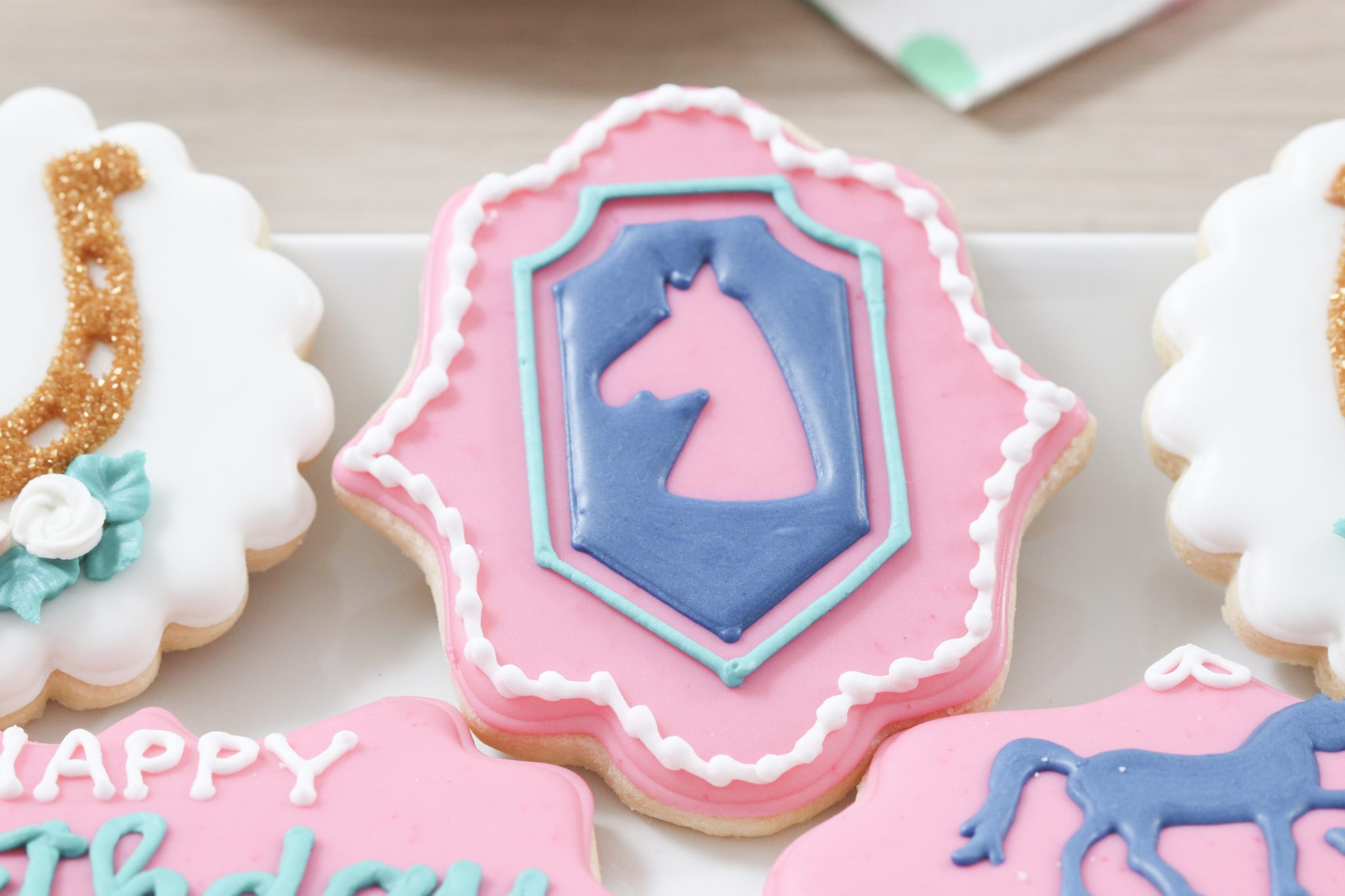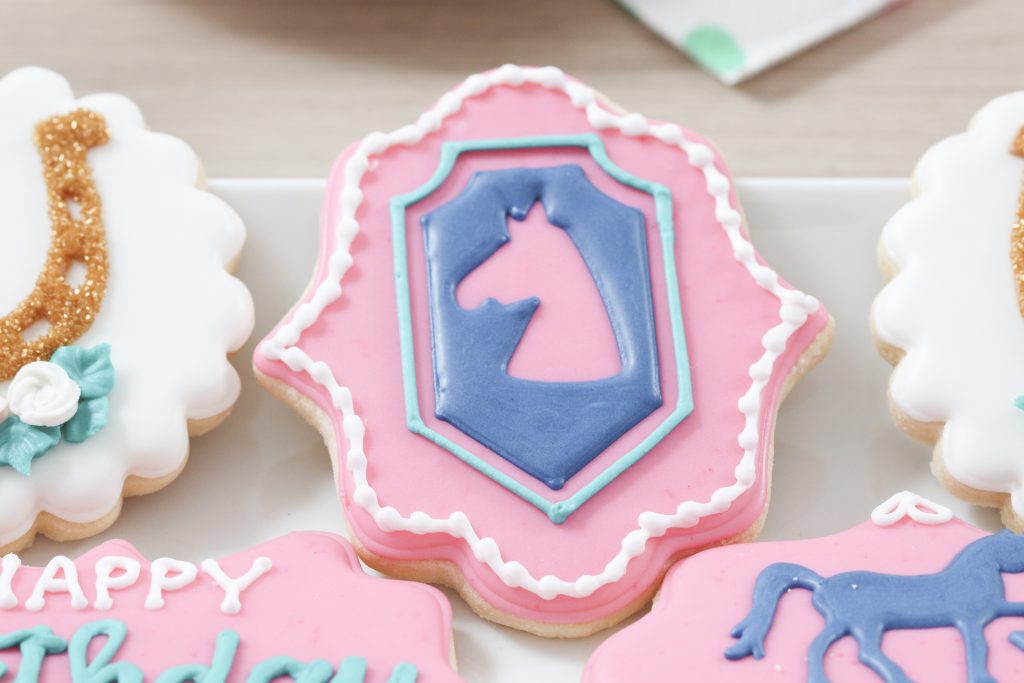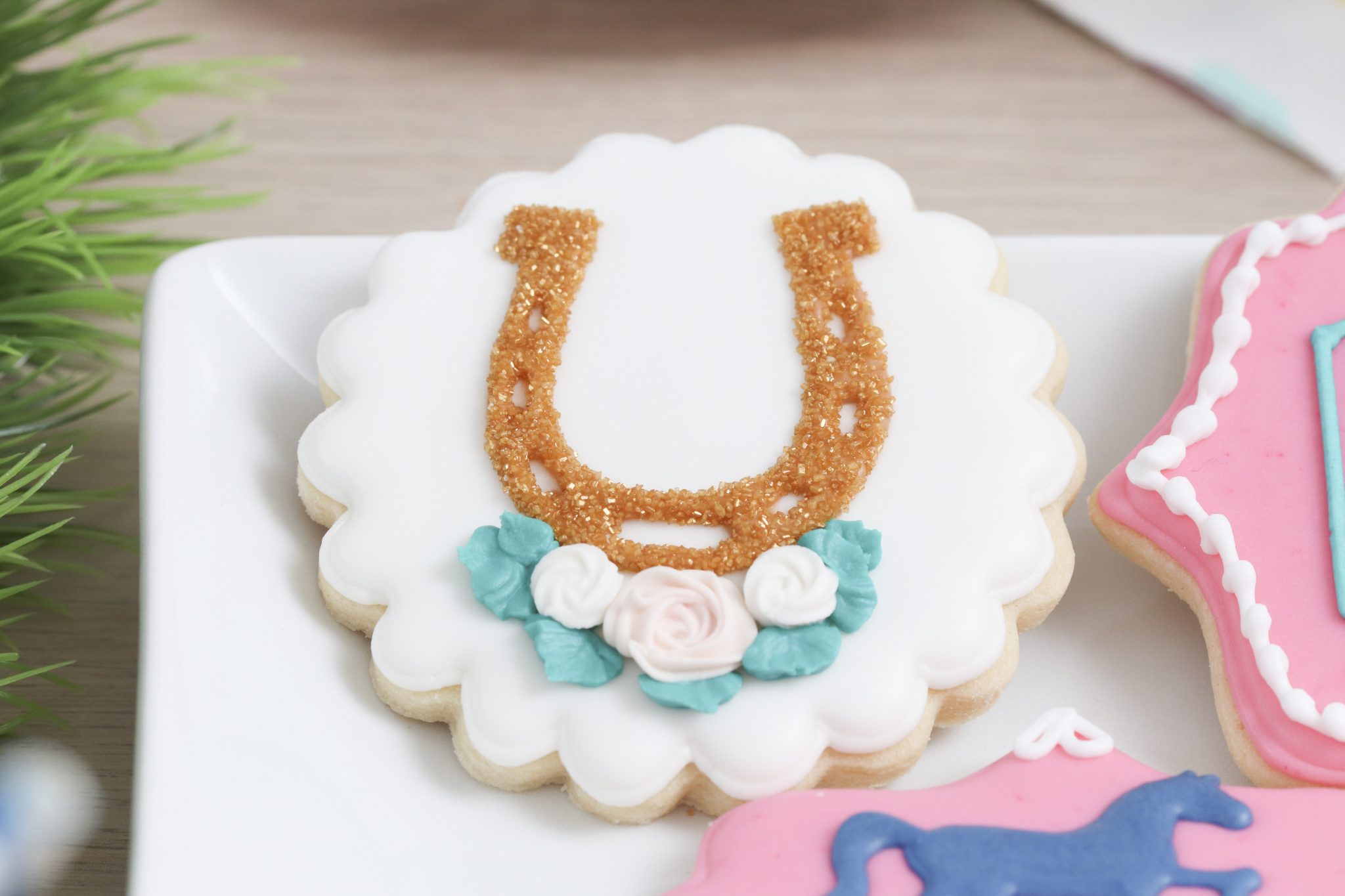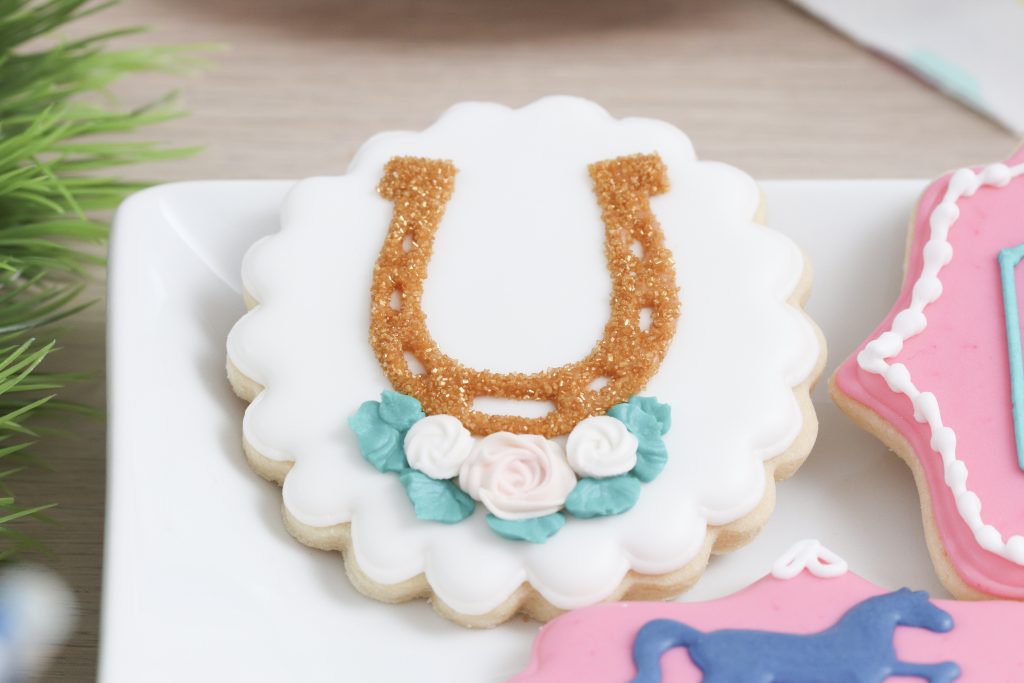 The place settings utilized layered blue and pink plates, on top of large birthday-appropriate confetti plates and napkins. Gold cutlery and pink equestrian helmet cups (a quick Cricut craft using blue vinyl) with blue and white polka dotted straws completed the look. Finally, in the center of each place setting, I placed a blue wooden equestrian silhouette over a metal gold horseshoe as a place card.
TIP: The place cards make great take home favors for guests.  Parker now has her horse on her bedroom door as a name plate.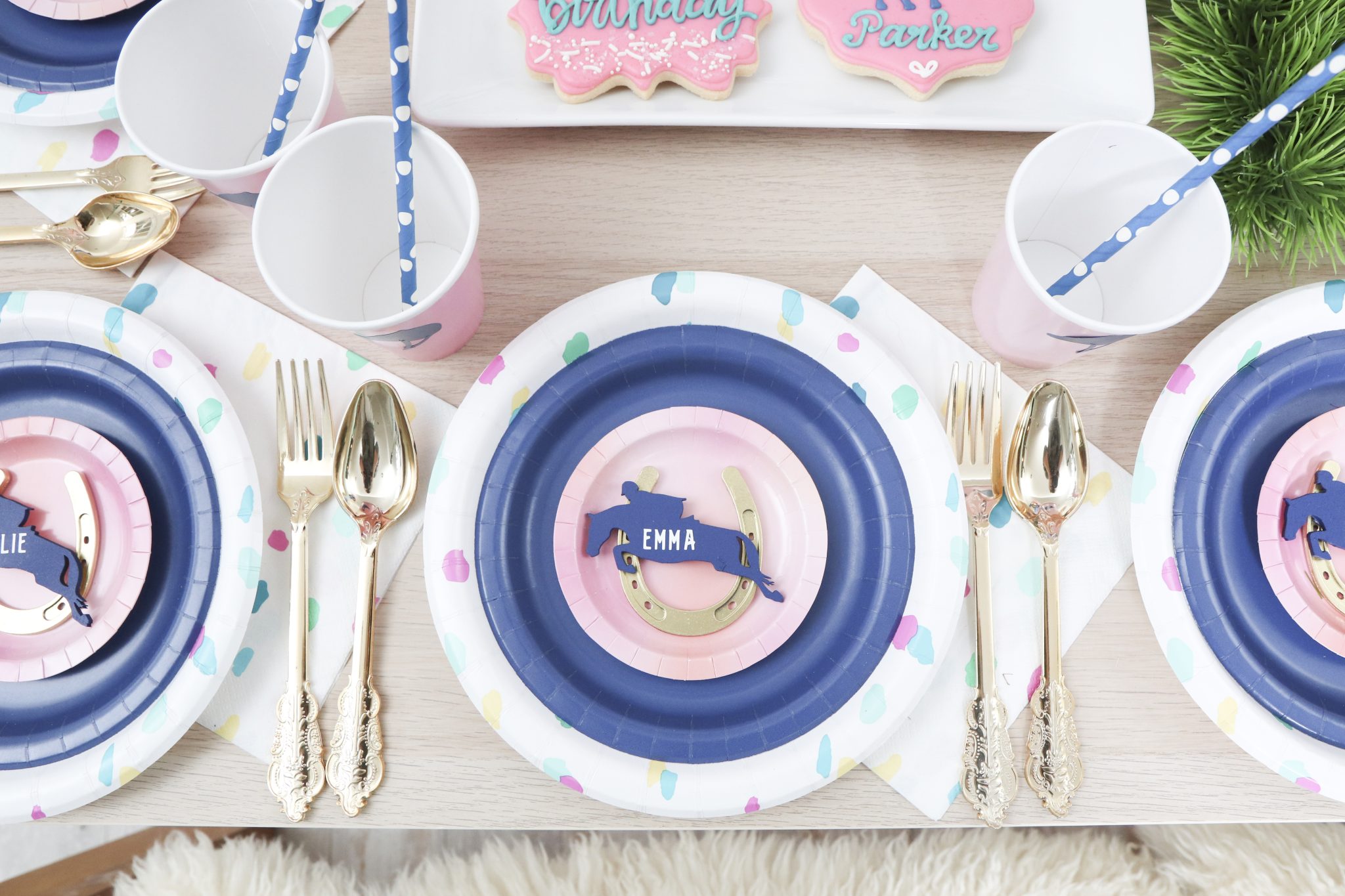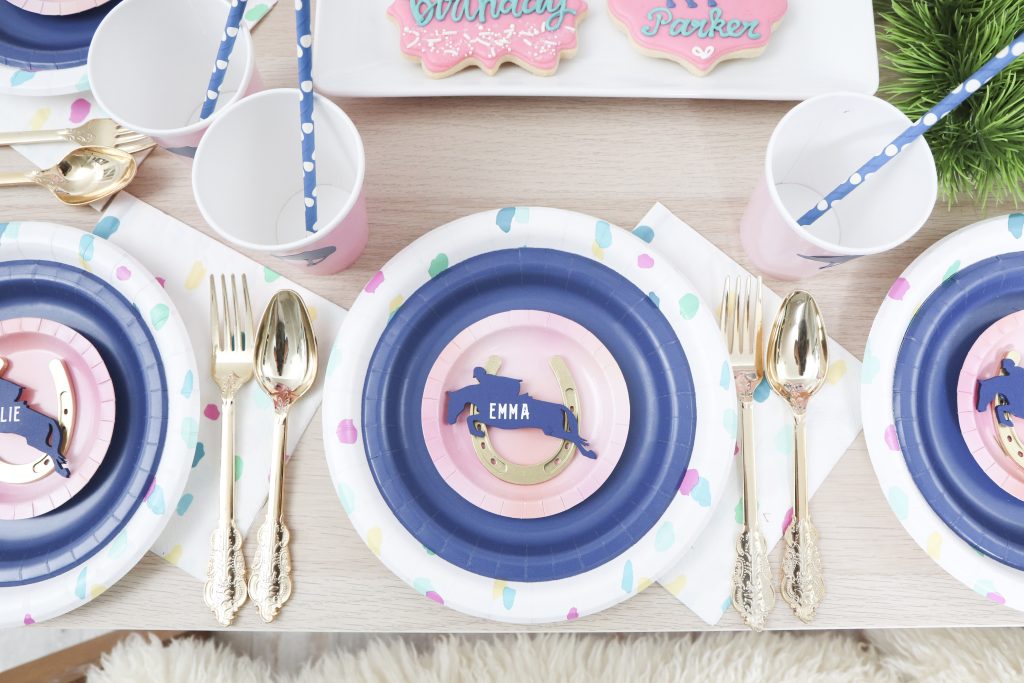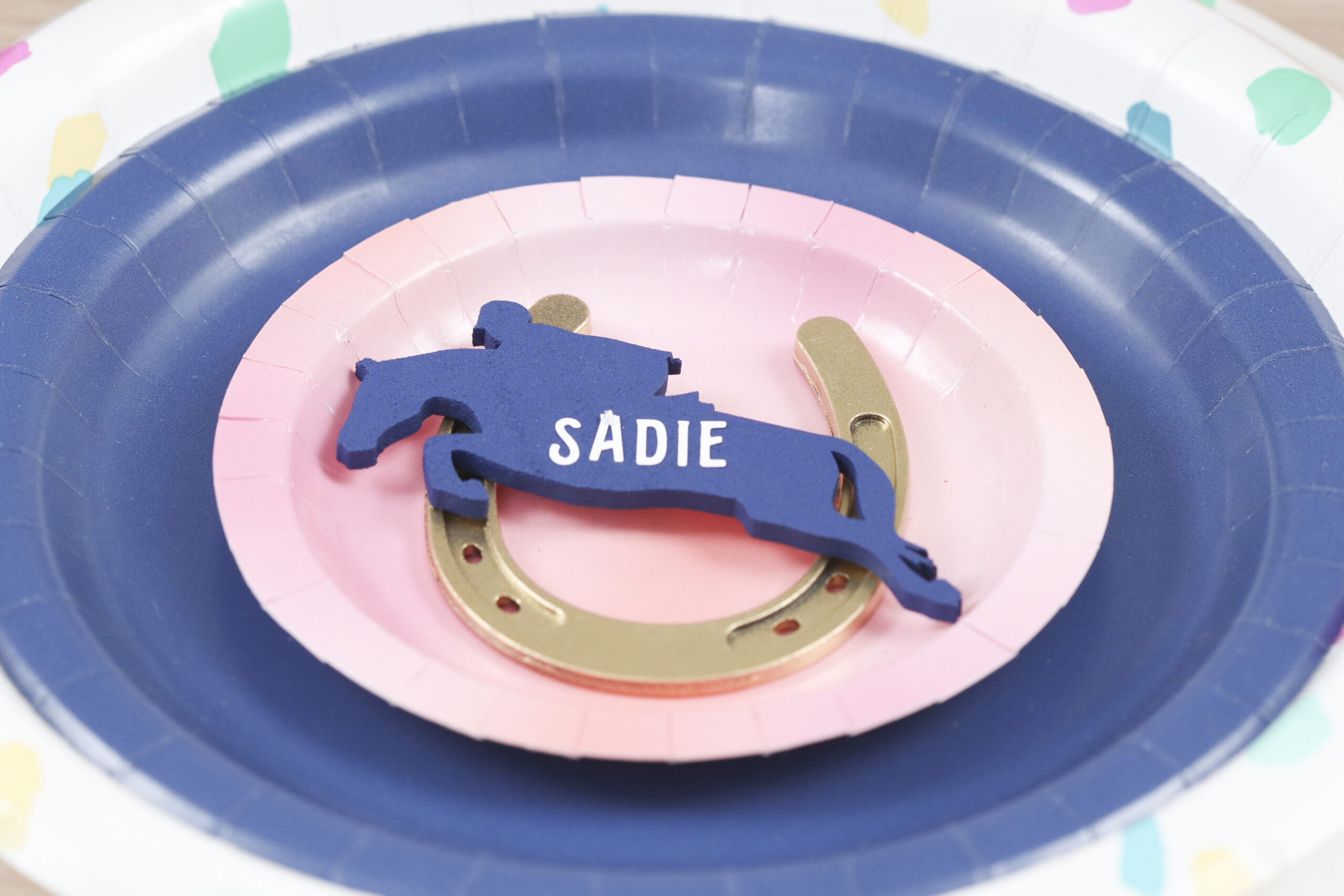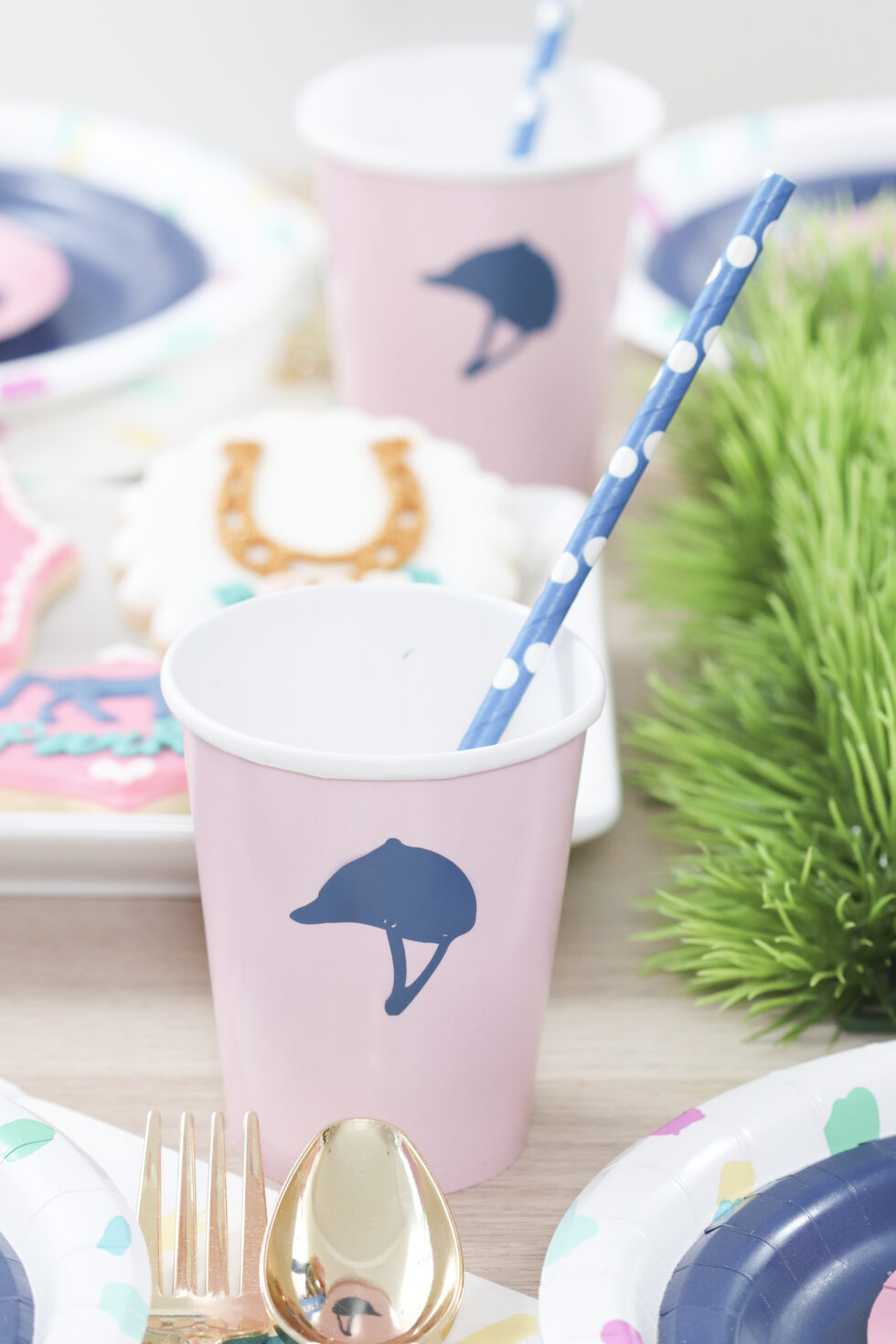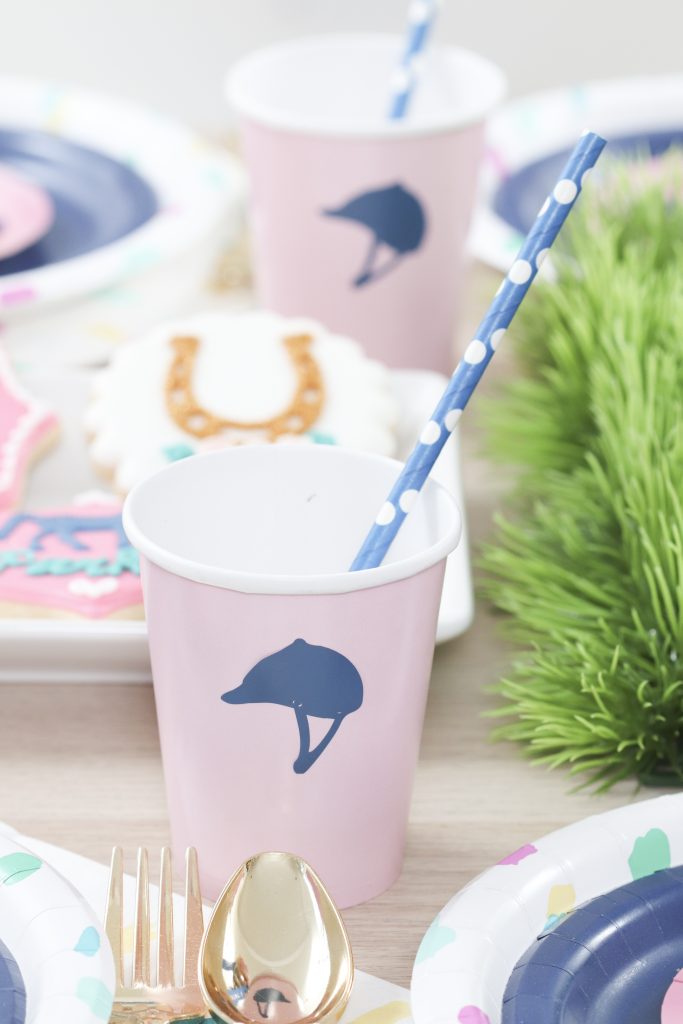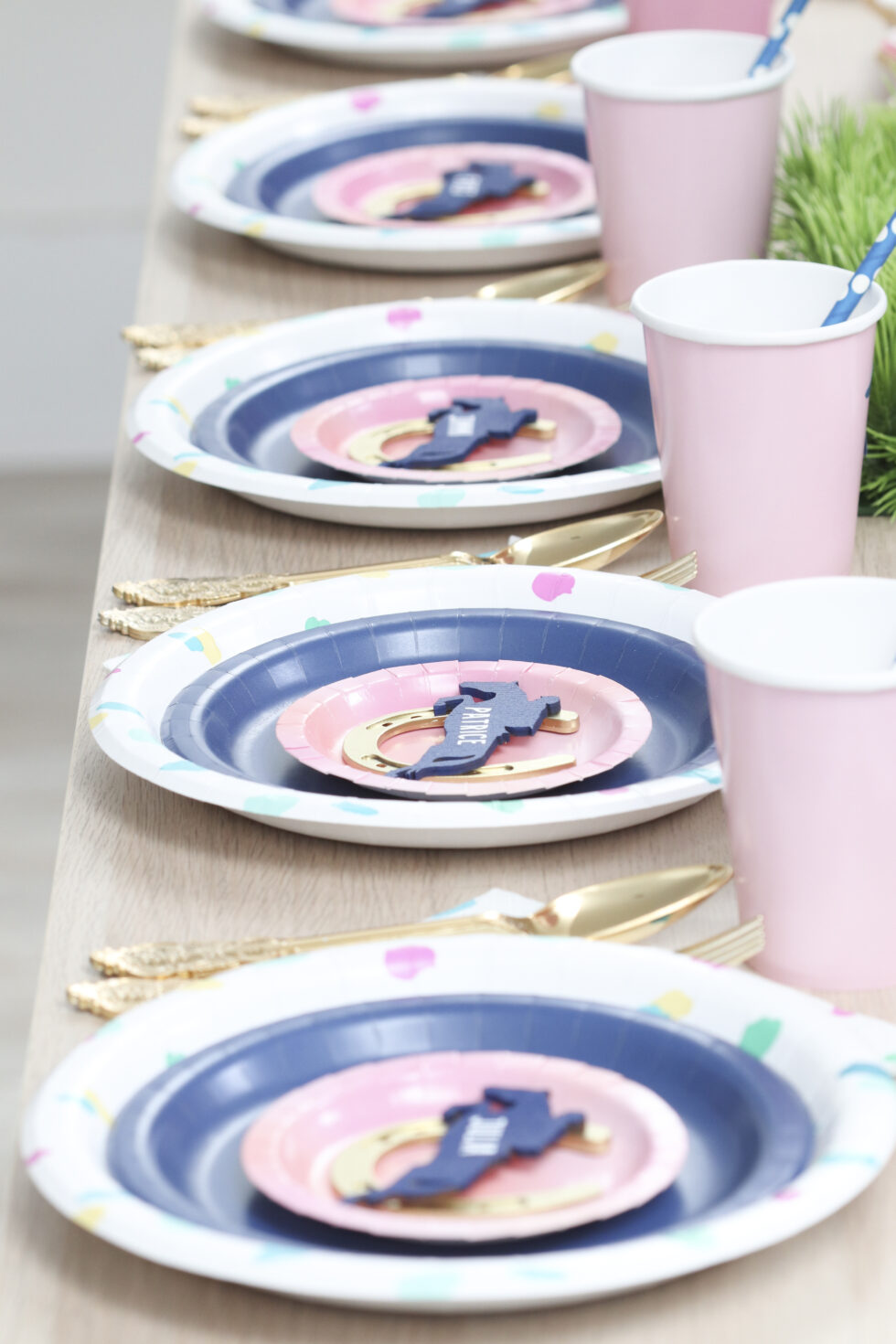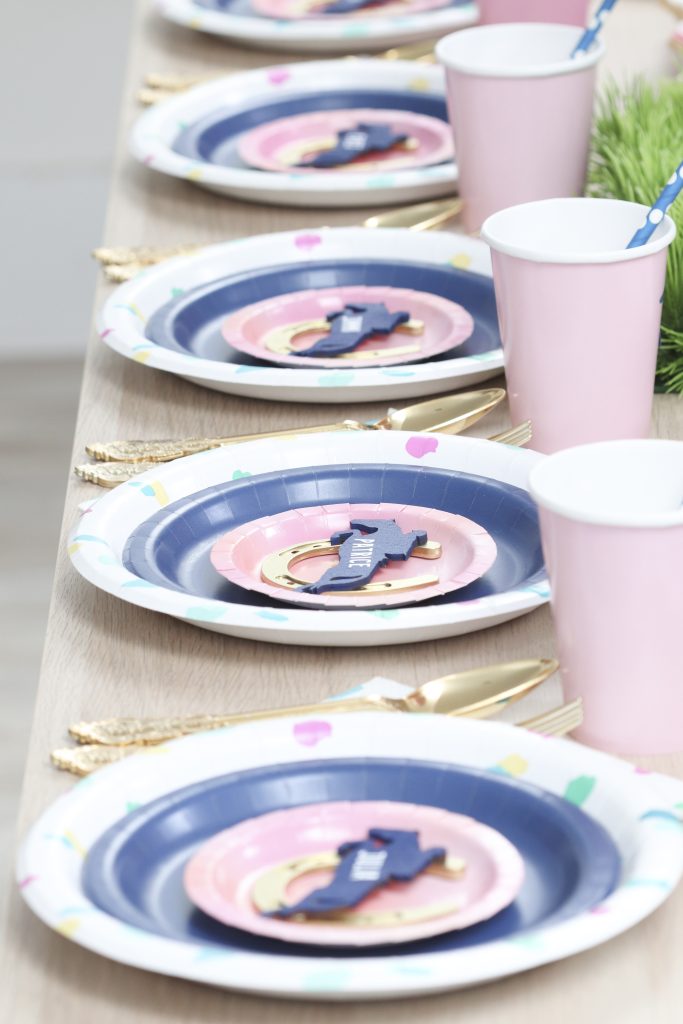 I had such a blast setting up this horse themed party for Parker and her friends, and they had a blast celebrating!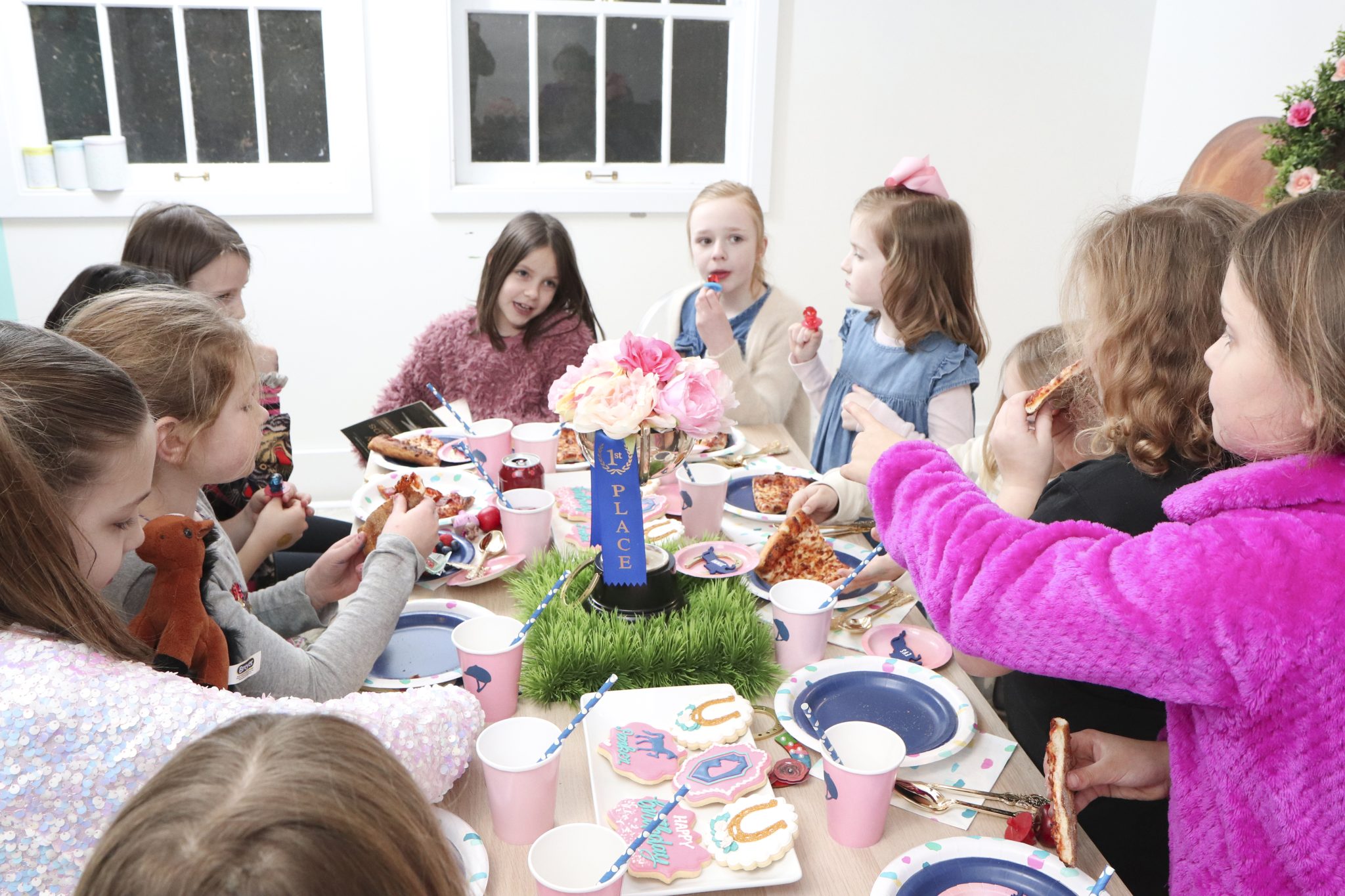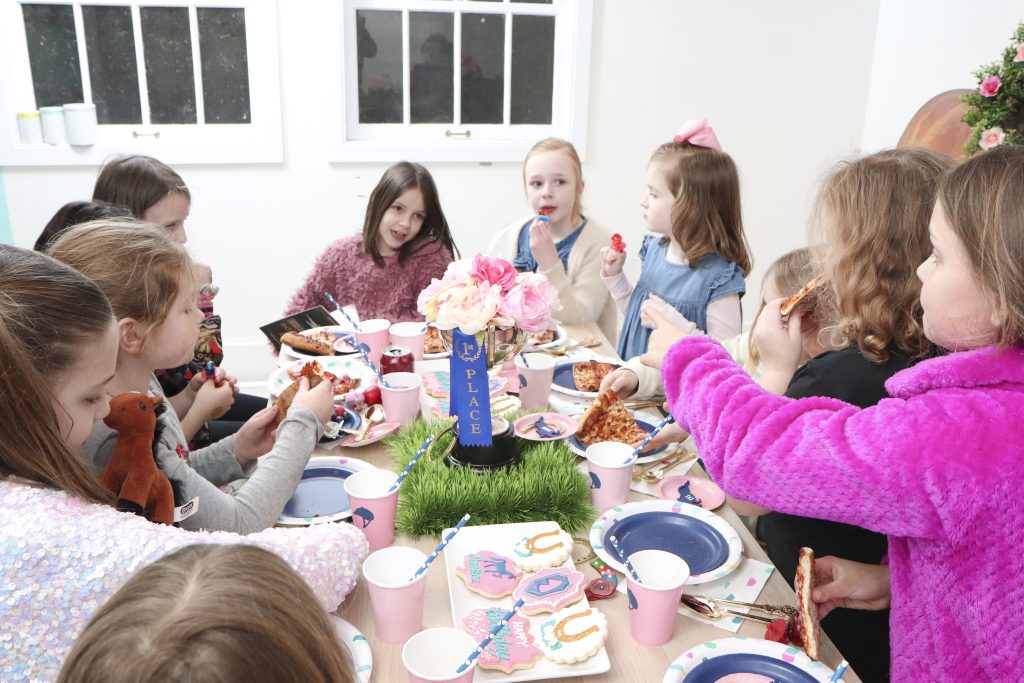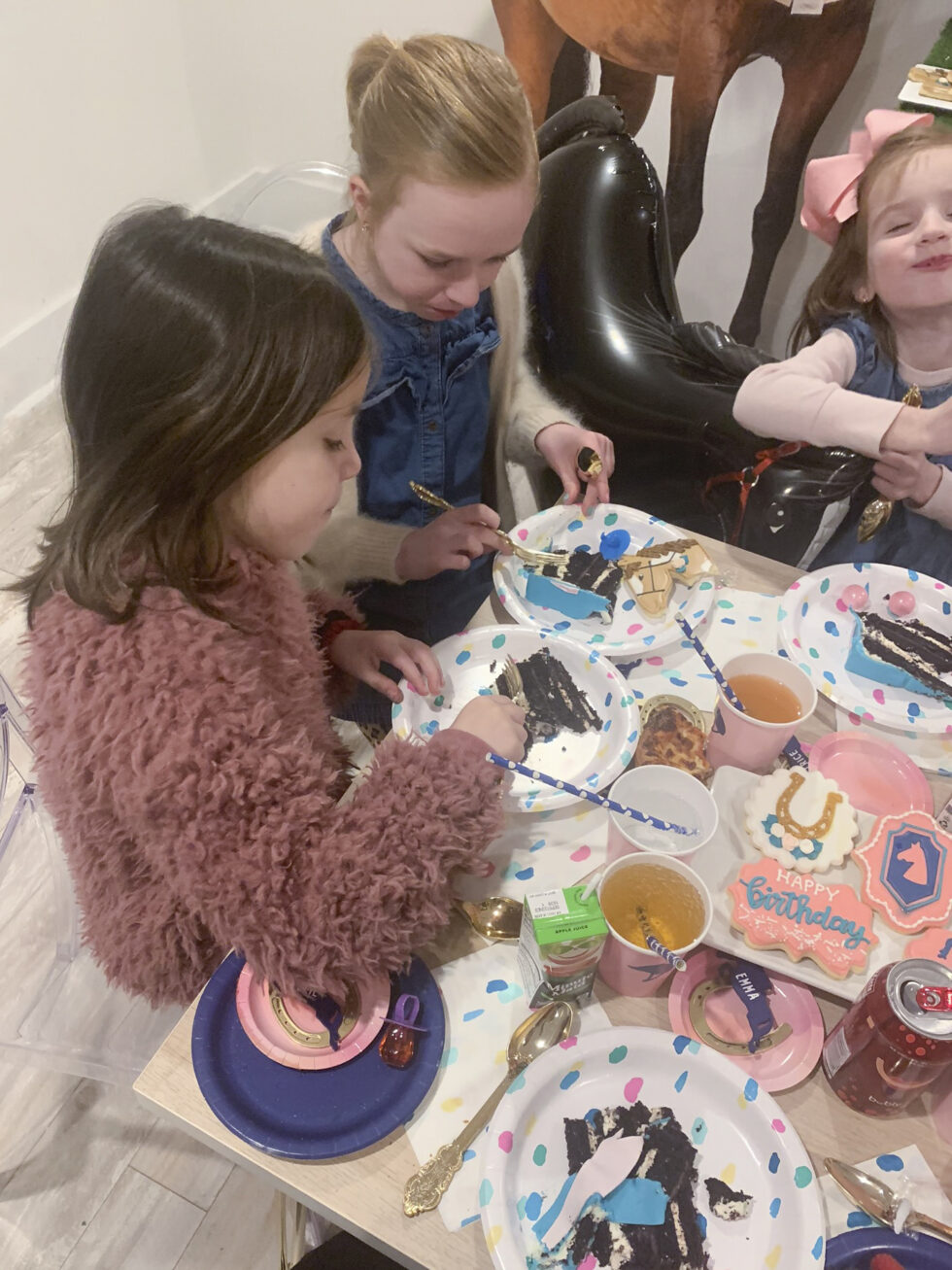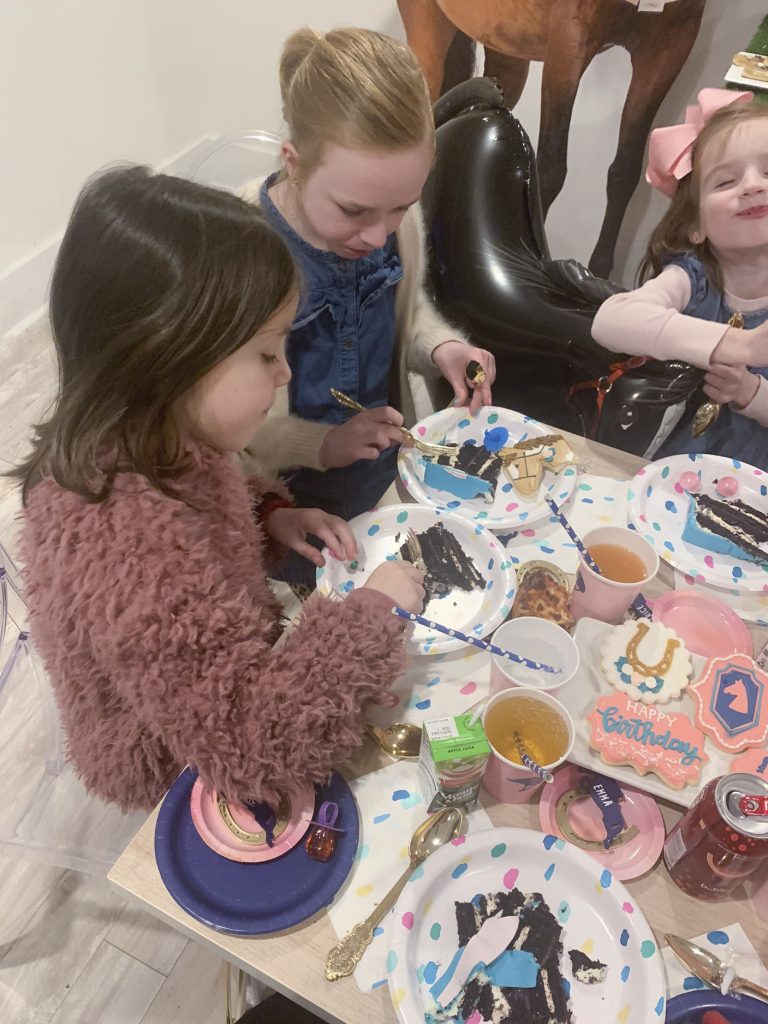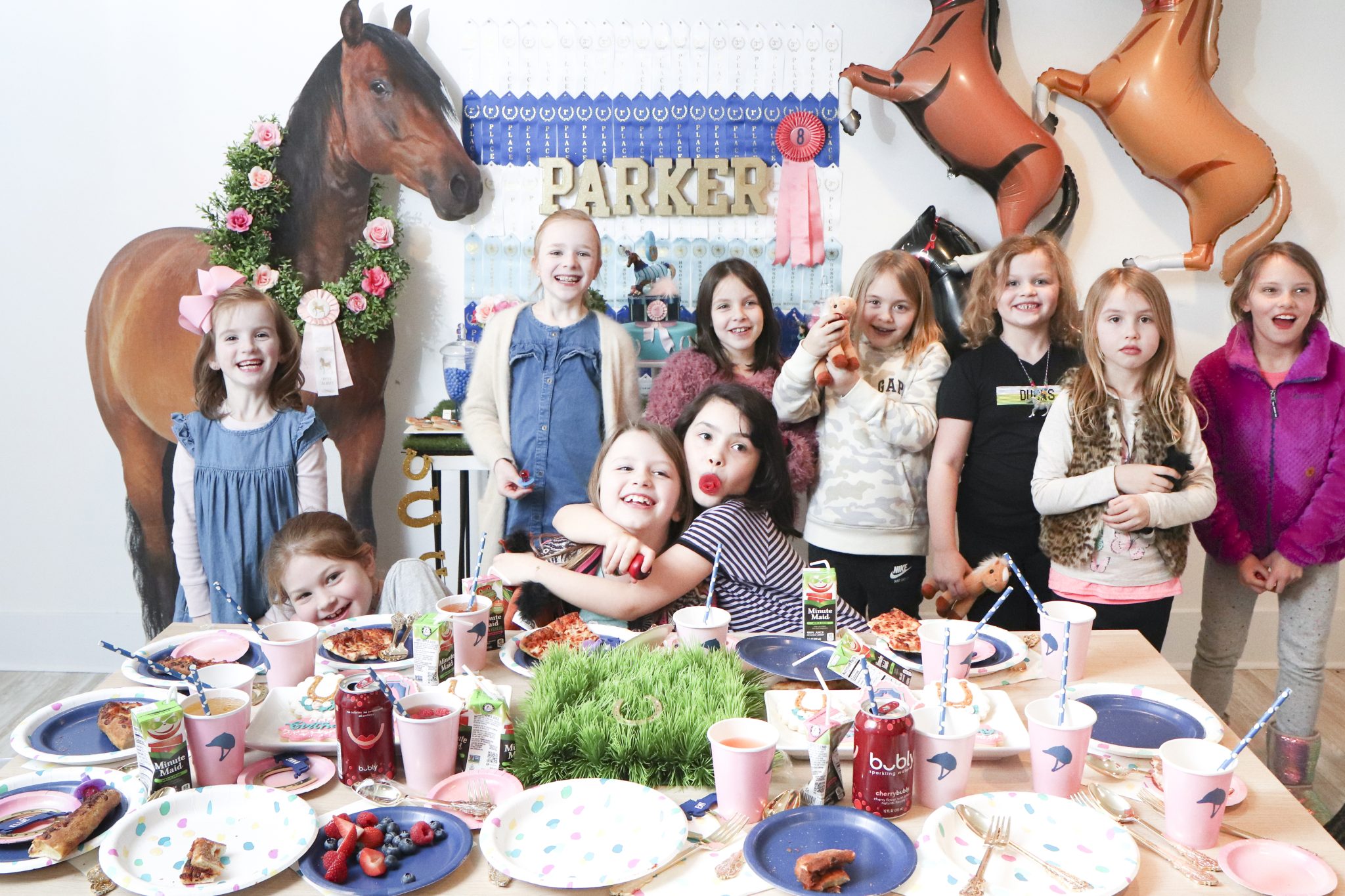 There's so much more I can't wait to tell you about this party, including all about the fun activities I set up.
In the meantime, check out the JoJo Siwa party I threw for Parker's birthday last year! What theme would your kids (or you!!) love to have for a birthday party? Let me know in the comments!
Happy partying!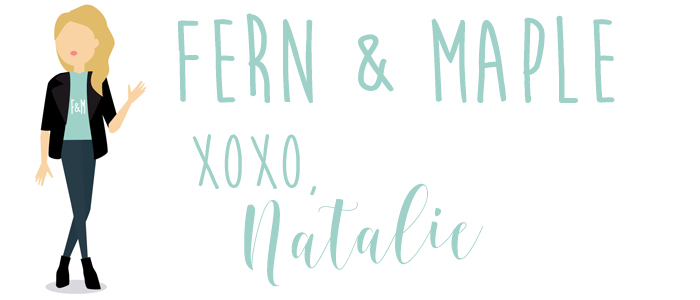 PIN FOR LATER: