A few months ago (pre-coronavirus), I threw a super fun horse-themed party for my daughter Parker's 8th birthday. You can check out my post on how I decorated the tables HERE.  In this post, I'll share all of the fun horse-inspired activities I came up with for keeping all of the energetic guests entertained! All of these activities can easily be hosted outside during this time of social distancing and also make for great quarantine activities for horse-obsessed kids!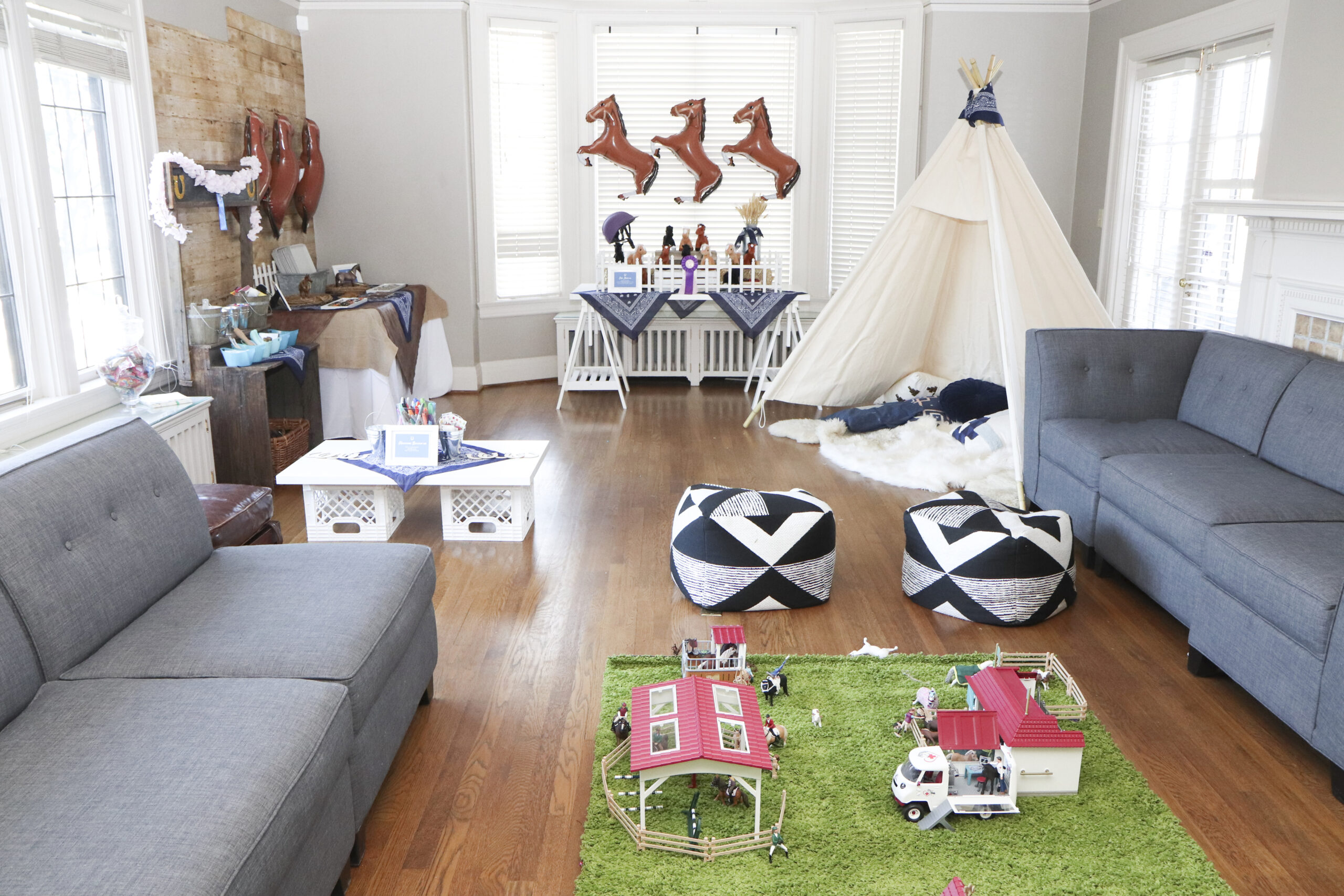 Horse Adoption and Tag Making
The first thing I did was set up an area where the kids could choose a pony of their very own to adopt. Breyer Horses have the cutest stuffed horses the kids love.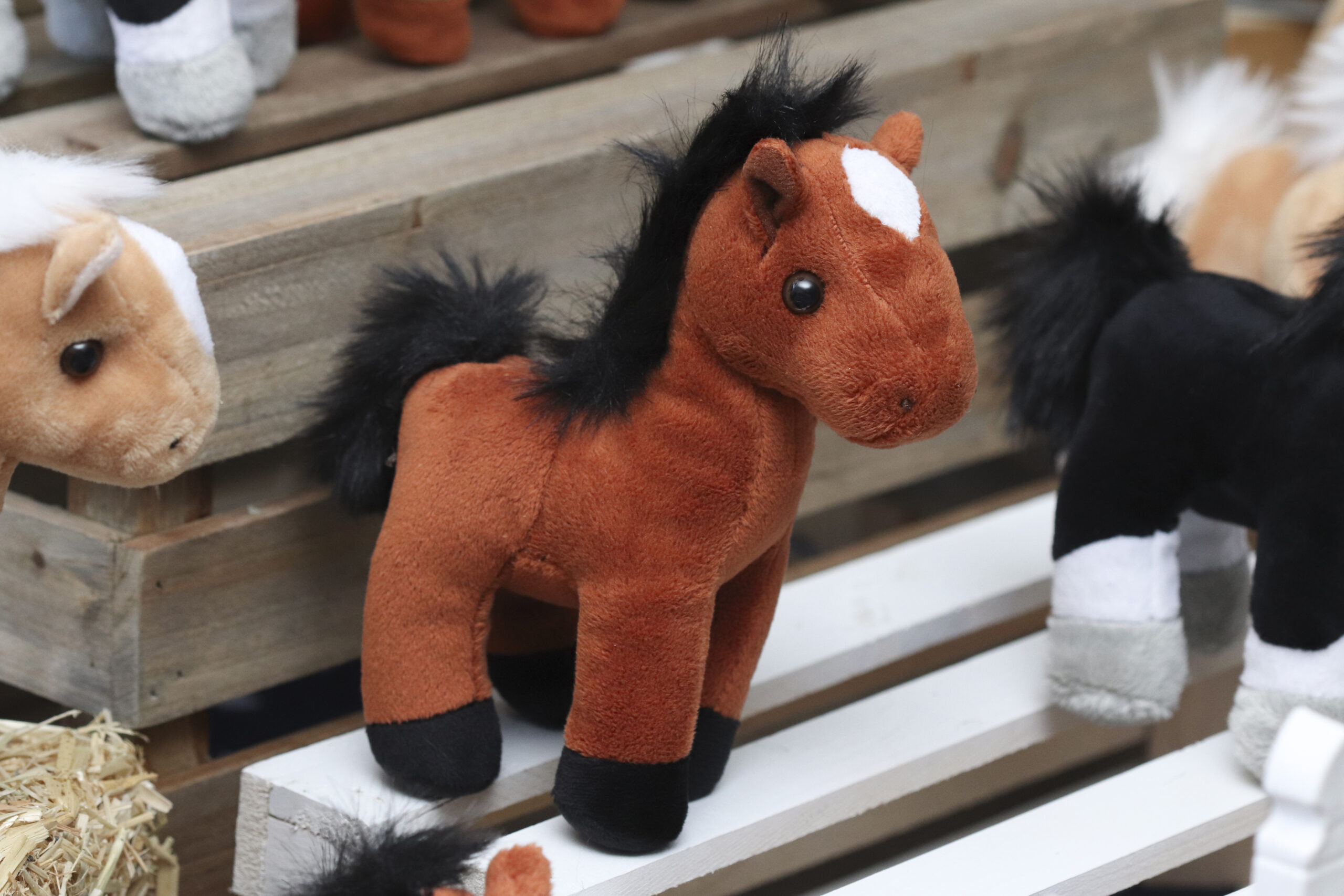 I draped some navy blue blue bandannas on a white table for some equestrian vibes, and then set up a pony corral over the rest of the table using small white fencing (this is white picket fence lawn edging). Inside the corral, I used overturned wooden crates and small hay bales to create various levels of pony stands on which I placed enough stuffed ponies for each guest to have one.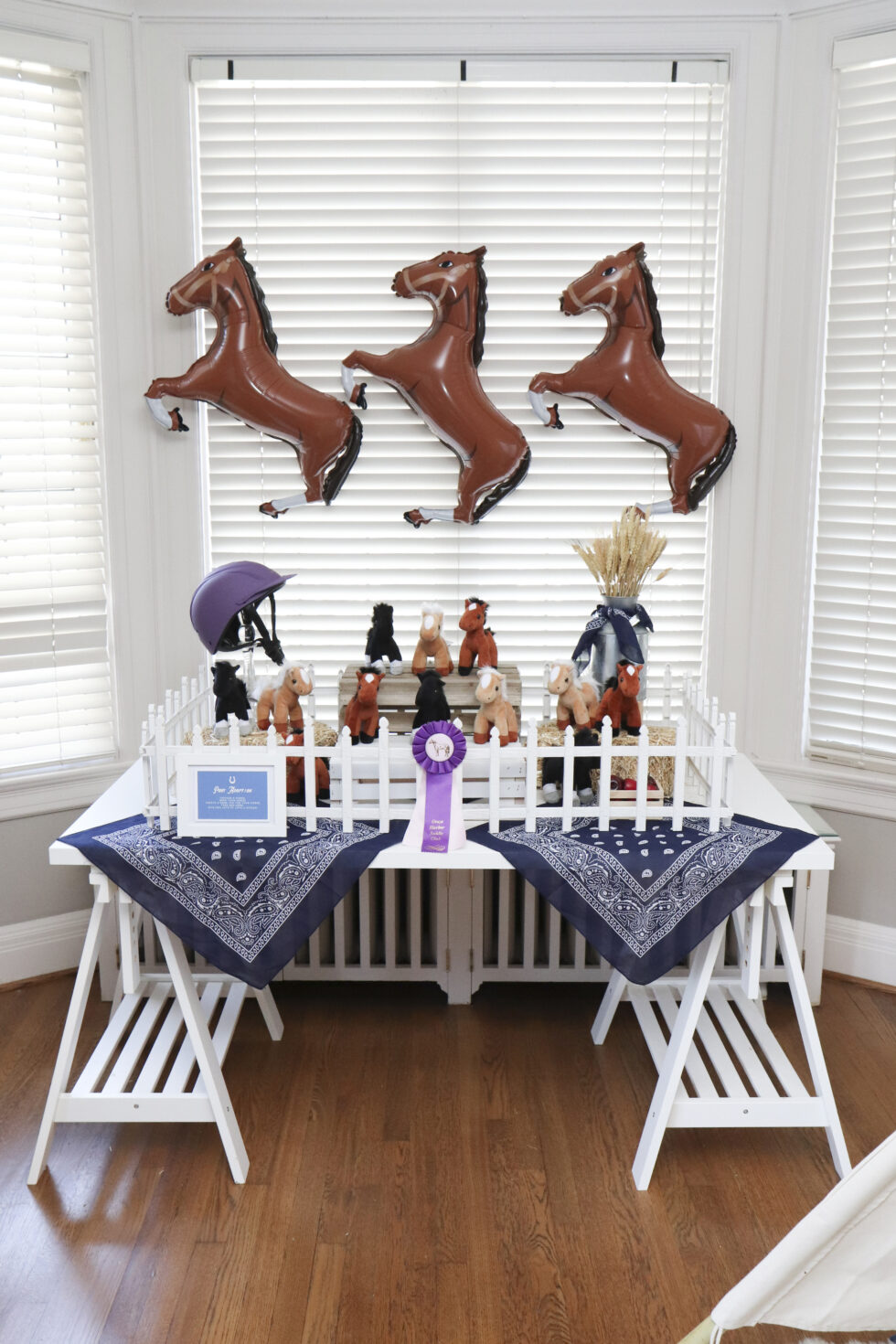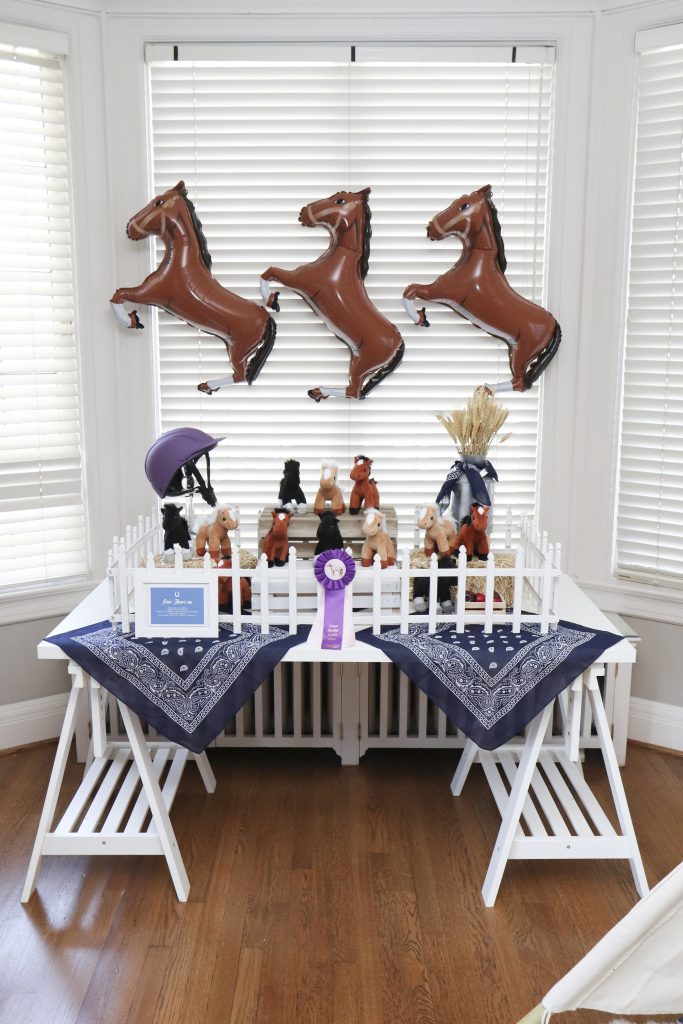 I then added some more horse-themed decor to the corral with a tin jug of wheat, a rider's helmet, and a crate of tiny apples. Something the girls could take to feed their ponies!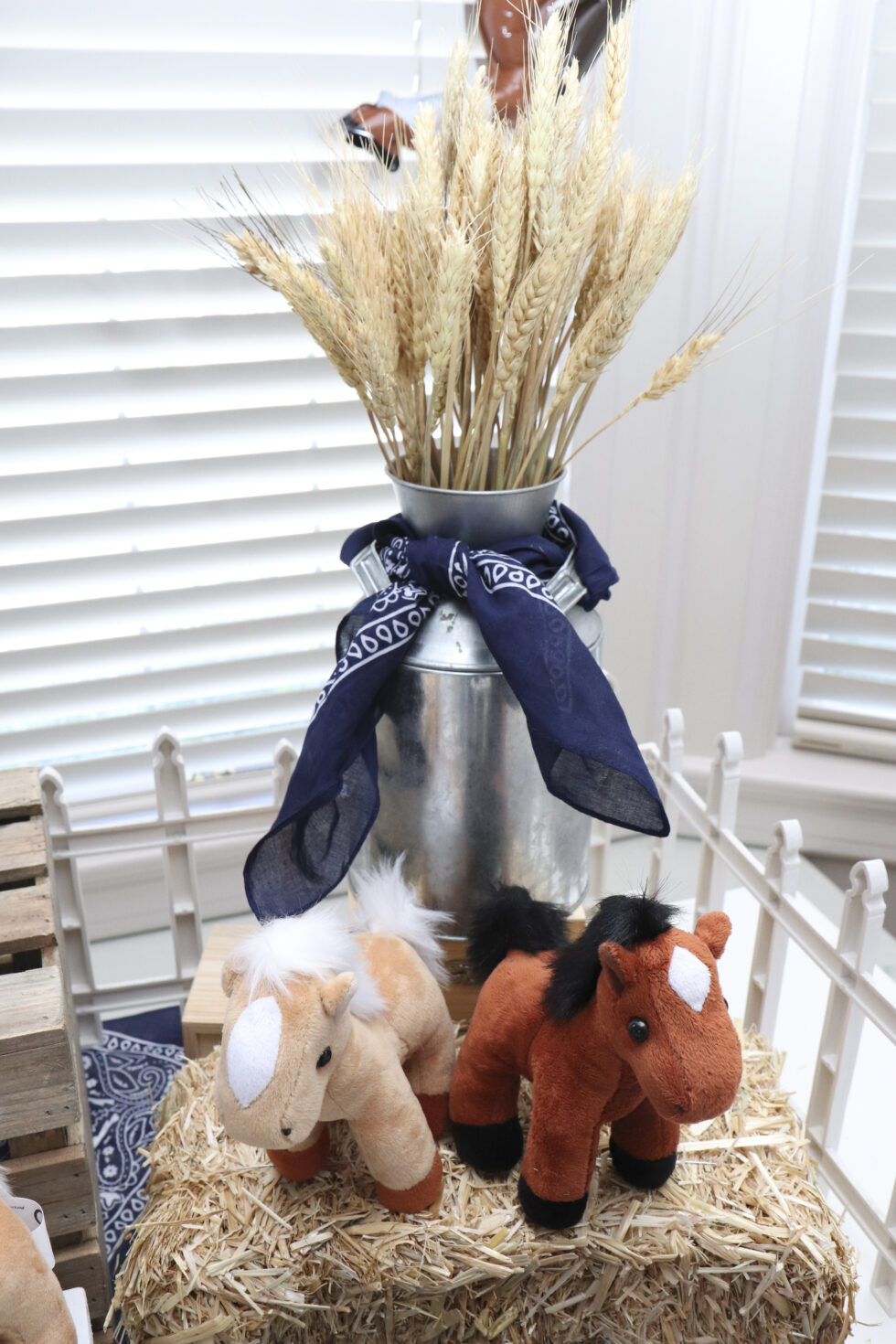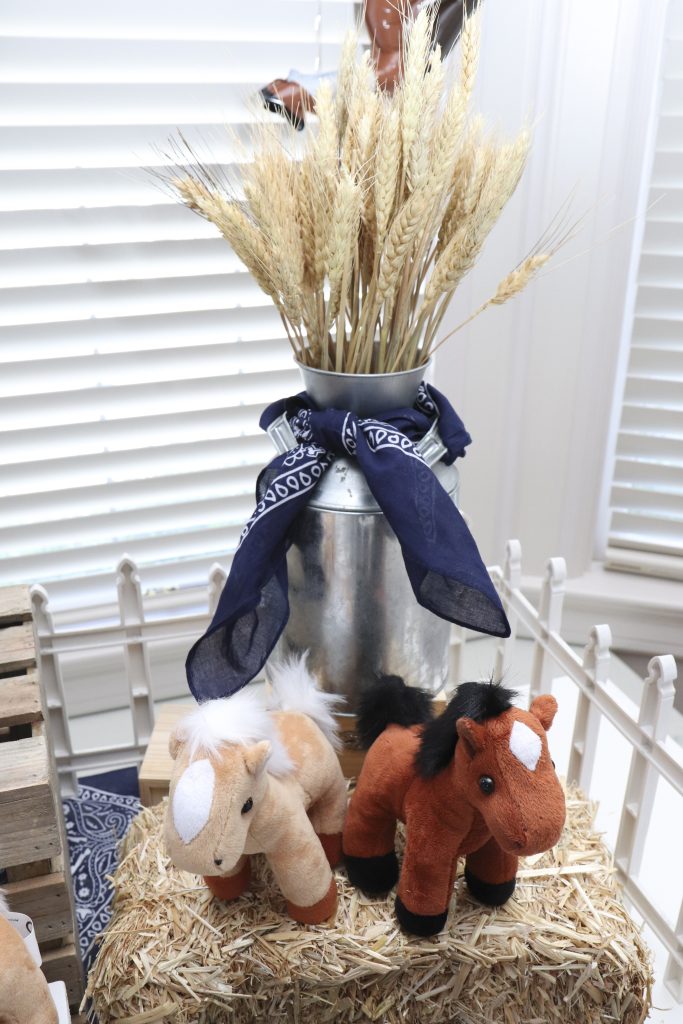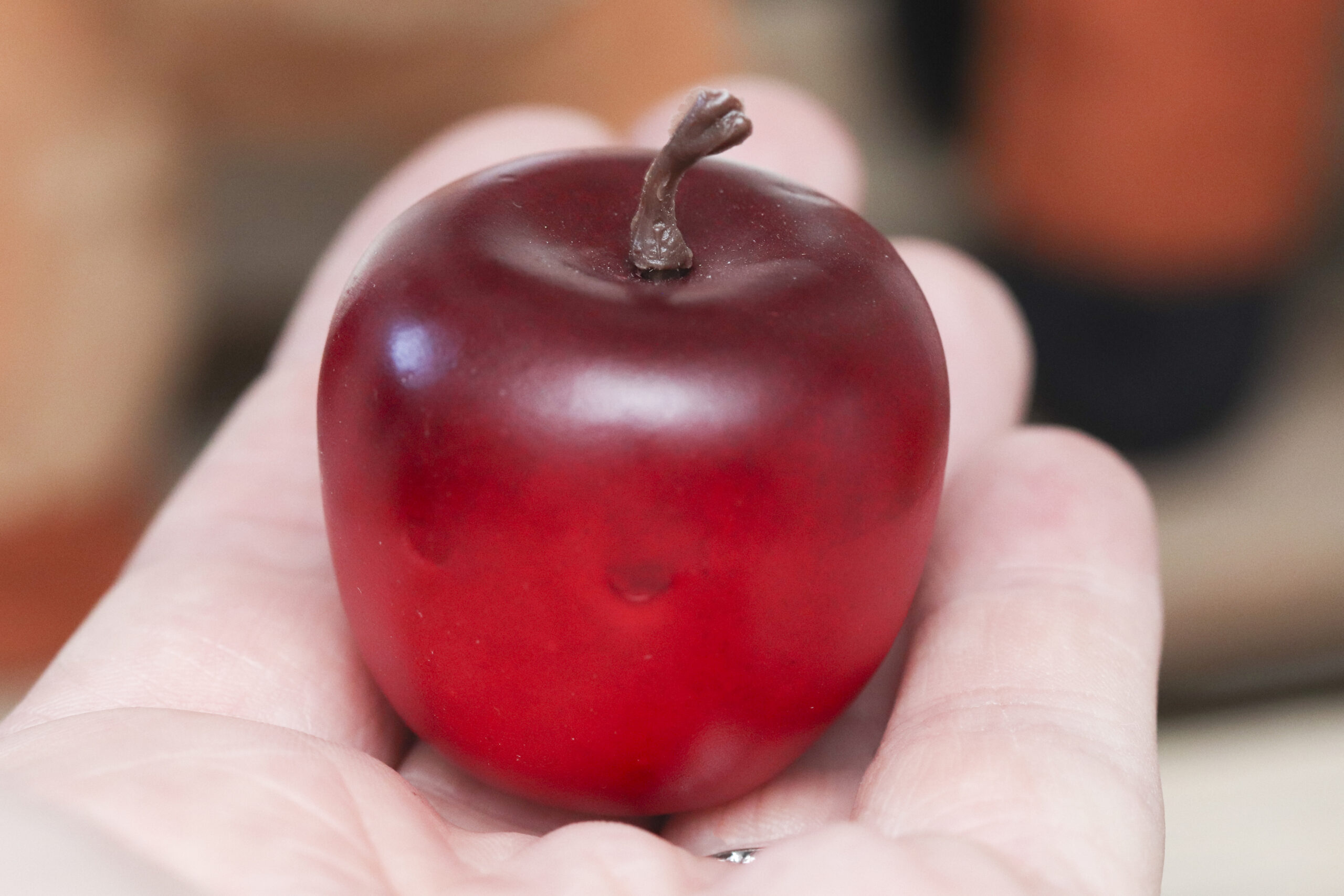 TIP: Use a candlestick to give the riding helmet height.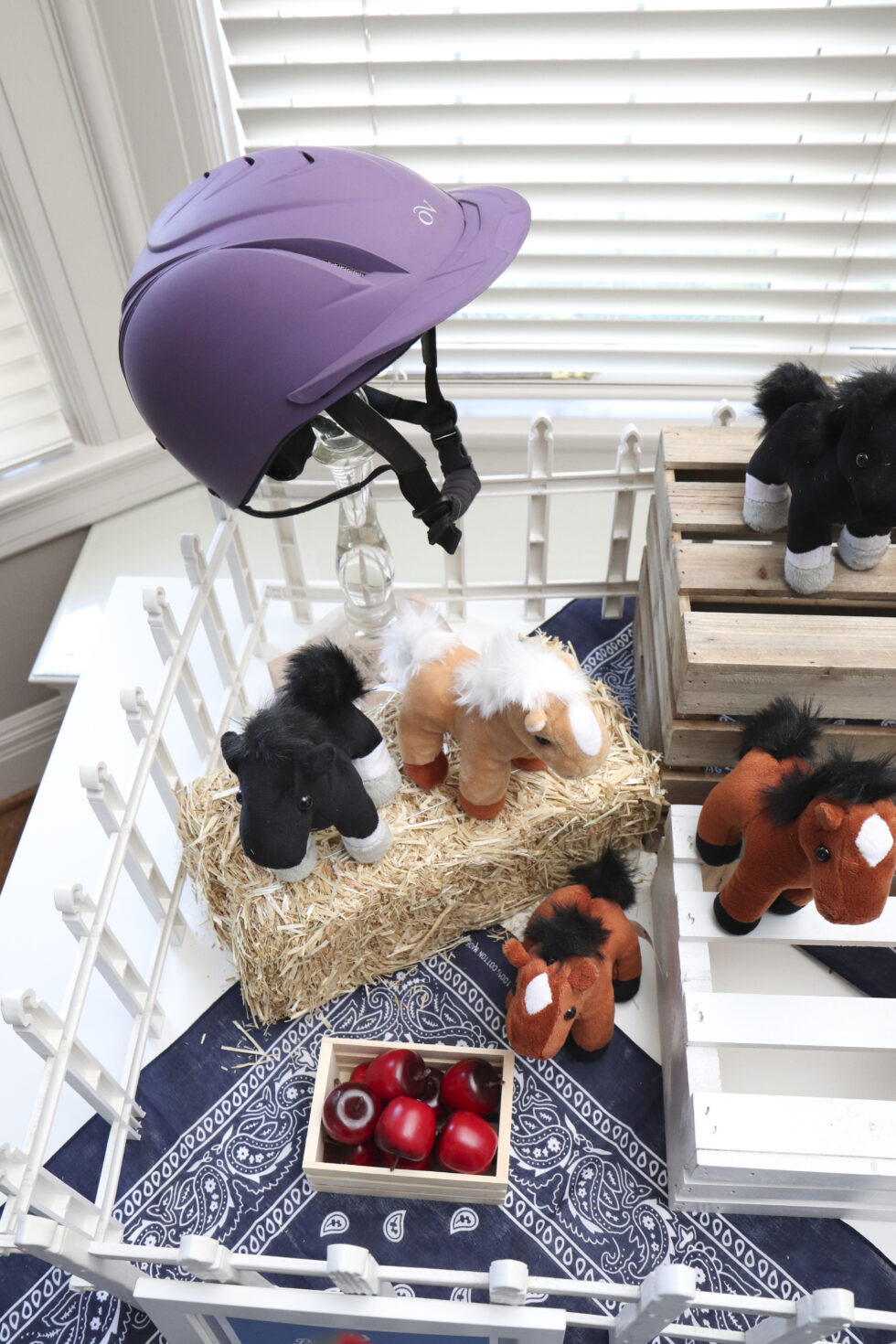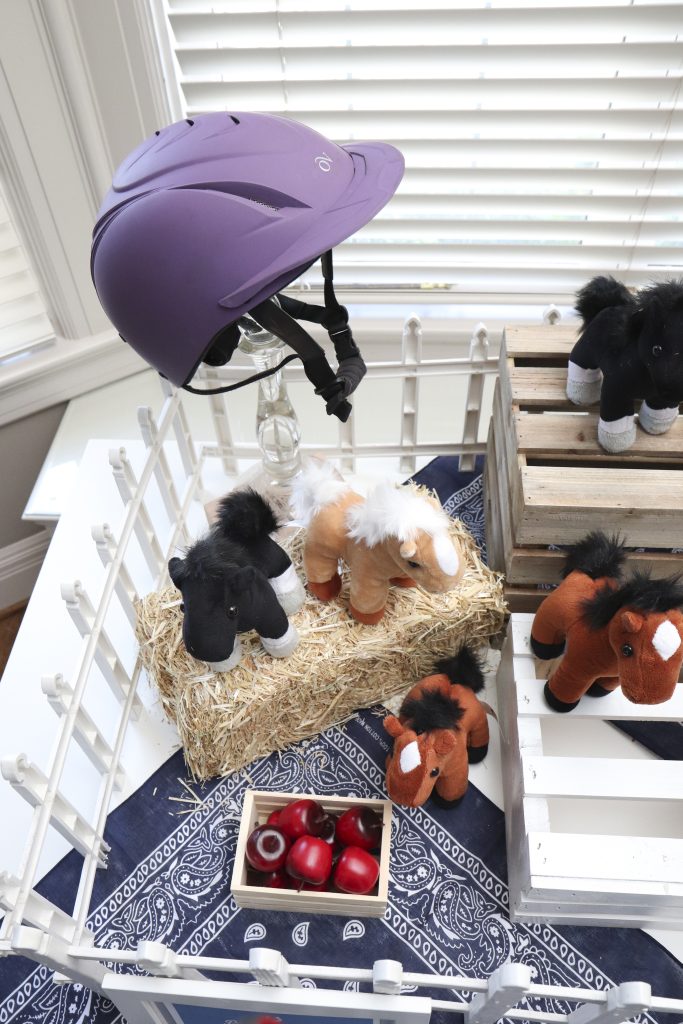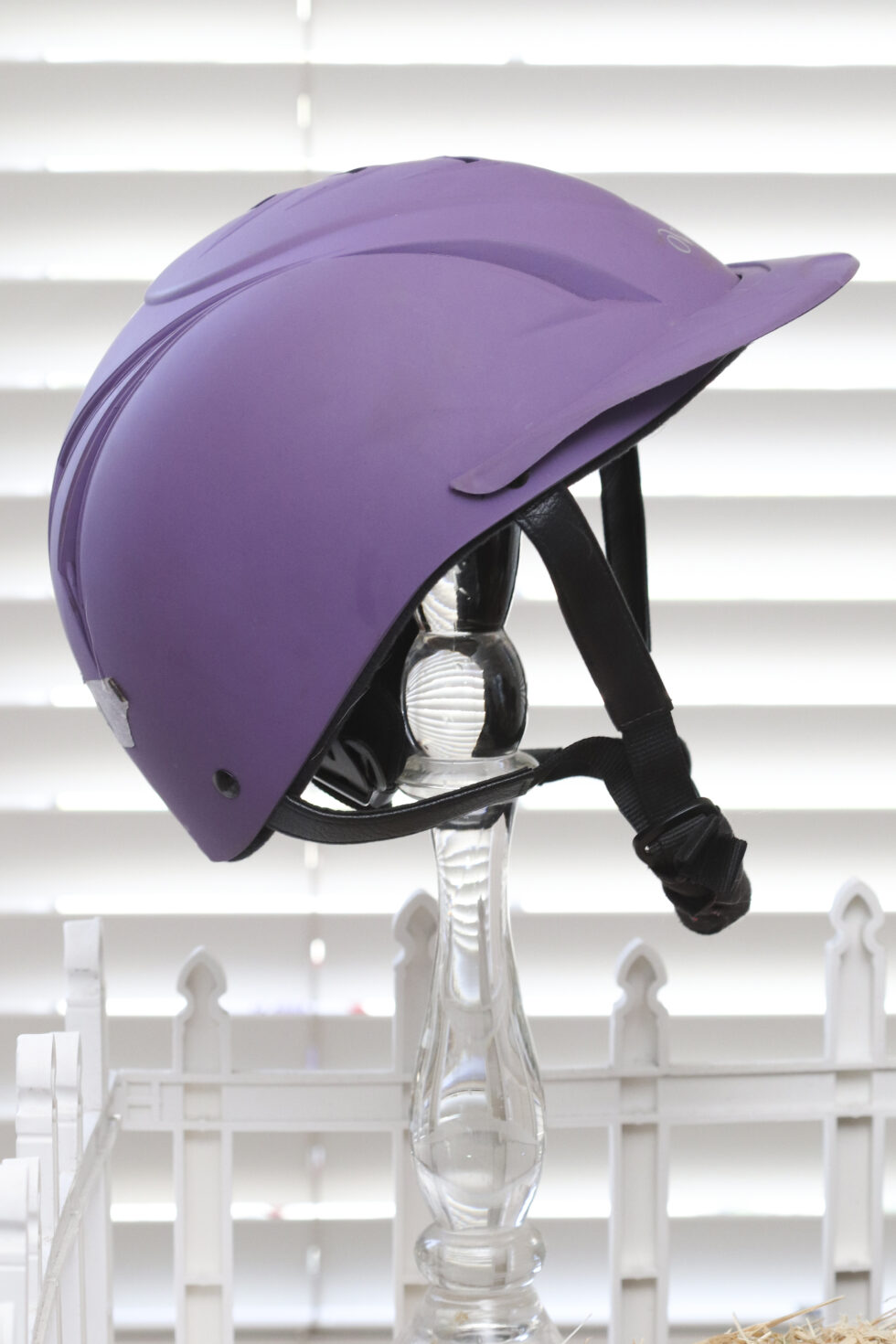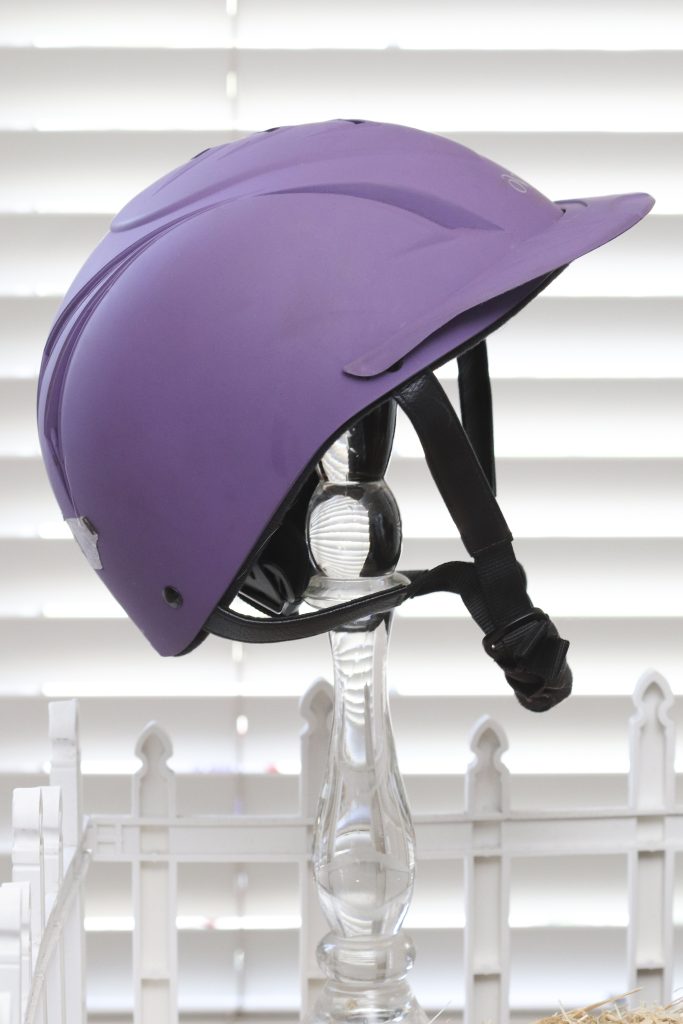 In front of the corral, I placed a purple ribbon, and an activity sign with instructions for choosing a pony. Finally, I hung some prancing pony balloons above the table.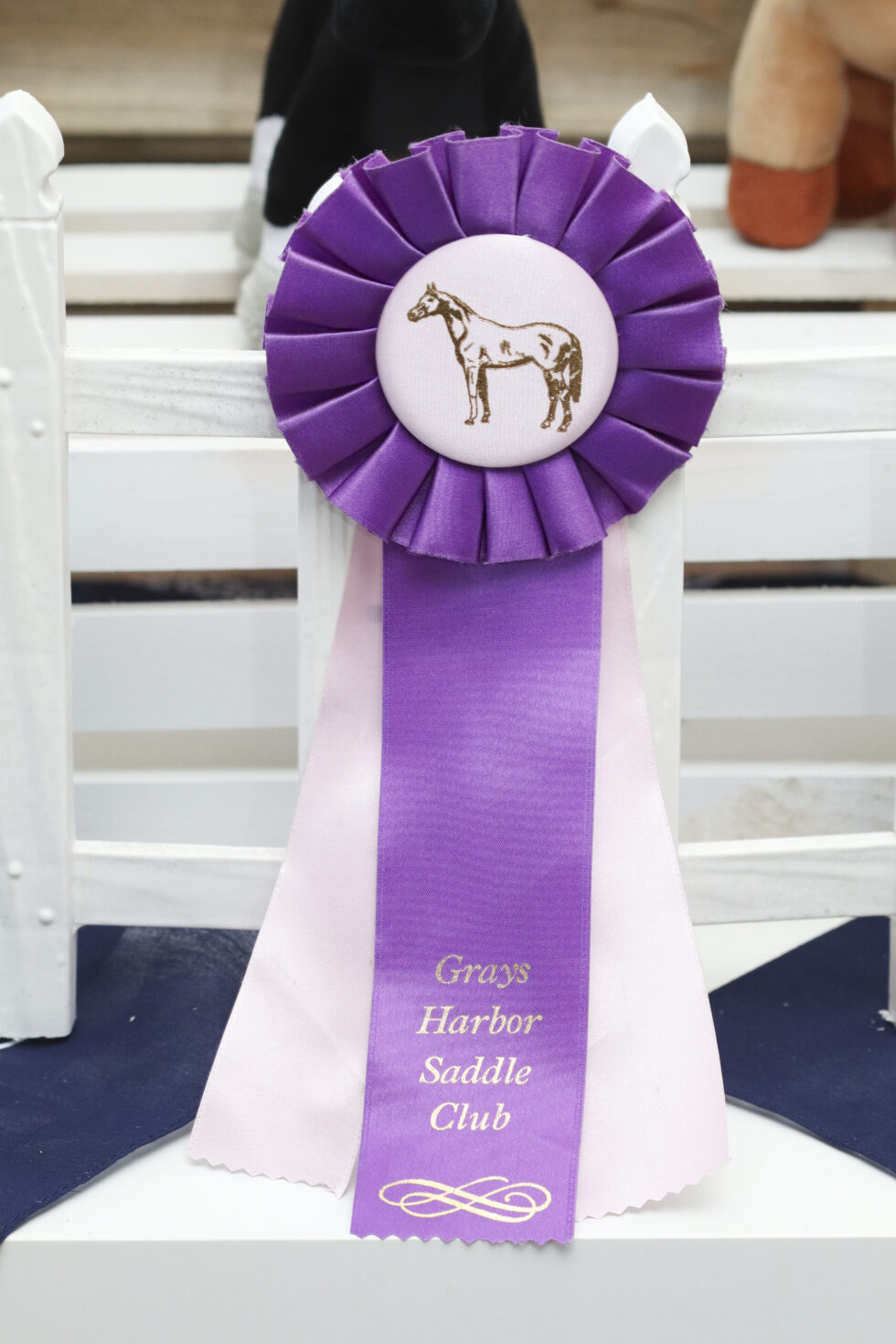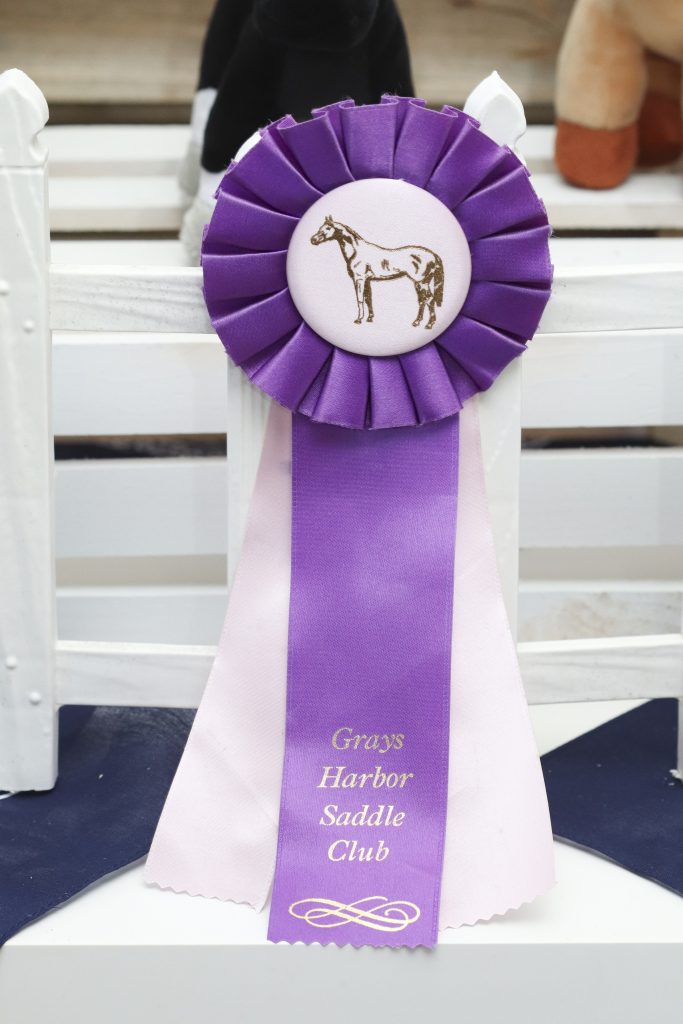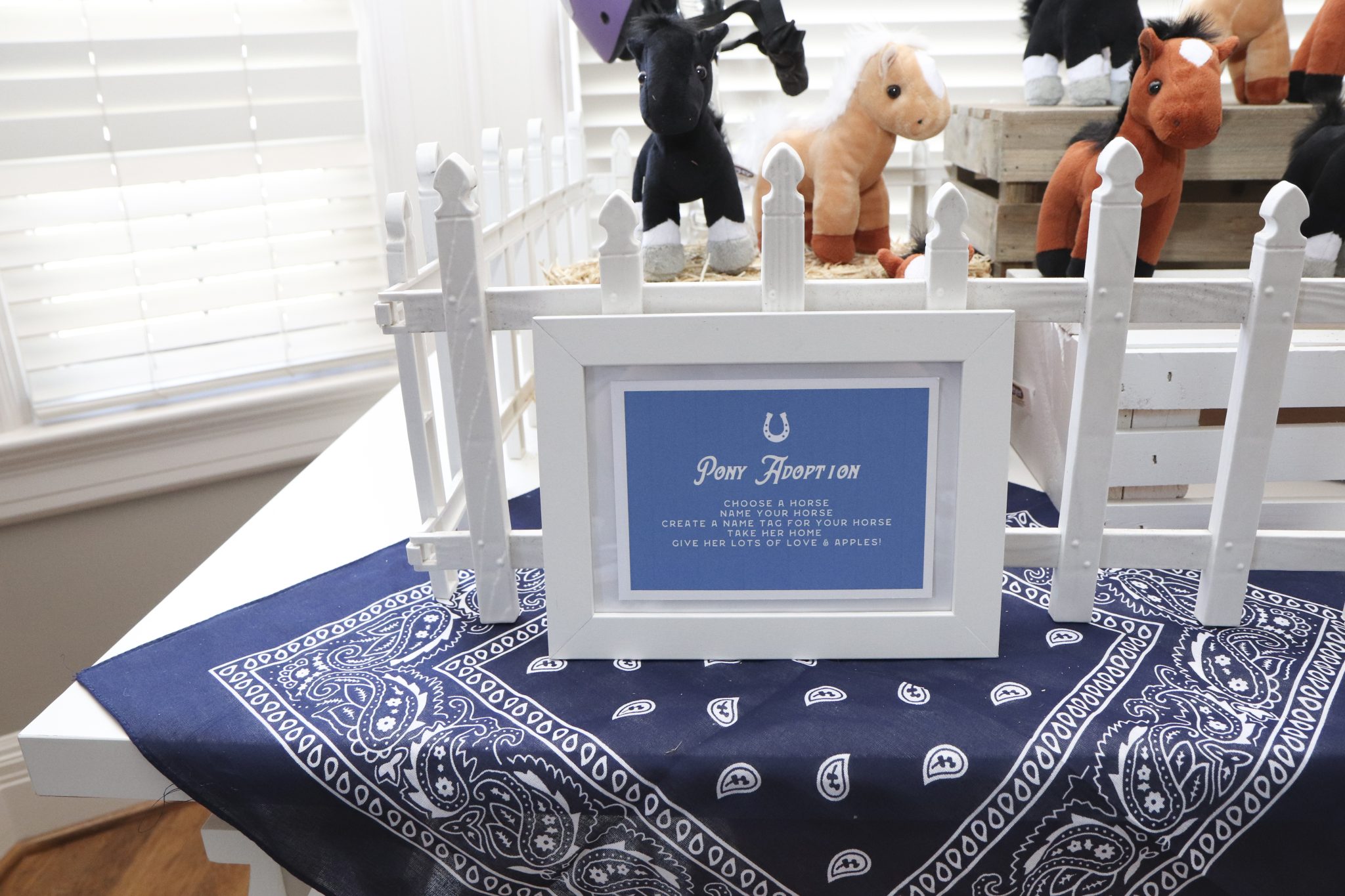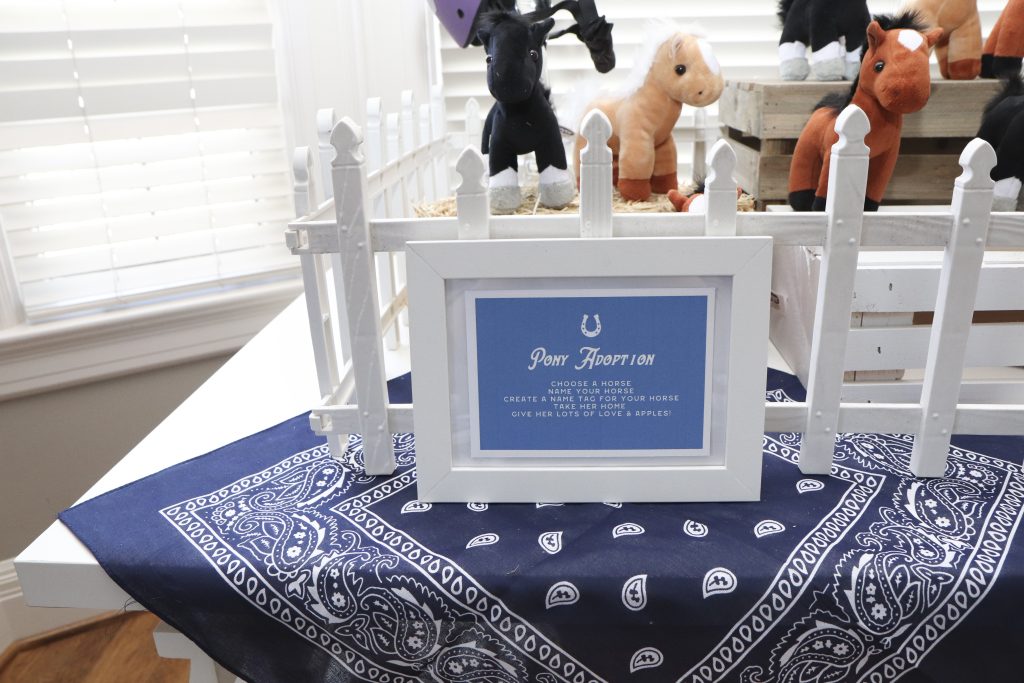 I think they liked them LOL!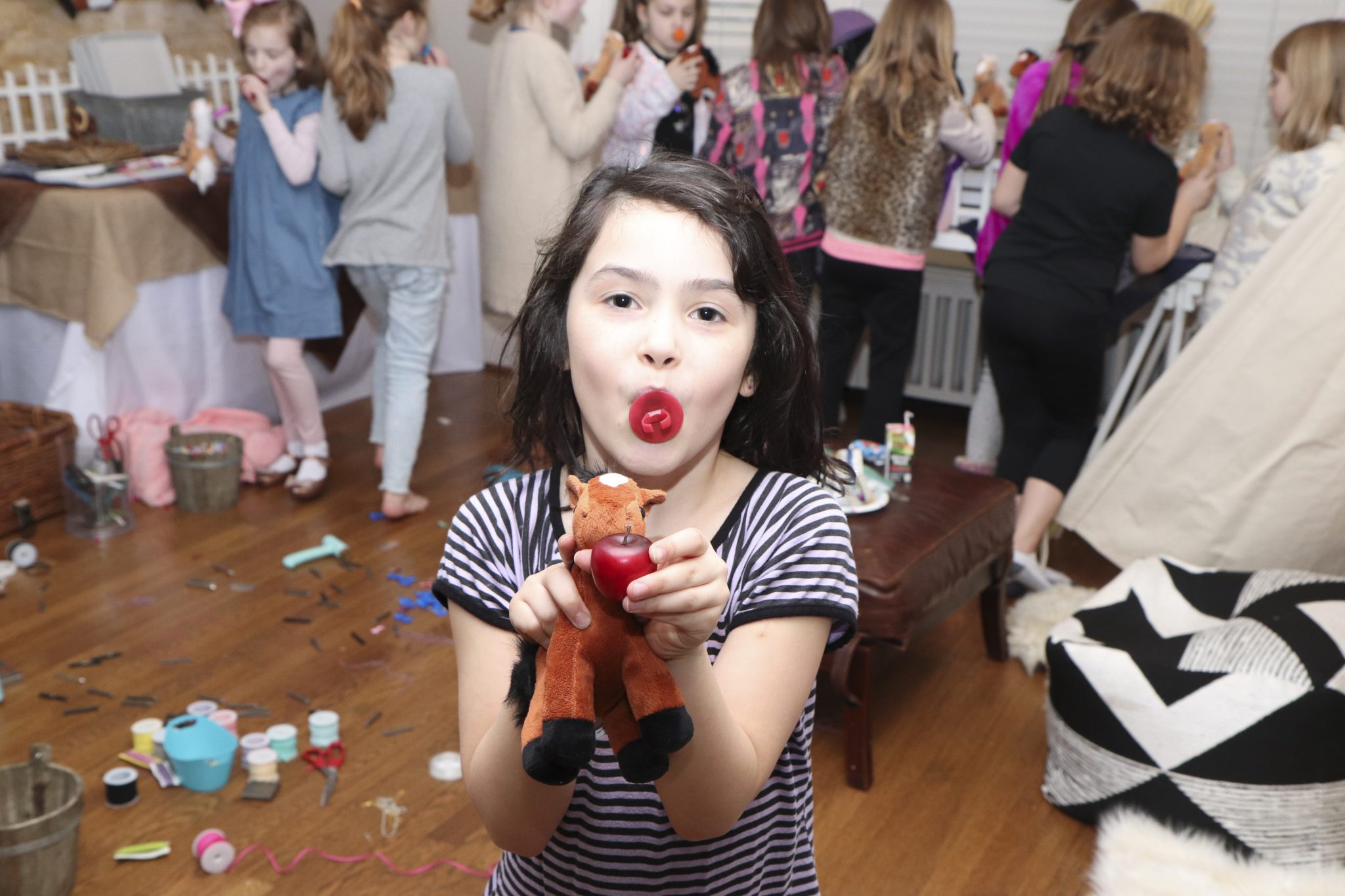 After each girl had selected their pony they got to create a personalized name tag for their ponies collar.  I set up a tray with various types of metal tags and cords on a another table.  Covering the table with a rustic & textured layering of white, burlap, and leather table covers,  Adding a few more bandannas to make the craft trays pop.
Then I added 3 more horse balloons above the table, more white fencing, balloons, rope and horseshoe-adorned horse figurines to style the table and give it a western horse riding look and feel.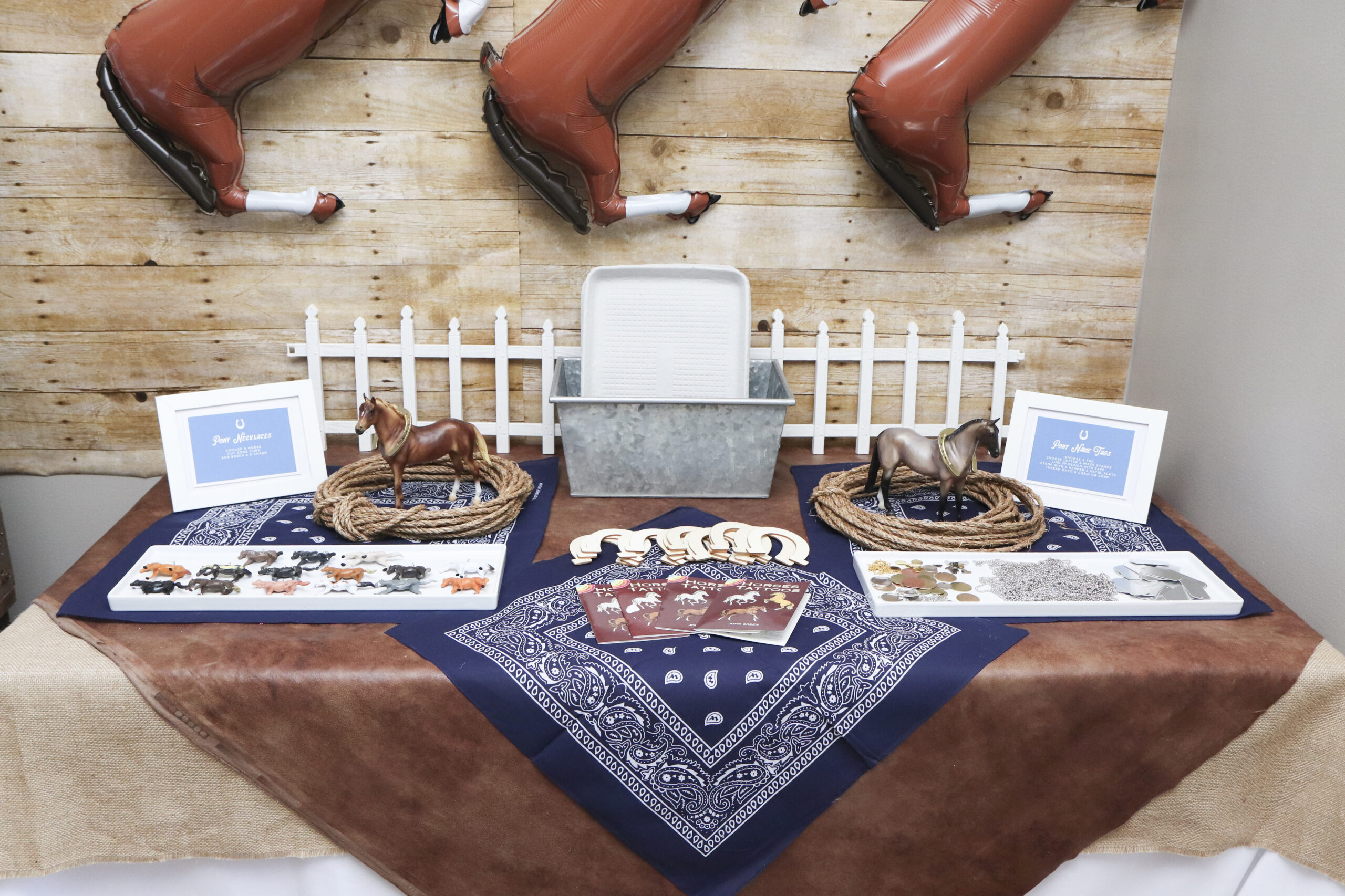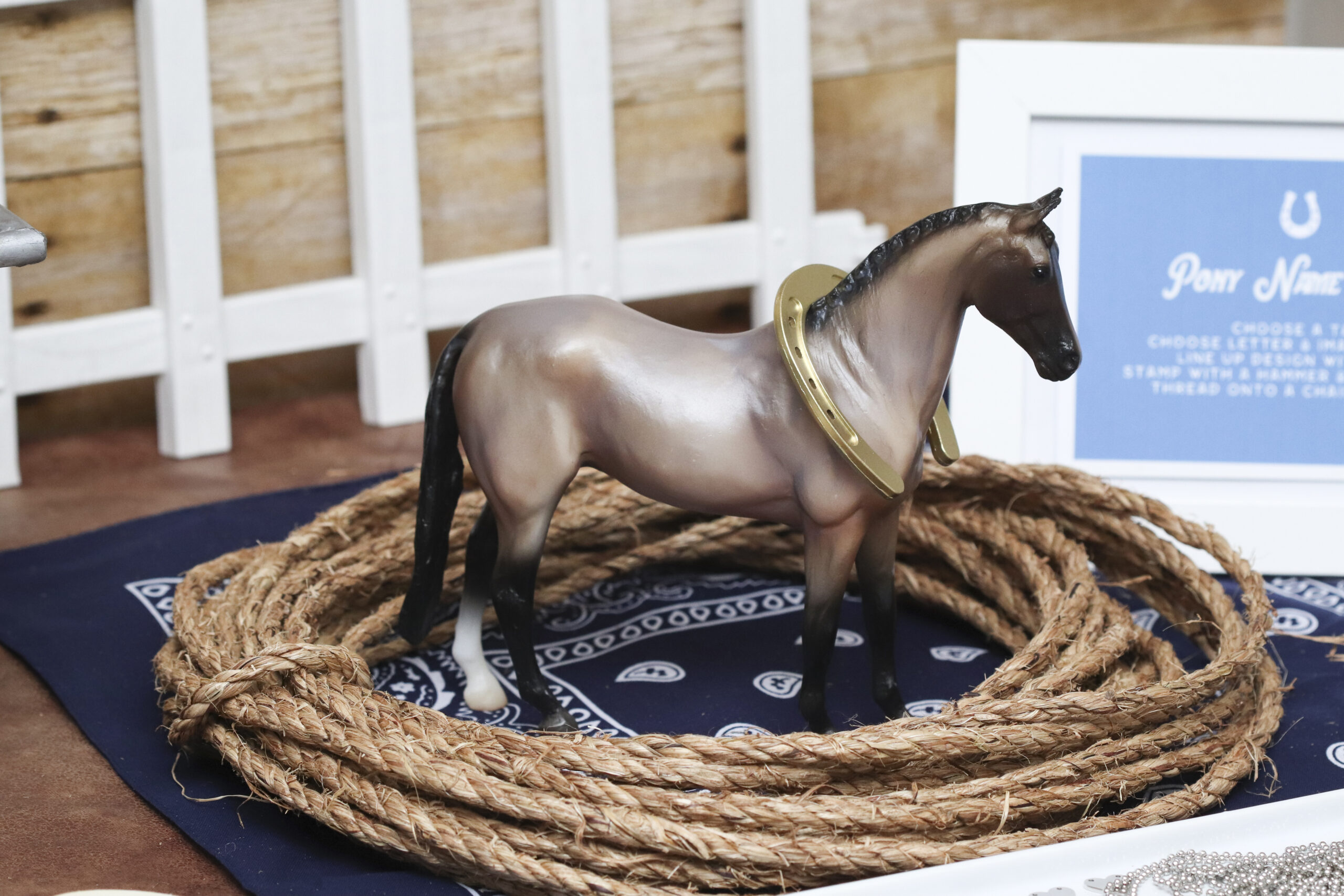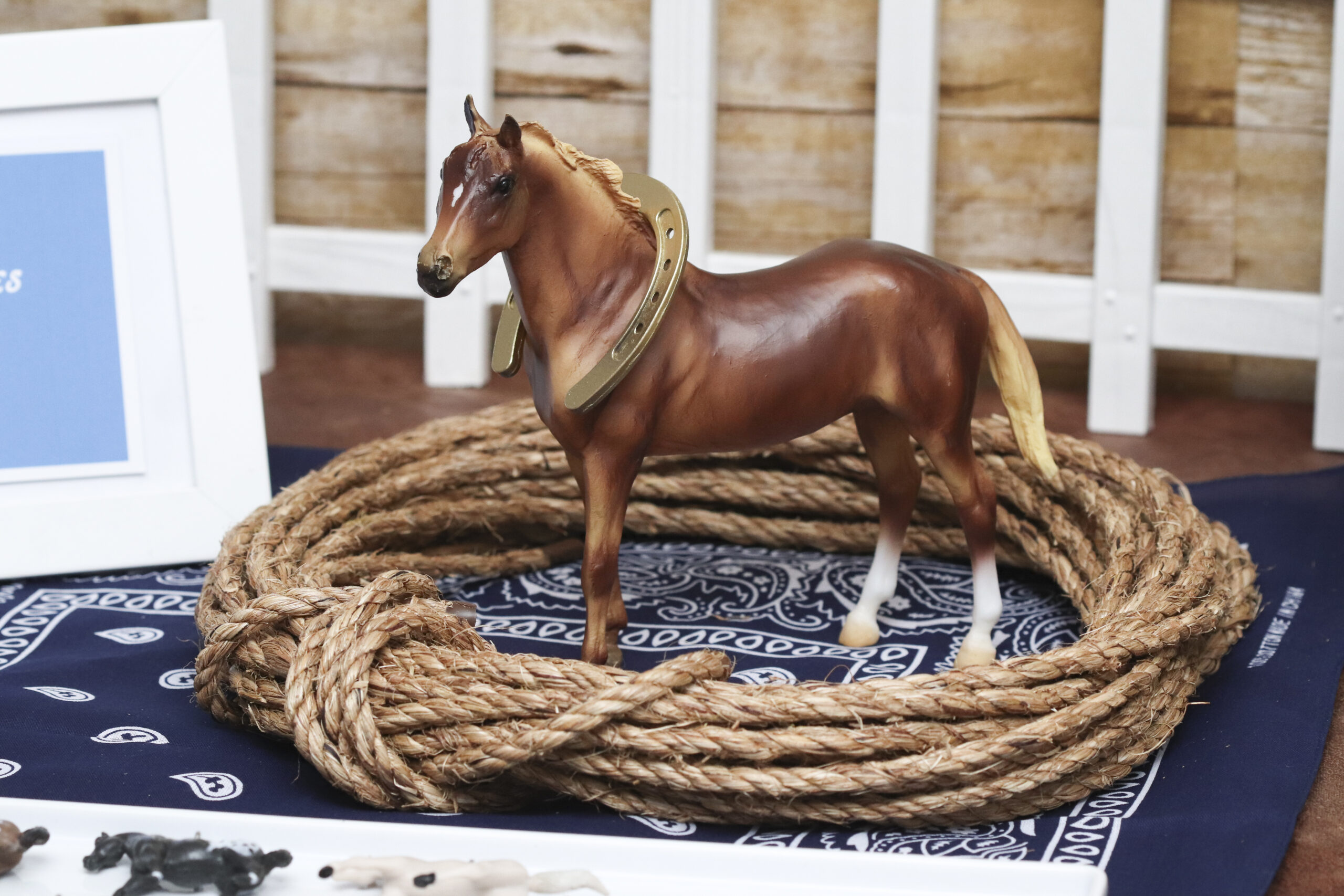 At the back of the table I added a galvanized box with craft trays for the girls to use if they wanted.  The floor ended up being more popular! LOL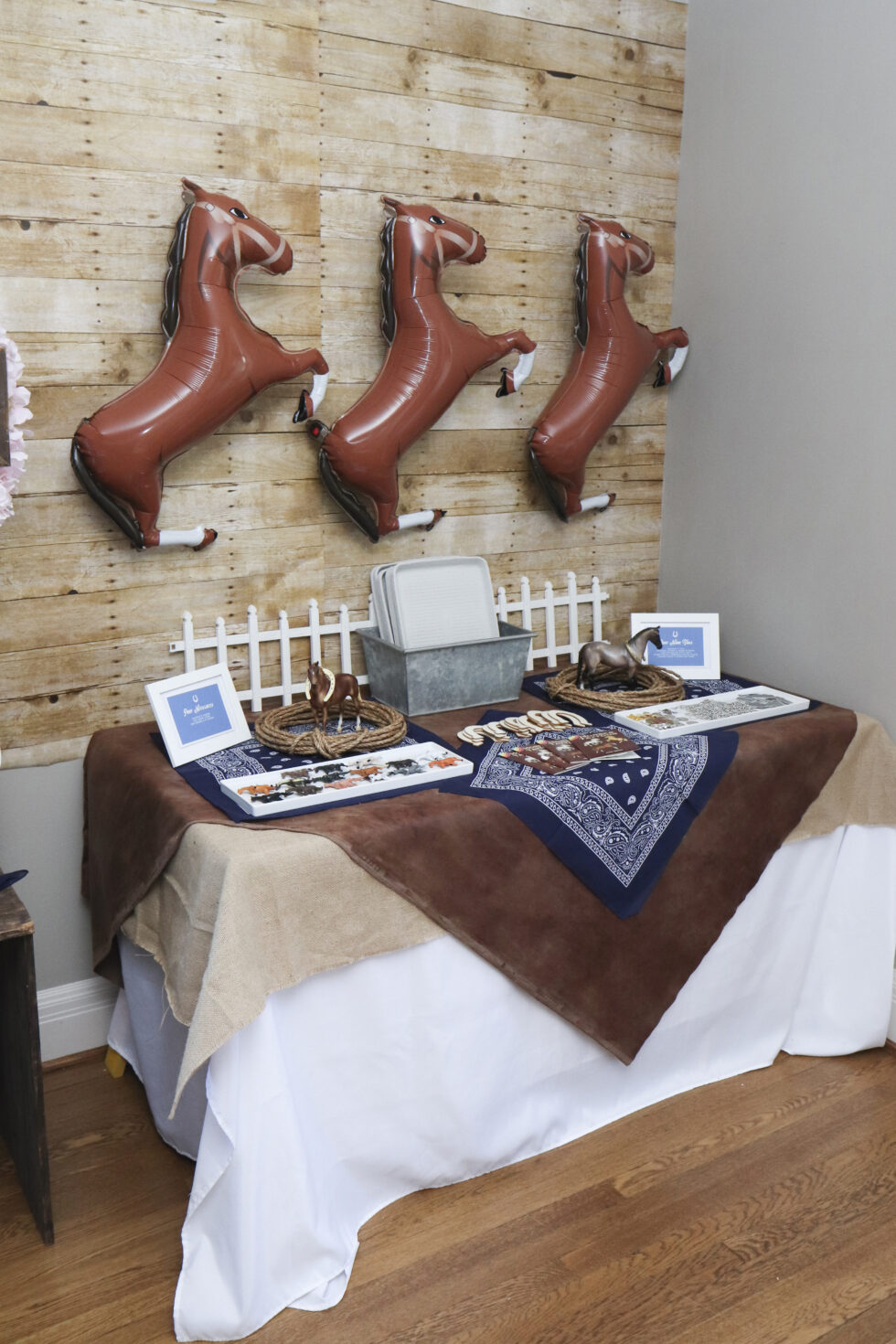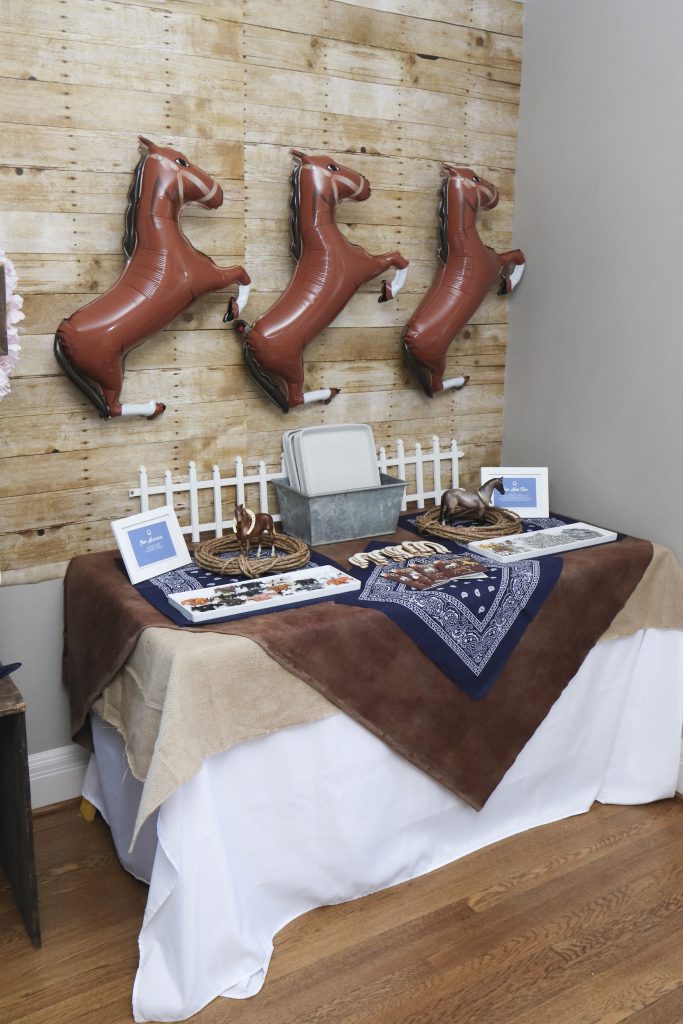 The kids could choose letters and images to stamp into their tags with a small hammer. Once they finished stamping they could attach the tags to cords or chains and hang them around their adopted pony's neck.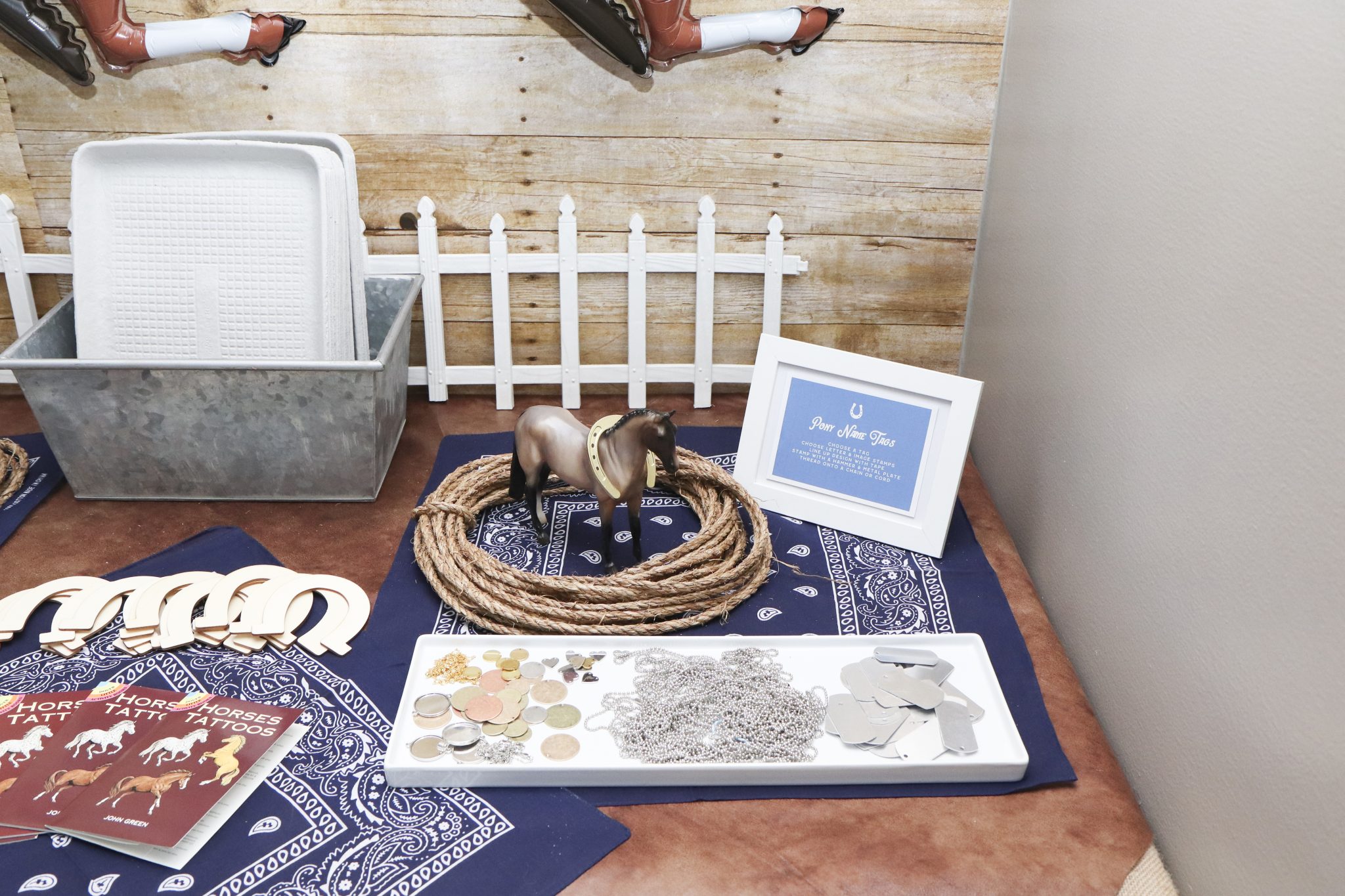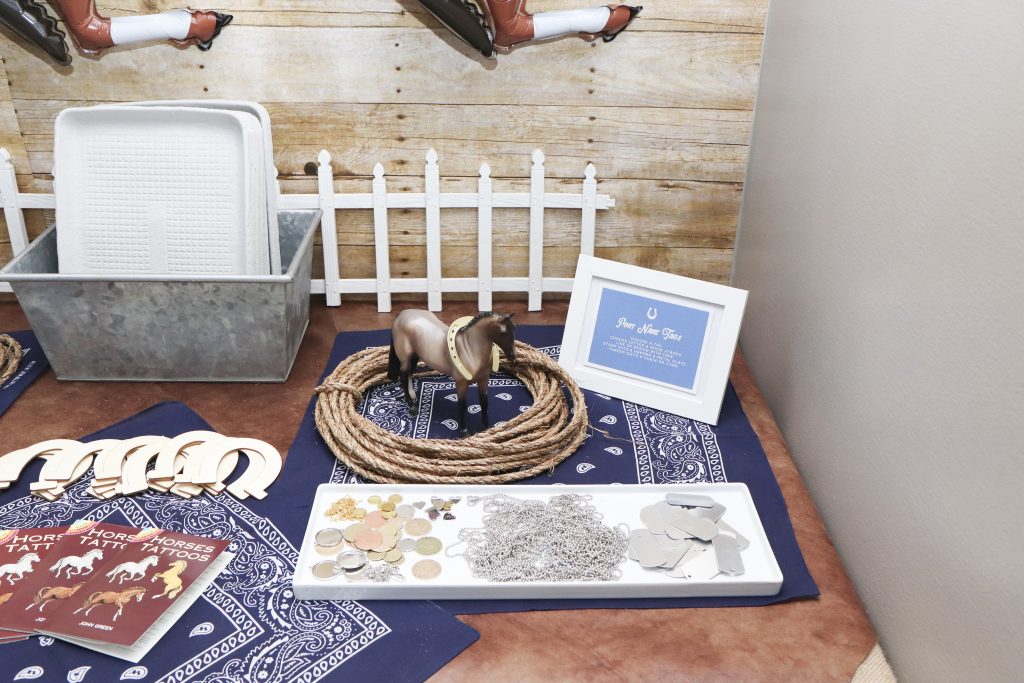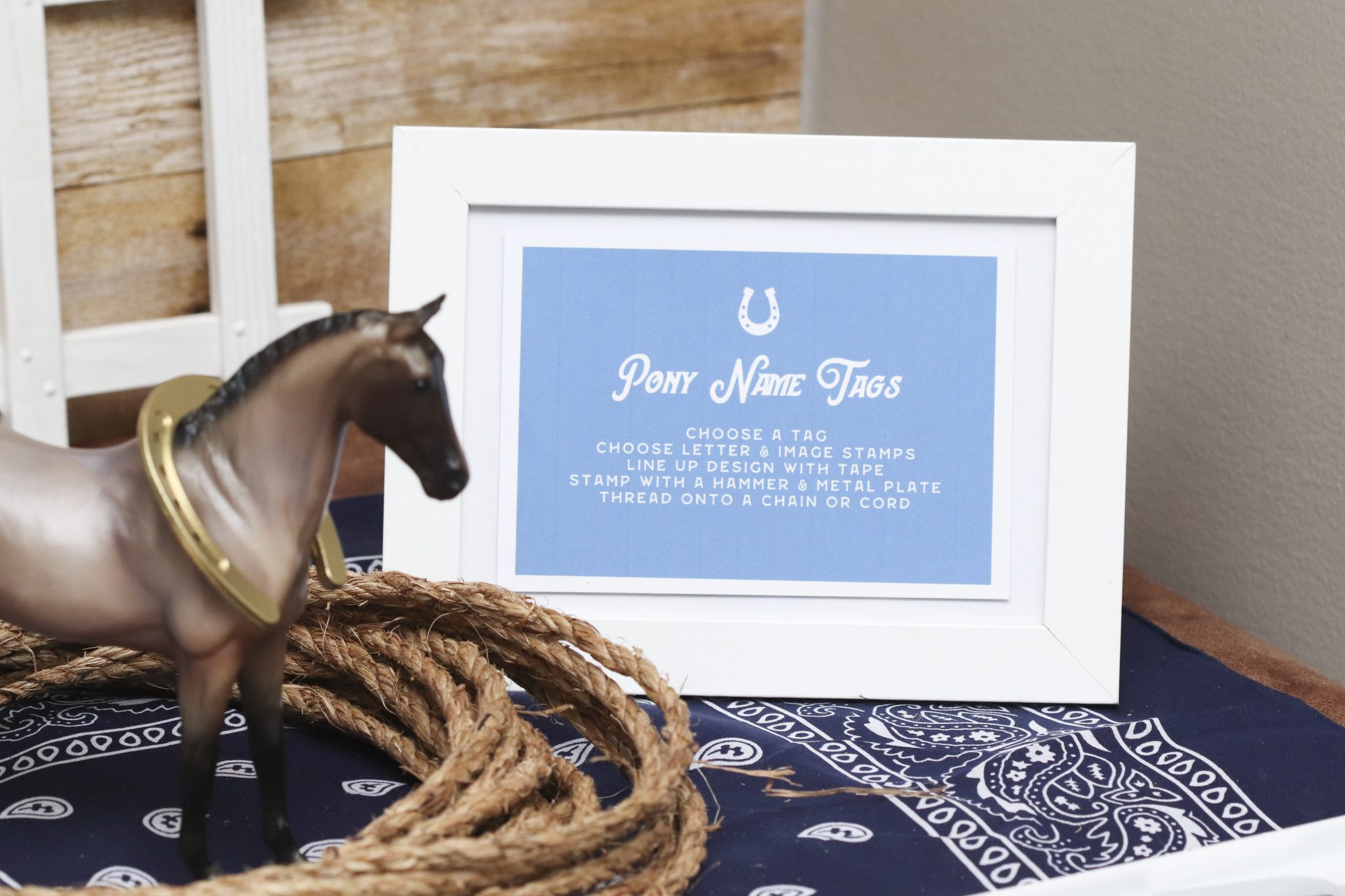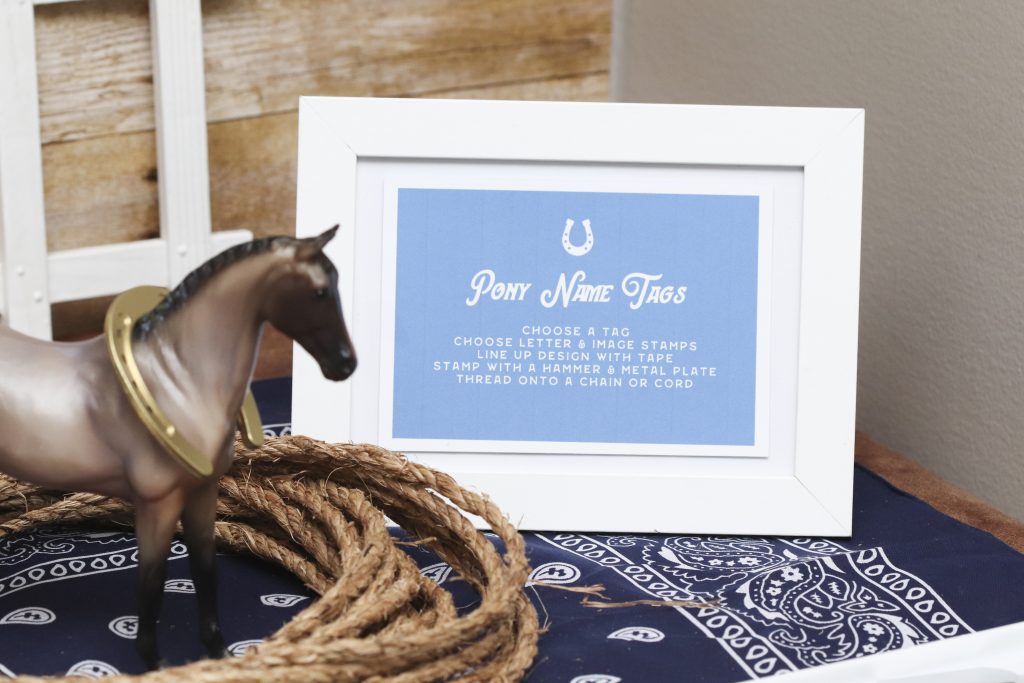 On the same table I also added some horseshoes to decorate and a few horse tattoo booklets.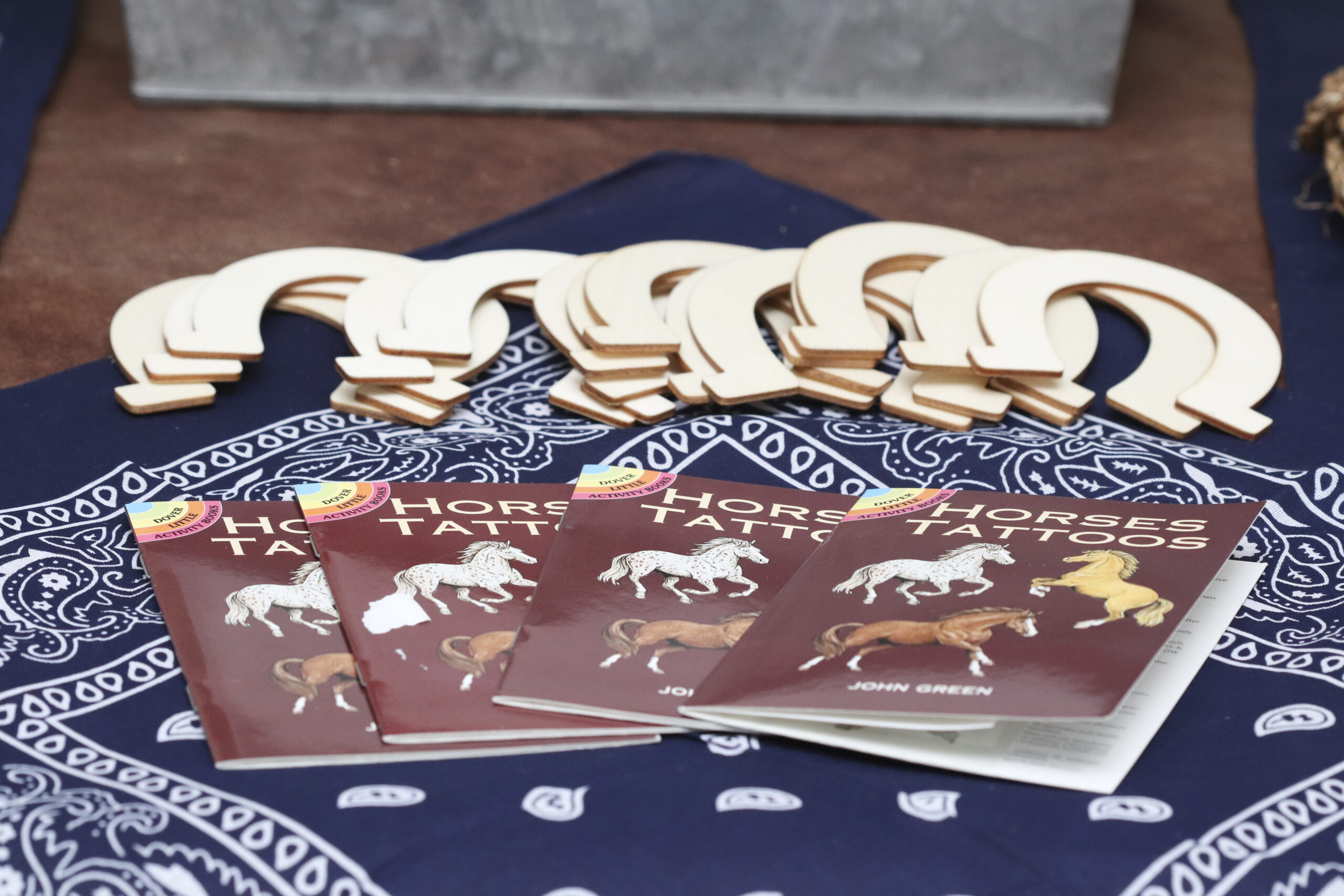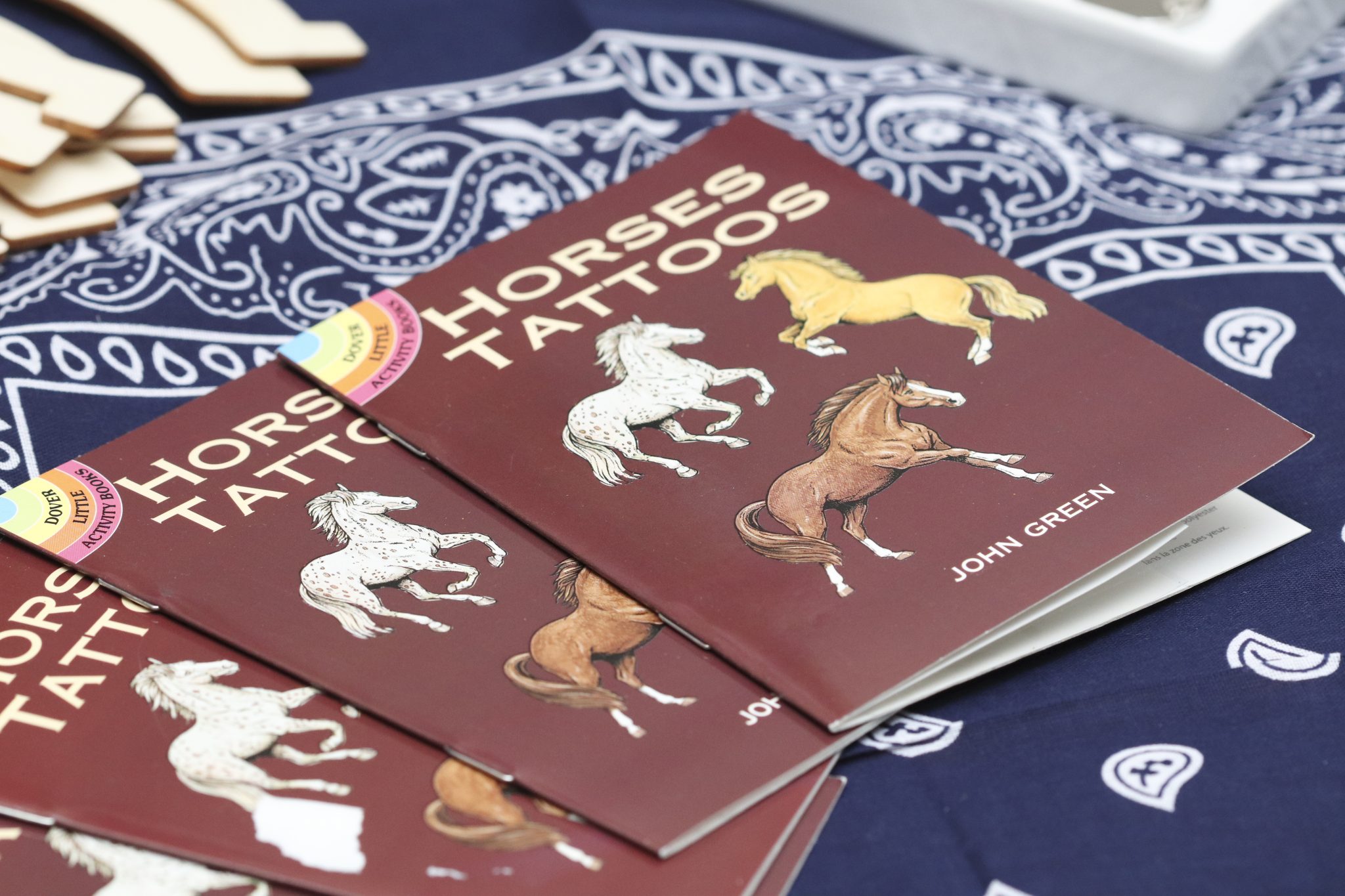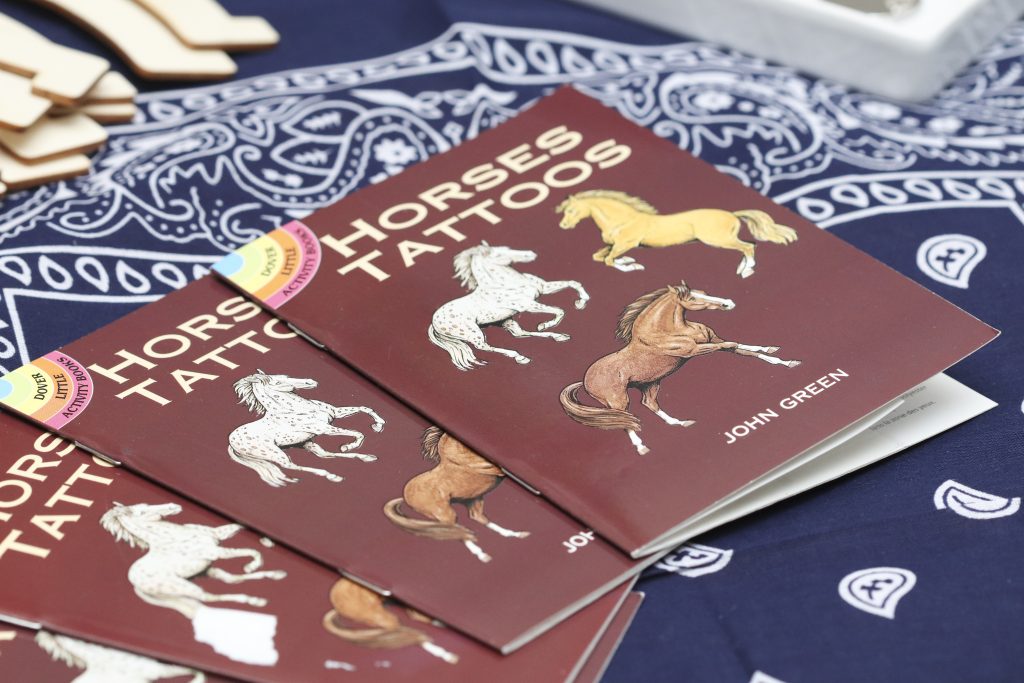 Pony Necklaces
On the other side of the table, I set up another tray with pony charms. Guests could choose a charm to create their very own pony necklaces.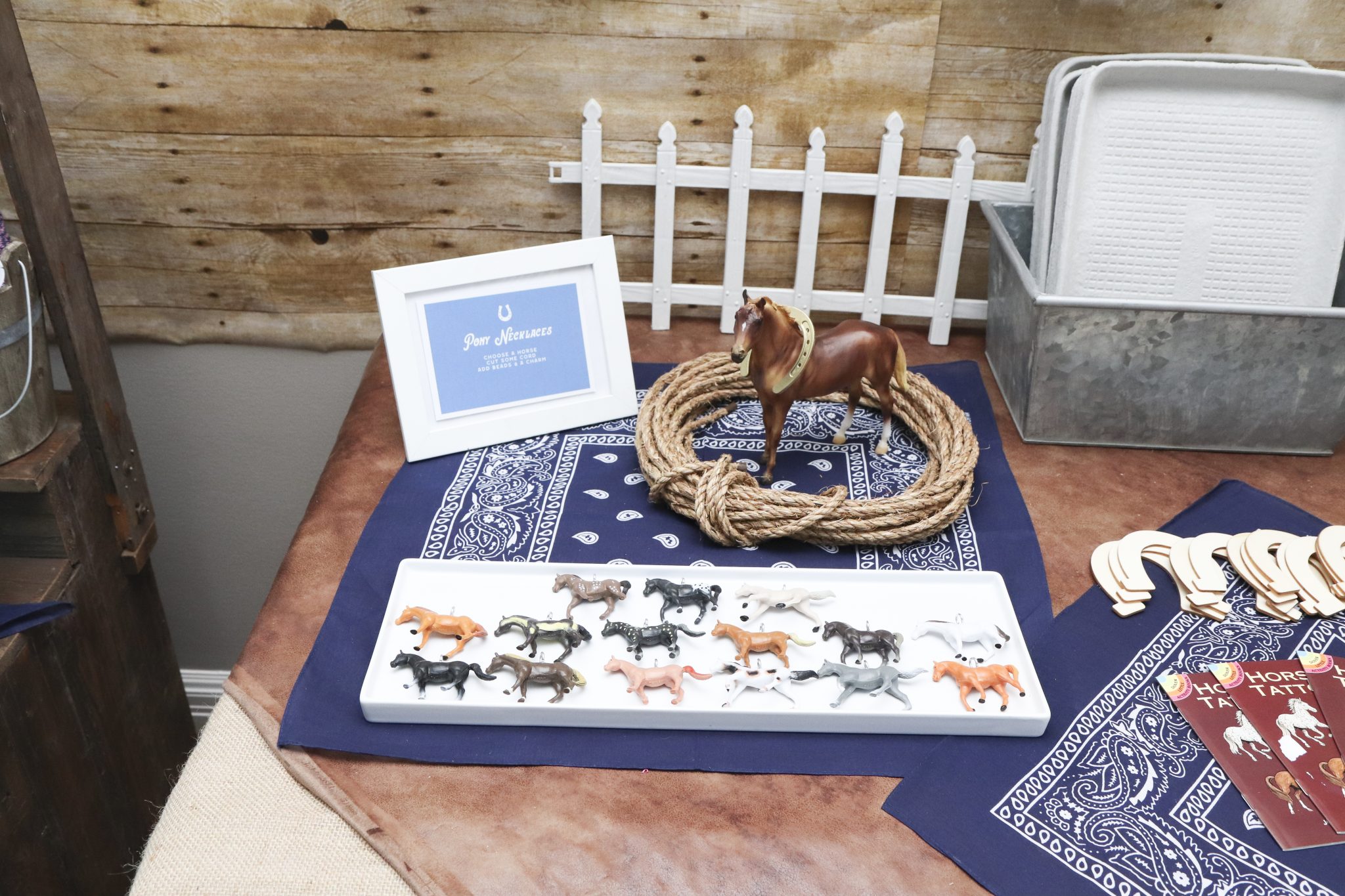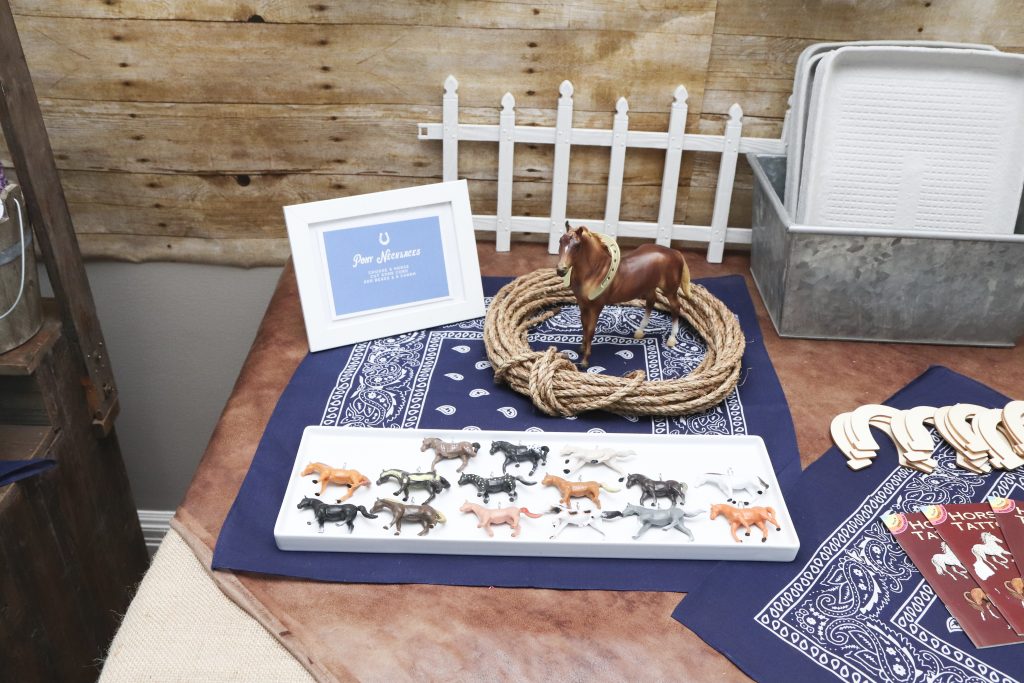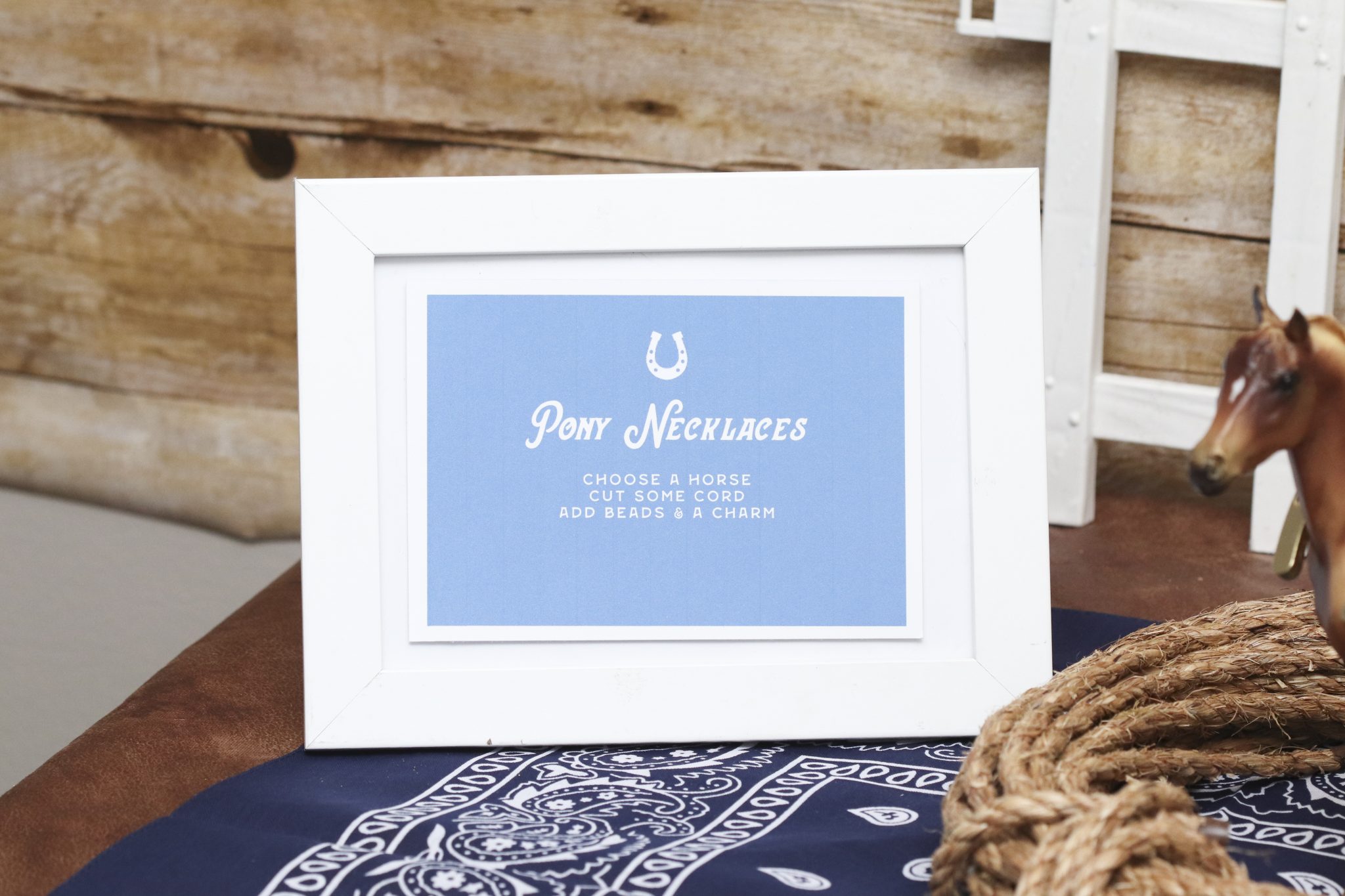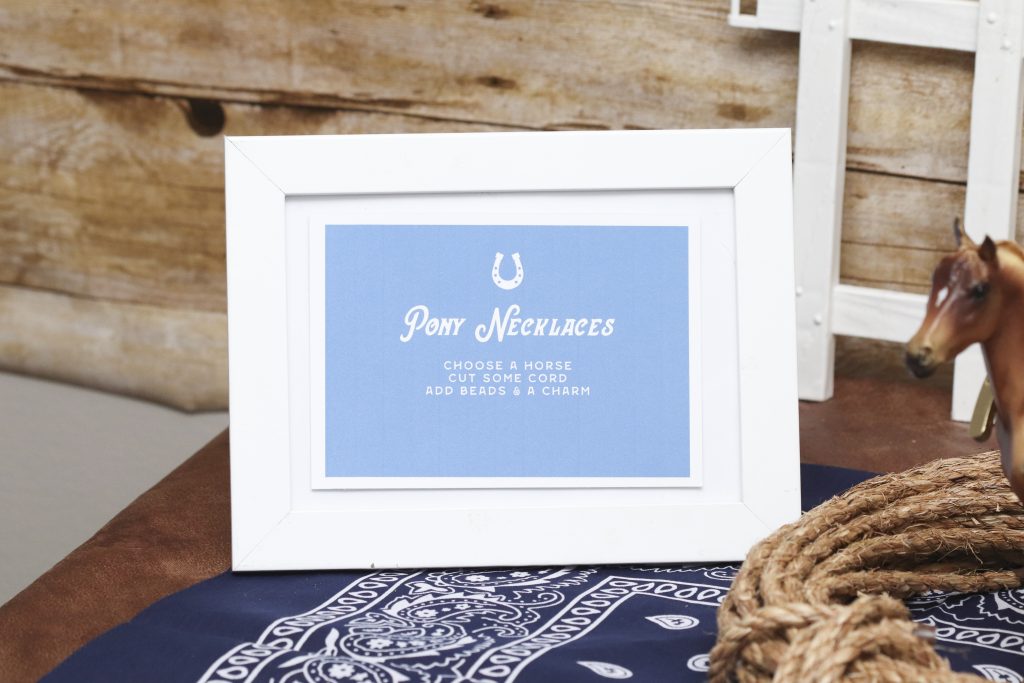 TIP: Before the party starts drill a small hole into the back of each horse and screw in an eyelet screw so they are ready for the kids to string onto their necklaces.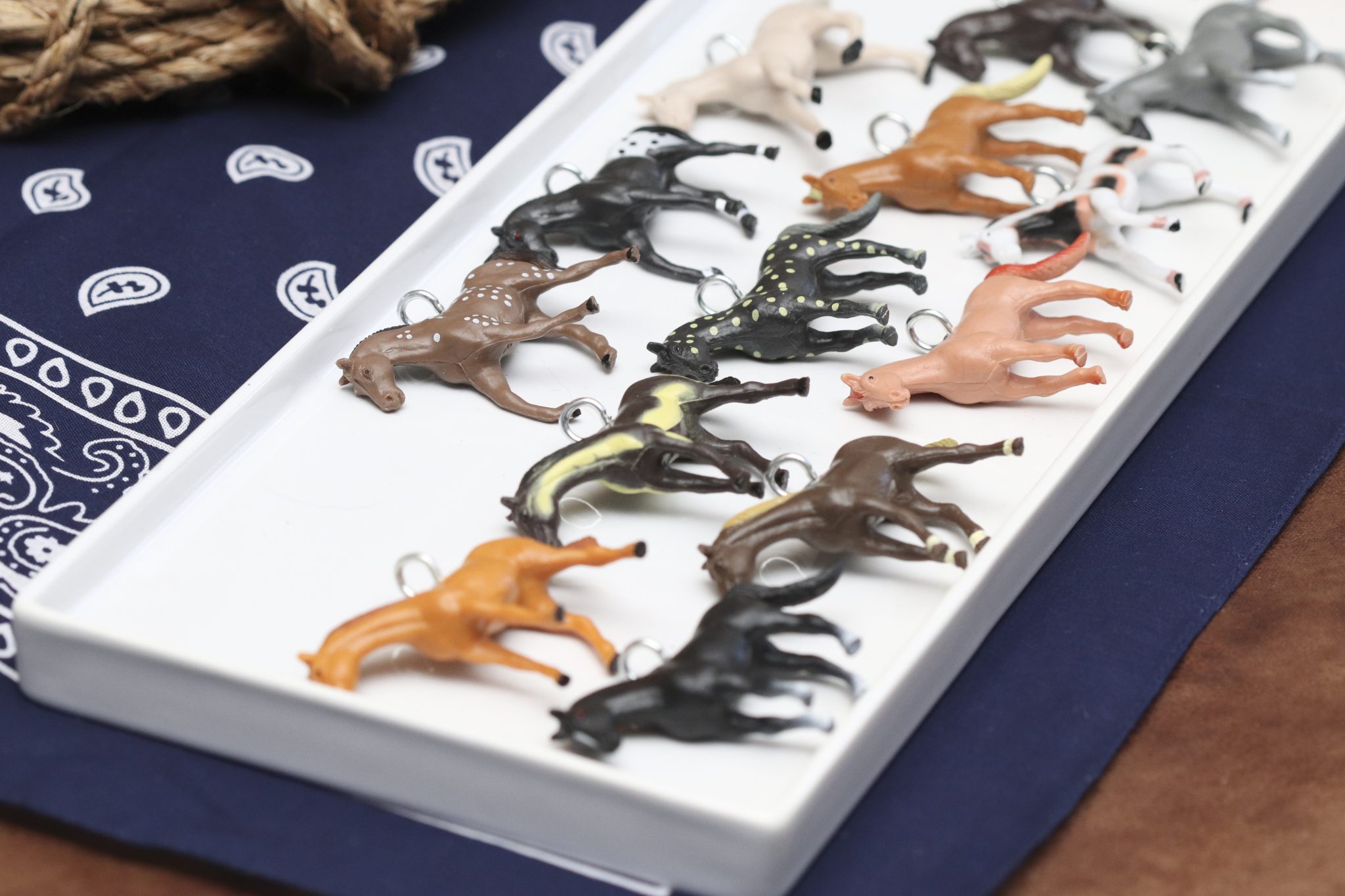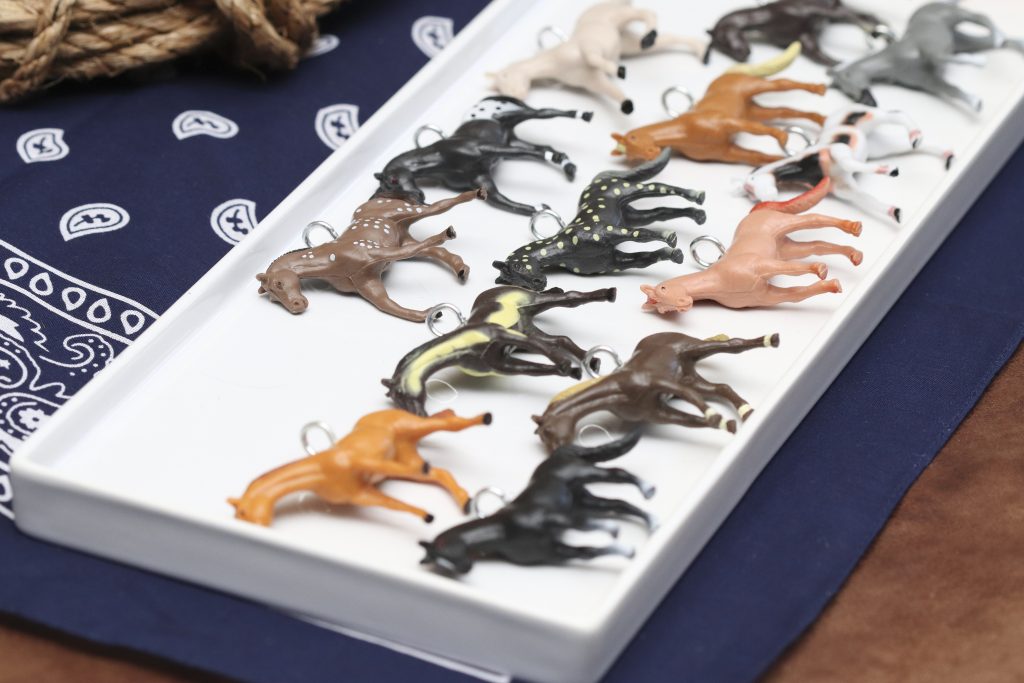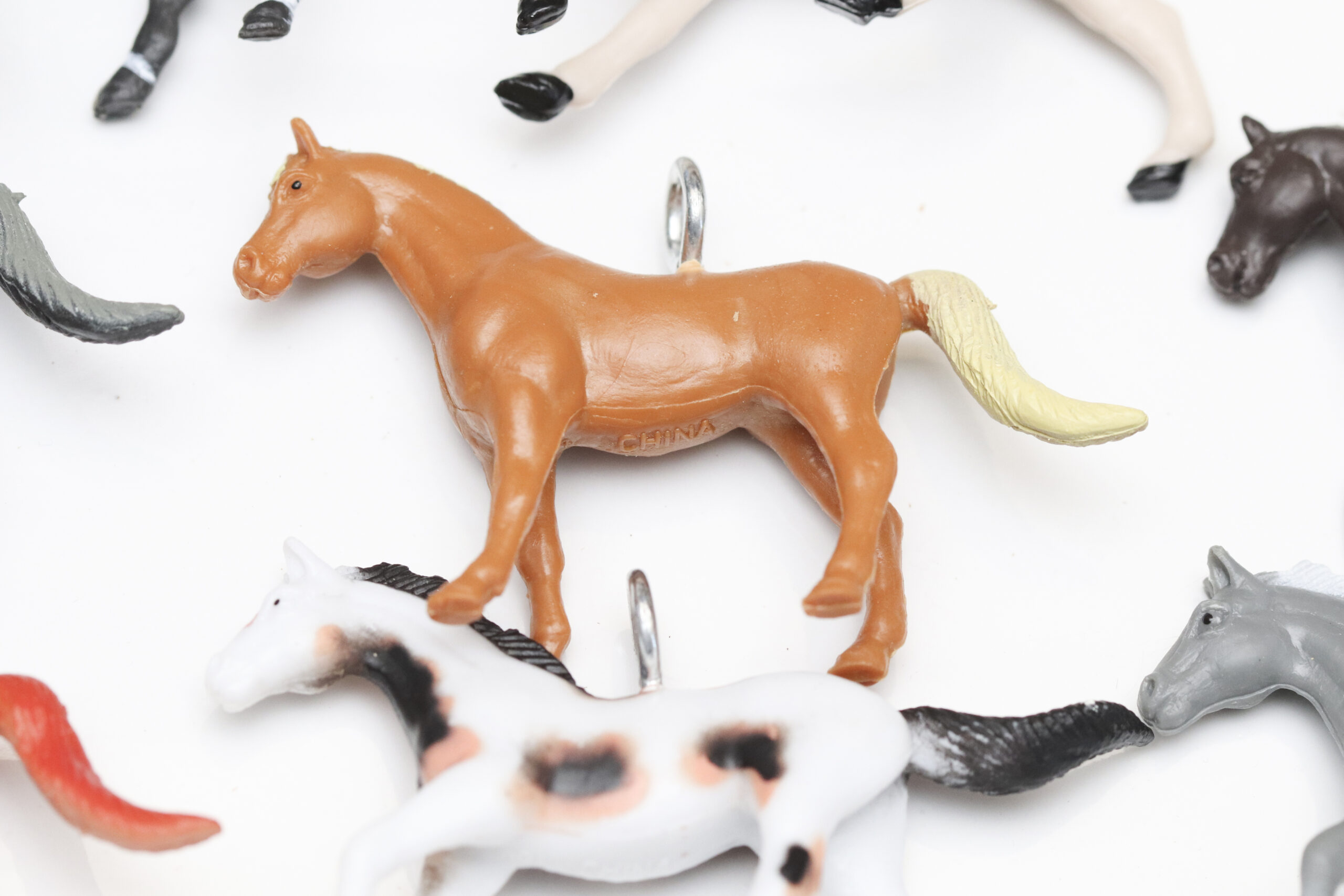 Next to the table I set up a stand with everything they could possibly need to fill their craft trays and make their necklaces. I filled wooden and tin pails, plastic bins, and a large basket with beads, various colors of cord, jewelry tools and other craft supplies.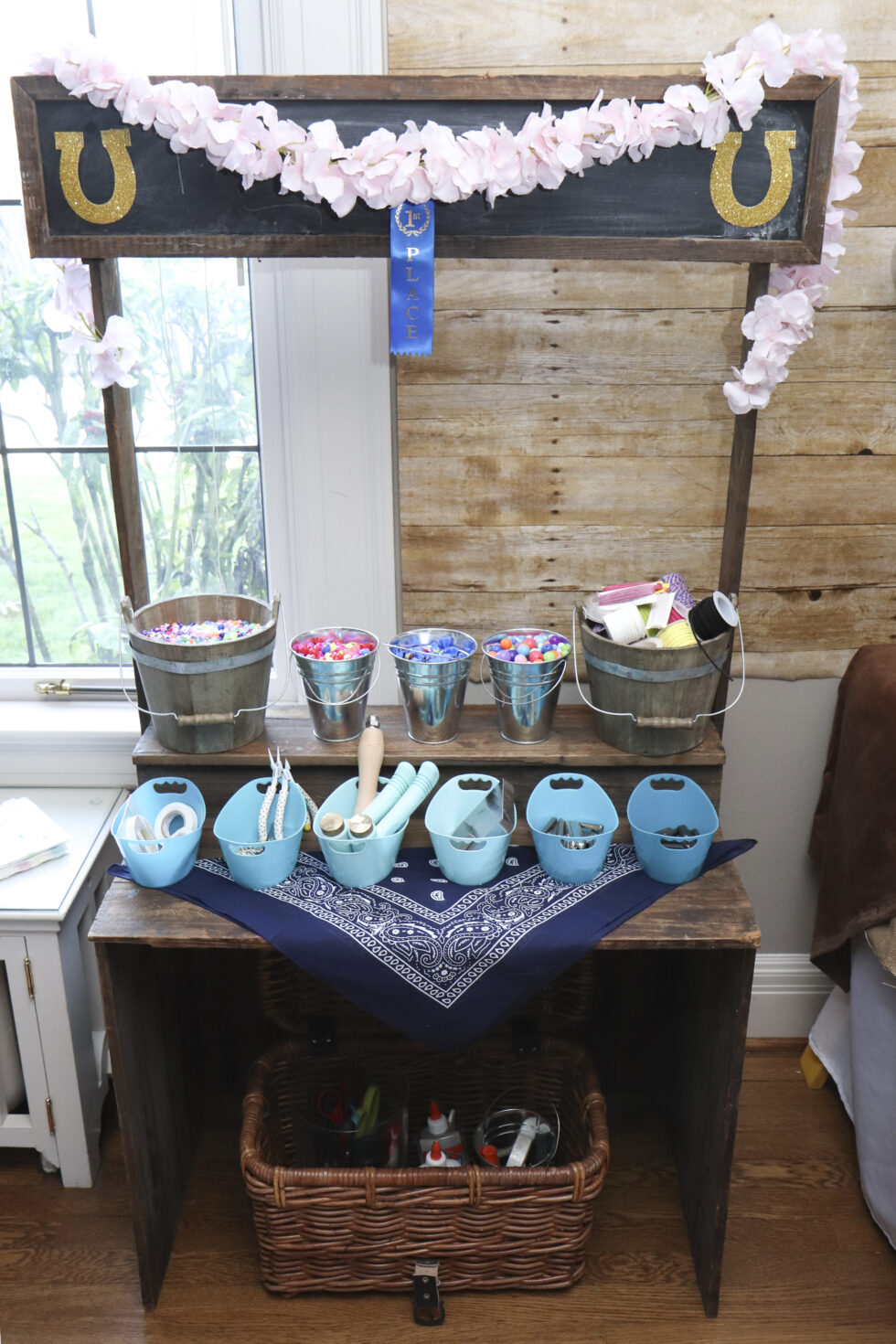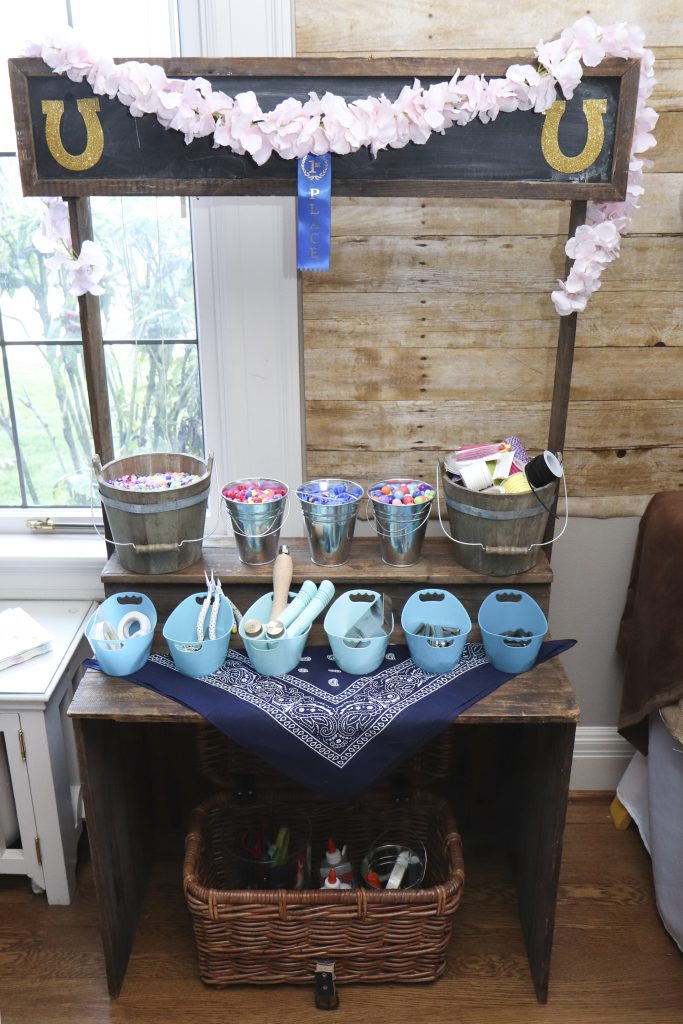 I decorated the stand simply with another blue bandanna, sparkling gold horseshoes, blue prize ribbons, and a garland of blush florals.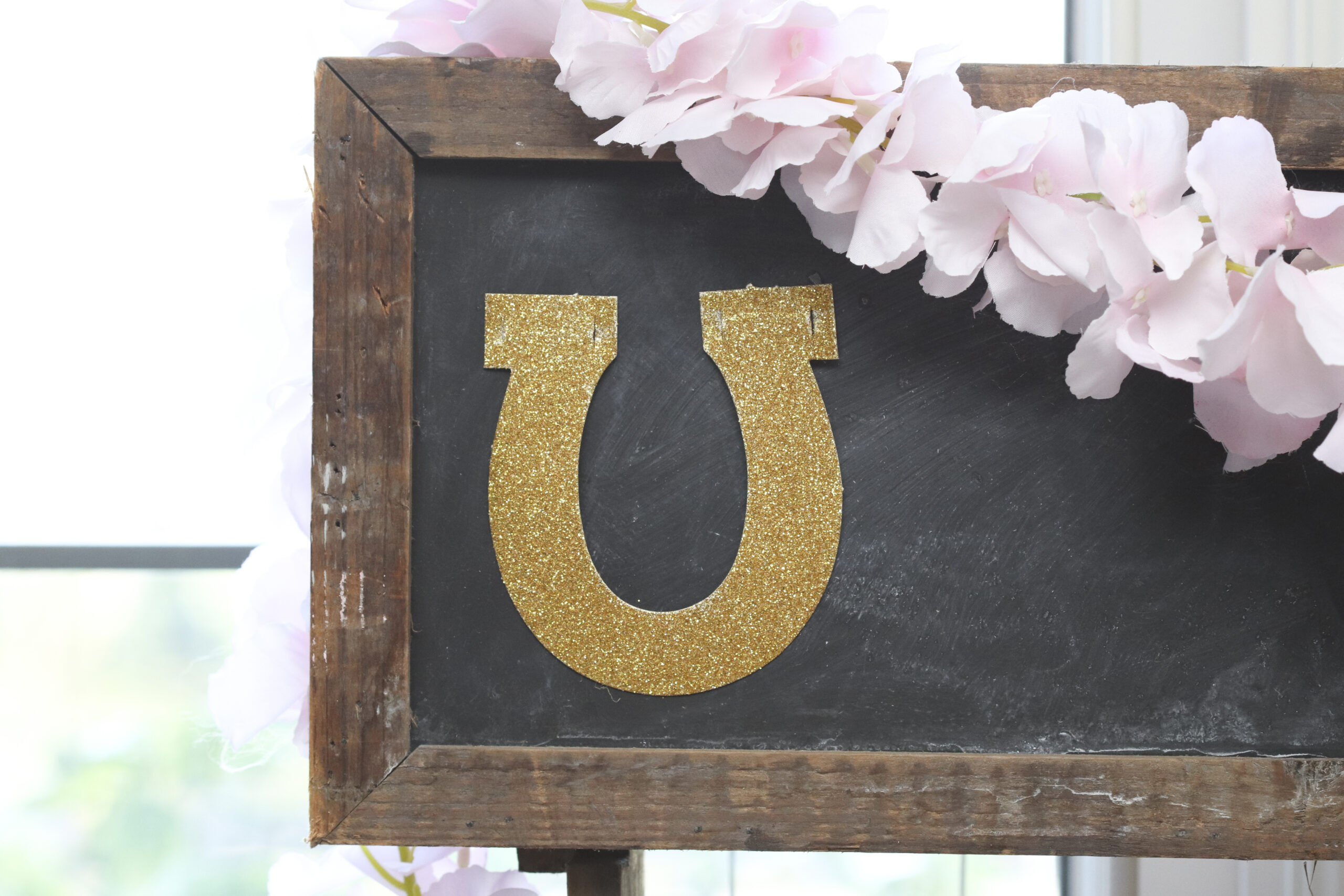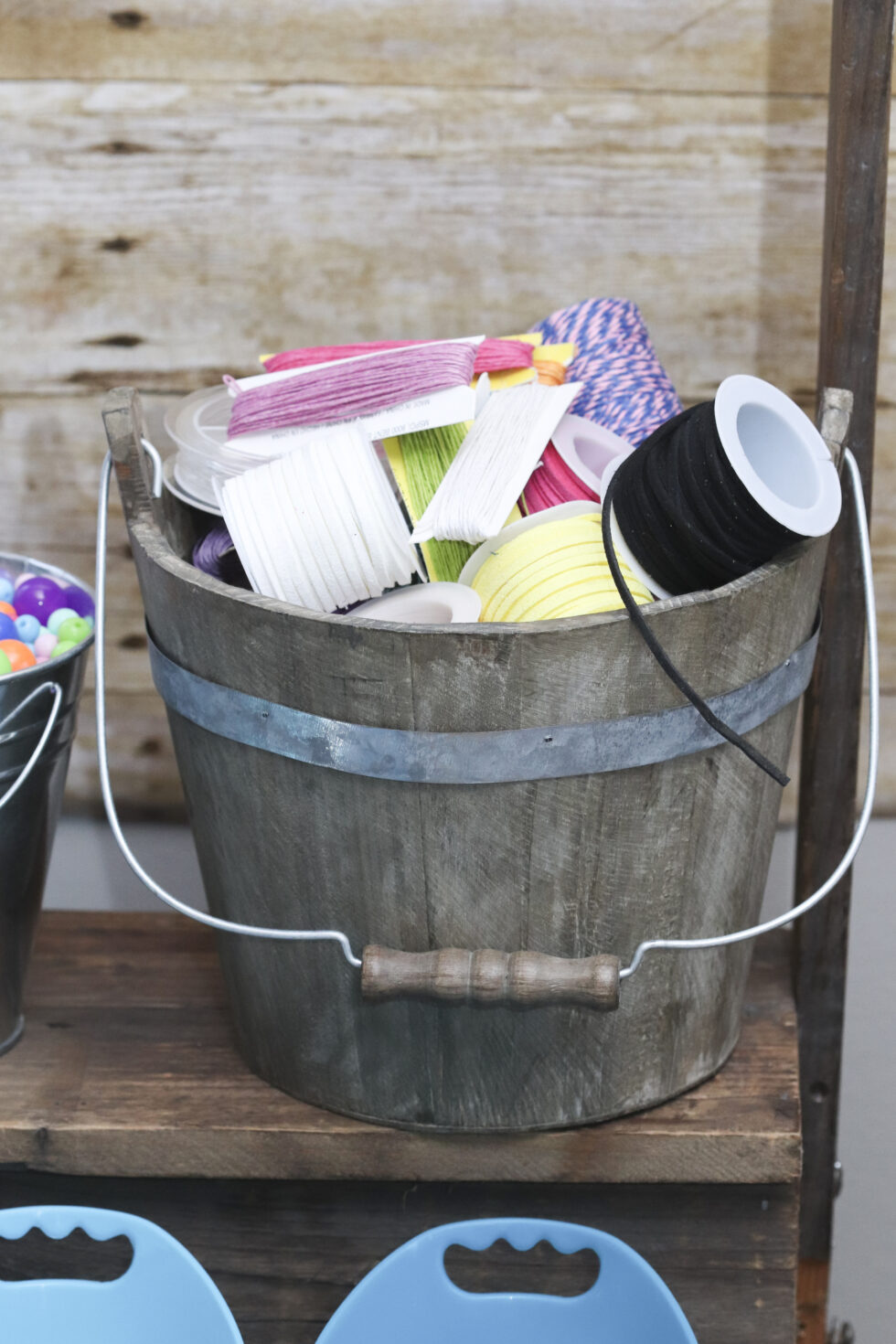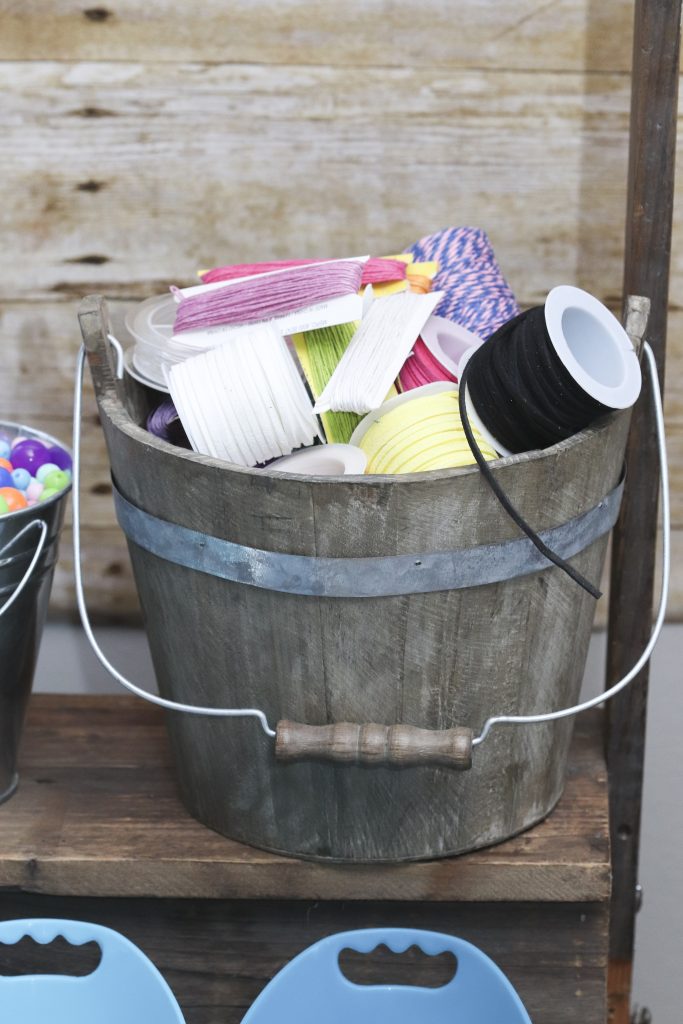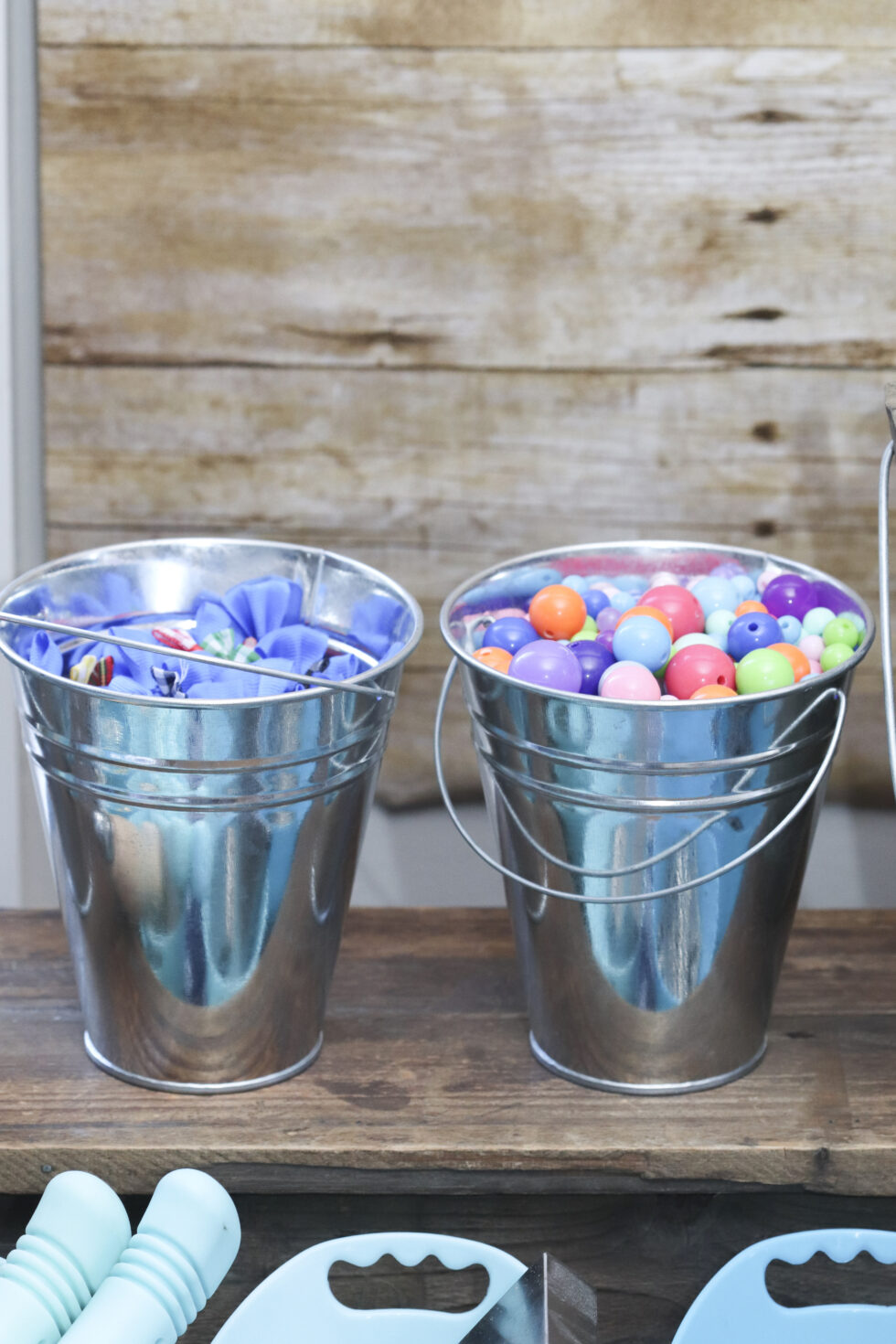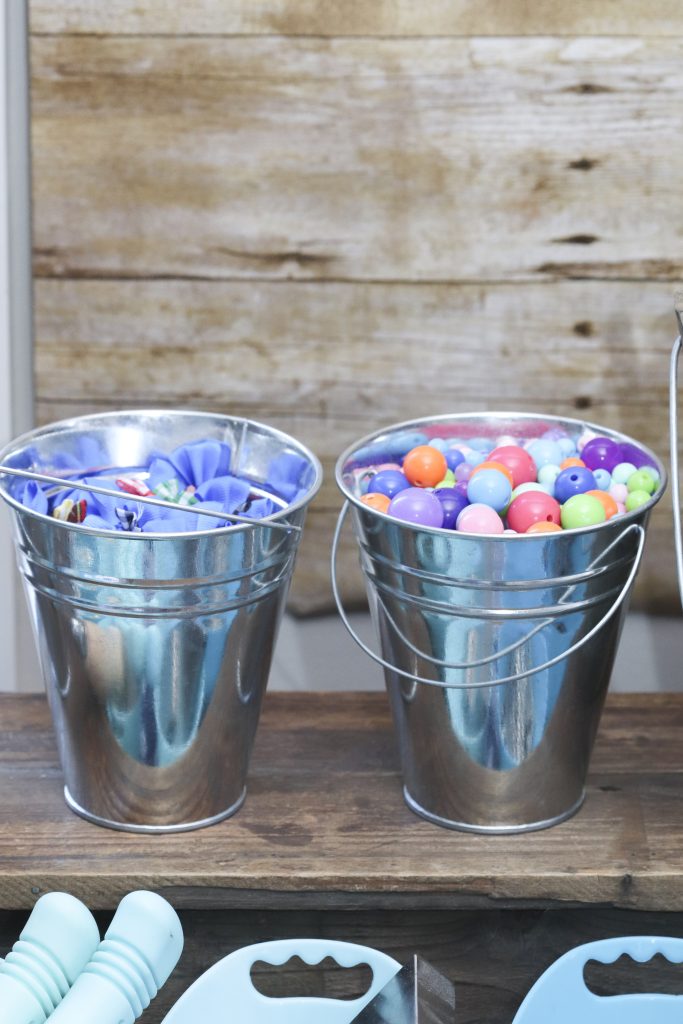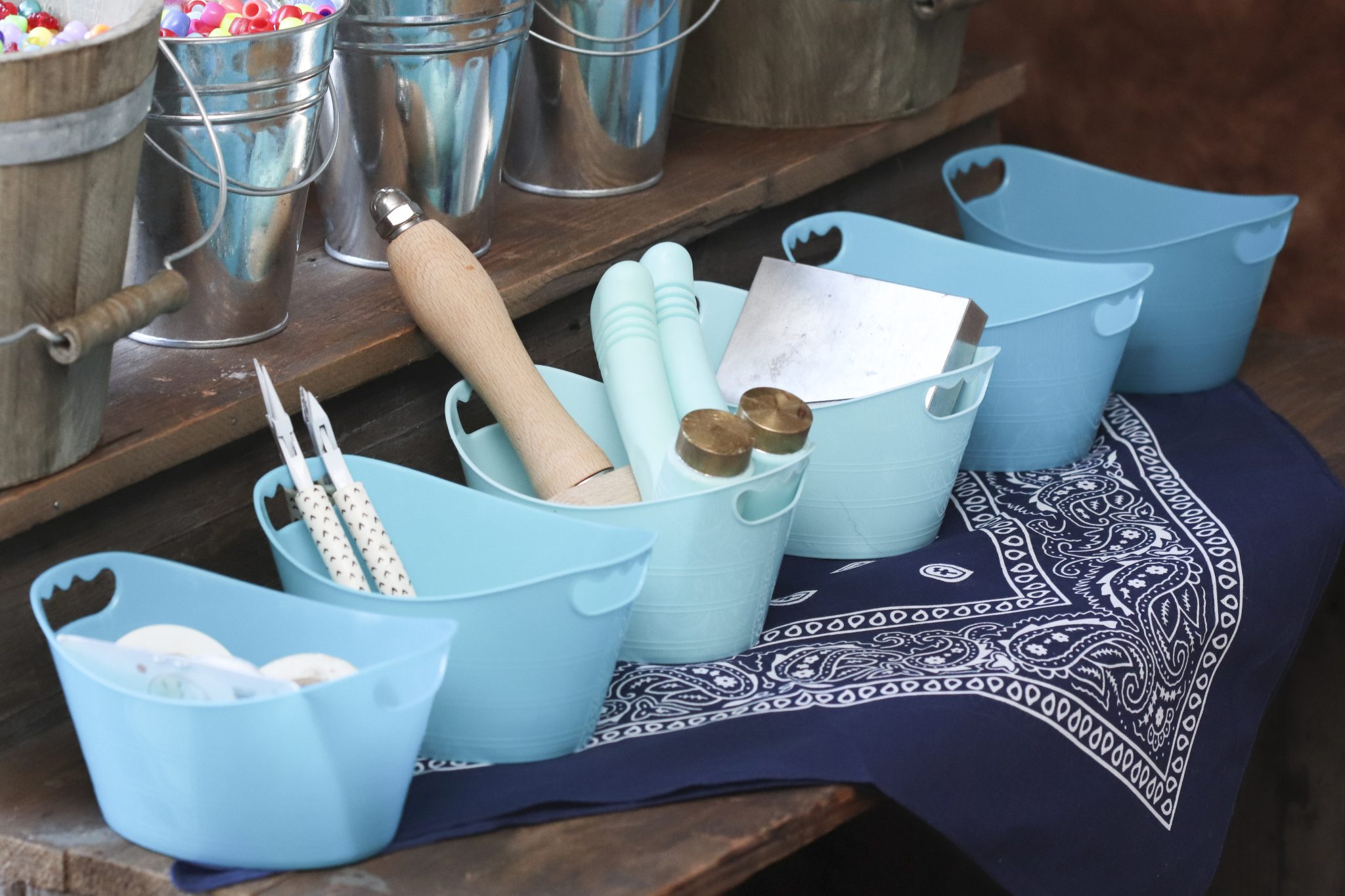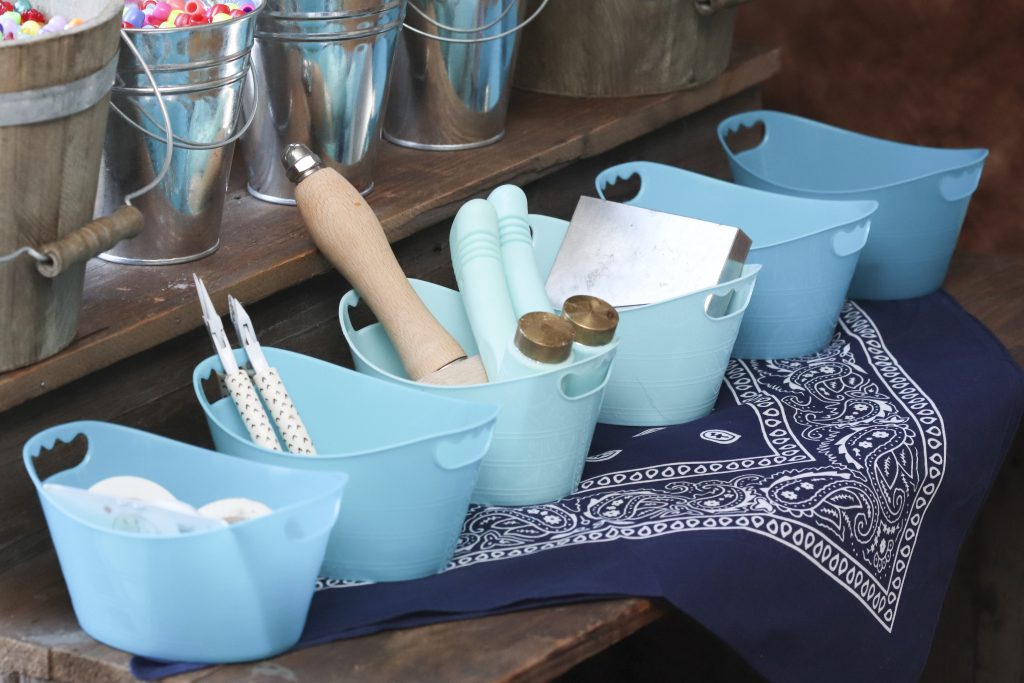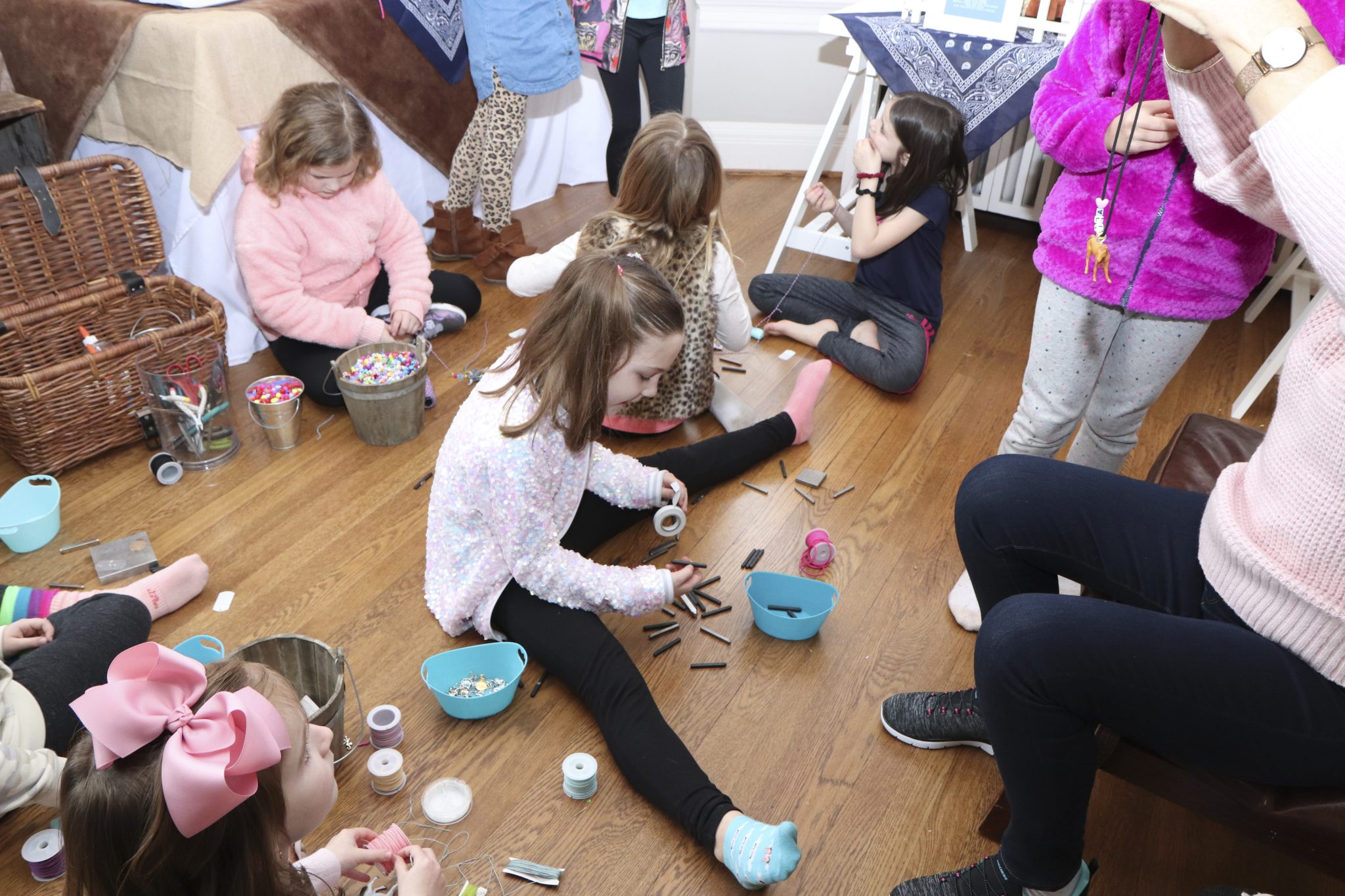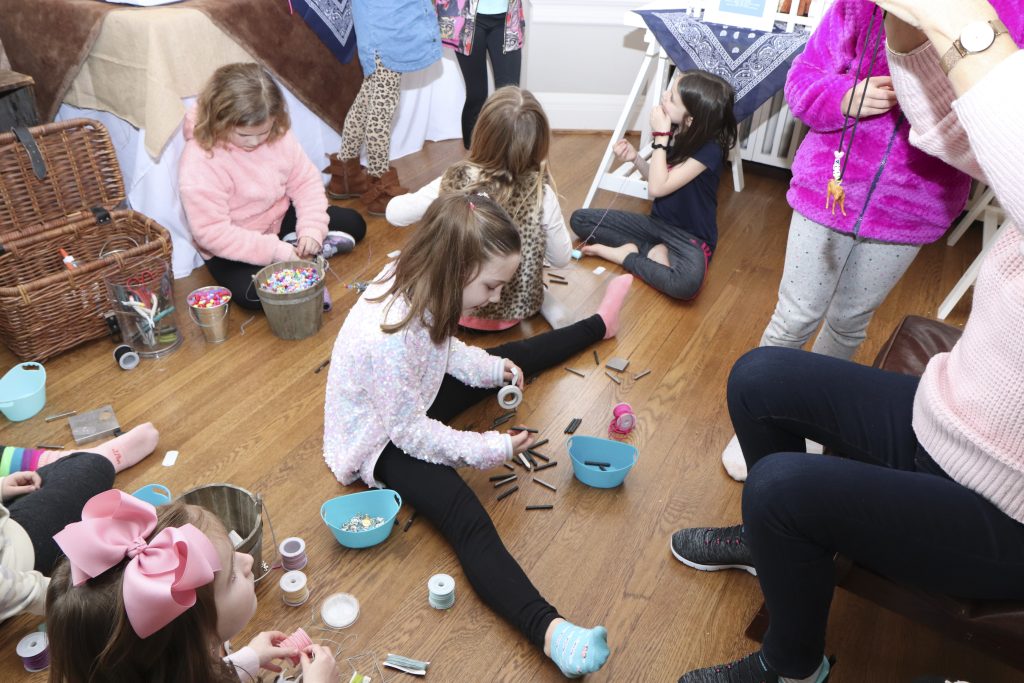 Horseshoe Decorating
For more creative fun, I set up another table for horseshoe decorating. I laid out unfinished wooden horseshoes on the table, and added containers of sequins, stickers, markers, and bows. Another blue bandanna made the perfect simple table decor for this station.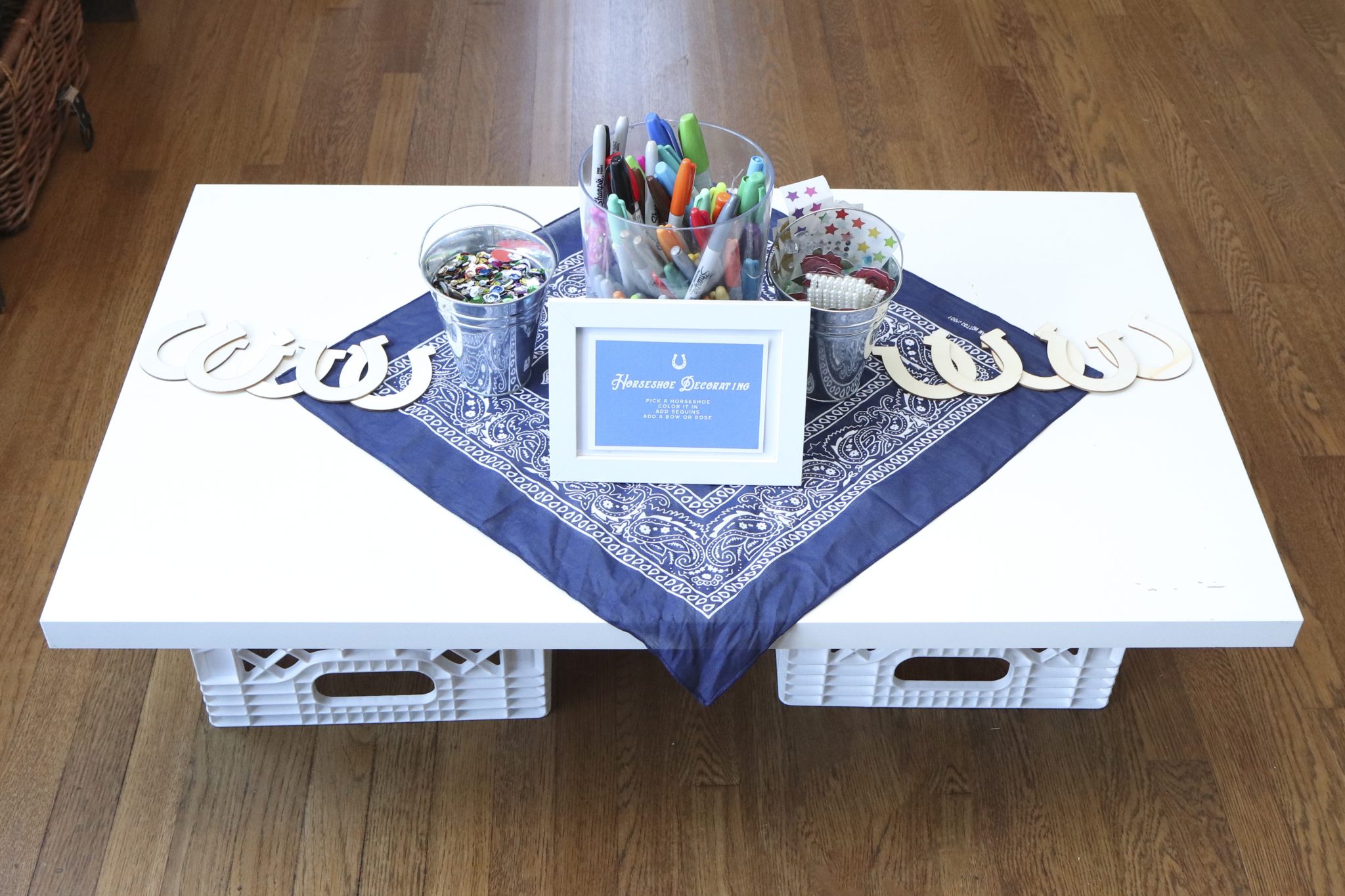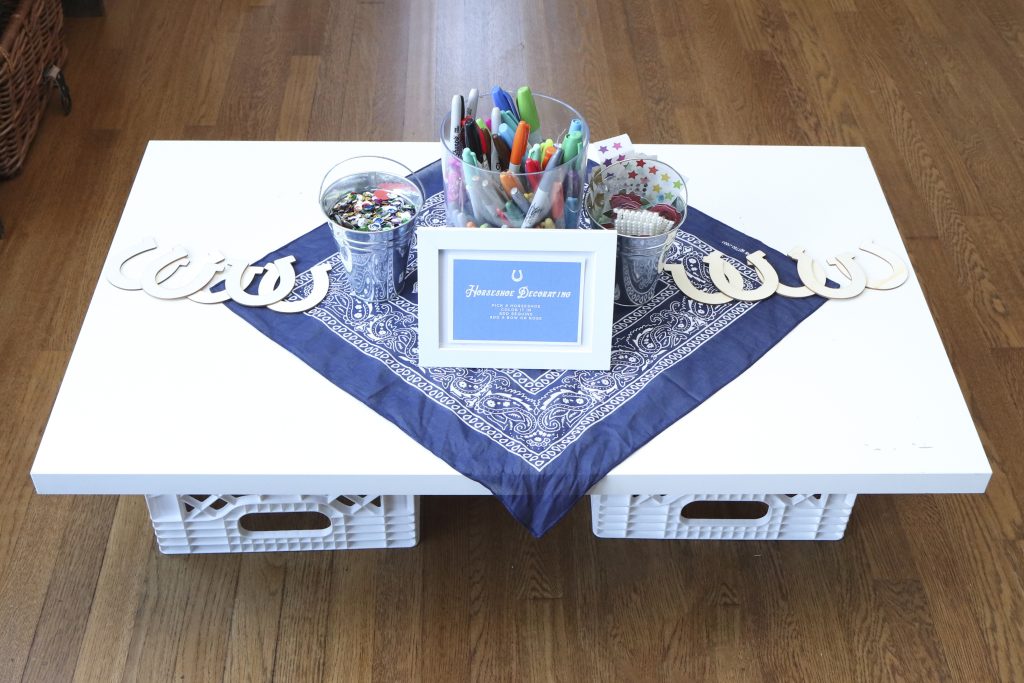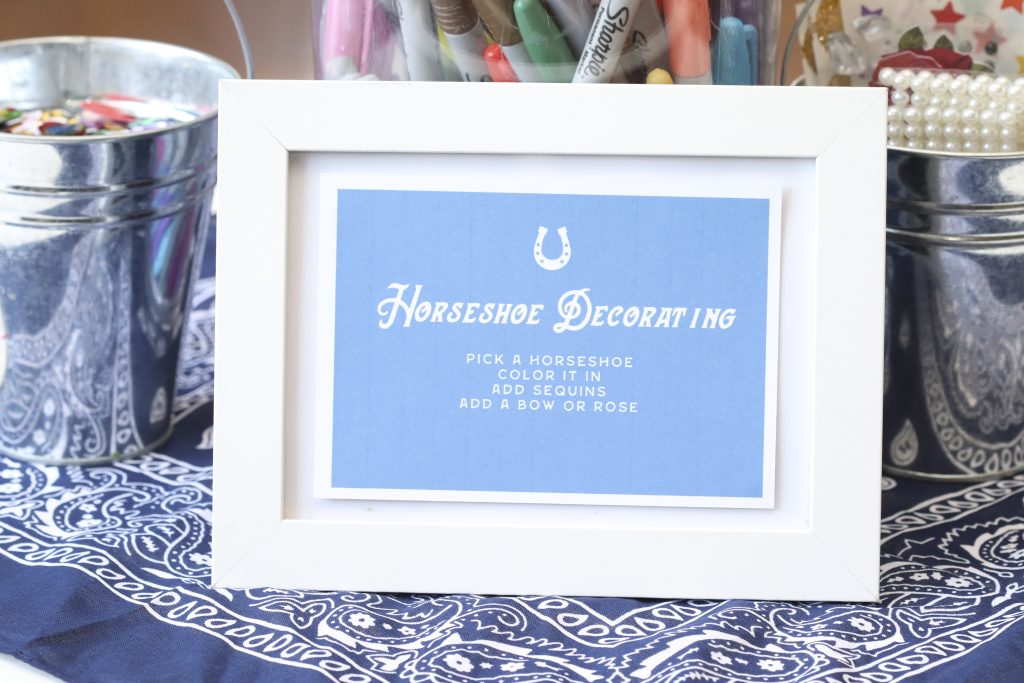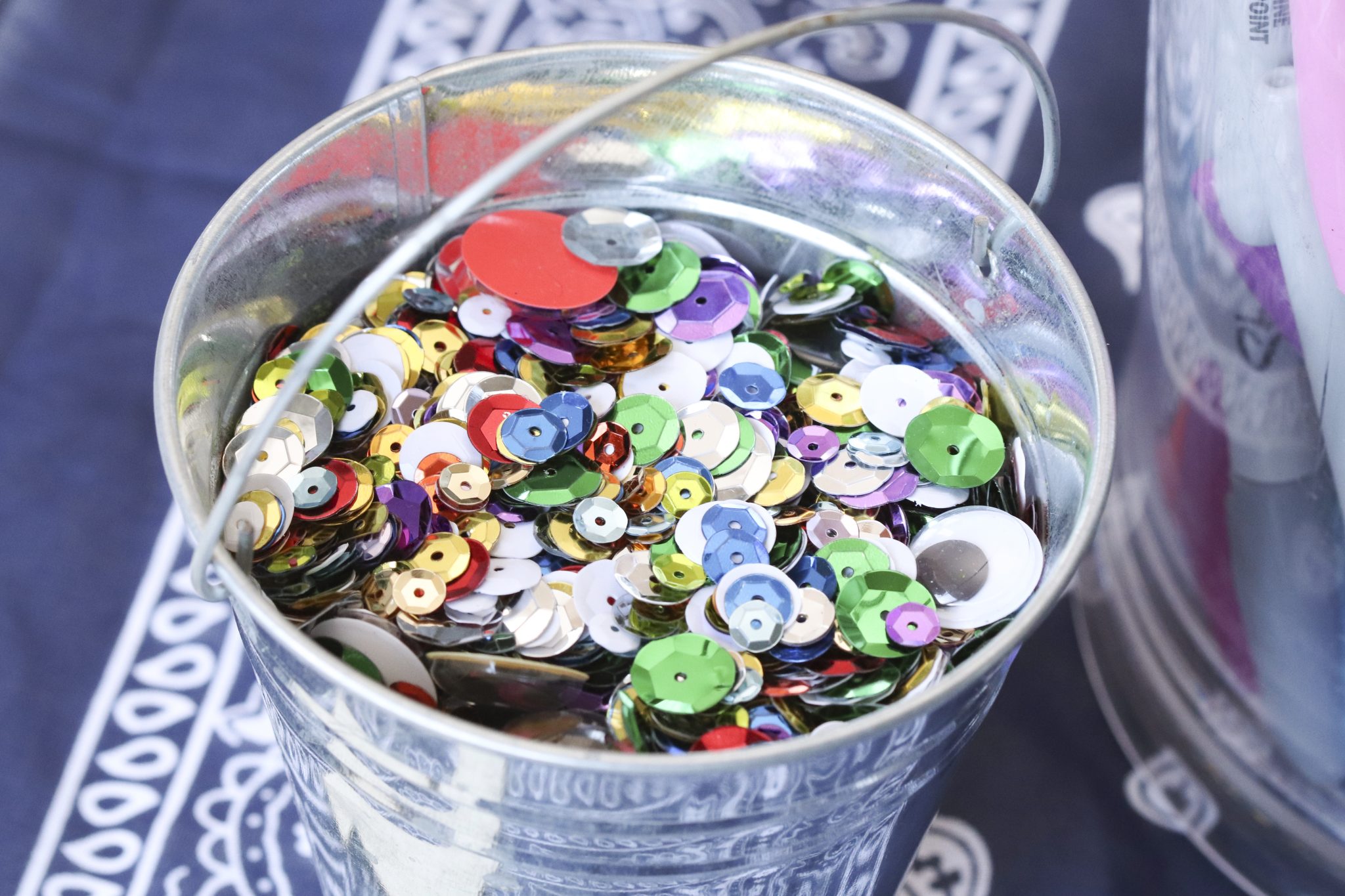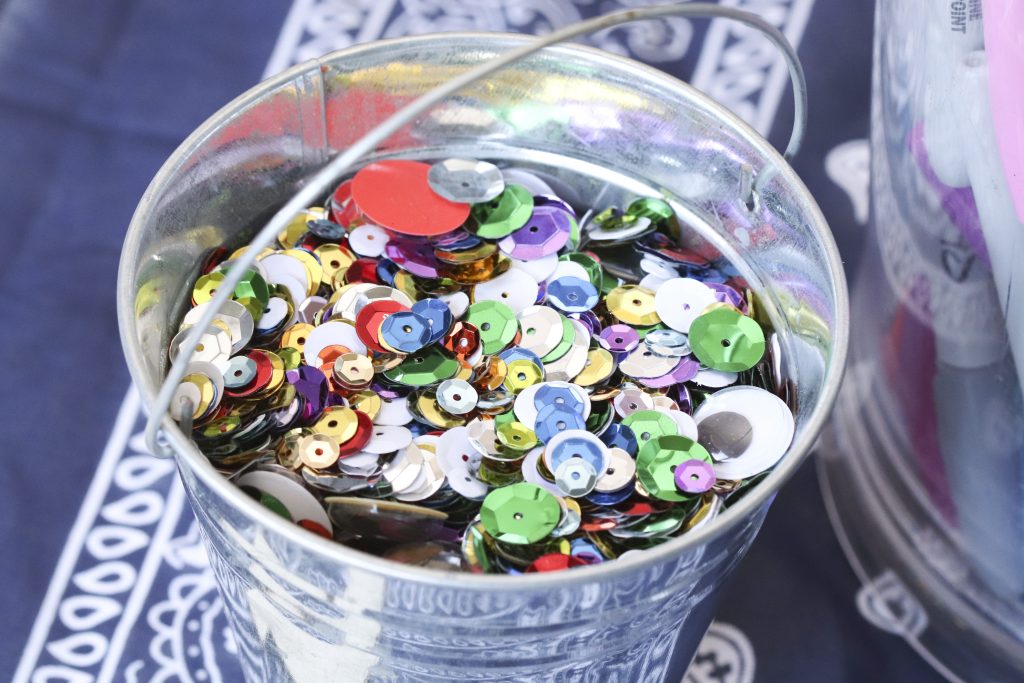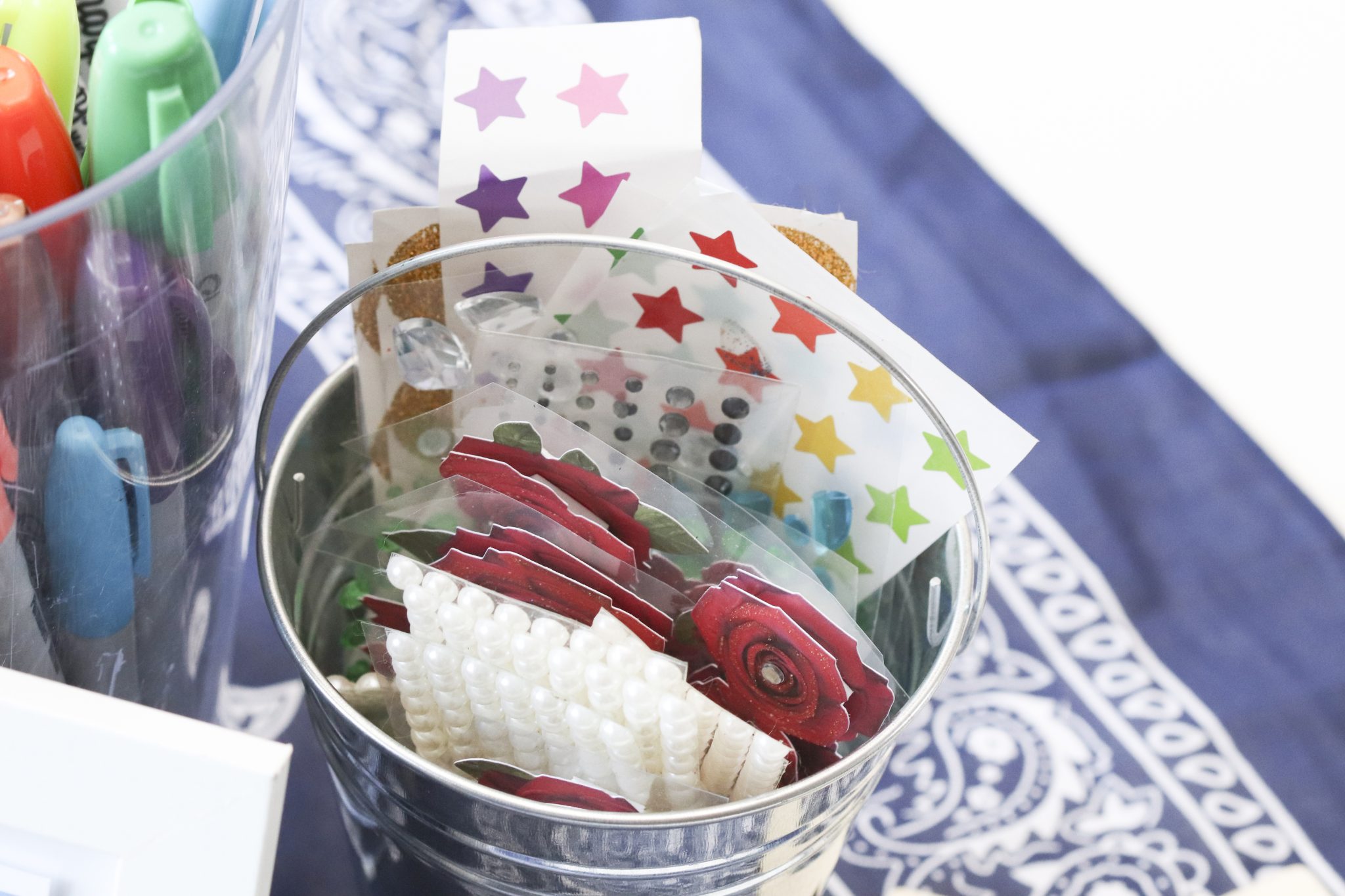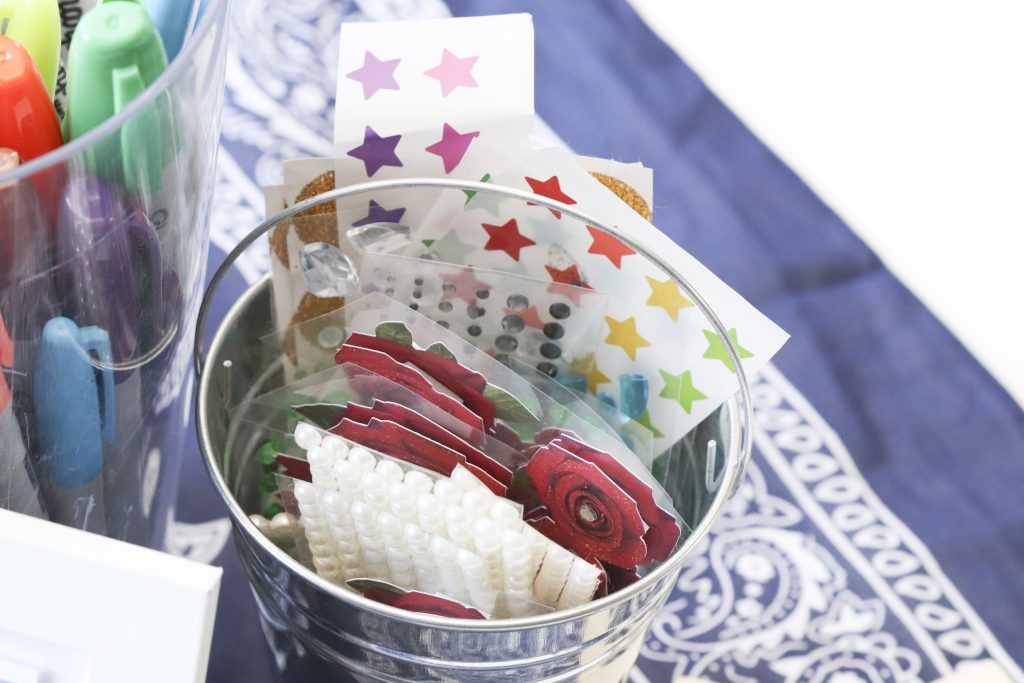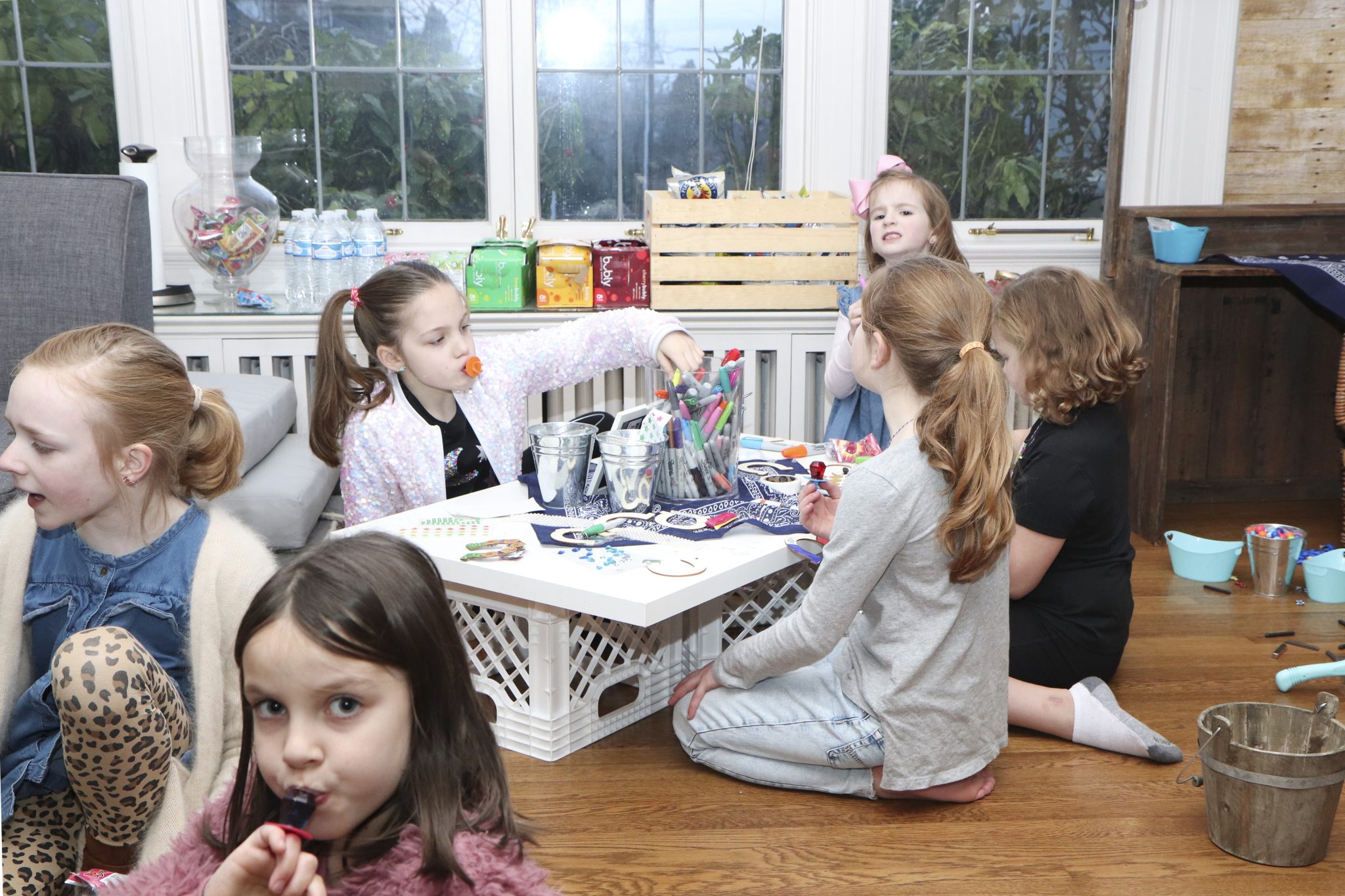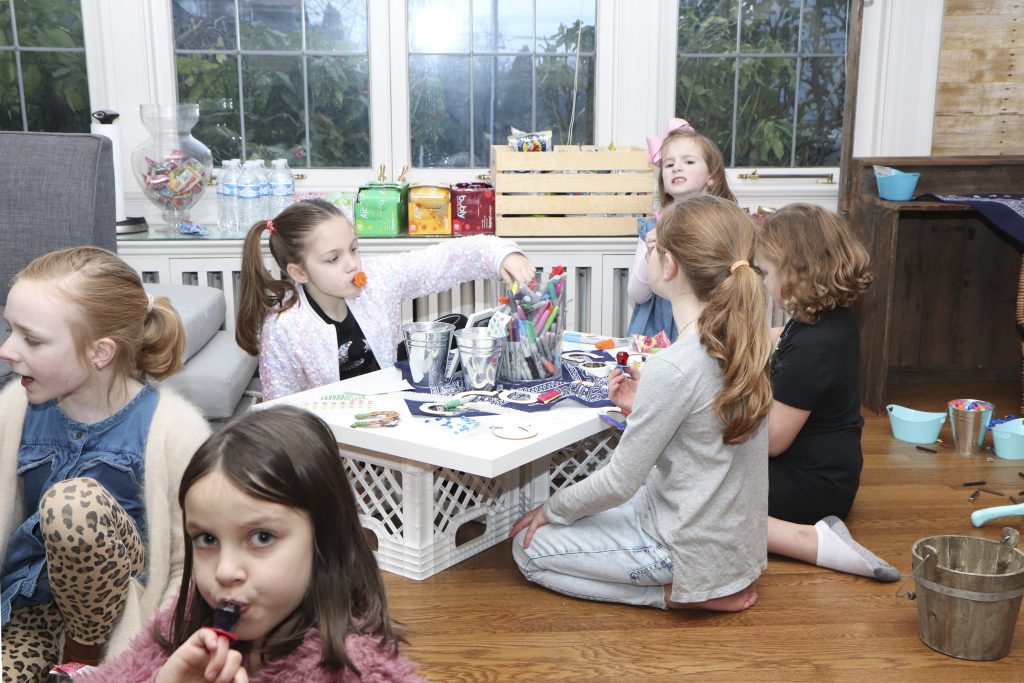 Play and Relax Areas
Finally, in the center of the room, I laid out a large green rug to serve as a pasture, and placed toy horses and scenery for the kids to play with. This was literally hours of entertainment….blissful!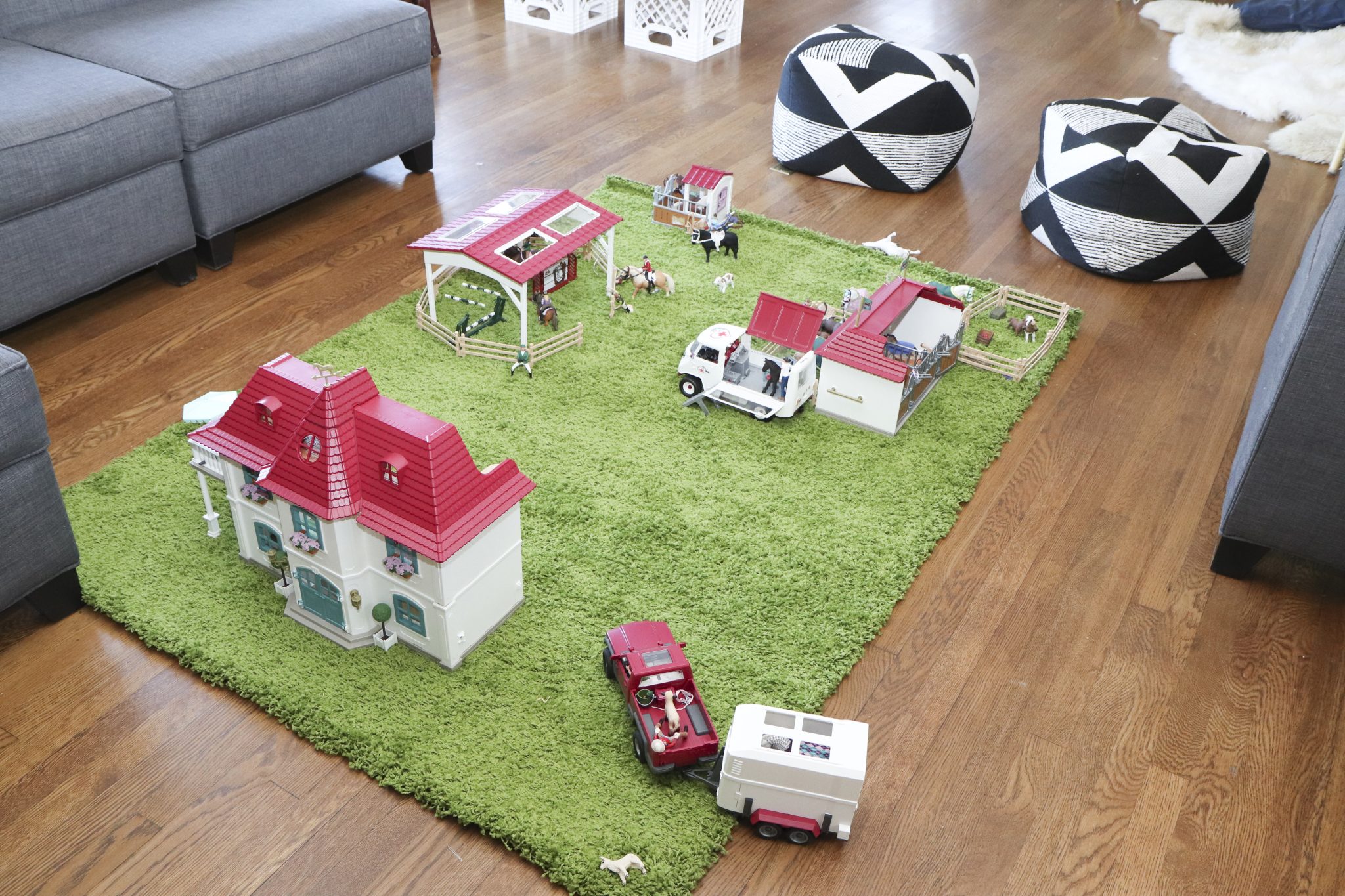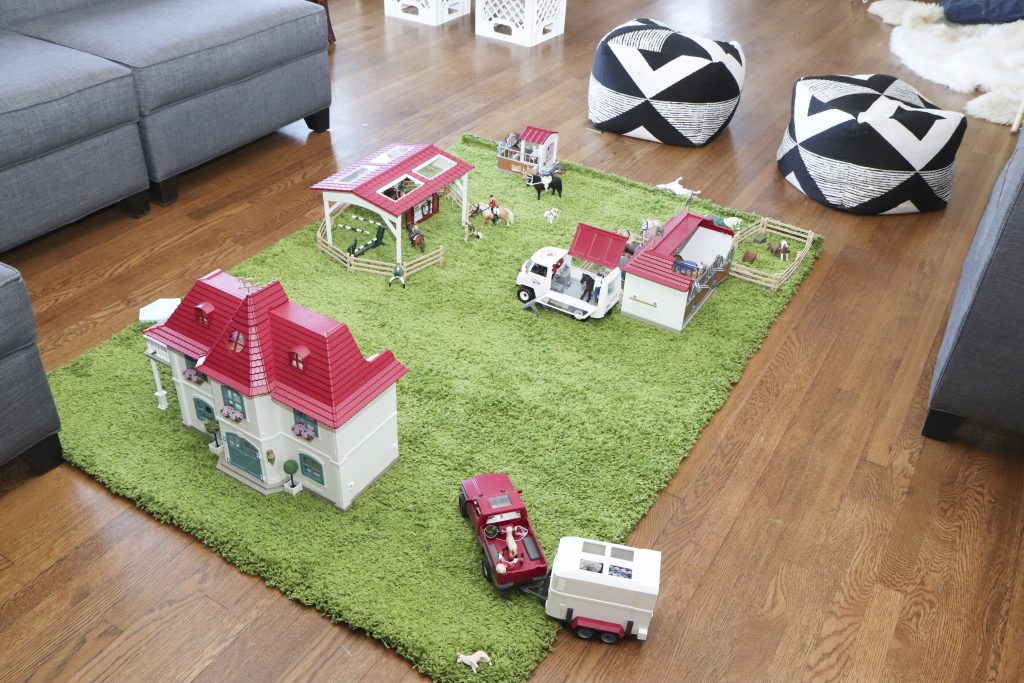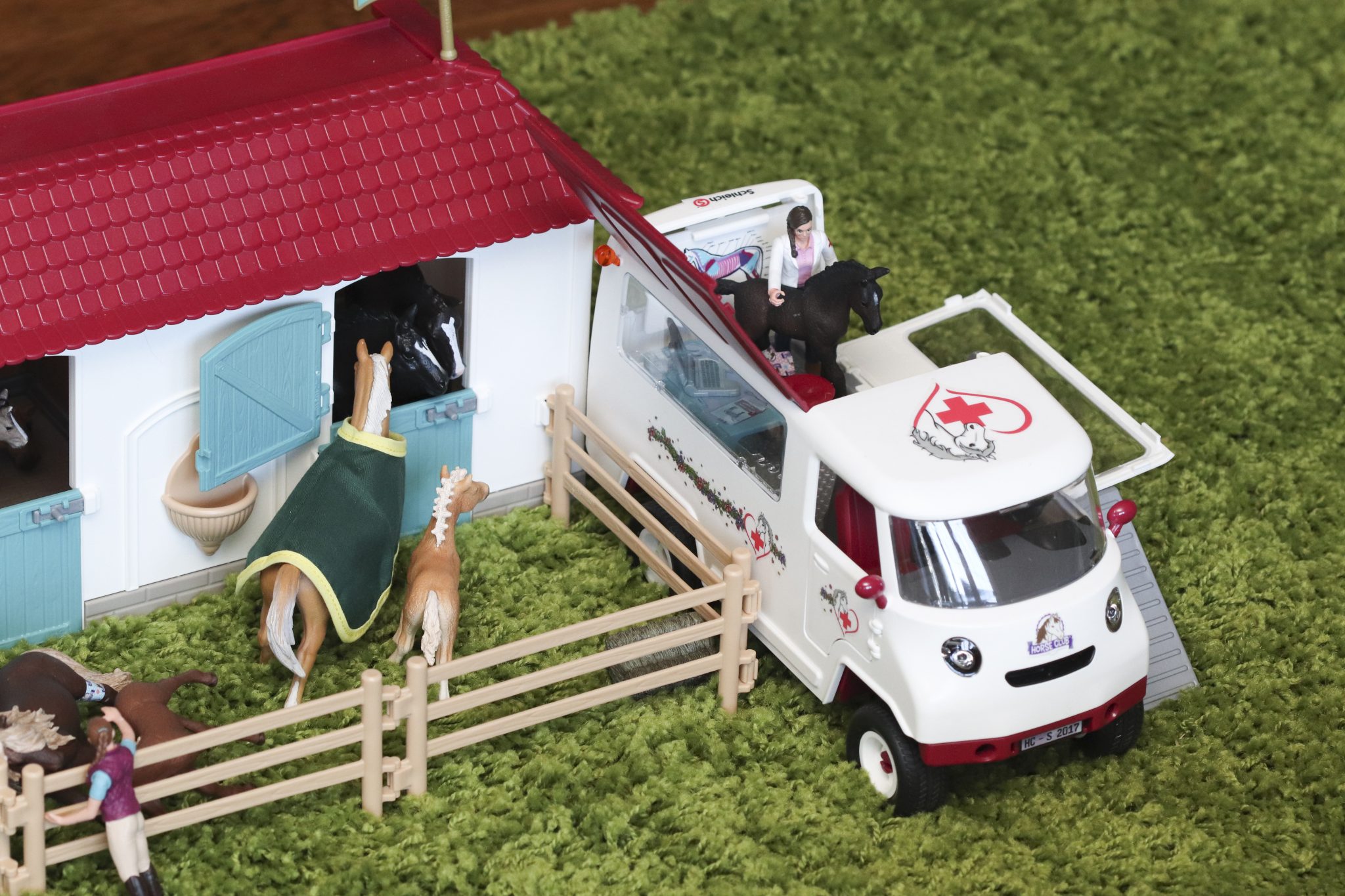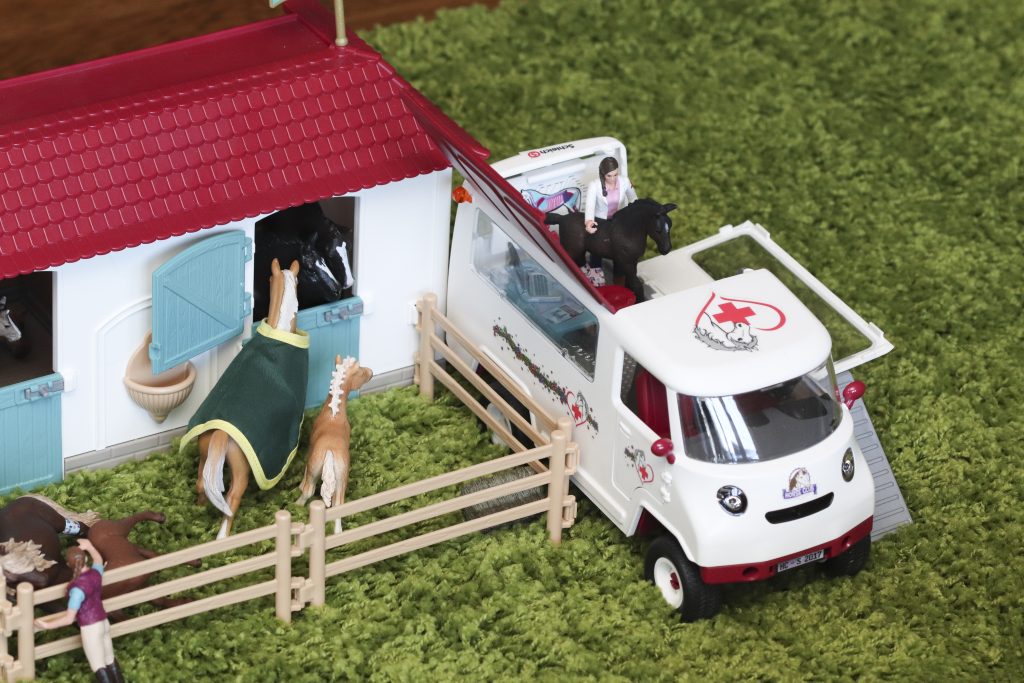 Sometimes in larger gatherings a kid will need some time out or quiet, it can get pretty noisy with that many kids in a room (no volume button!).  I always like to have a spot where they can rest or get away from the crowd. For this party, to stay in theme I set up a large tepee full of soft rugs, pillows, and blankets for the kids to hang out and relax in.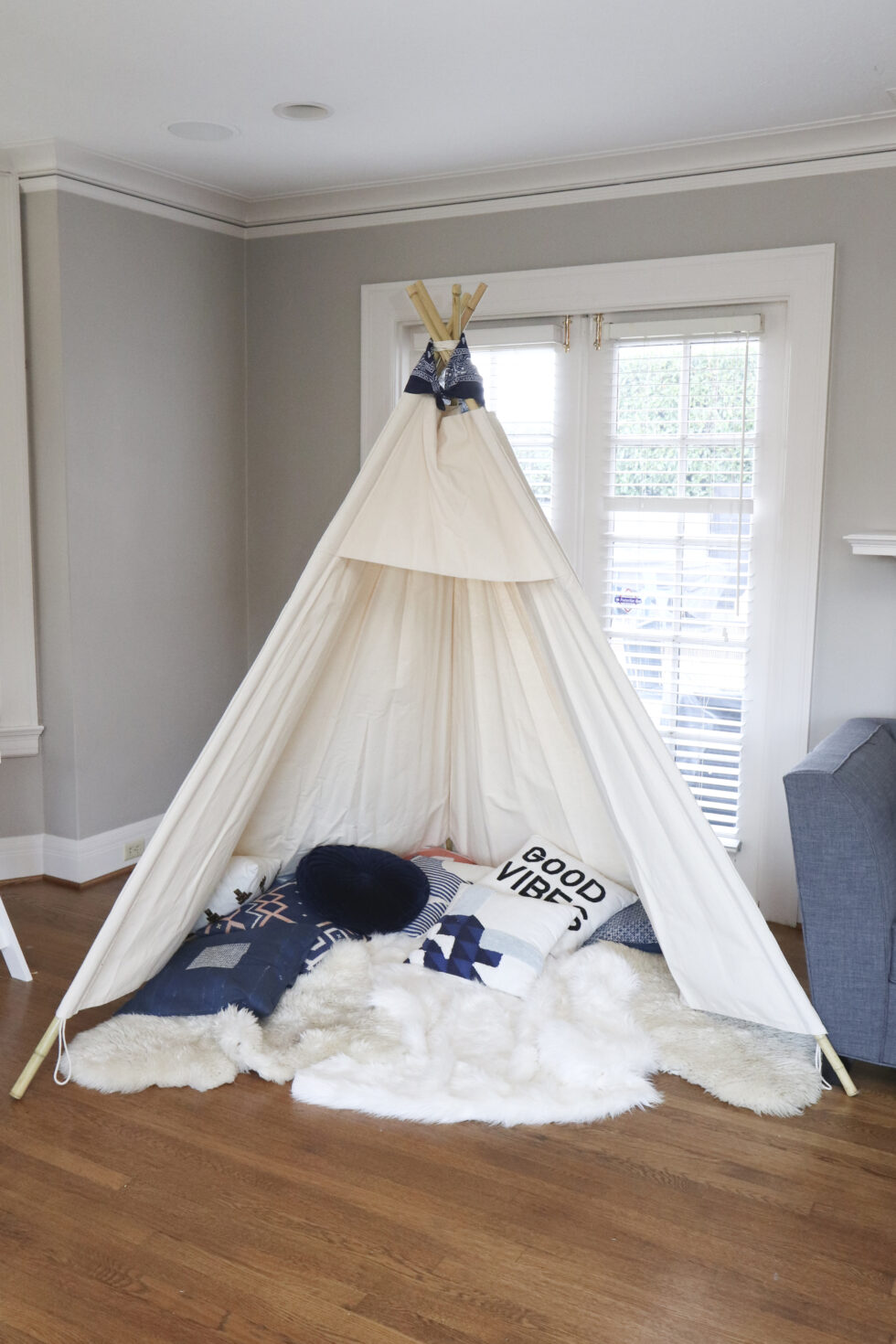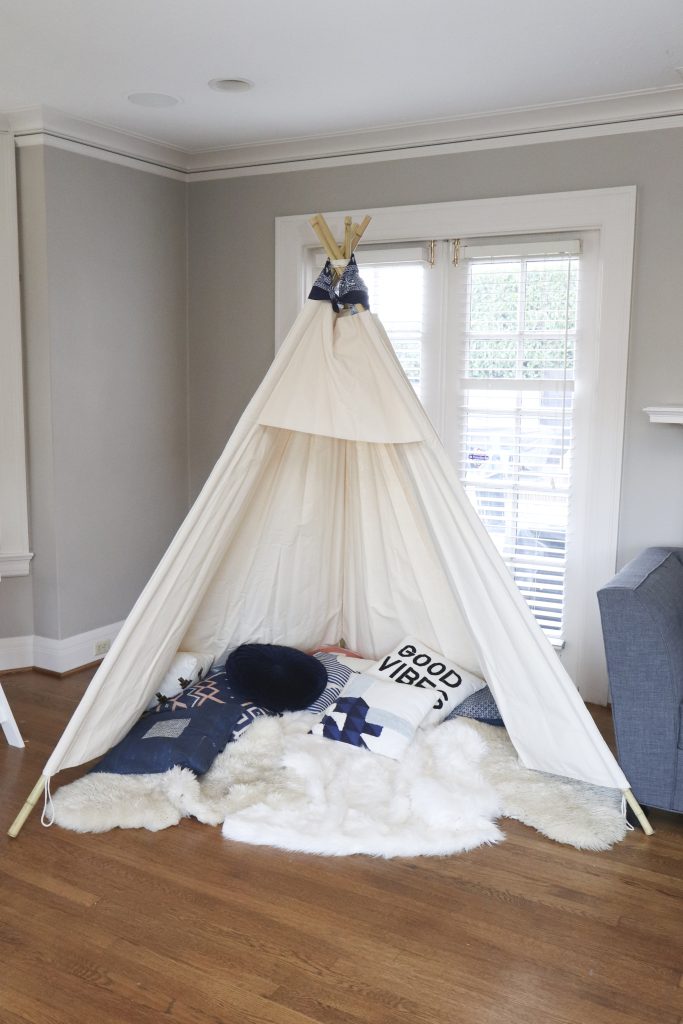 These simple to set-up activities will show even the most pessimistic neigh-sayers that a successful horse party is totally doable! Check out my post on how to easily decorate tables for the party, and keep an eye out for a couple more horse how-to posts in the near future!
I'd love to hear your thoughts on these activities or ideas for other ones in the comments below!
Happy Pony Partying!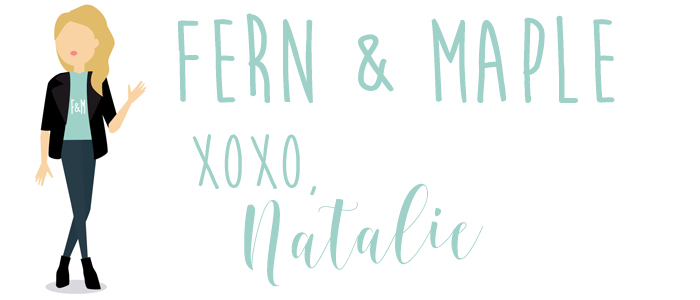 PIN FOR LATER: