Every bunny knows I just love puns. And right now, during these challenging times, I think some silly punny humor is especially needed! That's why I decided to set up a bit of punny Easter fun, inspired by some of my favorite product finds from a few of my favorite brands. Check them out below – I hope they give you a chuckle and inspire your celebrations! 
You Crack Me Up
First, I set up an egg-cellent table that would be perfect for an Easter breakfast or brunch with your family. Inspired by adorable fried egg plates and napkins from Jollity and Co, I couldn't resist a "You Crack Me Up" punny theme.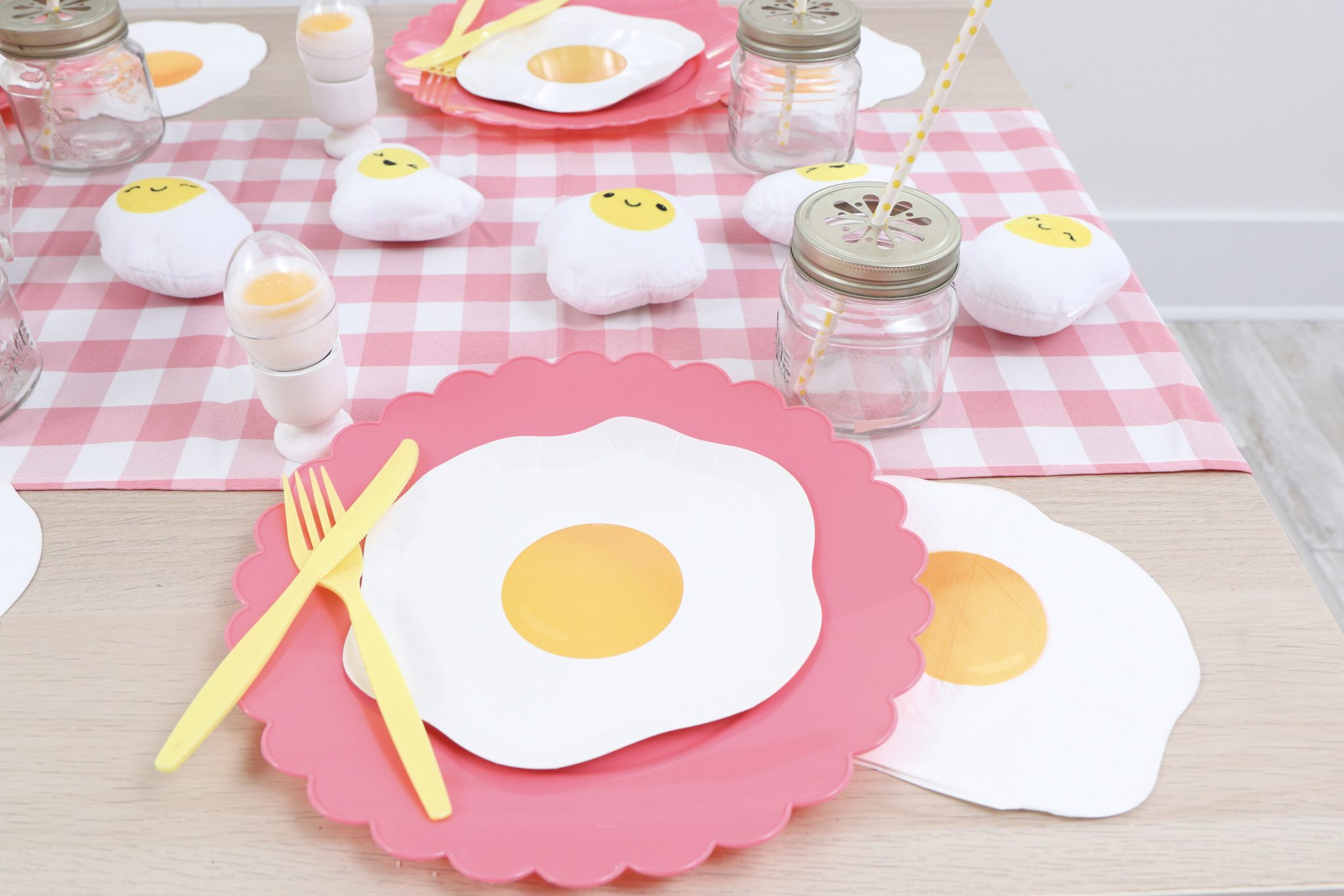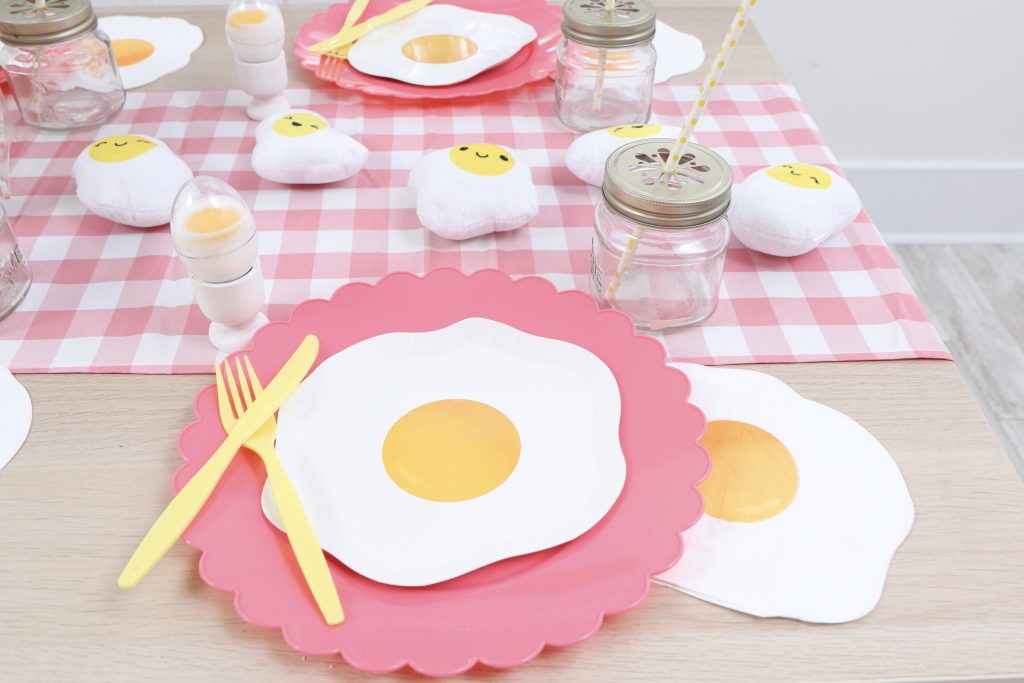 Silver mylar letter balloons from E-Favortmart.com (alternatively try Amazon) spelled out the theme behind my table. These can be attached to the wall with large size glue dots.
Tip: Tuck the inflation tabs under to the back of the balloon and tape in place so they don't dangle down from the letters.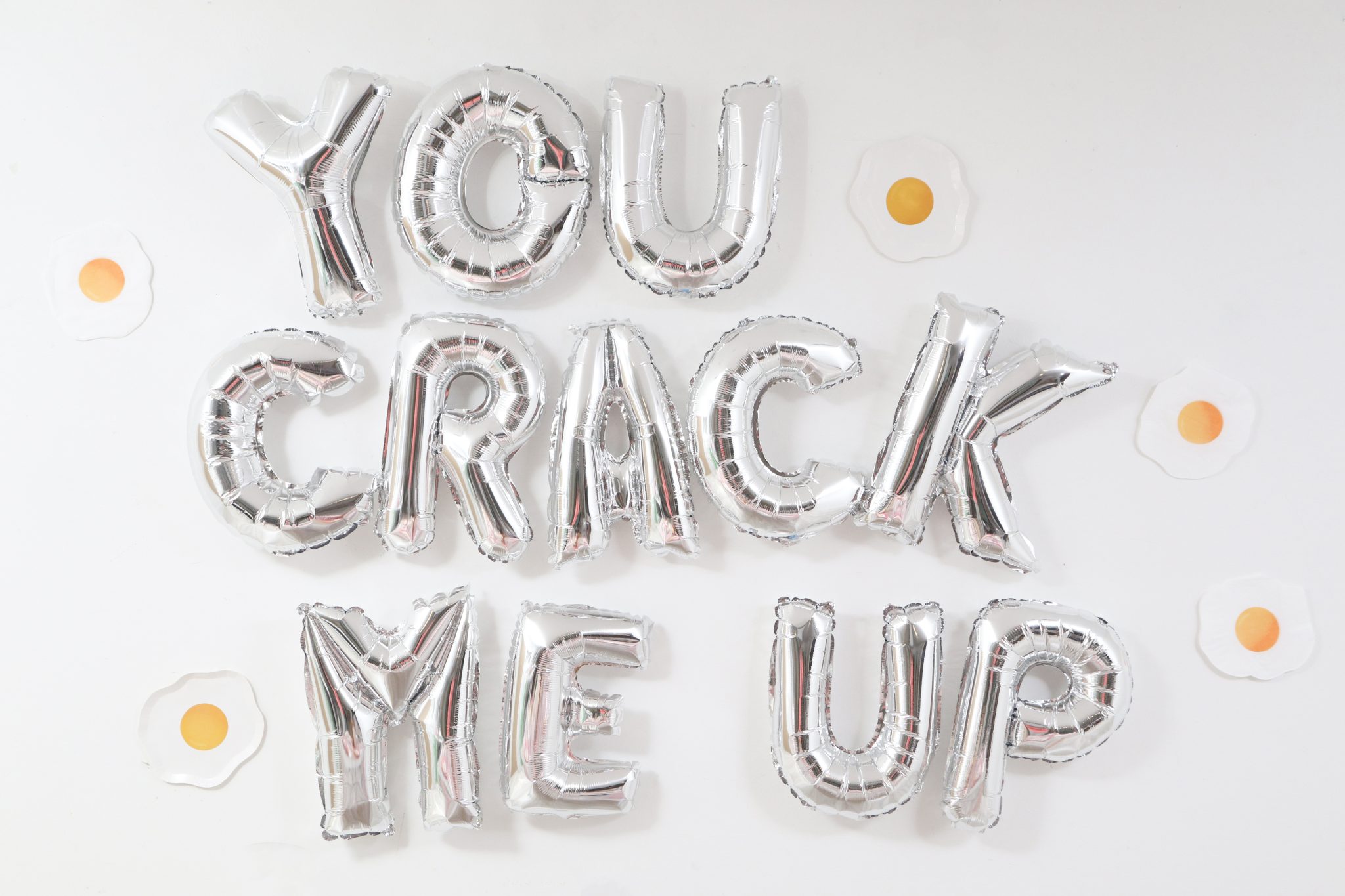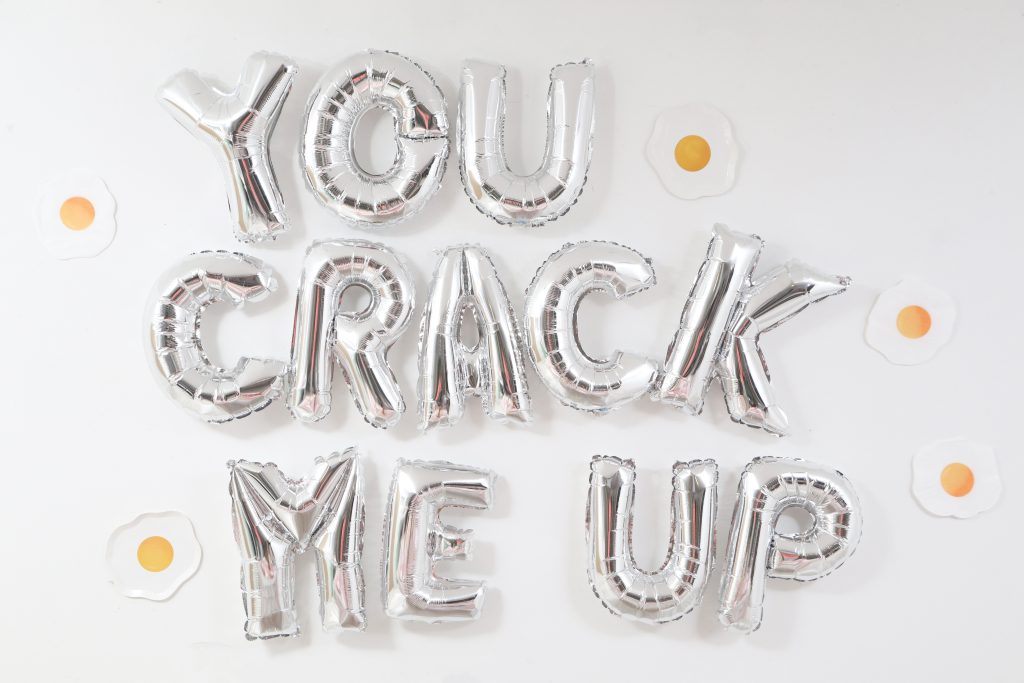 I then laid out pastel pink gingham fabric for a table runner, and the CUTEST stuffed egg and toast centerpieces from Paper Source.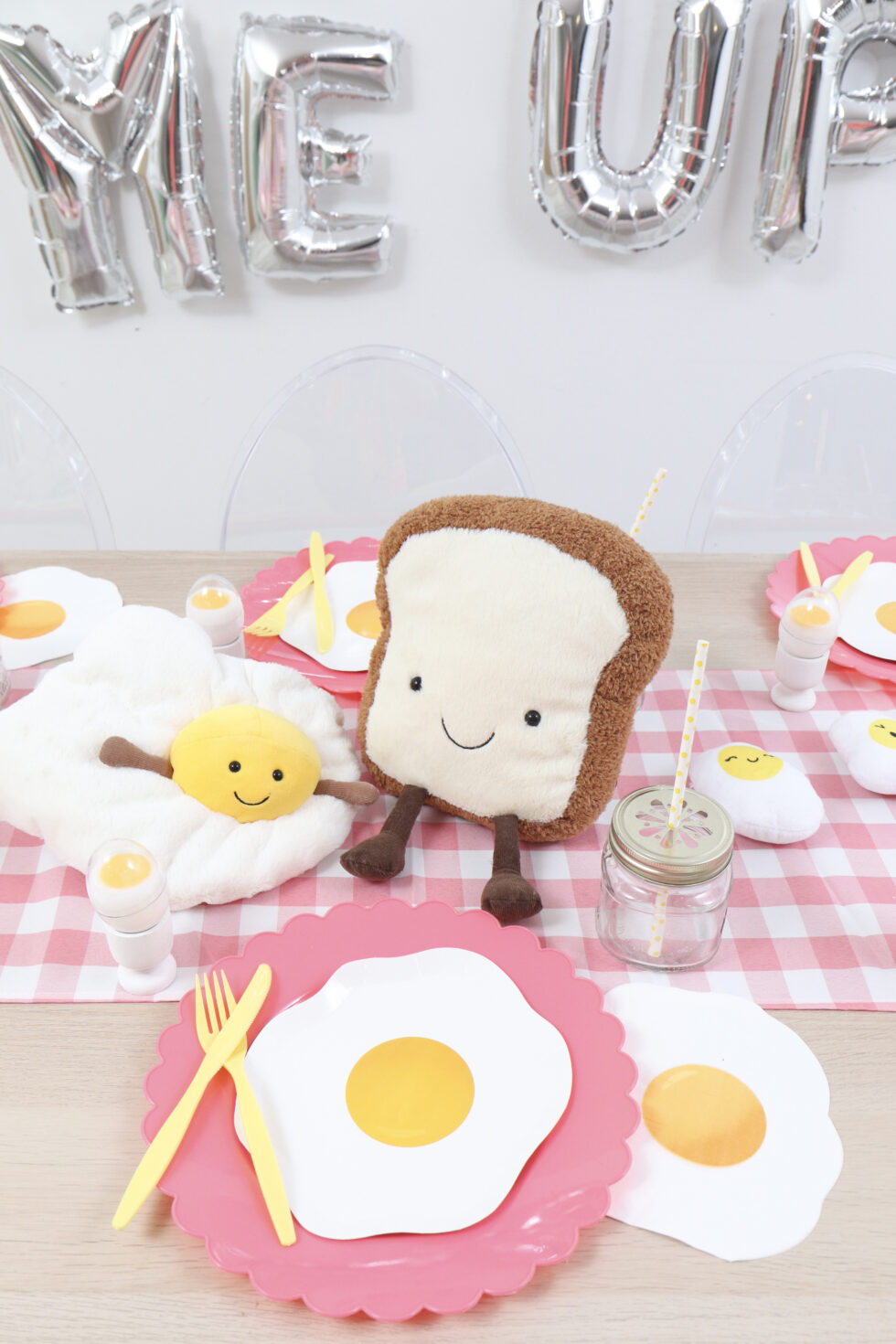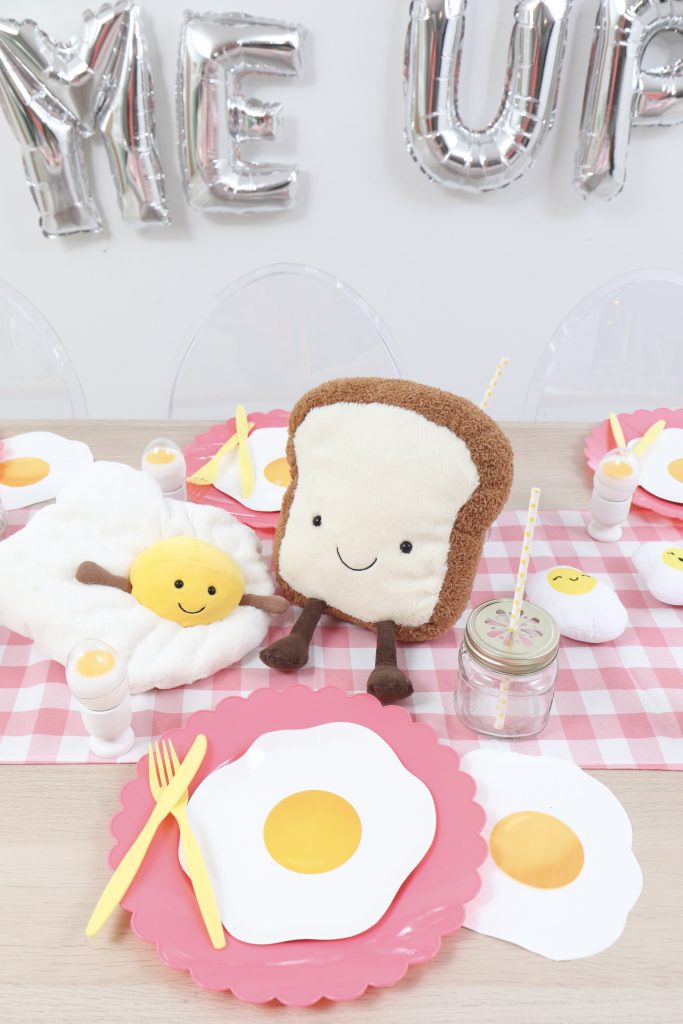 To make the fried egg plates pop I used a contrasting color as a charger underneath.  I found these coral pink plates with scalloped edge plates in the dollar spot at Target.I then layered the fried egg plates on top, and placed an egg napkin next to each. Pale yellow utensils complemented the egg yolks perfectly.
Then, I put a mason jar cup with a yellow polka-dotted straw at each setting.  I have a set of these mason jar cups that I keep for kids parties.  THey are so versatile, switch out the straw to gie a new look or add a printable wrap around the glass.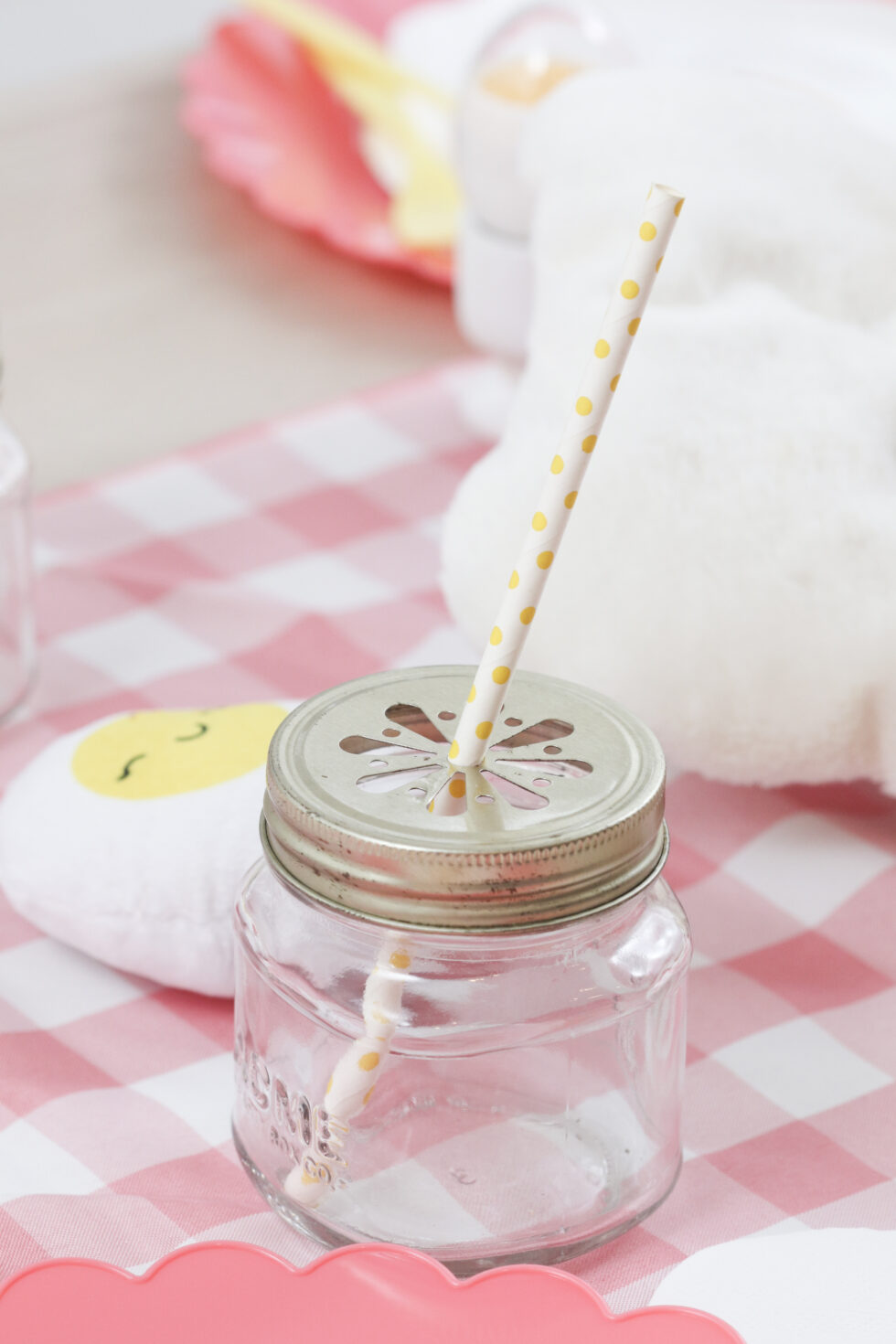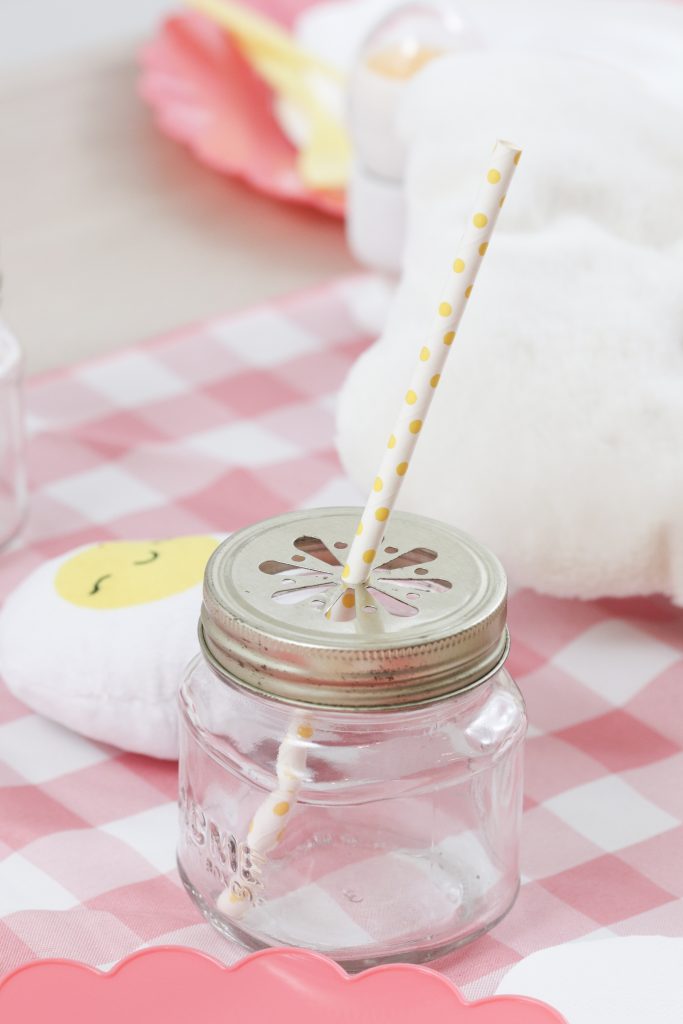 TIP: Paper plates can also easily be used as wall decor- I'm not yolkin'! I also used the fried egg plates to upgrade my balloon letter backdrop!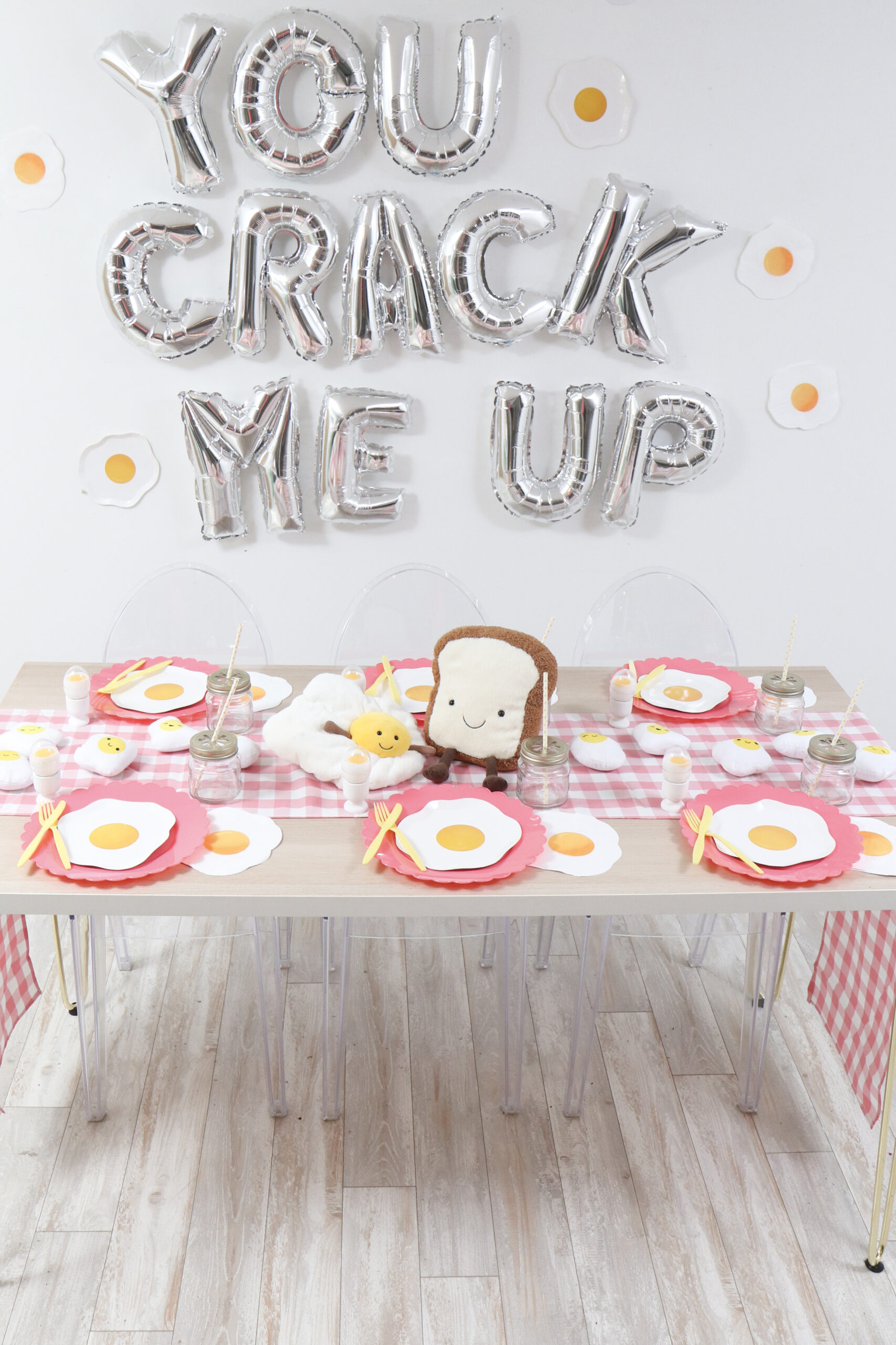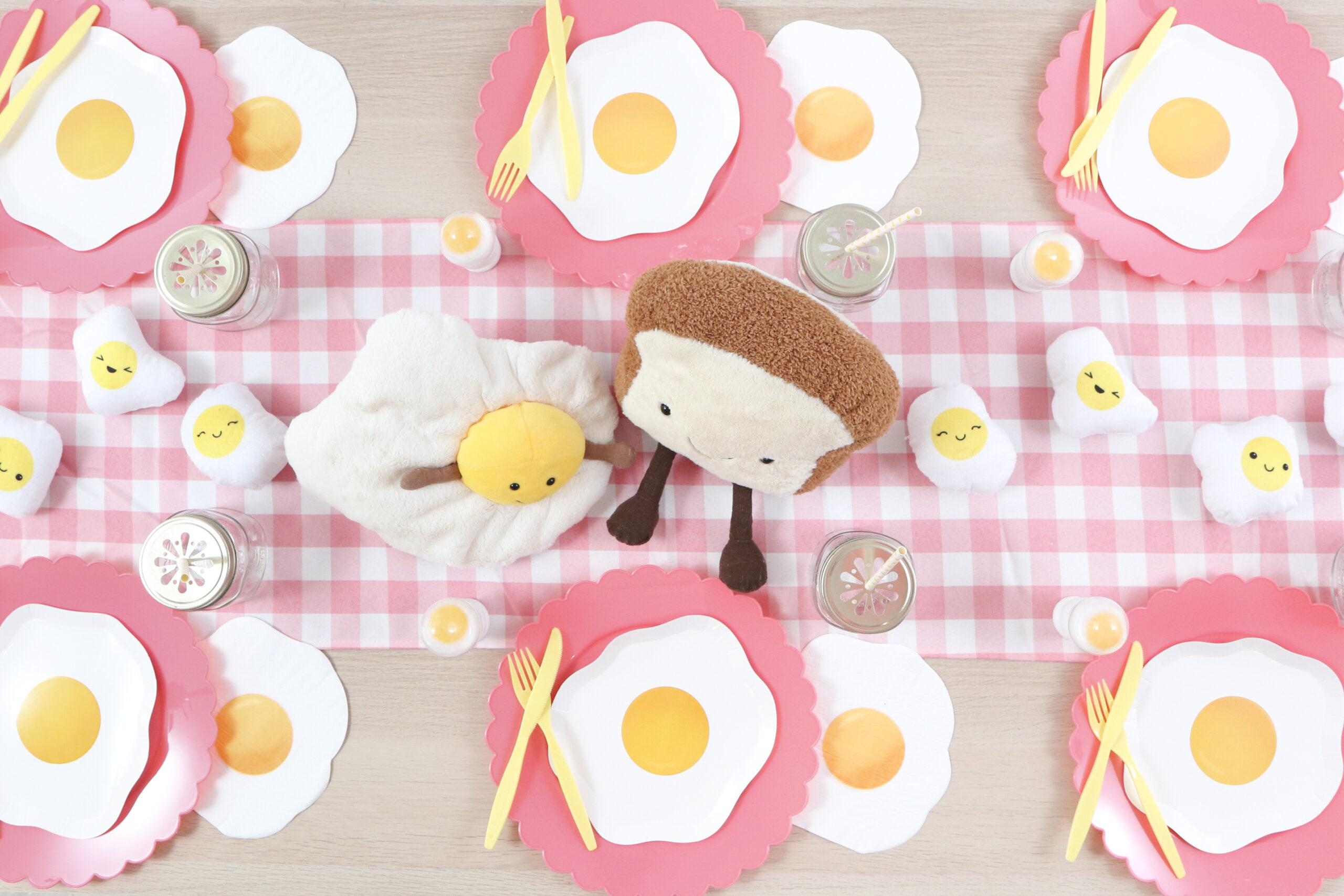 Finally, I set an egg slime favor from Oriental Trading in egg cups (painted white) at each seat. These are so fun, they even have a yellow disc in them to look like a yolk.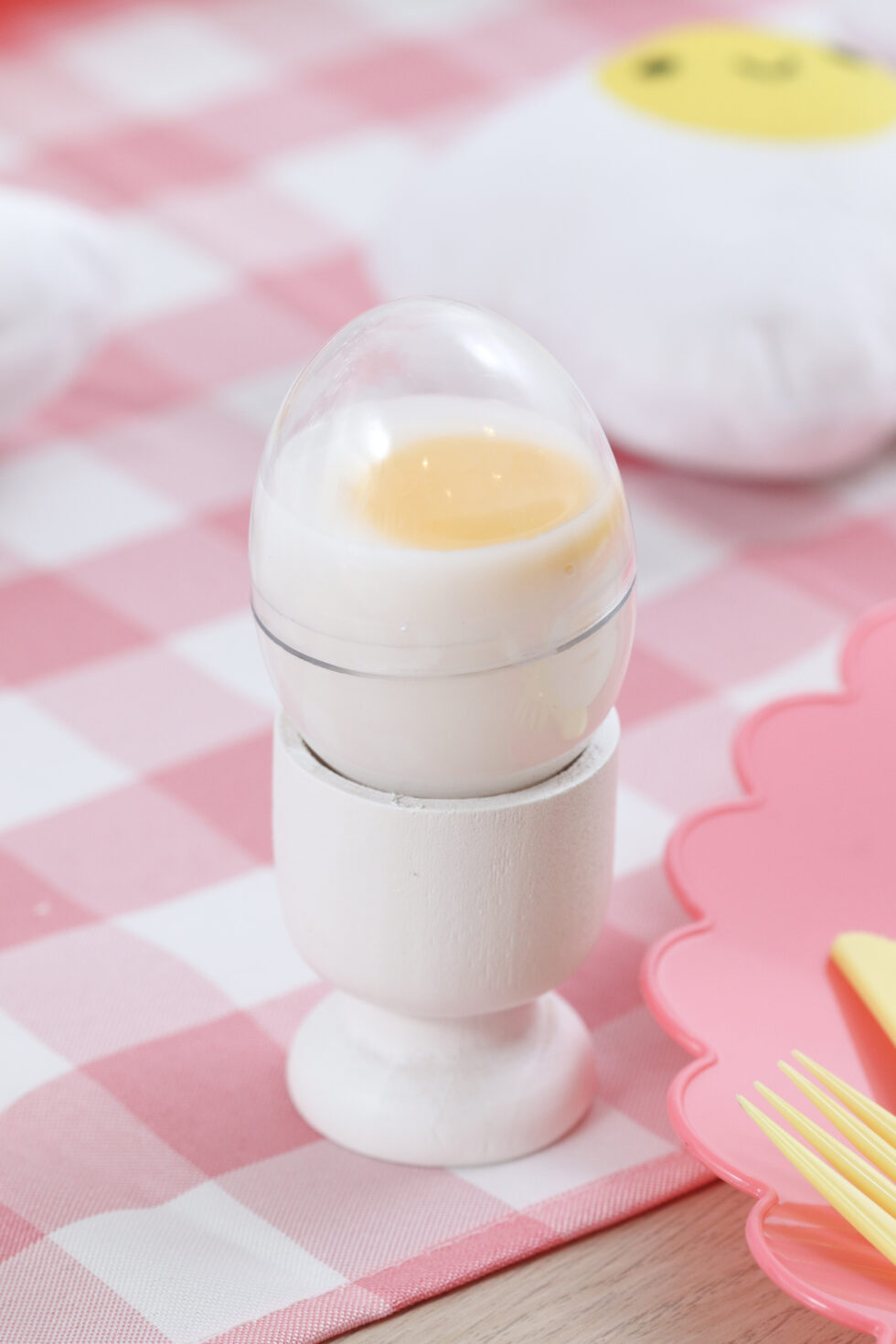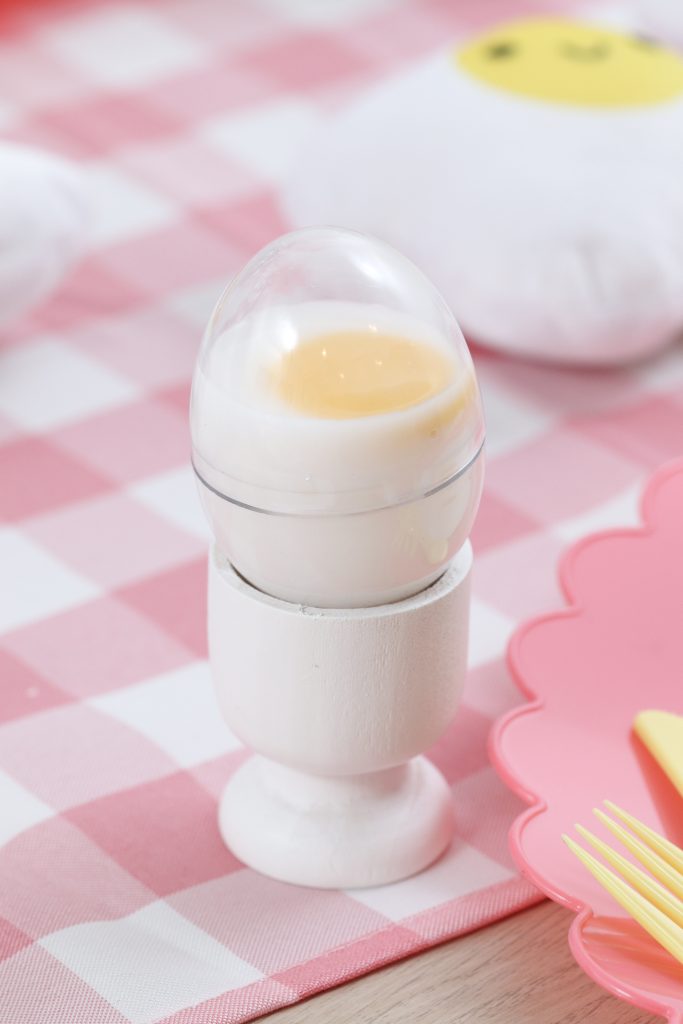 Keeping the kids busy over brunch is key! So I also added even more entertainment…. fried egg stuffies down the center of the table, each have different emoji like faces on them, and gave them fried egg splat balls to throw against the wall….talk about a fan favorite.  Great for getting out some of your stir crazy feelings!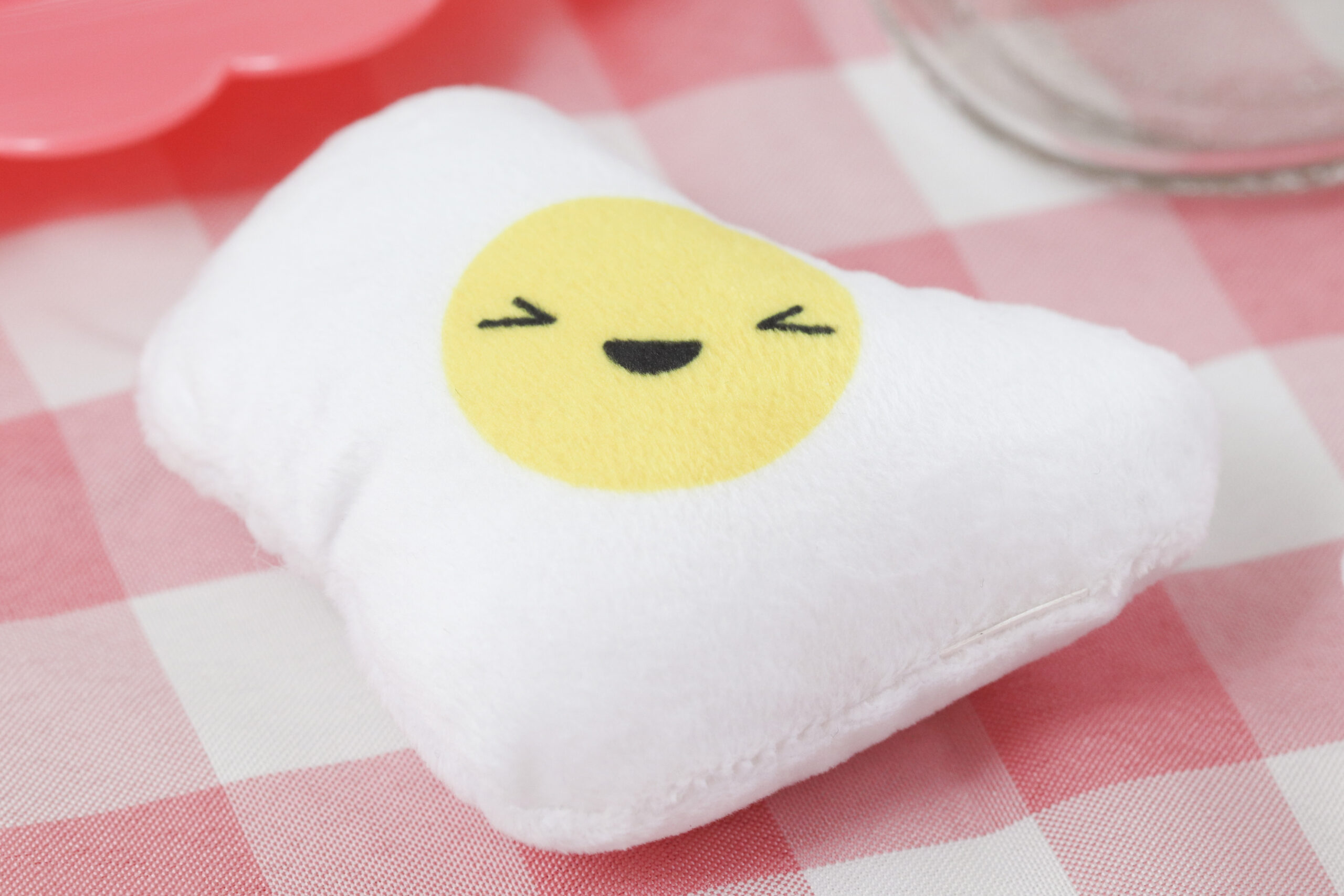 Pug Life
Am I the only one who puts on some gansta-rap when I want to feel a bit more hardcore than I might be feeling inside? When I found these adorable stuffed animal pugs dressed up as bunnies at Oriental Trading, I just had to get them and use them to embrace my inner "pug" .  Something to make my family smile.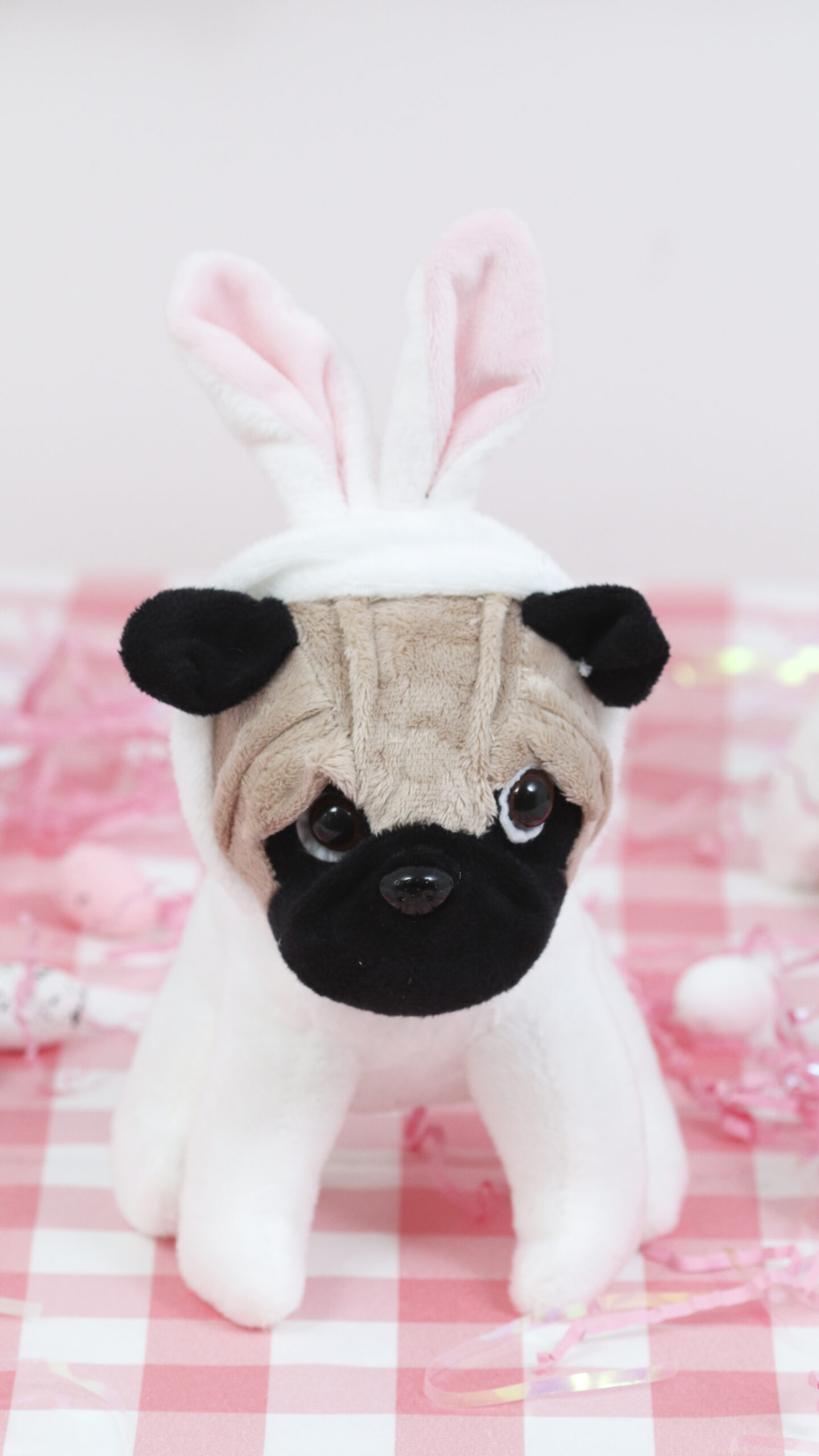 I set them up on a table on top of a perpendicular pink gingham table runner, and spelled out the words "Pug Life" in balloons as a backdrop.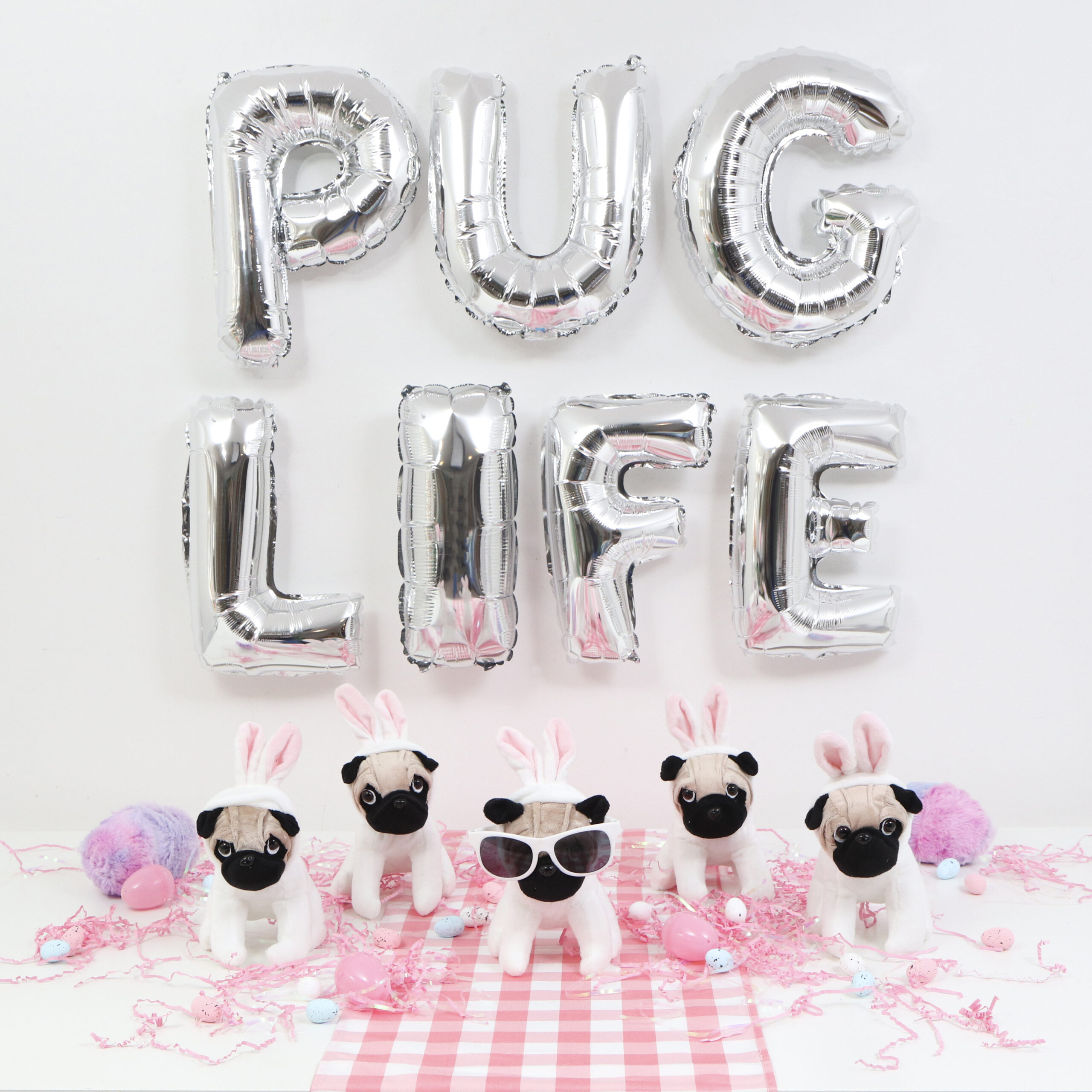 I then sprinkled some pink crinkle paper grass and a few pastel speckled eggs around their feet. For some real thung attitude I added a pair of sunglasses to the leader of the pack!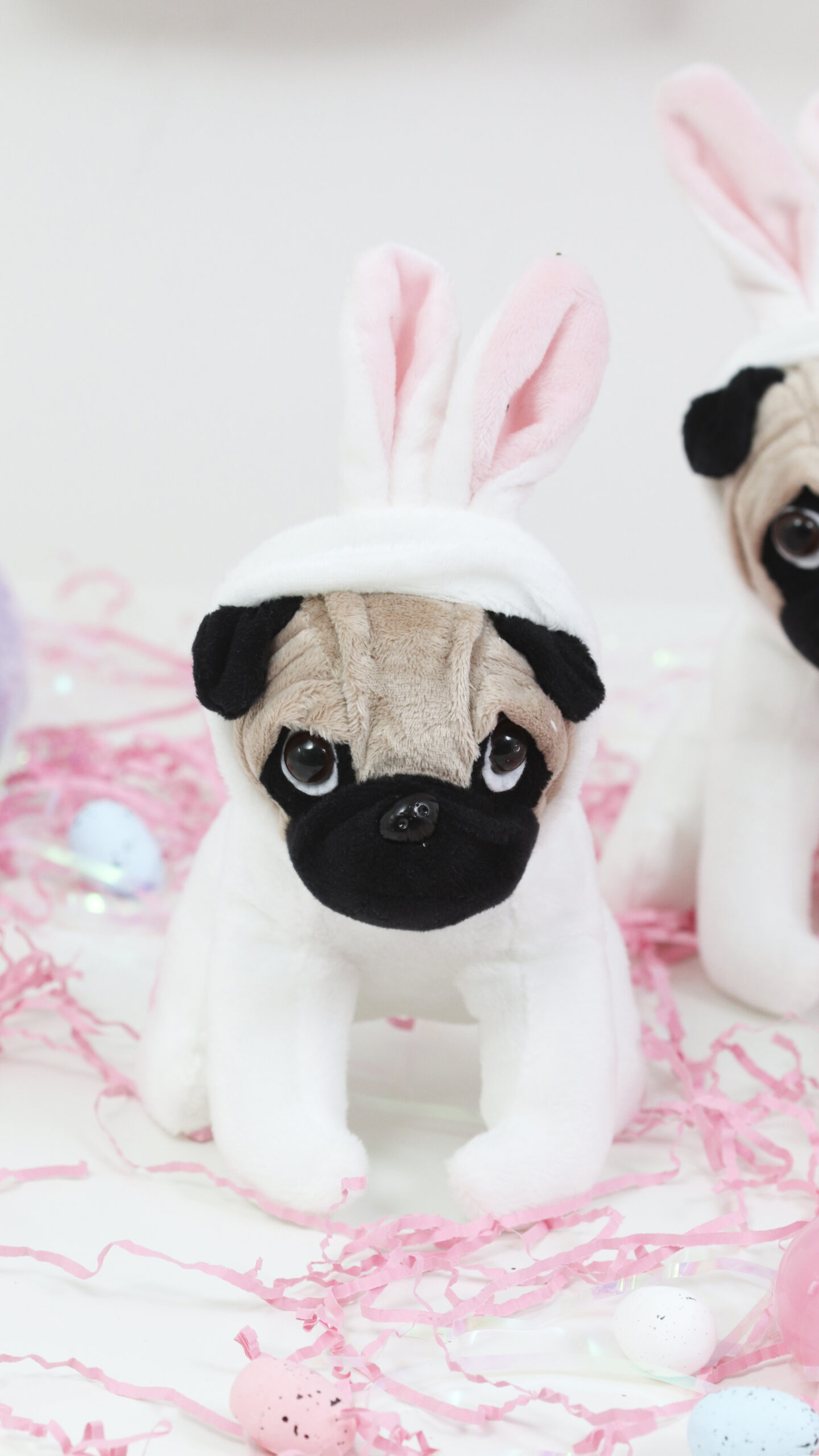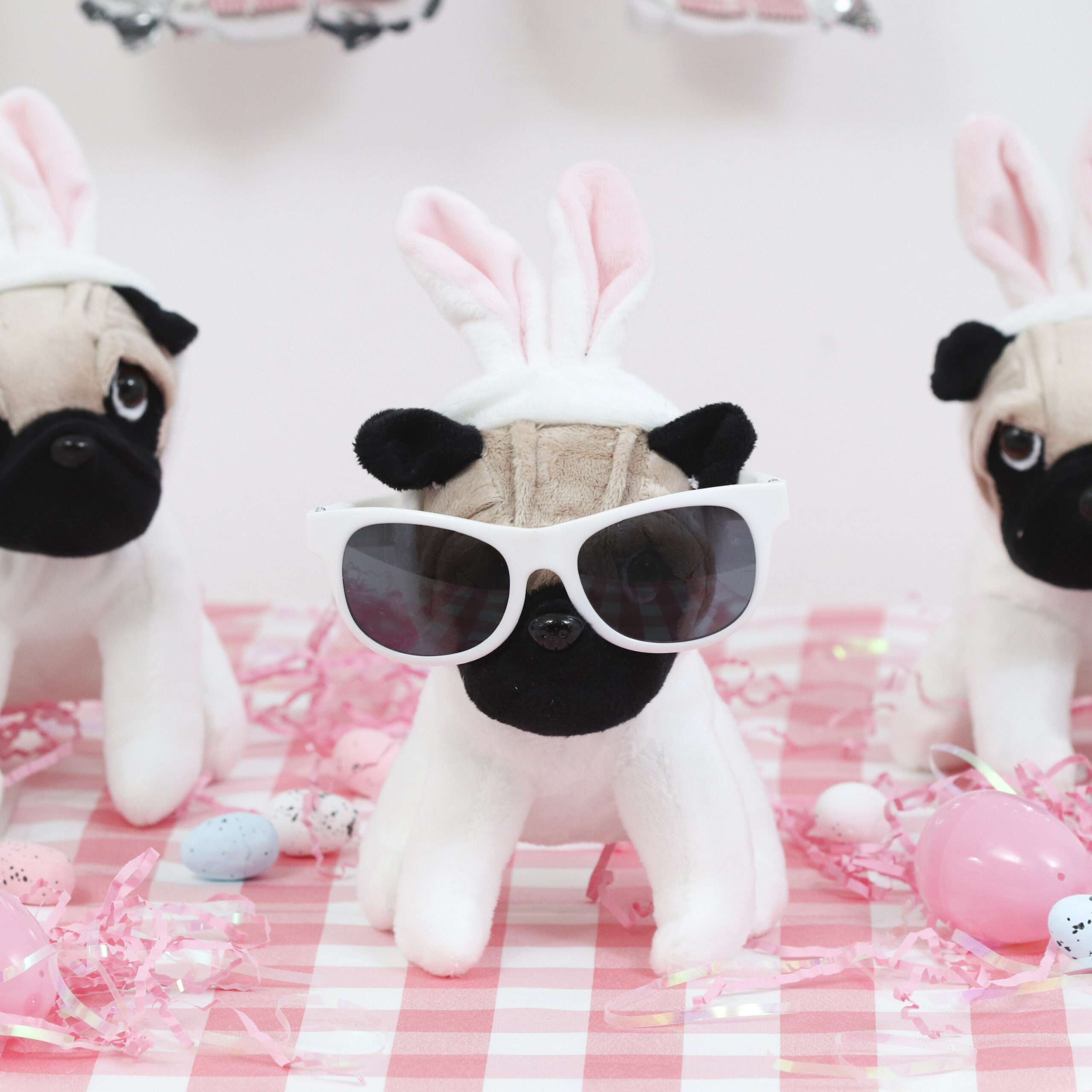 Then, it was time for a hip hop Easter dance party with the kids! It was such a great outlet for everyone! 
TIP: When a table is being used for displaying things rather than for place settings, setting the table runner perpendicular to the length of the table looks unique and calls attention to the center of the table where you want to highlight your decor!
Chicks Rule
One of the challenging things about this time of "social distancing" has been seeing how much my daughter Parker is missing her girl friends from school. We have been finding ways to stay connected digitally, but thought it might be a fun activity to create some gifts for them that we could drop off on their doorsteps to spread some cheer! Curbside delivery.
So, using the precious chick baskets from Oriental Trading, Parker and I worked together to create some "Chicks Rule" Easter baskets for all of her friends. After all her chicks really do rule!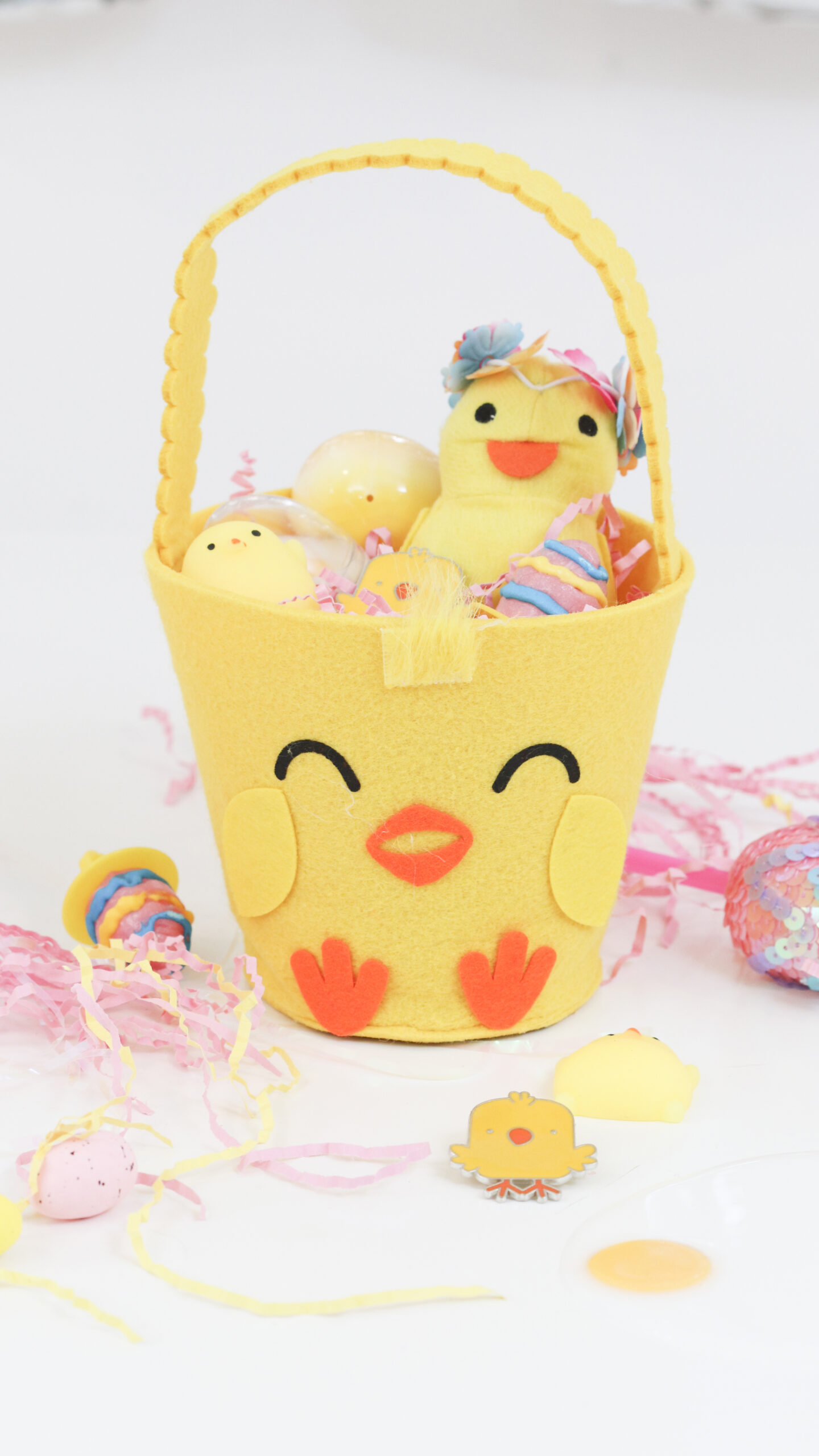 First I set the scene with a fun balloon pun on the wall and we got to work!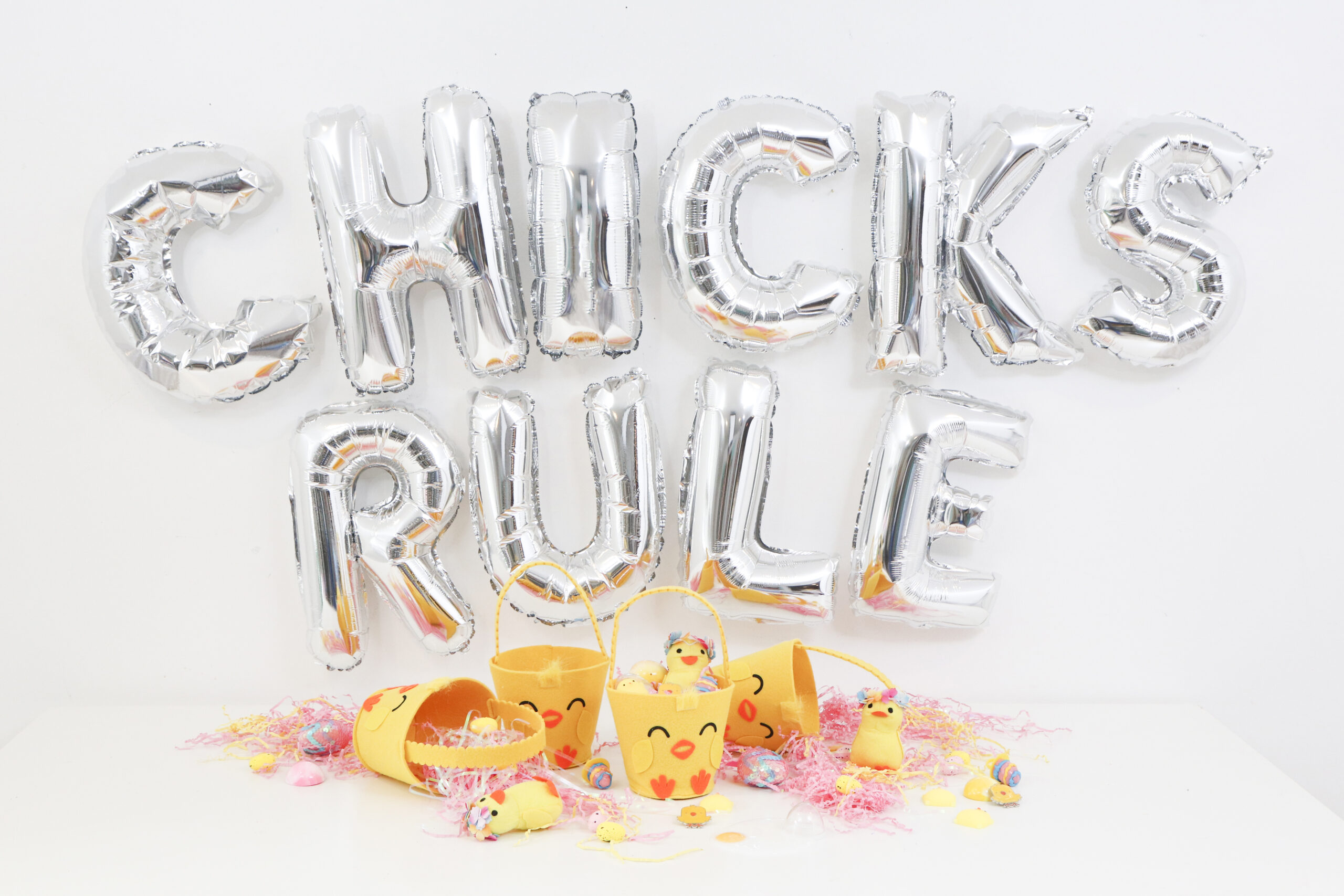 We packed each basket with a generous layer of pink crinkle paper grass, with some strands of yellow and iridescent clear mixed in for some extra pizzazz. 
TIP: Put a complementary, rather than matching, color of grass in your Easter baskets. This will add some aesthetic appeal and make the basket contents pop!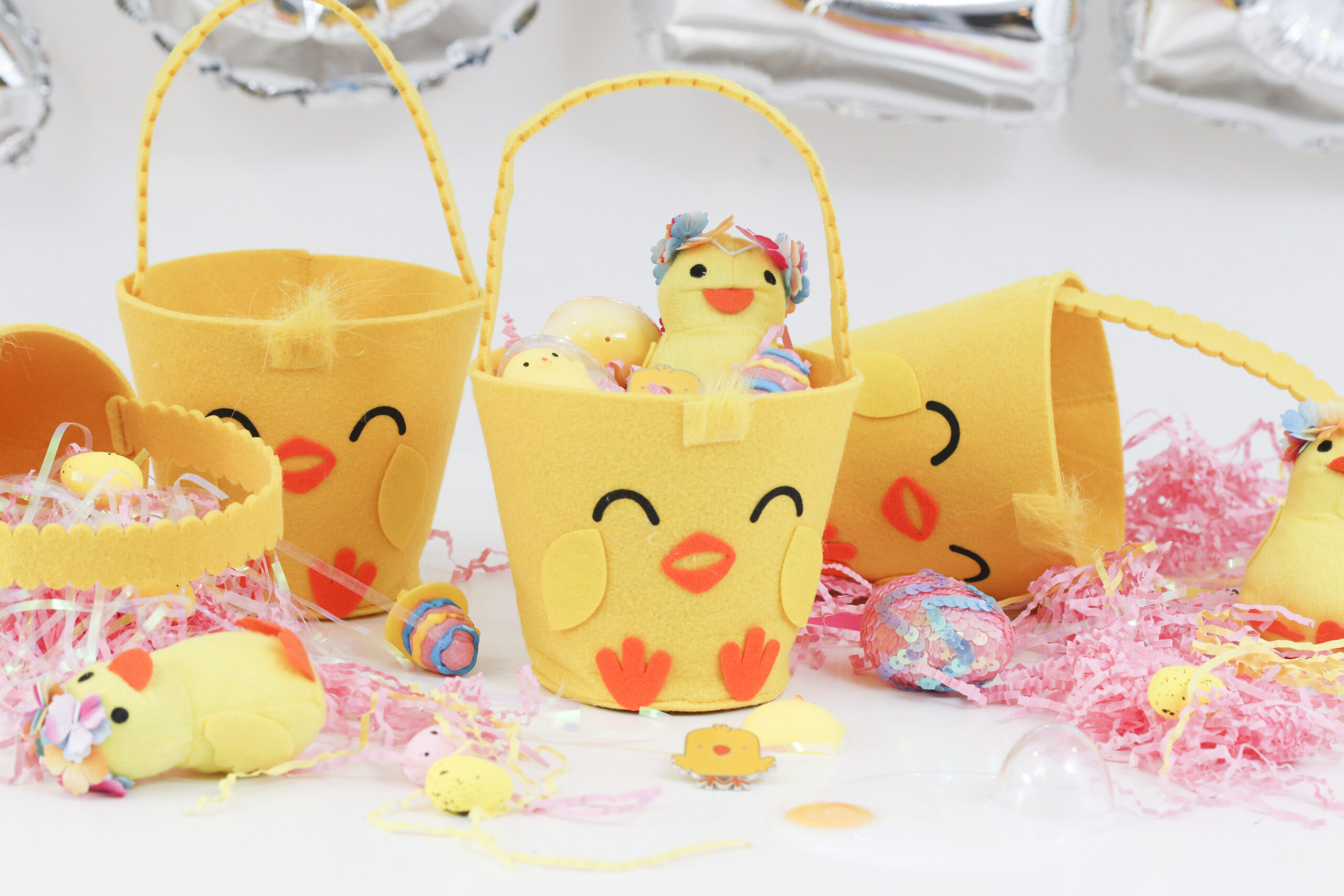 Then, we put all sorts of fun chick-related goodies in them! Starting with a cute chick stuffie with a floral crownn and an egg slime favor and then adding the cutest Mochi squishie.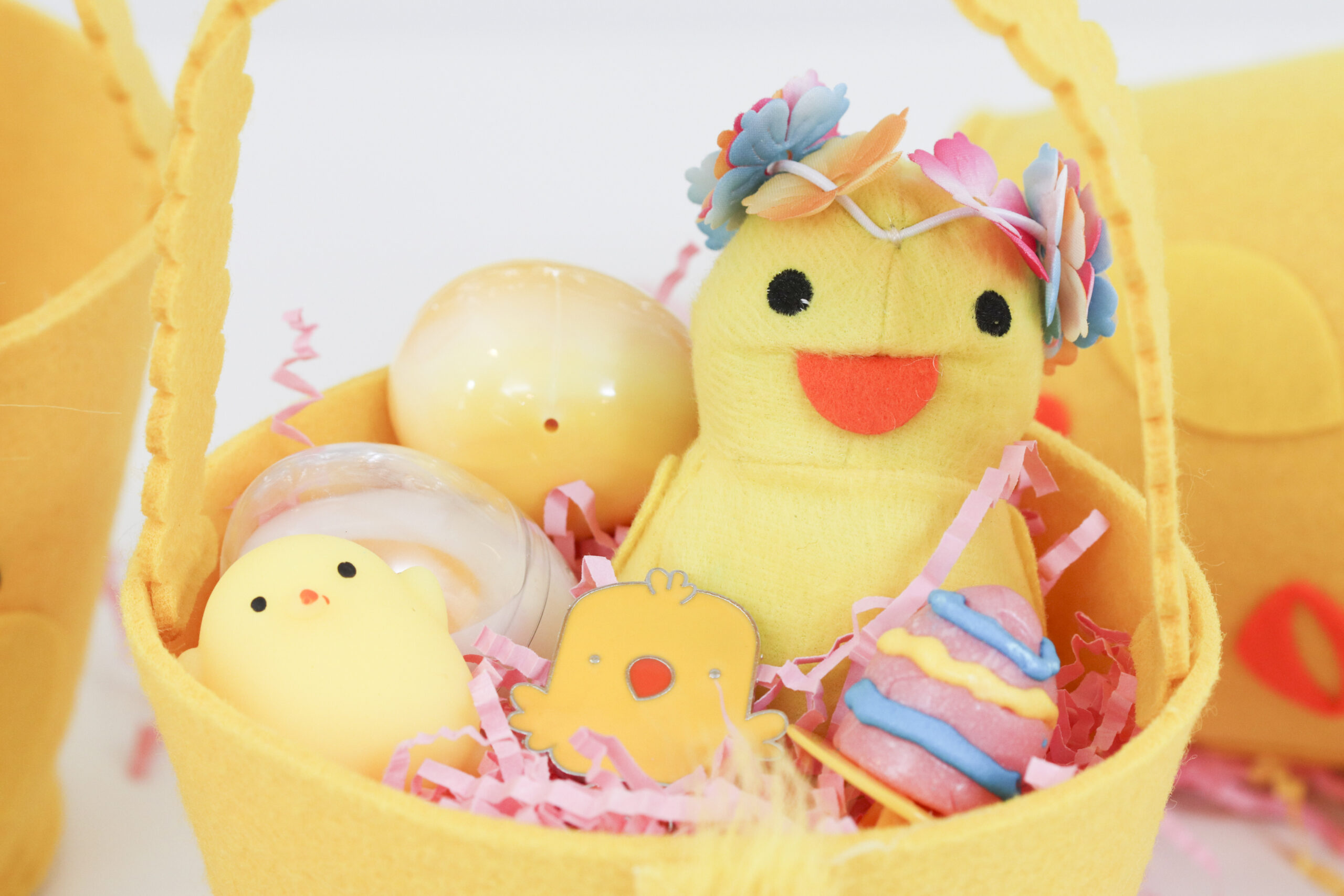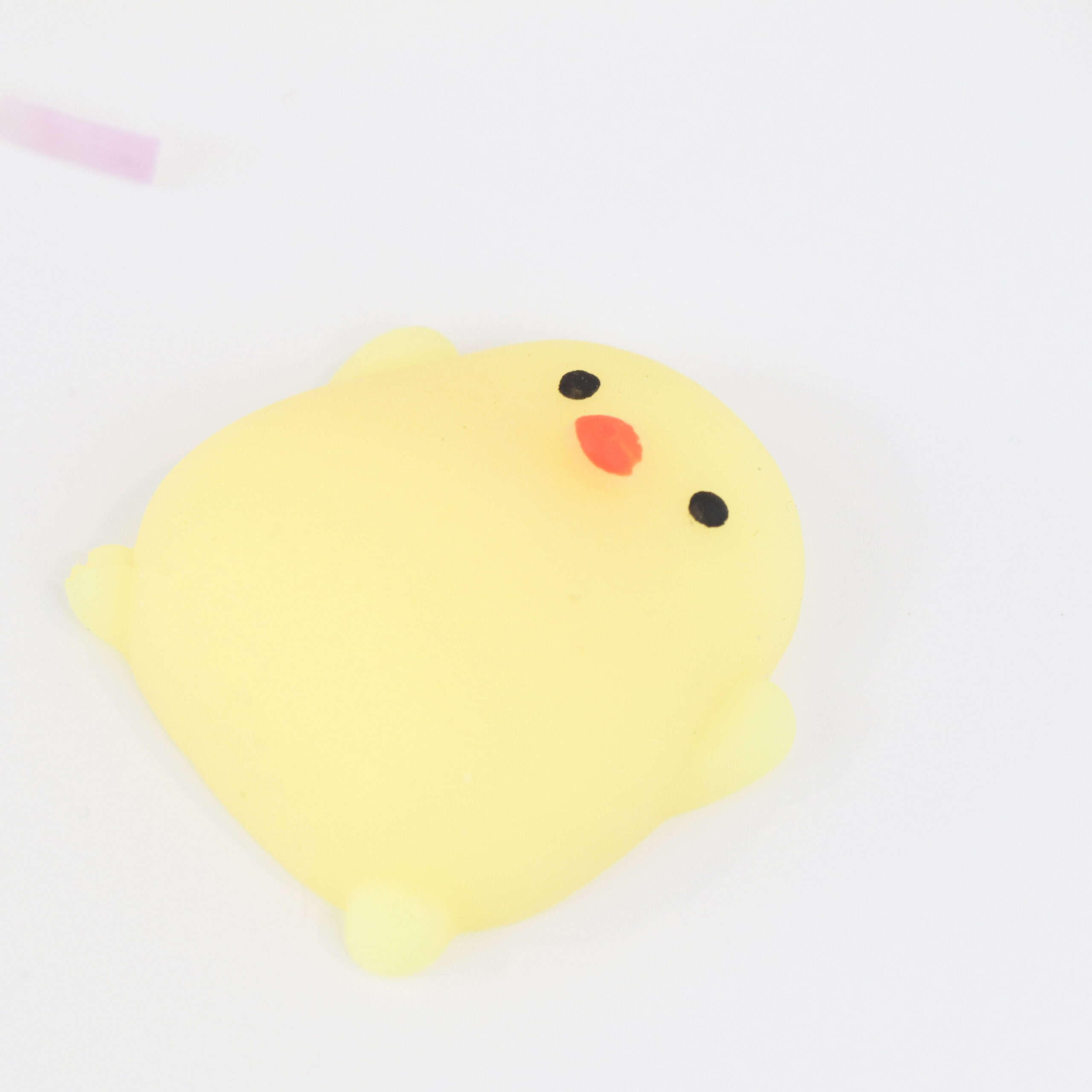 Finally I added a yellow marbelized pop-it (have you seen how high these go?!), a egg ring pop and an adorable chick enamel pin.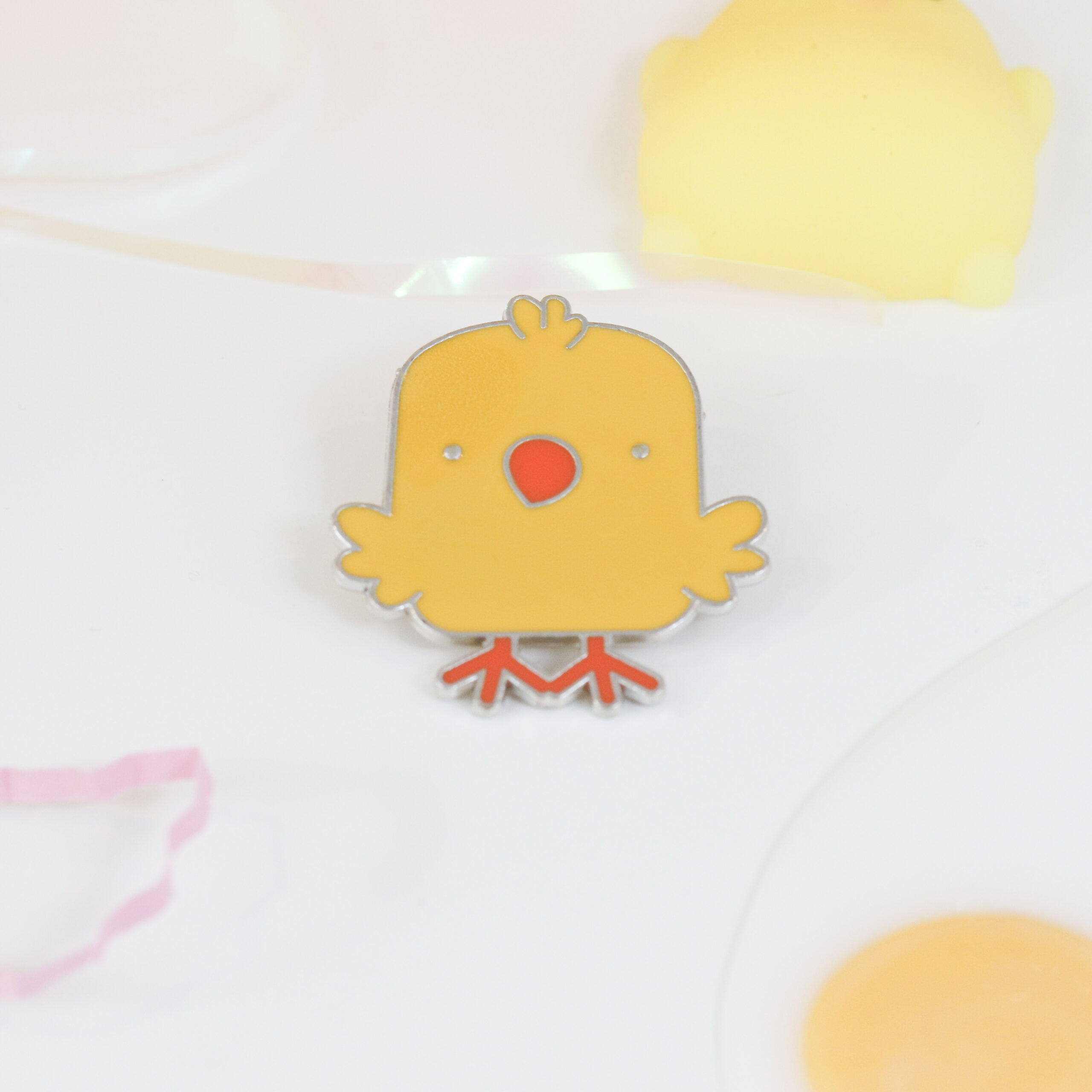 I will take any eggs-cuse to have some fun right now. I hope these ideas have inspired you to keep looking for the sunny side of things! 
For more Easter ideas- check out my recent Contemporary Black and White Easter post!
Hoppy Easter!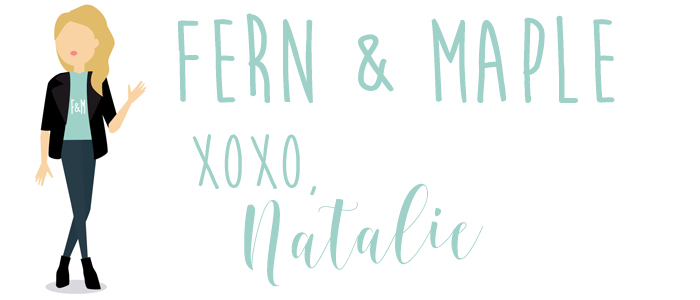 As a blogger, I often receive compensation and/or products in exchange for my styling and crafting services. As always, all project ideas and any opinions expressed here are my own.  For further information on our disclosure policy please check out our disclosure page.
PIN FOR LATER: