We all love hanging out with friends, eating, drinking, chatting – but sometimes its fun to change it up a bit and incorporate a new activity to bond over. And why not learn a new skill like flower arranging while bonding!  It is the perfect activity to share. You can call your local florists to see if they are willing to help, or, if you can't find someone, find an online video with a few simple techniques! Perfection isn't the goal here – fun with friends is!
"Mix, Mingle, Make" represents my love of hosting a mix of friends & introducing them to new friends, as well as having an "activity".   Having something to do at a party is a great conversation starter and always leads to laughter.  It really breaks down the barriers as people don't actually have to approach one another and start the conversation cold, they have a natural opening.  This Mix, Mingle, and Make Flower Arranging Party is perfect for Galentine's Day, Birthday, Shower, Bachelorette party, or just for fun anytime!
Read on to get my tips on hosting a class, some fun DIYs and decor inspiration!
P.S. Check out my Amazon Shop for an easy one-stop shop for many similar or alternative items to the ones I used in this party!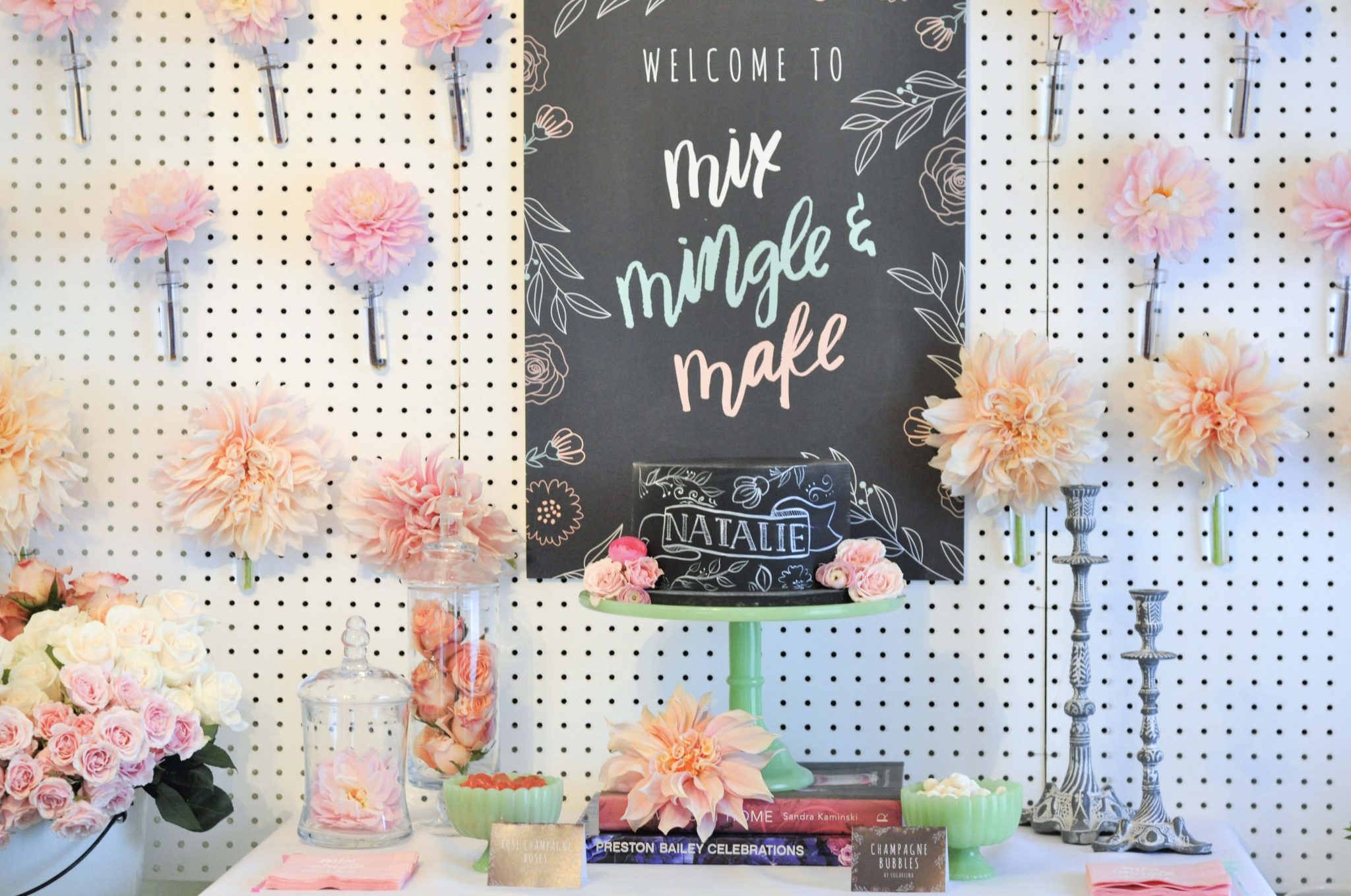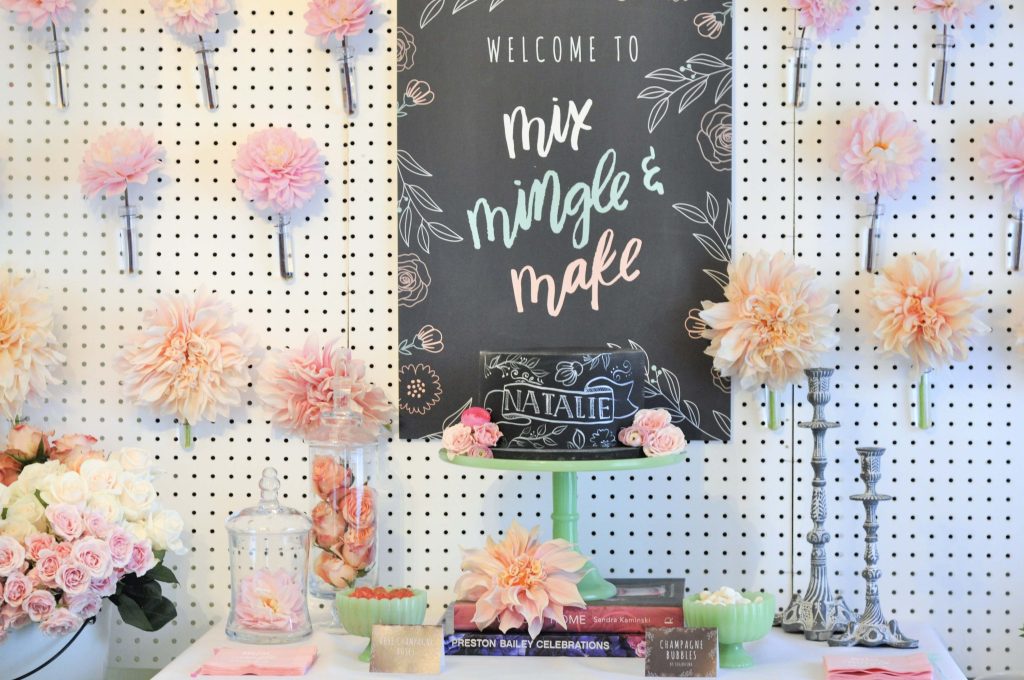 I love flowers, for the longest time I've wanted to be able to put my flowers into a vase and have them look more as I see them in my mind, not a jumbled mess LOL.  A few years back (wow I can't believe it was 4 years ago!) this led me to hosting a floral workshop in my home.  My birthday was coming up so it was the perfect excuse to have my friends join me for drinks, nibbles and an evening of flower arranging.
I am lucky to know an extremely talented floral designer, Susan Chambers of bloominCouture, who was willing to teach my friends and I how to arrange flowers like a pro for my birthday – she is very entertaining and quick to laugh, the perfect teacher and partner in crime for a Flower Arranging Party to fit the occasion.  Oh boy did we have fun at the flower market!! All flowers sourced and grown locally in San Francisco.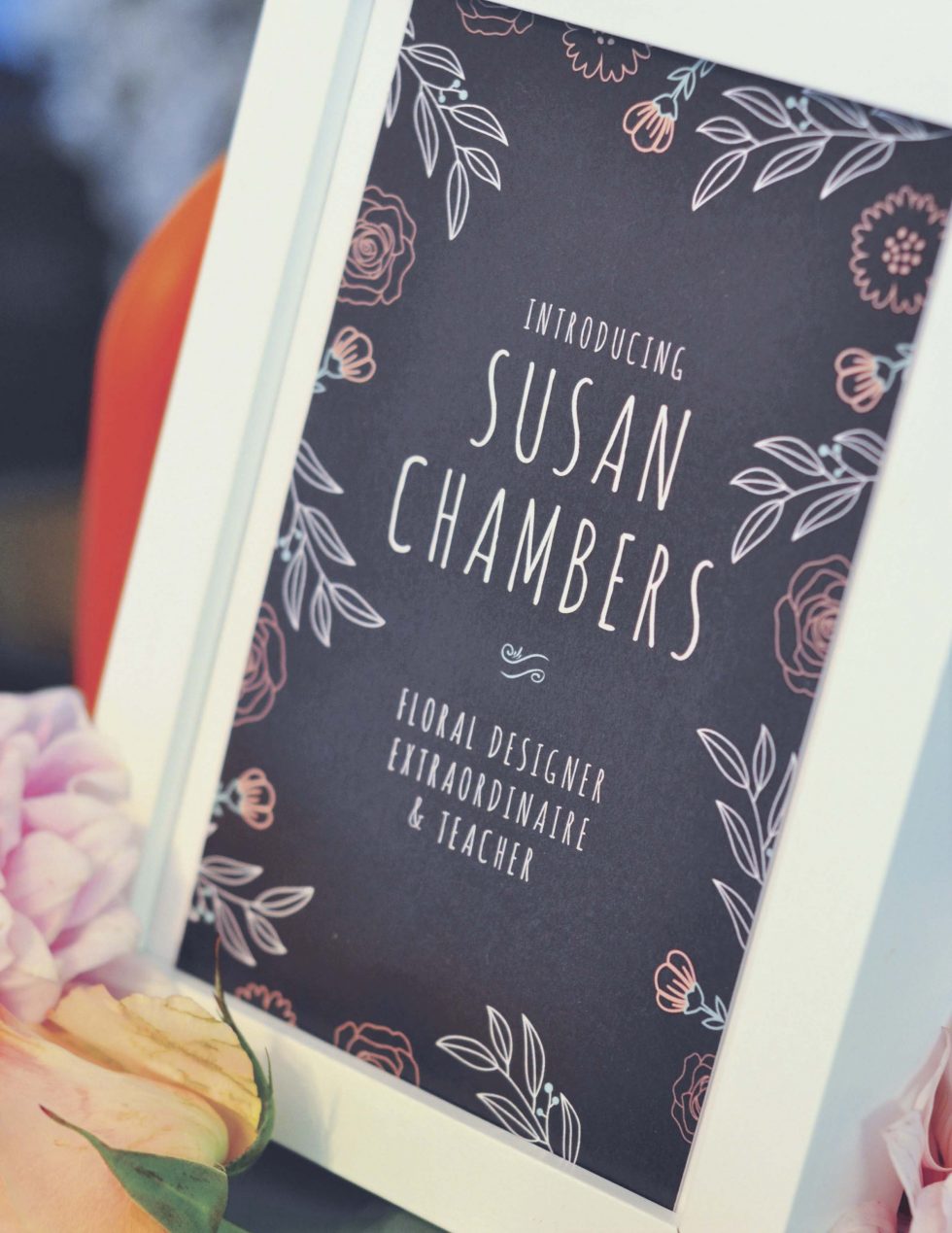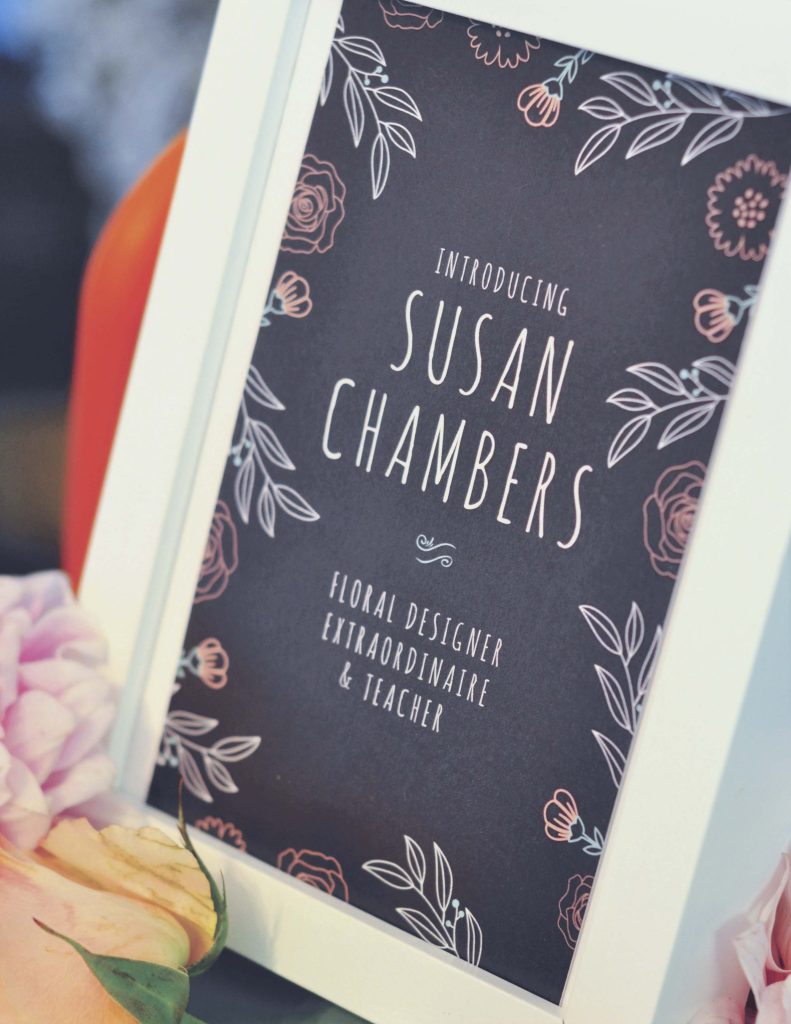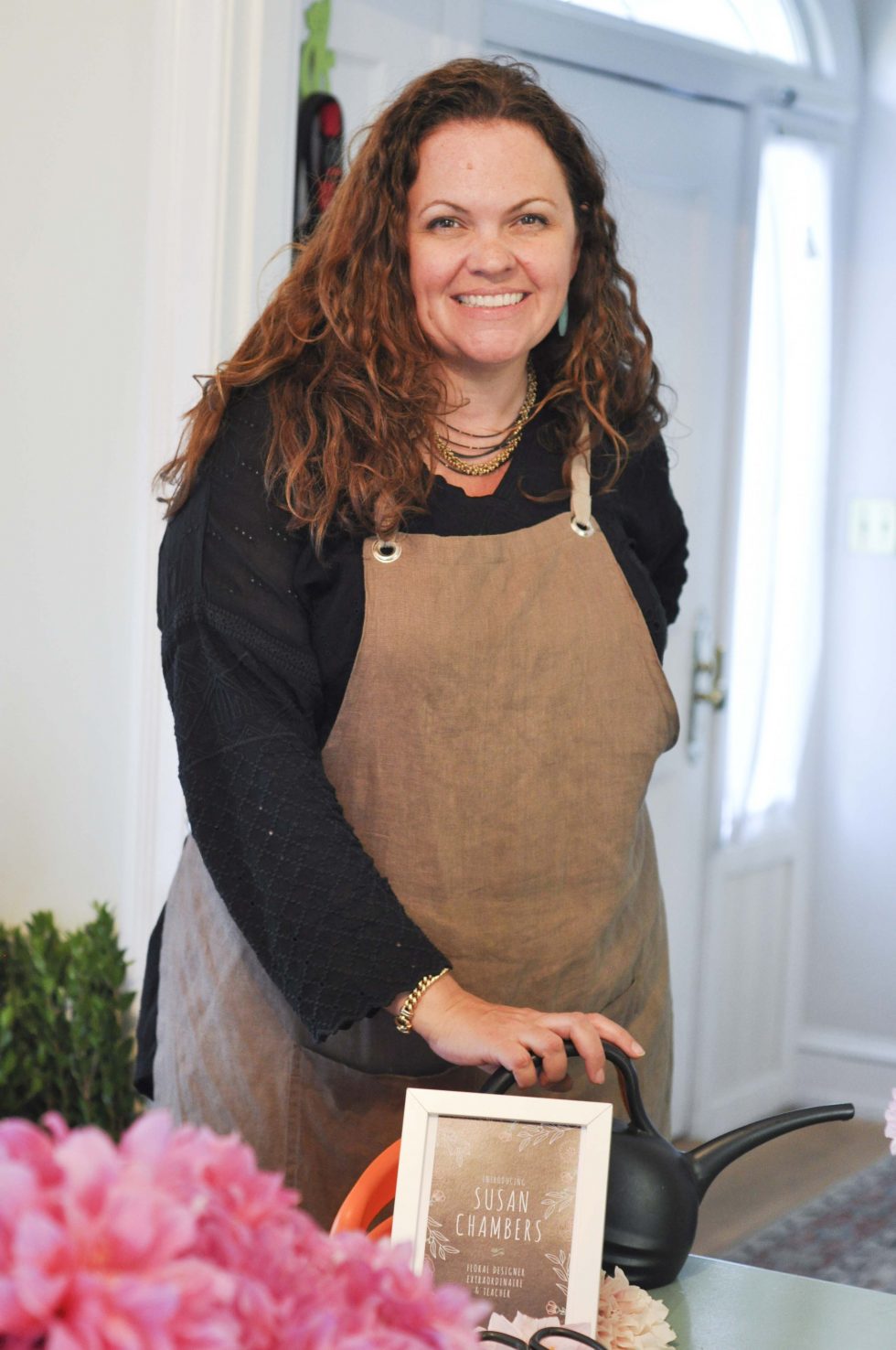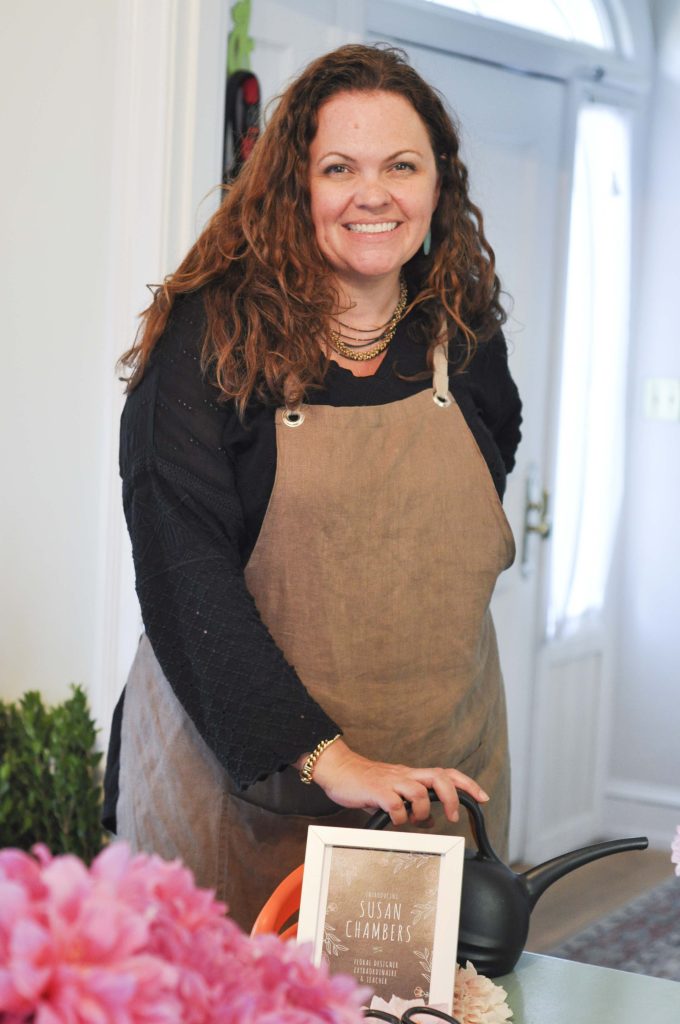 DIY Pegboard Floral Backdrop
To set the scene, I created a floral backdrop by using a large white pegboard. I hung a black chalkboard-style "Welcome to Mix Mingle Make" sign in the center. Then, I used wire through the holes to create loops that held up floral water tubes around the sign, these I filled with dahlias. I also stuck some dahlias directly into the holes at the top in a line to create a border. Aren't they divine!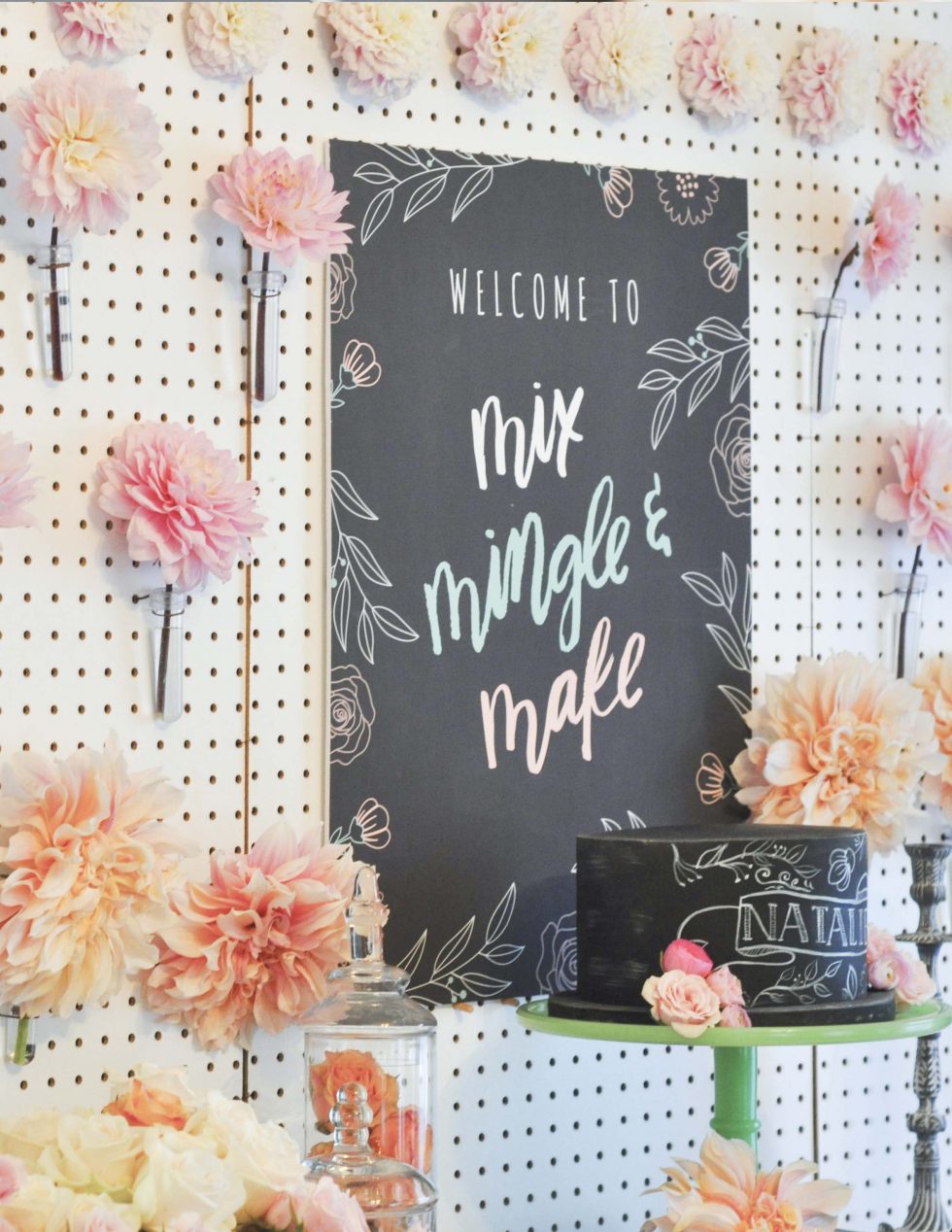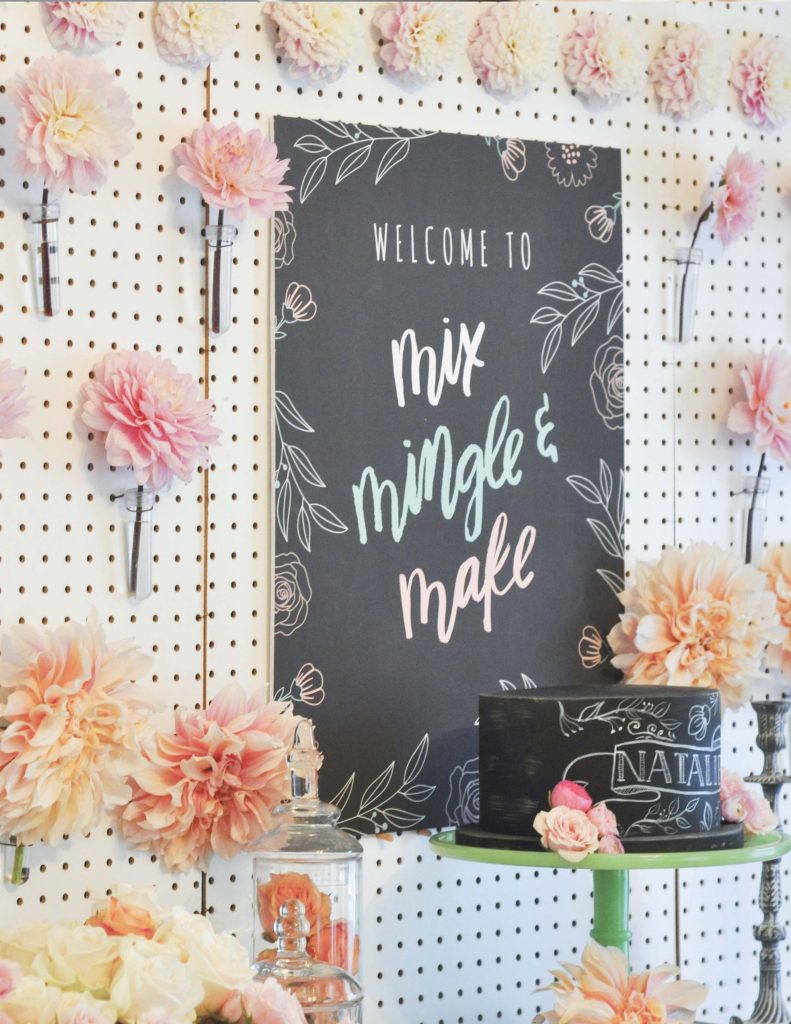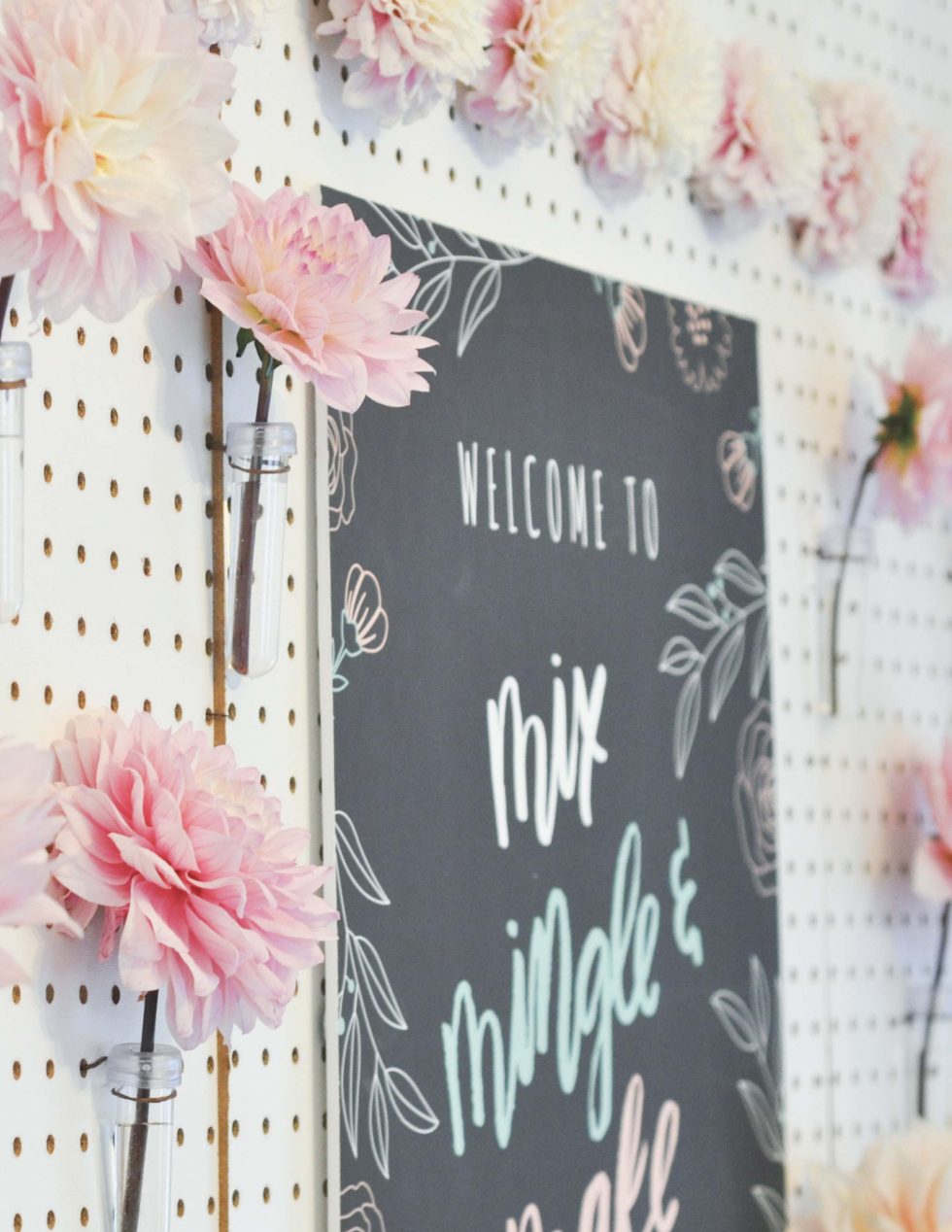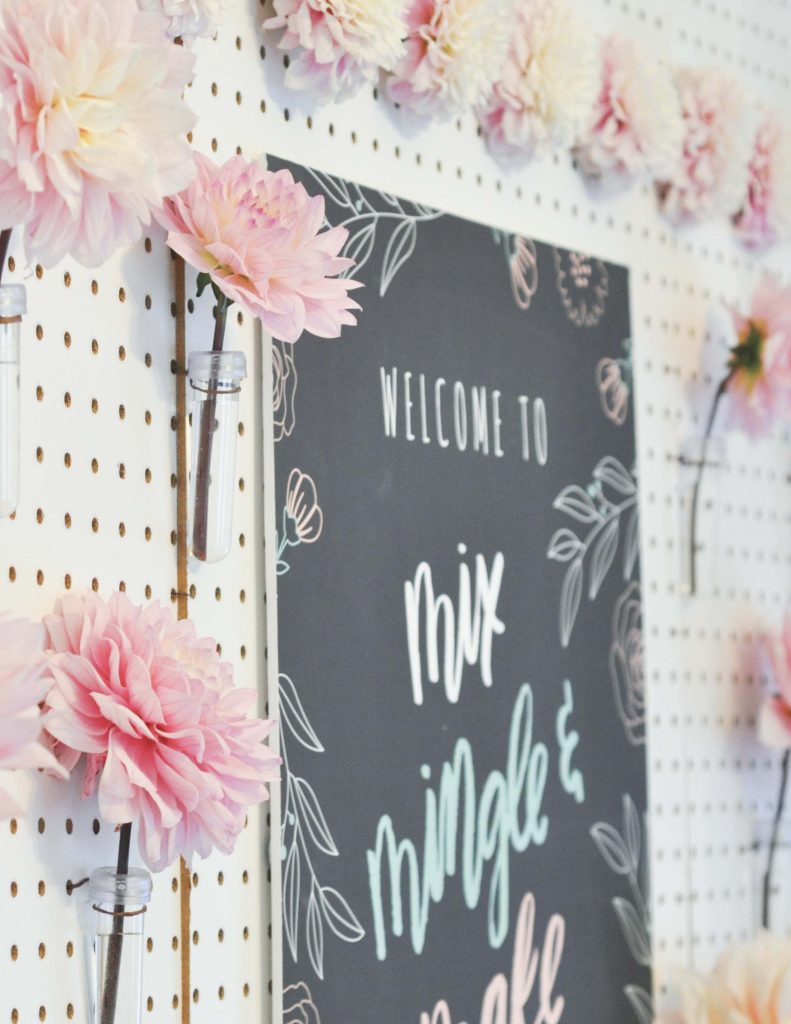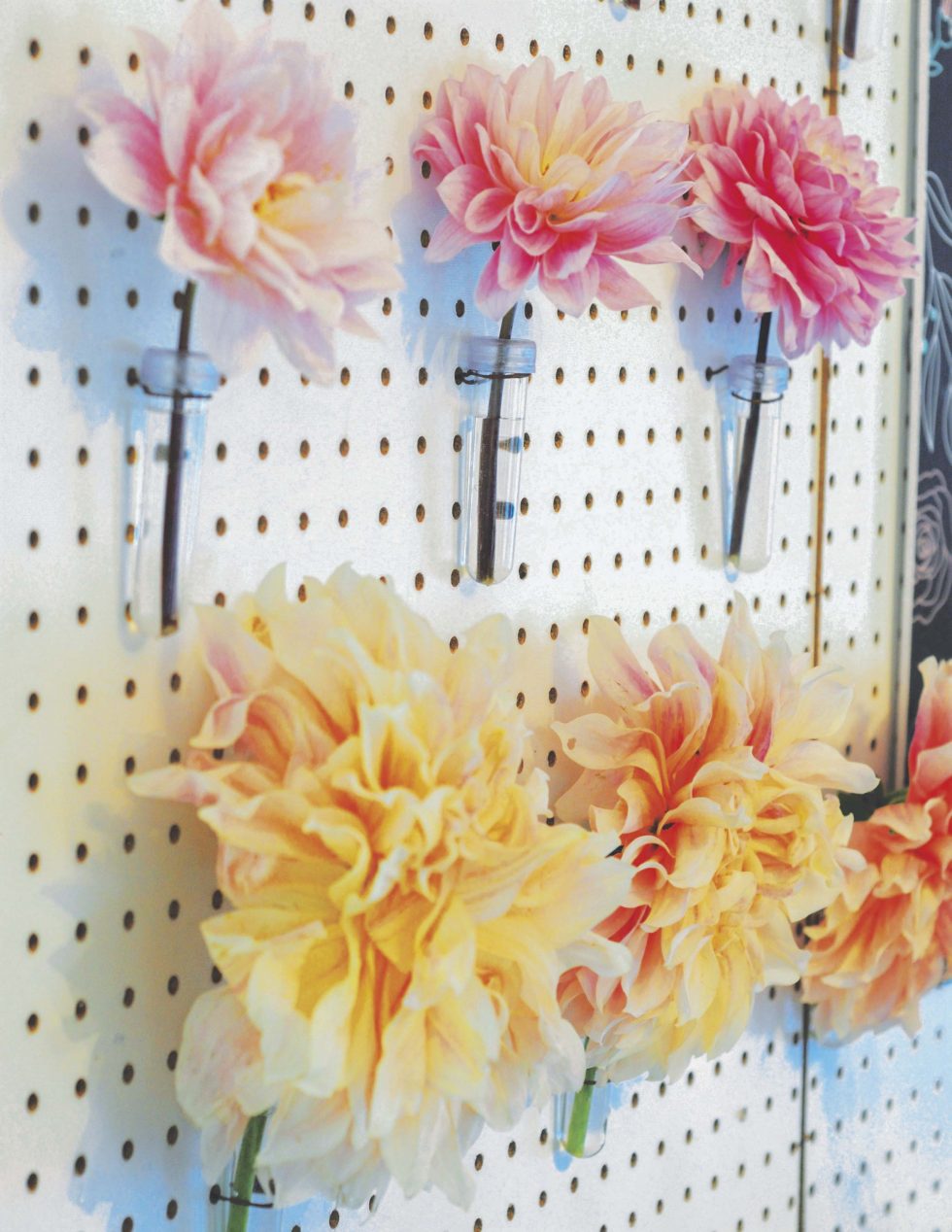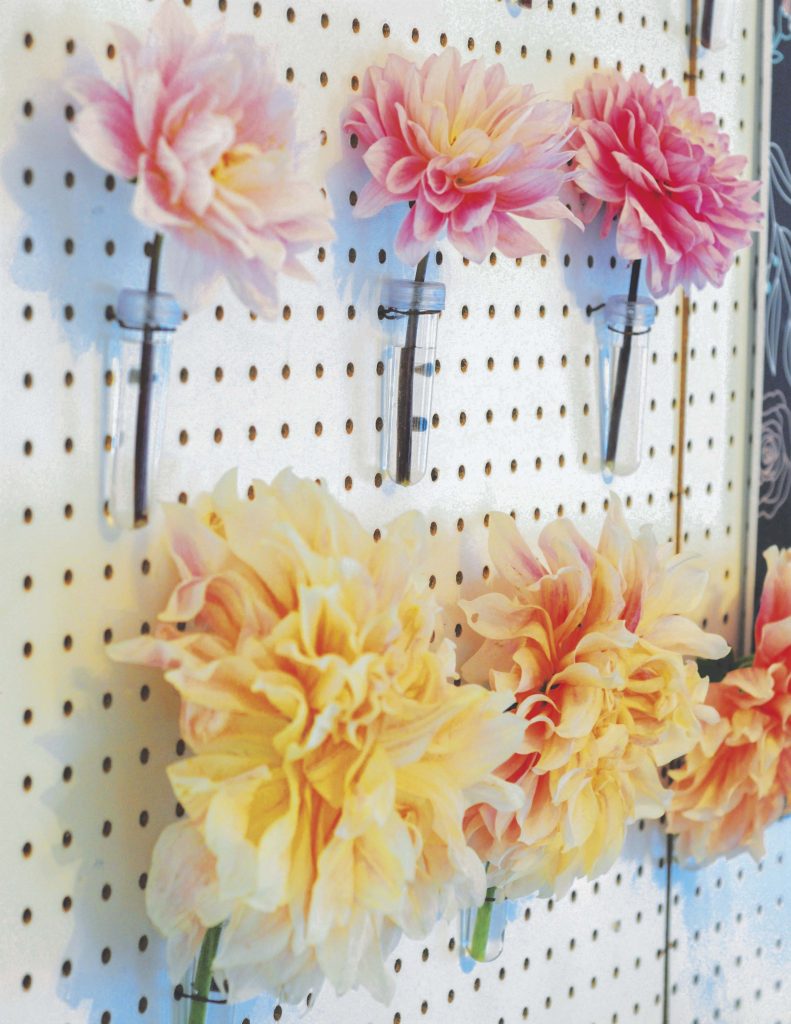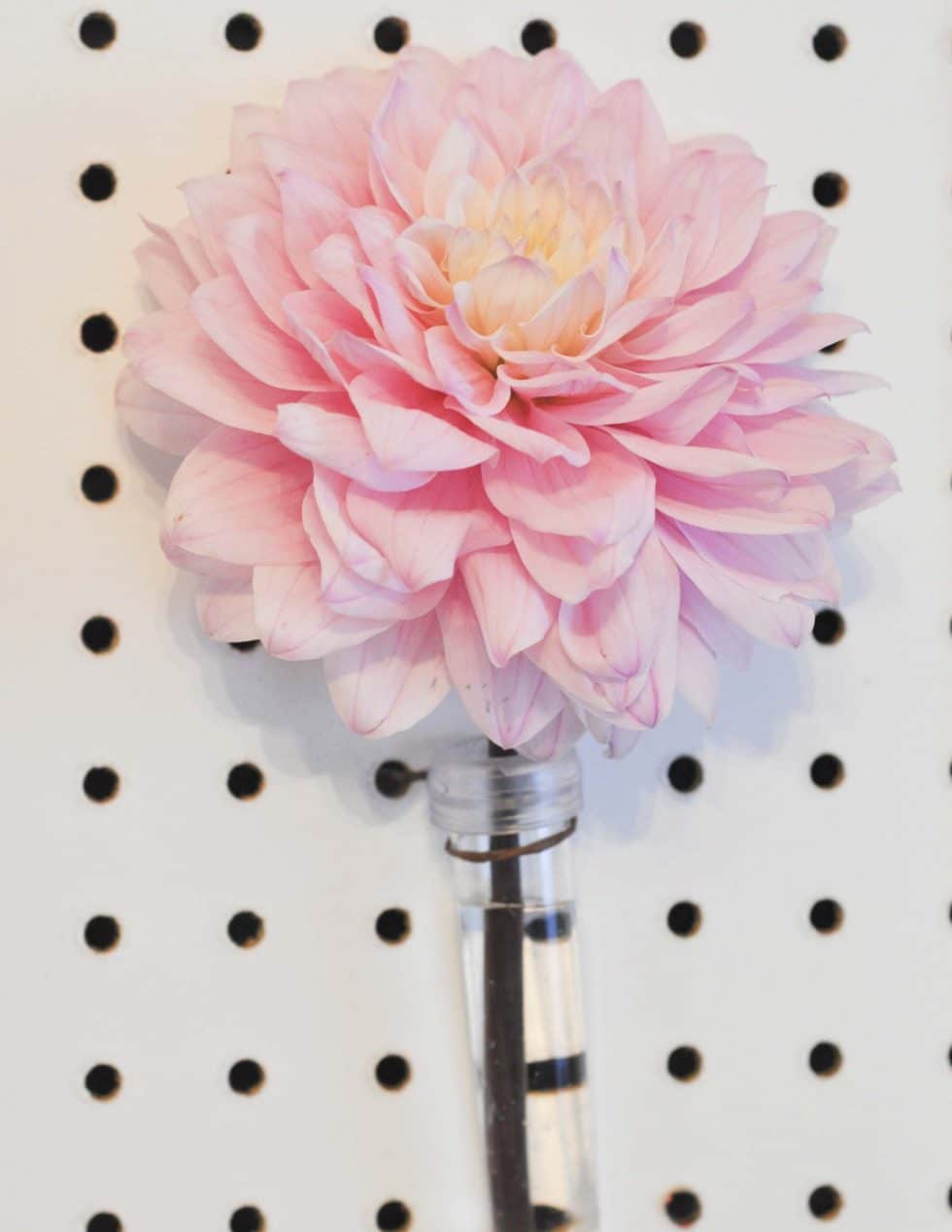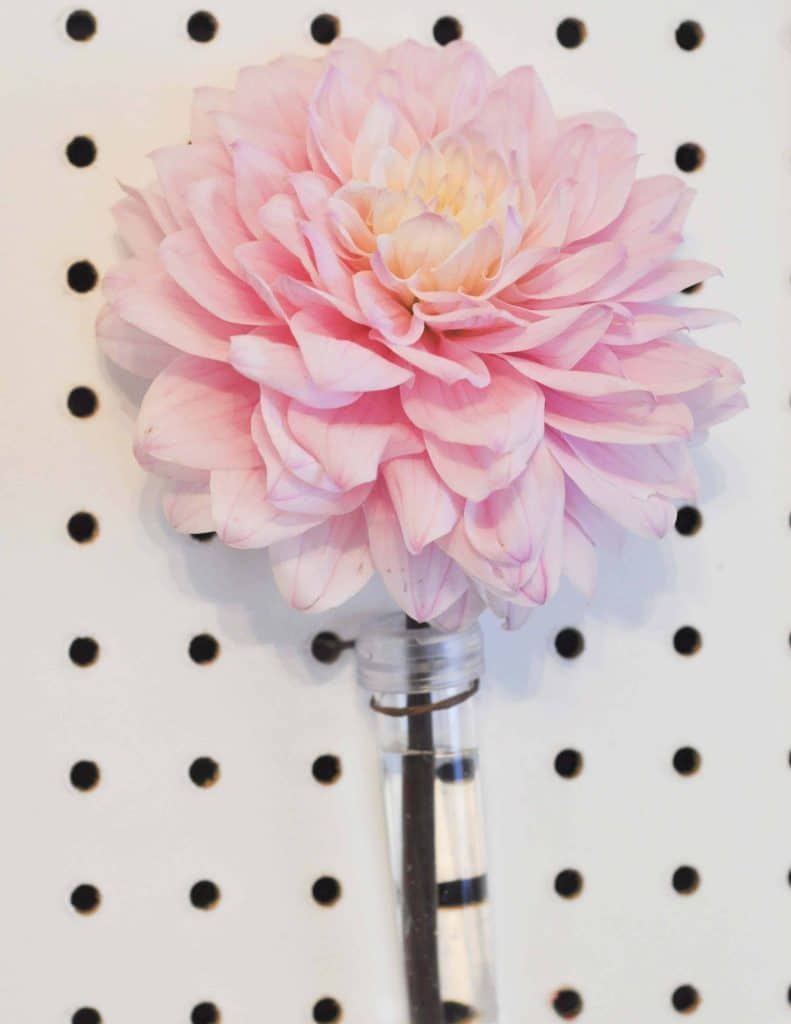 Dessert Table
Underneath the backdrop, I set up a dessert table. The cake, of course, took center stage! It was a gorgeous chalkboard-inspired cake with my name on it. The chalkboard design was based off the graphics and integrated perfectly with the sign. I placed the stand on a few celebration-themed books for extra height and if you sat down and looked up the cake looked like part of the sign.
Then I adorned it with fresh flowers, set it on a mint green stand. and added another dahlia to the base.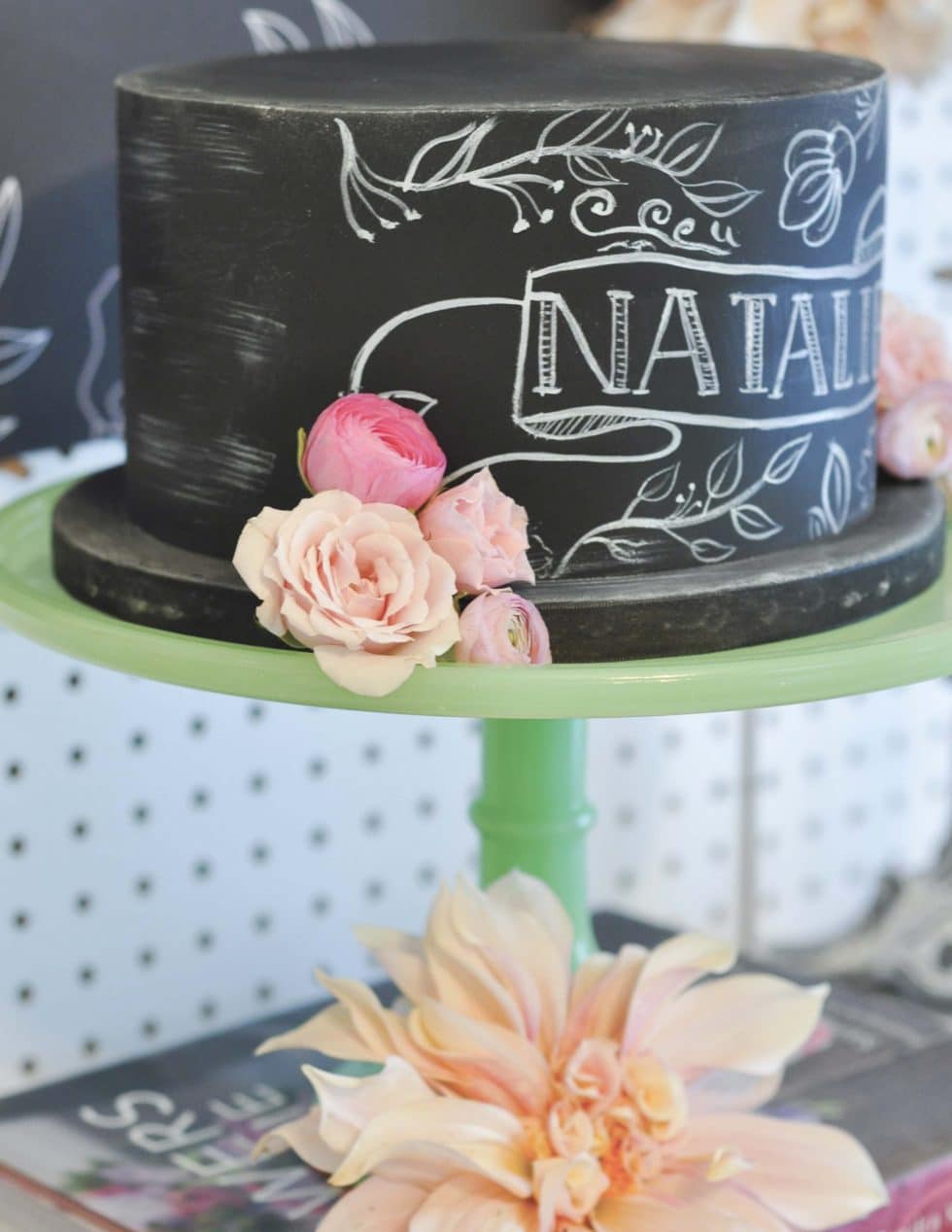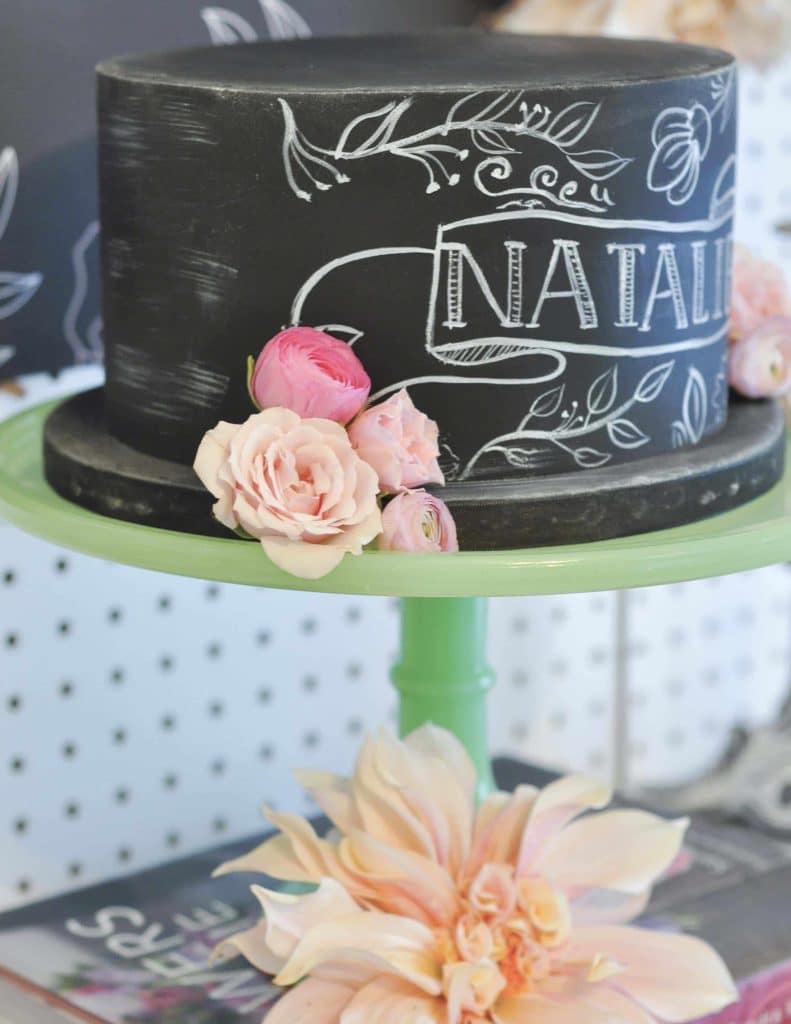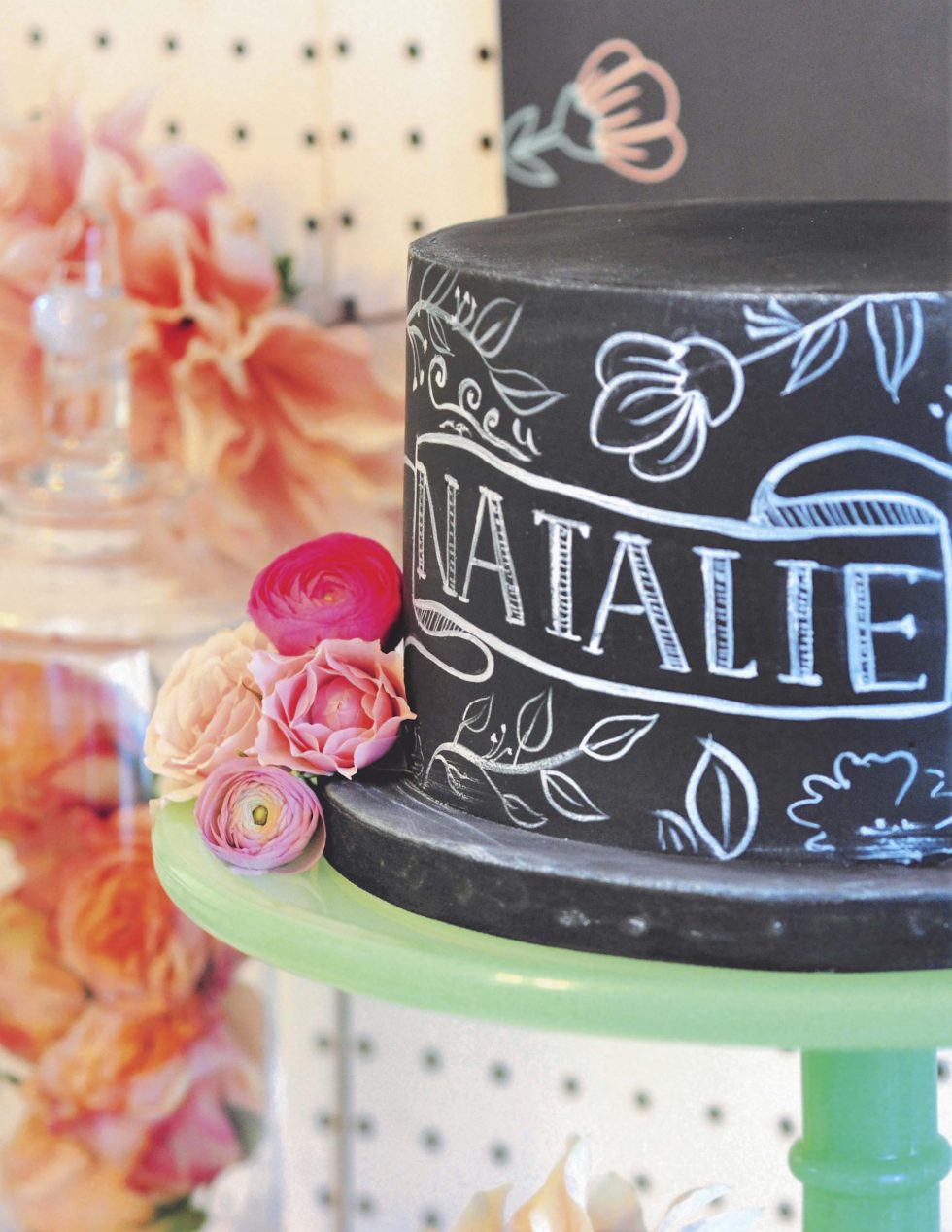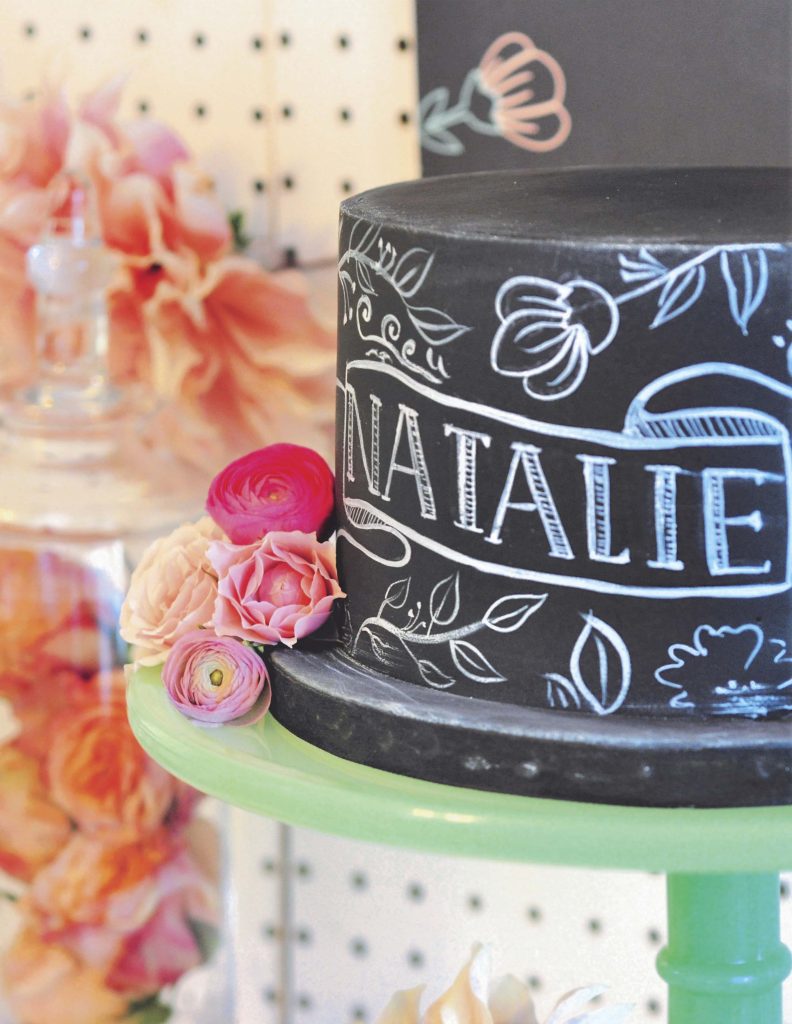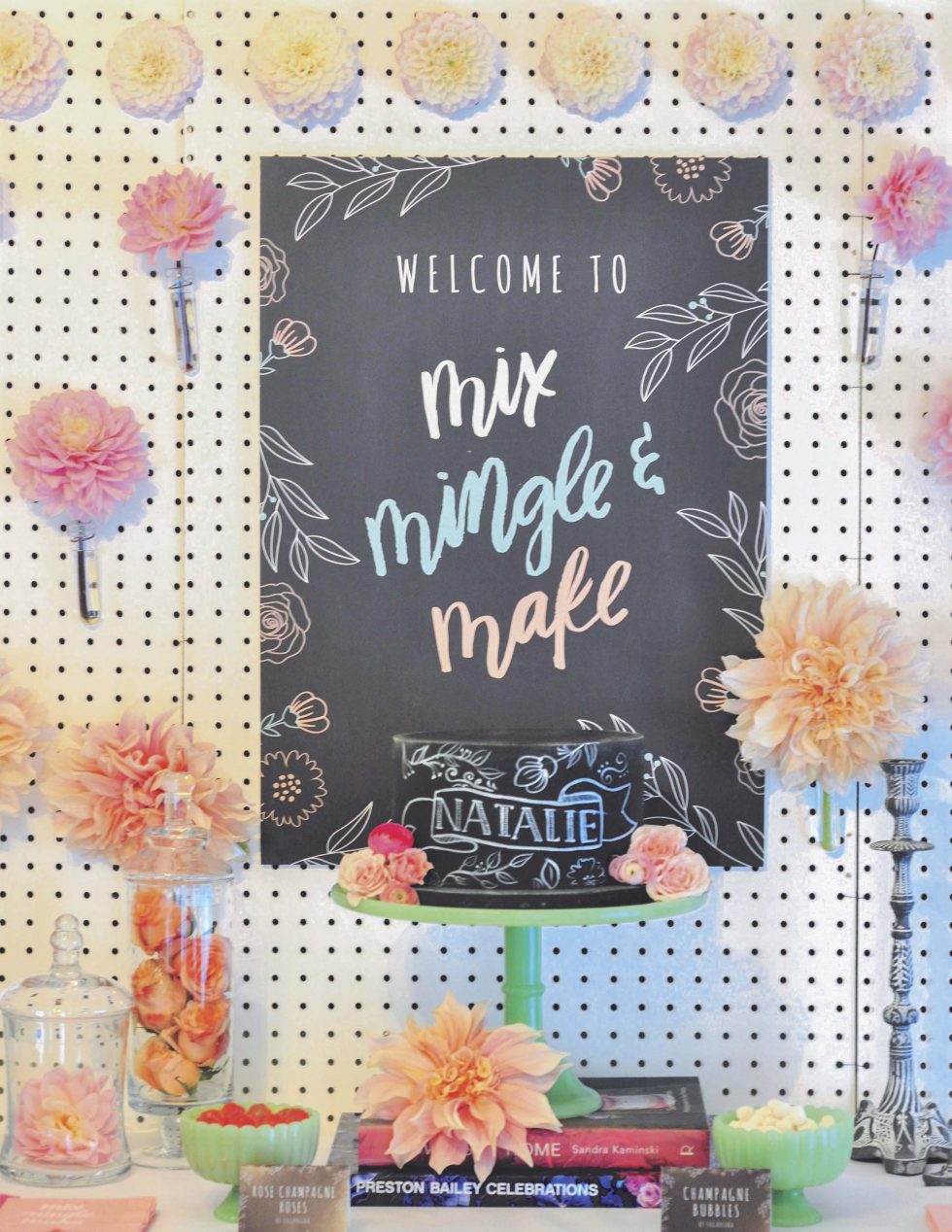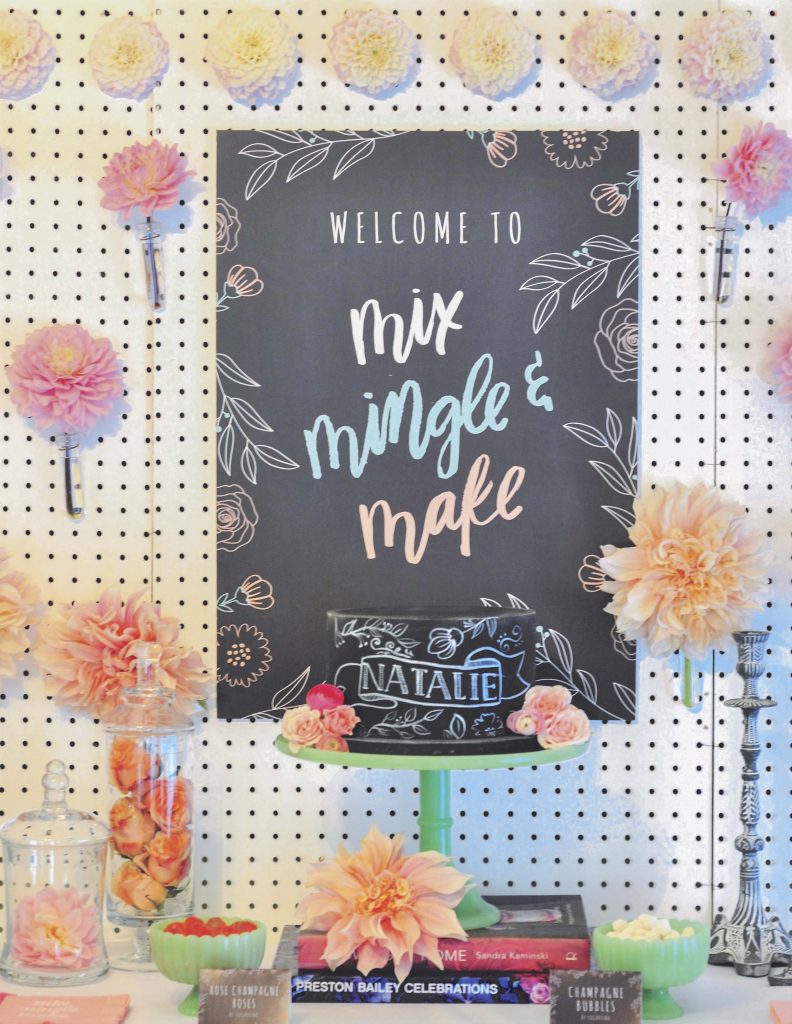 On either side of the cake, I added mint green bowls of perfectly fitting candy – rosé roses and champagne bubbles from Sugarfina.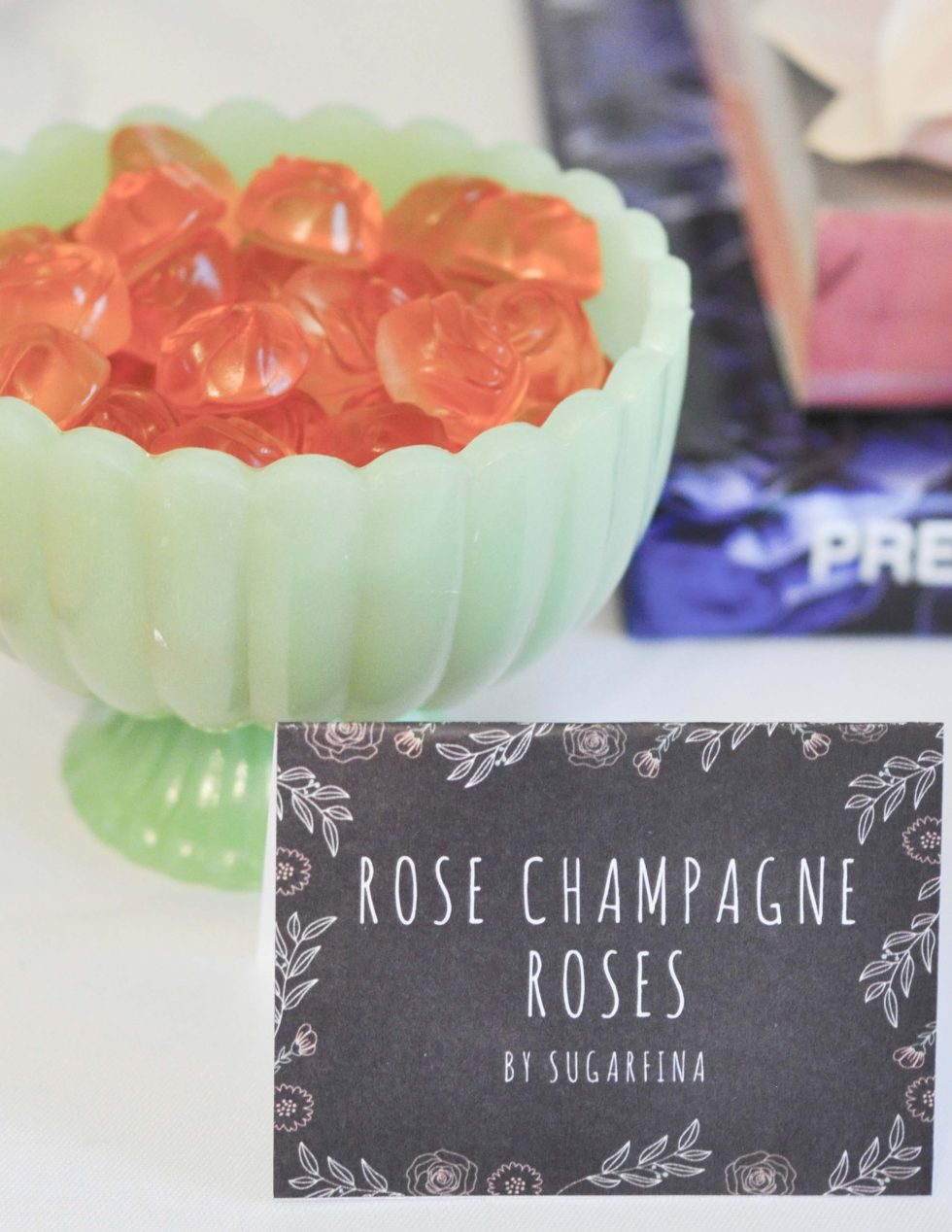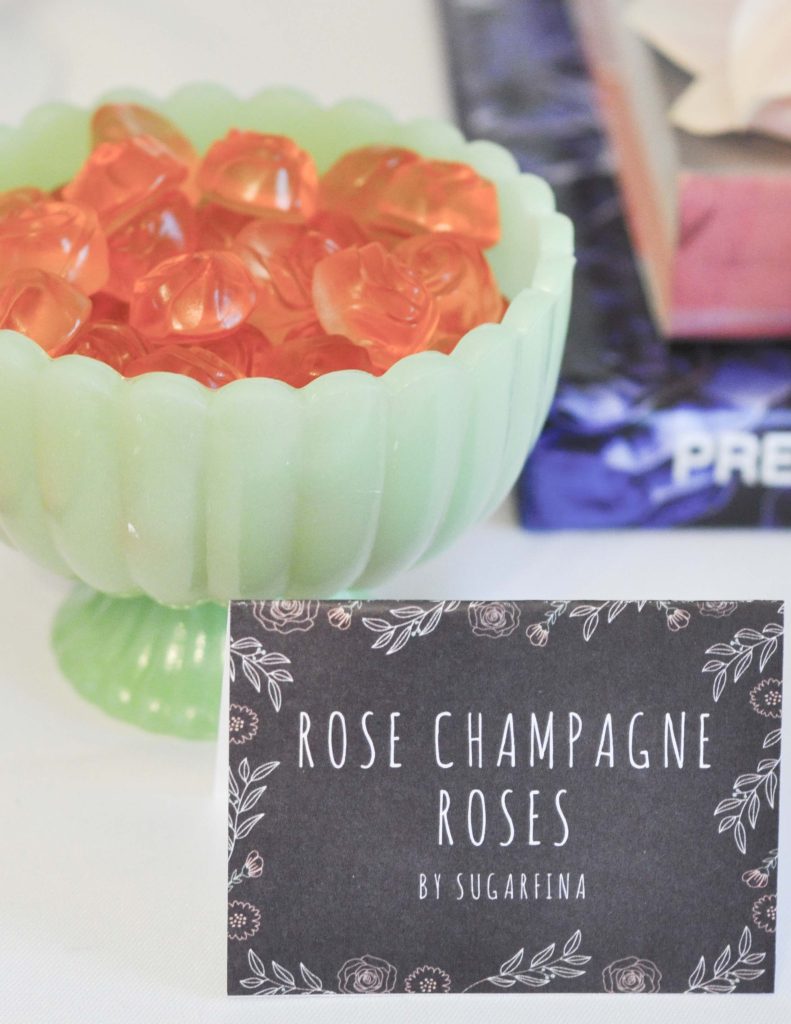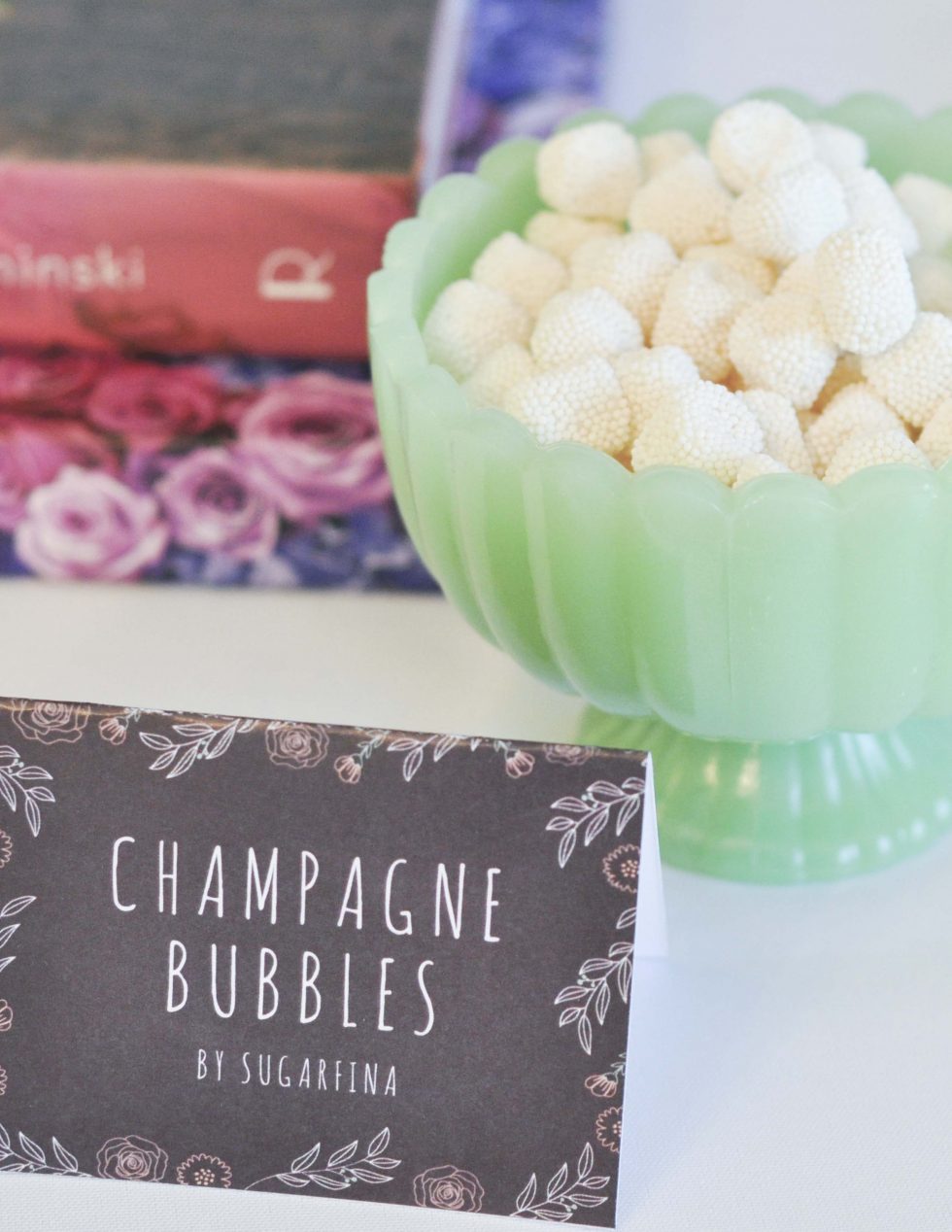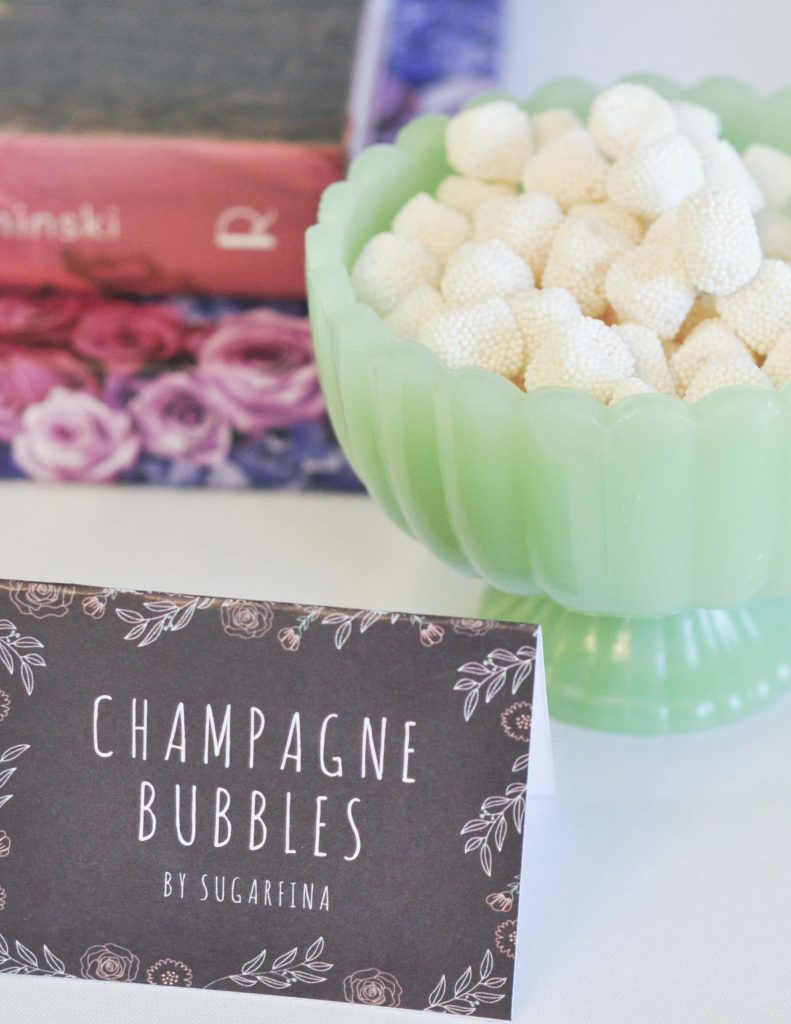 Next, on one side of the table, I put decorative apothecary jars filled with blooms.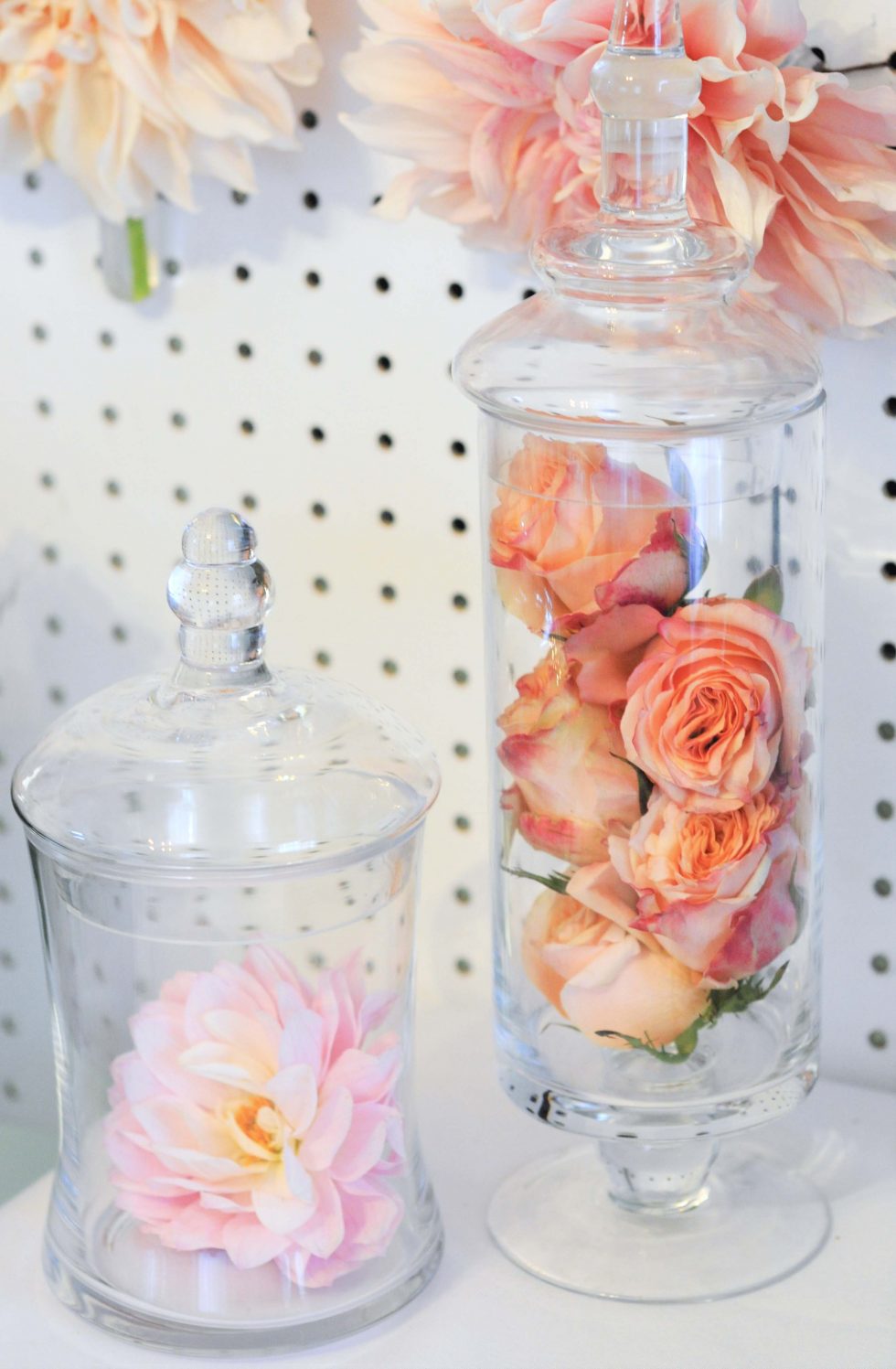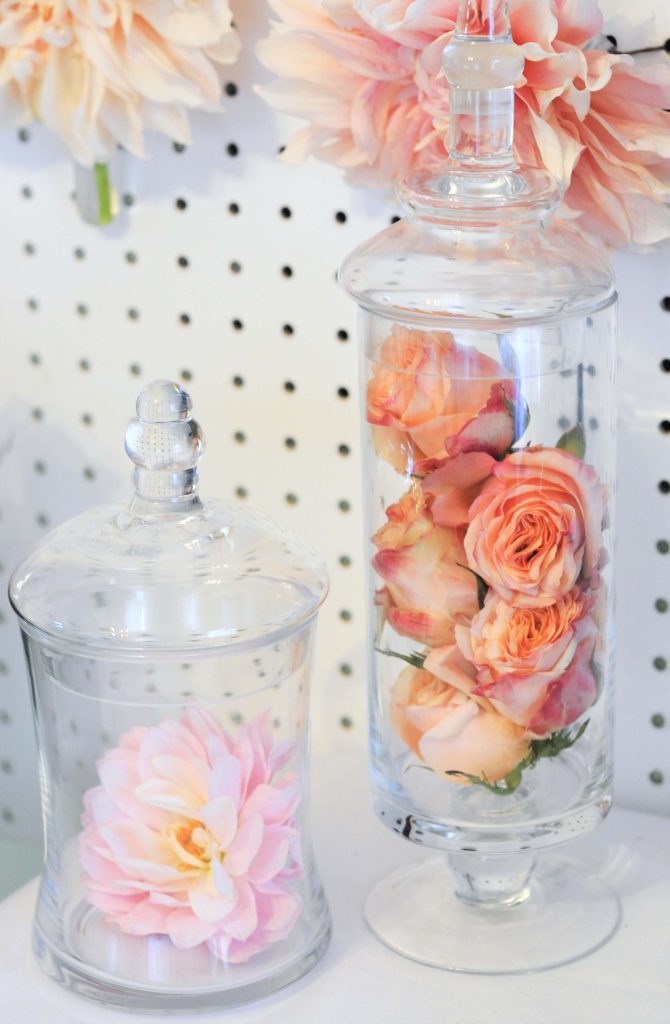 On the other, I added some decorative candlesticks.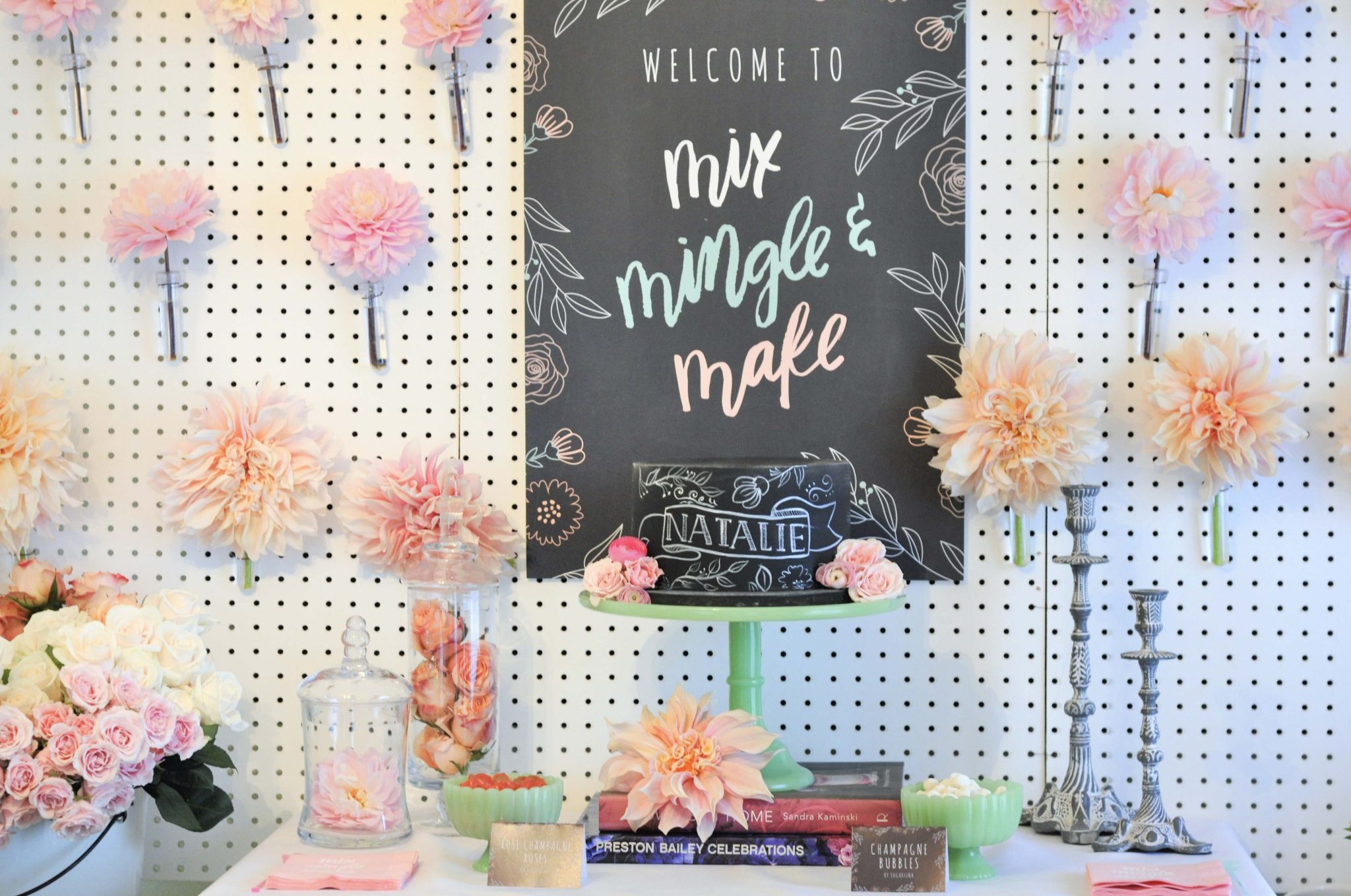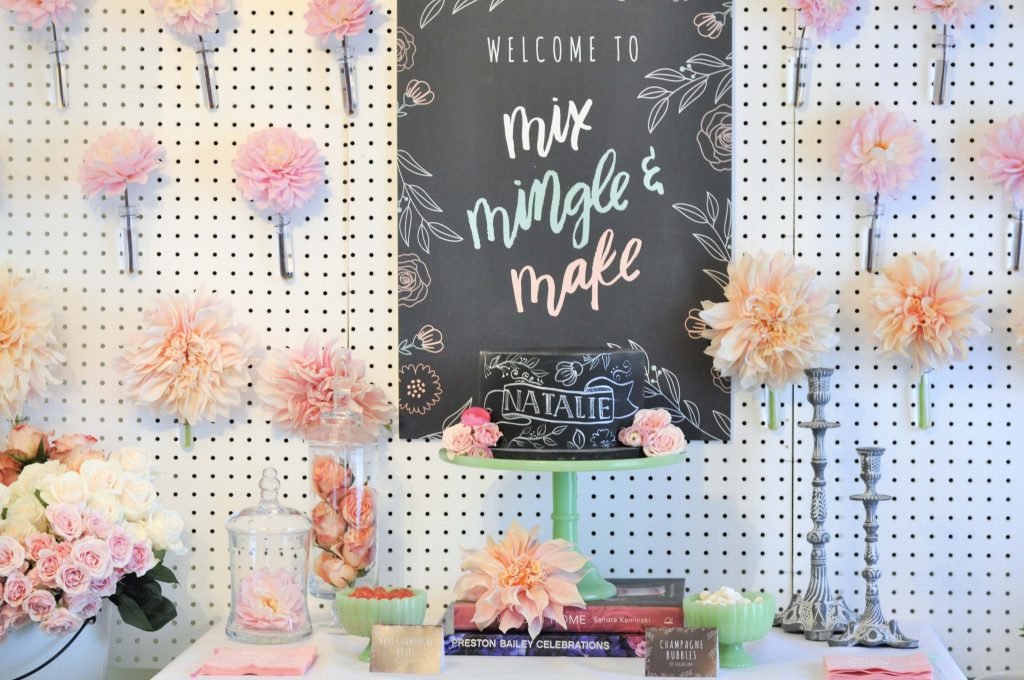 I also added a couple stacks of pink "Mix Mingle Make" dessert napkins.

Champagne Bar
The next area I set up was the champagne bar! First, I hung a matching chalkboard sign, and draped a paper flower and tassel garland around the top of it.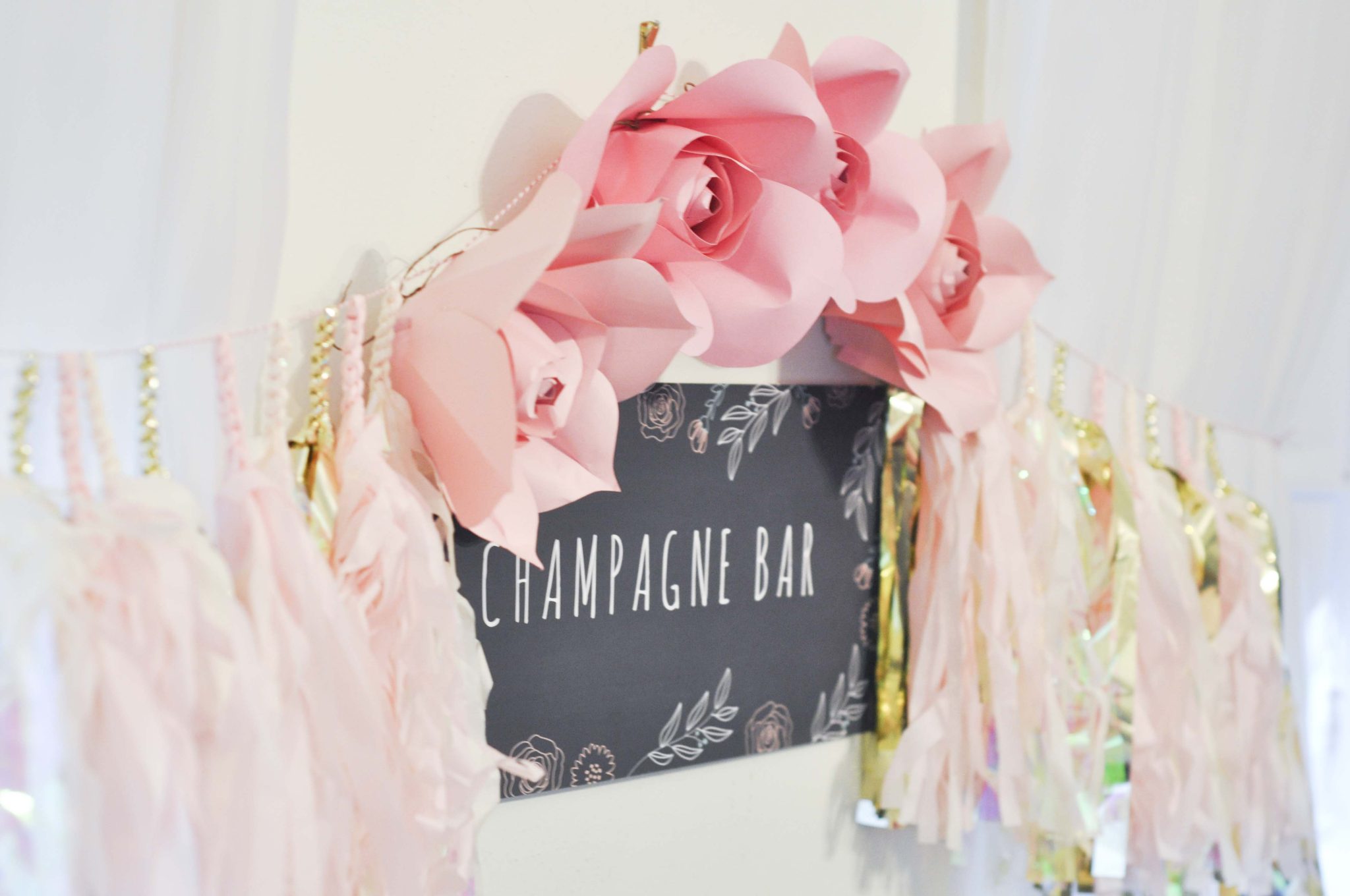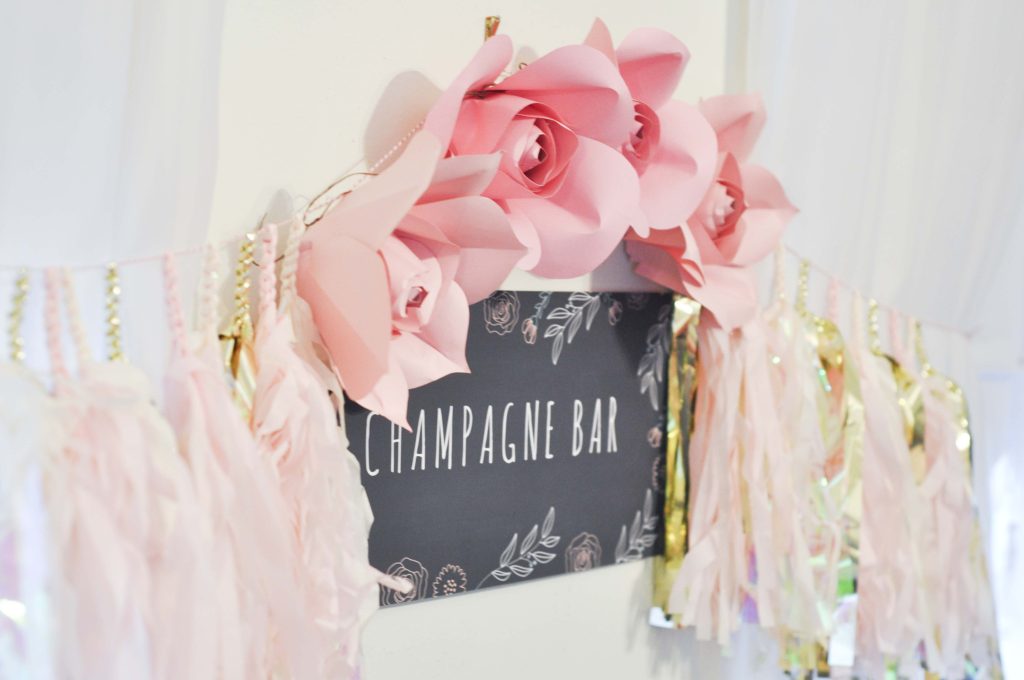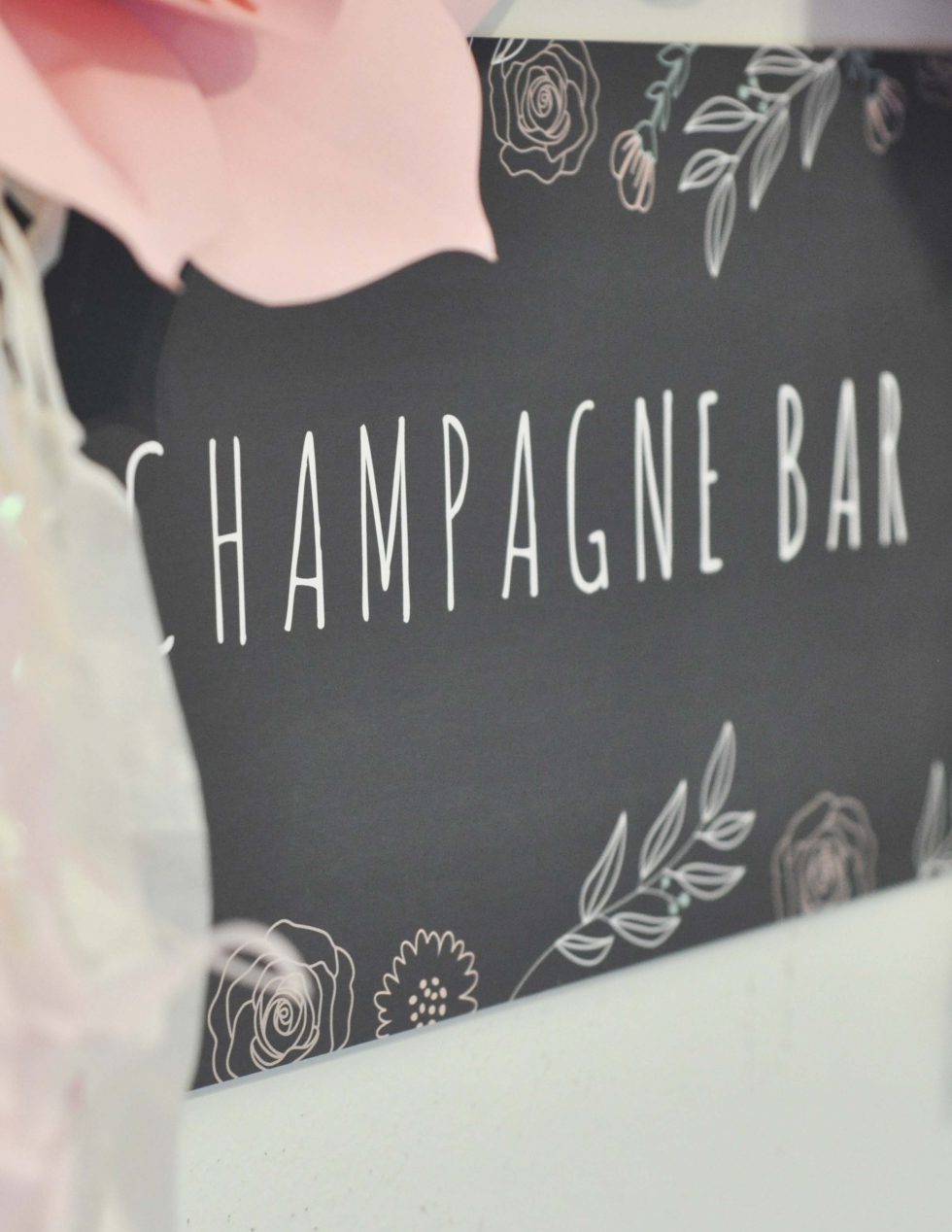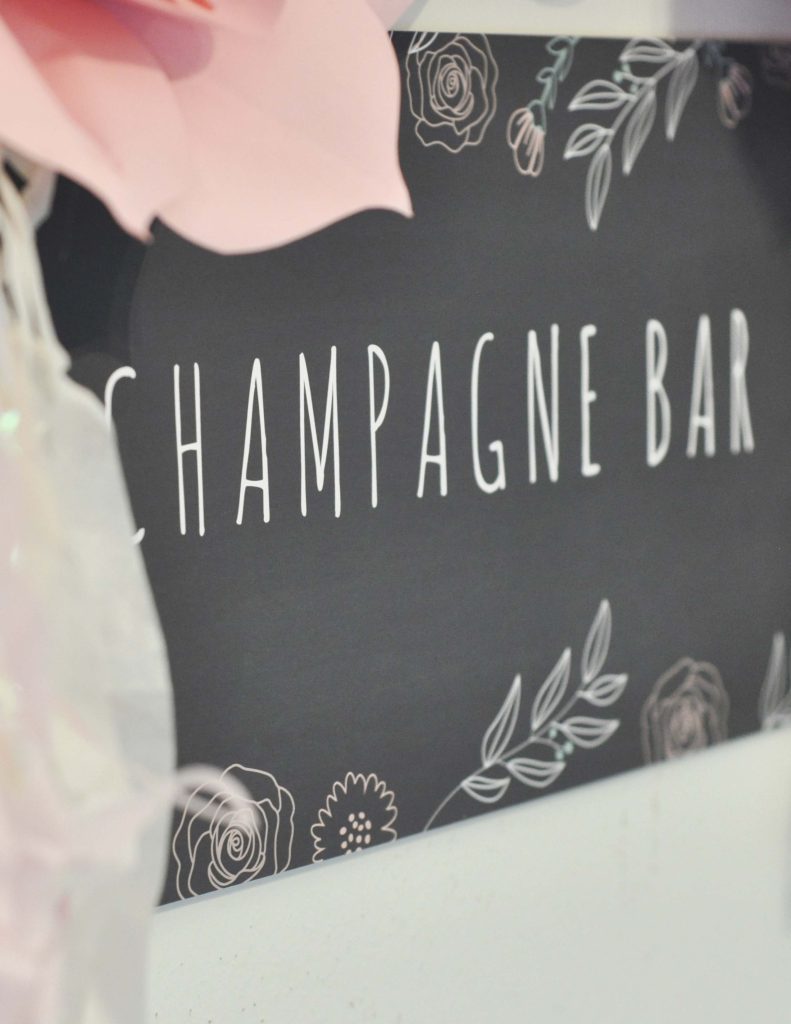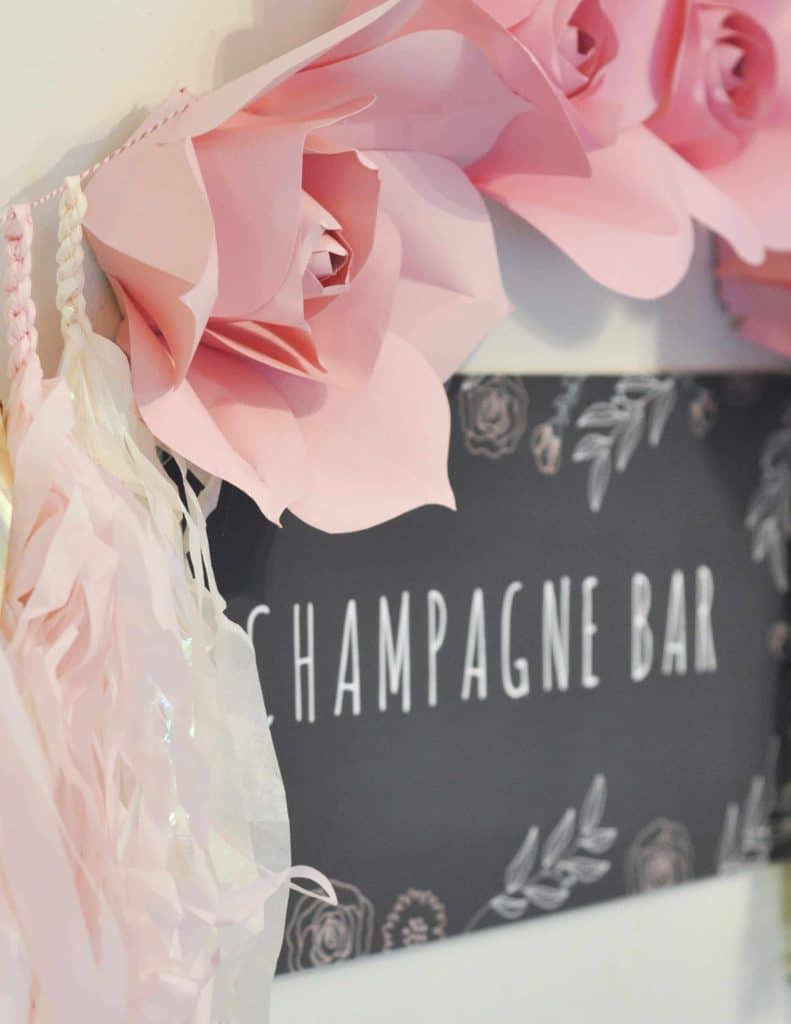 Then, I set out all of the drink materials on a modern standing tray. A variety of champagnes in ice buckets, fruits for garnish (in flower shaped bowls!), ginger beer, elderflower and rose lemonade, and floral flavoring syrups. Plus, an adorable little service bell – champagne please!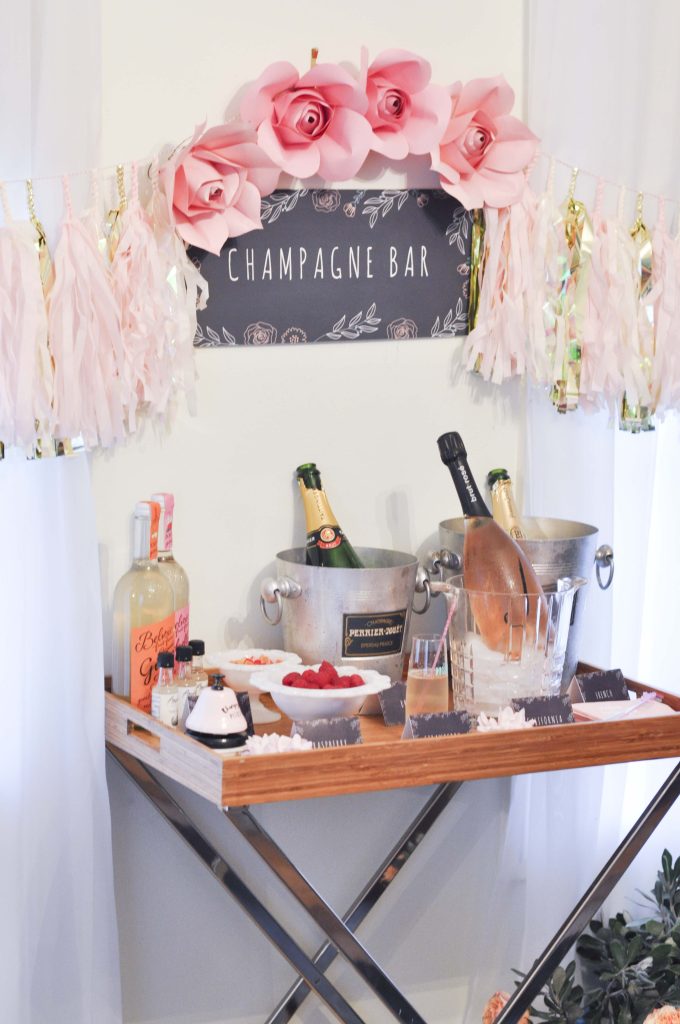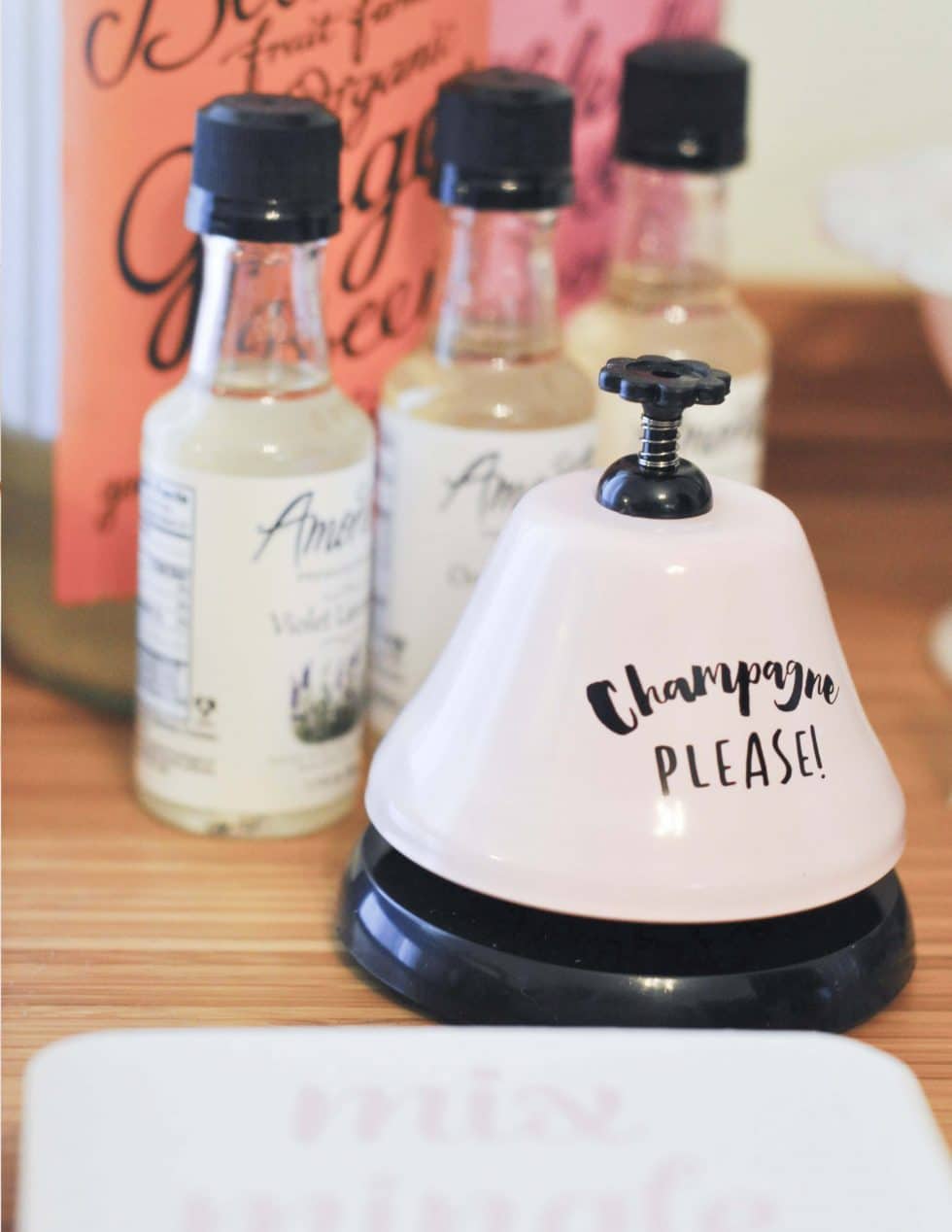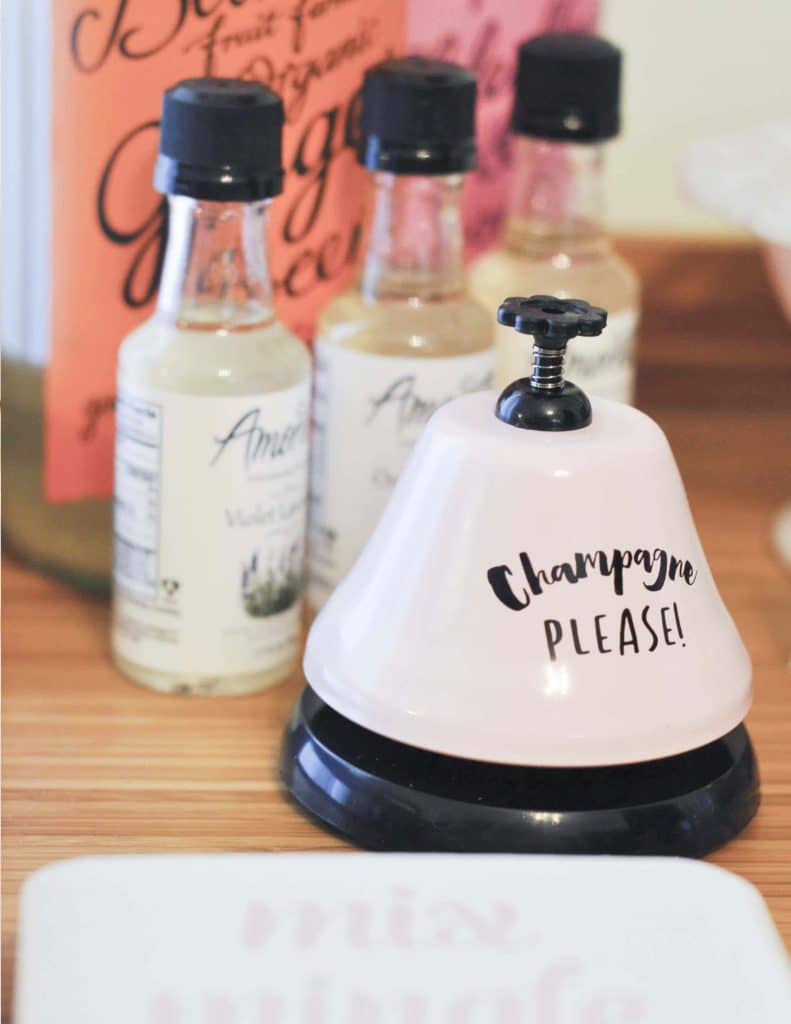 Floral Centerpieces
On the main table, I created a long floral centerpiece using 3 clear acrylic magazine holders as "vases".  These held the main blooms in a variety of pinks that each guest would use in their arrangement. On the end, I placed framed printouts of Susan's best floral arranging tips!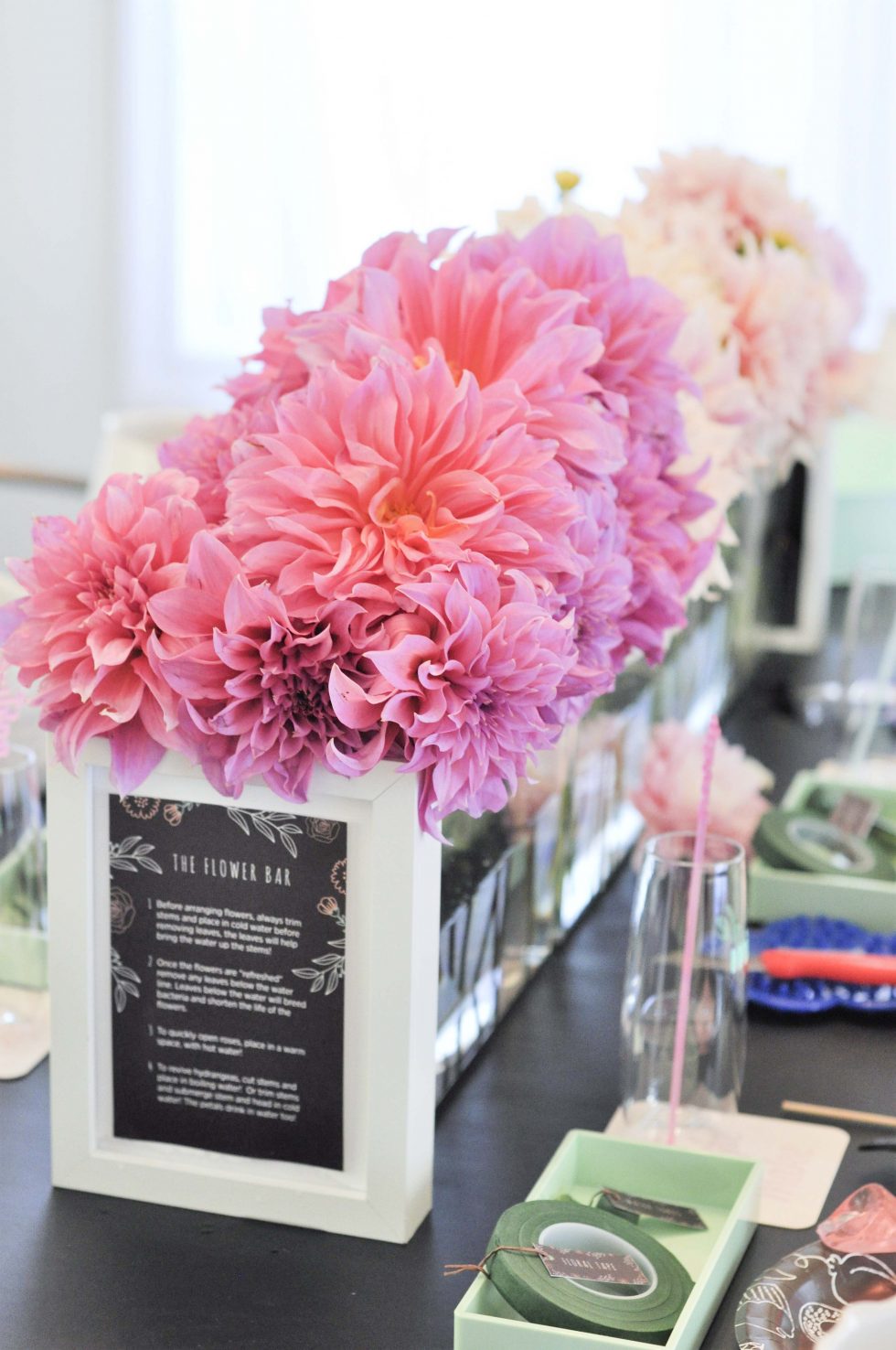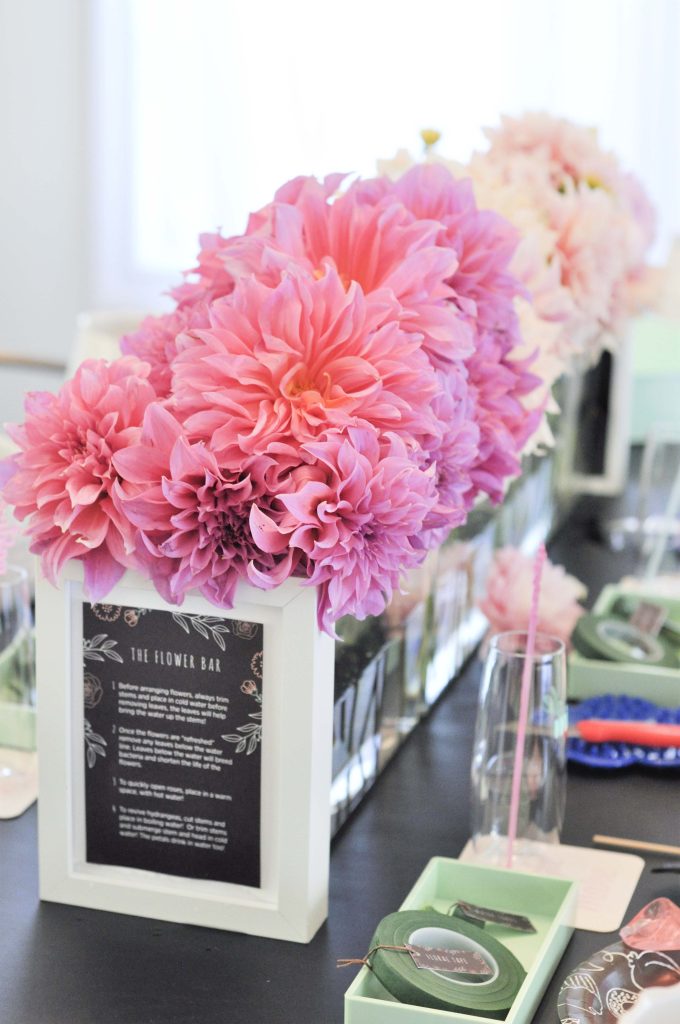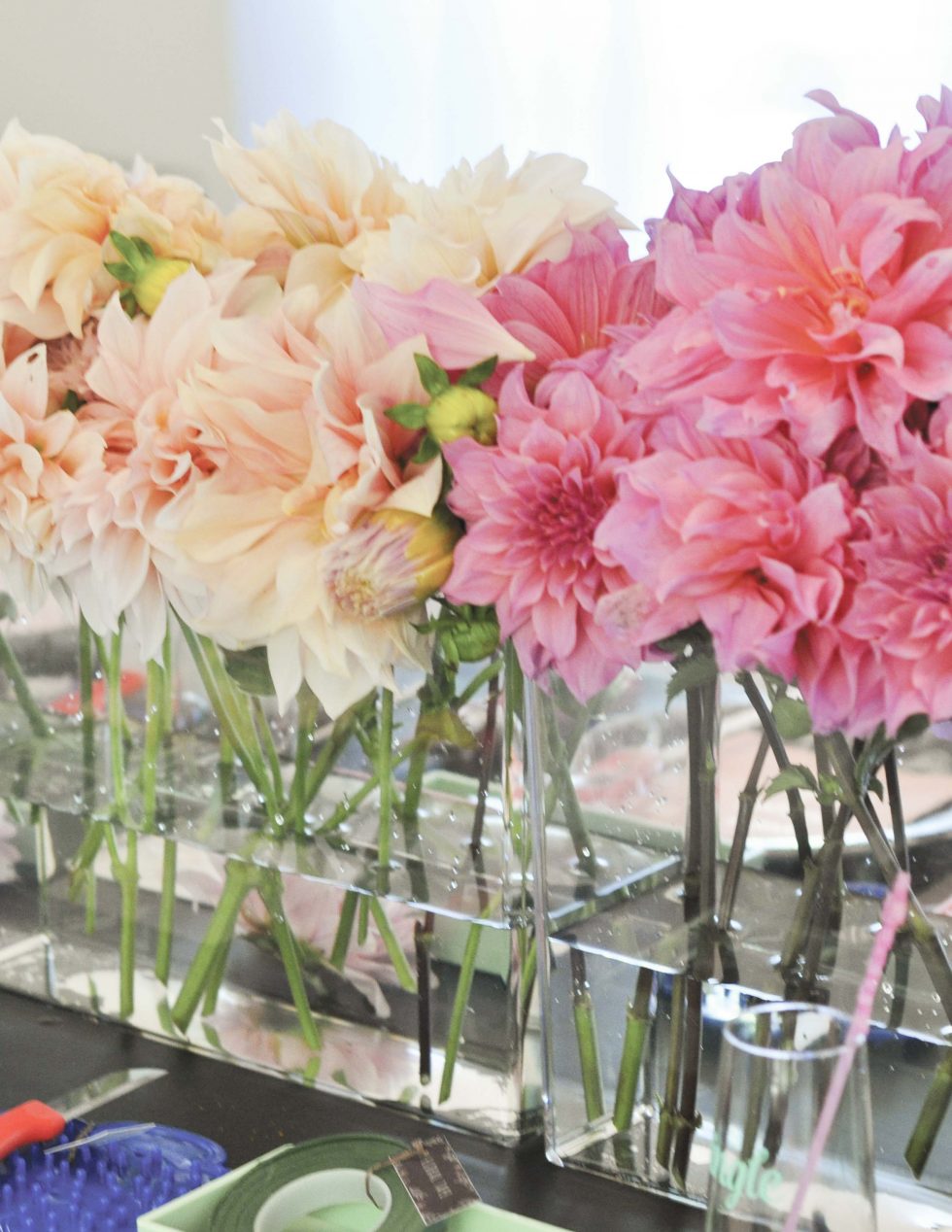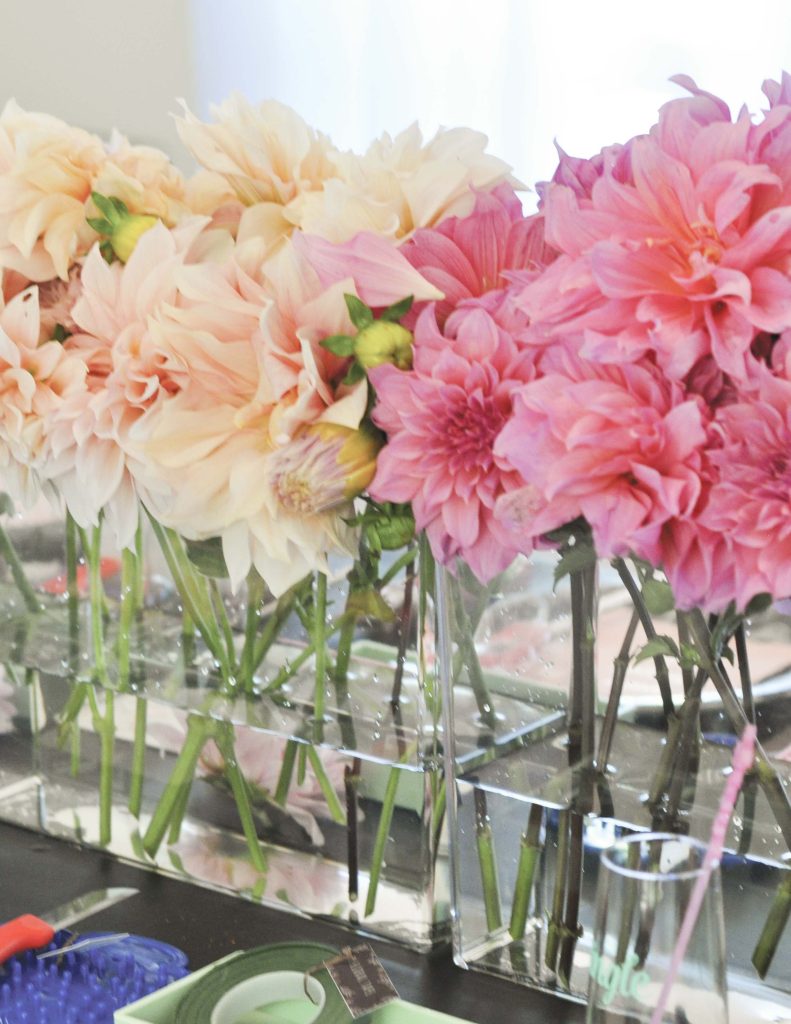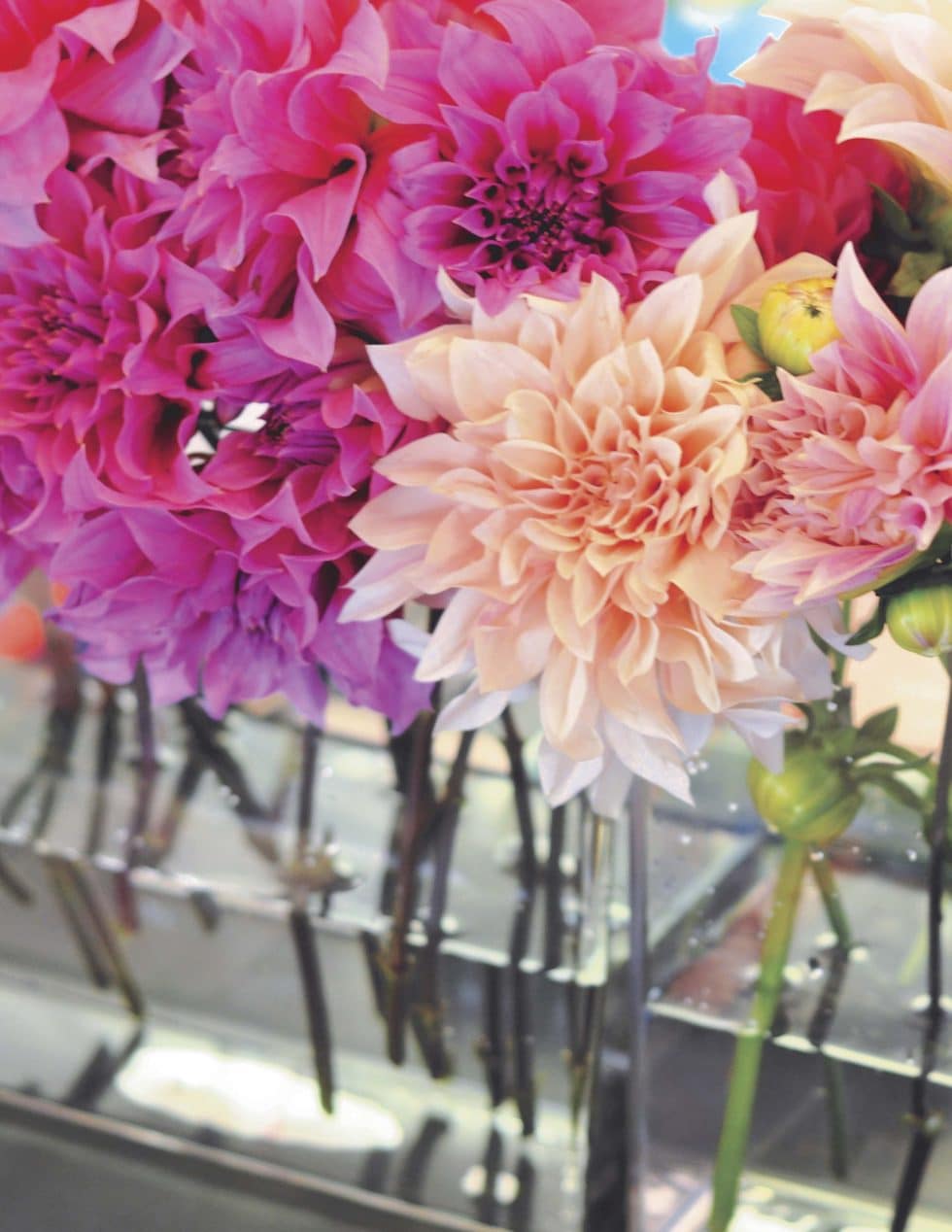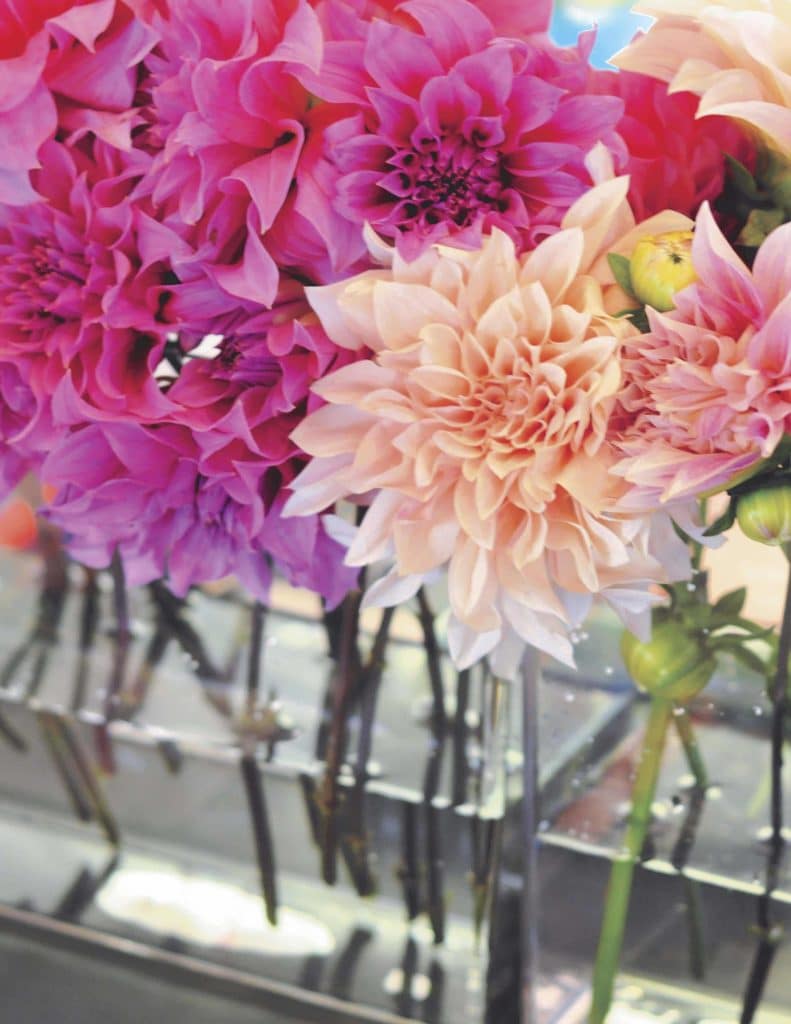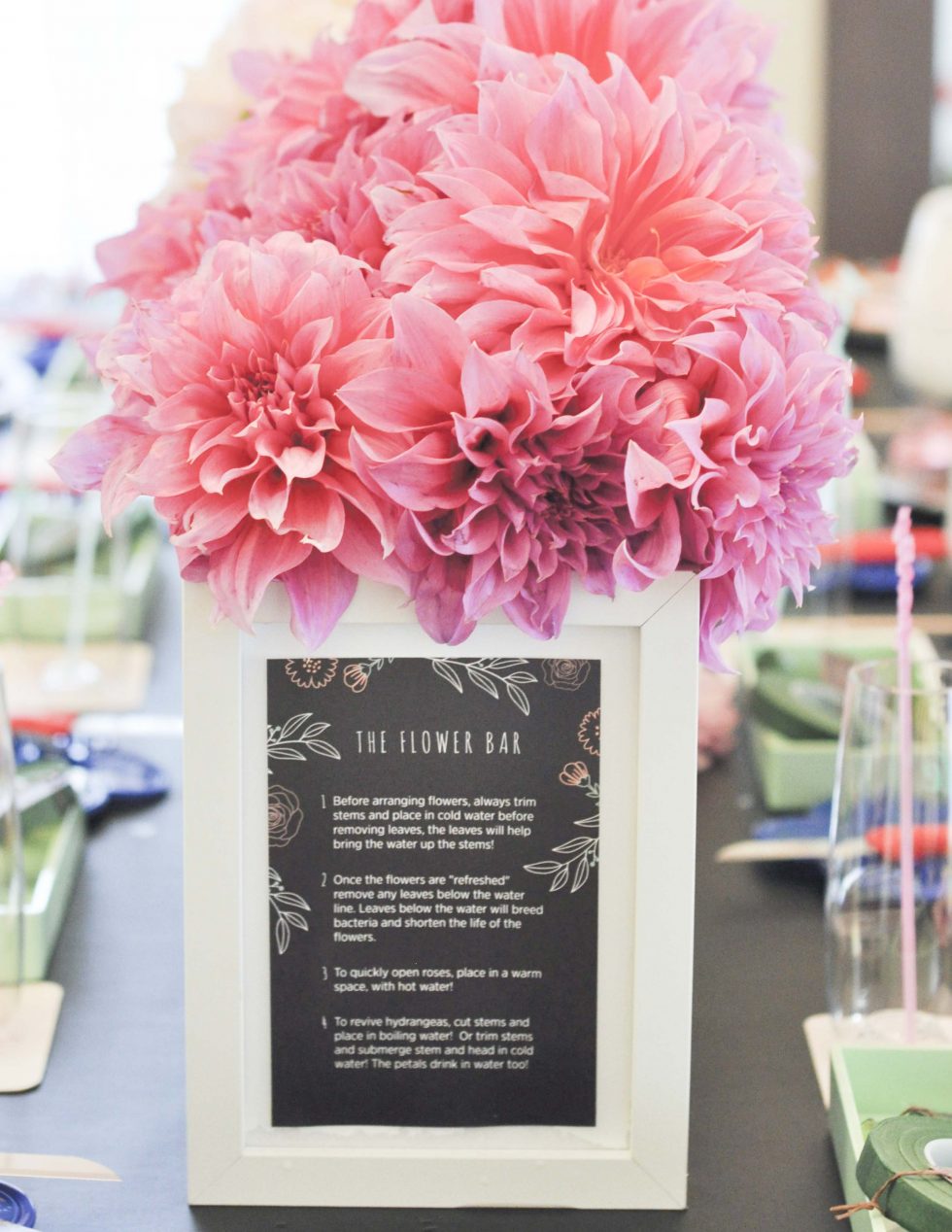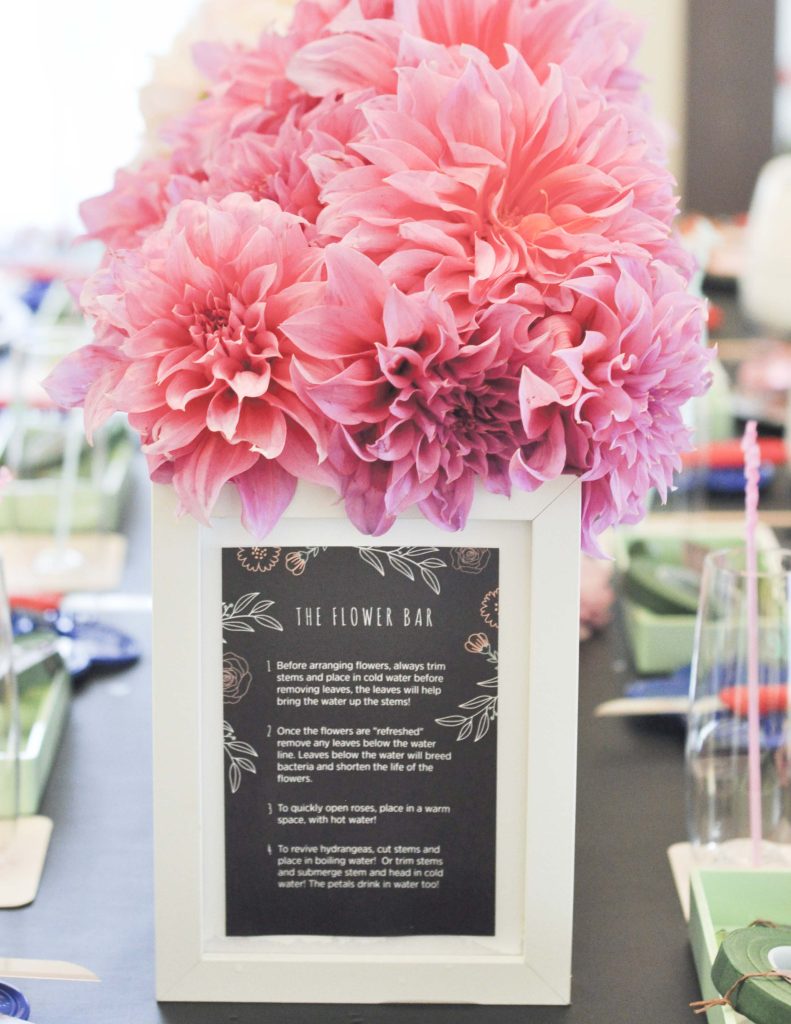 Place Settings
At each place of the table, we provided al of the flower arranging materials in mint colored "Mix Mingle Make" trays. (Add the text to the trays with stickers or letters cut out from adhesive vinyl). I then provided floral tools (shears, wire, tape, bamboo sticks etc.) in each tray.  Each tool had a tag of description and my friends were able to take home their tray and tools to use again at home.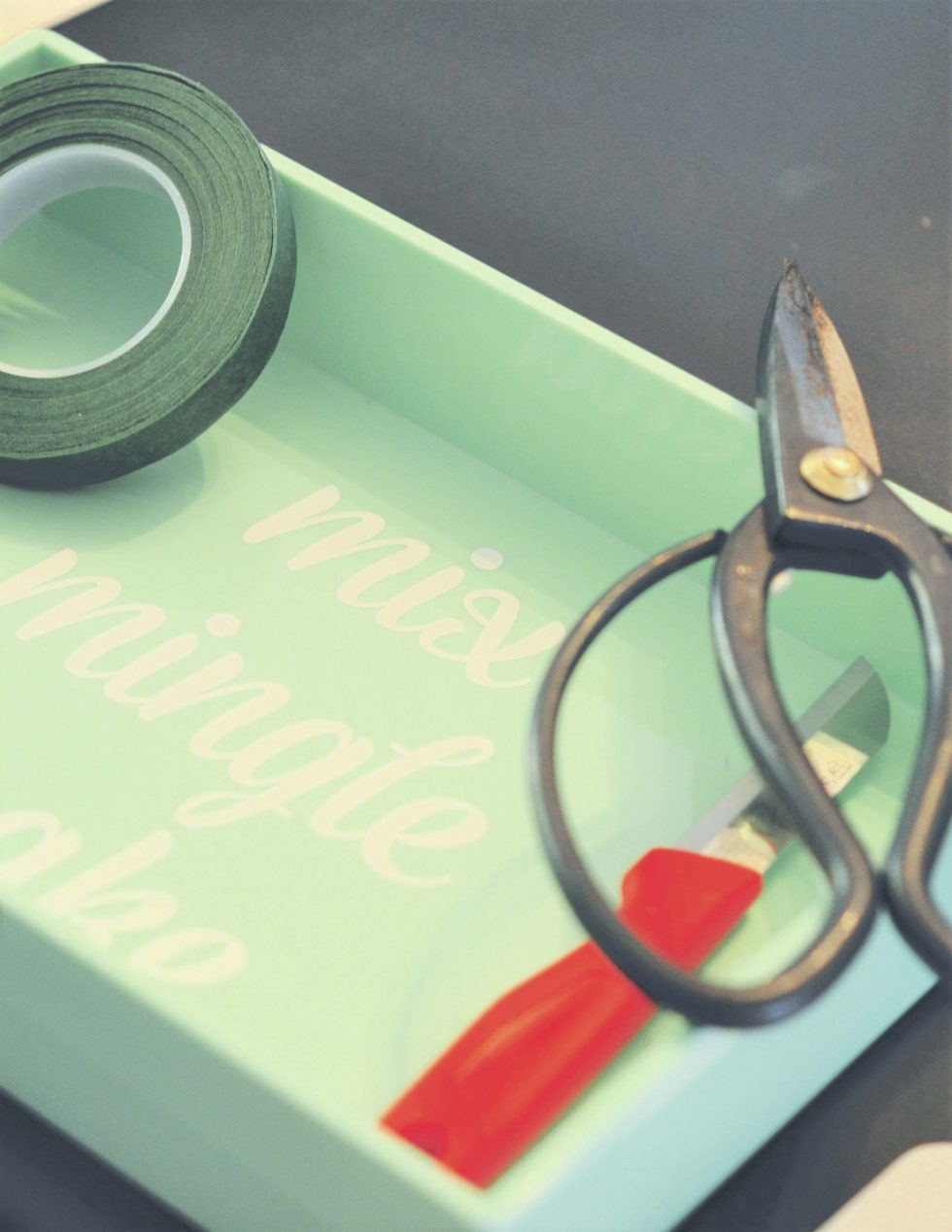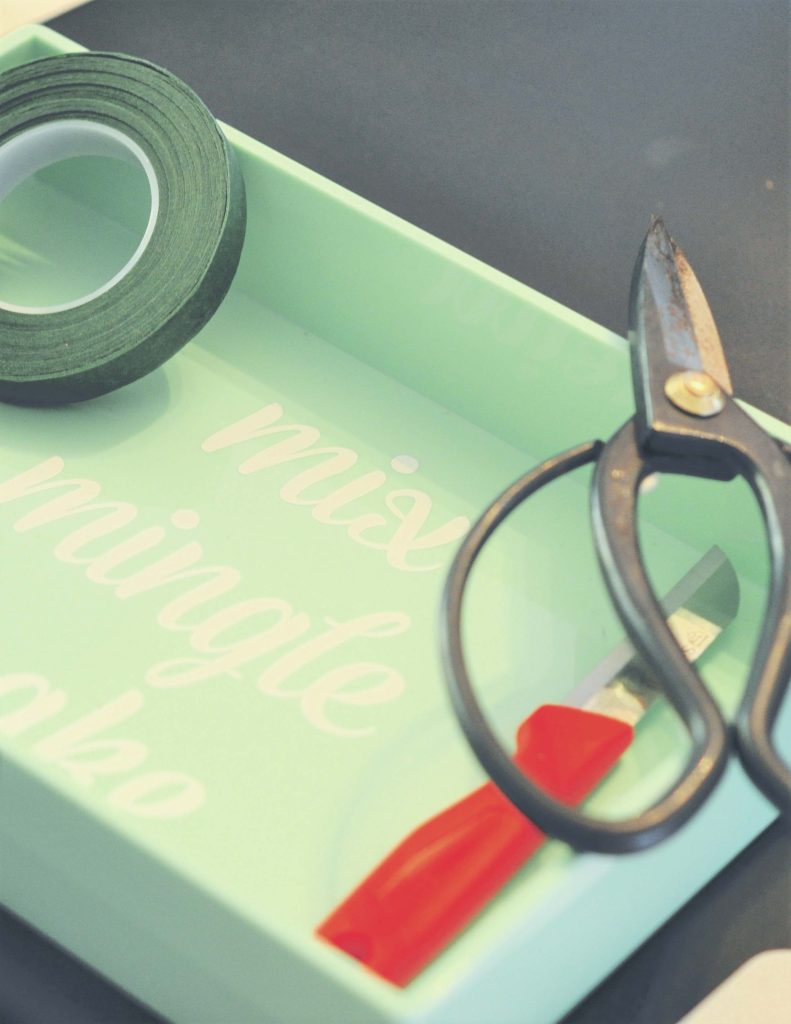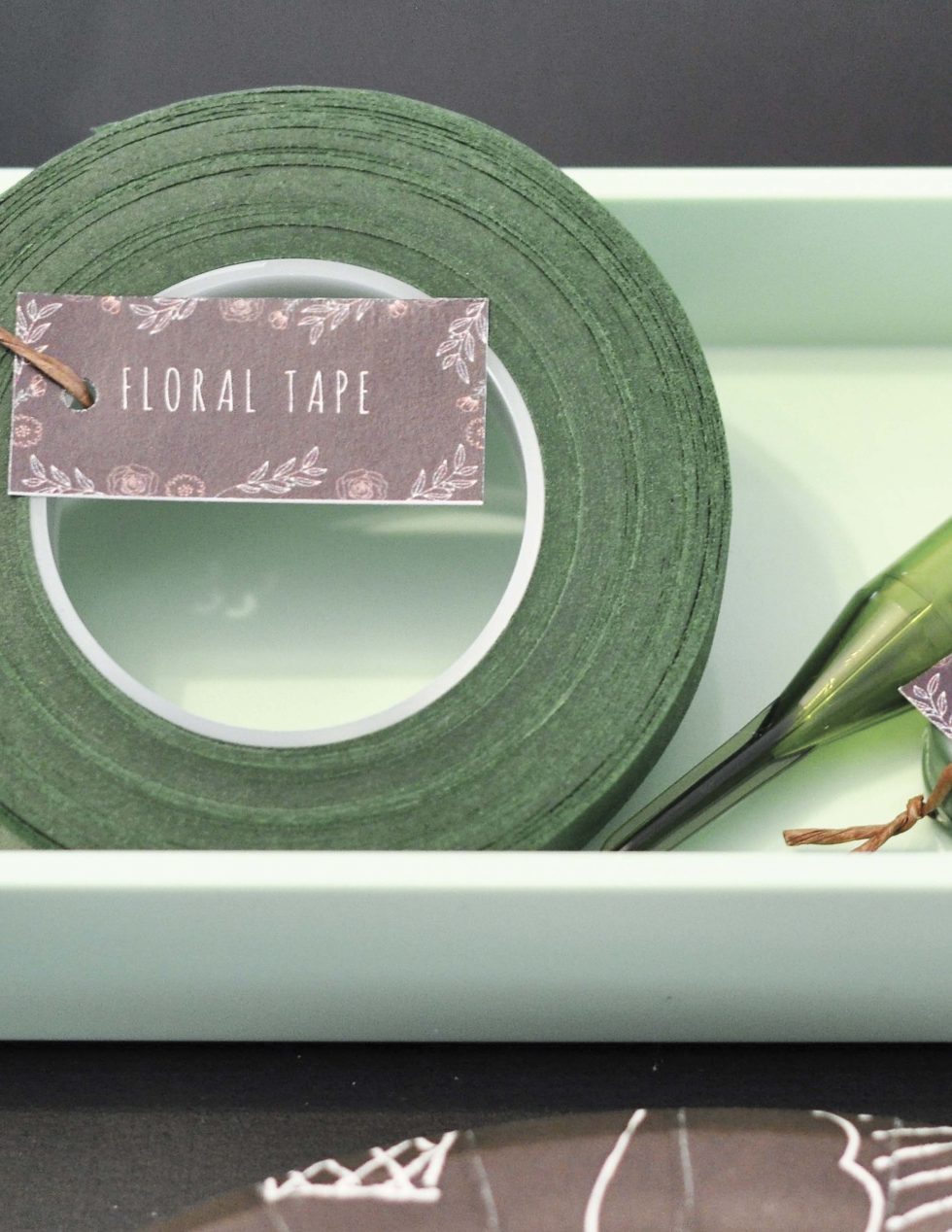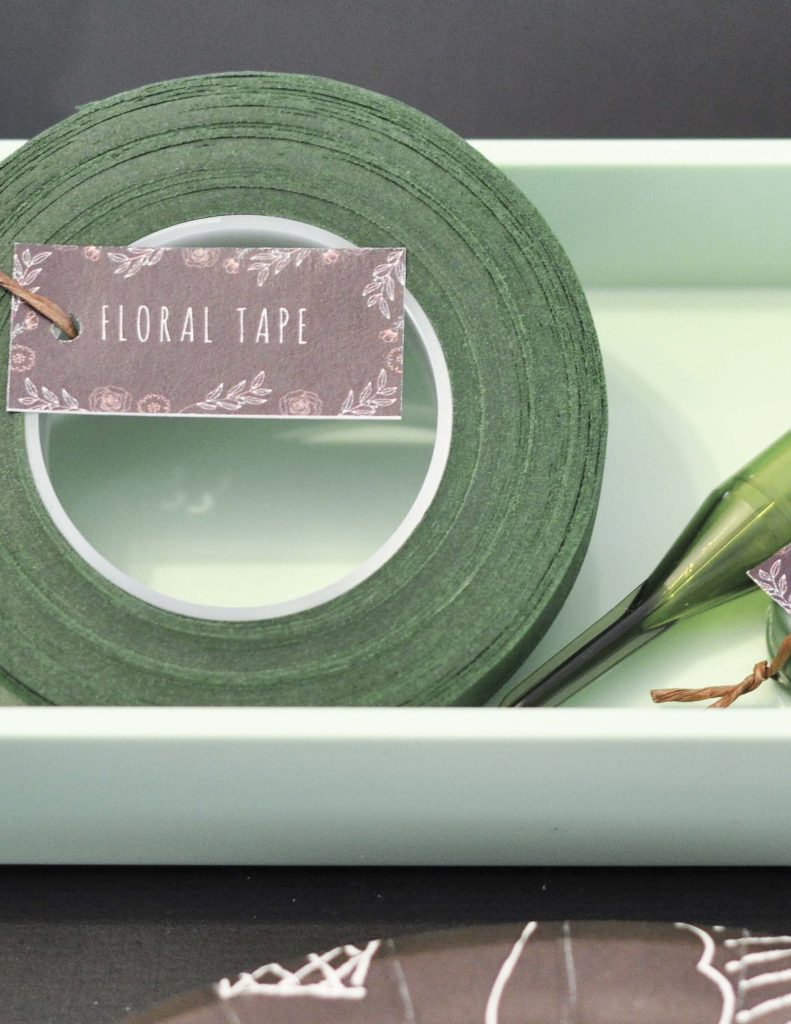 In front of the trays, I placed chalkboard-inspired paper plates, with a dessert napkin and pretty pink flower lollipop favor on top.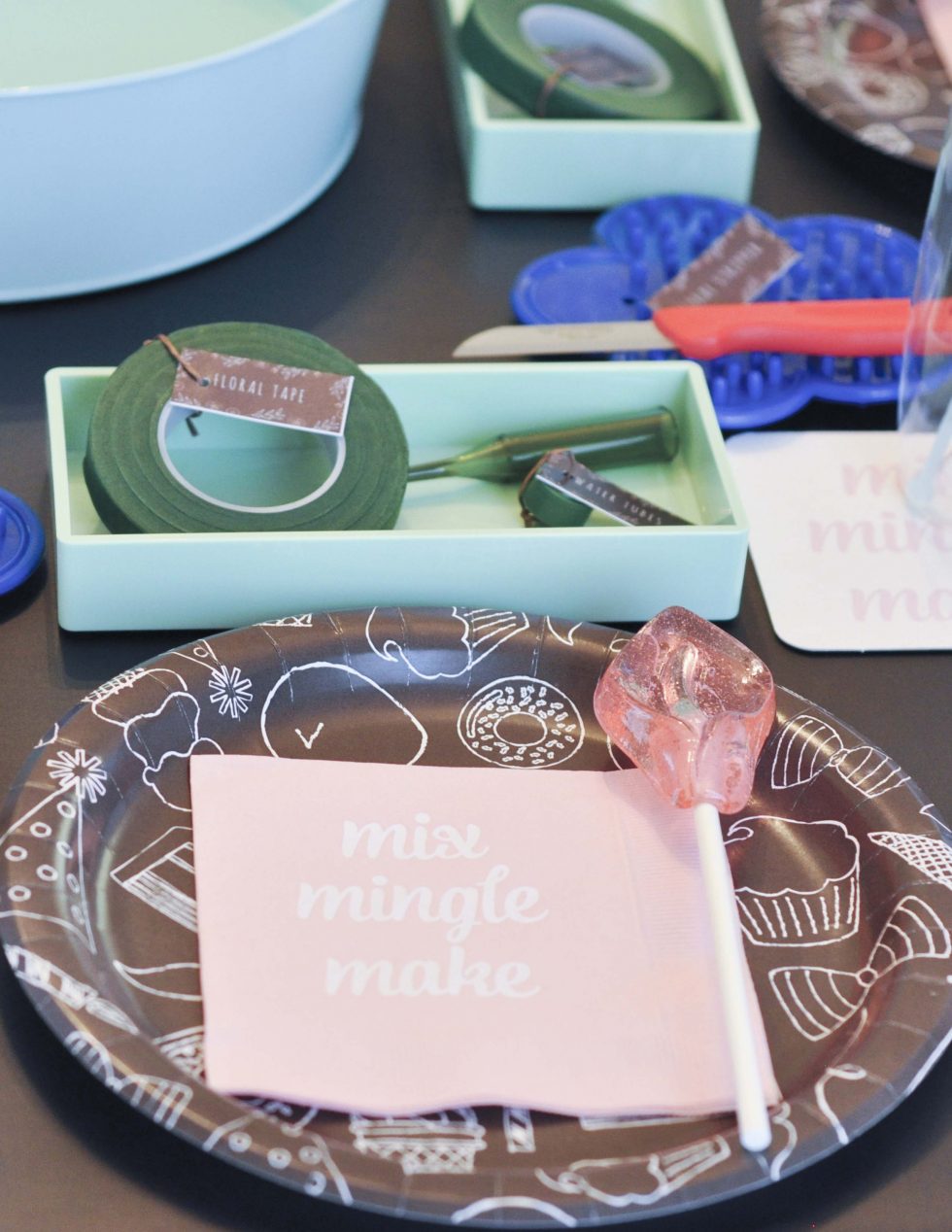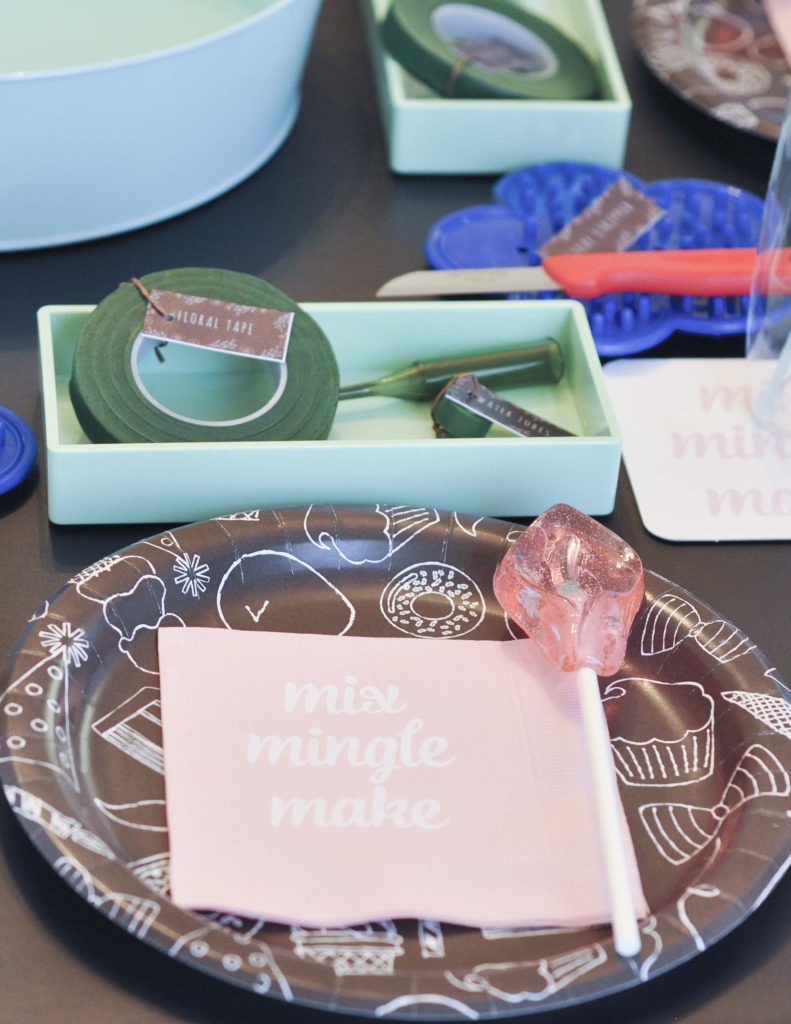 Each place also got a "Mingle" champagne glass with fun stirrer on a "Mix, Mingle, Make" coaster.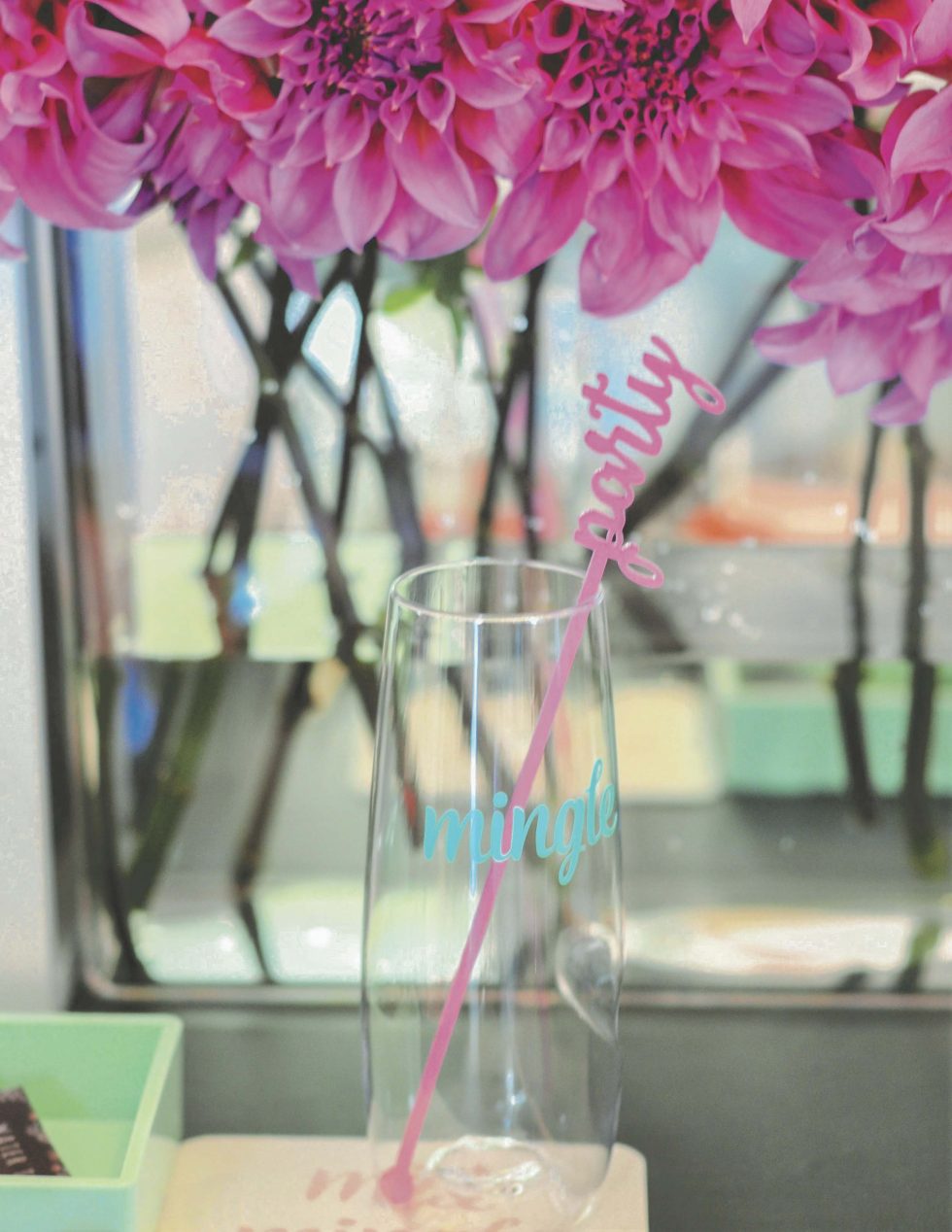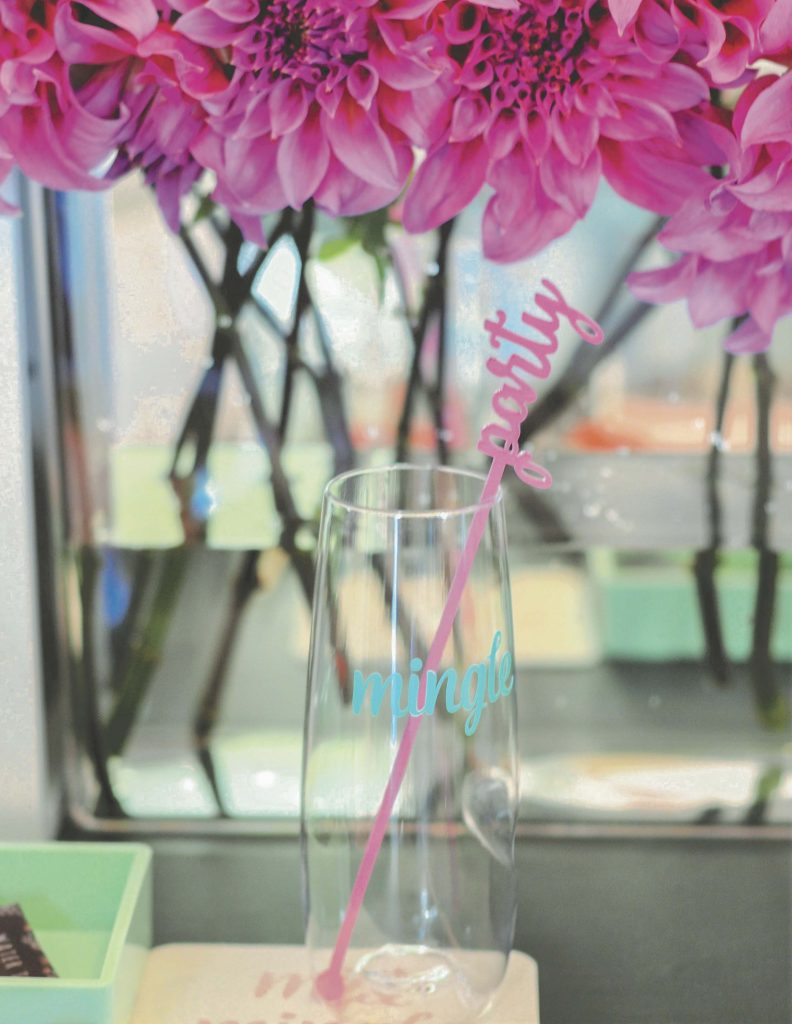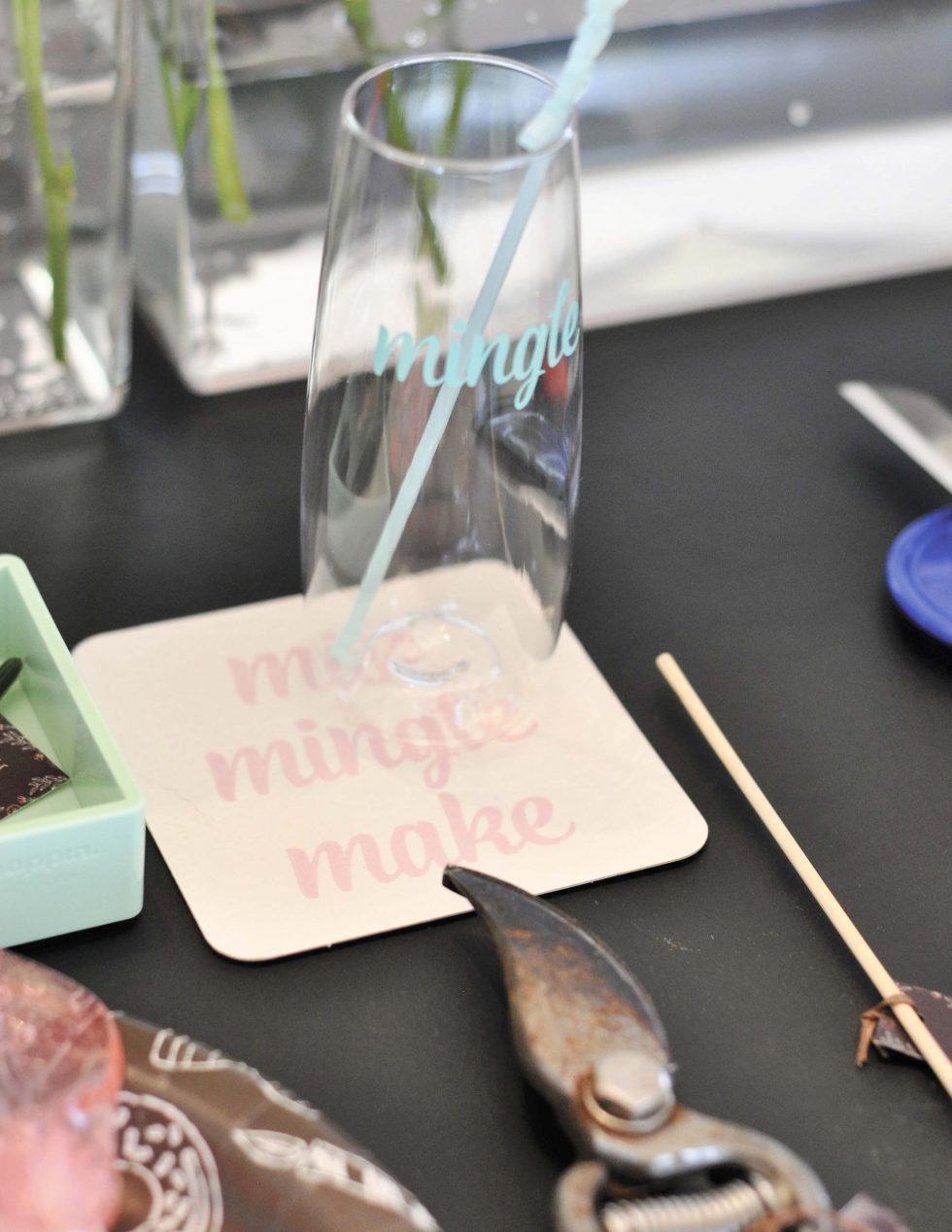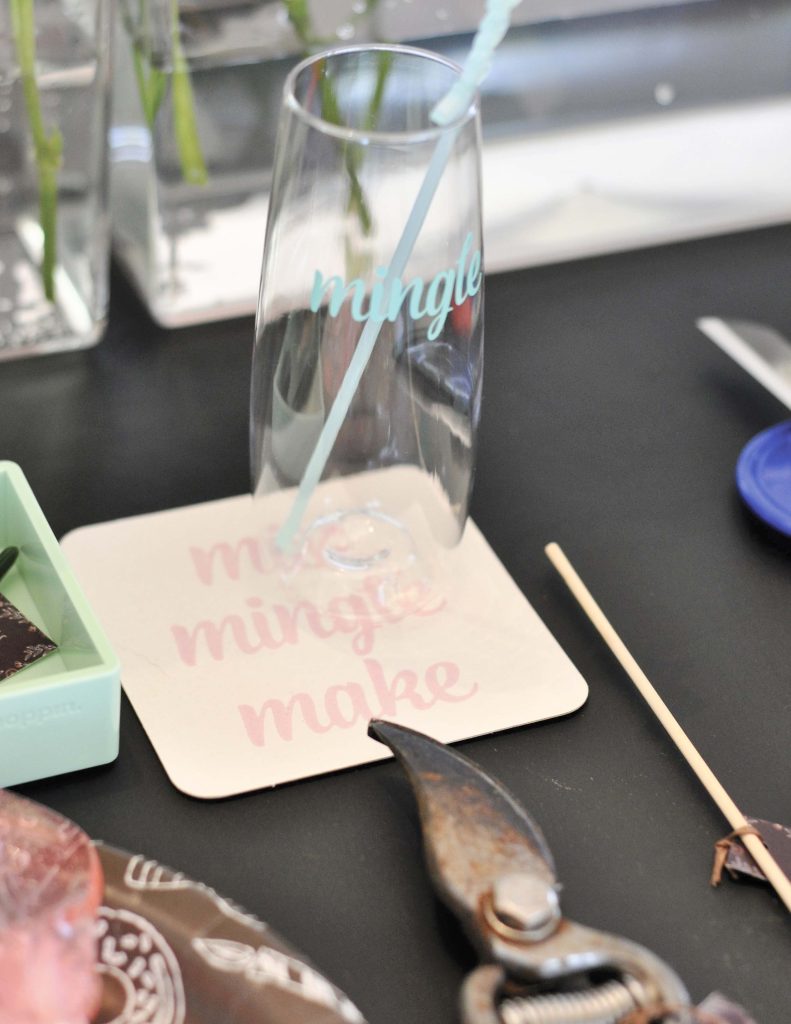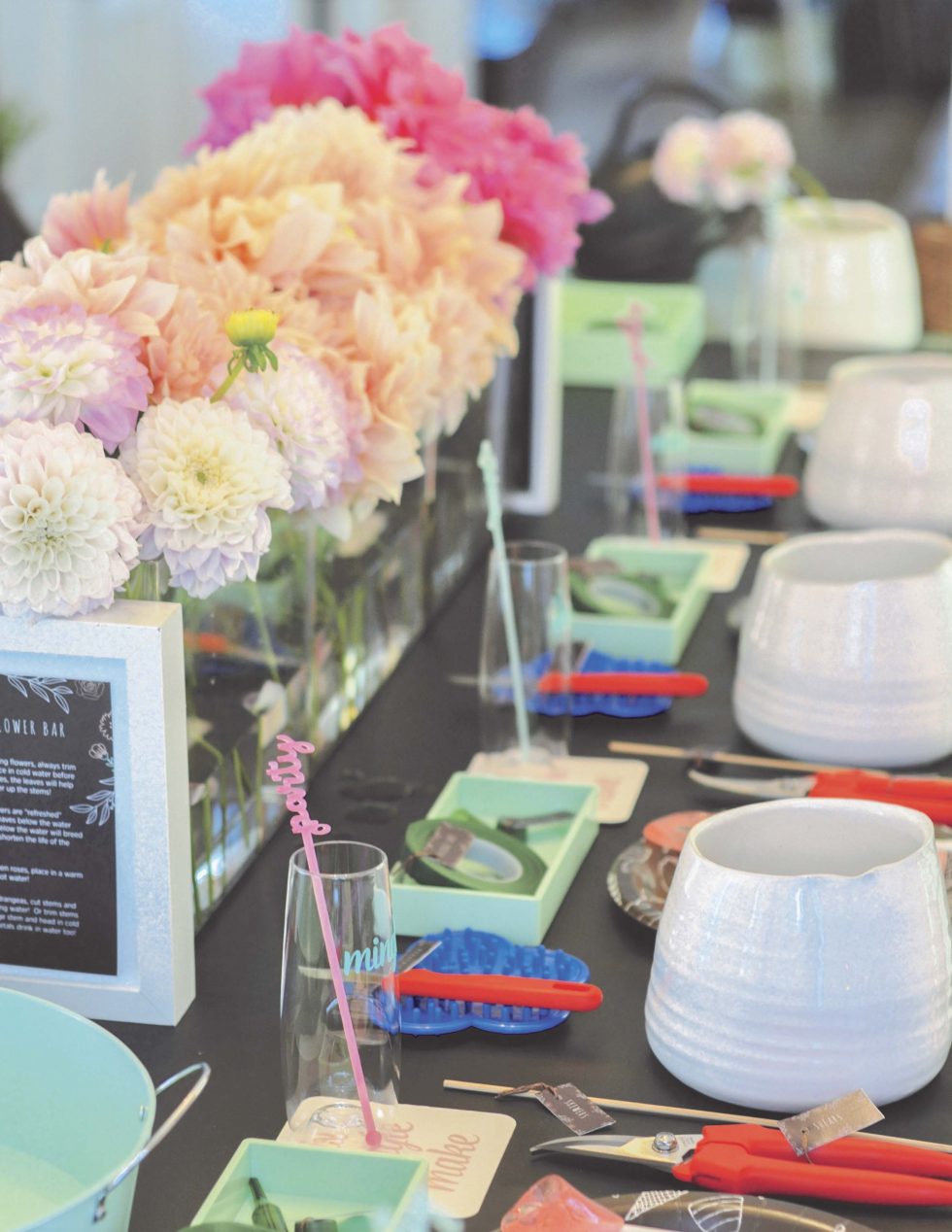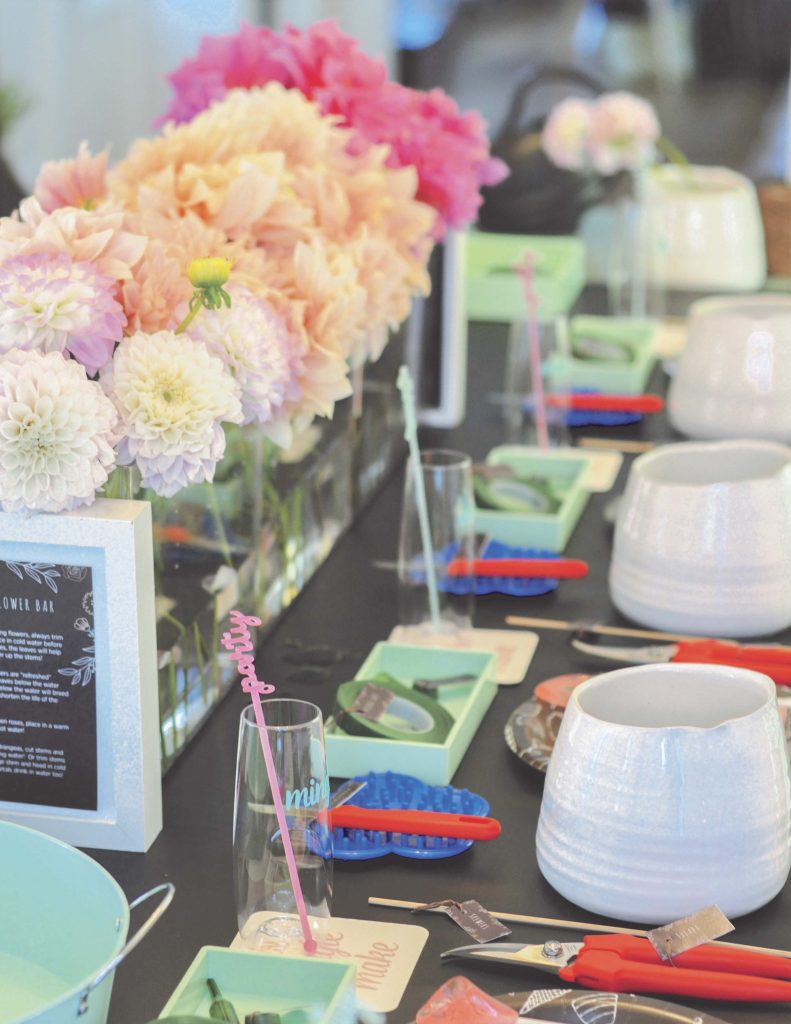 Arranging!
Then, it was time for the floral fun with friends to start!
Susan was set up on her own table with a larger tray and the tools of her trade.  She walked us through her background, the flowers and a range of techniques.  We used wet foam and she helped each of us with positioning of our flowers but gave us freedom to create.
We had a blast, learned so much from Susan, and were each able to leave with a gorgeous floral arrangement to take home. It was fascinating to see how different each person's arrangement was with all of the same tools and supplies.  That is what I love about crafting and makers parties. It was the perfect birthday celebration!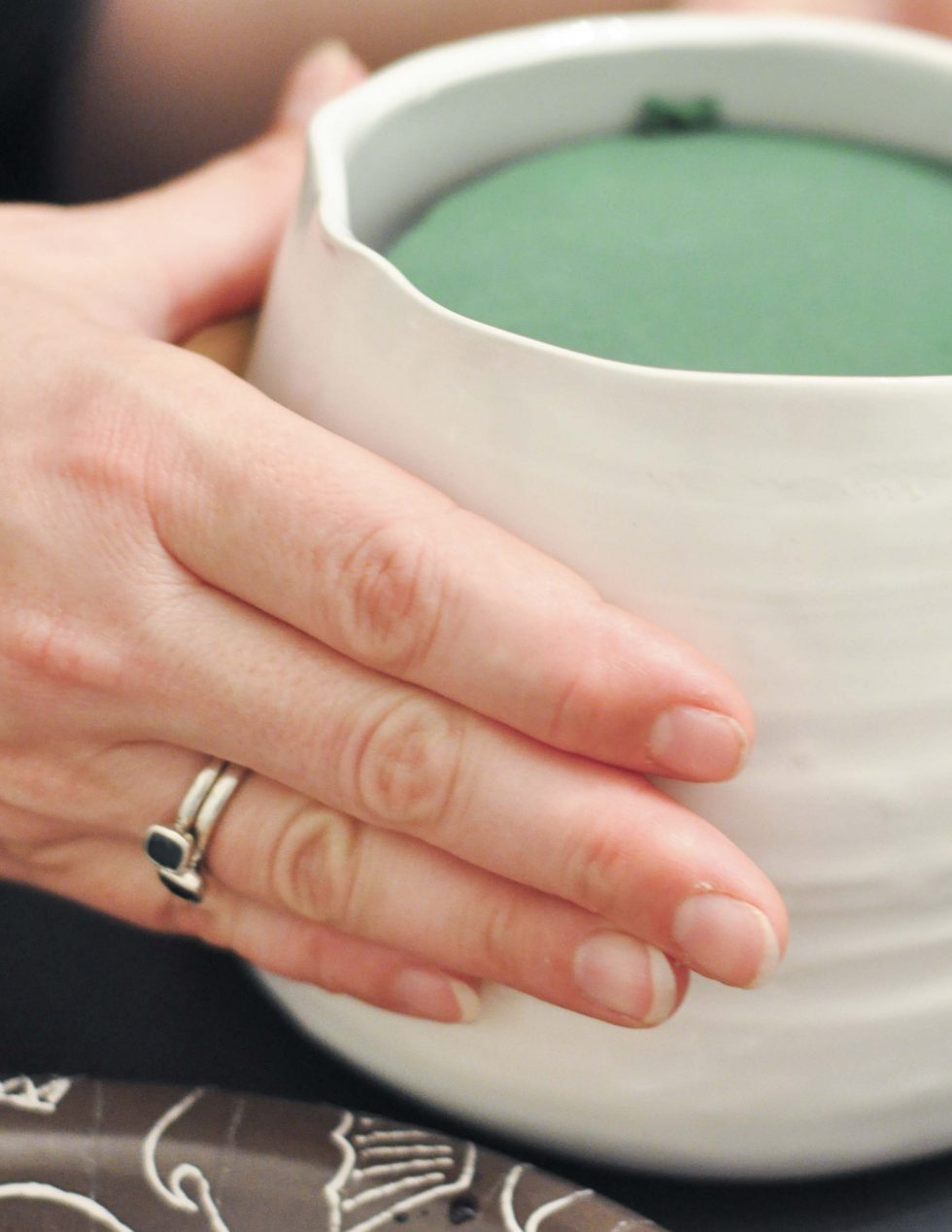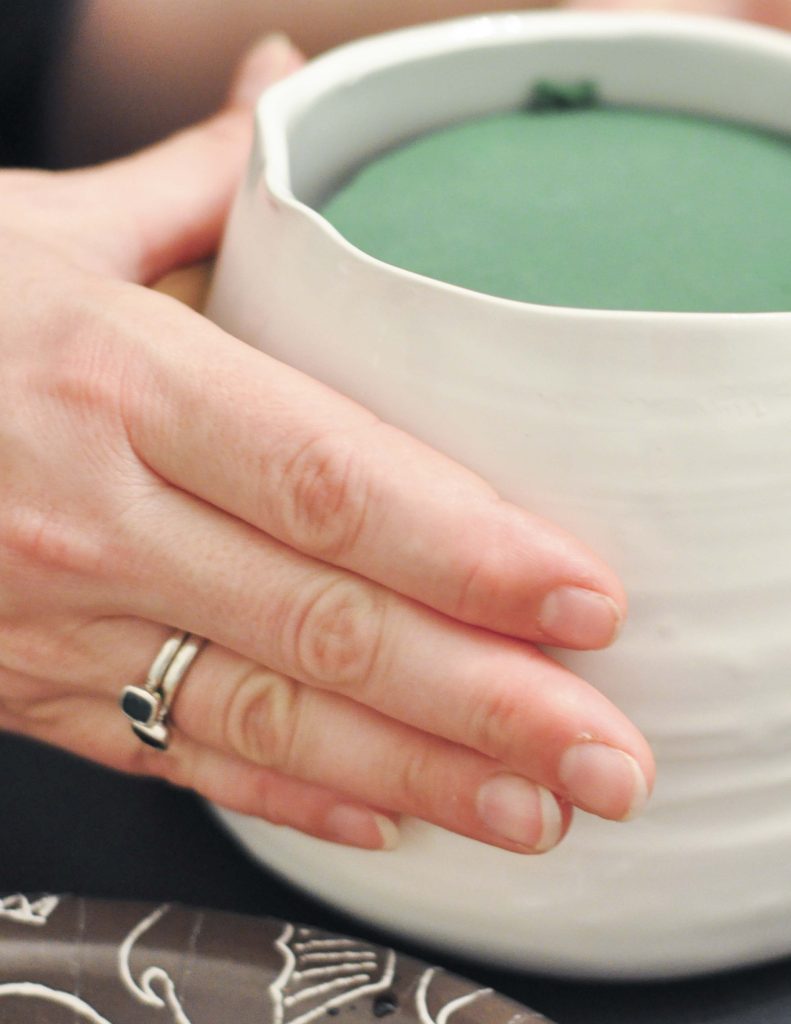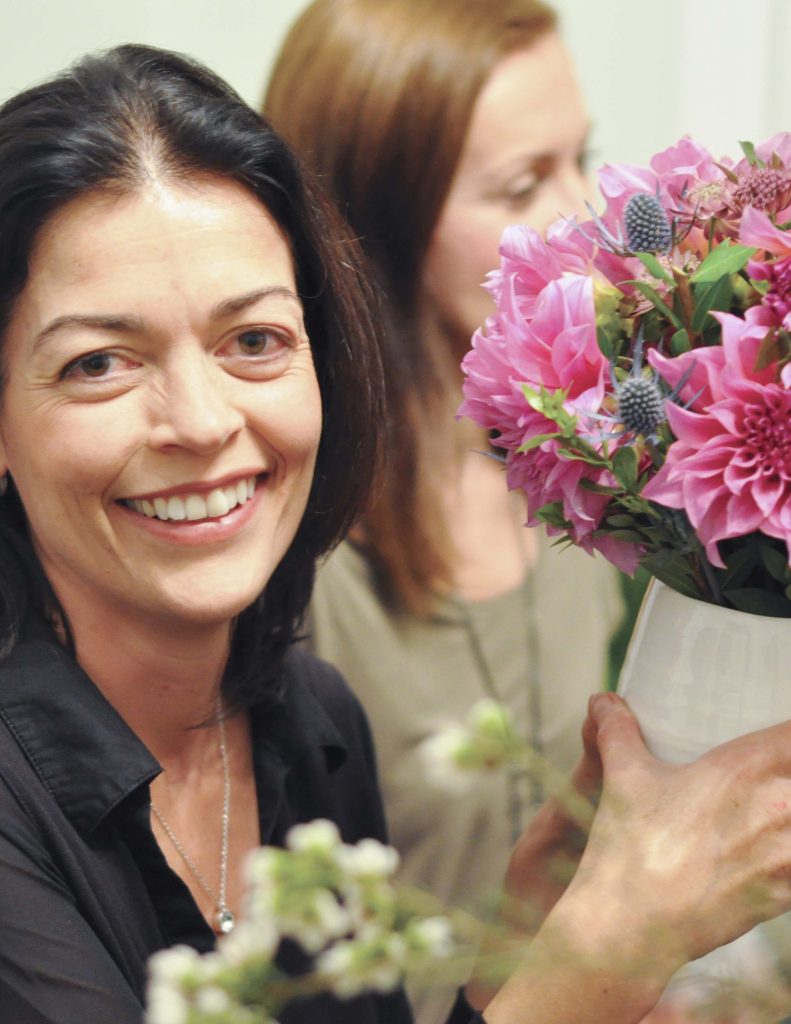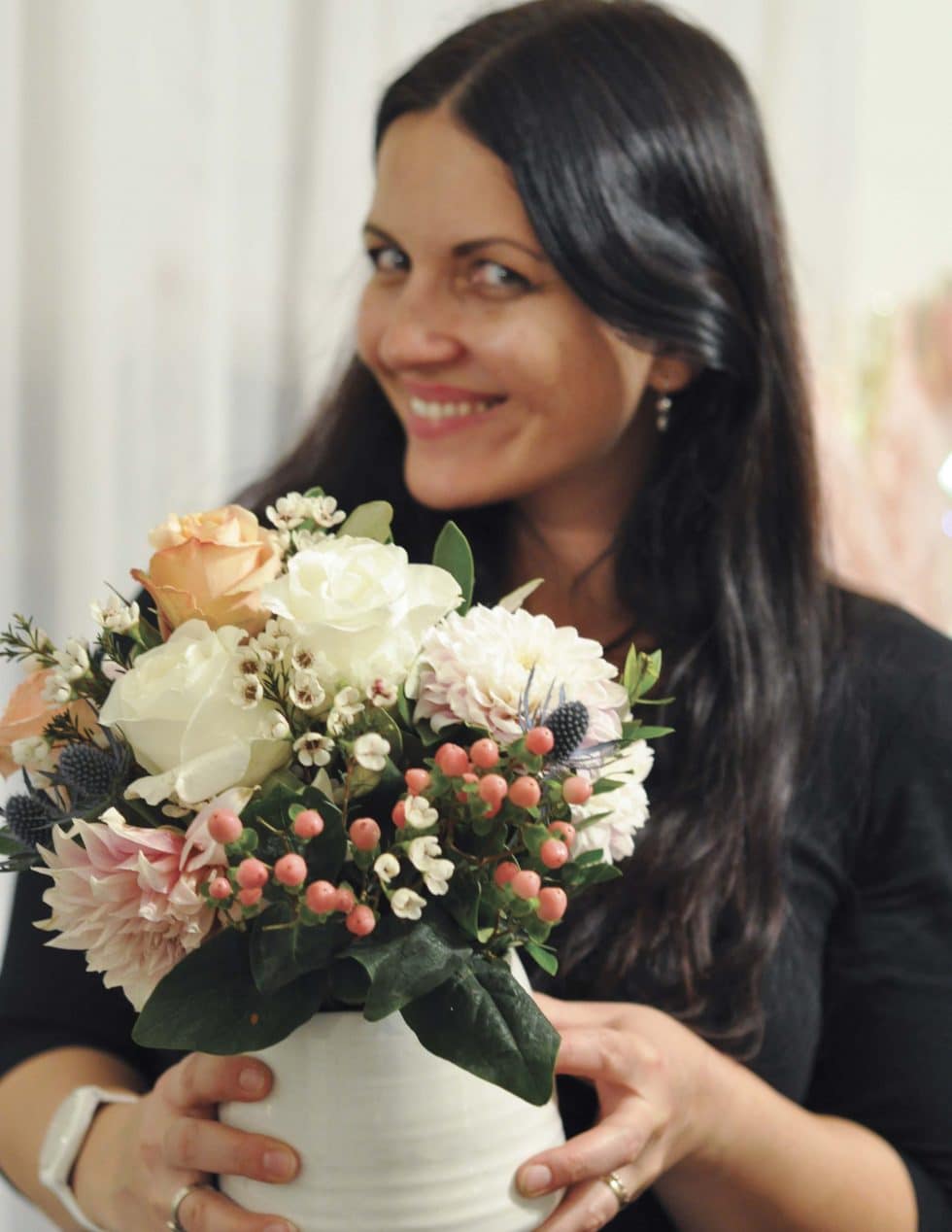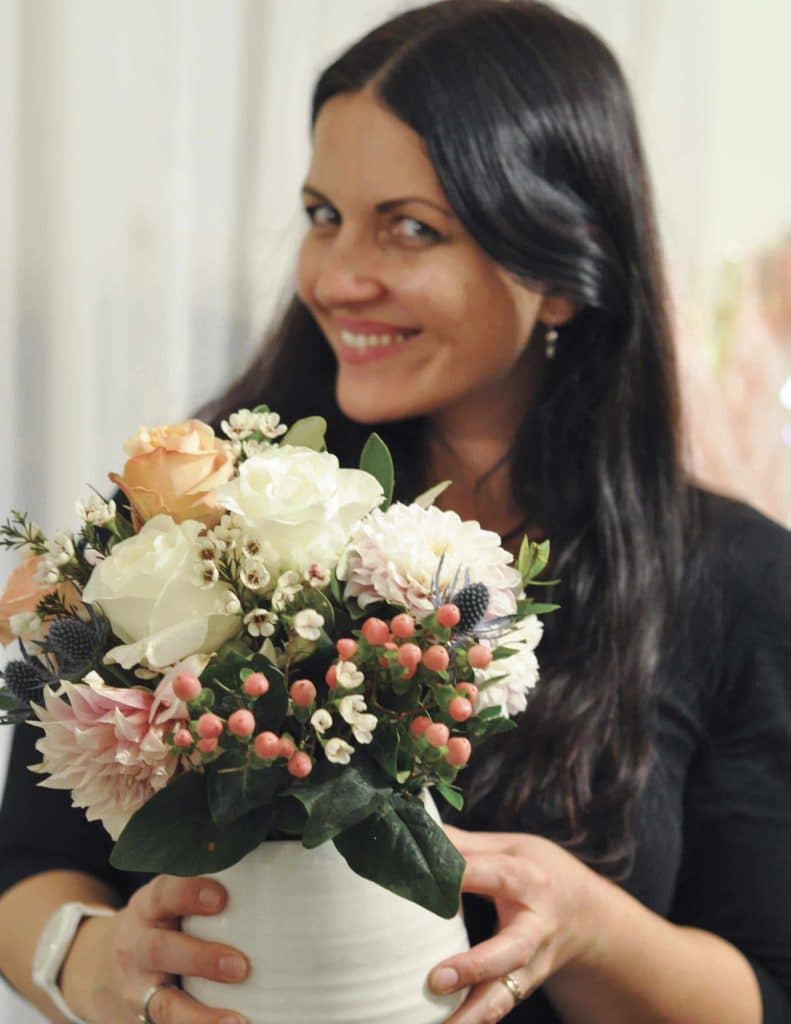 I hope this has inspired you to think outside of the box when it comes to bonding and celebrating!
Don't forget to Check out my Amazon Shop for an easy one-stop shop for many similar or alternative items to the ones I used in this party!
If you love florals, make sure to check out my Wildflower Shower and my English Country Garden Wedding!
Happy Arranging!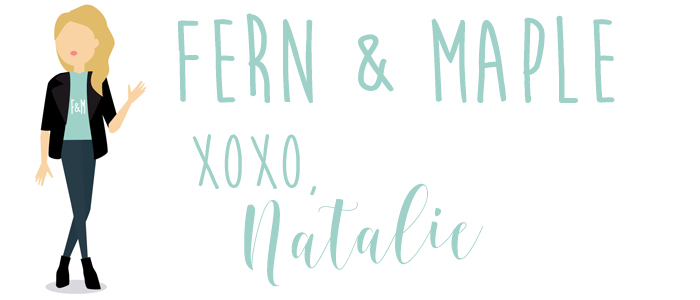 PIN FOR LATER: