One of my favorite things to do when styling parties is to challenge myself to combine unexpected themes. Typically, dinosaur-themed parties utilize bold colors and have more of an intense feel. So I wondered whether I could pull off seeking the softer side of dinos – and I'm happy to say I feel like I succeeded with the help of two of my very talented friends: Marissa from MeParty, and Brenda from Festive Fetti. With their amazing products, I was able to create a whimsical Pastel Spring Dinosaur Party full of florals and fun. It's great for birthdays, Easter parties, or any occasion for someone who loves dinosaurs AND pretty florals. Read on to see how I set it all up!
P.S. If you prefer Amazon, check out my Amazon Shop for some similar or alternative supplies for this party!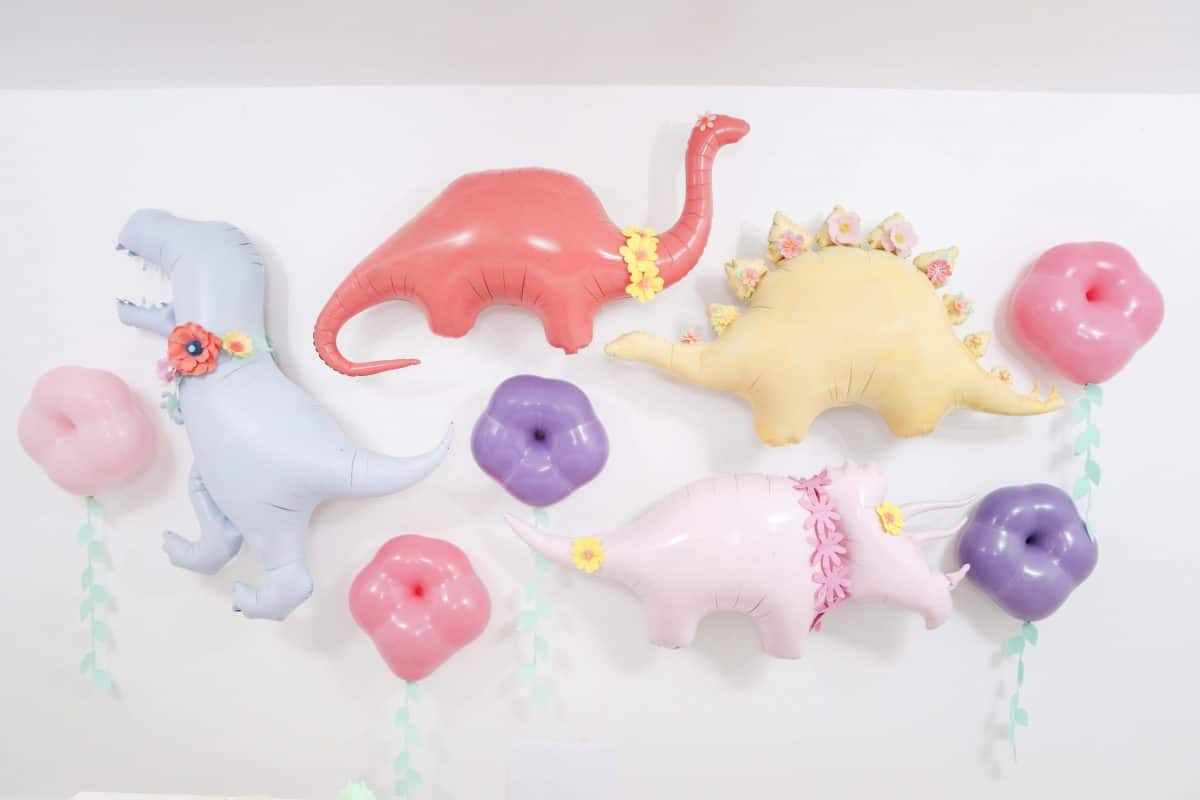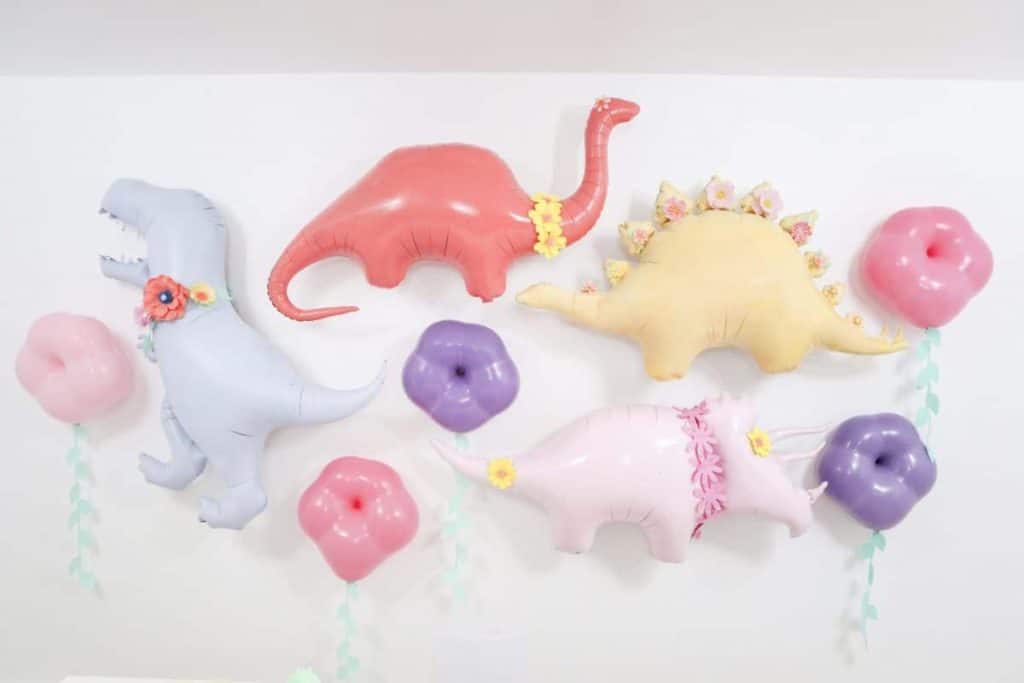 DIY Dino Backdrop
First, I created the focal point of the party – the fun dino backdrop! This is where Marissa's amazing mylar dinosaur balloons really shine. I spray painted them in pastel colors to bring in the Spring vibes, and added an abundance of faux floral embellishments to each. Then, to give the illusion that the dinosaurs are strolling through a spring field of flowers, I added some floral latex balloons around their feet with mint green leaf garland stems.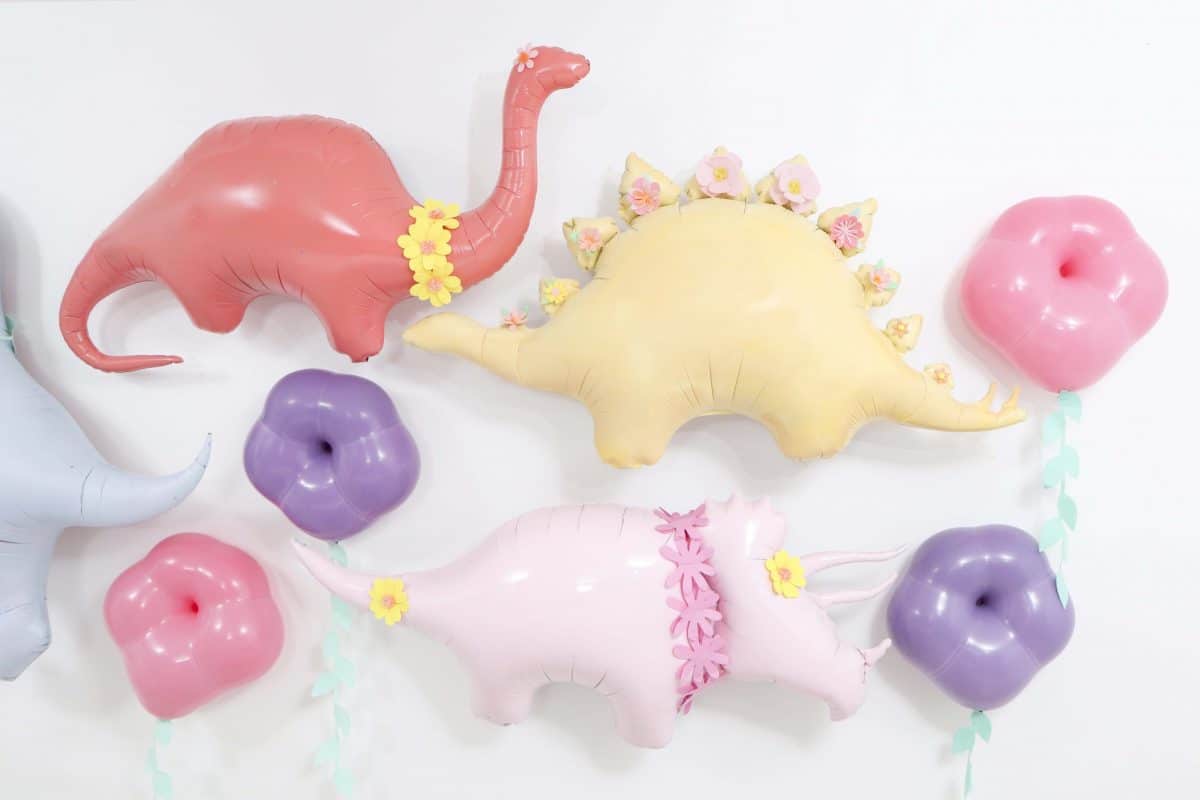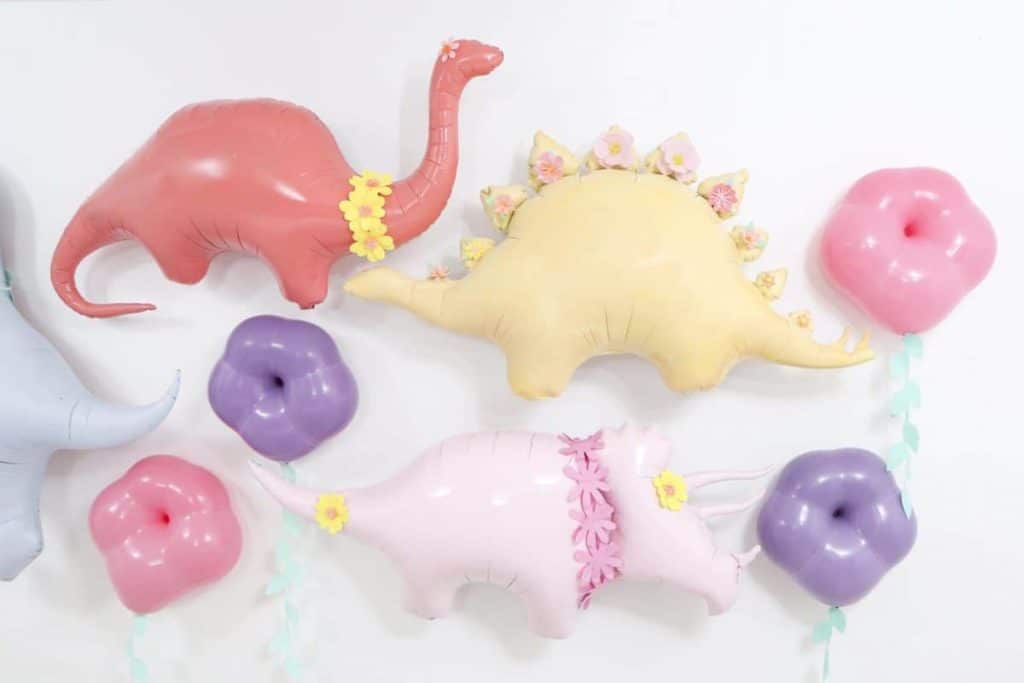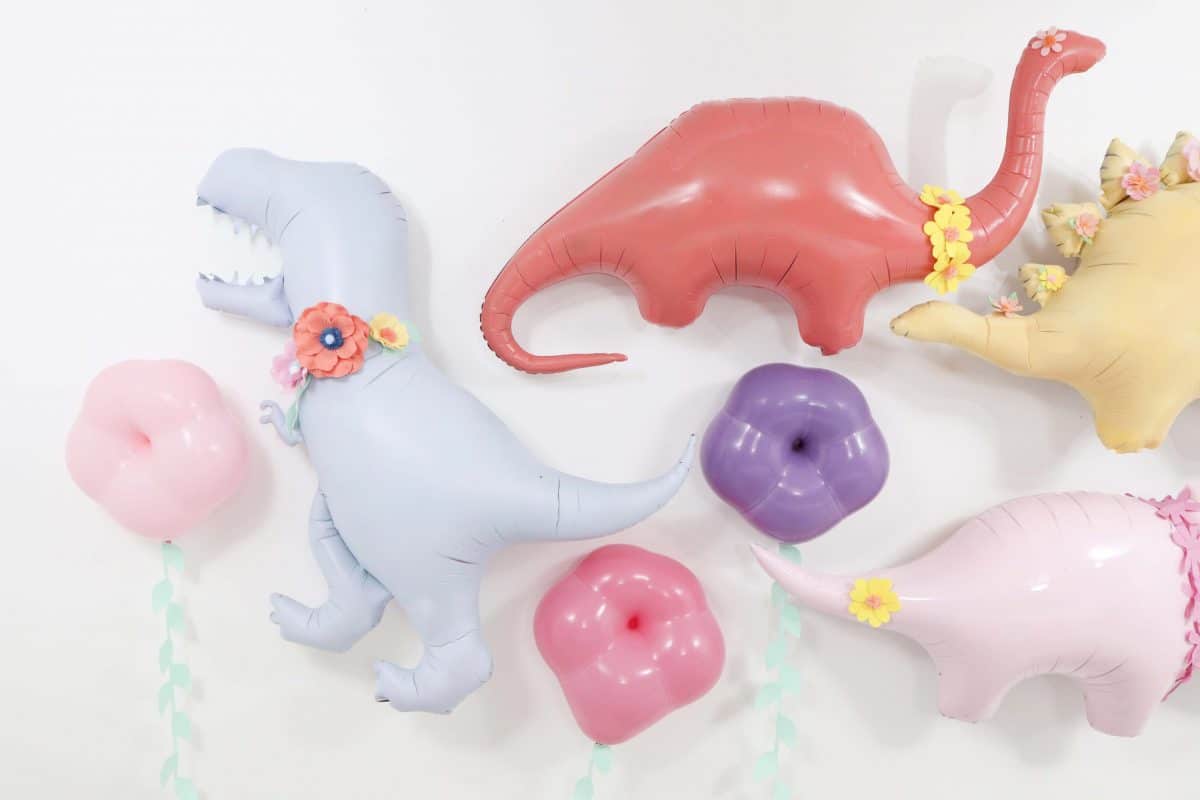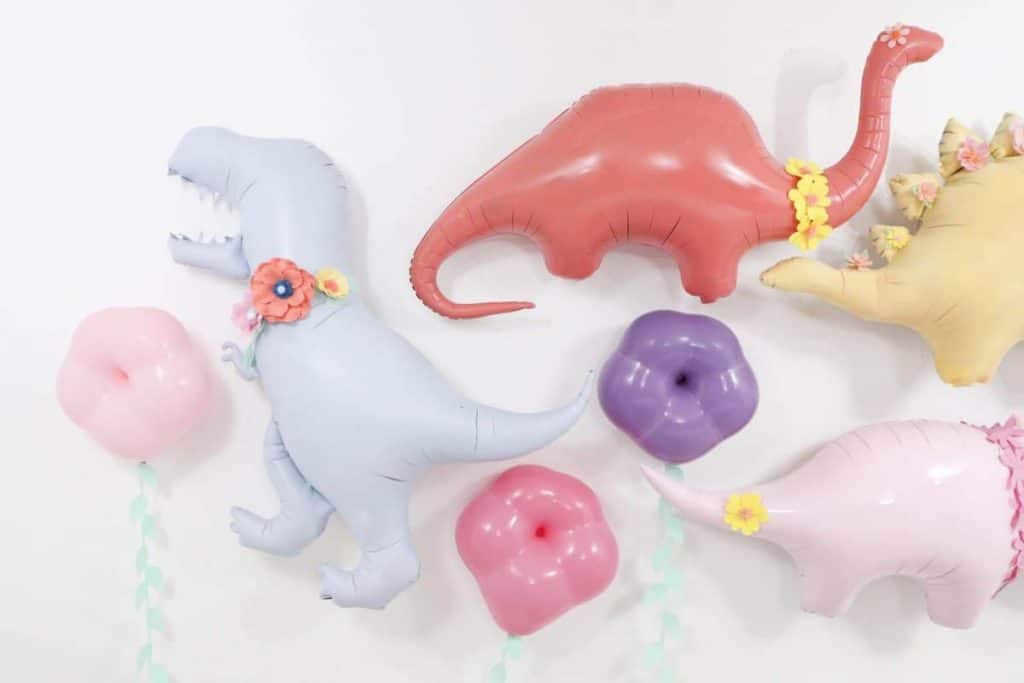 Each dinosaur has unique floral attire! Necklaces, hair bows and floral spikes!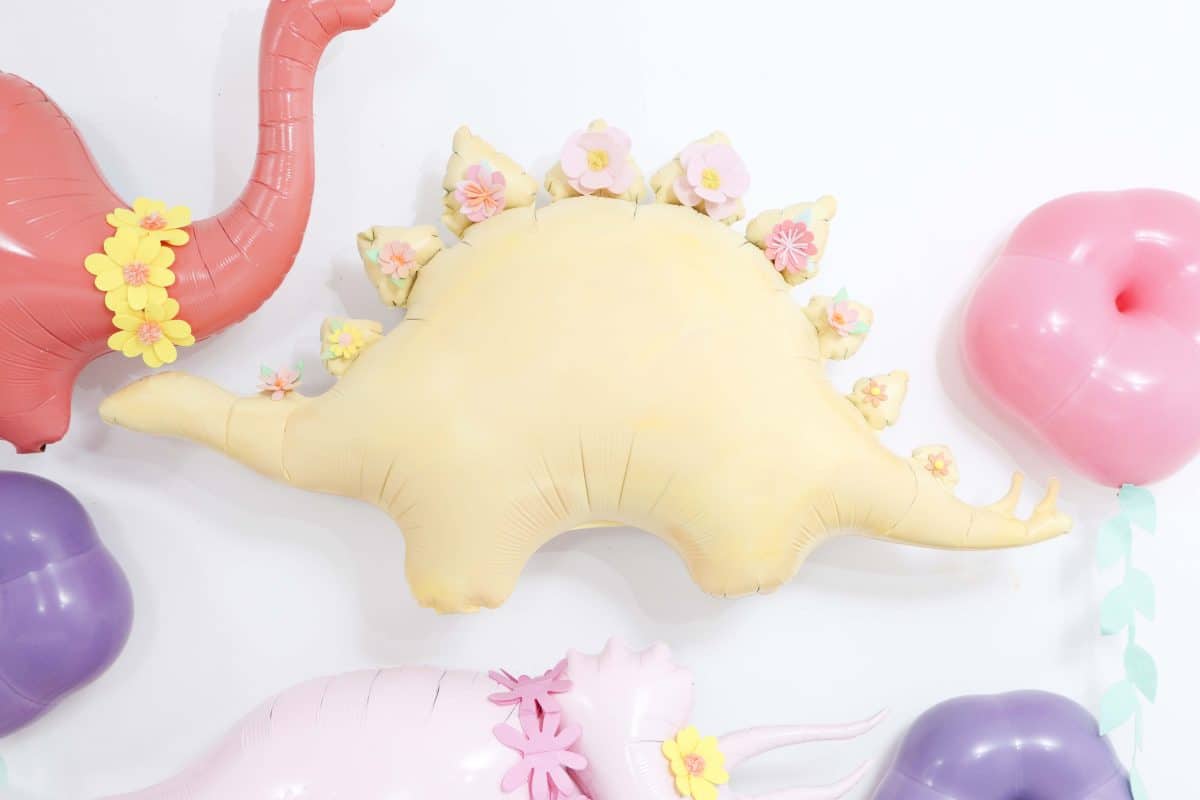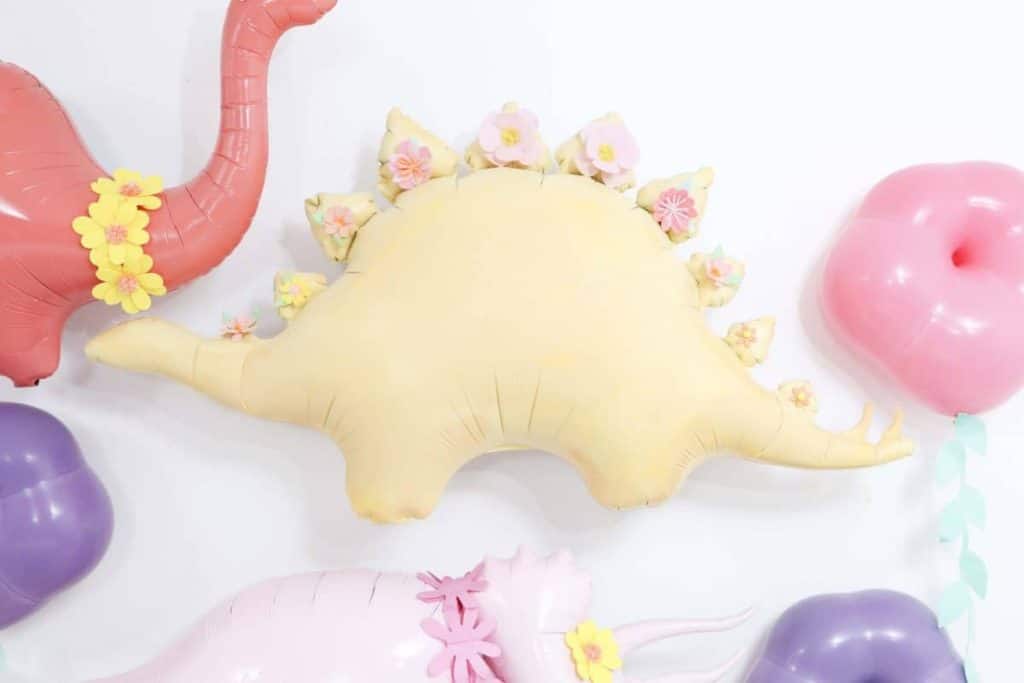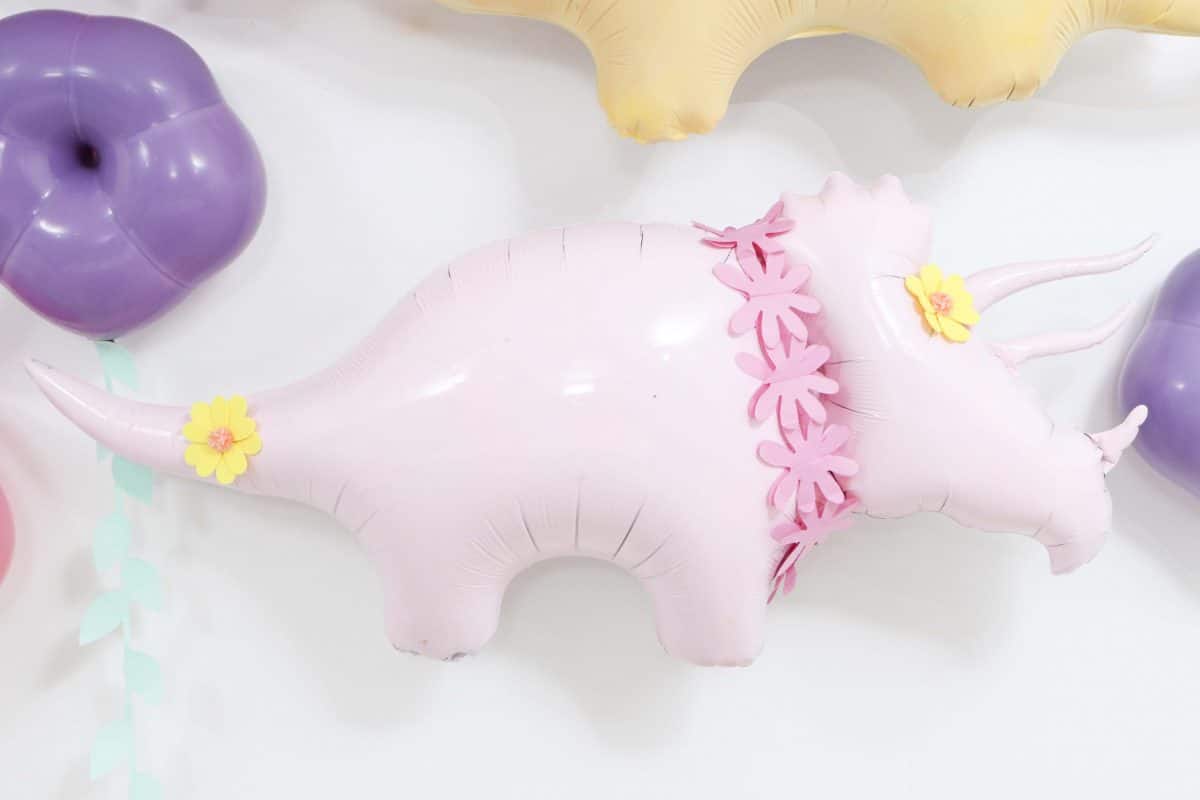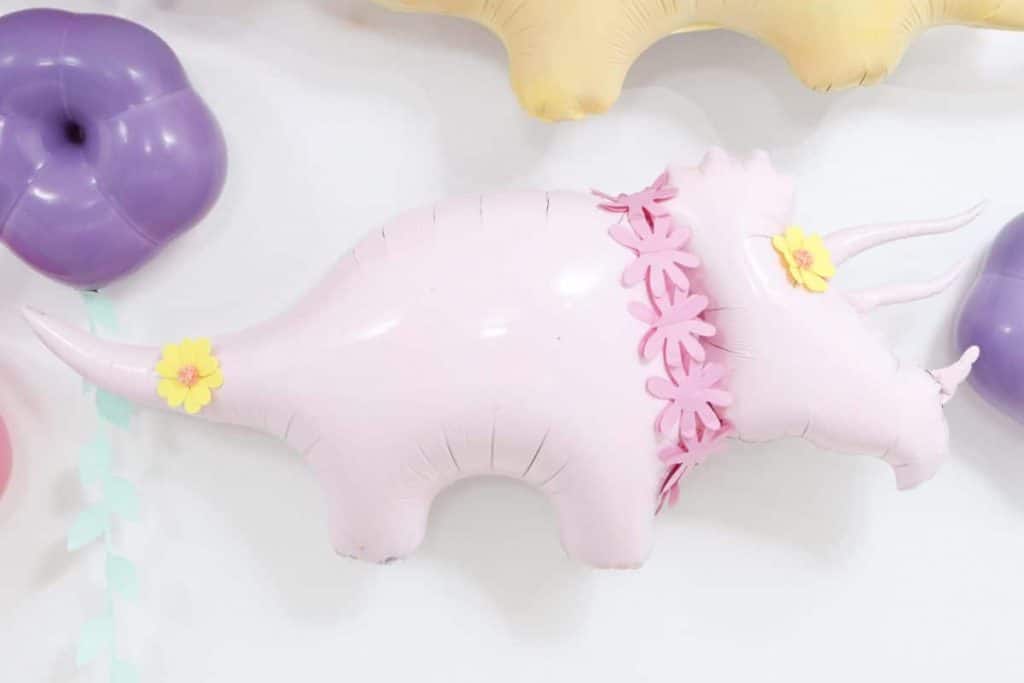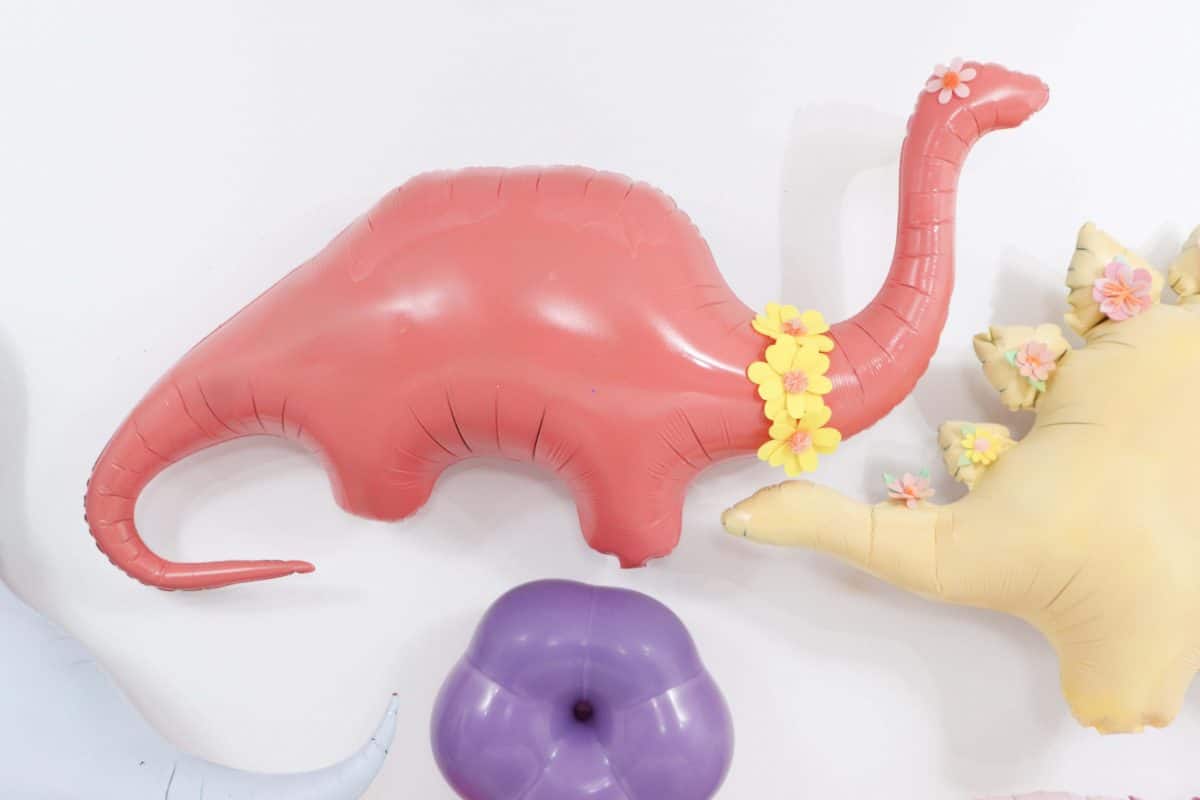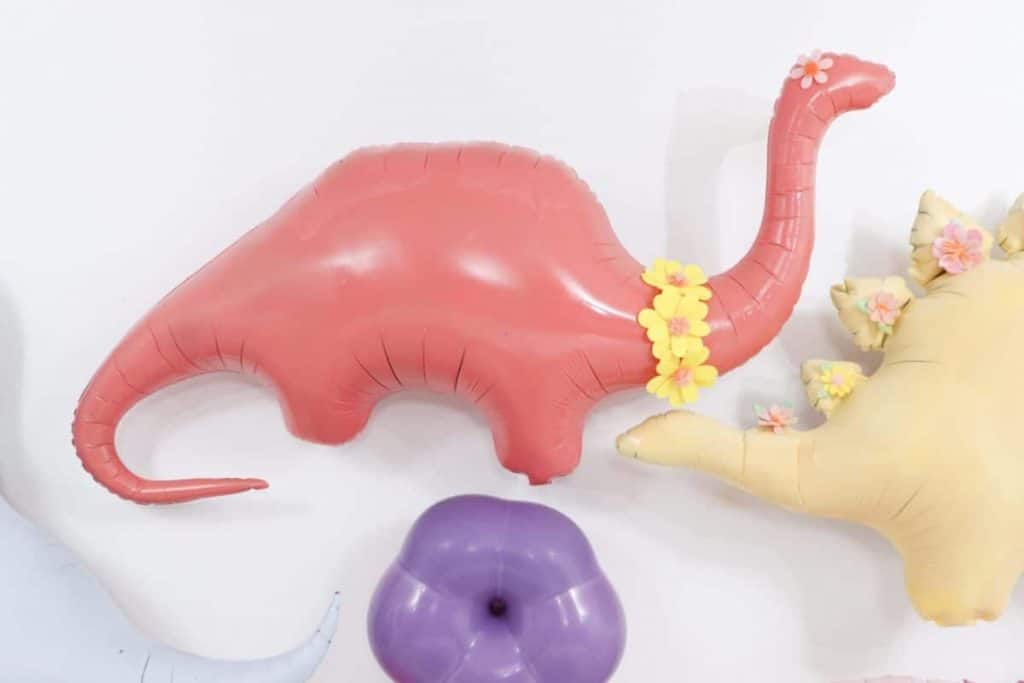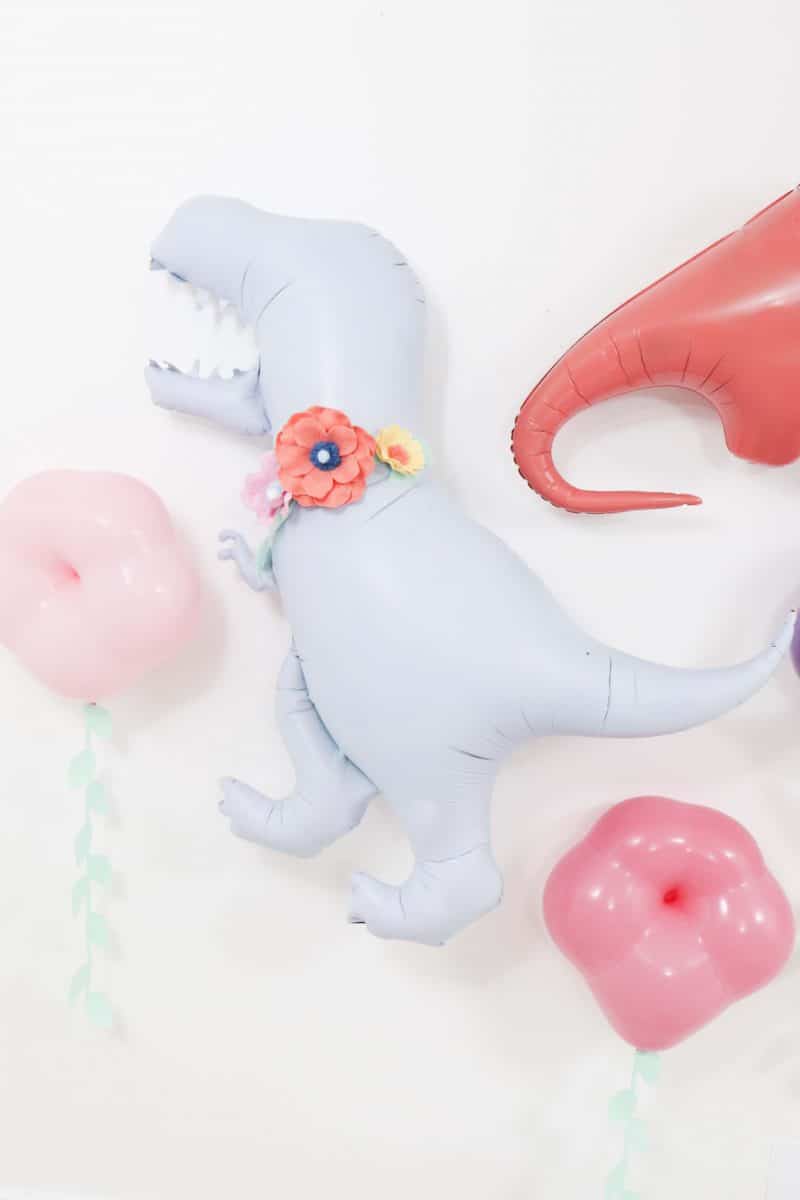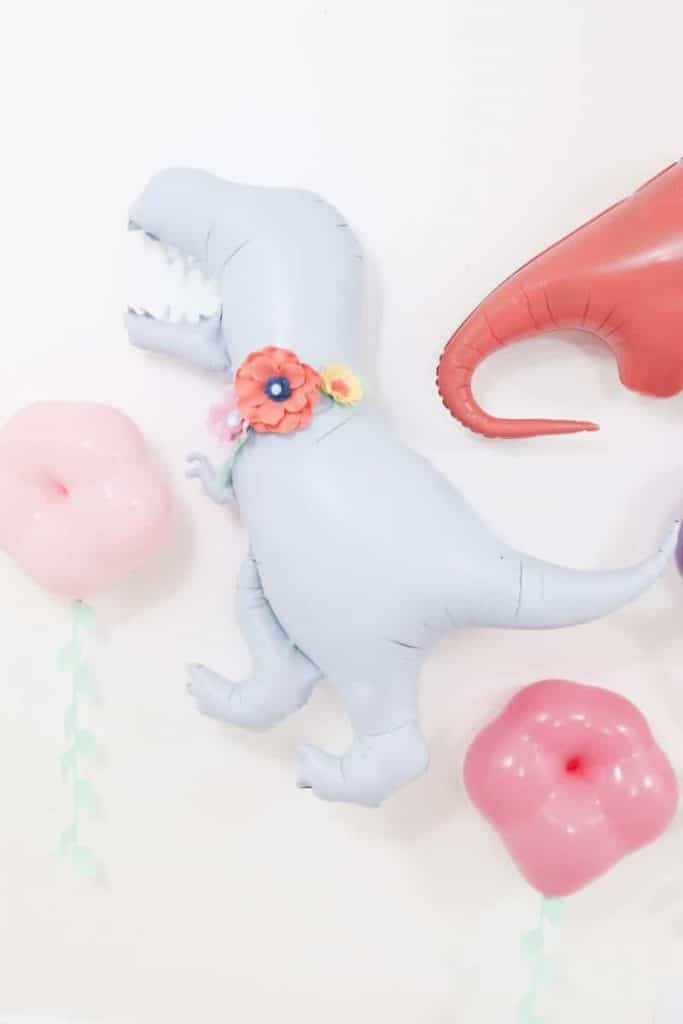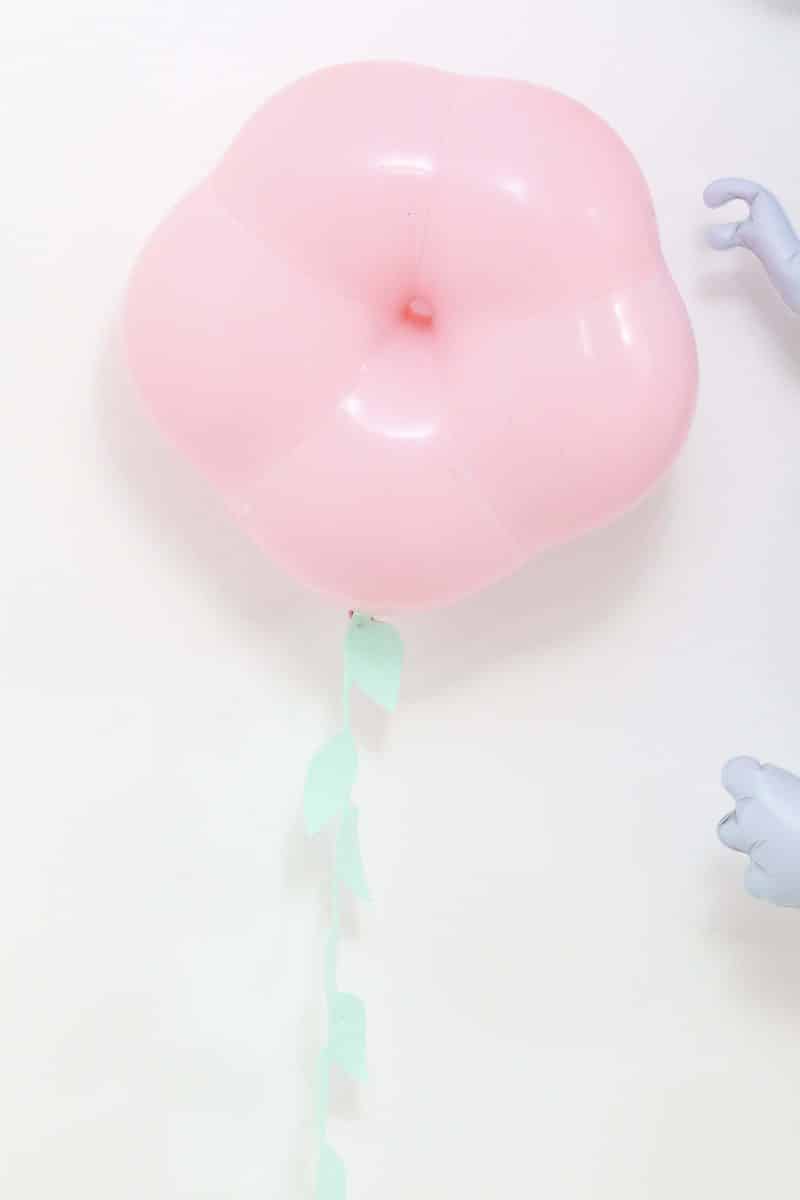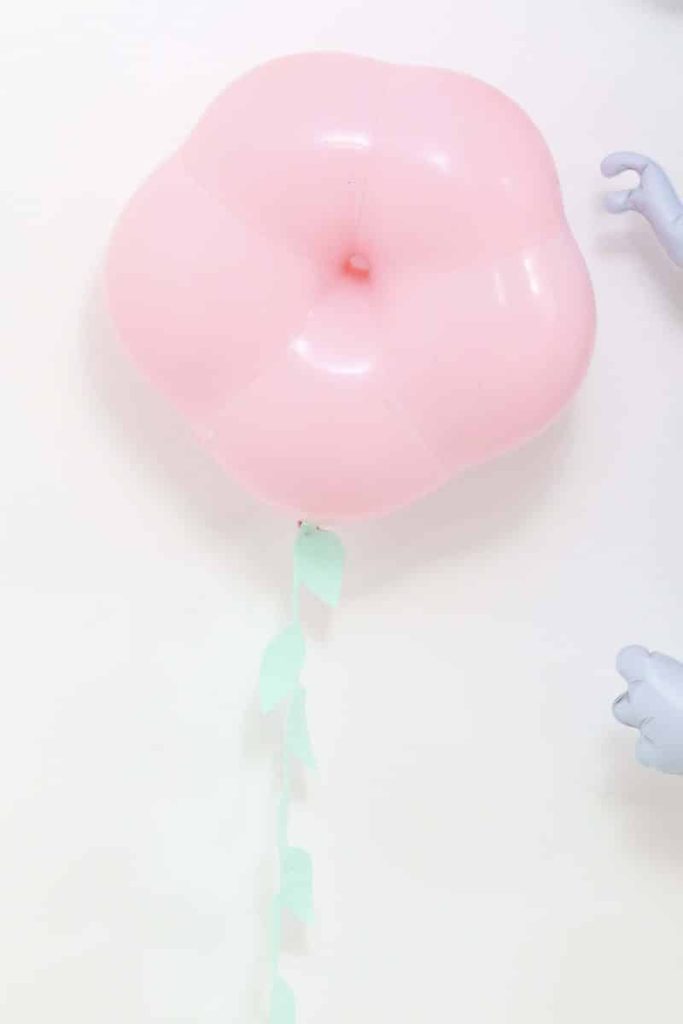 Table Setting
Next, I set my table. The first thing I did was spread a good amount of the gorgeous Spring Dino Confetti Mix from Festive Fetti across the center of the table. This creates such a fun and pretty spring table runner.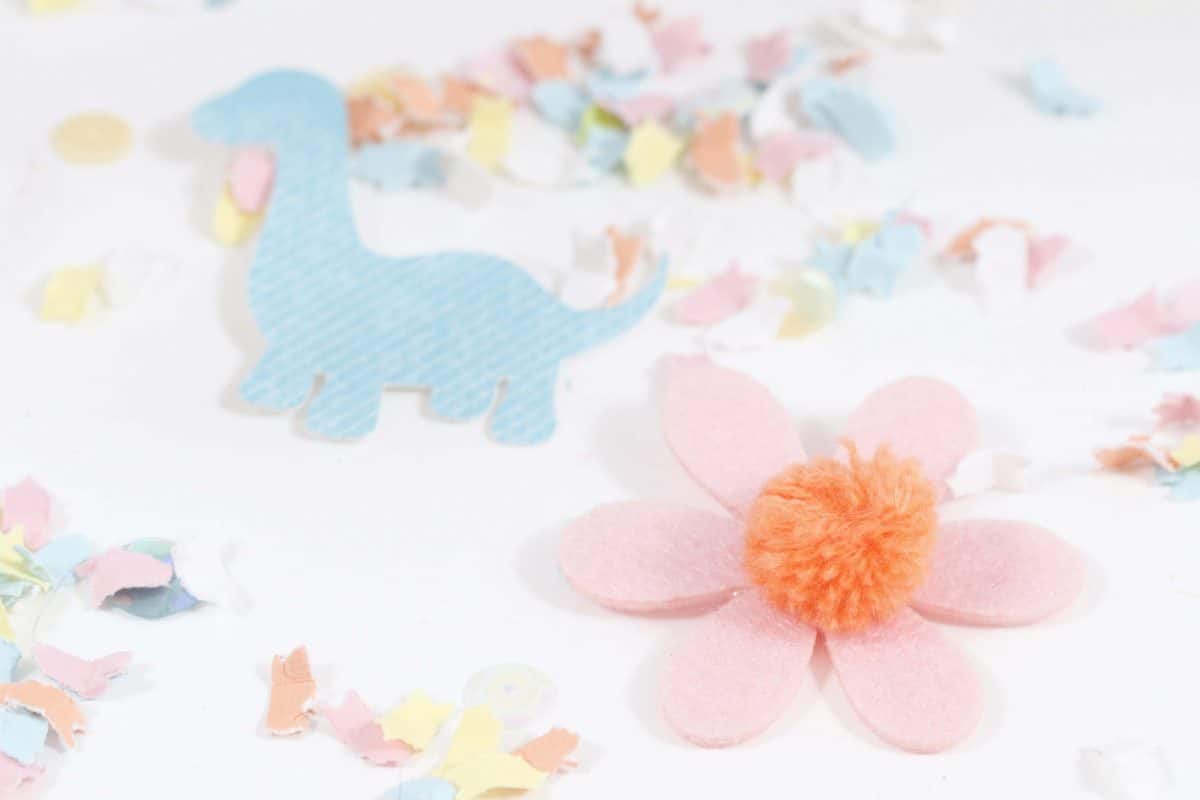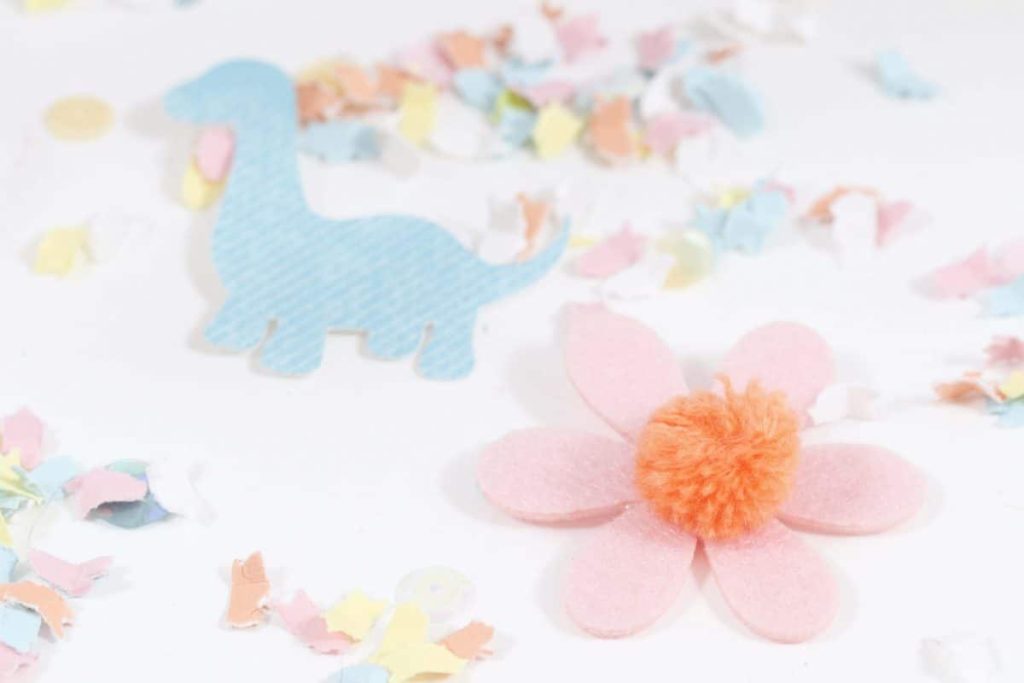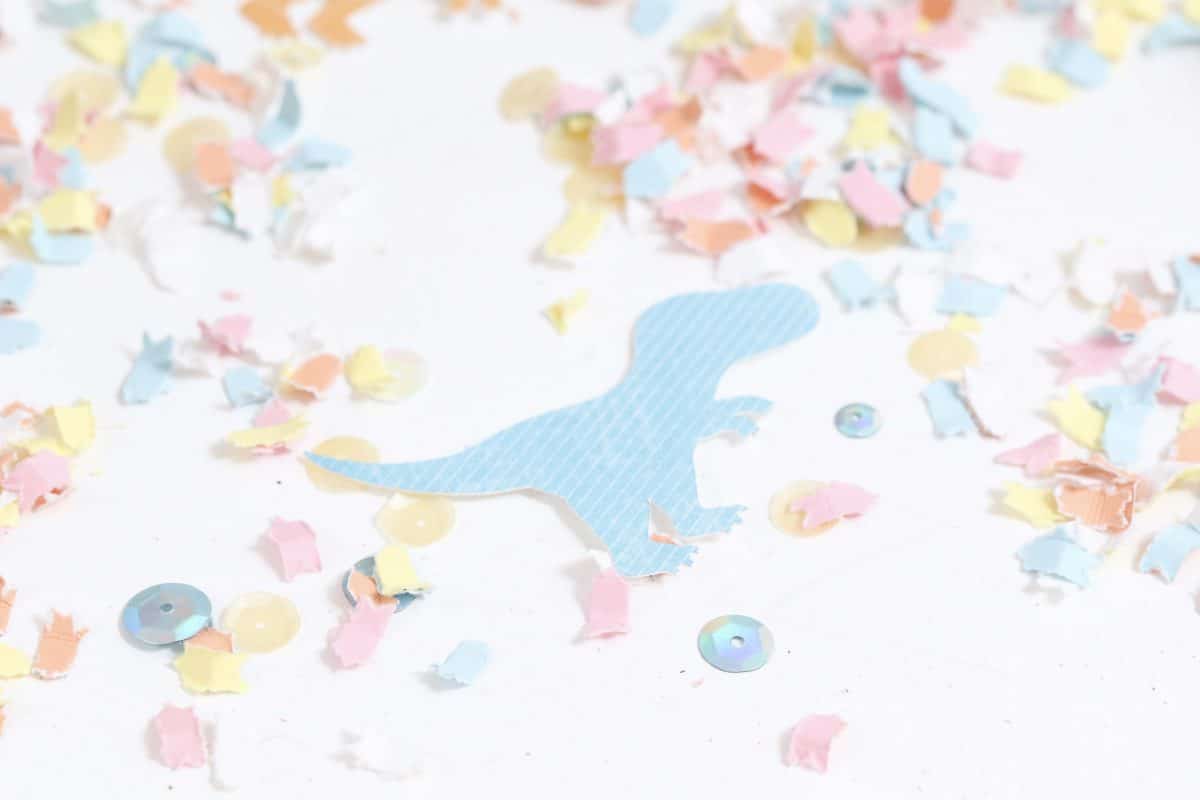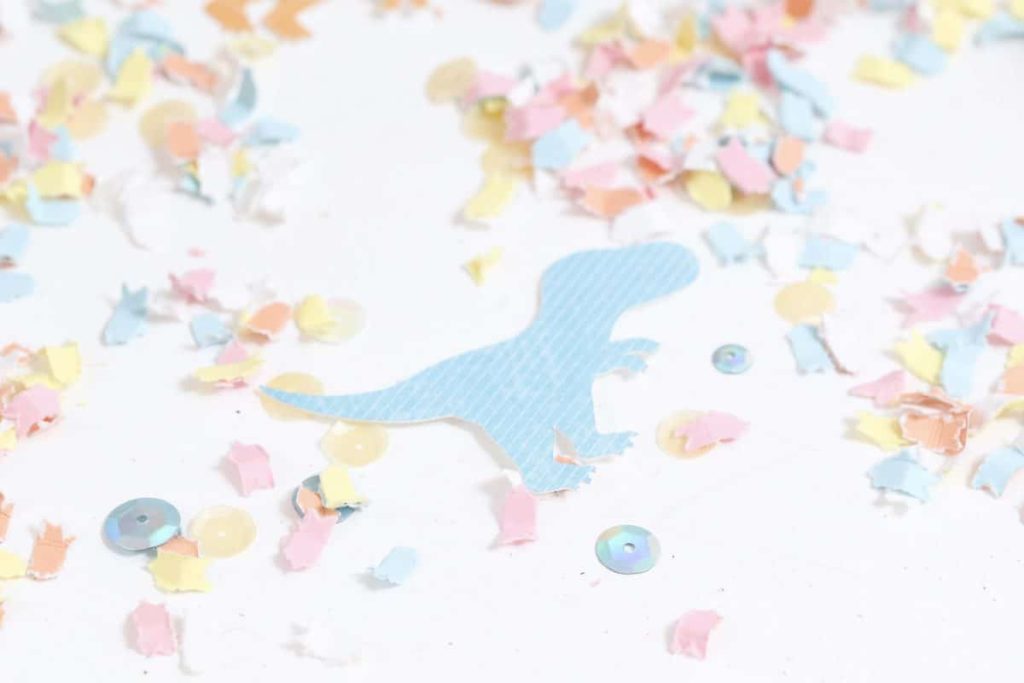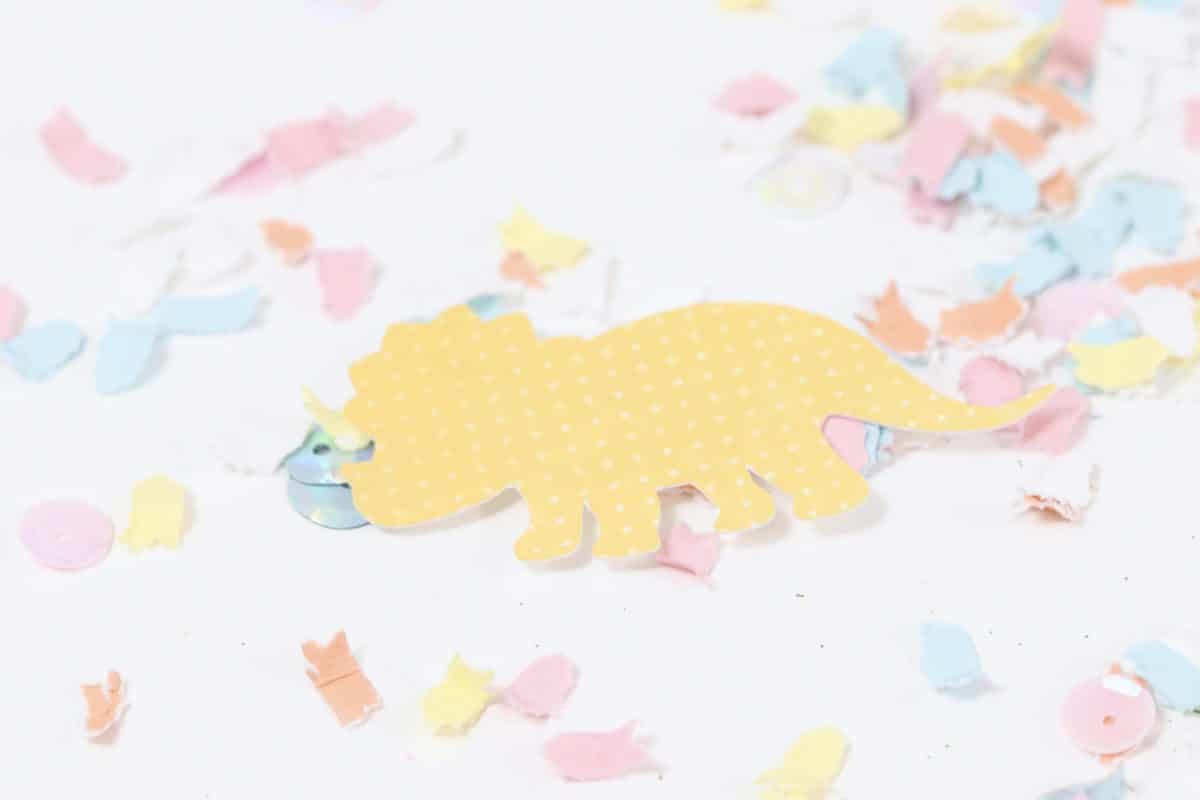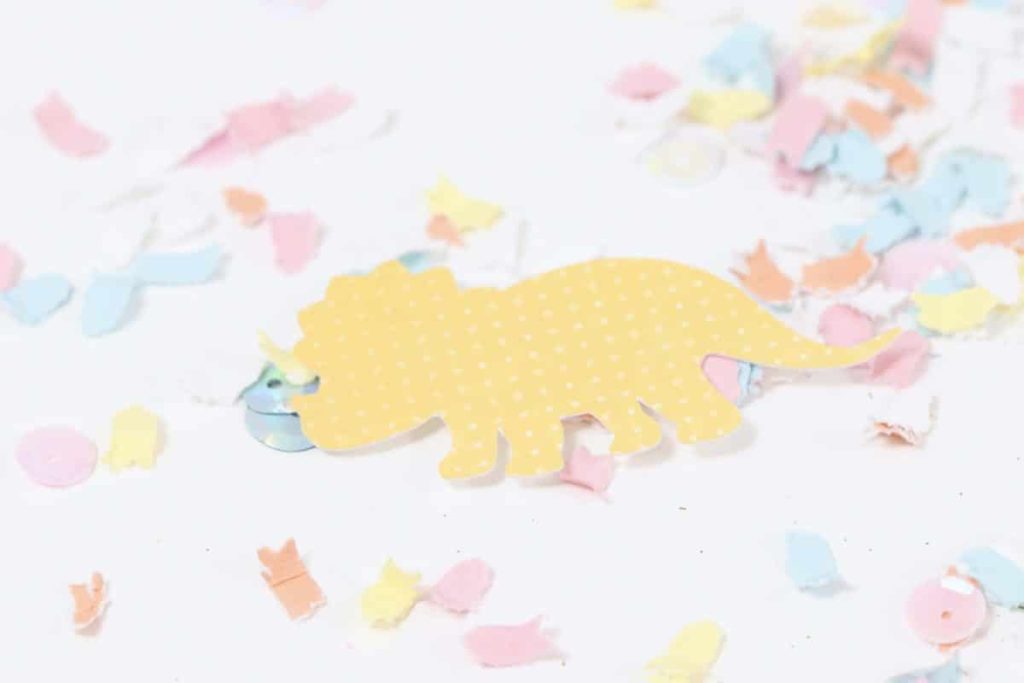 I also added some cute brightly colored dinosaur Easter eggs to the table. You can find these in packs of 4 at the Dollar Tree.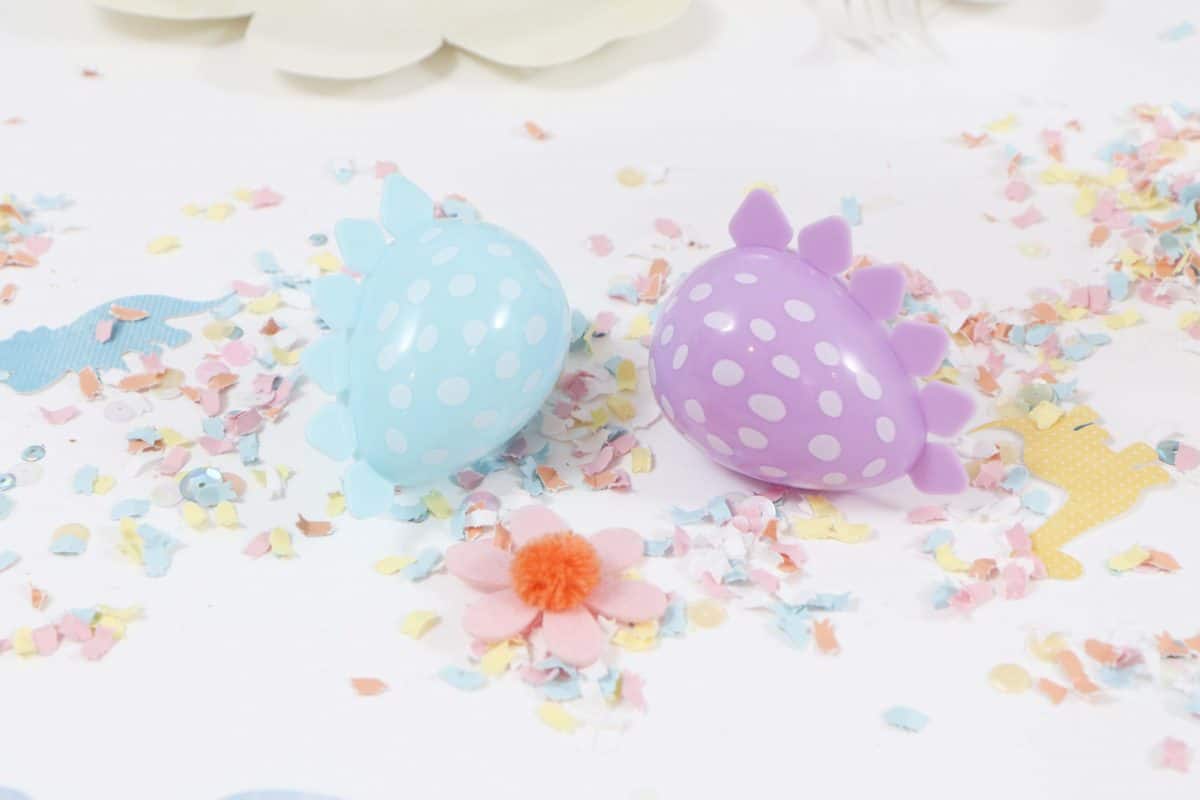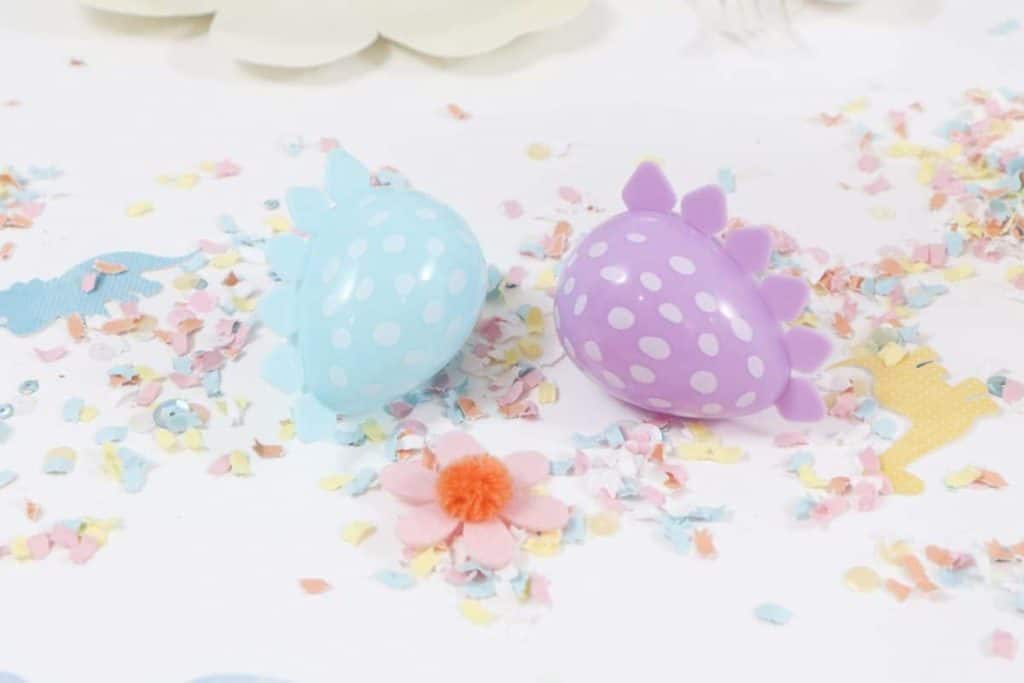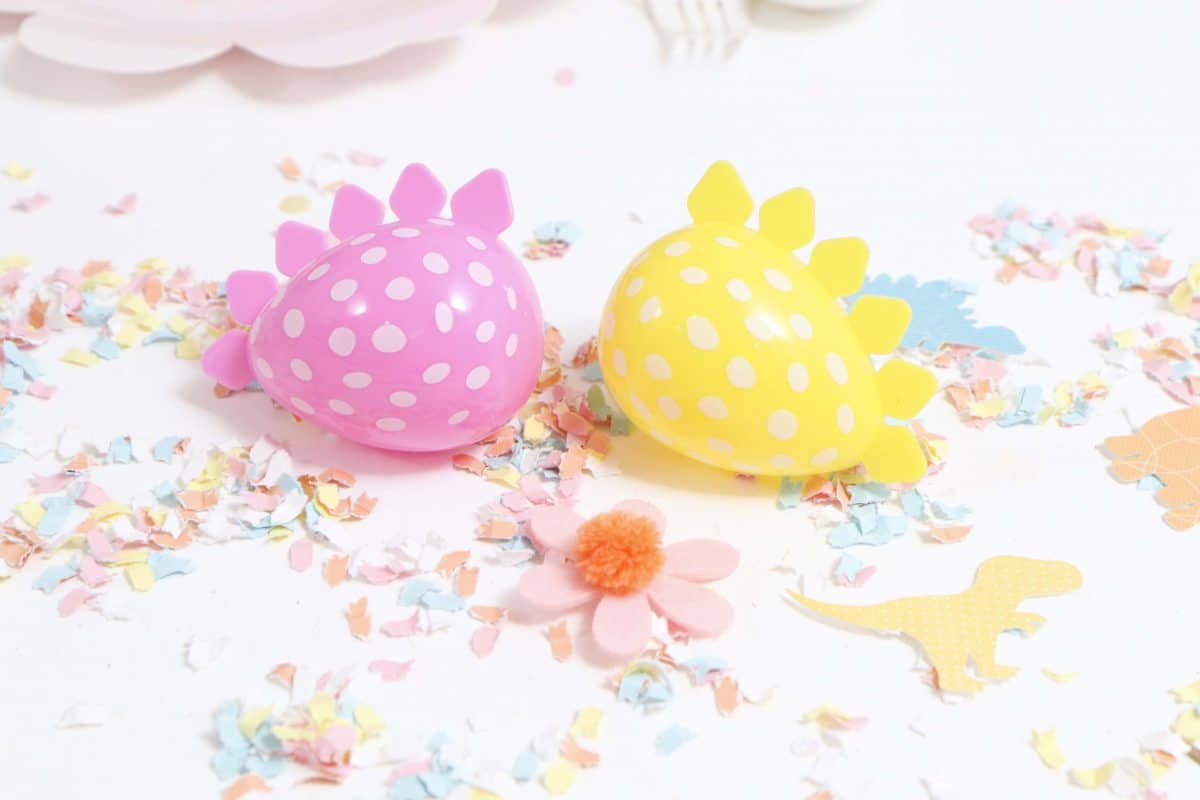 Then, I created a couple of dino centerpieces, using mint green dinosaur figurines hatching from eggs, elevated on clear cupcake stands embellished with some spring florals.  The little dinosaurs popping out of the eggshell vases are also from the Dollar Tree and have Easter Eggs inside their bodies, so they double as fun take-home gifts for friends.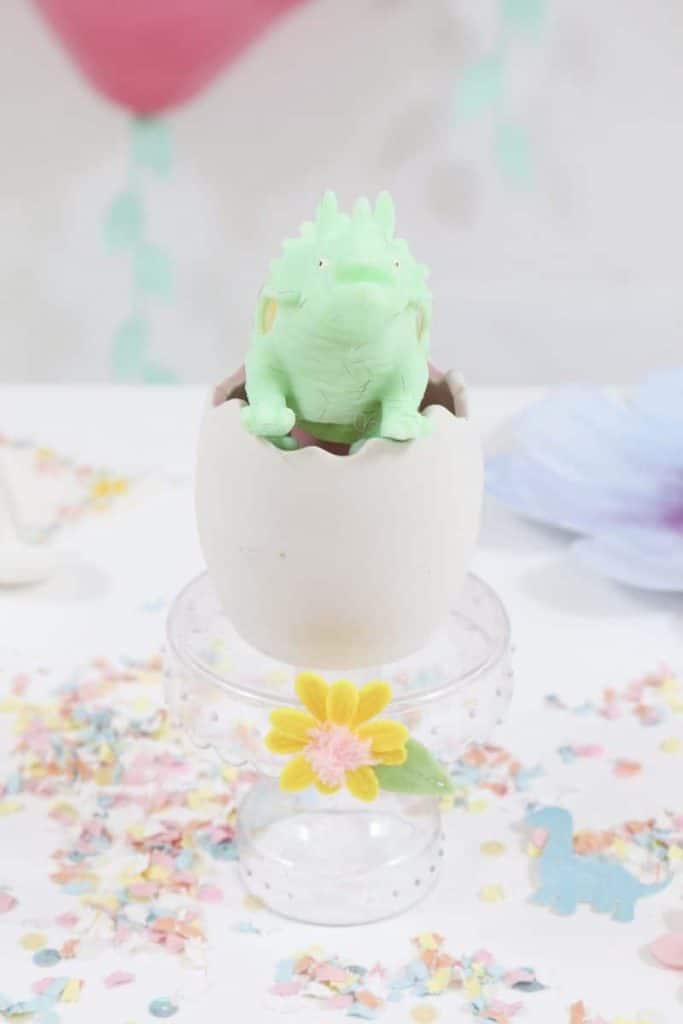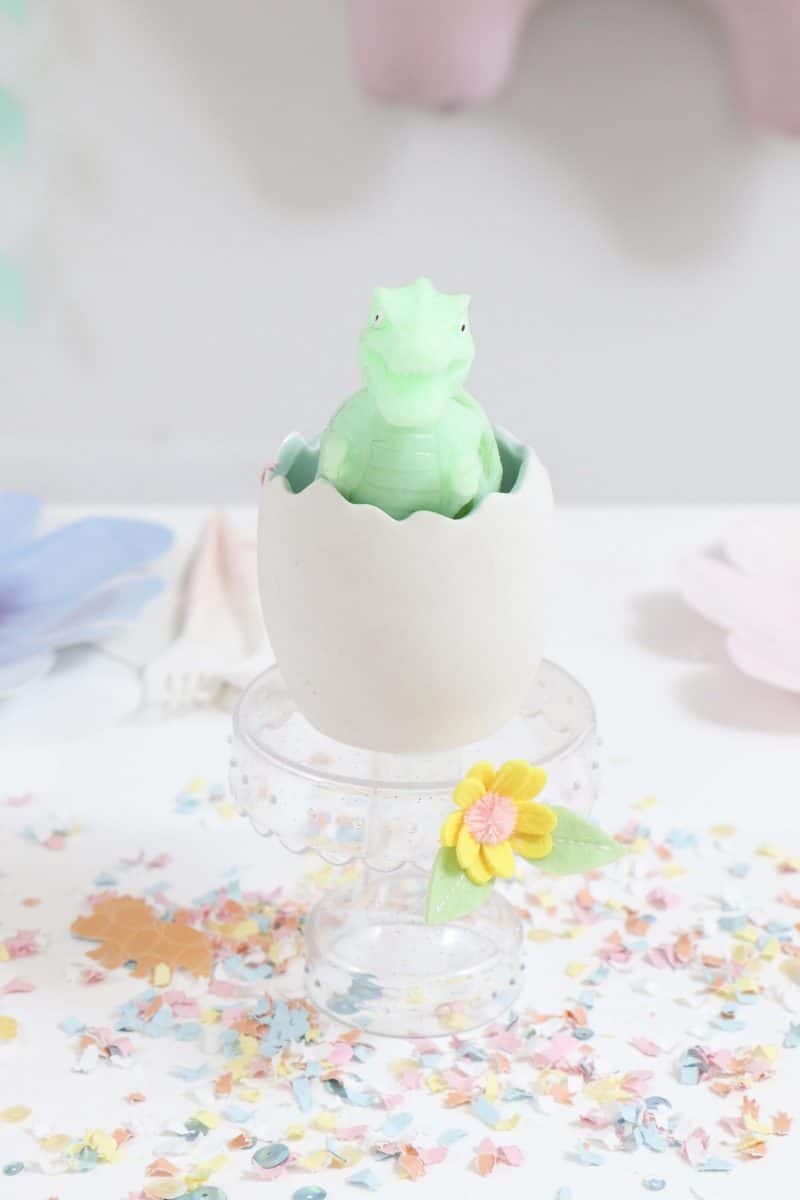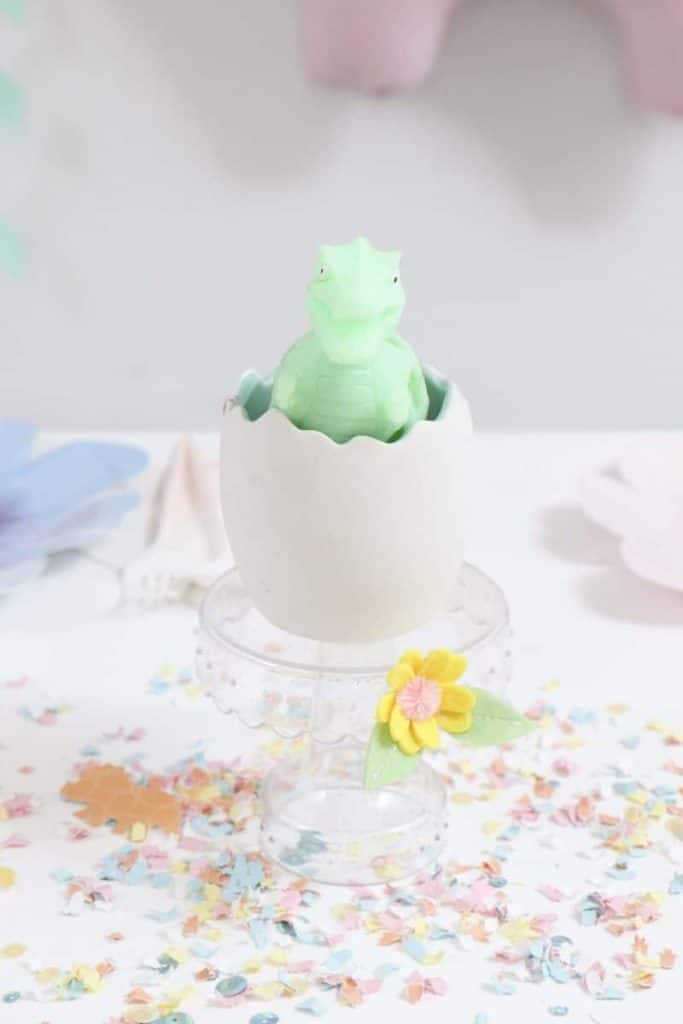 Place Settings
I kept my place settings simple, using Meri Meri Flower Garden Plates from MeParty. They are so lovely and realistic, they look great on their own. I simply added pretty floral napkins and pastel pink plastic utensils to complete the settings.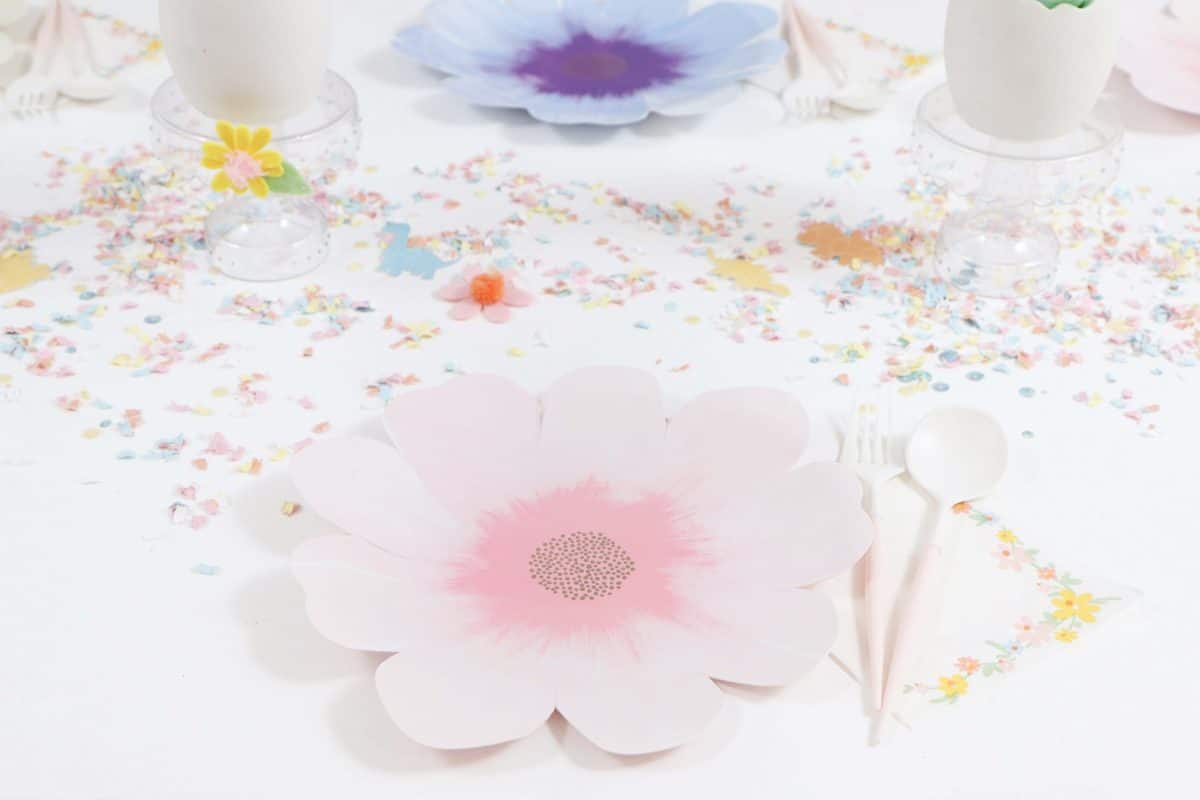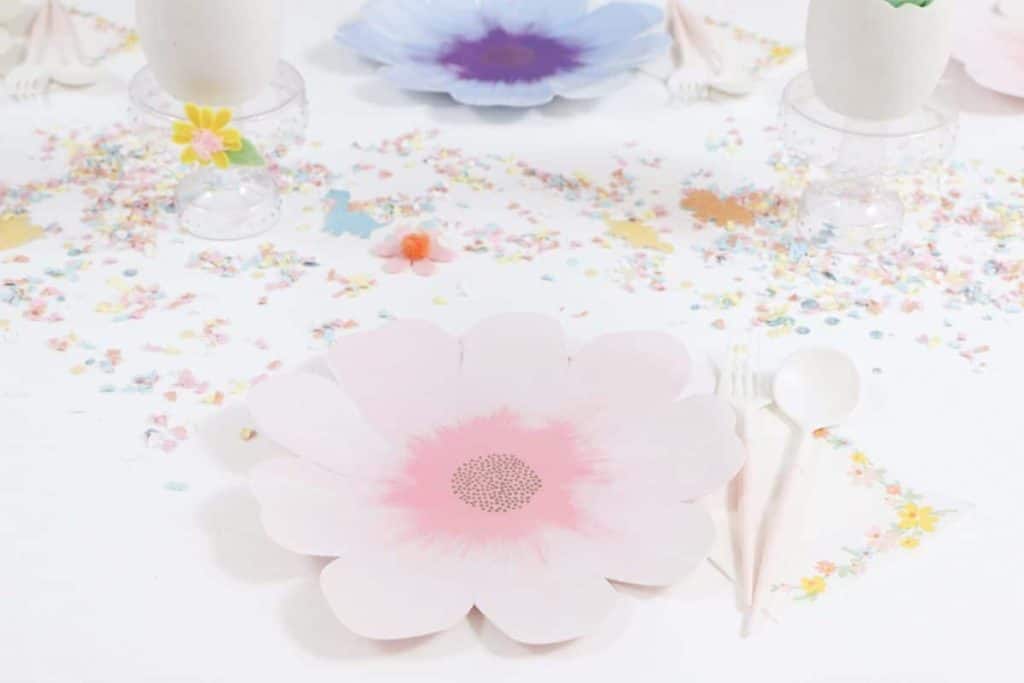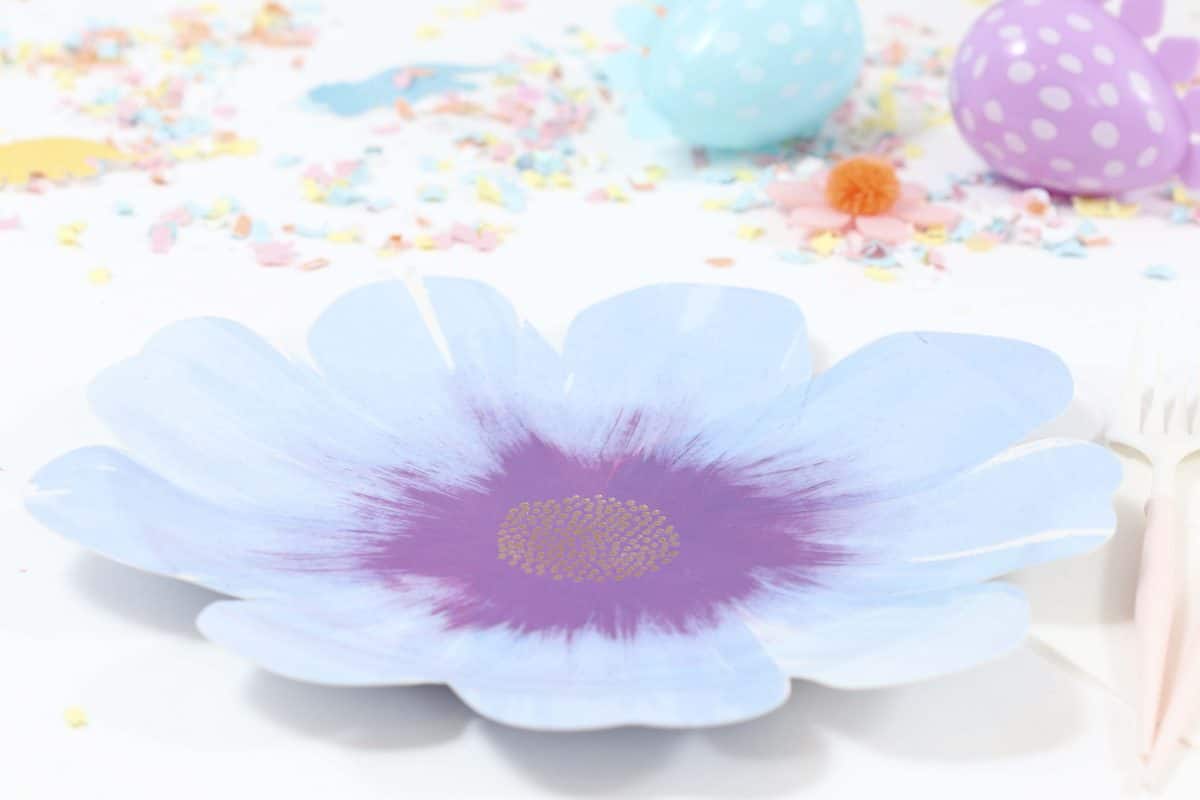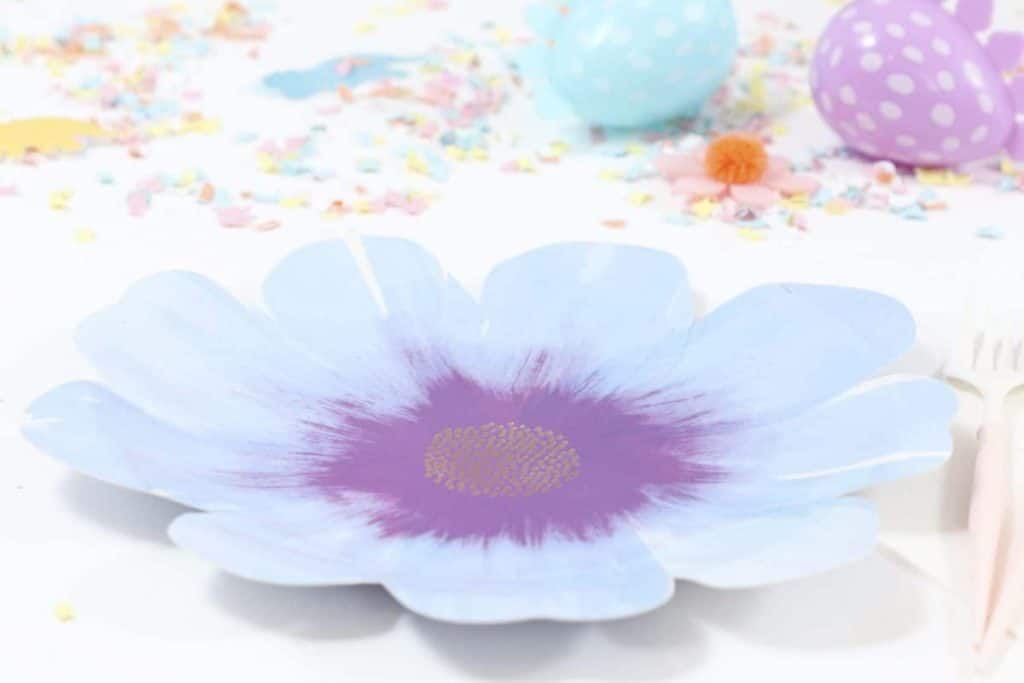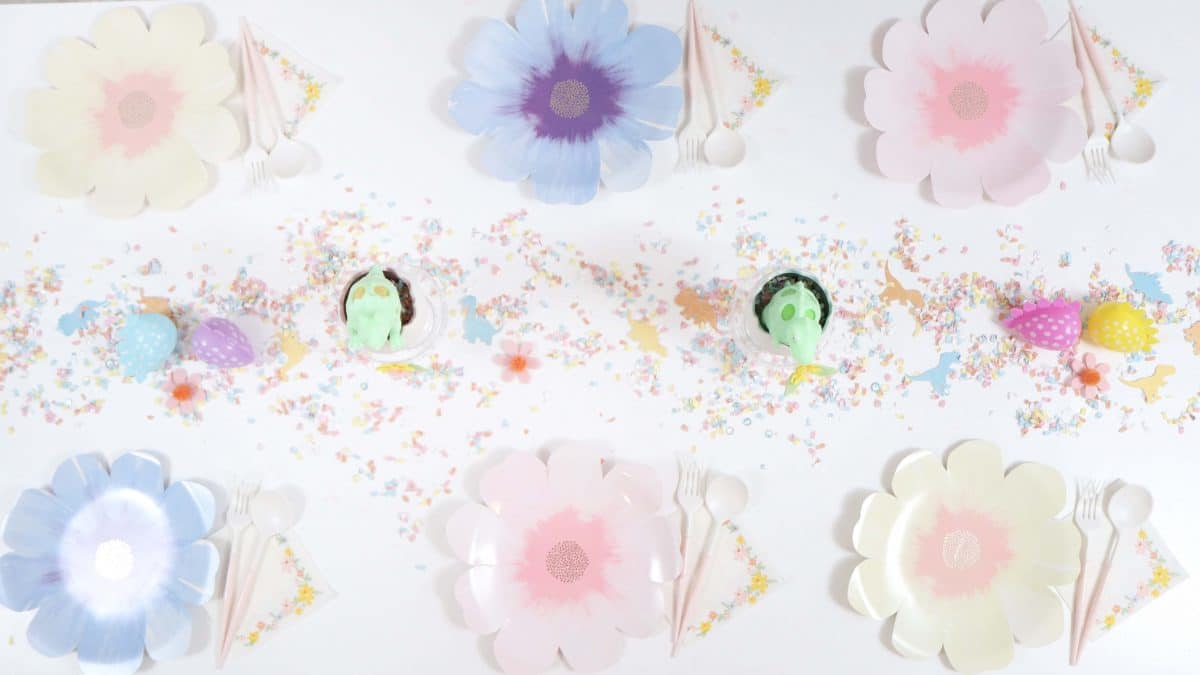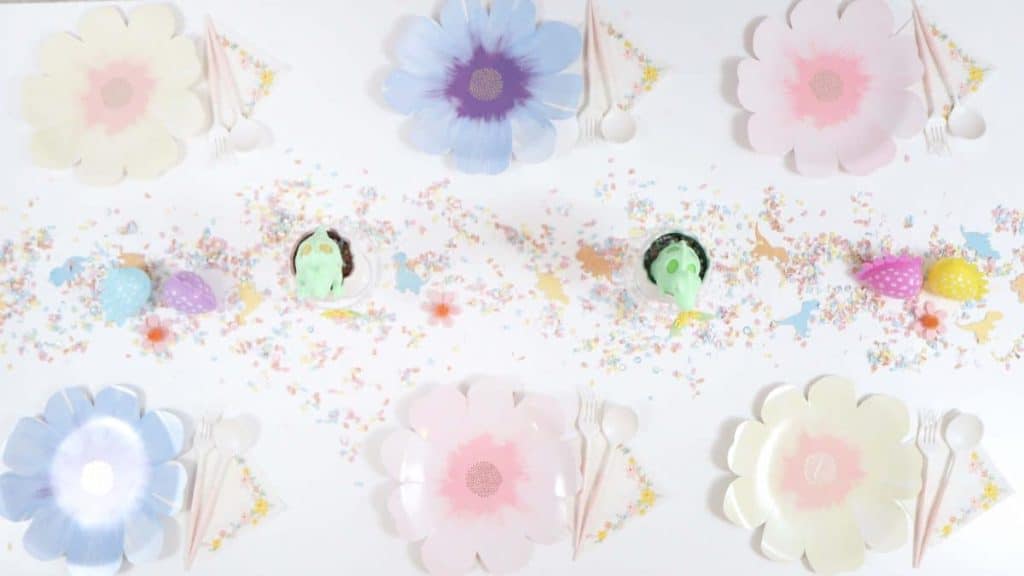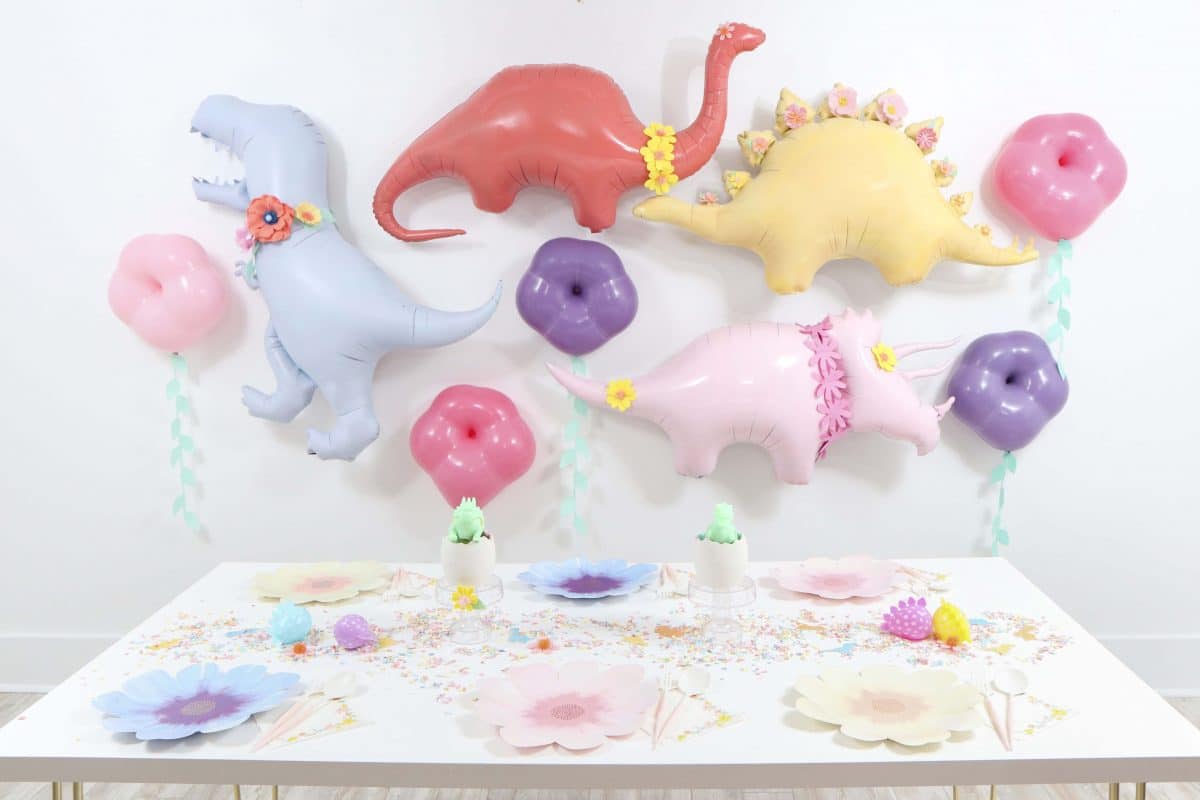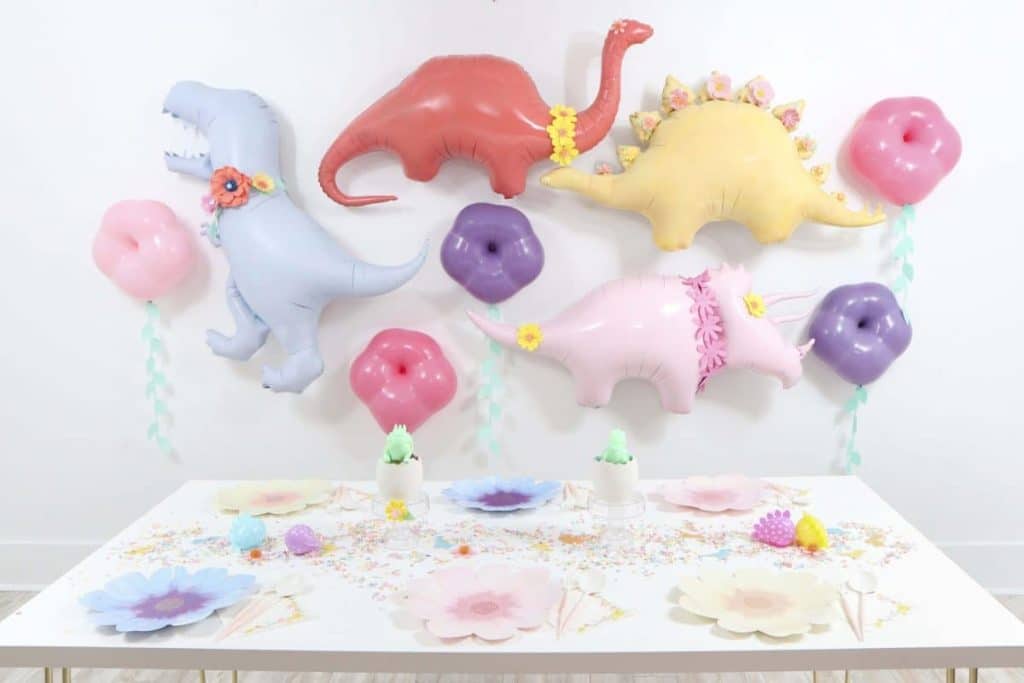 However, if you'd like a bit more oomph in your place settings, I also styled them with some bolder coral scalloped edge chargers. These provide a nice pop of color to the table and pair well with the coral dinosaur in the backdrop.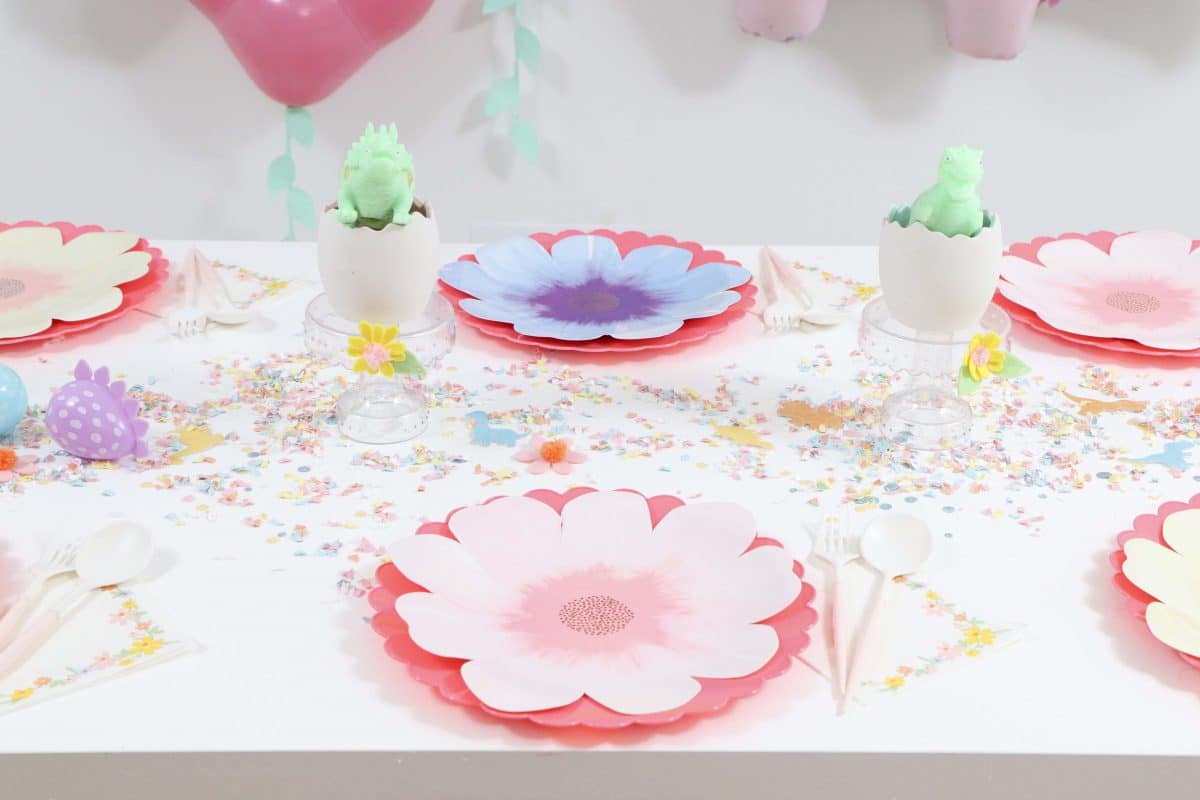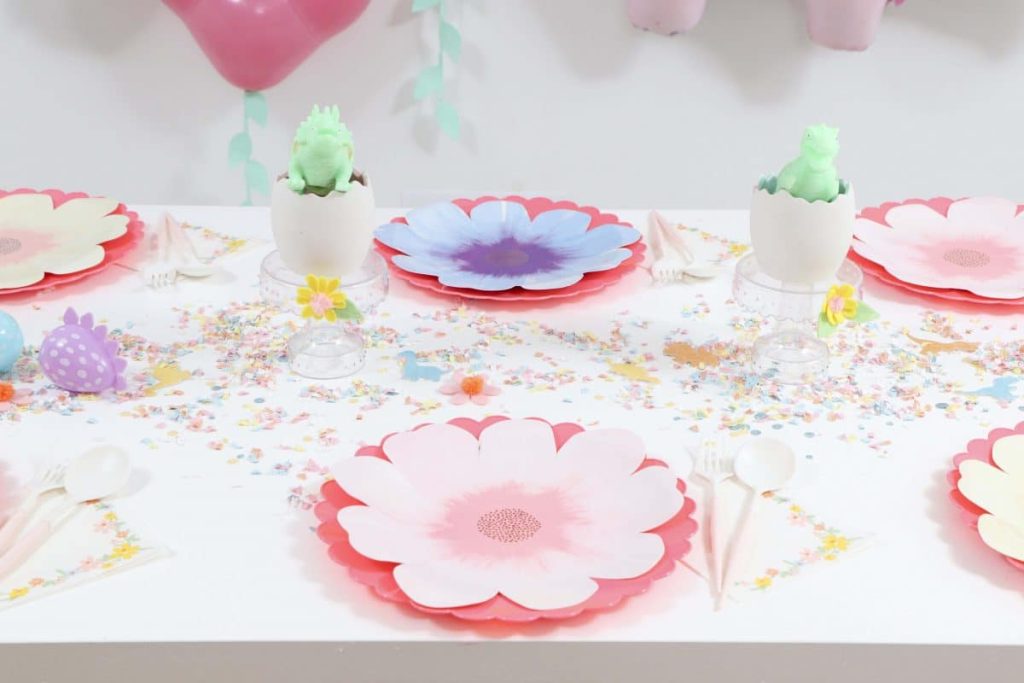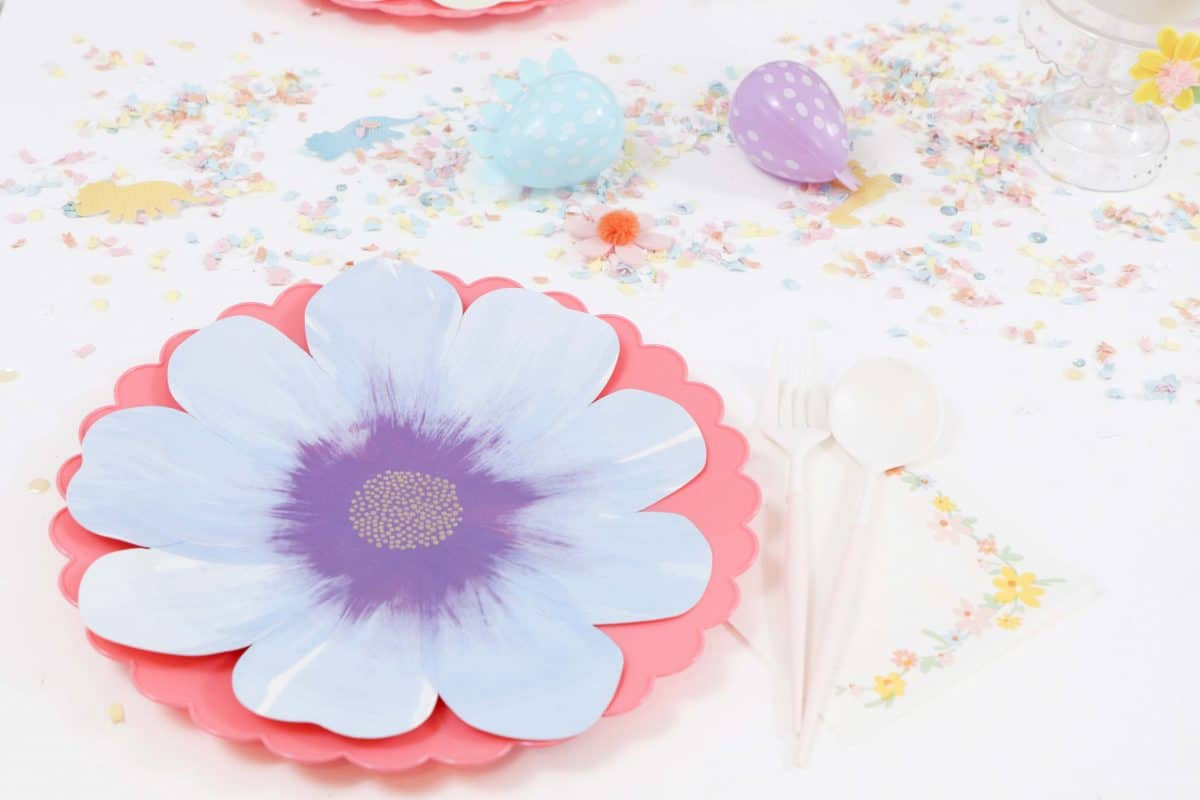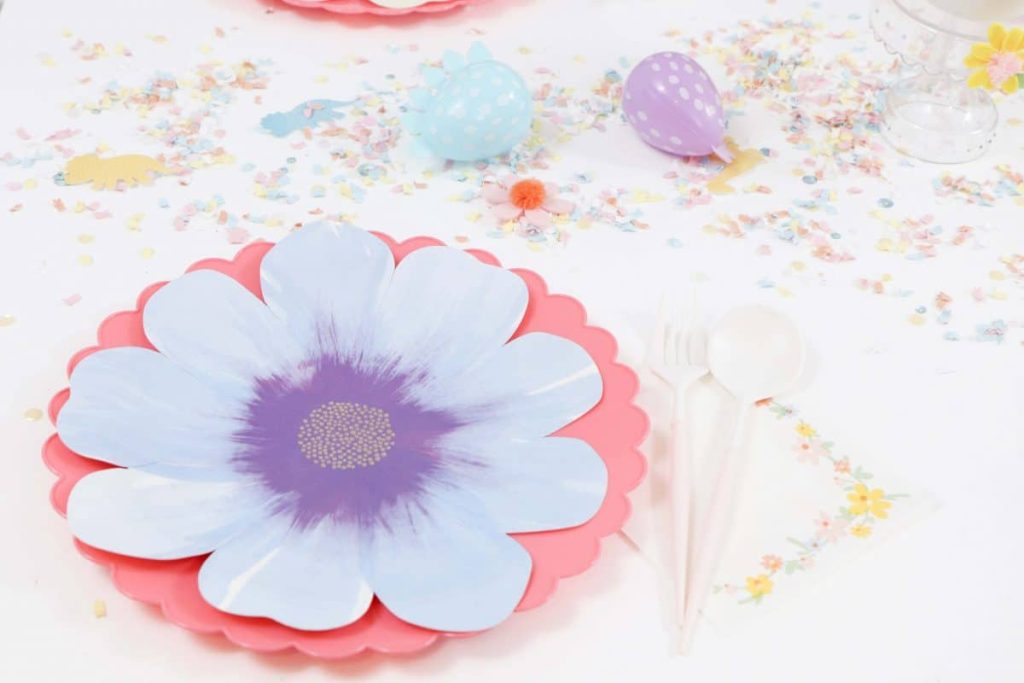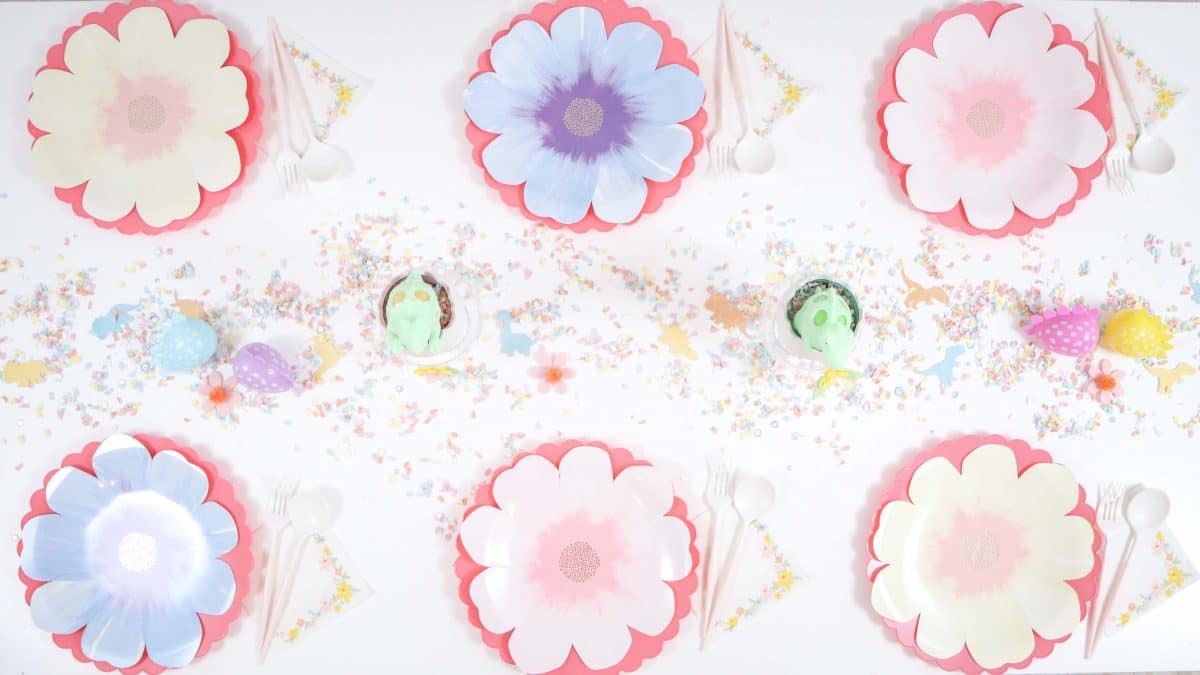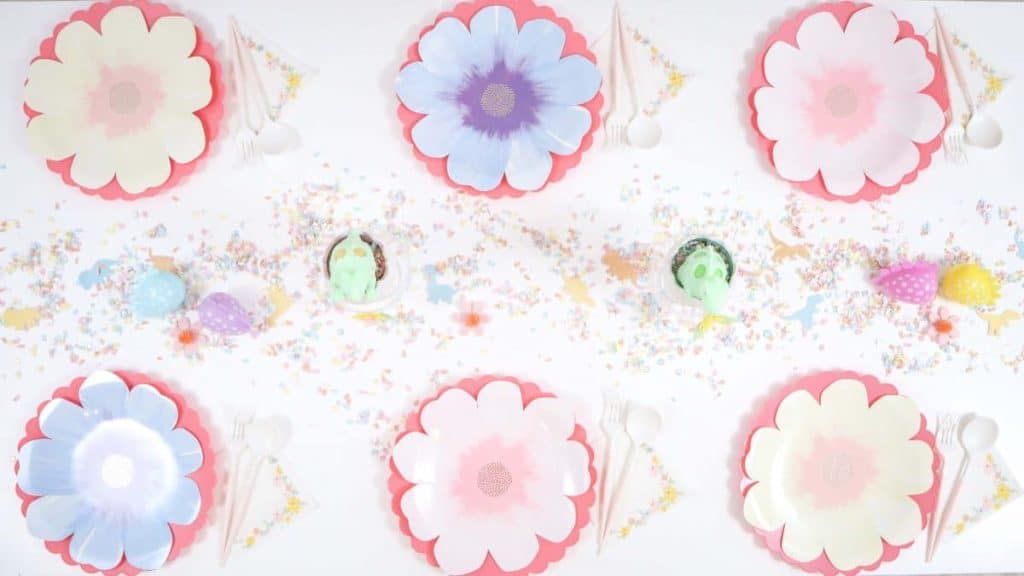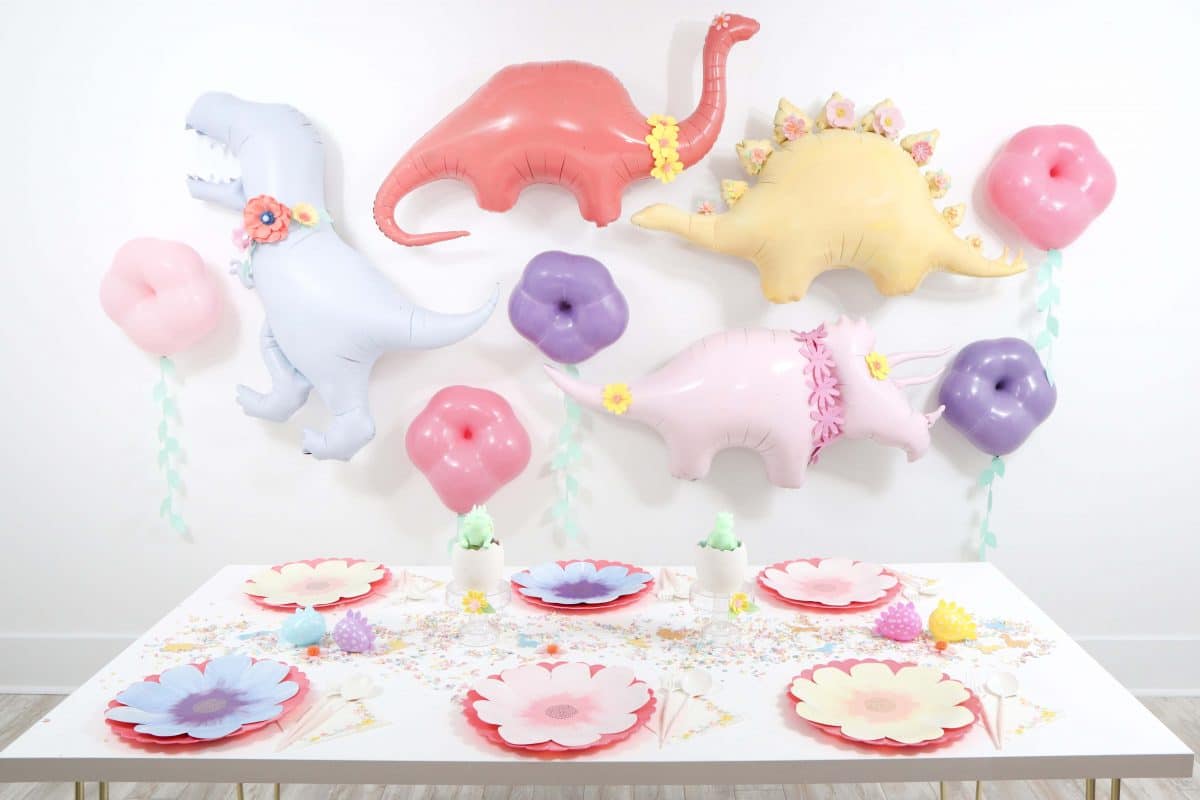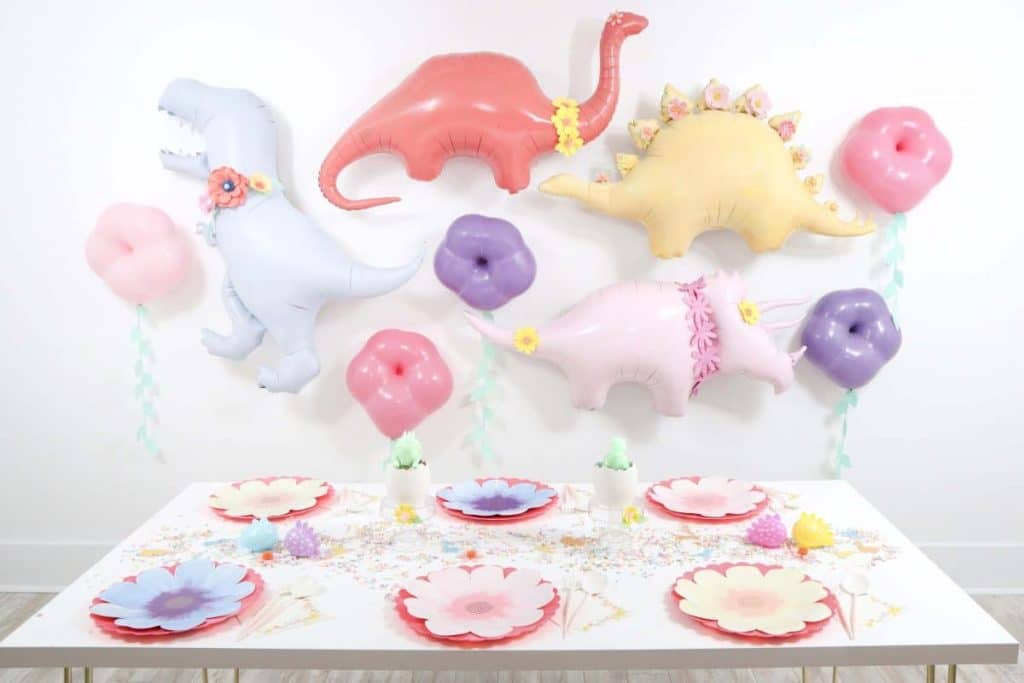 If you are planning this party for Easter, a great addition to the Spring Dino magic is this oh-so-adorable Dinosaur Easter Basket from Target! Just fill it with some Easter grass and more treat-filled dino eggs, and you're good to go. I added a few more mint green dinosaur figurines as well for some extra fun. How cute is its little yellow bowtie?!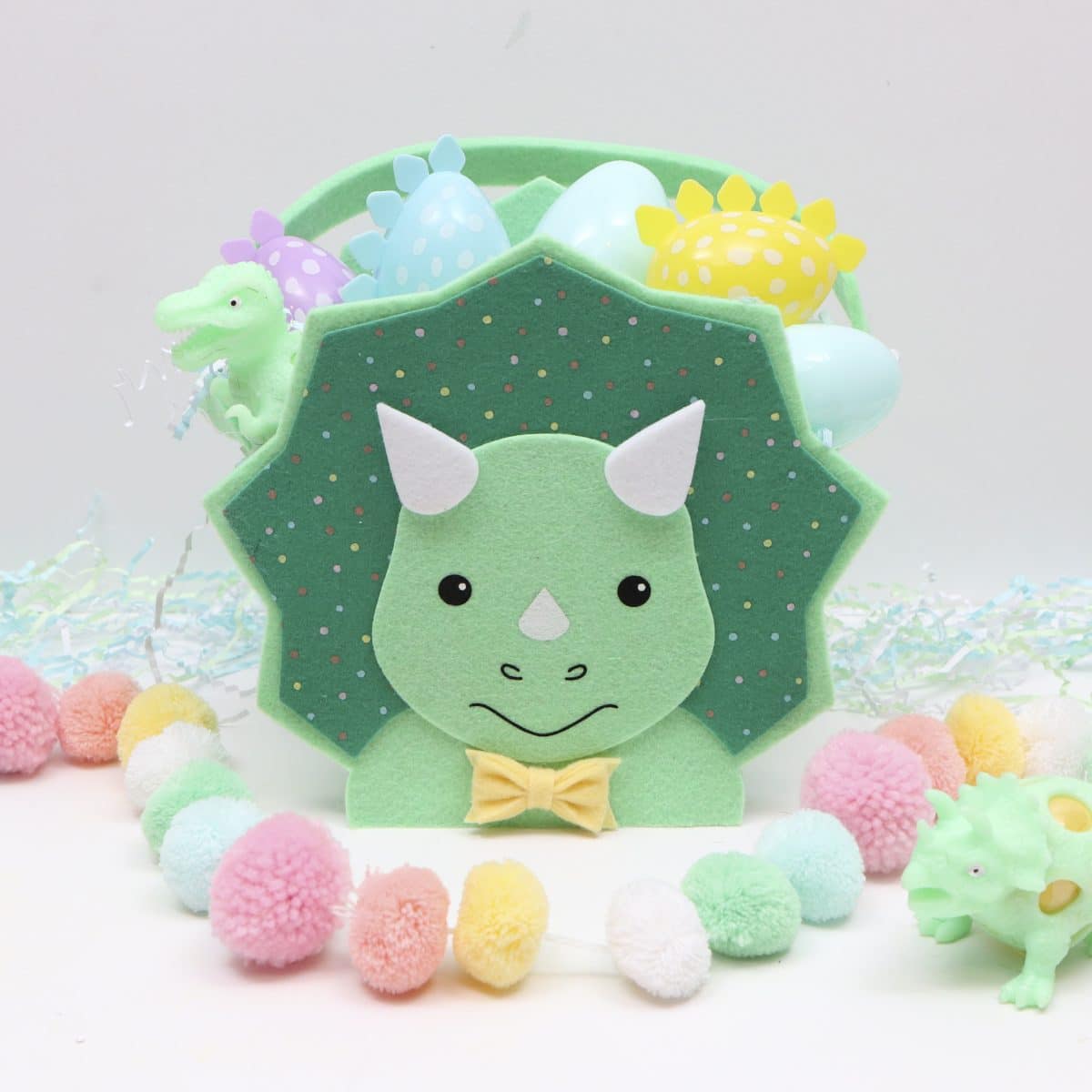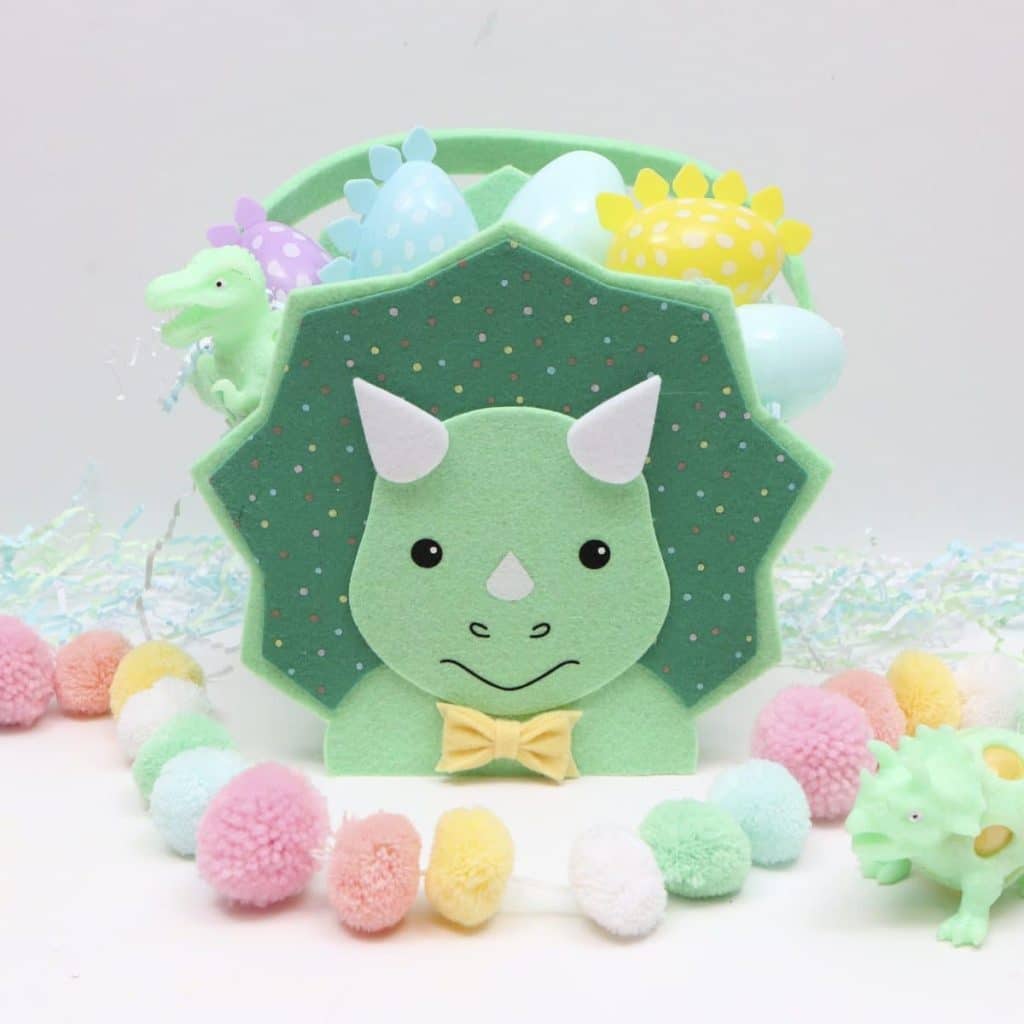 Don't forget to check out my Amazon Shop for some similar or alternative supplies for this party!
And for more Dino party fun, check out my Dinosaur Party Styled Two Ways post, and my Dinosaur Themed Halloween Party post!
Happy Prehistoric Partying!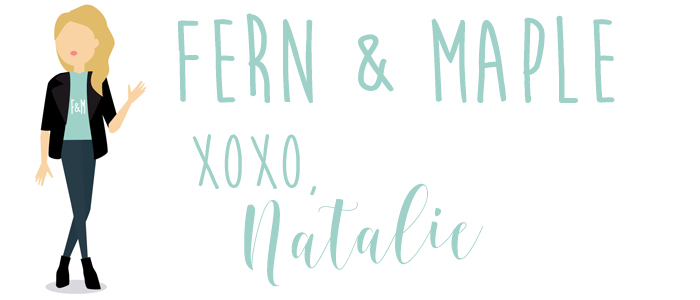 As a blogger, I sometimes receive compensation and/or products in exchange for my styling and crafting services. I also may earn a small commission from any sales that result from affiliate links on this page. As always, all project ideas and any opinions expressed here are my own.  For further information on our disclosure policy please check out our disclosure page. 
PIN FOR LATER: