Children (and adults!) will never stop loving dinosaurs. That's why the dinosaur party theme will never go extinct (get it?!)! There's just something about the colossal creatures that boys and girls of all ages find so intriguing and fun. With this in mind, I decided to style a Dinosaur Party in two different color schemes, using products from some of my favorite vendors. All available for online purchase, which is perfect right now!
Check them out below for inspiration, and then click the links at the end of this post for some ideas on how to take this dino-mite party virtual!
Blue Bash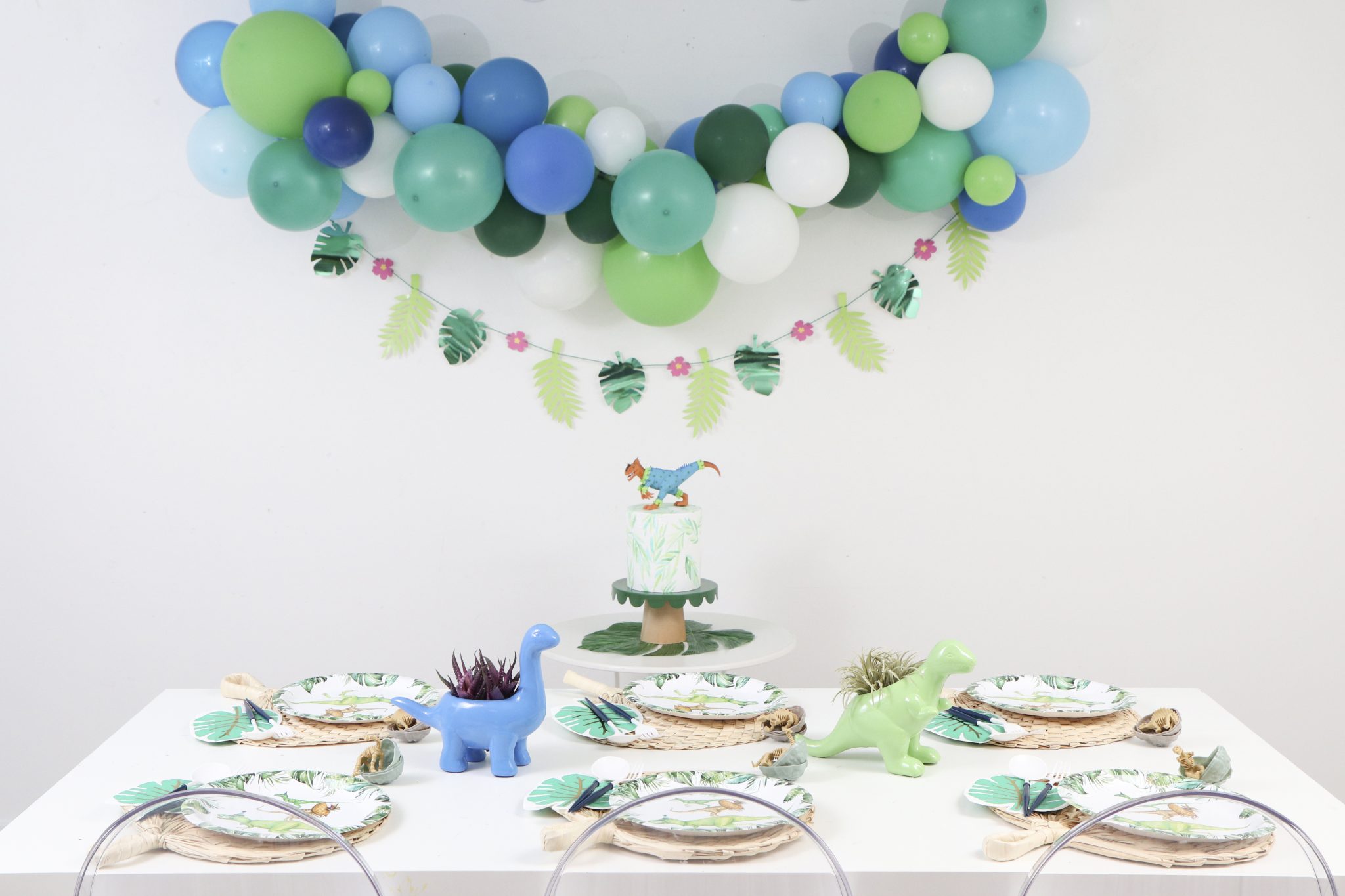 Backdrop
First, I made a fun balloon garland out of a variety of balloons in blues and greens with pops of bright white. I love mixing the sizes and colors of the balloons. It creates a more organic and interesting garland! 
How to Tip: I use a balloon decorating tape (multiple vendors) to create my garlands.  They come in 25 or 50ft.  A 25ft strip goes a long way with small arches like this one which is approx 6ft.  They are super simple to use, just push the baloon ties through the holes in the strip! Fill any gaps with smaller size balloons stuck on using glue dots. 
Under the balloons, I draped a paper garland of tropical leaf and flower cutout (source from the Target dollar spot) that tied in with the colors of the balloons. I love the way the metallic green of the monstera leaf cutouts draws the eye right to them!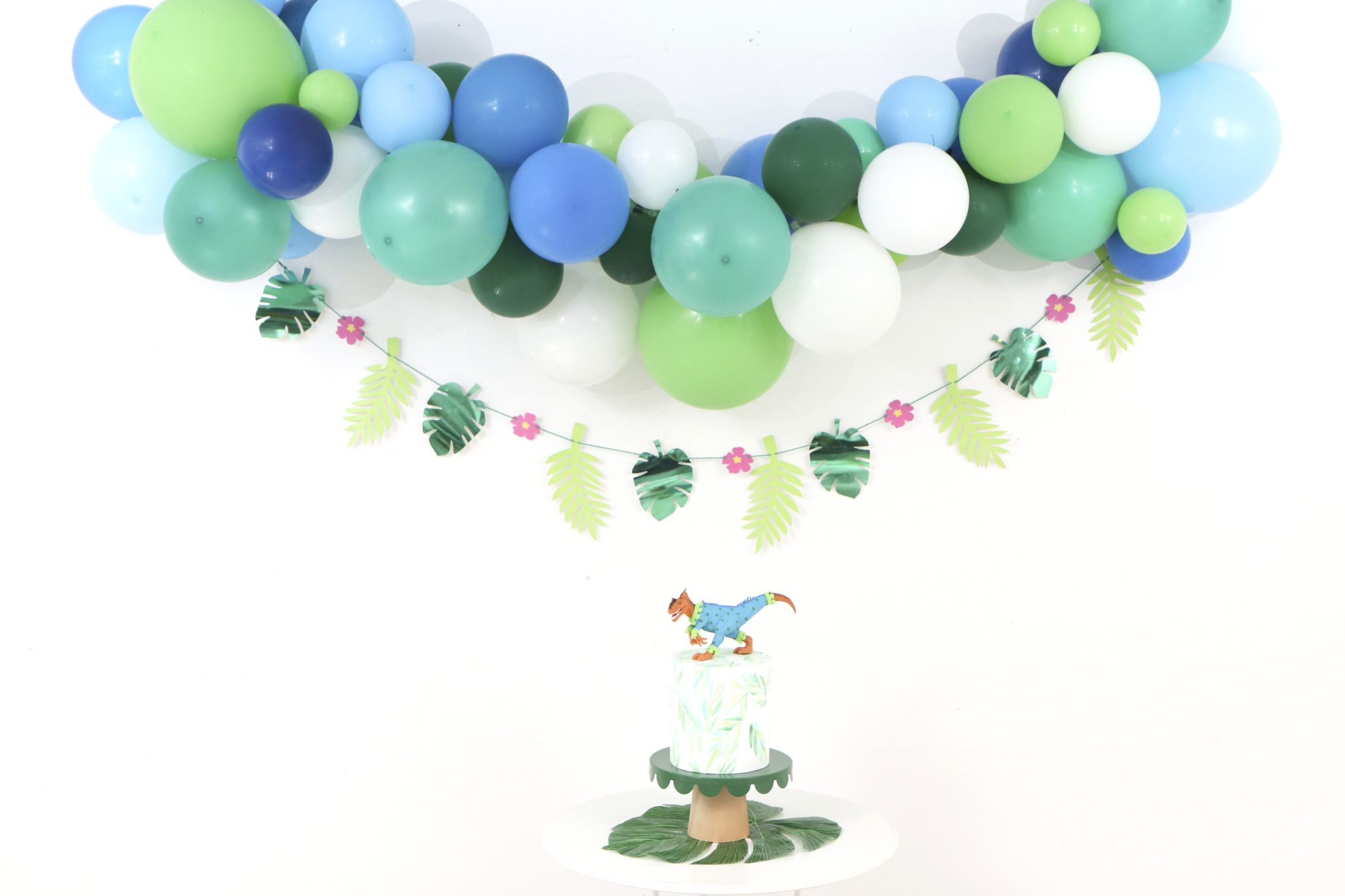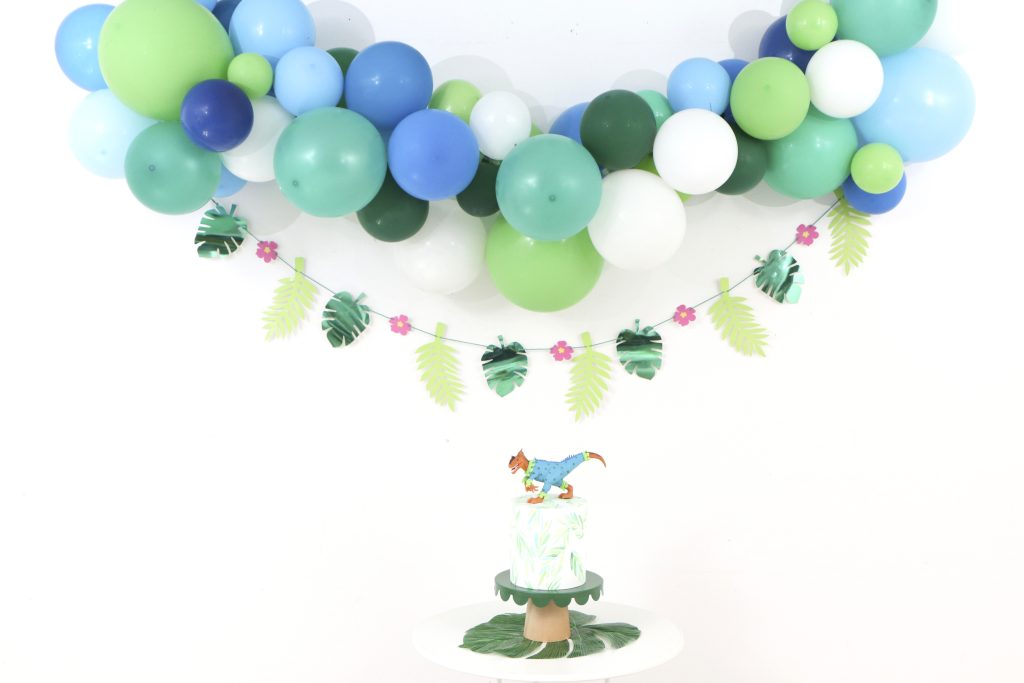 Cake
Under the backdrop of garlands, I placed a small round white table for my cake. As this is a social isolation party the desserts are for far fewer people.  A smaller table works perfectly.
This watercolor leaf beauty from Confection Deception deserved some extra height, however. I set it atop a green and natural wood scalloped-edge cake stand (another Target dollar spot find). The stand was placed on a monstera leaf placemat, which complimented the paper garland perfectly. A blue and green costumed dinosaur from Painted Parade prowled across the top of the cake. 
Tip: Scout the dollar spot at Target everytime you go, they are always releasing new cake stands that are $3-5.  Super affordable!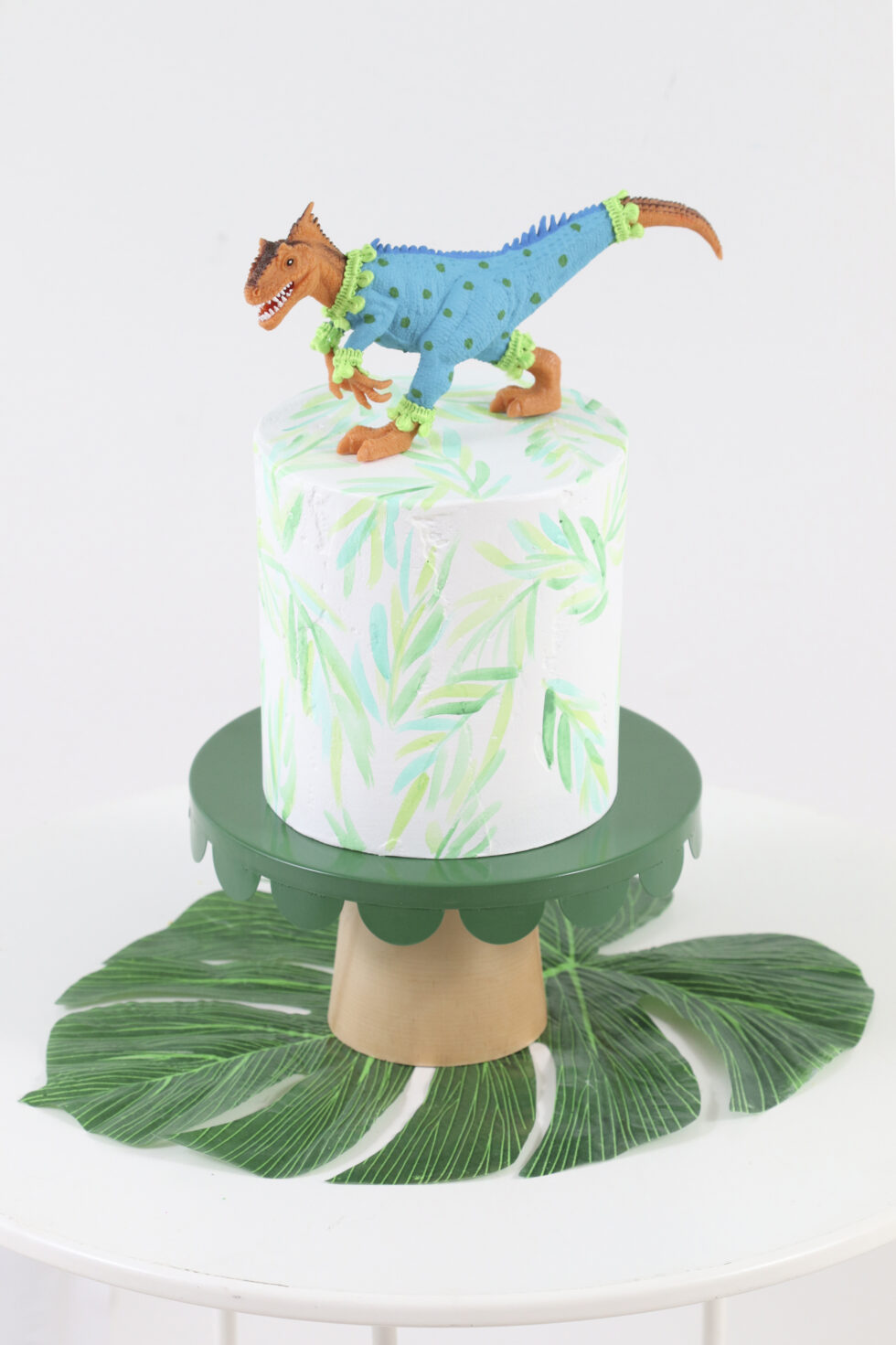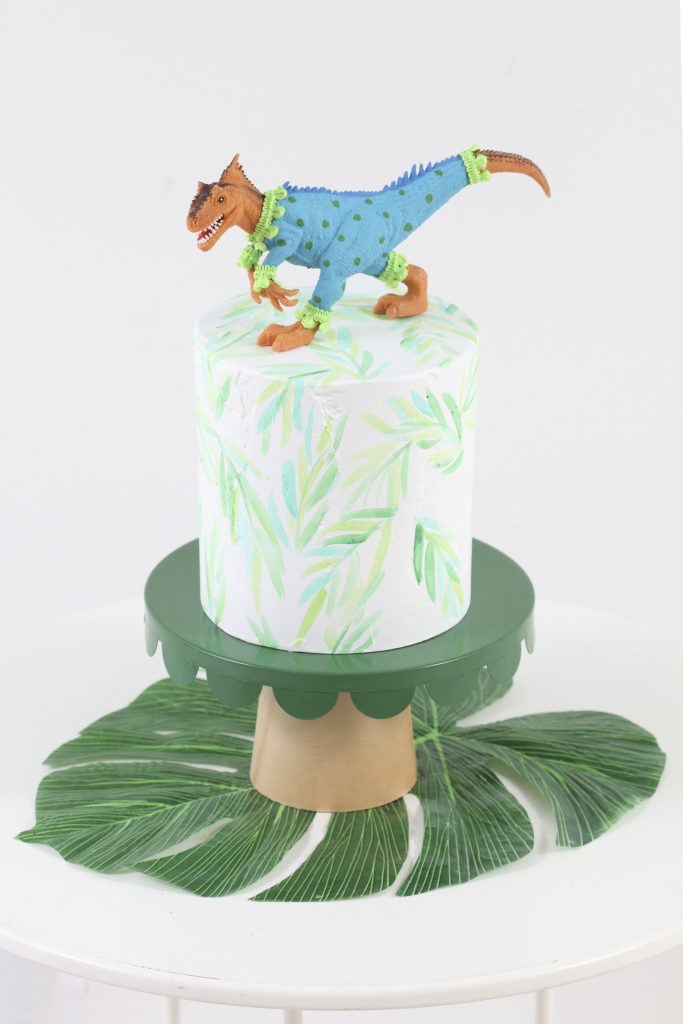 Table
In the center of my table, I set out two dinosaur planters (yup, Target!) – one green, and one blue. In these planters were spiky succulents that looked like they had been plucked right from the dinosaurs' era! Then, I couldn't help myself – I styled my place settings in two different ways. They were both too good to just choose one! 
First I tried using raffia fan placemats from Jollity and Co. The natural look of these fans really made the party feel more outdoorsy, and the light color made the adorable plates pop. I layered them with the cutest stacked dino plates from Painted Parade, and placed coordinating tropical leaf napkins from Target to one side. On the other side, I set out navy handled flatware from Sophistiplate. Finally, I set out a fun dinosaur fossil egg favor from Oriental Trading at each setting.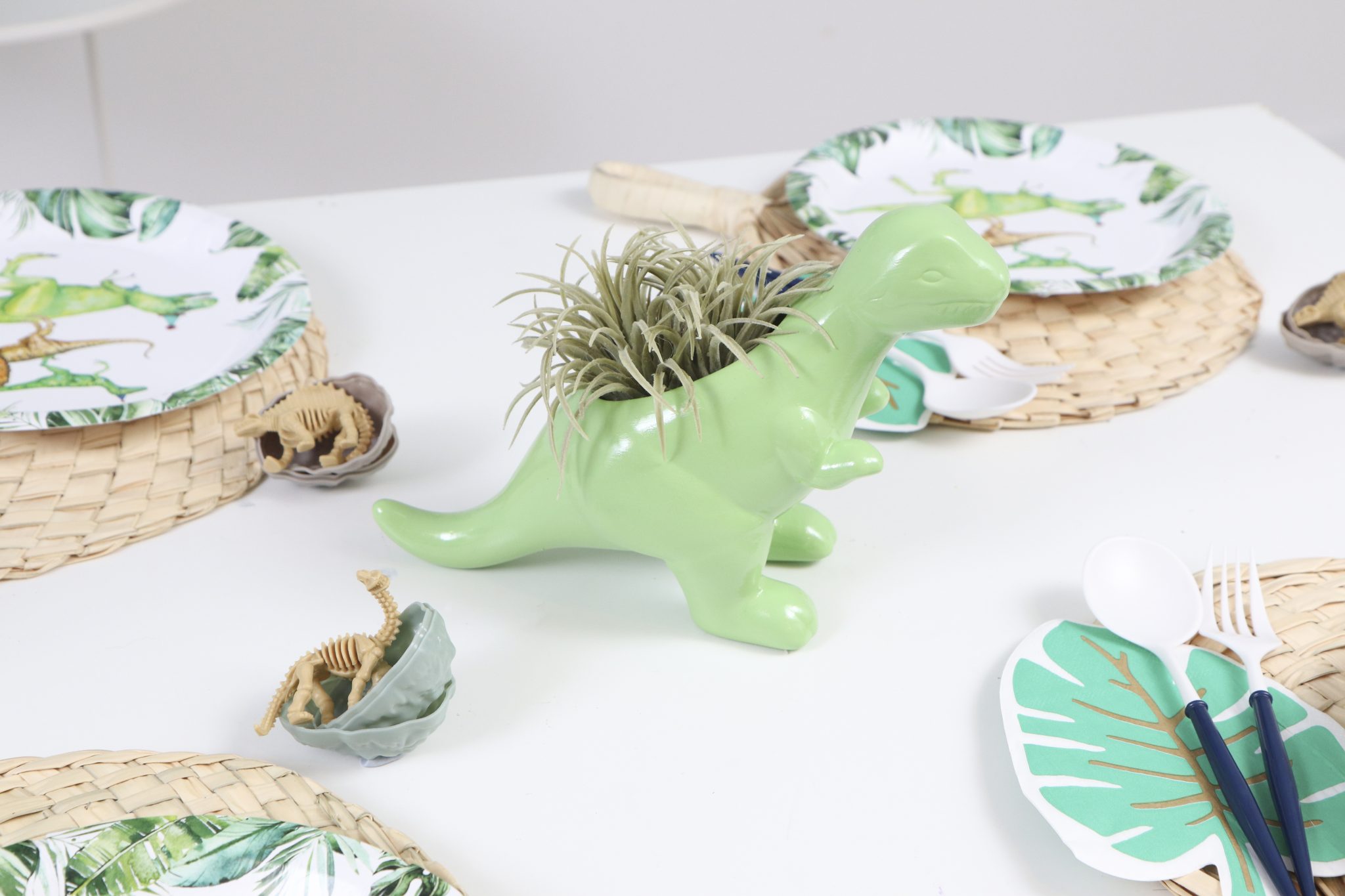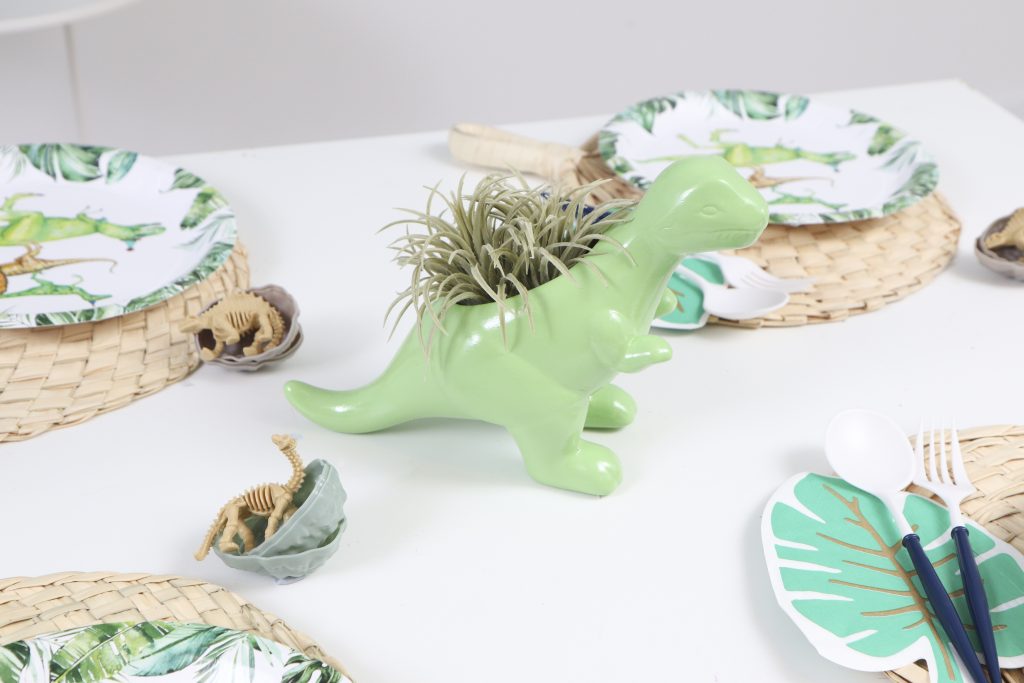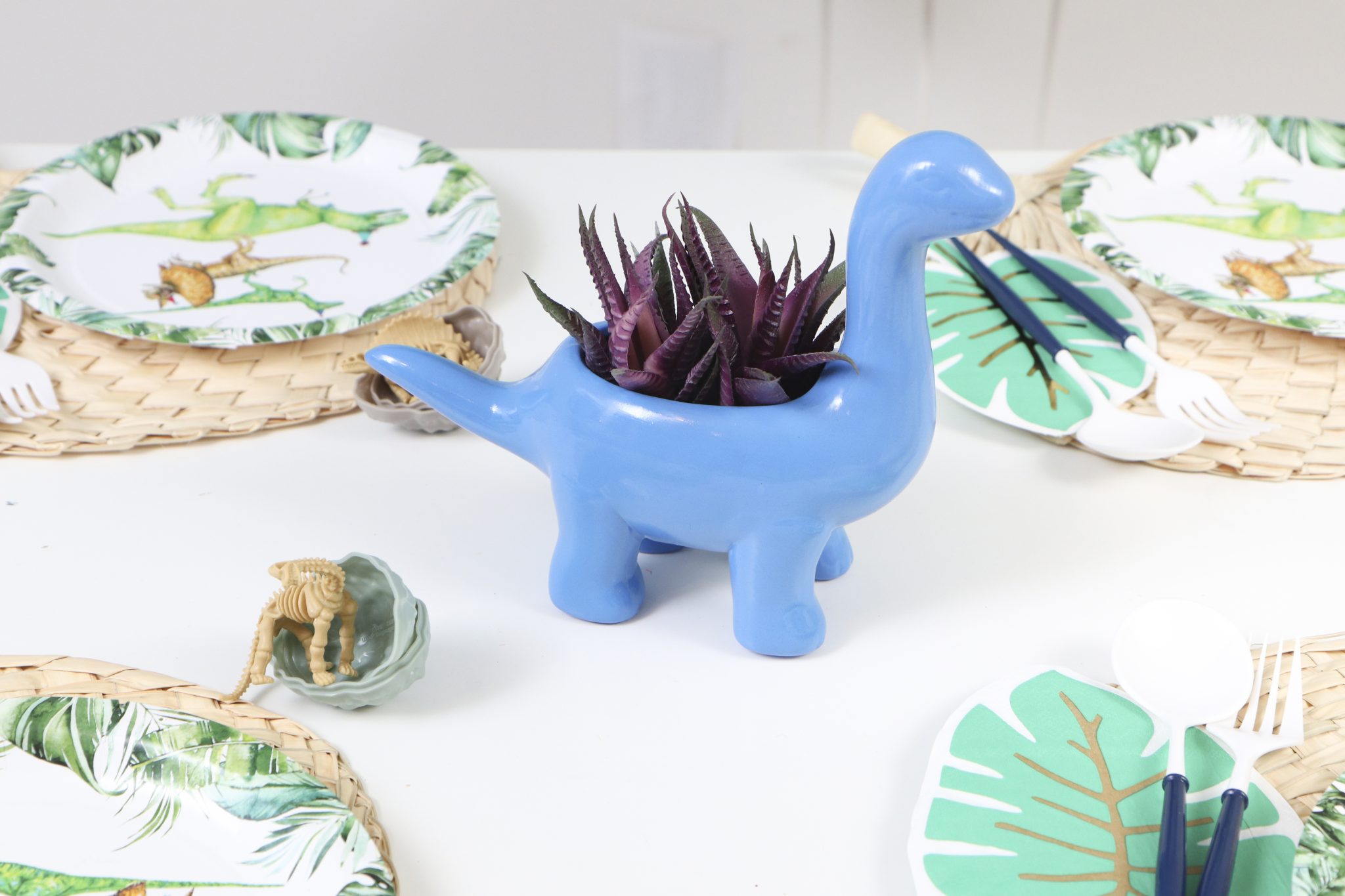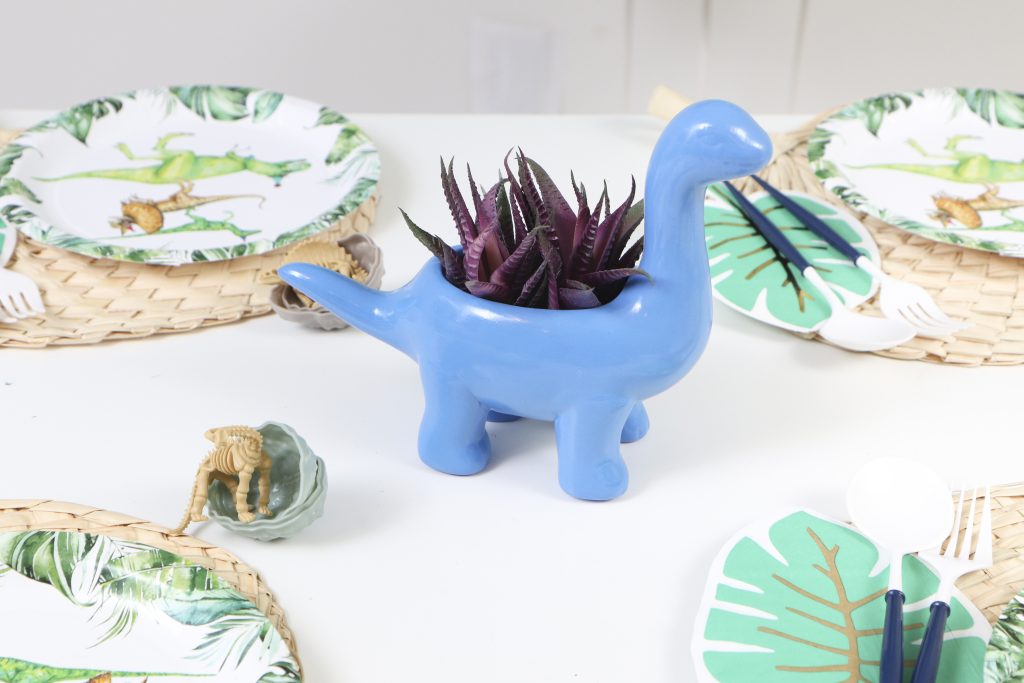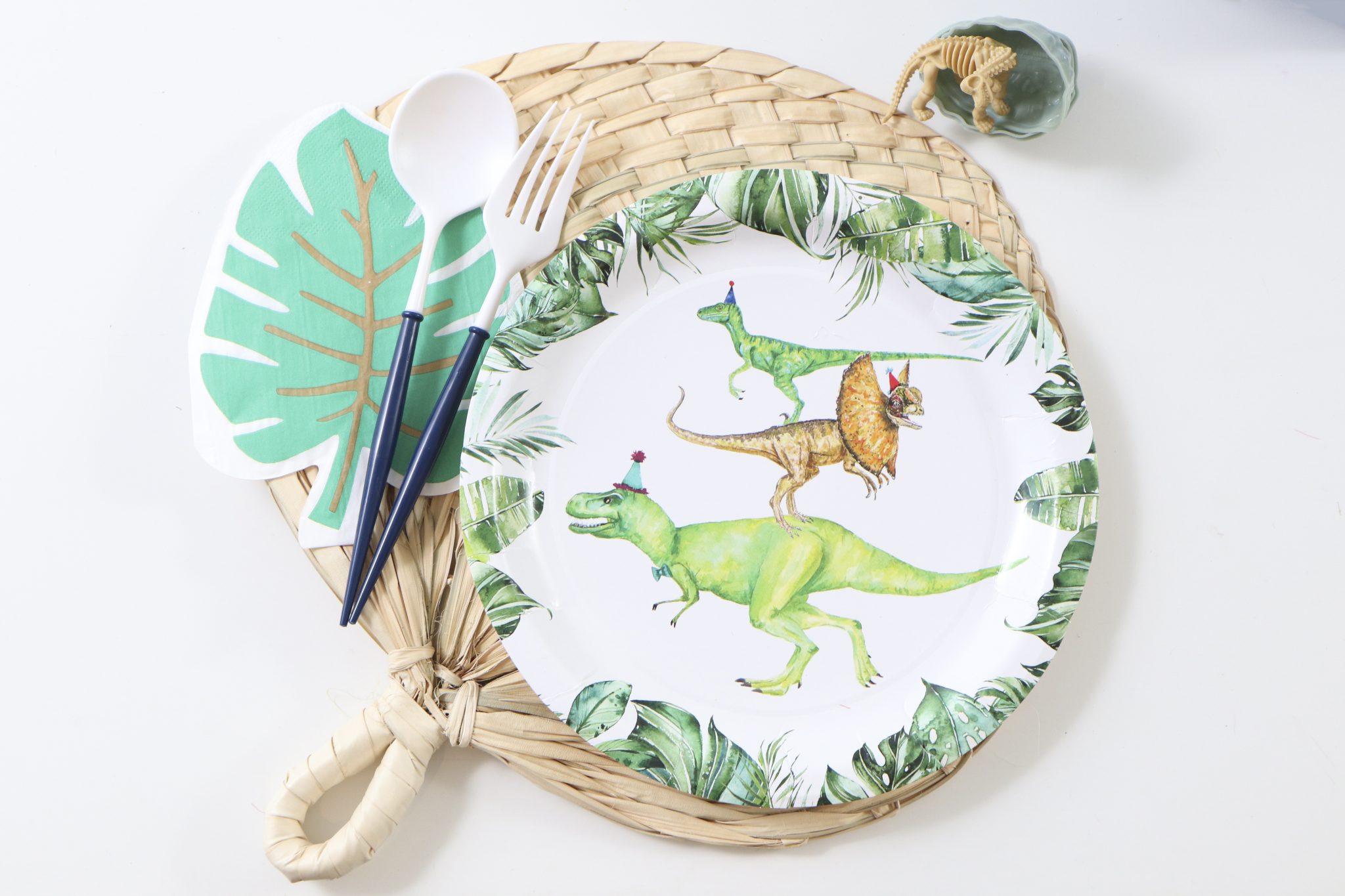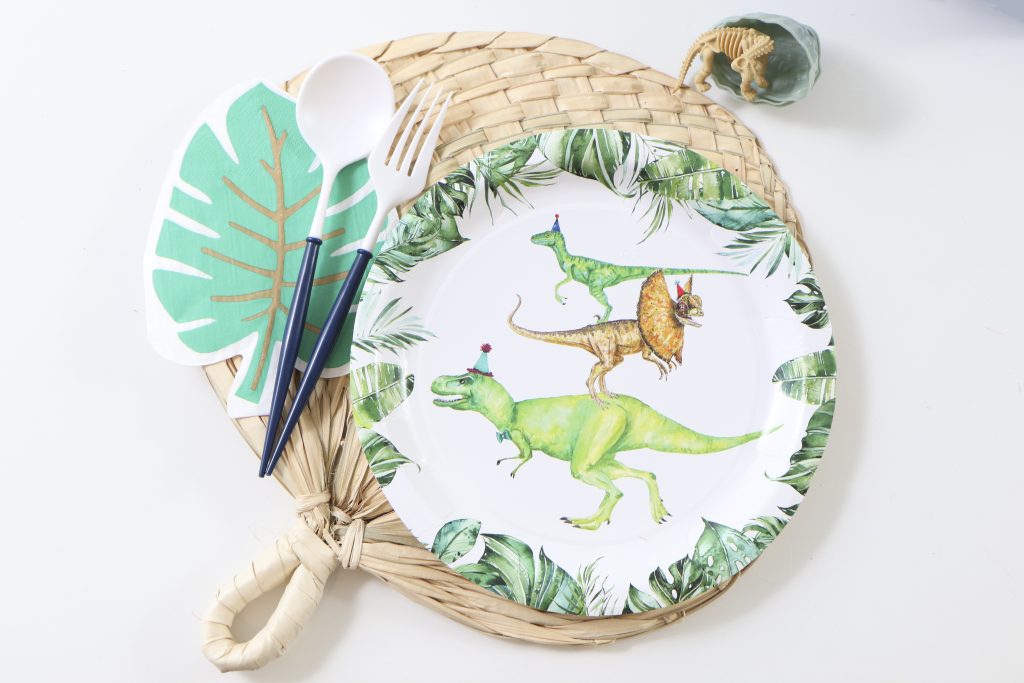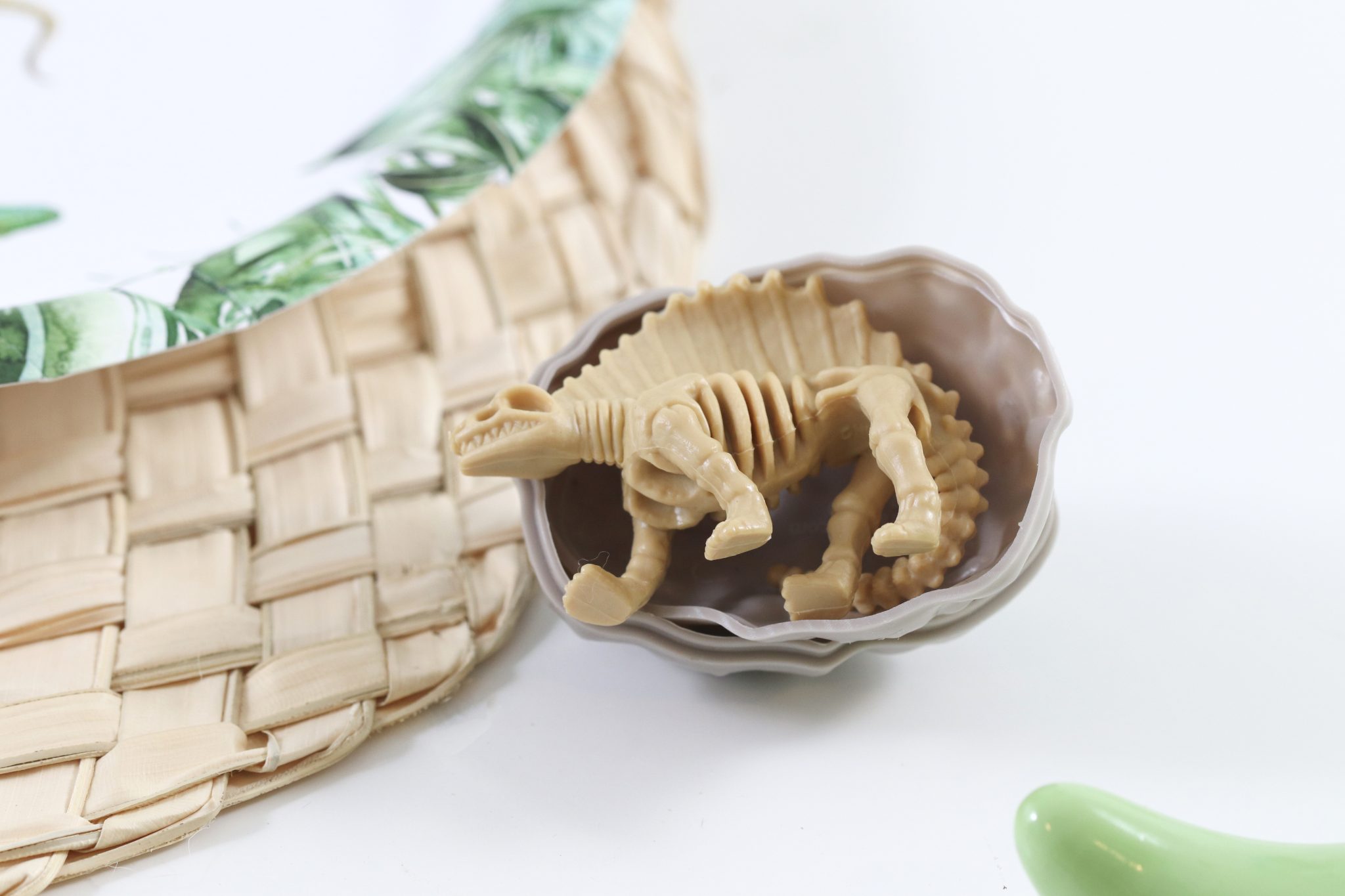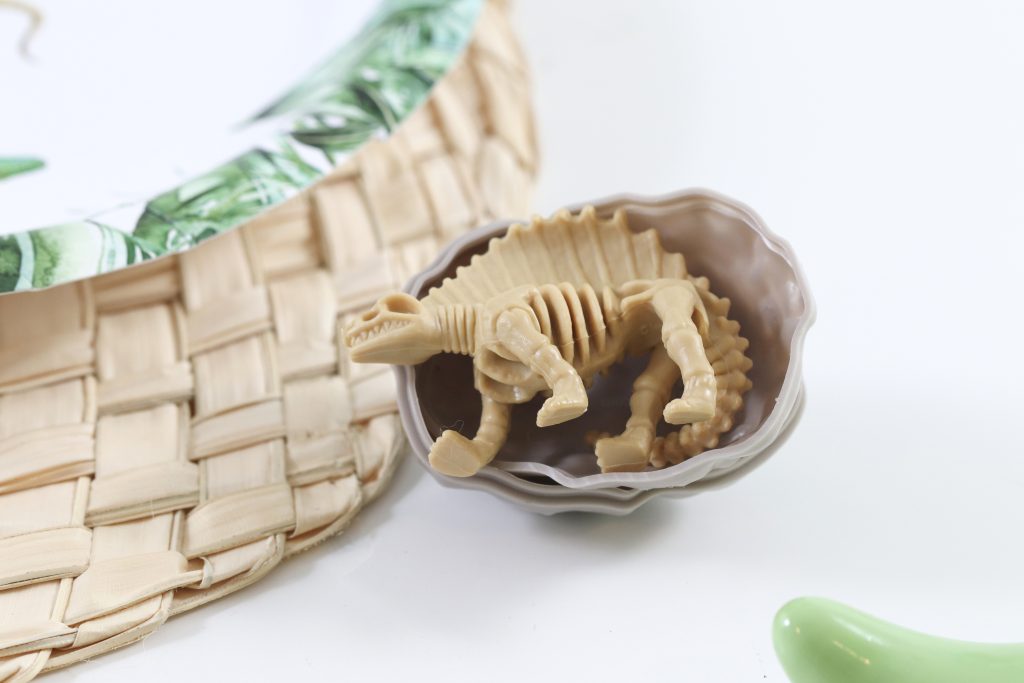 After, I redid the place settings using posh green charger plates, also from Jollity and Co. I love their unique shape and that they are metallic! They went so well with the metallic leaves in the paper garland from my backdrop.
Which one do you like best? I truly love them both.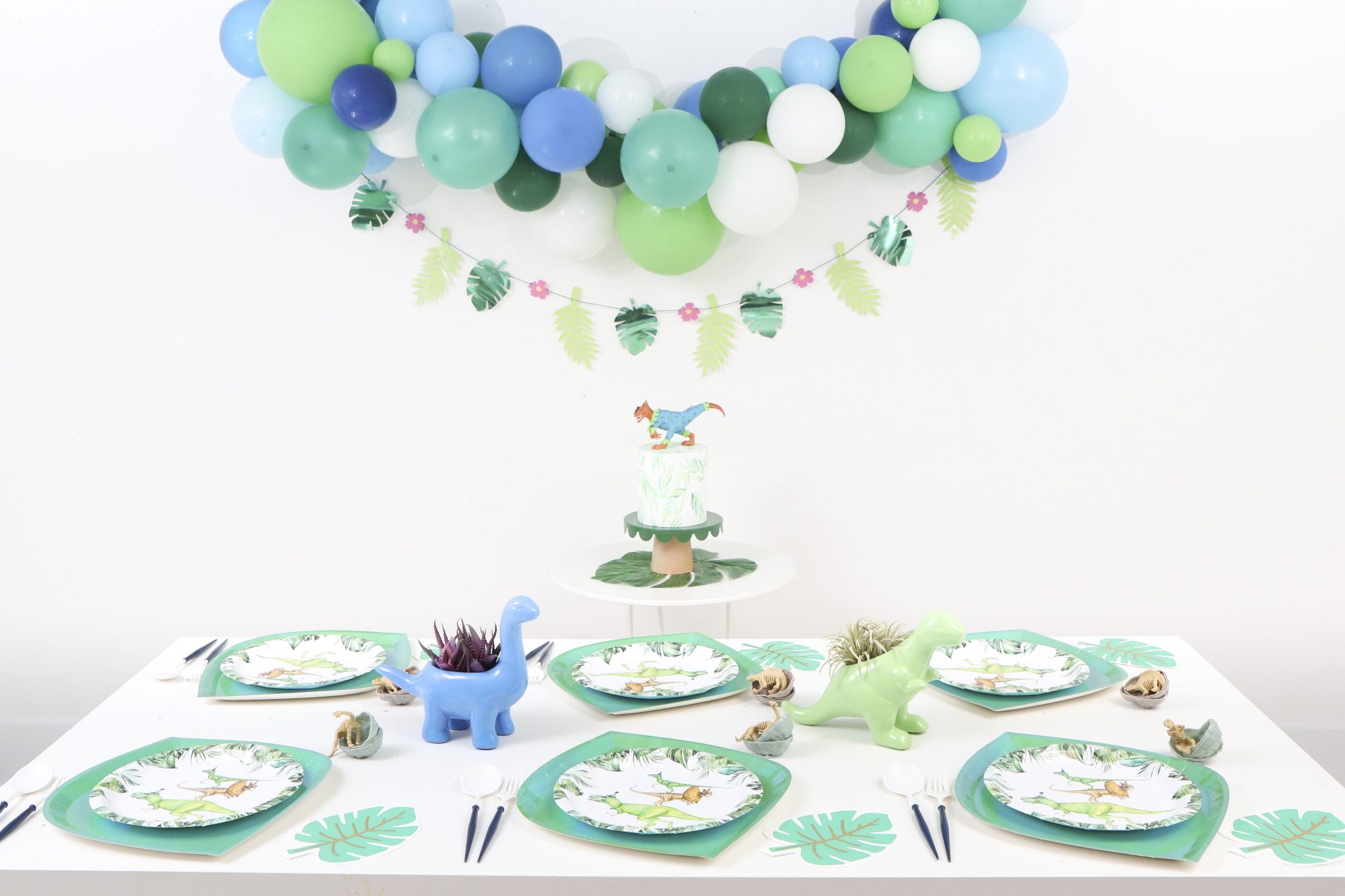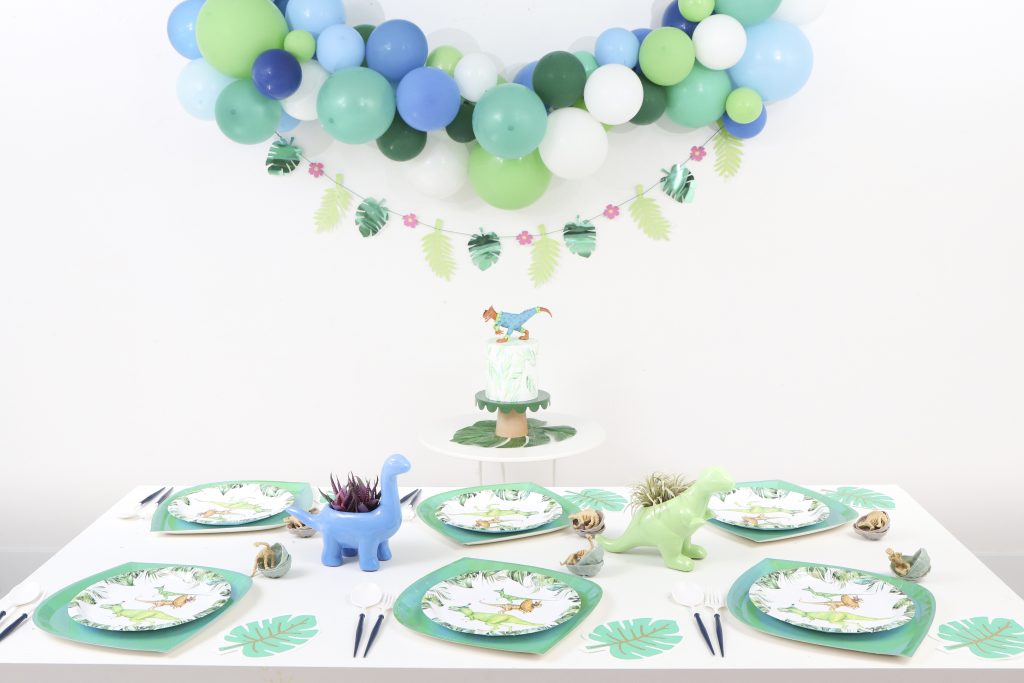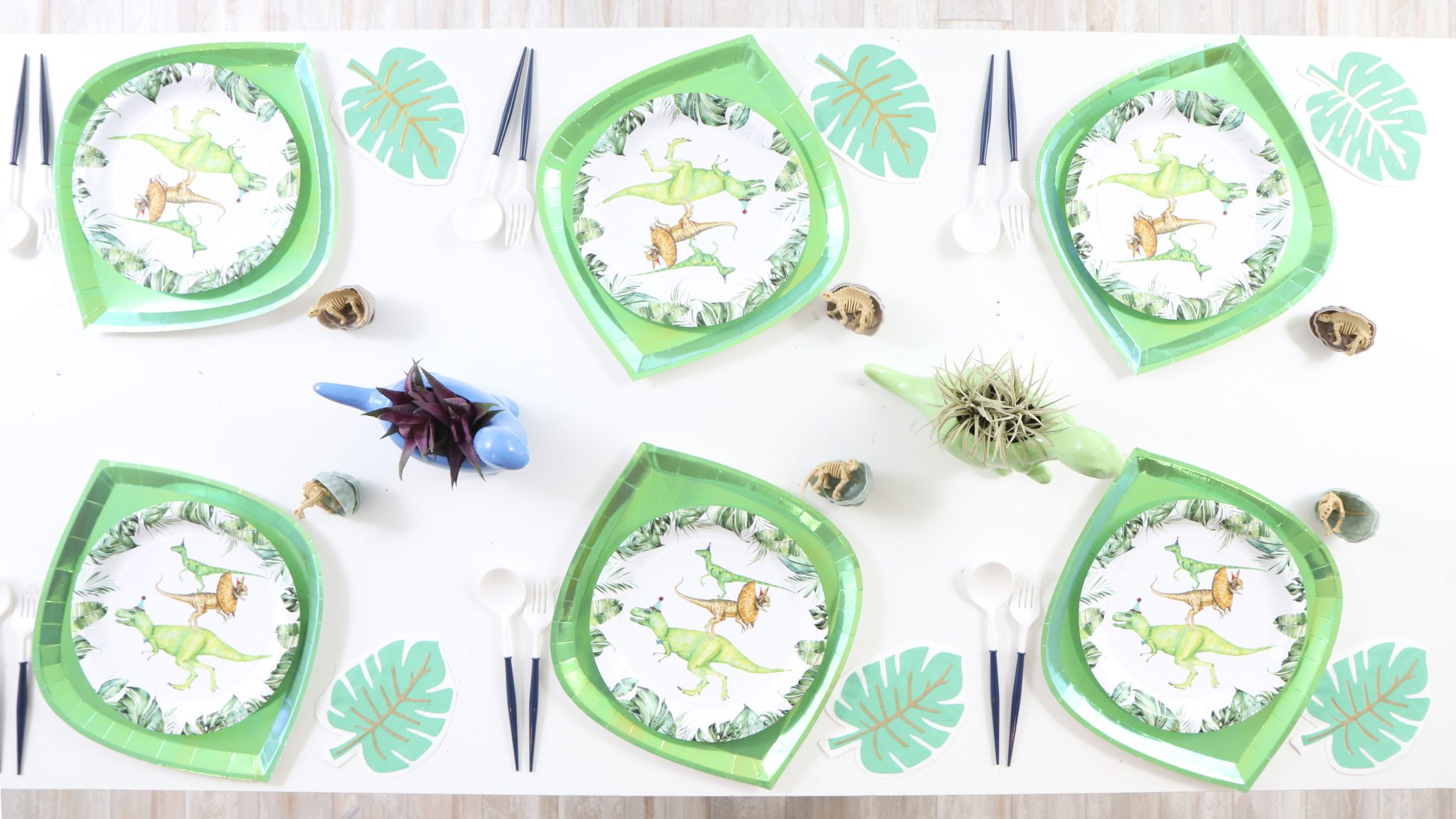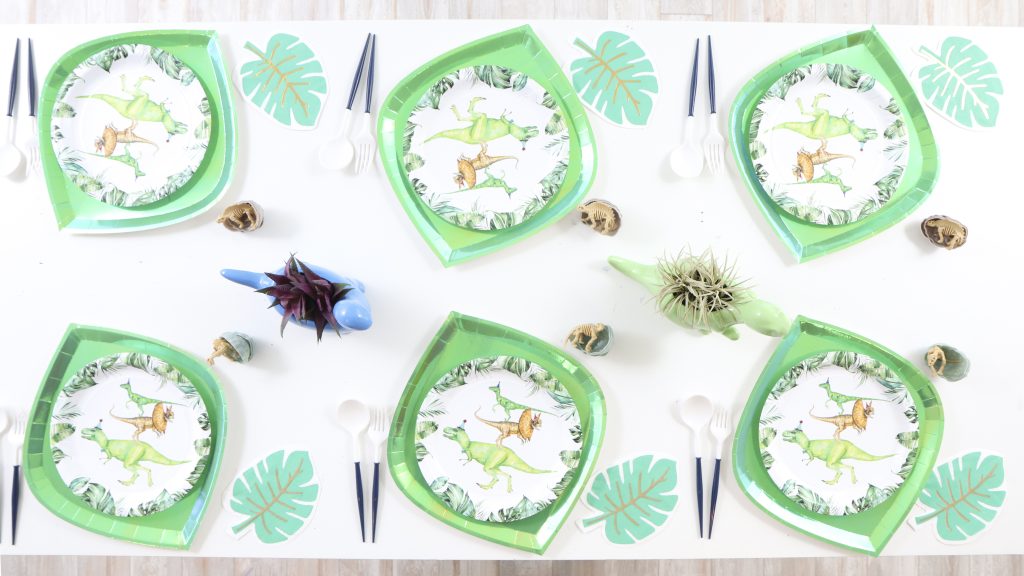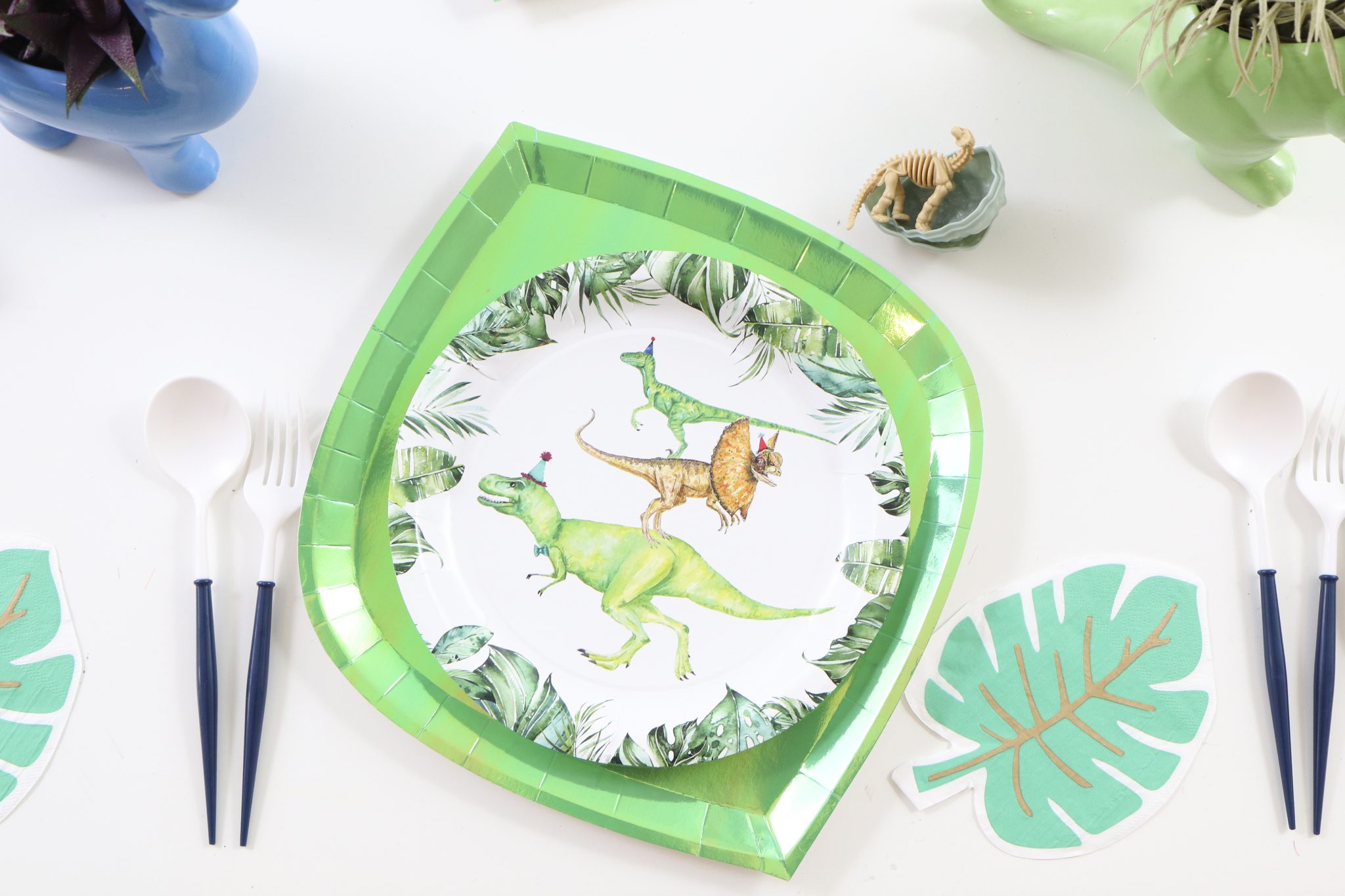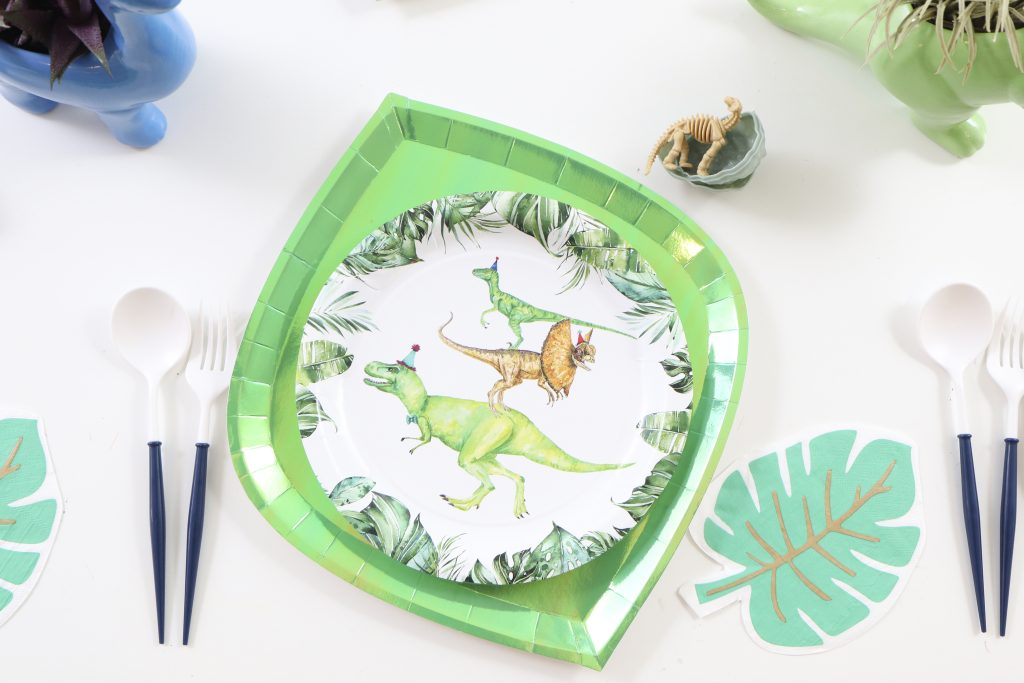 Shades of Pink Party

Backdrop
Changing this backdrop for a pink color scheme was easy! I simply removed the blue balloons (popping them out of the balloon strip) – leaving the green and white – and replaced them with balloons in a variety of pink shades. Again, I made sure the pink balloons were a variety of shades & sizes to blend well with the rest of the garland.
Tip: Purchase a range of balloon sizes from water balloon size (3″) to maximum 12″ for a smaller arch like this.  Don't inflate the balloons fully to keep them rounded and to ensure they fit together well.
The paper garland had pink flowers already, so it was perfect for this party as well!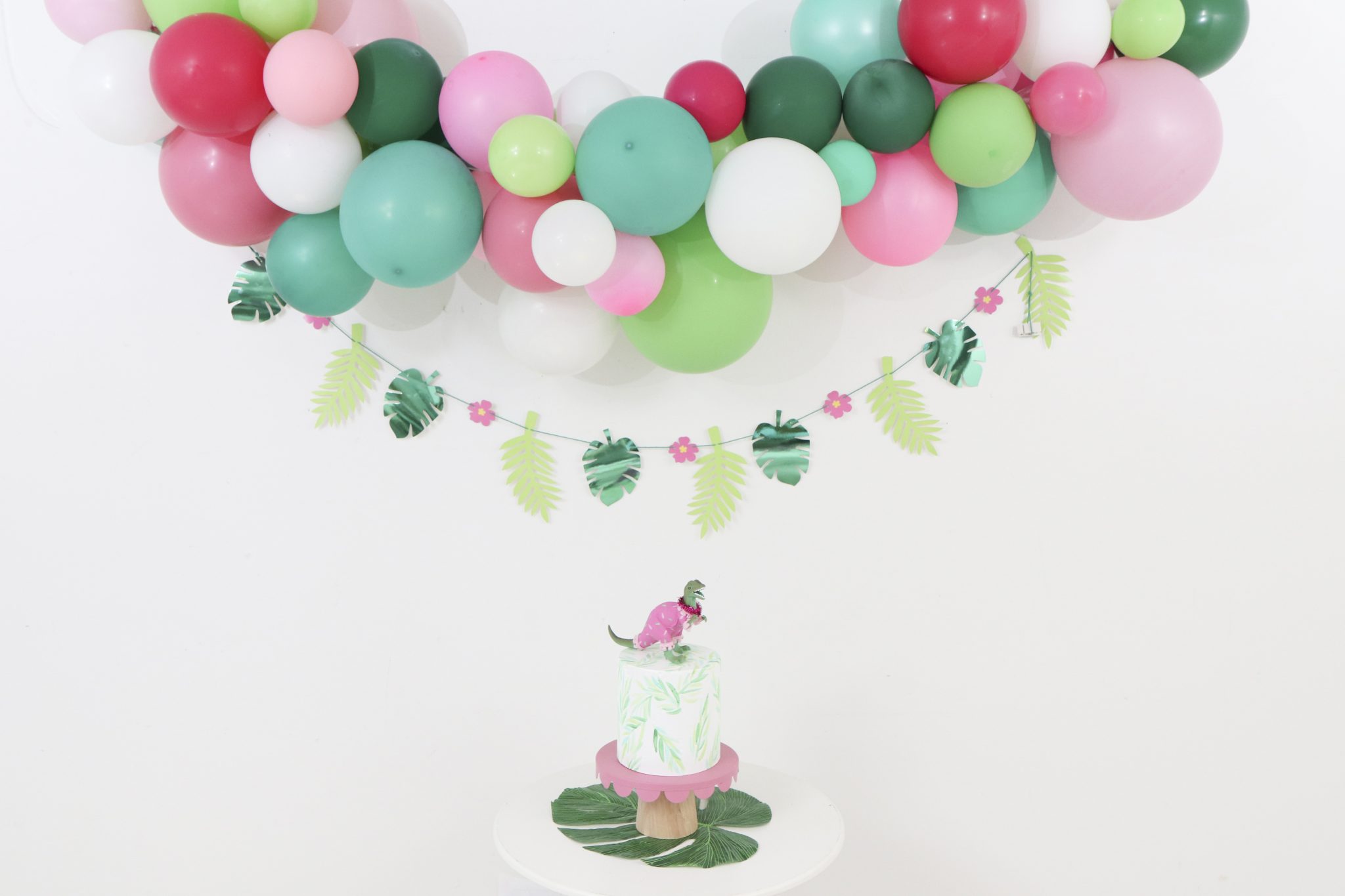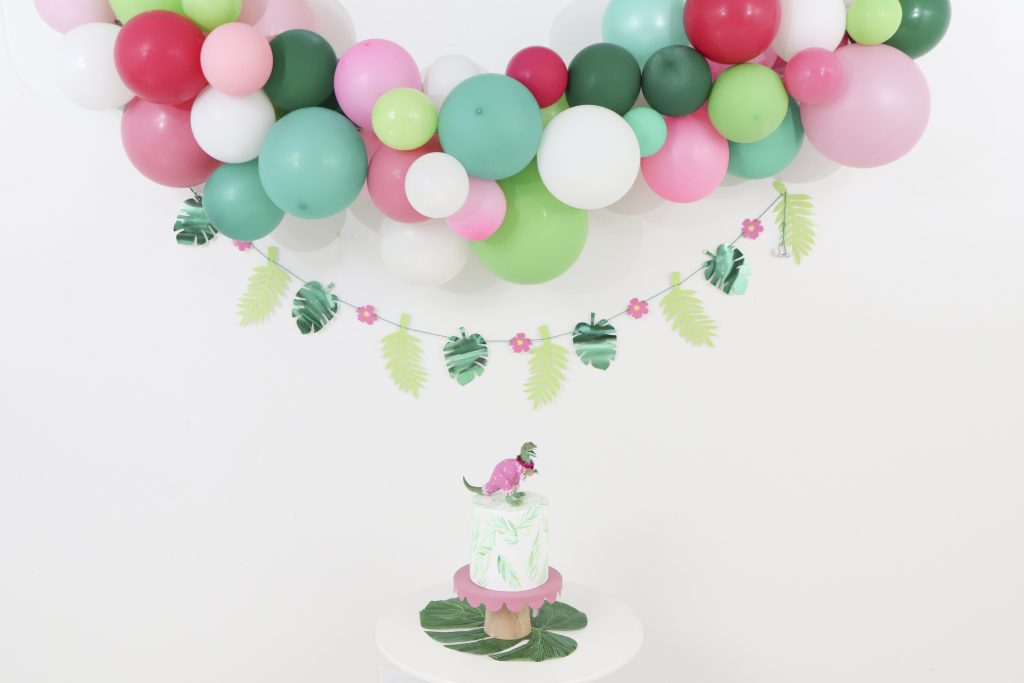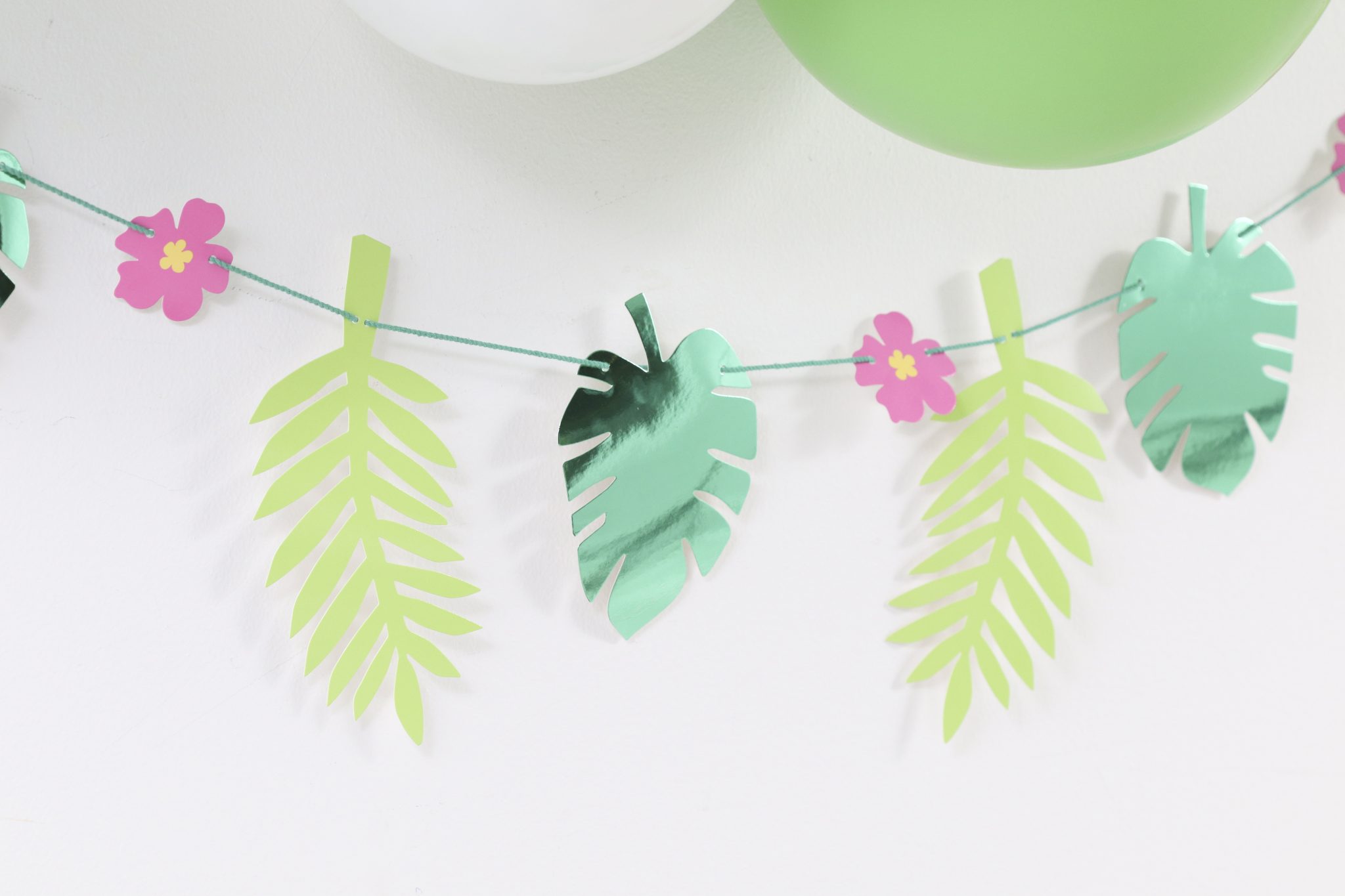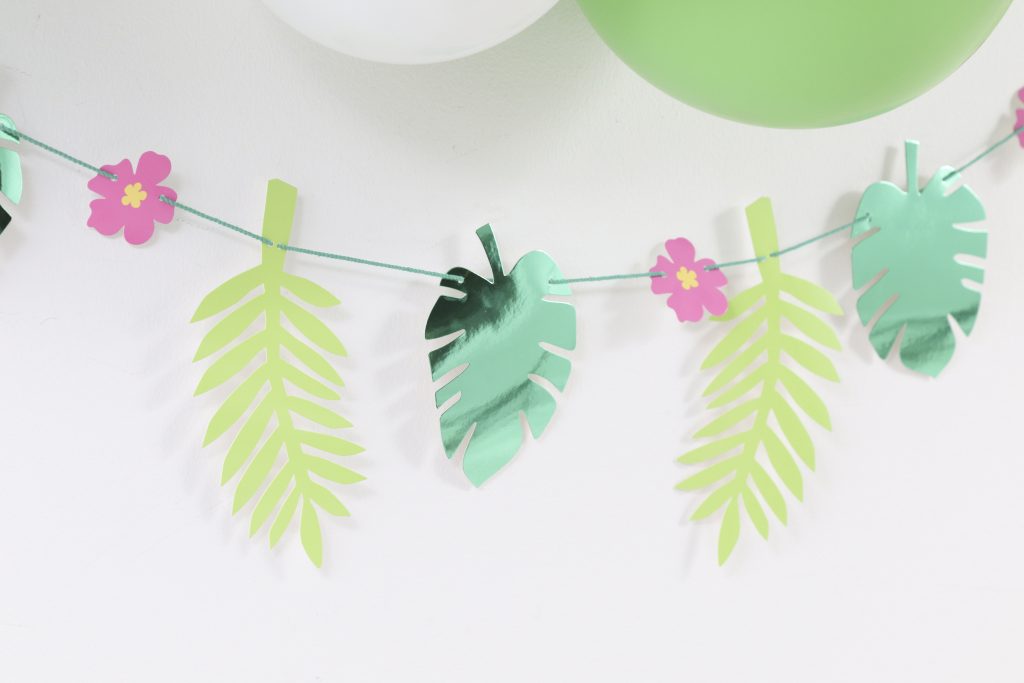 Cake
Next, I painted the top of the green cake stand and updated it to a pink-topped cake stand. Then, the blue and green dino cake topped was replaced by a pink-clad roaring dino.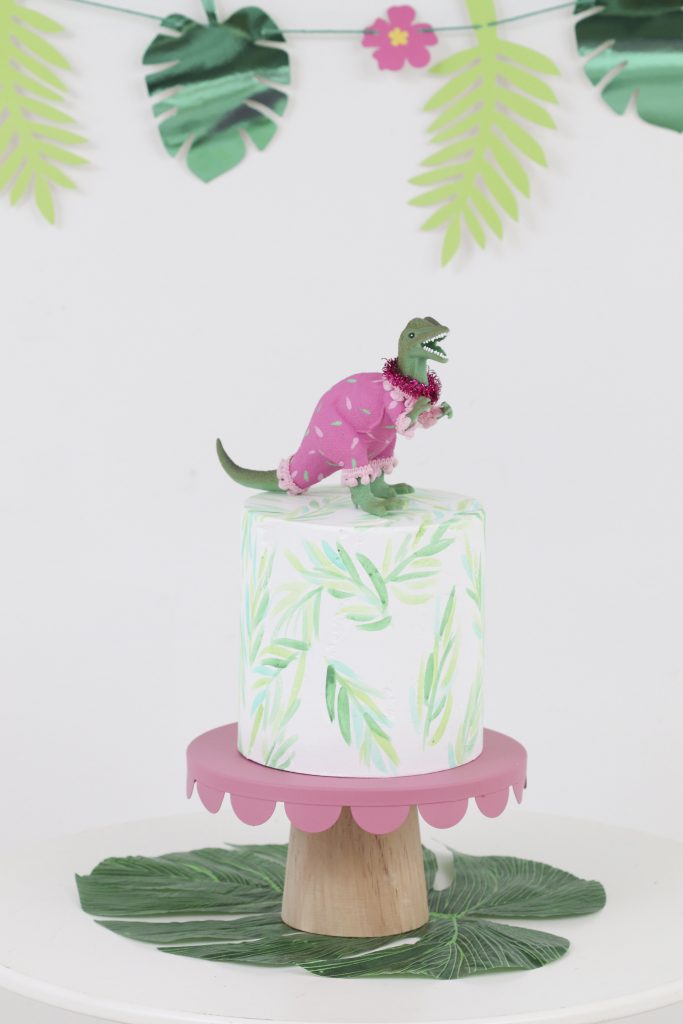 Table
The first thing I did to transform my table for the new color scheme is replace the blue dinosaur planter with a pink one. I also used the same two charger options for my pink place settings, except that I replaced the green chargers with soft pink ones. Then I replaced the flatware with a pink handled version, and sprayed the dino egg fossil favors pink. Finally, I used the pink-themed version of the Painted Parade stacked dino plates. How cute are the details on the dinosaurs? I'm obsessed.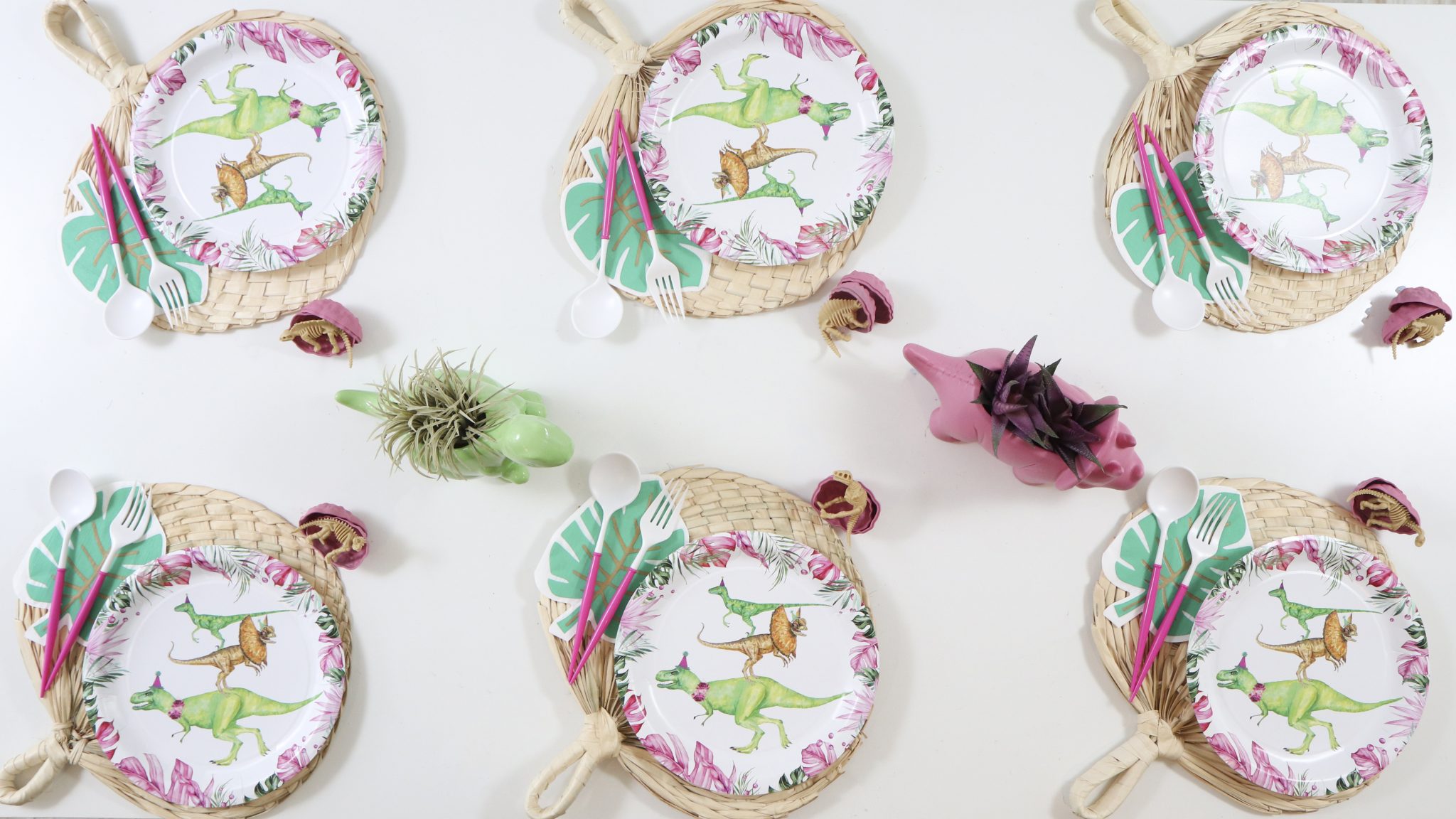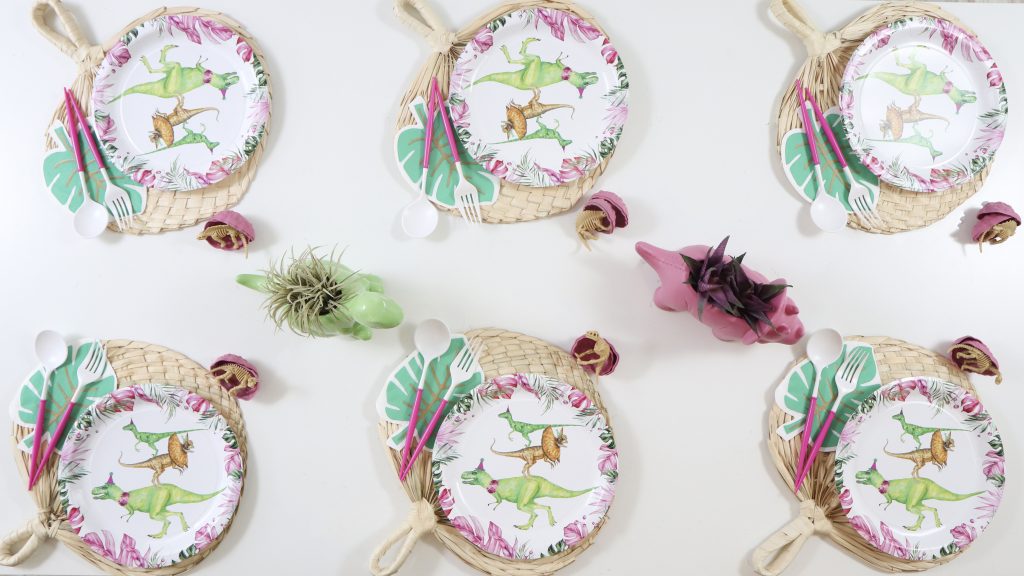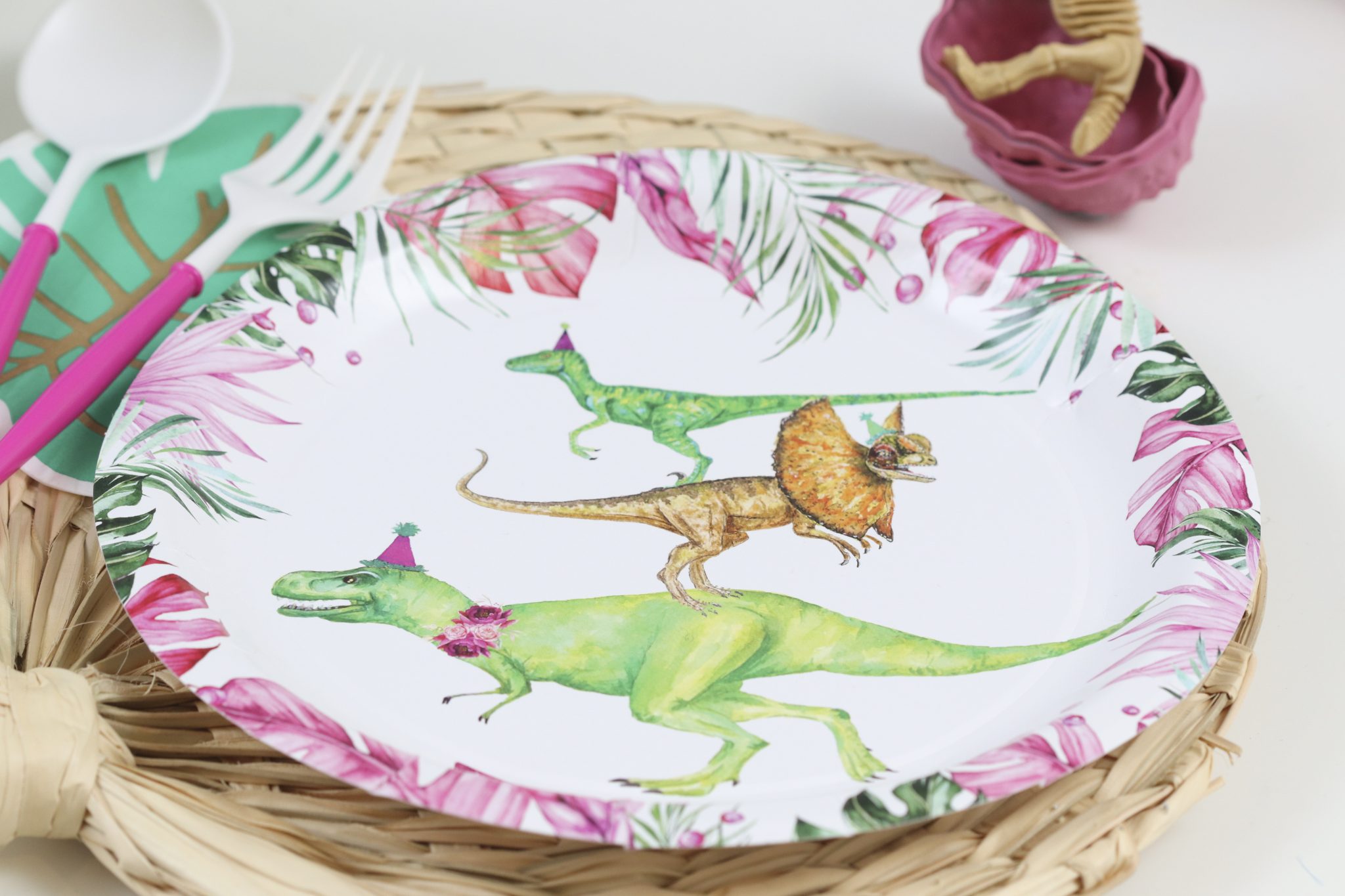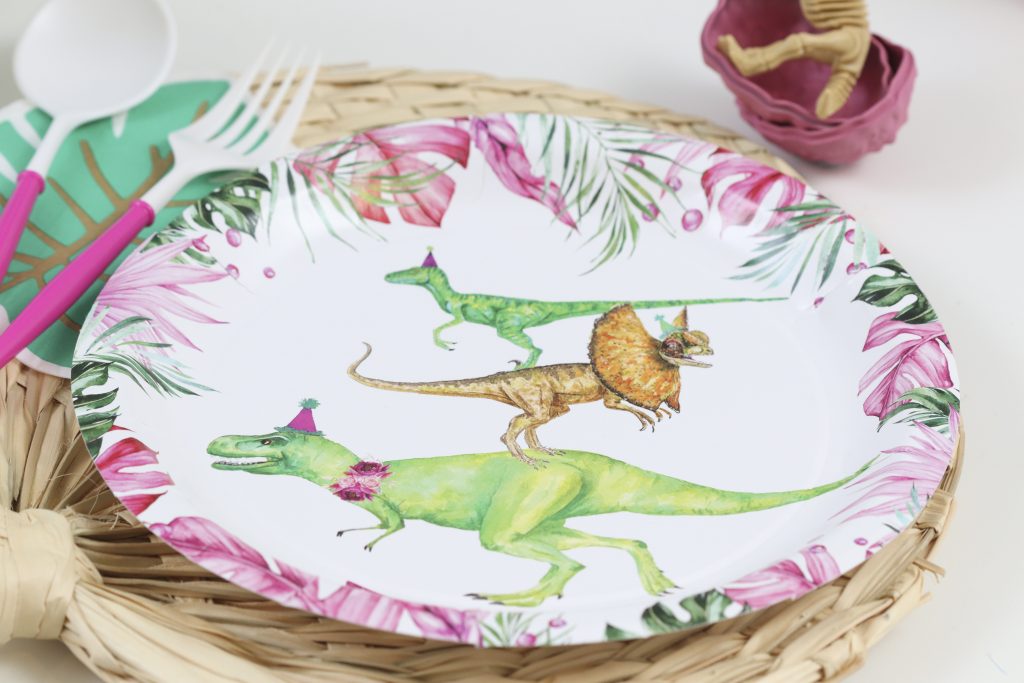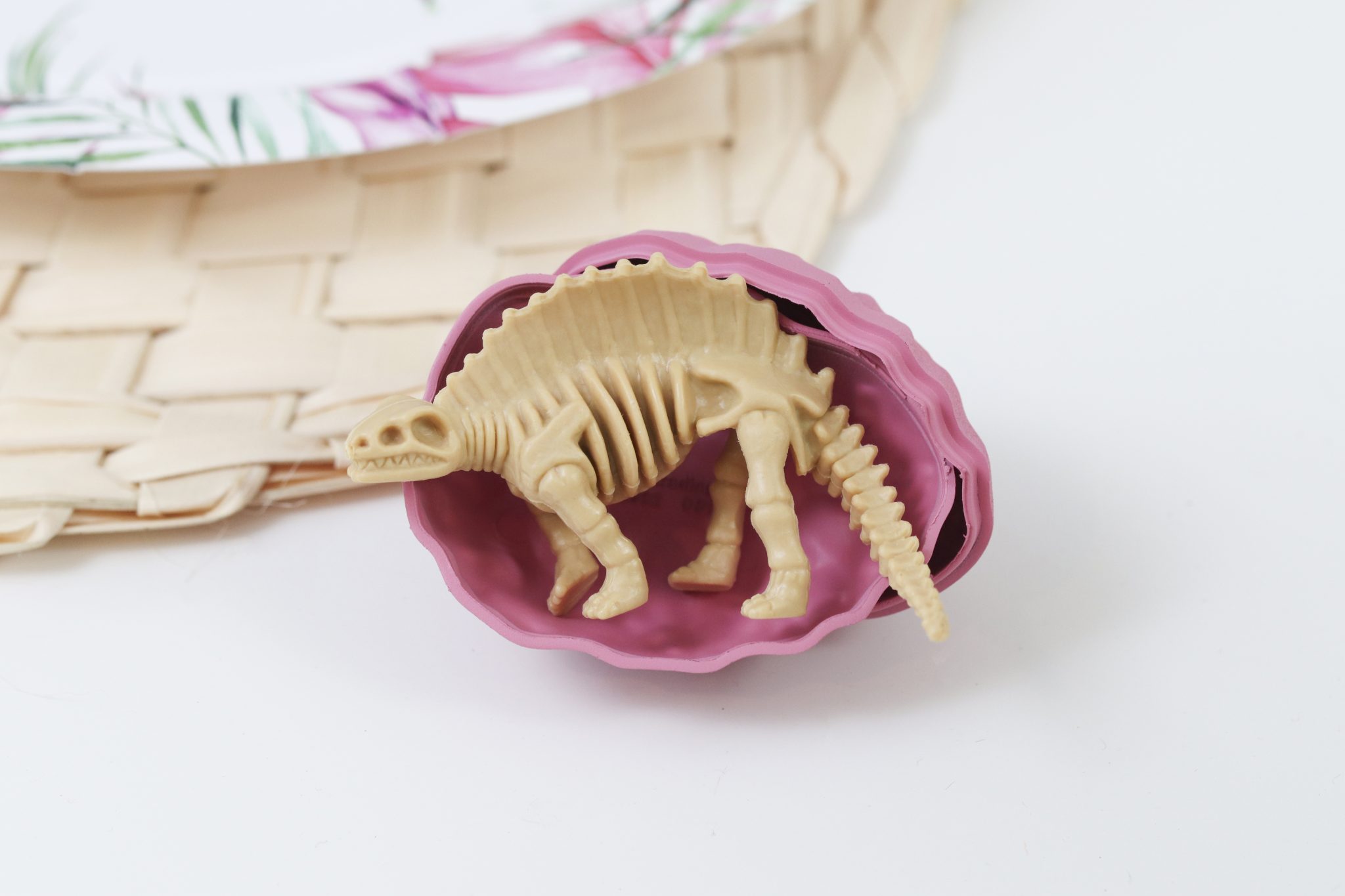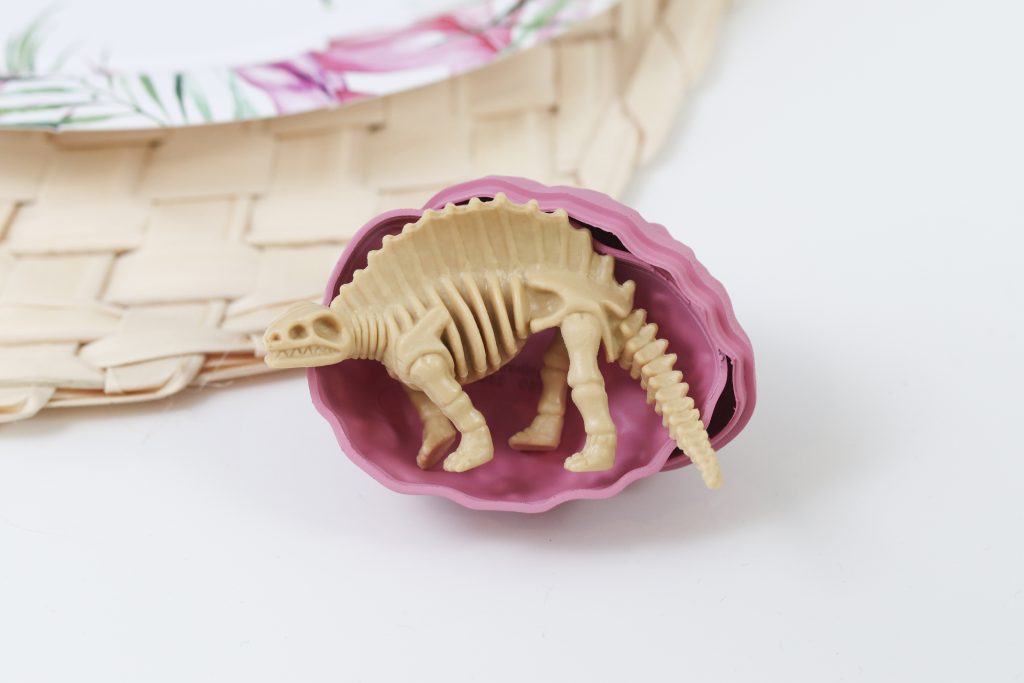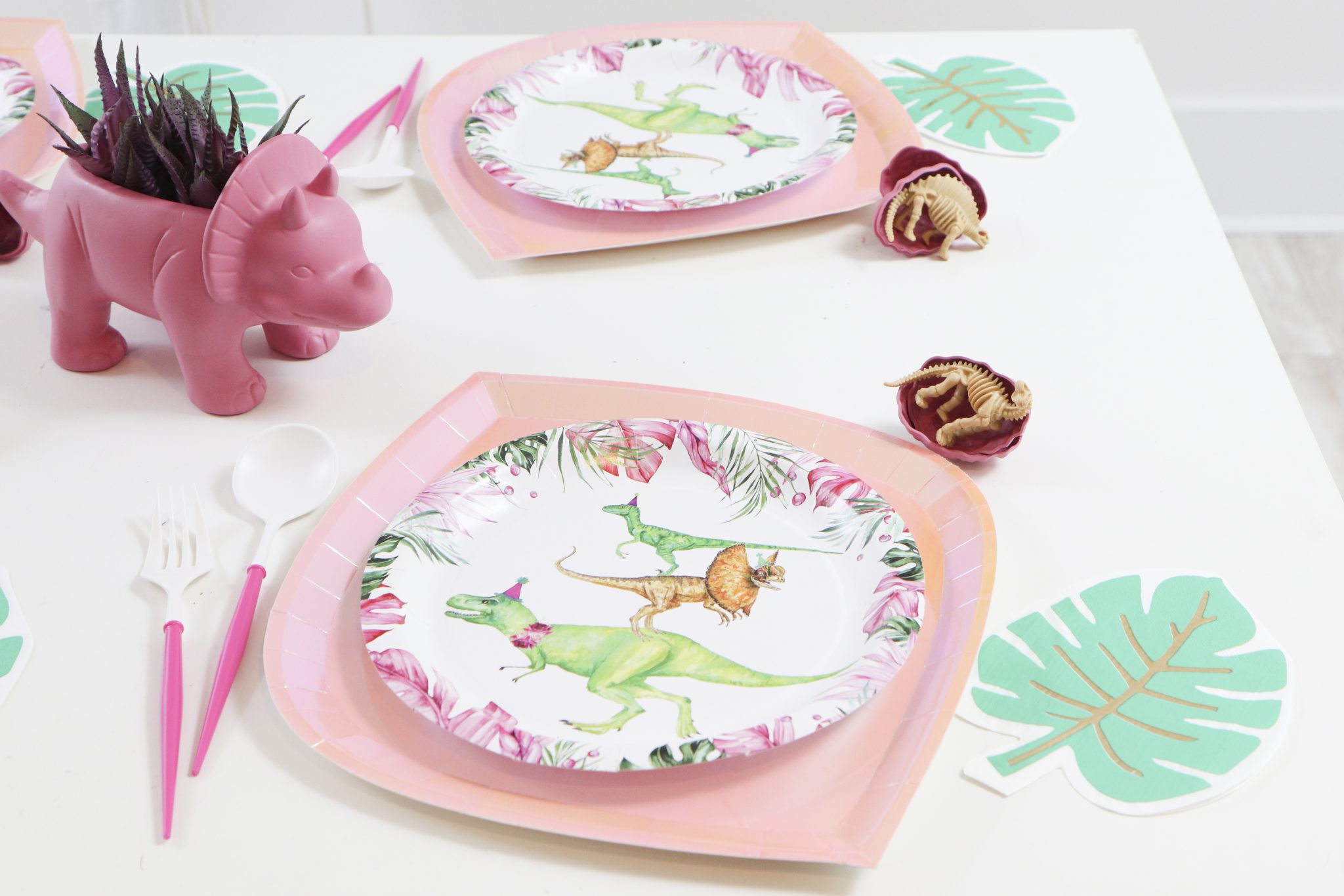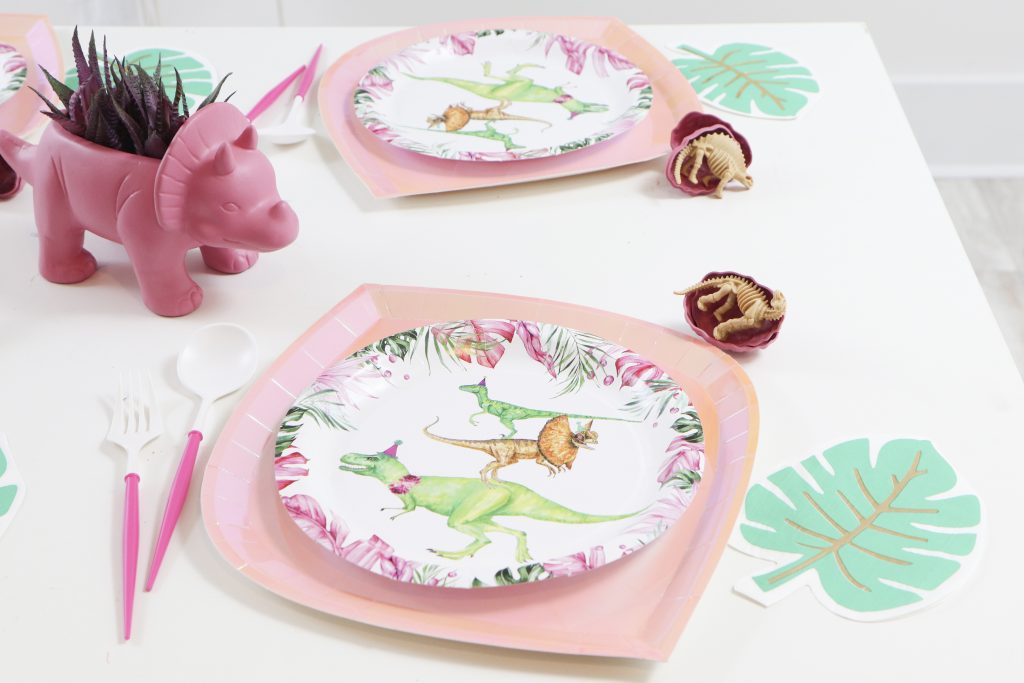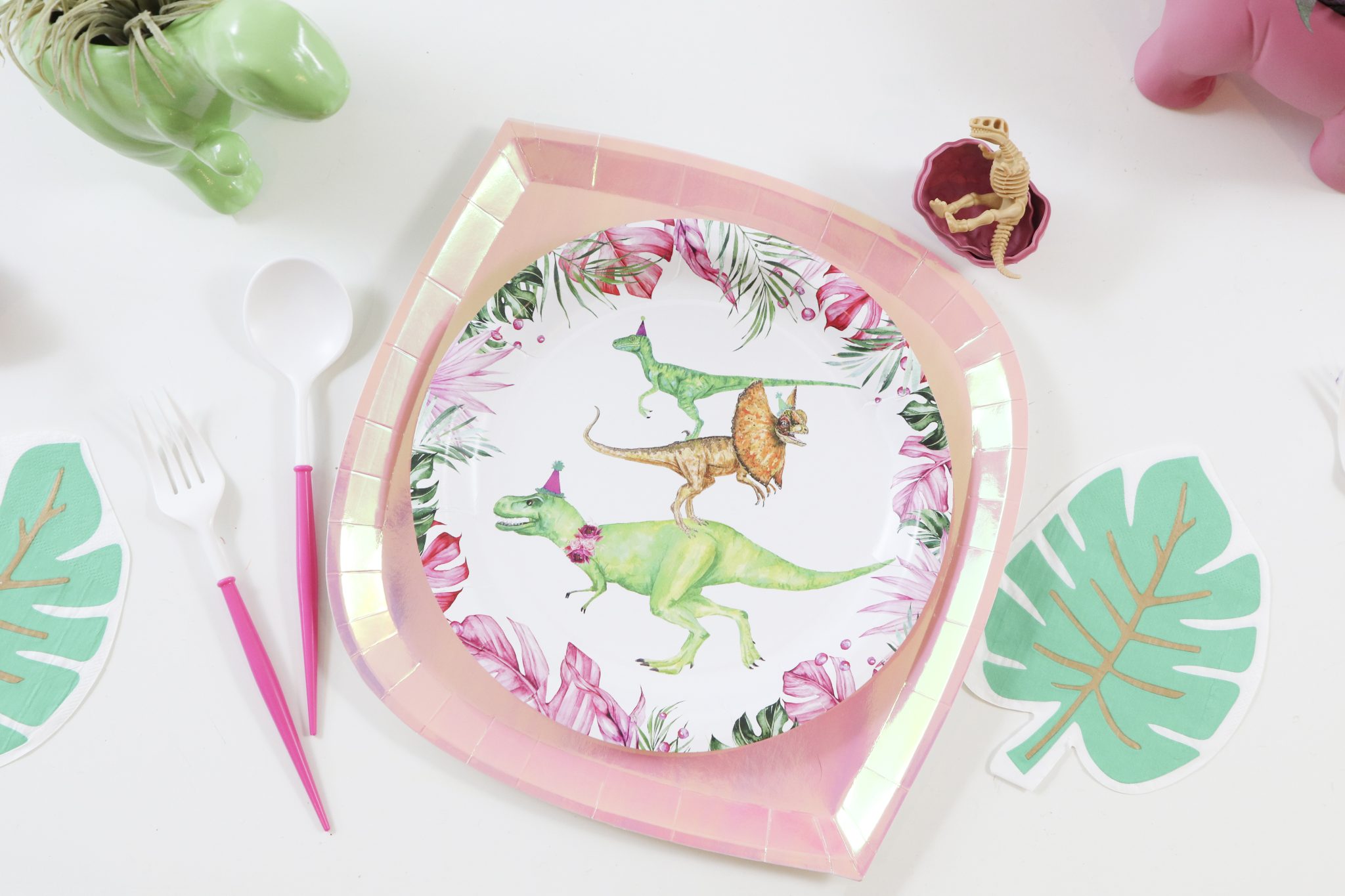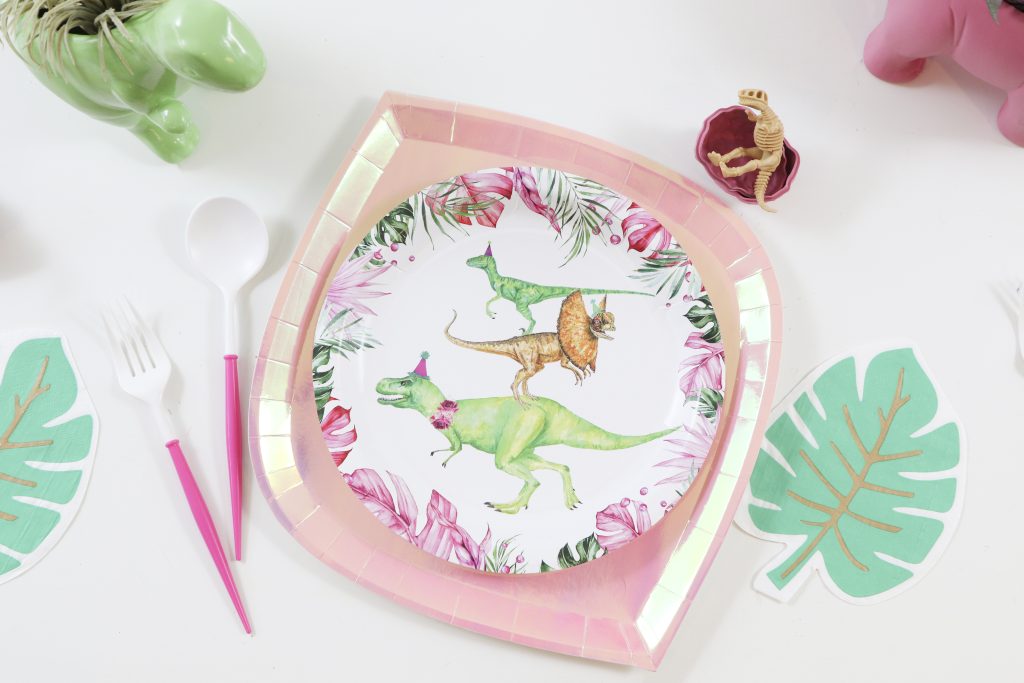 I know that it can feel like parties have been put on hold right now, but I fully believe we should still celebrate however we can! Even if it's only in-person with immediate family, for now. So if your little dino-lover has a birthday soon, order your supplies from these wonderful vendors now! 
Then, check out my post on How to Throw Virtual Celebrations and Parties to see how you can virtually involve friends and family from outside of your home. And for activity ideas, check out my recent post, 8 Activity Ideas for Virtual Kids' Parties.
Happy Partying!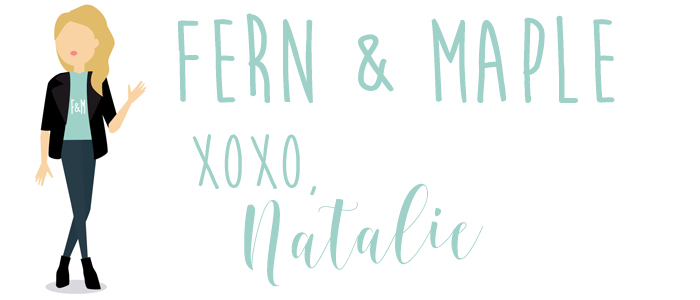 As a blogger, I sometimes receive compensation and/or products in exchange for my styling and crafting services. As always, all project ideas and any opinions expressed here are my own.  For further information on our disclosure policy please check out our disclosure page.
PIN FOR LATER: