Do you know a couple who has found their one in a "melon"?  Show them you know they've found the "kiwi" to each other's hearts by throwing them an "orange-inal" fruit-themed shower! The couple is sure to feel "berry" loved. Read on to find out how I used products you can find on Oriental Trading and got creative with DIYs to style this "sub-lime" shower. And I promise I'll try to cool it with the fruit puns!
As an OTC blogger, I received compensation and/or products in exchange for my styling and crafting services. As always, all project ideas and any opinions expressed here are my own.  For further information on our disclosure policy please check out our disclosure page.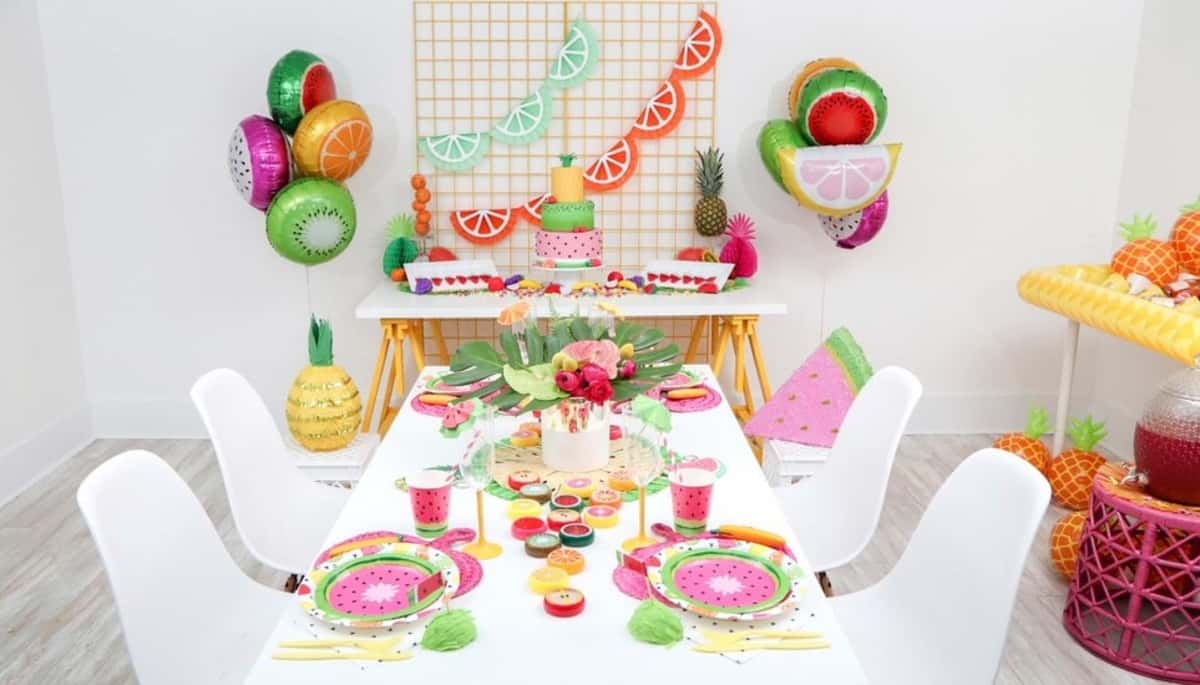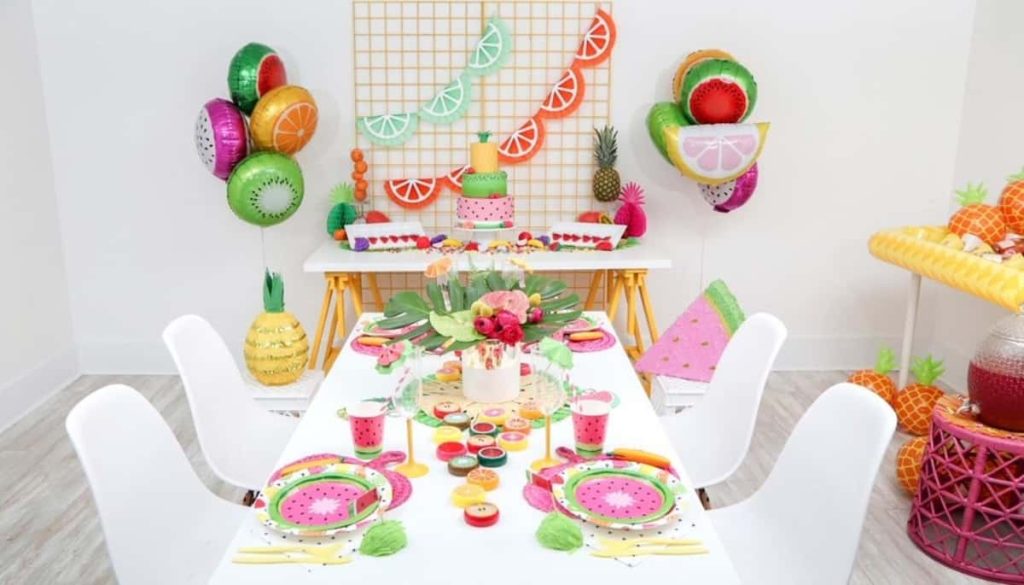 How to Throw a Fruit Themed Wedding Shower
Tropical Table Setting
I started by creating a stunning centerpiece of tropical palm leaves and flowers in a white and gold ceramic vase. These sat atop a kiwi placemat I created with dyed fringe placemats and black cardstock. Then, on either side of the centerpiece, I laid out tubs of brightly colored fruit putty and slime as a form of table runner. To designate each person's place, I made the cutest DIY Fruit Wedge Piñata Place Cards. Get the tutorial to create your own HERE.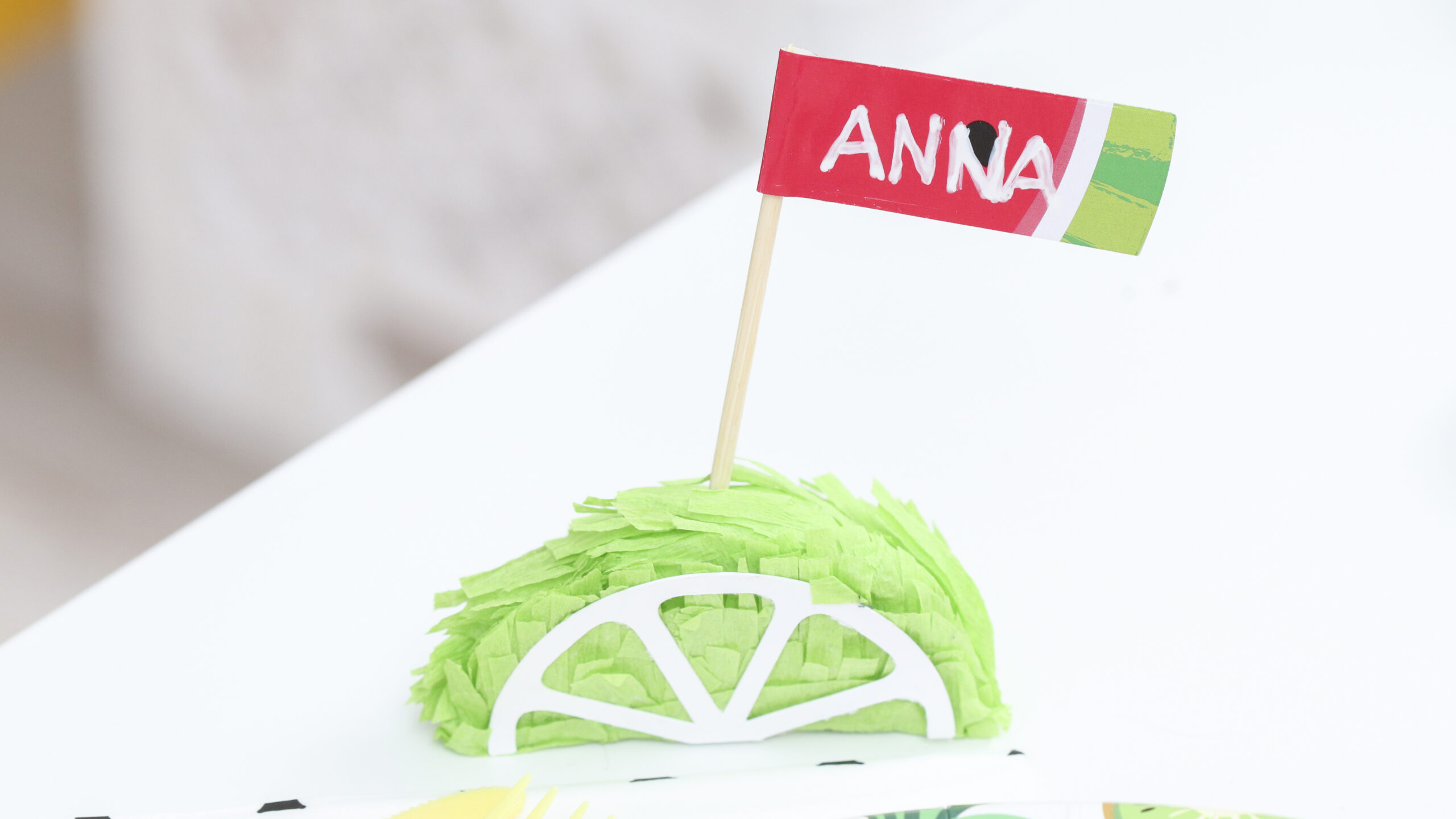 Then, I set out a hot pink raffia hand fan at each place to serve as a unique theme-appropriate placemat. On top of these, I layered fruity dinner and dessert plates, with coordinating geometric white and black napkins. Next, I added bright yellow cutlery, a banana pen, and fruity paper cups with pink striped paper straws. Finally, I painted the stems of plastic champagne flutes yellow to match the cutlery, and placed a DIY Fruit Slice Drink Umbrella in each. Learn how to make them HERE.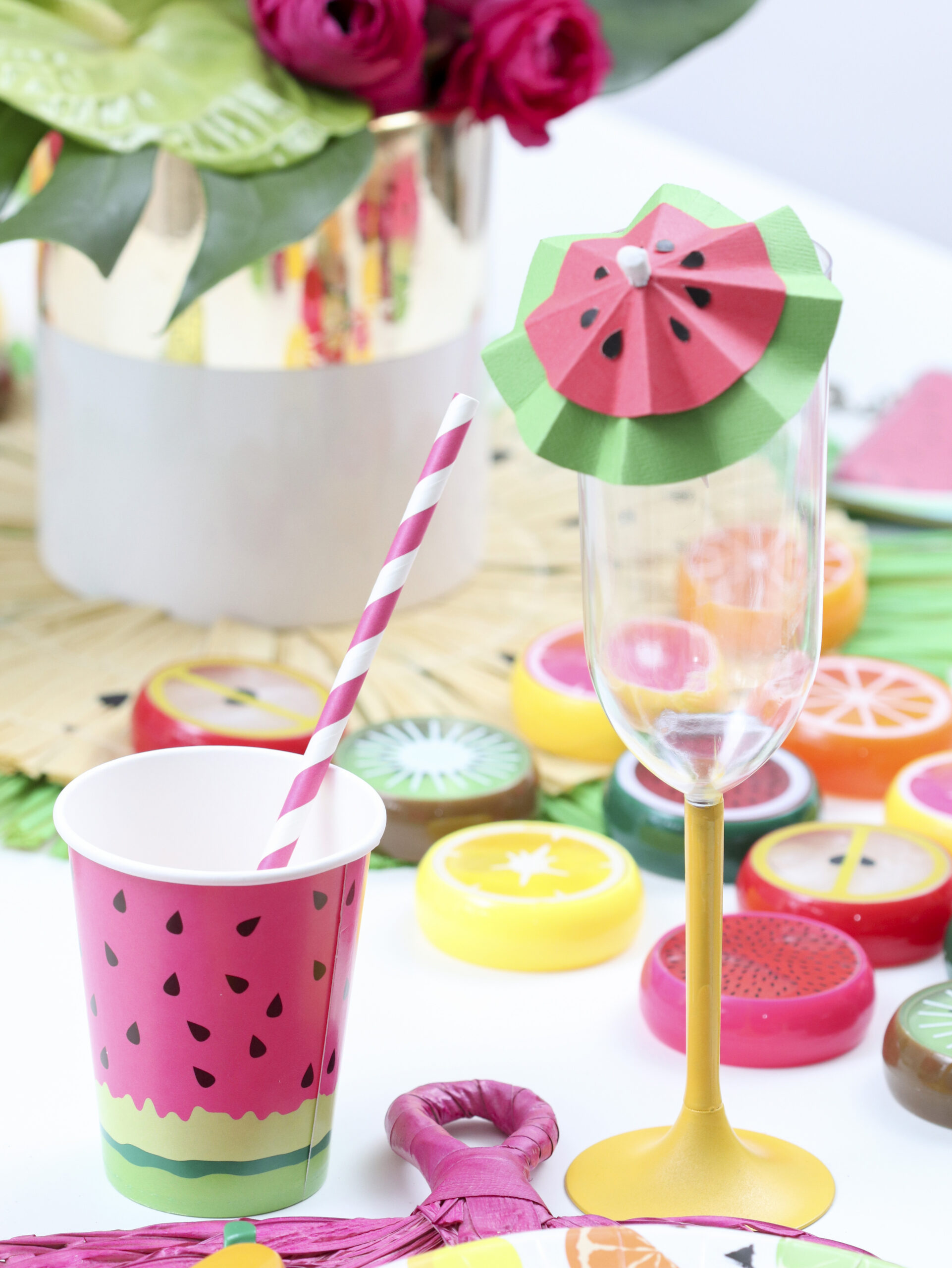 TIP: Taper the tubs of putty and slime towards the ends of the table to create movement and visual effect.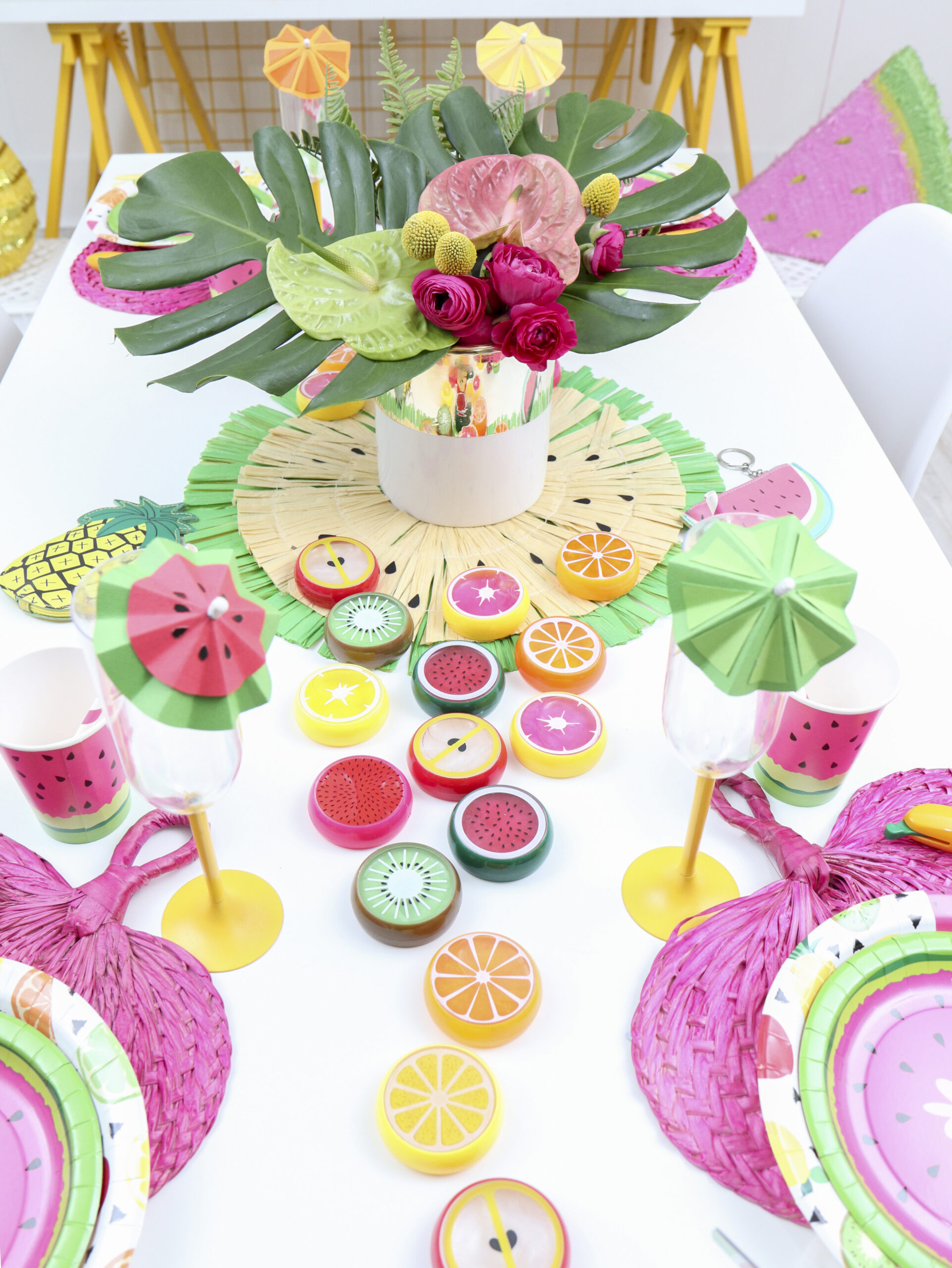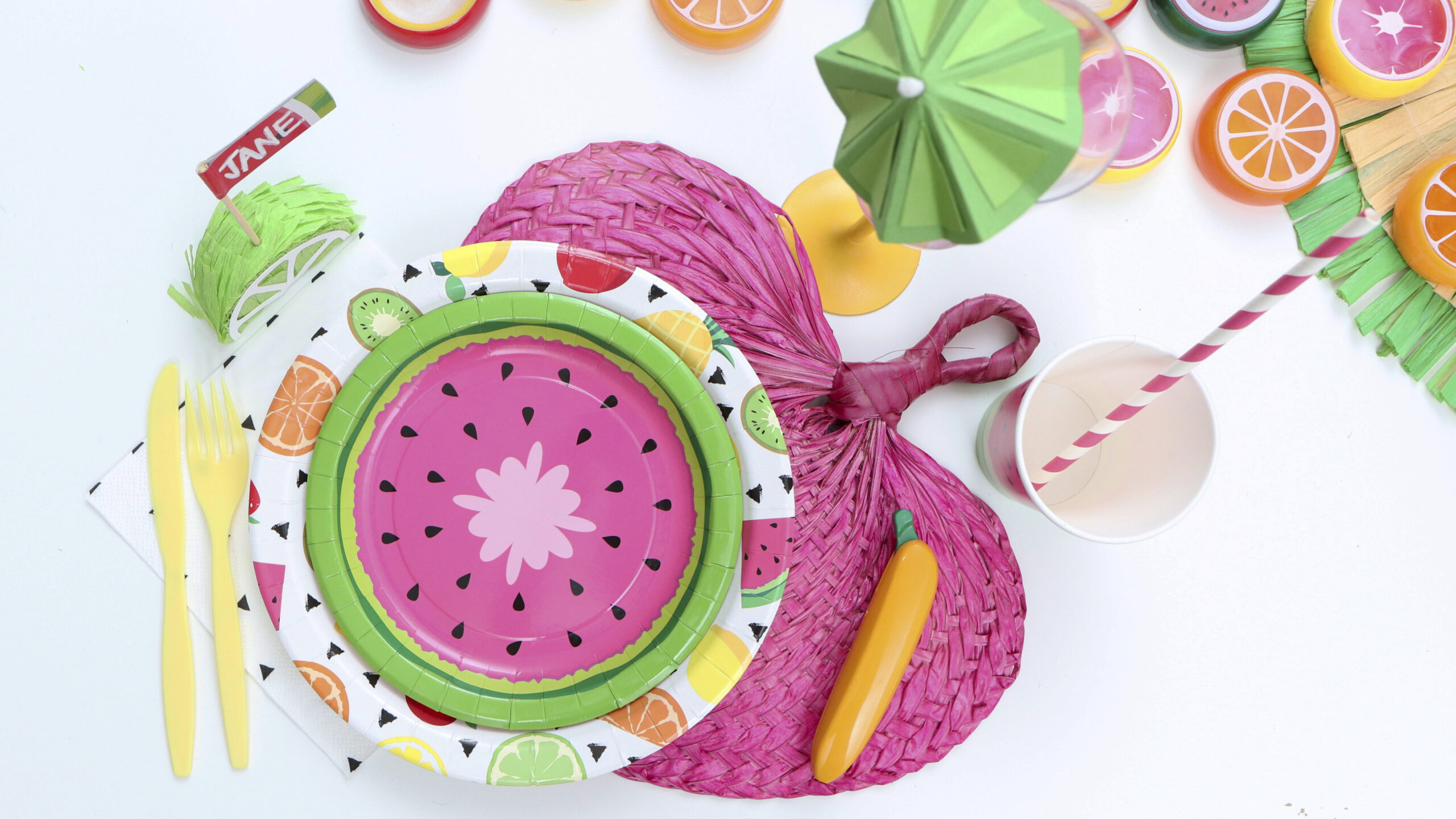 Fresh and Sweet Dessert Table
After my table was set, I moved on to creating a show-stopping dessert table. I started with a white table set in front of an orange grid backdrop. On either side of the table, I put a fruit piñata and some fun fruity mylar balloons. Orange and lime wedge garlands were created using a simple printable template, and hung across the grid. Get the free printable HERE.
Because I had the most amazing fruit-inspired cake, I wanted to make sure it was the focal point of the table. I set it atop a white cake stand for added height, and surrounded it with an array of fruity erasers, stress balls, and pencil sharpeners. The erasers almost looked like confetti, and really gave off the party vibe, but in a fruity way! Then, I flanked the cake with white trays of watermelon lollipops and displays of fresh fruit and fun fruit decor.
TIP: Prop up the back edge of each tray to make the lollipops more visible and eye-catching.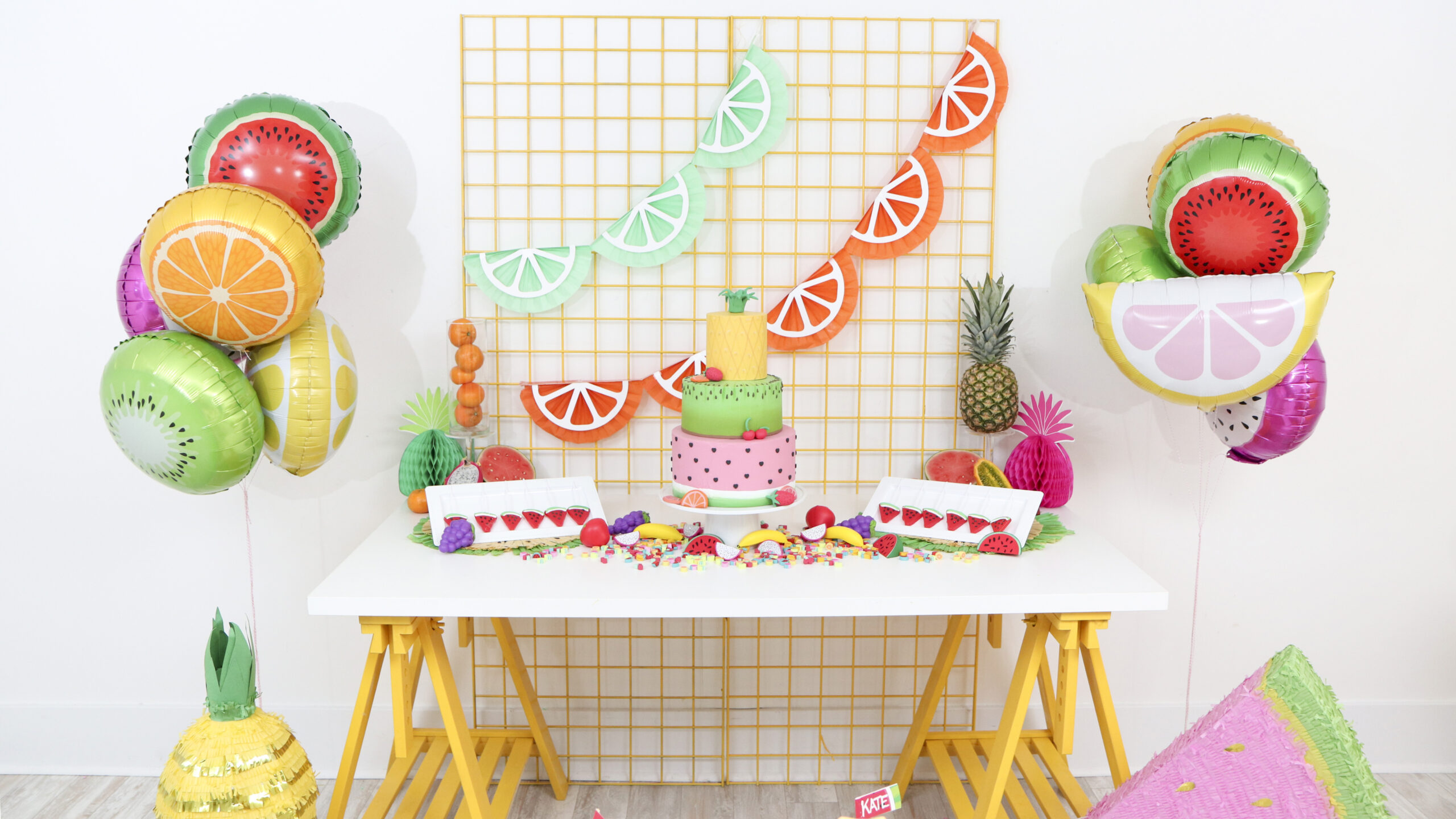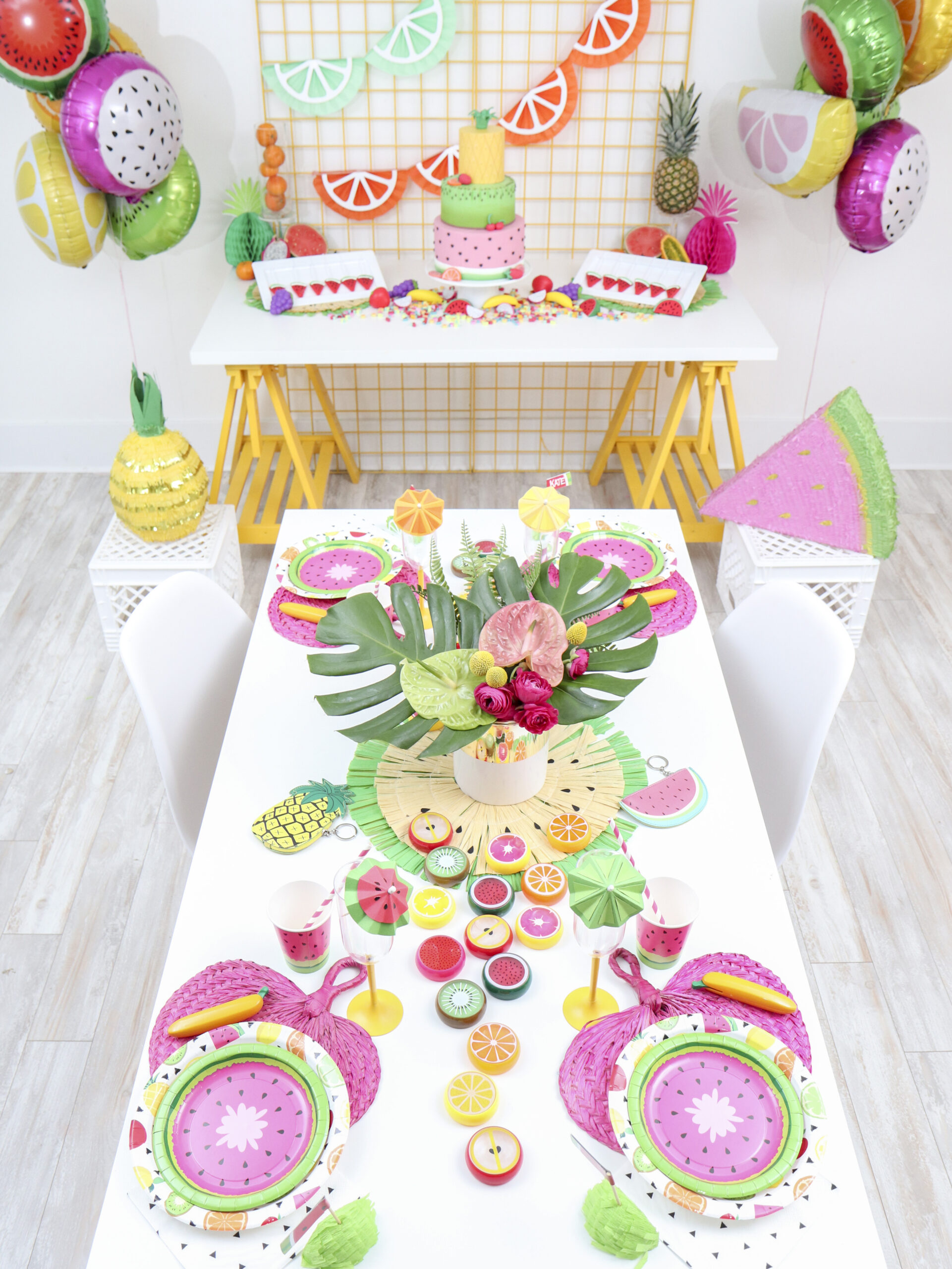 Fun and Fruity Bar
A giant inflatable pineapple cooler makes the perfect party bar. I filled mine with ice and a variety of fruity bottled drinks, both alcoholic and not. Additionally, I put fun pineapple tumblers and beach balls around the edges. To the side of the cooler, I set up a pineapple-shaped drink dispenser on a bright pink stand, and filled it with Tropical Fruit Punch. You can get the recipe for this yummy and refreshing fruit punch HERE.
TIP: Set the cooler on top of a table so that drinks are within easy reach, rather than on the ground. Put a few pineapple beach balls on the ground around the bar as well for more area appeal.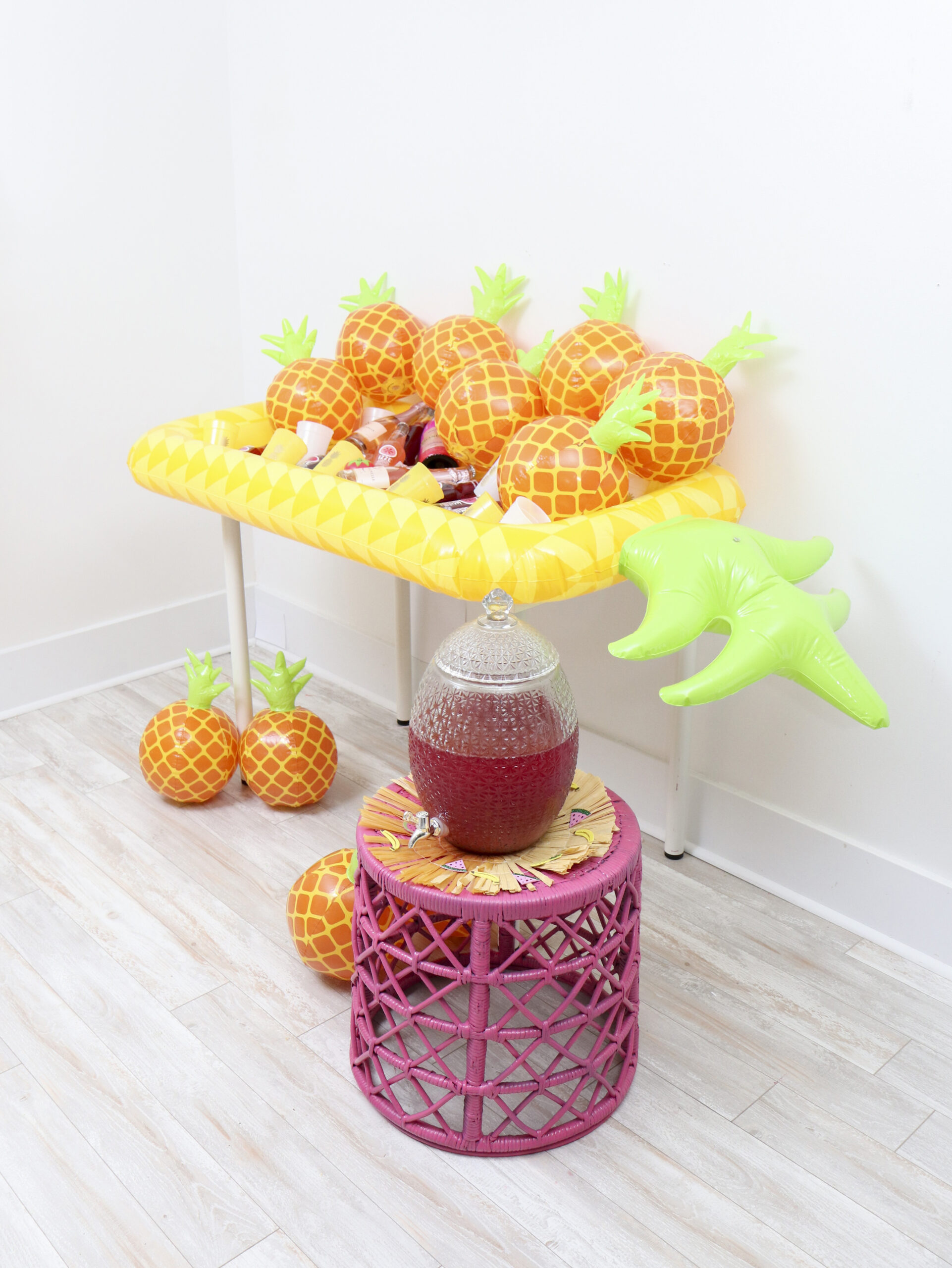 This playful tropical fruit-themed shower is sure to be "a-peel-ing" to the couple and guests alike (sorry, last one!). You can get all of the additional details for how I created it on Fun365 at Oriental Trading. Everything you need to See It, Shop It and Make It with the click of a button! 
What is your favorite fruit? Tell me in the comments!
Bonus Fruit-Themed Party Inspiration
For more fruity fun, check out my post on Three Ways to Style a Mimosa Bar Cart, and my Cherry Themed Shower post.
Happy Partying!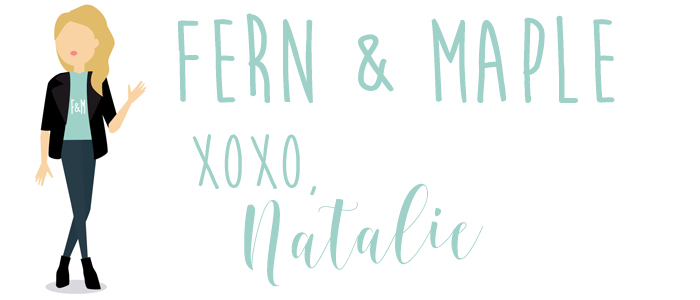 PIN FOR LATER: