Picture this: a warm, sunny, California day, a romantic garden right in the middle of a beautiful vineyard, celebrating love and sipping mimosas. Does this sound ideal to you, or just to me?! If it does, but you are far from being in California (or even Californian weather) – read on to learn how I created a Vineyard Garden Inspired Wedding Shower…indoors!
Setting the Scene
First, I created a backdrop for the mimosa bar that would instantly transport guests to a sun-soaked California garden at an chic vineyard. Using a wood panel wall added a natural coziness to the scene. A macrame hoop wall hanging also added a nice natural element. Then, I made a fun and unique shelf out of a swing. Not only was it an original way to showcase mimosa glasses, but it played on the garden theme. Looking at it, couldn't you just imagine blissfully lounging on a swing in a sunny garden, mimosa in hand?! Finally, wrapping fresh flowers around the hoop and swing brightened it up and further enhanced the vineyard garden theme.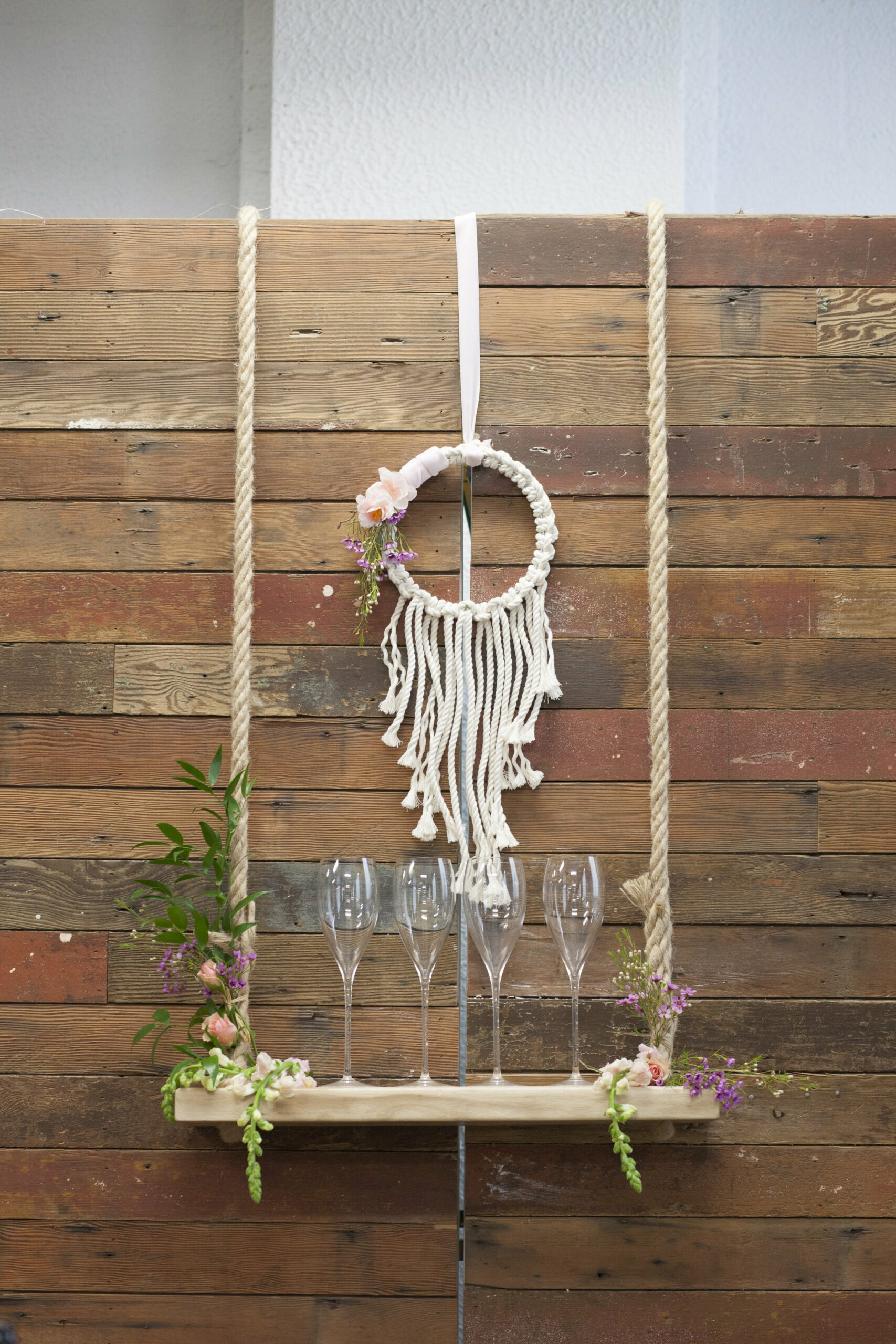 Next, I added a rustic white room divider beside the bar to give the feel of a garden gate. To make the area feel even more like an actual garden, I hung a hummingbird feeder to the divider. Embellishing the feeder with a soft blush ribbon bow and more fresh blooms gave it a more elegant look and tied it to the rest of the decor.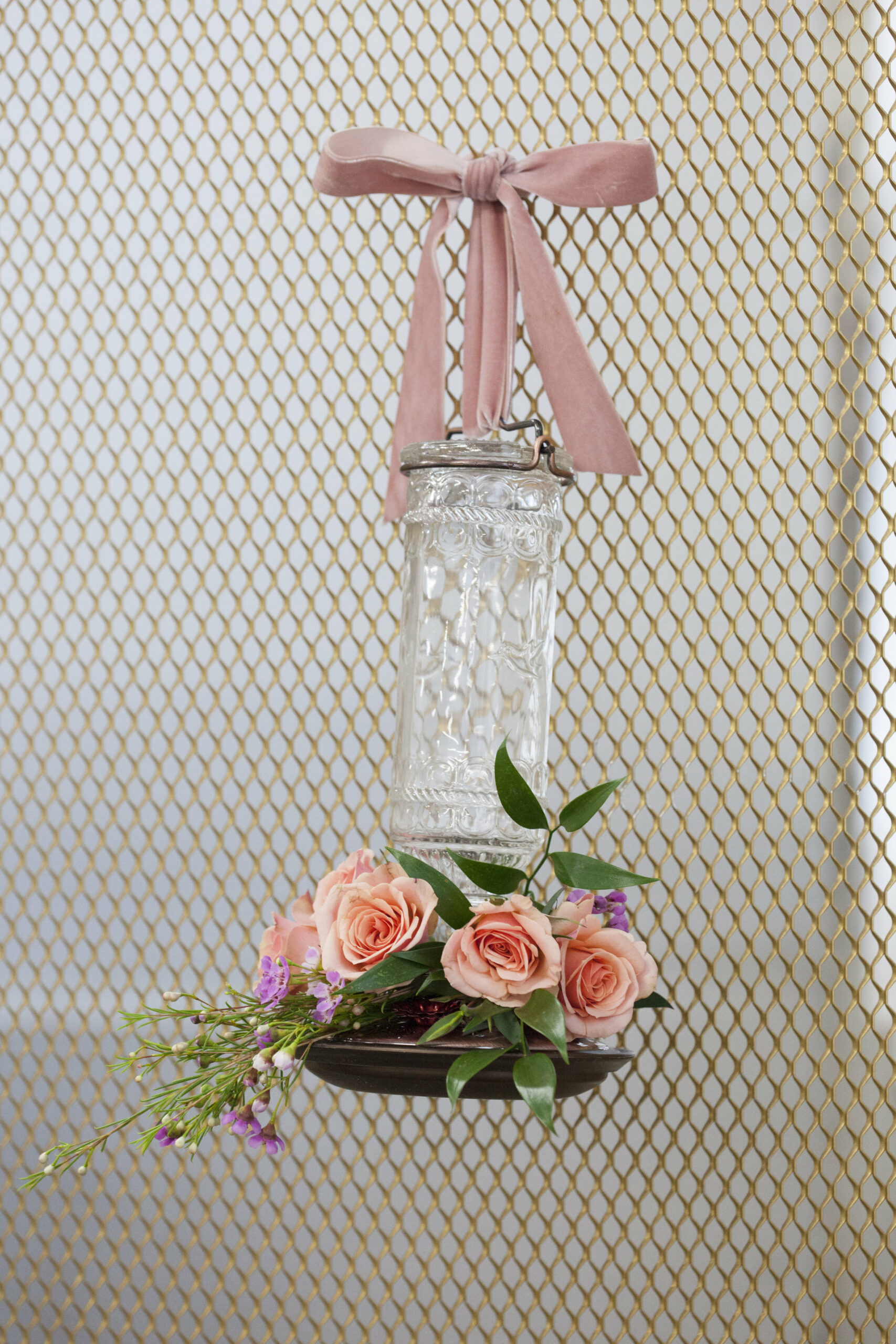 Speaking of blooms, on the other side of the bar I installed a gorgeous wall of pink and white flowers. At the bottom, the panel was grounded in lush greens. This really balanced out the more rustic elements of my backdrops, and gave the room a fresh, invigorating feel. In front of the floral wall, I placed a bright white mimosa menu, which really contrasted nicely against its background. Calligraphy by Mirabelle Creations.  Finally, I placed candles, lanterns, and natural woven jugs around the clear menu stand adding a more romantic vineyard feel.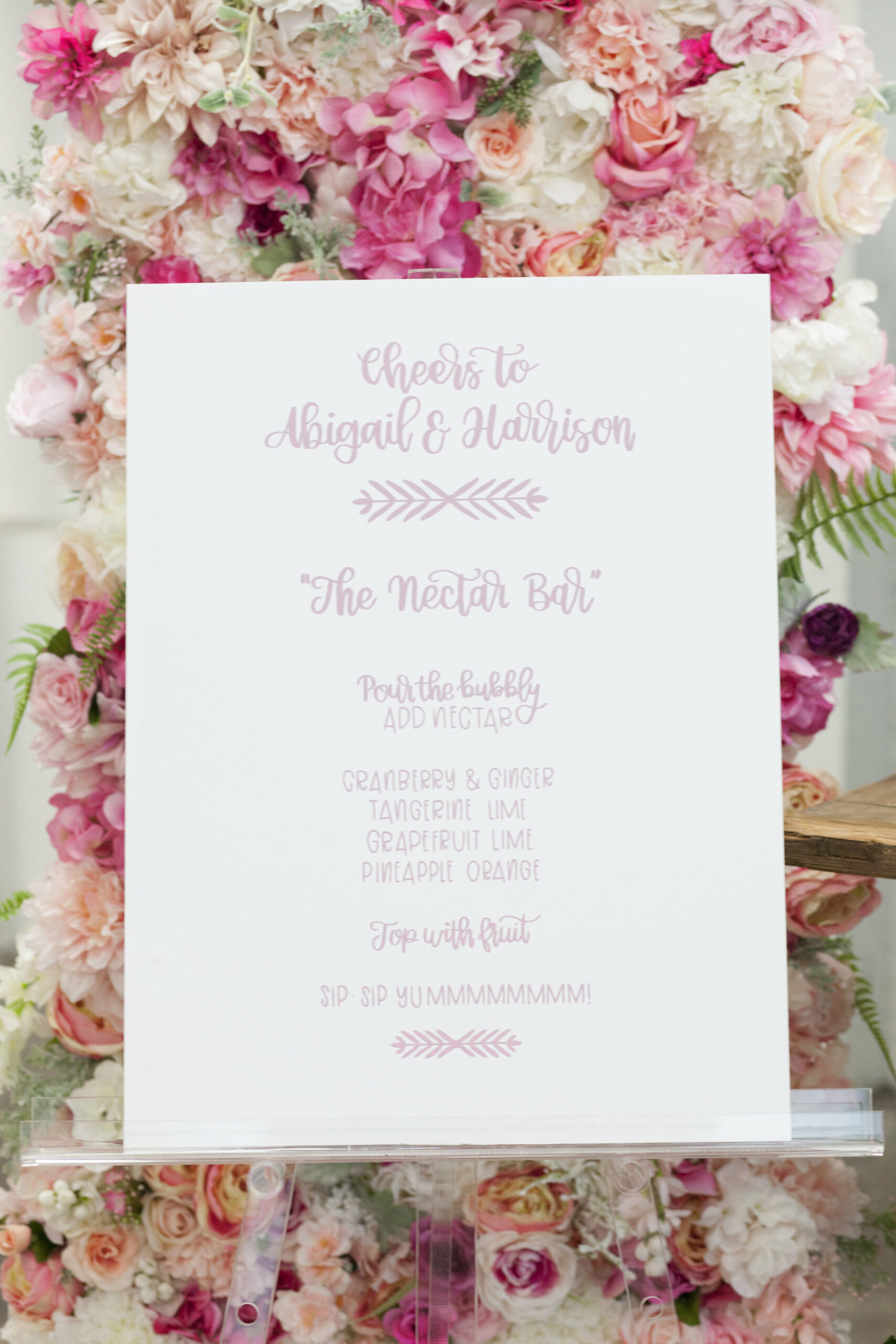 Bubbly Bar
Next, it was time to set up the good stuff – the mimosa supplies! I used two large wine barrels with a rustic door on top to create my actual bar. Barrels can be purchased or often rented from event rental companies. I then added a macrame runner crosswise over the center of the bar to match the hoop from the backdrop. An arrangement of flowers on the side of the bar opposite from the floral wall balanced the whole look.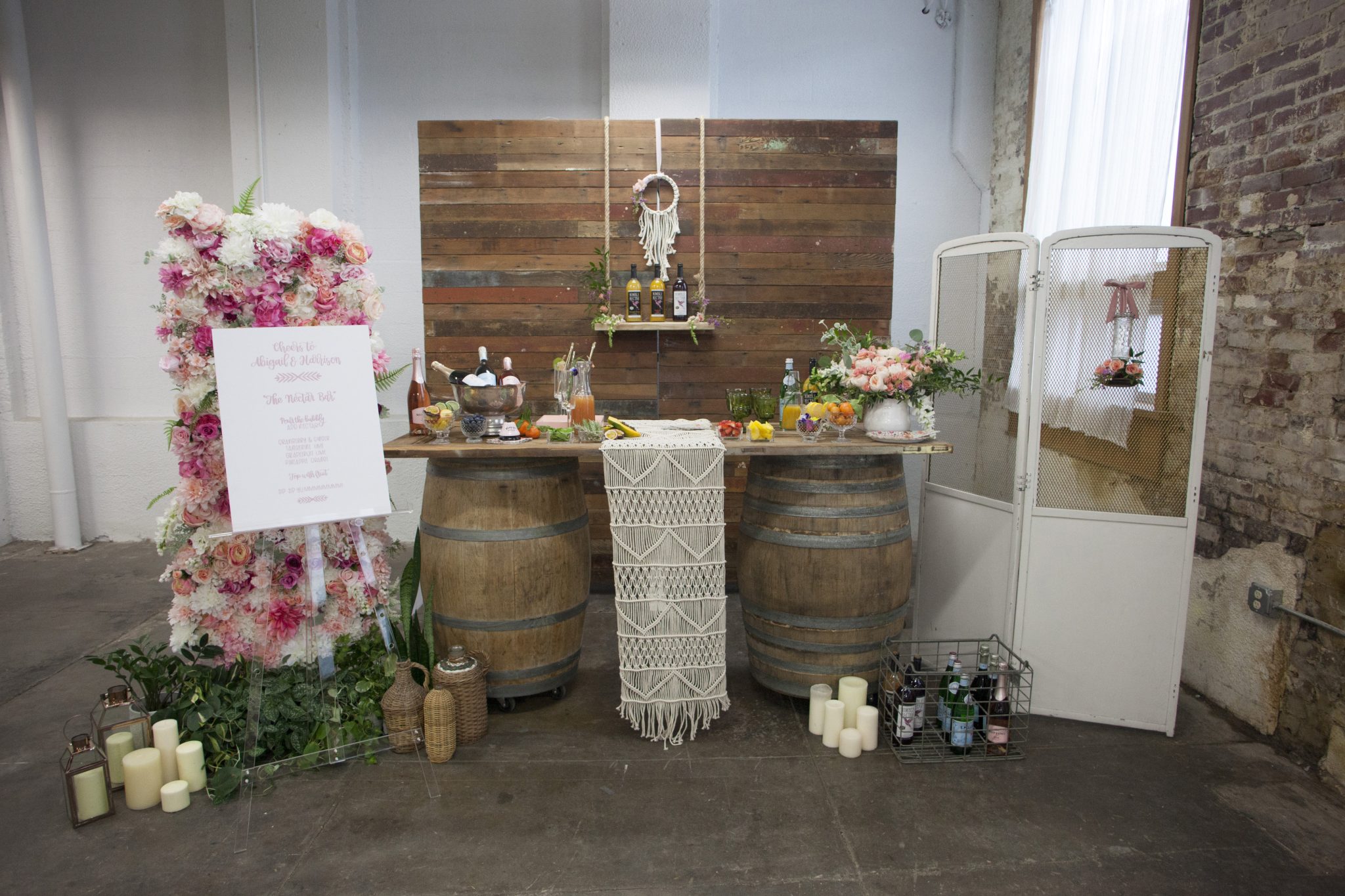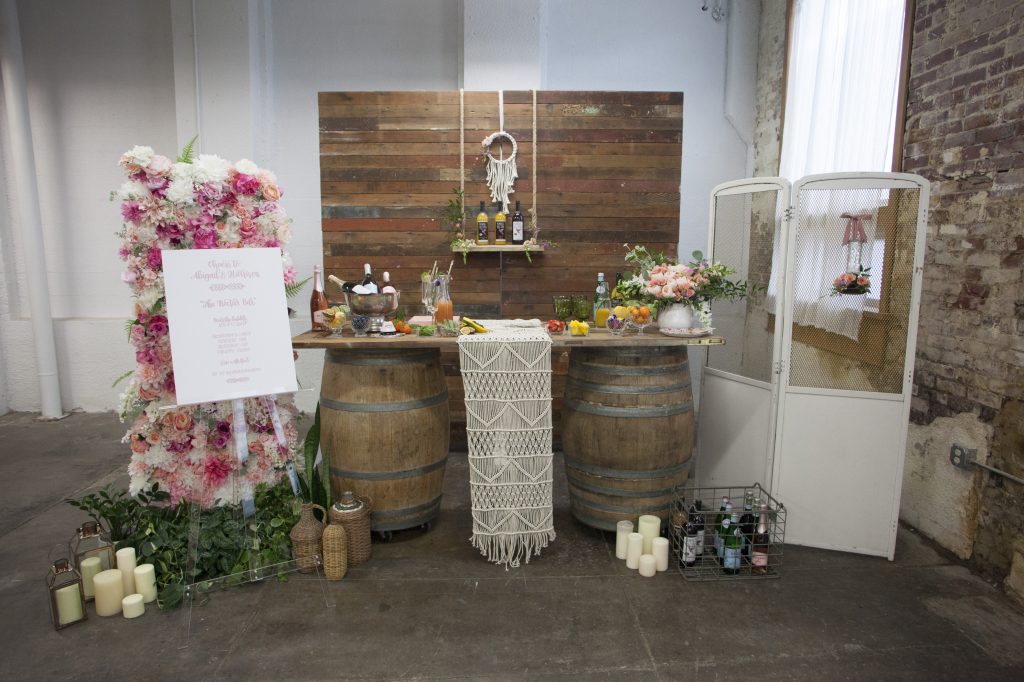 On the other side of the table, I placed a pretty metallic ice bucket with champagne in it. In front of the bucket, a little service bell to add a dash of humor – "Champagne Please!". The rest of the space was filled with all sorts of things to help guests create their mimosa masterpieces. These included decanters of fresh juices and mixers, garnishes of fresh fruit, herbs, and edible flowers, and beautiful flutes and goblets with pretty stirrers.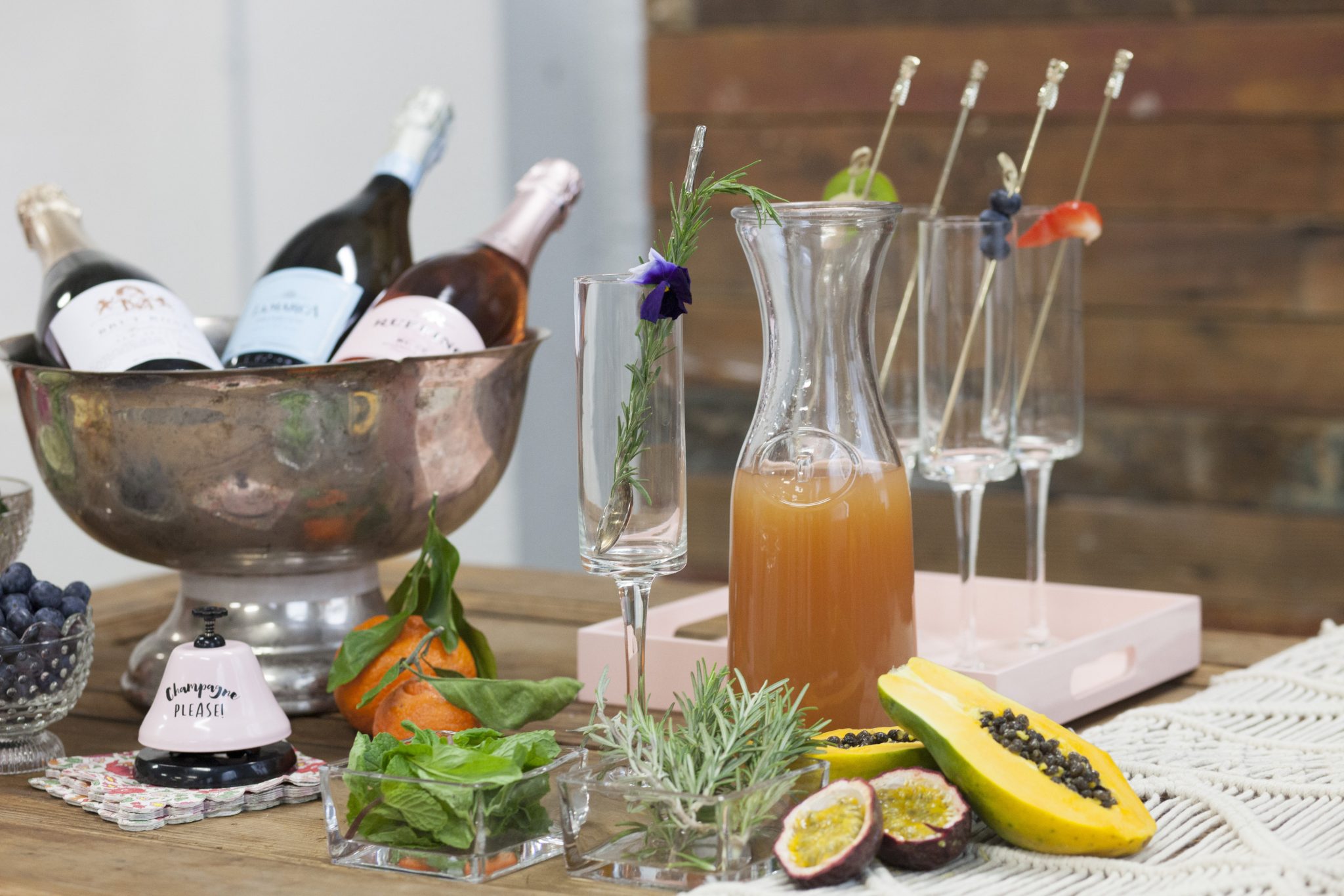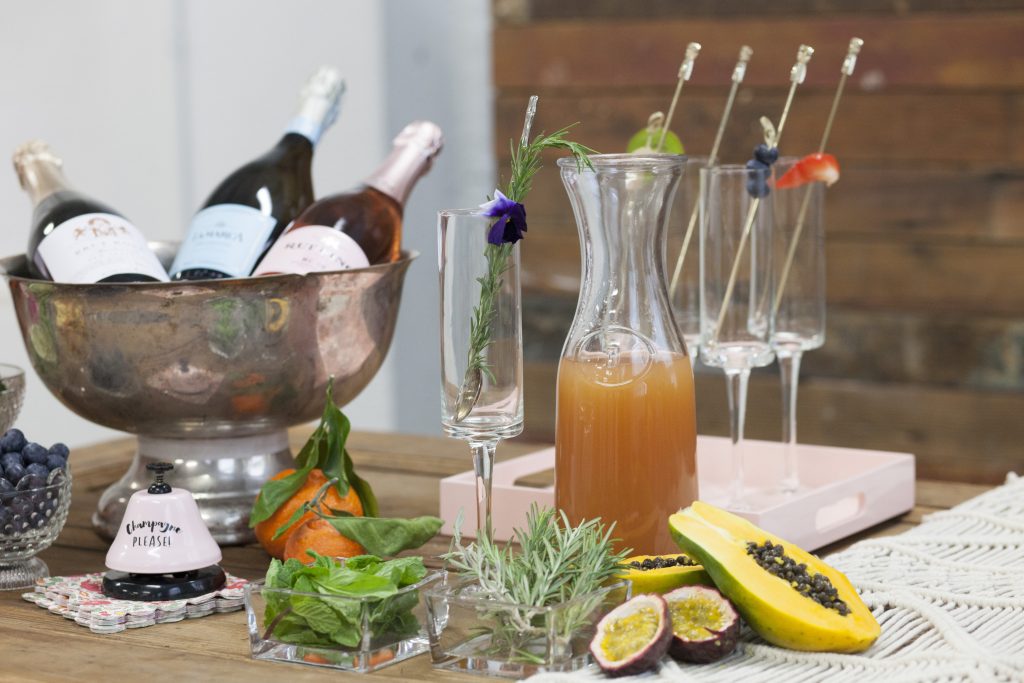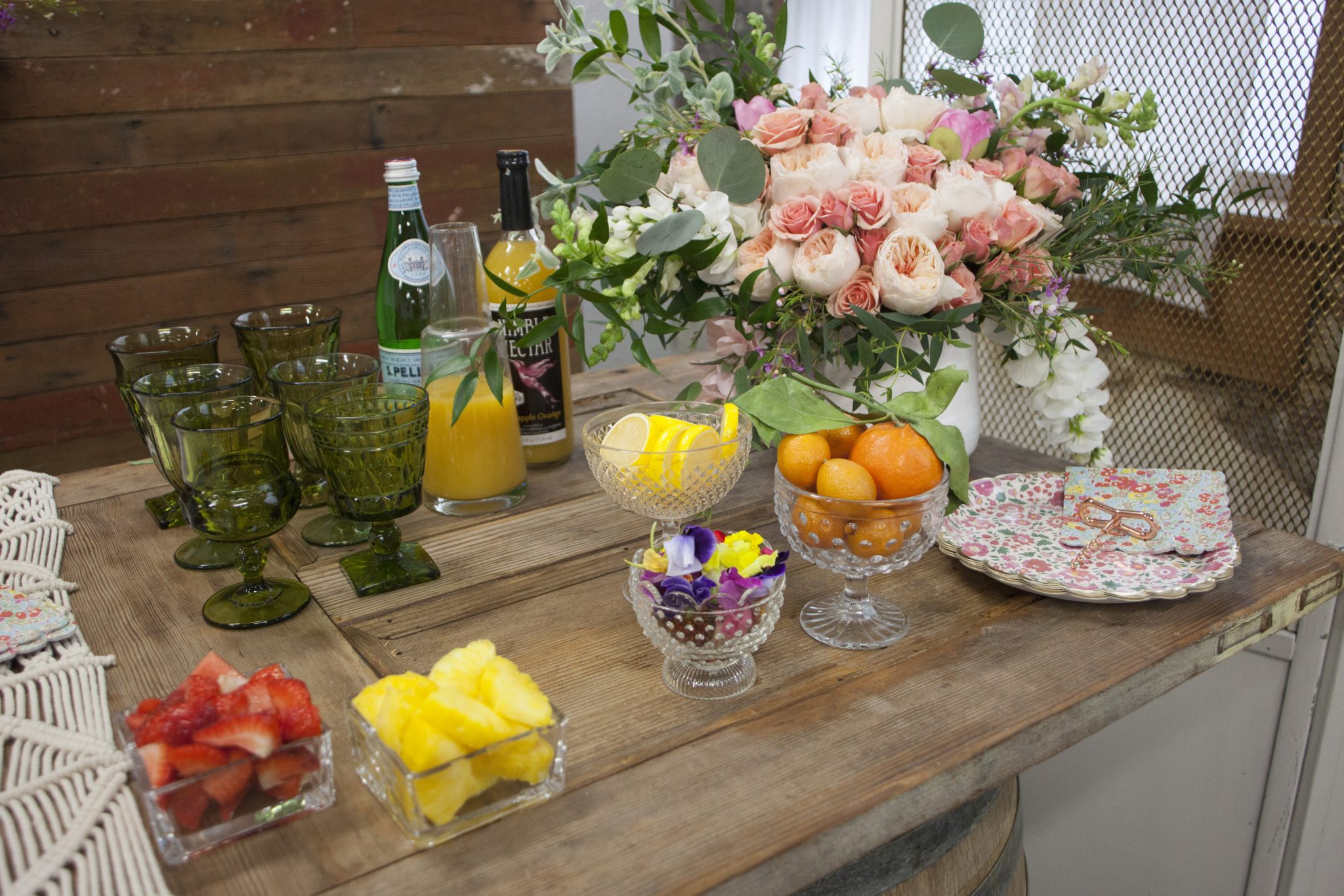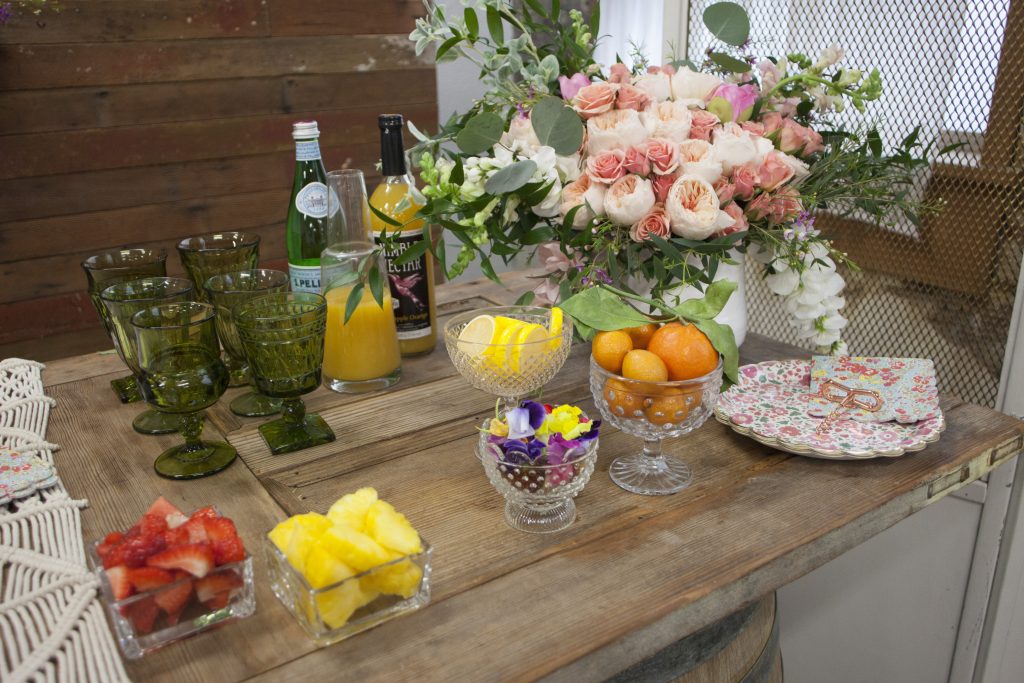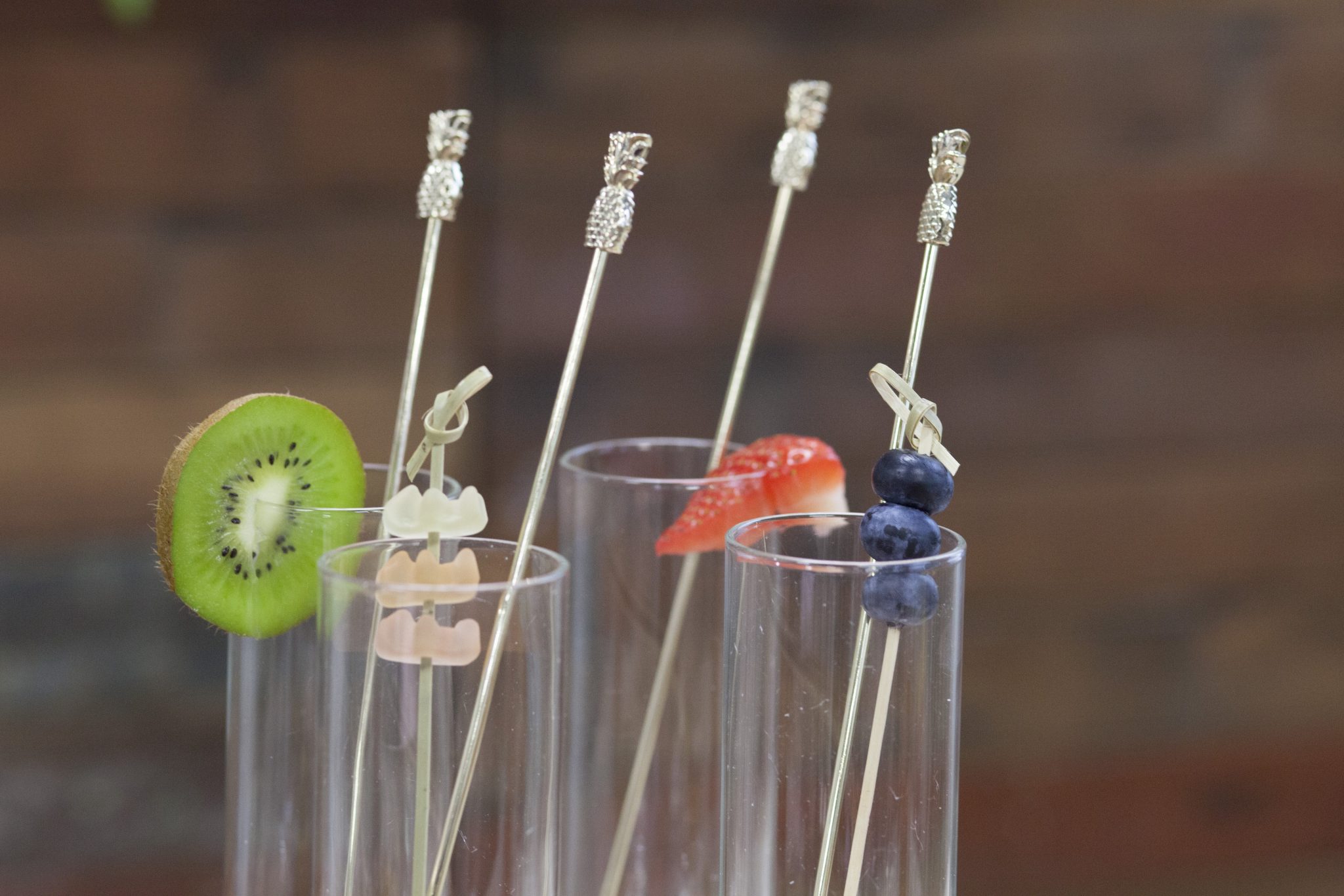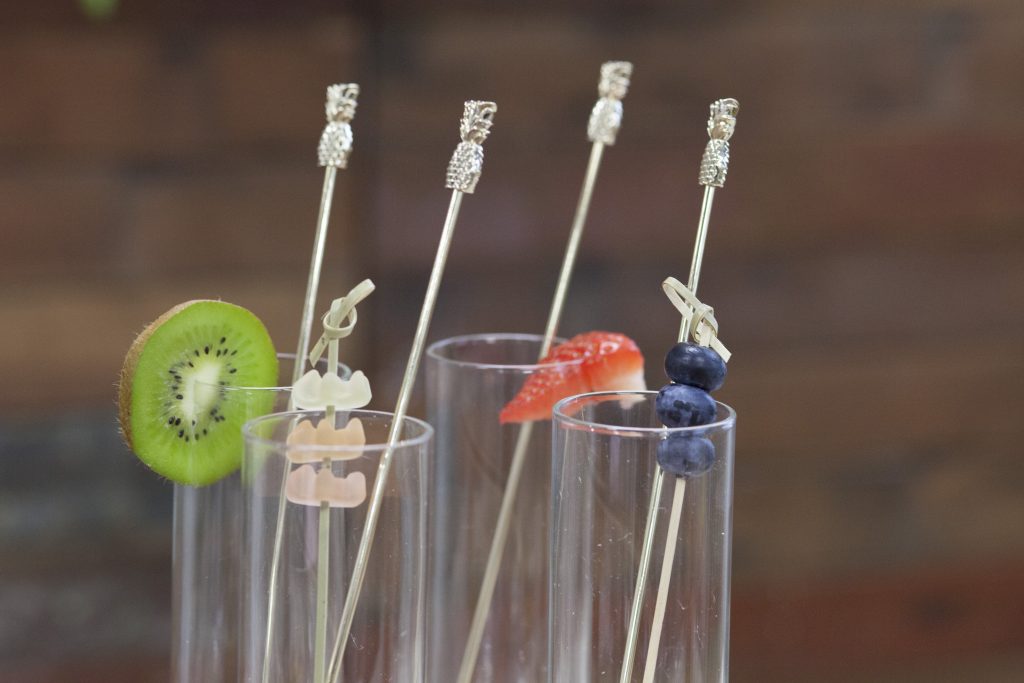 Simple and Soft Settings
I used a wooden table without a tablecloth to complement the other natural wood components in the room. To soften it up, I added a flowy chiffon fabric table runner with a row of elegant gold candleholders holding white candles down the center.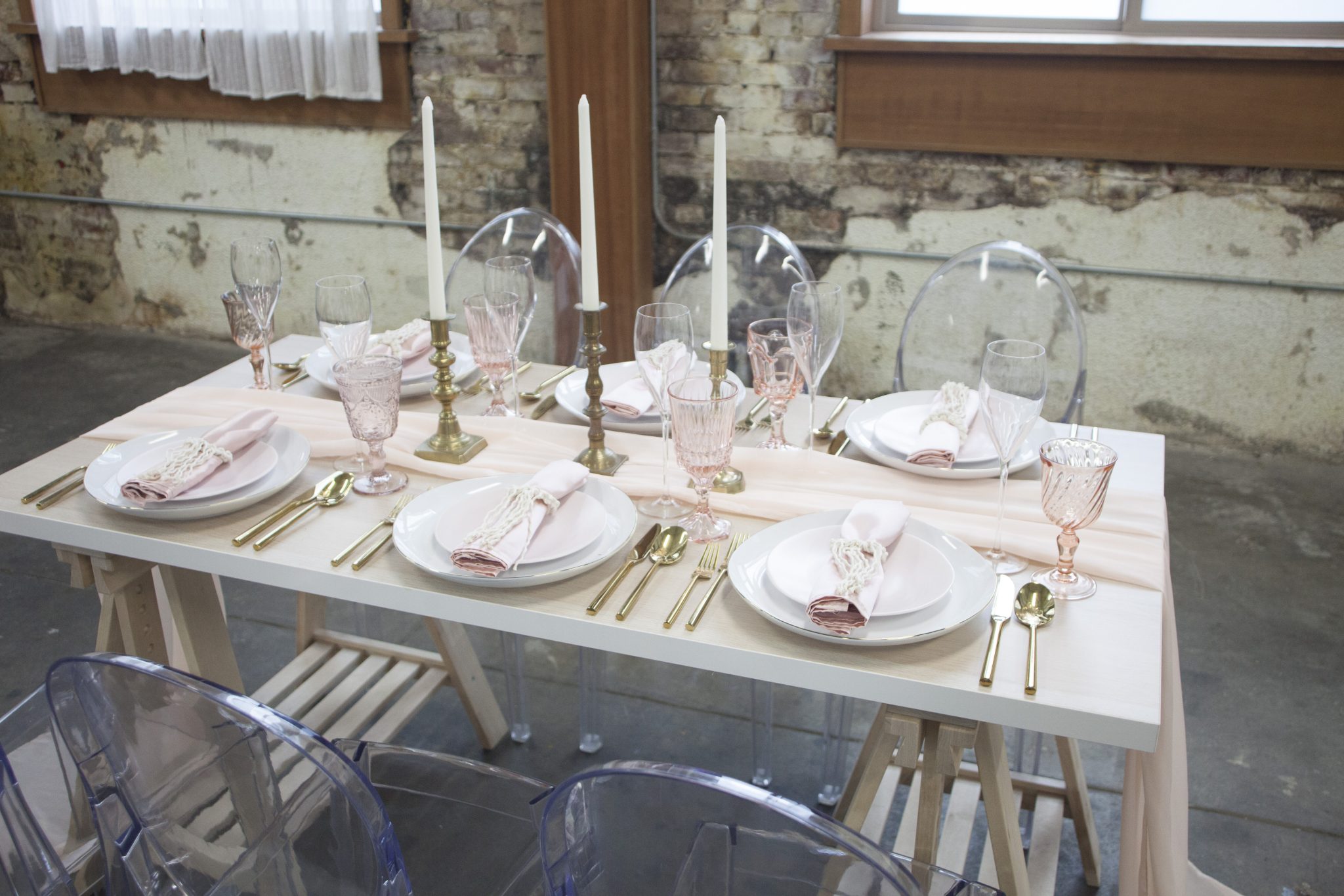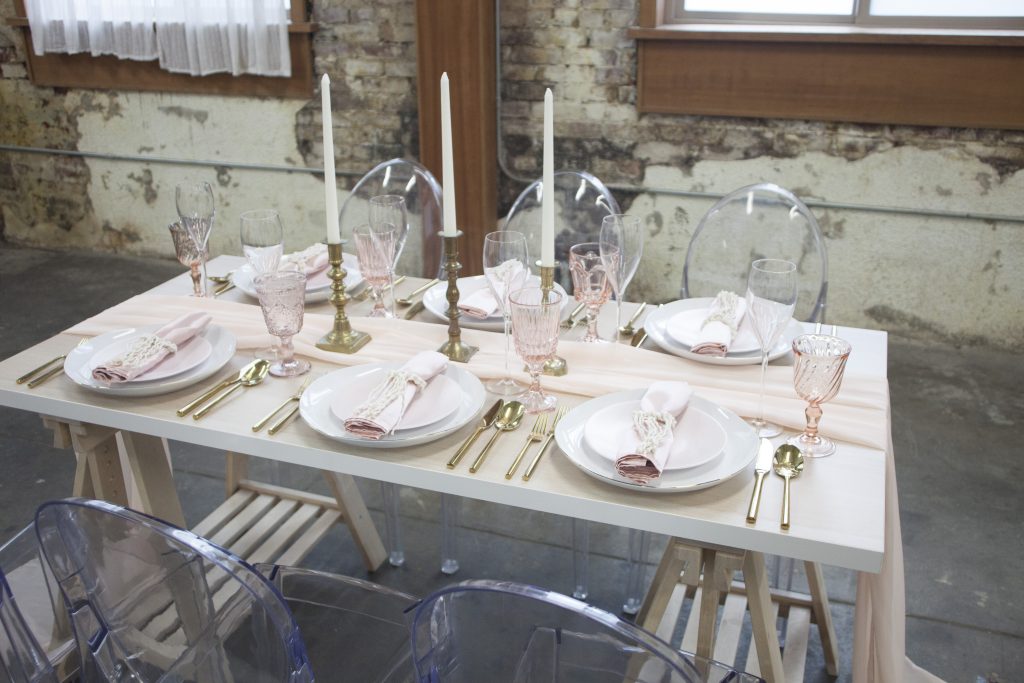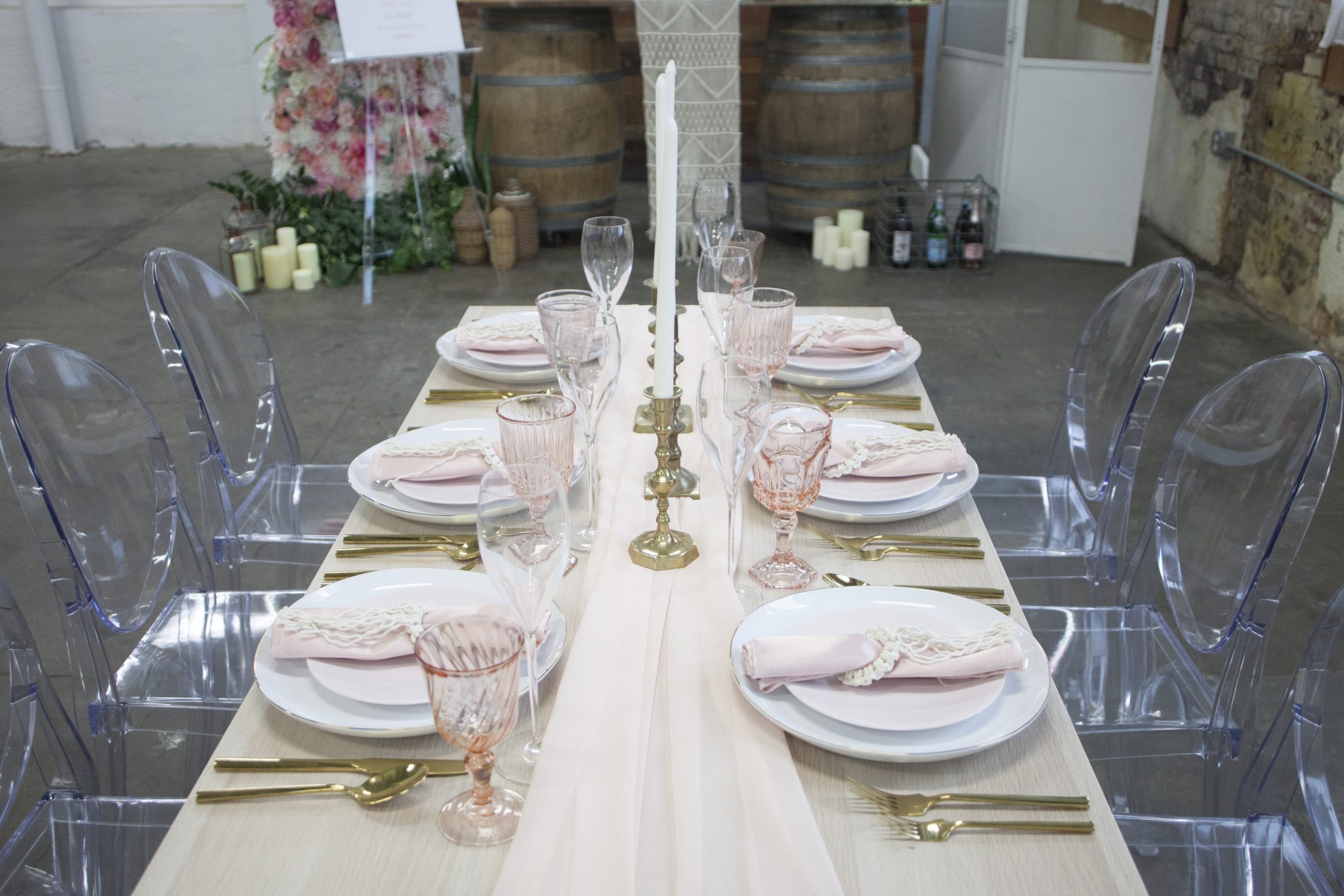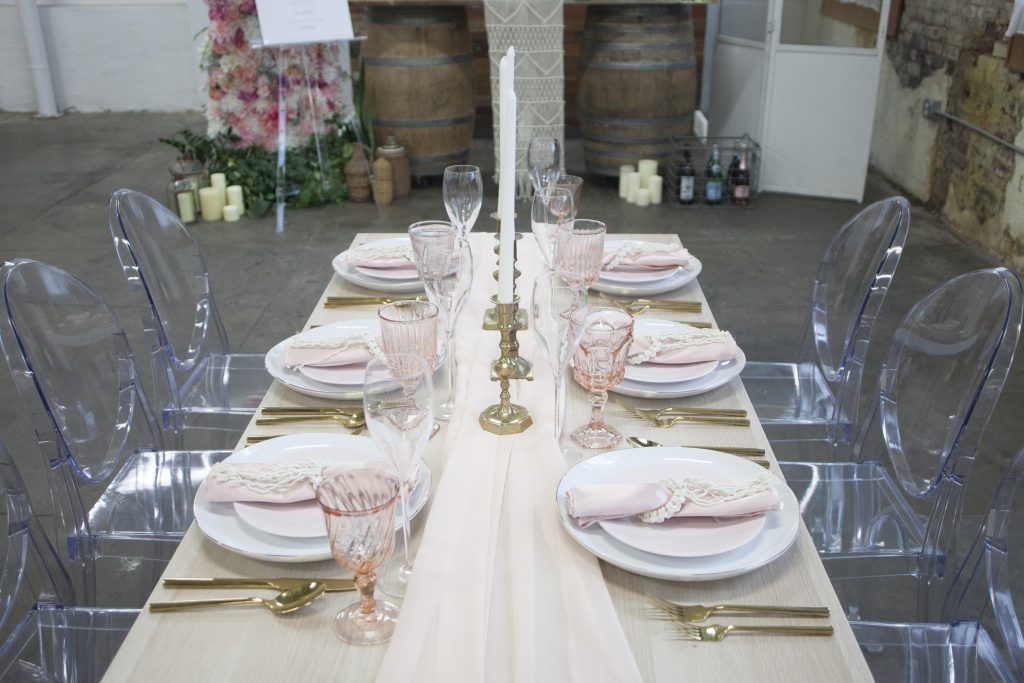 I kept the place settings themselves fairly simple, to create that relaxing and inviting feel of a garden party. Small round plates just barely tinged with a hint of blush color were set atop clean white gold-rimmed larger round plates. I tied blush colored napkins with macrame napkin rings by Ciocco Design here in Portland and placed those in the center of my place settings. Delicately blush colored glass goblets and clear champagne flutes added more charm. Lastly, I used gold flatware at each place setting to help modernize the whole setup.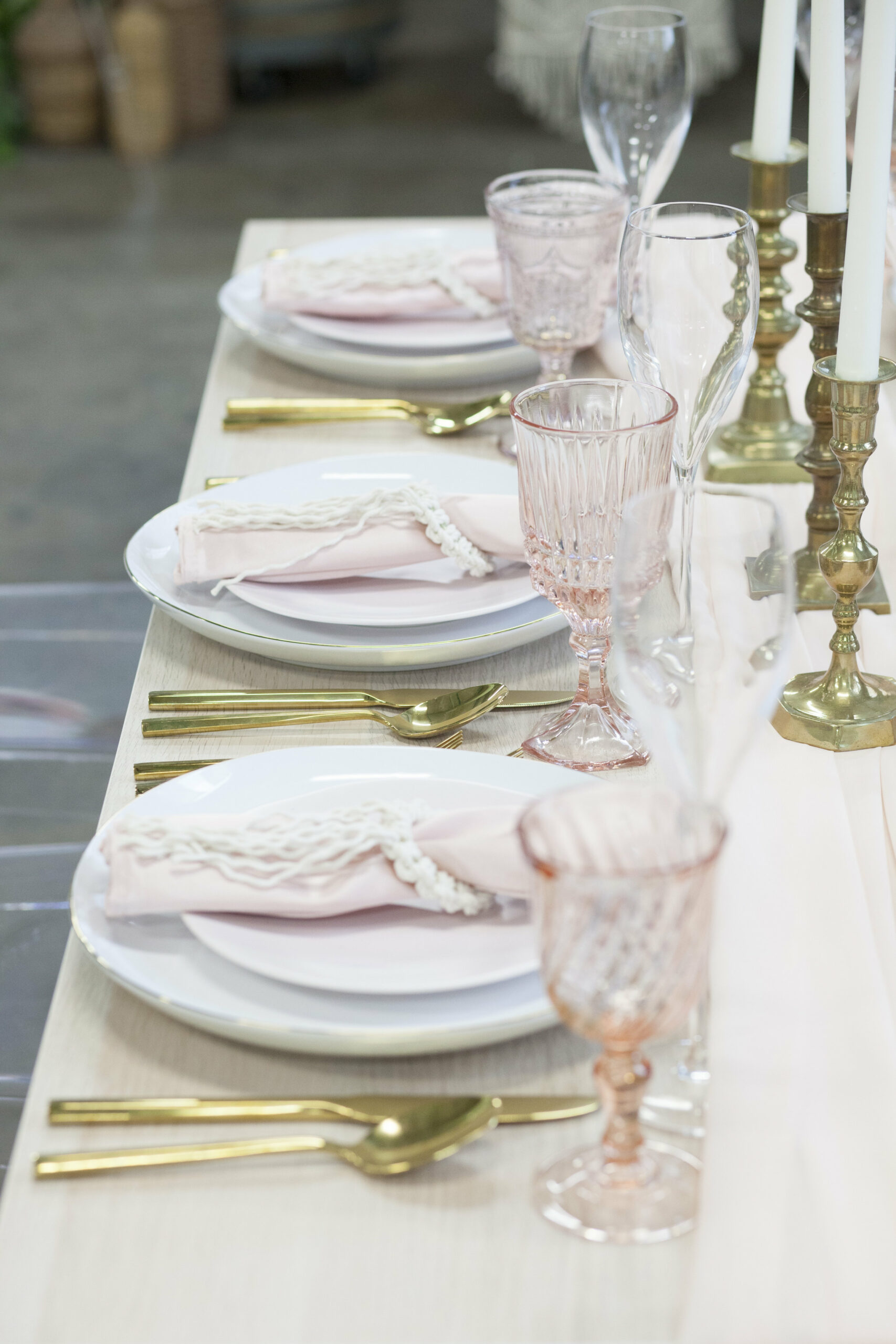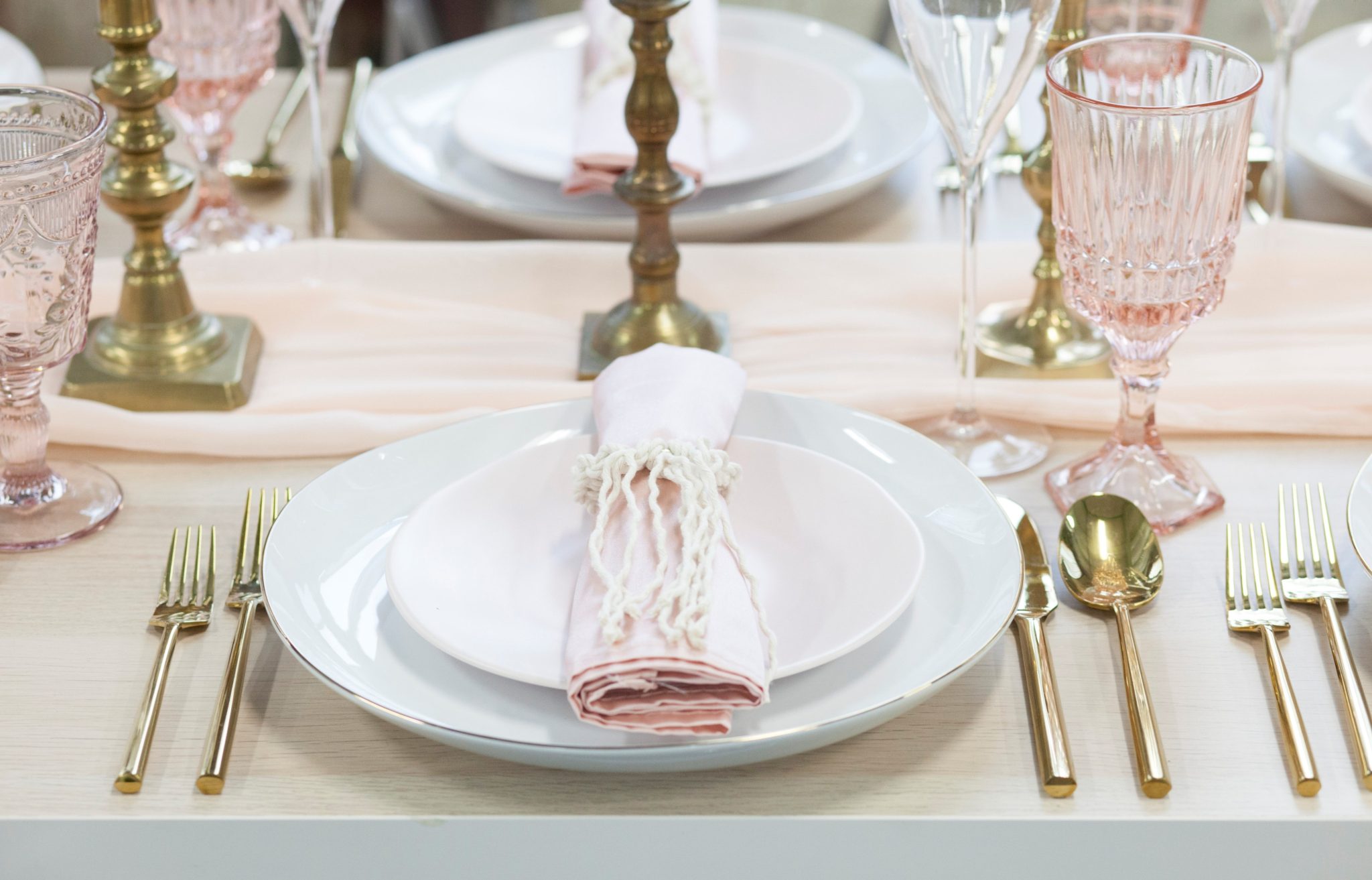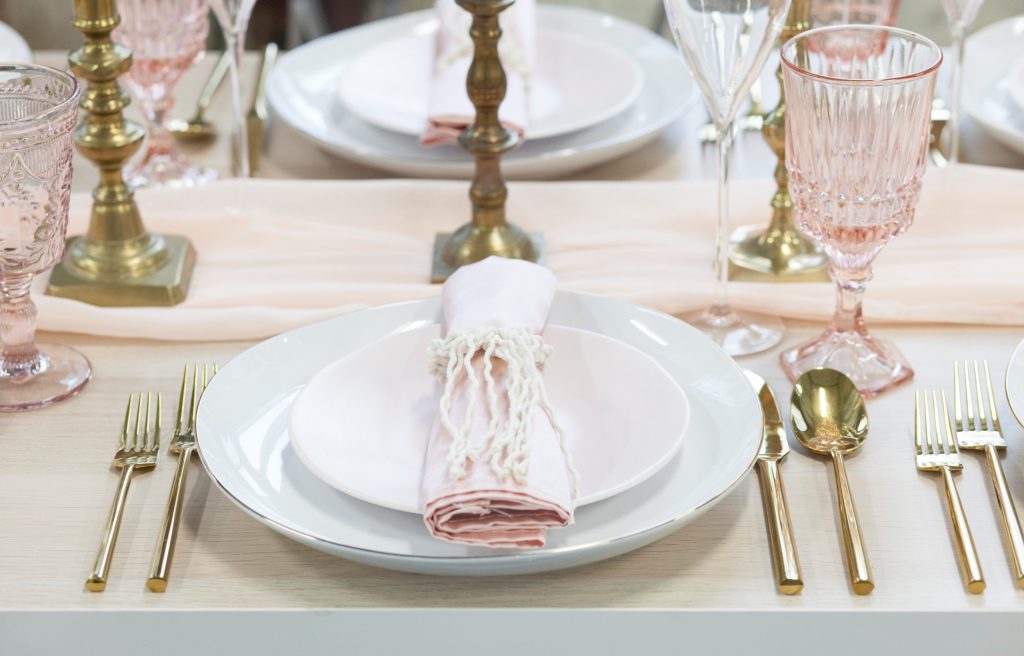 Love More and Eat Cake
The final piece of my vineyard garden shower was the cake area, which turned out to be the perfect combination of vintage charm and modern chic. For the vintage vibe, I used an old side table to hold the cake, and placed a lovely and ornate vintage chair next to it. Over both, I draped more chiffon, and added some greenery, florals, and more candles to tie the area to the rest of the garden-themed room.  Then, to bring a more modern style to the area, I used an amazing gold and white marbled cake on top of a beautiful and sleek gold cake stand. A simple gold "XO" cake topper was perfect for the occasion and the theme. Finally, a soft blush tapestry backdrop reminded guests to "Love More" in bold gold letters. And who doesn't need that reminder now and then?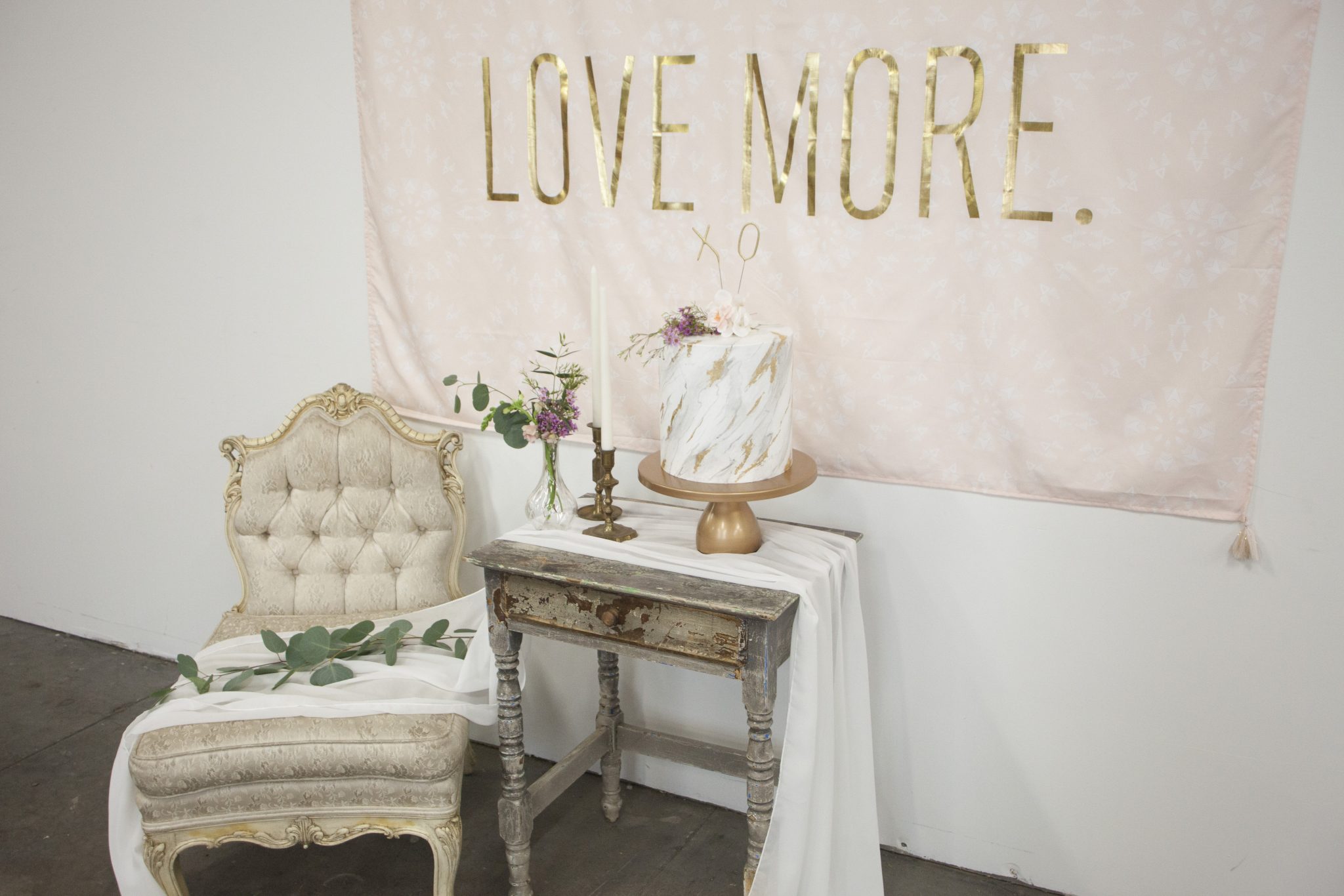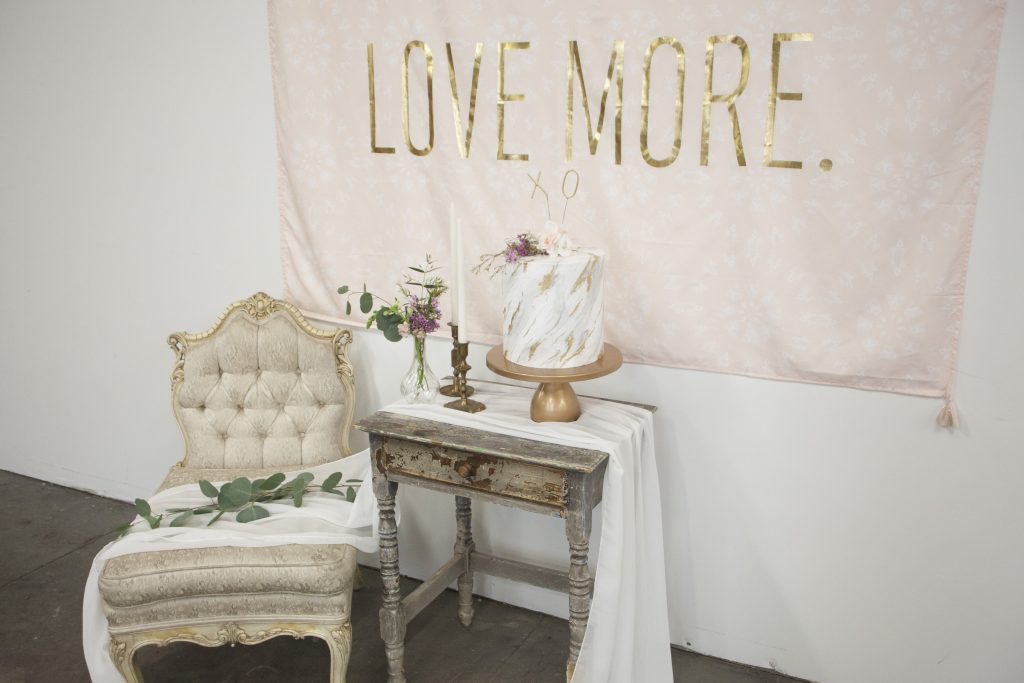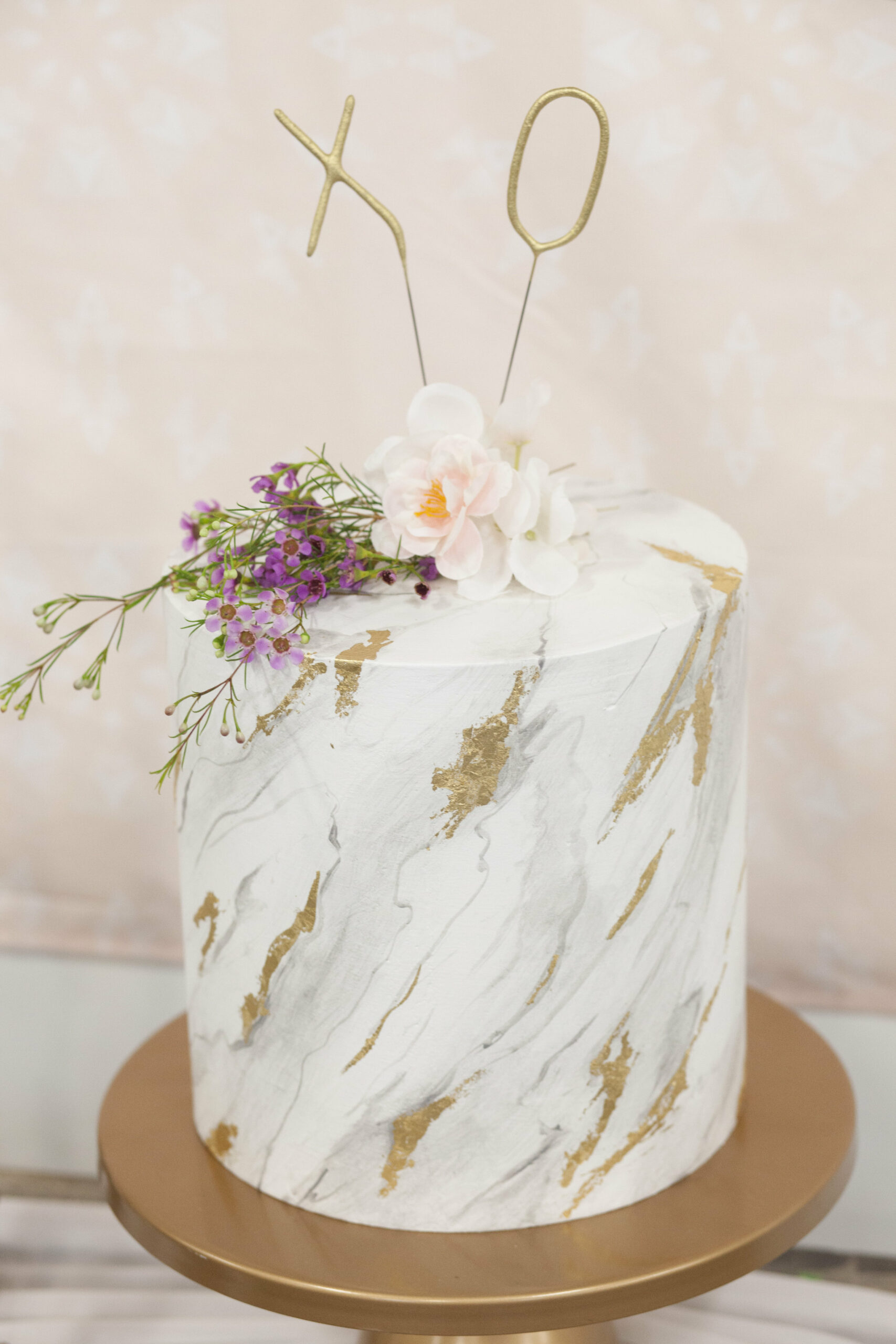 All of the soft florals and warm organic tones and textures of this indoor Vineyard Garden Inspired Wedding Shower can easily make guests feel like they are actually relaxing in sunny California, no matter what the weather outside is actually doing. This theme could also be perfect for a baby shower, classy bachelorette, birthday brunch, or any number of occasions. I hope you found it inspiring, and wish you Happy Celebrating!
Photograhy: Photography Hill
Rentals: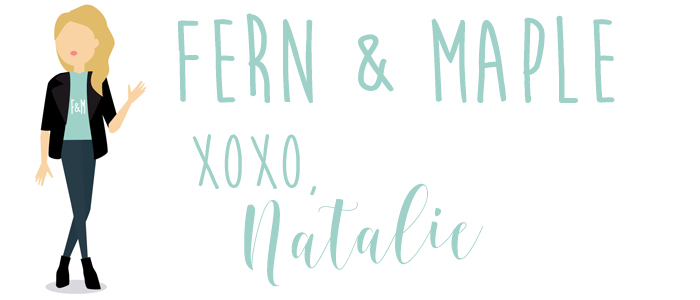 PIN FOR LATER: