Does Paris hold a special place in your heart? Is it a city you've always dreamed of visiting? Or do you simply love the elegant Parisian style.  Whatever it is that captures your imagination, this Paris theme party will transport you to the middle of this vibrant city.  Experience the magic of a "Day in Paris" with this sweet and sophisticated theme.
How to Create a Magical Paris Themed Birthday Party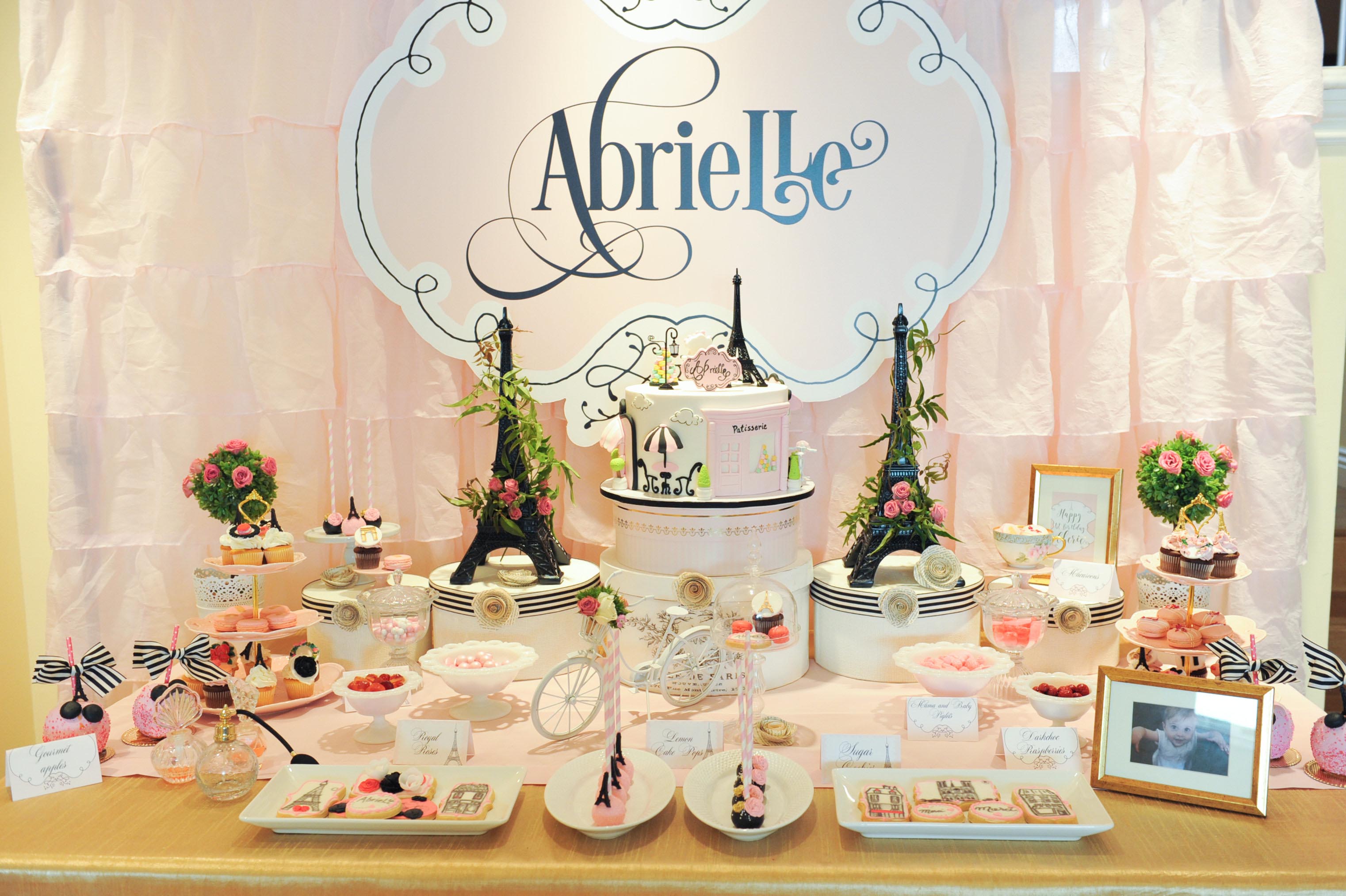 The city of Paris held special memories for my client Tina and her husband, they had honeymooned in the city of love.  They wanted to capture the beauty of their favorite city for their daughter Abrielle's 1st birthday. What better place to start than an elegant Parisian Patisserie.
The Paris Patisserie
To get the look and feel of a Parisian Patisserie I started with the color scheme.  A soft pink with classic black & white stripes.  First I used a soft pink ruffled backdrop, would you believe this is a fabric shower curtain! This is a cost effective backdrop option.  You can thread the curtains directly onto the pole of your photo booth frame.  Elena from World Wide Party then created a beautiful logo out of Abrielle's name that represented the name of the patisserie.  I had this custom printed to a large eye-catching size and hung it from the frame using fishing wire.
My metallic accent was an elegant gold which I used for the linens.  I then placed hat boxes of various shapes and sizes on top to give depth to the table.  This creates varied heights for dessert display which is much more interesting for the eye.  Some of these I found in junk shops, others from Ikea.  I added ribbon and paper flowers to give them a vintage Parisian feel.
On top of these and on the table a wide variety of desserts, on cake plates and stands.  Just as you would find in an elegant Parisian patisserie.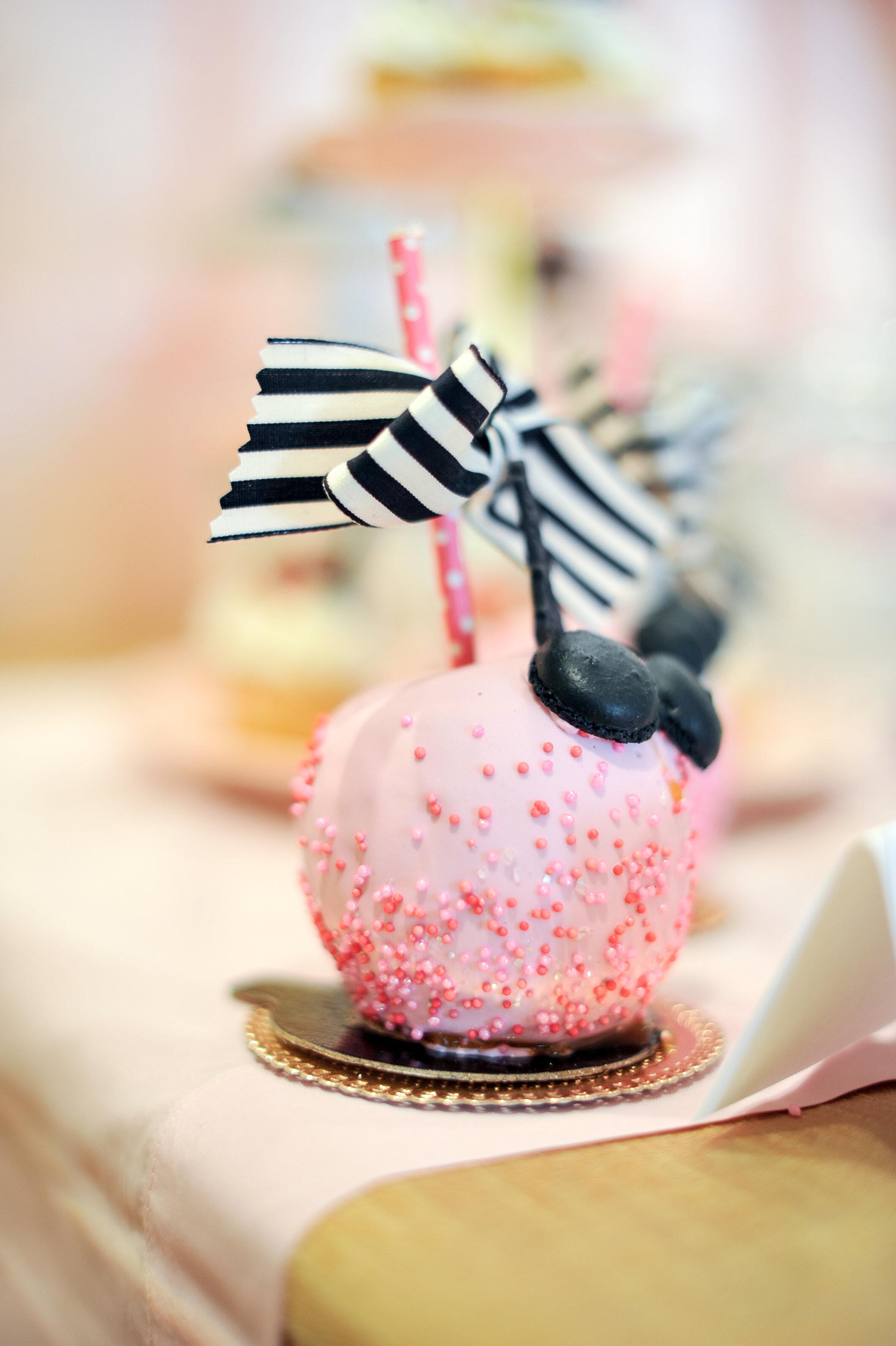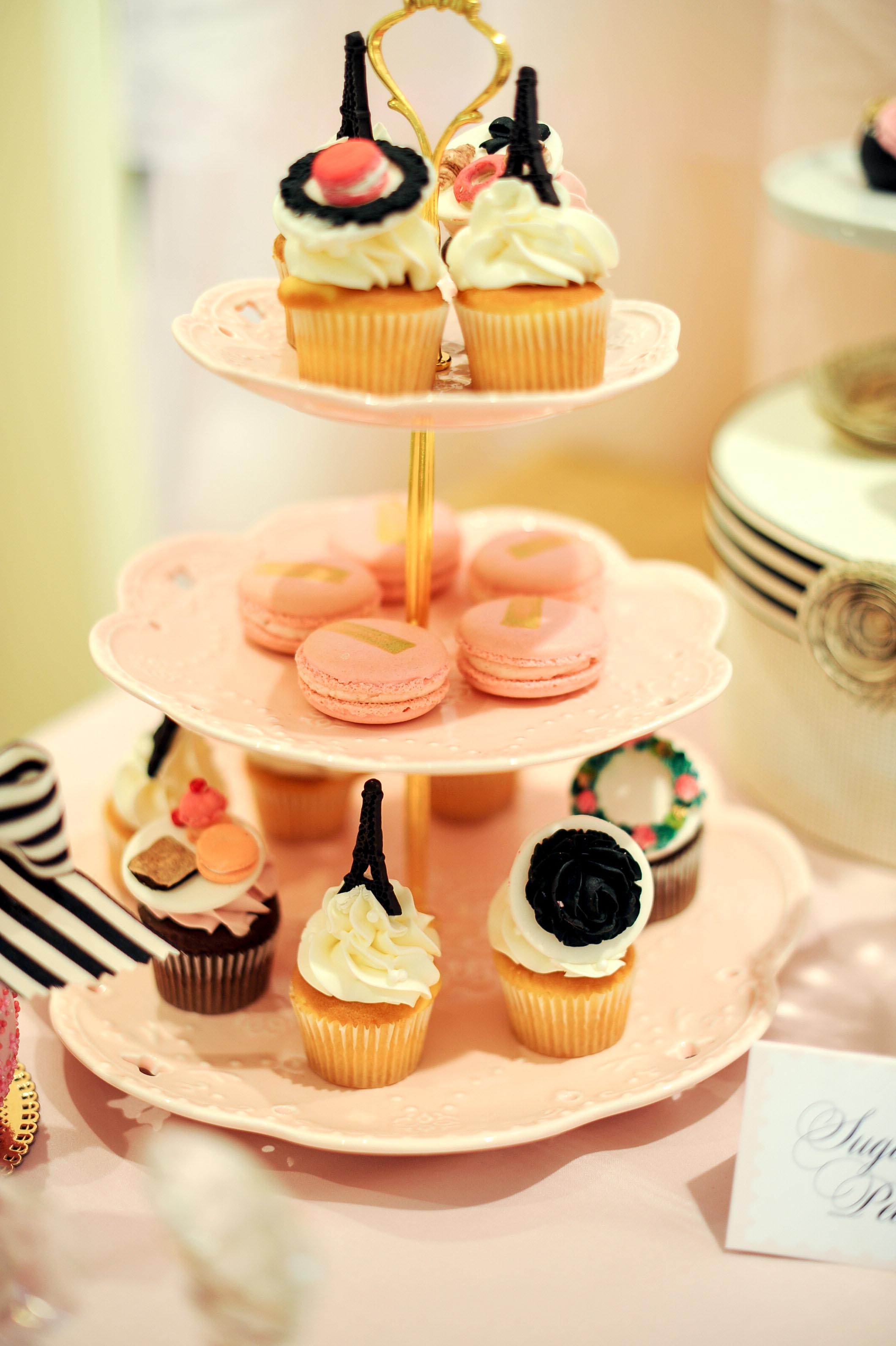 I added a small cloche with a mini cake and cookie just for Abrielle.  A special touch for the birthday girl.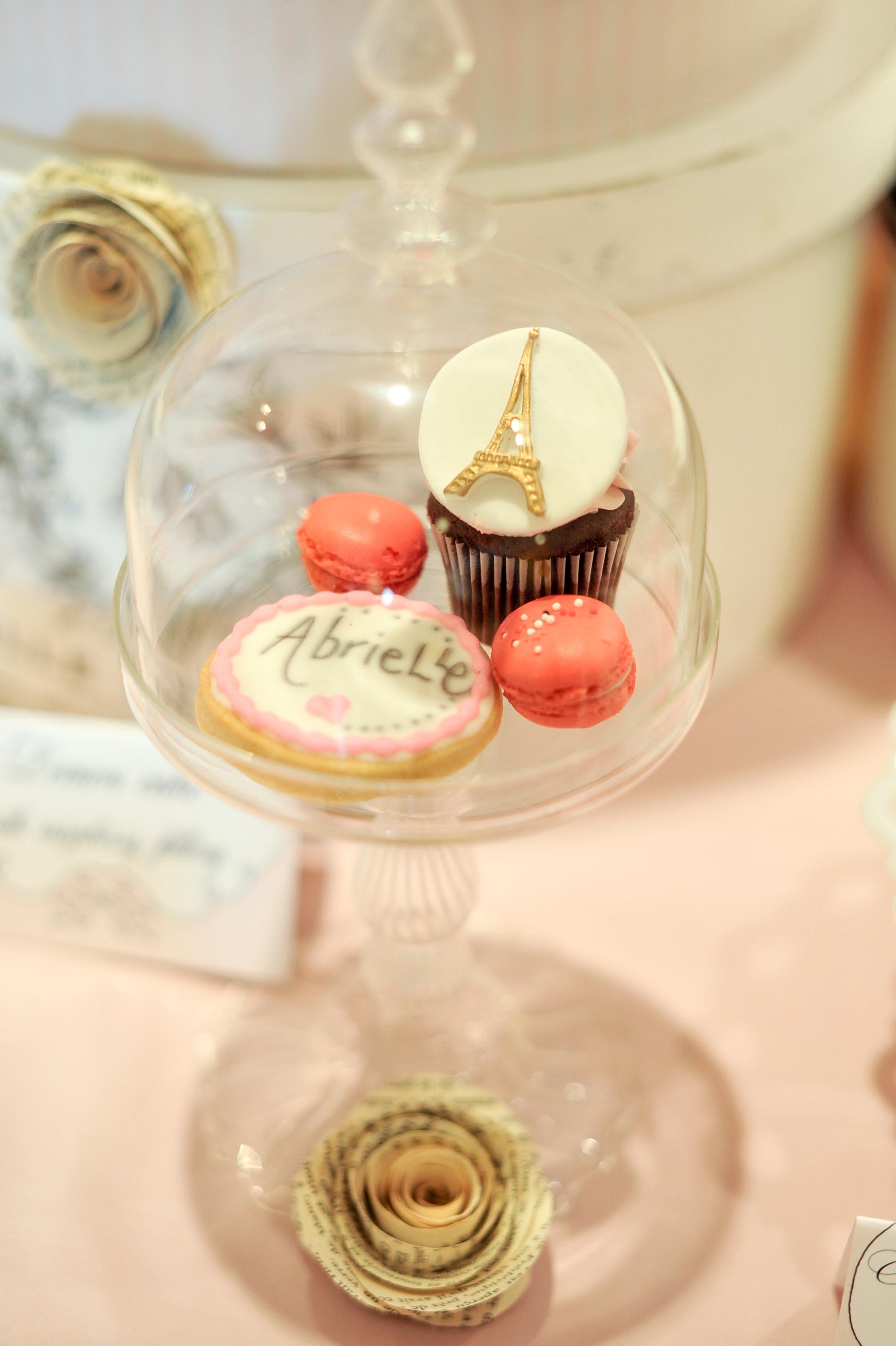 For variety I also used mini cupcake stands and teacups to display some of the sweet treats.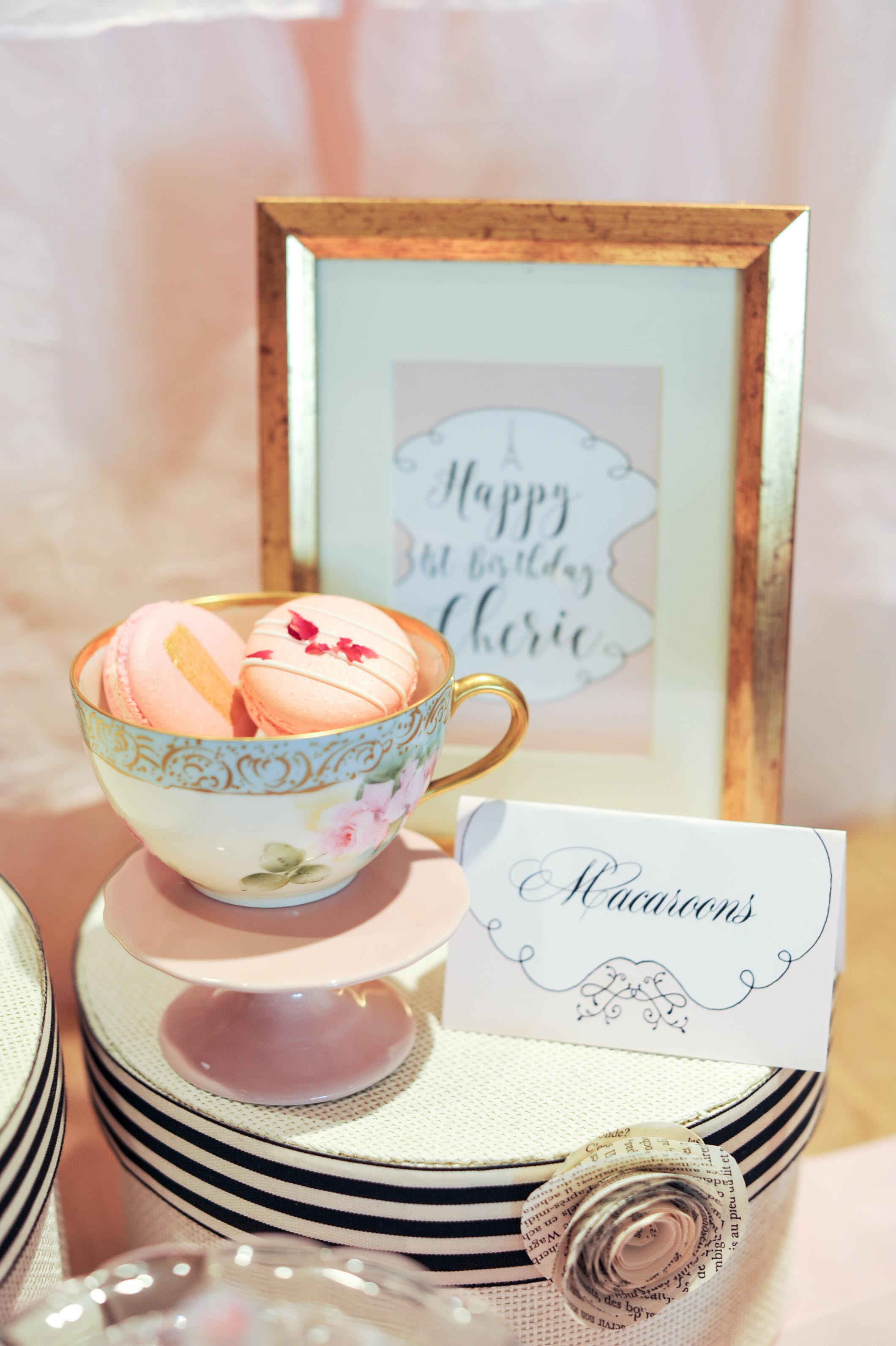 Scenes of Paris
The cake by The Cake Shop was my favorite part of this party and it sat atop 2 large Parisian hat boxes.  It captured so many sweet moments of a "Day in Paris".  Everything from the patisserie itself; to a walk past elegant street lamps and the famous Eiffel Tour; to taking a walk with a poodle or cycling on a vintage bicycle.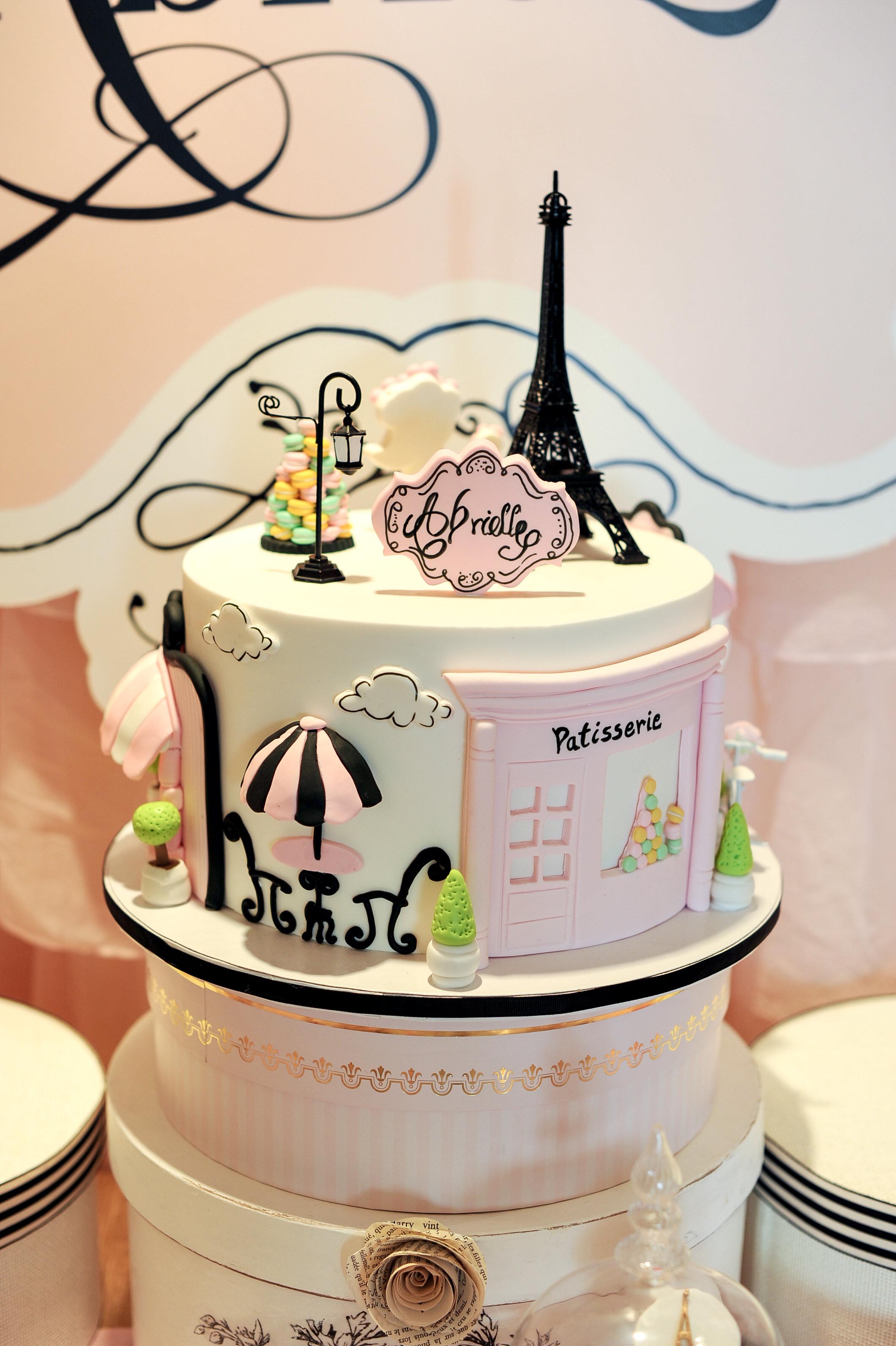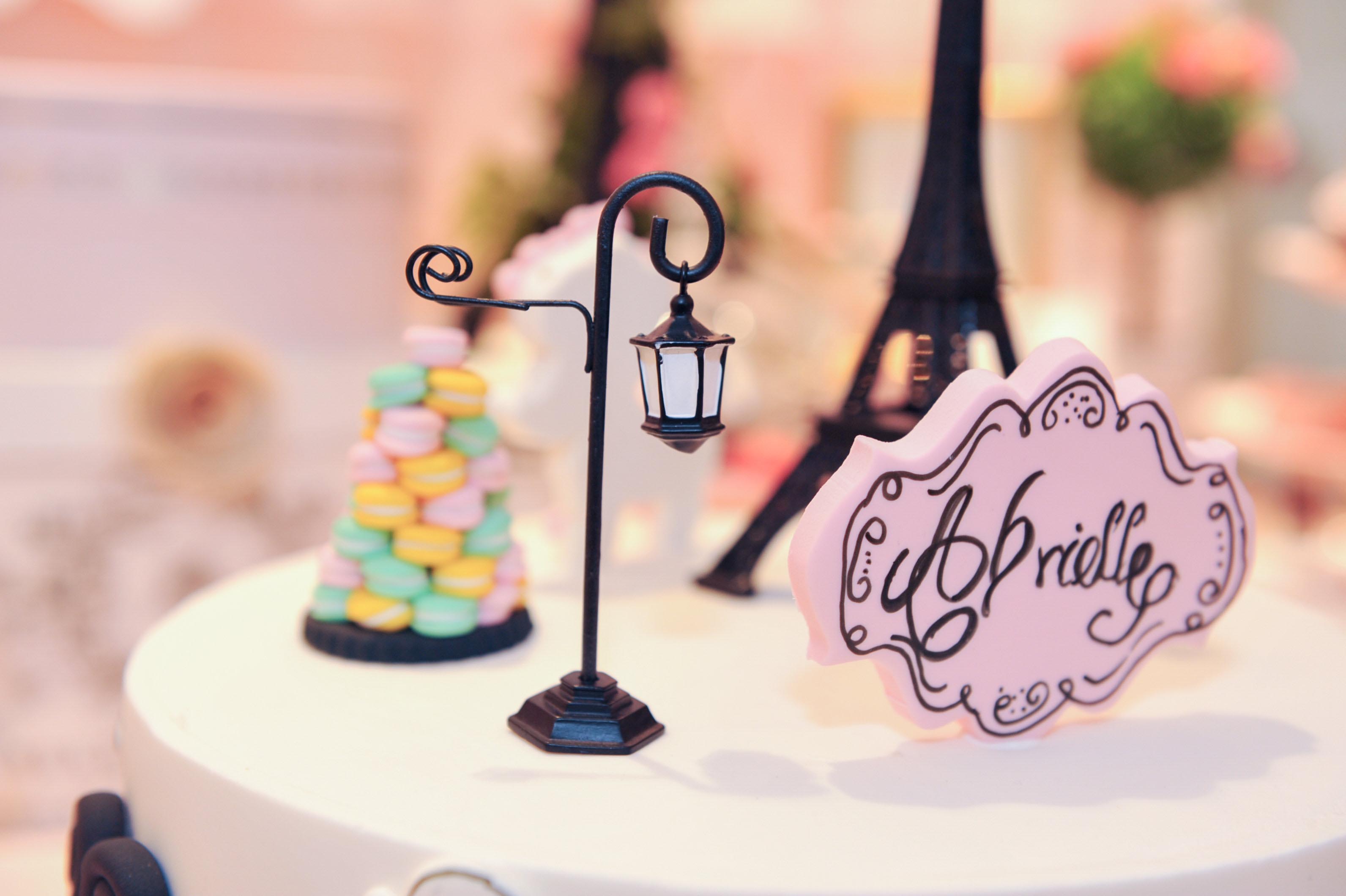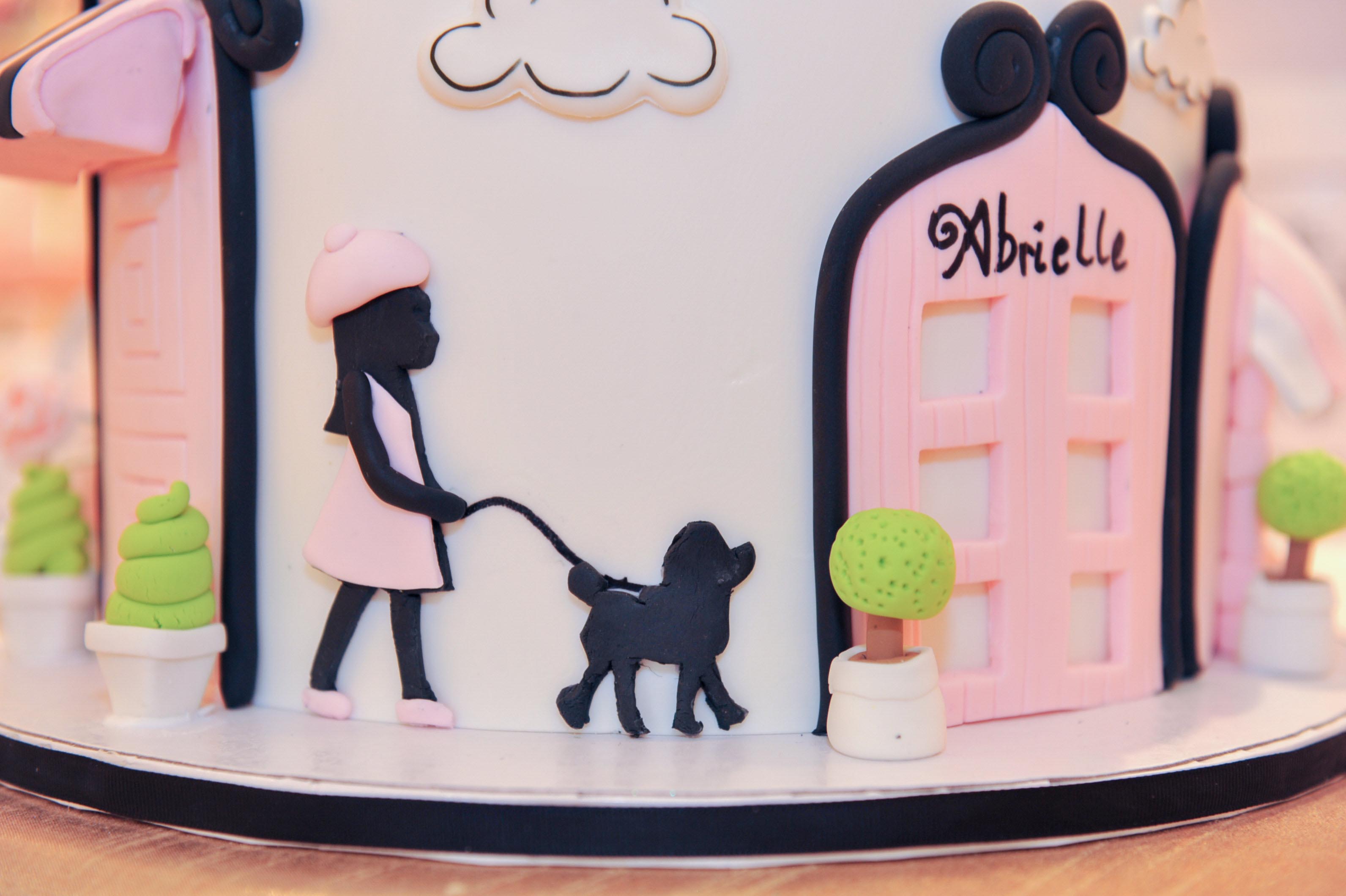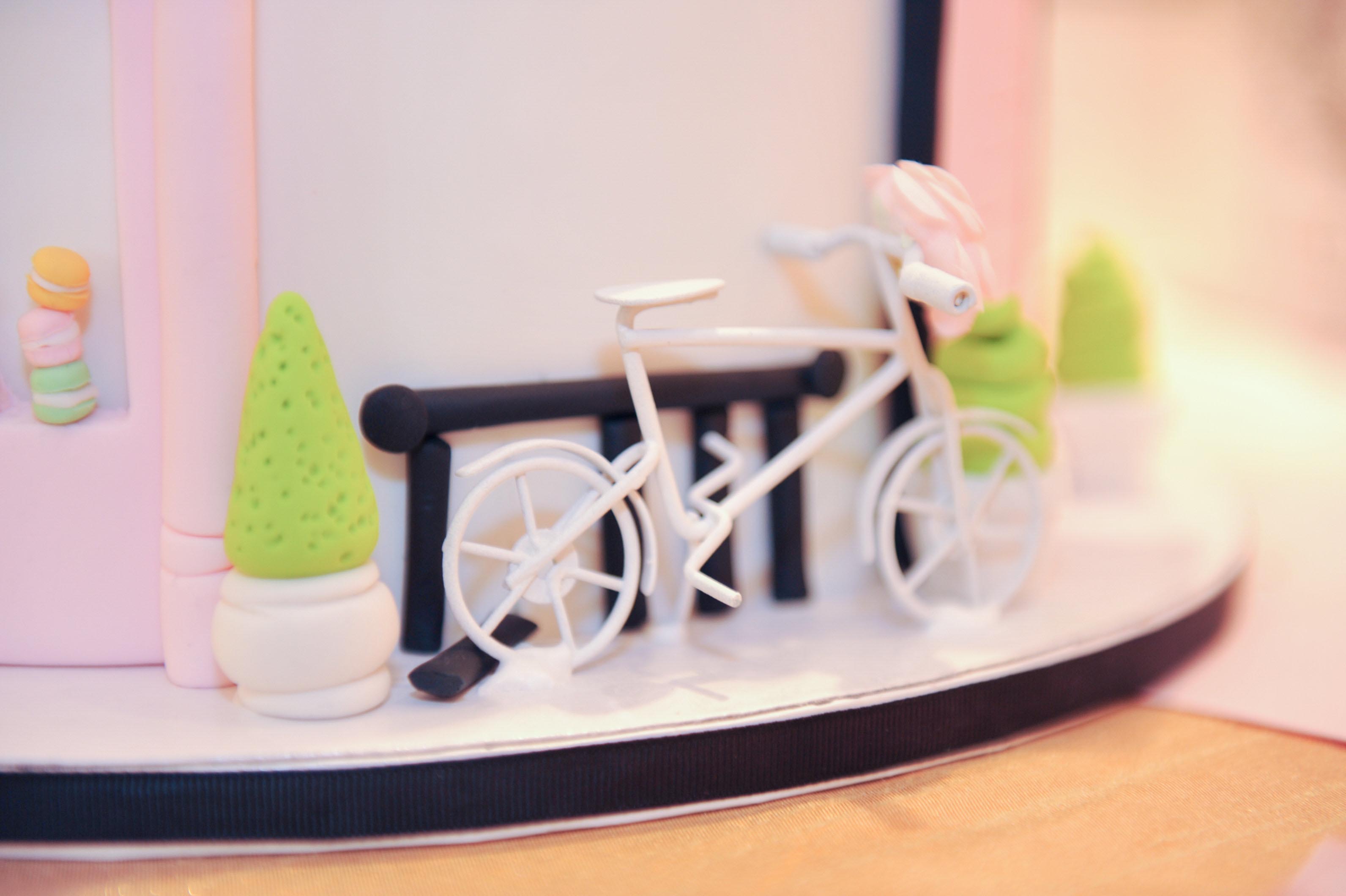 Sightseeing At The Table
To capture the feeling of being in Paris, I used small Paris themed props on the dessert table.  Not all were as obvious sights, rather things that give the look and feel of being in Paris, like a mini bicycle.  What would be more fun than riding around the streets of Paris on a vintage bicycle, ringing the bell and carrying roses back to your hotel.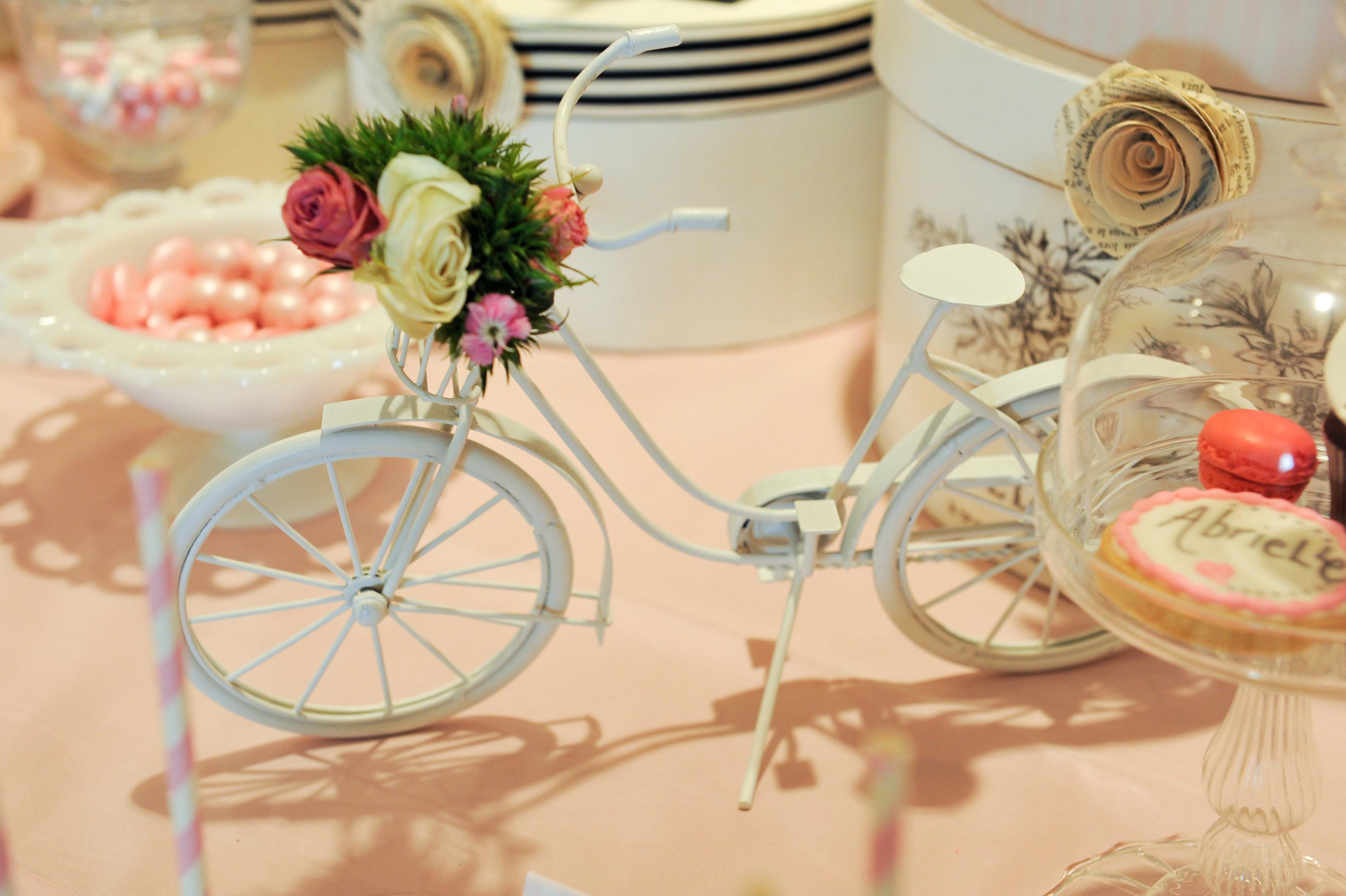 Of course, no Paris theme party would be complete without the Eiffel Tower.  I placed one at each side of the cake and Susan from Bloomin Couture worked her magic, wrapping soft pink roses around them.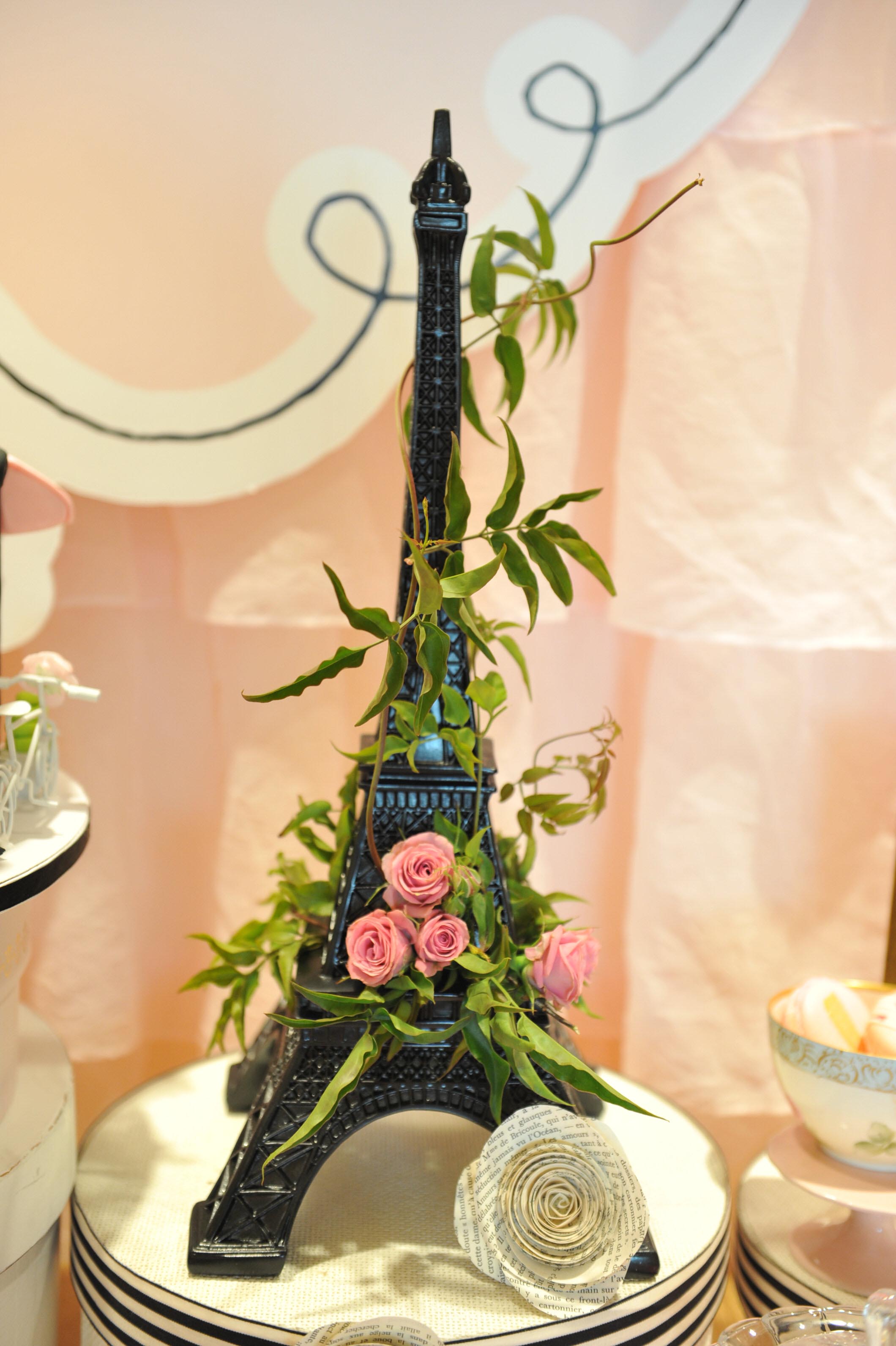 Neatly manicure topiary bushes also flanked the table. Little pink roses were added to fit with the Paris theme color palette.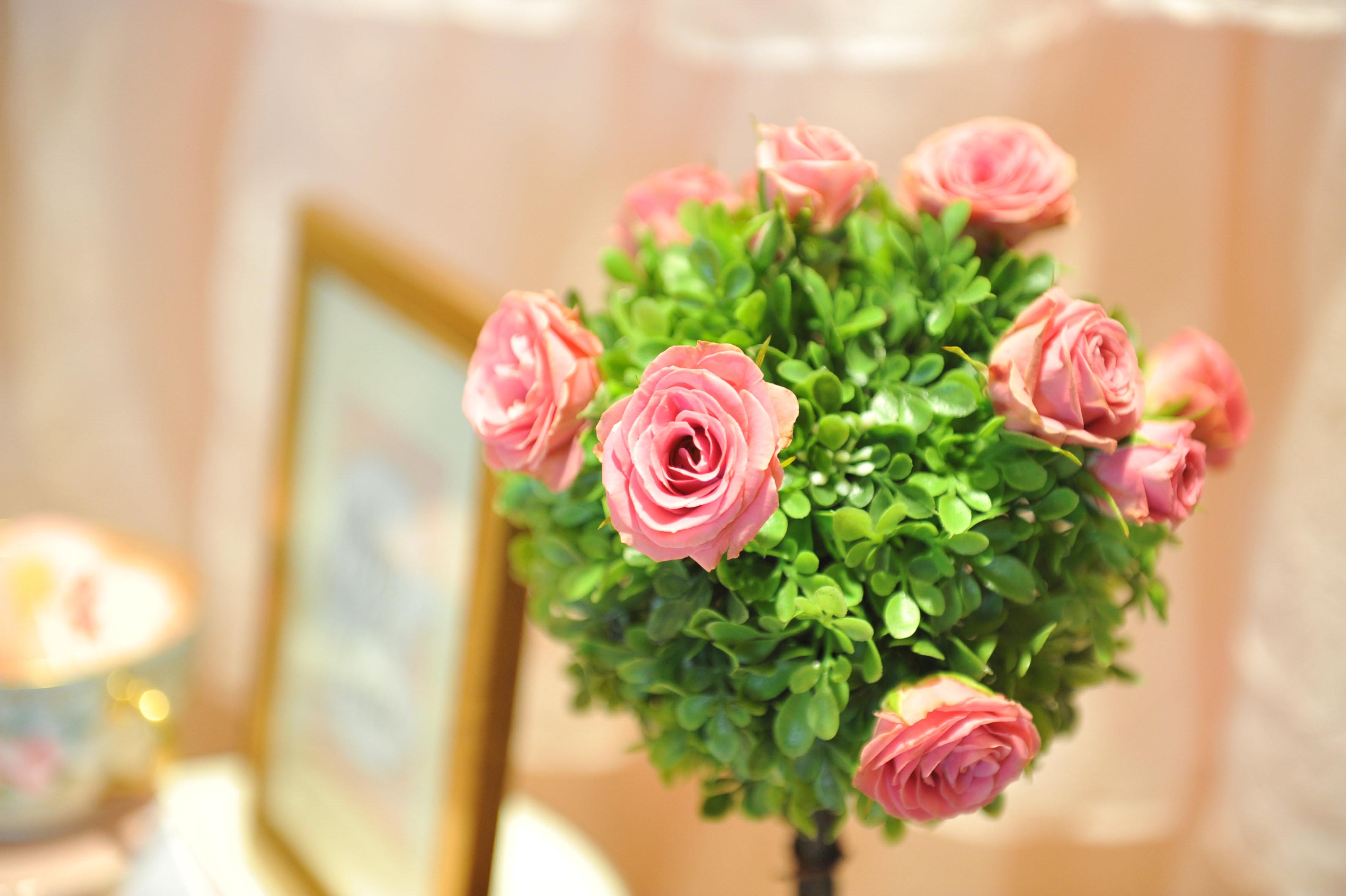 I also used Vintage perfume bottles, representing the finest of boutiques and fashion houses in Paris.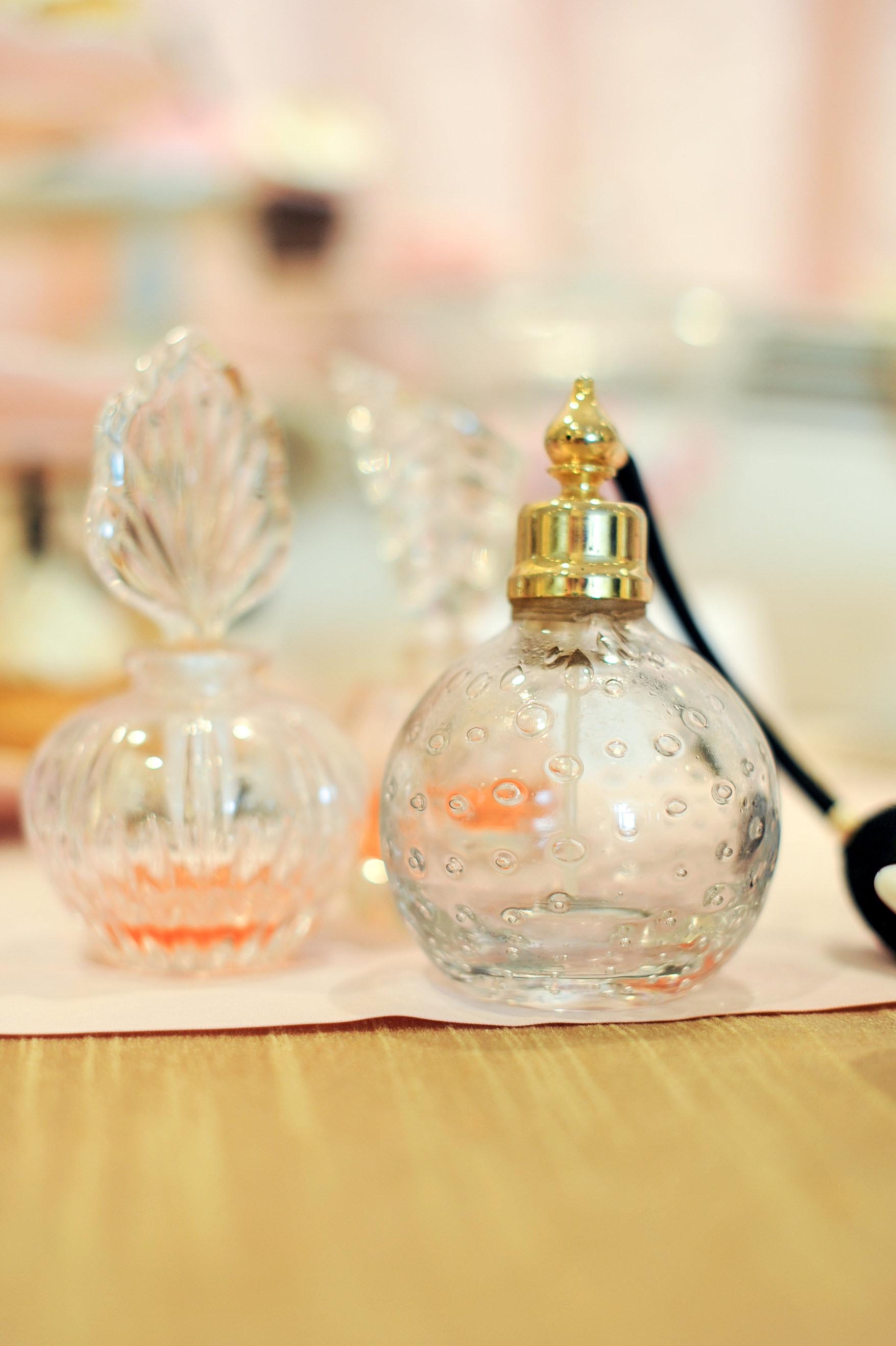 The final touch to the dessert table, a tray of champagne to toast the birthday girl.  Each with a sweet French "A La Sante" (here's to Abrielle) to keep with the Paris theme.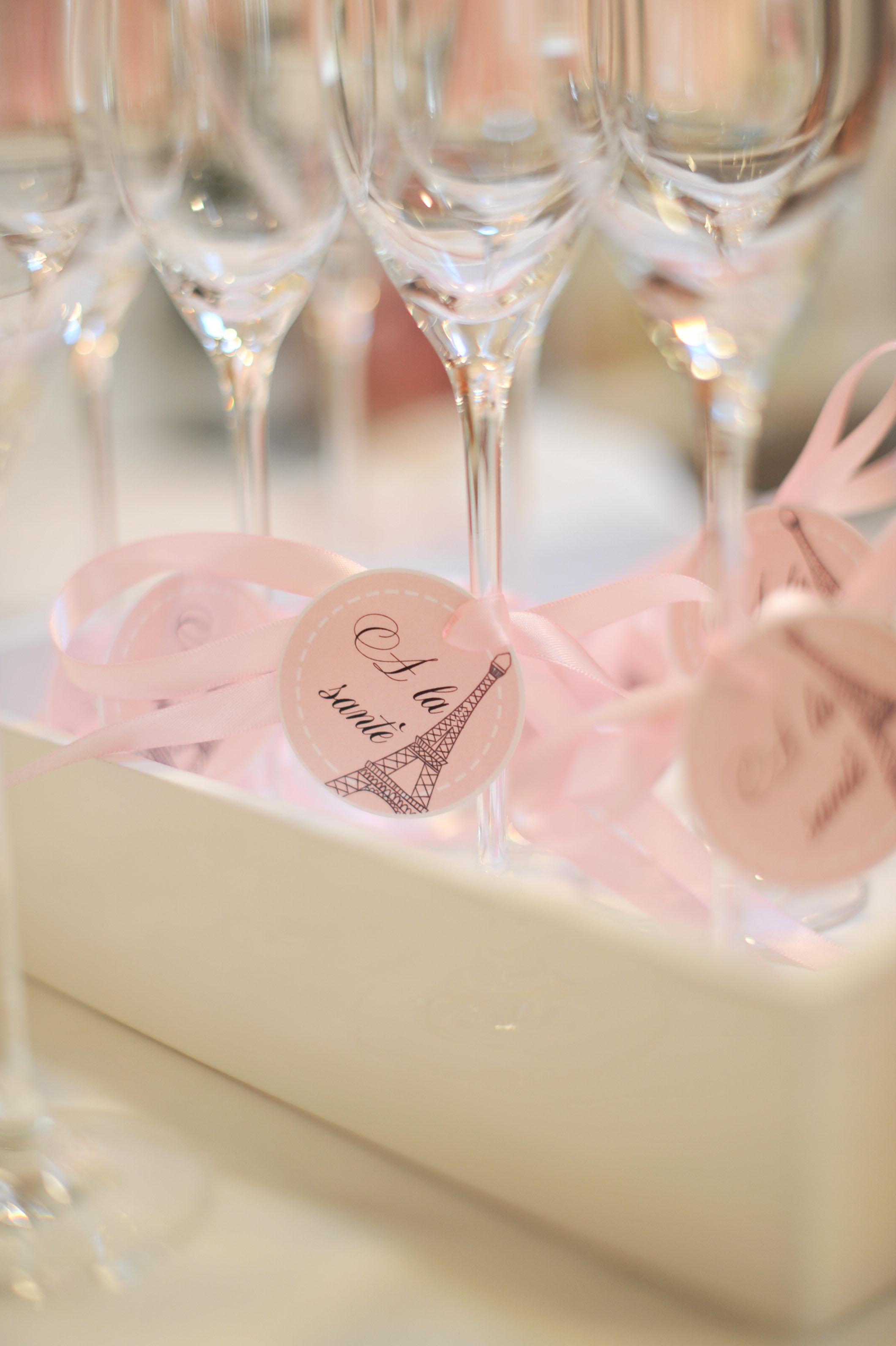 For more ideas and inspiration for a Paris Themed party be sure to check out my post on Paris Themed Party Favors.
PIN FOR LATER: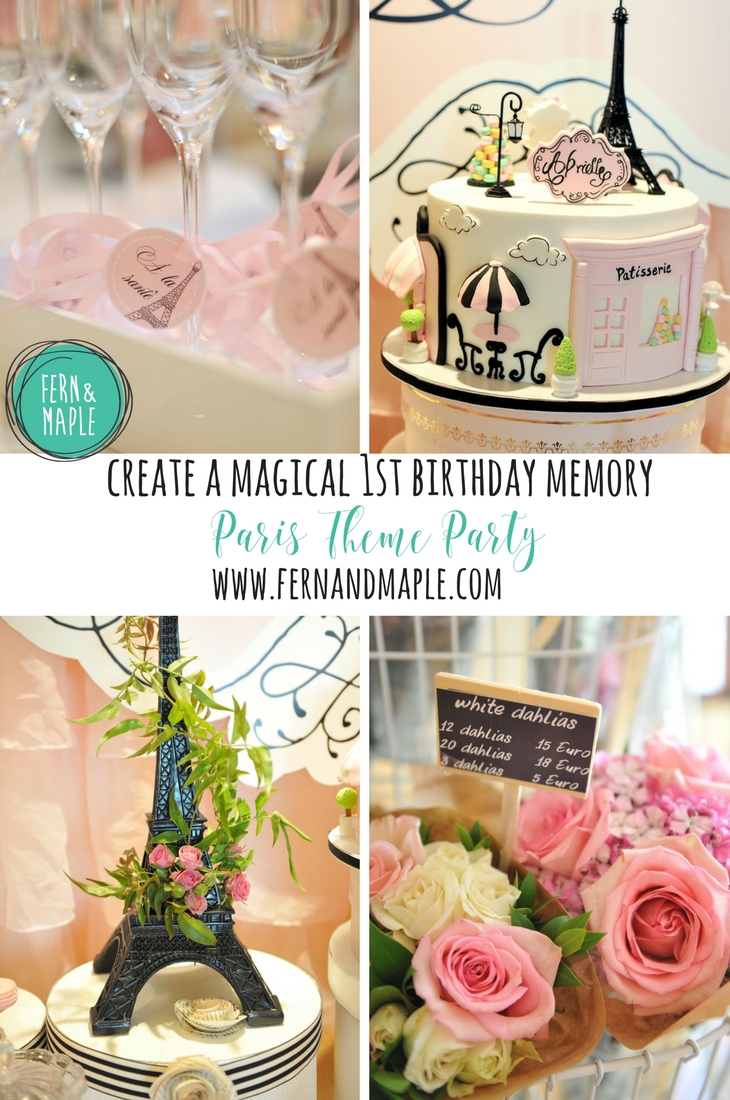 Printables – Elena of World Wide Party
Florals – Susan of Bloomin Couture
Photography – Stacey Ann Photography
Desserts – Roni's Sugar Creations  and Let Them Eat Pops
Happy Partying!