One of my favorite parts about planning a party is coming up with themed party favors.  I love the challenge of finding something "just right" that the guest will love.  A thoughtful gesture that communicates the appreciation the host has for their guests joining them.  I had such fun creating Paris themed party favors for Abrielle's 1st birthday – her parents adore Paris and got right into the theme.
It can be daunting trying to come up with favors for a first birthday party.  There are usually a wide range of age groups to consider, from grandparents and family friends to siblings and more under ones.  Never fear! I have ideas for Paris themed party favors for all ages and budgets for you.
Ideas for Paris Themed Party Favors
Paris Flower Market Stand
This flower favor bar was a total hit.  Susan of Bloomin Couture prepared mini bunches of blooms that I put into mini sized Paris flower market buckets.  I placed these in a white stand with flower market signage by World Wide Party.  These favors doubled as sweet smelling party decor until guests selected their favorite bunch to take home.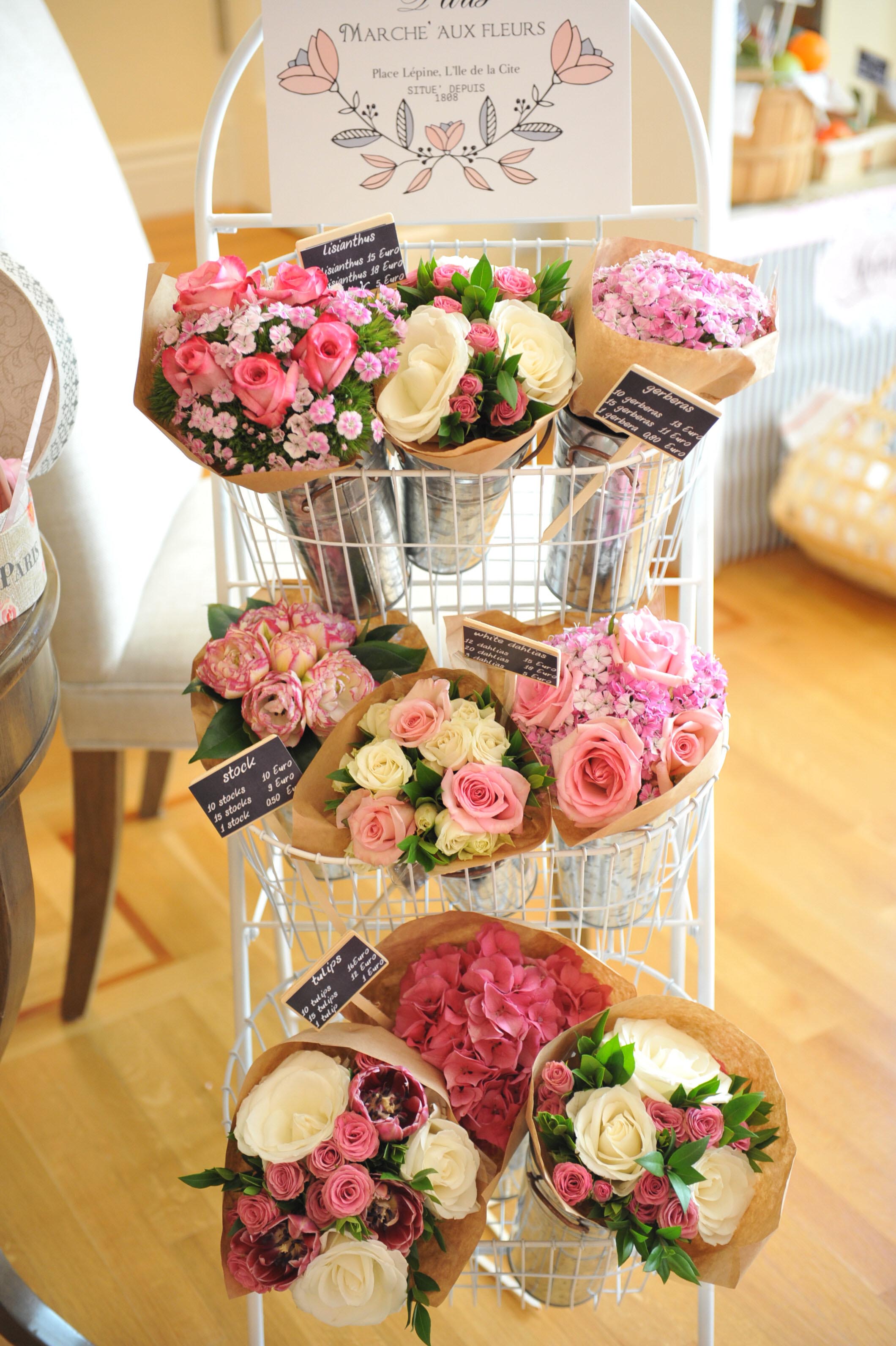 Personalized Bubbles
Bubbles are always a hit with the smaller children and are wonderfully cost effective.
These bubbles were originally Hello Kitty bubbles from the dollar spot! I tore off the label and replaced it with a sweet pink "bubbles" label from World Wide Party.  Then I personalized them by taking a tiny picture of Abrielle and putting it inside mini gold photo frames  I tied these on with pink ribbon. They look elegant and extra thoughtful.  I placed them inside a Paris theme storage hat box to complete the look.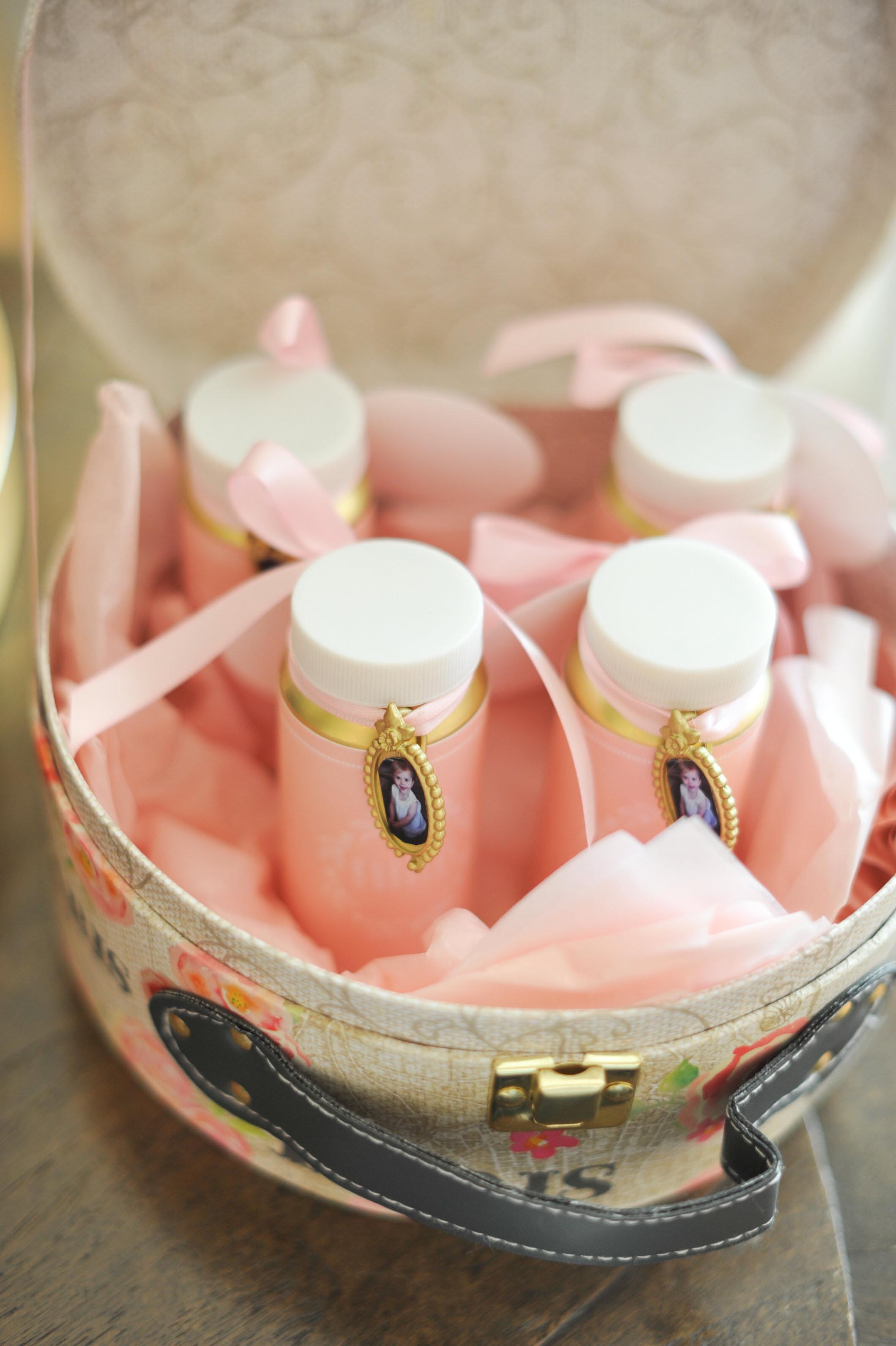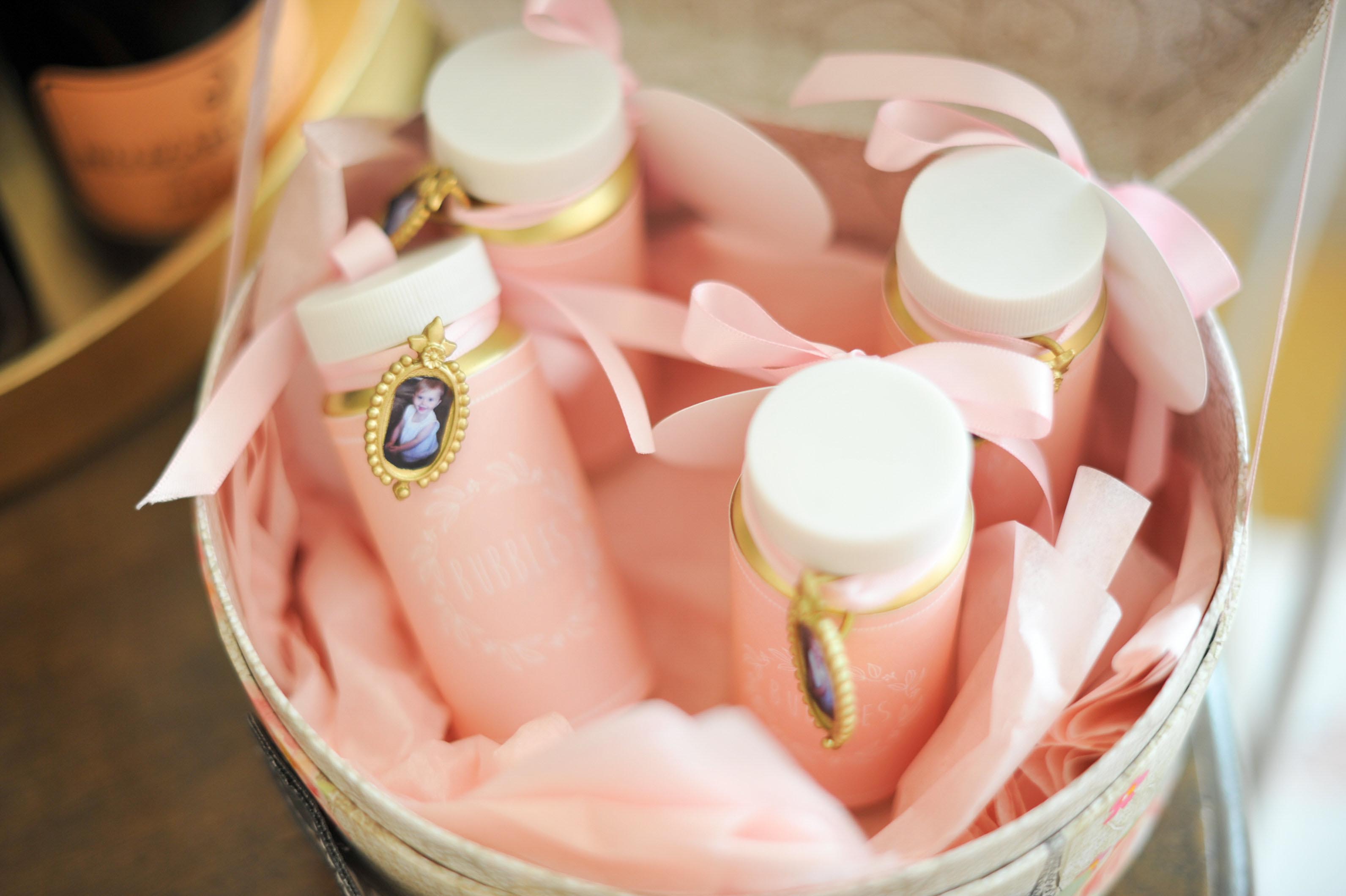 Personalized Mini Champagne Bottles
It's hard to go past mini-Champagne bottles as the perfect Paris themed favors.  They work great as a take home favor for couples.  To add that special touch I added tiny frames with Abrielle's picture inside and tied them to the bottle, a sweet keepsake from the hosts.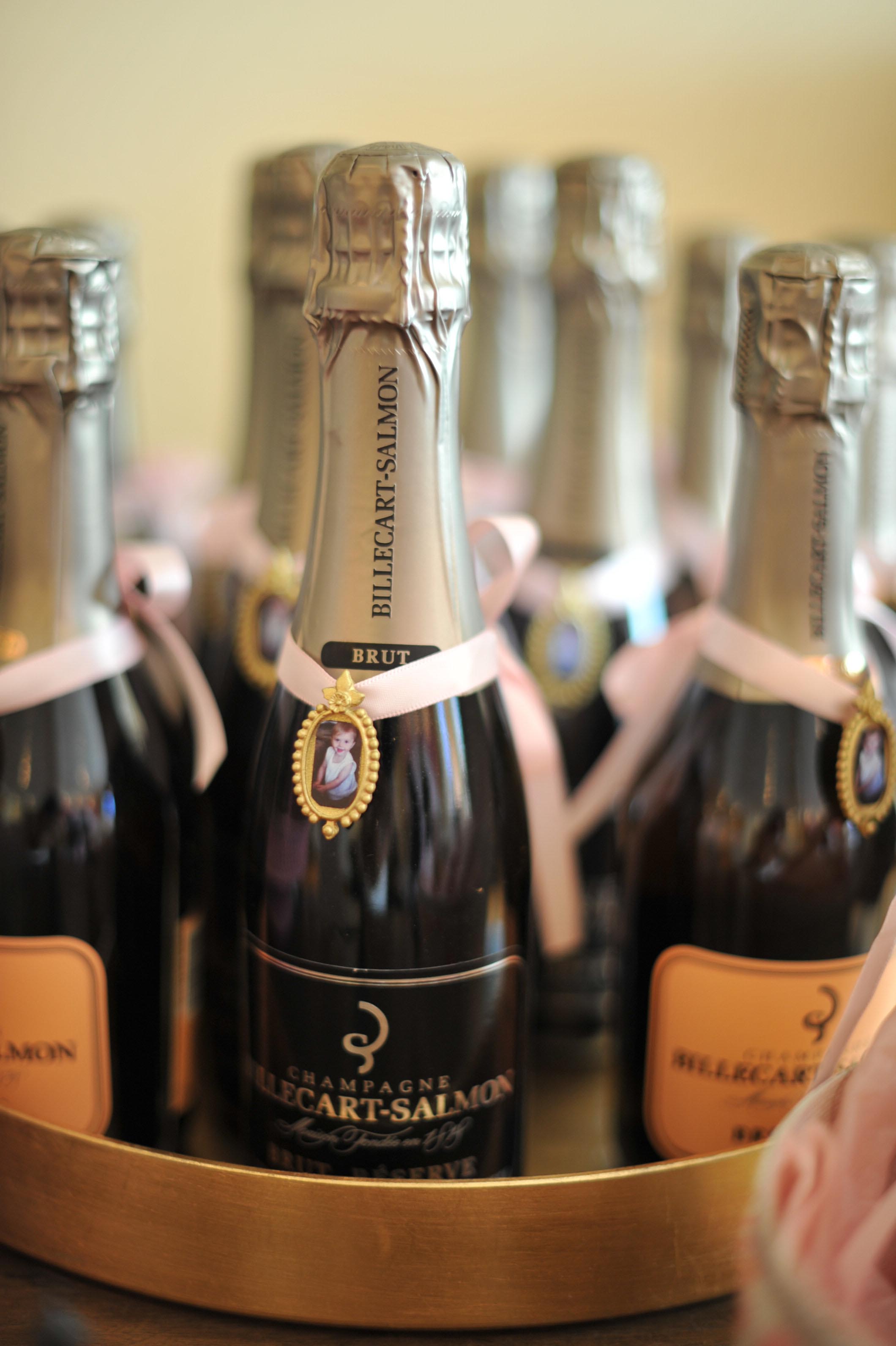 Lavender Bags
Ahhh the lavender fields in France, so beautiful and sweet smelling! Lavender bags are a great cost-effective favor and one that you can DIY at home.  I bought simple white canvas bags with pink ribbon drawstrings off Etsy.  I also found bulk dried lavender and a French "Merci Beau-Coup" stamp on Etsy.  To put these together stamp the bag before filling.  Then using a small scoop fill the bag with dried lavender and pull the drawstring tight.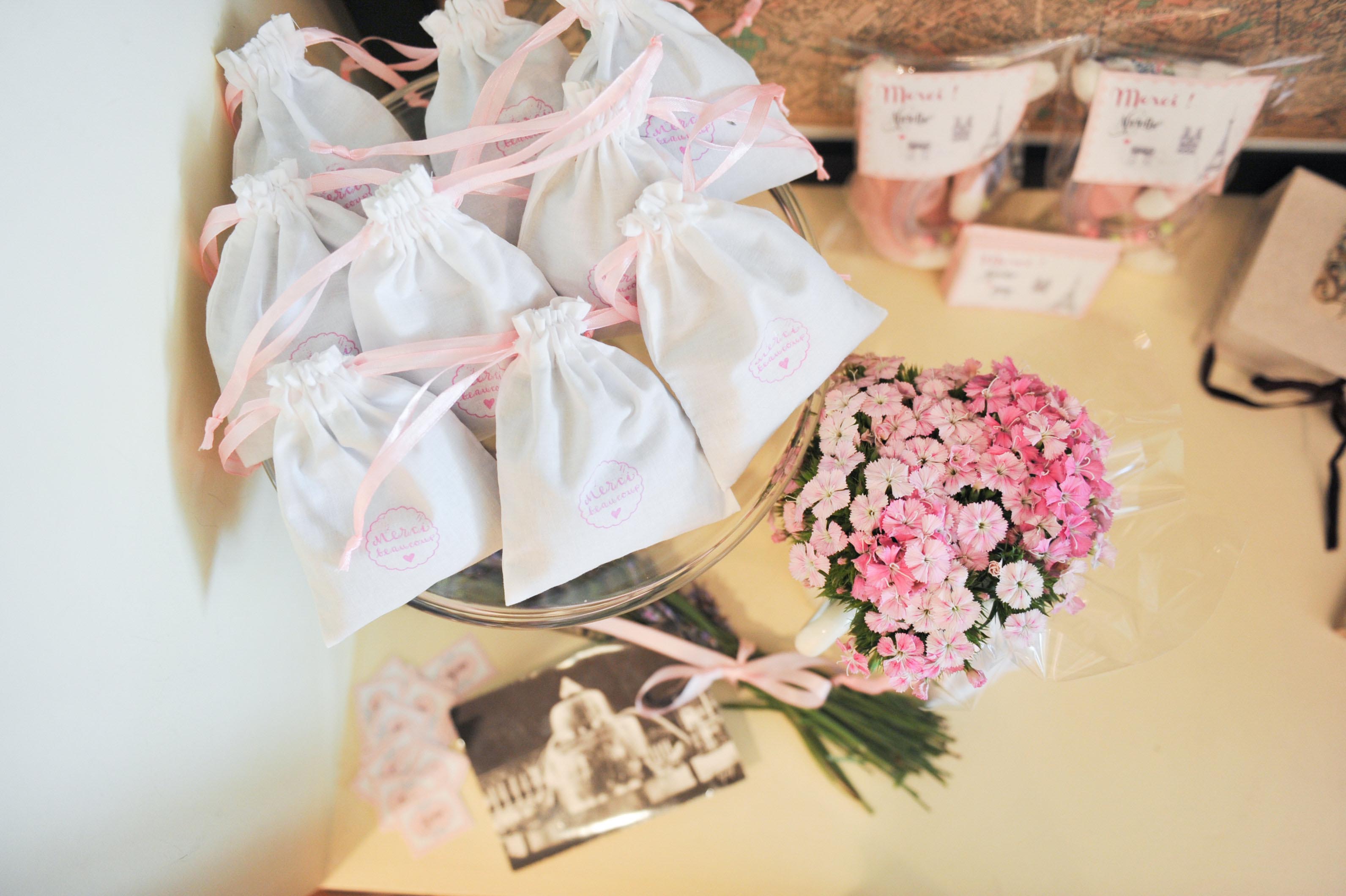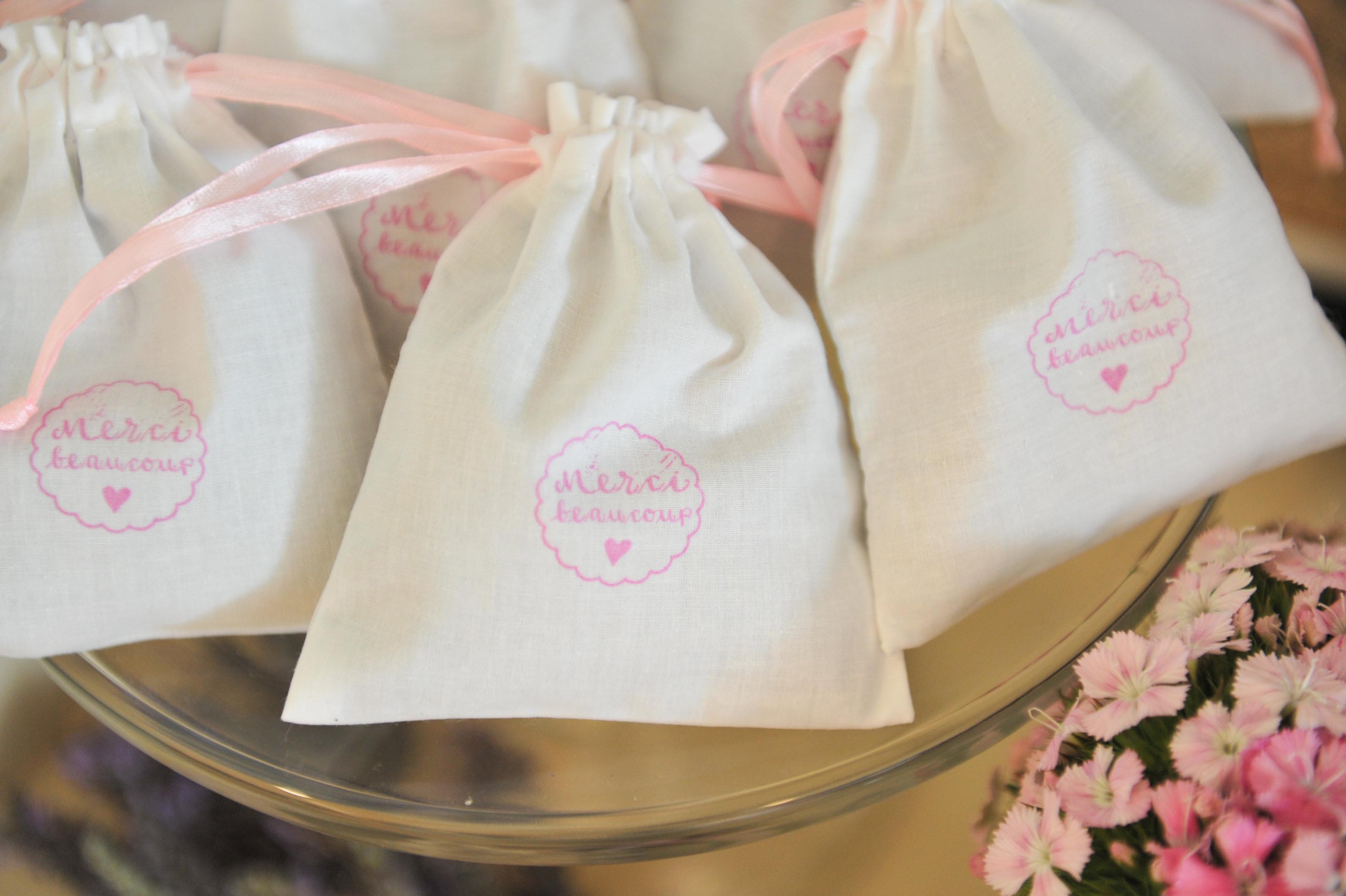 I placed the bags on a cake stand to give them a little height and styled with fresh bunches of lavender and flowers in a white milk jug.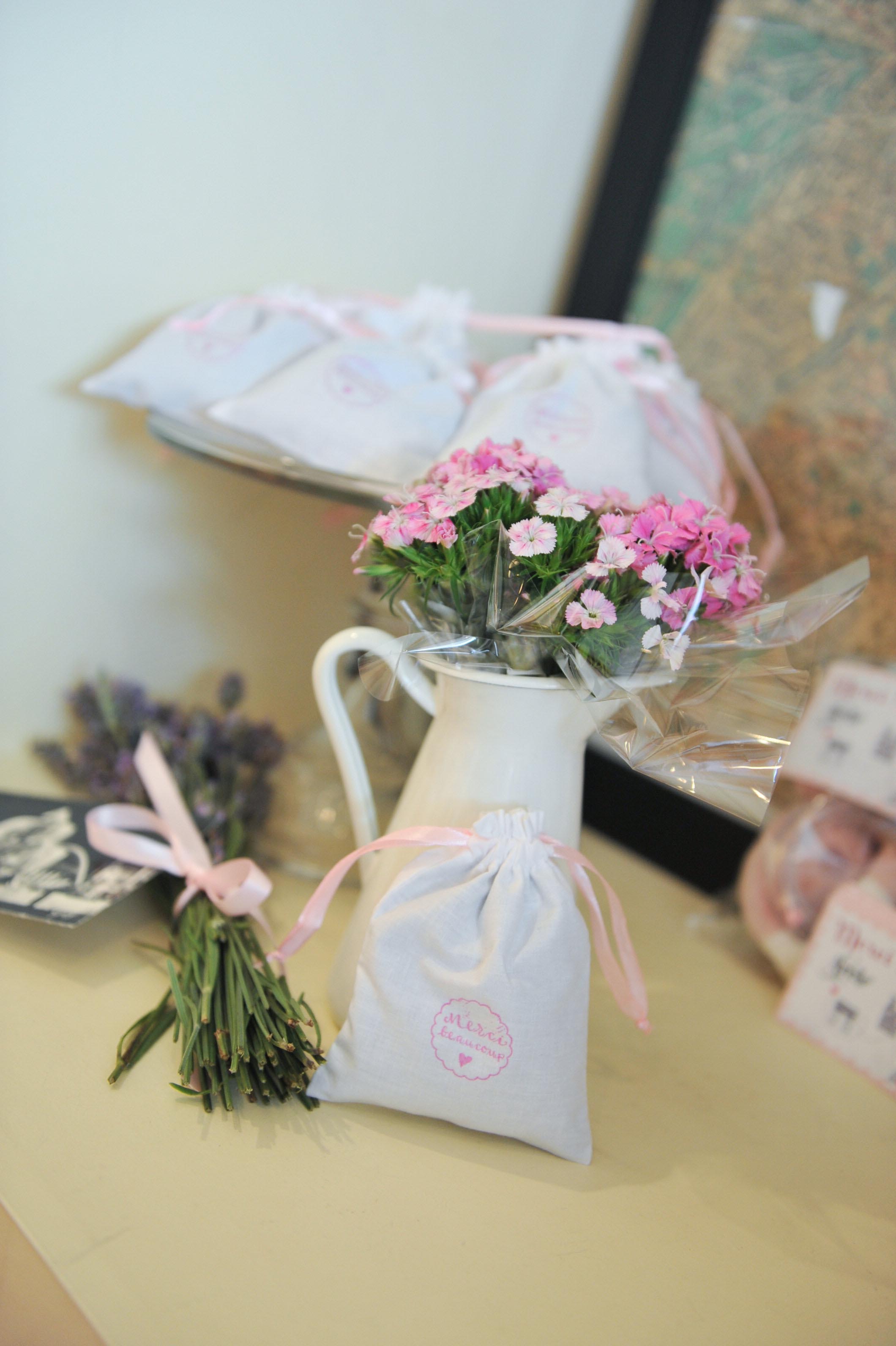 French Toys
You can also just see in the background of these photos little teethers that were given to the junior guests.  These were from Bonjour Petit which has a wide range of toys and games for Children that will fit with the Paris theme favors.  You'll find lots of ideas on their site & alternative toys for gifts and / or favors for other age groups.
Cookies
Who can pass up a delicious cookie?! Put small cello bags next to the cookies on your dessert table so guests can take one how with them!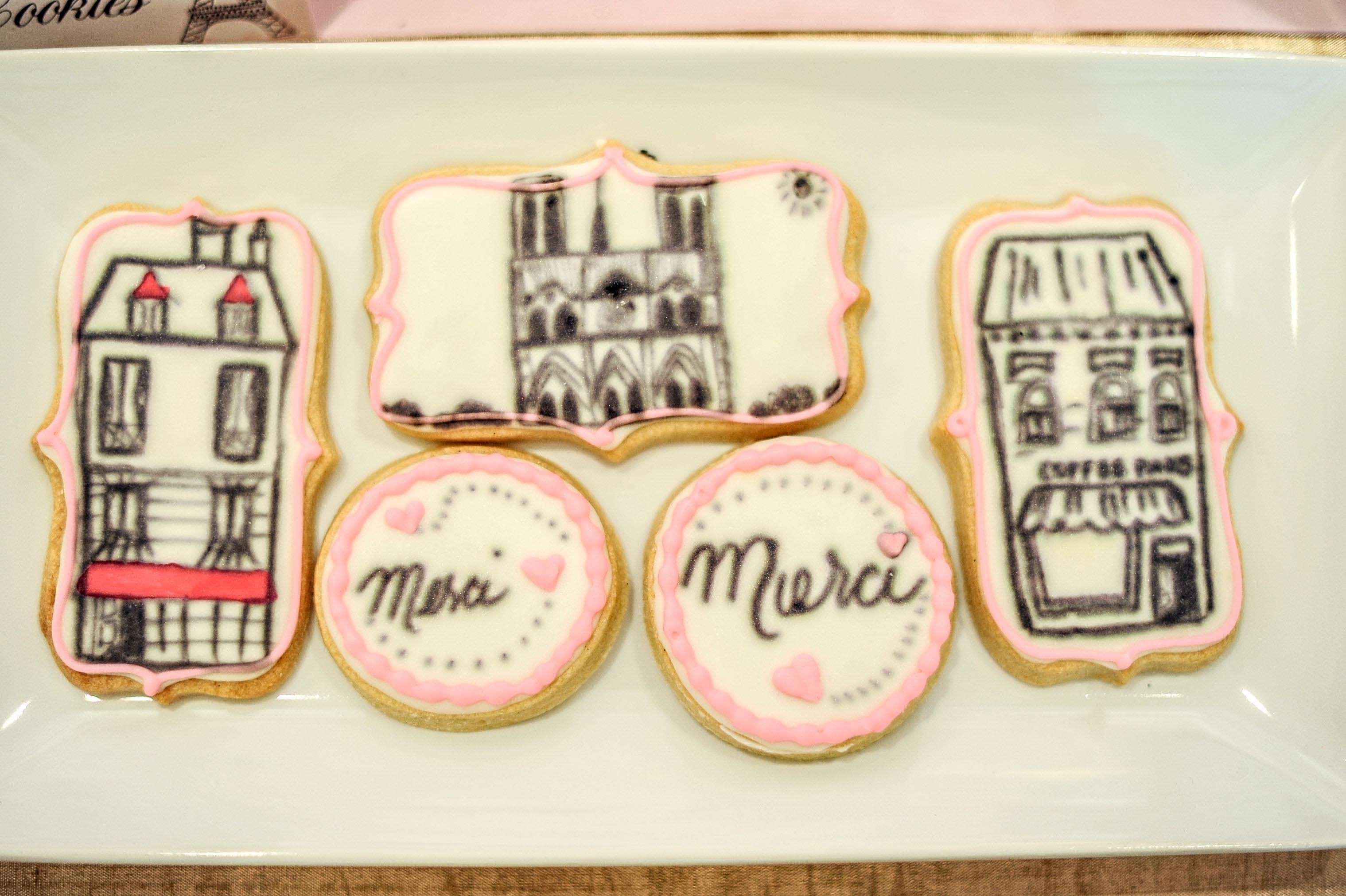 I hope you enjoy these ideas, and are inspired to create your own Paris themed party favors. All of my vendors are detailed below, so be sure to check them out!
Happy Partying!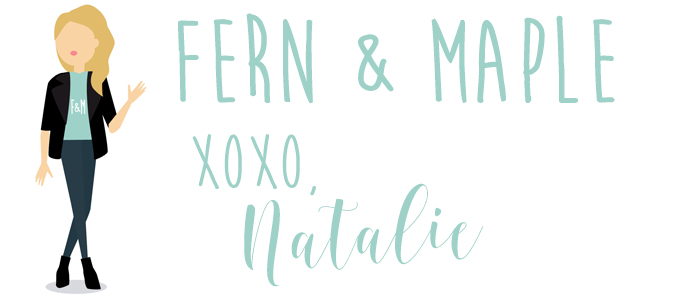 Printables – Elena of World Wide Party
Florals – Susan of Bloomin Couture
Photography – Stacey Ann Photography
Desserts – Roni's Sugar Creations  and Let Them Eat Pops
PIN FOR LATER: