This year marks nearly a year since my family moved to Portland. I wanted to kick off my first full summer here with a tropical Toucan themed get together. Celebrating my new "Girl-Tribe" and the long summer days ahead with a fun pun "You Toucan Party With Me".
Now I think we all know I love throwing a themed party (lol) and one of my favorite things to do for a party is create a fun keepsake – finding that perfect themed gift that my guests will love and want to use.
This year I think I totally #nailedit thanks to Custom Ink. I was able to design my own "Girl-tribe" trucker hats for the party. Super cute, on-trend and I love how the custom, unique design connects us all even more.  My girlfriends loved them and could not believe I designed them! It was so easy. We are now the new #Toucantribe and will be wearing them all summer long, to our kid's baseball games, camping trips and more.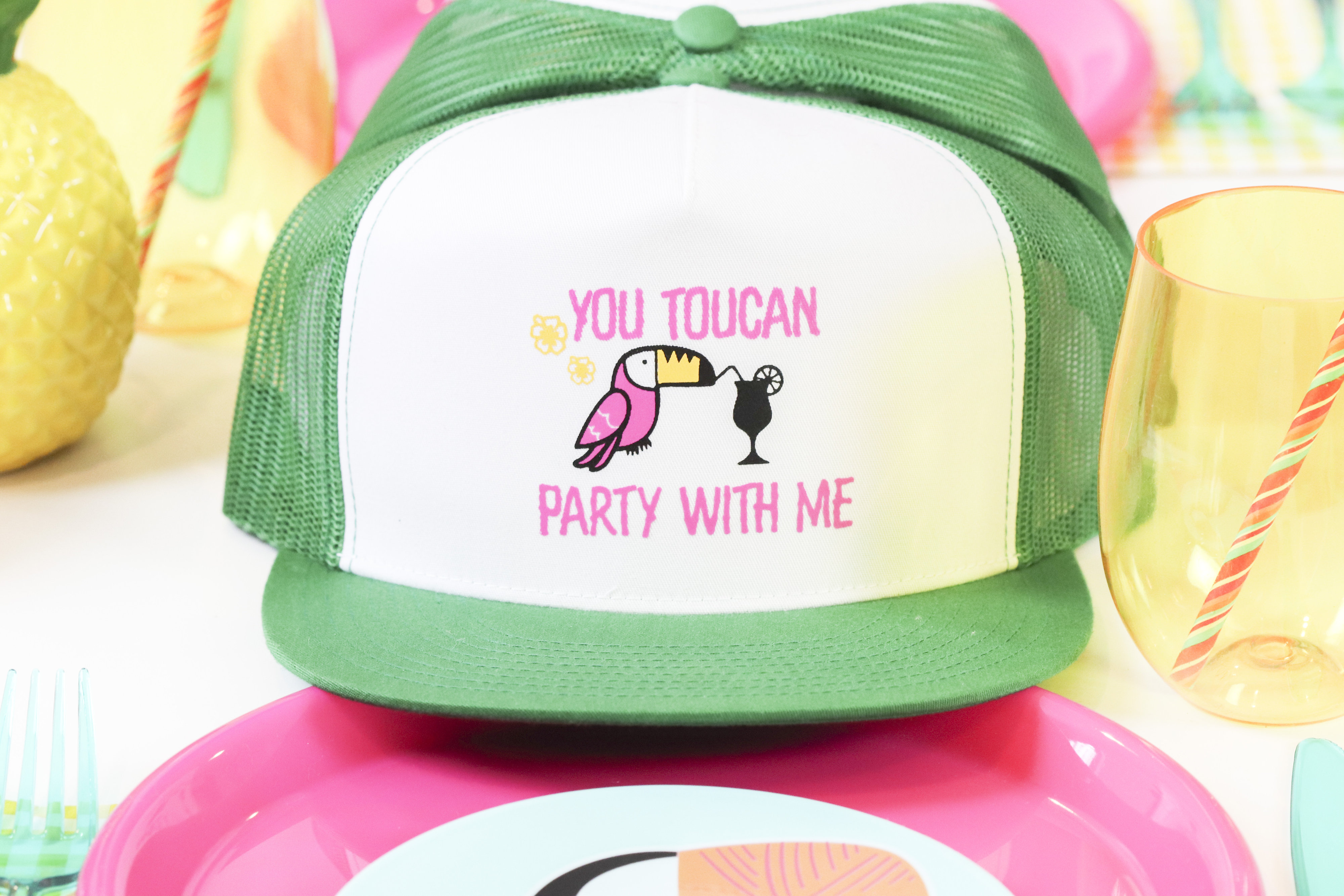 Let's me run you through how to create the perfect custom party favor with Custom Ink. You'll love how super easy it is to look like the rock star host!
This is a post sponsored by Custom Ink. All opinions and experiences are my own.  I only work with brands I truly love and always share my honest opinion about the products I use. For further information, please visit our disclosures page #ad.
How to Use Custom Ink to Create Custom Party Favors
1. Choosing the right keepsake for the theme
Keep in mind the following when you are selecting your custom product – who will be attending, the age of your guests, the party theme and even the season.  My party is for my best girlfriends, all adults and it's a kick-off for summer.  I was looking for cute, fashionable, feminine, a little cheeky and something summery that fit with a tropical Toucan theme.
I was spoiled for choice. Seriously, there was no shortage of products I could customize – hats, t-shirts, pens, cups, bags, hoodies and even tech goodies. I was having a smaller get together so was pleased to find plenty of options for smaller groups.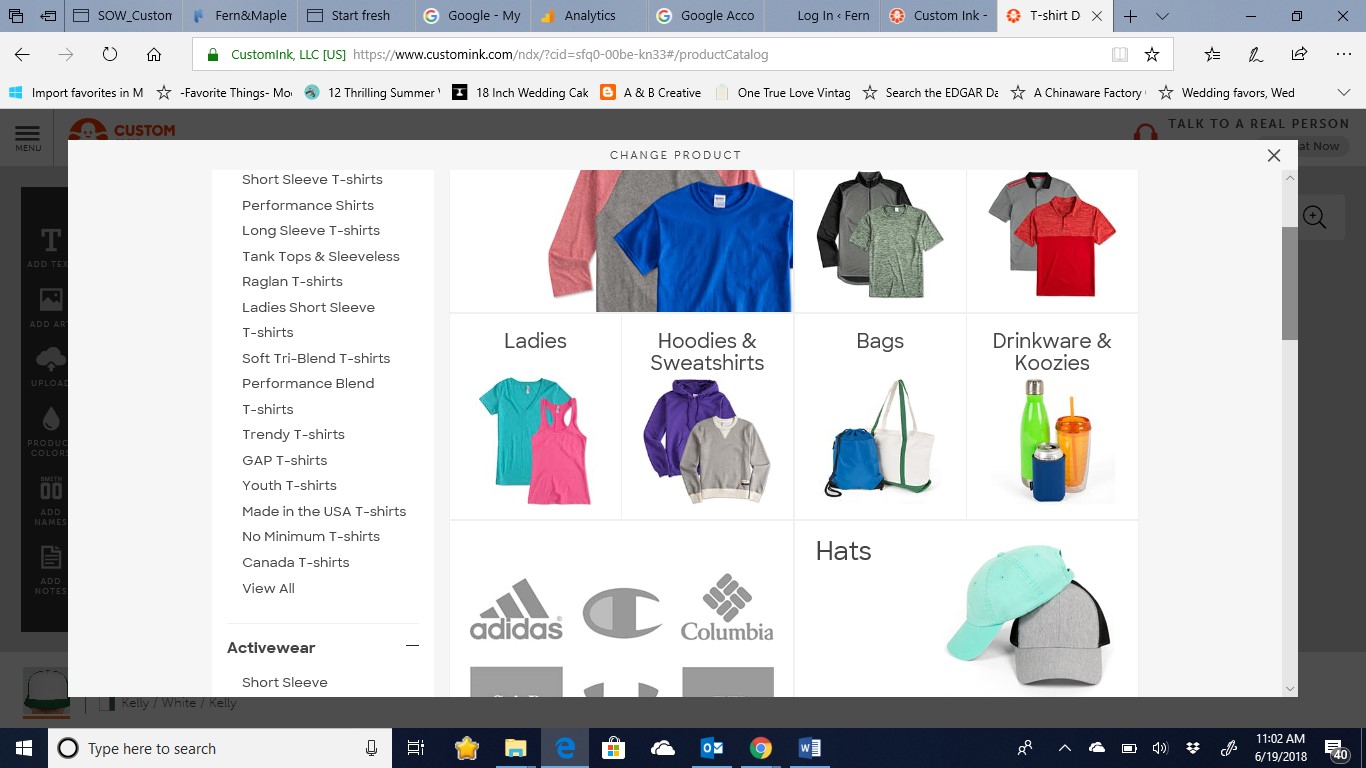 I settled on the trucker hat. It called my name it was so cute! And totally fit with a summer theme.
If you are creating a kid's party, why not try the kid's t-shirts or fidget spinners. A guy's get together? Tech gadgets would be perfect. Think about the interests of the people attending your event or what you will be doing when you get together.
2. Creating a design that fits your theme
Do not be nervous! Don't think you can't do this! You got it. It was so easy to do this, I mean I did it, without my kids help lol!
The design process is super easy. Pick your product, then there is a huge range of clip art and fonts available for you to choose from. All FREE! This is huge! Usually if I'm designing something for a party I have to buy the fonts or art work I need but with Custom Ink it was all available for me to use without any additional cost.
I had no problem finding a Toucan for the design, and found a fun bamboo looking font in the decorative category.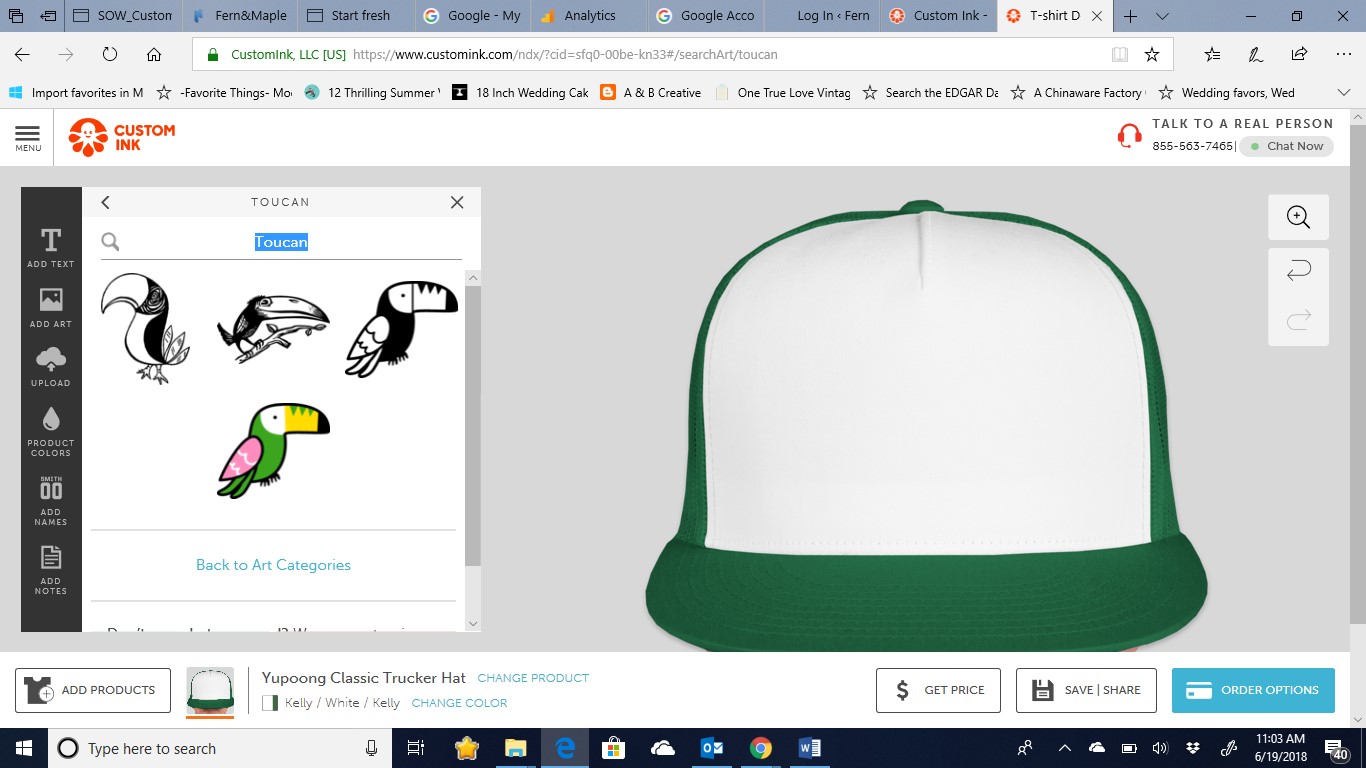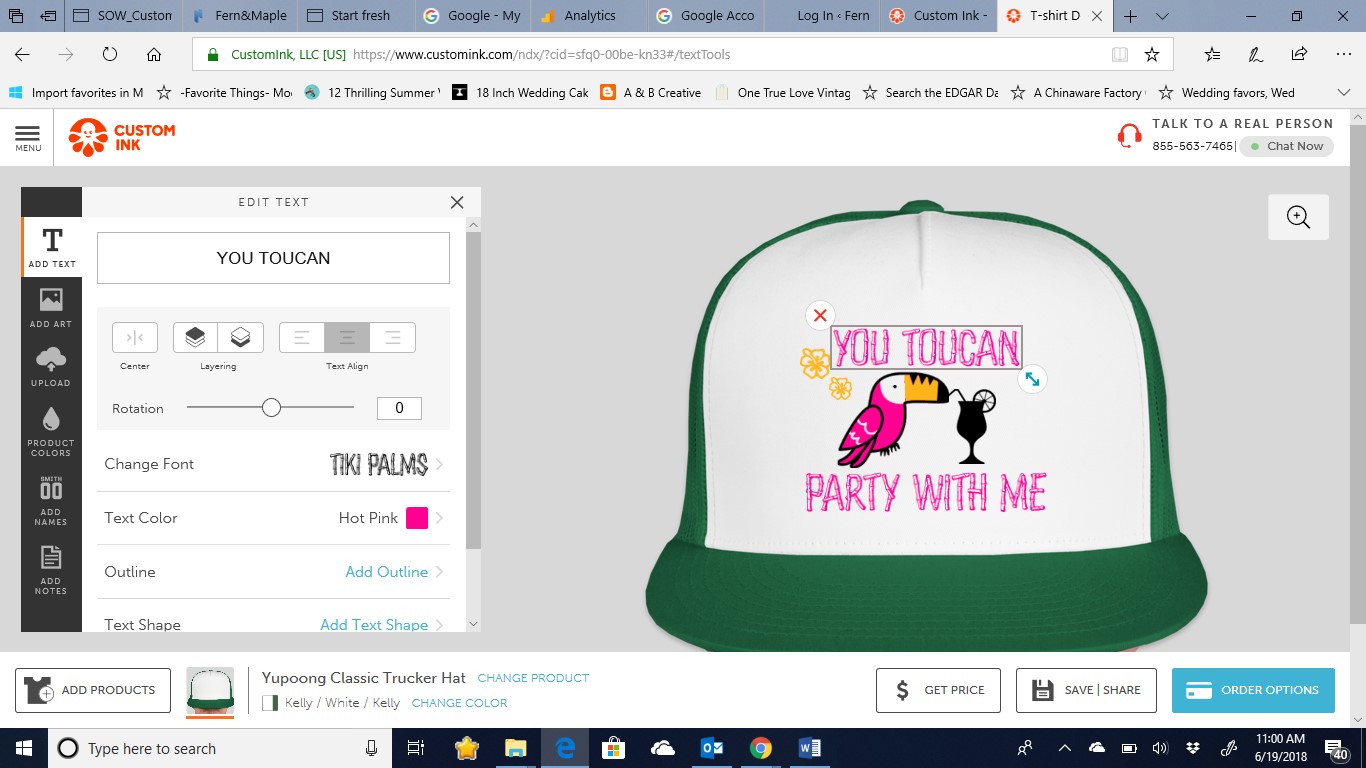 If you are still feeling nervous, pick a premade design. There are templates there to use and lots of on-trend options. There is also a design section focused solely on parties!
The other thing I liked about this process was I could try out my design on different products. They also give you guidance on placement and size depending on the product.
Note: You are also able to save each design and try it a different way.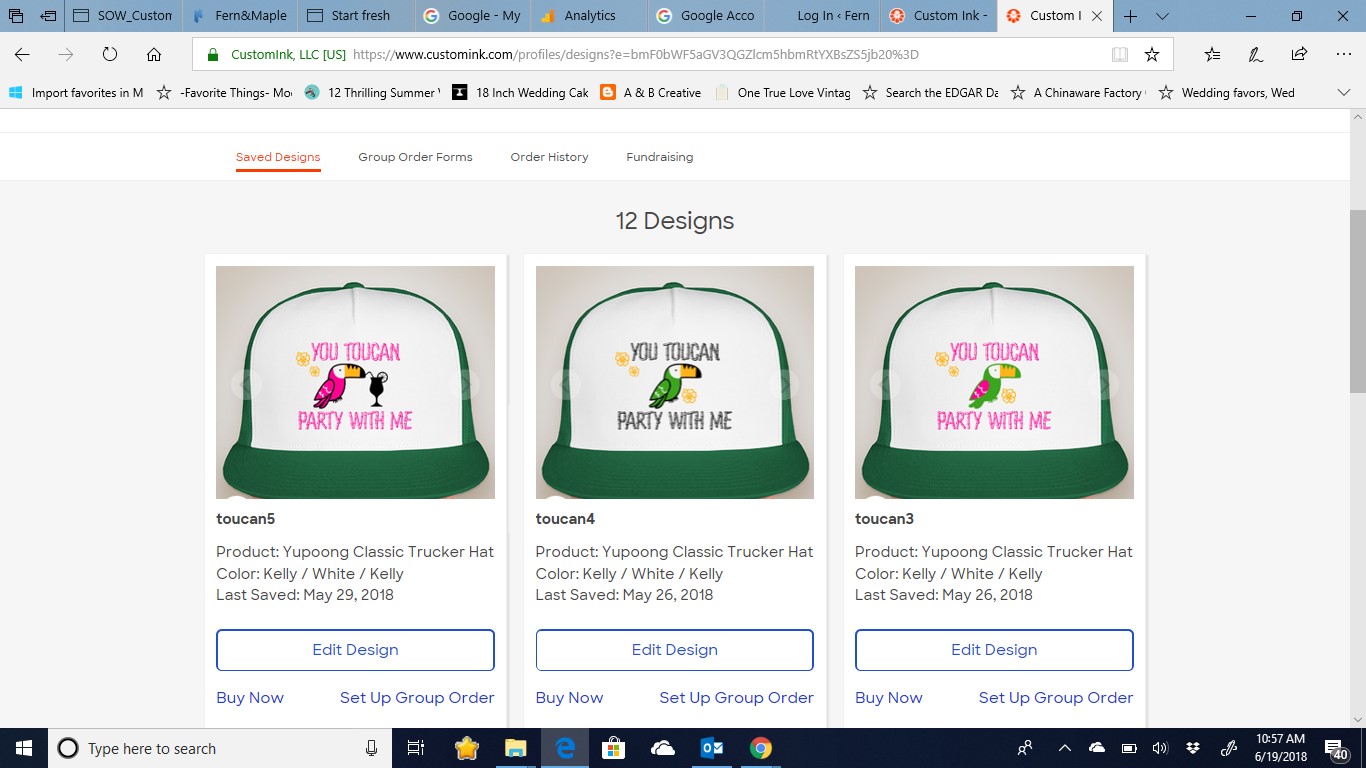 3. Design Support
While creating my design I found 2 toucans, 1 in black and white and 1 in color. I loved the color version but it had too many colors for the hat (there is a 3 color limit for printing).
I placed the black and white version into my design and asked the design team for help (via chat) on how to add some color to it. They got back to me super quick and we had a color version within the day.
The designer, Erin also found that cute little cocktail for me to use in my design which was the perfect touch for "You Toucan Party With Me" right?
Want to know something funny; we found out through chatting that she is on the "Toucan Team" at Custom Ink…it was meant to be!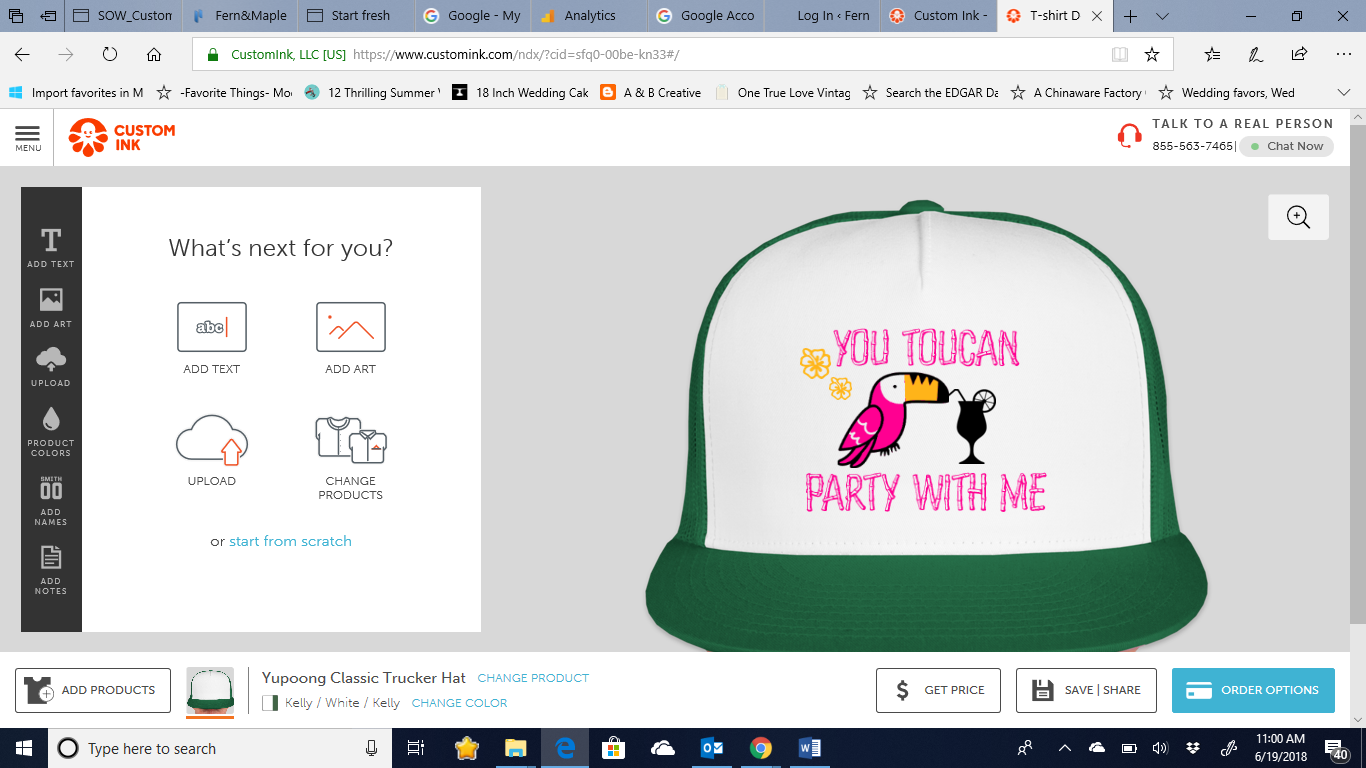 4. Ready to Party
Once the design was settled, I placed my order. I received a mock up to approve before printing so was able to double check my fun pun. Then I sat back and waited for my free delivery which arrived within the guaranteed 2 weeks (never fear, you can always get a rush delivery).
The hats are even cuter in person! Great quality and crisp sharp colors, clear design edges.
I love to display my favors on the table. That way as soon as guests sit down they feel special and you have a great conversation starter.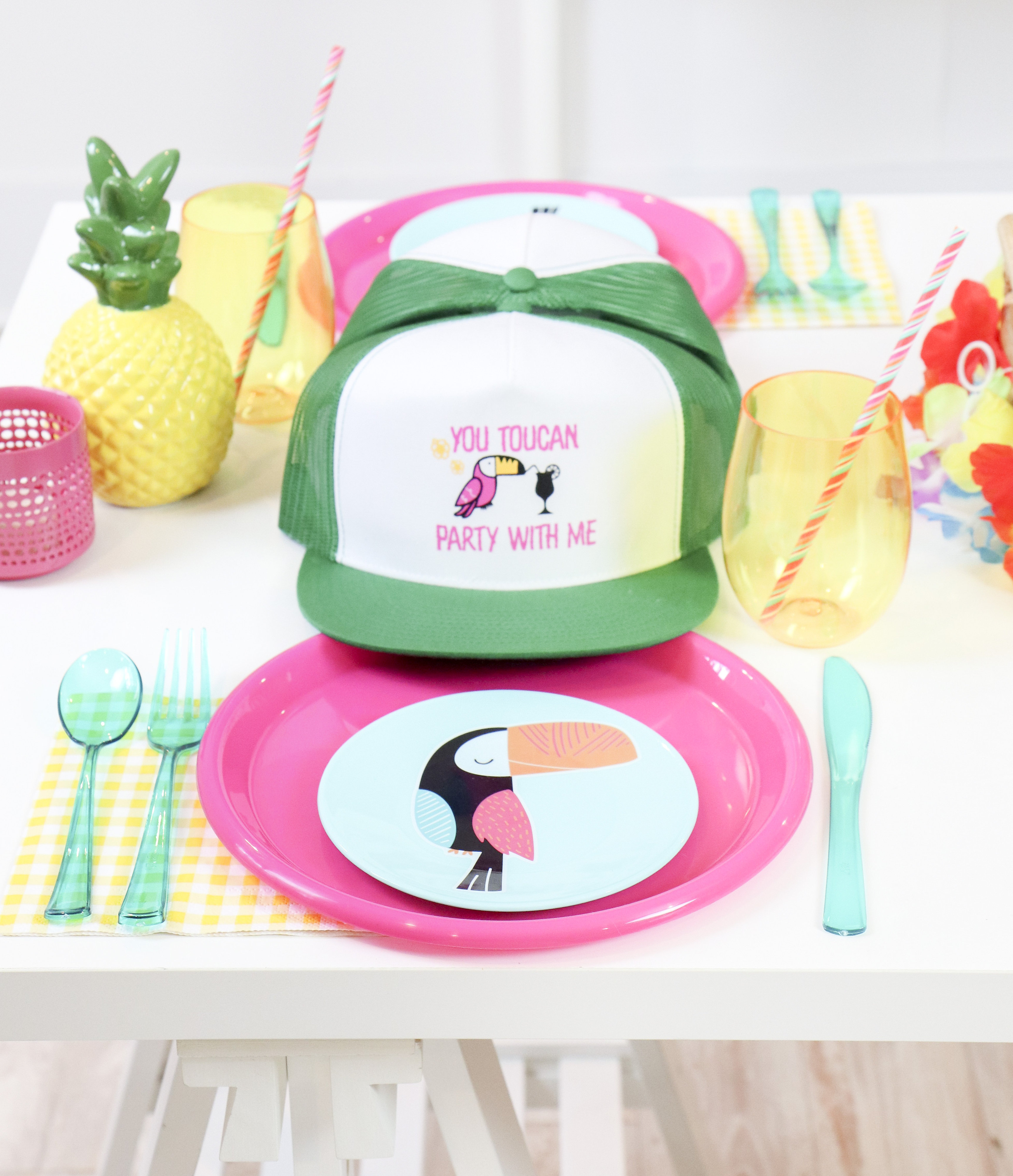 I added a Toucan Trucker hat at the top of each place setting.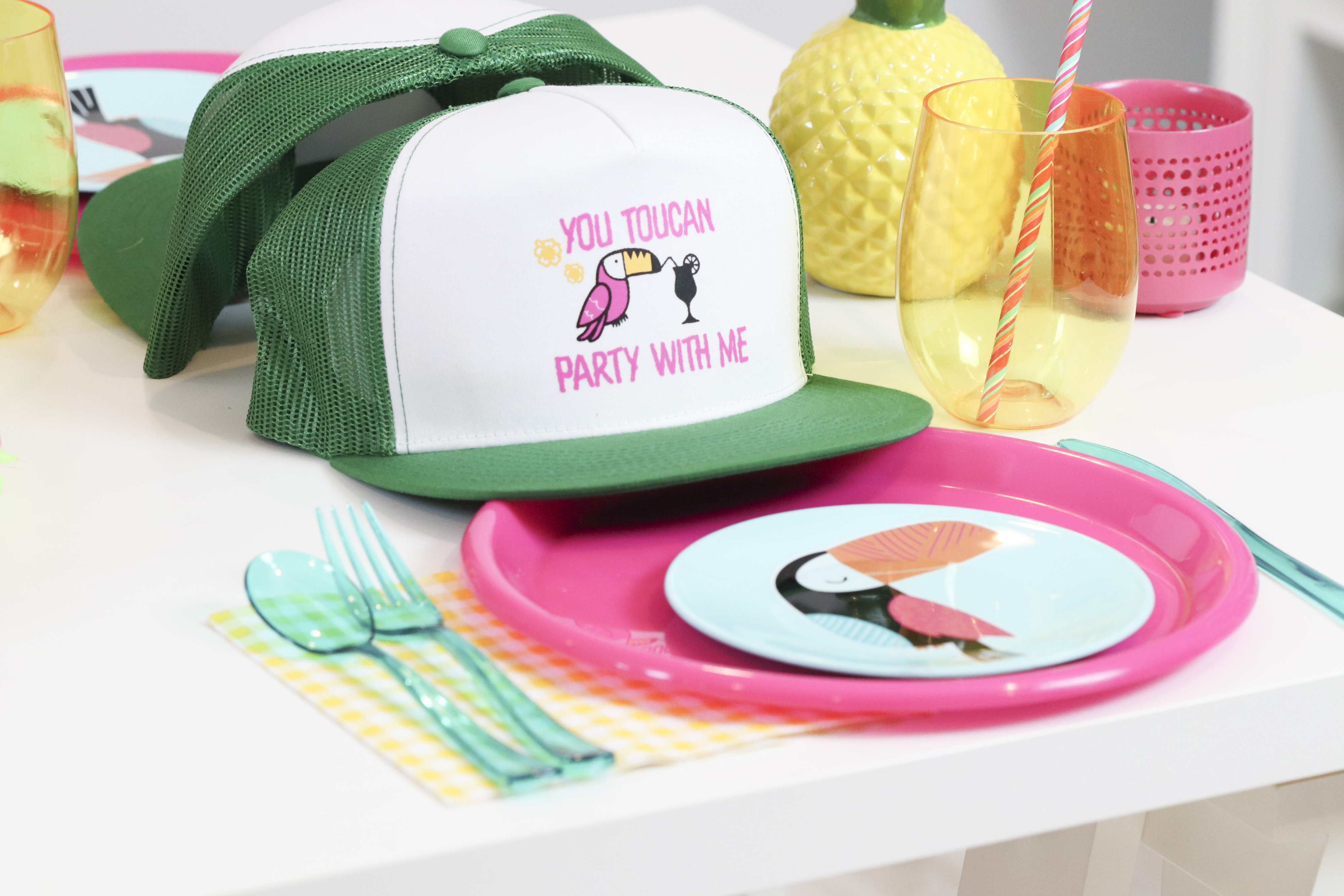 The girls loved them! Not only did they get everyone ohhing and ahhing we wore them all night and out on the town later in the evening!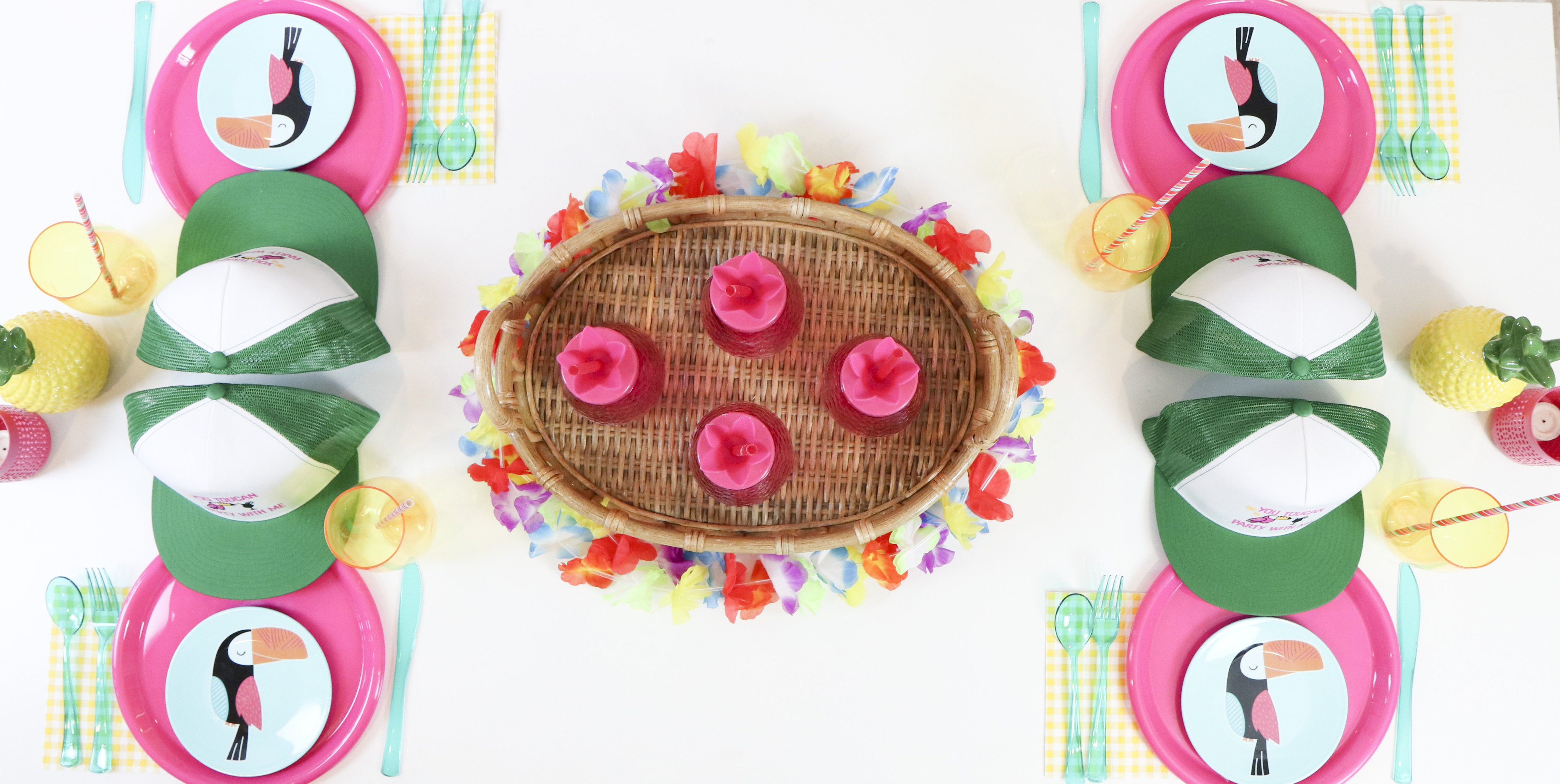 Check out my Instagram stories for more of the fun! Then pop over to Custom Ink & get started on making your next party a memorable one.
Happy Partying!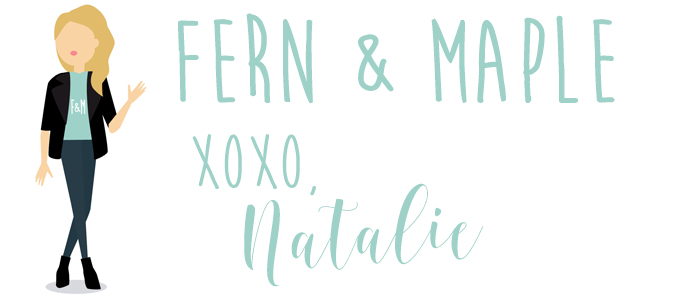 PIN FOR LATER: