A few years ago, in a rather radical mood, I decided to style a Punk Glam New Years Eve party. Full of anti-establishment attitude, this party works just as well today as it did then. After all, who doesn't love being a little rebellious from time to time? And what better holiday to rock some rebellion then New Year's Eve? Read on for the details on how I set the edgy and dramatic scene for the new year in 2016. Perhaps you will get some inspiration to bring in 2020, Punk Glam style!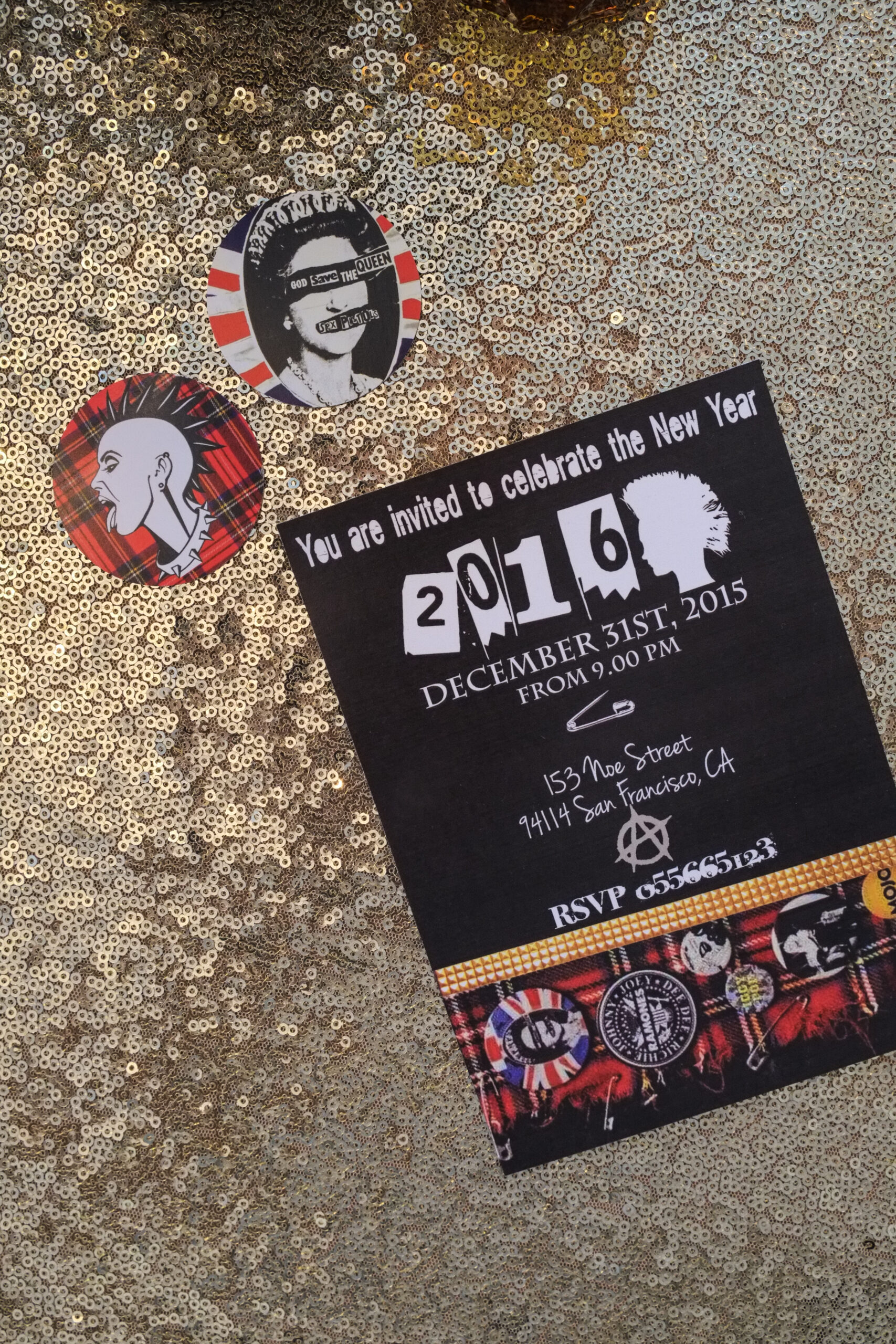 The key to keeping this party glam is including some glitzy details along with the more rough-edged punk elements. For my table scape, I incorporated glamour by using gold sequin table covers and black candelabras. I used crystal glassware, black chargers, and gold utensils at each place setting. Luxurious black furs from Tourance adorned each seat. Above the table I hung a beautiful, and very glam, gold piñata from Prospect Goods.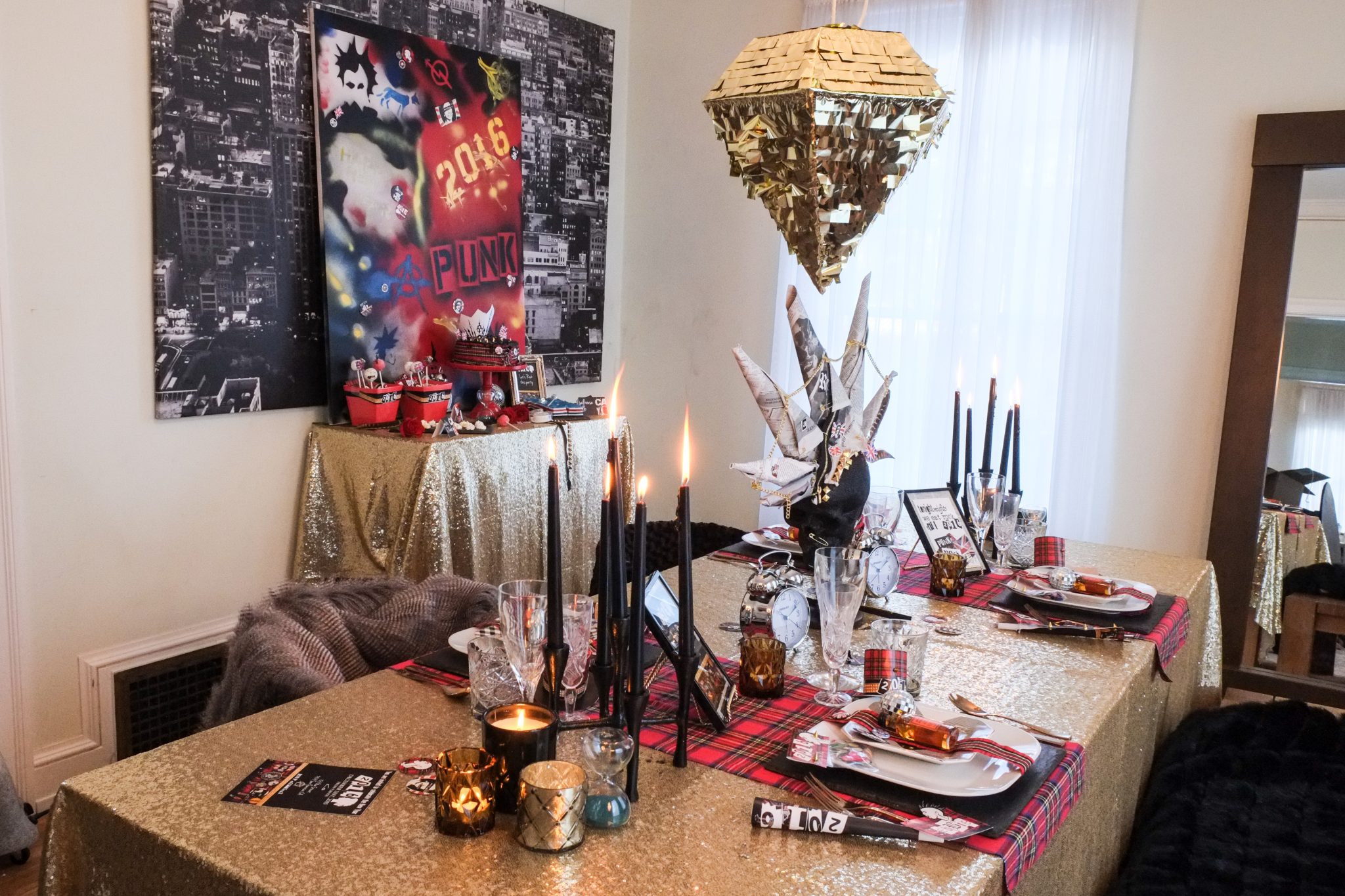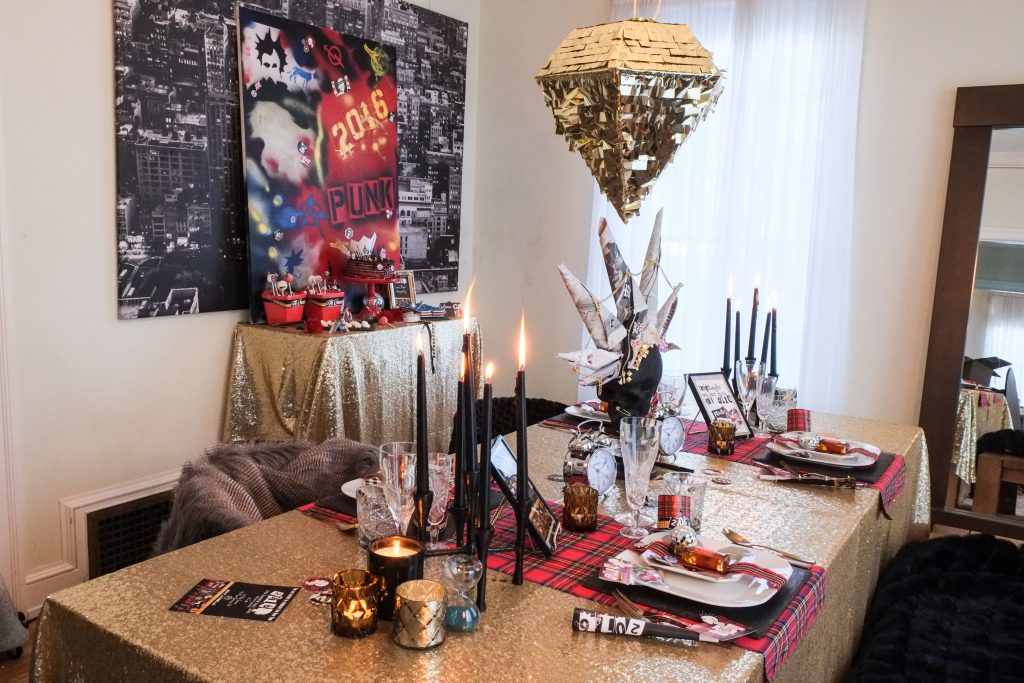 Then, it was time to punk it up. I added plaid runners over the sequined table covers. At each place setting, I then placed a mini whisky bottle, a disco ball favor, and several printed plaid elements. These included plaid place cards attached to gold-studded party horns, plaid party hat favors, and plaid bags of confetti, all by World Wide Party by Elena. A strip of plaid fabric embellished with punk badges from Eclectic Aims and safety pins tied my place settings together.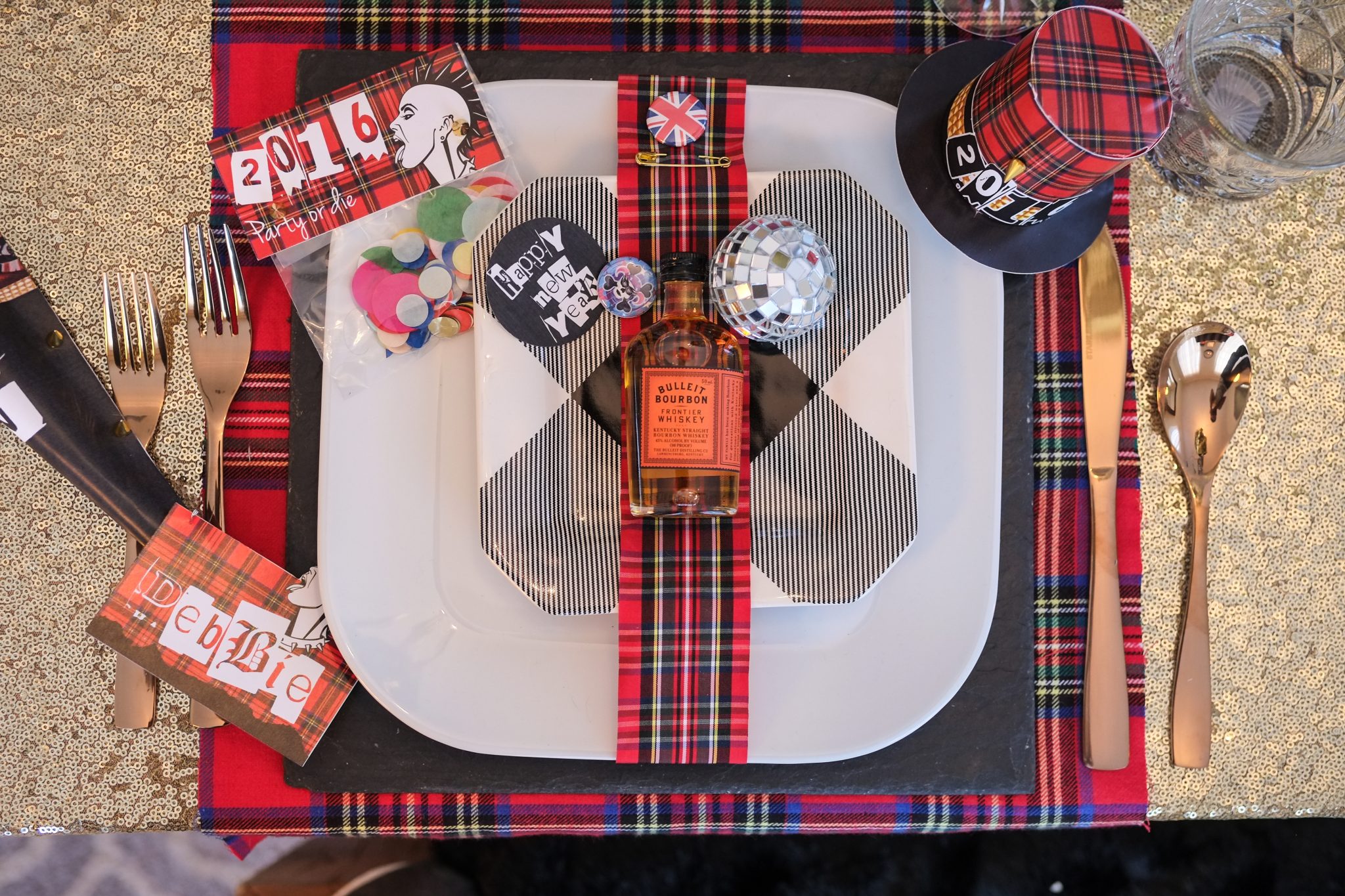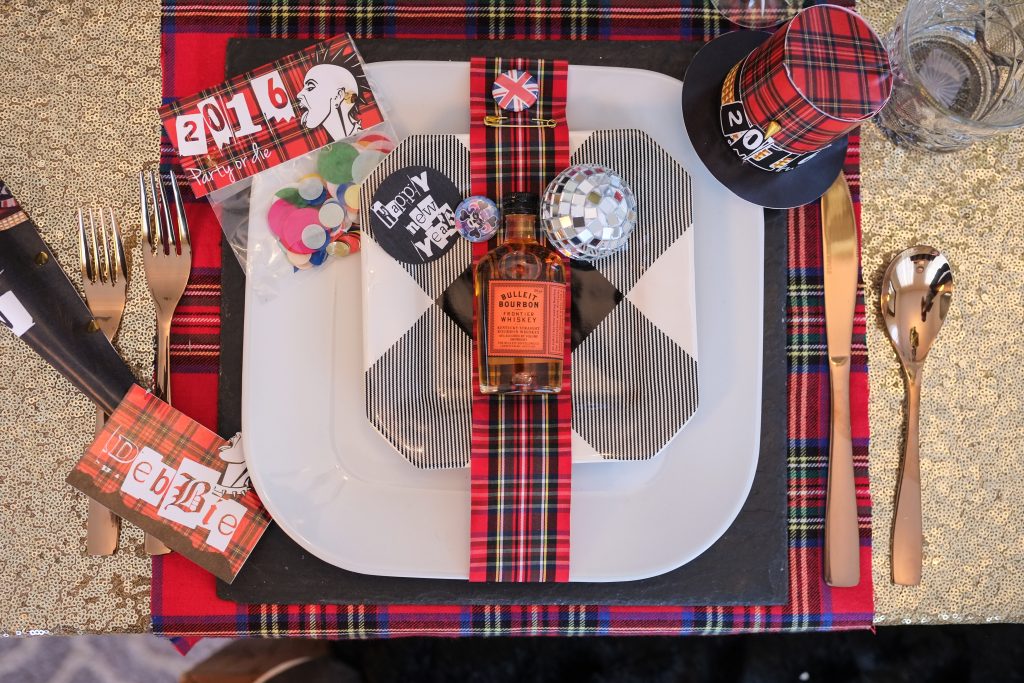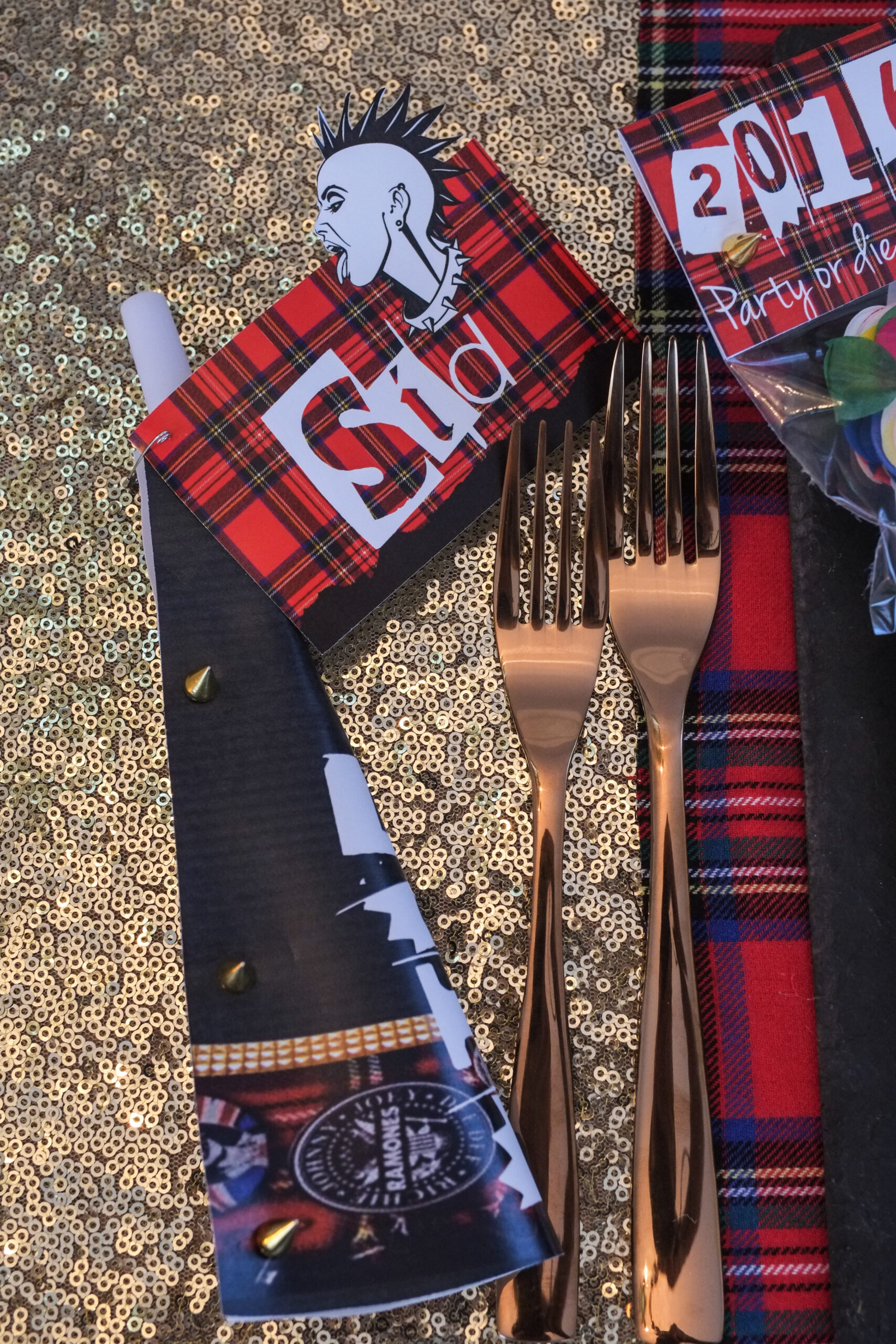 Next, as a nod to the "Do It Yourself" attitude of the punk culture, I created a DIY black glitter skull centerpiece, with a handcrafted newspaper spike mohawk. I then dressed it up with chains, zippers, buttons, safety pins, and Union Jack paraphernalia in true London punk fashion. I used old style alarm clocks and hourglasses on each side. These were perfect reminders to keep an eye on the time and be ready for the countdown to midnight!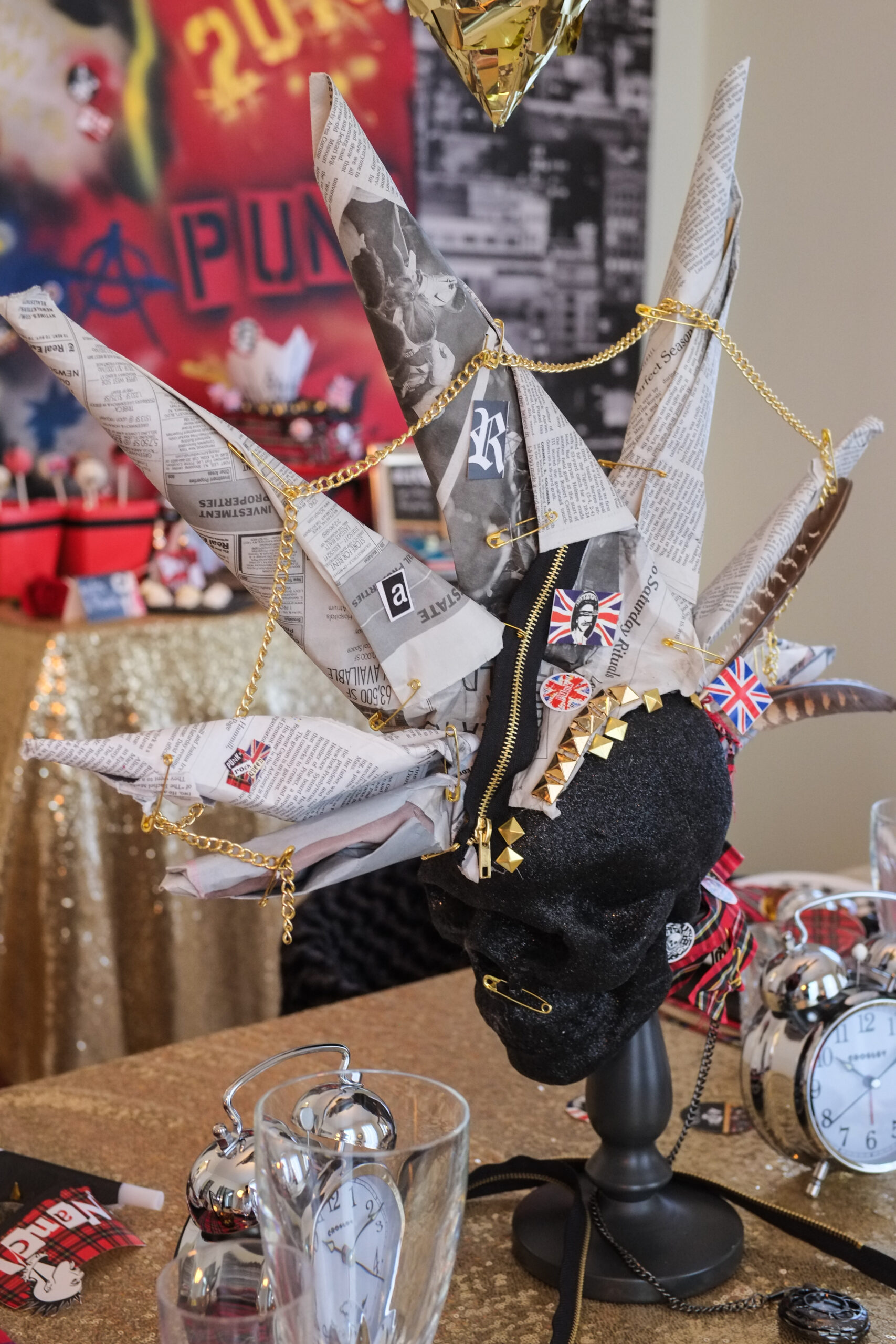 Both my drink and dessert bars kept with the glam punk theme. Behind the drink bar, I hung plaid fabric decorated with chains and badges. Large gold marquee letters from Rustaligic spelling out "BAR" hung above the bar, so no one would miss it!
A black sequin cloth and a Union Jack created my drink bar table cover. Each drink bottle got a plaid "scarf" held together with a safety pin, of course. Disco ball and Union Jack drink stirrers were provided by Chasing Bliss Design. One of my favorite punk fashion touches to the drink bar had to be the studded dog collar punch bowl!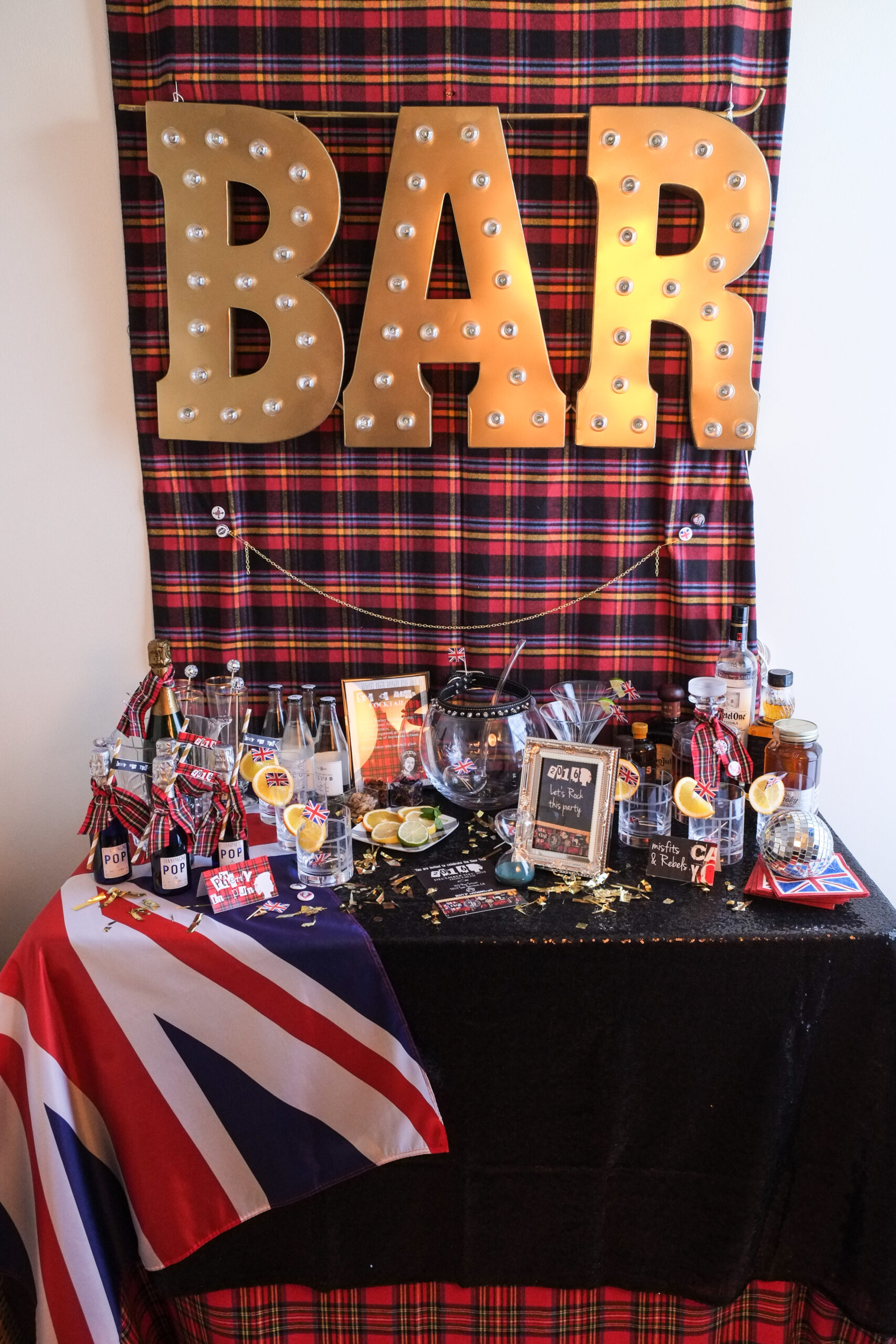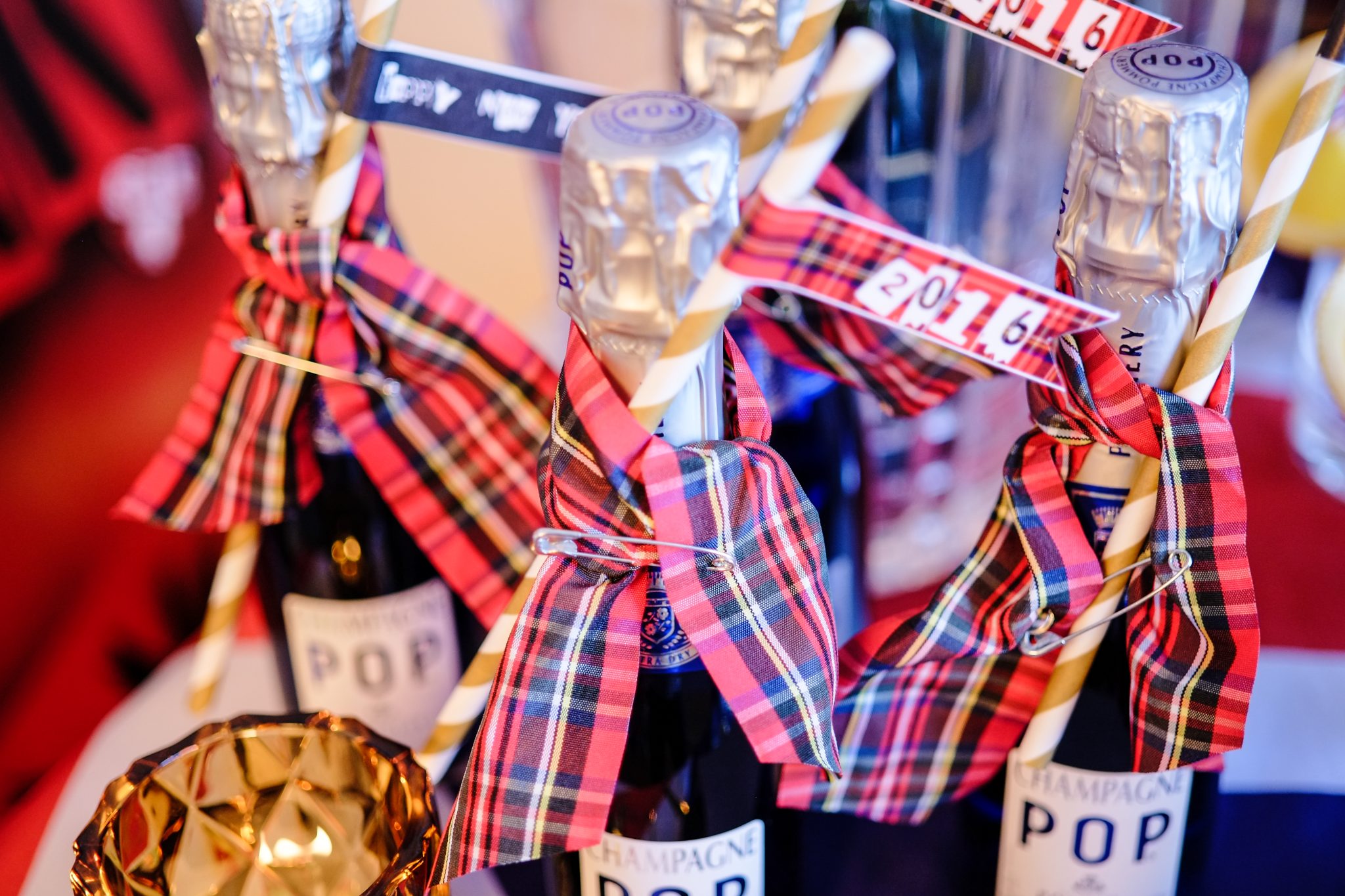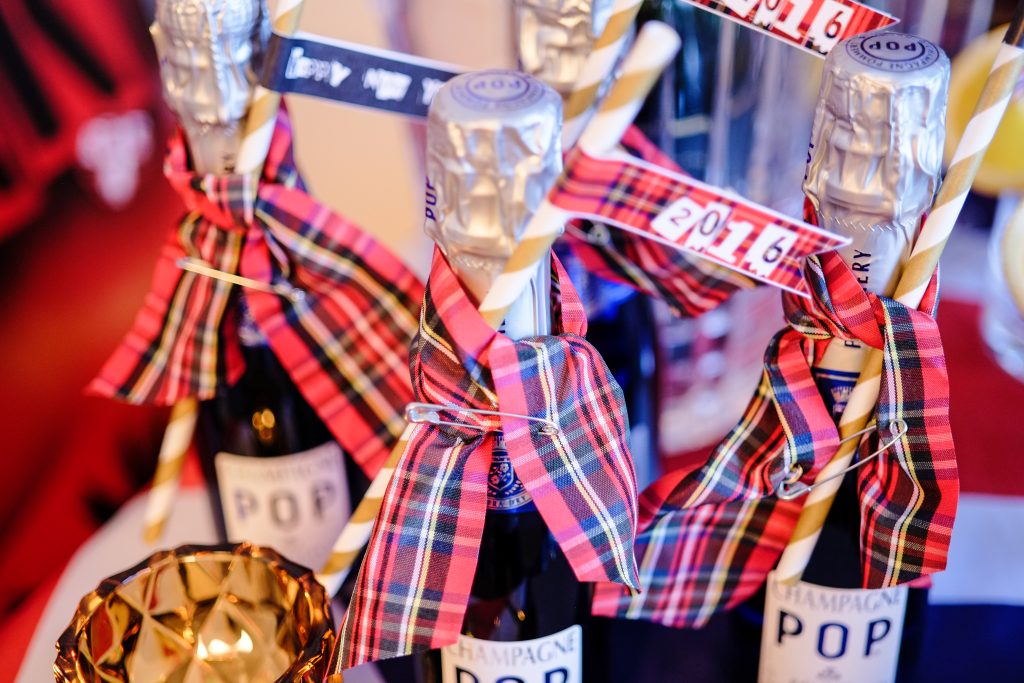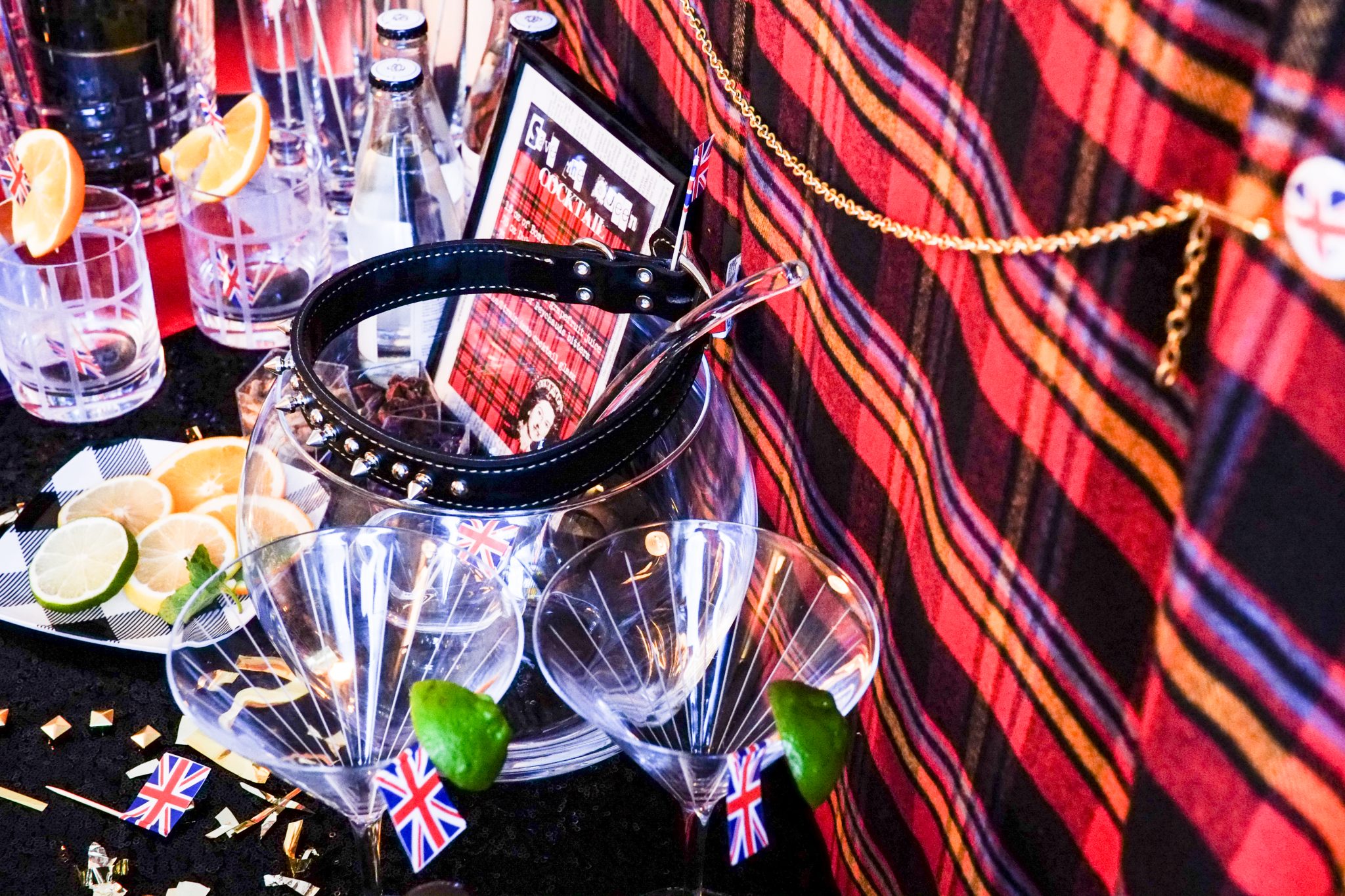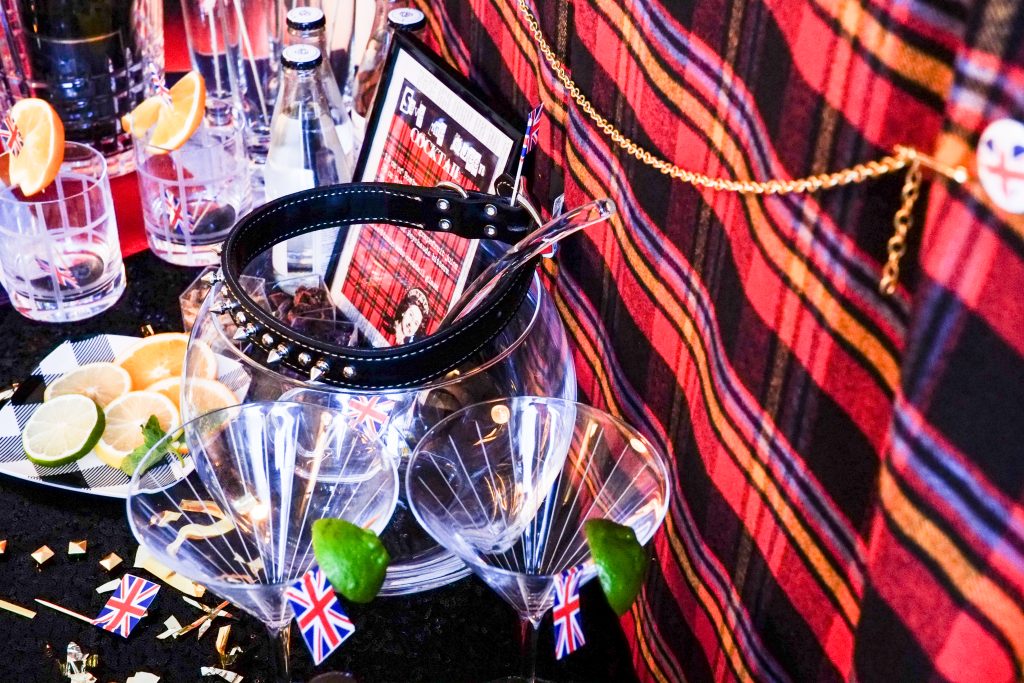 The backdrop for the dessert bar consisted of edgy punk art I made myself, another Union Jack, and more plaid! Let Them Eat Pops provided some radical punk-themed cake pops that were balanced perfectly by the more simple meringues from Il Tocco Kitchen and jello squares. For my dessert showstopper, I punked out a plaid-wrapped cake whose top looked like real studded black leather! Then, I added red roses, more alarm clocks, blue sand hourglasses, and disco balls to bring the glam component to the dessert table.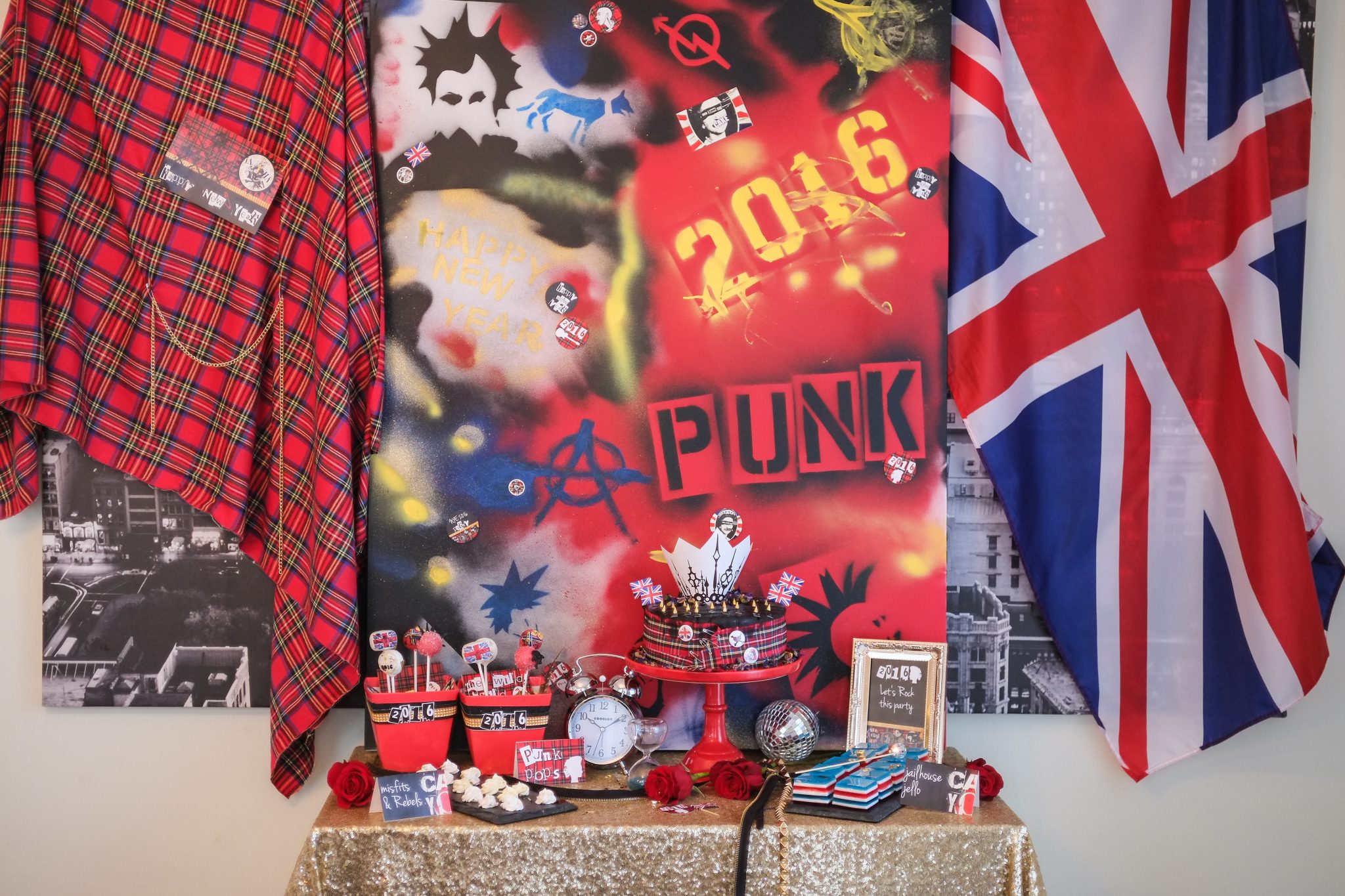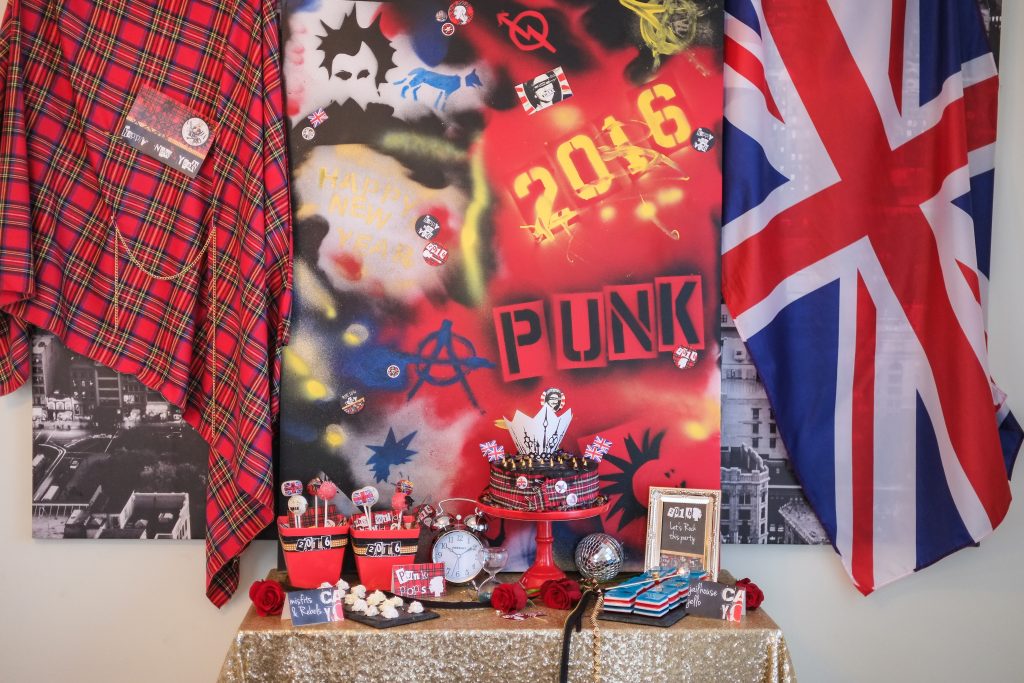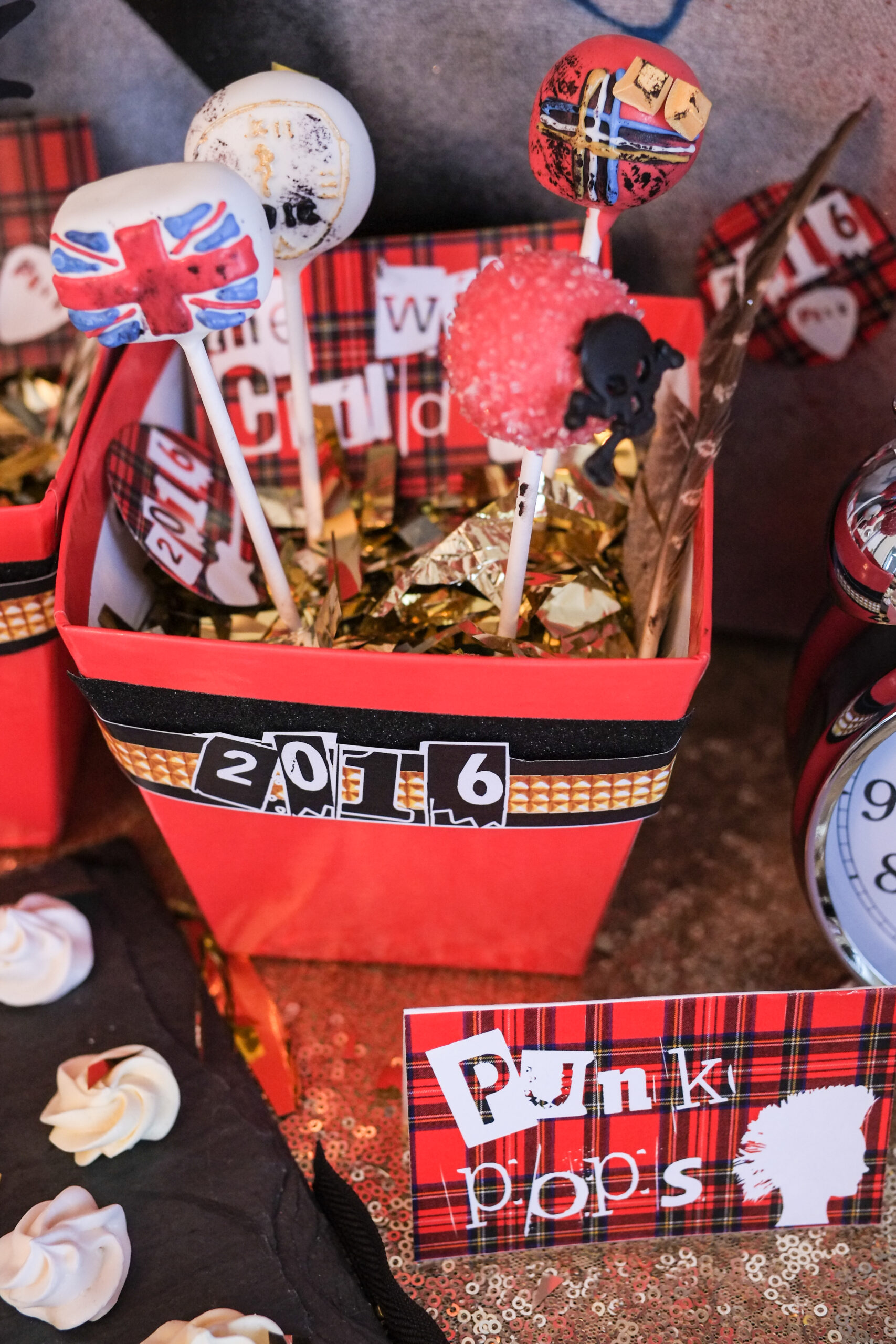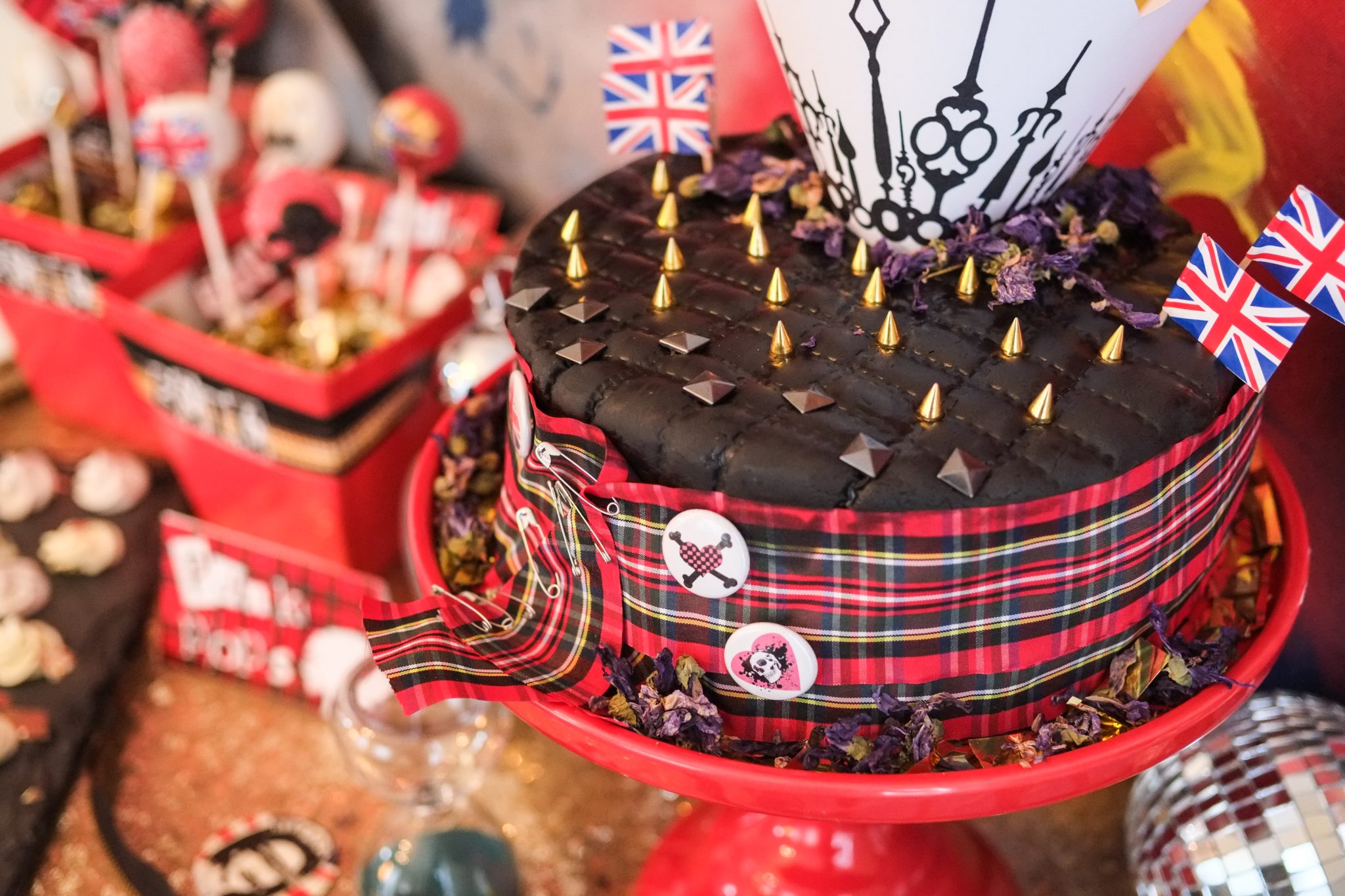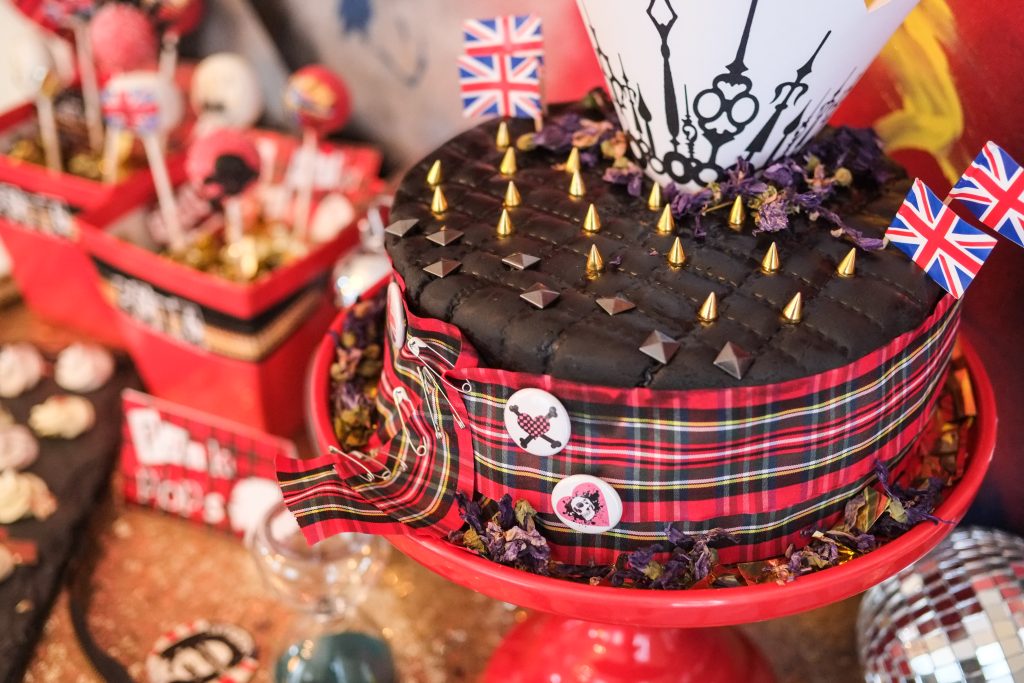 Finally, I created a Punk Glam Photo Booth so that the memories of this subversive soirée would live on forever. Glam gold tassels from Prospect Goods and a punk New Year banner were hung in front of a plaid backdrop. White and black tassels formed a backdrop frame, and matched the black and white round paper decorations on the floor. Large disco balls were used as props, and additional fun punk photo props were provided by The Quirky Quail.
I then draped a Union Jack over a chair for guests to pose on – but I definitely wouldn't call any of them "posers"! Haha!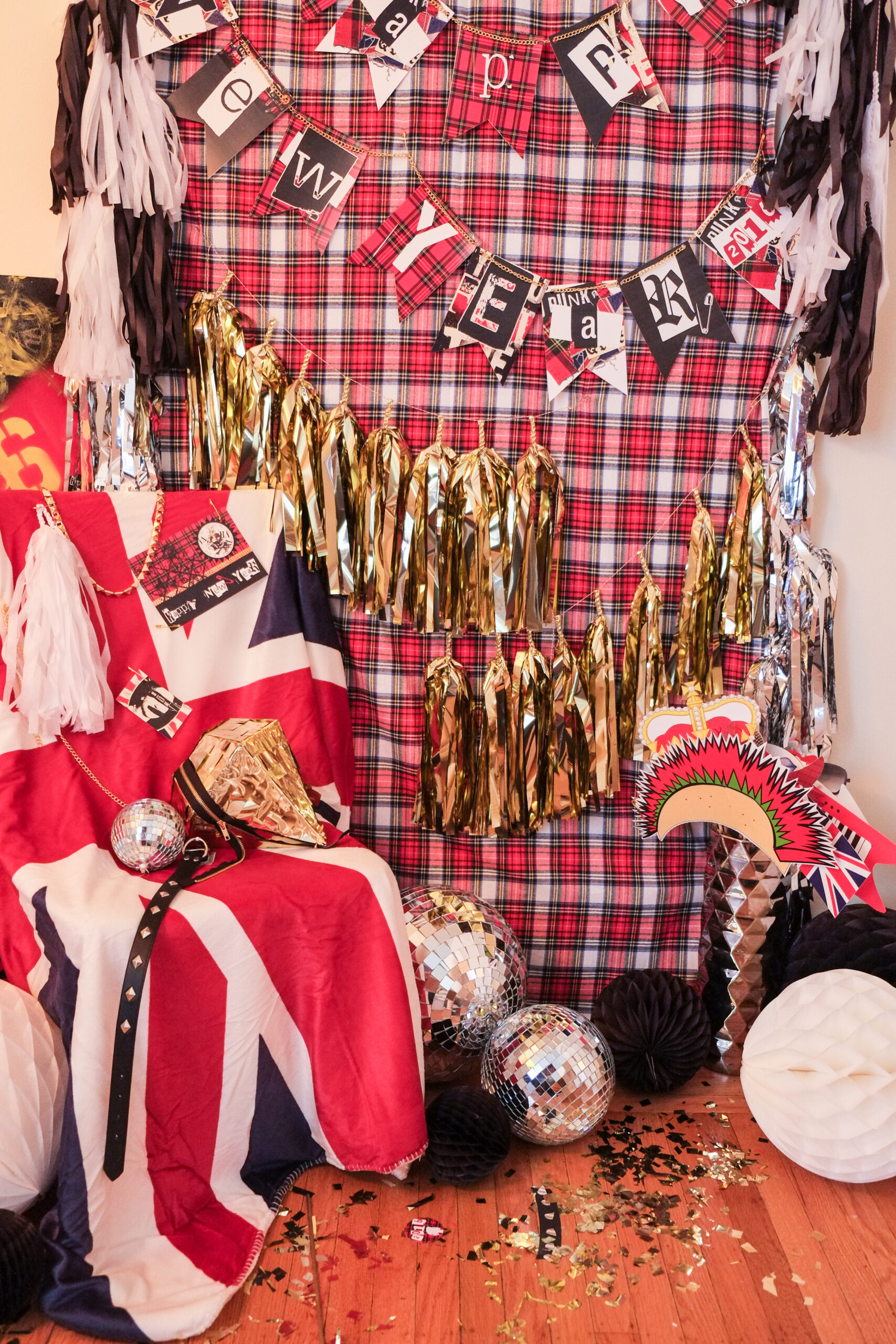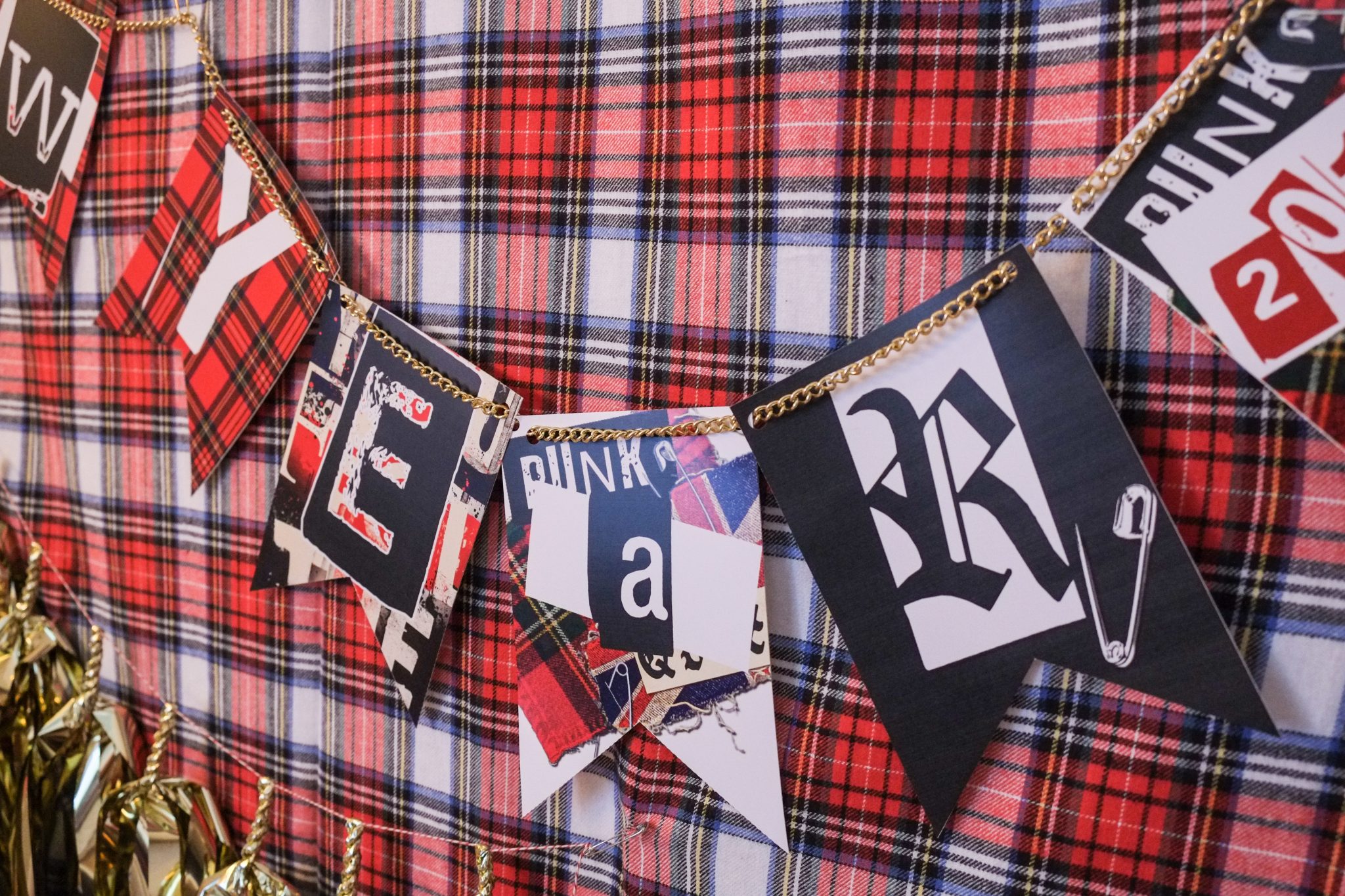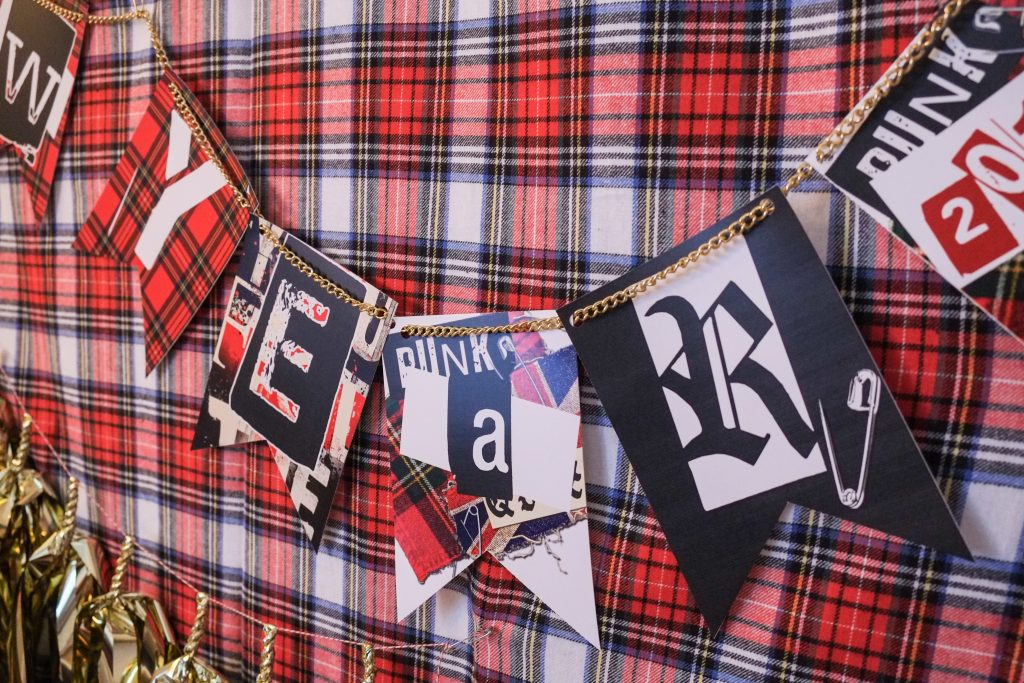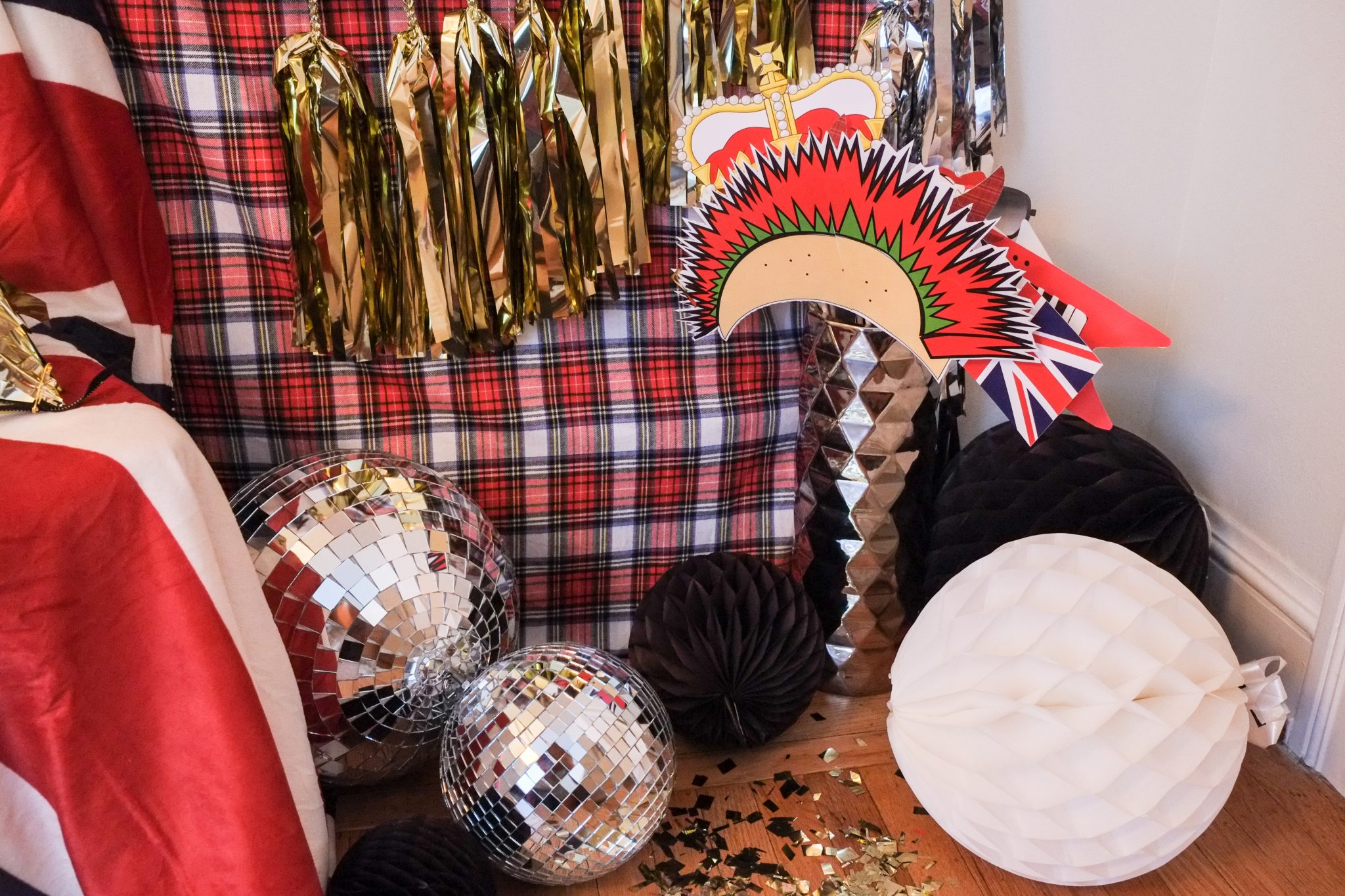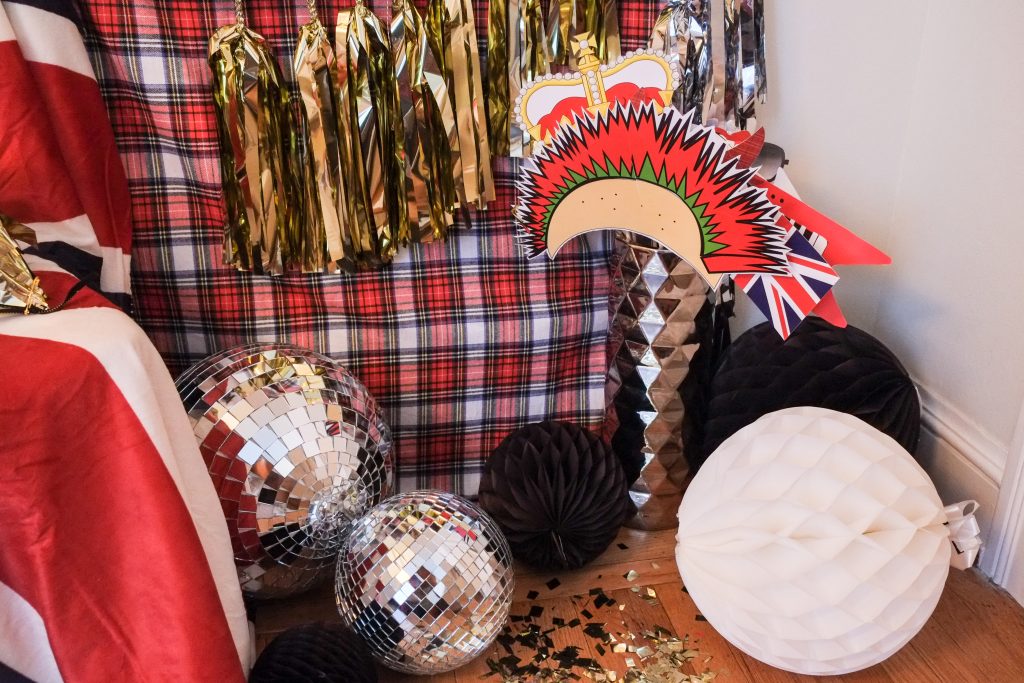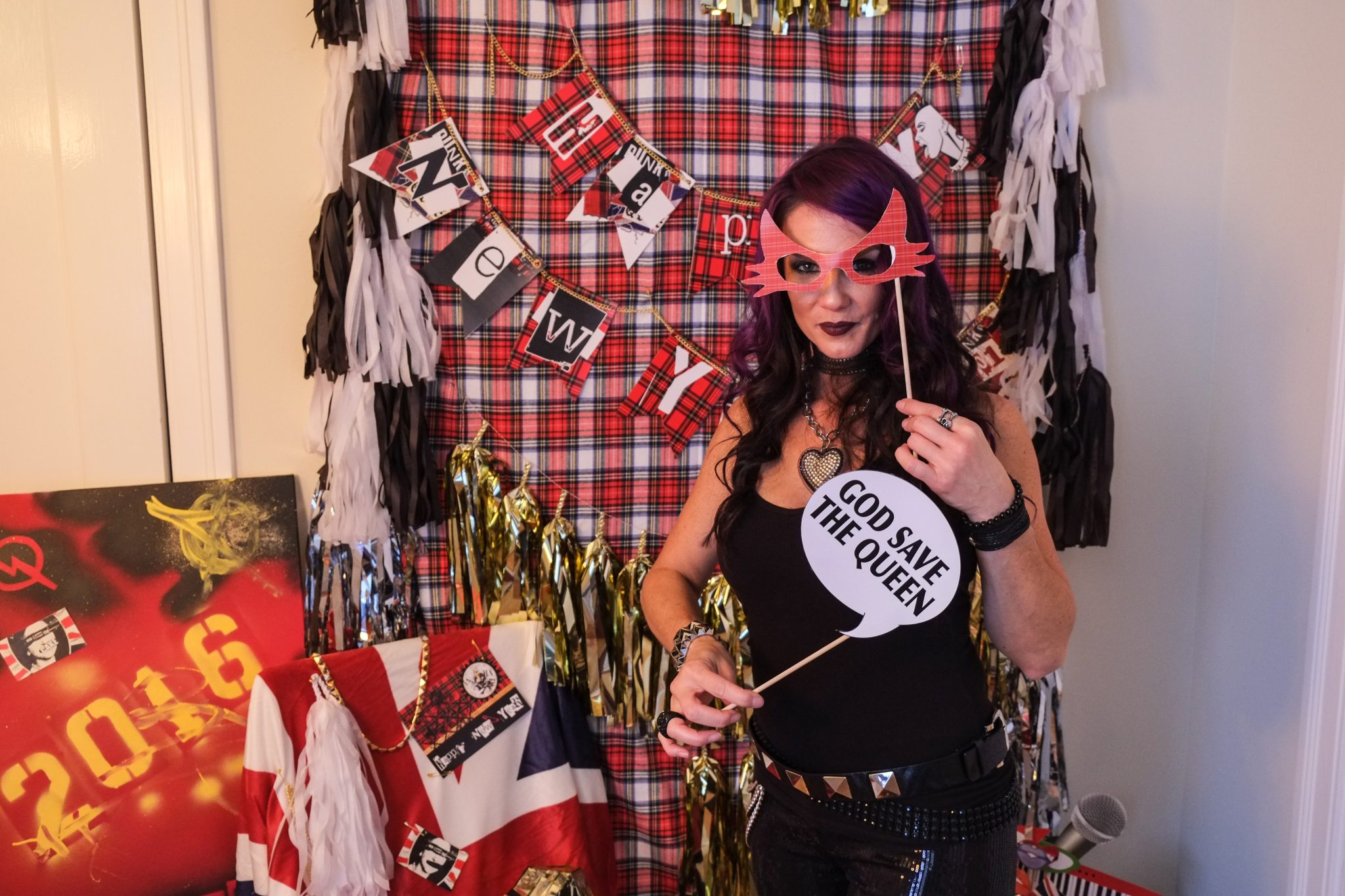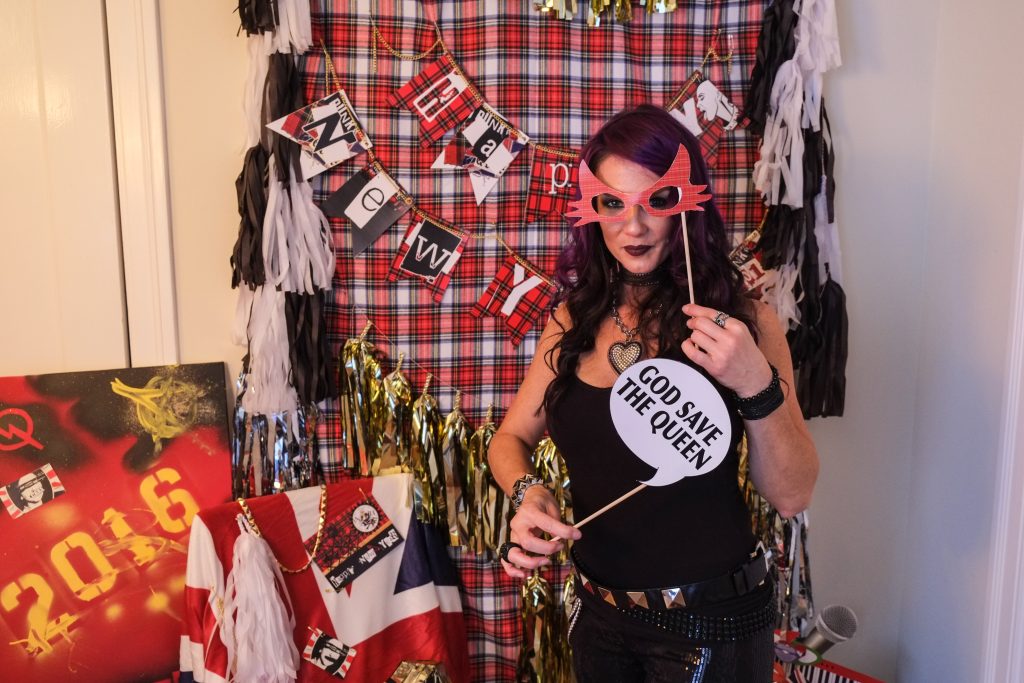 I can honestly say this was one of the more fun parties to style. There is something about feeling like a bit of a renegade that goes perfectly with the "new year, new me" mentality – even if just lasts for the night! I hope this has inspired you to let loose and embrace your rebel side this New Year's Eve at a Punk Glam party. 
Happy Partying!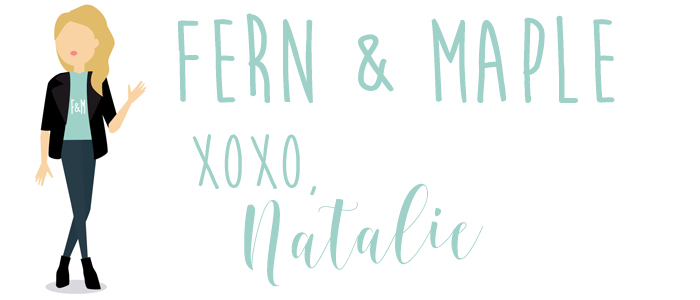 PIN FOR LATER: