You know that I love a good pun. That's why when I started to see adorable Gnome and Toadstool decor around, I just had to style a "Gnome" for the Holidays Party! 
I love that this non-traditional holiday theme that can still easily incorporate a traditional red and green color palette. The fact that gnomes are typically forest-dwellers allowed me to bring in cozy earthy elements as well. The vibe is just perfect for the cold winter holidays!
P.S. For some fun alternative products in an easy one-stop shopping list, check out my Amazon Shop!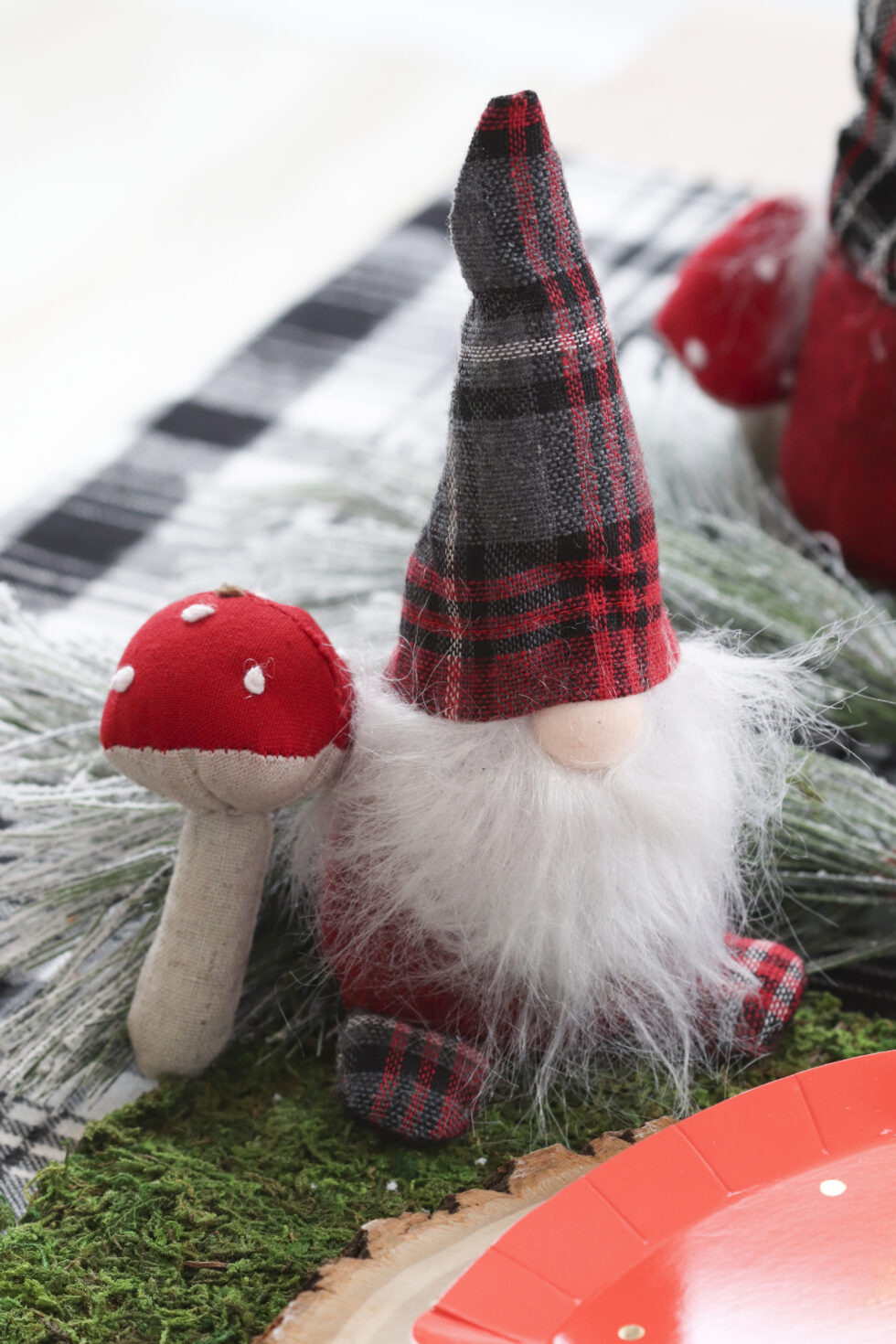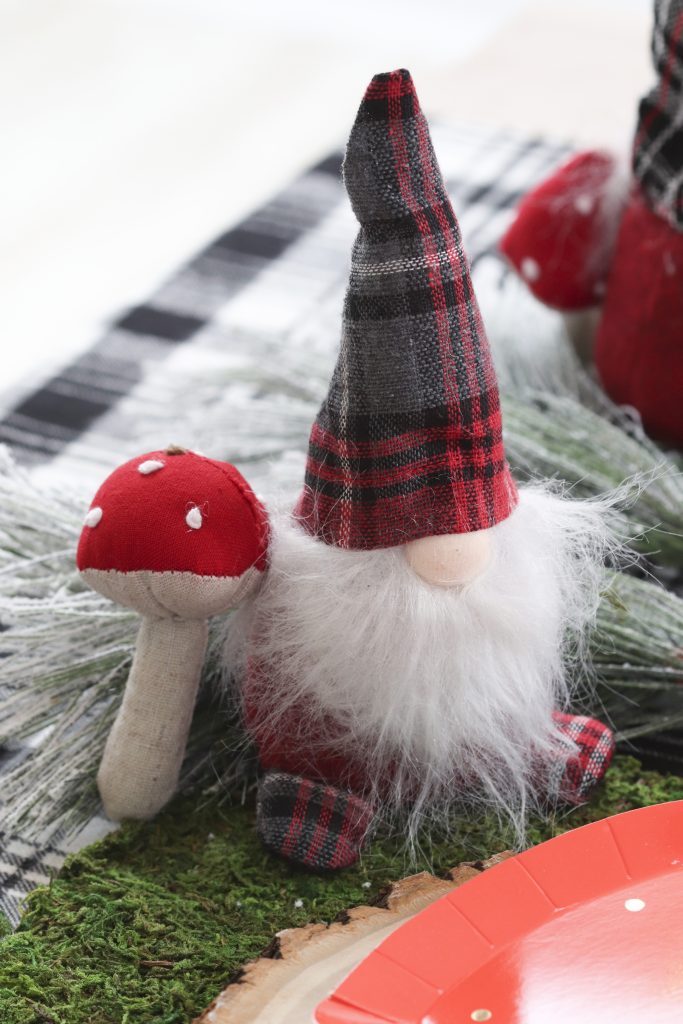 How to Set up a Gnome for the Holidays Party
Woodland Holiday Decor & Desserts
First, I started by decorating my mantle. I laid out faux snow-tipped spruce branches across the whole mantle. On one side, I added a little gnome from Zupan's Markets lounging under a couple of felt red-capped white-spotted toadstools. These are one of my favorite pieces of decor i have EVER bought (I'm kinda obsessed with toadstools!).  I found them in a cute kids store in Sydney, Australia 7 years ago! They've been in my daughters room ever since. I'm always stealing things from her room for party decor…my bad!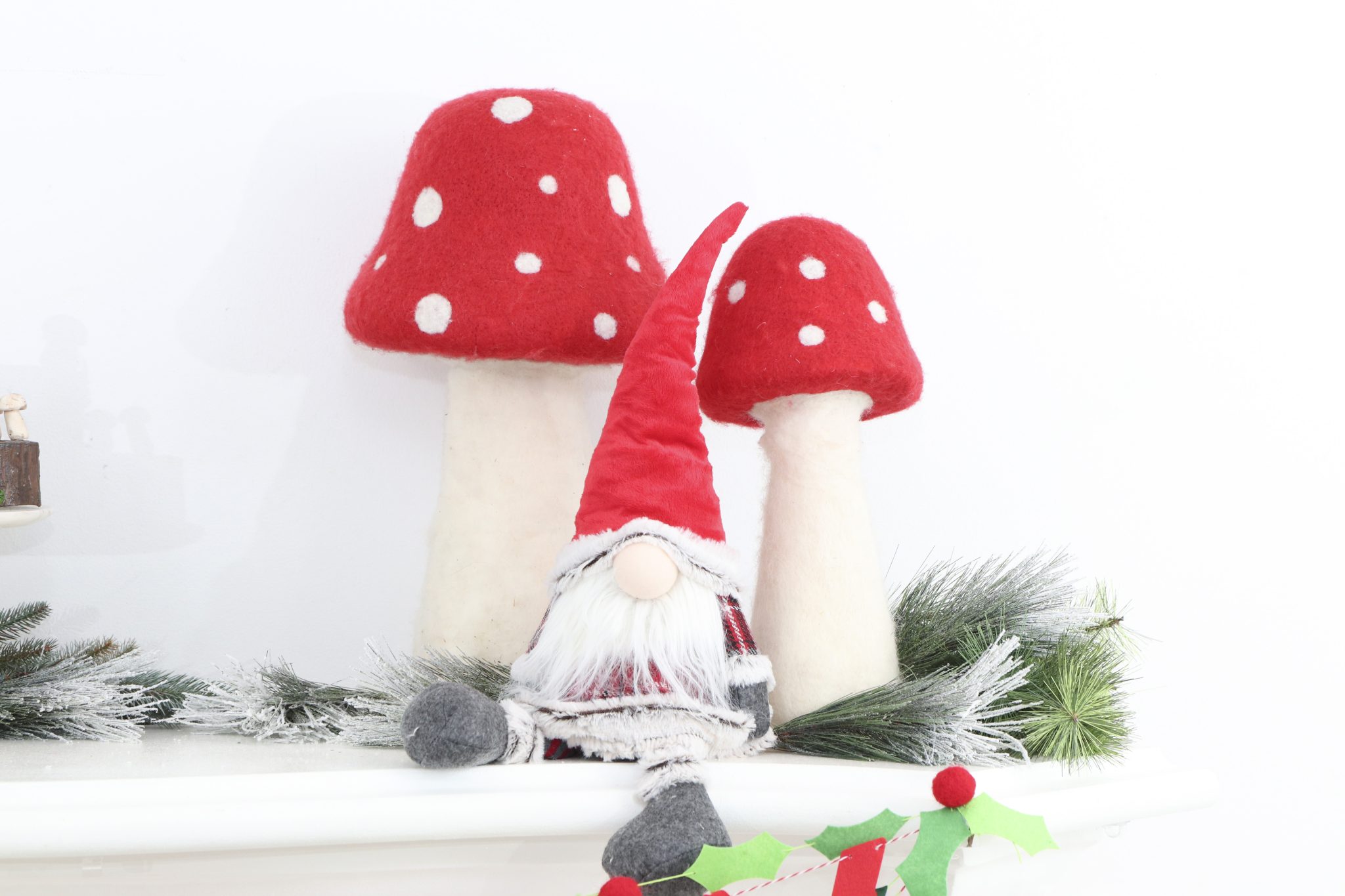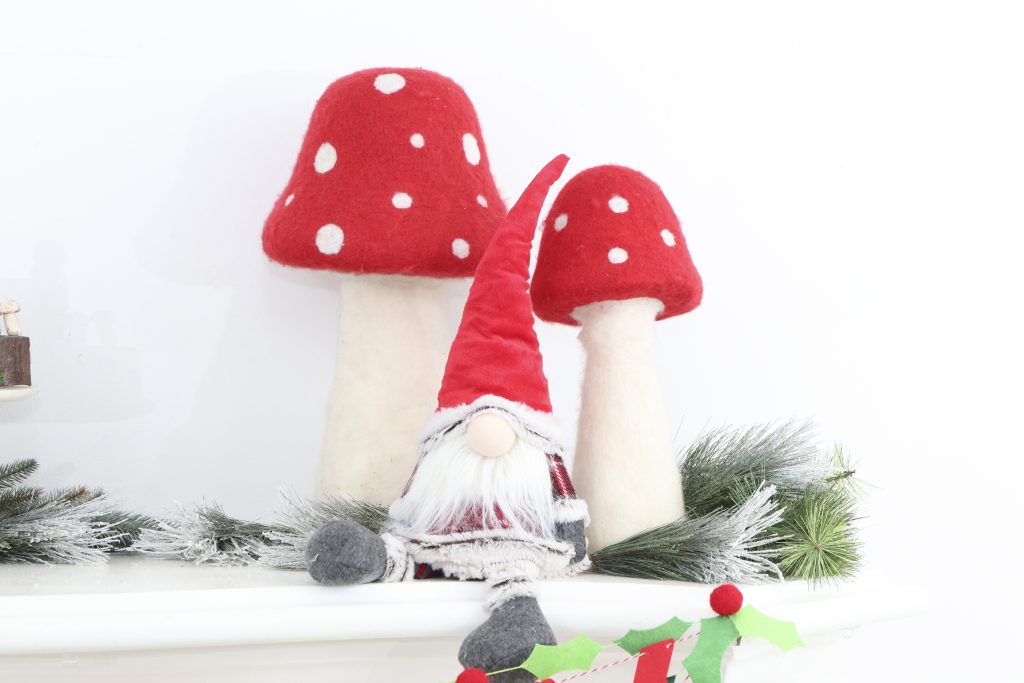 Then, on the other side, I placed the perfect gnome-sized Christmas tree and another gnome friend. To bring in more of the forest feel, I used wooden dessert stands on the mantle.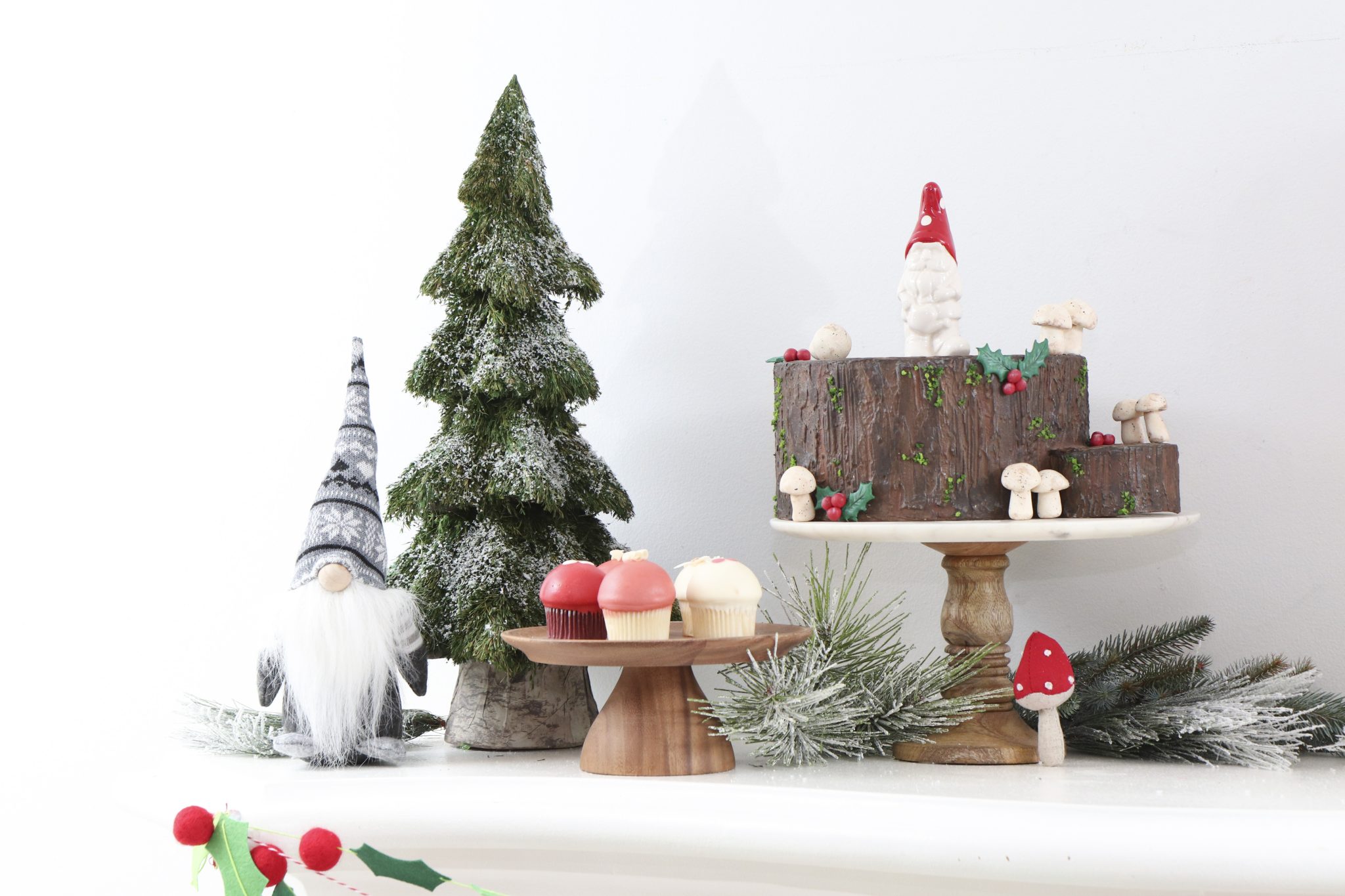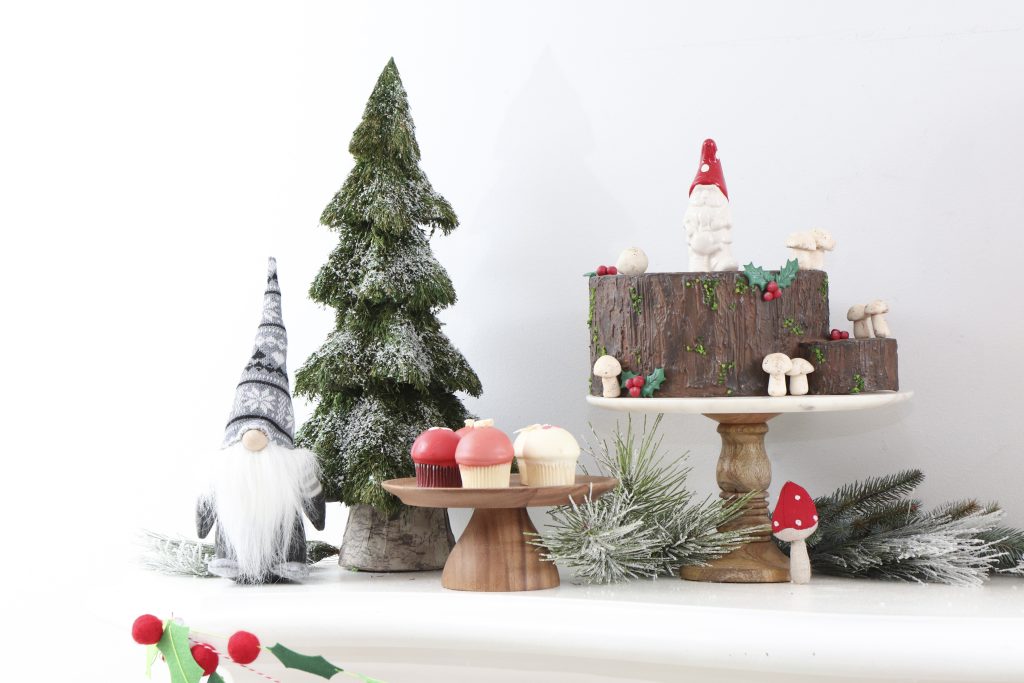 One of the stands displayed the sweetest little toadstool cupcakes from Toadstool Cupcakes here in Portland. Would you believe I discovered them in a magazine at my chiropractors office 2 days before this party! Isn't it strange how sometimes exactly what you need finds you!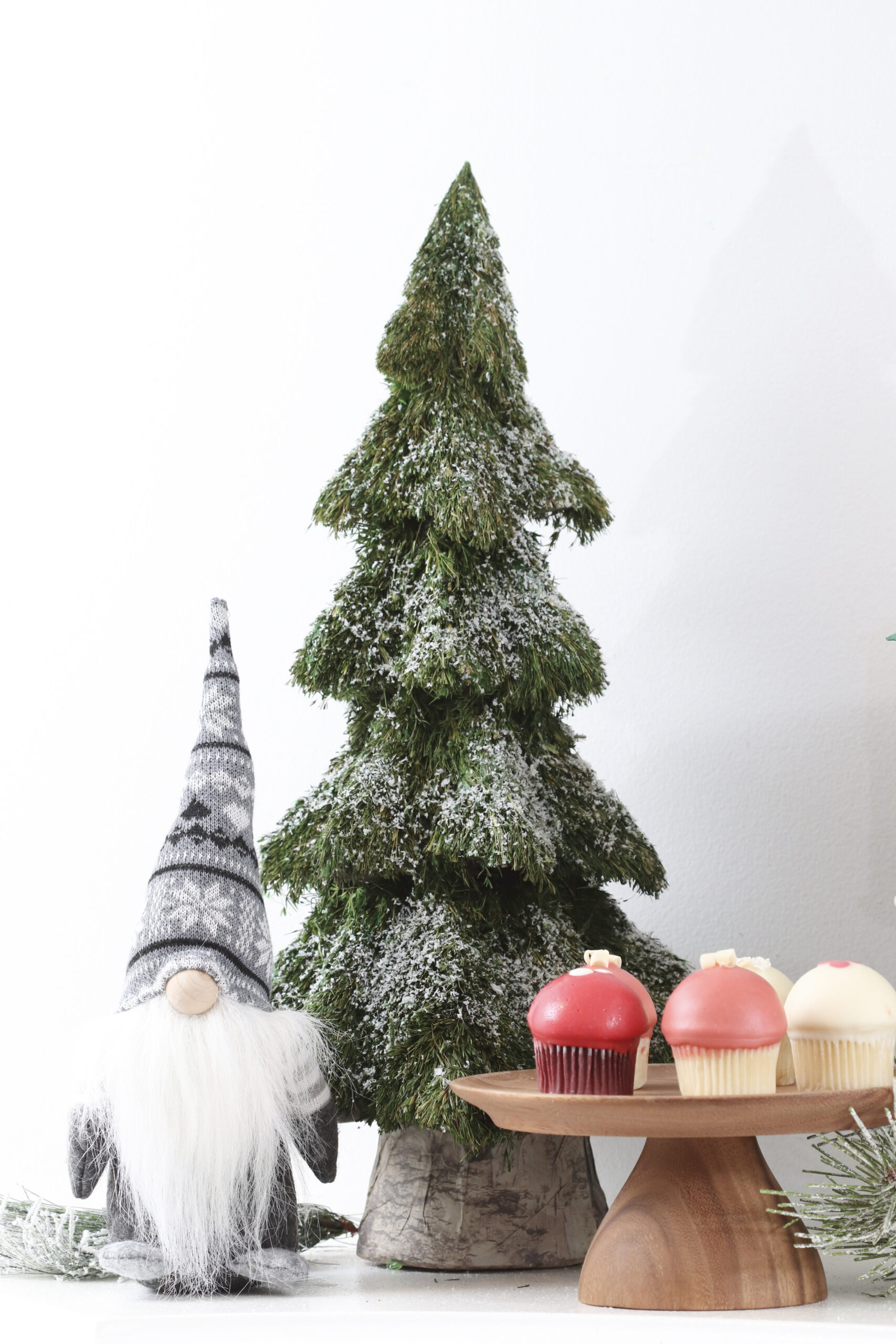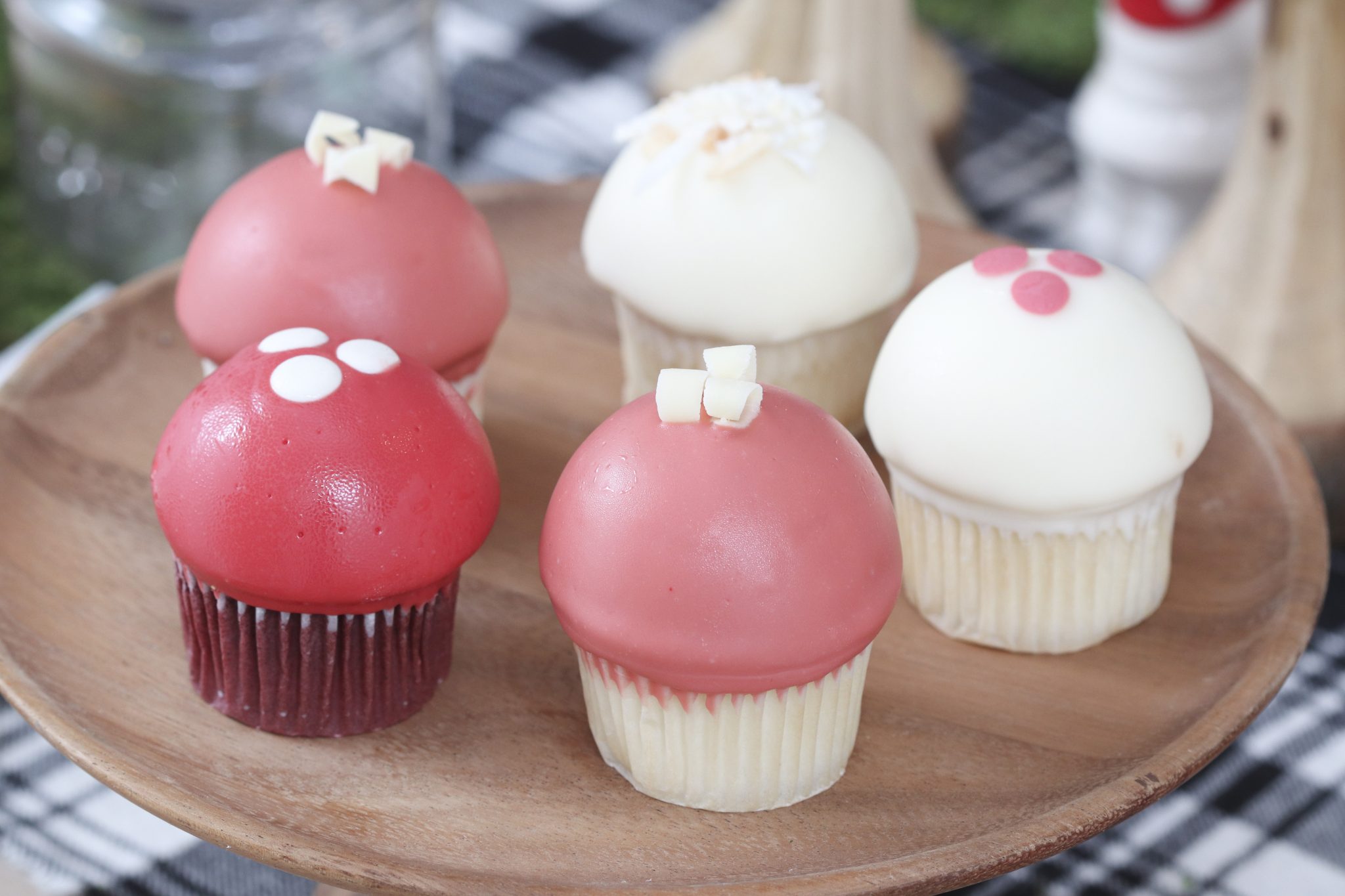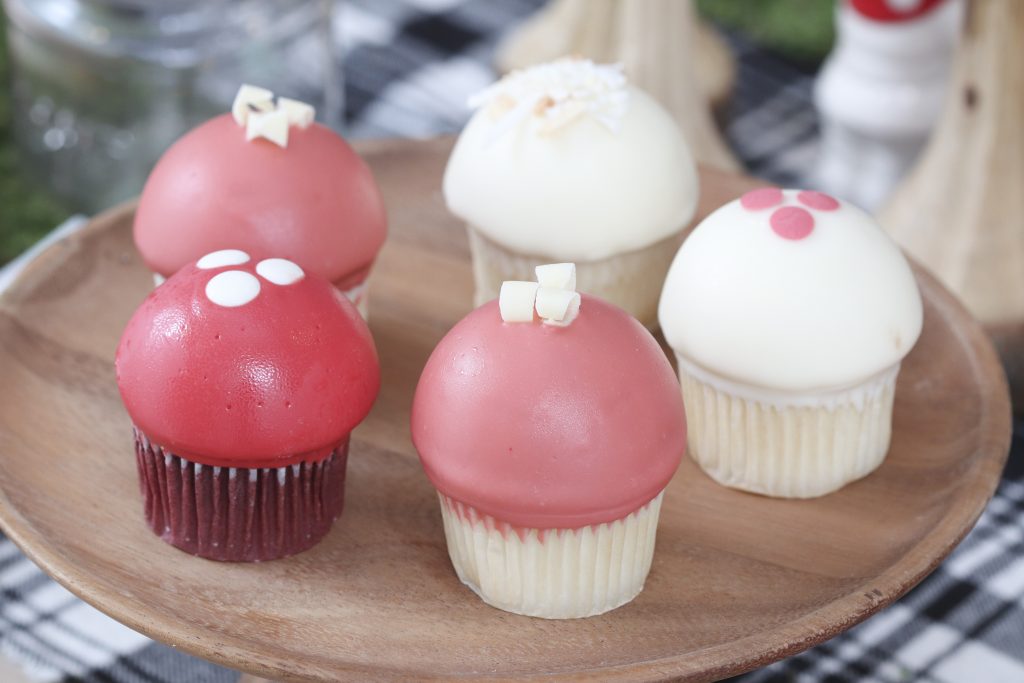 The other showcased the most amazing realistic-looking mossy tree trunk cake. The gnome on top is the salt from a salt and pepper set.  Yes I find the strangest things! lol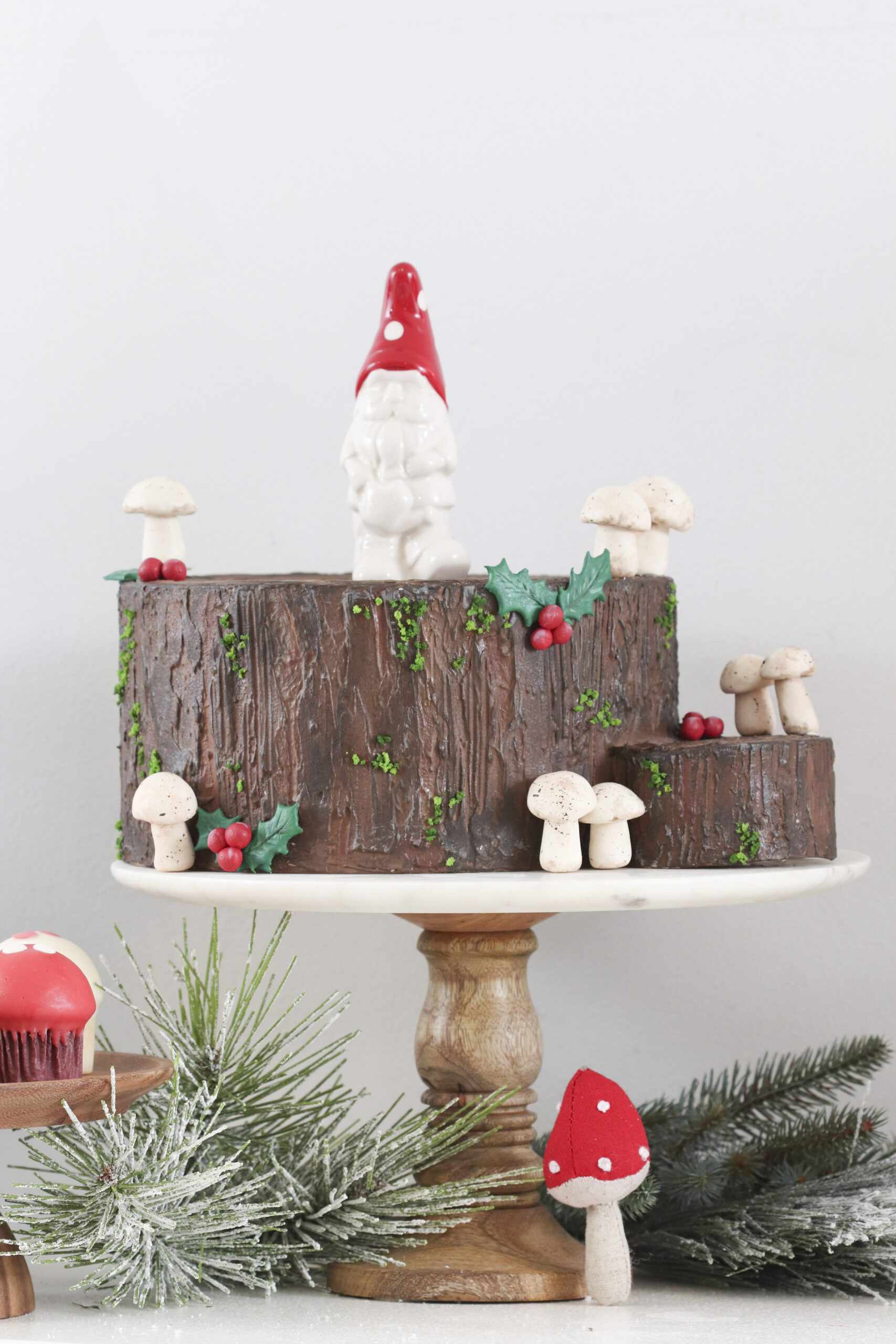 Gnomes are often thought to be mischievous and clever, but in many traditions, can also be rather sweet and kind creatures. That's why the red and green holly and "Naughty or Nice" banner fit perfectly. It's also a cheeky reminder to the kids that Santa is always watching!
I think it went perfectly with the theme, while also bringing in more traditional holiday decor.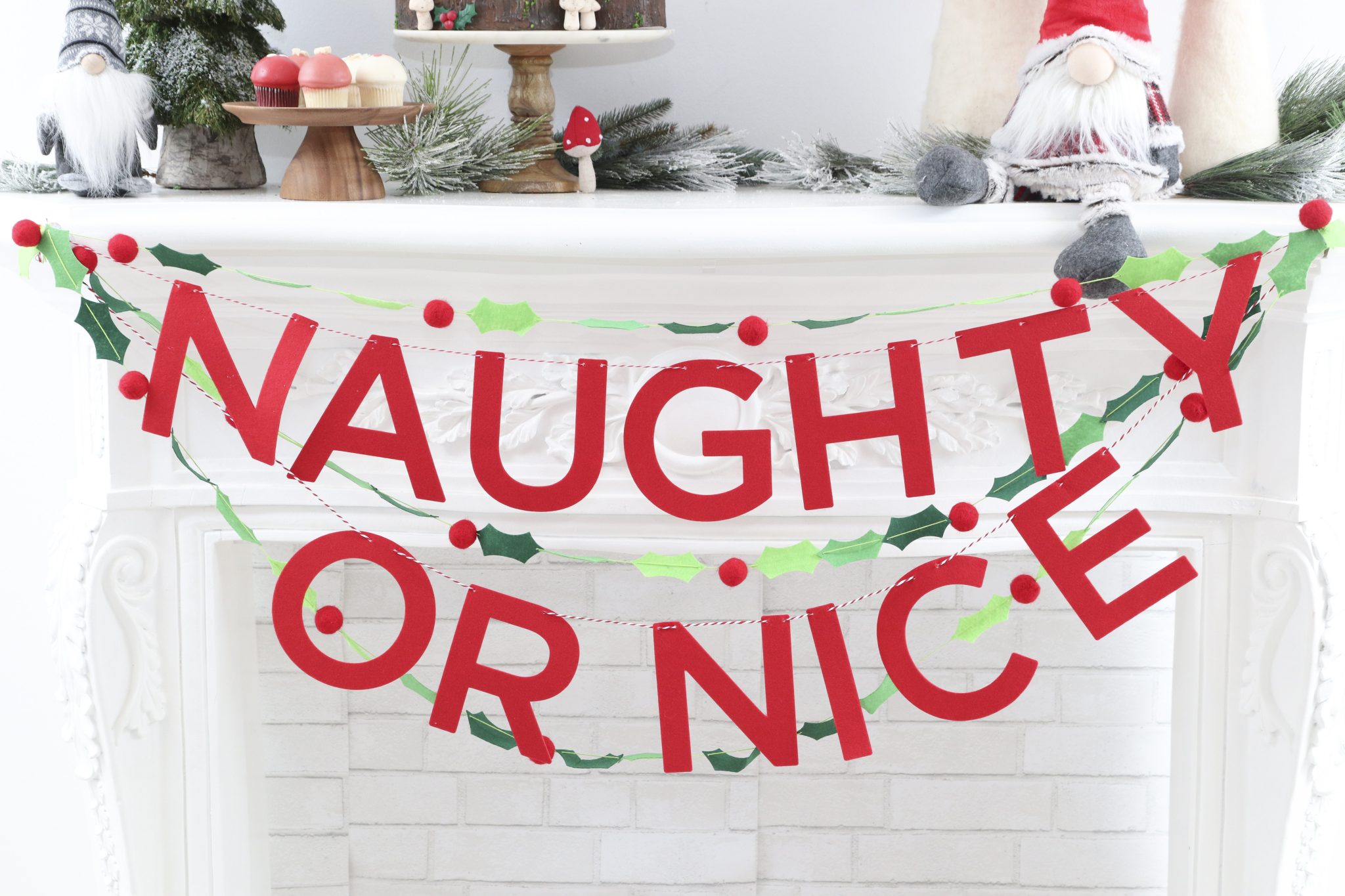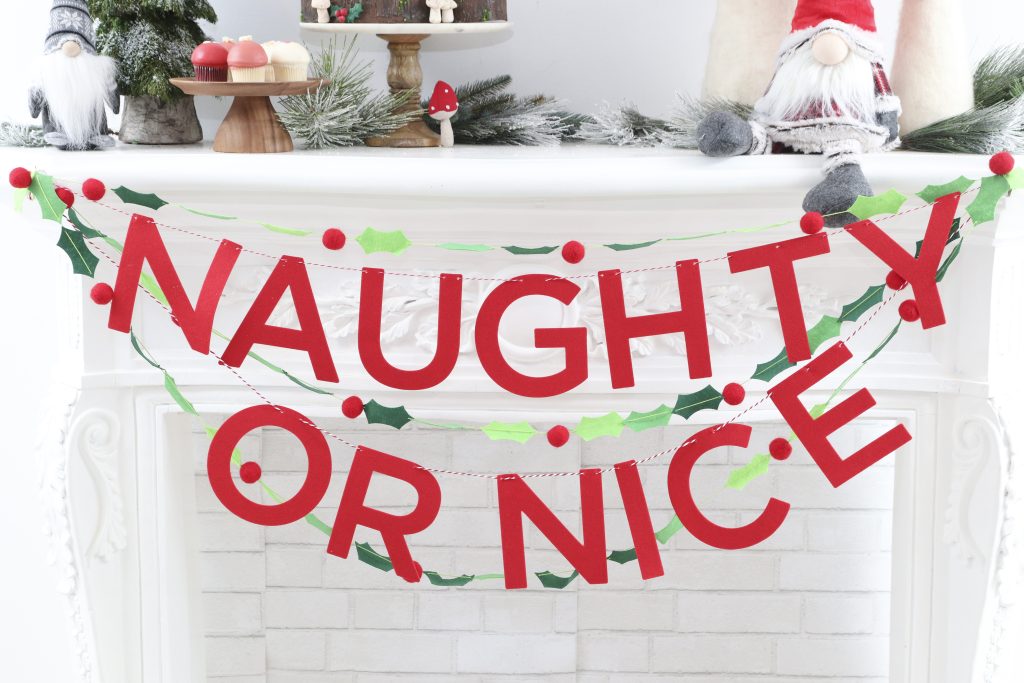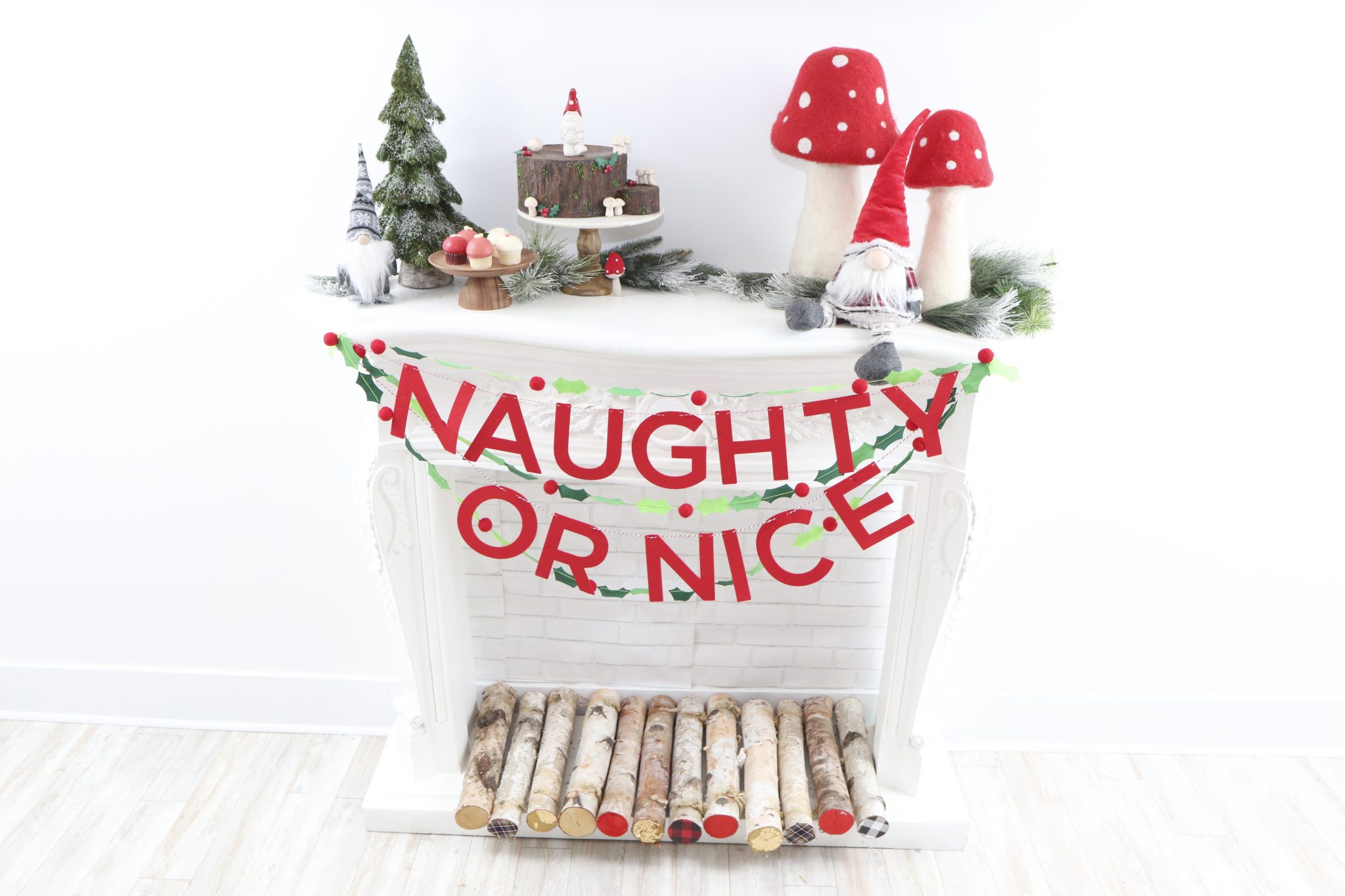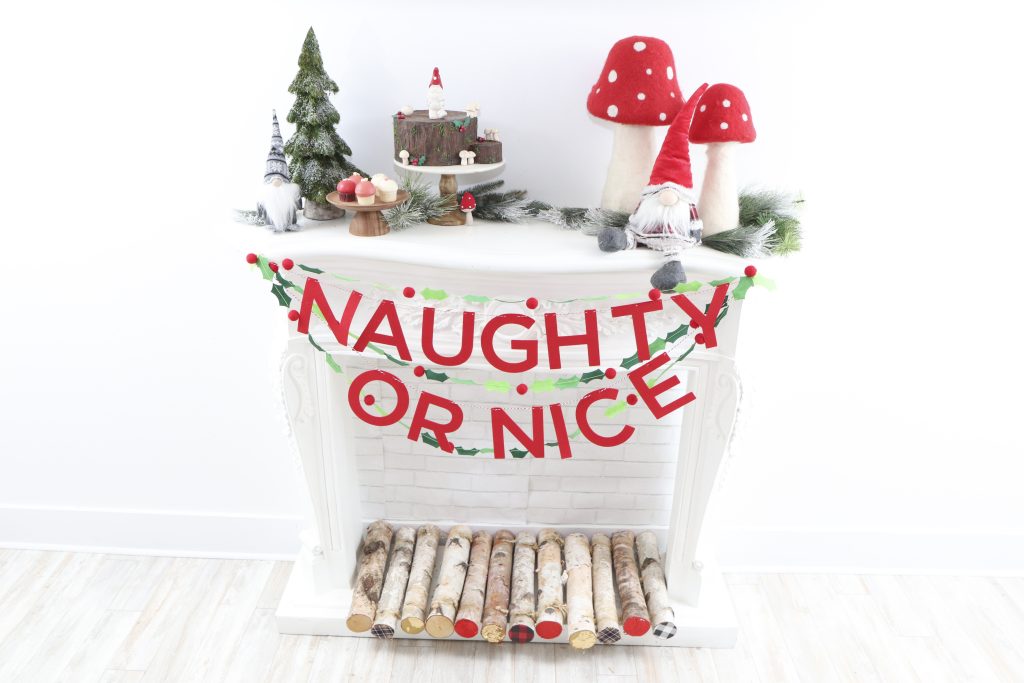 Gnome for the Holidays Table Setting
Next, I worked on creating a table setting that wouldn't leave "mushroom" for theme interpretation (get it, wink wink) – it was clear that this party was a toadstool party! I found the cutest toadstool plates and napkins from Meri Meri, and placed them on top of wooden log chargers. The kids LOVED these, lots of awww cute!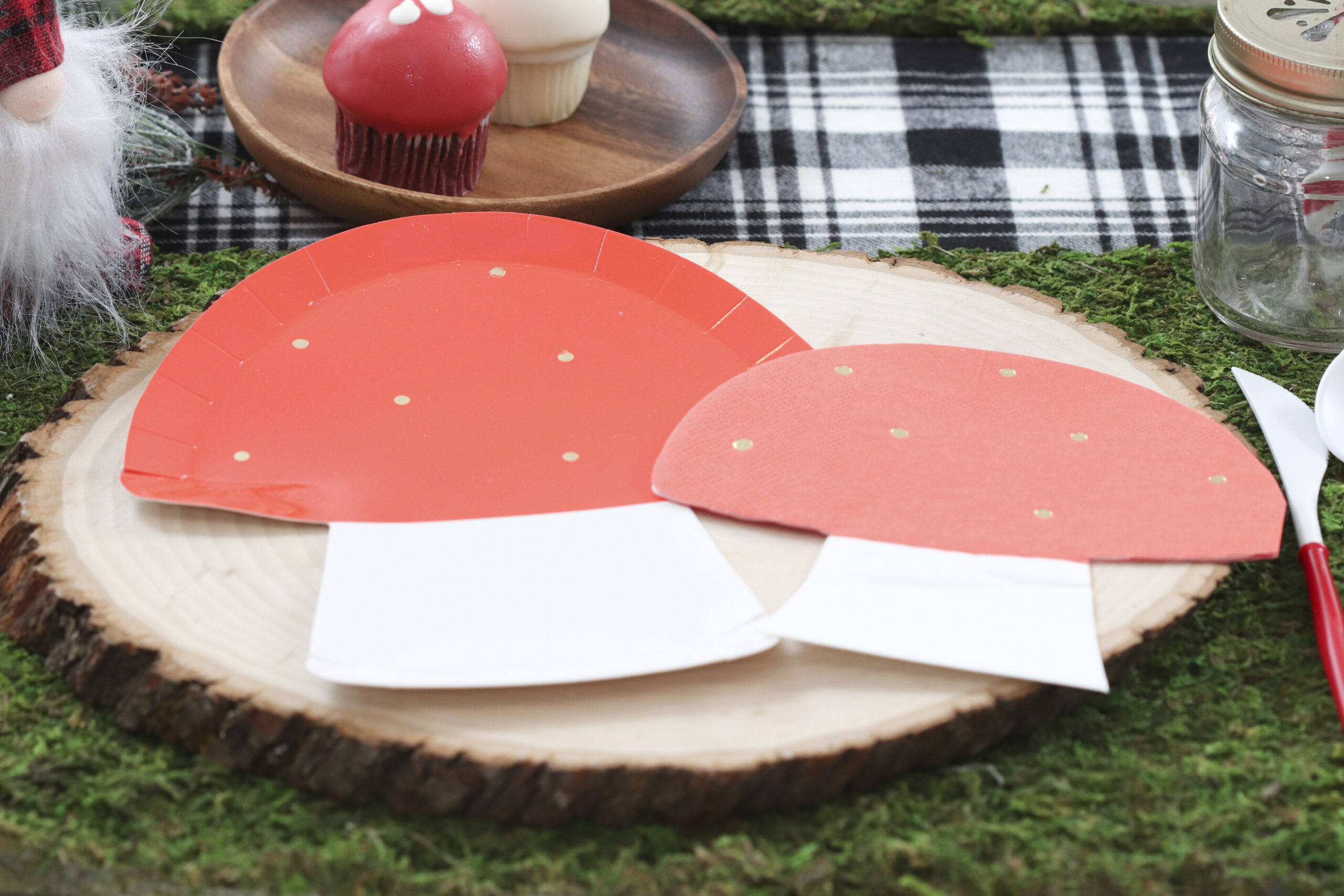 These wood slices each sat atop mossy placemats that really made it feel as if the table was part of the forest floor. I then used red and white reusable flatware from Sophistiplate and matching red striped straws in mason jars to complete the kids place settings.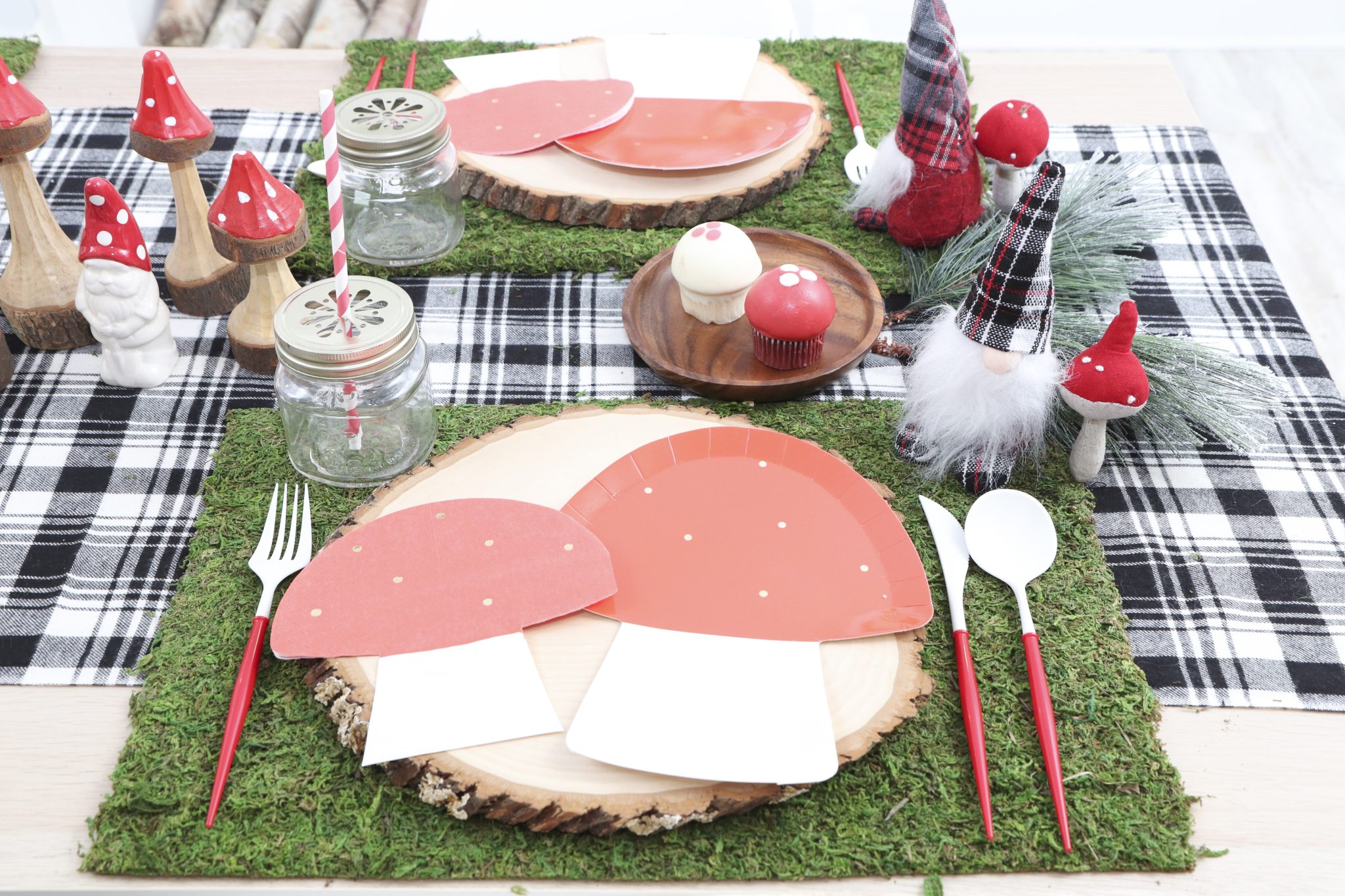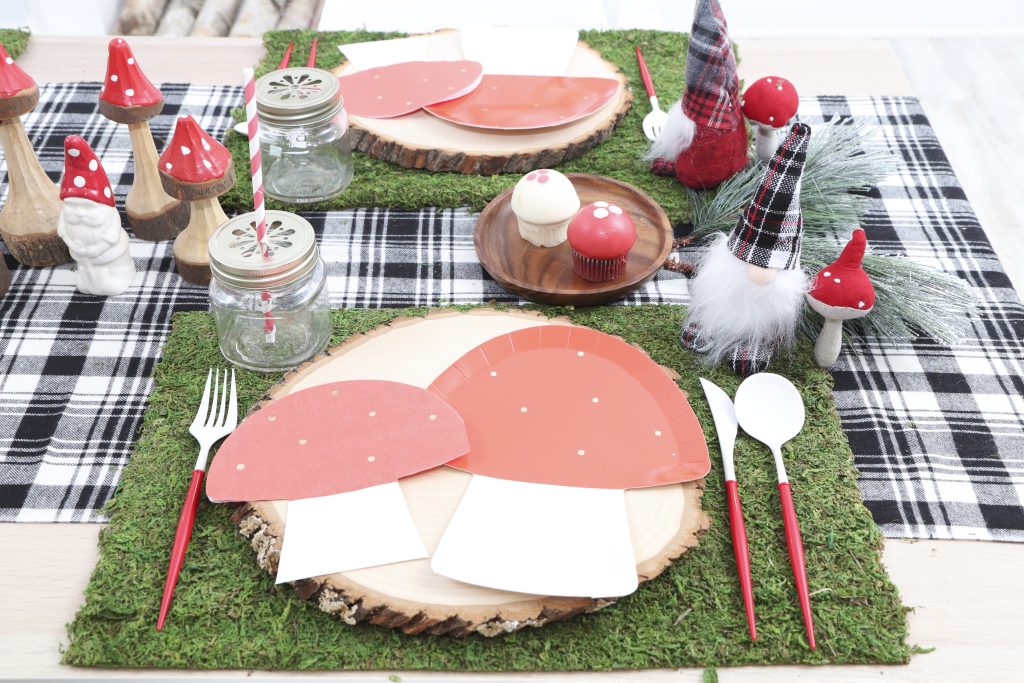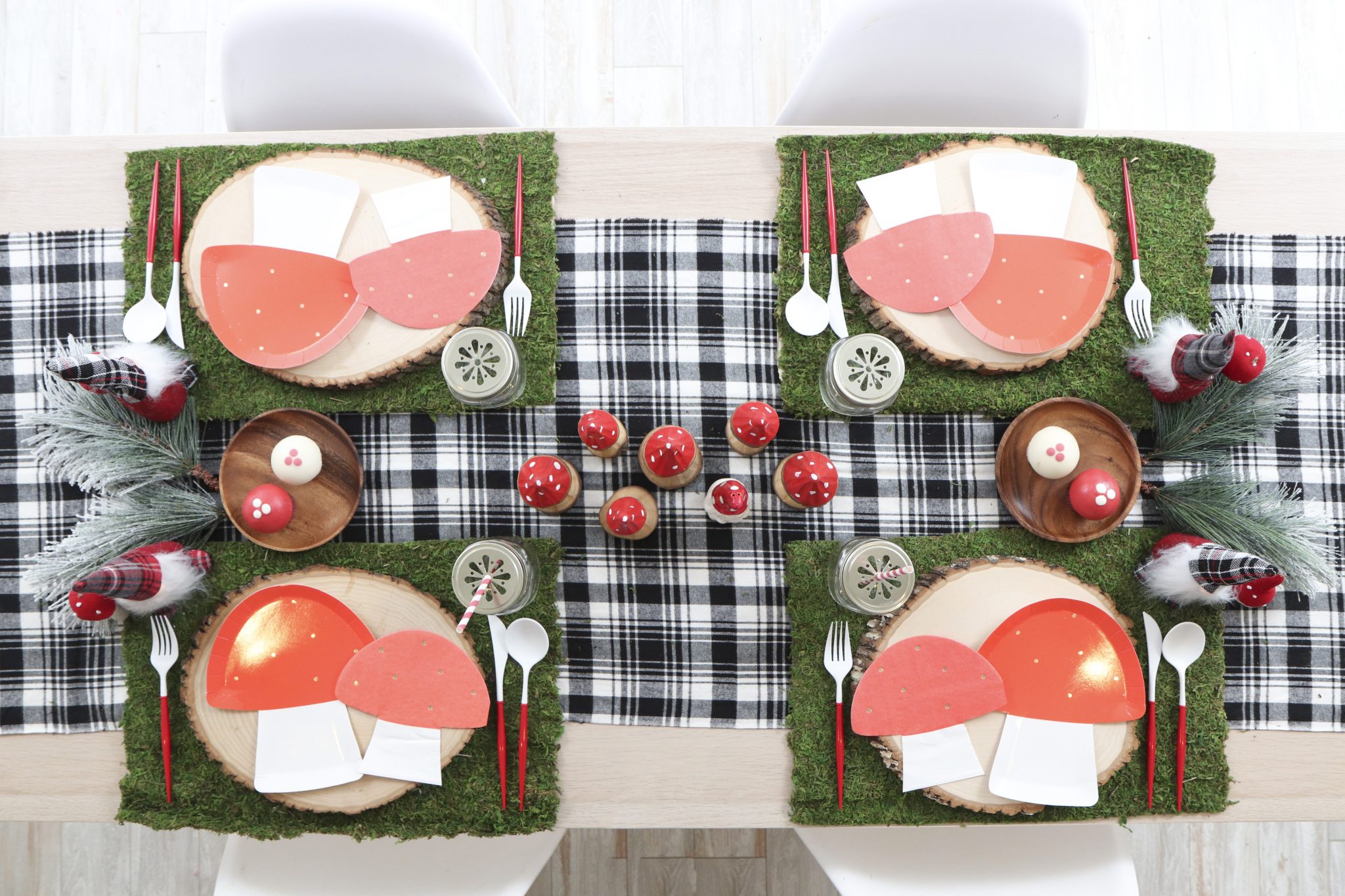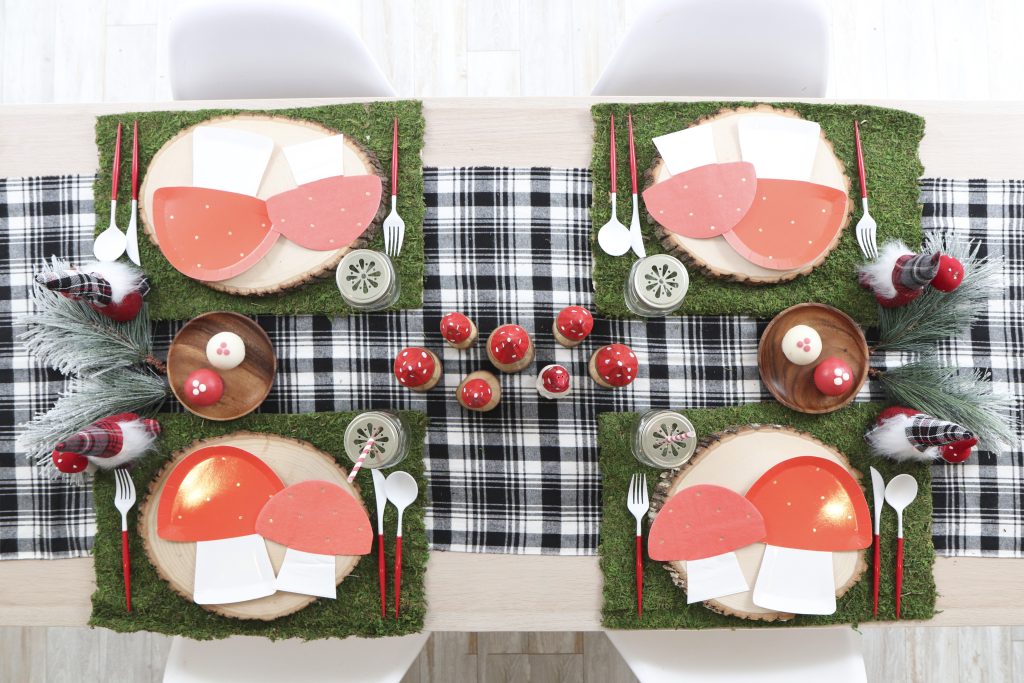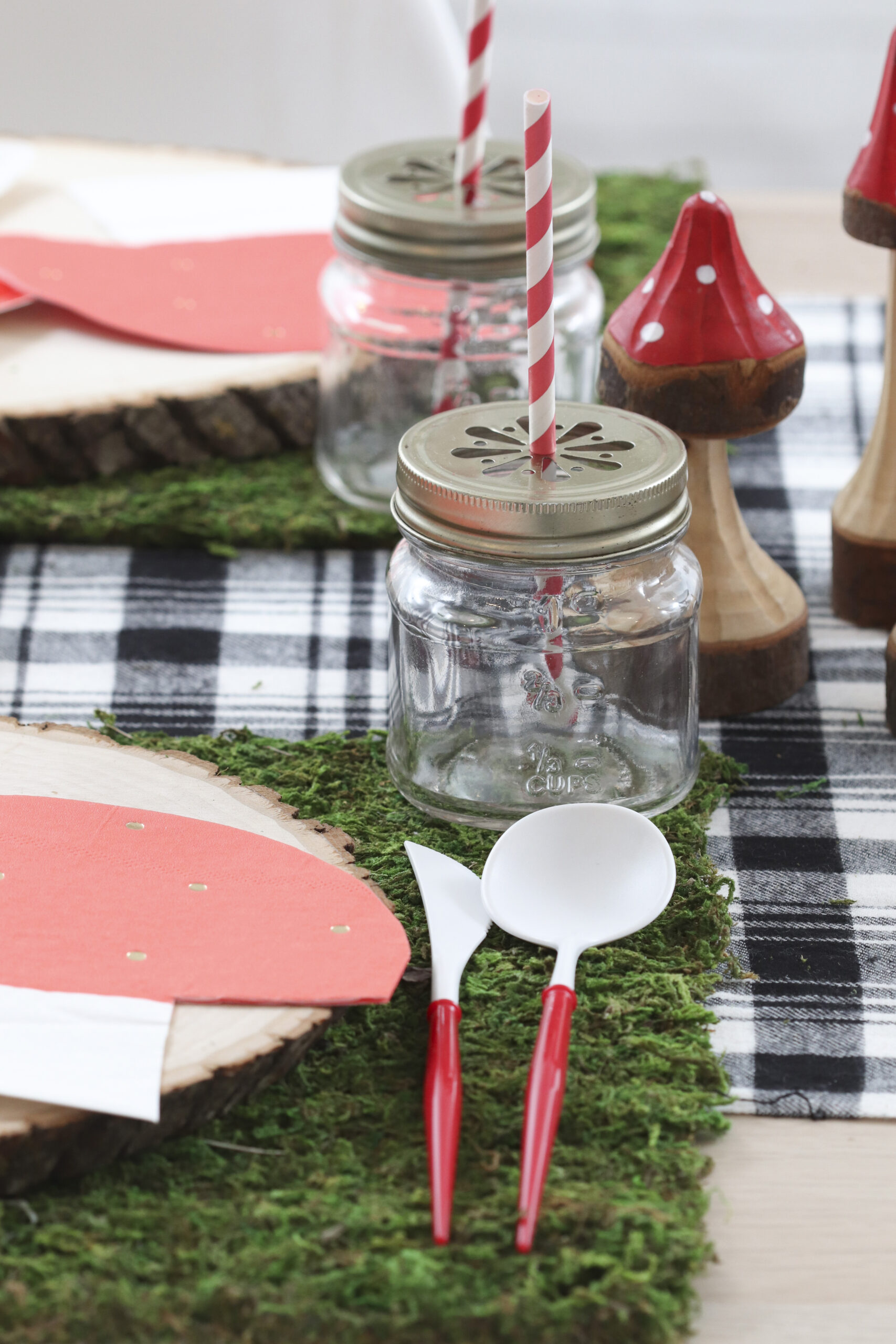 For my table runner, I used a couple of yards of black and white plaid cloth. I just turn over the edges (no sewing here!!).  This was the perfect complement to the warm plaid wardrobes of my gnome friends sitting at each place setting.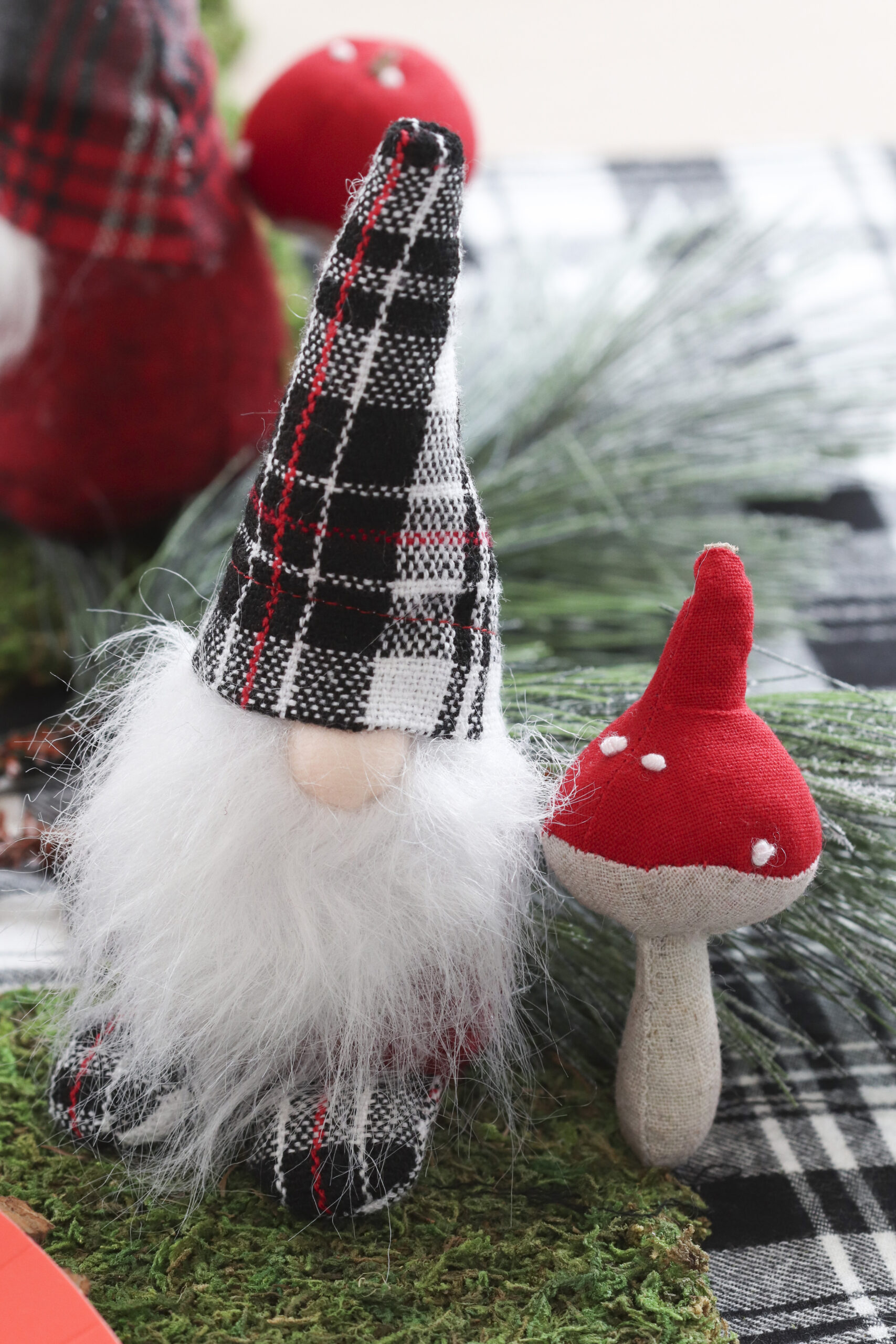 I then used wood carved toadstools and gnome figurines from Zupans to create a fun forest floorcenterpiece. Can you spot the pepper shaker gnome amongst the toadstools!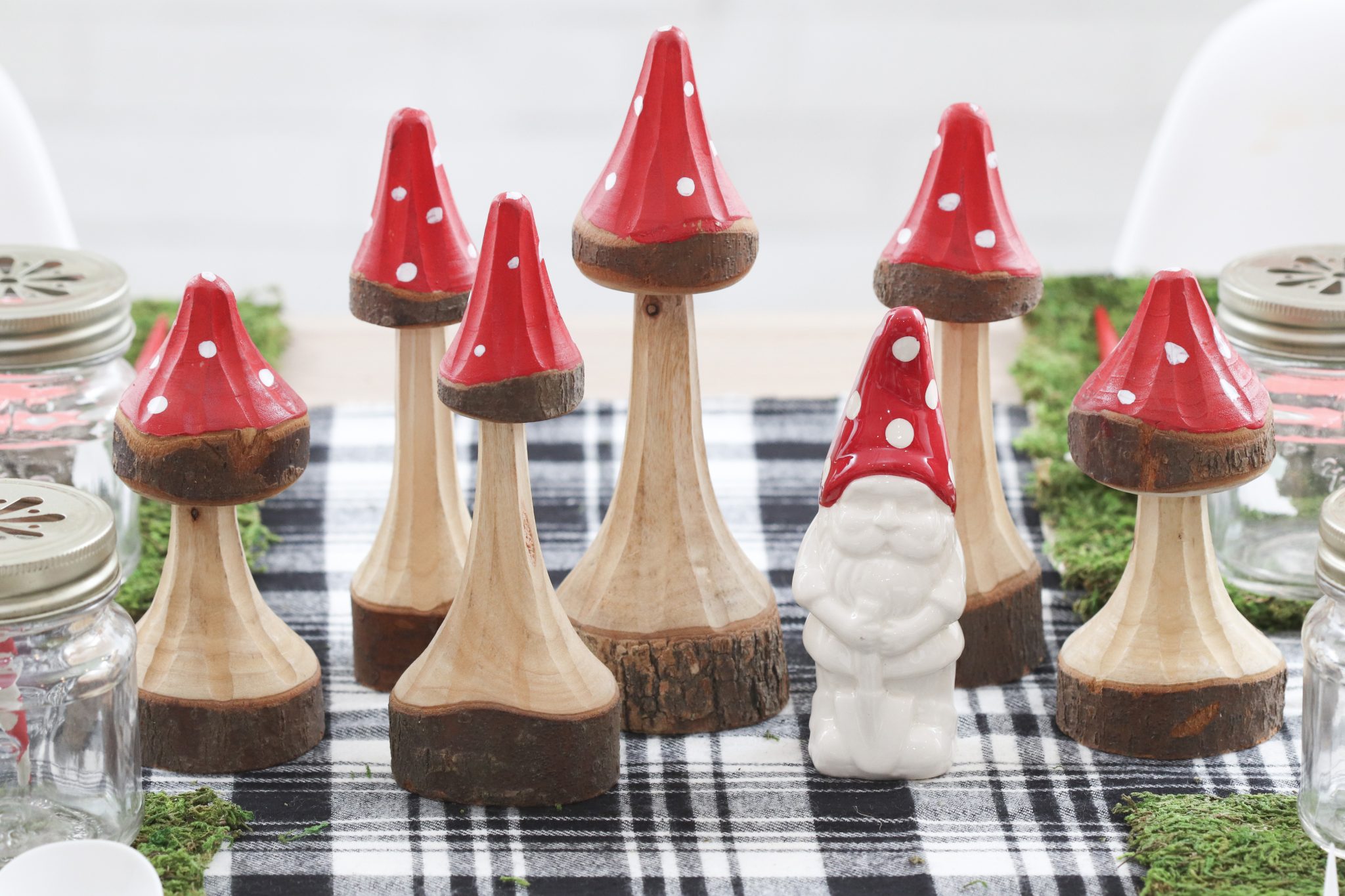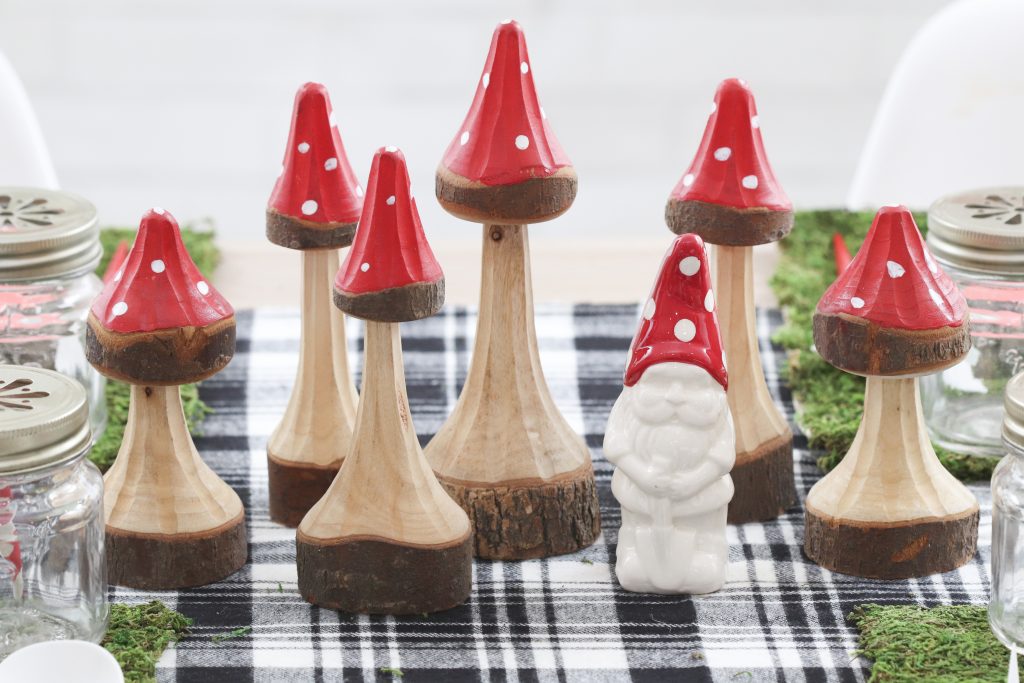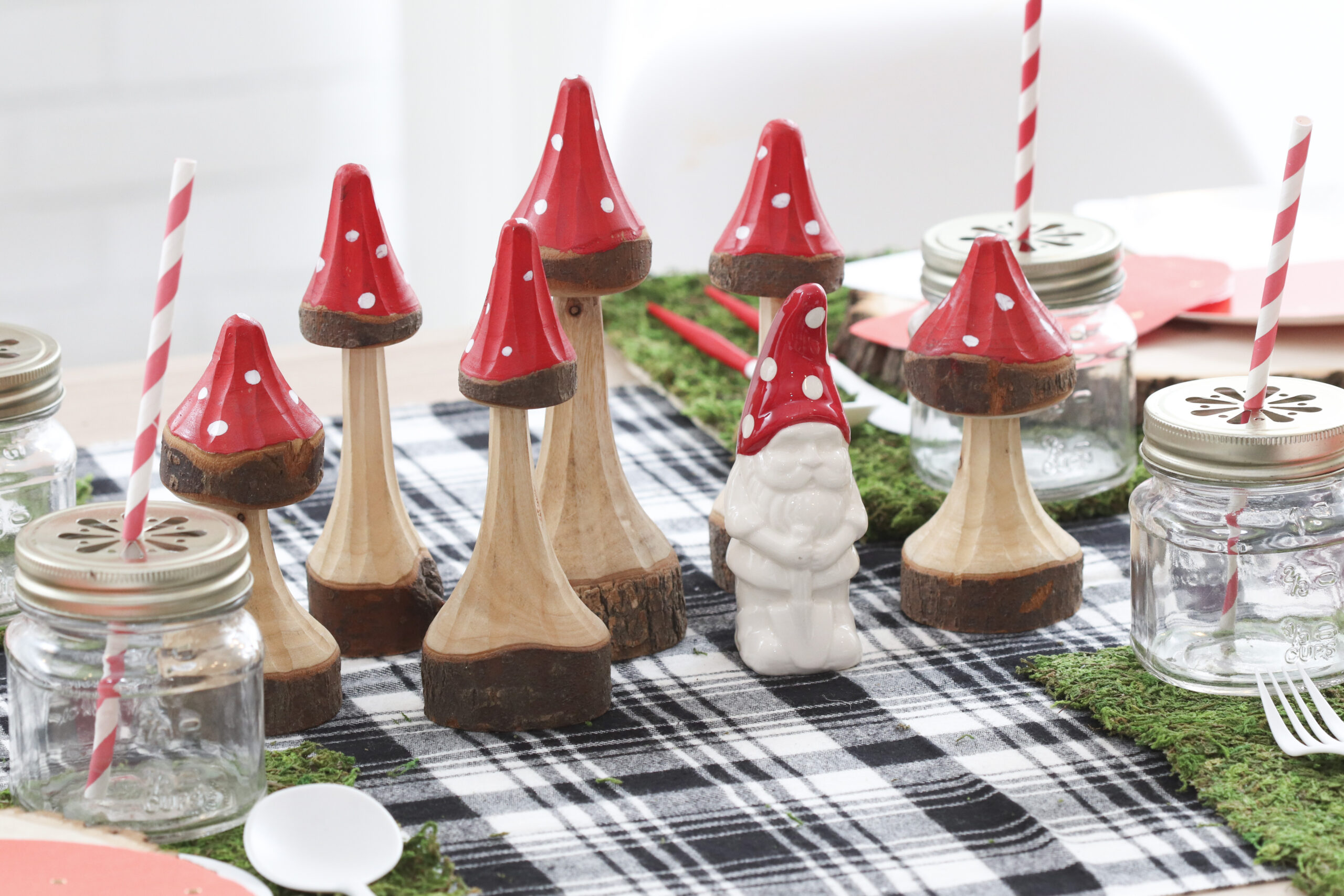 Finally, more yummy toadstool cupcakes and additional faux spruce branches completed my table.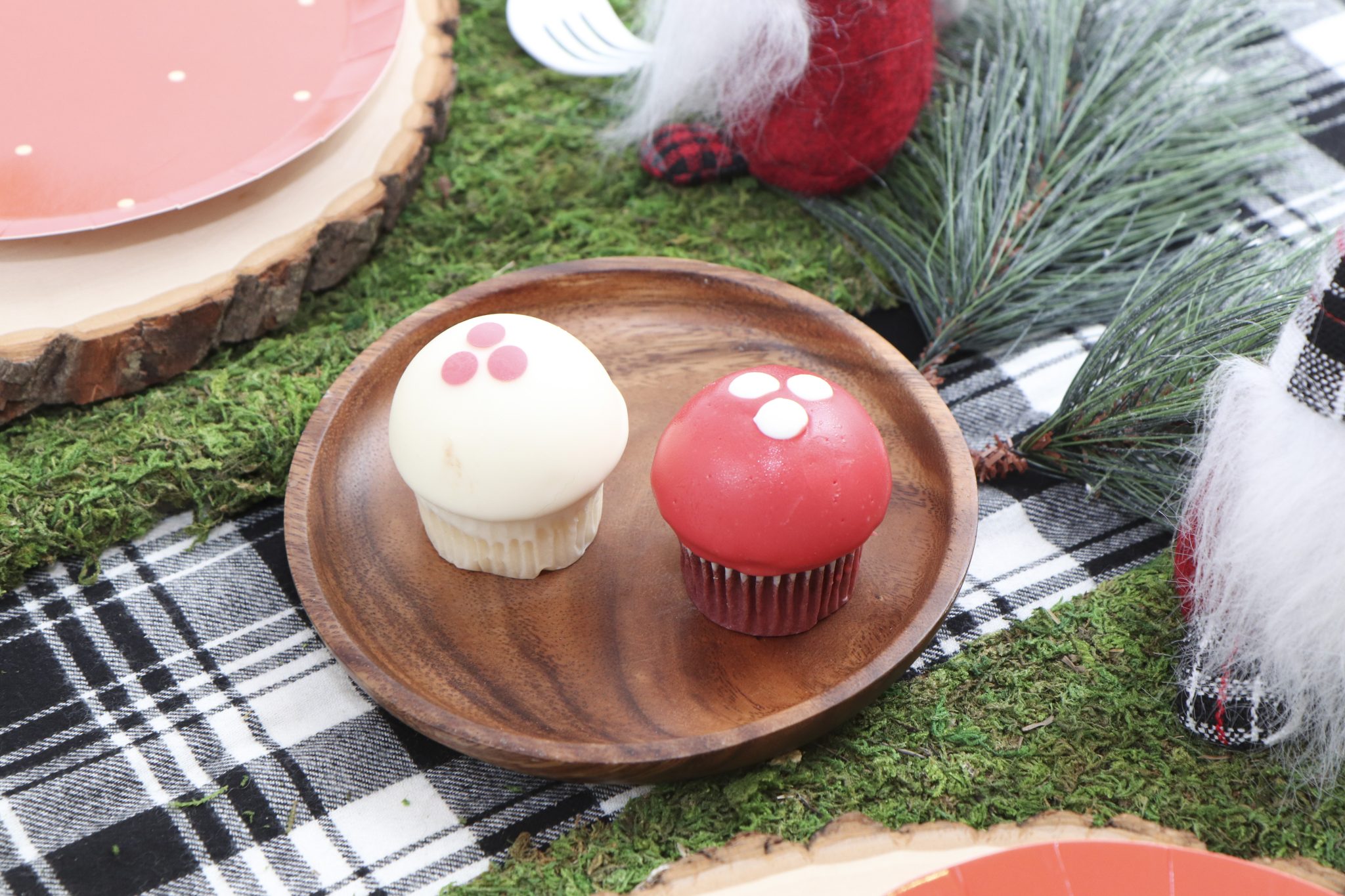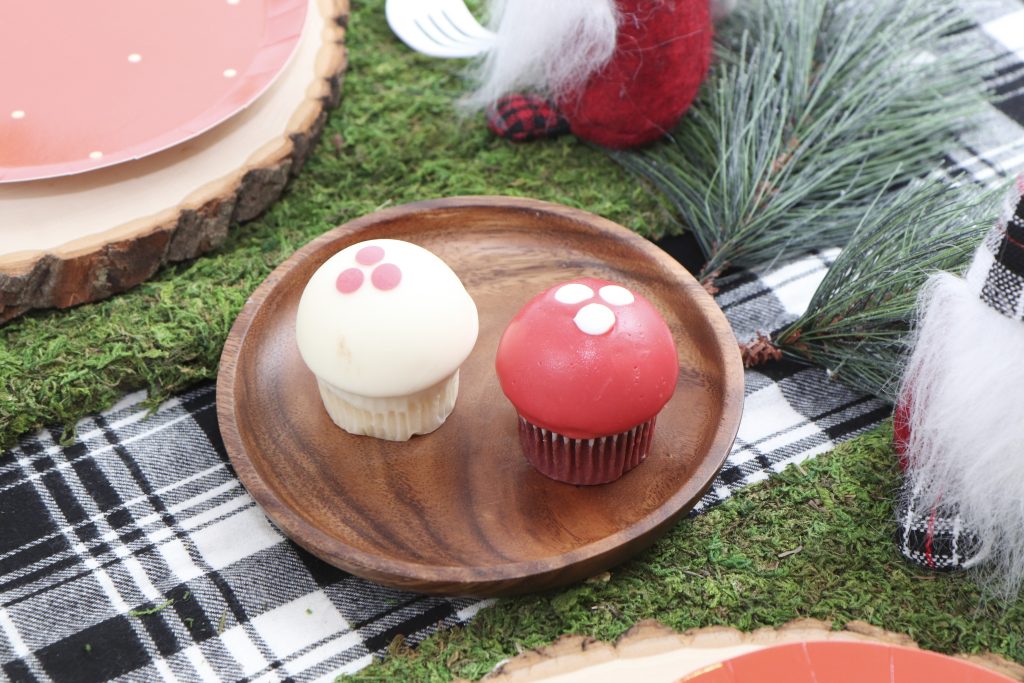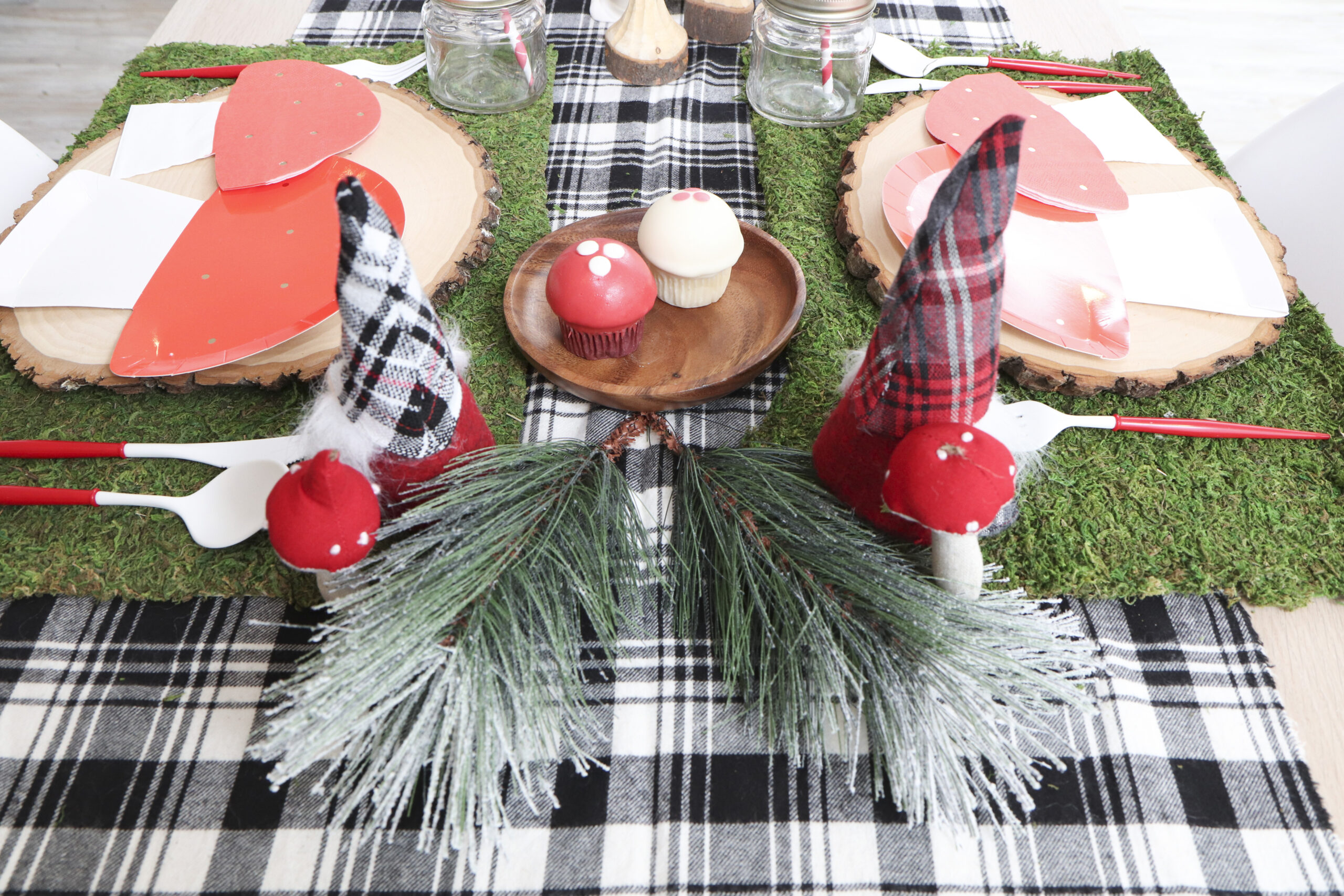 Make "gnome" mistake – this holiday party is sure to feel magical. After all, there's no place like "gnome" when it comes to celebrating the holidays, right?! I hope I've inspired you to pull up a toadstool with family and friends this Christmas at a Gnome for the Holidays Party. 
Don't forget to check out my Amazon Shop for some alternative products that would totally work for your own Gnome for the Holidays Party.
And for tons more Holiday Party inspiration, visit my post with 15 Magical Holiday Party Ideas for Kids, Teens, and Adults!
Happy Partying!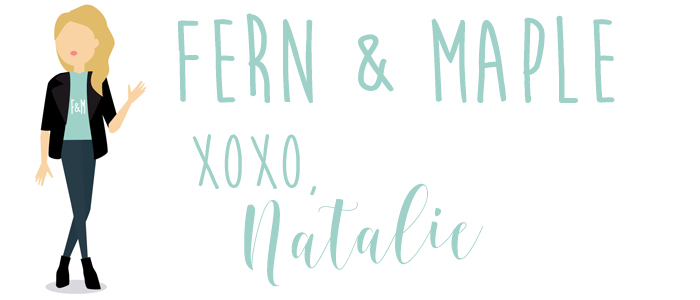 PIN FOR LATER: