With my family spread & originating throughout New Zealand, Australia, and Canada, getting together for a Thanksgiving dinner is not a tradition we have grown up with. So every year, we usually celebrate Friendsgiving instead! I love the concept of giving thanks and have fully taken this on board by getting together with my friends and celebrating how grateful I am to have them as part of my chosen family. Unfortunately, that is also not in the cards this year due to COVID- but I am determined to celebrate where I can this year,  so I had to think of a way to celebrate with just our immediate family in a fun way. That's when I came across Jollity & Co.'s crazy cute turkey plates and pink wishbone napkins. What's more fun than a modern, bright-colored Thanksgiving theme? Read on to see how I set up this Modern Pink Thanksgiving Turkey Dinner for my family.
As a blogger, I sometimes receive compensation and/or products in exchange for my styling and crafting services. I also may earn a small commission from any sales that result from affiliate links on this page. As always, all project ideas and any opinions expressed here are my own.  For further information on our disclosure policy please check out our disclosure page.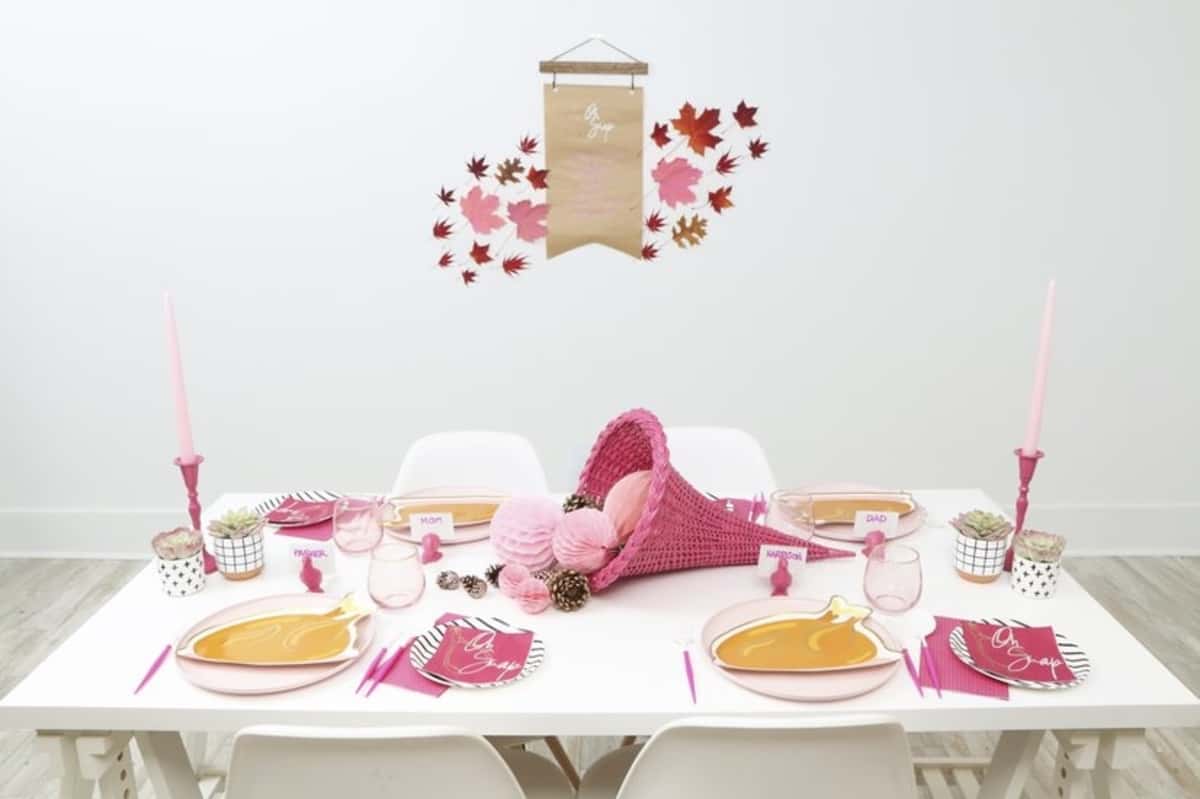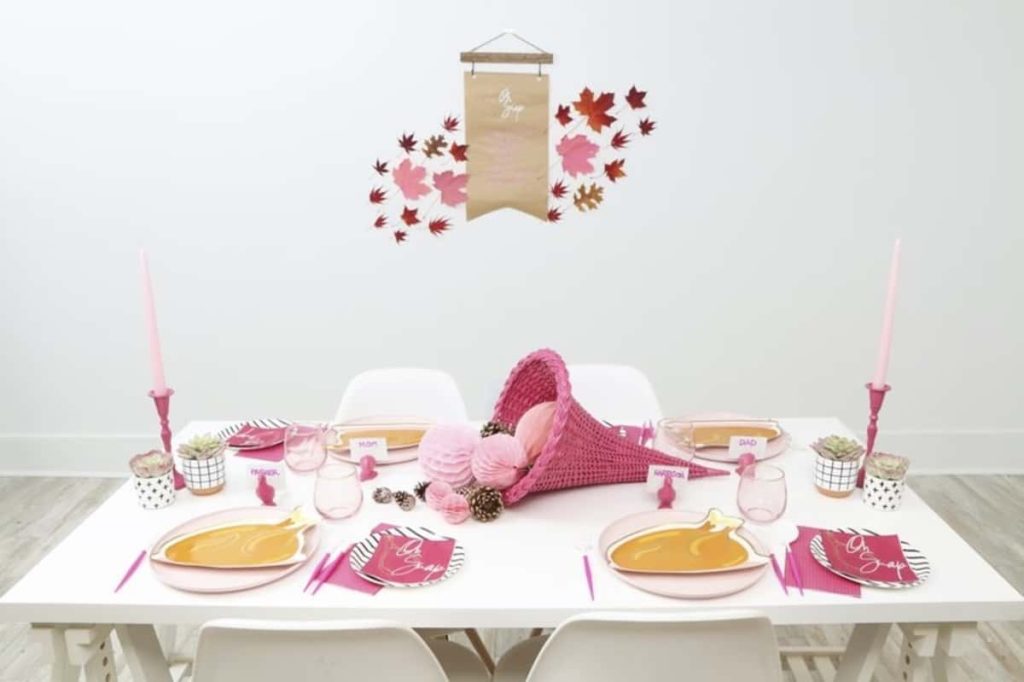 How to Celebrate with Pink Thanksgiving Decor
Pink Turkey Dinner Table Centerpiece
First, I set my table. I created a bright magenta pink painted cornucopia centerpiece with pretty pink tissue paper honeycomb decorations and contrasting brown pinecones spilling out. I painted the pinecones with some gold glitter for some extra glam.
TIP: Use decor and pinecones in a variety of sizes to create dimension and look more natural.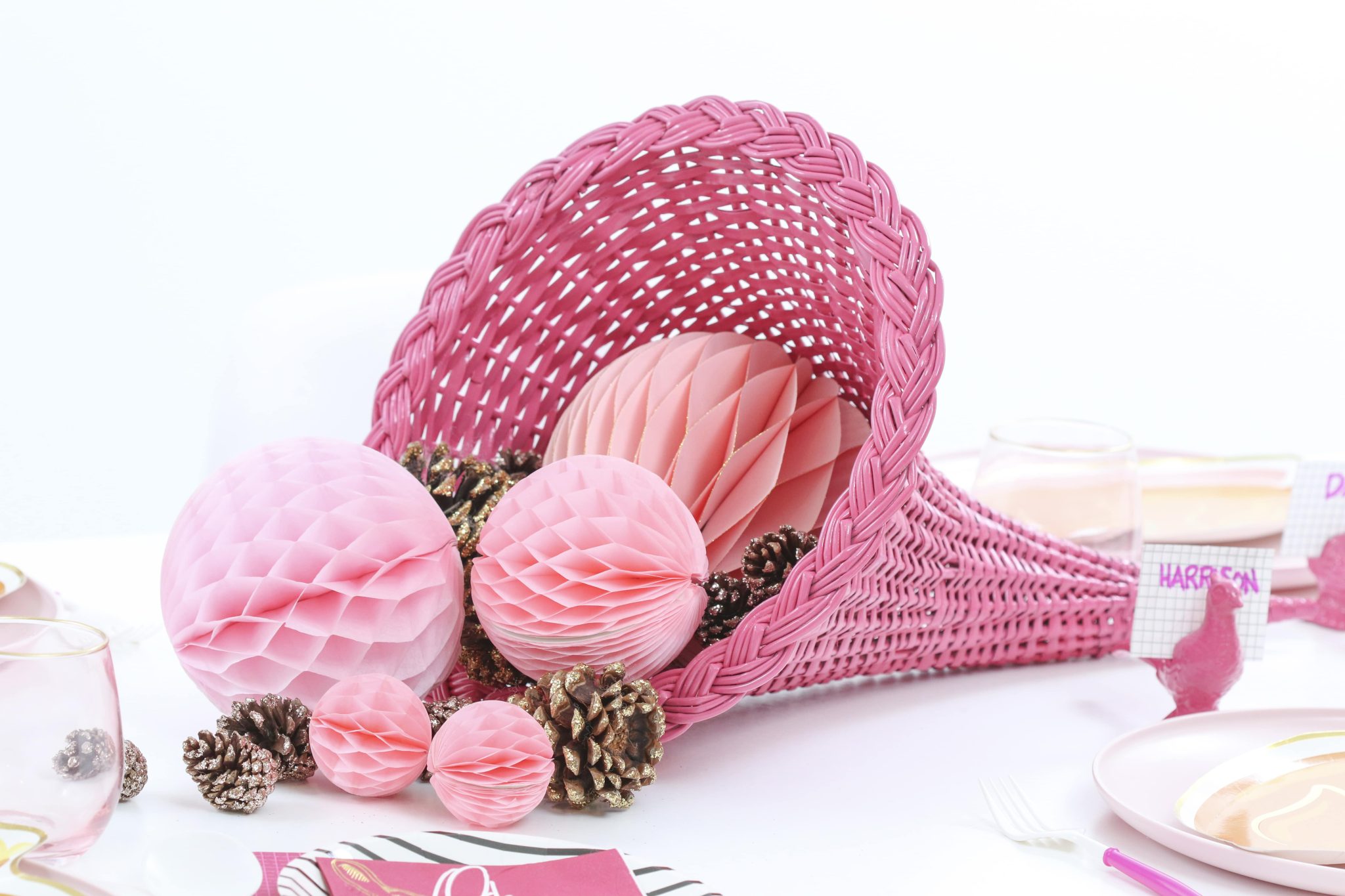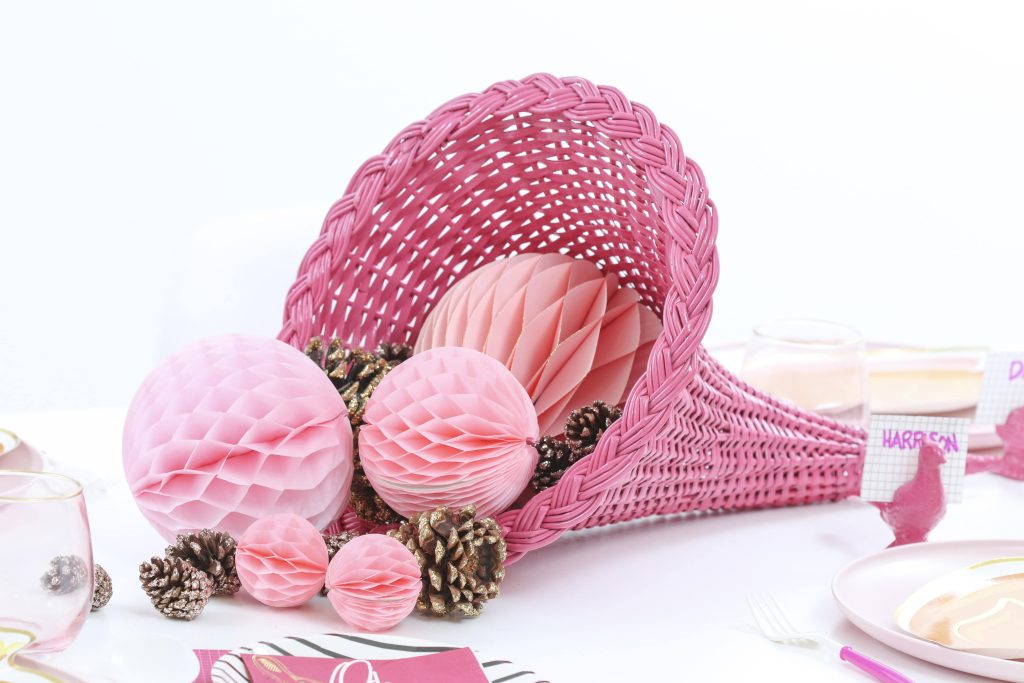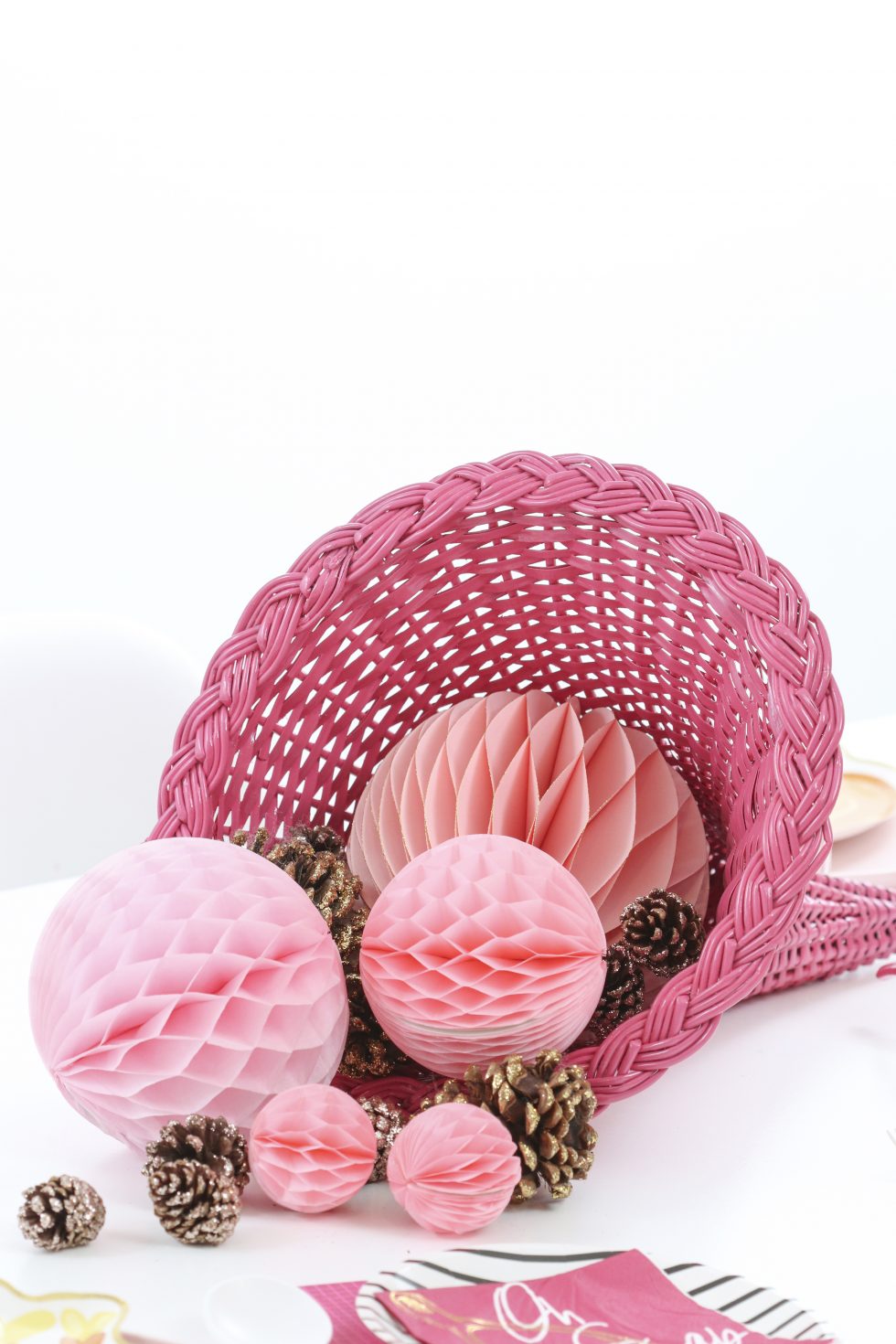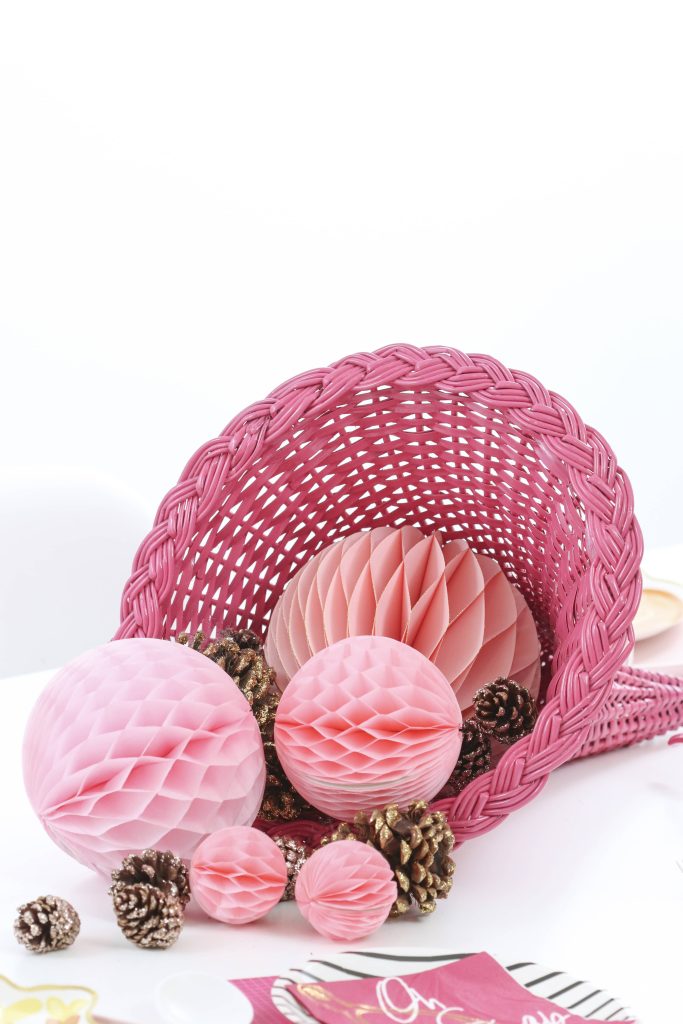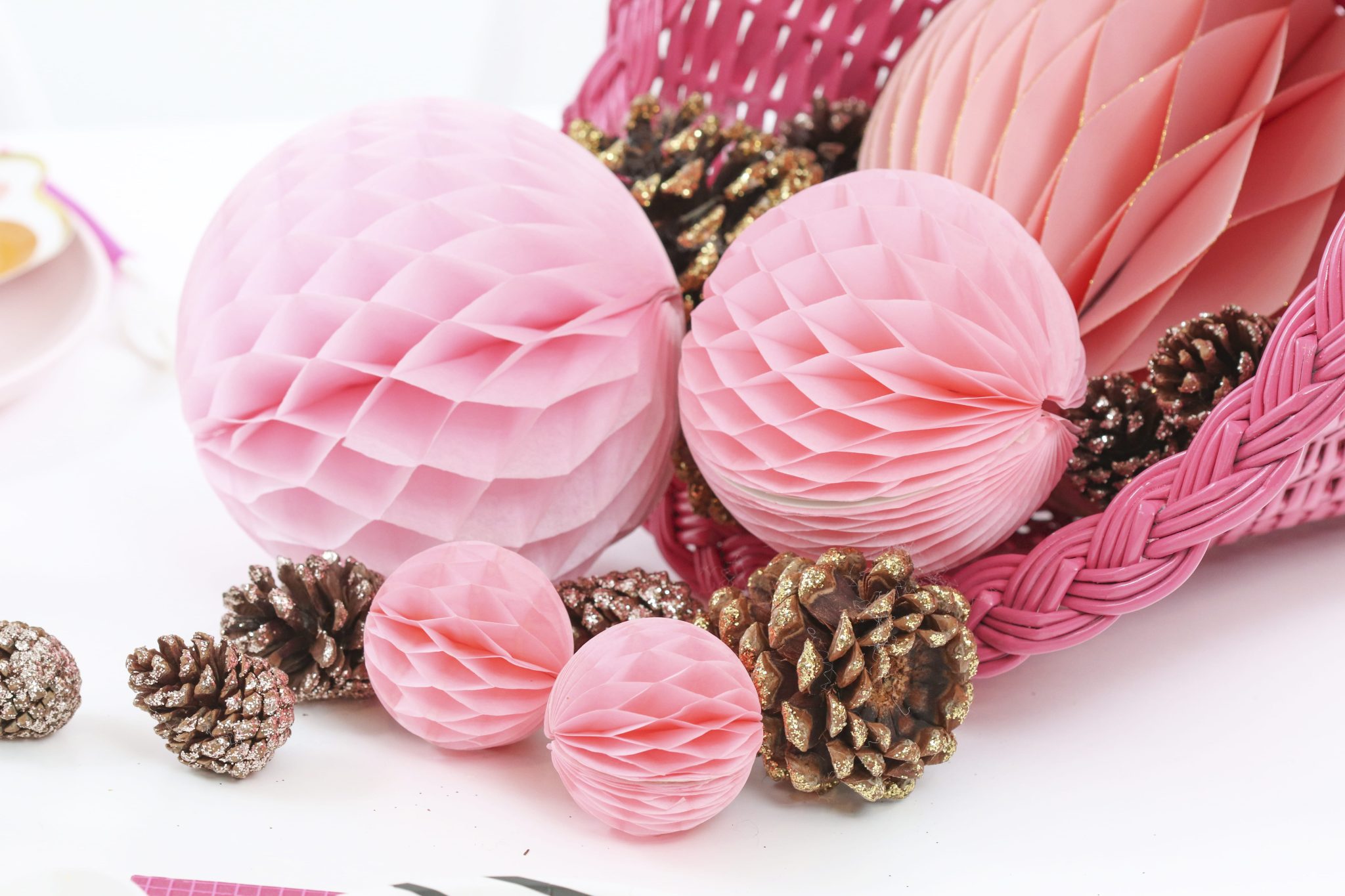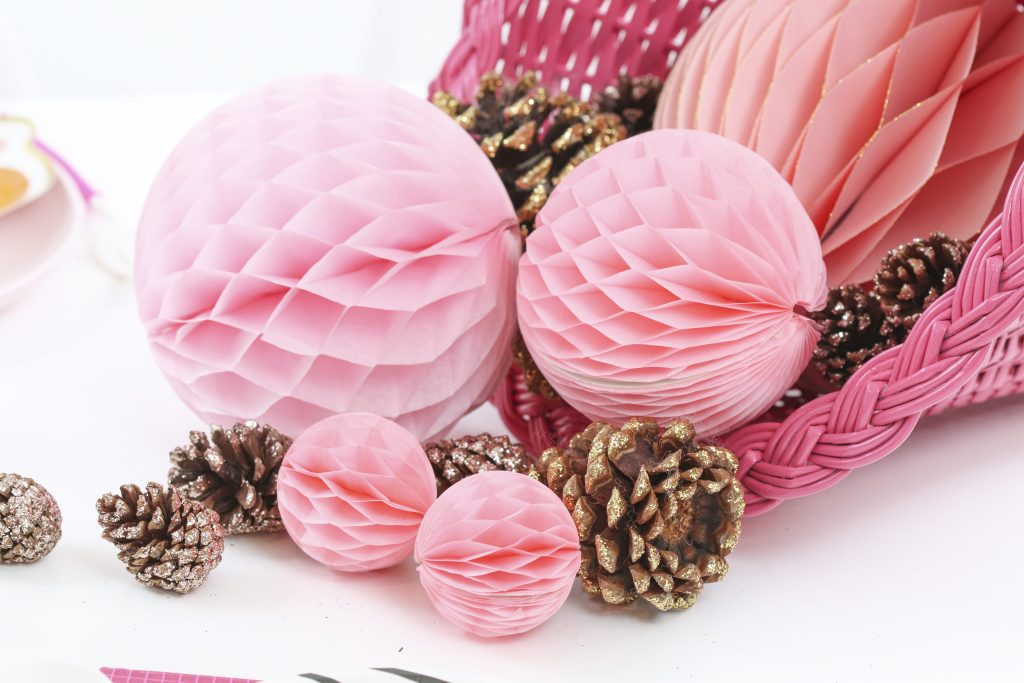 Then, I placed pink taper candles in magenta holders at each end of the table, along with a couple of cute pink-tinged succulents in modern black and white planters.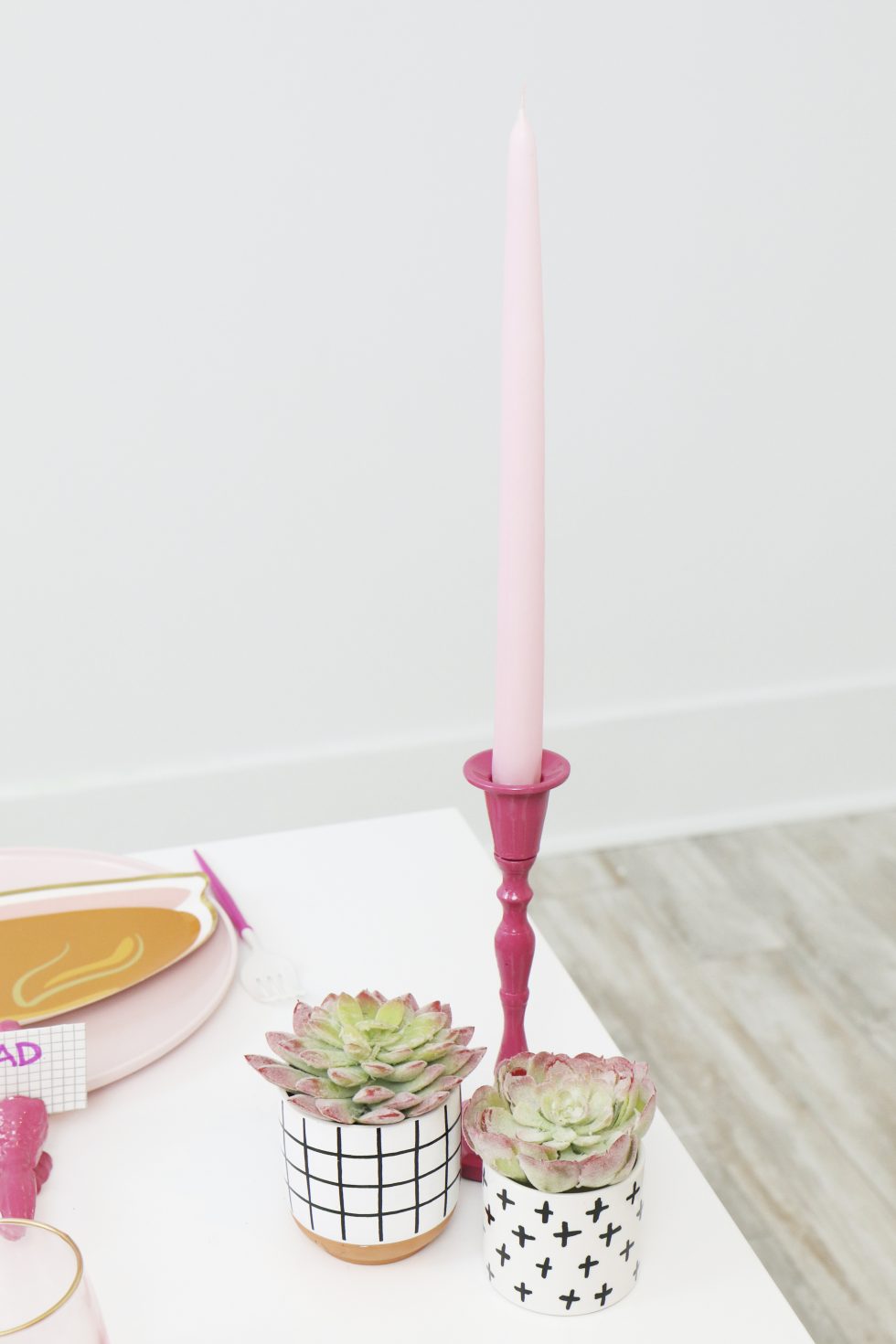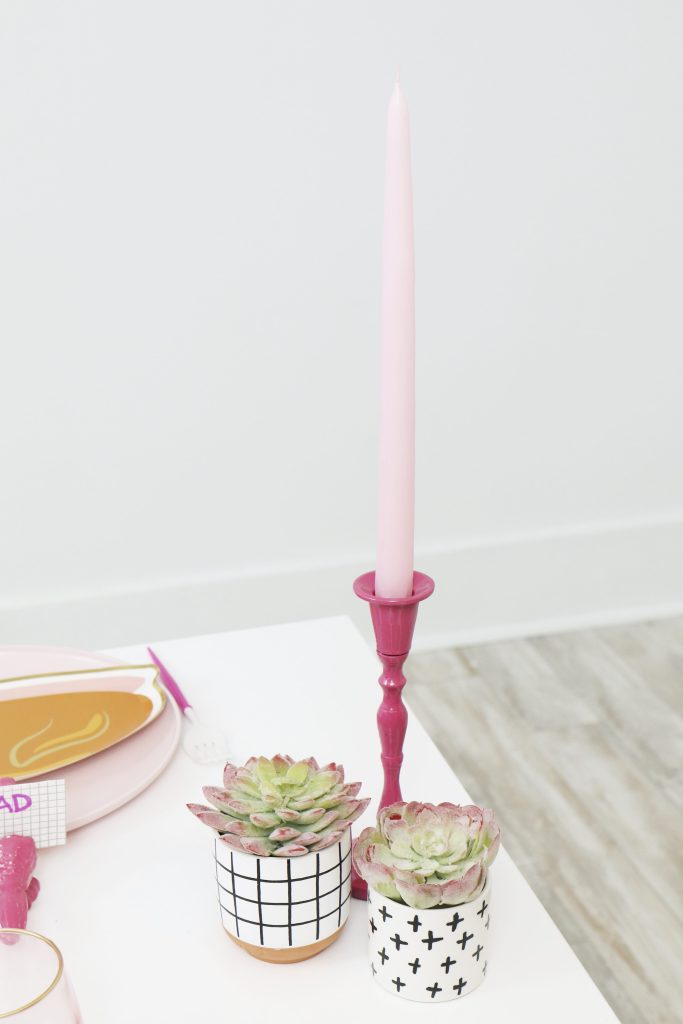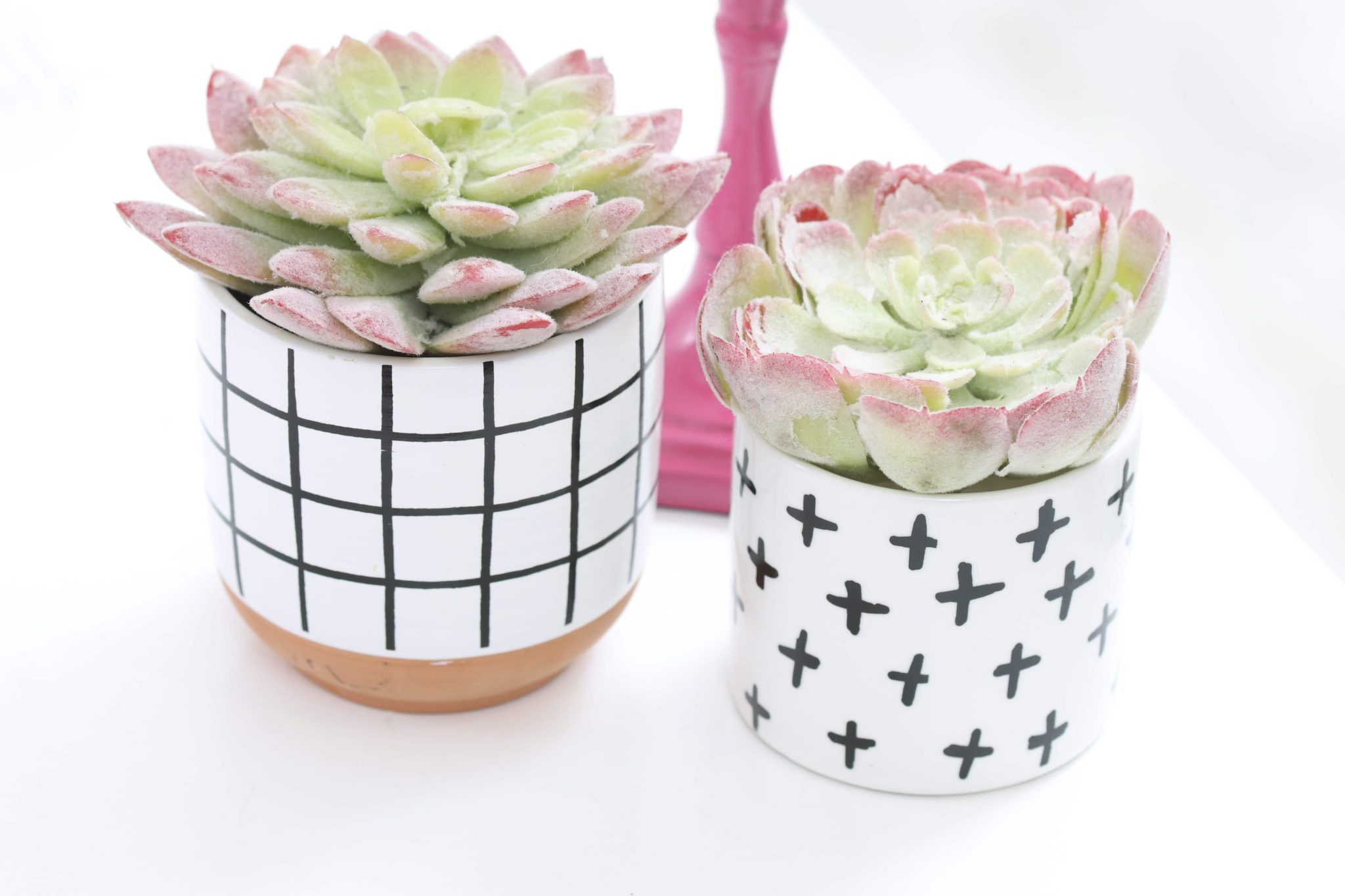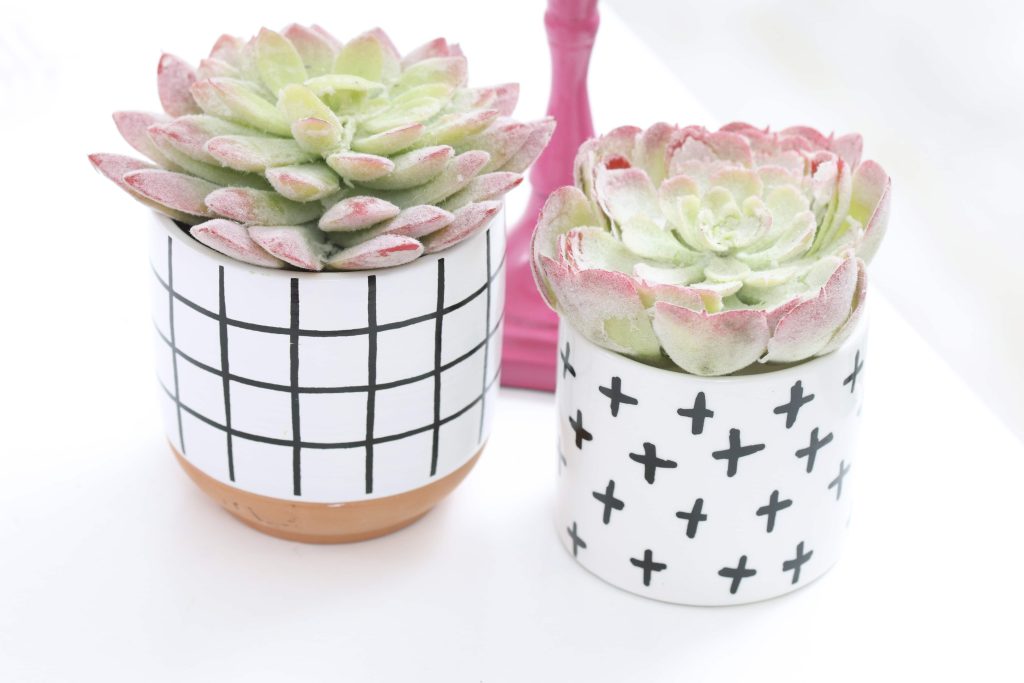 Pink Place Settings
Next, I created the cutest turkey place settings! On top of light pink chargers, I placed Jollity and Co.'s Turkey Dinner Plates. The touch of gold foil in these plates adds some extra elegance to these place settings! My daughter Parker has now taken to saying "we are eating turkey off turkey" and giggling! I think they are a hit!
Then, I added magenta grid napkins, translucent pink wine glasses, and utensils to the side.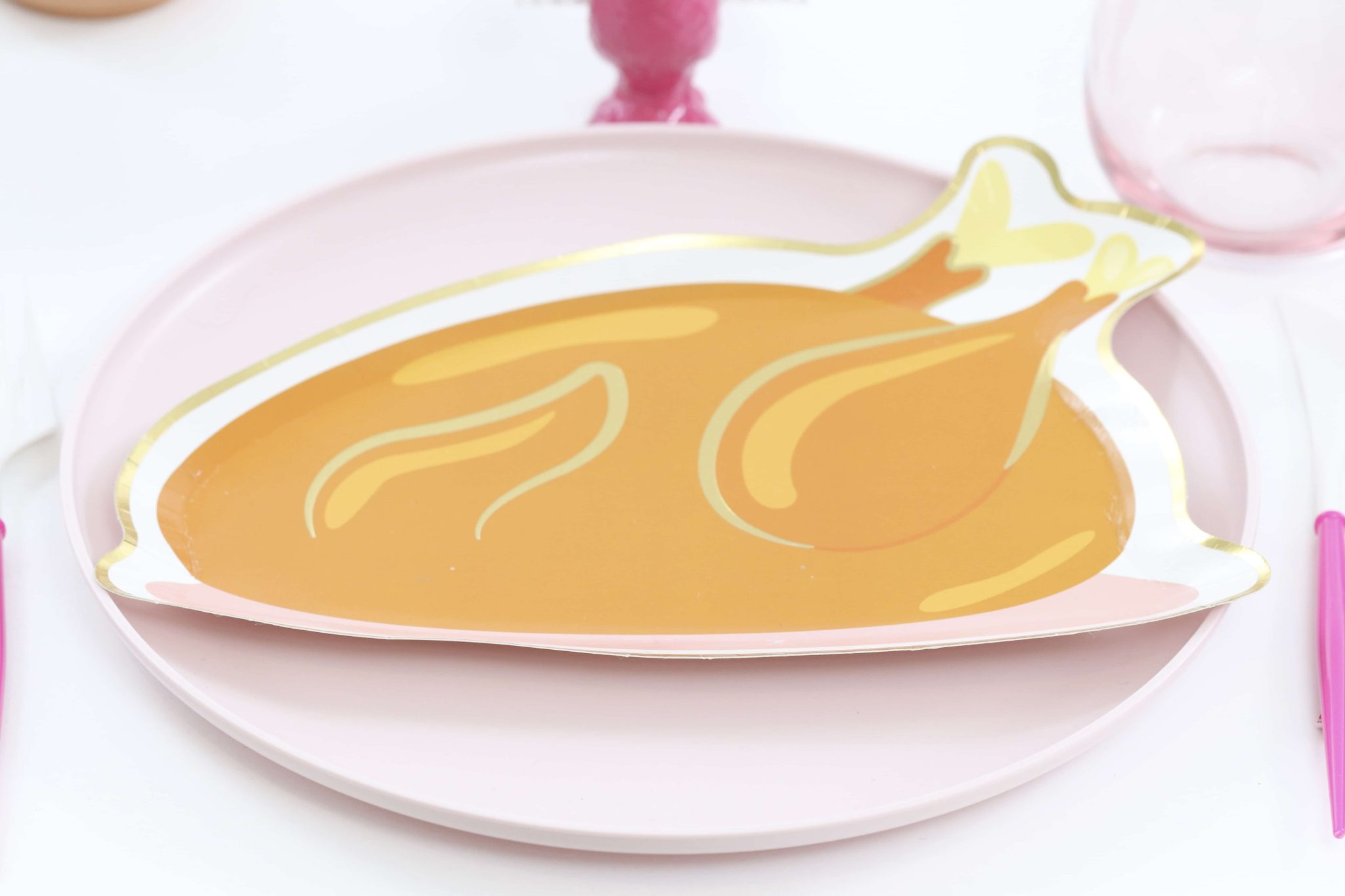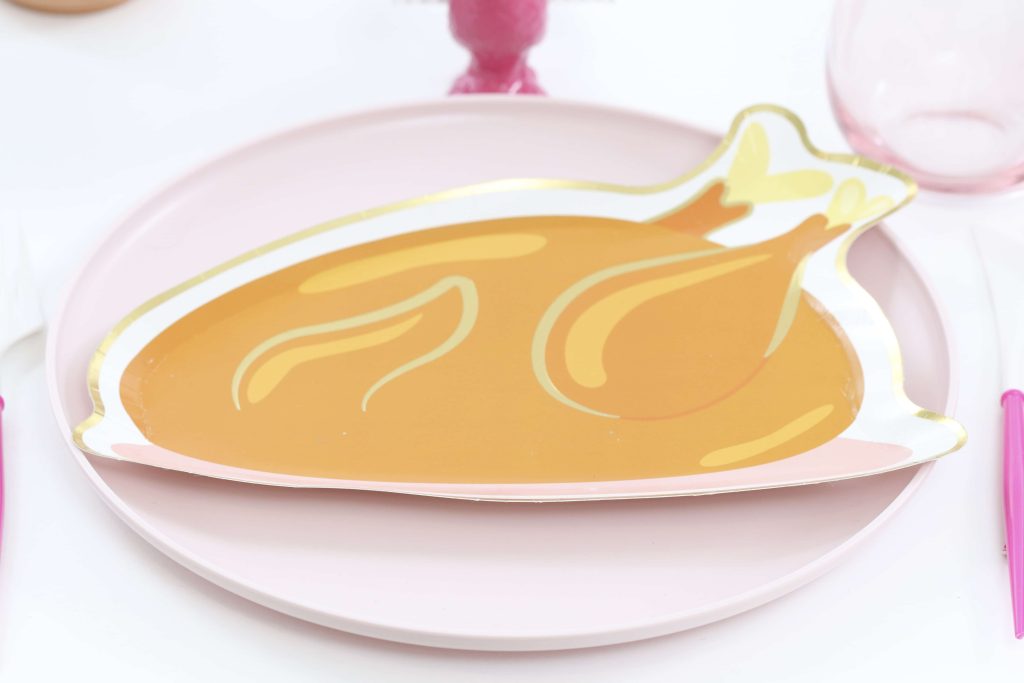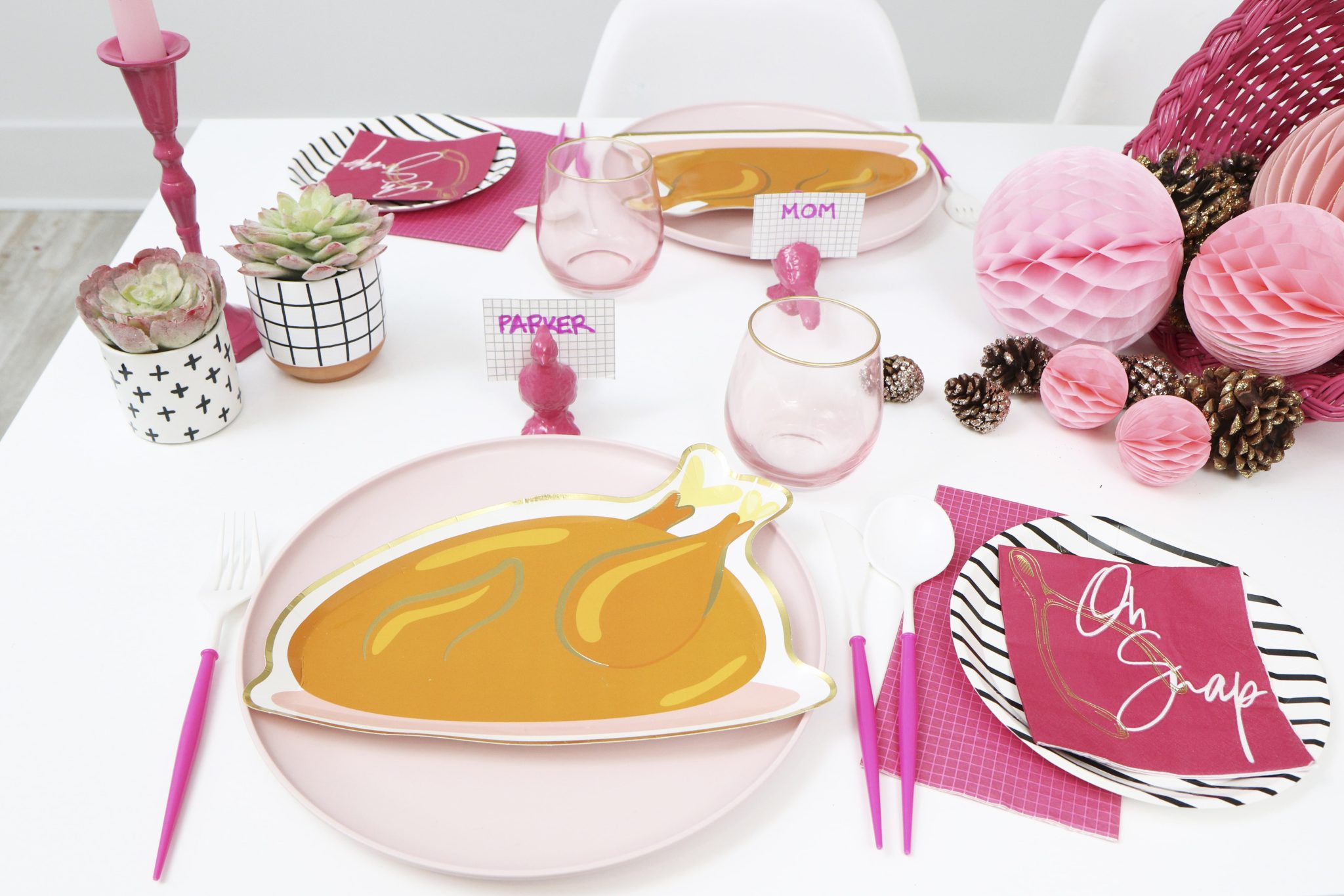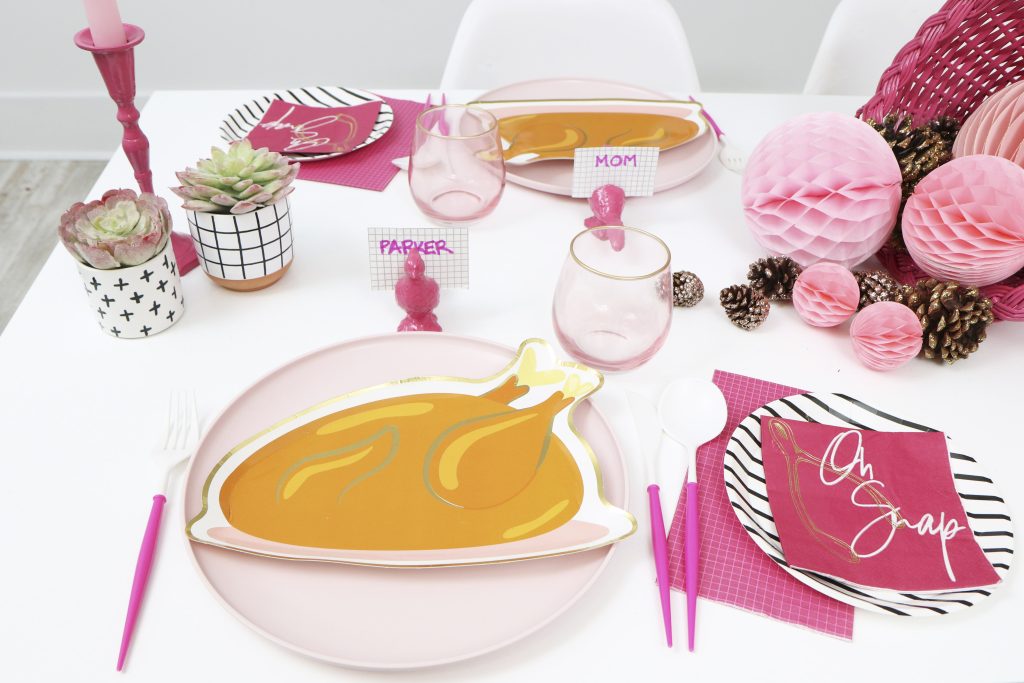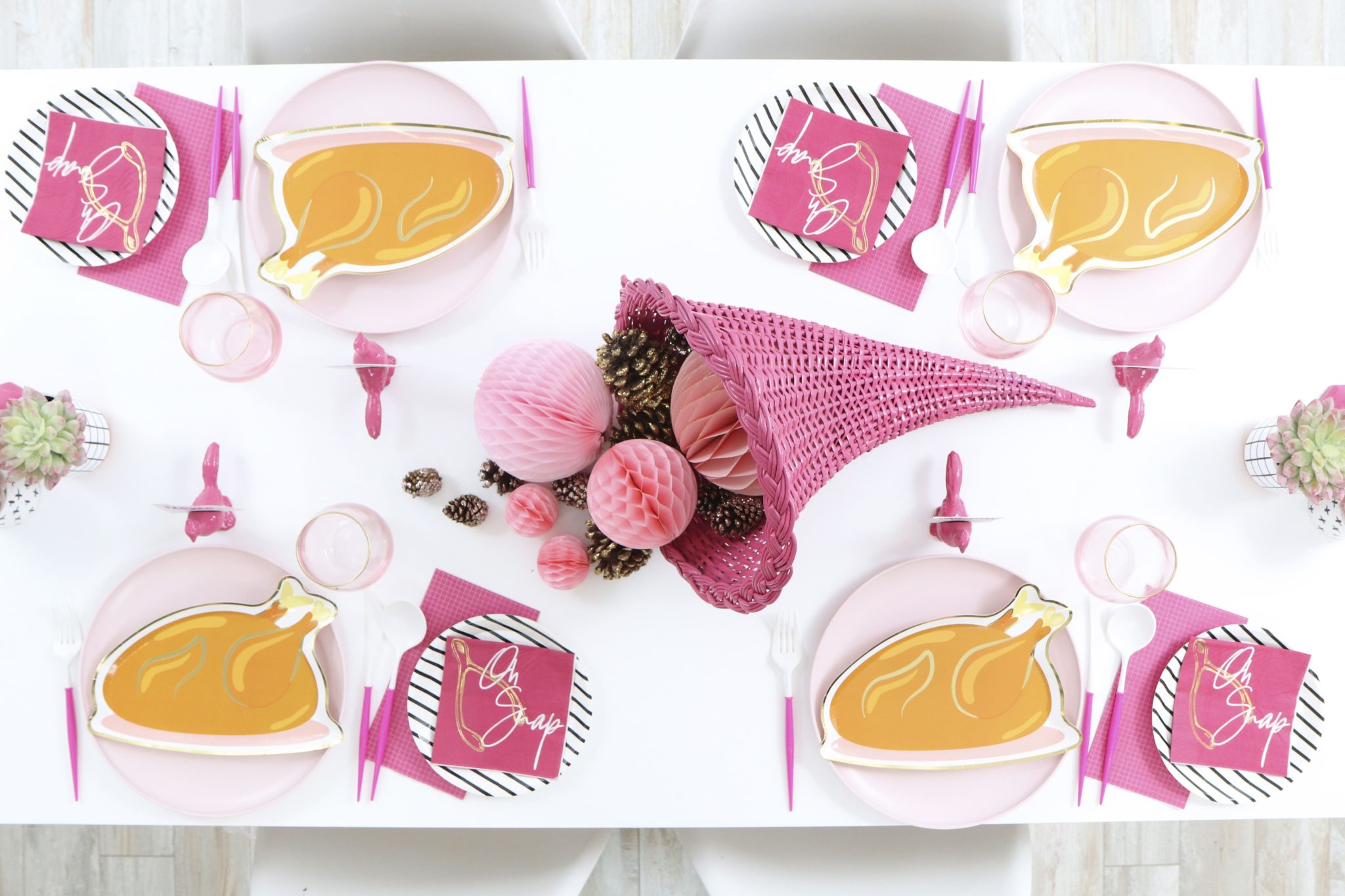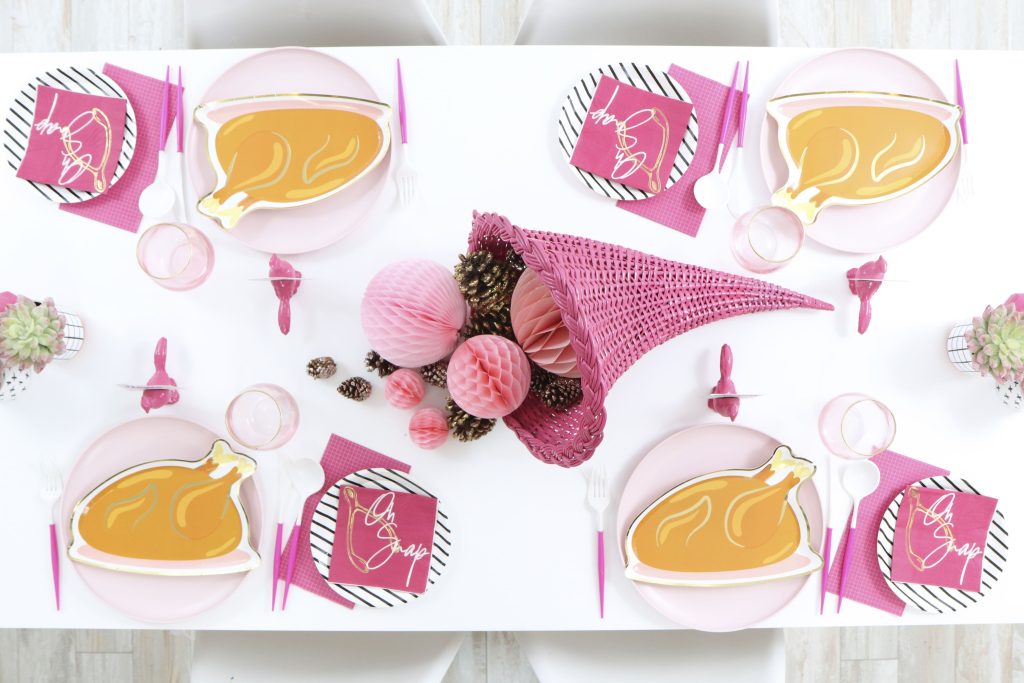 Also to the side of each setting, I set out black and white striped dessert plates – we use these for dinner rolls which we call Parker rolls because they are her all time favorite! You can also use these for pie….I mean there is no thanksgiving without pie, right?! In case dessert gets a bit messy, I set out cute and clever "Oh Snap" wishbone napkins as well. The gold foil in these complements the turkey dinner plates perfectly!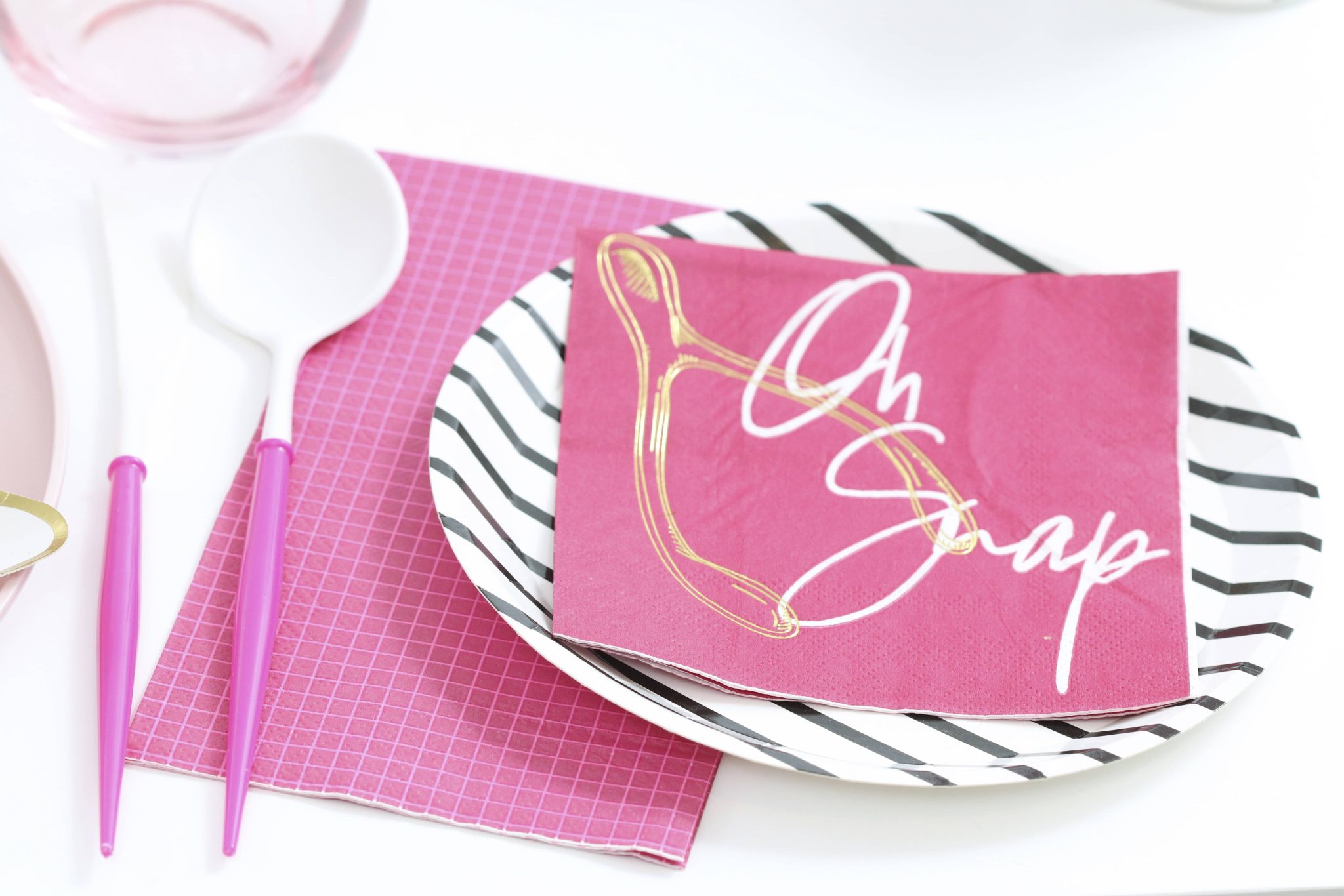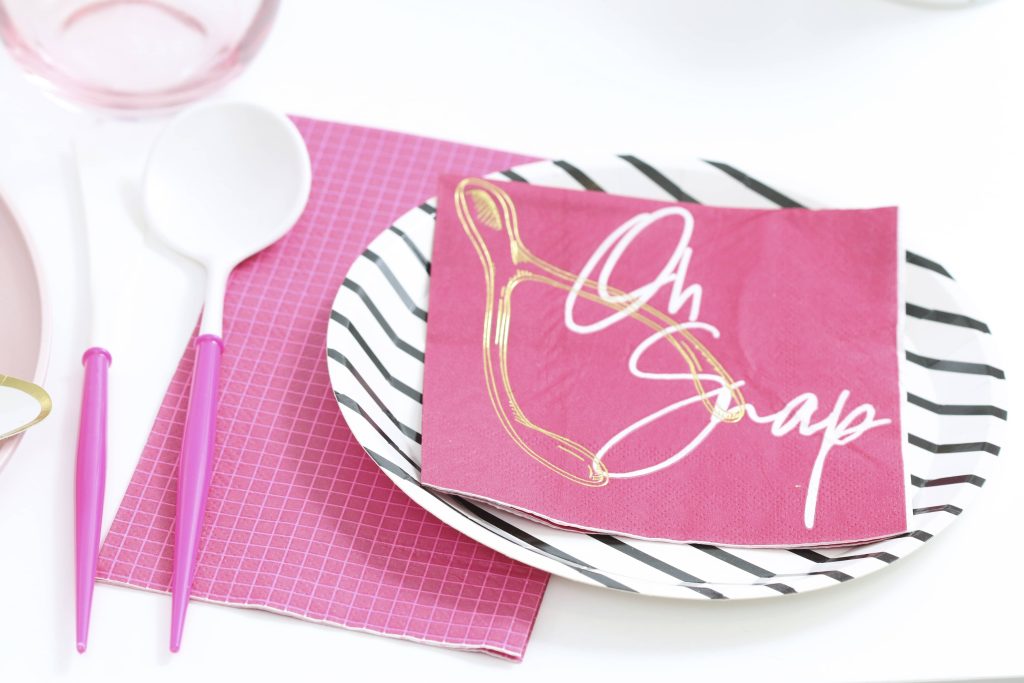 Finally, I placed modern black and white grid place cards in magenta bird card holders at each seat.  These placecards are a quick DIY using Grid Mini Treat Bags, simply fold in half, cut down the middle and you have 2 placecards!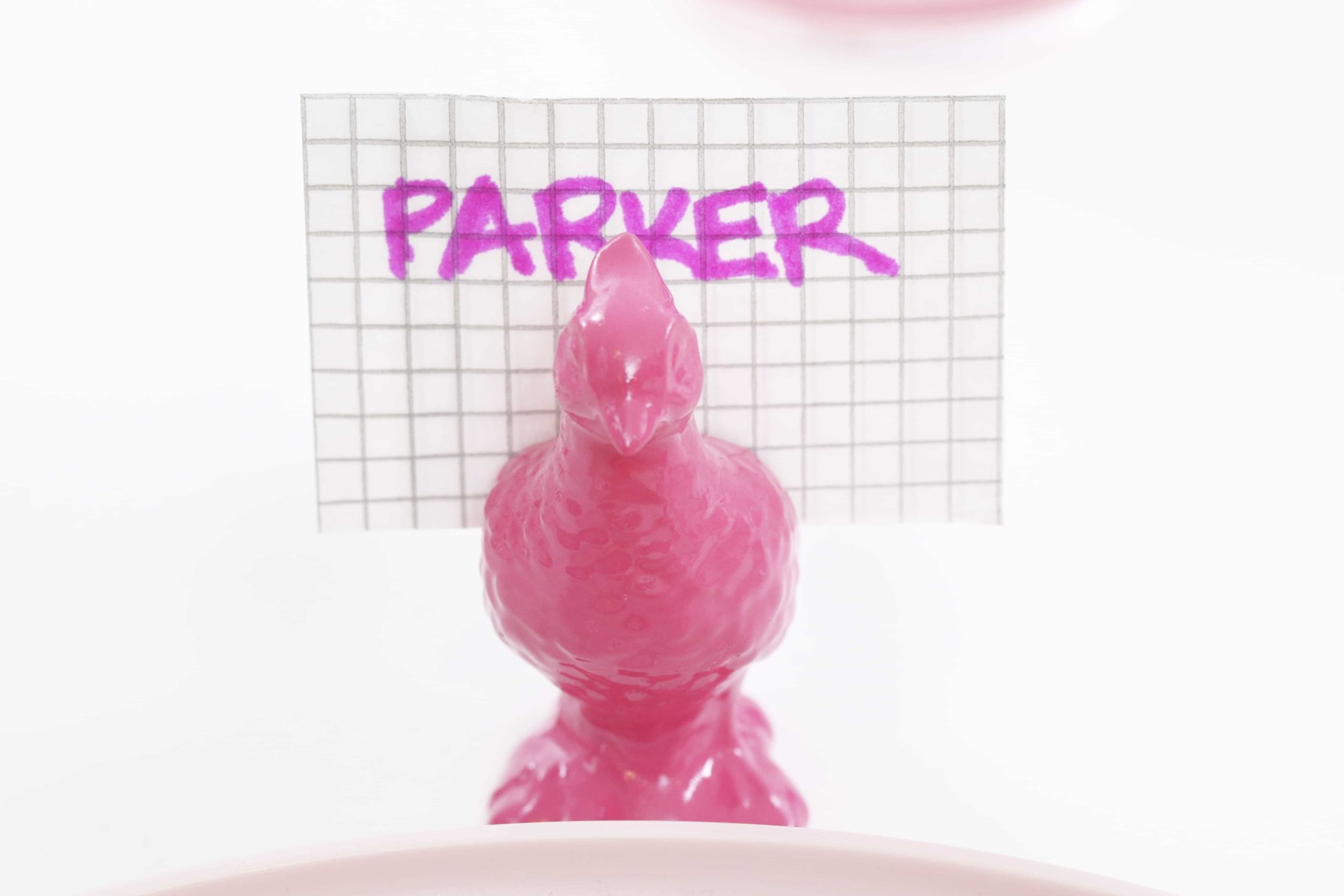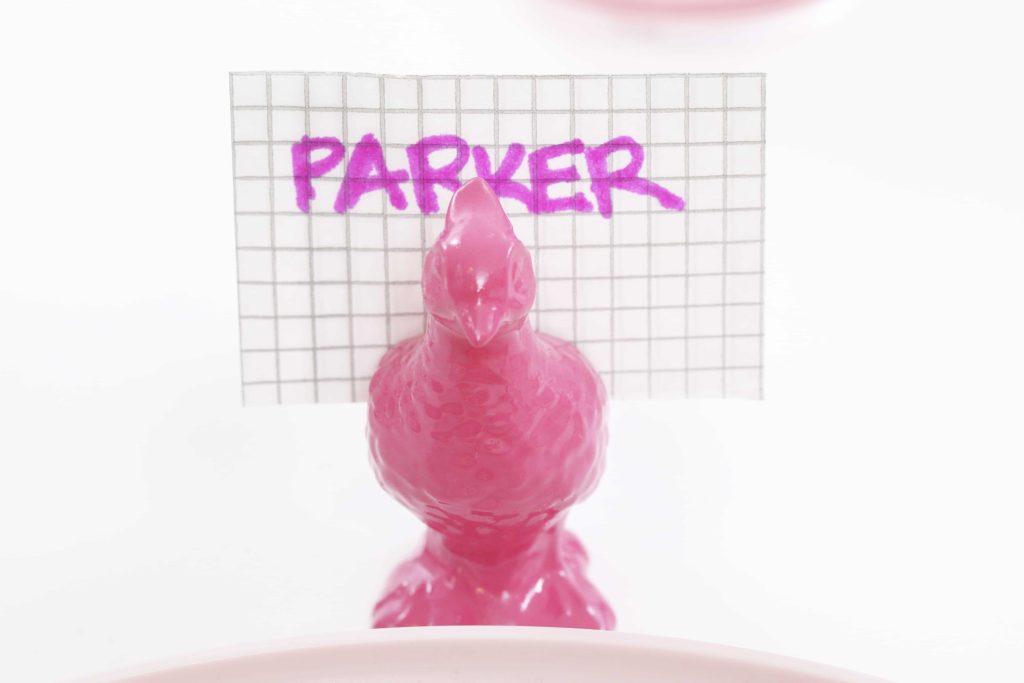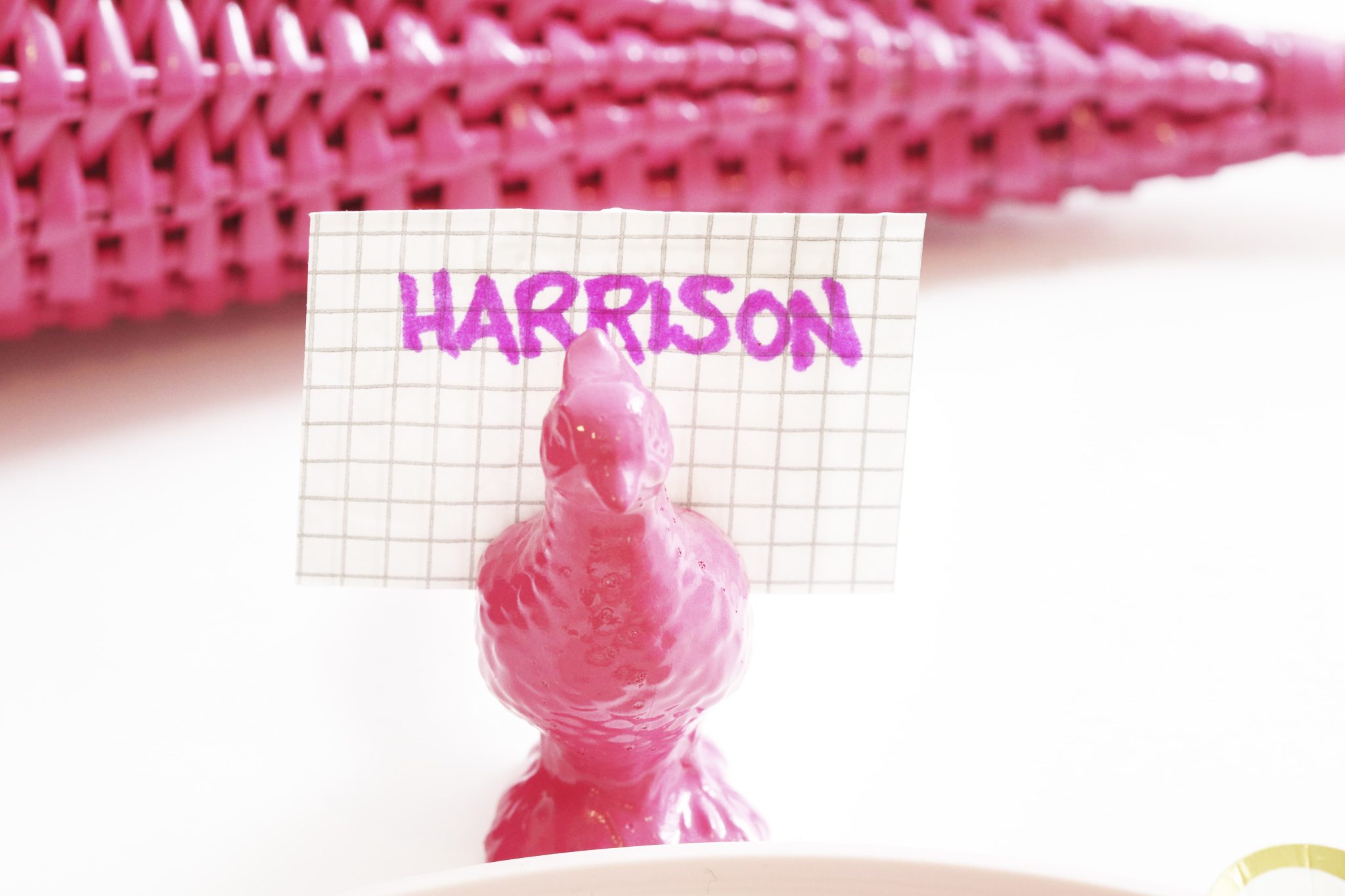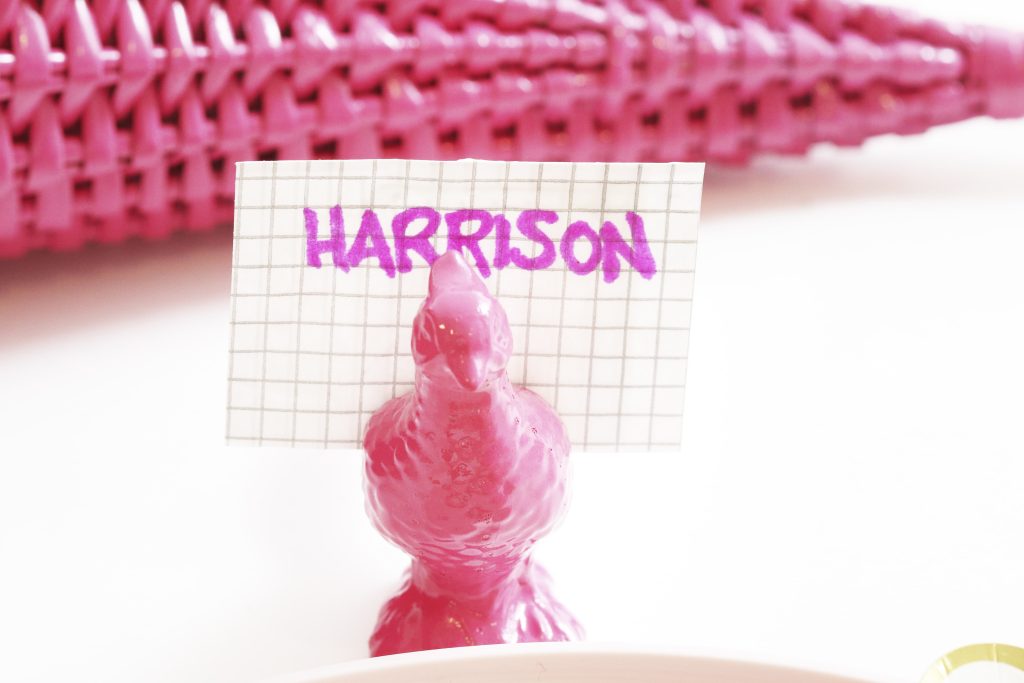 Thanksgiving Menu Backdrop
Finally, I set up a fun fall backdrop inspired by the wishbone napkins. I hung a brown paper banner in the center of the wall, with the wishbone and "oh snap" recreated at the top of it. I did this by using a blunt scorer to trace over one of the napkins, and then went over the indentations with gold and white chalkola markers! Underneath, I wrote out our Thanksgiving menu with a pink chalkola marker.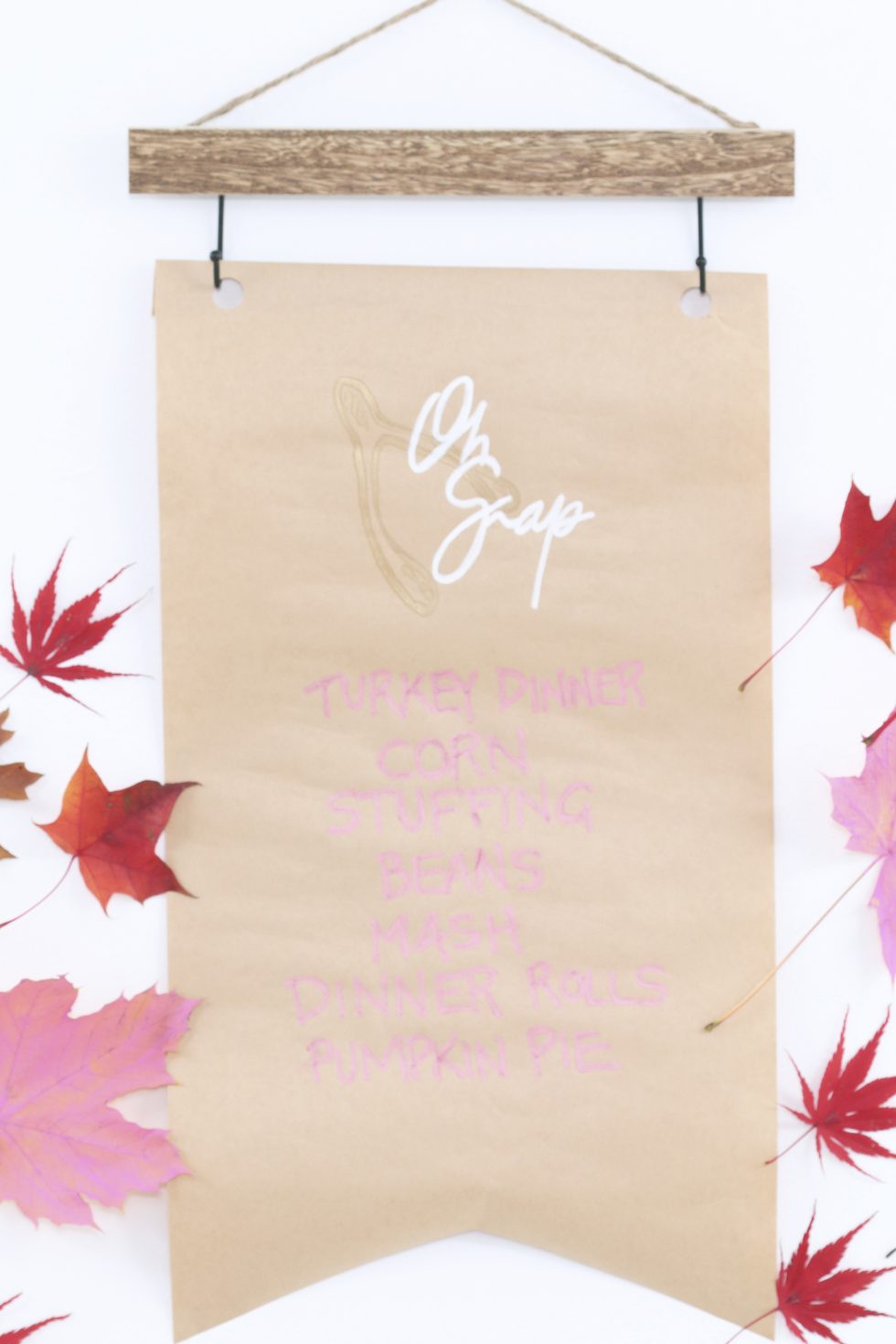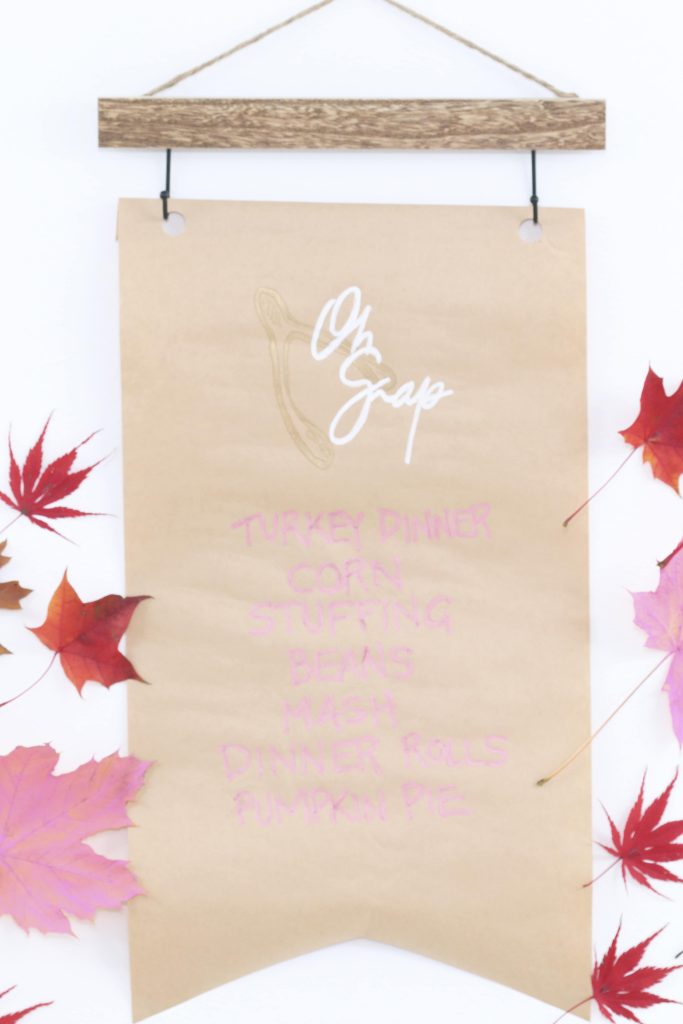 To add more of the whimsical fall feel, I added a variety of fall leaves on either side of the menu banner. The fun part of this was collecting leaves on the trails with Parker.  Then we painted a few of them pink to tie it all together.
TIP: Position the leaves in a swirling pattern to make them appear as if they are being blown in the fall breeze!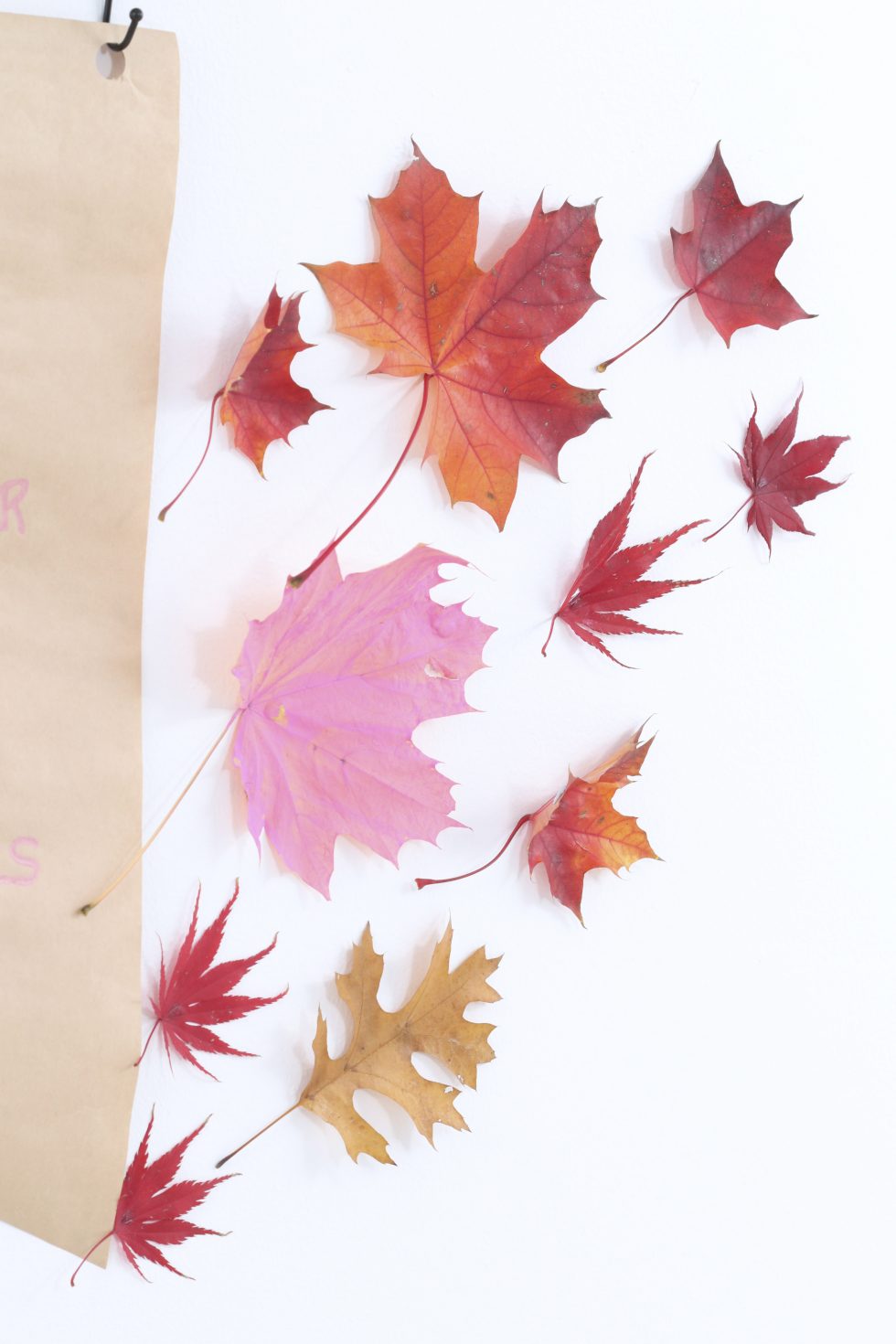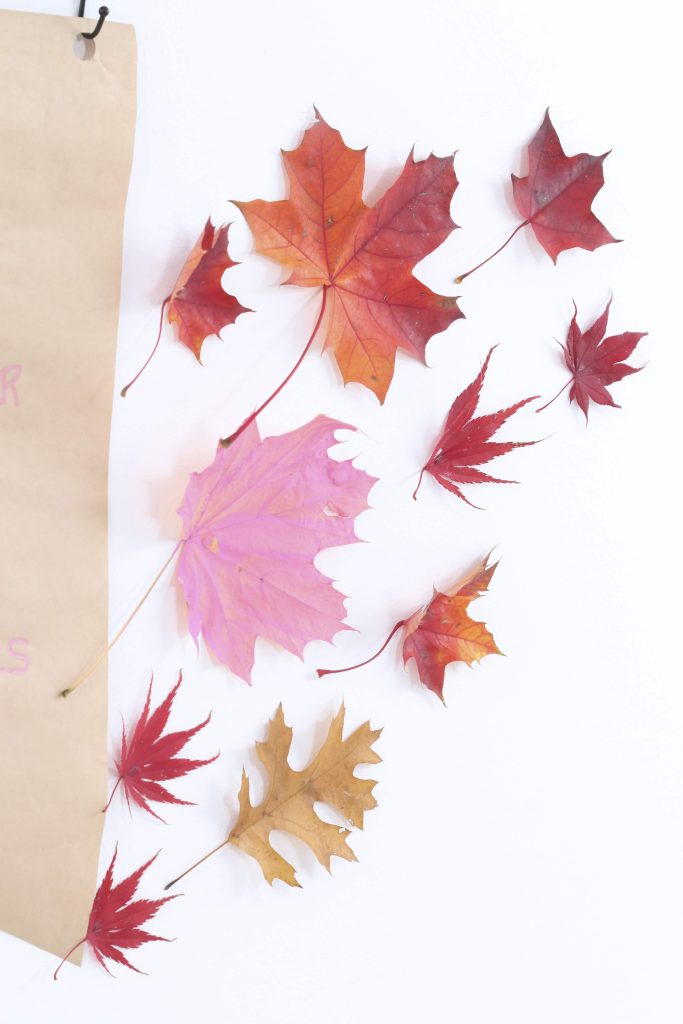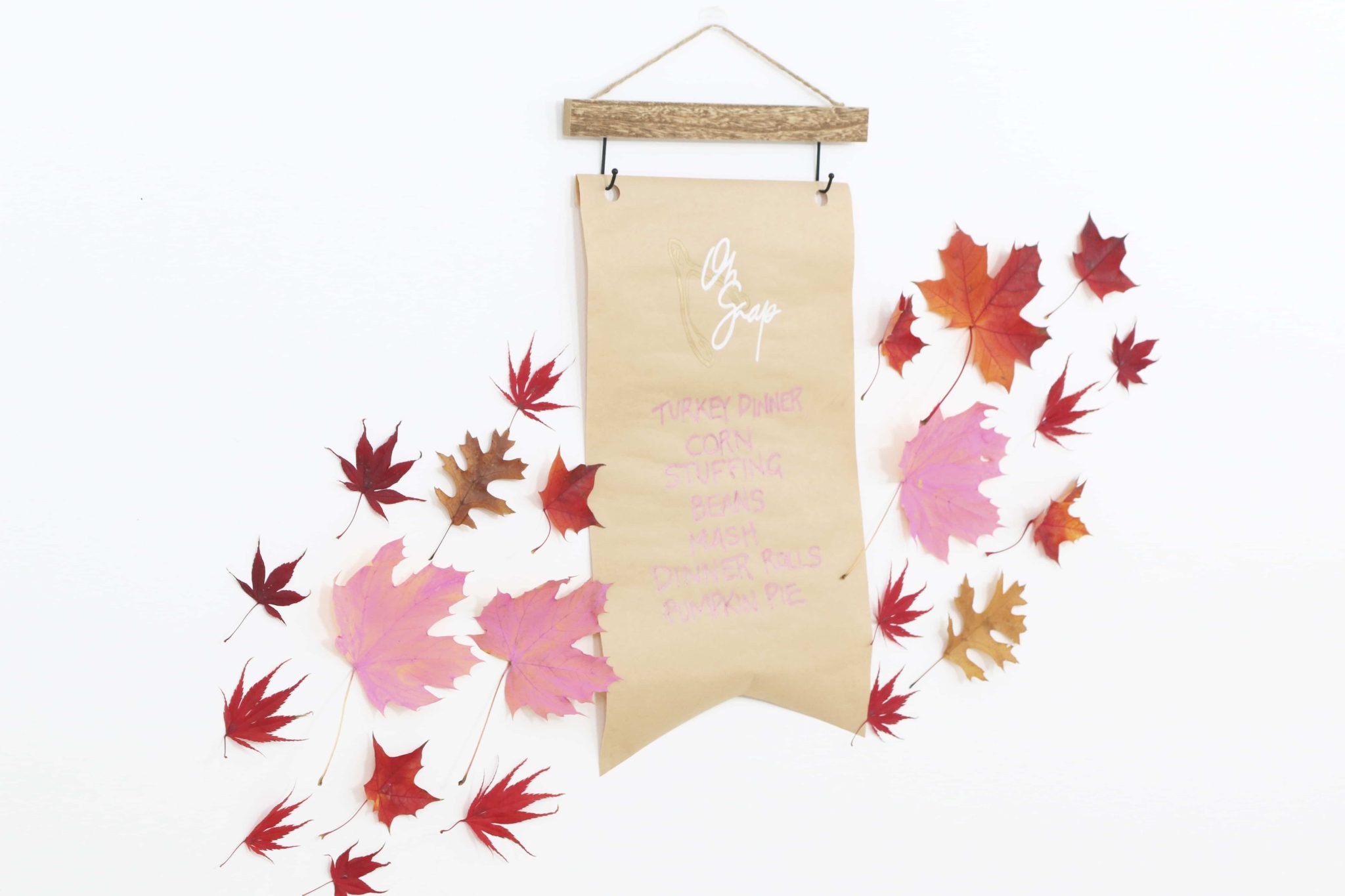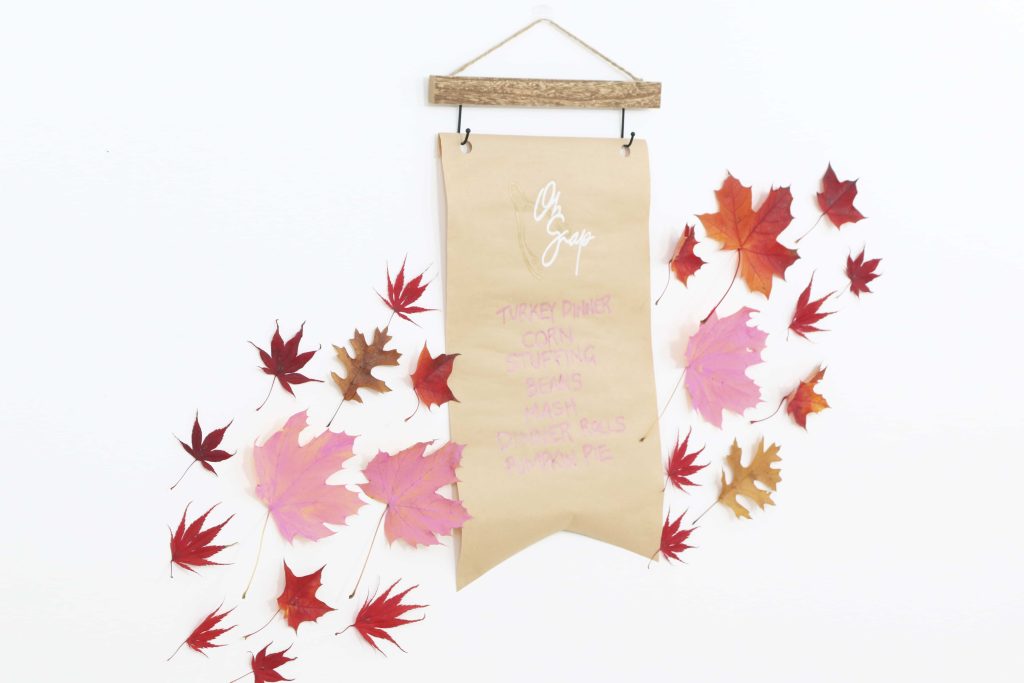 What do you think of this bright and fun pink-themed turkey dinner? How are you making Thanksgiving special during this difficult year? I'd love to hear your thoughts in the comments!
You can also get many of these and some alternative Pink Thanksgiving party supplies in my Amazon Shop – check it out for an easily shoppable list!
More Thanksgiving/Friendsgiving Celebration Ideas
For more light-hearted Thanksgiving inspiration, check out my FRIENDS Friendsgiving Dinner, and Rainbow Thanksgiving Kids Table! For more of a traditional cozy look, check out my Copper, Plaid, and Fur Thanksgiving.
Happy Thanksgiving! I'm grateful for you!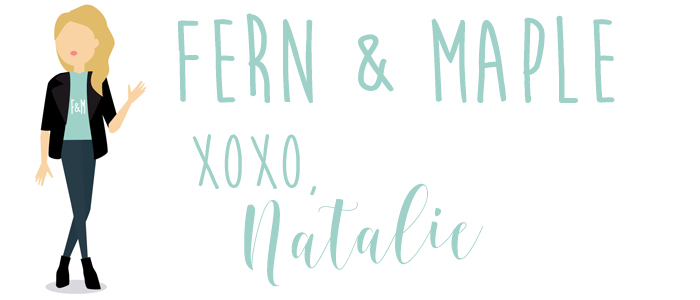 PIN FOR LATER: