Let's be real – this year has been a bit dark at times. So I figured, why not brighten it up with a Christmas light themed craft party?! This fun theme is so merry and bright, everyone will be in a better mood after attending. And, because it's a craft party, kids will get their creativity on, and get to leave with a happy reminder of the fun they had. Read on to see how I set it all up, and visit my Amazon shop for an easy one-stop-shop of similar items!
As a blogger, I sometimes receive compensation and/or products in exchange for my styling and crafting services. I also may earn a small commission from any sales that result from affiliate links on this page. As always, all project ideas and any opinions expressed here are my own.  For further information on our disclosure policy please check out our disclosure page.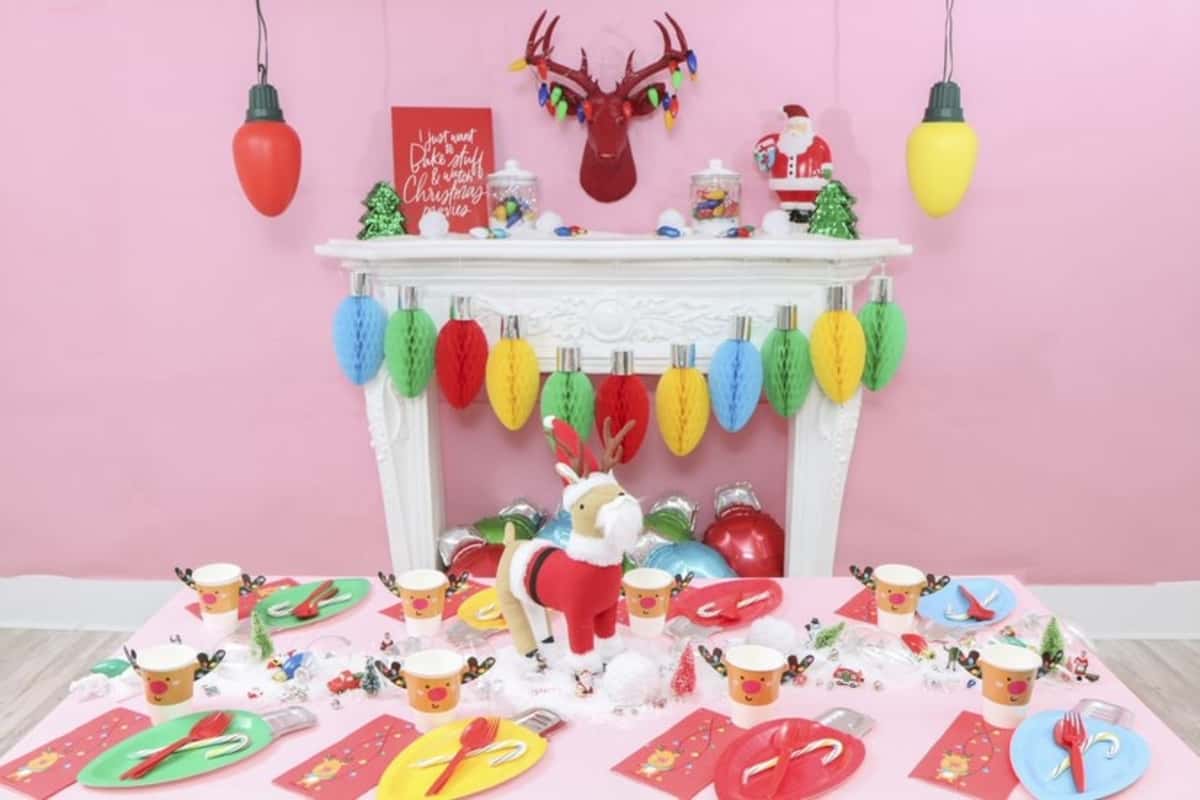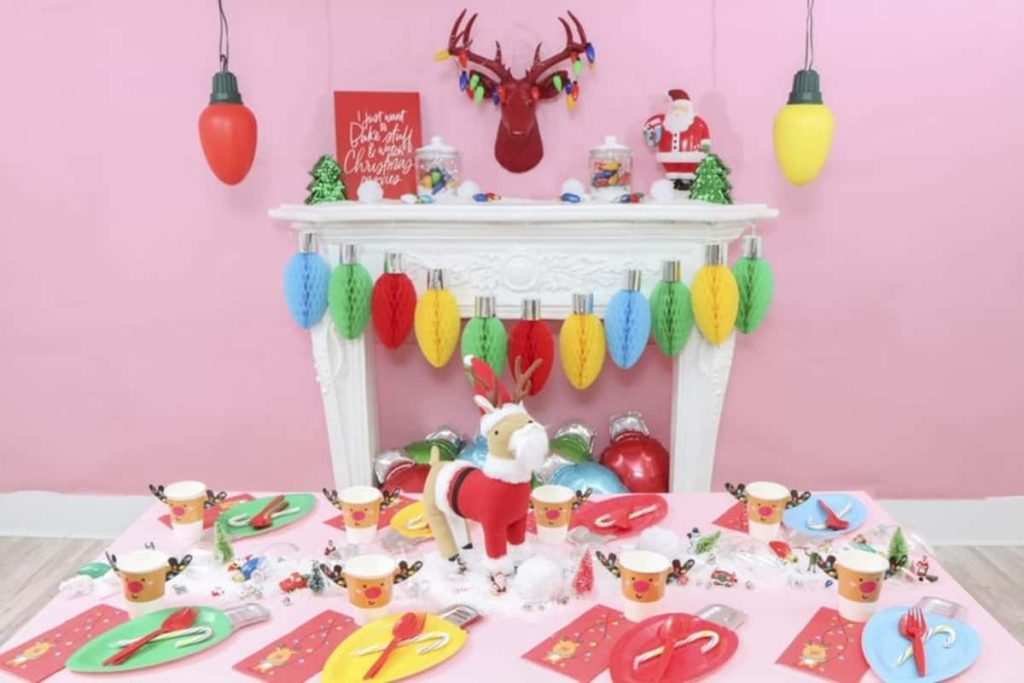 How to Create a Holiday Light Themed Kids Party
Christmas Light Craft Party Decor
First, I brightened up my "Merry and Bright" room by putting up some pink paper on the walls. 
TIP: Hanging bulletin board paper is an easy way to really change the look of a room without paint! You can use any bright color you'd like for this. Bonus – kids can draw on the walls before you take it down! 
Then, I set the scene further with tons of Christmas light-themed decor and other holiday goodies. I filled my fireplace with mylar light balloons, and hung two sets of Christmas light honeycombs from the mantle (the sets I purchased are out of stock – but here is a smaller but still cute option).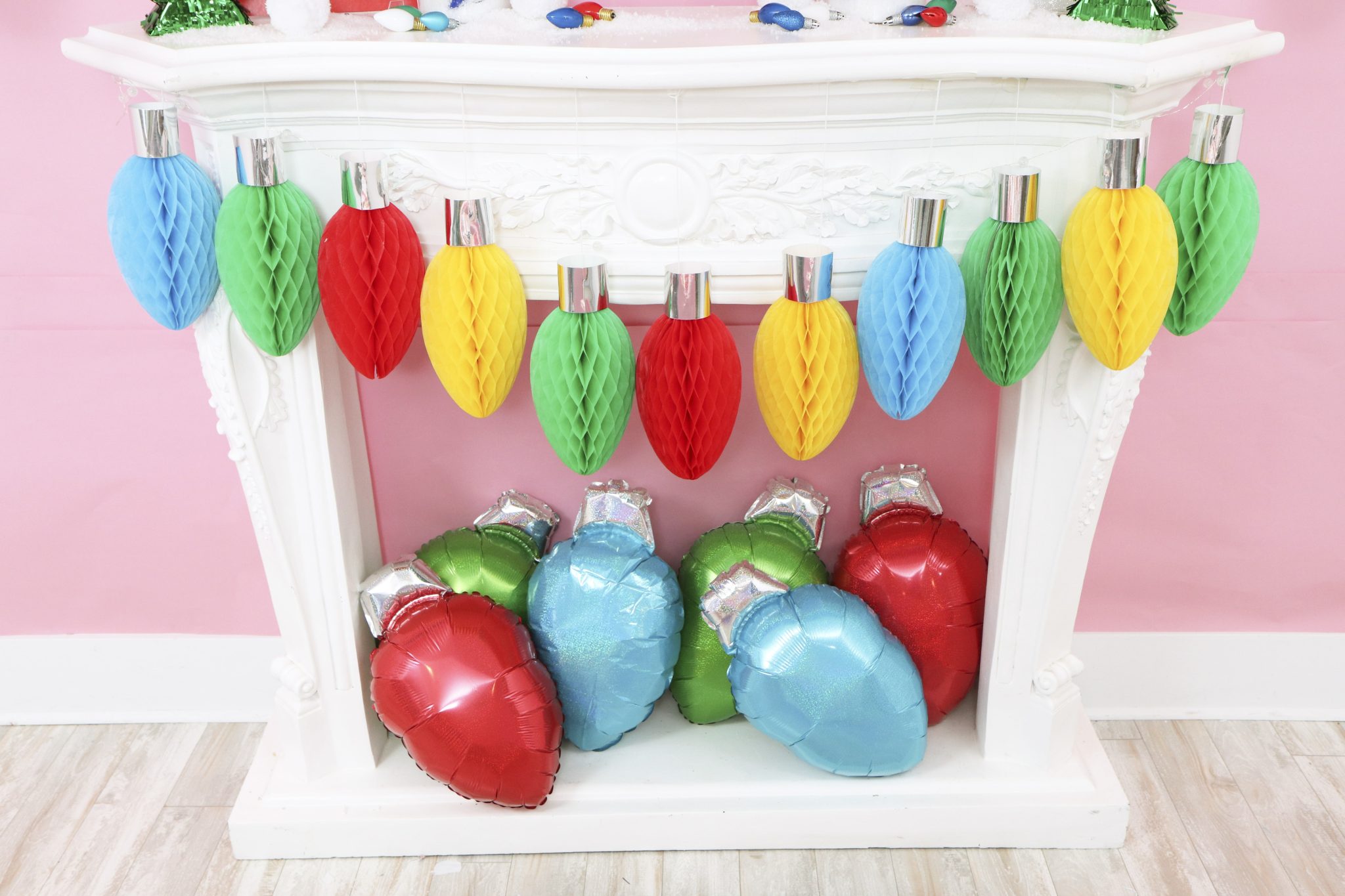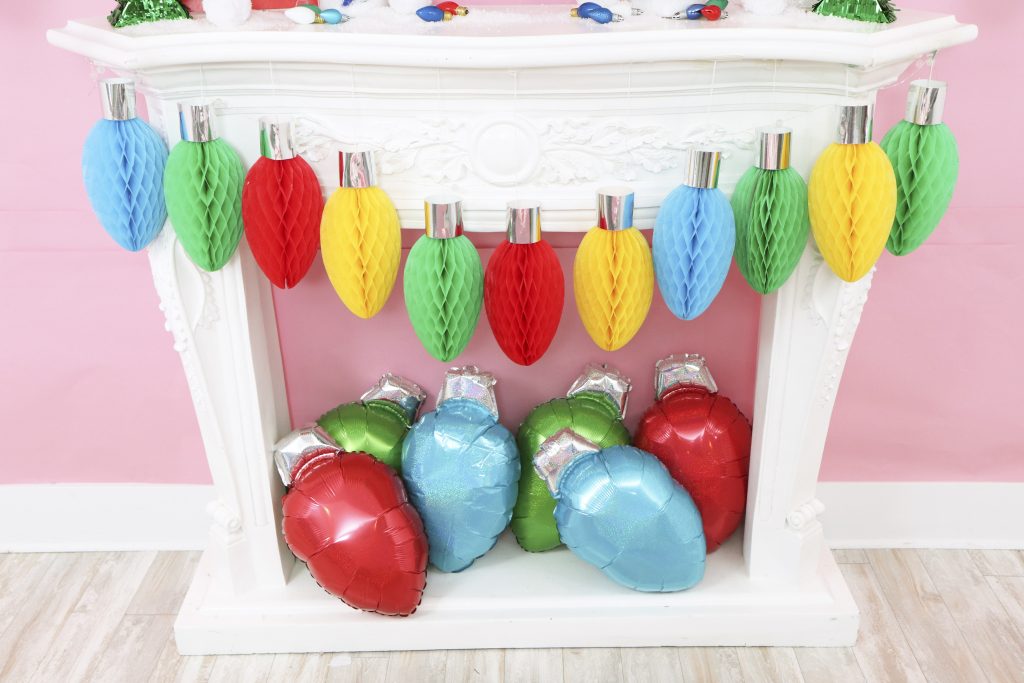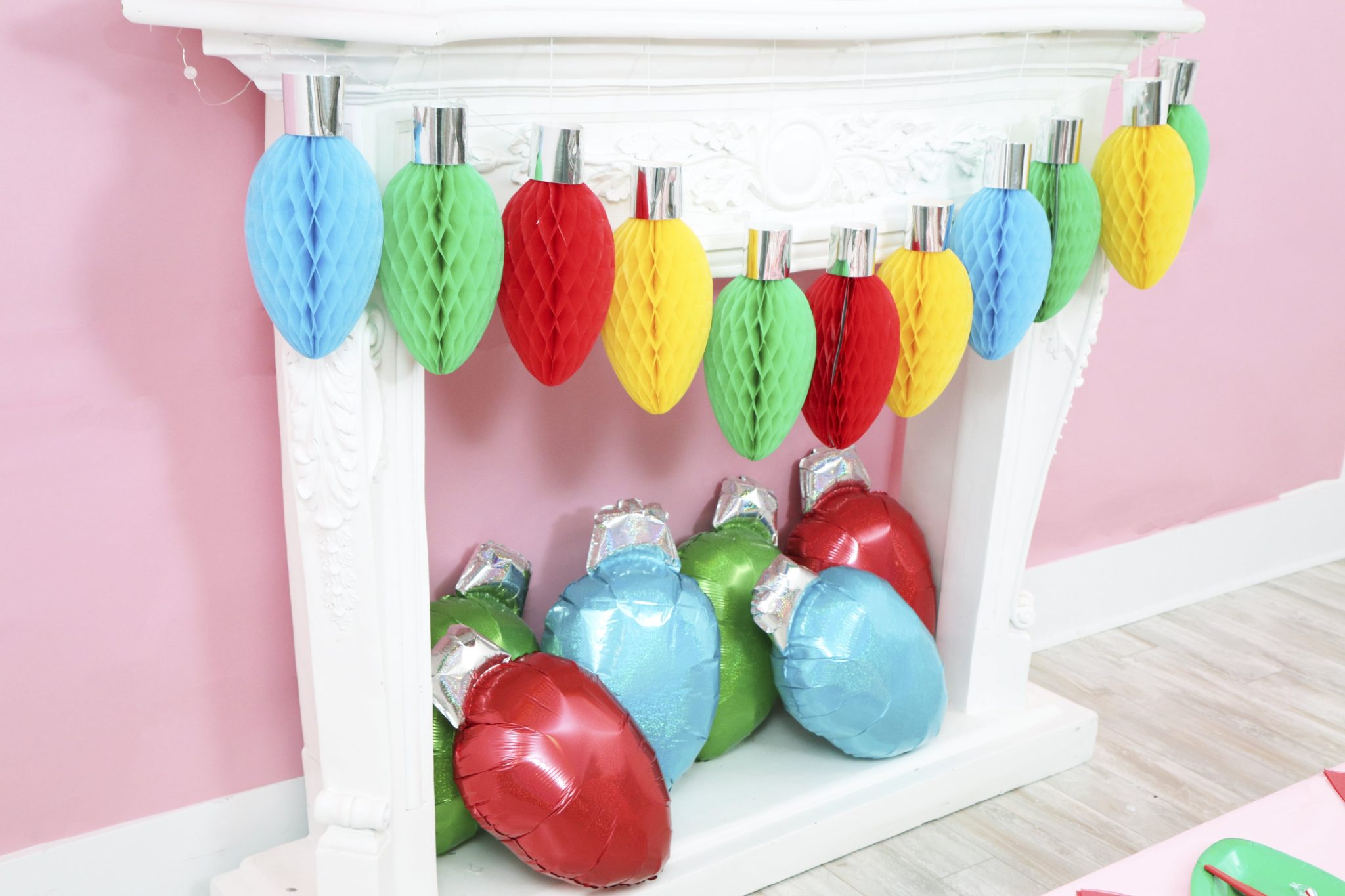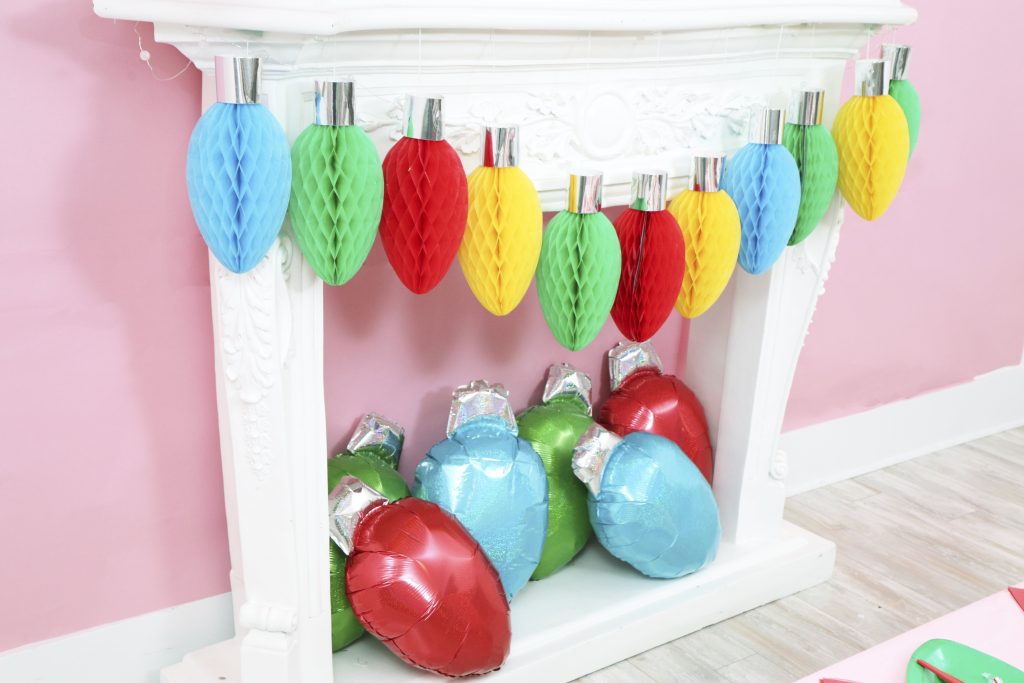 I covered the mantle itself with faux snow, light up snowballs, mini foil tree piñatas, a light up Santa, holiday signage and lights.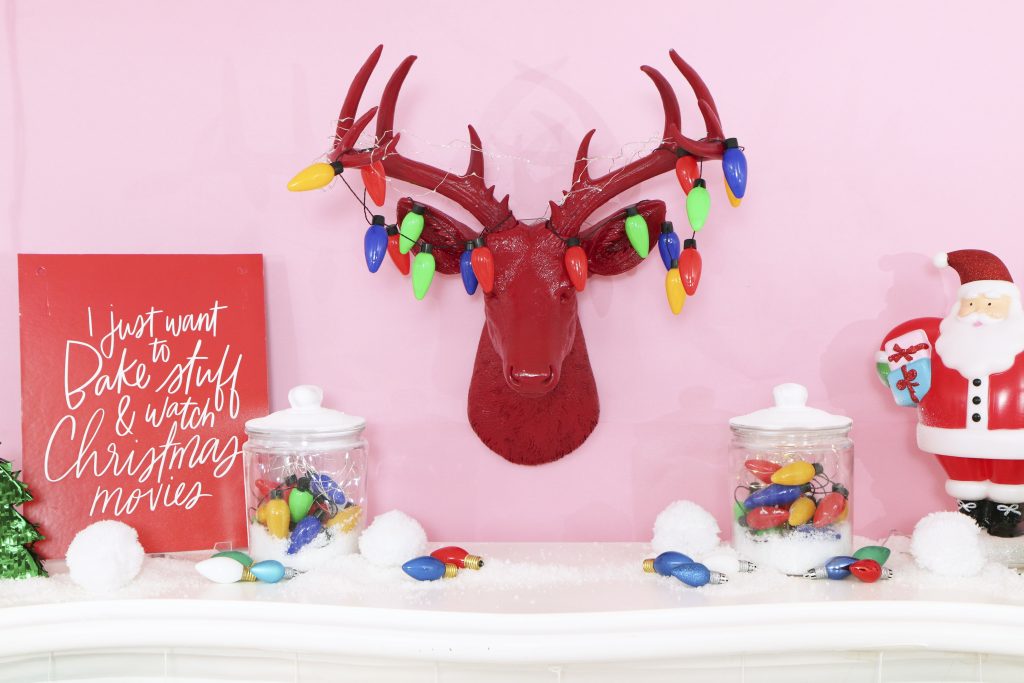 TIP: Put battery-operated Christmas lights in a jar with some faux snow to create eye-catching decor!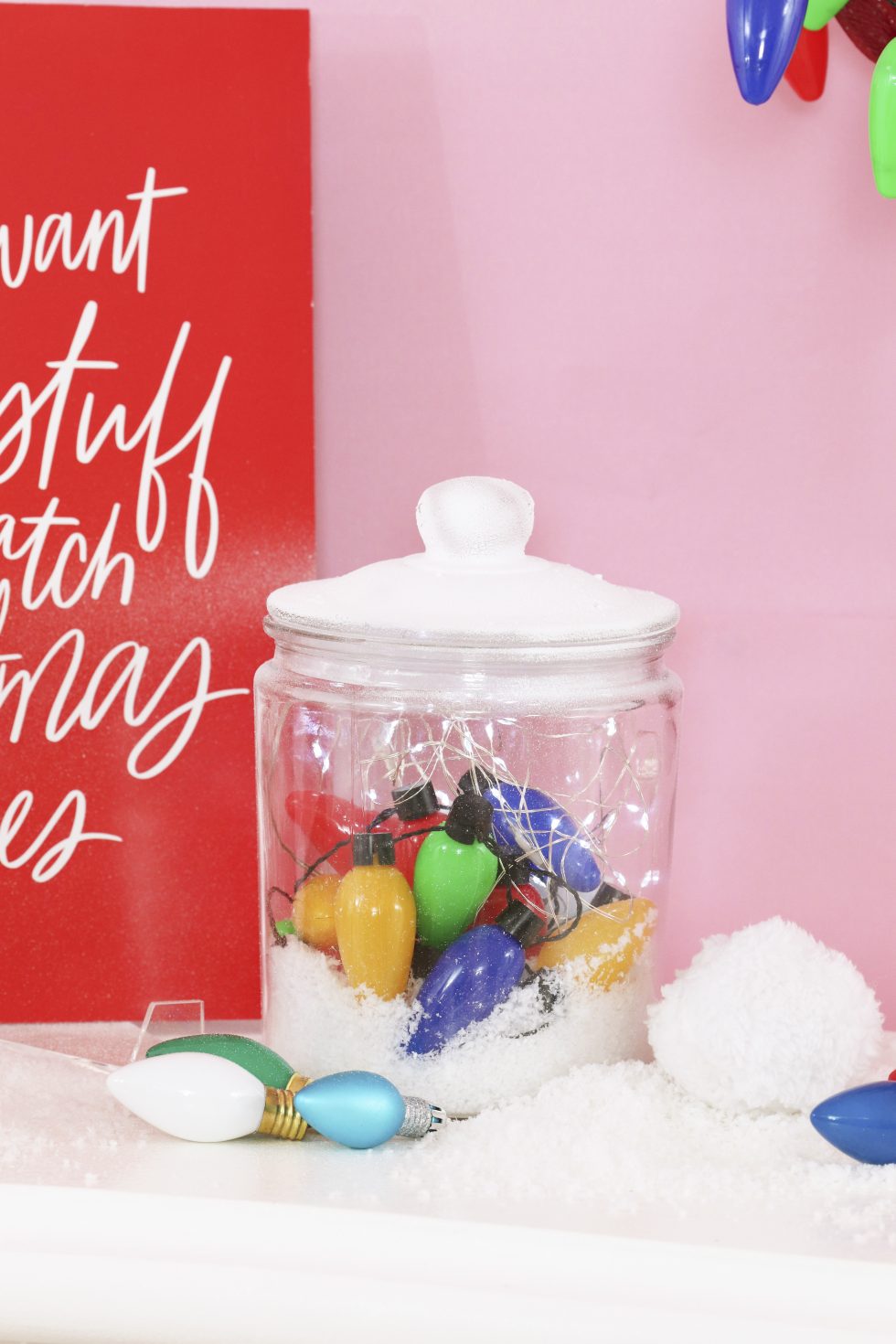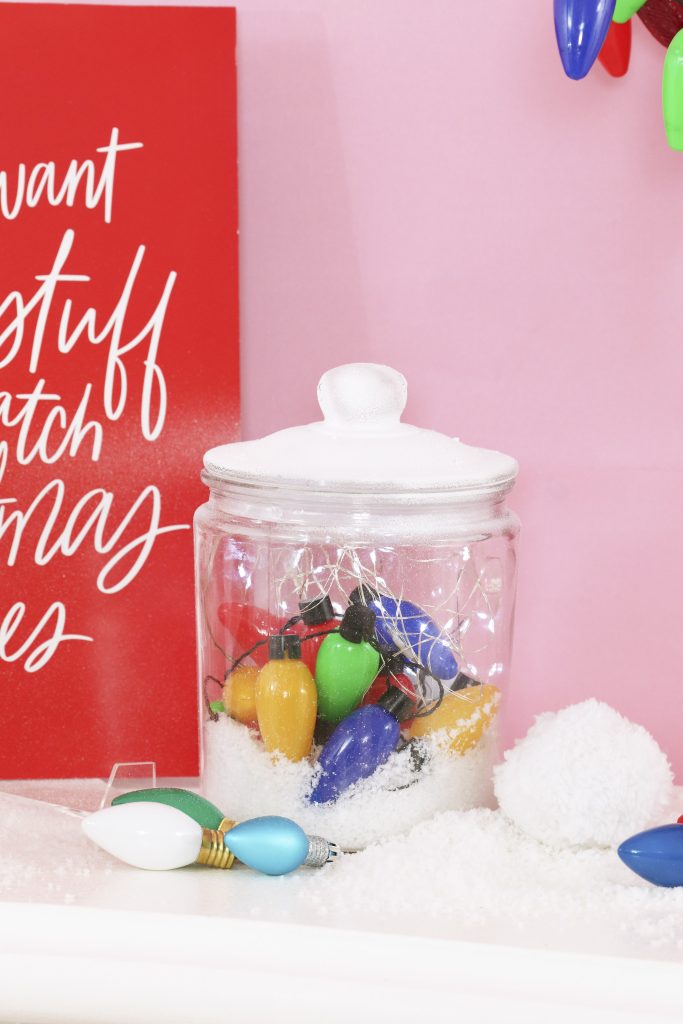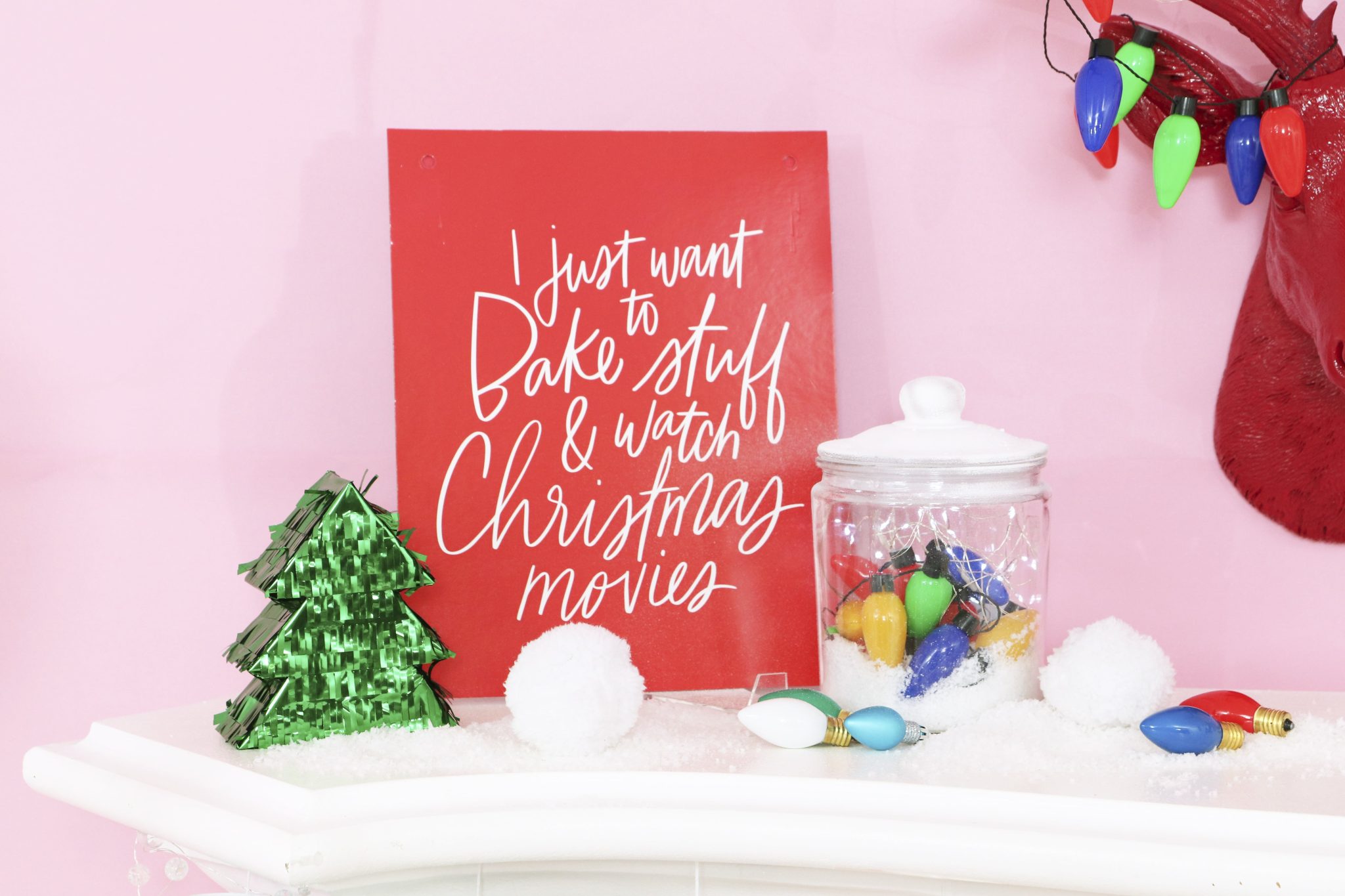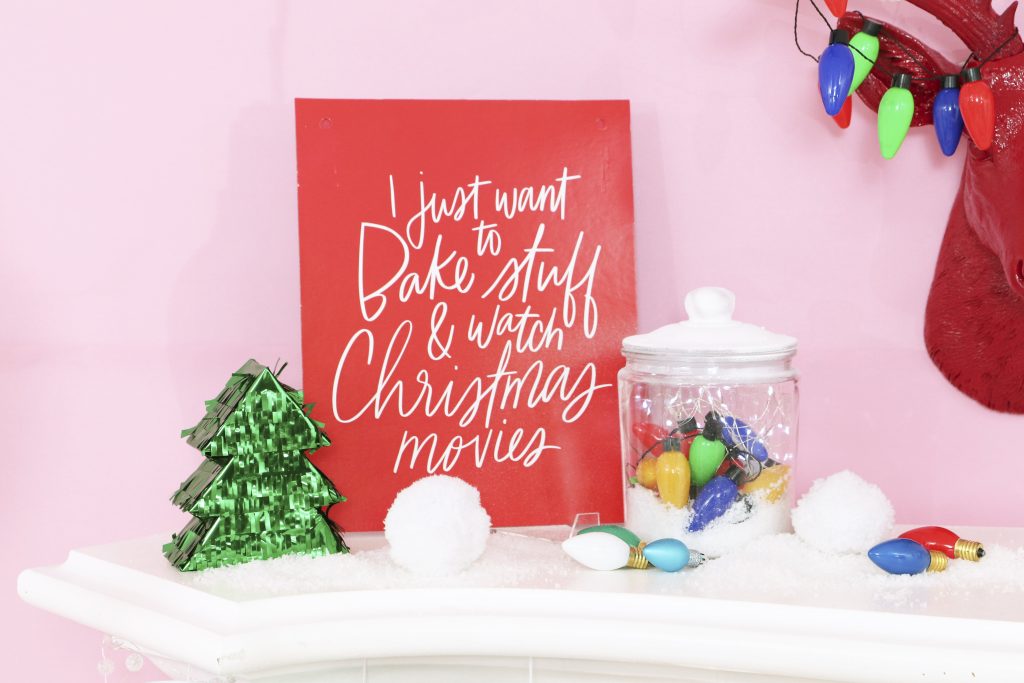 Above the mantle, I hung a painted reindeer head with its antlers wrapped in lights.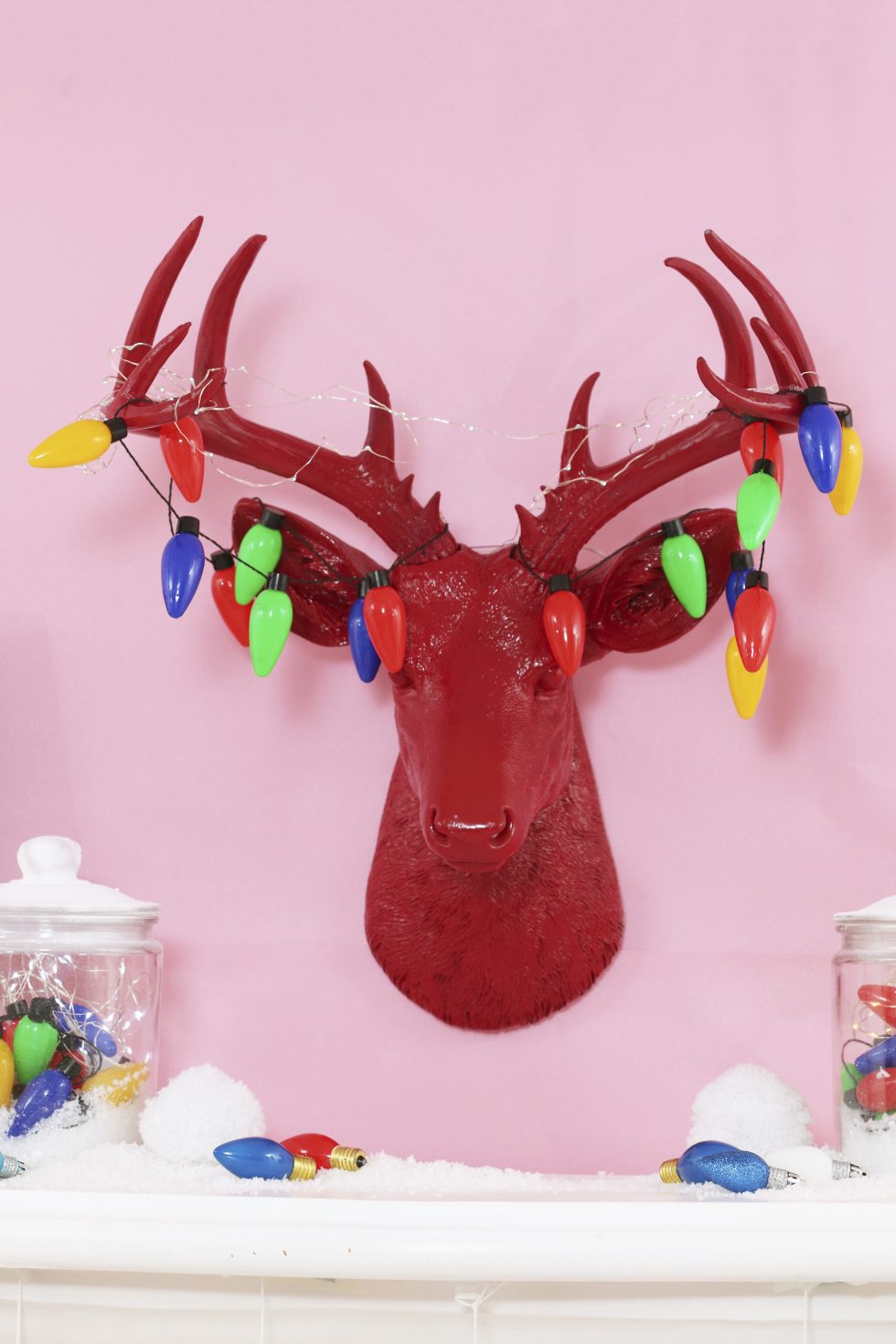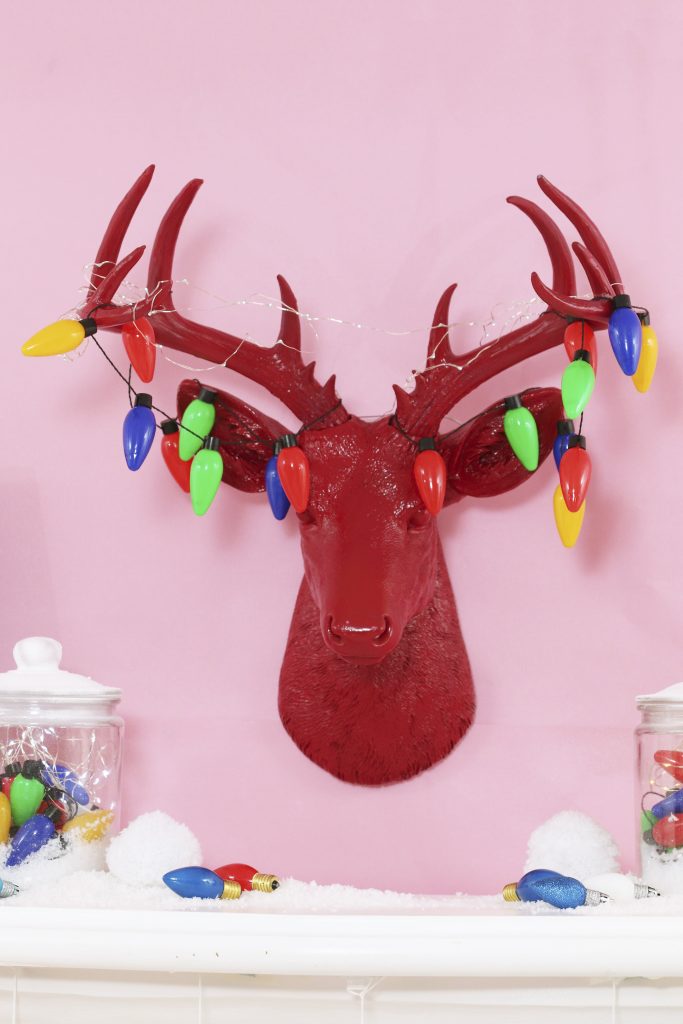 The final touch was the  jumbo lights I hung on each side of the fireplace.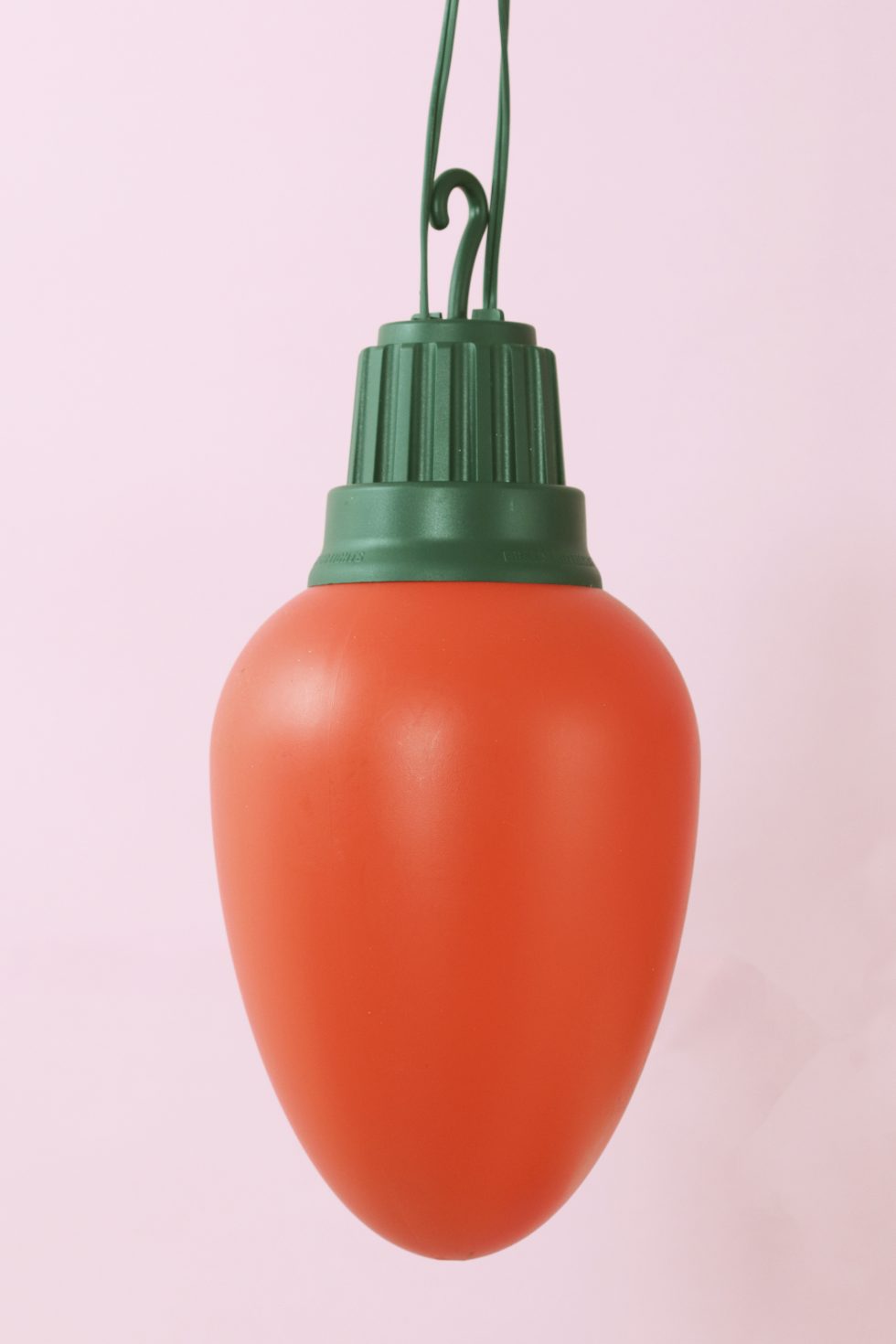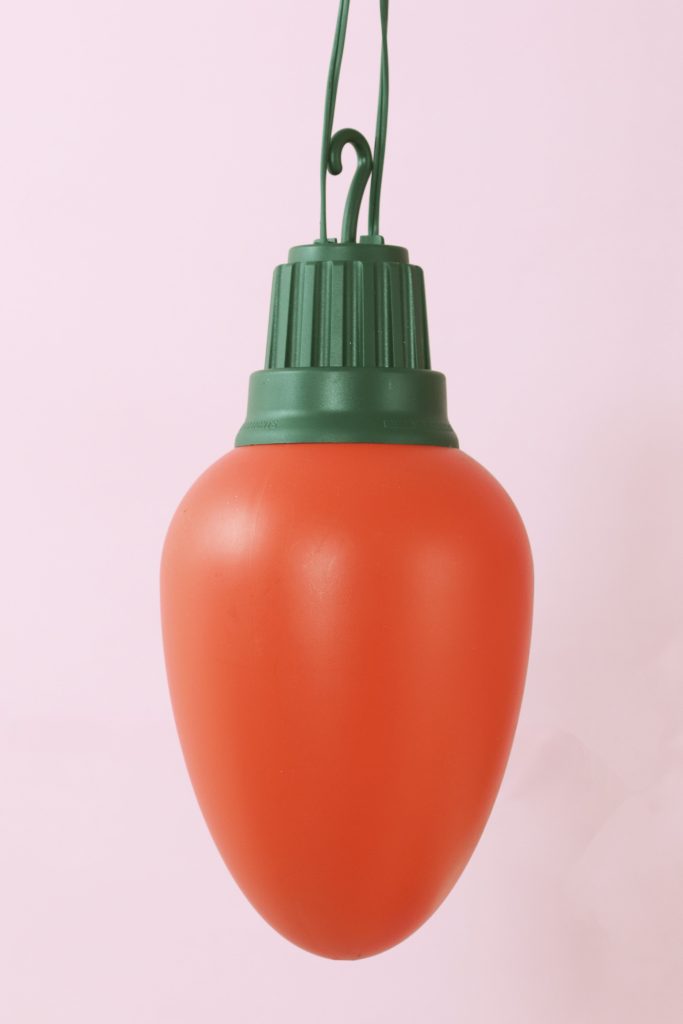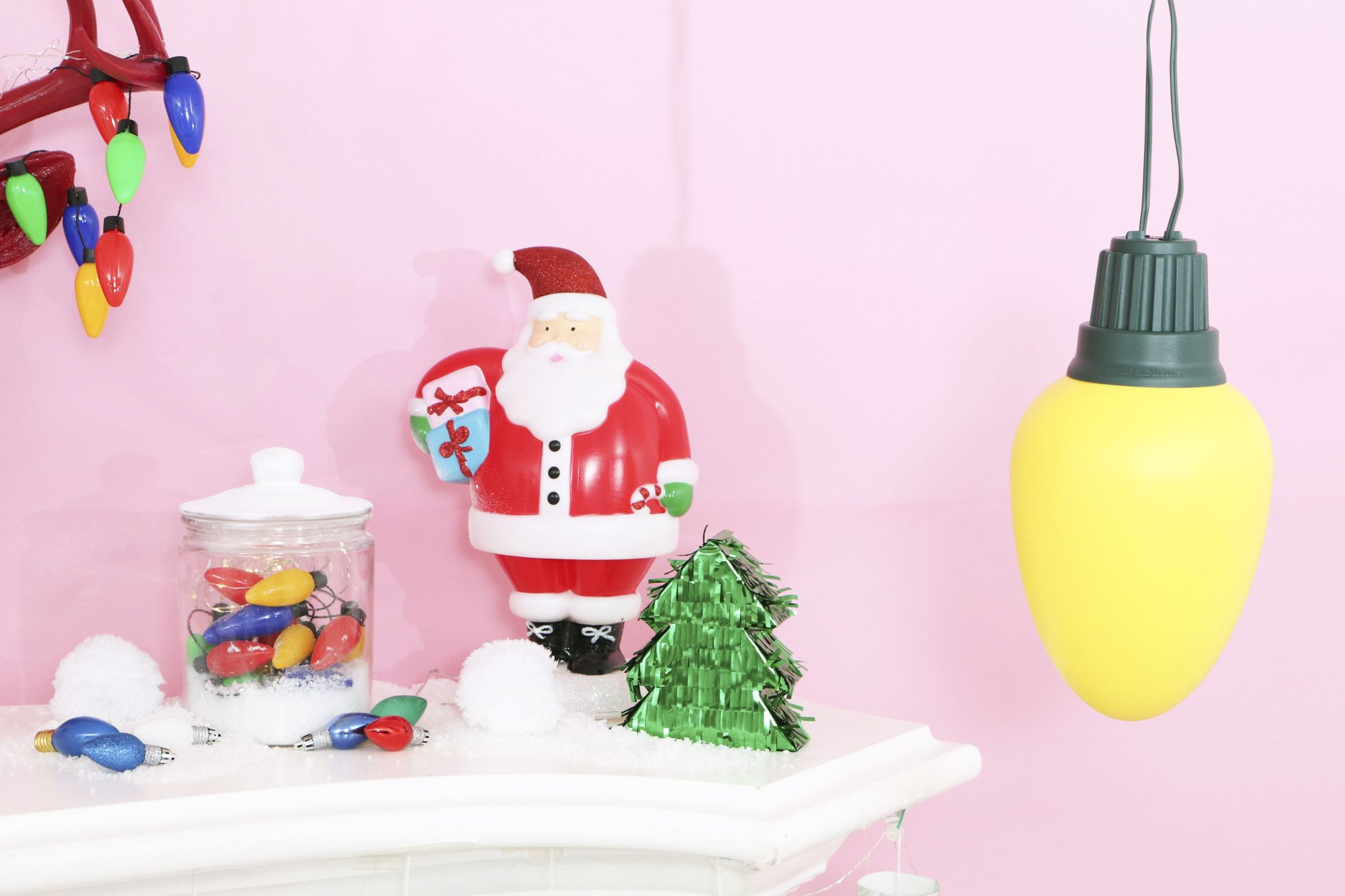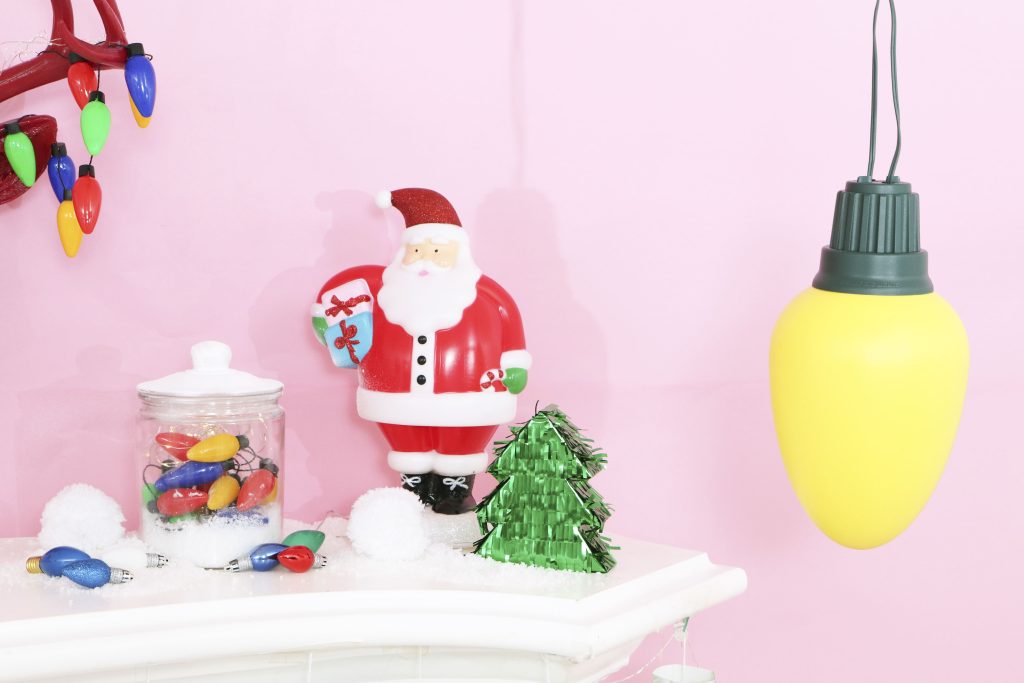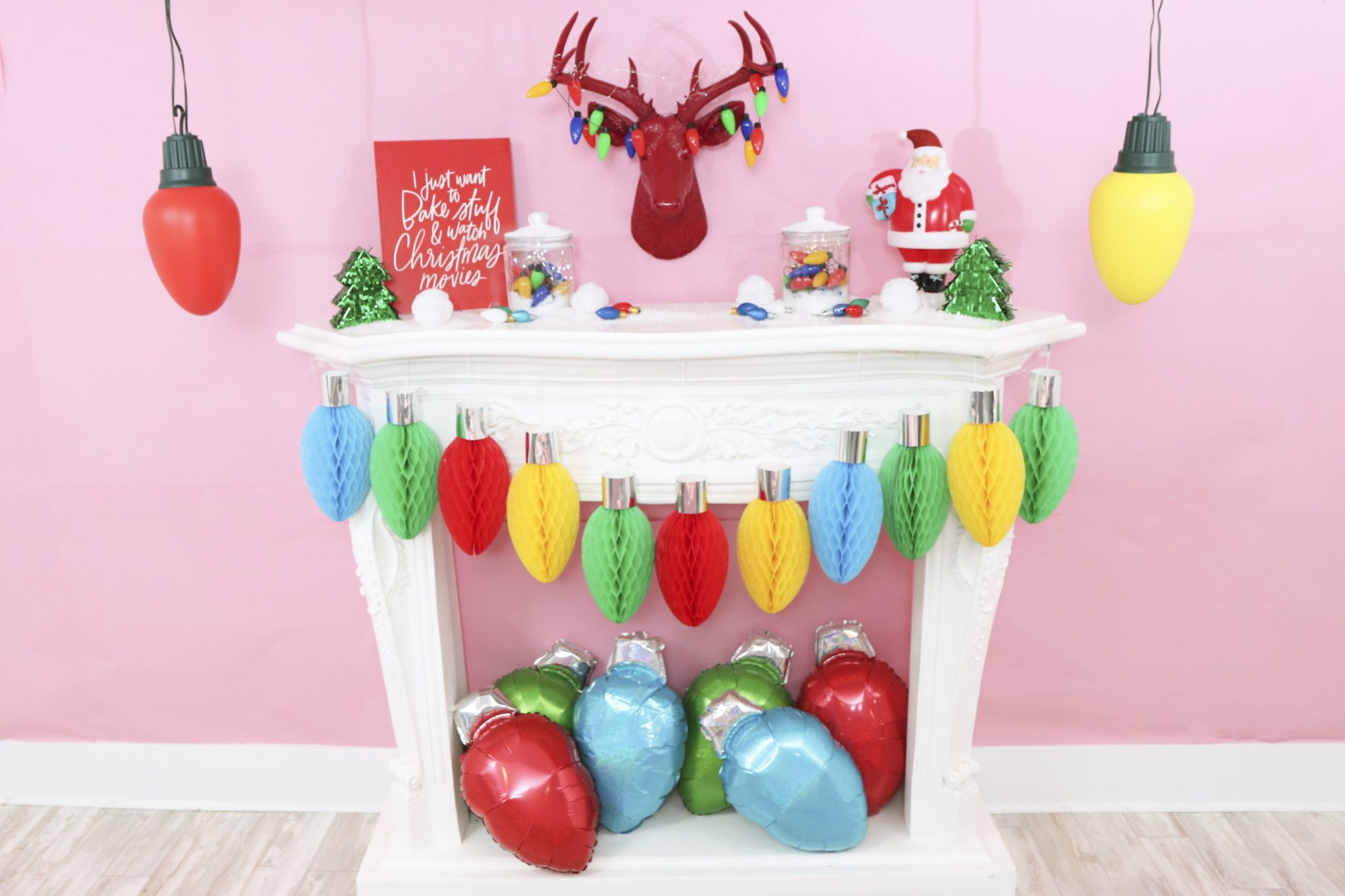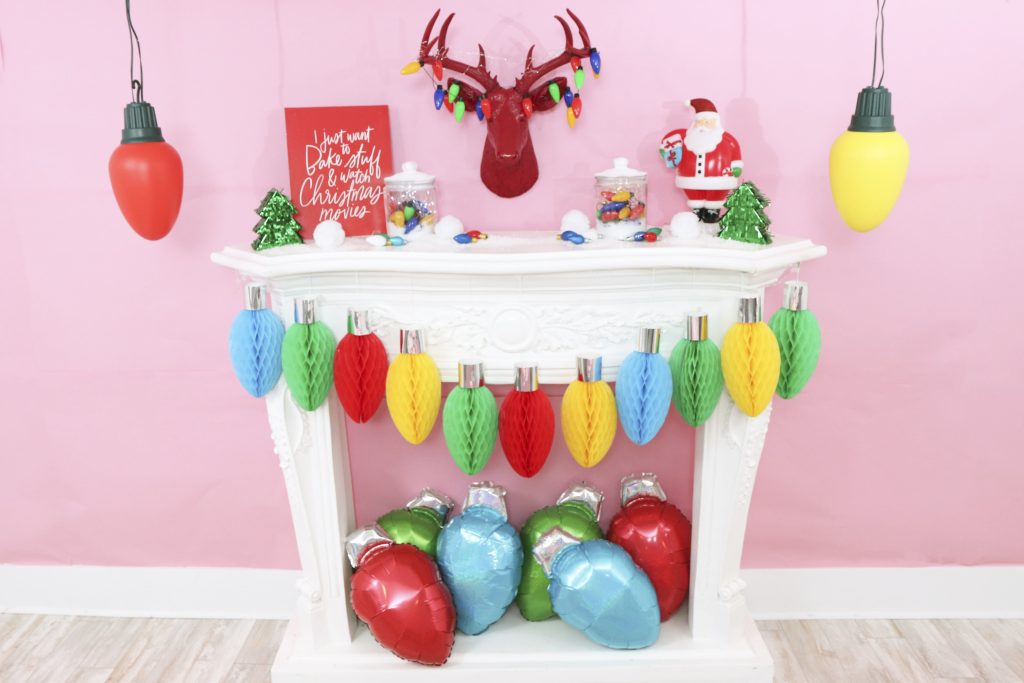 Merry and Bright Place Settings
Making sure bellies are full before crafting is a must! So I set my table with cute place settings for pre-crafting food and drink. I used fun holiday light paper plates, the cutest reindeer light napkins, and red plastic utensils.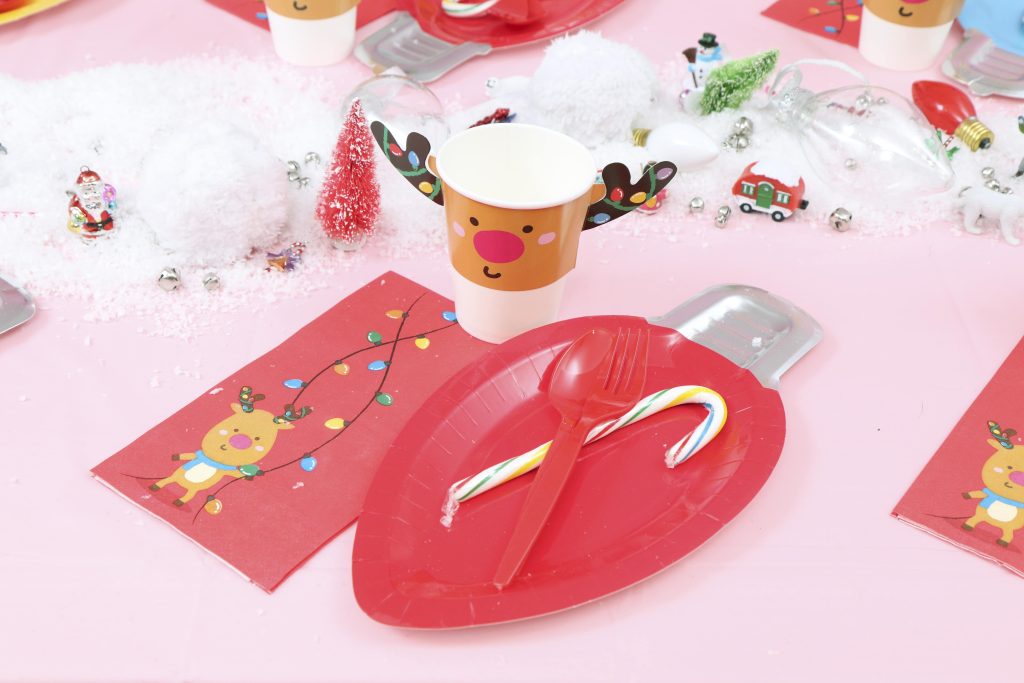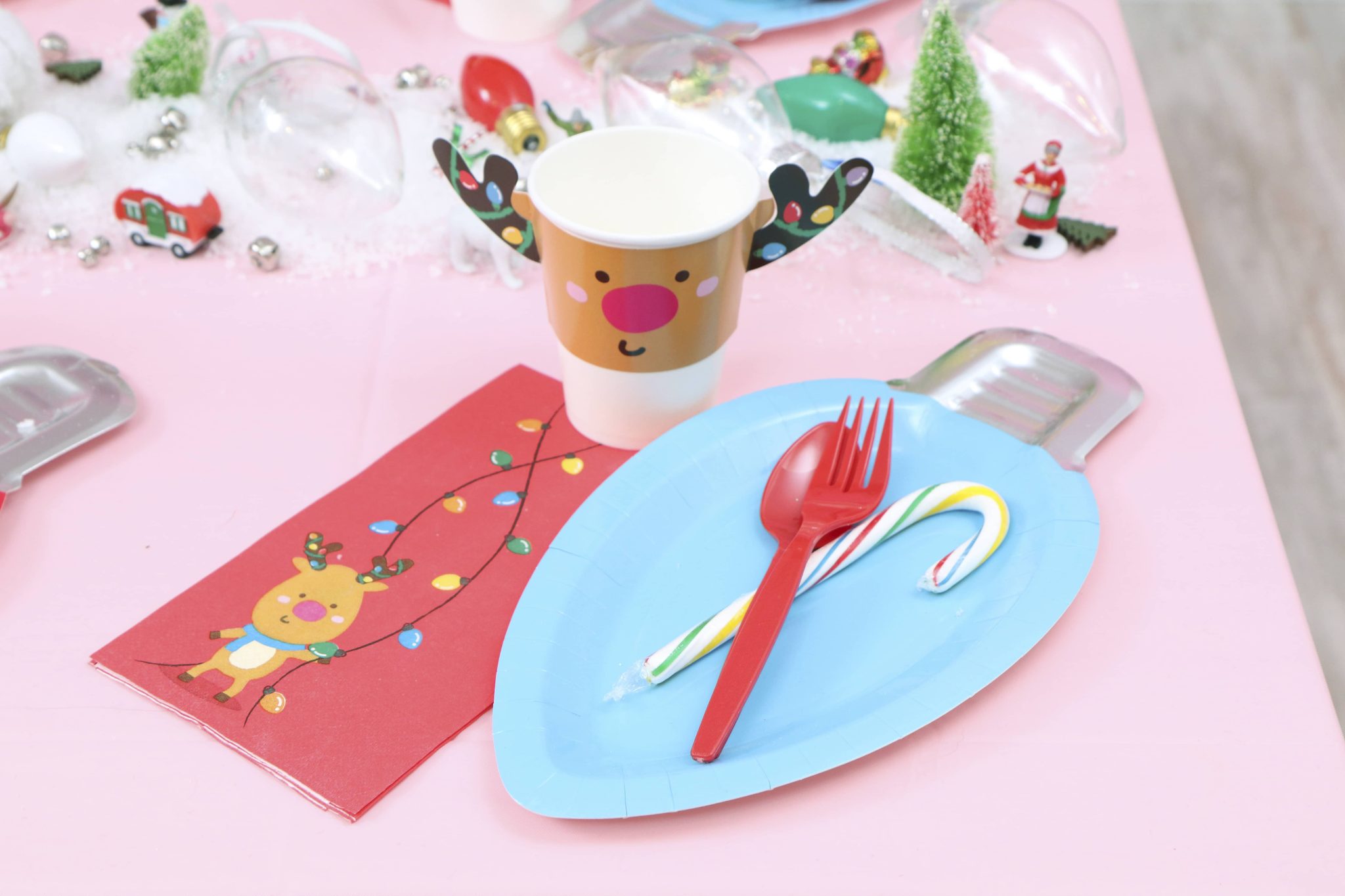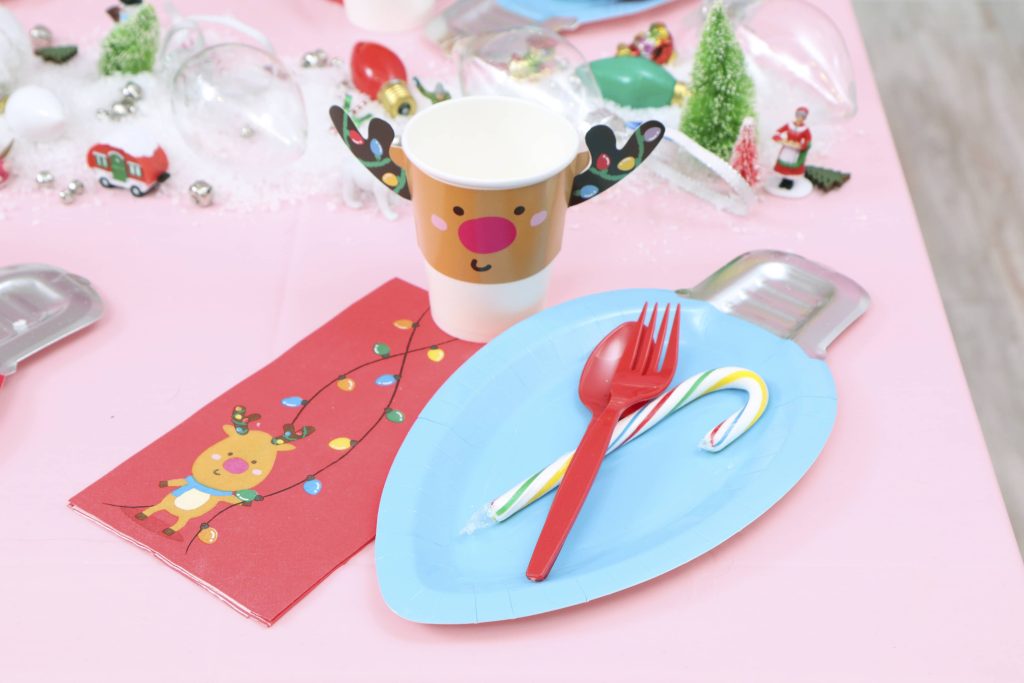 But my favorite part might be the adorable reindeer cups – how cute are they with their little antlers decked out in lights?!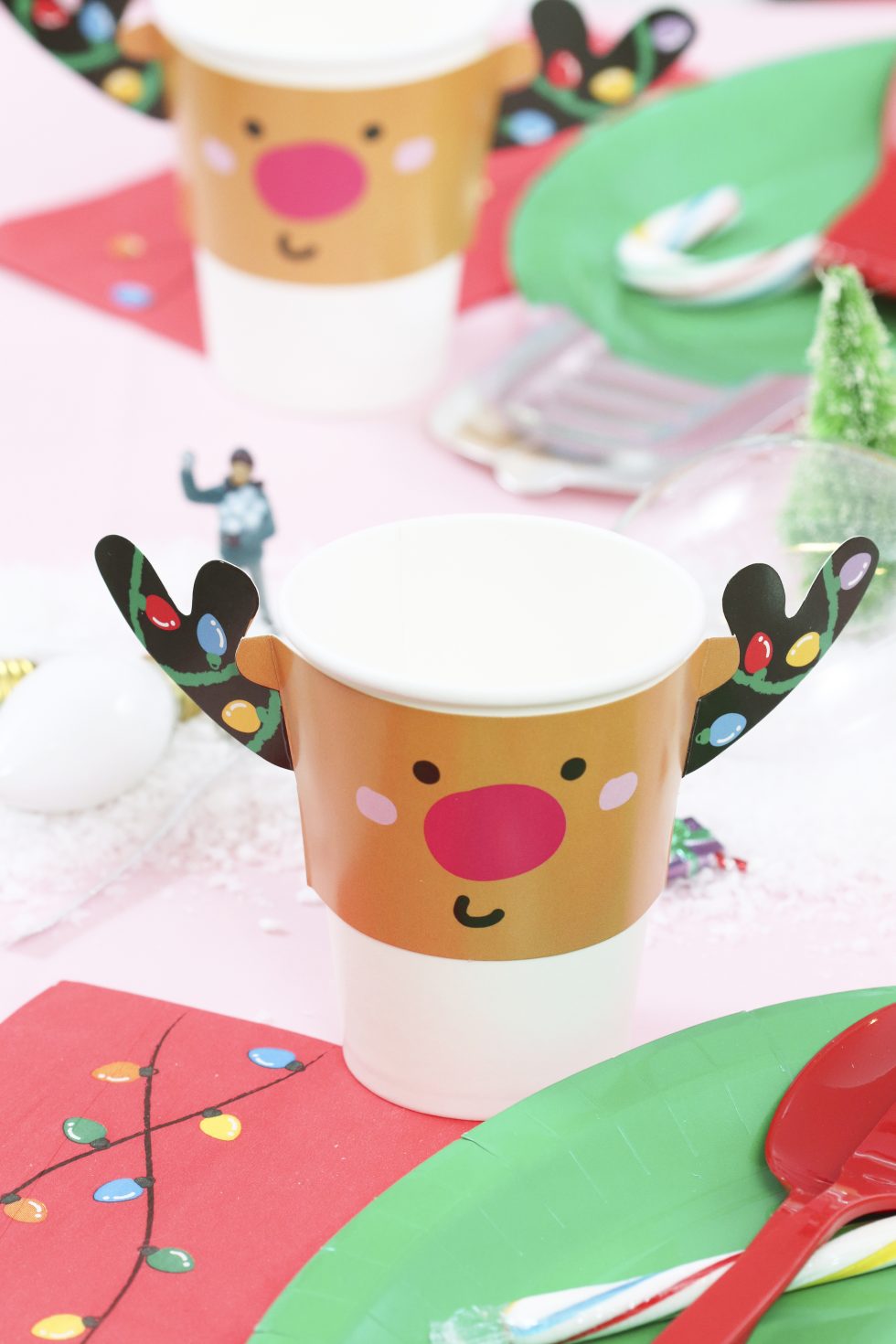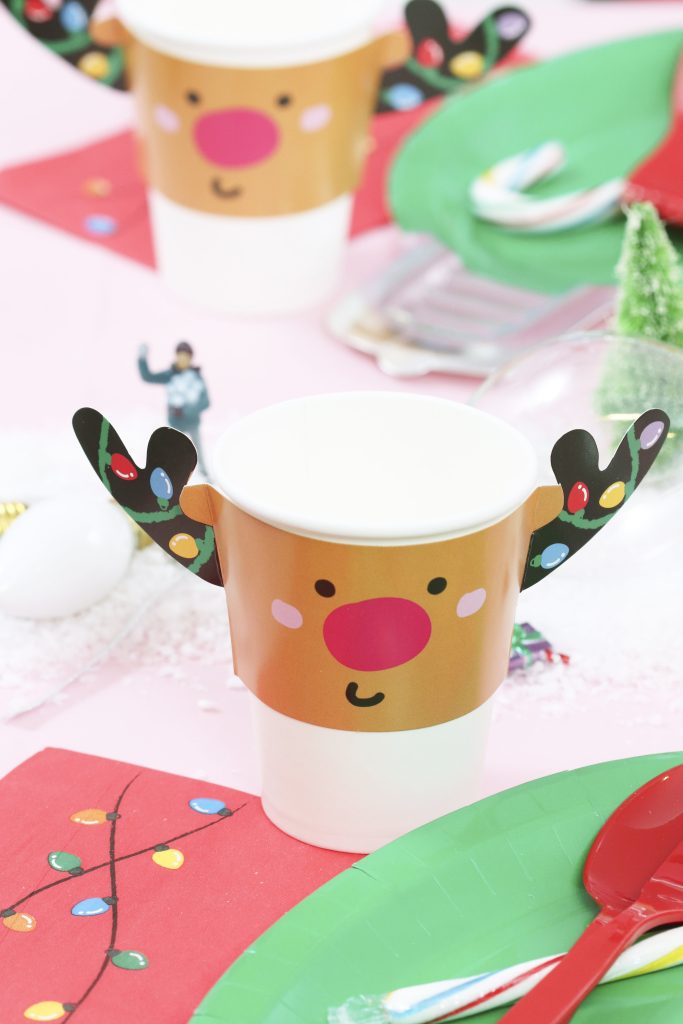 TIP: Put a bright rainbow candy cane on each setting – perfect for an after-dinner treat that also serves to add a little fun decor!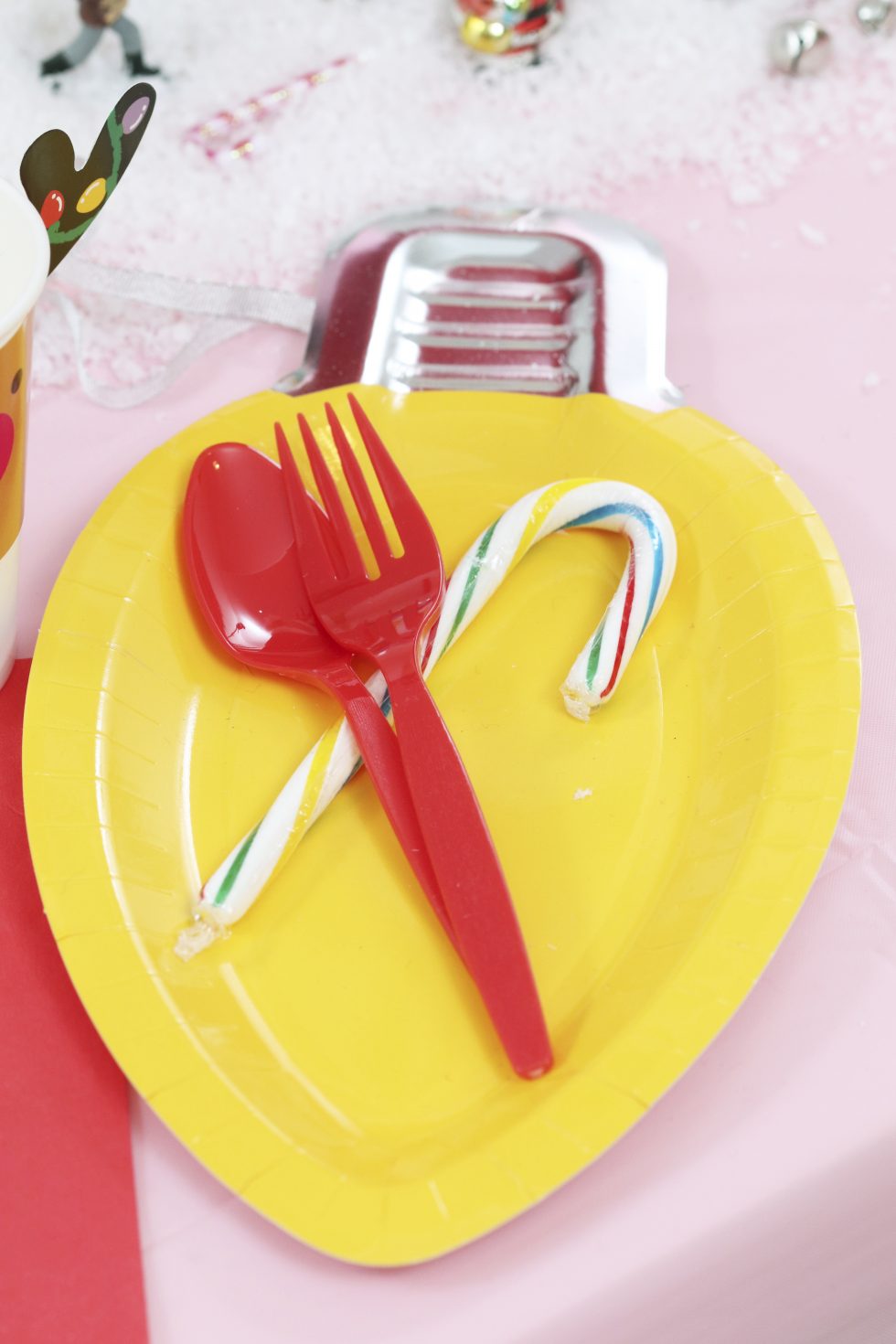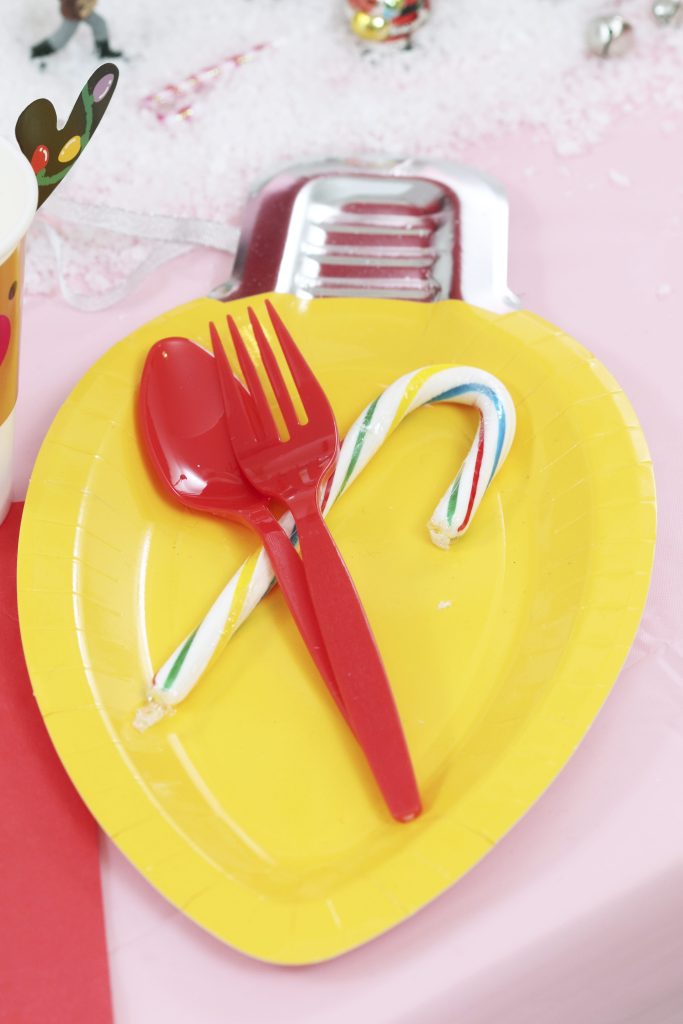 Craft Time!
After dinner, it's time for the main event – the crafting! There are tons of Christmas light-themed crafts you could do (such as tissue paper lights, goofy light craft kits, or painting wooden lights), but for ours we made Christmas light snow globe ornaments! I spread all of the materials out across the center of the table – faux snow, clear fillable light bulb ornaments, and lots of small holiday trinkets.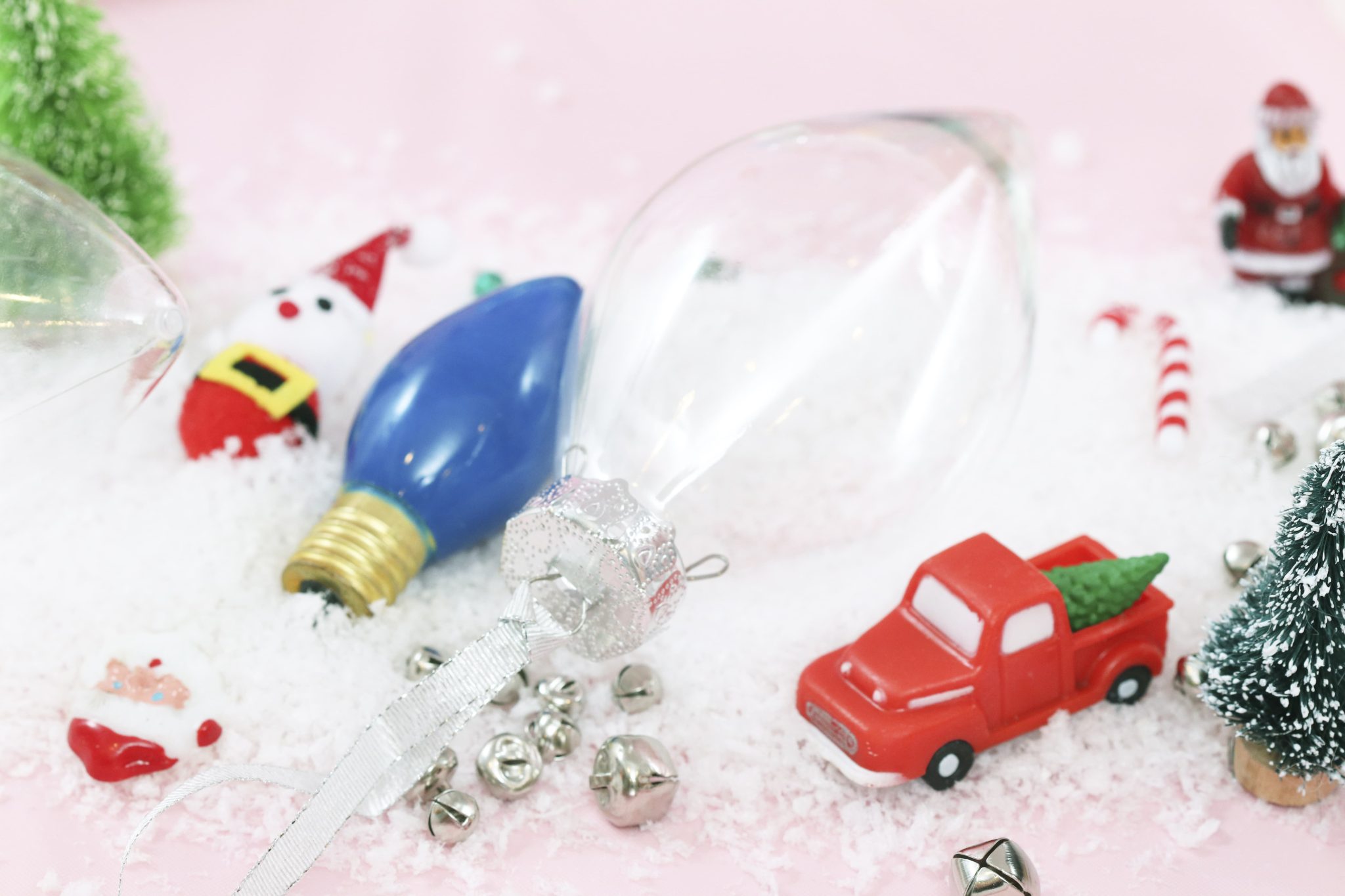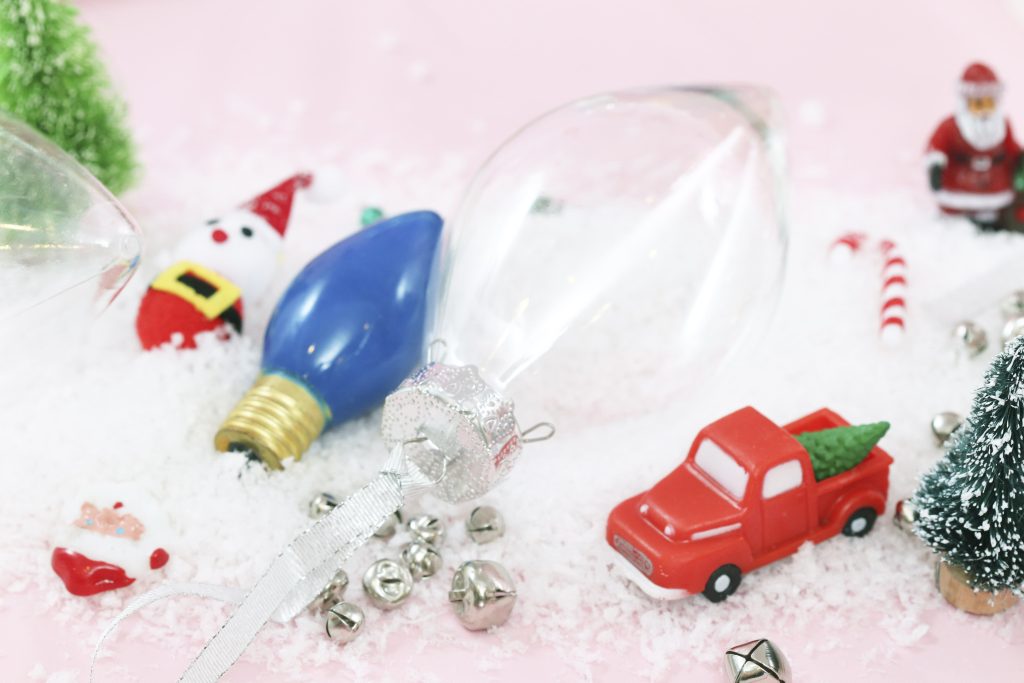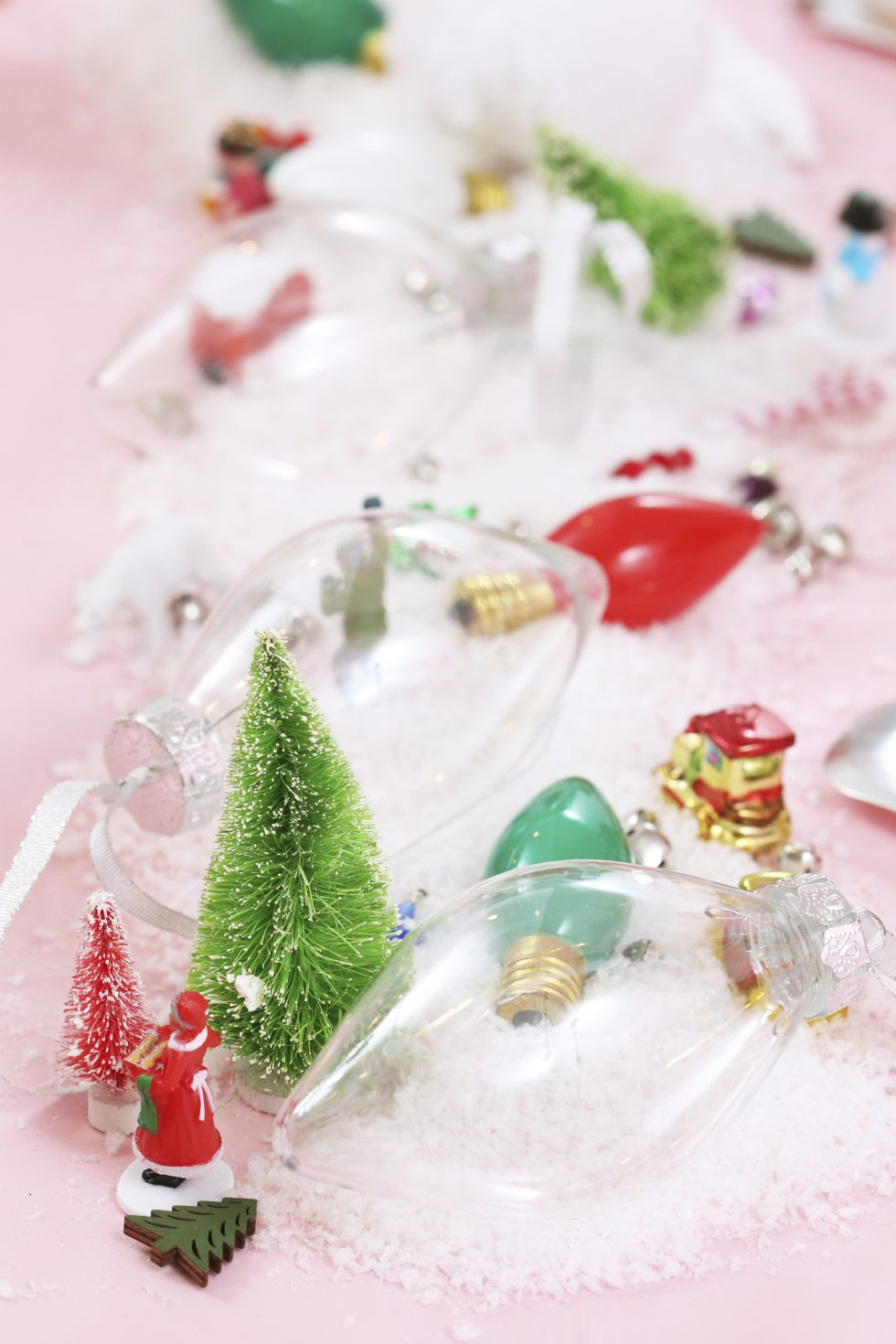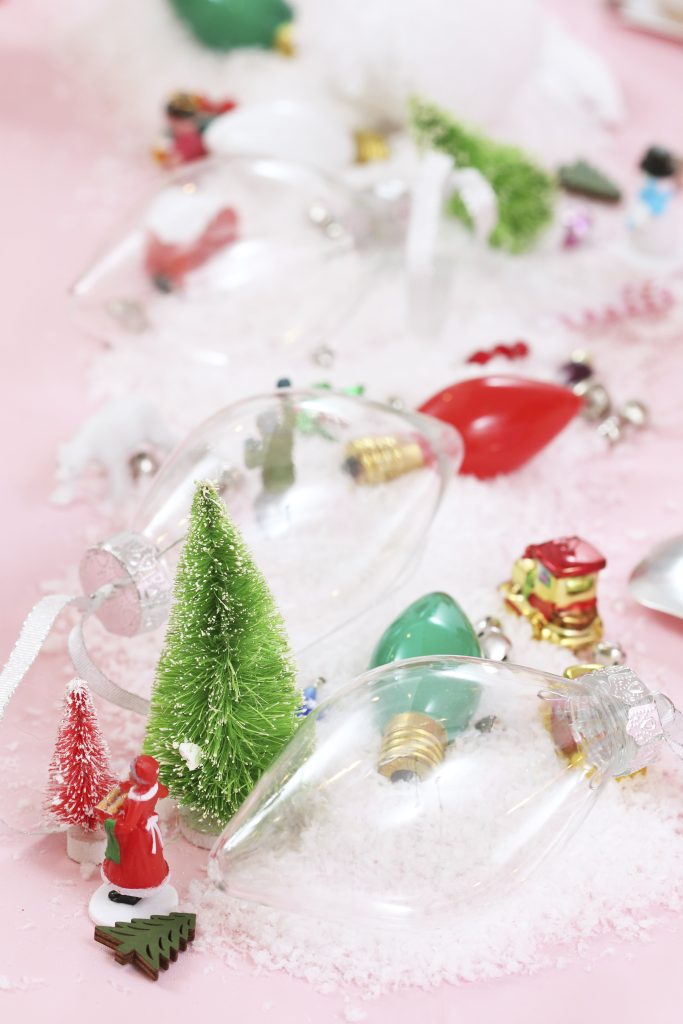 Spreading them out on the table this way serves a double purpose – as a pretty holiday table runner while the kids eat, and to provide easy access to the materials when craft time starts!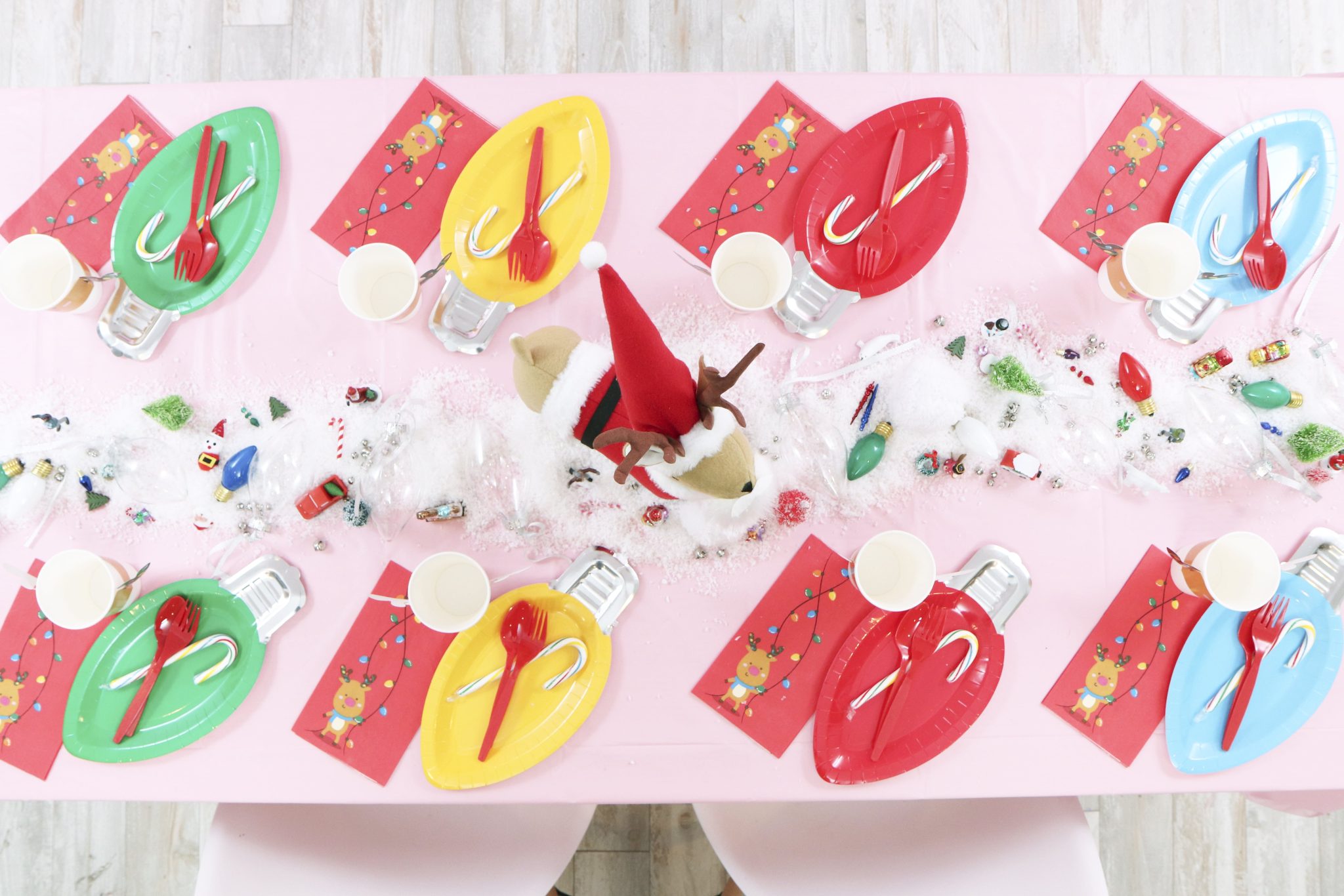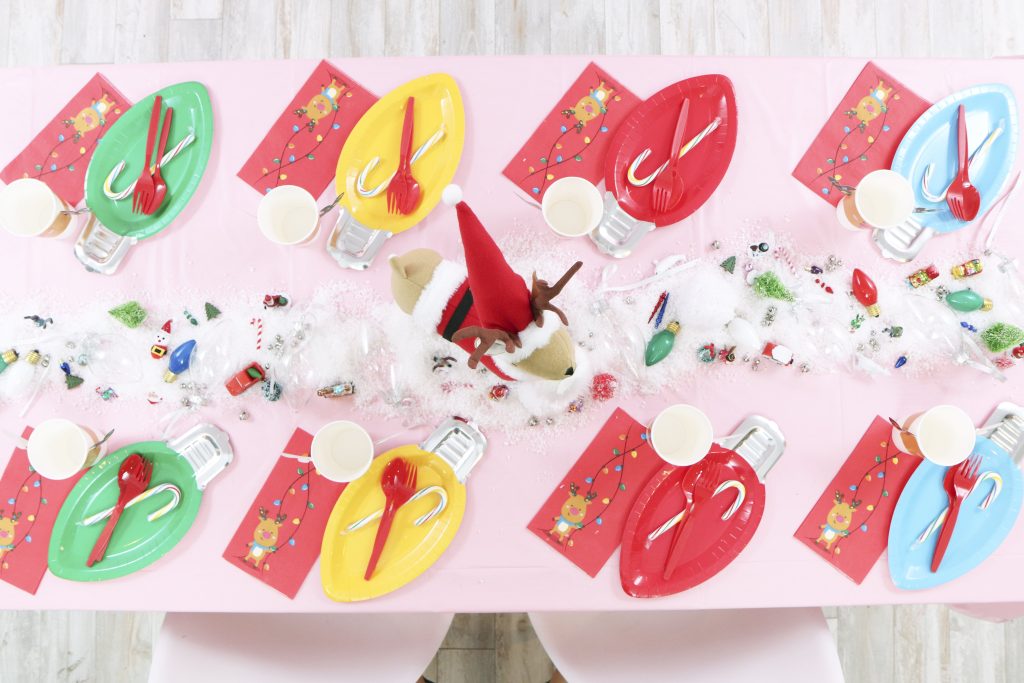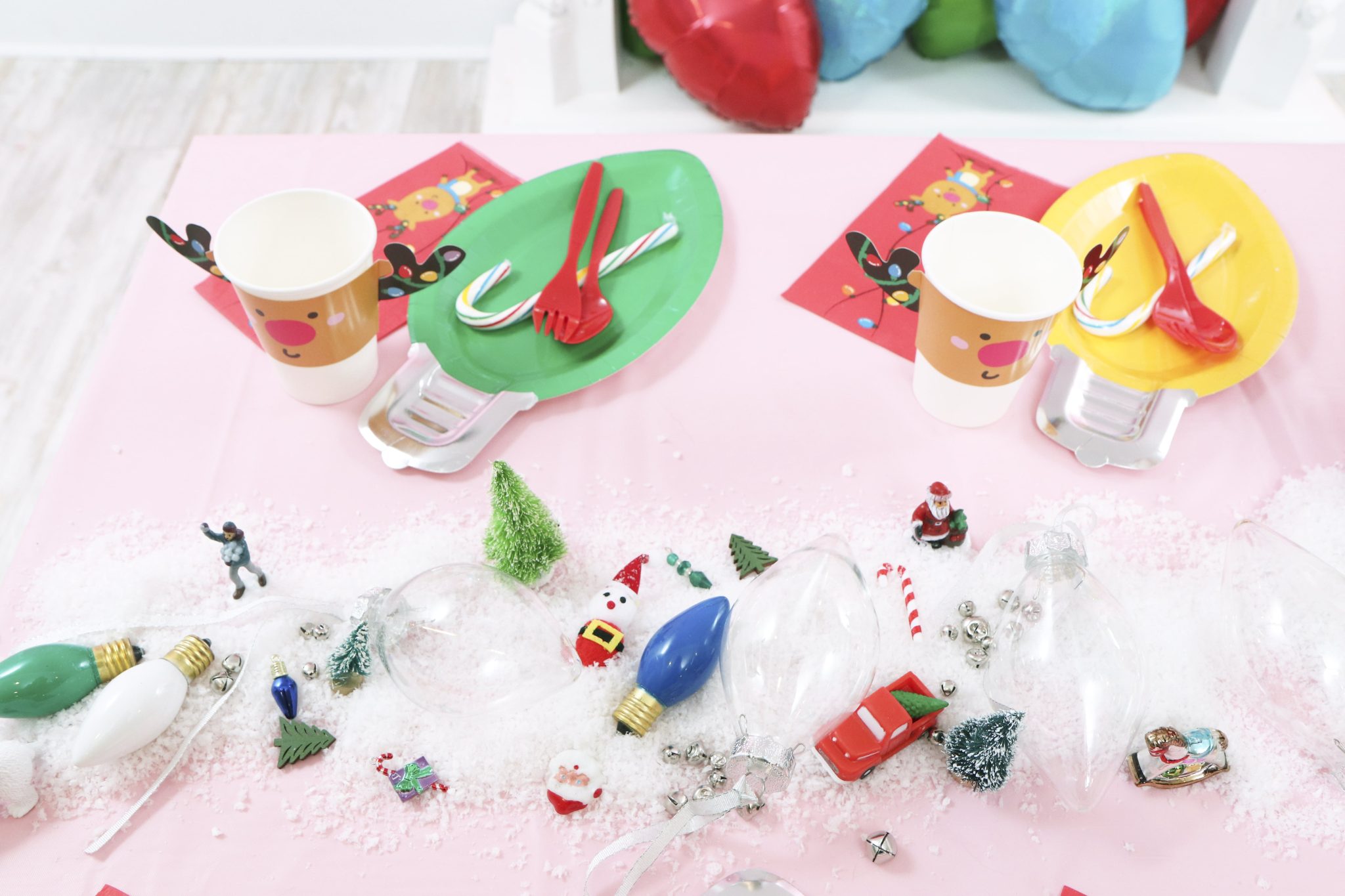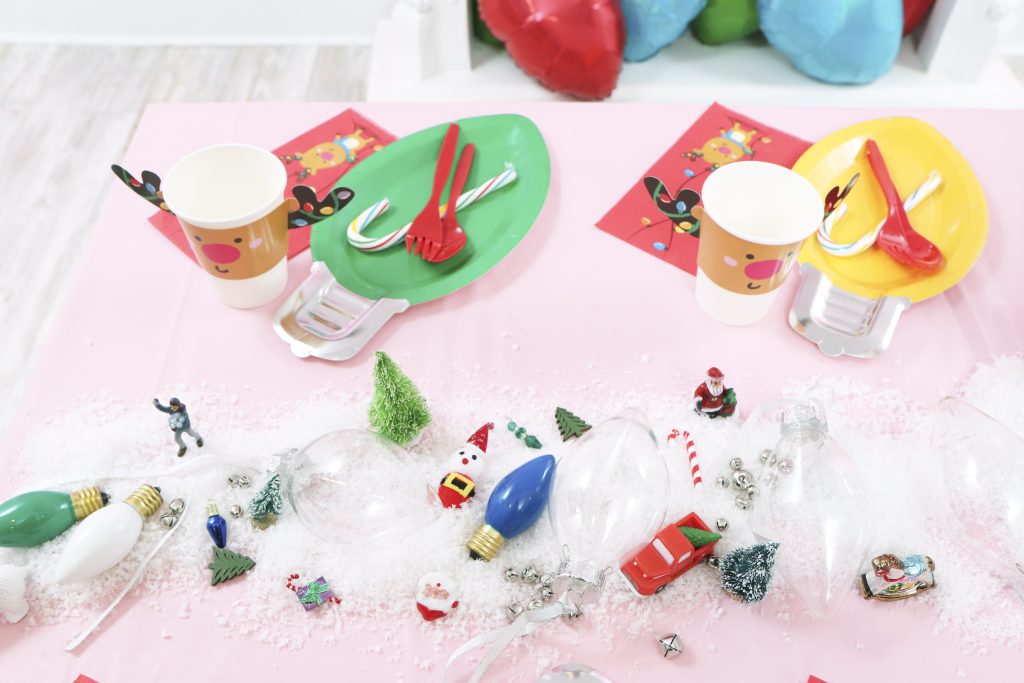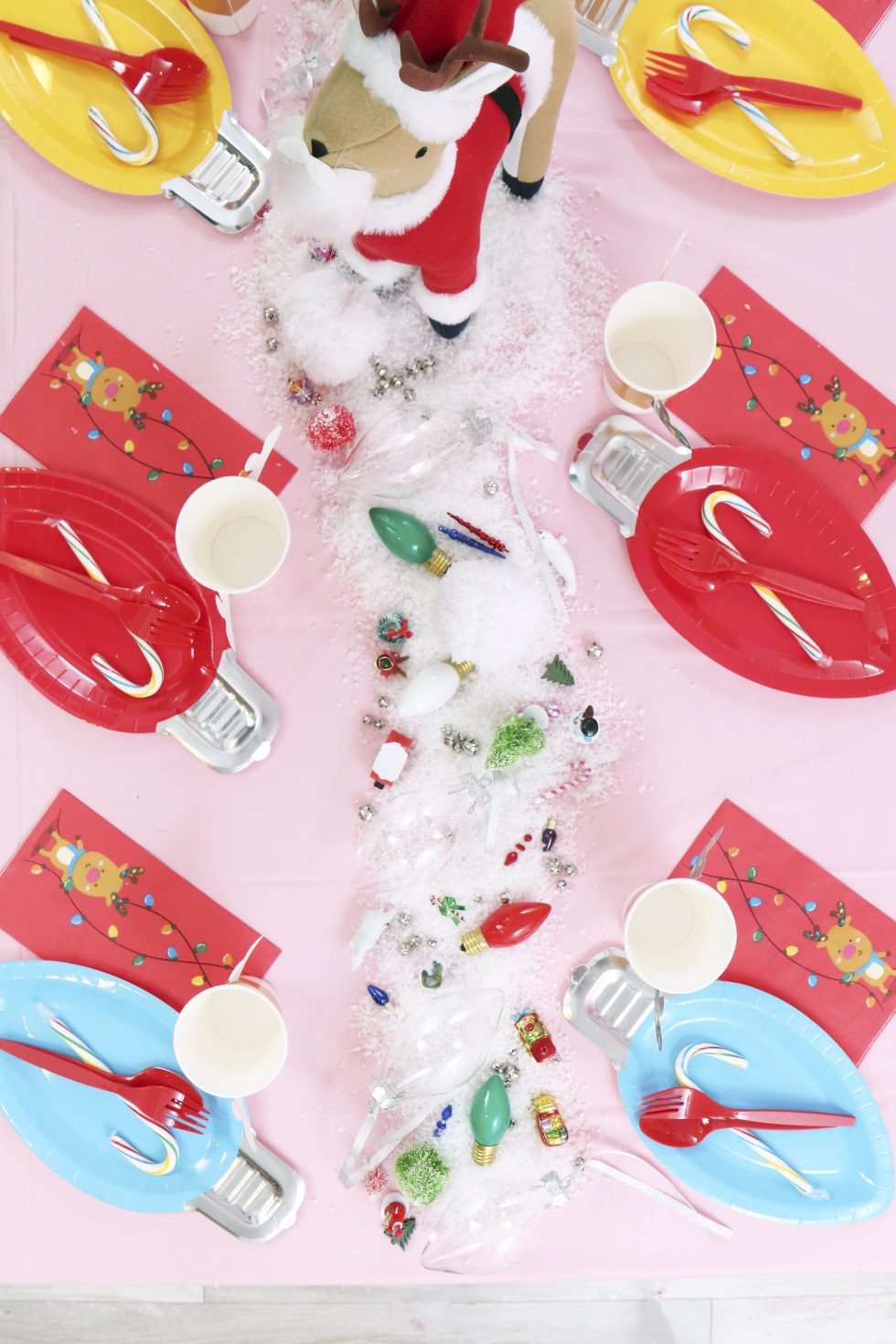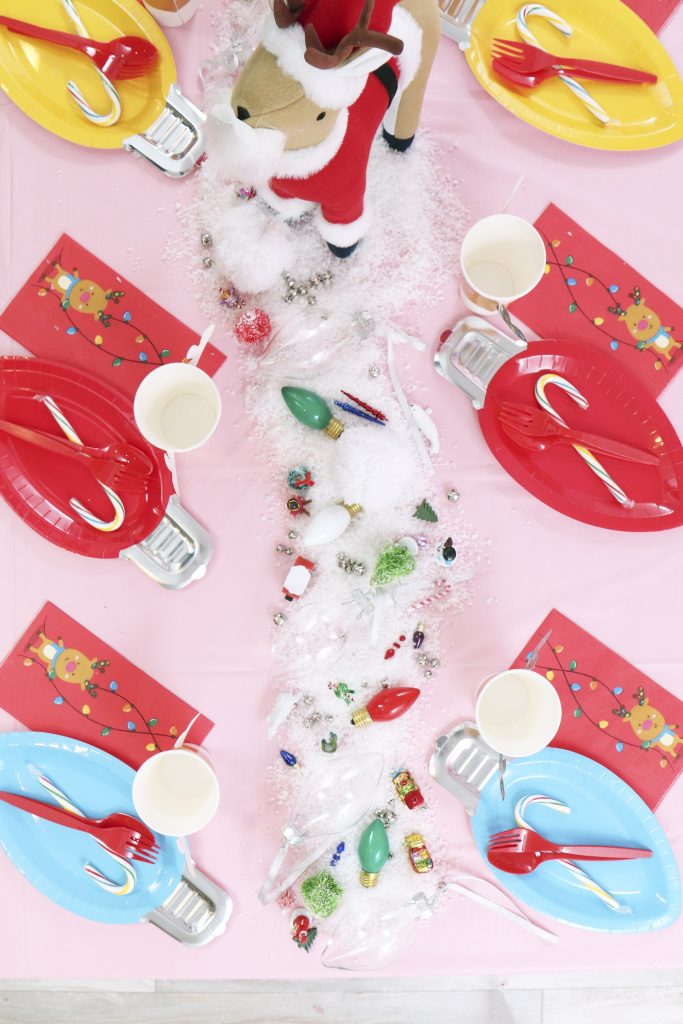 Lastly, I added a Santa reindeer stuffed animal in the very center of the table to oversee the crafting, and for hugs, of course.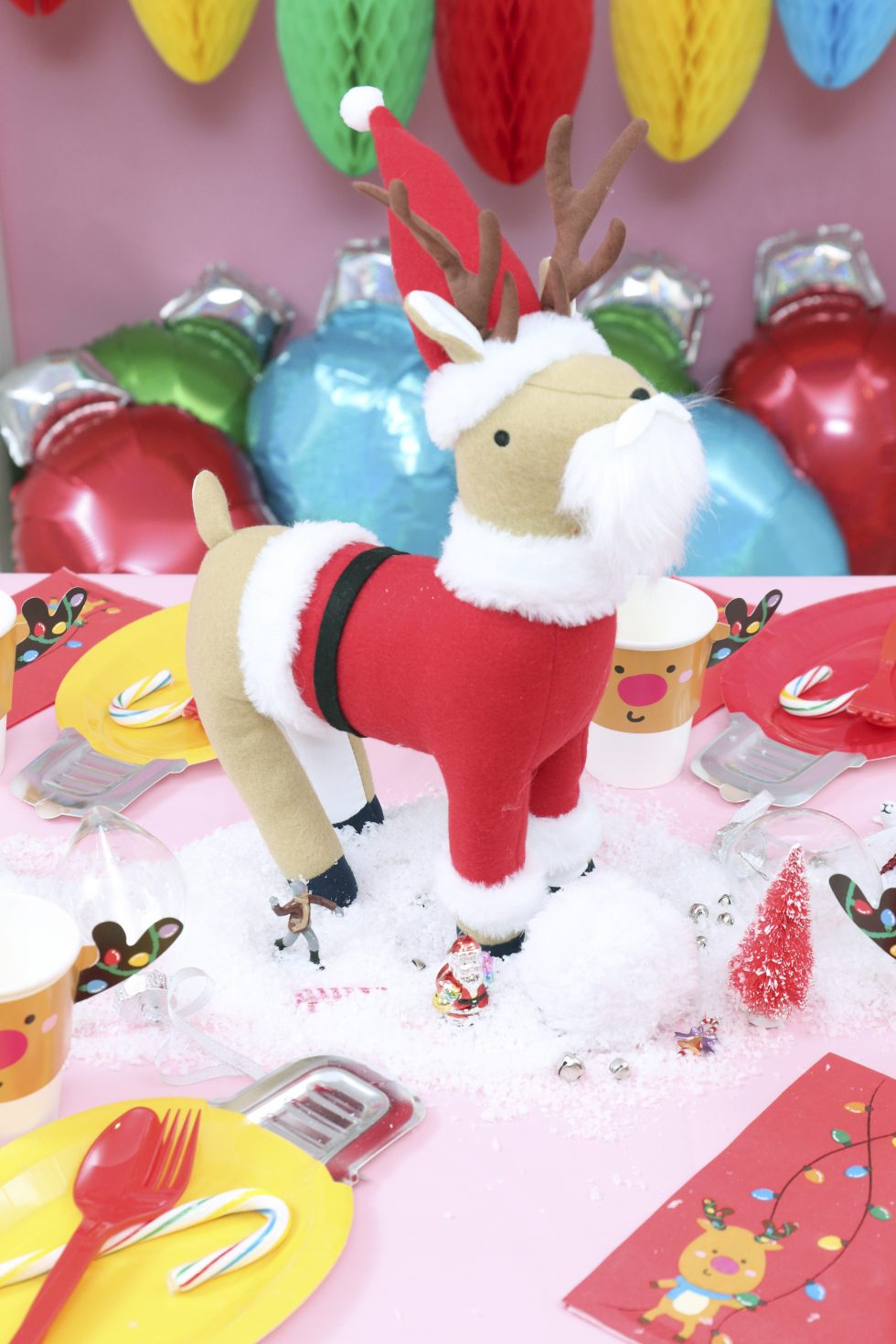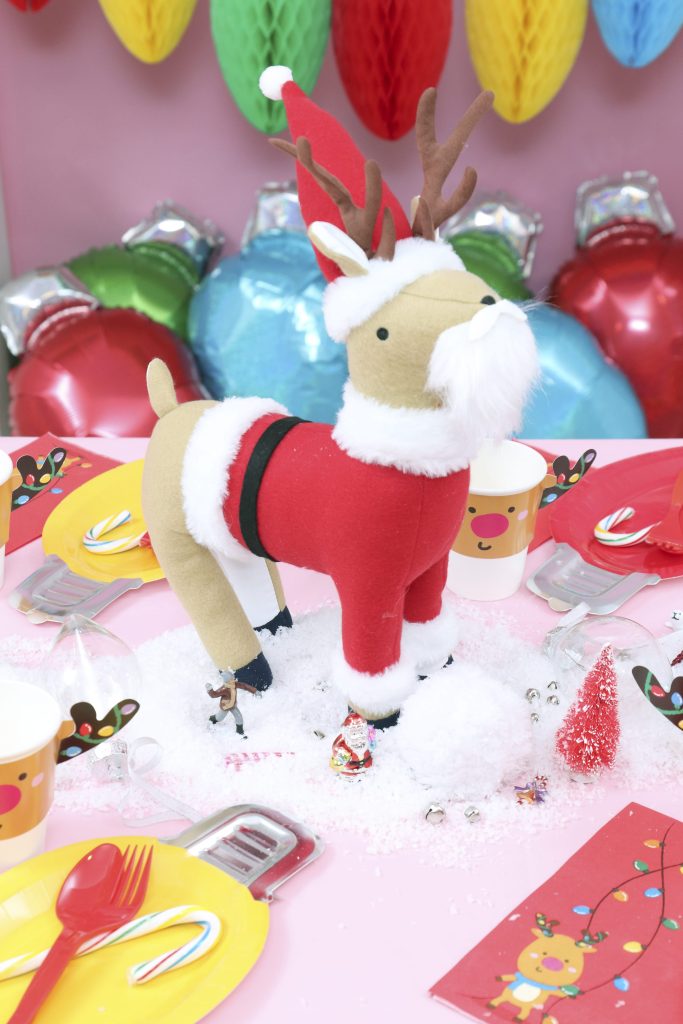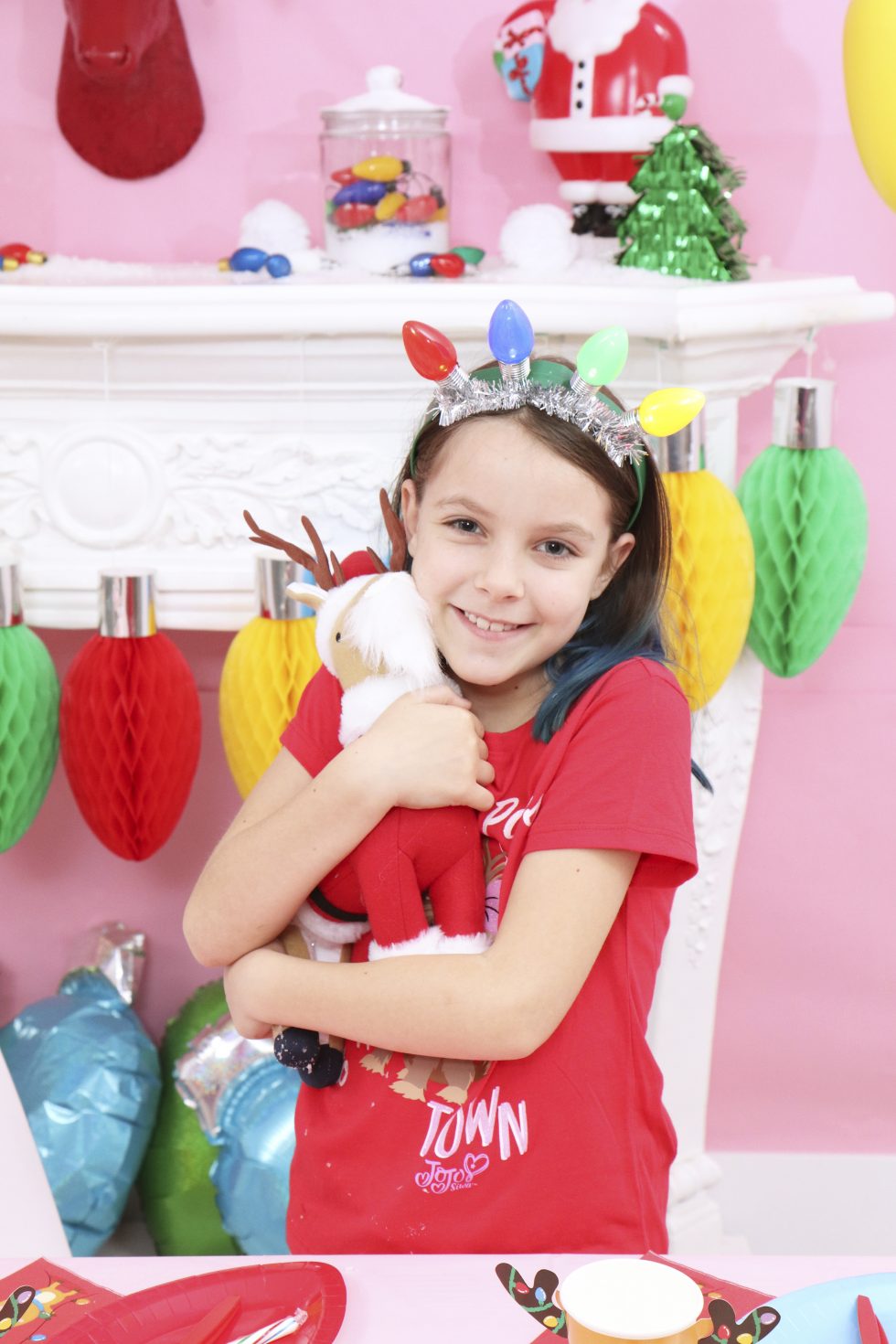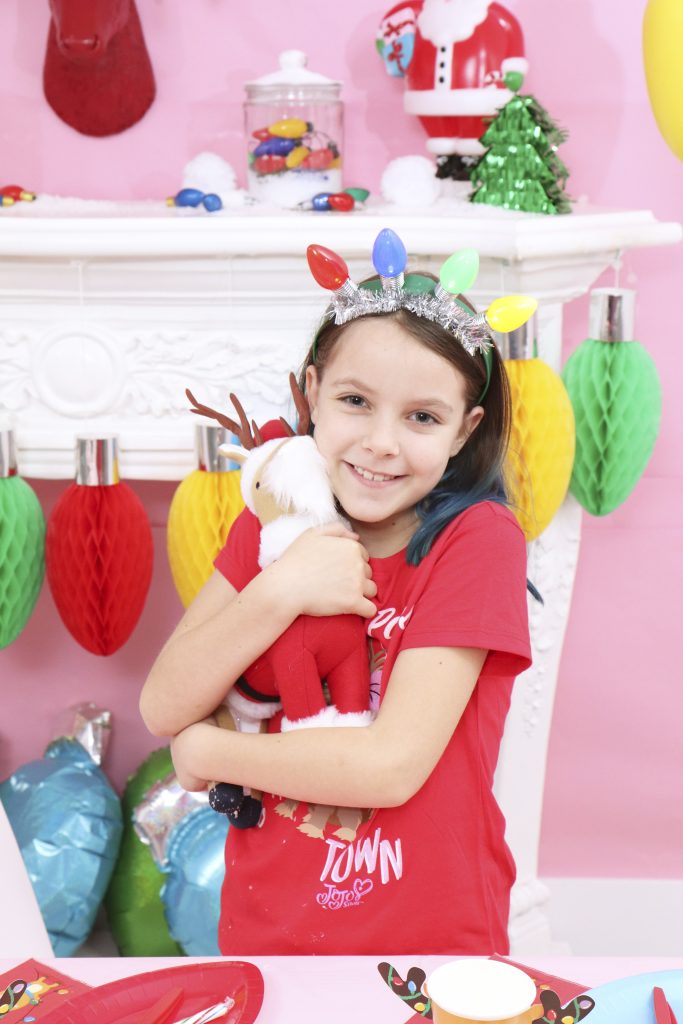 TIP: These Christmas light headbands make great merry and bright light-up additions to the party, and can be taken home as favors at the end of the party!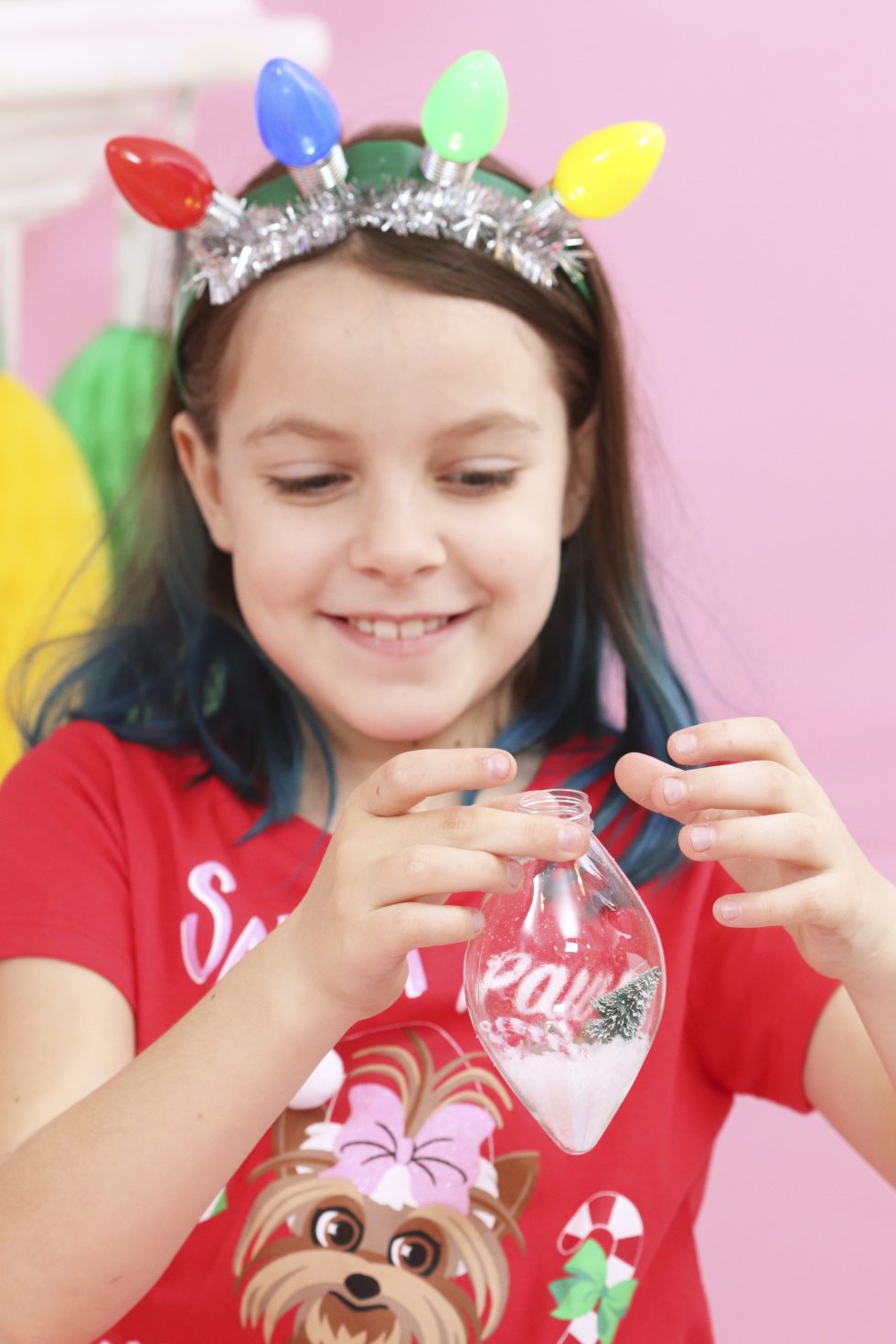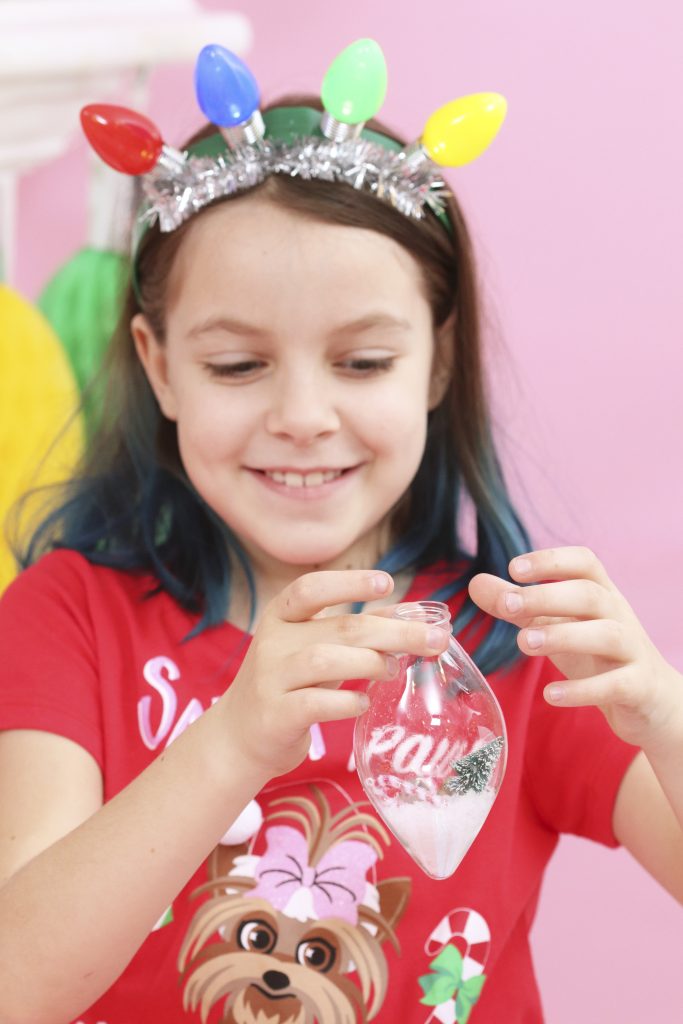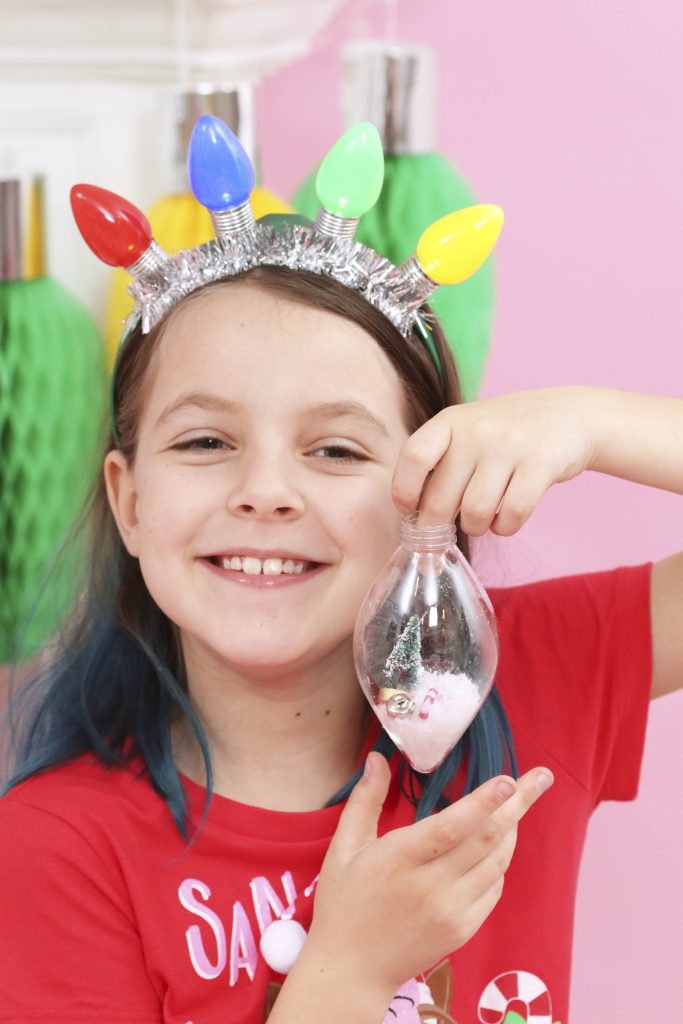 Kids will have a blast at this Merry and Bright Christmas Light Party. Can you think of other light-themed crafts? I'd love to hear your ideas in the comments!
Don't forget to check out my Amazon shop for an easy one-stop-shop of similar items, and other fun Christmas-light-themed bonus items!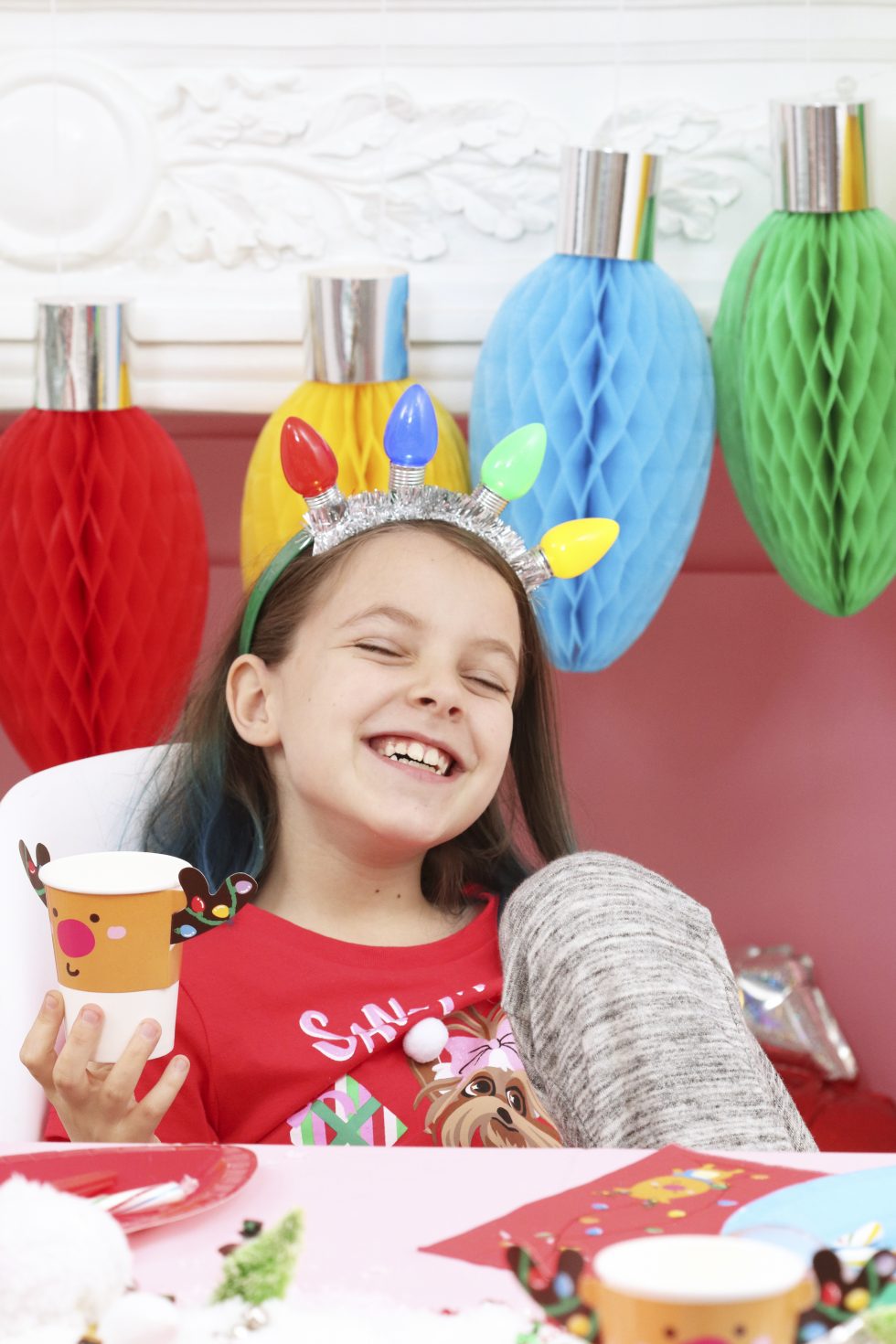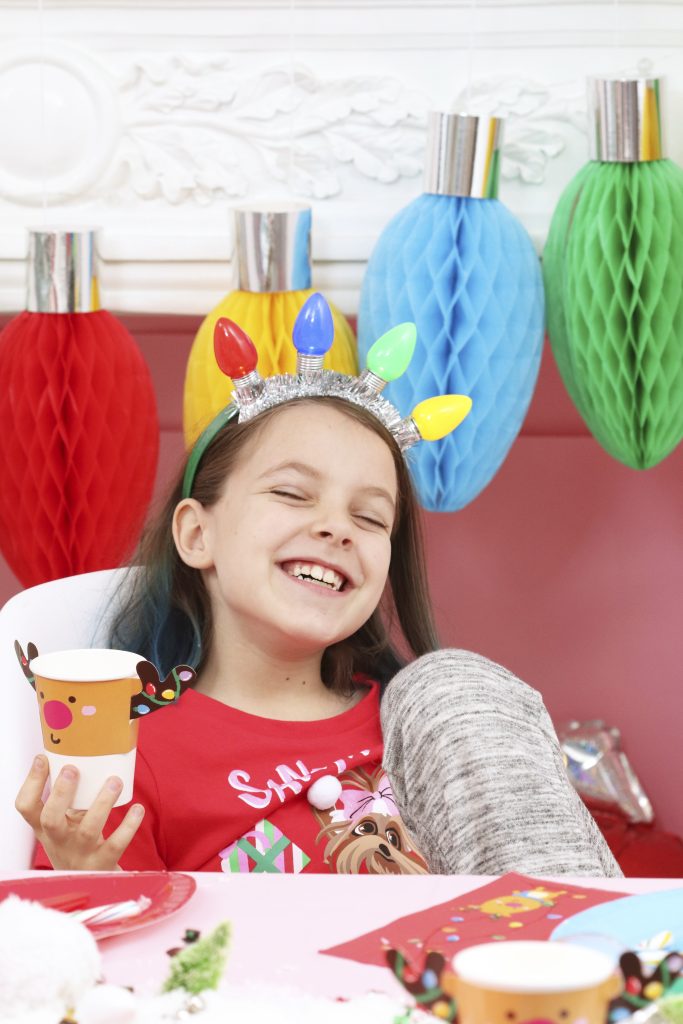 More Kids Christmas Party Ideas
For more fun holiday party inspiration, check out my posts about a Happy Hula-days Tropical Holiday Party or a Polar Express Craft & Movie Party!
Merry Partying!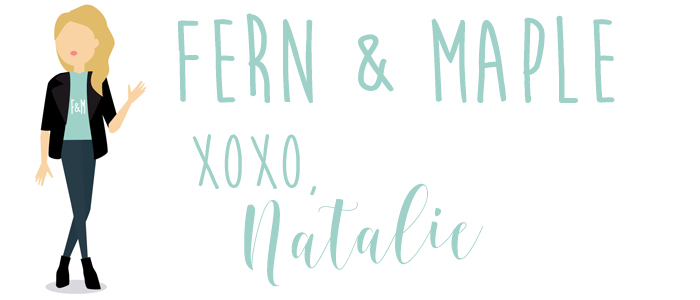 PIN FOR LATER: