I like to party, and by party, I mean watch true crime documentaries!! Yes, I love true crime! Not quite sure why it is so fascinating but If you caught the Saturday Night Live skit "murder show" you know I'm not the only one!
If, like me, you are a True Crime lover aka. armchair detective (!), you will kill for these Halloween party ideas!
Perfect for a True Crime, Murder Mystery, or Crime Scene theme party.  This Halloween, crack the case and set the mood with killer decorations.
Be sure to check out my Amazon Shop for a convenient True Crime Halloween Party shopping list!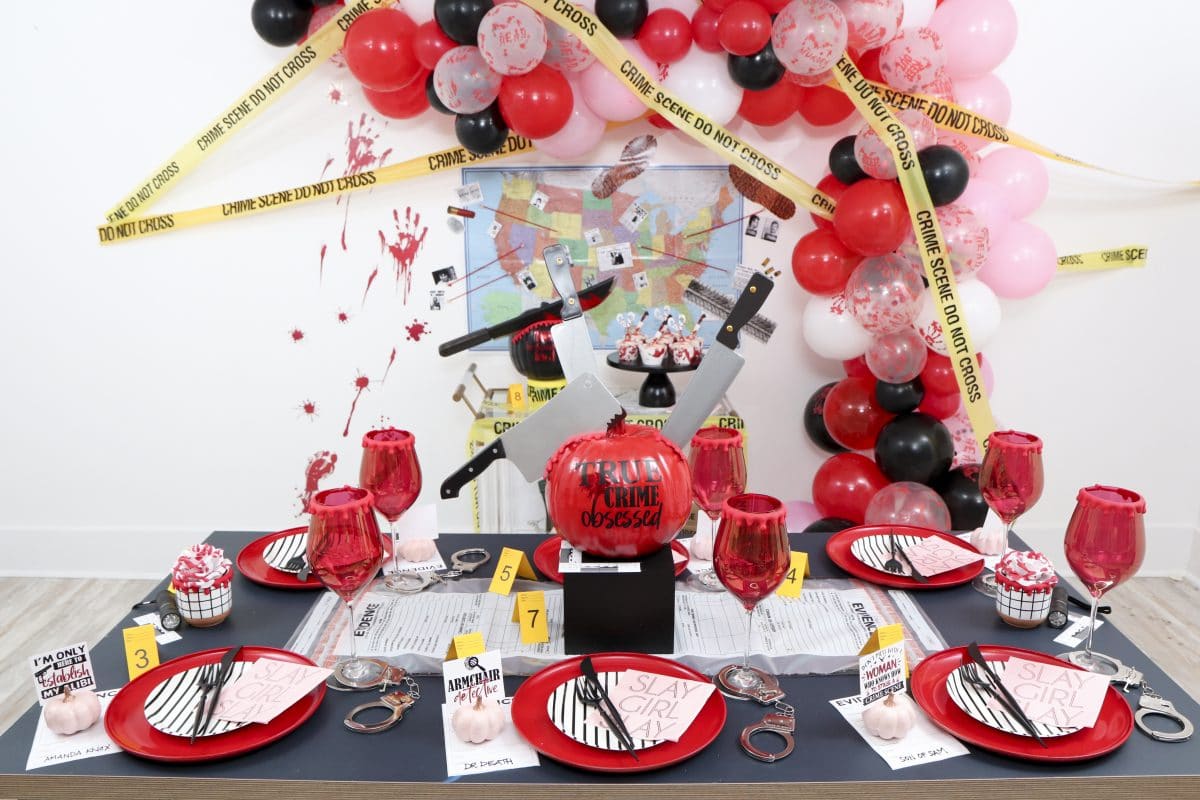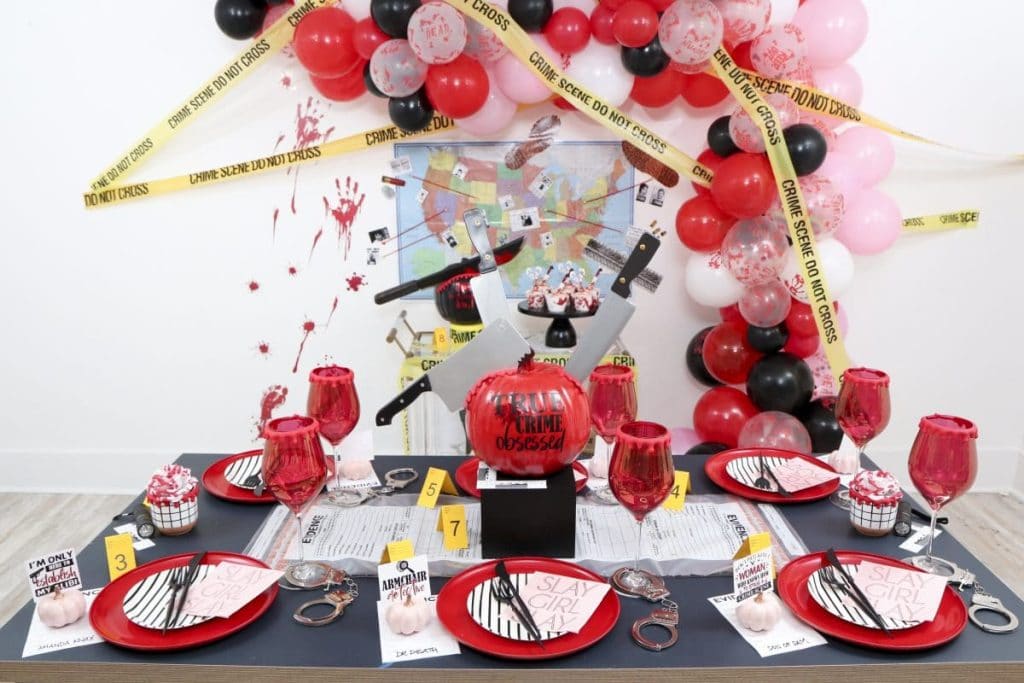 How to Host a True Crime Halloween Party
As a blogger, I sometimes receive compensation and/or products in exchange for my styling and crafting services. I also may earn a small commission from any sales that result from affiliate links on this page. As always, all project ideas and any opinions expressed here are my own.  For further information on our disclosure policy please check out our disclosure page. 
Bloody Balloon Backdrop
I started by setting up a balloon garland backdrop with bloody black, white, and translucent confetti balloons. I filled it in with some plain red and pink balloons, and then draped crime scene tape throughout.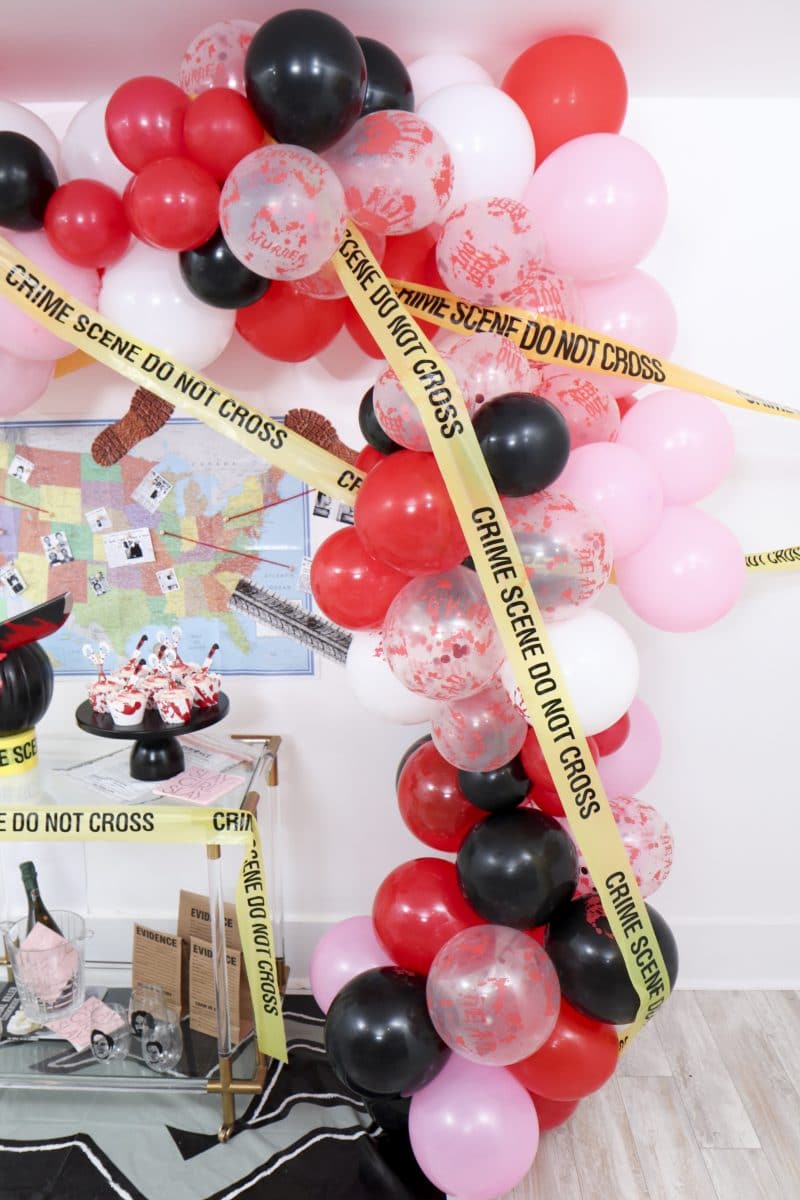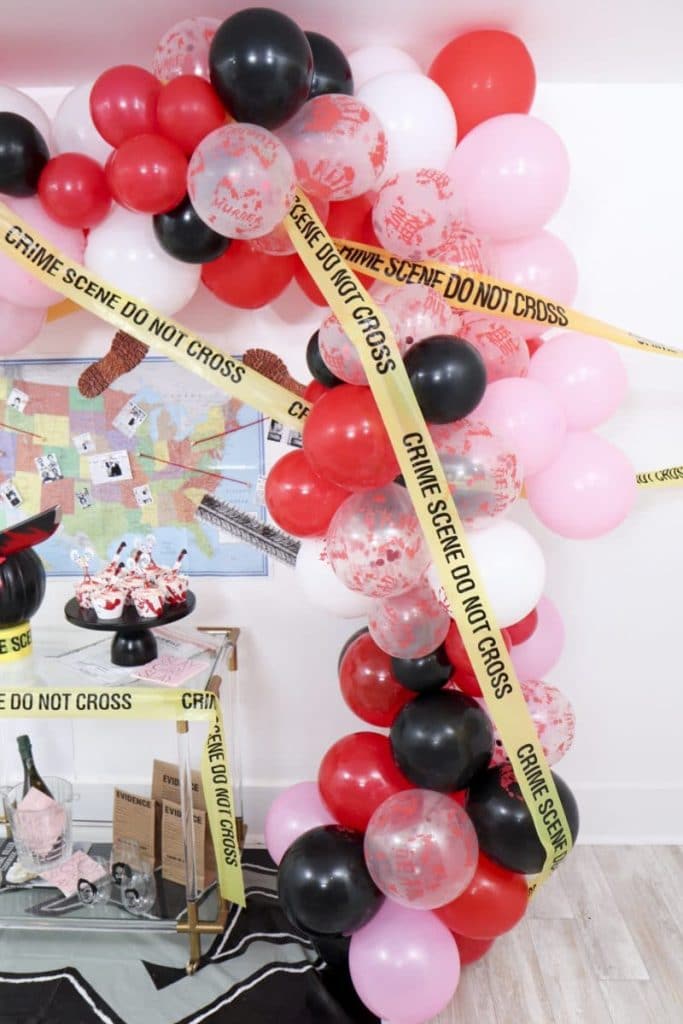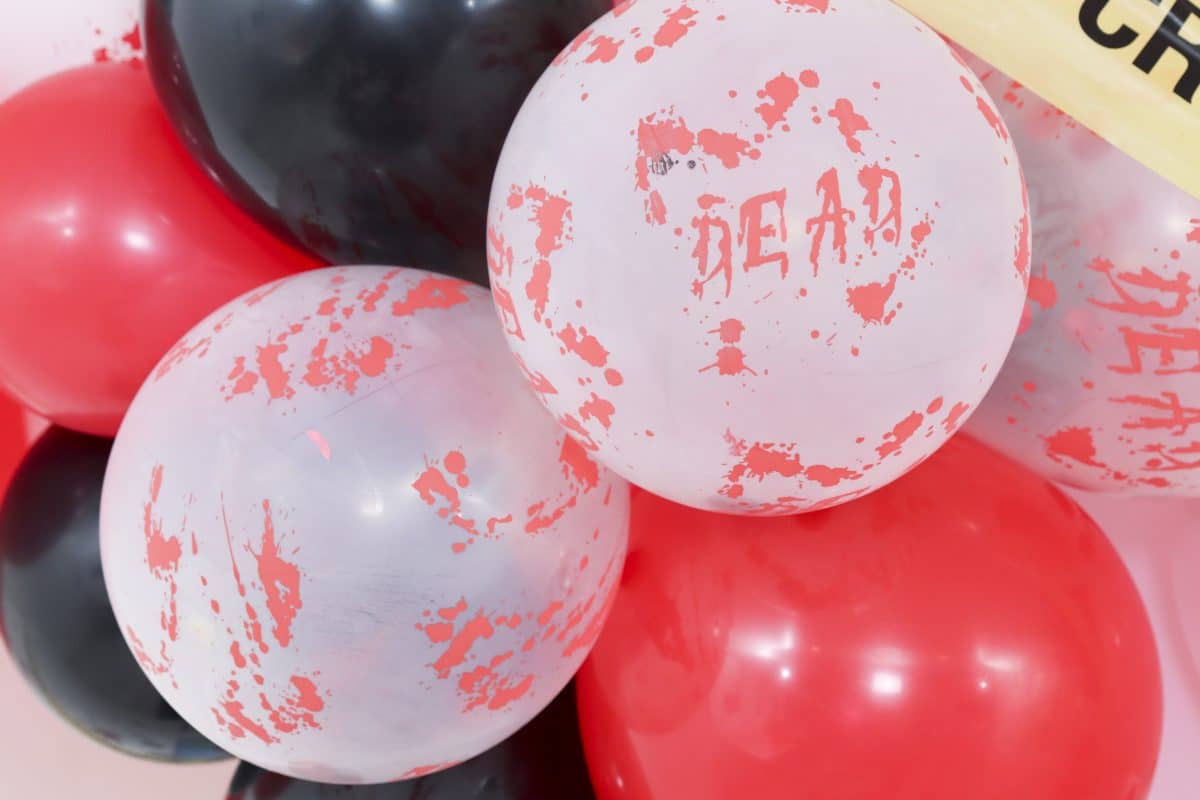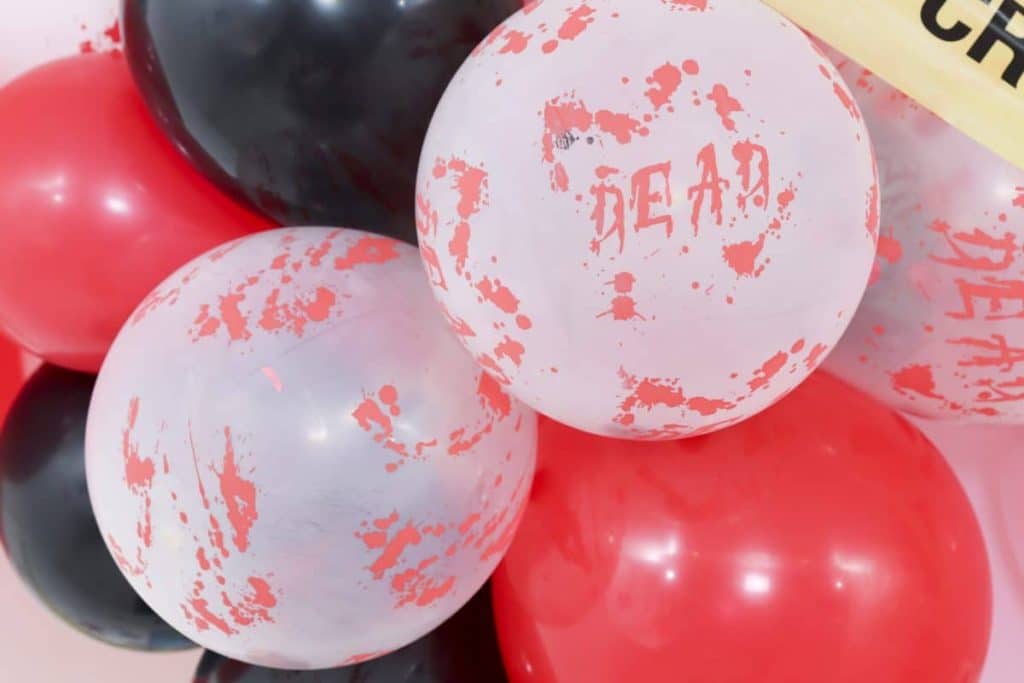 Underneath the balloon garland, I hung a United States map, for tracking the crimes and movements of serial killers! I added Serial Killer Clippings from TheRisingRose01 to the map with red strings indicating the location of their crimes. The addition of a few crime scene adhesive graphics completed the backdrop.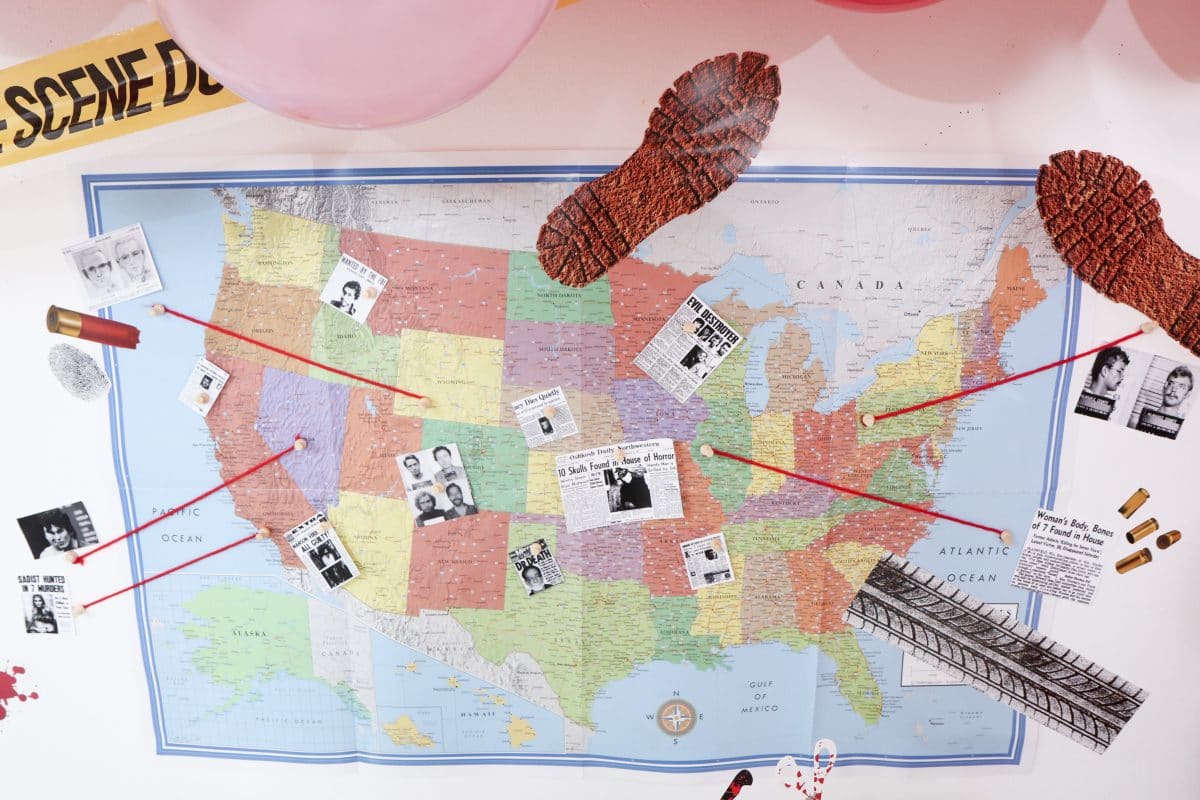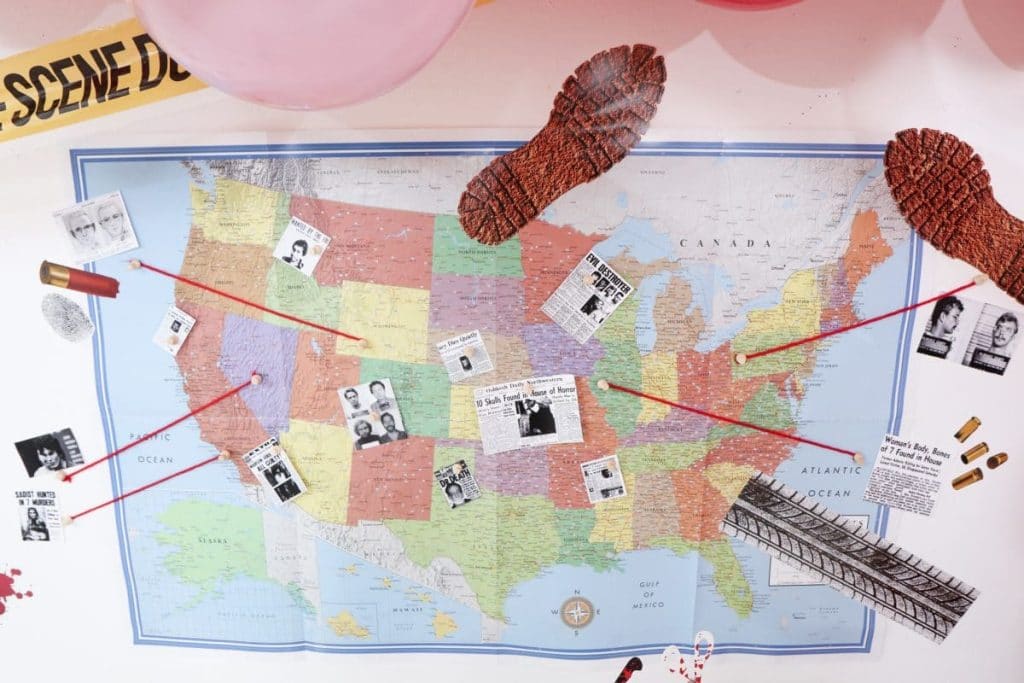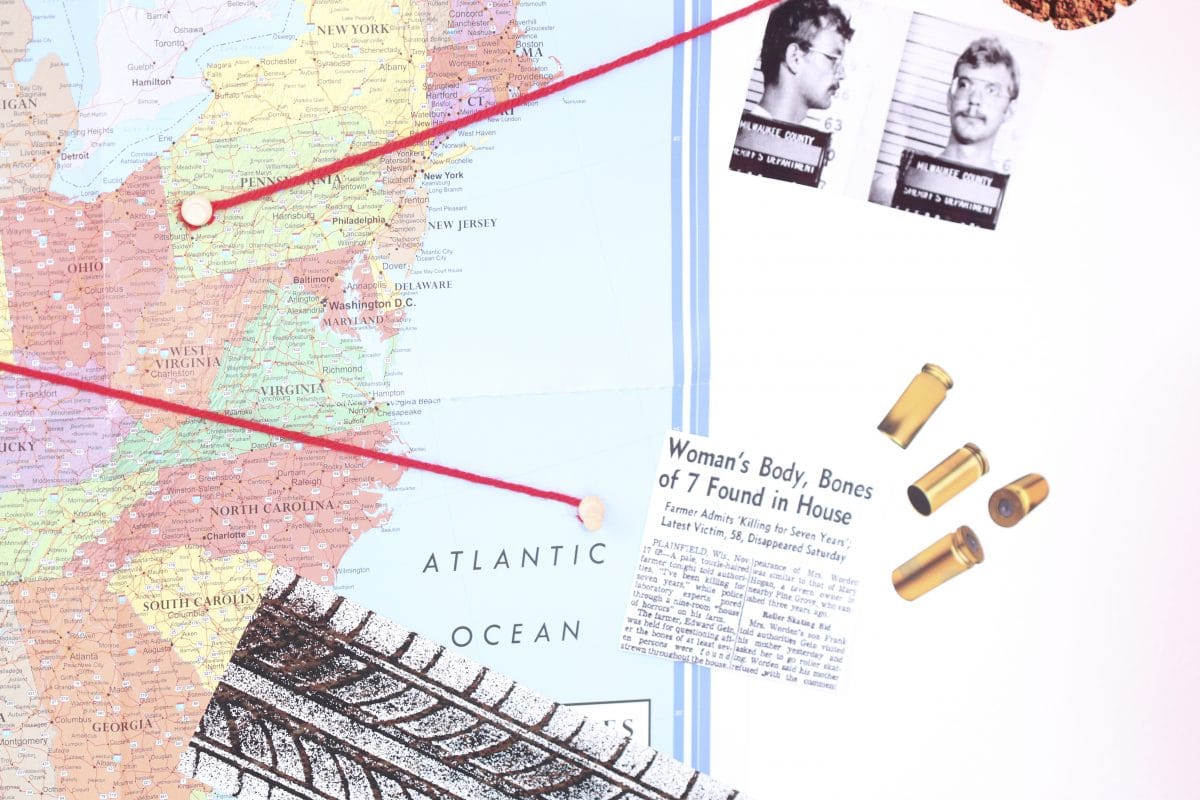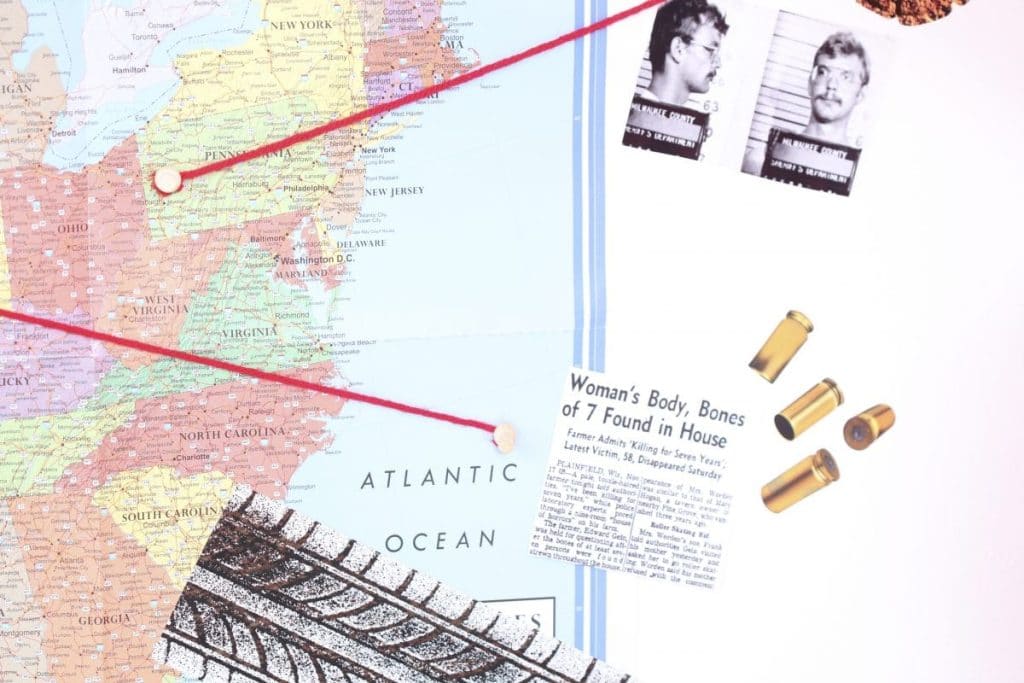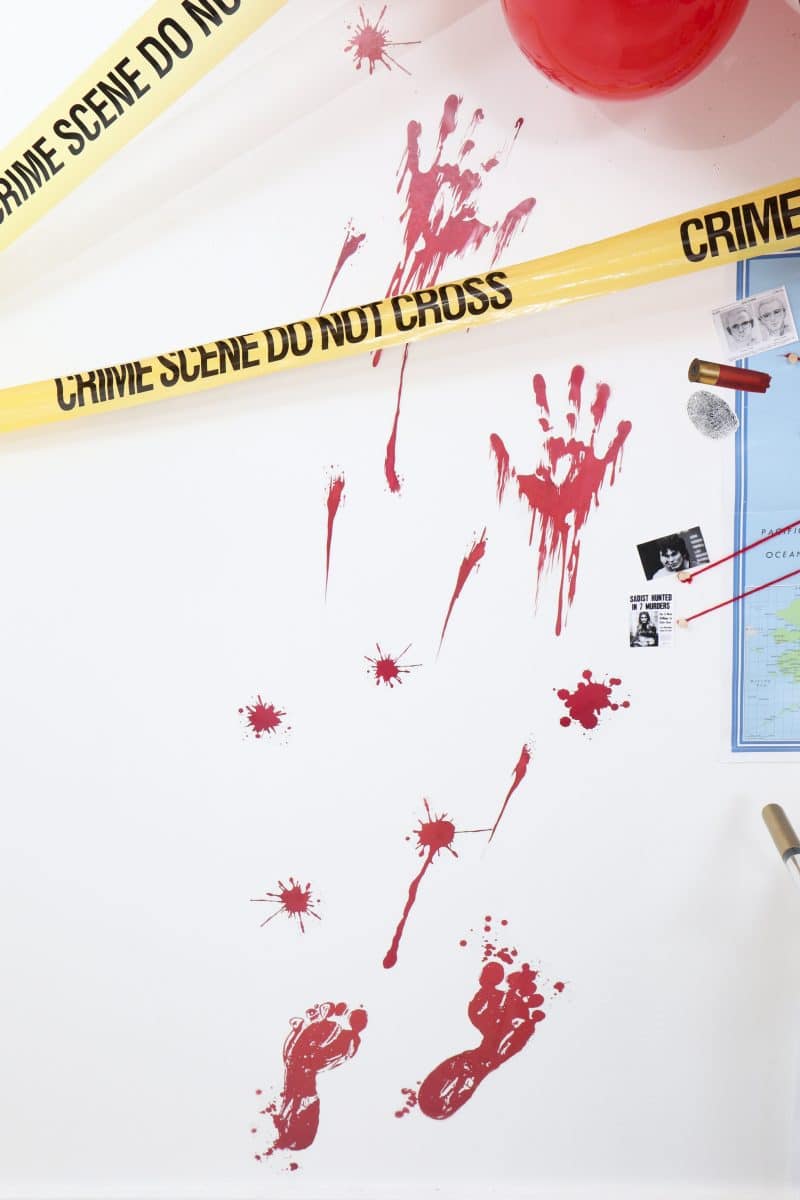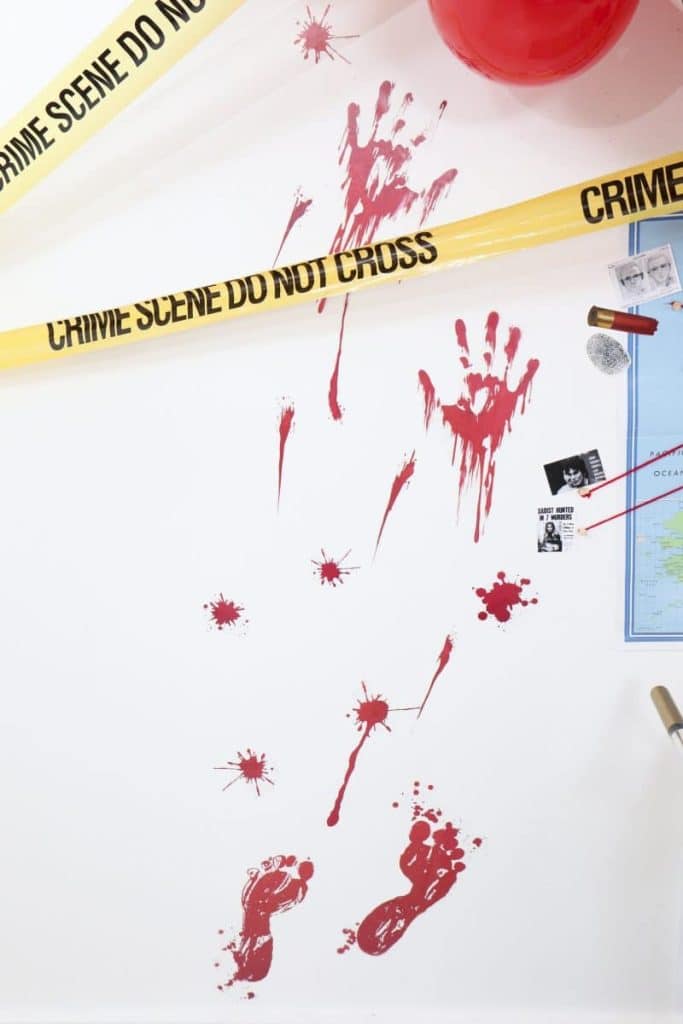 Dessert Table
Underneath the backdrop, I set up a bar cart as my dessert table, which I rolled on top of a Body Silhouette on the floor.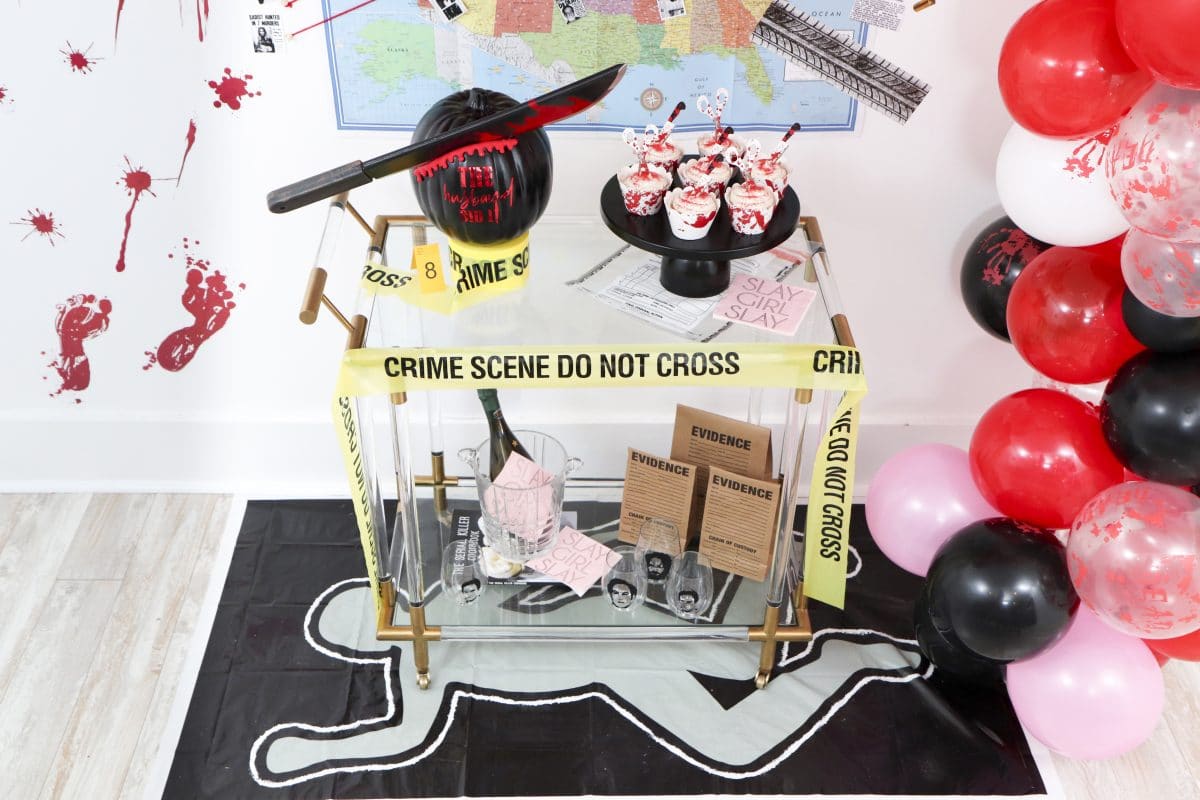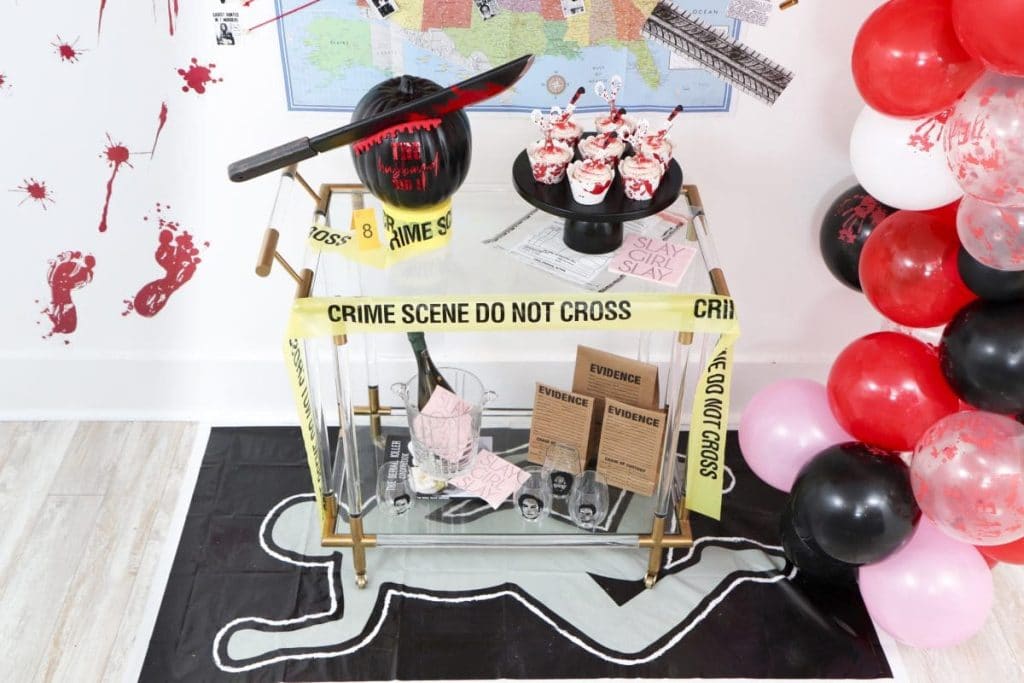 On the top level of the bar cart, I used a crime scene tape roll as a base to elevate a black pumpkin, to which I added a bloody knife and a graphic from the True Crime Printable Bundle from KritonArt.  Next to it, I placed a cake stand covered in cupcakes, decorated with bloodstained knives and scissors, and sitting in blood-splattered dessert cups.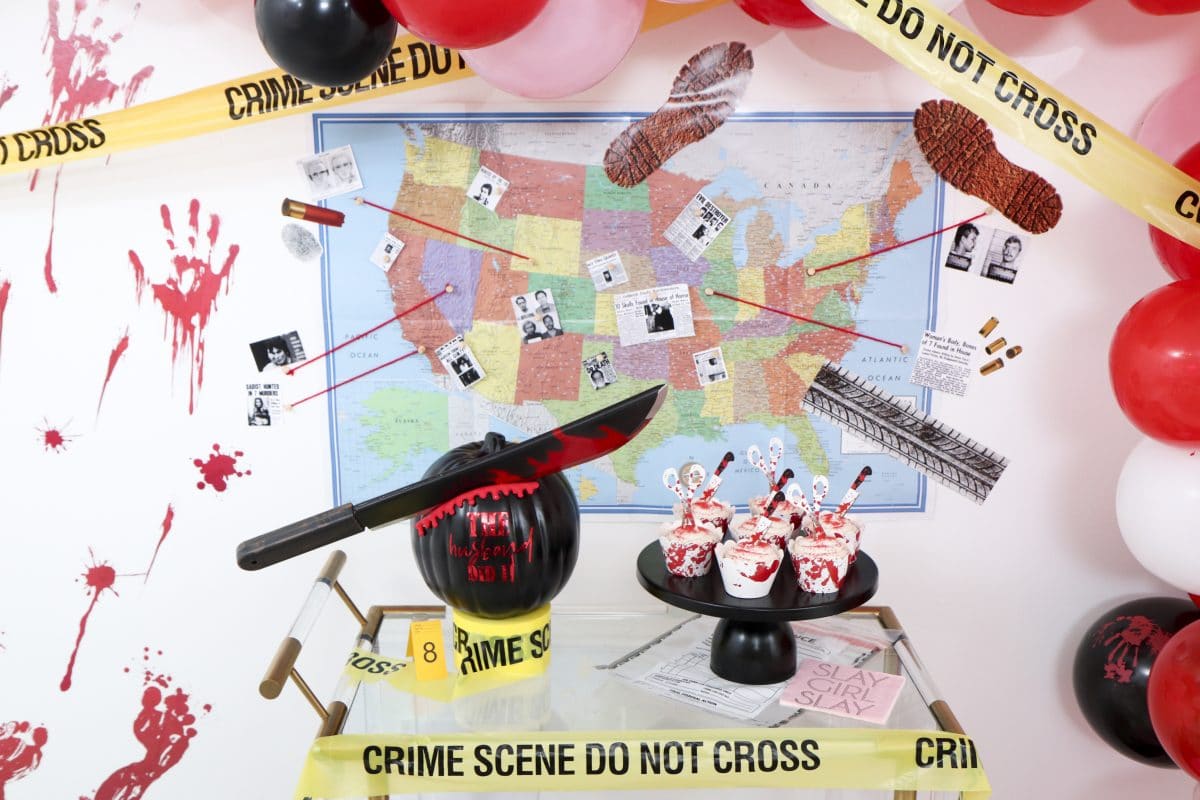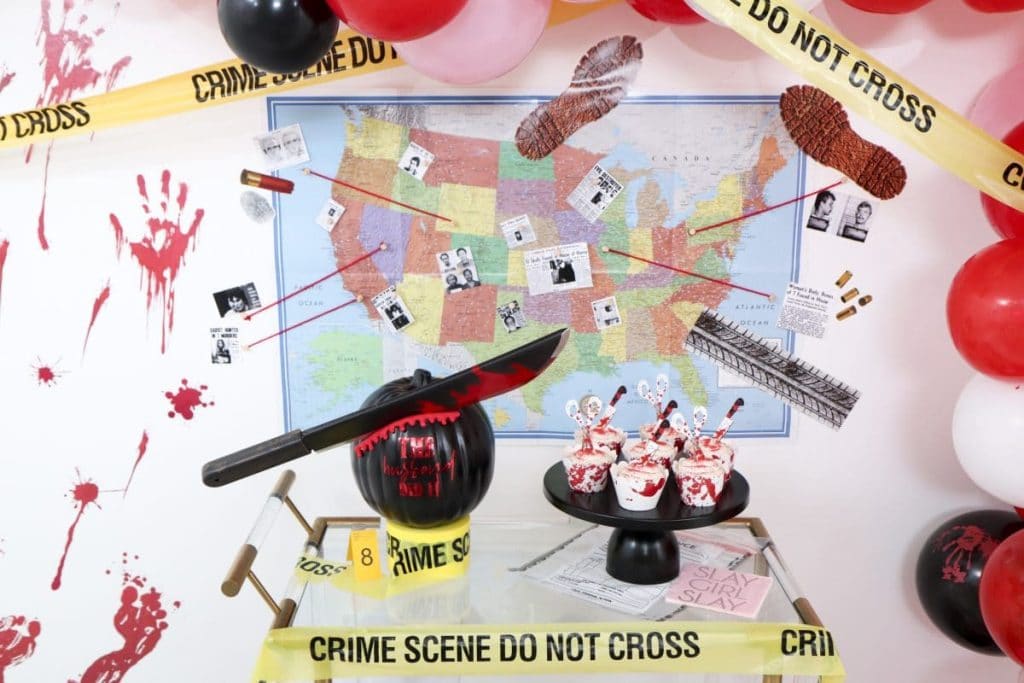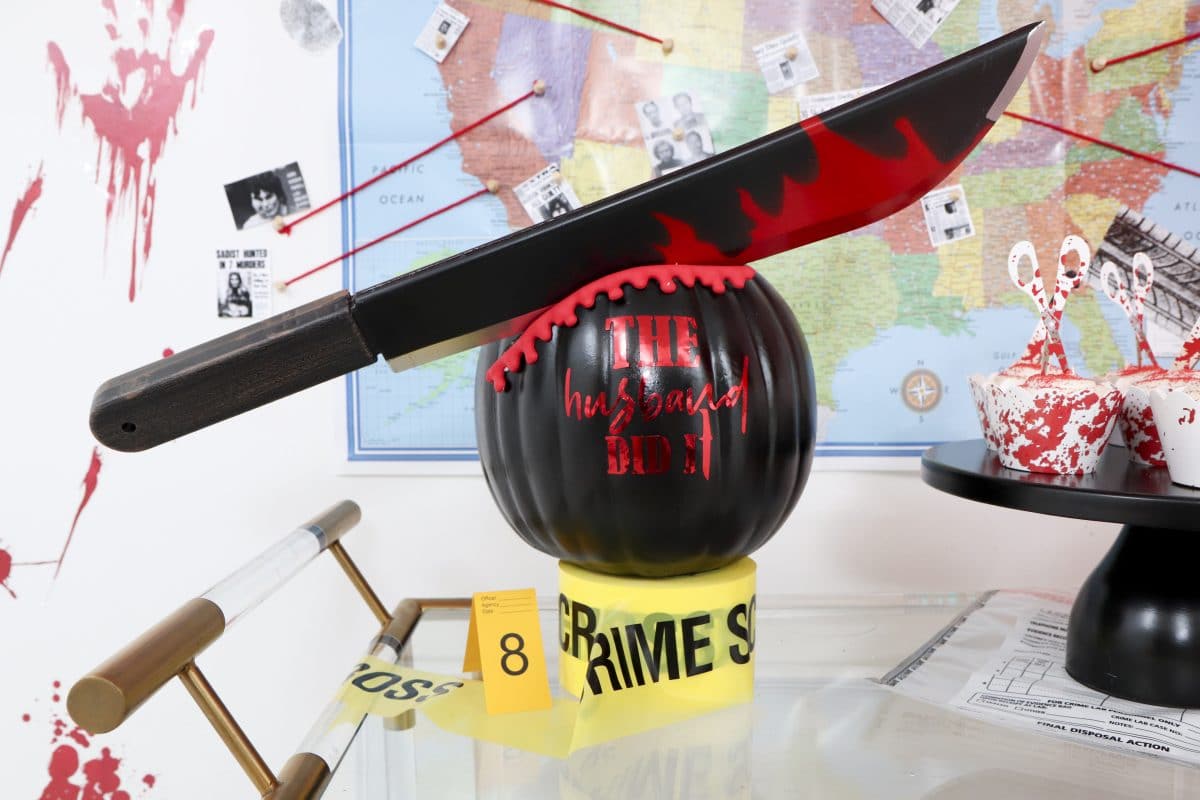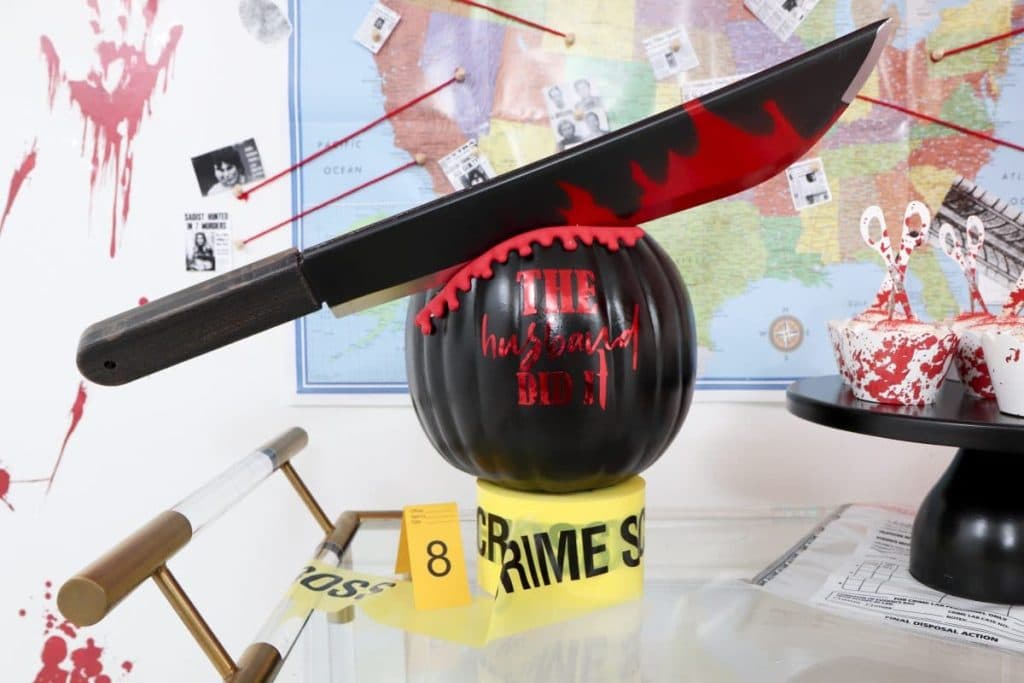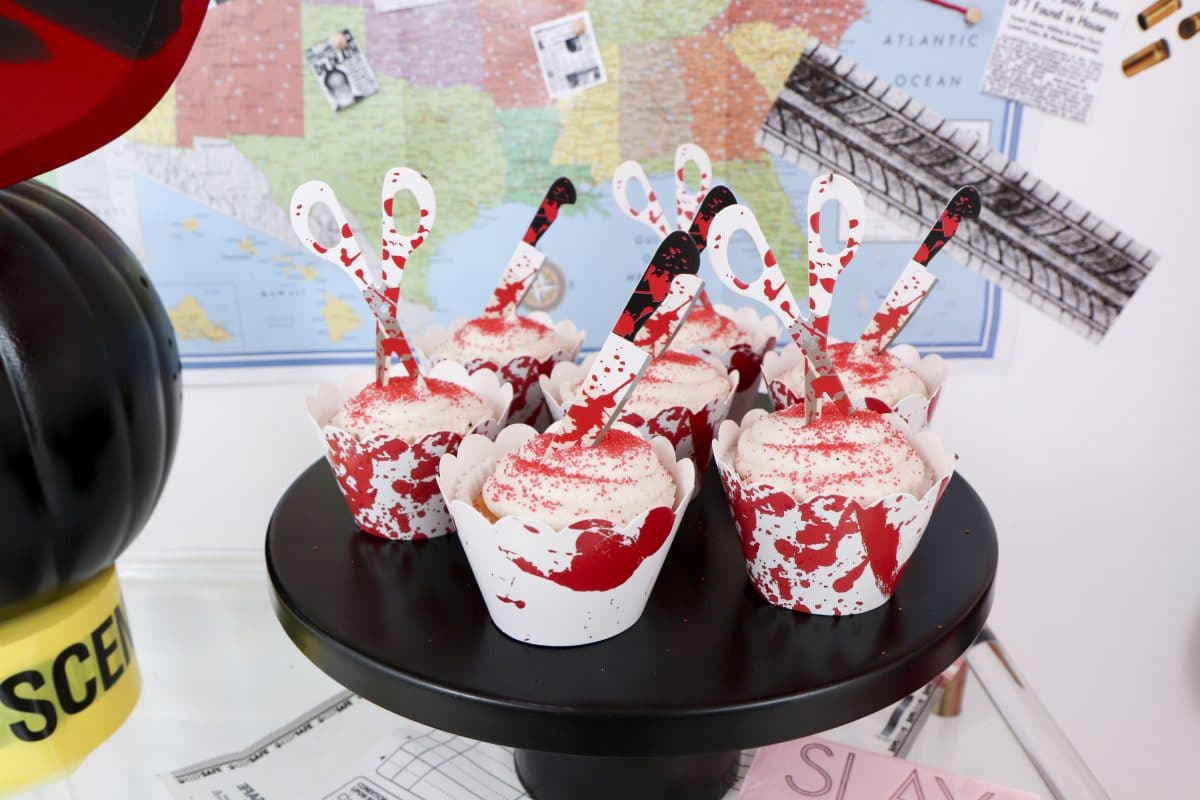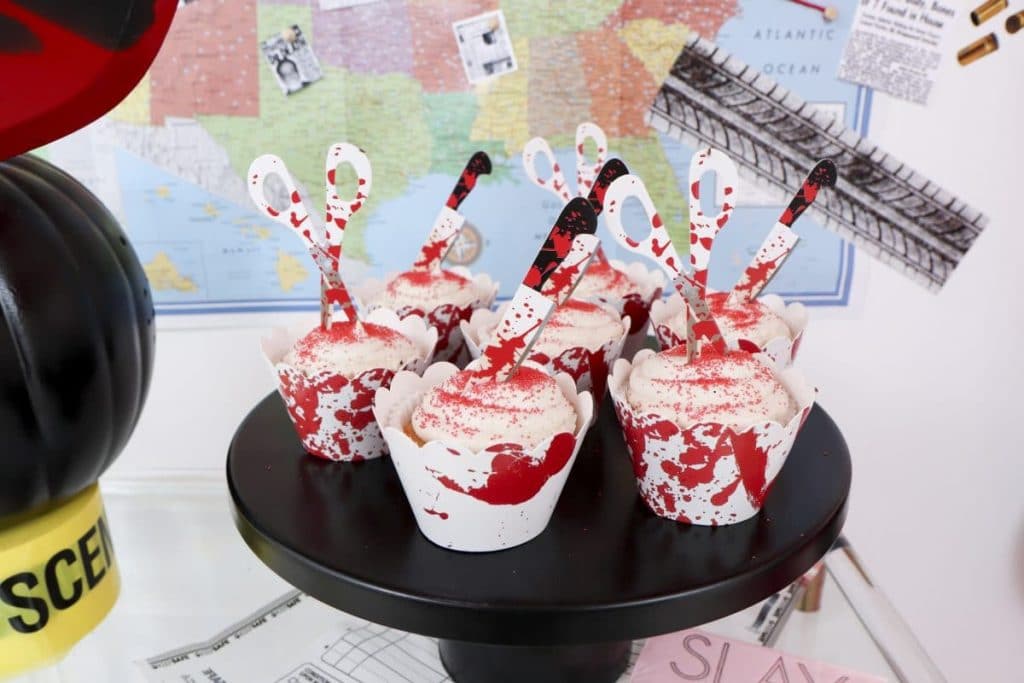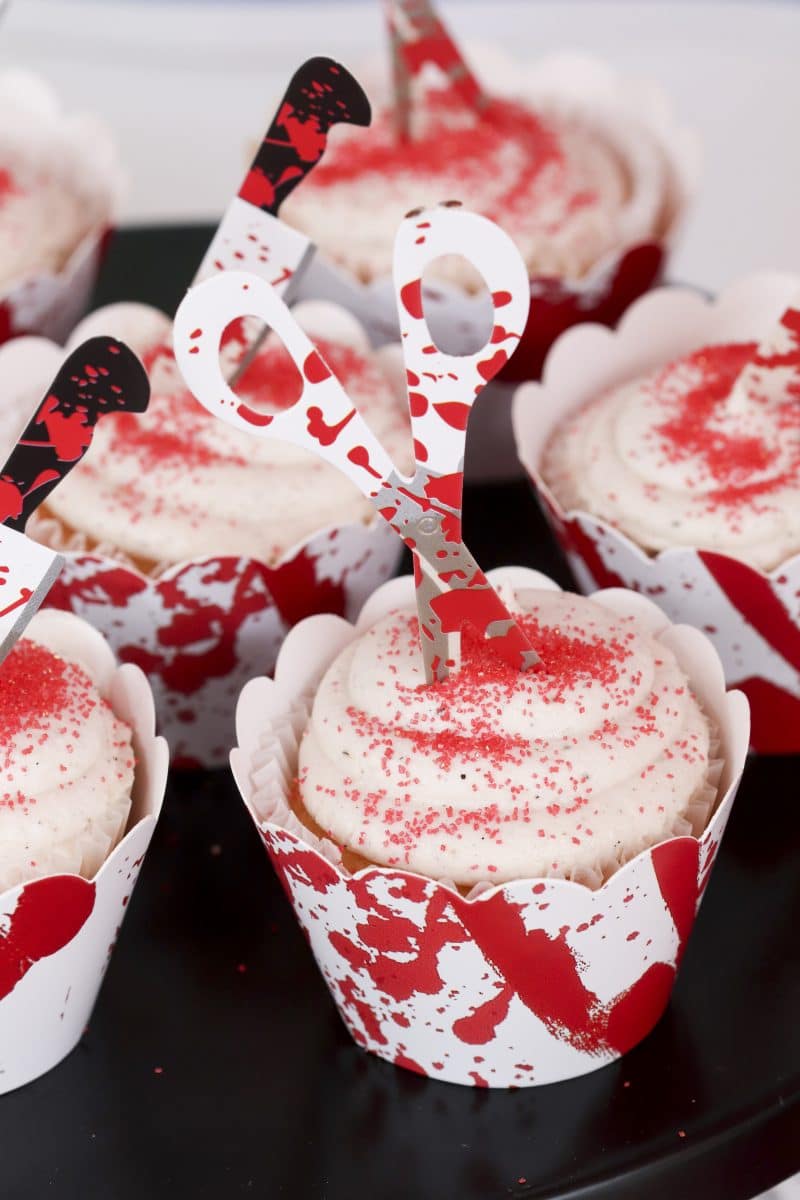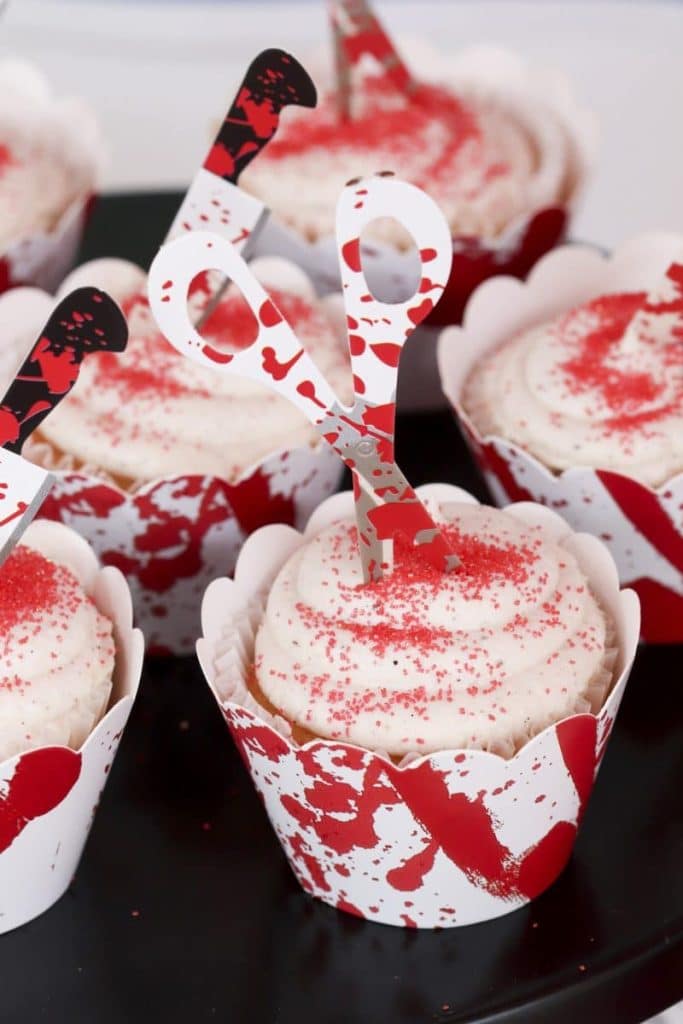 On the bottom level of the bar cart, I set an ice bucket with champagne on top of a copy of The Serial Killer Cookbook. I also provided "Slay Girl Slay" cocktail napkins from Jollity & Co., wine glasses embellished with Serial Killer Faces (SVG cut files from MellowMockupDesigns), and Evidence Bags of favors for my guests.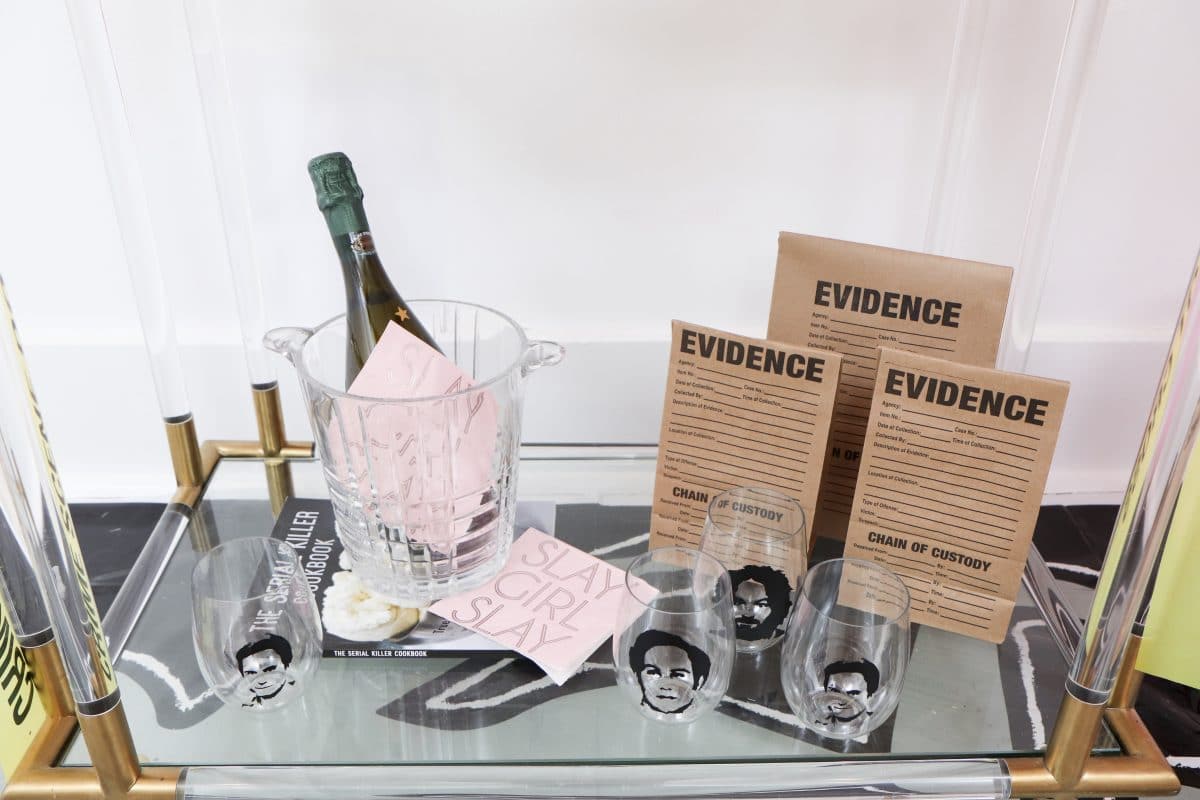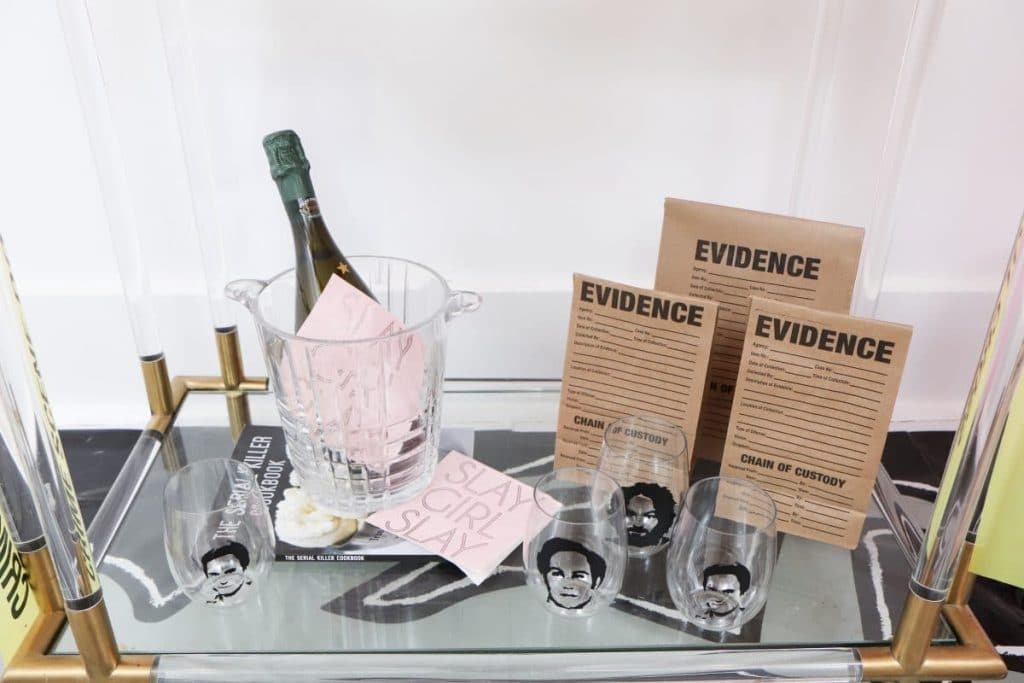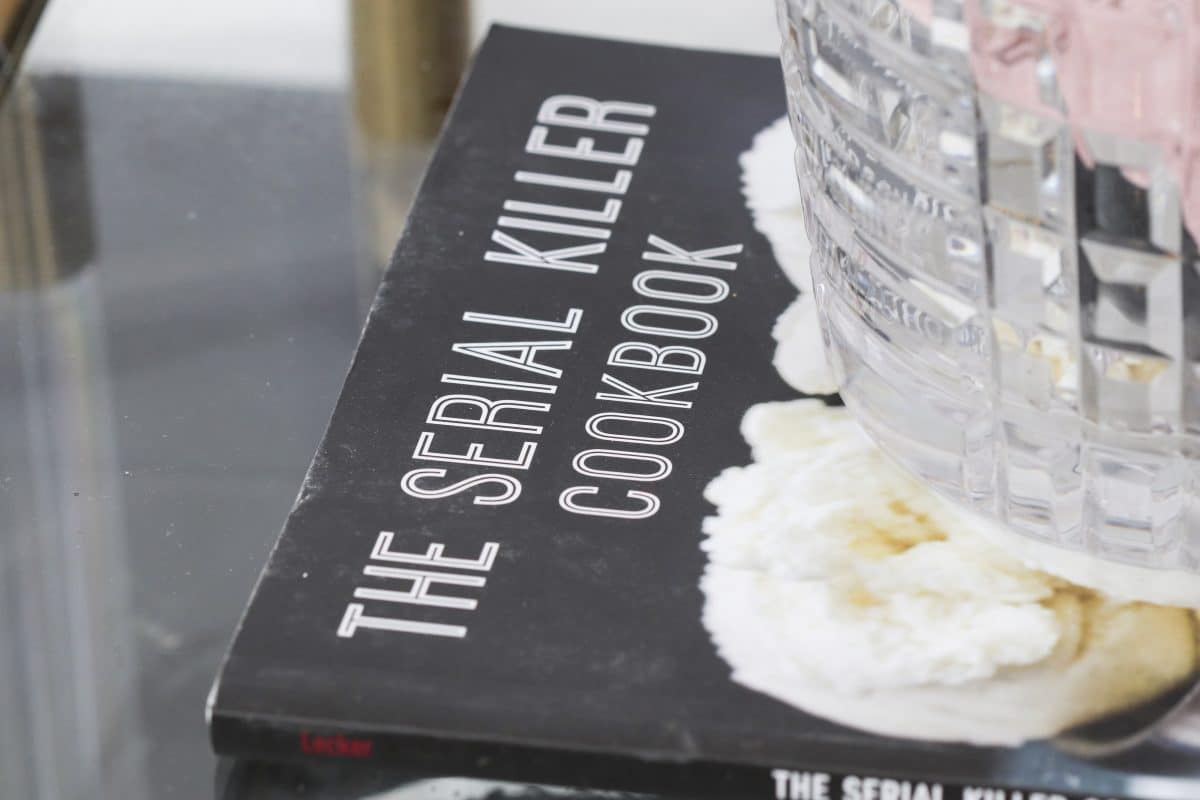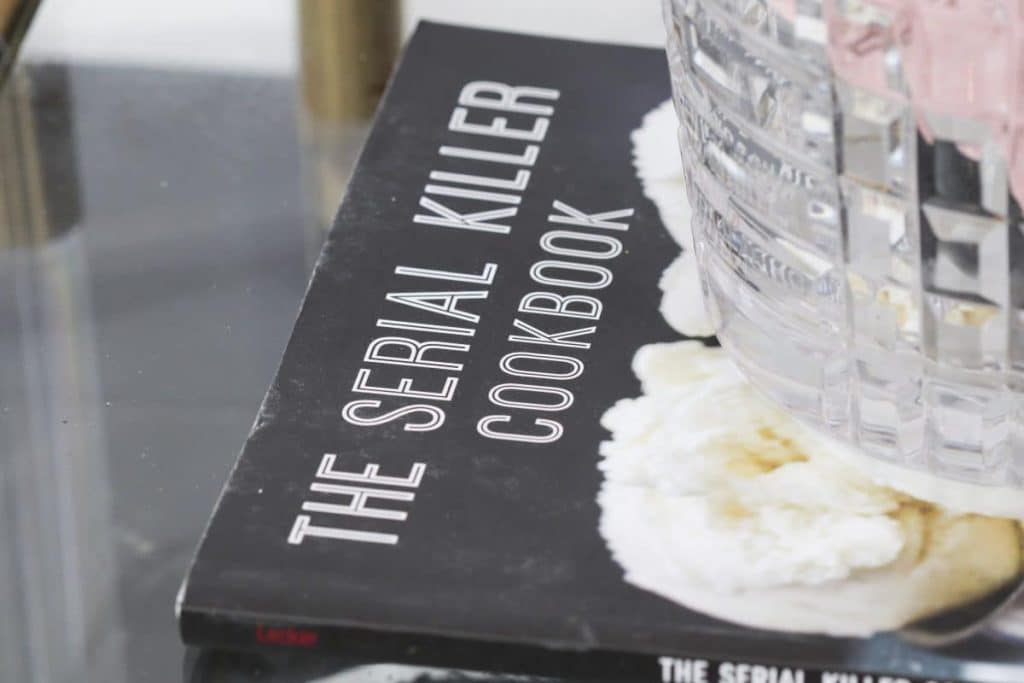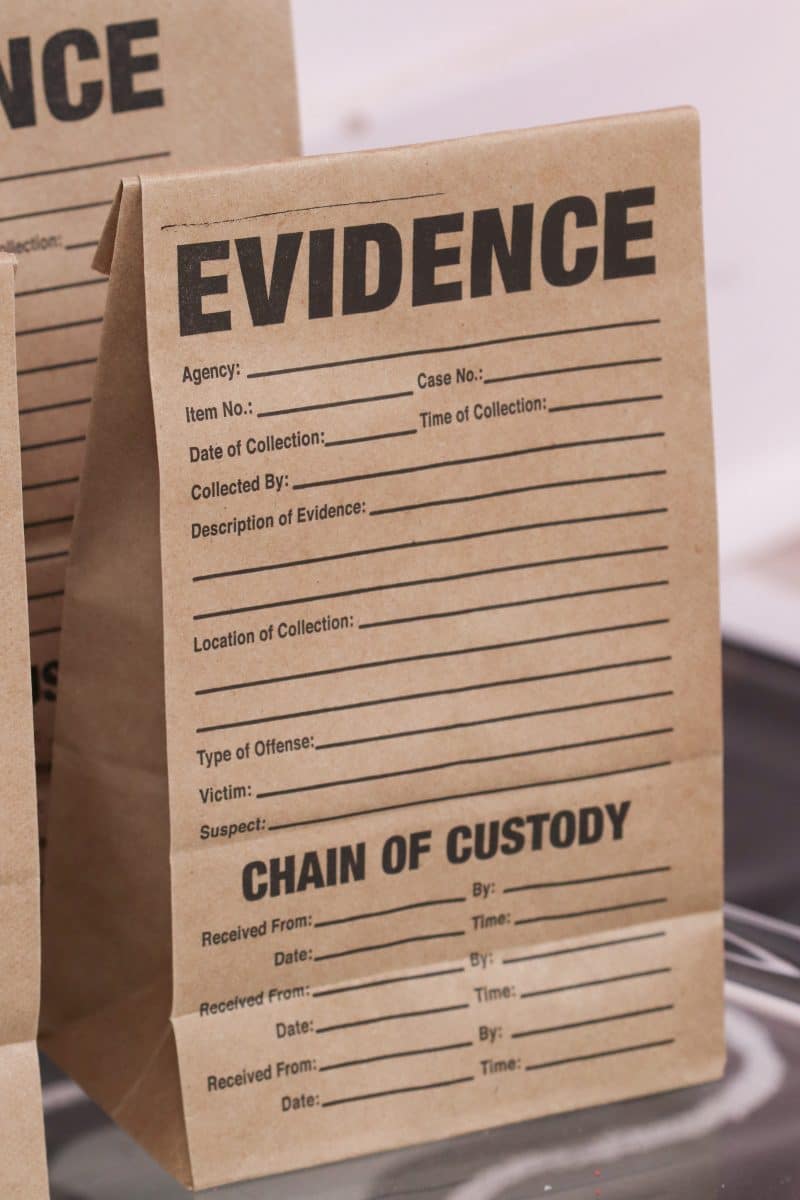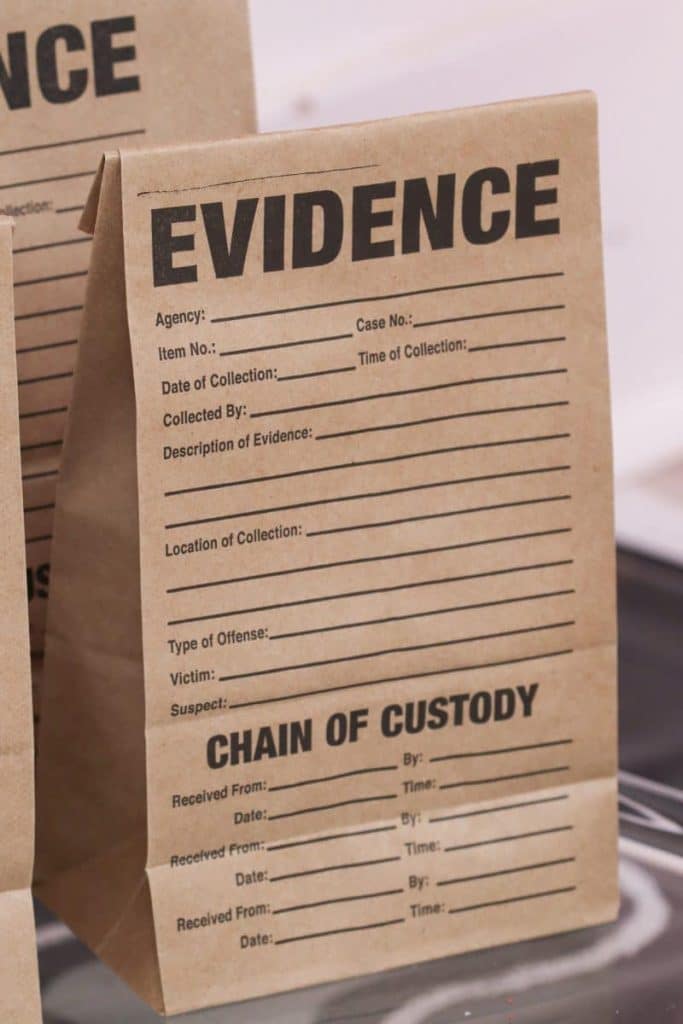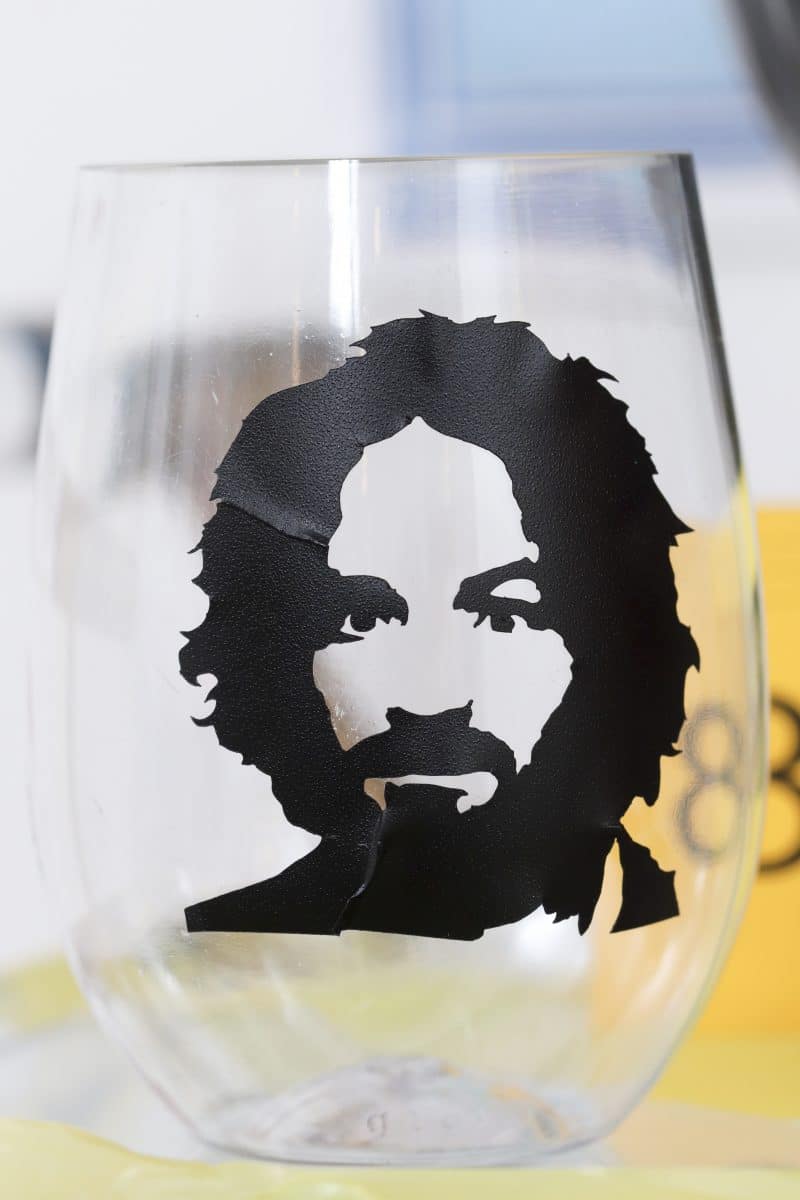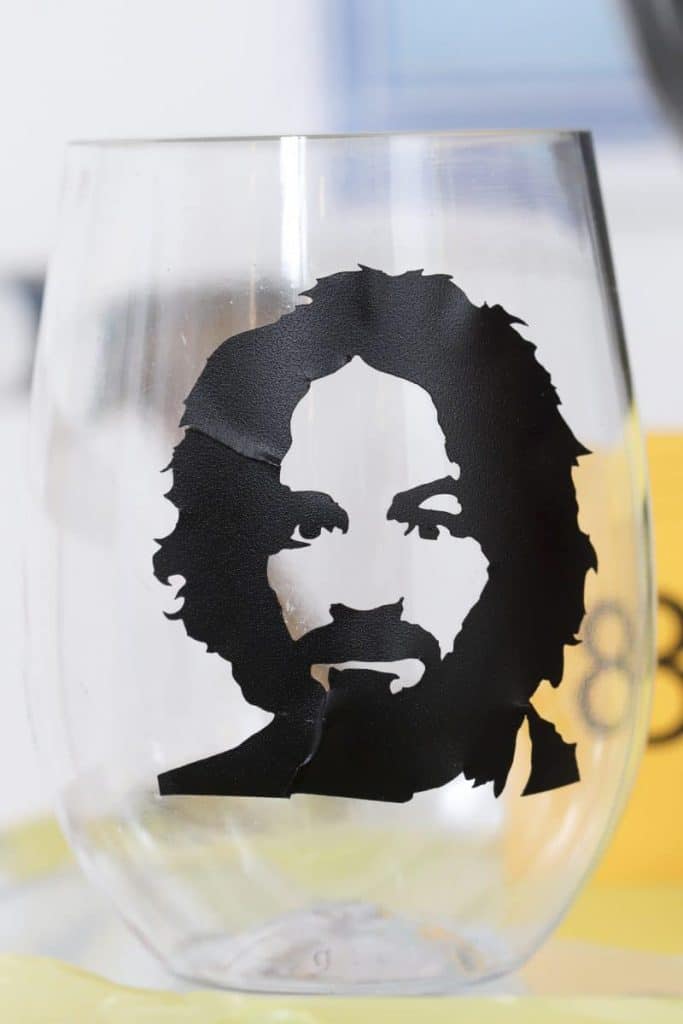 Table Setting
Next, I set my table. In the middle of a plain black table, I created a short runner using large clear evidence bags. For a centerpiece, I used a large red painted pumpkin with a "True Crime obsessed" graphic on it, and multiple bloody knives stuck in it.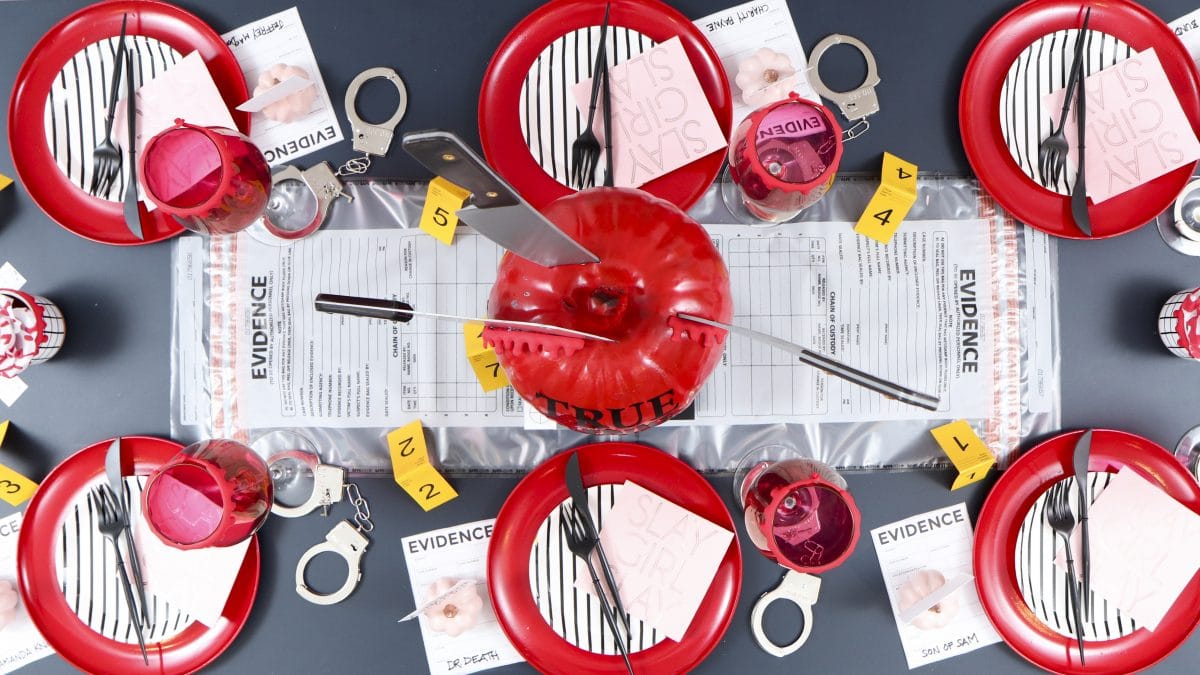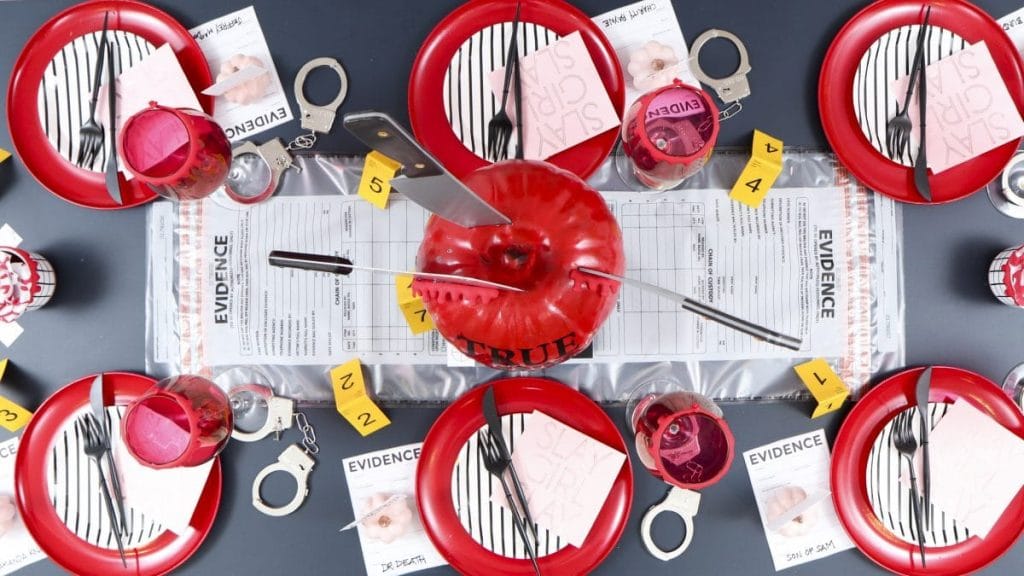 Silicone Blood Bands from Oriental Trading gave a dripping blood effect where the knives pierced the pumpkins, I gave the centerpiece more height by placing it on a black box embellished with forensic photo scales.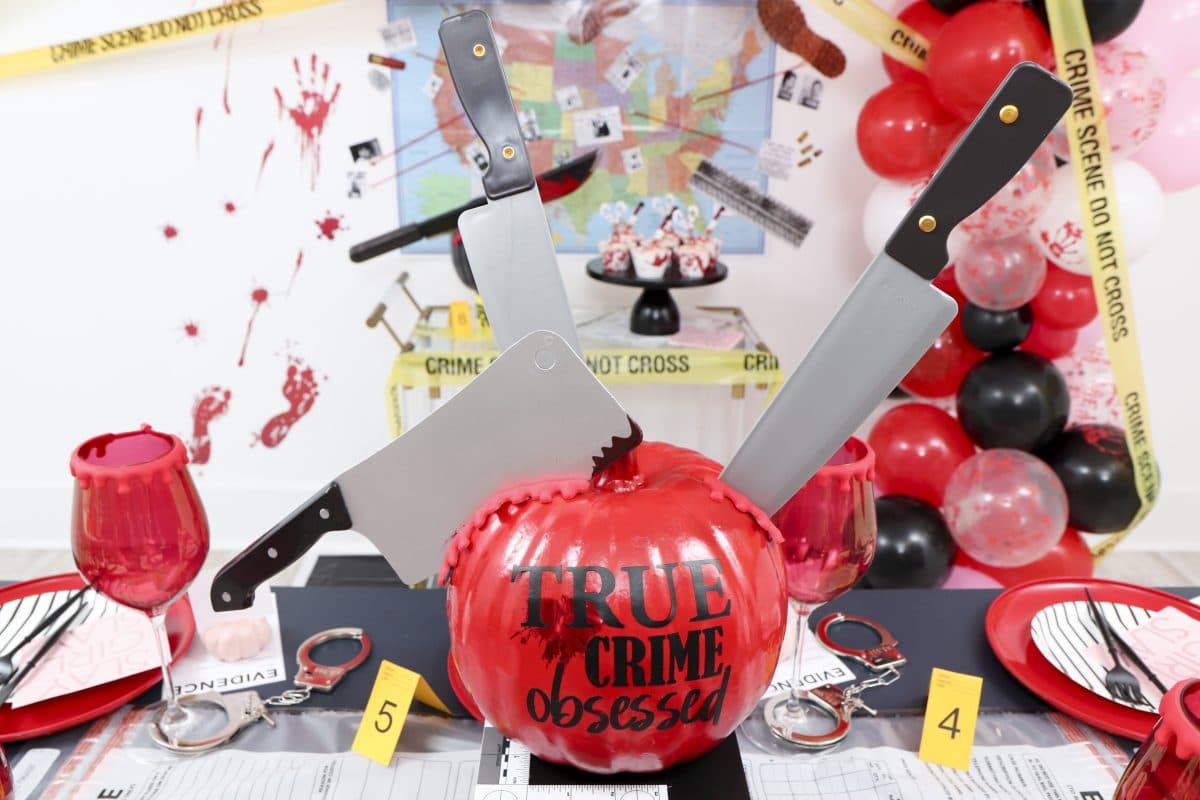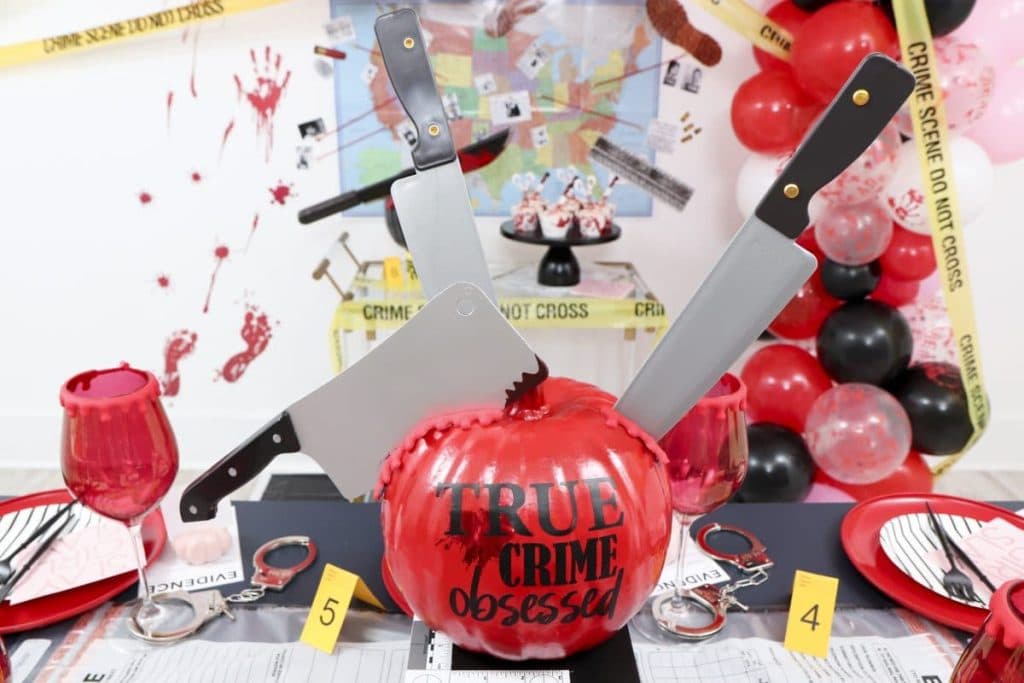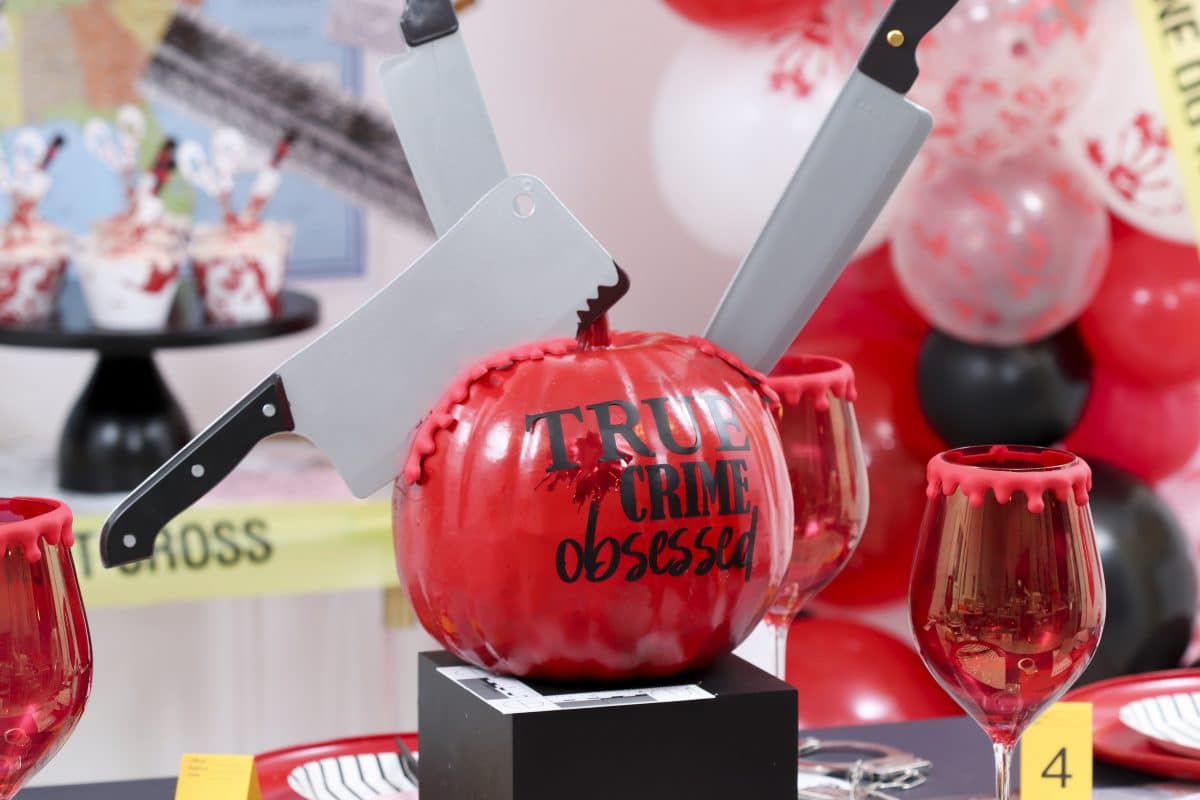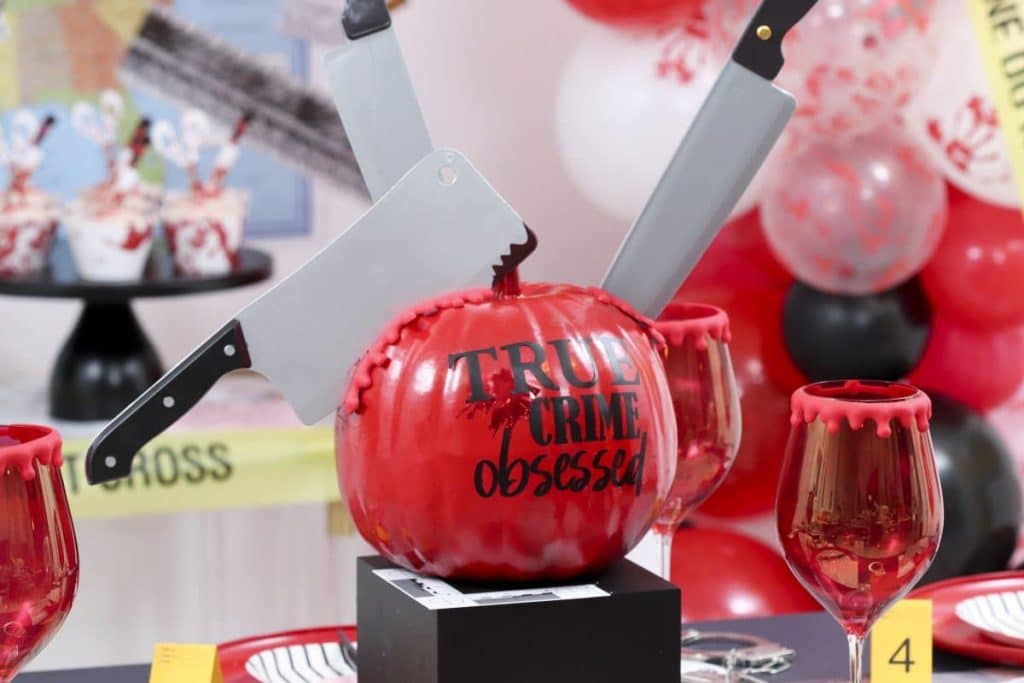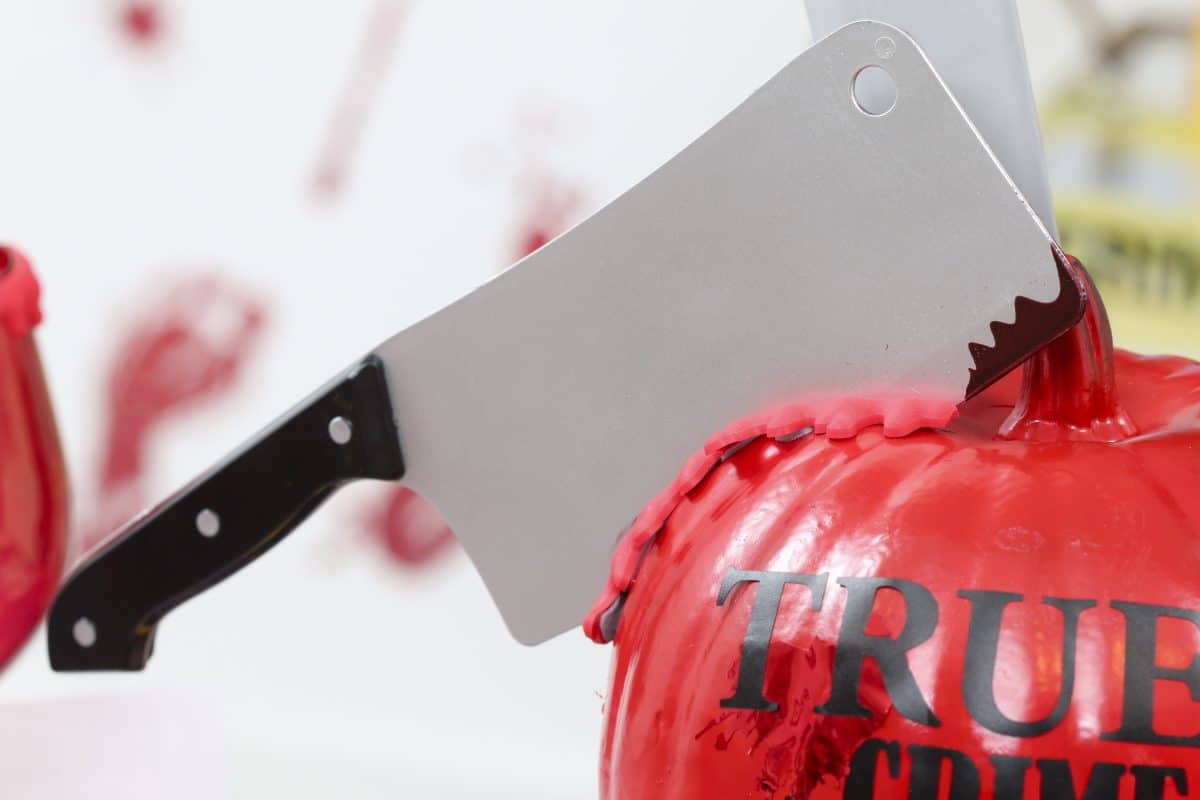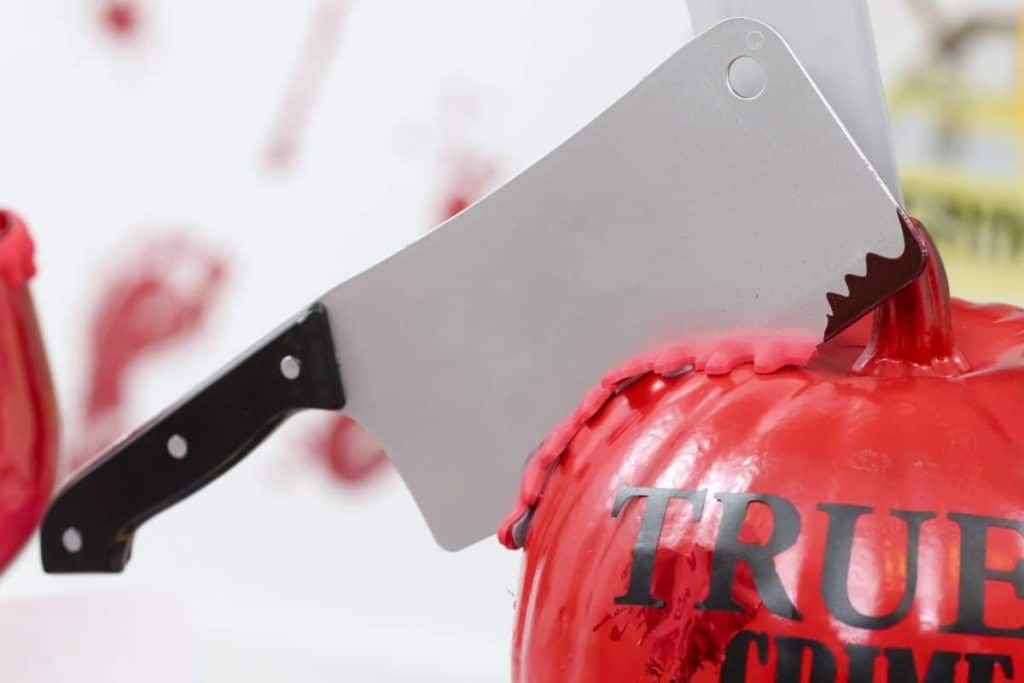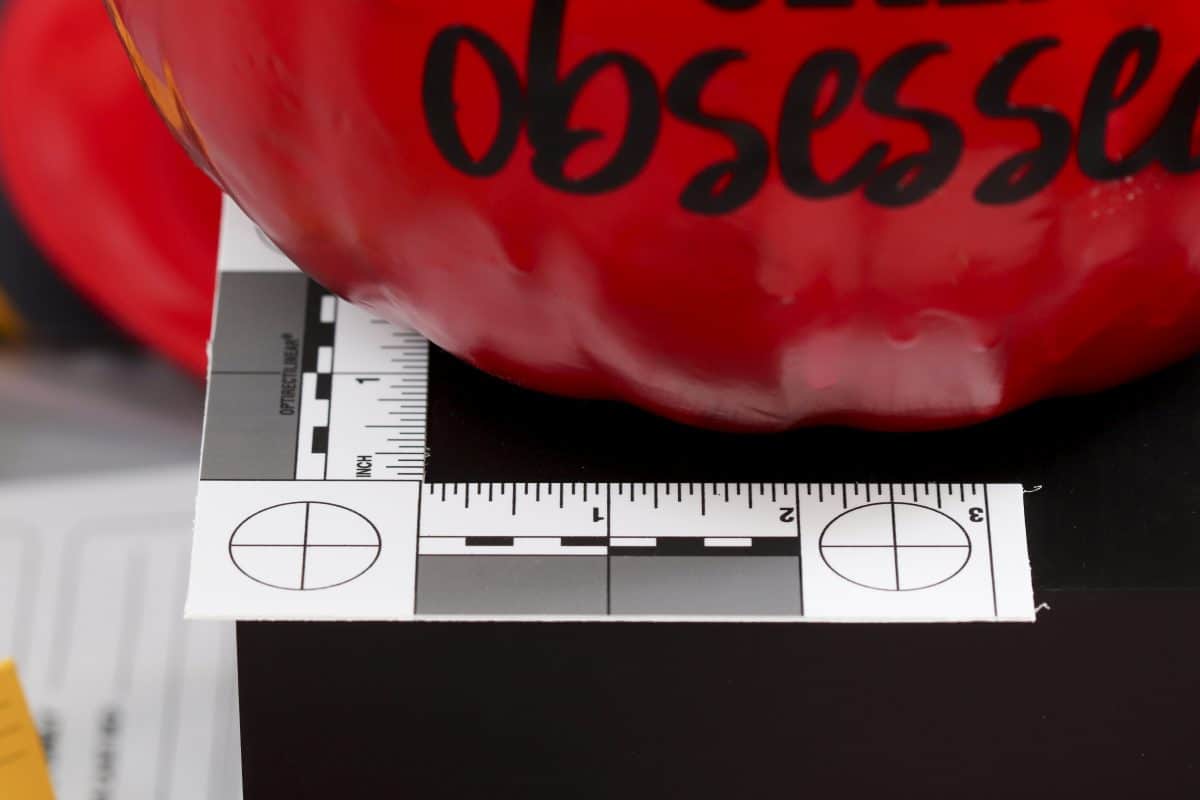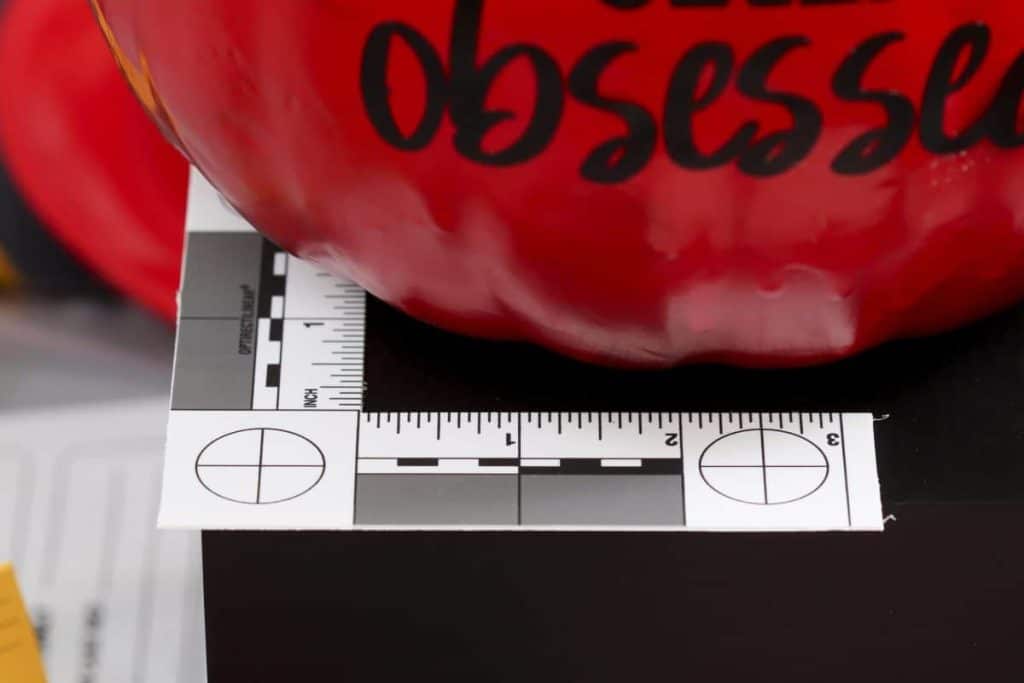 On each end of the table, I placed a bloodstained white rose planter, more forensic photo scales, and some mini blacklight flashlights.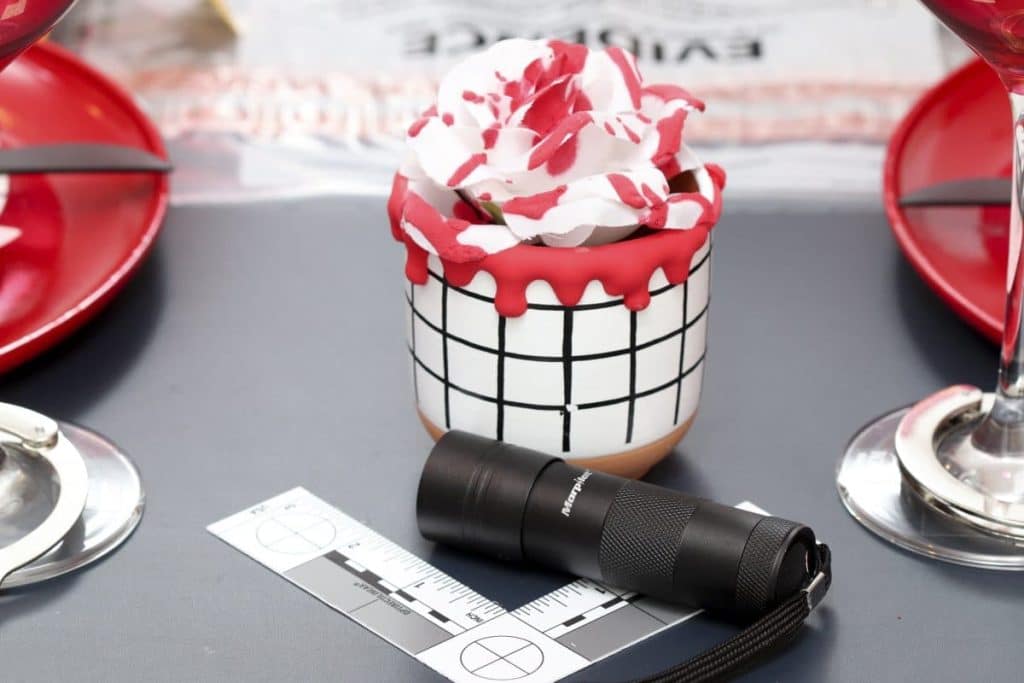 Place Settings
For my place settings, I used blood red chargers layered with black and white stripe plates from Jollity & Co., Slay Napkins, and black plastic utensils. Each place also received a red wine glass embellished with silicone blood bands on the rim, and handcuffs around their bases. For place cards, I used small white pumpkins that held True Crime graphics and sat atop evidence labels. On each label, I wrote a True Crime suspect I assigned to each guest in the "Suspect" box. I also used numbered evidence markers to mark each seat.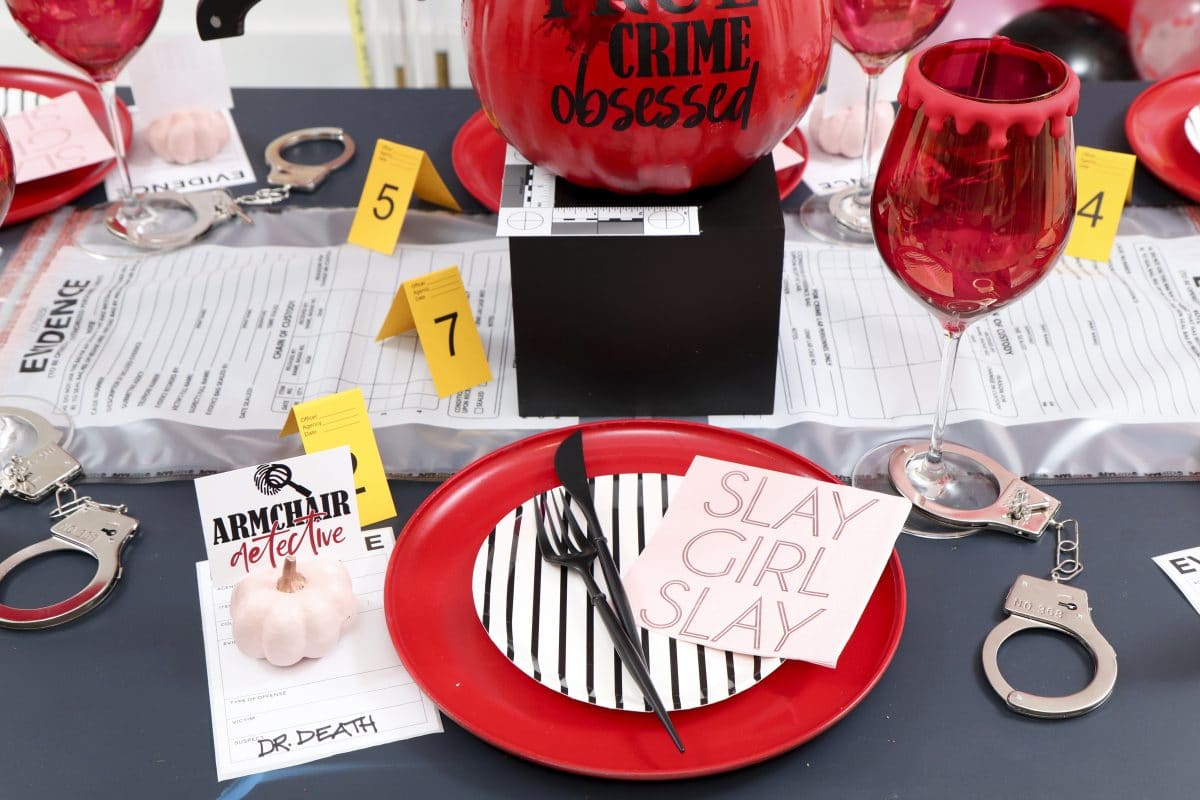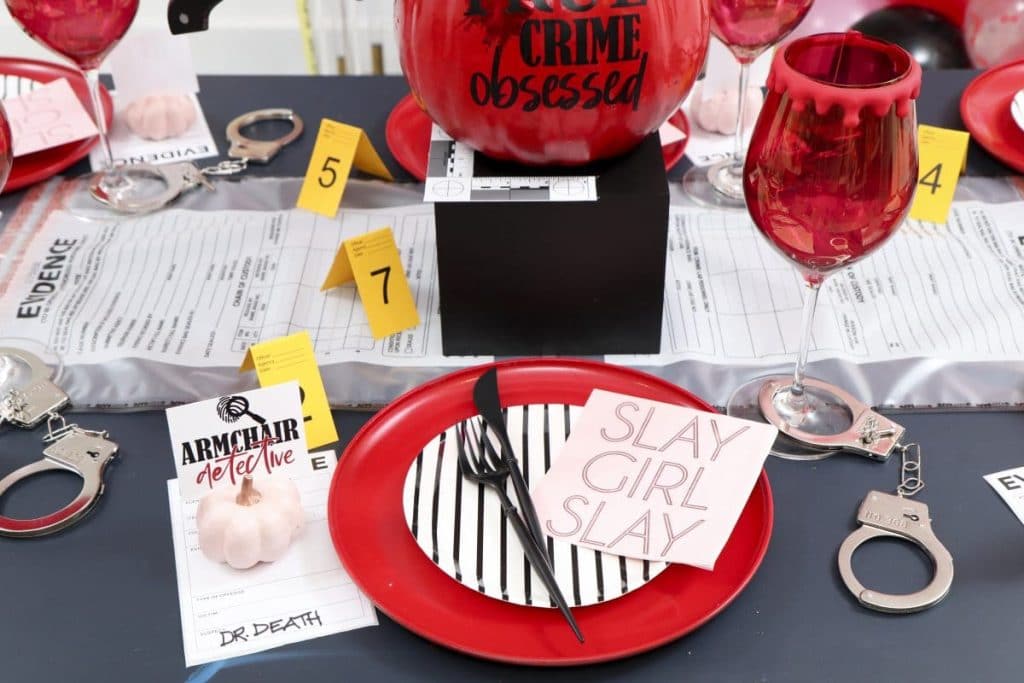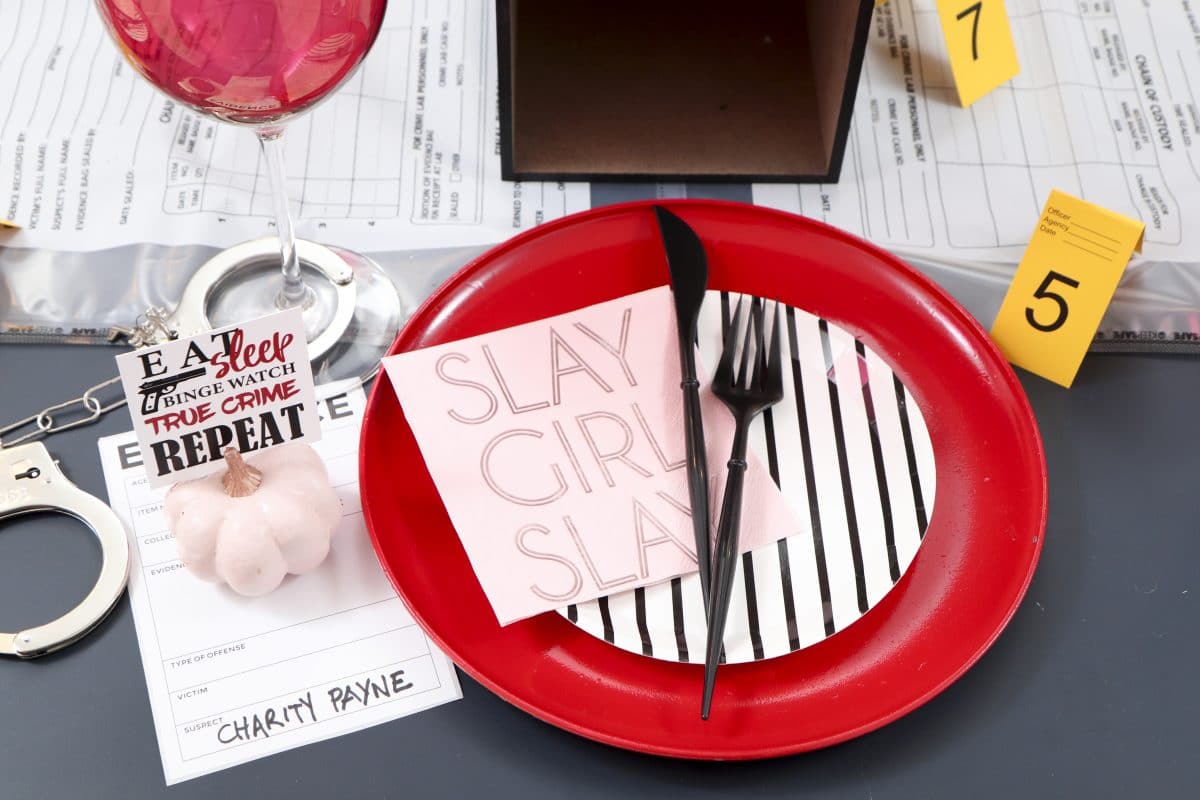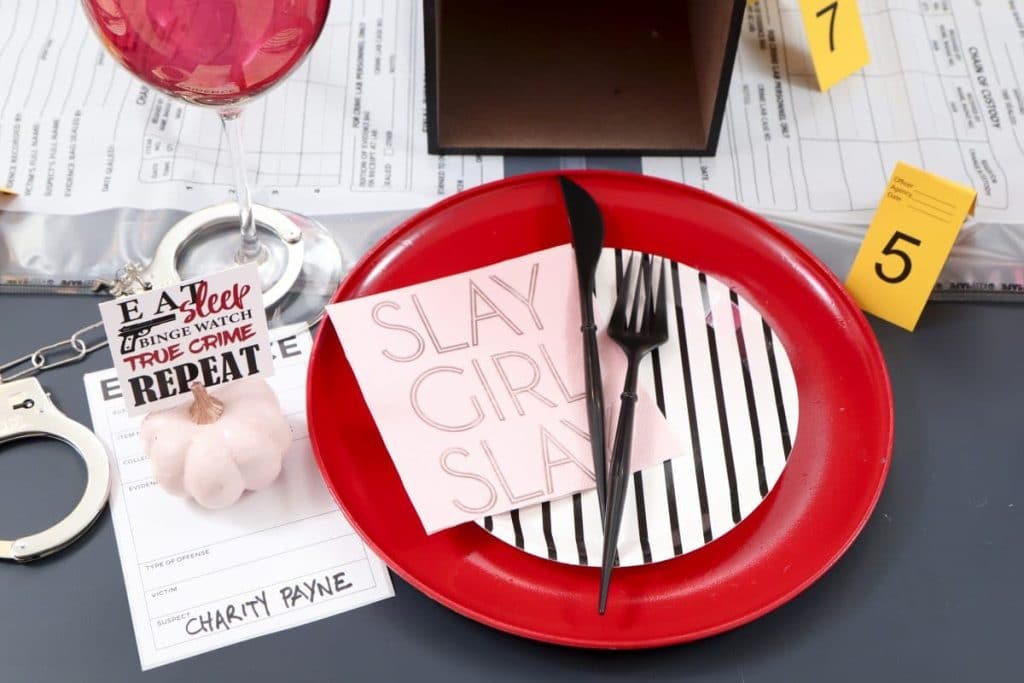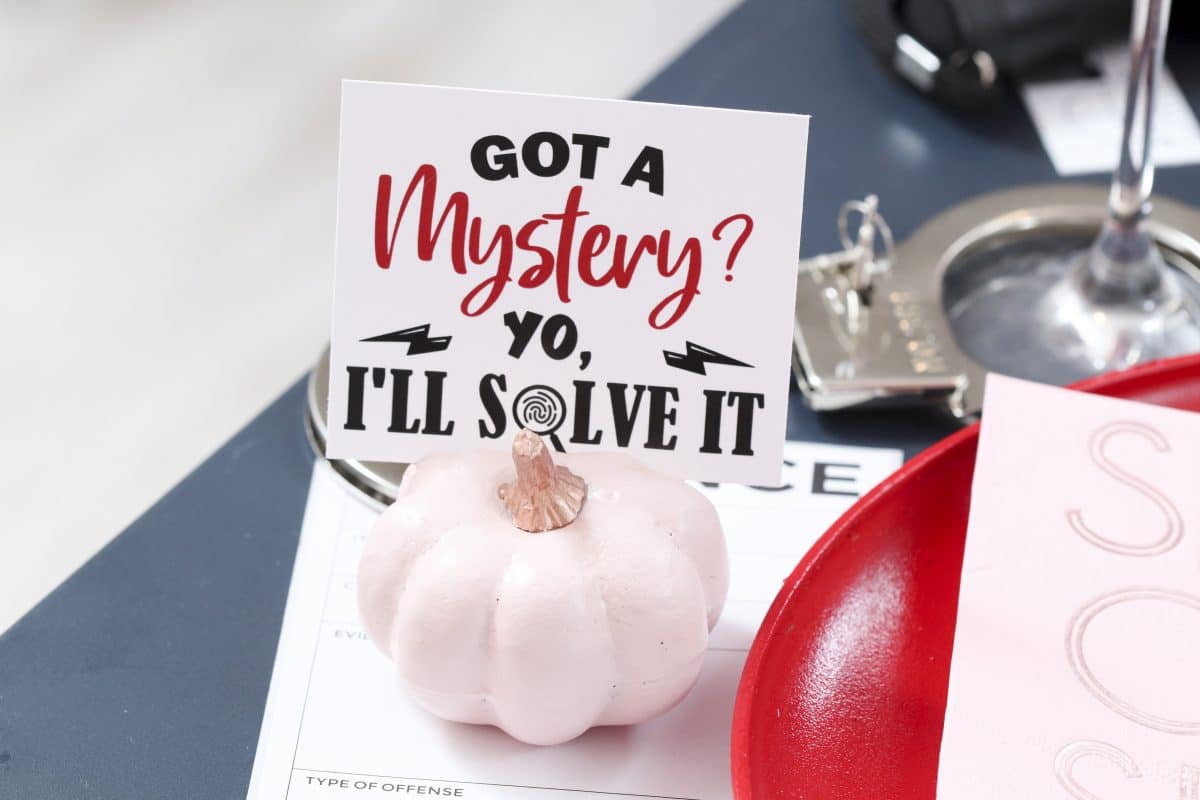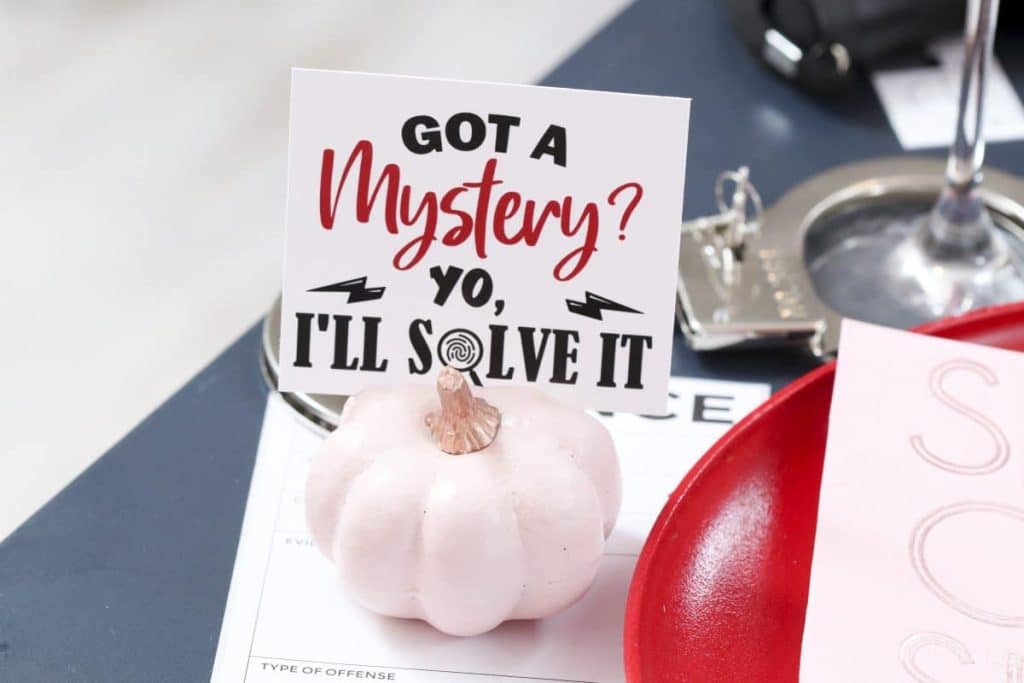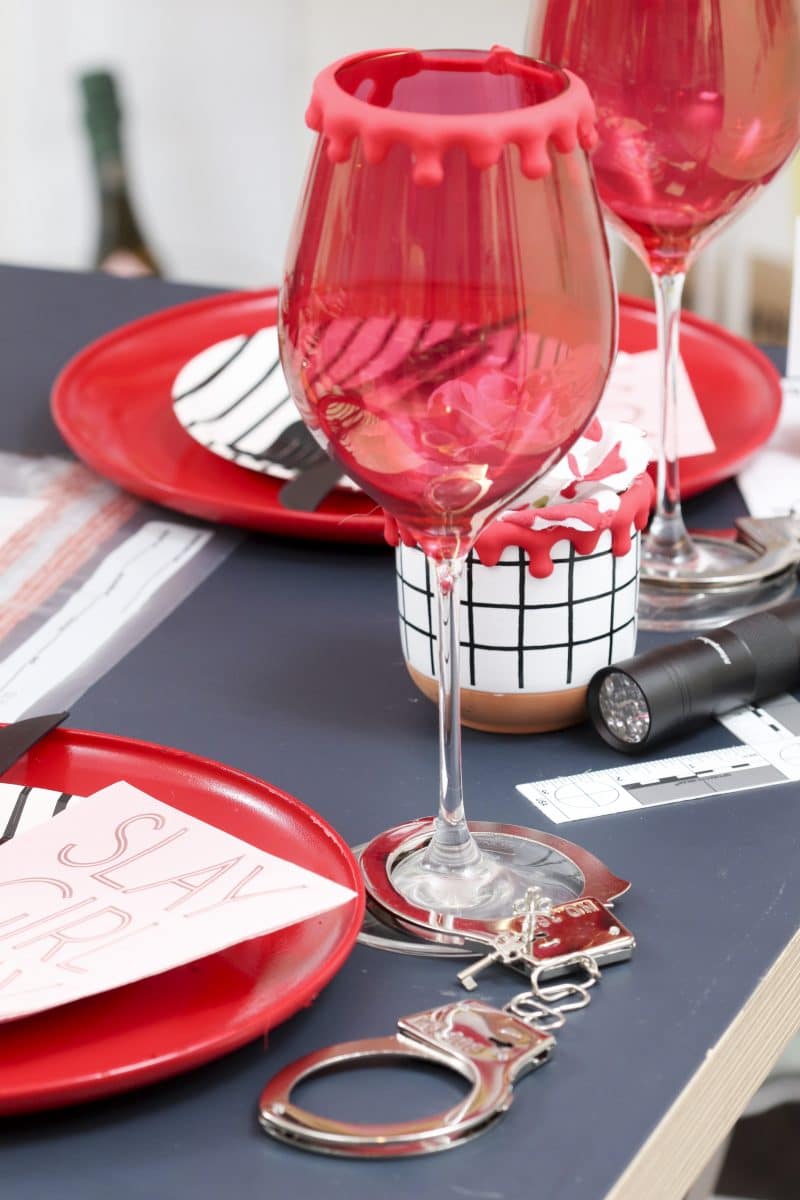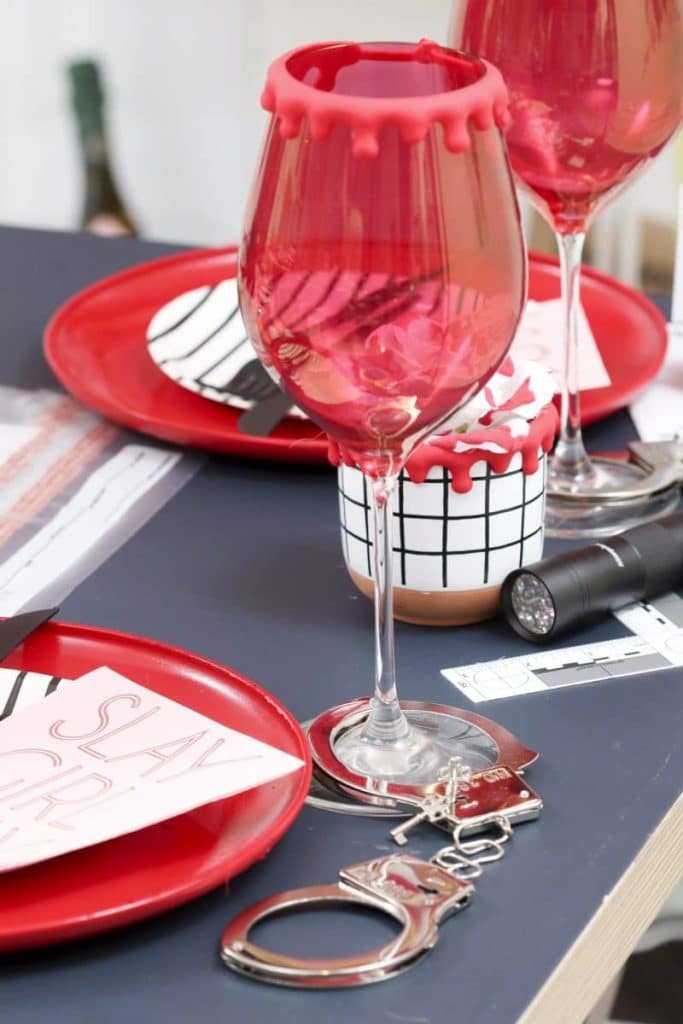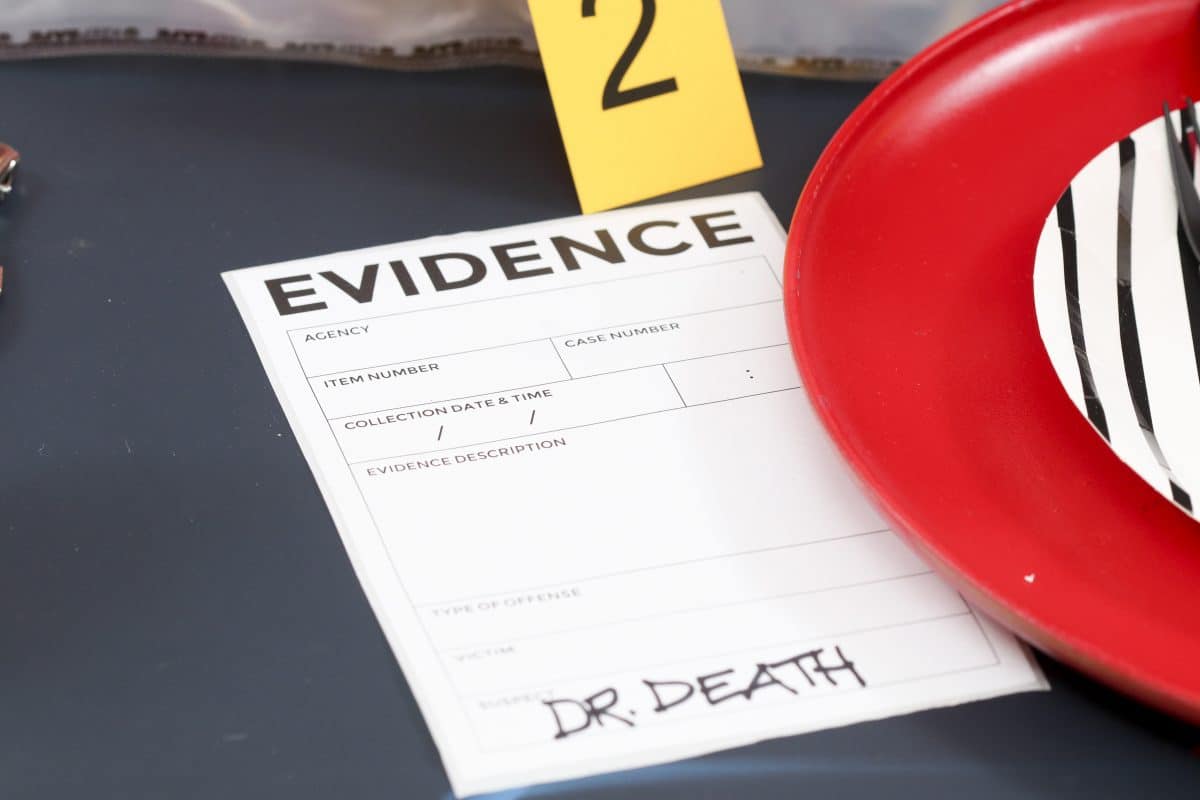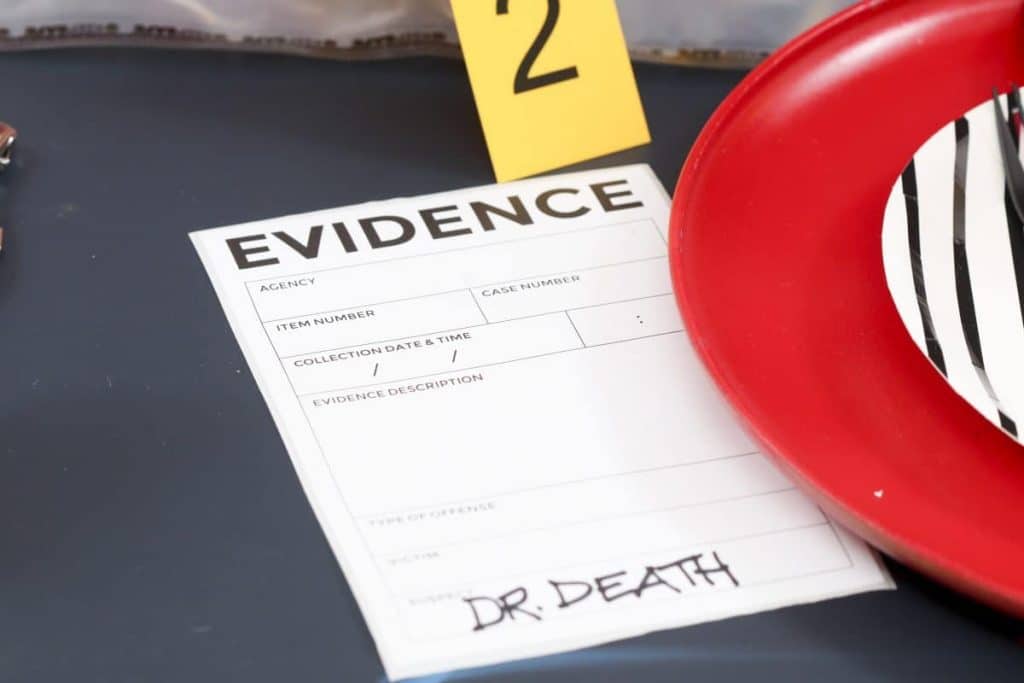 True Crime Halloween Party Photo Booth
Then, I created a KILLER photo booth wall (get it?) using gold balloons that spelled out "True Crime". They were surrounded by Photo Booth Props from ThePaperRhino and cutouts from the Killer Scraps Digital Collage Sheet from PixieHillStudio. I added more silicone blood bracelets, and blood splatter or fingerprint stickers to the gold balloons themselves for extra intrigue.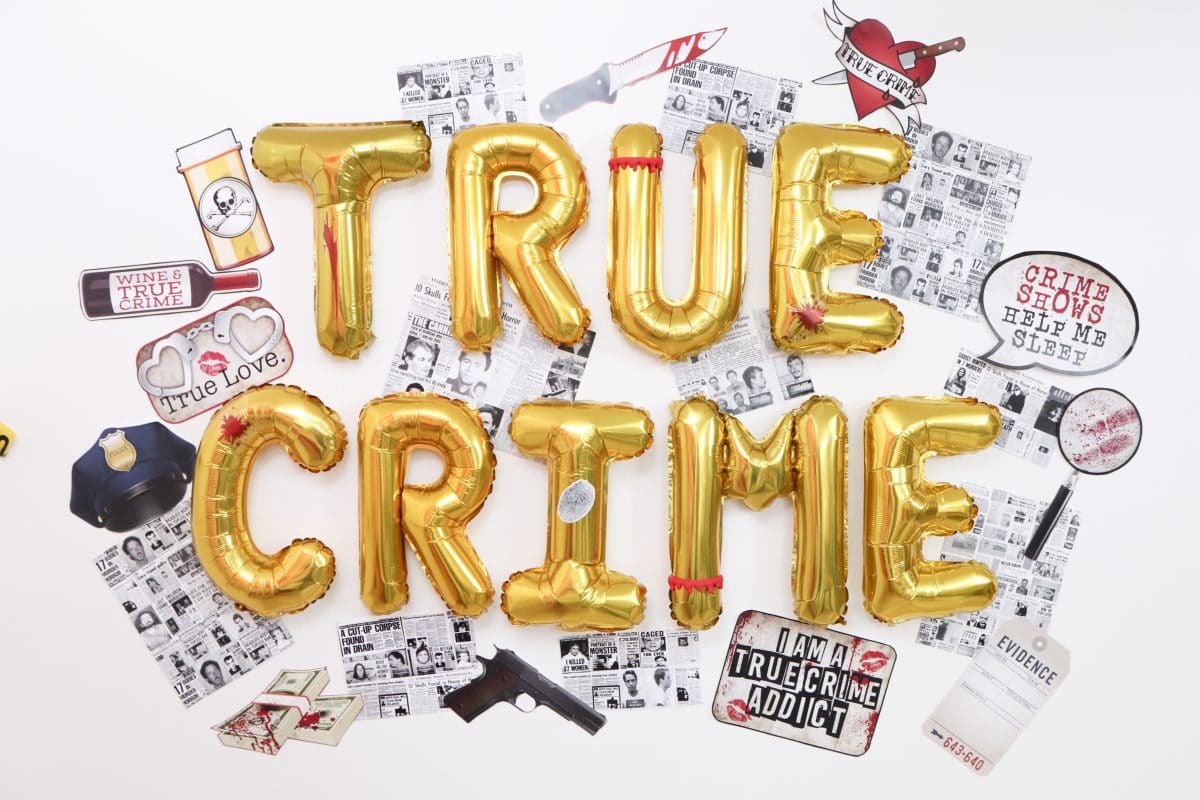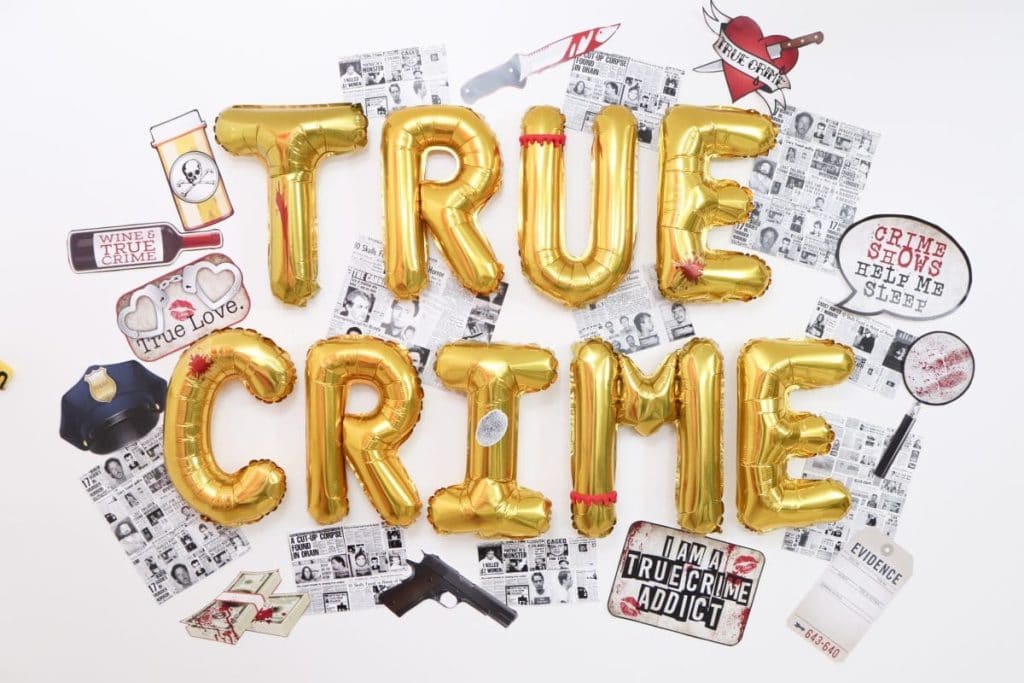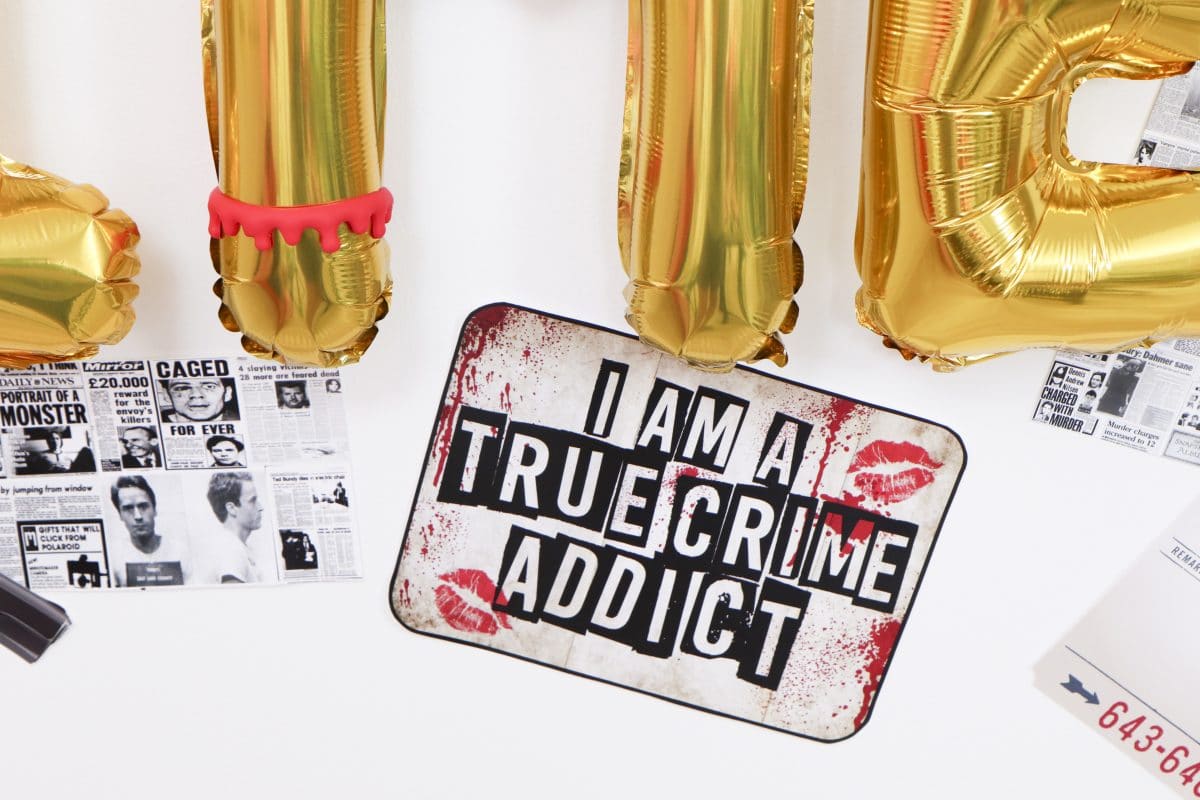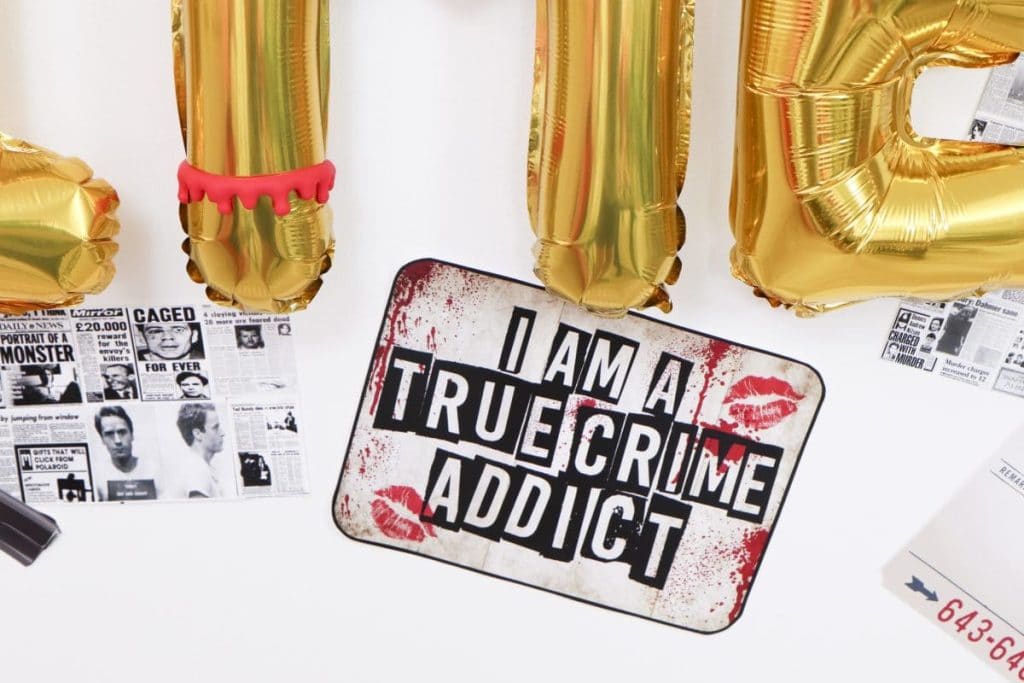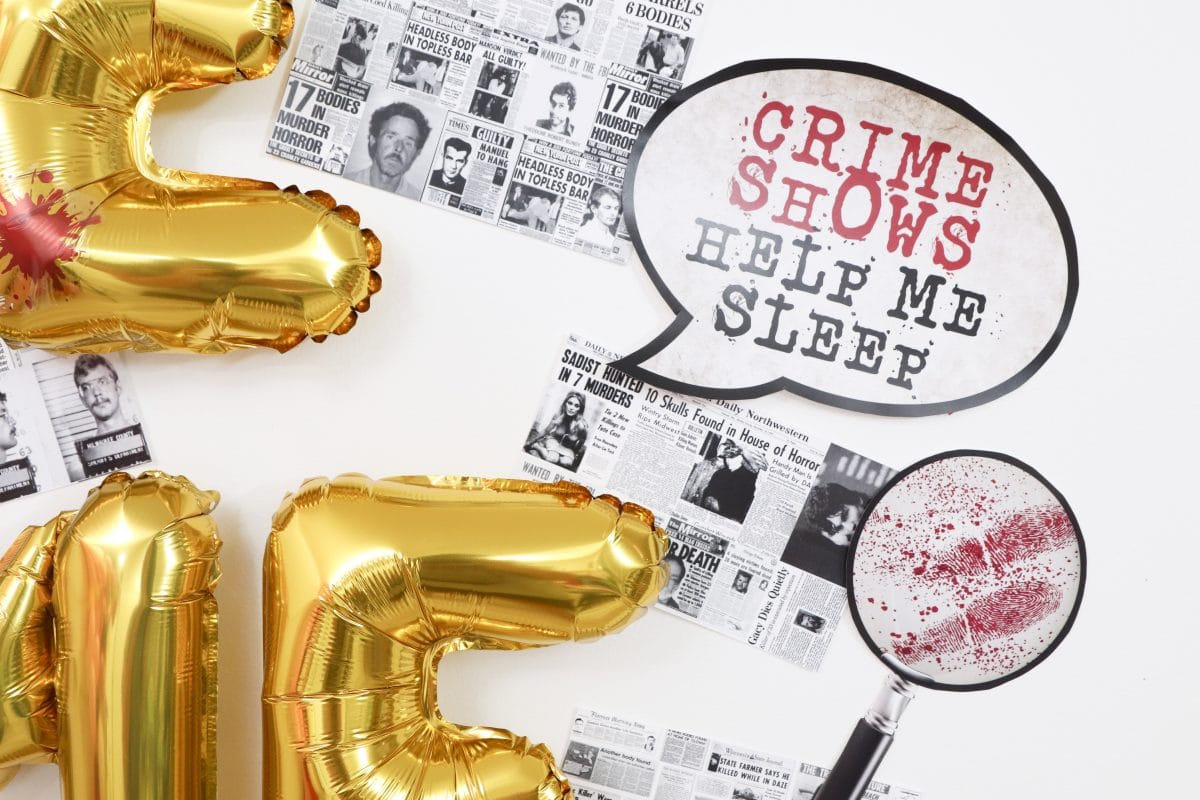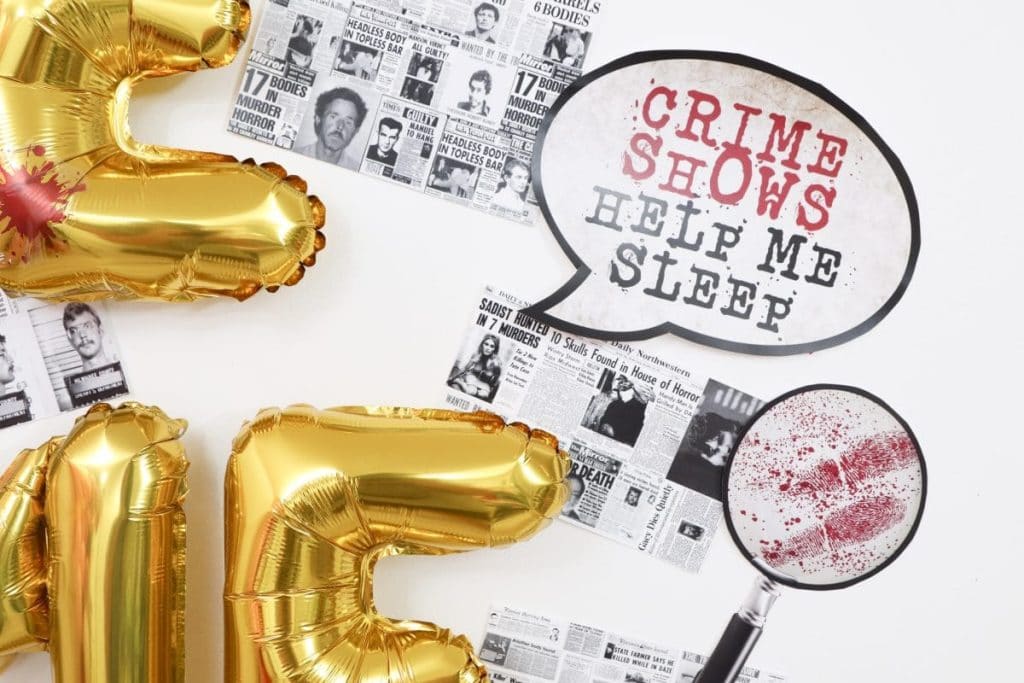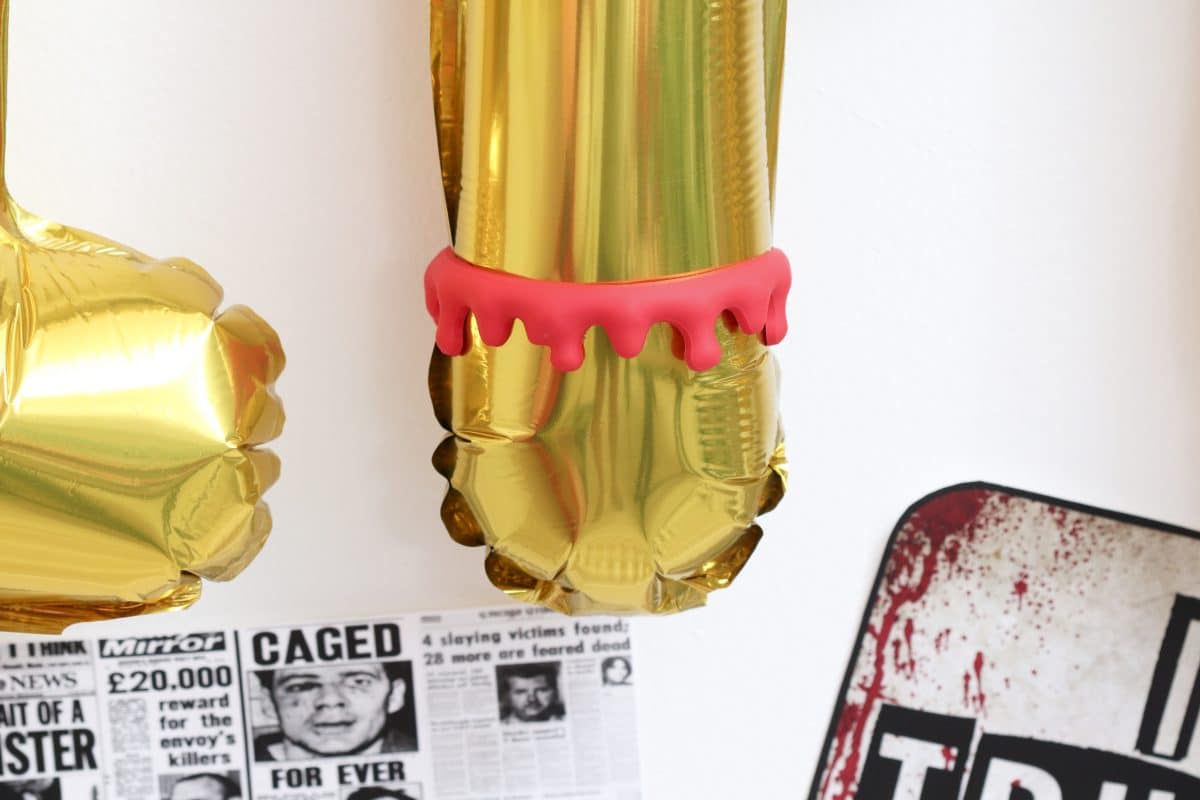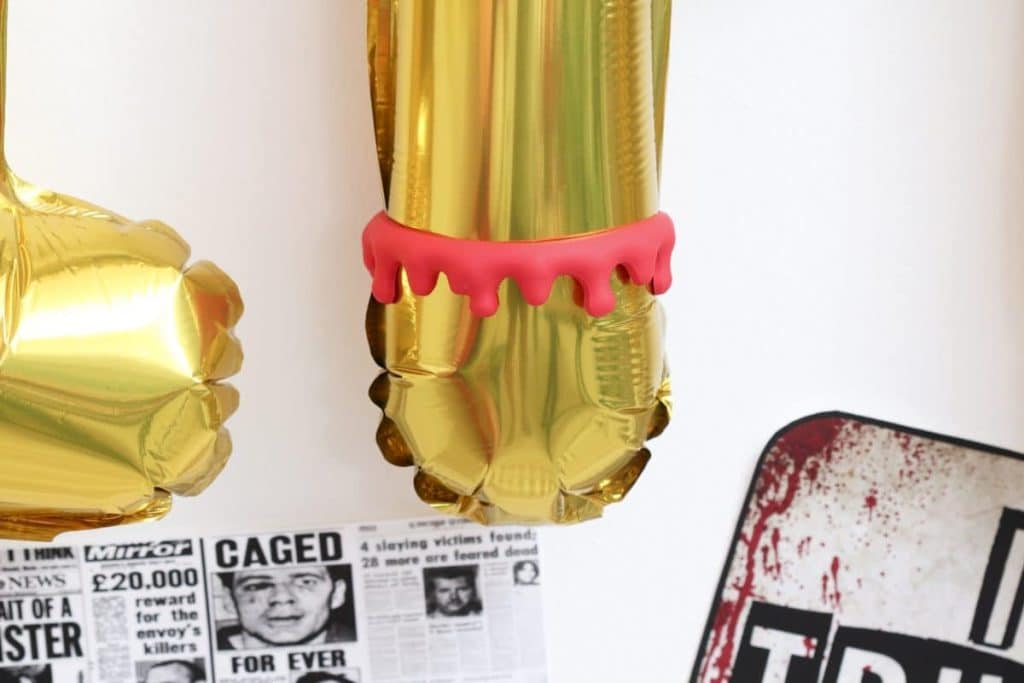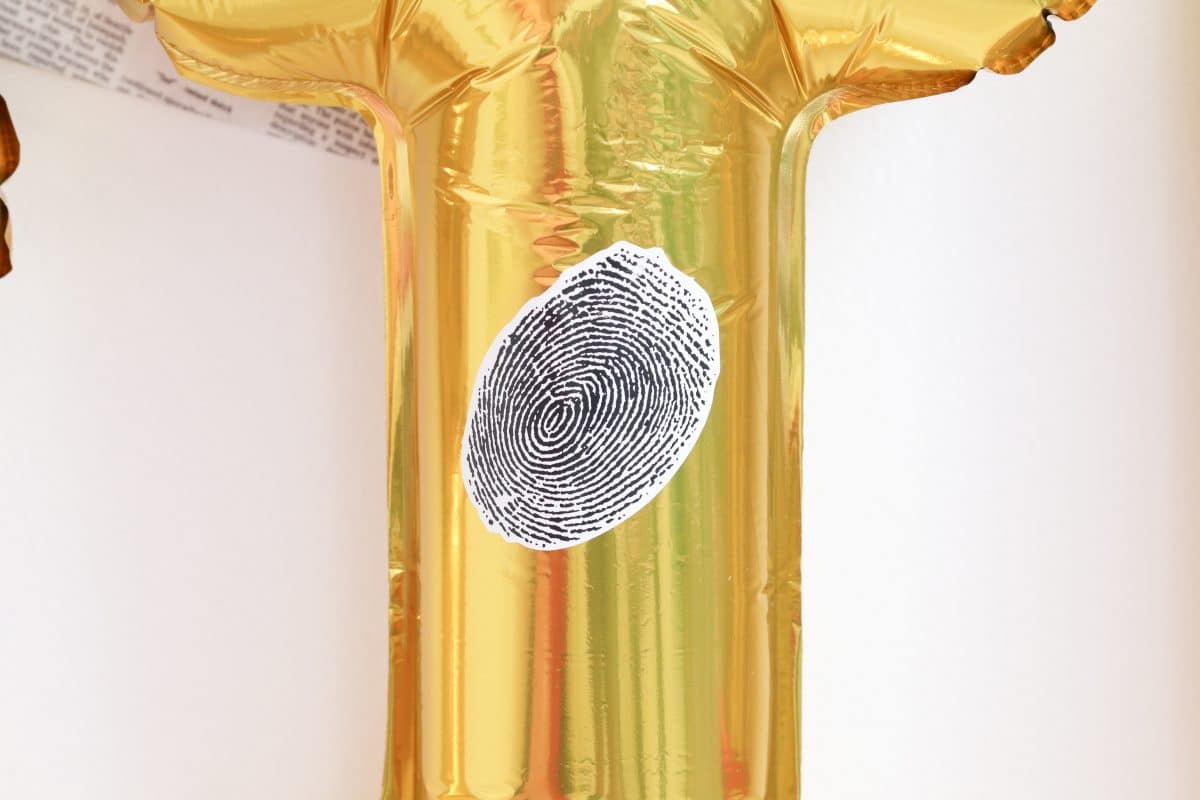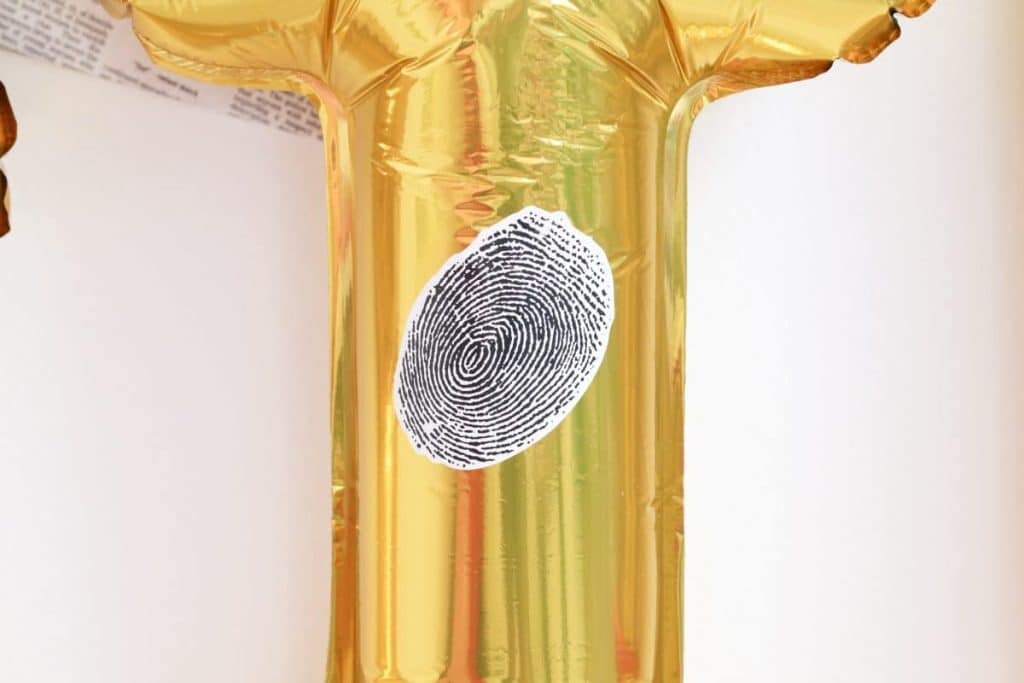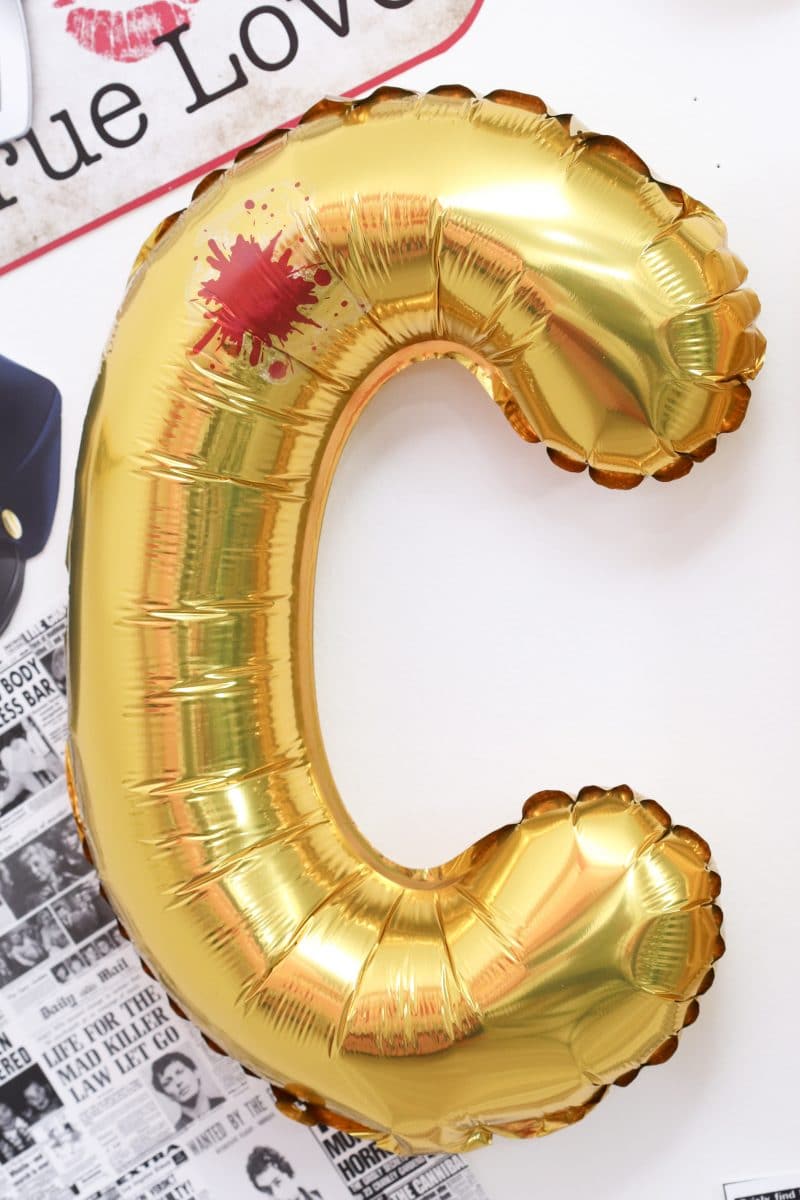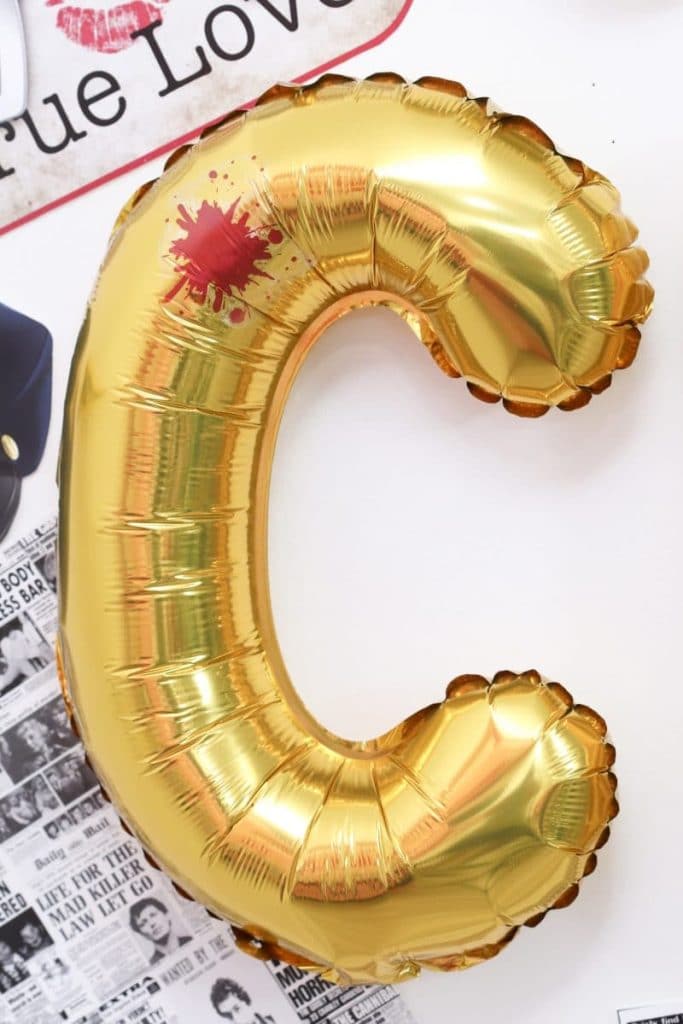 This Halloween Party is sure to entertain your friends as you bond over your mutual love of True Crime.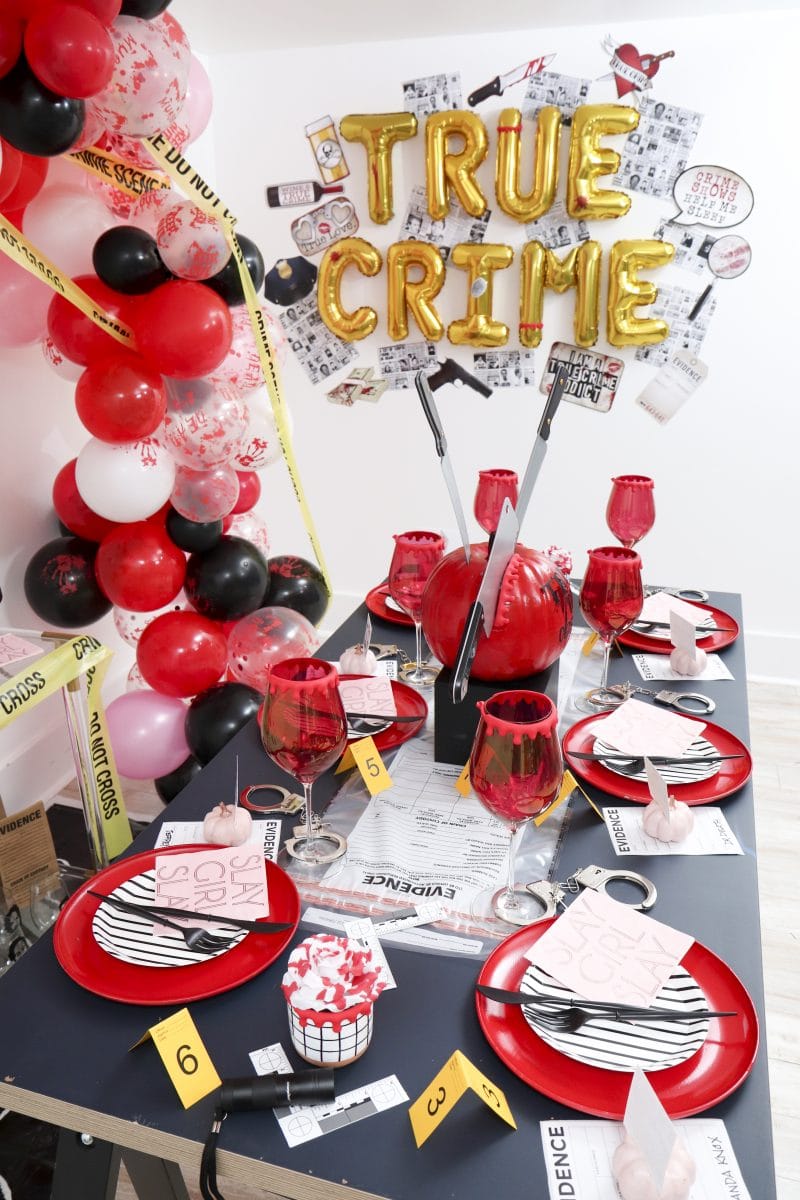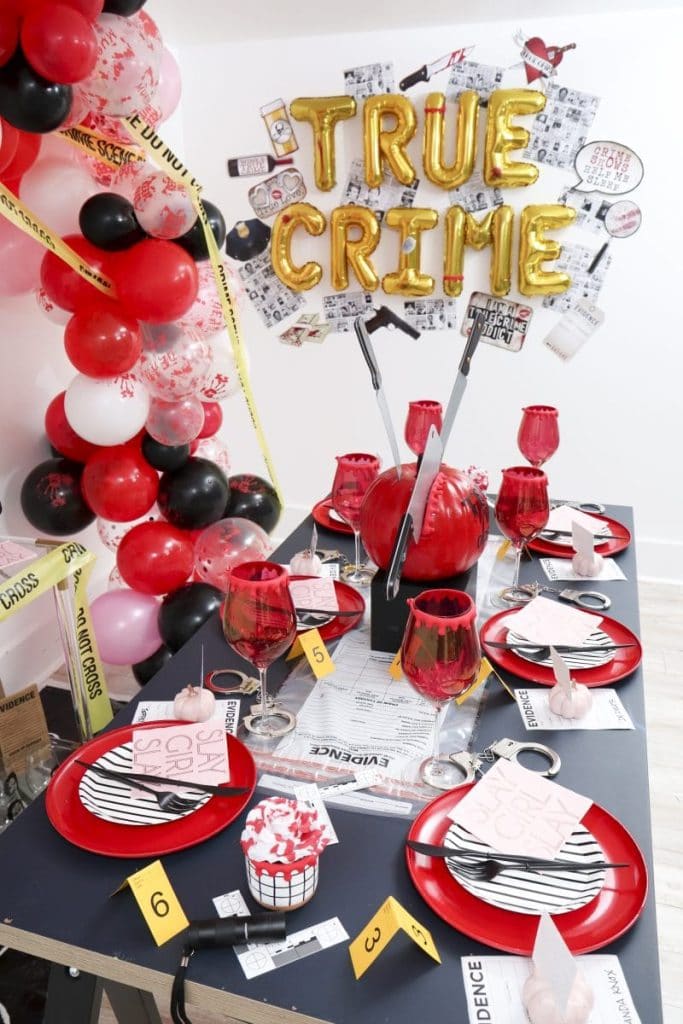 Here are a few of my favorite Amazon finds for this party:
Be sure to check out my Amazon Shop for the full shoppable list!
Happy Partying!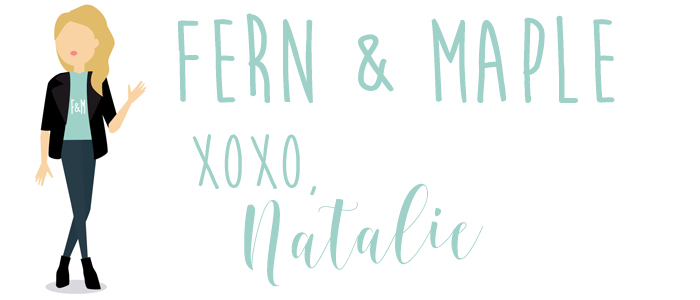 PIN FOR LATER: