I've been feeling pretty inspired by spooky literature lately. After creating my Friendly Frankie Frankenstein Themed Halloween Party for kids, based on the character from the novel by Mary Shelley, I figured I'd use another piece of literature for more of an adult dinner party theme – the Strange Case of Dr. Jekyll and Mr. Hyde, by Robert Louis Stevenson. What better creepy story to use to invite guests to "let out their inner Hyde" wild sides for a bit?! Read on to see how I set up my Jekyll and Hyde Halloween Dinner Party!
P.S. You can find many of the items I used in this party on my LTK post and in my Amazon Shop!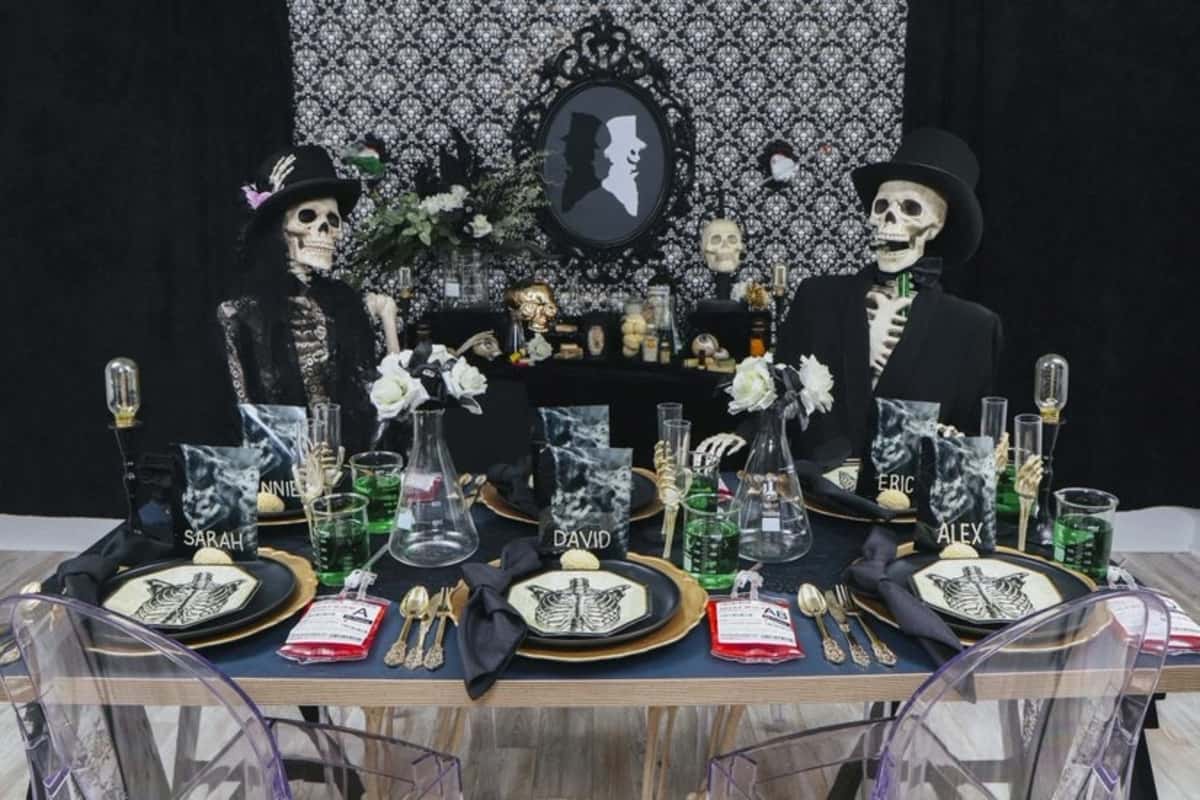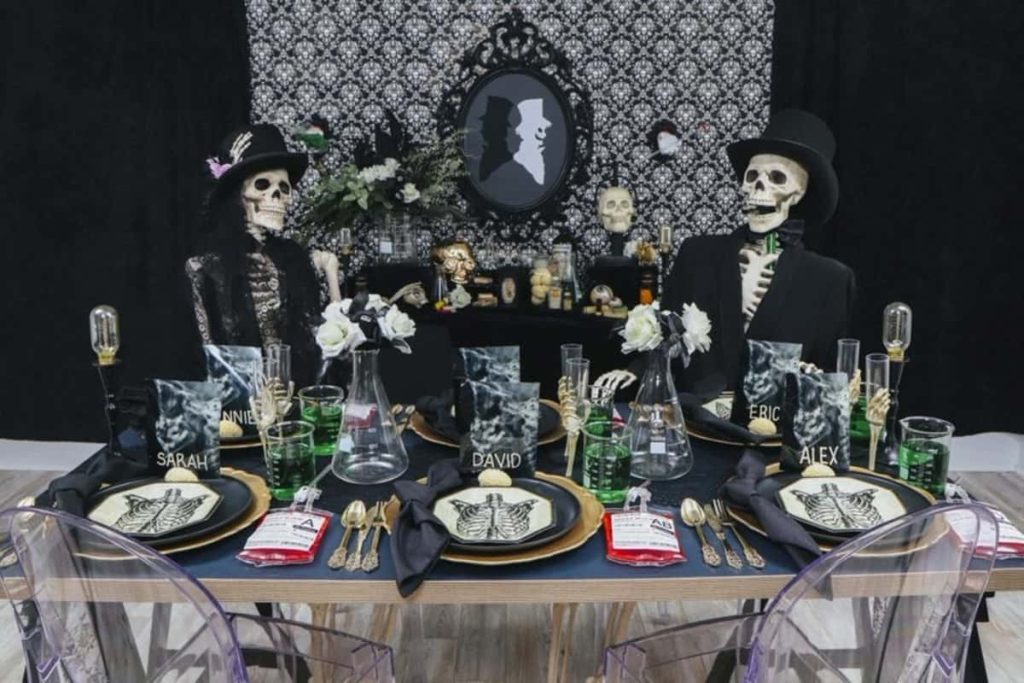 How to Create a Jekyll & Hyde Themed Halloween Dinner Party
As a blogger, I sometimes receive compensation and/or products in exchange for my styling and crafting services. I also may earn a small commission from any sales that result from affiliate links on this page. As always, all project ideas and any opinions expressed here are my own.  For further information on our disclosure policy please check out our disclosure page.
Good and Evil Backdrop
First, I set up my spooky backdrop. I started with gothic skull wallpaper from Spoonflower – but HERE is a good amazon option if that's easier! Then, in the center, I hung an amazing custom Jekyll and Hyde poster from Elena at Worldwide Party, framed in an ornate black frame.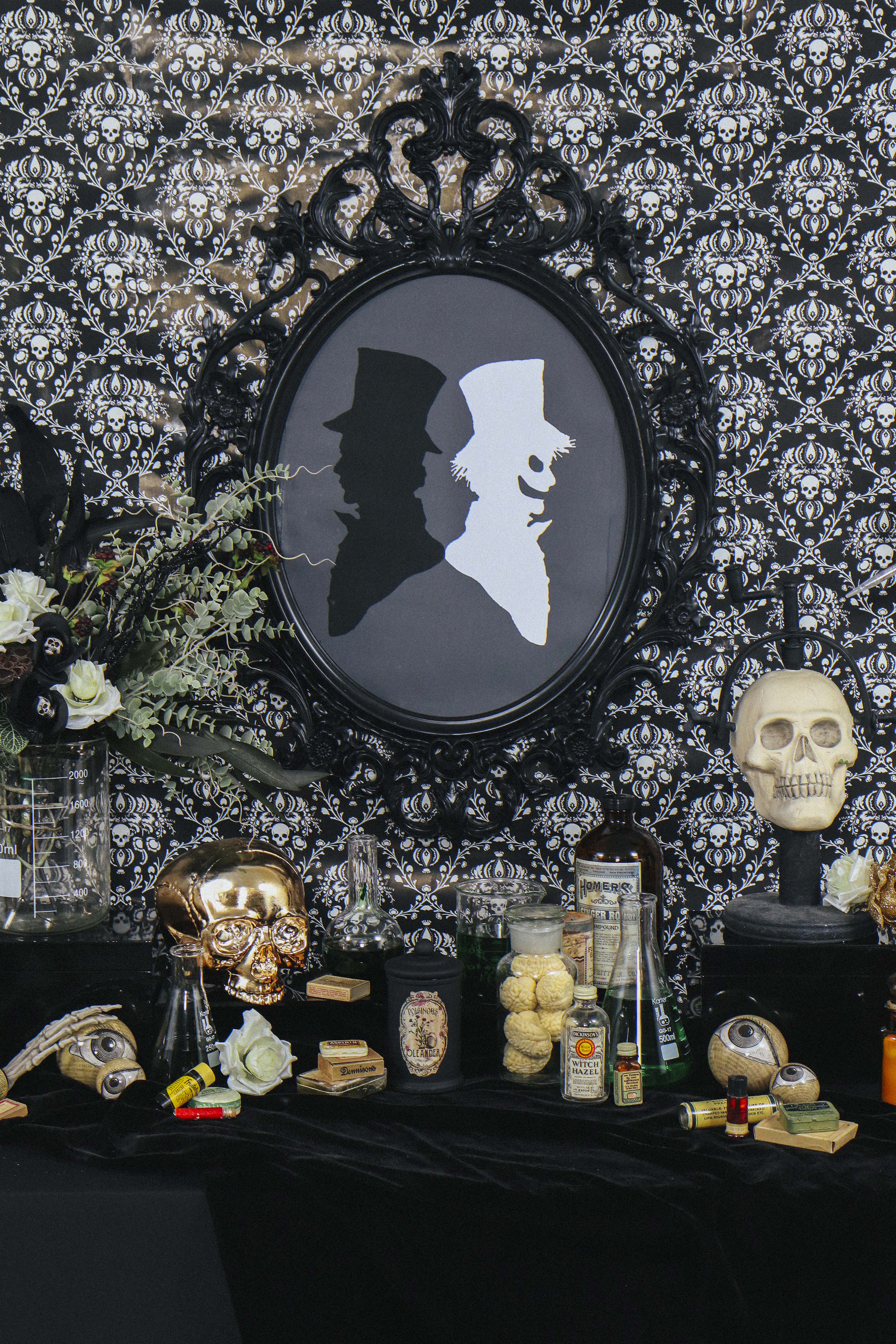 Then, on either side of the poster, I hung a Butler Wall Mount Hands. These vintage looking butler's hands held test tubes and potions – perfect for Dr. Jekyll's laboratory!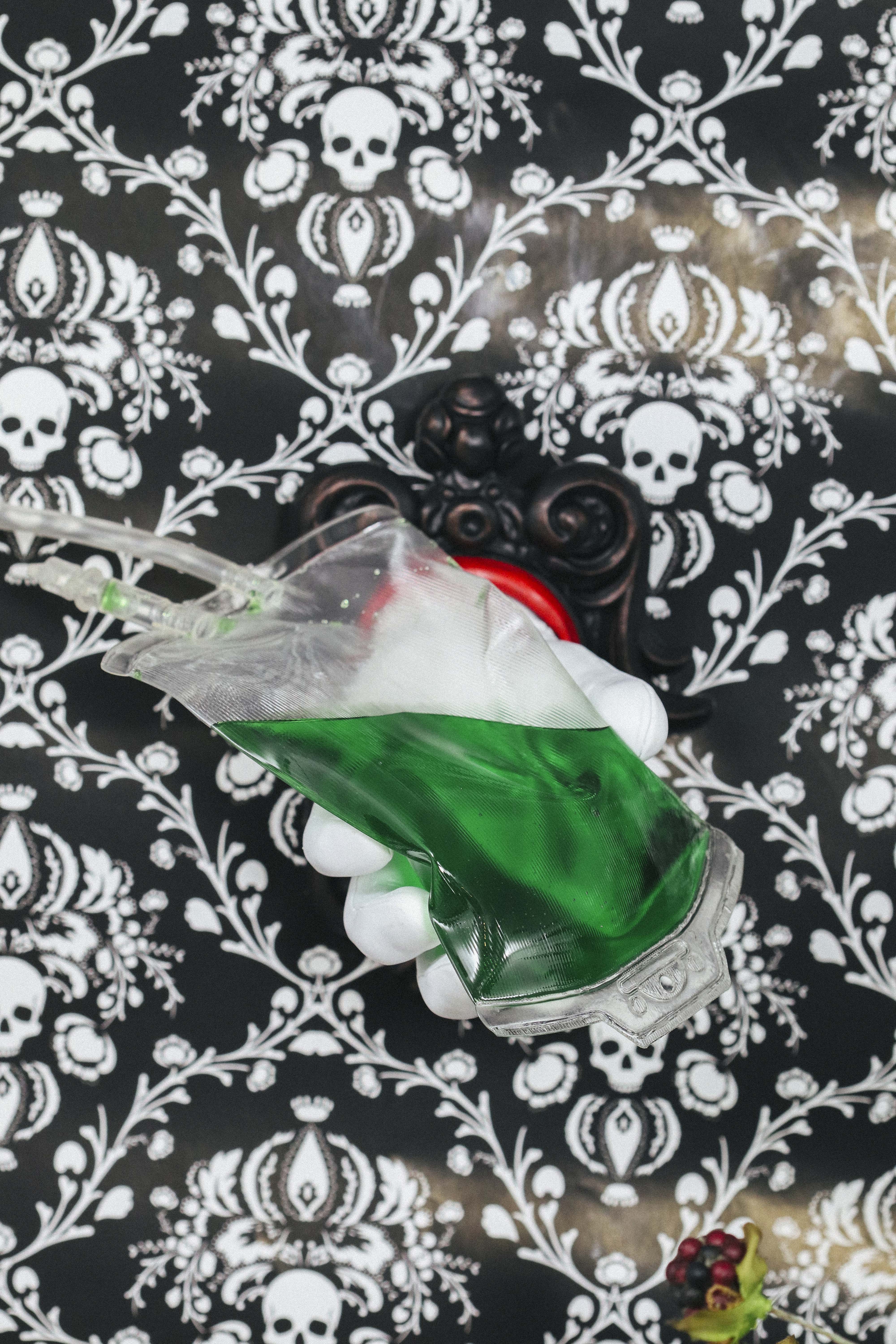 Laboratory Décor Table
Next, I moved on to styling a décor table that sat in front of the backdrop. This is where I got to really set the scene and give the dinner party a vintage laboratory vibe! I covered it with a deep black velvet tablecloth, and then used a variety of vintage light bulbs, laboratory equipment, and medical supplies as fun party props. You can find many of the props I used on my Jekyll and Hyde Party list for my Amazon store.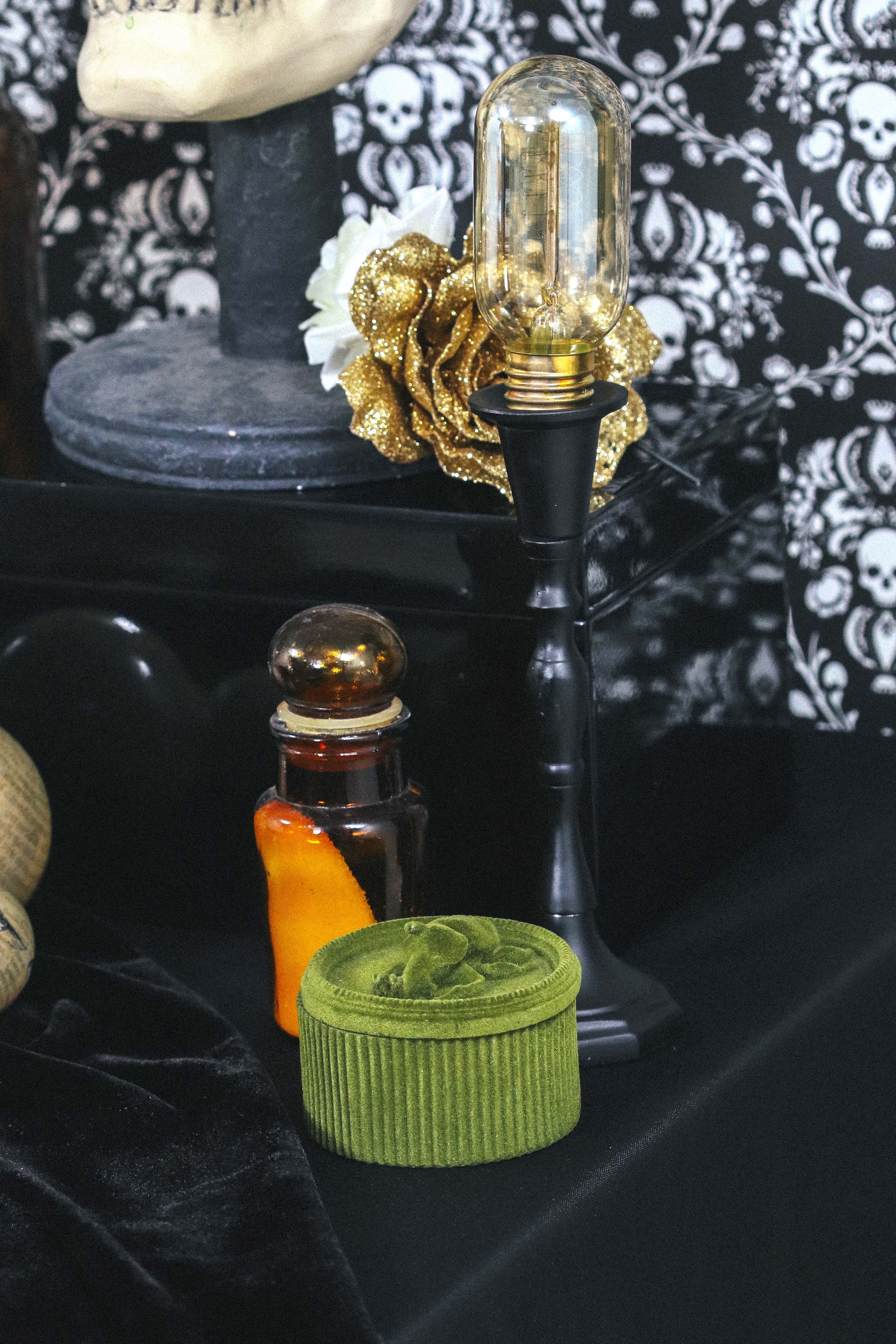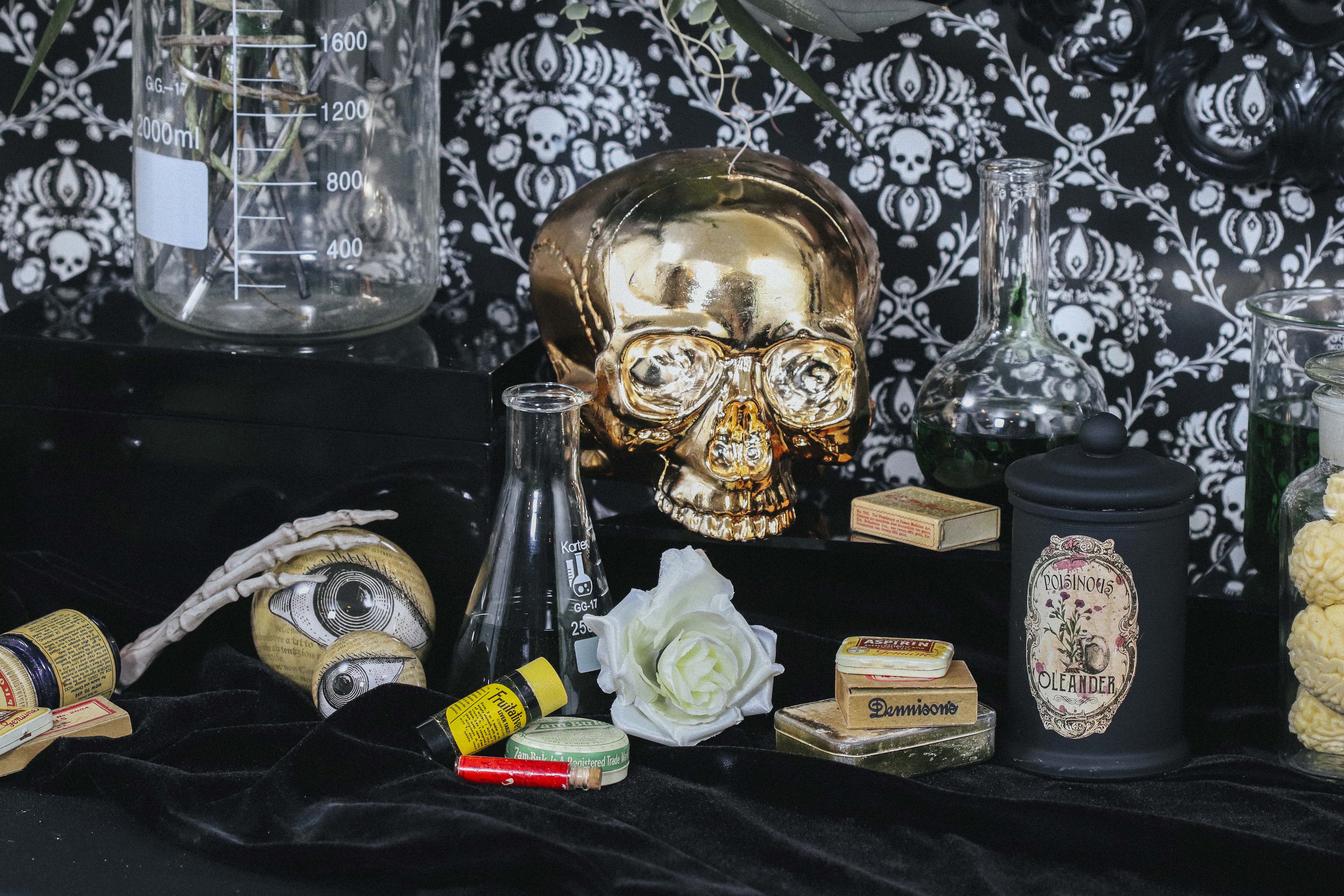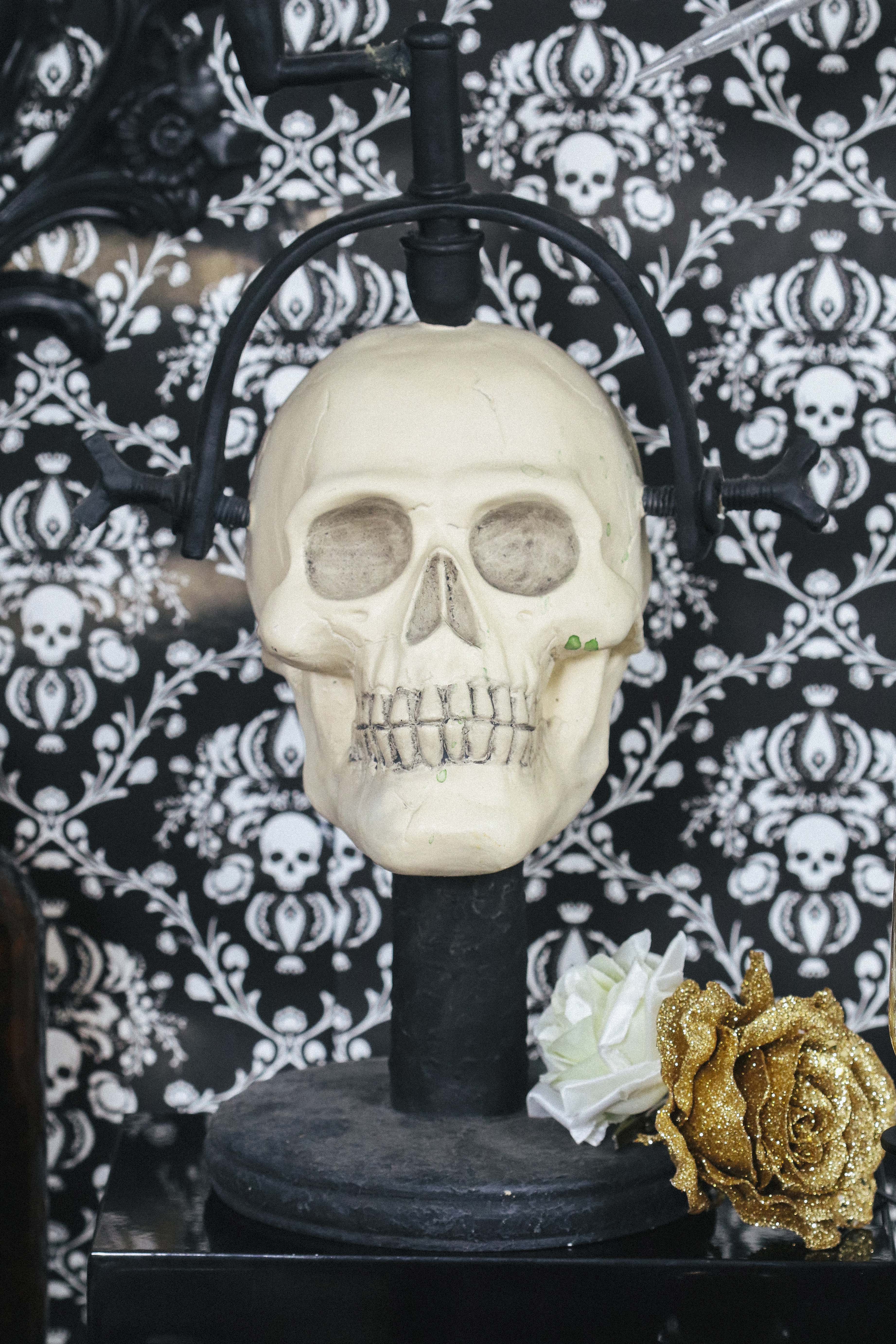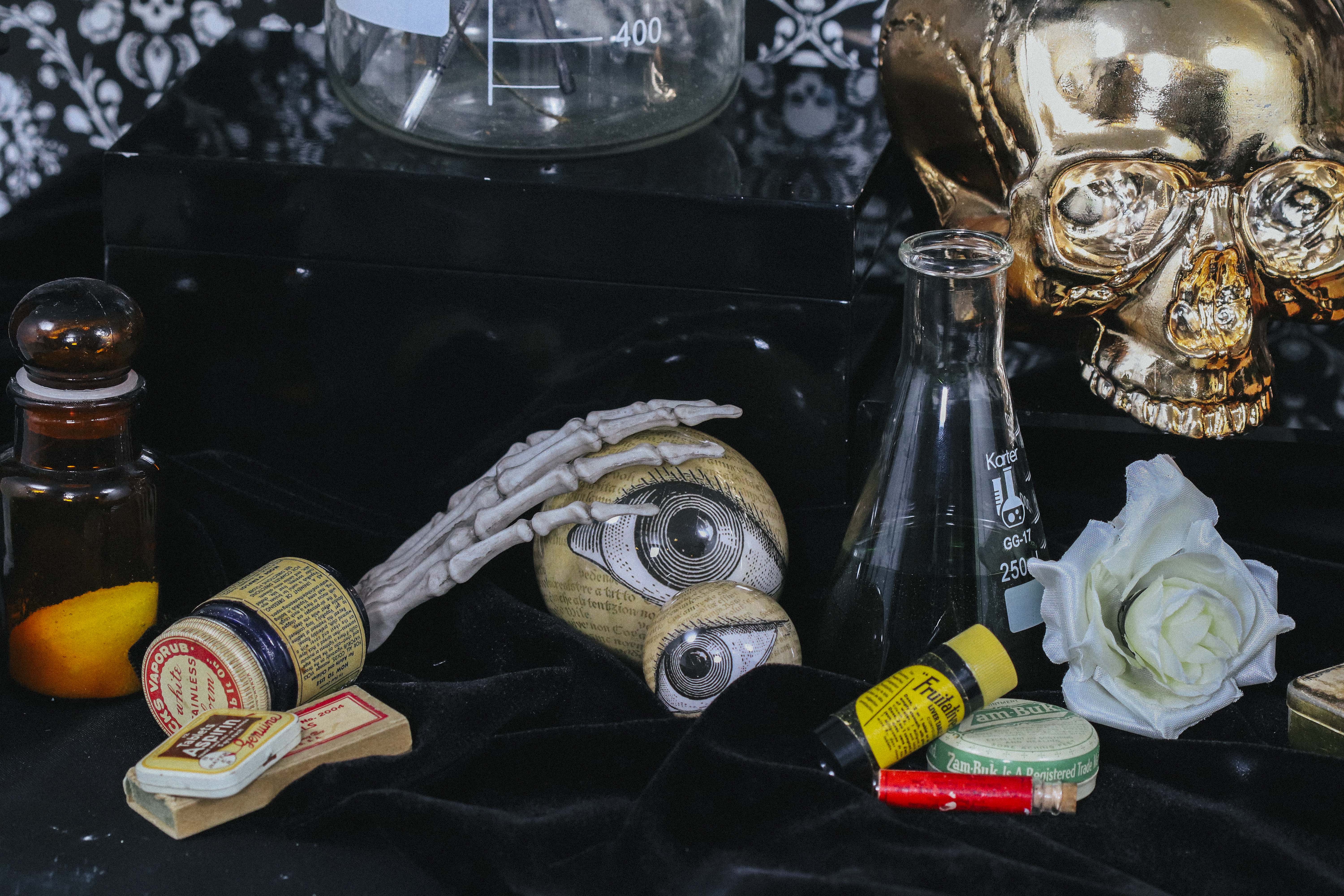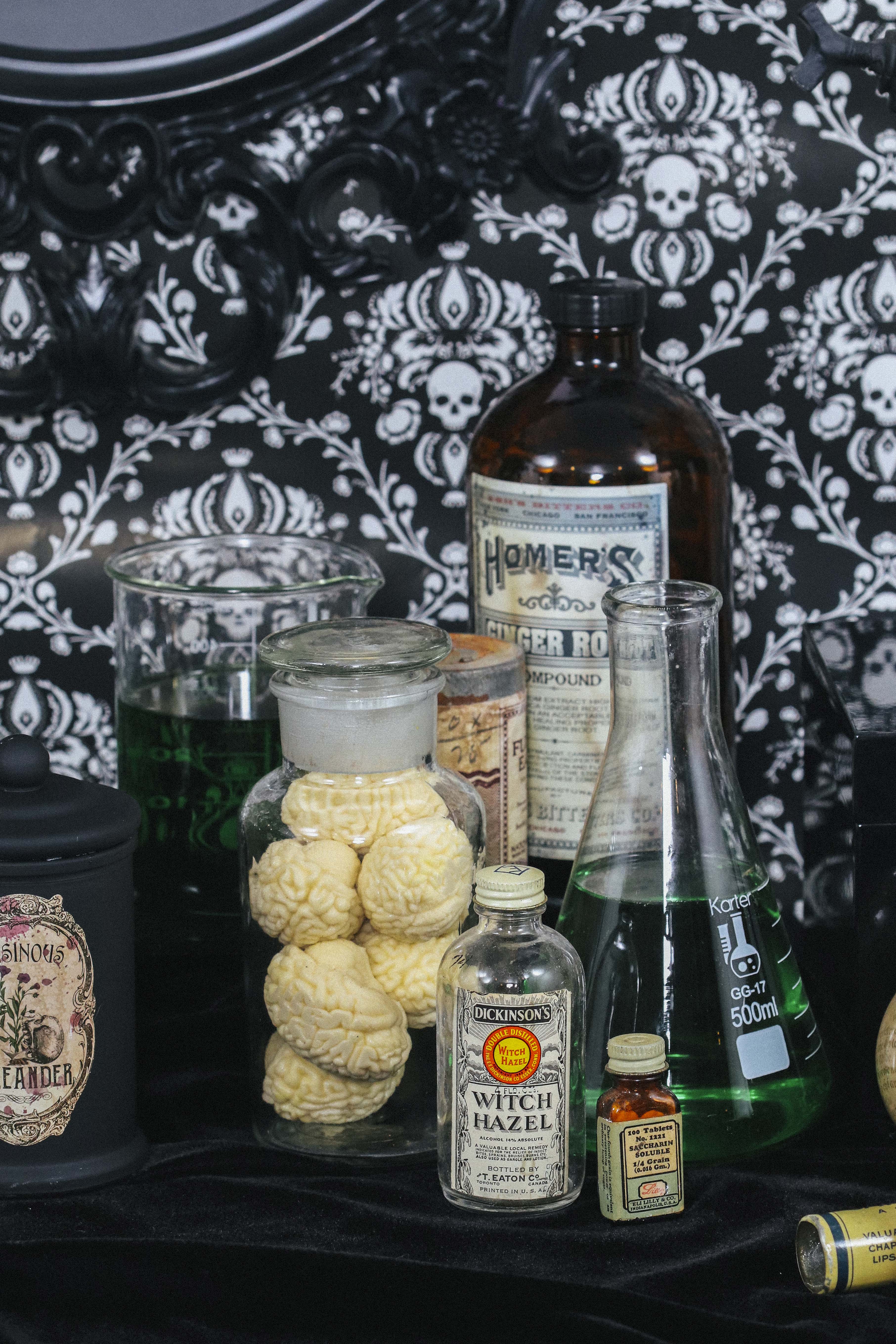 I also used an extra large beaker as a vase for a gorgeous black and white floral arrangement. How fun is that?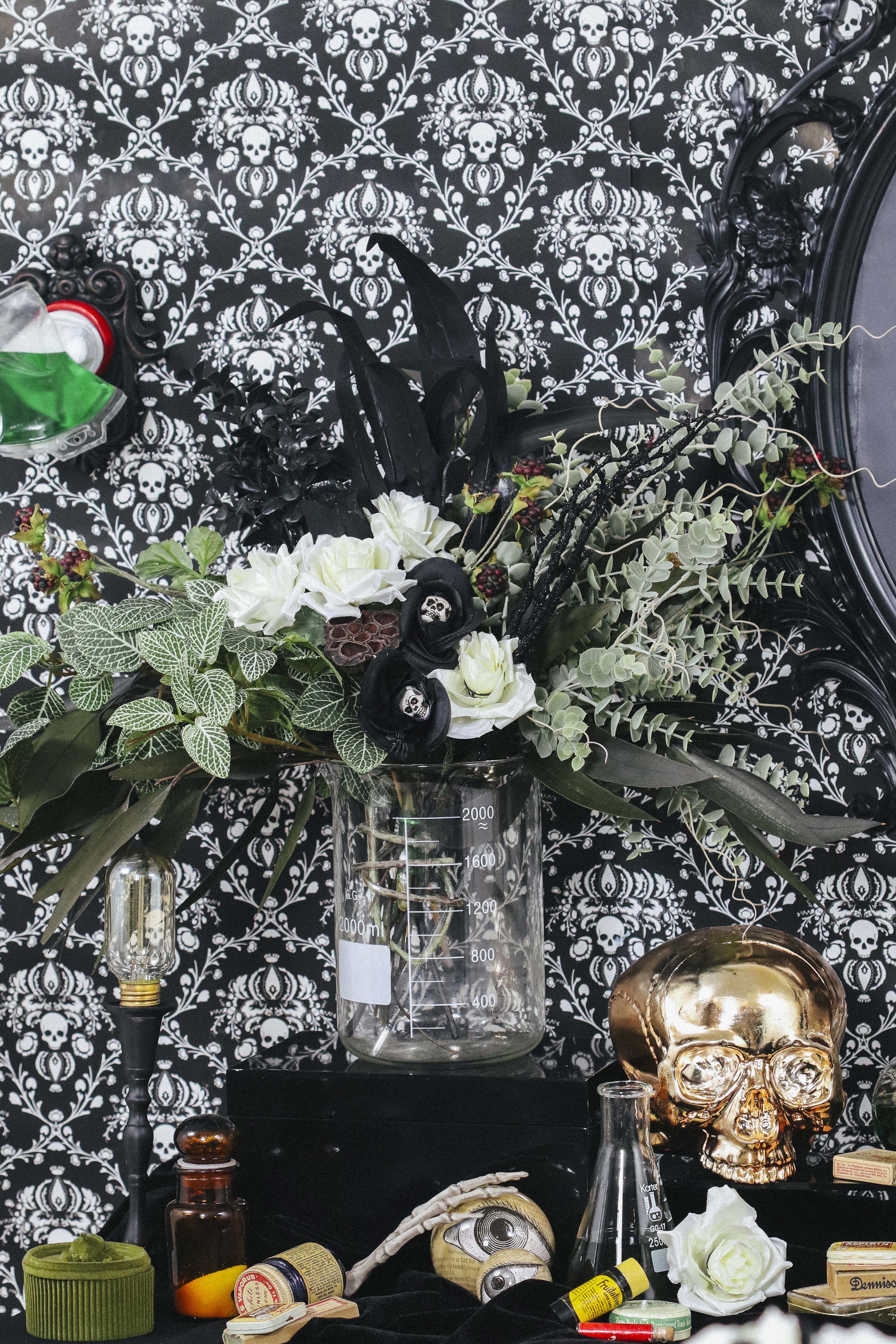 Decadent Dining Table
Then, it was time to set up my favorite part of this dinner party – the dining table of course! This is where guests would be spending the bulk of the party, and I wanted it to be fun and on theme, but also elegant. I set up a black table with a black lace table runner down the middle. Next, I created two smaller floral arrangements in erlenmeyer flask vases, and used those as centerpieces. On each end of the table, I placed a vintage light in a black candlestick.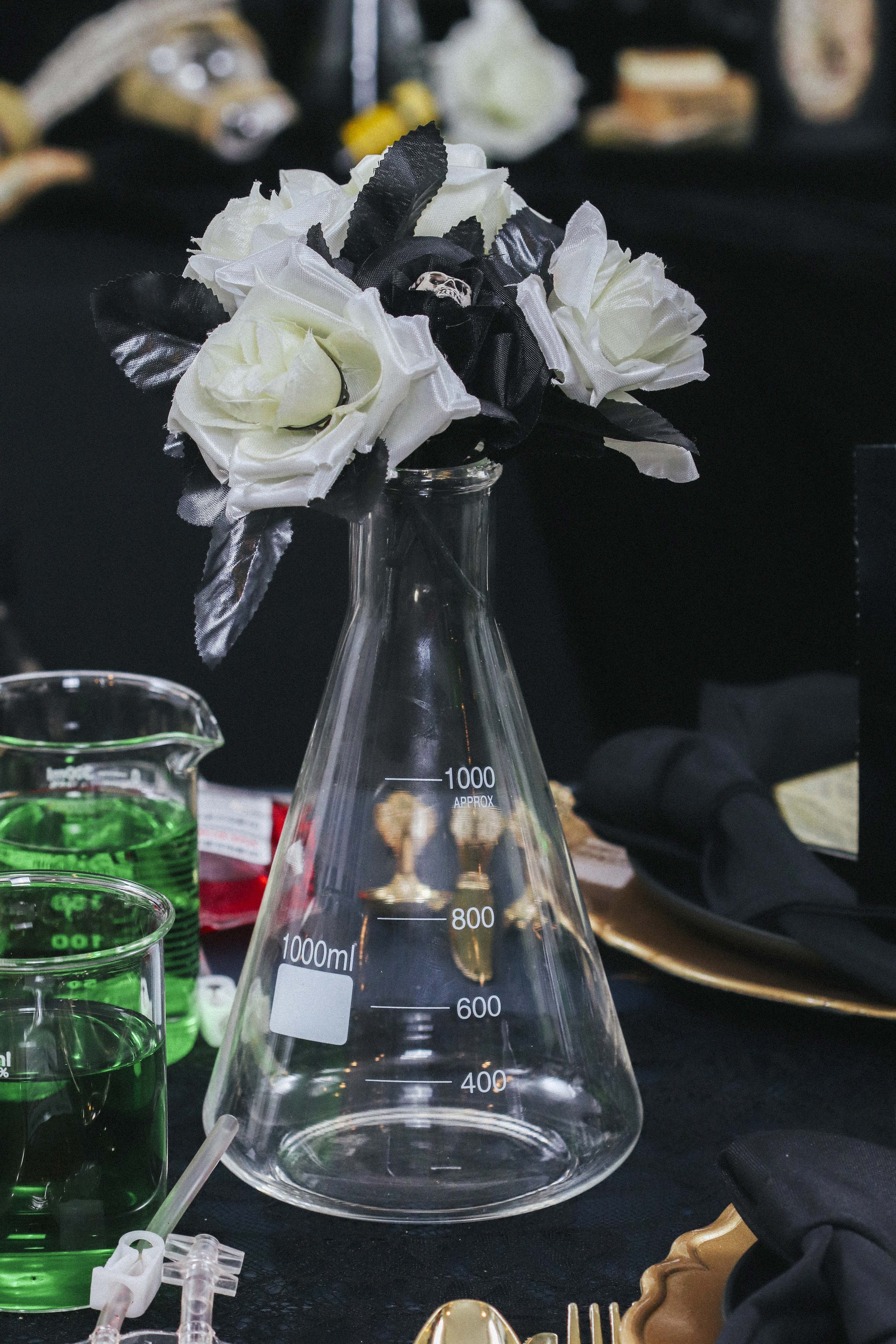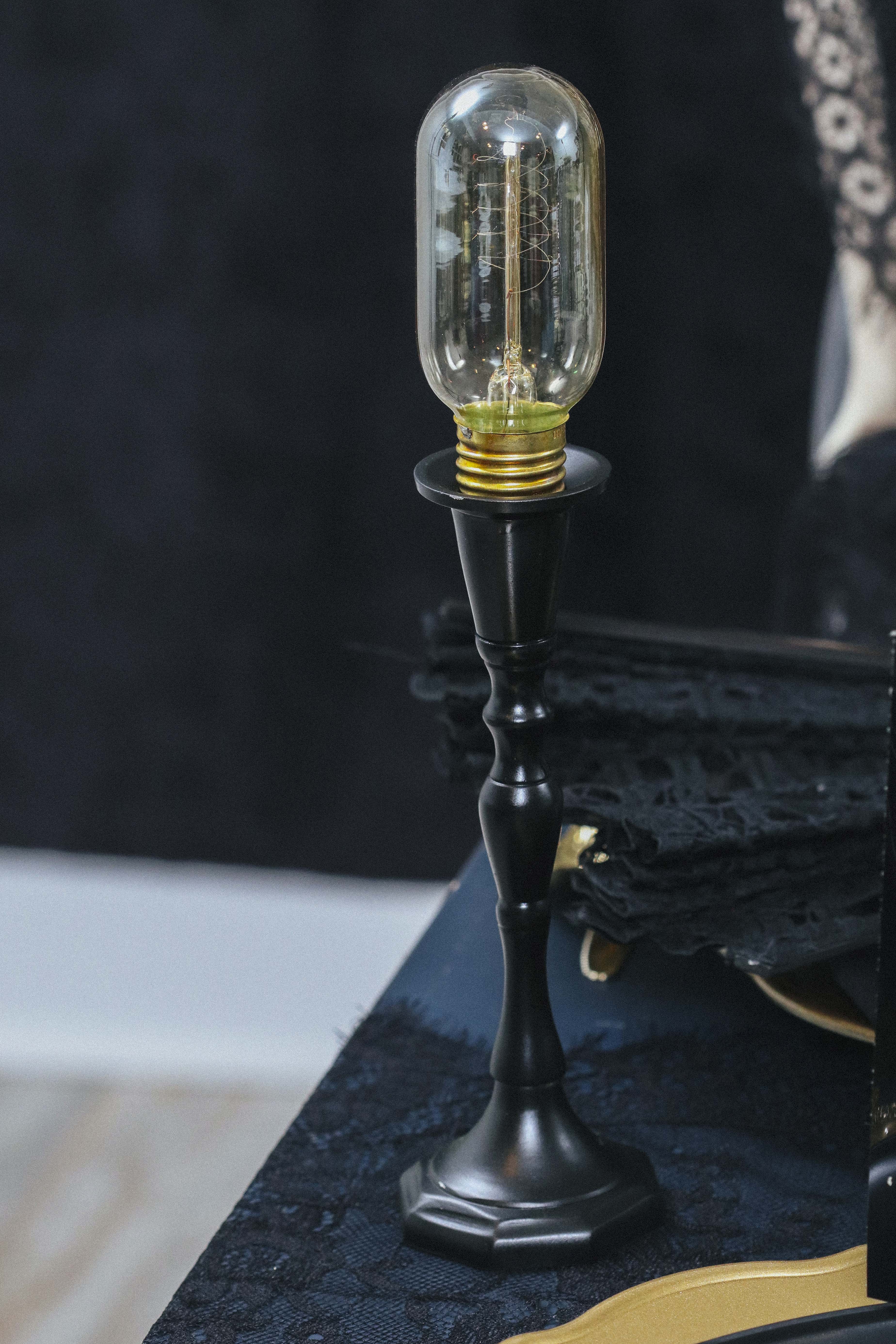 Once that was done, I moved on to my place settings. I used pretty gold chargers I had on hand (HERE is a similar Amazon option), and layered them with black porcelain dinner plates and amazing vintage Halloween dessert plates. Next to them, I set out gold plastic cutlery and black cloth napkins.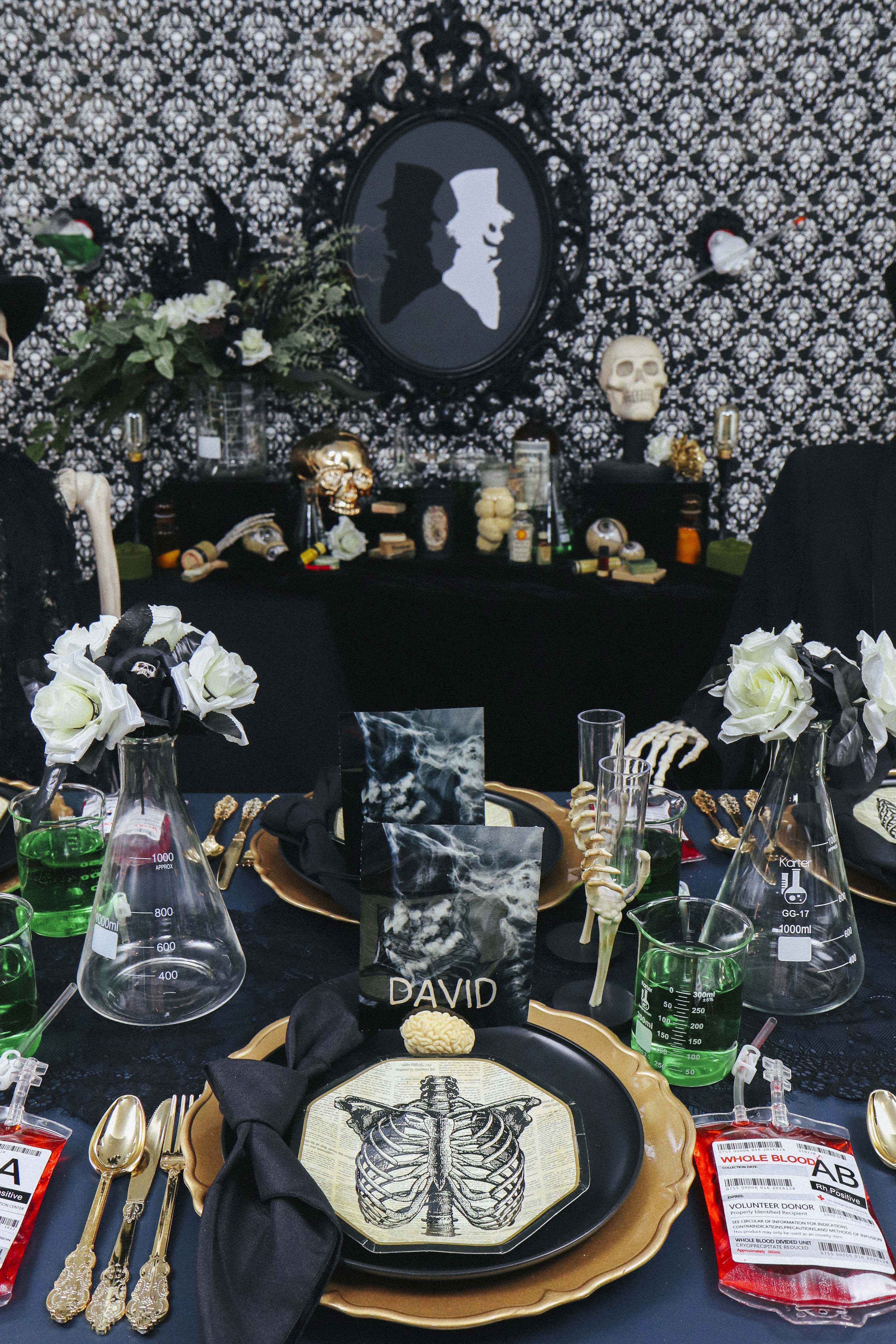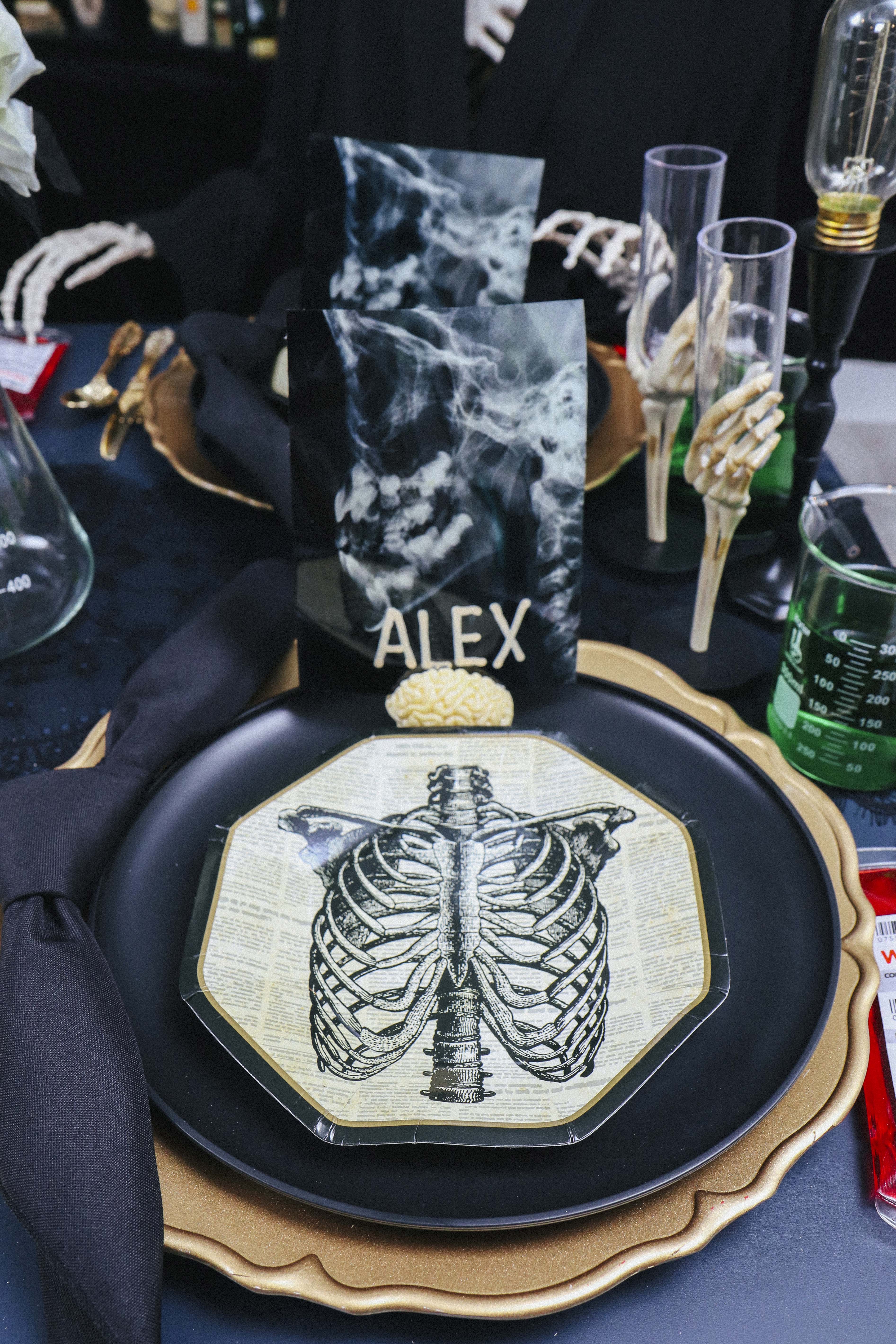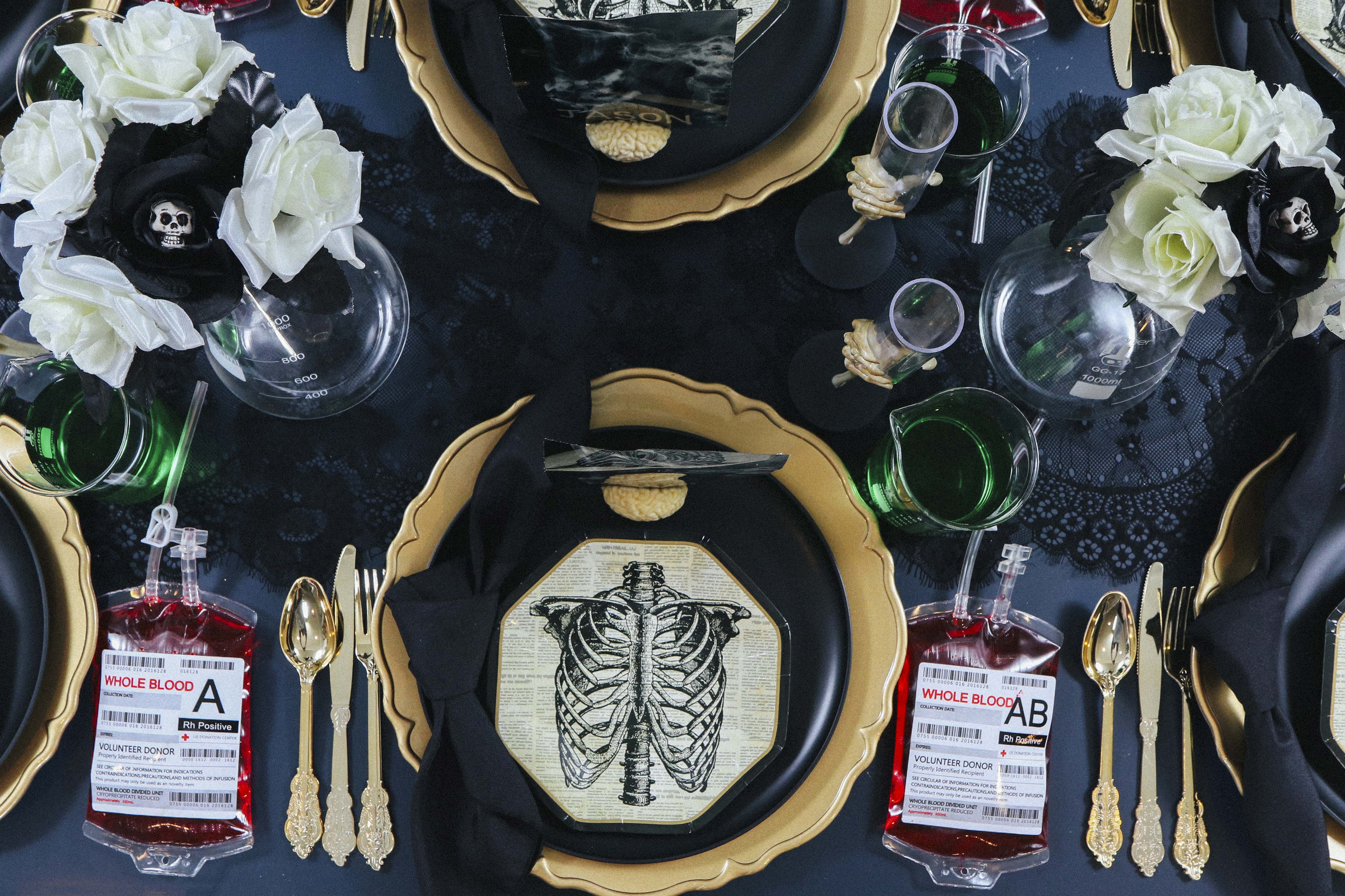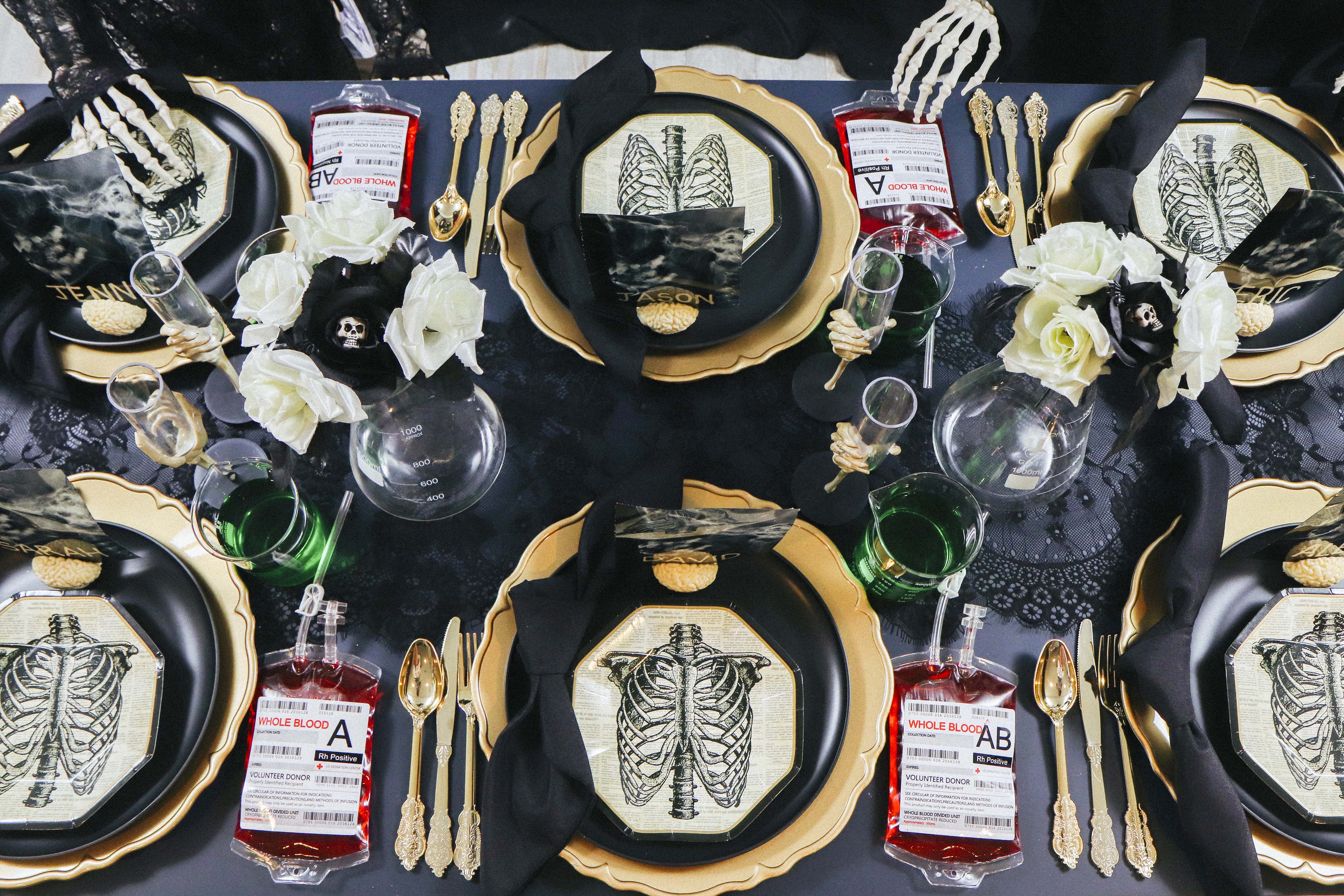 Then, I created really fun DIY x-ray place cards using x-rays, brain toys, and chalkola markers.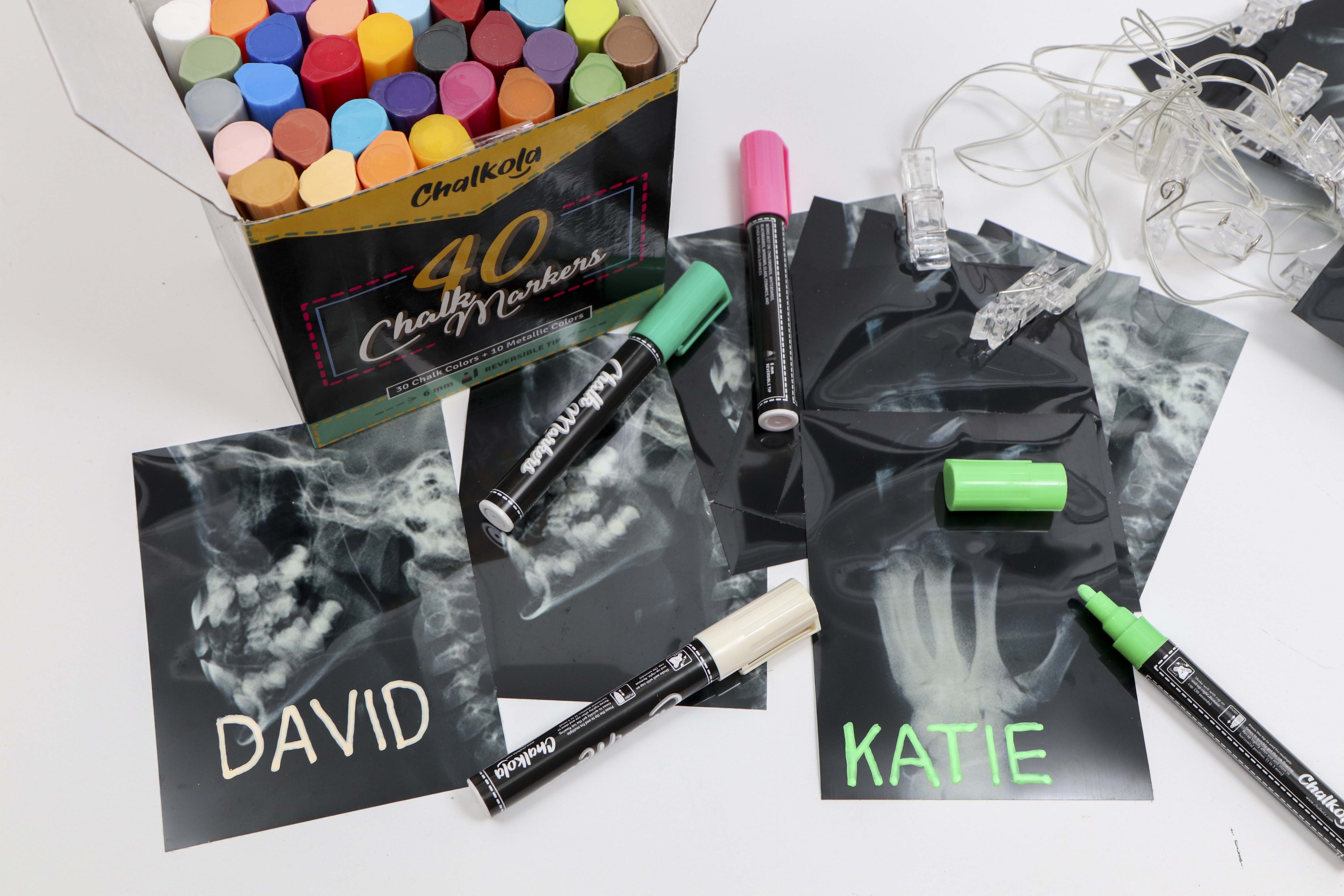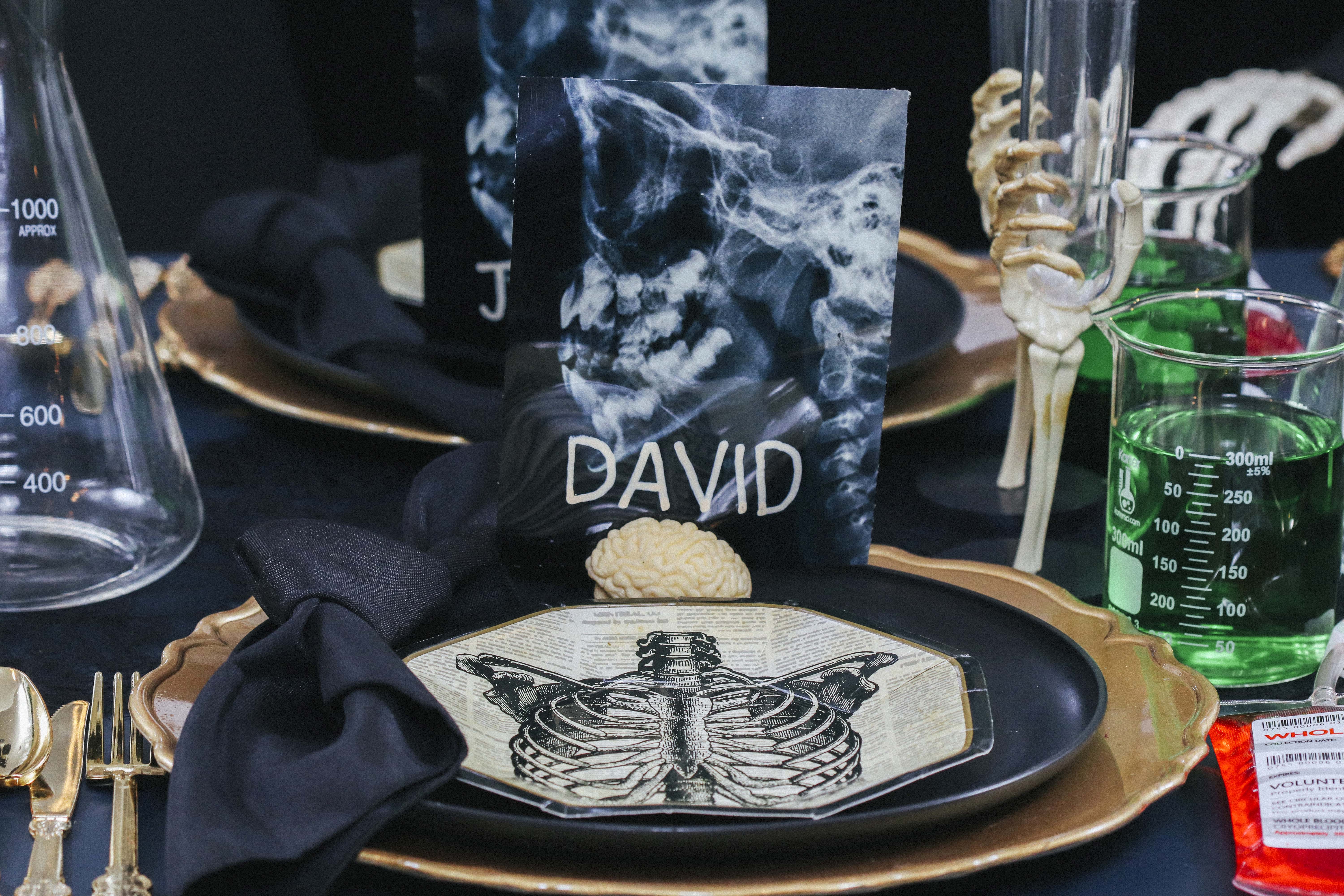 For my drinkware, I used some really creative vessels! I used champagne glasses held by bony hands, beakers for green-food-colored water, and blood bags for wine! Don't they all give the table the perfect spooky science-y vibe?!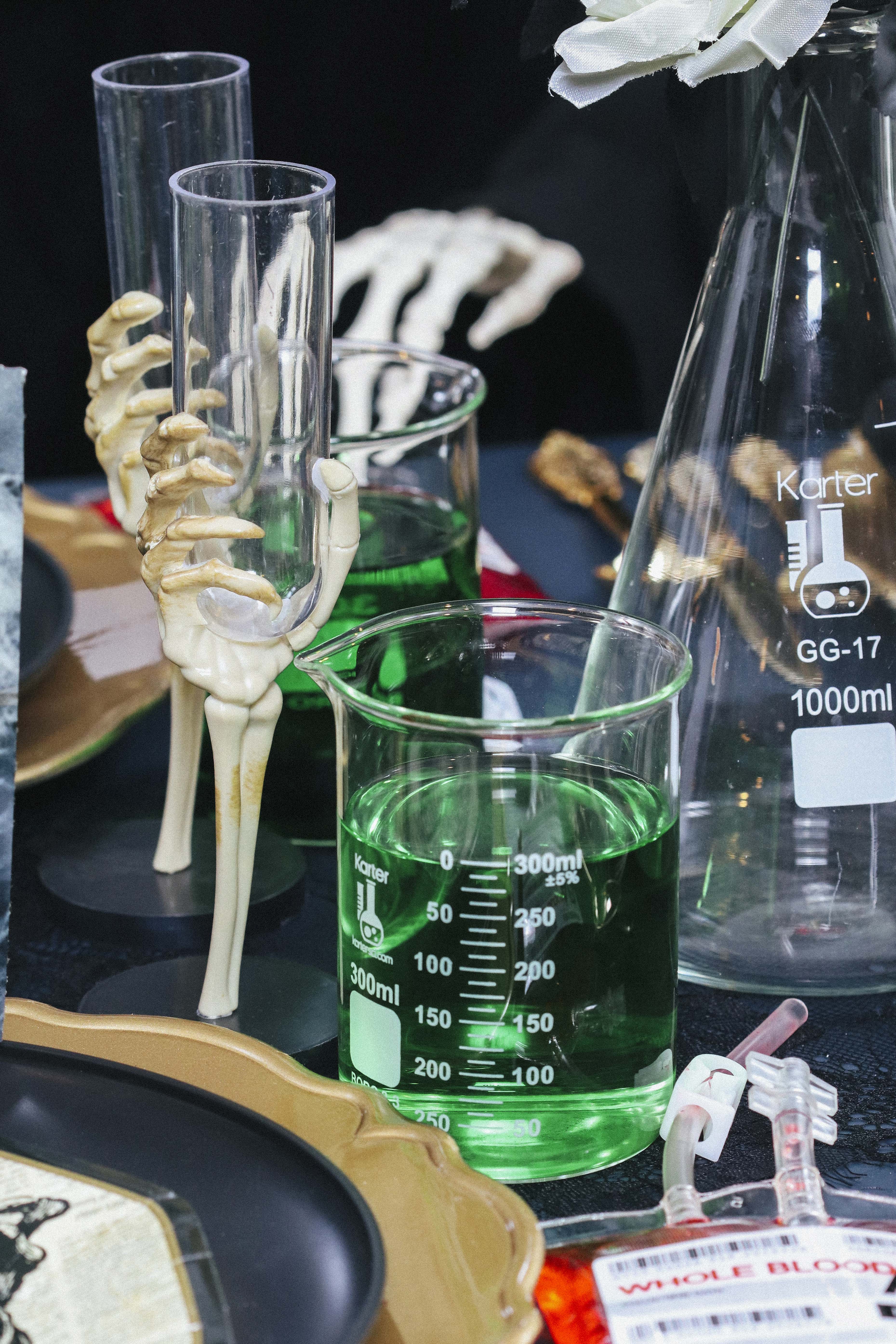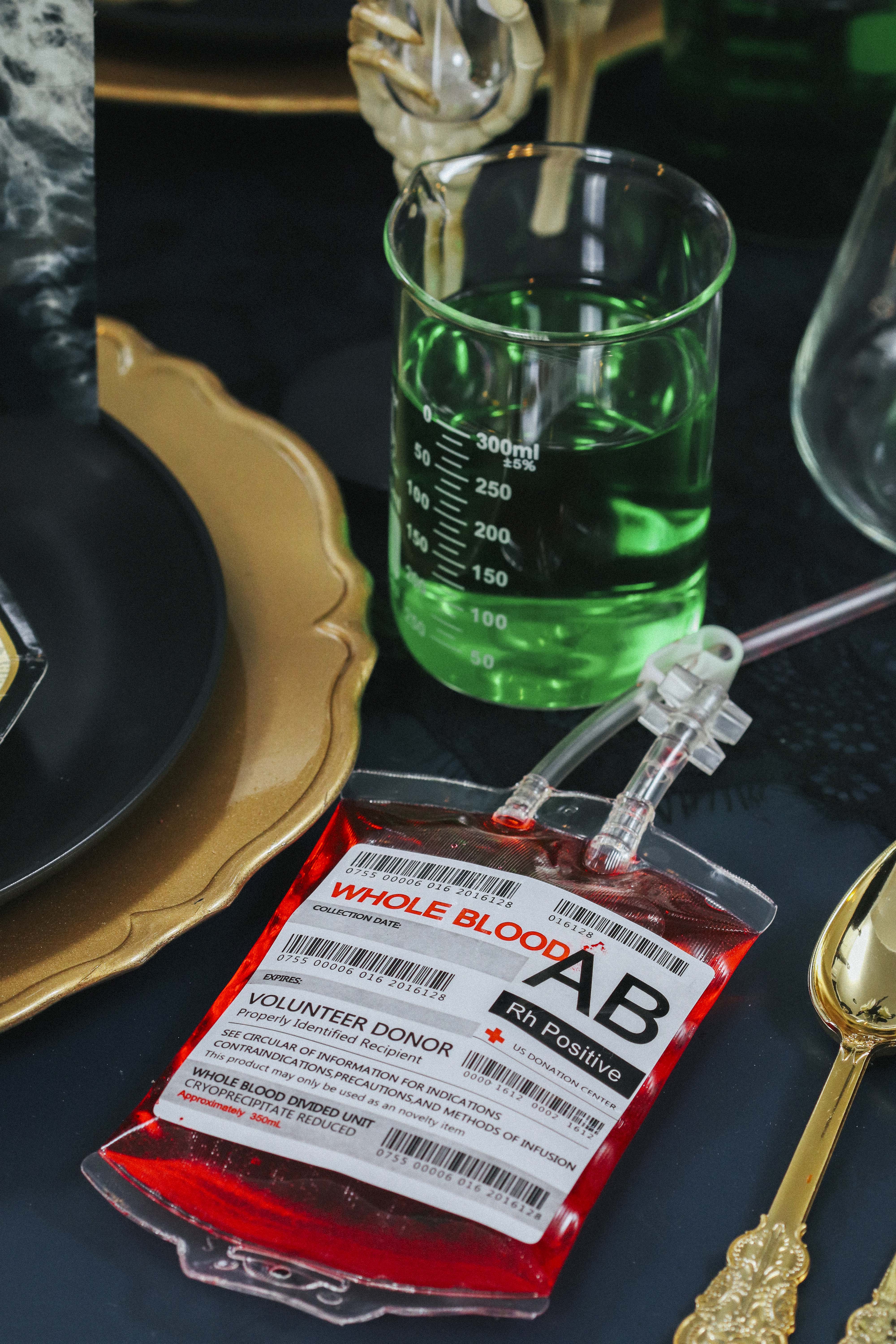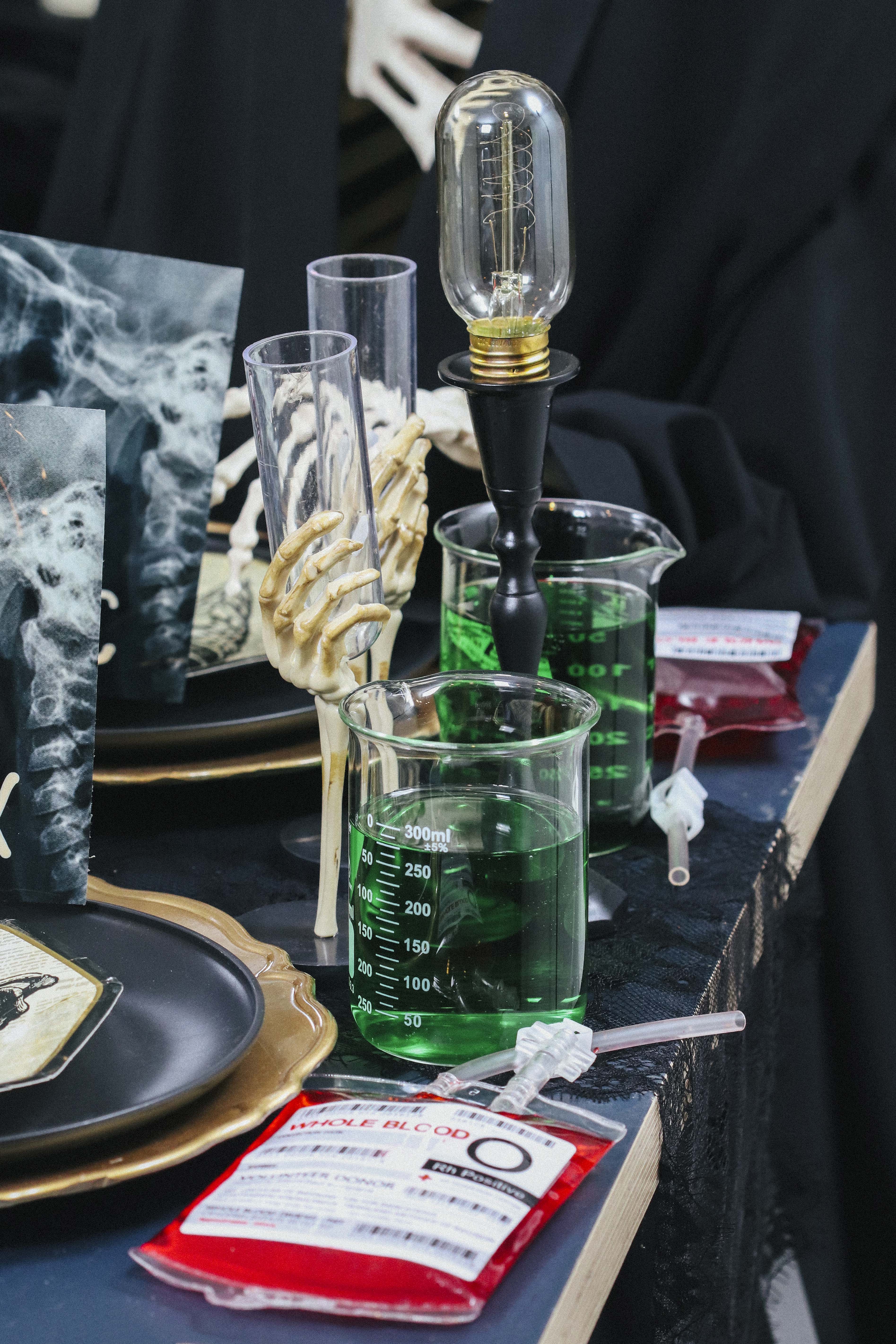 Dapper Dinner Party Guests
The final, and probably most fun, piece of my Jekyll and Hyde dinner party was my spooky skeleton dinner party guests! I dressed up life-sized skeleton props in dark vintage clothing – complete with top hats and bow tie, of course. This is quite the dapper duo! 
For another detail inspired by the book, I added a test tube filled with green liquid in my gentleman skeleton's mouth – the potion that turns him from Jekyll to Hyde!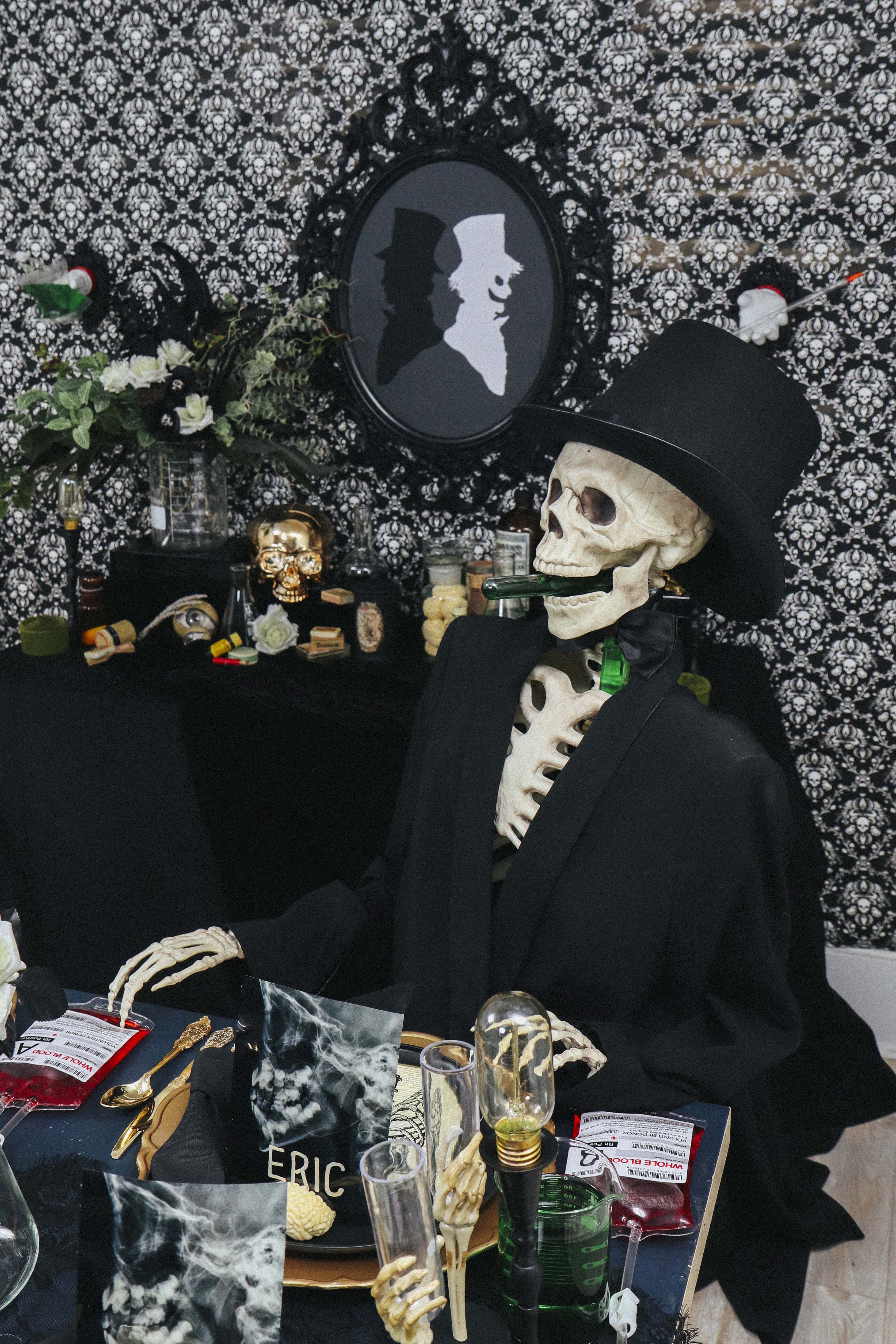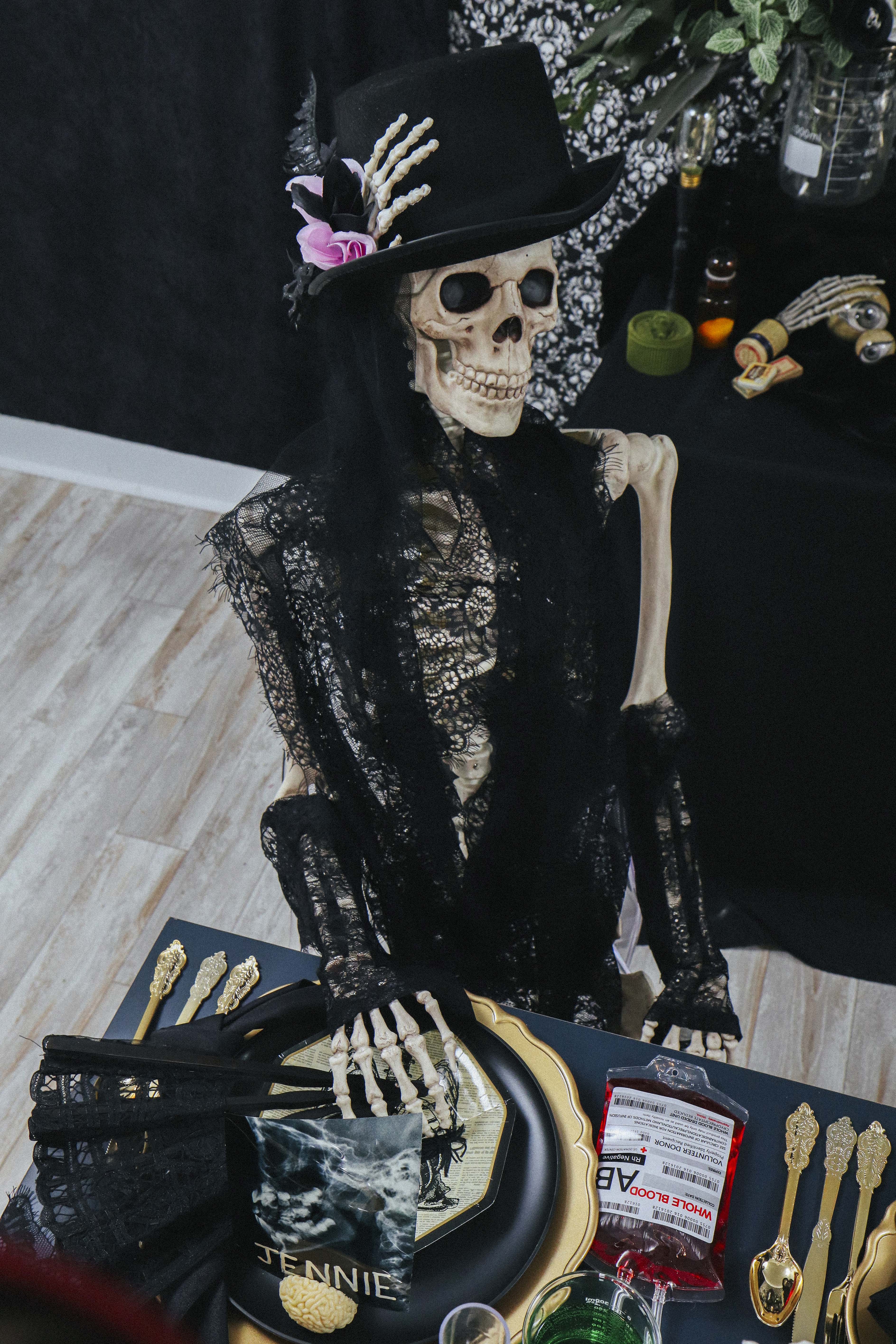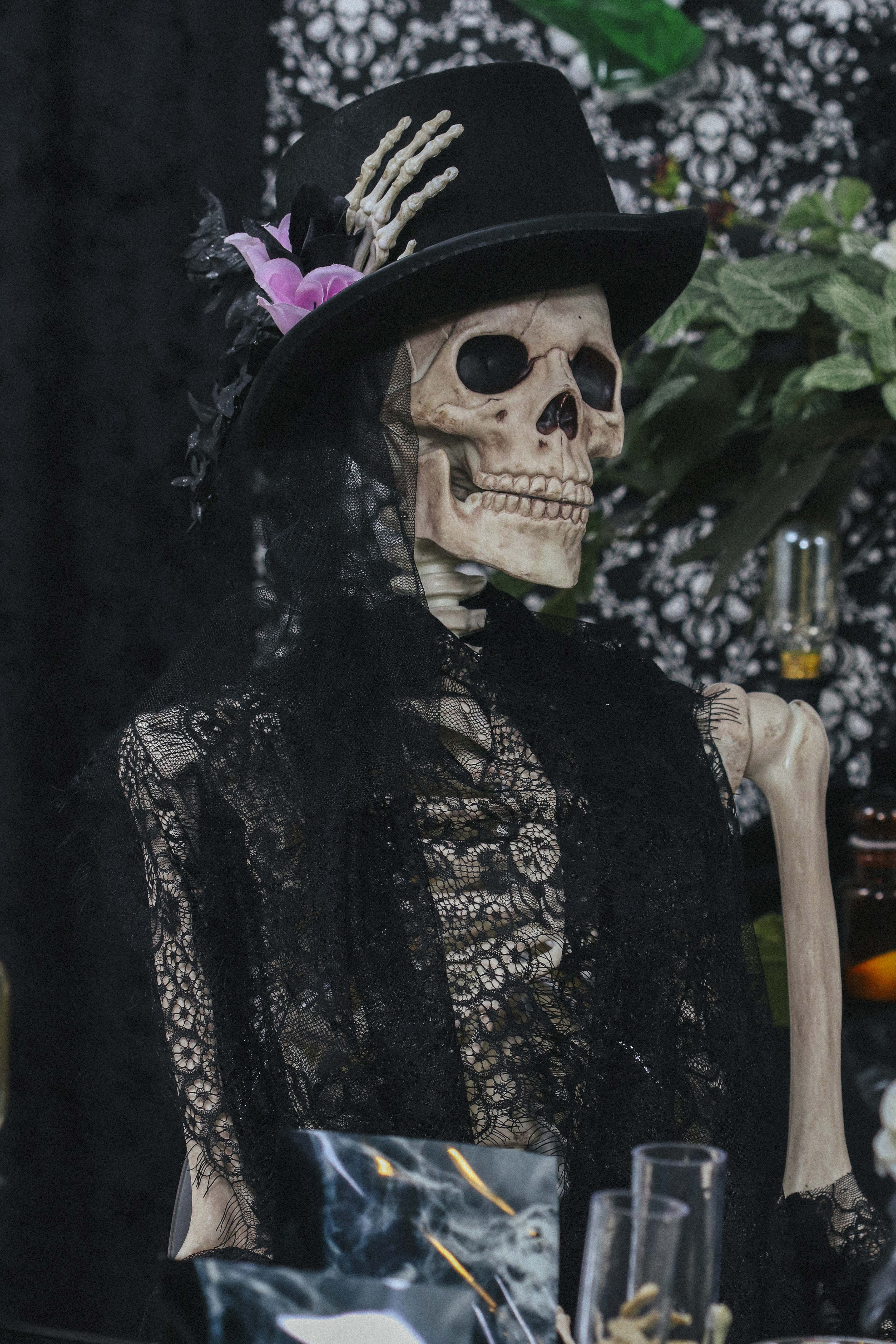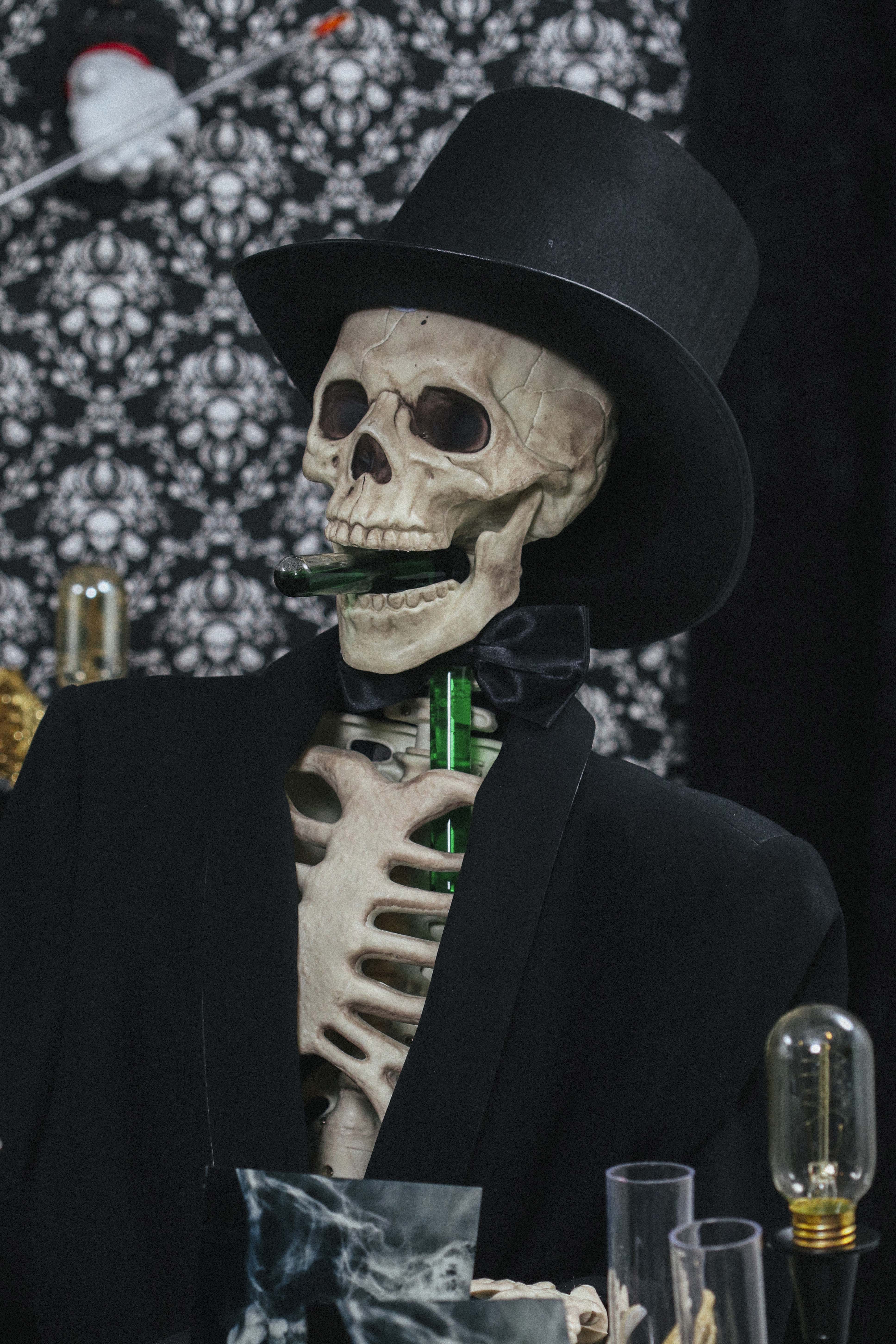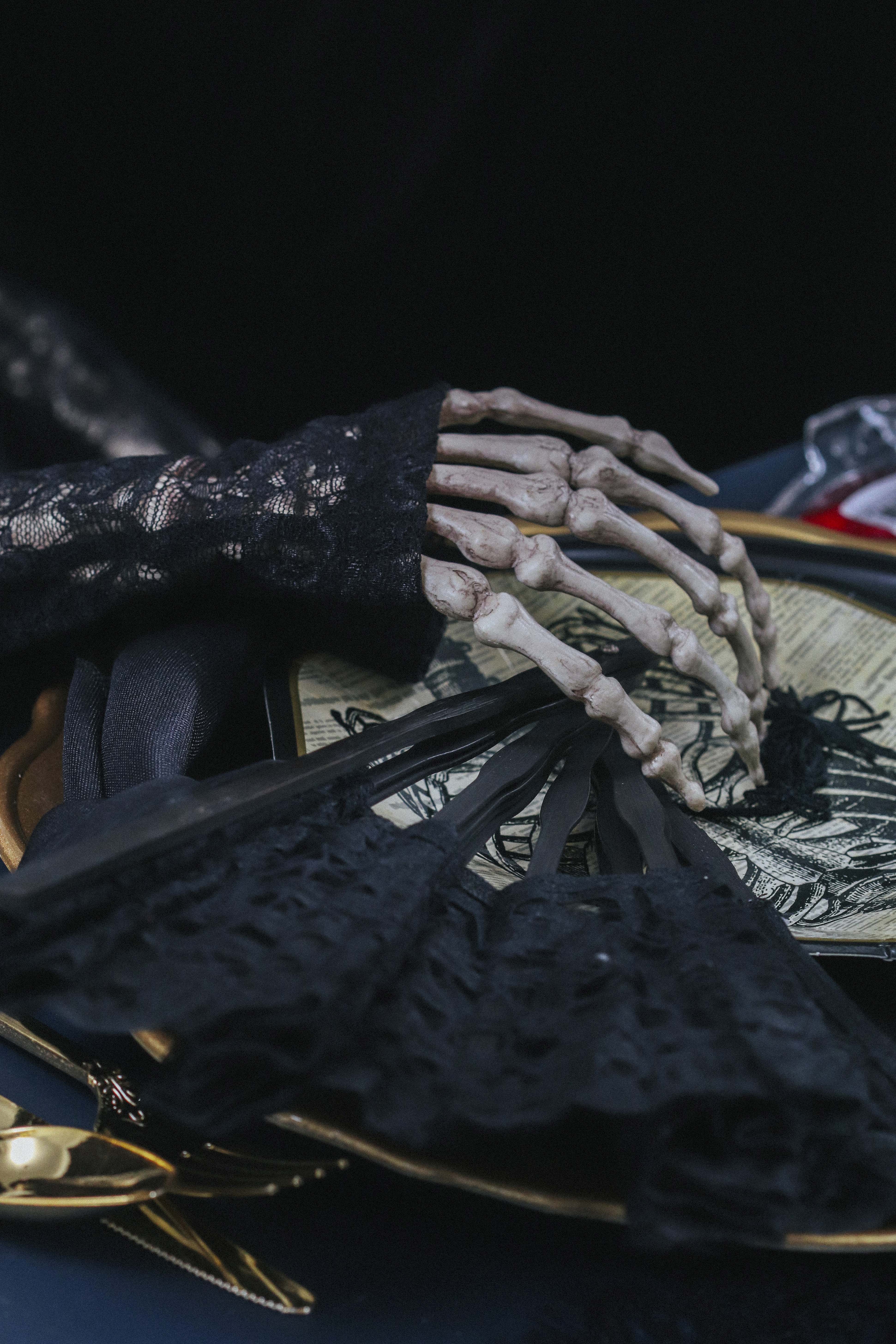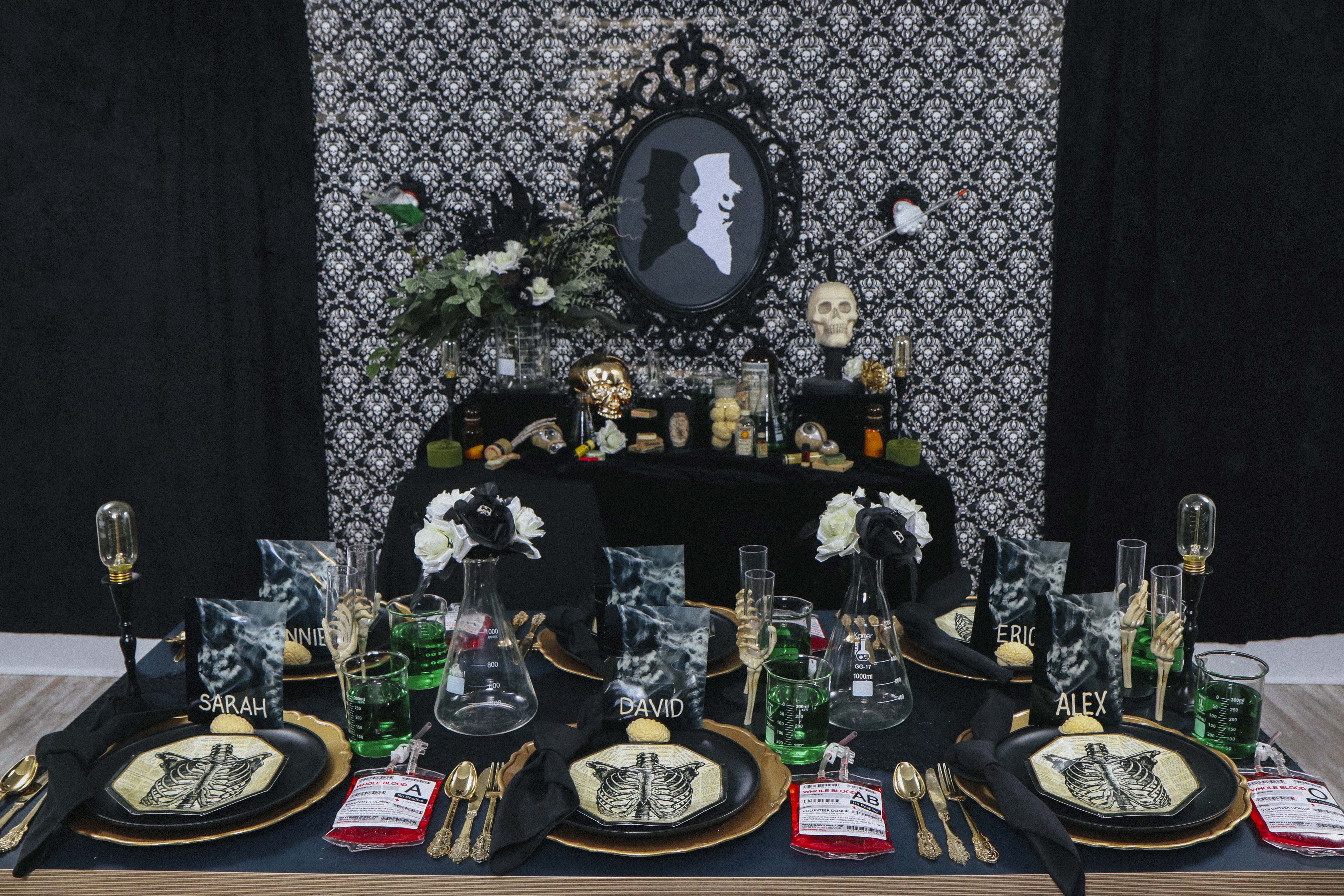 This Jekyll and Hyde dinner party is such a fun theme and way to explore the duality we all have within us. It'll invite guests to let loose a little (their Hyde-selves) – just make sure everyone returns to their Jekyll-selves by the end of the night so no one gets in any trouble! 
Shop the Jekyll and Hyde Halloween Party
Don't forget to check out my Amazon store to find lots of the items I used in this party.
Happy Partying!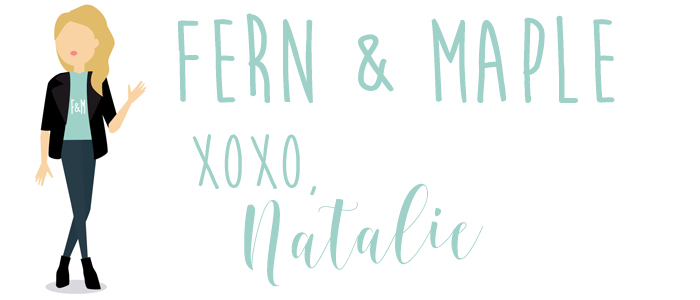 PIN FOR LATER: