Bar carts are everywhere, and we love them for Halloween! If you are looking for Halloween bar cart inspiration, we have you covered! Here are 10 of our favorite Halloween bar cart ideas that'll be perfect for your spooky space. There's something here for every age, occasion and every level of spookiness.
10 Halloween Bar Carts your Guests will Love
Visit with a Fortune Teller
Look for some clarity on the future this Halloween by inviting a tarot card reader or psychic. A Fortune Telling Dinner Party can be a really fun theme this year. Use your bar cart to serve cocktails in vintage glass or skull decanters. Create a mystical vibe with black candles, dark and moody florals as well as skulls and bones. Display tarot cards, crystals and sage to really enhance the theme.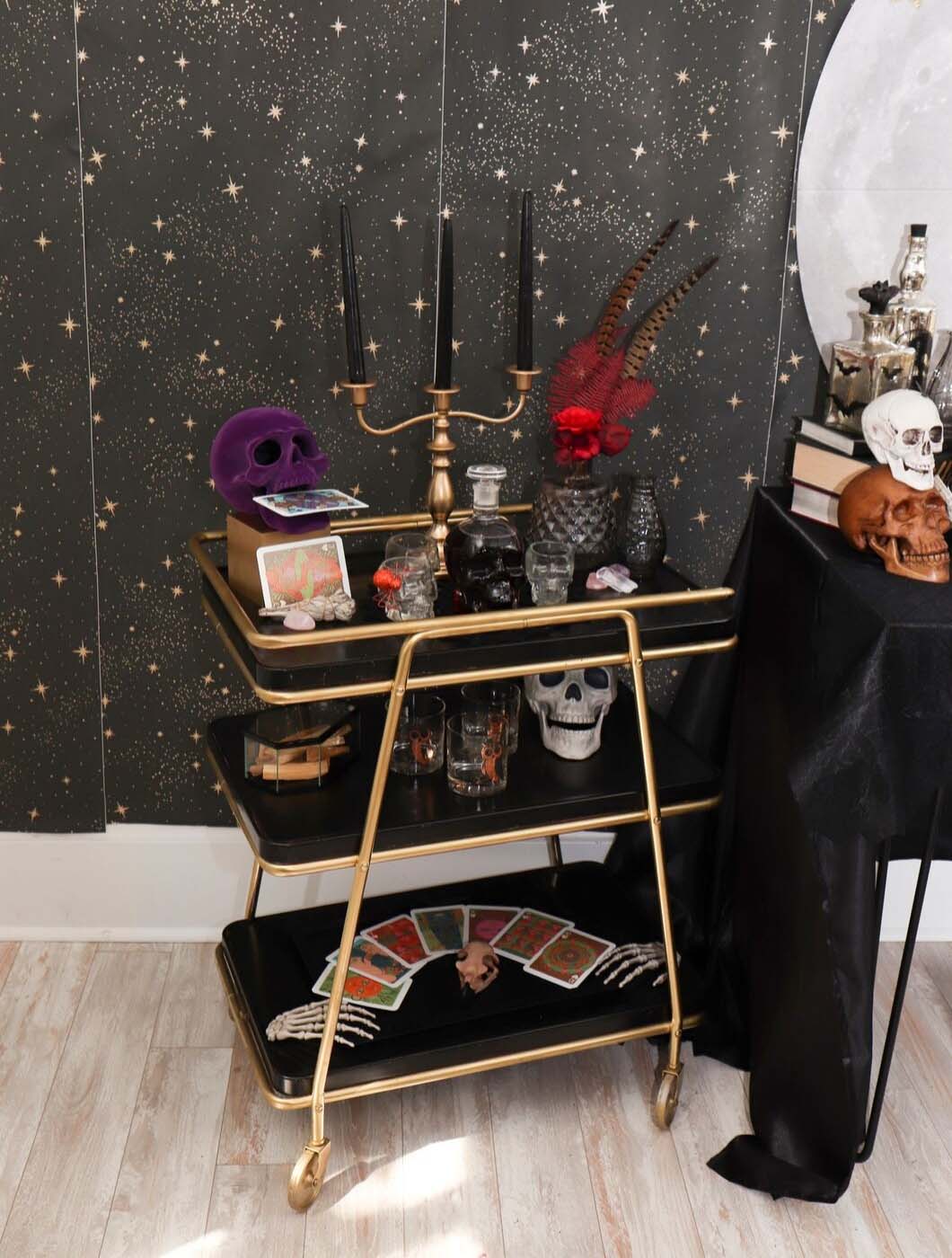 Vampire Blood Bar
I love dark and mysterious Halloween themes, so the gothic trend is perfect. In my Vampire Themed Halloween Dinner Party, I used my bar cart to create a "Blood Bar". To do this I served red wine and cocktails in decanters and cans, and added blood type labels to them. To add vampire level ambiance, I hung a bat skeleton over the bar, used deep red roses as a garland, and added gravestones to the background decor.
Bar carts are also a great place to display favors – these vampire hunter kits make the perfect themed take home!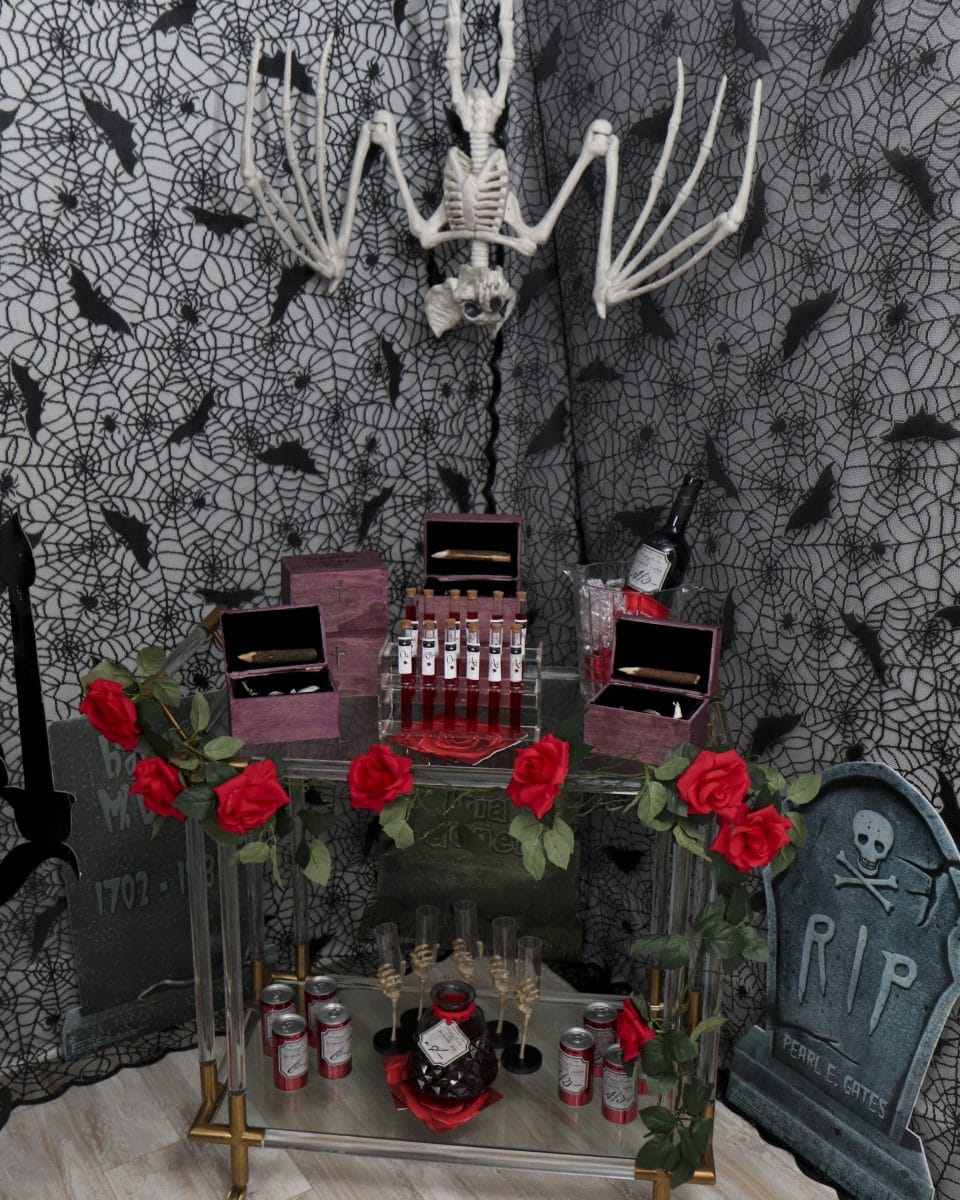 Jack-o'-Lantern Pre-Trick-or-Treat
Hosting a pre-trick-or-treat party for the kids is a fun idea. It is mostly about fueling up, but also making sure each kid gets a selection of non-candy treats before they head off to the world of sugar overload!
This year I hosted a Jack-o'-Lantern Party! A bar cart or rolling trolley is a great way to display a selection of treats for the kids to choose from. I added smaller items that can be purchased in bulk, as well as some larger items like themed balls and containers of slime…always a fan favorite! Hand sanitizer is also a great add-on to your cart. It's something they can take with them as they visit houses all evening.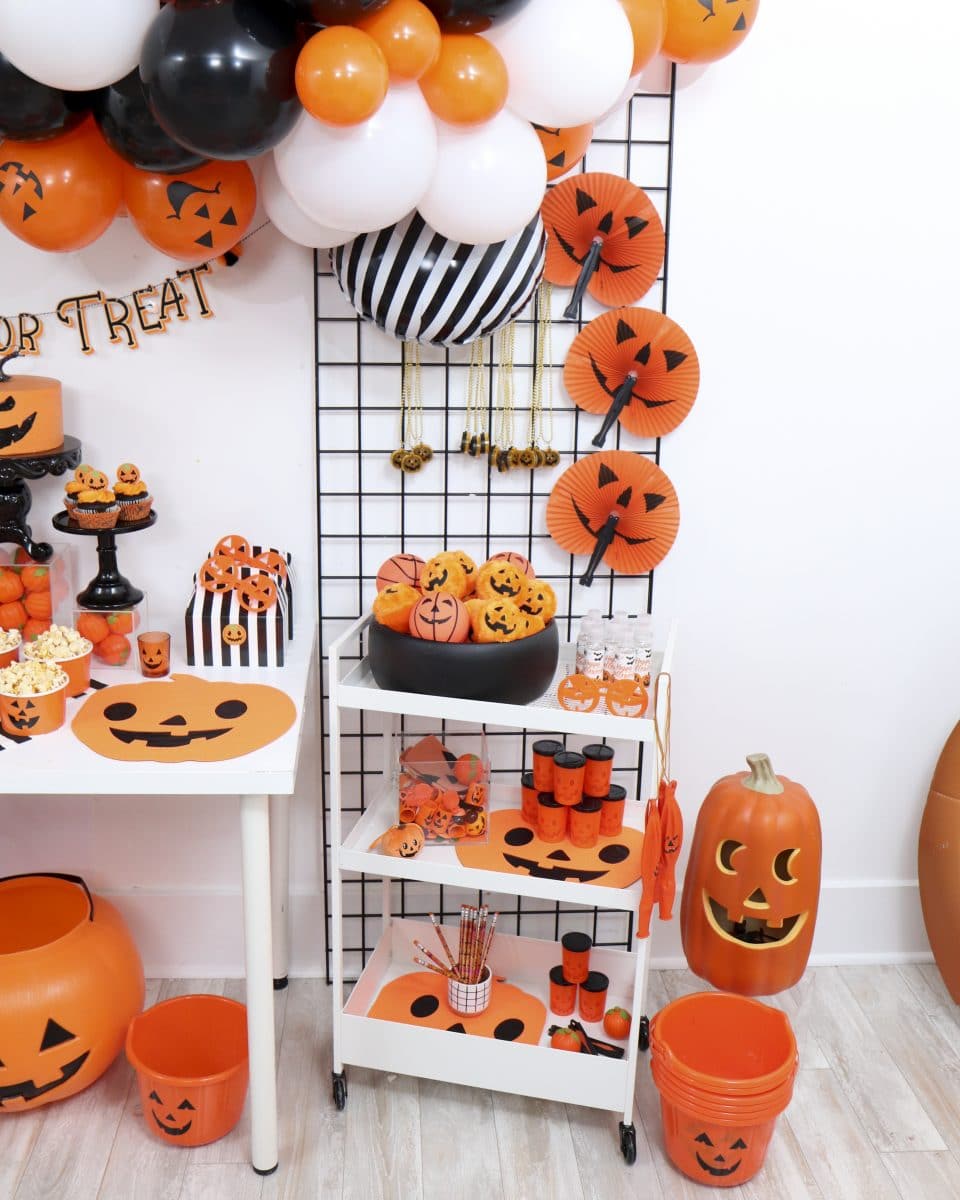 True Crime or Murder Mystery Party
If you, like me, love to watch true crime documentaries and fancy yourself an armchair detective…why not host a watch party or celebrate your love of true crime with friends. For this True Crime Halloween Party, a bar cart made the perfect spot for "bloody" desserts as well as cocktails!
To really bring the theme to life (or should I say death?) place your bar cart on top of a body outline and decorate with crime scene tape and evidence bags.  Use pumpkins to display murder weapons, and create a "murder board" as a backdrop using a map, photos, and evidence images.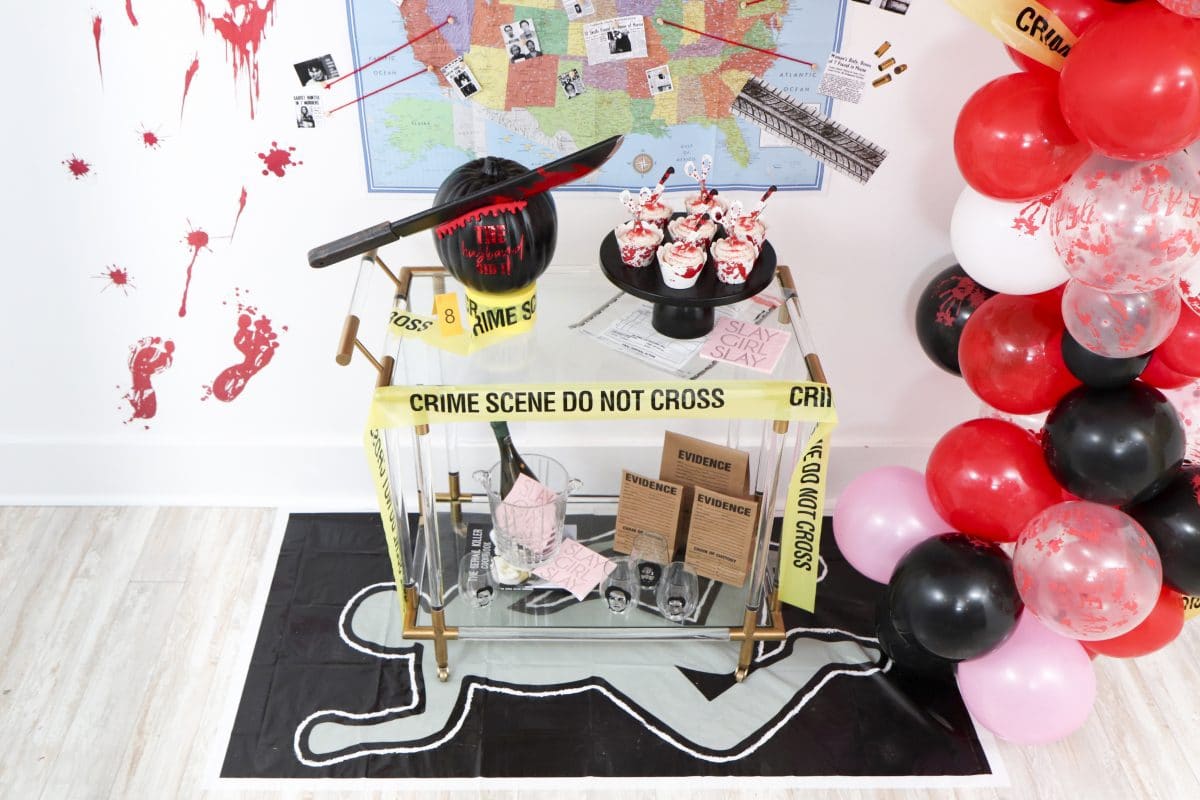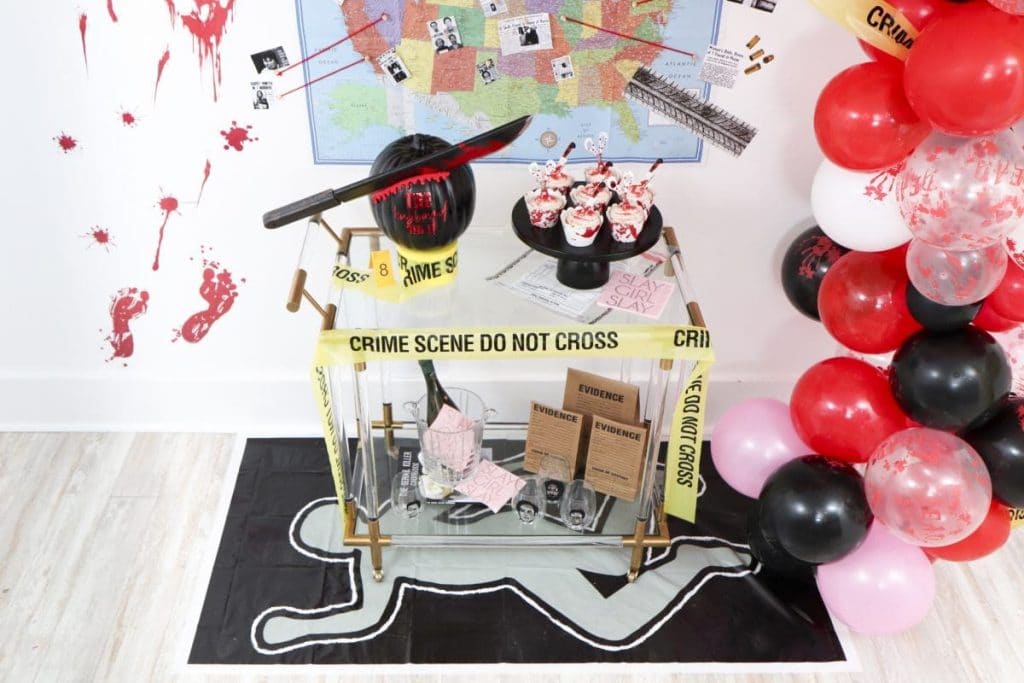 Hocus Pocus Watch Party
I don't know about your family, but for ours Halloween always begins with a Hocus Pocus movie watch party. It really gets us all into the mood for spooky season. A bar cart makes the perfect concession stand. Use your cart to hold a variety of movie snacks, including a huge cauldron of popcorn.  Add some spook with eye ball candies sprinkled on top. Bring a touch of hocus pocus to the cart with DIY pumpkins that spell out quotes from the movie, witch hats and candies displayed in potion bottles.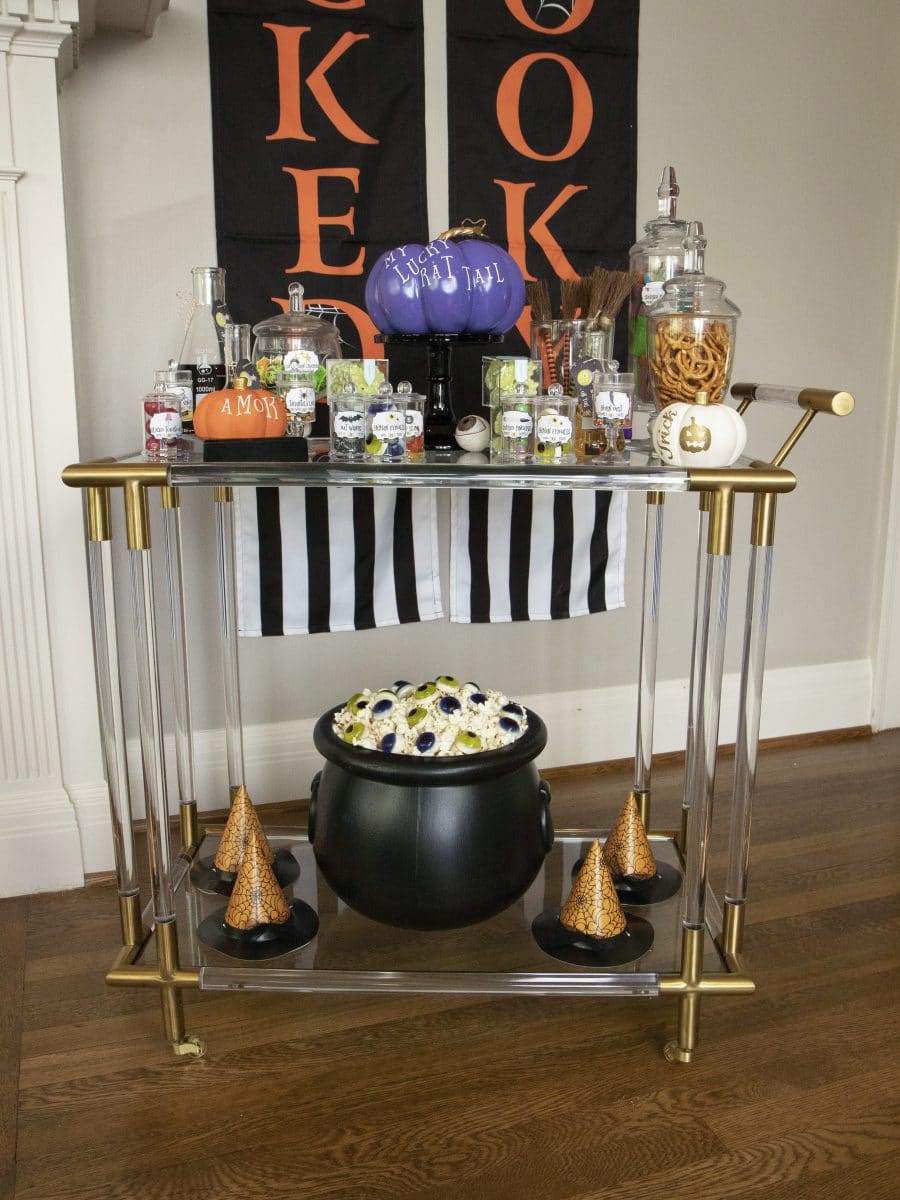 Cruella Dinner Party
The new Cruella movie was a hit in our house across all age groups!  The fashion forward, bold aesthetic inspired this fabulous dinner party with friends.  Go bold with your bar cart to capture the vibe of the movie with a clean palette of black, white and red.  Paint vases and hang a backdrop that celebrates Cruellas black & white hair.  Then add masquerade masks and newspaper accents to tie into key fashion statements in the movie.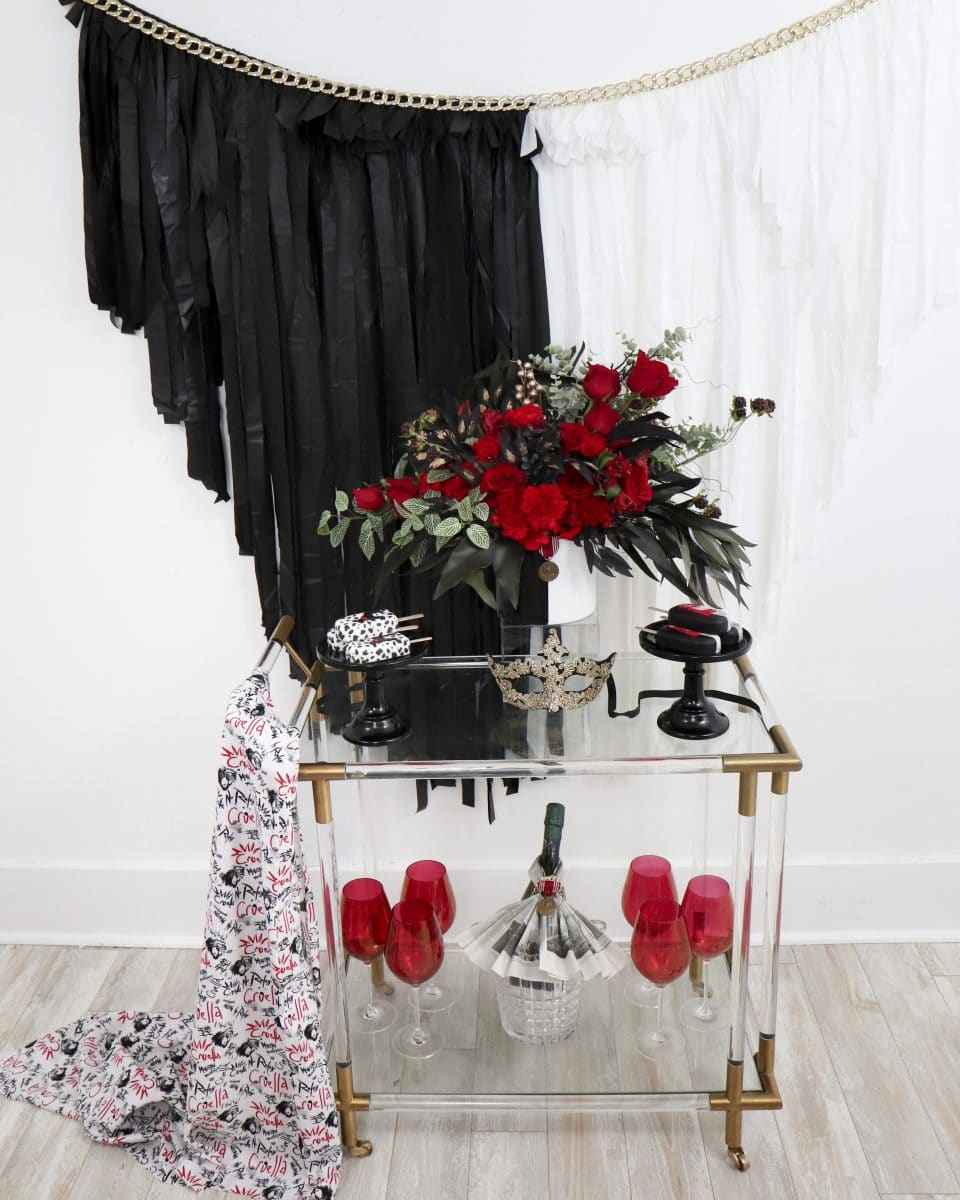 Pumpkin Carving Get-Together
Pumpkin carving is a quintessential pre-Halloween activity.  A bar cart makes a great awards station …after all, everyone is looking to "Squash the Competition"!
Decorate it with pumpkins, carving "weapons" and fun pumpkin carving awards.  I used categories rather than 1st, 2nd, 3rd place etc. Rest assured, they had their own views of the winners!  I also added post carving sweet treats and small baking trays to put the seeds on after carving was done.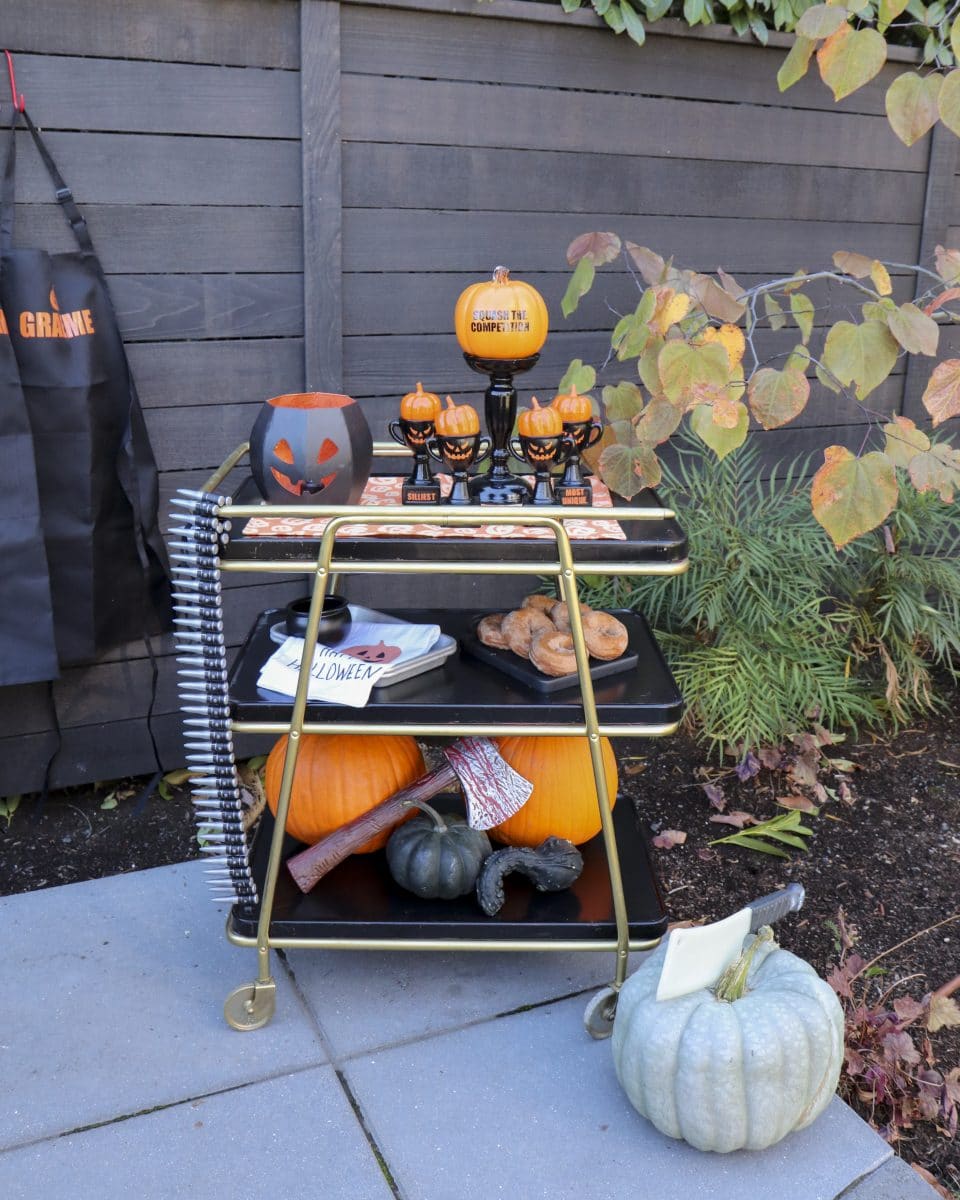 Gothic Glam Cocktail Bar
This Glam Punk Rock Halloween bar cart takes inspiration from the culture & punk rock bands. A My husband and I are punk rock fans from way back.  Retro bands like The Ramones, The Sex Pistols, & Blondie, the iconic queen of punk rock. Capture the wild and expressive fashion & culture with spray paint and graffiti elements.  Add fun elements like tiaras, feathers, gold bones and plenty of skull and crossbone elements, elaborate outfits of plaids, T-shirts, and leather as well as spiked, dyed hair.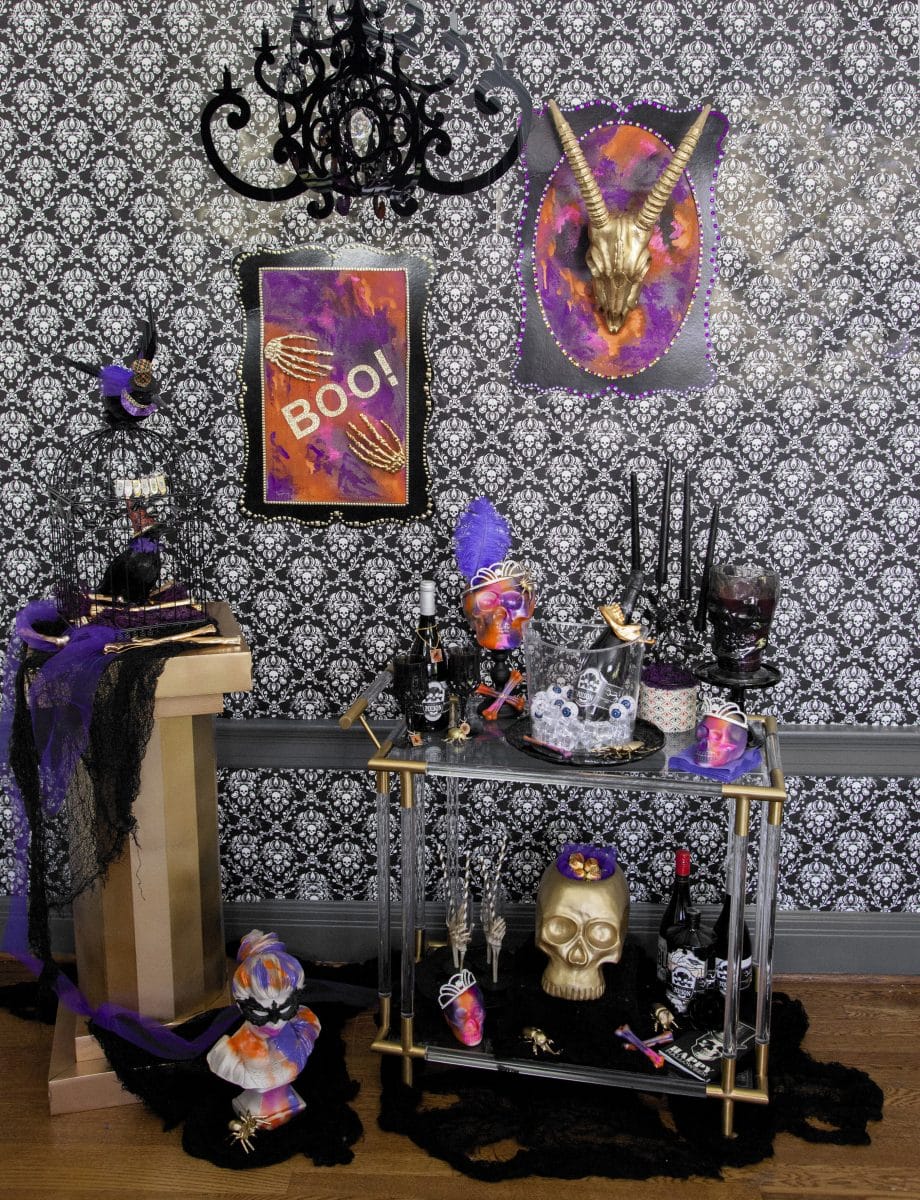 Romantic All Hallows Eve Wedding
If you are having a Halloween themed wedding an elegant black wedding cake looks deliciously dark, especially when it reveals blood-red velvet during the cake cutting. For a unique display use your bar cart to display the wedding cake. Capture the love and romance of the season with black pumpkins, inscribe them with romantic phrases such as "Spellbound", or decorate with a floral phase of the moon.
Style the cake display gold antlers, pillar candles, feathers and rich red moss.  The bar cart is also a great place to display favors, such as these small spell boxes. Set up in a wooded hollow to achieve the perfect spooky lighting for cake cutting pictures.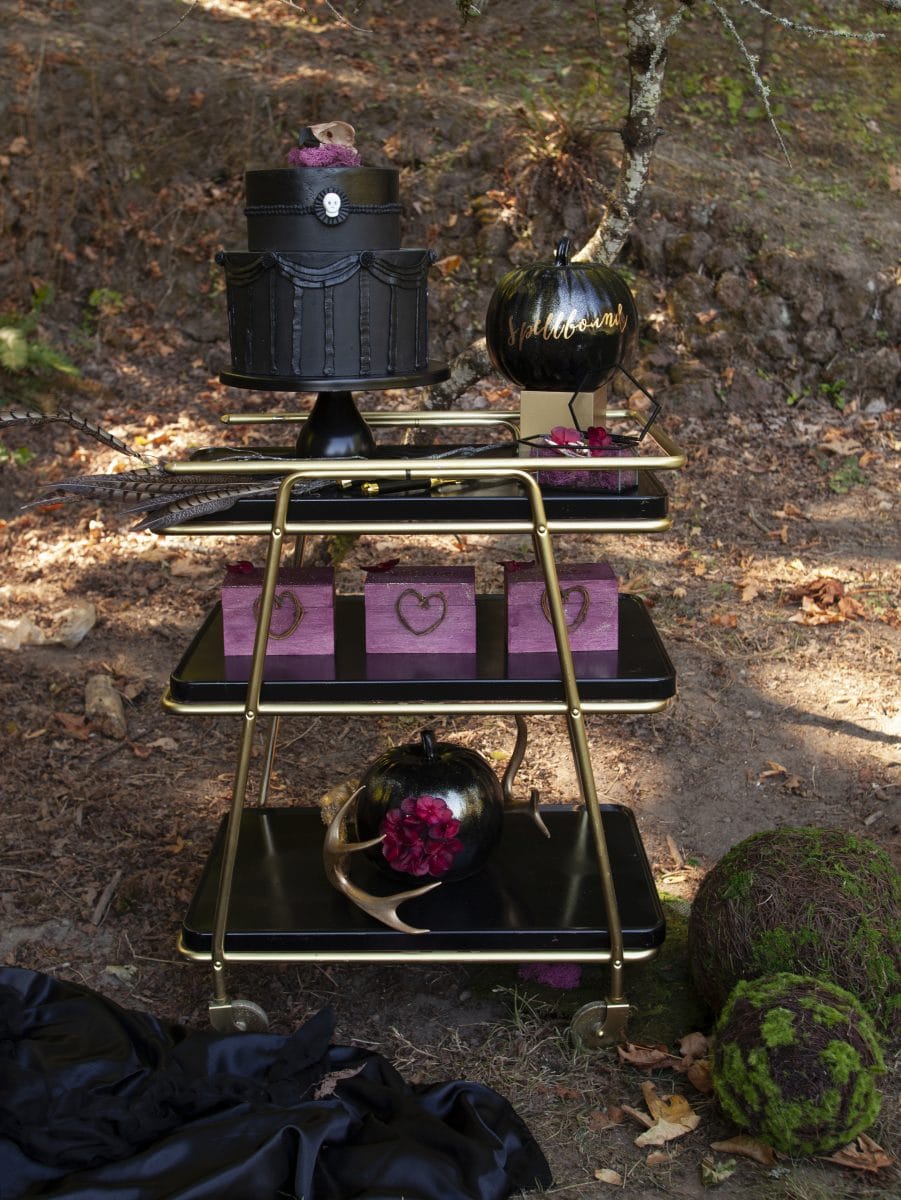 Haunted Mansion
This spooky-yet glamorous Halloween Bar Cart idea deserves a post all it's own – check out my post on this Haunted Mansion Halloween Bar Cart for details!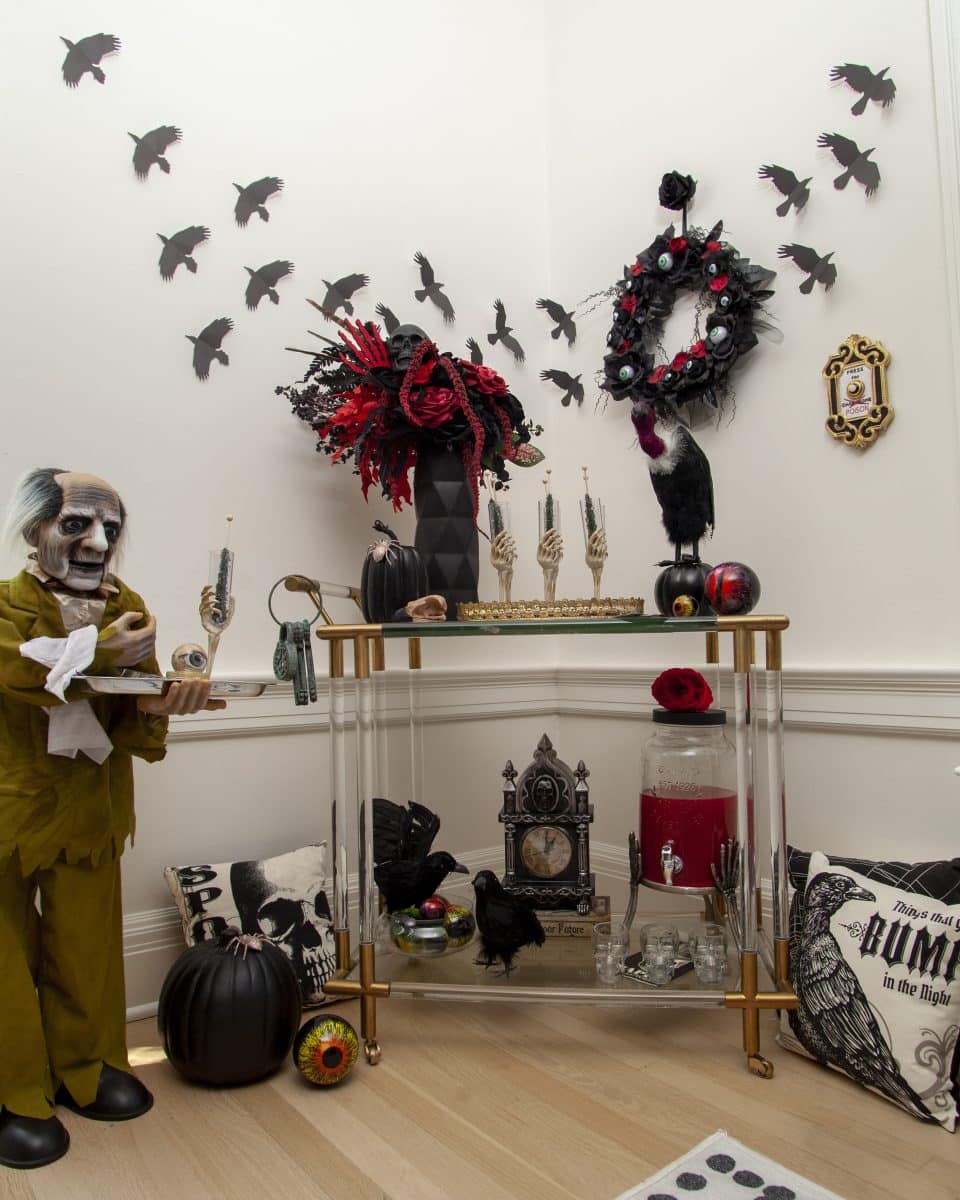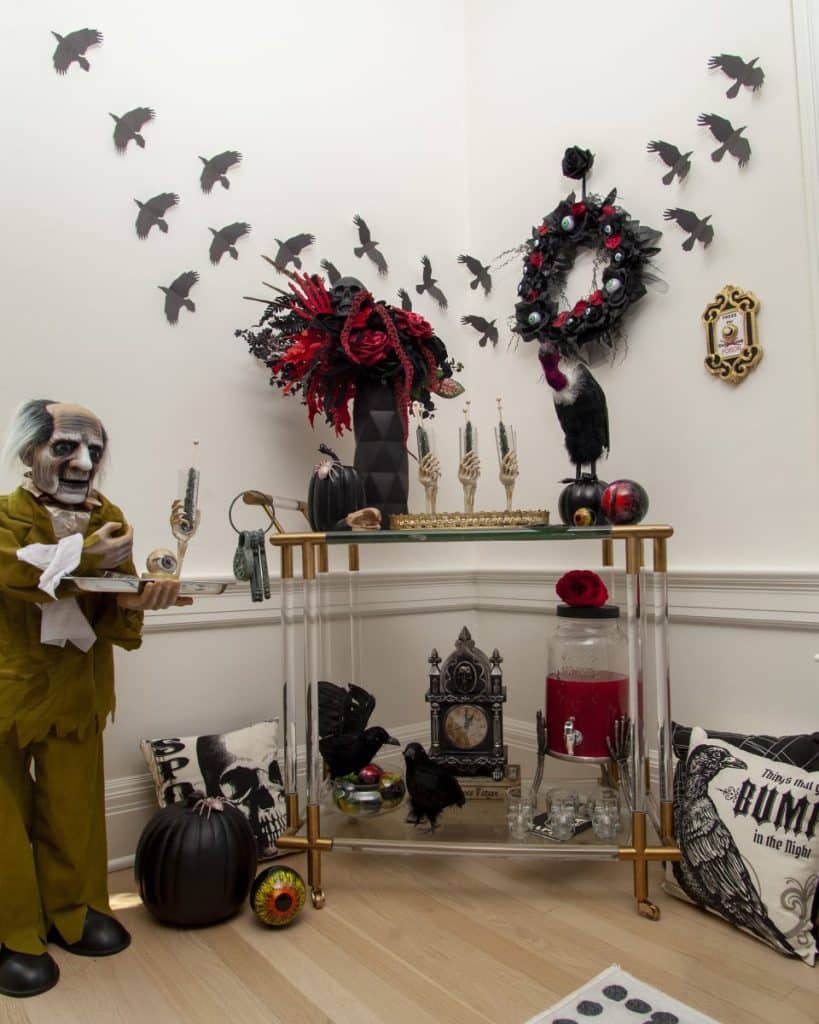 While these are some of the more popular Halloween Party themes where a bar cart can really capture the theme, there are tons more themes you can choose for your Halloween Party where a bar cart is the perfect prop . Check out my posts on 13 Halloween Party Ideas for Kids, 13 Halloween Party Ideas for Adults, and 7 Dark and Mysterious Halloween Dinner Parties for more inspiration!
Happy Partying!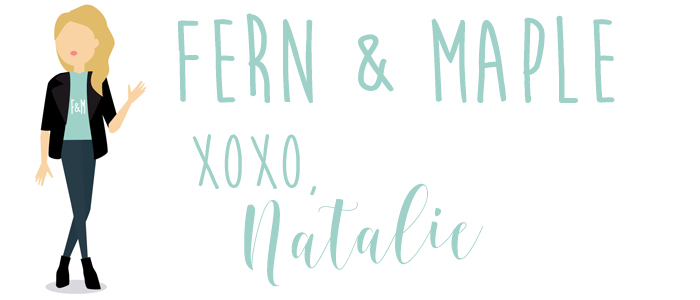 PIN FOR LATER: