My kids love playing multiplayer video games with their friends! And while I can't claim to fully understand the games myself, I can see how happy they make the kids, so a while back I set out to create a Video Game Party for them. It turned out to be a really fun project! Rather than focusing on one specific game, I drew inspiration from elements of all of their favorites – from Fortnite, Roblox, Legend of Zelda, and Mario Kart, to Minecraft, NBA2K, Madden and more! The end result was an all-encompassing Game Zone in which the kids had a blast.
Read on to see how to create this Video Game Party for your little gamers, and BONUS: get the free Printable Pack HERE. For GIFT IDEAS for your gamer kids be sure to check out our ideas, big & small HERE.
As an OTC blogger, I received compensation and/or products in exchange for my styling and crafting services. As always, all project ideas and any opinions expressed here are my own.  For further information on our disclosure policy please check out our disclosure page.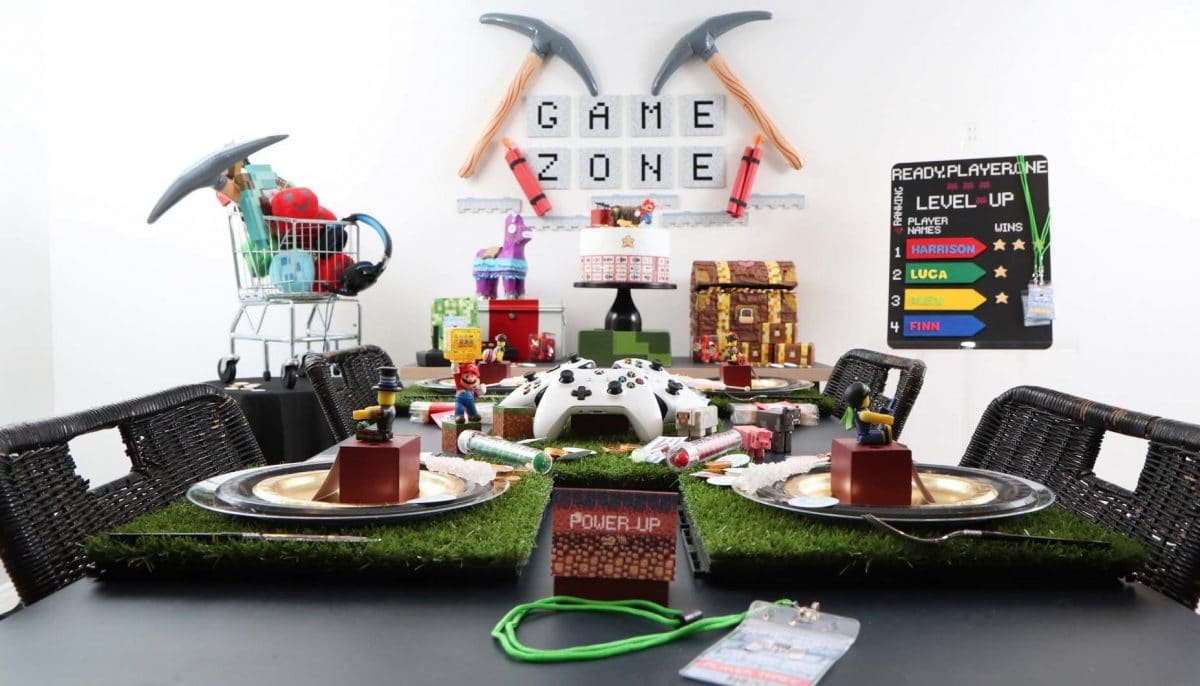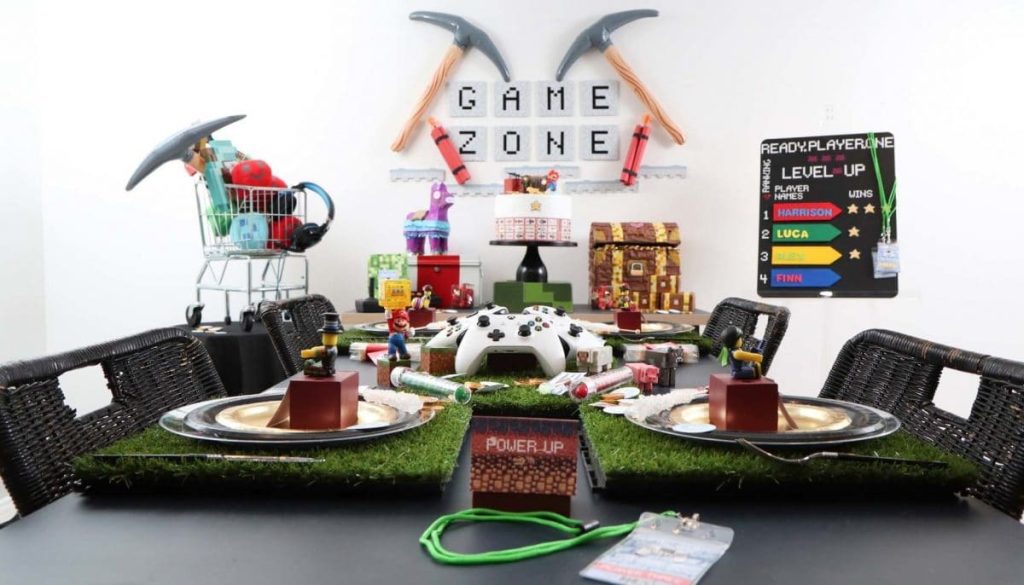 DIY Backdrop & Gamer Leaderboard
First, I set the theme of the party with a DIY "Game Zone" backdrop, complete with DIY explosives and inflatable pickaxes. Get instructions for how to create it yourself HERE.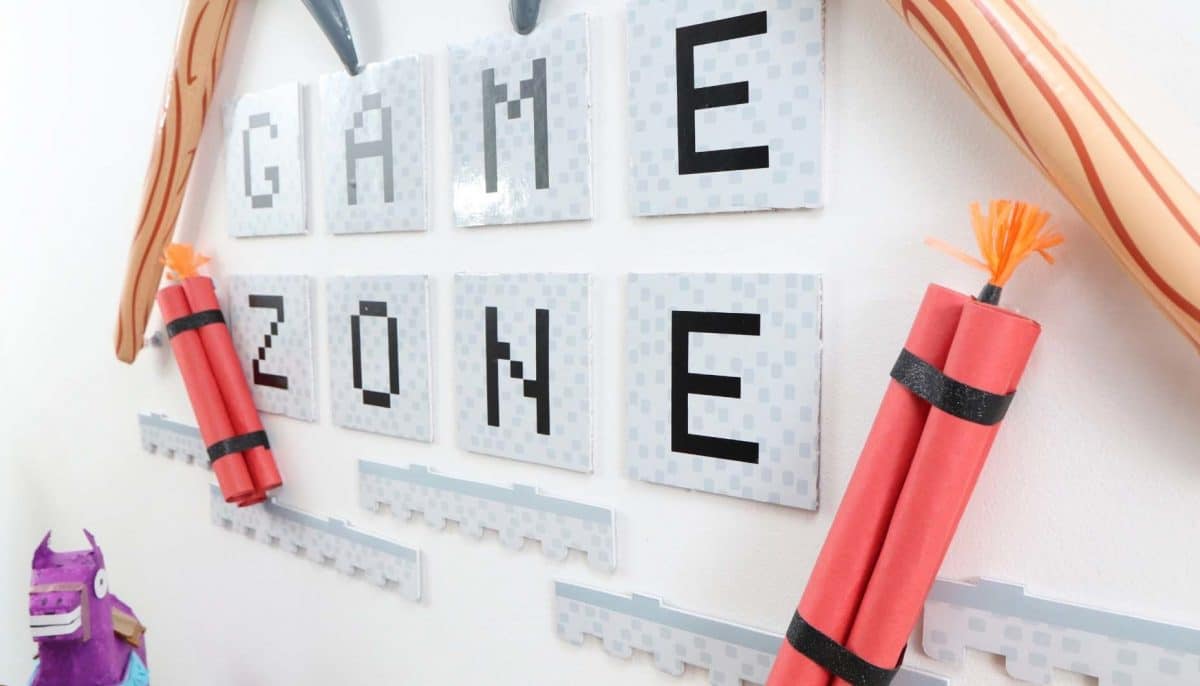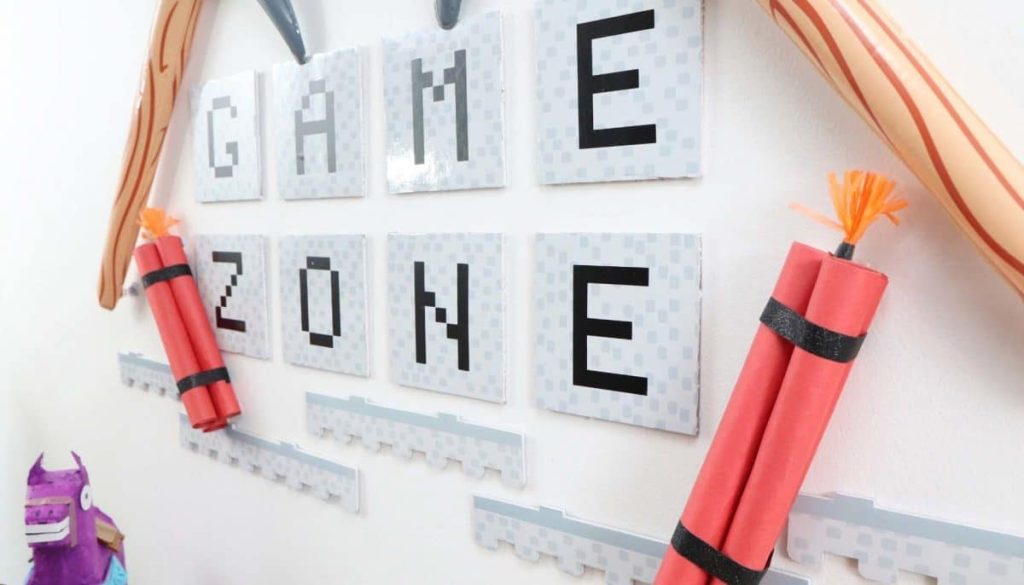 Next to the backdrop, I created a DIY Gamer Leaderboard so the kids could keep track of their wins! Find all the details for how to create it HERE. The accompanying VIP All Access Game Zone Passes can also be found in the free printable pack.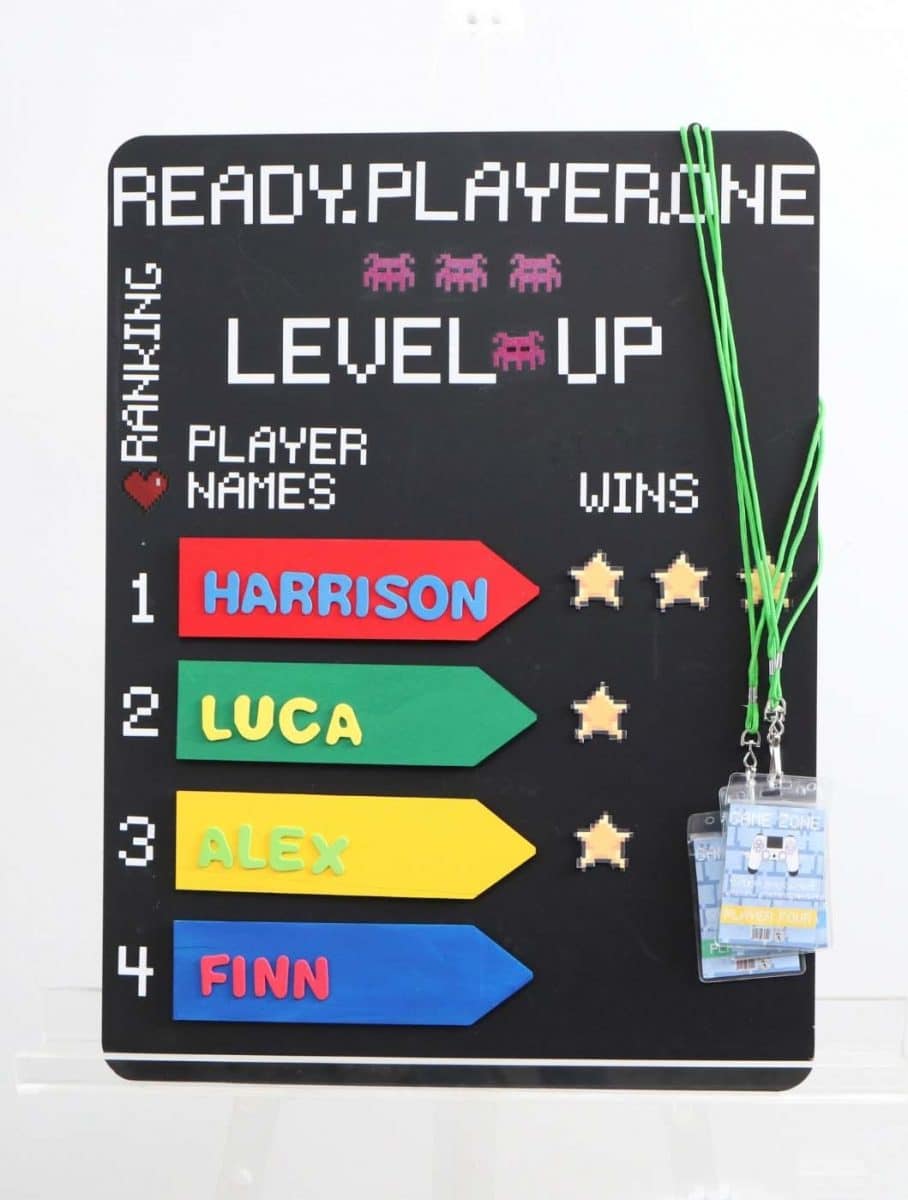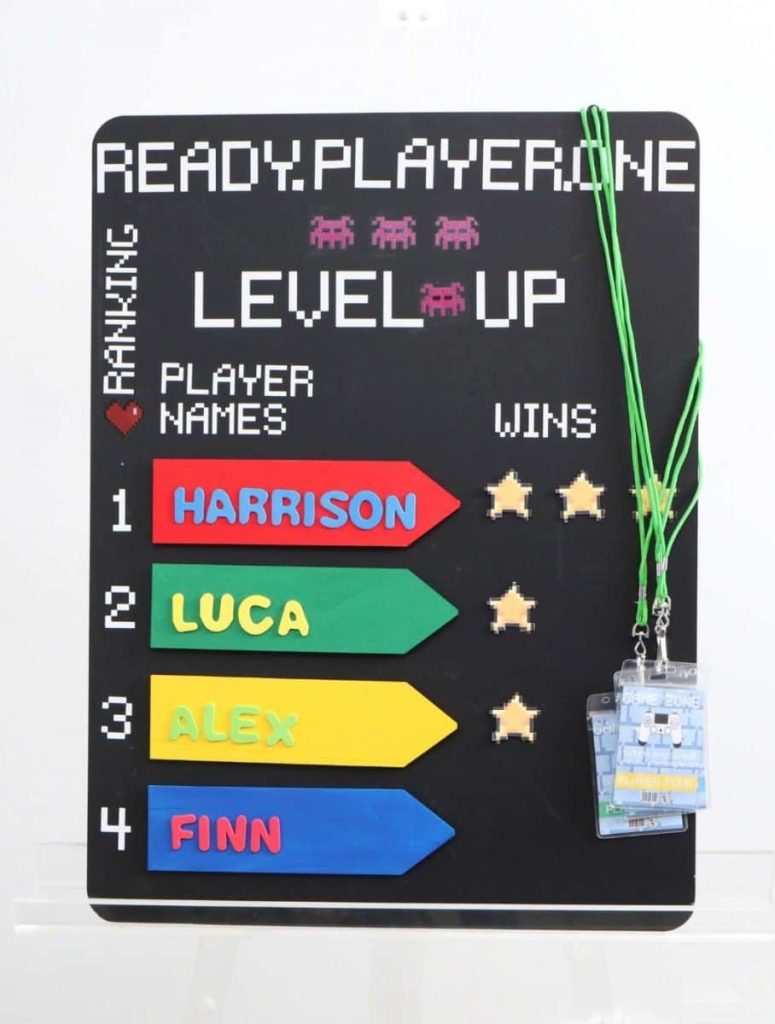 Dessert & Favor Table
Underneath the "Game Zone" backdrop, I set up my dessert and favor table. Next to it, I placed a smaller table with a toy shopping cart full of video game themed prizes!

For dessert, I wrapped a plain white cake with a collectible video game toy insert, and used various video game-themed figurines and coins for toppers. I elevated the cake on a black cake stand set atop a Minecraft mask.
TIP: Use plastic wrap between the toy insert/figurines and the cake to keep it all food safe!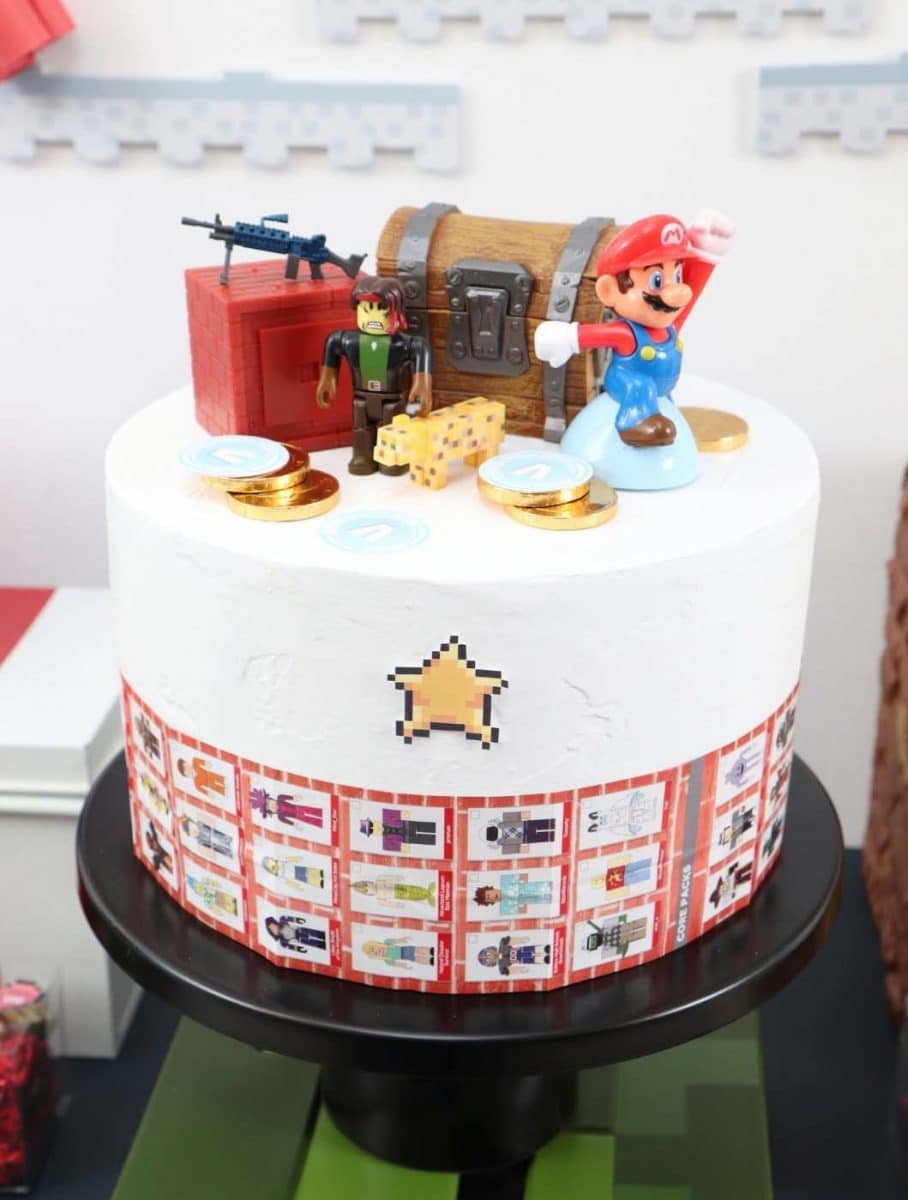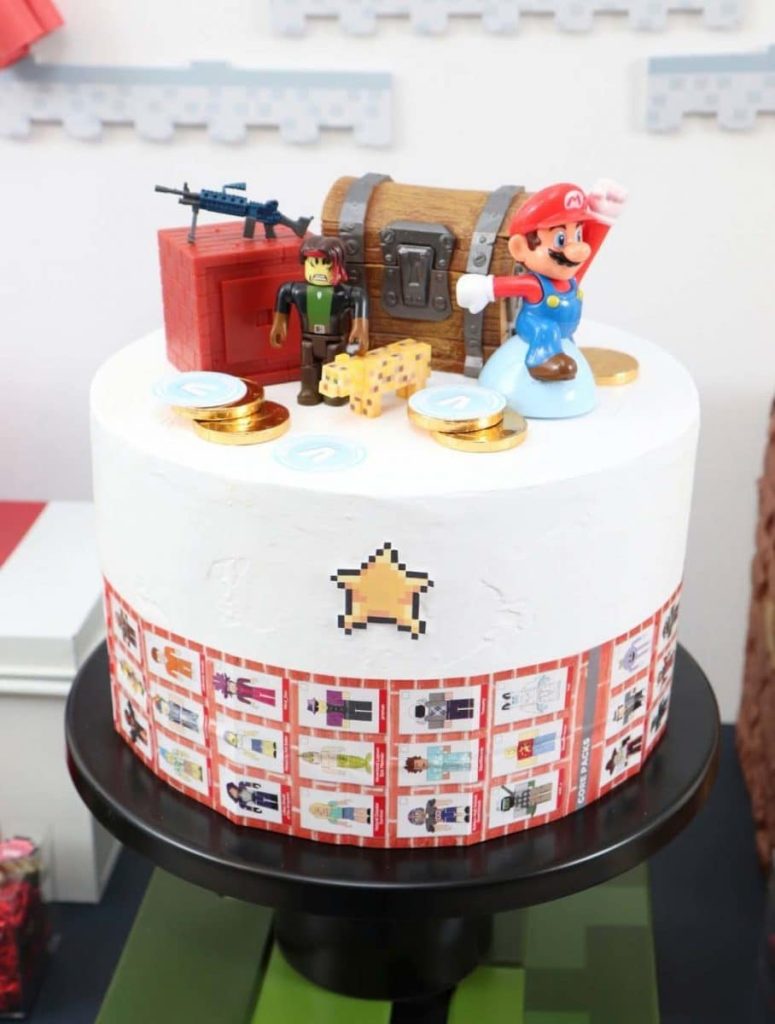 I decided to create a variety of favors to cover many of the desirable items in popular video games, from coins and hearts, to med kits and potions! You can get details for how to create all of them HERE. I set them all out in front of a large treasure chest prop I created with a piñata and some chocolate coins!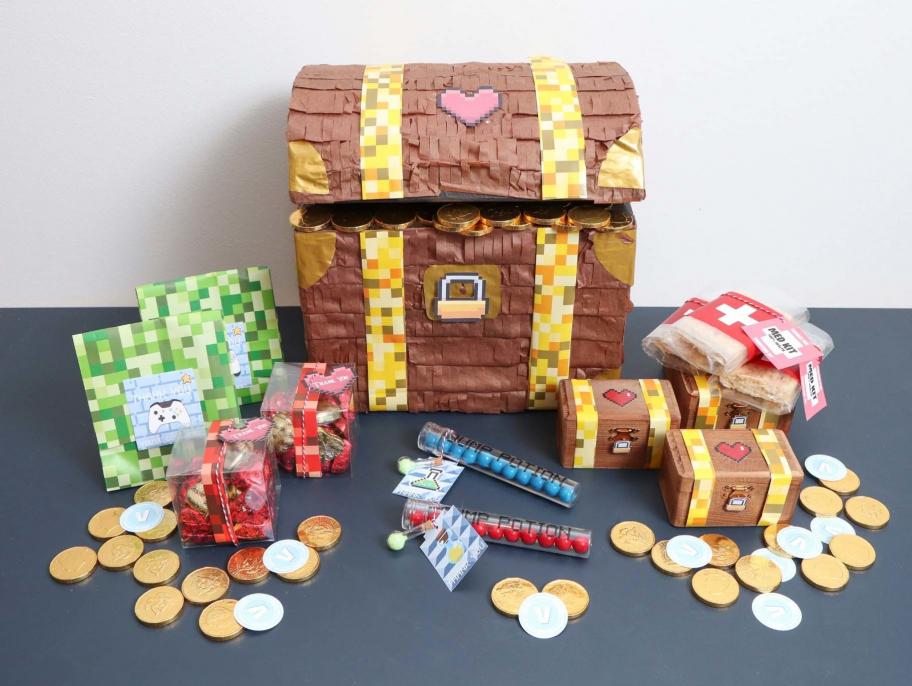 On the other side of the table, I used a llama piñata to create a popular Fortnite icon. I raided my kid's old video game stash, as well as my own medical kit, to add additional decor around the table.
Food and Gaming Table
First, I cut out placemats and a centerpiece base out of an artificial grass roll. In the center of the table, I used video game controllers and various figurines and extra favors to create a centerpiece.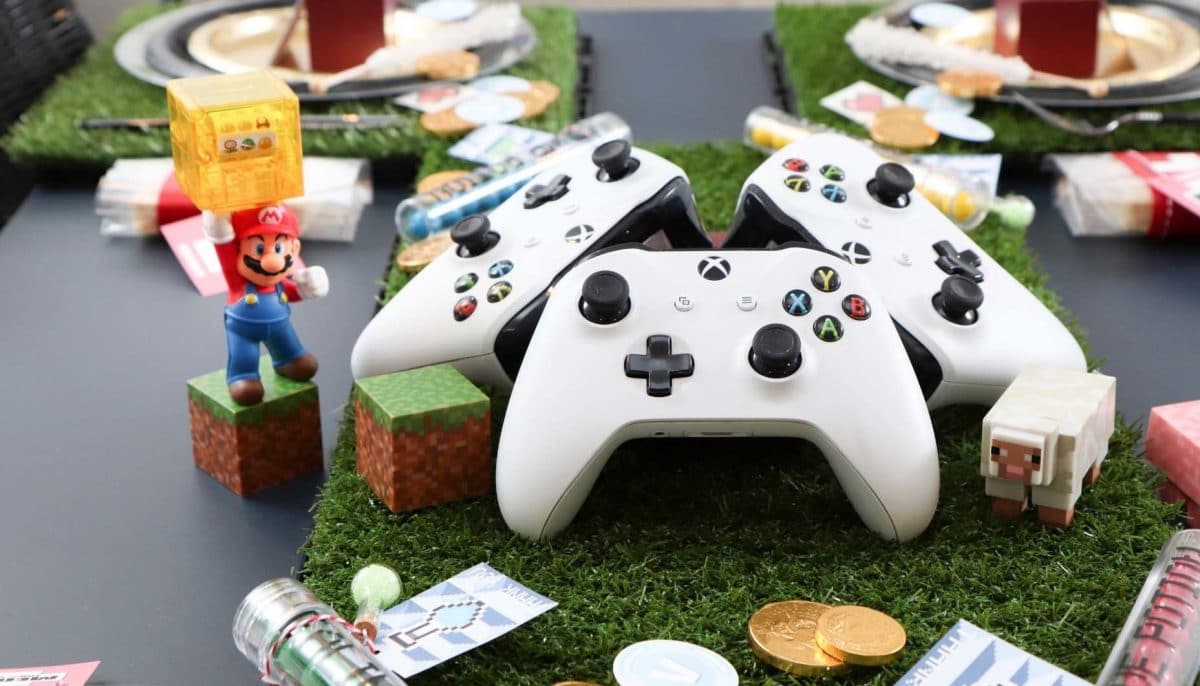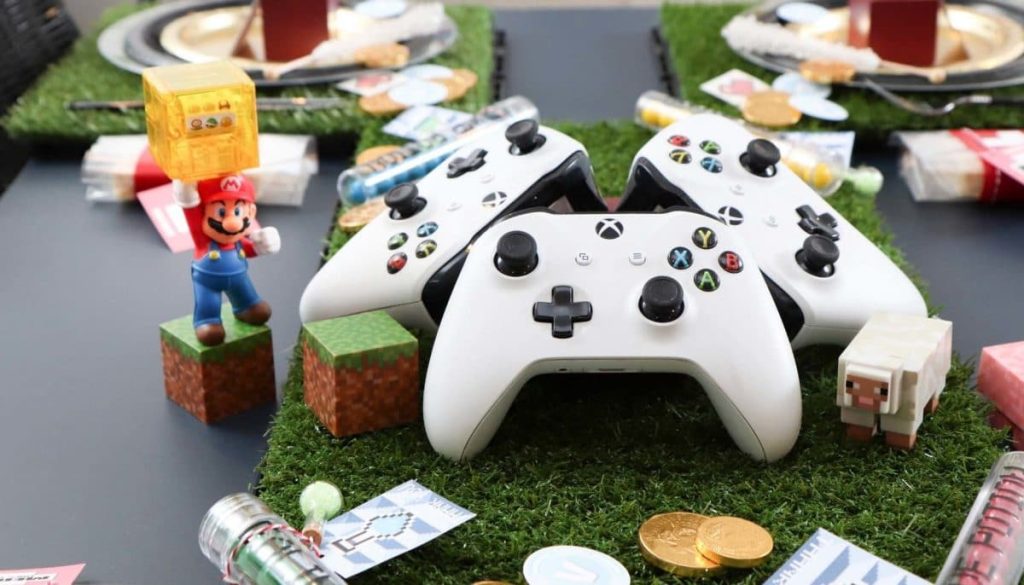 For my place settings, I created a stack of clear, black, and gold plates to use for dinner and dessert. I added black plastic utensils, and a rock candy favor to each. Then, in the center of each place setting, I created a video game themed place card out of a brick stress toy, a video game avatar figurine, and a brick name card you can get in the free printable pack.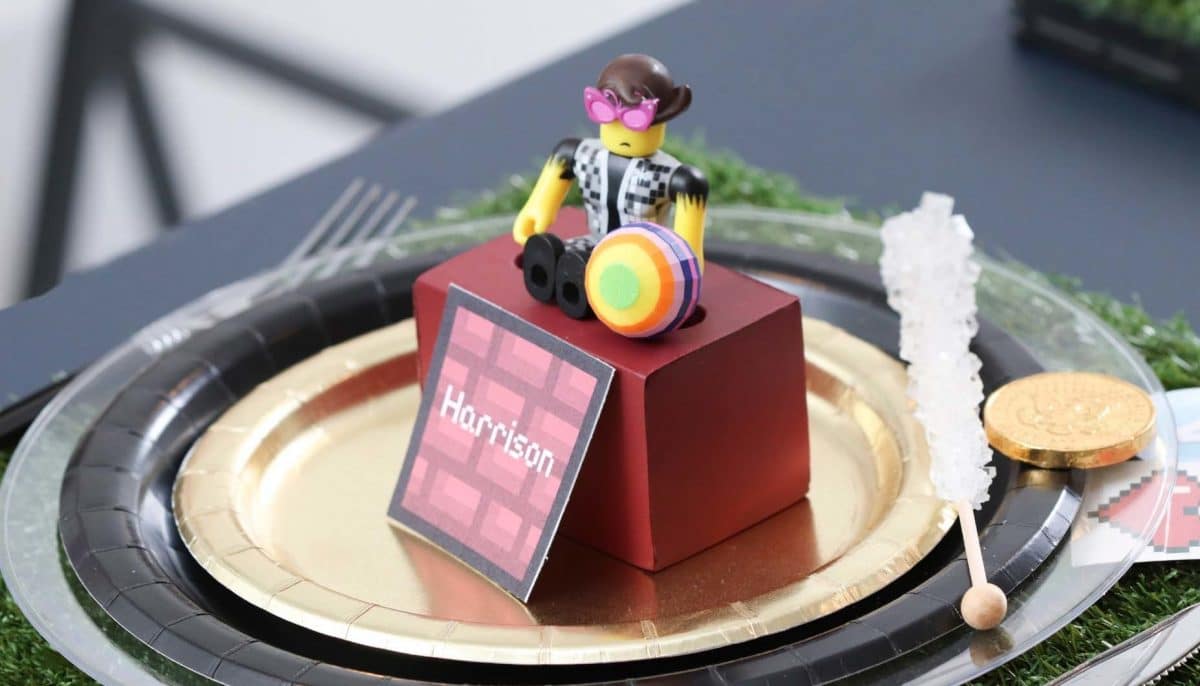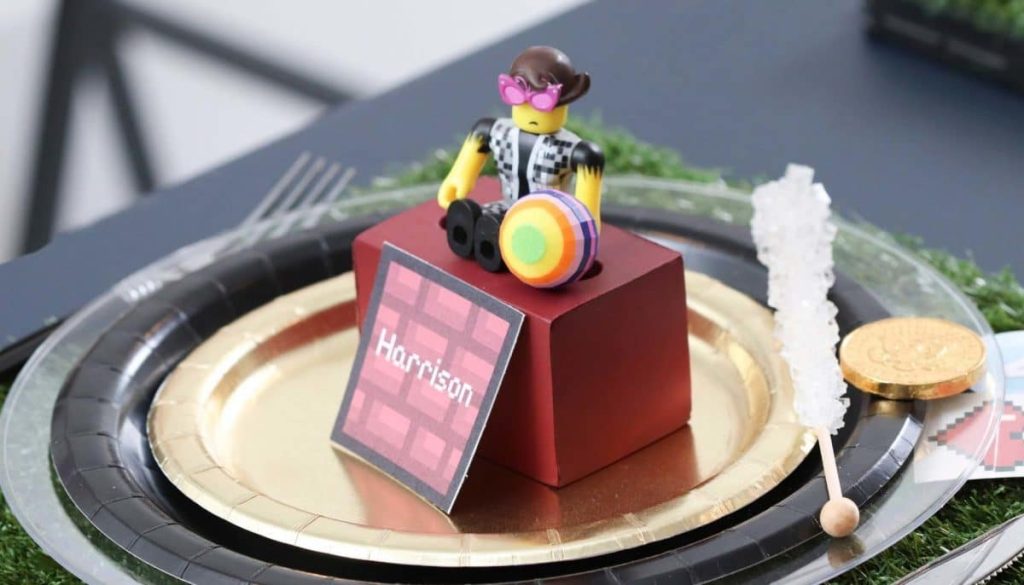 The final piece of this party is to set up the video games! Depending on what types of games your kids like to play, you can either set up a TV and game console near the table, or set up stands on the table to hold phones/tablets/computers.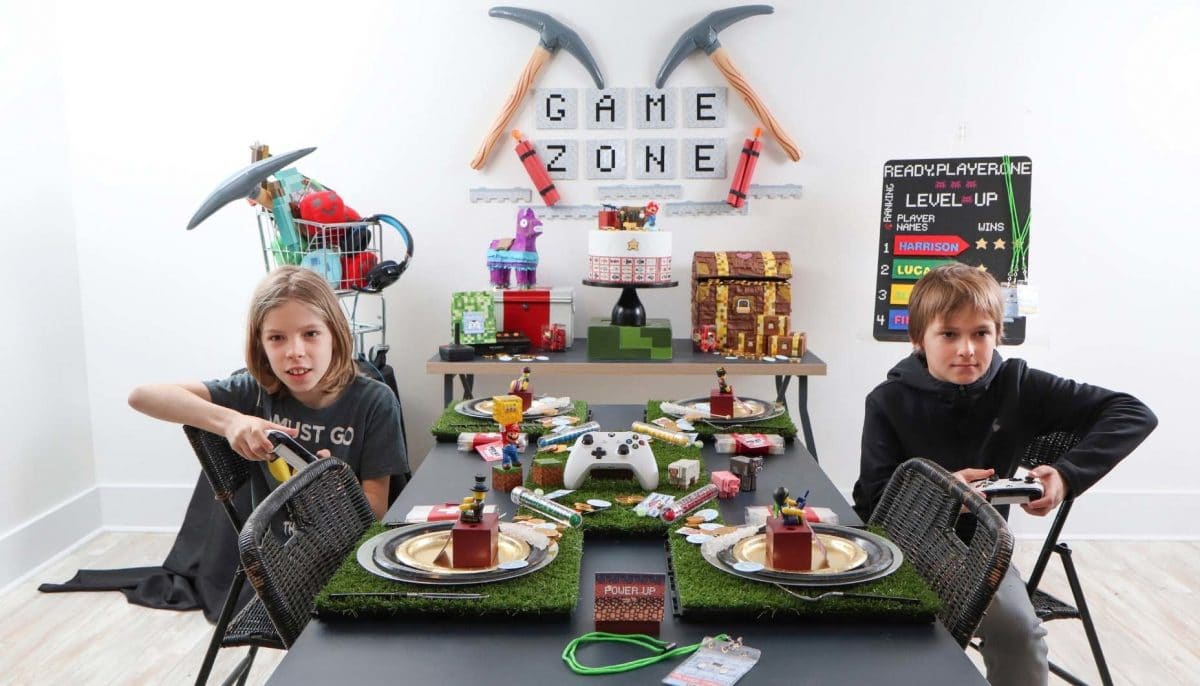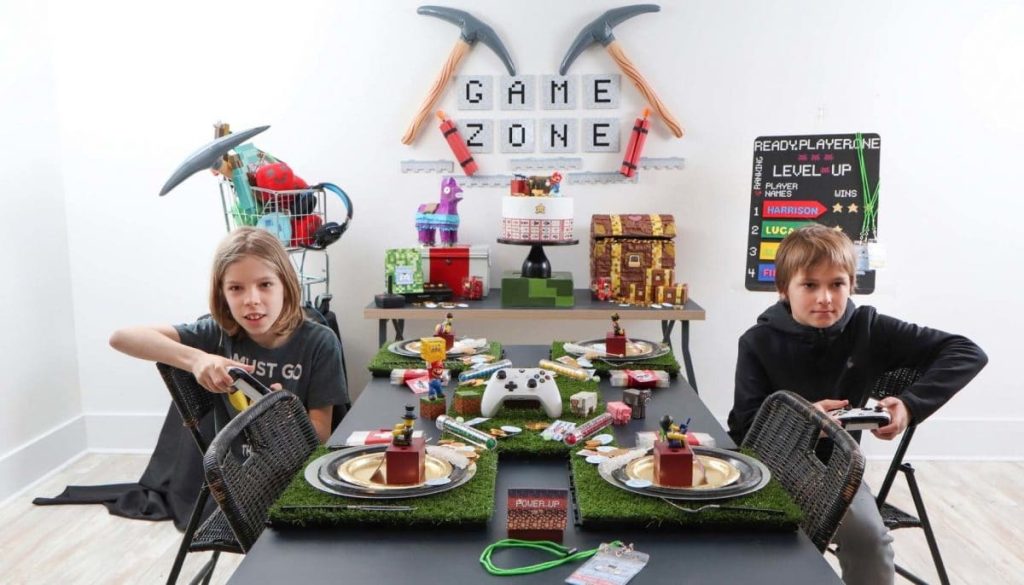 You can get tons of additional details for how I set this Game Zone Video Game Party up, as well as shop for everything you need to create it yourself on Fun365 at Oriental Trading. Everything you need to See It, Shop It and Make It with the click of a button! 
For birthday gift ideas you can't go past our comprehensive gift list for teem gamers! Check out the full list HERE.
Happy Gaming!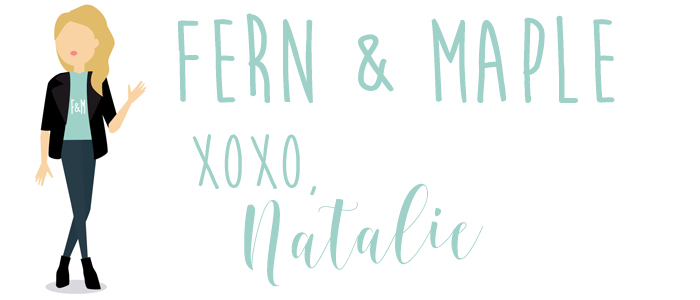 PIN FOR LATER: